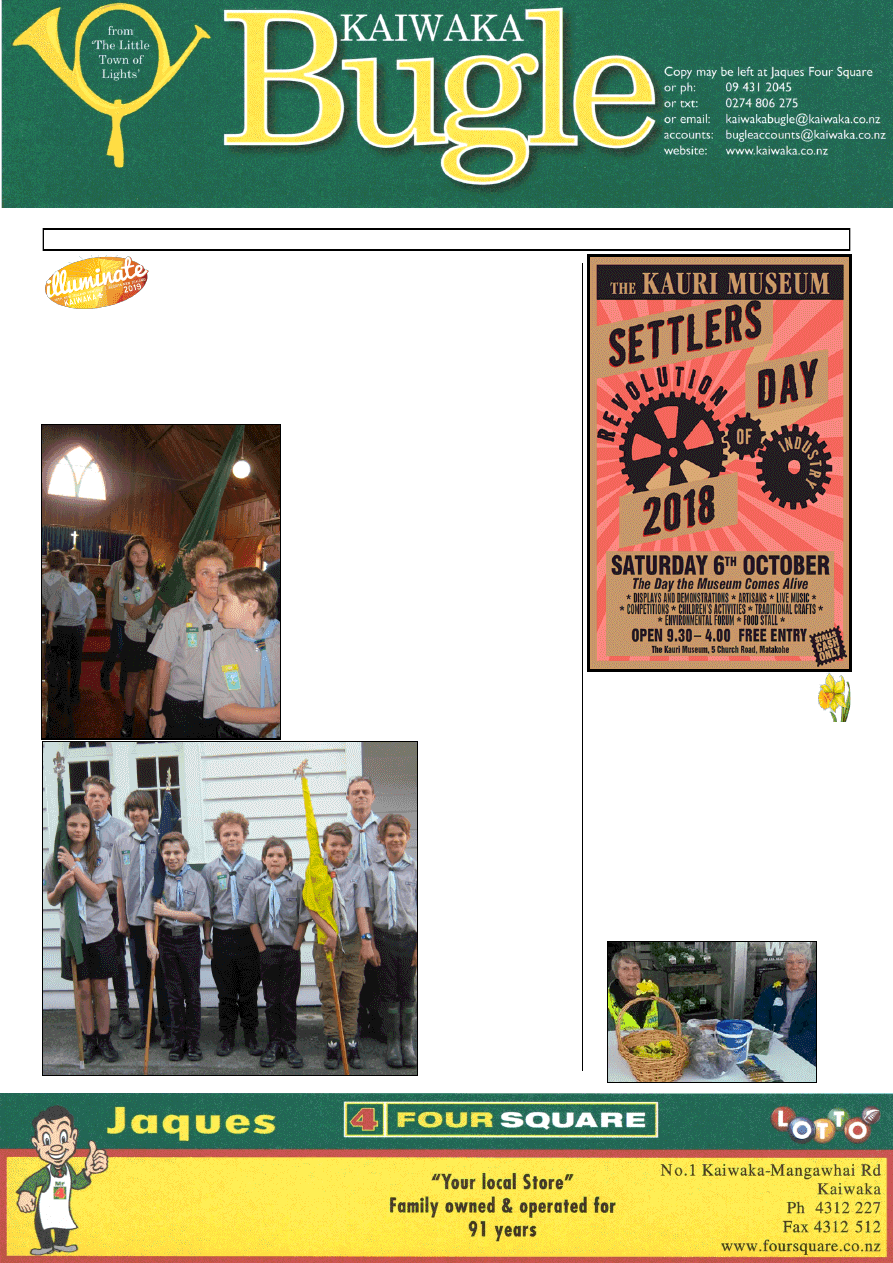 www.kaiwaka.co.nz 
Kaiwaka Bugle - 4 September 2018 
Page 1 
No: 17 
4 September 2018 
Trading Hours: 
Monday to Friday 8:00am - 6:30pm 
Saturday 8:00am - 7:00pm 
Sunday 9:00am - 6:00pm  
SCOUTS ON SUNDAY 
Recently  our  local  Scout  Group  held  a  Sunday  Service  in 
Kaiwaka's St.Pauls Church. 
The  theme  of  the  service  was  Illumination,  led  by  Derek  Christensen.  The 
congregation  were  asked  to  bring  along  different  types  of  lights  to  display. 
There was interactive discussion about the various sources of light, which led to 
the explanation that Jesus is the light of life, each of us is different, what kind of 
light-from-within will you shine in the world? The Cubs and Scouts were fully 
involved in the discussion, and colour parties. Cubs Atariki Ashton-Videla and 
Callum Booth both did themselves proud giving clear Bible readings. The songs 
also  held  the  theme  of  light  and  were 
accompanied by guitar and African drums.  
On behalf of Group Leader Bruce, I gave a 
report  on  the  Kaiwaka-Mangawhai  Scout 
group,  outlined  some  changes  within 
Scouting  NZ,  and  explaining  what  will 
happen  during  Illuminate  2018.  (I  am 
group secretary).  
A shared morning tea followed, with some 
plates  being  taken  down  to  the  group 
installing  the  new  playground  fence 
afterward.  Some  of  the  children  had 
grandparents supporting them. 
Hamish is the only Venturer from Kaiwaka 
who  will  be  attending  the  Scout  Venture 
Illuminate - to be held in Kaiwaka January 
2019. 
At  the  rehearsal  on  Thursday  evening  we 
invested new Scout leader Phil Welten and 
new Cub Liam Lusty.  ~ Lindell 
Photo inside St.Pauls: 
Cub  Callum  Booth 
leads 
the 
colour 
parties 
and 
congregation from the 
Church,  followed  by 
Gareth 
Ferguson, 
Leyla  Routledge  and 
others. 
Outside:  Flag  bearers 
Leyla 
Routledge, 
Callum  Booth  and 
Atariki Ashton-Videla 
with  Junior  leader/
Venturer 
Hamish 
Ferguson,  Che  White, 
Gareth 
Ferguson, 
Diego  White,  Cub 
leader  Chris  Booth, 
and Zen White. 
Photos 
by 
Lindell 
Ferguson   
KAIWAKA 
DAFFODIL DAY 
A  HUGE  THANKYOU  to  everyone 
who  gave  sooooo  generously  to  our 
Kaiwaka  Daffodil  Appeal  on  Friday 
31
st
!!  We raised $1513.80, which goes 
towards cancer patient support services 
for the Northland area. 
Also,  a  BIG  THANKYOU  to  Jaques 
Foursquare,  La  Nonna  Bakery,  The 
Coffee  Pot  Cafe,  and  Kaiwaka  Caltex 
for 
being 
our 
collection 
locations....AND  also  our  wonderful 
team  of  collectors  who  manned  the 
posts all through the day!! 
Bless you all heaps, Lynne Coates. 
Proverbs 19:22
Kindness  makes  a  person 
attractive.  
And  it  is  better 
to  be  poor  than 
dishonest. 
At Kaiwaka War Memorial Hall . Adults $10, Kids (under 16) $5, Family Pass (2 adults + 3 children) $25 
KAIWAKA BUGLE NO.17 
4 SEPTEMBER 2018 
CONTENTS: 
Page 3: Public Notices, Classified 
Page 5: Pt CCC; Weather; Hakaru 
Women's RSA 
Page 7: Otamatea Ex Netball; Otamatea 
Junior Rugby 
Page 9: Mangawhai Artists 
Page 11: Kaiwaka Sports Assn 
Page 13: Kaiwaka Can; Weed of the 
Month 
Page 15: Green Thumbs; Nina Quan 
Page 17:Kaiwaka School; Rugby photo 
Page 19: CM Clarke Memoir 
Bugle 18 will appear  18 September 
Contact for advertising, reports, articles 
or information can be made by 
Email: kaiwakabugle@kaiwaka.co.nz 
Ph: 09 4312 045 Lindsey 
Txt: 027 2724137 
Copy  may  be  left  at  Jaques'  Four 
Square. 
Kaiwaka Bugle Advertisements 2018: 
All 
copy 
and 
queries 
to: 
kaiwakabugle@kaiwaka.co.nz 
The Bugle is printed on an A4 page   
Ad  sizes:  1/16  page  (3  x  9.5cm)  $5;  1/8 
(6.5  x  9.5cm  landscape  or  portrait)  $8; 
3/16 ( 10 x 9.5cm or 7.5 x 12,5)  $12.  
Classified  ads:  First  one  FREE,  $4  per 
entry (max. 30 words, max. 4 repeats). 
Payments  can  be  made  online  at 
ANZ 
06  0365  0006990  00
,  posted  or  left  at 
Jaques Four Square Store. 
We  use  Microsoft  Publisher,  and  can 
work  with  most  common  image 
formats, Word, Excel, and PDF files. 
Accounts:  
Email: bugleaccounts@kaiwaka.co.nz 
The  Kaiwaka  Bugle  is  a  community 
newspaper run by volunteers.   
Articles, etc. printed are not necessarily 
the opinion of the Bugle Team. 
Kaiwaka Bugle 
Founded May 1978 
We appreciate articles and photos about local 
events, etc, as well as ads and suggestions. 
Copies available in Kaiwaka at Jaques Four 
Square, Kaiwaka Postal Centre, Shamrock 
Service Station, Animal Health Centre, 
Kaiwaka St John shop. 
Also outlets in Maungaturoto, 
Mangawhai and Paparoa. 
Can be viewed online at  
www.kaiwaka.co.nz/Bugle  
Or a copy can be posted to you if you supply 
stamped, self-addressed DLE envelopes. 
The LEISURE SEEKER 
Friday 7 September, 7.30pm (M)  
"The 
Leisure 
Seeker 
is 
a 
2017  comedy-drama  film  directed 
by Paolo Virzì. The film is based on 
stars  Donald  Sutherland  and  Helen 
Traveling  in  their  family  Leisure 
Seeker  vintage  recreational  vehicle, 
John  and  Ella  Spencer  take  one  last 
road  trip  from  Boston  to  the 
Hemingway  House  in  the  Florida 
Keys. "
TULLY  
Friday 21 September, 7.30pm (M)  
Sherlock GNOMES 
Sunday 30 September, 2pm (PG)
ELTON JOHN 
The MILLION DOLLAR PIANO 
Friday 28 September, 
7.30pm 
Music  Movie   
& Supper Night  
$20.00 tickets  
Ticket entry only 
Kaiwaka War Memorial Hall 
Ph: 021 2154495 
Free Tea & Coffee during Interval 
Kaiwaka Community Movies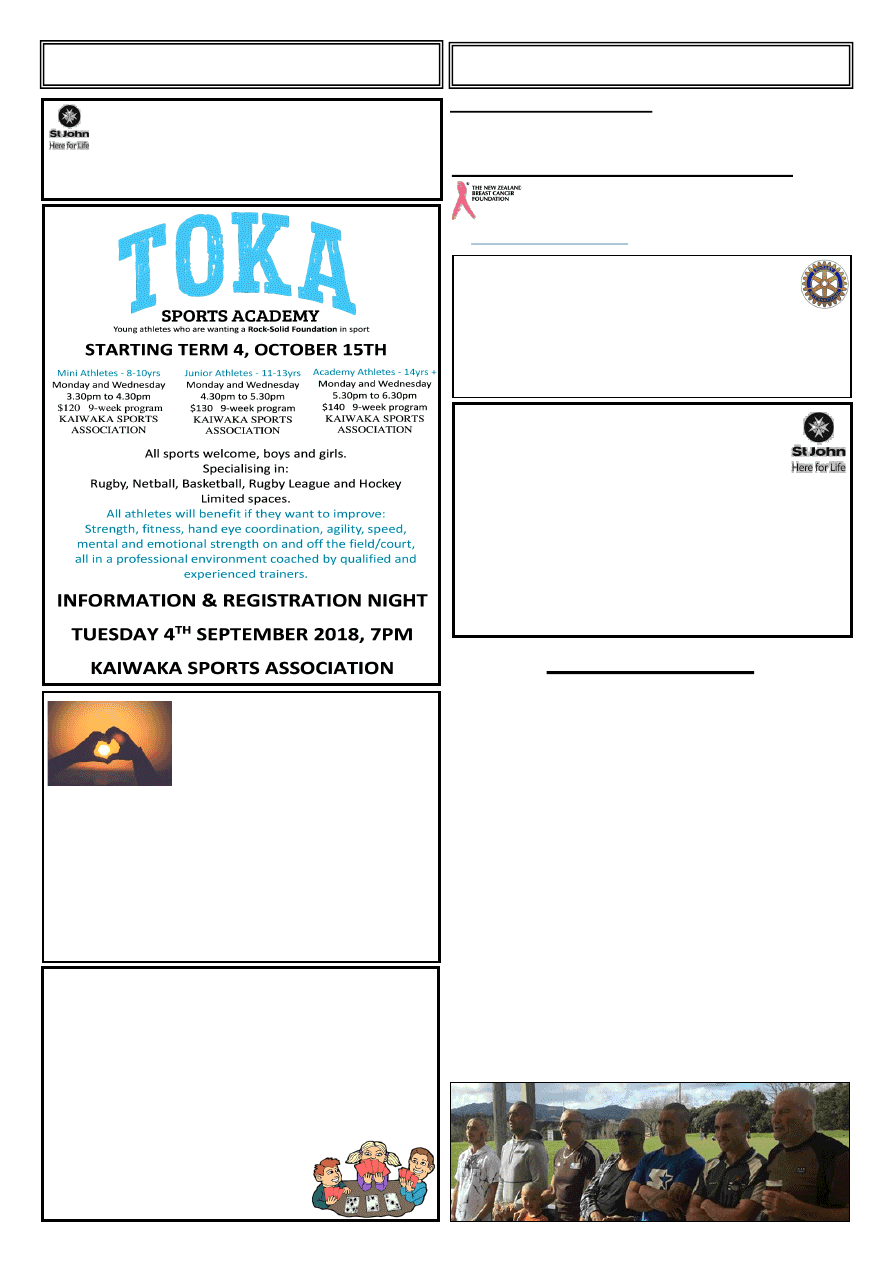 www.kaiwaka.co.nz 
Kaiwaka Bugle - 4 September 2018 
Page 3 
ABOUT TOWN 
 
Thank you to the volunteers and all those who supported 
the Daffodil Day Appeal. 

Well done to 'Big Shave' participants!! Photo below 

Our  Weather  Lady  says  so  far  this  year  it  has  been  our 
wettest 8 months since 1987 with 1368mm!  

 See the new Kaiwaka Can logo designed by local artist 
Rosie  Louse  (Contour  Creative)  showing  Pukekaroro  and 
the kereru - page13. 

 We  remember  Steve  Salmon,  who  passed  away  last 
week, and his family - Bev and their sons Ken, David and 
Phil. Steve was popular principal of the Kaiwaka School in 
the 1980s. 

  Kaiwaka  School  pupils  invite  you  to  their  2018 
production 'Holiday Time' - 13 September, KWMH  

 Re  the  Rotary  President's  Scholarship  -  the  applicant 
does not need to be going to school but must be in our area 
(which is quite wide.) 

 The  Library  now  have  brand-new  pre-printed  library 
cards  -you  may  swap  your  old  card  for  a  new  one  at  no 
charge. More Library info next Bugle. 

 Blue  September  -  last  weekend  the  Auckland  Harbour 
Bridge shone with 600 blue Vector Lights in tribute to the 
600 New Zealand men who die from prostate cancer each 
year
.
                  ~ Lindsey, Ed 
"
Money will buy a fine dog but only kindness will make him wag his tail.
" 
PUBLIC NOTICES 
CLASSIFIED 
FREE TO GOOD HOME:  Old cast iron enamel bath 
tub. No leaks. Broken corner. Excellent horse or cattle 
trough or whatever. 09 4312367 Kaiwaka. 
KAIWAKA ST. JOHN OP SHOP 
Furniture For Sale: 
2x2 leather loungers - no chairs $130 both 
3x2 lounge suite ex condition 
Retro Cabinet $75; 1 low Sideboard $150 ono 
1 Queen size mattress $40 
1 Single bed & base with drawers & mattress $60 
Small desk & chair $25; Small drawers $25 
Needed: 
Pillows,  Boys  &  Girls  Toys,  Pictures,  Plants,  Ceramic 
Pots,  Tools,  Jewellery  -  anything  else  much  appreciated.  
~ Milly and staff.
Phone 09-4312650 after 9.00 am. 
- check us out at 1919 SH1, Kaiwaka 
OTAMATEA ST JOHN  
Annual General Meeting 
Ambulance Station, Maungaturoto 
Monday 17th September 7.30pm 
All welcome 
Step up for cancer 
28th October 2018 
Meet at Ruawai Four Square 
at 10am 
6K WALK 
Bring your family and support  
an amazing cause 
All money raised will be DONATED to 
The CANCER SOCIETY 
https://www.facebook.com/events/2122229464765122/ 
Ladies from the Whangarei office have said they will come along to 
answer any questions people might have and also to hand out info for the 
people wanting it. 
MAUNGATUROTO & DISTRICTS 
ROTARY CLUB 
President's Scholarship 
Applications are now open  
Scholarship is for $1,500 and is for <19 tertiary studies 
Forms available from OHS Office  
or call Eileen Parsons  
021 142 0357 
Applications close 30 October 2018 
PINK  RIBBON  APPEAL  VOLUNTEERS:  Those 
keen to volunteer on 12 or 13 October please 
contact  the  Pink  Ribbon  Appeal  Area  Co-
Ordinator 
direct 
on 
021416048 
MANGAWHAI BRIDGE CLUB  
 "GET THAT BRAIN ENERGISED" 
WELCOMING NEW MEMBERS 
Lessons starting Mid-September – Tuesdays 1 - 3pm 
5 lessons at $5 each to get you started or refresh 
your game (some flexibility over day and times based 
on demand) 
Ready to play – join the group playing at the 
Mangawhai Senior Citizen Hall – Fagan Place 
Wednesdays at 7pm. There are some 
new faces and focus is on good 
bridge, in a friendly and supportive 
environment. 
Contact Sue Belin 0212425212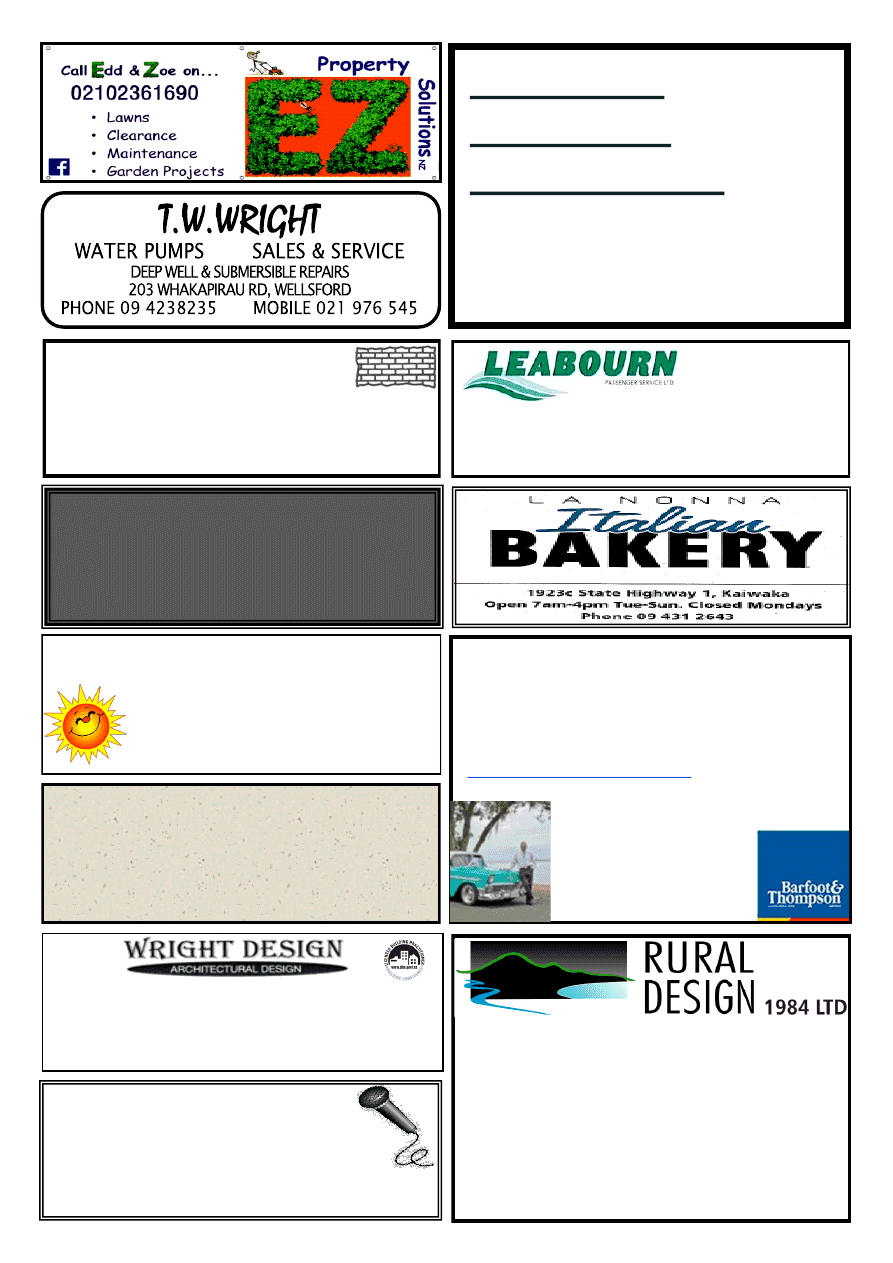 Passenger Service
Car & Van Hire   Bus & Coach Charters 
Airport Transfers    
Phone (09) 4237416 
BRICK/BLOCKLAYER 
All aspects of masonry:  
Fireplaces, Restoration & Remedial Work. 
JAMES EAGLETON 
Tel. (09) 431 2514    Mob. 0274 749 232 
jajueagles@yahoo.com.au 
210A Pukenui Road, RD2 Kaiwaka 0573 
THE SUNSHINE GIRLS
Efficient and reliable help with 
your housework. 
Ph 4312 532 
MARRIAGE CELEBRANT 
WEDDING EVENTS PLANNER 
Yvonne Osborne 
Ph 0274 989 814 
yvonne.osborne@xtra.co.nz 
Counsellor and Registered Psychotherapist 
Offers Supervision 
ACC Sensitive Claims 
Susan Matheson      MNZAC 
Dip. Psychosynthesis Counselling and Psychotherapy 
Phone 09 431 2996                                     Mobile 027 605 2427 

  After 20 years of selling in Auckland I have             
moved to Kaiwaka. 

  I have a relaxed attitude with years of  
        results and experience. 

  Please feel free to give me a call or email. 
licensed real estate agent (2008) 
Chris Barrington
Residential Sales
M 
Mangawhai
Wholesale Native Plant Nursery and Planting 
Small and Large orders welcome 
By Appointment 
300 Kaiwaka-Mangawhai Road, Kaiwaka 
Phone: 09 431 2481 
Email: info@ruraldesign.co.nz 
www.ruraldesign.co.nz 
SING RIGHT 
Professional coaching for performance,  
recording and demos. 
All level singers, musicians, singer-songwriters. 
Phone Robyn Hill 431 9159 or 0274 725610 
 FINANCE 
 FUNDING 
 SOLUTIONS 
T - 0275 989814 
E
 - osborneassociates@xtra.co.nz 
REGISTERED INDEPENDENT FINANCE BROKER 
No. 117345 
N.Z.C.A.D., L.B.P. 117345 
PH/Fax: 09 423 8092 Mob: 021 276 7369 
Office: 3 John Sinclair Avenue, Wellsford    brianwright@xtra.co.nz 
For Resource and Building Consents, planning restraints, new building materials - 
you need a capable, experienced, and professional designer with a clear 
knowledge of all the processes. Brian has been helping and organising all these 
facets of design and building for over 50 years. 
Wright Design offers free visits, consultations and advice on planning, design, 
building, council permit applications, guaranteed permit plan acceptance.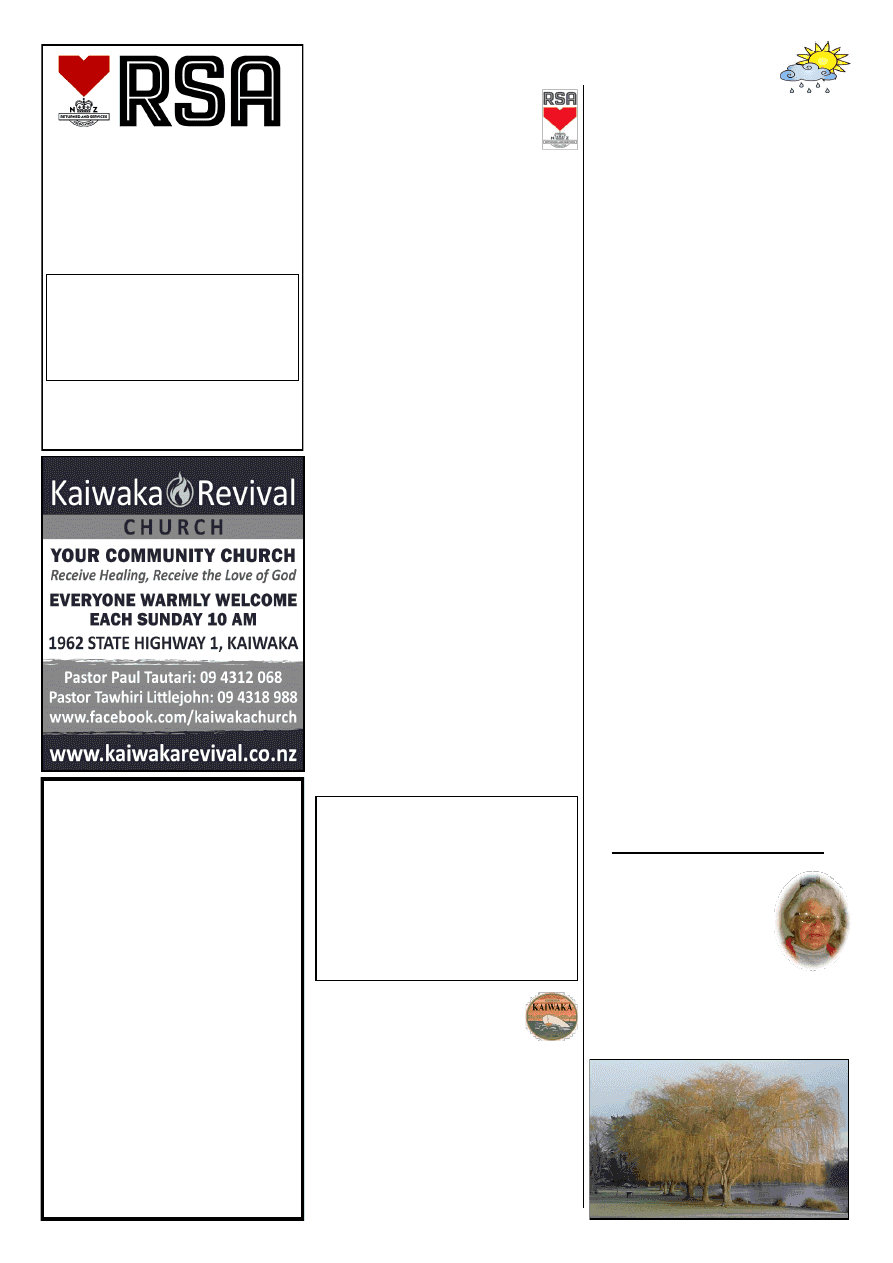 www.kaiwaka.co.nz 
Kaiwaka Bugle - 4 September 2018 
Page 5 
Lilia and her Spring lamb, Minty! 
KNITTING For WHANGAREI 
HOSPITAL 
Meet in the Archie Bull Hall 
Knitting,  crochet  and  sewing  of 
garments  for  Ward  2  Children's 
Ward  and  SCBU  Premature  baby 
unit at Whangarei Hospital. 
Every  second  Tuesday  of  the 
month.  Contact  Gael  4314827  or 
Elaine 4312338. 
Willow Bend
HORSE  
HOTEL 
  
Total Horse Care 
 
Agistment 
 
Riding Lessons 
 
Arena Hire (60x40) 
 
Young Horse Starting 
 
Re-training/Exercising 
 
Hoof Trimming 
 
Problem Solving 
Phone Sue 09 431 2817 
or 021 623 776 
Or email  
susanjoll11@gmail.com 
HAKARU & DISTRICTS 
MEMORIAL RSA (INC)
Members & guests are invited to 
come along and enjoy our hospitality. 
New members welcome. 
Meals are served on Thursday and 
Friday nights from 6.30pm. 
Order from Blackboard Menu  
and a sing-a-long  
with Des Chitty. 
For more information please phone 
Graeme on 431 2563 
PT.CURTIS 
CRUISING CLUB
Subs  can  still  be  paid,  they  were  due  1st 
June  Family  $30  (2adults  2  juniors  aged 
under  15yrs)  &  Single  $20.  Internet 
banking  details:  ASB  Wellsford  No. 
Please  use  your  name/
names as reference. 
Fish of the Month: Snapper 
Next  Club  Meeting: 
11
th
  September 
2018  7pm  at  The  3Furlongs  Bar  & 
Grill. 
  ~ Wayne Leslie, Commodore
From Thelma's 
Scrapbook … 
With the Start of 
Spring... 
SPRINGTIME 
... 
Our  Lord  has  written  the  power  of 
resurrection  not  only  in  books,  but  in 
every leaf in Springtime! 
Martin Luther. 
KAIWAKA  
WEATHER 
Hello folks, the last day of winter and 
it is raining.  
I do not put today's rain in the weather 
report as when the rain is read each day 
it is read in the morning, so today's rain 
goes  in  tomorrow's  reading.    That  is 
not my idea as that is how it is done.   
Another  cold  August  and  everybody 
shivering with those cold southwesters 
and icy cold showers and not forgetting 
those bitterly cold winds. Also, we had 
a few thunderstorms to boot.  It is sad 
to  watch  the  cows  in  the  paddocks 
plodding  around  up  to  their  bellies  in 
mud  -  that  is  when  it  is  good  to  be  a 
light animal you do not sink down too 
much into the ground.  We did have a 
few  nice  sunny  days  early  on  in  the 
month.    Awesome  to  see  the  baby 
animals enjoying them.  
Niwa  is  forecasting  another  El  Nino 
summer though not as intense as others 
we have had. Predictions for the next 3 
months  are  average  temperatures  for 
most of the country and the likelihood 
of  a  slow  transition  toward  El  Nino 
which  could  become  established  over 
N.Z. by March.  
Our  weather  we  recorded  was  August 
2018  we  had  86mm  rain  and  August 
2017 we had 127mm.   
The  first  8  months  of  2018  we  had 
1347mm and 2017 we had 1368mm.   
Our  wettest  August  since  1987  was 
1989  with  318mm  and  the  driest  was 
2006 with 52mm.  
Our  wettest  8  months  since  1987  was 
2018 with 1368mm and the driest was 
1987 with 547mm.   
'How  many  animals  of  each  kind  did 
Moses  take  aboard  the  Ark?'    None, 
Moses did not board the Ark. 'What is 
a Humbug?'  No, it is a bug that cannot 
sing.   
Take  care  out  there  and  enjoy  the 
Spring  starting  tomorrow.    Do  not 
forget  that  Daylight  Saving  starts  on 
the 30th September. Bev. 
Well  here  we  are  again  at  long 
last,  approximately  12  members 
attended  our  July  meeting, 
unfortunately no one was able to 
attend  Birkenhead's  Birthday  on  the 
17th,  however  talking  of  Birthday's, 
congratulations  to  Francie  and  Hazel 
who  both  had  Birthdays  in  July,  hope 
you had a great day. Didn't realise they 
were twins!! Not terrible but Lovely!! 
Unfortunately,  the  tripe  dinner  wasn't 
supported  as  much  as  it  usually  is, 
which  is  a  shame,  many  thanks  to  the 
cooks, and I guess it was "all the more" 
for those who did attend. 
We are sorry to hear our Secretary Jan 
and her husband Len are not well also 
June  is  having  trouble  with  her  eyes, 
we  hope  you  are  all  soon  well  again 
and anyone else who is not feeling the 
best.  The  good  news  is  that  Nev  and 
Ann's  Grandson  Chris  is  making  a 
miraculous recovery, thank you to you 
all who have showed so much love and 
concern during this worrying time. 
We have quite a few invitations on the 
horizon,  Franklin  Birthday  on  10th 
September,  Kaikohe  AGM  on  15th 
September, the trip to Whangarei to the 
musical on 21
st
 September - ring Trish 
Black 4314154 for more info, Waipu's 
Birthday  on  24th  September,  and  the 
most  important  of  all  our own  Hakaru  
63rd  Birthday  on  25th  October,  so 
come  on  Girls  Get  your  "Glad  Rags" 
out and join Lena-  we can assure you 
of  a  good  time.    Please  ring  Lena  on 
4315034 if you wish to go to the other 
functions (all the more the Merrier). 
Our next meeting will be on Thursday 
27th  September,  let's  have  a  really 
good  attendance.  See  you  there  at 
Hakaru  RSA  at  1.15  p.m.  Visitors 
welcome.         ~ Cheers, Ann 
HAKARU RSA 
WOMEN'S SECTION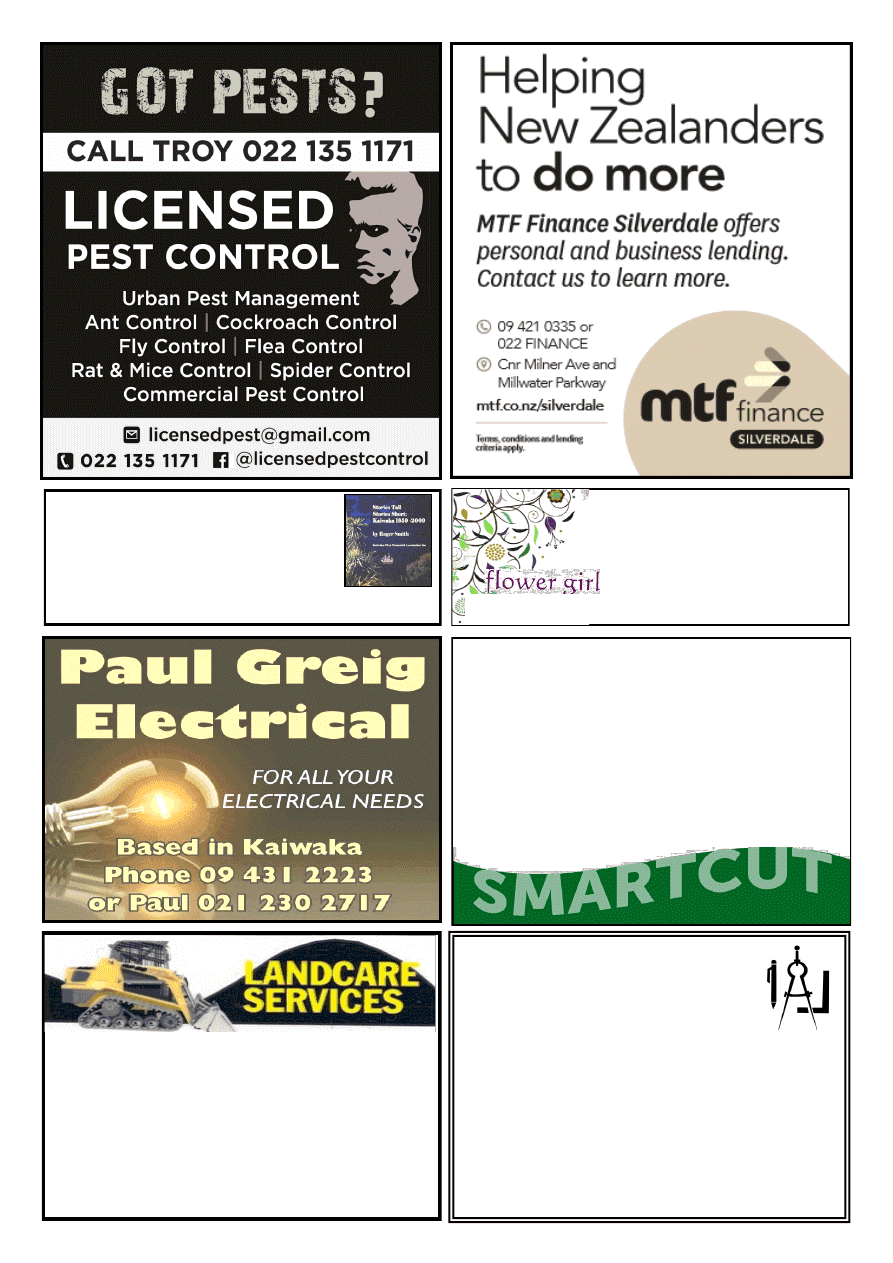 LANDSCAPING 
4 IN 1 BUCKET 
TRENCHER 
POLE HOLES 
ROTARY HOE 
COMPACT ROLLER 
OFFAL HOLES 
CAN SUPPLY WOODCHIP & POST PEEL 
5 TON TIPPER 
FOR RELIABLE AND FRIENDLY SERVICE CONTACT DAVE 
Dave Hyndman 
 
KAIWAKA 
PH: 09 4312302 
MOB: 021 431 238 
Stories Tall, Stories Short:  
Kaiwaka 1959-2009 
by Roger TW Smith 
And 
Kaiwaka: A Photographic History 
Available  at All-Sortz Collectables or phone  4312 045 
Kaiwaka Good Sorts 
Do you know someone in our community 
who is deserving of a beautiful bunch of 
flowers? 
Send an email to us at 
kaiwakabugle@kaiwaka.co.nz 
or drop a note to Jaques Four Square to 
let the Bugle team know. 
lindywatson@hotmail.com 
4312 847 
All your outdoor needs sorted so you don't have to... 
I can prune, chop, tidy, spray, mow, plant 
- you name it, I can do it! 
Residential & Commercial 
Lawn & Garden Care 
Call Rodney, your local  
lawnmowing contractor 
021 138 2344 
design drafting  
service 
Retired builder and manufacturer with over 
40 years experience in the building industry is offering a 
design drafting service for domestic housing, sleepouts 
and sheds.  
Plans formulated in consultation with clients, with 
working drawings completed and submitted to council 
for processing.  
Extensive practical experience, able to identify & resolve 
problems.
Please ring Mike Lean on 
09 431 2260 
or 
021 431 196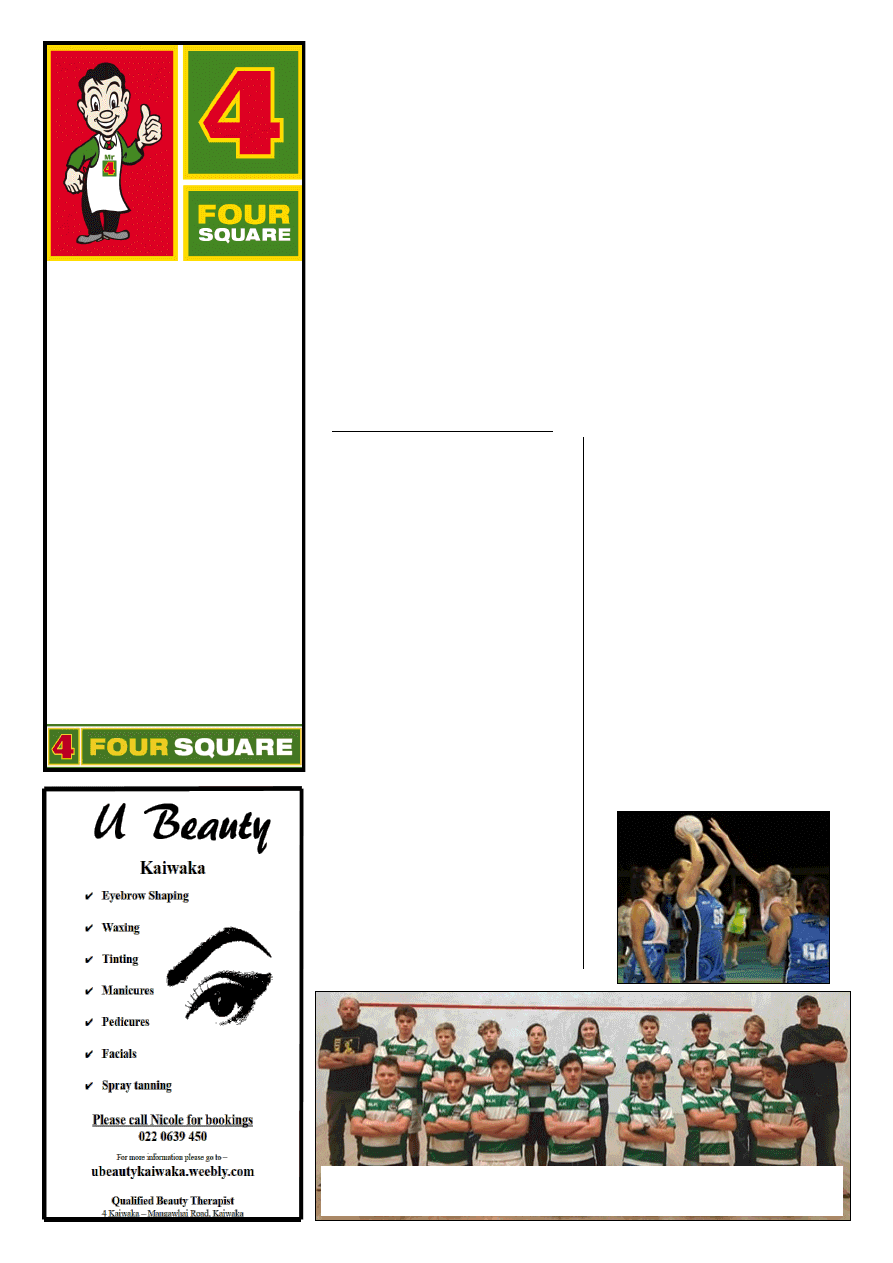 www.kaiwaka.co.nz 
Kaiwaka Bugle - 4 September 2018 
Page 7 
NEW RANGE OF 
REUSABLE BAGS!! 
Hessian Charlie - very 
funky $2.99 
Black Multi bottle bag 
$1.59 
Set of 5 ECO Produce 
bags $5.99 
Moving towards eliminating 
single use plastic bags 
Remember to bring your 
reusable bags, everyone 
helps 
Don't forget we have 
kindling firewood  
& 9kg gas bottle swap 
Open till 6.30 Monday to Friday
Jaques Four Square 
Phone: 4312227 
OTAMATEA-EX NETBALL SEASON 
Otamatea-Ex  3  played  Matakana 
Hawks  for  the  B  grade  5th  and  6th 
position.  After  a  couple  of  late  season 
injuries they called on two new players 
and  combined  well  to  put  Matakana 
under  pressure.  Unfortunately,  they 
weren't  able  to  come  away  with  the 
win with the final score being 26-20 to 
Matakana. 
Otamatea-Ex  2  played  off  for  3rd  and 
4th  in  the  Premier  Grade  against 
Ruggals.  This  was  the  first  time  in 
Otamatea-Ex  history  that  both  teams 
were  in  Premier  play  offs.  The 
previous week they had lost to Ruggals 
by 5 so they knew it was going to be a 
tough  game  but  were  in  for  a  shot  at 
winning. A few key player changes for 
Ruggals  meant  Otamatea-Ex  were  up 
against  it  from  the  start  but  with 
continued  determination  and  good 
game 
play 
meant 
they 
really 
challenged Ruggals. Unfortunately, the 
new  tall  timber  in  the  shooting  circle 
for  Ruggals  proved  the  difference  and 
Otamatea-Ex  lost  49-33  but  should 
hold their heads up at the never give up 
attitude they showed. 
Otamatea-Ex 1 played off for the 2018 
premier  title  against  Naumai  (
pictured 
below  -  Naumai  in  bibs)
. The previous 
week  Otamatea-Ex  had  lost  by  a  big 
margin  so  knew  they  had  to  put  their 
best  game  out  on  court  if  they  had  a 
chance at winning. With just 7 players 
for  the  night  so  couldn't  afford  any 
injuries.  The  game  did  not  start  well 
with Naumai scoring the first five goals 
unanswered, but Otamatea-Ex pulled it 
together  and  managed  to  be  just  eight 
down at quarter time. With a change at 
mid-court  Otamatea-Ex  started  to  put 
Naumai  under  pressure  and  got  more 
ball  into  their  shooters  which  they 
converted  to  win  the  second  quarter 
and  be  down  by  five  at  half  time. 
Ocean  Shadbolt  has  shown  a  huge 
improvement this season and managed 
to  upset  the  feeding  into  Naumai's 
shooting  circle  picking  up  tips  and 
loose  ball.  Naumai  continued  to  use 
their  full  bench  and  made  changes, 
their fitness and ability to play at speed 
started to pay dividends. They showed 
strength  in  all  areas  of  the  court 
picking up intercepts in their defensive 
end  and  converting  it  into  points  as 
their  shooters  were  in  good  form.  The 
connections  between  mid-court  and 
shooters was difficult for Otamatea-Ex 
to stop. Naumai continued to pull away 
in  the  fourth  quarter  showing  the 
quality  side  that  they  are  winning  by 
11. Otamatea-Ex 1 should be proud of 
the  fight  they  showed  and  game  they 
put out on court. 
Otamatea-Ex  Netball  Club  would  like 
to  thank  our  supporters  this  season 
especially sponsors the Three Furlongs 
Bar & Grill and Brogan Builders. 
OTAMATEA HAWKS 
IMB and JUNIORS 
Theses  young  Hawks  rugby  players  
held  their  Prize  giving  last    Thursday 
with a great turn out.  
We  would like  to thank  all  the  people 
that helped the season run so well. 
Prize winners from 
Under 11 
Most Improved - Cooper McKay 
Best Back- Maz Blackler 
Best Forward- Tembo Kimani 
Team Spirit - The whole team 
Player of the Year- Wiremu Makea 
Under 13 
Most Improved - Ethan Van Waveren 
Best Back- Jessie Goodfellow 
Best Forward- Xavier Cooper 
Team Spirit - Roman Miru 
Player of the Year- RJ Joseph 
Most Valuable - Tamati Phillips 
Under 14 
Most Improved - Kurits 
Best back- Nasah Cullen 
Best Forward- Brett Allen 
Team Spirit - Conner Quirk 
Player of the Year- Joe Rose 
Congratulation  to  all  and  also  the 
players who made it into Rep teams. 
We  are  also  starting  a  Tag  team  this 
year so if you are interested in joining 
contact us.   
Photo  below:  The  Under  13  team, 
which was undefeated all season. 
Back row: Ass. Coach Karl Goodfellow, Roman Miru, Ethan Van Waveren, Jesse Goodfellow, 
Nathan Harris, Lily Vaughan, Niah Quirk, Jarn, Jayden Hill, Coach Kyle Harris. 
Front row: Ricardo Bradley, Haumera Henderson, Xavier Cooper, RJ Joseph, Tamati Phillips, 
Tawhetu Phillips, Reef Riri. Absent: Branden Edwards, Shayden Peele.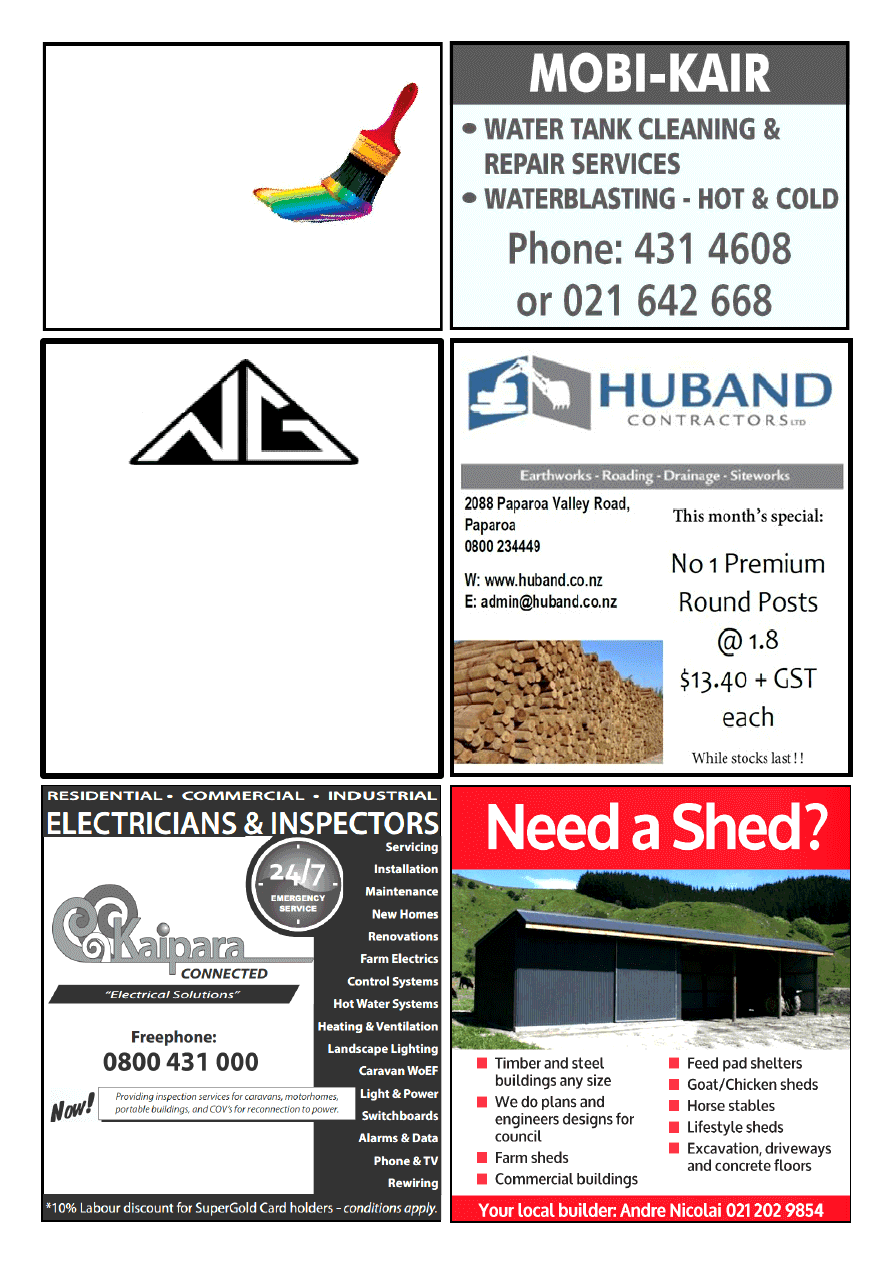 09 4312918 
0274735171 
leecooper@xtra.co.nz 
LEE COOPER PAINTERS 
(Kaiwaka Based) 
*30 yrs Experience 
*Interior/Exterior 
*New and Restoration 
*Honest and Reliable 
*Free Quotes 
NORTH GLASS 
WINDSCREEN REPAIR OR REPLACE 
GLAZING SERVICES 
MIRRORS  •  SPLASH BACKS  •  SHOWERS 
0800 70 40 10
info@northglass.co.nz 
www.northglass.co.nz 
Email: info@kaiparaconnected.co.nz 
Website: www.kaiparaconnected.co.nz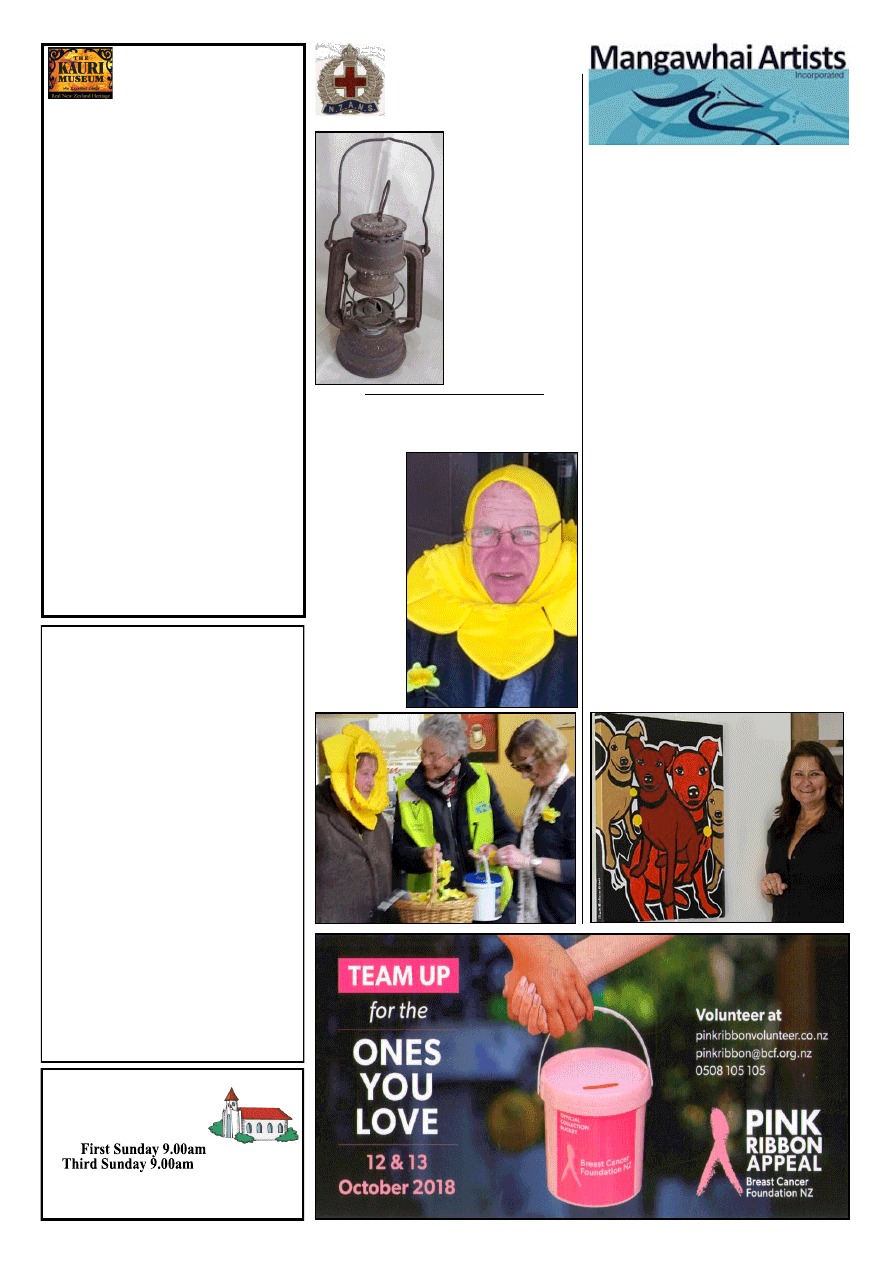 www.kaiwaka.co.nz 
Kaiwaka Bugle - 4 September 2018 
Page 9 
ILUMINATE 
Isa  Christensen  brought  
along  her  mother's  lamp  to 
the  recent  Kaiwaka  Scouts 
Sunday  Service. 
Her  mother  was  a 
nursing 
sister 
with 
the 
NZ 
Forces  in  Egypt 
during World War 
II.  
Pictured  is  the  
actual  lamp  she  
used 
on 
ward 
rounds. The nurses 
always walked the 
wards  with  the 
lantern  held  low 
so as not to disturb 
the patients. 
Mangawhai 
Heads 
Garden 
Centre
1758 Cove 
Road
945 0707 
021 165 2629 
ST PAUL'S ANGLICAN  
SUNDAY  
SERVICES 
- Eucharist
- Family Service
St Pauls Church: Kaiwaka-Mangawhai Rd. 
Rev. Wayne Thornton Ph 431 4122 
www.mangawhaianglican.org.nz
THEKAURI MUSEUM  
SETTLERS DAY 
REVOLUTION OF 
INDUSTRY 
The Day the Museum 
Comes Alive 
SAT 6th OCTOBER 
9.30am  
Church Service in the  
Pioneer Church 
10.00am - 4.00pm  
Displays and demonstrations:  
 shoe maker, saddle maker, 
woodcarving, rope making, tussie 
mussie making, children's games and 
activities, boat builder, brick making, 
carpenter, butter making, printing, 
wood turning, billy tea making, 
spinners, weavers, needlework, 
vintage cars, stationary engines and 
Cat 60 demonstrations. 
Food stall, popcorn, candy floss,  
fire engine rides, live music,  
photo op spot, live models. 
Competitions, Environmental Forum 
(DOC, NZTA, NRC, Fulton Hogan 
etc), and much, much more!! 
Music throughout the day 
FREE ENTRY 
5 Church Road, Matakohe, Northland. 
Telephone: 09 4317417  
web: www.kaurimuseum.com   
Mangawhai Artists Gallery 
The Diverse Creative Universe 
Angela Buchanan and Edie Chappell 
Opens Thursday 30 August 6pm 
Two  artists  combine  in  this  exhibition 
expressing  their  diverse  creative 
techniques  and  subject  matter  with 
paint and mixed media. Abstract design 
by Edie Chappell sits alongside formed 
designs  and  clean  lines  by  Angela 
Buchanan, pictured below. 
In  her  out-of-world  vision,  Edie 
encourages viewers to see, to look and 
be  intrigued  by  the  visions  they  see. 
Loving  semi  abstract  landscapes,  Edie 
mixes both smooth work and a chunky 
look,  exploring  different  subject 
matters.   
In  this  exhibition,  Angela  Buchanan 
produces  paintings  with  formed  lines 
and clean designs with a comical edge 
and  local  scenic,  photographic  print 
works. 
Angela  established  her  art  career  on 
completing  her  apprenticeship  as  a 
traditional 
sign 
writer, 
making 
traditional  hand  painted  signs  using 
multiple techniques and in varying and 
sometimes  challenging  positions  and 
places.  More  about  the  Artists: 
mangawhaiartists.co.nz/edie-chappell; 
liquidvision.co.nz 
The  Diverse  Creative  Universe  is  at 
Mangawhai  Artists  Gallery  until 
Tuesday  11  September.  10am  to  3pm 
daily, entry free. 
KAIWAKA 
DAFFODIL DAY 
Volunteers 
on  Daffodil 
Day: 
Front  page 
- 
Dawn  and 
Jewell 
at 
Jaques  Four 
Square. 
Right - 
At  La 
Nonna  Café 
-  Eddie  in 
his  daffodil 
best; 
and 
below 
- 
Maureen, 
Isa 
and 
Heather.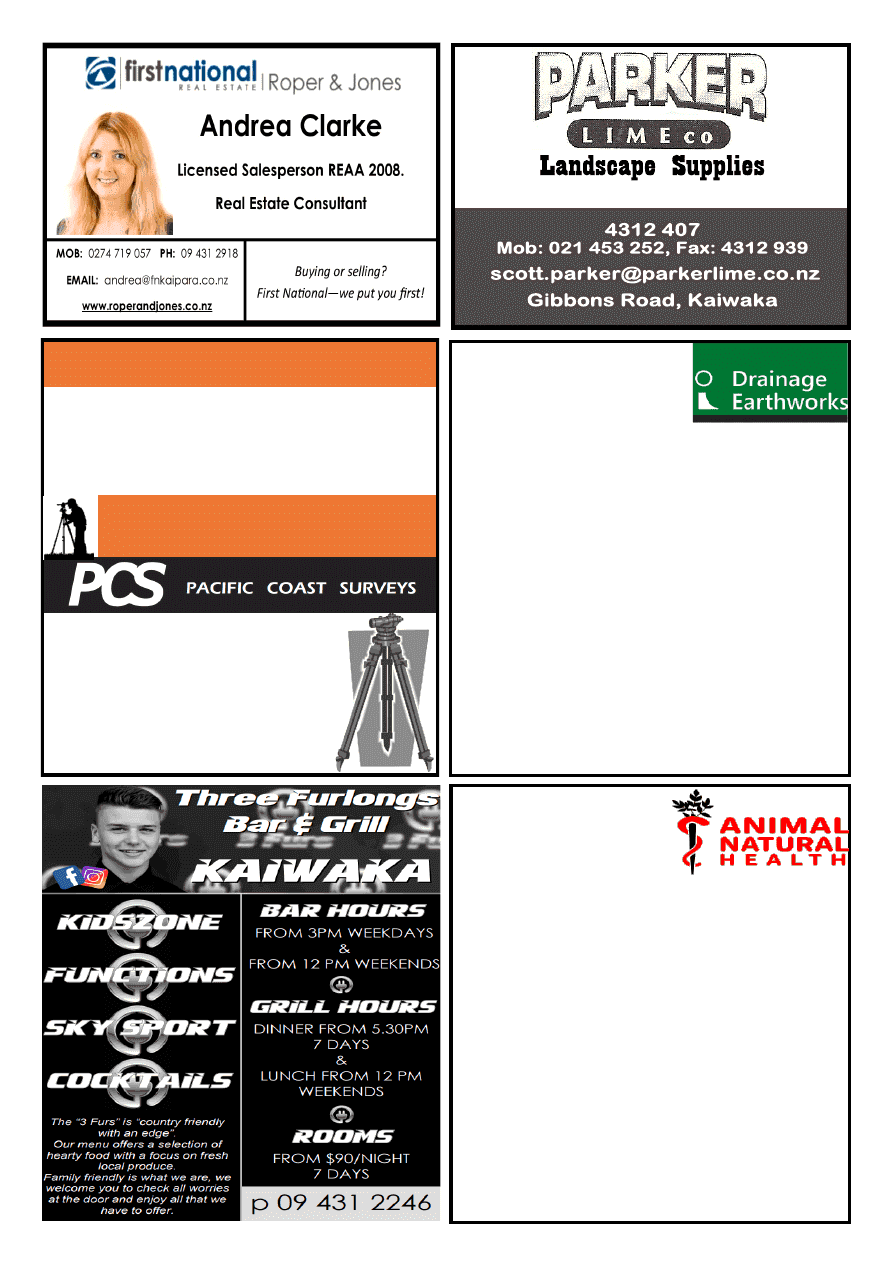 Drainage & Earthmoving 
nigel@clarkedrainage.nz 
027 2233 185 
Registered Drainlayer 
All Types of Earthworks  
> All Residential & Commercial Work  > House Sites 
> Septic System Design & Install 
> Footings & Drilling to 10m 
> Sewer Connections 
> Dams 
> Water Tank Installation 
> Roading & Races 
> Farm Work 
THE ONE STOP SHOP  
Phone Nigel for an Obligation Free Quote  
Bulk Cartage 
SURVEYORS 
SUBDIVISIONS 
HOUSE SITE SURVEYS 
CIVIL ENGINEERING 
WASTEWATER DESIGNS 
EXPERIENCED 
PROFESSIONAL 
INNOVATIVE 
Ph 09 431 5353 
0800 PACIFIC (0800 722 434) 
pacificcoastsurvey.com
Adam Booth - 027 415 5752 
Bsurv, Licensed Cadastral Surveyor
Surveying Kaipara since 1994 
ANIMAL NATURAL 
HEALTH CENTRE 
Next to Italian Bakery,  
S.H. 1, Kaiwaka 
Phone: 09 431 2217 
Hours: Mon-Fri 9.30-5.00 pm Sat 9.30-4.00 pm 
Petfood 
– Extensive raw meat selection: 
Free-range / organic where possible, no preservatives 
Purely Pets Patties, 'Out of the Wild' Game, 
Pet Deli, Bulk Buys, Bones, Brisket, Fish 
 
– Mighty Mix Biscuits & Concentrate 
– Tukka Thyme Muesli, Ziwi Peak Cat & Dog 
– Orijen & Acana Kibble, safe Treats. 
 
Organic Apple Cider Vinegar 
Chemical-free flea, worm, tick & lice controls 
Alternatives to vaccinations (HP Nosodes) 
Homeopathic/Herbal/Nutriceutical Products 
Eco friendly hygiene products, Leads & Collars 
Animal Naturopath: Sarndra G Urwin Dip NAH (Hons)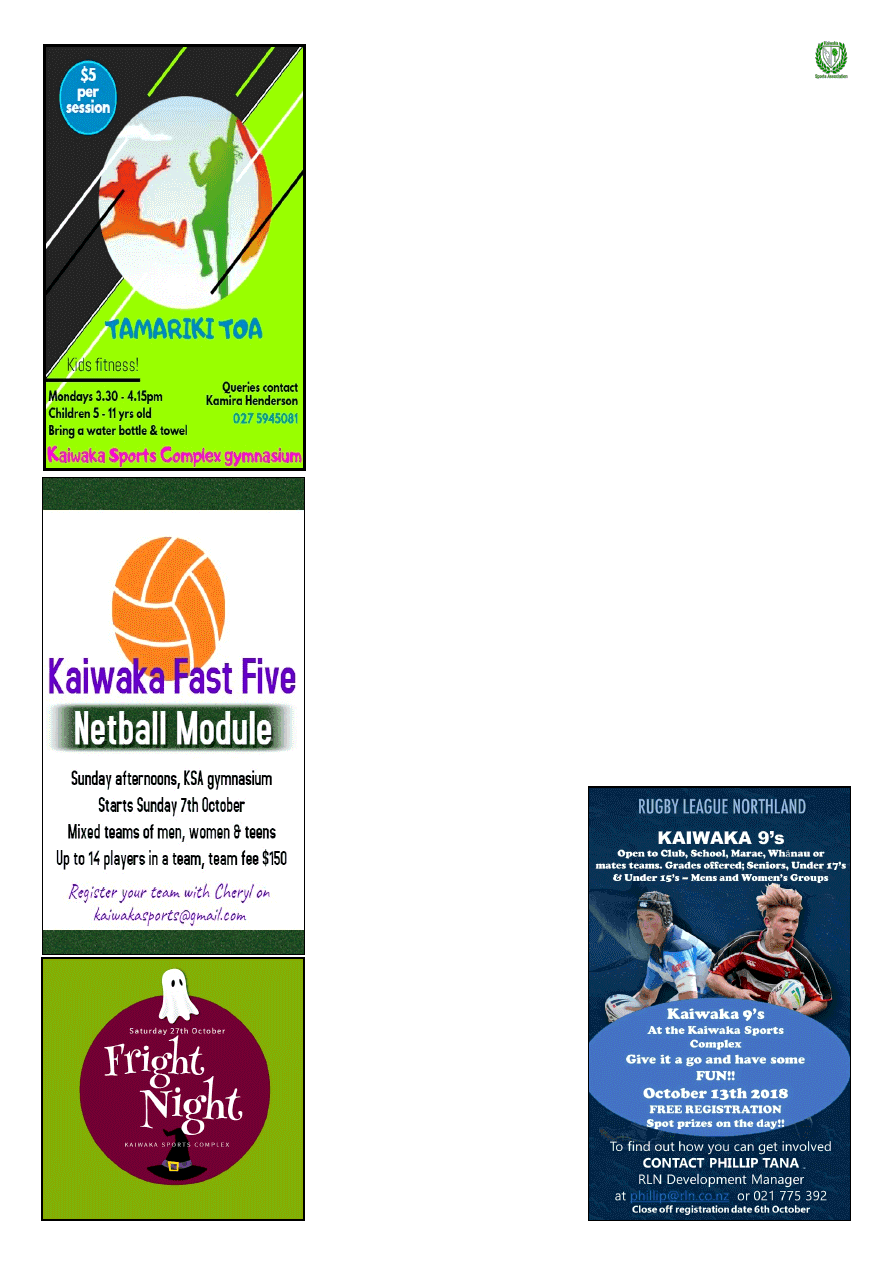 www.kaiwaka.co.nz 
Kaiwaka Bugle - 4 September 2018 
Page 11 
KAIWAKA SPORTS ASSOCIATION
Toka Sports Academy 
Have you heard about the Toka Sports 
Academy? 
This  exciting  venture  is  a  sporting 
programme  for  youth  focusing  on 
physical, 
mental 
and 
emotional 
strength. The Academy will be held at 
the  KSA,  starting  Term  4  and  will  be 
run  by  Nicholas  Makea  and  other 
qualified trainers. Please see the poster 
in  this  edition  of  the  Bugle  for 
programme details. 
Nickolas 
will 
be 
running 
an 
information and registration evening at 
the KSA this Tuesday 4th September at 
7pm. 
Kaipara Knights Soccer 
Our  soccer  club,  the  Kaipara  Knights, 
held  their  prizegiving  at  the  KSA  last 
week.  A  big  congratulations  to  Shar 
Dormer in her first year of running the 
club,  she  has  done  a  great  job  of 
building player numbers and creating a 
positive club vibe! 
Congratulations to the prize winners: 
13th Grade: 
Player of the year – John Hampshire 
Sportsmanship of the year – Braden Leaf 
Most improved player of the  year  –  Matai 
Hartles 
11th Grade: 
Player of the year – Kayla Leaf 
Sportsmanship of the year – Alex Millard 
Most  improved  player  of  the  year  –  Zack 
Schultz 
10th Grade: 
Player of the year – Eli Stables 
Sportsmanship of the year – Jakob Buxton 
Most  improved  player  of  the  year  – 
Zackary Wintle 
8th Grade: 
Player of the year: Shavana Hampshire 
Sportsmanship of the year – James Wintle 
Most  improved  player  of  the  year  – 
Brooklyn Donaldson 
6th Grade: 
Player of the year – Declan Scotney 
Sportsmanship of the year – Rohan Hartles 
Most improved player of the year – Xavier 
Wintle 
Coach of the year: Vanessa Hartles 
Otamatea-Ex Netball 
Congratulations  to  our  senior  netball 
club on another successful season. You 
can  read  about  their  season  in  the 
article in this edition of the Bugle. 
Junior Netball 
Our Junior Netball club will hold their 
prizegiving at the KSA on Sunday 16th 
September  at  11am,  along  with  a 
shared  lunch  and  fun  match.  Players, 
parents and supporters welcome. 
Fast Five Netball 
Who's keen to give Fast Five netball a 
go? 
There  will  be  a  social,  mixed  module 
for  men,  women  and  teenagers  with 
games  held  in  our  gymnasium  on 
Sunday afternoons starting 7
th
 October. 
You  can  have  up  to  14  players  in  a 
team,  and the  team  fee  is $150.  Email 
me for the team registration form. This 
will be a fun, friendly module, so why 
not  get  a  group  of  mates  together  and 
give it a try! 
Rugby – Senior Hawks 
Our  senior  rugby  club  will  hold  their 
prizegiving 
at 
our 
Sports 
Complex this Saturday 8 September at 
1pm. All welcome. 
League Festival 
A Rugby League Festival will be held 
at  our  grounds  on  Saturday  13th 
October (note the change of date from 
previously  advertised).  Grades  of 
U15s, U17s and Seniors. Entry is free. 
To enter a team, please contact Phillip 
Tana on phillip@rln.co.nz . 
Deadline  for  registrations  is  6th 
October.  Phillip  will  be  running  an 
open  Rugby  League  9s  practice  this 
Thurs  6th  September  at  6pm  at  our 
grounds.  All  coaches  and  players 
welcome 
– 
bring 
boots 
and 
mouthguards as there will be a light hit 
out. 
Toga Party 
Who's  keen  for  a  Toga  party!  Lock  it 
in your diary: KSA, 29th September at 
6pm.  Pre-sale  tickets  are  $10  –  please 
contact  Sarah  Baldwin  on  021 
02668130. 
Kaipara Sports Awards 
Nominations  for  the  2018  Silver  Fern 
Farms Kaipara Sports Awards are now 
open. The awards aim to recognise the 
achievements  and  service  to  sport  by 
people  from  throughout  the  Kaipara 
District.  It  is  an  opportunity  to 
showcase  some  of  the  amazing  people 
involved 
in 
sport. 
Visit 
www.sportnorthland.co.nz  
Te Tai Tokerau Sports Awards 
The 2018 Te Tai Tokerau Māori Sports 
Awards will be held on 27th October in 
Waitangi. 
These  awards  aim  to  recognise  the 
achievements  and  service  to  sport  of 
people  who  whakapapa  to  Te  Tai 
Tokerau. 
Nominate 
online 
at 
www.sportnorthland.co.nz 
~Cheryl Anderson, 4312 051, 027 3462702 
kaiwakasports@gmail.com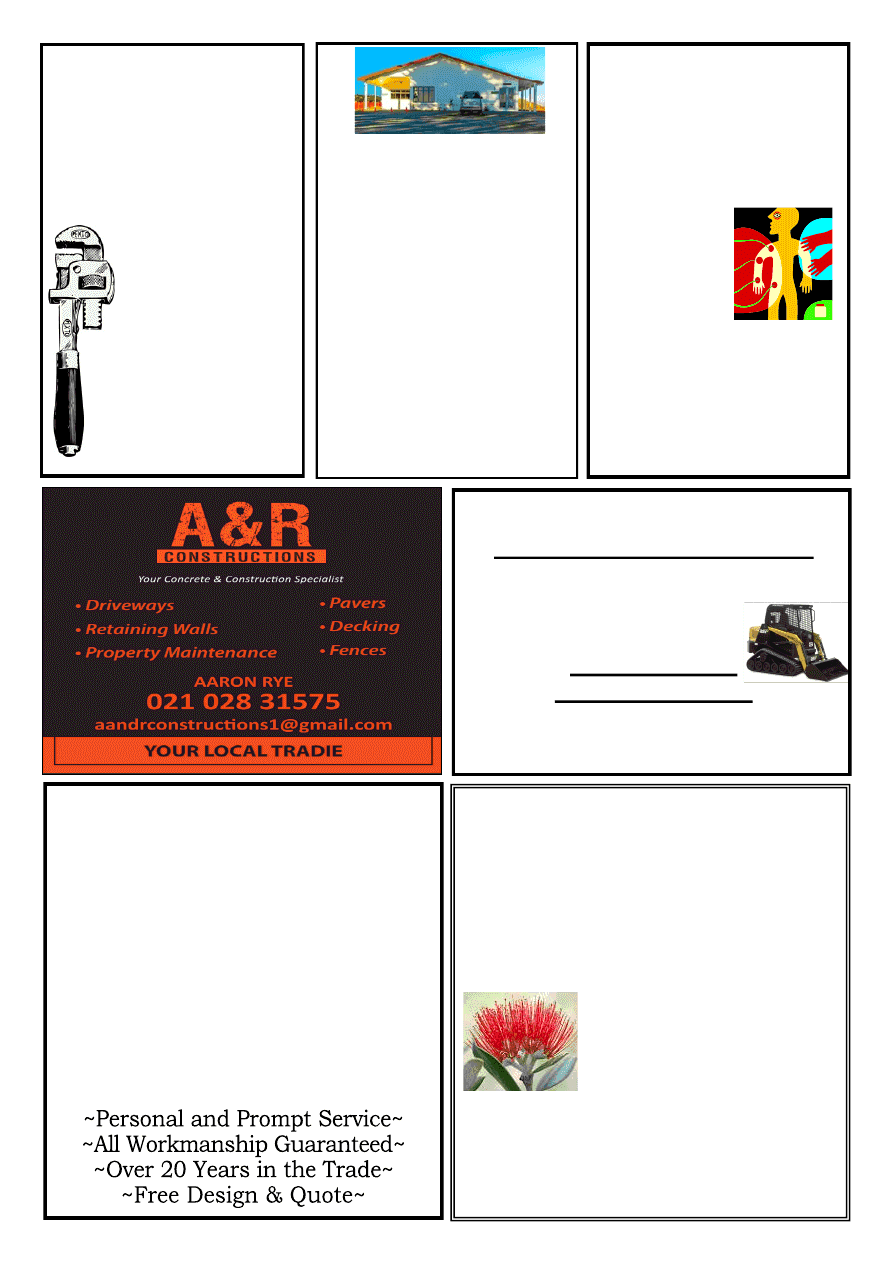 BARRY CURTIS 
PLUMBING LTD 
REGISTERED CRAFTSMAN 
PLUMBER 
Phone 431 5572 
027 257 9884 
25 years' experience 
Friendly reliable service 
All plumbing & 
maintenance 
Alterations and new 
housing 
Spouting  
Competitive rates 
PROMPT 
EFFICIENT 
SERVICE 
KAIPARA FLOORING CO 
Independently owned & operated 
32 HURNDALL ST MAUNGATUROTO
Supply & Installation of Carpet, Vinyl,  
Vinyl Wood Planking
Stockists of 2m & 3m wide 
vinyl & carpet short ends
Residential & Commercial
Q Card Finance Approved 
6-18 month terms 
6 mth interest free
First Class Installations
For a free measure & quote 
phone Christine  
09 946 9886 or 021 515 415 
kaiparaflooring@gmail.com 
http://www.kaiparaflooring.co.nz/ 
OWEN STEVENS 
Osteo Therapist
For careful adjustments to bones 
and joints 
Treatment for humans and their 
pets 
Clinics: 
Kate's Place, 
Kaiwaka: 
Last Friday of 
month 
For bookings: 
9.00am-5.00pm  
Phone 
09 4312661 
Or phone Owen  
09 4317123 anytime 
PLANNING A NEW KITCHEN?
 CONTACT NOEL McDOWELL
WELLSFORD 
KITCHENS
Ph/Fax 094312888
KAIWAKA-Any time
 QUALITY CUSTOM MADE 
KITCHENS
Te Pounga Marae 
130 Nathan Rd. Oneriri. Kaiwaka 0573 
COMPLEX FOR 
HIRE 
Functions 
* Weddings  * Birthdays  
*Anniversaries * Meetings  * Wananga 
5 hour meeting * 12 hour stay  * 
Overnight 
*All welcome - No more Drink-driving 
Amenities: 
*Convo Combi Steamer * Bratt Pan * 
Dish Washer/Sterilizer * 3 Door Glass 
Chiller (walk in) etc…All Crockery * 
Linen Supplied * Central Heating and 
Air Conditioning and much more.  
Can also cater for small groups…. 
For more information please contact: 
Kim Wallace  
Home: 09 832 1133  Mob: 0211275340  
Email: kimwallace@xtra.co.nz 
Natural Earth Ltd 
Landscape and Bobcat services 
 : Driveways :Landscaping :Retaining Walls 
 : Hole Boring: Land Levelling :Trenching 
 : Decks :Fences :Sections Cleared 
 : Plus much more
Tel 09 4312 885 
Mob 02102391280 
For A Fast Friendly Service  
Contact Tim Hicks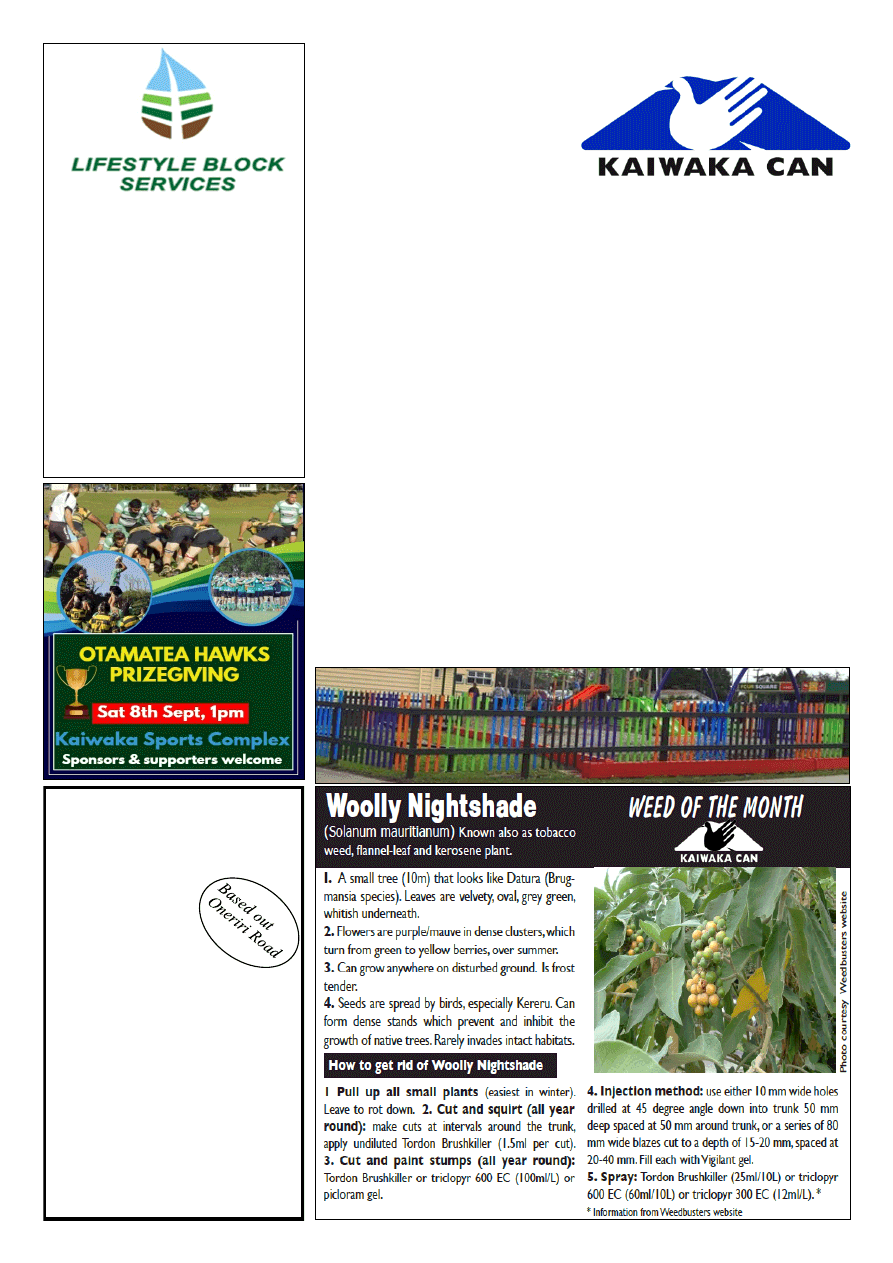 www.kaiwaka.co.nz 
Kaiwaka Bugle - 4 September 2018 
Page 13 
HODGETTS 
CONTRACTING
Digger Work 

Driveways   

House Sites   

Dams  

Drains, etc
Also available for HIRE 

4
3 ton Vib Roller   

Heavy Duty Tow  

4
Waterblaster     

Lazer Level 
Phone Mark 
4312877 
027 447 8554 
Contact Mark on 021 801 065  
or 
Contact Lisa on 021 108 1057 

 Small HaylSilage Baling & 
Wrapping 

 Fencing 

 Spraying 

  Mulching 
 
Stockwork  

  Stock Water Systems  

 Driveway & Track Maintenance  

 Tree Trimming 
The past fortnight has seen a lot happen 
for Kaiwaka Can.  Normally we report 
just  once  a  month  but  this  time  it  is 
worth  talking  about  some  recent 
events. 
A very colourful playground 
We  hope  you  have  all  seen  the  new 
playground fence next to the Memorial 
Hall.    This  has  been  waiting  in  the 
wings for a couple of years but now it 
is a reality.  Thanks to a huge effort on 
the  part  of  Wiremu  Paikea  assisted  by 
some great sponsors and volunteers, we 
have  greater  safety,  more  colour  and 
more  character  in  the  playground.  
Already there have been many positive 
comments on the difference it makes. 
A new logo 
As you can see, we have a brilliant new 
logo  for  Kaiwaka  Can.    Designed  by 
Rosie  Louise,  it  features  both 
Pukekaroro  and  a  kereru.    Thank  you 
so  much  Rosie.    It  gives  us  greater 
identity. 
A major presentation 
A  team  from  Kaiwaka  Can  presented 
the Kaiwaka Central project to Council 
members  recently.  The  presentation 
included  an  excellent  power  point  of 
the  project's  features,  a  spoken 
commentary  and  a  full  written  report 
and  cost  breakdown  to  match.    It  was 
very well received and generated good 
questions  and  interest.    There  are 
however  still  challenges  ahead  as  we 
sort through funding, management and 
timing.    We  hope  to  be  able  to  show 
the  project  to  the  community  at  a 
community  meeting  in  October  that 
reviews  the  Kaiwaka  Township 
Improvement Plan. 
Steps towards Incorporation 
We plan at our next regular meeting to 
begin collecting membership signatures 
for our foundation membership.   
We  are  working  on  the  required  rules 
and  will  make  application  for 
incorporation  as  soon  as  that  is 
completed.      We  will  use  the  logo  on 
the  common  seal  required  for  an 
incorporated  society.    We  are  also 
using  this  step  to  increase  our 
membership.    There  is  no  limit  to  the 
membership we can have, and we want 
people  to  use  Kaiwaka  Can  to  make 
their  own  voice  heard  in  our 
community.   
We  meet  every  month,  but  we  don't 
require  you  to  come  every  month  but 
invite  you  to  come  with  needs  and 
viewpoints,  to  use  the  gifts  that  you 
have in projects alongside others and to 
help us represent the great diversity of 
talents, needs and interests of our local 
people.   
The next regular meeting is Wednesday 
September  19
th
,  5.30pm  at  the  Archie 
Bull Hall.   
If  you  are  interested  in  becoming  part 
of us, you can contact me at the email 
address below. 
Derek Christensen (Chair), derekandisa@gmail.com 
 A BUSY COUPLE OF WEEKS... 
4T DIGGER – BOBCAT – TIP TRUCK 
Property Maintenance - Driveways  
 Building Sites 
Stump & Tree Removal  
Hole Boring - Chain Trencher  
Calf Shed and Stockyard Cleaning 
Phone Matt: 021 199 6677 
Email: mprabrownecontractors@gmail.com 
Trails end 
spiritualist gathering 
Last Sunday of every month  
10.30-2pm  
Tea/coffee provided  $5 koha 
For all inquiries: 
021 165 2629 evenings (09) 945 0707 
Trail.end@hotmail.com 
1758 Cove Road, Mangawhai
Bringing together like-minded people 
Guest speaker each month
Pest Control 
PLAN A: One-off treatments to customers with a specific pest problem 
PLAN B: Full maintenance service plans to commercial customers. 
This will include documentation kept in customer file on site: 
⚫
Pest treated 
⚫
Date of service 
⚫
Chemical or baits used 
⚫
Full pest check report done after each treatment 
⚫
Fair and reasonable fee with guarantee 
Flood Recovery 
Carpet Care 
⚫
Carpet Drying 
This includes pre-spray treatments 
⚫
Dehumidifier Rental 
with stain removal and hot water extraction.  
⚫
Full Commercial Cleaning  Patch repair also available 
Upholstery Cleaning 
Full upholstery cleaning of all furniture.  
eg lounge suites and all office chairs 
Water Blasting 
⚫
Concrete - Decks 
House Washing 
⚫
Soft Chemical Was 
⚫
Pre-painting Wash 
Property Services 
⚫
Property Cleaning  Lawn Mowing 
⚫
Hedges General   Tidy Ups 
Your local supplier of Custom Made 
Natural Mattresses - Pillows - Duvets - 
Futons - Yoga Bolster 
AND MORE 
Made from Certified Organic Wool, Hemp 
Organic Cotton fabric 
Rubberized Coco fibre 
website: www.futons.co.nz  
email: contact@futons.co.nz 
Phone: 021 176 17 19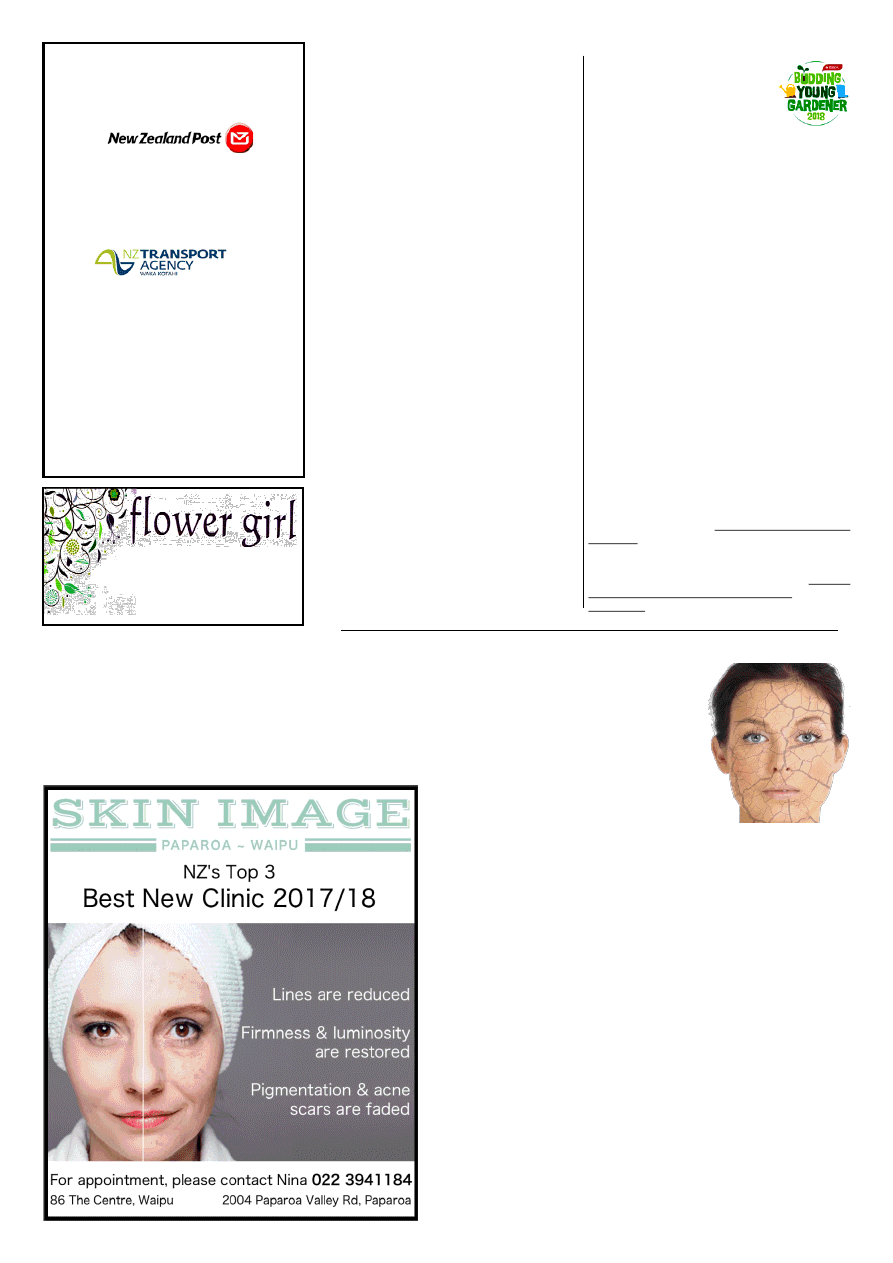 www.kaiwaka.co.nz 
Kaiwaka Bugle - 4 September 2018 
Page 15 
I've had at least 3 new clients in the last 
2 weeks ask me why it is that their skin is 
so  dry,  and  no  matter  how  much 
moisturizer they put on, it still feels dry, 
sensitive and irritated. 
In  my  consultation,  I  ask  the  following 
questions, so if you suffer from the same 
issue,  perhaps  the  following  will  help 
determine the cause: 
1. Do  you  work  in  an  office  with  air-
conditioning? Do you sleep with the heat 
pump on? 
Have  you  been  sitting  close  to  the  fire? 
All of these will draw moisture from the 
skin like a dehumidifier! 
2. Do you use a cleansing gel or soap that 
lathers  or  foam?  The 
surfactant 
in 
the 
cleanser 
will 
be 
stripping the skin of its 
natural  barrier,  leaving 
the skin taut and dry. 
Healthy  skin  should 
have a light layer of oil 
(called the acid mantle) 
as 
our 
natural 
protection. Without this 
protective  layer,  we 
suffer 
from 
trans-
epidermal  water  loss, 
leaving 
the 
skin 
dehydrated 
and 
no 
matter how much water 
you  take  on,  the  skin 
will  continue  to  lose 
water. 
3.  Do  you  use  a  toner 
that contains alcohol or 
is  astringent?  As  this 
also  strips  the  skin's 
natural oil. 
4.  Do  you  use  a 
moisturiser 
that 
contains  emulsifiers  or 
mineral 
oils? 
Unfortunately, 
99% 
of 
moisturisers 
contain 
emulsifiers  which 
will 
create 
a 
"washout  effect" 
as they exacerbate 
trans-epidermal 
water  loss  and 
lipid dryness. 
5.  Does  your  diet  include  a  lot  of 
essential  fatty  acids  contained  in  oily 
fish,  avocado  and  olive?  Not  enough 
healthy  fats  in  the  diet  will  cause  your 
skin  to  become  lipid  dry  which  then 
cause dehydration. 
6. Are  you  on  medication?  As  certain 
meds  affect  the  skin's  barrier  and 
hydration. 
7.  What's  your  age?  Unfortunately, 
everything  slows  down  when  we  age 
including our sebum production, our skin 
cells desquamation process causing water 
loss and build up of dead cells that leave 
the skin feeling thicker and looking dull. 
If you are doing everything correctly and 
still  suffer  from  dry,  sensitive,  irritated 
skin, then please seek advice from a skin 
therapist as healthy skin should be thick, 
supple  and  a  little  dewy.  Your  skin 
therapist should also be able to help you 
identify ingredients in your products that 
are having a negative effect on your skin 
barrier. 
    ~ Nina Quan,  
Skin and Beauty Therapist 
designs for all occasions 
lindywatson@hotmail.com 
4312 847    0211234164 
KAIWAKA POST 
CENTRE and 
FOOD MART 
POST CENTRE TRADING HOURS 
MONDAY to FRIDAY 8am to 5pm 
SATURDAY 8am to 12pm 
CLOSED ON SUNDAY and on 
PUBLIC HOLIDAYS 
FOOD MART (GROCERIES) 
MONDAY TO SUNDAY  
7:30am to 7:30pm 
IF ANY QUERIES PLEASE CALL 
STORE MANAGER AMRIT  
on 09 4312431 or 
EMAIL: kaiwakafood19a@gmail.com 
1919a State Highway1, Kaiwaka 0542 
"No matter how much moisturizer I put on, my skin still feels dry" 
NOT JUST A 
PHOTOGRAPHER! 
As  well  as  being  a  professional 
photographer,  Josie  Gritten  is  a  trained 
pregnancy  educator,  a  doula  (birth 
support worker) and a breastfeeding peer 
support  worker,  having  supported  many 
families  in  their  transition  into 
parenthood.  
She  herself  has  enjoyed/survived  nearly 
14 years of parenting, including mastitis, 
postnatal  depression,  emigration  and 
many,  many  late-night  birthday  cake 
creations!  She  has  had  many  years' 
experience  facilitating  workshops  and 
women's circles and does so in a warm, 
welcoming manner. 
Josie  is  currently  studying  for  her 
Certificate in Tertiary Education, and, as 
part of it is required to organise classes. 
"What  better  thing  to  teach,"  she  says; 
"Than what I'm passionate about. I love 
photography,  but  I'm  really,  very 
passionate  about  bringing  back  trust, 
knowledge 
and 
connection 
with 
ourselves, our bodies and our babies." 
Over  the  next  few  weeks  she  will  be 
running  workshops  based  on  rewriting 
the  stories  we  have  around  our  bodies. 
These workshops focus on the women's 
cycle,  pregnancy  and  birth,  healing, 
sharing and learning from each other. 
Join  her  for  rewarding  and  empowering 
gatherings. 
For 
more 
information 
contact 
Josie:  
or 021 234 0519 
CALLING  ALL  YOUNG 
GREEN THUMBS 
Growing  a  love  of  gardening 
and  all  things  outdoors  is 
behind  the  inaugural  Yates 
Budding 
Young 
Gardener 
2018 
competition which opens today. 
A  national  search  is  on  for  young  kiwi 
gardeners,  aged  5-15  years,  who  love 
getting into the garden.  
The  lucky  winner  will  become  a  Yates 
ambassador  for  one  year  and  win  an 
amazing family trip to Australia.  
Judge 
and 
gardening 
guru, 
Ruud 
Kleinpaste,  said  "Yates  Budding  Young 
Gardener  aims  to  celebrate  a  love  of 
gardening  and  encourage  children  of  all 
levels of capability to further develop their 
passion.   Whether children are just starting 
out or have been gardening for a few years 
and  know  how  to  sow  seeds,  rustle  up  a 
few  radishes  and  turn  lemons  into 
lemonade." 
Sarah 
O'Neil, 
author, 
gardening  columnist  and  popular  speaker 
will also be on the judging panel. 
Seven regional winners will be selected by 
the  judges  and  they  will  win  a  massive 
Yates  Budding  Young  Gardener  Hamper 
valued at over $300, and will go through to 
the  final  with  the  grand  winner  being 
chosen through a public voting system and 
will  be  off  to  Queensland  with  their 
family.    
Keen  gardeners  aged  5-15  years  can  enter 
by going directly to https://a.cstmapp.com/
p/27268 and completing the entry form and 
uploading  a  short  video  about  themselves 
and their garden.  Further details and terms 
and 
conditions 
are 
at https://
www.yates.co.nz/budding-young-
Entries close 17th September 2018
.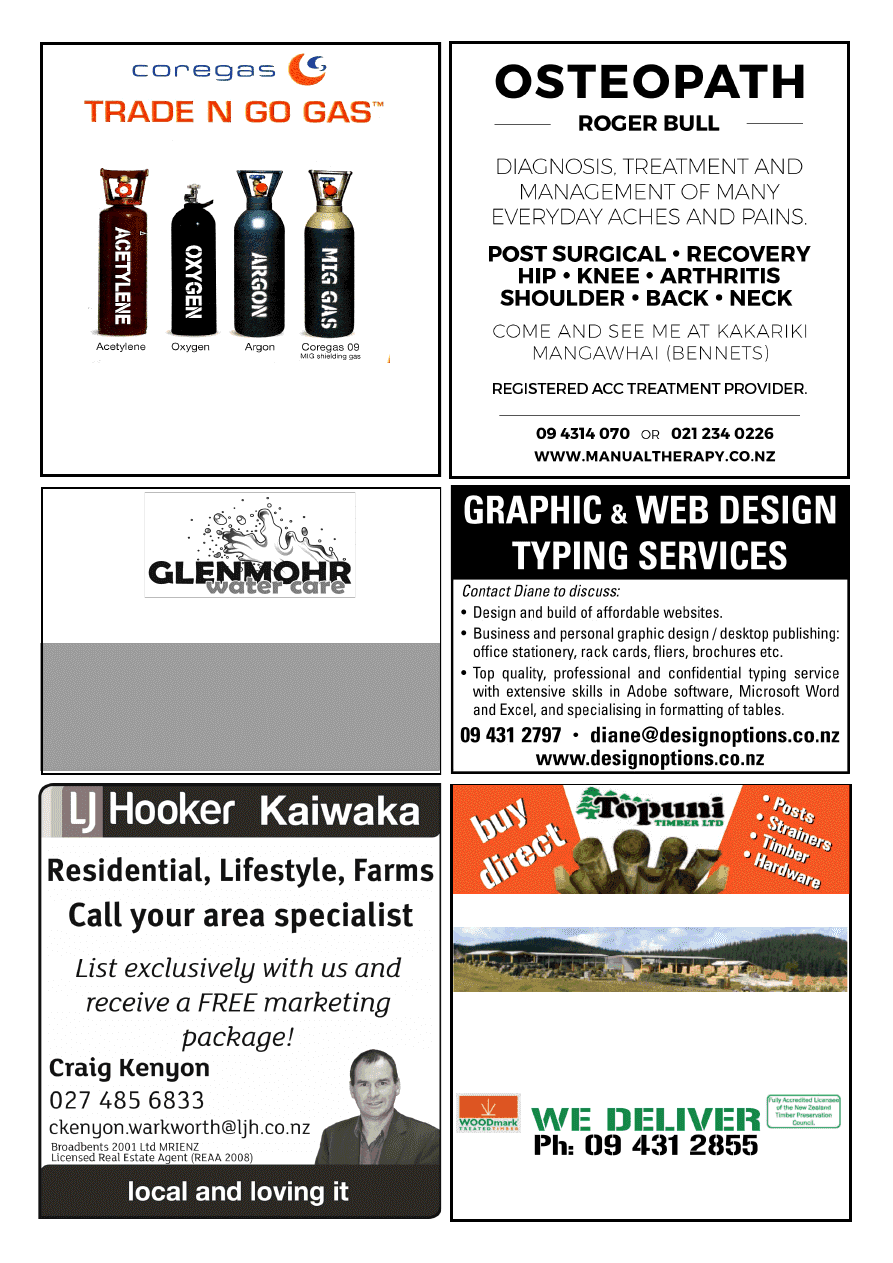 Water Tank Cleaning 
• 
Keep your water safe & clean  
• 
Removal of sediment, silt etc. 
• 
Vacuum or full scrub 
• 
Minimal water loss 
Phone Mark (09) 432 0655 or 0274 707607 
Now available at Twinkle Tow 'n' Tyre 
Mob: 021 833 960 
Ph & Fax: 09 431 2823 
1837 State Highway 1, Kaiwaka 
LOCALLY OWNED AND OPERATED 
QUALITY PRODUCTS • FRIENDLY ADVICE • GREAT SERVICE 
Quality Products milled from High Density NORTHLAND Radiata Pine. 
Treated and guaranteed to NZS3640 with commitment to 
Environmental Safety.
Phone, fax, email, or come into the mill 
Schiska Rd, Topuni, SH1, 10 min north of Wellsford. Fax: 09 431 2856 
Email: sales@topunitimber.co.nz           Mon - Fri 7am-5pm 
• Fencing 
• Retaining 
• Decking 
• Landscaping 
• Gates 
• Hardware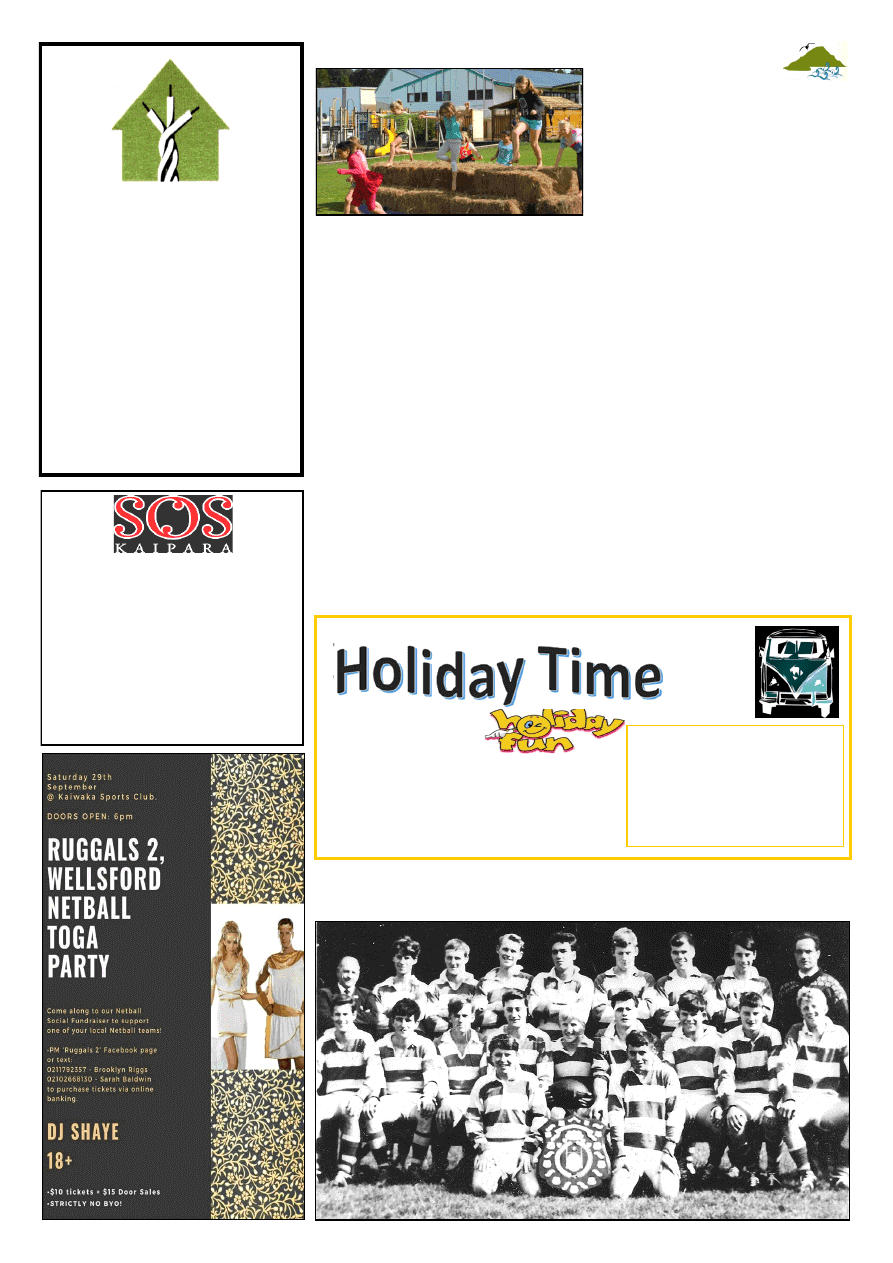 www.kaiwaka.co.nz 
Kaiwaka Bugle - 4 September 2018 
Page 17 
Reyahn George 
Leng 
Registered Electrician 
Local, honest and 
reliable. 
For your residential and 
light-commercial 
projects. 
022 314 1068 
S.O.S Kaipara 
Support, advocacy, crisis and 
family therapy counselling, refuge 
housing to survivors of sexual 
abuse and domestic violence. Also 
Education prevention programmes 
for the community and clients.  
Office hours 9am to 3pm Monday to 
Friday; 24/7 a Police or  
phone 09 4396070 
KAIWAKA SCHOOL  
Our  Fun  Run  was  really  great  -  we 
had a fabulous day and all the children 
enjoyed  themselves.  There  is  a  folder 
of  photographs  on  the  school's 
Facebook  page.  Thank  you  to 
Katherine  Brown  and  Nik  Massey  for 
organising  the day,  and all  the parents 
and  teachers  who  helped  on  the  day. 
Thank  you  to  all  of  our  parents  and 
caregivers  and  your  families  and 
friends  who  have  so  generously 
supported  the  fundraising  effort  that 
went with the fun run.  
After School Care 
Thank  you,  Matt  Dowson  and  Steve 
Elliot,  for  your  very  kind  donation  of 
indoor games and sports equipment for 
our After School Care Programme. The 
kids are loving the games and balls. 
Kaiwaka School PTA  
This  year  the  PTA  have  taken  on  the 
job  of  running  the  'white  elephant' 
stall/area  for  the  gala  on  November 
23rd.  For  this  we  need  donations  of 
good condition items to sell. These can 
range  from  clothes,  kitchen 
items, kids' toys, etc. This year we will 
be running the white elephant from the 
Kaiwaka  Sports  Complex,  as  this  is  a 
much  bigger  space.  In  the  next  few 
weeks we can start taking donations as 
the  Kaiwaka  Sports  Association  have 
very kindly let us use the building and 
a  spare  changing  room  to  store 
everything in. Thank you to Cheryl for 
helping out there. 
The  next  meeting  will  be  a  night 
meeting on the 27th September 7pm at 
the  Kaiwaka  Sports  Association.  We 
would  love  to  see  some  new  faces 
come along to help. Refreshments will 
be  provided  and  as  always,  your 
children  are  welcome  to  come  along. 
Thanks, Courtney. 
Mobile Ear Clinic 
The Mobile Ear Clinic will be visiting 
Kaiwaka next on 26th September 2018, 
parking  outside  the  Kaiwaka  War 
Memorial  Hall  from  9.30  until  2.30 
should  any  parent/caregiver  wish  to 
bring their child to the clinic. Services 
available  from  the  clinic  are  Glue  Ear 
Test, pre and post grommet check, wax 
removal  and  all  ear  related  health 
checks.  This  is  a  free  service  for 
children aged 0-18. Phone 021 702 584 
to speak to the nurse or 0800 693 277 
will  provide  a  full  itinerary  for 
Whangarei/Kaipara Area.
1960s RODNEY RUGBY PLAYERS 
Here is a photo of players who will now be 70 or very close!  I am sure you will 
know most of them - my brother is in the back row … Ed. 
Kaiwaka School presents our 2018 Production: 
Hop aboard,  
don't be late 
We're ready to go 
And cannot wait…… 
Everyone invited … 
You should all come…  
  You might be in it! 
Come on holiday with the 
kids of Kaiwaka School. 
We visit amazing places.  
Thursday 13 September 
Kaiwaka War Memorial Hall 
7.00pm   $2 entry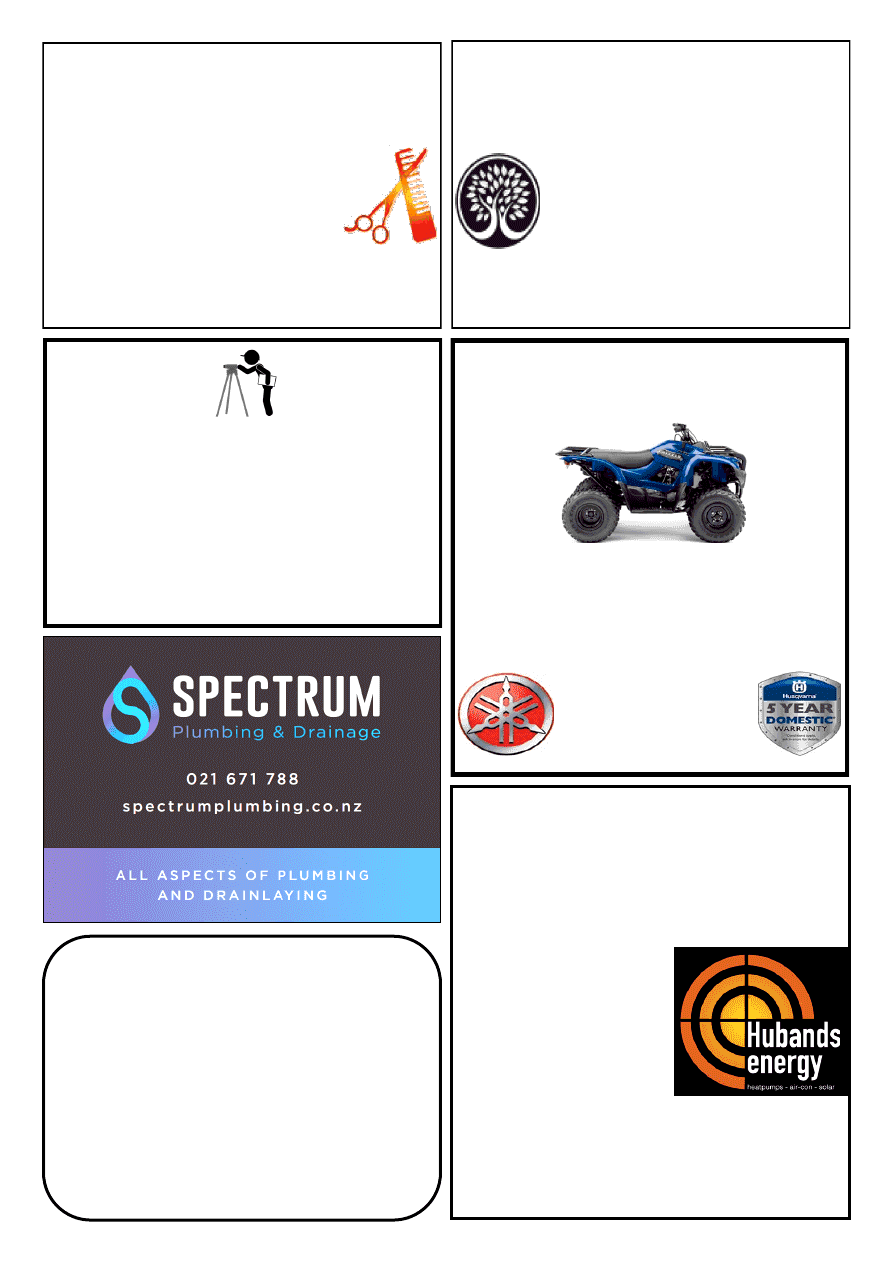 KAIWAKA 
MOTORCYCLES LTD
SALES – SERVICE – SPARES 
FARM BIKE SPECIALIST
PHONE 09 431-2127 
10 KAIWAKA-MANGAWHAI ROAD, KAIWAKA
Trimmers  
from $279
Chainsaws  
from $339
YAMAHA 
HUSQVARNA 
Northland's Award Winning 
Solar Company
SEANZ Best Solar Business Winners 2015/16
EXCLUSIVE 10 year installation warranty 
FREE No obligation onsite quote
Complete systems 
from $5990
See our range of: 
✓ 
Heatpumps 
✓ 
Airconditioning 
✓ 
Hot Water 
Heatpumps 
✓ 
Central Vacuum Systems
09 430 0019             sales@hubands.co.nz 
15 Kioreroa Road, Whangarei
Locally owned and operated for 35 years 
UP-LINK 
CHRIS WARING 
FREEVIEW INSTALLATIONS 
T.V. - HOME THEATRE &  
HI-FI ADVICE/SET UP
SKY ACCREDITED INSTALLER
MOB.0273403747 HM.094312328 
EMAIL cwaring44@gmail.com
28 YRS EXPERIENCE 
OFFERING UNBIASED ADVICE 
Ken Urquhart 
BSurv Licensed Cadastral Surveyor 
KMU Surveys Ltd
467 Bickerstaffe Road 
RD 2 
Maungaturoto 0587 
Ph 09 431 8705 
Mob 021 161 2344 
kenurquhart@xtra.co.nz 
AFFORDABLE PRICES! 
MENS CUT FROM $20.00 
LADIES CUT FROM $30.00 
KIDS CUT FROM $18.00 
COLOUR & CUT FROM $120.00 
JUST CUTS'AND   
MORE 
021 165 2629 or (09) 945 0707  
NOW SELLING: scented tealights, incense, smudge sticks, 
copper bracelets, aurora ball crystals, dream catchers, healing 
stones, rose quartz, cds, and much more. Open 6 days. 
Waipu Natural Health 
3 Cove Road, Waipu  (opposite the Pizza Barn) 
Ph: 09 432 1325 
www.waipunaturalhealth.co.nz
Clinical Nutritionist-Hair Analysis for Masked 
Allergies, Ozone Therapy, Prolotherapy, 
Naturopath-Medical Herbalist, Registered 
Massage Therapists, Reflexology-
Craniosacral Therapy, Acupuncture-Facial 
Acupuncture, Kineso Taping, Hypnotherapy, 
Counselling, ThetaHealing/Change Catalyst.
AFFORDABLE CONSULTS FOR KIDS – give us a call
Gift Vouchers available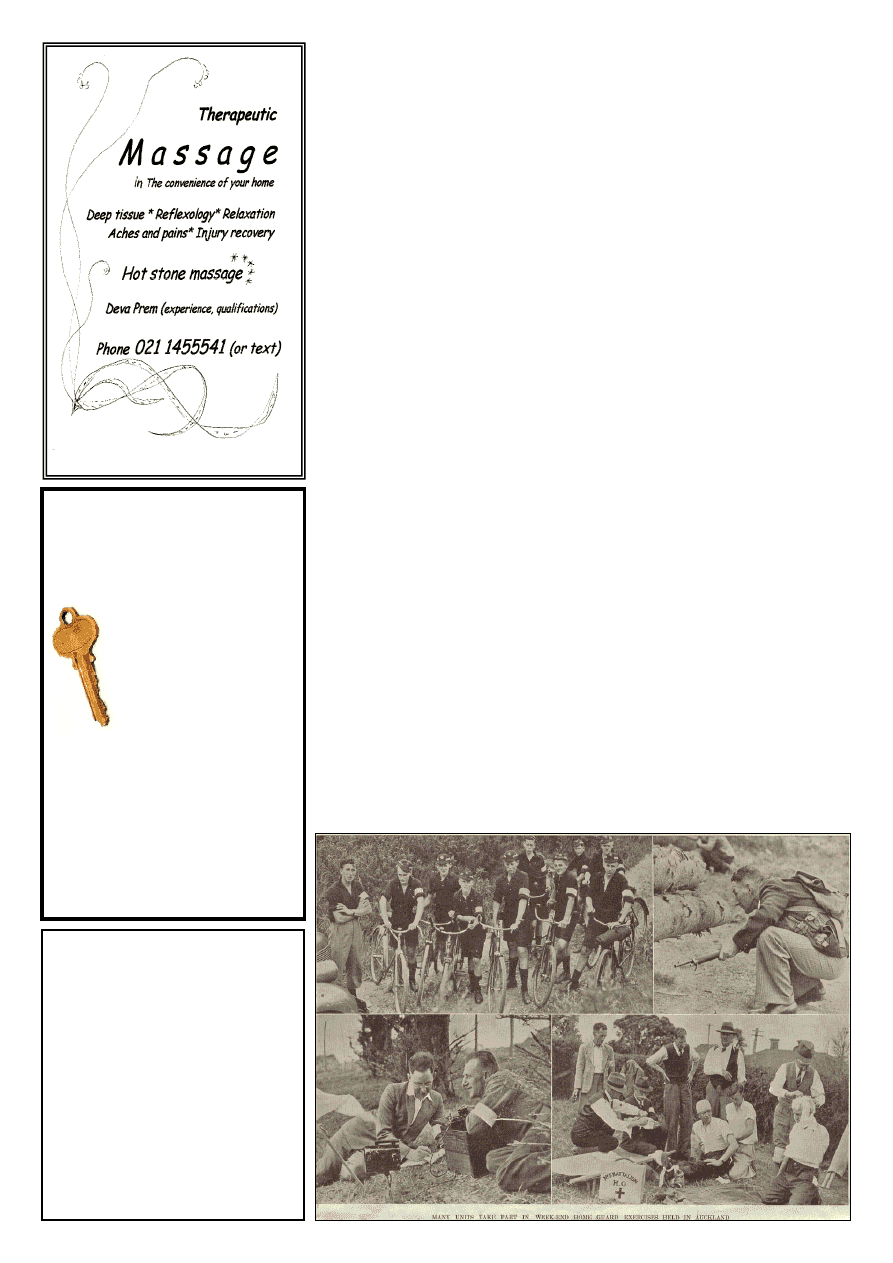 www.kaiwaka.co.nz 
Kaiwaka Bugle - 4 September 2018 
Page 19 
Another Memoir from CHARLES MELTON 
CLARK
Throughout  New  Zealand  in  the 
Second  World  War  years,  a  rather 
pathetic  quasi  military  organization 
called  the  Home  Guard  which  came 
into  being.  Melton  being  a  rifleman 
back from being wounded was asked if 
he would form a sniper squad, the first 
to  be  formed  in  Auckland.  It  became 
known  as  Clark's  Bastards,  a  title  of 
which they all were inordinately proud. 
The  O.C.  had  arranged  a  night  attack 
on  our  position  in  West  Tamaki  Road 
by another company. Gerry S who was 
Brigade  Major,  decided  to  blow  out 
with some of his staff and have a look 
at  what  was  going  on.  When  fairly 
close  to  our  H.Q.  he  caught  up  with 
one  of  our  buck  privates,  an  ex-war 
Scot  who  was  usually  fairly  drunk,  or 
on  the  way  to  reaching  that  happy 
condition  on  such  occasions,  and  who 
had  been  sent  back  from  our  line  as  a 
runner  with  a  message.  Gerry  stopped 
him  and  asked  if  he  could  tell  him 
where  our  H.Q.  was,  to  which  Scotty 
replied,  "Eye  I  can,  but  Ey  won't". 
Gerry  was  a  good  soldier  enough  to 
congratulate  Scotty  on  adopting  the 
correct  procedure,  and  then  explained 
who he was and why he was there and 
repeated  his  request.  Scotty  then  said, 
"If  yea  bl---  well  want  to  find  out 
where  our  Bl—xx  H.Q.  is,  you  can 
Bl—xx  find  it  yersell",  and  slipped 
through the fence and disappeared in to 
the  darkness.  On  relating  the  incident, 
the  following  morning  at  Army  HQ 
with some glee (as I said he was a good 
soldier) Gerry S asked who the Home 
Guardsman  was.  "Oh,  one  of  those 
bastards  of  Clark's  of  course.  The 
name stuck! 
A  further  pleasing  incident  happened 
on  another  night  stunt.  We  had  in  the 
battalion a certain Captain (temporary) 
who  was  in  charge  of  the  H.Q 
Company.  He  was  I  believe  a 
Recruiting Officer in the first show and 
was  for  some  reason,  and  with  some 
justification  I  must  admit,  constantly 
trying  to  put  me  back  on  the  straight 
and  narrow  path  (military-wise)  with 
limited success.  
Among  other  faults  I  was  accused  of 
failing  dismally  to  observe  normal 
security  measures  by  neglecting  to 
place  a  guard  over  our  fleet  of  parked 
vehicles  when  we  were  training.  My 
excuse  was  that  my  boys  were  being 
taught  to  fight,  not  to  do  sentry  duty 
fell  on  deaf  ears  as  far  as  he  was 
concerned.  It  had  been  my  custom  to 
hold free and open discussions with my 
chaps  on  the  various  aspects  of  our 
training  methods  and  I  probably 
mentioned  the  attack  on  our  lack  of 
security  during  one  of  these  talks. 
Anyway,  one  of  my  section  leaders 
(unbeknown to me) decided to save the 
honour  of  our  unit  on  the  night  in 
question. With two cobbers he ferreted 
out  where  the  H.Q.  Company  had 
dossed  down  for  the  night,  lifted  two 
bottles  of  beer  which  had  been  placed 
on  the  tail-board  of  a  truck  to  cool, 
found the Captain snoring his head off 
on  a  camp  stretcher  in  a  shed  he  had 
annexed for his exclusive comfort (we 
got  what  sleep  we  could  on  the  bare 
ground)  and  pinned  a  note  onto  his 
chest  which  read,  "Its  three  o'clock  in 
the  morning  and  your  bloody  throat's 
been cut." To my sorrow his nibs never 
raised the question of security again. 
~ 
by B Lawrence.  
Photo  below:    'MANY  UNITS  TAKE 
PART  IN  WEEK-END  HOME  GUARD 
EXERCISES  HELD  IN  AUCKLAND    - 
Auckland  Weekly  News  26  NOVEMBER 
1941  p027   
Ref.  Sir  George  Grey  Special 
Collections,  Auckland  Libraries,  AWNS-
19411126-27-1'  
For  more  information  on  'Tell  Your  Story' 
contact Bruce on 
09 4801949 
.
www.mangawhaimassage.co.nz 
Kaiwaka 
Hardware  
& 
Key cutting
Phone 4312 063  
or 022 0642 703
kaikey2015@gmail.com
    Keys Cut  
Household Hardware  
Sharpening  
Knives & Tools 
Curtain Tracks & Fittings
Not there? Call Doug and he'll 
sort
it for you. 
(
Next to Kaiwaka Motorcycles)
HELP 
PHONE NUMBERS 
HEALTHLINE:  
0800 611 116 
SAMARITANS:  
0800 726 666
YOUTHLINE:  
0800 376 633 
LIFELINE     
0800 543 354
DEPRESSION HELPLINE:  
          0800 111 756 
ALCOHOL & DRUG HELPLINE:   
 
0800 787 797 
URGENT MENTAL HEALTH LINE:  
 
0800 223 371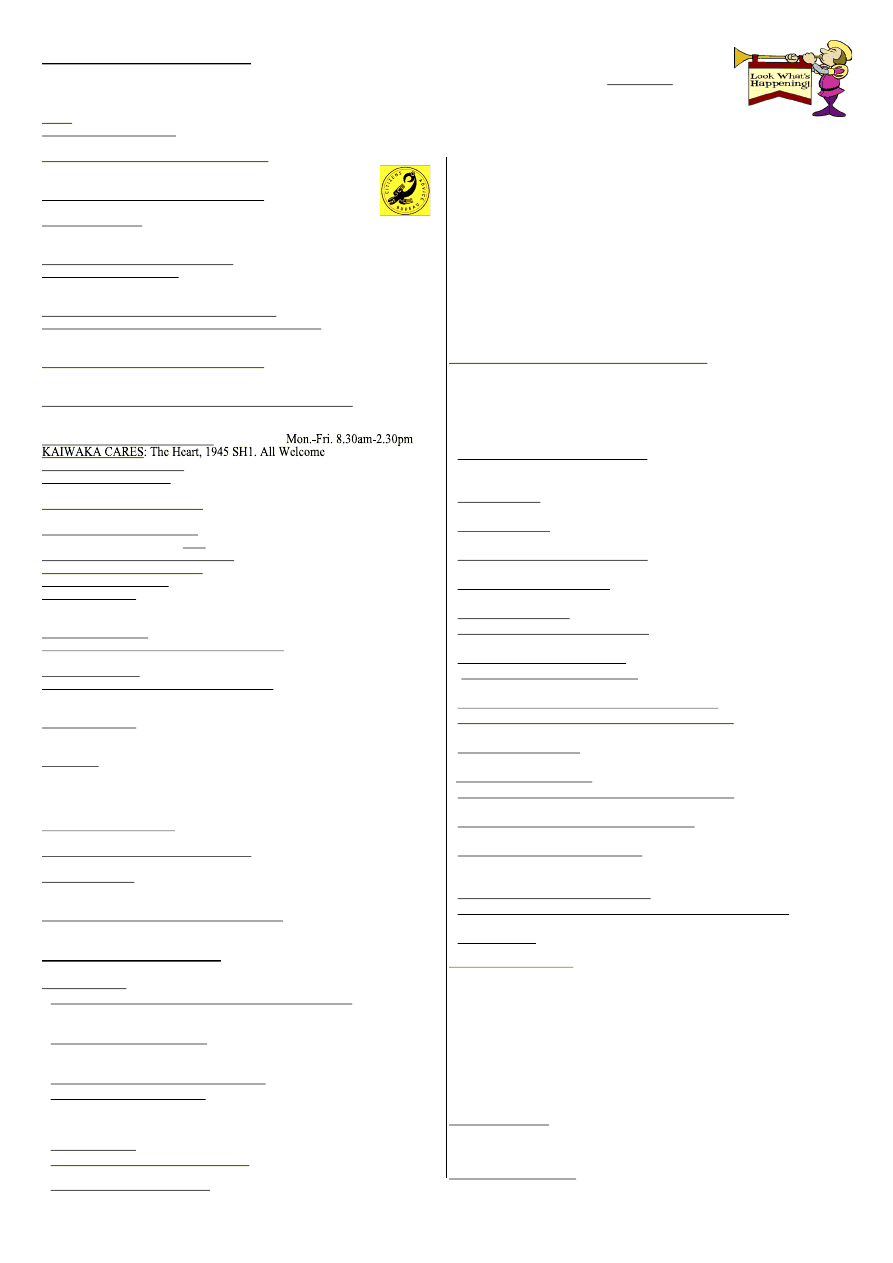 Next Bugle Deadline midday Friday 14 September  2018
WHAT'S ON
PLEASE ~ do let us know what is on - email 
kaiwakabugle@kaiwaka.co.nz 
*7Sep~Movie 'The Leisure Seeker', KWMH, 7.30pm 
*8Sep~HAWKS Senior Rugby Prizegiving, KSA, 1pm 
*13Sep~Kaiwaka School Production 'Holiday Time' 
*17Sep~Otamatea St.John AGM, Maungaturoto Station, 7.30pm 
*19Sep~Kaiwaka Can meet. Archie Bull Hall, 5.30pm 
*21Sep~Movie 'Tully', KWMH, 7.30pm 
*28Sep~ Movie & Supper 'Elton John', KWMH, 7.30pm 
*28Sep~End of School Term 3 
*30Sep~Movie 'Sherlock Gnomes', KWMH, 2pm 
*7Oct~KSA Fast Five Netball begins 
*8-12Oct~Otamatea St John Trash & Treasure, Maungaturoto 
*13Oc~Kaiwaka 9s, KSA 
*27Oct~Kaiwaka Sports Assn. FRIGHT NIGHT 
KWMH = Kaiwaka War Memorial Hall; KSA = Kaiwaka Sports Association 
See www.kaiwaka.co.nz for more information 
HOUSEHOLD RUBBISH COLLECTION  
Kaiwaka Pick up: 
Mondays = Green bags (Northland Waste - 09 430 3273) 
Wednesdays  = Blue bags and yellow recycling (at Jaques $3.00 
and  $1.50)  (Kaurilands  09  4392146);  ONLY  Blue  and  Yellow 
bags picked up on Oneriri Road. 
 DIABETES  Support  Group  -for  Kaiwaka,  Mangawhai, 
Wellsford  10am,  3rd  Friday  of  month  Ph:  Colleen  James  09 
4314238 
 DRINK CAN 'tear tabs' - for Starship Hospital- please collect - 
98 Kaiwaka Mangawhai Rd, leave in mailbox, Ph. 4312625  
 GENEALOGY - Wellsford: 1st Thursday in month Ph: 423 
7033; Waipu: 4th Monday in month Ph: 4312 725 
 GYMNASTICS  OTAMATEA  -  Tuesday  Ph:  Stephanie  022 
3624998 
 HAKARU PONY CLUB - Secretary Denise Rogers 021423376 
secretary@hakaruponyclub.co.nz  
 KAIPARA HUNT - Secretary Albert Doonenbal Ph 4312059 
 KAIPARA YONG FARMERS - K Danks  0211598453, meet on 
last Thursday of the month at Three Furlongs Bar & Grill 
 KAIWAKA BADMINTON -Tuesdays 7.30pm Ph: 4312345 
 
 KAIWAKA DRAMA CLUB - 
Hannah Webb 
0272863352
- KaiwakaDrama@gmail.com - FB - "KaiwakaDramaClub" 
 KAIWAKA DRUM & DANCE CLASSES - 021 611198 
 KAIWAKA GARDEN & FLORAL GROUP - 2nd Thursday in 
month. Ph: 431 4744 
 KAIWAKA  CUBS  -  Thursdays  5.30-7pm,  Hakaru  Ph:Bruce 
4312542 
*KAIWAKA PILATES - Ph: 021 2072729. 
 KNITTING FOR WHANGAREI HOSPITAL - 2nd Tuesday in 
month, Archie Bull Hall 10am Ph 4314827 
 MANGAWHAI COMBINED REBUS CLUB - 2pm, 3rd 
Thursday month, Senior Citizens Hall Mangawhai. Ph: 4315777 
 OTAMATEA GREY POWER - Kath Pattinson 09 283 2052, 
1pm last Wednesday of month, Anglican Church Hall, 
Maungaturoto 
 PT CURTIS CRUISING CLUB - Jean Ph: 4312227 (wk), 4312520 (hm) 
 RSA,  HAKARU  &  DISTRICTS  WOMEN'S  SECTION  –  meets 
1.30pm 4th Thursday of the month. Ph: 431 5818  
 TRAMPING - Mondays 9am-2:30pm Maria 4312 234 
HALLS FOR HIRE: 
 St.Pauls Archie Bull Hall HIRE $20 half day, $40 full day per 
hire, S McAulay, Ph 4312311 
 Kaiwaka  War  Memorial  Hall  HlRE  -  Phone  4312725  or 
kaiwaka.hall.bookings@gmail.com 
 Hakaru Community Hall HIRE -Ph. 4312256 or 4312110 
 Te Pounga Marae queries - R. O'Leary 4312 423, J.Nathan 021 
186 7382 
 Kaiwaka Sports Association hire/queries - C. Anderson 4312051 
or kaiwakasports@gmail.com 
Justice of Peace:  
B.FJaques  4312  048;  L.Donaldson  4312  228;  A.F.Hargreaves 
4312 045, W.Howard 4312 725 - please phone to make sure they 
are available www.justiceofthepeace.org.nz 
Marriage Celebrants:  
L.Donaldson; A.F.Hargreaves; Y Osborne
LOCAL SERVICES 
*Emergencies - Ambulance, Fire, Police - dial 111 
*Non-urgent Police phone 09 4311150
A A: Meets Wed., 8pm Kaiwaka Ph: 4315543, 0800229 6757 
ASUREQUALITY LTD (was AgriQuality) Call Free 0508 0011 22  
BUDGETING SERVICE, WELLSFORD: Free confidential advice & 
support for all areas of personal finance. Ph (09) 423 7123 
CAB-Citizens Advice Bureau.Wellsford Ph: 4237333 
0800 367 222 email:cab.wells@xtra.co.nz  
CIVIL DEFENCE - Kaiwaka Community Response Group: 
kaiwaka.civildefencecrg@gmail.com, 4312725 Wendy 
DOG/STOCK /NOISE CONTROL 0800 105 890 
FUNERAL SERVICES: Morris & Morris Ltd, 
Whangarei - Bev Jaques Ph:4312367 or 0800667747 
GRANDPARENTS Raising Grandchildren: Dianah Roberts 0223819539 
HAKARU & DISTRICTS MEMORIAL RSA (Inc) 733 Settlement Rd, 
Hakaru. Ph 4312 176 or Graeme Hitchcock (President) 431 3064 
HAKARU LANDFILL/Transfer Station:Open everyday except 
Tuesday10am-4pm.Ph4312629 Cost-$55 trailer load up to 1 cubic metre. 
Ph:4258567 - office 
KAIPARA DISTRICT COUNCIL www.kaipara.govt.nz:  
Help Desk FREEPHONE 0800 727 059  
KAIWAKA KOHANGA REO: Ph:4312620 
KAIWAKA CEMETERY: Ph: 4312045 or 4314017 
KAIWAKA LIBRARY: kaiwaka.library@gmail.com  
Mon. 4-6pm; Wed., Thurs., Fri., Sat. 10am-2pm Ph:4312539 
KAIWAKA PLAYCENTRE: Ph Juanita 0274134904; open Mon, Wed, 
Fri 9am-12pm. Hastie Lane; Monday to Friday 9.00am - 12 noon. 
KAIWAKA POST OFFICE:Ph:4312 431  
Post Code: 0573 for RD2 and 0542 for all Kaiwaka Post Office mail 
KAIWAKA PRIMARY SCHOOL: Ph: 4312309   
KAIWAKA SPORTS ASSN: Ph 4312005; 4312129 gym 
KAIWAKA ST JOHN: Manager Steve Rosser 09 4318403, 021 355734 
KATE'S PLACE Community Centre - Employment services, Free Health 
Nurse, Plunket, Advocacy, Osteopath, A.A., Legal Advice. 4312 661 
LINKING HANDS Health Shuttle Ph 4315906 or 09 4318969 
MINISTRY FOR PRIMARY INDUSTRIES - General inquiries Call 
Free 0800 008 333 
NORTHPOWER: Faults Kaiwaka area 0800 104040 
OTAMATEA COMMUNITY SERVICES: Counselling, parent coach, 
Family Support worker, budget advice, food bank. Mon-Fri 9am-3pm. Ph 
09 431 9080 http://www.otamateacs.org/ 
PARENTPORT: Free, practical family support service Puhoi to Paparoa 
Ph or txt: Dianne 027 280 5093 or 09 425 9357 
PLUNKET:  Kaiwaka  -Kate's  Place  Clinic  1st  Wednesday  of  the  month; 
Mangawhai  - Rose Madsen Cottage: Coffee Group 9:30 every Monday.  Clinic 
every Monday and Thursday. 
Maungaturoto - Good News Church, Clinic 2nd and 4th Wednesday.  
Cynthia 09 431 7340 or 027 675 3488 
PLUNKET HELPLINE -0800 933 922 (24 hours) 
TAITOKERAU COMMUNITY LAW: Free confidential legal advice and 
assistance, 2nd
Thursday
 of each month. Ph: 0800 155 529 for apps.  
TE URI O HAU Settlement Trust Tangata Developments: Whanau Ora 
021 793262  
VETERINARY SERVICE MANGAWHAI: 
Ph: 4314535 Mon-Fri 8.00-5.00, Sat 9-12, a/h appt. 
WELLSFORD DOCTORS: Ph: 4238 086 
CHURCHES:
 
Kaiwaka  Revival  Church  -  Your  Community  Church:  Sundays  10am. 
Ph: Pastor Tawhiri 09 431 8988 or Pastor Paul 09 4312 068 Visit us at 
www.facebook.com/kaiwakachurch or www.kaiwakarevival.co.nz 
 
St  Paul's  Anglican  Church  1st  Sun.  9.00am  (Eucharist),  3rd  Sun. 
9.00am (Family Service). Contact: Rev. Wayne Thornton Ph 431 4122 
www.mangawhaianglican.org.nz 
 
Church of Christ the King, Mangawhai:9.30am every Sunday 
 
St.Mary's  Catholic  Church:  Maungaturoto  –  Griffins  Road,  Saturday 
evening  Vigil  Mass  6pm;  Mangawhai  –  Senior  Citizens  Hall,  Sunday 
Mass  8:30am;  Wellsford  –  Matheson  Road,  Sunday  Mass  10:30am;  
Mid-week Mass times and all enquires to Fr. Bill Fletcher – phone 423 8170
 
Baptist Church: Sun. 10.30am Mangawhai Snr Cit.Hall.Ph:4312339 
 
Cause  Way  Church  Mangawhai:  Sundays  10.15am,  Mangawhai 
Community  Recreation  Centre,  Insley  St.  Ph:  09  4314782