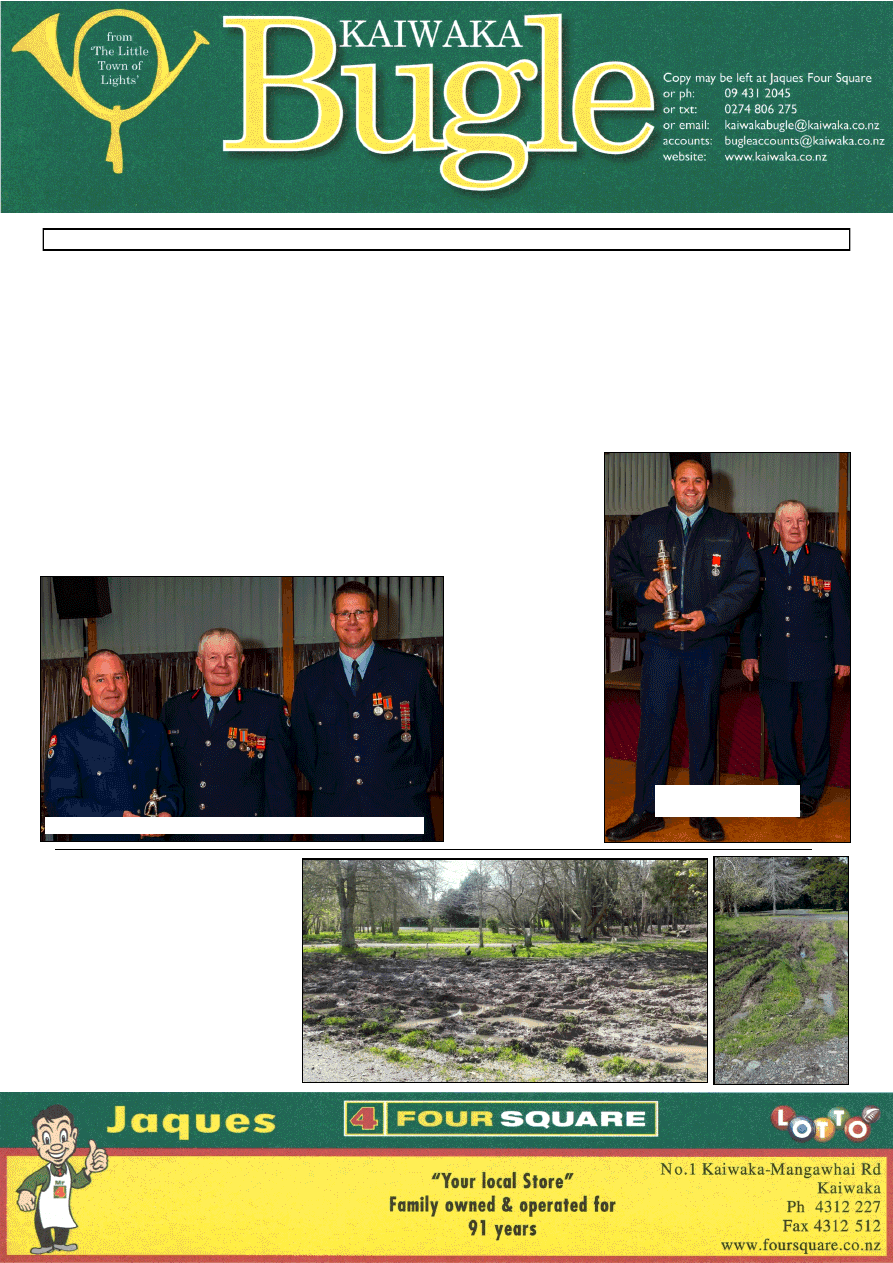 www.kaiwaka.co.nz 
Kaiwaka Bugle - 1 October 2018 
Page 1 
No: 19 
1 October 2018 
Trading Hours: 
Monday to Friday 8:00am - 6:30pm 
Saturday 8:00am - 7:00pm 
Sunday 9:00am - 6:00pm  
KAIWAKA VOLUNTEER FIRE BRIGADE HONOURS 
On  Saturday  22
nd
  the  Local  Volunteer  Fire  Brigade  held 
their Honours night to celebrate the service of its members 
and brigade awards. 
Wiremu  Paikea  received  the  Leabourn  Memorial  for  the 
most  deserving  Fire  Fighter  and  Keith  Mills  received  the 
Angela  Gaille  for  the  most  dedicated  Fire  Fighter  for  the 
past year. 
The following service honours were received on the night: 
CFO John Bowmar – 41 Years' service 
DCFO Adrian Buxton – 23 Years' service and 7-year Bar for Long 
Service Good Conduct Medal (obtained by Royal Warrant) 
SSO Kraig Steiner -21 Years' service 
SO Norm Brown - 29 Years' service 
SFF David Kearton - 9 Years' service 
SFF Michael Law - 9 Years' service 
SFF Michael Renton (Mickey) - 7 Years' service 
FF Duncan Gilligan - 15 Years' service and 14 Years' Long Service 
Good Conduct Medal (obtained by Royal Warrant) 
FF Wiremu Paikea - 5 Year service Medal 
FF Keith Mills - 3 Years' service Certificate 
FF Anton ter Veer - 3 Years' service Certificate 
FF Paul Mill - 3 Years' service Certificate 
Other members have also completed the following service 
FF Tim Brown - 7 Years' service 
RFF Justin Walker - 14 Months service 
RFF Darren Everson -8 Months service 
As  the  Deputy  Chief 
Fire  Officer,  I  would 
like to thank our great 
team  for  all  their 
service  given  to  the 
community  and  look 
forward 
to 
the 
coming 
years 
working  and  training 
beside  you  in  the 
future. 
Also,  we  are  still 
looking 
for 
new 
members  and  if  you 
are 
interested 
to 
contact  either  John 
Bowmar  or  Adrian 
Buxton 
or 
come 
down to the station on 
our  training  night 
which is on a Monday 
Night (19.30). 
~Adrian
(Photos by Josie Gritten) 
KAIWAKA: The GOOD and the SAD 
McCLEAN PARK 
MUCK 
Sadly  the  Kaiwaka  Rest  Area, 
McClean  Park,  just  next  to  Gateway 
North  Motel  has  again  been  left  in  a 
very sorry state. 
Mrs  Preston  was  very  distraught  to 
discover  last  week's  damage  caused 
by  unthinking  young  drivers.  With 
the  amount  of  rain  the  grassed  areas 
are very soft and easily churned up. 
Repairing  to  the  area's  former  state 
will be difficult and costly.
FF Keith Mills, CFO John Bowmar,  DCFO Adrian Buxton 
FF Wiremu Paikea  
& CFO John Bowmar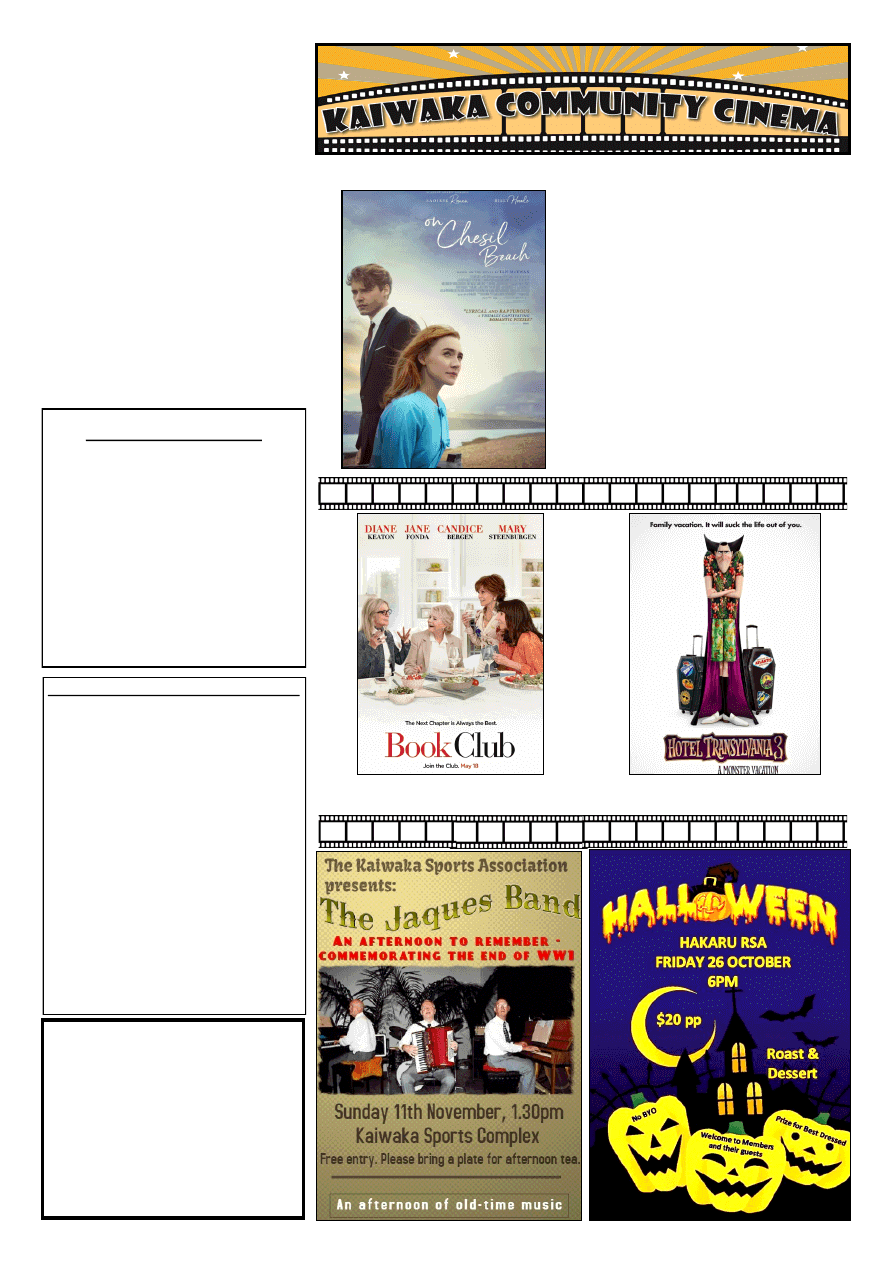 Proverbs 
3: 5&6… 
Trust in the Lord with all 
your heart and lean not 
unto your own 
understanding. In all your 
ways acknowledge Him 
and He will direct your 
paths.
At Kaiwaka War Memorial Hall . Adults $10, Kids (under 16) $5, Family Pass (2 adults + 3 children) $25 
KAIWAKA BUGLE NO.19 
1 OCTOBER 2018 
CONTENTS: 
Page 3: Public Notices, Classified 
Page 5: Kaiwaka Can; Nick Makea 
Page 7: Maungaturto Country Club 
Page 9: OCS;ORT; Pt CCC 
Page 11: Kaiwaka Sports Assn 
Page 13: Mangawhai Beach School 
Page 15: Kaiwaka School; Nina Quan 
Page 17: Library 
Page 19: CM Clarke Memoir 
Bugle 20 will appear  15 October 
Contact for advertising, reports, articles 
or information can be made by 
Email: kaiwakabugle@kaiwaka.co.nz 
Ph: 09 4312 045 Lindsey 
Txt: 027 2724137 
Copy  may  be  left  at  Jaques'  Four 
Square. 
Kaiwaka Bugle Advertisements 2018: 
All 
copy 
and 
queries 
to: 
kaiwakabugle@kaiwaka.co.nz 
The Bugle is printed on an A4 page   
Ad  sizes:  1/16  page  (3  x  9.5cm)  $5;  1/8 
(6.5  x  9.5cm  landscape  or  portrait)  $8; 
3/16 ( 10 x 9.5cm or 7.5 x 12,5)  $12.  
Classified  ads:  First  one  FREE,  $4  per 
entry (max. 30 words, max. 4 repeats). 
Payments  can  be  made  online  at 
ANZ 
06  0365  0006990  00
,  posted  or  left  at 
Jaques Four Square Store. 
We  use  Microsoft  Publisher,  and  can 
work  with  most  common  image 
formats, Word, Excel, and PDF files. 
Accounts:  
Email: bugleaccounts@kaiwaka.co.nz 
The  Kaiwaka  Bugle  is  a  community 
newspaper run by volunteers.   
Articles, etc. printed are not necessarily 
the opinion of the Bugle Team. 
Kaiwaka Bugle 
Founded May 1978 
We appreciate articles and photos about local 
events, etc, as well as ads and suggestions. 
Copies available in Kaiwaka at Jaques Four 
Square, Kaiwaka Postal Centre, Shamrock 
Service Station, Animal Health Centre, 
Kaiwaka St John shop. 
Also outlets in Maungaturoto, 
Mangawhai and Paparoa. 
Can be viewed online at  
www.kaiwaka.co.nz/Bugle  
Or a copy can be posted to you if you supply 
stamped, self-addressed DLE envelopes. 
On Chesil Beach 
Friday 5 October, 7.30pm (M)  
A couple's lives change forever on their 
wedding  day  in  this  Ian  McEwan 
(Atonement)  adaptation  starring  Oscar 
nominee Saoirse Ronan (Lady Bird) and 
Billy Howle (Dunkirk). 
Now  on  their  honeymoon,  Florence 
(Ronan)  and  Edward  (Howle)  learn 
about  the  differences  between  them  – 
their  attitudes,  temperaments  and  their 
drastically  different  backgrounds.  Out 
on  the  beach  on  their  fateful  wedding 
day, one of them makes a major decision 
that  will  utterly  change  both  of  their 
lives forever."  
The BOOK CLUB 
Friday 19 October 7.30pm (M)  
Hotel Transylvania 3 
Sunday 28 October, 2pm (PG)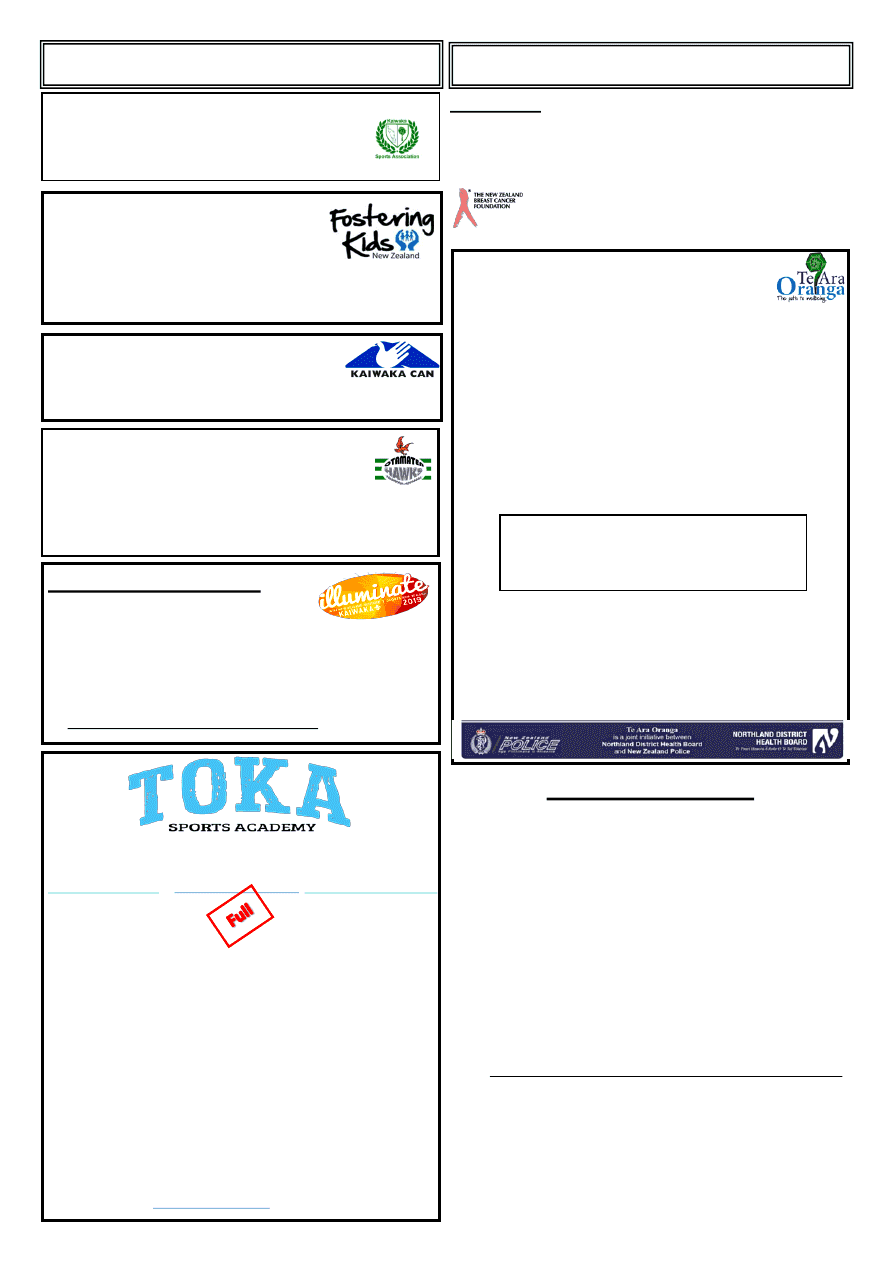 www.kaiwaka.co.nz 
Kaiwaka Bugle - 1 October 2018 
Page 3 
Junior Athletes - 11-13yrs 
Monday and Wednesday 
4.30pm to 5.30pm 
$130   9-week program 
KAIWAKA SPORTS 
ASSOCIATION 
PINK  RIBBON  APPEAL  Volunteer 
collectors  will  be  in  Kaiwaka  on  12  or  13 
October Contact: 021416048  
OTAMATEA RUGBY 
Annual General Meeting 
Thursday 1st November, 7pm 
Kaiwaka Sports Complex  
Special general meeting to make changes to the 
constitution. All positions up for re-election 
All welcome. Enquiries 021 02764171 
ABOUT TOWN 
 
Well  done  to  the  members  of  the  Kaiwaka  Volunteer 
Fire Brigade on their honours awards. 

Equinox: 
Spring  Equinox  2018  in  the  Southern  Hemisphere 
was at 1:54 PM on Sunday 23 September.

 VOLUNTEERS  needed  at  Otamatea  Community 
Services - contact 
Pauline 09 4319 080 - see page page 9.

Kaiwaka  Playcentre  is  open  over  the  school  holidays  for 
children's activities. Phone Dena 02108832370

 Local  artist  Andy  Griffiths  watercolour  landscapes  and 
seascapes  capturing  the  beauty  of  Kaipara  can  be  seen  at 
the Mangawhai Artists Gallery till 10 October. 

Kaiwaka Can has been meeting for almost 4 years  - the 
AGM is on Wednesday 17 October in the Archie Bull Hall. 

 Two local ladies who signed the 1893 'right for women 
to  vote: 
'373  Sarah  Margaret  Hakaru  Hakaru  Northland' 
and '399 Thornton Clara Waipu Waipu Northland' - 
follow 
this  link  for  lots  of  information  on  Women's  suffrage  petition', 
URL
: https://nzhistory.govt.nz/politics/womens-suffrage/petition. 

Well  done  Otamatea  High  School  students,  Holly  Brunt- 
Equestrian, Annmarie Holst- Squash, Jack Hodgson- Golf as 
ASB  Northland  Secondary  School  Sports  Awards  Finalists. 
Awards night: ASB Stadium, Whangarei, Thursday 25 October. 

 See  the  Bugle  online  at  www.kaiwaka.co.nz  for  great 
colour in the photos. 

 September's weather report will be in Bugle 20.   
~ Lindsey, Ed 
"
I'm having people over to stare at their phones later, if you 
want to come by ...
". "NOT!" 
PUBLIC NOTICES 
CLASSIFIED 
VACANCY:  Looking  for  a  Casual  to  Part-time 
worker.  Must  be  flexible.  Must  have  clean  drivers 
license  and  be  trustworthy  and  be  able  to  work  in  a 
team. 
Please 
send 
your 
C.V 
to 
jrcleaningservices.chellew@yahoo.com 
Leanne Brownie, Fostering Kids 
NZ Regional Coordinator 
Monday 15 October, 12.30 to 2.30pm 
Archie Bull Hall  
on Living and Working with Traumatised Children  
Phone Christine on 0800 693 323 or on the training 
calendar on our website – www.fosteringkids.org.nz. 
KAIWAKA CAN 
Annual General Meeting  
Wednesday 17 October, 5.30pm  
at the Archie Bull Hall. All Welcome  
KAIWAKA SPORTS ASSOCIATION 
MEETING 
Thursday 4th October, 7pm 
Kaiwaka Sports Complex  
WANTED TO HIRE:  
We  need  a  number  of  caravans  to 
accommodate staff during the Scout 
Venture  30.12.18  –  12.1.19  and  would  like  to  hire 
locally  if  we  can.  These  will  be  parked  at  Kaiwaka 
School.  If  you have one you are not using over this 
period, and are willing to hire it out, we would  love 
to  hear  from  you.  Contact:  Wendy  027  6848846 
or wendy.eyles@illuminate2019.com 
COMMUNITY 
METHAMPHETAMINE 
EDUCATION EVENING 
KAIWAKA 
 
This event is for our community to access 
Information, education and support if you  
or  anyone  in  your  life  is  a  methamphetamine 
user or if you wish to gain knowledge as a parent 
or Employer. EVERYONE WELCOME 
 
What is methamphetamine? 
The cycle of methamphetamine use. 
Signs that someone is using meth. 
How to respond if someone is using meth. 
What can Whanau do? 
Help available from Te Ara Oranga. 
At Kates Place 
1960 State Highway One, Kaiwaka 
RSVP Ph (09) 431-2661. 
Thursday 18 October 2018 
6pm to 8pm. Supper will be served.  
Mini Athletes - 8-10yrs 
Monday and Wednesday 
3.30pm to 4.30pm 
 $120   9-week program 
KAIWAKA SPORTS 
ASSOCIATION 
All sports welcome, boys and girls. 
Limited spaces.
All athletes will benefit if they want to improve: 
Strength, fitness, hand eye coordination, agility, mental and 
emotional strength  on and off the field/court, all in a 
professional environment and coached by qualified and 
experienced trainer Nick Makea. 
Term 4  
Toka 
Solid Foundation Program 
Goal setting (Academy Athletes) 
Strength and Conditioning 
Hand Eye co-ordination 
Foot Work/Agility 
9 weeks 
2 x Training a week 
1 x Sport specific workshop 
To register email:
Cell number: 
 027 608 3483 
Facebook: 
Toka Sports Academy
Academy Athletes - 14yrs + 
Monday and Wednesday 
5.30pm to 6.30pm 
$140   9-week program 
KAIWAKA SPORTS 
ASSOCIATION 
Young athletes who are wanting a Rock-Solid Foundation in sport 
STARTING TERM 4, OCTOBER 15TH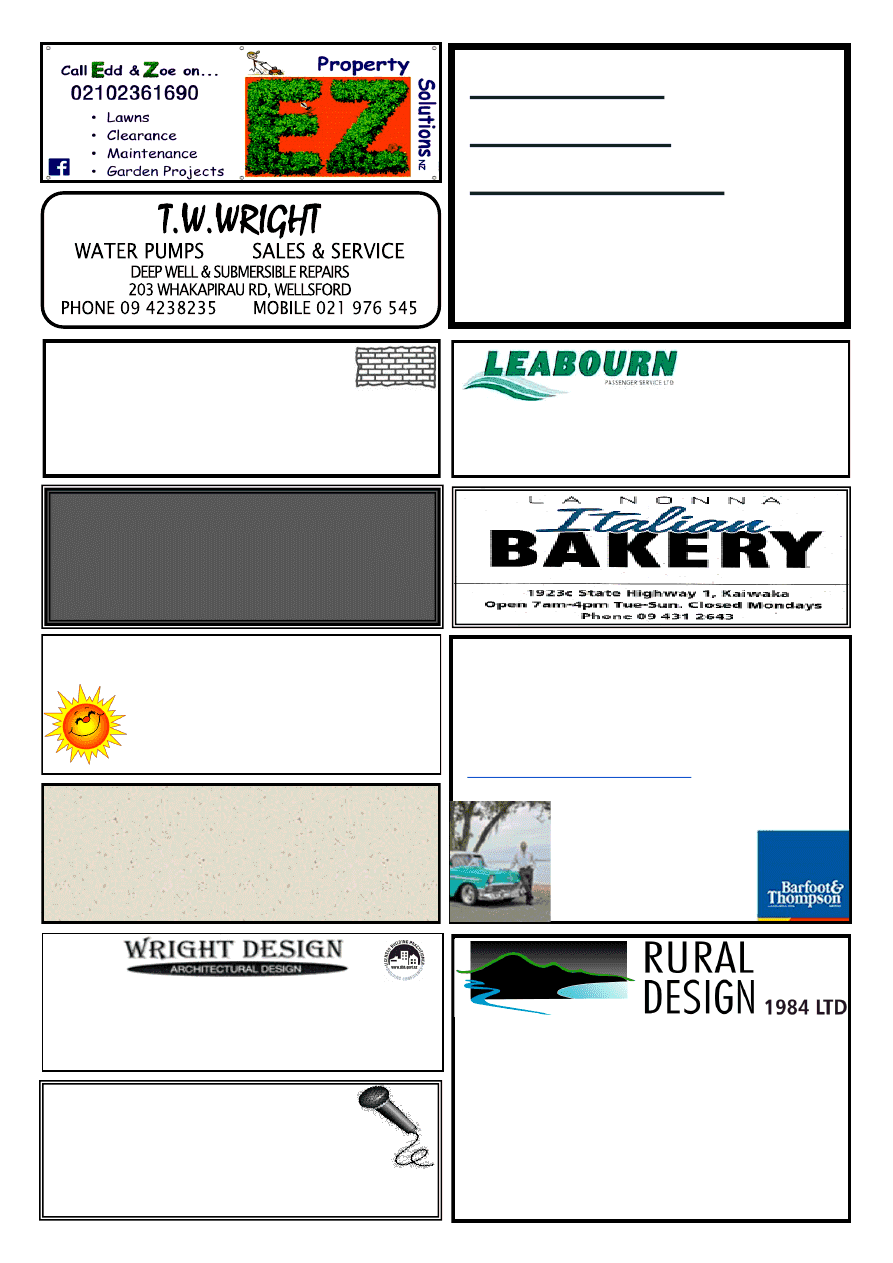 Passenger Service
Car & Van Hire   Bus & Coach Charters 
Airport Transfers    
Phone (09) 4237416 
BRICK/BLOCKLAYER 
All aspects of masonry:  
Fireplaces, Restoration & Remedial Work. 
JAMES EAGLETON 
Tel. (09) 431 2514    Mob. 0274 749 232 
jajueagles@yahoo.com.au 
210A Pukenui Road, RD2 Kaiwaka 0573 
THE SUNSHINE GIRLS
Efficient and reliable help with 
your housework. 
Ph 4312 532 
MARRIAGE CELEBRANT 
WEDDING EVENTS PLANNER 
Yvonne Osborne 
Ph 0274 989 814 
yvonne.osborne@xtra.co.nz 
Counsellor and Registered Psychotherapist 
Offers Supervision 
ACC Sensitive Claims 
Susan Matheson      MNZAC 
Dip. Psychosynthesis Counselling and Psychotherapy 
Phone 09 431 2996                                     Mobile 027 605 2427 

  After 20 years of selling in Auckland I have             
moved to Kaiwaka. 

  I have a relaxed attitude with years of  
        results and experience. 

  Please feel free to give me a call or email. 
licensed real estate agent (2008) 
Chris Barrington
Residential Sales
M 
Mangawhai
Wholesale Native Plant Nursery and Planting 
Small and Large orders welcome 
By Appointment 
300 Kaiwaka-Mangawhai Road, Kaiwaka 
Phone: 09 431 2481 
Email: info@ruraldesign.co.nz 
www.ruraldesign.co.nz 
SING RIGHT 
Professional coaching for performance,  
recording and demos. 
All level singers, musicians, singer-songwriters. 
Phone Robyn Hill 431 9159 or 0274 725610 
 FINANCE 
 FUNDING 
 SOLUTIONS 
T - 0275 989814 
E
 - osborneassociates@xtra.co.nz 
REGISTERED INDEPENDENT FINANCE BROKER 
No. 117345 
N.Z.C.A.D., L.B.P. 117345 
PH/Fax: 09 423 8092 Mob: 021 276 7369 
Office: 3 John Sinclair Avenue, Wellsford    brianwright@xtra.co.nz 
For Resource and Building Consents, planning restraints, new building materials - 
you need a capable, experienced, and professional designer with a clear 
knowledge of all the processes. Brian has been helping and organising all these 
facets of design and building for over 50 years. 
Wright Design offers free visits, consultations and advice on planning, design, 
building, council permit applications, guaranteed permit plan acceptance.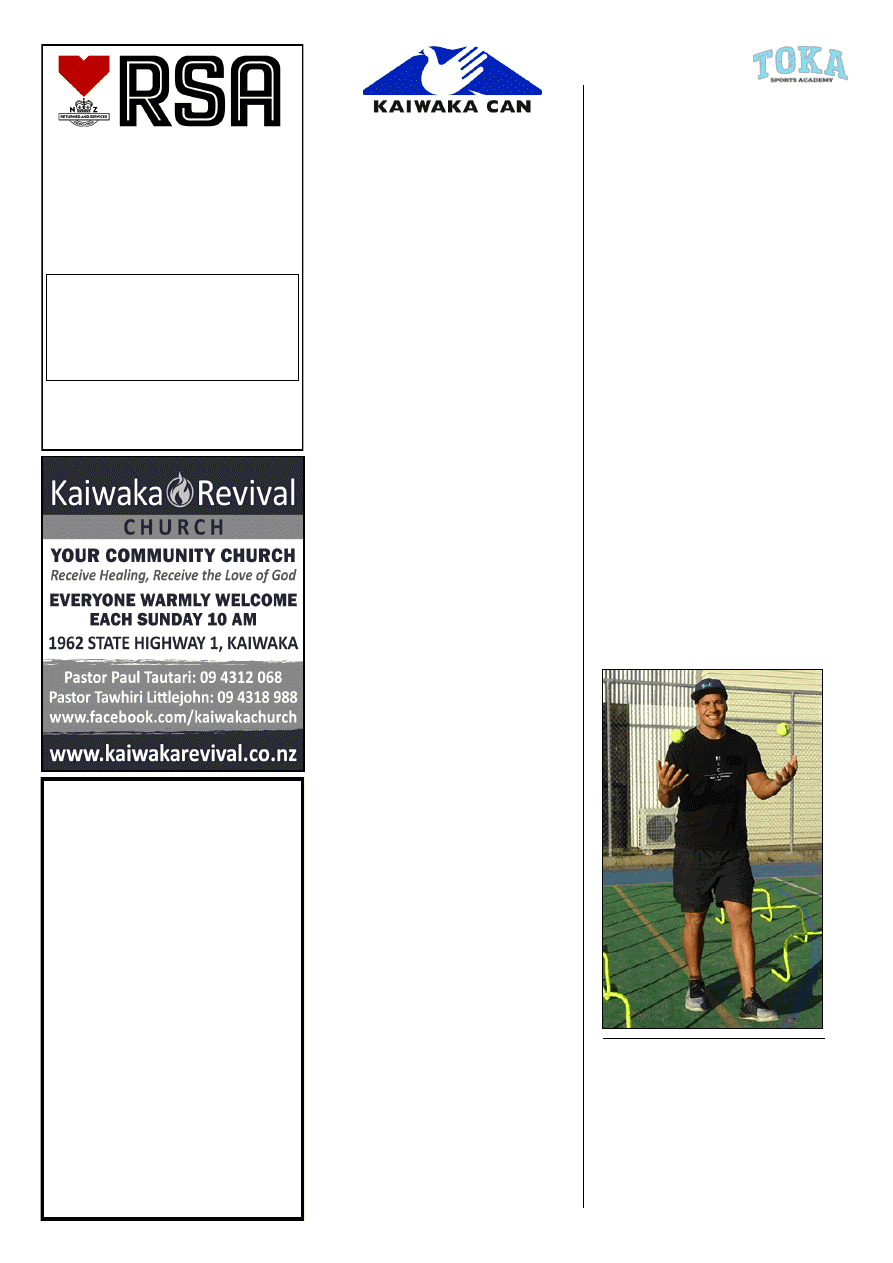 www.kaiwaka.co.nz 
Kaiwaka Bugle - 1 October 2018 
Page 5 
Lilia and her Spring lamb, Minty! 
Willow Bend
HORSE  
HOTEL 
  
Total Horse Care 
 
Agistment 
 
Riding Lessons 
 
Arena Hire (60x40) 
 
Young Horse Starting 
 
Re-training/Exercising 
 
Hoof Trimming 
 
Problem Solving 
Phone Sue 09 431 2817 
or 021 623 776 
Or email  
susanjoll11@gmail.com 
HAKARU & DISTRICTS 
MEMORIAL RSA (INC)
Members & guests are invited to 
come along and enjoy our hospitality. 
New members welcome. 
Meals are served on Thursday and 
Friday nights from 6.30pm. 
Order from Blackboard Menu  
and a sing-a-long  
with Des Chitty. 
For more information please phone 
Graeme on 431 2563 
INTRODUCING  
NICK MAKEA 
Kia ora, 
My name is Nick Makea and I am the 
head  of  the  Toka  Sports  Academy, 
which  will  be  operating  out  of  the 
Kaiwaka Sports Complex. 
A little bit about myself: I am a Level 3 
International  rugby  coach.  I  have 
coached  a  number  of  kids  and  senior 
teams over the past 16 years, with my 
first coaching job as a 20-year-old with 
the  Grammar  Carlton  7s  team.  I've 
played  rugby  for  many  years  for  a 
variety  of  different  teams  as  well  as 
playing  a  number  of  different  sports 
over  the  years.  I  am  a  fully  qualified 
Personal  Trainer  and  have  six  years 
personal  training  and  group  training 
experience  for  young  and  old.  I  have 
also  been  an  Athletics  coach  for 
children for three years. I currently run 
a mentoring program at Otamatea High 
School  and  Kamo  Intermediate  and 
have  also  done  some  work  at  Rodney 
College. 
The Toka Sports Academy is for young 
athletes who are wanting a Rock-Solid 
foundation  in  sport.  Working  on  all 
aspects  of  sport:  physical  and  mental. 
The  Academy  will  be  held  at  the 
Kaiwaka Sports Complex, utilising this 
comprehensive sporting facility. Please 
see  the  poster  in  this  edition  of  the 
Bugle  for  details  on  the  various 
programmes. 
Thank  you  everyone  and  I  look 
forward to meeting you. 
Nga mihi, Nick Makea, 027 608 3483 
Come and join a special occasion 
Kaiwaka  Can  has  been  operating  now 
for  almost  four  years.  Set  up  by 
Kaipara District Council, it has been a 
very 
informal 
group, 
no 
set 
membership,  no  legal  status,  an  open-
door policy for all meetings and yet has 
been  effective  in  working  through 
some important issues for Kaiwaka. 
The time has come though to get more 
serious,  especially  about  money  for 
major  projects.  And  money  generally 
can only come from trusts, foundations 
and  sponsors  if  we  are  incorporated. 
We  never  believed  early  on  that  we 
needed  this  but  now  we  do.  So,  our 
next Kaiwaka Can meeting will be our 
annual meeting, the first in four years! 
At  this  meeting  we  will  establish  a 
membership  (we  need  fifteen  to  sign 
up  to  apply  for  incorporation),  will 
elect  officers  (never  held  an  election!) 
and adopt the rules we need to have to 
apply. 
This  all  sounds  very  formal,  but  we 
want to get ahead and want more funds 
to  get  ahead.  We  plan  to  stay  just  as 
relaxed,  user  friendly,  informal  and 
open to the public as ever but we will 
do the few things we need to gain this 
legal status. 
So  how  do  you  come  into  it?  Very 
simple! Come and join us. A lot more 
than fifteen have been part of us for at 
least part of the journey. We want that 
to  expand,  to  bring  on  more  of  the 
gifted and enthusiastic people who live 
in and around our little township. 
What does it commit you to? We don't 
want people to come to every monthly 
meeting just out of duty. 
We  want  people  to  form  into  interest 
teams,  project  teams  and  use  our 
monthly  meetings  to  report  back, 
interact and encourage each other. 
There  are  some  major  projects  and 
challenges ahead. We want our town to 
look  welcoming,  green,  easy  to  use. 
We  want  to  increase  parking  and 
reduce  weeds.  We  want  people  to  be 
able  to  walk  everywhere  and  not  just 
drive or play kamikaze with the traffic 
over  State  Highway  One.  We  want 
places for visitors to enjoy, relax, take 
the dog for a walk, sit by the river at a 
picnic  table...all  these  things  and  a  lot 
more but it takes people, good people, 
people like you to join us. 
Our  meeting  is  October  17th,  5.30pm 
at  the  Archie  Bull  Hall  –  behind  the 
Anglican  Church.  We  would  love  to 
see  you  there.  Bring  some  company 
with  you  to  get  us  incorporated  in 
style. 
Get in touch if you have any questions 
or suggestion. 
Derek  Christensen  (Chair  –  well  until 
the annual meeting anyway!) 
derekandisa@gmail.com 
099469077 or 0273572751. 
KAIPARA SCALLOPS 
The  Kaipara Harbour is closed for scallop 
gathering.  Fisheries  NZ's  most  recent 
scientific  information  is  showing  scallop 
abundance in the  harbour is the  lowest on 
record,  and  the  distribution  of  scallops  is 
increasingly limited. 
It's  been  closed  for  commercial  fishing 
since 1986, and it's now being extended to 
recreational  fishers  to  help  the  stock 
rebuild.  The  closure  comes  into  effect  on 
23 October 2018.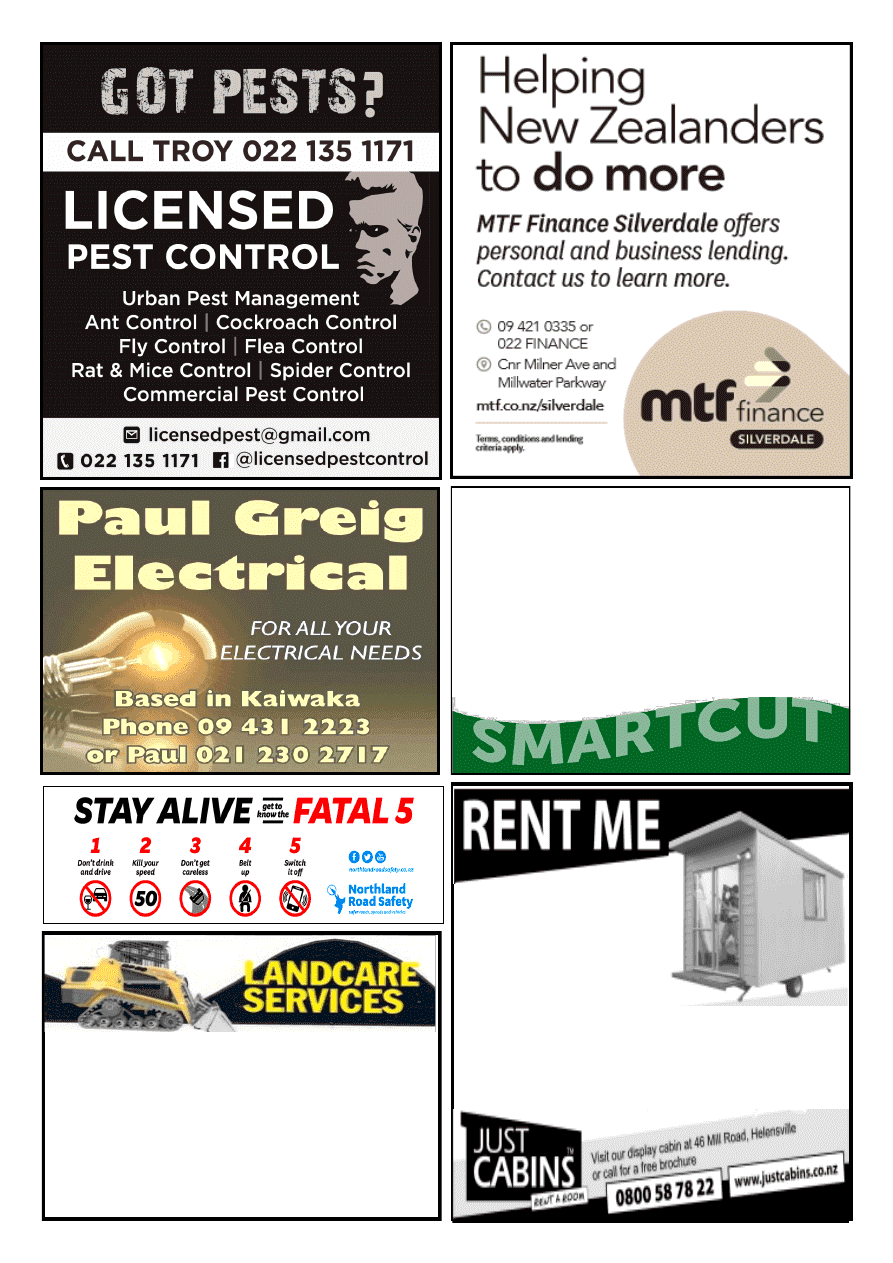 LANDSCAPING 
4 IN 1 BUCKET 
TRENCHER 
POLE HOLES 
ROTARY HOE 
COMPACT ROLLER 
OFFAL HOLES 
CAN SUPPLY WOODCHIP & POST PEEL 
5 TON TIPPER 
FOR RELIABLE AND FRIENDLY SERVICE CONTACT DAVE 
Dave Hyndman 
 
KAIWAKA 
PH: 09 4312302 
MOB: 021 431 238 
All your outdoor needs sorted so you don't have to... 
I can prune, chop, tidy, spray, mow, plant 
- you name it, I can do it! 
Residential & Commercial 
Lawn & Garden Care 
Call Rodney, your local  
lawnmowing contractor 
021 138 2344 
Ideal as an extra  
bedroom or office 
Three Convenient sizes: 
Standard 3.6m x 2.4m - $65 per week 
Large 4.2m x 2.4m - $80 per week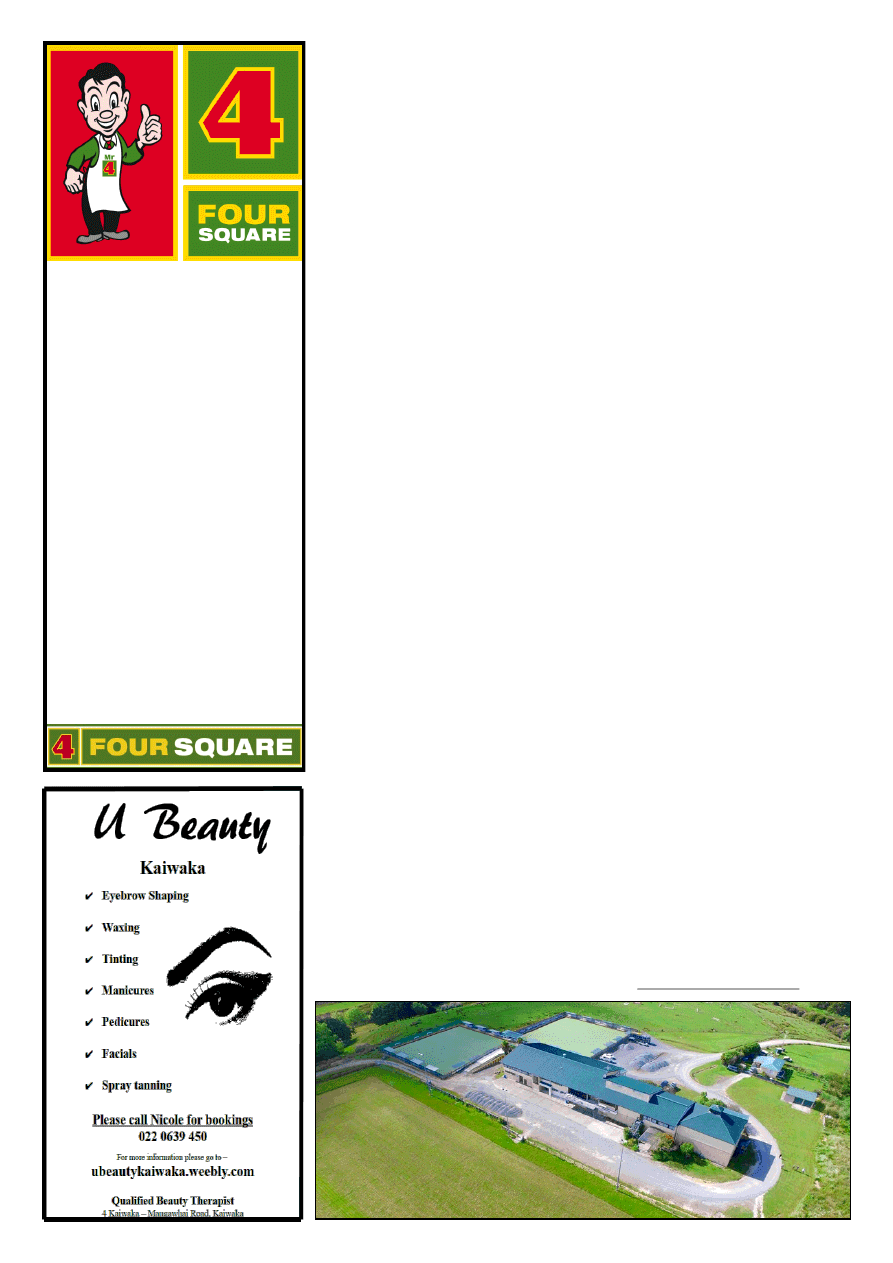 www.kaiwaka.co.nz 
Kaiwaka Bugle - 1 October 2018 
Page 7 
Spring Gardening  
is here!! 
In store now 
Tui Gardening supplies 
Potting Mix, Organic Potting 
Mix, Mulch & Feed 
Sheep Pellets, Blood & Bone, 
Vege, Potato, Strawberry, 
Tomato Food 
Osmacote, Quash, Pea Straw 
Seed Potatoes $9.99 
McGregor Seeds $2.51 
Gourmet $3.80  
Seed Tape 
Vege & flower punnets $2.96 
Gardening tools & hose 
fittings 
Jaques Four Square 
Phone: 4312227 
1 Kaiwaka-Mangawhai Road, Kaiwaka. 
MAUNGATUROTO COUNTRY CLUB 
History repeats itself 
The  Maungaturoto  Country  Club  was 
just  getting  underway  in  May  1977. 
The  inaugural  newsletter,  below, 
demonstrates the depth of commitment 
from the community for this sports and 
social  complex  and  the  project  has 
parallels  with  the  campaign  underway 
to fund the Dementia Unit by the 
Maungaturoto Charitable Trust. 
NEWSLETTER:  4  May  1977 
GOOD  NEWS  !!!!!  –  only  $30,000 
to go! 
Fundraising  for  the  purchase  of  Mr 
Ivor  Cullen's  farm  is  now  in  the  last 
month  and  so  far,  the  response  has 
been tremendous. Out of the $140,000 
needed,  $30,000  is  coming  from  the 
Lands  &  Survey  Dept  and  the 
Otamatea Country Council. $40,000 is 
being left on mortgage by Mr Cullen 
for  three  years  and  the  district  must 
find the other $70,000. So far, $37,000 
in  debentures  has  been  promised  and 
an approach is being made to everyone 
in the area to raise the balance. The 
debentures  carry  cumulative  interest 
at 6% and will be repaid as the income 
off the land allows. The value of these 
debentures  varies  between  $500  and 
$10,000, but most of them are between 
one and two thousand dollars. 
There  has  also  been  an  excellent 
response  to  the  appeal  for  donations, 
either  lump  sums  now  or  regular 
contributions.  These  'dollar  a  week' 
promises  will  do  a  lot  to  reply  the 
mortgage. 
Livestock  for  the  farm:  The  Society 
bought 300 lambs five months ago and 
these have been grazed on farms in the 
district. They have been shorn and the 
wool is expected to be sold soon. 
As  well,  many  farmers  donated  ewes 
and we have a flock of about 350. We 
are  hoping  to  have  weaned  calves 
donated  next  October  and  November 
so  the  cost  of  stocking  the  farm  will 
not be very high. 
On  behalf  of  the  committee,  I  ask  for 
the support of everyone in the district 
for  this  vast  project.  The  long  term 
and  lasting  benefit  to  our  community 
will be enormous. 
As canvassing the district will be a big 
job,  anyone  able  to  help  in  any  way, 
please  contact  any  of  the  committee. 
We  are  welcoming  new  members  (we 
have  $198.00  in  members'  fees 
already), and the subscription of $2 per 
person  or  $5  per  family  can  be 
forwarded  to  the  Secretary  or  handed 
to  any  of  the  following  committee 
members.  You  will  be  forwarded  a 
receipt. 
V.J. Powell 
H.S. Roadley 
W. Ford 
N. Dalebrook 
L. Trewin 
M. Macnay 
A. Paton 
B. Cullen 
N. Worthington 
Signed, V.J. Powell 
CHAIRMAN. 
The  only  surviving  member  of  this 
inaugural  committee  is  the  inimitable 
and  energetic  Albie  Paton  who  is 
leading  the  fundraising  campaign  for 
the  Dementia  Unit  and  has  already, 
thanks to the Den and countless raffles, 
raised more than anyone. Huge thanks 
go to Albie Paton!! 
Maungaturoto Community Walkway 
NOW OPEN AFTER LAMBING 
Please  take  care  not  to  disturb  the 
sheep and lambs. Thank you. 
Long-term  committee  members  will 
not seek re-election 
Three officers of the Country Club will 
not  be  standing  for  the  committee  at 
the AGM in May 2019. 
Rex Roadley - president, Karen Smales 
- treasurer and Rae Roadley - secretary 
have been in these roles for a combined 
total  of  about  45  years  -  plus  a  few 
more years as committee members. 
As the Country Club is managed by the 
committee  and  volunteers,  these  roles 
will  need  to  be  filled  well  before  the 
AGM for the Country Club to continue 
to function.  
As both Karen and Rex are licensed to 
serve alcohol, it will be vital for more 
members of the team of volunteers who 
run  the  bar  to  get  licences;  these  are 
essential for the bar to open. 
Please  contact  either  Rex,  Karen  or 
Rae  to  find  out  more  or  contact  the 
Country Club. 
Bickerstaffe Rd Maungaturoto   
 Tel 09 4318 326 or the Secretary 4318266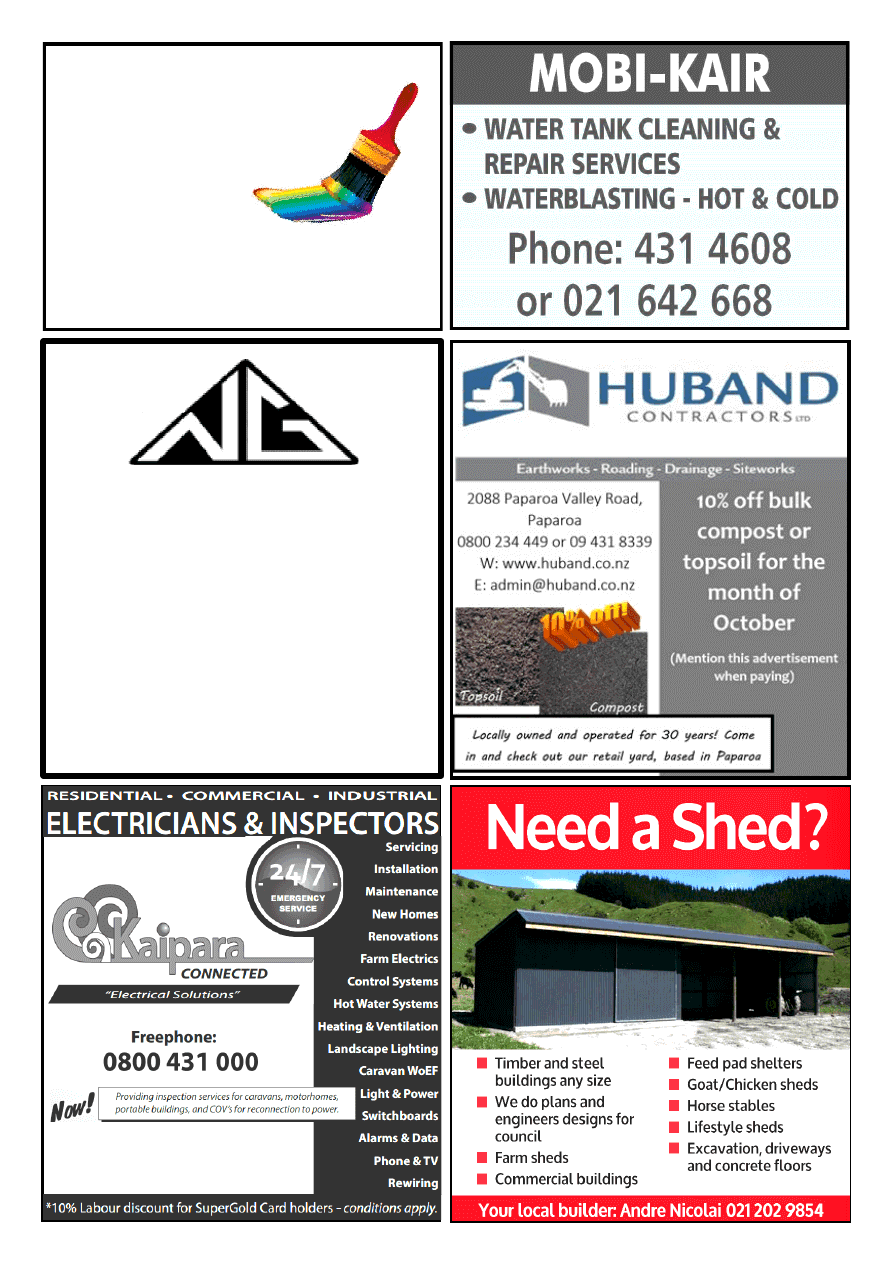 09 4312918 
0274735171 
leecooper@xtra.co.nz 
LEE COOPER PAINTERS 
(Kaiwaka Based) 
*30 yrs Experience 
*Interior/Exterior 
*New and Restoration 
*Honest and Reliable 
*Free Quotes 
NORTH GLASS 
WINDSCREEN REPAIR OR REPLACE 
GLAZING SERVICES 
MIRRORS  •  SPLASH BACKS  •  SHOWERS 
0800 70 40 10
info@northglass.co.nz 
www.northglass.co.nz 
Email: info@kaiparaconnected.co.nz 
Website: www.kaiparaconnected.co.nz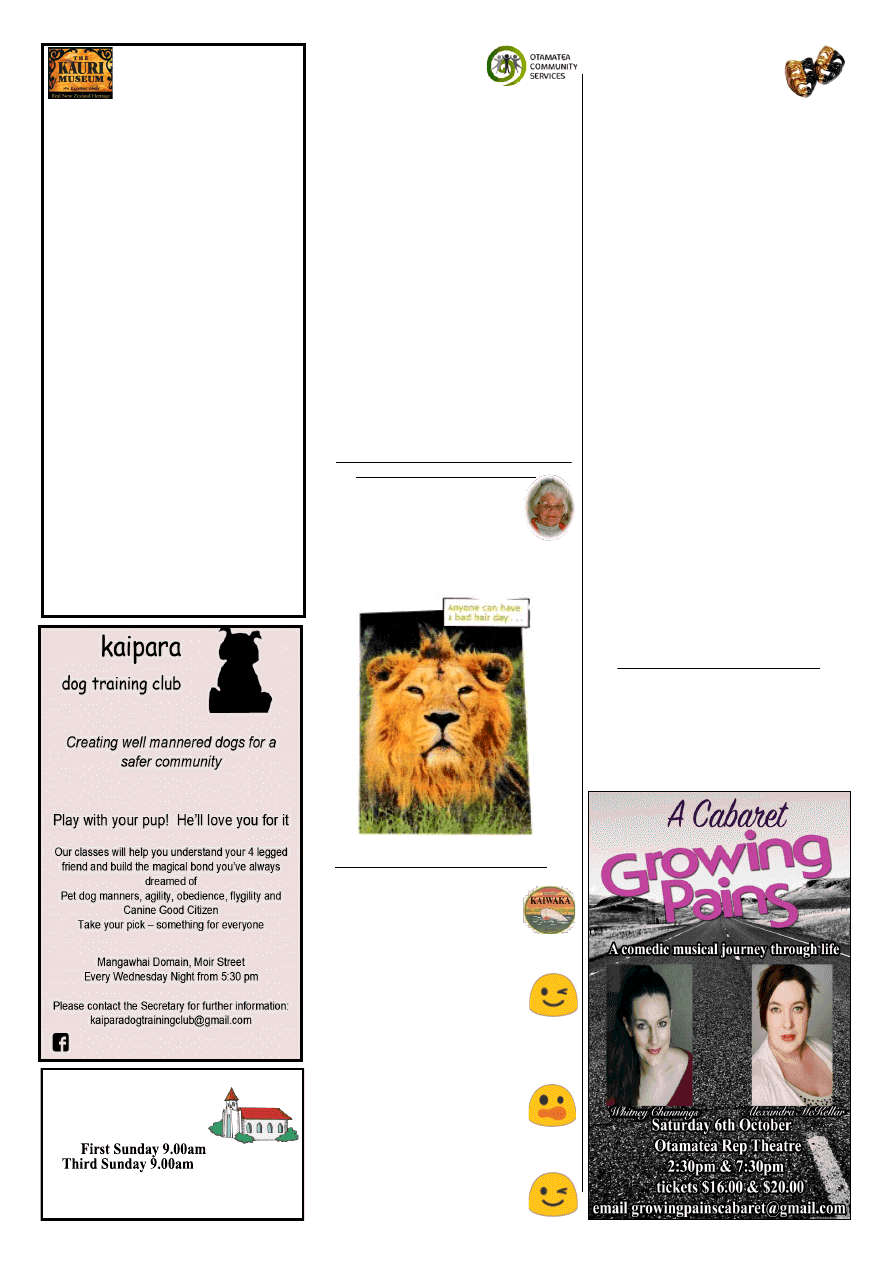 www.kaiwaka.co.nz 
Kaiwaka Bugle - 1 October 2018 
Page 9 
OTAMATEA 
COMMUNITY 
SERVICES  are  looking 
for VOLUNTEERS
IF YOU  HAVE  AN  INTEREST IN  ANY 
OF THESE FIELDS,  maybe you are  keen 
to give some help to others. 
We  are  looking  for  volunteers  to  help  in 
these areas: 
⚫
Addiction  Support  for  spouse/partners 
and  families  of  people  affected  with  the 
disease of addiction. 
⚫
Literacy  and  Numeracy  support,  for 
students of all ages. 
⚫
Drivers  who  are  willing  to  help  people 
meet appointments and obligations. 
⚫
Companions:  People  who  are  willing  to 
give time to others in various situations of 
isolation. 
WE  WILL  HELP  YOU  IN  THIS  ROLE, 
IF  YOU  WANT  TO  VOLUNTEER 
YOUR HELP FOR OTHERS 
Please  contact  PAULINE,  for  a  chat 
and…. let's get reaching out to others! 
Pauline:  09  4319  080  or 
email 
to: communitysupport@otamateacs.org.nz
ST PAUL'S ANGLICAN  
SUNDAY  
SERVICES 
- Eucharist
- Family Service
St Pauls Church: Kaiwaka-Mangawhai Rd. 
Rev. Wayne Thornton Ph 431 4122 
www.mangawhaianglican.org.nz
THEKAURI MUSEUM  
SETTLERS DAY 
REVOLUTION OF 
INDUSTRY 
The Day the Museum 
Comes Alive 
SAT 6th OCTOBER 
9.30am  
Church Service in the  
Pioneer Church 
10.00am - 4.00pm  
Displays and demonstrations:  
 shoe maker, saddle maker, 
woodcarving, rope making, tussie 
mussie making, children's games and 
activities, boat builder, brick making, 
carpenter, butter making, printing, 
wood turning, billy tea making, 
spinners, weavers, needlework, 
vintage cars, stationary engines and 
Cat 60 demonstrations. 
Food stall, popcorn, candy floss,  
fire engine rides, live music,  
photo op spot, live models. 
Competitions, Environmental Forum 
(DOC, NZTA, NRC, Fulton Hogan 
etc), and much, much more!! 
Music throughout the day 
FREE ENTRY 
5 Church Road, Matakohe, Northland. 
Telephone: 09 4317417  
web: www.kaurimuseum.com   
PT.CURTIS 
CRUISING 
CLUB
Don't  forget  the  Kaiwaka  Fire 
Brigade's  Fishing  Competition 
on the Saturday 3
rd
 and Sunday 
4
th
  November  followed  by  the 
Auction. 
Support the local brigade and grab you 
a fish or 2 from the auction. 
Which  means  its  only  12  weeks  till 
Christmas    and  soon  to  be 
warmer  weather  with  heaps  of 
fishing to be done . 
Subs can still be paid. 
Fish of the Month: Gurnard till 9 Oct. 
Next  Club  Meeting: 
9 
October, 7pm at The 3Furlongs 
Bar & Grill. 
~ Wayne Leslie, Commodore
From Thelma's 
Scrapbook … 
Anyone can have a bad hair day ...
Looking in the mirror in the morning 
can ruin the next 24 hours!! 
"IF YOU LET IT!" 
OTAMATEA 
REPERTORY 
THEATRE 
GROWING PAINS: A CABARET 
There's  no  dress  rehearsal  for  this 
crazy  thing  called  life!  Local 
professional performers Alex McKellar 
and Whitney Channings have united to 
create  Growing  Pains  -  A  Cabaret. 
Whitney grew up in Mangawhai and is 
a  past  member  of  Otamatea  Repertory 
Theatre,  and  Alex  is  the  new  drama 
teacher at Otamatea High School.  
After  attending  drama  school  at  the 
National  Academy  of  Singing  and 
Dramatic 
Art 
(NASDA) 
in 
Christchurch,  and  then  going  separate 
ways globally, Whitney and Alex have 
come  together  in  Maungaturoto  to 
compare  stories  and  break  down  what 
it is to be successful at this thing called 
"adulting." 
"Growing  Pains  is  a  comedic  look  at 
the  ups  and  down  of  life.  The  choices 
we  make  and  the  effect  they  have  on 
your  overall  journey"  says  McKellar, 
"Travel,  motherhood,  career,  all  of 
these are universal experiences and we 
take  you  through  this  journey  through 
well-loved  musical  numbers"  says 
Channings. 
Two shows:  Growing Pains  
 at the  
Otamatea Repertory Theatre,  
Saturday October 6
th
, 2.30 and 7.30pm.  
Adults: $20 Concession: $16.  
Tickets from:  
Join  Whitney  and  Alex  as  they  take 
you  on  a  musical  journey  through  the 
highs  and  lows  of  travel,  romance, 
motherhood  and  growing  up.  A  story 
that is sure to entertain, whether you're 
young - or young at heart!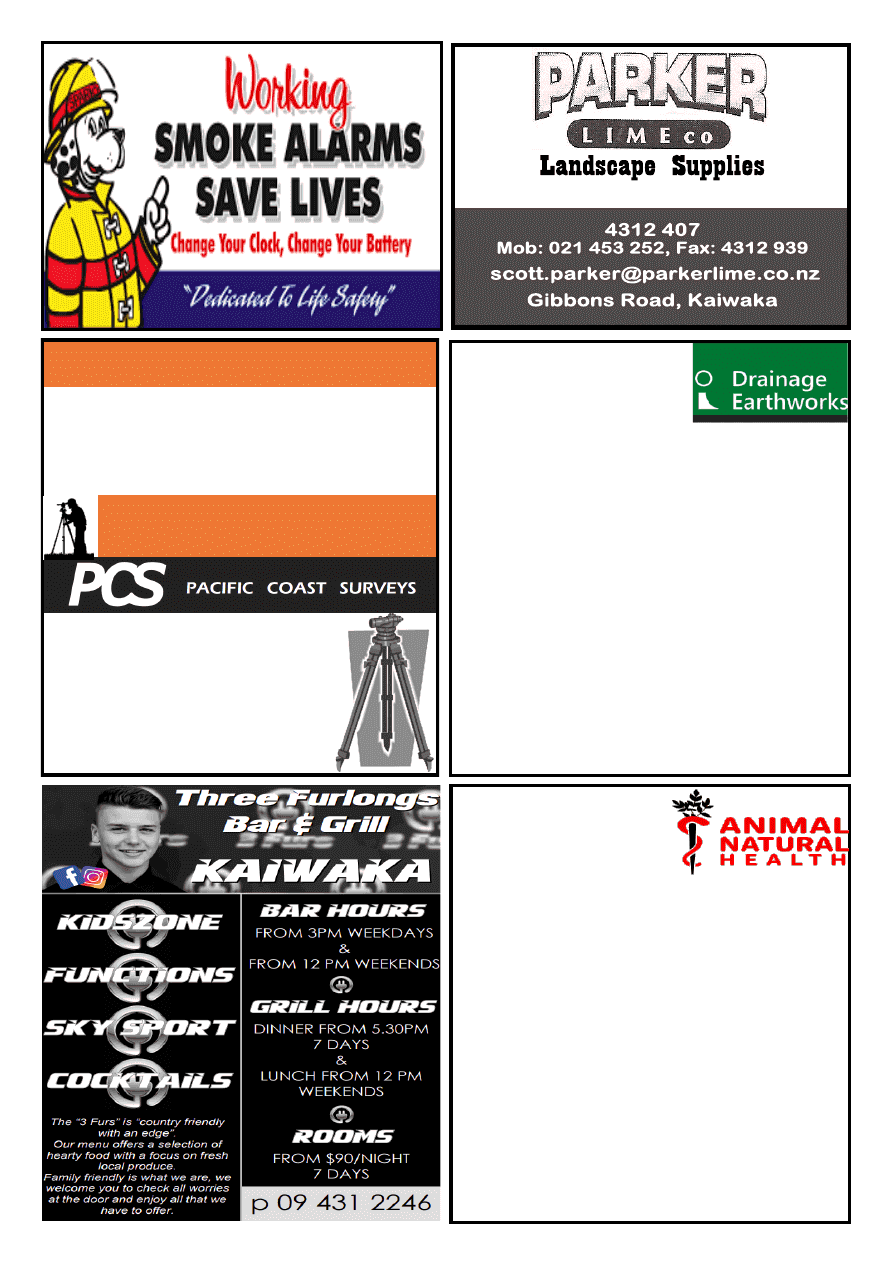 Drainage & Earthmoving 
nigel@clarkedrainage.nz 
027 2233 185 
Registered Drainlayer 
All Types of Earthworks  
> All Residential & Commercial Work  > House Sites 
> Septic System Design & Install 
> Footings & Drilling to 10m 
> Sewer Connections 
> Dams 
> Water Tank Installation 
> Roading & Races 
> Farm Work 
THE ONE STOP SHOP  
Phone Nigel for an Obligation Free Quote  
Bulk Cartage 
SURVEYORS 
SUBDIVISIONS 
HOUSE SITE SURVEYS 
CIVIL ENGINEERING 
WASTEWATER DESIGNS 
EXPERIENCED 
PROFESSIONAL 
INNOVATIVE 
Ph 09 431 5353 
0800 PACIFIC (0800 722 434) 
pacificcoastsurvey.com
Adam Booth - 027 415 5752 
Bsurv, Licensed Cadastral Surveyor
Surveying Kaipara since 1994 
ANIMAL NATURAL 
HEALTH CENTRE 
Next to Italian Bakery,  
S.H. 1, Kaiwaka 
Phone: 09 431 2217 
Hours: Mon-Fri 9.30-5.00 pm Sat 9.30-4.00 pm 
Petfood 
– Extensive raw meat selection: 
Free-range / organic where possible, no preservatives 
Purely Pets Patties, 'Out of the Wild' Game, 
Pet Deli, Bulk Buys, Bones, Brisket, Fish 
 
– Mighty Mix Biscuits & Concentrate 
– Tukka Thyme Muesli, Ziwi Peak Cat & Dog 
– Orijen & Acana Kibble, safe Treats. 
 
Organic Apple Cider Vinegar 
Chemical-free flea, worm, tick & lice controls 
Alternatives to vaccinations (HP Nosodes) 
Homeopathic/Herbal/Nutriceutical Products 
Eco friendly hygiene products, Leads & Collars 
Animal Naturopath: Sarndra G Urwin Dip NAH (Hons)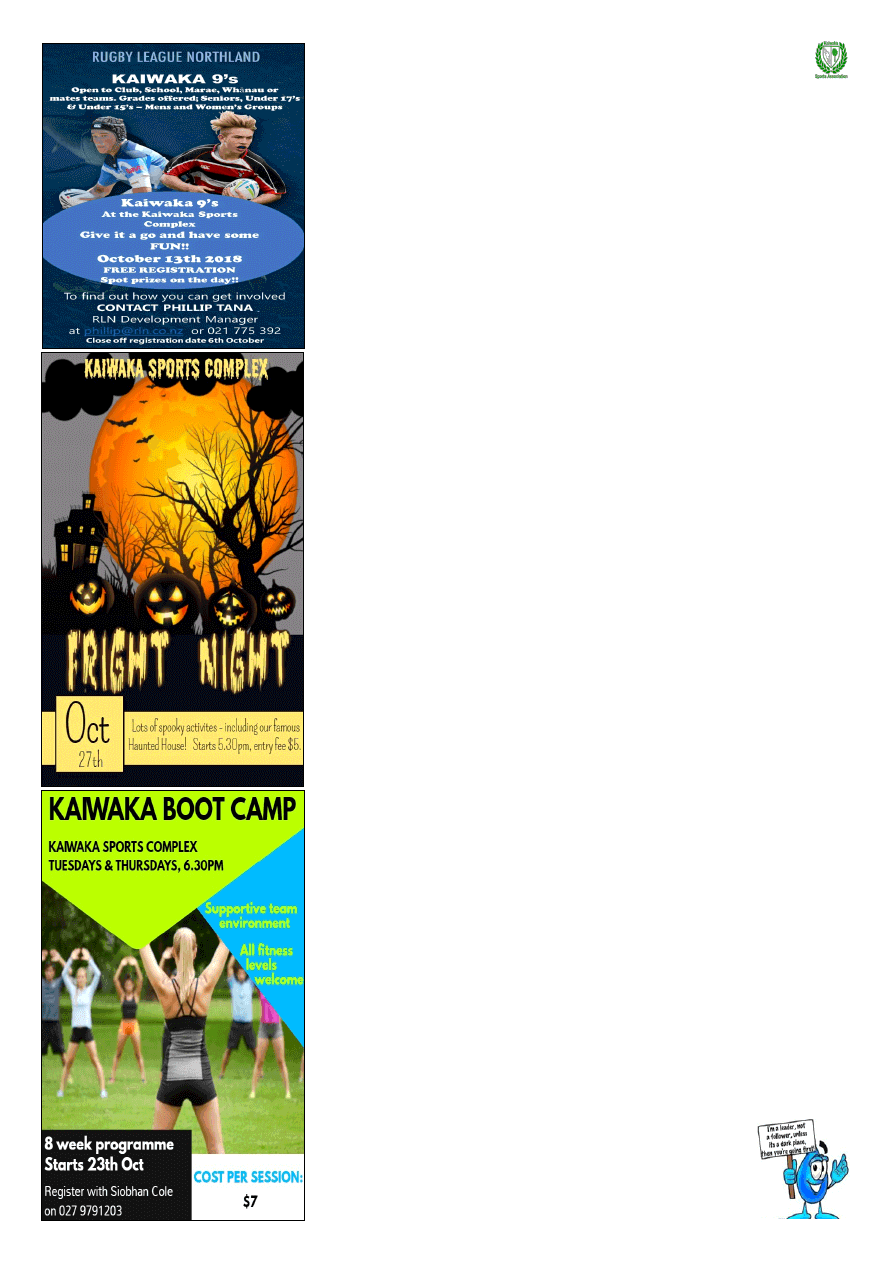 www.kaiwaka.co.nz 
Kaiwaka Bugle - 1 October 2018 
Page 11 
KAIWAKA SPORTS ASSOCIATION
Northland vs Auckland
We  had  fabulous  weather  on  Saturday 
for the Northland Vikings vs Auckland 
Barbarians U18s match at our grounds. 
It  was  a  great  running  game,  and  the 
fast-paced action kept the spectators on 
their  feet  cheering.  A  well-deserved 
win to Northland 41 - 17. Thank you to 
Kaiwaka  Playcentre  for  doing  a 
sausage sizzle and to the OHS Duke of 
Edinburgh group for catering the after-
match meal
Fast Five Netball 
Woohoo  -  we  have  eight  teams 
registered  in  our  Fast  Five  Netball 
Module!  Spectators  are  welcome  to 
come  along  to  watch  the  matches,  the 
Module kicks off this Sunday at 2pm in 
our gymnasium. 
Thank you to NZ Racing Board 
Recently  I  applied  to  the  NZ  Racing 
Board for a grant to purchase new glass 
basketball  backboards  and  rims  in  our 
gymnasium, and $5,000 was approved! 
Many  thanks  to  the  Racing  Board  for 
supporting 
basketball 
in 
our 
community. 
Otamatea Hawks AGM 
The Hawks will hold their AGM at the 
KSA  on  Thursday  1st  November  at 
6.30pm.  A  light  supper  will  be 
provided.  All  positions  are  up  for  re-
election.  Everyone  is  welcome  to 
attend. 
Walking Group 
Did  you  know  that  Kaiwaka  has  a 
Walking  Group?  Physiotherapist  Amy 
Griffiths  takes  walkers  around  our 
Fitness Trail, every Tuesday at 8:30am 
and  at  4pm.  Suitable  for  all  levels  - 
stride out or just amble along. Meet at 
the helipad. And it is free! 
Squash 
Our  Kaiwaka  Squash  Club  played  the 
Maungaturoto  Squash  Club  last  week 
for  the  prestigious  purple  potty!  A 
great night was had by both clubs, with 
Maungaturoto just squeaking in for the 
win. 
League Festival 
A Rugby League Festival will be held 
at  our  grounds  on  Saturday  13th 
October.  Grades  of  U15s,  U17s  and 
Seniors. Entry is free. To enter a team, 
please  contact  Phillip  Tana  on 
phillip@rln.co.nz  .  Deadline  for 
registrations is 6th October. 
Jaques Band 
The Jaques band will play at the KSA 
on  11th  November,  to  commemorate 
the  end  of  World  War  One.  If  you 
would love to enjoy an afternoon of old
-time  music,  please  mark  it  in  your 
diary. 
Special KSA Meeting 
KSA  Chairperson  Wayne  Leslie,  has 
called  a  Special  Meeting  of  the  KSA. 
This  is  to  discuss  several  pressing 
issues. This Thursday 4 October, 7pm, 
at the KSA. All welcome. 
Toka Sports Academy 
Thank  you  to  everyone  who  has 
registered  their  child  for  the  Toka 
Sports Academy. 
This  is  an  exciting  programme,  by 
Nick  Makea,  to  be  run  at  the  KSA 
during  term  time,  for  children  to 
develop their sporting skills and mental 
resilience. 
The  Junior  Athletes  programme  (11  – 
13 yrs) is already full, but there are still 
a  few  spaces  available  in  the  Mini 
Athletes  programme  (8  –  10  yrs)  and 
the  Academy  Athletes  programme 
(14+ yrs). 
You  can  read  about  Nick  and  his 
coaching  experience  in  the  article  on 
page 5 of this edition of the Bugle. 
Kaiwaka Boot Camp 
Keen to get into shape for the summer? 
There  will  be  a  Fitness  Boot  Camp  at 
our grounds, for 8 weeks, on Tuesdays 
and Thursdays at 6.30pm. Starting 23rd 
October. 
This  is  suitable  for  people  of  all  ages 
and fitness levels. Just bring yourself - 
fun  and  laughter  provided!  $7  a 
session. 
KSA News 
There is always a lot happening at the 
Kaiwaka Sports Association! We have 
lots  of  special  events  as  well  as  our 
affiliated  sports  clubs:  rugby,  squash, 
badminton,  touch,  netball,  gymnastics, 
martial  arts,  soccer,  fishing,  tennis, 
athletics, fitness centre and hockey. To 
keep up to date with KSA news, please 
like  my  Kaiwaka  Sports  Complex 
facebook  page,  or  check  out  our 
website www.kaiwakasports.co.nz  
Fright Night 
Who  loves  Halloween?  We  do!!  Get 
ready  for  Fright  Night  2018!  Saturday 
27th  October,  starting  at  5.30pm.  I 
have got lots of great donations to use 
as prizes for the best dressed boys, girls 
and  adults.  Creative  costumes  and 
makeup will take the eye of our judges, 
so put your thinking cap on! 
The entry fee is $5 (pre-schoolers free). 
There  will  be  a  costume  parade,  lolly 
scramble, music, games, a photo booth, 
supper  plate  competition,  glow  items, 
face-painting  and  of  course  our  ever-
popular Haunted House. Please bring a 
halloween-inspired plate for the shared 
supper. 
This year the Haunted House will have 
3 sessions: 

 MILD  -  a  tame  session  (lights  on 
full, no loud noises, no scarers, no fog, 
no strobe light). Perfect for those little 
kids  who  might  not  handle  a  scary 
session  but  want  to  look  at  the 
decorations. 

 SCARY  -  suitable  for  primary-aged 
children  (parents  are  encouraged  to 
accompany their children). 

 EXTRA SCARY - suitable for high-
schoolers  and  adults.  Be 
prepared  for  our  scarers 
to  reach  out  and  touch 
you.  Only  for  the  very 
brave!  
~Cheryl Anderson,  
4312 051, 027 3462702 
kaiwakasports@gmail.com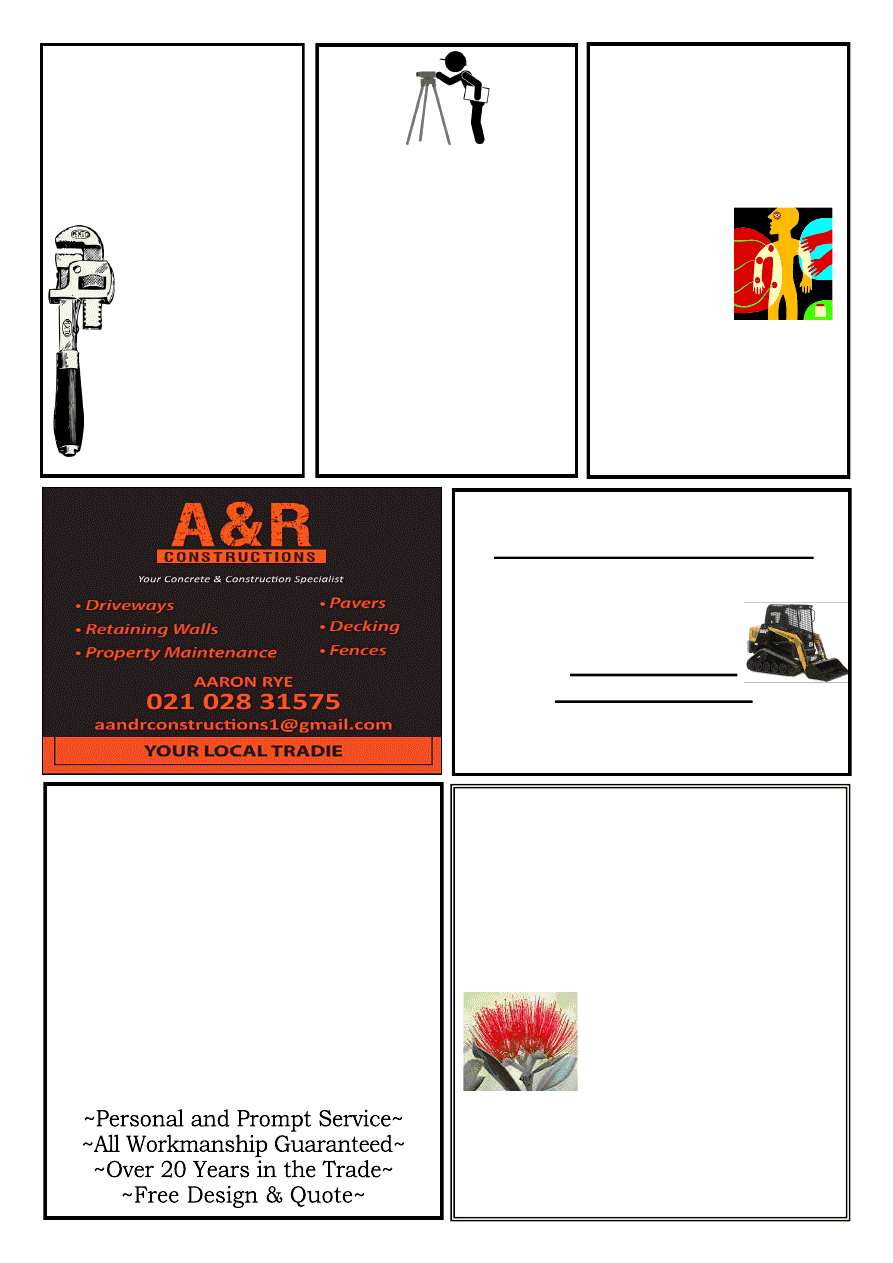 BARRY CURTIS 
PLUMBING LTD 
REGISTERED CRAFTSMAN 
PLUMBER 
Phone 431 5572 
027 257 9884 
25 years' experience 
Friendly reliable service 
All plumbing & 
maintenance 
Alterations and new 
housing 
Spouting  
Competitive rates 
PROMPT 
EFFICIENT 
SERVICE 
KAIPARA FLOORING CO 
Independently owned & operated 
32 HURNDALL ST MAUNGATUROTO
Supply & Installation of Carpet, Vinyl,  
Vinyl Wood Planking
Stockists of 2m & 3m wide 
vinyl & carpet short ends
Residential & Commercial
Q Card Finance Approved 
6-18 month terms 
6 mth interest free
First Class Installations
For a free measure & quote 
phone Christine  
09 946 9886 or 021 515 415 
kaiparaflooring@gmail.com 
http://www.kaiparaflooring.co.nz/ 
OWEN STEVENS 
Osteo Therapist
For careful adjustments to bones 
and joints 
Treatment for humans and their 
pets 
Clinics: 
Kate's Place, 
Kaiwaka: 
Last Friday of 
month 
For bookings: 
9.00am-5.00pm  
Phone 
09 4312661 
Or phone Owen  
09 4317123 anytime 
PLANNING A NEW KITCHEN?
 CONTACT NOEL McDOWELL
WELLSFORD 
KITCHENS
Ph/Fax 094312888
KAIWAKA-Any time
 QUALITY CUSTOM MADE 
KITCHENS
Ken Urquhart 
BSurv Licensed  
Cadastral Surveyor 
KMU Surveys Ltd 
467 Bickerstaffe Road 
RD 2 
Maungaturoto 0587 
Ph 09 431 8705 
Mob 021 161 2344 
kenurquhart@xtra.co.nz 
Natural Earth Ltd 
Landscape and Bobcat services 
 : Driveways :Landscaping :Retaining Walls 
 : Hole Boring: Land Levelling :Trenching 
 : Decks :Fences :Sections Cleared 
 : Plus much more
Tel 09 4312 885 
Mob 02102391280 
For A Fast Friendly Service  
Contact Tim Hicks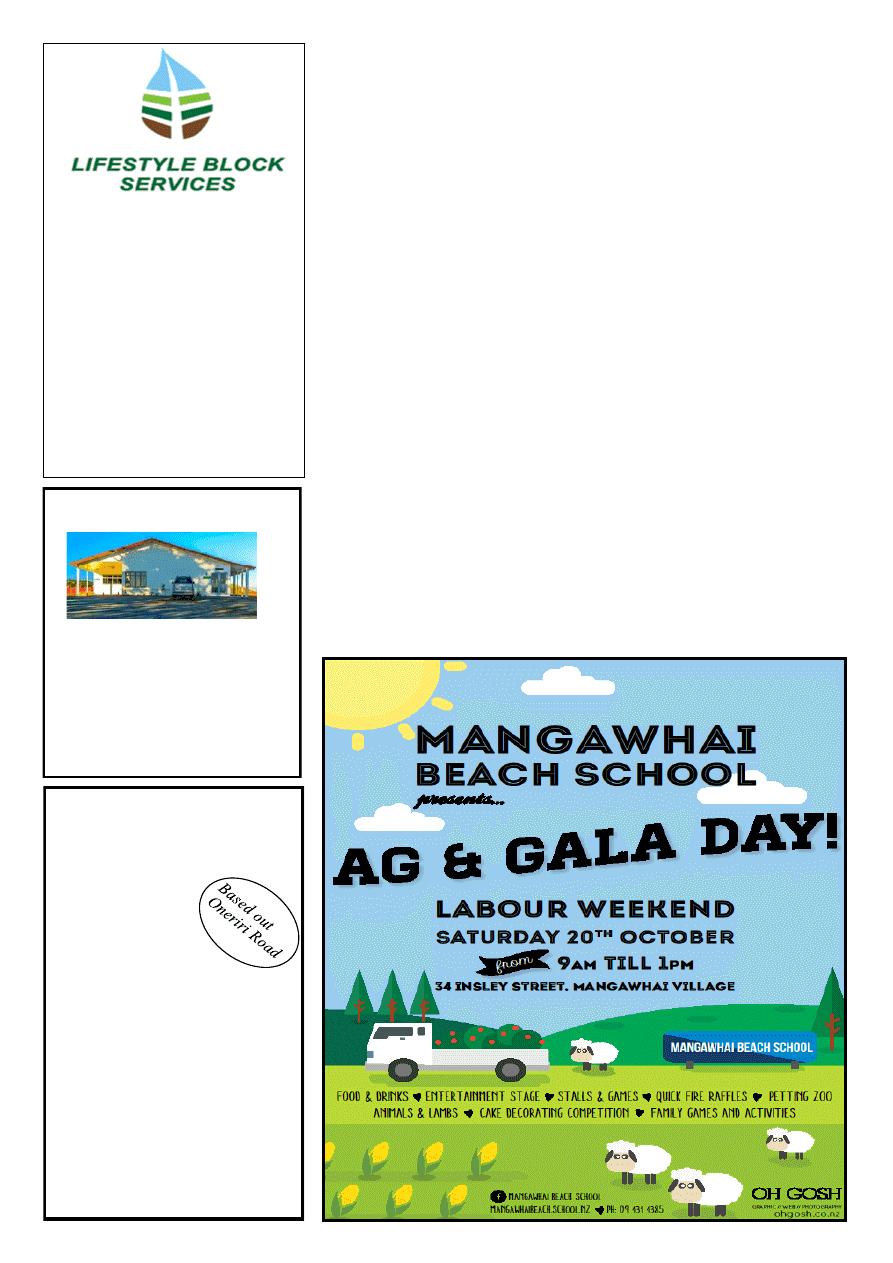 www.kaiwaka.co.nz 
Kaiwaka Bugle - 1 October 2018 
Page 13 
HODGETTS 
CONTRACTING
Digger Work 

Driveways   

House Sites   

Dams  

Drains, etc
Also available for HIRE 

4
3 ton Vib Roller   

Heavy Duty Tow  

4
Waterblaster     

Lazer Level 
Phone Mark 
4312877 
027 447 8554 
Contact Mark on 021 801 065  
or 
Contact Lisa on 021 108 1057 

 Small HaylSilage Baling & 
Wrapping 

 Fencing 

 Spraying 

  Mulching 
 
Stockwork  

  Stock Water Systems  

 Driveway & Track Maintenance  

 Tree Trimming 
Te Pounga Marae 
130 Nathan Rd. Oneriri. Kaiwaka 0573 
COMPLEX FOR 
HIRE 
Functions: * Weddings  * Birthdays  
*Anniversaries * Meetings  * Wananga 5 
hour meeting * 12 hour stay or Overnight 
*All welcome   
For more information please contact: 
Kim Wallace  
Home: 09 832 1133  Mob: 0211275340  
Email: kimwallace@xtra.co.nz 
 MANGAWHAI BEACH SCHOOL 
Mangawhai Beach School is an annual 
Agricultural / Gala Day held each year 
on the Saturday of Labour Weekend.  
This  is  our  school's  major  fundraiser 
which  raises  much  needed  funds  for 
our school community. 
The event has been running for over 10 
years  now  and  continues  to  be  a 
calendar  favourite  with  local  families 
and  holidaymakers  looking  forward  to 
the annual event. 
Labour  Weekend  is  a  busy  one  with 
Mangawhai  swelling  with  holiday 
makers  in  the  lead  up  to  summer  and 
anywhere  upwards  of  2,000  people 
come along to this event annually. 
For  the  Gala  section  we  organise  fun 
rides and stalls, quick fire raffles, cake 
decorating  competitions,  yummy  food 
and entertainment, petting zoo and then 
during  the  morning  we  also  showcase 
our agricultural traditions with children 
raising  lambs  and  chickens  to 
showcase on the day. We are so excited 
to  have  our  very  first  year  of 
introducing chickens to the mix which 
has proved to be very popular. Animals 
are judged on the day and ribbons and 
prizes  are  given  out  to  the  best  of  the 
best. 
Our fundraising committee F O M B S 
(Friends of Mangawhai Beach School) 
are  a  committed  group  of  volunteer 
parents  who  dedicate  their  time  to 
fundraising  for  our  school.  They 
organise and liaise with the school and 
local  community  to  make  Ag  Day 
successful. 
There  are  lots  of  ways  you  and  your 
family can be involved on the day and 
also  the  lead  up  to  the  event,  and  the 
more  people  who  get  involved  the 
more  successful  our  family  fun  event 
is.  You  can  register  your  interest  with 
the office and then speak to a FOMBS 
member  to  see  where  you  are  able  to 
help out. 
During the event lead up, teachers also 
organise  fun  activities  for  the  children 
to  participate  in  at  school  and  home. 
Previously, we have held Kumara plant 
growing  competitions,  vege  animal 
displays,  grass  heads,  art  sculptures 
and art work auctions. 
Funds  that  Ag  Day  raises  have  been 
used for a variety of things around the 
school  over  the  years,  some  of  which 
are  supporting  teacher  aides,  new 
classrooms, 
new 
playground 
equipment,  gazebos,  tiger  turf,  shade 
sails,  class  resources,  to  name  a  few. 
All  of  these  benefit  our  children  and 
make our school a great place to learn 
and grow, for now and into the future. 
Ag Day will continue to be successful, 
with  the  help  and  support of  our  local 
community.  We  greatly  appreciate  all 
the  assistance  we  receive  for  our 
fundraisers.  As  Mangawhai  Beach 
School continues to grow, funding will 
remain an important ongoing focus. 
 This  is  a  whole  school  event,  and 
something the whole community looks 
forward  to.  We  value  your    continued 
support  for  all  of  our  fundraising 
initiatives. ~  Thanks, from FOMBS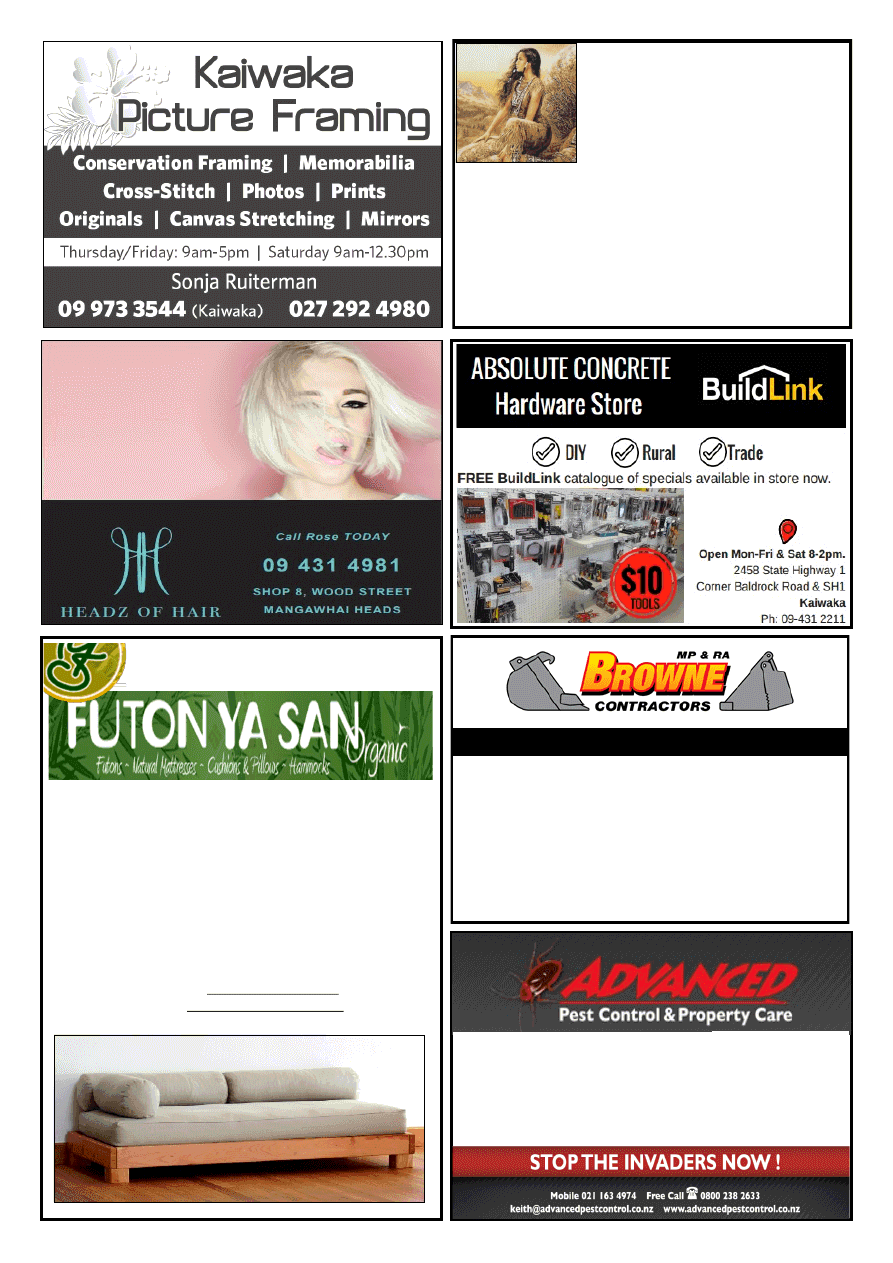 4T DIGGER – BOBCAT – TIP TRUCK 
Property Maintenance - Driveways  
 Building Sites 
Stump & Tree Removal  
Hole Boring - Chain Trencher  
Calf Shed and Stockyard Cleaning 
Phone Matt: 021 199 6677 
Email: mprabrownecontractors@gmail.com 
Trails end 
spiritualist gathering 
Last Sunday of every month  
10.30-2pm  
Tea/coffee provided  $5 koha 
For all inquiries: 
021 165 2629 evenings (09) 945 0707 
Trail.end@hotmail.com 
1758 Cove Road, Mangawhai
Bringing together like-minded people 
Guest speaker each month
Pest Control 
PLAN A: One-off treatments to customers with a specific pest problem 
PLAN B: Full maintenance service plans to commercial customers. 
This will include documentation kept in customer file on site: 
⚫
Pest treated 
⚫
Date of service 
⚫
Chemical or baits used 
⚫
Full pest check report done after each treatment 
⚫
Fair and reasonable fee with guarantee 
Flood Recovery 
Carpet Care 
⚫
Carpet Drying 
This includes pre-spray treatments 
⚫
Dehumidifier Rental 
with stain removal and hot water extraction.  
⚫
Full Commercial Cleaning  Patch repair also available 
Upholstery Cleaning 
Full upholstery cleaning of all furniture.  
eg lounge suites and all office chairs 
Water Blasting 
⚫
Concrete - Decks 
House Washing 
⚫
Soft Chemical Was 
⚫
Pre-painting Wash 
Property Services 
⚫
Property Cleaning  Lawn Mowing 
⚫
Hedges General   Tidy Ups 
Your local supplier of Custom Made 
Natural Mattresses - Pillows - Duvets - 
Futons - Yoga Bolster 
AND MORE 
Made from Certified Organic Wool, Hemp 
Organic Cotton fabric 
Rubberized Coco fibre 
website: www.futons.co.nz  
email: contact@futons.co.nz 
Phone: 021 176 17 19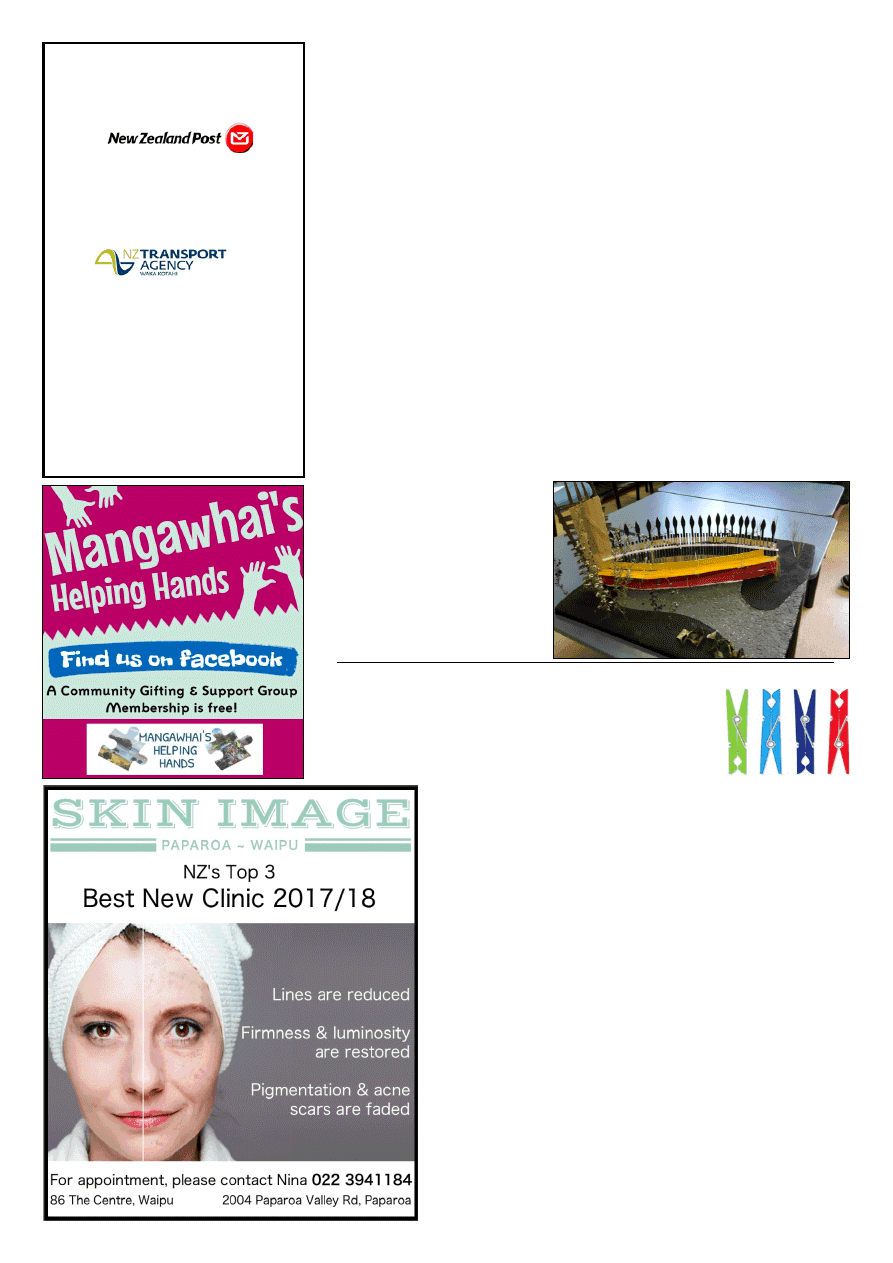 www.kaiwaka.co.nz 
Kaiwaka Bugle - 1 October 2018 
Page 15 
If  you  look  at  the  ingredients  list  of 
your  moisturizer  or  foundation  (unless 
you're  using  dermaviduals  prescribed 
by  me),  chances are  you  will find  one 
or more PEGs in there. 
PEGs  (polyethylene  glycols)  are 
petroleum-based 
compounds  used  in 
skincare  as  emollients 
(to 
soften 
and 
lubricate  skin),  as 
emulsifiers  (to  help 
water-based  and  oil-
based  ingredients  mix 
properly) 
and 
as 
vehicles  that  help 
deliver 
other 
ingredients deeper into 
the skin. 
The  most  important 
thing  you  need  to 
know  about  PEGs  is 
their 
penetration 
enhancing  effect,  the 
magnitude  of  which 
depends  on  both  the 
structure 
and 
molecular  weight  of 
the 
PEG, 
other 
ingredients 
in 
the 
formula,  and,  most 
importantly, 
the 
overall  health  of  the 
skin. If the skin is sun 
damaged,  sensitive 
or 
problematic, 
meaning  the  skin 
barrier  function  is 
compromised, 
all 
PEGs may penetrate 
through  the  skin  regardless  of  their 
size. 
This  penetration  enhancing  effect  is 
important for three reasons:  
1) If your skin care product contains a 
bunch  of  other  undesirable  ingredients 
like colours, perfumes or preservatives, 
PEGs  will  make  it  easier  for  them  to 
get down deep into your skin.  
2) By altering the surface tension of the 
skin,  PEGs  may  upset  the  natural 
moisture  balance.  3)  PEGs  are  not 
always 
pure, 
but 
often 
come 
contaminated  with  a  host  of  toxic 
impurities  such  as  ethelene  oxide  and 
1,4  dioxane  which  are  known  skin 
carcinogens. 
So,  it  is  very  important  to  avoid 
products with PEGs if your skin is not 
in tip top condition. 
Considering  PEGs  may  contain  toxic 
chemicals  that  are  known  carcinogens 
and we know that these chemicals can 
build  up  over  time,  why  would  we 
want them on our skin even if the skin 
is healthy? 
NINA  QUAN,  Skin  Therapist,  Skin  Image 
Paparoa - Waipu
KAIWAKA SCHOOL  
KAIWAKA POST 
CENTRE and 
FOOD MART 
POST CENTRE TRADING HOURS 
MONDAY to FRIDAY 8am to 5pm 
SATURDAY 8am to 12pm 
CLOSED ON SUNDAY and on 
PUBLIC HOLIDAYS 
FOOD MART (GROCERIES) 
MONDAY TO SUNDAY  
7:30am to 7:30pm 
IF ANY QUERIES PLEASE CALL 
STORE MANAGER AMRIT  
on 09 4312431 or 
EMAIL: kaiwakafood19a@gmail.com 
1919a State Highway1, Kaiwaka 0542 
"
PEGs IN COSMETICS AND SKIN CARE 
" 
The end of a very busy Term 3 is here, 
clearly  a  good  time  to  have  a  rest  and 
gather energy for the wonderful fourth 
term  and  rush  towards  summer.  We 
thank  all  the  parents  and  caregivers 
who  have  supported  our  students  and 
school  this  term-sports  trips,  Kapa 
Haka,  the  Production  and  our  PTA 
lunch time rolls have all involved your 
help  and  co-operation.  Thank  you,  we 
appreciate it. 
Next term Leanne Mooney will be the 
full-time  teacher  for  the  Year  2 
students. Anna Jamieson will be taking 
Reading  Recovery  all  day.  We  thank 
the Ministry of Education for giving us 
this  opportunity  to  intensify  our 
Reading  Recovery  programme  for  the 
fourth term. 
If  you have a pre-schooler or know of 
any  pre-schoolers  who  are  due to start 
school next term or year, please contact 
Heather  (in  the  Office)  urgently.  We 
are  planning  the  classes  for  next  year 
now. ~ 
Happy Holidays, Rosie Ellis 
Kaiwaka School PTA News 
We  have  begun  collecting  for  the 
'White  Elephant'  stall  which  we 
will  be  running  for  the  2018 
school gala. If you wish to donate 
any  good  condition  second  hand 
goods,  please  contact  either 
Courtney  0212667946  or  Toni 
02108737111 
School Entrance 
You  may  have  noticed  a  new 
structure  being  constructed  at  the 
front  of  the  school  (model 
pictured).  Our  school  has  been 
very  fortunate  in  receiving  a  generous 
donation from Oneriri Farm Station for 
the  purpose  of  enhancing  our  school's 
entrance.  A  lot  of  thought  and 
consultation has gone into deciding that 
we  will  represent  the  school  and  our 
community  with  a  distinctive  waka. 
The  waka  carries  baskets  of  kai  and 
baskets  of  knowledge  for  the  journey. 
A  specially  carved  prow  is  to  be 
prepared. 
The design has been prepared by Benji 
Woodman,  one  of  our  trustees  and 
parents.  Thank  you  Benji,  this  is  an 
amazing  gift  you  have  given  to  the 
school.  Please  contact  Benji  on 
0211805693  if  you  can  help  with 
consruction 
Otamatea Group Agricultural Day 
All  cups  and  trophies  need  to  be 
returned urgently please. 
There  is  no  Agricultural  Day  for 
Kaiwaka School this year. Instead, you 
can  take  your  exhibition  lambs  and 
goats  straight  to  the  Otamatea  Group 
Agricultural  Day  that  is  run  at  the 
KSA.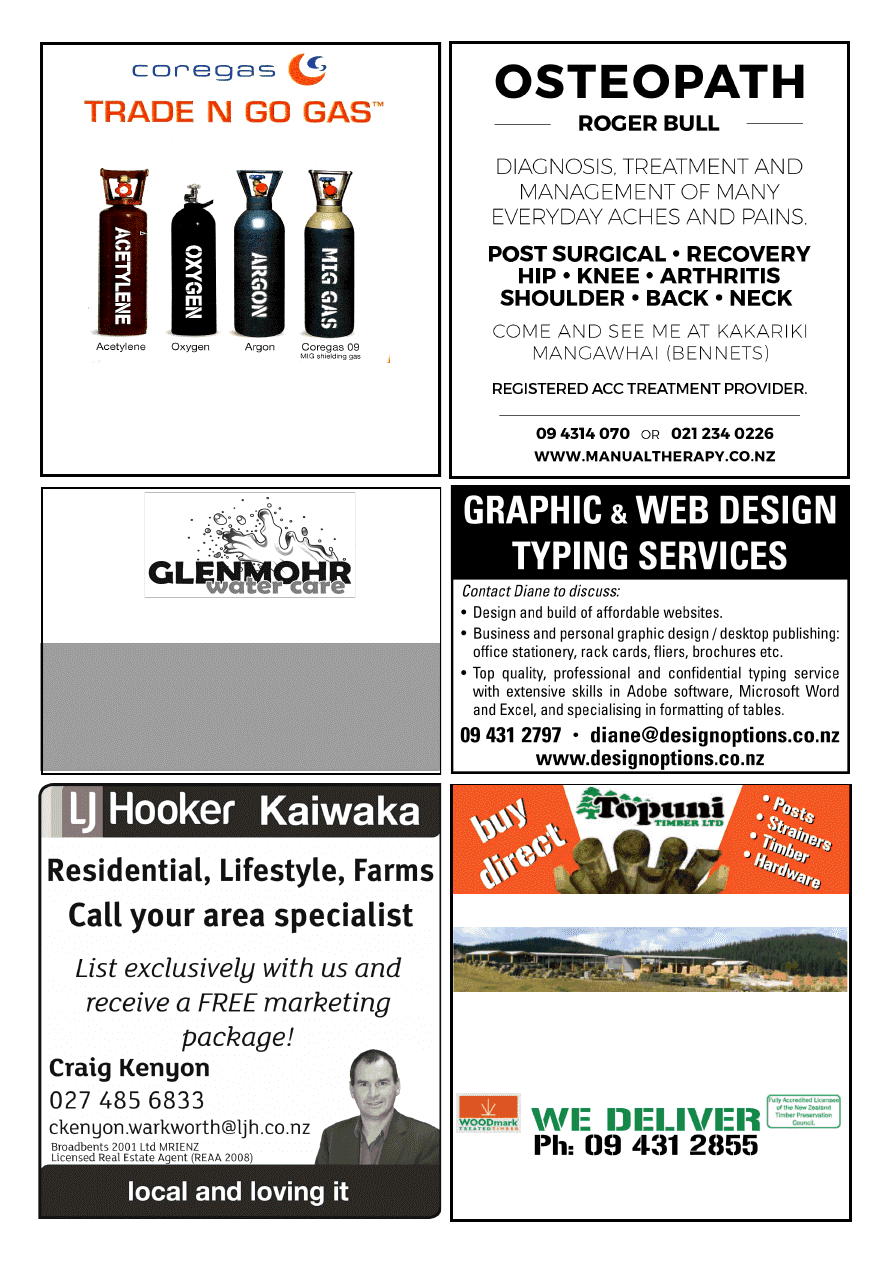 Water Tank Cleaning 
• 
Keep your water safe & clean  
• 
Removal of sediment, silt etc. 
• 
Vacuum or full scrub 
• 
Minimal water loss 
Phone Mark (09) 432 0655 or 0274 707607 
Now available at Twinkle Tow 'n' Tyre 
Mob: 021 833 960 
Ph & Fax: 09 431 2823 
1837 State Highway 1, Kaiwaka 
LOCALLY OWNED AND OPERATED 
QUALITY PRODUCTS • FRIENDLY ADVICE • GREAT SERVICE 
Quality Products milled from High Density NORTHLAND Radiata Pine. 
Treated and guaranteed to NZS3640 with commitment to 
Environmental Safety.
Phone, fax, email, or come into the mill 
Schiska Rd, Topuni, SH1, 10 min north of Wellsford. Fax: 09 431 2856 
Email: sales@topunitimber.co.nz           Mon - Fri 7am-5pm 
• Fencing 
• Retaining 
• Decking 
• Landscaping 
• Gates 
• Hardware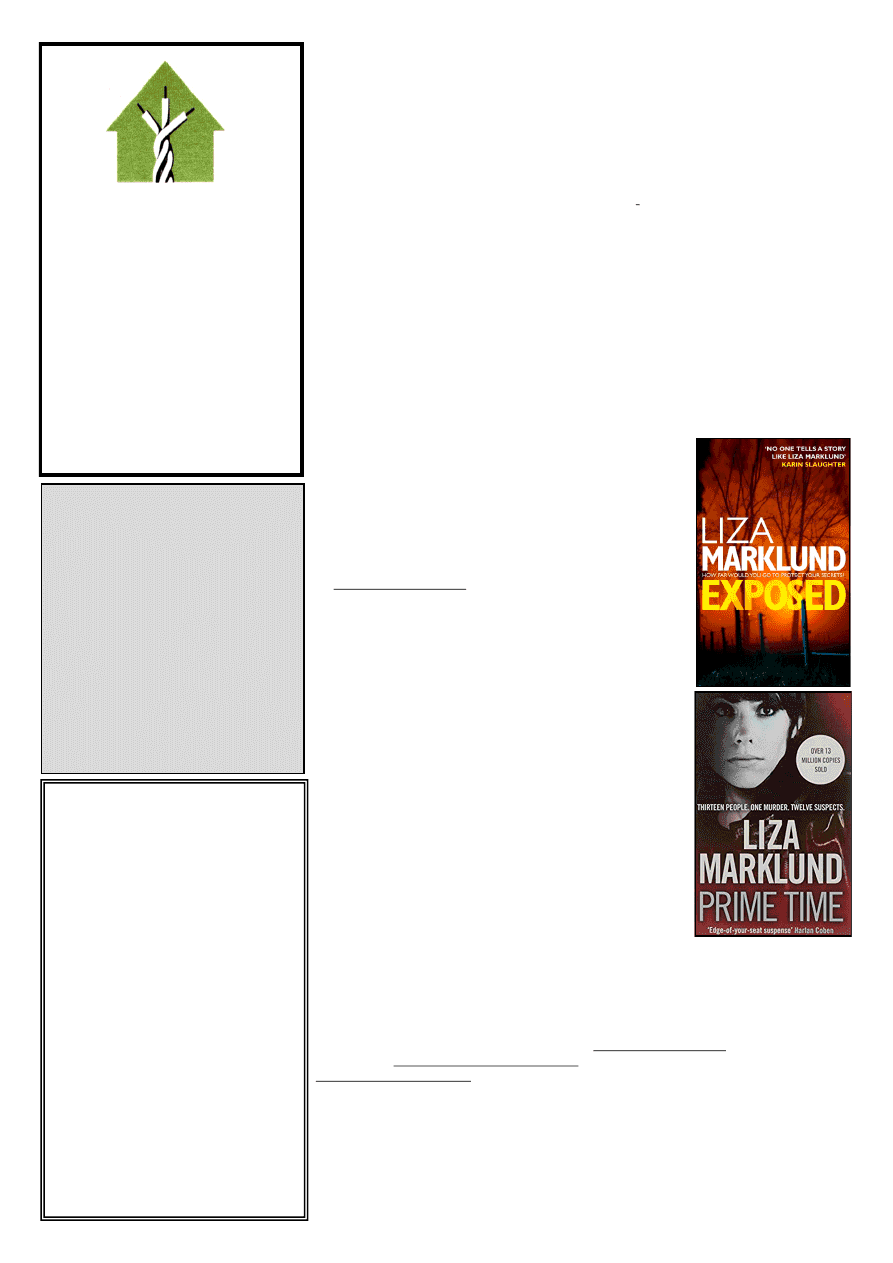 www.kaiwaka.co.nz 
Kaiwaka Bugle - 1 October 2018 
Page 17 
Mangawhai 
Heads 
Garden 
Centre
1758 Cove 
Road
945 0707 
021 165 2629 
School holidays 
The weather has been all over the place 
lately  -  typical  spring!  Add  in  school 
holidays, and it can be difficult to find 
something  to  entertain  the  family. 
That's where we are lucky in Kaiwaka 
-  we  have  a  fabulous  library  which 
caters for all ages. 
Bring  the  children  in  to  the  library  to 
pick  out  some  books.  We  have 
everything  from  picture  books  to 
Captain  Underpants  to  Harry  Potter 
and so much more. 
If  your  children  now  prefer  to  call 
themselves  Young  Adults,  we  have 
many books they will like as well. We 
have  a  number  of  series  including 
novels  by  Suzanne  Collins,  JK 
Rowling,  Cassandra  Clare,  Nalini 
Singh,  Stephenie  Meyer,  Phillip 
Pullman - and that's just the tip of the 
iceberg. 
Don't  worry  if  the  mention  of  them 
reading  a  book  these  holidays  is 
greeted  by  the  rolling  of  eyes  -  send 
them straight to the DVD and Blu-Ray 
sections, where we have a selection of 
movies  and  tv  series.  There  is  a  great 
selection on offer for the young and the 
not so young. 
Remember, 
we 
offer 
children's 
memberships at the library. To find out 
more 
head 
online 
to kaipara.kotui.org.nz. Fill in the form 
online  and  then  bring  them  into  the 
library  to  pick  up  their  own  library 
card.  Or  join  yourself  -  it's  free  to  all 
residents and ratepayers in the Kaipara 
District. 
But wait there's more... members have 
access  online  to  e-books,  magazines, 
and audio books. All you need is your 
membership card and go to the Kaipara 
Library  page  on  the  KDC  website. 
From  there  a  whole  world  of  digital 
items are on offer. Recent additions to 
the 
magazines 
include 
Popular 
Mechanics, 
Australian 
Women's 
Weekly,  Marie  Claire  Australia,  Dish, 
Classic  Boat,  and  Lonely  Planet 
Traveller. There are titles for kids, too. 
If all you need is reliable internet to get 
what  you  need,  then  the  library  can 
help  you  out  there  too.  The  library 
offers free WiFi 24/7, so you can even 
stay in the warmth of your car and use 
our service when we're closed. Do you 
have  school  age  kids  and  need  the 
internet? Spark Jump can help you get 
connected  -  it  is  a  low  cost,  pre-pay 
internet  service.  See  the  link  below  to 
see how Te Roroa Learning Centre can 
help you register, and you'll get a free 
modem, learn how to set it up and run a 
speed  test.  steppingup.nz/spark-jump/3
There is so much more on offer at the 
library  than  you  may  know  about! 
Come  to  the  library  Monday  4-6pm, 
Wednesday to Saturday 10am to 2pm. 
This  is  your  very  own  community-
owned  and  volunteer-operated  library. 
It's never too late to join. 
(
Thanks to Janine for writing this article!) 
Book review 
Recently  I've  read  the  Annika 
Bengtzon  series  by  Liza  Marklund  - 
(1)  Exposed,  (2)  Vanished,  (3)  Prime 
Time*,  (4)  The  Bomber*,  (5)  Red 
Wolf,  (6)  Last  Will,  (7)  Lifetime*, 
(8) 
The 
Long 
Shadow*, 
(9)  Borderline,  (10)  Without  a 
Trace*, and (11) The Final Word. 
In  the  first  book,  "when  freelance 
reporter  Annika  Bengtzon  gets  a  call 
that a murdered woman's body is lying 
in  a  Stockholm  graveyard,  she  knows 
immediately  that  this  story  might  be 
her  ticket  to  the  permanent  job  she 
craves. Annika's position at the big-city 
tabloid  is  tenuous  and  her  mother  and 
boyfriend want her to come back to the 
local paper she has worked for, to stay 
near  home  and  settle  down.  As  she 
pursues the murderer, battling the male
-dominated  cliques  of  the  newsroom, 
Annika  must  also  overcome  her  own 
inexperience and the instincts that will 
draw her much 
too  close  to 
the story." 
The  titles  are 
listed 
in 
chronological 
order  above, 
but  the  earlier 
books 
were 
not  written  in 
that  order.  I 
read 
Prime 
Time 
first, 
because at that 
moment it was 
all  we  had  in 
the  library.  I'd 
seen 
the 
movies  made 
from 
these 
books 
last 
year  on  the 
Rialto 
Channel,  and 
once  I'd  read 
that  book  I 
decided 
I 
wanted to read 
the rest. 
Some  of  the 
books 
were 
already 
in 
libraries in our 
district, and I purchased the remaining 
titles  for  our  library.  The  titles  held at 
Kaiwaka  are  marked  *  above  and  are 
on our Rental Fiction shelves until July 
2019. The rest can be requested - either 
go 
to 
our 
online 
catalogue 
(kaipara.kotui.org.nz) and place a hold 
yourself, or contact me and I'll do that 
for you. Either way, I will let you know 
when  the  books  are  ready  for  you  to 
collect. 
Each book stands alone just fine, but I 
think they are best read in order, so you 
pick up on references to past events.  
See you in the library, Wendy
Kaiwaka Library, cnr State Highway 1 and Kaiwaka Mangawhai Road. 
PO 
Box 
89, 
Kaiwaka 
0542. 
Phone 
4312 
539. 
Email  kaiwaka.library@gmail.com  Open  Wed-Sat  10am-2pm,  Mon  4-
6pm. Free membership is available to all residents in the Kaiwaka area. 
HELP 
PHONE NUMBERS 
HEALTHLINE:  
0800 611 116 
SAMARITANS:  
0800 726 666
YOUTHLINE:  
0800 376 633 
LIFELINE     
0800 543 354
DEPRESSION HELPLINE:  
          0800 111 756 
ALCOHOL & DRUG HELPLINE:   
 
0800 787 797 
URGENT MENTAL HEALTH LINE:  
 
0800 223 371
KAIWAKA LIBRARY 
Reyahn George 
Leng 
Registered Electrician 
Local, honest and 
reliable. 
For your residential and 
light-commercial 
projects. 
022 314 1068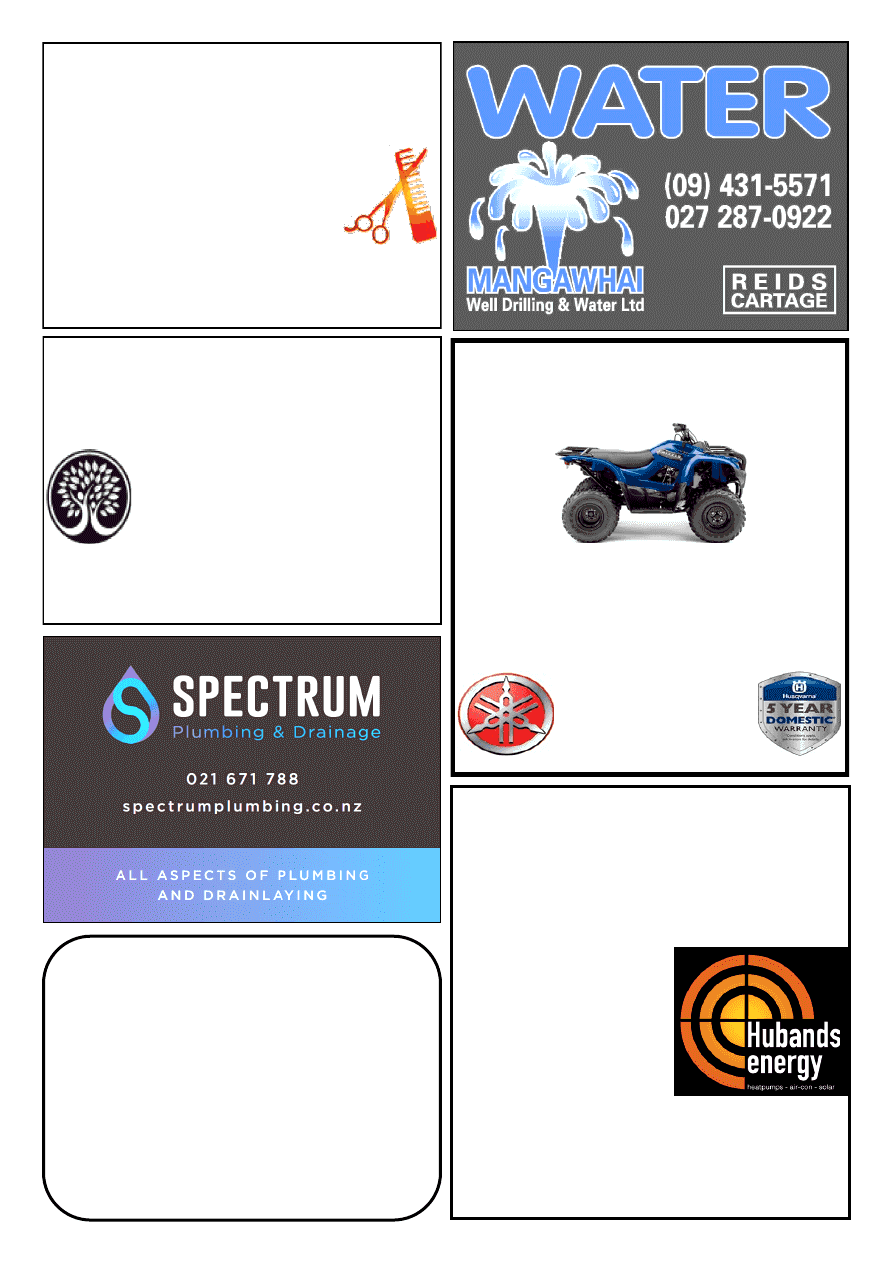 KAIWAKA 
MOTORCYCLES LTD
SALES – SERVICE – SPARES 
FARM BIKE SPECIALIST
PHONE 09 431-2127 
10 KAIWAKA-MANGAWHAI ROAD, KAIWAKA
Trimmers  
from $279
Chainsaws  
from $339
YAMAHA 
HUSQVARNA 
Northland's Award Winning 
Solar Company
SEANZ Best Solar Business Winners 2015/16
EXCLUSIVE 10 year installation warranty 
FREE No obligation onsite quote
Complete systems 
from $5990
See our range of: 
✓ 
Heatpumps 
✓ 
Airconditioning 
✓ 
Hot Water 
Heatpumps 
✓ 
Central Vacuum Systems
09 430 0019             sales@hubands.co.nz 
15 Kioreroa Road, Whangarei
Locally owned and operated for 35 years 
UP-LINK 
CHRIS WARING 
FREEVIEW INSTALLATIONS 
T.V. - HOME THEATRE &  
HI-FI ADVICE/SET UP
SKY ACCREDITED INSTALLER
MOB.0273403747 HM.094312328 
EMAIL cwaring44@gmail.com
28 YRS EXPERIENCE 
OFFERING UNBIASED ADVICE 
AFFORDABLE PRICES! 
MENS CUT FROM $20.00 
LADIES CUT FROM $30.00 
KIDS CUT FROM $18.00 
COLOUR & CUT FROM $120.00 
JUST CUTS'AND   
MORE 
021 165 2629 or (09) 945 0707  
NOW SELLING: scented tealights, incense, smudge sticks, 
copper bracelets, aurora ball crystals, dream catchers, healing 
stones, rose quartz, cds, and much more. Open 6 days. 
Waipu Natural Health 
3 Cove Road, Waipu  (opposite the Pizza Barn) 
Ph: 09 432 1325 
www.waipunaturalhealth.co.nz
Clinical Nutritionist-Hair Analysis for Masked 
Allergies, Ozone Therapy, Prolotherapy, 
Naturopath-Medical Herbalist, Registered 
Massage Therapists, Reflexology-
Craniosacral Therapy, Acupuncture-Facial 
Acupuncture, Kineso Taping, Hypnotherapy, 
Counselling, ThetaHealing/Change Catalyst.
AFFORDABLE CONSULTS FOR KIDS – give us a call
Gift Vouchers available
www.kaiwaka.co.nz 
Kaiwaka Bugle - 1 October 2018 
Page 19 
MELTON'S MEMOIR: MR CLARK - CITY COUNCILLOR
Probably  the  most  lawless,  or  slightly 
unorthodox action, was when I had the 
roof  taken  off  a  building  owned  by 
Council  which  was  at  the  time  being 
used as a brothel.  
Council had purchased some properties 
in  Freeman's  Bay  with  the  object  of 
constructing a depot sufficient to house 
all  vehicles  and  machines  used  by  the 
Engineers  Department.  One  of  these 
buildings was a long narrow one, used 
possibly  for  stables  in  the  horse  and 
cart day which had been converted by a 
previous  owner  into  two  so  called 
apartments.  The  rent  for  each  being 
fifteen  shillings  a  week,  so  one  can 
appreciate  the  type  of  accommodation 
they provided. In one lived an old lady 
who called herself Mrs Pearson and in 
the  other  an  old  Digger  called  'Bluey' 
McCaffrey  who  was  either  drunk,  in 
the  process  of  attaining  that  happy 
situation,  or  getting  over  it,  depending 
on the due date of his pension.  
One  day  I  was  urgently  called  on  the 
intercom  by  the  front  office  girls 
asking  for  help  and  found  'Bluey  on 
the  rampage  and  using  words  simply 
not  fit  for  decent  company.  So,  I  told 
him  to  shut  up  or  I'd  belt  him  in  the 
kisser, language he understood, and he 
followed  me  into  my  office  where  I 
ordered  him  to  sit,  have  a  gasper,  and 
unload  his  troubles.  "I'm  a  youming 
being Mr Clark and the bitch next door 
is  runnin  a  brothel.  Nakid  wimmin 
runninround all night an' I can't get no 
sleep!  I'm  a  youmin  bein  and  I  won't 
put ip with it, it ain't decent!"  
When  I  asked  him  if  it  was  Mrs 
Pearson,  "O  course  not,  it's  that  bitch 
Mary and I'm youming...."  
"All  right  Bluey,  now  you  go  through 
to the front office and apologise to the 
girls  for  your  behaviour  and  leave  the 
rest to me."  
"Fair enough Mr Clark, you're a decent 
sort of a bastard an' I trust yer".  
After ringing the treasury, I found that 
Mrs  Pearson  owed  a  few  weeks'  rent 
and then the College Hill Police Station 
where  the  Sgt  told  me  that  one  Mary 
Benson  Callen  was  thought  to  be 
running the place but so far, he had no 
proof.  I  then  arranged  to  meet  him  on 
the  spot the following  morning,  where 
he warned me that Mary was a vicious 
type and would break the nearest glass 
article  on  a  wall  and  slash  me  across 
the  face  with  it  if  angered.  He 
obviously knew his drill because I read 
in  the  'Herald'  some  months  later that 
she had cut the eye out of a man in an 
Albert St pub.  
However, the door was opened by Mrs 
Pearson,  so  Mary  was  out.  The  Sgt 
took  the  names  of  two  local  tarts  who 
had  apparently  come  from  Rotorua, 
gave them ten minutes to get their gear 
together and get out or he would arrest 
and  charge  them.  I  turned  to  the  old 
lady  and  reminded  her  that  she  owed 
rent  and  further  stated  that  Council 
proposed  charging  her  with  running  a 
brothel. This of course put the poor old 
soul  into  a  panic  as  I  had  hoped  it 
would,  and  she  stated  that  Mary  had 
taken  her  pension  book  and  was 
running  the  establishment  to  which,  I 
replied  that  as  she  was  the  tenant  she 
would  be  the  one  to  face  Court 
proceedings,  this  being  confirmed  by 
the Sgt. The softening up process now 
being completed I asked her if she had 
a  friend  she  could  go  to  and  she  gave 
me the name of a woman in Wellesley 
St.  
So,  I  said,  "Fine.  Now  I  will  tell  you 
how to get out of this trouble. You will 
sign  this  tenancy  surrender  and  this 
authority  for  Council  to  sell  your 
furniture to liquidate your debt, so you 
will  be  ready  to  move  at  ten  in  the 
morning  when  I  will  provide  a  car  to 
take  you  to  your  friend,  and  if  you 
breathe a word of our plans to Mary we 
will  prosecute  at  once".  The  poor 
terrified  old  creature  signed  the 
documents  with  the  Sgt.  as  a  witness 
and  the  stage  was  set  for  the  next 
move.  
Next morning, I met the Sgt. who had a 
hefty  constable  with  him  and  was 
greeted by Mary at the door. Mary not 
unattractive  in  a  hard  way  was  in  her 
thirties. When I asked for Mrs. Pearson 
she  asked  who  the  Hell  I  was,  so  I 
enlightened her and after a call, the old 
lady appeared with her coat and hat on. 
I should add that she did not move with 
a great deal of comfort as she had been 
apparently 
kicked 
in 
the 
unmentionables  by  a  client  the  night 
before.  The  Sgt  demanded  the  rent 
book and the car had arrived, so the old 
lady  left  with  her  few  pathetic 
possessions.  I  told  Mary  it  was  no 
concern of hers when she demanded to 
know  where  we  were  taking  the  "old 
bitch".  
About  then  the  truck  arrived  from  the 
depot  and  the  boys  began  to  strip  the 
roofing  off.  When  Mary  demanded  to 
know  what  was  to  happen  to  her  I 
assured  her  that  I  did  not  care  as  she 
was  merely  a  trespasser.  I  balanced 
myself  on  the  balls  of  my  feet 
expecting  trouble,  but  fortunately  the 
woman kept her self-control, physically 
but certainly not verbally! 
With the roof off the boys removed the 
few  pieces  of  furniture,  took  them  to 
auction and forwarded a cheque to Mrs. 
Pearson at her new address.  
A simple report of rents owed was put 
in to be written off. ~ Bevan Lawrence 
For  more  information  on  'Tell  Your  Story' 
contact Bevan on 
09 4801949 
.
www.mangawhaimassage.co.nz 
Kaiwaka 
Hardware  
& 
Key cutting
Phone 4312 063  
or 022 0642 703
kaikey2015@gmail.com
    Keys Cut  
Household Hardware  
Sharpening  
Knives & Tools 
Curtain Tracks & Fittings
Not there? Call Doug and he'll 
sort
it for you. 
(
Next to Kaiwaka Motorcycles)
Next Bugle Deadline midday Friday 12 October  2018
WHAT'S ON
PLEASE ~ do let us know what is on - email 
kaiwakabugle@kaiwaka.co.nz 
*5Oct~ Movie 'AT CHESIL BEACH', KWMH, 7.30pm 
*7Oct~KSA Fast Five Netball begins 
*7Oct~Blessing of the Animals, Anglican Church Mangawhai 
*8-12Oct~Otamatea St John Trash & Treasure, Maungaturoto 
*13Oct~Kaiwaka 9s, KSA 
*15Oct~Fostering Kids meet. Archie Bull Hall, 13.30pm 
*19Oct~ Movie 'BOOK CLUB', KWMH, 7.30pm 
*26Oct~Mgto Dementia Unit Fundraising Concert, Mangawhai 
Singers, Country Club Maungatuoto 
*27Oct~Kaiwaka Sports Assn. FRIGHT NIGHT 
*28Oct~Movie 'HOTEL TRANSYLVANIA 3', KWMH, 2pm 
*3-4Nov~Fire Brigade Fishing Competition and Auction 
*11Nov~Jaques Band, KSA, 1.30pm 
KWMH = Kaiwaka War Memorial Hall; KSA = Kaiwaka Sports Association 
See www.kaiwaka.co.nz for more information 
HOUSEHOLD RUBBISH COLLECTION  
Kaiwaka Pick up: 
Mondays = Green bags (Northland Waste - 09 430 3273) 
Wednesdays  = Blue bags and yellow recycling (at Jaques $3.00 
and  $1.50)  (Kaurilands  09  4392146);  ONLY  Blue  and  Yellow 
bags picked up on Oneriri Road. 
 DIABETES  Support  Group  -for  Kaiwaka,  Mangawhai, 
Wellsford  10am,  3rd  Friday  of  month  Ph:  Colleen  James  09 
4314238 
 DRINK CAN 'tear tabs' - for Starship Hospital- please collect - 
98 Kaiwaka Mangawhai Rd, leave in mailbox, Ph. 4312625  
 GENEALOGY - Wellsford: 1st Thursday in month Ph: 423 
7033; Waipu: 4th Monday in month Ph: 4312 725 
 GYMNASTICS  OTAMATEA  -  Tuesday  Ph:  Stephanie  022 
3624998 
 HAKARU PONY CLUB - Secretary Denise Rogers 021423376 
secretary@hakaruponyclub.co.nz  
 KAIPARA HUNT - Secretary Albert Doonenbal Ph 4312059 
 KAIPARA YONG FARMERS - K Danks  0211598453, meet on 
last Thursday of the month at Three Furlongs Bar & Grill 
 KAIWAKA BADMINTON -Tuesdays 7.30pm Ph: 4312345 
 
 KAIWAKA DRAMA CLUB - 
Hannah Webb 
0272863352
- KaiwakaDrama@gmail.com - FB - "KaiwakaDramaClub" 
 KAIWAKA DRUM & DANCE CLASSES - 021 611198 
 KAIWAKA GARDEN & FLORAL GROUP - 2nd Thursday in 
month. Ph: 431 4744 
 KAIWAKA  CUBS  -  Thursdays  5.30-7pm,  Hakaru  Ph:Bruce 
4312542 
*KAIWAKA PILATES - Ph: 021 2072729. 
 KNITTING FOR WHANGAREI HOSPITAL - 2nd Tuesday in 
month, Archie Bull Hall 10am Ph 4314827 
 MANGAWHAI COMBINED REBUS CLUB - 2pm, 3rd 
Thursday month, Senior Citizens Hall Mangawhai. Ph: 4315777 
 OTAMATEA GREY POWER - Kath Pattinson 09 283 2052, 
1pm last Wednesday of month, Anglican Church Hall, 
Maungaturoto 
 PT CURTIS CRUISING CLUB - Jean Ph: 4312227 (wk), 4312520 (hm) 
 RSA,  HAKARU  &  DISTRICTS  WOMEN'S  SECTION  –  meets 
1.30pm 4th Thursday of the month. Ph: 431 5818  
 TRAMPING - Mondays 9am-2:30pm Maria 4312 234 
HALLS FOR HIRE: 
 St.Pauls Archie Bull Hall HIRE $20 half day, $40 full day per 
hire, S McAulay, Ph 4312311 
 Kaiwaka  War  Memorial  Hall  HlRE  -  Phone  4312725  or 
kaiwaka.hall.bookings@gmail.com 
 Hakaru Community Hall HIRE -Ph. 4312256 or 4312110 
 Te Pounga Marae queries - R. O'Leary 4312 423, J.Nathan 021 
186 7382 
 Kaiwaka Sports Association hire/queries - C. Anderson 4312051 
or kaiwakasports@gmail.com 
Justice of Peace:  
B.FJaques  4312  048;  L.Donaldson  4312  228;  A.F.Hargreaves 
4312 045, W.Howard 4312 725 - please phone to make sure they 
are available www.justiceofthepeace.org.nz 
Marriage Celebrants:  
L.Donaldson; A.F.Hargreaves; Y Osborne
LOCAL SERVICES 
*Emergencies - Ambulance, Fire, Police - dial 111 
*Non-urgent Police phone 09 4311150
A A: Meets Wed., 8pm Kaiwaka Ph: 4315543, 0800229 6757 
ASUREQUALITY LTD (was AgriQuality) Call Free 0508 0011 22  
BUDGETING SERVICE, WELLSFORD: Free confidential advice & 
support for all areas of personal finance. Ph (09) 423 7123 
CAB-Citizens Advice Bureau.Wellsford Ph: 4237333 
0800 367 222 email:cab.wells@xtra.co.nz  
CIVIL DEFENCE - Kaiwaka Community Response Group: 
kaiwaka.civildefencecrg@gmail.com, 4312725 Wendy 
DOG/STOCK /NOISE CONTROL 0800 105 890 
FUNERAL SERVICES: Morris & Morris Ltd, 
Whangarei - Bev Jaques Ph:4312367 or 0800667747 
GRANDPARENTS Raising Grandchildren: Dianah Roberts 0223819539 
HAKARU & DISTRICTS MEMORIAL RSA (Inc) 733 Settlement Rd, 
Hakaru. Ph 4312 176 or Graeme Hitchcock (President) 431 3064 
HAKARU LANDFILL/Transfer Station:Open everyday except 
Tuesday10am-4pm.Ph4312629 Cost-$55 trailer load up to 1 cubic metre. 
Ph:4258567 - office 
KAIPARA DISTRICT COUNCIL www.kaipara.govt.nz:  
Help Desk FREEPHONE 0800 727 059  
KAIWAKA KOHANGA REO: Ph:4312620 
KAIWAKA CEMETERY: Ph: 4312045 or 4314017 
KAIWAKA LIBRARY: kaiwaka.library@gmail.com  
Mon. 4-6pm; Wed., Thurs., Fri., Sat. 10am-2pm Ph:4312539 
KAIWAKA PLAYCENTRE: Ph Juanita 0274134904; open Mon, Wed, 
Fri 9am-12pm. Hastie Lane; Monday to Friday 9.00am - 12 noon. 
KAIWAKA POST OFFICE:Ph:4312 431  
Post Code: 0573 for RD2 and 0542 for all Kaiwaka Post Office mail 
KAIWAKA PRIMARY SCHOOL: Ph: 4312309   
KAIWAKA SPORTS ASSN: Ph 4312005; 4312129 gym 
KAIWAKA ST JOHN: Manager Steve Rosser 09 4318403, 021 355734 
KATE'S PLACE Community Centre - Employment services, Free Health 
Nurse, Plunket, Advocacy, Osteopath, A.A., Legal Advice. 4312 661 
LINKING HANDS Health Shuttle Ph 4315906 or 09 4318969 
MINISTRY FOR PRIMARY INDUSTRIES - General inquiries Call 
Free 0800 008 333 
NORTHPOWER: Faults Kaiwaka area 0800 104040 
OTAMATEA COMMUNITY SERVICES: Counselling, parent coach, 
Family Support worker, budget advice, food bank. Mon-Fri 9am-3pm. Ph 
09 431 9080 http://www.otamateacs.org/ 
PARENTPORT: Free, practical family support service Puhoi to Paparoa 
Ph or txt: Dianne 027 280 5093 or 09 425 9357 
PLUNKET:  Kaiwaka  -Kate's  Place  Clinic  1st  Wednesday  of  the  month; 
Mangawhai  - Rose Madsen Cottage: Coffee Group 9:30 every Monday.  Clinic 
every Monday and Thursday. 
Maungaturoto - Good News Church, Clinic 2nd and 4th Wednesday.  
Cynthia 09 431 7340 or 027 675 3488 
PLUNKET HELPLINE -0800 933 922 (24 hours) 
TAITOKERAU COMMUNITY LAW: Free confidential legal advice and 
assistance, 2nd
Thursday
 of each month. Ph: 0800 155 529 for apps.  
TE URI O HAU Settlement Trust Tangata Developments: Whanau Ora 
021 793262  
VETERINARY SERVICE MANGAWHAI: 
Ph: 4314535 Mon-Fri 8.00-5.00, Sat 9-12, a/h appt. 
WELLSFORD DOCTORS: Ph: 4238 086 
CHURCHES:
 
Kaiwaka  Revival  Church  -  Your  Community  Church:  Sundays  10am. 
Ph: Pastor Tawhiri 09 431 8988 or Pastor Paul 09 4312 068 Visit us at 
www.facebook.com/kaiwakachurch or www.kaiwakarevival.co.nz 
 
St  Paul's  Anglican  Church  1st  Sun.  9.00am  (Eucharist),  3rd  Sun. 
9.00am (Family Service). Contact: Rev. Wayne Thornton Ph 431 4122 
www.mangawhaianglican.org.nz 
 
Church of Christ the King, Mangawhai:9.30am every Sunday 
 
St.Mary's  Catholic  Church:  Maungaturoto  –  Griffins  Road,  Saturday 
evening  Vigil  Mass  6pm;  Mangawhai  –  Senior  Citizens  Hall,  Sunday 
Mass  8:30am;  Wellsford  –  Matheson  Road,  Sunday  Mass  10:30am;  
Mid-week Mass times and all enquires to Fr. Bill Fletcher – phone 423 8170
 
Baptist Church: Sun. 10.30am Mangawhai Snr Cit.Hall.Ph:4312339 
 
Cause  Way  Church  Mangawhai:  Sundays  10.15am,  Mangawhai 
Community  Recreation  Centre,  Insley  St.  Ph:  09  4314782