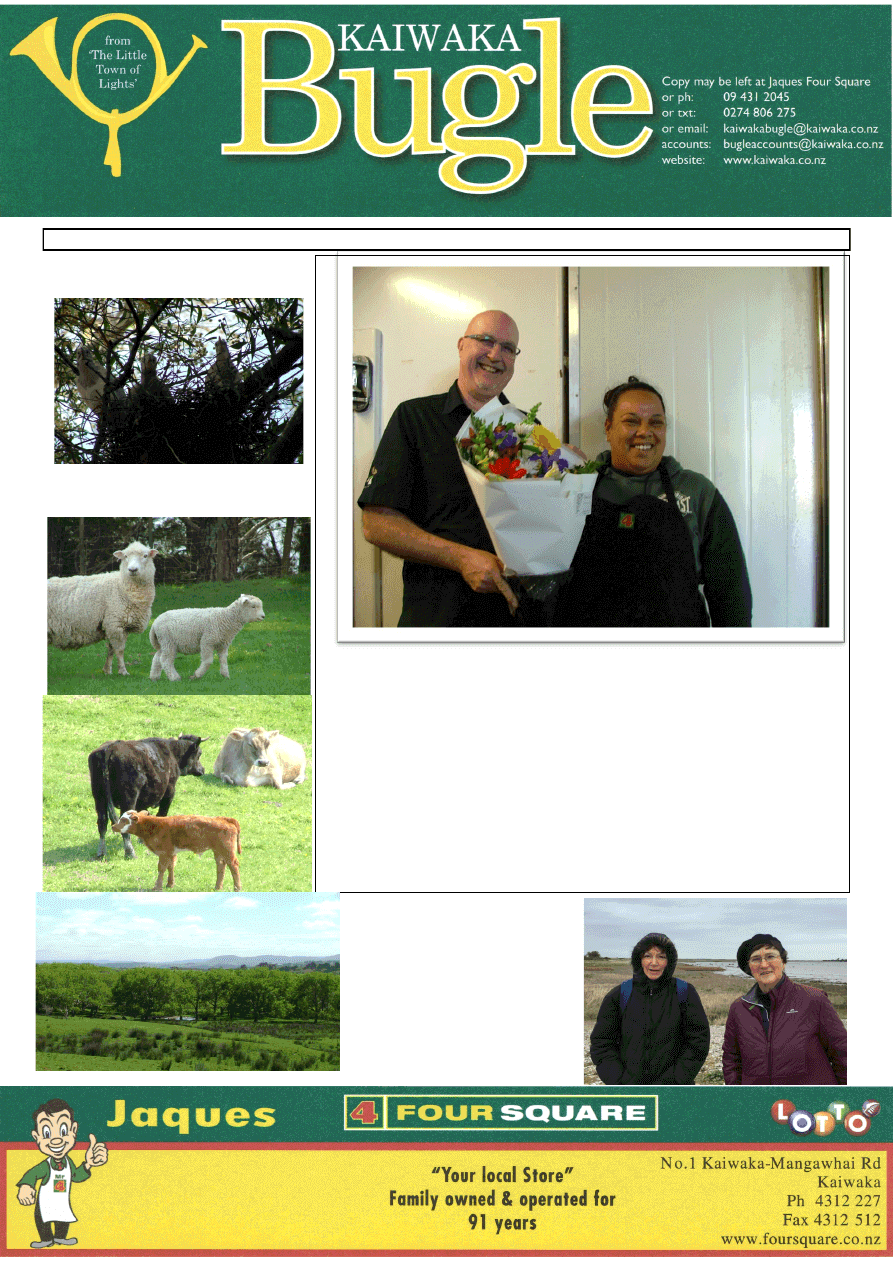 www.kaiwaka.co.nz 
Kaiwaka Bugle - 16 October 2018 
Page 1 
No: 20 
 16 October 2018 
Trading Hours: 
Monday to Friday 8:00am - 6:30pm 
Saturday 8:00am - 7:00pm 
Sunday 9:00am - 6:00pm  
Jody Paikea—nominated by Paula and Greg Jaques 
"We would like to nominate Jody Paikea for Good Sort of 
the month. 
She handled herself so calmly under a stressful situation 
we had in our store recently  
We wish to acknowledge that she is amazing and a very 
special part of our team. 
Fantastic Baker as well!" 
Congratulations Jody!  
Kaiwaka Good Sort—October 
Kaiwaka Springtime 
 
Grey Herons not looking that keen 
to leave the nest 
Lindsey and Heather are having a 
fabulous time in Denmark and 
Norway and soon they will be off 
to  sunny Scotland. They are en-
joying their time at the beach  
Lindsey will be back at the helm 
next Bugle and will sort out what 
I have managed to muck up' 
~C n N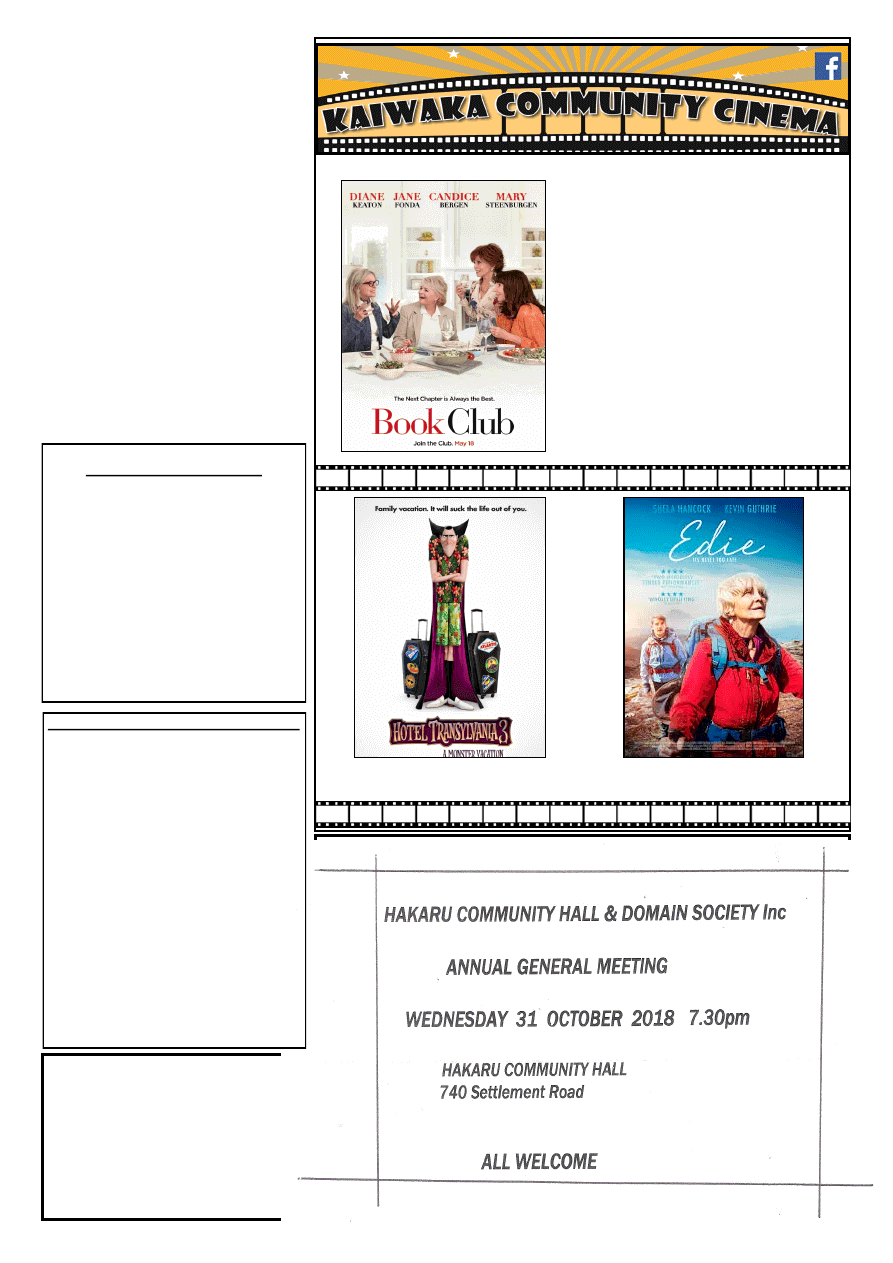 At Kaiwaka War Memorial Hall . Adults $10, Kids (under 16) $5, Family Pass (2 adults + 3 children) $25 
KAIWAKA BUGLE No. 20 
16 OCTOBER 2018 
CONTENTS 
Page 3: Public Notices, Classified 
Page 5: 
Kaipara Dog Training;  
Pt.Curtis CC; Thelma's Scrapbook;  
Page 7: Kaipara Hunting & Fishing; 
OCS; Fostering Kids 
Page 9: ORT; Kauri Museum 
Page 11: HAWKS Rugby; Mangawhai 
Artists 
Page 13: Kaiwaka Sports Assn. 
Page 15: Growing Spuds; Hakaru 
Recycling 
Page 17: Kaiwaka Library 
Page 19: 'Tell Us a story' 
Bugle 21 will appear 30 October 
Contact for advertising, reports, articles 
or information can be made by 
Email kaiwakabugle@kaiwaka.co.nz 
Ph: 09 4312 045 Lindsey 
Txt: 027 2724137 
Copy  may  be  left  at  Jaques'  Four 
Square. 
Kaiwaka Bugle 
Founded May 1978 
We appreciate articles and photos about local 
events, etc, as well as ads and suggestions. 
Copies available in Kaiwaka at Jaques Four 
Square, Kaiwaka Postal Centre, Shamrock 
Service Station, Animal Health Centre, 
Kaiwaka St John shop. 
Also outlets in Maungaturoto, 
Mangawhai and Paparoa. 
Can be viewed online at   
www.kaiwaka.co.nz/Bugle  
Or a copy can be posted to you if you supply 
stamped, self-addressed DLE envelopes. 
Hotel Transylvania 3 
Sunday  28 October, 2pm (PG)
EDIE
Friday 2 November, 7.30pm (M) 
Proverbs 
30: 15
Proverbs 28:21 – Playing 
favourites is always a bad 
thing;  you can do great harm 
in seemingly harmless ways.  
Kaiwaka Bugle Advertisements 2018: 
All 
copy 
and 
queries 
to: 
kaiwakabugle@kaiwaka.co.nz 
The Bugle is printed on an A4 page   
Ad  sizes:  1/16  page  (3  x  9.5cm)  $5;  1/8 
(6.5  x  9.5cm  landscape  or  portrait)  $8; 
3/16 ( 10 x 9.5cm or 7.5 x 12,5)  $12.  
Classified  ads:  First  one  FREE,  $4  per 
entry (max. 30 words, max. 4 repeats). 
Payments  can  be  made  online  at 
ANZ 
06  0365  0006990  00
,  posted  or  left  at 
Jaques Four Square Store. 
We  use  Microsoft  Publisher,  and  can 
work  with  most  common  image 
formats, Word, Excel, and PDF files. 
Accounts:  
Email: bugleaccounts@kaiwaka.co.nz 
The  Kaiwaka  Bugle  is  a  community 
newspaper run by volunteers.   
Articles, etc. printed are not necessarily 
the opinion of the Bugle Team. 
The BOOK  CLUB 
Friday 19 October 7.30pm (M)  
 Diane  (Diane  Keaton)  is  recently 
widowed  after  40  years  of  marriage, 
Vivian  (Jane  Fonda)  enjoys  her  men  with 
no  strings  attached,  Sharon  (Candice 
Bergen)  is  still  working  through  her 
decades-old  divorce,  and  Carol's  (Mary 
Steenburgen) marriage is in a slump after 
35  years.  The  lives  of  these  four  li
felong 
friends  are  turned  upside  down  after 
reading  the  infamous  "50  Shades  of 
Grey,"  catapulting  them  into  a  series 
of outrageous life choices.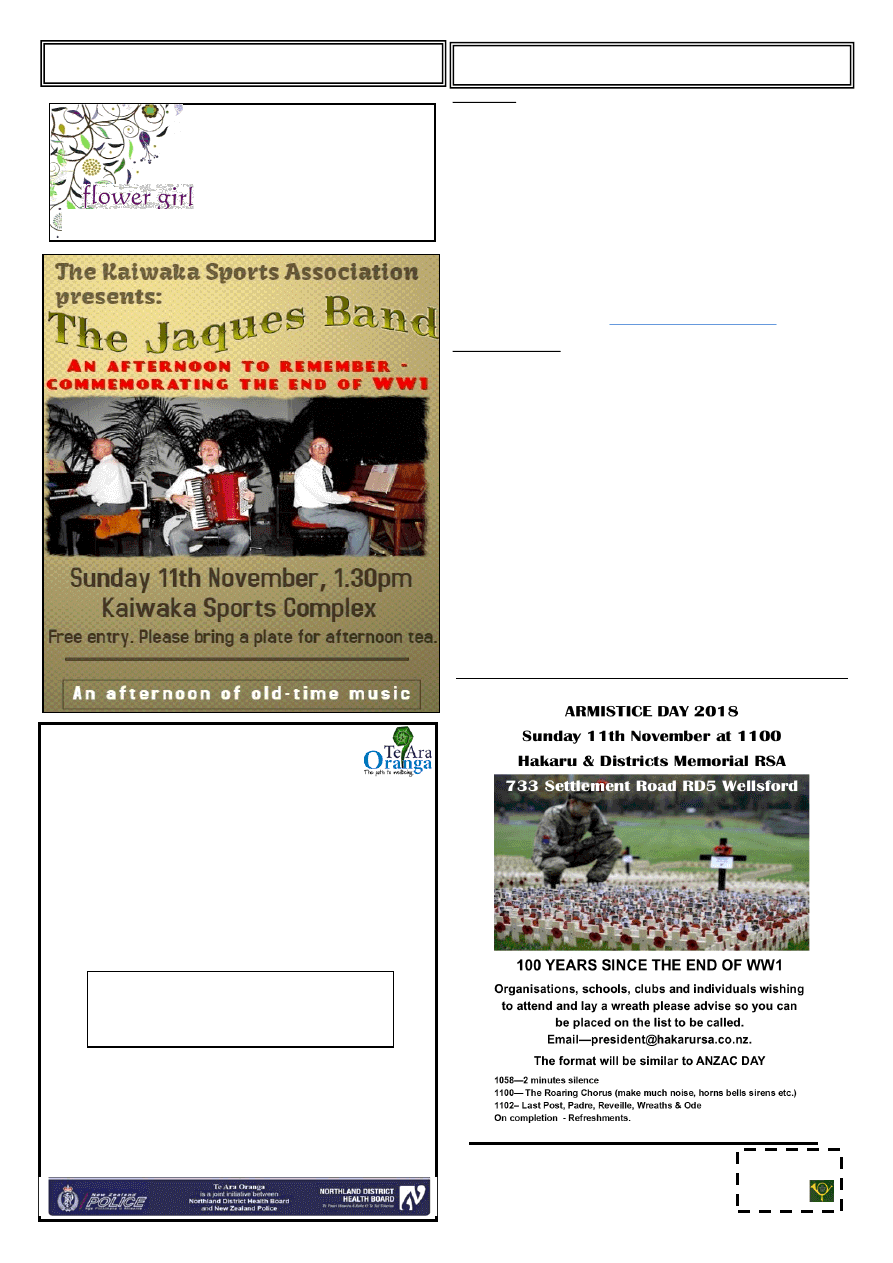 www.kaiwaka.co.nz 
Kaiwaka Bugle - 16 October 2018 
Page 3 
ABOUT TOWN … 
 Condolences to the Haughton family on the 
passing of Briar Haughton. 
PUBLIC NOTICES 
CLASSIFIED 
FOR SALE:  
GUPPIES  6 weeks old x10 for $5.  
Must pick up from 
Settlement Road Ph: 021 623 776 
I Love Kaiwaka' cotton calico tote bags. Colour: natural. $5 each. 
Phone 4312 051. 
SILVER CAMPINE LAYING FOWL (rare breed) 
Excellent layers of large white eggs. 
$15 laying pullets. Limited number 
Ph: 09 431 2382 or 022 430 7465 
WANTED TO HIRE 
We need a number of caravans to accommodate staff during the Scout Venture 
30.12.18 – 12.1.19 and would like to hire locally if we can.
These will be parked 
at Kaiwaka School.
If you have one you are not using over this period, and are willing to hire it out, 
we would  love to hear from you.
Contact Wendy 027 6848846 or 
wendy.eyles@illuminate2019.com
ACCOMODATION: 
Accommodation Wanted–  
Retired male looking for accommodation in Kaiwaka 
1 Bedroom unit, room or board. Payment assured. 
Clean and tidy person, handyman and likes animals 
I have lived in Kaiwaka for 11 years and would like to stay. 
Please Ph: John Treadaway 027 387 2898 
KAIWAKA BUGLE  
DEADLINE DATES 2018 - 
every second Friday 
October 26 
November 9, 23 
December 10 
Kaiwaka Good Sorts 
Do you know someone in our community 
who is deserving of a beautiful bunch of 
flowers? 
Send an email to us at 
kaiwakabugle@kaiwaka.co.nz 
lindywatson@hotmail.com 
COMMUNITY 
METHAMPHETAMINE 
EDUCATION EVENING 
KAIWAKA 
This event is for our community to access 
Information, education and support if you  
or  anyone  in  your  life  is  a  methamphetamine 
user or if you wish to gain knowledge as a parent 
or Employer. EVERYONE WELCOME 
 
What is methamphetamine? 
The cycle of methamphetamine use. 
Signs that someone is using meth. 
How to respond if someone is using meth. 
What can Whanau do? 
Help available from Te Ara Oranga. 
At Kates Place 
1960 State Highway One, Kaiwaka 
RSVP Ph (09) 431-2661. 
Thursday 18 October 2018 
6pm to 8pm. Supper will be served.  
BUSINESS FOR SALE 
PET FOOD & ACCESSORIES 
Do you need a reason to get out of bed? Do you like pets? 
Here is the ideal opportunity! 
Thriving little enterprise catering for the pets in the Kaipara  
District, convenient to East & West coast districts and  
North/South-bound traffic on SH 1. Kaiwaka. 
Well established, prime position, good parking, loyal customer base. 
Adjacent businesses provide a 'pit stop' for travellers and thus extra  
income from the pet lover/owner. 
Currently 6 days a week with experienced staff available. 
Owner retiring. 
Current 6 months turnover $80,920. gst exclusive 
$40,000 or near cash offer plus SAV.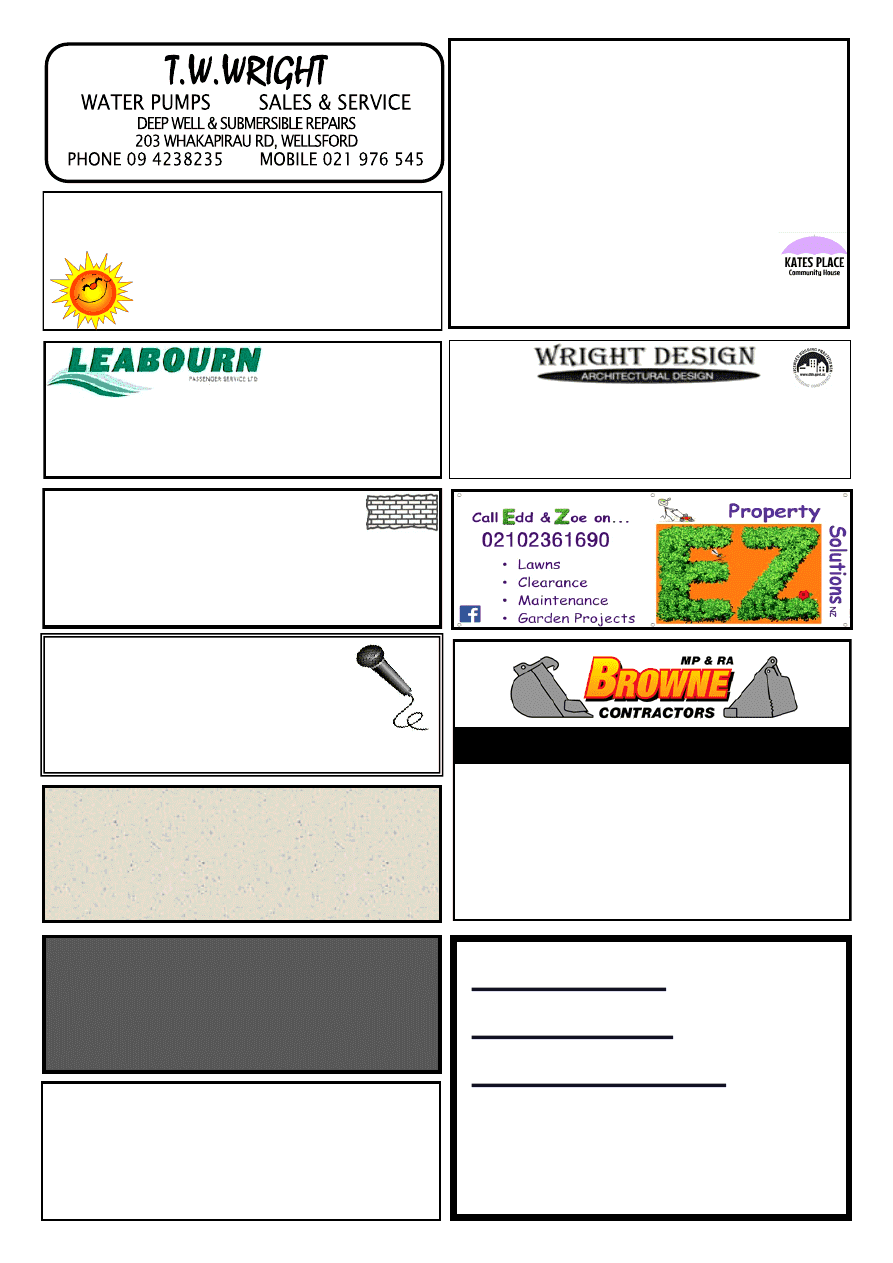 4T DIGGER – BOBCAT – TIP TRUCK 
 Property Maintenance - Driveways  
 Building Sites 
Stump & Tree Removal  
Hole Boring - Chain Trencher  
Calf Shed and Stockyard Cleaning 
Phone Matt: 021 199 6677 
Email: mprabrownecontractors@gmail.com 
BRICK/BLOCKLAYER 
All aspects of masonry: 
Fireplaces, Restoration & Remedial Work.
JAMES EAGLETON
Tel. (09) 431 2514     Mob. 0274 749 232
jajueagles@yahoo.com.au 210A Pukenui Road, RD2, Kaiwaka 0573 
THE SUNSHINE GIRLS
Efficient and reliable help with 
your housework. 
Ph 4312 532 
Counsellor and Registered Psychotherapist 
Offers Supervision
Susan Matheson 
MNZAC 
Dip. Psychosynthesis Counselling and Psychotherapy 
Phone 09 431 2996                        Mobile 027 605 2427 
MARRIAGE CELEBRANT 
WEDDING EVENTS PLANNER 
Yvonne Osborne 
Ph 0274 989 814 
yvonne.osborne@xtra.co.nz 
Passenger Service
Car & Van Hire   Bus & Coach Charters 
Airport Transfers    
Phone (09) 4237416 
SING RIGHT 
Professional coaching for performance,  
recording and demos. 
All level singers, musicians, singer-songwriters. 
Phone Robyn Hill 431 9159 or 0274 725610 
Michael Hogan 
Licensed Builder 
Quality new homes, renovations, and additions 
Phone: 027 974 1045 
Email: michaelhoganbuilder@gmail.com 
Website: michaelhoganbuilder.com 
 FINANCE 
 FUNDING 
 SOLUTIONS 
T - 0275 989814 
E
 - osborneassociates@xtra.co.nz 
REGISTERED INDEPENDENT FINANCE BROKER 
WEEKLY TRIP EVERY THURSDAY 
- MAUNGATUROTO -  KAIWAKA -  
- WELLSFORD - WARKWORTH - (and back) 
For anyone & everyone, save money, save gas, be social, go shopping, 
visit  the  doctor,  get  to  the  library,  got  to  the  dentist,  meet  your 
friends, have lunch, get to WINZ. 
Kate's Place Community House & Otamatea Community Services have 
teamed up to provide a van service that will travel from Maungaturoto 
to Warkworth every Thursday. 
TIMETABLE: 

9.30am: 
Maungaturoto. OCS 155 Hurndall St.

10am: 
Kaiwaka, Kate's Place Community House, 1960 SH 1 

10.20am: 
Wellsford, Te Ha Oranga, 158 Rodney St. 

10.45am 
Warkworth Centre 

1.30pm 
Depart Warkworth 

2.30pm 
Arrive Maungaturoto 
Conditions: No eating or drinking in the van. Children under 14 must be 
accompanies by an adult. Must book a space in advance. 
$5 per adult Book on 09 4312661 
No. 117345 
N.Z.C.A.D., L.B.P. 117345 
PH/Fax: 09 423 8092 Mob: 021 276 7369 
Office: 3 John Sinclair Avenue, Wellsford    brianwright@xtra.co.nz 
For Resource and Building Consents, planning restraints, new building materials - 
you need a capable, experienced, and professional designer with a clear 
knowledge of all the processes. Brian has been helping and organising all these 
facets of design and building for over 50 years. 
Wright Design offers free visits, consultations and advice on planning, design, 
building, council permit applications, guaranteed permit plan acceptance.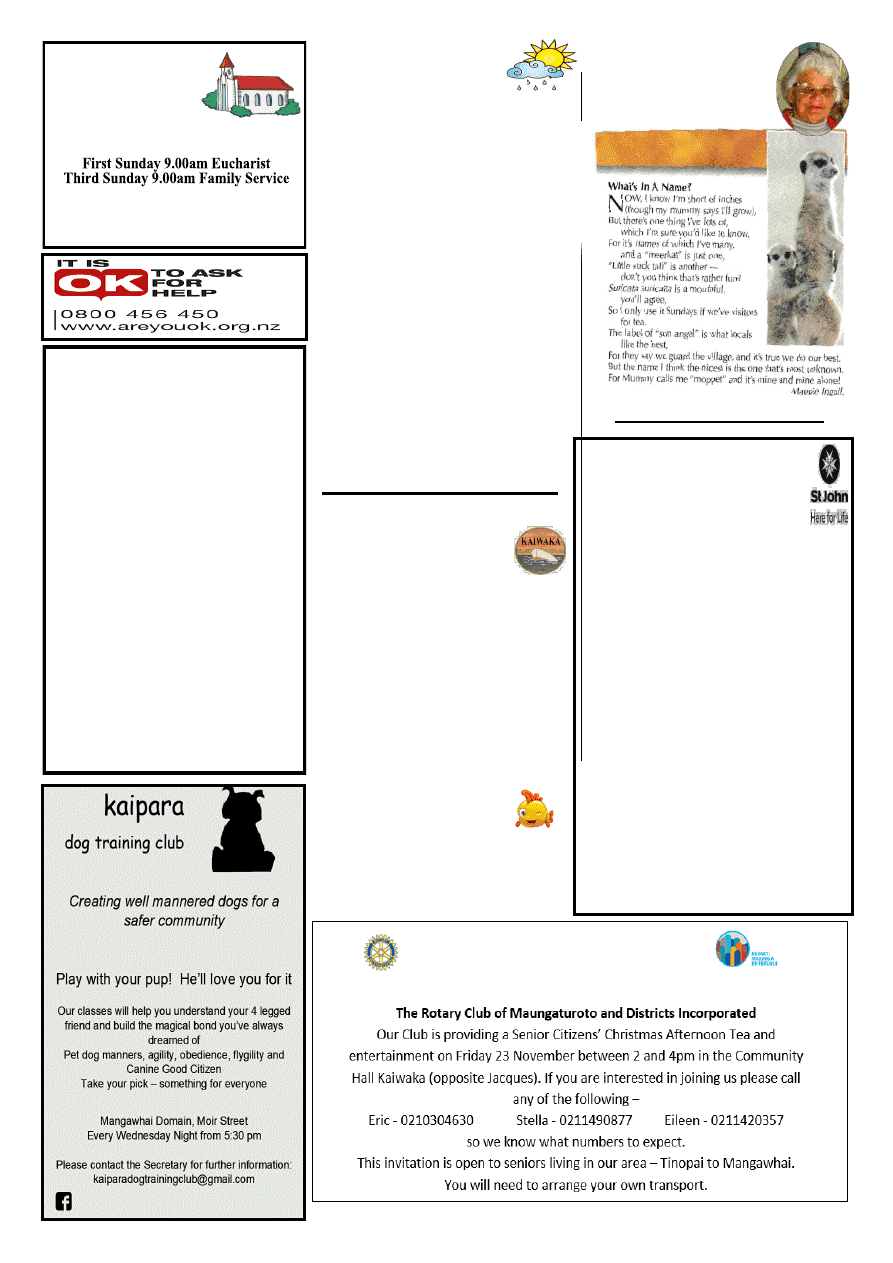 www.kaiwaka.co.nz 
Kaiwaka Bugle - 16 October 2018 
Page 5 
Willow Bend
HORSE  
HOTEL 
  
Total Horse Care 
 
Agistment 
 
Riding Lessons 
 
Arena Hire (60x40) 
 
Young Horse Starting 
 
Re-training/Exercising 
 
Hoof Trimming 
 
Problem Solving 
Phone Sue 09 431 2817 
or 021 623 776 
Or email  
susanjoll11@gmail.com 
ST PAUL'S  
ANGLICAN  
SUNDAY  
SERVICES
St Pauls Church: Kaiwaka-Mangawhai Rd. 
Rev. Wayne Thornton Ph 431 4122 
www.mangawhaianglican.org.nz
POINT CURTIS 
CRUISING 
CLUB  
Kaiwaka Fire Brigade is having a Fishing 
Competition on Saturday 3
rd
 and Sunday 
4
th
 November, followed by an Auction on 
the Sunday. 
Grab some mates and go for a fish. Show 
your  Support,  Happy  Fishing  and 
Bidding,  everyone.    Tickets  $30  Adult 
and $10 Junior. 
Species  are  Snapper,  Gurnard,  Kingfish, 
Kahawai, Trevally and Crayfish. 
Subs can still be paid, they were due 1st 
June Family $30 & Single $20. 
Internet  banking  details:  ASB  Wellsford 
No. 12 3094 0008233 00. Please use your 
name/names as reference. 
The Club Christmas Dinner is on 
Tuesday 13th November at the  
3 Furlongs Bar and Grill 6:30pm 
Everyone Welcome—Please contact  
Jean at Jaques 4 Square 
Sandy at Wellsford Sports and Leisure 
Or Renna 
 ~Wayne Leslie (Commodore) 
KAIWAKA ST. 
JOHN  
OP SHOP 
Kaiwaka Hardware and Key cutting 
sadly has had to close down and Doug has 
so generously donated a lot of his stock  to 
our St.John Op. Shop, so do come and 
have  browse. THANK YOU SOOO MUCH 
DOUG!! 
We also have For Sale; 
1x steel bunkset without mattresses 
1x Double bed base and mattress- very 
good condition 
1x single bed base and mattress – very 
good condition 
Lots of good books – fiction and non-fiction 
Complete set of Golf Clubs complete 
with  Bag etc – great condition 
Selection of lovely new Polymer clay 
jewellery 
.......as well as lots of other great stock!! 
We are needing at present please; 
Towels, cooking pots, baking dishes, rugs, 
mats, pictures, ornaments, plants of all 
kinds, and anything else would be much 
appreciated. 
Thank you, 
Millie   
From Thelma's  
Scrapbook. … 
KAIWAKA  
WEATHER 
What a lovely start to SpRinG 
this year.(no that is not a mistake it is 
springing). Yes we had that cold 
southwesterly at it again and also we had 
those spring showers.  There was about 3 
days of heavy rain thrown at us. The 
Brynderwyn waterfall has beaten last year 
for flow and constantly doing 
so.  Weatherwise it has been a great start 
to the school holidays. For September at 
our house we measured .120mm for 2018 
and 2017 we had .144mm. We had rain on 
13 days and for 2017 there was rain on 16 
days  Our total for 2018 so far is .1467mm 
for the first 9 months of 2017 we 
had .1512mm. Our driest September since 
1987 was the year 2000 .40mm and the 
wettest was 1989 with .249mm.  Our driest 
9 months since 1987 was 1987 
with .687mm and the wettest was 2017 
with .1512mm.  The ground is slowly drying 
out but there is still a lot of boggy patches 
om the farms. 
Professor: "Every time I Lecture about 
ancient Rome I get the hiccups. Student: "I 
guess that proves that history does repeat 
itself." Take care out there and be kind to 
each other. Bev.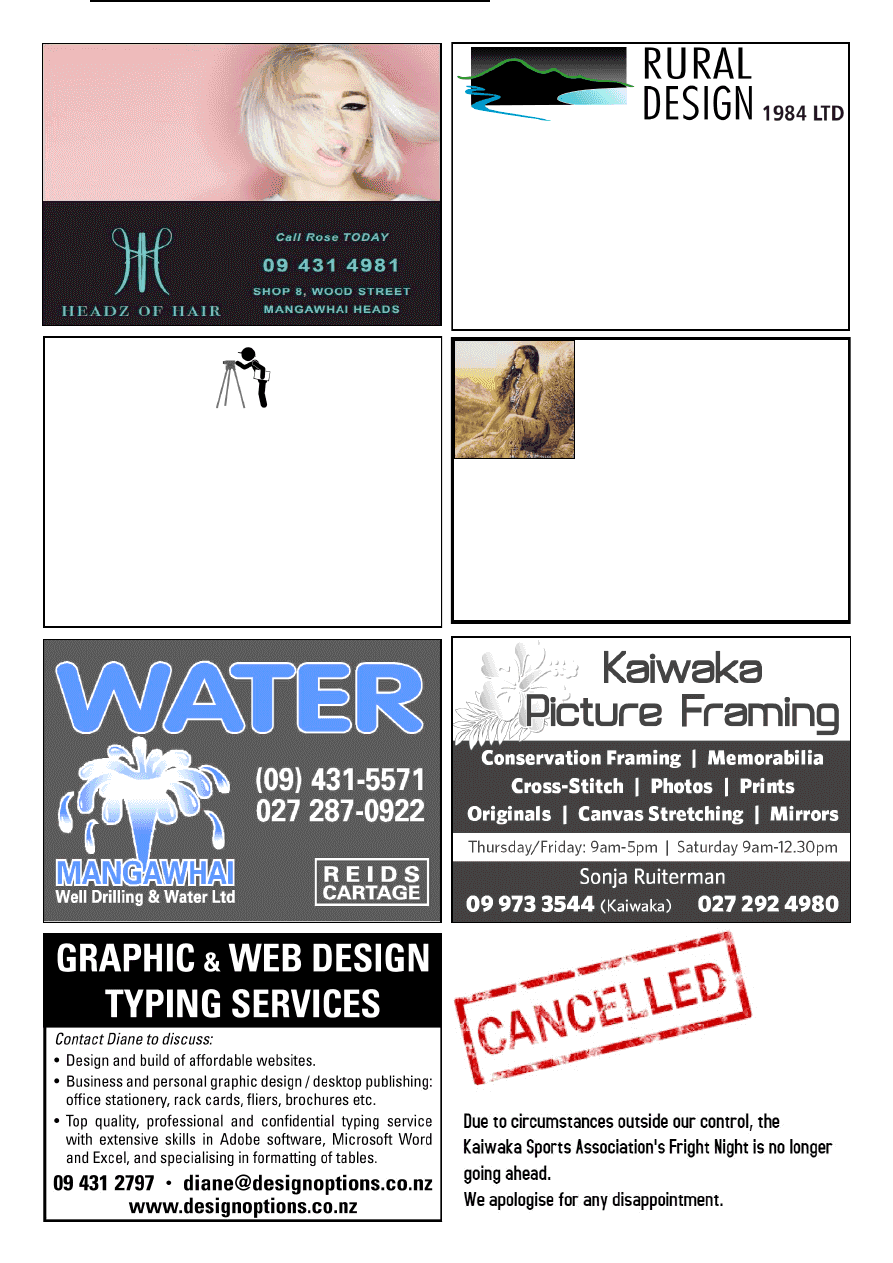 Ken Urquhart 
BSurv Licensed Cadastral Surveyor 
KMU Surveys Ltd
467 Bickerstaffe Road 
RD 2 
Maungaturoto 0587 
Ph 09 431 8705 
Mob 021 161 2344 
kenurquhart@xtra.co.nz 
WHOLESALE NATIVE PLANT NURSERY 
AND LANDSCAPING 
By Appointment 
Small and Large orders welcome 
Phone: 09 431 2481 
Email: info@ruraldesign.co.nz 
Trails end 
spiritualist gathering 
Last Sunday of every month  
10.30-2pm  
Tea/coffee provided  $5 koha 
For all inquiries: 
021 165 2629 evenings (09) 945 0707 
Trail.end@hotmail.com 
1758 Cove Road, Mangawhai
Bringing together light minded people 
Guest speaker each month
(
Next to Kaiwaka Motorcycles)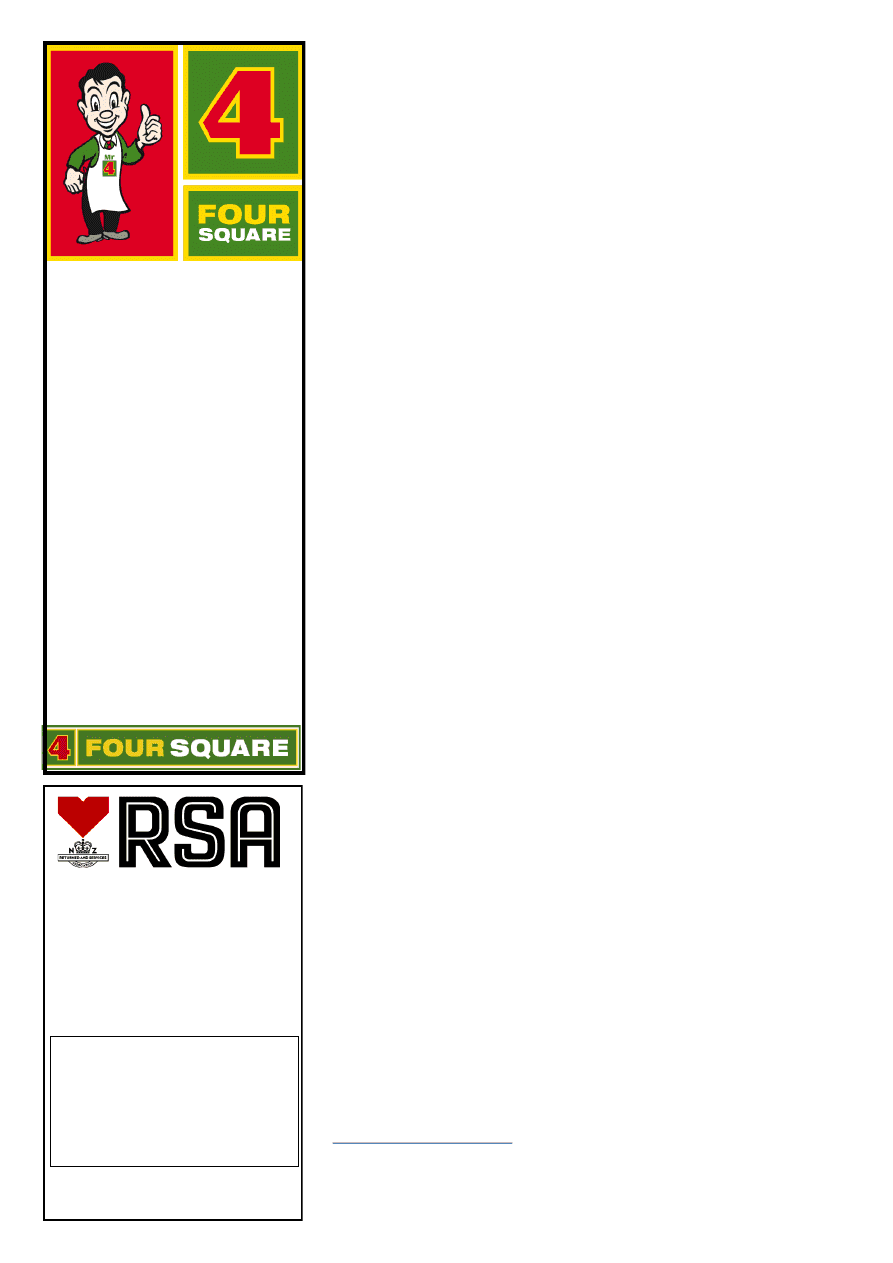 www.kaiwaka.co.nz 
Kaiwaka Bugle - 16 October 2018 
Page 7 
HAKARU & DISTRICTS 
MEMORIAL RSA (INC)
Members & guests are invited to 
come along and enjoy our 
hospitality. 
New members welcome. 
Meals are served on 
Thursday and Friday nights 
from 6.30pm. 
Order from Blackboard Menu  
and a sing-a-long  
with Des Chitty. 
For more information please phone 
Graeme on 431 2563 
NEW RANGE OF 
REUSABLE 
BAGS!! 
Hessian Charlie - very 
funky $2.99 
Black Multi bottle bag 
$1.59 
Set of 5 ECO Produce 
bags $5.99 
Moving towards eliminating 
single use plastic bags 
Remember to bring your 
reusable bags, everyone 
helps 
Jaques Four Square 
Phone: 4312227 
1 Kaiwaka-Mangawhai Road, Kaiwaka. 
Councillor's Comment*  
with Otamatea Ward Councillor Jonathan Larsen 
An extraordinary meeting of Council to decide the final proposal for repre-
sentation at the next local body elections was held at Kaiwaka on Tuesday 
9 October. Currently we have three wards - Otamatea (3 councillors), West 
Coast-Central (3 councillors), Dargaville (2 councillors), and a Mayor elect-
ed at large. The number of residents per councillor is required to fit within 
a +/- 10% margin, and because there has been so much population growth 
in  Otamatea  ward,  the  number  of  councillors  or  the  ward  boundaries 
needed to be changed. 
The initial proposal that Council consulted on was to divide the district in 
to  four  wards  –  West  Coast-Central  (2  councillors),  Dargaville  (2  council-
lors), a much smaller Otamatea ward (2 councillors), and a new Kaiwaka-
Mangawhai ward (2 councillors). Of the 81 submissions received, 53 were 
opposed to this approach. Much of the opposition to this was the splitting 
of the community of interest linkages between the neighbouring towns of 
Kaiwaka,  Maungaturoto  and  Paparoa.  Other  concerns  were  that  the  four 
ward proposal operates right at the +/- 10% margin for the Kaiwaka- Man-
gawhai  ward  (+  9.55%)  and  Dargaville  (-  9.8%).  The  timing  of  the  review 
meant that the data from the old census had to be used. Under the most 
recent  census  data,  the  thresholds  would  almost  certainly  be  breached. 
The implication of this is that at the next review, the ward boundary would 
need to keep moving west in an incremental fashion to accommodate an 
ever increasing eastern population. Concern was also raised that this was 
divisive,  and  could  marginalise  Kaiwaka  and  Managawhai,  with  only  two 
councillors versus a combined six for the rest of the district.   
I moved an amendment to have the more simple option with two wards, 
Wairoa (combining Dargaville and West  Coast  Central) with 4 councillors, 
and  Otamatea  with  four  councillors.  This  gave  a  much  better  margin  for 
growth  (Wairoa  -3.16%,  Otamatea  +3.4%).  However,  with  one  councillor 
absent the vote was tied at four to four, and the Mayor used a casting vote 
against  to  defeat  the  amendment. The  motion  then reverted  back  to  the 
four  ward  proposal,  and  voting  was  once  again  split  four  to  four.  The 
Mayor exercised another casting vote in favour resulting in the four ward 
proposal being adopted. 
There is now an appeal period where anyone who made a submission on 
the initial proposal can appeal the decision to the Local Government Com-
mission (LGC), which will then make a final binding decision. Appeals close 
on 20 December and the LGC will determine the outcome of their investi-
gation by 11 April 2019. 
If you have any community projects or issues that you would like assis-
tance with, I can be contacted on Ph. 021 185 8389 or 
. Check out my 'The WorkBoot Councillor' Face-
book page for regular updates. 
*The views expressed are those of the writer and do not necessarily represent the 
consensus position of Council.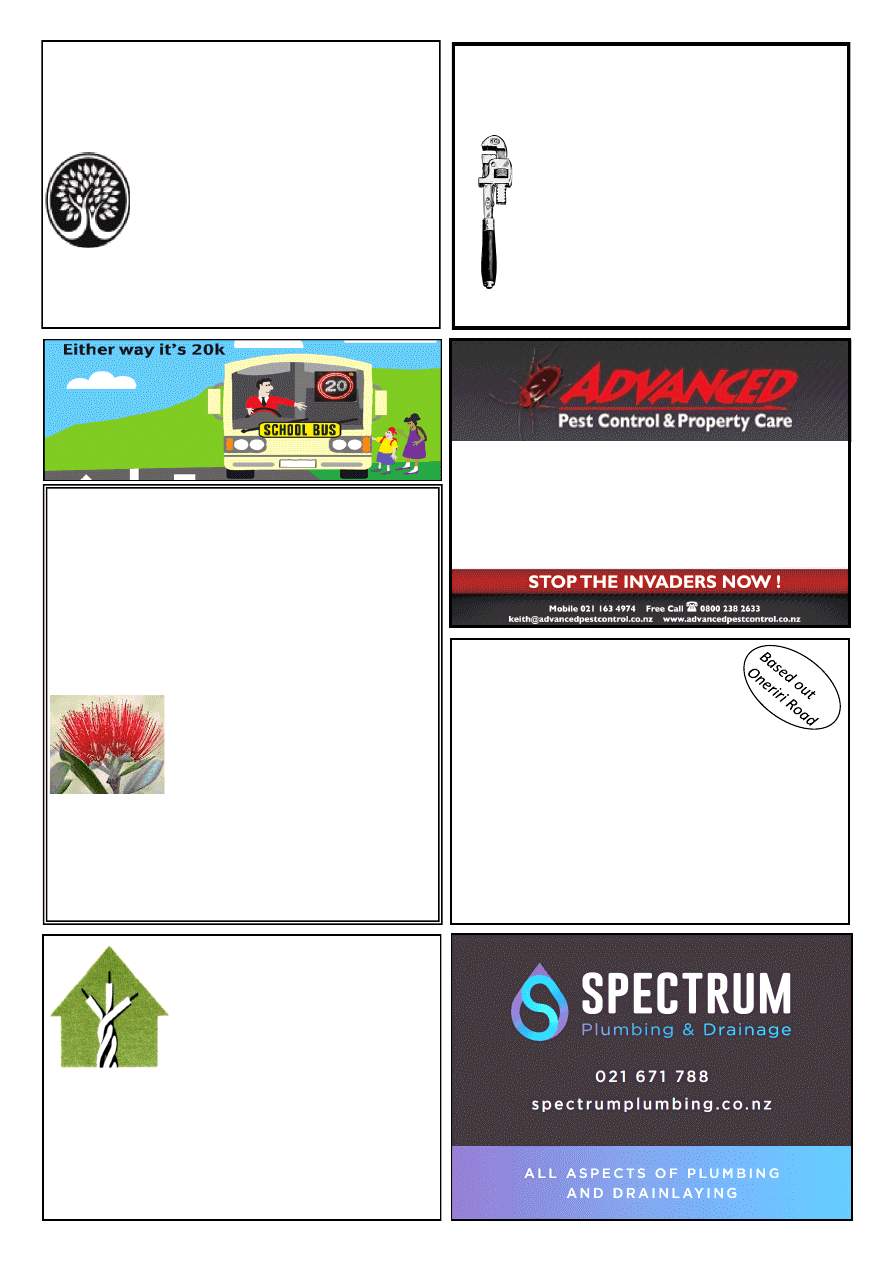 Waipu Natural Health 
3 Cove Road, Waipu  (opposite the Pizza Barn) 
Ph: 09 432 1325 
www.waipunaturalhealth.co.nz
Clinical Nutritionist-Hair Analysis for Masked 
Allergies, Ozone Therapy, Prolotherapy, 
Naturopath-Medical Herbalist, Registered 
Massage Therapists, Reflexology-
Craniosacral Therapy, Acupuncture-Facial 
Acupuncture, Kineso Taping, Hypnotherapy, 
Counselling, ThetaHealing/Change Catalyst
.
AFFORDABLE CONSULTS FOR KIDS – give us a call
Gift Vouchers available
KAIPARA FLOORING CO 
Independently owned & operated 
32 HURNDALL ST MAUNGATUROTO
Supply & Installation of Carpet, Vinyl,  
Vinyl Wood Planking
Stockists of 2m & 3m wide 
vinyl & carpet short ends
Residential & Commercial
Q Card Finance Approved 
6-18 month terms 
6 mth interest free
First Class Installations
For a free measure & quote 
phone Christine  
09 946 9886 or 021 515 415 
kaiparaflooring@gmail.com 
http://www.kaiparaflooring.co.nz/ 
BARRY CURTIS PLUMBING LTD 
REGISTERED CRAFTSMAN PLUMBER 
Phone 4315572 
027 257 9884 
25 years experience 
Friendly reliable service 
All plumbing and maintenance 
Alterations and new housing 
Spouting 
Competitive rates 
PROMPT EFFICIENT  SERVICE 
HODGETTS 
CONTRACTING
Digger Work   

Driveways 

House Sites   

Dams   
 
Drains, etc
Also available for HIRE 
3 ton Vib Roller Heavy Duty Tow  
Waterblaster     Lazer Level
Phone Mark 4312877 
        027 447 8554 
Reyahn George 
Leng 
Registered Electrician 
Local, honest and reliable. 
For your residential and 
light-commercial projects. 
022 314 1068  
Pest Control 
PLAN A: One-off treatments to customers with a specific pest problem 
PLAN B: Full maintenance service plans to commercial customers. 
This will include documentation kept in customer file on site: 
⚫
Pest treated 
⚫
Date of service 
⚫
Chemical or baits used 
⚫
Full pest check report done after each treatment 
⚫
Fair and reasonable fee with guarantee 
Flood Recovery 
Carpet Care 
⚫
Carpet Drying   
This includes pre-spray treatments 
⚫
Dehumidifier Rental 
with stain removal and hot water extraction.  
⚫
Full Commercial Cleaning  Patch repair also available 
Upholstery Cleaning 
Full upholstery cleaning of all furniture.  
eg lounge suites and all office chairs 
Water Blasting 
⚫
Concrete - Decks 
House Washing 
⚫
Soft Chemical Was 
⚫
Pre-painting Wash 
Property Services 
⚫
Property Cleaning  
Lawn Mowing 
⚫
Hedges General  Tidy Ups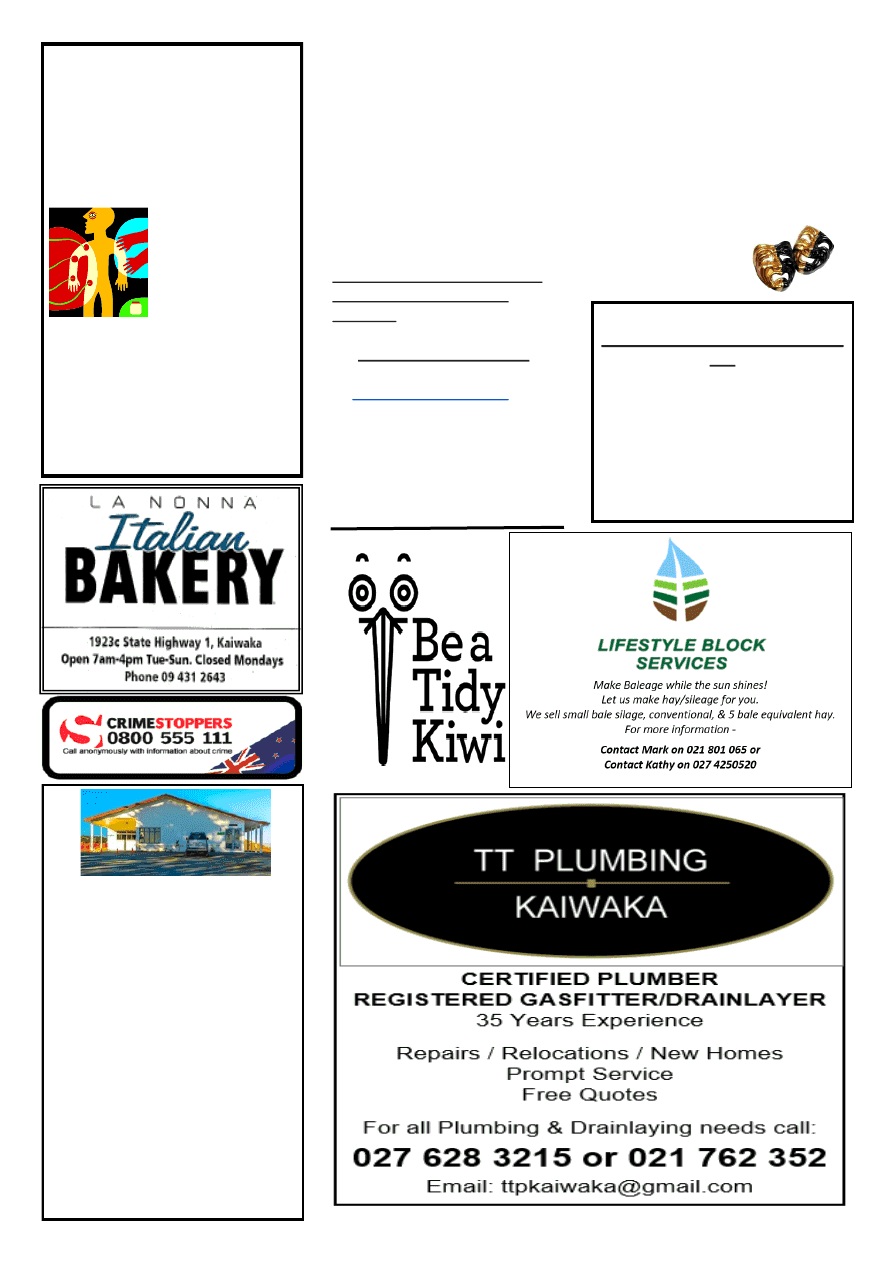 www.kaiwaka.co.nz 
Kaiwaka Bugle - 16 October 2018 
Page 9 
OWEN STEVENS 
Osteo Therapist
For careful adjustments  
to bones and joints 
Treatment for humans  
and their pets 
Clinics: 
Kate's Place, 
Kaiwaka: 
Last Friday of 
month 
9.00am-5.00pm 
For bookings: 
Phone 
09 4312661 
Or phone Owen   
09 4317123  anytime 
OTAMATEA REPERTORY THEATRE 
Tramp! 
Te Pounga Marae 
130 Nathan Rd. Oneriri. Kaiwaka 0573 
COMPLEX FOR 
HIRE 
Functions 
* Weddings  * Birthdays  
*Anniversaries * Meetings  * Wananga 
5 hour meeting * 12 hour stay  * 
Overnight 
*All welcome - No more Drink-driving 
Amenities: 
*Convo Combi Steamer * Bratt Pan * 
Dish Washer/Sterilizer * 3 Door Glass 
Chiller (walk in) etc…All Crockery * 
Linen Supplied * Central Heating and 
Air Conditioning and much more.  
Can also cater for small groups…. 
For more information please contact: 
Kim Wallace  
Home: 09 832 1133  Mob: 0211275340  
Email: kimwallace@xtra.co.nz 
Otamatea Repertory Theatre 
has applied to Music Theatre 
International for the rights to 
produce Disney's Beauty 
and the Beast JR 
All cast members must be 
school-age - that applies to 
both principals and chorus. 
We will not have the rights 
confirmed until later in 
October, however if you are 
interested in putting forward 
an application to direct the 
show, please send by email 
 or by 
mail to ORT, PO Box 35, 
Maungaturoto 0547 
Each show is approximately 
70-80 minutes. 
Performance dates will be 
April 5, 6, 7 and 12, 13, 14   
The Annual General Meeting 
Otamatea Repertory Theatre 
Inc 
will be held 
At the theatre 
Thursday 8 November 
2018 @ 7pm 
Everybody is welcome. 
Kind regards, 
Maura Flower 
We will perform a total of 8 
shows with 2 shows on each 
of the Saturdays. 
FYI Easter is the weekend 
after the show closes. (19 - 
22 April) 
Term One ends on Friday 
12 April 2019. 
Cheers, 
Maura Flower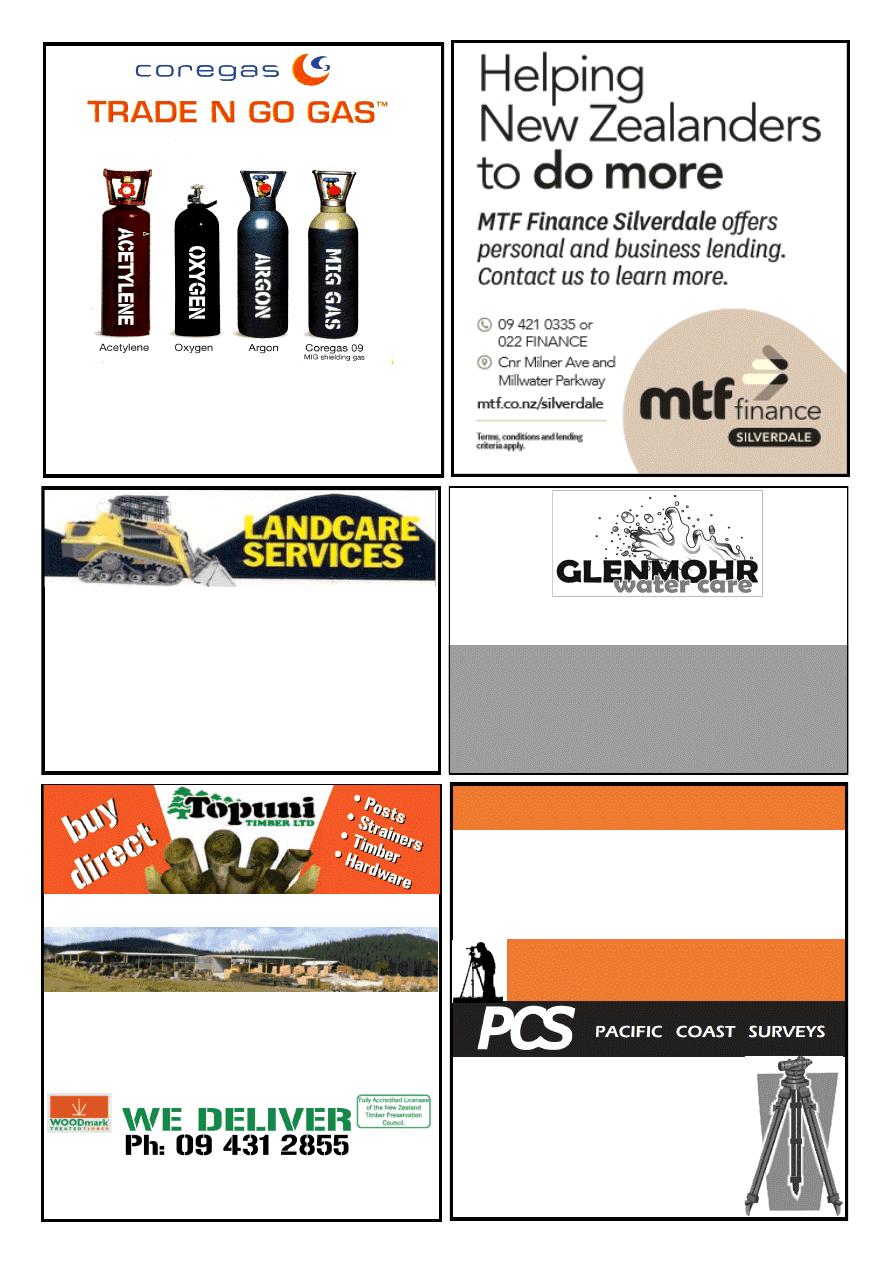 LOCALLY OWNED AND OPERATED 
QUALITY PRODUCTS • FRIENDLY ADVICE • GREAT SERVICE 
Quality Products milled from High Density NORTHLAND Radiata Pine. 
Treated and guaranteed to NZS3640 with commitment to 
Environmental Safety.
Phone, fax, email, or come into the mill 
Schiska Rd, Topuni, SH1, 10 min north of Wellsford. Fax: 09 431 2856 
Email: sales@topunitimber.co.nz           Mon - Fri 7am-5pm 
• Fencing 
• Retaining 
• Decking 
• Landscaping 
• Gates 
• Hardware 
SURVEYORS 
SUBDIVISIONS 
HOUSE SITE SURVEYS 
CIVIL ENGINEERING 
WASTEWATER DESIGNS 
EXPERIENCED 
PROFESSIONAL 
INNOVATIVE 
Ph 09 431 5353 
0800 PACIFIC (0800 722 434) 
pacificcoastsurvey.com
Adam Booth - 027 415 5752 
Bsurv, Licensed Cadastral Surveyor
Surveying Kaipara since 1994 
Water Tank Cleaning 
• 
Keep your water safe & clean  
• 
Removal of sediment, silt etc. 
• 
Vacuum or full scrub 
• 
Minimal water loss 
Phone Mark (09) 432 0655 or 0274 707607 
LANDSCAPING 
4 IN 1 BUCKET 
TRENCHER 
POLE HOLES 
ROTARY HOE 
COMPACT ROLLER 
OFFAL HOLES 
CAN SUPPLY WOODCHIP & POST PEEL 
5 TON TIPPER 
FOR RELIABLE AND FRIENDLY SERVICE CONTACT DAVE 
Dave Hyndman 
 
KAIWAKA 
PH: 09 4312302 
MOB: 021 431 238 
Now available at Twinkle Tow 'n' Tyre 
Mob: 021 833 960 
Ph & Fax: 09 431 2823 
1837 State Highway 1, Kaiwaka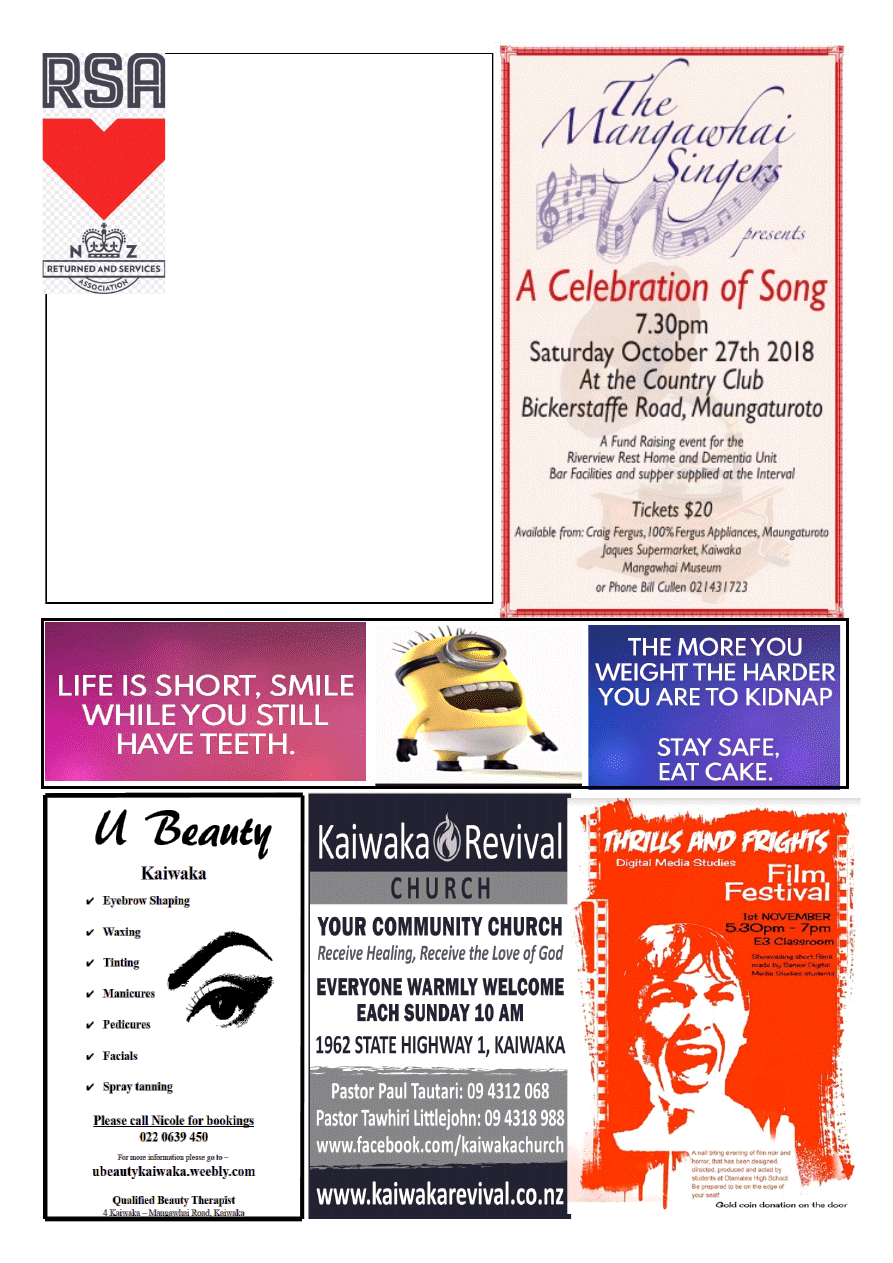 www.kaiwaka.co.nz 
Kaiwaka Bugle - 16 October 2018 
Page 11 
Hakaru & Districts Memorial 
RSA  
WOMENS SECTION
There was a small attendance at our 
September Meeting, we hope Pat 
Judd, and Jan Mann and anyone else 
that wasn't well is better again now. 
9 of our members attended Waipu's 61st 
Birthday and a Great time was had by all, 
everyone received a gift bag with pens, 
sweets and lotions. 
Congratulations to Margaret Schutt who turned 90 on the 
29th September, Margaret for many Years was known for 
her lovely Singing and the Members from the other clubs 
looked forward to her singing "How Great Thou Art" at our 
Birthdays. 
4 Members plan to attend Whangarei's  73rd Birthday on 
October the 10th. 
Congratulations to Cadet Corporal Logue who has been 
selected to go to the UK in November. 
This month's raffle was won by Bettie Marchant 
Next month is our Birthday Month. Members arrive at  
12-30 on the 25th to celebrate with a special Luncheon. 
Hopefully we will see a lot more members present this 
month!! 
That is all for now, 
Cheers Ann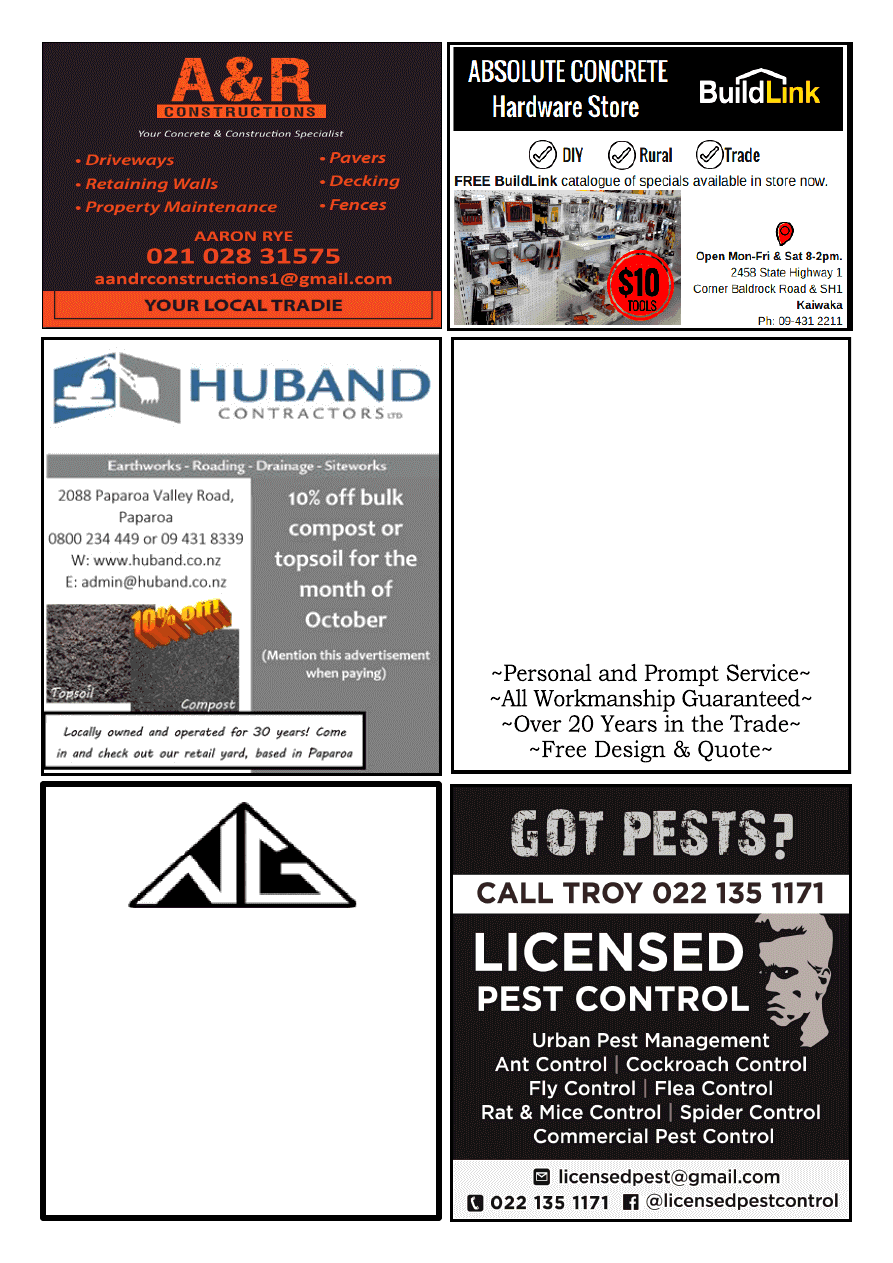 NORTH GLASS 
WINDSCREEN REPAIR OR REPLACE 
GLAZING SERVICES 
MIRRORS  •  SPLASH BACKS  •  SHOWERS 
0800 70 40 10
info@northglass.co.nz 
www.northglass.co.nz 
PLANNING A NEW KITCHEN?
 CONTACT NOEL McDOWELL
WELLSFORD 
KITCHENS
Ph/Fax 094312888
KAIWAKA-Any time
 QUALITY CUSTOM MADE 
KITCHENS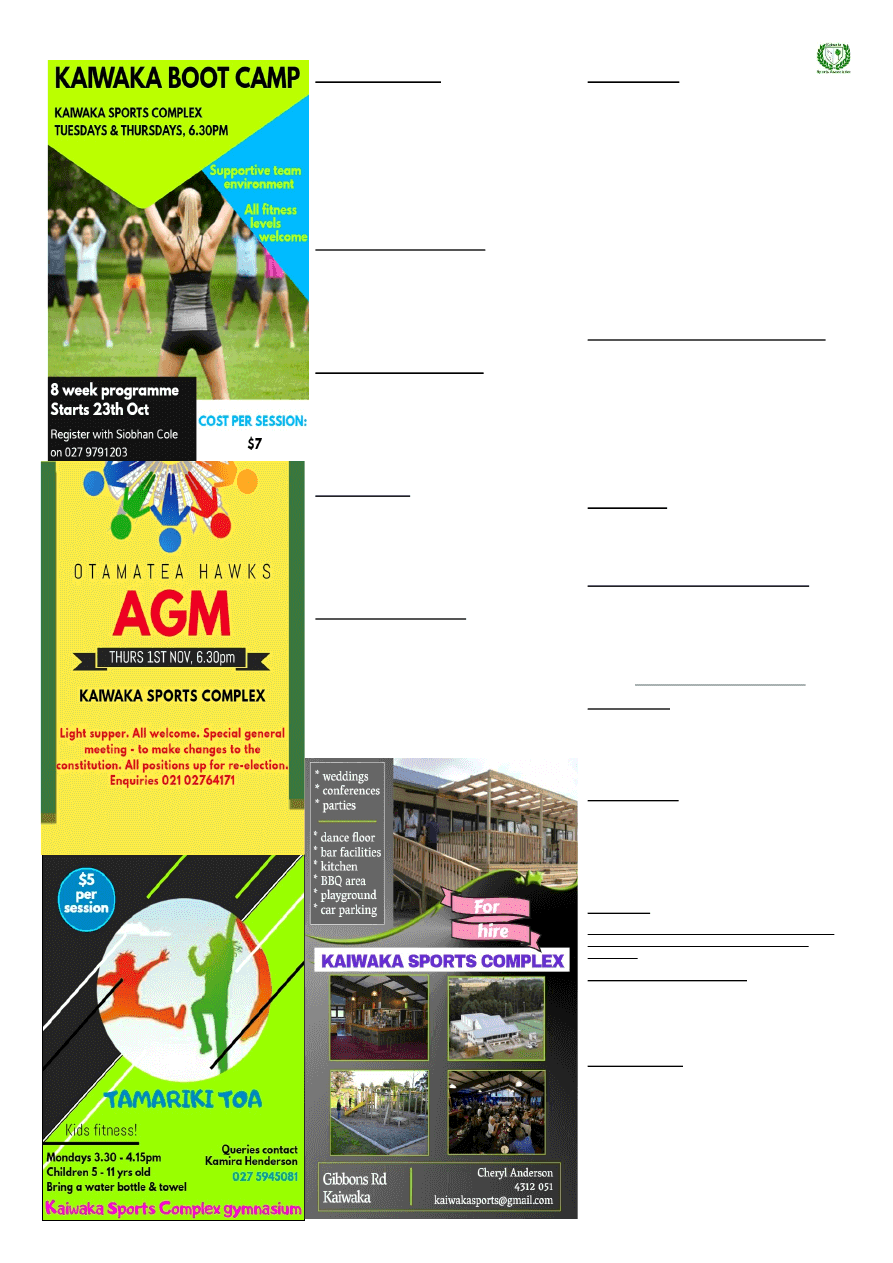 www.kaiwaka.co.nz 
Kaiwaka Bugle - 16 October 2018 
Page 13 
           KAIWAKA SPORTS ASSN 
Fast Five Netball 
We had a fantastic start to our Fast 
Five Netball Module last Sunday with 
over 90 people participating – lots of 
laughter and awesome sideline 
support! The Module will run for eight 
weeks and there will be prizemoney for 
the top three teams. Results, photos 
and the draw are posted on the Fast 
Five facebook page.  
Basketball backboards 
We now have two very flash glass 
basketball backboards in our 
gymnasium! Made possible with a 
generous grant from the NZ Racing 
Board. Many thanks to the men from 
Engtech for installing them.  
Otamatea Hawks AGM 
The Hawks will hold their AGM at the 
KSA on Thursday 1
st
 November at 
6.30pm. A light supper will be 
provided, All positions are up for re-
election. Everyone is welcome to 
attend. 
Jaques Band 
The Jaques band will play at the KSA 
on 11
th
 November, to commemorate 
the end of World War One. If you 
know of people who would  love to 
enjoy an afternoon of old-time music, 
please let them know.
Kaiwaka Boot Camp 
Keen to get into shape for the 
summer? There will be a Fitness Boot 
Camp at our grounds, for 8 weeks, on 
Tuesdays and Thursdays at 6.30pm. 
Starting 23
rd
 October.  This is suitable 
for people of all ages and fitness levels. 
Just bring yourself - fun and laughter 
provided! $7 a session. 
Fitness Trail 
Did you know we have a Fitness Trail 
at our grounds? It's free for members 
of the public to use: go for a stroll, a 
run, or kids can zoom around it on 
their bikes! We made the path extra 
wide, so that it's suitable for 
wheelchairs and parents with strollers. 
It's marked with distances so you can 
see how far you've walked. And has a 
bench so you can stop off for a spell. 
You're welcome to borrow our 
children's scooters which are kept in 
the gazebo - please return them so 
they're available for other people to 
use.  
Advance notice – Touch Module 
Who wants to play Summer Touch? 
Our Touch Module will be held at the 
Sports Complex for eight weeks on 
Wednesday evenings starting 16
th
January. This is a social Module for 
mixed teams of men, women and 
teenagers. If you'd like to enter a 
team, contact me for the registration 
form. 
Group Day 
We are hosting Group Day (regional 
Agricultural Day) at the KSA on Labour 
Monday. Spectators welcome.  
Hirage of the Sports Complex 
Did you know our pavilion is available 
for hire? We also hire out our kitchen 
to groups who require a commercially 
licensed kitchen for food preparation.
Check out our website for all the 
details www.kaiwakasports.co.nz. 
Sports Day 
An inter-schools Sports Day for Years 7 
and 8 will be held at the Sports 
Complex on Tuesday 23
rd
 October. 
Spectators welcome. 
Junior Tennis 
Our children's tennis lessons start Monday 
29
th
 October. Juniors at 3.15pm, 
intermediate at 3.45pm followed by senior 
kids at 4.15pm. Great coach, very 
reasonable fees. Contact Linda on 021 266 
8571 for more information. 
KSA AGM 
Our Annual General Meeting will be at the KSA 
on Wednesday 14
th
 November at 7pm. All 
welcome. 
Fright Night - cancelled 
Unfortunately this month's Fright Night isn't 
able to go ahead, apologies for any 
disappointment. We'll be back for Fright 
Night 2019.  
Can you help? 
The Sports Association is looking for a local 
lawyer who might be happy to donate a 
few hours of time to help us with some 
legal issues. If you can help, please contact 
me. 
Cheryl Anderson
 ~Cheryl Anderson, 4312 051, 027 
3462702 
kaiwakasports@gmail.com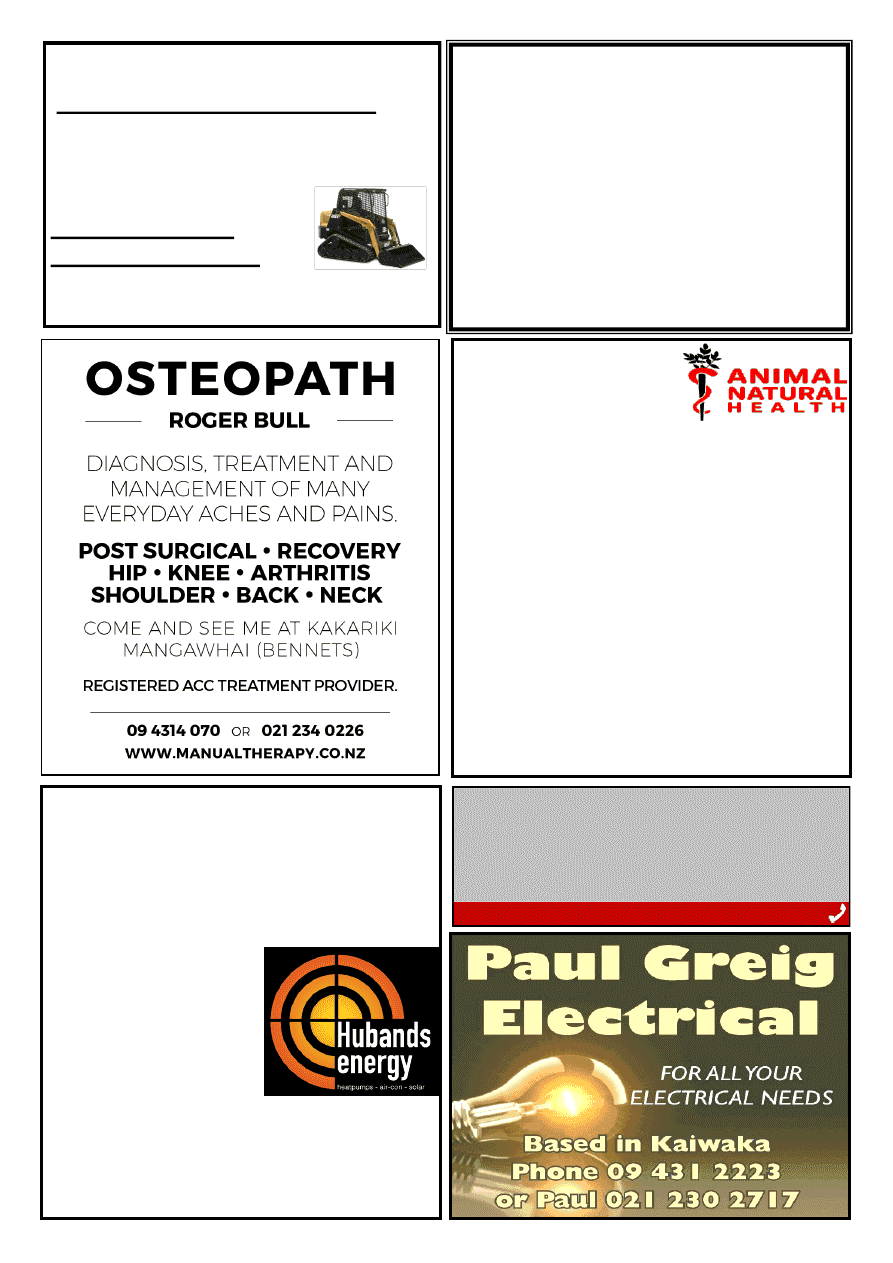 Natural Earth Ltd 
 Landscape and Bobcat services 
 : Driveways  :Landscaping  :Retaining Walls 
 : Hole Boring: Land Levelling :Trenching 
 : Decks :Fences :Sections Cleared: Plus much 
more 
Tel   09 4312885 
Mob 02102391280   
For A Fast Friendly  
Service Contact Tim Hicks 
CALL CRIMESTOPPERS 
Worried about something that doesn't seem right to 
you? Concerned about activity that could be 
harmful? Call Crimestoppers.  
You don't need to know all the facts.
CALL 0800 555 111 ANONYMOUSLY 
Northland's Award Winning 
Solar Company
SEANZ Best Solar Business Winners 2015/16
EXCLUSIVE 10 year installation warranty 
FREE No obligation onsite quote
Complete systems 
from $5990
See our range of: 
✓ 
Heatpumps 
✓ 
Airconditioning 
✓ 
Hot Water 
Heatpumps 
✓ 
Central Vacuum Systems
09 430 0019             sales@hubands.co.nz 
15 Kioreroa Road, Whangarei
Locally owned and operated for 35 years 
Mangawhai Heads 
Garden Centre
1758 Cove Road
945 0707 
021 165 2629 
PET FOOD & 
ACCESSORIES 
ANIMAL NATURAL 
HEALTH, KAIWAKA
Our Pet Deli range of meats are now in! 
Also stockists of: 
Purely Pets Patties 
Orijen & Acana Kibble 
Mighty Mix Biscuits 
Tukka Thyme Muesli 
Organic Apple Cider Vinegar
Chemical-free flea control, wormers 
Homeopathic / herbal preps for Upsets & 
Allergies. 
Collars and leads. 
Hours:  10.00am - 5pm weekdays, 10.00-4pm 
Sat. 
Next to Italian Bakery, SH 1, Kaiwaka 
Phone 09 431 2217.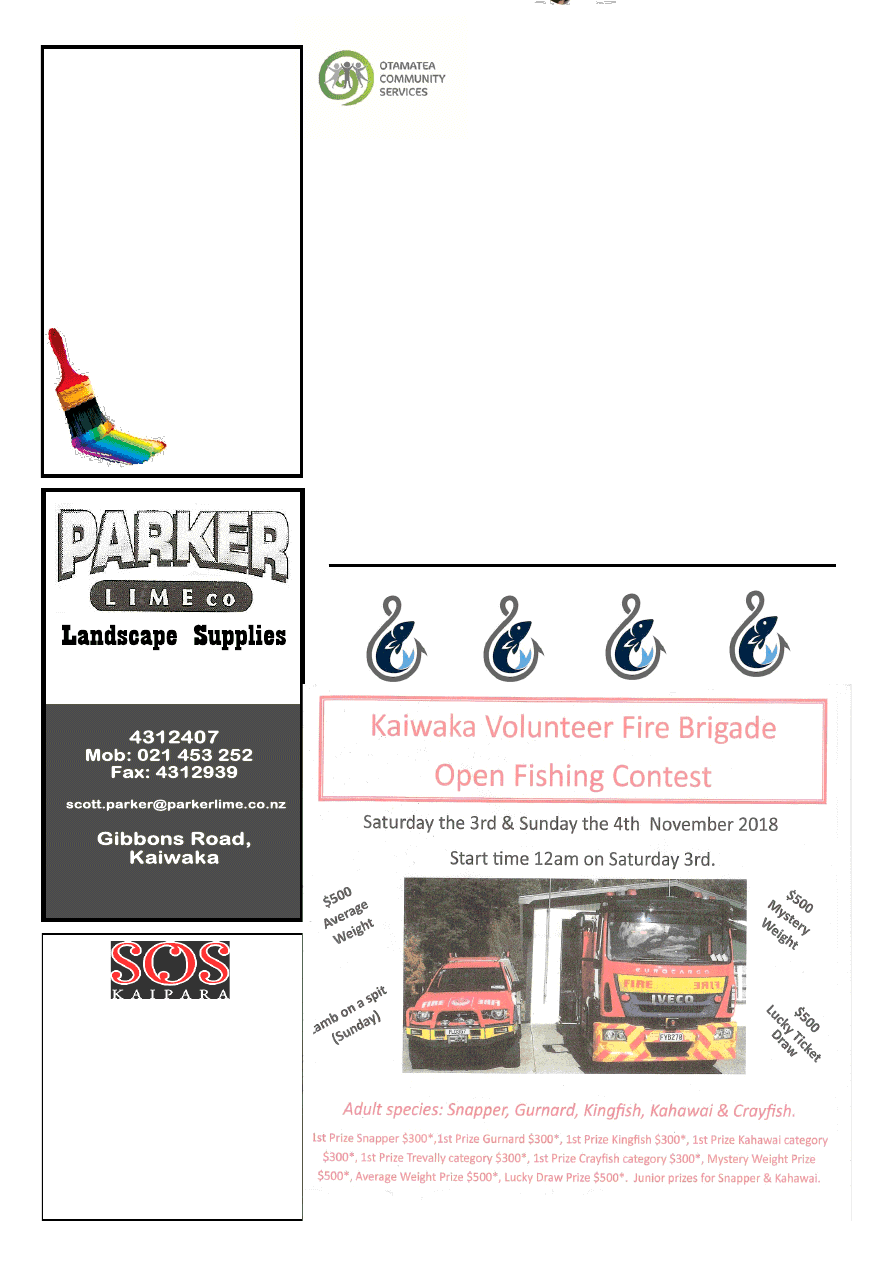 www.kaiwaka.co.nz 
Kaiwaka Bugle - 16 October 2018 
Page 15 
S.O.S Kaipara 
Support, advocacy, crisis and 
family therapy counselling, refuge 
housing to survivors of sexual 
abuse and domestic violence. Also 
Education prevention programmes 
for the community and clients.  
Office hours 9am to 3pm Monday to 
Friday; 24/7  Police  
or phone 09 4396070 
 
WHITE RIBBON DAY 25
th
.  This is our annual White Ribbon Day barbeque 
in front of the beauty shop next door. This is a reminder that domestic 
violence  is  still  a  big  issue  in  communities  across  New  Zealand.  Our 
confidential  service  is  available  to  support  families  experiencing  the 
effects  of  this.    We  are  grateful  that  domestic  violence  continues  to  be 
talked  about  and  publicised  so  that  we  can  find  ways  to  intervene 
wherever this is present.   
CHRISTMAS  We  encourage  families  to  think  about  the  basics  of 
Christmas. It should be about connecting families, sharing food, enjoying 
being together, having valuable family time over the summer months. 
YOUR  COMMUNITY  HOUSE  is  going  along  smoothly,  remember  we  are 
available Monday to Friday, 9am to 3pm.  Phone us on 431 9080 or call in 
to  enquire  about  our  free  services  which  include  Parent  Coaching, 
Counselling, Financial Mentoring, Family/ Whanau Support.   
The  mini-bus  makes  two  trips  to  Whangarei  for  shopping  each  month; 
these are the  2
nd
 Tuesday and the 4
th
 Wednesday of each month. 
Bulk Cartage 
LEE COOPER 
PAINTERS 
(Kaiwaka Based) 
*30 yrs Experience 
*Interior/Exterior 
*New and Restoration 
*Honest and Reliable 
*Free Quotes 
 
09 4312918 
0274735171 
leecooper@xtra.co.nz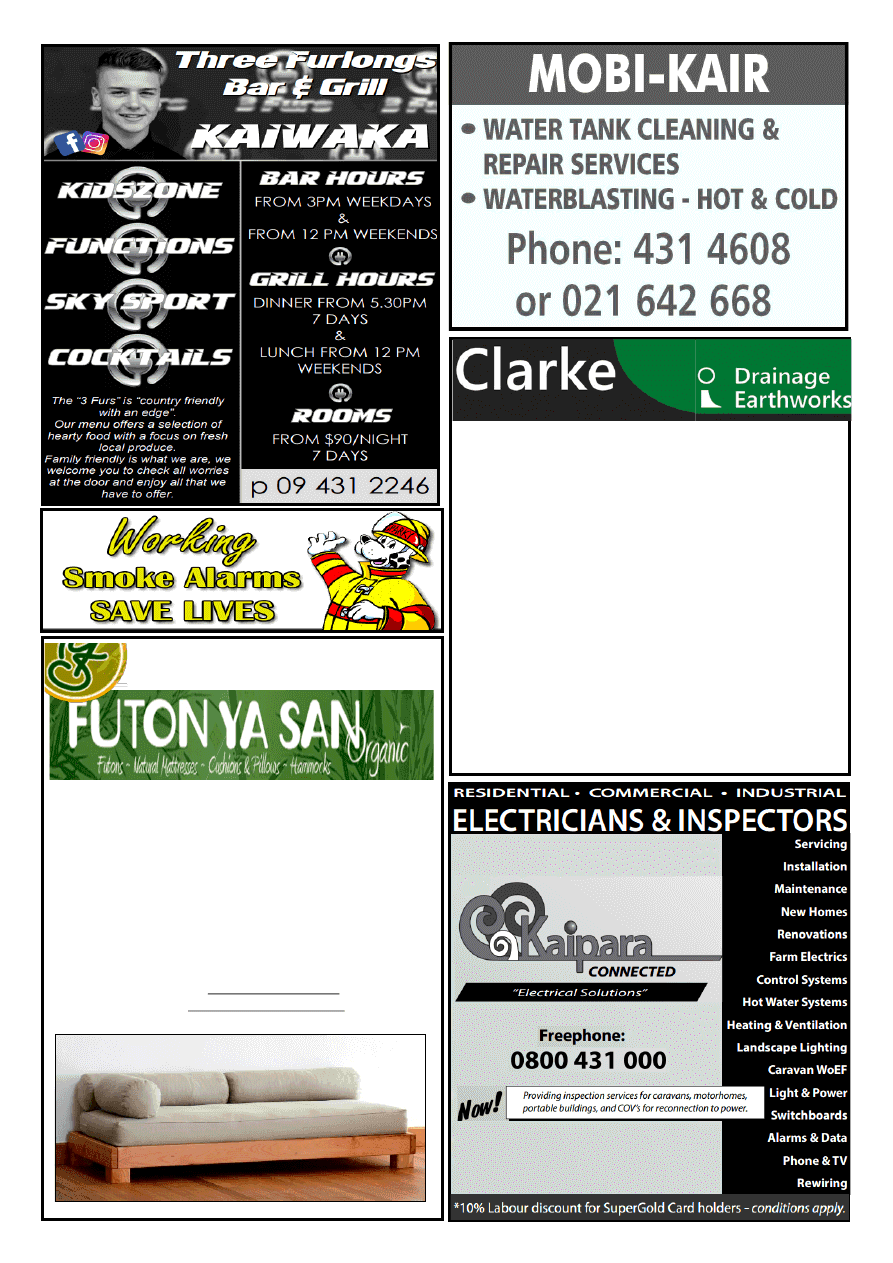 Registered Drainlayer 
All Types of Earthworks  
> All Residential & Commercial Work  > House Sites 
> Septic System Design & Install 
> Footings & Drilling to 10m 
> Sewer Connections 
> Dams 
> Water Tank Installation 
> Roading & Races 
> Farm Work 
THE ONE STOP SHOP  
Phone Nigel for an Obligation Free Quote  
Drainage & Earthmoving 
nigel@clarkedrainage.nz 
027 2233 185 
Email: info@kaiparaconnected.co.nz 
Website: www.kaiparaconnected.co.nz 
Your local supplier of Custom Made 
Natural Mattresses - Pillows - Duvets - 
Futons - Yoga Bolster 
AND MORE 
Made from Certified Organic Wool, Hemp 
Organic Cotton fabric 
Rubberized Coco fibre 
website: www.futons.co.nz  
email: contact@futons.co.nz 
Phone: 021 176 17 19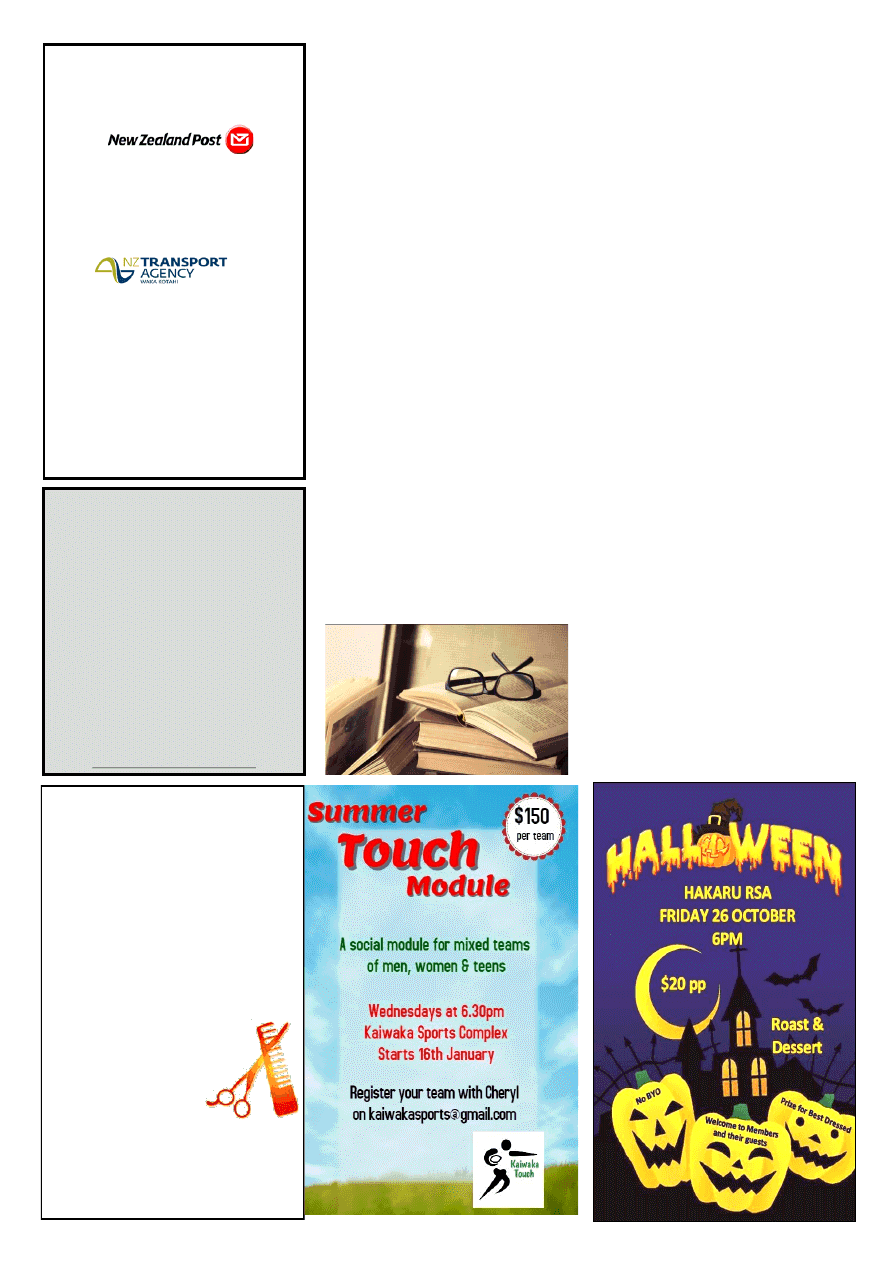 www.kaiwaka.co.nz 
Kaiwaka Bugle - 16 October 2018 
Page 17 
KAIWAKA LIBRARY 
KAIWAKA POST 
CENTRE and 
FOOD MART 
POST CENTRE TRADING HOURS 
MONDAY to FRIDAY 8am to 5pm 
SATURDAY 8am to 12pm 
CLOSED ON SUNDAY and on 
PUBLIC HOLIDAYS 
FOOD MART (GROCERIES) 
MONDAY TO SUNDAY  
7:30am to 7:30pm 
IF ANY QUERIES PLEASE CALL 
STORE MANAGER AMRIT  
on 09 4312431 or 
EMAIL: kaiwakafood19a@gmail.com 
1919a State Highway1, Kaiwaka 0542 
Maungaturoto  
Country Club 
SPORTS - SOCIAL - CONFERENCE 
CENTRE  
The club is open Fridays from 4pm and 
Thursdays from 6pm - come and enjoy a 
drink and a meal from Raquel's Kitchen.  
You can join the Club  - $15 a year. 
Application forms available on request. 
Affiliated activities: Bowls, Squash, 
Rugby, Theatre, Motorcross, Equestrian. 
PO Box 81 Bickerstaffe Rd 
Maungaturoto 0547 Tel 09 4318 326 
AFFORDABLE 
PRICES! 
MENS CUT FROM $20.00 
LADIES CUT FROM $30.00 
KIDS CUT FROM $18.00 
COLOUR & CUT FROM $120.00 
JUST 
CUTS'AND   
MORE 
021 165 2629 or  
(09) 945 0707  
NOW SELLING: scented tealights, 
incense, smudge sticks, copper bracelets, 
aurora ball crystals, dream catchers, 
healing stones, rose quartz, cds, and much 
more. Open 6 days. 
Large Print & Audio Books 
We now have a new selection of large print and audio books from the Northland Li-
braries Network collection. Many thanks to Claire and Sue for their assistance with 
this huge job. We have these titles on our shelves until April 2019. Come in and take a 
look - you do not need to be visually impaired to borrow these, they're for everyone. 
Large print is great for reading at night when your eyes are tired - as well as being a 
different range of titles that we don't otherwise carry on our shelves - and audio books 
are great for any time your hands are busy, such as housework, gardening, driving, 
knitting, etc. 
Farewell 
Farewell to Alistair and Penny Hoy, who have left the district. They were part of the 
team of volunteers who renovated the library last year. Their efforts here are greatly 
appreciated, and we will miss their cheery faces. 
Christmas Shutdown 
Yes, that time of year is approaching. The library will be open for its last day in 2018 
on Saturday 22 December, then will be closed for its usual two-week break from Sun-
day 23 December until Sunday 6 January, and will reopen for the new year on Mon-
day 7 January 2019. 
Book review 
Recently I've read The Rope of Man by Witi Ihimaera. This book comprises two sto-
ries - Tangi, first published in 1973 and revised for this book, and The Return. 
Tangi "focuses on Tama Mahana, a 20-year-old newspaper reporter, as he attends 
his father's funeral in Waituhi". The story weaves through three threads; learning 
about the family's life as rural contractors with a young family, living in the back blocks 
of Gisborne and surrounding areas, moving frequently as one contract ends and an-
other begins, and Tama receiving the phone call from his sister to say their father has 
died through to the tangi itself, and Tama's train journey back to Wellington to finish 
up his job at The Evening Post before going back to Waituhi and taking over the fami-
ly farm as he has promised to do. It's a wonderful story, despite being set around the 
death of a loved one. 
The Return "is a sequel set in 2005; Tama, now 52, is living in London and is a suc-
cessful TV anchorman. This time it is his mother, Huia, who is dying, and as Tama 
travels back to New Zealand he realises that both he and his mother are powerless to 
prevent the secret that they have been harbouring from blowing their family apart." 
Written in a very different style - to be expected when it's written 30 years later - I 
found this a much quicker read than the first part, largely I expect because I was en-
joying Tangi so much (despite it making me cry the whole way through!) I didn't want it 
to end so I found other things to do instead 
of reading to delay its end. The whole book 
was excellent. It is on our Rental Fiction 
shelves in the library. 
See you in the library! 
~Wendy 
Kaiwaka Library,  
cnr State Highway 1  Kaiwaka-Mangawhai Road.  
PO Box 8, Kaiwaka 0542.  
Phone:4312539. Email kaiwaka.library@gmail.com  
Open Wed-Sat 10am-2pm, Mon 4-6pm.  
Free  membership  is  available  to  all  residents  in  the 
Kaiwaka area.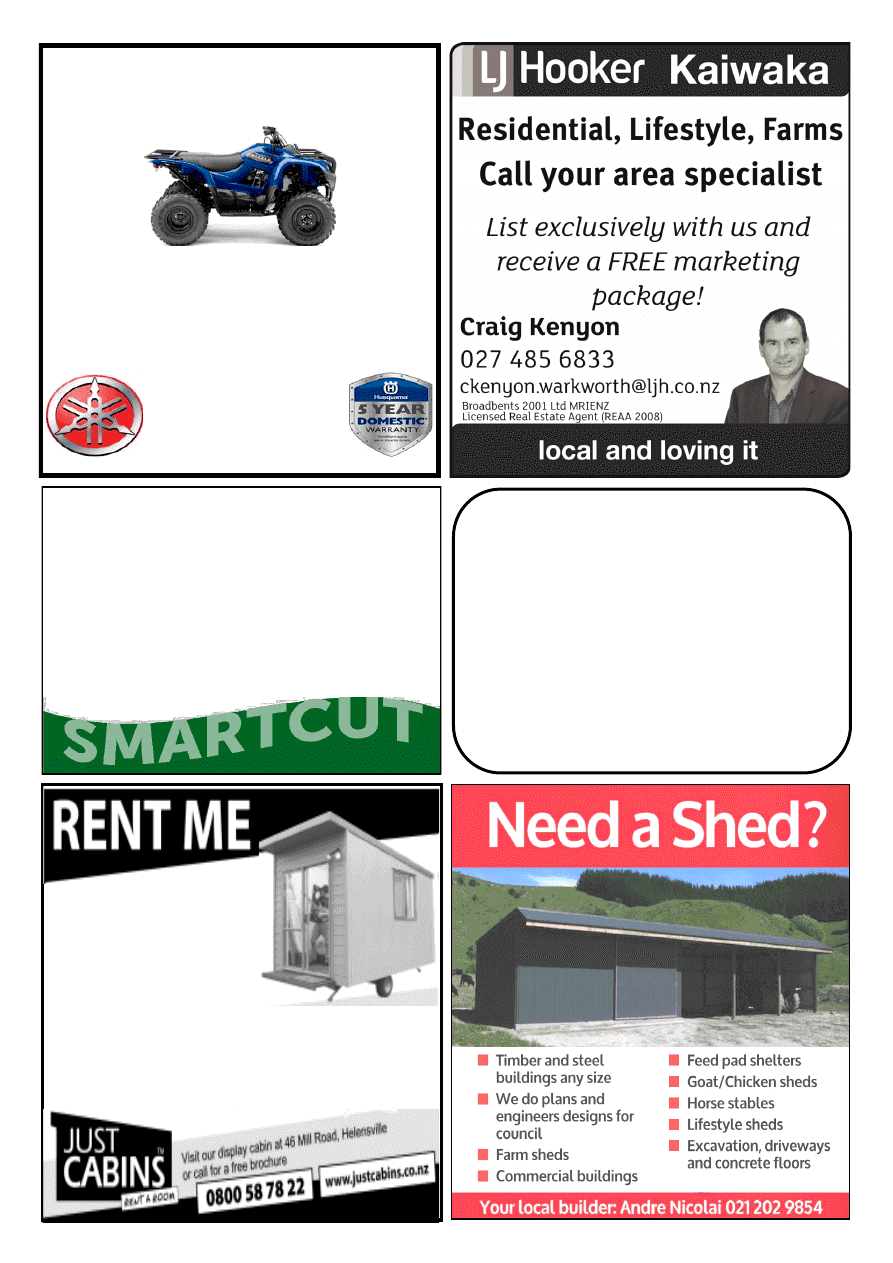 All your outdoor needs sorted so you don't have to... 
I can prune, chop, tidy, spray, mow, plant 
- you name it, I can do it! 
Residential & Commercial 
Lawn & Garden Care 
Call Rodney, your local  
lawnmowing contractor 
021 138 2344 
UP-LINK 
CHRIS WARING 
FREEVIEW INSTALLATIONS 
T.V. - HOME THEATRE &  
HI-FI ADVICE/SET UP
SKY ACCREDITED INSTALLER
MOB.0273403747 HM.094312328 
EMAIL cwaring44@gmail.com
28 YRS EXPERIENCE 
OFFERING UNBIASED ADVICE 
Ideal as an extra  
bedroom or office 
Three Convenient sizes: 
Standard 3.6m x 2.4m - $65 
per week 
Large 4.2m x 2.4m - $80 per week 
Extra Large 4.8m x 2.4m - $100 per week 
Fully insulated. Minimum 6 months rental period 
KAIWAKA 
MOTORCYCLES LTD
SALES – SERVICE – SPARES 
FARM BIKE SPECIALIST
PHONE 09 431-2127 
10 KAIWAKA-MANGAWHAI ROAD, KAIWAKA
Trimmers  
from $279
Chainsaws  
from $339
YAMAHA 
HUSQVARNA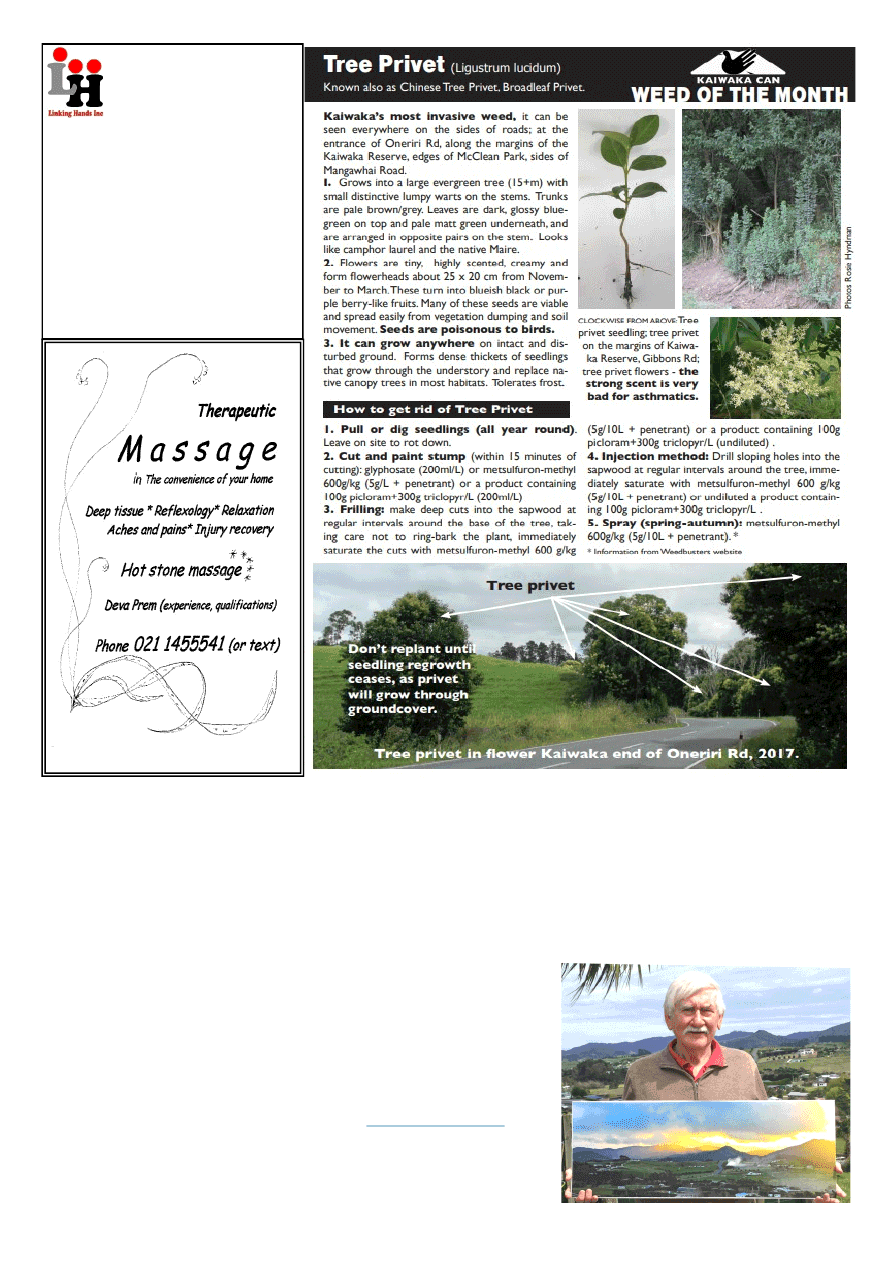 www.kaiwaka.co.nz 
Kaiwaka Bugle - 16 October 2018 
Page 19 
www.mangawhaimassage.co.nz 
  LINKING 
HANDS INC 
Maungaturoto - Kaiwaka - 
Mangawhai 
Meeting the needs of the community. 
A  free Health Shuttle Service, providing 
transport to those who would struggle to 
get  to  medical,  dental,  podiatry,  or 
optometrist appointments anywhere from 
Warkworth to Whangarei. 
HEALTH SHUTTLE SERVICES 
Ph/fax 09 431 8969 
OFFICE HOURS 
Maungaturoto - Monday to Friday - 
10am to 4pm 
Closed Public Holidays 
Mangawhai Life 
images and impressions 
Now retired from Corporate Life and a Mangawhai Resident Paul Walter Kaiser also  in a previous Life was  an 
Press Photographer and a Founding Member of the Confederation of Australian Motor Sports Photographers 
Association. He now offers a unique exhibition of images featuring the 
relaxed lifestyle and environs of Mangawhai, its People, Dogs, Birds, 
Neighbourhoods, Landscapes, Forests, Estuary and off course the 
Ocean Beach. 
Holidays      Recover       Settle 
Order a unique memory for your Home your Family or your Friend 
Please contact Paul  for more information on 
The exhibition will show at the  
Historic Church opposite the Museum from 
10:00 to 3:00 pm 20  to 22 October 2018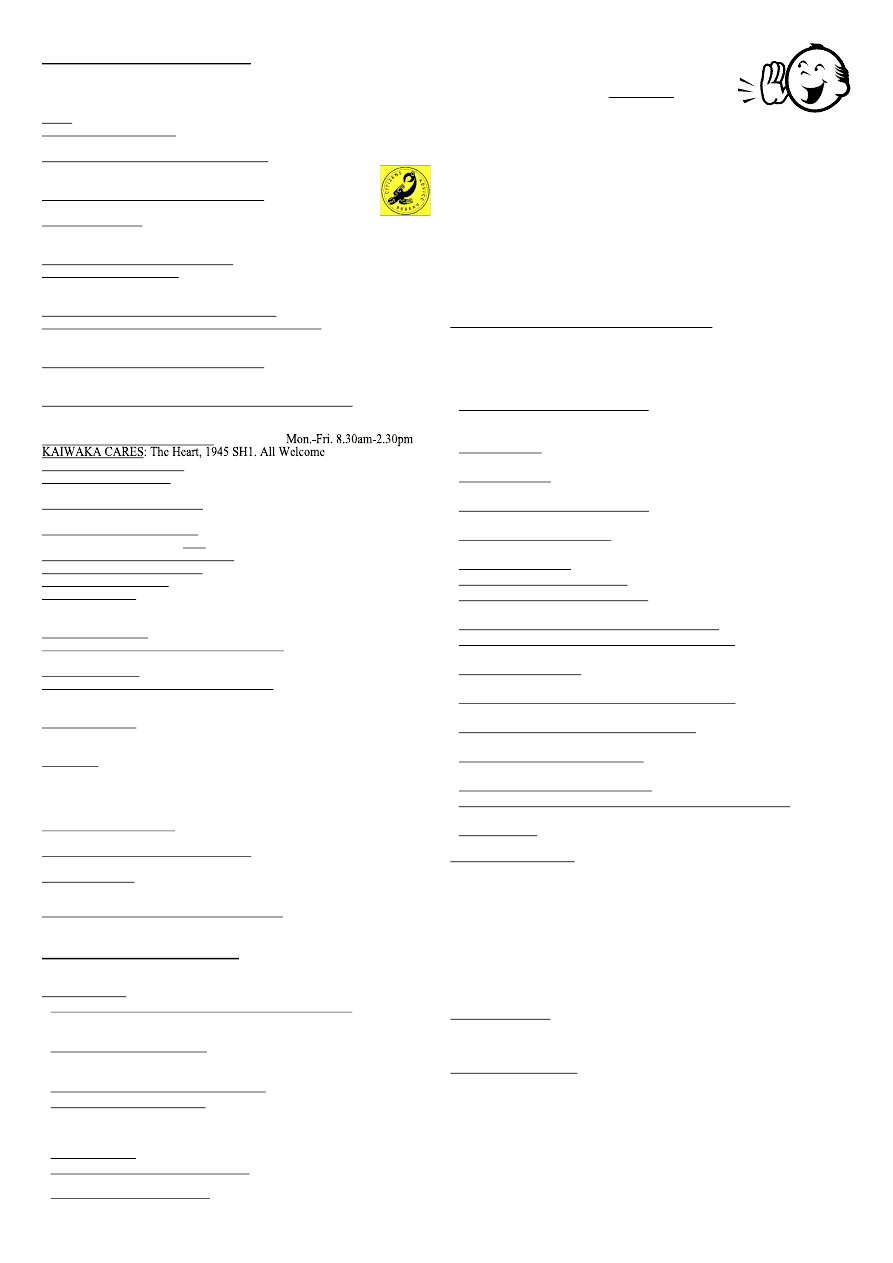 Next Bugle Deadline midday Friday 26 October 2018
WHAT'S ON
PLEASE ~ do let us know what is on - email 
kaiwakabugle@kaiwaka.co.nz 
Advertising in WHAT'S ON is FREE  
*19Oct~ Movie 'BOOK CLUB', KWMH, 7.30pm 
*26Oct~Mgto Dementia Unit Fundraising Concert, Mangawhai 
Singers, Country Club Maungatuoto 
*27Oct~Kaiwaka Sports Assn. FRIGHT NIGHT 
28Oct~Movie 'HOTEL TRANSYLVANIA 3', KWMH, 2pm 
*2Nov~Movie 'EDIE', KWMH, 7.30pm 
*3-4Nov~Fire Brigade Fishing Competition and Auction 
*11Nov~Jaques Band, KSA, 1.30pm 
KWMH = Kaiwaka War Memorial Hall; KSA = Kaiwaka Sports Association 
See www.kaiwaka.co.nz for more information 
HOUSEHOLD RUBBISH COLLECTION - Kaiwaka Pick up: 
Mondays = Green bags (Northland Waste - 09 430 3273) 
Wednesdays  = Blue bags and yellow recycling (at Jaques $3.00 
and  $1.50)  (Kaurilands  09  4392146);  ONLY  Blue  and  Yellow 
bags picked up on Oneriri Road. 
 DIABETES  Support  Group  -for  Kaiwaka,  Mangawhai, 
Wellsford  10am,  3rd  Friday  of  month  Ph:  Colleen  James  09 
4314238 
 DRINK CAN 'tear tabs' - for Starship Hospital- please collect - 
98 Kaiwaka Mangawhai Rd, leave in mailbox, Ph. 4312625  
 GENEALOGY - Wellsford: 1st Thursday in month Ph: 423 
7033; Waipu: 4th Monday in month Ph: 4312 725 
 GYMNASTICS  OTAMATEA  -  Tuesday  Ph:  Stephanie  022 
3624998 
 HAKARU PONY CLUB - Secretary Denise Rogers 021423376 
secretary@hakaruponyclub.co.nz  
 KAIPARA HUNT - Secretary Albert Doonenbal Ph 4312059 
 KAIWAKA BADMINTON -Tuesdays 7.30pm Ph: 4312345 
 KAIWAKA  DRAMA  CLUB  - 
Hannah  Webb 
0272863352 
KaiwakaDrama@gmail.com - FB - "KaiwakaDramaClub" 
 KAIWAKA DRUM & DANCE CLASSES - 021 611198 
 KAIWAKA GARDEN & FLORAL GROUP - 2nd Thursday in 
month. Ph: 431 4744 
 KAIWAKA  CUBS  -  Thursdays  5.30-7pm,  Hakaru  Ph:Bruce 
4312542 
 KNITTING FOR WHANGAREI HOSPITAL - 2nd Tuesday in 
month, Archie Bull Hall 10am Ph 4314827 
 MANGAWHAI COMBINED REBUS CLUB - 2pm, 3rd 
Thursday month, Senior Citizens Hall Mangawhai. Ph: 4315777 
 OTAMATEA GREY POWER - Kath Pattinson 09 283 2052, 
1pm last Wednesday of month, Anglican Church Hall, Mgto 
 PT CURTIS CRUISING CLUB - Jean Ph: 4312227 (wk), 4312520 (hm) 
 RSA,  HAKARU  &  DISTRICTS  WOMEN'S  SECTION  –  meets 
1.30pm 4th Thursday of the month. Ph: 431 5818  
 TRAMPING - Mondays 9am-2:30pm Maria 4312 234 
HALLS FOR HIRE: 
 St.Pauls Archie Bull Hall HIRE $20 half day, $40 full day per 
hire, S McAulay, Ph 4312311 
 Kaiwaka  War  Memorial  Hall  HlRE  -  Phone  4312725  or 
kaiwaka.hall.bookings@gmail.com 
 Hakaru Community Hall HIRE -Ph. 4312256 or 4312110 
 Te Pounga Marae queries - R. O'Leary 4312 423, J.Nathan 021 
186 7382 
 Kaiwaka Sports Association hire/queries - C. Anderson 4312051 
or kaiwakasports@gmail.com 
Justice of Peace:  
B.FJaques  4312  048;  L.Donaldson  4312  228;  A.F.Hargreaves 
4312 045, W.Howard 4312 725 - please phone to make sure they 
are available or go to www.justiceofthepeace.org.nz 
Marriage Celebrants:  
L.Donaldson; A.F.Hargreaves; Y Osborne
LOCAL SERVICES 
*Emergencies - Ambulance, Fire, Police - dial 111 
*Non-urgent Police phone 09 4311150
A A: Meets Wed., 8pm Kaiwaka Ph: 4315543, 0800229 6757 
ASUREQUALITY LTD (was AgriQuality) Call Free 0508 0011 22  
BUDGETING SERVICE, WELLSFORD: Free confidential advice & 
support for all areas of personal finance. Ph (09) 423 7123 
CAB-Citizens Advice Bureau.Wellsford Ph: 4237333 
0800 367 222 email:cab.wells@xtra.co.nz  
CIVIL DEFENCE - Kaiwaka Community Response Group: 
kaiwaka.civildefencecrg@gmail.com, 4312725 Wendy 
DOG/STOCK /NOISE CONTROL 0800 105 890 
FUNERAL SERVICES: Morris & Morris Ltd, 
Whangarei - Bev Jaques Ph:4312367 or 0800667747 
GRANDPARENTS Raising Grandchildren: Dianah Roberts 0223819539 
HAKARU & DISTRICTS MEMORIAL RSA (Inc) 733 Settlement Rd, 
Hakaru. Ph 4312 176 or Graeme Hitchcock (President) 431 3064 
HAKARU LANDFILL/Transfer Station:Open everyday except 
Tuesday10am-4pm.Ph4312629 Cost-$55 trailer load up to 1 cubic metre. 
Ph:4258567 - office 
KAIPARA DISTRICT COUNCIL www.kaipara.govt.nz:  
Help Desk FREEPHONE 0800 727 059  
KAIWAKA KOHANGA REO: Ph:4312620 
KAIWAKA CEMETERY: Ph: 4312045 or 4314017 
KAIWAKA LIBRARY: kaiwaka.library@gmail.com  
Mon. 4-6pm; Wed., Thurs., Fri., Sat. 10am-2pm Ph:4312539 
KAIWAKA PLAYCENTRE: Ph Juanita 0274134904; open Mon, Wed, 
Fri 9am-12pm. Hastie Lane; Monday to Friday 9.00am - 12 noon. 
KAIWAKA POST OFFICE:Ph:4312 431  
Post Code: 0573 for RD2 and 0542 for all Kaiwaka Post Office mail 
KAIWAKA PRIMARY SCHOOL: Ph: 4312309   
KAIWAKA SPORTS ASSN: Ph 4312005; 4312129 gym 
KAIWAKA ST JOHN: Manager Steve Rosser 09 4318403, 021 355734 
KATE'S PLACE Community Centre - Employment services, Free Health 
Nurse, Plunket, Advocacy, Osteopath, A.A., Legal Advice. 4312 661 
LINKING HANDS Health Shuttle Ph 4315906 or 09 4318969 
MINISTRY FOR PRIMARY INDUSTRIES - General inquiries Call 
Free 0800 008 333 
NORTHPOWER: Faults Kaiwaka area 0800 104040 
OTAMATEA COMMUNITY SERVICES: Counselling, parent coach, 
Family Support worker, budget advice, food bank. Mon-Fri 9am-3pm. Ph 
09 431 9080 http://www.otamateacs.org/ 
PARENTPORT: Free, practical family support service Puhoi to Paparoa 
Ph or txt: Dianne 027 280 5093 or 09 425 9357 
PLUNKET:  Kaiwaka  -Kate's  Place  Clinic  1st  Wednesday  of  the  month; 
Mangawhai  - Rose Madsen Cottage: Coffee Group 9:30 every Monday.  Clinic 
every Monday and Thursday. 
Maungaturoto - Good News Church, Clinic 2nd and 4th Wednesday.  
Cynthia 09 431 7340 or 027 675 3488 
PLUNKET HELPLINE -0800 933 922 (24 hours) 
TAITOKERAU COMMUNITY LAW: Free confidential legal advice and 
assistance, 2nd
Thursday
 of each month. Ph: 0800 155 529 for appts.  
TE URI O HAU Settlement Trust Tangata Developments: Whanau Ora 
021 793262  
VETERINARY SERVICE MANGAWHAI: 
Ph: 4314535 Mon-Fri 8.00-5.00, Sat 9-12, a/h appt. 
WELLSFORD DOCTORS: Ph: 4238 086 
CHURCHES:
 
Kaiwaka  Revival  Church  -  Your  Community  Church:  Sundays  10am. 
Ph: Pastor Tawhiri 09 431 8988 or Pastor Paul 09 4312 068 Visit us at 
www.facebook.com/kaiwakachurch 
 
St  Paul's  Anglican  Church  1st  Sun.  9.00am  (Eucharist),  3rd  Sun. 
9.00am (Family Service). Contact: Rev. Wayne Thornton Ph 431 4122 
www.mangawhaianglican.org.nz 
 
Church of Christ the King, Mangawhai:9.30am every Sunday 
 
St.Mary's  Catholic  Church:  Maungaturoto  –  Griffins  Road,  Saturday 
evening  Vigil  Mass  6pm;  Mangawhai  –  Senior  Citizens  Hall,  Sunday 
Mass  8:30am;  Wellsford  –  Matheson  Road,  Sunday  Mass  10:30am;  
Mid-week Mass times and all enquires to Fr. Bill Fletcher – phone 423 8170
 
Baptist Church: Sun. 10.30am Mangawhai Snr Cit.Hall.Ph:4312339 
 
Cause  Way  Church  Mangawhai:  Sundays  10.15am,  Mangawhai 
Community  Recreation  Centre,  Insley  St.  Ph:  09  4314782