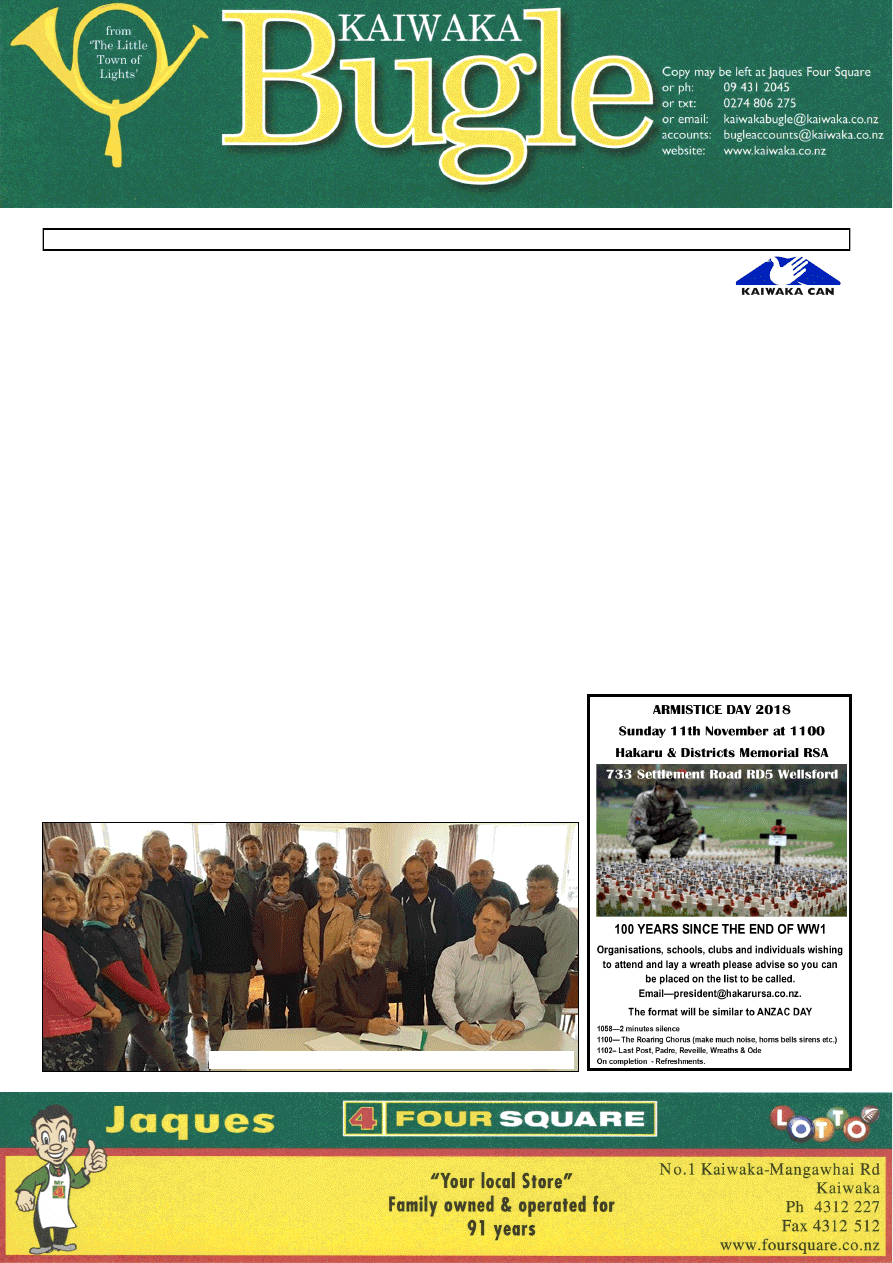 www.kaiwaka.co.nz 
Kaiwaka Bugle - 30 October 2018 
Page 1 
No: 21 
30 October 2018 
Trading Hours: 
Monday to Friday 8:00am - 6:30pm 
Saturday 8:00am - 7:00pm 
Sunday 9:00am - 6:00pm  
On  Wednesday  last  week  we  lost  one 
of 
Kaiwaka's 
most 
memorable 
characters.  Lars  Hakkenberg  died  in  a 
head  on  collision  on  Gibbons  Road, 
just a short distance from his home. As 
Kaiwaka  Can  we  pay  our  special 
tribute  to  him  and  I  am  sure  many 
others  in  Kaiwaka  will  pay  tribute  in 
other ways too. We also expressed our 
deep  sadness  at  his  wife  Nina's  loss. 
The two of them were so much a team 
together. 
On  Thursday  evening,  Kaiwaka  Can 
members  were  invited  to  come  and 
share  our  grief  and  our  memories  of 
someone  who  was  with  us  from  the 
beginning,  someone  who  generated 
many  brilliant  ideas,  who  gave  strong 
and  heartfelt  responses  to  things  he 
thought were not right and who was so 
much  a  part  of  us  it  is  difficult  to 
imagine working without him. 
As we reflected on his life, we realised 
his  name  "Lars"  easily  expanded  out 
into "larger than life". He was a man of 
exceptional  brilliance,  especially  in 
technology, computers and electronics. 
He  was  our  lighting  expert  despite  his 
endless  complaints  about  LED's.  And 
he was generous, so generous at times 
we  wondered  how  he  could  give  so 
much away and yet lack for nothing. It 
is  not  often  in  life  you  meet  someone 
who  is  totally  unique,  a  one  off,  an 
unforgettable. Lars was all of those and 
a  measure  of  his  impact  was  the 
presence  at our  meeting  of  the Mayor, 
Dr  Jason  Smith  and  Councillor  Anne 
Curnow  who  brought  tribute  and 
condolences  from  Council.  But  this 
entire issue of The Bugle would not be 
enough  to  list  all that  Lars  did,  all the 
people  he  helped  and  all  the  cheer  he 
spread. 
Our  conversations  and  memories 
turned  to  a  fitting  tribute  to  Lars.  Our 
conclusion  was  that  a  restoration  of 
lighting that made Kaiwaka the "Little 
Town  of  Lights"  was  a  fitting  way  to 
go.  We  have  the  technology  sorted, 
have  people  with  the  skills  to  design 
and  carry  this  through  and  now  need 
response  from  the  community.  One 
response  is  to  let  us  know  you  would 
like to be part of this. Business people 
in particular would be very welcome so 
that  night  time  made  your  business  as 
memorable  as in the  daytime.  Another 
response  is  to  make  donations  to  get 
this  all  done.  We  are  chasing  funding 
and  hopeful  of  some  sources  but  we 
will  make  the  project  as  big  as  our 
resources  as  a  community  allow.  We 
are  still  working  out  details  but  we 
hope  there  will  be  boxes  in  which  to 
put donations in shops throughout town 
in  the  next  few  days. There  is  now  an 
email  address  people  can  send 
comments  and  indicate  willingness  to 
become  part  of  the  lighting  project  - 
littletownoflights@googlegroups.com 
We  did  have  some  good  news  this 
week  as  well.  At  our  last  regular 
meeting  (the  last  Lars  attended)  we 
voted  to  apply  for  Incorporation  as  a 
Society and due to great work from our 
new  secretary  Jean  Guttery,  we 
received 
our 
Certificate 
of 
Incorporation on Thursday. This means 
we have legal status and can apply far 
more  widely  for  funding.  Officers  are 
chair Derek Christensen, secretary Jean 
Guttery  and  treasurer  Robin  Morgans. 
We  also  signed  up  a  foundation 
membership  of  21,  a  number  which 
will  grow  as  people  not  able  to  make 
the  meeting  sign  up  as  well.  However 
Kaiwaka  Can  will  remain  a  totally 
open  group,  all  meetings  open  to  any 
who  wish  to  come  and  ideas, 
comments, hopes and dreams from the 
community always welcome. 
Farewell Lars. Thank you for your part 
in bringing us this far. 
Derek Christensen, Chair 
derekandisa@gmail.com 0273572751. 
A SAD, SAD DAY FOR KAIWAKA... 
Signing the documents with Chairman Derek Christensen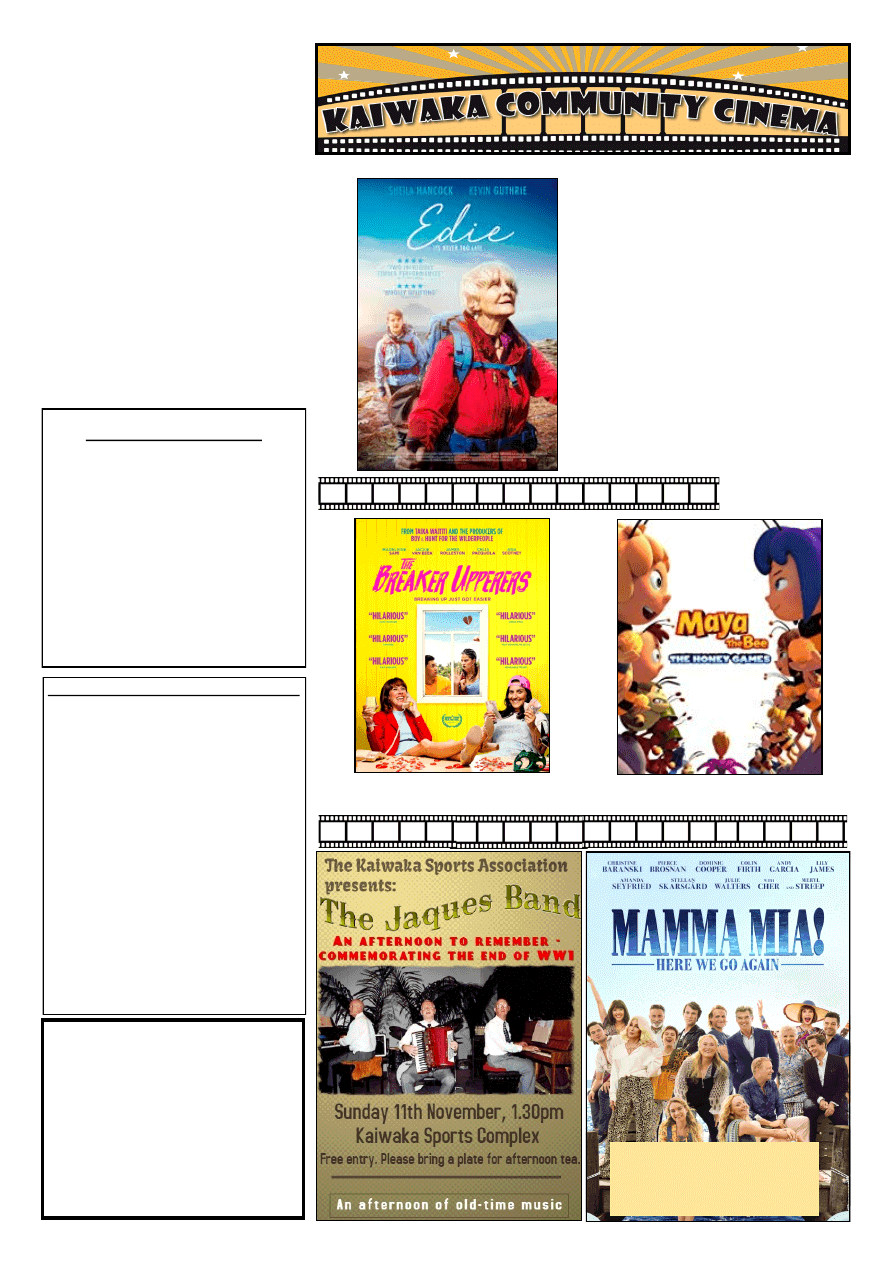 Proverbs 
20:15… 
Good sense is far more 
valuable than gold or 
precious jewels.
At Kaiwaka War Memorial Hall . Adults $10, Kids (under 16) $5, Family Pass (2 adults + 3 children) $25 
KAIWAKA BUGLE NO.21 
30 OCTOBER 2018 
CONTENTS: 
Page 3: Public Notices, Classified 
Page 5: Paparoa Show; Rotary 
Page 7: Councillor's Comment 
Page 9: ORT; Pt CCC; St.John 
Page 11: Kaiwaka Sports Assn 
Page 13: Kaiwaka School; OHS 
Page 15: Te Manawa Tahi; Nina Quan 
Page 17: Library 
Page 19: CM Clarke Memoir 
Bugle 22 will appear  13 November 
Contact for advertising, reports, articles 
or information can be made by 
Email: kaiwakabugle@kaiwaka.co.nz 
Ph: 09 4312 045 Lindsey 
Txt: 027 2724137 
Copy  may  be  left  at  Jaques'  Four 
Square. 
Kaiwaka Bugle Advertisements 2018: 
All 
copy 
and 
queries 
to: 
kaiwakabugle@kaiwaka.co.nz 
The Bugle is printed on an A4 page   
Ad  sizes:  1/16  page  (3  x  9.5cm)  $5;  1/8 
(6.5  x  9.5cm  landscape  or  portrait)  $8; 
3/16 ( 10 x 9.5cm or 7.5 x 12,5)  $12.  
Classified  ads:  First  one  FREE,  $4  per 
entry (max. 30 words, max. 4 repeats). 
Payments  can  be  made  online  at 
ANZ 
06  0365  0006990  00
,  posted  or  left  at 
Jaques Four Square Store. 
We  use  Microsoft  Publisher,  and  can 
work  with  most  common  image 
formats, Word, Excel, and PDF files. 
Accounts:  
Email: bugleaccounts@kaiwaka.co.nz 
The  Kaiwaka  Bugle  is  a  community 
newspaper run by volunteers.   
Articles, etc. printed are not necessarily 
the opinion of the Bugle Team. 
Kaiwaka Bugle 
Founded May 1978 
We appreciate articles and photos about local 
events, etc, as well as ads and suggestions. 
Copies available in Kaiwaka at Jaques Four 
Square, Kaiwaka Postal Centre, Shamrock 
Service Station, Animal Health Centre, 
Kaiwaka St John shop. 
Also outlets in Maungaturoto, 
Mangawhai and Paparoa. 
Can be viewed online at  
www.kaiwaka.co.nz/Bugle  
Or a copy can be posted to you if you supply 
stamped, self-addressed DLE envelopes. 
EDIE 
Friday 2 November, 7.30pm (M)  
83-year-old  Edie  believes  that  it  is 
never too late when she embarks on 
a trip to fulfil her long-time dream of 
climbing  a  mountain  in  the  Scottish 
Highlands. 
Edie 
is 
a 
2017 
British 
drama  film  directed  by  Simon 
Hunter  and  written  by  Elizabeth 
O'Halloran.  The  film  stars  Sheila 
Hancock,  Kevin  Guthrie  and  Paul 
Brannigan.  The  soundtrack  was 
written 
by 
Debbie 
Wiseman. 
Principal  photography  began  in  the 
Scottish Highlands in 2016. 
The BREAKER UPPERS 
Friday 16 November 7.30pm (M)  
MAYA the BEE 
Sunday 25 November, 2pm (PG)
Greek styled Dinner and  
… Movie Night  
Friday 30 November, 6pm 
$30 Limited Tickets 0212154495 
BYO Drinks...start 6pm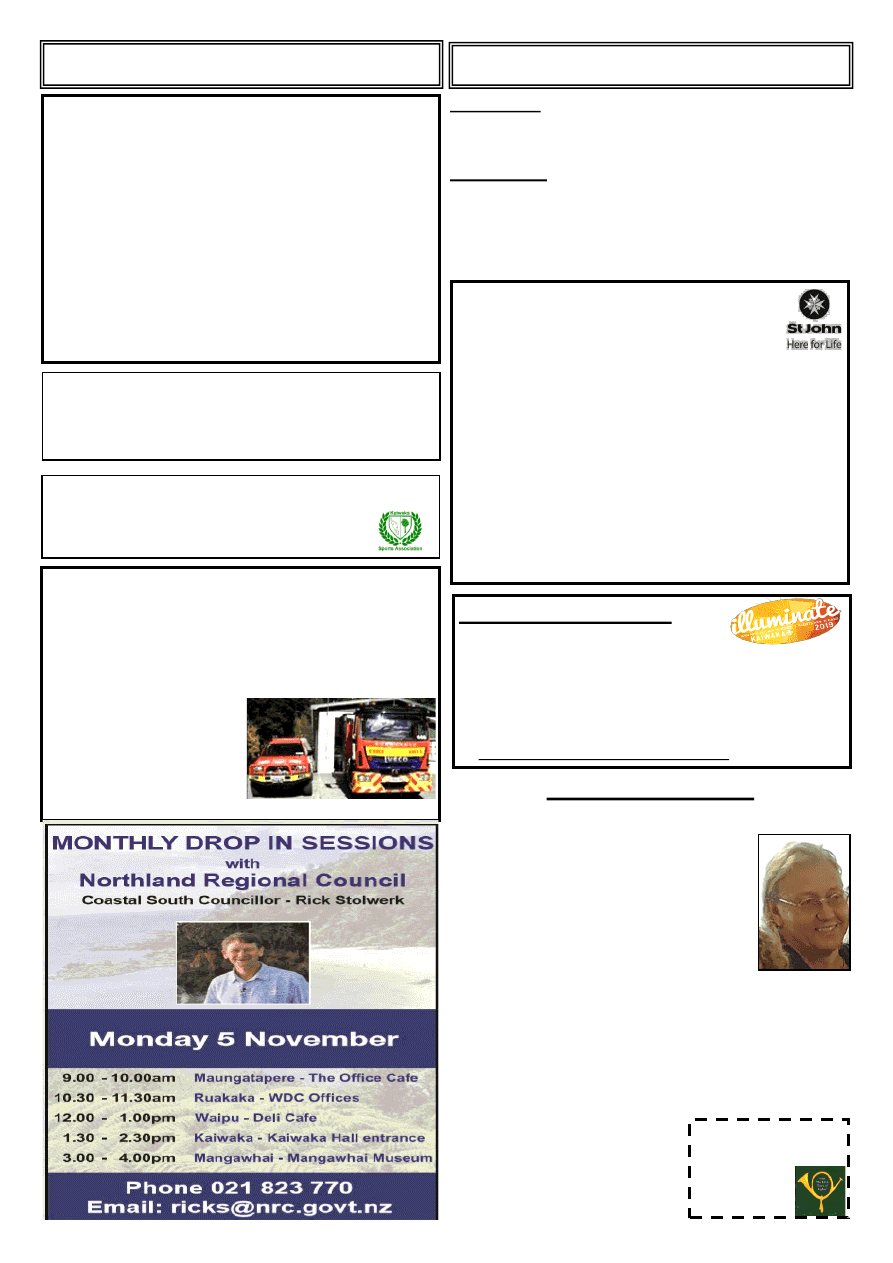 www.kaiwaka.co.nz 
Kaiwaka Bugle - 30 October 2018 
Page 3 
ABOUT TOWN 
 A 
Big THANK YOU and a Well Done 'C n N' (Corina 
and Nigel) and the Bugle Crew for a fine production while 
Heather and I were away! 

We  will  miss  Lars  Hakkenberg,(pictured) 
one of Kaiwaka's special characters. 

 Kaiwaka 
Fire 
Brigade 
Fishing 
Competition next weekend - check out their 
auction on Sunday afternoon. 

A local top mountain bike park  - see page 
7 for more details 

 After  four  terrible  years,  the  First  World 
War finally came to a close with the signing of an armistice 
between Germany and the Allied Powers on 11 November 
1918.  A  commemoration  afternoon  will  be  held  at  the 
Kaiwaka Sports Assn. on Sunday 11 November at 1.30pm. 

Kaiwaka Can has  now become an incorporated society, 
and will continue some great works in our community. 

 Kaiwaka School will celebrate 150 years  next year - see 
page 13 for more information 

 See  the  Bugle  online  at  www.kaiwaka.co.nz  for  great 
colour in the photos. 
            ~ Lindsey, Ed 
"1918  -  On  the  11th  hour  of  the 
11th  day  of  the  11th  month,  the 
guns  famously fell  silent."  - 
Armistice Day. 
PUBLIC NOTICES 
CLASSIFIED 
WANTED: Grazing Land for dry beef stock. Prefer 30
-70ha  but  any  size  will  be  considered.  Ideally  begin 
lease  early  2019.  (or  sooner  if  required).  Contact 
Bernie on 021 245 7242 
FOR SALE: Massey Ferguson 35 tractor with mower, 
9  tine  Rotary  Hoe,  Grader  Blade  -  good  condition 
$7000  ono  +  free  extras  -  tray,  portable  borer  with  2 
augers; Also Weed-eater - Model No. 9C 2125, 4" Nail 
gun, Rover self propelled lawn mower with catcher & 
mulcher - reasonable offers. Phone Bill 4312961
. 
KAIWAKA ST. JOHN OP SHOP 
We have for sale this week: 
⚫
A  set  of  matching  single  beds  -  headboards, 
base  and  mattresses  with  complete  matching 
bedding  sets...sheets  pillows,  blankets,  summer  and 
winter duvets. $80 each...very good condition 
⚫
Complete  double  bedroom  suite  -  dressing  table  with 
oval mirror, tallboy, 2x bedside cabinets, headboard, base 
and mattress... $200 
⚫
Lots  of  bric-a-brac  at  present,  also  pictures,  books  and 
clothing. 
⚫
Christmas goodies are coming out this week also!!! 
We are still needing, please: 
-Pots and pans, roasting dishes, towels, garden plants and 
ceramic  plant  pots.  Anything  else  in  saleable  condition 
will be much appreciated.  ~ Milly and staff.
Phone 09-4312650 after 9.00 am. 
- check us out at 1919 SH1, Kaiwaka 
TE POUNGA MARAE 
ANNUAL GENERAL MEETING 
Sunday 11th November 2018 at 10am 
Nathan Road, KaiwakaAGENDA: 
* Karakia timatanga 
* Apologies 
* Minutes of the 2017 AGM 
* Financial Report 2017/2018 
* Chairperson's Report 
* Re-election of trustees / Resignation of trustees 
* General Business 
* Karakia whakamutunga 
By order of the Secretary: 
Elaine Tweed,  
8 Allington Rd, Royal Heights, Auckland 0614 
Phone 021 2629603 
KAIWAKA VOLUNTEER FIRE BRIGADE 
OPEN FISHING COMPETITION  
Saturday 3rd and Sunday 4th November. 
Start time 12am  Saturday 3rd November
Adult species: Snapper, Kingfish, Kahawai, Gurnard and 
Crayfish. Adults $30 ticket & Juniors 
$10 (15yrs & under).  
Tickets  are  sold  in  most  shops  around  town,  or  you  can 
buy one from a local fireman.  
Great Prizes up for grabs.  
Weigh in Times Saturday 6pm - 
8pm, and Sunday 2pm – 4pm.  
All  fish  weighed  in  will  be 
auctioned on Sunday, at the Fire 
Station 
Go along and support our local brigade.
KAIWAKA WAR MEMORIAL HALL 
KAIWAKA LIBRARY 
Annual General Meeting 
Tuesday 6 November, 5pm in the Hall 
WANTED TO HIRE:  
We  need  a  number  of  caravans  to 
accommodate  staff  during  the  Scout 
Venture  30.12.18  –  12.1.19  and  would  like  to  hire 
locally  if  we  can.  These  will  be  parked  at  Kaiwaka 
School.  If  you have one you are not using over this 
period, and are willing to hire it out, we would  love 
to  hear  from  you.  Contact:  Wendy  027  6848846 
or wendy.eyles@illuminate2019.com 
KAIWAKA BUGLE  
DEADLINE DATES 
2018 - 
every second 
Friday: 
November 9, 23 
December 10 
KAIWAKA SPORTS ASSOCIATION 
Special Meeting 
Wednesday 14th November, 7pm 
Kaiwaka Sports Complex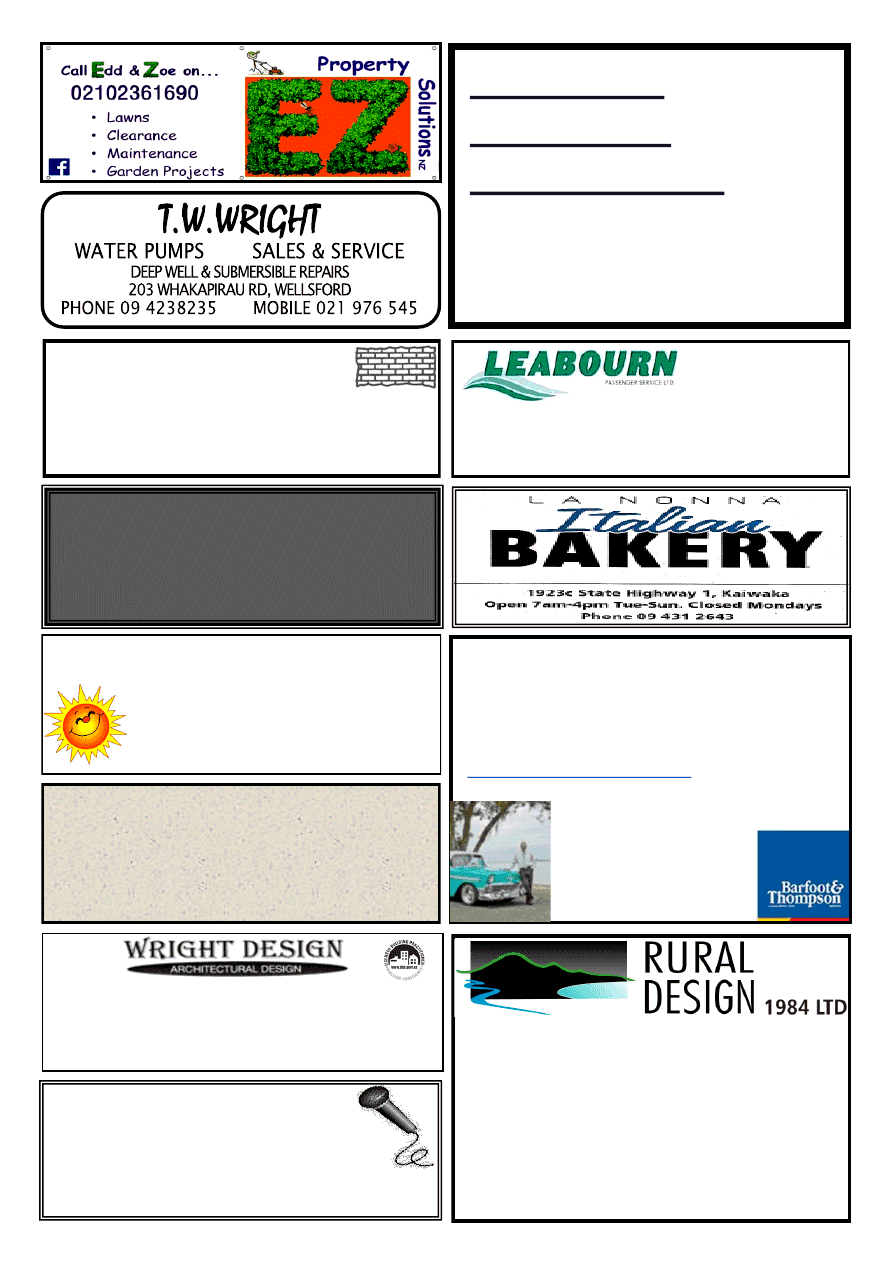 Passenger Service
Car & Van Hire   Bus & Coach Charters 
Airport Transfers    
Phone (09) 4237416 
BRICK/BLOCKLAYER 
All aspects of masonry:  
Fireplaces, Restoration & Remedial Work. 
JAMES EAGLETON 
Tel. (09) 431 2514    Mob. 0274 749 232 
jajueagles@yahoo.com.au 
210A Pukenui Road, RD2 Kaiwaka 0573 
THE SUNSHINE GIRLS
Efficient and reliable help with 
your housework. 
Ph 4312 532 
MARRIAGE CELEBRANT 
WEDDING EVENTS PLANNER 
Yvonne Osborne 
Ph 0274 989 814 
yvonne.osborne@xtra.co.nz 
Counsellor and Registered Psychotherapist 
Offers Supervision 
ACC Sensitive Claims 
Susan Matheson      MNZAC 
Dip. Psychosynthesis Counselling and Psychotherapy 
Phone 09 431 2996                                     Mobile 027 605 2427 

  After 20 years of selling in Auckland I have             
moved to Kaiwaka. 

  I have a relaxed attitude with years of  
        results and experience. 

  Please feel free to give me a call or email. 
licensed real estate agent (2008) 
Chris Barrington
Residential Sales
M 
Mangawhai
Wholesale Native Plant Nursery and Planting 
Small and Large orders welcome 
By Appointment 
300 Kaiwaka-Mangawhai Road, Kaiwaka 
Phone: 09 431 2481 
Email: info@ruraldesign.co.nz 
www.ruraldesign.co.nz 
SING RIGHT 
Professional coaching for performance,  
recording and demos. 
All level singers, musicians, singer-songwriters. 
Phone Robyn Hill 431 9159 or 0274 725610 
 FINANCE 
 FUNDING 
 SOLUTIONS 
T - 0275 989814 
E
 - osborneassociates@xtra.co.nz 
REGISTERED INDEPENDENT FINANCE BROKER 
No. 117345 
N.Z.C.A.D., L.B.P. 117345 
PH/Fax: 09 423 8092 Mob: 021 276 7369 
Office: 3 John Sinclair Avenue, Wellsford    brianwright@xtra.co.nz 
For Resource and Building Consents, planning restraints, new building materials - 
you need a capable, experienced, and professional designer with a clear 
knowledge of all the processes. Brian has been helping and organising all these 
facets of design and building for over 50 years. 
Wright Design offers free visits, consultations and advice on planning, design, 
building, council permit applications, guaranteed permit plan acceptance.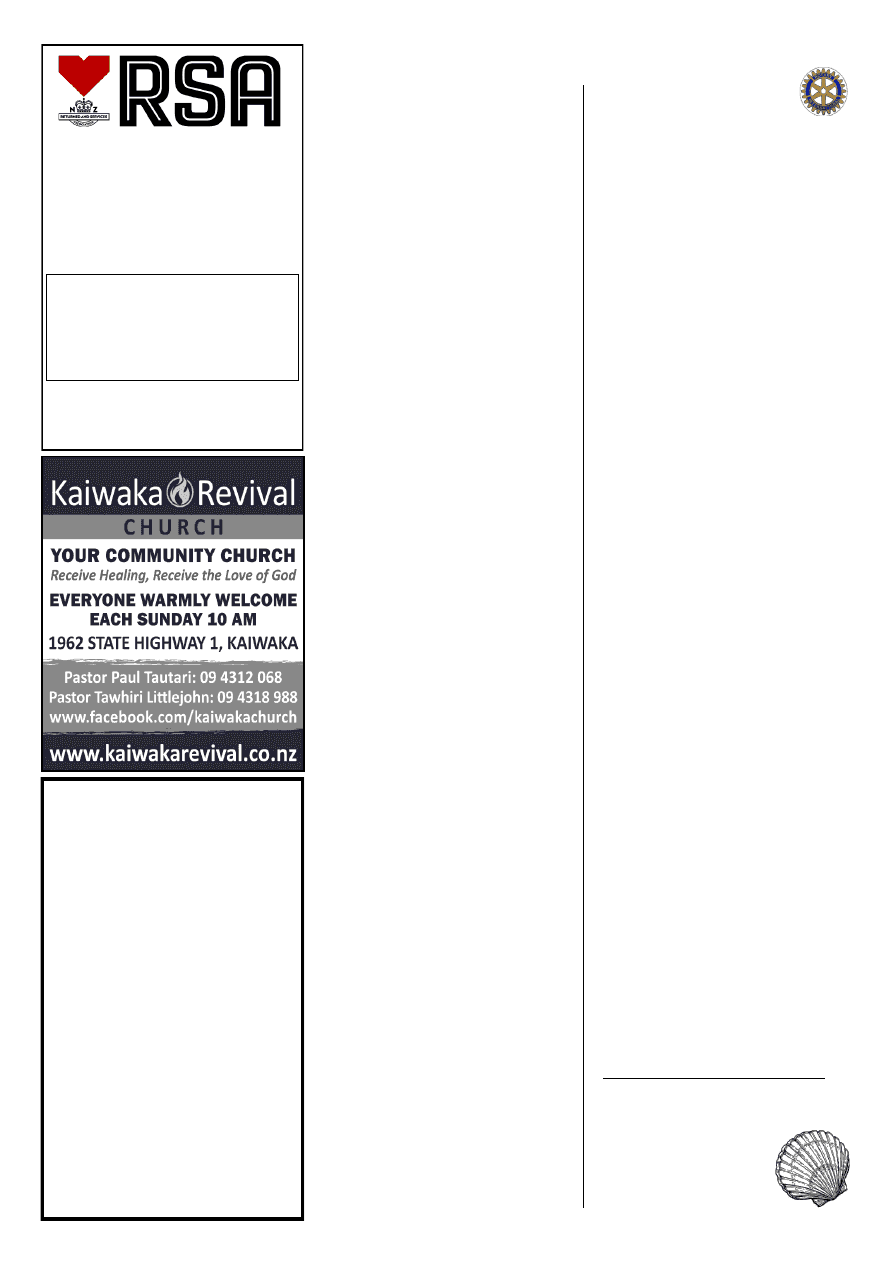 www.kaiwaka.co.nz 
Kaiwaka Bugle - 30 October 2018 
Page 5 
Lilia and her Spring lamb, Minty! 
Willow Bend
HORSE  
HOTEL 
  
Total Horse Care 
 
Agistment 
 
Riding Lessons 
 
Arena Hire (60x40) 
 
Young Horse Starting 
 
Re-training/Exercising 
 
Hoof Trimming 
 
Problem Solving 
Phone Sue 09 431 2817 
or 021 623 776 
Or email  
susanjoll11@gmail.com 
HAKARU & DISTRICTS 
MEMORIAL RSA (INC)
Members & guests are invited to 
come along and enjoy our hospitality. 
New members welcome. 
Meals are served on Thursday and 
Friday nights from 6.30pm. 
Order from Blackboard Menu  
and a sing-a-long  
with Des Chitty. 
For more information please phone 
Graeme on 431 2563 
MAUNGATUROTO  and 
DISTRICTS 
ROTARY 
As part of our Alumni month we have 
had Jess Costello speak to us. Our club 
helped support her in about 2000 when 
she  went  to  Panama  for  a  year-long 
exchange initiated by AFS. 
Conditions  in the first  part  of  her  stay 
were challenging to say the least but a 
Mentor  was  able  to  get  her  situation 
sorted  and  the  remainder  of  her  time 
there was very rewarding. We not only 
learnt  more  about  Panama  but  also 
about what she has been involved post 
trip. 
It  is  no  doubt  that  these  trips  provide 
many life-time skills and since then she 
has  trained  as  a  paramedic  and  then 
used these skills as a crew member on 
a  super  yacht  based  in  Sardinia.  Since 
returning  to  NZ  she  set  up  a  health 
shop  and  is  now  working  in  a 
landscaping  business  with  her  partner. 
Her  comment  about  challenges  was 
"while difficult at the time, I was able 
to  draw  on  an  inner  strength,  work 
through them and gain in confidence." 
Several  Rotarians  have  travelled 
overseas  recently  and  Stella  was  able 
to share about her trip to Barbados. She 
mentioned  how  courteous  the  drivers 
were  (even  though  the  roads  were  not 
brilliant)  and  the  difference  between 
living  styles  –  gated  communities  and 
chattels  (colourful  wooden  dwellings). 
The  prevalence  of  seaweed  is  an 
enormous problem. 
The  walkway/cycleway 
meetings 
continue  to  be  well  attended  on  the 
west side of our area and discussion is 
now  taking  place  on  various  route 
options.  A  number  of  Rotarians  were 
able  to  travel  around  the  new  bridge 
development  at  Matakohe.  This  work 
is progressing well and one cannot but 
help 
be 
impressed 
with 
the 
environmental measures that are being 
taken to protect our harbour. Well done 
Fulton Hogan. 
Calf  litter  continues  to  sell  well. 
Proceeds  from  this  will  not  only 
support  our  community  work  but  also 
enable 
us 
to 
support 
Rotary 
Foundation, which is the arm of Rotary 
that  carries  out  projects  worldwide  to 
help  enhance  the  standard  of  living. 
Any  queries,  please  call  Alex  (09) 
4316434 or Brian (09) 4317418 
Mark in your diaries for next year – 2 
March,  Centennial  Hall,  60's  dance 
featuring Marion Burns – fiddler extra
-ordinaire  –  part  of  McSweeney 
Brothers Band. 
FIRING UP FOR 
FEBRUARY – SHOW 
UPDATE 
Paparoa  A&P  Show  Committee  is 
gearing  up  ready  for  the  2019  annual 
show on February 3.  
Top  of  the  list  is  the  fantastic  news 
Circus  Kumarani  will  be  providing 
family workshops teaching juggling, 
hooping,  tightrope  walking  and  much 
more! 
Also, on the good news list is, despite 
Mycoplasma  bovis,  the  cattle  events 
will  still  be  going  ahead,  as  well  as 
classes  for  calves.  Our  vice-president 
Janine  is  currently  working  on  the 
biosecurity  measures  required  so  all 
risk  is  minimised,  and  everyone  can 
continue to bring cattle to the show and 
have  a  great  day  out.  Cattle  ring 
coordinator Susan Clayton is confident 
all  will  go  well  on  the  day  and  is 
looking  forward  to  seeing  competitors 
return for the next event. 
Paparoa-based Northern Districts Team 
Roping Club will be another feature at 
next year's show. 
Club President, Steve Allen says: "For 
anyone  looking  for  a  way  to  get  into 
the sport of team roping, barrel racing 
and  other  stock  skills  the  A&P  show 
day  is  a  great  opportunity  to  get 
involved  with  your  horse  in  the  horse 
games of the day and meet people." 
New  Zealand  dairy  goat  breeds  will 
also  be  showcased  next  year.  Dairy 
goat  ring  coordinator,  Teresa  Atkins 
says:  "Here  you  will  get  a  chance  to 
see  the  goats  on  parade  and  see  who 
will get champion. You are welcome to 
come  and  meet  the  goats  at  the  goat 
pavilion. A fun activity with pet goats 
will  be  on  during  the  lunch  break 
providing entertainment for all." 
Last show we had an astonishing array 
of  entries  in  the  many  classes  for  the 
indoor exhibits. 
Everything from children's writing and 
crafts,  to  cheese  making,  vegetable 
growing,  photography,  arts  and  crafts 
as  well  as  the  dahlia  class  –  with  the 
champion  won  last  show  by  Kaipara 
mayor Jason Smith. 
"Now  is  the  time  to  get  the  ground 
ready  and  plant  your  dahlias  for  the 
show.  There  is  a  special  class  for 
novice  growers  with  a  good  prize! 
Check  the  indoor  schedule  on  the 
website  and  plant  marigolds,  pansies, 
geraniums,  etc  for  the  floral  section. 
There  are  also  lots  of  other  classes  to 
prepare  entries  for  –  photography, 
homebrew,  sewing,  knitting  and  other 
handcrafts  and  a  large  children's 
section,"  says  organiser  Dorothy 
Simpson. 
There  is  also  an  equestrian  section,  as 
well  as  trade  exhibitors  and  so  much 
more. Watch this space! 
For more information and updates visit 
our  website  www.paparoashow.org.nz 
or 
find 
us 
on 
Facebook 
@PaparoaShow. 
KAIPARA SCALLOPS 
Note:  As  at  23  October  2018  the 
Kaipara  Harbour  is  closed 
for  scallop  gathering. 
More 
information 
about 
the 
closure  is  available  on  the 
Fisheries  New  Zealand 
website.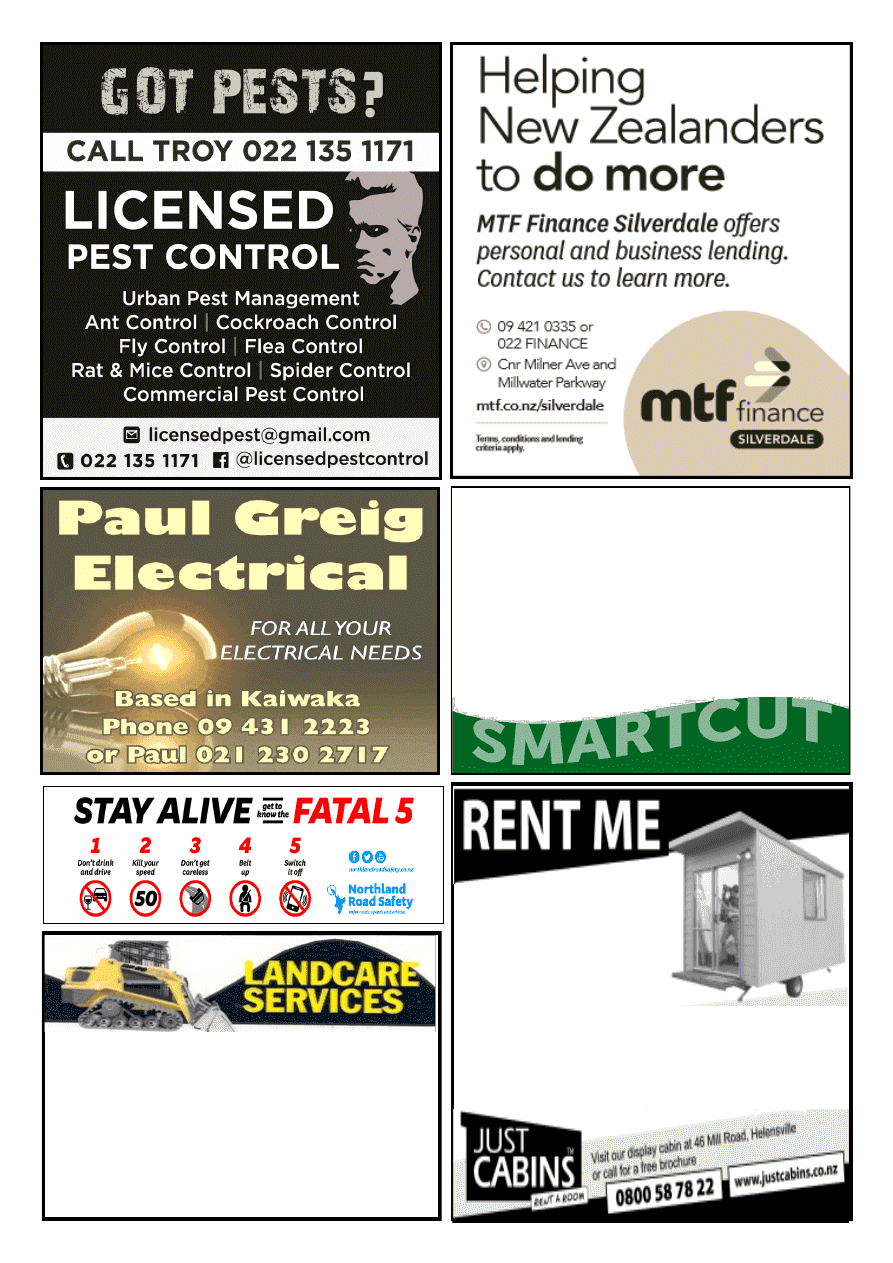 LANDSCAPING 
4 IN 1 BUCKET 
TRENCHER 
POLE HOLES 
ROTARY HOE 
COMPACT ROLLER 
OFFAL HOLES 
CAN SUPPLY WOODCHIP & POST PEEL 
5 TON TIPPER 
FOR RELIABLE AND FRIENDLY SERVICE CONTACT DAVE 
Dave Hyndman 
 
KAIWAKA 
PH: 09 4312302 
MOB: 021 431 238 
All your outdoor needs sorted so you don't have to... 
I can prune, chop, tidy, spray, mow, plant 
- you name it, I can do it! 
Residential & Commercial 
Lawn & Garden Care 
Call Rodney, your local  
lawnmowing contractor 
021 138 2344 
Ideal as an extra  
bedroom or office 
Three Convenient sizes: 
Standard 3.6m x 2.4m - $65 per week 
Large 4.2m x 2.4m - $80 per week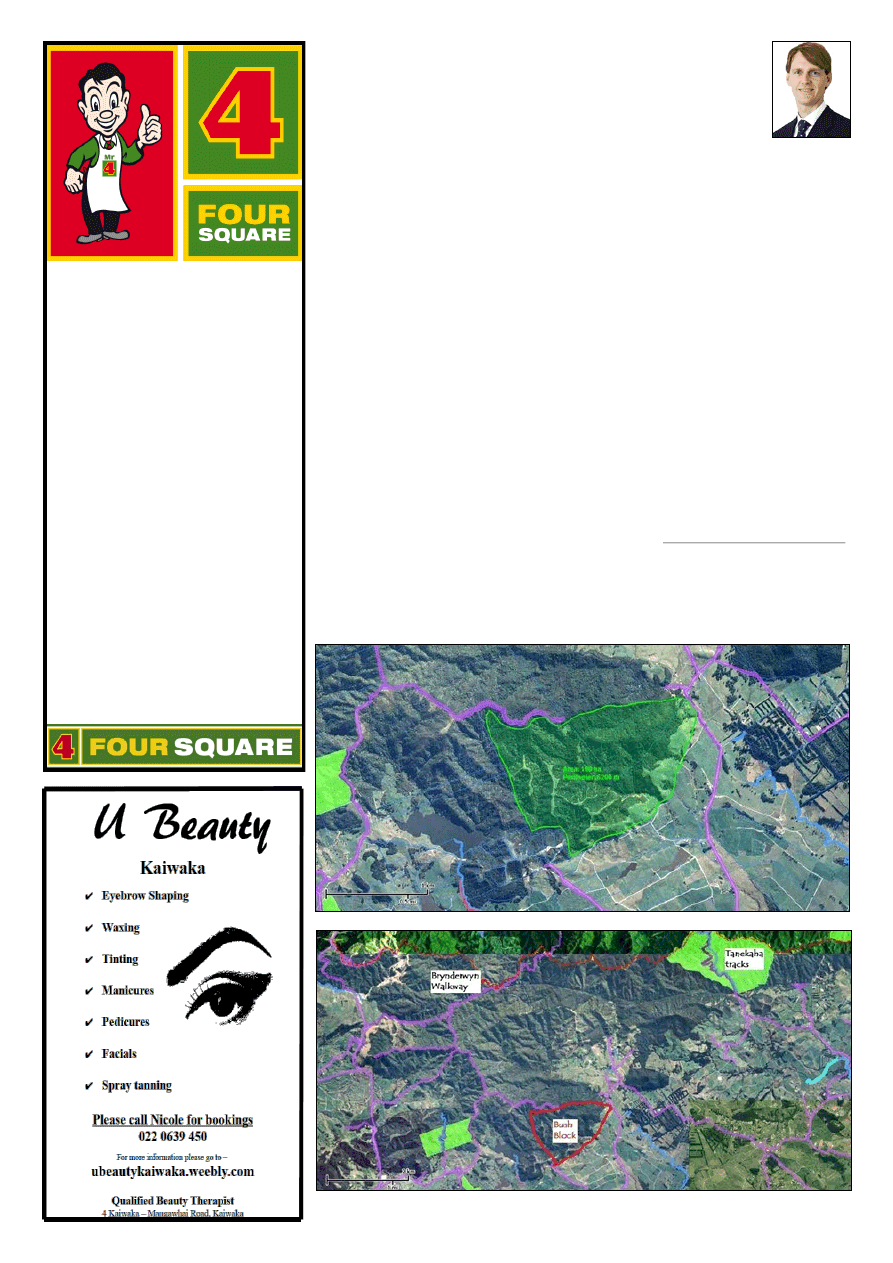 www.kaiwaka.co.nz 
Kaiwaka Bugle - 30 October 2018 
Page 7 
Spring Gardening  
is here!! 
In store now 
Tui Gardening supplies 
Potting Mix, Organic Potting 
Mix, Mulch & Feed 
Sheep Pellets, Blood & Bone, 
Vege, Potato, Strawberry, 
Tomato Food 
Osmacote, Quash, Pea Straw 
Seed Potatoes $9.99 
McGregor Seeds $2.51 
Gourmet $3.80  
Seed Tape 
Vege & flower punnets $2.96 
Gardening tools & hose 
fittings 
Jaques Four Square 
Phone: 4312227 
1 Kaiwaka-Mangawhai Road, Kaiwaka. 
COUNCILLOR'S COMMENT* 
with Otamatea Ward Councillor Jonathan Larsen 
Kaiwaka Can is Official. 
It  was  a  privilege  to  witness  the 
signatures  to  make  Kaiwaka  Can  an 
incorporated society this evening at the 
Archie  Bull  Hall.  The  AGM  was  very 
well  attended  with  25  locals  showing 
up.  Kaiwaka  Can  is  a  community 
group  that  is  leading  a  number  of 
initiatives  to  improve  Kaiwaka  and 
surrounding areas. 
Incorporation  means the  group  will be 
better  placed  to  apply  for  funding  for 
community projects. 
Exciting times ahead! 
Top  Mountain  Bike  Park  for 
Kaipara? 
Council  owns  a  large  (approximately 
190 hectares) bush block at the base of 
the  Brynderwyn  Ranges  on  Browns 
Road. This land is part of the farm that 
was  purchased  as  the  wastewater 
disposal site for the Ecocare project. 
The  Mangawhai  Tracks  Charitable 
Trust  led  by  local  community  stalwart 
Gordon  Hosking  carries  out  amazing 
voluntary  work  developing  a  network 
of  walking  tracks  in  the  Brynderwyn 
Ranges  and  other  locations  around 
Mangawhai. 
In  2013  the  Trust  carried  out  an 
evaluation  of  the  Browns  Road  block. 
What  they  found  was  an  already 
established  network  of  tracks  ideally 
suited  to  the  development  of  a  top-
quality  mountain  bike 
park  and  further  walking 
tracks with the potential to 
link to the already established network 
in  the  Ranges.  The  Trust  is  keen  to 
proceed  with  helping  to  develop  the 
block  as  a  community  recreation 
reserve  and  presented  a  detailed 
proposal to Council in 2014 and again 
in 2017. So far permission has not been 
gained to proceed with the project. 
Mountain  bike  parks  in  other  areas 
have been proven to provide significant 
economic  benefits  by  attracting  users 
to  the  area.  This  is  a  unique 
opportunity  because  Council  already 
owns the land and there is a proven and 
established  volunteer  group  ready  and 
willing to add value. 
I  have  raised  the  proposal  again  with 
the  new  Council  CEO  with  hope  of 
getting  some  action  on  this  project 
soon.  I  will  keep  you  informed  as 
things progress. 
If you have any community projects or 
issues  that  you  would  like  assistance 
with, I can be contacted on Ph. 021 185 
8389  or  Cr.Larsen@kaipara.govt.nz. 
Check  out  my  'The  WorkBoot 
Councillor'  Facebook  page  for  regular 
updates. 
*The  views  expressed  are  those  of  the  writer 
and do not necessarily represent the consensus 
position of Council. 
What do you think - is this an initiative that you would like to see happen? 
Brown Road farm bush block (see online for colour) 
Relationship of Bush Block to the Tanekaha tracks and the Brynderwyn walk-
way with public access in Purple.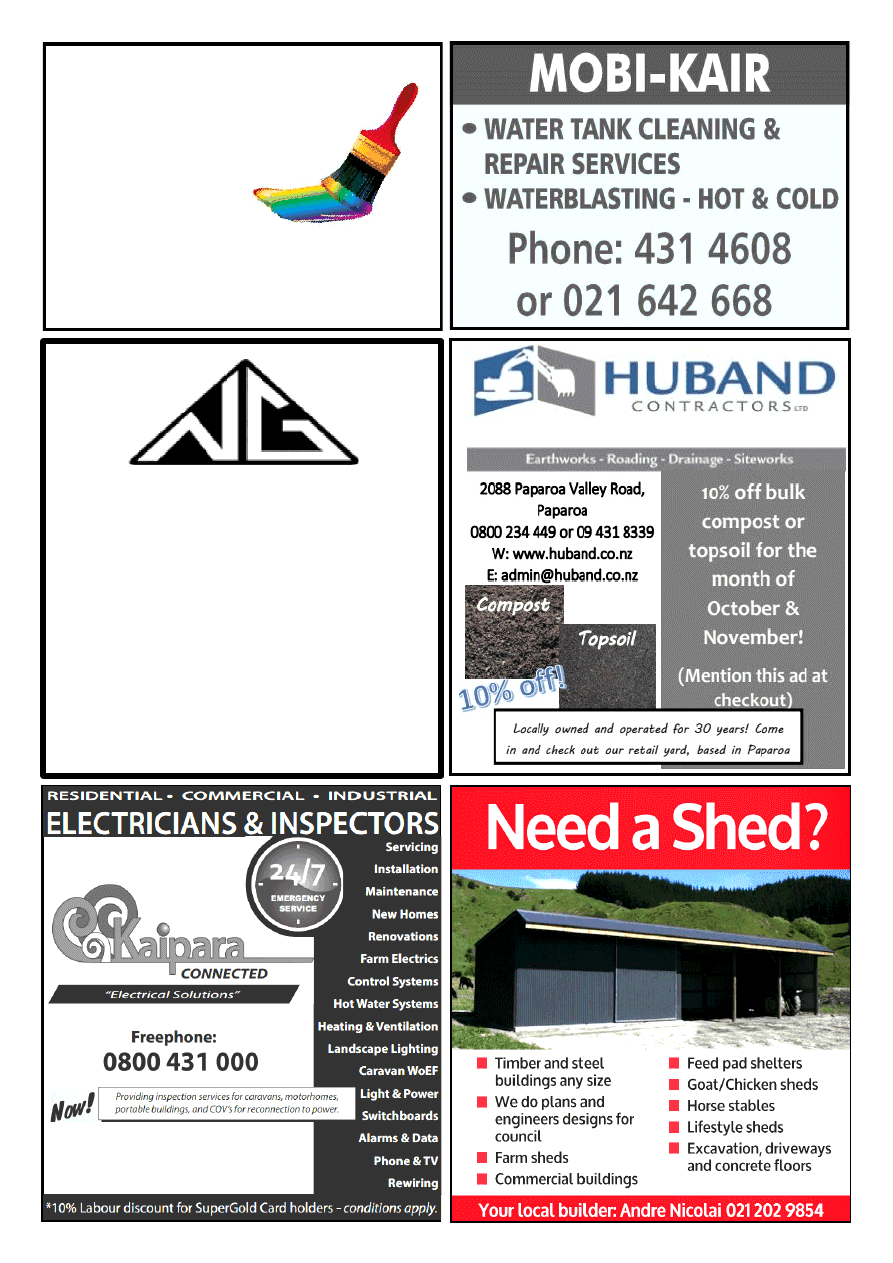 09 4312918 
0274735171 
leecooper@xtra.co.nz 
LEE COOPER PAINTERS 
(Kaiwaka Based) 
*30 yrs Experience 
*Interior/Exterior 
*New and Restoration 
*Honest and Reliable 
*Free Quotes 
NORTH GLASS 
WINDSCREEN REPAIR OR REPLACE 
GLAZING SERVICES 
MIRRORS  •  SPLASH BACKS  •  SHOWERS 
0800 70 40 10
info@northglass.co.nz 
www.northglass.co.nz 
Email: info@kaiparaconnected.co.nz 
Website: www.kaiparaconnected.co.nz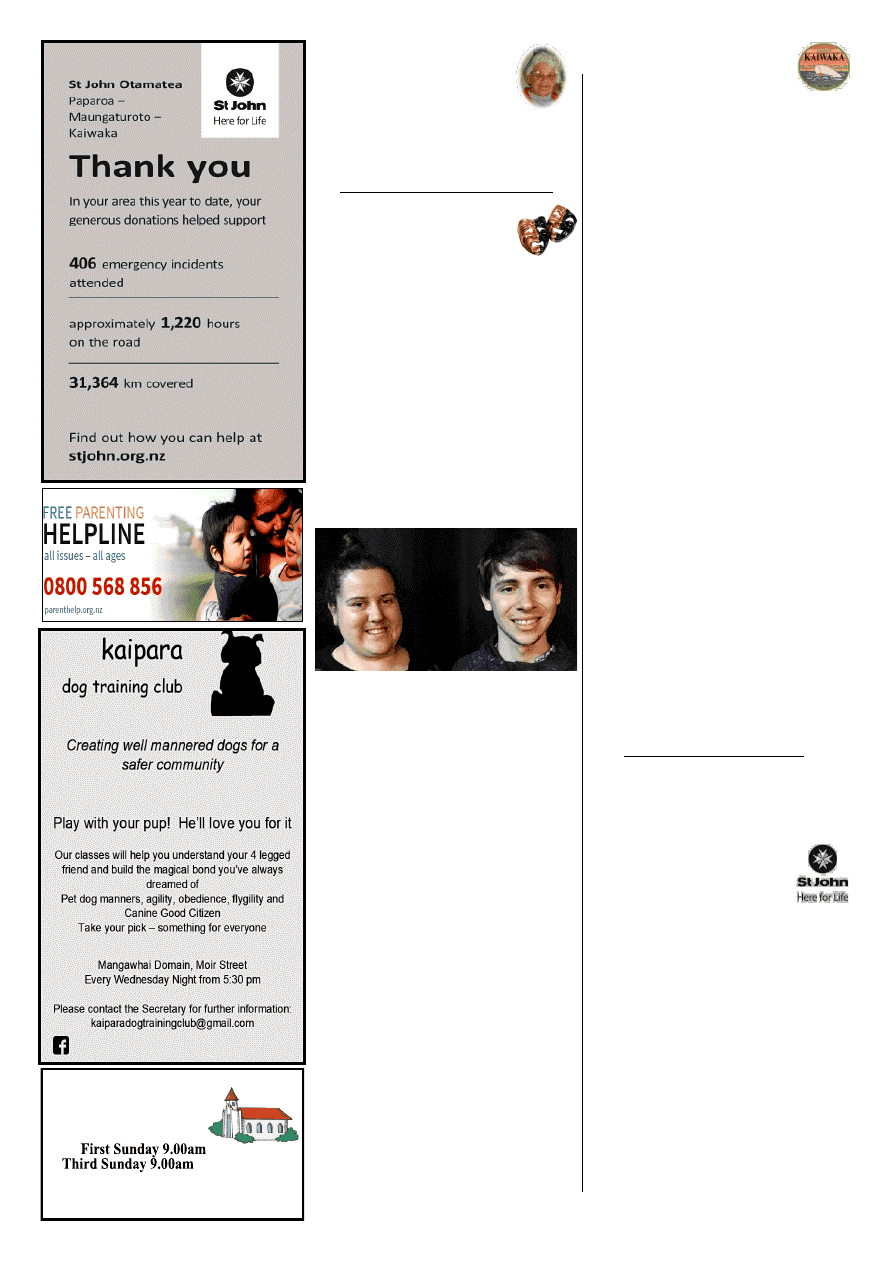 www.kaiwaka.co.nz 
Kaiwaka Bugle - 30 October 2018 
Page 9 
ST PAUL'S ANGLICAN  
SUNDAY  
SERVICES 
- Eucharist
- Family Service
St Pauls Church: Kaiwaka-Mangawhai Rd. 
Rev. Wayne Thornton Ph 431 4122 
www.mangawhaianglican.org.nz
OTAMATEA St.JOHN  
AREA COMMITTEE 
35th TRASH and TREASURE 
Thanks  to  your  support  we 
have  raised  $10,500  for  the 
week.  
Thank  you  to  the  team  who 
helped get the large barriers in 
place  after  the  Markets  on  Friday 
night;  to  all  who  turned  up  from 
Sunday  on  to  help  load  the  tables  and 
hangers and price the items; the group 
who  helped  take  those  barriers  down 
and sort items on the Friday; and thank 
you  to  those  who  provided  items  for 
sale  (including  home  baking)  you  are 
awesome;  and  to  the  team  who  made 
themselves  available  during  the  week 
to  collect  and  deliver  the  items  and 
man the sales desk – we couldn't have 
achieved this without your support and 
positive attitude  We  have decided  that 
the  proceeds  from  the  week  will  be 
dedicated  to  the  young  people  in  our 
community. 
We 
have 
some 
programmes  in  mind,  so  watch  this 
space.
PT.CURTIS 
CRUISING 
CLUB

Kaiwaka  Fire  Brigade's  fishing 
competition  is  on  Saturday  3rd  and 
Sunday 4th November.
Species 
are 
Snapper, 
Kingfish, 
Kahawai,  Trevally,  Gurnard  and 
Crayfish. Adults $30 ticket and Juniors 
$10  (15yrs  &  under). Tickets  are  sold 
in most shops around town, or you can 
buy  one  off  a  local  fireman.  Some 
great  Prizes  up  for  grabs.  Weigh  in 
Times  Saturday  6pm  -  8pm,  and 
Sunday  2pm  –  4pm.  Don't  forget  all 
fish  weighed  will  be  auctioned  on 
Sunday. 
Go  along  and  support  our  local 
brigade. 
PCCC  Christmas  Dinner  is  on 
Tuesday  13th  November  at  the  3 
Furlongs  Bar and  grill  6.30pm.  If  you 
are  keen  to  dine  with  us  please  let  us 
know - Jean from Jaques Four Square, 
Sandy  from  Wellsford  Sports  & 
Leisure 
or 
Renna 
on 
0212509549.    Everyone  is  welcome 
and the more the merrier. 
Picnic  @  the  Boat  Ramp  is  on 
Saturday  12
th
  January  2019.  Enjoy  a 
fun  afternoon  and  watch  the  sun  go 
down (BYO). 
Subs can still be paid, they were due 
1st June Family $30 and Single $20. 
Internet 
banking 
details: 
ASB 
Wellsford  No.  12  3094  0008233  00. 
Please  use  your  name/names  as 
reference. 
Fish  of  the  month: Snapper till 13th 
November. 
Next  club  meeting:  11th December 
at the 3 Furlongs Bar and Grill, 7pm. 
~ Wayne Leslie, Commodore
From Thelma's 
Scrapbook … 
Let us be the first  
to give a friendly sign,  
to nod first,  
to smile first, to speak first,  
and if necessary, to forgive first!! 
OTAMATEA 
REPERTORY 
THEATRE 
The  Annual  General  Meeting  of 
the  Otamatea  Repertory  Theatre 
Inc  will  be  held  at  the  theatre  on 
Thursday 8 November 2018, 7pm. 
Brittany  Dyer  is  the  Director  of 
'Sleeping  Beauty'  -  assisted  by  her 
younger  brother,  Haydn  Dyer,  as 
Musical 
Director. 
The 
siblings, 
pictured here, have been involved with 
ORT  for  many  years,  both  on  and  off 
stage.  Brittany  directed  'I  Never  Saw 
Another Butterfly' by Celeste Raspanti, 
earlier this  year, for  ORT's  Festival  of 
One  Act  Plays.  Haydn  recently 
appeared as the Narrator in Sondheim's 
classic masterpiece 'Into the Woods'. 
Albi  &  The  Wolves  are back after the 
wonderful mini tour that was The Great 
New  Zealand  Folk  Revival  to  visit 
many  of  the  places  they  missed!  This 
relentless  trio  will  hit  21  cities  and 
towns in the North and South Island to 
celebrate  their  next  single  'It  Ain't 
Easy'. 
Albi & The Wolves are a New Zealand 
string  band  that  creates  a  huge  sound 
using  only  an  acoustic  guitar,  an 
electric violin, a double bass, and their 
three voices. The band is renowned for 
their great stage presence and dynamic 
shows  that  they  have  evolved  by 
touring  extensively  here  and  a  little in 
Australia.  Their  songs  stand  out  on 
their own too as the band recently won 
the  Best  Folk  Artist  2018  TUI  at  the 
New  Zealand  Music  Awards  for  their 
debut  album  One  Eye  Open.  Chris 
Dent (the proud albino front man Albi), 
Pascal  Roggen,  and  Micheal  Young's 
individuality  shines  through  the  music 
to  make  something  compelling, 
uplifting, soulful and fun. 
Each  show  is  different  so  be  sure  to 
catch  them  and  Molly  May,  who  will 
be  opening  the  night,  on  Saturday  3 
November  at  the  Otamatea  Repertory 
Theatre.  Tickets  are  on  sale  now  at 
Eventfinda for  $20  but  will  be  $25  on 
the night and the show starts at 7:30pm 
-for 
an 
excellent 
evening 
of 
entertainment! ~ Maura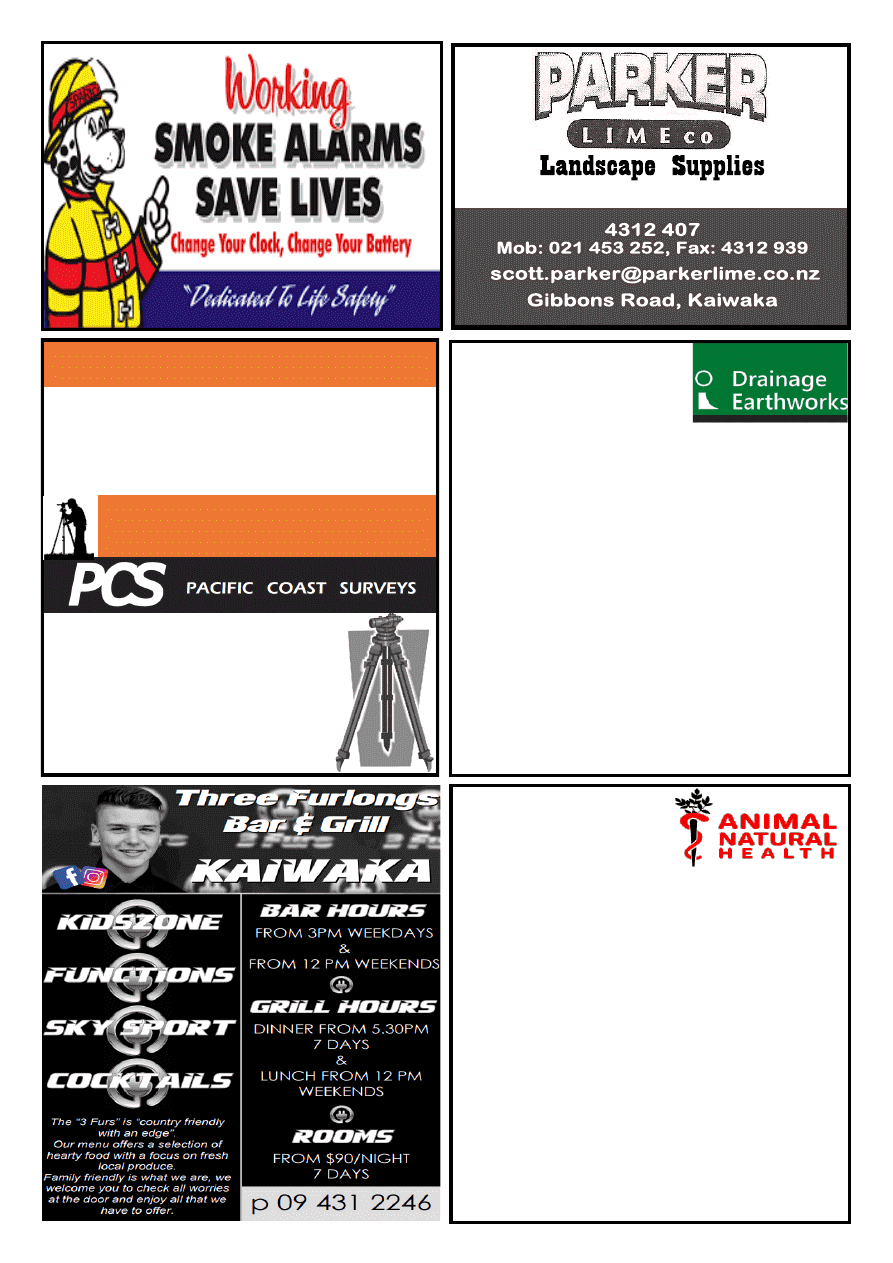 Drainage & Earthmoving 
nigel@clarkedrainage.nz 
027 2233 185 
Registered Drainlayer 
All Types of Earthworks  
> All Residential & Commercial Work  > House Sites 
> Septic System Design & Install 
> Footings & Drilling to 10m 
> Sewer Connections 
> Dams 
> Water Tank Installation 
> Roading & Races 
> Farm Work 
THE ONE STOP SHOP  
Phone Nigel for an Obligation Free Quote  
Bulk Cartage 
SURVEYORS 
SUBDIVISIONS 
HOUSE SITE SURVEYS 
CIVIL ENGINEERING 
WASTEWATER DESIGNS 
EXPERIENCED 
PROFESSIONAL 
INNOVATIVE 
Ph 09 431 5353 
0800 PACIFIC (0800 722 434) 
pacificcoastsurvey.com
Adam Booth - 027 415 5752 
Bsurv, Licensed Cadastral Surveyor
Surveying Kaipara since 1994 
PET FOOD & 
ACCESSORIES 
ANIMAL NATURAL 
HEALTH, KAIWAKA
Our Pet Deli range of meats are now in! 
Also stockists of:
Purely Pets Patties 
Orijen & Acana Kibble 
Mighty Mix Biscuits 
Tukka Thyme Muesli 
Organic Apple Cider Vinegar
Chemical-free flea control, wormers 
Homeopathic / herbal preps for Upsets & 
Allergies. 
Collars and leads. 
 
Hours:  10.00am - 5pm weekdays, 10.00-4pm Sat. 
Next to Italian Bakery, SH 1, Kaiwaka 
Phone 09 431 2217.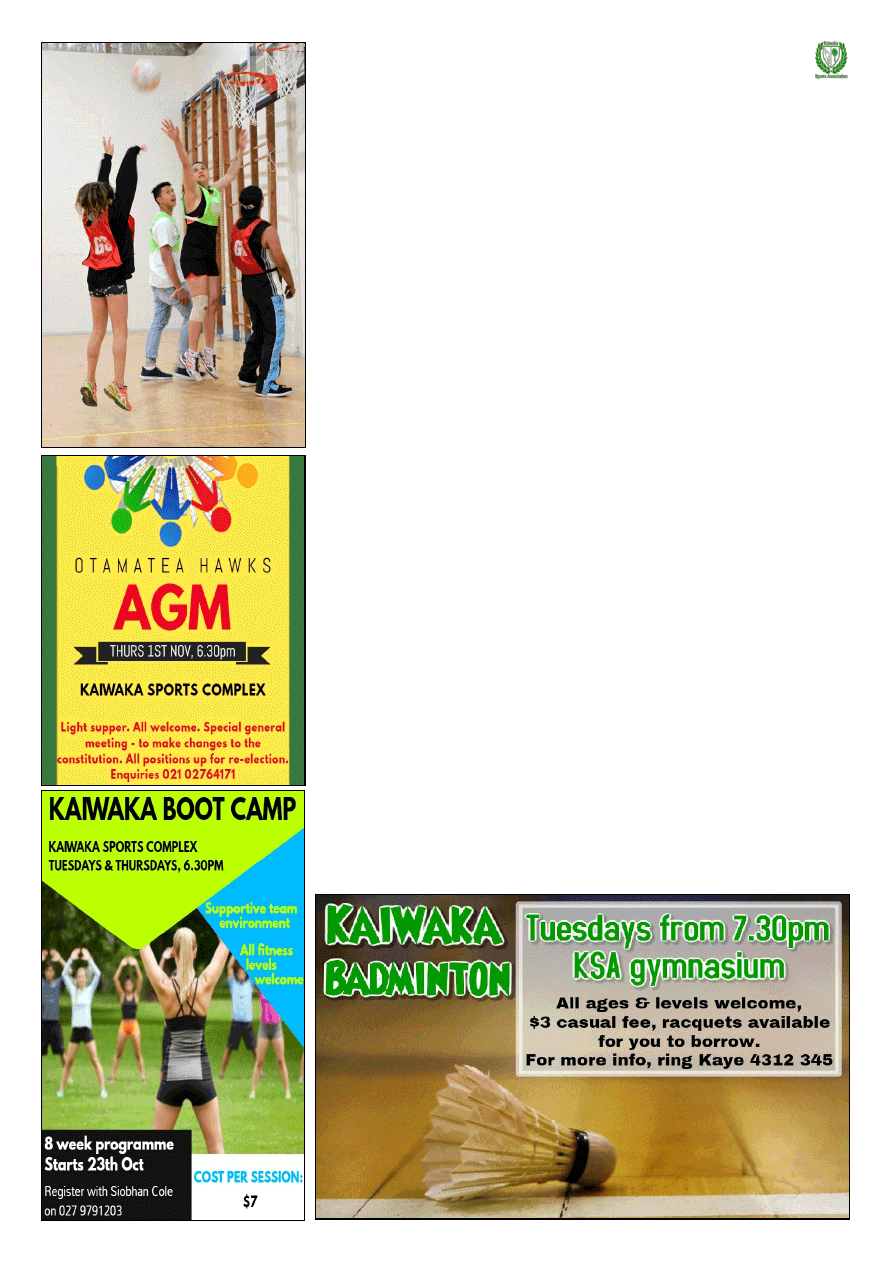 www.kaiwaka.co.nz 
Kaiwaka Bugle - 30 October 2018 
Page 11 
KAIWAKA SPORTS ASSOCIATION
Free Tai Chi in November 
Ever  wanted  to  try  Tai  Chi?  Our 
Martial  Arts  club  is  offering  free  Tai 
Chi  sessions  for  the  whole  of 
November! Details on the flyer in this 
edition of the Bugle - page 19. 
Badminton 
Keen to try your hand at Badminton? 
Did  you  know  our  Badminton  Club 
offers  a  Club  Night  on  Tuesdays. 
People  of  all  ages  and  abilities  are 
welcome - and don't worry if you don't 
own a racquet, just borrow one of ours. 
Rock  on  up  to  our  gymnasium  at 
around 7pm. 
Kaiwaka Athletics Club 
The Athletics season starts Monday 5th 
November  at  5  –  6.30pm,  and  runs 
until close of school term in December. 
We  will  operate  during  Term  1  in 
2019.  Parents/caregivers  are  expected 
to stay with the youngsters as we need 
a  number  of  adults  to  help  run  the 
evening successfully. 
All athletes are welcome but we tend to 
have  a  predominance  of  younger 
athletes. If you wish to come along on 
the  first  night  to  see  how  we  operate, 
you  are  most  welcome.  Fees  are 
reasonable.  Queries,  please  call  Eileen 
on 021 1420357. 
Otamatea Hawks AGM 
The Hawks will hold their AGM at the 
KSA  this  Thursday,  1st  November,  at 
6.30pm.  A  light  supper  will  be 
provided,  All  positions  are  up  for  re-
election.  Everyone  is  welcome  to 
attend. 
Jaques Band 
The Jaques band will play at the KSA 
on  11th  November,  to  commemorate 
the  end  of  World  War  One.  If  you 
know  of  people  who  would  love  to 
enjoy  an  afternoon  of  old-time  music, 
please let them know. 
Kaiwaka Boot Camp 
Keen to get into shape for the summer? 
There  will  be  a  Fitness  Boot  Camp  at 
our  grounds,  for  8  weeks,  on 
Tuesdays  and  Thursdays  at  6.30pm. 
Starting 23rd October. 
This  is  suitable  for  people  of  all  ages 
and fitness levels. Just bring yourself - 
fun  and  laughter  provided!  $7  a 
session. 
Fast Five Netball Module 
We are now over half way through our 
Fast Five Module. 
Results, photos and the draw are posted 
each  week  on  the  Fast  Five  Facebook 
page and on our website 
www.kaiwakasports.co.nz. 
KSA Special Meeting 
A Special Meeting to change the KSA 
constitution will be held at the KSA on 
Wednesday  14th  November  at  7pm. 
All welcome. 
Kaipara Sports Awards 
The  2016  Kaipara  Sports  Awards  will 
be held on Friday 2nd November at the 
Lighthouse 
Function 
Centre 
in 
Dargaville. 
Tickets are $50 per person. 
You  can  purchase  a  ticket  by 
contacting 
Sport 
Northland 
representative  Roxanne  Kelly  on 
roxannek@sportnorth.co.nz. 
Junior Tennis 
Our  children's  tennis  lessons  this 
Monday. 
Juniors 
at 
3.15pm, 
intermediate  at  3.45pm  followed  by 
senior  kids  at  4.15pm.  Great  coach, 
very reasonable fees. Contact Linda 
on 021 266 8571 for more information. 
Our condolences 
By  now,  you  will  have  heard  of  the 
untimely death of local Lars. Lars was 
a real techno-wizz, and he volunteered 
many  hours  at  our  Sports  Complex 
helping  with  our  sound  system, 
lighting,  computers  etc.  We  greatly 
appreciated  his  community-minded 
spirit, and our deepest sympathies to go 
Nina and family.  
~Cheryl Anderson,  
4312 051, 027 3462702 
kaiwakasports@gmail.com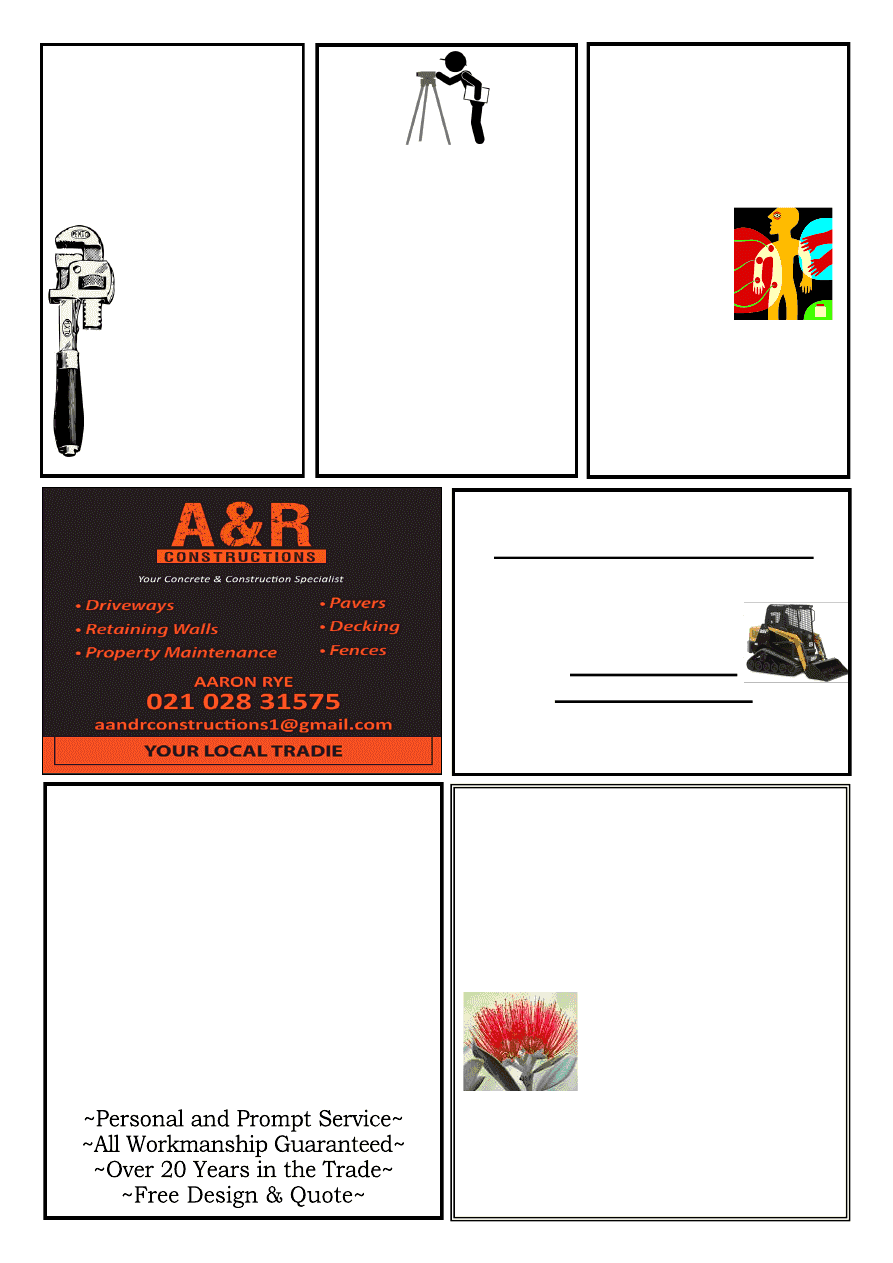 BARRY CURTIS 
PLUMBING LTD 
REGISTERED CRAFTSMAN 
PLUMBER 
Phone 431 5572 
027 257 9884 
25 years' experience 
Friendly reliable service 
All plumbing & 
maintenance 
Alterations and new 
housing 
Spouting  
Competitive rates 
PROMPT 
EFFICIENT 
SERVICE 
KAIPARA FLOORING CO 
Independently owned & operated 
32 HURNDALL ST MAUNGATUROTO
Supply & Installation of Carpet, Vinyl,  
Vinyl Wood Planking
Stockists of 2m & 3m wide 
vinyl & carpet short ends
Residential & Commercial
Q Card Finance Approved 
6-18 month terms 
6 mth interest free
First Class Installations
For a free measure & quote 
phone Christine  
09 946 9886 or 021 515 415 
kaiparaflooring@gmail.com 
http://www.kaiparaflooring.co.nz/ 
OWEN STEVENS 
Osteo Therapist
For careful adjustments to bones 
and joints 
Treatment for humans and their 
pets 
Clinics: 
Kate's Place, 
Kaiwaka: 
Last Friday of 
month 
For bookings: 
9.00am-5.00pm  
Phone 
09 4312661 
Or phone Owen  
09 4317123 anytime 
PLANNING A NEW KITCHEN?
 CONTACT NOEL McDOWELL
WELLSFORD 
KITCHENS
Ph/Fax 094312888
KAIWAKA-Any time
 QUALITY CUSTOM MADE 
KITCHENS
Ken Urquhart 
BSurv Licensed  
Cadastral Surveyor 
KMU Surveys Ltd 
467 Bickerstaffe Road 
RD 2 
Maungaturoto 0587 
Ph 09 431 8705 
Mob 021 161 2344 
kenurquhart@xtra.co.nz 
Natural Earth Ltd 
Landscape and Bobcat services 
 : Driveways :Landscaping :Retaining Walls 
 : Hole Boring: Land Levelling :Trenching 
 : Decks :Fences :Sections Cleared 
 : Plus much more
Tel 09 4312 885 
Mob 02102391280 
For A Fast Friendly Service  
Contact Tim Hicks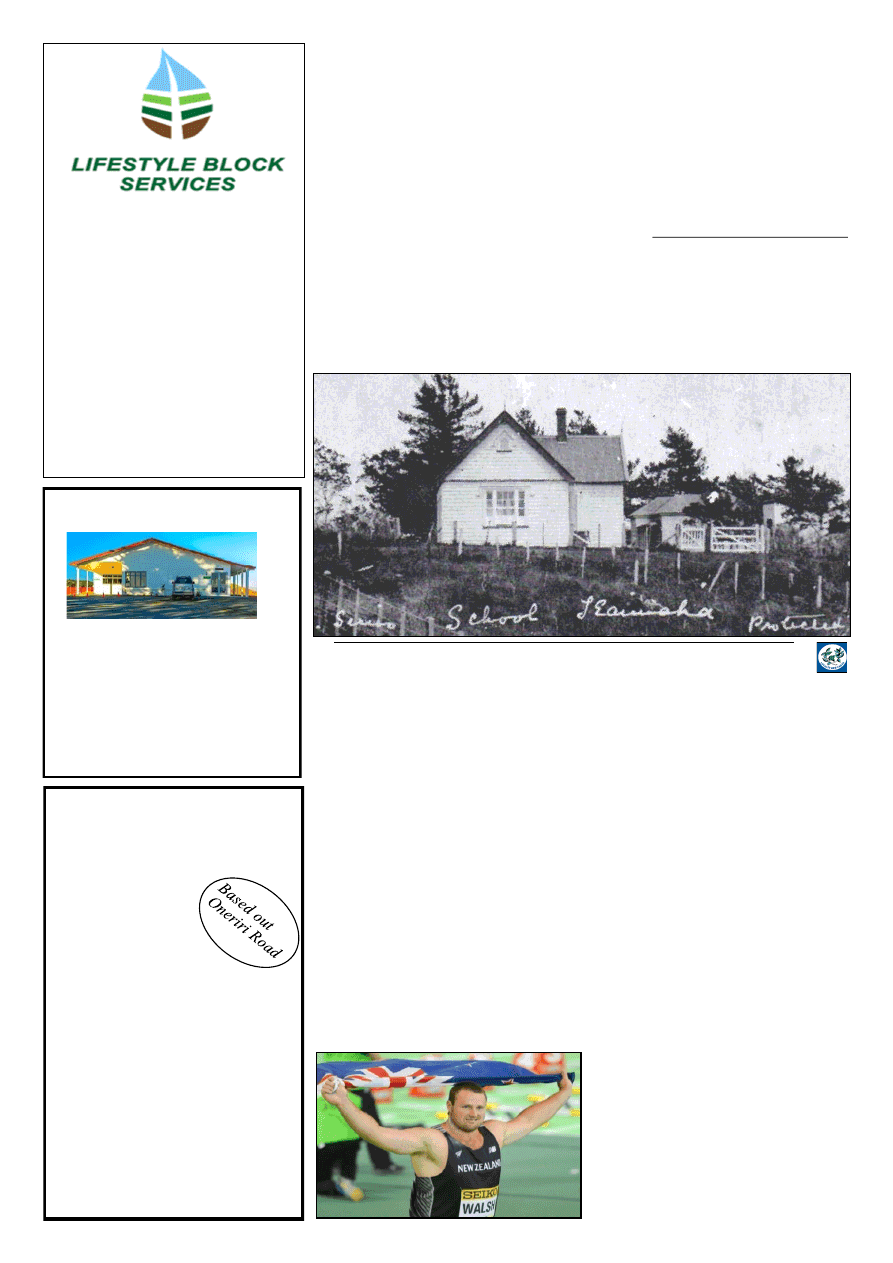 www.kaiwaka.co.nz 
Kaiwaka Bugle - 30 October 2018 
Page 13 
HODGETTS 
CONTRACTING
Digger Work 

Driveways   

House Sites   

Dams  

Drains, etc
Also available for HIRE 

4
3 ton Vib Roller   

Heavy Duty Tow  

4
Waterblaster     

Lazer Level 
Phone Mark 
4312877 
027 447 8554 
Make Baleage  
while the sun shines! 
Let us make hay/sileage for you. 
We sell small bale silage, 
conventional,  
& 5 bale equivalent hay. 
For more information  
Contact Mark on 021 801 065 or 
Contact Kathy on 027 4250520 
Te Pounga Marae 
130 Nathan Rd. Oneriri. Kaiwaka 0573 
COMPLEX FOR 
HIRE 
Functions: * Weddings  * Birthdays  
*Anniversaries * Meetings  * Wananga 5 
hour meeting * 12 hour stay or Overnight 
*All welcome   
For more information please contact: 
Kim Wallace  
Home: 09 832 1133  Mob: 0211275340  
Email: kimwallace@xtra.co.nz 
OTAMATEA HIGH SCHOOL
 KAIWAKA SCHOOL:    150 YEARS OLD 
CELEBRATIONS AND REUNION 2020 
Kaiwaka  School  was  first  established 
in  1870  and  has  a  long  history  of 
generation  after  generation  attending 
the  school  for  primary  education.     
We  want  to  celebrate  this  astonishing 
feat.  
Calling for Community Help 
The  Board  of  Trustees  is  calling  for 
community  input  into  designing  and 
preparing  for  this  celebrations.  What 
ideas  do  you  have  for  a  reunion, 
celebrations  and  future  planning  for 
Kaiwaka  School?  We  would  love  this 
to  be  a  big  community  wide  time  of 
celebration  and reunion.  
How you can help:  
⚫
Contact  the  school  to  go  onto  a 
Planning Committee 
⚫
Share  your  ideas  for  the  celebrations 
with the school   - what would you like 
to have included?  
⚫
People  who  have  moved  away  from 
the  area  will  be  invited.  Do  you  have 
names and addresses of these people? 
Please  contact  the  school  on  09  431 
2309  or  principal@kaiwaka.school.nz 
to offer your help and support.   
Pictured  below:  Kaiwaka  School  as  in 
December 1916 until 1942 when it was 
moved west across the top netball court 
and  used  as  a  craft  room  and  third 
classroom  until  sold  along  with  the 
school  house  (seen  in  background)  in 
1959. 
Principal's News 
Well done to all the students involved 
in  the  Road  Race,  which  is  the  final 
whole  school  inter  iwi  event  for  the 
year.   
This  week  is  a  very  busy  time  for  the 
school with a visiting group of students 
from  Chile,  a  visit  from  the  athlete 
Tom  Walsh  (which  was  won  by  the 
AIMs  netball team,  pictured  below), a 
parent  presentation  by  a  well-known 
presenter  (Wednesday),  digital  media 
studies  film  night  (Thursday)  and 
finally senior prizegiving (Friday).   
All prize-winners have now received a 
letter indicating this and parents should 
have  also  received  a  letter  through  e 
mail  inviting  you  to    the  prize-giving 
on Friday 2nd November.  
Senior reports and this year's magazine 
will 
be 
available 
after 
prizegiving.  Any reports which aren't 
collected  will  be  posted  out.  After 
senior prizegiving senior students who 
have  met  the  necessary  requirements 
will be given study leave to prepare for 
their  external  exams.    As  in  previous 
years  some  senior  students  will  be 
required  to  continue  attending  school 
during this time, so that they receive as 
much  support  as  possible  to  secure 
their  qualifications.  Students  and 
parents  will  be  notified  of  study  leave 
status.  
Early  closure  on  Thursday  8th 
November:    Please  note  that  our 
school  is  closing  at  12:30pm  on 
Thursday  8th  November.    The  reason 
for this is that the teaching staff will be 
attending a Paid Union Meeting.  High 
School buses will run at this time. 
Cell phones 
At  Otamatea  High  School  for  some 
years now we have had a 'traffic light' 
strategy  for  cellphones  in  the 
classroom which allows cell phone use 
with  the  agreement  of  the  teacher. 
However,  from  November  this  school 
will not be allowing cell phones in the 
classroom.  A  part  of  the OTA  Way  is 
'Always  Learning'  and  for  some 
students  their  cell  phones  are 
hampering  their  education.  'F.O.M.O' 
- fear of missing out, now sees students 
checking  their  phones  constantly.  By 
removing  phones  from  the  classroom, 
we  hope  to  help  the students  focus  on 
their studies.  
~ Rachel Clothier-Simmonds, Principal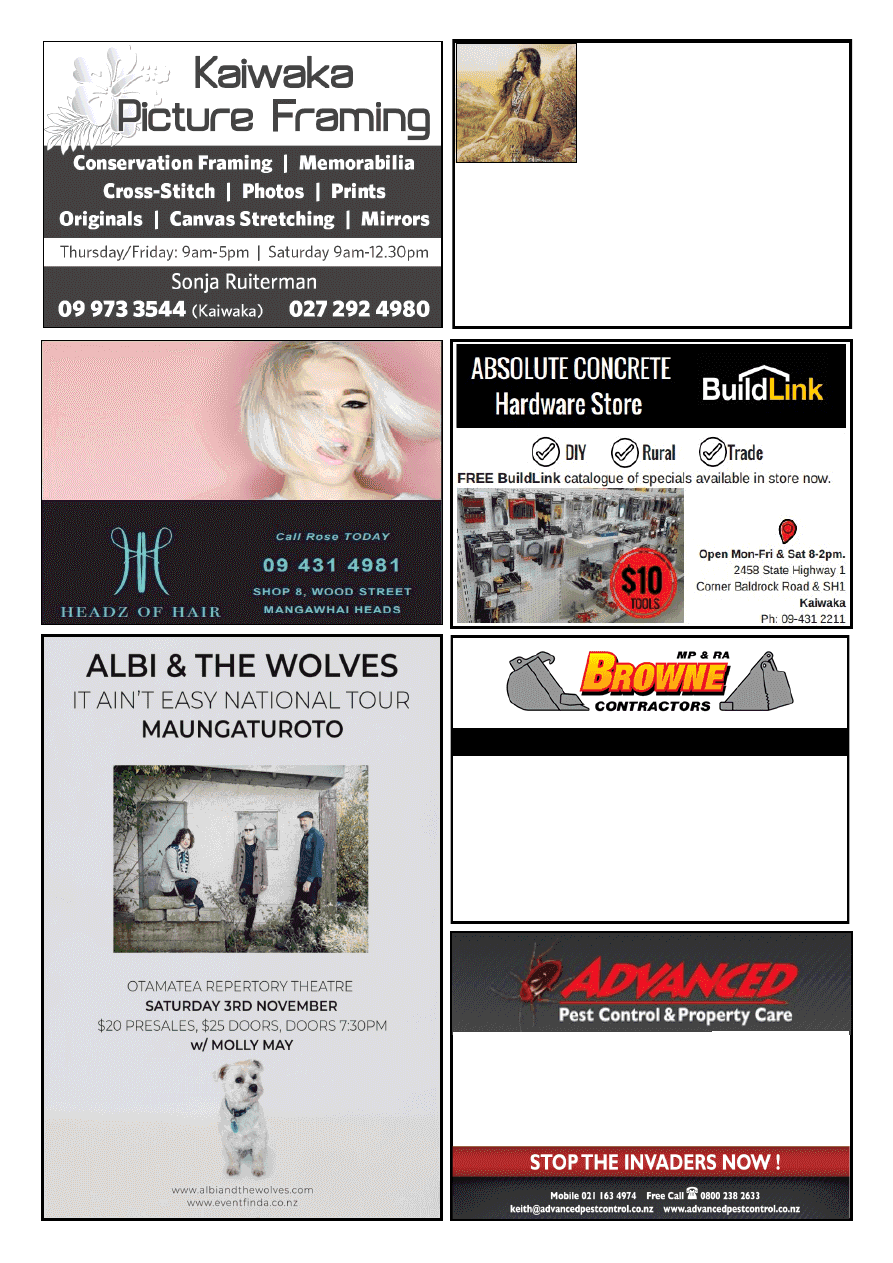 4T DIGGER – BOBCAT – TIP TRUCK 
Property Maintenance - Driveways  
 Building Sites 
Stump & Tree Removal  
Hole Boring - Chain Trencher  
Calf Shed and Stockyard Cleaning 
Phone Matt: 021 199 6677 
Email: mprabrownecontractors@gmail.com 
Trails end 
spiritualist gathering 
Last Sunday of every month  
10.30-2pm  
Tea/coffee provided  $5 koha 
For all inquiries: 
021 165 2629 evenings (09) 945 0707 
Trail.end@hotmail.com 
1758 Cove Road, Mangawhai
Bringing together like-minded people 
Guest speaker each month
Pest Control 
PLAN A: One-off treatments to customers with a specific pest problem 
PLAN B: Full maintenance service plans to commercial customers. 
This will include documentation kept in customer file on site: 
⚫
Pest treated 
⚫
Date of service 
⚫
Chemical or baits used 
⚫
Full pest check report done after each treatment 
⚫
Fair and reasonable fee with guarantee 
Flood Recovery 
Carpet Care 
⚫
Carpet Drying 
This includes pre-spray treatments 
⚫
Dehumidifier Rental 
with stain removal and hot water extraction.  
⚫
Full Commercial Cleaning  Patch repair also available 
Upholstery Cleaning 
Full upholstery cleaning of all furniture.  
eg lounge suites and all office chairs 
Water Blasting 
⚫
Concrete - Decks 
House Washing 
⚫
Soft Chemical Was 
⚫
Pre-painting Wash 
Property Services 
⚫
Property Cleaning  Lawn Mowing 
⚫
Hedges General   Tidy Ups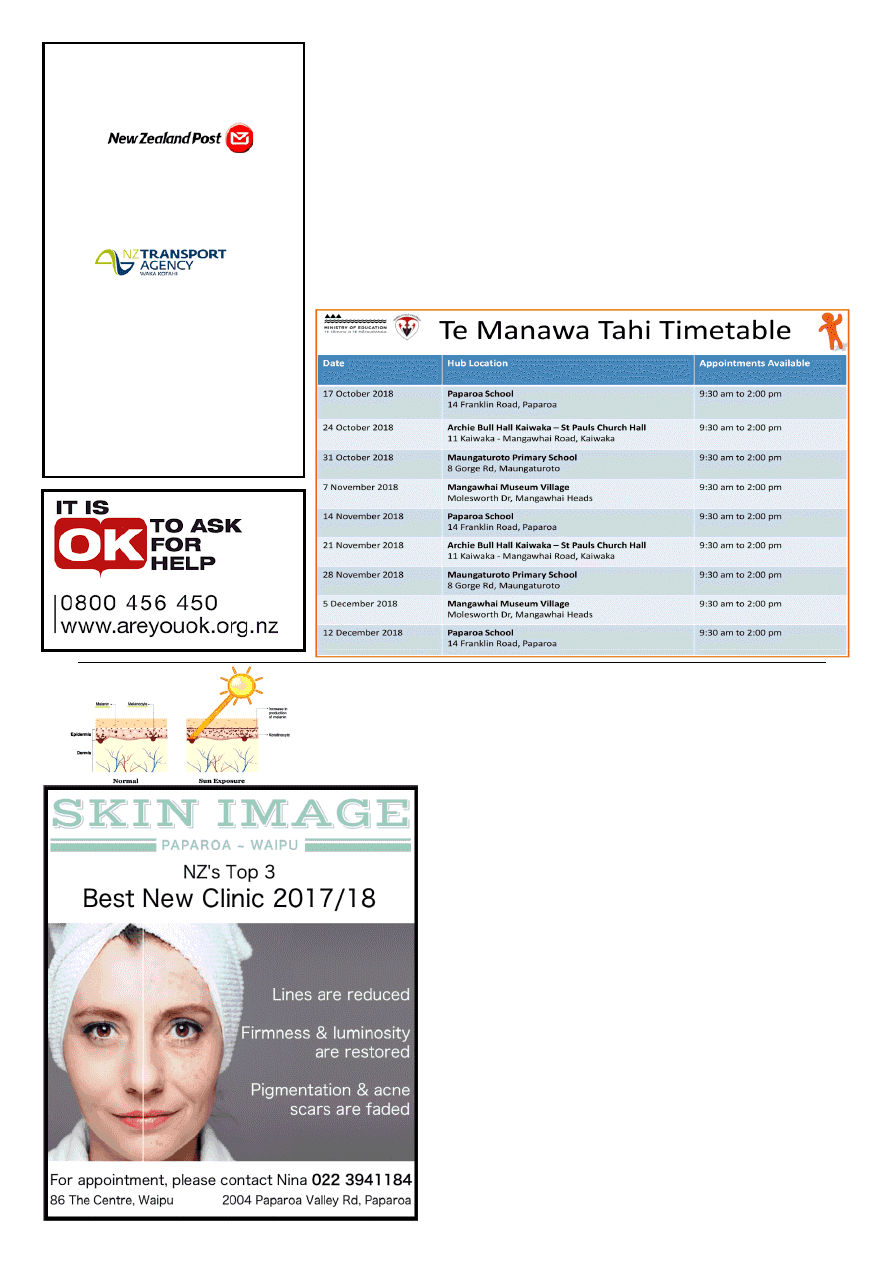 www.kaiwaka.co.nz 
Kaiwaka Bugle - 30 October 2018 
Page 15 
If you look at the ingredients list of 
the 
skin's pigment is called melanin and is 
produced  by  a  skin  cell,  the 
melanocyte. 
Alongside  the  melanocyte  is  an 
enzyme 
called 
tyrosinase 
that 
oxidizes the amino 
acid  tyrosine  to  create 
melanin.  When  the 
melanocyte 
is 
damaged  by  UV  rays, 
it  triggers  a  cascade 
reaction  causing  an 
over  production  of 
melanin or hyper- 
pigmentation.  Certain 
medications 
and 
hormones  are  also 
known to trigger 
hyperpigmentation. 
When 
treating 
pigmentation  look  for 
ingredients that inhibit 
tyrosinase 
activity. 
These 
are 
called 
tyrosinase  inhibitors. 
A  common  tyrosinase 
inhibitor 
is 
hydroquinone which 
can only be prescribed 
by  your  doctor.  Then 
there  are  other  natural 
form  of  tyrosinase  inhibitors  which 
your  skin  therapist  should  be  able  to 
prescribe.  Use  Vitamin  A  to  help 
regenerate,  repair  damage  and  keep 
cells  healthy.  Green  Tea  extract  is  a 
photoprotective, 
anti-inflammatory, 
free radical blocker that helps to repair 
UV induced cell damage. 
Avoid  all  products  with  fragrance  or 
essential  oils  as  they  can  be 
photosensitisers  and  many  are  known 
to  trigger  excess  pigment.  Only  use 
perfume on your hair or clothes, never 
directly on your skin. 
The  best  way  to  prevent  pigmentation 
is always cover up when you're in the 
sun  and use sunscreen. The  less  direct 
sun  exposure  equates  to  the  reduced 
risk of pigmentation. 
Finally, did you know that most of our 
sun damage is done by the time we're 
18, but will only typically show in our 
40's. If you are still in your twenties or 
thirties and are serious about your skin 
health,  ask  your  skin  therapist  to 
examine your skin under a skin scanner 
to  identify  any  damage  underneath  so 
you  can  prevent  further  damage  and 
prevent  the  existing  damage  from 
surfacing  later  on  in  life.  Better  to 
prevent than to treat later on!
NINA 
QUAN,  Skin  Therapist,  Skin  Image 
Paparoa - Waipu
SUPPORTING TAMARIKI TO LEARN 
KAIWAKA POST 
CENTRE and 
FOOD MART 
POST CENTRE TRADING HOURS 
MONDAY to FRIDAY 8am to 5pm 
SATURDAY 8am to 12pm 
CLOSED ON SUNDAY and on 
PUBLIC HOLIDAYS 
FOOD MART (GROCERIES) 
MONDAY TO SUNDAY  
7:30am to 7:30pm 
IF ANY QUERIES PLEASE CALL 
STORE MANAGER AMRIT  
on 09 4312431 or 
EMAIL: kaiwakafood19a@gmail.com 
1919a State Highway1, Kaiwaka 0542 
"
THIS IS THE SEASON FOR PIGMENTATION
" 
The  Ministry  of  Education's  Learning 
Support  Service  and Resource  Teachers: 
Learning  and  Behaviour  (RTLB)  have 
been  working  with  your  Schools/Kura, 
Early  Childhood,  Te  Rūnanga  o  Ngāti 
Whātua  and  Te  Uri  o  Hau  to  provide 
better support for children.  
What  is  happening?  If  you  have  a 
concern  about  your  child's  language 
development,  learning  progress,  social 
and  emotional  wellbeing,  or  behaviour, 
Te  Manawa  Tahi  have  specialists 
available  so  you  can  discuss  your 
concerns  directly  with  them.  Through 
this  discussion  we  will  determine  what 
help  may  be  required  and  identify  next 
steps. 
When is this happening? Please  see  the 
timetable  for  information  on  when  and 
where  Te  Manawa  Tahi  will  be  in  your 
community. Te Arahi will be flying on a 
flag  outside  each  Te  Manawa  Tahi 
venue. 
You  can  ring  and  make  an  appointment 
by calling 0800 52484 256 or talk to your 
School  /  Kura  /  Early  Childhood  centre 
and  they  can  make  an  appointment  for 
you.  
You  can  also  email  us  at  TT.Support 
@education.govt.nz 
or 
visit 
our 
Facebook  page  "Te  Manawa 
Tahi Tai 
Tokerau"  and  keep  an  eye  out  for  our 
updates and helpful resources.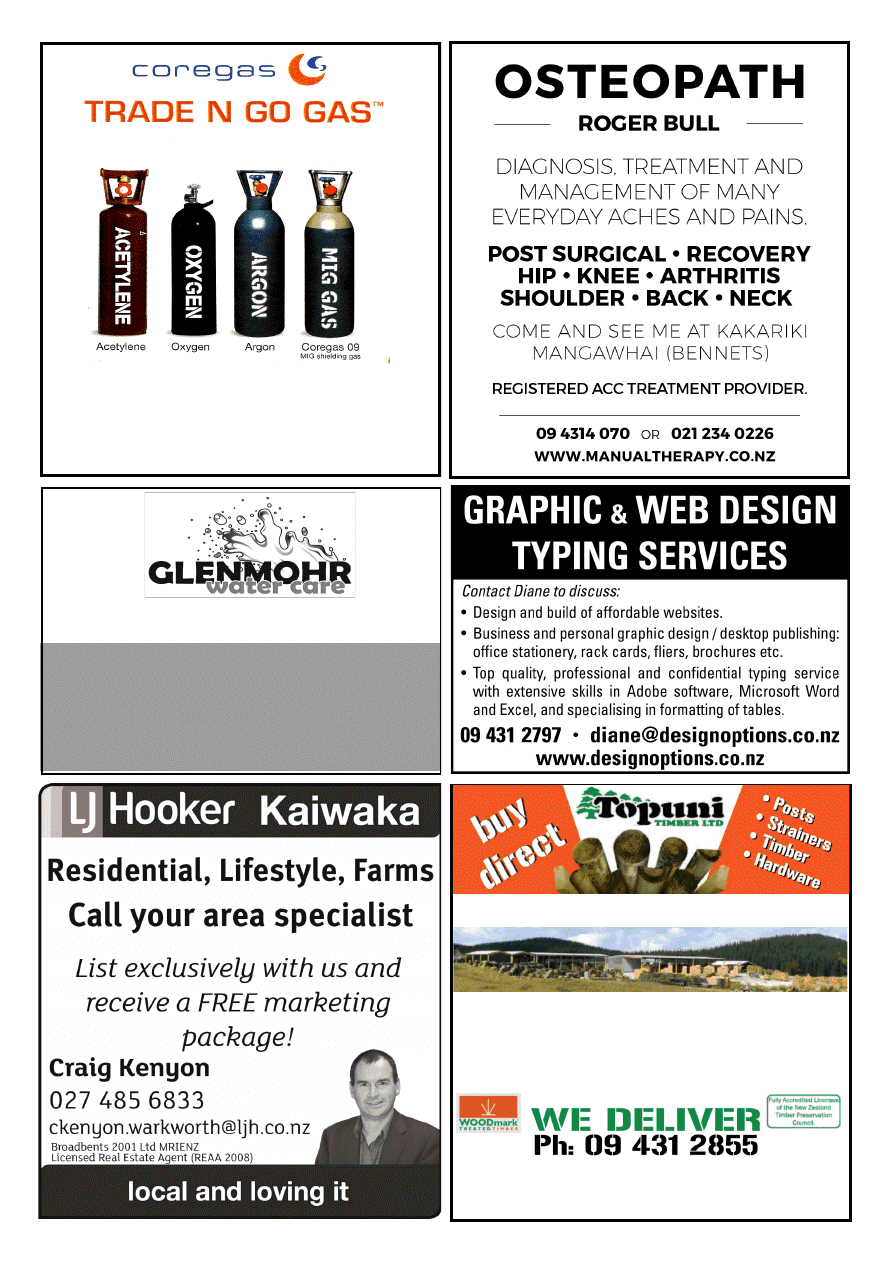 Water Tank Cleaning 
• 
Keep your water safe & clean  
• 
Removal of sediment, silt etc. 
• 
Vacuum or full scrub 
• 
Minimal water loss 
Phone Mark (09) 432 0655 or 0274 707607 
Now available at Twinkle Tow 'n' Tyre 
Mob: 021 833 960 
Ph & Fax: 09 431 2823 
1837 State Highway 1, Kaiwaka 
LOCALLY OWNED AND OPERATED 
QUALITY PRODUCTS • FRIENDLY ADVICE • GREAT SERVICE 
Quality Products milled from High Density NORTHLAND Radiata Pine. 
Treated and guaranteed to NZS3640 with commitment to 
Environmental Safety.
Phone, fax, email, or come into the mill 
Schiska Rd, Topuni, SH1, 10 min north of Wellsford. Fax: 09 431 2856 
Email: sales@topunitimber.co.nz           Mon - Fri 7am-5pm 
• Fencing 
• Retaining 
• Decking 
• Landscaping 
• Gates 
• Hardware 
www.kaiwaka.co.nz 
Kaiwaka Bugle - 30 October 2018 
Page 17 
Mangawhai 
Heads 
Garden 
Centre
1758 Cove 
Road
945 0707 
021 165 2629 
Reyahn George 
Leng 
Registered Electrician 
Local, honest and 
reliable. 
For your residential and 
light-commercial 
projects. 
022 314 1068 
Dargaville book swap 
The next swap with Dargaville Library 
is coming up on 4 December. Now is a 
good  time  to  come  and  take  a  good 
look  at  those  shelves,  and  borrow  any 
books of interest before they disappear. 
These  books  are  free  to  borrow,  and 
there's  no  need  to  return  these  books 
before  the  swap;  you  can  keep  them 
until  their  due  dates  and  renew  them 
twice before they need to come back, if 
there's no hold placed by someone else 
-  that's  9  weeks!  With  our  generous 
borrowing  limits  (40  items  per  card) 
you can afford to take some extra titles 
and keep hold of them until Christmas 
or later. I can help you with renewals if 
you 
need 
assistance. 
Junior 
Memberships 
Do  you  have  a  youngster  in  your 
household  who  is  ready  for  the 
responsibility  of  their  own  library  card? 
It is free for them to join our library, just 
as  it  is  for  adults.  Go 
to 
click on the link to join up, 
fill in the details - or come 
in to the library and we can 
help  you  with  that  step  - 
and then come in to collect 
your  new  library  card. 
Adults  need  to  provide  ID 
(details  are  on  the  screen 
and  emailed  to  you  when 
you  sign  up  online  or 
contact  us  ahead  of  time  if 
you're  not  online  at  home) 
to 
complete 
their 
membership  and  receive 
their  library  card,  juniors 
do not. 
Finding books in a series 
Have  you  had  a  series  of 
books  recommended  to  you  and  you're 
not  sure  how  to  find  out  where  to  start? 
My  favourite  site  for  this  is  Fantastic 
Fiction  (fantasticfiction.com).  Search  by 
the  author,  and  you'll  find  a  list  of 
everything  they've  published,  with  any 
series  listed  in  reading  order.  Then  pop 
over  to  our  library  catalogue  (https://
kaipara.kotui.org.nz/) and search to see if 
those  books  are  in  the  district.  Even  if 
they're at another library in Kaipara, you 
can  log  in  to  your  library  account  and 
place a hold - so the book will be pulled 
from  the  shelf,  and  if  it's  at  another 
library  it  will  be  sent  along  to  us.  I'll 
contact  you  when  the  book  is  ready  for 
you  to  collect.  If  you  need  help,  just  let 
me  know  the  details;  I'll  look  it  up  and 
can place a hold on it for you. 
Making Christmas presents 
If  you're  feeling  a  bit  crafty  and  need 
some  inspiration  for  ideas  to  make  your 
Christmas presents this year, come in and 
take  a  look  at  our  range  of  craft  books. 
Check  our  normal  Non-Fiction  shelves 
(free  to  borrow),  the Rental  Non-Fiction 
shelves (50c to borrow for 3 weeks), and 
the  Dargaville  shelves,  around  the  600 - 
799  area.  We  have  books  on  knitting, 
sewing, making cards, and much more. 
Generosity NZ 
Don't  forget  to  use  your  library 
membership to access the Generosity NZ 
databases  when  you're  looking  for 
funding, whether it's for yourself or for a 
group  you're  involved  with.  If  you  don't 
find what you're looking for with the first 
try,  change  your  search  terms  or  come 
back  again  another  day  and  try  again  - 
the  search  results  will  show  you  the 
funds that have a closing date coming up; 
it  doesn't  show  all  the  funds  available 
throughout  the  year,  and  it  might  not 
quite  be  time  for  the  one  that  is  perfect 
for your needs. If you need help, contact 
me or the staff at Dargaville Library. 
This  is  a  free  service  provided  by 
Kaipara District Council and is available 
to  every  person  who  has  a  library  card 
for  one  of  the  libraries  in  the  district  - 
this is your rates in action. 
Book review 
I've been reading the Red Queen series -
Red Queen,  Glass Sword,  King's Cage, 
and  War Storm  by  Victoria Aveyard. 
We follow Mare Barrow, an ordinary red
-blooded  young  girl 
in the rural village of 
Stilts,  where  she 
helps  her  family  to 
survive  by  stealing 
what  she  can  - 
something she's quite 
skilled  at.  But  she's 
about to come of age 
and  doesn't  have  a 
job or apprenticeship, 
so  she's  going  be 
conscripted  into  the 
army  - to fight a war 
for 
the 
Silver-
blooded  nobles  who 
rule  over  the  land. 
Her 
three 
older 
brothers have already 
gone  into  the  army 
and one has died; her 
younger  sister  is  safe  with  an 
apprenticeship. To find the money to buy 
her way to freedom on the black market, 
Mare's sister takes her to the nearby city 
where she works,  so  she can  pickpocket 
some rich people - and that's where it all 
starts to go wrong, in ways Mare couldn't 
have imagined. 
This  dystopian  story  is set  in  the  future, 
long after a nuclear war decimated much 
of the earth. One reviewer has described 
it  as  "Game  of  Thrones  with  Katniss  as 
the  Mockingjay  with  X-Men  in  a 
tantalizing  YA  twist  of  magical 
perfection."  These  books  are  Teen 
Fiction,  and  you'll  find  them  on  the 
Rental  Fiction  shelves  (though  free  to 
borrow) until July 2019. You can place a 
hold 
on 
them 
via 
the 
online 
catalogue  (https://kaipara.kotui.org.nz/), 
or  ask  at  the  library  for  a  hold  to  be 
placed for you. 
If you've read and enjoyed a library book 
recently,  and  would  like  to  tell  us about 
it,  please  feel  free  to  write  your  own 
review and send it in. Email it, post it to 
our PO box, or drop it in to the library. 
Christmas shutdown 
The  library  will  be  closed  from  2pm 
Saturday  22  December  2018  until  4pm 
Monday 7 January 2019.  
See you in the library, Wendy
.  
HELP 
PHONE NUMBERS 
HEALTHLINE:  
0800 611 116 
SAMARITANS:  
0800 726 666
YOUTHLINE:  
0800 376 633 
LIFELINE     
0800 543 354
DEPRESSION HELPLINE:  
          0800 111 756 
ALCOHOL & DRUG HELPLINE:   
 
0800 787 797 
URGENT MENTAL HEALTH LINE:  
 
0800 223 371
KAIWAKA LIBRARY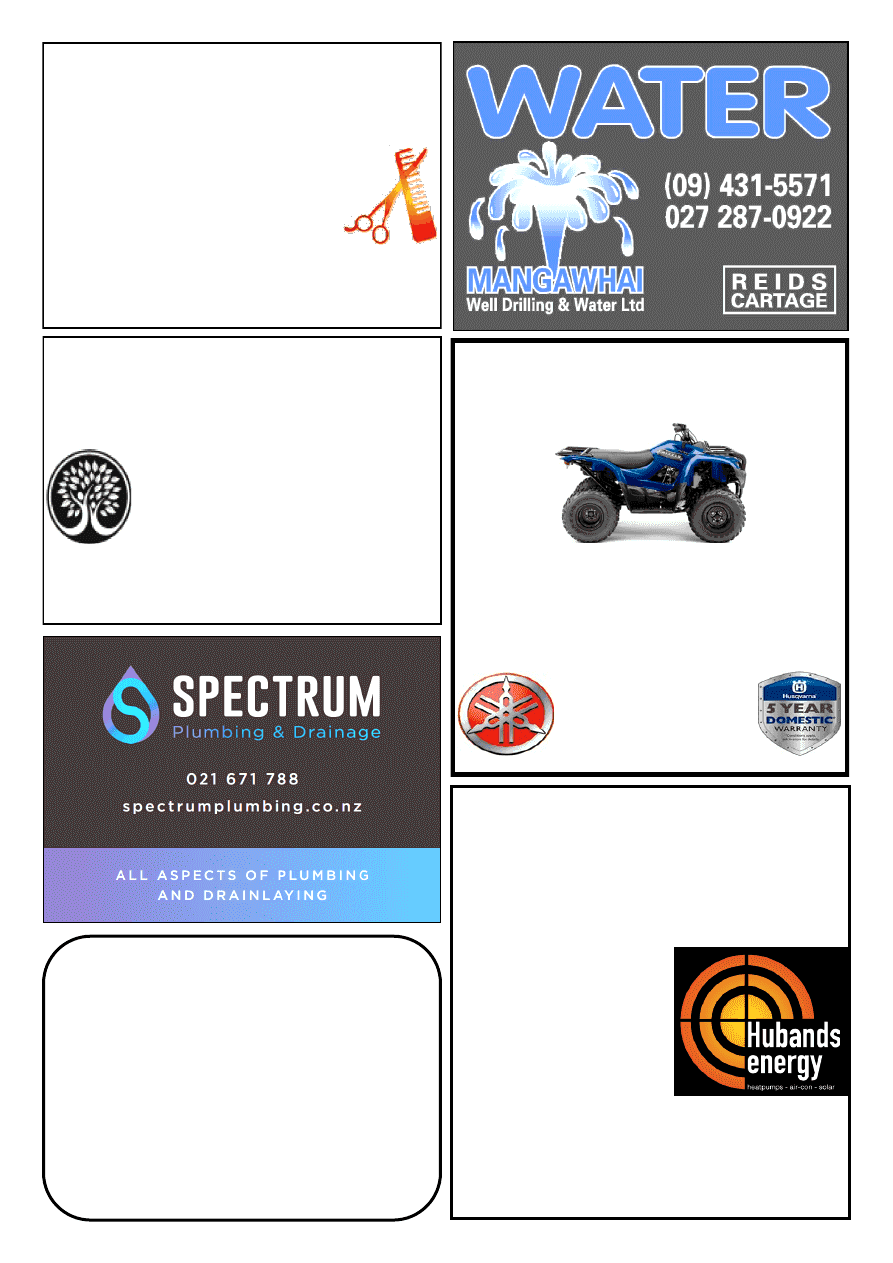 KAIWAKA 
MOTORCYCLES LTD
SALES – SERVICE – SPARES 
FARM BIKE SPECIALIST
PHONE 09 431-2127 
10 KAIWAKA-MANGAWHAI ROAD, KAIWAKA
Trimmers  
from $279
Chainsaws  
from $339
YAMAHA 
HUSQVARNA 
Northland's Award Winning 
Solar Company
SEANZ Best Solar Business Winners 2015/16
EXCLUSIVE 10 year installation warranty 
FREE No obligation onsite quote
Complete systems 
from $5990
See our range of: 
✓ 
Heatpumps 
✓ 
Airconditioning 
✓ 
Hot Water 
Heatpumps 
✓ 
Central Vacuum Systems
09 430 0019             sales@hubands.co.nz 
15 Kioreroa Road, Whangarei
Locally owned and operated for 35 years 
UP-LINK 
CHRIS WARING 
FREEVIEW INSTALLATIONS 
T.V. - HOME THEATRE &  
HI-FI ADVICE/SET UP
SKY ACCREDITED INSTALLER
MOB.0273403747 HM.094312328 
EMAIL cwaring44@gmail.com
28 YRS EXPERIENCE 
OFFERING UNBIASED ADVICE 
AFFORDABLE PRICES! 
MENS CUT FROM $20.00 
LADIES CUT FROM $30.00 
KIDS CUT FROM $18.00 
COLOUR & CUT FROM $120.00 
JUST CUTS'AND   
MORE 
021 165 2629 or (09) 945 0707  
NOW SELLING: scented tealights, incense, smudge sticks, 
copper bracelets, aurora ball crystals, dream catchers, healing 
stones, rose quartz, cds, and much more. Open 6 days. 
Waipu Natural Health 
3 Cove Road, Waipu  (opposite the Pizza Barn) 
Ph: 09 432 1325 
www.waipunaturalhealth.co.nz
Clinical Nutritionist-Hair Analysis for Masked 
Allergies, Ozone Therapy, Prolotherapy, 
Naturopath-Medical Herbalist, Registered 
Massage Therapists, Reflexology-
Craniosacral Therapy, Acupuncture-Facial 
Acupuncture, Kineso Taping, Hypnotherapy, 
Counselling, ThetaHealing/Change Catalyst.
AFFORDABLE CONSULTS FOR KIDS – give us a call
Gift Vouchers available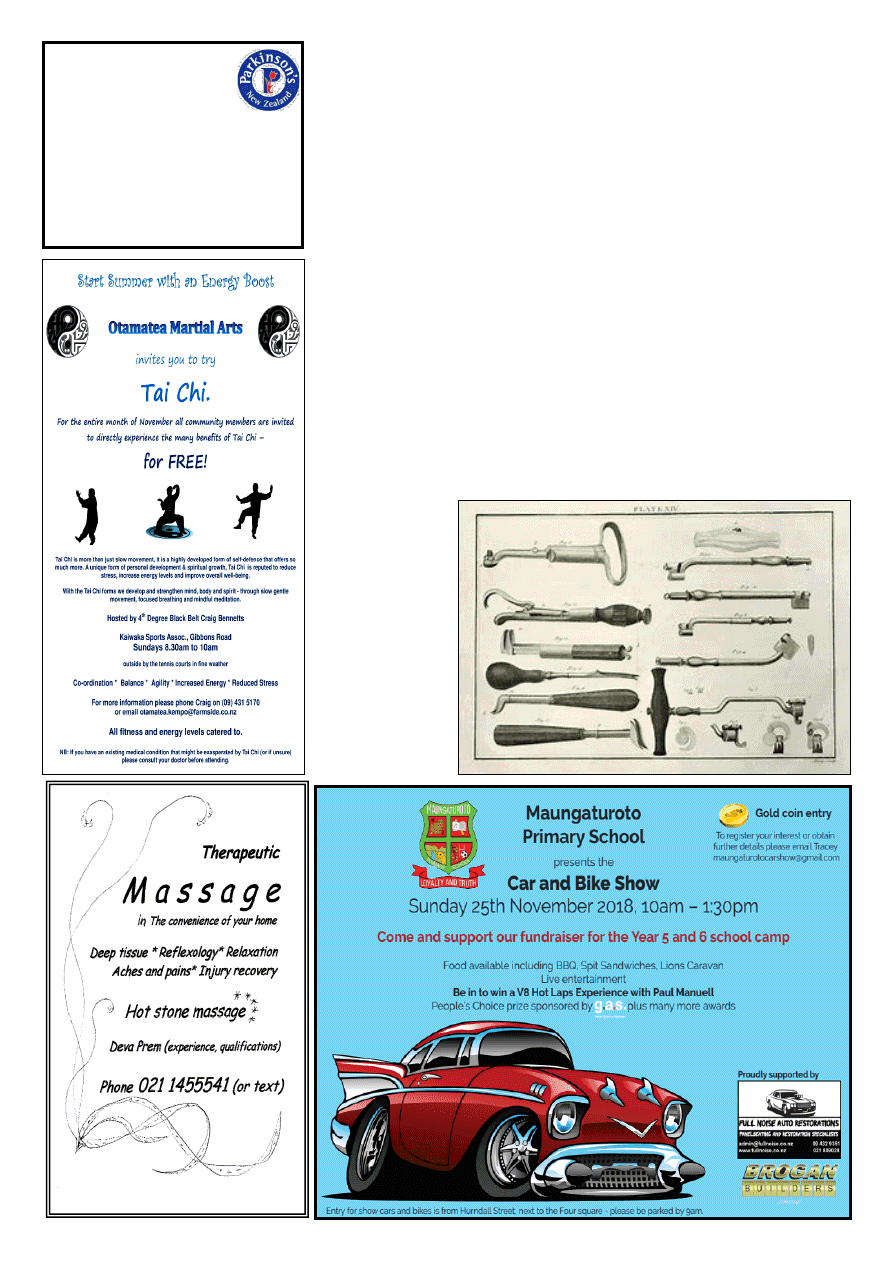 www.kaiwaka.co.nz 
Kaiwaka Bugle - 30 October 2018 
Page 19 
Parkinson's  
Northland 
Provide: 

Home based consultations 

Information and education on living with 
Parkinson's 

Support and exercise groups 

In-service training for other health 
providers 
Barbara Leslie RN,  
Community Educator 
09 4376881  or 027 5306221 
barbara.leslie@parkinsons.org.nz 
www.parkinsons.org.nz 
MELTON'S MEMOIR: DOCTOR JP. 
"The  old  Dad  was  a  J.P.  and  as  such 
was  expected  by  the  scattered  farming 
community to be able to find a solution 
to  anything  and  turn  his  hand  to  most 
things.  
I well remember an Austrian, of whom 
there were many in the North, riding in 
one day and after the usual chat about 
this  and  that  asking  him  if  he  was  in 
fact  a J.P.  and if  so  he issued licences 
on  behalf  of  the  Government.  The  old 
man  assured  him  that  he  was  and 
could,  depending  on  what  sort  of 
licence was required. The 'Dallie" as 
most  now  called  them,  said  "I  want  a 
licence  to  shoot  a  bloody  dark  bugger 
who  is  pinching  my  kauri  gum.  Now 
the  thing  which  puzzled  my  young 
mind  was  why  the  "Dallie",  who 
appeared to be a decent sort of a joker, 
would  want  to  shoot  anybody,  being 
described as bloody, must obviously, 
according to my reasoning have taken a 
pretty  severe  kind  of  beating  already. 
On  another  occasion  one  of  the  local 
cockies  rode  in  and  demanded  the  old 
man  extract  a  back  molar  which  was 
giving him hell.  
I 
suppose 
the 
nearest 
dentist 
would have been at 
Helensville, 
the 
then  rail-head  of 
the  Northern  line, 
and  the  nearest 
doctor 
goodness 
how  far  away.  The 
old  man  protested 
violently  that  he 
did  not  have  the 
skill,  experience  or 
tools  for  the  job, 
but  to  no  avail  as 
the sufferer insisted 
that he give it a go.  
So,  when  an  assortment  of  pliers  was 
laid out and the patient fortified with a 
large tumbler of whisky, he was seated 
in  a  bentwood  chair  and  the  operation 
commenced.  At  the  first  attempt  the 
pliers  slipped  off  the  tooth  and  the 
patient  was  saved  from  concussion 
only by the height of the ceiling.  
The second and third attempts were no 
better,  and  the  unfortunate  bloke  then 
protested,  in  blurred  speech,  that  he 
had had enough and was off home. He 
had  not  however,  reckoned  with  the 
tenacity  of  the  operator  who  was  now 
warming  up  to  his  work,  so  after  an 
interchange  of  pliers,  a  lapse  of  time, 
and a spate of words I had never heard 
before,  the  offending  molar  was 
extracted.  Whether  the  patient  had  to 
be  helped  to  mount  his  horse  before 
leaving for home no one knows." 
~ Bevan Lawrence 
Bevan  supplied  the  picture  below 
showing early dental equipment! 
For  more  information  on  'Tell  Your  Story' 
contact Bevan on 
09 4801949 
.
www.mangawhaimassage.co.nz 
Next Bugle Deadline midday Friday 9 November  2018
WHAT'S ON
PLEASE ~ do let us know what is on - email 
kaiwakabugle@kaiwaka.co.nz 
 
*
2Nov~Movie 'EDIE', KWMH, 7.30pm 
*3-4Nov~Fire Brigade Fishing Competition and Auction 
*8Nov~Otamatea Repertory AGM, 7pm 
*11Nov~ Te Pounga Marae AGM, 10am 
*11Nov~11am, Armistice Day, Hakaru RSA 
*11Nov~Jaques Band, KSA, 1.30pm 
*13Nov~ KWMHall & Library AGM, 5pm 
*14Nov~ KSA Special meeting,, 7pm 
*16Nov~Movie 'The Breaker Uppers' KWMH, 7.30pm 
*25Nov~Movie 'Maya the Bee', KWMH, 2pm 
KWMH = Kaiwaka War Memorial Hall; KSA = Kaiwaka Sports Association 
See www.kaiwaka.co.nz for more information 
HOUSEHOLD RUBBISH COLLECTION  
Kaiwaka Pick up: 
Mondays = Green bags (Northland Waste - 09 430 3273) 
Wednesdays  = Blue bags and yellow recycling (at Jaques $3.00 
and  $1.50)  (Kaurilands  09  4392146);  ONLY  Blue  and  Yellow 
bags picked up on Oneriri Road. 
 DIABETES  Support  Group  -for  Kaiwaka,  Mangawhai, 
Wellsford  10am,  3rd  Friday  of  month  Ph:  Colleen  James  09 
4314238 
 DRINK CAN 'tear tabs' - for Starship Hospital- please collect - 
98 Kaiwaka Mangawhai Rd, leave in mailbox, Ph. 4312625  
 GENEALOGY - Wellsford: 1st Thursday in month Ph: 423 
7033; Waipu: 4th Monday in month Ph: 4312 725 
 GYMNASTICS  OTAMATEA  -  Tuesday  Ph:  Stephanie  022 
3624998 
 HAKARU PONY CLUB - Secretary Denise Rogers 021423376 
secretary@hakaruponyclub.co.nz  
 KAIPARA HUNT - Secretary Albert Doonenbal Ph 4312059 
 KAIPARA YONG FARMERS - K Danks  0211598453, meet on 
last Thursday of the month at Three Furlongs Bar & Grill 
 KAIWAKA BADMINTON -Tuesdays 7.30pm Ph: 4312345 
 
 KAIWAKA DRAMA CLUB - 
Hannah Webb 
0272863352
- KaiwakaDrama@gmail.com - FB - "KaiwakaDramaClub" 
 KAIWAKA DRUM & DANCE CLASSES - 021 611198 
 KAIWAKA GARDEN & FLORAL GROUP - 2nd Thursday in 
month. Ph: 431 4744 
 KAIWAKA  CUBS  -  Thursdays  5.30-7pm,  Hakaru  Ph:Bruce 
4312542 
*KAIWAKA PILATES - Ph: 021 2072729. 
 KNITTING FOR WHANGAREI HOSPITAL - 2nd Tuesday in 
month, Archie Bull Hall 10am Ph 4314827 
 MANGAWHAI COMBINED REBUS CLUB - 2pm, 3rd 
Thursday month, Senior Citizens Hall Mangawhai. Ph: 4315777 
 OTAMATEA GREY POWER - Kath Pattinson 09 283 2052, 
1pm last Wednesday of month, Anglican Church Hall, 
Maungaturoto 
 PT CURTIS CRUISING CLUB - Jean Ph: 4312227 (wk), 4312520 (hm) 
 RSA,  HAKARU  &  DISTRICTS  WOMEN'S  SECTION  –  meets 
1.30pm 4th Thursday of the month. Ph: 431 5818  
 TRAMPING - Mondays 9am-2:30pm Maria 4312 234 
HALLS FOR HIRE: 
 St.Pauls Archie Bull Hall HIRE $20 half day, $40 full day per 
hire, S McAulay, Ph 4312311 
 Kaiwaka  War  Memorial  Hall  HlRE  -  Phone  4312725  or 
kaiwaka.hall.bookings@gmail.com 
 Hakaru Community Hall HIRE -Ph. 4312256 or 4312110 
 Te Pounga Marae queries - R. O'Leary 4312 423, J.Nathan 021 
186 7382 
 Kaiwaka Sports Association hire/queries - C. Anderson 4312051 
or kaiwakasports@gmail.com 
Justice of Peace:  
B.FJaques  4312  048;  L.Donaldson  4312  228;  A.F.Hargreaves 
4312 045, W.Howard 4312 725 - please phone to make sure they 
are available www.justiceofthepeace.org.nz 
Marriage Celebrants:  
L.Donaldson; A.F.Hargreaves; Y Osborne
LOCAL SERVICES 
*Emergencies - Ambulance, Fire, Police - dial 111 
*Non-urgent Police phone 09 4311150
A A: Meets Wed., 8pm Kaiwaka Ph: 4315543, 0800229 6757 
ASUREQUALITY LTD (was AgriQuality) Call Free 0508 0011 22  
BUDGETING SERVICE, WELLSFORD: Free confidential advice & 
support for all areas of personal finance. Ph (09) 423 7123 
CAB-Citizens Advice Bureau.Wellsford Ph: 4237333 
0800 367 222 email:cab.wells@xtra.co.nz  
CIVIL DEFENCE - Kaiwaka Community Response Group: 
kaiwaka.civildefencecrg@gmail.com, 4312725 Wendy 
DOG/STOCK /NOISE CONTROL 0800 105 890 
FUNERAL SERVICES: Morris & Morris Ltd, 
Whangarei - Bev Jaques Ph:4312367 or 0800667747 
GRANDPARENTS Raising Grandchildren: Dianah Roberts 0223819539 
HAKARU & DISTRICTS MEMORIAL RSA (Inc) 733 Settlement Rd, 
Hakaru. Ph 4312 176 or Graeme Hitchcock (President) 431 3064 
HAKARU LANDFILL/Transfer Station:Open everyday except 
Tuesday10am-4pm.Ph4312629 Cost-$55 trailer load up to 1 cubic metre. 
Ph:4258567 - office 
KAIPARA DISTRICT COUNCIL www.kaipara.govt.nz:  
Help Desk FREEPHONE 0800 727 059  
KAIWAKA KOHANGA REO: Ph:4312620 
KAIWAKA CEMETERY: Ph: 4312045 or 4314017 
KAIWAKA LIBRARY: kaiwaka.library@gmail.com  
Mon. 4-6pm; Wed., Thurs., Fri., Sat. 10am-2pm Ph:4312539 
KAIWAKA PLAYCENTRE: Ph Juanita 0274134904; open Mon, Wed, 
Fri 9am-12pm. Hastie Lane; Monday to Friday 9.00am - 12 noon. 
KAIWAKA POST OFFICE:Ph:4312 431  
Post Code: 0573 for RD2 and 0542 for all Kaiwaka Post Office mail 
KAIWAKA PRIMARY SCHOOL: Ph: 4312309   
KAIWAKA SPORTS ASSN: Ph 4312005; 4312129 gym 
KAIWAKA ST JOHN: Manager Steve Rosser 09 4318403, 021 355734 
KATE'S PLACE Community Centre - Employment services, Free Health 
Nurse, Plunket, Advocacy, Osteopath, A.A., Legal Advice. 4312 661 
LINKING HANDS Health Shuttle Ph 4315906 or 09 4318969 
MINISTRY FOR PRIMARY INDUSTRIES - General inquiries Call 
Free 0800 008 333 
NORTHPOWER: Faults Kaiwaka area 0800 104040 
OTAMATEA COMMUNITY SERVICES: Counselling, parent coach, 
Family Support worker, budget advice, food bank. Mon-Fri 9am-3pm. Ph 
09 431 9080 http://www.otamateacs.org/ 
PARENTPORT: Free, practical family support service Puhoi to Paparoa 
Ph or txt: Dianne 027 280 5093 or 09 425 9357 
PLUNKET:  Kaiwaka  -Kate's  Place  Clinic  1st  Wednesday  of  the  month; 
Mangawhai  - Rose Madsen Cottage: Coffee Group 9:30 every Monday.  Clinic 
every Monday and Thursday. 
Maungaturoto - Good News Church, Clinic 2nd and 4th Wednesday.  
Cynthia 09 431 7340 or 027 675 3488 
PLUNKET HELPLINE -0800 933 922 (24 hours) 
TAITOKERAU COMMUNITY LAW: Free confidential legal advice and 
assistance, 2nd
Thursday
 of each month. Ph: 0800 155 529 for apps.  
TE URI O HAU Settlement Trust Tangata Developments: Whanau Ora 
021 793262  
VETERINARY SERVICE MANGAWHAI: 
Ph: 4314535 Mon-Fri 8.00-5.00, Sat 9-12, a/h appt. 
WELLSFORD DOCTORS: Ph: 4238 086 
CHURCHES:
 
Kaiwaka  Revival  Church  -  Your  Community  Church:  Sundays  10am. 
Ph: Pastor Tawhiri 09 431 8988 or Pastor Paul 09 4312 068 Visit us at 
www.facebook.com/kaiwakachurch or www.kaiwakarevival.co.nz 
 
St  Paul's  Anglican  Church  1st  Sun.  9.00am  (Eucharist),  3rd  Sun. 
9.00am (Family Service). Contact: Rev. Wayne Thornton Ph 431 4122 
www.mangawhaianglican.org.nz 
 
Church of Christ the King, Mangawhai:9.30am every Sunday 
 
St.Mary's  Catholic  Church:  Maungaturoto  –  Griffins  Road,  Saturday 
evening  Vigil  Mass  6pm;  Mangawhai  –  Senior  Citizens  Hall,  Sunday 
Mass  8:30am;  Wellsford  –  Matheson  Road,  Sunday  Mass  10:30am;  
Mid-week Mass times and all enquires to Fr. Bill Fletcher – phone 423 8170
 
Baptist Church: Sun. 10.30am Mangawhai Snr Cit.Hall.Ph:4312339 
 
Cause  Way  Church  Mangawhai:  Sundays  10.15am,  Mangawhai 
Community  Recreation  Centre,  Insley  St.  Ph:  09  4314782