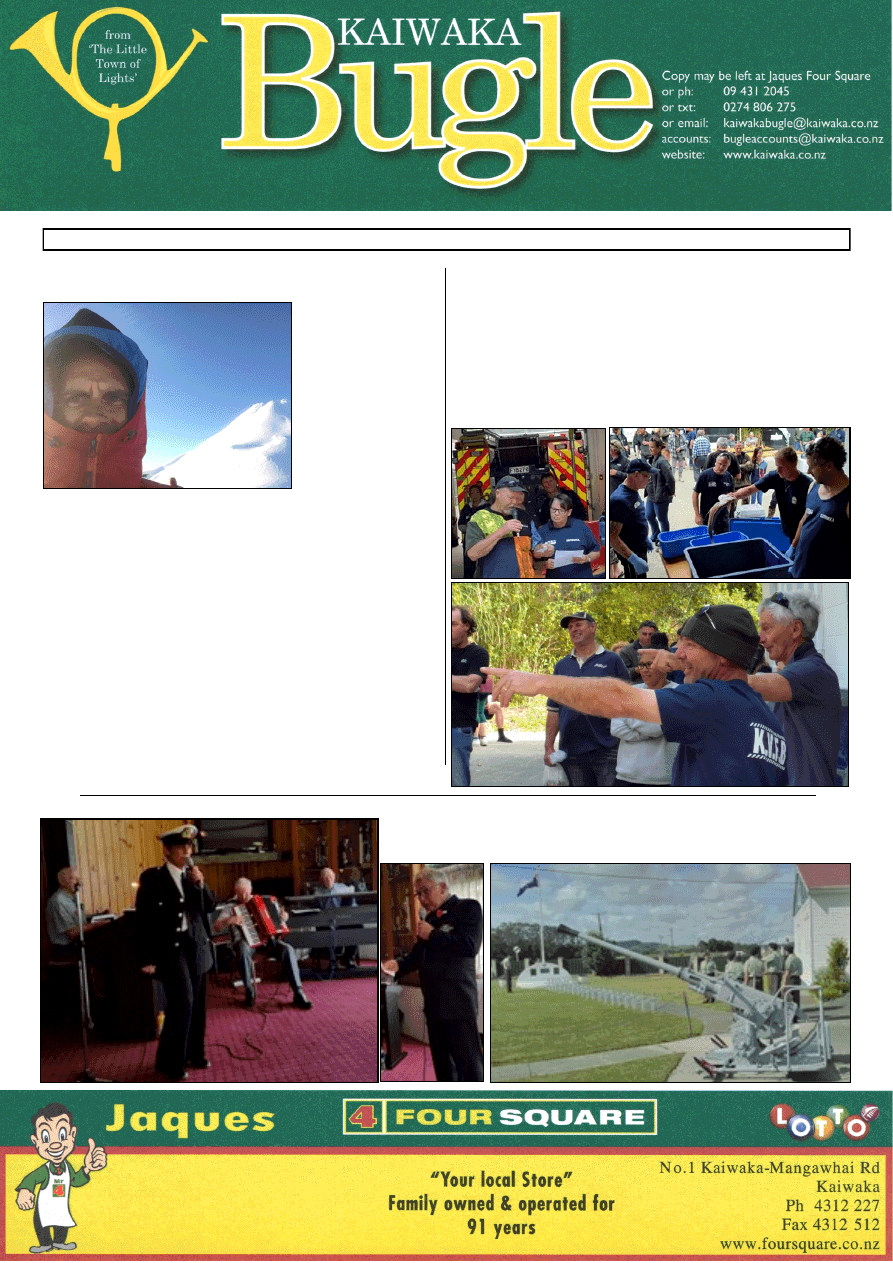 www.kaiwaka.co.nz 
Kaiwaka Bugle - 13 November\ 2018 
Page 1 
No: 22 
 13 November 2018 
Trading Hours: 
Monday to Friday 8:00am - 6:30pm 
Saturday 8:00am - 7:00pm 
Sunday 9:00am - 6:00pm  
KAIWAKA FIRE BRIGADE 
FISHING FUNDRAISING 
The weekend of 3 and 4 November was rather windy and 
rough,  but  an  excellent  number  of  super  fish,  especially 
snapper, arrived at the Kaiwaka Fire Station for the weigh-
in and the auction. There were more than a hundred folk at 
the auction and an excellent result was made. A big thank 
you to the sponsors and the working team.  
Photos: Mickey and Lee Renton, Tim Brown handling the weigh-
in; fireman Keith Mills with auctioneer Tony Hargreaves.
LOCAL CONTRACTOR OFF ON AN 
ANTARCTIC ADVENTURE 
For  decades  local 
contractor 
Kevin 
O'Malley,  pictured 
above,  has  dreamed 
of  walking  in  the 
footsteps  of  polar 
explorers Shackleton 
and  Scott  and  this 
week that dream will 
become a reality. 
Kaiwaka 
resident 
Kevin  O'Malley  has 
been  chosen  to  spend  three  weeks  on  the  icy  continent  as 
part of Antarctica New Zealand's Volunteer Programme.  
The 39-year-old concrete contractor will spend much of his 
time doing maintenance work in and around Scott Base, 
New Zealand's only Antarctic research station, a place not 
many have had the opportunity to visit. 
Antarctica  New  Zealand  offers  volunteer  positions  to  the 
right candidates for the summer season. After a long, dark 
winter  Scott  Base  is  a  hive  of  activity,  with  scientists 
carrying  out  their  research  in  one  of  the  most  remote  and 
untouched places on earth. 
O'Malley  is  proud  to  have  been  offered  the  volunteer 
position and can't wait to get stuck into work down there, 
as well as hopefully meeting a few penguins along the way. 
"I've  been  fascinated  by  Antarctica  and  New  Zealand's 
environmental work down there for a long time, but I never 
imagined  I  would  have  to  chance  to  actually  go  to  Scott 
Base.  When  I  saw  Antarctica  New  Zealand  offered  a 
Volunteer Programme I knew I had to go for it. It really is a 
dream come true for me." 
ARMISTICE  DAY  2018: 
KAIWAKA: Commemoration was  brilliantly led by the Jaques Band and singer 
Karen  Kouka  with  wonderful  renditions  of  a  variety  of  old-time 
songs; Graeme Hitchcock, Hakaru RSA vice-president, gave the Ode; 
HAKARU RSA, 11am: The Mangawhai Cadets &rebuilt Bofors  Gun.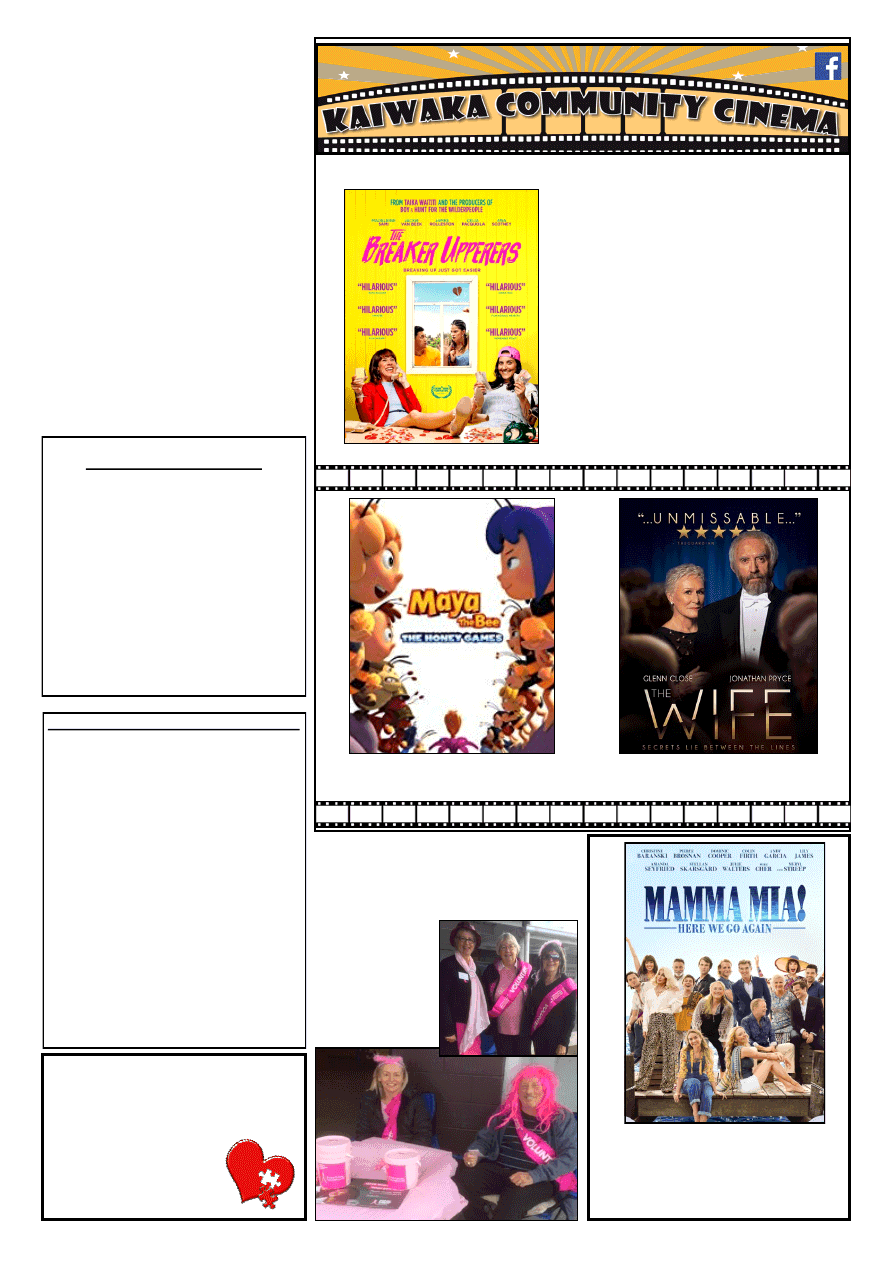 At Kaiwaka War Memorial Hall . Adults $10, Kids (under 16) $5, Family Pass (2 adults + 3 children) $25 
KAIWAKA BUGLE No. 22 
13 NOVEMBER 2018 
CONTENTS 
Page 3: Public Notices, Classified 
Page 5:Weather;  Pt.Curtis CC; 
Thelma's Scrapbook; Mgto CCT 
Page 7: Hakaru RSA 
Page 9: Kaiwaka School 
Page 11: Otamatea High School 
Page 13: Kaiwaka Sports Assn. 
Page 15: KWMHall; Zonta 
Page 17: Kaiwaka Can 
Page 19: 'Tell Us a story' 
Bugle 23 will appear 27 November 
Contact for advertising, reports, articles 
or information can be made by 
Email kaiwakabugle@kaiwaka.co.nz 
Ph: 09 4312 045 Lindsey 
Txt: 027 2724137 
Copy  may  be  left  at  Jaques'  Four 
Square. 
Kaiwaka Bugle 
Founded May 1978 
We appreciate articles and photos about local 
events, etc, as well as ads and suggestions. 
Copies available in Kaiwaka at Jaques Four 
Square, Kaiwaka Postal Centre, Shamrock 
Service Station, Animal Health Centre, 
Kaiwaka St John shop. 
Also outlets in Maungaturoto, 
Mangawhai and Paparoa. 
Can be viewed online at   
www.kaiwaka.co.nz/Bugle  
Or a copy can be posted to you if you supply 
stamped, self-addressed DLE envelopes. 
MAYA the BEE 
Sunday  25 November, 2pm (PG)
The WIFE
Friday 14 December, 7.30pm (M) 
Proverbs 
12: 25
Anxious hearts are very 
heavy, but a word 
of encouragement 
does wonders!
Kaiwaka Bugle Advertisements 2018: 
All 
copy 
and 
queries 
to: 
kaiwakabugle@kaiwaka.co.nz 
The Bugle is printed on an A4 page   
Ad  sizes:  1/16  page  (3  x  9.5cm)  $5;  1/8 
(6.5  x  9.5cm  landscape  or  portrait)  $8; 
3/16 ( 10 x 9.5cm or 7.5 x 12,5)  $12.  
Classified  ads:  First  one  FREE,  $4  per 
entry (max. 30 words, max. 4 repeats). 
Payments  can  be  made  online  at 
ANZ 
06  0365  0006990  00
,  posted  or  left  at 
Jaques Four Square Store. 
We  use  Microsoft  Publisher,  and  can 
work  with  most  common  image 
formats, Word, Excel, and PDF files. 
Accounts:  
Email: bugleaccounts@kaiwaka.co.nz 
The  Kaiwaka  Bugle  is  a  community 
newspaper run by volunteers.   
Articles, etc. printed are not necessarily 
the opinion of the Bugle Team. 
The BREAKER UPPERS 
Friday 16 November 7.30pm (M)  
The  Breaker  Upperers  is  a  New 
Zealand comedy-romance film that 
was  written,  directed  and  starring 
Madeleine  Sami  and  Jackie  van 
Beek. The film is about two women 
cynical  in  love,  setting  up  an 
agency  to  break  couples  up  as  a 
way to avoid letting go.
PINK RIBBON DAY 
Despite a dreadful wet and windy day 
and only a few volunteer collectors we 
managed to maintain two sites, Jaques 
Four  Square  and  La  Nonna  Café,  and 
raise  $660.00  for 
Breast Cancer.  
So a good result. - 
thank you. 
Some  of  the  Pink 
Ribbon  collectors 
are pictured. 
~ Jacqui
'MAMMA MIA!' 
MOVIE ONLY 
Friday 30 November, 7.30pm 
Sorry, Dinner SOLD OUT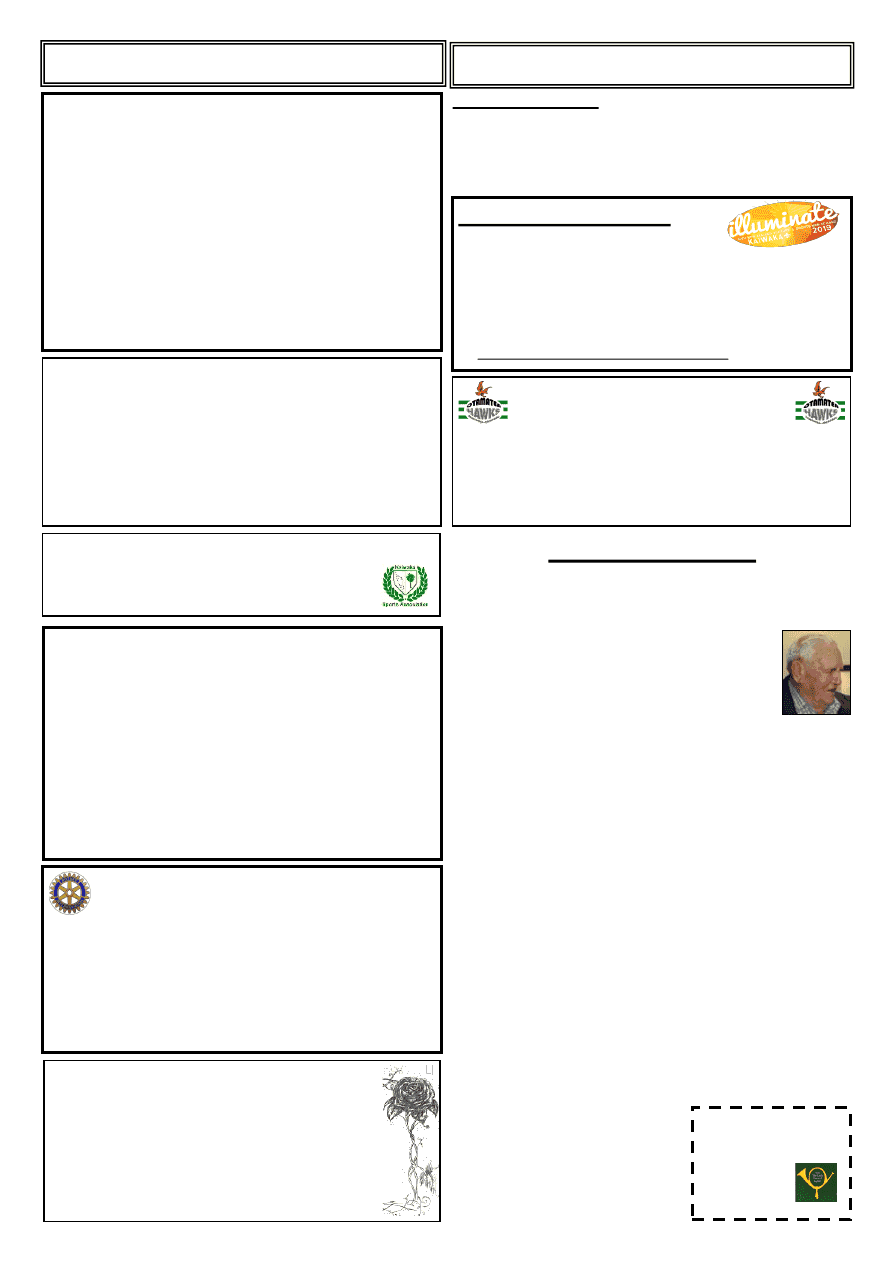 www.kaiwaka.co.nz 
Kaiwaka Bugle - 13 November\ 2018 
Page 3 
ABOUT TOWN 
 A 
Big  THANK  YOU  and  a  Well  Done  to  all  the  fisher 
folk who were part of the Fire Brigade Fishing competition 
and auction 

We wish Kevin O'Malley all the best on his adventure in 
the Antarctic, and await his reports on his return. 

 Condolences  to  the  family  of  Ian  Ferguson, 
pictured, who passed away recently. 

KEY  CUTTING  now  available  at  Pumps  and 
Plumbing,  Kaiwaka  -  next  to  Twinkle  Tow  n' 
Tyre.  

 Kaiwaka Can will meet21 Nov, Archie Bull Hall, 5.30pm 

 See  the  Bugle  online  at  www.kaiwaka.co.nz  for  great 
colour  and  earlier  Bugle  editions.  Note  only  two  more 
Bugles for 2018.   
~ Lindsey, Ed 
"1918 - On the 11th hour of the 11th day of the 11th month, 
the guns famously fell silent." - Armistice Day. 
 
"When  War  broke  out  the  Auckland  Mounted  Rifles 
consisted  of  the  Waikato  M.R.,  3rd  Auckland  M.R,  and 
the 11th North Auckland M.R. The main body of men left 
N.Z. along with their horses on the 10th October, 1914, 
arriving  in  Egypt  5th  December.  As  the  war  started  in 
August, it took only two months for N.Z. to get its men 
and horses aboard ship.  
The  Main  Body  were  surprised  when  they  were 
separated  from  their  horses  in  Egypt  and  sent  to 
Gallipoli  where  some  6oo  of  the  Mounted  men  were 
killed. As 17000 N.Z. men went overseas as members of 
the  Mounted  Rifles,  just  as  many  horses  went  as  well, 
and my father tells in his diary of his horse being valued 
and  then  loaded  on  the  train  for  Wellington  to  be 
shipped  on  the  transports  along  with  the  owners. 
Seasick soldiers and seasick horses were not a good mix 
my  father  told  me.  As  many  as 
80  horses  from  the  Kaiwaka/
Mangawai/Hakaru  area  left 
never  to  return,  with my  father 
having two shot from under him 
in Palestine after the debacle of 
Gallipoli." 
~ Bill Leslie & diary of R.D 
Leslie No.13/2216   
PUBLIC NOTICES 
CLASSIFIED 
 VET NURSE DAY 
Get those nails trimmed before Christmas! 
23rd November 
ANIMAL NATURAL HEALTH CENTRE 
Bookings essential 
Phone 09 431 2217 for appointment. 
KAIWAKA BUGLE  
DEADLINE DATES 
2018 - every second  
Friday: 
November 23 
December 10 
MESSAGE OF HEARTFELT THANKS 
Thank you to everyone in Kaiwaka and beyond who have 
offered me their heartfelt love and support at this difficult 
time  of  Lars'  passing.  The  hugs,  baking  and  cooking, 
flowers,  tributes  and  messages  of  support  have  been 
flooding in. Lars touched the lives of so many people that 
it is impossible at this time to thank you all individually, 
so a huge thank you to you all. 
My sincere gratitude goes to the Fire Department and Am-
bulance crews and others who attended the accident. 
I am fortunate to be surrounded by such caring people at 
this very sad time. 
Thank you. 
Nina. 
November 3 2018. 
Hakaru Hall Pilates Classes 
Thursday Morning 9.00am 
Strength and Stretch 
Men and Ladies 
Qualified Pilates Teacher BLISS Pilates 
One Hour    
Support the Hakaru Hall Committee 
Everyone Welcome 
Further Info Karen 0210467490 
The Rotary Club  
of Maungaturoto and Districts Inc. 
Senior Citizens' Christmas Afternoon Tea and 
entertainment on Friday 23 November, 2 - 4pm  
Kaiwaka War Memorial Hall 
If you are interested in joining us please call 
any of the following – Eric 0210304630; Stella 0211490877 
Eileen 021142035;  Dan (09) 4312130 This invitation is open to 
seniors living in our area – Tinopai to Mangawhai. 
You will need to arrange your own transport. 
WANTED TO HIRE:  
We  need  a  number  of  caravans  to 
accommodate staff during the Scout 
Venture  30.12.18  –  12.1.19  and  would  like  to  hire 
locally  if  we  can.  These  will  be  parked  at  Kaiwaka 
School.  If  you have one  you are not  using over  this 
period, and are willing to hire it out, we would  love 
to  hear  from  you.  Contact:  Wendy  027  6848846 
or wendy.eyles@illuminate2019.com 
Maungaturoto Community  
Charitable Trust 
Residents are invited to attend a public meeting 
On Thursday 15th November 2018, at 1.00 pm. 
St Johns Hall Maungaturoto 
The Trust is responsible for the operation and 
development of the Rest Home, Retirement village (11 
rental units and 14 Own your own) 
Your opportunity to meet with the Trustees 
PRESENTATION of ANNUAL REPORTS  
and ACCOUNTS 
Progress update EXTENSIONS TO THE RESTHOME 
All Welcome ~Cuppa to follow 
KAIWAKA SPORTS ASSOCIATION 
Special Meeting 
Wednesday 14th November, 7pm 
Kaiwaka Sports Complex 
HAWKS FAMILY BBQ 
Sunday 18 November, 1pm - 3pm 
Kaiwaka Sports Association 
ALL INTERESTED PLAYERS 
Premiers ~ Women ~ Premier Reserves 
And families 
TOUCH SAUSAGE SIZZLE  
KIDS LOLLY SCRAMBLE 
Otamatea Repertory Theatre presents 
Sleeping Beauty 
By Ben Crocker, Directed by Brittany Dyer 
Friday 23 and 30 November, 7.30pm 
Saturday 24 November and  1 December 2pm 
Sunday 25 November and 2 December 2pm 
Tickets: Tony's Lotto Shop & www.ort.org.nz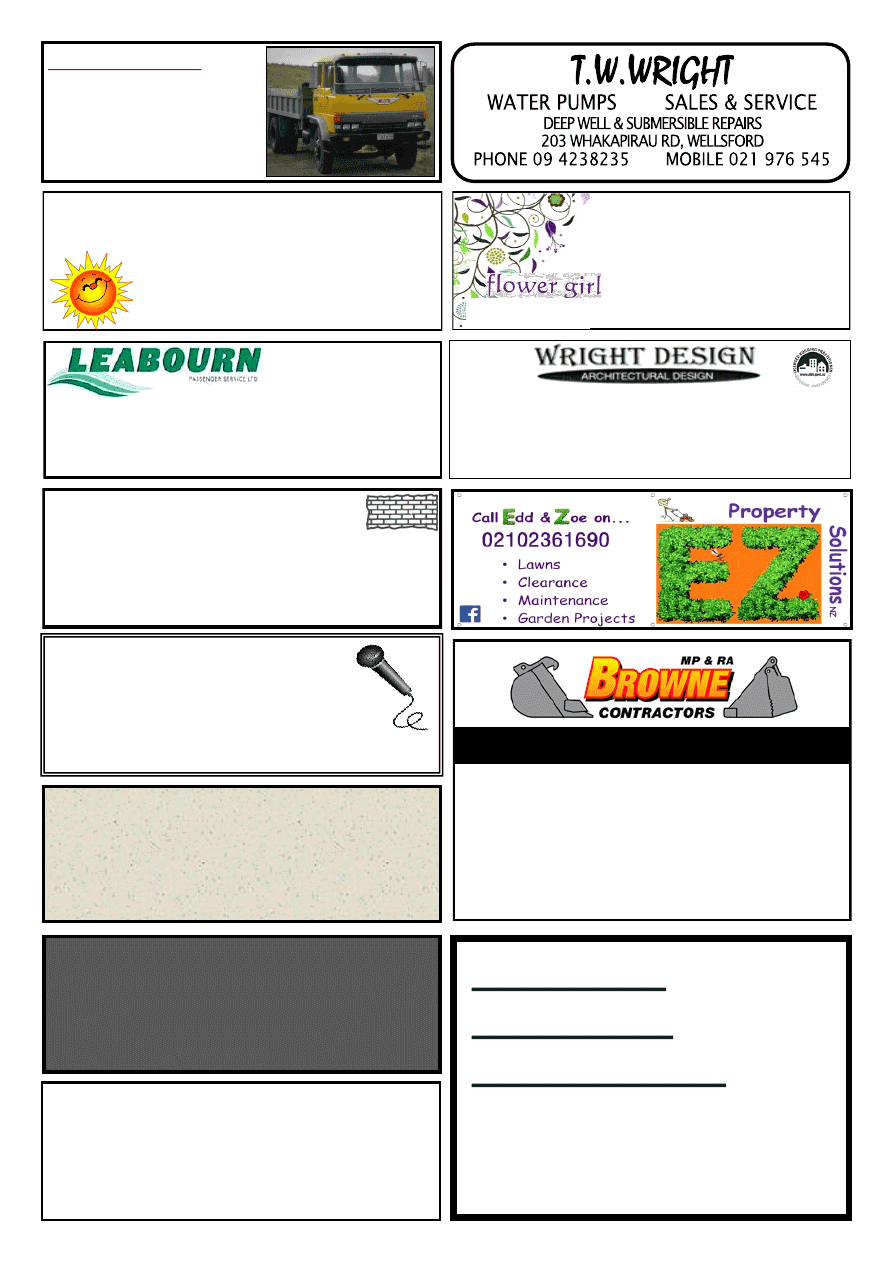 4T DIGGER – BOBCAT – TIP TRUCK 
 Property Maintenance - Driveways  
 Building Sites 
Stump & Tree Removal  
Hole Boring - Chain Trencher  
Calf Shed and Stockyard Cleaning 
Phone Matt: 021 199 6677 
Email: mprabrownecontractors@gmail.com 
BRICK/BLOCKLAYER 
All aspects of masonry: 
Fireplaces, Restoration & Remedial Work.
JAMES EAGLETON
Tel. (09) 431 2514     Mob. 0274 749 232
jajueagles@yahoo.com.au 210A Pukenui Road, RD2, Kaiwaka 0573 
THE SUNSHINE GIRLS
Efficient and reliable help with 
your housework. 
Ph 4312 532 
Counsellor and Registered Psychotherapist 
Offers Supervision
Susan Matheson 
MNZAC 
Dip. Psychosynthesis Counselling and Psychotherapy 
Phone 09 431 2996                        Mobile 027 605 2427 
MARRIAGE CELEBRANT 
WEDDING EVENTS PLANNER 
Yvonne Osborne 
Ph 0274 989 814 
yvonne.osborne@xtra.co.nz 
Passenger Service
Car & Van Hire   Bus & Coach Charters 
Airport Transfers    
Phone (09) 4237416 
SING RIGHT 
Professional coaching for performance,  
recording and demos. 
All level singers, musicians, singer-songwriters. 
Phone Robyn Hill 431 9159 or 0274 725610 
Michael Hogan 
Licensed Builder 
Quality new homes, renovations, and additions 
Phone: 027 974 1045 
Email: michaelhoganbuilder@gmail.com 
Website: michaelhoganbuilder.com 
 FINANCE 
 FUNDING 
 SOLUTIONS 
T - 0275 989814 
E
 - osborneassociates@xtra.co.nz 
REGISTERED INDEPENDENT FINANCE BROKER 
No. 117345 
N.Z.C.A.D., L.B.P. 117345 
PH/Fax: 09 423 8092 Mob: 021 276 7369 
Office: 3 John Sinclair Avenue, Wellsford    brianwright@xtra.co.nz 
For Resource and Building Consents, planning restraints, new building materials - 
you need a capable, experienced, and professional designer with a clear 
knowledge of all the processes. Brian has been helping and organising all these 
facets of design and building for over 50 years. 
Wright Design offers free visits, consultations and advice on planning, design, 
building, council permit applications, guaranteed permit plan acceptance. 
J & M Contractors 
General Cartage
: 
All metals, Lime Rock,  
Post Peel and Wood Chip Mulch. 
Jim Wheeler  
Ph: 021 2383664  
Email: jandmcontractors@xtra.co.nz 
Kaiwaka Good Sorts 
Do you know someone in our community 
who is deserving of a beautiful bunch of 
flowers? 
Send an email to us at 
kaiwakabugle@kaiwaka.co.nz 
lindywatson@hotmail.com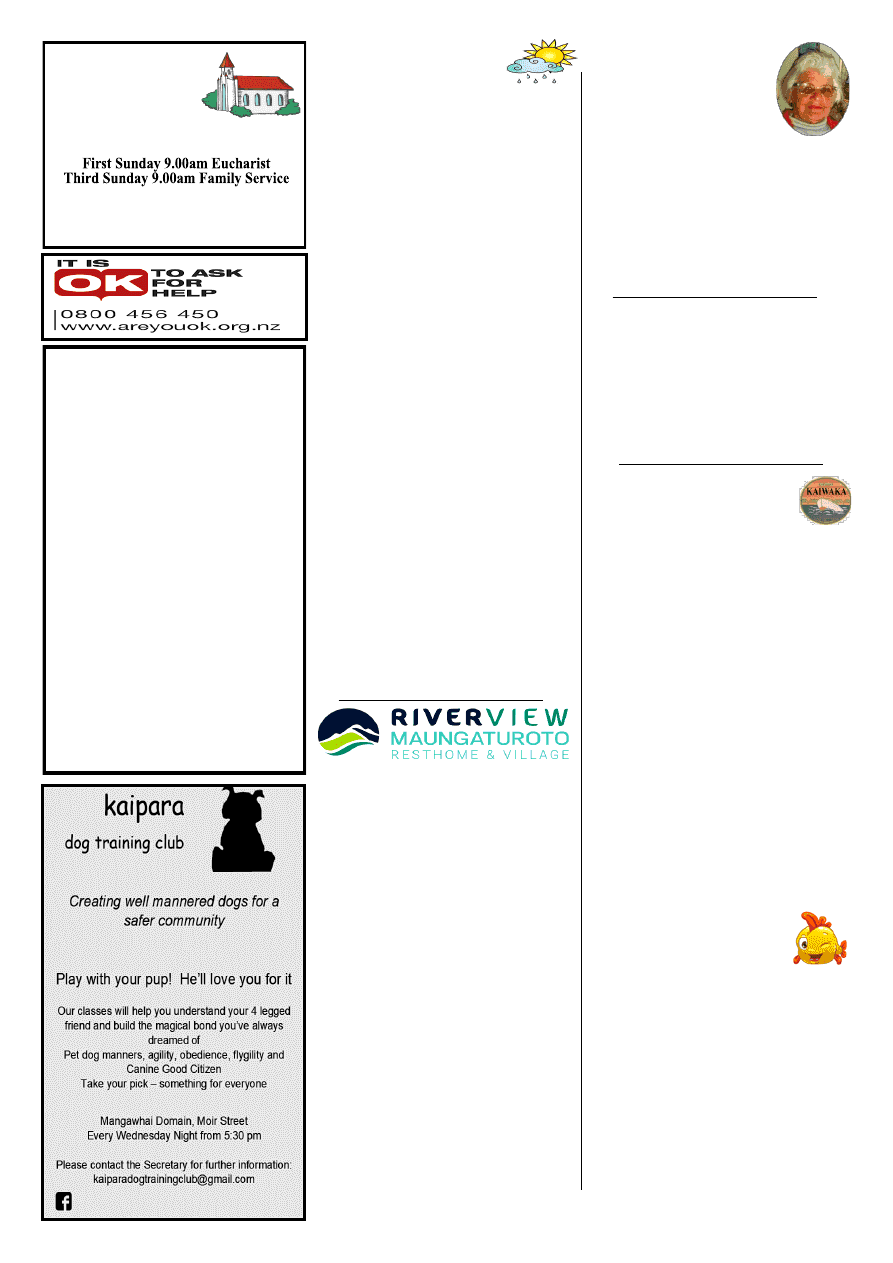 www.kaiwaka.co.nz 
Kaiwaka Bugle - 13 November\ 2018 
Page 5 
Willow Bend
HORSE  
HOTEL 
  
Total Horse Care 
 
Agistment 
 
Riding Lessons 
 
Arena Hire (60x40) 
 
Young Horse Starting 
 
Re-training/Exercising 
 
Hoof Trimming 
 
Problem Solving 
Phone Sue 09 431 2817 
or 021 623 776 
Or email  
susanjoll11@gmail.com 
ST PAUL'S  
ANGLICAN  
SUNDAY  
SERVICES
St Pauls Church: Kaiwaka-Mangawhai Rd. 
Rev. Wayne Thornton Ph 431 4122 
www.mangawhaianglican.org.nz
POINT CURTIS 
CRUISING 
CLUB  
It was good to see so many supporting 
the  Local  Fire  Brigade  Fishing 
Competition  held  on  the  3
rd
  and 
4
th
  November.  Great  to  see  so  many 
fish  weighed  in  and  smiling  faces 
either from fishing or winning a bid in 
the Auction. 
PCCC  Christmas  dinner 
is  on 
Tuesday  13th  November  at  the  3 
Furlongs Bar and Grill, 6.30pm. 
Cost  is  around  $32each,  $15  for 
Juniors  between  the  age  of  5  and  10 
years old & under 5 are free. 
The meal will include 2 meats, 5 salads 
and 2 desserts. 
Payment  is  to  be  made  to  the  3 
Furlongs on the night.    
If you are keen to dine with us we need 
to have definite numbers by this Friday 
10
th
 November 2018. 
Renna Brown – 0212509549 
Jean McLeish at Jaques Four Square – 
0212132795 
Sandy Shaw – 02102360740 
Everyone is welcome - not just 
club members. 
Picnic  @  the  Boat  Ramp 
is  on 
Saturday  12
th
  January  2019,  12pm 
onwards.  Enjoy  the  afternoon  with  a 
BBQ, bring a plate to share and a seat 
(BYO). 
Subs  can  still  be  paid,  they  were  due 
1st  June  Family  $30  &  Single  $20. 
Internet 
banking 
details: 
ASB 
Wellsford  No. 
Please  use  your  name/names  as 
reference. 
Fish of the month is Snapper till 13th 
November 
Next  club  meeting:  11th December at 
the 3 Furlongs Bar and Grill @7pm.  
 ~Wayne Leslie (Commodore) 
From Thelma's  
Scrapbook. … 
PILLS FOR 
SENIORS: 
Take 2 as prescribed: 
Wrinkles – blue 
Memory Loss – orange 
Arthritis – purple 
Gas – green 
Deafness – white 
Baldness – black 
Indigestion - yellow 
Fatigue – Pink 
Confusion – TAKE THE LOT!!! 
SIGN IN A SHOE REPAIR STORE: 
"We will heel you 
We will save your sole 
We will even dye for you." 
In a Podiatrist's office: "Time wounds all heels." 
At an Optometrist's Office: 
"If you don't see what you're looking for, you've 
come to the right place."
KAIWAKA  
WEATHER 
Hello my friends.  Well October turned 
out  to  be  our  usual  October  weather. 
Showery,  cold,  cloudy,  partly  cloudy, 
warm,  some  nice  sunny  days.    The 
baby  animals  were  loving  it.  That  is 
more  than  we  can  say  for  the  South 
Island  and  even  southern  North  Island 
in  places.  As  I  do  this  report  our 
weather seems to be warming up quite 
nicely.  NIWA  predicts  a  very  hot 
summer so maybe you should think of 
putting  in  another  water  tank  or  start 
putting 
in 
your 
water 
orders 
now.    Very  little  rain  in  October  so 
maybe start cutting back now.   
Rainfall  at  our  house  for  2018  was 
120mm. and 2017 we had 144mm.  We 
had  rain  on  13  days  of  October  this 
year and 2017 we had rain on 16days.   
The total for the first 10months of this 
year  was  1467mm  and  for  2017  was 
1512mm.  So  already  we  are  down  on 
last  year.    Our  driest  October  since 
1987  was  2000  with  17mm  and  our 
wettest  was  1989  with  249mm.  Our 
driest 10 months since 1987 was 1987 
with 792mm and wettest 10months was 
2017 with 1512mm. These readings are 
what we recorded at our house and we 
can see how much the readings vary as 
we  watch  the  rain  going  past  and 
through  Kaiwaka  when  we  sometimes 
do  not  get  any.  Like  it  or  not  we  are 
already  almost  halfway  through  and 
heading  for  the  summer  months  in  2 
1/2 weeks' time.  
Do  they  have  a  fourth  of  July  in 
England? Of course, they do and a 5th 
and a 6th too etc., etc.  
Take  care  out  there  and  remember  to  use 
those sunhats and sunscreen etc. Bev.
RIVERVIEW REST 
HOME FUND RAISER  
Maungaturoto Community 
Charitable Trust 
On  the  evening  of  Saturday  27th 
October,  the  Mangawhai  Singers 
travelled  to  Maungaturoto  Country 
Club to perform a medley of songs, to 
an  appreciative  audience  of  approx. 
150.  They  were  treated  to  an  array  of 
songs  including  from  our  own  Bill 
Cullen  who  is  on  the  Fundraising 
Committee  of  (MCCT).  The  audience 
was  blown  away  by  the  variety  of 
songs and pure professionalism of this 
talented group. 
The  funds  raised  from  this  evening  is 
well  over  $4000.00  which  is  an 
awesome  addition  to  the  fundraising 
effort. 
As you will be aware our goal is much 
larger  than  this  but  with  evenings  like 
this  where  the  community  gets  to 
partake  in  a  lovely  evening  and  is 
helping with such a worthy cause, it is 
a win/win. 
The  MCCT  sincerely  thank  all  the 
members  of  the  Mangawhai  Singers, 
Bill  and  the  audience  for  providing 
such a fun night.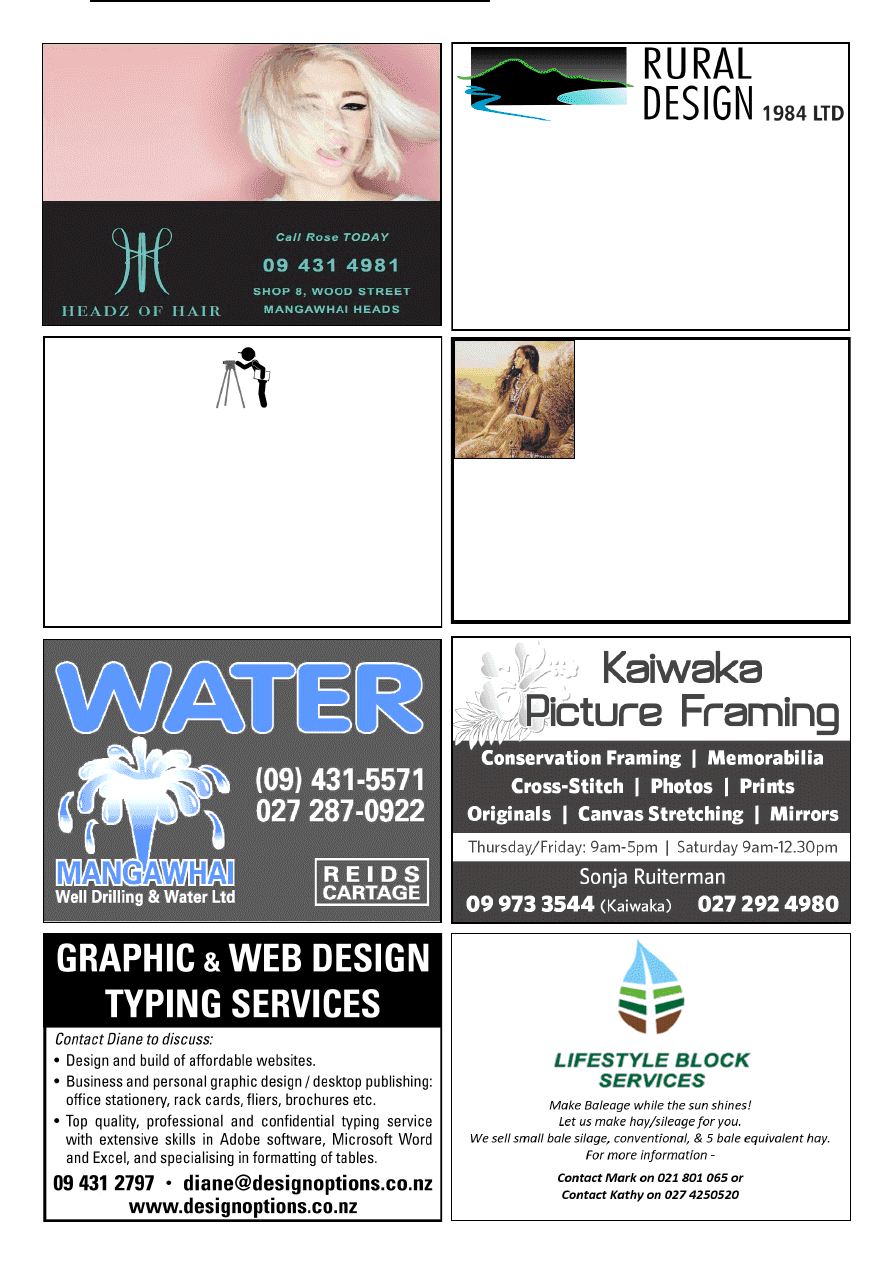 Ken Urquhart 
BSurv Licensed Cadastral Surveyor 
KMU Surveys Ltd
467 Bickerstaffe Road 
RD 2 
Maungaturoto 0587 
Ph 09 431 8705 
Mob 021 161 2344 
kenurquhart@xtra.co.nz 
WHOLESALE NATIVE PLANT NURSERY 
AND LANDSCAPING 
By Appointment 
Small and Large orders welcome 
Phone: 09 431 2481 
Email: info@ruraldesign.co.nz 
Trails end 
spiritualist gathering 
Last Sunday of every month  
10.30-2pm  
Tea/coffee provided  $5 koha 
For all inquiries: 
021 165 2629 evenings (09) 945 0707 
Trail.end@hotmail.com 
1758 Cove Road, Mangawhai
Bringing together light minded people 
Guest speaker each month
(
Next to Kaiwaka Motorcycles)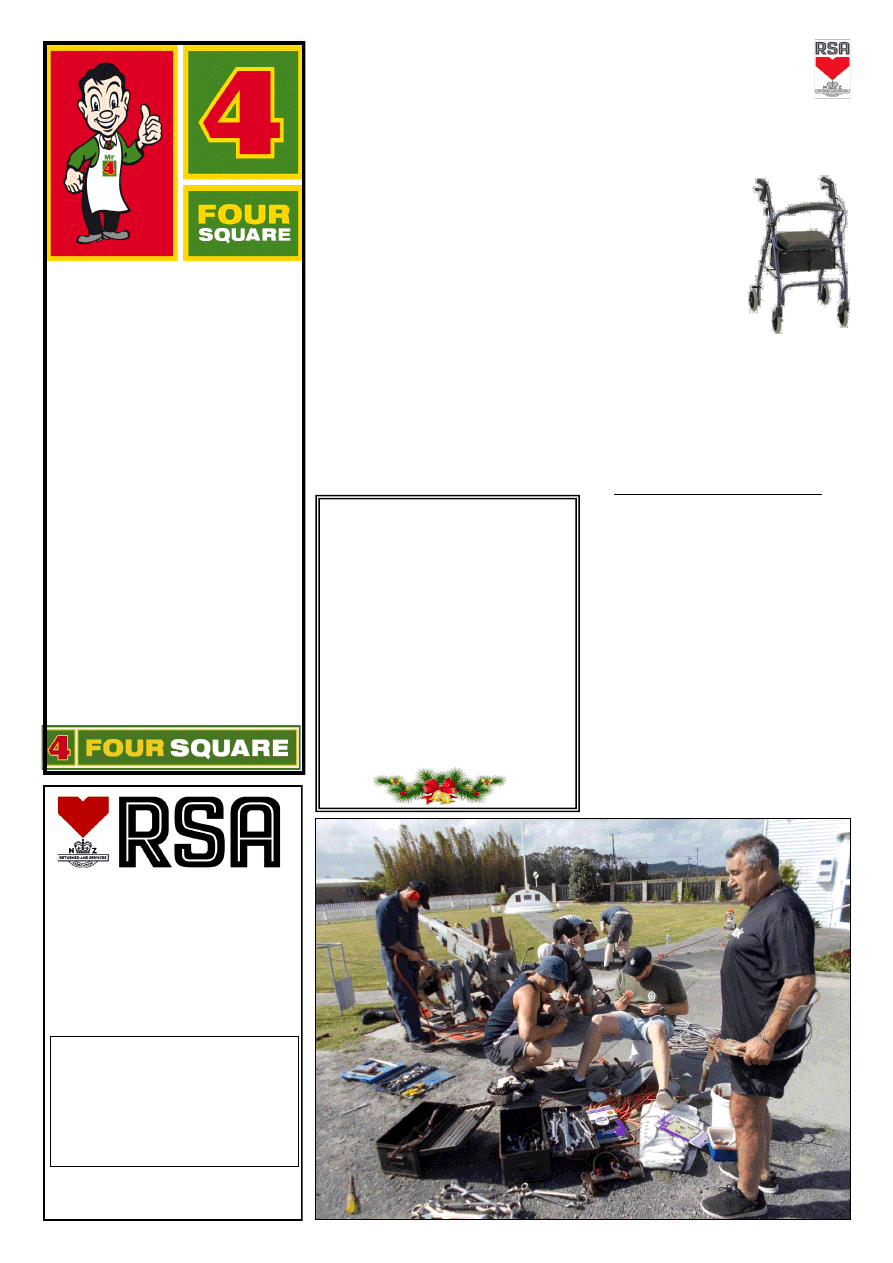 www.kaiwaka.co.nz 
Kaiwaka Bugle - 13 November\ 2018 
Page 7 
HAKARU & DISTRICTS 
MEMORIAL RSA (INC)
Members & guests are invited to 
come along and enjoy our 
hospitality. 
New members welcome. 
Meals are served on 
Thursday and Friday nights 
from 6.30pm. 
Order from Blackboard Menu  
and a sing-a-long  
with Des Chitty. 
For more information please phone 
Graeme on 431 2563 
NEW RANGE OF 
REUSABLE 
BAGS!! 
Hessian Charlie - very 
funky $2.99 
Black Multi bottle bag 
$1.59 
Set of 5 ECO Produce 
bags $5.99 
Moving towards eliminating 
single use plastic bags 
Remember to bring your 
reusable bags, everyone 
helps 
Jaques Four Square 
Phone: 4312227 
1 Kaiwaka-Mangawhai Road, Kaiwaka. 
HAKARU RSA WOMEN'S SECTION
There  was  a  big  improvement  in 
attendance at our October Meeting. 
Prior  to  the  61st  Birthday  luncheon, 
President  Lena  Carleton  presented  our 
hard 
working, 
much 
deserving, 
dedicated  Secretary  Jan  Mann  with 
a  Life Membership Award. 
Congratulations  Jan,  and  it  was  lovely 
to meet Jan and Len's family who were 
invited  to  be  present  also.  We  hope 
your  health  will  improve  in  the  near 
future  Jan.  Helen  Hawkins  our  ex 
Treasurer was very much on our minds, 
it would have been Helen's Birthday on 
the 25th also. 
Here are some safety rules given to all 
of us by Lena: - 
1.Don't  leave  our  cell  phones  plugged 
in to charge overnight. 
2.Do  not  sleep  with  Electric  blankets 
switched on overnight. 
Both these actions have been the cause 
of fires. 
Lena is using her own car for Welfare 
calls and travel as the RSA  car donated 
by Vince Guaghan has seen better days
-many thanks to Vince for donating the 
car in the first place -it has seen 
many hours of service. 
On  the  12th  November  a  bus 
organised  by  Waipu  Women's  Section 
is 
going 
to  
Kerikeri  leaving  Kaiwaka  at  8.15  a.m. 
Cost  $15p.p.  Please  contact  Lena  on 
4315034  if  you  are 
interested in going. 
Members we now have 
a  'walker'  available  at 
the  RSA  so  you  can 
leave 
your 
own 
walkers  at  home  and 
use it to get in and out 
of the RSA. 
The  raffles  were  won 
by  Jan  Mann  and 
Petronella Brom very popular wins! 
Next meeting is our Christmas meeting 
and is a POT LUCK luncheon, (Please 
note  ON THE 29th November  - ONE 
WEEK LATER than our usual meeting 
date).  Arrive 12 noon and eat 12.30pm 
- visitors welcome. 
That is all for now, keep well, 
"Summer's Coming" ~ cheers, Ann
BOFORS AT HAKARU 
Hakaru  RSA  are  very  grateful  to  the 
Navy  for  sending  their  Recruits 
to restore the Bofors Anti-aircraft gun. 
Pictured  below:  The  crew  was 
overseen  by  Paul  Rennie  and  Paul 
Volkov  both  ex-Navy  personnel,  with 
Pita Botica, ex-Army Vietnam Veteran 
looking on. Nig (Pita) was responsible 
for locating the gun for the RSA. 
The idea is to have the gun restored for 
the  Armistice  Day  Service  at  Hakaru 
on 
11-11-2018 
at 
11 
a.m. 
A  photo  of the  finished  article  will  be 
published in the next edition.   
Bofors 
gun 
is 
an 
anti-
aircraft  autocannon  designed  in  the  1930s  by 
the  Swedish  arms  manufacturer  AB  Bofors, 
used by most of the western Allies as well as by 
the Axis powers during World War II.   
Ref. Wikipedia 
HAKARU RSA 
CHRISTMAS DINNER 
Friday 7 December, 
6.30pm 
Clubrooms, Settlement Road 
$25 per person 
$1 per year up to 15 years 
Member, family and friends all 
welcome, come and enjoy an evening 
with us. 
Dress up … optional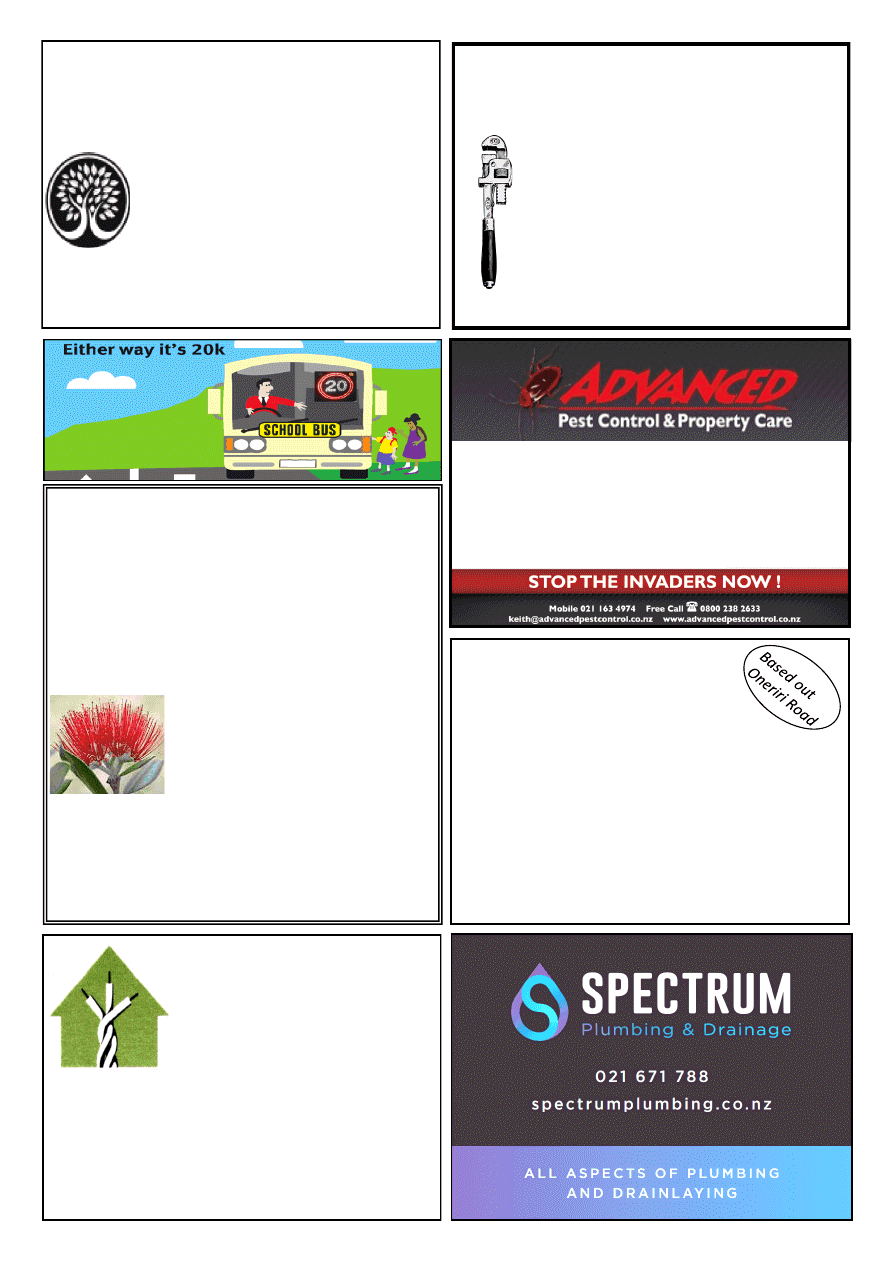 Waipu Natural Health 
3 Cove Road, Waipu  (opposite the Pizza Barn) 
Ph: 09 432 1325 
www.waipunaturalhealth.co.nz
Clinical Nutritionist-Hair Analysis for Masked 
Allergies, Ozone Therapy, Prolotherapy, 
Naturopath-Medical Herbalist, Registered 
Massage Therapists, Reflexology-
Craniosacral Therapy, Acupuncture-Facial 
Acupuncture, Kineso Taping, Hypnotherapy, 
Counselling, ThetaHealing/Change Catalyst
.
AFFORDABLE CONSULTS FOR KIDS – give us a call
Gift Vouchers available
KAIPARA FLOORING CO 
Independently owned & operated 
32 HURNDALL ST MAUNGATUROTO
Supply & Installation of Carpet, Vinyl,  
Vinyl Wood Planking
Stockists of 2m & 3m wide 
vinyl & carpet short ends
Residential & Commercial
Q Card Finance Approved 
6-18 month terms 
6 mth interest free
First Class Installations
For a free measure & quote 
phone Christine  
09 946 9886 or 021 515 415 
kaiparaflooring@gmail.com 
http://www.kaiparaflooring.co.nz/ 
BARRY CURTIS PLUMBING LTD 
REGISTERED CRAFTSMAN PLUMBER 
Phone 4315572 
027 257 9884 
25 years experience 
Friendly reliable service 
All plumbing and maintenance 
Alterations and new housing 
Spouting 
Competitive rates 
PROMPT EFFICIENT  SERVICE 
HODGETTS 
CONTRACTING
Digger Work   

Driveways 

House Sites   

Dams   
 
Drains, etc
Also available for HIRE 
3 ton Vib Roller Heavy Duty Tow  
Waterblaster     Lazer Level
Phone Mark 4312877 
        027 447 8554 
Reyahn George 
Leng 
Registered Electrician 
Local, honest and reliable. 
For your residential and 
light-commercial projects. 
022 314 1068  
Pest Control 
PLAN A: One-off treatments to customers with a specific pest problem 
PLAN B: Full maintenance service plans to commercial customers. 
This will include documentation kept in customer file on site: 
⚫
Pest treated 
⚫
Date of service 
⚫
Chemical or baits used 
⚫
Full pest check report done after each treatment 
⚫
Fair and reasonable fee with guarantee 
Flood Recovery 
Carpet Care 
⚫
Carpet Drying   
This includes pre-spray treatments 
⚫
Dehumidifier Rental 
with stain removal and hot water extraction.  
⚫
Full Commercial Cleaning  Patch repair also available 
Upholstery Cleaning 
Full upholstery cleaning of all furniture.  
eg lounge suites and all office chairs 
Water Blasting 
⚫
Concrete - Decks 
House Washing 
⚫
Soft Chemical Was 
⚫
Pre-painting Wash 
Property Services 
⚫
Property Cleaning  
Lawn Mowing 
⚫
Hedges General  Tidy Ups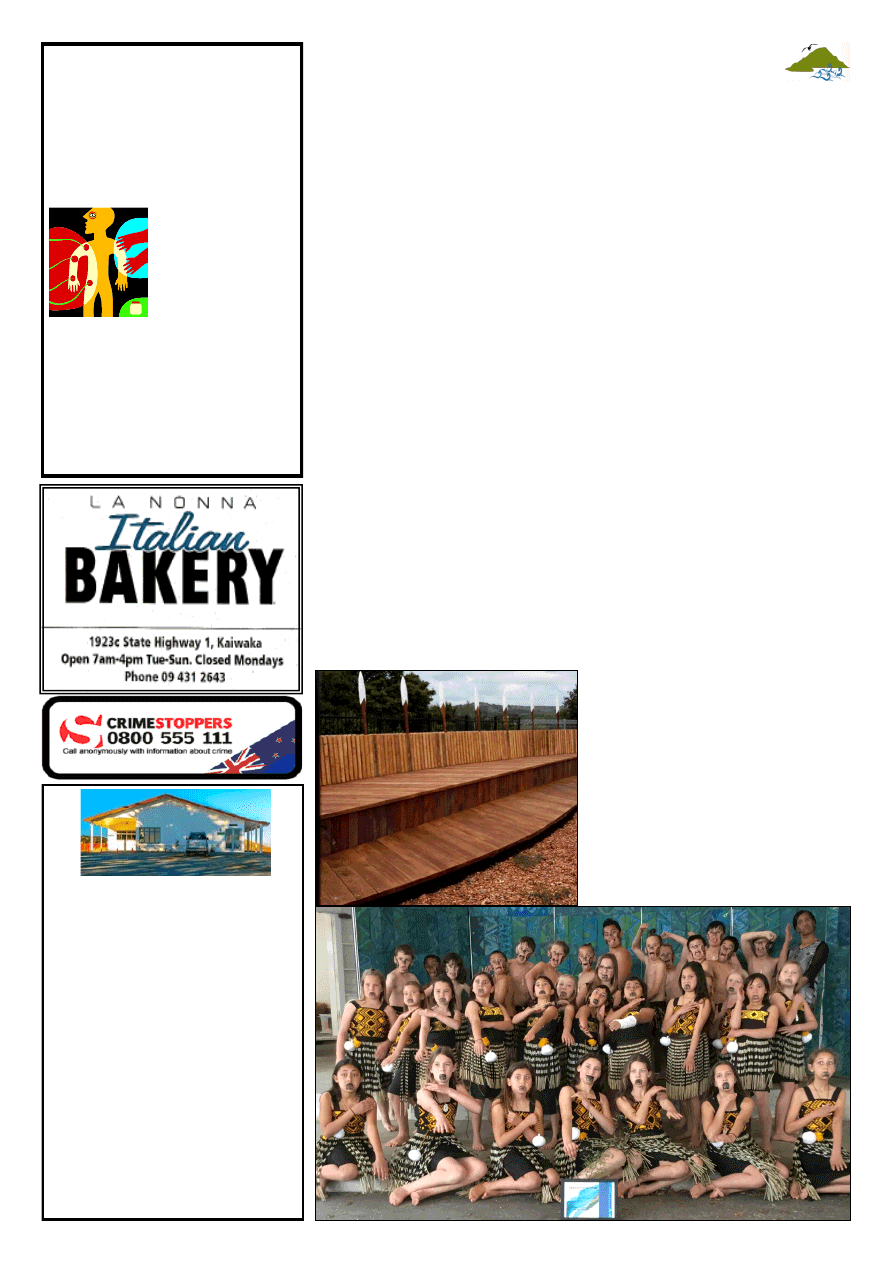 www.kaiwaka.co.nz 
Kaiwaka Bugle - 13 November\ 2018 
Page 9 
OWEN STEVENS 
Osteo Therapist
For careful adjustments  
to bones and joints 
Treatment for humans  
and their pets 
Clinics: 
Kate's Place, 
Kaiwaka: 
Last Friday of 
month 
9.00am-5.00pm 
For bookings: 
Phone 
09 4312661 
Or phone Owen   
09 4317123  anytime 
KAIWAKA SCHOOL 
Tramp! 
Te Pounga Marae 
130 Nathan Rd. Oneriri. Kaiwaka 0573 
COMPLEX FOR 
HIRE 
Functions 
* Weddings  * Birthdays  
*Anniversaries * Meetings  * Wananga 
5 hour meeting * 12 hour stay  * 
Overnight 
*All welcome - No more Drink-driving 
Amenities: 
*Convo Combi Steamer * Bratt Pan * 
Dish Washer/Sterilizer * 3 Door Glass 
Chiller (walk in) etc…All Crockery * 
Linen Supplied * Central Heating and 
Air Conditioning and much more.  
Can also cater for small groups…. 
For more information please contact: 
Kim Wallace  
Home: 09 832 1133  Mob: 0211275340  
Email: kimwallace@xtra.co.nz 
2019 Staff 
The  Board  is  really  pleased  to 
announce  the  appointment  of  two  new 
teachers  for  next  year.  Ms  Cathryn 
Stevens  (Tomarata)  and  Ms  Susan 
Butler 
(Mangawhai) 
have 
been 
appointed 
as 
permanent 
staff, 
commencing 2019. 
And is also pleased to confirm Mr Nik 
Massey  and  Ms  Hannah  Taylor-Rose 
as  permanent  teachers.  Arrangements 
for  class  placements  for  next  year  are 
currently  underway.  If  your  child  will 
not be at Kaiwaka School next year, or 
if  there  are  new  students  to  enrol  that 
you know of, please contact the Office 
urgently. 
Kapa Haka Festival 
Thank you to all of you who took your 
children  to  the  Kapa  Haka  Festival  in 
Warkworth last Saturday. The teachers 
were  really  pleased  and  proud  of  our 
school's  performance.  Thank  you  for 
allowing them to represent our school. 
Bible in Schools 
Kaiwaka School has had a long history 
of  offering  Bible  in  Schools  for  our 
students. The requirements for offering 
this  have  become  difficult for  us  now, 
and we unfortunately will no longer be 
able  to  offer  this  option.  The 
regulations  we  need  to  adhere  to  now 
require  that  the  Religious  Instruction 
occurs out of school hours. As most of 
our students travel by bus, lessons after 
school  is  not  an  option.  All  students 
need their free play time at lunch time, 
so this isn't an option either. 
Secondly, all religions need to be given 
the  opportunity  to  provide  instruction, 
and this is not viable for our school. 
Therefore, Bible in Schools will finish 
up at the end of this year. 
We thank our devoted Bible in Schools 
leaders,  Eddie  and  Lynne  Coates  and 
all  their  team  of  teachers  for  their 
service to our school and our children. 
New Waka 
Our  new  waka  is  finished  as  far  as  it 
can be for the moment. The next step is 
to construct and attach the big carvings 
at  each  end.  These  are  being  specially 
carved  for  our  school  and  will  be 
beautiful.  This  is  an  amazing  entrance 
feature  for  our  school  and  we  thank 
Benji  Woodman  for  all  the  hard  work 
he  has  put  into  designing  and 
constructing our waka. Thanks to Andy 
Lawrie  who  gave  us  a  whole  day  to 
sand and stain the waka. We also thank 
Andy  Lawrie,  Laura  Woodman,  Blake 
Worsfold  and  Dylan  for  planting  the 
area and Rural Design for donating the 
beautiful trees and plants. We will have 
a special blessing when it is complete. 
Skool Loop 
Thank you to the local businesses who 
support  our  school  through  sponsoring 
the  School  App  Skool  Loop:  Kauri 
Park  Nursery;  Leabourn  Passenger 
ServicesLtd; 
Kaiwaka 
Suzuki; 
Kaiwaka Clothing; Jaques Four Square; 
Parker  Lime  Co;  Craig  Kenyon  L  J 
Hooker; Drummers Home Store; Three 
Furlongs Bar and Grill; U Beauty 
UP COMING EVENTS 
13 Nov: Otamatea High School Fun Day 
for Year 6 
14 Nov: School Photos 
15 Nov: School Speech Competition and 
School Athletics 
19 Nov: Pukekos Parent Meeting, 6.30 pm 
23 Nov: School Gala, 5-8pm, KSA 
19-21 Nov: Life Education Caravan 
29 Nov: Interschool Speech Competition 
29 Nov: Asthma Awareness Presentation 
30 Nov: Junior Tabloids Sports Day 
6-7 Dec: Noho Marae 
14 December: Prizegiving, 9.30am 
18 Dec: Creative Craft Day 
20 Dec: End of Term 4 
31 January: 1st school day 2019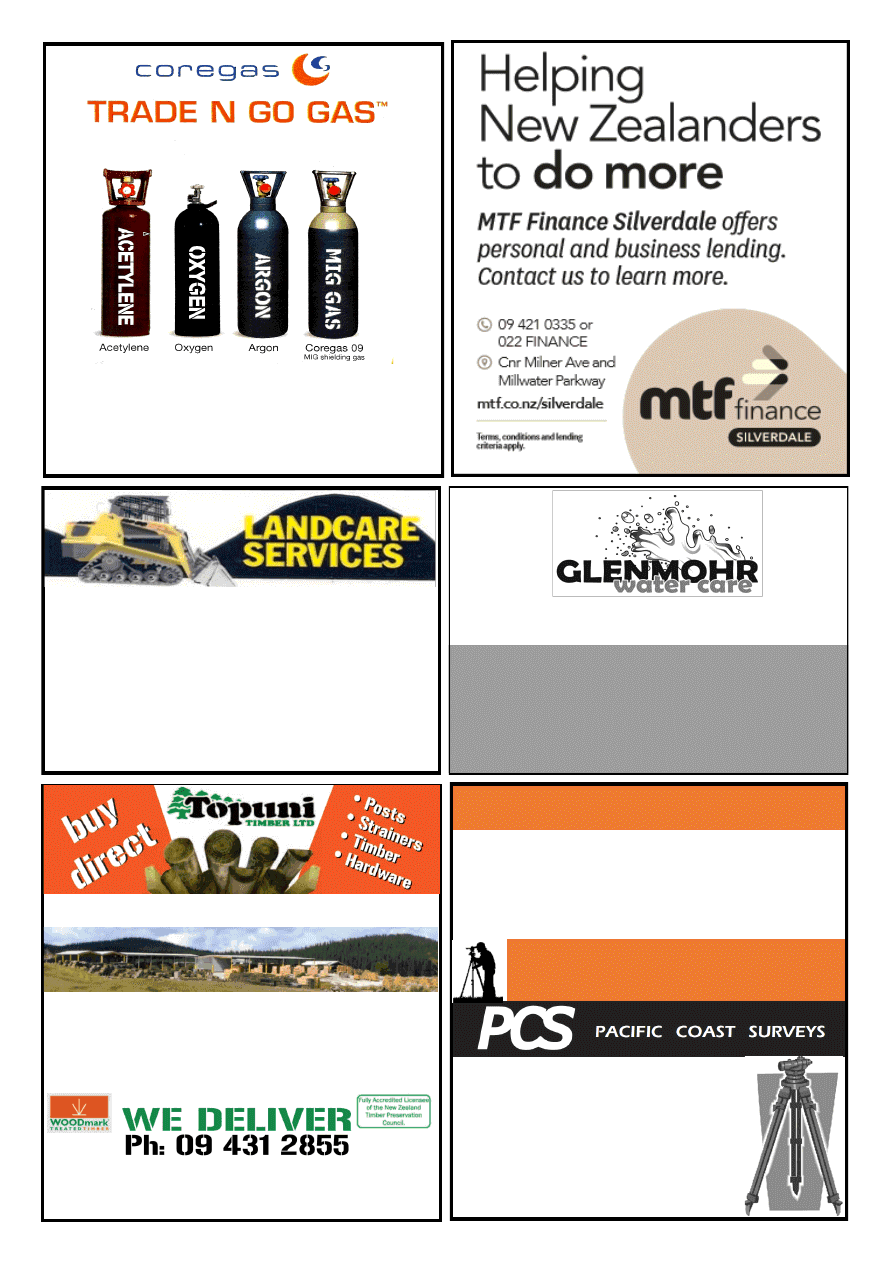 LOCALLY OWNED AND OPERATED 
QUALITY PRODUCTS • FRIENDLY ADVICE • GREAT SERVICE 
Quality Products milled from High Density NORTHLAND Radiata Pine. 
Treated and guaranteed to NZS3640 with commitment to 
Environmental Safety.
Phone, fax, email, or come into the mill 
Schiska Rd, Topuni, SH1, 10 min north of Wellsford. Fax: 09 431 2856 
Email: sales@topunitimber.co.nz           Mon - Fri 7am-5pm 
• Fencing 
• Retaining 
• Decking 
• Landscaping 
• Gates 
• Hardware 
SURVEYORS 
SUBDIVISIONS 
HOUSE SITE SURVEYS 
CIVIL ENGINEERING 
WASTEWATER DESIGNS 
EXPERIENCED 
PROFESSIONAL 
INNOVATIVE 
Ph 09 431 5353 
0800 PACIFIC (0800 722 434) 
pacificcoastsurvey.com
Adam Booth - 027 415 5752 
Bsurv, Licensed Cadastral Surveyor
Surveying Kaipara since 1994 
Water Tank Cleaning 
• 
Keep your water safe & clean  
• 
Removal of sediment, silt etc. 
• 
Vacuum or full scrub 
• 
Minimal water loss 
Phone Mark (09) 432 0655 or 0274 707607 
LANDSCAPING 
4 IN 1 BUCKET 
TRENCHER 
POLE HOLES 
ROTARY HOE 
COMPACT ROLLER 
OFFAL HOLES 
CAN SUPPLY WOODCHIP & POST PEEL 
5 TON TIPPER 
FOR RELIABLE AND FRIENDLY SERVICE CONTACT DAVE 
Dave Hyndman 
 
KAIWAKA 
PH: 09 4312302 
MOB: 021 431 238 
Now available at Twinkle Tow 'n' Tyre 
Mob: 021 833 960 
Ph & Fax: 09 431 2823 
1837 State Highway 1, Kaiwaka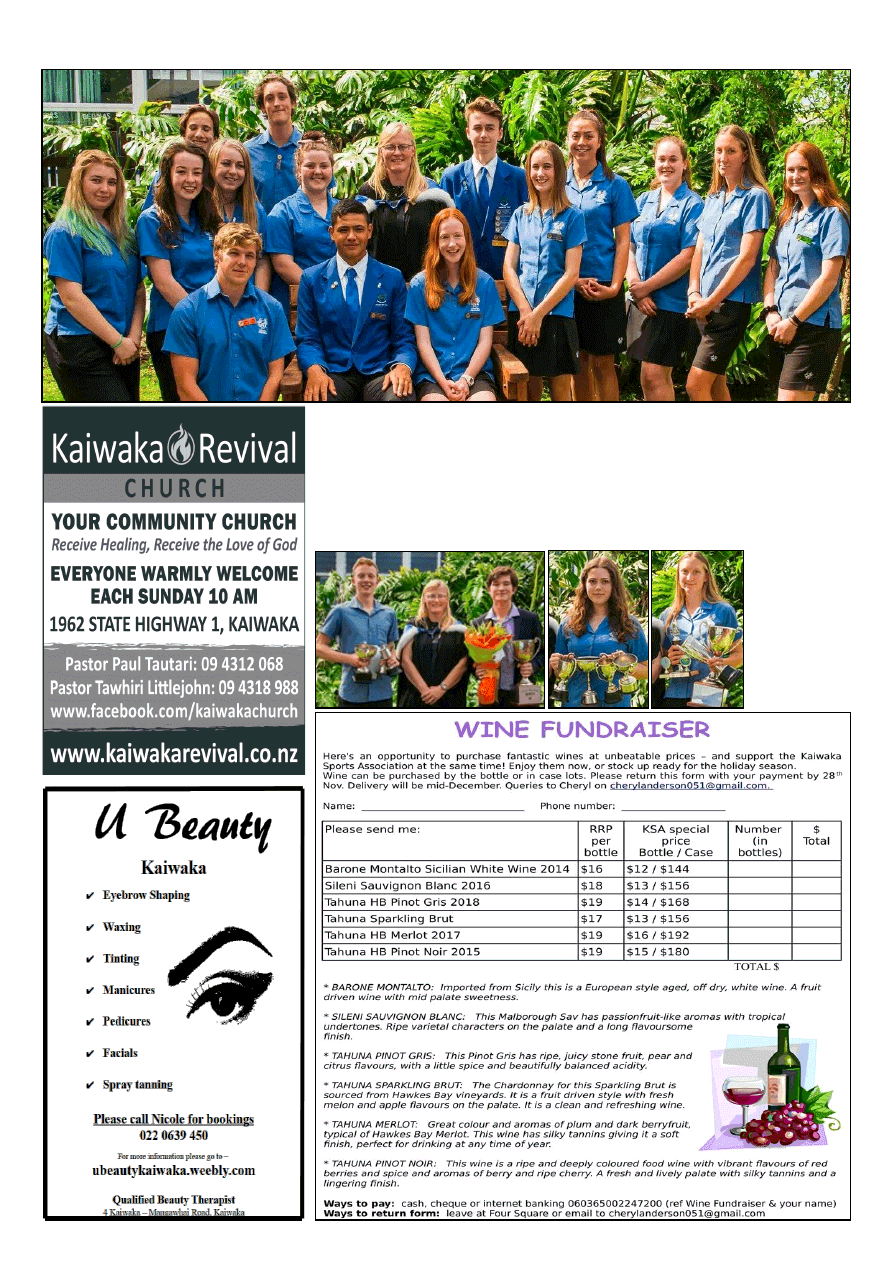 www.kaiwaka.co.nz 
Kaiwaka Bugle - 13 November\ 2018 
Page 11 
OTAMATEA HIGH SCHOOL 
 Above:  Otamatea  High  School 
2019  Prefects  with  Principal  Rachel  Clothier-
Simmonds. Head Boy: Quintin Brown, Head Girl: Emma Millard, Deputy Head 
Girl:  Georgia  Denton,  Deputy  Head  Boy:  Alex  Parr,  BOT  Representative: 
Hayley  Linton,  Arawa  House  Captain:  Bridgette  Hosford,  Maniapoto  House 
Captain:  Ocean  Shadbolt,  Ngāpuhi  House  Captain:  Alex  Parr,  Whātua  House 
Captain: Isaac Sheppard, Manukura: Nikayla Abel. Prefects: Tyler Flannaghan, 
Benecio  Van  Zwijndregt,  Jayme  Curtis,  Rosasharn  Vincent,  Julia  Mickell, 
Catherine Mason-Veale.  
Below: 2018 Dux Ewan Smith and Proxime Accessit Claude Smyth with their 
Principal;  and 
prize  winners 
Mya 
Lawrence; 
Ocean 
Shadbolt-Snr 
Victrix 
Ludorum. 
Josie  Gritten, 
Photographer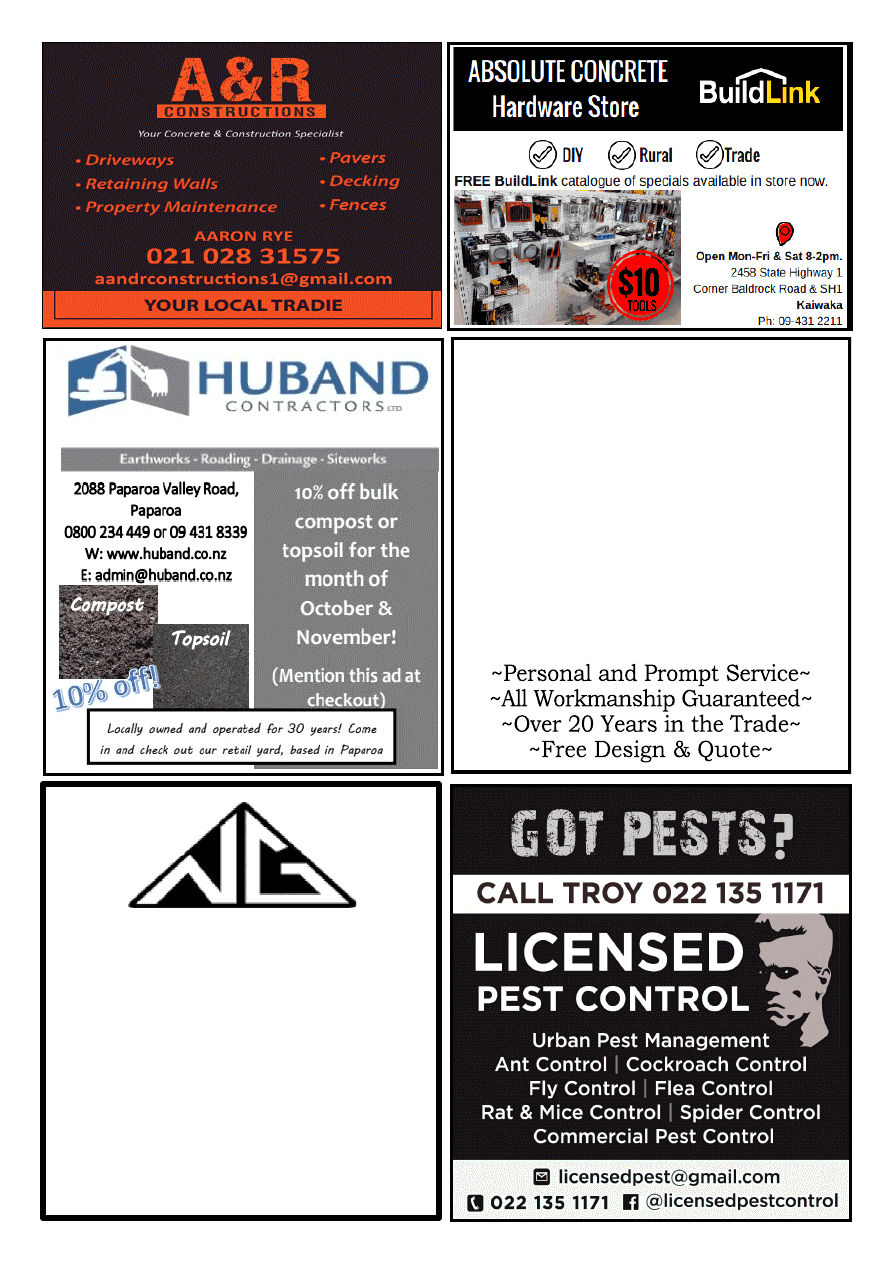 NORTH GLASS 
WINDSCREEN REPAIR OR REPLACE 
GLAZING SERVICES 
MIRRORS  •  SPLASH BACKS  •  SHOWERS 
0800 70 40 10
info@northglass.co.nz 
www.northglass.co.nz 
PLANNING A NEW KITCHEN?
 CONTACT NOEL McDOWELL
WELLSFORD 
KITCHENS
Ph/Fax 094312888
KAIWAKA-Any time
 QUALITY CUSTOM MADE 
KITCHENS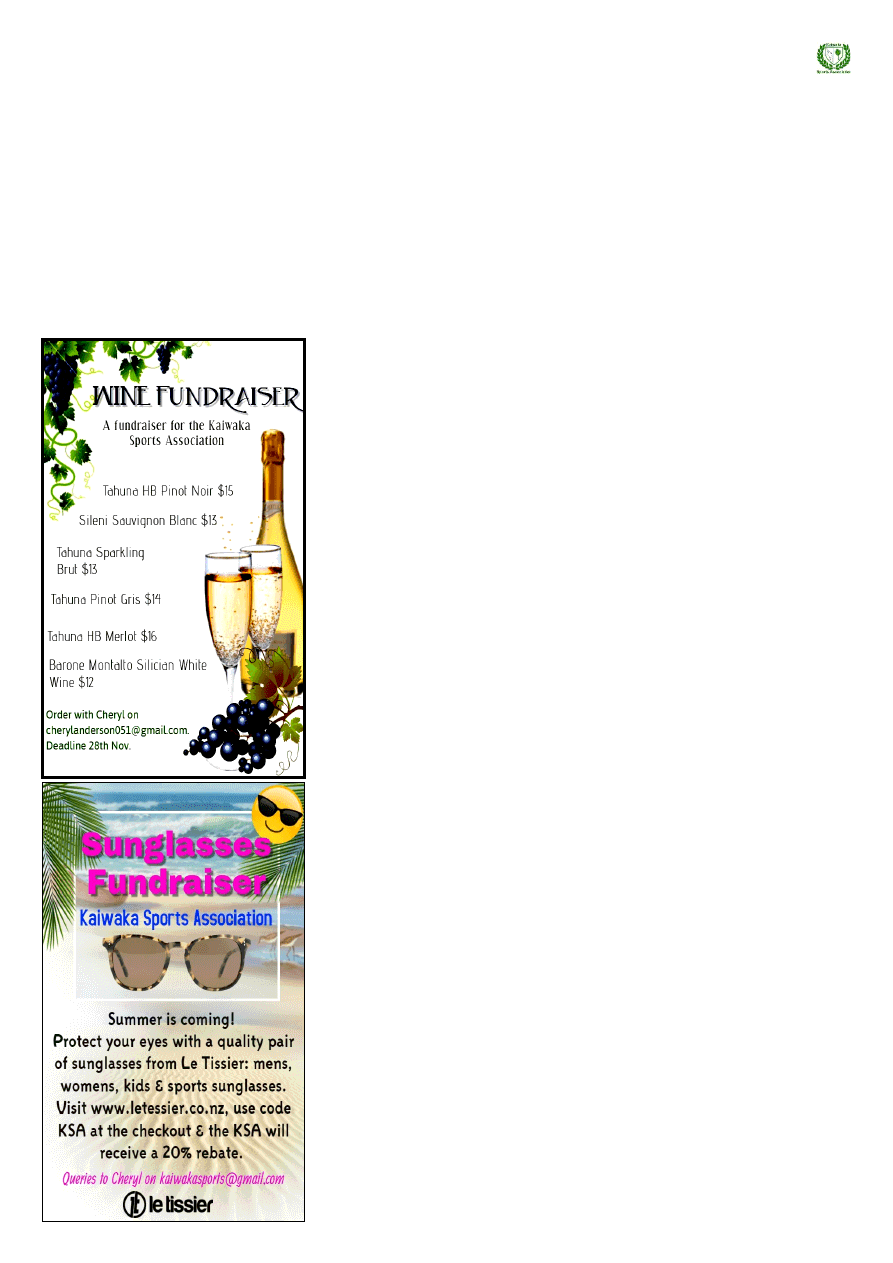 www.kaiwaka.co.nz 
Kaiwaka Bugle - 13 November\ 2018 
Page 13 
           KAIWAKA SPORTS ASSN 
Fast Five Netball Module 
We  are  seeing  skilful,  fast-paced 
matches  at  our  Fast  Five  Netball 
Module – the standard of play from all 
eight  teams  is  particularly  high  this 
year.  The  last  day  of  round-robin  play 
is this Sunday 18th, then finals will be 
held on the following Sunday. 
Otamatea Hawks Rugby 
The Hawks AGM was held recently at 
the KSA. The Hawks committee would 
like  to  thank  outgoing  executives 
Kevin Robinson - President and Jennie 
Reynolds  –  Secretary  who  have 
stepped  down  from  their  roles  back 
into the committee. 
The  vacant  roles  were  filled  by 
Michael  Tovine  -  President  and 
Vivienne  Goldsmith  –  Secretary.  The 
club  would  like  to  thank  the  outgoing 
members for their time they committed 
to Hawks rugby. 
The committee voted to appoint Kevin 
Robinson as Life Member of Otamatea 
Rugby.  Kevin  has  worked  tirelessly  in 
the committee for the past 10 years and 
was  part  of  the  original  team  as  a 
player in 1988. Congratulations Kevin. 
Hawks Rugby – Women's 
Have  you  heard  that  our  Hawks  club 
are  starting  up  a  Women's  division 
next  year?  If  you  are  keen  to  be 
involved, 
please 
contact 
Terri 
Donaldson on 021 02220218. 
Hawks Family BBQ 
Come along to our grounds this Sunday 
18
th
  November  at  1pm,  to  see  what 
Hawks  rugby  2019  is  going  to  be  all 
about.  Bring  the  whole  family  –  there 
will be a lolly scramble, sausage sizzle 
and fun games of Touch. All interested 
players 
are 
welcome: 
Premiers, 
Premier Reserves and Women's. 
Rippa Rugby 
An 
inter-schools 
Rippa 
Rugby 
Tournament will be held at our grounds 
this Tuesday 13
th
 November 
from 10am. Spectators welcome. 
Gymnastics Club Prizegiving 
The final day for the year for Otamatea 
Gymnastics 
is 
Tuesday 
27th 
November. All classes will run at their 
normal  time.  Each  class  of  gymnasts 
will  perform  a  short  display  followed 
by  prize-giving.  Everyone  is  welcome 
to  attend.  Class  times  are  10.45am, 
3.15pm. 
4pm, 
and 
4.45pm. 
Additionally,  the  Kaiwaka  School 
group will present their display during 
the morning (time to be advised). 
Free Tai Chi in November 
Ever  wanted  to  try  Tai  Chi?  Our 
Martial  Arts  club  is  offering  free  Tai 
Chi  sessions  for  the  whole  of 
November!  Details on the flyer in this 
edition of the Bugle. 
Kaiwaka Athletics Club 
The Athletics season runs on Mondays 
5  -  6.30pm,  at  OHS  until  close  of 
school  term  in  December.  All  athletes 
are  welcome,  but  we  tend  to  have  a 
predominance  of  younger  athletes. 
Queries,  please  call  Eileen  on  021 
1420357. 
Sunglasses Fundraiser 
Sunny weather is on its way. If you are 
wanting  to  upgrade  your  sunglasses, 
please  consider  our  fundraiser.  We 
have  partnered  with  Le  Tissier  and 
when  people  buy  sunglasses  through 
their  website,  they  will  donate  20% to 
the KSA. 
Le  Tissier  offer  quality  sunglasses  for 
men, women and children plus they do 
an extensive range of sports sunglasses. 
Their  Sunwear  collection  offers  eye 
catching  style  and  the  functionality  of 
high-quality  acetate  with  lenses  that 
offer  100%  UV  polarised  protection. 
Many 
styles 
are 
suitable 
for 
prescription lenses. 
Visit www.letissier.co.nz and enter the 
code KSA at the checkout. Thank you 
for your support. 
KSA Special Meeting 
A Special Meeting to change the KSA 
constitution  will  be  held  at  the  KSA 
this Wednesday 14
th
 November at 7pm. 
All welcome. 
Junior Tennis 
Our children's tennis lessons are being 
held  on  Mondays:  juniors  at  3.15pm, 
intermediate  at  3.45pm  followed  by 
senior  kids  at  4.15pm.  Great  coach, 
very reasonable fees. Contact Linda on 
021 266 8571 for more information. 
Speech Finals 
The Kaiwaka School speech finals will 
be  held  at  our  Sports  Complex  this 
Thursday  15
th
  November  at  9am, 
spectators welcome. 
Fitness Centre 
Our  Fitness  Centre  is  available  24/7 
and  provides  extensive  exercise 
equipment  as  well  as  toilets  and 
showers.  The  sub  reduces  on  20th 
November to $100 so if you have ever 
thought  about  joining  the  Fitness 
Centre  now  is  a  good  time  to  do  it! 
Memberships  can  be  purchased  from 
Jaques  Four  Square.  For  all  Fitness 
Centre 
enquiries 
please 
contact 
Siobhan  on 027  9791203 or  check  out 
our Facebook page. 
School Athletics Day 
The  Kaiwaka  School  Athletics  Day 
will  be  held  at  our  grounds  this 
Thursday  15th  at  11am,  spectators 
welcome. 
Kaiwaka School Twilight Gala 
The school's Gala Day will be held at 
our grounds on Friday 23 November, 5
-8  pm.  How  can  you  help?  Please 
donate  items  for  their  White  Elephant 
Stall – ring Courtney on 021 266 7946. 
Or  you  could  bake  a  cake,  make 
sweets,  bake  biscuits,  offer  to  run  a 
stall, sell raffle tickets, get sponsorship 
for prizes, donate raffle prizes, do face-
painting etc. 
The school are also looking for people 
to  organise  and  run  a  Kids  Games 
Zone,  set  up  the  gala  and  clean  up 
afterwards.  Please  email  Rosie  with 
your 
offers 
of 
help 
at 
principal@kaiwaka.school.nz . 
Wine Fundraiser 
Here is an opportunity to buy wines at 
unbeatable  prices  –  and  support  us  at 
the  same  time!  Enjoy  them  now,  or 
stock up ready for the holiday season. 
The  wines  are  top  quality  and  are 
cheaper than the retail price. Wine can 
be  purchased  by  the  bottle  or  in  case 
lots.  Check  out  the  selection  available 
in the order form ON PAGE 11 in this 
edition of the Bugle and at Jaques Four 
Square. To order please return the form 
to  me  with  your  payment  by  28th 
November.  Delivery  will  be  mid-
December.
 ~Cheryl Anderson, 4312 051, 027 
3462702, kaiwakasports@gmail.com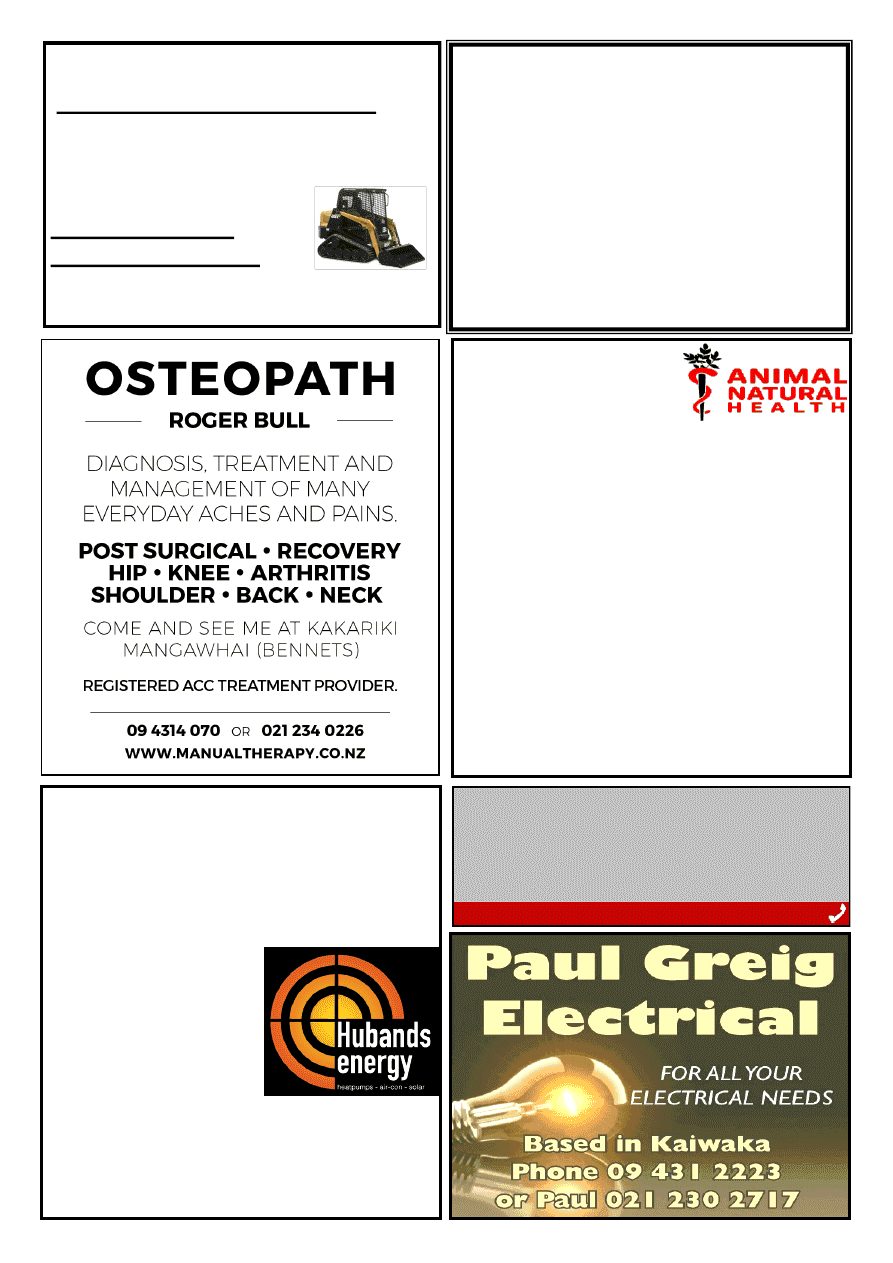 Natural Earth Ltd 
 Landscape and Bobcat services 
 : Driveways  :Landscaping  :Retaining Walls 
 : Hole Boring: Land Levelling :Trenching 
 : Decks :Fences :Sections Cleared: Plus much 
more 
Tel   09 4312885 
Mob 02102391280   
For A Fast Friendly  
Service Contact Tim Hicks 
CALL CRIMESTOPPERS 
Worried about something that doesn't seem right to 
you? Concerned about activity that could be 
harmful? Call Crimestoppers.  
You don't need to know all the facts.
CALL 0800 555 111 ANONYMOUSLY 
Northland's Award Winning 
Solar Company
SEANZ Best Solar Business Winners 2015/16
EXCLUSIVE 10 year installation warranty 
FREE No obligation onsite quote
Complete systems 
from $5990
See our range of: 
✓ 
Heatpumps 
✓ 
Airconditioning 
✓ 
Hot Water 
Heatpumps 
✓ 
Central Vacuum Systems
09 430 0019             sales@hubands.co.nz 
15 Kioreroa Road, Whangarei
Locally owned and operated for 35 years 
Mangawhai Heads 
Garden Centre
1758 Cove Road
945 0707 
021 165 2629 
PET FOOD & 
ACCESSORIES 
ANIMAL NATURAL 
HEALTH, KAIWAKA
Our Pet Deli range of meats are now in! 
Also stockists of: 
Purely Pets Patties 
Orijen & Acana Kibble 
Mighty Mix Biscuits 
Tukka Thyme Muesli 
Organic Apple Cider Vinegar 
Chemical-free flea control, wormers 
Homeopathic / herbal preps for Upsets & 
Allergies. 
Collars and leads. 
 
Hours:  10.00am - 5pm weekdays, 10.00-4pm Sat. 
Next to Italian Bakery, SH 1, Kaiwaka 
Phone 09 431 2217.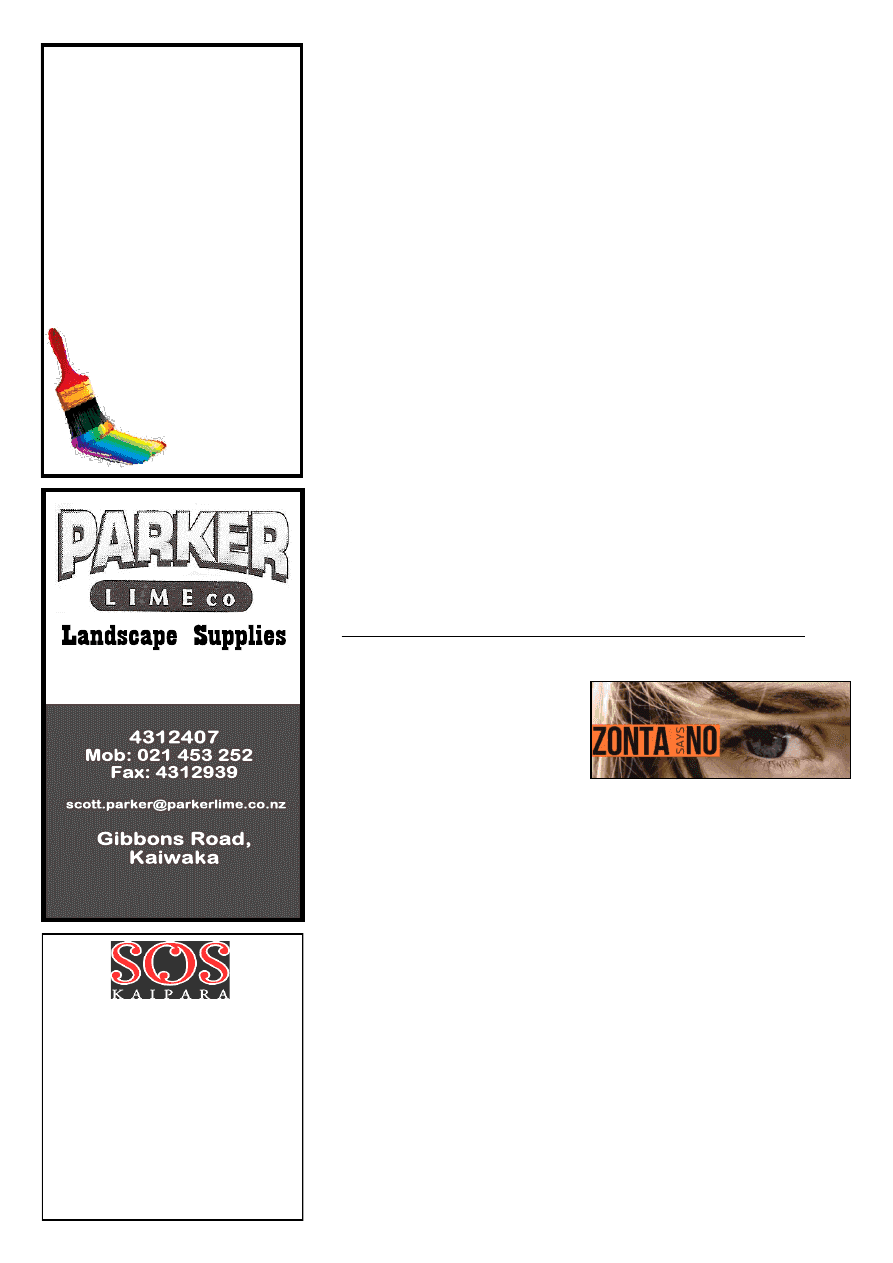 www.kaiwaka.co.nz 
Kaiwaka Bugle - 13 November\ 2018 
Page 15 
S.O.S Kaipara 
Support, advocacy, crisis and 
family therapy counselling, refuge 
housing to survivors of sexual 
abuse and domestic violence. Also 
Education prevention programmes 
for the community and clients.  
Office hours 9am to 3pm Monday to 
Friday; 24/7  Police  
or phone 09 4396070 
Bulk Cartage 
KAIWAKA WAR MEMORIAL HALL 2018 
LEE COOPER 
PAINTERS 
(Kaiwaka Based) 
*30 yrs Experience 
*Interior/Exterior 
*New and Restoration 
*Honest and Reliable 
*Free Quotes 
 
09 4312918 
0274735171 
leecooper@xtra.co.nz 
The  Zonta  Club  of  Mangawhai  is 
delighted  to  offer  our  8th  Annual 
Award for young women in the form 
of  a  10  Day  Youth  Development 
Voyage on the Spirit of New Zealand. 
Criteria for application are as follows: 
The applicant 
● is a young woman from 15-18 years of age 
● Is a New Zealand citizen or permanent resident of New Zealand 
● Is a resident of Mangawhai, Tomorata, Wellsford, Kaiwaka, Maungaturoto or 
Waipu areas 
● has shown leadership potential or would like to develop leadership skills 
● meets the medical criteria of the Spirit of Adventure Trust 
● must be able to swim 100 metres unaided 
● will report back to the Zonta Club of Mangawhai after the voyage 
● Application to include letter from applicant outlining reasons for application 
e.g. involvement in community activities or associations? How does the voyage 
fit into your personal goals and how do you think this experience will help you 
achieve them? 
How you will share your voyage experiences with your school or local 
community. 
● Application to include 2 referees (not a family member) 
Application 
forms 
are 
available 
by 
request 
by 
emailing 
mangawhai@zonta.org.nz 
or text Sue on 027 555 6636 with your email address 
APPLICATIONS ARE DUE BY November 30th, 2018 
This award is made possible by the generosity of the local community and this 
year our Midwinter Ball and Auction raised enough funds to support this award 
and our Second Chance Scholarship which benefits women who are studying to 
return to the workforce. 
Zonta  is  a  global  organisation  that  empowers  women  through  service  and 
advocacy and the Zonta Club of Mangawhai meets on the 4th Monday of each 
month - for further information go to www.zonta.org 
ZONTA SPIRIT OF ADVENTURE AWARD 
As always, I start with a big thanks to 
the  Hall  Committee  and  Kaiwaka 
Community  Movie  Teams  for  another 
great  year.  We  are  all  volunteers  and 
dedicated  to  keep  the  Hall  and 
finances, in good shape. 
The Hall is a Community Asset and we 
are  put  in  charge  to  look  after  it  ...  a 
responsibility we don't take lightly. 
Hall  Bookings  have  gone up  a  lot this 
year, so it's good to see it being used, 
so  much  so,  that  it  pays  to  check  out 
availability early!! 
What stood out this year: 
The NEIL FINN CONCERT was a sell
-out concert - 250 (max capacity). Now 
he is playing in Fleetwood Mac!!! 
Another 
one 
was 
KAIWAKA 
SCHOOL  LIP  SYNC  -  filled  to 
capacity  –  awesome.  Both  were 
impressed  with  the  acoustics  of  the 
Hall. 
Leased out - all 5 Spaces/rooms in the 
lean to building (ex-Medical centre). 
A  $7000  KDC  grant  was  received  for 
the restoration of the Matai Floor in the 
Hall.  This  will  take  place  between  14 
and  25  January  2019.  This  will  be 
AWESOME  when  finished.  A  Big 
thanks to KDC. 
KAIWAKA COMMUNITY 
MOVIES: 
Some  numbers:  Friday  night  movies 
screened  33=1184  tickets  (last  year 
859);  Sunday  Matinee  Screened  12  = 
320  tickets  (last  year  450);  our  two 
MUSIC  MOVIE  SUPPER  NIGHTS 
and  two  DINNER  MOVIE  NIGHTS 
were again very successful and enjoyed 
by many. 
What  stood  out:  Highest  attendance 
Matinee - 'Peter Rabbit', 117; Highest 
Friday Night - 'The Guernsey 
Literary 
and Potato Peel
 Pie 
Society'
, 100. 
All  these  activities  generate  funds  to 
pay  our  bills,  e.g.  Insurance,  Rates, 
Security,  Power,  Phone,  Maintenance, 
Building  and  Safety  Compliance,  and 
Building  WOF  which  take  up  a  big 
chunk of our money. 
We also need to replace old equipment 
where  we  see  fit  e.g.  trestle  tables, 
water pumps, heaters, etc. 
KWMH  also  paid  for  the  Library 
renovations  -  new  ceiling,  paint  inside 
and new carpet throughout. 
To  make  the  hall  more  useable  as  a 
venue we have a wish list that includes 
stage  lighting,  new  stage  curtains  and 
to  ask  Council  to  please  upgrade 
footpaths  and  parking  in  front  of 
Library/Hall and playground. 
We also farewelled Penny and Alistair 
Hoy  who  have  moved  to  Taupo. They 
were  awesome  volunteers  for  both  the 
committee and the Movie Team.  They 
were  involved  right  from  the  start  and 
we  will  miss  them  and  the  amount  of 
work they did. 
Again, thanks to all, it was a pleasure.  
Best wishes for 2019, Ad Clarijs President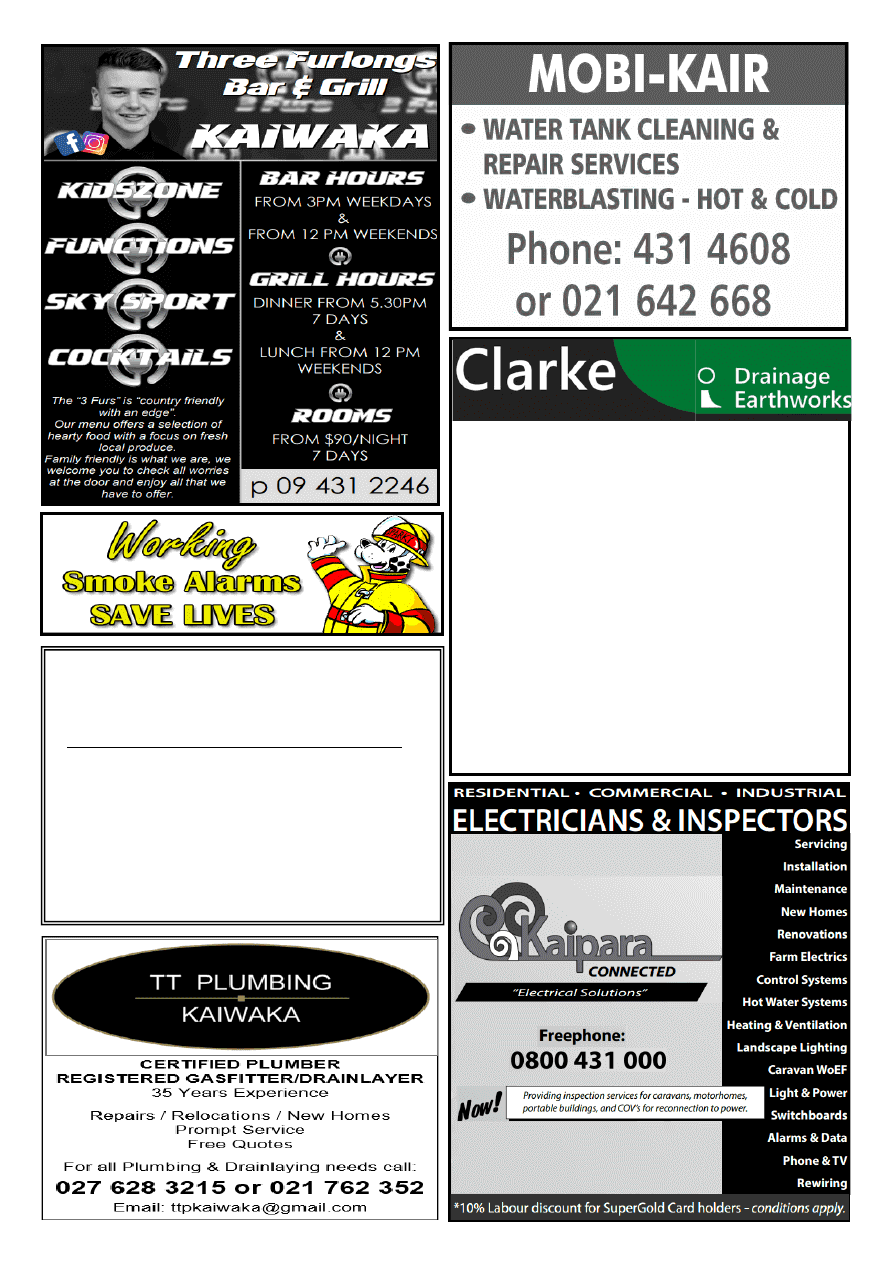 Registered Drainlayer 
All Types of Earthworks  
> All Residential & Commercial Work  > House Sites 
> Septic System Design & Install 
> Footings & Drilling to 10m 
> Sewer Connections 
> Dams 
> Water Tank Installation 
> Roading & Races 
> Farm Work 
THE ONE STOP SHOP  
Phone Nigel for an Obligation Free Quote  
Drainage & Earthmoving 
nigel@clarkedrainage.nz 
027 2233 185 
Email: info@kaiparaconnected.co.nz 
Website: www.kaiparaconnected.co.nz 
Om Tara 
Mangawhai 
Healing Services 
Diann Glucina 
021 250 7461 diglucina.com  
FB OmTaraMangawhai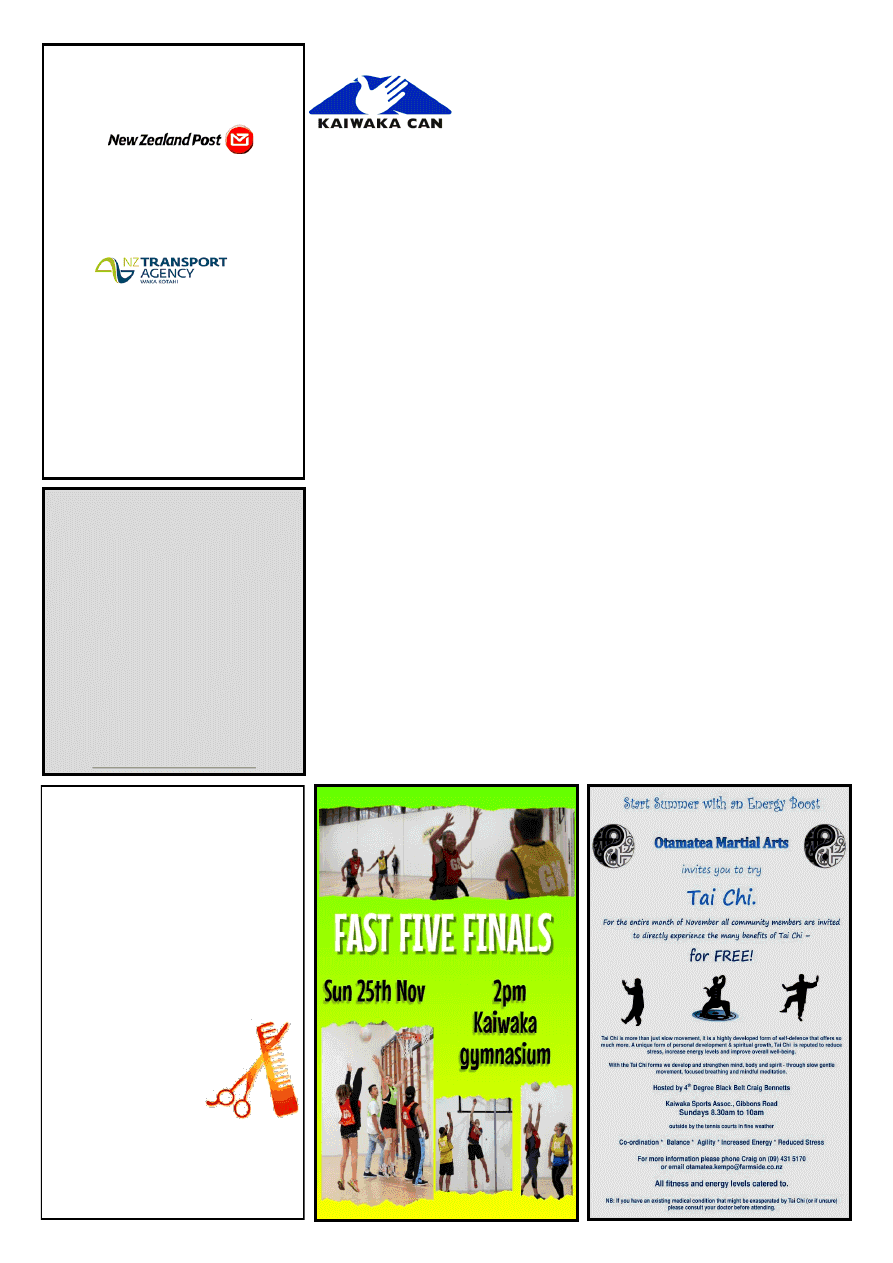 www.kaiwaka.co.nz 
Kaiwaka Bugle - 13 November\ 2018 
Page 17 
KAIWAKA CAN: THE ROAD AHEAD 
KAIWAKA POST 
CENTRE and 
FOOD MART 
POST CENTRE TRADING HOURS 
MONDAY to FRIDAY 8am to 5pm 
SATURDAY 8am to 12pm 
CLOSED ON SUNDAY and on 
PUBLIC HOLIDAYS 
FOOD MART (GROCERIES) 
MONDAY TO SUNDAY  
7:30am to 8pm 
IF ANY QUERIES PLEASE CALL 
STORE MANAGER AMRIT  
on 09 4312431 or 
EMAIL: kaiwakafood19a@gmail.com 
1919a State Highway1, Kaiwaka 0542 
Maungaturoto  
Country Club 
SPORTS - SOCIAL - CONFERENCE 
CENTRE  
The club is open Fridays from 4pm and 
Thursdays from 6pm - come and enjoy a 
drink and a meal from Raquel's Kitchen.  
You can join the Club  - $15 a year. 
Application forms available on request. 
Affiliated activities: Bowls, Squash, 
Rugby, Theatre, Motorcross, Equestrian. 
PO Box 81 Bickerstaffe Rd 
Maungaturoto 0547 Tel 09 4318 326 
AFFORDABLE 
PRICES! 
MENS CUT FROM $20.00 
LADIES CUT FROM $30.00 
KIDS CUT FROM $18.00 
COLOUR & CUT FROM $120.00 
JUST 
CUTS'AND   
MORE 
021 165 2629 or  
(09) 945 0707  
NOW SELLING: scented tealights, 
incense, smudge sticks, copper bracelets, 
aurora ball crystals, dream catchers, 
healing stones, rose quartz, cds, and much 
more. Open 6 days. 
Did  you  see  the 
comments  by  the 
Mayor  Dr  Jason 
Smith,  in  the 
latest "Lifestyler"? 
"The planned upgrade of the current 
roading  infrastructure  between  Te 
Hana  and  Whangarei,  if  it  were  to 
proceed  as  indicated  to  the  west  of 
the  Brynderwyns,  would  direct 
traffic 
through 
Maungaturoto 
further  increasing  the  potential  for 
growth in this  area.  This  is  the time 
to not only 
preserve  what  we  have  but  to  build 
economic  activities  said  Mayor 
Smith.  Maungaturoto  has  such 
potential  due  to  the  foresight  of 
community  leaders  to  create  a 
welcome mat for leaders of the 
future." 
What  does  this  mean?  Hard  to  know. 
We  know  there  is  plenty  of  talking 
going  on  at  all  sorts  of  levels.  But  as 
yet  nothing  is  set  in  concrete  (or 
asphalt)! And we are a very little town 
with  very  few  people  and  not  really  a 
part of the very big discussion. 
However  it  did  make  me  think  again 
about  the  future  of  Kaiwaka  (and  lie 
awake  again  as  Kaiwaka  Can  often 
does). 
Imagine for a moment that this in fact 
will  be  the  outcome.  State  Highway 
One through Kaiwaka becomes just our 
main street. Tourists, trucks and all the 
other  current  12-15000  vehicles  a  day 
speed  past  the  outskirts  of  Kaiwaka  at 
100k. What would the impact be? 
First impact could be felt at Shamrock 
Service Station, no longer the first non 
Auckland filling station. Then down to 
the bakery, the Cheese Shop, the nearly 
finished  Eutopia.  Three  Furlongs  has 
redeveloped  to  accommodate  truckies 
who have to overnight, not much use if 
the  truckies  tuck  up  in  Maungaturoto 
on the main state highway. 
The  Coffee  Pot  at  the  Gateway  Motel 
lives  on  the  bus  traffic  stopping  for 
refreshment  but  won't  if  there  are  no 
buses...and  I  could  go  on  but  you  get 
the idea. 
So  if  this  is  anything  like  a  reality, 
what  could  we  do?  Through  the  small 
hours  when  my  brain  seems  to  hit  top 
gear, three responses came to me. 
We  could  get  depressed.  What's  the 
use?  Give  up  fighting  and  get  shutters 
out to board the place up. Become like 
so  many  small  towns  that  used  to  be 
mainstream throughout New Zealand? 
Or  we  could  get  angry.  Try  and 
change  conversations  and  outcomes. 
Start  petitions,  write  angry  letters, 
lobby  Council  and  politicians  and  get 
in  the  ear  of  every  power  broker  we 
can find. 
Or  we  can  get  busy.  Whatever  the 
outcome,  whatever  the  time  we  have, 
work  harder,  smarter  and  better  to 
make  this  the  best  little  town  it  can 
possibly  be  and  become.  Some  small 
places are great places for people to go. 
People  get  off  cruise  liners  and  bus 
down  to  Hobbiton,  a  disused  film  set! 
Others  head  for  Paeroa  just  to  get  a 
selfie  in  front  of  the  L  and  P  bottle. 
Yes,  there  are  plenty  of  places  that 
have challenged the future and won. So 
for  us  we  can  get  the  lighting  project 
up and running to keep the dark future 
away.  Make  it  the  cleanest  and 
greenest,  the  most  creative  and 
courageous, the quaintest and quirkiest 
little town possible so that visitors hear 
about us and would even drive off the 
big highway to find us and enjoy us. 
Derek Christensen Chair, Kaiwaka Can 
Next Meeting: Wed. 21 November, 5.30pm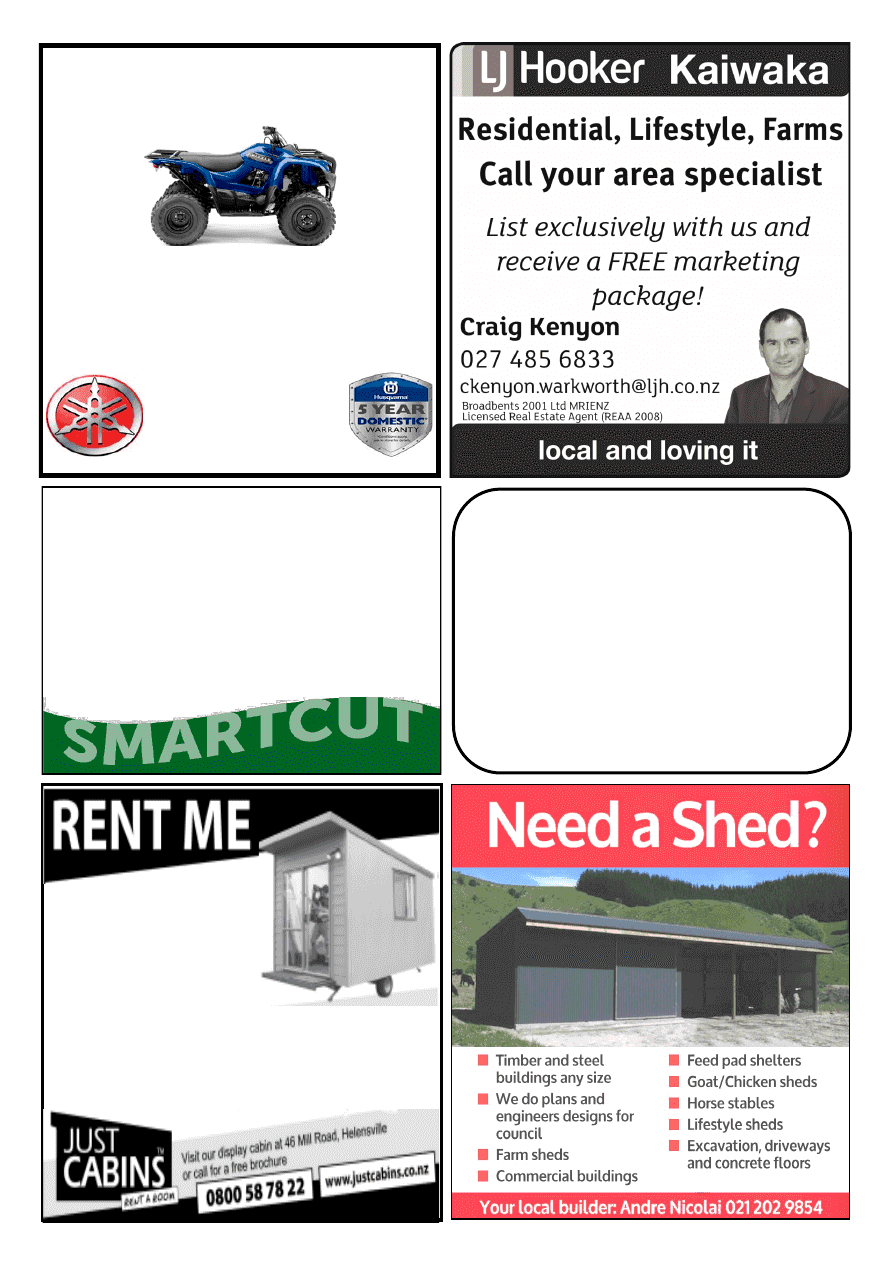 All your outdoor needs sorted so you don't have to... 
I can prune, chop, tidy, spray, mow, plant 
- you name it, I can do it! 
Residential & Commercial 
Lawn & Garden Care 
Call Rodney, your local  
lawnmowing contractor 
021 138 2344 
UP-LINK 
CHRIS WARING 
FREEVIEW INSTALLATIONS 
T.V. - HOME THEATRE &  
HI-FI ADVICE/SET UP
SKY ACCREDITED INSTALLER
MOB.0273403747 HM.094312328 
EMAIL cwaring44@gmail.com
28 YRS EXPERIENCE 
OFFERING UNBIASED ADVICE 
Ideal as an extra  
bedroom or office 
Three Convenient sizes: 
Standard 3.6m x 2.4m - $65 
per week 
Large 4.2m x 2.4m - $80 per week 
Extra Large 4.8m x 2.4m - $100 per week 
Fully insulated. Minimum 6 months rental period 
KAIWAKA 
MOTORCYCLES LTD
SALES – SERVICE – SPARES 
FARM BIKE SPECIALIST
PHONE 09 431-2127 
10 KAIWAKA-MANGAWHAI ROAD, KAIWAKA
Trimmers  
from $279
Chainsaws  
from $339
YAMAHA 
HUSQVARNA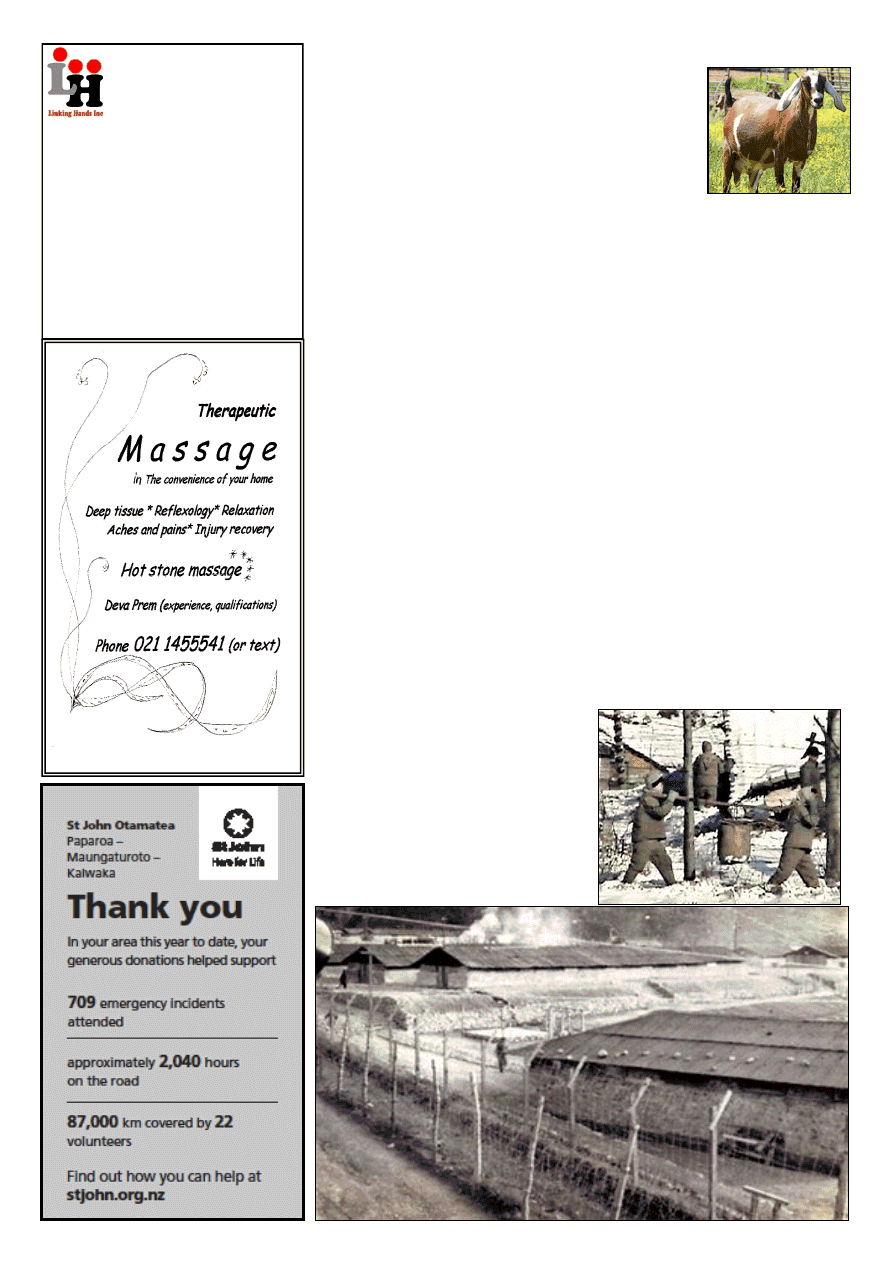 www.kaiwaka.co.nz 
Kaiwaka Bugle - 13 November\ 2018 
Page 19 
www.mangawhaimassage.co.nz 
  LINKING 
HANDS INC 
Maungaturoto - Kaiwaka - 
Mangawhai 
Meeting the needs of the community. 
A  free Health Shuttle Service, providing 
transport to those who would struggle to 
get  to  medical,  dental,  podiatry,  or 
optometrist appointments anywhere from 
Warkworth to Whangarei. 
HEALTH SHUTTLE SERVICES 
Ph/fax 09 431 8969 
OFFICE HOURS 
Maungaturoto - Monday to Friday - 
10am to 4pm 
Closed Public Holidays 
I've  decided  this  time  to  give  Melton 
Clark's Memoirs a rest and tell one of 
my own anecdotes.
I suppose anyone who has ever had a goat 
will  have  a  goat  story,  I  have  several,  but 
this is about Rags. She was a typical white 
and  dark  tan  Saanen  breed  with  perhaps 
more  brain  than  is  strictly  necessary  in  a 
goat.  Saanen  is  identified  mainly  by  the 
long  hair  on  the  Darwin  point  of  its  ears; 
the  goat  in  sand  storms  uses  these  to 
protect  its  eyes.  Rags,  as  far  as  I  can 
remember  was  bought  as  a  lawn-mower, 
great  at  keeping  the  young  gorse  shoots 
down in the main paddock. It was my habit 
to chain a goat's collar with two dog chains 
to  a  car  wheel  complete  with  tyre;  this 
allowed  the  animal  to  find  fresh  grass  but 
stopped it short if it tried to get through the 
lower  fence  wire.  However,  Rags,  not 
easily  deterred,  would  slip  the  dog  collar 
and go her own way. I had been to the shop 
for snacks one day, and found Rags, sitting 
on  the  couch,  calmly  unperturbed  by  my 
presence  watching  television.  That  wasn't 
so  bad,  but  she  had  found  the  need  to 
dispatch  'number  two'  chocolate  peanuts 
on  the  carpet.  Rags,  was  always  a 
character,  but  during  a  particularly  wet 
winter she developed a cold. I released her 
into  the  calf  pen.  Sneezing  and  running 
from  the  nose  she  went  around  the  pen 
backwards as if to get away from the slime 
that clung to her face. 
On  the  farm  we  had  large  sheds,  in  one  I 
was  building  a  thirty-  five-foot  sloop,  this 
entailed  daily  bending  over  the  diagonal 
planking  and  fastening  planks  into  wet 
glue.  To  this  end  I  wore  an  old  knitted 
jersey, always the same one, to protect my 
shirt  from  the  glue.  The  glue  I  was  using 
was  known  as  Resorcinol,  a  goopy  dark 
reddish  waterproof  product.  Since  the 
jersey  was  old  and  well  past  its  use-by, 
finding  nothing  else  with  sleeves,  I  put  it 
on Rags to keep the animal warm. The next 
day  I  found  Rags  one  hundred  percent 
cured,  and  not  any  sign  of  my  jersey 
anywhere  in  the  pen,  so  I  let  her  out, 
hopefully  not  to  watch  TV.  The  old  Mum 
used  to  tell  me  when  television  first  came 
to our house not to  watch it  so  much,  sort 
of like  we  tell today's kids to get off their 
electronic  devices  and  do  an  outside 
activity. She said it would give me 'square 
eyes'  a  bit  like  a  goat,  made  me  laugh. 
Anyway,  a  week  later  it  was  I  who  had  a 
cold,  so  I  went  to  the  pharmacy  for 
lozenges,  bought 
some  and  tossed 
the  packet  on  the 
car 
seat. 
I 
happened  to  read 
the  packet  as  my 
throat  was  now 
fine,  the  main 
content  of  the 
lozenges was Resorcinol. 
About  seven  years  old,  I  first  discovered 
the  strange  things animals  might eat  when 
'my  old  Dad'  got  on  his  bike  and  went 
down  to  the  pig  paddock.  Whilst  he  was 
mucking  out,  a  pig  ate  the  saddle  bag  off 
his bike, it  was  made  of pig  skin, (note  to 
self-  pigs  will  eat  anything!)  Over  some 
years  I  have  added  to  the  list:  my  horse 
loved grapefruit, one of our dogs ate apples 
and  bananas,  and  you  will  probably  know 
other odd foods animals eat. 
Some  years ago, I  was granted the  special 
privilege  of  visiting  a  Korean  prisoner  of 
war  camp,  only  recently  closed.  This  was 
not for the likes of tourists and as I saw the 
horrible  conditions,  I  was  told  by  a  proud 
official  that  in  all  its  history  there  had 
never been an escape from the compound. 
However,  later  I  was  told  that  on  some 
occasions the number of prisoners counted 
was less than before and though recounted 
the  number  over  time  slowly  decreased. 
Officers  were  puzzled  by  this  since  no 
escapes had taken place, they investigated. 
Finally,  the  cause  was  found.  Unpopular 
inmates  were  killed,  dismembered  and 
dropped  down  the  latrine  which  was  two 
planks,  a  gap  in  between  over  forty-four-
gallon  tins  with  the  tops  removed.  Then 
when  full  the  tins  were  sent  to  the  pigs,  
which  were  later  killed  to  flavour  the  rice 
gruel  given  the  men  to  eat.  This  certainly 
shows  the  innocence  of  animals  when 
compared to some people.
Photos supplied: 
TELL US A STORY: 
Bevan Lawrence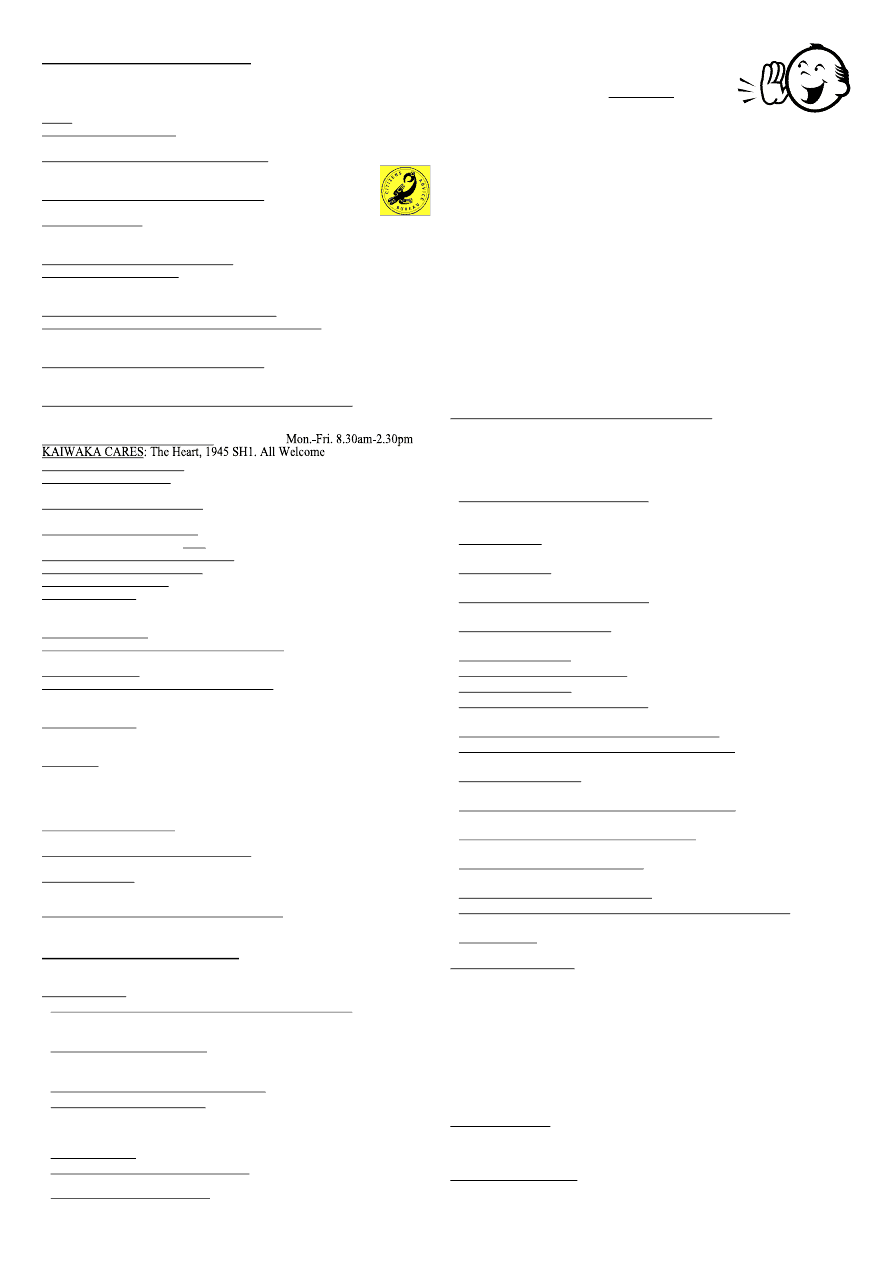 Next Bugle Deadline midday Friday 23 November 2018
WHAT'S ON
PLEASE ~ do let us know what is on - email 
kaiwakabugle@kaiwaka.co.nz 
Advertising in WHAT'S ON is FREE  
*14Nov~ KSA Special meeting, 7pm 
*15Nov~Mgto Community Charitable Trust public meeting, 
1pm, St.John Hall Maungatuoto. 
*16Nov~Movie 'The Breaker Uppers' KWMH, 7.30pm 
*18Nov~HAWKS Rugby BBQ, KSA 1-3pm 
*21Nov~Kaiwaka Can, Archie Bull Hall, 5.30pm 
*23Nov~Rotary Snr Citizens Christmas Afternoon Tea, 
KWMH, 2-4pm - phone 4312130 
*23Nov~Kaiwaka School Twilight GALA, 5-8pm, KSA 
*25Nov~Movie 'Maya the Bee', KWMH, 2pm 
*12Dec~ Kaiwaka Sports Assn AGM, 7pm 
*14Dec~ Movie 'The Wife', WH, 7.30pm 
*20Dec~ Kaiwaka School Term 4ends 
*30Dec~NZ Scout Venture begins, KSA 
KWMH = Kaiwaka War Memorial Hall; KSA = Kaiwaka Sports Association 
See www.kaiwaka.co.nz for more information 
HOUSEHOLD RUBBISH COLLECTION - Kaiwaka Pick up: 
Mondays = Green bags (Northland Waste - 09 430 3273) 
Wednesdays  = Blue bags and yellow recycling (at Jaques $3.00 
and  $1.50)  (Kaurilands  09  4392146);  ONLY  Blue  and  Yellow 
bags picked up on Oneriri Road. 
 DIABETES  Support  Group  -for  Kaiwaka,  Mangawhai, 
Wellsford  10am,  3rd  Friday  of  month  Ph:  Colleen  James  09 
4314238 
 DRINK CAN 'tear tabs' - for Starship Hospital- please collect - 
98 Kaiwaka Mangawhai Rd, leave in mailbox, Ph. 4312625  
 GENEALOGY - Wellsford: 1st Thursday in month Ph: 423 
7033; Waipu: 4th Monday in month Ph: 4312 725 
 GYMNASTICS  OTAMATEA  -  Tuesday  Ph:  Stephanie  022 
3624998 
 HAKARU PONY CLUB - Secretary Denise Rogers 021423376 
secretary@hakaruponyclub.co.nz  
 KAIPARA HUNT - Secretary Albert Doonenbal Ph 4312059 
 KAIWAKA BADMINTON -Tuesdays 7.30pm Ph: 4312345 
 KAIWAKA CAN - 3rd Wednesday in month, Archie Bull Hall 
 KAIWAKA  DRAMA  CLUB  - 
Hannah  Webb 
0272863352 
KaiwakaDrama@gmail.com - FB - "KaiwakaDramaClub" 
 KAIWAKA DRUM & DANCE CLASSES - 021 611198 
 KAIWAKA GARDEN & FLORAL GROUP - 2nd Thursday in 
month. Ph: 431 4744 
 KAIWAKA  CUBS  -  Thursdays  5.30-7pm,  Hakaru  Ph:Bruce 
4312542 
 KNITTING FOR WHANGAREI HOSPITAL - 2nd Tuesday in 
month, Archie Bull Hall 10am Ph 4314827 
 MANGAWHAI COMBINED REBUS CLUB - 2pm, 3rd 
Thursday month, Senior Citizens Hall Mangawhai. Ph: 4315777 
 OTAMATEA GREY POWER - Kath Pattinson 09 283 2052, 
1pm last Wednesday of month, Anglican Church Hall, Mgto 
 PT CURTIS CRUISING CLUB - Jean Ph: 4312227 (wk), 4312520 (hm) 
 RSA,  HAKARU  &  DISTRICTS  WOMEN'S  SECTION  –  meets 
1.30pm 4th Thursday of the month. Ph: 431 5818  
 TRAMPING - Mondays 9am-2:30pm Maria 4312 234 
HALLS FOR HIRE: 
 St.Pauls Archie Bull Hall HIRE $20 half day, $40 full day per 
hire, S McAulay, Ph 4312311 
 Kaiwaka  War  Memorial  Hall  HlRE  -  Phone  4312725  or 
kaiwaka.hall.bookings@gmail.com 
 Hakaru Community Hall HIRE -Ph. 4312256 or 4312110 
 Te Pounga Marae queries - R. O'Leary 4312 423, J.Nathan 021 
186 7382 
 Kaiwaka Sports Association hire/queries - C. Anderson 4312051 
or kaiwakasports@gmail.com 
Justice of Peace:  
B.FJaques  4312  048;  L.Donaldson  4312  228;  A.F.Hargreaves 
4312 045, W.Howard 4312 725 - please phone to make sure they 
are available or go to www.justiceofthepeace.org.nz 
Marriage Celebrants:  
L.Donaldson; A.F.Hargreaves; Y Osborne
LOCAL SERVICES 
*Emergencies - Ambulance, Fire, Police - dial 111 
*Non-urgent Police phone 09 4311150
A A: Meets Wed., 8pm Kaiwaka Ph: 4315543, 0800229 6757 
ASUREQUALITY LTD (was AgriQuality) Call Free 0508 0011 22  
BUDGETING SERVICE, WELLSFORD: Free confidential advice & 
support for all areas of personal finance. Ph (09) 423 7123 
CAB-Citizens Advice Bureau.Wellsford Ph: 4237333 
0800 367 222 email:cab.wells@xtra.co.nz  
CIVIL DEFENCE - Kaiwaka Community Response Group: 
kaiwaka.civildefencecrg@gmail.com, 4312725 Wendy 
DOG/STOCK /NOISE CONTROL 0800 105 890 
FUNERAL SERVICES: Morris & Morris Ltd, 
Whangarei - Bev Jaques Ph:4312367 or 0800667747 
GRANDPARENTS Raising Grandchildren: Dianah Roberts 0223819539 
HAKARU & DISTRICTS MEMORIAL RSA (Inc) 733 Settlement Rd, 
Hakaru. Ph 4312 176 or Graeme Hitchcock (President) 431 3064 
HAKARU LANDFILL/Transfer Station:Open everyday except 
Tuesday10am-4pm.Ph4312629 Cost-$55 trailer load up to 1 cubic metre. 
Ph:4258567 - office 
KAIPARA DISTRICT COUNCIL www.kaipara.govt.nz:  
Help Desk FREEPHONE 0800 727 059  
KAIWAKA KOHANGA REO: Ph:4312620 
KAIWAKA CEMETERY: Ph: 4312045 or 4314017 
KAIWAKA LIBRARY: kaiwaka.library@gmail.com  
Mon. 4-6pm; Wed., Thurs., Fri., Sat. 10am-2pm Ph:4312539 
KAIWAKA PLAYCENTRE: Ph Juanita 0274134904; open Mon, Wed, 
Fri 9am-12pm. Hastie Lane; Monday to Friday 9.00am - 12 noon. 
KAIWAKA POST OFFICE:Ph:4312 431  
Post Code: 0573 for RD2 and 0542 for all Kaiwaka Post Office mail 
KAIWAKA PRIMARY SCHOOL: Ph: 4312309   
KAIWAKA SPORTS ASSN: Ph 4312005; 4312129 gym 
KAIWAKA ST JOHN: Manager Steve Rosser 09 4318403, 021 355734 
KATE'S PLACE Community Centre - Employment services, Free Health 
Nurse, Plunket, Advocacy, Osteopath, A.A., Legal Advice. 4312 661 
LINKING HANDS Health Shuttle Ph 4315906 or 09 4318969 
MINISTRY FOR PRIMARY INDUSTRIES - General inquiries Call 
Free 0800 008 333 
NORTHPOWER: Faults Kaiwaka area 0800 104040 
OTAMATEA COMMUNITY SERVICES: Counselling, parent coach, 
Family Support worker, budget advice, food bank. Mon-Fri 9am-3pm. Ph 
09 431 9080 http://www.otamateacs.org/ 
PARENTPORT: Free, practical family support service Puhoi to Paparoa 
Ph or txt: Dianne 027 280 5093 or 09 425 9357 
PLUNKET:  Kaiwaka  -Kate's  Place  Clinic  1st  Wednesday  of  the  month; 
Mangawhai  - Rose Madsen Cottage: Coffee Group 9:30 every Monday.  Clinic 
every Monday and Thursday. 
Maungaturoto - Good News Church, Clinic 2nd and 4th Wednesday.  
Cynthia 09 431 7340 or 027 675 3488 
PLUNKET HELPLINE -0800 933 922 (24 hours) 
TAITOKERAU COMMUNITY LAW: Free confidential legal advice and 
assistance, 2nd
Thursday
 of each month. Ph: 0800 155 529 for appts.  
TE URI O HAU Settlement Trust Tangata Developments: Whanau Ora 
021 793262  
VETERINARY SERVICE MANGAWHAI: 
Ph: 4314535 Mon-Fri 8.00-5.00, Sat 9-12, a/h appt. 
WELLSFORD DOCTORS: Ph: 4238 086 
CHURCHES:
 
Kaiwaka  Revival  Church  -  Your  Community  Church:  Sundays  10am. 
Ph: Pastor Tawhiri 09 431 8988 or Pastor Paul 09 4312 068 Visit us at 
www.facebook.com/kaiwakachurch 
 
St  Paul's  Anglican  Church  1st  Sun.  9.00am  (Eucharist),  3rd  Sun. 
9.00am (Family Service). Contact: Rev. Wayne Thornton Ph 431 4122 
www.mangawhaianglican.org.nz 
 
Church of Christ the King, Mangawhai:9.30am every Sunday 
 
St.Mary's  Catholic  Church:  Maungaturoto  –  Griffins  Road,  Saturday 
evening  Vigil  Mass  6pm;  Mangawhai  –  Senior  Citizens  Hall,  Sunday 
Mass  8:30am;  Wellsford  –  Matheson  Road,  Sunday  Mass  10:30am;  
Mid-week Mass times and all enquires to Fr. Bill Fletcher – phone 423 8170
 
Baptist Church: Sun. 10.30am Mangawhai Snr Cit.Hall.Ph:4312339 
 
Cause  Way  Church  Mangawhai:  Sundays  10.15am,  Mangawhai 
Community  Recreation  Centre,  Insley  St.  Ph:  09  4314782