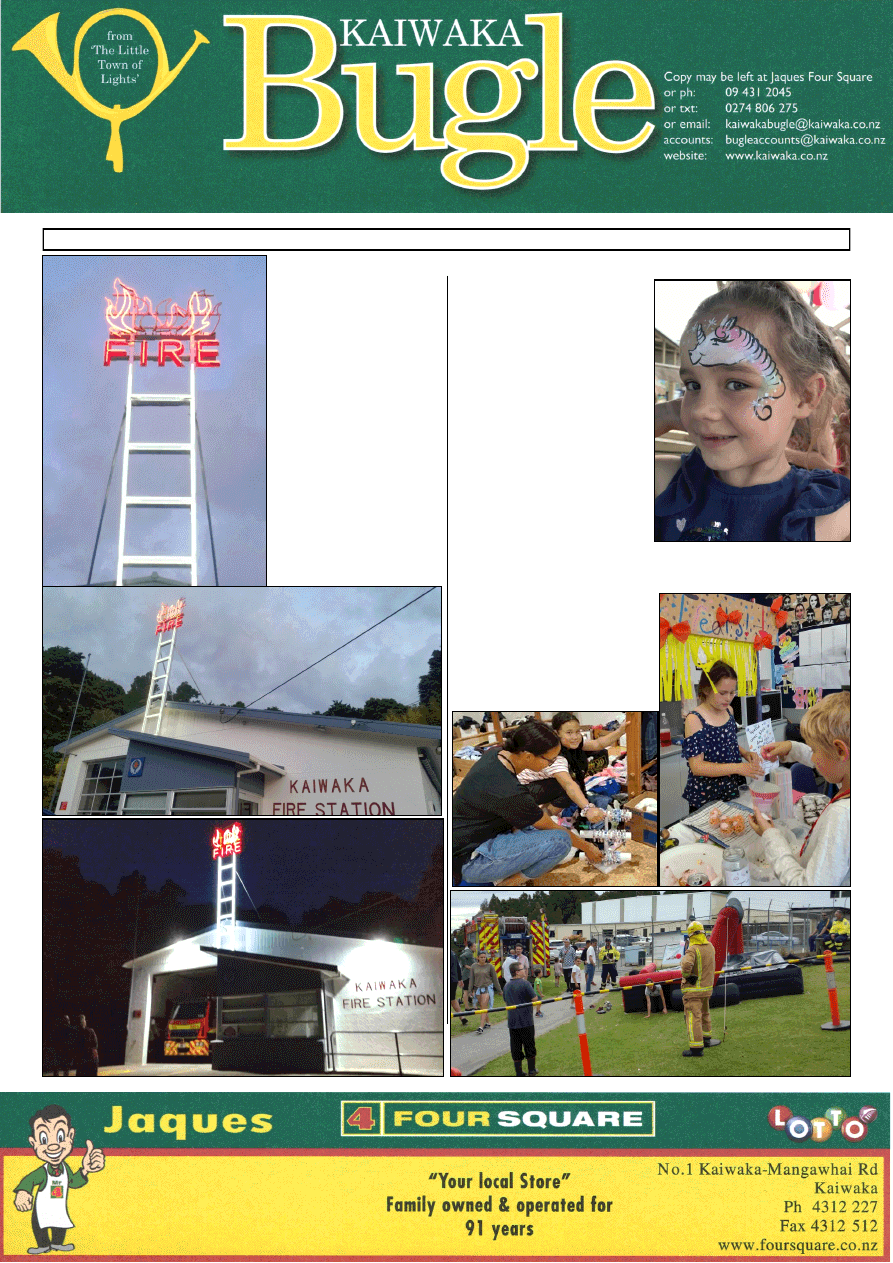 www.kaiwaka.co.nz 
Kaiwaka Bugle - 27 November 2018 
Page 1 
No: 23 
27 November 2018 
Trading Hours: 
Monday to Friday 8:00am - 6:30pm 
Saturday 8:00am - 7:00pm 
Sunday 9:00am - 6:00pm  
A large crowd were at the 
Kaiwaka Fire Station last 
Friday night to watch the 
official 'switch-on' of the 
new  neon  ladder  lights. 
After 
disappointment 
with  the  previous  fading 
lights, 
folk 
were 
delighted 
with 
the 
display. 
Folk passing through will 
soon see why we are 'The 
Little Town of Lights' as 
we  renew  our  lights. 
There  is  Give-a-little 
page  -  Lighting  up 
Kaiwaka  Again'  to  help. 
The  top  photos  were 
taken at the trial lighting.
KAIWAKA 
ON FIRE! 
A  most  successful  Kaiwaka 
School Gala was held on the 
evening 
of 
Friday 
23 
November. 
The  attendance  was  great 
and  there  were  plenty  of 
activities  for  all  to  enjoy. 
The  Kaiwaka  Fire  Brigade 
had  their  "smoke  filled' 
room 
for 
children 
to 
experience  –  they  were 
certainly busy trying it out! 
Thank  you  to  the  following 
supporters for their generous 
donations to our school gala: 
Jaques  4  Square,  3  Furlongs 
Bar 
& 
Grill, 
Dunes 
Restaurant 
Mangawhai, 
Aotearoa Surf, The Warehouse Snell's Beach, Keith Mills, 
Kaiwaka  Motorcycles,  The  Coffee  Pot,  Rural  Design,  and 
Our families and friends who 
have  donated  in  so  many 
ways. 
Raffle winners were:  
Shade  Sail  -  Shawn  Segetin; 
Rose Cake - Karima Bencheikh; 
Chatham  Island  Nikau  -  Amy 
Griffiths;  Helmet  -  Leyton 
Greig
 . 
KAIWAKA SCHOOL GALA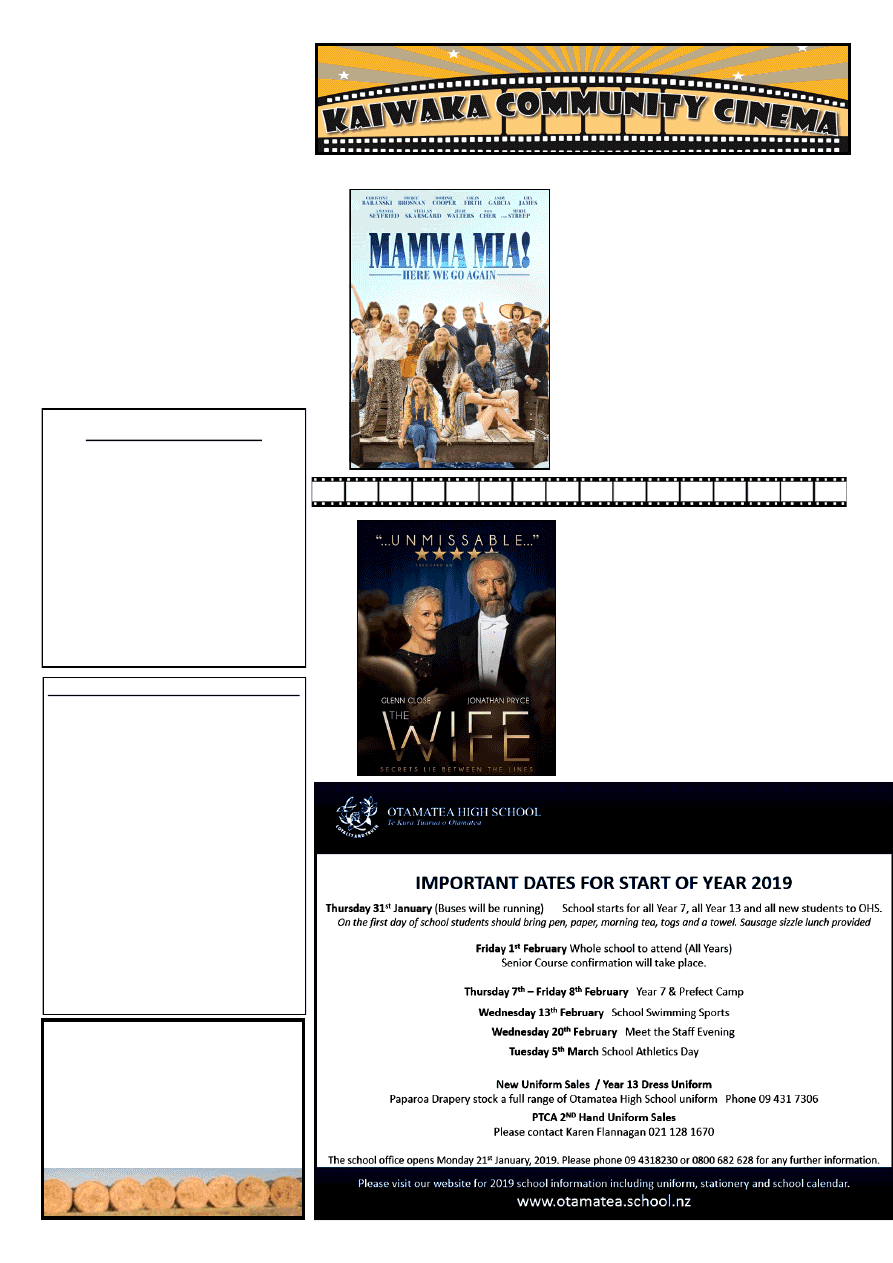 Proverbs
10:5… 
Wise youth make hay while 
the sun shines, but what a 
shame to see young people 
who sleep away their hour of 
opportunity.
At Kaiwaka War Memorial Hall . Adults $10, Kids (under 16) $5, Family Pass (2 adults + 3 children) $25 
KAIWAKA BUGLE NO.23 
27 NOVEMBER 2018 
CONTENTS: 
Page 3: Public Notices, Classified 
Page 5: Paparoa Show; Hakaru RSA 
Page 7: OCS; Rotary 
Page 9: ORT; Pt CCC; St.John 
Page 11: Kaiwaka Sports Assn 
Page 13: Councillor's Comment 
Page 15: Kaiwaka Revival Church; 
Advent 
Page 17: Library 
Page 19: Wine Order Form; Reserve 
Page 21: Gleanings from the Graveyard 
Bugle 24 will appear  11 December 
Contact for advertising, reports, articles 
or information can be made by 
Email: kaiwakabugle@kaiwaka.co.nz 
Ph: 09 4312 045 Lindsey 
Txt: 027 2724137 
Copy  may  be  left  at  Jaques'  Four 
Square. 
Kaiwaka Bugle Advertisements 2018: 
All 
copy 
and 
queries 
to: 
kaiwakabugle@kaiwaka.co.nz 
The Bugle is printed on an A4 page   
Ad  sizes:  1/16  page  (3  x  9.5cm)  $5;  1/8 
(6.5  x  9.5cm  landscape  or  portrait)  $8; 
3/16 ( 10 x 9.5cm or 7.5 x 12,5)  $12.  
Classified  ads:  First  one  FREE,  $4  per 
entry (max. 30 words, max. 4 repeats). 
Payments  can  be  made  online  at 
ANZ 
06  0365  0006990  00
,  posted  or  left  at 
Jaques Four Square Store. 
We  use  Microsoft  Publisher,  and  can 
work  with  most  common  image 
formats, Word, Excel, and PDF files. 
Accounts:  
Email: bugleaccounts@kaiwaka.co.nz 
The  Kaiwaka  Bugle  is  a  community 
newspaper run by volunteers.   
Articles, etc. printed are not necessarily 
the opinion of the Bugle Team. 
Kaiwaka Bugle 
Founded May 1978 
We appreciate articles and photos about local 
events, etc, as well as ads and suggestions. 
Copies available in Kaiwaka at Jaques Four 
Square, Kaiwaka Postal Centre, Shamrock 
Service Station, Animal Health Centre, 
Kaiwaka St John shop. 
Also outlets in Maungaturoto, 
Mangawhai and Paparoa. 
Can be viewed online at  
www.kaiwaka.co.nz/Bugle  
Or a copy can be posted to you if you supply 
stamped, self-addressed DLE envelopes. 
The WIFE 
Friday 14 December, 7.30pm (M)  
Joan  and  Joe  remain  complements  after 
nearly 40 years of marriage. Where Joe is 
casual, Joan is elegant. Where Joe is vain, 
Joan  is  self-effacing.  And  where  Joe 
enjoys  his  very  public  role  as  the  great 
American  novelist,  Joan  pours  her 
considerable  intellect,  grace,  charm  and 
diplomacy  into  the  private  role  of  a  great 
man's wife. As Joe is about to be awarded 
the  Nobel  Prize  for  his  acclaimed  and 
prolific  body of  work, Joan starts to think 
about the shared compromises, secrets . 
Starring Glenn Close 
MAMMA MIA! 
Here We Go Again 
Friday 7 December 7.30pm (M)   
Due to popular demand  
… an extra screening  
… MOVIE ONLY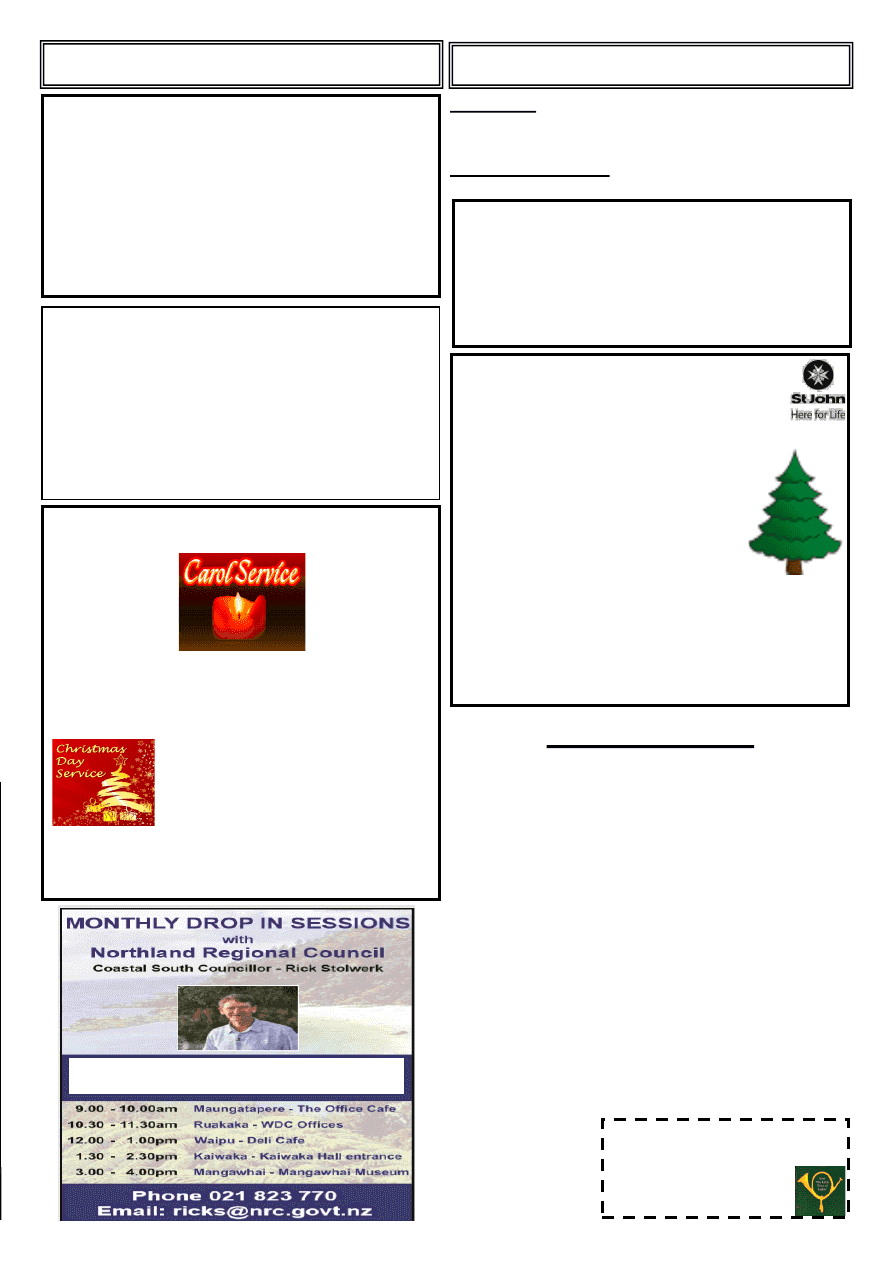 www.kaiwaka.co.nz 
Kaiwaka Bugle - 27 November 2018 
Page 3 
ABOUT TOWN 
 A 
  Well  Done    to  Kaiwaka  School  for  their  successful 
Gala Evening! 

 Call  for  old  sofas,  large  carpet  squares    -  see  Rotary 
news page 7. 

 Local  Senior  folks  had  a  most  enjoyable  Christmas 
afternoon  tea  at  the  KWMHall  last  Friday  -  thank  you 
Rotary and Maura Flower and  singers.  

 So  disappointing  to see  the  huge  bag  of rubbish  picked 
up in only 2 kms along the sides of Oneriri Rd - thank you 
to    the    local  picker-upper  (who  has  done  this  more  than 
once!) and to KDC for supplying some bags. 

 Kaiwaka  Can  are  calling  for  help  with  weeding  next  to 
Kaiwaka's  southern  bridge  and    for  getting  the  town's 
lights up and sparkling - see page 13 

 Kaiwaka  Movies - a special screening of 'Mamma Mia 
Here  we  go  again' on Friday 7 December, 7.30pm in the 
KWMHall. Thank you folk for your tremendous support for 
our movies!

Our  story  on  page  21,  'Gleanings  from  the  Graveyard' 
from Bevan Lawrence, is truly  worth reading. Thank you, 
Bevan. 

See  the  Bugle  online  at  www.kaiwaka.co.nz  for  great 
colour in the photos.              ~ Lindsey, Ed 
"True  humility  is 
not  thinking  less  of 
yourself; 
it 
is 
thinking  of  yourself 
less."  
~ 
Rick Warren
PUBLIC NOTICES 
CLASSIFIED 
WANTED: 
Sofas,  large  carpet  squares  (to  cover  both  a 
squash and a tennis court) and board games - for Illuminate 
Jamboree.  If  you  are  able  to  provide  any  of  the  above, 
please give Eileen a call on 0211420357 
FREE  FIREWOOD:  Help  yourself,  from  the  trees 
cut down alongside the KSA's driveway 
KAIWAKA ST. JOHN OP SHOP 
Yep....Christmas  is  upon  us!!  Lots  of  cheap 
decorations  and  artificial  trees.  Come  and  grab 
some  decorations  or  bag  your  own.  The  real 
Christmas  Trees  will  be  available  on  the  Friday 
30
th
 November at $35 each. 
We have for sale: 
2x  Green  2 seater couches, no chairs, $60 
for the pair - in good condition 
2x  Wooden  cots  with  mattresses,$50  and 
$70 - very good condition. 
1x Coffee Table $70 
1x Rocking Chair $25 
1 set of silver bunks $30 
We need please: 
Pot plants, ceramic garden pots, towels, cooking pots and 
frying pans, large and small ornaments, and small pieces 
of furniture. Anything else in good clean condition, very 
much appreciated. 
Thankyou, ~ Milly and staff.
Phone 09-4312650 after 9.00 am. 
- check us out at 1919 SH1, Kaiwaka 
WEED WORKING BEE 
Volunteers needed 
Come and help Kaiwaka Can Weed Group clean up 
around the Kaiwaka Bridge for our many visitors over 
summer. Drop in for an hour, or stay the whole morning. 
Will be weather dependent. 
WHEN: Sat, 1st Dec WHERE: Meet up at Eutopia 
Cafe TIME: 9-12 midday 
BRING: spades, forks, black bags for weeds. 
CHRISTMAS SERVICES 
St Paul's Anglican Church, Kaiwaka 
  Christmas Carols by Candlelight 
Sunday 16th December  7.30 pm 
Christmas refreshments in the hall  
following the service 
Christmas Day 
Tuesday 25th December 
Family Communion 
9.00 am 
You are all very welcome!  
www.mangawhaianglican.org.nz   
Phone 431 4122
364 Oneriri Rd, Otamatea Eco Village 
Subdivision in progress. Offer 1.5 to 2 acre land plus 
1/30 share of 70 ha [2.34 ha] community land. House 
site  will  have  nice  water  view.  Area  for  garden, 
orchard. Currently most of the land is a 20-year-old 
forest,  most  native,  incl.  Kauri,  Rimu.  Power  up  to 
the boundary. Price $245.000.  
Call Peter 09 4312 718 for info or visit. 
KAIWAKA BUGLE  
DEADLINE DATE 2018 -  
every second Friday: 
December 7 
The final issue for 2018! 
D DAY IN MAUNGATUROTO 
Thursday 29 November at St John Station 
D Day stands for Dementia Day 
Bringing attention to the appeal for funding our new 
Dementia wing and Rest Home extensions. 
The  D  Day  Breakfast  from  6.30am  to  9.00am  -a  hearty 
breakfast  which  you  can  eat  at  the  Station  $14  or  take 
away  $10.    Great  way  to  start  the  day  and  get  your 
family  /  friends  and  work  mates  to  come  along  as  well. 
Local factories and businesses have already committed to 
supplying their staff with a breakfast. 
M o n d a y   3   D e c e m b e r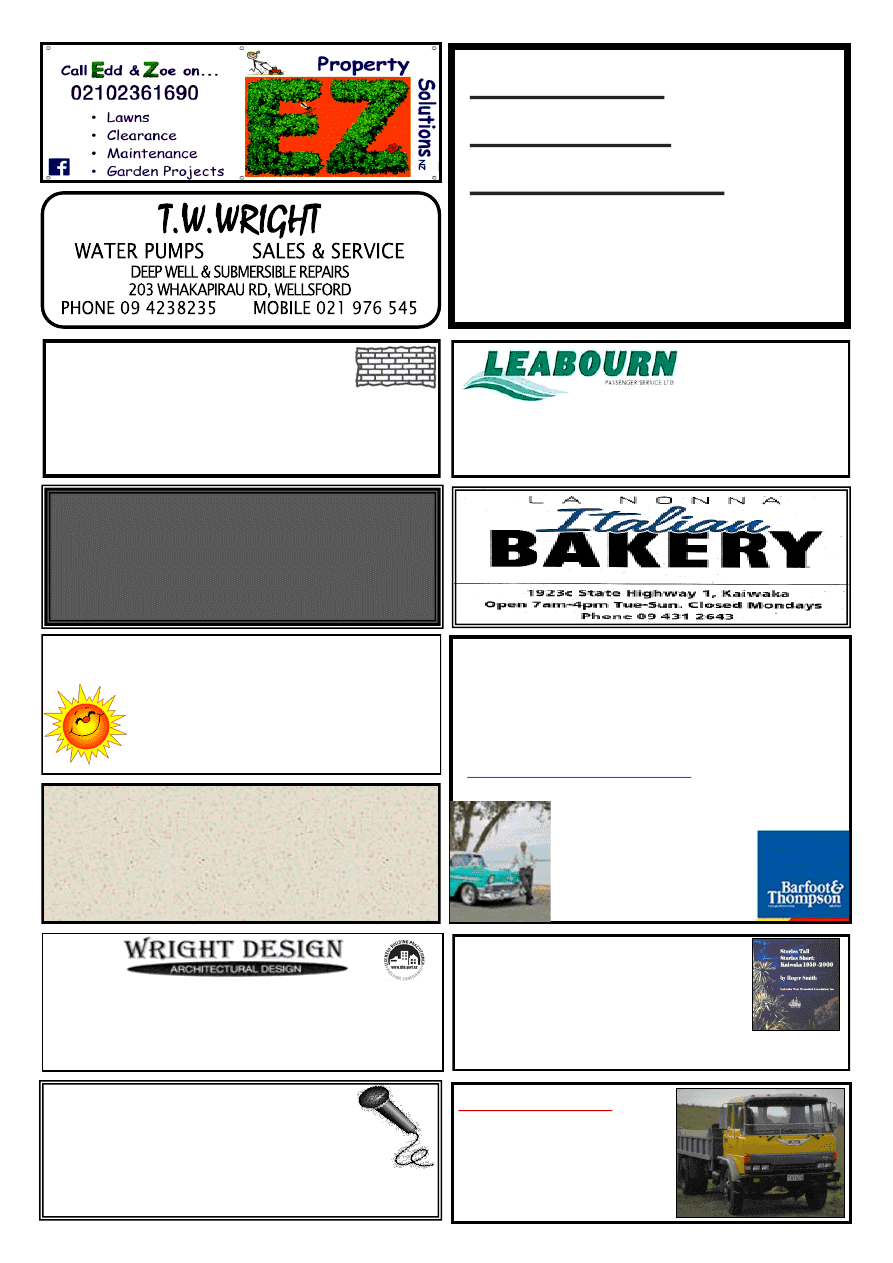 Passenger Service
Car & Van Hire   Bus & Coach Charters 
Airport Transfers    
Phone (09) 4237416 
BRICK/BLOCKLAYER 
All aspects of masonry:  
Fireplaces, Restoration & Remedial Work. 
JAMES EAGLETON 
Tel. (09) 431 2514    Mob. 0274 749 232 
jajueagles@yahoo.com.au 
210A Pukenui Road, RD2 Kaiwaka 0573 
THE SUNSHINE GIRLS
Efficient and reliable help with 
your housework. 
Ph 4312 532 
MARRIAGE CELEBRANT 
WEDDING EVENTS PLANNER 
Yvonne Osborne 
Ph 0274 989 814 
yvonne.osborne@xtra.co.nz 
Counsellor and Registered Psychotherapist 
Offers Supervision 
ACC Sensitive Claims 
Susan Matheson      MNZAC 
Dip. Psychosynthesis Counselling and Psychotherapy 
Phone 09 431 2996                                     Mobile 027 605 2427 

  After 20 years of selling in Auckland I have             
moved to Kaiwaka. 

  I have a relaxed attitude with years of  
        results and experience. 

  Please feel free to give me a call or email. 
licensed real estate agent (2008) 
Chris Barrington
Residential Sales
M 
Mangawhai
Stories Tall, Stories Short:  
Kaiwaka 1959-2009 
by Roger TW Smith 
And 
Kaiwaka: A Photographic History 
Available  at All-Sortz Collectables or phone  4312 045 
SING RIGHT 
Professional coaching for performance,  
recording and demos. 
All level singers, musicians, singer-songwriters. 
Phone Robyn Hill 431 9159 or 0274 725610 
 FINANCE 
 FUNDING 
 SOLUTIONS 
T - 0275 989814 
E
 - osborneassociates@xtra.co.nz 
REGISTERED INDEPENDENT FINANCE BROKER 
No. 117345 
N.Z.C.A.D., L.B.P. 117345 
PH/Fax: 09 423 8092 Mob: 021 276 7369 
Office: 3 John Sinclair Avenue, Wellsford    brianwright@xtra.co.nz 
For Resource and Building Consents, planning restraints, new building materials - 
you need a capable, experienced, and professional designer with a clear 
knowledge of all the processes. Brian has been helping and organising all these 
facets of design and building for over 50 years. 
Wright Design offers free visits, consultations and advice on planning, design, 
building, council permit applications, guaranteed permit plan acceptance. 
J & M Contractors 
Oneriri 
General Cartage
: 
All metals, Lime Rock,  
Post Peel and Wood Chip Mulch. 
Jim Wheeler  
Ph: 021 2383664  
Email: jandmcontractors@xtra.co.nz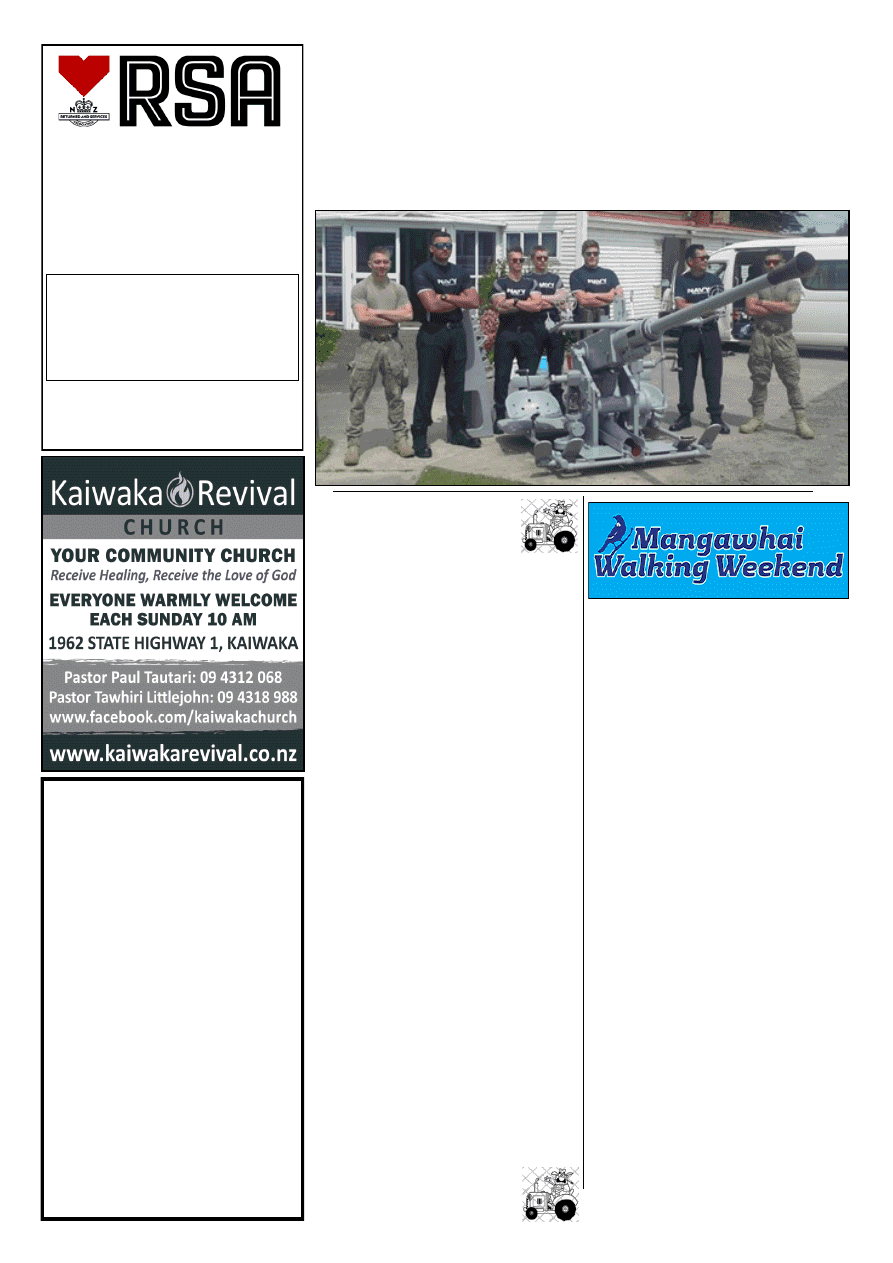 www.kaiwaka.co.nz 
Kaiwaka Bugle - 27 November 2018 
Page 5 
Lilia and her Spring lamb, Minty! 
Willow Bend
HORSE  
HOTEL 
  
Total Horse Care 
 
Agistment 
 
Riding Lessons 
 
Arena Hire (60x40) 
 
Young Horse Starting 
 
Re-training/Exercising 
 
Hoof Trimming 
 
Problem Solving 
Phone Sue 09 431 2817 
or 021 623 776 
Or email  
susanjoll11@gmail.com 
HAKARU & DISTRICTS 
MEMORIAL RSA (INC)
Members & guests are invited to 
come along and enjoy our hospitality. 
New members welcome. 
Meals are served on Thursday and 
Friday nights from 6.30pm. 
Order from Blackboard Menu  
and a sing-a-long  
with Des Chitty. 
For more information please phone 
Graeme on 431 2563 
PAPAROA SHOW 
POWERING AHEAD 
FOR FEBRUARY 
Paparoa  A&P  Show  is  counting 
down  the  days  until  show  day  on 
February  2,  2019.  Entertainment  is 
being 
organised 
with 
music, 
demonstrations  and  a  lot  of  fun 
planned for younger visitors.  
Team  Roping  Paparoa  is  planning  to 
have  an  exciting  demonstration  of 
horseback  archery  during  lunch  break, 
plus  over  in  the  dairy  goat  ring,  a  pet 
goat  fun  event  will  be  on.  We'll  be 
giving  regular  updates  on  our 
Facebook  page  about  what's  coming 
up. 
Cattle  classes  will  be  going  ahead  as 
well  as  for  calves.  Cattle  ring 
coordinator, Sue Clayton says: "We are 
having  a  calf,  novice  and  RAS  young 
handlers' classes for the young people; 
there  is  also  a  new  trophy  for  this 
section.  The  beef  breed  classes  are 
exotic, traditional, small breeds and all-
beef  breed.  Biosecurity  measures  are 
also in progress and cleaning out of the 
cattle 
pens 
is 
underway." 
There  will  be  extra  classes  next  show 
being  held  for  the  miniature  horses, 
plus  we'll  be  seeing  harness  classes, 
led as well as the pony and hack rings 
and hunter classes. 
Indoor classes will be again a feature at 
the  show.  Everything  from  cheese  to 
dahlias,  veggies  to  artwork  and  much, 
much  more!  Don't  forget  the 
woodchopping  and  sheep  shearing 
events,  plus  food  and  trade  exhibits. 
Entry  forms  for  each  section  are  now 
online 
— 
visit 
www.paparoashow.org.nz. 
Follow  us  for  updates  on 
Facebook @PaparoaShow. 
HAKARU RSA BOFOR 
Pictured  are  the  Navy  and  Army  volunteers  who  very  kindly  reassembled 
the 
gun  in  time  for  the  Armistice  Service  held  at  11am,  11
th
  November  at  the 
Hakaru RSA, Settlement Road. 
The President Bill Warren and 
Hakaru RSA Members are very grateful for their 
help.    The  members  of  the  public  especially  the  children  enjoyed  viewing  the 
gun too. Thanks also to Paul Rennie and Paul Volkov ex-Navy personnel.
From  the  right:  PTE  Ollie  Price,  AWT  Nathan  Paniora,  AWT  Tyler  Reidy, 
AWT  Wouther  Hubrer,  AWT  Isaac  Inwood  Reardon,  AET  Jason  Young, 
Pte 
Brendon Watts. 
The Mangawhai Walking 
Weekend once again 
welcomes walkers to the 
Kaipara. 
The  organising  team  have  just 
completed  the  final  arrangements  for 
the  20th  annual  Mangawhai  Walking 
Weekend. You will be able to find full 
details  from  1  December  on  the 
website 
www.mangawhaiwalking.co.nz
Readers  will  be  pleased  to  know  that 
the popular "Romance of the Kaipara" 
is once again featured. 
Our  visit  will  bring  to  life  the 
landscape that influenced novelist Jane 
Mander,  who  wrote  'The  Story  of  a 
New  Zealand  River''  (recommended 
prior  reading).  Further  up  the 
peninsular  we  learn  about  the  historic 
Gittos  family,  original  missionaries, 
and  visit  their  house  little  changed 
from  1866.  As  there  are  a  number  of 
'rustic'  stiles  and  fences,  plus  steeper 
pitches  walking  up  the  clear  grass 
ridges  to  the  pa  site,  some  agility  is 
required.  Excellent  views  from  the 
top.  An  extra  special  afternoon  tea 
is  included,  with  proceeds  to  the local 
foodbank. 
Throughout the weekend walkers of all 
abilities are well catered for with over 
30  events  encompassing  Kaiwaka  to 
Waipu to Goat Island. 
We  look  forward  to  you  checking  out 
the  website  and  hope  to  see  you  in 
March 2019.  
28-31 March 2019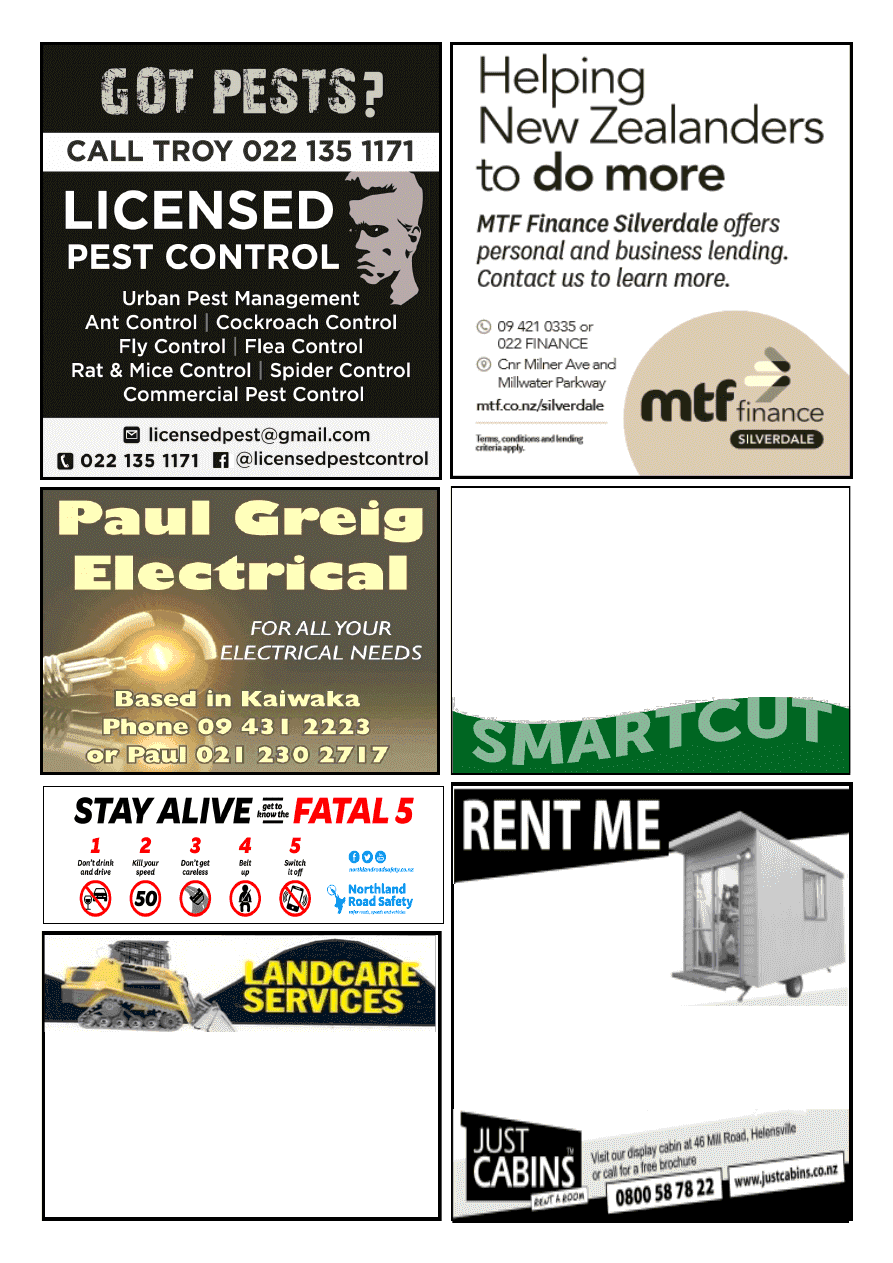 LANDSCAPING 
4 IN 1 BUCKET 
TRENCHER 
POLE HOLES 
ROTARY HOE 
COMPACT ROLLER 
OFFAL HOLES 
CAN SUPPLY WOODCHIP & POST PEEL 
5 TON TIPPER 
FOR RELIABLE AND FRIENDLY SERVICE CONTACT DAVE 
Dave Hyndman 
 
KAIWAKA 
PH: 09 4312302 
MOB: 021 431 238 
All your outdoor needs sorted so you don't have to... 
I can prune, chop, tidy, spray, mow, plant 
- you name it, I can do it! 
Residential & Commercial 
Lawn & Garden Care 
Call Rodney, your local  
lawnmowing contractor 
021 138 2344 
Ideal as an extra  
bedroom or office 
Three Convenient sizes: 
Standard 3.6m x 2.4m - $65 per week 
Large 4.2m x 2.4m - $80 per week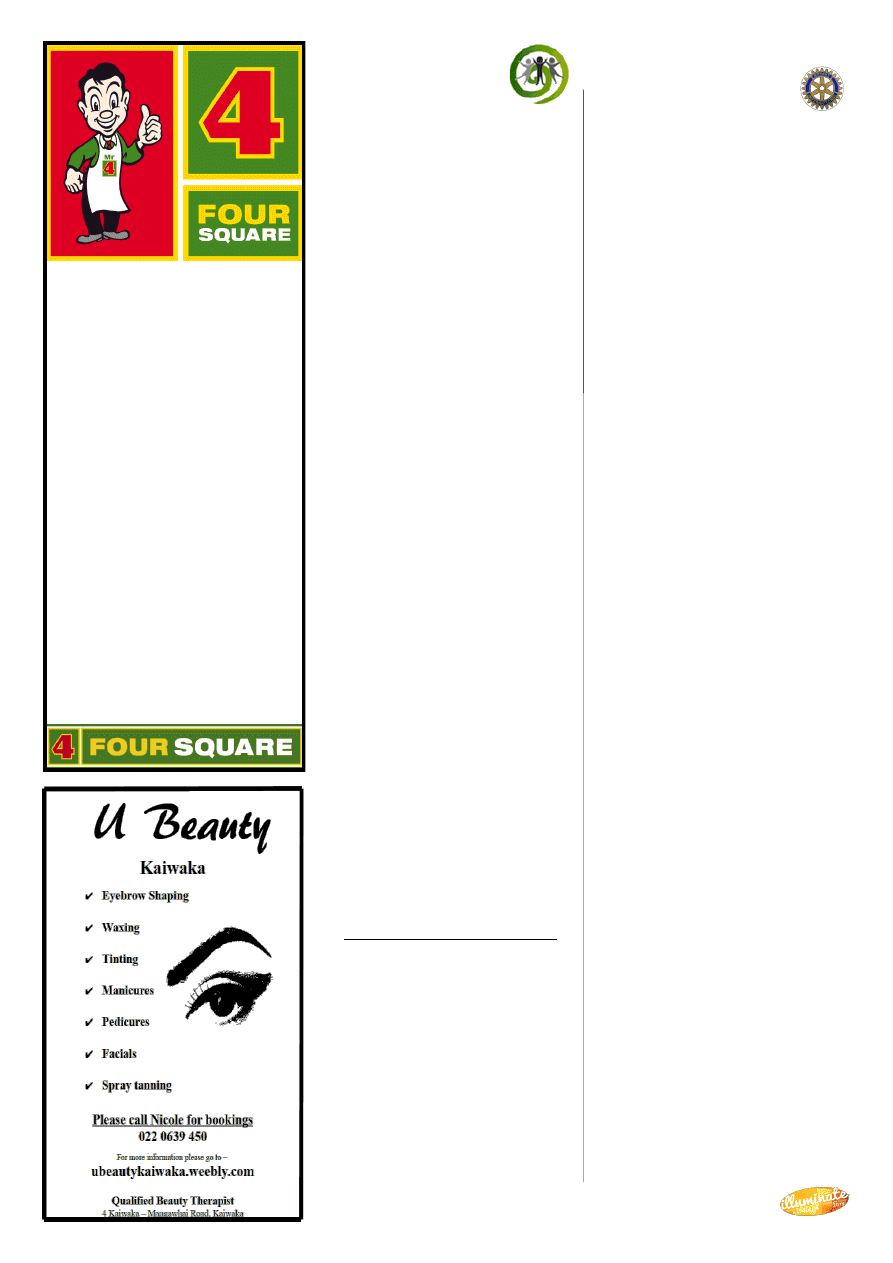 www.kaiwaka.co.nz 
Kaiwaka Bugle - 27 November 2018 
Page 7 
Spring Gardening  
is here!! 
In store now 
Tui Gardening supplies 
Potting Mix, Organic Potting 
Mix, Mulch & Feed 
Sheep Pellets, Blood & Bone, 
Vege, Potato, Strawberry, 
Tomato Food 
Osmacote, Quash, Pea Straw 
Seed Potatoes $9.99 
McGregor Seeds $2.51 
Gourmet $3.80  
Seed Tape 
Vege & flower punnets $2.96 
Gardening tools & hose 
fittings 
Jaques Four Square 
Phone: 4312227 
1 Kaiwaka-Mangawhai Road, Kaiwaka. 
MAUNGATUROTO  and 
DISTRICTS 
ROTARY 
In  this,  the  last  report  of  the  year,  the 
Club  can  reflect  positively  on  its  two 
new initiatives. 
One,  the  sale  of  calf  litter  which  will 
provide  funds  for  projects  both  here 
and abroad, and is also a tribute to the 
late Terry Hanna, whose idea it was.  
The  second  is  the  driver  mentoring 
scheme  which  we  run  in  conjunction 
with Te Roroa.  
To  date  we  have  had  100%  success 
enabling drivers to progress from their 
Learners  to  Restricted.  If  interested  in 
having mentoring next year, please call 
Te Roroa 0800 555 635. 
During  the  past  month  we  have  been 
visited by our District Governor, Jerry 
Norman and his wife Fay. This evening 
provided 
an 
insight 
into 
his 
background  and  why  he  is  so 
passionate  about  Rotary.  The  night 
turned into a feast of music with Jerry 
on  his  guitar  and  our  Assistant 
Governor  Peter  on  his  cornet.  We  are 
grateful  for  the  effort  these  people 
make to ensure they get to all 42 Clubs 
in  our  District  (which  covers  from 
Vanuatu  and  other  Pacific  Islands  to 
the North Shore.) 
As a continuation of the Alumni month 
we had ex MP Belinda Vernon talk to 
us. It was interesting to note the many 
facets  of  Rotary  that  had  impacted  on 
her life from the time she was a Rotary 
Youth Leadership Candidate until now. 
Graham Gough also spoke to us about 
the  Group  Study  Exchange  he  was 
involved with in 1988. In both cases it 
was  mentioned  that  friendships  have 
been  maintained  from  these  initial 
contacts within Rotary. 
By the time you read this we will have 
had  the  Seniors'  Afternoon  Tea  in 
Kaiwaka. This is a great way to end the 
year  (and  celebrate  those  who  have 
given  so  much  to  our  community.  We 
are  grateful for  Maura  Flower  and  her 
singers  who  were  willing  to  provide 
entertainment. 
Thank  you  to  all  who  have  supported 
our  Club  during  the  past  year  and  we 
wish  you  all  very  Merry  Christmas. 
Enjoy  your  time  with  family  and 
friends. 
ILLUMINATE JAMBOREE 
You  may  be  aware  of  this  Venturer 
Jamboree  which  is  taking  place  in 
Kaiwaka  from  31
st
  December.  While 
there is no need for people to help, we 
have been requested to find sofas, large 
carpet squares and board games for this 
event.  They  will  need  to  cover  both  a 
squash  and  a  tennis  court  with  the 
carpet. If you are able to provide any of 
the above, please give Eileen a call on 
0211420357. It would be preferable to 
collect  these  from  the  middle  of 
December on but if you want to get rid 
of  them  now  we  will 
attempt to arrange storage. 
OTAMATEA 
COMMUNITY 
SERVICES   
SENIORS'  LUNCH  -  Wow!  The 
Otamatea  Primary  School  Kapa  Haka 
group  entertained  and  raised  the  roof. 
Everyone loved it, it was just amazing. 
It  is  obvious  that  they  spend  many 
hours  learning,  because  it  shows  - 
they're  so,  so  good,  it  caused  goose 
bumps and the odd tear was spotted in 
the eye of the parents and grandparents, 
which is understandable - they'd be so 
proud.  Thank  you  to  everyone  who  is 
involved in that group, we will ask you 
to come back one day in the New Year. 
This month will be the Christmas lunch 
and there will not be one in January, so 
come  along  on  the first  Wednesday  of 
February  for  a  day  out  with  morning 
tea,  lunch,  and  a  great  opportunity  to 
meet new people or catch up with your 
friends and neighbours. 
WHITE  RIBBON  DAY  - By now the 
day  will  have  come  and  gone.  This 
universally  recognised  day  is  to  show 
that  violence  is  not  acceptable  - 
towards  women,  men,  children;  in  the 
home  or  not.  We  all  try  to  make  a 
difference  and  continue  to  undertake 
training in this area. 
YOUR COMMUNITY HOUSE - We 
are available Monday to Friday, 9am to 
3pm.  Phone  us  on  431  9080  or  call  in 
to  enquire  about  our  free  services 
which  include  Parent  Coaching, 
Counselling,  Financial  Mentoring, 
Family/ Whanau Support.
FREE SHOPPING TRIPS - We want 
to remind everyone that there is a free 
shopping trip on the second Tuesday of 
every  month,  and  another  one  on  the 
fourth  Wednesday  of  the  month.  The 
mini-bus  goes  to  Whangarei,  stopping 
at  major  supermarkets,  Farmers, 
Bunnings, or wherever you would like 
to  go.  If  anyone  wants  to  go  to 
Dargaville, Warkworth, Wellsford for a 
shopping  trip,  this  can  be  arranged  as 
well. Please use this service. Phone us 
on  431  9080  for  enquiries  or  to  book 
your seat. 
communitysupport@otamateacs.org.nz 
We wish everyone a peaceful, safe and 
happy Christmas. 
RALLY SUCCESS 
Louis Prouting, 25, on his first attempt 
at  the  Northern  Rally  Sprint  Series 
2018  and  first  time  using  pace  notes 
called  by  his  co-driver  Leighton 
Spurdle,  won  2nd  equal  in  class  B 
(1301cc  -  1600cc)  in  his  Toyota 
Corolla. Of the six rounds in the series, 
one  round  no  points  due  to  clutch 
failure  and  another  round  suffered  a 
soft  roll-over  onto  the  roof!  His  first 
words to his co-driver were, "well, this 
is not ideal". 
Without  those  two  mishaps,  fair  to 
surmise that he could have been higher 
up on the points tally. Such is life. 
~ Craig. Ref: nrss.co.nz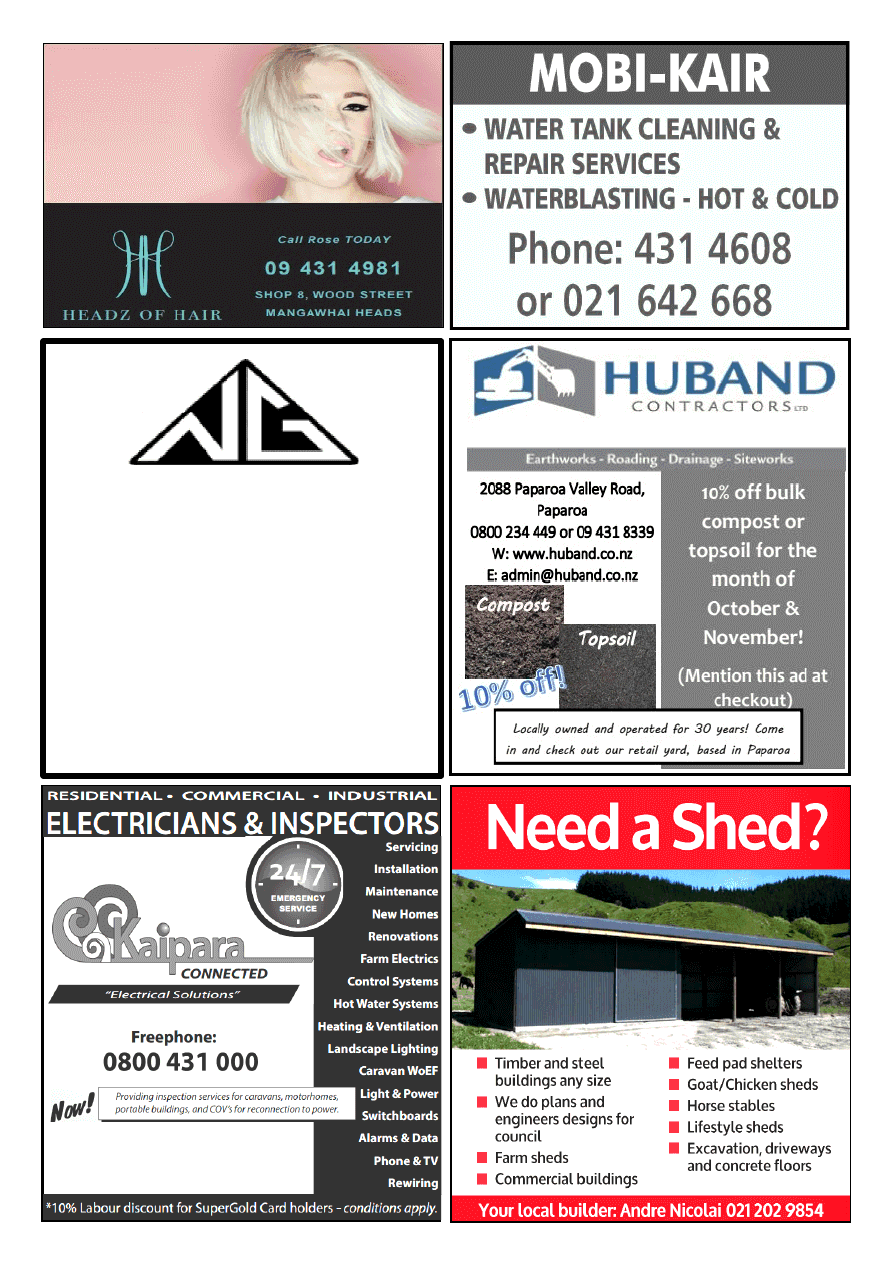 NORTH GLASS 
WINDSCREEN REPAIR OR REPLACE 
GLAZING SERVICES 
MIRRORS  •  SPLASH BACKS  •  SHOWERS 
0800 70 40 10
info@northglass.co.nz 
www.northglass.co.nz 
Email: info@kaiparaconnected.co.nz 
Website: www.kaiparaconnected.co.nz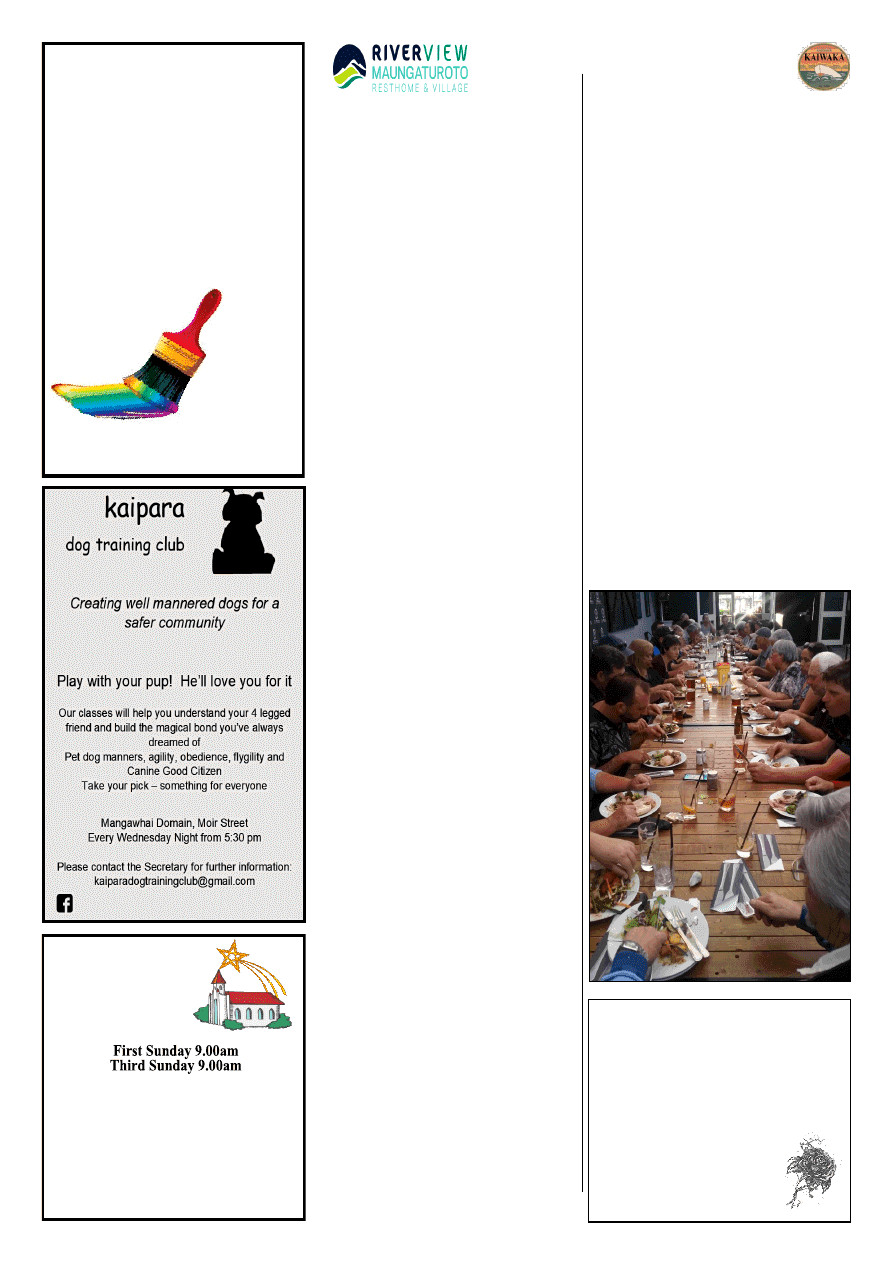 www.kaiwaka.co.nz 
Kaiwaka Bugle - 27 November 2018 
Page 9 
LEE COOPER 
PAINTERS 
(Kaiwaka Based) 
*30 yrs Experience 
*Interior/Exterior 
*New and Restoration 
*Honest and Reliable 
*Free Quotes 
09 4312918 
0274735171 
leecooper@xtra.co.nz 
ST PAUL'S  
ANGLICAN  
SUNDAY  
SERVICES
St Pauls Church: Kaiwaka-Mangawhai Rd. 
1st Sunday - Eucharist 
3rd Sunday - Family Service 
Rev. Wayne Thornton Ph 431 4122 
www.mangawhaianglican.org.nz 
Christmas Carols by Candlelight 
Sunday 16th December 7.30 pm 
Christmas Day Family Communion 
Tuesday 25th December 9.00 am 
PT.CURTIS 
CRUISING 
CLUB
On  the  13
th
  November  was  our 
Christmas 
Dinner 
which  was 
'Devine' - see photo below! 
Thank  you  3Furlongs  Bar  &  Grill  for 
being  great  Hosts  and  putting  on  an 
awesome spread.  
Three  Raffles  were  run  on  the  night 
and  the  winners  were  #1Jewel;  #2 
Mary-Anne;  #3Peggy.  Thank  you  for 
your support.  
Picnic  @  the  Boat  Ramp  is  on 
Saturday  12
th
  January  2019.  Enjoy  a 
fun  afternoon  and  watch  the  sun  go 
down (BYO). 
Subs can still be paid, they were due 
1st June Family $30 and Single $20. 
Internet 
banking 
details: 
ASB 
Wellsford  No.  12  3094  0008233  00. 
Please  use  your  name/names  as 
reference. 

November  Fish  of  the  Month 
Winners  for  Snapper:  1
st 
Renna 
Brown  6.100Kg;  2
nd
Tony  Smith 
3.812kg;  3
rd
 Sonya Steiner 3.712kg.
Fish  of  the  month: Snapper till 11th 
December.  
Next  club  meeting:  11th December 
at the 3 Furlongs Bar and Grill, 7pm. 
~ Wayne Leslie, Commodore
RIVERVIEW REST HOME  
The Enduring Journey 
Who runs the Rest Home and how did 
it start? 
As  you  may  know,  Riverview  Rest 
Home  is  currently  fundraising  for  the 
extension  of  the  existing  16-bed 
facility  to  add  a  much  needed  14  bed 
dementia  unit  and  eventually  hospital 
level care. 
With  the  closure  of  the  town's  Post 
Office back in 1989. Funds were raised 
with  the  help  of  Lions  and  the  local 
Fire  brigade  to  purchase  the  Post 
Office and former postmasters house.  
In  1991,  the  refurbished  Post  Office 
had  become  the  'Maungaturoto 
Medical  Centre'.  The  house  was 
retained  as  it  was  positioned  next  to 
the  then  Council  owned  retirement 
village. 
A  concept  plan  in  1993,  investigated 
the  establishment  of  a  rest  home  for 
the district, which led to the formation 
of 
Maungaturoto 
Community 
Charitable Trust (M C C T). 
M C C T proceeded to raise funds from 
within  the  community,  support  from 
ASB Trust and Lottery Aged. The Rest 
Home was built and officially opened a 
16-bed  home,  on  the  site  adjacent  to 
the  Medical  Centre,  in  July  1994.  By 
April  1998,  the  Trust  had  settlement 
and 
now 
administered 
the 
Maungaturoto Retirement Village from 
the  KDC,  this  is  situated  on  land 
originally  donated  by  the  late  Mr  and 
Mrs L Ball. 
Who is behind M C C T today? 
The  Trustees  are;  Craig  Fergus 
(Chairman),  Don  McKay  (former 
Chairman),  Nona  Rogers,  Dave 
Marquet,  Warren  Butterworth,  Alison 
Robinson,  Graham  Slatter,  Jamie 
Ewan. 
Donations or bequeaths can be made to 
Trust  Bank  Account  ANZ  060  365 
0014253 046 or 
info@maungaturotoresthome.co.nz 
D DAY IN MAUNGATUROTO 
Thursday 29 November at  
St John Station 
D Day stands for Dementia Day 
Dementia wing and Rest Home 
extensions fundraiser 
The  D  Day  Breakfast  from  6.30am  to 
9.00am  -a  hearty  breakfast  which  you 
can eat at the Station $14 or take away 
$10.  Great way to start the day and get 
your  family  /  friends  and  work  mates 
to come along as well. Local factories 
and businesses have already committed 
to  supplying  their  staff  with  a 
breakfast. 
More  FM  will  be  there  from  7.00am, 
the  Primary  school  Kapa  Haka  group 
will  perform  at  8.45,  Carters  Monster 
raffle tickets will be on sale and other 
attractions could be the appearance by 
some top local sports people. 
Otamatea Repertory Theatre  
presents 
Sleeping Beauty 
By Ben Crocker,  
Directed by Brittany Dyer 
Friday 30 November, 7.30pm 
Saturday 1 December 2pm 
Sunday 2 December 2pm 
Tickets: Tony's Lotto Shop & 
www.ort.org.nz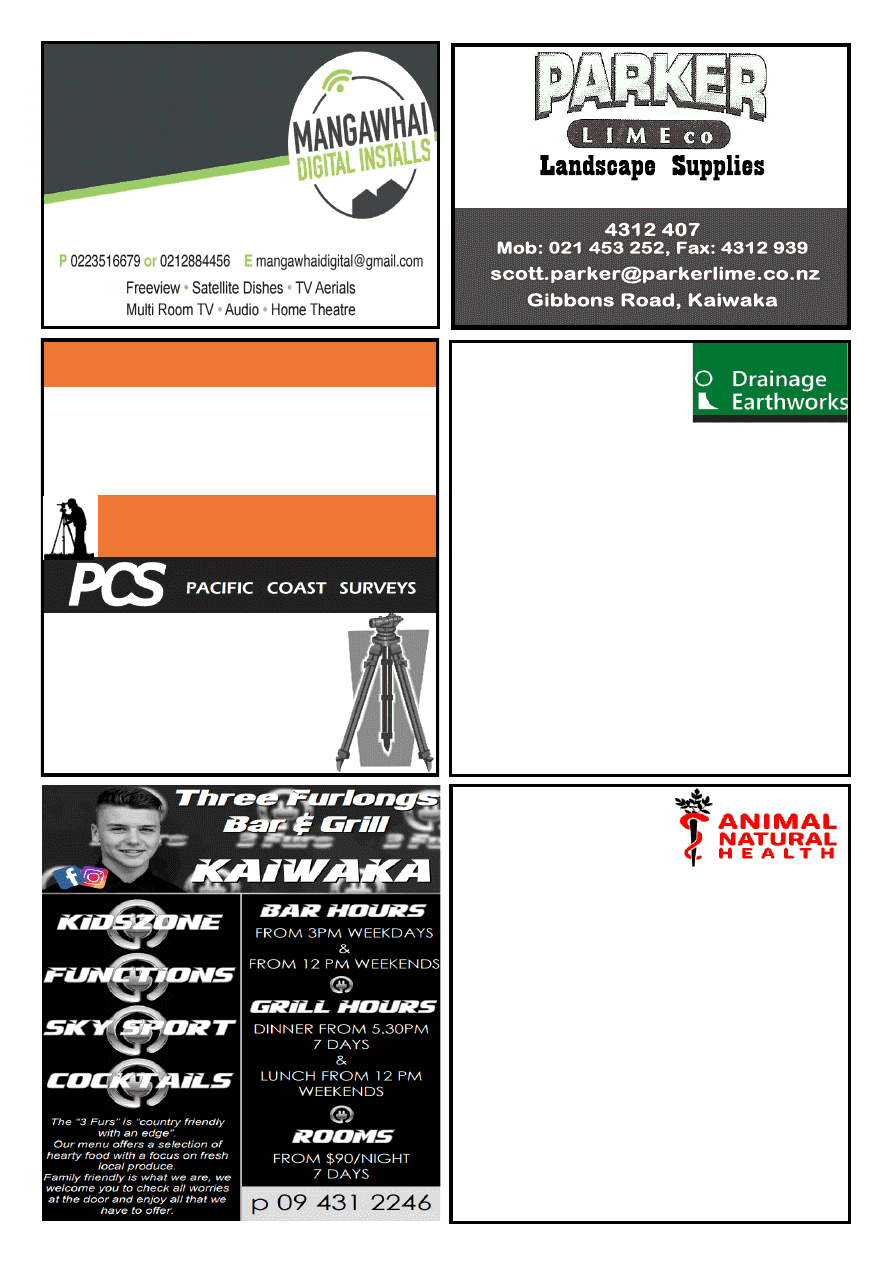 Drainage & Earthmoving 
nigel@clarkedrainage.nz 
027 2233 185 
Registered Drainlayer 
All Types of Earthworks  
> All Residential & Commercial Work  > House Sites 
> Septic System Design & Install 
> Footings & Drilling to 10m 
> Sewer Connections 
> Dams 
> Water Tank Installation 
> Roading & Races 
> Farm Work 
THE ONE STOP SHOP  
Phone Nigel for an Obligation Free Quote  
Bulk Cartage 
SURVEYORS 
SUBDIVISIONS 
HOUSE SITE SURVEYS 
CIVIL ENGINEERING 
WASTEWATER DESIGNS 
EXPERIENCED 
PROFESSIONAL 
INNOVATIVE 
Ph 09 431 5353 
0800 PACIFIC (0800 722 434) 
pacificcoastsurvey.com
Adam Booth - 027 415 5752 
Bsurv, Licensed Cadastral Surveyor
Surveying Kaipara since 1994 
PET FOOD & 
ACCESSORIES 
ANIMAL NATURAL 
HEALTH, KAIWAKA
Our Pet Deli range of meats are now in! 
Also stockists of:
Purely Pets Patties 
Orijen & Acana Kibble 
Mighty Mix Biscuits 
Tukka Thyme Muesli 
Organic Apple Cider Vinegar
Chemical-free flea control, wormers 
Homeopathic / herbal preps for Upsets & 
Allergies. 
Collars and leads. 
 
Hours:  10.00am - 5pm weekdays, 10.00-4pm Sat. 
Next to Italian Bakery, SH 1, Kaiwaka 
Phone 09 431 2217.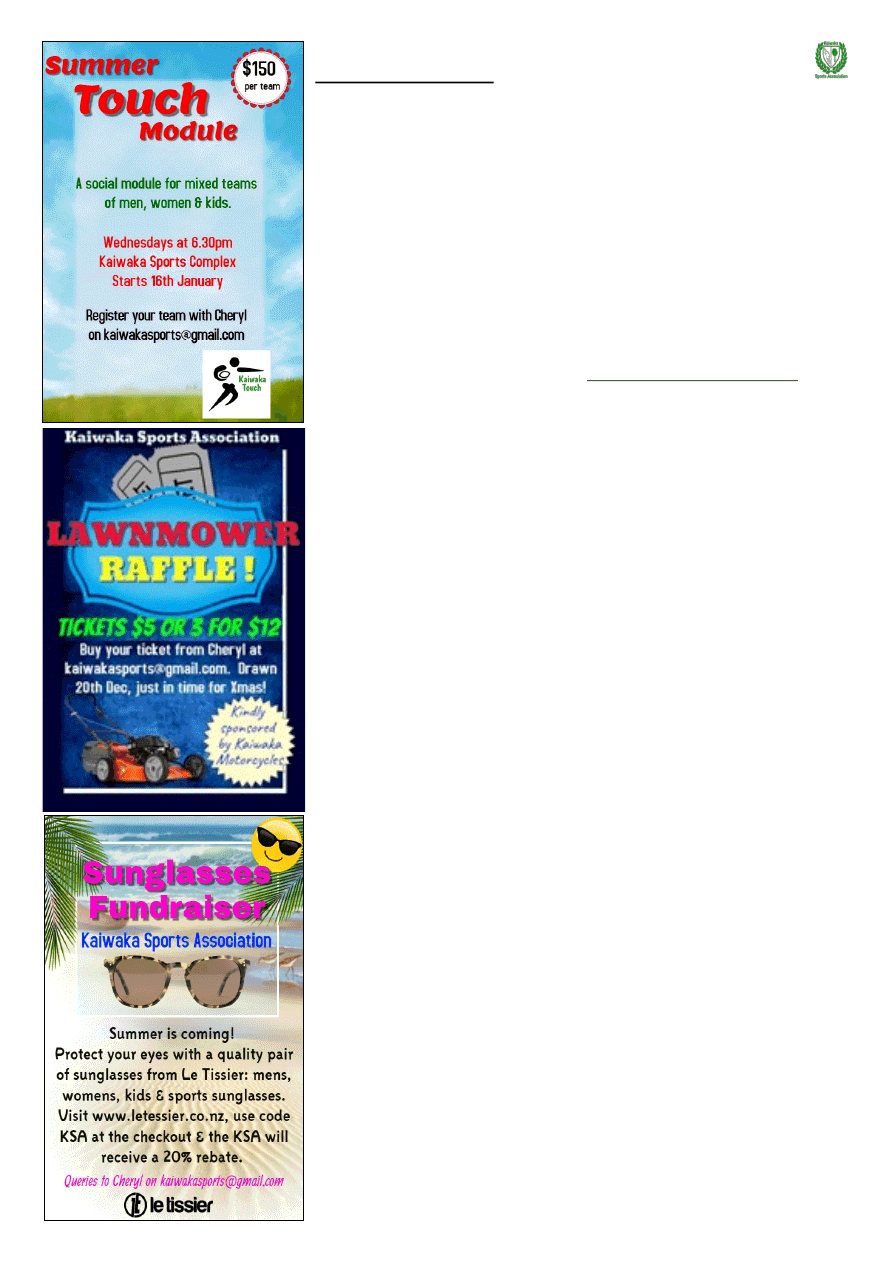 www.kaiwaka.co.nz 
Kaiwaka Bugle - 27 November 2018 
Page 11 
KAIWAKA SPORTS ASSOCIATION
Illuminate is nearly here! 
Around  1,200  Venturers  will  be 
camping  at  our  Sports  Complex  over 
New  Years  and  into  January.  Nearly 
half  are  from  Australia  but  there  will 
also  be  Venturers  from  Canada, 
Finland,  Sweden  and  Italy  attending, 
along  with  leaders  from  Canada  and 
the UK. 
During  the  second  week  (6  -  11
th
January) there will be 45 minivans and 
a  number  of  buses  coming  and  going 
on  a  daily  basis  taking  participants  to 
activities  from  bungy  jumping  off  the 
Auckland 
Harbour 
Bridge 
to 
sightseeing  at  the  Hole  in  the  Rock. 
They  will  also  be  doing  many  of  our 
local  attractions  as  well,  such  as 
Kawau  Island,  Goat  Island,  mountain 
biking, hiking and kayaking. 
Caterers are bringing an entire kitchen 
with them to provide 3,600 meals a day 
and a giant marque will be erected over 
our  tennis  courts  to  form  the  dining 
area.  An  extra  40  toilets  and  a  couple 
of shower blocks will be erected on our 
grounds to cope with the numbers. Plus 
they have a medical team which will be 
in  operation  24/7  which  includes 
doctors,  nurses,  paramedics  and 
psychologists.  
Please  note:  access  to  the  KSA  plus 
the  school  will  be  restricted  to 
Illuminate people only during this time.  
This  is  going  to  be  huge!  It's  very 
exciting  for  us  –  the  biggest  event 
we've  ever  hosted!  And  the  massive 
influx of people into Kaiwaka will be a 
real boon for our local businesses.  
Hawks Women's Rugby 
Wonderful  to  have  a  Women's  Rugby 
club starting up. Female of all ages are 
encouraged  to  join.  Trainings  will  be 
held at our grounds on Wednesdays at 
6.30pm,  starting  this  Wednesday  28
th
. 
All  potential  players  and  support  crew 
are  welcome.  For  updates,  visit  their 
facebook  page:  Otamatea  Hawks 
(Women).  
Summer Touch Module 
Who  wants  to  play  Summer  Touch? 
Our Touch Module will be held at the 
Sports  Complex  for  eight  weeks  on 
Wednesday  evenings  starting  16
th
January.  This  is  a  social  Module  for 
mixed  teams  of  men,  women  and 
children.  If  you'd  like  to  enter a  team, 
contact me for the registration form. 
KSA 
Fundraiser: 
Save-a-Life 
keyring 
If you have one of these keyrings, you 
could save a life! 
The Save-a-Life keyring has a capsule 
which  contains  a  soluble  aspirin. 
Chewed or placed under the tongue, an 
aspirin  can  make  all  the  difference 
when someone is experiencing signs of 
a  heart  attack.  The  aspirin  potentially 
helps  keep  a  patient  alive  for  what 
paramedics  call  "The  Golden  Hour". 
This  is  the  time  between  when  the 
attack  begins,  paramedics  arriving  on 
the  scene  and  the  time  it  takes  to 
transport the patient to hospital. 
The keyrings are $15 for a 3-pack 
-  a  small  price  to  pay  for  potentially 
saving  somebody's  life.  Buy  one  for 
someone  you  love.  A  great  stocking 
stuffer  for  Xmas.    Contact  me  on 
to 
place an order. 
Free Firewood 
If you're after some free firewood, help 
yourself  to  the  trees  which  have  been 
cut down alongside the KSA driveway.  
Lawnmower Raffle 
WIN  !!  A  Husqvarna  lawnmower 
valued at $650. Very kindly donated by 
Steve  and  Matt  from  Kaiwaka 
Motorcycles. Buy a raffle ticket: $5 per 
ticket  or  3  for  $12.  Will  be  drawn  on 
20
th
 December (what a fabulous Xmas 
treat!) 
Email 
me 
on 
cherylanderson051@gmail.com  with 
how many tickets you'd like to buy and 
I'll  let  you  know  the  KSA's  bank 
account number so you can pay online. 
Sunglasses Fundraiser 
Sunny  weather  is  here!  If  you're 
wanting  to  upgrade  your  sunglasses, 
please  consider  our  fundraiser.  We 
have  partnered  with  Le  Tissier  and 
when  people  buy  sunglasses  through 
their  website  they  will  donate  20%  to 
the KSA.  
Le  Tissier  offer  quality  sunglasses  for 
men, women and children plus they do 
an extensive range of sports sunglasses. 
Their  Sunwear  collection  offers  eye 
catching  style  and  the  functionality  of 
high  quality  acetate  with  lenses  that 
offer  100%  UV  polarised  protection. 
Many 
styles 
are 
suitable 
for 
prescription lenses.  
Visit www.letissier.co.nz and enter the 
code KSA at the checkout. Thank you 
for your support.  
Fitness Centre 
Our  Fitness  Centre  is  available  24/7 
and  provides  extensive  exercise 
equipment  as  well  as  toilets  and 
showers.  The  sub  reduced  last  week 
down to $100 so if you've ever thought 
about joining the Fitness Centre now is 
a good time to do it! Memberships can 
be purchased from Jaques Four Square. 
For  all  Fitness  Centre  enquiries  please 
contact  Siobhan  on  027  9791203  or 
check out our Facebook page. 
Wine Fundraiser 
Are  you  a  wine  lover?  Here's  an 
opportunity  to buy  great quality  wines 
at  lower-than-retail  prices  –  and 
support  us  at  the  same  time!  Enjoy 
them  now,  or  stock  up  ready  for  the 
holiday season. 
The  wines  are  top  quality  and  are 
cheaper than the retail price. Wine can 
be  purchased  by  the  bottle  or  in  case 
lots.  Check  out  the  selection  available 
in  the  order  form  which  is  in  this 
edition of the Bugle and at Jaques Four 
Square. To order please return the form 
to  me  with  your  payment  by  28
th
November.  Delivery  will  be  mid-
December. 
~
Cheryl Anderson, 4312 051, 027 3462702 
kaiwakasports@gmail.com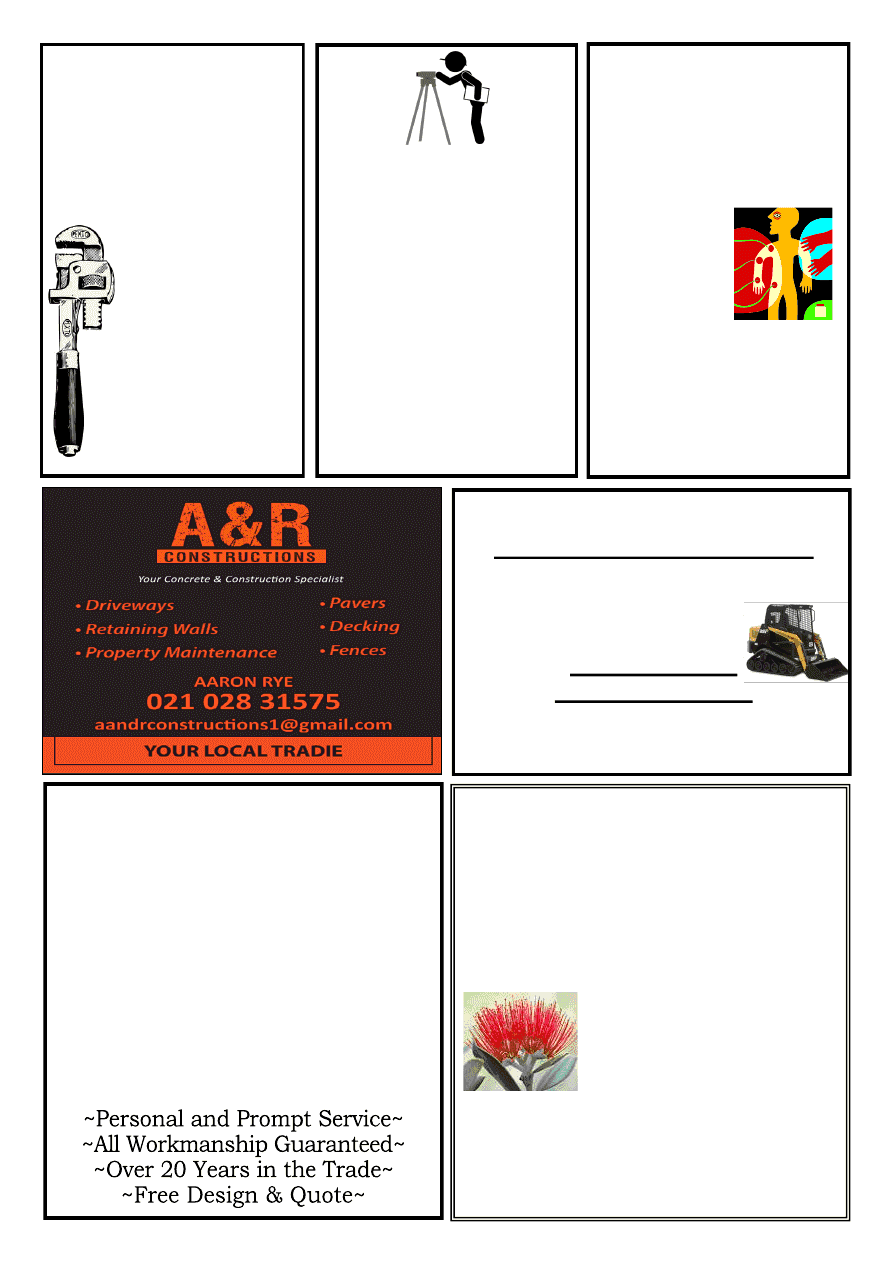 BARRY CURTIS 
PLUMBING LTD 
REGISTERED CRAFTSMAN 
PLUMBER 
Phone 431 5572 
027 257 9884 
25 years' experience 
Friendly reliable service 
All plumbing & 
maintenance 
Alterations and new 
housing 
Spouting  
Competitive rates 
PROMPT 
EFFICIENT 
SERVICE 
KAIPARA FLOORING CO 
Independently owned & operated 
32 HURNDALL ST MAUNGATUROTO
Supply & Installation of Carpet, Vinyl,  
Vinyl Wood Planking
Stockists of 2m & 3m wide 
vinyl & carpet short ends
Residential & Commercial
Q Card Finance Approved 
6-18 month terms 
6 mth interest free
First Class Installations
For a free measure & quote 
phone Christine  
09 946 9886 or 021 515 415 
kaiparaflooring@gmail.com 
http://www.kaiparaflooring.co.nz/ 
OWEN STEVENS 
Osteo Therapist
For careful adjustments to bones 
and joints 
Treatment for humans and their 
pets 
Clinics: 
Kate's Place, 
Kaiwaka: 
Last Friday of 
month 
For bookings: 
9.00am-5.00pm  
Phone 
09 4312661 
Or phone Owen  
09 4317123 anytime 
PLANNING A NEW KITCHEN?
 CONTACT NOEL McDOWELL
WELLSFORD 
KITCHENS
Ph/Fax 094312888
KAIWAKA-Any time
 QUALITY CUSTOM MADE 
KITCHENS
Ken Urquhart 
BSurv Licensed  
Cadastral Surveyor 
KMU Surveys Ltd 
467 Bickerstaffe Road 
RD 2 
Maungaturoto 0587 
Ph 09 431 8705 
Mob 021 161 2344 
kenurquhart@xtra.co.nz 
Natural Earth Ltd 
Landscape and Bobcat services 
 : Driveways :Landscaping :Retaining Walls 
 : Hole Boring: Land Levelling :Trenching 
 : Decks :Fences :Sections Cleared 
 : Plus much more
Tel 09 4312 885 
Mob 02102391280 
For A Fast Friendly Service  
Contact Tim Hicks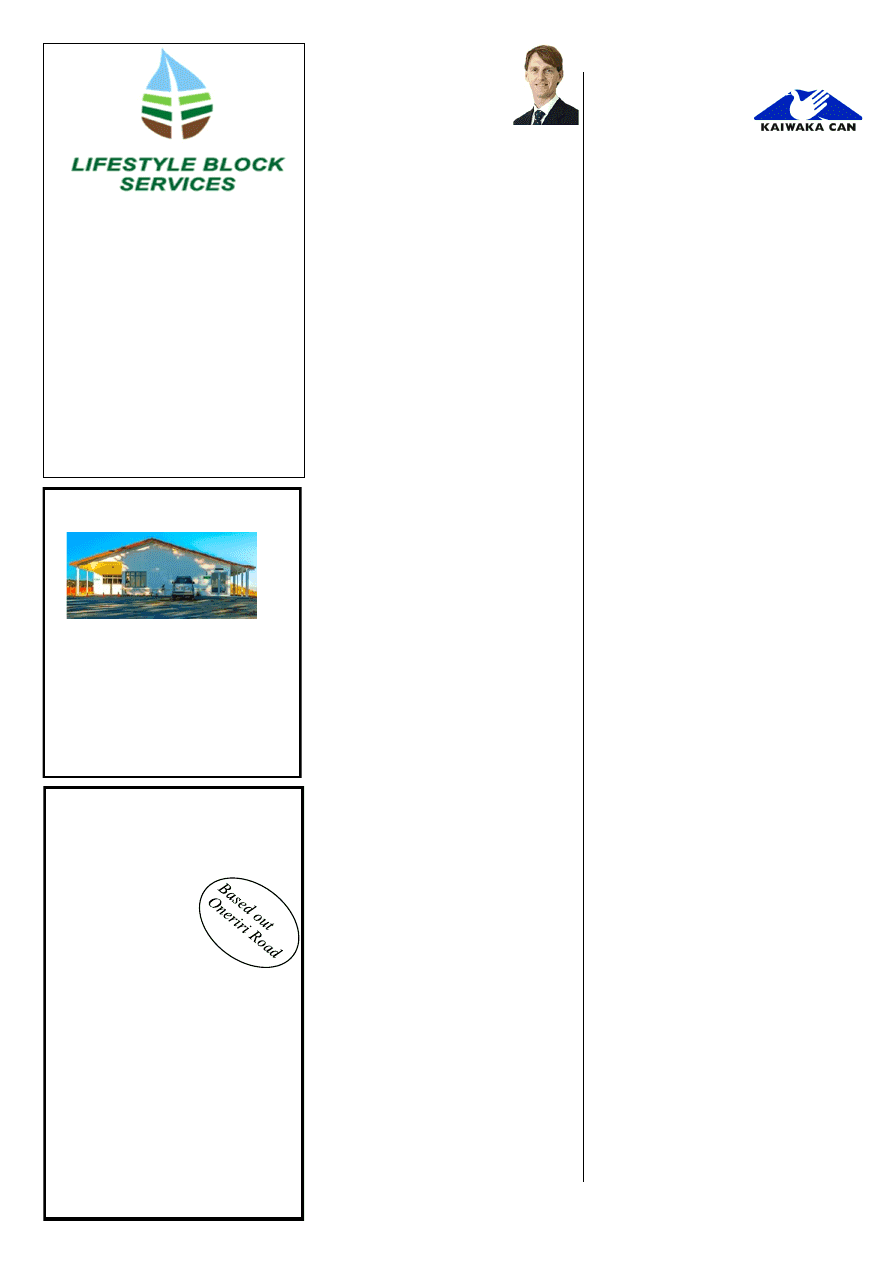 www.kaiwaka.co.nz 
Kaiwaka Bugle - 27 November 2018 
Page 13 
HODGETTS 
CONTRACTING
Digger Work 

Driveways   

House Sites   

Dams  

Drains, etc
Also available for HIRE 

4
3 ton Vib Roller   

Heavy Duty Tow  

4
Waterblaster     

Lazer Level 
Phone Mark 
4312877 
027 447 8554 
COUNCILLOR'S 
COMMENT* 
Councillor Jonathan Larsen 
Gibbons Road 
Earlier  in  the  year  I  made  enquiries  to 
Council  about  when  the  slip  on 
Gibbons  Road  was  going  to  be  fixed. 
Eventually  the  answer  I  got  back  was 
that  it  was  ranked  number  49  in  the 
district  and  wouldn't  be  fixed  in  the 
next  three  years.  The  slip  is 
immediately adjacent to the creek with 
no  barrier  of  any  consequence,  and 
there has already been a serious injury 
crash there earlier in the year. 
I  have  asked  Council  to  look  into  this 
issue  again  and  see  if  it  can  be 
reprioritised to be fixed sooner. 
The  chief  operating  officer  (COO)  has 
agreed to have the roading team review 
the prioritisation of this being fixed. I'll 
keep you updated on progress. 
Central Kaiwaka linkages 
The  Council  consultation  on  the  Long 
Term  Plan  ((LTP),  i.e.  the  ten  year 
budget  that  is  reviewed  every  three 
years)  included  a  proposal  for  foot 
bridges  on  the  western  side  of  both 
SH1  bridges  in  Kaiwaka.  This  was  all 
assumed  to  be  going  ahead  but  as  it 
turned  out  the  project  had  somehow 
mysteriously  disappeared  from  the 
programme  of  approved  works  in  the 
final  LTP.  I  have  had  a  meeting  with 
the  CEO  and  COO  to  find  a  solution 
that will meet community  expectations 
around  this.  I  have  asked  for  subsidy 
for  the  two  foot  bridges  and  a  linking 
footpath  to  be  applied  for.  The  normal 
NZTA  subsidy  is  61%,  but  there  is  an 
additional  20%  available  for  safety 
works.  With  the  amount  of  traffic  on 
SH1 and absence of crossings it seems 
reasonable to have this considered as a 
safety  improvement.  If  the  bid  is 
successful,  this  means  that  Council 
would only need to come up with 19% 
of  the  cost.  Council  have  agreed  to 
develop  a  business  case  for  NZTA's 
consideration, so fingers crossed on this 
one. 
Oneriri Road/ SH 1 intersection 
The proximity of this intersection to the 
Southern  bridge  combined  with  the 
ever-increasing  traffic  volume  on  SH1 
mean this continues to be an issue. This 
is  especially  so for  south-bound traffic 
turning  right  into  Oneriri  Rd.  I  have 
previously raised this issue with NZTA 
(who  operate  SH1)  and  they  have 
indicated  no  interest  in  remedying  the 
situation.  It  seems  therefore  that  the 
only  way  to  deal  with  this  is  for 
Council (which operates Oneriri Rd), to 
take  the  lead.  I  have  managed  to  get 
some initial investigations underway to 
determine  how  best  to  relocate  the 
intersection  further  away  from  the 
bridge.  I  will  keep  pushing  this  matter 
along. 
If  you  have  any  community  projects  or 
issues that you would like assistance with, I 
can  be  contacted  on  Ph.  0211858389  or 
Cr.Larsen@kaipara.govt.nz.  Check  out  my 
'The WorkBoot Councillor' Facebook page 
for regular updates. 
*The  views  expressed  are  those  of  the  writer  and  do  not 
necessarily represent the consensus position of Council. 
Make Baleage  
while the sun shines! 
Let us make hay/sileage for you. 
We sell small bale silage, 
conventional,  
& 5 bale equivalent hay. 
For more information  
Contact Mark on 021 801 065 or 
Contact Kathy on 027 4250520 
Te Pounga Marae 
130 Nathan Rd. Oneriri. Kaiwaka 0573 
COMPLEX FOR 
HIRE 
Functions: * Weddings  * Birthdays  
*Anniversaries * Meetings  * Wananga 5 
hour meeting * 12 hour stay or Overnight 
*All welcome   
For more information please contact: 
Kim Wallace  
Home: 09 832 1133  Mob: 0211275340  
Email: kimwallace@xtra.co.nz 
LAST PUSH BEFORE 
CHRISTMAS 
We  all  know  what  it  is 
like as everything seems 
to  ramp  up  before 
Christmas  and  we  end  up  with  list 
afterlist  of  things  to  do  before  we 
collapse in a heap on Boxing Day. 
It  feels  a  bit  the  same  with  Kaiwaka 
Can 
(Incorporated 
now). 
Our 
November meeting covered a range of 
projects  and  some  of  them  are  in  full 
swing for action right away. 
The  Weed  Team  has done a great job 
mapping out weed types and location, 
negotiating  with  Northern  Regional 
Council  and  now  have  a  working  bee 
planned  for  December  1
st
 -  see  the  ad 
on  page  3.  Our  aim  is  to  make  the 
green of Kaiwaka good green and not 
weed  green  and  we  need  the  help  of 
the whole community. 
The  Little  Town  of  Lights  renewal 
team is working as hard as it can to get 
at least some of our lights either newly 
installed or back up and running, using 
greatly  updated  technology.  There  are 
some  exciting  ideas  and  their  work  is 
greatly appreciated as we try and make 
Kaiwaka more illuminated before the 
Scout  Jamboree  which  is  called 
"Illuminate".  We  look  for  help  from 
all  of  you,  either  giving  (Give-a-little 
Page  called  Lighting  up  Kaiwaka 
Again),  offering  skills  that  may  be 
helpful  (welding,  putting  lights  on 
frames)  and  lighting  up  your  own 
street 
frontage, 
especially 
for 
Christmas  so  that  people  passing 
through can see why we are The Little 
Town of Lights. 
By  the  time  this  is  printed,  we  will 
have  held  an  informal  supper  evening 
to remember Lars and his contribution 
to Kaiwaka and officially switched on 
the  light  ladder  at  the  Fire  Station, 
which Lars designed and donated. 
The Kaiwaka Central project, aiming 
to make the most of the land each side 
of the southern bridge, is onhold while 
sources of funding for the foot bridges 
are  explored.  Thanks  to  Jonathan 
Larsen  our  local  councillor  for  the 
effort  he  is  putting  into  making  this 
happen. 
The  welcome  sculptures  each end of 
town  haven't  been  forgotten  but  we 
have  a  mass  of  red  tape  to 
workthrough  to  be  able  to  go  ahead. 
Seems like a fact of life these days. 
But  we  are  now  incorporated,  have  a 
bank  account,  have  gifted  and 
hardworking  teams  in  place  and  look 
forward  to  making  an  impact  before 
Christmas  and  even  more  in  the  new 
year. 
There  is  still  plenty  of  room  for  new 
members  and  interested  supporters. 
You  are  always  welcome  at  our 
meetings whether you are a member or 
not. ~ 
Derek Christensen, Chair
099469077, 0273572751 
derekandisa@gmail.com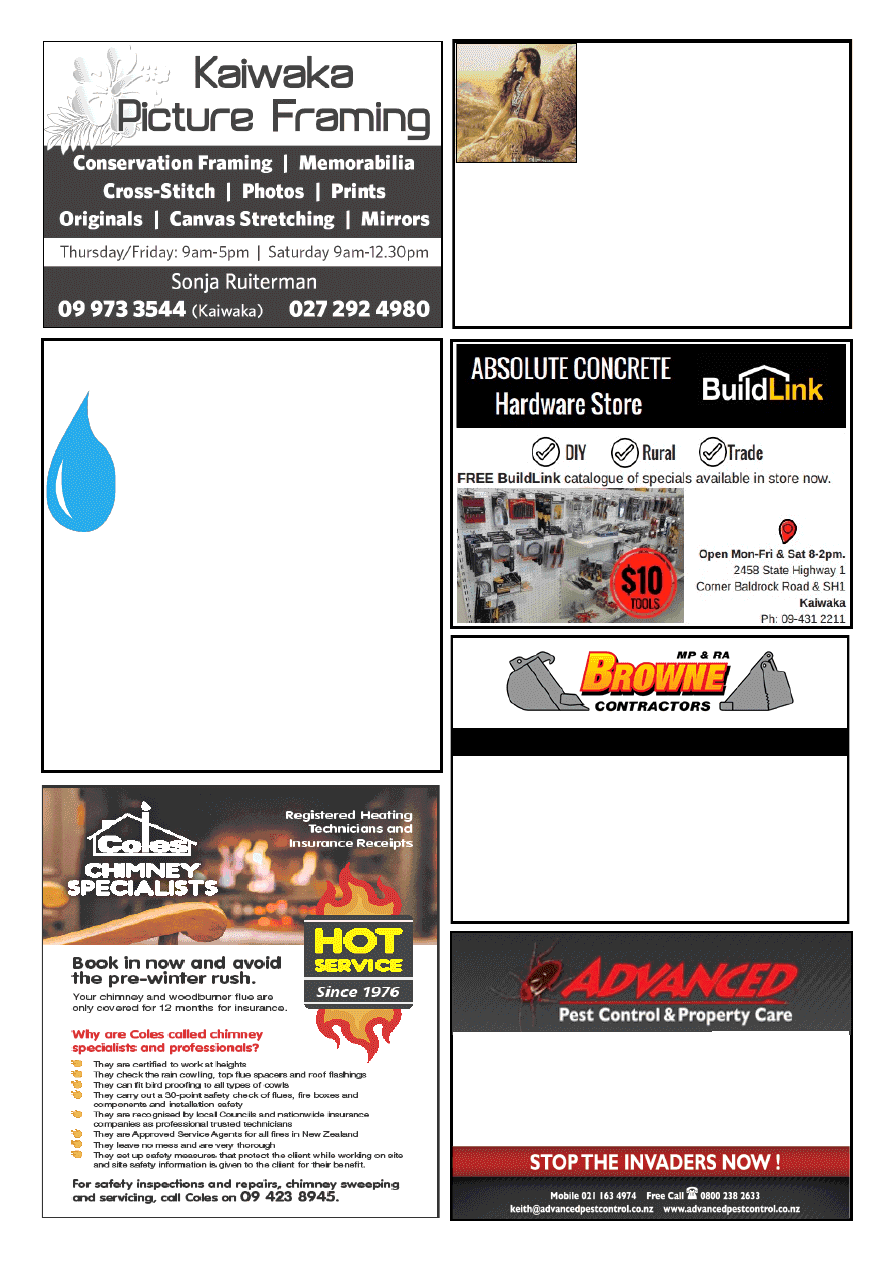 J C's Water Supply 
Domestic Water  
Supply 
Jenny or Craig  
0272344923 
j.cwater4u@gmail.com  
Beautiful Artesian Water 
Locally Owned & Operated 
100% Chemical Free 
DHB certified 
4T DIGGER – BOBCAT – TIP TRUCK 
Property Maintenance - Driveways  
 Building Sites 
Stump & Tree Removal  
Hole Boring - Chain Trencher  
Calf Shed and Stockyard Cleaning 
Phone Matt: 021 199 6677 
Email: mprabrownecontractors@gmail.com 
Trails end 
spiritualist gathering 
Last Sunday of every month  
10.30-2pm  
Tea/coffee provided  $5 koha 
For all inquiries: 
021 165 2629 evenings (09) 945 0707 
Trail.end@hotmail.com 
1758 Cove Road, Mangawhai
Bringing together like-minded people 
Guest speaker each month
Pest Control 
PLAN A: One-off treatments to customers with a specific pest problem 
PLAN B: Full maintenance service plans to commercial customers. 
This will include documentation kept in customer file on site: 
⚫
Pest treated 
⚫
Date of service 
⚫
Chemical or baits used 
⚫
Full pest check report done after each treatment 
⚫
Fair and reasonable fee with guarantee 
Flood Recovery 
Carpet Care 
⚫
Carpet Drying 
This includes pre-spray treatments 
⚫
Dehumidifier Rental 
with stain removal and hot water extraction.  
⚫
Full Commercial Cleaning  Patch repair also available 
Upholstery Cleaning 
Full upholstery cleaning of all furniture.  
eg lounge suites and all office chairs 
Water Blasting 
⚫
Concrete - Decks 
House Washing 
⚫
Soft Chemical Was 
⚫
Pre-painting Wash 
Property Services 
⚫
Property Cleaning  Lawn Mowing 
⚫
Hedges General   Tidy Ups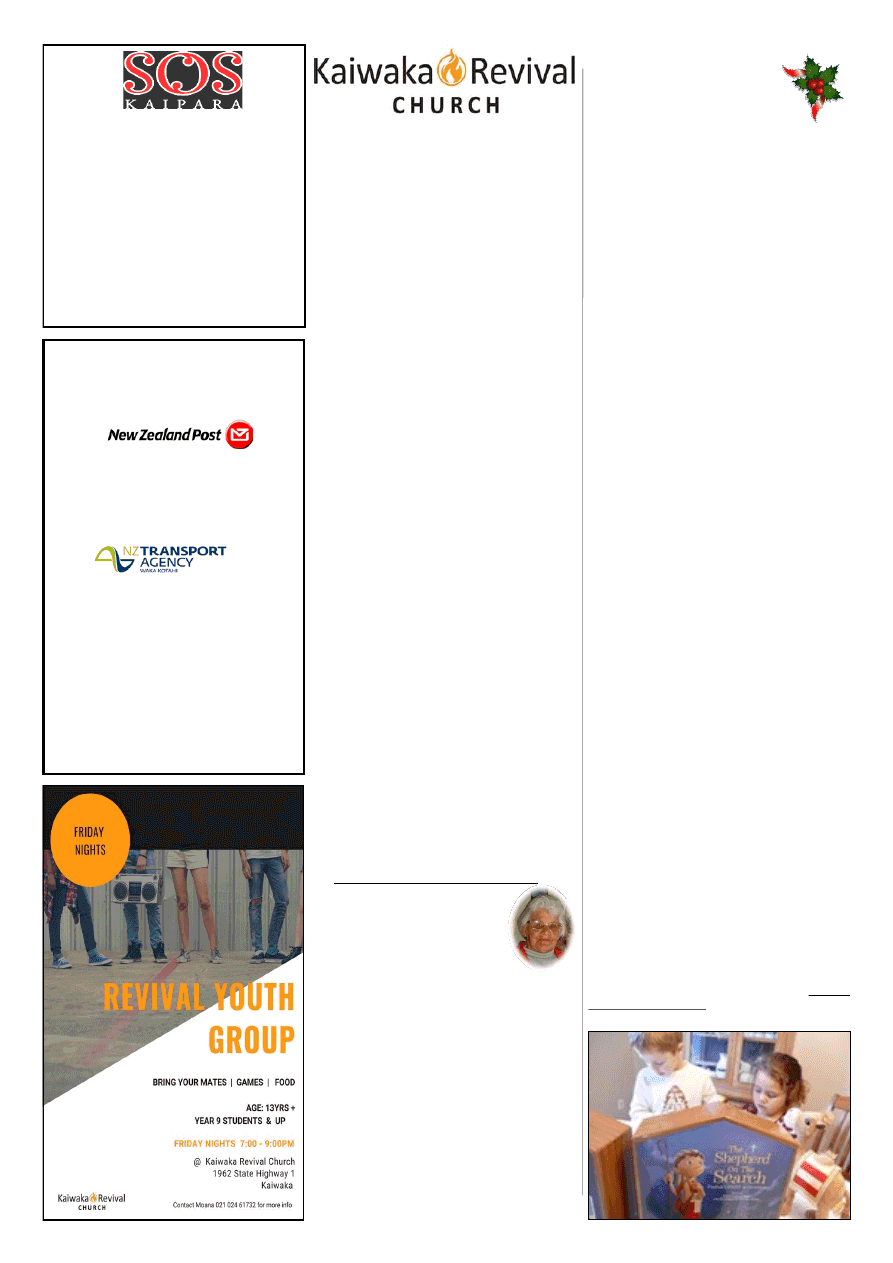 www.kaiwaka.co.nz 
Kaiwaka Bugle - 27 November 2018 
Page 15 
S.O.S Kaipara 
Support, advocacy, crisis and 
family therapy counselling, 
refuge housing to survivors of 
sexual abuse and domestic 
violence. Also Education 
prevention programmes for the 
community and clients.  
Office hours 9am to 3pm Monday to 
Friday; 24/7  phone 09 4396070 
Or phone 111 
From Thelma's 
Scrapbook … 
Religion you say is old-fashioned, 
How true!. So is food and drink, 
So are mothers and fathers and 
neighbours 
And all things of value, I think. 
  
True faith, understanding and 
kindness, 
These are virtues old-fashioned too 
Thank God for an old-fashioned 
religion 
In a world where so much is new!! 
KAIWAKA POST 
CENTRE and 
FOOD MART 
POST CENTRE TRADING HOURS 
MONDAY to FRIDAY 8am to 5pm 
SATURDAY 8am to 12pm 
CLOSED ON SUNDAY and on 
PUBLIC HOLIDAYS 
FOOD MART (GROCERIES) 
MONDAY TO SUNDAY  
7:30am to 8pm 
IF ANY QUERIES PLEASE CALL 
STORE MANAGER AMRIT  
on 09 4312431 or 
EMAIL: kaiwakafood19a@gmail.com 
1919a State Highway1, Kaiwaka 0542 
Kia Ora! 
We  are  coming  to  the  end  of  another 
year and wanted to let you know what 
we have planned at Church for the rest 
of 2018.  
Guest Speaker Pastor Guy Cohen from 
Israel 
Tuesday  27th  November  at  6.15pm 
Guy Cohen will be speaking at Church 
during his 2-day tour of New Zealand. 
The  Pastor  of  a  Messianic  Jewish 
Congregation  in  Akko,  Israel,  Cohen 
will be speaking on destroying the age-
old  altars  of  idol  worship  in  his 
homeland  and  building  the  altars  of 
worship  to  Yeshua  (God)!  http://
harvestofasher.org 
Sun  2nd  December  10am  -  Child 
Dedication Service  
We  will  be  dedicating  our  precious 
children  and  babies  into  the  hands  of 
God. If you have a child that you wish 
to  be  dedicated,  please  let  one  of  our 
Pastors know.  
Sun 9th December 10am - Children's 
Service & Nativity Play  
This  year  Tala,  Fiona  and  the  Kids 
Church  have  been  putting  together  a 
very special service for us all to enjoy! 
Bring  your  family  and  get  the  camera 
as  the  Kids  have  some  special  things 
planned, including a nativity play.  
Sun  16th  December  10am  - 
Celebration Service  
This  will  be  our  last  Service  of  2018, 
join  us  as  we  celebrate  the  Birth  of 
Jesus  and  all  he  has  done  in  our  lives 
this  year!  Please  bring  a  plate  as  we 
will enjoy a BBQ lunch afterwards.  
Church  will  be  closed  over  the 
Christmas and New year period; the 
first  service  of  2019  will  be  Sunday 
16th January.  
Pastor  Paul,  Pastor  Tawhiri  and their 
families  wish  you  a  peaceful  and  joy 
filled  holiday  season  and  the  Lords 
presence upon you!. 
ADVENT IN and OF 
ITSELF IS  
WAITING FOR AN 
ARRIVAL 
It  can  be  hard  to  seek  Christmas  and 
experience  the  season  of  Advent  and 
harder still to do so with the children in 
our  lives.  There's  so  much  to  balance 
and think through: 
– How many gifts do you give? Do you 
follow  a  formula  like  need/want/wear/
read?  Do  you  give  three  gifts  like  the 
wise men brought Jesus? 
– Why bother decorating when the tiny 
tornadoes  will  come  through  behind 
you? 
– How do you balance the secular with 
the sacred of the season? 
Besides  all  the  technical  aspects,  how 
do  we  give  and  teach  our  kids  about 
the  season  of  Advent,  of  seeking  and 
celebrating Christmas, when we barely 
have time to do so ourselves? 
Advent  is  an  excellent  time  to  learn 
about  waiting.  We  wait  to  celebrate 
Jesus'  birthday,  just  like  we  wait  to 
celebrate  our  own  birthdays.  We  wait 
for  a  break  from  school.  We  wait  for 
good things to bake. In both small- and 
large-scale  ways,  we  are  always 
waiting, and that's hard to do. My kids 
are  still  super  little,  but  even  if  your 
children  are  grown  or  in  college  or 
school-age, the principles apply. 
No  matter  what  your  age,  kid  or 
grownup,  waiting  is  hard.  And  God 
built  waiting  and  anticipating  directly 
into  the  season  of  Advent.  The  word 
itself  is  defined  as  "the  arrival  of  a 
notable  person,  thing,  or  event,"  with 
its  roots  in  the  Latin  for  "arrival,  to 
come." 
Advent in and of itself is waiting for 
an arrival. 
Learning  to  wait  is  a  virtue,  and  one 
that  our  instantly  gratified  culture 
doesn't lend itself to. All around us are 
signals  that  we  are  late,  that  we  are 
behind,  that  we  are  put  off  by  the 
thought or posture of waiting. But God 
built  it  right  into  the  DNA  of 
Christmas, 
and 
we 
have 
the 
opportunity to help the kids in our lives 
learn  this  skill  and  learn  about  the 
season of waiting. 
'The Shepherd on the Search' is one of 
my favorite ways to help my kids learn 
about waiting. 
~  by  Anna  Rendell  Nov  20,  2018  https://
with permission
)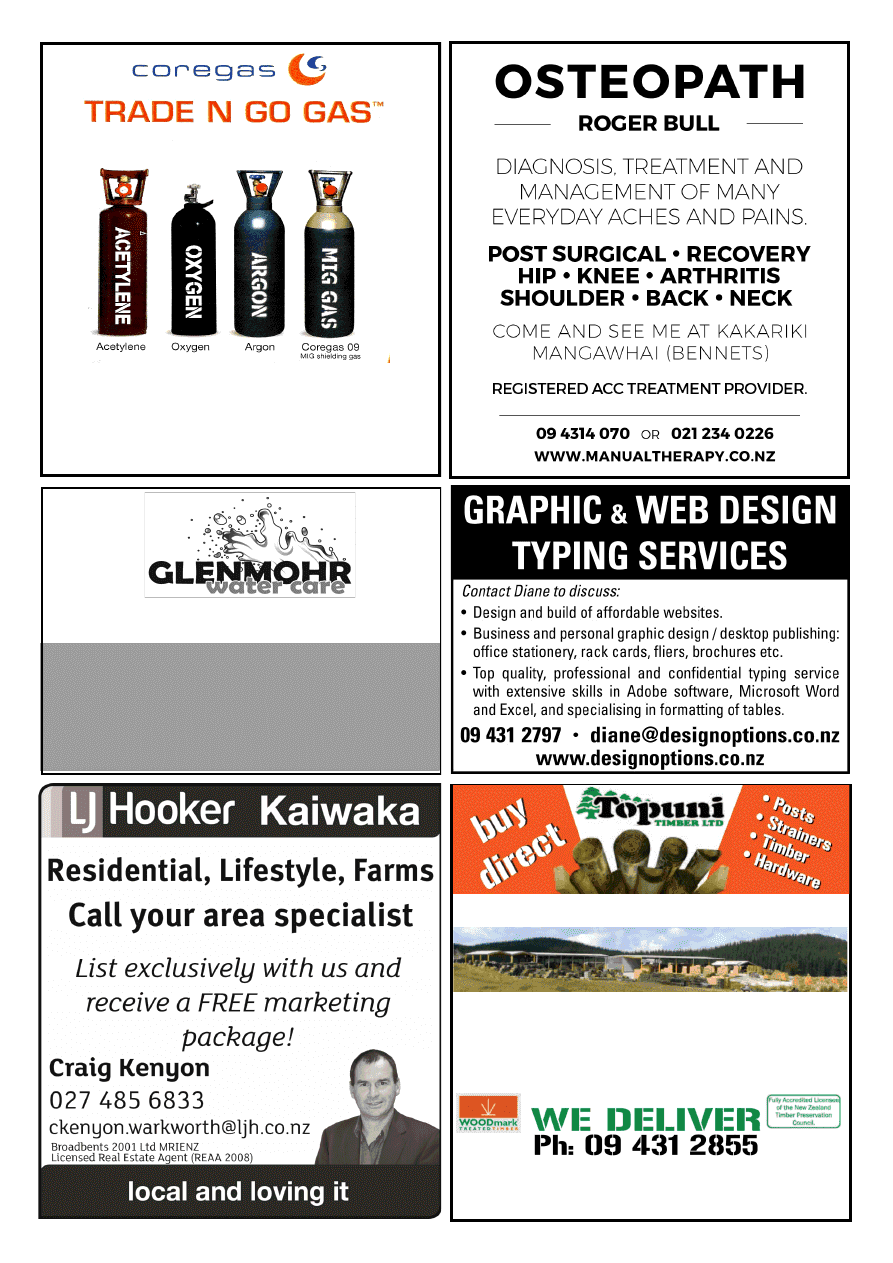 Water Tank Cleaning 
• 
Keep your water safe & clean  
• 
Removal of sediment, silt etc. 
• 
Vacuum or full scrub 
• 
Minimal water loss 
Phone Mark (09) 432 0655 or 0274 707607 
Now available at Twinkle Tow 'n' Tyre 
Mob: 021 833 960 
Ph & Fax: 09 431 2823 
1837 State Highway 1, Kaiwaka 
LOCALLY OWNED AND OPERATED 
QUALITY PRODUCTS • FRIENDLY ADVICE • GREAT SERVICE 
Quality Products milled from High Density NORTHLAND Radiata Pine. 
Treated and guaranteed to NZS3640 with commitment to 
Environmental Safety.
Phone, fax, email, or come into the mill 
Schiska Rd, Topuni, SH1, 10 min north of Wellsford. Fax: 09 431 2856 
Email: sales@topunitimber.co.nz           Mon - Fri 7am-5pm 
• Fencing 
• Retaining 
• Decking 
• Landscaping 
• Gates 
• Hardware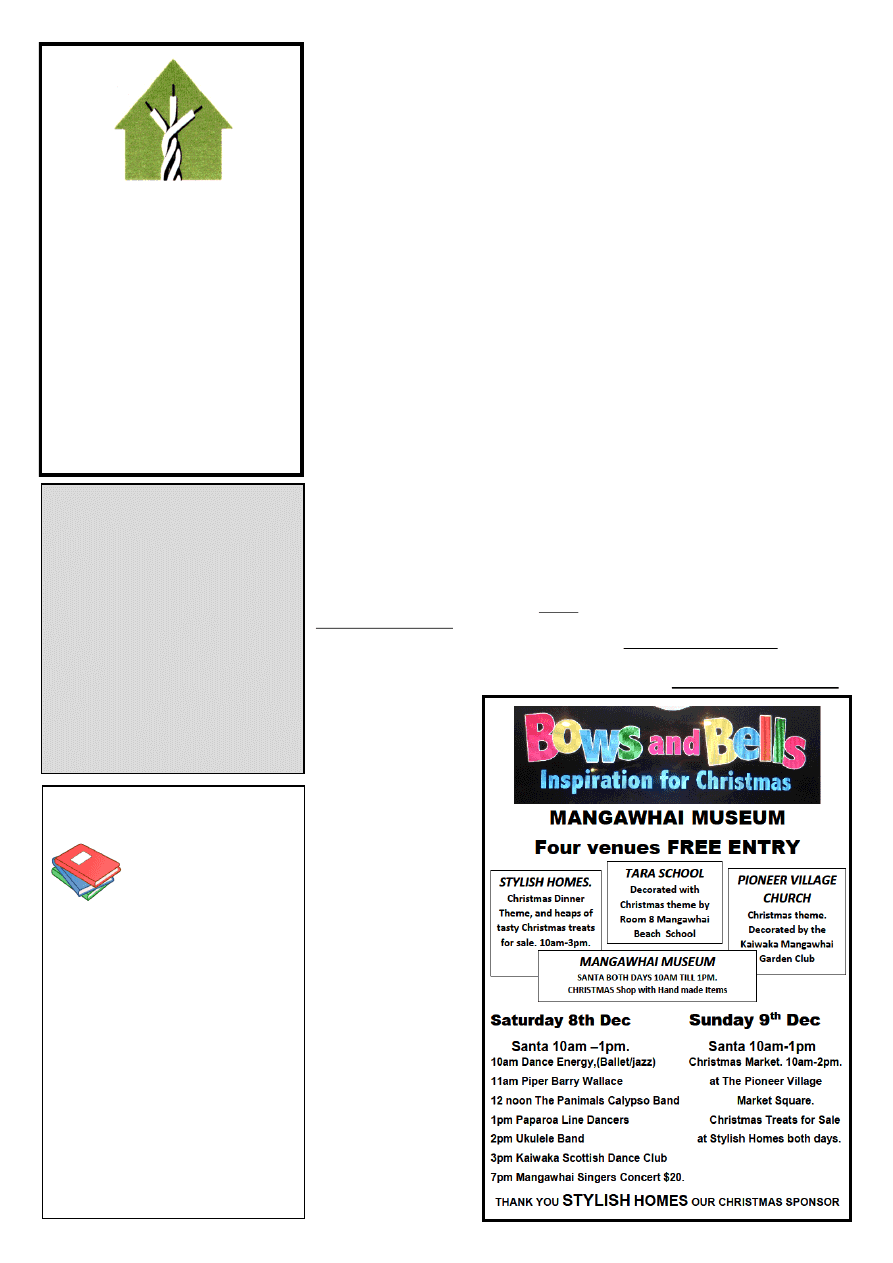 www.kaiwaka.co.nz 
Kaiwaka Bugle - 27 November 2018 
Page 17 
Reyahn George 
Leng 
Registered Electrician 
Local, honest and 
reliable. 
For your residential and 
light-commercial 
projects. 
022 314 1068 
 New library cards 
Do  you  have  your  new  library  card 
yet? We've given out more than 100 of 
them  so  far!  If  you  don't  have  yours 
yet,  come  in  and  show  us  your  old 
card,  and  we  will  replace  it  with  a 
bright shiny new one for free. It works 
just the same as the old one, but gives 
us  more  abilities  to  gather  statistics, 
especially  in  regard  to  online 
borrowings. It also comes with a handy 
snap-off  tag  that  you  can  put  on  your 
keyring  - the tag has its own bar code 
on it, so if you have your keys to hand 
you can scan that tag instead of fishing 
around  for  your  wallet,  and  then 
finding  that  elusive  card  inside  that's 
doing its best to hide from you. If you 
can't find your old card that's okay - we 
can still replace it with a new one, just 
bring  some  ID  (like  a  driver's  licence) 
to  show  you're  you  in  case  you're  not 
personally  known  to  the  volunteer  on 
duty  that  day;  we  can look  your  name 
up in the system. Changing from an old 
card to a new one is free. 
Free online services 
If  you  use  any  of  our  free  online 
services 
- 
Libby/Overdrive, 
BorrowBox,  Wheeler's  ePlatform,  or 
RB Digital magazines - and have a new 
library card, you will need to log in to 
the service again using the new number 
on  the  card.  Your  PIN  remains  the 
same  (go  to  Enterprise*  -  http://
kaipara.kotui.org.nz/  -  to  change  it 
yourself,  contact  me,  or  ask  at  the 
library volunteer on duty to change it). 
Creating reading lists 
Did you know that you can create lists 
of  books  from  the 
library  catalogue?  Log 
in  to  your  account  in 
Enterprise*, and as you 
discover  books  you 
might  want  to  borrow 
one day, you can select 
them  and  add  to  a  list. 
This  means  you  can 
save titles as you come 
across  them,  and  then 
find  them  easily  again 
later on - to select from 
the  shelves  next  time 
you're in the library, or 
place  a  hold  and  we'll 
pull it from the shelves 
and put it aside for you, 
even  if  the  book 
belongs  to  another 
library in the district. If 
you'd  like  some  help 
with this, contact me. 
Dargaville book swap 
The  next  swap  with 
Dargaville  Library  is 
on  4  December.  Come 
and take a good look at 
those  shelves  now  and 
borrow  any  books  of 
interest  before  they 
disappear. These books 
are free to borrow, and 
there's  no  need  to  return  these  books 
before  the  swap;  you  can  keep  them 
until  their  due  dates  and  renew  them 
twice before they need to come back, if 
there's no hold placed by someone else 
in the meantime - that's 9 weeks! With 
our  generous  borrowing  limits  (40 
items  per  card)  you  can  afford  to  take 
some extra titles and keep hold of them 
until Christmas or later. I can help you 
with  renewals  if  you  need  assistance  - 
see the contact details below. 
School holidays 
The  kids  don't  have  to  go  without 
books  over  the  holidays  just  because 
their school library is closed. Come in 
to  our  library,  and  they  can  borrow 
from  our  shelves  using  a  parent's 
library card, or they can apply for their 
own card at Enterprise*. Under-18s do 
not  need  to  supply  the  identification 
adults are asked to show, they just need 
to  select  Junior  Membership  in  the 
online form. New titles are coming on 
to our shelves regularly for the kids at 
the moment - I have a bit of a backlog 
of junior books in the office, which I'm 
giving priority so they're ready for the 
holidays. 
Christmas shutdown 
The  library  will  be  closed  from  2pm 
Saturday 22 December 2018 until 4pm 
Monday 7 January 2019. 
See you in the library! ~Wendy 
Kaiwaka Library, cnr State Highway 1 and 
Kaiwaka Mangawhai Road. PO Box 89, 
Kaiwaka 0542. Phone 4312 539. 
Email kaiwaka.library@gmail.com Open Wed-
Sat 10am-2pm, Mon 4-6pm. Free membership 
is available to all residents in the Kaiwaka area. 
*Enterprise - http://kaipara.kotui.org.nz/ 
HELP 
PHONE NUMBERS 
HEALTHLINE:  
0800 611 116 
SAMARITANS:  
0800 726 666
YOUTHLINE:  
0800 376 633 
LIFELINE     
0800 543 354
DEPRESSION HELPLINE:  
          0800 111 756 
ALCOHOL & DRUG HELPLINE:   
 
0800 787 797 
URGENT MENTAL HEALTH LINE:  
 
0800 223 371
KAIWAKA LIBRARY 
Kaiwaka Library
Questions we're asked: 
How do I join 
the library? 
Go to kaipara.kotui.org.nz and 
sign up, or go into the library and 
ask to join. 
It is free for all residents and 
ratepayers in the Kaipara District 
to join, including children. 
Adults need to provide identification. 
Contact the library for more information, or 
go to the link above. 
cnr SH 1 and Kaiwaka Mangawhai Road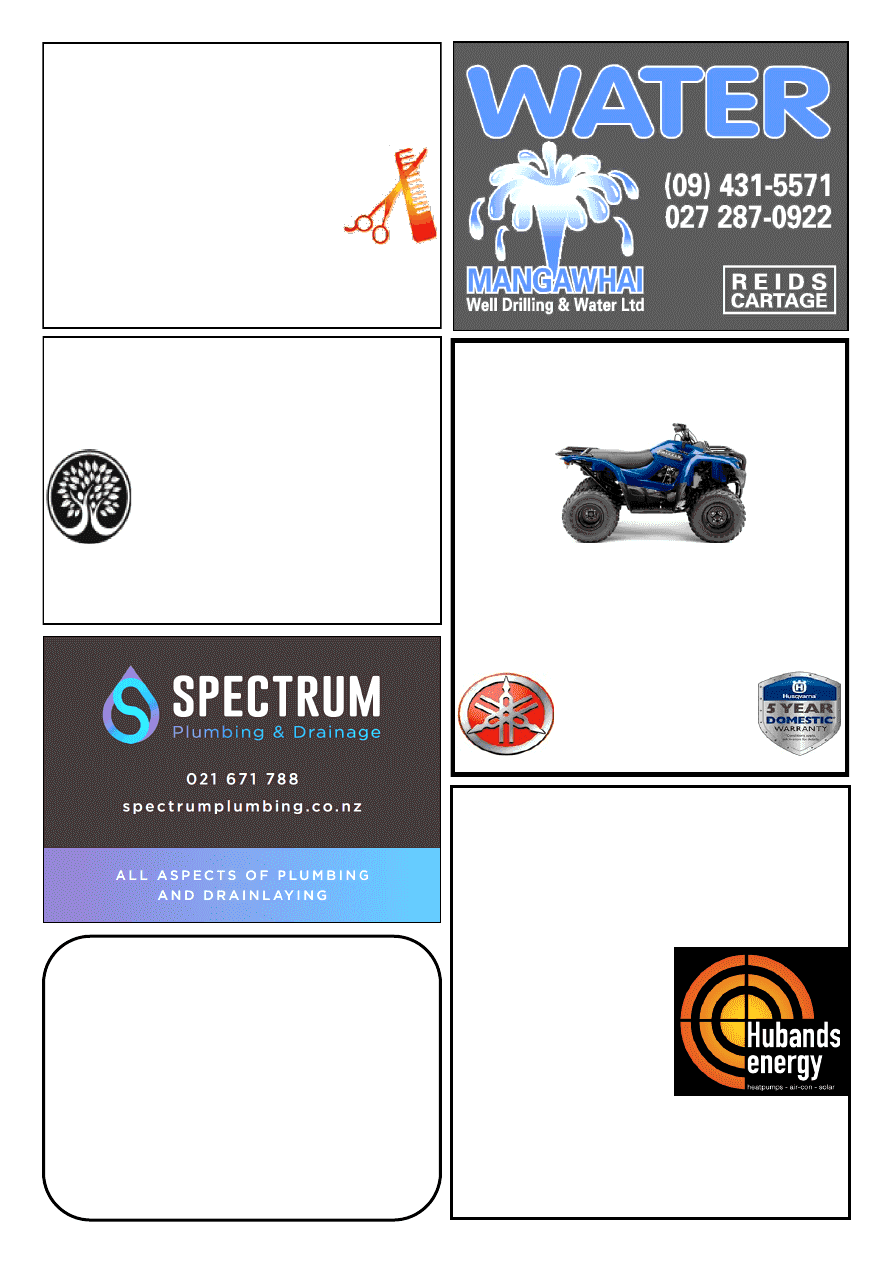 KAIWAKA 
MOTORCYCLES LTD
SALES – SERVICE – SPARES 
FARM BIKE SPECIALIST
PHONE 09 431-2127 
10 KAIWAKA-MANGAWHAI ROAD, KAIWAKA
Trimmers  
from $279
Chainsaws  
from $339
YAMAHA 
HUSQVARNA 
Northland's Award Winning 
Solar Company
SEANZ Best Solar Business Winners 2015/16
EXCLUSIVE 10 year installation warranty 
FREE No obligation onsite quote
Complete systems 
from $5990
See our range of: 
✓ 
Heatpumps 
✓ 
Airconditioning 
✓ 
Hot Water 
Heatpumps 
✓ 
Central Vacuum Systems
09 430 0019             sales@hubands.co.nz 
15 Kioreroa Road, Whangarei
Locally owned and operated for 35 years 
UP-LINK 
CHRIS WARING 
FREEVIEW INSTALLATIONS 
T.V. - HOME THEATRE &  
HI-FI ADVICE/SET UP
SKY ACCREDITED INSTALLER
MOB.0273403747 HM.094312328 
EMAIL cwaring44@gmail.com
28 YRS EXPERIENCE 
OFFERING UNBIASED ADVICE 
AFFORDABLE PRICES! 
MENS CUT FROM $20.00 
LADIES CUT FROM $30.00 
KIDS CUT FROM $18.00 
COLOUR & CUT FROM $120.00 
JUST CUTS'AND   
MORE 
021 165 2629 or (09) 945 0707  
NOW SELLING: scented tealights, incense, smudge sticks, 
copper bracelets, aurora ball crystals, dream catchers, healing 
stones, rose quartz, cds, and much more. Open 6 days. 
Waipu Natural Health 
3 Cove Road, Waipu  (opposite the Pizza Barn) 
Ph: 09 432 1325 
www.waipunaturalhealth.co.nz
Clinical Nutritionist-Hair Analysis for Masked 
Allergies, Ozone Therapy, Prolotherapy, 
Naturopath-Medical Herbalist, Registered 
Massage Therapists, Reflexology-
Craniosacral Therapy, Acupuncture-Facial 
Acupuncture, Kineso Taping, Hypnotherapy, 
Counselling, ThetaHealing/Change Catalyst.
AFFORDABLE CONSULTS FOR KIDS – give us a call
Gift Vouchers available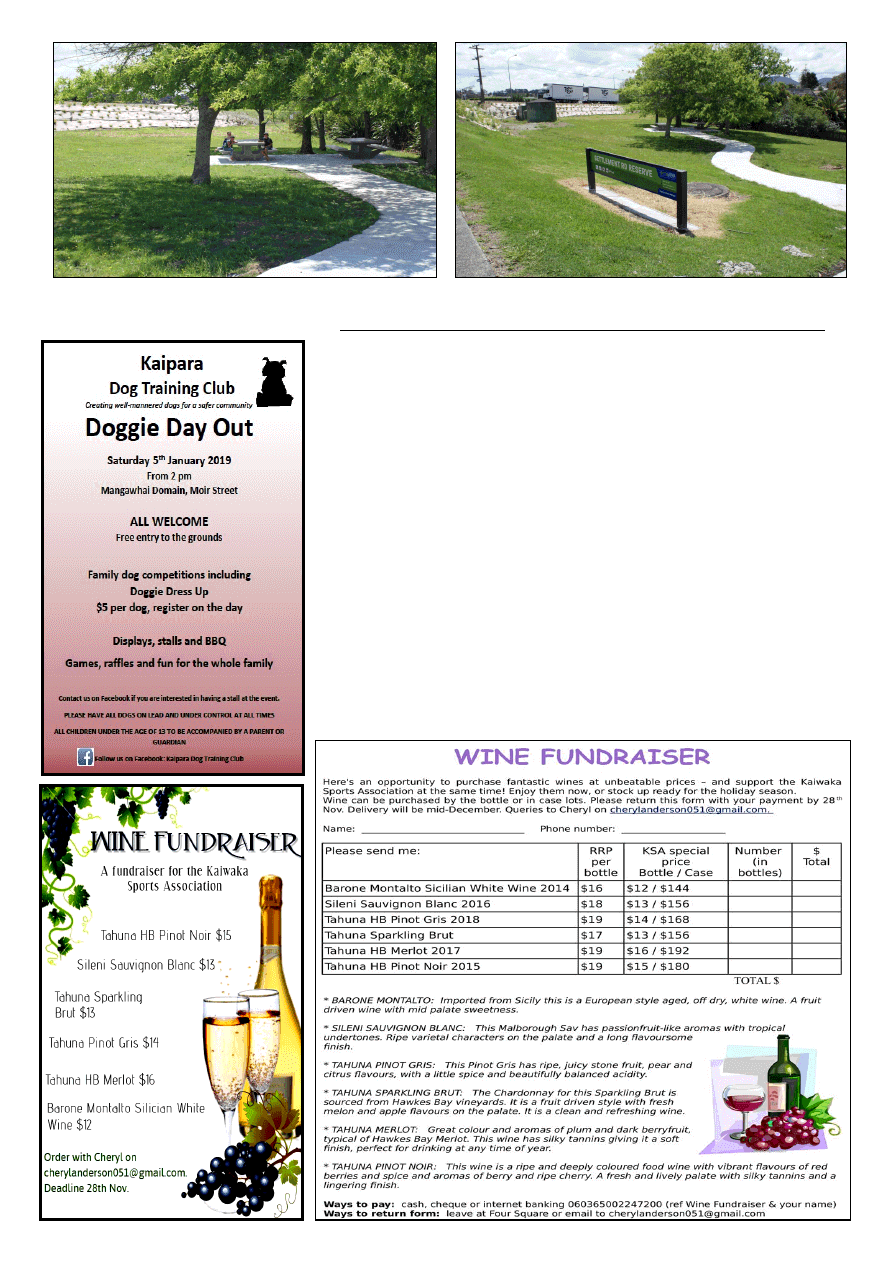 www.kaiwaka.co.nz 
Kaiwaka Bugle - 27 November 2018 
Page 19 
SETTLEMENT ROAD RESERVE 
After months of preparation by the Kaipara District Council picnic tables have finally been installed at the Settlement 
Road reserve on the corner of SH1. The plantings, concrete path and solid tables are a big improvement on the previous 
condition of the reserve. 
~ Anne
Friendship  between  artists  has  always 
been  inspiring;  in  this  marvellous 
exhibition  we  see  two  shows  of 
stunning  art  brought  together  by 
friendship,  celebrating  people,  family 
and  place.  Rebecca,  fresh  out  of  art 
school  and  teaching  college,  was 
Tracey's  art  teacher  and  set  the 
foundations  for  Tracey's  career  in  art 
('what  a  role  model!'  says  Tracey). 
Twenty-one  years  of  being  friends, 
encouraging  each  other  in art  practice, 
working towards the goal of exhibiting 
has  resulted  in  a  remarkable,  stunning 
exhibition  at  Mangawhai  Artists 
Gallery. 
The  artists  describe  their  styles  as 
wildly 
different, 
however, 
their 
painterly  mix  of  colourful  familiar 
images,  the  love  of  people  and  place, 
unify this exhibition. Tracey's work in 
'Willow  Garden'  stems  from  her 
journey  from  Auckland  to  Paparoa 
with her young family. Tracey explains 
'my  husband  and  I  moved  back  into 
my  family  home  on  the  Kaipara 
Harbour  and  I  found  that old  and  new 
memories  started  to  merge,  flourish 
and  grow  much  like  an  overgrown 
summer  garden.  In  'Scratching  the 
Surface', 
Rebecca 
began 
by 
interviewing  people  to  create  a 
snapshot  of  the  people  we  live 
alongside  and  for  us,  the  viewers,  to 
connect  with  the  essence  of  humanity 
and  share  stories  as  we  relate  to  the 
paintings. 
This  is  an  exciting  exhibition  by  two 
local  artists  and  friends  who  have 
decided to show together this year and 
hope to do so again in the future – we 
hope they do as well! 
Tracey 
Christie 
and 
Rebecca 
Barclay  Clist  invite  you  to  preview 
their  exhibition  on  November  22nd 
from  6pm.  All  welcome.  Exhibition 
closes Wednesday 5 December. 
Information: mangawhaiartists.co.nz  
MANGAWHAI ARTISTS EXHIBITION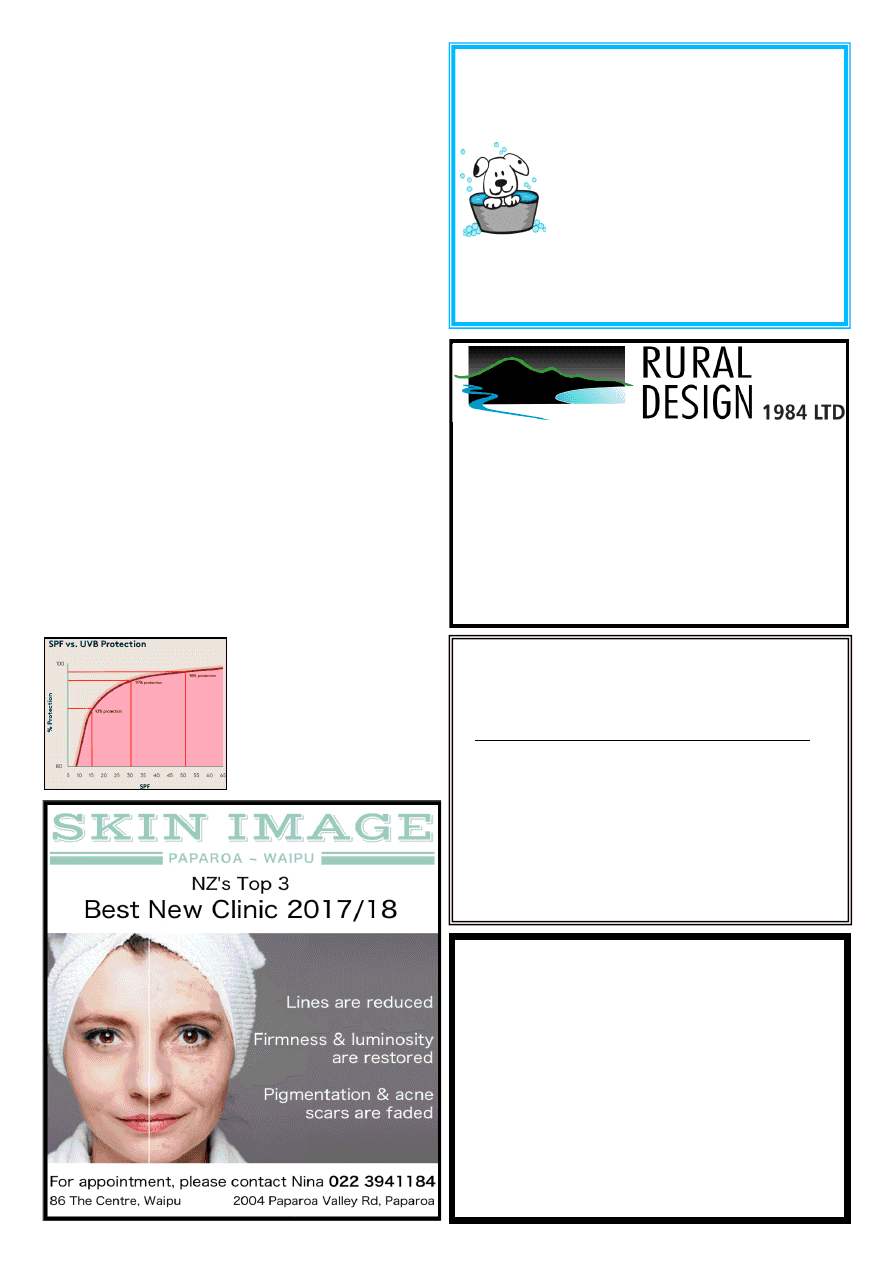 Mangawhai Heads 
Garden Centre
1758 Cove Road
945 0707 
021 165 2629 
Wholesale Native Plant Nursery and Planting 
Small and Large orders welcome 
By Appointment 
300 Kaiwaka-Mangawhai Road, Kaiwaka 
Phone: 09 431 2481 
Email: info@ruraldesign.co.nz 
www.ruraldesign.co.nz 
There  has  been an explosion  in  sales  of sunscreens with a 
high SPF, such as factor 50, which people assume will give 
them  more  protection  than  products  with  a  lower 
SPF.    What's  not  as  widely  known,  however,  is  that 
products with a high SPF… 
Expose the skin to a greater amount of actives, but offer 
only slightly more UVB protection (93% vs. 97%). 
That's a trade-off most people aren't willing to make once 
they understand it. You are using twice the amount of active 
ingredients  but  only  getting  an  extra  4%  protection.  Even 
the highest SPF could never give you 100% protection. 
So,  the  answer  is  an  SPF30  does  not  give  you  twice  the 
protection  (please  see  chart)  There  is  even  a  school  of 
thought that says you shouldn't completely block your skin 
but rather allow it to build a little bit of its own protection. 
However,  if  you  burn  easily  or  your  lifestyle  dictates  that 
you  spend  a  lot  of  time  in  the  sun,  then  a  higher  SPF  is 
recommended.  But  if  you  work  indoors  and  only  need 
protection going to and from work then an SPF 15 may be 
sufficient. 
When  choosing  a  sun  screen,  please  look  for  one  with  a 
broad-spectrum protection guarding against both UVB and 
UVA and understand how much UVA protection it offers as 
the SPF only refers to protection against UVB. Remember 
while UVB burns, UVA is the more insidious rays causing 
pre-mature ageing. 
The biggest misuse of sunscreen is not putting enough on, 
so don't skimp. It's important to re-apply if you perspire or 
if you have been in the water. 
I recommend that you apply sun screen over the top of your 
moisturiser or I personally like to mix  my  moisturiser and 
sunscreen  and  apply  them  at  the  same  time,  this  way  I 
ensure  that  I  have  sunscreen  around  my  eyes,  down  my 
neck and décolletage. 
Here's 
wishing 
you 
a 
wonderful  holiday  season.  Be 
sun wise as it's better to protect 
your skin than to deal with sun 
damage  and  pre-mature  ageing 
later on.  
NINA 
QUAN,  Skin  Therapist, 
Skin Image Paparoa - Waipu
DOES AN SPF30  
GIVE YOU DOUBLE THE  
PROTECTION OF AN SPF15?    
Om Tara 
Mangawhai 
Healing Services 
Diann Glucina 
021 250 7461 diglucina.com  
FB OmTaraMangawhai 
Hot Diggity Dog 
DOG GROOMING 
All breeds dog grooming 
Professional Experienced Groomer 
Short practical grooms - summer 
Breed Standard Grooms 
Designer fusion Grooms 
Oneriri Road
By appt Phone Pam 09 4312143 
Or text only 0273335380 
Email  hot.diggitydog@outlook.com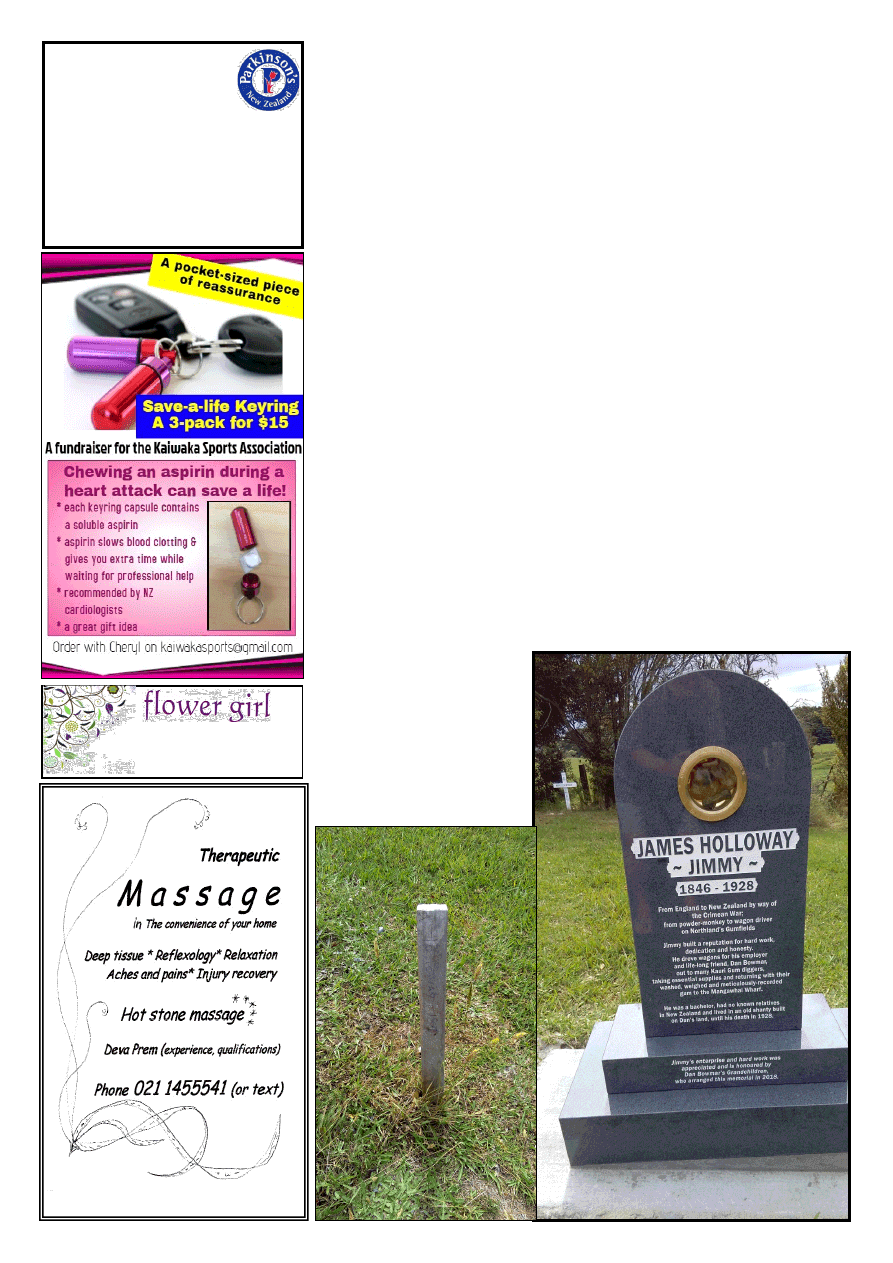 www.kaiwaka.co.nz 
Kaiwaka Bugle - 27 November 2018 
Page 21 
Parkinson's  
Northland 
Provide: 

Home based consultations 

Information and education on living with 
Parkinson's 

Support and exercise groups 

In-service training for other health 
providers 
Barbara Leslie RN,  
Community Educator 
09 4376881  or 027 5306221 
barbara.leslie@parkinsons.org.nz 
www.parkinsons.org.nz 
GLEANINGS FROM THE GRAVEYARD.  
By Bevan Lawrence 
In  Latin  countries  the  substitute  for 
Halloween  is  'the  Day  of  the  Dead'. 
This  is  where  relatives  respect  the 
dead, not make fun of them.  
Remembering our dead, I recently had 
occasion to go to the local cemetery to 
lift  and  secure  a  very  large  marble 
stone for my wife's' family. The stone 
reads:  Sacred  to  the  memory  of 
Susannah  Clayton  (formerly  Clark)8th 
May  1895  Age  75  years.  My  wife 
during  the  time  of  her  first  marriage 
visited  this  grave  of  her  Great 
Grandmother with her mother and very 
young  son.  She  liked  the  name 
Susannah  and,  being  pregnant  at  the 
time,  decided  to  name  her  new 
daughter after her. Two years after the 
birth, baby Susanna died in Italy and is 
resting in a Milanese Cemetery. Earlier 
this  month,  during  the  'Day  of  the 
Dead' the story about this little girl was 
aired  on  Italian  television.  To find  out 
why  it  is  so  interesting,  and  touching 
go  to  http/www.thelippodcast.kiwi/
blog/2017/7/19/episode-8-nadias-
promise. 
Whilst  in  our  local  graveyard,  I 
happened  to  notice  a  really  new 
headstone  with  a  story  dating  back  to 
the Crimean war in the Balkans 1853 -
1856.  This  conflict  ended  with  Russia 
eventually  suing  for  peace.  The 
Ottoman  Empire  allied  with  France, 
Britain  and  Sardinia  fought  for 
Christian  rights  over  lands 
taken  by  Russia.  Stories  such 
as  the  'Charge  of  the  Light 
Brigade' 
and 
Florence 
Nightingale  came  from  that 
war  as  did  explosive  naval 
shells  and  telegraph.  At  a  lull 
in  the  battle  Karl  Marx 
quipped  "there  they  are,  the 
French  doing  nothing  and  the 
British helping them as fast as 
possible". 
The  headstone  was  erected  just  last 
week  by  the  grandchildren  of  Dan 
Bowmar  to  respect  the  man  known  to 
many  as  Jimmy  Holloway-  1846  to 
1928.  As  a  ten-year-old,  he  was  a 
'powder  monkey'  aboard  a  ship  when 
he first started work. (A powder boy or 
monkey  was  one  who,  being  small, 
could race between decks and was less 
of  a  target  for  sharp  shooters.  He  was 
usually  given  to  the  navy  by  poor 
parents  who  could  not  afford  to  keep 
him.  These  boys  carried  the  gun 
powder 
cartridge 
between 
the 
munitions store and the guns, primarily 
during  the  age  of  sail.)  Jimmy,  a 
bachelor,  had  no  known  relatives,  and 
lived until 82 years old, in a shanty on 
Dan Bowmar's land. 
Because  he  worked  for  Dan  driving 
wagons,  they  became  great,  long  time 
friends,  he  took  essential  supplies  to 
the  men  and  returned  with  washed, 
weighed  and  recorded  gum  delivering 
it  to  Mangawhai  Wharf  for  shipping. 
So,  for  ninety  years  a  single  stick 
labelled 'Holloway 1846...' marked the 
spot.  I  commend  the  grandchildren  on 
this magnificent gesture to a local man 
of distinction. 
Photos  below:    Left  -  the  marker 
showing  Holloway  1846;  Right  -  The 
headstone erected by the grandchildren 
of Dan Bowmar for James Holloway 
www.mangawhaimassage.co.nz 
designs for all occasions 
lindywatson@hotmail.com 
4312 847  0211234164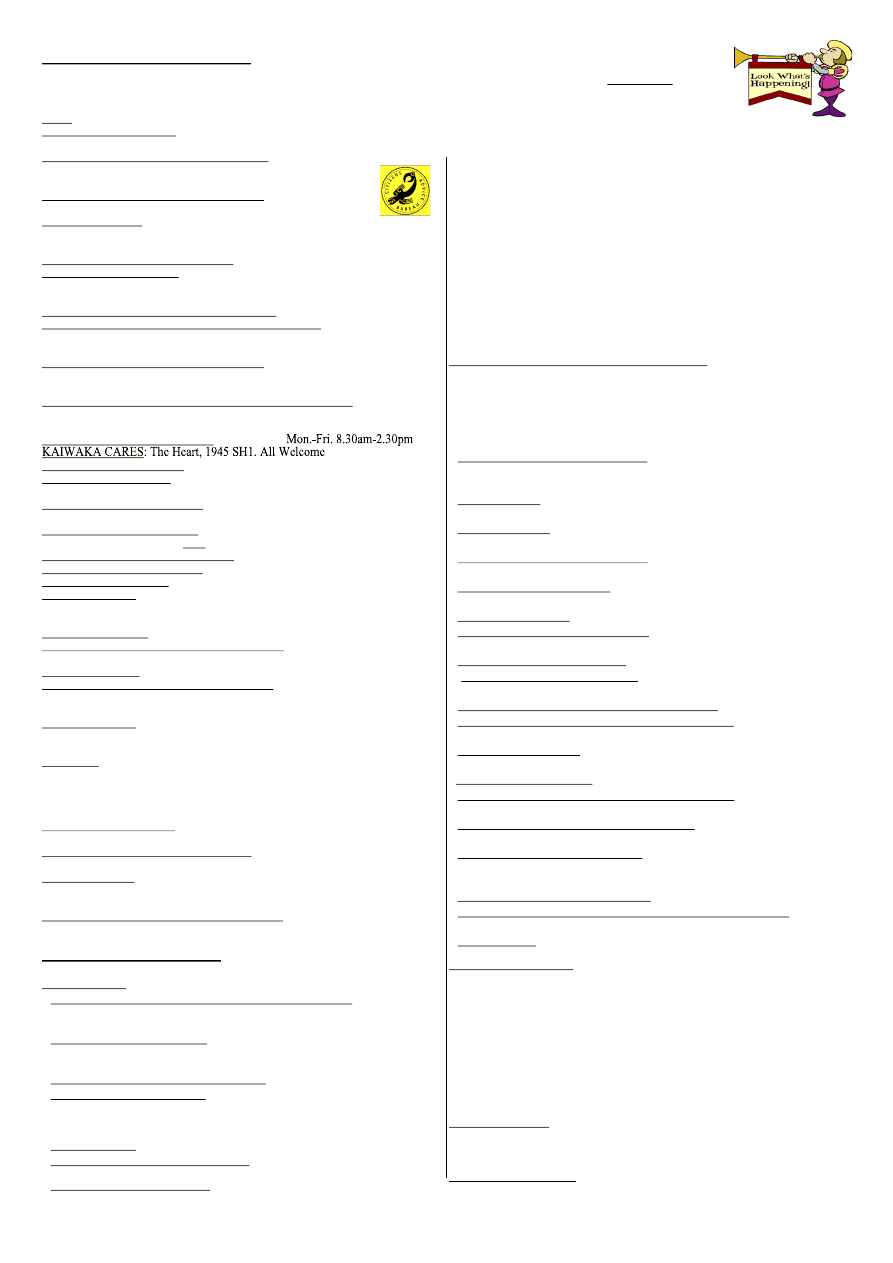 Next Bugle Deadline midday Friday 7 December  2018
WHAT'S ON
PLEASE ~ do let us know what is on - email 
kaiwakabugle@kaiwaka.co.nz 
*29Nov~Dementia Day Fundraiser, Mgto St.John 
*1Dec~Weed Working Bee, 9-12, meet at Eutopia Cafe 
*7Dec~Movie 'Mamma Mia', KWMH, 7.30pm 
*13Dec~Otamatea High School Junior Prizegiving 
*13Dec~Otamatea High School Term 4 ends 
*14Dec~Kaiwaka School Prizegiving, 9.30am 
*14Dec~ Movie 'The Wife', WH, 7.30pm 
*16Dec~St.Pauls Carols by Candlelight, 7.30pm 
20Dec~KSA Lawnmower raffle drawn. 
*20Dec~ Kaiwaka School Term 4ends 
*30Dec~NZ Scout Venture begins, KSA 
*5Jan~Doggie Day Out, Mangawhai Domain, 2pm 
KWMH = Kaiwaka War Memorial Hall; KSA = Kaiwaka Sports Association 
See www.kaiwaka.co.nz for more information 
HOUSEHOLD RUBBISH COLLECTION  
Kaiwaka Pick up: 
Mondays = Green bags (Northland Waste - 09 430 3273) 
Wednesdays  = Blue bags and yellow recycling (at Jaques $3.00 
and  $1.50)  (Kaurilands  09  4392146);  ONLY  Blue  and  Yellow 
bags picked up on Oneriri Road. 
 DIABETES  Support  Group  -for  Kaiwaka,  Mangawhai, 
Wellsford  10am,  3rd  Friday  of  month  Ph:  Colleen  James  09 
4314238 
 DRINK CAN 'tear tabs' - for Starship Hospital- please collect - 
98 Kaiwaka Mangawhai Rd, leave in mailbox, Ph. 4312625  
 GENEALOGY - Wellsford: 1st Thursday in month Ph: 423 
7033; Waipu: 4th Monday in month Ph: 4312 725 
 GYMNASTICS  OTAMATEA  -  Tuesday  Ph:  Stephanie  022 
3624998 
 HAKARU PONY CLUB - Secretary Denise Rogers 021423376 
secretary@hakaruponyclub.co.nz  
 KAIPARA HUNT - Secretary Albert Doonenbal Ph 4312059 
 KAIPARA YONG FARMERS - K Danks  0211598453, meet on 
last Thursday of the month at Three Furlongs Bar & Grill 
 KAIWAKA BADMINTON -Tuesdays 7.30pm Ph: 4312345 
 
 KAIWAKA DRAMA CLUB - 
Hannah Webb 
0272863352
- KaiwakaDrama@gmail.com - FB - "KaiwakaDramaClub" 
 KAIWAKA DRUM & DANCE CLASSES - 021 611198 
 KAIWAKA GARDEN & FLORAL GROUP - 2nd Thursday in 
month. Ph: 431 4744 
 KAIWAKA  CUBS  -  Thursdays  5.30-7pm,  Hakaru  Ph:Bruce 
4312542 
*KAIWAKA PILATES - Ph: 021 2072729. 
 KNITTING FOR WHANGAREI HOSPITAL - 2nd Tuesday in 
month, Archie Bull Hall 10am Ph 4314827 
 MANGAWHAI COMBINED REBUS CLUB - 2pm, 3rd 
Thursday month, Senior Citizens Hall Mangawhai. Ph: 4315777 
 OTAMATEA GREY POWER - Kath Pattinson 09 283 2052, 
1pm last Wednesday of month, Anglican Church Hall, 
Maungaturoto 
 PT CURTIS CRUISING CLUB - Jean Ph: 4312227 (wk), 4312520 (hm) 
 RSA,  HAKARU  &  DISTRICTS  WOMEN'S  SECTION  –  meets 
1.30pm 4th Thursday of the month. Ph: 431 5818  
 TRAMPING - Mondays 9am-2:30pm Maria 4312 234 
HALLS FOR HIRE: 
 St.Pauls Archie Bull Hall HIRE $20 half day, $40 full day per 
hire, S McAulay, Ph 4312311 
 Kaiwaka  War  Memorial  Hall  HlRE  -  Phone  4312725  or 
kaiwaka.hall.bookings@gmail.com 
 Hakaru Community Hall HIRE -Ph. 4312256 or 4312110 
 Te Pounga Marae queries - R. O'Leary 4312 423, J.Nathan 021 
186 7382 
 Kaiwaka Sports Association hire/queries - C. Anderson 4312051 
or kaiwakasports@gmail.com 
Justice of Peace:  
B.FJaques  4312  048;  L.Donaldson  4312  228;  A.F.Hargreaves 
4312 045, W.Howard 4312 725 - please phone to make sure they 
are available www.justiceofthepeace.org.nz 
Marriage Celebrants:  
L.Donaldson; A.F.Hargreaves; Y Osborne
LOCAL SERVICES 
*Emergencies - Ambulance, Fire, Police - dial 111 
*Non-urgent Police phone 09 4311150
A A: Meets Wed., 8pm Kaiwaka Ph: 4315543, 0800229 6757 
ASUREQUALITY LTD (was AgriQuality) Call Free 0508 0011 22  
BUDGETING SERVICE, WELLSFORD: Free confidential advice & 
support for all areas of personal finance. Ph (09) 423 7123 
CAB-Citizens Advice Bureau.Wellsford Ph: 4237333 
0800 367 222 email:cab.wells@xtra.co.nz  
CIVIL DEFENCE - Kaiwaka Community Response Group: 
kaiwaka.civildefencecrg@gmail.com, 4312725 Wendy 
DOG/STOCK /NOISE CONTROL 0800 105 890 
FUNERAL SERVICES: Morris & Morris Ltd, 
Whangarei - Bev Jaques Ph:4312367 or 0800667747 
GRANDPARENTS Raising Grandchildren: Dianah Roberts 0223819539 
HAKARU & DISTRICTS MEMORIAL RSA (Inc) 733 Settlement Rd, 
Hakaru. Ph 4312 176 or Graeme Hitchcock (President) 431 3064 
HAKARU LANDFILL/Transfer Station:Open everyday except 
Tuesday10am-4pm.Ph4312629 Cost-$55 trailer load up to 1 cubic metre. 
Ph:4258567 - office 
KAIPARA DISTRICT COUNCIL www.kaipara.govt.nz:  
Help Desk FREEPHONE 0800 727 059  
KAIWAKA KOHANGA REO: Ph:4312620 
KAIWAKA CEMETERY: Ph: 4312045 or 4314017 
KAIWAKA LIBRARY: kaiwaka.library@gmail.com  
Mon. 4-6pm; Wed., Thurs., Fri., Sat. 10am-2pm Ph:4312539 
KAIWAKA PLAYCENTRE: Ph Juanita 0274134904; open Mon, Wed, 
Fri 9am-12pm. Hastie Lane; Monday to Friday 9.00am - 12 noon. 
KAIWAKA POST OFFICE:Ph:4312 431  
Post Code: 0573 for RD2 and 0542 for all Kaiwaka Post Office mail 
KAIWAKA PRIMARY SCHOOL: Ph: 4312309   
KAIWAKA SPORTS ASSN: Ph 4312005; 4312129 gym 
KAIWAKA ST JOHN: Manager Steve Rosser 09 4318403, 021 355734 
KATE'S PLACE Community Centre - Employment services, Free Health 
Nurse, Plunket, Advocacy, Osteopath, A.A., Legal Advice. 4312 661 
LINKING HANDS Health Shuttle Ph 4315906 or 09 4318969 
MINISTRY FOR PRIMARY INDUSTRIES - General inquiries Call 
Free 0800 008 333 
NORTHPOWER: Faults Kaiwaka area 0800 104040 
OTAMATEA COMMUNITY SERVICES: Counselling, parent coach, 
Family Support worker, budget advice, food bank. Mon-Fri 9am-3pm. Ph 
09 431 9080 http://www.otamateacs.org/ 
PARENTPORT: Free, practical family support service Puhoi to Paparoa 
Ph or txt: Dianne 027 280 5093 or 09 425 9357 
PLUNKET:  Kaiwaka  -Kate's  Place  Clinic  1st  Wednesday  of  the  month; 
Mangawhai  - Rose Madsen Cottage: Coffee Group 9:30 every Monday.  Clinic 
every Monday and Thursday. 
Maungaturoto - Good News Church, Clinic 2nd and 4th Wednesday.  
Cynthia 09 431 7340 or 027 675 3488 
PLUNKET HELPLINE -0800 933 922 (24 hours) 
TAITOKERAU COMMUNITY LAW: Free confidential legal advice and 
assistance, 2nd
Thursday
 of each month. Ph: 0800 155 529 for apps.  
TE URI O HAU Settlement Trust Tangata Developments: Whanau Ora 
021 793262  
VETERINARY SERVICE MANGAWHAI: 
Ph: 4314535 Mon-Fri 8.00-5.00, Sat 9-12, a/h appt. 
WELLSFORD DOCTORS: Ph: 4238 086 
CHURCHES:
 
Kaiwaka  Revival  Church  -  Your  Community  Church:  Sundays  10am. 
Ph: Pastor Tawhiri 09 431 8988 or Pastor Paul 09 4312 068 Visit us at 
www.facebook.com/kaiwakachurch or www.kaiwakarevival.co.nz 
 
St  Paul's  Anglican  Church  1st  Sun.  9.00am  (Eucharist),  3rd  Sun. 
9.00am (Family Service). Contact: Rev. Wayne Thornton Ph 431 4122 
www.mangawhaianglican.org.nz 
 
Church of Christ the King, Mangawhai:9.30am every Sunday 
 
St.Mary's  Catholic  Church:  Maungaturoto  –  Griffins  Road,  Saturday 
evening  Vigil  Mass  6pm;  Mangawhai  –  Senior  Citizens  Hall,  Sunday 
Mass  8:30am;  Wellsford  –  Matheson  Road,  Sunday  Mass  10:30am;  
Mid-week Mass times and all enquires to Fr. Bill Fletcher – phone 423 8170
 
Baptist Church: Sun. 10.30am Mangawhai Snr Cit.Hall.Ph:4312339 
 
Cause  Way  Church  Mangawhai:  Sundays  10.15am,  Mangawhai 
Community  Recreation  Centre,  Insley  St.  Ph:  09  4314782