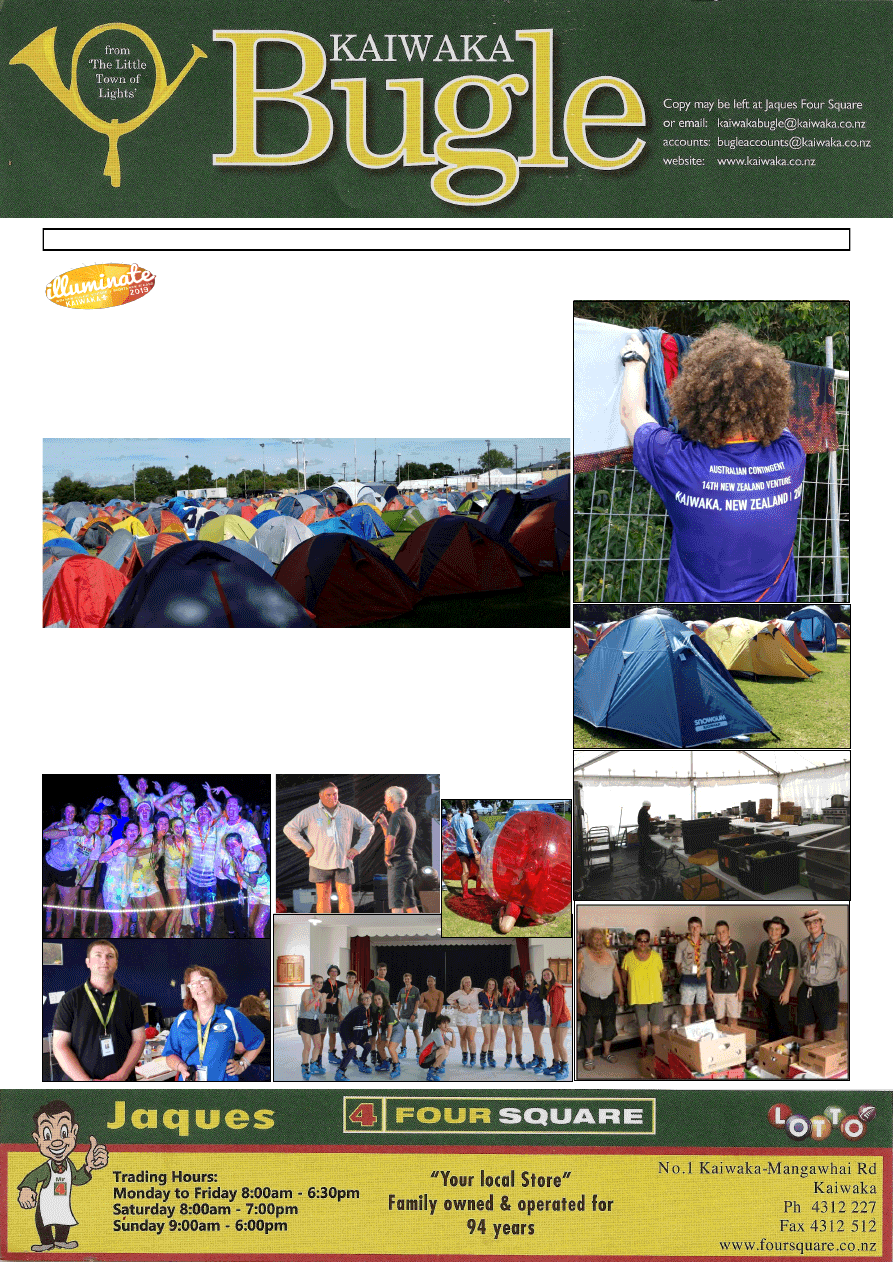 www.kaiwaka.co.nz 
Kaiwaka Bugle - 22 January 2019 
Page 1 
No: 1 
22 January 2019 
Trading Hours: 
Monday to Friday 8:00am - 6:30pm 
Saturday 8:00am - 7:00pm 
Sunday 9:00am - 6:00pm  
A  large  contingent  (1000)  of  14  to  18  year  olds  from  New  Zealand  and 
overseas  arrived  on  our  Kaiwaka  Sports  Assn.  grounds  on  New  Years  Eve 
2018; set-up crew, administration and support staff  had already settled in.  
"
A massive thanks to all you lovely people of Kaiwaka for your support of our 
illuminate2019 Venture. The Venturers from all over New Zealand and 6 other 
countries have put your tiny beautiful town on the world-wide map, are having 
a blast, loving this amazing weather and making so  many new friends. Here 
are a couple of photos from today. I will post some more as I can over the final 
few days." ~ Jenny 
- IT and Comms, Illuminate 2019,14th New Zealand Scout Venture 
KAIWAKA ILLUMINATED! 
SCOUTS' 14th NEW ZEALAND VENTURE in KAIWAKA 
Photos  tell  some  of  their  story  -  the  activities,  excitement,  sharing  and 
enjoyment  of  this  fantastic  12  day  Venture  (clockwise):-  Tent  city; 
the 
Australian  Contingent  wore  bright  purple  shirts;  "Snowgum'  tents  from 
Australia  -  green  ones  named  'Kaiwaka';  the  kitchen  on  our  tennis  courts  - 
Absolute Caters were able to feed 900 in less than one hour!; Gifts for our Food 
Bank;  Ice  skating  in  our  Hall;  Admin  -  Cry  and  Jenny;Closing  -  Tony 
Hargreaves,  on  behalf  of Kaiwaka  and  KSA,   thanked  the Venture Team  and 
our superb local liaison Bruce Ferguson; the 'paint party'!; Zorbing. And these 
aren't  showing  the  numerous  off-site  activities. 
More  photos  next  time  or  see 
Facebook    Illuminate 
2019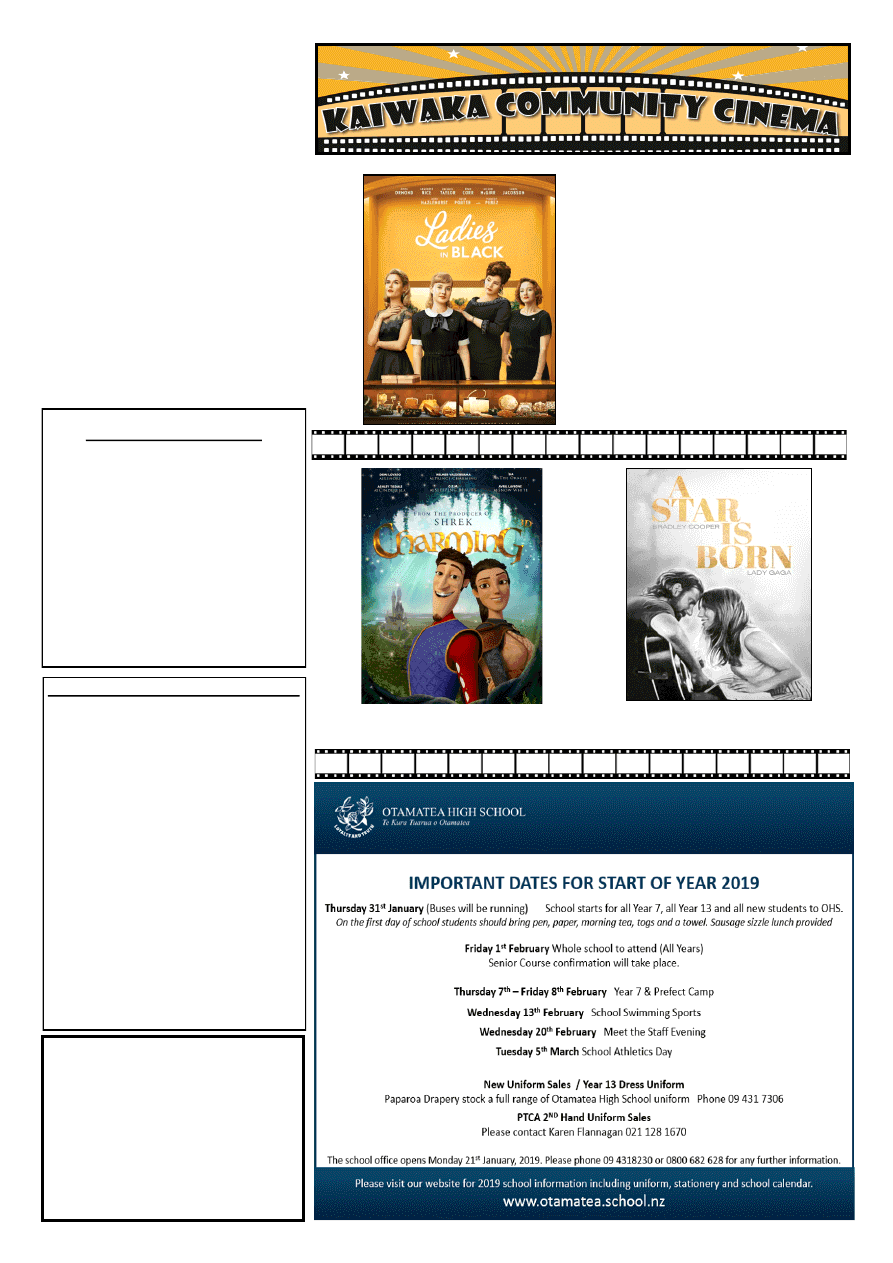 Proverbs 3: 5&6 
Trust God from the bottom of 
your heart; don't try to figure out 
everything on your own. 
Listen for Gods' voice in 
everything you do, everywhere 
you go; He's the one who will 
keep you on track.  
(
The Message Bible) 
At Kaiwaka War Memorial Hall . Adults $10, Kids (under 16) $5, Family Pass (2 adults + 3 children) $25 
KAIWAKA BUGLE NO.1 
22 JANUARY 2019 
CONTENTS: 
Page 3: Public Notices, Classified 
Page 5: Weather; Mangawhai Walking 
Weekend;  
Page 7: Otamatea High School 
Page 9: Pt CCC;  
Page 11: Kaiwaka Sports Assn 
Page 13: Kaiwaka Sports Assn 
Page 15: More About Town;  Rotary 
Page 17: Library 
Page 19: Story: Christmas! 
Page 21: Self Defence; Entertainment 
Bugle 2 will appear  5 February 
Contact for advertising, reports, articles 
or information can be made by 
Email: kaiwakabugle@kaiwaka.co.nz 
Ph: 09 4312 045 Lindsey 
Txt: 027 2724137 
Copy  may  be  left  at  Jaques'  Four 
Square. 
Kaiwaka Bugle Advertisements 2019: 
All 
copy 
and 
queries 
to: 
kaiwakabugle@kaiwaka.co.nz 
The Bugle is printed on an A4 page, B&W  
Ad  sizes:  1/16  page  (3  x  9.5cm)  $5;  1/8 
(6.5  x  9.5cm  landscape  or  portrait)  $8; 
3/16 ( 10 x 9.5cm or 7.5 x 12,5)  $12.  
Classified  ads:  First  one  FREE,  $4  per 
entry (max. 30 words, max. 4 repeats). 
Payments  can  be  made  online  at 
ANZ 
06  0365  0006990  00
,  posted  or  left  at 
Jaques Four Square Store. 
We  use  Microsoft  Publisher,  and  can 
work  with  most  common  image 
formats, Word, Excel, and PDF files. 
Accounts:  
Email: bugleaccounts@kaiwaka.co.nz 
The  Kaiwaka  Bugle  is  a  community 
newspaper run by volunteers, as part of 
the Kaiwaka Media Group Inc.   
Articles, etc. printed are not necessarily 
the opinion of the Bugle Team. 
Kaiwaka Bugle 
Founded May 1978 
We appreciate articles and photos about local 
events, etc, as well as ads and suggestions. 
Copies available in Kaiwaka at Jaques Four 
Square, Kaiwaka Postal Centre, Shamrock 
Service Station, Animal Health Centre, 
Kaiwaka St John shop. 
Also outlets in Maungaturoto, 
Mangawhai and Paparoa. 
Can be viewed online at  
www.kaiwaka.co.nz/Bugle  
Or a copy can be posted to you if you supply 
stamped, self-addressed DLE envelopes. 
LADIES in BLACK 
Friday 25 January, 7.30pm (PG)  
'In  the  summer  of  1959,  Lisa,  a  shy 
schoolgirl,  takes  a  job  in  Sydney's 
prestigious department store Goode's. There, 
her  life  is  changed  forever  when  she  meets 
the "ladies in black."  
Adapted  from  the  bestselling  novel  by 
Madeleine  St  John,  Ladies  in  Black  is  an 
alluring and tender-hearted comedy drama. 
It is one  of the  best recent  Australian  films, 
compressing into one storyline what Sydney 
life was like in the late 1950s. 
Director:  Bruce  Beresford.  Stars:  Julia 
Ormond, Angourie Rice, Rachael Taylor ' 
CHARMING 
Sunday  27 January, 2pm (PG)
A STAR is BORN
Friday 8 February, 7.30pm (M)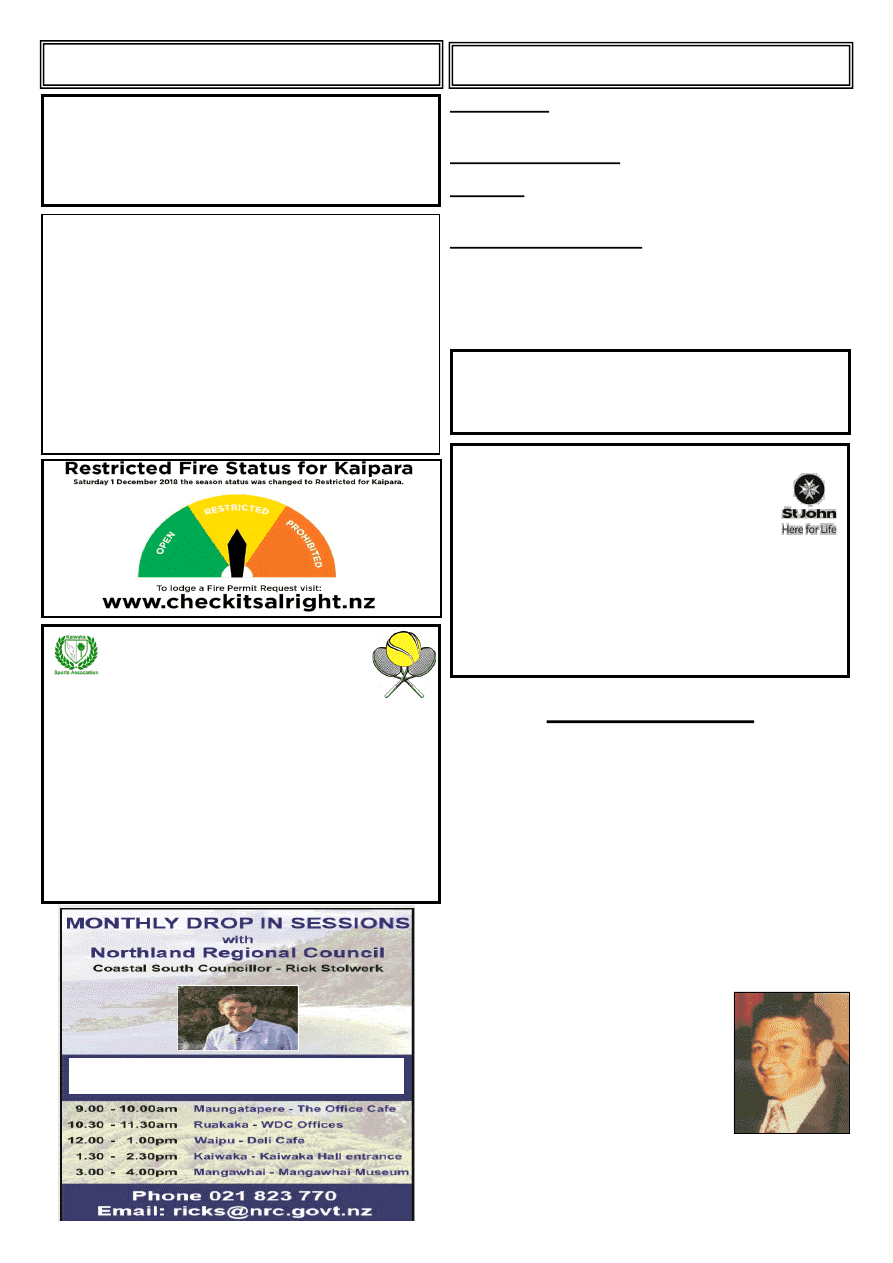 www.kaiwaka.co.nz 
Kaiwaka Bugle - 22 January 2019 
Page 3 
ABOUT TOWN 
 
What  a  wonderful  way  to  begin  2019  in  Kaiwaka  with 
illumination  from  the  International  Scout  Venture  and  the 
Northern Bass Festival! So much enthusiasm and so much 
camaraderie - superb! 
A 
 Well Done  to Kaiwaka locals and our local businesses 
who  truly  stepped  up  to  manage  and  enjoy  the  greater 
numbers around town. 

A special BRAVO to Bruce Ferguson and his family for 
their tremendous liaison with the Scouting folk.   

 Thank you  Maura and Peter  Flower and  singers for a 
most successful Christmas Carol Concert.  

 Beautiful  weather  for  a  successful  Pt.Curtis  C.C.  Boat 
Ramp Picnic - at the end of Rangiora Road. See photos on 
page 9 and online for colour! 

  Kaiwaka    Movies  are  back  in  action  on  Friday  25 
January. See the beautiful 'new' floor while in the Kaiwaka 
War Memorial Hall! 

NZ 
Transport 
Agency 
advises 
motorists  that  State  Highway  1will  be 
closed  between  9pm  and  5am  on 
Tuesday, 22 January and Wednesday, 23 
January  between  Waipu  and  the 
intersection with SH12 on the south side 
of the Brynderwyn Hills for resealing. 

We  remember  Bruce  Nathan  who 
passed away 11 December last year. Our 
condolences to all the Nathan family. 

See  the  Bugle  online  at  www.kaiwaka.co.nz  for  great 
colour in the photos.              ~ Lindsey, Ed 
"Bottom line: to succeed in life you must pray for wisdom, 
and then make a decision"
PUBLIC NOTICES 
CLASSIFIED 
First notice FREE  for Classified or Public Notices - 
less  than  30  words  -  then  charged  as  per  advertised  
($4). This includes AGM and meeting notices, FOR 
SALE, WANTED, FOR RENT. ~ Kaiwaka Bugle 
FOR  SALE:  Trivial  Pursuit  Board  Game  -  Genus  V 
Edition.  Complete.  A  tear  in  one  corner  of  the  box  - 
otherwise in good condition. $40. Phone 027 3462702. 
WANTED  to  RENT: 
  House  -  Kaiwaka  or  surrounds. 
Please phone Mike 0275248759 
TO LET: Comfortable, spacious, sunny cottage - near 
township. $300 p/w. Incl. power, water, waste. Ph: 09 
9450593 
SITUATION  VACANT:  Coffee  Pot  &  Gateway 
Motor  Lodge,  Kaiwaka,  has  a  fulltime  position  for  a 
general  worker.  Varied  role  in  all  aspects  of  front  of 
house  (barista  exp.  preferred),  inclusive  of  relief 
kitchen duties &  motel  housekeeping. Some weekend 
work req. Send CV to info@gatewaynorth.co.nz 
KAIWAKA ST. JOHN OP SHOP 
Back to the grindstone for some of us!! Hoping 
you all had a good Christmas and New Year. 
The shop has been very busy, so as usual, if 
you can help, we would like: 
Cooking  pots,  Baking  dishes,  Large  Ornaments, 
Jewellery, Pictures, Pot Plants, Mats, Tools and anything 
else in good saleable condition please. 
Oops!!...Also  Single  and  Double  beds  with  mattresses. 
They must not be stained please. 
Thankyou, ~ Milly and staff.
Phone 09-4312650 after 9.00 am. 
- check us out at 1919 SH1, Kaiwaka 
KAIWAKA MEDIA GROUP Inc 
Annual General Meeting 
Monday 4 February, 5pm 
Kaiwaka War Memorial Hall 
All welcome 
69th OTAMATEA TENNIS 
TOURNAMENT 
Anniversary Weekend 
Saturday 26th, 9am start through to  
Finals on Sunday 27th January 
Kaiwaka Sports Complex 
This  is  Northland's  only  Singles  A  Grade  Tournament 
with  top  players  coming  from  Auckland  to  Kaitaia; 
Players can enter singles, doubles and mixed doubles and 
caters for serious to casual players! 
All welcome to view great tennis and join the Social 
Evening on Saturday, 7pm onwards 
Enquiries: Grant 02102570322 Tournament Director  
Or Innes  09 4312250
Garage Sale  
The Den 
Bickerstaffe Road Maungaturoto 
Weekend 2nd & 3rd February 
9am until 2pm daily 
Weekend's Proceeds to Dementia Fund 
We already have stock on hand, but we can accept more 
If you have old sheds or buildings that need tidying up or 
Demolishing - give us a call first, we may be able to 
salvage old things and timber, you may not want. 
Eft pos Available 
For more info Ph Albie Paton 027 4949448 
M o n d a y   4   Fe b r u a r y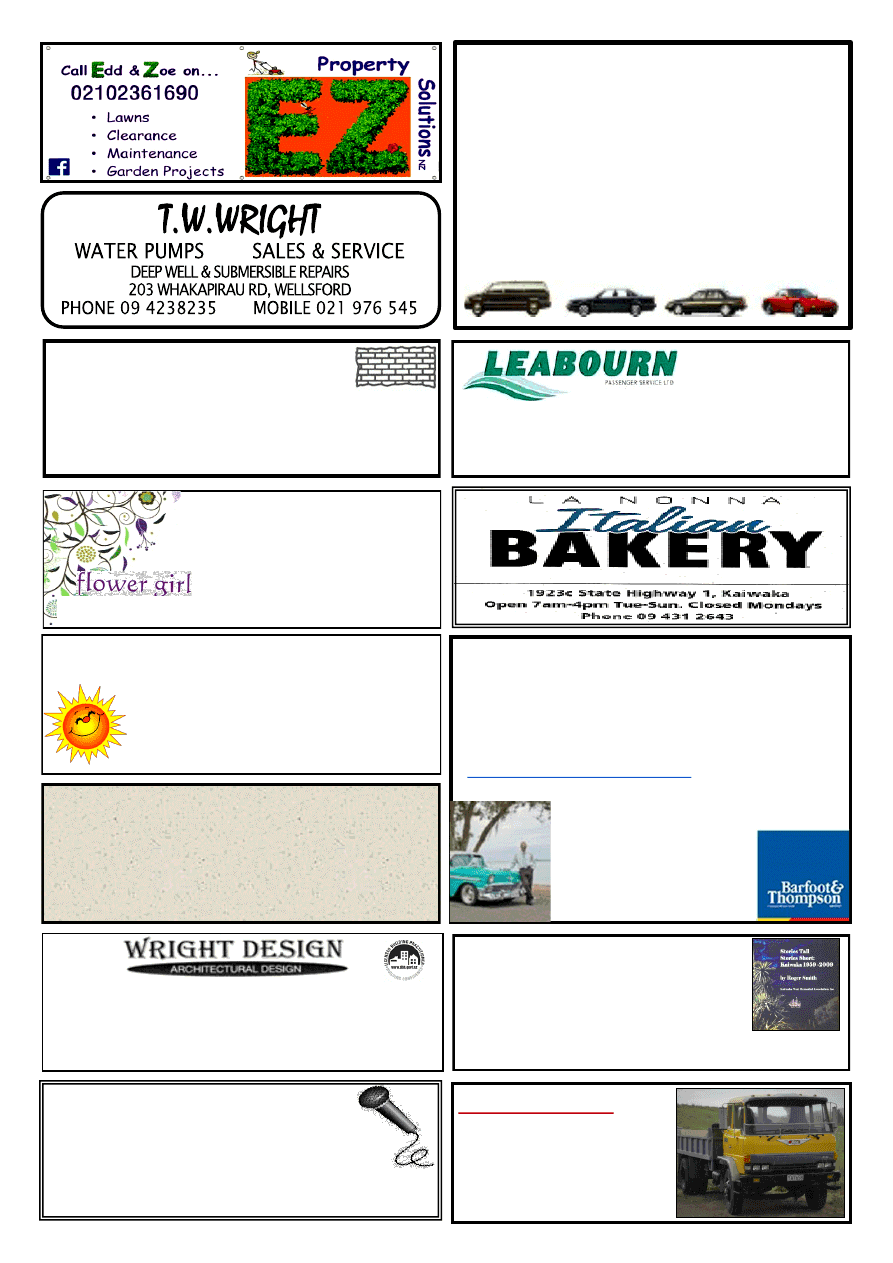 Passenger Service
Car & Van Hire   Bus & Coach Charters 
Airport Transfers    
Phone (09) 4237416 
BRICK/BLOCKLAYER 
All aspects of masonry:  
Fireplaces, Restoration & Remedial Work. 
JAMES EAGLETON 
Tel. (09) 431 2514    Mob. 0274 749 232 
jajueagles@yahoo.com.au 
210A Pukenui Road, RD2 Kaiwaka 0573 
THE SUNSHINE GIRLS
Efficient and reliable help with 
your housework. 
Ph 4312 532 
Counsellor and Registered Psychotherapist 
Offers Supervision 
ACC Sensitive Claims 
Susan Matheson      MNZAC 
Dip. Psychosynthesis Counselling and Psychotherapy 
Phone 09 431 2996                                     Mobile 027 605 2427 

  After 20 years of selling in Auckland I have             
moved to Kaiwaka. 

  I have a relaxed attitude with years of  
        results and experience. 

  Please feel free to give me a call or email. 
licensed real estate agent (2008) 
Chris Barrington
Residential Sales
M 
Mangawhai
Stories Tall, Stories Short:  
Kaiwaka 1959-2009 
by Roger TW Smith 
And 
Kaiwaka: A Photographic History 
Available  at All-Sortz Collectables or phone  4312 045 
Kaiwaka Good Sorts 
Do you know someone in our community 
who is deserving of a beautiful bunch of 
flowers? 
Send an email to us at 
kaiwakabugle@kaiwaka.co.nz 
or drop a note to Jaques Four Square to 
let the Bugle team know. 
lindywatson@hotmail.com 
4312 847 
SING RIGHT 
Professional coaching for performance,  
recording and demos. 
All level singers, musicians, singer-songwriters. 
Phone Robyn Hill 431 9159 or 0274 725610 
No. 117345 
N.Z.C.A.D., L.B.P. 117345 
PH/Fax: 09 423 8092 Mob: 021 276 7369 
Office: 3 John Sinclair Avenue, Wellsford    brianwright@xtra.co.nz 
For Resource and Building Consents, planning restraints, new building materials - 
you need a capable, experienced, and professional designer with a clear 
knowledge of all the processes. Brian has been helping and organising all these 
facets of design and building for over 50 years. 
Wright Design offers free visits, consultations and advice on planning, design, 
building, council permit applications, guaranteed permit plan acceptance. 
J & M Contractors 
Oneriri 
General Cartage
: 
All metals, Lime Rock,  
Post Peel and Wood Chip Mulch. 
Jim Wheeler  
Ph: 021 2383664  
WRIGHT CAR GROOMING 
Professional car cleaners  
Make your car look new again!! 
Ph 
021 08770230 
Kaiwaka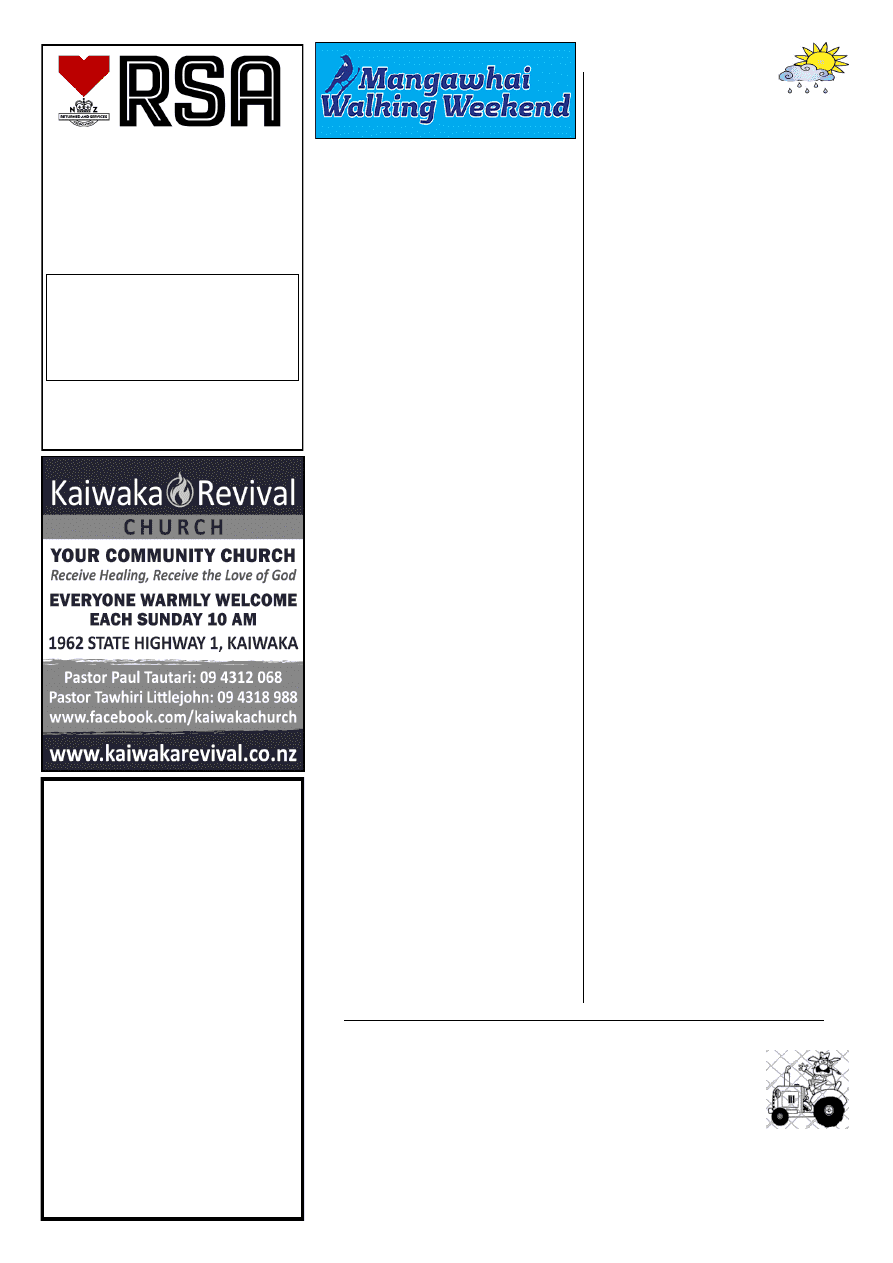 www.kaiwaka.co.nz 
Kaiwaka Bugle - 22 January 2019 
Page 5 
Willow Bend
HORSE  
HOTEL 
  
Total Horse Care 
 
Agistment 
 
Riding Lessons 
 
Arena Hire (60x40) 
 
Young Horse Starting 
 
Re-training/Exercising 
 
Hoof Trimming 
 
Problem Solving 
Phone Sue 09 431 2817 
or 021 623 776 
Or email  
susanjoll11@gmail.com 
HAKARU & DISTRICTS 
MEMORIAL RSA (INC)
Members & guests are invited to 
come along and enjoy our hospitality. 
New members welcome. 
Meals are served on Thursday and 
Friday nights from 6.30pm. 
Order from Blackboard Menu  
and a sing-a-long  
with Des Chitty. 
For more information please phone 
Graeme on 431 2563 
143rd PAPAROA A & P SHOW 2nd FEBRUARY 
Paparoa Showgrounds, State Highway 12, Paparoa, Kaipara 
Saturday 2 February 2019 9:00am – 4:00pm
Events include equestrian show jumping, dressage and harness ring, 
pedigree cattle and dairy goats, wood chopping, shearing and 
Western Team roping. Plus, indoor competitive classes in floral, 
food, handwork and craft, dairy, home brew, photography and school work and 
also market stalls and trade sites.   
There is free parking and good facilities, including a St John ambulance and 
EFTPOS. Tickets are only $10 for adults and $5 each for the first two children – 
extra children are free as are all children under five. 
Visit www.paparoashow.org.nz or see Facebook @PaparoaShow. 
KAIWAKA 
WEATHER 
Wishing all my loyal readers a safe and 
happy New Year.  At least 2019 started 
real summery.   
Now  down  to  business.  Although  we 
are  into  our  fourth  week  of  January 
already, here is the last report for 2018. 
Our  weather  was  rather  cold  the  first 
week  of  December  with  those  cold 
west  or  southwest  winds.    After  the 
thunderstorms  and  heavy  rain  in  the 
middle of the month it warmed up and 
we  still  had  rain  and  showers  through 
the  rest  of  the  month.    Christmas  Eve 
and Christmas Day brought some much
-needed  rain  and  it  spoiled  a  lot 
Christmas Day parties and the children 
with  their  outside  toys  had  to  find 
further alternatives (never mind there is 
always the good old mobile phone). It 
was  sad  for  those  campers  who  got 
washed out and the businesses that also 
missed out because of the rain.  Some 
of the rain was very local.   
We had an early Christmas day to suit 
our family so we could all be together 
and,  on  that  day,  at  our  house  we  got 
32mm  of  rain  and  the  day  before 
15mm.  Family  coming  up  from 
Warkworth  area  said  the  weather  was 
beautiful  fine  until  they  got  to  Topuni 
and  the  heavens  had  opened  up.    Our 
new great-grandson could walk by now 
and  it  was  the  first  puddles  he  was 
allowed to play in other than baths and 
swimming  pools  etc.    Hakaru  hardly 
got  any  of  that  and  Mangawhai  had 
next to nothing.   
Well here we go again.  At OUR house 
for  December  2018  we  had  204mm 
and for 2017 we had 71mm.  
We  had  rain  on  12  days  in  December 
2018  and  for  2017  we  had  rain  on  10 
days. 
Our  total  for  the  12  months  of  2018 
was  1841mm  and  for  2017  we  had 
1729mm.   
Our  driest  December  since  1987  was 
1994 with 4mm and wettest December 
since 1987 was 2014 with 211mm.   
Our  driest  12  months  since  1987  was 
1994  with  892  and  the  wettest  was 
1990 with 1947mm rain. 
Q. How many animals of each kind did 
Moses take aboard the Ark?  A. Moses 
did not board The Ark. With the school 
holidays being almost over please take 
care on the roads out there and be kind 
to each other.  ~ Bev. 
Time to plan an adventurous weekend 
in March. 
The Mangawhai Walking Weekend 
2019 booking site 
www.mangawhaiwalking.co.nz  
is open for business, and we hope you 
will be able to join us for one or more, 
of  the  events.  We  have  had  great 
response  for  a  previous  article 
detailing our Romance on the Kaipara 
walk,  so  here  are  several  more  you 
may be interested in exploring with us. 
Two other walks close to Kaiwaka are 
the Views from the Hinterland, which 
is  centred  on  Hakaru;  or  for  a  more 
challenging  experience join  us for  the 
ever-popular  Bald  Rock  and  Pretty 
Bush walk. 
If  history  is  your  thing,  join  us  at 
Mangawhai 
for 
the 
Historic 
Mangawhai  Walk.  Lots  of  tales,  both 
fact  and  fiction,  to  be  told  as  you 
reimagine  a  Mangawhai  confronting 
pakeha  settlers.  Stroll  along  Moir 
Street,  which  quickly  became  a  busy 
centre  of  commerce  involving  kauri 
timber,  gum,  ship  chandlery  and 
supply  stores.  The  wharf,  tavern, 
billiard  saloon,  and  more,  brought  to 
life by your host Jo Roberts. 
Various walks allow you to experience 
the  east  coast,  you  can  choose  to 
explore from Waipu Cove in the north 
to Leigh and Goat Island in the south, 
with lots to see in-between. If you, like 
many  of  us,  often  wonder  how  our 
coastal landscape was formed, do join 
our  experienced  and  entertaining 
geologist, Gary, on the Geology walk. 
You  will  glean  tons  of  fascinating 
information titbits to amaze and share 
with your family and friends for years 
to come.  
All Saturday walks finish in good time 
to  allow  you  to  come  to  the  annual 
Food  and  Wine  Festival,  and  on 
Sunday to share with us a special 20th 
anniversary  lunch  in  a  Mangawhai 
olive grove. 
All up there are more than 30 events to 
plan  for  and  whether  you  are  coming 
with  a  group  or  by  yourself,  you  will 
be  warmly  welcomed  by  fellow 
walkers. Be prepared for a great time! 
28-31 March 2019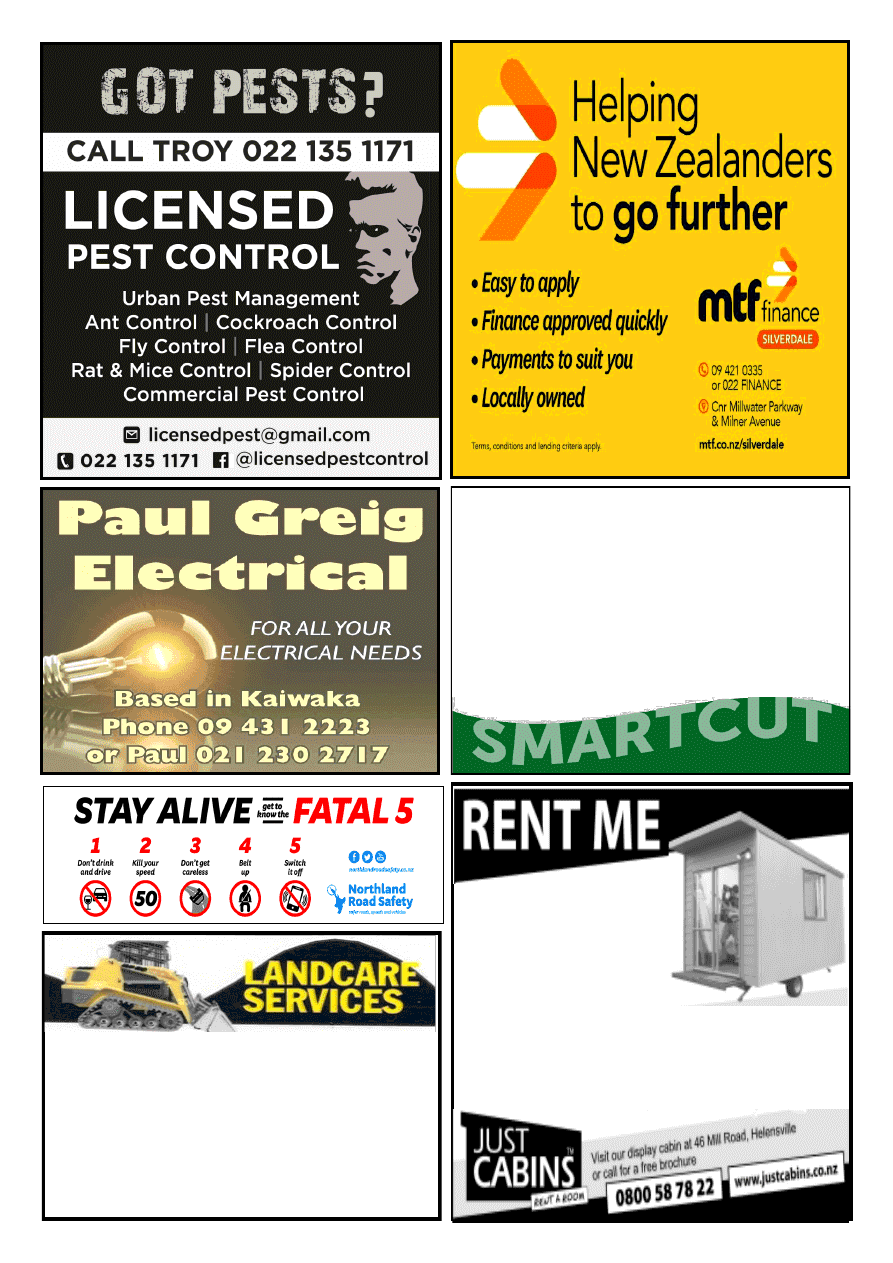 LANDSCAPING 
4 IN 1 BUCKET 
TRENCHER 
POLE HOLES 
ROTARY HOE 
COMPACT ROLLER 
OFFAL HOLES 
CAN SUPPLY WOODCHIP & POST PEEL 
5 TON TIPPER 
FOR RELIABLE AND FRIENDLY SERVICE CONTACT DAVE 
Dave Hyndman 
 
KAIWAKA 
PH: 09 4312302 
MOB: 021 431 238 
All your outdoor needs sorted so you don't have to... 
I can prune, chop, tidy, spray, mow, plant 
- you name it, I can do it! 
Residential & Commercial 
Lawn & Garden Care 
Call Rodney, your local  
lawnmowing contractor 
021 138 2344 
Ideal as an extra  
bedroom or office 
Three Convenient sizes: 
Standard 3.6m x 2.4m - $65 per week 
Large 4.2m x 2.4m - $80 per week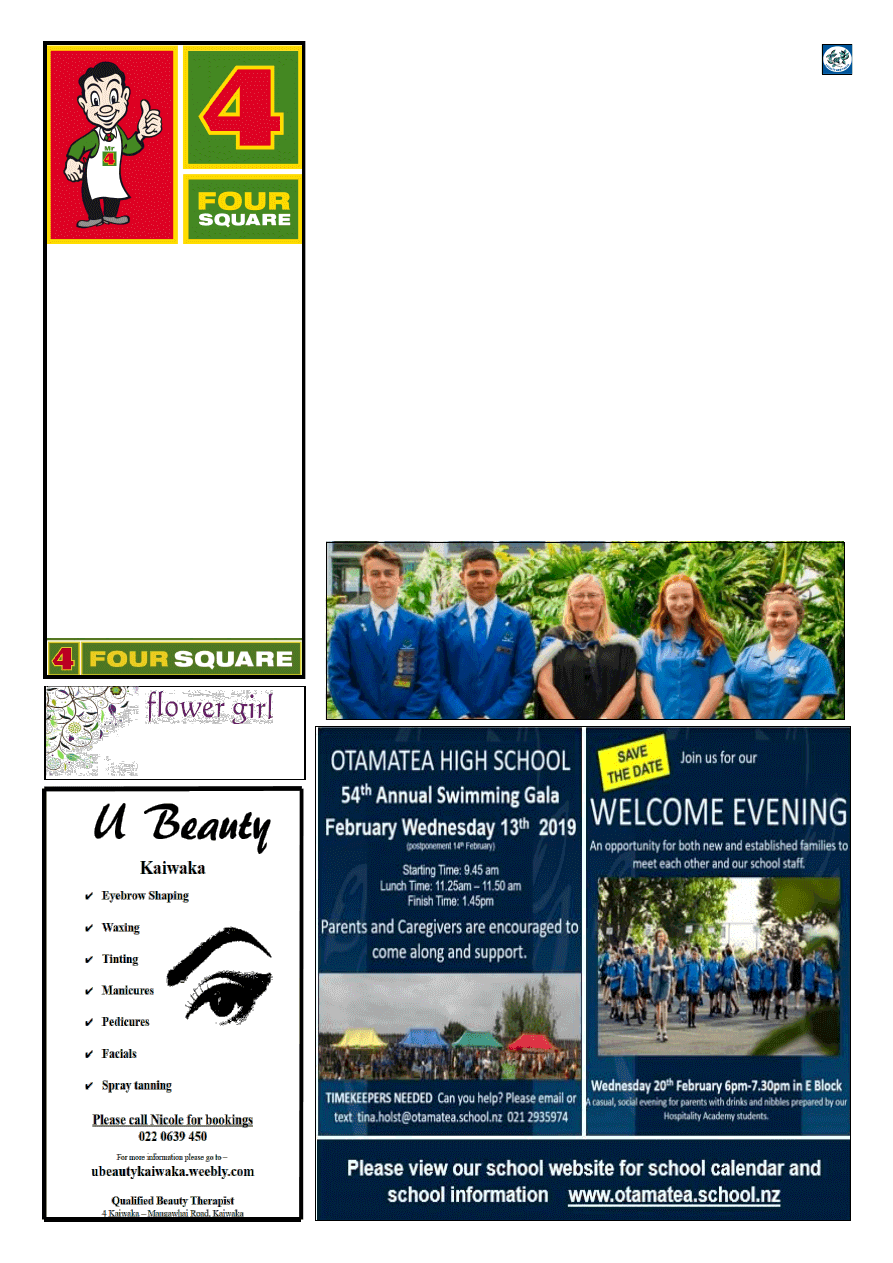 www.kaiwaka.co.nz 
Kaiwaka Bugle - 22 January 2019 
Page 7 
Due  to  a  huge  increase  in  volume  we 
are  no  longer  able  to  accept  Freight/
Parcels/Mail.  Please  remove  our 
address  from  your  delivery  details 
when  ordering.  We  are  happy  to 
accept parcels from the pharmacies for 
medication. 
Currently  we  are  still  the  local  agent 
for  NZ  Couriers  only,  while  they  are 
looking for a new depot in Kaiwaka. 
  
From January 1st, 2019 we have 
gone 'single use plastic bag FREE' 
 
Remember  to  bring  your  own  bags  or 
available  in  store  are  a  range  of 
reusable  bags  including  recyclable 
large  plastic  bag  25c  each  or  large 
brown paper bag 20c each. 
Jaques Four Square 
Phone: 4312227 
1 Kaiwaka-Mangawhai Road, Kaiwaka. 
OTAMATEA HIGH SCHOOL
designs for all occasions 
lindywatson@hotmail.com 
4312 847  0211234164 
From 
Rachel 
Clothier-Simmonds, 
principal:  'Leadership  training  day  for 
next  year's  Year  13  students  allowed 
the  students  to  begin  preparing  for  the 
year  ahead,  discovering  their  strengths 
and  learning  some  adventure-based 
learning  activities  which  they  will  use 
during Year 7 camp next year. We have 
an awesome bunch of students ready to 
take  up  the  leadership  challenge  that 
Year 13 brings. 
The  camps  and  activities  were  a 
wonderful way to end the school year. I 
had the opportunity to visit the Year 8 
and  10  camps  and  was  impressed  by 
the  way  the  students  interacted  with 
each  other  and  the  staff  and  got 
involved  in  everything  that  was  on 
offer.  Watching  the  Year  8s  having  a 
blast on the water slide and witnessing 
how waterproof the bivouacs were was 
my highlight from the Year 8s. At Year 
10  camp  I  enjoyed  watching  the 
teamwork demonstrated by the students 
who were building their raft. It was just 
stunning  how  they  all  worked  so  well 
together. 
Thank you for your support throughout 
the year'. 
Below: Principal and Student Leaders 
From  the  Student  Leader  Group  - 
Quintin,  Emma,  Alex  and  Georgia: 
'For 2019 we have an amazing team of 
student  leaders  with  which  we  expect 
to  put  our  mark  on  many  great  events 
like the senior ball, Health Council and 
Relay  for  Life. We anticipate reaching 
our  goals  due  to  being  a  group  of 
dedicated,  hardworking  team  players 
who  will  all  collaborate  our  ideas  and 
listen  to  everyone's  opinions,  finding 
the  best  solutions  and  making  2019  a 
great  year  for  everyone.  Without  the 
people  who  believed  in  us,  we  would 
not be here and for that we thank you. 
Relay  for  Life  is  an  amazing 
community-based 
charity 
raising 
money  and  supporting  New  Zealand's 
cancer society. We are all excited at the 
opportunity  for  the  Year  13  group  to 
participate  and  help  raise  money  for 
such  a  great  cause  and  continue  to 
support the event. Relay for Life is also 
an  excellent  opportunity  for  the  senior 
students  to  grow  their  team  building 
skills and learn to work together to the 
best of our abilities by encouraging and 
motivating each other to keep going for 
the  18  hours  we  will  be  walking/
running  around  the  Relay  for  Life 
track.'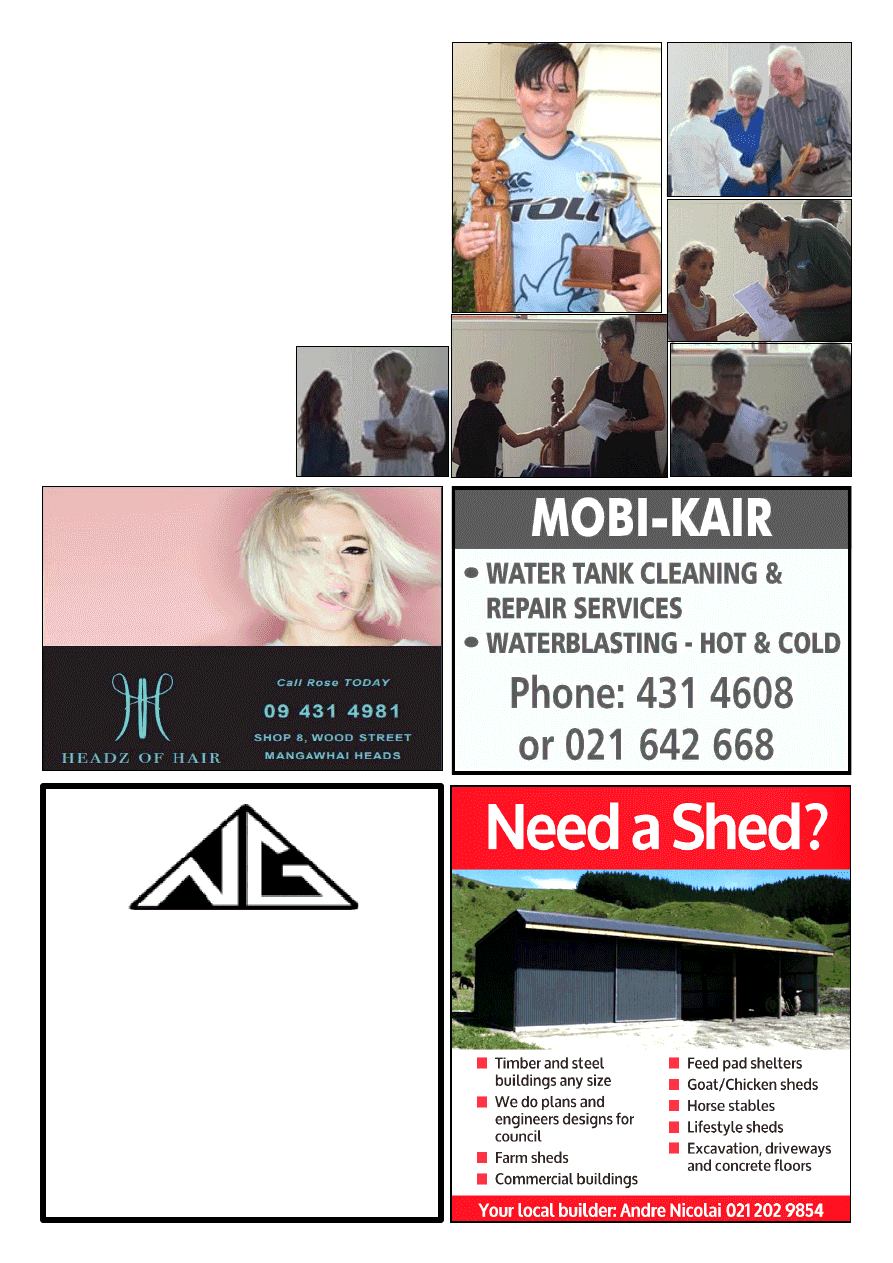 KAIWAKA SCHOOL
NORTH GLASS 
WINDSCREEN REPAIR OR REPLACE 
GLAZING SERVICES 
MIRRORS  •  SPLASH BACKS  •  SHOWERS 
0800 70 40 10
info@northglass.co.nz 
www.northglass.co.nz 
Trophy and Award Winners for 2018 
We  congratulate  the  following  students  for  their  special 
awards: 
Outstanding Attendance: Casey Greig, Leyton Greig, Mya 
Adolph, Lily Adolph 
PTA Cup for School Spirit: Tane Thomas 
Leabourn Citizenship Cup: Anika Neckelson 
Hyndman Cup for Girls Academic Achievement: Anahera 
Worsfold 
Hargreaves  Cup  for  Boys  Academic  Achievement:  Egor 
Shefer 
McAulay Speech Cup: Atariki Ashton-Videla 
Kaiwaka  Sports  Association  Cups:  Boys:  Billy  Greene; 
Girls: Anahera Worsfold 
Helen George Nga Tumanako Taonga:  Tane Thomas 
Whanau  Committee  Nga  Tumanako  Taonga:  Lisa  van 
Blerk 
Kereru 
Certificate: 
Nathan 
Gilligan. 
Recipients pictured right- clockwise: 
Tane  Thomas;  Egor  Shefer;  Anika 
Neckelson;  Billy  Green;  Atariki 
Ashton-Videla; Anahera Worsfold.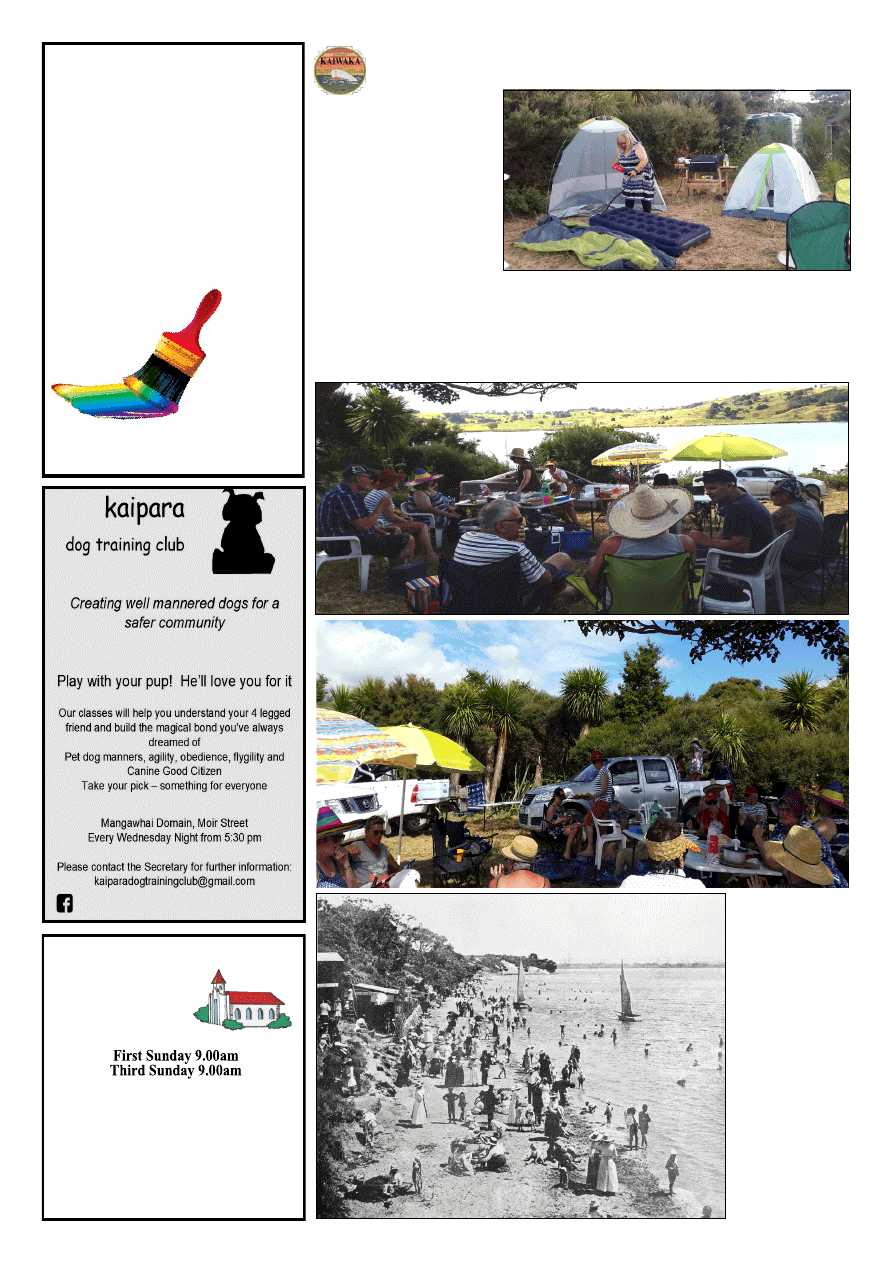 www.kaiwaka.co.nz 
Kaiwaka Bugle - 22 January 2019 
Page 9 
LEE COOPER 
PAINTERS 
(Kaiwaka Based) 
*30 yrs Experience 
*Interior/Exterior 
*New and Restoration 
*Honest and Reliable 
*Free Quotes 
09 4312918 
0274735171 
leecooper@xtra.co.nz 
ST PAUL'S  
ANGLICAN  
SUNDAY  
SERVICES
St Pauls Church: Kaiwaka-Mangawhai Rd. 
1st Sunday - Eucharist 
3rd Sunday - Family Service 
Rev. Wayne Thornton Ph 431 4122 
www.mangawhaianglican.org.nz 
Christmas Carols by Candlelight 
Sunday 16th December 7.30 pm 
Christmas Day Family Communion 
Tuesday 25th December 9.00 am 
PT.CURTIS CRUISING CLUB
January's  'Picnic  at  the  Boat  Ramp'  went  well.  A  little  later  than 
expected 
but 
all had a great time. Some 
took  tents  and  camped 
down  the  night  and 
attempted  floundering  to 
the  wee  early  hours. 
Photos below. 
Three  Raffles  were  run, 
and  the  Winners  were 
Christine,  Paul  and  John. 
Thanks 
everyone 
that 
came 
down, 
brought 
amazing plates of food and shared the afternoon/evening. 
A Clay bird Shoot was talked about so if your keen let one of us know -Jean 
(Jaques  Superstore) Sandy (Wellsford Sports and Leisure) Pongo or Renna. 
Fish of the month: Snapper till 12th February 
Next club meeting: 12th February at the 3 Furlongs Bar and Grill, 7pm. 
~ Wayne Leslie, Commodore
PICNICS 
100 
YEARS 
AGO 
Auckland 
Weekly  News  9 
January  1919: 
'Looking  along 
Point  Chevalier 
Beach  in  the 
summer of 1919. 
Most 
of 
the 
people  on  the 
beach,  including 
children, 
are 
wearing 
street 
clothes  and  hats. 
There  are  a  few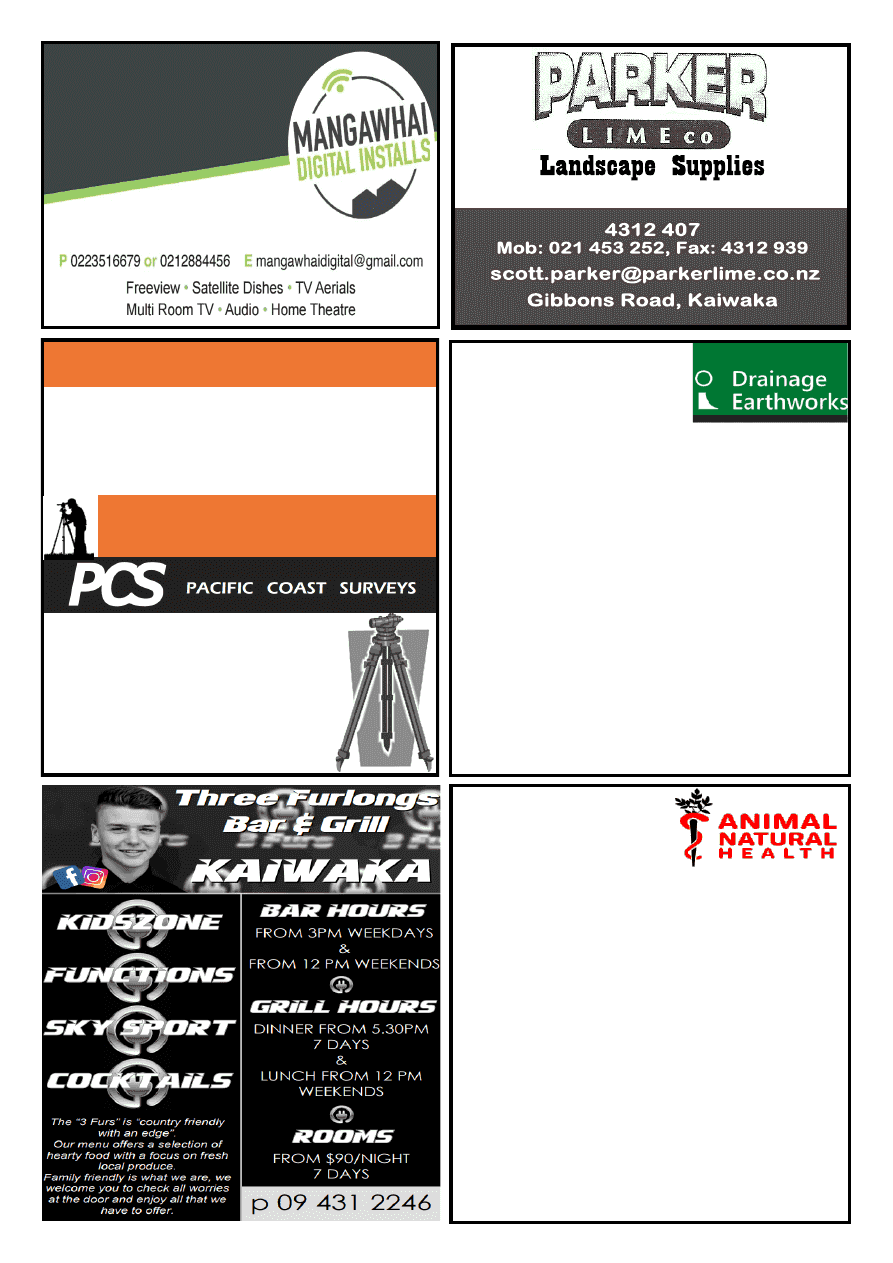 Drainage & Earthmoving 
nigel@clarkedrainage.nz 
027 2233 185 
Registered Drainlayer 
All Types of Earthworks  
> All Residential & Commercial Work  > House Sites 
> Septic System Design & Install 
> Footings & Drilling to 10m 
> Sewer Connections 
> Dams 
> Water Tank Installation 
> Roading & Races 
> Farm Work 
THE ONE STOP SHOP  
Phone Nigel for an Obligation Free Quote  
Bulk Cartage 
SURVEYORS 
SUBDIVISIONS 
HOUSE SITE SURVEYS 
CIVIL ENGINEERING 
WASTEWATER DESIGNS 
EXPERIENCED 
PROFESSIONAL 
INNOVATIVE 
Ph 09 431 5353 
0800 PACIFIC (0800 722 434) 
pacificcoastsurvey.com
Adam Booth - 027 415 5752 
Bsurv, Licensed Cadastral Surveyor
Surveying Kaipara since 1994 
PET FOOD & 
ACCESSORIES 
ANIMAL NATURAL 
HEALTH, KAIWAKA
Our Pet Deli range of meats are now in! 
Also stockists of:
Purely Pets Patties 
Orijen & Acana Kibble 
Mighty Mix Biscuits 
Tukka Thyme Muesli 
Organic Apple Cider Vinegar
Chemical-free flea control, wormers 
Homeopathic / herbal preps for Upsets & 
Allergies. 
Collars and leads. 
 
Hours:  10.00am - 5pm weekdays, 10.00-4pm Sat. 
Next to Italian Bakery, SH 1, Kaiwaka 
Phone 09 431 2217.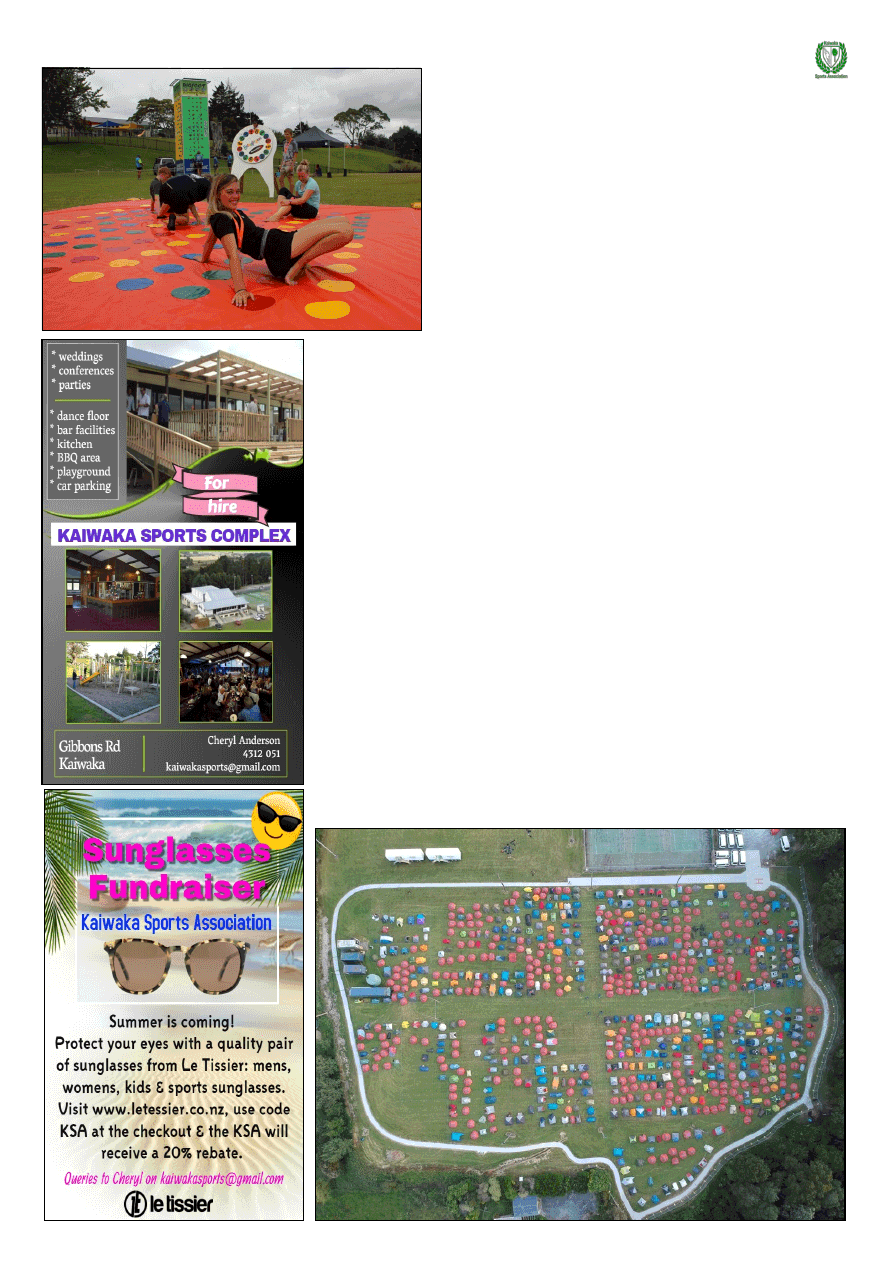 www.kaiwaka.co.nz 
Kaiwaka Bugle - 22 January 2019 
Page 11 
KAIWAKA SPORTS ASSOCIATION
Illuminate 
Wow, 
what 
a 
fabulous 
event 
Illuminate  2019  was! 
We 
had 
1,200 
Venturers  and  leaders 
from  New  Zealand 
and all over the world 
camp  at  the  KSA  for 
10 days and they were 
kept  busy  with  every 
activity  you  could 
possibly think of. 
The  first  half  of 
Illuminate  was  the 
Expedition  Phase  – 
buses 
and 
vans 
poured in and out of our carparks each 
day,  taking  the  teenagers  to  places 
from Waitomo in the south through to 
Cape  Reinga.  Activities  taken  up  by 
the  teens  ranged  from  photography, 
caving,  surfing,  cooking  and  sailing, 
through  to  rally  driving,  skydiving, 
kayaking, horse riding and much more. 
The  second  half  of  Illuminate  was 
based  at  the  KSA  with  on-site 
activities.  Here  are  just  some  of  the 
activities 
that 
were 
on 
offer: 
mechanical  bull  riding,  leatherwork, 
playing snooker, rock climbing, escape 
rooms, ice skating, giant board games, 
drone  racing,  archery  tag,  air  hockey, 
foosball, 
bubble 
soccer, 
music 
concerts,  inflatables,  swimming,  water 
slide, rover cafe plus movies! The KSA 
was  almost  unrecognisable  during 
Illuminate  –  our  pavilion  was  turned 
into  an  internet  cafe,  our  changing 
rooms  were  transformed  into  Escape 
Rooms,  our  grandstand  was  extended 
to  become  an  entertainment  stage, 
shipping  containers  were  brought  in 
and  converted  to  toilet  blocks,  our 
number  2  field  plus  our  neighbour's 
paddock  was  a  sea  of  tents,  and  there 
was  a  huge  marque  over  our  tennis 
courts which served as the dining hall, 
churning out 3,600 meals a day. 
Many  thanks  to  the  Illuminate 
organising  committee  who  donated 
their  entertainment  stage  to  us.  And 
thank  you  so  much  to  the  Venturers 
who  donated a  car load of  food to the 
Kaiwaka Food Bank. 
We  were  so  pleased  to  host  this 
international  event,  putting  little  ol' 
Kaiwaka  on  the  world  map.  By  all 
accounts, the teenagers had an absolute 
blast! 
Photos, drone footage and a few videos 
are  on  our  facebook  page:  Kaiwaka 
Sports Complex. 
Junior Tennis 
Our  junior  tennis  season  starts  on 
Monday 4th February and will run for 
seven  weeks.  The  junior  coaching 
starts at 3.30pm. This is for children of 
all  ages  and  abilities.  For  queries, 
please  email  Linda  Cowbourne  on 
lcowbourne@yahoo.co.nz . 
Otamatea Tennis Tournament 
Our  annual  tennis  tournament  will  be 
held  at  our  courts  this  weekend.  Did 
you know the tournament is in its 69th 
year!  This  tournament  attracts  top 
quality players from all over Northland 
and  Auckland  so  feel  free  to  come 
along to watch some top tennis. 
There  will  be  A  and  B  Grade  Men's 
and  Ladies  Singles,  Doubles  and 
Mixed. 
Badminton 
Badminton has started up again for the 
new  year.  Players  of  all  ages  and 
abilities  are  welcome  so  if  you  are 
keen, simply turn up to our gymnasium 
on Tuesdays from 7.30pm. Only $3 per 
person,  play  as  long  as  you  like.  Club 
rackets are available for you to borrow 
at no cost. 
For  badminton  queries,  please  ring 
Kaye Fleming on 4312 345. 
Below:  Aerial  photo  of  KSA  No.2  field 
fitness  path  around  Illuminate  Venturer 
tents.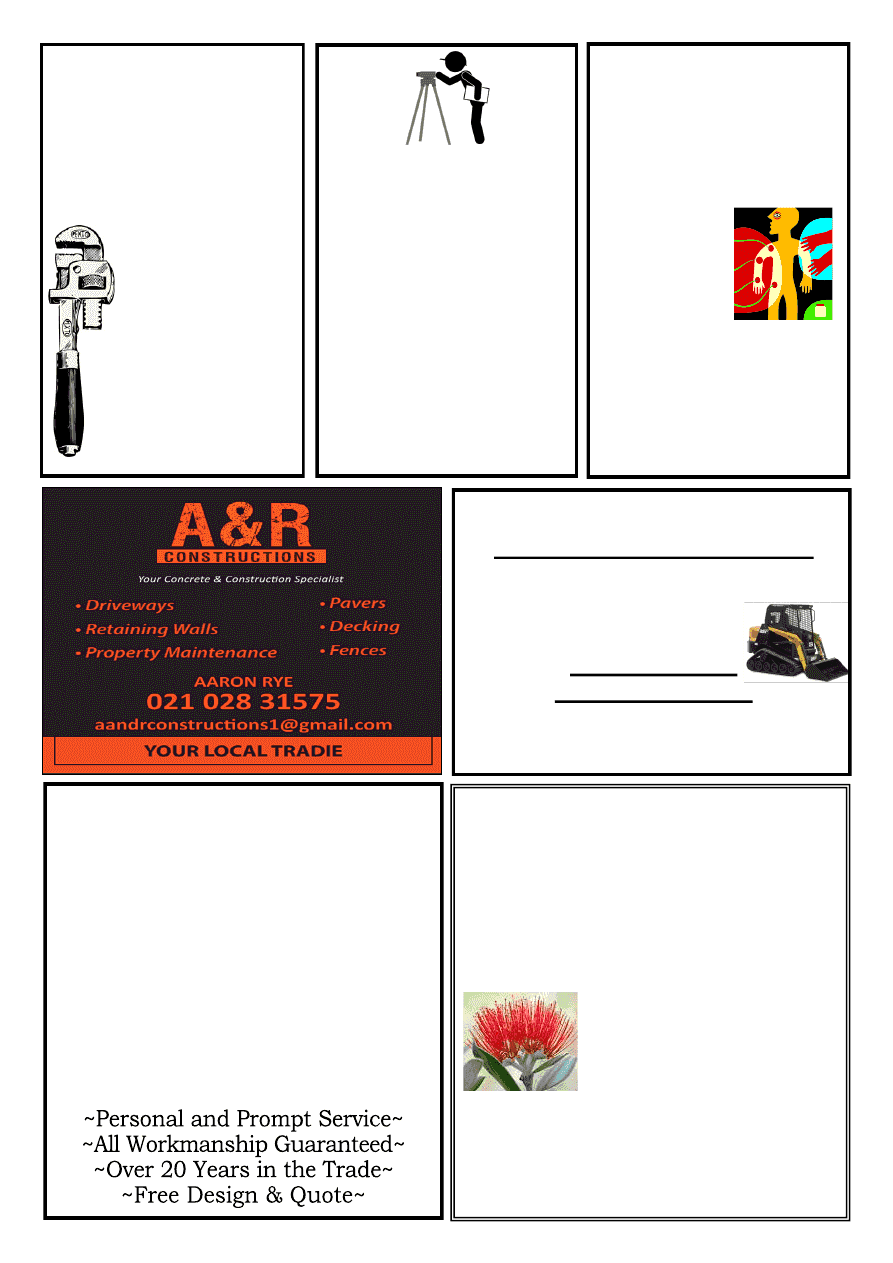 BARRY CURTIS 
PLUMBING LTD 
REGISTERED CRAFTSMAN 
PLUMBER 
Phone 431 5572 
027 257 9884 
25 years' experience 
Friendly reliable service 
All plumbing & 
maintenance 
Alterations and new 
housing 
Spouting  
Competitive rates 
PROMPT 
EFFICIENT 
SERVICE 
KAIPARA FLOORING CO 
Independently owned & operated 
32 HURNDALL ST MAUNGATUROTO
Supply & Installation of Carpet, Vinyl,  
Vinyl Wood Planking
Stockists of 2m & 3m wide 
vinyl & carpet short ends
Residential & Commercial
Q Card Finance Approved 
6-18 month terms 
6 mth interest free
First Class Installations
For a free measure & quote 
phone Christine  
09 946 9886 or 021 515 415 
kaiparaflooring@gmail.com 
http://www.kaiparaflooring.co.nz/ 
OWEN STEVENS 
Osteo Therapist
For careful adjustments to bones 
and joints 
Treatment for humans and their 
pets 
Clinics: 
Kate's Place, 
Kaiwaka: 
Last Friday of 
month 
For bookings: 
9.00am-5.00pm  
Phone 
09 4312661 
Or phone Owen  
09 4317123 anytime 
PLANNING A NEW KITCHEN?
 CONTACT NOEL McDOWELL
WELLSFORD 
KITCHENS
Ph/Fax 094312888
KAIWAKA-Any time
 QUALITY CUSTOM MADE 
KITCHENS
Ken Urquhart 
BSurv Licensed  
Cadastral Surveyor 
KMU Surveys Ltd 
467 Bickerstaffe Road 
RD 2 
Maungaturoto 0587 
Ph 09 431 8705 
Mob 021 161 2344 
kenurquhart@xtra.co.nz 
Natural Earth Ltd 
Landscape and Bobcat services 
 : Driveways :Landscaping :Retaining Walls 
 : Hole Boring: Land Levelling :Trenching 
 : Decks :Fences :Sections Cleared 
 : Plus much more
Tel 09 4312 885 
Mob 02102391280 
For A Fast Friendly Service  
Contact Tim Hicks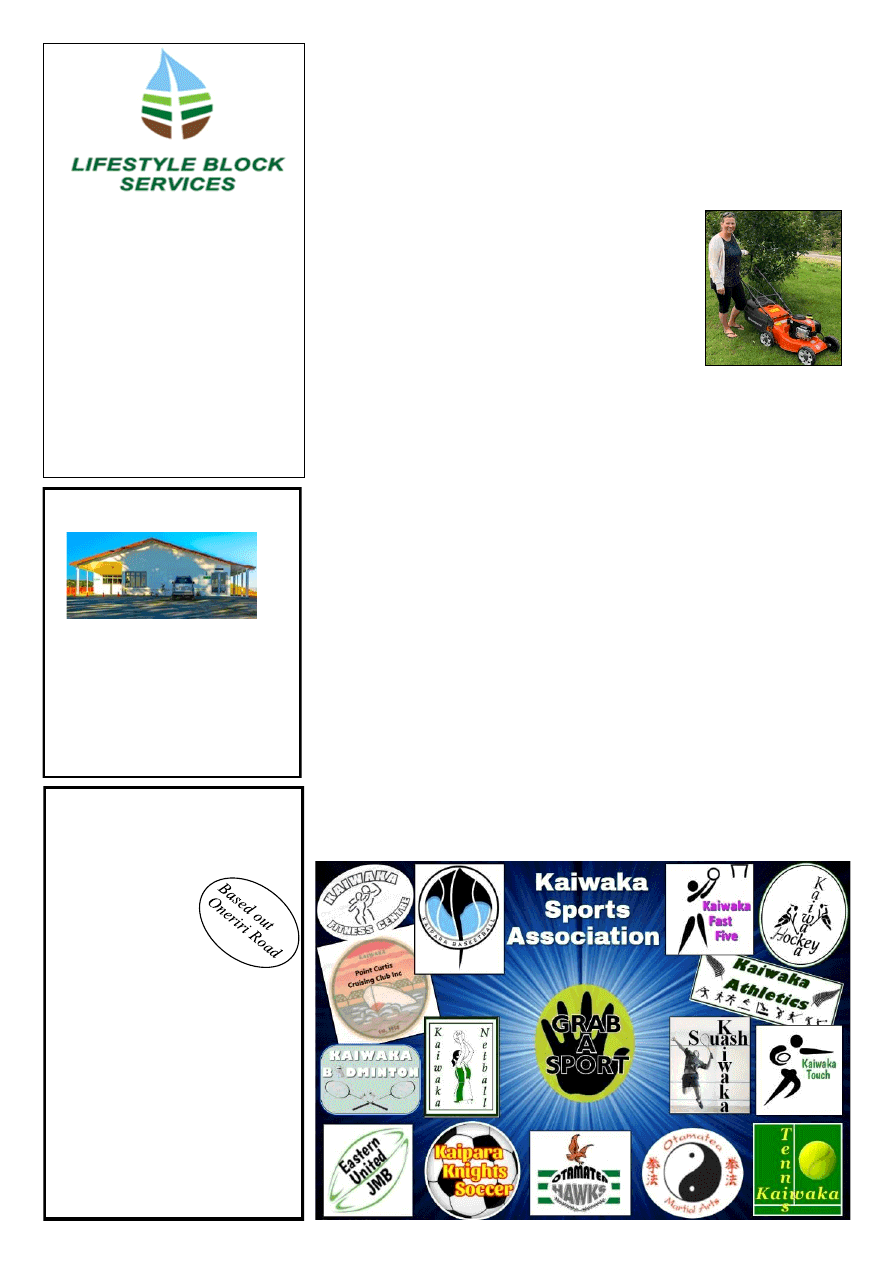 www.kaiwaka.co.nz 
Kaiwaka Bugle - 22 January 2019 
Page 13 
HODGETTS 
CONTRACTING
Digger Work 

Driveways   

House Sites   

Dams  

Drains, etc
Also available for HIRE 

4
3 ton Vib Roller   

Heavy Duty Tow  

4
Waterblaster     

Lazer Level 
Phone Mark 
4312877 
027 447 8554 
Make Baleage  
while the sun shines! 
Let us make hay/sileage for you. 
We sell small bale silage, 
conventional,  
& 5 bale equivalent hay. 
For more information  
Contact Mark on 021 801 065 or 
Contact Kathy on 027 4250520 
Te Pounga Marae 
130 Nathan Rd. Oneriri. Kaiwaka 0573 
COMPLEX FOR 
HIRE 
Functions: * Weddings  * Birthdays  
*Anniversaries * Meetings  * Wananga 5 
hour meeting * 12 hour stay or Overnight 
*All welcome   
For more information please contact: 
Kim Wallace  
Home: 09 832 1133  Mob: 0211275340  
Email: kimwallace@xtra.co.nz 
Sunglasses Fundraiser 
Sunny  weather  is  here!  If  you  are 
wanting  to  upgrade  your  sunglasses, 
please  consider  our  fundraiser.  We 
have  partnered  with  Le  Tissier  and 
when  people  buy  sunglasses  through 
their website, they will donate 20% to 
the KSA. 
Le Tissier offer quality sunglasses for 
men, women and children plus they do 
an 
extensive 
range 
of 
sports 
sunglasses.  Their  Sunwear  collection 
offers  eye  catching  style  and  the 
functionality  of  high-quality  acetate 
with  lenses  that  offer  100%  UV 
polarised  protection.  Many  styles  are 
suitable  for  prescription  lenses.  Visit 
www.letissier.co.nz and enter the code 
KSA  at  the  checkout.  Thank  you  for 
your support. 
Martial Arts 
Are you or your child keen to join our 
Martial  Arts  classes  this  year?  Black 
belt  instructor  Craig  Bennetts  offers  a 
variety  of  classes  out  of  our 
gymnasium  for  all  ages.  For  more 
information please phone Craig on 021 
1524466. 
KSA Hirage 
Did  you  know  our  Sports Complex  is 
available for hire? 
And we hire out our kitchen to groups 
who  require  a  commercially  licensed 
kitchen for food preparation. 
Check  out  our  website  for  all  the 
details. 
Touch Module 
Our eight-week Touch Module kicked 
off  last  week.  The  Module  runs  on 
Wednesdays  at  6.30pm.  Over  100 
men, women and children are playing, 
feel  free  to  come  along  to  watch  the 
action. 
Rugby 
It  may  still  be the  middle of  summer, 
but trainings  are  about  to start  for  the 
2019 season. The first training for our 
Otamatea  Hawks  is  on  Tuesday  29th 
January  at  6.30pm  at  our  grounds  – 
past and new players welcome. 
Netball Pre-season 
Otamatea  Netball  Club  will  hold  pre-
season  training  on  our  courts,  this 
Wednesday 23rd and next Wednesday 
30th, at 2.30pm. This will be a mixture 
of fitness, skills, and games. 
Lawnmower raffle 
Many  thanks  to 
Matt  and  Steve 
from  Kaiwaka 
Motorcycles 
who  donated  a 
Husqvarna 
lawnmower  to 
the  KSA  to  be 
raffled  off.  And 
thank  you  to 
everyone  who 
supported  us  by  buying  a  ticket. 
Pictured  here  is  the  lucky  winner, 
Rose Cave. 
School Holiday Boredom Busters 
If you are looking for something to do 
with  the  kids,  you  are  welcome  to 
bring  them  along  to  the  Sports 
Complex: 
*  bring  a  basketball  and  shoot  some 
hoops on our outside backboard 
* bring a couple of scooters or bikes to 
our number 2 field and watch the kids 
race around our Fitness Trail 
*  bring  your  frisbee/bike/golf  clubs/
dog  and  take  advantage  of  the  wide 
spaces on our rugby fields 
* have a swim in the pool (as long as 
you've got a key of course) 
* enjoy our playground and then have 
a  picnic  lunch  -  our  BBQ  takes  $1 
coins for 20 minutes of heat. 
* have a hit of tennis on our courts. 
*  bring  your  tent  and  have  a  family 
sleepover  at  our  grounds  -  the  bush-
fringed  grass  next  to  the  pergola  is  a 
lovely spot. 
~
Cheryl Anderson, 4312 051, 027 3462702 
kaiwakasports@gmail.com 
NB. Otamatea Ex and High School netball will 
be  in  the  next  edition  of  the  KSA  'Grab  A 
Sport' advert, as pictured below. 
KAIWAKA SPORTS ASSOCIATION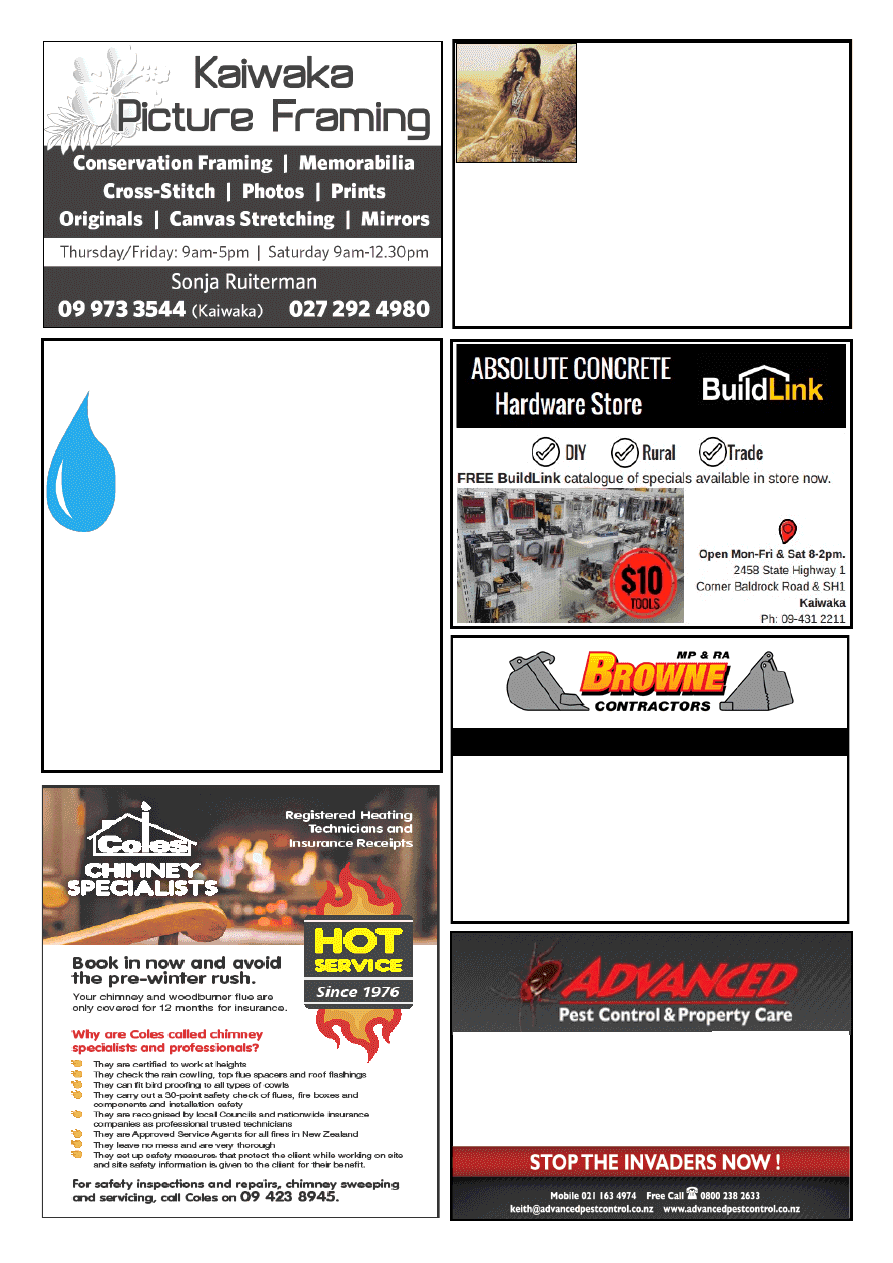 J C's Water Supply 
Domestic Water  
Supply 
Jenny or Craig  
0272344923 
j.cwater4u@gmail.com  
Beautiful Artesian Water 
Locally Owned & Operated 
100% Chemical Free 
DHB certified 
4T DIGGER – BOBCAT – TIP TRUCK 
Property Maintenance - Driveways  
 Building Sites 
Stump & Tree Removal  
Hole Boring - Chain Trencher  
Calf Shed and Stockyard Cleaning 
Phone Matt: 021 199 6677 
Email: mprabrownecontractors@gmail.com 
Trails end 
spiritualist gathering 
Last Sunday of every month  
10.30-2pm  
Tea/coffee provided  $5 koha 
For all inquiries: 
021 165 2629 evenings (09) 945 0707 
Trail.end@hotmail.com 
1758 Cove Road, Mangawhai
Bringing together like-minded people 
Guest speaker each month
Pest Control 
PLAN A: One-off treatments to customers with a specific pest problem 
PLAN B: Full maintenance service plans to commercial customers. 
This will include documentation kept in customer file on site: 
⚫
Pest treated 
⚫
Date of service 
⚫
Chemical or baits used 
⚫
Full pest check report done after each treatment 
⚫
Fair and reasonable fee with guarantee 
Flood Recovery  Carpet Care 
⚫
Carpet Drying 
This includes pre-spray treatments 
Upholstery Cleaning 
Full upholstery cleaning of all furniture.  
eg lounge suites and all office chairs 
Water Blasting 
⚫
Concrete - Decks 
House Washing 
⚫
Soft Chemical Was 
⚫
Pre-painting Wash 
Property Services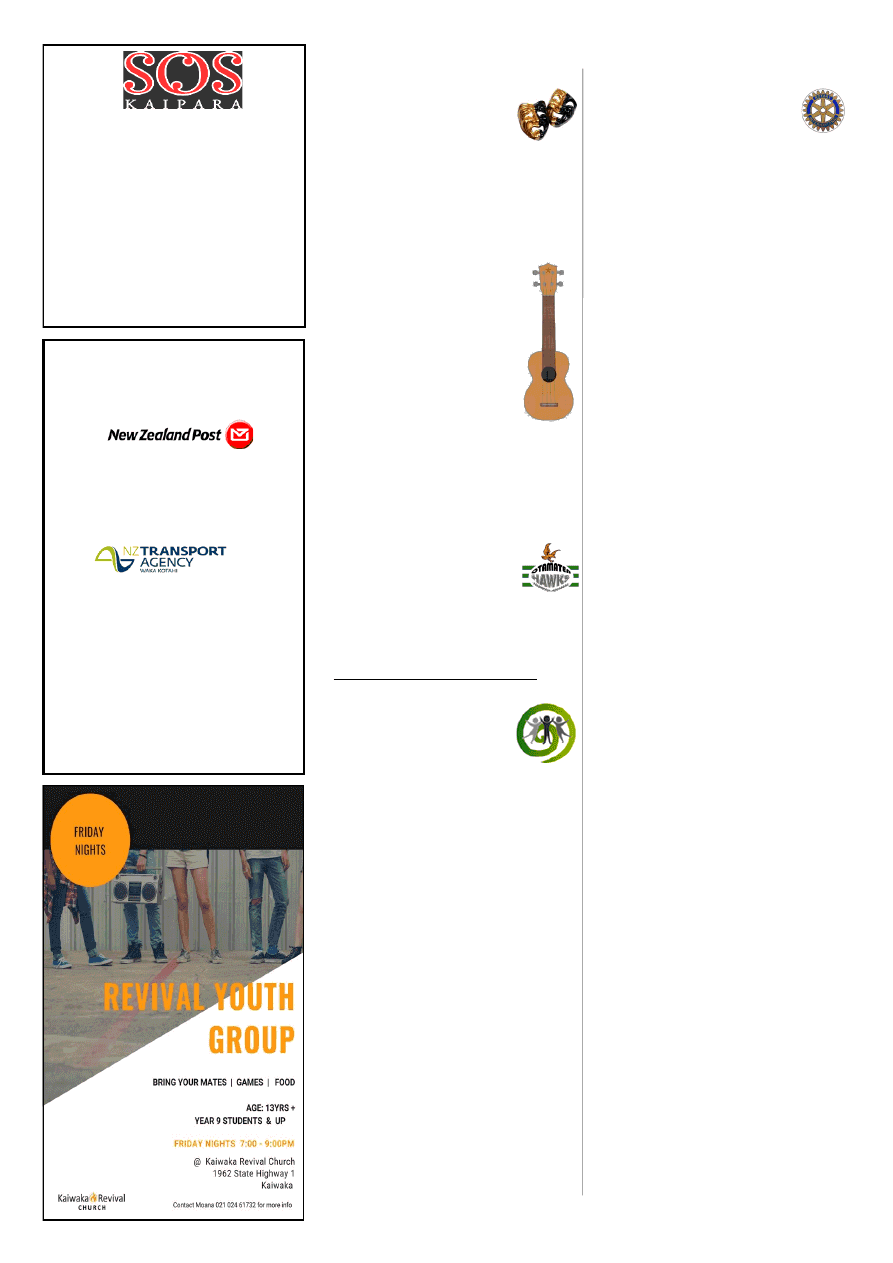 www.kaiwaka.co.nz 
Kaiwaka Bugle - 22 January 2019 
Page 15 
S.O.S Kaipara 
Support, advocacy, crisis and 
family therapy counselling, 
refuge housing to survivors of 
sexual abuse and domestic 
violence. Also Education 
prevention programmes for the 
community and clients.  
Office hours 9am to 3pm Monday to 
Friday; 24/7  phone 09 4396070 
Or phone 111 
MORE ABOUT 
TOWN 
MAUNGATUROTO  and 
DISTRICTS ROTARY 
Past 
President 
Alex 
welcomed  around  55  people 
to our Christmas Party.   
A  highlight  of  the  evening  was  the 
presentation 
of 
the 
President's 
Scholarship 
(worth 
$1,500) 
to 
Annmarie  Holst.  Once  again,  the 
judges  were  challenged  in  their 
selection as all the candidates were of 
a  high  standard.  We  wish  Annmarie 
(who  is  also  a  prominent  national 
junior squash player) all the best with 
her future studies. 
Jason  and  Emma  Radd  were  present. 
Jason  has  enabled  us  to  continually 
access  the  calf  litter,  even  when  the 
weather  has  played  havoc  with  the 
other  vehicles  we  have.  To  not  only 
have  the  litter  readily  available  for 
bagging but also to have the use of one 
bay of the implement shed has enabled 
us  to  not  only  store  bagged  litter  but 
also house our loader.  
Dean  and  Vicky  Garnett  were  also 
welcomed. Dean has been an essential 
part  of  our  Driver  Mentoring  scheme 
by  not  only  housing  the  vehicle  but 
also providing our trainees with a one-
hour lesson on car maintenance. 
We  were  thanked  for  our  donation  of 
calf litter to the Arty Farties Garden in 
Paparoa.  This  has  ensured  that  this 
venture continues to supply a range of 
fresh 
vegetables 
to  the 
local 
community. 
The  tickets  in  the  raffle  hamper  that 
had  been  donated  by  Pam  Chapman 
raised in excess of  $1,000  (thank  you 
Pam  for  your  continued  support)  and 
the winning ticket was a Blue B 061 – 
Kim Phillips. 
Albie Paton, who has been driving the 
fundraising  for  the  Dementia  Unit, 
spoke  of  a  Fair  Day  at  the  Country 
Club  on  13th  January.  A  variety  of 
activities  will  be  offered,  and  more 
information  will  be  given  as  it 
becomes available. 
Trevor  Brljevich  –  PHF  –  spoke  of 
success  in  cultivating  a  calla  lily 
(Petlandi)  a  process  which  has  taken 
50 years to produce a flower (because 
it  is  a  male  flower  derived  from 
pollen.) This plant was first cultivated 
by  his  father  about  80  years  ago. 
Trevor, who is 88, now has a reason to 
live  another  5  years  because  that  is 
how  long  it  will  take  until  he  knows 
the process is complete. Talk about an 
enduring asset to our community. 
"Money buys everything,  
except good sense" 
"We make a living by what we get, but 
we make a life by what we give." 
Saturday 2nd March 
2019 at 8pm 
Members of McSweeney 
Brothers Band, including 
Marian Burns, fiddler 
extraordinaire – in 
conjunction with 60's dance. 
KAIWAKA POST 
CENTRE and 
FOOD MART 
POST CENTRE TRADING HOURS 
MONDAY to FRIDAY 8am to 5pm 
SATURDAY 8am to 12pm 
CLOSED ON SUNDAY and on 
PUBLIC HOLIDAYS 
FOOD MART (GROCERIES) 
MONDAY TO SUNDAY  
7:30am to 8pm 
IF ANY QUERIES PLEASE CALL 
STORE MANAGER AMRIT  
on 09 4312431 or 
EMAIL: kaiwakafood19a@gmail.com 
1919a State Highway1, Kaiwaka 0542 
Otamatea 
Repertory 
Theatre 
in Maungaturoto is 
producing  'Disney's  Beauty 
and  the  Beast  Jnr'.  Auditions  will  be 
held  in  a  group  session  at  10am  on 
Monday 28 January 2019 at the theatre. 
There will be 8 performances at end of 
April  and  beginning  of  May.  Please 
phone  or  text  the  director,  Maura 
Flower,  to  register  your  interest  022 
354 2670 
UKULELE  LESSONS  for 
beginners  starting  up  again  on 
Tuesday 5 February 7-8.30pm. 
In  the  Hakaru  Hall.  $5  per 
lesson. No previous experience 
necessary.  You  must  have  a 
ukulele per person and a tuner. 
I  sell  tuners  for  $10  if  you 
don't already have one. 
This  is  an  8  week  course,  after  which 
you  can  move  into  the  Monday  night 
session  to  build  on  what  you  have 
already learnt. 
If you are interested, or want advice on 
what  ukulele  to  purchase,  please 
contact  me  on  021  782986  or  09 
4314172.  
OTAMATEA 
HAWKS 
RUGBY 
With 
the 
competition  starting  up  again  soon, 
we're 
kicking 
off 
training 
on 
TUESDAY 29th JANUARY 6.30pm at 
the KSA. Hope to see you all there 
OTAMATEA 
COMMUNITY 
SERVICES   
Hello from OCS, hope everyone had a 
happy  and  safe  Christmas  and  New 
Year. We are up and running and quite 
busy already. 
SHOPPING  TRIP 
-  The  first 
shopping  trip  to Whangarei  will  be  on 
Tuesday 12 February and then again on 
Wednesday  27  February.  Let  us  know 
on  431  9080  if  you  would  like  to  go. 
CHOCOLATE  BINGO 
will  start 
on  Wednesday  20  February  at  the 
Anglican Church Hall. 
SENIORS' LUNCH will be 
WEDNESDAY 6 MARCH  
The first seniors' lunch this year is set 
for  Wednesday  6  March.  Please  note 
there  won't  be  one in  February  due  to 
Waitangi Day. 
Remember  our  services 
are all free 
and  we  help  you  with  qualified 
professionals.  So,  for  one  of  our 
counsellors, the parent coach, financial 
mentors, or social worker, just call in to 
the  Community  House,  phone  on  09 
431  9080  or  fill  in  the  online  referral 
form  which  can  be  found  on  the 
website: 
Otamatea Community Services. 
~ The Manager and staff of OCS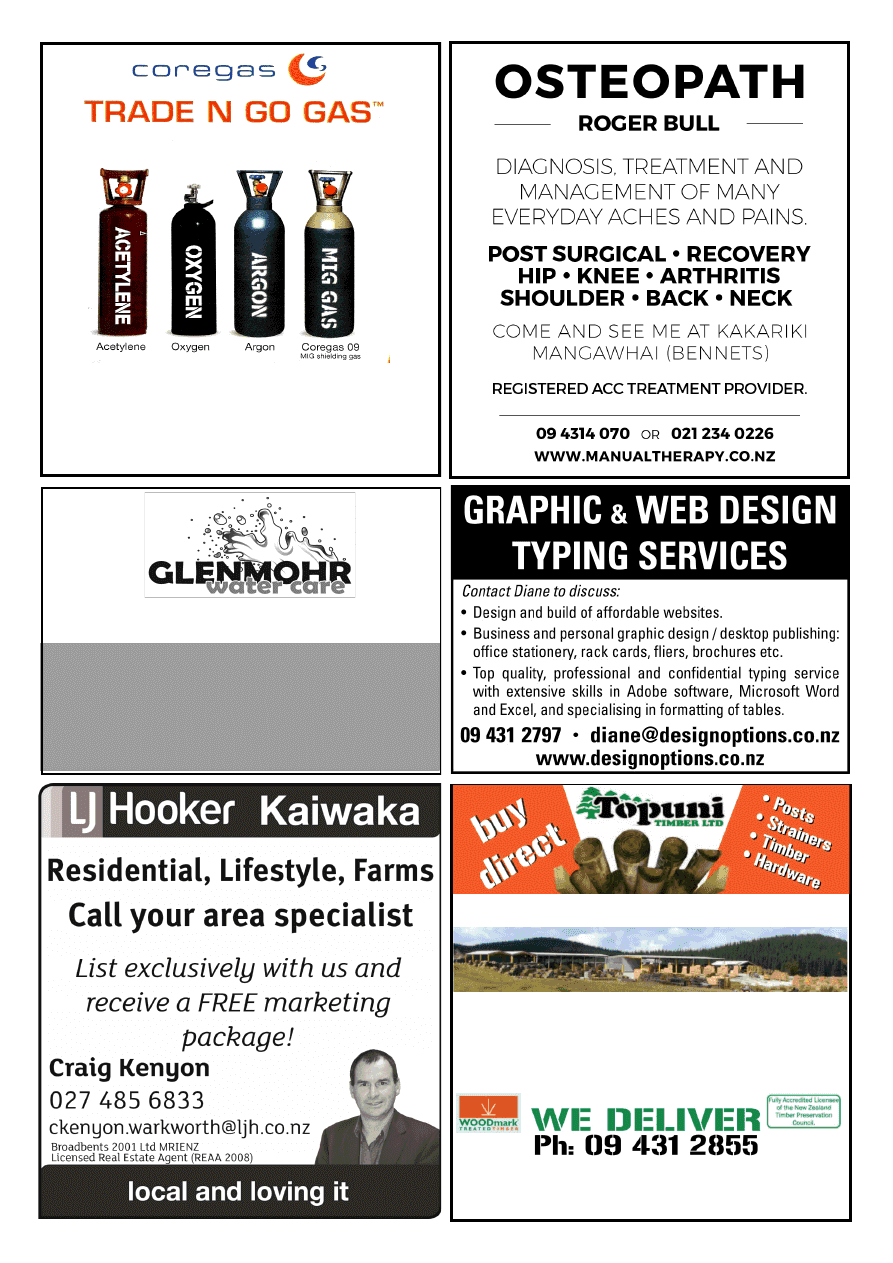 Water Tank Cleaning 
• 
Keep your water safe & clean  
• 
Removal of sediment, silt etc. 
• 
Vacuum or full scrub 
• 
Minimal water loss 
Phone Mark (09) 432 0655 or 0274 707607 
Now available at Twinkle Tow 'n' Tyre 
Mob: 021 833 960 
Ph & Fax: 09 431 2823 
1837 State Highway 1, Kaiwaka 
LOCALLY OWNED AND OPERATED 
QUALITY PRODUCTS • FRIENDLY ADVICE • GREAT SERVICE 
Quality Products milled from High Density NORTHLAND Radiata Pine. 
Treated and guaranteed to NZS3640 with commitment to 
Environmental Safety.
Phone, fax, email, or come into the mill 
Schiska Rd, Topuni, SH1, 10 min north of Wellsford. Fax: 09 431 2856 
Email: sales@topunitimber.co.nz           Mon - Fri 7am-5pm 
• Fencing 
• Retaining 
• Decking 
• Landscaping 
• Gates 
• Hardware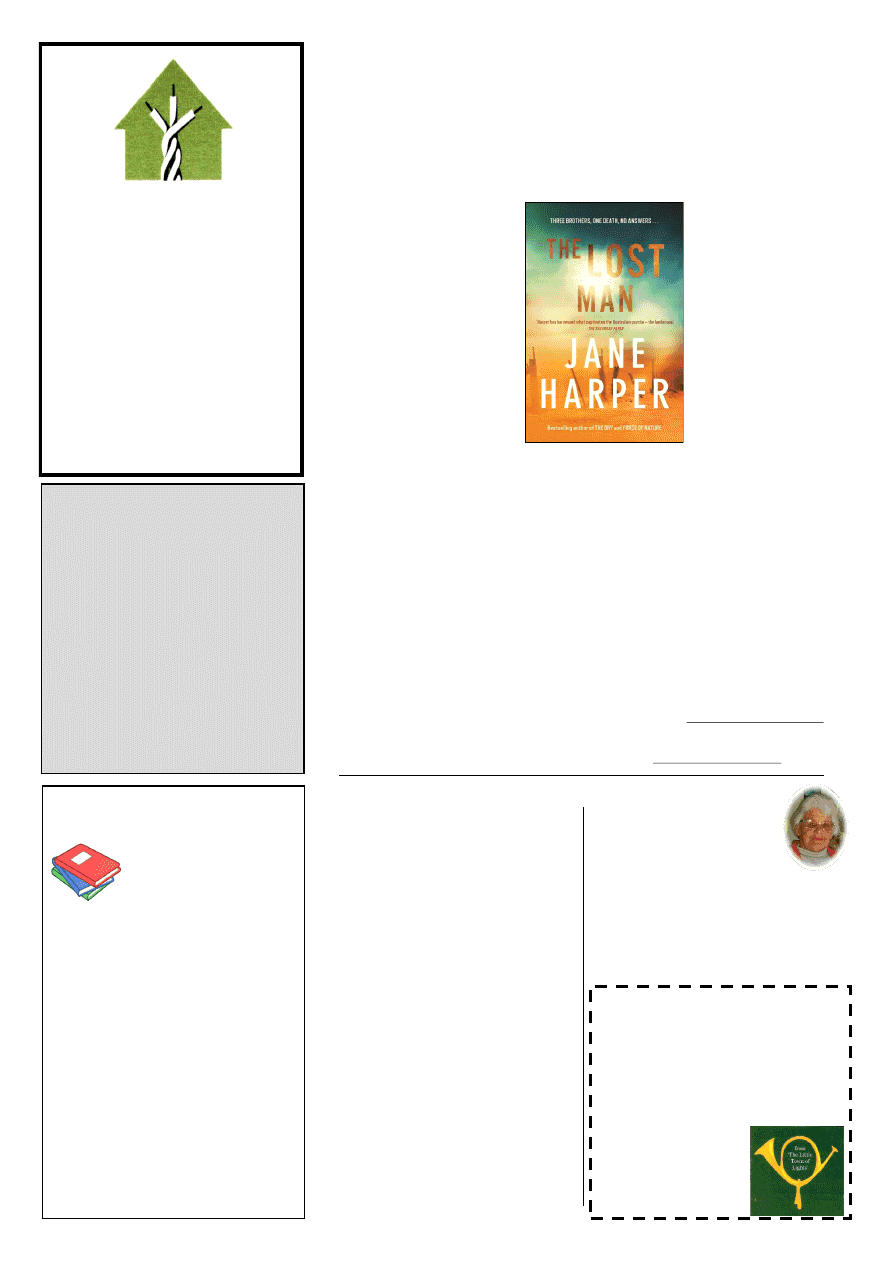 www.kaiwaka.co.nz 
Kaiwaka Bugle - 22 January 2019 
Page 17 
Reyahn George 
Leng 
Registered Electrician 
Local, honest and 
reliable. 
For your residential and 
light-commercial 
projects. 
022 314 1068 
Welcome to 2019 
Hope your year is going well so far and 
you're managing to find plenty of time 
to  read.  The  library  is  back  to  normal 
hours  after  a  two-week  break  over  the 
Christmas/New  Year  period.  Many 
thanks  to  everyone  who  returned  their 
books  while  we  were  closed  -  about  a 
hundred  items  were  returned, 
and  it  was  good  to  get  them 
processed  in  smaller  chunks. 
The  returns  box  was  filled  to 
overflowing  a  couple  of 
times,  despite  being  emptied 
every two or three days. 
Summer 
Reading 
Adventure Competition 
Do  you  have  your  entry  in 
yet?  Get  it  to  us  by  1 
February  to  be  in  to  win. 
Forms  are  in  the  Summer 
Reading  Catalogue,  which 
you  can  pick  up  from  the 
library,  or  on  the  Dargaville 
Library  and  Kaiwaka  Library 
Facebook pages, or we can print a form 
for  you,  or  send  an  email to  me  and  I 
will  email  it  back  to  you.  There's  a 
competition  for  adults,  and  one  for 
children.  Each  library  in  the  district 
will have winners, so don't go thinking 
that our little library won't have any - if 
anything,  your  chances  are  increased 
by  us  being  the  smallest  library  in  the 
district. 
Farewell 
There are changes afoot in the team of 
volunteers  at  the  library.  Chris  and 
Yvonne  have  resigned  to  focus  on  a 
different  project  in  the  district,  and 
Laurinda will be leaving us next month 
as  she  heads  overseas  for  the  next 
exciting  chapter  in  her  life.  Many 
thanks to you all for the efforts you've 
put  in  to  the  smooth  running  of  the 
library in your time here. 
Book Review 
Over the holidays I read The Lost Man 
by  Jane  Harper.  "The  man  lay  still  in 
the  centre  of  a  dusty  grave  under  a 
monstrous  sky.  Two  brothers  meet  at 
the border of their vast cattle properties 
under  the  unrelenting 
sun 
of 
outback 
Queensland.  They  are 
at the stockman's grave, 
a  landmark  so  old,  no 
one can remember who 
is  buried  there.  But 
today, the scant shadow 
it  casts  was  the  last 
chance for their middle 
brother,  Cameron.  The 
Bright  family's  quiet 
existence is thrown into 
grief 
and 
anguish. 
Something  had  been 
troubling Cameron. Did 
he  lose  hope  and  walk 
to  his  death?  Because  if  he  didn't,  the 
isolation  of  the  outback  leaves  few 
suspects..." This is an engaging story - 
I couldn't quite put my finger on why, 
but  once  I  started  reading,  I  found  it 
hard to put this book down.  This title 
is on the Rental Fiction shelves in our 
library. It is the author's third book, the 
other  two  (The  Dry  and  Force  of 
Nature) are also in the district and can 
be  ordered  in  -  order  through 
Enterprise*  or  ask  at  the  library.  All 
three  titles  are  available  as  e-books 
from our online services. 
See you in the library! ~Wendy 
Kaiwaka  Library,  cnr  State  Highway  1  and  Kaiwaka 
Mangawhai Road. PO Box 89, Kaiwaka 0542.  
Ph: 4312 539 Email kaiwaka.library@gmail.com  
Open  Wed-Sat  10am-2pm,  Mon  4-6pm.  Free 
membership  is  available  to  all  residents  in  the 
Kaiwaka area.  
*Enterprise - http://kaipara.kotui.org.nz/ 
HELP 
PHONE NUMBERS 
HEALTHLINE:  
0800 611 116 
SAMARITANS:  
0800 726 666
YOUTHLINE:  
0800 376 633 
LIFELINE     
0800 543 354
DEPRESSION HELPLINE:  
          0800 111 756 
ALCOHOL & DRUG HELPLINE:   
 
0800 787 797 
URGENT MENTAL HEALTH LINE:  
 
0800 223 371
KAIWAKA LIBRARY 
KAIWAKA  BUGLE  DEADLINE 
DATE 2019:  
Every second Friday 
February 1, 15;  
March 1, 15, 29;  
April 12, 26;  
May 10, 24;  
June 7, 21;  
July 5, 19;  
August 2, 16, 30 ;  
September 13, 27;  
October 11, 25;  
November 8, 22;  
December 6. 
Kaiwaka Library
Questions we're asked: 
How do I join 
the library? 
Go to kaipara.kotui.org.nz and 
sign up, or go into the library and 
ask to join. 
It is free for all residents and 
ratepayers in the Kaipara District 
to join, including children. 
Adults need to provide identification. 
Contact the library for more information, or 
go to the link above. 
cnr SH 1 and Kaiwaka Mangawhai Road 
KAIPARA 
HUNTING & 
FISHING CLUB 
December saw the club hold its annual 
Christmas  Clay  target  shot.  28 
shooters  turning  out  on  the  day  to 
enjoy the challenging course provided. 
Fishing  ladder  has  started  a-fresh  for 
the 2019, 2 early results in: 
Seniors:  Snapper  -  Annette  Pull, 
6.5kg 
Juniors:  Kingfish  -Tara  Wrathall, 
16.2 kg                                                  
Up-coming events: 
Clay  Target  Shoot:  Sunday  10th 
February,  10am  start  at  club  grounds 
Hames Road, Maungaturoto. 
Parry  Shot  - heaviest bird weekend: 
Sunday  24th  February,  4  –  5pm, 
weigh in at club grounds Hames Road, 
Maungaturoto. 
Contact:  President  Cameron  Shanks              
094316229 
or 
Treasurer 
Andy 
Thompson 0211294378 
From Thelma's 
Scrapbook … 
Happy times and bygone 
days are never lost, 
The truth is...they grow more 
wonderful within the heart that 
keeps them! 
By Kay Andrews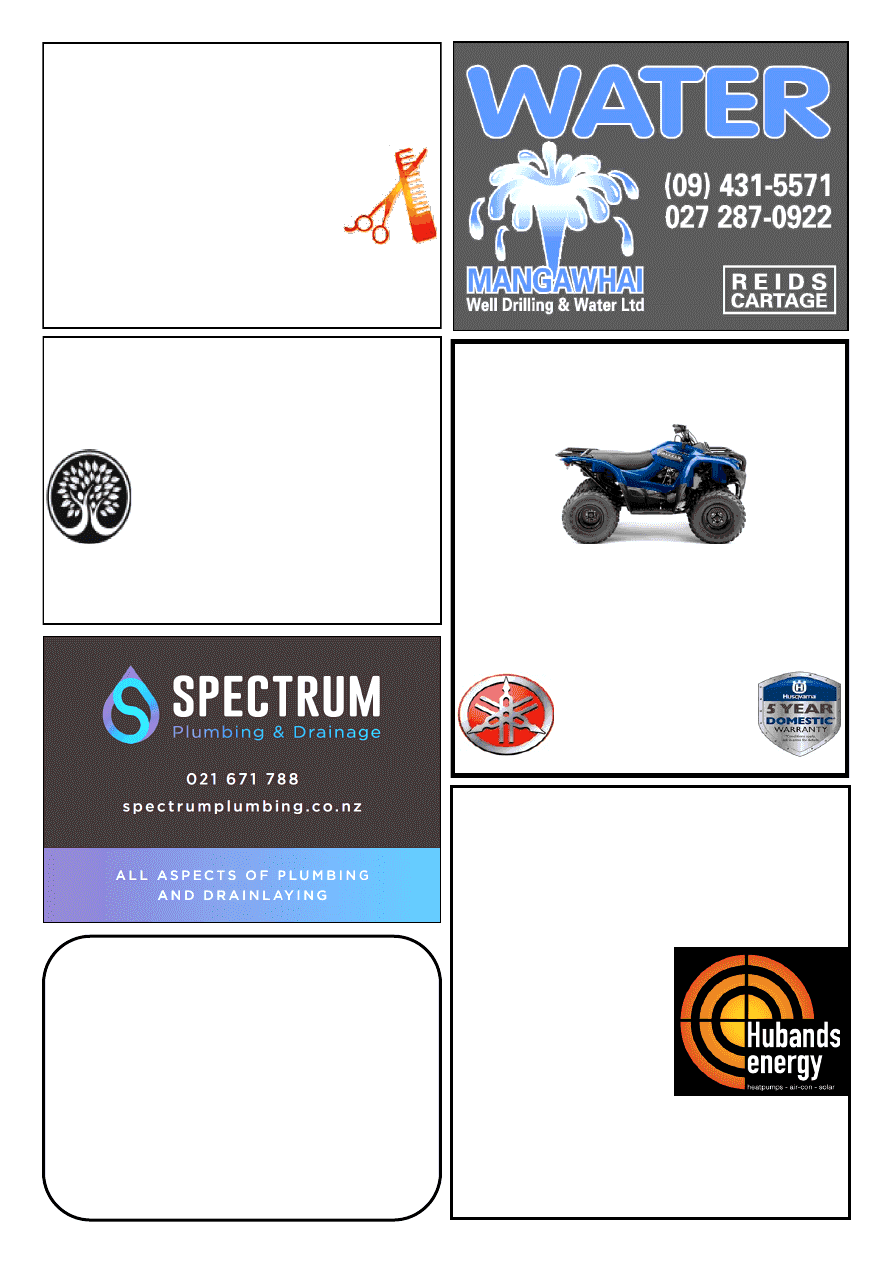 KAIWAKA 
MOTORCYCLES LTD
SALES – SERVICE – SPARES 
FARM BIKE SPECIALIST
PHONE 09 431-2127 
10 KAIWAKA-MANGAWHAI ROAD, KAIWAKA
Trimmers  
from $279
Chainsaws  
from $339
YAMAHA 
HUSQVARNA 
Northland's Award Winning 
Solar Company
SEANZ Best Solar Business Winners 2015/16
EXCLUSIVE 10 year installation warranty 
FREE No obligation onsite quote
Complete systems 
from $5990
See our range of: 
✓ 
Heatpumps 
✓ 
Airconditioning 
✓ 
Hot Water 
Heatpumps 
✓ 
Central Vacuum Systems
09 430 0019             sales@hubands.co.nz 
15 Kioreroa Road, Whangarei
Locally owned and operated for 35 years 
UP-LINK 
CHRIS WARING 
FREEVIEW INSTALLATIONS 
T.V. - HOME THEATRE &  
HI-FI ADVICE/SET UP
SKY ACCREDITED INSTALLER
MOB.0273403747 HM.094312328 
EMAIL cwaring44@gmail.com
28 YRS EXPERIENCE 
OFFERING UNBIASED ADVICE 
AFFORDABLE PRICES! 
MENS CUT FROM $20.00 
LADIES CUT FROM $30.00 
KIDS CUT FROM $18.00 
COLOUR & CUT FROM $120.00 
JUST CUTS'AND   
MORE 
021 165 2629 or (09) 945 0707  
NOW SELLING: scented tealights, incense, smudge sticks, 
copper bracelets, aurora ball crystals, dream catchers, healing 
stones, rose quartz, cds, and much more. Open 6 days. 
Waipu Natural Health 
3 Cove Road, Waipu  (opposite the Pizza Barn) 
Ph: 09 432 1325 
www.waipunaturalhealth.co.nz
Clinical Nutritionist-Hair Analysis for Masked 
Allergies, Ozone Therapy, Prolotherapy, 
Naturopath-Medical Herbalist, Registered 
Massage Therapists, Reflexology-
Craniosacral Therapy, Acupuncture-Facial 
Acupuncture, Kineso Taping, Hypnotherapy, 
Counselling, ThetaHealing/Change Catalyst.
AFFORDABLE CONSULTS FOR KIDS – give us a call
Gift Vouchers available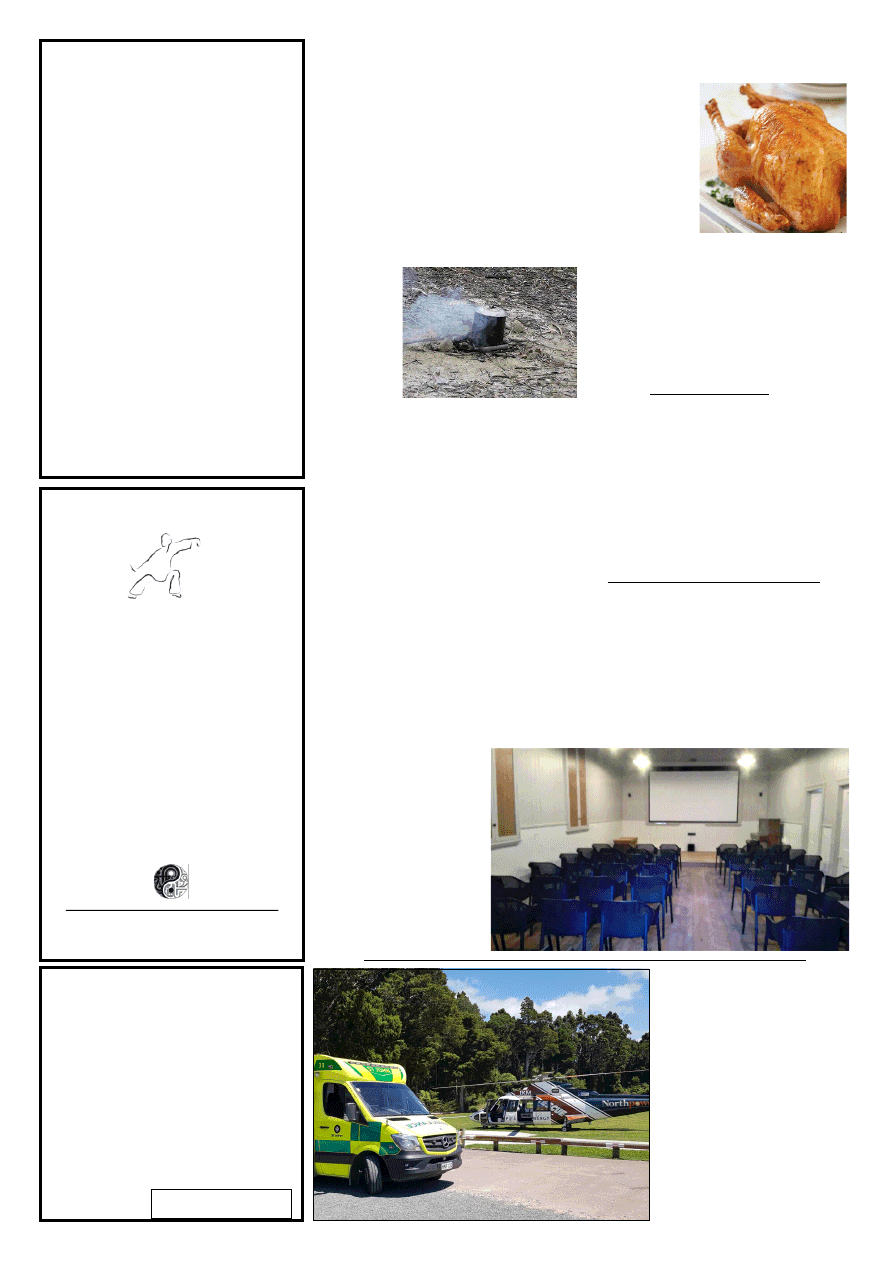 www.kaiwaka.co.nz 
Kaiwaka Bugle - 22 January 2019 
Page 19 
A TRUE CHRISTMAS STORY..  
By Bevan Lawrence 
Driveway  
& Farm Race 
Maintenance and 
Construction 
Grader, Roller,  
Digger, Trucks 
Supply of lime rock and 
metal 
Call Peter on 
0274441553 
For advice / estimate for 
your driveway / farm 
race needs 
A  true  Christmas  story.  Everyone 
should have one, here are mine. 
My Dad prided himself, being once in 
the  army,  that  he  was  by  far  the  best 
packer in the family; he even taught me 
his  special  binder  twine  knots  for 
parcels. Mum had decided that it being 
Christmas,  the  family  might  enjoy  a 
picnic  near  our  favourite  river  side 
spot.  We  laid  out  the  picnic  rugs,  and 
folding  chairs  and  Dad  and  I  had  a 
decent  fire 
going 
for 
our 
billy 
tea.  
We had this 
specially 
bent  steel 
rod  poked 
into 
the 
ground  which  held  pots  and  griddle 
plates etcetera over the fire. Mum hung 
the heavy billy on it and we waited for 
tea to go with the sandwiches and cake. 
A short while later there was a horrible 
smell and smoke issuing from the billy.  
Yes,  you  guessed  it  -  Dad  had  packed 
the  Christmas  pudding  in  the  billy  to 
save  space  (there  was  no  water  in  it  - 
just  pudding!.  Thank  goodness  for 
strawberries and cream. 
My  wife's  ex-husband  is  a  very 
generous  character.  One  year  he 
provided  two  turkeys  for  Christmas, 
one  large,  one  smaller.  The  deal  was, 
we  stuff  and  cook  the  turkeys, 
returning  to  him  the larger  one  for  his 
Christmas  party  guests.  All  went  to 
plan,  except  for  one  hungry  cat  that 
spied a tasty bird cooling on the bench 
and couldn't resist a snack. The cat ate 
a  fair  sized  hole  in  the  breast  of  the 
large one.  
My wife was very upset, 
thinking where could we 
buy another bird that big 
at that late hour and cook 
and cool it in time. I had 
on hand a scalpel I used 
for  artwork,  and  fancied 
myself  as  a  bit  of  a 
surgeon.  So  I  cut  away 
the  cats  work  and 
cleaned out the 'wound', 
then  in  the  exact  same 
place  on  the 
smaller bird cut 
a 
corresponding 
piece 
and  fitted  it  in 
with  a  good 
dollop 
of 
turkey 
dripping.  The 
result  was  unnoticeable  to  the 
uninformed  eye.  We  presented  the  ex 
with  the  cooked  turkey  for  which  he 
was very grateful and have never heard 
anything  since  (except  that  he  praised 
the cook for producing a turkey cooked 
to  perfection  –  so  tender  that  it  fell  to 
pieces as it was carved!) Hopefully he 
doesn't get a copy of the Bugle. 
Writers  Group  Mangawhai  is 
beginning again on the 7th of February. 
This bunch  of lovely  folk,  enjoy  a  hot 
drink  while  discussing  each  other's 
recent scribblings. 
The  aim  is  to  become  more 
professional  and  record  information 
about  our  lives,  or  history  for 
publication. 
Everyone  is  welcome.  Contact  Bevan 
Lawrence at 4801949 for more info. 
Mangawhai now has Movies!   
A  specially  arranged  theatre  in  the 
Pioneer  Village  just  up  from  The 
Museum - pictured below. 
Matinees  for  kids  at  1pm  Thursdays 
and Sundays and Adult films at 7.30pm 
same  days.  $10  for  adults  $5  for 
children. 
Further  booking  details  on  Mangawhai 
Facebook Community Page.  
TAI CHI 
Balance,  
Co-ordination, 
Meditation,  
Settled mind, 
Confidence,  
Self-awareness 
Classes:  Sunday morning 
Kaiwaka
 8:30 – 10 am Kaiwaka 
Sports Association
For more information please 
contact
 Otamatea Martial Arts
otamatea.kempo@farmside.co.nz 
Phone 09-431-5170 
www.facebook.com/
otamatea.kempo 
Plan ahead for a safe, enjoyable 
journey this summer.  
Keep up to date with: 
Traffic updates: nzta.govt.nz/traffic 
Facebook: facebook.com/nztaakl 
Twitter: twitter.com/nztaakl 
Journey planner: 
journeys.nzta.govt.nz 
Phone:  
0800 4 HIGHWAYS (0800 44 44 49) 
Electric Vehicle charge stations: 
www.journeys.nzta.govt.nz/ev-
chargers 
EMERGENCIES 
The  Northpower  Rescue 
Helicopter  made  a  safe 
landing  at  the  Kaiwaka 
Sports  Assn.  heli-pad,  and  a  
safe  patient  delivery  last 
Saturday - pictured left. 
ONERIRI TURN-OFF 
A  rather  serious  accident 
happened  on  this  corner  on 
Sunday  when  a  vehicle 
turned  onto  Oneriri  Road  - 
the  two  following  cars 
slowed BUT the third car did 
not  causing  a  'concertina'.  
No serious injury occurred.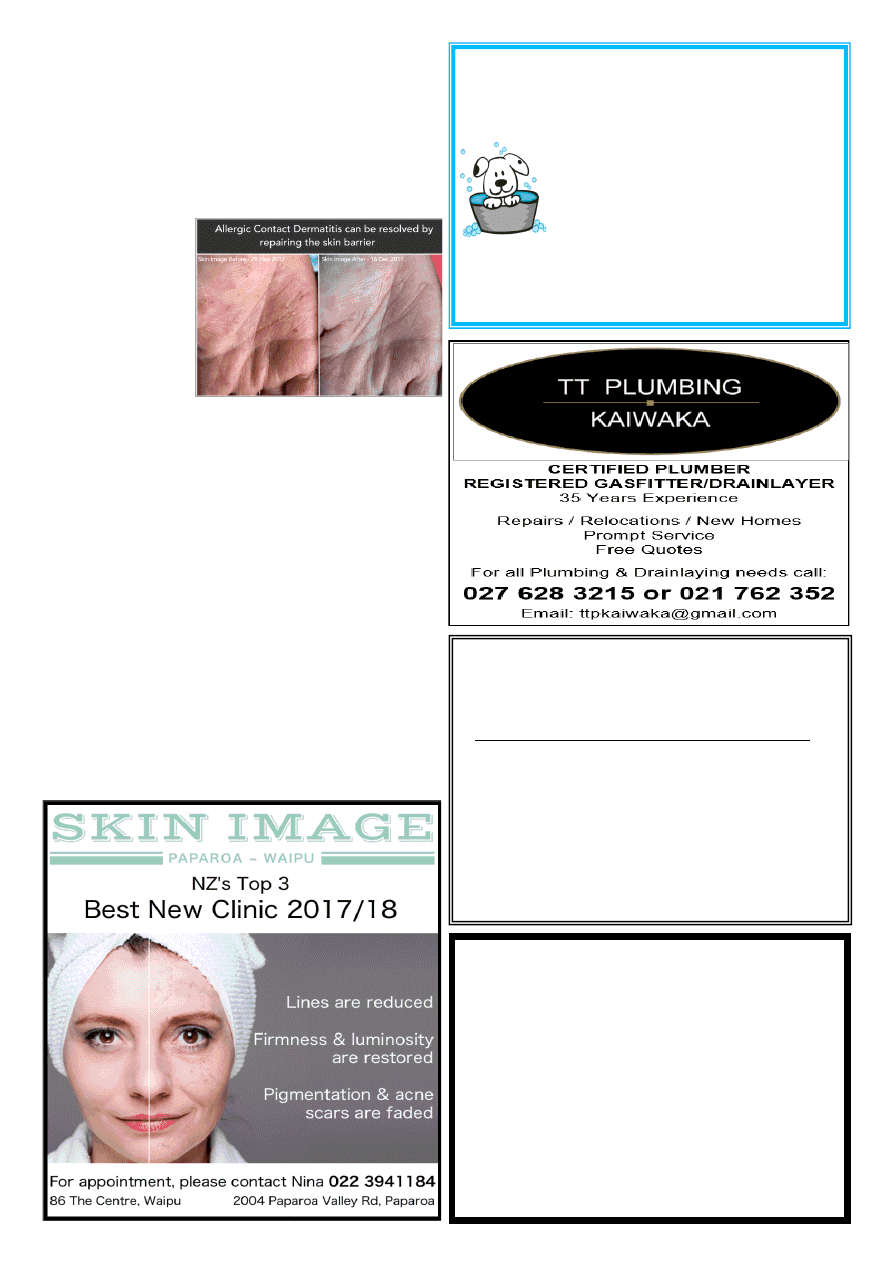 Mangawhai Heads 
Garden Centre
1758 Cove Road
945 0707 
021 165 2629 
When  it  comes  to  dermatitis  (derma  =  skin,  titis  = 
inflammation),  there  are  2  main  types:  allergic  contact 
dermatitis and photo contact dermatitis (this one is not so 
common). 
Allergic  contact  dermatitis  occurs  when  the  skin  develops 
an  allergic  reaction  after  being  exposed  to  a  foreign 
substance.  This  causes  the  body  to  release  inflammatory 
chemicals that can make the skin feel itchy and irritated. 
Common  causes  of  allergic  contact  dermatitis  include 
contact with: 
⚫
 jewellery made from 
nickel or gold 
⚫
 latex gloves 
⚫
 perfumes or 
chemicals in cosmetics 
and skin care products 
⚫
 battery acid 
⚫
 bleach 
⚫
 drain cleaners 
⚫
 kerosene 
⚫
 detergents 
Allergic  contact  dermatitis  can  also  occur  when  the  skin 
comes  in  contact  with  soap  or  even  water  too  often.  For 
example,  hairdressers,  bartenders,  and  healthcare  workers 
whose  hands  are  continuously  in  contact  with  water  and 
detergents  often  experience  allergic  contact  dermatitis  of 
the hands. 
The  most  natural  way  of  dealing  with  the  condition  is  to 
avoid  contact  with  the  substances  that  are  causing  the 
dermatitis. However, that is easier said than done and most 
people  resort  to  steroids  or  cortisones  and  lots  of  oils  and 
moisturisers without any good results. 
The  choice  of  skin  care  is  imperative  to  supporting  dry, 
scaly  and  itchy  skin  caused  by  allergic  contact  dermatitis. 
Emulsifiers,  fragrants,  colourants,  mineral  oils  and 
petroleum based substances are the culprits as they tend to 
dissolve the natural skin lipids leaving the skin lipid dry and 
even  more  dehydrated.  The  tendency  is  to  continue  to  re-
apply  more  cream  to  correct  the  dry  skin  condition.  This 
senseless  cycle  eventually  places  the  skin  in  a  state  of 
imbalance and the skin finds it difficult to self- correct. 
Cleansers  should  be  free  of  surfactants  like  sodium  lauryl 
sulfate  and  moisturisers  must  be  free  of  emulsifiers  and 
contain  substances  that  can  repair  the  skin's  outer  barrier. 
The goal is to rebuild the barrier as much as possible. 
NINA 
QUAN, Skin Therapist, Skin Image Paparoa - Waipu
SKIN DISORDERS 
Om Tara 
Mangawhai 
Healing Services 
Diann Glucina 
021 250 7461 diglucina.com  
FB OmTaraMangawhai 
Hot Diggity Dog 
DOG GROOMING 
All breeds dog grooming 
Professional Experienced Groomer 
Short practical grooms - summer 
Breed Standard Grooms 
Designer fusion Grooms 
Oneriri Road
By appt Phone Pam 09 4312143 
Or text only 0273335380 
Email  hot.diggitydog@outlook.com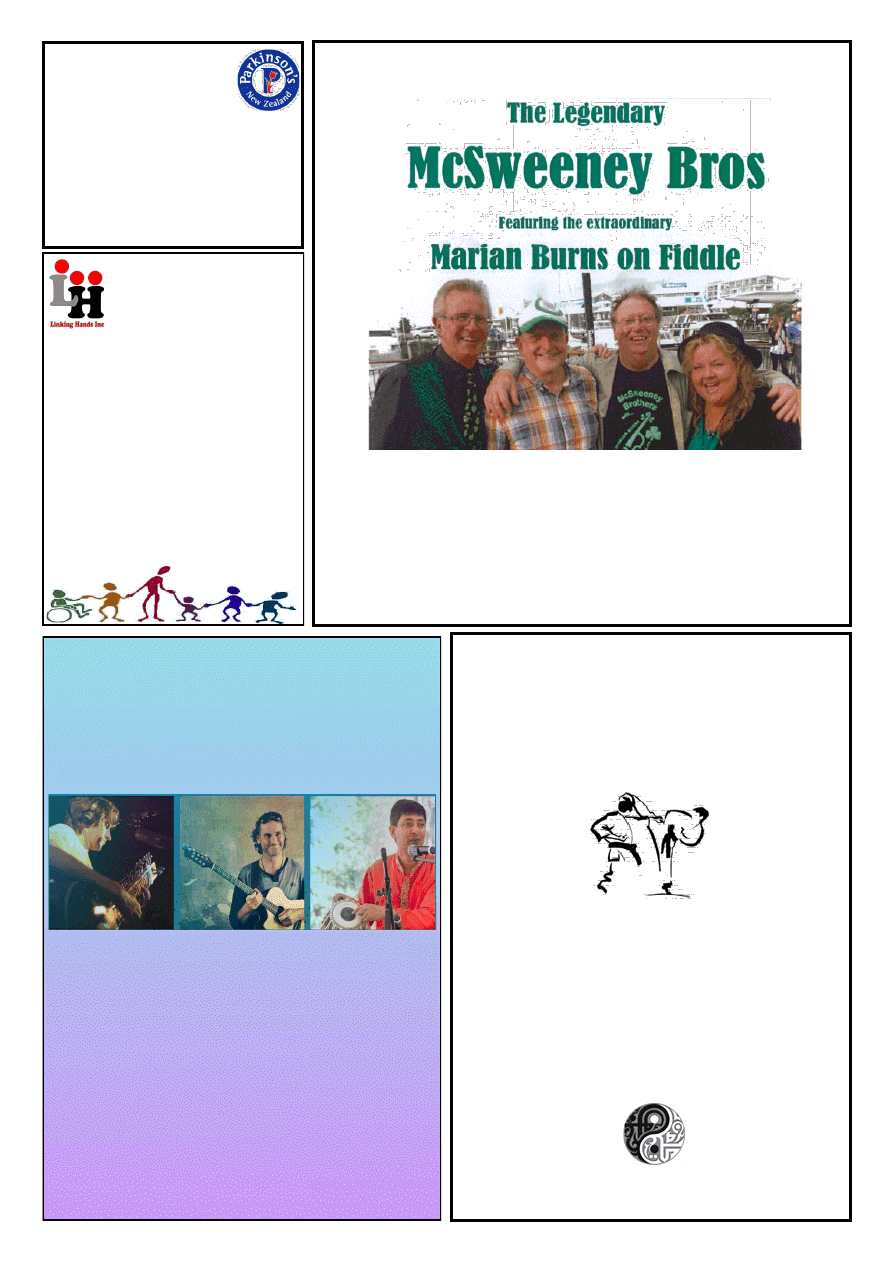 www.kaiwaka.co.nz 
Kaiwaka Bugle - 22 January 2019 
Page 21 
  LINKING 
HANDS INC 
Maungaturoto - Kaiwaka - 
Mangawhai 
Meeting the needs of the community. 
A  free Health Shuttle Service, providing 
transport to those who would struggle to 
get  to  medical,  dental,  podiatry,  or 
optometrist appointments anywhere from 
Warkworth to Whangarei. 
HEALTH SHUTTLE SERVICES 
Ph/fax 09 431 8969 
OFFICE HOURS 
Maungaturoto - Monday to Friday  
10am to 4pm 
Closed Public Holidays 
Parkinson's  
Northland 
Provide: 

Home based consultations 

Information and education on living with 
Parkinson's 

Support and exercise groups 

In-service training for other health 
providers 
Barbara Leslie RN,  
Community Educator 
09 4376881  or 027 5306221 
barbara.leslie@parkinsons.org.nz 
www.parkinsons.org.nz 
Maungaturoto and Districts Rotary Club 
proudly presents: 
Saturday 2nd March 2019 at 8pm 
$35.00 per person 
Bookings contact: Eileen Parsons, 021 142 0357  
or Keith Shadbolt, 021 402 122 
Rotary raising funds for the local Dementia Centre 
Light Refreshments Provided 
SELF  
DEFENCE
KEMPO
Fitness, Confidence,
Discipline, Respect, 
Self-awareness
Classes for all ages in: 
 Mangawhai
Kaiwaka Wellsford
For more information please contact
 Otamatea Martial Arts
otamatea.kempo@farmside.co.nz 
Phone 09-431-5170 
www.facebook.com/otamatea.kempo 
EAST MEETS WEST 
JON SANDERS 
(IRELAND) 
PROSAD FREEMAN 
(CANADA) 
BASANT MADHUR
(NZ/INDIA) 
JOIN  
FORCES IN A MUSICAL JOUSTING THAT HAS  
DELIGHTED CROWDS. 
VENUE: 
ABSURDISTAN HALL 
317A PAREKURA RD 
KAIWAKA  
DATE: 
SATURDAY 26 JAN 
2019 
TIME: 6PM 
EARLY BIRD TICKETS $15 
Available at Kaiwaka Cheese Shop 
DOOR SALE $20.  
 
Contact: 021 237 7678 
Prosad  
Jon  
Basani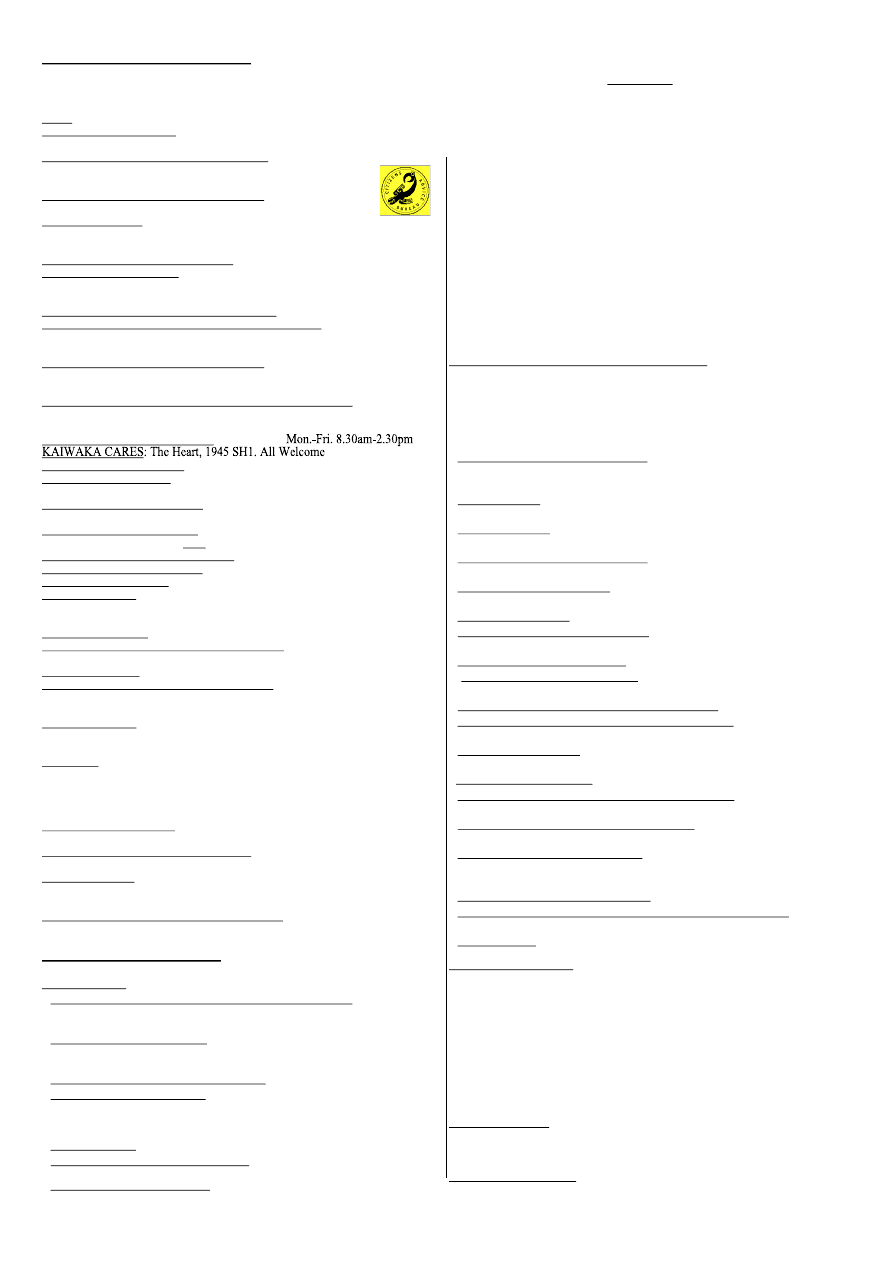 Next Bugle Deadline midday Friday 1st February  2019
WHAT'S ON
PLEASE ~ do let us know what is on - email 
kaiwakabugle@kaiwaka.co.nz 
*23&30Jan~Otamatea Netball pre-training, 2.30pm 
*25Jan~Movie 'Ladies in Black', KWMHall, 7.30pm 
*26-27Jan~Otamatea Tennis Tournament, KSA 
*26Jan~East Meets West, Absurdistan, 6pm 
*27Jan~Movie 'Charming', KWMHall, 2pm 
*29Jan~HAWKS Rugby session, KSA, 6.30pm 
*31Jan~Kaiwaka School begin Term I 2019 
*31Jan~OHS Year7&13 & new students begin Term I 
*1Feb~OHS All students attend. 
*2-3Feb~The Den Garage Sale, Bickerstaff Rd., 9-2pm 
*4Feb~Kaiwaka Media Group AGM, 5pm 
*8Feb~Movie 'A Star is Born', KWMHall, 7.30pm 
KWMH = Kaiwaka War Memorial Hall; KSA = Kaiwaka Sports Association 
See www.kaiwaka.co.nz for more information 
HOUSEHOLD RUBBISH COLLECTION  
Kaiwaka Pick up: 
Mondays = Green bags (Northland Waste - 09 430 3273) 
Wednesdays  = Blue bags and yellow recycling (at Jaques $3.00 
and  $1.50)  (Kaurilands  09  4392146);  ONLY  Blue  and  Yellow 
bags picked up on Oneriri Road. 
 DIABETES  Support  Group  -for  Kaiwaka,  Mangawhai, 
Wellsford  10am,  3rd  Friday  of  month  Ph:  Colleen  James  09 
4314238 
 DRINK CAN 'tear tabs' - for Starship Hospital- please collect - 
98 Kaiwaka Mangawhai Rd, leave in mailbox, Ph. 4312625  
 GENEALOGY - Wellsford: 1st Thursday in month Ph: 423 
7033; Waipu: 4th Monday in month Ph: 4312 725 
 GYMNASTICS  OTAMATEA  -  Tuesday  Ph:  Stephanie  022 
3624998 
 HAKARU PONY CLUB - Secretary Denise Rogers 021423376 
secretary@hakaruponyclub.co.nz  
 KAIPARA HUNT - Secretary Albert Doonenbal Ph 4312059 
 KAIPARA YONG FARMERS - K Danks  0211598453, meet on 
last Thursday of the month at Three Furlongs Bar & Grill 
 KAIWAKA BADMINTON -Tuesdays 7.30pm Ph: 4312345 
 
 KAIWAKA DRAMA CLUB - 
Hannah Webb 
0272863352
- KaiwakaDrama@gmail.com - FB - "KaiwakaDramaClub" 
 KAIWAKA DRUM & DANCE CLASSES - 021 611198 
 KAIWAKA GARDEN & FLORAL GROUP - 2nd Thursday in 
month. Ph: 431 4744 
 KAIWAKA  CUBS  -  Thursdays  5.30-7pm,  Hakaru  Ph:Bruce 
4312542 
*KAIWAKA PILATES - Ph: 021 2072729. 
 KNITTING FOR WHANGAREI HOSPITAL - 2nd Tuesday in 
month, Archie Bull Hall 10am Ph 4314827 
 MANGAWHAI COMBINED REBUS CLUB - 2pm, 3rd 
Thursday month, Senior Citizens Hall Mangawhai. Ph: 4315777 
 OTAMATEA GREY POWER - Kath Pattinson 09 283 2052, 
1pm last Wednesday of month, Anglican Church Hall, 
Maungaturoto 
 PT CURTIS CRUISING CLUB - Jean Ph: 4312227 (wk), 4312520 (hm) 
 RSA,  HAKARU  &  DISTRICTS  WOMEN'S  SECTION  –  meets 
1.30pm 4th Thursday of the month. Ph: 431 5818  
 TRAMPING - Mondays 9am-2:30pm Maria 4312 234 
HALLS FOR HIRE: 
 St.Pauls Archie Bull Hall HIRE $20 half day, $40 full day per 
hire, S McAulay, Ph 4312311 
 Kaiwaka  War  Memorial  Hall  HlRE  -  Phone  4312725  or 
kaiwaka.hall.bookings@gmail.com 
 Hakaru Community Hall HIRE -Ph. 4312256 or 4312110 
 Te Pounga Marae queries - R. O'Leary 4312 423, J.Nathan 021 
186 7382 
 Kaiwaka Sports Association hire/queries - C. Anderson 4312051 
or kaiwakasports@gmail.com 
Justice of Peace:  
B.FJaques  4312  048;  L.Donaldson  4312  228;  A.F.Hargreaves 
4312 045, W.Howard 4312 725 - please phone to make sure they 
are available www.justiceofthepeace.org.nz 
Marriage Celebrants:  
L.Donaldson; A.F.Hargreaves; Y Osborne
LOCAL SERVICES 
*Emergencies - Ambulance, Fire, Police - dial 111 
*Non-urgent Police phone 09 4311150
A A: Meets Wed., 8pm Kaiwaka Ph: 4315543, 0800229 6757 
ASUREQUALITY LTD (was AgriQuality) Call Free 0508 0011 22  
BUDGETING SERVICE, WELLSFORD: Free confidential advice & 
support for all areas of personal finance. Ph (09) 423 7123 
CAB-Citizens Advice Bureau.Wellsford Ph: 4237333 
0800 367 222 email:cab.wells@xtra.co.nz  
CIVIL DEFENCE - Kaiwaka Community Response Group: 
kaiwaka.civildefencecrg@gmail.com, 4312725 Wendy 
DOG/STOCK /NOISE CONTROL 0800 105 890 
FUNERAL SERVICES: Morris & Morris Ltd, 
Whangarei - Bev Jaques Ph:4312367 or 0800667747 
GRANDPARENTS Raising Grandchildren: Dianah Roberts 0223819539 
HAKARU & DISTRICTS MEMORIAL RSA (Inc) 733 Settlement Rd, 
Hakaru. Ph 4312 176 or Graeme Hitchcock (President) 431 3064 
HAKARU LANDFILL/Transfer Station:Open everyday except 
Tuesday10am-4pm.Ph4312629 Cost-$55 trailer load up to 1 cubic metre. 
Ph:4258567 - office 
KAIPARA DISTRICT COUNCIL www.kaipara.govt.nz:  
Help Desk FREEPHONE 0800 727 059  
KAIWAKA KOHANGA REO: Ph:4312620 
KAIWAKA CEMETERY: Ph: 4312045 or 4314017 
KAIWAKA LIBRARY: kaiwaka.library@gmail.com  
Mon. 4-6pm; Wed., Thurs., Fri., Sat. 10am-2pm Ph:4312539 
KAIWAKA PLAYCENTRE: Ph Juanita 0274134904; open Mon, Wed, 
Fri 9am-12pm. Hastie Lane; Monday to Friday 9.00am - 12 noon. 
KAIWAKA POST OFFICE:Ph:4312 431  
Post Code: 0573 for RD2 and 0542 for all Kaiwaka Post Office mail 
KAIWAKA PRIMARY SCHOOL: Ph: 4312309   
KAIWAKA SPORTS ASSN: Ph 4312005; 4312129 gym 
KAIWAKA ST JOHN: Manager Steve Rosser 09 4318403, 021 355734 
KATE'S PLACE Community Centre - Employment services, Free Health 
Nurse, Plunket, Advocacy, Osteopath, A.A., Legal Advice. 4312 661 
LINKING HANDS Health Shuttle Ph 4315906 or 09 4318969 
MINISTRY FOR PRIMARY INDUSTRIES - General inquiries Call 
Free 0800 008 333 
NORTHPOWER: Faults Kaiwaka area 0800 104040 
OTAMATEA COMMUNITY SERVICES: Counselling, parent coach, 
Family Support worker, budget advice, food bank. Mon-Fri 9am-3pm. Ph 
09 431 9080 http://www.otamateacs.org/ 
PARENTPORT: Free, practical family support service Puhoi to Paparoa 
Ph or txt: Dianne 027 280 5093 or 09 425 9357 
PLUNKET:  Kaiwaka  -Kate's  Place  Clinic  1st  Wednesday  of  the  month; 
Mangawhai  - Rose Madsen Cottage: Coffee Group 9:30 every Monday.  Clinic 
every Monday and Thursday. 
Maungaturoto - Good News Church, Clinic 2nd and 4th Wednesday.  
Cynthia 09 431 7340 or 027 675 3488 
PLUNKET HELPLINE -0800 933 922 (24 hours) 
TAITOKERAU COMMUNITY LAW: Free confidential legal advice and 
assistance, 2nd
Thursday
 of each month. Ph: 0800 155 529 for apps.  
TE URI O HAU Settlement Trust Tangata Developments: Whanau Ora 
021 793262  
VETERINARY SERVICE MANGAWHAI: 
Ph: 4314535 Mon-Fri 8.00-5.00, Sat 9-12, a/h appt. 
WELLSFORD DOCTORS: Ph: 4238 086 
CHURCHES:
 
Kaiwaka  Revival  Church  -  Your  Community  Church:  Sundays  10am. 
Ph: Pastor Tawhiri 09 431 8988 or Pastor Paul 09 4312 068 Visit us at 
www.facebook.com/kaiwakachurch or www.kaiwakarevival.co.nz 
 
St  Paul's  Anglican  Church  1st  Sun.  9.00am  (Eucharist),  3rd  Sun. 
9.00am (Family Service). Contact: Rev. Wayne Thornton Ph 431 4122 
www.mangawhaianglican.org.nz 
 
Church of Christ the King, Mangawhai:9.30am every Sunday 
 
St.Mary's  Catholic  Church:  Maungaturoto  –  Griffins  Road,  Saturday 
evening  Vigil  Mass  6pm;  Mangawhai  –  Senior  Citizens  Hall,  Sunday 
Mass  8:30am;  Wellsford  –  Matheson  Road,  Sunday  Mass  10:30am;  
Mid-week Mass times and all enquires to Fr. Bill Fletcher – phone 423 8170
 
Baptist Church: Sun. 10.30am Mangawhai Snr Cit.Hall.Ph:4312339 
 
Cause  Way  Church  Mangawhai:  Sundays  10.15am,  Mangawhai 
Community  Recreation  Centre,  Insley  St.  Ph:  09  4314782