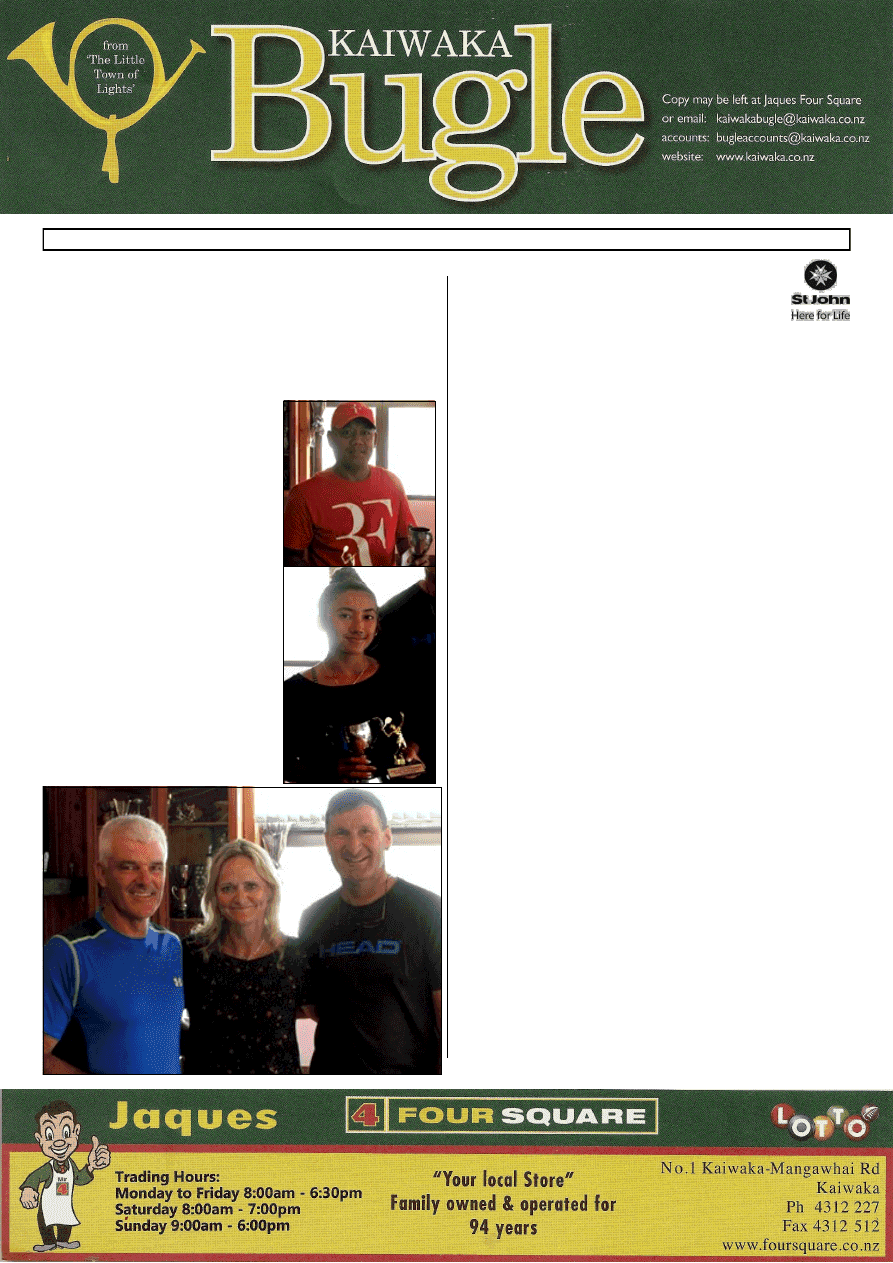 www.kaiwaka.co.nz 
Kaiwaka Bugle - 5 February 2019 
Page 1 
No: 2 
 5 February 2019 
Trading Hours: 
Monday to Friday 8:00am - 6:30pm 
Saturday 8:00am - 7:00pm 
Sunday 9:00am - 6:00pm  
69th ANNUAL OTAMATEA 
TENNIS TOURNAMENT 
Anniversary  Weekend  saw  a  most  successful  tennis  
tournament  at  the  Kaiwaka  Sports  Complex.  The  court 
surface was in great order after the recent Scout Venture. 
A  large  contingent  of  players  from  Becroft  Tennis  Club 
North  Shore  arrived  early  on  the  Friday  afternoon  to  take 
advantage of the camping. Numbers were down slightly due 
to  a  national  tournament  in 
Auckland  but  this  did  not  detract 
from the success and enjoyment.  
Players are now looking forward 
to the 70th tournament in 2020. 
RESULTS: 
Winner Men's Singles - Cesar 
Melencion from Becroft Tennis Club 
North Harbour (pictured right) 
Winner Women's Singles - Eliza 
Clamor from Becroft Tennis Club 
North Harbour (pictured below right) 
Winner Women's Doubles - Cheryl 
Baker and Julie Taylor from 
Mairtown Tennis Club Whangarei 
Winner  Men's  Doubles  -  Cesar 
Melencion  and  Carlo  Saavedra 
from  Becroft  Tennis  Club  North 
Harbour; 
Runners-up 
Innes 
Anderson  and  Gordon  Pryor 
Kaiwaka Tennis Club. 
Winner Mixed Doubles - Innes 
Anderson and Cheryl Baker 
from Kaiwaka (pictured below 
with the Tournament Director - 
Grant Van Dalsum
)
St John  has  proposed  a  significant  boost to  the  number  of 
paid ambulance officers in the Otamatea area. The proposal 
would  see  the  number  of  paid  staff  increase  from  one  to 
eight,  ensuring  there  is  a  double  crewed  ambulance  in  the 
area 24/7. The proposal also sees the addition of a new First 
Response  Unit,  crewed  by  volunteers,  to  manage  peaks  in 
demand. 
In May 2017, the Government announced increased funding 
to  gradually  end  the  single  crewing  of  emergency  ambu-
lances in New Zealand over the next four years. New Zea-
land  is  the  only  first  world  ambulance  service  with  single 
crewed ambulance responses – we had been doing this up to 
100  times  a  day  across  the  country.  In  Otamatea,  St  John 
responded single crewed to over 350 incidents in the last 12 
months. 
"Without  the  contribution  of  our  dedicated  volunteers,  the 
rate of single crewing would have been a lot higher," says 
Acting St John Territory Manager, Blake Murray. 
Adding additional staff in Otamatea will ensure patients get 
the best available care when they need it. It also enhances 
the  safety  and  well-being  of  our  ambulance  staff.  Double 
crewing will benefit patients, especially in rural areas where 
it means they will receive clinical care while they're being 
driven  to  hospital  –  something  that  couldn't  be  done  with 
single crewing. It will make the job safer for our ambulance 
officers  and  help  reduce  fatigue,  manual  handling  injuries 
and stress. 
"I want to thank all of our volunteers for their commitment 
to  date  and  look  forward  to  their  support  to  get  the  new 
First Response Unit up and running," says Murray. 
First Response Units are being introduced to improve cov-
erage in rural areas, as well as address the changing needs 
of volunteers – to remain in their local communities, have 
more flexible working hours and shorter job cycle times. If 
Otamatea  residents  are  interested  in  volunteering,  please 
visit  join.stjohn.org.nz  or  contact  Stephen  Rosser  on  021 
355 734 or email stephen.rosser@stjohn.org.nz. 
It's important that we continue to utilise our resources effi-
ciently  and  effectively.  Under  this  proposal,  volunteer 
groups based in Kaiwaka and Maungaturoto would merge, 
and  both  vehicles  would  start  and  finish  in  Maungaturoto, 
with the combined service titled Otamatea. 
No decision has been made about the future of the current 
Kaiwaka  Ambulance  Station,  however,  St  John  will main-
tain  a  physical  presence  in  Kaiwaka  through  the  local  St 
John Shop. 
We'll  be  listening  to  feedback  from  our  people  over  the 
next two weeks and will be discussing the proposal with our 
healthcare  and  emergency  services  colleagues,  and  other 
community organisations before deciding on any changes. 
~ 
Blake Murray, Acting St John Territory Manager
SIGNIFICANT BOOST TO 
OTAMATEA AMBULANCE 
SERVICES PROPOSED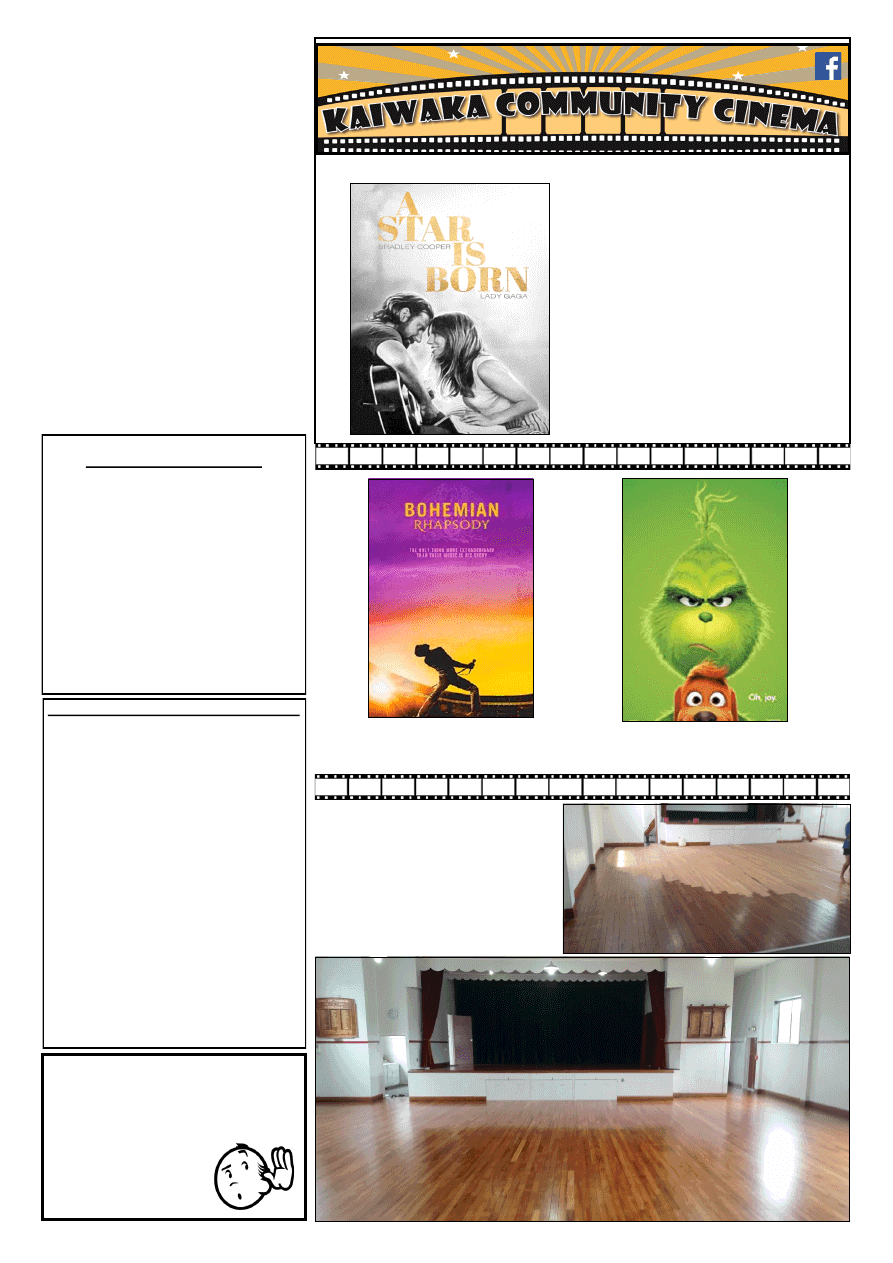 At Kaiwaka War Memorial Hall . Adults $10, Kids (under 16) $5, Family Pass (2 adults + 3 children) $25 
KAIWAKA BUGLE No. 2 
5 FEBRUARY 2019 
CONTENTS 
Page 3: Public Notices, Classified 
Page 5:Weather;  Womens Sec. RSA; 
Pt.Curtis CC; Thelma's Scrapbook 
Page 7: A Thank You 
Page 9:Kaiwaka School 
Page 11: The Den; Young Shearer  
Page 13: Kaiwaka Sports Assn. 
Page 15: Otamatea High School 
Page 17: Waitangi Day; Kaiwaka 
Library 
Page 19:ATale from CJM Clark 
Bugle 3 will appear 19 February 
Contact for advertising, reports, articles 
or information can be made by 
Email kaiwakabugle@kaiwaka.co.nz 
Ph: 09 4312 045 Lindsey 
Txt: 027 2724137 
Copy  may  be  left  at  Jaques'  Four 
Square. 
Kaiwaka Bugle 
Founded May 1978 
We appreciate articles and photos about local 
events, etc, as well as ads and suggestions. 
Copies available in Kaiwaka at Jaques Four 
Square, Kaiwaka Postal Centre, Shamrock 
Service Station, Animal Health Centre, 
Kaiwaka St John shop. 
Also outlets in Maungaturoto, 
Mangawhai and Paparoa. 
Can be viewed online at   
www.kaiwaka.co.nz/Bugle  
Or a copy can be posted to you if you supply 
stamped, self-addressed DLE envelopes. 
Proverbs 
11: 15
Be sure you know a person 
well before you vouch for 
their credit!  
Better to refuse 
than suffer later. 
Kaiwaka Bugle Advertisements 2019: 
All 
copy 
and 
queries 
to: 
kaiwakabugle@kaiwaka.co.nz 
The Bugle is printed on an A4 page   
Ad  sizes:  1/16  page  (3  x  9.5cm)  $5;  1/8 
(6.5  x  9.5cm  landscape  or  portrait)  $8; 
3/16 ( 10 x 9.5cm or 7.5 x 12,5)  $12.  
Classified  ads:  First  one  FREE,  $4  per 
entry (max. 30 words, max. 4 repeats). 
Payments  can  be  made  online  at 
ANZ 
06  0365  0006990  00
,  posted  or  left  at 
Jaques Four Square Store. 
We  use  Microsoft  Publisher,  and  can 
work  with  most  common  image 
formats, Word, Excel, and PDF files. 
Accounts:  
Email: bugleaccounts@kaiwaka.co.nz 
The  Kaiwaka  Bugle  is  a  community 
newspaper run by volunteers, as part of 
the Kaiwaka Media Group Inc.   
Articles, etc. printed are not necessarily 
the opinion of the Bugle Team. 
A STAR is BORN 
Friday 8 February, 7.30pm (M)  
'Bradley Cooper and Lady Gaga fuse 
their  considerable  talents  to  depict 
the  raw  and  passionate  tale  of  Jack 
and  Ally,  two  artistic  souls  coming 
together, on stage and in life. Theirs 
is  a  complex  journey  through  the 
beauty  and  the  heartbreak  of  a 
relationship struggling to survive.' 
See updates on FACEBOOK on  
Kaiwaka Community Movies 
BOHEMIAN  RHAPSODY 
Friday 22 February, 7.30pm (M)
OH, JOY
Sunday 24 February, 2pm (M) 
POLISHED FLOOR 
You  will  be  impressed  with  the 
Kaiwaka  War  Memorial  Hall's 
smooth  timber  floor  next  time  you 
are at the movies, meeting, activity 
or function. 
Thank  you  to  the  Kaipara  District 
Council  for  assisting  with  the  cost 
of this refurbishment.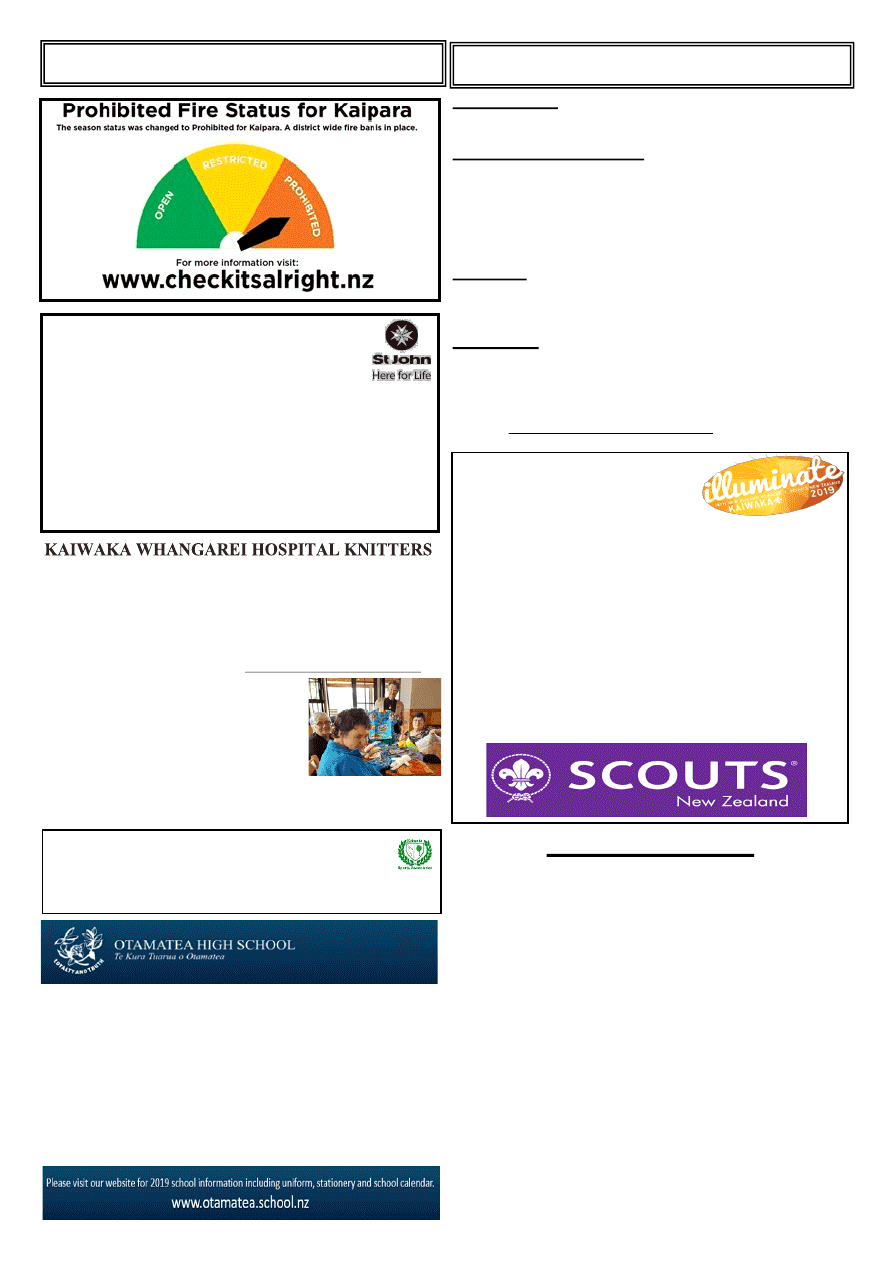 www.kaiwaka.co.nz 
Kaiwaka Bugle - 5 February 2019 
Page 3 
PUBLIC NOTICES 
CLASSIFIED 
KAIWAKA SPORTS ASSOCIATION 
Annual General Meeting
will be held on Monday 18th February, 7pm 
 at the Sports Complex at 7pm  
FOR  SALE:  14Jigsaw puzzles, Wasgij, 1000 pieces. 
$30 the lot. Ph: 4312400 
SITUATION  VACANT:  Coffee  Pot  &  Gateway 
Motor  Lodge,  Kaiwaka,  has  a  fulltime  position  for  a 
general  worker.  Varied  role  in  all  aspects  of  front  of 
house  (barista  exp.  preferred),  inclusive  of  relief 
kitchen duties & motel housekeeping. Some weekend 
work req. Send CV to info@gatewaynorth.co.nz 
TO LET: Comfortable, spacious, sunny cottage - near 
township. $300 p/w. Incl. power, water, waste. Ph: 09 
9450593 
WANTED:  1  x  room  to  rent  for  a  Filipino  male, 
39yrs,  from  Feb  (TBC),  for  at  least  12mths.  $150-
$200/week.  Will  need  to  have  access  to  bathroom, 
cooking  facilities,  washing  machine  and  wifi. 
Preferably  walking  distance  from  Archer  Concepts. 
Contactmark@archerconcepts.co.nz – 021 228 4074 
KAIWAKA ST. JOHN OP SHOP 
SALE, SALE, SALE! 
Come grab a bargain!!  Half price on everything 
except furniture and St. John merchandise.  
Sale will end Saturday 9
th
 February. 
We are needing please: 
Cooking pots, pictures, ornaments, plants, fruit and veges, 
double bed with good condition mattress, tools, jewellery 
and any small pieces of furniture. 
Thank you, Milly and Staff. 
Phone 09-4312650 after 9.00 am. 
1919 SH1, Kaiwaka 
ABOUT TOWN 
 
We have a community to be proud of.  The  thank you 
articles  from  our  Scouting  fraternity  do  attest  to  a  great 
community! 

As  of  midnight  Monday  28  January  the  fire  season  is 
PROHIBITED  -this  means  there  is  a  total  ban  on  the 
lighting of any fires in open air in this area

 Kaiwaka  School
  pool  will  be  closed  on  Tuesday, 
Wednesday  and  Thursday  next  week  (5th,6th,7th)  for 
concreting work .

 Scottish  Country  Dancing  beginners  classes  start 
Wednesday 13 February, 9.45am. Ph: 09 4320532 

 Pilates classes  have begun in the Hakaru Hall, 9-10am, 
Tuesdays and Thursdays. 

Correction Bugle 1:  Ukulele lessons are not held in the 
Hakaru  Hall  as  noted  in  'More  About  Town'  page  15. 
Apologies for any inconvenience. 

NIWA  February  Highlights:  Summer  warmth  and 
humidity  continuing  into  autumn;    More  action  in  sub-
tropics meaning higher risk for heavy rainfall
; Warmer than 
average sea surface temperatures to continue
~ Lindsey, Ed 
"Your dream is worth only what you are willing to pay for 
it. Inspiration without perspiration is just a daydream."
IMPORTANT DATES FOR START OF YEAR 2019 
Thursday 7
th
-Friday 8
th 
February Year 7 & Prefect Camp 
Wednesday 13
th 
February School Swimming Sports 
Wednesday 20
th 
February Meet the Staff Evening 
Tuesday 5
th
 March School Athletics Day 
New Uniform Sales / Year 13 Dress Uniform 
Paparoa Drapery stock a full range of Otamatea High School uniform 
Phone 09 431 7306 
PTCA 2nd Hand Uniform Sales 
Please contact Karen Flanagan 021 128 1670 
Please phone 09 4318230 or 0800 682 628 for any further information. 
First meeting for 2019 on 12
th
 February 10am to 12. 
Archie Bull Hall,  
behind St Pauls Church, Kaiwaka Mangawhai Rd, Kaiwaka. 
New members welcome. Come along to find out what 
we do and how you can help. 
For more information phone Gale Matheson 
Results of December Quilt Raffle: 
1
st
 Red D 083   - K. Phillips 
Maungaturoto; 2
nd
 Blue B 001   - Pat 
Tohu Maungaturoto; 3
rd
 Red D 043   - 
Bronwyn Kaiwaka. 
Thank you for all your support 
throughout the year. 
Thank you to everyone who donated their time and yarn 
for us to help the Children of Northland. 
Thank You Kaiwaka 
The  Illuminate  Team,  on  behalf  of 
SCOUTS New Zealand, would like 
to  sincerely  thank  the  Kaiwaka 
Community  for  hosting  our  recent  event.  The  14th  New 
Zealand Venture - Illuminate 2019 was made possible by 
the generous nature of so many in the community, giving 
time, information and resources so willingly. 
Our young people had an experience of a lifetime and will 
carry the memory of their time in Kaiwaka for many years 
to come. 
You welcomed us into your town and put up with all the 
noise and bustle that 1200 people bring. We are grateful 
for  the  many  friends  we  have  made  in  your  community 
and will always think fondly of the Little Town of Lights. 
To our friends in Kaiwaka - Thank You. 
Cory Lang, Director, Venture Organising Committee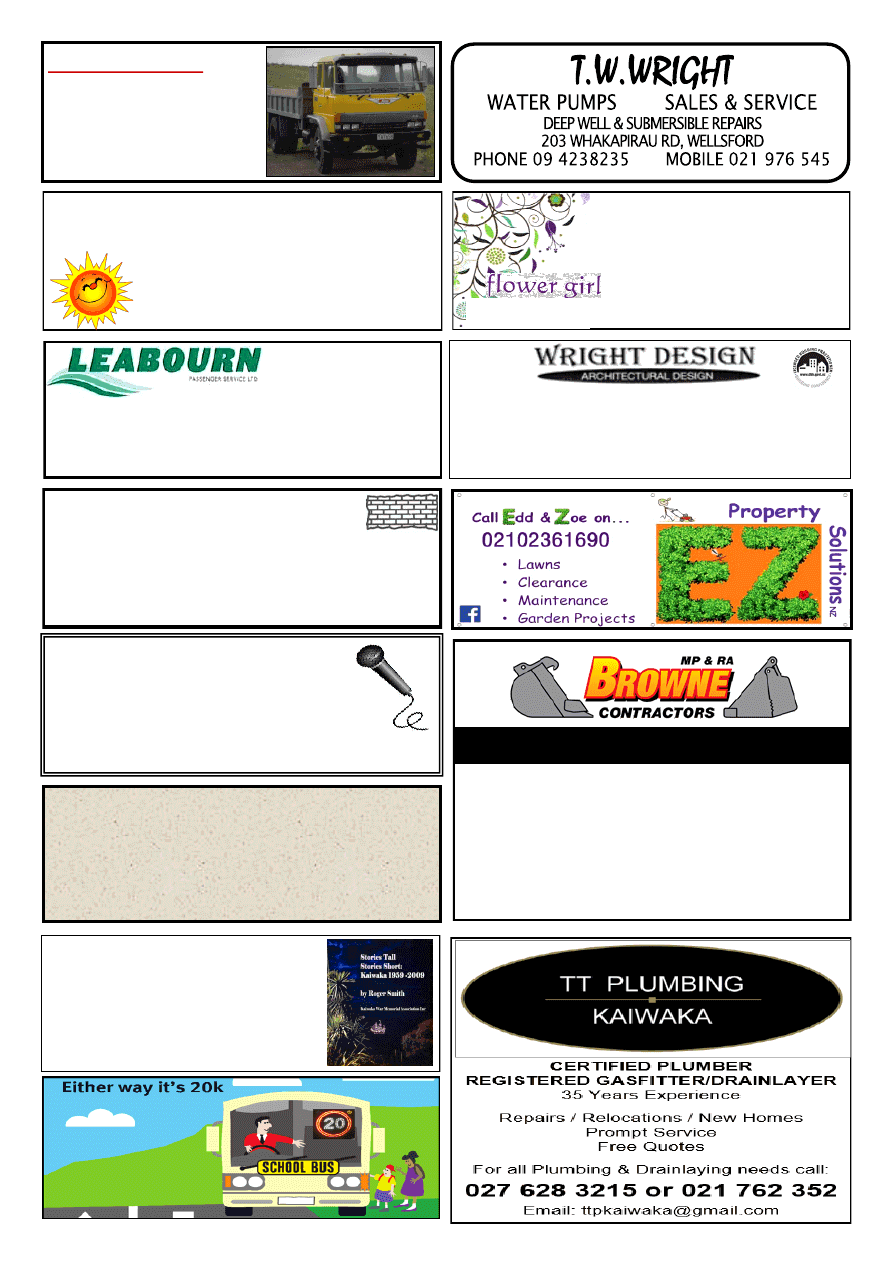 4T DIGGER – BOBCAT – TIP TRUCK 
 Property Maintenance - Driveways  
 Building Sites 
Stump & Tree Removal  
Hole Boring - Chain Trencher  
Calf Shed and Stockyard Cleaning 
Phone Matt: 021 199 6677 
Email: mprabrownecontractors@gmail.com 
BRICK/BLOCKLAYER 
All aspects of masonry: 
Fireplaces, Restoration & Remedial Work.
JAMES EAGLETON
Tel. (09) 431 2514     Mob. 0274 749 232
jajueagles@yahoo.com.au 210A Pukenui Road, RD2, Kaiwaka 0573 
Stories Tall, Stories Short  
Kaiwaka 1959-2009 
by Roger TW Smith.  $40 
At All - Sortz Collectables  
or phone  4312 045 
THE SUNSHINE GIRLS
Efficient and reliable help with 
your housework. 
Ph 4312 532 
Counsellor and Registered Psychotherapist 
Offers Supervision
Susan Matheson 
MNZAC 
Dip. Psychosynthesis Counselling and Psychotherapy 
Phone 09 431 2996                        Mobile 027 605 2427 
Passenger Service
Car & Van Hire   Bus & Coach Charters 
Airport Transfers    
Phone (09) 4237416 
SING RIGHT 
Professional coaching for performance,  
recording and demos. 
All level singers, musicians, singer-songwriters. 
Phone Robyn Hill 431 9159 or 0274 725610 
No. 117345 
N.Z.C.A.D., L.B.P. 117345 
PH/Fax: 09 423 8092 Mob: 021 276 7369 
Office: 3 John Sinclair Avenue, Wellsford    brianwright@xtra.co.nz 
For Resource and Building Consents, planning restraints, new building materials - 
you need a capable, experienced, and professional designer with a clear 
knowledge of all the processes. Brian has been helping and organising all these 
facets of design and building for over 50 years. 
Wright Design offers free visits, consultations and advice on planning, design, 
building, council permit applications, guaranteed permit plan acceptance. 
J & M Contractors 
Oneriri 
General Cartage
: 
All metals, Lime Rock,  
Post Peel and Wood Chip Mulch. 
Jim Wheeler  
Ph: 021 2383664  
Kaiwaka Good Sorts 
Do you know someone in our community 
who is deserving of a beautiful bunch of 
flowers? 
Send an email to us at 
kaiwakabugle@kaiwaka.co.nz 
lindywatson@hotmail.com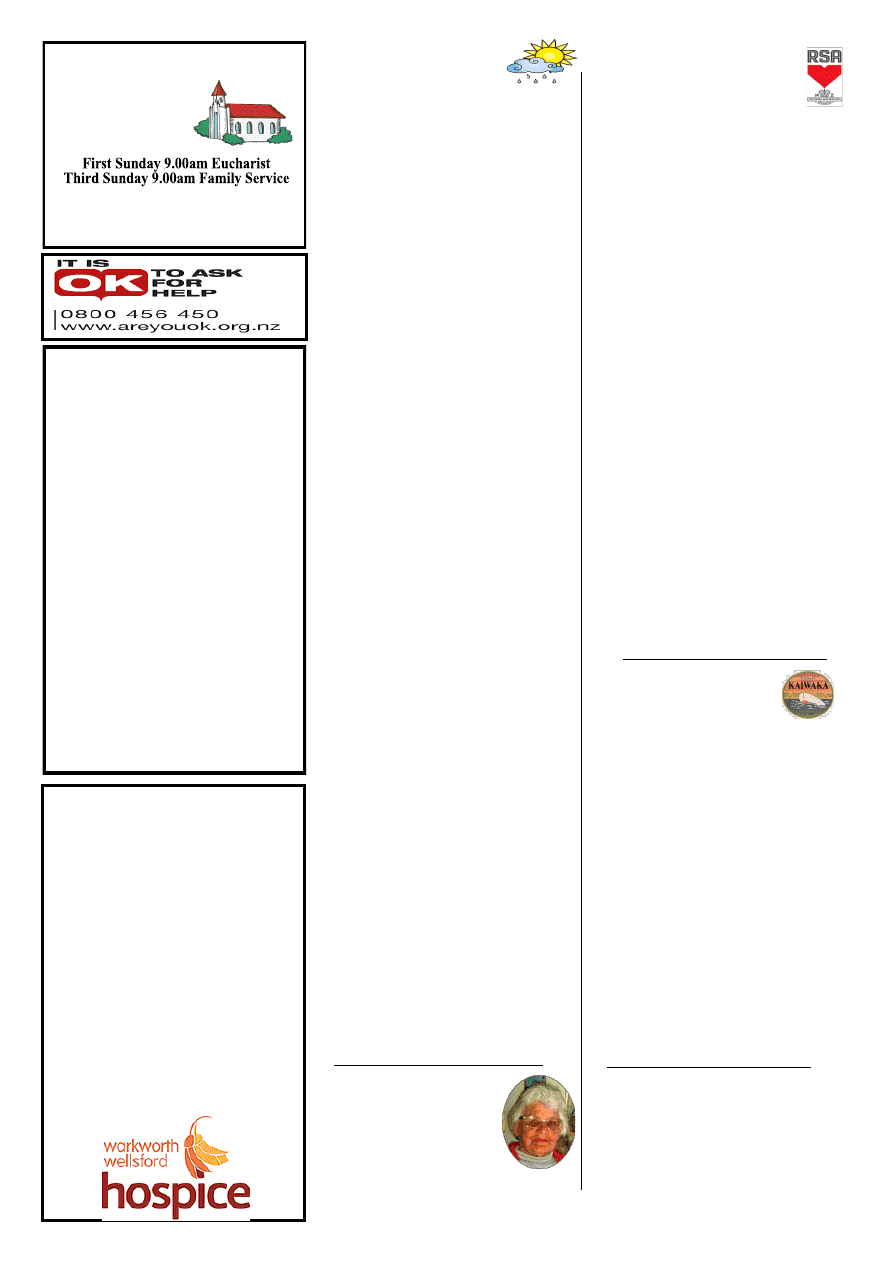 www.kaiwaka.co.nz 
Kaiwaka Bugle - 5 February 2019 
Page 5 
Willow Bend
HORSE  
HOTEL 
  
Total Horse Care 
 
Agistment 
 
Riding Lessons 
 
Arena Hire (60x40) 
 
Young Horse Starting 
 
Re-training/Exercising 
 
Hoof Trimming 
 
Problem Solving 
Phone Sue 09 431 2817 
or 021 623 776 
Or email  
susanjoll11@gmail.com 
ST PAUL'S  
ANGLICAN  
SUNDAY  
SERVICES
St Pauls Church: Kaiwaka-Mangawhai Rd. 
Rev. Wayne Thornton Ph 431 4122 
www.mangawhaianglican.org.nz
POINT CURTIS 
CRUISING 
CLUB  
If you are keen to do a Clay Bird Shoot 
let Jean (at Jaques Four Square) Sandy 
(Wellsford's  Sports  &  Leisure)  Pongo 
or Renna know… 
Nothing  like  a  bit  of  practice  before 
May - Paradise Shoot dates are 23rd & 
24th February 2019. 
Subs  can  still  be  paid,  they  were  due 
1st  June  Family  $30  &  Single  $20. 
Internet 
banking 
details: 
ASB 
Wellsford  No.  12  3094  0008233  00. 
Please  use  your  name/names  as 
reference. 
Fish  of the month  is Snapper till 12th 
February 
Next  club  meeting:  Tuesday  12th 
February  at  the  3  Furlongs  Bar  and 
Grill @7pm.  
 ~Wayne Leslie (Commodore) 
KAIWAKA  
WEATHER 
Welcome  to  February.    Yes,  we  were 
warned about the heat wave and a few 
months ago about the summer weather 
headed 
our 
way. 
Everybody 
complaining  about  the  heat  and  the 
children  going  back  to  school  in  this 
hot weather.   I can remember walking 
to school in the heat, we did not have a 
school bus service where we lived, and 
Mum  did  not  have  a  driver's  license 
until  she  was  about  40  (and  then  look 
out  no  holding  her  back).  Dad  was  a 
farmer and it was a bit hard at times to 
get  the  cows  finished  to  take  us  to 
school.    So,  the  temperatures  are 
maybe  a  bit  hotter.    We  all 
survived.    Our  swimming  pool  was  in 
the  river  under  State  Highway  One 
approximately  opposite  the  Sports 
Association  highway  entrance  on 
Gibbons Road.  
Well those drying strong south-westers 
we had most of January have done a lot 
of  damage  to  the  farms  and  grass 
around  our  area.    The  paddocks  are 
looking  very  dry  and  the  animals  are 
getting it hard to find feed.  I do hope 
everyone has water for their animals at 
the  ready.    The  birds  are  looking  for 
water  and  a  dish  of  some  sort  for  the 
small birds to drink and have a bath in. 
They love it.   
The  hottest  daytime  temperature 
outside at our house was 35deg. on the 
28th  January  closely  followed  with 
34deg and 33deg after that.   
For  January  2019  we had 31mm and 
2018 we had 190mm.   
For  January  2019  we  had  rain  on  2 
days  and  for  2018  we  had  rain  on  8 
days.  Total for the first month of 2019 
we  had  31mm  and  for  2018  we  had 
190mm.   
Our  driest  January  since  1987  was 
2013  with  10mm,  and  the  wettest  was 
1989 with 343mm.   
Well  now  the  cricket  season  has 
started.    I  heard  the  first  one  around 
here on the 29th.  Gee how the cracks 
are  opening  up  now  on  the  lawns  and 
the  ground  around  everywhere.  You 
may  heed  warning  of  a  few  years  ago 
and  get  that  extra  water  tank  in.    It 
seems  water  is  getting  harder  to  come 
by  and  the  water  tankers  are  getting 
busier with the extra land being cut up 
and the number of houses going up. If 
you like winter look on the bright side, 
it  is  heading  our  way.    Take  care  out 
there  and  do  not  get  fatigued  with  the 
dry weather.  ~ Bev. 
From Thelma's  
Scrapbook. … 
"Not to brag or 
anything,  
but I can forget what 
I'm doing while I'm doing it!!
 "
Warkworth  
Wellsford Hospice  
Turning Second Hand Goods 
into First Class Care 
GARAGE SALE 
OPEN 
Monday to Friday 9am - 4pm 
Wednesday 7am - 4pm 
Saturday 9am - 12 midday 
0800 555 407 
Tui House 
47 Morrison Drive, Warkworth
HAKARU RSA 
WOMEN'S 
SECTION
14 members attended our First meeting 
for the year on Thursday 24th January. 
Lena 
Our 
President 
welcomed 
everyone and wished them all the best 
for  the  New  Year  ahead.  Lena  also 
mentioned  we  haven't  sold  our  small 
freezer, which is in good condition and 
if  we  know  of  anyone  interested,  they 
could phone Lena on 4315034. 
St  Patricks  Day  is being celebrated at 
the  RSA  on  17th  March  about  4ish, 
more details later, so members it won't 
be a late night and will be enjoyable. 
Members  are  encouraged  to  help  with 
Thursday  and  Friday  night  catering  if 
they are able. 
We  are  sorry  Bettie  Marchant  has  had 
to re-locate to Ranburn, Waipu, we will 
miss  you  Bet.  It  would  be  great  if 
members  are  able  to  drop  in  on  their 
way past preferably in the mornings. 
Congratulations  to  Fay  Wintle  our 
much-loved  Patroness  who  turned  89 
recently,  she  had  to  put  up  with  us 
singing Happy Birthday!!! lol 
The raffle was won by Lena. 
Our  next  meeting  is  the AGM  to  be 
held  on  Thursday  28th  February  at 
1.30pm.  The  nominations  are  on  the 
notice  board  waiting  to  be  filled  in, 
Ladies. 
Jan  Mann  and  Pat  Judd  are  on 
afternoon  tea  don't  forget  the  milk, 
Girls!!  ~ Cheers, Ann 
HAKARU HALL 
PILATES CLASSES 
Tuesday and Thursday morning 
9.00am to 10.00am 
Qualified Instructor Bliss Pilates 
Ying Jie 
Everyone Welcome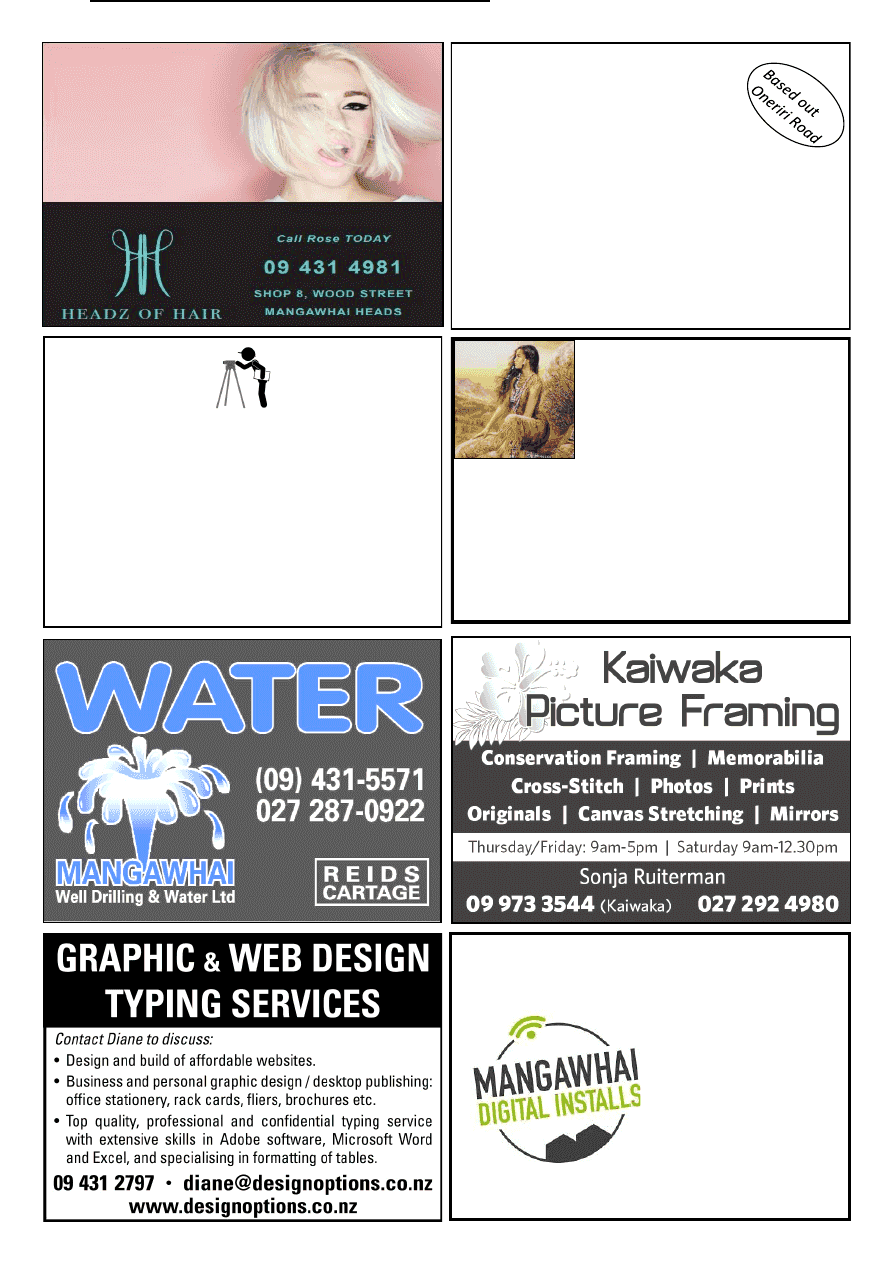 Ken Urquhart 
BSurv Licensed Cadastral Surveyor 
KMU Surveys Ltd
467 Bickerstaffe Road 
RD 2 
Maungaturoto 0587 
Ph 09 431 8705 
Mob 021 161 2344 
kenurquhart@xtra.co.nz 
Trails end 
spiritualist gathering 
Last Sunday of every month  
10.30-2pm  
Tea/coffee provided  $5 koha 
For all inquiries: 
021 165 2629 evenings (09) 945 0707 
Trail.end@hotmail.com 
1758 Cove Road, Mangawhai
Bringing together light minded people 
Guest speaker each month
(
Next to Kaiwaka Motorcycles)
Specialists in: 
Satellite Dish & TV Aerial Installations  
& Repairs 
Freeview  
Chromecast 
Smart TVs   
 Netflix 
Call or Text Adam on 022 351 6679 
E: mangawhai digital@gmail.com 
HODGETTS 
CONTRACTING
Digger Work   

Driveways 

House Sites   

Dams     

Drains, etc
Also available for HIRE 
3 ton Vib Roller Heavy Duty Tow  
Waterblaster     Lazer Level
Phone Mark 4312877 
        027 447 8554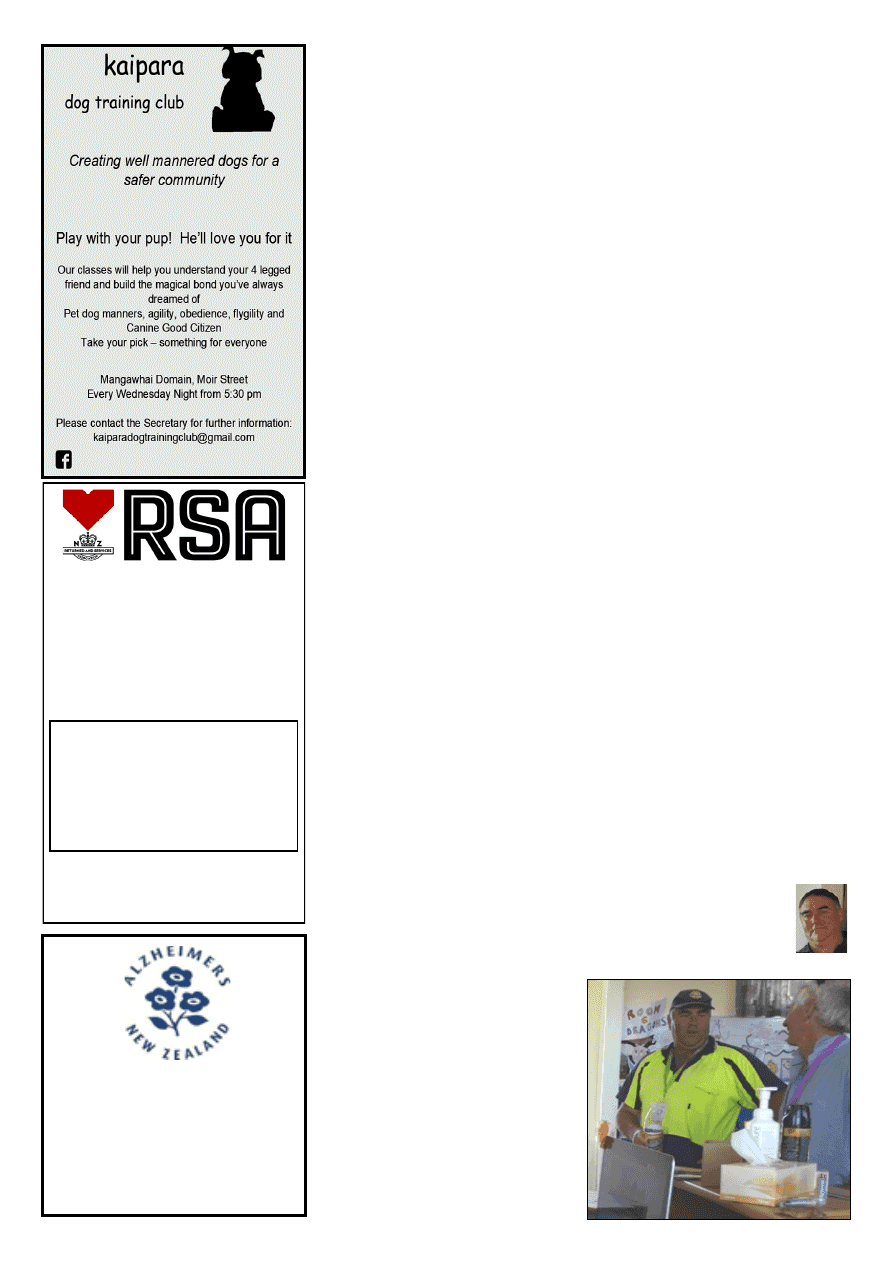 www.kaiwaka.co.nz 
Kaiwaka Bugle - 5 February 2019 
Page 7 
HAKARU & DISTRICTS 
MEMORIAL RSA (INC)
Members & guests are invited to 
come along and enjoy our hospitality. 
New members welcome. 
Meals are served on 
Thursday and Friday nights 
from 6.30pm. 
Order from Blackboard Menu  
and a sing-a-long  
with Des Chitty. 
For more information please phone 
Graeme on 431 2563 
As  the  Group  Leader  of  Kaiwaka-
Mangawhai  Scouts,  I  felt  incredibly 
proud  to  be  able  to  host  in  our  area 
Illuminate,  the  14th  New  Zealand 
Scout Venture, held at Kaiwaka Sports 
Association grounds. 
This  had  been  over  two  years  in  the 
planning for me, after a long discussion 
about our town and the venue when we 
attended  Scout  Jamboree  in  Renwick, 
Blenheim,  2017.  In  40  years  of  Sports 
Association  functions  this  has  been,  if 
not was, one of the largest events ever 
hosted for the period of time. Although 
we  have  had  more  people  on  the 
grounds on individual days this was the 
largest  use  of  the  facilities  and 
infrastructure  both  on-site  and  brought 
in  for  a  long-term  event.  To  see  the 
setup  of  all  the  tents  on  the  first  day 
was quite surreal for myself personally. 
We  could  not  have  hosted  this  event 
without the massive support and use of 
facilities  of  the  venue  and  its 
neighbours.  
Thank you: 

Kaiwaka Sports Association 

Kaiwaka  School,  especially  Len 
Whitelaw and Sam Orange for being so 
accommodating. 

 Over  1200  Venturers  and  leaders 
were  all  camping  in  individual  tents. 
This also required more land, willingly 
provided  by  Grant  and  Lyn  Parker 
giving  full  use  of  their  property  for 
camping and for allowing us to dig up 
the paddocks to build the water slide. 

Hokonui  Farms  -  Innes  and  Tania, 
for  the  use  of  the  lake  and  surrounds 
for day activities
.

Kevin  Brooking  for  providing  safe 
parking within sight of the venue. 
In  achieving  this  event  I  have 
extremely  appreciated  the  support  of 
many businesses and individuals in our 
local  area.  Some  of  this  support  has 
been quite large. 

Huband  Contractors  –  Shaun  and 
Martine (your support to the event and 
myself  personally  was  gratefully 
appreciated) 

Parker  Lime  Co  -  Scott  and  Anna 
(nice to know your forklift does make it 
in to Kaiwaka legitimately sometimes!) 

 Thank you very much to Kauri Park 
Nursery  for  being  able  to  use  their 
Northwaste bins 

Mark  Hodgetts  for  building  a 
creative water slide that many kids will 
remember 

Paul and Jody Greig the use of their 
land and facilities 

Pumps  n  Plumbing  –  Penny  and 
Jamie for infrastructure support 

Ben  Gardner  aka  The  Water  Boy  – 
1200 people use a lot of water! 

Also,  for  support  in  their  many  and 
varied  ways,  small  and  large,  often  at 
short notice: Andre and Dione Nicolai, 
Carlton  Smyth,  Skywork  Helicopters, 
Raddy Antunovich, Sumner Haulage, 
Marty  Roest,  Evan  and  Michele 
Wright,  Ron  Reid,  Phil  Keen,  Topuni 
Timber, Carters Maungaturoto.. 
While I was there as a Scout Leader, I 
was  however  probably  more  involved 
from  the  Sports  Association  side  with 
regard to site and services. When Mark 
and  Pam  Ottaway  returned  from  their 
last  cruise,  I  requested  they  give  me 
their  passports  saying,  'You  are  not 
leaving until this event is over'. I think 
I was on the phone 3-4 times a day to 
Mark  over  this  event.  The  actual 
amount  done  by  Mark  at  KSA  is 
unknown by many. I however am well 
aware  and  would  not  have  wanted  to 
attempt this event without him. 
Tony Hargreaves in his reply at closing 
ceremony  reminded  us  that  Kaiwaka 
Sports  Association  was  built  by 
volunteers  and  funds  they  raised  at 
Sweetwaters,  a  large  music  festival 
held in somebody else's backyard. We 
would not have the facilities today had 
it  not  been  for  Sweetwaters,  and 
sometimes  we  need  to  remember  this 
when we have such large events. KSA 
needs  them  for  its  profile  and  to  fund 
the facilities Kaiwaka people can enjoy 
most days of the year. Illuminate was a 
high-profile international event. 
Due to youth protection policy we had 
to  make  Illuminate  an  event  closed  to 
the  public.  I'm  sure,  if  it  was  your 
children there, you would have wanted 
them  safe.  It  is  the  first  time  we  have 
had  to  fully  close  the  KSA  to  the 
public. 
Thank 
you 
for 
your 
understanding Fitness Centre members, 
pool  keyholders  and  regular  grounds 
users who were most affected by this. 
There  are  many  other  people  who 
have  supported  us  who  I  have 
maybe not named, but your support 
was  invaluable.  Kaiwaka  people 
you can be proud to have hosted an 
international  event  like  this  in  our 
small town. 
Thank you, 
Bruce  Ferguson,  Group  Leader 
Kaiwaka-Mangawhai Scouts. 
Photo below: Bruce on duty -  
in his hi-viz gear. 
Alzheimers Society Northland Inc 
ALZHEIMERS SUPPORT 
GROUP 
Meet on 2nd Wednesday  
of each month 
11am - 12pm at the 
Mangawhai Golf Club Rooms 
Phone 0800 004 001 
A PERSONAL THANK YOU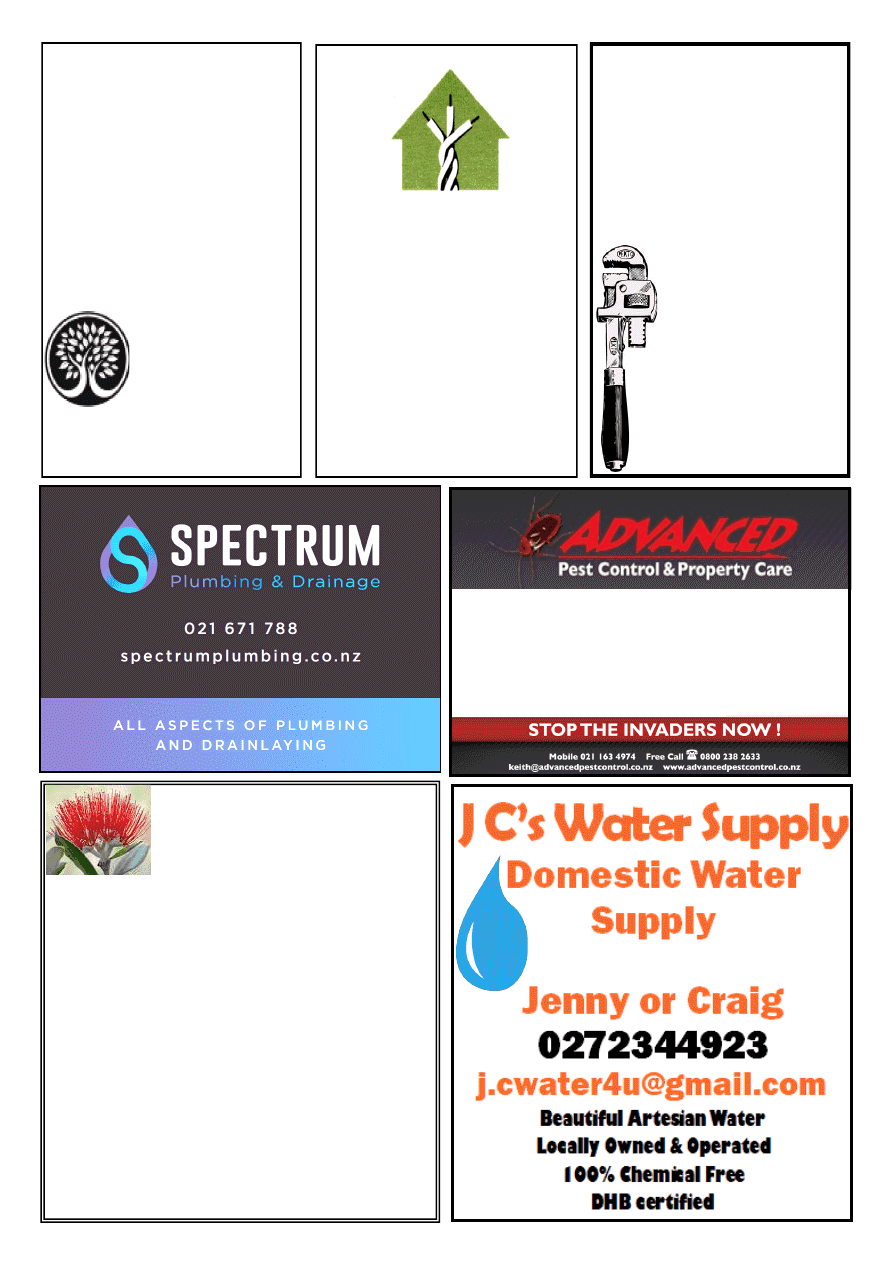 Waipu Natural 
Health 
3 Cove Road, Waipu  (opposite 
the Pizza Barn) 
Ph: 09 432 1325 
www.waipunaturalhealth.co
.nz
Clinical Nutritionist-Hair Analysis for 
Masked Allergies, Ozone Therapy, 
Prolotherapy, Naturopath-Medical 
Herbalist, Registered Massage 
Therapists, Reflexology-
Craniosacral Therapy, 
Acupuncture-Facial 
Acupuncture, Kineso 
Taping, Hypnotherapy, 
Counselling, 
ThetaHealing/Change 
Catalyst
.
AFFORDABLE CONSULTS FOR 
KIDS – give us a call
Gift Vouchers available
KAIPARA 
FLOORING CO 
Independently owned & operated 
32 HURNDALL ST MAUNGATUROTO
Supply & Installation of Carpet, Vinyl,  
Vinyl Wood Planking 
Stockists of 2m & 3m wide 
vinyl & carpet short ends 
Residential & Commercial 
Q Card Finance Approved 
6-18 month terms 
6 month interest free 
First Class Installations
For a free measure & quote 
phone Christine  
09 946 9886 or 021 515 415 
kaiparaflooring@gmail.com 
http://www.kaiparaflooring.co.nz/ 
BARRY CURTIS 
PLUMBING LTD 
REGISTERED CRAFTSMAN 
PLUMBER 
Phone 4315572 
027 257 9884 
25 years experience 
Friendly reliable service 
All plumbing and 
maintenance 
Alterations  
and new housing 
Spouting 
Competitive rates 
PROMPT 
EFFICIENT  SERVICE 
Reyahn George 
Leng 
Registered Electrician 
Local, honest and reliable. 
For your residential and 
light-commercial projects. 
022 314 1068  
Pest Control 
PLAN A: One-off treatments to customers with a specific pest problem 
PLAN B: Full maintenance service plans to commercial customers. 
This will include documentation kept in customer file on site: 
⚫
Pest treated 
⚫
Date of service 
⚫
Chemical or baits used 
⚫
Full pest check report done after each treatment 
⚫
Fair and reasonable fee with guarantee 
Flood Recovery  Carpet Care 
⚫
Carpet Drying   
This includes pre-spray treatments 
⚫
Dehumidifier Rental 
with stain removal and hot water extraction.  
Upholstery Cleaning 
Full upholstery cleaning of all furniture.  
eg lounge suites and all office chairs 
Water Blasting 
⚫
Concrete - Decks 
House Washing 
⚫
Soft Chemical Was 
⚫
Pre-painting Wash 
Property Services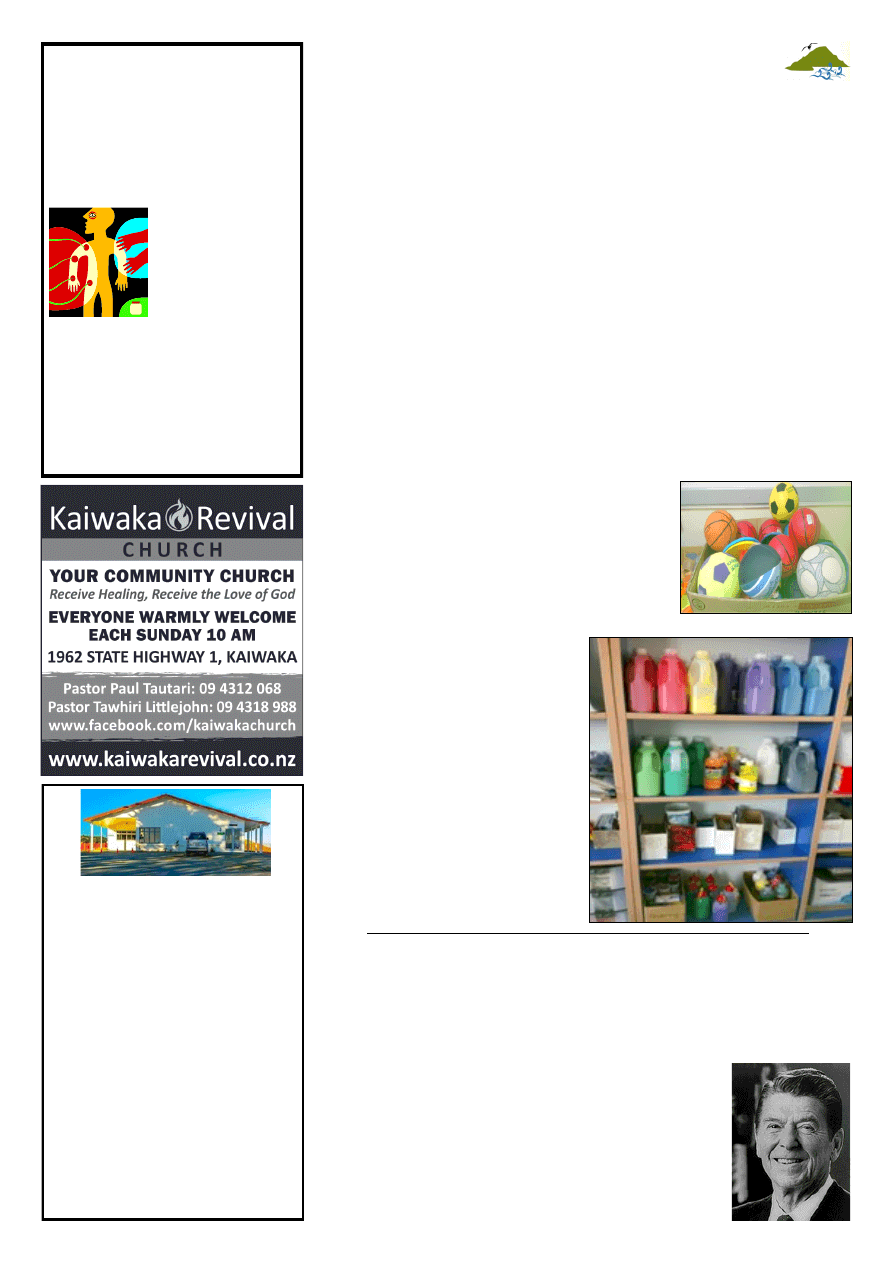 www.kaiwaka.co.nz 
Kaiwaka Bugle - 5 February 2019 
Page 9 
OWEN STEVENS 
Osteo Therapist
For careful adjustments  
to bones and joints 
Treatment for humans  
and their pets 
Clinics: 
Kate's Place, 
Kaiwaka: 
Last Friday of 
month 
9.00am-5.00pm 
For bookings: 
Phone 
09 4312661 
Or phone Owen   
09 4317123  anytime 
KAIWAKA SCHOOL 
Tramp! 
Te Pounga Marae 
130 Nathan Rd. Oneriri. Kaiwaka 0573 
COMPLEX FOR 
HIRE 
Functions 
* Weddings  * Birthdays  
*Anniversaries * Meetings  * Wananga 
5 hour meeting * 12 hour stay  * 
Overnight 
*All welcome - No more Drink-driving 
Amenities: 
*Convo Combi Steamer * Bratt Pan * 
Dish Washer/Sterilizer * 3 Door Glass 
Chiller (walk in) etc…All Crockery * 
Linen Supplied * Central Heating and 
Air Conditioning and much more.  
Can also cater for small groups…. 
For more information please contact: 
Kim Wallace  
Home: 09 832 1133  Mob: 0211275340  
Email: kimwallace@xtra.co.nz 
'
Welcome Back to School for 2019 
It's great to see all our students back to 
school so happy and refreshed. 
We welcome Ms Susan Butler and Mrs 
Cathryn Stevens onto the teaching staff 
at  our  school.  We  welcome  Stephanie 
Brown  as  a  teacher  aide  in  Room  3.5. 
We  welcomed  11  new  students 
commencing  at  our school  this  week  -
 six New Entrants and five new to our 
school.  We  welcome  all  of  these 
students  and  their  families  into  our 
school community.  
I  especially  thank  all  the  teachers  for 
their  hard  work  in  preparing  the 
classrooms for their students. There has 
been  a lot  to  do  and they  have  done a 
splendid job.  
A  special  thank  you  also  goes  to  Sam 
Orange and Len Whitelaw, our cleaners 
and  caretakers,  for  their  excellent 
preparation  of  the  school,  for  the  new 
year.  
Our  new  classroom  is  scheduled  to  be 
ready  for  the  commencement  of  Term 
2.' - 
Warm regards, Rosie Ellis. Principal
STOP PRESS: 
The  pool  needs  to  be  closed  on 
Tuesday,  Wednesday  and  Thursday 
next  week  (5th,6th,7th  February)  for 
some concreting work that needs to be 
done. 
Staff for 2017 : 
Mrs Ellis, Principal 
Mrs Tornquist, Deputy Principal Room 
1 Year 5 & 6  
Mrs Jamieson, Junior  Syndicate  Room 
3.5 Year 2 and Reading Recovery 
Mrs Brown, Room 3.5 Year 2  
Ms Butler, Room 6 Year 2 and 3  
Mr Massey, Room 5 Year 3 and 4 
Mrs Stevens, Room 4 Year 4,5 & 6 
Miss Bencheikh, Room 3 Year 1 and 2 
Mrs  Nesbitt,  Special  Needs  Support 
Teacher  
Miss  Taylor-Rose,  Room  2  New 
Entrants  
Kaiarahi  I  te  Reo,  Whaea  Mina 
Fairburn 
Secretary-Heather Gilligan  
Librarian-Sara McAulay 
Teacher  Aides-Sara  McAulay,  Chris 
Harrison,  Barbara  Brom  ,  Jesse  White 
and Stephanie Brown.  
Sam  Orange  and  Len  Whitelaw  -
Caretakers and Cleaners 
Catherine  Elliot  After  School  Care 
Supervisor 
Robyn  Froggatt  -  After  School  Care 
Assistant. 
NOTICES: 
Our school picnic will be on Friday 8th 
February, at Mangawhai Beach.  
The  DHB  Vision  and  Hearing  Service 
will be here 7th February at 9.00am. 
A  reminder:  Toys,  sweets,  lollies  and 
fizzy drinks are not allowed at school. 
DATES: 
Term 1 
8th  Feb:  Picnic-  car  park  at the corner 
of North Avenue and Alamar Crescent. 
28 Feb: School Swimming Sports 
14 Mar: Bream Bay Swimming Sports 
21 Mar: Triathlon 
12 April: End of Term 1 
Term 2 29 April - 5 July 
Term 3 22 July - 27 September  
Term 4 14 October  - 16 December 
Photos: Some of the sporting 
equipment and paints donated to the 
school: 
"Thanks to 
the 
Illuminate 
2019 
Venture 
Jamboree 
Committee 
for their 
generous donations to our school."  
BE DECISIVE 
Ronald Reagan, a former president of the United States, enjoyed telling the story 
of how he learned to make firm decisions. When he was a boy, his aunt sent him 
to  a  cobbler  to  have  a  new  pair  of  shoes  made  for  him.  When  the  shoemaker 
asked, 'Do you want a square toe or a round one?' he hemmed and hawed, so the 
cobbler said, 'Come back in a day or two and tell me what you want.' Later the 
cobbler  saw  Reagan  on  the  street  and  asked  what  he  had  decided  about  the 
shoes. 'I haven't made up my mind yet,' he answered. 'Very 
well, 'the cobbler said, 'your shoes will be ready tomorrow.'  
When  Reagan  got  the  shoes,  one  had  a  round  toe  and  the 
other  a  square  toe!  Reagan  said,  'Looking  at  those  shoes 
every  day  taught  me  a  lesson.  If  you  don't  make  your  own 
decisions,  somebody  else  will  make  them  for  you.'  Worst 
case:  if  you  get  it  wrong,  you'll  learn  what  not  to  do  next 
time.  
Bottom  line:  to succeed  in  life  you  must  pray  for  wisdom, 
and then make a decision. 
Ref. Word For Today,  Rhema Media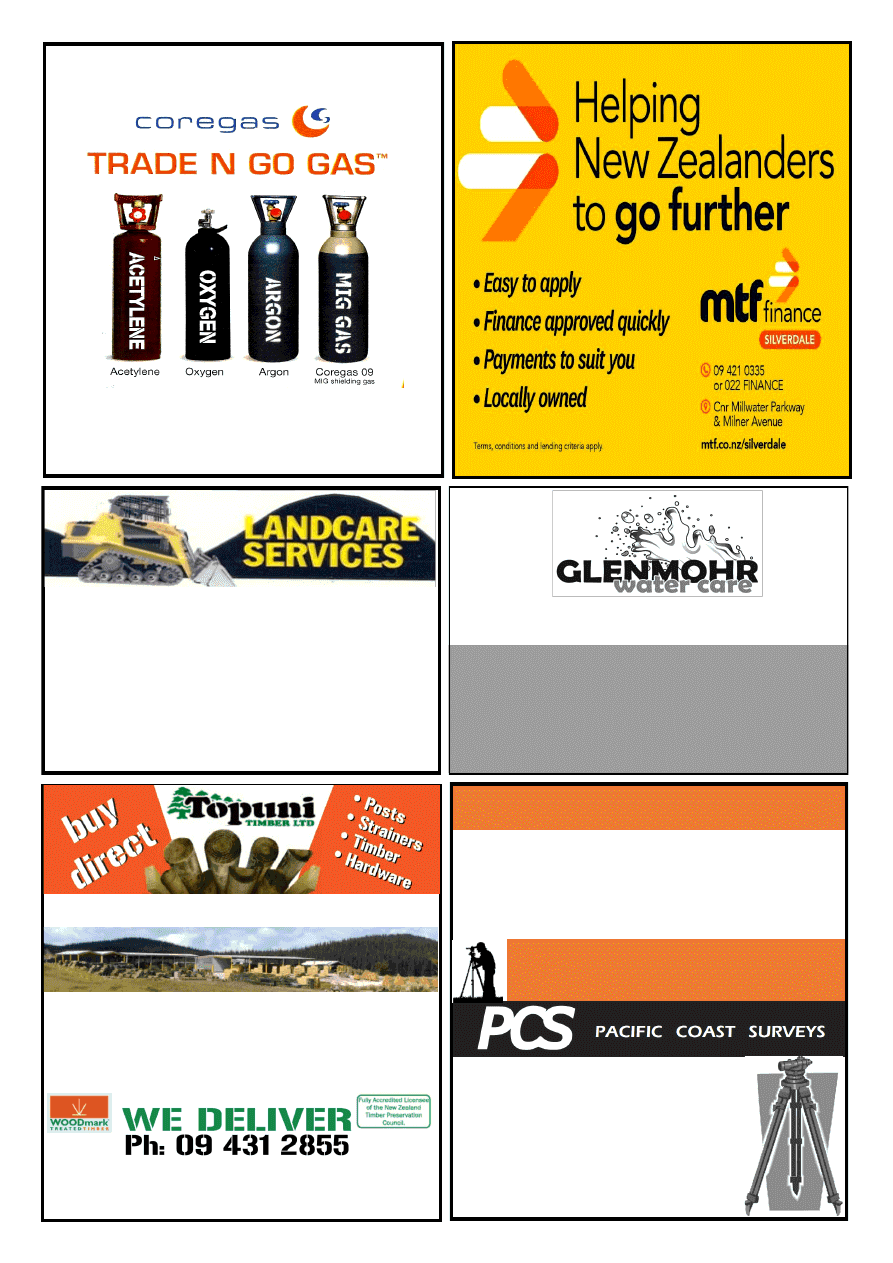 LOCALLY OWNED AND OPERATED 
QUALITY PRODUCTS • FRIENDLY ADVICE • GREAT SERVICE 
Quality Products milled from High Density NORTHLAND Radiata Pine. 
Treated and guaranteed to NZS3640 with commitment to 
Environmental Safety.
Phone, fax, email, or come into the mill 
Schiska Rd, Topuni, SH1, 10 min north of Wellsford. Fax: 09 431 2856 
Email: sales@topunitimber.co.nz           Mon - Fri 7am-5pm 
• Fencing 
• Retaining 
• Decking 
• Landscaping 
• Gates 
• Hardware 
SURVEYORS 
SUBDIVISIONS 
HOUSE SITE SURVEYS 
CIVIL ENGINEERING 
WASTEWATER DESIGNS 
EXPERIENCED 
PROFESSIONAL 
INNOVATIVE 
Ph 09 431 5353 
0800 PACIFIC (0800 722 434) 
pacificcoastsurvey.com
Adam Booth - 027 415 5752 
Bsurv, Licensed Cadastral Surveyor
Surveying Kaipara since 1994 
Water Tank Cleaning 
• 
Keep your water safe & clean  
• 
Removal of sediment, silt etc. 
• 
Vacuum or full scrub 
• 
Minimal water loss 
Phone Mark (09) 432 0655 or 0274 707607 
LANDSCAPING 
4 IN 1 BUCKET 
TRENCHER 
POLE HOLES 
ROTARY HOE 
COMPACT ROLLER 
OFFAL HOLES 
CAN SUPPLY WOODCHIP & POST PEEL 
5 TON TIPPER 
FOR RELIABLE AND FRIENDLY SERVICE CONTACT DAVE 
Dave Hyndman 
 
KAIWAKA 
PH: 09 4312302 
MOB: 021 431 238 
At Twinkle Tow 'n' Tyre 
Mob: 021 833 960 
Ph & Fax: 09 431 2823 
1837 State Highway 1, Kaiwaka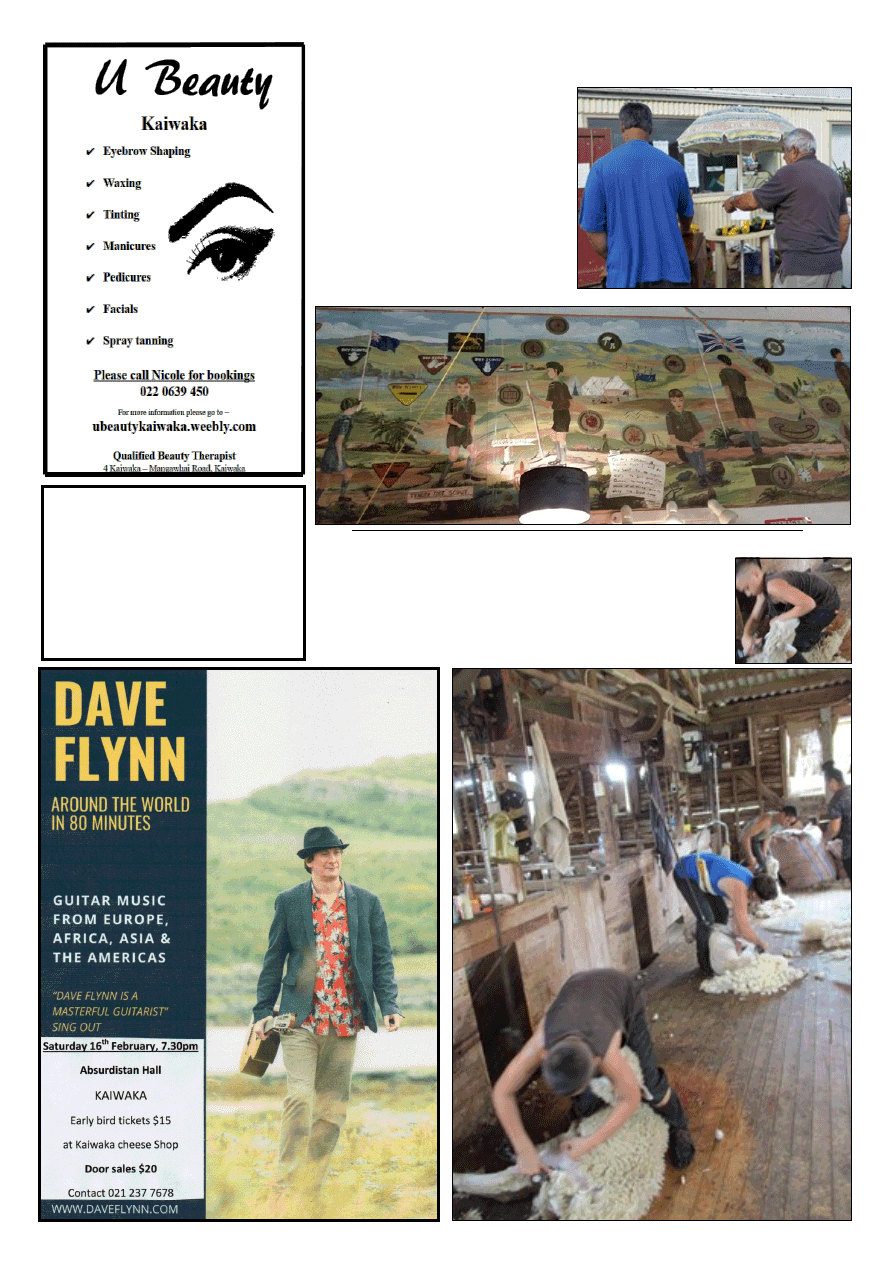 www.kaiwaka.co.nz 
Kaiwaka Bugle - 5 February 2019 
Page 11 
Albie  'in  gear'    organising  the  latest 
garage  sale  -  pictured  (on  the  right) 
outside  the  Den.  The  Den  is  on 
Bickerstaffe  Road  -  on  the  right 
before Otamatea High School. 
The DEN is OPEN on Tuesdays 10am 
till  2pm,  otherwise  phone  Albie  on 
027 494 9448 for further information - 
he will even do a special 'open up' for 
donations or purchases. 
Below:  This  brilliant  Scouting  mural, 
painted  by  Mrs  Cullen  in  the  1960s, 
can  be  seen  in  high  on  a  wall  at  the 
former Maungaturoto Scout den .
GARAGE SALE 
Riverview Dementia Unit fundraising 
THREE GENERATIONS ON THE BOARD 
During this shearing season 11 year old Hamuera has begun 
shearing for Henderson Shearing Contractors.  
Hamuera  Henderson  can  be  seen  successfully  handling  the 
lamb - right, and below on No.3 stand, his Grandfather Mike 
on No2. and his Uncle Toa on No.1 in an Oneriri  woolshed. 
His great grandfather was shearer also. 
FAMILY CEILIDH 
Scottish Country Dancing 
Wednesday 6 February 
10am - 12.30pm,  
followed by a shared lunch 
Kaiwaka War Memorial Hall 
$5 per head or $10 family 
Contact: 09 4320532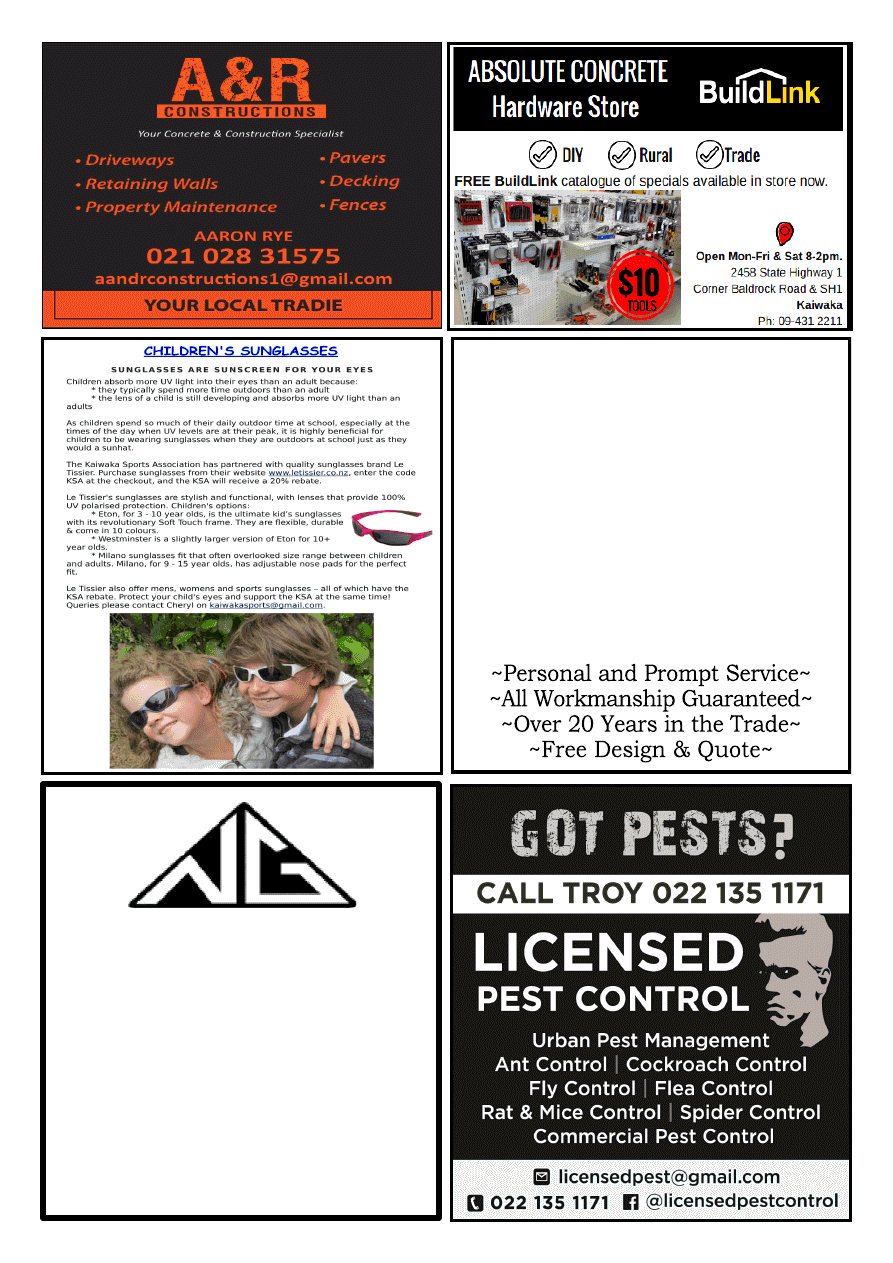 NORTH GLASS 
WINDSCREEN REPAIR OR REPLACE 
GLAZING SERVICES 
MIRRORS  •  SPLASH BACKS  •  SHOWERS 
0800 70 40 10
info@northglass.co.nz 
www.northglass.co.nz 
PLANNING A NEW KITCHEN?
 CONTACT NOEL McDOWELL
WELLSFORD 
KITCHENS
Ph/Fax 094312888
KAIWAKA-Any time
 QUALITY CUSTOM MADE 
KITCHENS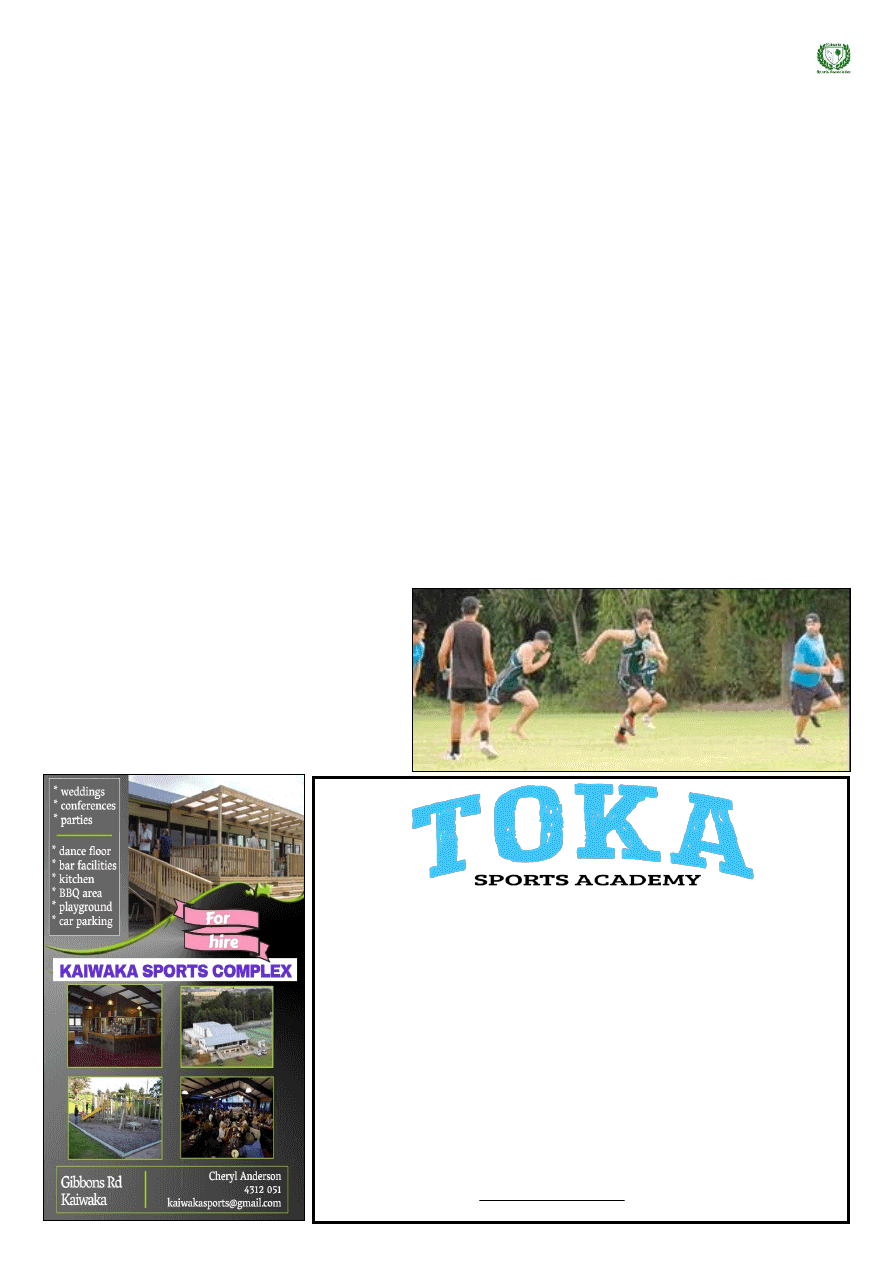 www.kaiwaka.co.nz 
Kaiwaka Bugle - 5 February 2019 
Page 13 
           KAIWAKA SPORTS ASSOCIATION 
Toka Sports Academy – Term 1 
News from Nick Makea, coach of Toka 
Sports  Academy:  "Term  4  last  year 
was  awesome,  there  was  a  massive 
improvement - ball skills, footwork and 
overall  fitness  went  through  the  roof 
with  all  children  improving  in  their 
fitness  tests.  In  Term  1  2019  we  shift 
our training into more explosive fitness 
to  get  ready  for  the  fast  approaching 
winter  sports  season.  All  sports  are 
welcome:  Netball,  Basketball  and 
Rugby will be our specialised sports." 
Please  see  the  Toka  Sports  Academy 
poster  in  this  edition  of  the  Bugle  for 
details  and  prices  of  the  different 
classes. 
Junior Tennis 
Our  junior  tennis  season  starts  this 
Monday and will run for seven weeks. 
The  junior  coaching  starts  at  3.30pm. 
Queries,  please  email  Linda  on 
Touch Module 
Our  Touch  Module  is  now  nearly 
halfway,  with  the  8  teams  playing 
every Wednesday evening. The  results 
table  and  draw  can  be  found  on  our 
website 
Spectators are welcome, so feel free to 
come  along  to  the  Sports  Complex  on 
Wednesdays  at  6.30pm,  the  Module 
runs until 6
th
 March. 
Badminton
Badminton has started up again for the 
new  year.  Players  of  all  ages  and 
abilities  are  welcome  so  if  you  are 
keen, simply turn up to our gymnasium 
on Tuesdays from 7.30pm. Only $3 per 
person,  play  as  long  as  you  like.  Club 
rackets are available for you to borrow 
at no cost.
For  badminton  queries,  please  ring 
Kaye Fleming on 4312 345. 
Sunglasses Fundraiser 
Sunny  weather  is  here!  If  you're 
wanting  to  upgrade  your  sunglasses, 
please  consider  our  fundraiser.  We 
have  partnered  with  Le  Tissier  and 
when  people  buy  sunglasses  through 
their  website  they  will  donate  20%  to 
the KSA.  
Le  Tissier  offer  quality  sunglasses  for 
men, women and children plus they do 
an extensive range of sports sunglasses. 
Their  Sunwear  collection  offers  eye 
catching  style  and  the  functionality  of 
high  quality  acetate  with  lenses  that 
offer  100%  UV  polarised  protection. 
Many 
styles 
are 
suitable 
for 
prescription lenses.  
Visit www.letissier.co.nz and enter the 
code KSA at the checkout. Thank you 
for your support.  
Martial Arts 
Are you or your child keen to join our 
Martial  Arts  classes  this  year?  Black 
belt  instructor  Craig  Bennetts  offers  a 
variety  of  classes  out  of  our 
gymnasium  for  all  ages.  For  more 
information please phone Craig on 021 
1524466. 
Kaiwaka Sports Awards 
For  our  annual  Sports  Awards,  our 
affiliated 
clubs 
nominate 
their 
members  in  the  categories  of  Senior 
Sportsperson 
of  the  Year, 
Junior 
Sportsperson 
of  the  Year, 
Service 
to 
Sport and the 
Greg  McRae 
Memorial 
Trophy.  The 
date  of  the 
awards 
evening  will  be  published  in  the 
next Bugle. 
Kaiwaka Athletics 
Kaiwaka  Athletics  Club  is  back!  The 
first  meet  for  2019  is  this  Monday, 
you'll  find  us  at  the  Otamatea  High 
School  field  beside  the  pool  at  5pm. 
We  provide  coaching  and  support  for 
all  the  athletics  events,  including 
running,  throws  and  jumps  for  all 
youngsters,  but  especially  those  aged 
from  7  years  upwards.  We  are 
dependent upon parent support and are 
pleased  to  make  use  of  these  people's 
relevant  athletic  skills.  Any  queries  to 
Eileen Parsons on 4318 055. 
KSA Annual General Meeting 
The Kaiwaka Sports Association AGM 
will  be  held  on  Monday  18
th
  February 
at  7pm  at  the  Sports  Complex.  All 
welcome. 
Mother's Day Raffle 
I've  decided  to  run  a  Mother's  Day 
raffle  as  a  fundraiser  for  the  KSA.  I'd 
very  gratefully  receive  any  donations 
towards  it!  So,  if  you  have  any 
vouchers  or  (unused)  items  that  you 
would be happy to donate to us, please 
let me know, thank you.  
    ~Cheryl Anderson 
Photo  below:  Jesse  Manuell  from  team 
Touch & Go with Jason Taiaroa following.  
Photo credit: Chantelle Peeni.  
Young athletes who are wanting a Rock-Solid Foundation in sport 
STARTING TERM 1, February 11th 
Mini Athletes - 8-10yrs  $120, 3.30pm to 4.30pm;  
Junior Athletes - 11-13yrs  $130, 4.30pm to 5.30pm; 
 Academy Athletes - 14yrs + $140, 5.30pm to 6.30pm 
9 week program  Monday and Wednesday  at  KAIWAKA SPORTS ASSOCIATION 
All sports welcome, boys and girls. Limited spaces. 
All athletes will benefit if they want to improve: 
Strength, fitness, speed, evasion skills, sport specific drills all in a 
professional environment and coached by qualified and experienced 
trainer Nick Makea. 
Term 1 Get Ready Preparation Program 
Nutrition in Sport, Anaerobic and Aerobic fitness, Speed and Plyometrics 
Evasion Skills, Sport specific drills, 9 Weeks, 2 x Training a week, 1 x Nutrition Workshop 
To register email: nick.makea@gmail.com  Cell number: 027 608 3483 
Facebook: Toka Sports Academy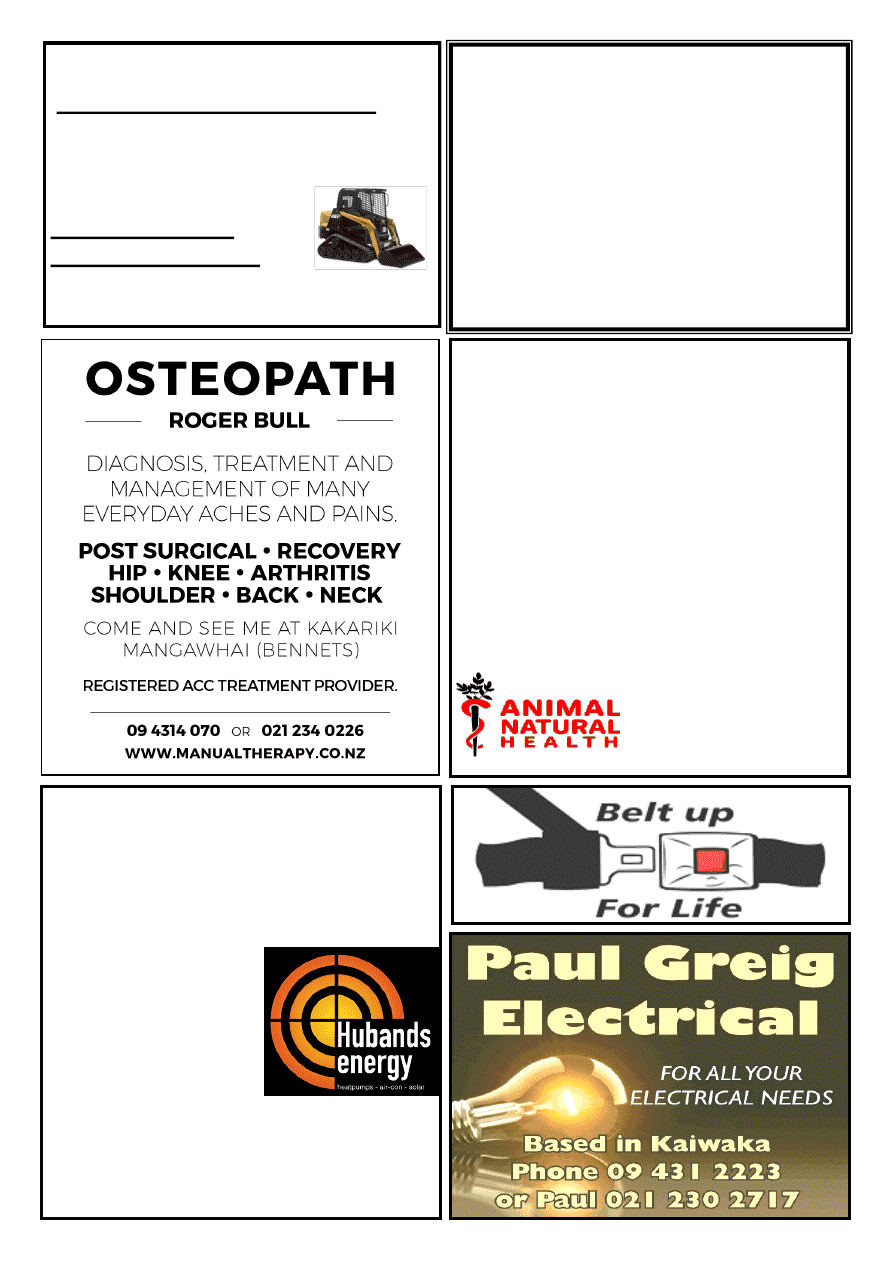 Natural Earth Ltd 
 Landscape and Bobcat services 
 : Driveways  :Landscaping  :Retaining Walls 
 : Hole Boring: Land Levelling :Trenching 
 : Decks :Fences :Sections Cleared: Plus much 
more 
Tel   09 4312885 
Mob 02102391280   
For A Fast Friendly  
Service Contact Tim Hicks 
Northland's Award Winning 
Solar Company
SEANZ Best Solar Business Winners 2015/16
EXCLUSIVE 10 year installation warranty 
FREE No obligation onsite quote
Complete systems 
from $5990
See our range of: 
✓ 
Heatpumps 
✓ 
Airconditioning 
✓ 
Hot Water 
Heatpumps 
✓ 
Central Vacuum Systems
09 430 0019             sales@hubands.co.nz 
15 Kioreroa Road, Whangarei
Locally owned and operated for 35 years 
Mangawhai Heads 
Garden Centre
1758 Cove Road
945 0707 
021 165 2629 
PET FOOD & ACCESSORIES 
ANIMAL NATURAL HEALTH, 
KAIWAKA
Our Pet Deli range of meats are now in! 
Also stockists of:
Purely Pets Patties 
Orijen & Acana Kibble 
Mighty Mix Biscuits 
Tukka Thyme Muesli 
Organic Apple Cider Vinegar
Chemical-free flea control, wormers 
Homeopathic / herbal preps for Upsets & 
Allergies. 
Collars and leads. 
Hours:  10.00am - 5pm 
weekdays, 10.00-4pm Sat. 
Next to Italian Bakery,  
SH 1, Kaiwaka 
Phone 09 431 2217.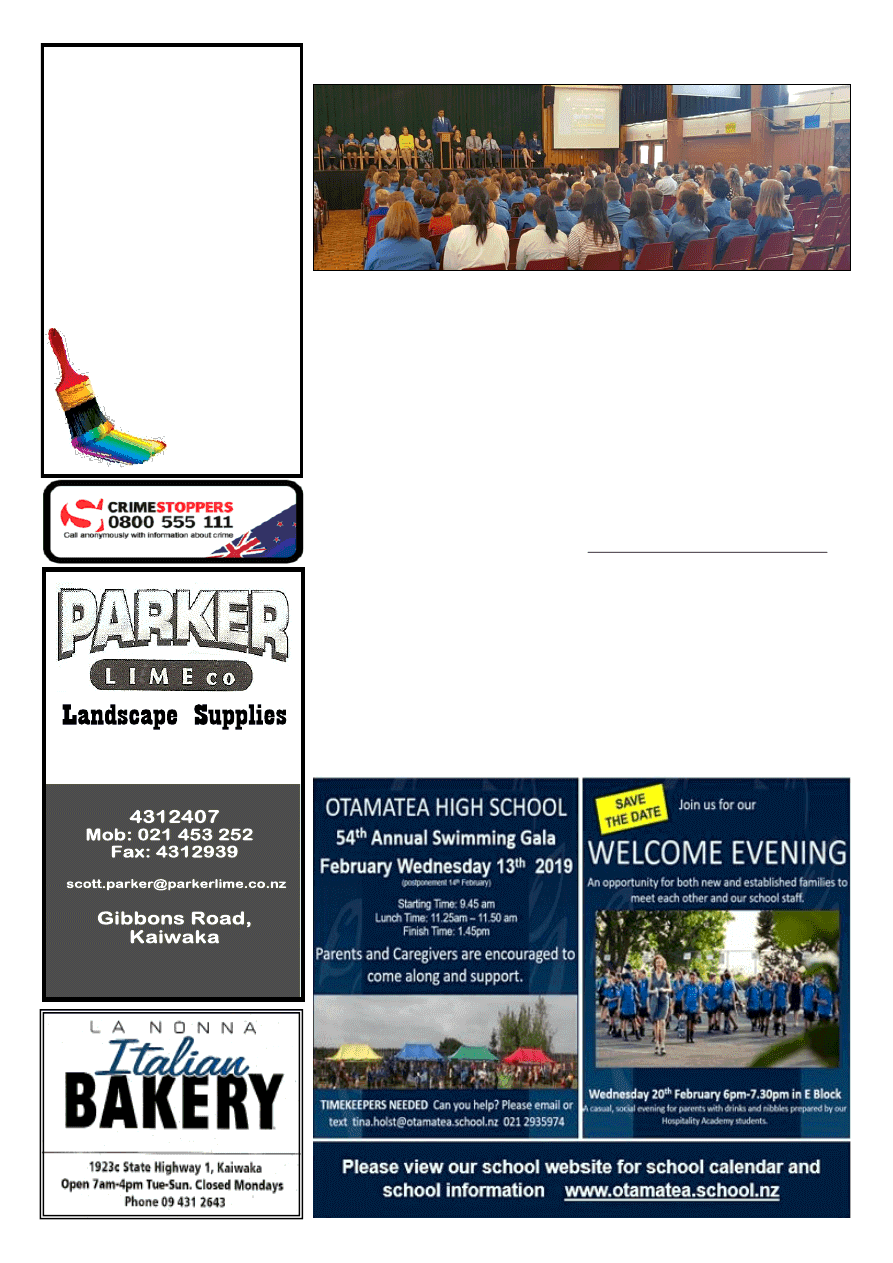 www.kaiwaka.co.nz 
Kaiwaka Bugle - 5 February 2019 
Page 15 
Bulk Cartage 
OTAMATEA HIGH SCHOOL 
Pictured below: Head Boy, Quintin Brown, welcomes new students and teachers
LEE COOPER 
PAINTERS 
(Kaiwaka Based) 
*30 yrs Experience 
*Interior/Exterior 
*New and Restoration 
*Honest and Reliable 
*Free Quotes 
 
09 4312918 
0274735171 
leecooper@xtra.co.nz 
From the Principal's Notes: We have 
had  a  settled  first  couple  of  days  of 
school  with  nearly  100  new  students 
and  5  new  staff  members  who  each 
bring  a  wealth  of  experience  to  the 
school. They are: 
Alison  Cadman  who  is  teaching 
mathematics  -  she  is  a  Maungaturoto 
local,  former  teacher  and  Principal  of 
Paparoa  School;  Michelle  Hagerty 
who  is  teaching  Food  Technology  and 
Hospitality  -  she  has  most  recently 
taught  at  Kerikeri  High  School;  Jean 
Hook who has worked in many schools 
both  in  New  Zealand  and  in  various 
overseas  locations.    She  is  a  part  time 
Guidance  Counsellor;  Andy  Thomas, 
who  has  come  to  us  from  Kamo  High 
School  and  is  the  HELA  Science; 
Alister  Williams,  who  comes  to  us 
from  Tauraroa  Area  School  and  will 
also  be  teaching  in  the  mathematics 
department for term one. 
We also welcome all new families into 
the 
Otamatea 
High 
School 
community.  On  Wednesday  20th 
February  we  will  be  hosting  our 
Welcome  Evening.  This evening is a 
great  opportunity  for  established 
families  and  staff  to  welcome  new 
families  and  staff  to  our  school 
community.    The  evening  promises  a 
friendly and social atmosphere. 
Board  of  Trustees
:
    This  year  the 
triennial  elections  for  all  Boards  of 
Trustees  across  the  country  occur  in 
May.  If you are interested in becoming 
a  Board  member  please  contact  the 
school  or  one  of  the  current  Board  of 
Trustee 
members 
for 
more 
information.    You  can  also  attend  the 
next  Board  meeting  as  an  observer  on 
Thursday 28th February at 6pm. 
Thai  student  programme
: 
  We  are 
again  hosting  a  group  of  17  students 
from  Thailand  from  22nd  March  until 
11th  April.    If  you  are  interested  in 
hosting  one  or  more  of  these  students 
please  contact  Heather  McDonnell  on 
heather.mcdonnell@otamatea.school.nz. 
William  Pike  Challenge      This  year 
we  will  be  running  a  new  exciting 
initiative  called  the  William  Pike 
Challenge.    This  is  a  similar 
programme  to  the  Duke  of  Edinburgh 
Award  but  is  aimed  at  junior  students 
(Year  7s  and  8s).    We  have  secured 
some  funding  for  enrolments  into  the 
programme  so  it  will  be  free  to  sign 
up.    Nyree  Alcock  is  running  this 
programme and will be speaking to all 
year  7  and  8  students  about  the 
programme soon.  
~ Rachel Clothier-Simmonds, Principal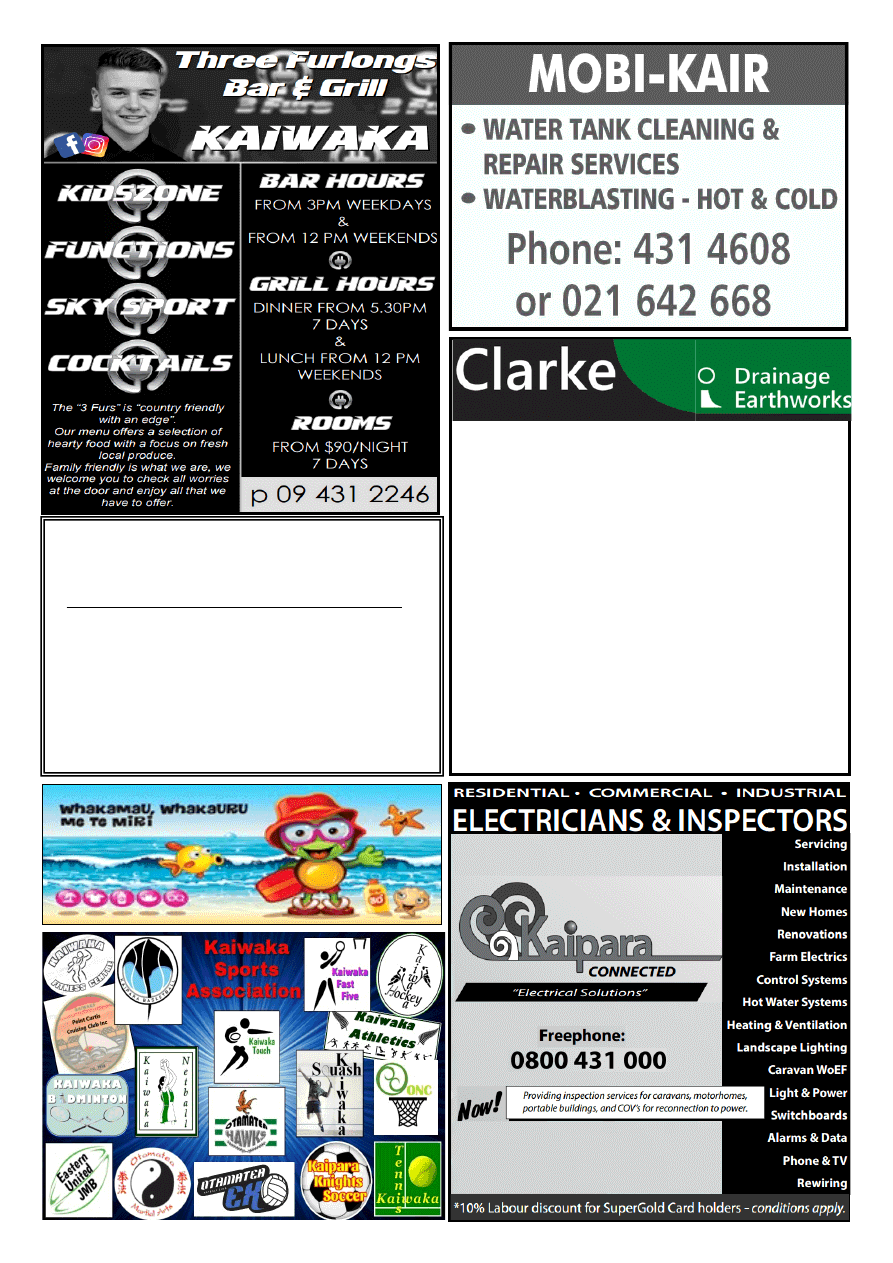 Registered Drainlayer 
All Types of Earthworks  
> All Residential & Commercial Work  > House Sites 
> Septic System Design & Install 
> Footings & Drilling to 10m 
> Sewer Connections 
> Dams 
> Water Tank Installation 
> Roading & Races 
> Farm Work 
THE ONE STOP SHOP  
Phone Nigel for an Obligation Free Quote  
Drainage & Earthmoving 
nigel@clarkedrainage.nz 
027 2233 185 
Email: info@kaiparaconnected.co.nz 
Website: www.kaiparaconnected.co.nz 
Om Tara 
Mangawhai 
Healing Services 
Diann Glucina 
021 250 7461 diglucina.com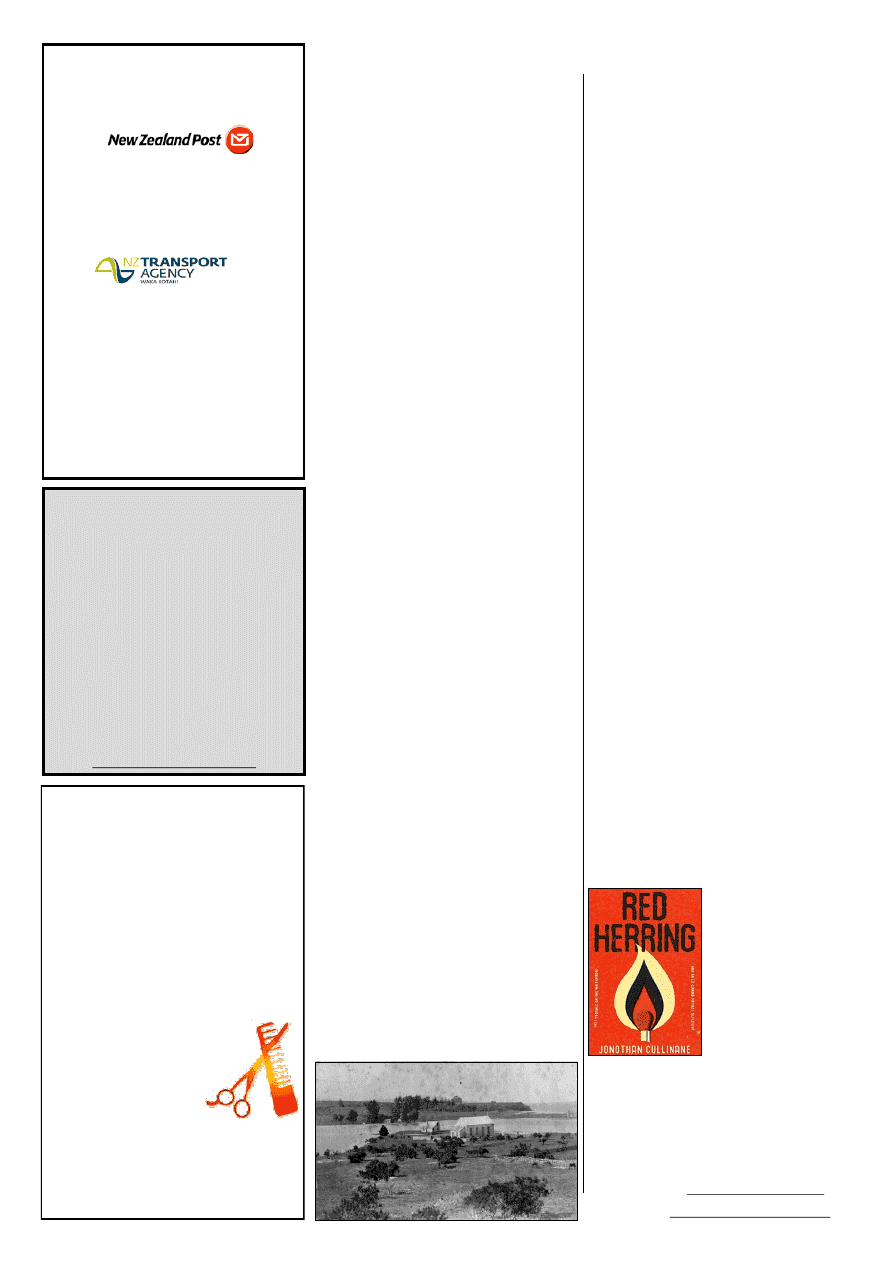 www.kaiwaka.co.nz 
Kaiwaka Bugle - 5 February 2019 
Page 17 
THE FIRST 
WAITANGI DAY 
KAIWAKA POST 
CENTRE and 
FOOD MART 
POST CENTRE TRADING HOURS 
MONDAY to FRIDAY 8am to 5pm 
SATURDAY 8am to 12pm 
CLOSED ON SUNDAY and on 
PUBLIC HOLIDAYS 
FOOD MART (GROCERIES) 
MONDAY TO SUNDAY  
7:30am to 8pm 
IF ANY QUERIES PLEASE CALL 
STORE MANAGER AMRIT  
on 09 4312431 or 
EMAIL: kaiwakafood19a@gmail.com 
1919a State Highway1, Kaiwaka 0542 
Maungaturoto  
Country Club 
SPORTS - SOCIAL - CONFERENCE CENTRE  
The club is open Fridays from 4pm and 
Thursdays from 6pm - come and enjoy a 
drink and a meal from Raquel's Kitchen.  
You can join the Club  - $15 a year. 
Application forms available on request. 
Affiliated activities: Bowls, Squash, 
Rugby, Theatre, Motorcross, Equestrian. 
PO Box 81 Bickerstaffe Rd 
Maungaturoto 0547 Tel 09 4318 326 
AFFORDABLE 
PRICES! 
MENS CUT FROM $20.00 
LADIES CUT FROM $30.00 
KIDS CUT FROM $18.00 
COLOUR & CUT FROM $120.00 
JUST 
CUTS'AND   
MORE 
021 165 2629 or  
(09) 945 0707  
NOW SELLING: scented tealights, 
incense, smudge sticks, copper bracelets, 
aurora ball crystals, dream catchers, 
healing stones, rose quartz, cds, and much 
more. Open 6 days. 
Summer Reading Challenge 
Did  you  enter  the  competition  being 
run  over  the  holidays  by  Dargaville 
Library?  By  the  time  you  read  this,  it 
will  be  all  over  and  the  winners 
announced.  Congratulations,  and  well 
done to everyone from our library who 
entered. 
Reserving books 
It's  great  to  see  more  people  making 
use  of  the  online  public  catalogue 
(Enterprise*)  and  placing  holds  on 
items  they  want  to  borrow.  The  book 
might  be  on  Kaiwaka's  shelves,  or 
another  library  in  the  district,  but  the 
effect is the same - the borrower places 
the  hold,  library  staff  then  pick  it  off 
the  shelf,  it  is  sent  to  Kaiwaka  if 
necessary  (you  can  choose  where  you 
collect it from), and then it is ready for 
you to borrow. So simple! If you need 
help  with  this,  let  me  know.  We  can 
still  place  holds  for  you  if  you  prefer, 
or don't have internet access. For items 
to be picked up from Kaiwaka Library, 
I will contact you when it's ready. 
New books 
There  are  new  books  arriving  on  our 
shelves on a regular basis. Keep an eye 
on  our  Facebook  page  or  the  lists 
hanging on the ends of the shelves, to 
see the latest additions. Just last week, 
new  titles  by  Ann  Cleeves,  Sue 
Grafton, Tami Hoag, Peter May, James 
Patterson, Jodi Picoult, J D Robb, and 
Peter  Robinson,  amongst  others,  were 
put on the Rental Fiction shelves. 
Children's books 
Have your kids discovered our newly-
revamped  children's  shelves  yet?  We 
have been working in recent months to 
discard  the  old,  tired,  and  tatty  books 
that  have  been  on  our  junior  shelves 
for  years  and  putting  out  lovely  new 
books. Do bring your kids in to have a 
look  when  you  come  to  get  your  own 
books  to  read,  they're  bound  to  find 
something  of  interest.  All  children's 
books in our library are free to borrow. 
Book review 
Recently 
I've 
read 
Red 
Herring by Jonothan  Cullinane. This 
is a thriller set in the 
"murky  underworld" 
of 
1951 
New 
Zealand,  when  the 
Auckland 
watersiders 
were 
threatening  to  go  on 
strike.  As  well  as 
enjoying  the  story 
itself,  I  liked  how 
the  author  used  real 
historical  figures  in  the  story  and 
described  the  location  -  if  you  know 
Auckland  city  you'll  be  transported 
there  as  the  characters  move  about. 
This book is on our Dargaville shelves 
until early June. 
See you in the library! ~Wendy 
Kaiwaka Library, cnr State Highway 1 and Kaiwaka 
Mangawhai Road. PO Box 89, Kaiwaka 0542.  
Ph: 4312 539 Email kaiwaka.library@gmail.com  
Open 
Wed-Sat 
10am-2pm, 
Mon 
4-6pm. 
*Enterprise - http://kaipara.kotui.org.nz/ 
Lord Bledisloe's gift and the 
1934 celebrations 
'In  1932  Governor-General  Lord 
Bledisloe  gifted  the  Treaty  House  and 
grounds  at  Waitangi  to  the  nation.  He 
hoped  that  the  site  would  become  a 
national memorial, symbolising that the 
Treaty  of  Waitangi  had  initiated  a 
unique  relationship  between  the 
indigenous and the colonising peoples. 
This  partnership  was  reflected  in  the 
membership  of  a  trust  board  set  up  to 
develop  the  property,  which  would 
include  representatives  of  descendants 
of those involved in making the Treaty 
in 1840. The first board included Kirihi 
Te 
Riri 
Maihi 
Kawiti 
as 
a 
representative  of  ther  descendants  of 
the  northern  chiefs  of  1840.  The 
partnership  was  also  marked  by  a 
decision  to  build  a  whare  rūnanga  to 
stand  near  the  Treaty  House.  Northern 
chief Tau Henare took a leading role in 
both  the  trust  board  and  the  building 
project. 
In  February  1934  Bledisloe's  gift  was 
marked  by  celebrations.  A  pattern  for 
subsequent  events  was  set.  It  involved 
two  sites  –  the  Treaty  House  grounds 
(where  the  whare  rūnanga  would  be 
built)  and  Te  Tii  marae  close  by  – 
several  organising  bodies  (Māori, 
Pākehā 
and 
government), 
and 
Bledisloe's  prayer  that  'the  sacred 
compact  made  in  these  waters  may  be 
faithfully  and  honourably  kept  for  all 
time  to  come'.  A  second  prayer  hoped 
that  the  two  races  might  unite  as  one 
nation 
through 
Christianity 
– 
Bledisloe's interpretation of Lieutenant-
Governor  Hobson's  words  at  the  1840 
signing,  'He  iwi  tahi  tātou'  (Now  we 
are one people). 
Up to 10,000 Māori attended the 1934 
celebrations.  The  events  had  special 
meaning for many as they looked back 
to  their  independent  status  before  the 
signing  of  the  Treaty:  1834,  when 
northern tribes chose a national flag at 
Waitangi, and 1835 when they issued a 
Declaration of Independence.  
Māori  and  Pākehā  perceptions  of  past 
and  present  events  were  clearly  at 
variance  in  1934.  Waitangi  became  a 
stage  on  which  the  interplay  of 
relationships  –  past  and  present  –  was 
repeated.  There  would  inevitably  be 
clashes.' 
Ref. 
nzhistory.govt.nz/politics/treaty/
waitangi-day/the-first-waitangi-day and 
below  pictured Te Tii Marae in 1880 
KAIWAKA LIBRARY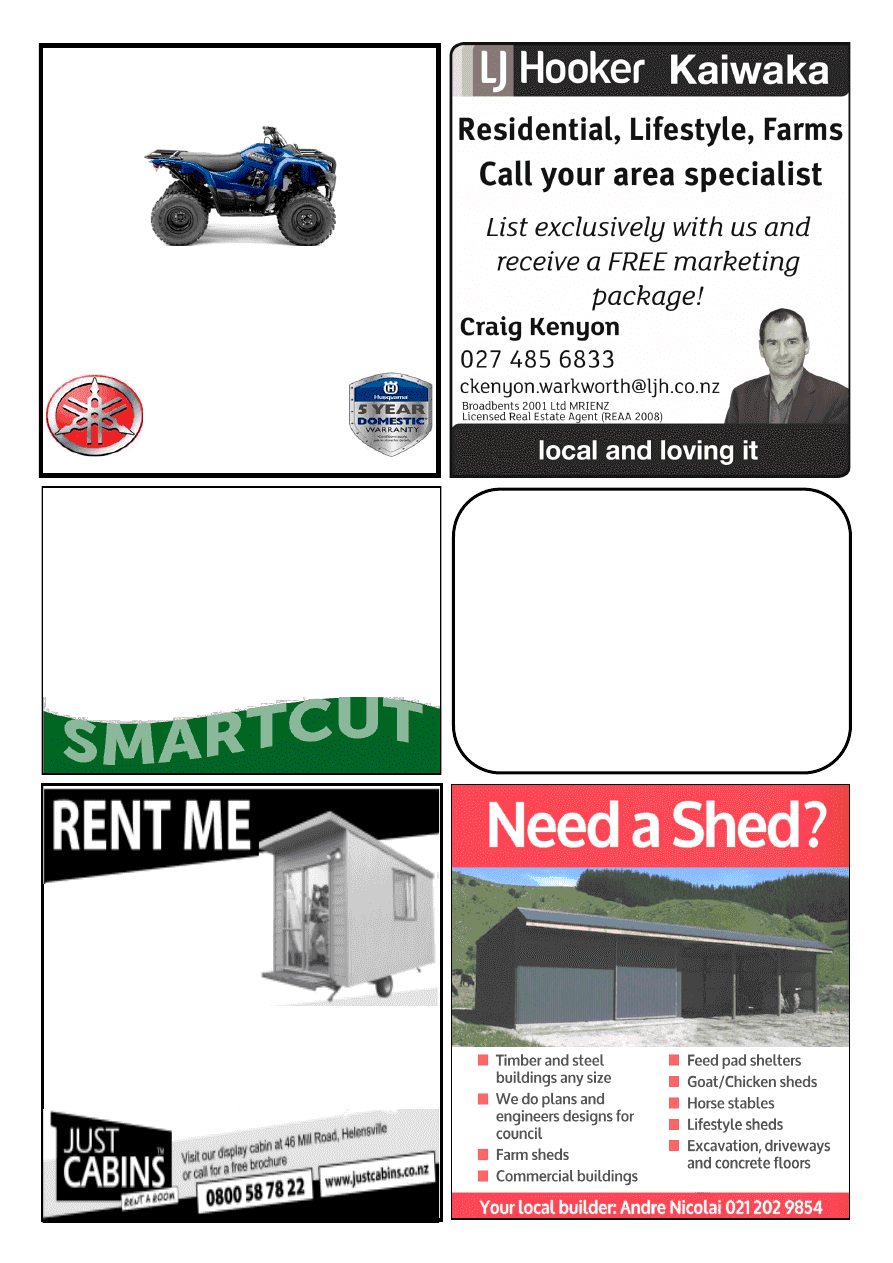 All your outdoor needs sorted so you don't have to... 
I can prune, chop, tidy, spray, mow, plant 
- you name it, I can do it! 
Residential & Commercial 
Lawn & Garden Care 
Call Rodney, your local  
lawnmowing contractor 
021 138 2344 
UP-LINK 
CHRIS WARING 
FREEVIEW INSTALLATIONS 
T.V. - HOME THEATRE &  
HI-FI ADVICE/SET UP
SKY ACCREDITED INSTALLER
MOB.0273403747 HM.094312328 
EMAIL cwaring44@gmail.com
28 YRS EXPERIENCE 
OFFERING UNBIASED ADVICE 
Ideal as an extra  
bedroom or office 
Three Convenient sizes: 
Standard 3.6m x 2.4m - $65 
per week 
Large 4.2m x 2.4m - $80 per week 
Extra Large 4.8m x 2.4m - $100 per week 
Fully insulated. Minimum 6 months rental period 
KAIWAKA 
MOTORCYCLES LTD
SALES – SERVICE – SPARES 
FARM BIKE SPECIALIST
PHONE 09 431-2127 
10 KAIWAKA-MANGAWHAI ROAD, KAIWAKA
Trimmers  
from $279
Chainsaws  
from $339
YAMAHA 
HUSQVARNA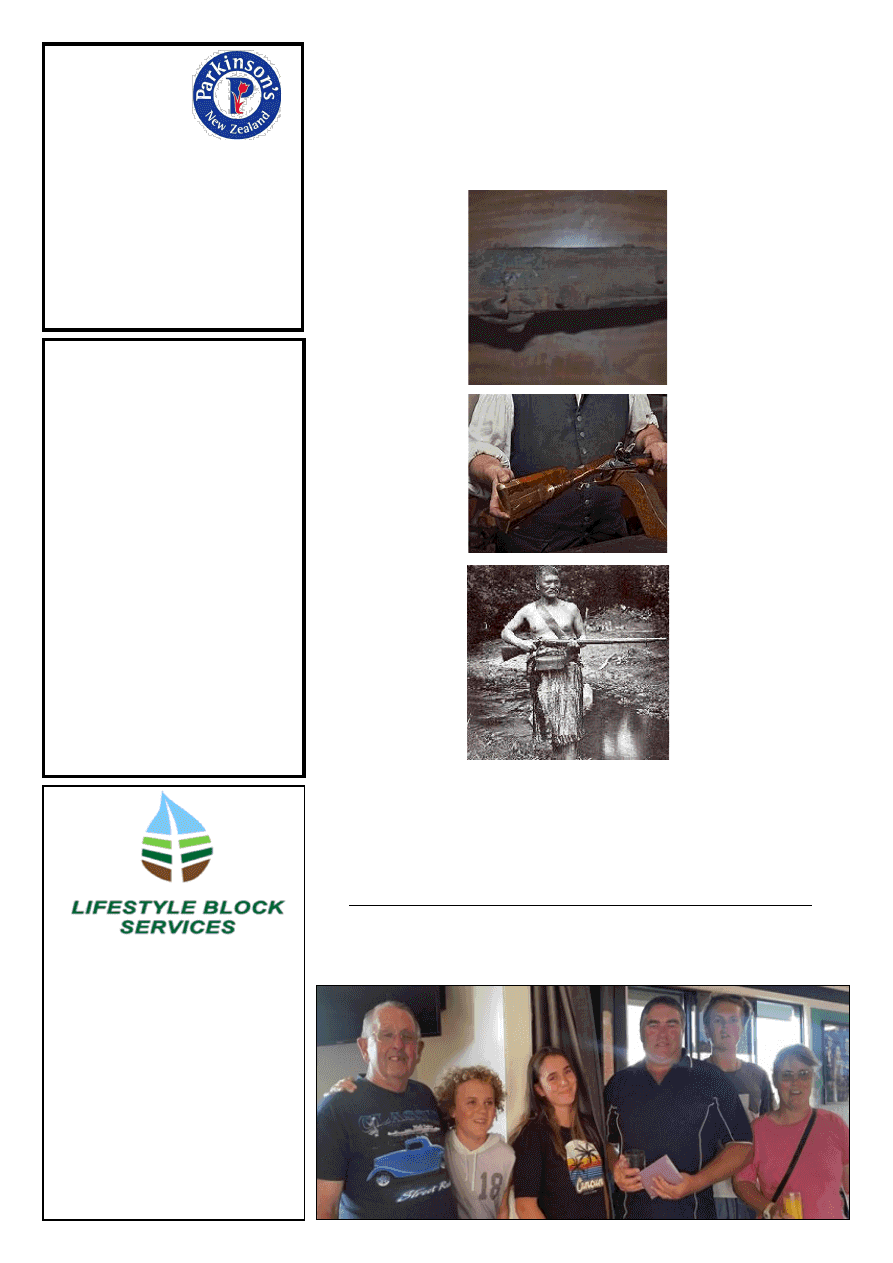 www.kaiwaka.co.nz 
Kaiwaka Bugle - 5 February 2019 
Page 19 
In  his  early  teens  CJM  found  the  remains 
of  a  musket  in  the  workshop  on  the  farm 
which  the  old  Dad  had  picked  up  in  the 
scrub  a  short  distance  from  the  Kaiwaka 
creek.  What  remained  of  the  barrel,  lock 
etc, was just a rusted mess and the wooden 
stock  and  fore  end  were  virtually  non-
existent. The brass butt
-plate and trigger guard 
were, 
however, 
perfectly  sound  and 
these  he  removed.  As 
the 
musket 
was 
obviously very old it is 
interesting  to  speculate 
where  it  came  from. 
We  know  that  the 
famous  Ngapuhi  Chief 
Hongi 
had 
visited 
England  and  had  been 
given  many  presents 
which  he  sold  in 
Sydney  on  his  way 
home 
and 
bought 
muskets 
and 
ammunition  with  the 
proceeds. 
Folklore  also  tells  us 
that  during his absence 
from  New  Zealand  a 
party 
of 
Napuhi 
travelling  South  had 
been 
attacked 
and 
severely mauled by the 
Kaipara  natives,  and 
that on his return a war 
party,  some  of  whom 
were 
presumably 
armed  with  muskets, 
was  sent  away  to  seek 
revenge.  The  next  part 
of  this  tale  is  hearsay, 
handed down to the old 
Dad  by  local  Maori 
who  stated  that  some 
of  their  tribe  were 
hunted up the Kaiwaka 
creek by Napuhi and several sought refuge 
by climbing a fine stand of Kahikatea trees 
but  were  picked  off  like  pigeon  and  their 
heads and possibly other parts of 
their bodies cooked on lime-stone boulders 
which  abounded  in  that  part  of  the  creek. 
Whether some of these same stones were in 
fact used in the construction of a fire place 
in  the  original  Bowmar  homestead  we  do 
not know, but the fact that the older natives 
considered the house was "tapu" and would 
not enter gives some credence to the story. 
We  do  know  also  that  the  musket  did  not 
belong to one of the first settlers nor could 
it have belonged to a member of the British 
forces,  as  there  was  no  broad  arrow 
stamped  on  the  butt-plate. 
So,  it  is  interesting  to 
speculate  whether  it  had 
been in the possession of one 
of Hongi's warriors who had 
been badly wounded and had 
either crawled away and died 
or  been  carried  away  by  his 
mates,  because  there  was  no 
skeleton  near  where  the 
musket  was  found.  It  is  safe 
to  assume  that  a  musket,  in 
those  days  a  possession 
beyond price would not have 
been 
abandoned 
unless 
something  very  serious  had 
happened to the holder. 
This  story  reminds  me  of 
being  in  form  two,  (1962) 
where  we heard from one of 
the  boys  that  his  father  had 
taken  a  .22  rifle  filled  the 
barrel  with  molten  lead  and 
subsequently buried it in the 
garden.  Unbeknownst  to  the 
father  the  boy  had  spied  on 
the  event,  despite  the 
father's precautions. 
Sometime  later  my  friend 
had obtained the information 
and  had  surreptitiously  dug 
up  the  remains.  Using 
engineering  skill beyond his 
age  he  melted  the  lead  out, 
cut  the  barrel  in  half  and 
built  a  gun  from  the  end 
piece,  thinking  he  might 
later  find  a  bolt  that  would 
fit the other half. We loaded 
the 'gun' with a short and at 
three  paces  turned  our  face  away,  due  to 
the  graphite  flash,  and  pulled  the  trigger. 
Aiming  at  an  old  sheet  of  roofing  item 
stood on its end, still the bullet continually 
missed! 
~  from  Bevan  Lawrence;  musket 
photos supplied.. 
Mangawhai  Writers  Group:  First  meeting  for 
2019 will be on 7 February. Contact Bevan on 
4801949 for more information. 
ANOTHER TALE FROM THE CJM CLARK 
REMINISCENCES. 
Written about 1910
. 
Make Baleage  
while the sun shines! 
Let us make hay/sileage for you. 
We sell small bale silage, 
conventional,  
& 5 bale equivalent hay. 
For more information  
Contact Mark on 021 801 065 or 
Contact Kathy on 027 4250520 
Parkinson's  
Northland 
Provide: 

Home based consultations 

Information and education on living 
with Parkinson's 

Support and exercise groups 

In-service training for other health 
providers 
Barbara Leslie 
RN
Community Educator 
09 4376881  or 027 5306221 
barbara.leslie@parkinsons.org.nz 
www.parkinsons.org.nz 
Driveway  
& Farm Race 
Maintenance and 
Construction 
Grader, Roller,  
Digger, Trucks 
Supply of lime rock and 
metal 
Call Peter on 
0274441553 
For advice / estimate for 
your driveway / farm 
race needs 
THANK  YOU: 
Mark Ottaway, on behalf of Kaiwaka Sports Association, 
made a presentation to Bruce Ferguson and his family for their dedication to the 
success of the 'Illuminate 2019' Scout Venture. 
Photo - L to R: Mark Ottaway, Gareth, Brenda, Bruce Hamish and Lindell Ferguson.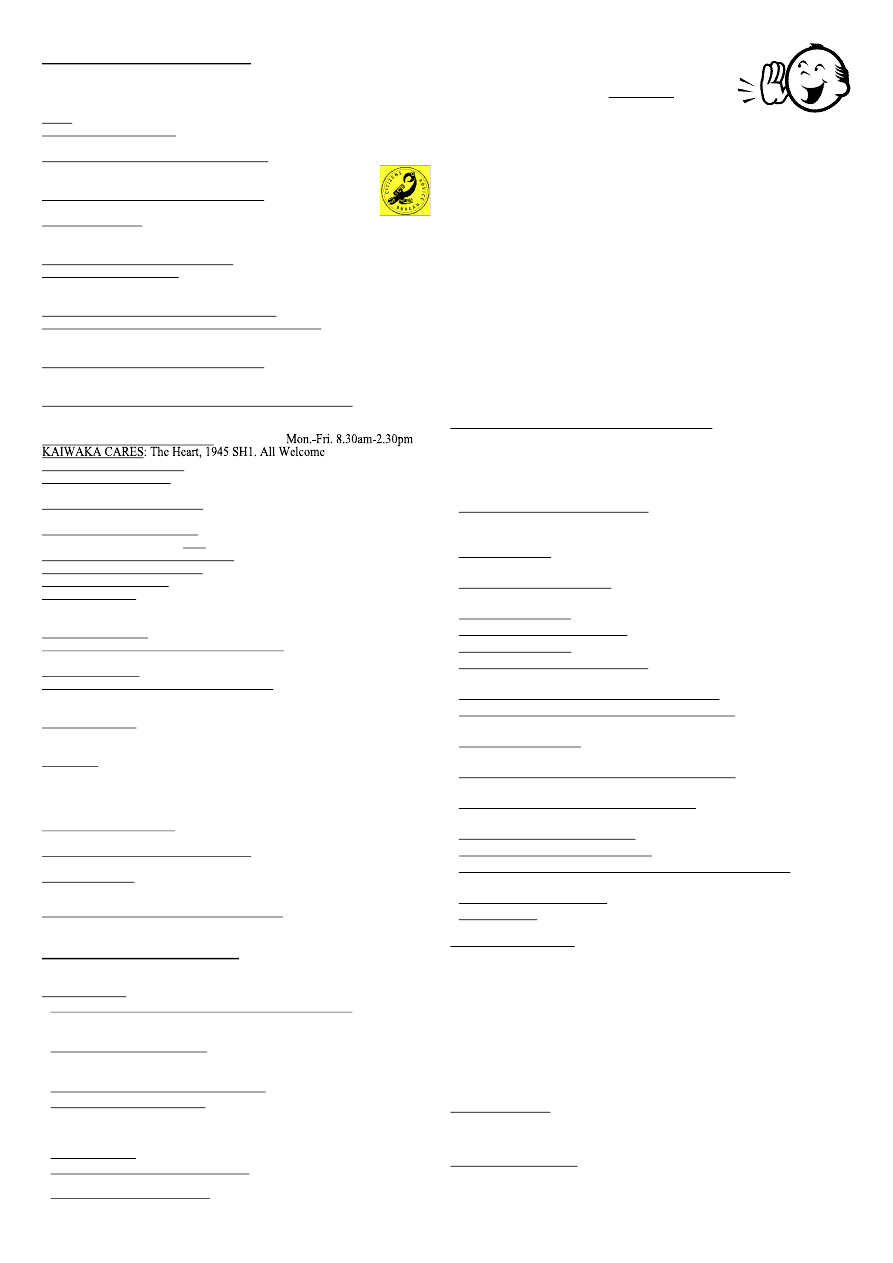 Next Bugle Deadline midday Friday 15 February 2019
WHAT'S ON
PLEASE ~ do let us know what is on - email 
kaiwakabugle@kaiwaka.co.nz 
Advertising in WHAT'S ON is FREE  
*5,6,7Feb~ Kaiwaka School Pool CLOSED 
*6Feb~Waitangii Day 
*6Feb~Family Ceilidh, KWMH, 10-12.30pm 
*8Feb~Movie 'A Star is Born', KWMHall, 7.30pm 
*12Feb~Kaiwaka Hospital Knitters, Archie Bull Hall, 10am 
*12Feb~Pt.Curtis CC meet 3 Furlongs, 7pm 
*13Feb~Otamatea High Swimming Sports, 9.45am 
*13Feb~Scottish Dancing begins, KWMH, 9.45am 
*18Feb~Kaiwaka Sports Assn. AGM, 7pm, KSA 
*20Feb~Otamatea High Welcome Evening, 6pm 
*22Feb~Movie 'Bohemian Rhapsody', KWMH, 7.30pm 
*22Feb~Movie 'Oh, Joy', KWMH, 2pm 
*28Feb~Kaiwaka School Swimming Sports 
*28Feb~Hakaru RSA Womens Section AGM, 1.30pm 
KWMH = Kaiwaka War Memorial Hall; KSA = Kaiwaka Sports Association 
See www.kaiwaka.co.nz for more information 
HOUSEHOLD RUBBISH COLLECTION - Kaiwaka Pick up: 
Mondays = Green bags (Northland Waste - 09 430 3273) 
Wednesdays  = Blue bags and yellow recycling (at Jaques $3.00 
and  $1.50)  (Kaurilands  09  4392146);  ONLY  Blue  and  Yellow 
bags picked up on Oneriri Road. 
 DIABETES  Support  Group  -for  Kaiwaka,  Mangawhai, 
Wellsford  10am,  3rd  Friday  of  month  Ph:  Colleen  James  09 
4314238 
 GENEALOGY - Wellsford: 1st Thursday in month Ph: 423 
7033; Waipu: 4th Monday in month Ph: 4312 725 
 HAKARU PONY CLUB - Secretary Denise Rogers 021423376 
secretary@hakaruponyclub.co.nz  
 KAIPARA HUNT - Secretary Albert Doonenbal Ph 4312059 
 KAIWAKA BADMINTON -Tuesdays 7.30pm Ph: 4312345 
 KAIWAKA CAN - 3rd Wednesday in month, Archie Bull Hall 
 KAIWAKA  DRAMA  CLUB  - 
Hannah  Webb 
0272863352 
KaiwakaDrama@gmail.com - FB - "KaiwakaDramaClub" 
 KAIWAKA DRUM & DANCE CLASSES - 021 611198 
 KAIWAKA GARDEN & FLORAL GROUP - 2nd Thursday in 
month. Ph: 431 4744 
 KAIWAKA  CUBS  -  Thursdays  5.30-7pm,  Hakaru  Ph:Bruce 
4312542 
 KNITTING FOR WHANGAREI HOSPITAL - 2nd Tuesday in 
month, Archie Bull Hall 10am Ph 4314827 
 MANGAWHAI COMBINED REBUS CLUB - 2pm, 3rd 
Thursday month, Senior Citizens Hall Mangawhai. Ph: 4315777 
 PILATES-HAKARU HALL Tuesday & Thursdays, 9-10am 
 PT CURTIS CRUISING CLUB - Jean Ph: 4312227 (wk), 4312520 (hm) 
 RSA,  HAKARU  &  DISTRICTS  WOMEN'S  SECTION  –  meets 
1.30pm 4th Thursday of the month. Ph: 431 5818  
 SCOTTISH DANCING - Wednesday morn. Ph: 09 4320532 
 TRAMPING - Mondays 9am-2:30pm Maria 4312 234 
HALLS FOR HIRE: 
 St.Pauls Archie Bull Hall HIRE $20 half day, $40 full day per 
hire, S McAulay, Ph 4312311 
 Kaiwaka  War  Memorial  Hall  HlRE  -  Phone  4312725  or 
kaiwaka.hall.bookings@gmail.com 
 Hakaru Community Hall HIRE -Ph. 4312256 or 4312110 
 Te Pounga Marae queries - R. O'Leary 4312 423, J.Nathan 021 
186 7382 
 Kaiwaka Sports Association hire/queries - C. Anderson 4312051 
or kaiwakasports@gmail.com 
Justice of Peace:  
B.FJaques  4312  048;  L.Donaldson  4312  228;  A.F.Hargreaves 
4312 045, W.Howard 4312 725 - please phone to make sure they 
are available or go to www.justiceofthepeace.org.nz 
Marriage Celebrants:  
L.Donaldson; A.F.Hargreaves; Y Osborne
LOCAL SERVICES 
*Emergencies - Ambulance, Fire, Police - dial 111 
*Non-urgent Police phone 09 4311150
A A: Meets Wed., 8pm Kaiwaka Ph: 4315543, 0800229 6757 
ASUREQUALITY LTD (was AgriQuality) Call Free 0508 0011 22  
BUDGETING SERVICE, WELLSFORD: Free confidential advice & 
support for all areas of personal finance. Ph (09) 423 7123 
CAB-Citizens Advice Bureau.Wellsford Ph: 4237333 
0800 367 222 email:cab.wells@xtra.co.nz  
CIVIL DEFENCE - Kaiwaka Community Response Group: 
kaiwaka.civildefencecrg@gmail.com, 4312725 Wendy 
DOG/STOCK /NOISE CONTROL 0800 105 890 
FUNERAL SERVICES: Morris & Morris Ltd, 
Whangarei - Bev Jaques Ph:4312367 or 0800667747 
GRANDPARENTS Raising Grandchildren: Dianah Roberts 0223819539 
HAKARU & DISTRICTS MEMORIAL RSA (Inc) 733 Settlement Rd, 
Hakaru. Ph 4312 176 or Graeme Hitchcock (President) 431 3064 
HAKARU LANDFILL/Transfer Station:Open everyday except 
Tuesday10am-4pm.Ph4312629 Cost-$55 trailer load up to 1 cubic metre. 
Ph:4258567 - office 
KAIPARA DISTRICT COUNCIL www.kaipara.govt.nz:  
Help Desk FREEPHONE 0800 727 059  
KAIWAKA KOHANGA REO: Ph:4312620 
KAIWAKA CEMETERY: Ph: 4312045 or 4314017 
KAIWAKA LIBRARY: kaiwaka.library@gmail.com  
Mon. 4-6pm; Wed., Thurs., Fri., Sat. 10am-2pm Ph:4312539 
KAIWAKA PLAYCENTRE: Ph Juanita 0274134904; open Mon, Wed, 
Fri 9am-12pm. Hastie Lane; Monday to Friday 9.00am - 12 noon. 
KAIWAKA POST OFFICE:Ph:4312 431  
Post Code: 0573 for RD2 and 0542 for all Kaiwaka Post Office mail 
KAIWAKA PRIMARY SCHOOL: Ph: 4312309   
KAIWAKA SPORTS ASSN: Ph 4312005; 4312129 gym 
KAIWAKA ST JOHN: Manager Steve Rosser 09 4318403, 021 355734 
KATE'S PLACE Community Centre - Employment services, Free Health 
Nurse, Plunket, Advocacy, Osteopath, A.A., Legal Advice. 4312 661 
LINKING HANDS Health Shuttle Ph 4315906 or 09 4318969 
MINISTRY FOR PRIMARY INDUSTRIES - General inquiries Call 
Free 0800 008 333 
NORTHPOWER: Faults Kaiwaka area 0800 104040 
OTAMATEA COMMUNITY SERVICES: Counselling, parent coach, 
Family Support worker, budget advice, food bank. Mon-Fri 9am-3pm. Ph 
09 431 9080 http://www.otamateacs.org/ 
PARENTPORT: Free, practical family support service Puhoi to Paparoa 
Ph or txt: Dianne 027 280 5093 or 09 425 9357 
PLUNKET:  Kaiwaka  -Kate's  Place  Clinic  1st  Wednesday  of  the  month; 
Mangawhai  - Rose Madsen Cottage: Coffee Group 9:30 every Monday.  Clinic 
every Monday and Thursday. 
Maungaturoto - Good News Church, Clinic 2nd and 4th Wednesday.  
Cynthia 09 431 7340 or 027 675 3488 
PLUNKET HELPLINE -0800 933 922 (24 hours) 
TAITOKERAU COMMUNITY LAW: Free confidential legal advice and 
assistance, 2nd
Thursday
 of each month. Ph: 0800 155 529 for appts.  
TE URI O HAU Settlement Trust Tangata Developments: Whanau Ora 
021 793262  
VETERINARY SERVICE MANGAWHAI: 
Ph: 4314535 Mon-Fri 8.00-5.00, Sat 9-12, a/h appt. 
WELLSFORD DOCTORS: Ph: 4238 086 
CHURCHES:
 
Kaiwaka  Revival  Church  -  Your  Community  Church:  Sundays  10am. 
Ph: Pastor Tawhiri 09 431 8988 or Pastor Paul 09 4312 068 Visit us at 
www.facebook.com/kaiwakachurch 
 
St  Paul's  Anglican  Church  1st  Sun.  9.00am  (Eucharist),  3rd  Sun. 
9.00am (Family Service). Contact: Rev. Wayne Thornton Ph 431 4122 
www.mangawhaianglican.org.nz 
 
Church of Christ the King, Mangawhai:9.30am every Sunday 
 
St.Mary's  Catholic  Church:  Maungaturoto  –  Griffins  Road,  Saturday 
evening  Vigil  Mass  6pm;  Mangawhai  –  Senior  Citizens  Hall,  Sunday 
Mass  8:30am;  Wellsford  –  Matheson  Road,  Sunday  Mass  10:30am;  
Mid-week Mass times and all enquires to Fr. Bill Fletcher – phone 423 8170
 
Baptist Church: Sun. 10.30am Mangawhai Snr Cit.Hall.Ph:4312339 
 
Cause  Way  Church  Mangawhai:  Sundays  10.15am,  Mangawhai 
Community  Recreation  Centre,  Insley  St.  Ph:  09  4314782