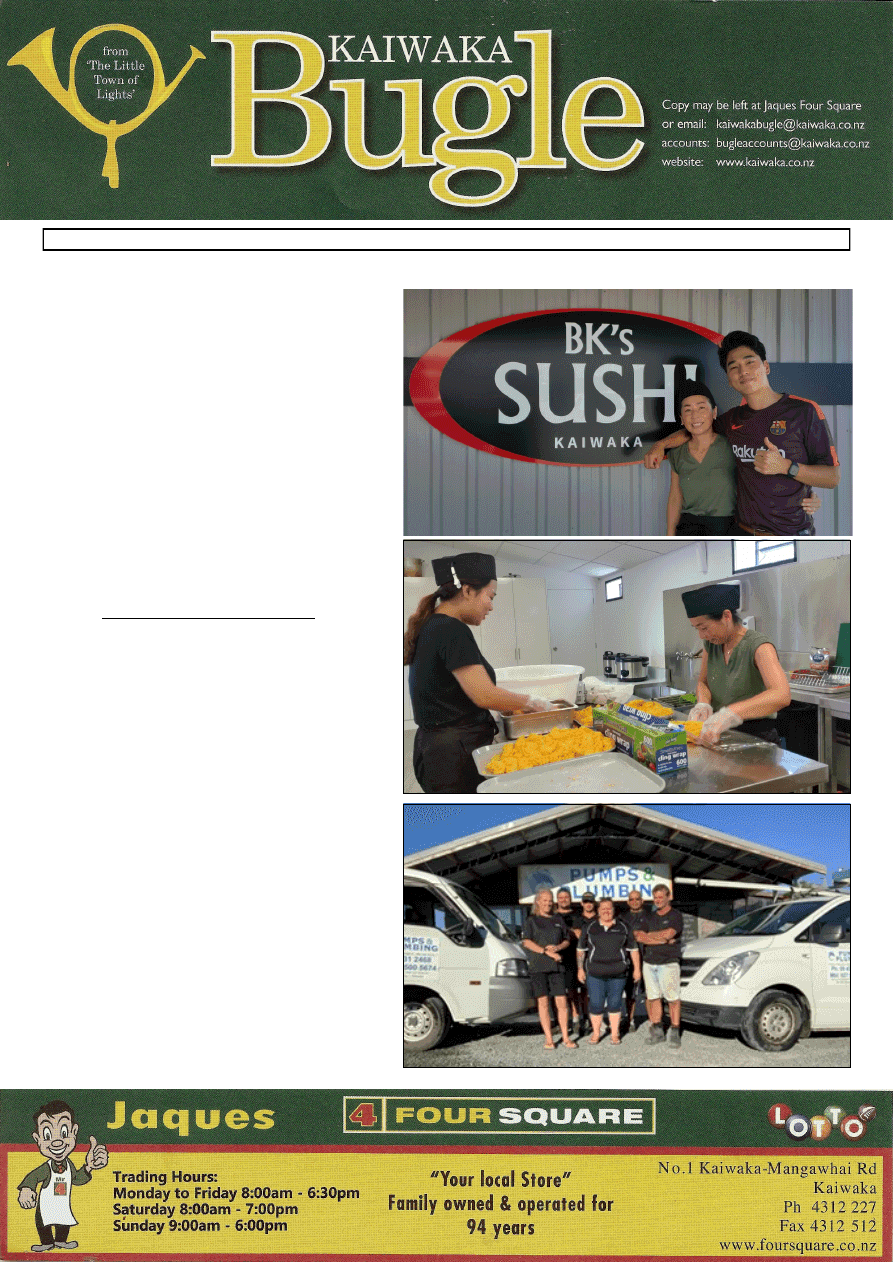 www.kaiwaka.co.nz 
Kaiwaka Bugle - 19 February 2019 
Page 1 
No: 3 
19 February 2019 
Trading Hours: 
Monday to Friday 8:00am - 6:30pm 
Saturday 8:00am - 7:00pm 
Sunday 9:00am - 6:00pm  
BK's SUSHI KAIWAKA 
Kaiwaka's  newest  business,  BK's  Sushi  Kaiwaka, 
opened  on  Friday  15  February.  Although  they  had 
hoped to open at the end of 2018 they are very happy 
to be underway now. 
The  family,  BK  Kim  and  his  wife  Minjoo  Park, 
opened  their  first store in Warkworth  10  years ago, 
but with the new developments happening there they 
made  the  move  to  Mangawhai  six  years  ago.  Their 
son  Phillip  joined  the  business  so  with  this  sushi 
shop going well they decided to run a second BK's 
Sushi in Kaiwaka. 
Top right: outside their shop - Minjoo Park and her 
son Phillip Kim, who is also involved in the family 
business. 
Mid  right:  Minjoo  Park,  on  the  right,  can  be  seen 
here preparing chicken with her helper, Hyunji Kim, 
in the kitchen of the Kaiwaka shop. 
Hours: Monday - Sunday 8.30am - 4.30pm 
For  Sushi,  hot  foods  made  daily  or  you  can  call 
ahead  for  custom  orders.  There  are  even  traditional 
Japanese dinners, such as Donburi. 
Phone: 09 4312132 
KAIWAKA where businesses arrive and flourish! 
PUMPS AND PLUMBING 
Pumps  and  Plumbing  was  originally  established  in 
Waiheke  Island  17  years  ago  and  we  opened  our 
Kaiwaka Branch in October 2017 with the intention 
of  just  having  a  Plumbing  Supply  shop,  but  soon 
found  that  there  was  a  great  need  for  maintenance 
plumbers in the area. We then found there was also 
great  need  for  Gas  Fitters  and  Craftsman  Plumbers 
here  so  employed  Tony  our  Plumber  Gasfitter  with 
over 35 years' experience under his hat, the business 
is growing from strength to strength and we are now 
a  team  of  5  in  the  field  available  for  plumbing, 
maintenance,  gas  fitting,  drainage  and  new  builds. 
We have an extremely well stocked shop with highly 
trained  staff  willing  to  help  with  your  needs,  and 
very competitive prices to match. 
We  are  agents  for  all  the  major  water  tank,  pumps 
and  filtration  systems,  bathroom  ware,  kitchen  tap/
drainage  ware  etc.  and  stock  a  variety  of  pipes, 
fittings  etc.  from  all  the  major  brands.  We  also 
service and maintain pump on site or in-store, and as 
a little extra we cut domestic and car keys and have a 
variety of home garden hoses and fittings available. 
Should  you  be  a  DIY  person  we  also  have  tools 
available  to  hire  when  purchasing  your  plumbing 
supplies through us. So, whatever your plumbing/gas 
needs maybe I'm sure one of our friendly team will 
be more than happy to be there to help you.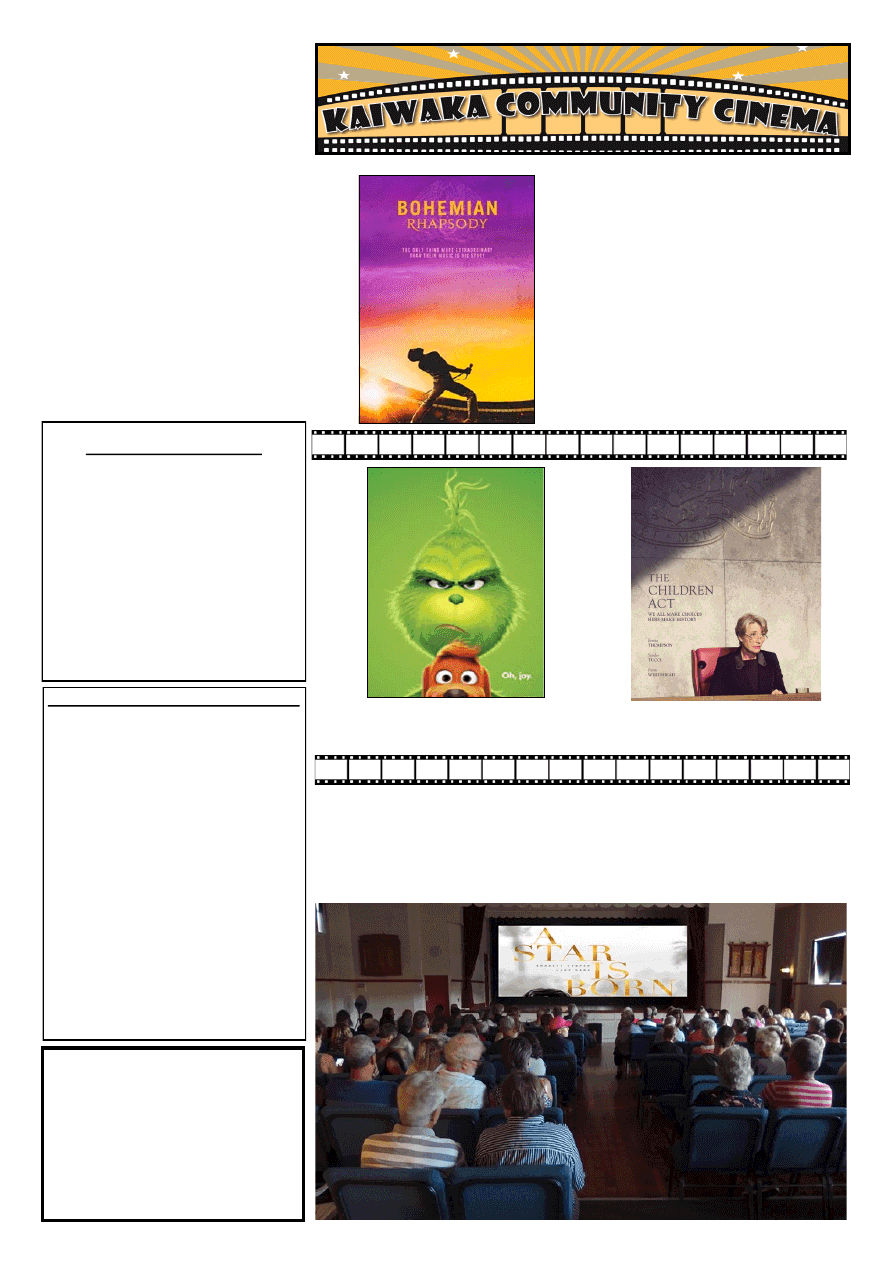 Proverbs 12:3
You can't find  
firm footing in a swamp,  
but  
life rooted in  
God stands firm.
At Kaiwaka War Memorial Hall . Adults $10, Kids (under 16) $5, Family Pass (2 adults + 3 children) $25 
KAIWAKA BUGLE NO.3 
19 FEBRUARY  2019 
CONTENTS: 
Page 3: Public Notices, Classified 
Page 5: Outward Bound; The Den 
Page 7: Kaiwaka Can; OCS 
Page 9: Pt CCC; Kaiwaka School 
Page 11: Kaiwaka Sports Assn 
Page 13: KSA Grants; KSA Bulb Order 
Form 
Page 15: Rotary; Otamatea High  
Page 17: Otamatea Repertory; 
Thelma's Scrapbook 
Page 19: Story: The Ondol 
Bugle 4 will appear  5 March 
Contact for advertising, reports, articles 
or information can be made by 
Email: kaiwakabugle@kaiwaka.co.nz 
Ph: 09 4312 045 Lindsey 
Txt: 027 2724137 
Copy  may  be  left  at  Jaques'  Four 
Square. 
Kaiwaka Bugle Advertisements 2019: 
All 
copy 
and 
queries 
to: 
kaiwakabugle@kaiwaka.co.nz 
The Bugle is printed on an A4 page, B&W  
Ad  sizes:  1/16  page  (3  x  9.5cm)  $5;  1/8 
(6.5  x  9.5cm  landscape  or  portrait)  $8; 
3/16 ( 10 x 9.5cm or 7.5 x 12,5)  $12.  
Classified  ads:  First  one  FREE,  $4  per 
entry (max. 30 words, max. 4 repeats). 
Payments  can  be  made  online  at 
ANZ 
06  0365  0006990  00
,  posted  or  left  at 
Jaques Four Square Store. 
We  use  Microsoft  Publisher,  and  can 
work  with  most  common  image 
formats, Word, Excel, and PDF files. 
Accounts:  
Email: bugleaccounts@kaiwaka.co.nz 
The  Kaiwaka  Bugle  is  a  community 
newspaper run by volunteers, as part of 
the Kaiwaka Media Group Inc.   
Articles, etc. printed are not necessarily 
the opinion of the Bugle Team. 
Kaiwaka Bugle 
Founded May 1978 
We appreciate articles and photos about local 
events, etc, as well as ads and suggestions. 
Copies available in Kaiwaka at Jaques Four 
Square, Kaiwaka Postal Centre, Shamrock 
Service Station, Animal Health Centre, 
Kaiwaka St John shop. 
Also outlets in Maungaturoto, 
Mangawhai and Paparoa. 
Can be viewed online at  
www.kaiwaka.co.nz/Bugle  
Or a copy can be posted to you if you supply 
stamped, self-addressed DLE envelopes. 
BOHEMIAN  RHAPSODY 
Friday 22 February, 7.30pm (M)
'Bohemian 
Rhapsody 
is 
a 
2018  biographical  film  about  the 
British  rock  band  Queen.  It  follows 
singer Freddie Mercury's life from his 
joining the band in 1970 to their Live 
performance 
at 
Stadium in 1985. 
Directed  by  Bryan  Singer,  it  is  written 
by  Anthony  McCarten,  and  produced 
by 
Queen 
manager  Jim  Beach.  It  stars  Rami 
Malek as Mercury.
'
OH, JOY
Sunday 24 February, 2pm (M) 
THE CHILDREN ACT
Friday 8 March,  7.30pm (M) 
'
A STAR IS BORN'
:  What a great night at the movies! 
There were 131 adults and 9 kids in the audience = a Full house! This was the 
biggest attendance so far. ~ Ad. 
Pictured below: A photo taken before the blinds were down and the lights were 
out as the movie began on Friday 8th February in the Kaiwaka War Memorial 
Hall.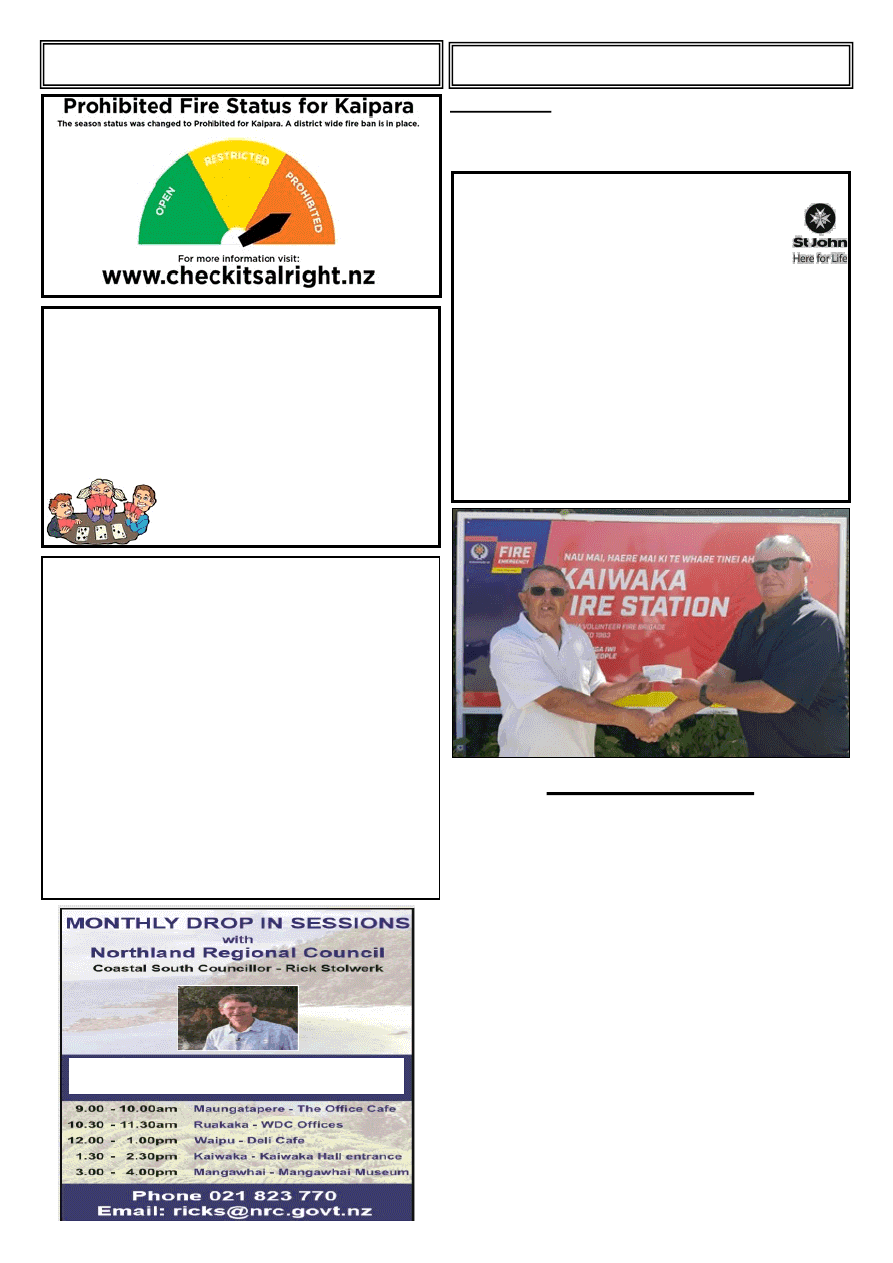 www.kaiwaka.co.nz 
Kaiwaka Bugle - 19 February 2019 
Page 3 
ABOUT TOWN 
 
A  very  big  Thank  You  to  Pam  and  Mark  Ottaway  for 
their Christmas Lights display and their contribution to our 
local  fire  Brigade.  They  were  disappointed  that  they  were 
unable  to  shine  on  the  very  wet  nights!  See  photo  above 
where    Mark  Ottaway  presented  the  cheque  to  Kaiwaka's 
Chief Fire Officer John Bowmar.

A 
  Well  Done to  the  Den crew for their  Dementia  Unit 
fundraising at the Garage Sale - nearly $2500 raised.

 Cubs  -  spaces  now  available  for  girls  and  boys.  Phone 
Bruce 09 4312054 

Are there some keen young and not so young adults 
wanting to join a friendly group to make up a soccer team 
to play at Port Albert on Saturday mornings, please 
message or post Rosalie Bakker on Facebook. We really 
would love to get a team together under the Kaipara 
Knights club.

There is a new Cancer Society Support Group meeting   
on 4th Tuesday each month, 10-11am, in the Footprints 
Room behind the Anglican Church in Maungaturoto.  
Contact phone:  09 4375593 or 027 607 1469 

 Northland Field Days - Thursday 28th February to 
Saturday 2nd March, Dargaville 

The Kaiwaka 2019 online calendar - please, I would love 
some help to complete this - phone me on 09 4312045 
~ Lindsey, Ed
"
Do  what  you  can,  with  what  you  have,  where  you  are." 
~Theodore Roosevelt 
PUBLIC NOTICES 
CLASSIFIED 
FOR  SALE:  Wiltshire  Sheep.  3  two-tooths,  strong 
well  grown  young  ewes;  self  shedding  (no  shearing). 
Ready for your ram or will run with mine if you prefer. 
$200 each. Ph: 022 4307465. 
KAIWAKA ST. JOHN OP SHOP 
'The Sale is Over – the clean out is done"!! 
We are now needing: 
Cooking  pots,  Pictures,  Ornaments,  Pillows, 
Blankets, Baking Dishes, Toys (
but please no soft 
toys
), Tools, Ceramic and Terracotta garden pots, 
Fruit, Veges.  Anything else would be most appreciated. 
We have for sale: 
⬧
2x 2seater lounges in very good condition- $60 the pair 
⬧
School Desks- (waiting on chairs for them) 
⬧
Double Bunks – makes 2 single beds with a trundler (3 
beds in all) no mattresses - $60.00 all up 
⬧
2x single beds with mattresses and matching headboards 
– $70.00 each 
⬧
1x single bed with mattress and headboard - $60.00 
⬧
Garden  Shredder  –  very  good  condition-  $100.00  (from 
Bunnings priced at $228) 
Much appreciated ~ Milly and staff 
.
Phone 09-4312650 after 9.00 am. 
- check us out at 1919 SH1, Kaiwaka 
MANGAWHAI BRIDGE CLUB  
 "GET THAT BRAIN ENERGISED" 
WELCOMING NEW MEMBERS 
Lessons starting 18 February – Mondays 1 - 3pm 
Mangawhai Community Centre - Fagan Place 
5 lessons at $5 each to get you started or refresh your 
game. Ready to play – join the group playing 
Wednesdays at 7pm.  
Player numbers have been on the rise – come and 
check us out!  
Contact Sue Belin 021-2425212  
Email 
barry_belin@windowslive.com 
POT LUCK GET 
TOGETHER 
Let's get neighbourly and make our community great. 
Hakaru Hall on 
Sunday 24th February at 5 to 7 pm  
and meet your neighbours.  
Bring some nibbles or finger food and  something to drink  
GOLD COIN DONATION 
The  Hakaru  area  comprises  all  people  who  live  in  the 
watershed  of  the  Hakaru  River  and  the  Hakaru  Hall  and 
Domain belongs to all of you in this area.  
This pot luck get together is a great way to come together 
in your local hall. There are a lot of new people living and 
building  in  our  community  who  have  not  met  their 
neighbours yet and this will be a great way to get to know 
each other. 
Let's become a community and make Hakaru  
a great little place to live. 
Any inquiries text 0272846162 
M o n d a y   4   M a r ch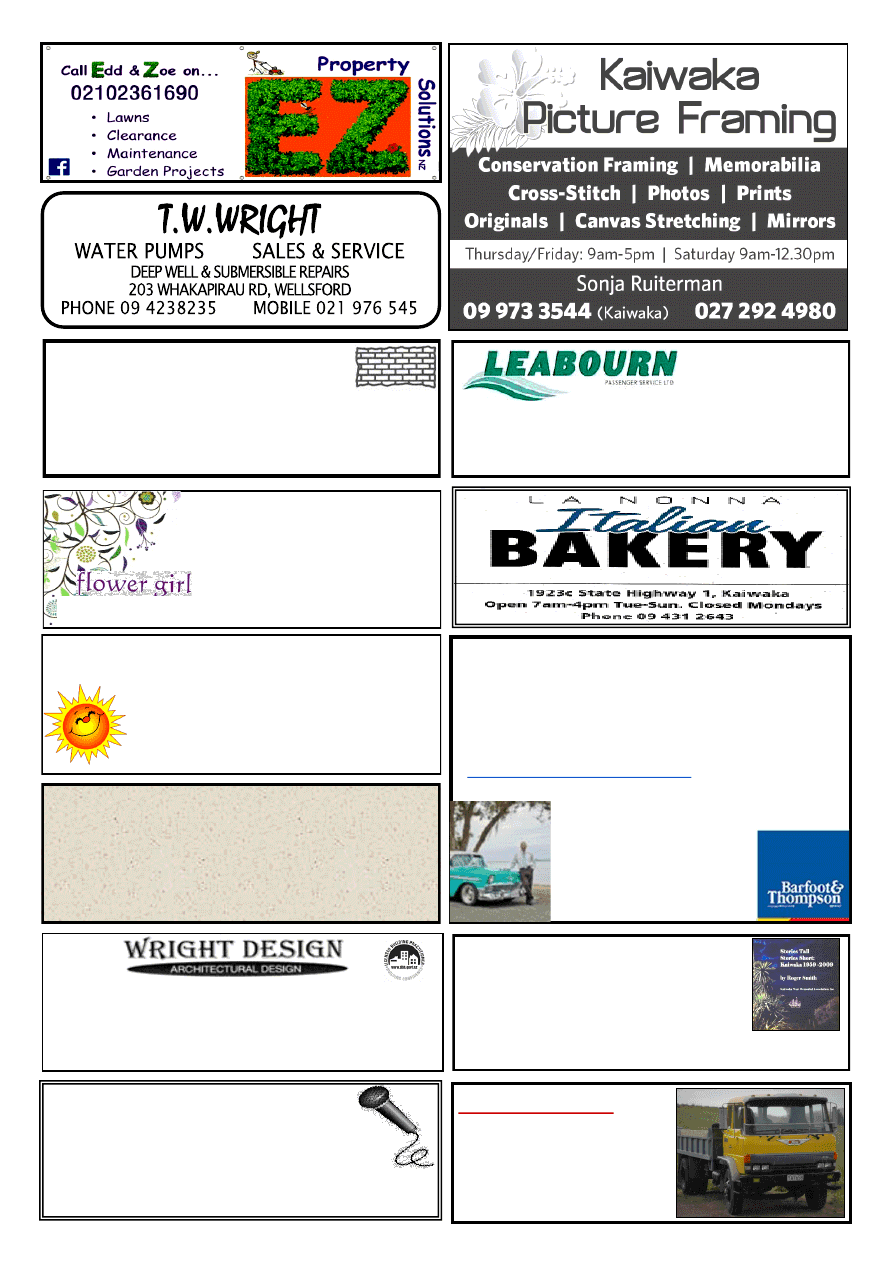 Passenger Service
Car & Van Hire   Bus & Coach Charters 
Airport Transfers    
Phone (09) 4237416 
BRICK/BLOCKLAYER 
All aspects of masonry:  
Fireplaces, Restoration & Remedial Work. 
JAMES EAGLETON 
Tel. (09) 431 2514    Mob. 0274 749 232 
jajueagles@yahoo.com.au 
210A Pukenui Road, RD2 Kaiwaka 0573 
THE SUNSHINE GIRLS
Efficient and reliable help with 
your housework. 
Ph 4312 532 
Counsellor and Registered Psychotherapist 
Offers Supervision 
ACC Sensitive Claims 
Susan Matheson      MNZAC 
Dip. Psychosynthesis Counselling and Psychotherapy 
Phone 09 431 2996                                     Mobile 027 605 2427 

  After 20 years of selling in Auckland I have             
moved to Kaiwaka. 

  I have a relaxed attitude with years of  
        results and experience. 

  Please feel free to give me a call or email. 
licensed real estate agent (2008) 
Chris Barrington
Residential Sales
M 
Mangawhai
Stories Tall, Stories Short:  
Kaiwaka 1959-2009 
by Roger TW Smith 
And 
Kaiwaka: A Photographic History 
Available  at All-Sortz Collectables or phone  4312 045 
Kaiwaka Good Sorts 
Do you know someone in our community 
who is deserving of a beautiful bunch of 
flowers? 
Send an email to us at 
kaiwakabugle@kaiwaka.co.nz 
or drop a note to Jaques Four Square to 
let the Bugle team know. 
lindywatson@hotmail.com 
4312 847 
SING RIGHT 
Professional coaching for performance,  
recording and demos. 
All level singers, musicians, singer-songwriters. 
Phone Robyn Hill 431 9159 or 0274 725610 
No. 117345 
N.Z.C.A.D., L.B.P. 117345 
PH/Fax: 09 423 8092 Mob: 021 276 7369 
Office: 3 John Sinclair Avenue, Wellsford    brianwright@xtra.co.nz 
For Resource and Building Consents, planning restraints, new building materials - 
you need a capable, experienced, and professional designer with a clear 
knowledge of all the processes. Brian has been helping and organising all these 
facets of design and building for over 50 years. 
Wright Design offers free visits, consultations and advice on planning, design, 
building, council permit applications, guaranteed permit plan acceptance. 
J & M Contractors 
Oneriri 
General Cartage
: 
All metals, Lime Rock,  
Post Peel and Wood Chip Mulch. 
Jim Wheeler  
Ph: 021 2383664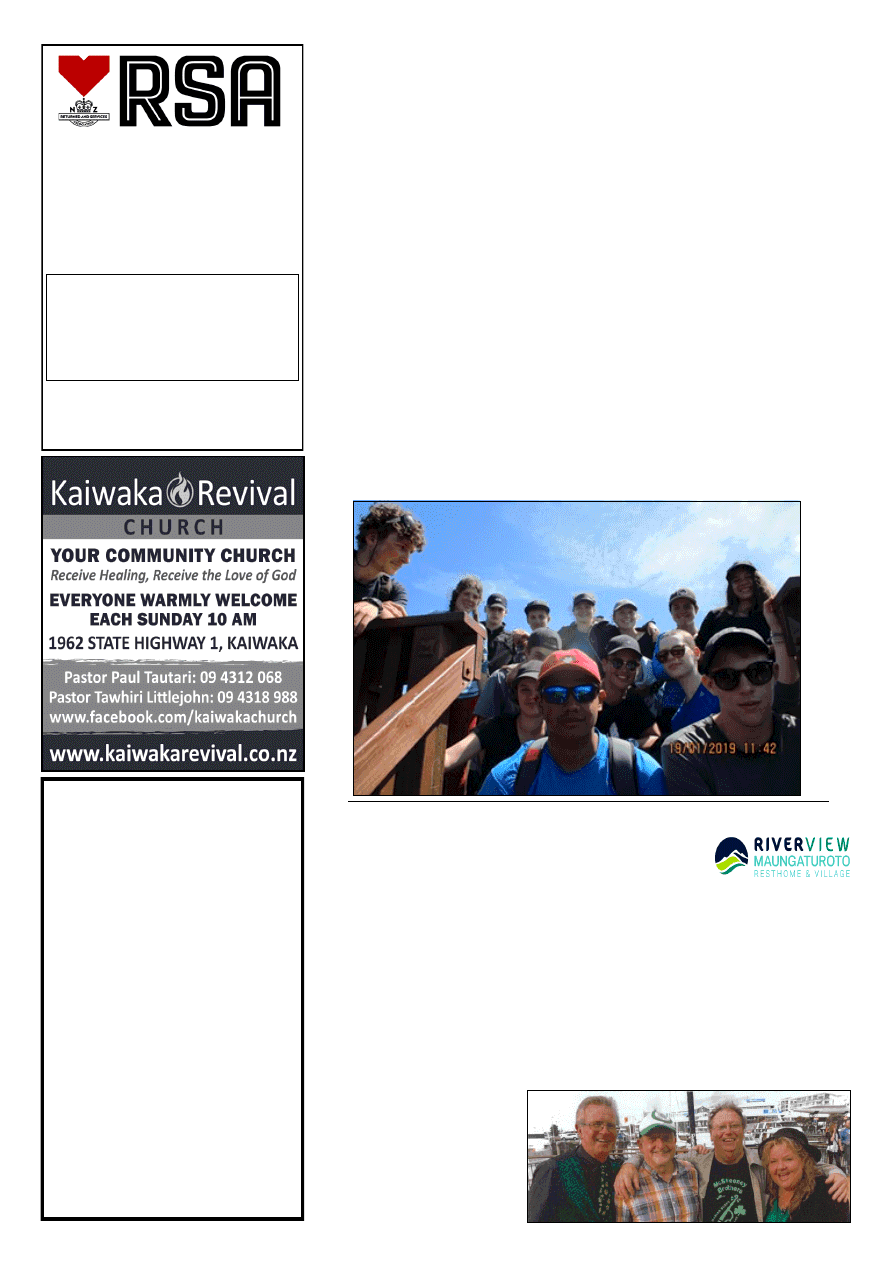 www.kaiwaka.co.nz 
Kaiwaka Bugle - 19 February 2019 
Page 5 
Willow Bend
HORSE  
HOTEL 
  
Total Horse Care 
 
Agistment 
 
Riding Lessons 
 
Arena Hire (60x40) 
 
Young Horse Starting 
 
Re-training/Exercising 
 
Hoof Trimming 
 
Problem Solving 
Phone Sue 09 431 2817 
or 021 623 776 
Or email  
susanjoll11@gmail.com 
HAKARU & DISTRICTS 
MEMORIAL RSA (INC)
Members & guests are invited to 
come along and enjoy our hospitality. 
New members welcome. 
Meals are served on Thursday and 
Friday nights from 6.30pm. 
Order from Blackboard Menu  
and a sing-a-long  
with Des Chitty. 
For more information please phone 
Graeme on 431 2563 
THE DEN: DEMENTIA UNIT FUNDRAISING 
The  Den,  Bickerstaffe  Road:  We  are 
back  in  full  swing  after  the  holidays. 
Plenty of new stock coming in.  
The Garage Sale over the weekend 2nd 
and  3rd  February  went  exceptionally 
well  bringing  in  around  $2500. 
March is looking to be a busy month 
for fund raising: 
⚫
The Maungaturoto & Districts Rotary 
Club  are  putting  on  a  show  featuring 
well known Irish band.   
The McSweeney Brothers  
and Marion Burns on fiddle' 
 Maungaturoto Centennial Hall  
Saturday 2nd March 8 pm  
Light refreshments available. 
Tickets  $35  each  from  Albie 
Paton  0274949448  or  Rotary 
members. 
This  is  a  Fund  Raiser  with 
profits  after  expenses  going 
towards the Dementia Unit. 
⚫
On  March  the  9th  the 
Paparoa Golf Club 
will 
host 
an 
Ambrose 
golf 
tournament  with  entertainment  at  the 
Maungaturoto  Country  Club  in  the 
evening. 
Entries and further information to/from 
Kenny  Finlayson  or  Jamie  Ewen. 
Again Profits to the Dementia Unit. 
⚫
 Also  on  the  9th  March  Fulton 
Hogan  are  having  an  open  day  at  the 
Matakohe bridge site. 
⚫
March  the  17th  St  Patrick's  Day 
there will be some fun shennanigans as 
usual  at  the  Maungaturoto  Bowling 
Club. 
QUINTIN BROWN: OUTWARD BOUND 
As  I  set  off  onto  the  journey  of  a 
lifetime,  feeling  anxious  knowing  it 
will be 21 days of physical and mental 
challenges. 
There were a few kids on my flight, so 
I got to know them as we had a 4 hour 
wait in Picton waiting patiently for the 
rest to turn up.  
I  boarded  the  ferry  to  Anakiwa  with 
150  friends  we  haven't  met  yet.  Ages 
ranging from 16 to 25.  
We were placed into our groups which 
were called Watches, me and 13 other 
kids  aged  16  to  18  were  placed 
together  and  this  would  become  my 
Family for the next 21 days, with two 
amazing  leaders.  we  headed  for  our 
watch  house,  we  were  called  Cook. 
The watch achieved many of our goals 
through support and belief. 
Spending  2  nights  and  3  days  alone 
gave me plenty of time to reflect on my 
own life and how much my family and 
friends mean to me. 
There  were  many  teaching  points 
throughout the 21 days and the 3 keys 
points  I  took  away  were  FAILING 
FORWARD,  APPRECIATION  and 
VULNERABILITY, because I feel that 
those  were  my  three  weaknesses.  I 
struggled  with  'vulnerable'  due  to  me 
like keeping some things to myself, but 
with  everyone  else  feeling  the  same  I 
was able to make it a habit near the end 
of the course, as everyone else taking it 
in their stride. 
I  would  strongly  recommend  Outward 
Bound  to  everyone.  Outward  Bound 
caters  to  everyone  from  every 
background.  They  have  adequate 
sponsorship  services  because  they 
believe that everyone should have ago, 
no matter the age or physical physique. 
It is the only way you are able to fully 
understand how the course is, because 
everyone  takes  something  different 
from the course.      
Thank you to the locals, the strangers, 
Paparoa  Lions,  Rotary  Maungaturoto, 
Op Shop Maungaturoto and my family 
and friends for making this opportunity 
possible.  ~ Quintin 
Below: Cook Watch with Quintin centre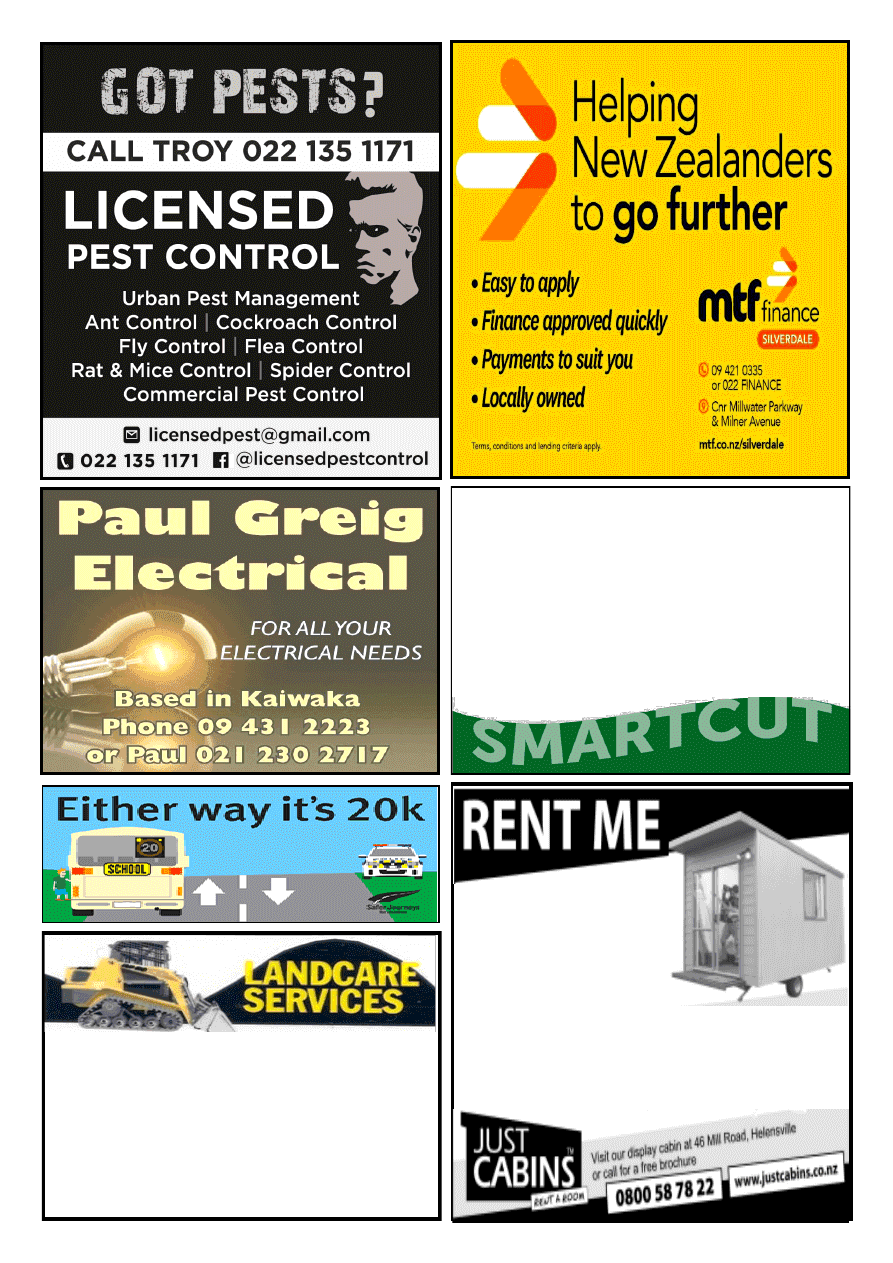 LANDSCAPING 
4 IN 1 BUCKET 
TRENCHER 
POLE HOLES 
ROTARY HOE 
COMPACT ROLLER 
OFFAL HOLES 
CAN SUPPLY WOODCHIP & POST PEEL 
5 TON TIPPER 
FOR RELIABLE AND FRIENDLY SERVICE CONTACT DAVE 
Dave Hyndman 
 
KAIWAKA 
PH: 09 4312302 
MOB: 021 431 238 
All your outdoor needs sorted so you don't have to... 
I can prune, chop, tidy, spray, mow, plant 
- you name it, I can do it! 
Residential & Commercial 
Lawn & Garden Care 
Call Rodney, your local  
lawnmowing contractor 
021 138 2344 
Ideal as an extra  
bedroom or office 
Three Convenient sizes: 
Standard 3.6m x 2.4m - $65 per week 
Large 4.2m x 2.4m - $80 per week 
www.kaiwaka.co.nz 
Kaiwaka Bugle - 19 February 2019 
Page 7 
Single Use Plastic Bag Free store 
– working really well thanks to your 
support 
Remember to keep those reusable 
bags handy in the car 
We have a great range of  
First Aid and Medicine products  
from sore tummies to sprained ankles 
Baby needs as well.  
All at supermarket prices 
Also new in store range of  
Vegetarian and Vegan products 
from Quorn & Bean Supreme 
Fresh Seafood in Store.  
Live Mussels, Kina (Tuesdays) Range of 
white fish, smoked fish & Salmon 
Great for that Omega 3 we all need 
.
Jaques Four Square 
Phone: 4312227 
1 Kaiwaka-Mangawhai Road, Kaiwaka. 
designs for all occasions 
lindywatson@hotmail.com 
4312 847  0211234164 
KAIWAKA 
CAN READY 
TO GET LIT UP IN 2019 
Well, we had a fair old shot at getting 
lights  up  before  Christmas  to  join  in 
with  the  theme  of  "Illuminate",  the 
scout  jamboree.  For  all  sorts  of 
different  reasons,  we  didn't  make  it. 
Getting  hold  of  people,  getting 
permissions,  getting  all  the  pieces  of 
equipment we needed proved too much 
of an ask at short notice. 
The good news is we have no intention 
of  giving  up.  You  will  have  seen  the 
windmill  on  the  Cheese  Shop  is  back 
and  turning  and  burning  brightly  - 
pictured  below. 
Eutopia  is  becoming 
more lit up and diverse in its light show 
week  by  week.  And  others  are  asking 
us to replace their old burnt out bulbs. 
At this stage we are relighting existing 
structures, simply putting in new bulbs 
and  wiring  with  more  up  to  date 
technology.  But  more  creative  ideas 
still lie ahead for the future. 
We  continue  to  explore  plans  for 
Kaiwaka Central, a cleanup, connect up 
and  brighten  up  plan  for  Central 
Kaiwaka to allow locals and visitors to 
get  about  more  easily,  enjoy  usable 
green  space,  get  easily  from  one 
shopping  centre  to  the  next  and 
hopefully, enjoy more parking as well. 
Financing  this  remains  a  major 
challenge,  but  Councillor  Jonathan 
Larsen  is  helping  greatly  in  exploring 
this. 
We  also  have  a  backlog  of  existing 
projects. The welcome sculptures need 
us  to  work  through  the  32  regulations 
imposed  on  us  by  NZTA!  Quite  a 
challenge  and  then  we  have  to  build 
them as well! 
We  are  working  with  Council  on 
footpath  and  walkway  upgrading  and 
extensions and would love to see some 
progress at some stage on a handrail for 
the  northern  bridge.  If  you  have  the 
book on Kaiwaka,  "Stories tall, stories 
short" by  Roger  Smith,  have  a  look  in 
there  about the  battle  to  get  a  handrail 
put up on the southern bridge. 
As  we  are  now  an  Incorporated 
Society,  we  plan  to  explore  funding 
sources  and  make  applications  for 
various projects through the year. 
Our  first  meeting  of  the  year  for 
Kaiwaka  Can  is  next  Wednesday  20 
February,  5.30pm  at  Archie  Bull  Hall. 
We  are  always  open  to  anyone  in  the 
community to come, regular member or 
not, long term attendee or not. 
Come  and  just  raise  a  single  issue  or 
come and listen to see what we are on 
about.  We  want  to  be  a  fair  and  open 
expression of our great community and 
always  enjoy  meeting  new  people  and 
also  having  some  of  the  old  identities 
of  the  community  drop  in  to  see  what 
this bunch is up to. We look forward to 
meeting  a  lot  more  of  you  in  the 
coming year. 
Derek Christensen (Chair) 
derekandisa@gmail.com 0273572751 
OTAMATEA 
COMMUNITY 
SERVICES   
Work has been back for a month or so 
and some people say they feel like they 
never stopped for Christmas; and for a 
lot of people, life just continues to roll 
along, one day after another, and it can 
be hard to remember just what day it is 
especially  those  who  have  retired,  and 
they feel "like it's one long holiday." 
Whatever your situation is, we wish for 
happiness  and  good  health  for  all.  If 
life  is  being  a  little  less  than  kind  to 
you,  for  whatever  reason,  our 
wonderful 
team 
of 
supportive 
professionals  may  be  able to  help.  We 
are  here  for  you,  so  please  call  in  to 
your Community House or phone us on 
431 9080. 
SHOPPING  TRIP 
-  The  next 
shopping  trip  to Whangarei  will  be  on 
Wednesday  27  February.  Let  us  know 
on  431  9080  if  you  would  like  to  go. 
CHOCOLATE  BINGO 
will  start 
on  Wednesday  20  February  at  the 
Anglican Church Hall, Maungaturoto. 
SENIORS' LUNCH will be 
WEDNESDAY 6 MARCH  
Remember our services 
are all free.   
We  offer  the  following:  Senior 
Support, Parent Coach, Social Worker/
Family Support, Counsellor, Addiction 
Support - also the monthly lunch at St 
John  Hall  on  the  first  Wednesday,  the 
chocolate  bingo,  at  the  Footprints 
Room, 
Anglican 
Church, 
Maungaturoto  on  the  3rd  Wednesday, 
and  the  shopping  trips  to  Whangarei 
which  happen  on  the  second  Tuesday 
and  the  fourth  Wednesday  of  each 
month. 
Look  after  each  other.  ~  The  Team  at 
OCS, 155 Hurndall St, Maungaturoto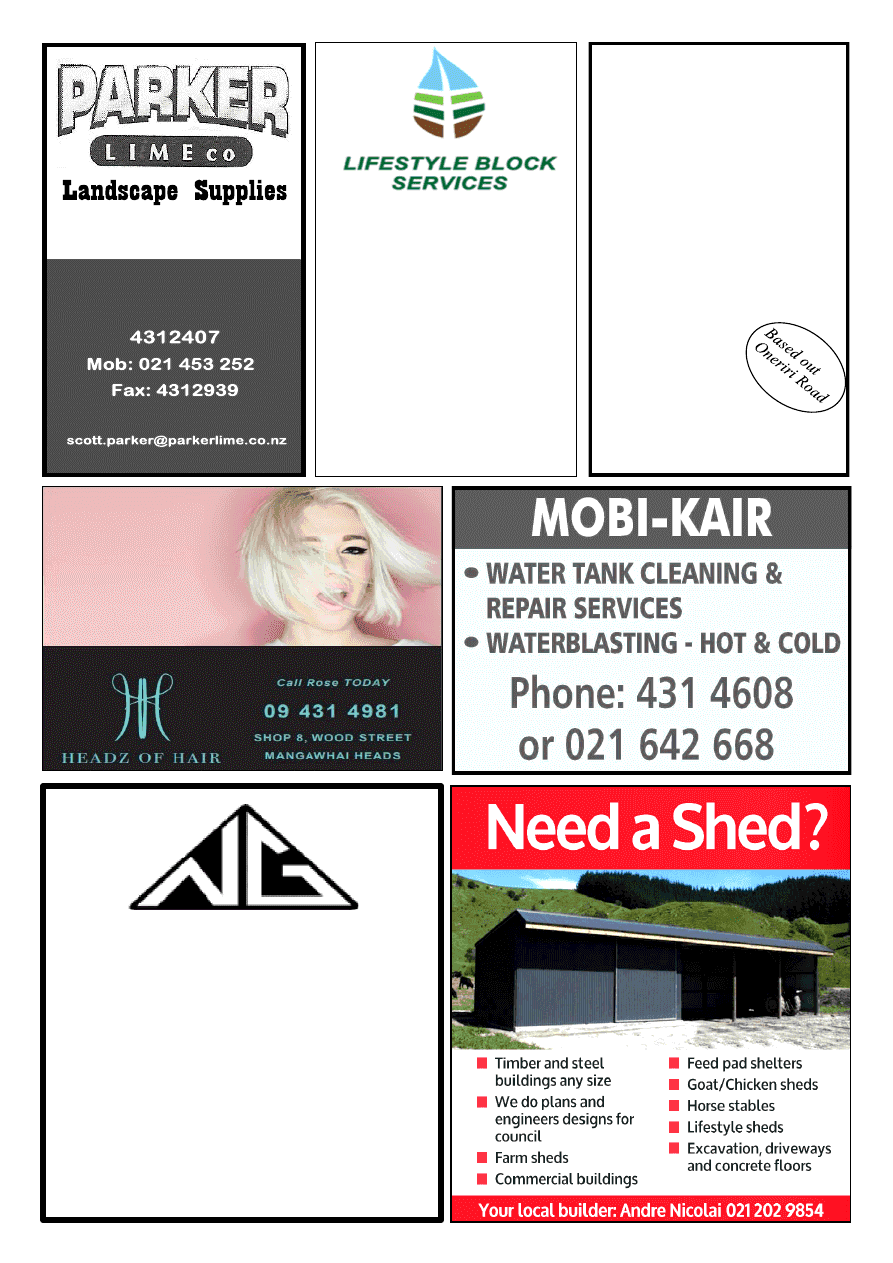 Make Baleage  
while the sun shines! 
Let us make hay/sileage for you. 
We sell small bale silage, 
conventional,  
& 5 bale equivalent hay. 
For more information  
Contact Mark on 021 801 065 or 
Contact Kathy on 027 4250520 
NORTH GLASS 
WINDSCREEN REPAIR OR REPLACE 
GLAZING SERVICES 
MIRRORS  •  SPLASH BACKS  •  SHOWERS 
0800 70 40 10
info@northglass.co.nz 
www.northglass.co.nz 
HODGETTS 
CONTRACTING
Digger Work 

Driveways   

House Sites   

Dams  

Drains, etc
Also available for HIRE 

4
3 ton Vib Roller   

Heavy Duty Tow  

4
Waterblaster     

Lazer Level 
Phone Mark 
4312877 
027 447 8554 
Bulk Cartage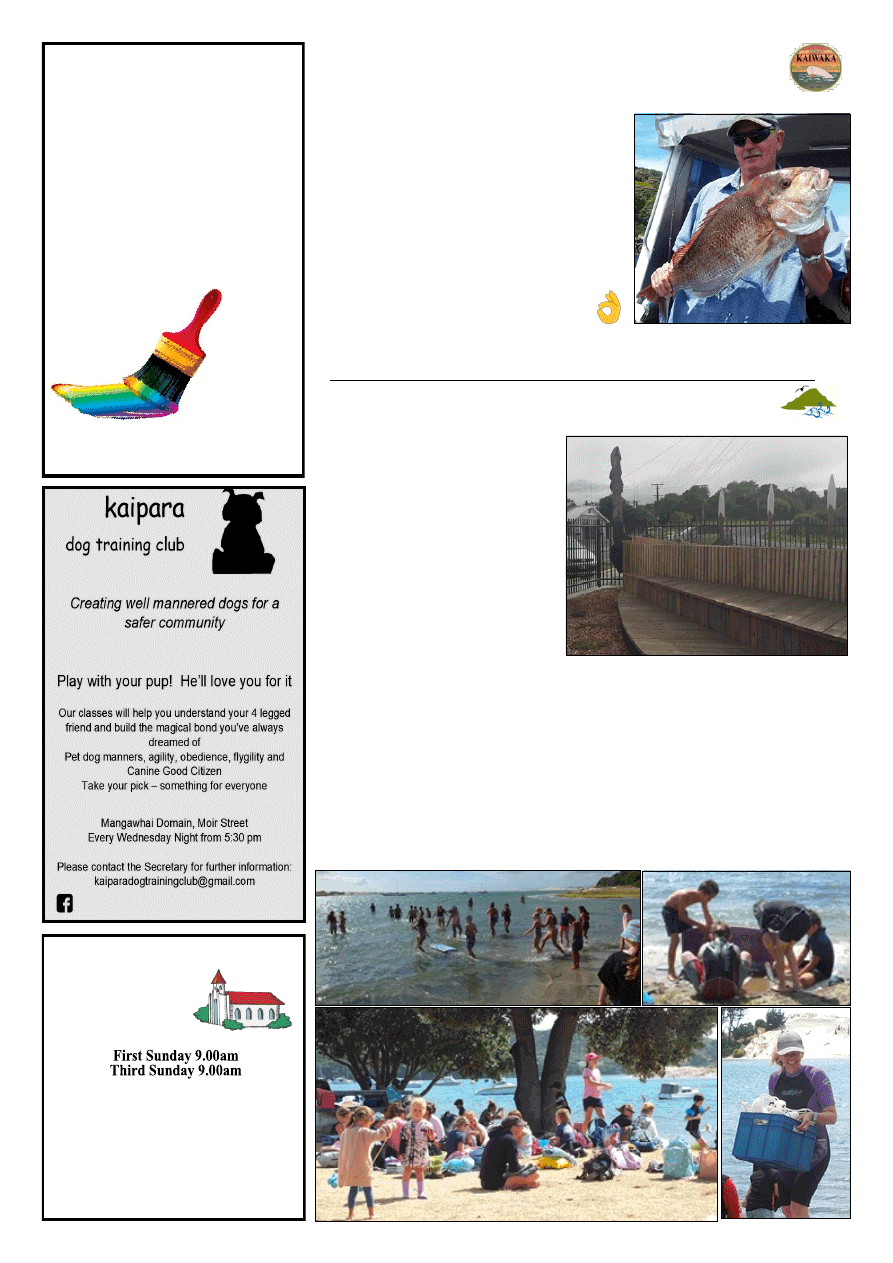 www.kaiwaka.co.nz 
Kaiwaka Bugle - 19 February 2019 
Page 9 
LEE COOPER 
PAINTERS 
(Kaiwaka Based) 
*30 yrs Experience 
*Interior/Exterior 
*New and Restoration 
*Honest and Reliable 
*Free Quotes 
09 4312918 
0274735171 
leecooper@xtra.co.nz 
KAIWAKA SCHOOL
ST PAUL'S  
ANGLICAN  
SUNDAY  
SERVICES
St Pauls Church: Kaiwaka-Mangawhai Rd. 
1st Sunday - Eucharist 
3rd Sunday - Family Service 
Rev. Wayne Thornton Ph 431 4122 
www.mangawhaianglican.org.nz 
Christmas Carols by Candlelight 
Sunday 16th December 7.30 pm 
Christmas Day Family Communion 
Tuesday 25th December 9.00 am 
PT.CURTIS CRUISING CLUB
Open Fishing Competition: Saturday 23rd and Sunday 24th March.  
Species are Snapper, Kahawai and Kingfish. After Prize giving will be 
the Auction. 
Open  Fishing  Competition:  East  Vs  West 
Friday  12th,  Saturday  13th.  and  Sunday  14th 
April.  
All Species, and this will be the last chance to 
get your name on the board for the end of year 
prize giving in May. 
Duck  shoot  and  End  of  the  year  Prize 
Giving: Saturday 4th May. 
Fish of the Month Winners for Snapper: 
Keith  Mills  6.945kg;  Grabba  Mills  6.920kg  -
pictured right; Carol Welsford-Mills 6.450kg 
(go the Mills clan - very nice fish)  
New  fish  of  the  Month:  Snapper till 
12th March 
Next Club Meeting: Tuesday 12th March 2019 7pm @ 3Furs Bar & Grill 
~ Wayne Leslie, Commodore
YOU ARE INVITED 
'Our  new  school  waka  has  been 
completed and we want to celebrate 
this beautiful addition to our school 
grounds  with  a special  opening  and 
blessing. 
We  invite  the Kaiwaka  Community 
to  share  in  this  celebration  - 
"towards tomorrow together" - on 
Monday 25th February,11.00am, 
at  the  front  of  the  school,  by  the 
staff carpark. 
Blessing  and  acknowledgements 
followed by a shared lunch. 
We  welcome  2  new  staff  members.  Whaea  Ripeka  (Rebecca  Harris)  is  a  part 
time  teacher  at  our  school,  supporting  special  needs  students,  and  Stephanie 
Brown is a part time teacher aide, supporting students as well. We also welcome 
Mrs Nesbitt back. 
Thank  you  for  your  patience  with  the  closure  of  the  school  pool.  A  hoist  has 
been installed, this will assist disabled students to use the pool everyday whereas 
otherwise they could miss out. 
Everyone  enjoyed  our  annual  school  picnic  which  was  on  8  February  2019. 
Thank you to all the parents and family members who joined us and helped with 
the swimming.
 Picnic photos, below, by Barbara Brom'
. ~ Rose Ellis. Principal 
Events: 
25 February: Opening and Blessing of Waka. 11am 
28 Feb: School Swimming Sports 
14 Mar: Bream Bay Swimming Sports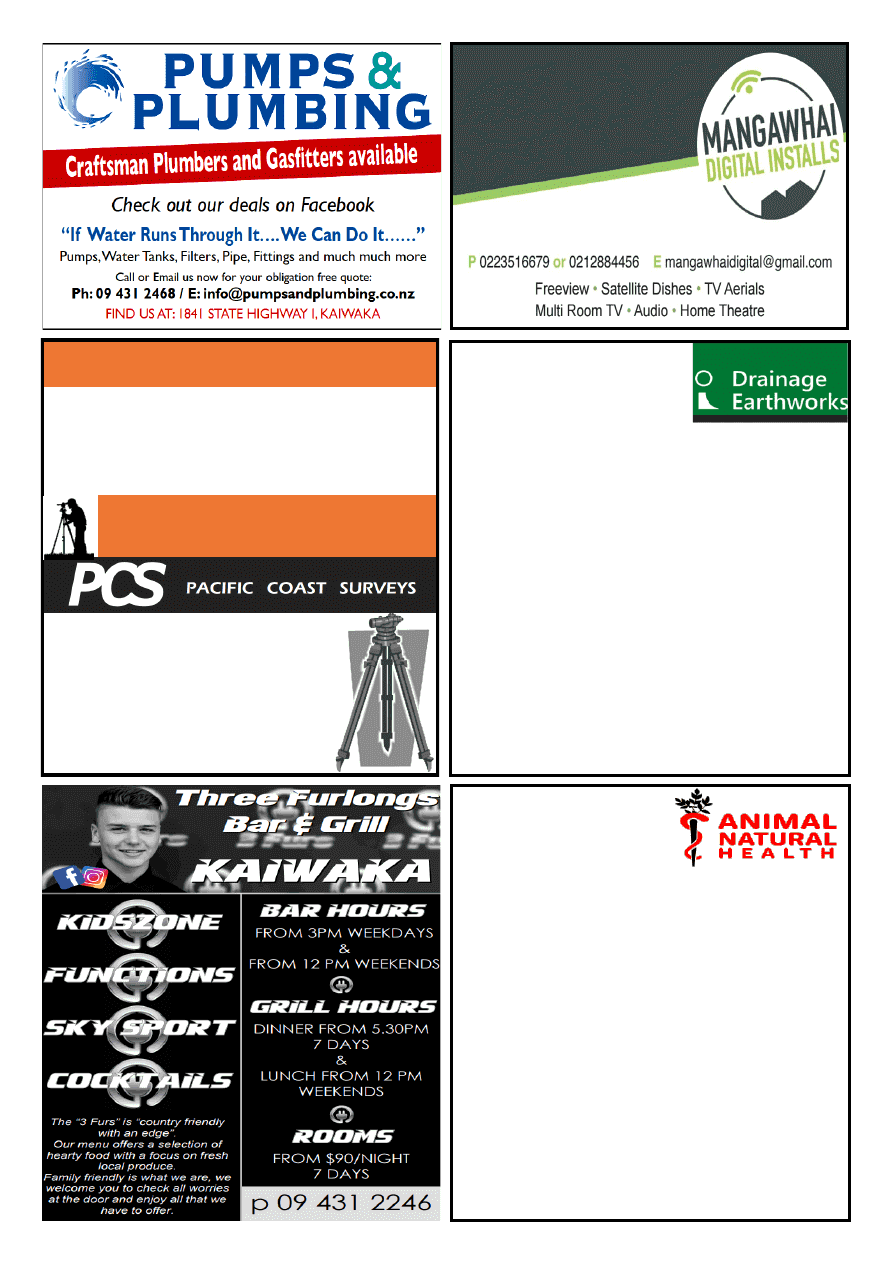 Drainage & Earthmoving 
nigel@clarkedrainage.nz 
027 2233 185 
Registered Drainlayer 
All Types of Earthworks  
> All Residential & Commercial Work  > House Sites 
> Septic System Design & Install 
> Footings & Drilling to 10m 
> Sewer Connections 
> Dams 
> Water Tank Installation 
> Roading & Races 
> Farm Work 
THE ONE STOP SHOP  
Phone Nigel for an Obligation Free Quote  
SURVEYORS 
SUBDIVISIONS 
HOUSE SITE SURVEYS 
CIVIL ENGINEERING 
WASTEWATER DESIGNS 
EXPERIENCED 
PROFESSIONAL 
INNOVATIVE 
Ph 09 431 5353 
0800 PACIFIC (0800 722 434) 
pacificcoastsurvey.com
Adam Booth - 027 415 5752 
Bsurv, Licensed Cadastral Surveyor
Surveying Kaipara since 1994 
PET FOOD & 
ACCESSORIES 
ANIMAL NATURAL 
HEALTH, KAIWAKA
Our Pet Deli range of meats are now in! 
Also stockists of:
Purely Pets Patties 
Orijen & Acana Kibble 
Mighty Mix Biscuits 
Tukka Thyme Muesli 
Organic Apple Cider Vinegar
Chemical-free flea control, wormers 
Homeopathic / herbal preps for Upsets & 
Allergies. 
Collars and leads. 
Hours:  9.30am - 4.30pm weekdays,  
Saturday 9.30am-4pm Sunday 10am - 1pm 
Next to Italian Bakery, SH 1, Kaiwaka 
Phone 09 431 2217.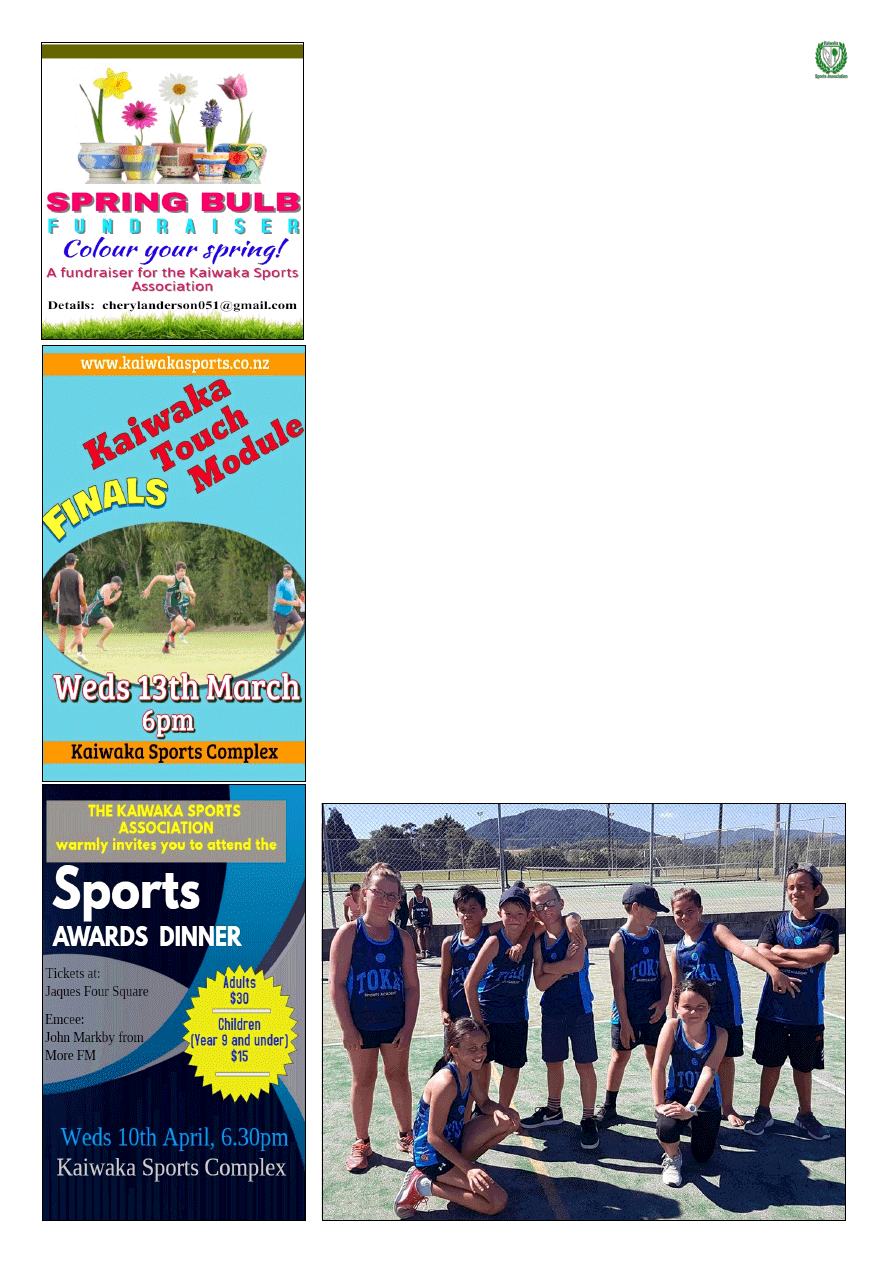 www.kaiwaka.co.nz 
Kaiwaka Bugle - 19 February 2019 
Page 11 
KAIWAKA SPORTS ASSOCIATION
Toka Sports Academy 
We're so proud to have the Toka Sports 
Academy  at  the  KSA.  Nick  does  a 
fabulous job with the youth - boosting 
their  fitness  and  skills  in  an  engaging, 
fun way. 
There are still a couple of spaces in the 
programme,  so  if  you've  got  a  child 
who  is  keen  to  improve  their  sporting 
performance  and  resilience,  give  Nick 
Makea a call on 027 608 3483.  
Junior Tennis 
Our  junior  tennis  season  starts  this 
Monday and will run for seven weeks. 
The  junior  coaching  starts  at  3.30pm. 
Queries,  please  email  Linda  on 
Netball - Senior 
Our  senior  netball  club,  Otamatea-Ex, 
will  hold  their  AGM  at  the  KSA  this 
Tuesday  19  February  at  7pm.  All 
welcome. 
Netball – Junior  
Our junior netball club is getting ready 
for the 2019 season. For junior netball 
queries,  please  phone  Courtney  Cave 
on 
021 2667946.
Springbulbs Fundraiser 
I'm running a Spring Bulbs Fundraiser 
to raise money for the KSA. Bulbs are 
easy  to  plant,  fun  to  grow  and  will 
reward you with beautiful flowers year 
after  year!  Options  are  daffodils, 
freesias,  tulips,  ranunculus,  iris  and 
sweet pea seeds. 
Prices  are  less  than  normal  retail  and 
the  KSA  will  make  30%  profit  on  all 
sales.  Your  order  will  be  delivered  to 
your home along with a handy planting 
guide. An order form is in this edition 
of the Bugle and can also be found on 
at 
Jaques  Four  Square.  Deadline  for 
orders is 8
th
 March. 
Kaiwaka Sports Awards 
For  our  annual  Sports  Awards,  our 
affiliated 
clubs 
nominate 
their 
members  in  the  categories  of 
Senior Sportsperson of the Year, Junior 
Sportsperson  of  the  Year,  Service  to 
Sport  and  the  Greg  McRae  Memorial 
Trophy. The awards dinner will be held 
on Wednesday 10
th
 April.  
Rugby – JMB Coaching 
A  Small  Blacks  coaching  course  will 
be held at the Kaiwaka Sports Complex 
on Wednesday  17
th
  April  at 6.30pm. 
This is a requirement for all coaches of 
rugby  teams  from  Under  7's  →  Under 
13's. 
Congratulations 
Mr 
& 
Mrs 
Henderson 
Best wishes to Siobhan and Tane who 
got  married  at  the  KSA  recently,  a 
special  afternoon  of  love  and 
celebration.  
If you are looking for a wedding venue, 
the  KSA  has  lovely  outside  spots  by 
the native bush which are ideal for the 
ceremony,  then  the  reception  can  be 
held 
inside 
the 
pavilion.  
Check  out  our  website  for  all  the 
details www.kaiwakasports.co.nz.  
Kaiwaka Athletics 
The  Kaiwaka  Athletics  Club  season 
has  now  started.  New  members 
welcome.  You'll  find  us  at  the 
Otamatea High School field beside the 
pool at 5pm. 
We provide coaching and 
support  for  all  the  athletics  events, 
including  running,  throws  and  jumps 
for all youngsters, but especially those 
aged from 7 years upwards. Queries to 
Eileen Parsons on 4318 055. 
Mother's Day Raffle 
I've  decided  to  run  a  Mother's  Day 
raffle  as  a  fundraiser  for  the  KSA.  I'd 
very  gratefully  receive  any  donations 
towards  it!  So  if  you  have  any 
vouchers  or  (unused)  items  that  you 
would be happy to donate to us, please 
let me know, thank you.  
~
Cheryl Anderson, 4312 051, 027 3462702 
kaiwakasports@gmail.com 
TOKA students on the KSA courts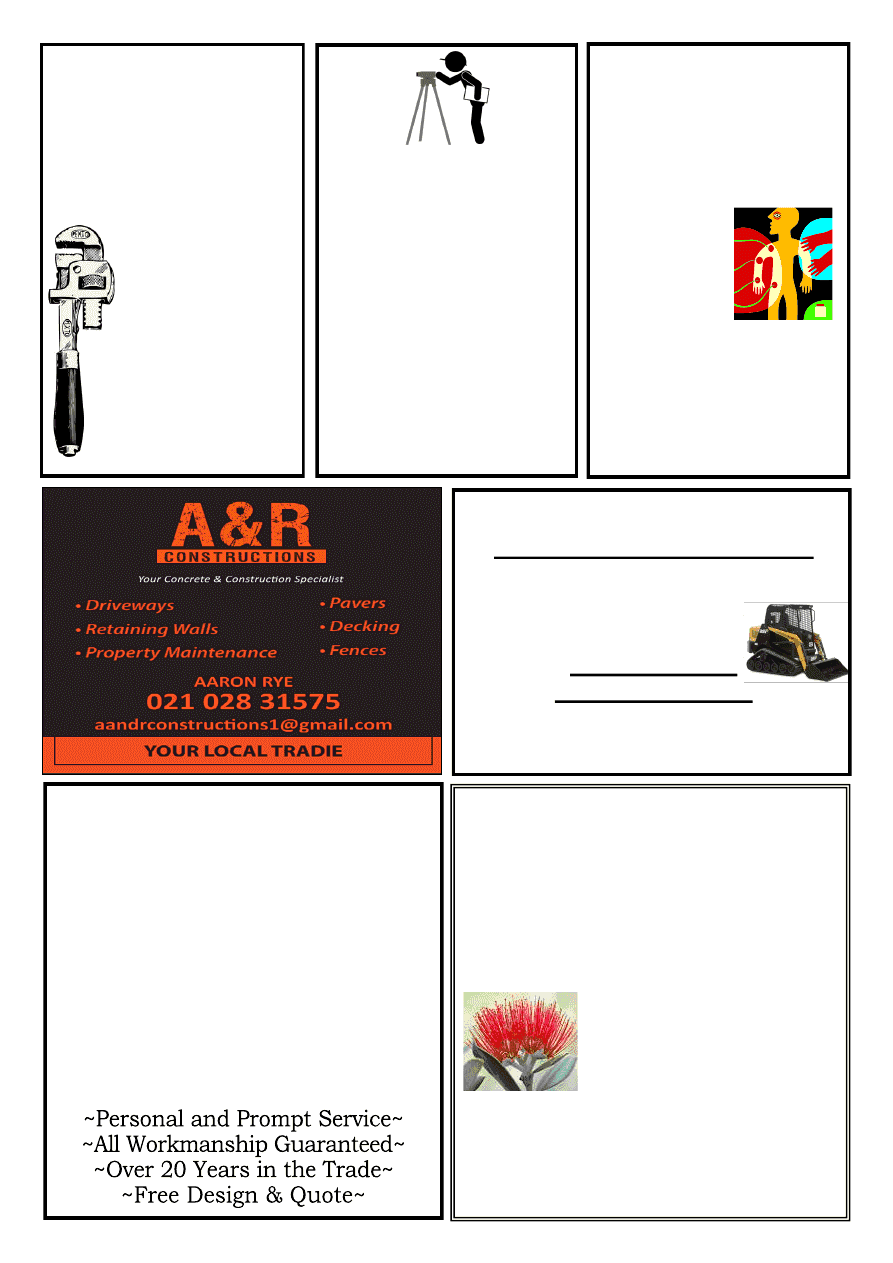 BARRY CURTIS 
PLUMBING LTD 
REGISTERED CRAFTSMAN 
PLUMBER 
Phone 431 5572 
027 257 9884 
25 years' experience 
Friendly reliable service 
All plumbing & 
maintenance 
Alterations and new 
housing 
Spouting  
Competitive rates 
PROMPT 
EFFICIENT 
SERVICE 
KAIPARA FLOORING CO 
Independently owned & operated 
32 HURNDALL ST MAUNGATUROTO
Supply & Installation of Carpet, Vinyl,  
Vinyl Wood Planking
Stockists of 2m & 3m wide 
vinyl & carpet short ends
Residential & Commercial
Q Card Finance Approved 
6-18 month terms 
6 mth interest free
First Class Installations
For a free measure & quote 
phone Christine  
09 946 9886 or 021 515 415 
kaiparaflooring@gmail.com 
http://www.kaiparaflooring.co.nz/ 
OWEN STEVENS 
Osteo Therapist
For careful adjustments to bones 
and joints 
Treatment for humans and their 
pets 
Clinics: 
Kate's Place, 
Kaiwaka: 
Last Friday of 
month 
For bookings: 
9.00am-5.00pm  
Phone 
09 4312661 
Or phone Owen  
09 4317123 anytime 
PLANNING A NEW KITCHEN?
 CONTACT NOEL McDOWELL
WELLSFORD 
KITCHENS
Ph/Fax 094312888
KAIWAKA-Any time
 QUALITY CUSTOM MADE 
KITCHENS
Ken Urquhart 
BSurv Licensed  
Cadastral Surveyor 
KMU Surveys Ltd 
467 Bickerstaffe Road 
RD 2 
Maungaturoto 0587 
Ph 09 431 8705 
Mob 021 161 2344 
kenurquhart@xtra.co.nz 
Natural Earth Ltd 
Landscape and Bobcat services 
 : Driveways :Landscaping :Retaining Walls 
 : Hole Boring: Land Levelling :Trenching 
 : Decks :Fences :Sections Cleared 
 : Plus much more
Tel 09 4312 885 
Mob 02102391280 
For A Fast Friendly Service  
Contact Tim Hicks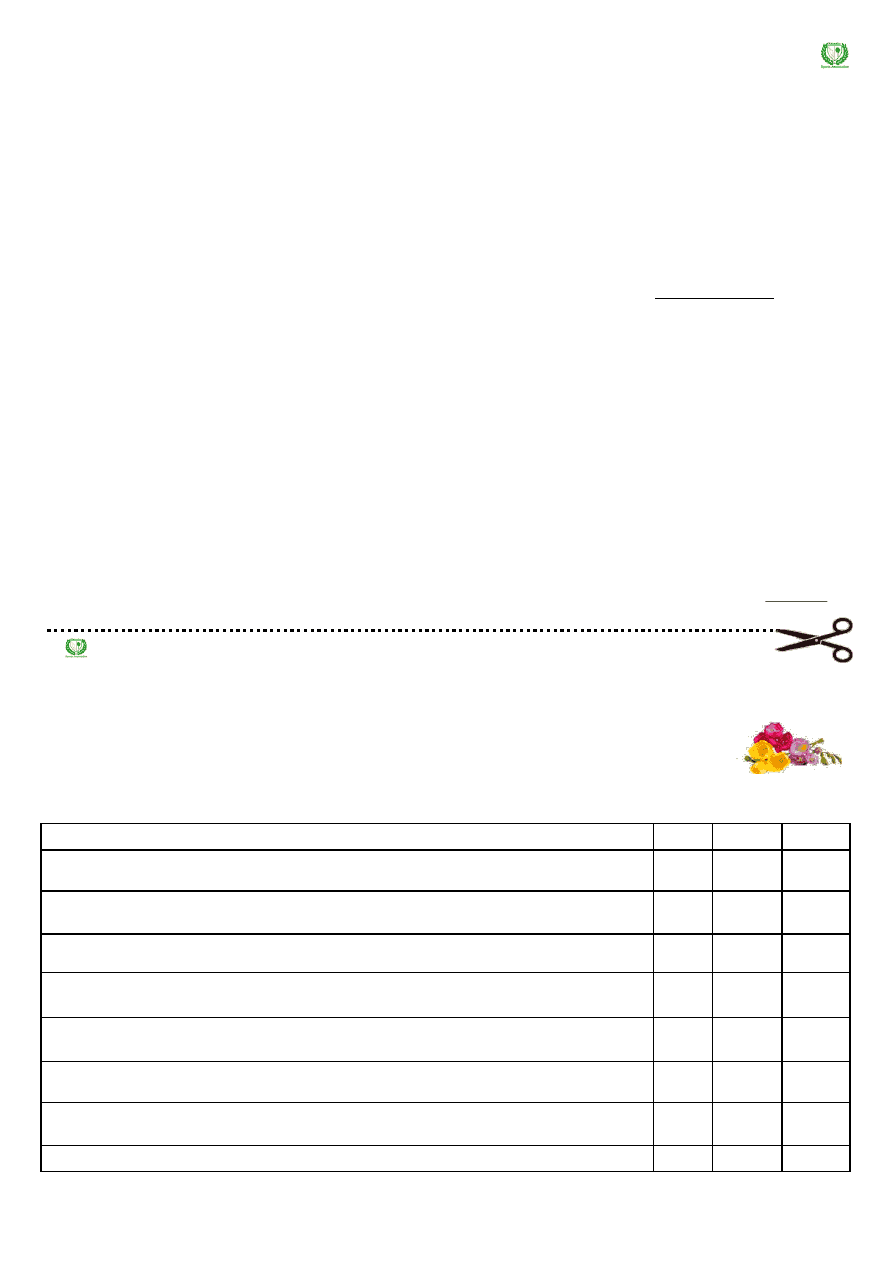 www.kaiwaka.co.nz 
Kaiwaka Bugle - 19 February 2019 
Page 13 
KAIWAKA SPORTS ASSN SPRING BULB FUNDRAISER 
Here's a  great  opportunity to  purchase  spring  flowering  bulbs  and  seeds  and  support  the  Kaiwaka  Sports  Association. 
Bulbs are easy to plant, fun to grow and will reward you with beautiful flowers for years! 
Bulbs are supplied by Garden Post who source bulbs from New Zealand's best growers. Prices offered here are less than 
normal retail. Your order will be delivered to your home and a planting guide will be enclosed with each order. To order 
please return this form with your payment by 8
th
 March, and delivery will be the following fortnight.  
Enquiries to Cheryl Anderson on kaiwakasports@gmail.com.
Bulb Order Form
Name:   _____________________________                                    Phone number:   __________________ 
Address:  ______________________________________________ 
Payment options: 1. Cash 2. Cheque (payable to KSA) 3.Bank direct 060365002247200 (
write reference bulbs and your full name)  
Ways to return form:   1) Scan then email to Cheryl at kaiwakasports@gmail.com.  2) Drop off in folder behind checkout at Jaques 
Four Square. 3) Post to Cheryl Anderson, 233 Baldrock Rd, RD2, Maungaturoto, 0587.         
Bulb type
Price
# packs 
$ total
10 Daffodils mixed
An exceptional assortment of superior varieties blended for continual blooming throughout spring. Each top-
quality bulb will produce bright, long lasting, picture perfect flowers. H 40cm.
$9.50
10 Fragrant Daffodils – King Alfred
The king of all daffodils. Prized for their deep golden and twisted petals which end in a point, they remain the 
world's favourite daffodil. One of the largest trumpet daffodils with strong and lasting blooms. H 40-60cm.
$11
10 Dutch Iris
A selection of the world's most popular Iris. Showy flowers in the garden and long lasting when cut. H 60 –90cm.
$7
10 Tulips mixed
Tulips are spectacular late spring flowering bulbs with colourful and attractive cup-shaped flowers. Top quality 
bulbs in a wide colour range will give an unsurpassable garden display. So easy to grow. H 40cm
. 
$10.50
10 Fragrant Single & Double Freesias mixed
For the true scent of spring try this mix of popular single & double Freesias. They will give a long lasting, dazzling 
display and have long stems for picking. Protect from heavy frosts. H 30cm
. 
$6.50
10 Ranunculi
A profusion of fully double, ever-so-sweet flowers in a wide colour range. Large clumps of these showy flowers 
are hard to beat. Ideal for borders & pots. H 30-40cm.
$5
Sweet Peas - Early Multiflora - 20 seeds
A vibrant & striking mix of early flowering Heirloom sweet peas. Lavender, pink, purple, white & red flowers with 
that intoxicating fragrance. Climber to 2m
$4
                                                                                                        GRAND TOTAL 
Applications  for  grant  funding  are 
being  accepted  for  the  following 
periods -March and April 
APPLICATION  PROCESS  -  HOW 
TO APPLY: 
Applicants 
can 
uplift 
a 
KSA 
application  form  from  The  Three 
Furlongs Hotel operating KSA gaming 
machines. Forms can also be requested 
directly from KSA. All relevant details 
are  displayed  below  and  are  also 
displayed at the venue. 
Venue:  The  Three  Furlongs  Hotel; 
Postal: PO Box 62, Kaiwaka;  
Tel: 094312329 Fax: 094312229 
You  must  return  the  application  form 
and  any  associated  documentation  to 
the  Association  at  the  address  printed 
on the application form. 
The  application  form  contains  a 
checklist of important information that 
must  be  included  with  the  application 
for funding to be considered. Failure to 
supply  all  Information  requested  may 
result in the application being declined 
or returned to you unprocessed. 
Applications 
are 
checked 
for 
completeness  and  considered  by  the 
Grants  Committee  on  a  regular  basis. 
An application may take up to 6 weeks 
to be processed. 
CRITERIA: 
1.  Applications  are  checked  for 
compliance  against  the  criteria  of  the 
Department of Internal Affairs and the 
definition  of  Authorised  Purposes  as 
set out in the Gambling Act 2003. 
2.  Funding  is  distributed  in  the  local 
community area – 
a. 
Provision, 
maintenance 
and 
development 
of 
club 
buildings, 
furniture, 
fittings, 
grounds 
and 
equipment. Excludes any bar area and/
or facilities. 
b.  Assist  sporting  adjuncts  within  the 
club through the provision of uniforms, 
equipment, premises and the actual and 
reasonable  expenses  to  travel  to  and 
compete  in  tournaments  with  kindred 
groups. 
Excludes  professional  sports  people/
teams. 
c. Funds for the promotion of amateur 
sport  within  the  local  community. 
Excludes  the  payment  of  wages/
salaries  
d.  Donations  to  support  recognised 
community  organisations  within  the 
local community with the provision of 
facilities.  Excludes  bar  area  and/or 
facilities. 
Applicants  should  be  aware  that  the 
ultimate decision on funding rests with 
the  Association's  Grants  Committee 
and that there are no guarantees that the 
full  amount  of  the  application  will  be 
supported or indeed the application will 
be supported at all. 
WHO 
WILL 
CONSIDER 
APPLICATIONS: 
All  applications  will  be  considered  by 
the  Grants  Committee  which  is  made 
up of KSA Trustees. 
Applications  are  generally  considered 
in the week following the closing date. 
Applicants  are  usually  notified  in 
writing within 10 Days. 
The Trustees of KSA are: 
Brian  Jaques  JP.  QSM  -  Managing 
Director, Kaiwaka 
Evan Wright -Farmer, Kaiwaka 
Tony Hargreaves, JP- Farmer, Kaiwaka 
Wayne Leslie - Farmer, Kaiwaka 
Mark Ottaway QSM - Baker, Kaiwaka 
Paula Jaques - Business owner, Kaiwaka 
Innes Anderson - Farmer, Kaiwaka 
COMPLAINTS POLICY: 
Any 
complaints 
regarding 
the 
distribution  of  grant  proceeds  must  be 
sent in writing addressed to: 
The Principal Officer/Complaints. 
KSA. PO Box 62. Kaiwaka 
Complaints  received  in  this  manner 
will be acknowledged in writing. 
KAIWAKA SPORTS ASSOCIATION GRANTS APPLICATIONS 
2018 GRANT RECIPIENTS: 
Kaiwaka Support      2000.00 
Otamatea Community Services
  1500.00 
Otamatea Rugby      5500.00 
Pt.Curtis Cruising Club  5000.00 
Mangawhai Surf Club    3000.00 
Otamatea High School   2000.00 
Kaiwaka Sports Assn    1412.31 
Otamatea Rugby      880.00 
Kaiwaka Netball      169.50 
Otamatea Tennis      1644.00 
Otamatea Rugby      800.00 
Kaiwaka Netball      269.50 
Kaiwaka Sports Assn    14410.47 
Otamatea High School   1250.00 
Kaiwaka Sports Assn    15557.11 
Otamatea Rugby      6760.00 
Pt.Curtis Cruising Club  6000.00 
Kaiwaka Sports Assn    5210.67 
Kaiwaka Sports Assn    11315.45 
84679.01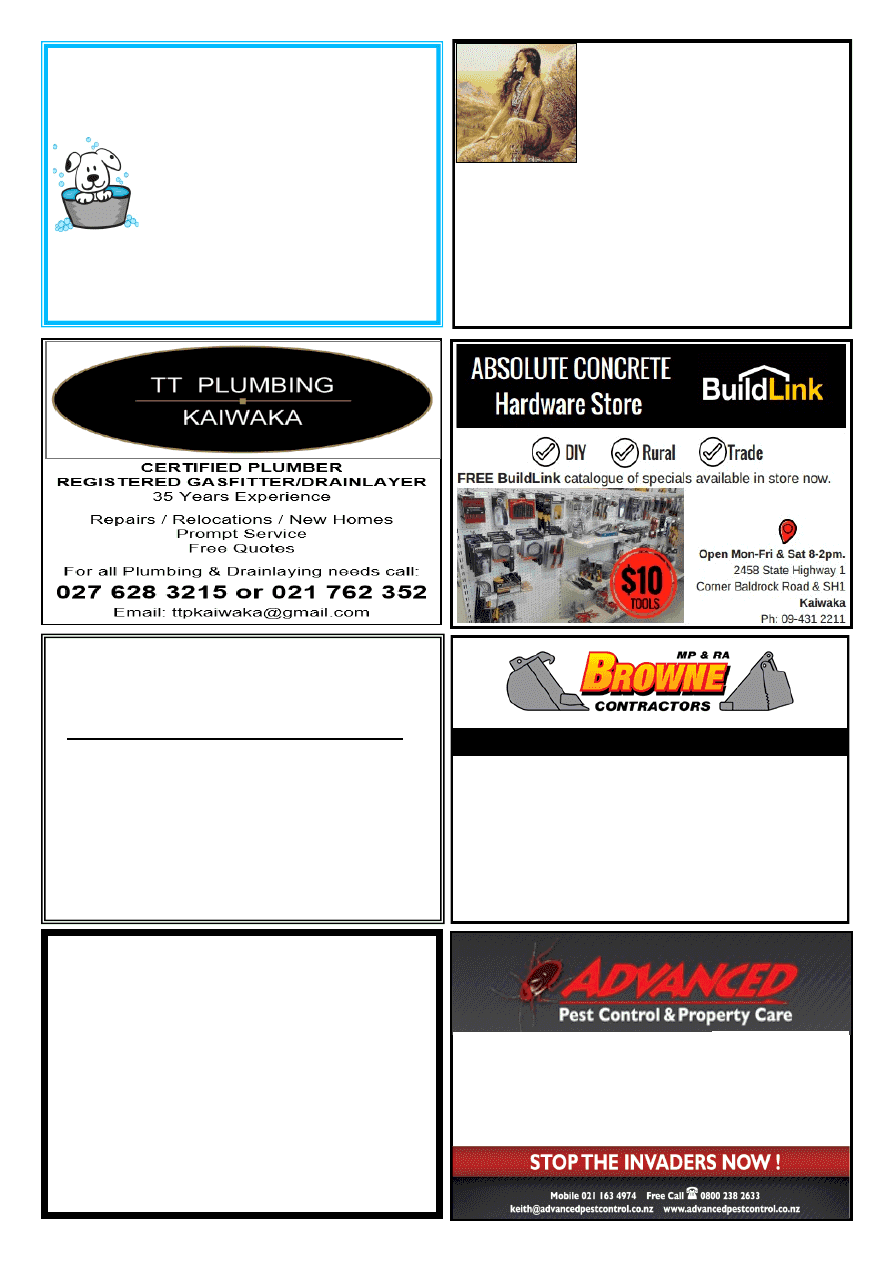 4T DIGGER – BOBCAT – TIP TRUCK 
Property Maintenance - Driveways  
 Building Sites 
Stump & Tree Removal  
Hole Boring - Chain Trencher  
Calf Shed and Stockyard Cleaning 
Phone Matt: 021 199 6677 
Email: mprabrownecontractors@gmail.com 
Mangawhai Heads 
Garden Centre
1758 Cove Road
945 0707 
021 165 2629 
Trails end 
spiritualist gathering 
Last Sunday of every month  
10.30-2pm  
Tea/coffee provided  $5 koha 
For all inquiries: 
021 165 2629 evenings (09) 945 0707 
Trail.end@hotmail.com 
1758 Cove Road, Mangawhai
Bringing together like-minded people 
Guest speaker each month
Pest Control 
PLAN A: One-off treatments to customers with a specific pest problem 
PLAN B: Full maintenance service plans to commercial customers. 
This will include documentation kept in customer file on site: 
⚫
Pest treated 
⚫
Date of service 
⚫
Chemical or baits used 
⚫
Full pest check report done after each treatment 
⚫
Fair and reasonable fee with guarantee 
Flood Recovery  Carpet Care 
⚫
Carpet Drying 
This includes pre-spray treatments 
Upholstery Cleaning 
Full upholstery cleaning of all furniture.  
eg lounge suites and all office chairs 
Water Blasting 
⚫
Concrete - Decks 
House Washing 
⚫
Soft Chemical Was 
⚫
Pre-painting Wash 
Property Services 
Om Tara 
Mangawhai 
Healing Services 
Diann Glucina 
021 250 7461 diglucina.com  
FB OmTaraMangawhai 
Hot Diggity Dog 
DOG GROOMING 
All breeds dog grooming 
Professional Experienced Groomer 
Short practical grooms - summer 
Breed Standard Grooms 
Designer fusion Grooms 
Oneriri Road
By appt Phone Pam 09 4312143 
Or text only 0273335380 
Email  hot.diggitydog@outlook.com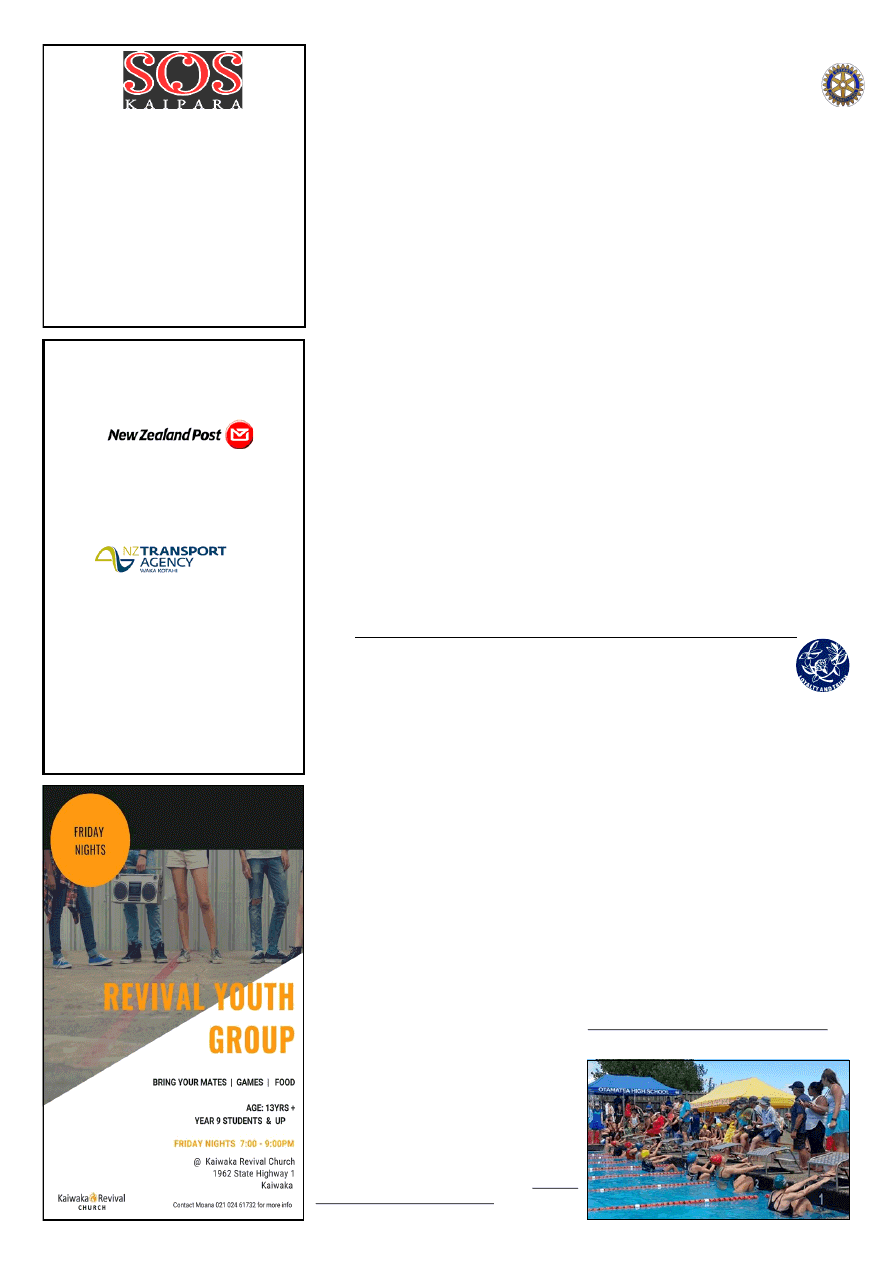 www.kaiwaka.co.nz 
Kaiwaka Bugle - 19 February 2019 
Page 15 
S.O.S Kaipara 
Support, advocacy, crisis and 
family therapy counselling, 
refuge housing to survivors of 
sexual abuse and domestic 
violence. Also Education 
prevention programmes for the 
community and clients.  
Office hours 9am to 3pm Monday to 
Friday; 24/7  phone 09 4396070 
Or phone 111 
Our  first  major  fundraiser  for  the  year 
with  the  McSweeney  Bros  band  and 
hopefully  a  substantial  amount  will  be 
given  to  the  Dementia  unit  fundraiser 
as a result. Come to the Maungaturoto 
Centennial  Hall  and  enjoy  a  great 
night. 
The year has started off with two low-
key  activities  with  the  Presidents' 
BBQ  on  the  first  night  and  then  a 
pleasant  evening  down  at  Pahi  where 
we  had  a  potluck  dinner.  Most 
Rotarians  and  their  partners  turned  up 
for this and we greatly appreciated the 
shade  of  the  fig  tree.  Visiting  places 
like  this  makes  me  realize  how  many 
gems we have in our area. 
Last  month  we  mentioned  our  support 
of  the  Waihaua  Marae  (Arapaoa), 
Tinopai,  and it  is  hopeful that  we  will 
be  able  to  help  them  with  their 
Entrance  way.  Now  our  carpenter  is 
back  on  deck  we  will  be  able  to 
complete  the  bridge  in  Nikau  Grove 
(which will be going over the kauri tree 
roots),  This  track  has  now  been 
metalled so it will be good to make full 
use of this beautiful piece of bush. We 
have  also  been  asked  to  help  the 
Envirogroup  at  Maungaturoto  Primary 
to assist them in creating a track down 
to the stream at the end of the playing 
field. 
A group of Rotarians were able to help 
in various areas of the Paparoa  Show. 
Listening  to  the  comments  of  visitors, 
we  have  one  of  the  few  A&P 
shows  with  a  large  indoor 
section  (which  is  getting  more 
diverse)  to  go  alongside  the  usual 
sideshow and animal activity. 
Drivers  licence:  Later  in  March  we 
will be supporting the Year 12 students 
from Otamatea who will join about 200 
other 
students 
from 
throughout 
Northland  to  learn  more  about  their 
obligations  when  they  have  a  licence. 
While  this  course  does  not  involve 
driving it does deal with other relevant 
aspects  of  car  ownership  and  driving. 
Remember, if you have your Learner's 
licence  and  need  to  build  up  your 
driving  hours,  we  are  offering  12  free 
lessons through Te Roroa. 
If  you  are  interested,  please  call  them 
on 0800 555 635. 
The  long-term  impact  of  some  of  the 
work that Rotary has undertaken in the 
District through the years was brought 
to  our  attention  last  week.  In  2003,  a 
pontoon was built in the Mangawhai 
estuary  in  an  endeavour  to  dissuade 
swimmers from bridge jumping. While 
storms  have  necessitated  it  being 
located and brought back several times, 
it  still  sits  in  the  estuary  and  is  well 
used by people throughout the day.  
Saturday 2nd March 8pm 
McSweeney Brothers Band 
and Marian Burns, fiddler  
and a 60's dance. 
Maungaturoto Centennial Hall 
OTAMATEA HIGH SCHOOL
KAIWAKA POST 
CENTRE and 
FOOD MART 
POST CENTRE TRADING HOURS 
MONDAY to FRIDAY 8am to 5pm 
SATURDAY 8am to 12pm 
CLOSED ON SUNDAY and on 
PUBLIC HOLIDAYS 
FOOD MART (GROCERIES) 
MONDAY TO SUNDAY  
7:30am to 8pm 
IF ANY QUERIES PLEASE CALL 
STORE MANAGER AMRIT  
on 09 4312431 or 
EMAIL: kaiwakafood19a@gmail.com 
1919a State Highway1, Kaiwaka 0542 
MAUNGATUROTO and DISTRICTS ROTARY 
Welcome  evening:    On  Wednesday 
20th  February  we  will  be  hosting  our 
Welcome  Evening.    This  evening  is  a 
great  opportunity  for  established 
families  and  staff  to  welcome  new 
families  and  staff  to  our  school 
community.    We  will  also  be  offering 
optional  sessions  for  parents  to  attend 
including  Your  Teenager  and  Our 
Junior  School.  Our  prefects  will 
conduct  tours  of  the  school  for  those 
who  are  interested.    The  evening 
promises  a  friendly  and  social 
atmosphere.  
Meningococcal 
W 
Programme 
Vaccination:    The  Northland  District 
Health  Board  are  encouraging  the 
following  people  to  be  vaccinated 
against  Meningococcal  W:  9  months 
old  -  5-year  olds  and  13  -  18-year 
olds.  Vaccinations in these age groups 
are  free  and  will  be  available  at  the 
school on Thursday 28th February. We 
will  be  giving  out  consent  forms  next 
week  when  we  receive  them  from  the 
DHB.    If  you  have  children  between 
the ages on 9 months and 5 years old, 
they  can  also  attend  on  this  day  and 
there  will  be  consent  forms  at  the 
school 
to 
complete 
on 
the 
day.  Consent forms are also available 
on the Northland District Health Board 
website. 
Cellphones:    A  reminder  that 
last  November  we  banned 
cellphones  from  all  classes.    This  ban 
will  be  continuing  this  year.  Please 
support  the  school  by  reinforcing  this 
message with your children.    
Board  of  Trustees:    This  year  the 
triennial  elections  for  all  Boards  of 
Trustees  across  the  country  occur  in 
May.  If you are interested in becoming 
a  Board  member,  please  contact  the 
school  or  one  of  the  current  Board  of 
Trustee 
members 
for 
more 
information.    You  can  also  attend  the 
next  Board  meeting  as  an  observer  on 
Thursday 28th February at 6pm.  
Thai  student  programme:    We  are 
again  hosting  a  group  of  17  students 
from  Thailand  from  22nd  March  until 
11th  April.    If  you  are  interested  in 
hosting  one  or  more  of  these  students 
please  contact  Heather  McDonnell  on 
heather.mcdonnell@otamatea.school.nz.  
~  notes  from    Rachel  Clothier-Simmonds, 
Principal (OHS Newsletter)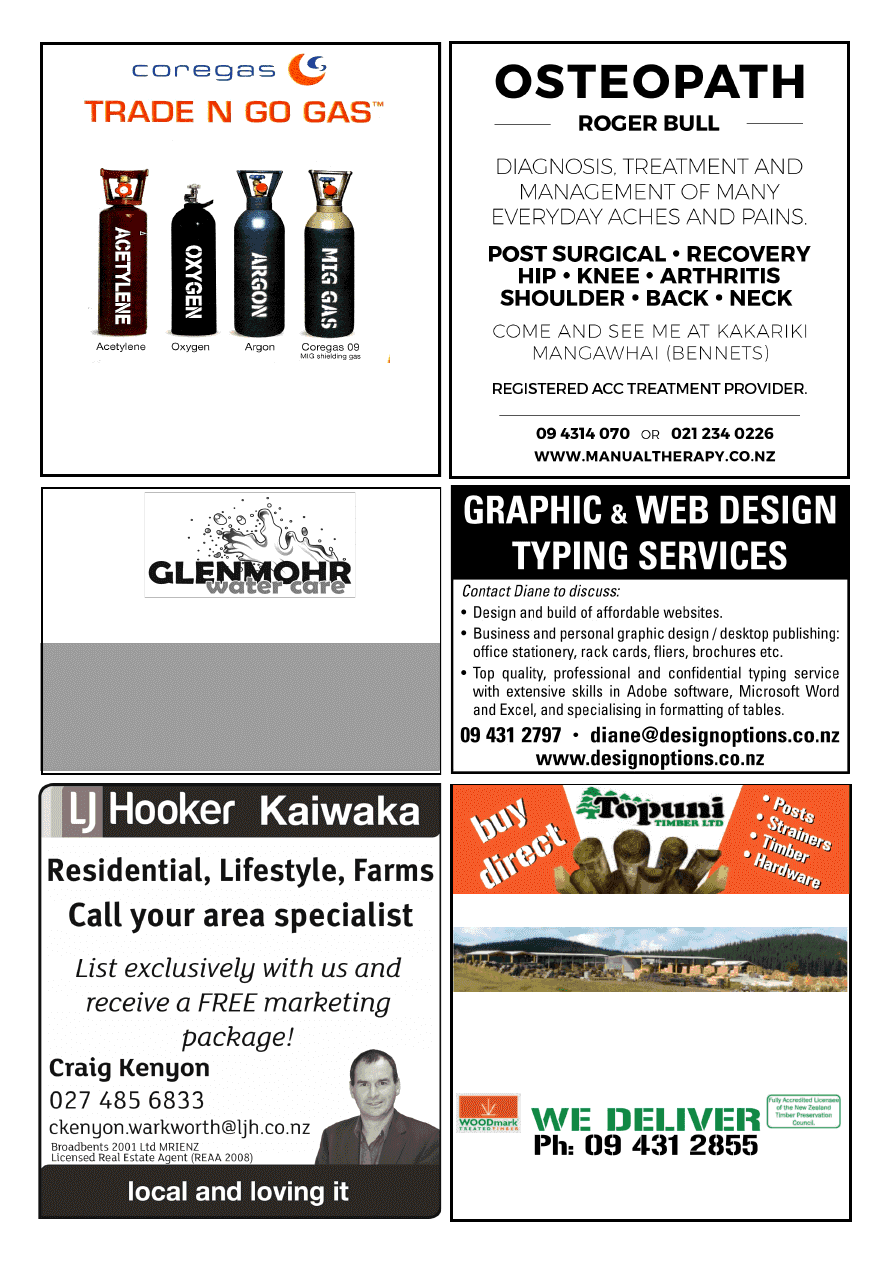 Water Tank Cleaning 
• 
Keep your water safe & clean  
• 
Removal of sediment, silt etc. 
• 
Vacuum or full scrub 
• 
Minimal water loss 
Phone Mark (09) 432 0655 or 0274 707607 
Now available at Twinkle Tow 'n' Tyre 
Mob: 021 833 960 
Ph & Fax: 09 431 2823 
1837 State Highway 1, Kaiwaka 
LOCALLY OWNED AND OPERATED 
QUALITY PRODUCTS • FRIENDLY ADVICE • GREAT SERVICE 
Quality Products milled from High Density NORTHLAND Radiata Pine. 
Treated and guaranteed to NZS3640 with commitment to 
Environmental Safety.
Phone, fax, email, or come into the mill 
Schiska Rd, Topuni, SH1, 10 min north of Wellsford. Fax: 09 431 2856 
Email: sales@topunitimber.co.nz           Mon - Fri 7am-5pm 
• Fencing 
• Retaining 
• Decking 
• Landscaping 
• Gates 
• Hardware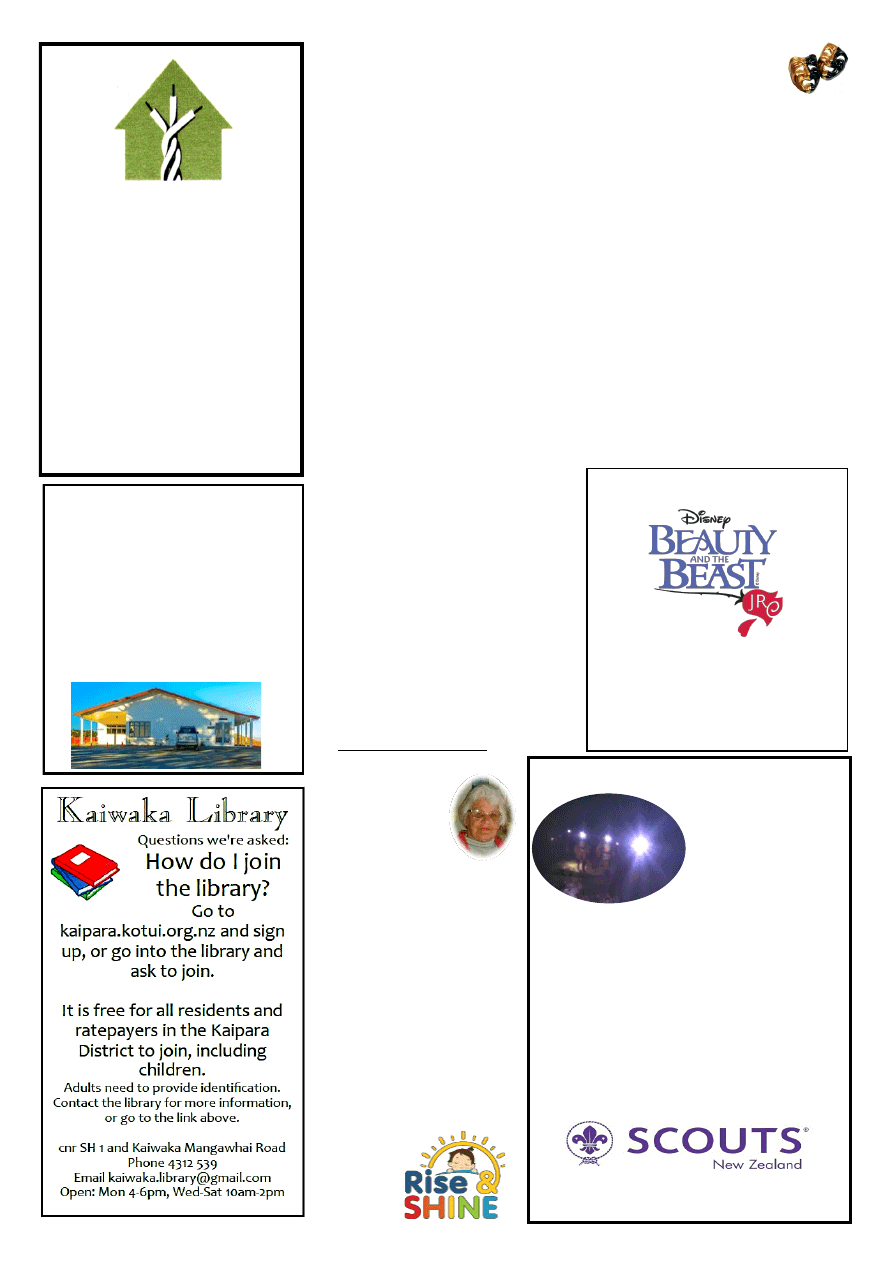 www.kaiwaka.co.nz 
Kaiwaka Bugle - 19 February 2019 
Page 17 
Reyahn George 
Leng 
Registered Electrician 
Local, honest and 
reliable. 
For your residential and 
light-commercial 
projects. 
022 314 1068 
Te Pounga Marae 
130 Nathan Rd. Oneriri. Kaiwaka 0573 
COMPLEX FOR 
HIRE 
Functions: * Weddings  * Birthdays  
*Anniversaries * Meetings  * Wananga 5 
hour meeting * 12 hour stay or Overnight 
*All welcome   
For more information please contact: 
Kim Wallace  
Home: 09 832 1133  Mob: 0211275340  
Email: kimwallace@xtra.co.nz 
OTAMATEA REPERTORY THEATRE   
Disney's Beauty and the Beast JR 
We  are  delighted  to  have  secured  the 
rights  to  one  of  Disney's  best-loved 
shows.  The  cast  is  comprised  entirely 
of children and teenagers – everyone is 
under 18. This is a condensed version, 
specially  adapted  for  youngsters.  The 
total 
length 
of  the 
show  is 
approximately 70 minutes. 
Beauty and the Beast tells the story of 
Belle,  an  adventurous  young  girl,  and 
the Beast, her hideous captor who is a 
young prince trapped under a spell. To 
break the spell, the Beast must learn to 
love another and earn her love in return 
– before time runs out. With the help of 
the castle's enchanted staff, including a 
loving  teapot,  a  charming  candelabra, 
and a nervous mantel clock, Belle and 
the  Beast  find  a  beautiful  friendship 
and  love  that  neither  knew  was 
possible.  The  show  features  classic 
songs  from  the  Academy  Award-
winning  film  score  such  as  "Be  Our 
Guest" and "Belle," as well as original 
songs from the 1994 Tony- nominated 
Broadway musical. 
There will be eight shows –  
Sat 27 April @ 2pm and 6pm,  
Sun 28 April @ 2pm and 6pm,  
Fri 3 May @ 7.30pm,  
Sat 4 May @ 2pm and 6pm  
and Sun 5 May @ 2pm  
Tickets  are  now  on  sale  at  Tony's 
Lotto  Shop  in  Maungaturoto,  and 
online at www.ort.org.nz 
Youth Theatre 2019 
Another two weeks of creativity at the 
theatre!  This  year,  we  performed  the 
story  of  'The  Pied  Piper  of  Hamelin'. 
The story, complete with rats, children, 
councillors  and  mayor,  the  town 
citizens and the Piper, is loosely based 
on  a  true  story.  In  1284  in 
Hamelin,  130  children  were 
led  away  by  a  colourful  man,  into  the 
Koppenburg  mountains  –  never  to  be 
seen again. 
Planning for Youth Theatre begins well 
in  advance  and  is  carefully  tailored  so 
that  children  of  all  ages  and  abilities 
can  play  a  part  -  some  are  better  at 
singing, others prefer acting, and some 
youngsters  are  lovely  dancers.  This 
year,  the  children  learnt  a  wide  range 
of  music;  some  of  it  was  in  German. 
We had over 70 youngsters participate, 
over the two weeks. 
For  many  children,  this  is  their 
introduction  to  theatre  -  many  others 
come  back  year  after  year.  Many 
thanks  to  Otamatea  Community 
Services  who  made  their  minibus 
available  for  transport  for  the 
youngsters. And many thanks to all of 
those  who  helped  to  make  this  year's 
project such a huge success. 
 ~ Maura Flower 
From 
Thelma's 
Scrapbook 
… 
A tired and depressed 
mother complained to the 
doctor about her teenage 
daughters' strange eating 
habits.  
"All day long she lies on 
her bed and eats nothing 
but yeast and car polish. 
What on earth is going to 
happen to her?" 
"Eventually," said the 
Doctor, "she will 
rise and 
shine
"!! 
Are You Interested? 

Cubs (8-11yrs) 

Scouts (11-14yrs) 

Leaders (18+yrs) 

Adult Helpers 

Adult Volunteers 
JOIN THE ADVENTURE 
Thursdays from 5.30pm  
at Den Camo building 
 in Hakaru RSA carpark 
733 Settlement Road 
Off Kaiwaka – Mangawhai Rd 
Inquiries to  
bjlmferguson@gmail.com 
BE PART OF THE ADVENTURE 
Otamatea Repertory Theatre Inc 
Proudly presents 
Music by Alan Menken 
Lyrics by  
Howard Ashman and Tim Rice 
Book by 
Linda Woolverton 
Disney's Beauty and the Beast JR. is presented through special 
arrangement with and all authorized materials are supplied by Music 
Theatre International. 
421 West 54th Street, New York, NY  10019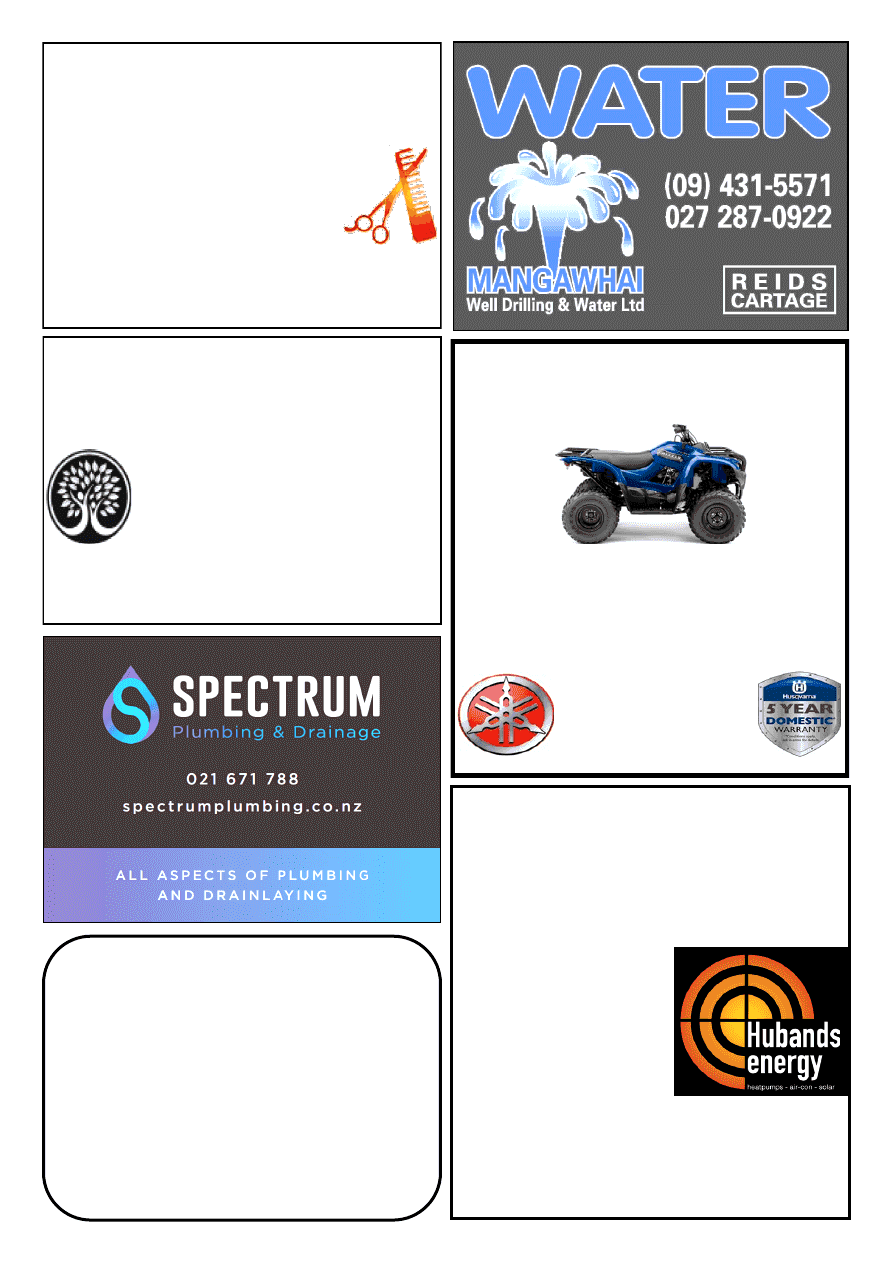 KAIWAKA 
MOTORCYCLES LTD
SALES – SERVICE – SPARES 
FARM BIKE SPECIALIST
PHONE 09 431-2127 
10 KAIWAKA-MANGAWHAI ROAD, KAIWAKA
Trimmers  
from $279
Chainsaws  
from $339
YAMAHA 
HUSQVARNA 
Northland's Award Winning 
Solar Company
SEANZ Best Solar Business Winners 2015/16
EXCLUSIVE 10 year installation warranty 
FREE No obligation onsite quote
Complete systems 
from $5990
See our range of: 
✓ 
Heatpumps 
✓ 
Airconditioning 
✓ 
Hot Water 
Heatpumps 
✓ 
Central Vacuum Systems
09 430 0019             sales@hubands.co.nz 
15 Kioreroa Road, Whangarei
Locally owned and operated for 35 years 
UP-LINK 
CHRIS WARING 
FREEVIEW INSTALLATIONS 
T.V. - HOME THEATRE &  
HI-FI ADVICE/SET UP
SKY ACCREDITED INSTALLER
MOB.0273403747 HM.094312328 
EMAIL cwaring44@gmail.com
28 YRS EXPERIENCE 
OFFERING UNBIASED ADVICE 
AFFORDABLE PRICES! 
MENS CUT FROM $20.00 
LADIES CUT FROM $30.00 
KIDS CUT FROM $18.00 
COLOUR & CUT FROM $120.00 
JUST CUTS'AND   
MORE 
021 165 2629 or (09) 945 0707  
NOW SELLING: scented tealights, incense, smudge sticks, 
copper bracelets, aurora ball crystals, dream catchers, healing 
stones, rose quartz, cds, and much more. Open 6 days. 
Waipu Natural Health 
3 Cove Road, Waipu  (opposite the Pizza Barn) 
Ph: 09 432 1325 
www.waipunaturalhealth.co.nz
Clinical Nutritionist-Hair Analysis for Masked 
Allergies, Ozone Therapy, Prolotherapy, 
Naturopath-Medical Herbalist, Registered 
Massage Therapists, Reflexology-
Craniosacral Therapy, Acupuncture-Facial 
Acupuncture, Kineso Taping, Hypnotherapy, 
Counselling, ThetaHealing/Change Catalyst.
AFFORDABLE CONSULTS FOR KIDS – give us a call
Gift Vouchers available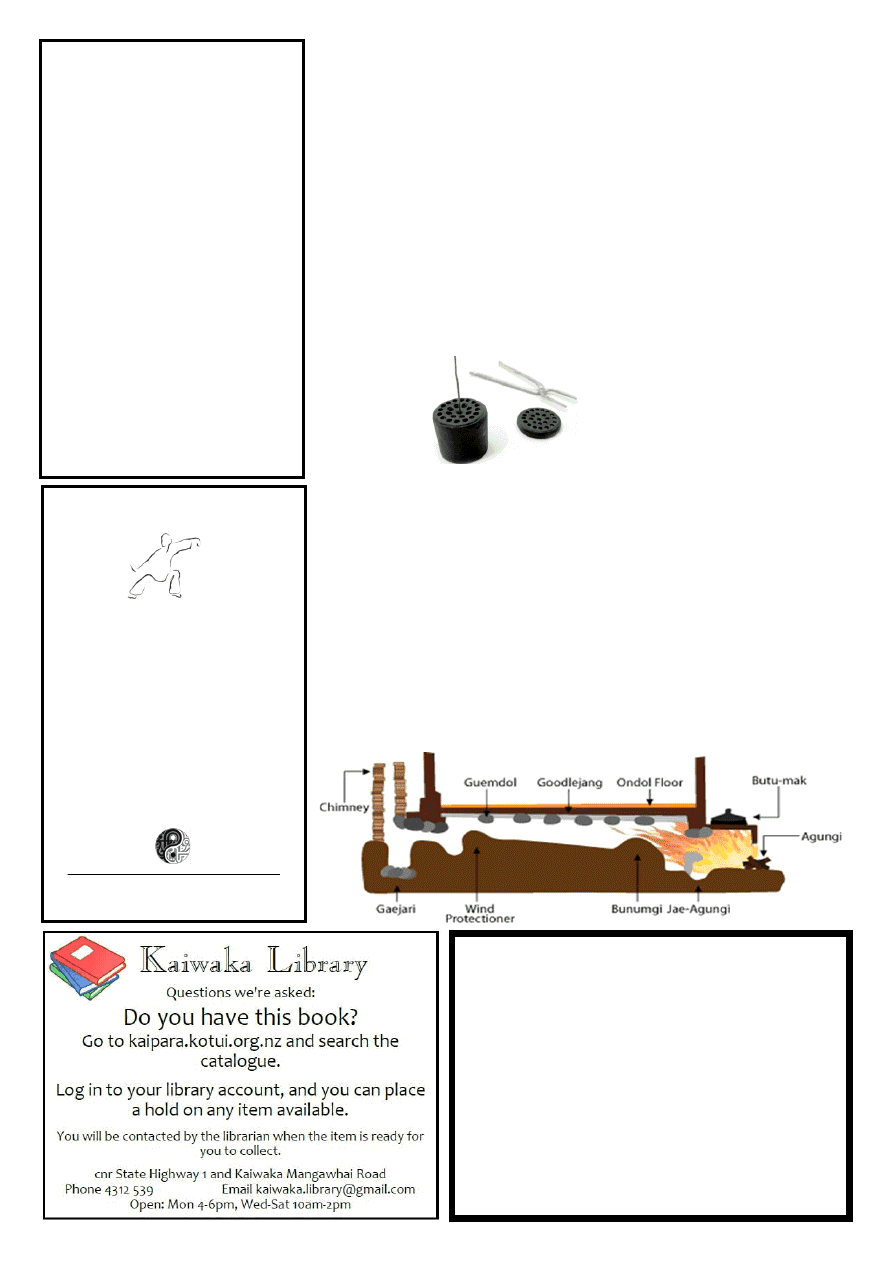 www.kaiwaka.co.nz 
Kaiwaka Bugle - 19 February 2019 
Page 19 
THE ONDOL. 
By Bevan Lawrence
Driveway  
& Farm Race 
Maintenance and 
Construction 
Grader, Roller,  
Digger, Trucks 
Supply of lime rock and 
metal 
Call Peter on 
0274441553 
For advice / estimate for 
your driveway / farm 
race needs 
As  some  may  know  from  previous 
columns,  I  have  spent time  on  and  off 
in  South  Korea.  Back  in 1980  I  began 
to  learn  much  about  Korean  customs; 
one  important  thing  was  traditional 
food.  When  my  wife  came  over,  we 
were  treated  to  dinners  of  a  delicious 
dish known as bulgogi.  
While  we  were  living  in  the  country, 
we were able to get a cook book and a 
brass  cooking  thing,  shaped  like  a 
small  volcano  onto  which  one  placed 
the  sliced,  marinated  meat.  The  fire 
from the 'ondol', (a fire brick,) at times 
flared up between the meat pieces. No 
Korean  people  lived  permanently  in 
New Zealand at that time and few kiwi 
folk  could  even  place  Korea  on  the 
world map.  
The 'ondol' was 
fascinating.  In 
the  early  days, 
on occasion, one 
would  see  a 
person  walking 
along  with  a  thin  starter  version 
glowing  hot,  spitting  off  sparks  and 
hanging from metal tongs. The thin one 
was  used  to  light  the  large  one  and 
could  be  loaned  between  families. 
Korea was on the cusp of leaving third 
world 
status  and 
becoming 
a 
manufacturing  giant  similar  to  Japan. 
However,  mistakes  were  made,  large 
apartment  blocks  were  built  by  huge 
companies  to  house  workers,  and 
traditional rural homes were becoming 
fewer.  The  traditional  houses  were 
heated  by  heat  convection  under  the 
floor from  the  outdoor  (in  most  cases) 
cooking fire. When the 'ondol' system 
was  put  in  apartments  thousands  died 
from  carbon  monoxide  poisoning. 
Heavier than air, it ran under doors and 
spread deadly fumes across the floor.  
At that time most Korean people would 
sleep  on  the  'ondol'  heated  floors.  In 
concrete  apartment  blocks,  copper 
pipes  ran  inside  the  concrete  from 
around  the  hot  'ondol'  coil  and  back, 
the heat being moved by convection. In 
the  streets,  enterprising  women  would 
set up in doorways a kerosene tin with 
a  brick  liner  and  inside  was  the 
glowing 'ondol' coal fire. On top could 
be a bowl of soup with warm delicacies 
floating  in  it,  tempting  passers-by,  or, 
on  a  hot  plate,  sweet  potato  patties  or 
some other goodies, which, when eaten 
hot, were quite hygienic.  
Today Korean food is easily accessible, 
and  many  kiwis  are  familiar  with  the 
spicy  cabbage  known  as  Kimchi.  This 
is served with many dishes, but popular 
with bulgogi.  
On  our  return  from  Korea,  we  invited 
friends  to  come  and  experience  a 
Korean  meal.  My  wife  had  made  the 
meat  marinade  and  I  had  taken  a 
portable  cane  table,  cut  a  centre  hole 
into which I had put a commercial size 
empty  fruit  can,  inside  this  a  piece  of 
ceramic  pipe.  I  then  filled  it  with 
carbonettes  and  lit  the  fire  with  a  gas 
torch.  Our  guests  arrived  and  after 
some 
faux-pas 
with 
chopsticks, 
eventually  had  a  fine  and  tasty  meal. 
We  all  retired  to  the  couch  to  regale 
them with our Asian adventures. 
Suddenly  our  male  guest  noticed 
flames  leaping  from  the  table!  He  and 
I,  with  the  same  thought  opened  the 
window  and  tossed  the  whole  affair 
out!  I  sometimes  think  when  enjoying 
bulgogi that never before had they been 
to  any  dinner  like  that  or  ever  will 
again! 
TAI CHI 
Balance,  
Co-ordination, 
Meditation,  
Settled mind, 
Confidence,  
Self-awareness 
Classes:  Sunday morning 
Kaiwaka
 8:30 – 10 am Kaiwaka 
Sports Association
For more information please contact 
 Otamatea Martial Arts
otamatea.kempo@farmside.co.nz 
Phone 09-431-5170 
www.facebook.com/
otamatea.kempo 
WANTED TO BUY 
I  am  a  local  private  collector  of  Kaipara  & 
Northland  Paper,  Postal  &Photographic  History 
looking to purchase: 
Old Photos   Old Postcards   Old Documents 
Old Envelopes Old Advertising / Tourism Posters 
or Pamphlets 
Old books or old 'paper' relating to Kaipara and 
Northland. 
I will pay a fair price immediately so please contact me 
on either 
280 9544, text 021 757 107  
or email nigel.bermuda@gmail.com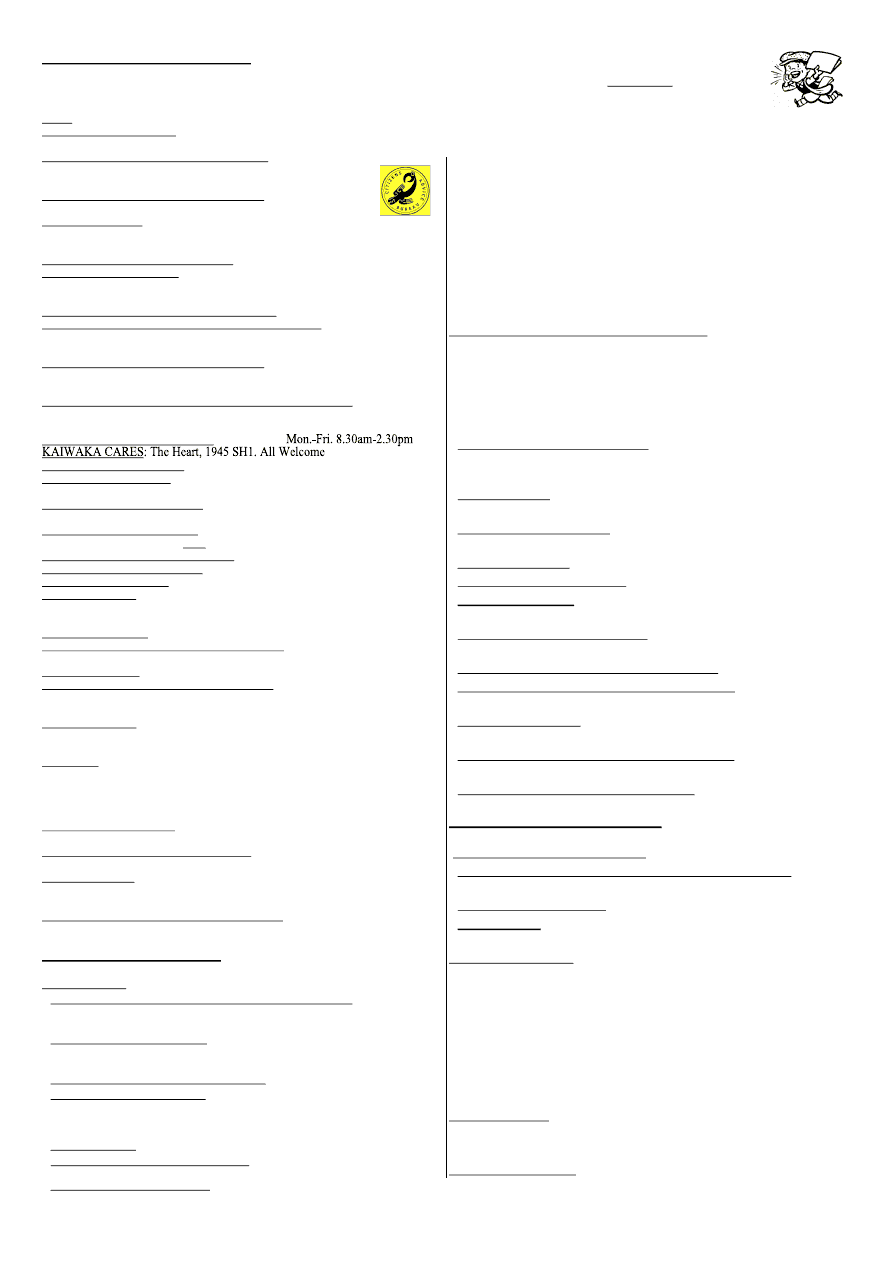 Next Bugle Deadline midday Friday 1st March  2019
WHAT'S ON
PLEASE ~ do let us know what is on - email 
kaiwakabugle@kaiwaka.co.nz 
*20Feb~Kaiwaka Can, Archie Bull Hall 5.30pm 
*20Feb~Otamatea High Welcome Evening, 6pm 
*22Feb~Movie 'Bohemian Rhapsody', KWMH, 7.30pm 
*24Feb~Movie 'Oh, Joy', KWMH, 2pm 
*24Feb~Pot Luck, Hakaru Hall, 5-7pm - meet neighbours 
*25Feb~Kaiwaka School Waka blessing,11am 
*28Feb~Kaiwaka School Swimming Sports 
*28Feb~Hakaru RSA Womens Section AGM, 1.30pm 
*2Mar~McSweeney Bros, Maungaturoto Cen. Hall 8pm 
*8Mar~Movie 'The Children Act', KWMH, 7.30pm 
KWMH = Kaiwaka War Memorial Hall; KSA = Kaiwaka Sports Association 
See www.kaiwaka.co.nz for more information 
HOUSEHOLD RUBBISH COLLECTION  
Kaiwaka Pick up: 
Mondays = Green bags (Northland Waste - 09 430 3273) 
Wednesdays  =  Blue  bags  and  yellow  recycling  (at  Jaques  $3.00 
and  $1.50)  (Kaurilands  09  4392146);  ONLY  Blue  and  Yellow 
bags picked up on Oneriri Road. 
 DIABETES  Support  Group  -for  Kaiwaka,  Mangawhai, 
Wellsford  10am,  3rd  Friday  of  month  Ph:  Colleen  James  09 
4314238 
 GENEALOGY - Wellsford: 1st Thursday in month Ph: 423 
7033; Waipu: 4th Monday in month Ph: 4312 725 
 HAKARU PONY CLUB - Secretary Denise Rogers 021423376 
secretary@hakaruponyclub.co.nz  
 KAIPARA HUNT - Secretary Albert Doonenbal Ph 4312059 
 KAIWAKA BADMINTON -Tuesdays 7.30pm Ph: 4312345 
 KAIWAKA CAN - 3rd Wednesday in month, Archie Bull Hall 
Ph: 0273572751 
 KAIWAKA  DRAMA  CLUB  - 
Hannah  Webb 
0272863352 
KaiwakaDrama@gmail.com - FB - "KaiwakaDramaClub" 
 KAIWAKA DRUM & DANCE CLASSES - 021 611198 
 KAIWAKA GARDEN & FLORAL GROUP - 2nd Thursday in 
month. Ph: 431 4744 
 KAIWAKA  CUBS  -  Thursdays  5.30-7pm,  Hakaru  Ph:Bruce 
4312542 
 KNITTING FOR WHANGAREI HOSPITAL - 2nd Tuesday in 
month, Archie Bull Hall 10am Ph 4314827 
 MANGAWHAI COMBINED REBUS CLUB - 2pm, 3rd 
Thursday month, Senior Citizens Hall Mangawhai. Ph: 4315777 
*PILATES-HAKARU HALL  -Tuesday & Thursdays, 9-
10am Ph: 
 0220643965
 PT CURTIS CRUISING CLUB - Jean Ph: 4312227 (wk), 4312520 (hm) 
 RSA,  HAKARU  &  DISTRICTS  WOMEN'S  SECTION  –  meets 
1.30pm 4th Thursday of the month. Ph: 431 5818  
 SCOTTISH DANCING - Wednesday morn. Ph: 09 4320532 
 TRAMPING - Mondays 9am-2:30pm Maria 4312 234 
HALLS FOR HIRE: 
 St.Pauls  Archie  Bull  Hall  HIRE  $20  half  day,  $40  full  day  per 
hire, S McAulay, Ph 4312311 
 Kaiwaka  War  Memorial  Hall  HlRE  -  Phone  4312725  or 
kaiwaka.hall.bookings@gmail.com 
 Hakaru Community Hall HIRE -Ph. 4312256 or 4312110 
 Te Pounga Marae queries - R. O'Leary 4312 423, J.Nathan 021 
186 7382 
 Kaiwaka Sports Association hire/queries - C. Anderson 4312051 
or kaiwakasports@gmail.com 
Justice of Peace:  
B.FJaques  4312  048;  L.Donaldson  4312  228;  A.F.Hargreaves 
4312 045, W.Howard 4312 725 - please phone to make sure they 
are available www.justiceofthepeace.org.nz 
Marriage Celebrants:  
L.Donaldson; A.F.Hargreaves; Y Osborne
LOCAL SERVICES 
*Emergencies - Ambulance, Fire, Police - dial 111 
*Non-urgent Police phone 09 4311150
A A: Meets Wed., 8pm Kaiwaka Ph: 4315543, 0800229 6757 
ASUREQUALITY LTD (was AgriQuality) Call Free 0508 0011 22  
BUDGETING SERVICE, WELLSFORD: Free confidential advice & 
support for all areas of personal finance. Ph (09) 423 7123 
CAB-Citizens Advice Bureau.Wellsford Ph: 4237333 
0800 367 222 email:cab.wells@xtra.co.nz  
CIVIL DEFENCE - Kaiwaka Community Response Group: 
kaiwaka.civildefencecrg@gmail.com, 4312725 Wendy 
DOG/STOCK /NOISE CONTROL 0800 105 890 
FUNERAL SERVICES: Morris & Morris Ltd, 
Whangarei - Bev Jaques Ph:4312367 or 0800667747 
GRANDPARENTS Raising Grandchildren: Dianah Roberts 0223819539 
HAKARU & DISTRICTS MEMORIAL RSA (Inc) 733 Settlement Rd, 
Hakaru. Ph 4312 176 or Graeme Hitchcock (President) 431 3064 
HAKARU LANDFILL/Transfer Station:Open everyday except 
Tuesday10am-4pm.Ph4312629 Cost-$55 trailer load up to 1 cubic metre. 
Ph:4258567 - office 
KAIPARA DISTRICT COUNCIL www.kaipara.govt.nz:  
Help Desk FREEPHONE 0800 727 059  
KAIWAKA KOHANGA REO: Ph:4312620 
KAIWAKA CEMETERY: Ph: 4312045 or 4314017 
KAIWAKA LIBRARY: kaiwaka.library@gmail.com  
Mon. 4-6pm; Wed., Thurs., Fri., Sat. 10am-2pm Ph:4312539 
KAIWAKA PLAYCENTRE: Ph Juanita 0274134904; open Mon, Wed, 
Fri 9am-12pm. Hastie Lane; Monday to Friday 9.00am - 12 noon. 
KAIWAKA POST OFFICE:Ph:4312 431  
Post Code: 0573 for RD2 and 0542 for all Kaiwaka Post Office mail 
KAIWAKA PRIMARY SCHOOL: Ph: 4312309   
KAIWAKA SPORTS ASSN: Ph 4312005; 4312129 gym 
KAIWAKA ST JOHN: Manager Steve Rosser 09 4318403, 021 355734 
KATE'S PLACE Community Centre - Employment services, Free Health 
Nurse, Plunket, Advocacy, Osteopath, A.A., Legal Advice. 4312 661 
LINKING HANDS Health Shuttle Ph 4315906 or 09 4318969 
MINISTRY FOR PRIMARY INDUSTRIES - General inquiries Call 
Free 0800 008 333 
NORTHPOWER: Faults Kaiwaka area 0800 104040 
OTAMATEA COMMUNITY SERVICES: Counselling, parent coach, 
Family Support worker, budget advice, food bank. Mon-Fri 9am-3pm. Ph 
09 431 9080 http://www.otamateacs.org/ 
PARENTPORT: Free, practical family support service Puhoi to Paparoa 
Ph or txt: Dianne 027 280 5093 or 09 425 9357 
PLUNKET:  Kaiwaka  -Kate's  Place  Clinic  1st  Wednesday  of  the  month; 
Mangawhai  - Rose Madsen Cottage: Coffee Group 9:30 every Monday.  Clinic 
every Monday and Thursday. 
Maungaturoto - Good News Church, Clinic 2nd and 4th Wednesday.  
Cynthia 09 431 7340 or 027 675 3488 
PLUNKET HELPLINE -0800 933 922 (24 hours) 
TAITOKERAU COMMUNITY LAW: Free confidential legal advice and 
assistance, 2nd
Thursday
 of each month. Ph: 0800 155 529 for apps.  
TE URI O HAU Settlement Trust Tangata Developments: Whanau Ora 
021 793262  
VETERINARY SERVICE MANGAWHAI: 
Ph: 4314535 Mon-Fri 8.00-5.00, Sat 9-12, a/h appt. 
WELLSFORD DOCTORS: Ph: 4238 086 
CHURCHES:
 
Kaiwaka  Revival  Church  -  Your  Community  Church:  Sundays  10am. 
Ph: Pastor Tawhiri 09 431 8988 or Pastor Paul 09 4312 068 Visit us at 
www.facebook.com/kaiwakachurch or www.kaiwakarevival.co.nz 
 
St  Paul's  Anglican  Church  1st  Sun.  9.00am  (Eucharist),  3rd  Sun. 
9.00am (Family Service). Contact: Rev. Wayne Thornton Ph 431 4122 
www.mangawhaianglican.org.nz 
 
Church of Christ the King, Mangawhai:9.30am every Sunday 
 
St.Mary's  Catholic  Church:  Maungaturoto  –  Griffins  Road,  Saturday 
evening  Vigil  Mass  6pm;  Mangawhai  –  Senior  Citizens  Hall,  Sunday 
Mass  8:30am;  Wellsford  –  Matheson  Road,  Sunday  Mass  10:30am;  
Mid-week Mass times and all enquires to Fr. Bill Fletcher – phone 423 8170
 
Baptist Church: Sun. 10.30am Mangawhai Snr Cit.Hall.Ph:4312339 
 
Cause  Way  Church  Mangawhai:  Sundays  10.15am,  Mangawhai 
Community  Recreation  Centre,  Insley  St.  Ph:  09  4314782