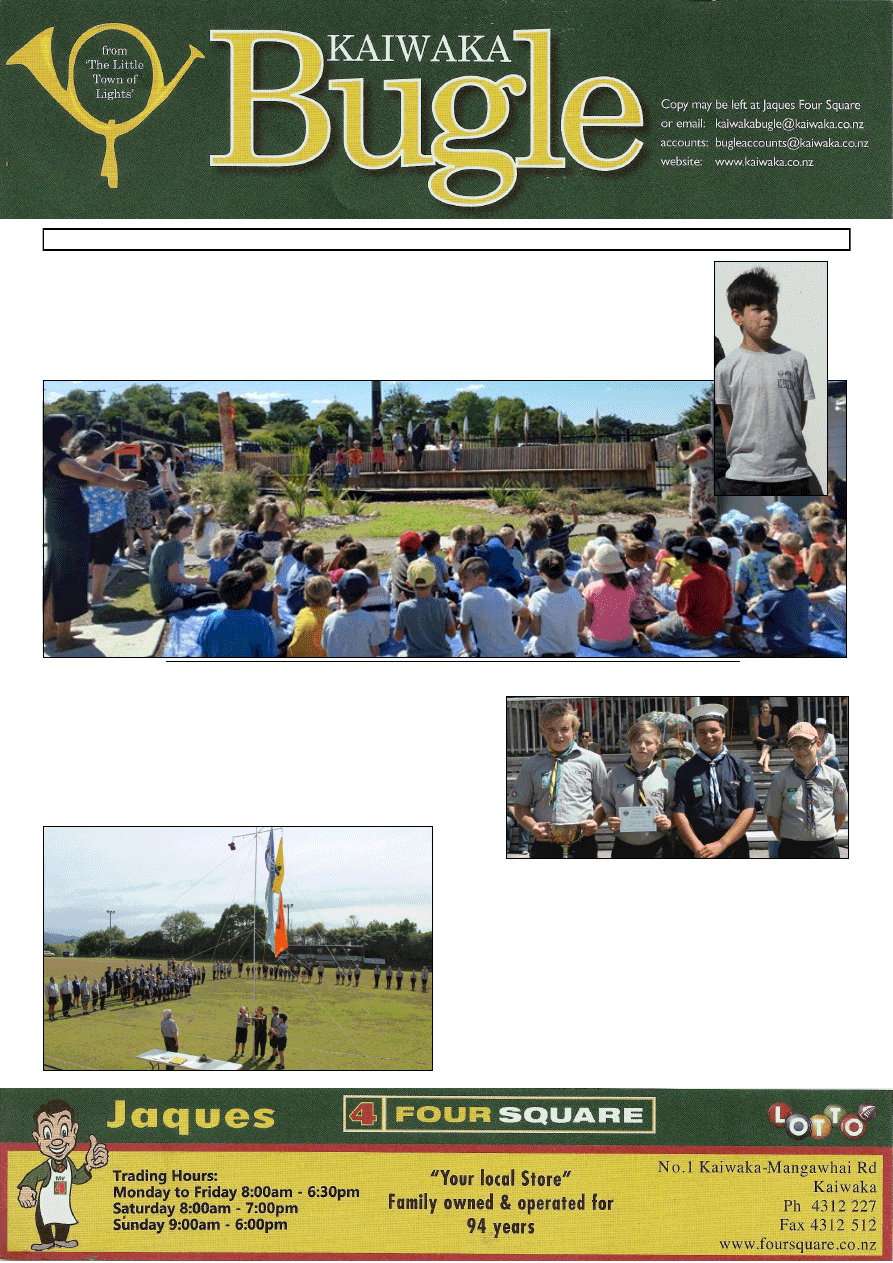 www.kaiwaka.co.nz 
Kaiwaka Bugle - 5 March 2019 
Page 1 
…. continued on page 9 
No: 4 
 5 March 2019 
Trading Hours: 
Monday to Friday 8:00am - 6:30pm 
Saturday 8:00am - 7:00pm 
Sunday 9:00am - 6:00pm  
TE WAKA RANGIMARIE O KAIWAKA 
The blessing and unveiling of Te Waka Rangimarie o Kaiwaka -  the beautifully built waka (canoe) 
with crafted prows at the front entrance of Kaiwaka School - took place on Monday 25 February. 
The visitors were welcomed into the school by Whaea Mina. The ceremony was led by Kaumatua 
Ben  Hita,  with  speeches  followed  by  waiata.  Young  William  Reid  (
pictured right
)  gave  the  mihi. 
Special  thanks  were  given  by Josie  Gritten,  spokesperson  for  the  Board  of Trustees, to  the  many 
folk  involved  with  this  achievement,  especially  Benjy  Woodman  -  the  designer  and  constructor,  
Founders  Day  is  a  special  Scouting  function  to  celebrate  the 
establishment  (founding)  of  Scouting  worldwide,  held  close  to  the 
birthdate  of  Lord  Robert  Baden-Powell  who  began  the  Scouting 
movement. 
The  day  was  celebrated  by  most  Scout  groups  in  Northland  who 
gathered  at  Kaiwaka  Sports  Association  on  Sunday  24  February. 
Groups  present  were  from  Paihia  to  Warkworth  and  included 
Kerikeri,  Horahora,  Shackleton,  Kamo,  Dargaville,  and  Kaiwaka-
Mangawhai.  There  were  118  youth  and  50  leaders,  adult 
helpers and extended family members present. 
The  day  was  run  by  Chris  Wallis  from  Paihia,  with  the 
support  of  section  leaders  who  ran  the  activities  for  each 
different  level,  and  the  venue  was  organised  by  Kaiwaka-
Mangawhai.  
The day included the opening ceremony and remembrance of 
Baden-Powell. The youth divided into sections for skills and 
activities.  Keas  (the  youngest  Scouts)  did a  scavenger  hunt, 
sculpture and team sports; Cubs did a knot relay and stretcher 
race;  Scouts  erected  tents;  Venturers  constructed  play 
equipment  from  pioneering  materials  for  the  younger  youth 
to play on – and everyone got to enjoy the mudslide that had 
NORTHLAND FOUNDERS DAY : SCOUTING IN KAIWAKA 
Northland Zone leader Mike 
Rowlands and Scouts break 
the flag to open Founders Day
…. continued on page 9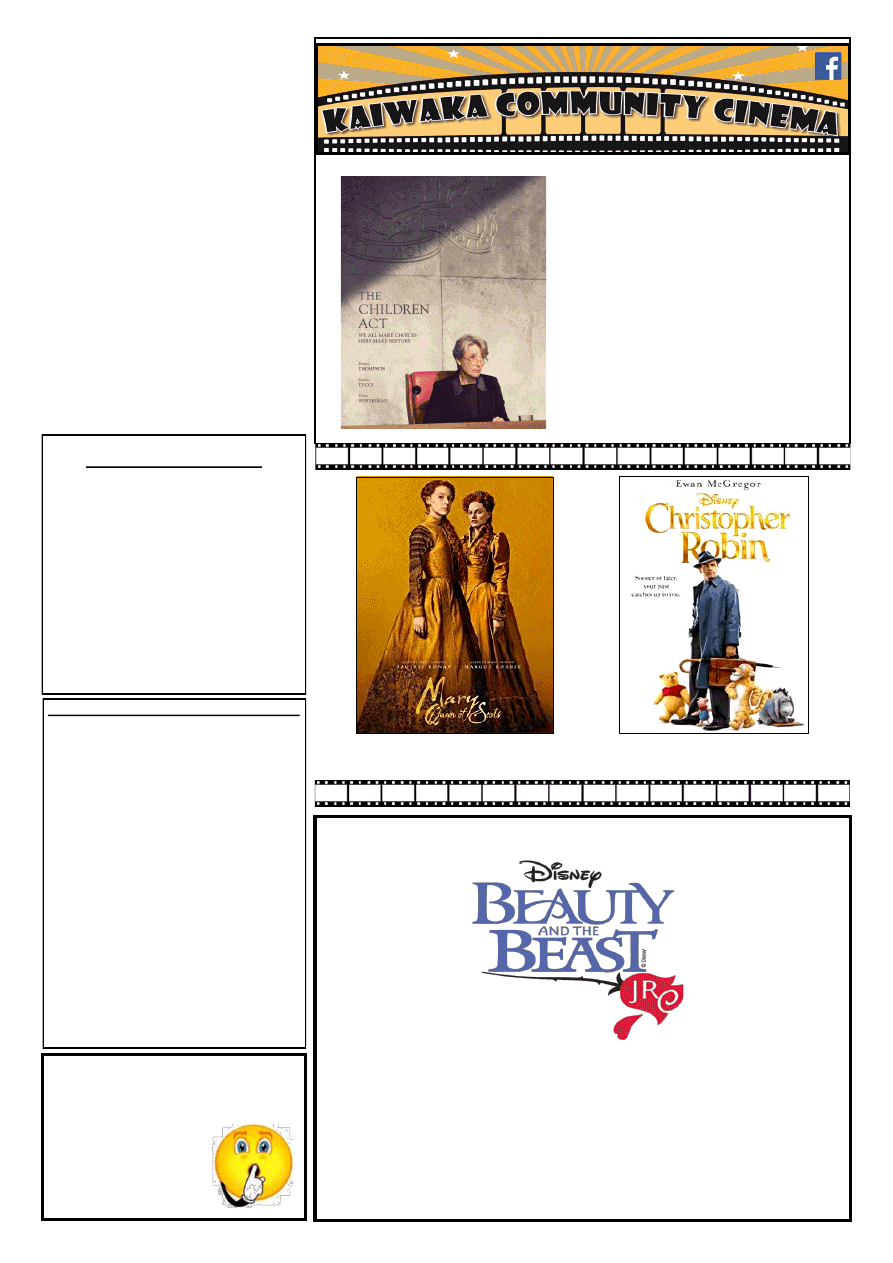 At Kaiwaka War Memorial Hall . Adults $10, Kids (under 16) $5, Family Pass (2 adults + 3 children) $25 
KAIWAKA BUGLE No. 4 
5 MARCH 2019 
CONTENTS 
Page 3: Public Notices, Classified 
Page 5:Councillor's Comment; 
Thelma's Scrapbook; Hakaru Hall 
Page 7: Pt.Curtis Cruising Club 
Page 9:Kaiwaka School; Scouting 
Page 11: Kaiwaka Sports Assn. 
Page 13: Kaiwaka Sports Assn. 
Page 15: Nina Quan; 
Page 17: Kaiwaka Library; Mangawhai 
Artists 
Page 19: Cats; Mangawhai Museum 
Bugle 5 will appear 19  March 
Contact for advertising, reports, articles 
or information can be made by 
Email kaiwakabugle@kaiwaka.co.nz 
Ph: 09 4312 045 Lindsey 
Txt: 027 2724137 
Copy  may  be  left  at  Jaques'  Four 
Square. 
Kaiwaka Bugle 
Founded May 1978 
We appreciate articles and photos about local 
events, etc, as well as ads and suggestions. 
Copies available in Kaiwaka at Jaques Four 
Square, Kaiwaka Postal Centre, Shamrock 
Service Station, Animal Health Centre, 
Kaiwaka St John shop. 
Also outlets in Maungaturoto, 
Mangawhai and Paparoa. 
Can be viewed online at   
www.kaiwaka.co.nz/Bugle  
Or a copy can be posted to you if you supply 
stamped, self-addressed DLE envelopes. 
Proverbs 
21: 23
Watch your words and hold 
your tongue; 
you'll save 
yourself a lot of 
grief
.
Kaiwaka Bugle Advertisements 2019: 
All 
copy 
and 
queries 
to: 
kaiwakabugle@kaiwaka.co.nz 
The Bugle is printed on an A4 page   
Ad  sizes:  1/16  page  (3  x  9.5cm)  $5;  1/8 
(6.5  x  9.5cm  landscape  or  portrait)  $8; 
3/16 ( 10 x 9.5cm or 7.5 x 12,5)  $12.  
Classified  ads:  First  one  FREE,  $4  per 
entry (max. 30 words, max. 4 repeats). 
Payments  can  be  made  online  at 
ANZ 
06  0365  0006990  00
,  posted  or  left  at 
Jaques Four Square Store. 
We  use  Microsoft  Publisher,  and  can 
work  with  most  common  image 
formats, Word, Excel, and PDF files. 
Accounts:  
Email: bugleaccounts@kaiwaka.co.nz 
The  Kaiwaka  Bugle  is  a  community 
newspaper run by volunteers, as part of 
the Kaiwaka Media Group Inc.   
Articles, etc. printed are not necessarily 
the opinion of the Bugle Team. 
The CHILDREN ACT 
Friday 8 March, 7.30pm (M)  
Starring Emma Thompson. 
In  the  midst  of  a  marital  crisis,  a  High 
Court  judge  must  decide  if  she  should 
order a life-saving blood transfusion for 
a  teen  with  cancer  despite  his  family's 
refusal  to  accept  medical  treatment  for 
religious reasons.
See updates on FACEBOOK on  
Kaiwaka Community Movies 
MARY QUEEN of SCOTS 
Friday 22 March, 7.30pm (M)
CHRISTOPHER ROBIN
Sunday 31 March, 2pm (G) 
Otamatea Repertory Theatre Inc.  
Proudly presents 
Music by Alan Menken 
Lyrics by  Howard Ashman and Tim Rice 
Book by Linda Woolverton 
Show dates: April 27, 28 @ 2pm and 6pm,  
 May 3@ 7.30pm, May 4 @ 2pm & 6pm, May 5 @ 2pm  
Tickets online at www.ort.org.nz or at Tony's Lotto Shop in Maungaturoto, 
Adults $28  Students $15 
Disney's Beauty and the Beast JR. is presented through special arrangement with and all authorized 
materials are supplied by Music Theatre International.  
421 West 54th Street, New York, NY  10019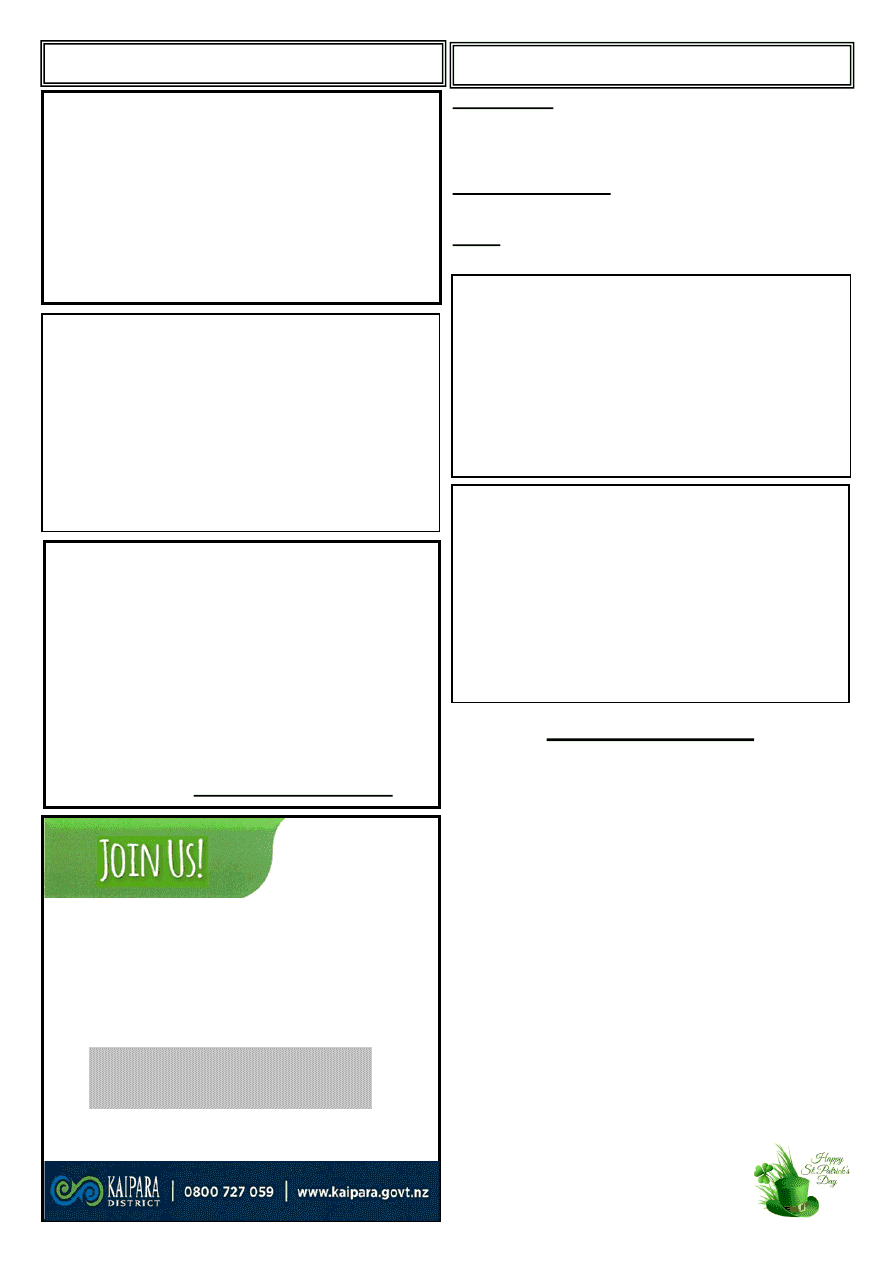 www.kaiwaka.co.nz 
Kaiwaka Bugle - 5 March 2019 
Page 3 
PUBLIC NOTICES 
CLASSIFIED 
 FOR  SALE:  Wiltshire  Sheep.  3  two-tooths,  strong 
well  grown  young ewes; self shedding  (no shearing). 
Ready  for  your  ram  or  will  run  with  mine  if  you 
prefer. $200 each. Ph: 022 4307465. 
FREE  FIREWOOD:  Willow  sawn  in  rounds,  ready 
for splitting. Oneriri Road. Ph: 09 4312787. 
FREE:  I  will  give  you  free  removal  of  any  "dead" 
cars, bikes or trucks. Ph: 021 833960 
ABOUT TOWN 
 
A bright sunny day saw the  special unveiling ceremony 
for  Te  Rangimaire  O  Waka  -  the  brilliant  sculpture  at  the 
gateway to Kaiwaka School 

Northland Scouts definitely enjoyed their Founder's Day 
in Kaiwaka. A great time was enjoyed on the water slide. 

Kaipara District Council Community Meeting being held 
on Monday 18 March, 6pm-7.30pm at the Kaiwaka Sports 
Association Complex. See our Councillor's report on page 
5 for more information. 

 What  fun  was  Kaiwaka's  latest  movie,  'The  Grinch'  - 
like so many of the youngsters' movies it told a great story 
too - definitely enjoyed by grown ups! 

 Paparoa's  Twin  Streams  (the  Paparoa  Community 
Charitable Trust's new Lifestyle Village) Open Day will be 
Saturday 6 April. 

 Warkworth  A&P    Show    is  on  Saturday  16  March,  9-
4pm,  and  will  include  the  northern  region  finals  of 
AgriKids  NZ,  Junior  Young  Famer    and  2019  NZ  Young 
Farmer of the Year agricultural challenges. 

A youngster told his teacher he'd found a cat, but it was 
dead. 'How do you know that the cat was dead?' she asked 
her  pupil.  'Because  I  pissed  in  its  ear  and  it  didn't  move,' 
answered  the  child  innocently.  'You  did  WHAT?'  the 
teacher  exclaimed  in  surprise.  'You  know,'  explained  the 
boy, 'I leaned over and went 'Pssst' and it didn't move' 
~ Lindsey, Ed
"For each petal on the shamrock this brings 
a  wish  your  way:  Good  health,  good  luck, 
and  happiness  for  today  and  every  day."  - 
Irish Blessings. 
RUAWAI LIONS CLUB
ANNUAL CHARITY AUCTION 
SATURDAY 16 MARCH  
Kaipara Kumara Forecourt 
TRADING TABLE:           9.00 am 
VIEWING OF GOODS:    9.30 am 
AUCTION STARTS:       10.00 am 
Sponsors' products for auction – includes  
farming items 
Antiques, furniture, electrical appliances, toys, 
books, household goods, bric-a-brac etc 
Food and refreshments available  
Contact: Jim Simpson   094392557
or 
021315246 or  jdsimpson@slingshot.co.nz
JENNY'S RURAL CLEANING SERVICES 
Looking for a Casual to Part-time worker.  
Must be flexible. 
Must  have  clean  divers  license  and  be  trustworthy 
and be able to work in a team. 
Must  be  able  to  work  early  mornings  and  evenings 
and Saturday mornings. 
Please send your C.V to 
jrcleaningservices.chellew@yahoo.com 
Or phone Jenny on 431 2826 after 7pm.
SPEECH MAKING COURSE 
Are you interested in improving  
your skills in public speaking? 
We  are  running  a  course  from  10.00  am  to  12  noon  on 
Saturday mornings starting March 9th. 
It will also introduce you to Toastmasters in case you are 
interested  in  joining  a  club  that  is  being  started  in  the 
Kaiwaka/Mangawhai area. 
It  is  a  very  practical  course  and  during  it  you  will  be 
helped and coached to deliver two speeches. 
To register or get more information - please phone  
Wayne Freeth 431 2763 or 022 406 8095. 
Join us for a community conversation at Kaiwaka Sports Association. 
 
The  Kaipara    District  Council's  Community  Team  along  with 
the CEO, Council Staff and Elected Members are keen to hear 
your  ideas  for  Kaiwaka,  and  how  we  can  support  some 
amazing, local driven projects. 
Come along, enjoy a light supper and refreshments and have 
a  chat  about  how  your  community  and  Council  can  work 
together to support local ideas that are important to you. 
 
 
 
 
 
If you know someone who has not received this invite but 
would like to come, bring them along. 
Monday, 18 March 2019, 6pm-7.30pm  
at the Kaiwaka Sports Association Complex, 
2 Gibbons Road, Kaiwaka. 
WANTED: RHUBARB 
Hi, do you have more Rhubarb  
than you need and would like to give some away? 
I love it and would like to bottle some. 
Text or call Graeme 021 026 28170
NICE GOOD FLAT FOR RENT 
Live  in  the  Eco  Village  on  a  peninsula  in  the  Kaipara 
Harbour 7km from Kaiwaka with a wonderful view on a 
beautiful property. 
Approx.  50m
2
,  1-2  bedroom,  living,  kitchen,  bathroom, 
covered  outside  area,  big  lawn  area,  carport,  garden 
optional, lots of privacy. 
Long  term  rental  to    friendly,  honest  and  tidy  single  or 
couple with references 
$220 per week + power 
Call Peter and Nina for further information or 
Appointment on 09 4312718 
4T DIGGER – BOBCAT – TIP TRUCK 
 Property Maintenance - Driveways  
 Building Sites 
Stump & Tree Removal  
Hole Boring - Chain Trencher  
Calf Shed and Stockyard Cleaning 
Phone Matt: 021 199 6677 
Email: mprabrownecontractors@gmail.com 
Willow Bend
HORSE HOTEL 
#
Total Horse Care   
# 
Agistment 
# 
Riding Lessons    
#
 Arena Hire (60x40) 
# 
Young Horse Starting 
# 
Re-training/Exercising 
#
Hoof Trimming    
# 
Problem Solving 
Phone Sue 09 431 2817  
or 021 623 776  
Or email susanjoll11@gmail.com 
BRICK/BLOCKLAYER 
All aspects of masonry: 
Fireplaces, Restoration & Remedial Work.
JAMES EAGLETON
Tel. (09) 431 2514     Mob. 0274 749 232
jajueagles@yahoo.com.au 210A Pukenui Road, RD2, Kaiwaka 0573 
THE SUNSHINE GIRLS
Efficient and reliable help with 
your housework. 
Ph 4312 532 
Counsellor and Registered Psychotherapist 
Offers Supervision
Susan Matheson 
MNZAC 
Dip. Psychosynthesis Counselling and Psychotherapy 
Phone 09 431 2996                        Mobile 027 605 2427 
Passenger Service
Car & Van Hire   Bus & Coach Charters 
Airport Transfers    
Phone (09) 4237416 
SING RIGHT 
Professional coaching for performance,  
recording and demos. 
All level singers, musicians, singer-songwriters. 
Phone Robyn Hill 431 9159 or 0274 725610 
No. 117345 
N.Z.C.A.D., L.B.P. 117345 
PH/Fax: 09 423 8092 Mob: 021 276 7369 
Office: 3 John Sinclair Avenue, Wellsford    brianwright@xtra.co.nz 
For Resource and Building Consents, planning restraints, new building materials - 
you need a capable, experienced, and professional designer with a clear 
knowledge of all the processes. Brian has been helping and organising all these 
facets of design and building for over 50 years. 
Wright Design offers free visits, consultations and advice on planning, design, 
building, council permit applications, guaranteed permit plan acceptance. 
J & M Contractors 
Oneriri 
General Cartage
: 
All metals, Lime Rock,  
Post Peel and Wood Chip Mulch. 
Jim Wheeler  
Ph: 021 2383664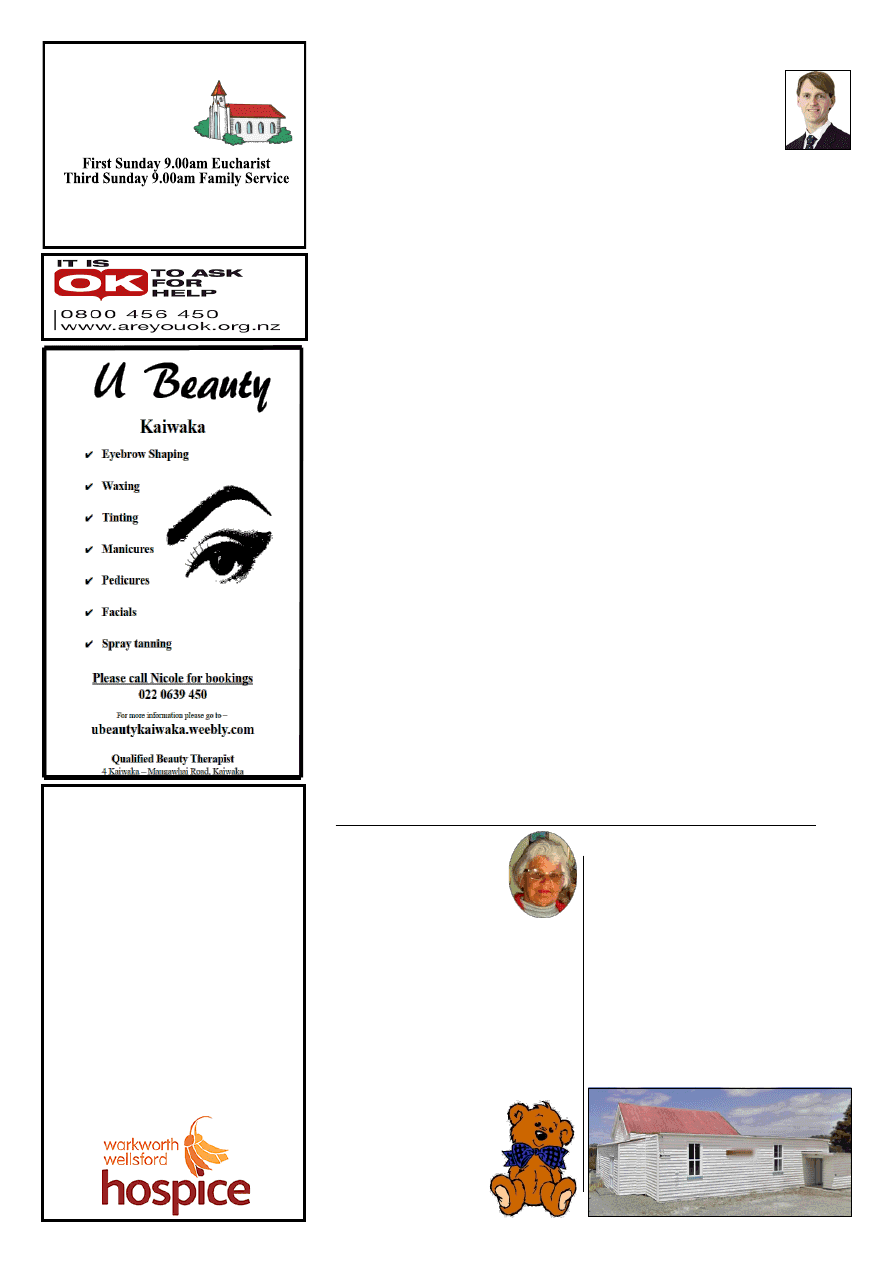 www.kaiwaka.co.nz 
Kaiwaka Bugle - 5 March 2019 
Page 5 
ST PAUL'S  
ANGLICAN  
SUNDAY  
SERVICES
St Pauls Church: Kaiwaka-Mangawhai Rd. 
Rev. Wayne Thornton Ph 431 4122 
www.mangawhaianglican.org.nz
From Thelma's  
Scrapbook. … 
"Your Teddybear is a 
treasure, a comfort to behold, 
He'll love you when you're tiny, 
as well as when you're old, 
He's always there to listen, to lend 
a furry ear, 
No matter how you treat him, 
he'll always hold you dear, 
Don't throw him in 
the corner, or leave 
him on the mat, 
Always take him with 
you, he'll be very 
pleased with that!
KAIWAKA COMMUNITY CONSULTATION HUI 
COUNCILLOR'S COMMENT* 
with Otamatea Ward Councillor Jonathan Larsen
Warkworth  
Wellsford Hospice  
Turning Second Hand Goods 
into First Class Care 
GARAGE SALE 
OPEN 
Monday to Friday 9am - 4pm 
Wednesday 7am - 4pm 
Saturday 9am - 12 midday 
0800 555 407 
Tui House 
47 Morrison Drive, Warkworth
Kaiwaka 
Community 
Consultation 
Hui 
has 
been 
scheduled for 6pm on 18 March at the 
Kaiwaka Sports Complex to review the 
Kaiwaka Township Improvement Plan, 
to  give  the  community  an  opportunity 
to address any issues, and present their 
ideas  for  change.  This  will  allow  the 
projects  and  their  priority  to  be 
reviewed  and  the  Improvement  Plan 
updated.  Council  will  then  implement 
the  works  in  accordance  with  the 
updated  Improvement  Plan  as  budgets 
allow. 
Reserve  contributions  are  funds 
collected  by  Council  whenever  a  new 
lot  is  created.  The  rationale  for  this  is 
that  the  expanding  community  will 
require new and upgraded facilities for 
the  new  residents  living  on  the  new 
properties.  My  financial  analysis  last 
year  revealed that  $461,000  of  reserve 
contributions  had  been  collected  from 
Kaiwaka  and  surrounds,  but  that 
Council  had  only  budgeted  $59,000 
worth  of  projects  for  Kaiwaka  for  the 
next  three  years.  At  this  stage  the 
remainder  of  those  funds  are  largely 
destined for projects elsewhere. 
I  now  have  to  hand  further  figures 
showing that since July 2018 there has 
been  a  further  $85,000  collected  from 
Kaiwaka  and  surrounds.  I  previously 
advanced  the  concept  of  the  reserve 
funds  being  made  available  for 
community  groups  to  apply  for  to 
implement  projects.  This  was  to  allow 
communities  to  have  a  better  say  on 
what  they  wanted,  and  add  value 
through 
voluntary 
input. 
This 
contestable  approach  has  however 
received a lot of resistance on Council 
and  has  not  yet  been  approved. 
Therefore  I  urge  you  to  come  to  the 
Hui with all the ideas and projects that 
you  would  like  to  have 
implemented  in  Kaiwaka 
and  the  surrounding  area 
(including Hakaru, Oruawharo, Oneriri 
and  Brynderwyn).  Council  staff  can 
then get some of these projects onto the 
works programme and future- proof the 
area  for  the  ongoing  growth  that's 
happening. 
Kaiwaka  footbridges  and  linking 
footpath 
The  proposal  to  add  these  linkages  on 
the  western  side  of  central  Kaiwaka  is 
to  be  discussed  in  consultation  with 
NZTA during the first week of March. 
If  you  have  thoughts  on  this  proposal 
please  come  and  have  your  say  at  the 
Consultation Hui. 
Realignment  of  Oneriri  Road 
intersection 
I have continued to push for options to 
move  the  Oneriri  Road  intersection 
with  State  Highway  1further  south  to 
get  it  away  from  the  bridge  so  that 
turning  traffic  doesn't  block  the  road. 
This is not a high priority for NZTA so 
it is something I have asked Council to 
lead  to  find  a  solution.  This  will  also 
form  part  of  the  town  improvement 
plan consultation so please come along 
with your thoughts on this too. 
If you have any community projects or 
issues  that  you  would  like  assistance 
with, I can be contacted on Ph. 021 185 
8389  or  Cr.Larsen@kaipara.govt.nz. 
Check  out  my  'The  WorkBoot 
Councillor'  Facebook  page  for  regular 
updates.  For  any  roading  maintenance 
issues 
please 
email 
council@kaipara.govt.nz  and  describe 
the  defects  requiring  repair  (potholes 
etc.) and their locations. 
*The  views  expressed  are  those  of  the 
writer and do not necessarily represent 
the consensus position of Council  
HAKARU HALL 
ACTIVITIES 

Monday: Line Dancing 10.00am 
Ph 4316160 

Tuesday: Pilates 9.00-10.00
am
Ph 0220643964 Certified Instructor 

Wednesday: Hall Meeting, First 
Wednesday each month. 7.30pm 

Thursday: Pilates 9.00-10.00am. 
All welcome  Ph 0220643964 

Thursday: Scouts 5.00pm 
Hall Available for Hire Ph4312256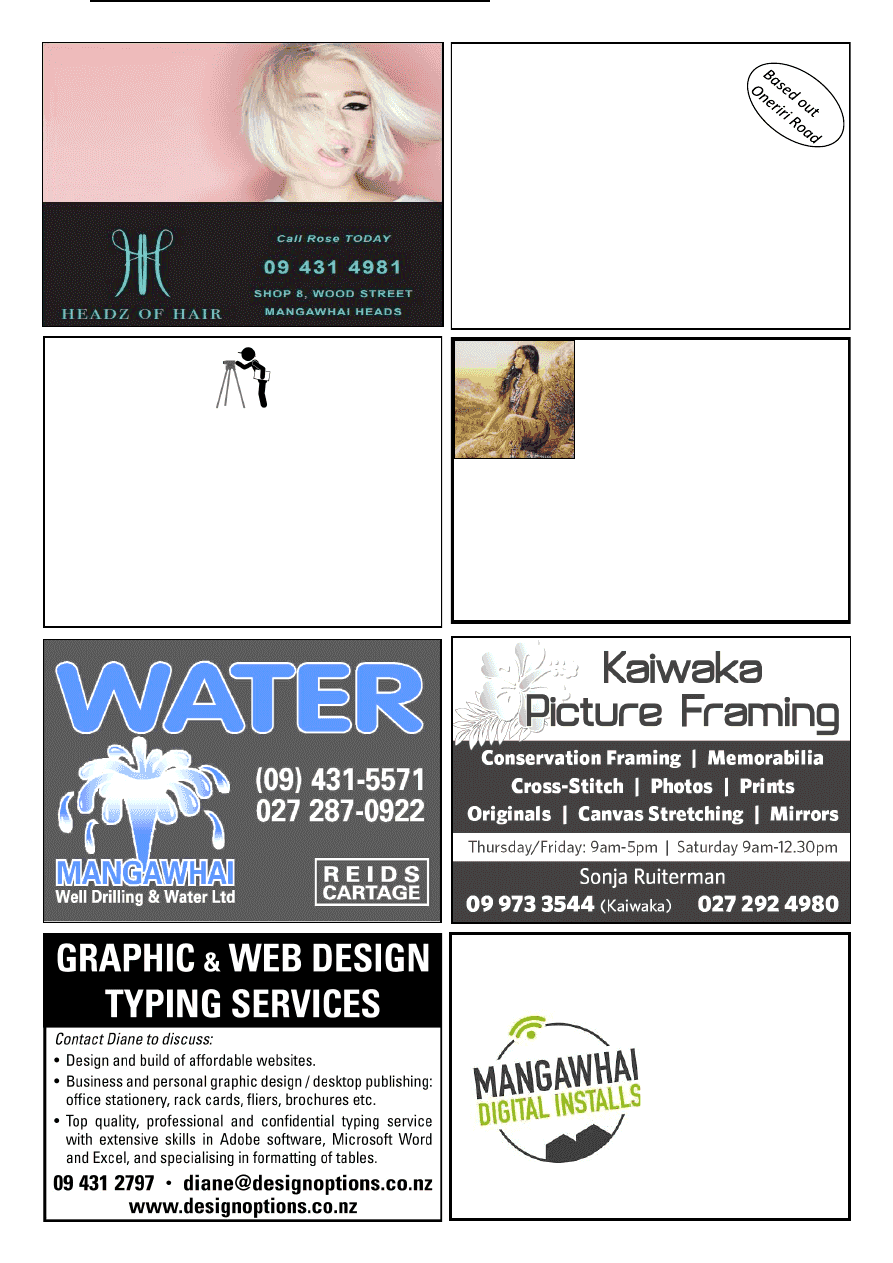 Ken Urquhart 
BSurv Licensed Cadastral Surveyor 
KMU Surveys Ltd
467 Bickerstaffe Road 
RD 2 
Maungaturoto 0587 
Ph 09 431 8705 
Mob 021 161 2344 
kenurquhart@xtra.co.nz 
Trails end 
spiritualist gathering 
Last Sunday of every month  
10.30-2pm  
Tea/coffee provided  $5 koha 
For all inquiries: 
021 165 2629 evenings (09) 945 0707 
Trail.end@hotmail.com 
1758 Cove Road, Mangawhai
Bringing together light minded people 
Guest speaker each month
(
Next to Kaiwaka Motorcycles)
Specialists in: 
Satellite Dish & TV Aerial Installations  
& Repairs 
Freeview  
Chromecast 
Smart TVs   
 Netflix 
Call or Text Adam on 022 351 6679 
E: mangawhai digital@gmail.com 
HODGETTS 
CONTRACTING
Digger Work   

Driveways 

House Sites   

Dams     

Drains, etc
Also available for HIRE 
3 ton Vib Roller Heavy Duty Tow  
Waterblaster     Lazer Level
Phone Mark 4312877 
        027 447 8554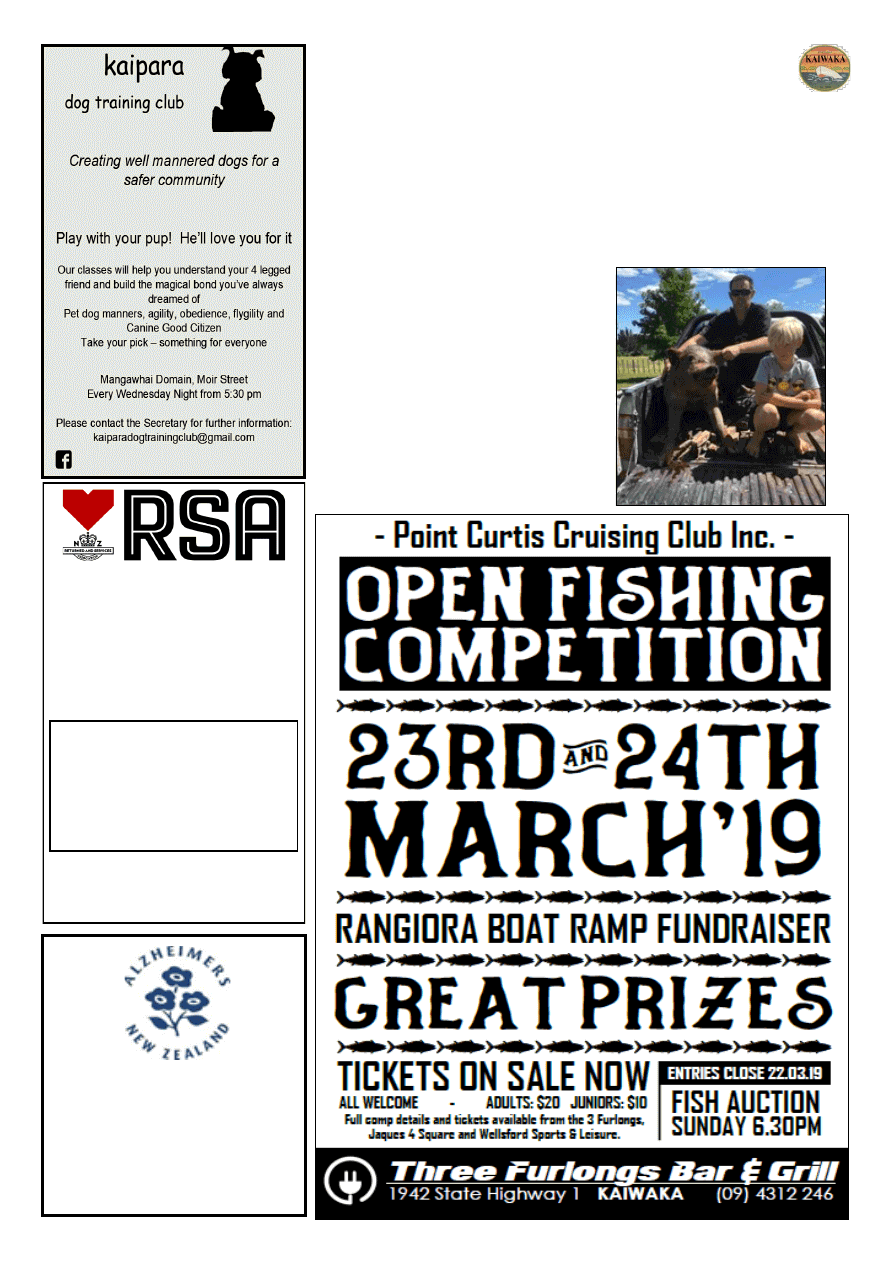 www.kaiwaka.co.nz 
Kaiwaka Bugle - 5 March 2019 
Page 7 
HAKARU & DISTRICTS 
MEMORIAL RSA (INC)
Members & guests are invited to 
come along and enjoy our hospitality. 
New members welcome. 
Meals are served on 
Thursday and Friday nights 
from 6.30pm. 
Order from Blackboard Menu  
and a sing-a-long  
with Des Chitty. 
For more information please phone 
Graeme on 431 2563 

Open 
Fishing 
Competition 
Saturday 23rd and Sunday 24th March. 
Species  are  Snapper,  Kahawai  and 
Kingfish. 
$20 Adult and $10 Junior. Tickets can 
be purchased at The Three Furs Bar & 
Grill,  Jean  at  Jaques  or  Wellsford 
Sports  and  Leisure.  Or  pay  for  tickets 
by  Internet  Banking.  Please  use  your 
Name/Names as a Reference. Bank A/c 
details are: ASB Wellsford No 12 3094 
0008233 00 
All  Fish  weighed  must  be  Gutted  & 
Gilled, and 2 of each species per angler 
per day. 
This  is  a  fundraiser  for  upgrading  the 
facilities  at  the  Rangiora  Rd  Boat 
Ramp, Kaiwaka. 

FRESH  FISH  AUCTION at Three 
Furlongs  to  follow  Prize  Giving  on 
Sunday. 
Everyone  Welcome.    Hope  to  see  you 
there… see our poster below. 

Open  Fishing  Competition East Vs 
West  Friday  12
th
,  Saturday  13th  and 
Sunday 14th April.  
All Species, and this will be the LAST 
chance  to  get  your  name  on  the  board 
for the end of year prize giving 
in May. 

Duck  Shoot  and  End  of  the  Year 
Prize Giving: Saturday 4th May. 
June  Subs  Due  $20  Single  and  $30 
Family. 

Fish of the month: Snapper till 12th 
March 

Next  club  Meeting:  12th  March 
2019 7pm @ 3Furlongs Bar & Grill  
 ~Wayne Leslie (Commodore) 
Photo: Kevin Ries with his 101.70kg Boar. 
Awesome!!!   
Alzheimers Society Northland Inc 
ALZHEIMERS SUPPORT 
GROUP 
Meet on 2nd Wednesday  
of each month 
11am - 12pm at the 
Mangawhai Golf Club Rooms 
Phone 0800 004 001 
POINT CURTIS CRUISING CLUB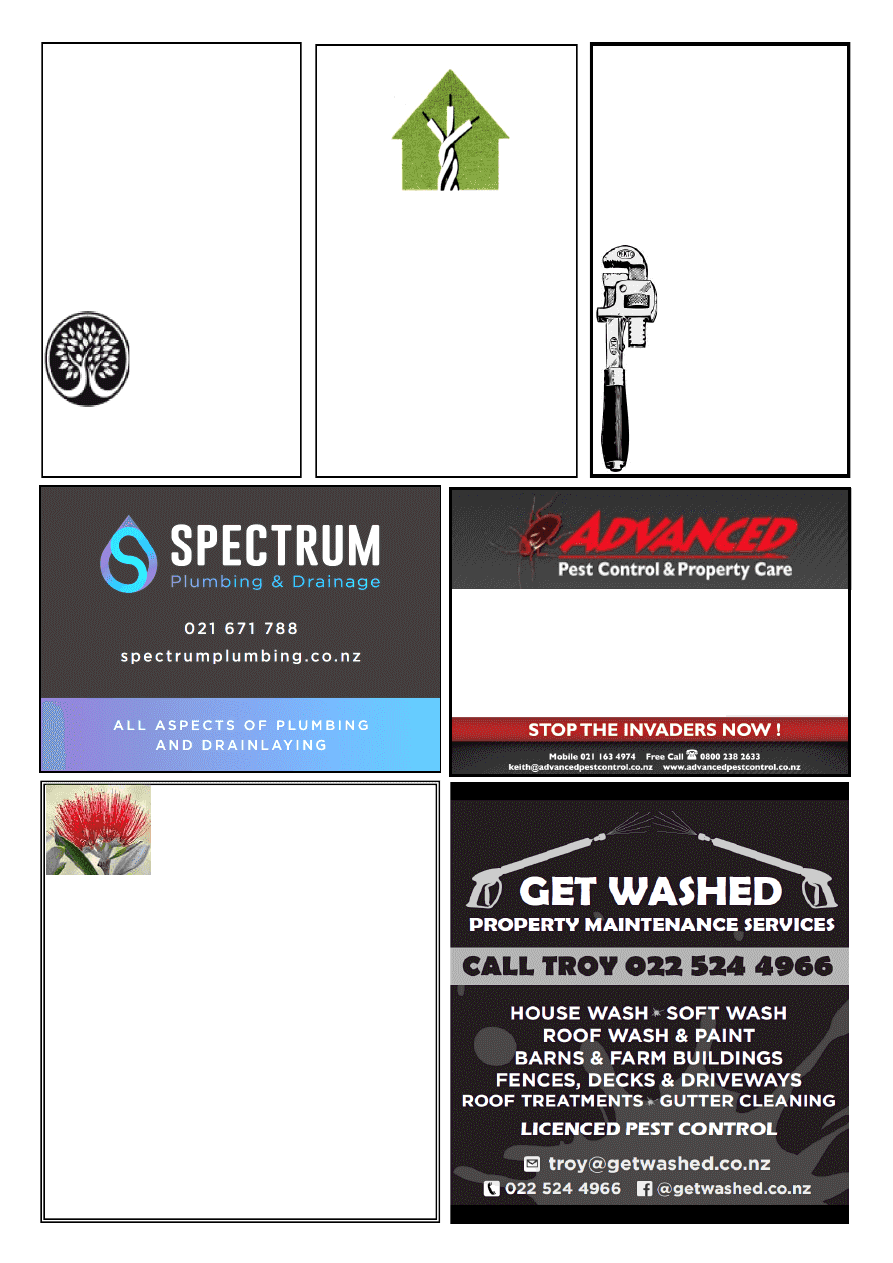 Waipu Natural 
Health 
3 Cove Road, Waipu  (opposite 
the Pizza Barn) 
Ph: 09 432 1325 
www.waipunaturalhealth.co
.nz
Clinical Nutritionist-Hair Analysis for 
Masked Allergies, Ozone Therapy, 
Prolotherapy, Naturopath-Medical 
Herbalist, Registered Massage 
Therapists, Reflexology-
Craniosacral Therapy, 
Acupuncture-Facial 
Acupuncture, Kineso 
Taping, Hypnotherapy, 
Counselling, 
ThetaHealing/Change 
Catalyst
.
AFFORDABLE CONSULTS FOR 
KIDS – give us a call
Gift Vouchers available
KAIPARA 
FLOORING CO 
Independently owned & operated 
32 HURNDALL ST MAUNGATUROTO
Supply & Installation of Carpet, Vinyl,  
Vinyl Wood Planking 
Stockists of 2m & 3m wide 
vinyl & carpet short ends 
Residential & Commercial 
Q Card Finance Approved 
6-18 month terms 
6 month interest free 
First Class Installations
For a free measure & quote 
phone Christine  
09 946 9886 or 021 515 415 
kaiparaflooring@gmail.com 
http://www.kaiparaflooring.co.nz/ 
BARRY CURTIS 
PLUMBING LTD 
REGISTERED CRAFTSMAN 
PLUMBER 
Phone 4315572 
027 257 9884 
25 years experience 
Friendly reliable service 
All plumbing and 
maintenance 
Alterations  
and new housing 
Spouting 
Competitive rates 
PROMPT 
EFFICIENT  SERVICE 
Reyahn George 
Leng 
Registered Electrician 
Local, honest and reliable. 
For your residential and 
light-commercial projects. 
022 314 1068  
Pest Control 
PLAN A: One-off treatments to customers with a specific pest problem 
PLAN B: Full maintenance service plans to commercial customers. 
This will include documentation kept in customer file on site: 
⚫
Pest treated 
⚫
Date of service 
⚫
Chemical or baits used 
⚫
Full pest check report done after each treatment 
⚫
Fair and reasonable fee with guarantee 
Flood Recovery  Carpet Care 
⚫
Carpet Drying   
This includes pre-spray treatments 
⚫
Dehumidifier Rental 
with stain removal and hot water extraction.  
Upholstery Cleaning 
Full upholstery cleaning of all furniture.  
eg lounge suites and all office chairs 
Water Blasting 
⚫
Concrete - Decks 
House Washing 
⚫
Soft Chemical Was 
⚫
Pre-painting Wash 
Property Services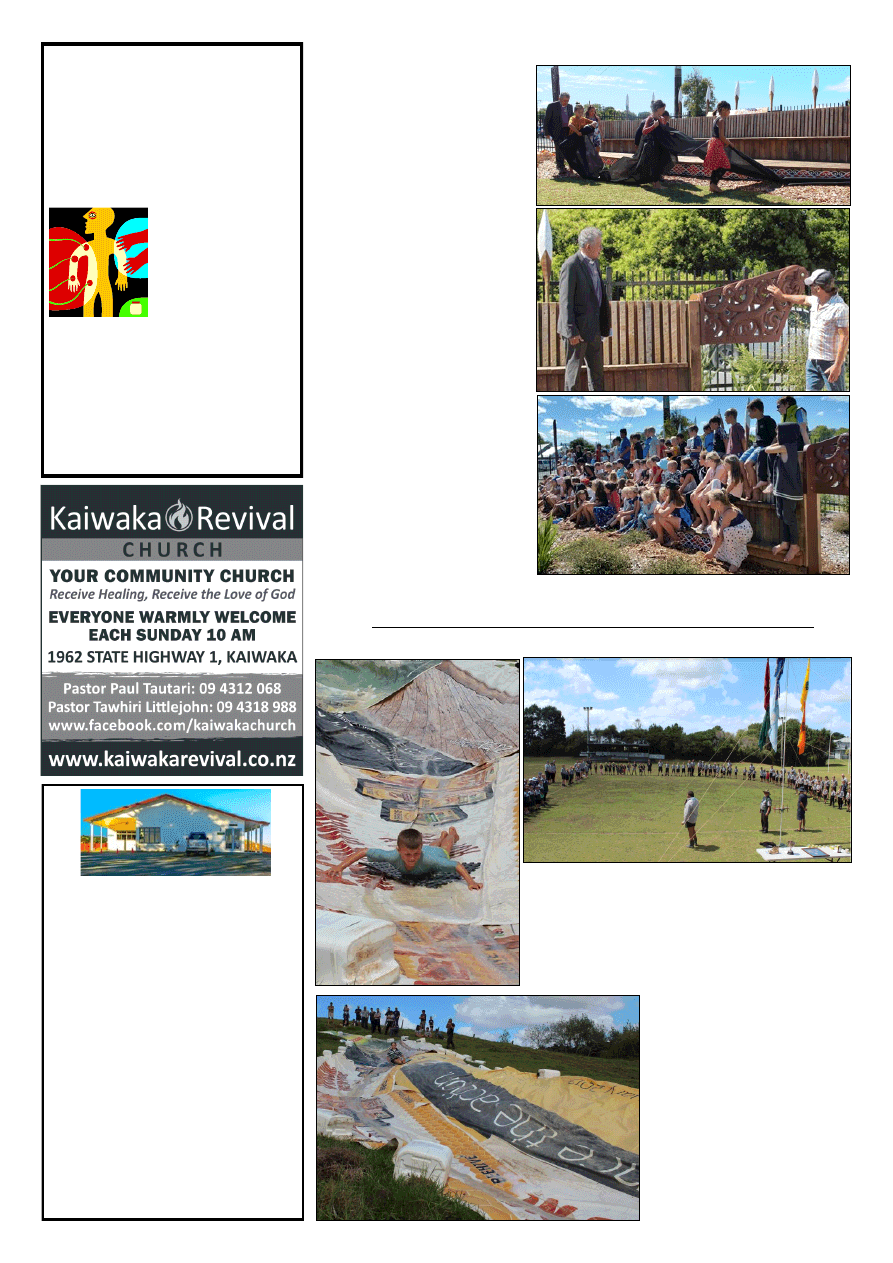 www.kaiwaka.co.nz 
Kaiwaka Bugle - 5 March 2019 
Page 9 
OWEN STEVENS 
Osteo Therapist
For careful adjustments  
to bones and joints 
Treatment for humans  
and their pets 
Clinics: 
Kate's Place, 
Kaiwaka: 
Last Friday of 
month 
9.00am-5.00pm 
For bookings: 
Phone 
09 4312661 
Or phone Owen   
09 4317123  anytime 
TE WAKA RANGIMARIE O KAIWAKA 
Tramp! 
Te Pounga Marae 
130 Nathan Rd. Oneriri. Kaiwaka 0573 
COMPLEX FOR 
HIRE 
Functions 
* Weddings  * Birthdays  
*Anniversaries * Meetings  * Wananga 
5 hour meeting * 12 hour stay  * 
Overnight 
*All welcome - No more Drink-driving 
Amenities: 
*Convo Combi Steamer * Bratt Pan * 
Dish Washer/Sterilizer * 3 Door Glass 
Chiller (walk in) etc…All Crockery * 
Linen Supplied * Central Heating and 
Air Conditioning and much more.  
Can also cater for small groups…. 
For more information please contact: 
Kim Wallace  
Home: 09 832 1133  Mob: 0211275340  
Email: kimwallace@xtra.co.nz 
FOUNDERS DAY in KAIWAKA 
been created for Illuminate. 
A  special  thank  you  to  Grant  and  Lyn  Parker 
who kept their paddock space open for an extra 
month,  to  allow  the  slide  to  be  used  for 
Founders Day. 
The 
closing 
ceremony 
included 
the 
presentation of awards for stand-out individuals 
on  the  day,  winning  Kea 
posse;  Cub  six;  Scout  patrol; 
and  Venturer  unit  present; 
and  leader  awards  for  those 
who have given 5 to 20 years' 
service to Scouting.   
Family 
picnics 
were 
supplemented  by  chips  and 
hotdogs  cooked  in  the  kiosk. 
Thank you, Lorena Reynolds, 
for  volunteering  her  time  to 
cook,  with  funds  raised  from 
the  food  sales  going  to 
Kaiwaka Sports Association.   
from  the  front  page  ...
Tim  Codyre  - 
the carver, the sponsor - Oneriri 
Farm Trust. 
Kaumatua  Ben  Hita  and  Matua 
Paul Tautari guided the children 
with the unveiling of the waka's 
name,  stern  post  and  the  prow, 
then  the  beautifully  painted 
kowhaiwhai panel at the base of 
the  waka  that  has  become  a 
taonga of their families and the 
community. 
Carver,  Tim  Codyre,  gave  a 
description  with  meanings  of 
the  features  he  had  carved    in 
the  tauihu  (prow)  and  taurapa 
(stern)  -  the  old  and  the  new, 
traditional  figures  and  modern 
icons.  He  explained  the  seven 
figures and spirals of the tauihu 
as  the  seven  guiding  principles 
moving  forward  in  time;  the 
figures 
that 
are 
playing, 
including  music;  the  one 
sightless  figure  showing  care 
for the disabled; and the upside-
down  kete  (kit)  with  a  net  -  to 
show the continual replenishing 
of the Kaipara Harbour. For the 
taurapa:  the  top  has  6  Kaipara 
waves and Pukekararo; below 3 
clusters patiki notch = flounder; 
two  ribs  =  Ira  tangata  and  Ira 
Atua ( realm of man and the realm of gods); in between the ribs is the binary 
code; the  lower  figures  represent  the  leader  and  the pupils;  computer  mouse  - 
technology; balls = sport, physical activity, community. 
Bruce Ferguson, Kaiwaka-Mangawhai Group 
Leader, thanking everyone for coming; Zone 
Leader Mike Rowlands; organiser Chris Wallis 
and Scouts on parade at Founders Day  
Emerson Guenther-Leslie, 
Kaiwaka-Mangawhai Cub, 
loved the mudslide and had 
plenty of turns.
The trucker's 'curtain  
sides' made a great surface 
for the Scouts' slide! 
from the front page ….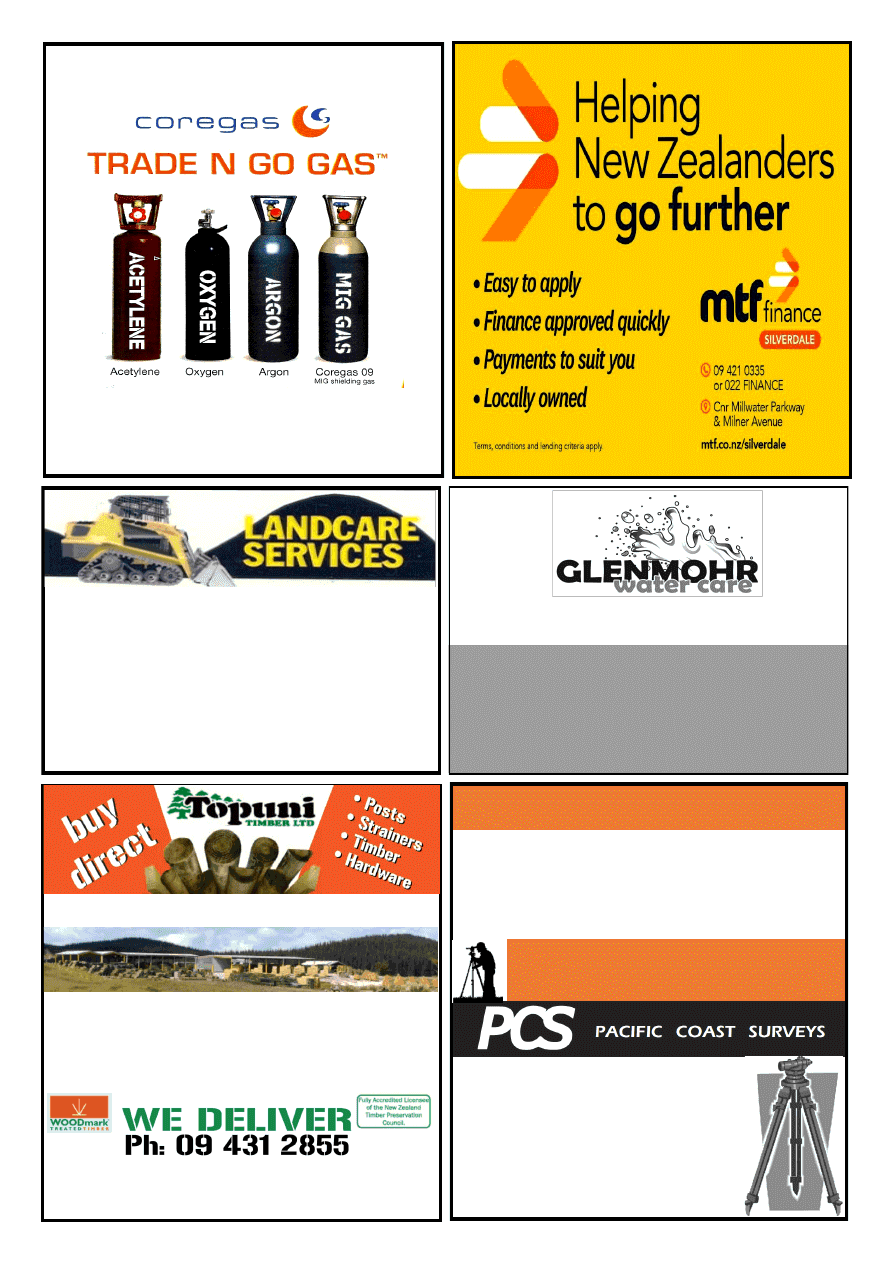 LOCALLY OWNED AND OPERATED 
QUALITY PRODUCTS • FRIENDLY ADVICE • GREAT SERVICE 
Quality Products milled from High Density NORTHLAND Radiata Pine. 
Treated and guaranteed to NZS3640 with commitment to 
Environmental Safety.
Phone, fax, email, or come into the mill 
Schiska Rd, Topuni, SH1, 10 min north of Wellsford. Fax: 09 431 2856 
Email: sales@topunitimber.co.nz           Mon - Fri 7am-5pm 
• Fencing 
• Retaining 
• Decking 
• Landscaping 
• Gates 
• Hardware 
SURVEYORS 
SUBDIVISIONS 
HOUSE SITE SURVEYS 
CIVIL ENGINEERING 
WASTEWATER DESIGNS 
EXPERIENCED 
PROFESSIONAL 
INNOVATIVE 
Ph 09 431 5353 
0800 PACIFIC (0800 722 434) 
pacificcoastsurvey.com
Adam Booth - 027 415 5752 
Bsurv, Licensed Cadastral Surveyor
Surveying Kaipara since 1994 
Water Tank Cleaning 
• 
Keep your water safe & clean  
• 
Removal of sediment, silt etc. 
• 
Vacuum or full scrub 
• 
Minimal water loss 
Phone Mark (09) 432 0655 or 0274 707607 
LANDSCAPING 
4 IN 1 BUCKET 
TRENCHER 
POLE HOLES 
ROTARY HOE 
COMPACT ROLLER 
OFFAL HOLES 
CAN SUPPLY WOODCHIP & POST PEEL 
5 TON TIPPER 
FOR RELIABLE AND FRIENDLY SERVICE CONTACT DAVE 
Dave Hyndman 
 
KAIWAKA 
PH: 09 4312302 
MOB: 021 431 238 
At Twinkle Tow 'n' Tyre 
Mob: 021 833 960 
Ph & Fax: 09 431 2823 
1837 State Highway 1, Kaiwaka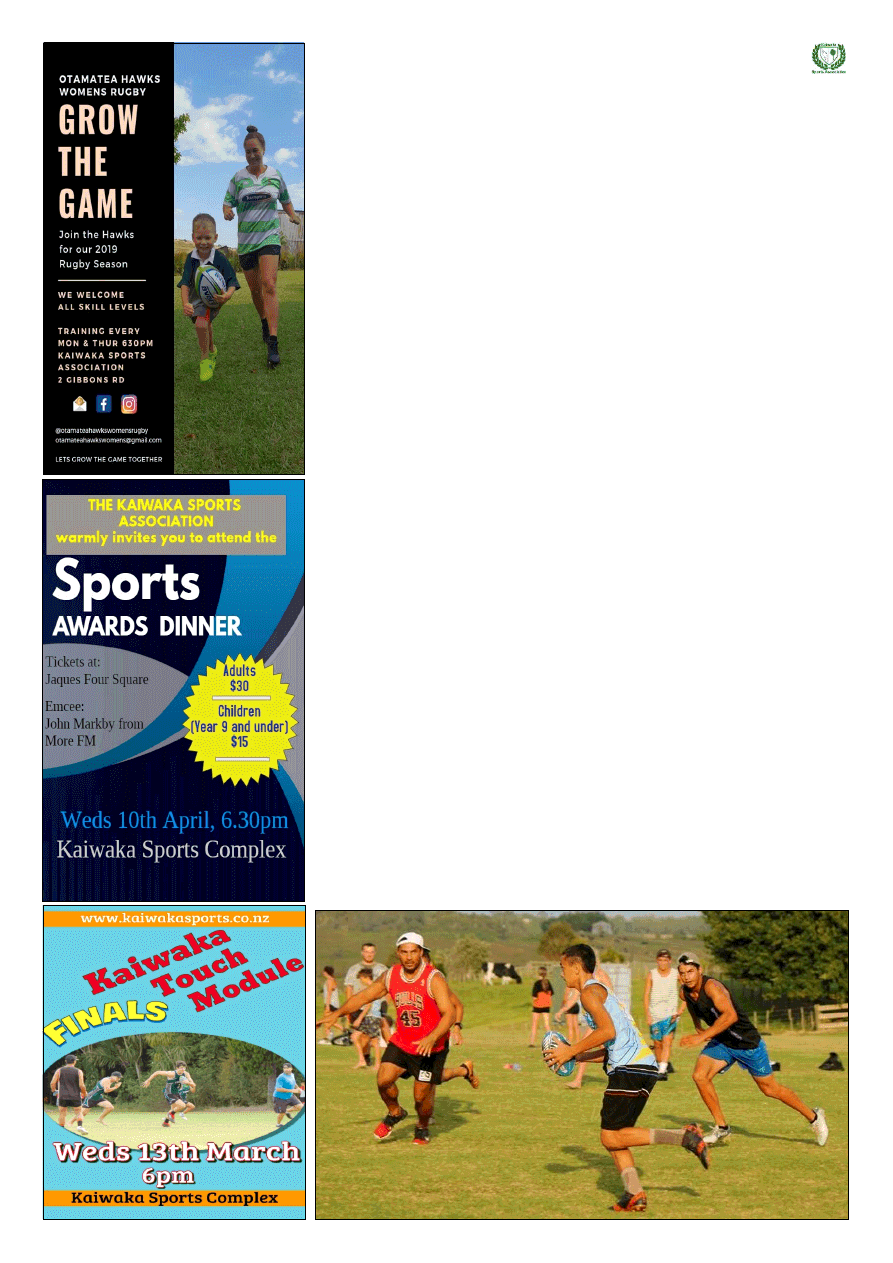 www.kaiwaka.co.nz 
Kaiwaka Bugle - 5 March 2019 
Page 11 
           KAIWAKA SPORTS ASSN 
Winter Sports 
Winter  sports  are  starting  to  gear  up, 
and  you  may  be  thinking  that  you  or 
your  children  would  like  to  try  out  a 
new sport. 
Did  you  know  that  we  now  have  20 
affiliated sports clubs? We have a wide 
range of sports: competitive and social, 
for adults and for children, team sports 
and solo sports. 
For  the  full  list  of  clubs  and  contact 
details,  please  see  page  13  in  this 
edition of the Bugle. Why not try your 
hand at something new! 
Touch 
Our  eight-week  Touch  Module  is 
coming to an end shortly. Finals will be 
held  next  Wednesday  13th  March, 
starting  at  6pm.  To  be  followed  by 
prizegiving. Spectators welcome. 
Netball – High School 
Otamatea  Netball  is  looking  for  two 
more  senior  players  (years  9  –  13)  to 
make two strong teams. The teams play 
in  Whangarei  on  Saturdays.  Contact 
Jodie Bennetto on 021 02663634. 
Springbulbs Fundraiser 
– deadline 
this Friday 
Want a lovely display of spring bulbs? 
Bulbs are easy to plant, fun to grow and 
will reward you with beautiful flowers 
year  after  year!  Options  are  daffodils, 
freesias,  tulips,  ranunculi,  iris  and 
sweet  pea  seeds.  Prices  are  less  than 
normal  retail  and  the  KSA  will  make 
30% profit on all sales. Your order will 
be delivered to your home along with a 
handy planting guide. An order form is 
on  page  13  of  this  Bugle and  can also 
be  found  on  www.kaiwakasports.co.nz 
and at Jaques Four Square. 
Deadline for orders is this Friday. 
Kaiwaka Sports Awards 
For  our  annual  Sports  Awards,  our 
affiliated clubs nominate their members 
in the categories of Senior Sportsperson 
of the Year, Junior Sportsperson of the 
Year,  Service  to  Sport  and  the  Greg 
McRae  Memorial  Trophy.  The  awards 
dinner will be held on Wednesday 10th 
April.  Tickets  on  sale  at  Jaques  Four 
Square shortly. 
Martial Arts 
Are you or your child keen to join our 
Martial  Arts  classes  this  year?  Black 
belt  instructor  Craig  Bennetts  offers  a 
variety  of  classes  out  of  our 
gymnasium  for  all  ages.  For  more 
information please phone Craig on 021 
1524466. 
Rugby – JMB 
Got  a  boy  or  girl  who  wants  to  play 
rugby  this  season?  Our  junior  rugby 
club,  Eastern  United  JMB,  is  a  small, 
friendly  club  with  the  focus  on  kids 
having fun and learning ball skills and 
team  work  within  a  supportive 
environment.  Registrations  for  our 
junior rugby club, Eastern United JMB, 
are  now  open  at  www.sporty.co.nz/
easternkaiwaka . 
Rugby – Senior 
Our rugby men have been training hard 
under the watchful eye of Nick Makea, 
focusing  on  boosting  fitness.  The  first 
match  of  the  Bayley's  Senior 
Competition  will  see  our  Hawks  take 
on Old Boys, on Saturday 23rd March. 
The Reserves will kick off at 12.30pm 
and  the  Premier  will  take  the  field  at 
2.15pm, mark it in your diary. 
Rugby – Womens 
Have  you  heard  the  news?  There  is 
now  a  Womens  Rugby  Club  in  our 
district  –  Women's  Hawks.  A 
wonderful  idea,  and  well  overdue  I 
reckon.  The  club  is  already  building 
lots  of  interest  under  the  passionate 
guidance of Mike Henderson and Bron 
Hames.  New  players  are  welcome, 
contact Bron on 0274 258046. 
The Women's Hawks have a pre-season 
game  against  Hora  Hora  on  the  23rd 
March  at  our  grounds  at  2pm  on  field 
number  two  –  come  along  to  support 
them! 
Fitness Centre 
Our  Fitness  Centre  is  available  24/7 
and  provides  extensive  exercise 
equipment  as  well  as  toilets  and 
showers. 
Memberships 
can 
be 
purchased  from  Jaques  Four  Square. 
For  all  Fitness  Centre  enquiries  please 
contact  Siobhan  on  027  9791203  or 
check out our Facebook page.~ 
Cheryl 
Tawhetu  Phillips,  ball  in  hand,  with  Jayden 
Kemp and Toby Phillips.  
Photo credit: Chantelle Peeni.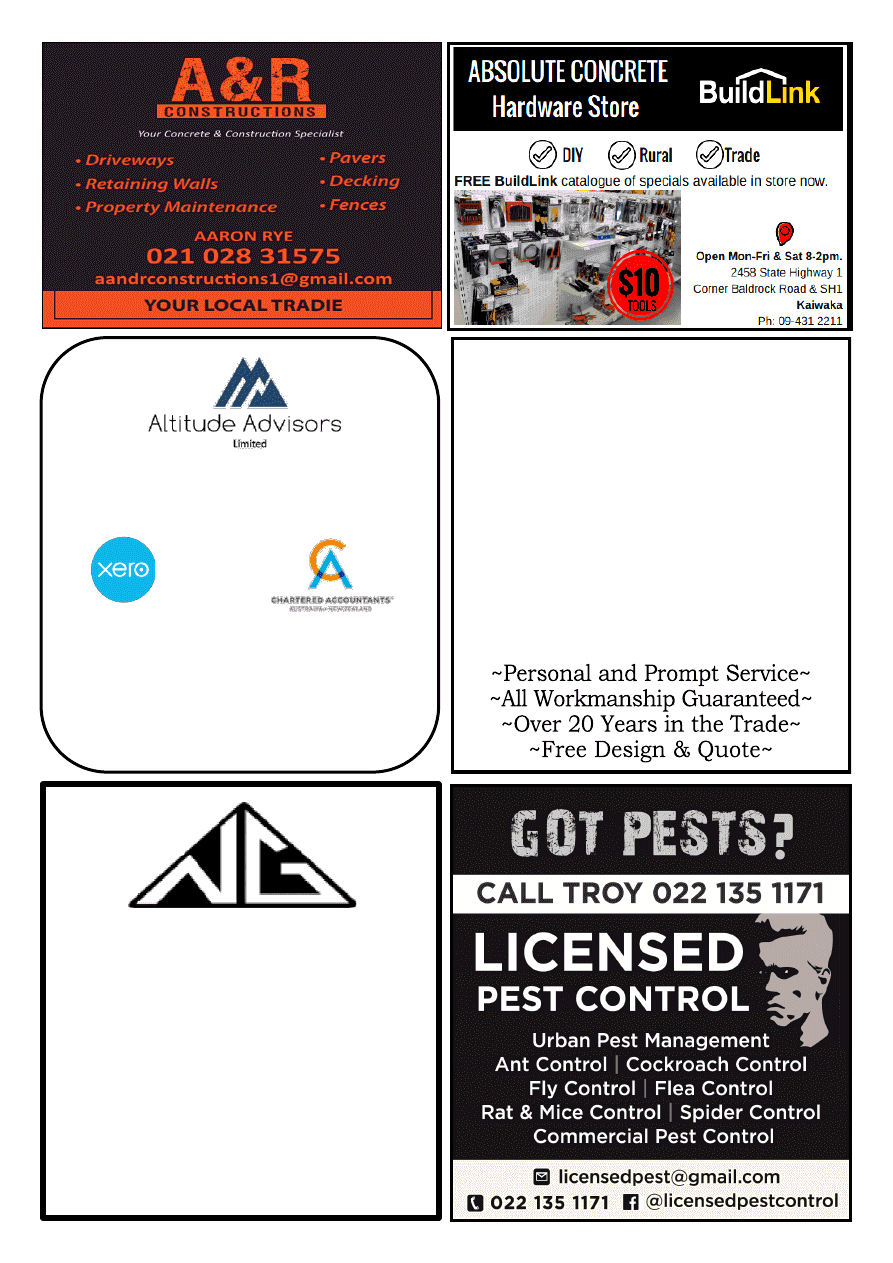 NORTH GLASS 
WINDSCREEN REPAIR OR REPLACE 
GLAZING SERVICES 
MIRRORS  •  SPLASH BACKS  •  SHOWERS 
0800 70 40 10
info@northglass.co.nz 
www.northglass.co.nz 
PLANNING A NEW KITCHEN?
 CONTACT NOEL McDOWELL
WELLSFORD 
KITCHENS
Ph/Fax 094312888
KAIWAKA-Any time
 QUALITY CUSTOM MADE 
KITCHENS
Altitude with Attitude, helping your business 
scale new heights 
Time to try something different? 
Xero training          Accountancy Services 
We are offering two opportunities: 
15% saving off your annual report cost for your first 
year, & a further 10% saving for any referrals 
Call Corinne on 021 252 7680 or 
corinne@altitudeadvisors.nz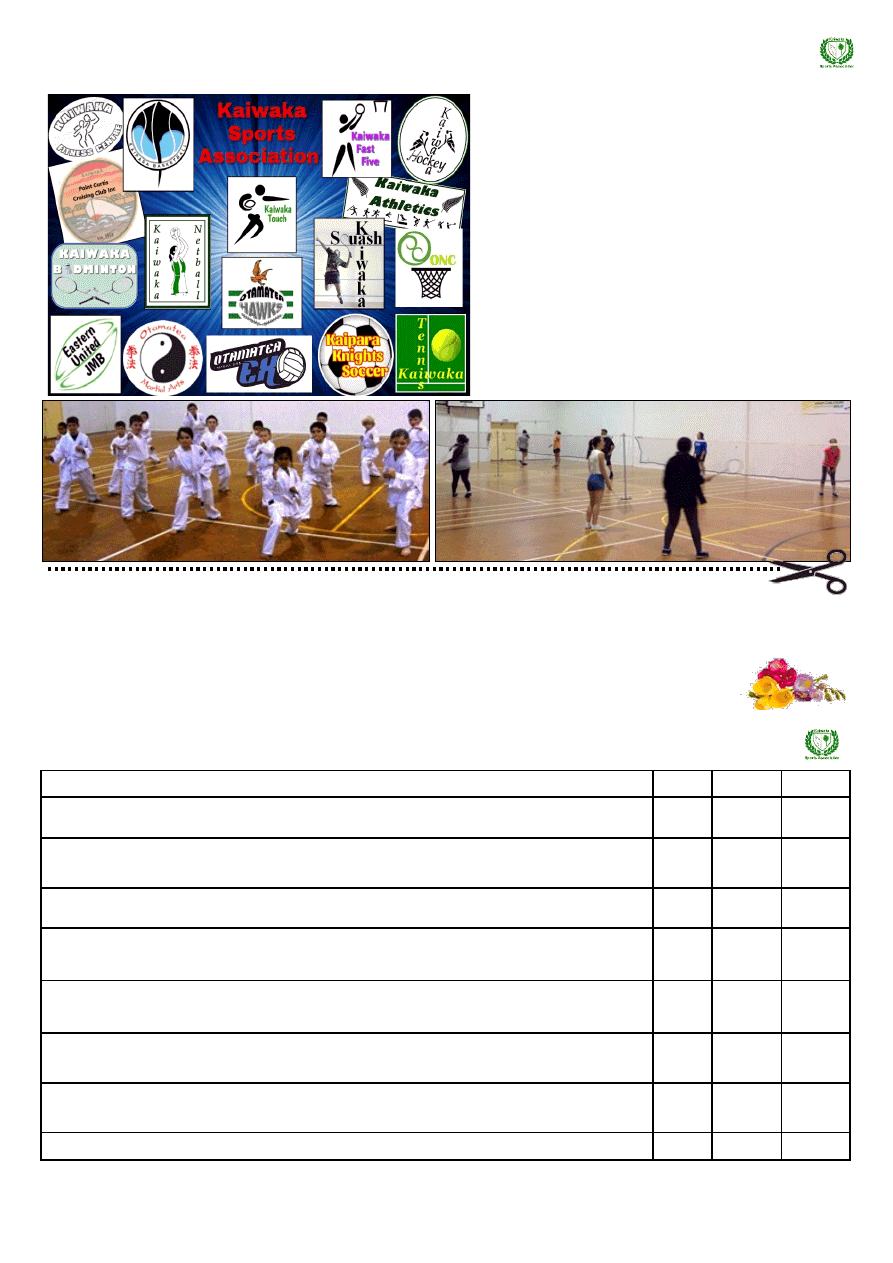 www.kaiwaka.co.nz 
Kaiwaka Bugle - 5 March 2019 
Page 13 
KAIWAKA SPORTS ASSOCIATION CONTACT DETAILS 
Chairperson Wayne Leslie 4312 205 Maintenance/grounds Mark Ottaway 4312 229 Manager Cheryl Anderson 4312 051 
Clubs: 
Athletics  
Eileen Parsons   4318 055 
Badminton    
Kaye Fleming   4312 345 
Basketball    
Blake Worsfold   021 148 9743 
Fitness Centre   Siobhan Cole  
027 9791203 
Hockey   
Tina Holst    
021 2935974 
Martial Arts  
Craig Bennetts   4315 170 
Netball: * Primary Courtney Cave  021 2667946 
* High School   Melissa Watts   021 2990270 
* Senior  
Maree Stewart   021 2800262 
* Fast Five    
Cheryl Anderson 4312 051 
Pt Curtis Cruising Sandy Shaw   021 02360740 
Rugby: * JMB Te Awhina Whitehead 021 02596889 
* IMB    
Lorena Reynolds  021 1391474 
* Junior Hawks   Lorena Reynolds 021 1391474 
* Womens Hawks Bron Hames  
027 4258046 
* Senior Hawks   Michael Tovine   021 1386461 
Squash   
Bruce Leslie   
021 1268015 
Tennis    
Andrea Orchard   021 02346849 
Touch    
Cheryl Anderson 4312 051 
Payment options: 1. Cash 2. Cheque (payable to KSA) 3.Bank direct 060365002247200 (
write reference bulbs and your full name)  
Ways to return form:   1) Scan then email to Cheryl at kaiwakasports@gmail.com.  2) Drop off in folder behind checkout at Jaques 
Four Square. 3) Post to Cheryl Anderson, 233 Baldrock Rd, RD2, Maungaturoto, 0587.         
Bulb type
Price
# packs 
$ total
10 Daffodils mixed
An exceptional assortment of superior varieties blended for continual blooming throughout spring. Each top-
quality bulb will produce bright, long lasting, picture perfect flowers. H 40cm.
$9.50
10 Fragrant Daffodils – King Alfred
The king of all daffodils. Prized for their deep golden and twisted petals which end in a point, they remain the 
world's favourite daffodil. One of the largest trumpet daffodils with strong and lasting blooms. H 40-60cm.
$11
10 Dutch Iris
A selection of the world's most popular Iris. Showy flowers in the garden and long lasting when cut. H 60 –90cm.
$7
10 Tulips mixed
Tulips are spectacular late spring flowering bulbs with colourful and attractive cup-shaped flowers. Top quality 
bulbs in a wide colour range will give an unsurpassable garden display. So easy to grow. H 40cm
. 
$10.50
10 Fragrant Single & Double Freesias mixed
For the true scent of spring try this mix of popular single & double Freesias. They will give a long lasting, dazzling 
display and have long stems for picking. Protect from heavy frosts. H 30cm
. 
$6.50
10 Ranunculi
A profusion of fully double, ever-so-sweet flowers in a wide colour range. Large clumps of these showy flowers 
are hard to beat. Ideal for borders & pots. H 30-40cm.
$5
Sweet Peas - Early Multiflora - 20 seeds
A vibrant & striking mix of early flowering Heirloom sweet peas. Lavender, pink, purple, white & red flowers with 
that intoxicating fragrance. Climber to 2m
$4
                                                                                                        GRAND TOTAL 
KAIWAKA SPORTS ASSN SPRING BULB FUNDRAISER 
Here's a  great  opportunity to  purchase  spring  flowering  bulbs  and  seeds  and  support  the  Kaiwaka  Sports  Association. 
Bulbs are easy to plant, fun to grow and will reward you with beautiful flowers for years! 
Bulbs are supplied by Garden Post who source bulbs from New Zealand's best growers. Prices offered here are less than 
normal retail. Your order will be delivered to your home and a planting guide will be enclosed with each order. To order 
please return this form with your payment by 8
th
 March, and delivery will be the following fortnight.  
Enquiries to Cheryl Anderson on kaiwakasports@gmail.com.
Bulb Order Form
Name:   _____________________________                                    Phone number:   __________________ 
Address:  ______________________________________________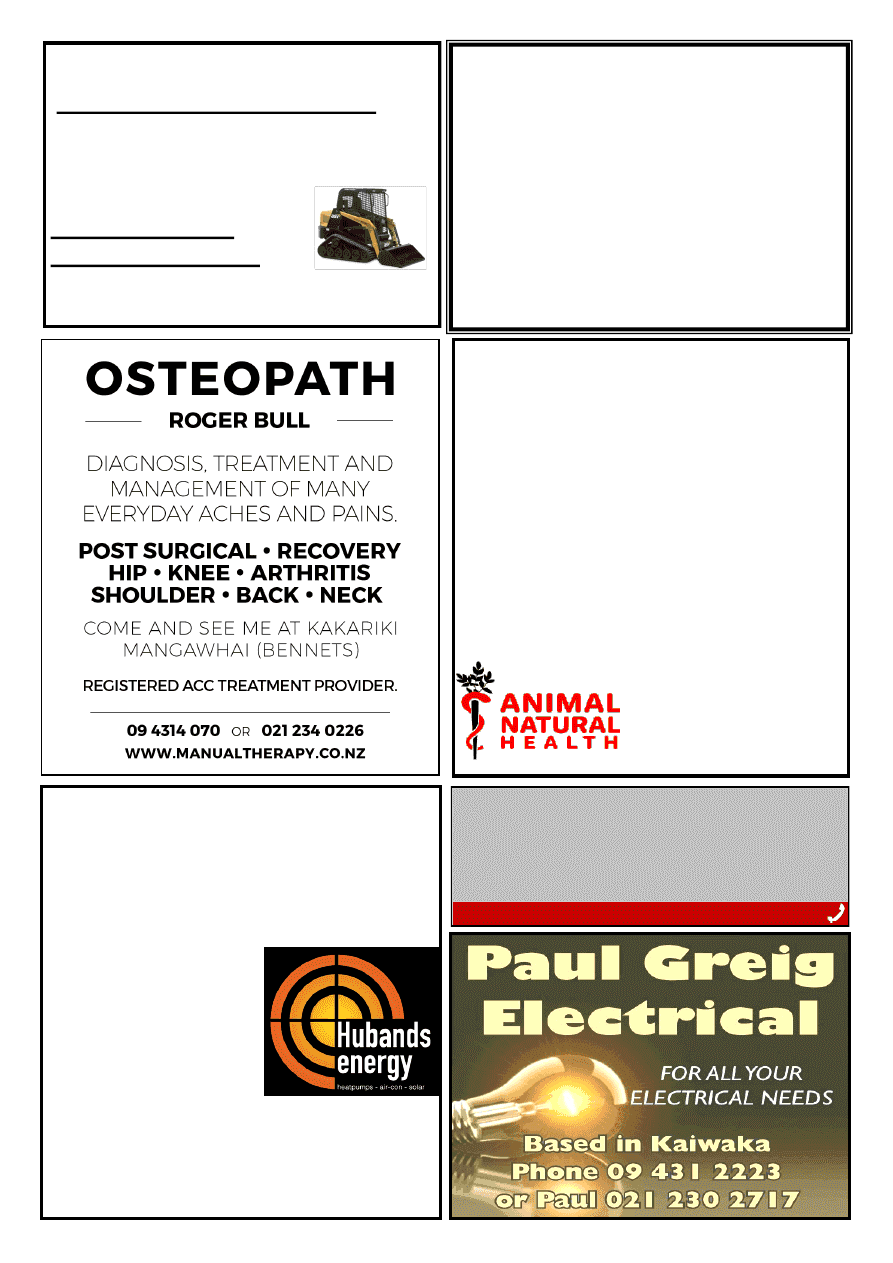 Natural Earth Ltd 
 Landscape and Bobcat services 
 : Driveways  :Landscaping  :Retaining Walls 
 : Hole Boring: Land Levelling :Trenching 
 : Decks :Fences :Sections Cleared: Plus much 
more 
Tel   09 4312885 
Mob 02102391280   
For A Fast Friendly  
Service Contact Tim Hicks 
CALL CRIMESTOPPERS 
Worried about something that doesn't seem right to 
you? Concerned about activity that could be 
harmful? Call Crimestoppers.  
You don't need to know all the facts.
CALL 0800 555 111 ANONYMOUSLY 
Northland's Award Winning 
Solar Company
SEANZ Best Solar Business Winners 2015/16
EXCLUSIVE 10 year installation warranty 
FREE No obligation onsite quote
Complete systems 
from $5990
See our range of: 
✓ 
Heatpumps 
✓ 
Airconditioning 
✓ 
Hot Water 
Heatpumps 
✓ 
Central Vacuum Systems
09 430 0019             sales@hubands.co.nz 
15 Kioreroa Road, Whangarei
Locally owned and operated for 35 years 
Mangawhai Heads 
Garden Centre
1758 Cove Road
945 0707 
021 165 2629 
PET FOOD & ACCESSORIES 
ANIMAL NATURAL HEALTH, 
KAIWAKA
Our Pet Deli range of meats are now in! 
Also stockists of:
Purely Pets Patties 
Orijen & Acana Kibble 
Mighty Mix Biscuits 
Tukka Thyme Muesli 
Organic Apple Cider Vinegar
Chemical-free flea control, wormers 
Homeopathic / herbal preps for Upsets & 
Allergies. 
Collars and leads. 
Hours:  9.30am - 4.30pm 
weekdays,  
Saturday 9.30am-4pm 
Sunday 10am - 1pm 
Next to Italian Bakery,  
SH 1, Kaiwaka 
Phone 09 431 2217.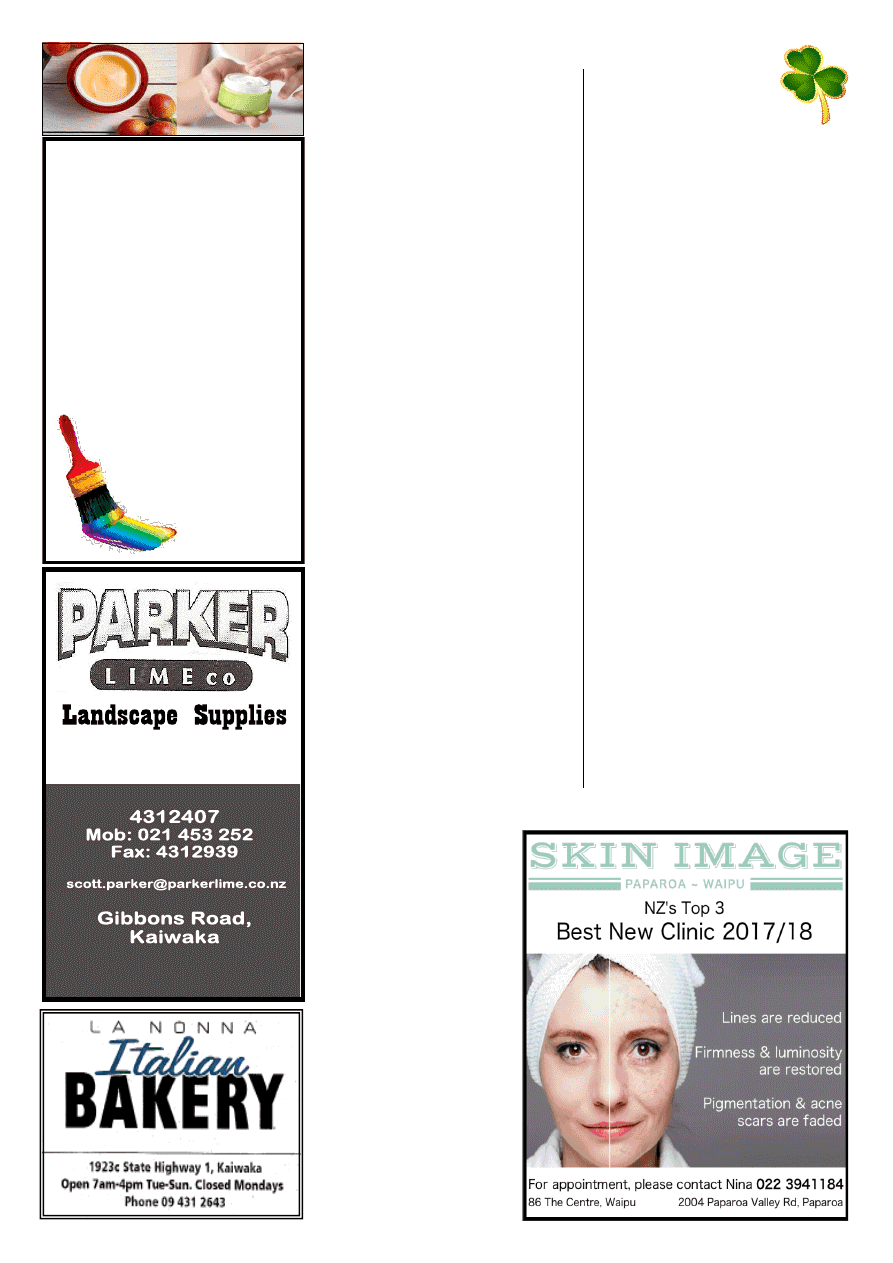 www.kaiwaka.co.nz 
Kaiwaka Bugle - 5 March 2019 
Page 15 
Bulk Cartage 
LEE COOPER 
PAINTERS 
(Kaiwaka Based) 
*30 yrs Experience 
*Interior/Exterior 
*New and Restoration 
*Honest and Reliable 
*Free Quotes 
 
09 4312918 
0274735171 
leecooper@xtra.co.nz 
Cosmetic Chemistry 101 
We  are  always  so  careful  about  what 
we  put  inside  our  stomachs,  we  read 
the  ingredients  panel  to  make  sure 
there's  no  sugar, fat,  salts,  colourings, 
preservatives  etc  in  the  foods  that  we 
buy,  but  when  it  comes  to  products 
that we put on our face, many of us are 
not  so  discerning...yet.  Here  are  5 
ingredients  that  are  used  in  skincare 
which do not add any value 
or nutrition to your skin and my simple 
guide on how to recognize them. 
1.  PERFUME  is  the  number  1  skin 
irritant  that  can  cause  sensitivity.  It  is 
used  to  mask  unpleasant  smells  from 
other  chemical  compounds  in  the 
product  and  as  a  cue  for  quality  and 
efficacy.  How  many  times  have  you 
opened a skincare product, take a sniff, 
then  exclaim  "oh  that  smells 
delicious!"? 
2.  COLOURANTS  -  the  2  most 
common  colours  used  in  skincare  are 
yellow and pink. Yellow is to mask the 
oxidation  process,  for  example  if  you 
cut  an  apple  and  leave  it  for  a  few 
minutes,  it  oxidises  and  goes  brown. 
Same  with  products,  as  soon  as  you 
open  the  lid,  the  ingredients  oxidise 
(especially  Vit  C)  and  become 
brownish so the yellow tint hides this. 
Light 
pink 
connotes 
softness, 
gentleness and luxury. 
3.  PRESERVATIVES  are  nasty,  and 
you don't need to be a chemist to spot 
a product with preservatives in it. If it 
is  something  that  you  can  open,  dip 
your fingers in it every day, leave it in 
the  bathroom  and  it  still  looks  and 
smells  delicious  after  several  months, 
then  you  know  for  sure  it  has 
preservatives in it. 
4.  MINERAL  OILS  are  sometimes 
called  paraffin,  liquid  paraffin,  white 
oil,  paraffin  oil  or  if  they  want  to  be 
really  posh,  they  call  it  paraffinum 
liquidum.  It  is  a  liquid  by-product  of 
refining  crude oil to  make  gasoline.  It 
gives  a  feeling  of  softness  and 
smoothness  because  it  just  glides  on 
and acts like glad wrap on your skin. It 
forms an occlusive film which 
can  cause  the  pores  to  clog 
up. 
5. EMULSIFIERS  – this one 
is  not  so  easy  to  identify  as 
there are many agents that can 
act as emulsifiers. If you look 
on the back of your products, 
anything with PEG in it is an 
emulsifier,  other  common 
ones  are  triethanolamine  and 
polysorbates. 
Emulsifiers 
bind  to  the  skin  and 
"dissolve"  the  natural  skin 
lipids  holding  the  cells 
together,  which  causes  the 
skin  to  become  "leaky".  The 
skin  suffers  from  trans-
epidermal water loss, then the 
becomes drier and drier. This 
is  the  beginning  of  an 
impaired skin barrier. 
Have  fun  checking  the 
ingredients on your products! 
Nina  Quan,  Skin  Therapist  – 
Skin Image Paparoa and Waipu 
WHO WAS 
SAINT PATRICK?  
St. Patrick was patron  
saint and national apostle of  
Ireland 
who 
is 
credited 
with 
successfully 
bringing 
Christianity 
to Ireland. 
March  17  is  widely  accepted  as  the 
date of St. Patrick's death in A.D. 461. 
Was  there  really  a  St.  Patrick? 
Definitely.  Did  he  really  drive  the 
snakes  out  of  Ireland?  Probably  not, 
since snakes weren't native to Ireland. 
St.  Patrick  was  born  in  Britain  as 
Maewyn 
Succat. 
At 
age 
16 
(around  A.D.  400),  he  was  kidnapped 
from  his  home  on  the  west  coast  and 
carried off to Ireland to become a slave 
who  worked  as  a  shepherd.  After  six 
years,  he  escaped;  upon  returning 
home, he received his call (in a dream) 
to preach the Gospel. He spent the next 
15  or  so  years  in  a  monastery, 
preparing  for  his  missionary  work. 
When  he  became  a  priest,  his  name 
was  changed  to  Patricius,  and 
eventually,  Patrick.  Although  some 
Christians lived in Ireland at the time, 
it was Patrick who spread Christianity 
throughout  the  land  and  brought  an 
organized church into existence. 
THE SHAMROCK 
The shamrock is worn on St. Patrick's 
Day  because,  legend  says,  St.  Patrick 
used  its  three  leaves  to  explain  the 
Holy  Trinity.  (The  Trinity  is  the 
Father, the Son, and the Spirit as three 
divine  persons  who  are  one  divine 
being  [God].)  The  truth  of  the  St. 
Patrick  legend,  however,  is  in 
question,  as  there  is  no  direct  record 
that  the  saint  actually  used  the 
shamrock as a teaching tool. 
Note: 
The symbol of St. Patrick is a three-
leaf  shamrock,  not  a  four-leaf  clover. 
However,  long  before  the  shamrock 
became associated  with St. Patrick's Day, 
the  four-leaf  clover  was  regarded  by 
ancient  Celts  as  a  charm  against  evil 
spirits. 
Ref. www.alamanac.com
Registered Drainlayer 
All Types of Earthworks  
> All Residential & Commercial Work  > House Sites 
> Septic System Design & Install 
> Footings & Drilling to 10m 
> Sewer Connections 
> Dams 
> Water Tank Installation 
> Roading & Races 
> Farm Work 
THE ONE STOP SHOP  
Phone Nigel for an Obligation Free Quote  
Drainage & Earthmoving 
nigel@clarkedrainage.nz 
027 2233 185 
Email: info@kaiparaconnected.co.nz 
Website: www.kaiparaconnected.co.nz 
Om Tara 
Mangawhai 
Healing Services 
Diann Glucina 
021 250 7461 diglucina.com  
WANTED TO BUY 
I  am  a  local  private  collector  of  Kaipara  & 
Northland  Paper,  Postal  &Photographic  History 
looking to purchase: 
Old Photos  
Old Postcards  Old Documents 
Old Envelopes Old Advertising / Tourism Posters 
or Pamphlets 
Old books or old 'paper' relating to Kaipara and 
Northland. 
I will pay a fair price immediately so please contact me 
on either 
280 9544, text 021 757 107  
or email nigel.bermuda@gmail.com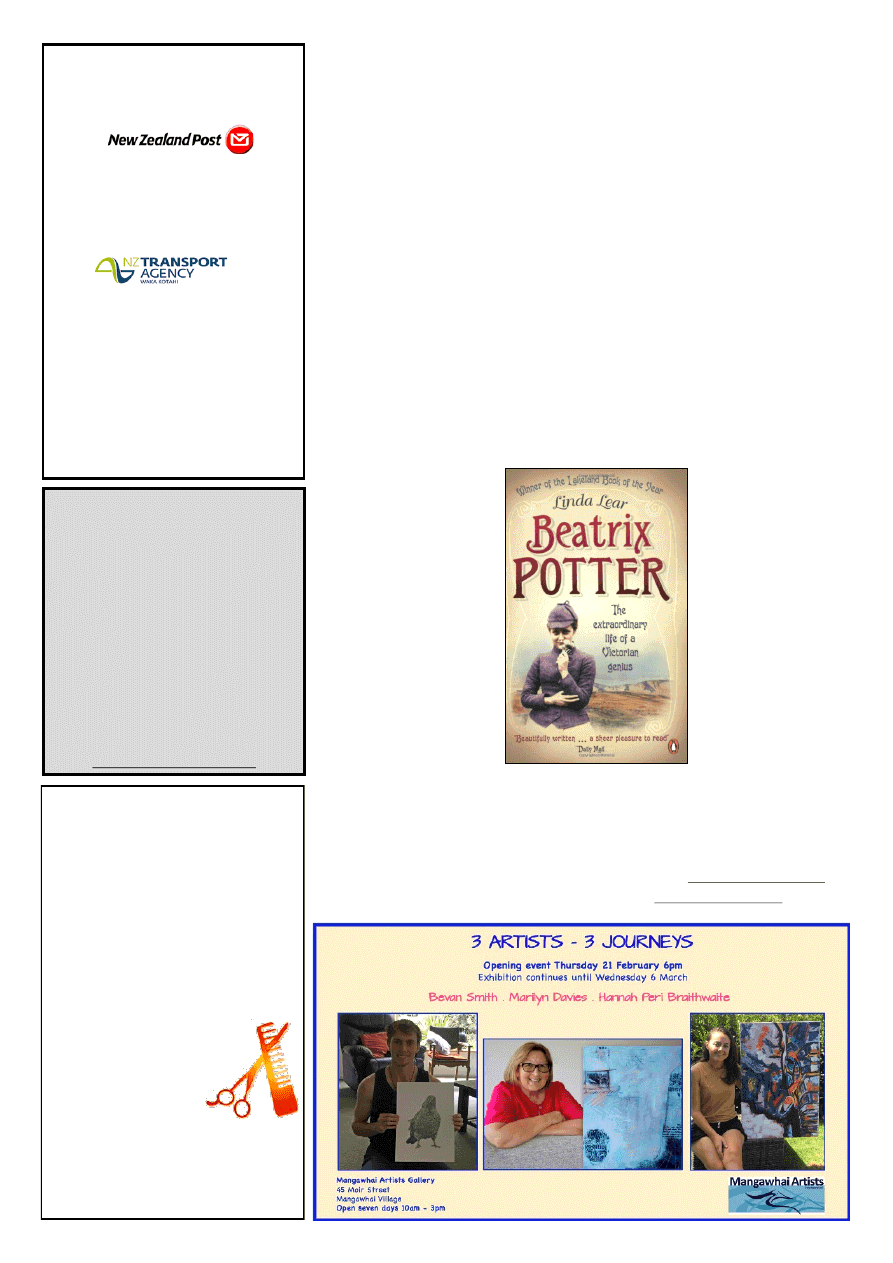 www.kaiwaka.co.nz 
Kaiwaka Bugle - 5 March 2019 
Page 17 
KAIWAKA POST 
CENTRE and 
FOOD MART 
POST CENTRE TRADING HOURS 
MONDAY to FRIDAY 8am to 5pm 
SATURDAY 8am to 12pm 
CLOSED ON SUNDAY and on 
PUBLIC HOLIDAYS 
FOOD MART (GROCERIES) 
MONDAY TO SUNDAY  
7:30am to 8pm 
IF ANY QUERIES PLEASE CALL 
STORE MANAGER AMRIT  
on 09 4312431 or 
EMAIL: kaiwakafood19a@gmail.com 
1919a State Highway1, Kaiwaka 0542 
Maungaturoto  
Country Club 
SPORTS - SOCIAL - CONFERENCE CENTRE  
The club is open Fridays from 4pm and 
Thursdays from 6pm - come and enjoy a 
drink and a meal from Raquel's Kitchen.  
You can join the Club  - $15 a year. 
Application forms available on request. 
Affiliated activities: Bowls, Squash, 
Rugby, Theatre, Motorcross, Equestrian. 
PO Box 81 Bickerstaffe Rd 
Maungaturoto 0547 Tel 09 4318 326 
AFFORDABLE 
PRICES! 
MENS CUT FROM $20.00 
LADIES CUT FROM $30.00 
KIDS CUT FROM $18.00 
COLOUR & CUT FROM $120.00 
JUST 
CUTS'AND   
MORE 
021 165 2629 or  
(09) 945 0707  
NOW SELLING: scented tealights, 
incense, smudge sticks, copper bracelets, 
aurora ball crystals, dream catchers, 
healing stones, rose quartz, cds, and much 
more. Open 6 days. 
Older  rental  items  now  free  to 
borrow 
Items  that  have  been  on  our  rental 
shelves  with  a  pink  '18'  dot  on  the 
spine have now been moved to the free 
shelves, and there is no cost to borrow 
or  renew  them.  We  usually  make  this 
change  at  the  beginning  of  July  each 
year, but we've run out of room on the 
rental shelves and need to make space 
for  more  new  books.  There's  a  list  in 
the library of all the books affected, if 
you want to take a look. 
Place a hold on a book from home 
Anyone  can  search  our  library 
catalogue (including the other libraries 
in  the  district)  from  any  online 
computer 
or 
device 
through 
Enterprise*  -  check  the  "Catalogue 
Tips"  link  on  the  left  of  that  page  for 
help  with  that,  and  there  is  more 
detailed help via the '?' in the top right-
hand corner of the window. 
When  you  have  logged  in  to  your 
library  account  you  can  also  place  a 
hold  on  any  borrowable 
item in the district. If it's at 
another  library,  it  will  be 
sent  to  Kaiwaka  (or  the 
library of your choice) for 
you  to  collect.  I  will 
contact  you  by  text, email 
or  phone  call  when  it  is 
ready for you to pick up at 
Kaiwaka. 
You  will  also  find  in  the 
catalogue  books  and  other 
items  (DVDs  etc)  that  are 
waiting  to  be  processed 
ready to go on the shelves. 
If  a  hold  is  placed  on  one 
of  these  "available  soon" 
items, 
then 
I 
know 
someone  is  waiting  for  it 
and  it  will  get  a  higher 
priority to be made ready. 
Funding for community projects 
Are  you,  or  your  group,  looking  for 
funding  for  a  project?  As  a  library 
member,  you  have  free  access  to 
Generosity  New  Zealand,  an  online 
database  of  funding  providers  around 
the  country.  They  don't  give  out 
money, but they tell you where to find 
grants,  what the requirements are,  and 
how  to  apply  for  them.  Go  to 
Enterprise*,  click  on  eResources,  then 
scroll  down  to  Generosity.  The  first 
time you visit Generosity NZ you need 
to  create  a  login  account.  This  is  a 
service  provided  by  Kaipara  District 
Council - it's your rates in action. 
Book review 
Anne has recently read Beatrix Potter: 
the  extraordinary  life  of  a  Victorian 
genius  by  Linda  Lear.  She  says 
"Having  seen  the  movie  of  Beatrix 
Potters'  life  I  was  interested  to  read 
what  the  movie  may  have  missed  out, 
as  they  often  do.  As  this  book  is  so 
well  researched  it  turns  out  there  is  a 
lot more to reveal about this incredible 
woman.  The  detail  of  her  life  can  be 
accurately  recorded  through  the 
hundreds  of  letters  she  wrote  to  her 
friends  and  family.  Much  like  we  text 
and  email  today  Beatrix  would  send 
out  several  letters  a  day  over  most  of 
her life and these have been preserved. 
She  was  born  to  a 
privileged  family  but 
had 
no 
formal 
education.  Against  so 
many odds she became 
a 
well-recognised 
amateur 
scientist, 
illustrator  and  in  later 
life  a  successful  sheep 
breeder.    So  much 
more  of  a  tale  than 
Peter  Rabbit!  The  447 
pages  of  beautifully 
composed 
details 
could have been a trial 
to read but the authors' 
skill  made  this  book  a 
pleasure." This book is 
on  our  Non-Fiction 
shelves at 920 LEA. 
If you would like to write a review for 
a book on our shelves, it would be very 
welcome.  Email  it  to  us,  post  it,  or 
drop it in to the library. 
See you in the library! ~Wendy 
Kaiwaka Library, cnr State Highway 1 and Kaiwaka 
Mangawhai Road. PO Box 89, Kaiwaka 0542.  
Ph: 4312 539 Email kaiwaka.library@gmail.com  
Open Wed-Sat 10am-2pm, Mon 4-6pm.  
*Enterprise - http://kaipara.kotui.org.nz/
KAIWAKA LIBRARY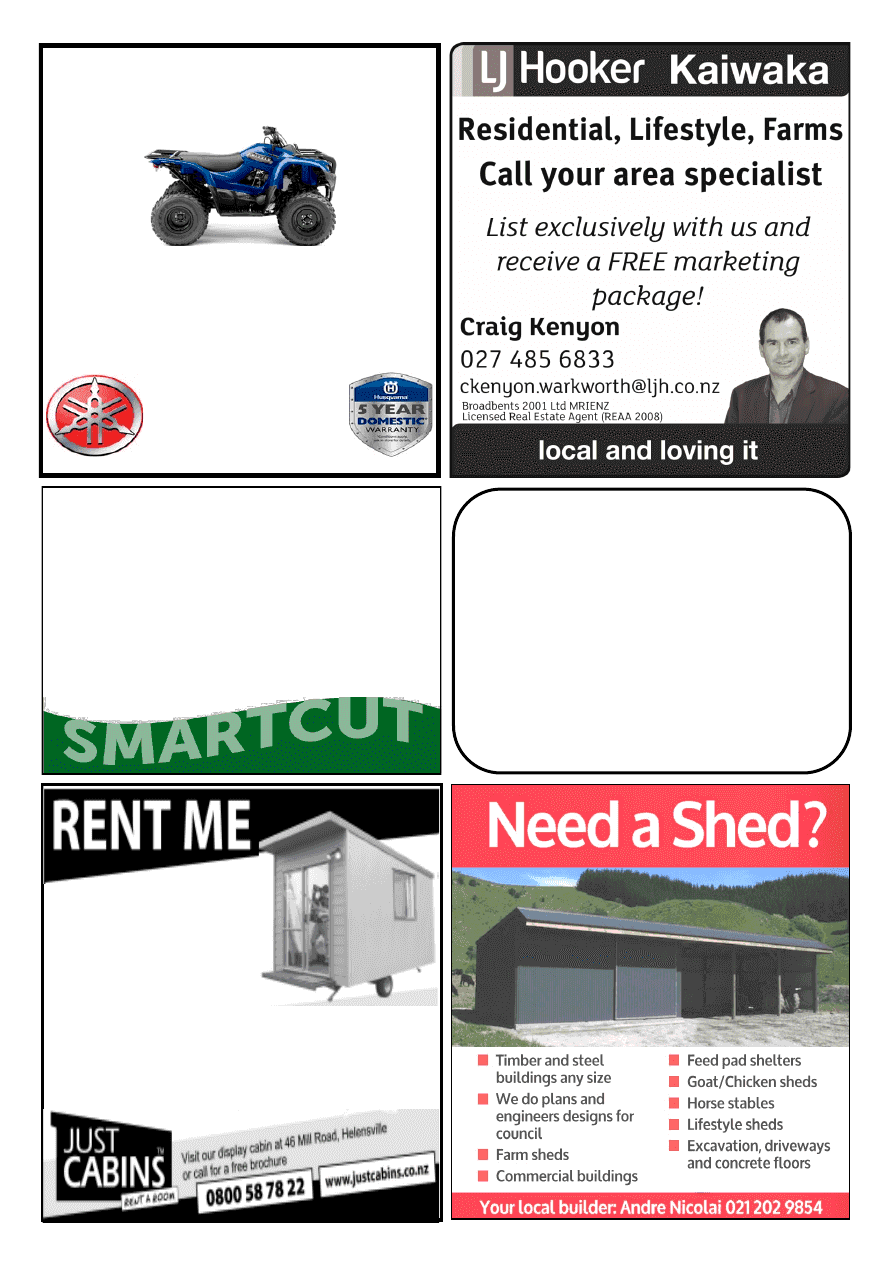 All your outdoor needs sorted so you don't have to... 
I can prune, chop, tidy, spray, mow, plant 
- you name it, I can do it! 
Residential & Commercial 
Lawn & Garden Care 
Call Rodney, your local  
lawnmowing contractor 
021 138 2344 
UP-LINK 
CHRIS WARING 
FREEVIEW INSTALLATIONS 
T.V. - HOME THEATRE &  
HI-FI ADVICE/SET UP
SKY ACCREDITED INSTALLER
MOB.0273403747 HM.094312328 
EMAIL cwaring44@gmail.com
28 YRS EXPERIENCE 
OFFERING UNBIASED ADVICE 
Ideal as an extra  
bedroom or office 
Three Convenient sizes: 
Standard 3.6m x 2.4m - $65 
per week 
Large 4.2m x 2.4m - $80 per week 
Extra Large 4.8m x 2.4m - $100 per week 
Fully insulated. Minimum 6 months rental period 
KAIWAKA 
MOTORCYCLES LTD
SALES – SERVICE – SPARES 
FARM BIKE SPECIALIST
PHONE 09 431-2127 
10 KAIWAKA-MANGAWHAI ROAD, KAIWAKA
Trimmers  
from $279
Chainsaws  
from $339
YAMAHA 
HUSQVARNA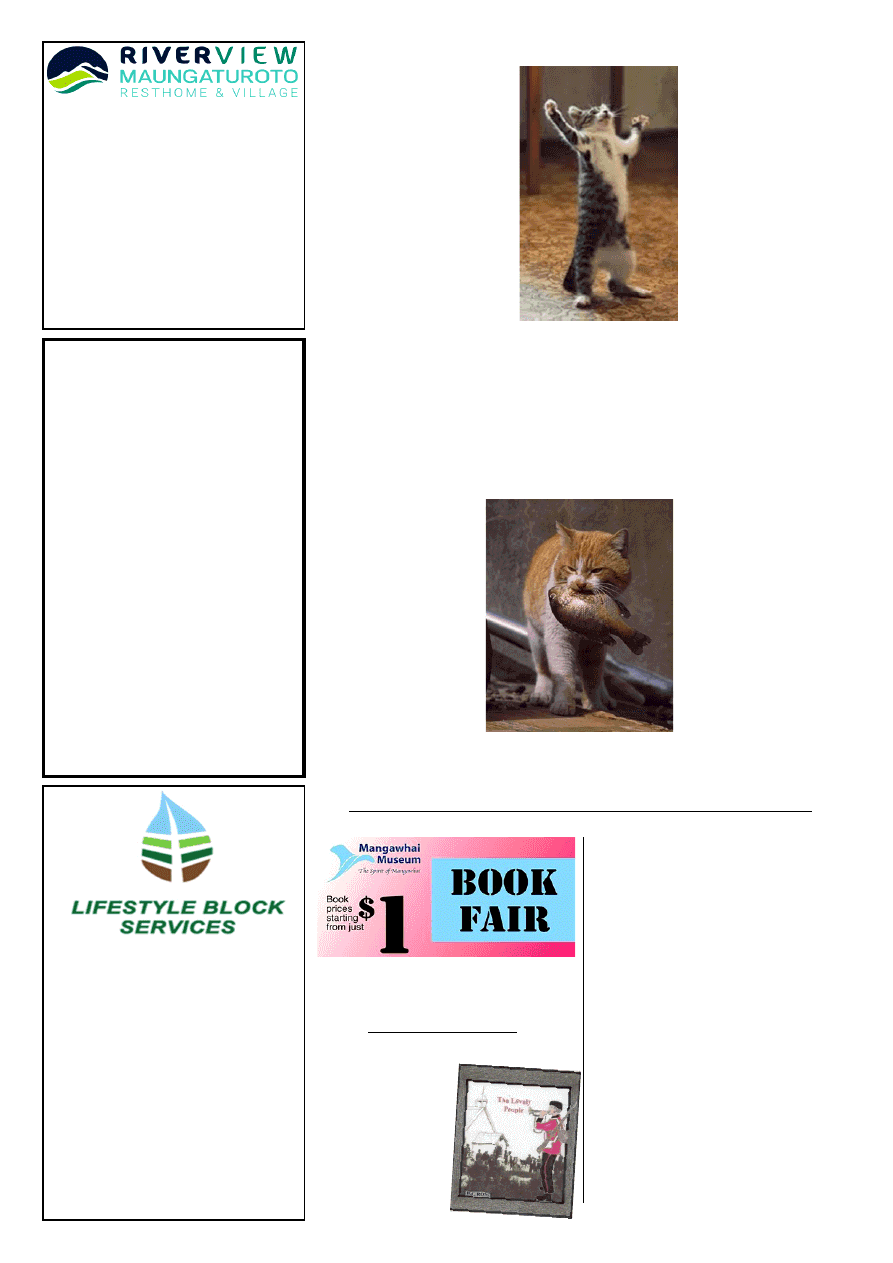 www.kaiwaka.co.nz 
Kaiwaka Bugle - 5 March 2019 
Page 19 
Just to remind you, these are 
all true stories... 
At  the  age  of  fifteen  I  got 
afterschool  employment  in  a 
timber  yard.  My  job  was  to 
gather  the  fillets  strewn 
about  the  yard  and  stack 
them  in  neat  piles  three  by 
three  feet.  Some  days  I  just 
hung  about  to  learn  more 
about things, of most interest 
was  the  hardware  store  and 
the guys were super friendly. 
They  had  a  stray  cat  that 
lived  somewhere  under  the 
building. 
The incredible part is that the 
cat walked on its back legs, much like 
when  one  holds  a  treat  high  up  for  a 
dog- it will walk backward like a circus 
animal following the treat. The cat had 
had  both  its  front  legs  broken  when  it 
got  them  caught  between  some  planks 
moved  unexpectedly  by  a  backing 
truck.  Obviously  because  it  had  to 
continue  to  move  the  breaks  didn't 
heal, the guys fed the cat but even, so it 
still  caught  its  share  of 
mice in the yard. 
I  once  had  a  similar 
incident  to  this  one 
from  the  CJM  Clark 
memoirs:  -  "Returning 
at lunchtime somewhere 
in 1910 from fishing for 
bait,  having  caught  a 
fresh  water  eel,  we 
tossed our lines into the 
corner  of  the  kitchen 
and  swallowed  up  a  bit 
of grub. Then we 
grabbed  our  guns  and 
when 
out 
after 
pheasants. It should be noted here that 
there  was  a  horde  of  half  wild  cats 
around  the  place,  (why  the  old  Dad 
allowed  this  I  don't  know.)  I  should 
also state that whereas I 
had  cleaned  my  hooks, 
my cobber had left a bit 
of eel skin on his. When 
we  returned  from  the 
shoot  and  opened  the 
kitchen  door  a  cat  took 
off 
into 
the 
hall 
followed  by  a  rapidly 
unwinding  line  which  I 
promptly  grabbed.  The 
unfortunate  brute  had 
entered 
through 
a 
window  and  in  chewing 
the  eel  skin  had  got 
itself  well  and  truly 
hooked.  Not  funny, 
either for the cat or us who had to get it 
free. We closed the door and drew lots 
as  to  who  was  to  go  around  and  grab 
the  cat  when  it  had  been  pulled  up 
close.  I  lost,  and  taking  a  sack  went 
round  and  in  through  the  front  door. 
The unfortunate animal was now only a 
few  feet  from  the  door  jamb,  having 
been  wound  in,  and  was  spinning 
cartwheels  and  hand-  springs  like 
nobody's 
business. 
Naturally  we  could  not 
shoot  it  inside  with  the 
twelve bore. Fortunately, 
several  of  my  birthdays 
came at once because the 
cat  tore  loose,  took  off 
with 
a 
terrific 
acceleration  through  the 
hall and dining room and 
right 
through  the  glass  of  the 
French  doors.  Neither  of 
us  felt  too  happy  about 
that  episode  but  cheered 
up  a  bit  the  next  day 
when  we  saw  the  victim  of  our 
carelessness  in  fair  shape  except  for 
some bad swelling of the jaw.  
~ from Bevan Lawrence 
Mangawhai  Writers  Group:  Contact  Bevan  on 
4801949 for more information. 
CATS.  
Retirement Units  
For Sale and Rent 
Vacancies occur from time to time 
in the Community Trust's 2BR 
OYO units and 1BR rentals in 
Riverview Place, Maungaturoto. 
For information or to express  
an interest, please contact the  
rest home. 
Rest Home Manager  
Phone 09 431 8696 
Make Baleage  
while the sun shines! 
Let us make hay/sileage for you. 
We sell small bale silage, 
conventional,  
& 5 bale equivalent hay. 
For more information  
Contact Mark on 021 801 065 or 
Contact Kathy on 027 4250520 
Driveway  
& Farm Race 
Maintenance and 
Construction 
Grader, Roller,  
Digger, Trucks 
Supply of lime rock and 
metal 
Call Peter on 
0274441553 
For advice / estimate for 
your driveway / farm 
race needs 
Saturday 20 and Sunday 21 April  
from 9am till 4pm.  
Easter Book Fair at the Museum 
Pre-loved books for everyone.  
Book Launch at Mangawhai Museum. 
Saturday,  
13th April,4.30pm.  
'
THE LOVELY 
PEOPLE' 
by Bev Ross – 
Group Settlement at 
Mangawai from 
1854 
All Welcome. 
OPEN DAY ON NEW 
BRIDGE  
Community Invitation 
Saturday 9 March  
10am-2pm 
Matakohe  
'We'll be on Bridge No.2, which spans 
Matakohe River.  
You  are  welcome  to  join  us  at  our 
community  day,  catch  up  with  the 
project team and learn more about what 
has  been  involved  in  keeping  work  on 
track to open the full length of the new 
alignment.  
There will be parking areas directly off 
SH12, on the end of Bridge No.2. Look 
out  for  the  orange  flags  and  parking 
sign. For safety reasons, no bicycles or 
animals  (including  dogs)  are  allowed 
on the bridge or in the car park. A BBQ 
will  be  provided  with  sausages  and 
bread.'   ~ The Fulton Hogan Team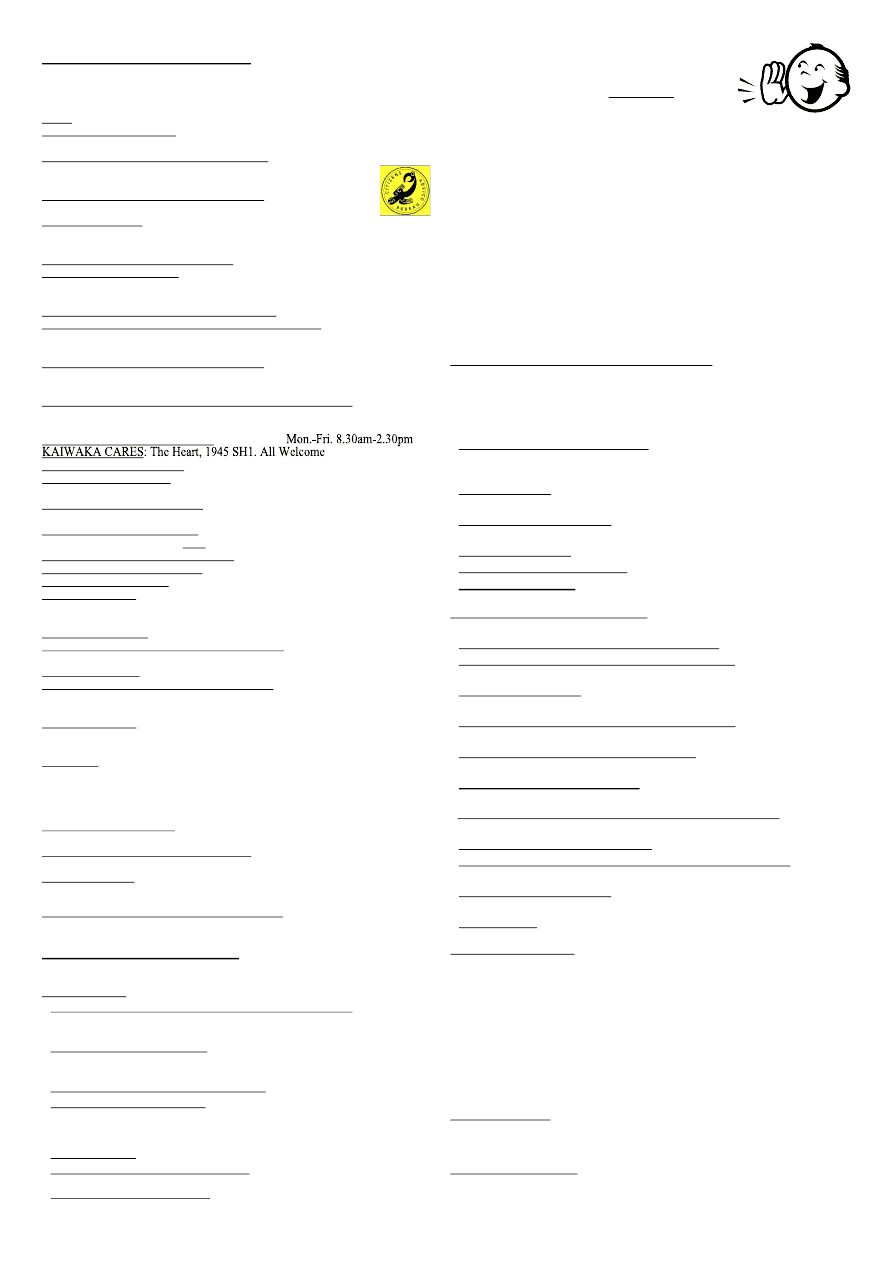 Next Bugle Deadline midday Friday 15 March 2019
WHAT'S ON
PLEASE ~ do let us know what is on - email 
kaiwakabugle@kaiwaka.co.nz 
Advertising in WHAT'S ON is FREE  
*
6Mar~Hakaru Hall Meeting, 7.30pm
*8Mar~Movie 'The Children Act', KWMH, 7.30pm 
*9Mar~New Matakohe Bridge Open Day 10-2pm 
*13Mar~Kaiwaka Touch Finals, KSA, 6pm 
*18Mar~KDC/Kaiwaka Community Meeting, KSA 6pm 
*17Mar~St.Patrick's Day 
*22Mar~Movie 'Mary Queen of Scots', KWMH, 7.30pm 
*23-24Mar~Open Fishing Competition; Fresh Fish Auction 
at Three Furlongs 24 March, 6.30pm 
*31Mar~Movie 'Christopher Robin', KWMH, 2pm 
KWMH = Kaiwaka War Memorial Hall; KSA = Kaiwaka Sports Association 
See www.kaiwaka.co.nz for more information 
HOUSEHOLD RUBBISH COLLECTION - Kaiwaka Pick up: 
Mondays = Green bags (Northland Waste - 09 430 3273) 
Wednesdays  = Blue bags and yellow recycling (at Jaques $3.00 
and  $1.50)  (Kaurilands  09  4392146);  ONLY  Blue  and  Yellow 
bags picked up on Oneriri Road. 
 DIABETES  Support  Group  -for  Kaiwaka,  Mangawhai, 
Wellsford  10am,  3rd  Friday  of  month  Ph:  Colleen  James  09 
4314238 
 GENEALOGY - Wellsford: 1st Thursday in month Ph: 423 
7033; Waipu: 4th Monday in month Ph: 4312 725 
 HAKARU PONY CLUB - Secretary Denise Rogers 021423376 
secretary@hakaruponyclub.co.nz  
 KAIPARA HUNT - Secretary Albert Doonenbal Ph 4312059 
 KAIWAKA BADMINTON -Tuesdays 7.30pm Ph: 4312345 
 KAIWAKA CAN - 3rd Wednesday in month, Archie Bull Hall 
Ph: 0273572751 
*KAIWAKA  DRAMA  CLUB  - 
Hannah  Webb 
0272863352 
KaiwakaDrama@gmail.com - FB - "KaiwakaDramaClub" 
 KAIWAKA DRUM & DANCE CLASSES - 021 611198 
 KAIWAKA GARDEN & FLORAL GROUP - 2nd Thursday in 
month. Ph: 431 4744 
 KAIWAKA  CUBS  -  Thursdays  5.30-7pm,  Hakaru  Ph:Bruce 
4312542 
 KNITTING FOR WHANGAREI HOSPITAL - 2nd Tuesday in 
month, Archie Bull Hall 10am Ph 4314827 
 MANGAWHAI COMBINED REBUS CLUB - 2pm, 3rd 
Thursday month, Senior Citizens Hall Mangawhai. Ph: 4315777 
 PILATES-HAKARU HALL Tuesday & Thursdays, 9-10am 
Ph: 
0220643965 
*PILATES - KAIWAKA WAR MEMORIAL HALL - Ph: 
021 
2072729  
 PT CURTIS CRUISING CLUB - Jean Ph: 4312227 (wk), 4312520 (hm) 
 RSA,  HAKARU  &  DISTRICTS  WOMEN'S  SECTION  –  meets 
1.30pm 4th Thursday of the month. Ph: 431 5818  
 SCOTTISH  DANCING  -  Wednesday  morn.  KWMHall  Ph:  09 
4320532 
 TRAMPING - Mondays 9am-2:30pm Maria 4312 234 
HALLS FOR HIRE: 
 St.Pauls Archie Bull Hall HIRE $20 half day, $40 full day per 
hire, S McAulay, Ph 4312311 
 Kaiwaka  War  Memorial  Hall  HlRE  -  Phone  4312725  or 
kaiwaka.hall.bookings@gmail.com 
 Hakaru Community Hall HIRE -Ph. 4312256 or 4312110 
 Te Pounga Marae queries - R. O'Leary 4312 423, J.Nathan 021 
186 7382 
 Kaiwaka Sports Association hire/queries - C. Anderson 4312051 
or kaiwakasports@gmail.com 
Justice of Peace:  
B.FJaques  4312  048;  L.Donaldson  4312  228;  A.F.Hargreaves 
4312 045, W.Howard 4312 725 - please phone to make sure they 
are available or go to www.justiceofthepeace.org.nz 
Marriage Celebrants:  
L.Donaldson; A.F.Hargreaves; Y Osborne
LOCAL SERVICES 
*Emergencies - Ambulance, Fire, Police - dial 111 
*Non-urgent Police phone 09 4311150
A A: Meets Wed., 8pm Kaiwaka Ph: 4315543, 0800229 6757 
ASUREQUALITY LTD (was AgriQuality) Call Free 0508 0011 22  
BUDGETING SERVICE, WELLSFORD: Free confidential advice & 
support for all areas of personal finance. Ph (09) 423 7123 
CAB-Citizens Advice Bureau.Wellsford Ph: 4237333 
0800 367 222 email:cab.wells@xtra.co.nz  
CIVIL DEFENCE - Kaiwaka Community Response Group: 
kaiwaka.civildefencecrg@gmail.com, 4312725 Wendy 
DOG/STOCK /NOISE CONTROL 0800 105 890 
FUNERAL SERVICES: Morris & Morris Ltd, 
Whangarei - Bev Jaques Ph:4312367 or 0800667747 
GRANDPARENTS Raising Grandchildren: Dianah Roberts 0223819539 
HAKARU & DISTRICTS MEMORIAL RSA (Inc) 733 Settlement Rd, 
Hakaru. Ph 4312 176 or Bill Warren (President) 431 2092 
HAKARU LANDFILL/Transfer Station:Open everyday except 
Tuesday10am-4pm.Ph4312629 Cost-$55 trailer load up to 1 cubic metre. 
Ph:4258567 - office 
KAIPARA DISTRICT COUNCIL www.kaipara.govt.nz:  
Help Desk FREEPHONE 0800 727 059  
KAIWAKA KOHANGA REO: Ph:4312620 
KAIWAKA CEMETERY: Ph: 4312045 or 4314017 
KAIWAKA LIBRARY: kaiwaka.library@gmail.com  
Mon. 4-6pm; Wed., Thurs., Fri., Sat. 10am-2pm Ph:4312539 
KAIWAKA PLAYCENTRE: Ph Juanita 0274134904; open Mon, Wed, 
Fri 9am-12pm. Hastie Lane; Monday to Friday 9.00am - 12 noon. 
KAIWAKA POST OFFICE:Ph:4312 431  
Post Code: 0573 for RD2 and 0542 for all Kaiwaka Post Office mail 
KAIWAKA PRIMARY SCHOOL: Ph: 4312309   
KAIWAKA SPORTS ASSN: Ph 4312005; 4312129 gym 
KAIWAKA ST JOHN: Manager Steve Rosser 09 4318403, 021 355734 
KATE'S PLACE Community Centre - Employment services, Free Health 
Nurse, Plunket, Advocacy, Osteopath, A.A., Legal Advice. 4312 661 
LINKING HANDS Health Shuttle Ph 4315906 or 09 4318969 
MINISTRY FOR PRIMARY INDUSTRIES - General inquiries Call 
Free 0800 008 333 
NORTHPOWER: Faults Kaiwaka area 0800 104040 
OTAMATEA COMMUNITY SERVICES: Counselling, parent coach, 
Family Support worker, budget advice, food bank. Mon-Fri 9am-3pm. Ph 
09 431 9080 http://www.otamateacs.org/ 
PARENTPORT: Free, practical family support service Puhoi to Paparoa 
Ph or txt: Dianne 027 280 5093 or 09 425 9357 
PLUNKET:  Kaiwaka  -Kate's  Place  Clinic  1st  Wednesday  of  the  month; 
Mangawhai  - Rose Madsen Cottage: Coffee Group 9:30 every Monday.  Clinic 
every Monday and Thursday. 
Maungaturoto - Good News Church, Clinic 2nd and 4th Wednesday.  
Cynthia 09 431 7340 or 027 675 3488 
PLUNKET HELPLINE -0800 933 922 (24 hours) 
TAITOKERAU COMMUNITY LAW: Free confidential legal advice and 
assistance, 2nd
Thursday
 of each month. Ph: 0800 155 529 for appts.  
TE URI O HAU Settlement Trust Tangata Developments: Whanau Ora 
021 793262  
VETERINARY SERVICE MANGAWHAI: 
Ph: 4314535 Mon-Fri 8.00-5.00, Sat 9-12, a/h appt. 
WELLSFORD DOCTORS: Ph: 4238 086 
CHURCHES:
 
Kaiwaka  Revival  Church  -  Your  Community  Church:  Sundays  10am. 
Ph: Pastor Tawhiri 09 431 8988 or Pastor Paul 09 4312 068 Visit us at 
www.facebook.com/kaiwakachurch 
 
St  Paul's  Anglican  Church  1st  Sun.  9.00am  (Eucharist),  3rd  Sun. 
9.00am (Family Service). Contact: Rev. Wayne Thornton Ph 431 4122 
www.mangawhaianglican.org.nz 
 
Church of Christ the King, Mangawhai:9.30am every Sunday 
 
St.Mary's  Catholic  Church:  Maungaturoto  –  Griffins  Road,  Saturday 
evening  Vigil  Mass  6pm;  Mangawhai  –  Senior  Citizens  Hall,  Sunday 
Mass  8:30am;  Wellsford  –  Matheson  Road,  Sunday  Mass  10:30am;  
Mid-week Mass times and all enquires to Fr. Bill Fletcher – phone 423 8170
 
Baptist Church: Sun. 10.30am Mangawhai Snr Cit.Hall.Ph:4312339 
 
Cause  Way  Church  Mangawhai:  Sundays  10.15am,  Mangawhai 
Community  Recreation  Centre,  Insley  St.  Ph:  09  4314782