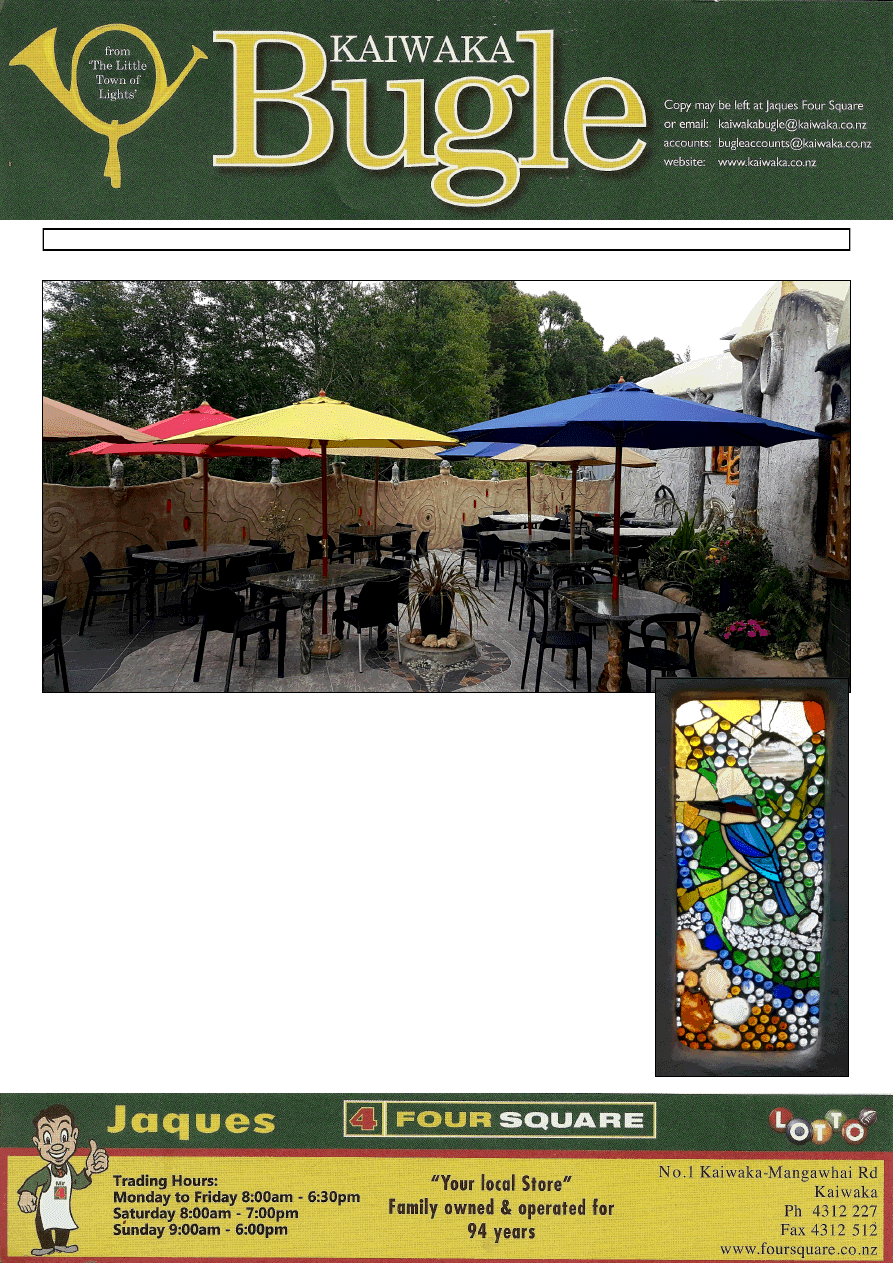 www.kaiwaka.co.nz 
Kaiwaka Bugle - 19 March 2019 
Page 1 
No: 5 
19 March 2019 
Trading Hours: 
Monday to Friday 8:00am - 6:30pm 
Saturday 8:00am - 7:00pm 
Sunday 9:00am - 6:00pm  
Our  sign  reads  SOON,  we  have  heard  folk 
passing  say  "Yeah  right",  which  is 
understandable. We have been toiling on this 
project  now  for  5  years,  moving  on  from 
Peter  Harris's  original  structure  which  he 
built in 2001. 
It  has  not  been  an  easy  5  years  there  has 
been plenty of blood, sweat and a few tears. 
Although we have still not completed all, we 
have completed enough, and the project will 
remain  a  work  in  progress  for  a  while  yet. 
We  have  decided  that  it  is  now  or  never  to 
open. When you visit, which we hope all of 
you will do many times, you will see why it 
has taken so long. 
Eutopia means 'a good place'. We are hoping 
it will become a treasure, a Taonga, to which 
people feel a sense of ownership and pride, a 
destination,  for  tourists  and  travellers,  but 
mostly locals. The aim of Eutopia is to make 
people  smile,  for  people  young  and  old  to 
see the world a little differently, an unusual 
playful place with no straight lines. We have 
made  everything  into  an  artwork,  tables, 
chairs, 
light 
fittings, 
toilet 
spaces, 
windows...so  there  is  functional  art 
everywhere. Art you can feel, sit on, eat off, 
walk  on,  open  and  close.  There  is  a  lot  to 
see, hidden treasures, little bits of magic and 
a lot of fun in its walls. 
We  have  incorporated  and  celebrated  New 
Zealand's  rich  flora  and  fauna,  the  small, 
hidden and mysterious treasures of our land, 
and  sea  scape.  We  want  to  instil  an 
appreciation of the diversity and richness of 
the unique flora and fauna of Aotearoa, into 
this we have incorporated traditional design 
and  mythology.  There  are  stories,  some 
maybe as yet untold in its walls. 
We  want  to  celebrate  art  and  science,  have 
an  emphasis  on  sustainable  practices  for 
instance  solar  water  heating,  low  waste 
practises,  composting,  minimal  plastic  use 
and  low  impact  building  practices.  We  aim 
to source as much of our produce from local 
and organic sources. 
Eutopia  is  a  continuing  journey  that  we  are 
hoping  many  of  you  feel  part  of.  People 
have helped us along the way not only with 
encouragement,  but  the  odd  funky  light, 
EUTOPIA ...VERY, VERY SOON 
…. continued on page 13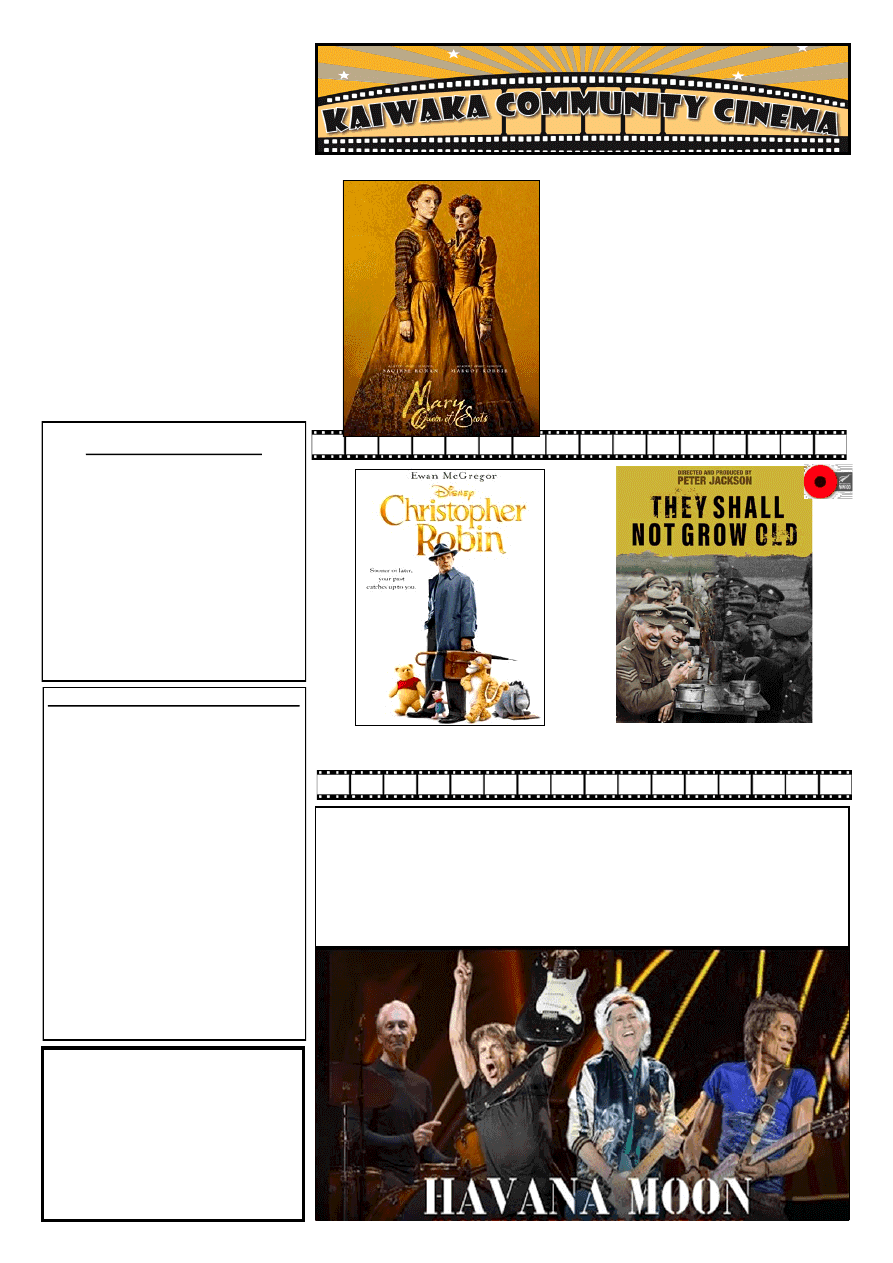 Proverbs 10:29
God is a solid backing  
to a well-lived life,  
but  
He calls into question  
a shabby performance.  
(
The Message translation
)
At Kaiwaka War Memorial Hall . Adults $10, Kids (under 16) $5, Family Pass (2 adults + 3 children) $25 
KAIWAKA BUGLE NO.5 
19 MARCH  2019 
CONTENTS: 
Page 3: Public Notices, Classified 
Page 5: Women's RSA; Kaiwaka 
Weather; An Eel Story 
Page 7: WWI; Rotary 
Page 9: Pt CCC;  
Page 11: Kaiwaka Sports Assn 
Page 13:  Eutopia Café; Thelma's 
Scrapbook; Mwi Artists; Hunting  
Page 15: Kaiwaka School; Otamatea 
High School; Touch Module 
Page 17: 
Two Jalepinas; 
OCS 
Page 19: 'Launching MV Hamsin' 
Bugle 6 will appear  2 April 
Contact for advertising, reports, articles 
or information can be made by 
Email: kaiwakabugle@kaiwaka.co.nz 
Ph: 09 4312 045 Lindsey 
Txt: 027 2724137 
Copy  may  be  left  at  Jaques'  Four 
Square. 
Kaiwaka Bugle Advertisements 2019: 
All 
copy 
and 
queries 
to: 
kaiwakabugle@kaiwaka.co.nz 
The Bugle is printed on an A4 page, B&W  
Ad  sizes:  1/16  page  (3  x  9.5cm)  $5;  1/8 
(6.5  x  9.5cm  landscape  or  portrait)  $8; 
3/16 ( 10 x 9.5cm or 7.5 x 12,5)  $12.  
Classified  ads:  First  one  FREE,  $4  per 
entry (max. 30 words, max. 4 repeats). 
Payments  can  be  made  online  at 
ANZ 
06  0365  0006990  00
,  posted  or  left  at 
Jaques Four Square Store. 
We  use  Microsoft  Publisher,  and  can 
work  with  most  common  image 
formats, Word, Excel, and PDF files. 
Accounts:  
Email: bugleaccounts@kaiwaka.co.nz 
The  Kaiwaka  Bugle  is  a  community 
newspaper run by volunteers, as part of 
the Kaiwaka Media Group Inc.   
Articles, etc. printed are not necessarily 
the opinion of the Bugle Team. 
Kaiwaka Bugle 
Founded May 1978 
We appreciate articles and photos about local 
events, etc, as well as ads and suggestions. 
Copies available in Kaiwaka at Jaques Four 
Square, Kaiwaka Postal Centre, Shamrock 
Service Station, Animal Health Centre, 
Kaiwaka St John shop. 
Also outlets in Maungaturoto, 
Mangawhai and Paparoa. 
Can be viewed online at  
www.kaiwaka.co.nz/Bugle  
Or a copy can be posted to you if you supply 
stamped, self-addressed DLE envelopes. 
MARY QUEEN of SCOTS 
Friday 22 March, 7.30pm (M)
"Mary  Queen  of  Scots"  explores  the 
turbulent  life  of  the  charismatic  Mary 
Stuart (
Saoirse 
Ronan). Queen of France 
at  16  and  widowed  at  18,  Mary  defies 
pressure to remarry. Instead, she returns 
to  her  native  Scotland  to  reclaim  her 
rightful  throne.  But  Scotland  and 
England  fall  under  the  rule  of  the 
compelling Elizabeth I (
Margot 
Robbie). 
This
is 
a 
2018 
historical 
drama 
film
 directed by Josie Rourke and 
written  by  Beau  Willimon,  based  on 
John  Guy's  biography 
Queen  of  Scots
: 
The True Life of 
Mary
 Stuart.'
CHRISTOPHER ROBIN
Sunday 31 March, 2pm (G) 
THEY SHALL NOT GROW OLD
Friday 26 April,  7.30pm (M) 
HAVANA MOON 
A
 once in a lifetime concert by The Rolling Stones in Havana, Cuba. 
Music Movie & Supper Night 
Friday 5  April, 7.30pm 
Tickets: $25 Phone or Text 021  215 4495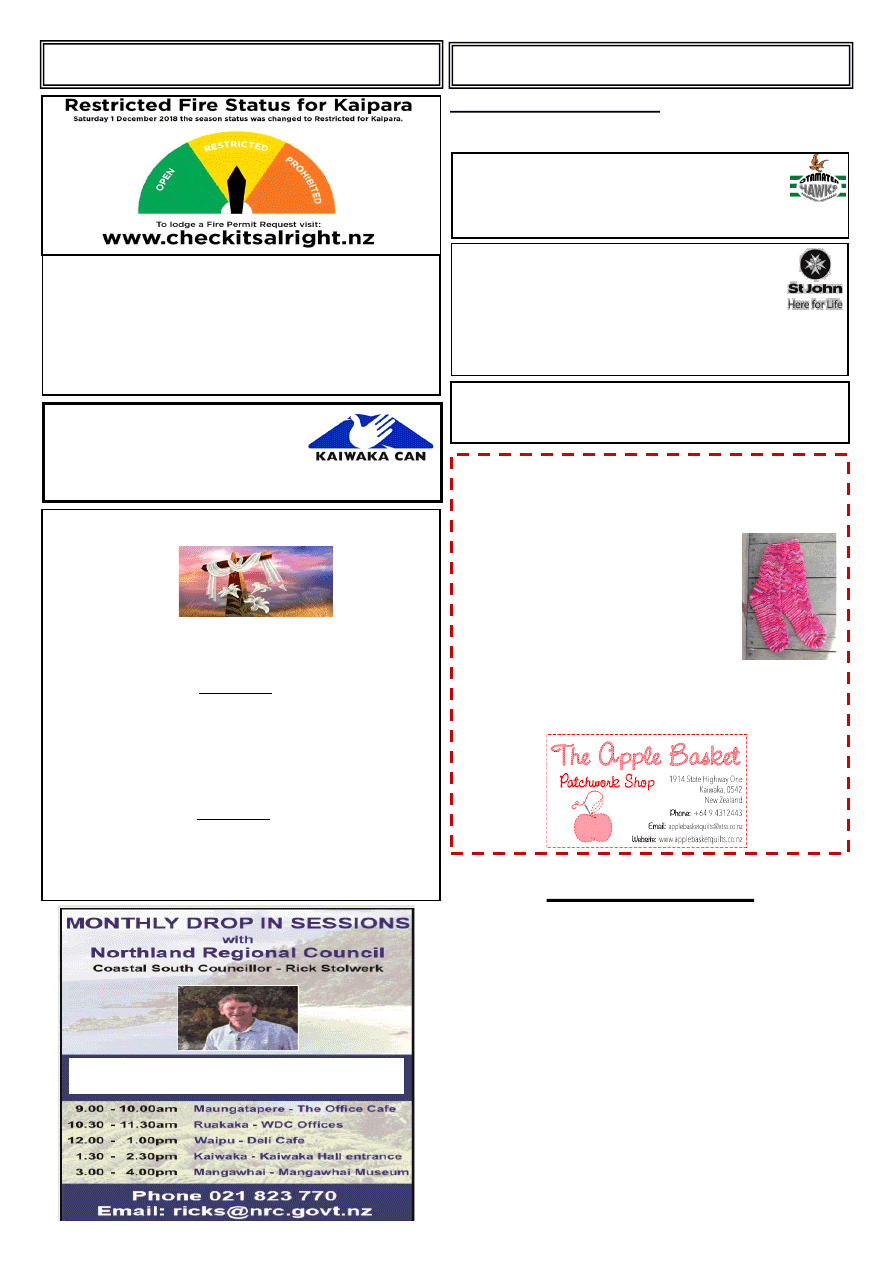 www.kaiwaka.co.nz 
Kaiwaka Bugle - 19 March 2019 
Page 3 
ABOUT TOWN 
 
Stunning! Absolutely brilliant - Eutopia Café is opening!
You  are  invited  to  the  Open  Day  Sunday  7  April,  2pm  – 
6pm. Then they will be OPEN as of Monday 8 April, 7am - 
7 days a week for breakfast and lunch! Woohoo! 

 Cubs  -  spaces  now  available  for  girls  and  boys.  Phone 
Bruce 09 4312054 

Mangawhai/Kaiwaka Phone Directory 2019 edition -
check your details, if you have changes or additions contact 
021 454 814 or email mkdirectory@mangawhaifocus.nz 

 NZTA message: Night works to reseal State Highway 1 
at Kaiwaka -Wednesday 20 March and Thursday 21 March, 
6pm-5am. Stop/Go will be in place. 

 Daylight saving ends on Sunday 7th April. Put clocks 
back 1 hour at 3am AND check your smoke alarm batteries. 

 Restricted Fire Status, permit, required, as of Monday 18 
March 2019. 

See  the  Bugle  online  at  www.kaiwaka.co.nz  for  great 
colour in the photos.              ~ Lindsey, Ed 
"A smart person learns from his mistakes, but a truly wise 
person learns from the mistakes of others." 
PUBLIC NOTICES 
CLASSIFIED 
STUDIO  FOR  RENT:  1.5km  from  town. 
Unfurnished,  fully  insulated,  non-smoker,  references 
& bond required. $200/week. Ph: 09 4312711
OTAMATEA St. JOHN 
Public meeting at the  
Kaiwaka Ambulance Station 
Wednesday 3 April, 7pm -8.30pm 
The focus of this meeting will be to see the way to best 
use the Kaiwaka Ambulance Station for a continuation 
and extension of community initiatives.
KAIWAKA CAN 
Meeting Wednesday 20 March, 
5.30pm, Archie Bull Hall 
Opportunity to be part of an innovative group 
WELCOMING NEW MEMBERS 
FIRE SEASON STATUS UPDATE 
From Monday 18th March at 8am the season will change 
to  Restricted  (a  permit  is  required  for  a  fire  in  the 
open air). Apply for a permit by calling 09 401072 or at 
You can find a list of authorised fire types (not needing a 
permit)  here  https://fireandemergency.nz/fire-seasons-
M o n d a y   1   A p r i l  
Easter Services  
St Paul's Anglican Church, Kaiwaka  
Easter Sunday 21 April  
Family Communion  -  9.00 am 
Christ the King Mangawhai   
"Stations of the Cross"  Monday 15 April  8.00am 
Tuesday - Thursday  16  -  18 April  9.00 am 
Maundy Thursday  18 April  7.00 pm 
Good Friday 19 April 9.00 am 
Easter Sunday 21 April 9.00 am Family communion 
All Saints, Wellsford 
Easter Sunday 11.00 am Family Communion 
Everyone welcome!!
Sock Class 4th and 11th April 
with Jean Guttery 
Come along and learn how to make your own socks 
using the a technique where you knit 
the sock then do the heel afterwards.  
You will learn how to use circular 
needles with the "Magic Loop" 
technique and do a "Turkish Cast  On" 
and a "Stretchy Bind Off". These socks 
make wonderful gifts and this is a great 
skill to learn.  There is some homework to do before 
the second class.   
Class starts at 10.00am - 1.00 both days.   
To register ring me on  09 4312443 .
RUGBY: HAWKS vs OBM 
Saturday 23 March, Kaiwaka 
Reserves: 12.30pm Premiers: 2.15pm 
HAWK WOMEN 10s VS Horahora 1.50pm 
MOLESWORTH SHEEP DOG TRIALS  
12 and  13 April - 616 Oneriri Road., Kaiwaka 
Further info R.Hastie 4312192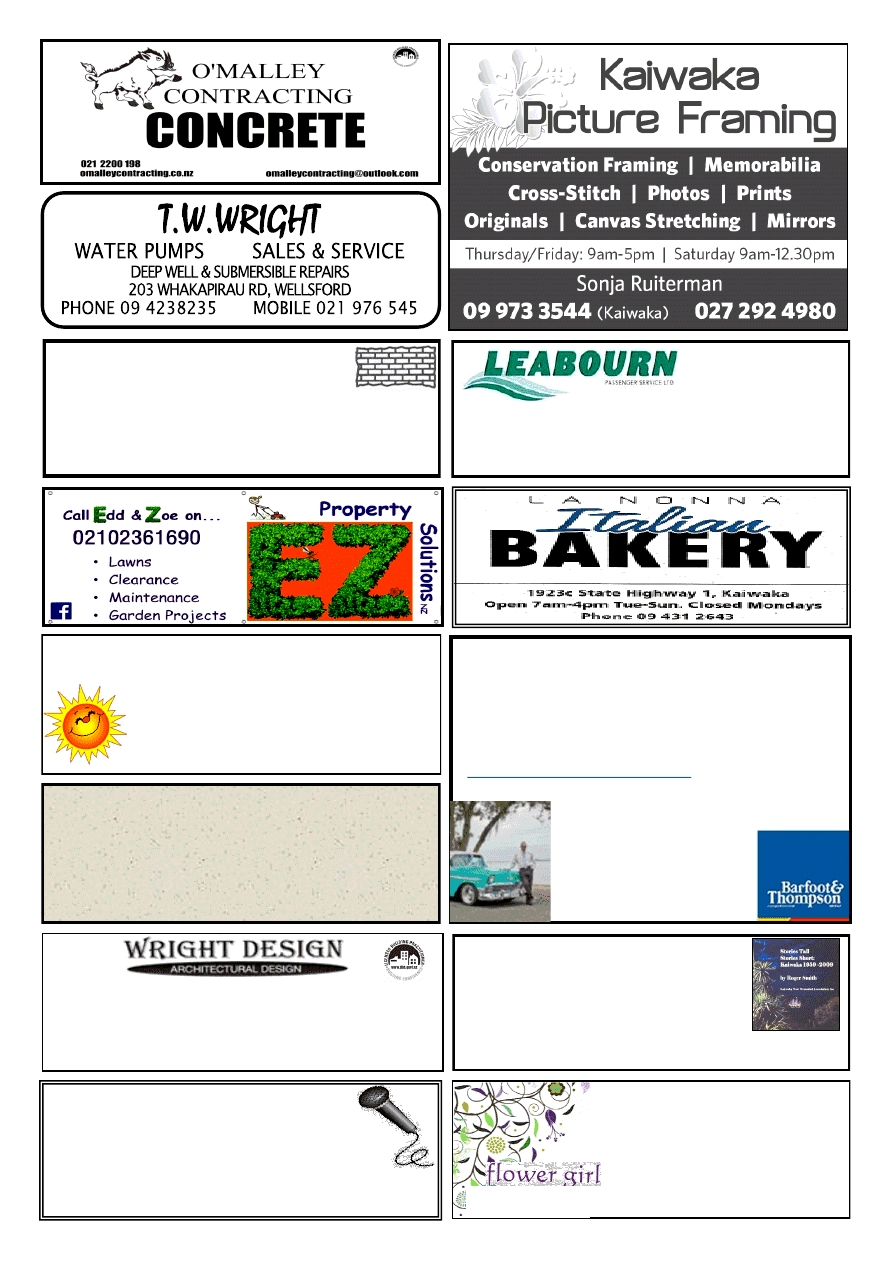 Passenger Service
Car & Van Hire   Bus & Coach Charters 
Airport Transfers    
Phone (09) 4237416 
BRICK/BLOCKLAYER 
All aspects of masonry:  
Fireplaces, Restoration & Remedial Work. 
JAMES EAGLETON 
Tel. (09) 431 2514    Mob. 0274 749 232 
jajueagles@yahoo.com.au 
210A Pukenui Road, RD2 Kaiwaka 0573 
THE SUNSHINE GIRLS
Efficient and reliable help with 
your housework. 
Ph 4312 532 
Counsellor and Registered Psychotherapist 
Offers Supervision 
ACC Sensitive Claims 
Susan Matheson      MNZAC 
Dip. Psychosynthesis Counselling and Psychotherapy 
Phone 09 431 2996                                     Mobile 027 605 2427 

  After 20 years of selling in Auckland I have             
moved to Kaiwaka. 

  I have a relaxed attitude with years of  
        results and experience. 

  Please feel free to give me a call or email. 
licensed real estate agent (2008) 
Chris Barrington
Residential Sales
M 
Mangawhai
Stories Tall, Stories Short:  
Kaiwaka 1959-2009 
by Roger TW Smith 
And 
Kaiwaka: A Photographic History 
Available  at All-Sortz Collectables or phone  4312 045 
Kaiwaka Good Sorts 
Do you know someone in our community 
who is deserving of a beautiful bunch of 
flowers? 
Send an email to us at 
kaiwakabugle@kaiwaka.co.nz 
or drop a note to Jaques Four Square to 
let the Bugle team know. 
lindywatson@hotmail.com 
4312 847 
SING RIGHT 
Professional coaching for performance,  
recording and demos. 
All level singers, musicians, singer-songwriters. 
Phone Robyn Hill 431 9159 or 0274 725610 
No. 117345 
N.Z.C.A.D., L.B.P. 117345 
PH/Fax: 09 423 8092 Mob: 021 276 7369 
Office: 3 John Sinclair Avenue, Wellsford    brianwright@xtra.co.nz 
For Resource and Building Consents, planning restraints, new building materials - 
you need a capable, experienced, and professional designer with a clear 
knowledge of all the processes. Brian has been helping and organising all these 
facets of design and building for over 50 years. 
Wright Design offers free visits, consultations and advice on planning, design, 
building, council permit applications, guaranteed permit plan acceptance.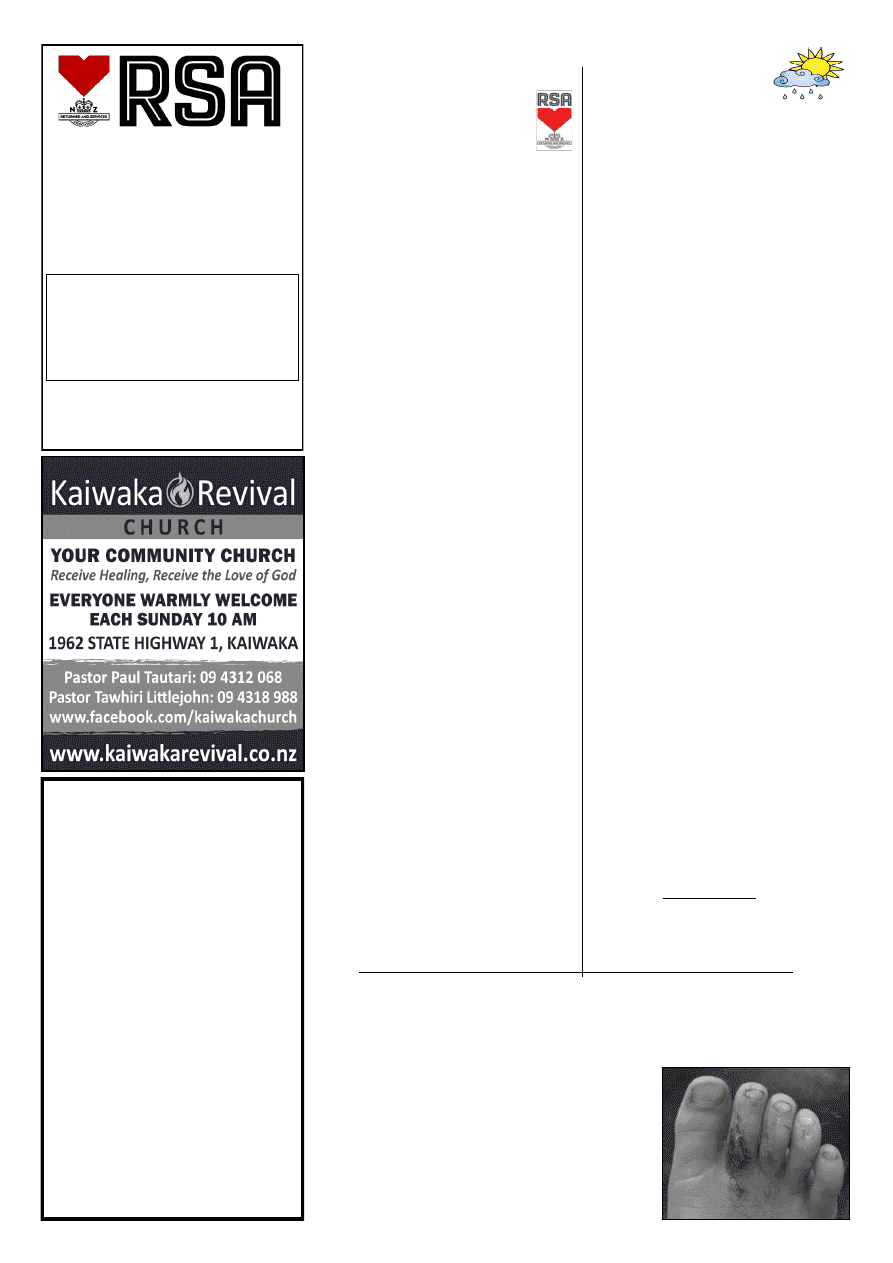 www.kaiwaka.co.nz 
Kaiwaka Bugle - 19 March 2019 
Page 5 
Willow Bend
HORSE  
HOTEL 
  
Total Horse Care 
 
Agistment 
 
Riding Lessons 
 
Arena Hire (60x40) 
 
Young Horse Starting 
 
Re-training/Exercising 
 
Hoof Trimming 
 
Problem Solving 
Phone Sue 09 431 2817 
or 021 623 776 
Or email  
susanjoll11@gmail.com 
HAKARU & DISTRICTS 
MEMORIAL RSA (INC)
Members & guests are invited to 
come along and enjoy our hospitality. 
New members welcome. 
Meals are served on Thursday and 
Friday nights from 6.30pm. 
Order from Blackboard Menu  
and a sing-a-long  
with Des Chitty. 
For more information please phone 
Graeme on 431 2563 
KAIWAKA 
WEATHER 
Well  the  summer  season 
has gone. Not that you would know by 
the temperatures we are still having. 31 
degrees  yesterday,  (13th)  and  28deg 
today (14th) with a light south easterly 
blowing.  
 It  was  a  wonderful  February 
especially  with  that  welcome  rain  on 
the 21st and a few mm to follow on the 
next two days.  Everything got a wash 
and empty tanks caught a bit of rain. I 
guess  not  everybody  got  the  rain  and 
some  had  more  than  others.  The 
temperatures got up to 35deg at least.   
Those  Privet  trees  flowered  well  this 
year  spreading  their  toxic  pollen 
around. They are certainly no good for 
Hay fever and Asthma sufferers. Thank 
goodness they have finished flowering.  
This  February  at  our  house  we  had 
72mm  of  rain  and  for  2018  we  had 
185mm.  
For  the  first  two  months  of  2019  we 
had  103mm  of  rain  and  2018  we  had 
375mm.  
Our  driest  February  since  1987  was 
1990  with  3mm  and  the  wettest  was 
2004 with 266mm. 
Our driest first two months since 1987 
was  1990  with  88mm  and  the  wettest 
was 2018 with 375mm.   
We  had rain  on  6  days  of February  in 
2019  and  in  2018  we  had  rain  on  14 
days.   
As  per  usual  it  is  hot  now  the  school 
holidays are over as has been over the 
last  umpteen  years.    Wonderful 
summer weather this year all the same. 
Well  that  was  summer.    The  end  of 
February  brought  with  it  the  end  of 
summer.   
'The  teacher  asked  little  Johnny  how 
old his father is.    Johnny replied he is 
6  years  old.  Well  that  cannot  be  right 
said the teacher.  Well Johnny replied, 
He never was a father until I was born, 
and I am 6 years old.'   
Daylight  saving  ends  on  Sunday  7th 
April. Put clocks back 1 hour at 3am.  
Take care out there if you must go out 
in the heat. ~ Bev  
New  Zealand  has  just  experienced  its 
third  warmest  summer  on  record, 
according  to  official  NIWA  climate 
figures.
 6-YEAR-OLD BITTEN ON TOES  
BY A VERY BIG EEL  
'We were at my wife's cousins (Peter and Tania Panyoczki) having a picnic by 
the river on the 3rd March with a few dozen other locals, me (dad), my daughter 
and son went for a swim as it was a lovely hot day. 
Michel, my son told me he felt something brushing 
against  his  leg.  I  told  him  it's  just  river  weed  or 
something, but 10 seconds later he starts hollering 
"something's biting me!" I lifted him up and saw a 
very large eel (approximately 1m long) on his foot, 
the  rest  is  history.  Subsequently  all  the  ladies 
present refused to swim.  Michel wants to go back 
next week to feed it! Some meat that is, not more 
toes.  All  is  well  now,  and  his  foot  has  healed  up 
nicely'. ~  Tim M
11  members  attended  the 
February  meeting  which  was 
followed  by  the  AGM  on 
Thursday 28th at 1.30 p.m. The 
meeting  commenced  after  Lena  had 
recited the "Ode". 
We  hope  to  have  a  Tripe  and  Onion 
Luncheon  in  June  if  enough  interest 
is shown. 
We  are  having  a  "  Special  64th 
midyear  luncheon"  and  plans  for  that 
are  still in the "Pipe line". 
Lena  has  just  attended  a  meeting  in 
Hastings  to  find  out  proceedings 
for  the  NWA  meeting  to  be  held  at 
Hakaru  in  September  which  will  be  a 
big  day.  Waipu  Womens  Section  has 
offered  to  help  Hakaru  with  the  day 
which will be most appreciated. 
Womens section members are urged to 
attend 
the 
St. 
Patricks 
celebration dinner being hosted by the 
RSA 
on 
Sunday 
17th 
March 
commencing  at  4  p.m.  and  the  food 
will an interesting Irish Menu and there 
will  also  be  a  band.  It  will  be  a  great 
fun  celebration  so  get  out  your  green 
glad rags!! 
Results  of  the  AGM  are  as  follows:- 
Patroness - Fay Wintle 
President  -Lena Carleton. 
Vice/President - -June Wilson. 
Secretary  - Jan Mann. 
Treasurer - shared between Lena and 
Jan. 
Delegate to conference - Lena. 
Committee:-Trish  Black,  Pat  Judd, 
Pamela  Truscott,  Heather Small,  Shirley 
De  Vries,  and  Ann  Dowson  also 
Reporter. 
Birthday  Girls  for  February  were 
Norma  Whynn  who  turned  90  and 
Dawn  Powell,  congratulations  and  we 
hope  you  both  enjoyed  your  special 
days. 
ANZAC  Day  is  nearly  upon  us  and  it 
would  be  appreciated  if  members 
and  members of the public are able to 
bring  plates  to  help  with  the  catering, 
The  Main  RSA  are  doing  it  this  year 
but would appreciate a bit of help with 
food. 
Next meeting will be on Thursday 28th 
March  at  1.30p.m.  Pamela  and 
Ann    are  rostered    on  to  supply 
Afternoon tea. ~ Ann 
HAKARU RSA 
WOMEN'S SECTION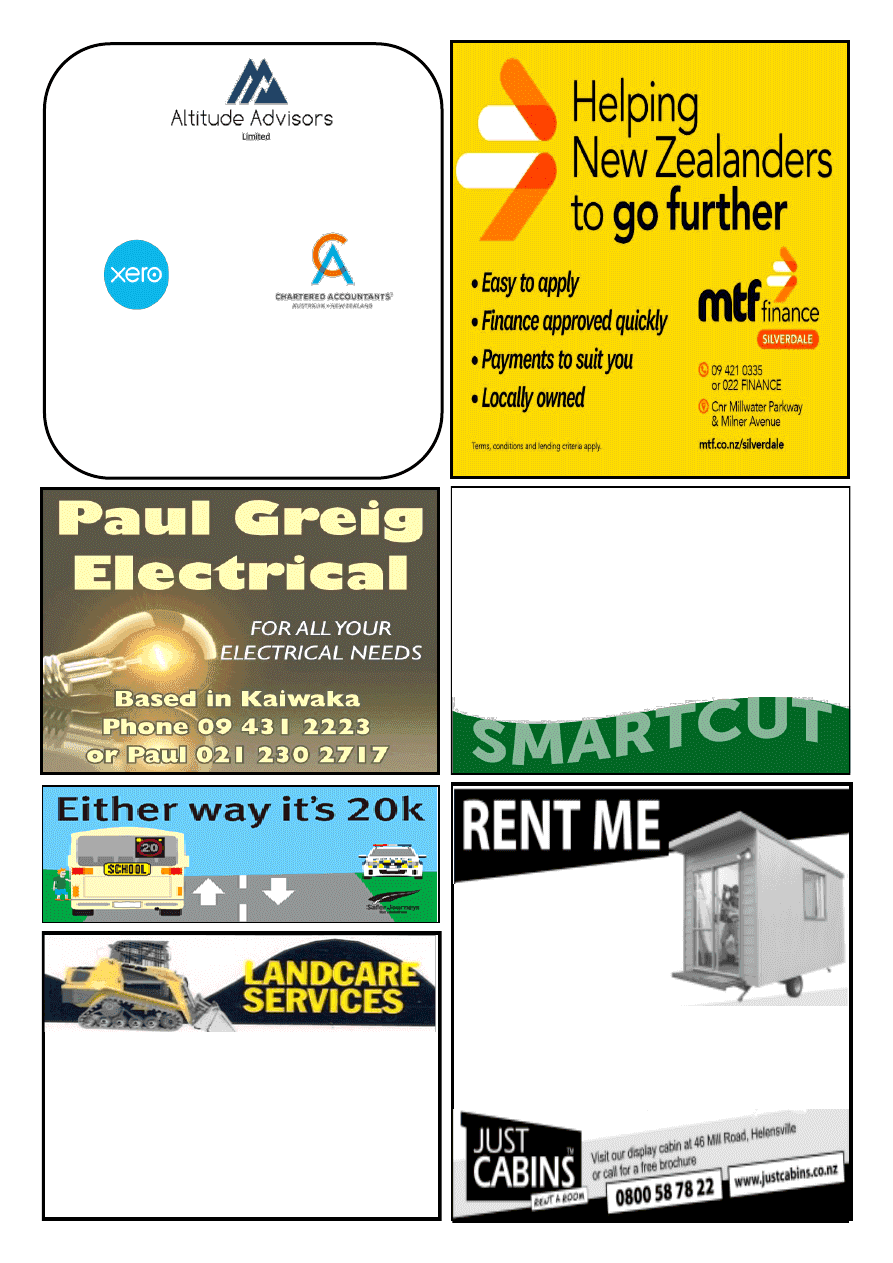 LANDSCAPING 
4 IN 1 BUCKET 
TRENCHER 
POLE HOLES 
ROTARY HOE 
COMPACT ROLLER 
OFFAL HOLES 
CAN SUPPLY WOODCHIP & POST PEEL 
5 TON TIPPER 
FOR RELIABLE AND FRIENDLY SERVICE CONTACT DAVE 
Dave Hyndman 
 
KAIWAKA 
PH: 09 4312302 
MOB: 021 431 238 
All your outdoor needs sorted so you don't have to... 
I can prune, chop, tidy, spray, mow, plant 
- you name it, I can do it! 
Residential & Commercial 
Lawn & Garden Care 
Call Rodney, your local  
lawnmowing contractor 
021 138 2344 
Ideal as an extra  
bedroom or office 
Three Convenient sizes: 
Standard 3.6m x 2.4m - $65 per week 
Large 4.2m x 2.4m - $80 per week 
Altitude with Attitude, helping your business 
scale new heights 
Time to try something different? 
Xero training          Accountancy Services 
We are offering two opportunities: 
15% saving off your annual report cost for your first 
year, & a further 10% saving for any referrals 
Call Corinne on 021 252 7680 or 
corinne@altitudeadvisors.nz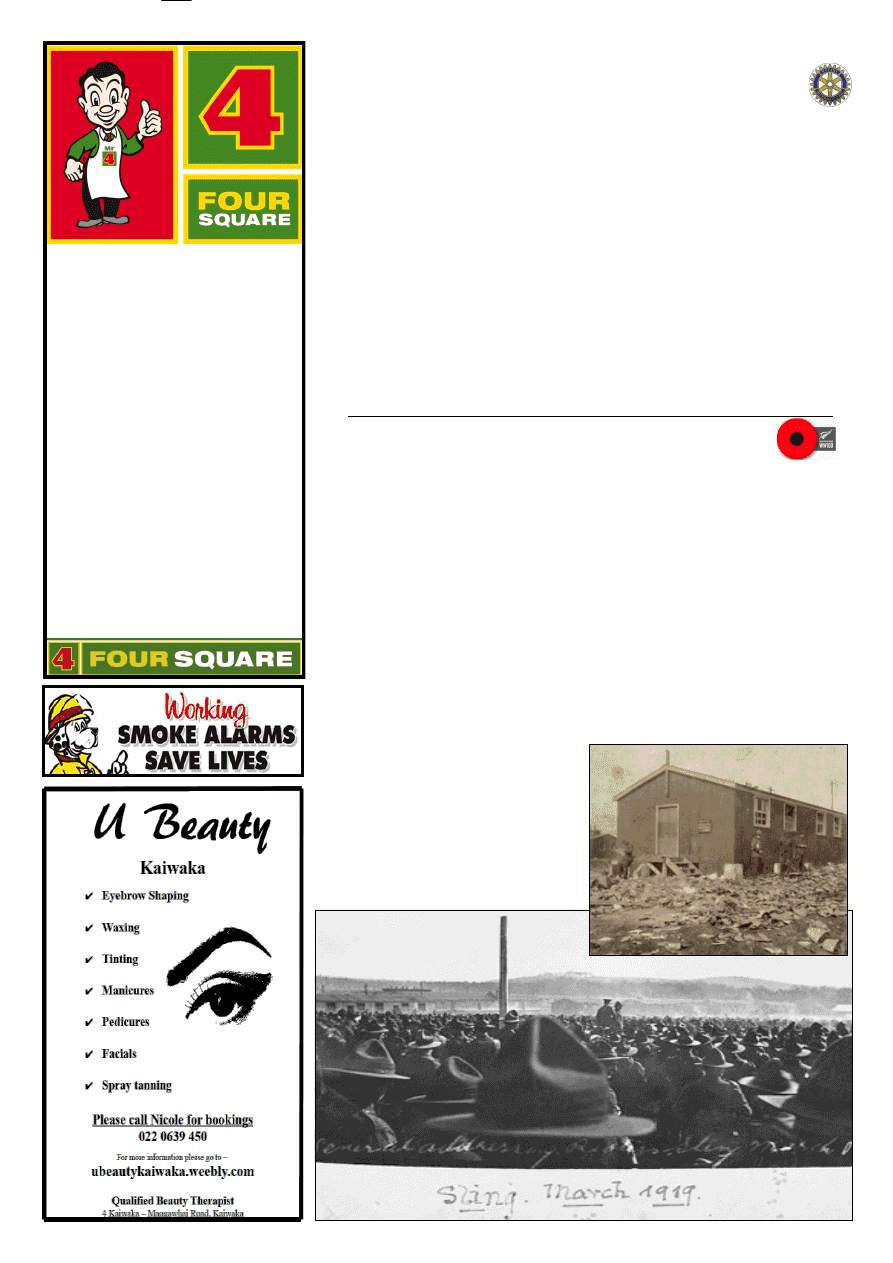 www.kaiwaka.co.nz 
Kaiwaka Bugle - 19 March 2019 
Page 7 
Fresh Daily Baked  
Hot X Buns 
6 Pack $5.99 
Along with our  
Freshly Baked Breads,  
Savoury Scrolls, 
Danishes, Chelsea buns, 
Croissants and much more 
Easy Dinners 
Romano's fresh pizzas 
Hot Roast Chicken 
Range of good quality meats 
New range of socks  
for all the family 
Work socks & Beanies 
.
Jaques Four Square 
Phone: 4312227 
1 Kaiwaka-Mangawhai Road, Kaiwaka. 
MAUNGATUROTO and DISTRICTS ROTARY 
In  the  most  serious  breakdown  of 
discipline  in  the  New  Zealand 
Expeditionary  Force  in  the  European 
theatre, hundreds of men rioted at Sling 
Camp on Salisbury Plain on this day in 
1919. 
The  riot  was  a  result  of  pent  up 
frustrations  by  a  small  group  of 
soldiers  from  particularly  the  South 
Island  who  had  been  waiting  for 
months  for  a  ship  back  to  New 
Zealand.  Sling  Camp,  designed  for 
4,000  troops  was  overflowing  with 
6,000 men eager to be repatriated. The 
boat  trip  to  New  Zealand  took  six 
weeks and the shipping delays, coupled 
with soldiers' deaths from influenza, a 
lack  of  money  and  leave  along  with  a 
continuation  of  military  routines  and 
compulsory education classes created a 
toxic  mix.  Pent  up  tempers  were  set 
alight when the officers announced that 
a  ship  due  to  depart  for  the  South 
Island had been postponed. 
Whilst only a few hundred men rioted, 
the remaining thousands of men did not 
obey  their  officers'  orders.  Just  over 
£10,000 ($1  million)  worth  of damage 
was  done  to  mainly  NZEF  equipment 
and stores. Eight soldiers were charged 
with  mutiny,  six  were  convicted  and 
punished. 
Partly  as  a  way  of  keeping  the  troops 
occupied  after  the  riots,  the  New 
Zealand  troops  set  about  carving  a 
large  kiwi  into  the  hill  above  Sling 
Camp.  This  lasting  memento  of  the 
New Zealand Army's occupation of the 
camp remains to this day.  
Find  out  more  about  its  creation 
at https://ww100.govt.nz/bulford-kiwi 
Photos: Bottom-
General Stewart addressing the 
rioters at Sling Camp in March 1919. He refers 
to the soldier beside him as 'the strike agitator'.
Below-Aftermath of the Sling Camp riot. Image 
courtesy  of  National  Army  Museum  of  New 
Zealand
First  of  all,  we  acknowledge  the 
passing  of  an  Honorary  Rotarian  and 
former stalwart of this community, Mrs 
Beth  Dalebrook.  Not  only  did  Beth 
have  Rotary  involvement  but  she  also 
impacted  many  different  areas.  Thank 
you,  Beth  for  your  service  in  the 
Otamatea area. 
Since  the  last  issue  we  have  been 
treated  to  a  special  concert  from  the 
McSweeney  Brothers.  Not  only  could 
we  listen  to  three  hours  of  magical 
entertainment  but  there  was  also  the 
opportunity to dance and enjoy a social 
time over a fantastic supper. Marian's 
magic  fiddle  charmed  us  all.  We  are 
grateful for the support of many people 
who  helped  the  evening  go  smoothly; 
especially Kenny and Terri for working 
on  the  bar  and  Marge  Paton  who 
operated the Eftpos machine for us. As 
a result, we hope to have a substantial 
amount  to  donate  to  the 
Dementia unit. 
We  have  just  supported  a  second 
student  to  attend  the  Outward  Bound 
21-day  course  at  Anakiwa.  Quintin 
Brown,  Head  boy  at  Otamatea  HS 
attended  this  course  in  January  and  it 
was  obvious  that  it  has  impacted 
hugely  on  his  life  and  his  attitude  to 
life.  One  of  the  phrases  that  resonated 
with  Quintin  was  "being  vulnerable 
and  failing  forward",  no  doubt  a  skill 
that many of us could benefit from. 
A  reminder,  we  still  have  plenty  of 
bags  of  calf  litter  for  sale  at 
Maungaturoto Four Square. 
As  Rotarians  we  enjoy  many 
interesting  guest  speakers,  working 
bees and times of fellowship. If you are 
interested  in  joining  us,  please  get  in 
touch  with  any  Rotarian.  ~  Eileen 
(0211420357) 
NZEF SOLDIERS WAITING TO COME 
HOME: 
MARCH 1919 
Make Baleage  
while the sun shines! 
Let us make hay/sileage for you. 
We sell small bale silage, 
conventional,  
& 5 bale equivalent hay. 
For more information  
Contact Mark on 021 801 065 or 
Contact Kathy on 027 4250520 
NORTH GLASS 
WINDSCREEN REPAIR OR REPLACE 
GLAZING SERVICES 
MIRRORS  •  SPLASH BACKS  •  SHOWERS 
0800 70 40 10
info@northglass.co.nz 
www.northglass.co.nz 
HODGETTS 
CONTRACTING
Digger Work 

Driveways   

House Sites   

Dams  

Drains, etc
Also available for HIRE 

4
3 ton Vib Roller   

Heavy Duty Tow  

4
Waterblaster     

Lazer Level 
Phone Mark 
4312877 
027 447 8554 
Bulk Cartage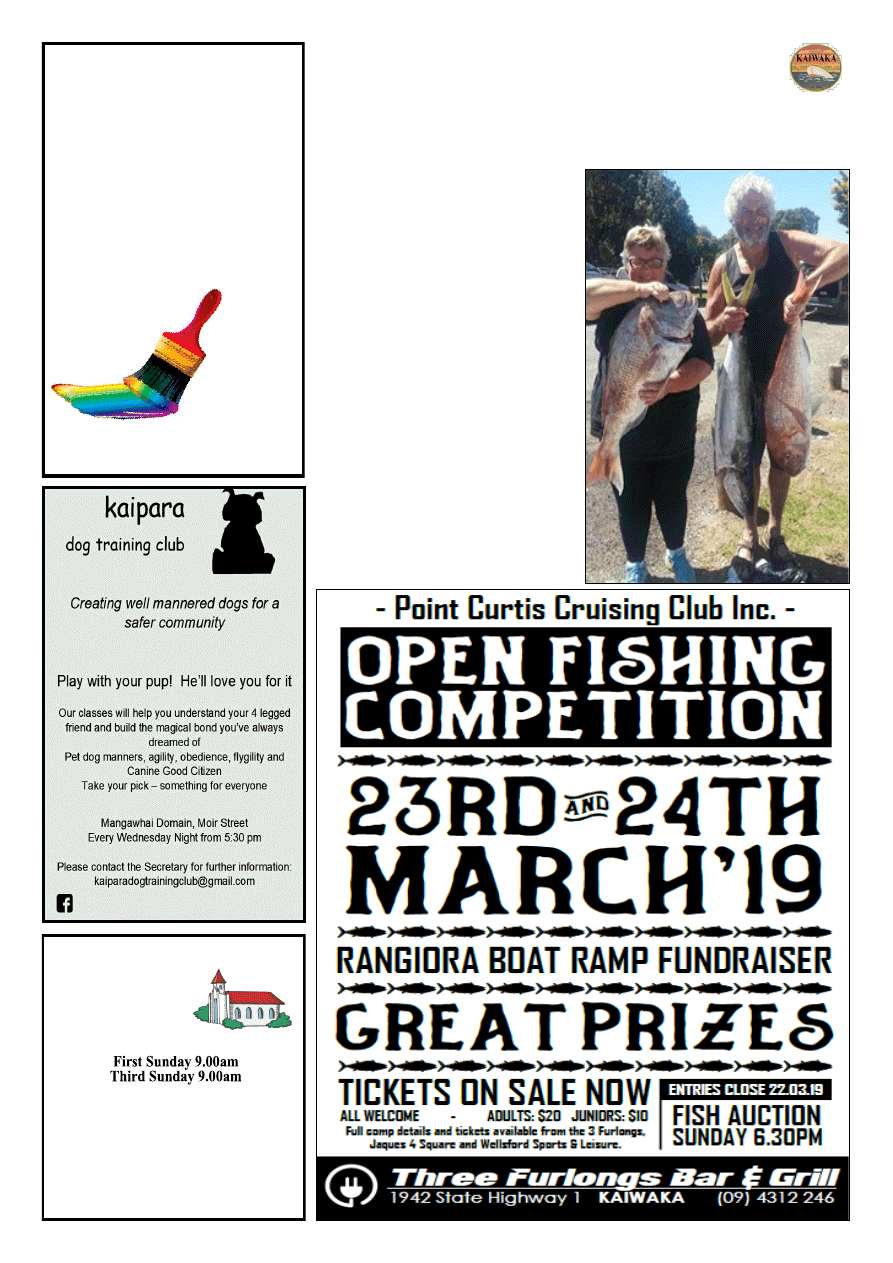 www.kaiwaka.co.nz 
Kaiwaka Bugle - 19 March 2019 
Page 9 
LEE COOPER 
PAINTERS 
(Kaiwaka Based) 
*30 yrs Experience 
*Interior/Exterior 
*New and Restoration 
*Honest and Reliable 
*Free Quotes 
09 4312918 
0274735171 
leecooper@xtra.co.nz 
ST PAUL'S  
ANGLICAN  
SUNDAY  
SERVICES
St Pauls Church: Kaiwaka-Mangawhai Rd. 
1st Sunday - Eucharist 
3rd Sunday - Family Service 
Rev. Wayne Thornton Ph 431 4122 
www.mangawhaianglican.org.nz 
Easter Sunday 21 April  
Family Communion  -  9.00am 
Open 
Fishing 
Competition: 
Saturday 23rd and Sunday 24th March.  
Species  are  Snapper,  Kahawai  and 
Kingfish.  
$20  Adult  &  $10  Junior,  purchase 
tickets  from  Jaques  4  Square,  The 
3Furlongs  Bar  &  Grill  or  Wellsford 
Sports  and  Leisure.  Don't  forget  meal 
tickets can be purchased when you get 
fishing tickets. 
Weigh  in  times  are  5-6pm  both  days. 
All  Fish  weighed  must  be  gilled  & 
gutted. 
Fresh Fish  Auction  will be after prize 
giving  on  Sunday,  hope  to  see  you 
there. 
This  is  a  fundraiser  for  upgrading  the 
facilities  at  the  Rangiora  Rd  Boat 
Ramp. 
⬧
Open  Fishing  Competition:  East Vs 
West  Friday  12th  to  Sunday  14th 
April.  
⬧
All  fish  species  on  the  board. 
Remember this Competition will be the 
last  chance  to  get  your  name  on  the 
board for end of year prize giving! 
⬧
Duck  shoot  and  End  of  the  year 
Prize Giving: Saturday 4th May. 
⬧
Subs 
will  be  due  1st  June 
Family $30 & Single $20
⬧
Fish  of  the  Month  Winners  for 
Snapper: 
Pongo  8.245kg,  Linda  Leslie 
6.
235kg
 -  pictured  -  join  Pt.CCC  and  find  out 
where you can catch such beauties.
⬧
New  fish  of  the  Month: 
Kingfish till 9
th
 April
⬧
Next 
Club 
Meeting: 
Tuesday 
9
th
  April  @  3furlongs  Bar  and  Grill 
7pm
~ 
Wayne Leslie, Commodore
POINT CURTIS CRUISING CLUB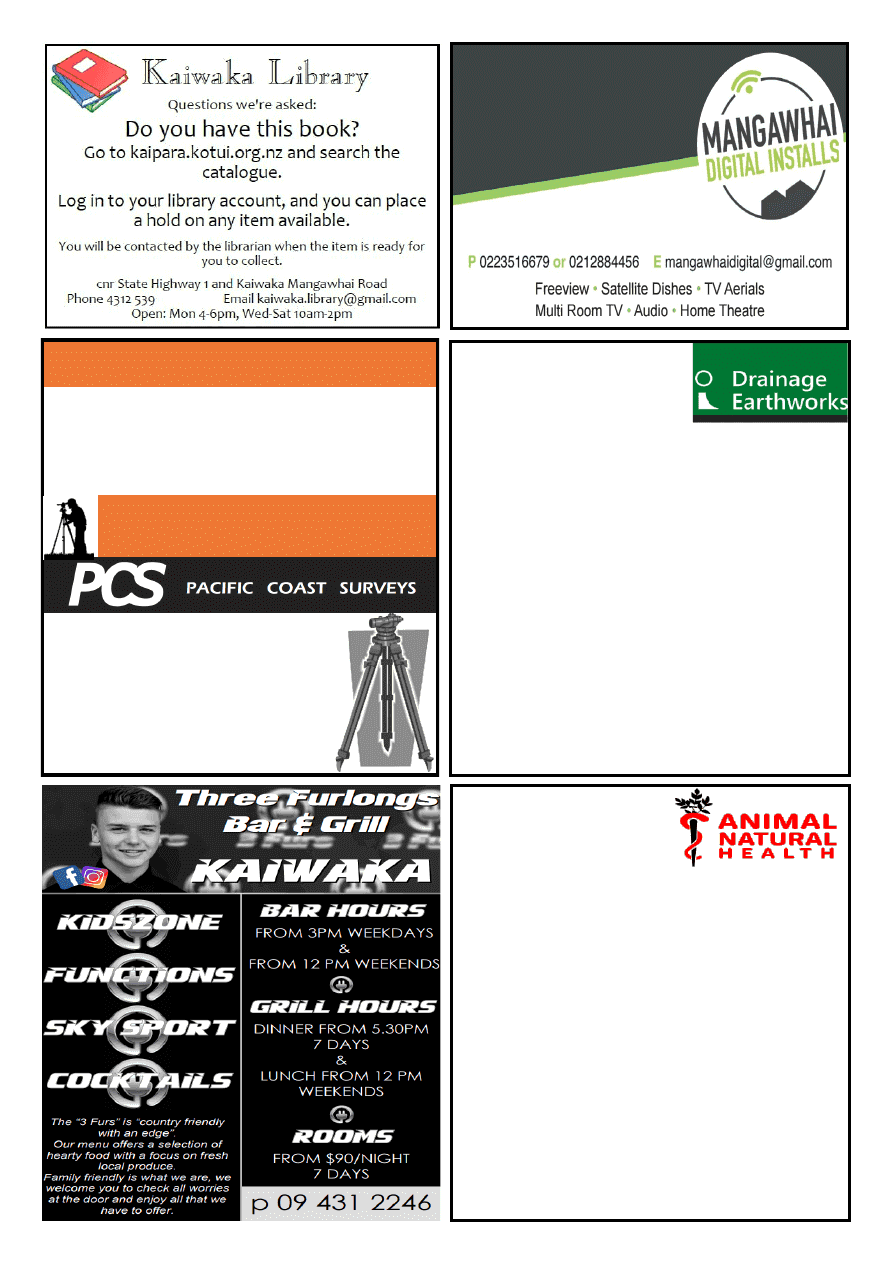 Drainage & Earthmoving 
nigel@clarkedrainage.nz 
027 2233 185 
Registered Drainlayer 
All Types of Earthworks  
> All Residential & Commercial Work  > House Sites 
> Septic System Design & Install 
> Footings & Drilling to 10m 
> Sewer Connections 
> Dams 
> Water Tank Installation 
> Roading & Races 
> Farm Work 
THE ONE STOP SHOP  
Phone Nigel for an Obligation Free Quote  
SURVEYORS 
SUBDIVISIONS 
HOUSE SITE SURVEYS 
CIVIL ENGINEERING 
WASTEWATER DESIGNS 
EXPERIENCED 
PROFESSIONAL 
INNOVATIVE 
Ph 09 431 5353 
0800 PACIFIC (0800 722 434) 
pacificcoastsurvey.com
Adam Booth - 027 415 5752 
Bsurv, Licensed Cadastral Surveyor
Surveying Kaipara since 1994 
PET FOOD & 
ACCESSORIES 
ANIMAL NATURAL 
HEALTH, KAIWAKA
Our Pet Deli range of meats are now in! 
Also stockists of:
Purely Pets Patties 
Orijen & Acana Kibble 
Mighty Mix Biscuits 
Tukka Thyme Muesli 
Organic Apple Cider Vinegar
Chemical-free flea control, wormers 
Homeopathic / herbal preps for Upsets & 
Allergies. 
Collars and leads. 
Hours:  9.30am - 4.30pm weekdays,  
Saturday 9.30am-4pm Sunday 10am - 1pm 
Next to Italian Bakery, SH 1, Kaiwaka 
Phone 09 431 2217.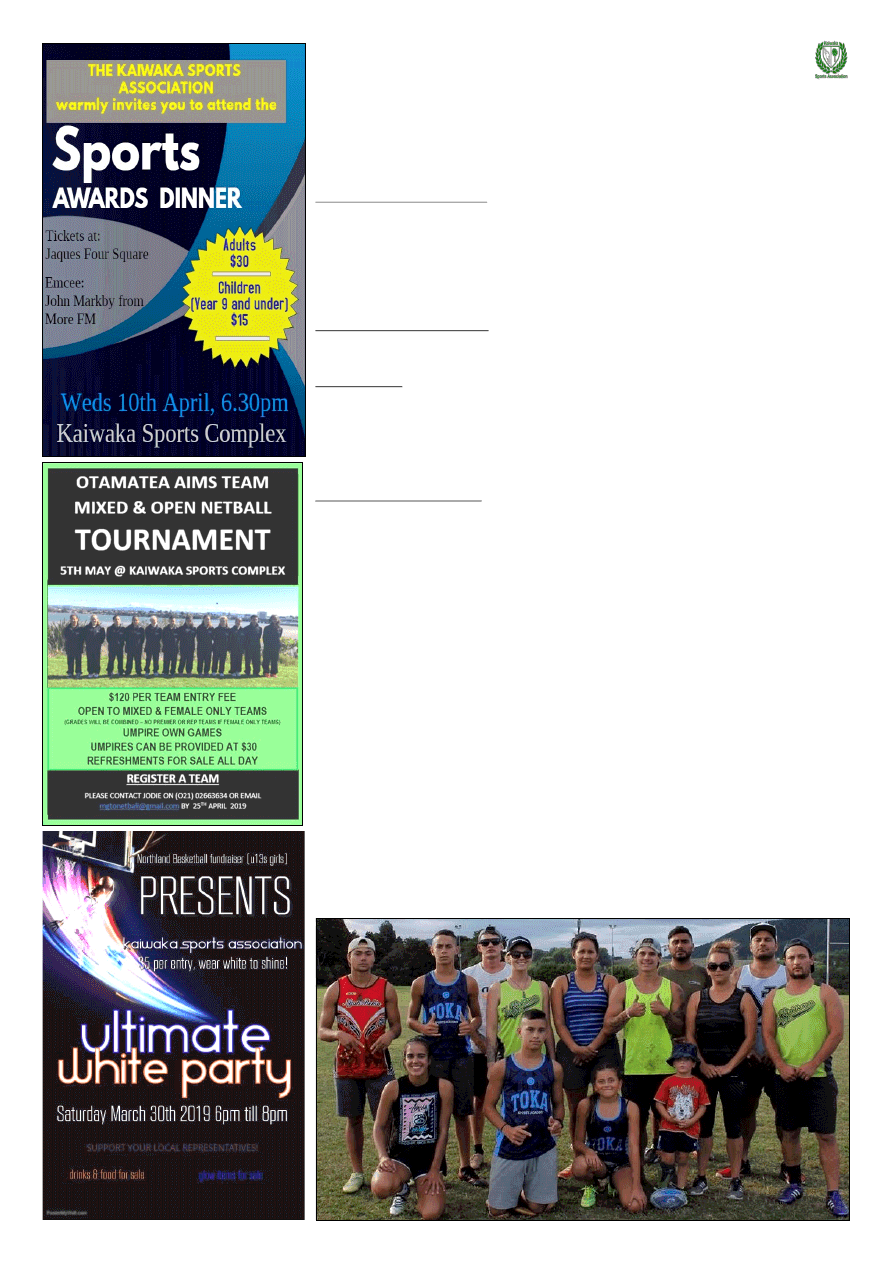 www.kaiwaka.co.nz 
Kaiwaka Bugle - 19 March 2019 
Page 11 
KAIWAKA SPORTS ASSOCIATION
Kaiwaka Sports Awards 
Our annual Sports Awards will be held 
on  Wednesday  10
th
  April  and  will  be 
emceed  by  More  FM's  John  Markby. 
Tickets  are  $30  per  adult  and  $15  per 
child  (Year  9  and  under)  and  can  be 
purchased at Jaques Four Square. 
Congratulations to the nominees: 
Junior Sportsperson of the Year 
Tyler Foster Otamatea Hawks Rugby 
Kyrin Harris Kaiwaka Fast Five Netball 
Trinity Ulisala Eastern United JMB 
Mutungaiho Cortez Irimei Grey  Kaiwaka Touch 
Anahera Worsfold Kaiwaka School 
Caitlin Heke Kaipara Basketball 
Nathan Harris Junior Hawks  
Maia Fairburn Kaiwaka Fitness Centre 
Senior Sportsperson of the Year 
Rhys Shadbolt Kaiwaka Touch 
Bron Hames Kaiwaka Fitness Centre 
Shontay Morunga Kaiwaka Fast Five Netball  
Service to Sport 
Bruce Leslie Kaiwaka Squash 
Jodie Bennetto Kaiwaka Fitness Centre 
Rebecca Fletcher Otamatea Netball  
Kevin Robinson Otamatea Hawks Rugby 
Te Awhina Whitehead Eastern United JMB 
Maree Stewart Otamatea-Ex Netball 
Kaye Fleming Kaiwaka Badminton 
Greg McRae Memorial Award 
Quintin Brown OHS Hockey 
Anthony Kim Otamatea Netball   
Devine Henderson Kaiwaka Fitness Centre 
Jackson Brierly  Kaiwaka Touch  
Netball Tournament 
The Otamatea Netball Club will hold a 
Mixed  Netball  tournament  on  5
th
  May 
at our courts, as a fundraiser for getting 
the  OHS  netball  team  to  AIMS  in 
September.  Open  to  mixed  teams  and 
female  only  teams.  This  will  be  a  fun 
day  of  netball,  with  a  hangi  and  neat 
prizes. To enter a team, please contact 
Jodie 
Bennetto 
on 
Rugby – coaching course 
A  Small  Blacks  coaching  course  will 
be held at the KSA on Wednesday 17
th
April at 6.30pm. This is a requirement 
for  all  coaches  of  rugby  teams  from 
Under 7's → Under 13's. 
A
  Rugby  Smart  coaching  course  will 
be held at the KSA this Tuesday 19
th
 at 
6.30pm.  This  is  a  requirement  for  all 
coaches  of  rugby  teams  from  Under 
14's and above.
Rugby – Senior 
The first match of the Bayley's Senior 
Competition  will  see  our  Hawks  take 
on  Old  Boys  this  Saturday.  The 
Reserves will kick off at 12.30pm and 
the  Premier  will  take  the  field  at 
2.15pm.  
Rugby – Womens 
Our Otamatea Women's Hawks have a 
pre-season  game  against  Hora  Hora 
this Saturday at our grounds at 2pm on 
field  number  two  –  come  along  to 
support them!  
Congratulations Mr & Mrs Nahona 
Best wishes to Kamira and Tama who 
got married at the KSA last weekend, a 
special evening of whanau, love, music 
and celebration.  
Touch Module 
After  eight  weeks  of  our  Touch 
Module, the finals were held last week, 
congratulations to the winning teams: 
1
st 
The  Spartans;  2
nd
  Chur  Bros;  3
rd
Kemp  Whanau.  Photos  and  videos  of 
the  action  throughout  the  Module  can 
be  found  on  the  Kaiwaka  Touch 
Facebook  page  and  on  our  website 
Basketball – coach the coaches 
Want  to  learn  how  to  develop  young 
Basketball players? Come along to our 
gymnasium  on  Friday  29
th
  March  7  - 
9pm  for  Kiwihoops.  Kiwihoops 
provides  coaches,  teachers,  parents, 
volunteers  and  administrators  with  a 
systematic  and  consistent  approach  to 
the development of players.  
Kids Disco
Shake Your Groove Thang! There'll be 
an  Ultimate  White  Party  disco  at  the 
Sports  Complex  on  Saturday  30
th
March from 6 to 8pm  – wear white to 
shine! $5 entry. 
The Incredible Years
The  Incredible  Years  course  w
ill  be 
held  at  the  KSA  every  Wednesday 
morning, from 9.30 – 12.30pm, starting 
this  Wednesday  20
th
  March  and 
running  for  15  weeks.  This  is  a 
Ministry  of  Education  course  which  is 
free  to  everyone.  Covering  parenting 
strategies for children aged 3 - 8 years.
Limited  numbers.  Register  your 
attendance  with  Eileen  Turner  on  027 
5311 561.  
~ Cheryl    kaiwakasports@gmail.com 
Touch Module winners - The Spartans. Photo by C Peeni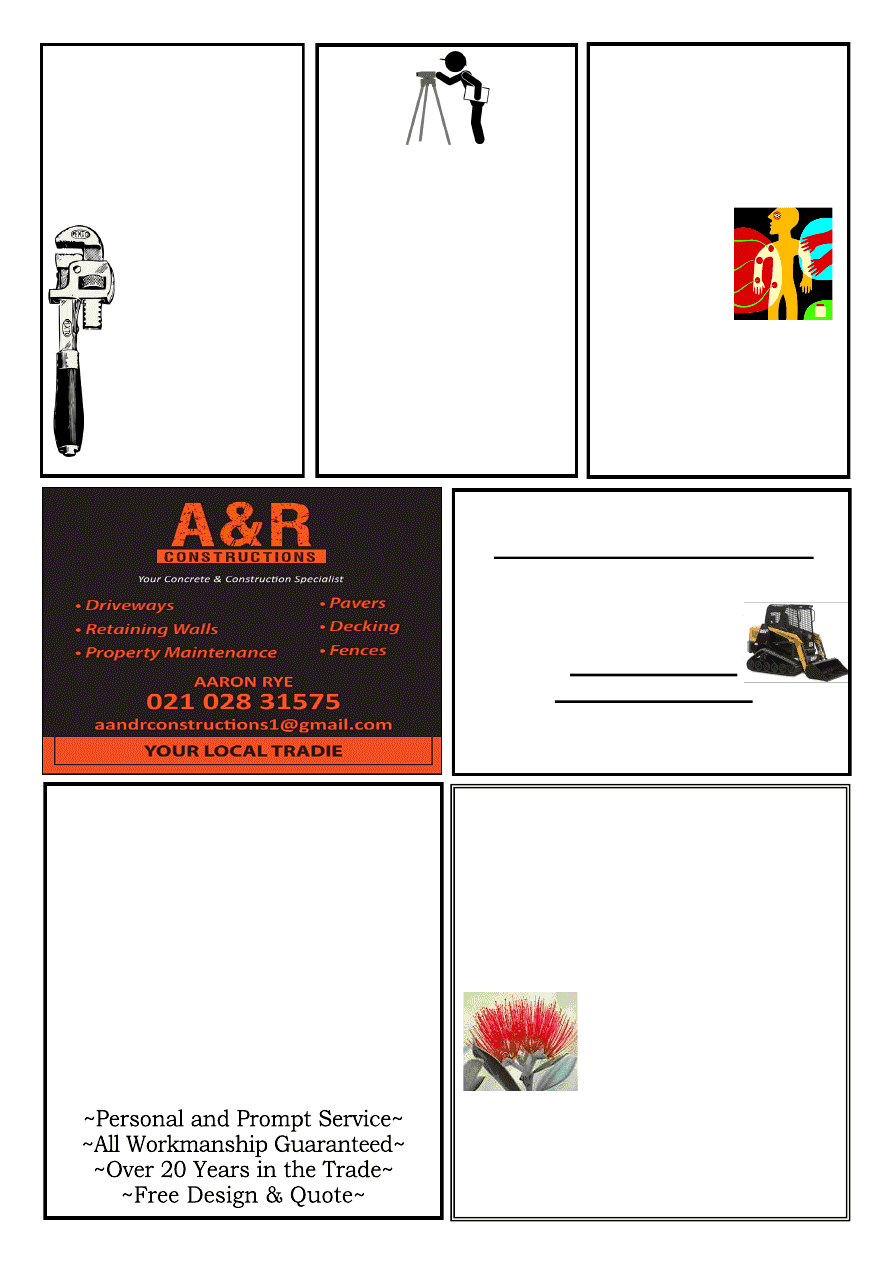 BARRY CURTIS 
PLUMBING LTD 
REGISTERED CRAFTSMAN 
PLUMBER 
Phone 431 5572 
027 257 9884 
25 years' experience 
Friendly reliable service 
All plumbing & 
maintenance 
Alterations and new 
housing 
Spouting  
Competitive rates 
PROMPT 
EFFICIENT 
SERVICE 
KAIPARA FLOORING CO 
Independently owned & operated 
32 HURNDALL ST MAUNGATUROTO
Supply & Installation of Carpet, Vinyl,  
Vinyl Wood Planking
Stockists of 2m & 3m wide 
vinyl & carpet short ends
Residential & Commercial
Q Card Finance Approved 
6-18 month terms 
6 mth interest free
First Class Installations
For a free measure & quote 
phone Christine  
09 946 9886 or 021 515 415 
kaiparaflooring@gmail.com 
http://www.kaiparaflooring.co.nz/ 
OWEN STEVENS 
Osteo Therapist
For careful adjustments to bones 
and joints 
Treatment for humans and their 
pets 
Clinics: 
Kate's Place, 
Kaiwaka: 
Last Friday of 
month 
For bookings: 
9.00am-5.00pm  
Phone 
09 4312661 
Or phone Owen  
09 4317123 anytime 
PLANNING A NEW KITCHEN?
 CONTACT NOEL McDOWELL
WELLSFORD 
KITCHENS
Ph/Fax 094312888
KAIWAKA-Any time
 QUALITY CUSTOM MADE 
KITCHENS
Ken Urquhart 
BSurv Licensed  
Cadastral Surveyor 
KMU Surveys Ltd 
467 Bickerstaffe Road 
RD 2 
Maungaturoto 0587 
Ph 09 431 8705 
Mob 021 161 2344 
kenurquhart@xtra.co.nz 
Natural Earth Ltd 
Landscape and Bobcat services 
 : Driveways :Landscaping :Retaining Walls 
 : Hole Boring: Land Levelling :Trenching 
 : Decks :Fences :Sections Cleared 
 : Plus much more
Tel 09 4312 885 
Mob 02102391280 
For A Fast Friendly Service  
Contact Tim Hicks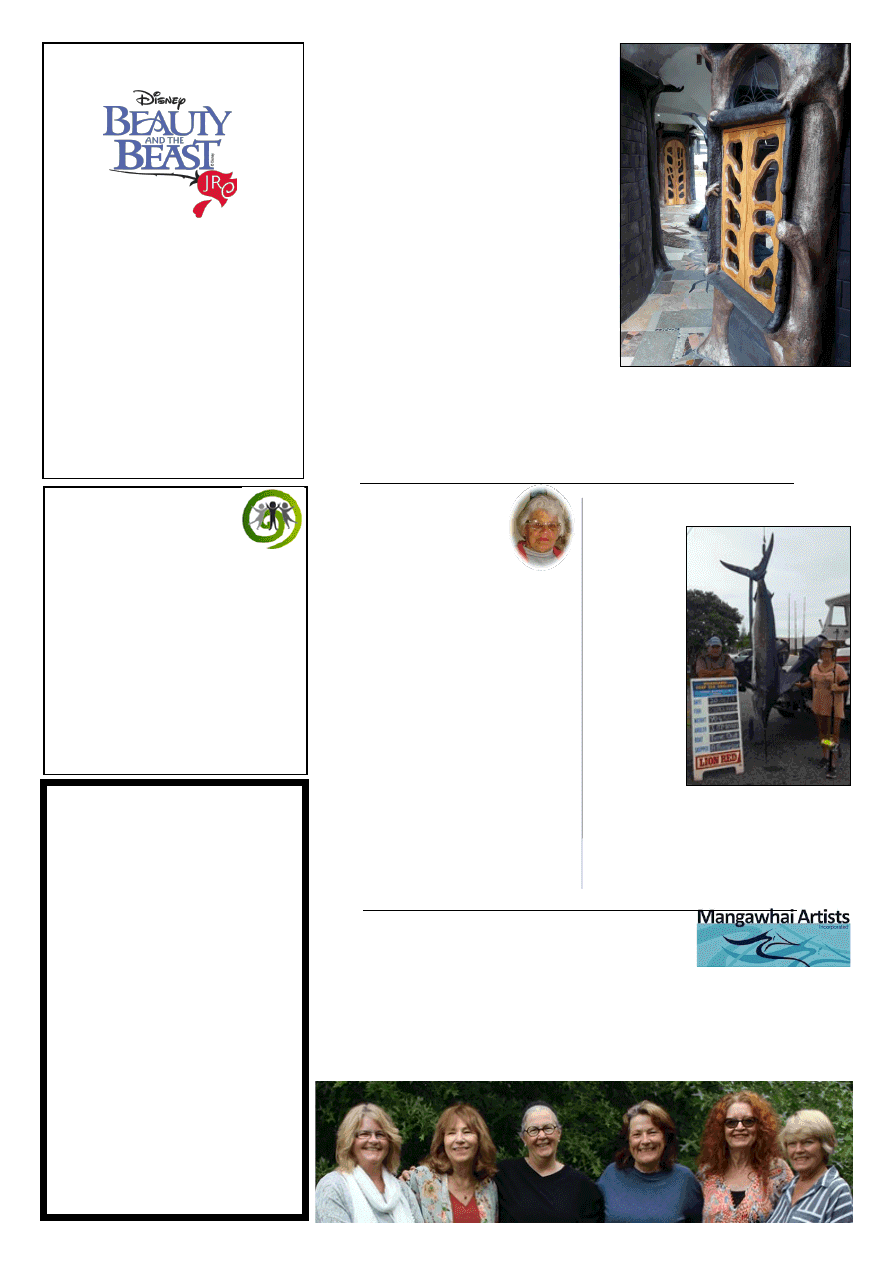 www.kaiwaka.co.nz 
Kaiwaka Bugle - 19 March 2019 
Page 13 
unusual  ceramic  or  glass  pieces,  a  mural 
painting  or  help  with  a  sculpture.  We  have 
greatly appreciated any help. 
Robert  at  times  has  been  a  reluctant 
participant in this project but has risen to the 
challenge  creating  all  the  beautiful  Art 
Nouveau style joinery, he has made polished 
basins and sculptures out of stone, beautiful 
granite tables tops and alongside me carved 
endless  images  into  fresh  concrete.  He  has 
done all the steel work and taken on most of 
the construction of this project. He takes my 
crazy drawings and making them buildable. 
I've created the mosaics, the glass work, the 
weird  sculptures,  forms  and  carving,  so 
between us we have covered most things. 
We are planning to have an open day on  
Sunday the 7th of April from 2pm – 6pm. 
An afternoon where everyone can come and 
have a look and sample some of the dishes. We will then open Monday the 8th 
from  7am,  7  days for  breakfast and lunch  to start with. We will start simple 
and  evolve  from  there  eventually  having  music  events  and  special  food 
evenings. We are planning a big opening event next summer when we have all 
systems in place. 
We are presently interviewing potential staff. If you want to contact us, you can 
phone Marijke 021891484.
FRAME OF MIND 
Mangawhai  Artists  Gallery  until  Wednesday  20  March. 
10am to 3pm daily. 
'Frame  of  Mind'  is  a  compelling  exhibition;  seven  accomplished  and 
explorative artists, developing new ideas and themes, using exciting forms of art 
mediums with a range of diverse topics. 
Marina Bagley, "Called 'Frame of Mind', the title is a play on words evoking 
the state of mind of the artist with a bit of mystery and creativity added in." 
Artists  photo:  Edie  Chappell,  Marina  Bagley,  Nicola  Everett,  Ngaire  Evans, 
Barbara Cope and Jan Grover. Mary-Anne Boyd was absent. 
WANTED TO BUY 
I  am  a  local  private  collector  of 
Kaipara  &  Northland  Paper, 
Postal  &Photographic  History 
looking to purchase: 
Old Photos   Old Postcards 
  Old Documents 
Old Envelopes  
Old Advertising / Tourism 
Posters or Pamphlets 
Old books or old 'paper' 
relating to  
Kaipara and Northland. 
I will pay a fair price immediately 
so please contact me on either  
280 9544, text 021 757 107  
or email 
nigel.bermuda@gmail.com 
OTAMATEA 
COMMUNITY 
SERVICES   
Counsellors, Parent Coach, 
Senior Support, Financial 
Mentors, Social Worker, 
Addiction Support,  
Family Support. 
Monthly Activities: 
❖
Seniors' Lunch 1st Wednesday 
❖
Chocolate Bingo 3rd 
Wednesday
❖
Shopping  trips  to  Whangarei 
2nd Tuesday and 4th Wednesday 
Phone: 09 431 9080.  
155 Hurndall St. Maungaturoto. 
Otamatea Repertory Theatre Inc 
Proudly presents 
Music by Alan Menken 
Lyrics by  Howard Ashman and Tim Rice 
Book by Linda Woolverton 
Show dates: April 27, 28 @ 2pm and 
6pm,  
 May 3@ 7.30pm, May 4 @ 2pm & 
6pm, May 5 @ 2pm  
Tickets online at www.ort.org.nz or 
at Tony's Lotto Shop in 
Maungaturoto, Adults $28
Students $15 
Disney's Beauty and the Beast JR. is presented 
through special arrangement with and all 
authorized materials are supplied by Music 
Theatre International.  
421 West 54th Street, New York, NY  10019 
From Thelma's 
Scrapbook … 
Come Hell or High Water. 
The rain fell, the water rose, 
and folks scrambled up onto their roof-
tops to safety. They hollered across the 
flood to one another, made sure 
everybody was accounted for, and 
excitedly identified things that floated 
by; "There goes Jacks' tool shed!" 
"Isn't that Betsy's' front porch swing?" 
"Golly that's the Pastors whole garage!" 
Then somebody noticed a little straw 
hat behaving oddly. It floated 
downstream about 20 metres, then 
stopped and came back upstream! After 
20 metres or so it floated back 
downstream, then stopped and came 
upstream again. Nobody could figure it 
out! 
Finally, little Billy piped up; "Well, this 
morning Grandad said he was going to 
mow the front lawn, come hell or high 
water." 
Continued  from Front page  ...
EUTOPIA ... 
KAIPARA HUNTING & 
FISHING 
Graham 
Robertson 
was 
the 
winner of the 
'Pari  Weigh 
In'  on  24 
February    - 
taking 
out 
first place for 
the  heaviest 
birds  in  each 
category. 
Game 
fishing  is  in 
full 
swing 
with 
a 
fantastic 
result  by  Jenny  Mclean  landing  the 
first  Marlin,  pictured  above,  for  the 
club  this  season.  Caught  off  the  west 
coast with Skipper Andy Thompson.
14  April:  Duck  Hunters  Shoot  at 
Hames Rd, Maungaturoto. 
  ~ 
Annette 0272 862 329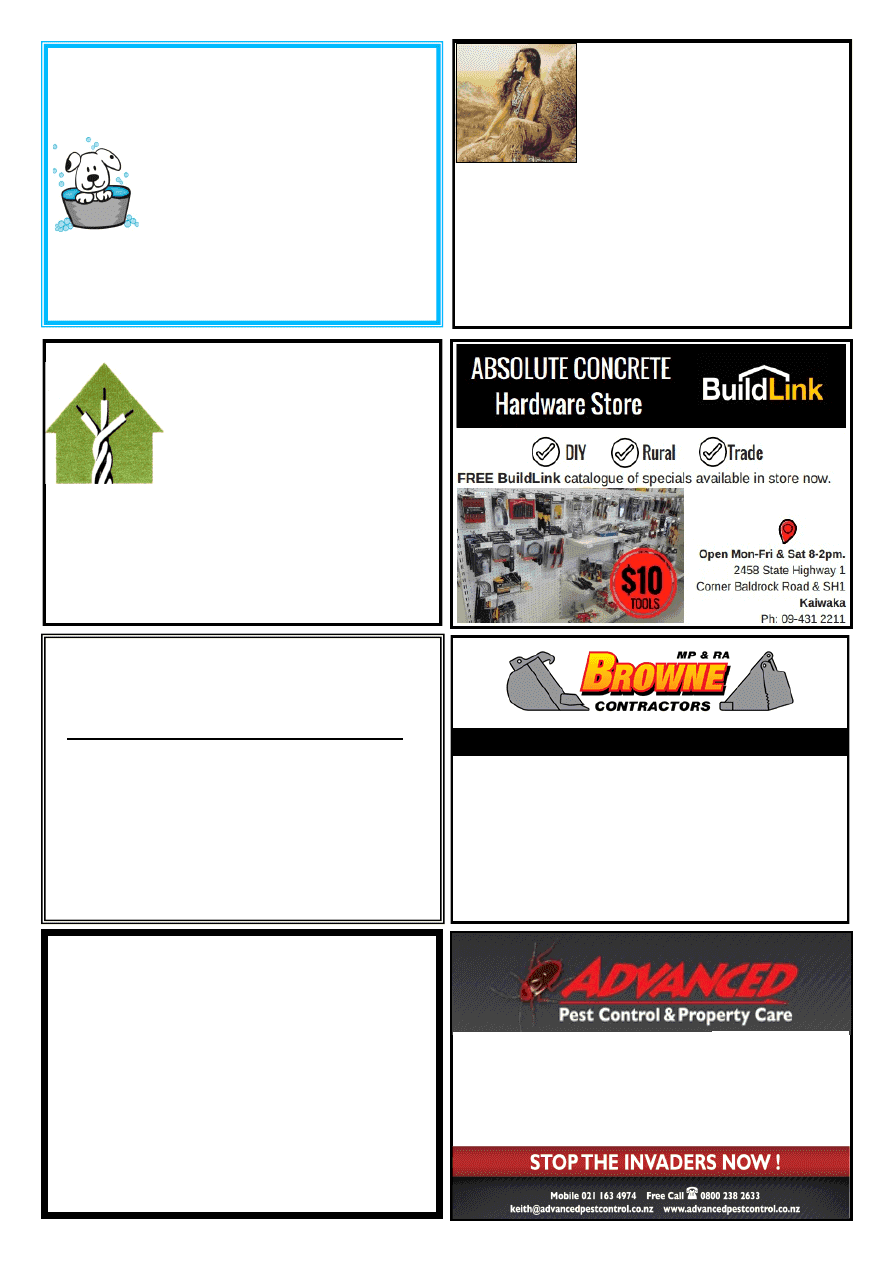 4T DIGGER – BOBCAT – TIP TRUCK 
Property Maintenance - Driveways  
 Building Sites 
Stump & Tree Removal  
Hole Boring - Chain Trencher  
Calf Shed and Stockyard Cleaning 
Phone Matt: 021 199 6677 
Email: mprabrownecontractors@gmail.com 
Mangawhai Heads 
Garden Centre
1758 Cove Road
945 0707 
021 165 2629 
Reyahn George 
Leng 
Registered Electrician 
Local, honest and reliable. 
For your residential and 
light-commercial projects. 
022 314 1068 
Trails end 
spiritualist gathering 
Last Sunday of every month  
10.30-2pm  
Tea/coffee provided  $5 koha 
For all inquiries: 
021 165 2629 evenings (09) 945 0707 
Trail.end@hotmail.com 
1758 Cove Road, Mangawhai
Bringing together like-minded people 
Guest speaker each month
Pest Control 
PLAN A: One-off treatments to customers with a specific pest problem 
PLAN B: Full maintenance service plans to commercial customers. 
This will include documentation kept in customer file on site: 
⚫
Pest treated 
⚫
Date of service 
⚫
Chemical or baits used 
⚫
Full pest check report done after each treatment 
⚫
Fair and reasonable fee with guarantee 
Flood Recovery  Carpet Care 
⚫
Carpet Drying 
This includes pre-spray treatments 
Upholstery Cleaning 
Full upholstery cleaning of all furniture.  
eg lounge suites and all office chairs 
Water Blasting 
⚫
Concrete - Decks 
House Washing 
⚫
Soft Chemical Was 
⚫
Pre-painting Wash 
Property Services 
Om Tara 
Mangawhai 
Healing Services 
Diann Glucina 
021 250 7461 diglucina.com  
FB OmTaraMangawhai 
Hot Diggity Dog 
DOG GROOMING 
All breeds dog grooming 
Professional Experienced Groomer 
Short practical grooms - summer 
Breed Standard Grooms 
Designer fusion Grooms 
Oneriri Road
By appt Phone Pam 09 4312143 
Or text only 0273335380 
Email  hot.diggitydog@outlook.com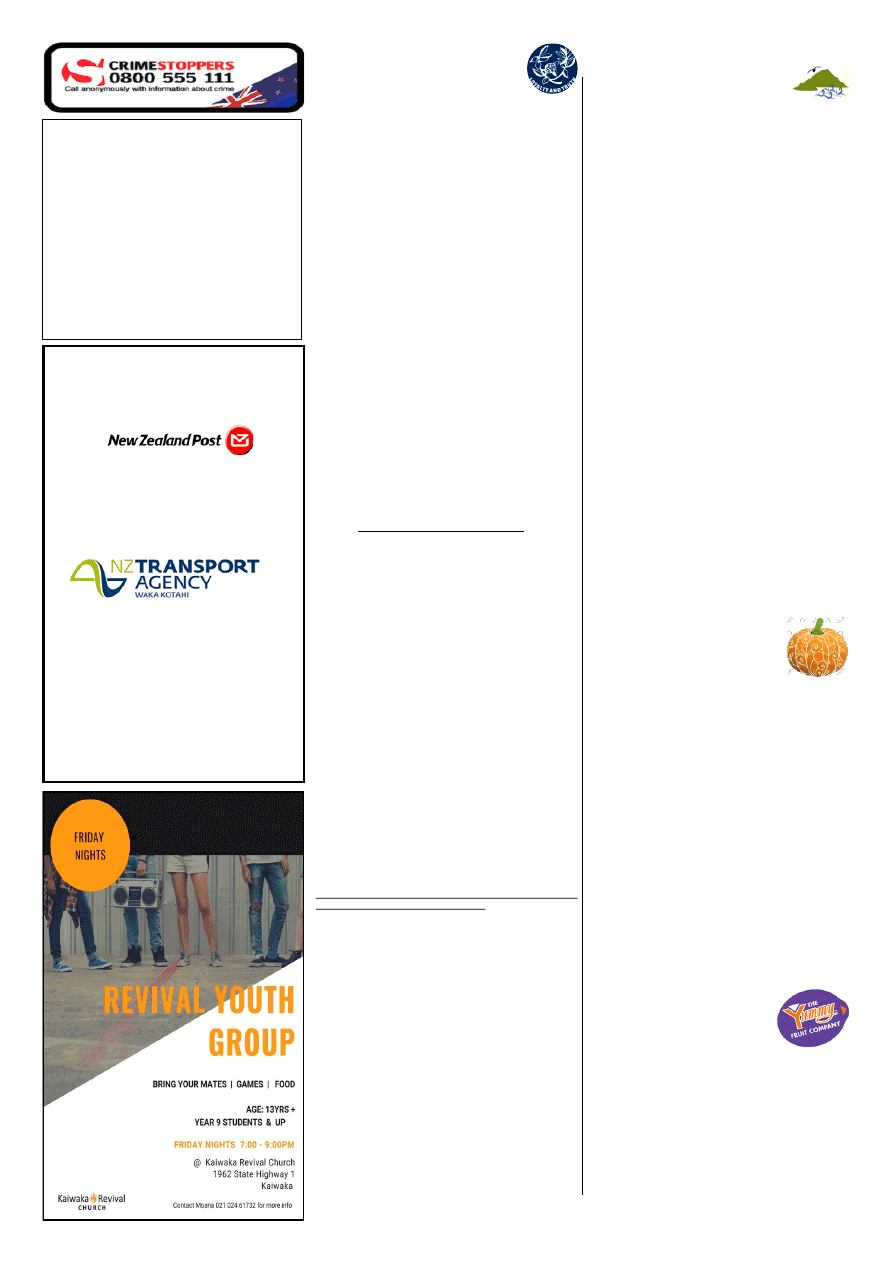 www.kaiwaka.co.nz 
Kaiwaka Bugle - 19 March 2019 
Page 15 
KAIWAKA SCHOOL 
Our School Buses- 
Important Changes 
We have over 140 students at Kaiwaka 
School now. Some days there are up to 
20  changes  to  the  bus  arrangements 
that have to be actioned. 
This is no longer possible. We need to 
streamline  our  process  for  getting  the 
children home safely and correctly. 
From  Term  2,  the  buses  will  only  run 
from  school  to  each  child's  actual 
home  driveway  or  home  bus  stop. 
Please nominate one bus route and one 
exit address or bus stop for your child, 
and  that  is  the  only  place  they  can 
disembark. So, calls to school will only 
be  to  notify  a  pickup  instead  of  bus 
travel,  nothing  else.  Walkers  are 
unaffected but cannot ever go on a bus.  
Students  whose  exit  place  is  not  a 
home  driveway  need  to  be  met  by  a 
nominated  adult.  Any  child  not  met 
will be bought back to school and will 
need  to  be  picked  up  from  school. 
Exceptions  are  students  living  in 
Puawai Street and Marshall Roads. 
GIANT Pumpkin Competition 2019 
How  are  your  pumpkins  coming 
along?  Don't  worry  if  your  pumpkin 
isn't  huge,  you  could  still  win  one  of 
the  other  categories.  All  pumpkins 
welcome on the day.  
Category 1: Heaviest Pumpkin 
Category 2: Fancy Dressed Pumpkin 
Category 3: Hill Roll-longest 
distance down the hill. 
Competition  Day:  Tuesday 
26 March at 11.am 
Any  queries,  please  phone  Amy 
Griffiths: 0212072729 or 4312029 
After School Care 
Due  to  small  numbers  this  year  the 
Board  of  Trustees  have  made  the 
decision  to  cease  operating  ASC. 
There  will  be  no  more  After  School 
Care Programme from Term 2 onward. 
The  last  day  of  operation  will  be  12 
April 2019. 
The  Board  regrets  that  this  decision 
has had to be made, but as its primary 
function is to provide education for all 
our  children,  it  cannot  justify  using 
substantial  school  funds  to  operate 
After School Care. Should the number 
of students wanting After School Care 
places  increase  substantially,  and  the 
ASC becomes viable, the decision will 
be reconsidered. 
Yummy Apples 
We  are  participating  in  the 
Yummy  Apples  School 
Sticker promotion. It would 
be  awesome  for  everyone  to  get 
involved as the Yummy cut-out labels 
from bags of apples and the stickers on 
the apples help the school to receive a 
share  of  the  $200,000  free  sports  gear 
prize pool. Collect the Yummy cut -out 
labels from bags (each cut-out label is 
worth  10  stickers)  and  individual 
Yummy apple stickers, and send them 
to school!  
KAIWAKA POST 
CENTRE and 
FOOD MART 
POST CENTRE TRADING HOURS 
MONDAY to FRIDAY 8am to 5pm 
SATURDAY 8am to 12pm 
CLOSED ON SUNDAY and on 
PUBLIC HOLIDAYS 
FOOD MART (GROCERIES) 
MONDAY TO SUNDAY  
7:30am to 8pm 
IF ANY QUERIES PLEASE CALL 
STORE MANAGER AMRIT  
on 09 4312431 or 
EMAIL: kaiwakafood19a@gmail.com 
1919a State Highway1, Kaiwaka 0542 
OTAMATEA HIGH 
SCHOOL
OHS  will  close  for  tuition  at 
12.30pm on 27th March due to parent/
teacher  interviews.  High  School  buses 
will run at this time.  
OHS JUNIOR TRIATHLON  
Wednesday  27th  March,  9.15am 
starting  at  the  Otamatea  High  School 
Swimming  Pool  for  O.H.S.  Year  7-8 
Students (Individual and teams of 2 or 
3 competitors). 
Race  Records  Boys:  Rikki  Beazley  – 
40.26(2018);  Girls:  Poppy  Scott  - 
34.30  (2016);  Teams:  Kevin  Kim, 
Marshall  Scott  and  Nathan  Harris  – 
35.18 (2017) 
200  metre  SWIM  (8  lengths  of  O.H.S 
pool);  8  kilometre  BIKE  (from  O.H.S 
pool – along Bickerstaffe Road around 
cone  and  return)  –  4  laps; 2  kilometre 
RUN (along Bickerstaffe Road to 1km 
turn around and return) – 1 lap. 
The best viewing areas are: 
1.  Swimming  Pool,  on  the  bank.  2. 
Biking, along the north field fence line 
3. Running, along the north field fence 
line.  4.  Transition  Area  –  outside  the 
designated areas.
KAIWAKA TOUCH 
MODULE 
Over  100  people  participated  in  the 
Kaiwaka  Sports  Association's  Touch 
Module,  held  on  Wednesday  evenings  for 
two  months.  The  teams  were  mostly  of  a 
similar  standard  –  and  often  the  matches 
were close and could have gone either way. 
The  finals  saw  Chur  Bros  taking  on  the 
experienced Spartans. The match was very 
close, but the Spartans just squeaked in for 
the  win  by  one  point  and  took  home  the 
winner's  purse  of  $300  with  Chur  Bros 
taking  away  the  second-place  prize  of 
$200. The third-place prize of $100 went to 
Kemp Whanau. 
After  the  finals,  players  moved  into  the 
pavilion for prizegiving, congratulations to 
the prize winners: 
Youngest player – Lucas Kemp, 9 years old 
Oldest  player  –  Justin  Kemp,  aged...  a  closely 
guarded secret 
Most  supportive  on  the  side-line  –  Merv 
&Stephanie Masiutama 
Player coming from the furthest away – Damin 
Eruer (Rawene) 
Best Team Spirit went to Ngaringaomatariki. 
Team managers nominated a player from their 
team to receive a special prize: 
Chur  Bros:  Shontay  Morunga  for  going  all  out 
each week. 
Touch  &  Go:  Irimei  Grey  for  stepping  out  Mike 
Peeni. 
Team Fonterra: Brooke Clarke. Most improved. 
Ngaringaomatariki:  Tevin  Lemuelu  for  playing 
great matches each week. 
The  Spartans:  Tamati  Phillips  for  massive 
improvement,  to  now  being  one  of  the  team's 
playmakers. 
Kemp  Whanau:  Wade  Kemp.  A  valuable  team 
member. 
Kaipara Crusades: Devine Henderson. Played with 
spirit and improved her game. 
Butterfingers: Katie Eagle. Most improved. 
Thank  you  to  the  Module's  referees:  Gerrin, 
Zac, Bruce and Paul. 
Final  placings:  8th:  Ngaringaomatariki;  7th: 
Team  Fonterra;  6th:  Kaipara  Crusades;  5th: 
Butterfingers;  4th:  Touch  &  Go;  3rd:  Kemo 
Whanau; 2nd: Chur Bros; 1st: The Spartans 
Photos and videos from the Module are on 
the Kaiwaka Touch Facebook page. Thank 
you  to  everyone  who  participated,  and  we 
hope to see you back next year!  
HAKARU HALL 
ACTIVITIES 

Monday: Line Dancing 10.00am 
Ph 4315160 

Tuesday: Pilates 9.00-10.00
am
Ph 0220643964 Certified Instructor 

Wednesday: Hall Meeting, First 
Wednesday each month. 7.30pm 

Thursday: Pilates 9.00-10.00am. 
All welcome  Ph 0220643964 

Thursday: Scouts 5.00pm 
Hall Available for Hire Ph4312256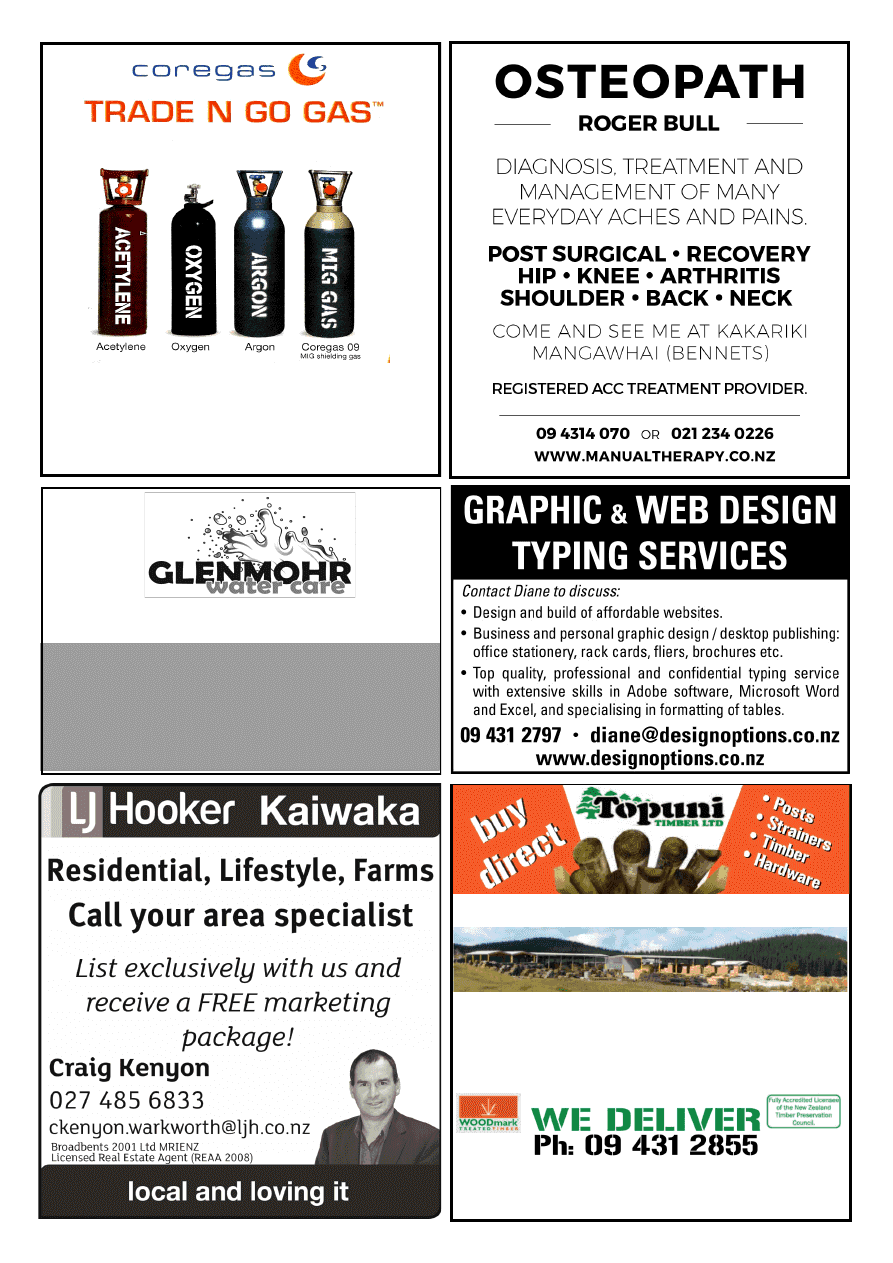 Water Tank Cleaning 
• 
Keep your water safe & clean  
• 
Removal of sediment, silt etc. 
• 
Vacuum or full scrub 
• 
Minimal water loss 
Phone Mark (09) 432 0655 or 0274 707607 
Now available at Twinkle Tow 'n' Tyre 
Mob: 021 833 960 
Ph & Fax: 09 431 2823 
1837 State Highway 1, Kaiwaka 
LOCALLY OWNED AND OPERATED 
QUALITY PRODUCTS • FRIENDLY ADVICE • GREAT SERVICE 
Quality Products milled from High Density NORTHLAND Radiata Pine. 
Treated and guaranteed to NZS3640 with commitment to 
Environmental Safety.
Phone, fax, email, or come into the mill 
Schiska Rd, Topuni, SH1, 10 min north of Wellsford. Fax: 09 431 2856 
Email: sales@topunitimber.co.nz           Mon - Fri 7am-5pm 
• Fencing 
• Retaining 
• Decking 
• Landscaping 
• Gates 
• Hardware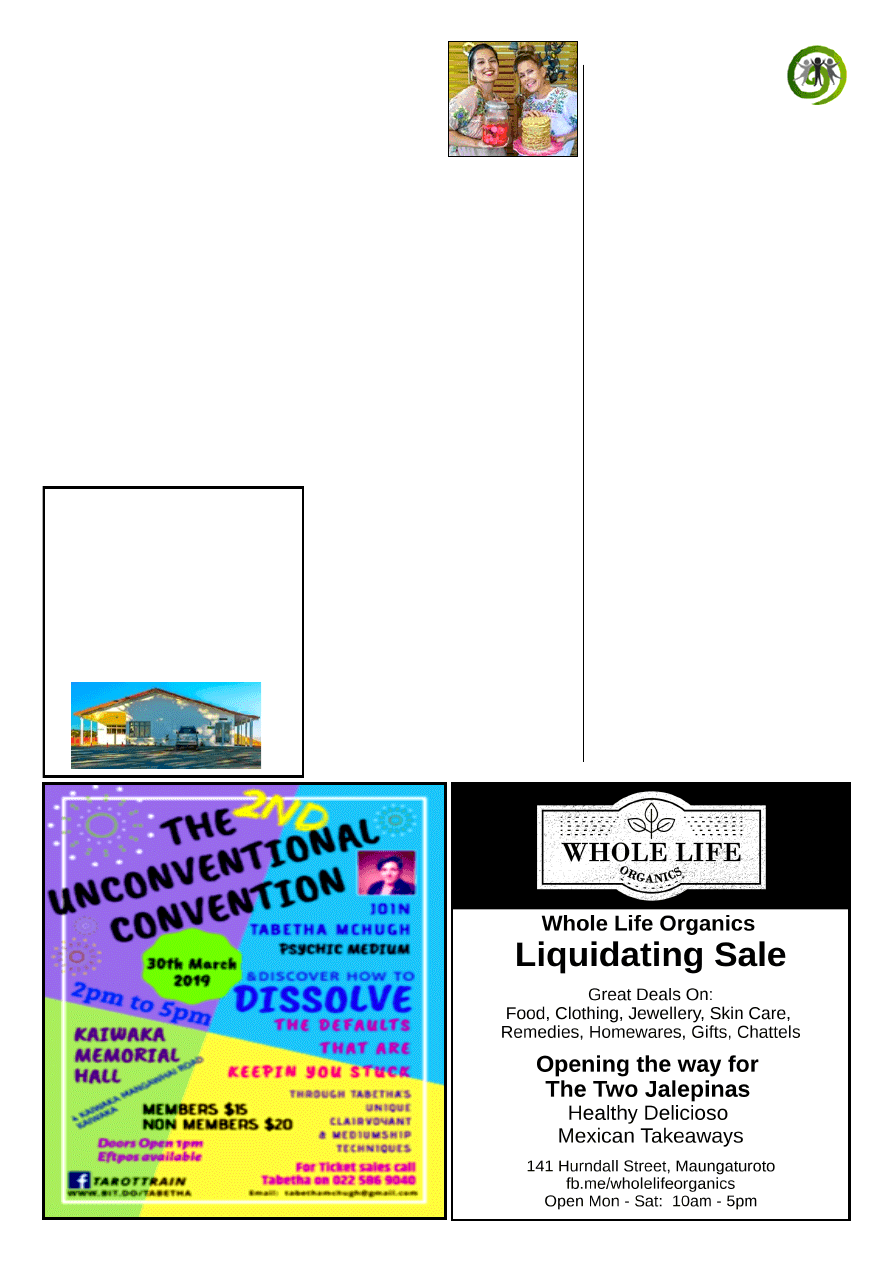 www.kaiwaka.co.nz 
Kaiwaka Bugle - 19 March 2019 
Page 17 
OTAMATEA 
COMMUNITY 
SERVICES   
Seniors'  Luncheon:  The  first 
seniors' luncheon for the year took place in 
March  –  a  month  later  than  our  usual 
February start due to Waitangi Day. There 
was  a  great  turnout  and  going  by  the 
reports coming in, a good time was had by 
all  with  lots  of  catching  up  going  on 
around the tables. Our sincere thanks to all 
who  contributed  to  this  successful  day  – 
without  all  of  you  our  senior  members  of 
the community would be  missing out on a 
treat. 
New  Service:  After  our  usual  monthly 
Chocolate  Bingo last  month  we  began our 
new  Fun  and  Games  service  which 
included cards, alphabet dice and scrabble. 
We  thought  it  would  be  fun  to  have  a 
variety of activities including board games, 
cards, craft, play- reading, writing, quiz. 
Please  let  us  know  if  you  would  like  to 
help run this for a couple of hours, possibly 
twice  a  month.  Phone  Pauline  at  the 
Community House on 09 4319 080. 
For  those  who  are  not  aware,  we  already 
have  'Chocolate  Bingo'  at  the  Footprints 
Room in the Anglican Church, on Hurndall 
Street.  This  is  on  the  third  Wednesday  of 
the  month,  and  we  would  like  to  hold  the 
new  Fun  and  Games  at  the  same  place. 
Another reason to talk to your friends and 
neighbours,  tell  them  about  the  new  Fun 
and  Games  morning!  We  look  forward  to 
your thoughts and ideas. 
Van Driver: Is there anyone interested in a 
volunteer role, driving our community mini
-bus  on  shopping  trips.  This  would  be  on 
the  fourth  Wednesday  of  each  month,  and 
possibly  on  other  days  as  required.  All 
applicants  will  be  subject  to  a  vetting 
process.  For  more  information,  please  call 
us at 09 431 9080. 
Your Community House is open five days 
a  week,  from  9  to  4,  and  we  are  here  to 
help  with  counselling,  parenting,  financial 
mentoring,  senior  support,  addiction 
support, social work, family support – call 
in  or  phone  09  431  9080.
From  all  at  OCS 
155 Hurndall Street
, 
Maungaturoto.
The  incomparable  flavours  of  Mexican 
California  have  come  to  our  good  ol' 
Maungaturoto! ... (and in the most unusual 
way). Kimberley Gabbard, owner of Whole 
Life  Organics,  was  approached  by 
Alejandra Perez for a job in late 2018. This 
was their first meeting and, given that they 
are  both  expat  Californians,  they  quickly 
began  reminiscing  about  their  favourite 
Mexican foods and the lack thereof here in 
Aotearoa.  Both  agreed  that  even  the  big 
New  Zealand  cities  provide,  at  best,  only 
very  cheap  and  over-simplified  (read 
corporate)  versions  of  the  incredibly 
diverse  flavours  offered  on  the  streets  of 
Southern  California.  They  also  agreed, 
together,  that  they  should  let  us  good  old 
Kiwi country folks try the tantalizing tastes 
of authentic Mexican Street Food first. We 
are, after all, a "real New Zealand town" as 
the  sign  says  - and so  we are. This  means 
that  Maungaturoto  gets  to  sample  this 
project  before  any  other  place  in  New 
Zealand.  This  cafe  is  getting  the  attention 
of  surrounding  towns,  like  Dargaville, 
Mangawhai,  Waipu,  and  Whangarei.  This 
is  mentioned  because  Kimberley  and 
Alejandra  have  big  plans  to  spread  these 
delicioso dishes across the nation. 
The  initial  popularity  of  the  Whole  Life 
Organics  Mexican  cuisine  endeavour  has 
proven  so  popular 
with 
locals 
and 
passers-through 
alike  that  it  has 
become  a  job  in 
itself  keeping  up 
with supplies due to 
the  number  of  times  the  café  has  been 
completely sold out. 
Kimberley, a Natural Food chef, creator of 
the  Amazing Banini "smoothies" still used 
in café chains around Hawaii, she was also 
the  former  owner  and  executive  chef  of 
The  Heavenly  Taste  Catering  in  LA 
California.  Kimberley  is  obsessed  with 
what she calls "street food". This term isn't 
used  here  (yet)  but  in  SoCal  it  refers  to 
ubiquitous  food-carts  that  deliver  ready-
made, fresh Mexican food made with time-
honoured,  home-spun  recipes.  Kimberley 
recognized in Alejandra just such a perfect 
opportunity. 
Alejandra  was  taught  to  cook  by  her 
mother,  who  was  born  and  raised  in 
Mexico  City.  The  taste  combination  of 
American  California  and  Mexico  is 
something  people  have  to  experience  for 
themselves  -no amount of  words can do it 
justice. 
What  does  this  mean  for  Whole  Life 
Organics?  Time  for  ch-ch-changes,  the 
shop  stock  is  going  to  be  liquidated  to 
make  way  for  the  delicioso  healthy 
Mexican takeaways, this means great deals 
on  all  clothing,  jewellery,  stuff  for  baby, 
skin  care,  remedies,  supplements,  food, 
chattels etc. 
So as the sun sets on Whole Life Organics, 
the sun rises on the Two Jalepinas. 
Made  with  quality  authentic  Mexican 
ingredients.  We  specialise  in  gluten-free, 
plant-based meals. 
Be  warned...  forget  all  that  you  knew 
about  Mexican  food  -  this  is  a  new 
paradigm for New Zealand! 
Here's some of the delicious things to look 
out for: 
Cicken  Crispy  Tostada,  Nacho  Man 
Nachos, Jumping' Jack Spicy Taquitos, and 
much more... 
For  more  info  check  out  their  Facebook 
page: fb.me/wholelifeorganics 
Te Pounga Marae 
130 Nathan Rd. Oneriri. Kaiwaka 0573 
COMPLEX FOR 
HIRE 
Functions: * Weddings  * Birthdays  
*Anniversaries * Meetings  * Wananga 5 
hour meeting * 12 hour stay or Overnight 
*All welcome   
For more information please contact: 
Kim Wallace  
Home: 09 832 1133  Mob: 0211275340  
Email: kimwallace@xtra.co.nz 
ATENCIÓN!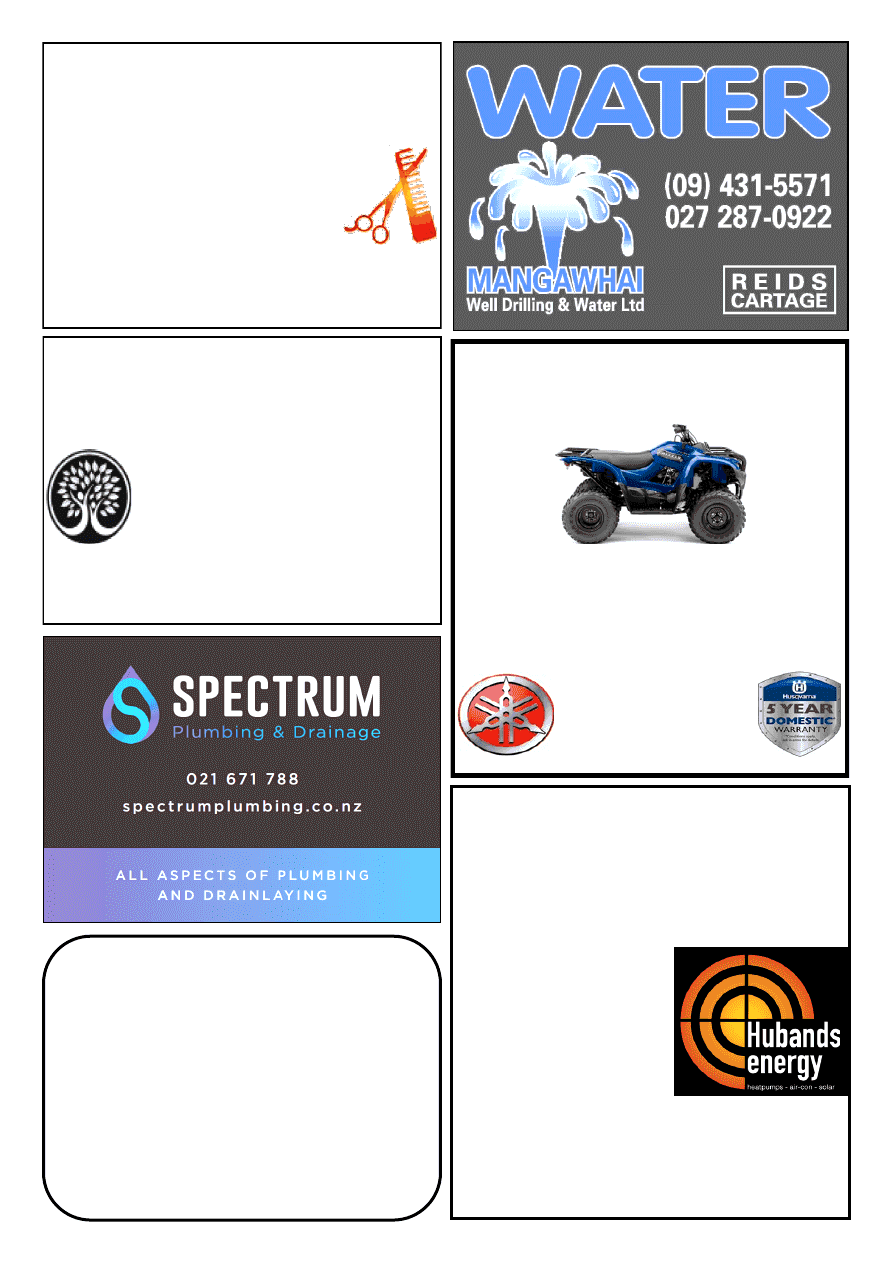 KAIWAKA 
MOTORCYCLES LTD
SALES – SERVICE – SPARES 
FARM BIKE SPECIALIST
PHONE 09 431-2127 
10 KAIWAKA-MANGAWHAI ROAD, KAIWAKA
Trimmers  
from $279
Chainsaws  
from $339
YAMAHA 
HUSQVARNA 
Northland's Award Winning 
Solar Company
SEANZ Best Solar Business Winners 2015/16
EXCLUSIVE 10 year installation warranty 
FREE No obligation onsite quote
Complete systems 
from $5990
See our range of: 
✓ 
Heatpumps 
✓ 
Airconditioning 
✓ 
Hot Water 
Heatpumps 
✓ 
Central Vacuum Systems
09 430 0019             sales@hubands.co.nz 
15 Kioreroa Road, Whangarei
Locally owned and operated for 35 years 
UP-LINK 
CHRIS WARING 
FREEVIEW INSTALLATIONS 
T.V. - HOME THEATRE &  
HI-FI ADVICE/SET UP
SKY ACCREDITED INSTALLER
MOB.0273403747 HM.094312328 
EMAIL cwaring44@gmail.com
28 YRS EXPERIENCE 
OFFERING UNBIASED ADVICE 
AFFORDABLE PRICES! 
MENS CUT FROM $20.00 
LADIES CUT FROM $30.00 
KIDS CUT FROM $18.00 
COLOUR & CUT FROM $120.00 
JUST CUTS'AND   
MORE 
021 165 2629 or (09) 945 0707  
NOW SELLING: scented tealights, incense, smudge sticks, 
copper bracelets, aurora ball crystals, dream catchers, healing 
stones, rose quartz, cds, and much more. Open 6 days. 
Waipu Natural Health 
3 Cove Road, Waipu  (opposite the Pizza Barn) 
Ph: 09 432 1325 
www.waipunaturalhealth.co.nz
Clinical Nutritionist-Hair Analysis for Masked 
Allergies, Ozone Therapy, Prolotherapy, 
Naturopath-Medical Herbalist, Registered 
Massage Therapists, Reflexology-
Craniosacral Therapy, Acupuncture-Facial 
Acupuncture, Kineso Taping, Hypnotherapy, 
Counselling, ThetaHealing/Change Catalyst.
AFFORDABLE CONSULTS FOR KIDS – give us a call
Gift Vouchers available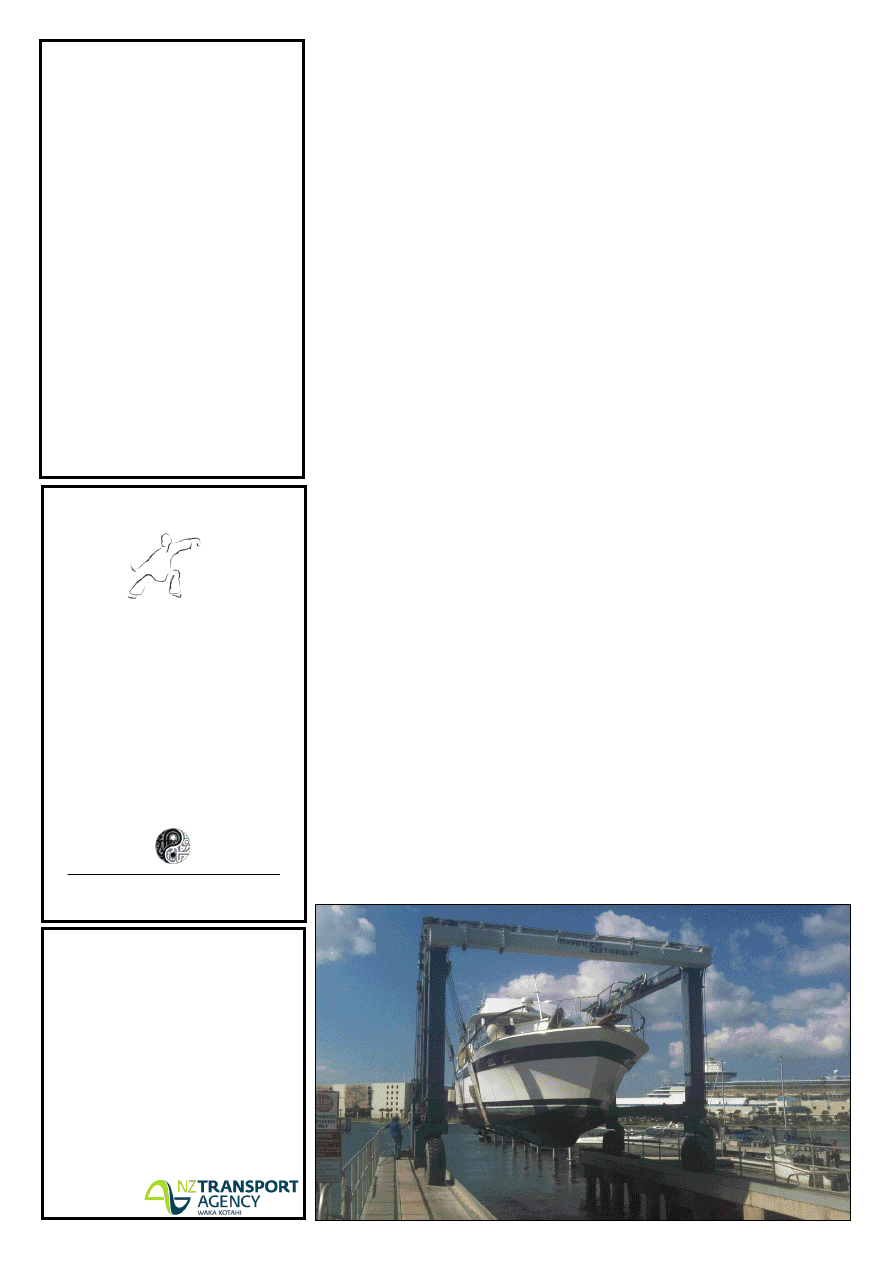 www.kaiwaka.co.nz 
Kaiwaka Bugle - 19 March 2019 
Page 19 
The Launch of the MV Hamsin
. 
By Bevan Lawrence
Driveway  
& Farm Race 
Maintenance and 
Construction 
Grader, Roller,  
Digger, Trucks 
Supply of lime rock and 
metal 
Call Peter on 
0274441553 
For advice / estimate for 
your driveway / farm 
race needs 
One  of  my  past  occupations  was  as 
General  Manager  of  a  Boat  Company 
building luxury launches. 
One gets to know the owner when you 
are  building  such  a  boat  for  them, 
things  like  the colours they  prefer, the 
way  they  like  things  laid  out,  the 
surface  finishes,  as  well  as  some 
personal  details.  So,  many  months 
since meeting John, we had developed 
a good relationship. He was a 747 Pilot 
nearing  retirement  so  the  boat  was 
going to be both an investment and his 
new toy. Its name, Hamsin, came from 
a  soft  hot  wind,  between  March  and 
May, from the Sahara Desert. For some 
time,  I  had  been  puzzled  by  a  small 
round object under his golf shirt on his 
chest.  During  one  of  our  after-work 
beers  I  plucked  up  enough  courage  to 
ask what it was? He said it was a secret 
and not to tell anyone, he pulled out the 
object, attached to a fine gold chain - it 
was  a  monocle!  He  said  although  he 
passed  regular  physicals  as  a  pilot,  he 
was  having  trouble  sometimes  making 
out some instruments on the flight deck 
so he would then use the monocle. 
As  the  due  date  for  the  launch  was 
coming  up,  he  questioned  me  about 
details  of  the  process.  I  told  him  the 
age-old  story  of  how  boats  in  the  past 
had  been  launched:  When  boats  had 
become too big to handle, some of the 
first  were  built  stern  to  the  water  in  a 
hole.  When  the  boat  was  finished  the 
earth  between  the  boat  hole  and  the 
water  was  dug  out  and  thus  the  boat 
floated.  This  is  still  common  but  the 
earth  is  now  replaced  by  a  caisson  or 
big steel gate.  
In Ancient times, boat's keels were set 
up on rollers which were pinned to stop 
movement, and then when the boat was 
finished  they  were  un-pinned,  and  the 
boat  would  roll  into  the  water.  On 
many occasions in the past slaves were 
used  for  this  job  and  often  one  would 
get  caught  and  killed,  if  his  blood 
splashed  onto  the  boat  it  was 
considered  a  blessing  or  good  luck. 
Even  the  ship  'Queen  Elizabeth  the 
Second'  built  on  the  Clyde,  Glasgow, 
was  stood  on  short  poles,  (toms). 
During  the  launch  these  were  pushed 
over  in  firing  order  by  electrical 
solenoids.  Two  men  were  stationed  in 
the  dry  dock  with  sledge  hammers  to 
hit  the  solenoid  if  it  didn't  fire,  one 
man to hit it, one man to haul the other 
man out should it go wrong. 
If the steel toms didn't fall, they could 
singularly  drive  through  the  plate  and 
hole the hull. The Clyde is narrow and 
the ship pulls with it yards of chain laid 
on  the  dock  to  slow  the  descent. 
Shipyards  on  the  opposite  side  would 
halt work due to the stern wave which 
rushed up their slipways. 
As  the  slave  trade  diminished,  owners 
would use red wine to splash the hull in 
place of blood. 
Today  being  more  sophisticated  and 
salubrious  we  use  champagne.  John 
was  worried  about  the  big  day  of  the 
launch. We had, of course, already sea-
tested  all  systems.  On  the  day  of  the 
launch it hung, serene and polished, in 
the  strops  of  the  boat  hoist,  whilst  the 
crowd,  including  all  my  workers, 
assembled.  Speeches  were  made,  a 
Catholic  Father  gave  it  his  blessings 
and  John's  wife  stepped  forward  to 
swing the bottle at the shining stainless 
bow  fairlead.  I  know  not  why,  as  the 
fitting  was  positioned  very  close  and 
over the dock edge, but she missed and 
the  bottle  plus  the  stocking  it  was 
wrapped in sailed out into the harbour! 
Immediately  there  was  a  huge  'Aww' 
from  the  crowd,  (plus  a  few  laughs 
from  my  lot.)  John,  with  presence  of 
mind, checked with me if it meant bad 
luck  or  not  and  after  I  assured  him  it 
was  not,  he  shot  off  to  get  another 
bottle  from  the  boot  of  his  BM.W. 
Meanwhile  his  wife,  an  attractive  ex 
airhostess,  disappeared  for  a  moment, 
removed her panty-hose, put them over 
the  bottle  and  the  process  continued. 
Thankfully  this  time  she  didn't  miss 
and  there  was  the  traditional  big 
'crack',  with  foamy  champagne 
splashed  all  over  the  bow.  Music 
played  and  the  BBQ  party  started. 
Photo supplied
TAI CHI 
Balance,  
Co-ordination, 
Meditation,  
Settled mind, 
Confidence,  
Self-awareness 
Classes:  Sunday morning 
Kaiwaka
 8:30 – 10 am Kaiwaka 
Sports Association
For more information please contact 
 Otamatea Martial Arts
otamatea.kempo@farmside.co.nz 
Phone 09-431-5170 
www.facebook.com/
otamatea.kempo 
Keep up to date with: 
Traffic updates: nzta.govt.nz/traffic 
Facebook: facebook.com/nztaakl 
Twitter: twitter.com/nztaakl 
Journey planner: 
journeys.nzta.govt.nz 
Phone:  
0800 4 HIGHWAYS (0800 44 44 49) 
Electric Vehicle charge stations: 
www.journeys.nzta.govt.nz/ev-chargers 
Night works to reseal State 
Highway 1 at Kaiwaka -
Wednesday 20 March and 
Thursday 21 March, 6pm-5am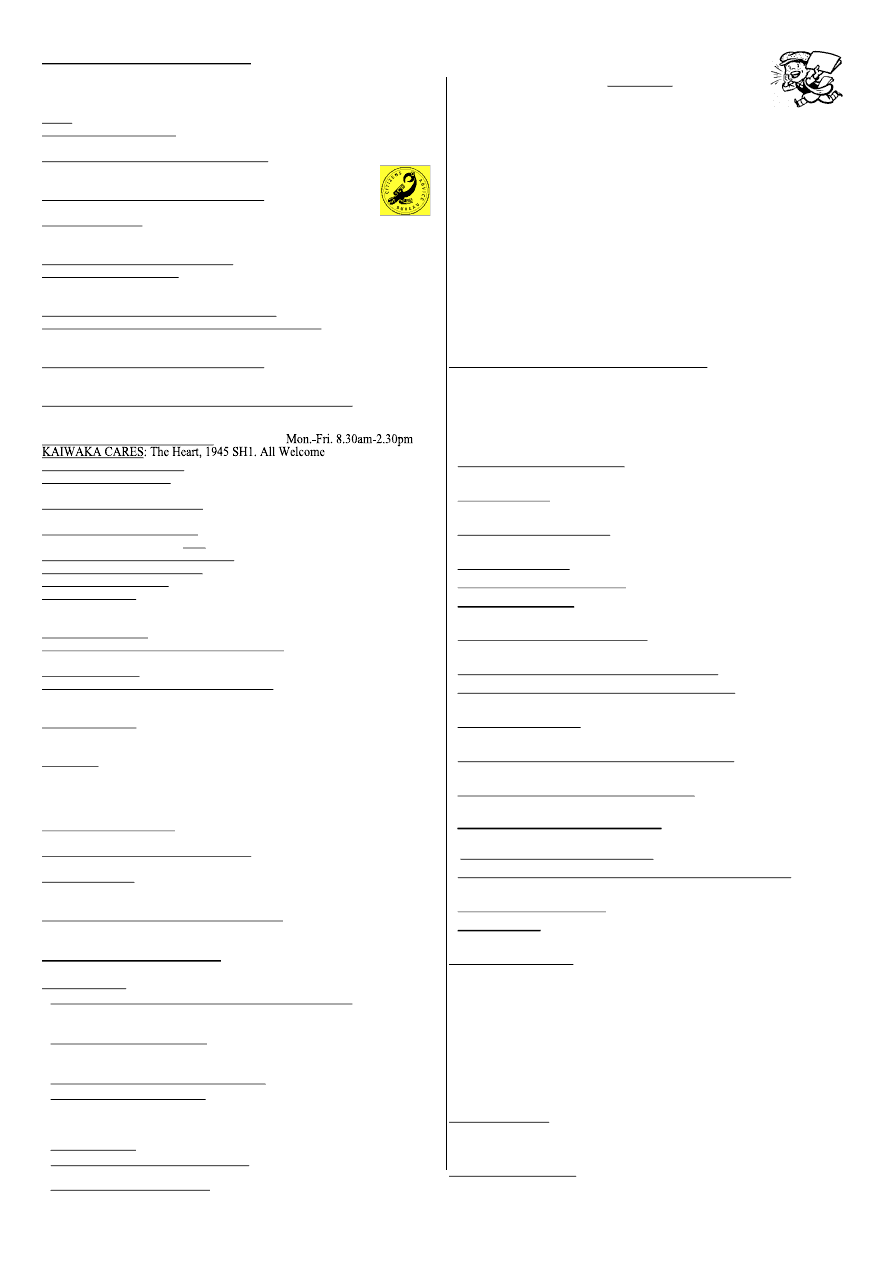 Next Bugle Deadline midday Friday 29th March  2019
WHAT'S ON
PLEASE ~ do let us know what is on - email 
kaiwakabugle@kaiwaka.co.nz 
*20Mar~Kaiwaka Can meet. 5.30pm Archie Bull Hall 
*22Mar~Movie 'Mary Queen of Scots', KWMH, 7.30pm 
*23Mar~HAWKS RUGBY, KSA 
*23-24Mar~Open Fishing Competition; Fresh Fish Auction 
at Three Furlongs 24 March, 6.30pm 
*28Mar~Hakaru RSA Women's Section meet. 1.30pm 
*29Mar~Kiwihoops coaching, KSA 7-9pm 
*30Mar~Kids Disco, KSA, 6-8pm 
*31Mar~Movie 'Christopher Robin', KWMH, 2pm 
*3Apr~Otamatea St. John meet. Re Kaiwaka Station, 7pm 
*5Apr~ Movie Supper 'Havana Moon' KWMH, 7.30pm 
*12-13Apr~Molesworth Sheep Dog Trials, Oneriri Rd 
KWMH = Kaiwaka War Memorial Hall; KSA = Kaiwaka Sports Association 
See www.kaiwaka.co.nz for more information 
HOUSEHOLD RUBBISH COLLECTION  
Kaiwaka Pick up: 
Mondays = Green bags (Northland Waste - 09 430 3273) 
Wednesdays  =  Blue  bags  and  yellow  recycling  (at  Jaques  $3.00 
and  $1.50)  (Kaurilands  09  4392146);  ONLY  Blue  and  Yellow 
bags picked up on Oneriri Road. 
 DIABETES Support Group-for Kaiwaka, Mangawhai, Wellsford 
10am, 3rd Friday of month Ph: Colleen James 09 4314238 
 GENEALOGY - Wellsford: 1st Thursday in month Ph: 423 
7033; Waipu: 4th Monday in month Ph: 4312 725 
 HAKARU PONY CLUB - Secretary Denise Rogers 021423376 
secretary@hakaruponyclub.co.nz  
 KAIPARA HUNT - Secretary Albert Doonenbal Ph 4312059 
 KAIWAKA BADMINTON -Tuesdays 7.30pm Ph: 4312345 
 KAIWAKA CAN - 3rd Wednesday in month, Archie Bull Hall 
Ph: 0273572751 
 KAIWAKA  DRAMA  CLUB  - 
Hannah  Webb 
0272863352 
KaiwakaDrama@gmail.com - FB - "KaiwakaDramaClub" 
 KAIWAKA DRUM & DANCE CLASSES - 021 611198 
 KAIWAKA GARDEN & FLORAL GROUP - 2nd Thursday in 
month. Ph: 431 4744 
 KAIWAKA  CUBS  -  Thursdays  5.30-7pm,  Hakaru  Ph:Bruce 
4312542 
 KNITTING FOR WHANGAREI HOSPITAL - 2nd Tuesday in 
month, Archie Bull Hall 10am Ph 4314827 
 MANGAWHAI COMBINED REBUS CLUB - 2pm, 3rd 
Thursday month, Senior Citizens Hall Mangawhai. Ph: 4315777 
*PILATES-HAKARU HALL  -Tuesday & Thursdays, 9-
10am Ph: 
 0220643964
 *PT CURTIS CRUISING CLUB - Jean Ph: 4312227 (wk), 4312520 (hm) 
 RSA,  HAKARU  &  DISTRICTS  WOMEN'S  SECTION  –  meets 
1.30pm 4th Thursday of the month. Ph: 431 5818  
 SCOTTISH DANCING - Wednesday morn. Ph: 09 4320532 
 TRAMPING - Mondays 9am-2:30pm Maria 4312 234 
HALLS FOR HIRE: 
 St.Pauls  Archie  Bull  Hall  HIRE  $20  half  day,  $40  full  day  per 
hire, S McAulay, Ph 4312311 
 Kaiwaka  War  Memorial  Hall  HlRE  -  Phone  4312725  or 
kaiwaka.hall.bookings@gmail.com 
 Hakaru Community Hall HIRE -Ph. 4312256 or 4312110 
 Te Pounga Marae queries - R. O'Leary 4312 423, J.Nathan 021 
186 7382 
 Kaiwaka Sports Association hire/queries - C. Anderson 4312051 
or kaiwakasports@gmail.com 
Justice of Peace:  
B.FJaques  4312  048;  L.Donaldson  4312  228;  A.F.Hargreaves 
4312 045, W.Howard 4312 725 - please phone to make sure they 
are available www.justiceofthepeace.org.nz 
Marriage Celebrants:  
L.Donaldson; A.F.Hargreaves; Y Osborne
LOCAL SERVICES 
*Emergencies - Ambulance, Fire, Police - dial 111 
*Non-urgent Police phone 09 4311150
A A: Meets Wed., 8pm Kaiwaka Ph: 4315543, 0800229 6757 
ASUREQUALITY LTD (was AgriQuality) Call Free 0508 0011 22  
BUDGETING SERVICE, WELLSFORD: Free confidential advice & 
support for all areas of personal finance. Ph (09) 423 7123 
CAB-Citizens Advice Bureau.Wellsford Ph: 4237333 
0800 367 222 email:cab.wells@xtra.co.nz  
CIVIL DEFENCE - Kaiwaka Community Response Group: 
kaiwaka.civildefencecrg@gmail.com, 4312725 Wendy 
DOG/STOCK /NOISE CONTROL 0800 105 890 
FUNERAL SERVICES: Morris & Morris Ltd, 
Whangarei - Bev Jaques Ph:4312367 or 0800667747 
GRANDPARENTS Raising Grandchildren: Dianah Roberts 0223819539 
HAKARU & DISTRICTS MEMORIAL RSA (Inc) 733 Settlement Rd, 
Hakaru. Ph 4312 176 or Bill Warren (President) 431 2092 
HAKARU LANDFILL/Transfer Station:Open everyday except 
Tuesday10am-4pm.Ph4312629 Cost-$55 trailer load up to 1 cubic metre. 
Ph:4258567 - office 
KAIPARA DISTRICT COUNCIL www.kaipara.govt.nz:  
Help Desk FREEPHONE 0800 727 059  
KAIWAKA KOHANGA REO: Ph:4312620 
KAIWAKA CEMETERY: Ph: 4312045 or 4314017 
KAIWAKA LIBRARY: kaiwaka.library@gmail.com  
Mon. 4-6pm; Wed., Thurs., Fri., Sat. 10am-2pm Ph:4312539 
KAIWAKA PLAYCENTRE: Ph Juanita 0274134904; open Mon, Wed, 
Fri 9am-12pm. Hastie Lane; Monday to Friday 9.00am - 12 noon. 
KAIWAKA POST OFFICE:Ph:4312 431  
Post Code: 0573 for RD2 and 0542 for all Kaiwaka Post Office mail 
KAIWAKA PRIMARY SCHOOL: Ph: 4312309   
KAIWAKA SPORTS ASSN: Ph 4312005; 4312129 gym 
KAIWAKA ST JOHN: Manager Steve Rosser 09 4318403, 021 355734 
KATE'S PLACE Community Centre - Employment services, Free Health 
Nurse, Plunket, Advocacy, Osteopath, A.A., Legal Advice. 4312 661 
LINKING HANDS Health Shuttle Ph 4315906 or 09 4318969 
MINISTRY FOR PRIMARY INDUSTRIES - General inquiries Call 
Free 0800 008 333 
NORTHPOWER: Faults Kaiwaka area 0800 104040 
OTAMATEA COMMUNITY SERVICES: Counselling, parent coach, 
Family Support worker, budget advice, food bank. Mon-Fri 9am-3pm. Ph 
09 431 9080 http://www.otamateacs.org/ 
PARENTPORT: Free, practical family support service Puhoi to Paparoa 
Ph or txt: Dianne 027 280 5093 or 09 425 9357 
PLUNKET:  Kaiwaka  -Kate's  Place  Clinic  1st  Wednesday  of  the  month; 
Mangawhai  - Rose Madsen Cottage: Coffee Group 9:30 every Monday.  Clinic 
every Monday and Thursday. 
Maungaturoto - Good News Church, Clinic 2nd and 4th Wednesday.  
Cynthia 09 431 7340 or 027 675 3488 
PLUNKET HELPLINE -0800 933 922 (24 hours) 
TAITOKERAU COMMUNITY LAW: Free confidential legal advice and 
assistance, 2nd
Thursday
 of each month. Ph: 0800 155 529 for apps.  
TE URI O HAU Settlement Trust Tangata Developments: Whanau Ora 
021 793262  
VETERINARY SERVICE MANGAWHAI: 
Ph: 4314535 Mon-Fri 8.00-5.00, Sat 9-12, a/h appt. 
WELLSFORD DOCTORS: Ph: 4238 086 
CHURCHES:
 
Kaiwaka  Revival  Church  -  Your  Community  Church:  Sundays  10am. 
Ph: Pastor Tawhiri 09 431 8988 or Pastor Paul 09 4312 068 Visit us at 
www.facebook.com/kaiwakachurch or www.kaiwakarevival.co.nz 
 
St  Paul's  Anglican  Church  1st  Sun.  9.00am  (Eucharist),  3rd  Sun. 
9.00am (Family Service). Contact: Rev. Wayne Thornton Ph 431 4122 
www.mangawhaianglican.org.nz 
 
Church of Christ the King, Mangawhai:9.30am every Sunday 
 
St.Mary's  Catholic  Church:  Maungaturoto  –  Griffins  Road,  Saturday 
evening  Vigil  Mass  6pm;  Mangawhai  –  Senior  Citizens  Hall,  Sunday 
Mass  8:30am;  Wellsford  –  Matheson  Road,  Sunday  Mass  10:30am;  
Mid-week Mass times and all enquires to Fr. Bill Fletcher – phone 423 8170
 
Baptist Church: Sun. 10.30am Mangawhai Snr Cit.Hall.Ph:4312339 
 
Cause  Way  Church  Mangawhai:  Sundays  10.15am,  Mangawhai 
Community  Recreation  Centre,  Insley  St.  Ph:  09  4314782