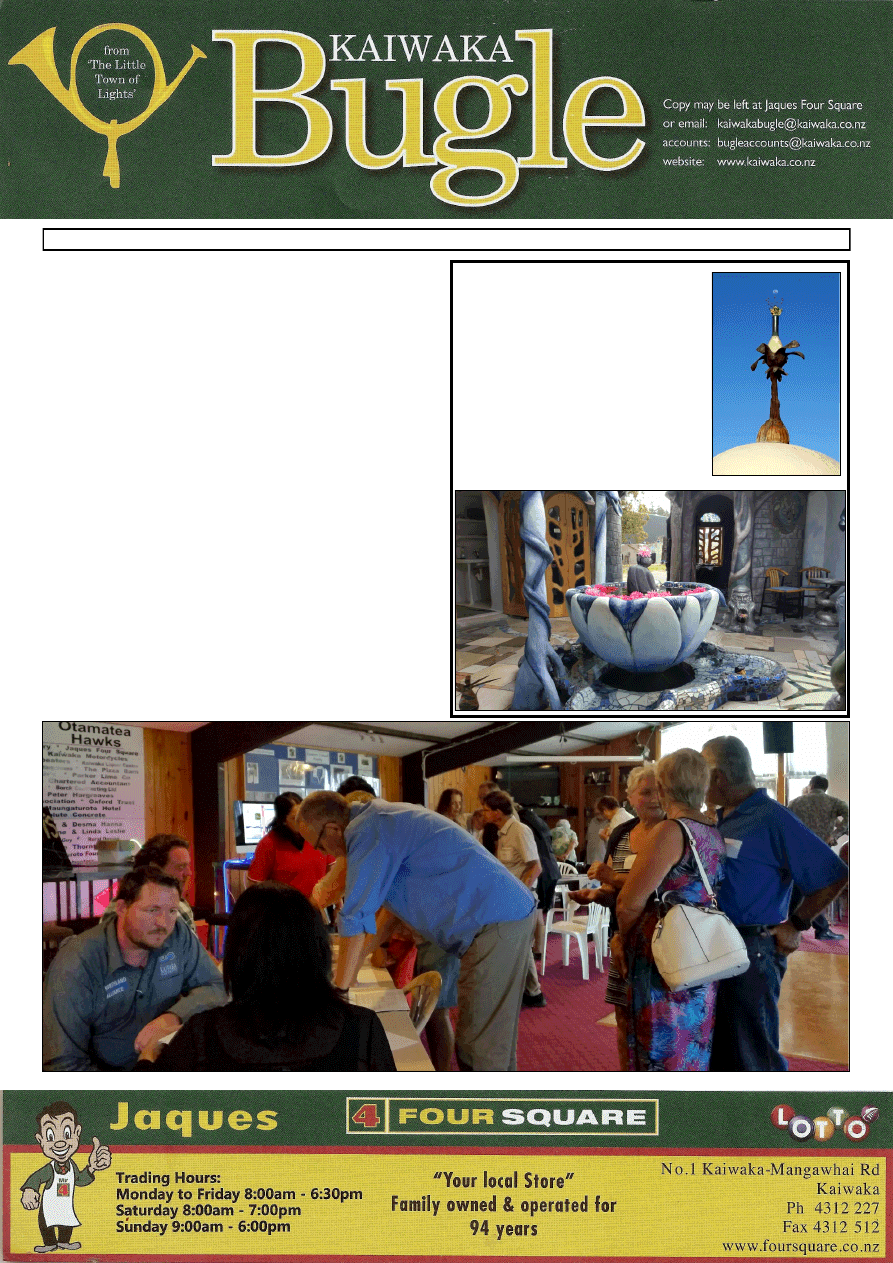 www.kaiwaka.co.nz 
Kaiwaka Bugle - 2 April, 2019 
Page 1 
…. continued on page 9 
No: 6 
 2 April 2019 
Trading Hours: 
Monday to Friday 8:00am - 6:30pm 
Saturday 8:00am - 7:00pm 
Sunday 9:00am - 6:00pm  
STEADY GOALS IN  
TURBULENT TIMES 
KAIWAKA CAN:  
As  I  write,  the  nation  is  still  in  shock  following  the 
Christchurch terrorism attack. It is hard to put events in our 
tiny town in perspective. I also write following the Council 
meeting with the community to talk about future plans for 
Kaiwaka. 
How did the meeting go? Good numbers (a group pictured 
below)  turned  out  and  people  had  lots  of  questions  and 
showed  interest  in  a  number  of  projects.  Disappointingly 
the  meeting  format  did  not  allow  for  any  open  forum,  no 
presentation  of  projects  or  ideas  and  no  way  to  let  people 
there  know  what  other  people  were  thinking.  If  it  is  a 
meeting to hear what people think about what is happening, 
part of that is cross fertilisation of ideas that allows people 
to feel part of a wider group and not just their own private 
views. In that sense it disappointed. 
However,  Kaiwaka  Can  put  a  lot  of  effort  into  their  table 
and outline of core projects, especially the Kaiwaka Central 
project  which  aims  to  make  the  southern  bridge  area  far 
more attractive and useable for both visitors and locals and 
also  aims  to  make  better  connections  by  foot  (or  bike) 
between the southern and central parts of town. 
Council  was  keen  to  hear  what  people  thought  of  the 
Township Improvement Plan and what the priorities should 
be 
in  implementing  it.  I  am  not  sure  what  they  took  from 
the meeting. In essence, the remaining items yet to be 
EUTOPIA CAFE 
Marijke and Robert 
invite you to their 
OPEN DAY 
Sunday 7 April,  
2pm - 6pm 
with music and nibbles 
Coffee and drinks available. 
'Come view our creation so far!'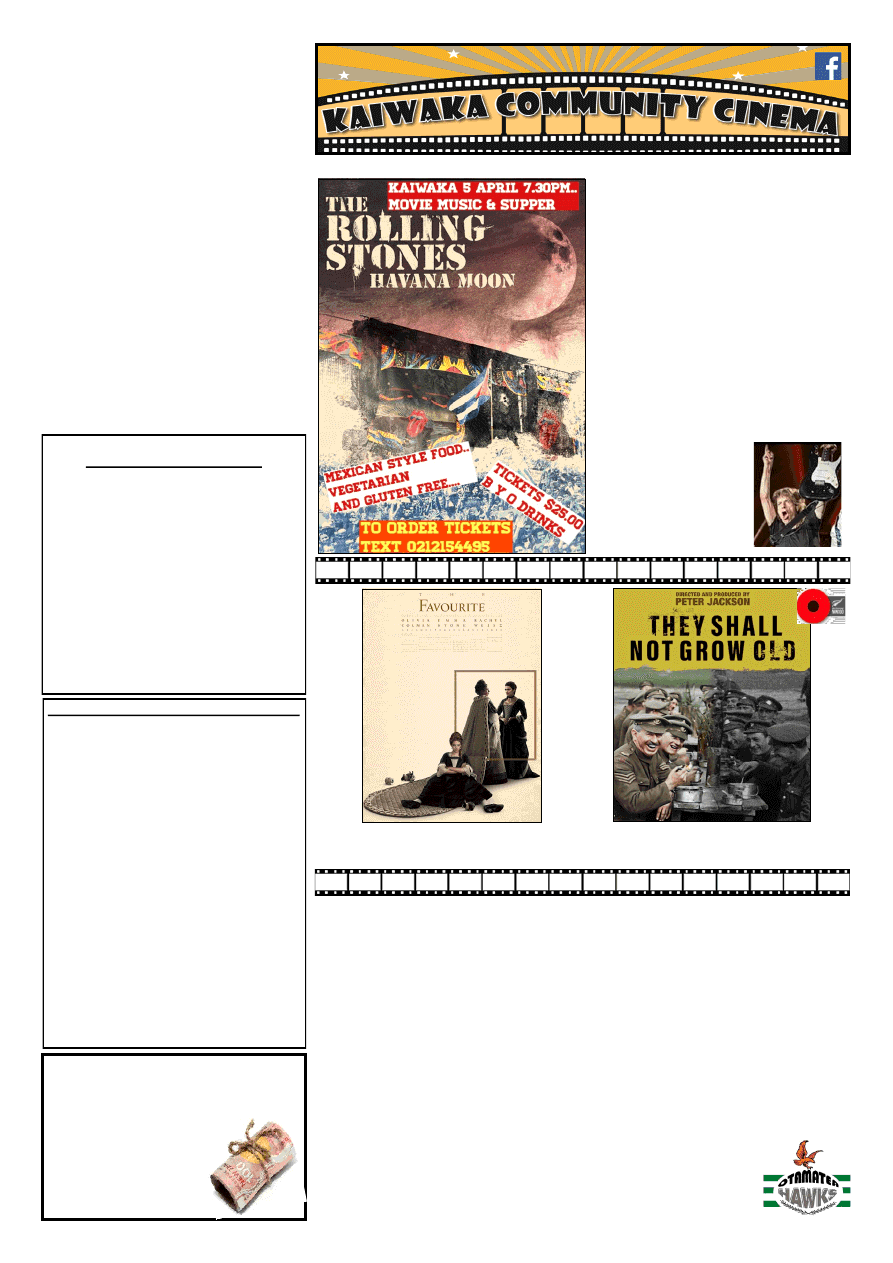 At Kaiwaka War Memorial Hall . Adults $10, Kids (under 16) $5, Family Pass (2 adults + 3 children) $25 
KAIWAKA BUGLE No. 6 
2 APRIL 2019 
CONTENTS 
Page 3: Public Notices, Classified 
Page 5:Fire & Emergency Volunteers; 
St. John  Course; P n'P Winner  
Page 7: Pt.Curtis Cruising Club 
Page 9: Kaiwaka Can cont'd; Kaiwaka 
School; Thelma's Scrapbook 
Page 11: Kaiwaka Sports Assn. 
Page 13: Nina Quan 
Page 15: Pete Worsfold; Photography 
Page 17: Kaiwaka Library; Kaipara 
Marchers 
Page 19: Fish Stories; Mangawhai 
Museum; Hakaru Activities 
Bugle 7 will appear 16 April 
Contact for advertising, reports, articles 
or information can be made by 
Email kaiwakabugle@kaiwaka.co.nz 
Ph: 09 4312 045 Lindsey 
Txt: 027 2724137 
Copy  may  be  left  at  Jaques'  Four 
Square. 
Kaiwaka Bugle 
Founded May 1978 
We appreciate articles and photos about local 
events, etc, as well as ads and suggestions. 
Copies available in Kaiwaka at Jaques Four 
Square, Kaiwaka Postal Centre, Shamrock 
Service Station, Animal Health Centre, 
Kaiwaka St John shop. 
Also outlets in Maungaturoto, 
Mangawhai and Paparoa. 
Can be viewed online at   
www.kaiwaka.co.nz/Bugle  
Or a copy can be posted to you if you supply 
stamped, self-addressed DLE envelopes. 
Proverbs 
11: 4
A thick bankroll is no help 
when life falls 
apart, but a 
principled life 
can stand up to 
the worst.
Kaiwaka Bugle Advertisements 2019: 
All 
copy 
and 
queries 
to: 
kaiwakabugle@kaiwaka.co.nz 
The Bugle is printed on an A4 page   
Ad  sizes:  1/16  page  (3  x  9.5cm)  $5;  1/8 
(6.5  x  9.5cm  landscape  or  portrait)  $8; 
3/16 ( 10 x 9.5cm or 7.5 x 12,5)  $12.  
Classified  ads:  First  one  FREE,  $4  per 
entry (max. 30 words, max. 4 repeats). 
Payments  can  be  made  online  at 
ANZ 
06  0365  0006990  00
,  posted  or  left  at 
Jaques Four Square Store. 
We  use  Microsoft  Publisher,  and  can 
work  with  most  common  image 
formats, Word, Excel, and PDF files. 
Accounts:  
Email: bugleaccounts@kaiwaka.co.nz 
The  Kaiwaka  Bugle  is  a  community 
newspaper run by volunteers, as part of 
the Kaiwaka Media Group Inc.   
Articles, etc. printed are not necessarily 
the opinion of the Bugle Team. 
OTAMATEA HAWKS JUNIOR AND IMB TEAMS
THE FAVOURITE 
Friday 19 April, 7.30pm (R13)
THEY SHALL NOT GROW OLD 
Friday 26 April, 7.30pm (G)  
HAVANA MOON 
A
 once in a lifetime concert by 
The Rolling Stones 
in Havana, Cuba. 
Music Movie  
&  
Supper Night 
Friday 5  April, 7.30pm 
Tickets: $25  
Phone or Text  
021  215 4495 
Welcome to the 2019 season. 
A  few  things  to  know  -  we  as  Otamatea 
Hawks  rugby  players,  family  and  friends 
abide  by  the  Code  of  Conduct  of  the 
Northern  Rugby  Union  as  well  as  the 
Otamatea Hawks Rugby Club. 
Please wear your polo shirt to and from all 
games  and  when  representing  the  Ota 
Hawks. 
We have Facebook pages: 

Otamatea Hawks for Seniors 

Otamatea Hawks Juniors this is for teams 
below Under 13  

Otamatea Hawks IMB - this is for teams 
above Under 14, U 11 & U13 Hawks 2019 
– training & game info. 
Subs are $60 per child- this can be paid to 
an account - see Facebook. 
Catering:  at  home  games  we  provide  a 
feed after the game, so each family is asked 
to bring a plate for their child's team. Also, 
we will be asking for help in the kitchen. 
Cancellations: 
if 
the 
weather 
is 
questionable you can Google " Is the game 
on"  and  look  it  up  also  check  Facebook 
Page or team manager could send out text. 
Contacts: IMB - Lorena Reynolds 021 
139 14 74 email: otahawks88@mail.com 
Junior - Tasha Kimani Wintle 021431544 
email: info@africantouch.net 
Coach Under 11 Nick Makea Managers 
Tasha Kimani Wintle 
Coach Under 13 Lance Nepia Managers 
Coach Under 14 Kyle Harris Managers 
Coach Under 16 Zane Phillips Managers. 
Here's  to  a  successful 
season  for  all  teams  in  our 
club,  the  club  works  on 
volunteers  so  if  you  can 
help  please  step  up.  Many 
hands make light work.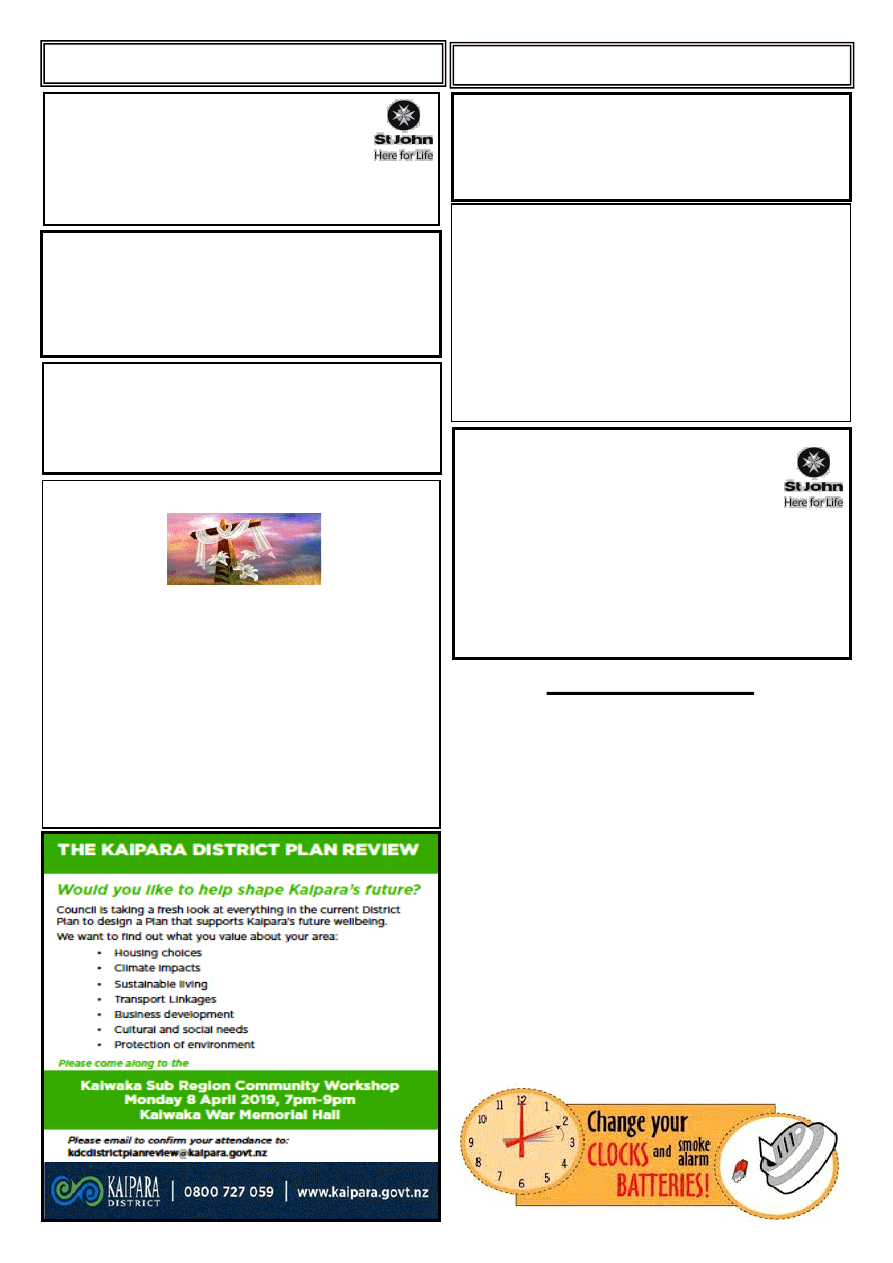 www.kaiwaka.co.nz 
Kaiwaka Bugle - 2 April, 2019 
Page 3 
PUBLIC NOTICES 
CLASSIFIED 
FREE 
First notice FREE  for Classified or Public Notices - 
less  than  30  words  -  then  charged  as  per  advertised  
($4). This includes AGM and meeting notices, FOR 
SALE, WANTED. ~ Kaiwaka Bugle 
KAIWAKA ST. JOHN OP SHOP 
Thank you to people who have brought in donations 
after my last request.  
We are always in need of Jars - preserving, jam jars, 
cooking pots and pans, Baking dishes, Knick 
Knacks, pillows, blankets, pictures, cutlery, especially knives, 
Children's toys (
but please not soft toys), C.Ds and DVDs, 
small pieces of furniture, plants and anything else in good 
saleable condition. 
We also have an Easter Goodies raffle running at present, with 
all proceeds going to our Kaiwaka Small Pukekos Early 
Learning Centre. Tickets $2 or 3 for $5...1
st
 and 2
nd
 prizes. 
Many Thanks Milly and Staff. 
Thank you, Milly and Staff. 
ABOUT TOWN 
 
Our local emergency services are vital to our community. 
Thank you to those who are on call - you are appreciated.  

 Volunteers are needed in our local fire brigade - see page 
5 regarding the Open Night on Thursday 4 April, 5pm. 

 Another  important  meeting  is  in  the  St.John  Station, 
Wednesday  3  April,  7pm  -  what  is  the  best  use  of  this 
building. 

The  Kaiwaka  Community  Response  Group  for  Civil 
Defence is meeting twice - see advert above.  

Kaipara District Council 
District Plan Review 
being held 
on  Monday  8  April,  7-9pm  in  the  KWMHall  -  note  the 
email reply needed if you are attending

 Do  you  have  any  spare  preserving  or  jam  jars?  Please 
leave them with Milly at the Op Shop. 

 www.checkitsalright.nz  -  go  to  this  website  before 
lighting a fire; fire season is currently restricted. 

 "
Wellington, March 27, It is announced that ten liners will be 
arriving  in  New  Zealand  in  the  month  of  April,  bringing  back, 
9,038  soldiers.  This  is  in  pursuance  of  the  policy  pronounced 
some  time  ago  to  bring  back  the  men  at  the  rate  of  10,000  per 
month. It is hoped to continue the April rate, though the shipping 
position makes this doubtful. ." ~
PapersPast 27 March 1919 
~ Lindsey, Ed 
"It's pointless to be down in the dumps. All you find is rubbish."   
Albert Facey author of 'A Fortunate Life'
JENNY'S RURAL CLEANING SERVICES 
Looking for a Casual to Part-time worker.  
Must be flexible. 
Must  have  clean  driver's  license  and  be  trustworthy 
and be able to work in a team. 
Must  be  able  to  work  early  mornings  and  evenings 
and Saturday mornings. 
Please send your C.V to 
jrcleaningservices.chellew@yahoo.com 
Or phone Jenny on 431 2826 after 7pm.
CIVIL DEFENCE 
KAIWAKA COMMUNITY RESPONSE GROUP 
Meeting for all interested people.  
Saturday 6 April 10am or Wednesday 10 April 6pm. 
Neighbourhood Support office, next to UBeauty.  
Ph Barry 027 492 2975 or Wendy 027 480 6275
Easter Services  
St Paul's Anglican Church, Kaiwaka  
Easter Sunday 21 April  
Family Communion  -  9.00 am 
Christ the King Mangawhai   
"Stations of the Cross"  Monday 15 April  8.00am 
Tuesday - Thursday  16  -  18 April  9.00 am 
Maundy Thursday  18 April  7.00 pm 
Good Friday 19 April 9.00 am 
Easter Sunday 21 April 9.00 am Family communion 
All Saints, Wellsford 
Easter Sunday 11.00 am Family Communion 
Everyone welcome!!
OTAMATEA St. JOHN 
Public meeting at the  
Kaiwaka Ambulance Station 
Wednesday 3 April, 7pm -8.30pm 
The focus of this meeting will be to see the way to best 
use the Kaiwaka Ambulance Station for a continuation 
and extension of community initiatives.
MOLESWORTH SHEEP DOG TRIALS
Friday12 and  Saturday13 April  
616 Oneriri Road., Kaiwaka 
Further info R.Hastie 4312192
Come and enjoy huntaway and heading dogs at work, but please 
no other dogs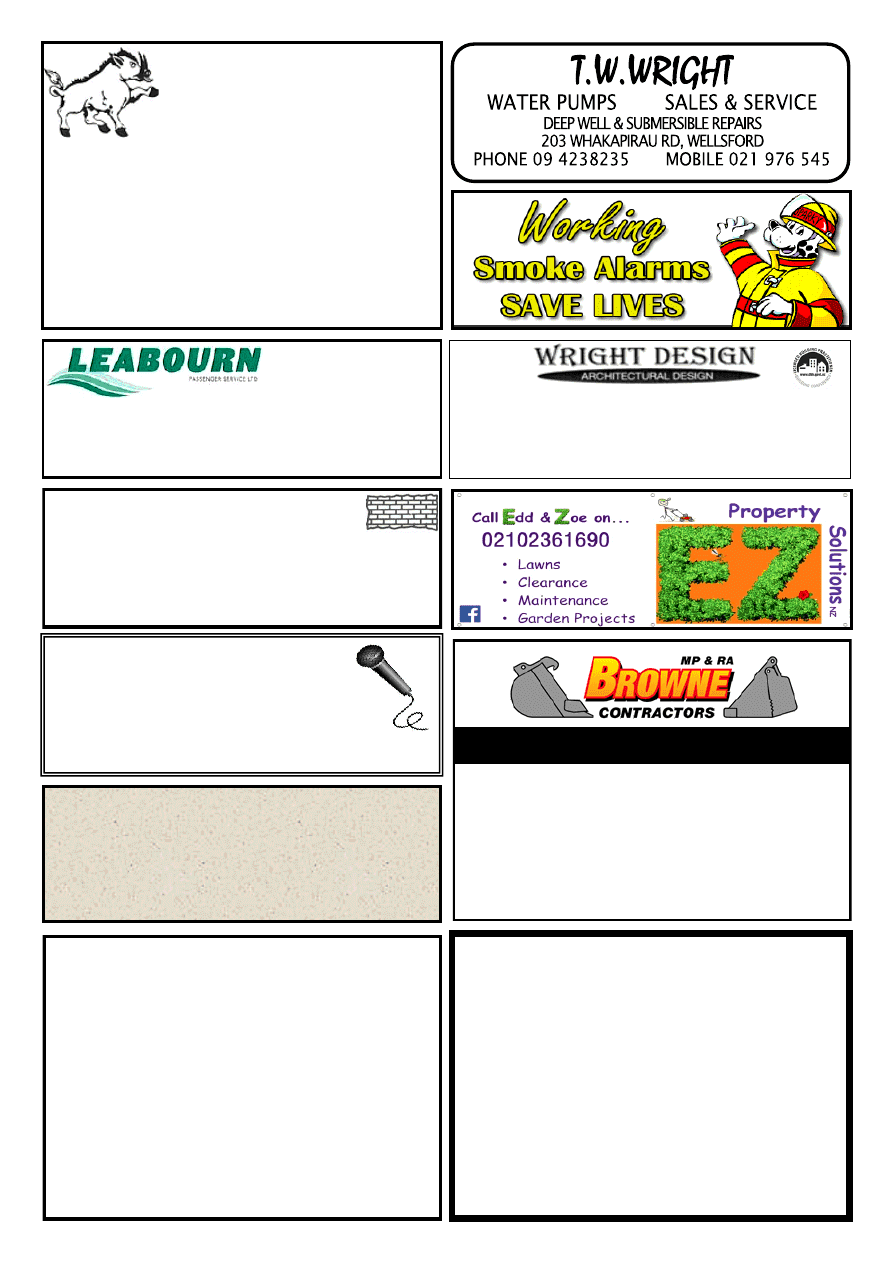 4T DIGGER – BOBCAT – TIP TRUCK 
 Property Maintenance - Driveways  
 Building Sites 
Stump & Tree Removal  
Hole Boring - Chain Trencher  
Calf Shed and Stockyard Cleaning 
Phone Matt: 021 199 6677 
Email: mprabrownecontractors@gmail.com 
Willow Bend
HORSE HOTEL 
#
Total Horse Care   
# 
Agistment 
# 
Riding Lessons    
#
 Arena Hire (60x40) 
# 
Young Horse Starting 
# 
Re-training/Exercising 
#
Hoof Trimming    
# 
Problem Solving 
Phone Sue 09 431 2817  
or 021 623 776  
Or email susanjoll11@gmail.com 
BRICK/BLOCKLAYER 
All aspects of masonry: 
Fireplaces, Restoration & Remedial Work.
JAMES EAGLETON
Tel. (09) 431 2514     Mob. 0274 749 232
jajueagles@yahoo.com.au 210A Pukenui Road, RD2, Kaiwaka 0573 
Counsellor and Registered Psychotherapist 
Offers Supervision
Susan Matheson 
MNZAC 
Dip. Psychosynthesis Counselling and Psychotherapy 
Phone 09 431 2996                        Mobile 027 605 2427 
Passenger Service
Car & Van Hire   Bus & Coach Charters 
Airport Transfers    
Phone (09) 4237416 
SING RIGHT 
Professional coaching for performance,  
recording and demos. 
All level singers, musicians, singer-songwriters. 
Phone Robyn Hill 431 9159 or 0274 725610 
No. 117345 
N.Z.C.A.D., L.B.P. 117345 
PH/Fax: 09 423 8092 Mob: 021 276 7369 
Office: 3 John Sinclair Avenue, Wellsford    brianwright@xtra.co.nz 
For Resource and Building Consents, planning restraints, new building materials - 
you need a capable, experienced, and professional designer with a clear 
knowledge of all the processes. Brian has been helping and organising all these 
facets of design and building for over 50 years. 
Wright Design offers free visits, consultations and advice on planning, design, 
building, council permit applications, guaranteed permit plan acceptance. 
WANTED TO BUY 
I  am  a  local  private  collector  of  Kaipara  & 
Northland  Paper,  Postal  &Photographic  History 
looking to purchase: 
Old Photos  
Old Postcards  Old Documents 
Old Envelopes Old Advertising / Tourism Posters 
or Pamphlets 
Old books or old 'paper' relating to Kaipara and 
Northland. 
I will pay a fair price immediately so please contact me 
on either 
280 9544, text 021 757 107  
or email nigel.bermuda@gmail.com 
O'MALLEY 
CONTRACTING LTD 
CONCRETE 
FOR ALL YOUR CONCRETING NEEDS 
T: 021 2200 198 
E: omalleycontracting@outlook.com            W: omalleycontracting.co.nz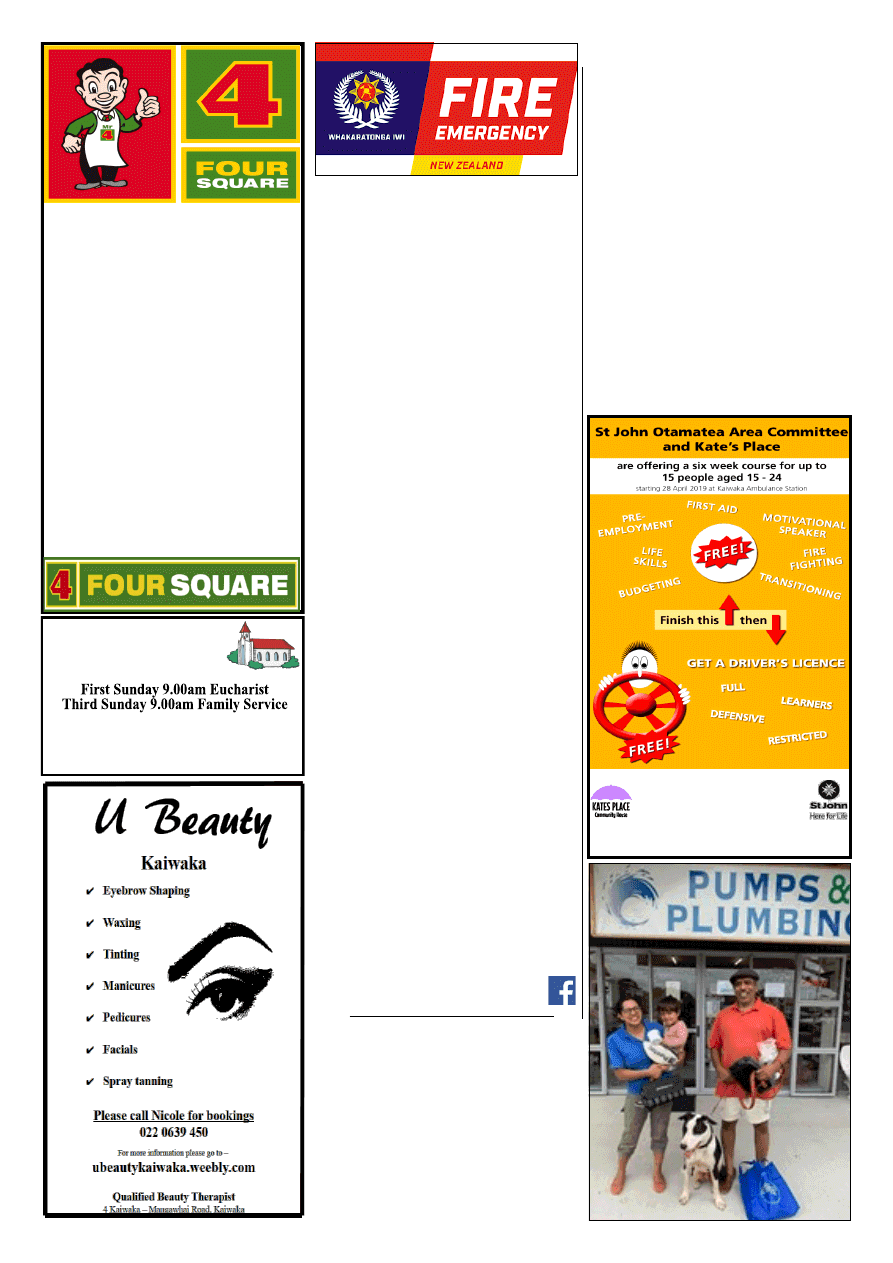 www.kaiwaka.co.nz 
Kaiwaka Bugle - 2 April, 2019 
Page 5 
MARJ STEINER  TO 
KAIWAKA 
COMMUNITY  
Hi  all.  An  exciting  course  for  our 
young people which is paid for by the 
Otamatea St John Area Committee and 
sponsored by Kates Place.  
This  is  only  open  to  people  aged 
between  15  to  24  and  only  in  the 
Otamatea  Area.  There  is  already  a  lot 
of  interest,  and  the  numbers  are 
restricted to up to 15 people.  
Be in quick if this looks like you. It is 
compulsory  to  attend  all  of  the  x  6 
classes,  then  the  opportunity  to 
complete the next part of your driving 
course is there.  
There are strict criteria and if you want 
any further information, please contact 
one  of  us. 
Look  forward  to  hearing 
from  you  so  I  can  send  you  an 
application form. 
WE HAVE A WINNER  
The  Pumps  and  Plumbing  team  would 
like  to  congratulate  their  4000th  Cus-
tomer  -  Thomas  and  his  family 
(pictured right), from Oruawharo. 
"Thomas  received  our  amazing  price 
pack on 19 March. We would also like 
to thank everyone who have supported 
us over the last year and a half in mak-
ing this possible," says Penny and The 
Team at Pumps and Plumbing Supplies 
Kaiwaka. 
Fire and Emergency New Zealand 
Volunteers 
OPEN NIGHT 
KAIWAKA 
Thursday 4th April, 5-7pm 
We  are  hosting  Fire  Station  open 
nights across the region from Kaiwaka 
to Kaitaia on the 4
th
 April.  
We need YOU!!!  
We  have  42  stations  in  Northland 
needing  volunteers  -  from  firefighters 
to administrators. Every role is vital for 
the  efficient  running  of  our  stations. 
This  in  turn  helps  keep  our 
communities  safe.  Our  volunteers  get 
awesome  training.  From  urban  and 
rural  firefighting  to  medical  response 
as  well  as  accounts  and  admin,  there 
are  many  different  ways  people  from 
our  community  can  contribute.  Plus, 
the  added  bonus  of  being  part  of  a 
close-knit  team  whilst  learning  new 
skills.  There  are  even  opportunities  to 
deploy overseas!
Come to our Open Night at your local 
fire  station  to  find  out  more  about 
volunteering with us:  
Ahipara,  Broadwood,  Cavalli,  Dargaville, 
Hihi, Hikurangi, Houhora, Kaeo, Kaikohe, 
Kaikohe, 
Kaitaia, 
Kaiwaka, 
Kamo, 
Karikari,  Kawakawa,  Kerikeri,  Kohukohu, 
Mangawhai 
Heads, 
Mangonui, 
Maungakaramea, 
Maungaturoto, 
Ngunguru,  Okaihau,  Omapere,  Onerahi, 
Paihia,  Paparoa,  Portland,  Rangiputa, 
Rawene,  Rawhiti,  Ruakaka,  Ruawai, 
Russell,  Taupo  Bay,  Te  Kopuru,  Tinopai, 
Towai,  Waipu,  Whananaki,  Whangarei 
Heads,  Whangarei  Operational  Support 
Unit.
If  you're  in  Kaikohe,  we  have  two  fire 
stations  -  the  Kaikohe  Volunteer  Fire 
Brigade  at  4  Clifford  Street  and  the 
Kaikohe  Volunteer  Rural  Fire  Brigade  at 
1B  Recreation  Road.  You're  welcome  to 
visit both!  
In  Whangarei,  come  to  the  Whangarei 
Operational  Support  Unit  (not  the 
Whangarei  Fire  Station)  at  12  Mansfield 
Terrace.
We 
look forward to meeting you! 
You can visit our Facebook page for a 
look  at  what's  going  on  at Fire 
and Emergency NZ - Far North, 
Whangarei, Kaipara 
Punnet Seedlings  
$3.00 each 
Good Range of Fresh 
Vegetables and flowers 
Supplier advises price increase 
1
st
 of May 
Get in before price rise 
See Paula if any specific seedlings 
you may want to order 
HOT CROSS BUNs 
$5.99 
Baked Fresh Daily 
.
Jaques Four Square 
Phone: 4312227 
1 Kaiwaka-Mangawhai Road, Kaiwaka. 
ST PAUL'S  
ANGLICAN  
SUNDAY SERVICES 
St Pauls Church: Kaiwaka-Mangawhai Rd. 
Rev. Wayne Thornton Ph 431 4122 
www.mangawhaianglican.org.nz
Enrolment forms: 
Marj Steiner 027 294 1227 
or frank.marj@gmail.com 
Kate's Place 09 431 2661 
Applications due 10 April 2019 
Limited to people living in the Otamatea Area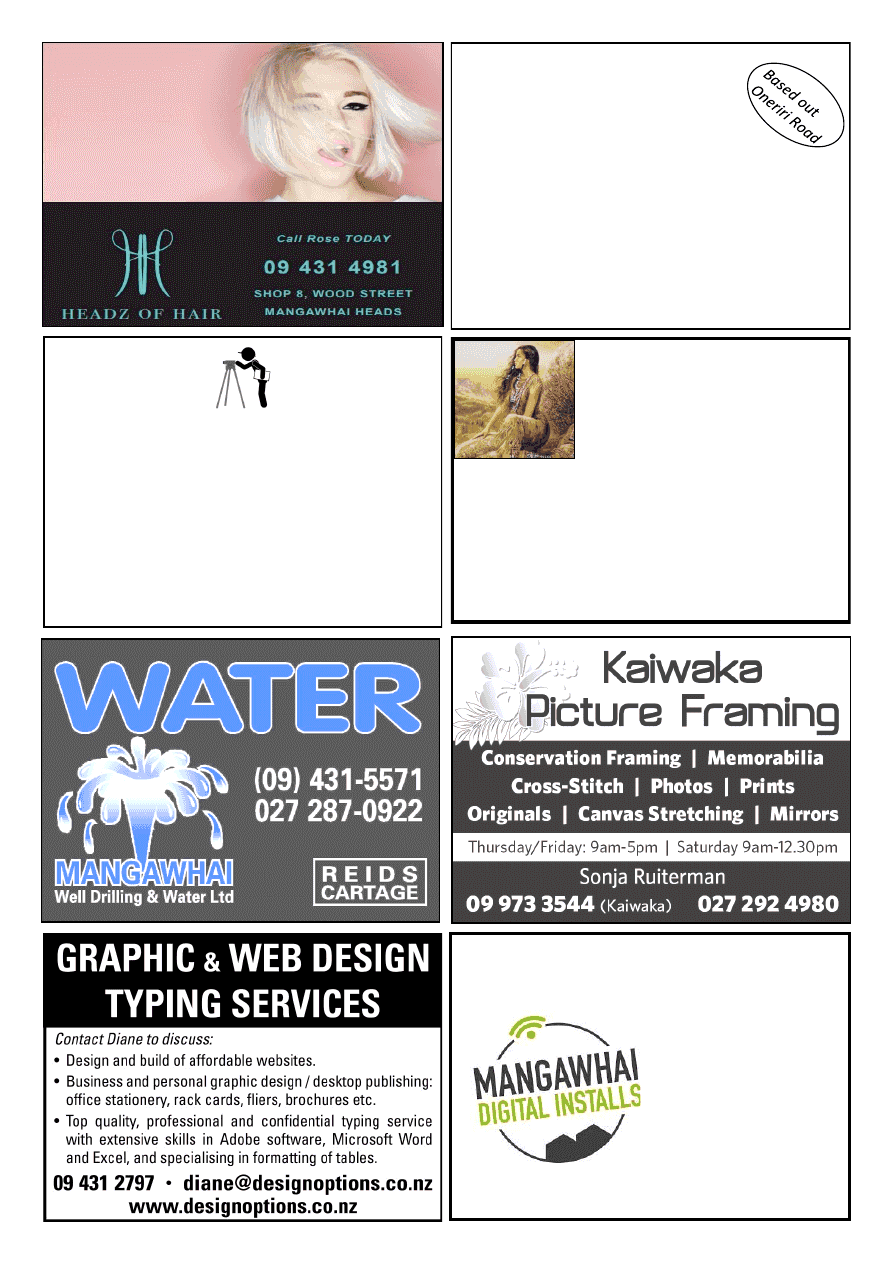 Ken Urquhart 
BSurv Licensed Cadastral Surveyor 
KMU Surveys Ltd
467 Bickerstaffe Road 
RD 2 
Maungaturoto 0587 
Ph 09 431 8705 
Mob 021 161 2344 
kenurquhart@xtra.co.nz 
Trails end 
spiritualist gathering 
Last Sunday of every month  
10.30-2pm  
Tea/coffee provided  $5 koha 
For all inquiries: 
021 165 2629 evenings (09) 945 0707 
Trail.end@hotmail.com 
1758 Cove Road, Mangawhai
Bringing together light minded people 
Guest speaker each month
Specialists in: 
Satellite Dish & TV Aerial Installations  
& Repairs 
Freeview  
Chromecast 
Smart TVs   
 Netflix 
Call or Text Adam on 022 351 6679 
E: mangawhai digital@gmail.com 
HODGETTS 
CONTRACTING
Digger Work   

Driveways 

House Sites   

Dams     

Drains, etc
Also available for HIRE 
3 ton Vib Roller Heavy Duty Tow  
Waterblaster     Lazer Level
Phone Mark 4312877 
        027 447 8554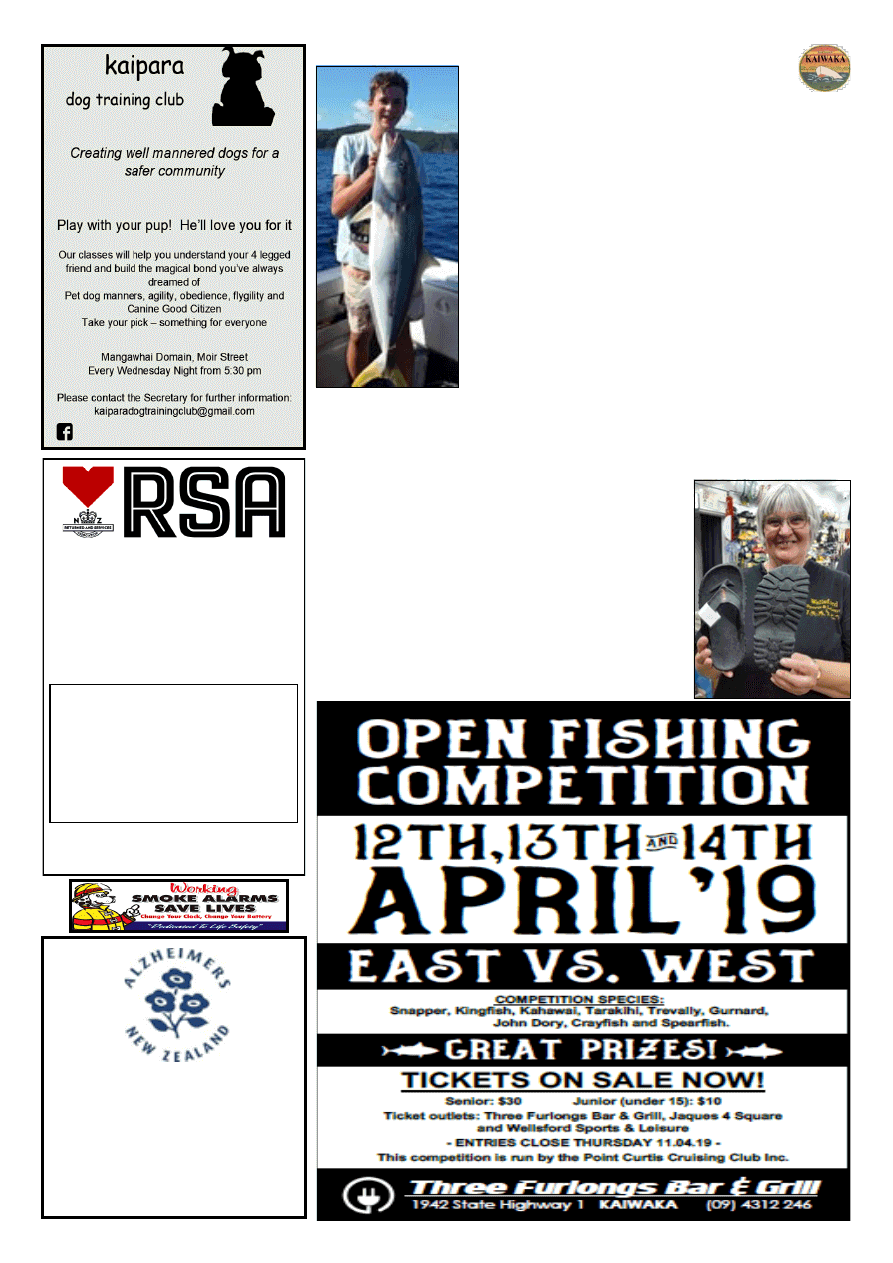 www.kaiwaka.co.nz 
Kaiwaka Bugle - 2 April, 2019 
Page 7 
HAKARU & DISTRICTS 
MEMORIAL RSA (INC)
Members & guests are invited to 
come along and enjoy our hospitality. 
New members welcome. 
Meals are served on 
Thursday and Friday nights 
from 6.30pm. 
Order from Blackboard Menu  
and a sing-a-long  
with Des Chitty. 
For more information please phone 
Graeme on 431 2563 
There  was  a 
great turn out for 
the 
Fishing 
Competition  & 
Fresh 
Fish 
auction  held  at 
the  3  Furlongs 
Bar  and  Grill  on 
Sunday 
24
th
 March. 
THANK YOU to 
all  that  donated 
fish, 
and 
a 
SPECIAL 
THANKS 
to 
those 
who 
bought fish at the 
auction. 
Also, a big shout 
out 
to 
our 
Auctioneer 
– 
Dave Lincoln who does a fantastic job 
selling  the  fish for us  at  every  auction 
we run. 
3  Raffles  were  also  run  on  the  day 
Winners  were:  RED  Ticket  #27  Dave; 
PINK Ticket #19 Sharon; TEAL Ticket 
#31 Bella 
BIG  Thank  you  to  Jaedeah  Paikea  & 
Leyton Greig for selling raffles, Portia 
for  your  help  during  the  auction, 
Sandy,  Christine  and  Jean  who  doing 
an amazing job behind the scenes. 
This was a fundraiser for upgrading the 
facilities  at  the  Rangiora  Rd  Boat 
Ramp. 
RESULTS:   
JUNIORS:  Snapper - Jaedeah Paikea 
2.691kg; Sonya Steiner 2.573kg Sonya 
Steiner 2.538kg 
Kahawai 
- 
Tane 
Thomas 1.718kg Sonya Steiner 
1.677kg; Bella Kake 1.398kg 
SENIORS:    Snapper  -  Kraig 
Steiner 4.060kg; Linda Leslie 3.281kg; 
Carol Welsford-Mills 2.914kg 
Kahawai  -  John  H        2.051kg;  Boyd 
Wintle   1.986kg; Boyd Wintle 1.947kg 
King  Fish  -  Carol  Welsford-Mills 
12.015kg;  Linda  Leslie  9.867kg; 
Pongo 5.831kg 
Open  Fishing  Competition  East  Vs 
West  Friday  12
th
,  Saturday  13th  and 
Sunday 14th April.  
All  fish  species  on  the  board,  and 
remember  this  will  be  the  LAST 
chance  to  get  your  name  on  the  board 
for the end of year prize giving in May. 
See you there… see our poster below. 

Duck  Shoot  and  End  of  the  Year 
Prize Giving: Saturday 4th May. 

Subs  will  be  due  1st  June  -  $20 
Single and $30 Family. 

Fish  of the  month:  Kingfish till 9th 
April. 

Next  club  Meeting:  Tuesday  9th 
April,7pm  @ 
3Furlongs  Bar 
& Grill  
 ~Wayne Leslie 
(Commodore) 
Photos:  Top  - 
Boyd 
Wintle; 
Right  -  Sandra 
with  the  best 
footwear 
for 
Rangiora  Boat 
Ramp  as  it  can 
be 
slippery 
there! 
Alzheimers Society Northland Inc 
ALZHEIMERS SUPPORT 
GROUP 
Meet on 2nd Wednesday  
of each month 
11am - 12pm at the 
Mangawhai Golf Club Rooms 
Phone 0800 004 001 
POINT CURTIS CRUISING CLUB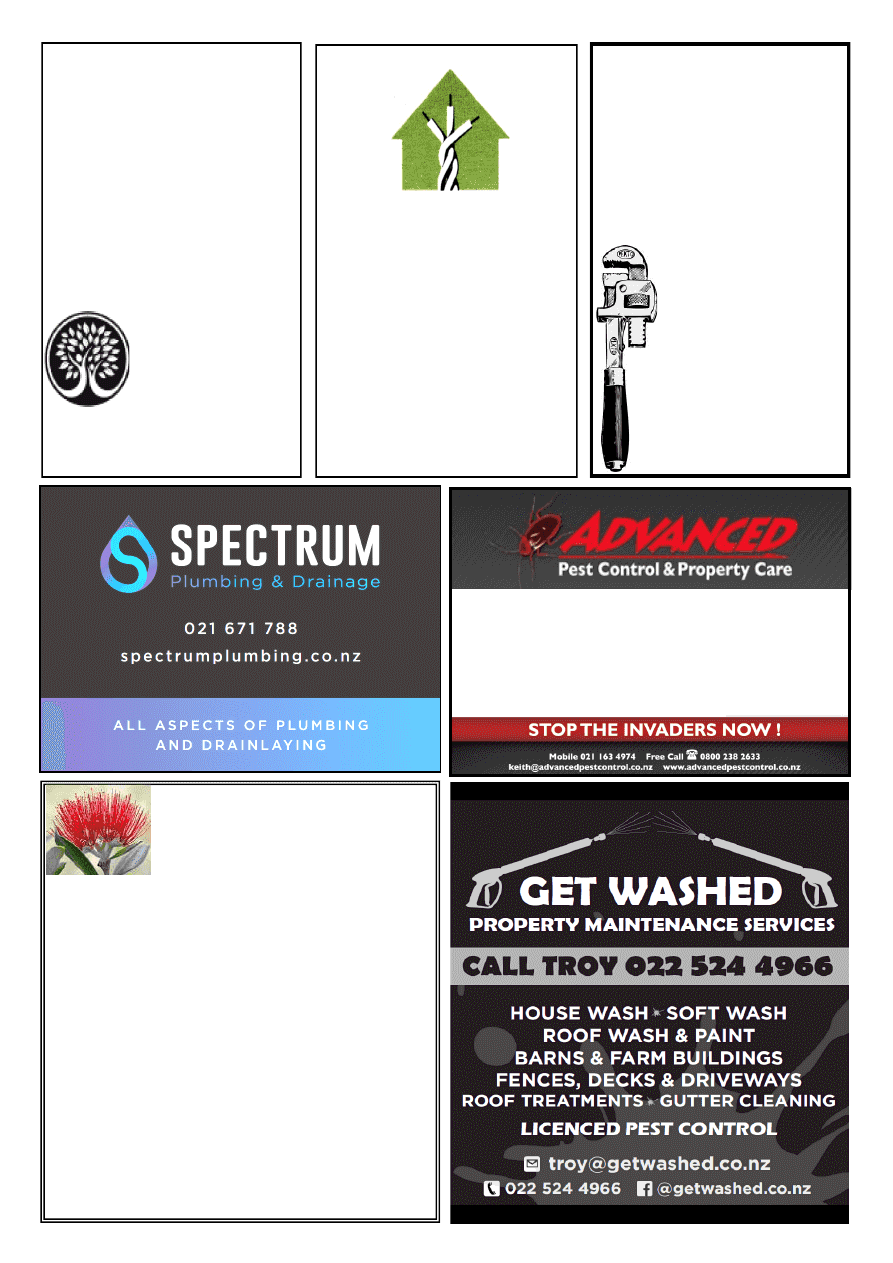 Waipu Natural 
Health 
3 Cove Road, Waipu  (opposite 
the Pizza Barn) 
Ph: 09 432 1325 
www.waipunaturalhealth.co
.nz
Clinical Nutritionist-Hair Analysis for 
Masked Allergies, Ozone Therapy, 
Prolotherapy, Naturopath-Medical 
Herbalist, Registered Massage 
Therapists, Reflexology-
Craniosacral Therapy, 
Acupuncture-Facial 
Acupuncture, Kineso 
Taping, Hypnotherapy, 
Counselling, 
ThetaHealing/Change 
Catalyst
.
AFFORDABLE CONSULTS FOR 
KIDS – give us a call
Gift Vouchers available
KAIPARA 
FLOORING CO 
Independently owned & operated 
32 HURNDALL ST MAUNGATUROTO
Supply & Installation of Carpet, Vinyl,  
Vinyl Wood Planking 
Stockists of 2m & 3m wide 
vinyl & carpet short ends 
Residential & Commercial 
Q Card Finance Approved 
6-18 month terms 
6 month interest free 
First Class Installations
For a free measure & quote 
phone Christine  
09 946 9886 or 021 515 415 
kaiparaflooring@gmail.com 
http://www.kaiparaflooring.co.nz/ 
BARRY CURTIS 
PLUMBING LTD 
REGISTERED CRAFTSMAN 
PLUMBER 
Phone 4315572 
027 257 9884 
25 years experience 
Friendly reliable service 
All plumbing and 
maintenance 
Alterations  
and new housing 
Spouting 
Competitive rates 
PROMPT 
EFFICIENT  SERVICE 
Reyahn George 
Leng 
Registered Electrician 
Local, honest and reliable. 
For your residential and 
light-commercial projects. 
022 314 1068  
Pest Control 
PLAN A: One-off treatments to customers with a specific pest problem 
PLAN B: Full maintenance service plans to commercial customers. 
This will include documentation kept in customer file on site: 
⚫
Pest treated 
⚫
Date of service 
⚫
Chemical or baits used 
⚫
Full pest check report done after each treatment 
⚫
Fair and reasonable fee with guarantee 
Flood Recovery  Carpet Care 
⚫
Carpet Drying   
This includes pre-spray treatments 
⚫
Dehumidifier Rental 
with stain removal and hot water extraction.  
Upholstery Cleaning 
Full upholstery cleaning of all furniture.  
eg lounge suites and all office chairs 
Water Blasting 
⚫
Concrete - Decks 
House Washing 
⚫
Soft Chemical Was 
⚫
Pre-painting Wash 
Property Services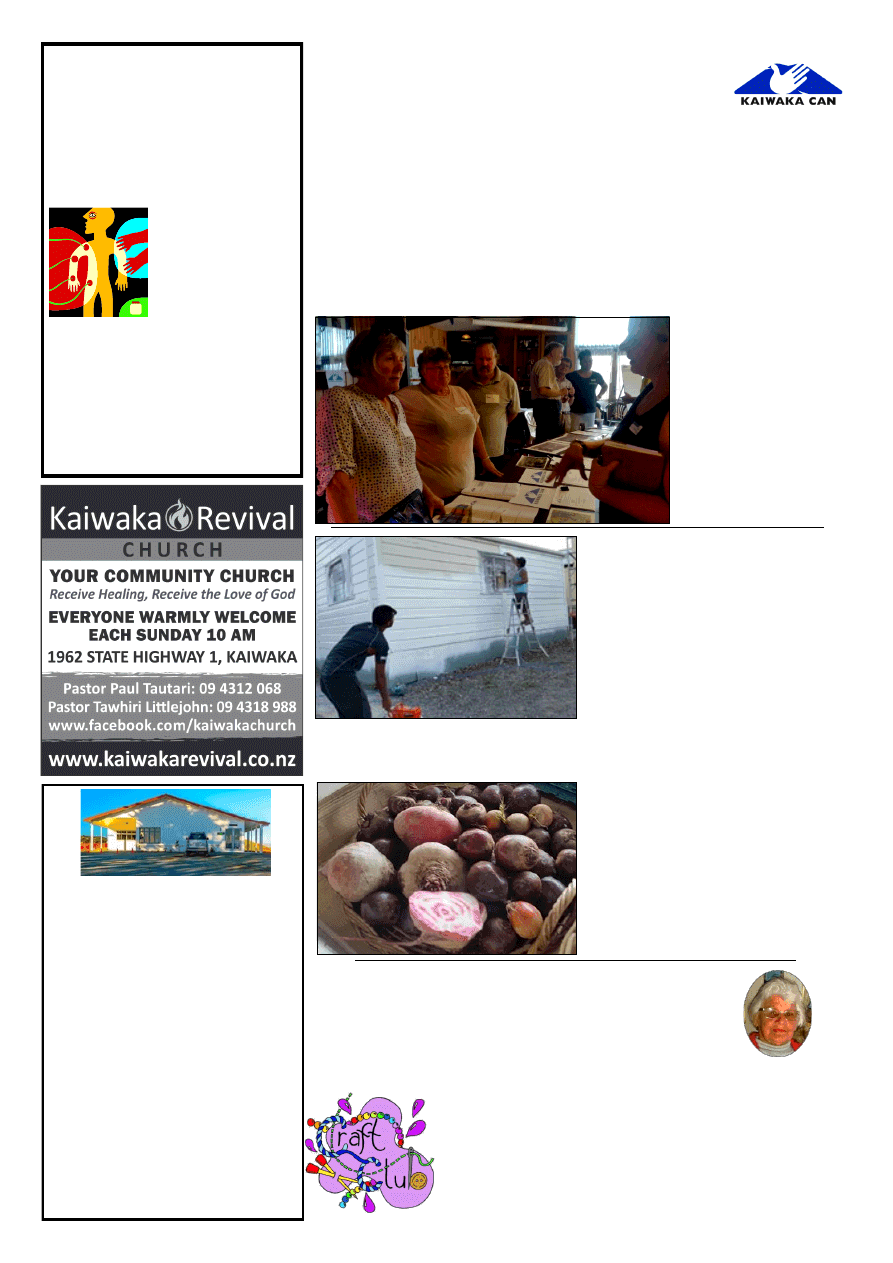 www.kaiwaka.co.nz 
Kaiwaka Bugle - 2 April, 2019 
Page 9 
KAIWAKA SCHOOL 
OWEN STEVENS 
Osteo Therapist
For careful adjustments  
to bones and joints 
Treatment for humans  
and their pets 
Clinics: 
Kate's Place, 
Kaiwaka: 
Last Friday of 
month 
9.00am-5.00pm 
For bookings: 
Phone 
09 4312661 
Or phone Owen   
09 4317123  anytime 
Tramp! 
Te Pounga Marae 
130 Nathan Rd. Oneriri. Kaiwaka 0573 
COMPLEX FOR 
HIRE 
Functions 
* Weddings  * Birthdays  
*Anniversaries * Meetings  * Wananga 
5 hour meeting * 12 hour stay  * 
Overnight 
*All welcome - No more Drink-driving 
Amenities: 
*Convo Combi Steamer * Bratt Pan * 
Dish Washer/Sterilizer * 3 Door Glass 
Chiller (walk in) etc…All Crockery * 
Linen Supplied * Central Heating and 
Air Conditioning and much more.  
Can also cater for small groups…. 
For more information please contact: 
Kim Wallace  
Home: 09 832 1133  Mob: 0211275340  
Email: kimwallace@xtra.co.nz 
From Thelma's Scrapbook. … 
The Craft Club 
It's hard to thread our needles, as the eyes seem very small, 
And double-sided sticky tape is quite beyond us all. 
Our cutting is all wonky, arthritis is to blame, 
Our home-made cards just won't stand up, which really is a shame. 
The knitting has dropped stitches, our crochet's all askew, 
We lose our place in patterns because we often need the loo! 
We've had accidents with glitter, some spillages of paint, 
And a very awkward moment when glue made someone faint. 
But we love our weekly meetings and though little craft is done, 
There's lots of joy and laughter, companionship and fun. 
We'd never miss a session because we know that secretly, 
We just came for a natter, and a lovely cup of tea! 
GIANT Pumpkin 
Competition 2019 
Biggest and Heaviest Pumpkin: 
1st: Penny Worsfold 38kgs 
2nd: Esme Worsfold 32kgs 
3rd: Tiaki Worsfold 22.5kgs 
4th: Kierra Hastie 16kgs 
5th: Van Walker 9.5kgs 
6th: Amelia Hastie 9kgs 
Best Dressed Pumpkin: 
Juniors. 1st: Lahzariah Brett  
2nd: Alex Griffiths 
Seniors. 1st: Amelie Merwood  
2nd: Olive Woodman 
Roll Down the Hill Competition: 
1st: Penny Worsfold 
2nd: Kierra Hastie 
3rd: Amelie Merwood 
4th: Van Walker 
5th: Tiaki Worsfold 
6th: Esme Worsfold 
7th: Willow Woodman 
Term 1 ends 12 April 
Term 2 begins 29 April.
 from the front page ... 
completed  are  largely  regular  upgrade 
type items or else the responsibility of 
NZTA  (which  interestingly  and 
annoyingly, didn't turn up). 
One  exception  on  the  Improvement 
plan is the upgrade and development of 
McClean Park, the northern rest area. 
There  is  currently  no  budget  or 
timetable  for  this,  but  we  have  done 
quite a bit of work on this in the past. 
The  main  areas  of  interest  that  we 
noted  as  a  group  were  in  Kaiwaka 
Central, hopefully progress in restoring 
the  lights  and  also  very  strongly,  in 
finding a way to release Kaiwaka from 
the restrictions caused by a major state 
highway  through  the 
middle  People  want 
to  get  significant 
development  going,  especially  in 
housing.  One  major  step  in  this  could 
well  be  a  roading  link  between 
Kaiwaka 
Mangawhai  Road 
and 
Marshall Road. That would allow 
for  access  from  development  that  did 
not  have  to  get  in  or  out  from  State 
Highway One. 
So where to from here? 
Kaiwaka Can is strongly committed to 
working  positively  and  actively  with 
Council. We encourage the completion 
of the Township Improvement Plan but 
also  believe  there  is  far 
more  to  our  future  than 
that. We need to work 
through 
issues 
of 
funding, 
priorities, 
volunteer 
input 
and 
cooperative  ventures.  We 
look  forward  to  this 
challenge. 
Derek Christensen (chair) 
Photo  left  -  the  Kaiwaka 
Can table.
STEADY GOALS IN TURBULENT TIMES 
'SCENE' AROUND: Above - painting 
at Kaiwaka Revival Church; Below - 
Fresh beetroot at the Te Hana Orchards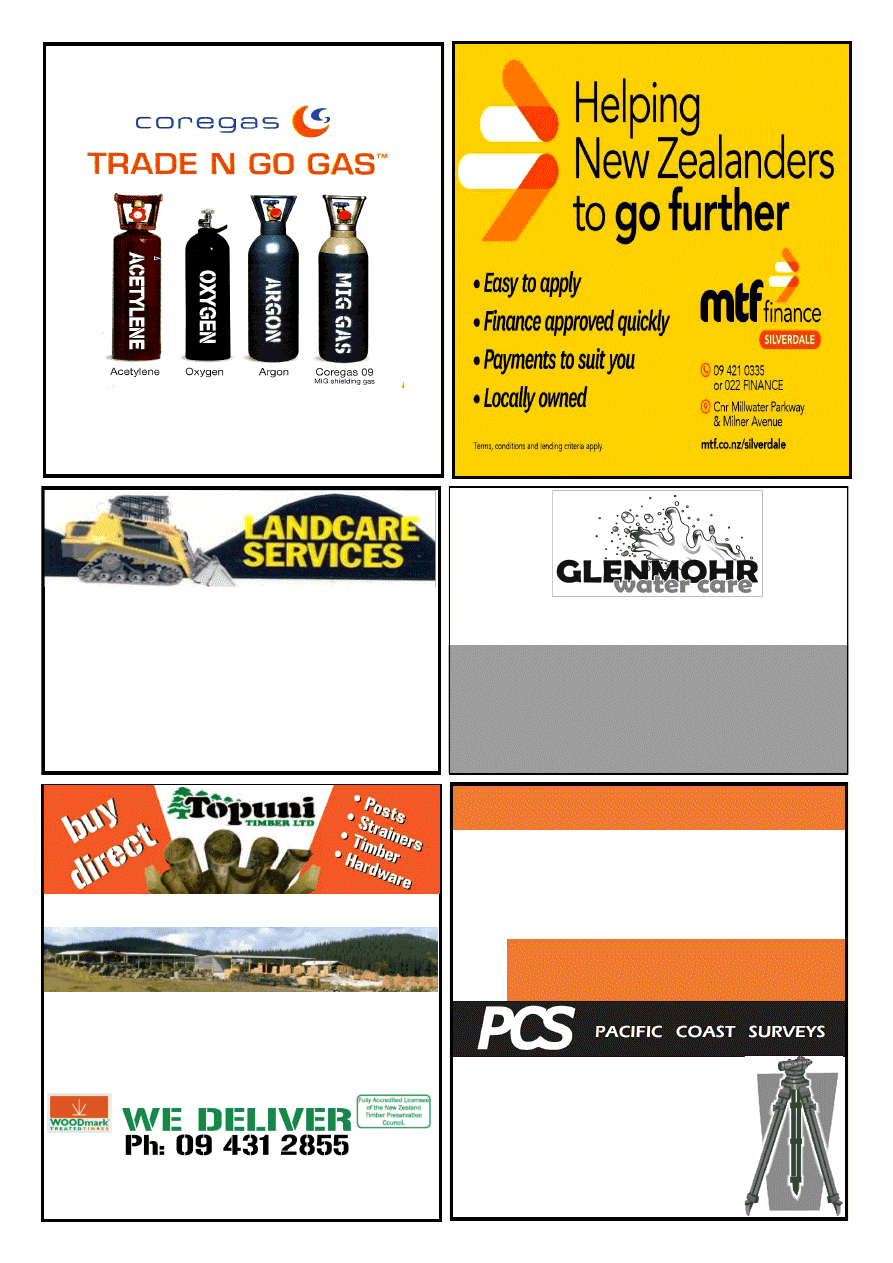 LOCALLY OWNED AND OPERATED 
QUALITY PRODUCTS • FRIENDLY ADVICE • GREAT SERVICE 
Quality Products milled from High Density NORTHLAND Radiata Pine. 
Treated and guaranteed to NZS3640 with commitment to 
Environmental Safety.
Phone, fax, email, or come into the mill 
Schiska Rd, Topuni, SH1, 10 min north of Wellsford. Fax: 09 431 2856 
Email: sales@topunitimber.co.nz           Mon - Fri 7am-5pm 
• Fencing 
• Retaining 
• Decking 
• Landscaping 
• Gates 
• Hardware 
SURVEYORS 
SUBDIVISIONS 
HOUSE SITE SURVEYS 
CIVIL ENGINEERING 
WASTEWATER DESIGNS 
EXPERIENCED 
PROFESSIONAL 
INNOVATIVE 
Ph 09 431 5353 
0800 PACIFIC (0800 722 434) 
pacificcoastsurvey.com
Adam Booth - 027 415 5752 
Bsurv, Licensed Cadastral Surveyor
Surveying Kaipara since 1994 
Water Tank Cleaning 
• 
Keep your water safe & clean  
• 
Removal of sediment, silt etc. 
• 
Vacuum or full scrub 
• 
Minimal water loss 
Phone Mark (09) 432 0655 or 0274 707607 
LANDSCAPING 
4 IN 1 BUCKET 
TRENCHER 
POLE HOLES 
ROTARY HOE 
COMPACT ROLLER 
OFFAL HOLES 
CAN SUPPLY WOODCHIP & POST PEEL 
5 TON TIPPER 
FOR RELIABLE AND FRIENDLY SERVICE CONTACT DAVE 
Dave Hyndman 
 
KAIWAKA 
PH: 09 4312302 
MOB: 021 431 238 
At Twinkle Tow 'n' Tyre 
Mob: 021 833 960 
Ph & Fax: 09 431 2823 
1837 State Highway 1, Kaiwaka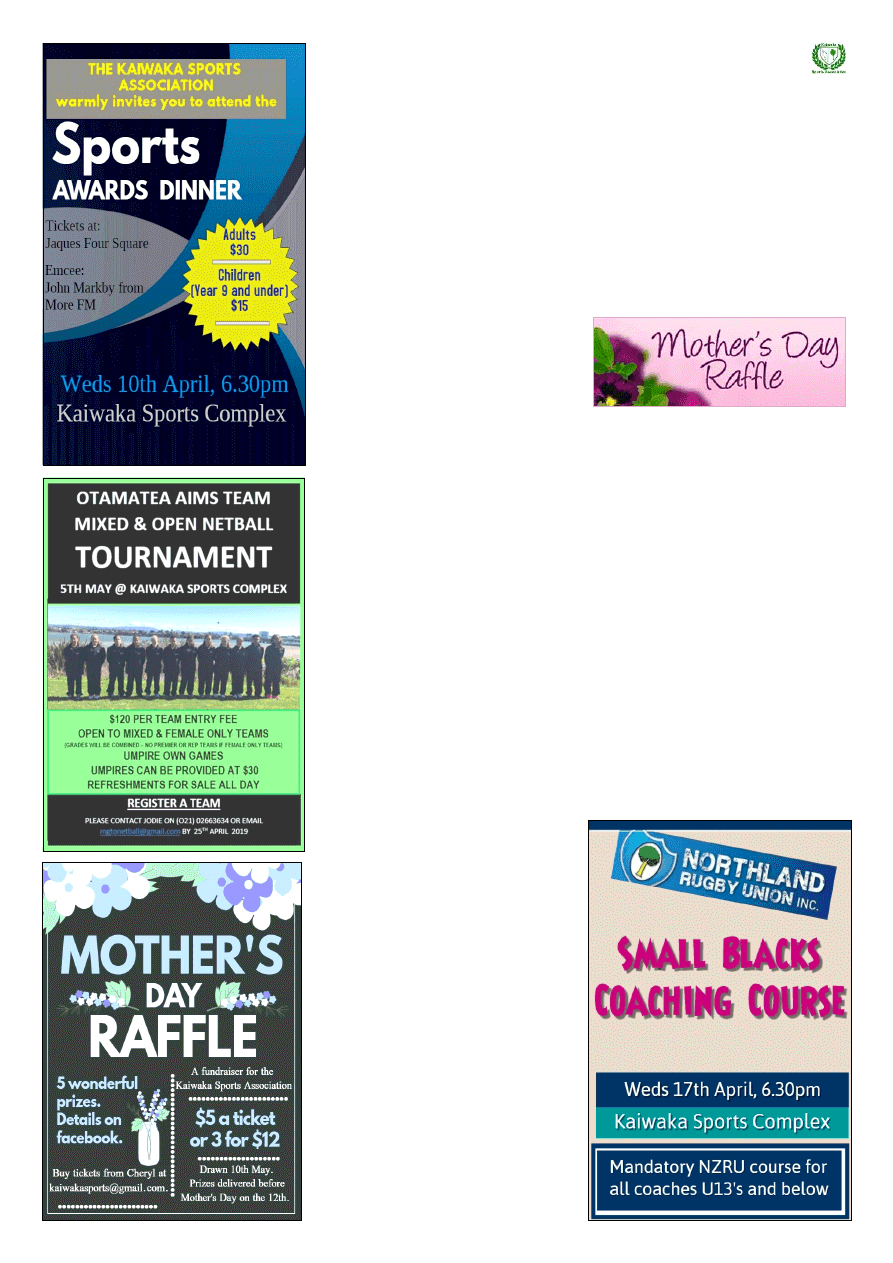 www.kaiwaka.co.nz 
Kaiwaka Bugle - 2 April, 2019 
Page 11 
           KAIWAKA SPORTS ASSN 
Kaiwaka Sports Awards 
Our annual Sports Awards will be held 
on  Wednesday  10th  April  and  will  be 
emceed  by  More  FM's  John  Markby. 
Tickets  are  $30  per  adult  and  $15  per 
child  (Year  9  and  under)  and  can  be 
purchased at Jaques Four Square. 
Basketball 
Did  you  know  that  Kaipara  Basketball 
is one of our affiliated clubs? This is a 
recently  formed  club  but  is  already 
booming  with  members  under  the 
guidance 
of 
Chairperson 
Blake 
Worsfold and his  team.  If  you  or  your 
child  are  interested  in 
playing  Basketball,  email 
Club 
Secretary 
Cyrena 
Brunton on 
info@kaiparabasketball.com  
Rippa Rugby 
An 
inter-schools 
Rippa 
Rugby 
Tournament will be held at our grounds 
this Tuesday 2nd from 9am. Spectators 
welcome. 
Netball Tournament 
The Otamatea Netball Club will hold a 
Mixed Netball tournament on 5th May 
at our courts, as a fundraiser for getting 
the  OHS  netball  team  to  AIMS  in 
September.  Open  to  mixed  teams  and 
female  only  teams.  This  will  be  a  fun 
day  of  netball,  with  a  hangi  and  neat 
prizes. To  enter a  team,  please  contact 
Jodie 
Bennetto 
on 
mgtonetball@gmail.com  
Rugby – coaching course 
A  Small  Blacks  coaching  course  will 
be held at the KSA on Wednesday 17th 
April at 6.30pm. 
This is a requirement for all coaches of 
rugby teams from Under  7's → Under 
13's. 
A  Rugby  Smart  coaching  course  will 
be held at the KSA this Tuesday 19th at 
6.30pm. This is a 
requirement  for  all  coaches  of  rugby 
teams from Under 14's and above. 
Rugby – Senior 
Our  senior  rugby  club,  Otamatea 
Hawks,  will  next  play  at  our  grounds 
on  Saturday  13th  April  against 
Horahora. 
Reserves 
kick-off 
at 
12.30pm  and  are  followed  by  the 
Premiers at 2.15pm. 
Emergency Accessway 
Please note that the gate in our carpark 
which  leads  onto  the  #1  field  (next  to 
the  swimming  pool)  is  our  emergency 
accessway for ambulances. It is painted 
yellow and has a Keep Clear sign on it. 
Please do not park in front of the gate. 
You  would  not  want to  be  responsible 
for  holding  up  an  ambulance  trying  to 
reach a patient! 
Sports Complex for hire 
Did  you  know  our  Sports  Complex  is 
available for hire? And we hire out our 
kitchen  to  groups  who  require  a 
commercially licensed kitchen for food 
preparation. Check out our website for 
all 
the 
details 
www.kaiwakasports.co.nz  
Fitness Centre 
Our  Fitness  Centre  will  hold  their 
AGM on Wednesday 3rd April at 6pm, 
inside the Fitness Centre. All welcome. 
Monster Mother's Day raffle! 
I've  gathered  lots  of  wonderful 
pampering-type  gifts  together  and  am 
going  to  run  a  raffle  with  5  fabulous 
prizes!  
The  raffle  will  be  drawn  in  time  for 
Mother's  Day.  Tickets are  $5  each (or 
3 for $12) – you can buy your ticket by 
emailing 
me 
at 
kaiwakasports@gmail.com 
or 
just 
catch me around town. 
Many  thanks  to  these  supportive 
businesses for their donations:  
Jaques Four Square, Three Furlongs Bar 
& Grill, Headz of Hair, Kaiwaka Cheese 
Shop,  U  Beauty,  Wellsford  Sports  & 
Leisure,  The  Apple  Basket,  Bazaar 
World,  Pumps  N  Plumbing,  Forgotten 
Fruits,  Kaiwaka  Picture  Framing, 
Woody's Winners, Well of Health, Amy 
Griffiths  Physiotherapist,  Wild 
Meadows,  Choose  Organic,  Rush 
Coffee,  Confident  Care,  Farmlands, 
Gardenpost,  Coffeepot  Cafe,  Kaiwaka 
Fitness Centre, Prime Design Furniture 
&  Cabinetry,  Otamatea  Martial  Arts, 
Marshwood Apiaries and Kai Carrier. 
And thank you also to these individuals 
who  made  donations: 
Libby  Clews, 
Amanda Grayson and Carey Murphy. 
Your  support  of  the  KSA  is  much 
appreciated. 
.~ 
Cheryl 
kaiwakasports@gmail.com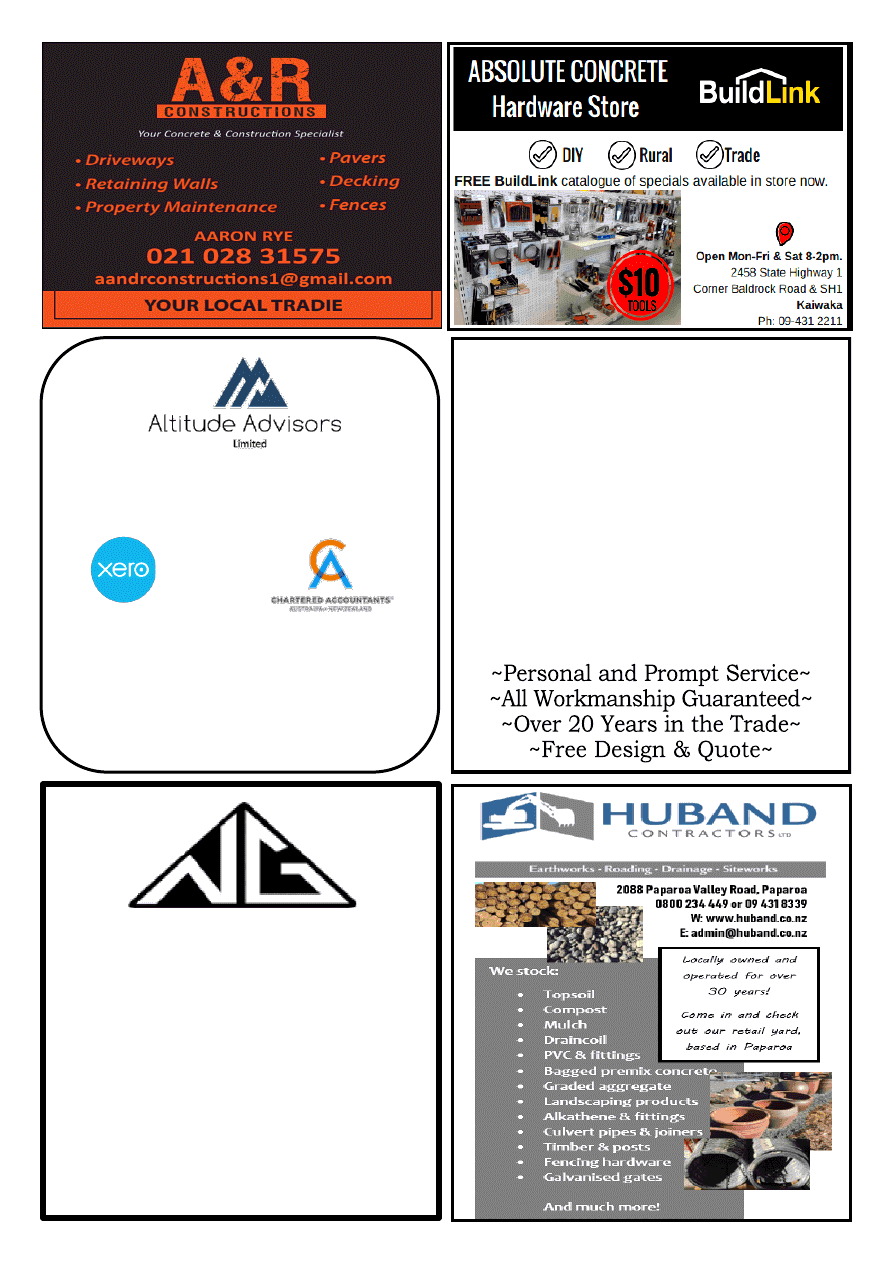 NORTH GLASS 
WINDSCREEN REPAIR OR REPLACE 
GLAZING SERVICES 
MIRRORS  •  SPLASH BACKS  •  SHOWERS 
0800 70 40 10
info@northglass.co.nz 
www.northglass.co.nz 
PLANNING A NEW KITCHEN?
 CONTACT NOEL McDOWELL
WELLSFORD 
KITCHENS
Ph/Fax 094312888
KAIWAKA-Any time
 QUALITY CUSTOM MADE 
KITCHENS
Altitude with Attitude, helping your business 
scale new heights 
Time to try something different? 
Xero training          Accountancy Services 
We are offering two opportunities: 
15% saving off your annual report cost for your first 
year, & a further 10% saving for any referrals 
Call Corinne on 021 252 7680 or 
corinne@altitudeadvisors.nz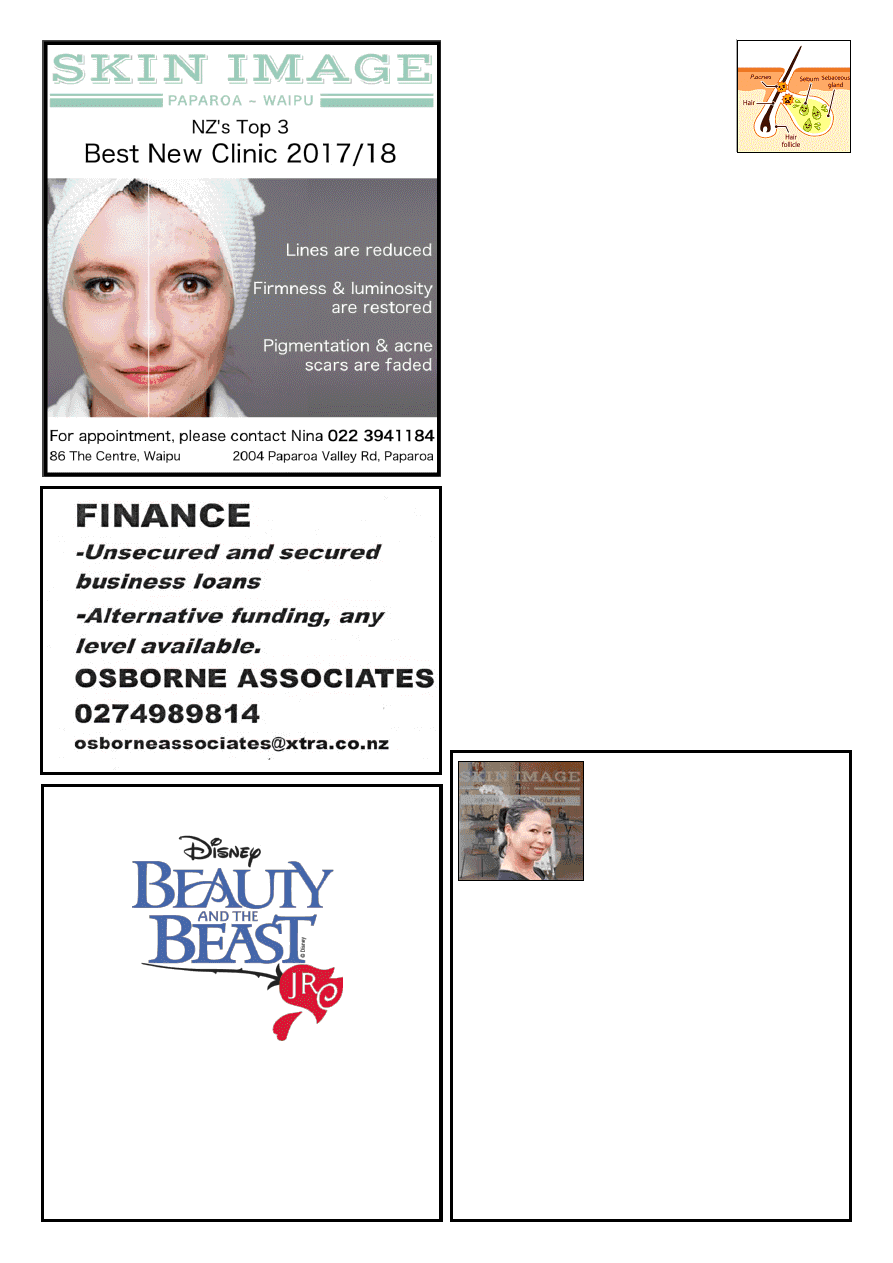 www.kaiwaka.co.nz 
Kaiwaka Bugle - 2 April, 2019 
Page 13 
Otamatea Repertory Theatre Inc.  
Proudly presents 
Music by Alan Menken 
Lyrics by  Howard Ashman and Tim Rice 
Book by Linda Woolverton 
Show dates: April 27, 28 @ 2pm and 6pm,  
 May 3@ 7.30pm, May 4 @ 2pm & 6pm, May 5 @ 2pm  
Tickets online at www.ort.org.nz or at Tony's Lotto Shop 
in Maungaturoto, Adults $28  Students $15 
Disney's Beauty and the Beast JR. is presented through special arrangement 
with and all authorized materials are supplied by Music Theatre International.  
421 West 54th Street, New York, NY  10019 
PIMPLES AND ACNE
Our  gastrointestinal  tract  contains  the 
largest  population  of  bacteria,  our  skin 
contains  the  second  largest  population 
and is referred to as the skin microbiome. 
Our  skin  is  a  diverse  melting  pot  of 
different groups of fungi, bacteria, mites 
and  viruses  with  hundreds  of  different  cultures  living 
together.  We  feel  great  and  are  healthy  when  these 
microbiomes  are  in  symbiosis  with  all  the  bugs  living 
together in harmony. 
Cutibacterium acnes (formally known as Propionibacterium 
acnes or P. acnes) is one of the bacteria that live on the skin 
and  is  attributed  to  pimples  and  acne,  but  in  fact  these 
bacteria  perform  a  very  important  function  in  that  they 
digest sebum, turning it into free fatty acids to help form the 
skin's  acid  mantle.  They  only  cause  problems  when  their 
numbers are out of whack. 
Hormones  at  puberty,  pregnancy  and  menstruation  are 
times when we see an overproduction of sebum – oily skin. 
This provides extra food for the C. acnes bacteria and they 
multiply.  When  there's  too  many  of  them,  they  put  the 
microbiome 
out of balance and skin becomes inflamed, then the body's 
immune  system  kicks  in  with  higher  production  of  white 
blood  cells.  Combine  inflammation,  cellular  debris, 
bacterial proliferation, and white blood cells and you have a 
plugged hair follicle or pore. The backup results in a traffic 
jam  under  the  skin,  and  you  start  to  see  pimples  or  acne. 
But the worse comes and zits spread to the neck, chest and 
back only when we go to treat these zits with cleansers, gels 
and  scrubs  that  strip  the  oil  because  we've  been  taught  to 
believe  that  oily  skin  is  prone  is  pimples.  What  happens 
when we strip our skin surface of oil is the C. acnes bacteria 
will  go  and  look  for  food,  so  they  travel  down  the  hair 
follicle  where  they  find  the  sebaceous  gland  (the  sebum 
factory)  and  it's  like  finding  KFC  so  they  gorge  on  the 
sebum and you can guess what happens next. 
Keep your skin clean, but DO NOT strip it of its natural oil. 
Remember, you want to try and help sebum flow onto your 
skin.  Use  a  gentle  cleanser  and  moisturiser  that  help  the 
skin desquamate allowing the pores to empty easily. 
Seek  expert  advice  as  there  are  technologies  and  products 
that  can  help  to  regulate  sebum  production,  keep  your 
microbiomes  in  balance  so  you  shouldn't  have  to  struggle 
with pimples and acne. 
Nina Quan, Skin Therapist – Skin Image Paparoa and Waipu 
BEAUTY CLINIC GIVE-AWAY 
It's not every day you get the opportunity to acquire 
a  fully  operational,  award-winning  business  free, 
but this is exactly what is on offer in Paparoa right 
now. 
Skin  Image  owner  and  operator  Nina  Quan  is 
consolidating her beauty business in Waipu where 
she  now  lives  and  is  offering  her  award  winning 
Paparoa business as a going concern – for nothing, 
provided the new owner buys the building in which the clinic is housed. 
The commercially zoned building on the main street of the little township is set 
up as a beauty clinic with two consulting rooms, reception area, storage/office 
room, toilet, kitchenette, laundry and a large covered deck at the back. Each 
consulting room is fully set up for beauty and massage treatments and has a 
sink, bench unit and a reverse-cycle air conditioning unit. 
The  give-away  business  incorporates  all  the  clinic  equipment  (trolleys,  hot 
towel cabbies, wax pots, maggi lamps, steamer, skin scanner etc etc), washing 
machine, furniture, beds, linen and current stock, so a new owner can just walk 
in and take over. 
The deal may include goodwill, as some clients will probably want to continue 
to  get  their  treatments  locally.  "It  is  a  once  in  a  life  time  opportunity  for 
someone who has always dreamed of having their own clinic," Nina says. The 
new owner will be "walking into an existing, fully operational business with a 
great foundation and reputation". The clinic was a finalist in the NZ Association 
of Registered Beauty Professionals best new clinic category for 2017/18. 
The naming rights of the existing business, 'Skin Image' is not included in the 
gift "but here is a space already set up for someone to put their stamp on it" 
says Nina. 
If the new owner does not want to continue with the business, they can choose 
to sell the equipment and furnishings, or they can lease out the business or run 
another business. "The set-up and location lend itself to many small business 
opportunities." Please contact Nina direct at Skin Image if you would like more info.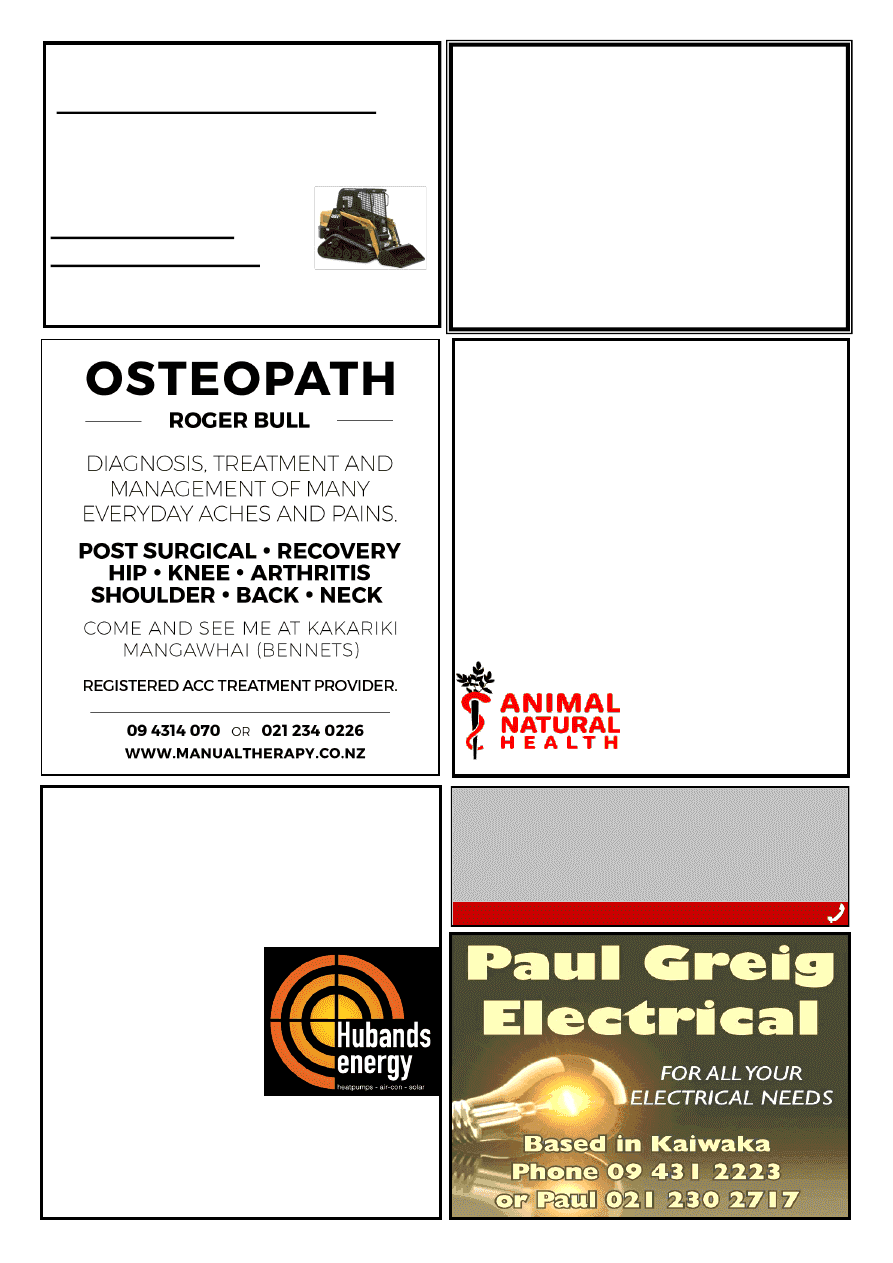 Natural Earth Ltd 
 Landscape and Bobcat services 
 : Driveways  :Landscaping  :Retaining Walls 
 : Hole Boring: Land Levelling :Trenching 
 : Decks :Fences :Sections Cleared: Plus much 
more 
Tel   09 4312885 
Mob 02102391280   
For A Fast Friendly  
Service Contact Tim Hicks 
CALL CRIMESTOPPERS 
Worried about something that doesn't seem right to 
you? Concerned about activity that could be 
harmful? Call Crimestoppers.  
You don't need to know all the facts.
CALL 0800 555 111 ANONYMOUSLY 
Northland's Award Winning 
Solar Company
SEANZ Best Solar Business Winners 2015/16
EXCLUSIVE 10 year installation warranty 
FREE No obligation onsite quote
Complete systems 
from $5990
See our range of: 
✓ 
Heatpumps 
✓ 
Airconditioning 
✓ 
Hot Water 
Heatpumps 
✓ 
Central Vacuum Systems
09 430 0019             sales@hubands.co.nz 
15 Kioreroa Road, Whangarei
Locally owned and operated for 35 years 
Mangawhai Heads 
Garden Centre
1758 Cove Road
945 0707 
021 165 2629 
PET FOOD & ACCESSORIES 
ANIMAL NATURAL HEALTH, 
KAIWAKA
Our Pet Deli range of meats are now in! 
Also stockists of:
Purely Pets Patties 
Orijen & Acana Kibble 
Mighty Mix Biscuits 
Tukka Thyme Muesli 
Organic Apple Cider Vinegar
Chemical-free flea control, wormers 
Homeopathic / herbal preps for Upsets & 
Allergies. 
Collars and leads. 
Hours:  9.30am - 4.30pm 
weekdays,  
Saturday 9.30am-4pm 
Sunday 10am - 1pm 
Next to Italian Bakery,  
SH 1, Kaiwaka 
Phone 09 431 2217.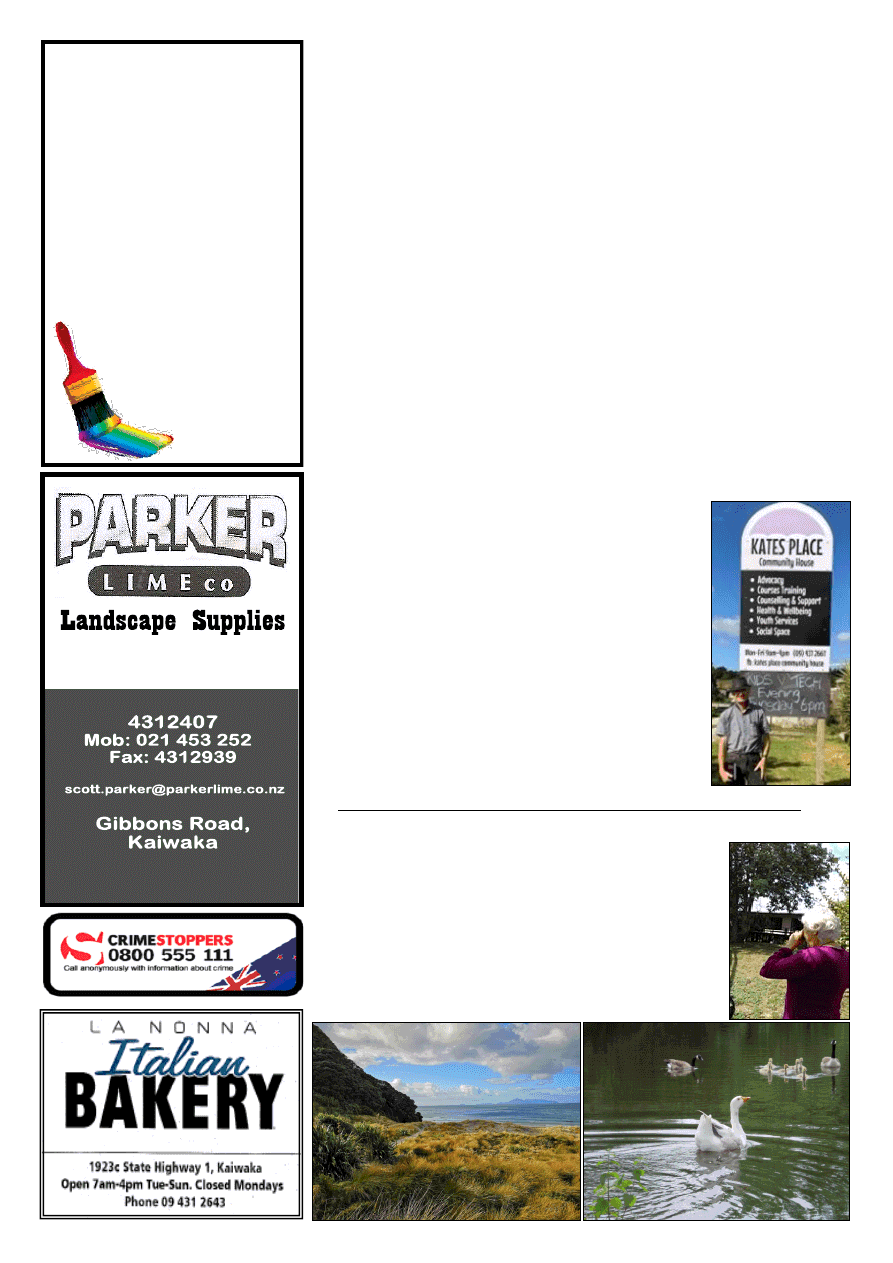 www.kaiwaka.co.nz 
Kaiwaka Bugle - 2 April, 2019 
Page 15 
Bulk Cartage 
LEE COOPER 
PAINTERS 
(Kaiwaka Based) 
*30 yrs Experience 
*Interior/Exterior 
*New and Restoration 
*Honest and Reliable 
*Free Quotes 
 
09 4312918 
0274735171 
leecooper@xtra.co.nz 
PETE WORSFOLD...KAIPARA COUNSELLOR
...  
My  name  is  Pete  Worsfold,  a  local, 
born and bred here in Kaiwaka. 
I  have  just  completed  7  years  of 
counselling 
training 
and 
after, 
travelling around Northland for almost 
4 years working for  'Man Alive', sole 
Tai  Tokerau  provider  of  domestic 
Violence  and  Anger  Management 
Services  through  the  Justice  system, 
Counselling,  and  being  a  Group 
Facilitator  of  men,  I  thought  it  was 
about  time  I  came  back  to  my  local 
area.  I  very  much  enjoyed  the 
experience  and  connecting  with  the 
North and its people.  
Having 
worked 
for 
Otamatea 
Community  Services  at  the  same  time 
since  I  began  Counselling,  I  kept  my 
finger on our Local Community pulse. 
The  place  is  beginning  to  burgeon  at 
the  seams,  he  says  and  the  timing  to 
come back to our Kaipara Community 
is perfect. Change seems to bring some 
`teething problems`. 
It's  good  to  be  back  home  and  I  am 
Counselling  at  Kates  Place  on  a 
Tuesday  and  at  Maungaturoto  on  a 
Wednesday,  though  can  move  easily 
between  the  two  towns,  during 
working hours. 
Arrangements  can  be  made  for  other 
times outside normal working hours.  
My specialty is Men's issues, though I 
counsel all ages, issues and genders in 
my  work  I  am  able  to  act  as  a 
negotiator around issues with different 
parties  i.e.  disputes,  keen  to  stop 
couples  going  to  court  over  custody 
issues  through  counselling.  Children 
don't  need  to  be  dragged  through  the 
Court System. 
I am  most keen to get a Men's Group 
going in Kaipara soon, called ``Men Of 
Integrity-Making  Better  Choices'  and 
sense it is the right time now and men 
need  to  be  heard  -  not  all  deep  stuff, 
fun as well. 
Topics  such  as  Communication,  Men 
and  Women  in  R/Ship  and  Good 
Men`s Qualities, Discussion, Teaching, 
sharing  men's  issues,  and  Tools  For 
Coping Better, will be on the Agenda. 
The  Group  will  be  run  by  myself  and 
my OCS Colleague Damien Stansfield 
who 
has 
a 
background 
with 
`Essentially Men `. 
Damien  had  Volunteers  and  I  had 
Compulsory  Men  so  it  will  be 
interesting combo. 
Day,  time  and  starting  date  will  be 
available shortly. Anyone interested in 
joining  our  men's  group  please  ring 
094319030  or  094312661.  Numbers 
are  limited  because  of  space  so  be 
quick guys.  
I also work for Rural Support Services 
and  have  been  offering  a  Counselling 
Service for Farmers for the last 3 years 
and  had  good  results  in  increasingly 
disturbing  circumstances  that  farmers 
have been facing. 
I  am  also  available  for  more  discreet 
counselling  under  my  business  'Full 
Circle Counselling'. Some people want 
more  anonymity, 
it seems. 
It's  good  to  be 
back  to  my  roots 
in  Kaiwaka  and 
all  my  training 
and 
experience 
can  be  used  here. 
Less driving too!  
Pete Worsfold 
Counsellor OCS 
M.Soc.  Sc.,  B.Soc.  Sc., 
Dip  Prof  Couns  NZIPC 
MNZAC 
Available at Kates Place 
Kaiwaka on Tuesdays, 
Phone 094312661 for an 
appt 
and 
Otamatea 
Community  Services  on 
Wednesdays  
Phone 094319080 for an 
appt.\ 
`Full Circle Counselling` 
021 825 970 
peteworsfold65@gmail.com 
" SO MUCH TO DO, SO LITTLE TIME " 
Avril Tantrum a retired vet is like all of us when we say "I 
must  go  through  and  delete  some  of  my  photos,  I've  so 
many". 
Except that Avril has a unique eye for beauty in our district. 
She  sees  colour  changes  in  the  atmosphere  and  records  the 
colours and emotions in local scenes. 
There will be an exhibition of her works on Saturday April 
Sixth  in  the  old  schoolhouse/church  opposite  the  new 
Mangawhai Museum.  
The photos will be printed on board, canvas and metal, come 
along and see what you may have missed .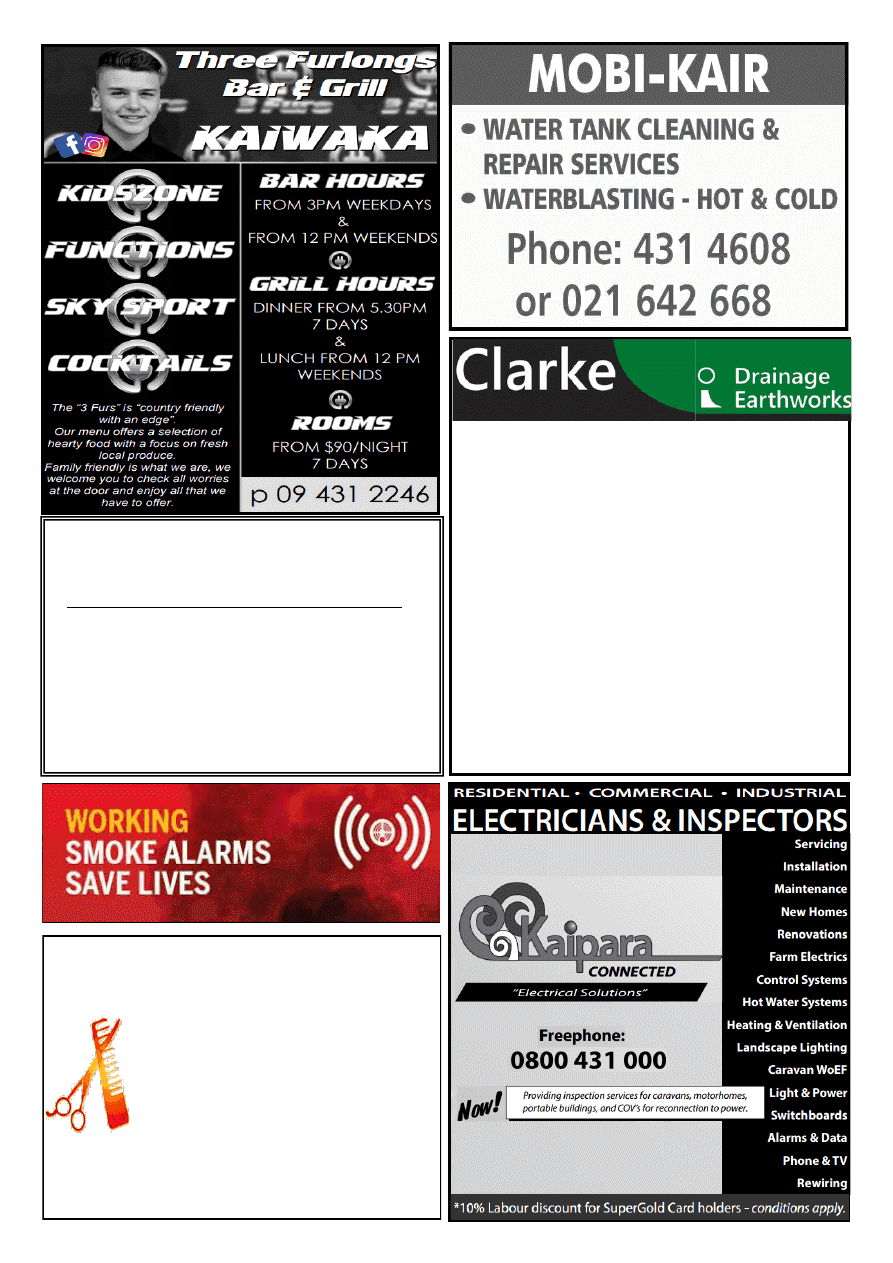 Registered Drainlayer 
All Types of Earthworks  
> All Residential & Commercial Work  > House Sites 
> Septic System Design & Install 
> Footings & Drilling to 10m 
> Sewer Connections 
> Dams 
> Water Tank Installation 
> Roading & Races 
> Farm Work 
THE ONE STOP SHOP  
Phone Nigel for an Obligation Free Quote  
Drainage & Earthmoving 
nigel@clarkedrainage.nz 
027 2233 185 
Email: info@kaiparaconnected.co.nz 
Website: www.kaiparaconnected.co.nz 
AFFORDABLE PRICES! 
MENS CUT FROM $20.00 
LADIES CUT FROM $30.00 
KIDS CUT FROM $18.00 
COLOUR & CUT FROM $120.00 
JUST CUTS'AND   
MORE 
021 165 2629 or (09) 945 0707  
NOW SELLING: scented tealights, incense, smudge sticks, 
copper bracelets, aurora ball crystals, dream catchers, healing 
stones, rose quartz, cds, and much more. Open 6 days. 
Om Tara 
Mangawhai 
Healing Services 
Diann Glucina 
021 250 7461 diglucina.com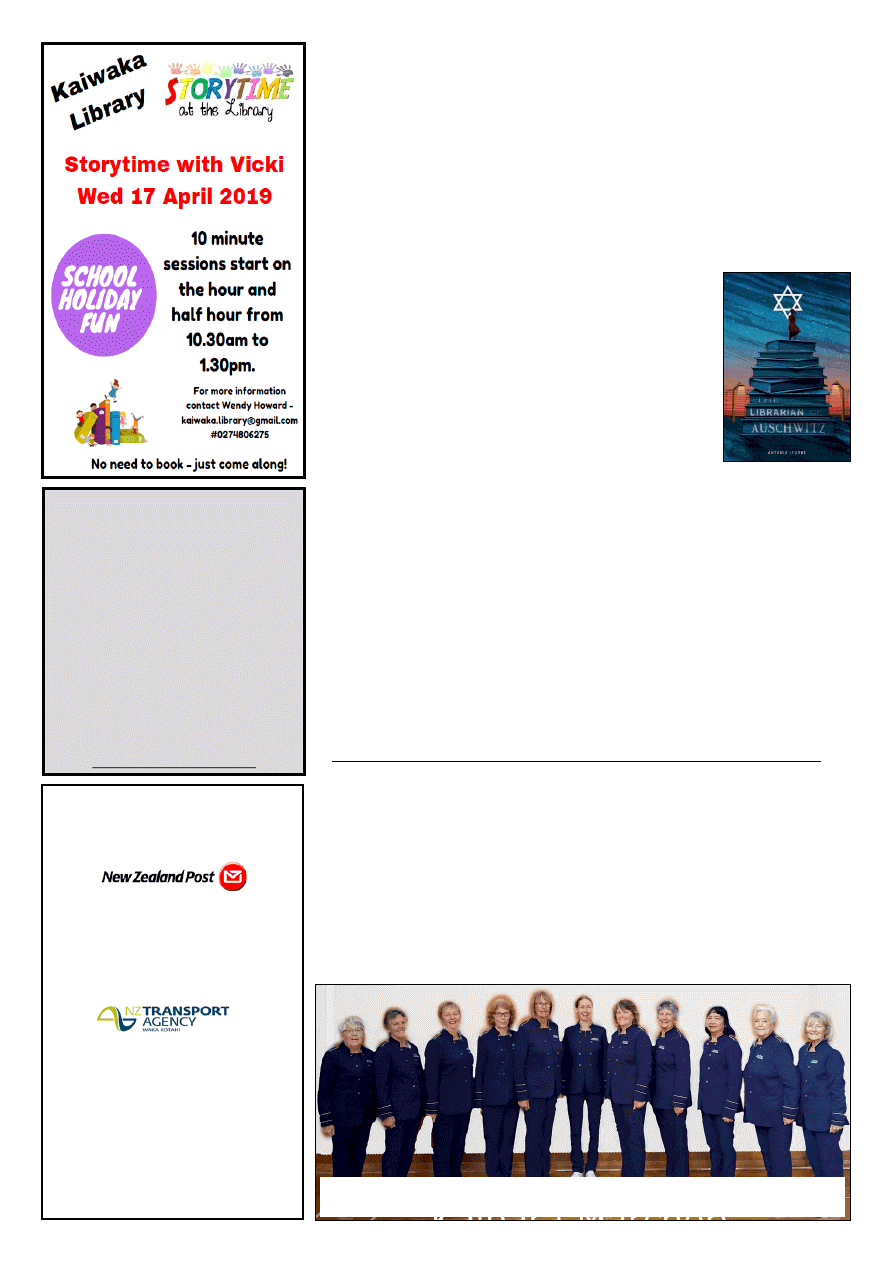 www.kaiwaka.co.nz 
Kaiwaka Bugle - 2 April, 2019 
Page 17 
KAIPARA MARCHERS 
KAIWAKA POST 
CENTRE and 
FOOD MART 
POST CENTRE TRADING HOURS 
MONDAY to FRIDAY 8am to 5pm 
SATURDAY 8am to 12pm 
CLOSED ON SUNDAY and on 
PUBLIC HOLIDAYS 
FOOD MART (GROCERIES) 
MONDAY TO SUNDAY  
7:30am to 8pm 
IF ANY QUERIES PLEASE CALL 
STORE MANAGER AMRIT  
on 09 4312431 or 
EMAIL: kaiwakafood19a@gmail.com 
1919a State Highway1, Kaiwaka 0542 
Maungaturoto  
Country Club 
SPORTS - SOCIAL - CONFERENCE CENTRE  
The club is open Fridays from 4pm and 
Thursdays from 6pm - come and enjoy a 
drink and a meal from Raquel's Kitchen.  
You can join the Club  - $15 a year. 
Application forms available on request. 
Affiliated activities: Bowls, Squash, 
Rugby, Theatre, Motorcross, Equestrian. 
PO Box 81 Bickerstaffe Rd 
Maungaturoto 0547 Tel 09 4318 326 
School Holidays 
On  Wednesday  17  April  we  will  be 
having Story Time sessions with Vicki 
on  the  hour  and  half-hour,  starting  at 
10:30am,  then  11:00am,  11:30am,  and 
so  on  until  the  last  session  at  1:30pm. 
No need to book, just come in. Stories 
will be read for about 10 minutes each 
session. 
Book swap 
The  next  Large  Print  and  Audio  book 
swap  is  only  a  couple  of  weeks  away. 
For  Large  Print  books  this  is  only  the 
ones with a yellow label at the bottom 
of  the  spine,  that  belong  to  Northland 
Libraries  Network.  Please  have  these 
back to us by Sunday 14 April so they 
can be swapped for new titles. 
Overdues Reminders 
You  can  receive  automated  reminders 
about any overdue items issued to you, 
by  email  and/or  by  text  message?  It 
saves  me  time,  as  I  know  you've  been 
sent those messages and I don't need to. 
For  email  notices,  send  an  email 
to  kaiwaka.library@gmail.com  from 
the  email  address  you  want  them  sent 
to, and ask for that to be turned on. For 
text messages, send me a text - 027 480 
6275 - from your phone, and I will set 
that  up  for  you.  Or  ask  at  the  counter 
next time you're in the library. 
If you're ever sent a reminder about an 
item  you're  sure  you've  already 
returned,  don't  hesitate  to  get  in  touch 
with  the  library  (email,  phone,  text,  or 
in  person)  to  let  us  know,  so  we  can 
investigate  and  set  things  right  when 
the item is found. 
Rental books 
We  ran  out  of  space  on  the  Rental 
shelves,  so  the  older  '18'  books  have 
been retired early to the free shelves to 
make  room;  this  affects  Fiction,  Non-
Fiction,  and  Teen  Fiction. There's  also 
been  a  small  cull  on  the  free  fiction 
shelves to fit them all in. If you've been 
eyeing a book on the Rental shelves for 
a  while,  and  now  can't  find  it,  it  will 
likely  be  on  the  free  shelves.  Place  a 
hold  via  Enterprise*,  and we  will  pick 
it  off  the  shelves  ready  for  you  to 
collect. 
Book review 
I've  recently  read  The  Librarian  of 
Auschwitz  by  Antonio  Iturbe.  This 
novel is 
"based  on  the  experience  of  real-
life 
Auschwitz 
prisoner  Dita  Kraus, 
this  is  the  incredible 
story  of  a  girl  who 
risked  her  life  to 
keep  the  magic  of 
books  alive  during 
the 
Holocaust. 
Fourteen-year-old 
Dita  is  one  of  the 
many  imprisoned  by 
the 
Nazis 
at 
Auschwitz.  Taken, 
along 
with 
her 
mother and father, from the Terezín ghetto 
in Prague, Dita is adjusting to the constant 
terror that is life in the camp. When Jewish 
leader  Freddy  Hirsch  asks  Dita  to  take 
charge  of  the  eight  precious  volumes  the 
prisoners  have  managed  to  sneak  past  the 
guards,  she  agrees.  And  so  Dita  becomes 
the  librarian  of  Auschwitz.  Out  of  one  of 
the  darkest  chapters  of  human  history 
comes  this  extraordinary  story  of  courage 
and  hope."  (goodreads.com) 
What  an 
amazing  story!  You  know  from  the 
outset  that  this  girl  is  going  to  survive 
the  horrors,  since  the  real  Dita  herself 
wrote an introduction for the book, but 
sometimes  you  have  to  wonder  how. 
It's  a  good  read.  You'll  find  it  on  the 
Teen  Fiction  (YP)  shelves  in  the 
library. 
See you in the library! ~Wendy 
KAIWAKA LIBRARY 
Kaipara Marching Team, Left to Right  - Cecelia Les Chapman, Janice Booth, Kathy Barron, 
Rachelle  Davies  (Leader),  Rose  Plunkett,  Carrie  Adlington,  Corinna  Thorburn,  Jane  Baird, 
Theresa Ramirez, Connie Walker (Manager) 
Marching  for  sport in  New  Zealand  began in the 1930s  and  developed to  help 
keep  young  women  fit  and  healthy  during  The  Depression.  In  the  1940s  it 
became more organised so that teams could compete against each other. In 1990s 
Leisure  Marching  took  off,  talking  with  ladies  at  the  27
th
  Leisure  Marching 
Nationals  in  Hamilton  in  March  (where  there  were  80  teams  and  about  1000 
women),  when  the  word  was  put  out,  many  of  the  women  who  had  done 
marching in their youth stepped up and wanted to do it again. 
Besides the fun and friendship, you get when you are part of the team, the other 
benefits  of  Leisure  Marching  include  improving  memory,  as  you  need  to 
remember  your  moves;  developing  and  maintaining  co-ordination  as  an 
individual and part of a group - all good things to work on, no matter what your 
age.  To  find  out  more  about  Leisure  Marching  or  to  join  Kaipara  Marchers 
Leisure Marching Team please contact our coach, Lyn Hutchings 0220 708 674. 
~ Carrie Adlington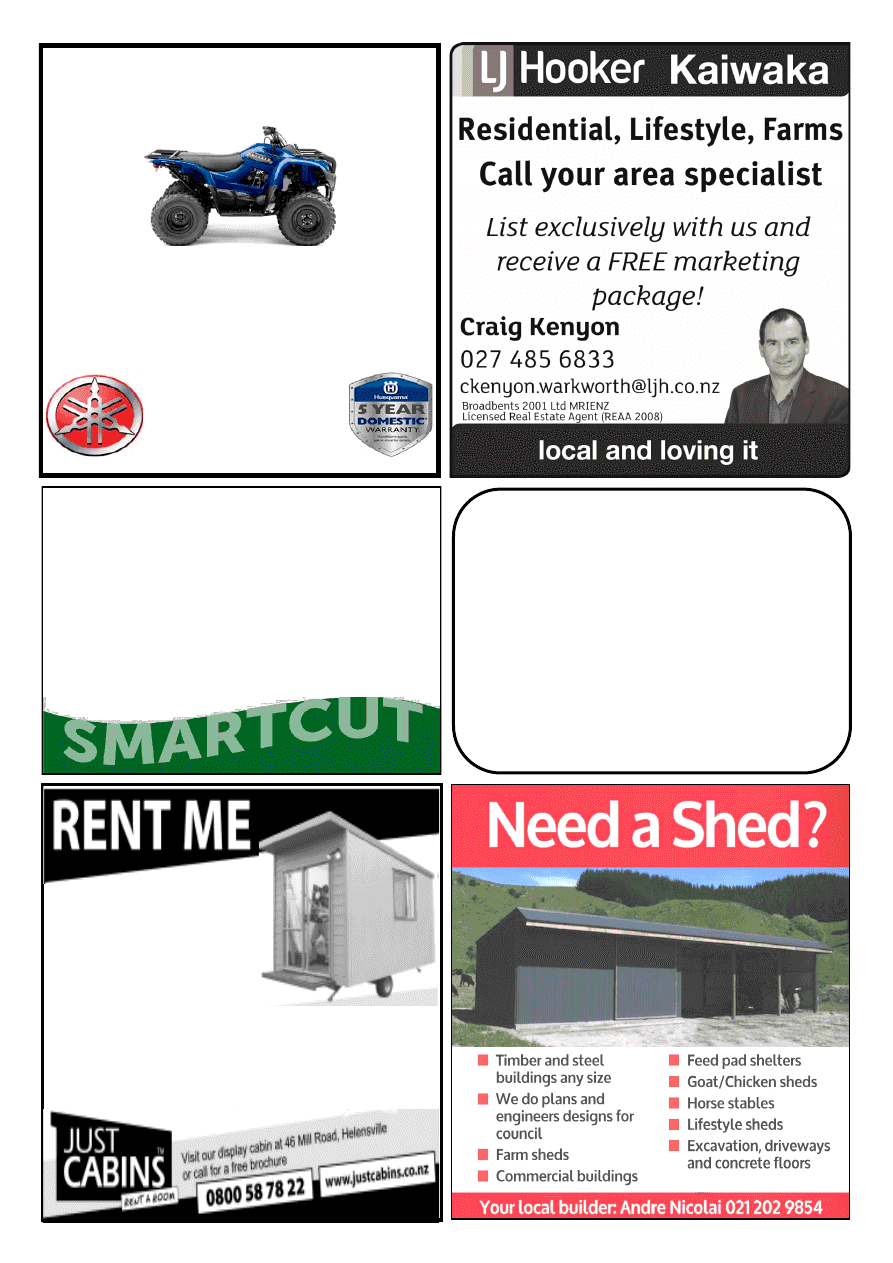 All your outdoor needs sorted so you don't have to... 
I can prune, chop, tidy, spray, mow, plant 
- you name it, I can do it! 
Residential & Commercial 
Lawn & Garden Care 
Call Rodney, your local  
lawnmowing contractor 
021 138 2344 
UP-LINK 
CHRIS WARING 
FREEVIEW INSTALLATIONS 
T.V. - HOME THEATRE &  
HI-FI ADVICE/SET UP
SKY ACCREDITED INSTALLER
MOB.0273403747 HM.094312328 
EMAIL cwaring44@gmail.com
28 YRS EXPERIENCE 
OFFERING UNBIASED ADVICE 
Ideal as an extra  
bedroom or office 
Three Convenient sizes: 
Standard 3.6m x 2.4m - $65 
per week 
Large 4.2m x 2.4m - $80 per week 
Extra Large 4.8m x 2.4m - $100 per week 
Fully insulated. Minimum 6 months rental period 
KAIWAKA 
MOTORCYCLES LTD
SALES – SERVICE – SPARES 
FARM BIKE SPECIALIST
PHONE 09 431-2127 
10 KAIWAKA-MANGAWHAI ROAD, KAIWAKA
Trimmers  
from $279
Chainsaws  
from $339
YAMAHA 
HUSQVARNA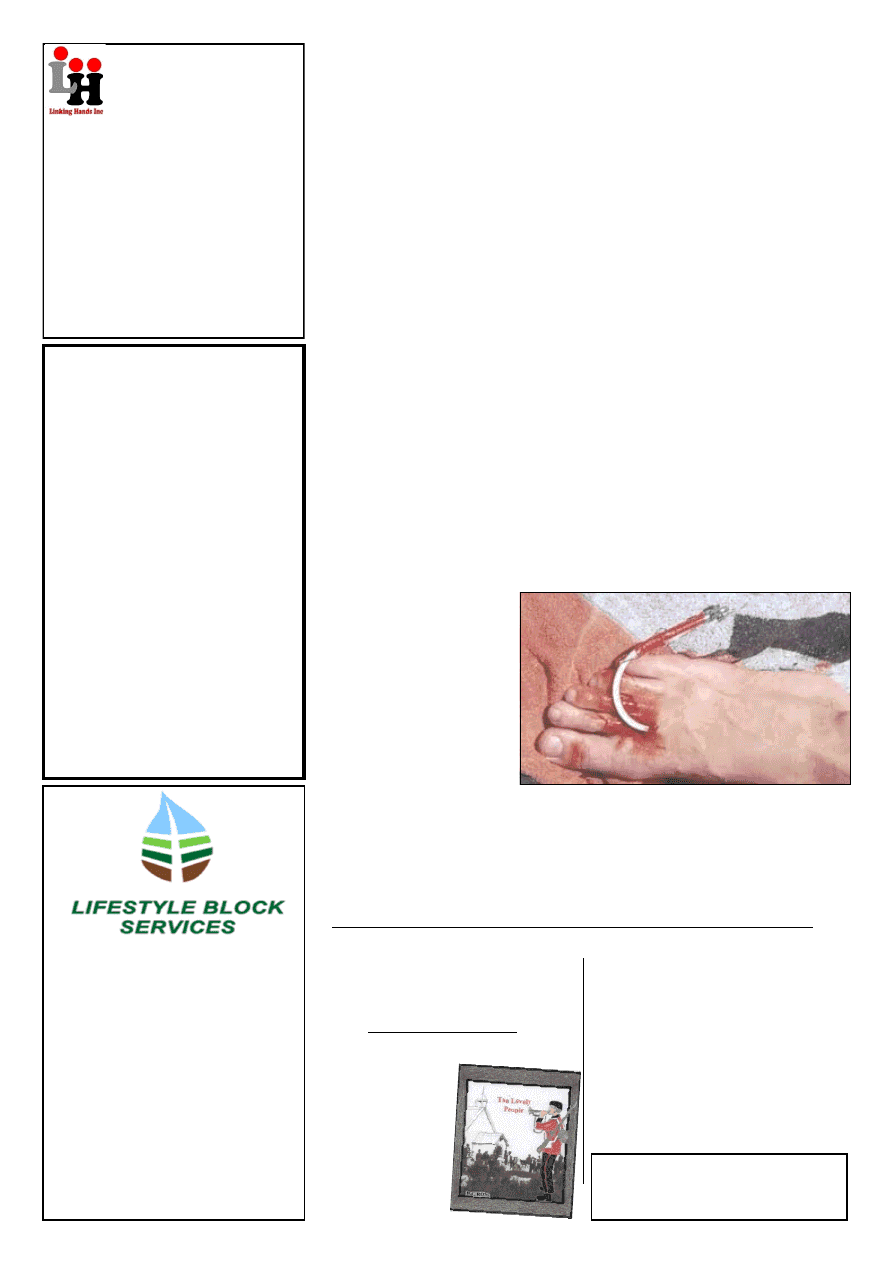 www.kaiwaka.co.nz 
Kaiwaka Bugle - 2 April, 2019 
Page 19 
  LINKING 
HANDS INC 
Maungaturoto - Kaiwaka - 
Mangawhai 
Meeting the needs of the community. 
A  free Health Shuttle Service, providing 
transport to those who would struggle to 
get  to  medical,  dental,  podiatry,  or 
optometrist appointments anywhere from 
Warkworth to Whangarei. 
HEALTH SHUTTLE SERVICES 
Ph/fax 09 431 8969 
OFFICE HOURS 
Maungaturoto - Monday to Friday - 
10am to 4pm 
Closed Public Holidays 
Almost  everyone  who  has  held  a  line 
has a fishing story...here are two, one is 
mine,  and  one  is  from  CJM  Clark's 
memoirs. 
Just  before  I  became  a  horrible 
teenager, my old Dad took my brother 
and I down to the river to catch eels. A 
Latvian  friend  of  his  would  buy  them 
for  ten  shillings  a  piece.  Dad  stood  in 
his best golfing stance on the top of the 
out-flowing  sewage  pipe,  hundreds  of 
eels  slithered  below.  He  had  a  very 
stout  broom  handle  with  a  big  fish 
hook  screwed  onto  the  end,  the  barb 
removed.  He  swung  and  sent  eel  after 
eel,  up  the  grassy  bank  behind  him 
where  we  let  them  slide  into  sacks  on 
their way back to the water. 
Occasionally  one  would  whack  us 
behind  the  head  very  unpleasantly  as 
father  kept  up  his  swing.  In  our  creek 
was  the  'father  of  all  eels',  a  full  six 
feet of him. All the local kids had seen 
him, and many had tried to catch him. 
Father in a moment of altruism took us 
all  down  to  the  creek  to  catch  the 
monster. Again, out came the very big 
broom  handle  he  notched  the  end  and 
bound  a  string  line  around  it,  then  to 
the  other  end  of  the  string  he  tied  a 
decent  piece  of  meat.  We  all  sat 
waiting...the eel came winding along in 
the  current,  saw  the  meat  and 
swallowed it, Dad waited, we 
were  excitedly  anticipating 
the  catch,  but  he  just 
waited  ....  then  suddenly  he 
stood, put the handle over his 
shoulder  and  heaved.  We 
took  a  photo  of  it  hanging 
from the clothes line with me 
next  to  it.  The  picture  since 
lost.  Dad  cut  the  fish  into 
two-inch slices and pickled it 
in A.G jars. 
Now from CJM's memoirs: 
"My  friend  and  I  had  a  fencing  job  at 
Tauranga  Beach  (just  south  of  the 
Heads)  and  took  a  launch  around. 
There was a N.E. wind blowing and it 
was  very  rough.  I  took  my  friend 
ashore, was carried out on the receding 
wave,  and  as  the  next  one  carried  the 
dinghy  ashore,  I  jumped,  but  was 
grabbed by the heel and fell flat on my 
face.  I  got  to  my  feet  but  was 
immediately  pulled  down  again  and 
dragged  out  after  the  boat.  I  then 
realised  that  a  king–fish  hook  had 
caught  my  heel  and  that  there  were 
only about twelve feet of line between 
the  hook  and  the  boat.  What  it  was 
caught  on  in  the  boat  I  will  never 
know, but by the time I got to my feet 
again  the  next  wave  was  rolling  in  on 
me. I was bowled over again and again 
the  dinghy  rolled  over  me.  I  was 
becoming  exhausted,  and  angry. 
Anyway,  my  friend,  having  (finally) 
seen the trouble I was in, had managed 
to come in and grab the boat which we 
pulled up temporarily on the sand.  
Of course, the hook had to come out, I 
remembered we had an old file out on 
the launch (and believe me it was old, 
rusted 
and 
virtually 
useless). 
Fortunately, the point of the hook was 
through  my  heel  (and  boot-leather 
would be like sponge rubber compared 
with the skin on this man's feet) so we 
were  able  to  get  the  barb  off  after  a 
time  and  get  the  wretched  hook  out. 
When the bleeding had stopped a bit, I 
put  my  socks  and  boots  on  because 
there was still work to do." 
...Imagine if he had been a union man, 
he  would  have  claimed  blood  money, 
wet money, sand in the eyeball money, 
risk  of  tetanus  and  pneumonia  money, 
pain  and  shock  money,  loss  of  wages 
and helicopter-rescue money. Or today 
can  you  imagine  the  ACC  forms  he 
would have had to fill out? 
~ from Bevan Lawrence 
Mangawhai  Writers  Group:  Contact  Bevan  on 
4801949 for more information. 
FISHING STORIES ... 
Make Baleage  
while the sun shines! 
Let us make hay/sileage for you. 
We sell small bale silage, 
conventional,  
& 5 bale equivalent hay. 
For more information  
Contact Mark on 021 801 065 or 
Contact Kathy on 027 4250520 
Driveway  
& Farm Race 
Maintenance and 
Construction 
Grader, Roller,  
Digger, Trucks 
Supply of lime rock and 
metal 
Call Peter on 
0274441553 
For advice / estimate for 
your driveway / farm 
race needs 
Saturday 20 and Sunday 21 April  
from 9am till 4pm.  
Easter Book Fair at the Museum 
Pre-loved books for everyone.  
Book Launch at Mangawhai Museum. 
Saturday,  
13th April,4.30pm.  
'
THE LOVELY 
PEOPLE' 
by Bev Ross – 
Group Settlement at 
Mangawai from 
1854 
All Welcome. 
DAYLIGHT 
SAVING ENDS 
SUNDAY 7 APRIL
HAKARU HALL 
ACTIVITIES 

Monday: Line Dancing 10.00am 
Ph 4315160 

Tuesday: Pilates 9.00-10.00
am
Ph 0220643964 Certified Instructor 

Thursday: Pilates 9.00-10.00am. 
All welcome  Ph 0220643964 

Thursday: Scouts 5.00pm 

Canine Coaching: For times 
phone 4313456 
Hall Available for Hire Ph4312256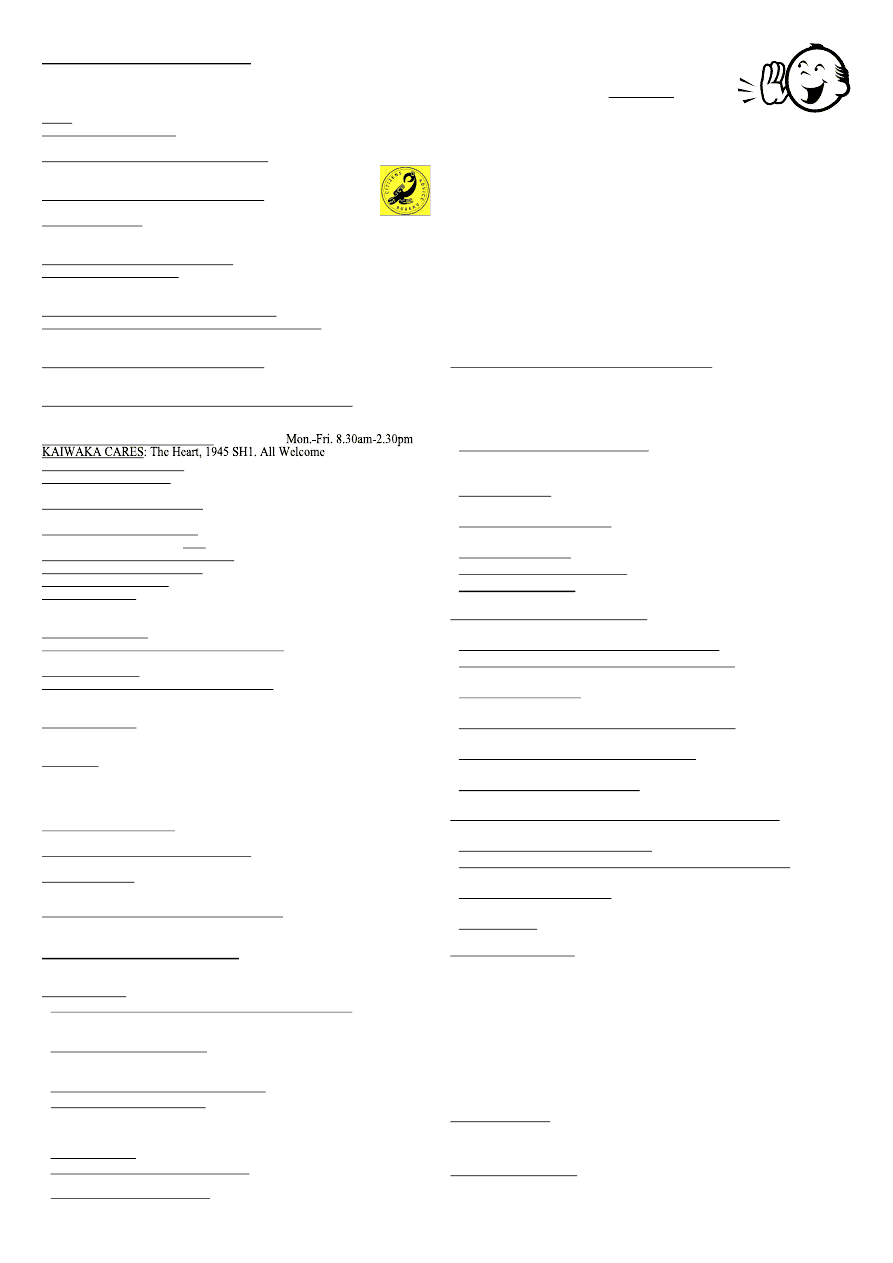 Next Bugle Deadline midday Friday 12 April 2019
WHAT'S ON
PLEASE ~ do let us know what is on - email 
kaiwakabugle@kaiwaka.co.nz 
Advertising in WHAT'S ON is FREE  
*3Apr~Otamatea St. John meet. Re Kaiwaka Station, 7pm 
*4Apr~OPEN NIGHT Kaiwaka Fire Station,5-7pm 
*5Apr~ Movie Supper 'Havana Moon' KWMH, 7.30pm 
*6Apr~Civil Defence Response, 10am Neighbourhood Off. 
*7Apr~DAYLIGHT SAVING ends 
*7Apr~Eutopia Café OPEN DAY, 2-6pm 
*10Apr~Civil Defence Response, 6pm Neighbourhood Off. 
*12-13Apr~Molesworth Sheep Dog Trials, Oneriri Rd 
12-14Apr~Pt.CCC Open Fishing Competition 
*19Apr~Movie 'The Favourite' KWMH,7.30pm 
KWMH = Kaiwaka War Memorial Hall; KSA = Kaiwaka Sports Association 
See www.kaiwaka.co.nz for more information 
HOUSEHOLD RUBBISH COLLECTION - Kaiwaka Pick up: 
Mondays = Green bags (Northland Waste - 09 430 3273) 
Wednesdays  = Blue bags and yellow recycling (at Jaques $3.00 
and  $1.50)  (Kaurilands  09  4392146);  ONLY  Blue  and  Yellow 
bags picked up on Oneriri Road. 
 DIABETES  Support  Group  -for  Kaiwaka,  Mangawhai, 
Wellsford  10am,  3rd  Friday  of  month  Ph:  Colleen  James  09 
4314238 
 GENEALOGY - Wellsford: 1st Thursday in month Ph: 423 
7033; Waipu: 4th Monday in month Ph: 4312 725 
 HAKARU PONY CLUB - Secretary Denise Rogers 021423376 
secretary@hakaruponyclub.co.nz  
 KAIPARA HUNT - Secretary Albert Doonenbal Ph 4312059 
 KAIWAKA BADMINTON -Tuesdays 7.30pm Ph: 4312345 
 KAIWAKA CAN - 3rd Wednesday in month, Archie Bull Hall 
Ph: 0273572751 
*KAIWAKA  DRAMA  CLUB  - 
Hannah  Webb 
0272863352 
KaiwakaDrama@gmail.com - FB - "KaiwakaDramaClub" 
 KAIWAKA DRUM & DANCE CLASSES - 021 611198 
 KAIWAKA GARDEN & FLORAL GROUP - 2nd Thursday in 
month. Ph: 431 4744 
 KAIWAKA  CUBS  -  Thursdays  5.30-7pm,  Hakaru  Ph:Bruce 
4312542 
 KNITTING FOR WHANGAREI HOSPITAL - 2nd Tuesday in 
month, Archie Bull Hall 10am Ph 4314827 
 MANGAWHAI COMBINED REBUS CLUB - 2pm, 3rd 
Thursday month, Senior Citizens Hall Mangawhai. Ph: 4315777 
 PILATES-HAKARU HALL Tuesday & Thursdays, 9-10am 
Ph: 
0220643964 
*PILATES - KAIWAKA WAR MEMORIAL HALL - Ph: 
021 
2072729  
 PT CURTIS CRUISING CLUB - Jean Ph: 4312227 (wk), 4312520 (hm) 
 RSA,  HAKARU  &  DISTRICTS  WOMEN'S  SECTION  –  meets 
1.30pm 4th Thursday of the month. Ph: 431 5818  
 SCOTTISH  DANCING  -  Wednesday  morn.  KWMHall  Ph:  09 
4320532 
 TRAMPING - Mondays 9am-2:30pm Maria 4312 234 
HALLS FOR HIRE: 
 St.Pauls Archie Bull Hall HIRE $20 half day, $40 full day per 
hire, S McAulay, Ph 4312311 
 Kaiwaka  War  Memorial  Hall  HlRE  -  Phone  4312725  or 
kaiwaka.hall.bookings@gmail.com 
 Hakaru Community Hall HIRE -Ph. 4312256 or 4312110 
 Te Pounga Marae queries - R. O'Leary 4312 423, J.Nathan 021 
186 7382 
 Kaiwaka Sports Association hire/queries - C. Anderson 4312051 
or kaiwakasports@gmail.com 
Justice of Peace:  
B.FJaques  4312  048;  L.Donaldson  4312  228;  A.F.Hargreaves 
4312 045, W.Howard 4312 725 - please phone to make sure they 
are available or go to www.justiceofthepeace.org.nz 
Marriage Celebrants:  
L.Donaldson; A.F.Hargreaves; Y Osborne
LOCAL SERVICES 
*Emergencies - Ambulance, Fire, Police - dial 111 
*Non-urgent Police phone 09 4311150
A A: Meets Wed., 8pm Kaiwaka Ph: 4315543, 0800229 6757 
ASUREQUALITY LTD (was AgriQuality) Call Free 0508 0011 22  
BUDGETING SERVICE, WELLSFORD: Free confidential advice & 
support for all areas of personal finance. Ph (09) 423 7123 
CAB-Citizens Advice Bureau.Wellsford Ph: 4237333 
0800 367 222 email:cab.wells@xtra.co.nz  
CIVIL DEFENCE - Kaiwaka Community Response Group: 
kaiwaka.civildefencecrg@gmail.com, 4312725 Wendy 
DOG/STOCK /NOISE CONTROL 0800 105 890 
FUNERAL SERVICES: Morris & Morris Ltd, 
Whangarei - Bev Jaques Ph:4312367 or 0800667747 
GRANDPARENTS Raising Grandchildren: Dianah Roberts 0223819539 
HAKARU & DISTRICTS MEMORIAL RSA (Inc) 733 Settlement Rd, 
Hakaru. Ph 4312 176 or Bill Warren (President) 431 2092 
HAKARU LANDFILL/Transfer Station:Open everyday except 
Tuesday10am-4pm.Ph4312629 Cost-$55 trailer load up to 1 cubic metre. 
Ph:4258567 - office 
KAIPARA DISTRICT COUNCIL www.kaipara.govt.nz:  
Help Desk FREEPHONE 0800 727 059  
KAIWAKA KOHANGA REO: Ph:4312620 
KAIWAKA CEMETERY: Ph: 4312045 or 4314017 
KAIWAKA LIBRARY: kaiwaka.library@gmail.com  
Mon. 4-6pm; Wed., Thurs., Fri., Sat. 10am-2pm Ph:4312539 
KAIWAKA PLAYCENTRE: Ph Juanita 0274134904; open Mon, Wed, 
Fri 9am-12pm. Hastie Lane; Monday to Friday 9.00am - 12 noon. 
KAIWAKA POST OFFICE:Ph:4312 431  
Post Code: 0573 for RD2 and 0542 for all Kaiwaka Post Office mail 
KAIWAKA PRIMARY SCHOOL: Ph: 4312309   
KAIWAKA SPORTS ASSN: Ph 4312005; 4312129 gym 
KAIWAKA ST JOHN: Manager Steve Rosser 09 4318403, 021 355734 
KATE'S PLACE Community Centre - Employment services, Free Health 
Nurse, Plunket, Advocacy, Osteopath, A.A., Legal Advice. 4312 661 
LINKING HANDS Health Shuttle Ph 4315906 or 09 4318969 
MINISTRY FOR PRIMARY INDUSTRIES - General inquiries Call 
Free 0800 008 333 
NORTHPOWER: Faults Kaiwaka area 0800 104040 
OTAMATEA COMMUNITY SERVICES: Counselling, parent coach, 
Family Support worker, budget advice, food bank. Mon-Fri 9am-3pm. Ph 
09 431 9080 http://www.otamateacs.org/ 
PARENTPORT: Free, practical family support service Puhoi to Paparoa 
Ph or txt: Dianne 027 280 5093 or 09 425 9357 
PLUNKET:  Kaiwaka  -Kate's  Place  Clinic  1st  Wednesday  of  the  month; 
Mangawhai  - Rose Madsen Cottage: Coffee Group 9:30 every Monday.  Clinic 
every Monday and Thursday. 
Maungaturoto - Good News Church, Clinic 2nd and 4th Wednesday.  
Cynthia 09 431 7340 or 027 675 3488 
PLUNKET HELPLINE -0800 933 922 (24 hours) 
TAITOKERAU COMMUNITY LAW: Free confidential legal advice and 
assistance, 2nd
Thursday
 of each month. Ph: 0800 155 529 for appts.  
TE URI O HAU Settlement Trust Tangata Developments: Whanau Ora 
021 793262  
VETERINARY SERVICE MANGAWHAI: 
Ph: 4314535 Mon-Fri 8.00-5.00, Sat 9-12, a/h appt. 
WELLSFORD DOCTORS: Ph: 4238 086 
CHURCHES:
 
Kaiwaka  Revival  Church  -  Your  Community  Church:  Sundays  10am. 
Ph: Pastor Tawhiri 09 431 8988 or Pastor Paul 09 4312 068 Visit us at 
www.facebook.com/kaiwakachurch 
 
St  Paul's  Anglican  Church  1st  Sun.  9.00am  (Eucharist),  3rd  Sun. 
9.00am (Family Service). Contact: Rev. Wayne Thornton Ph 431 4122 
www.mangawhaianglican.org.nz 
 
Church of Christ the King, Mangawhai:9.30am every Sunday 
 
St.Mary's  Catholic  Church:  Maungaturoto  –  Griffins  Road,  Saturday 
evening  Vigil  Mass  6pm;  Mangawhai  –  Senior  Citizens  Hall,  Sunday 
Mass  8:30am;  Wellsford  –  Matheson  Road,  Sunday  Mass  10:30am;  
Mid-week Mass times and all enquires to Fr. Bill Fletcher – phone 423 8170
 
Baptist Church: Sun. 10.30am Mangawhai Snr Cit.Hall.Ph:4312339 
 
Cause  Way  Church  Mangawhai:  Sundays  10.15am,  Mangawhai 
Community  Recreation  Centre,  Insley  St.  Ph:  09  4314782