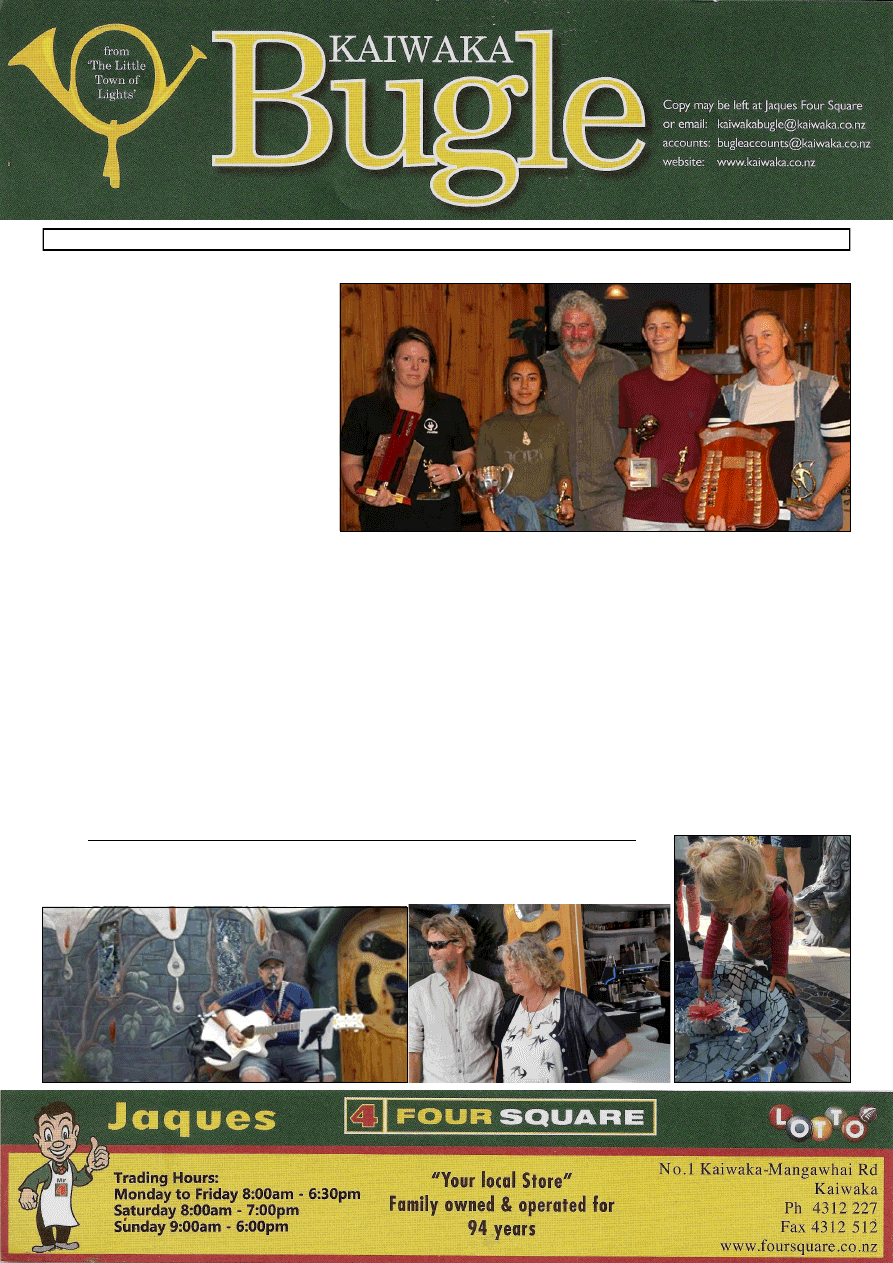 www.kaiwaka.co.nz 
Kaiwaka Bugle - 16 April 2019 
Page 1 
No: 7 
16 April 2019 
Trading Hours: 
Monday to Friday 8:00am - 6:30pm 
Saturday 8:00am - 7:00pm 
Sunday 9:00am - 6:00pm  
EUTOPIA CAFÉ … A DELIGHT FOR ALL  
KAIWAKA SPORTS AWARDS 
Eutopia Café's open day, 7 April, was very well received. Marijke and Robert  welcomed a 
very large crowd of folk to their wonderland of creativity - and great coffee and music!
The 
35th 
annual 
Kaiwaka 
Sports 
Association  Sports  Awards  were  held 
tonight  at  the  Kaiwaka  Sports  Complex. 
Emcee  John  Markby  from  More  FM  read 
the profiles of the 22 nominees. 
Congratulations to the winners: 
Junior  Sportsperson  of  the  Year  -Maia 
Fairburn; Senior Sportsperson of the Year -
Bron  Hame;  Service  to  Sport  -  Jodie 
Bennetto; Greg McRae Memorial Trophy  - 
Jackson Brierly 
Junior  Sportsperson  of  the  Year, 
fourteen-year-old  Maia  Fairburn  was 
nominated  by  the  Kaiwaka  Fitness  Centre 
for  her  impressive  achievements  in  a  wide 
range of sports. Maia has had achievements 
to  a  high  level  in  Touch,  Tag,  Rugby, 
Netball and Athletics. Her pinnacle achievement was being 
selected  for  the  New  Zealand  Maori  U14s  Tag  team.  An 
outstanding young sportswoman. 
Senior  Sportsperson  of  the  Year  was  won  by  Bron 
Hames.  Bron  played  and  captained  Northland  Women's 
rugby  team  and  played  for  Te  Hiku  O  Te  Ika  Womens 
rugby  team  winning  the  Northern  Regions  Maori 
tournament.  Bron  travelled  to  Samoa  to  play  for  Te  Tai 
Tokerau  in  the  Vailima  Marist  International  Sevens 
tournament. She also captained the Te Tai Tokerau side in 
the Pacifica Aotearoa cup. A force to be reckoned with on 
the rugby field! 
Service  to  Sport  winner  Jodie  Bennetto  is  a  dedicated 
netball volunteer. Jodie is President of the Otamatea Netball 
Club,  coaches  several  teams,  umpires,  is  a  selector  and 
fundraises.  Jodie  puts  in  a  huge  amount  of  work  into 
organising  the  AIMS  week  every  year  -  she  organises 
uniforms, accommodation, travel, food, fundraising etc, and 
is greatly appreciated by the netball girls and their families. 
The  Greg  McRae  Memorial  Trophy  (awarded  for 
sporting  excellence  and contribution to  sport)  was  won  by 
Jackson  Brierly.  Jackson  is  a  talented  all-rounder  -  he  has 
had  achievements  in  Tag,  Touch,  Rugby,  Athletics  and 
Cross-country.  Now  fifteen  years  old,  Jackson  already  has 
several  years  of  rugby  refereeing  under  his  belt  and  was 
recently  awarded  Sport  Northland's  ASB  Sports  Awards 
cup  for  Official  of  the  Year  for  his  rugby  refereeing. 
Jackson  is  also  an  accomplished  Tag  referee,  having 
refereed  at  the  Junior  Tag  Nationals  and  at  the  Junior 
Oceania Tag Cup. Jackson is also a Touch referee and last 
year  refereed  at  the  Senior  Touch  Northland  Secondary 
Schools Competition. 
Many thanks to Mark and Pam and their catering team for a 
lovely  meal,  to  emcee  John  Markby  from  MoreFM,  to 
Stacey Beattie from ANZ, to Lish and Jean on the bar and 
to  Teresa  who  took  photos  throughout  the  evening.  The 
photos 
can 
be 
viewed 
on 
our 
website 
www.kaiwakasports.co.nz 
Award winners Jodie, Maia, Jackson and Bron with KSA president Wayne.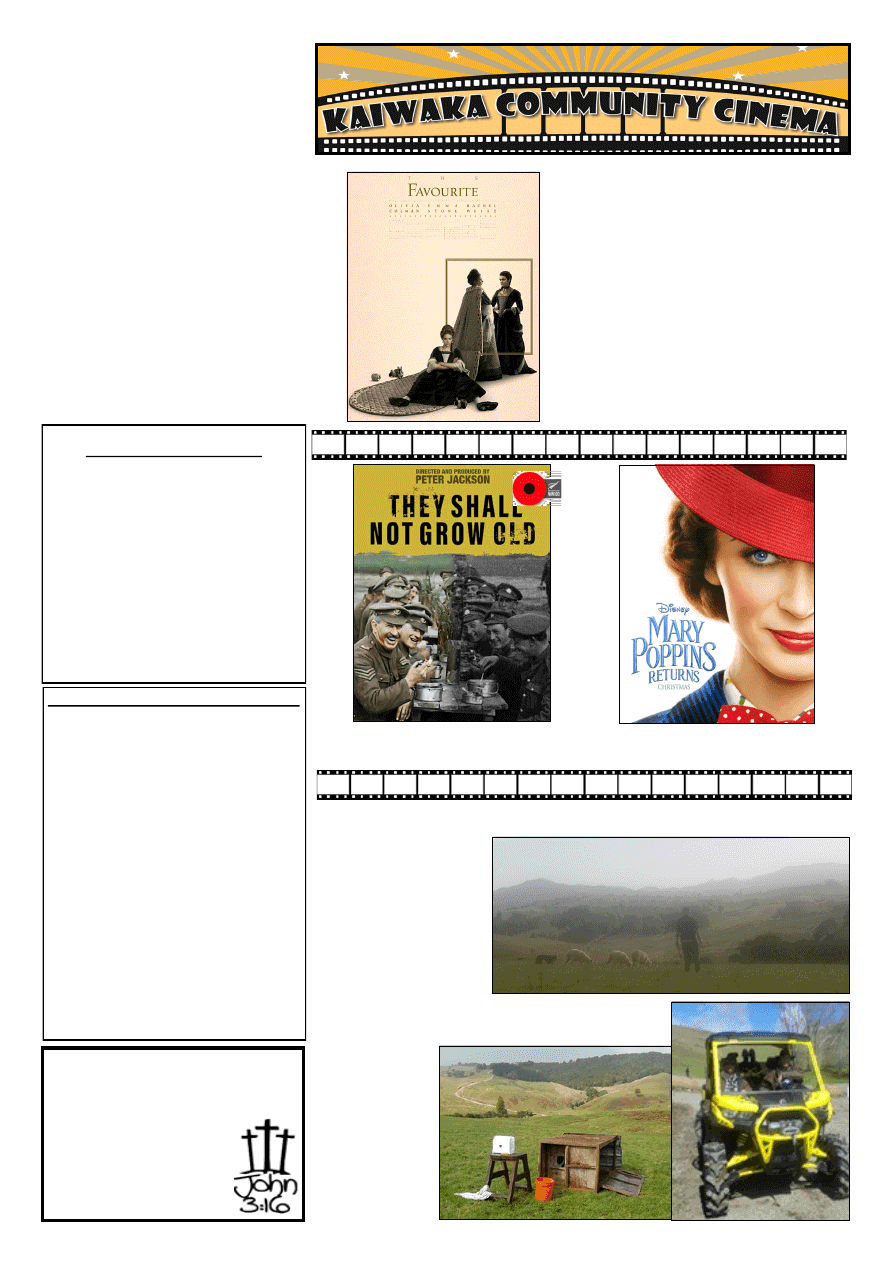 John 3:16 
For God so loved the world, 
He gave His only begotten 
Son, that whosoever 
believes in Him shall 
not perish, but have 
everlasting life.
At Kaiwaka War Memorial Hall . Adults $10, Kids (under 16) $5, Family Pass (2 adults + 3 children) $25 
KAIWAKA BUGLE NO.7 
16 APRIL 2019 
CONTENTS: 
Page 3: Public Notices, Classified 
Page 5: Women's RSA; Kaiwaka 
Weather; St. John Op Shop 
Page 7: Kaiwaka Can 
Page 9: KDC Wards; Councillor's 
Comment 
Page 11: Kaiwaka Sports Assn 
Page 13: It's Friday But Sunday's 
Coming Thelma's Scrapbook 
Page 15: Kaiwaka School; Otamatea 
High;  
Page 17: 
Library; Easter Art Trail; 
Pt 
CCC 
Page 19: 'A Pig Story' 
Bugle 8 will appear  30 April 
Contact for advertising, reports, articles 
or information can be made by 
Email: kaiwakabugle@kaiwaka.co.nz 
Ph: 09 4312 045 Lindsey 
Txt: 027 2724137 
Copy  may  be  left  at  Jaques'  Four 
Square. 
Kaiwaka Bugle Advertisements 2019: 
All 
copy 
and 
queries 
to: 
kaiwakabugle@kaiwaka.co.nz 
The Bugle is printed on an A4 page, B&W  
Ad  sizes:  1/16  page  (3  x  9.5cm)  $5;  1/8 
(6.5  x  9.5cm  landscape  or  portrait)  $8; 
3/16 ( 10 x 9.5cm or 7.5 x 12,5)  $12.  
Classified  ads:  First  one  FREE,  $4  per 
entry (max. 30 words, max. 4 repeats). 
Payments  can  be  made  online  at 
ANZ 
06  0365  0006990  00
,  posted  or  left  at 
Jaques Four Square Store. 
We  use  Microsoft  Publisher,  and  can 
work  with  most  common  image 
formats, Word, Excel, and PDF files. 
Accounts:  
Email: bugleaccounts@kaiwaka.co.nz 
The  Kaiwaka  Bugle  is  a  community 
newspaper run by volunteers, as part of 
the Kaiwaka Media Group Inc.   
Articles, etc. printed are not necessarily 
the opinion of the Bugle Team. 
Kaiwaka Bugle 
Founded May 1978 
We appreciate articles and photos about local 
events, etc, as well as ads and suggestions. 
Copies available in Kaiwaka at Jaques Four 
Square, Kaiwaka Postal Centre, Shamrock 
Service Station, Animal Health Centre, 
Kaiwaka St John shop. 
Also outlets in Maungaturoto, 
Mangawhai and Paparoa. 
Can be viewed online at  
www.kaiwaka.co.nz/Bugle  
Or a copy can be posted to you if you supply 
stamped, self-addressed DLE envelopes. 
The FAVOURITE 
Friday 19 April, 7.30pm (M)
'
The Favourite is a 2018 period tragicomedy 
film  directed  by  Yorgos  Lanthimos  and 
written  by  Deborah  Davis  and  Tony 
McNamara.  It  is  a  co-production  by 
producers  in  the  United  Kingdom,  Ireland 
and  the  United  States.  Set  in  early  18th-
century  England,  the  story  examines  the 
relationship  between  two  cousins,  Sarah 
Churchill,  Duchess  of  Marlborough  (played 
by  Rachel  Weisz),  and  Abigail  Masham, 
Baroness  Masham  (Emma  Stone),  vying  to 
be  court  favourites  of  Queen  Anne  (Olivia 
Colman).'  Ref. Wikipedia 
THEY SHALL NOT GROW OLD
Friday 26 April,  7.30pm (M)         
MARY POPPINS RETURNS 
Sunday 28 April, 2pm (G)
I WENT TO CATCH SOME FOG BUT MIST! 
Pictured  in  the  mist  -  Scott  McRae,  Molesworth  Dog  Trial  president,  and 
George 
have 
great 
control  of  the  sheep  on 
the  shorthead  course  at 
our local annual trials. 
The  weather  cleared  and 
the  wind  'got  up',  and 
oops, the toilet blew over 
but  left  the  "bucket" 
safely  standing  -  photo 
by  Corina,  the  shorthead 
judge's clerk. 
Saturday  the  weather  was  a  cracker  -  the  third 
picture can barely see Tony and Eddie, the longhead 
liberators  at  the 
top  of  the  hill 
waiting 
for 
Karen  and  Kim 
to  bring  their 
morning's 
smoko. 
The  sheep  dog 
trials  were  a 
success.  Thank 
you 
to 
the 
workers.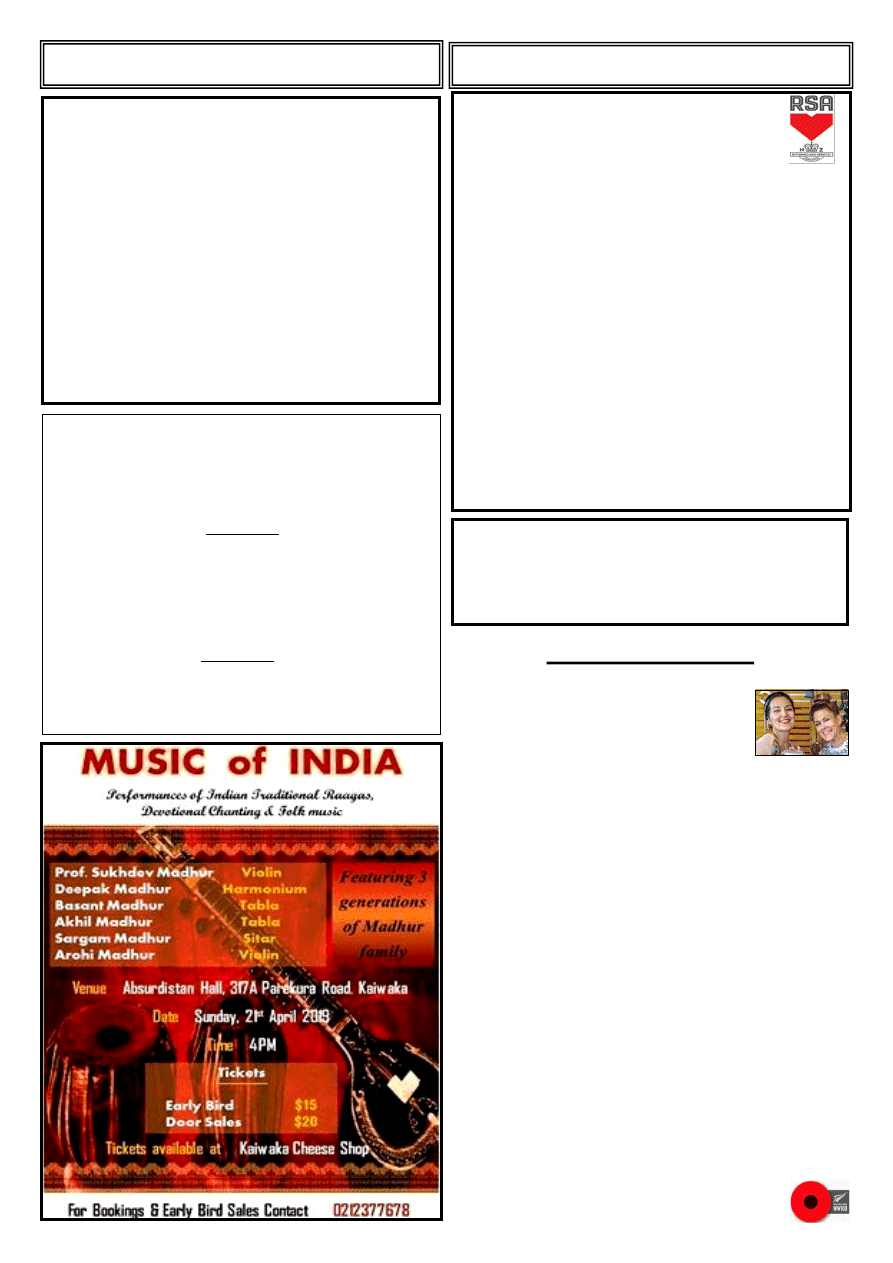 www.kaiwaka.co.nz 
Kaiwaka Bugle - 16 April 2019 
Page 3 
ABOUT TOWN 
 
Stunning!  Absolutely  brilliant  -  Eutopia  Café  is  NOW 
OPEN!!

A BIG THANK YOU from the Movie 
Team  to 
Kimberley Gabbard and  
Alejandra Perez  of  the Two Jalepinas 
(Maungaturoto) for their beautiful  supper 
food at the latest movie supper night - mmmm

Mangawhai/Kaiwaka Phone Directory 2019 edition -
check your details, if you have changes or additions contact 
021 454 814 or email mkdirectory@mangawhaifocus.nz 

 Do you have flowers available for ANZAC wreaths? 
Please phone Ann  on 4315913 if you can help out. 

A BIG Thank You to Millie at the OP Shop fo all the 
work she has done in fundraising for St. John 

  Restricted Fire Status is OVER!  
From Monday 15th 
April at 8am the season status will be moving to a OPEN fire 
season for Far North (Zone 2), Whangarei and Kaipara, 
meaning Fire Permits will not be required. 
Check It's Alright 
Before You Light www.checkitsalright.nz 

See  the  Bugle  online  at  www.kaiwaka.co.nz  for  great 
colour in the photos.              ~ Lindsey, Ed 
"
It 
is 
difficult to say what is impossible
, for the dream of yesterday is the 
hope of today and the reality of tomorrow.
 ~ 
Robert
 H. 
Schuller
PUBLIC NOTICES 
CLASSIFIED 
Hakaru & Districts Memorial RSA. 
Lest We Forget 
ANZAC DAY 
WEDNESDAY 25 APRIL 2019 
PARADE DETAILS 
Assemble ........................................... 1000 Hrs 
Parade Fall In – In Carpark................ 1020 Hrs 
March On (can happen earlier).......... 1030 Hrs 
Laying of Wreaths 
Lowering of Flag - Last Post 
Prayer for the fallen, 1 minute silence 
Raising of Flag – Reveille 
National Anthems 
Rolls of Honour 
Ode 
Prayer for Anzac Day 
March off – Parade Fall Out 
Light lunch served – Bar open 
If members / visitors would like to bring a plate of finger-
food it would be much appreciated 
Everyone is welcome as guests of the   
Hakaru RSA President and Committee. 
Please sign the sign-in sheet if you are not a member. 
Easter Services  
St Paul's Anglican Church, Kaiwaka  
Easter Sunday 21 April  
Family Communion  -  9.00 am 
Christ the King Mangawhai   
"Stations of the Cross"  Monday 15 April  8.00am 
Tuesday - Thursday  16  -  18 April  9.00 am 
Maundy Thursday  18 April  7.00 pm 
Good Friday 19 April 9.00 am 
Easter Sunday 21 April 9.00 am Family communion 
All Saints, Wellsford 
Easter Sunday 11.00 am Family Communion 
Everyone welcome!!
THEY SHALL NOT GROW OLD - movie, KWMH on  
26 April, 7.30pm. Peter Jackson directs this homage to the 
British  troops  of  the  First  World  War  with  never-before-
seen-footage  of  soldiers  as  they  faced  the  fear  and 
uncertainty  of  frontline  battle  in  Belgium.  Digitally 
remastered and now in colour, the footage has been studied 
by lip reading experts whose transcripts were recorded and 
used as audio for the film. Overlayed by a narrative of those 
who partook in the war from interviews made in the 1960s 
and  1970s,  this  historic  revisiting  marks  one 
hundred years since the end of the Great War.  
Ref. Rotten Tomatoes 
Our Deepest Heartfelt Thanks.........
The entire Fairburn whanau would like to extend 
their heartfelt thanks to the Kaiwaka Community that 
gave so generously during the recent tragedy and 
loss of our much-loved Janiah and baby Azarliyah.
As a family we were truly overwhelmed by the 
generosity and outpouring of love we received 
through messages and donations, during what has 
most certainly been a challenging time.
There are far too many people to thank individually, 
so please accept this message as acknowledgement 
and heartfelt thanks to all in our community that 
gave so generously during our time of sorrow.
Love and gratitude to you all.
The entire Fairburn Whanau.
KAIWAKA FITNESS CENTRE  
AGM 
Wednesday 17th April, 6pm 
In the Fitness Centre, Kaiwaka Sports Complex 
All 
Welcome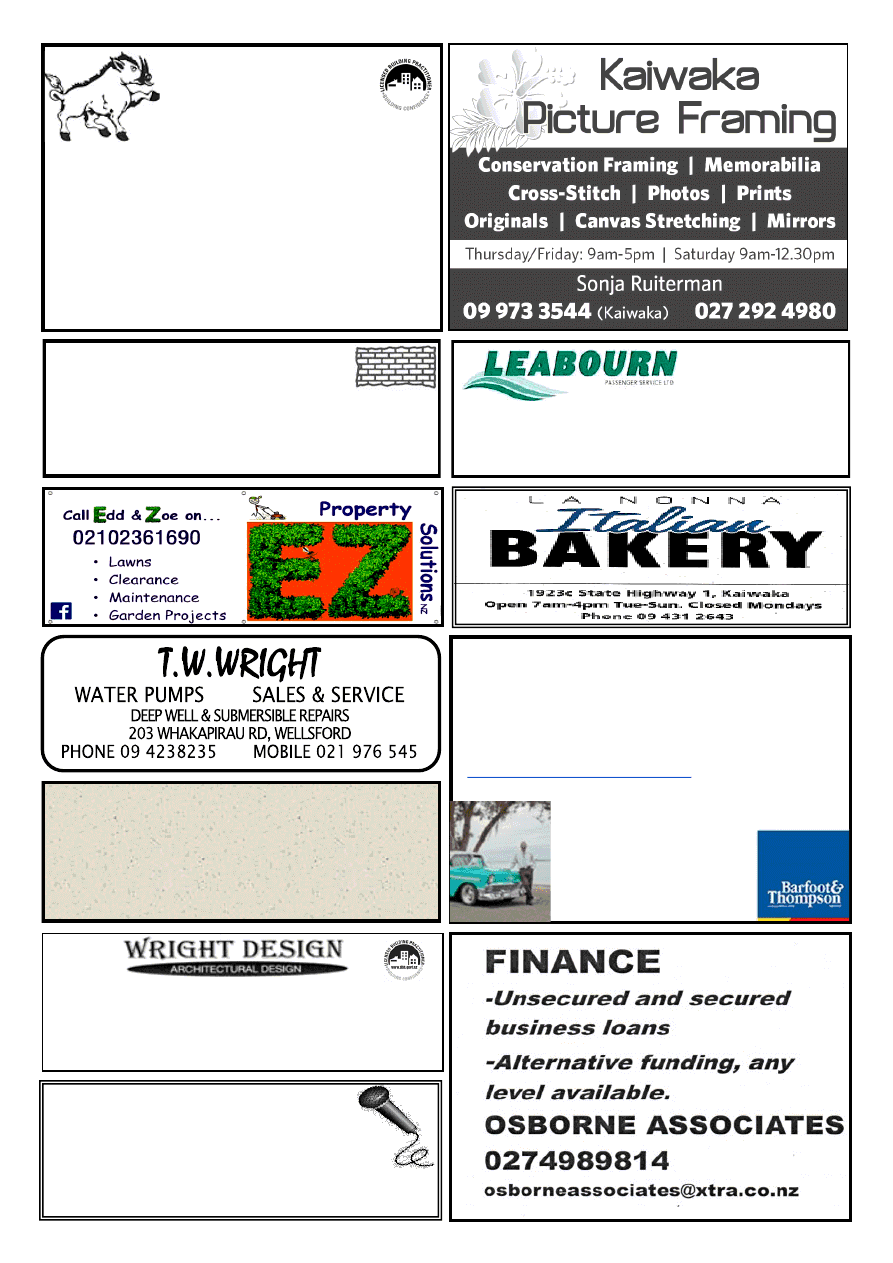 Passenger Service
Car & Van Hire   Bus & Coach Charters 
Airport Transfers    
Phone (09) 4237416 
BRICK/BLOCKLAYER 
All aspects of masonry:  
Fireplaces, Restoration & Remedial Work. 
JAMES EAGLETON 
Tel. (09) 431 2514    Mob. 0274 749 232 
jajueagles@yahoo.com.au 
210A Pukenui Road, RD2 Kaiwaka 0573 
Counsellor and Registered Psychotherapist 
Offers Supervision 
ACC Sensitive Claims 
Susan Matheson      MNZAC 
Dip. Psychosynthesis Counselling and Psychotherapy 
Phone 09 431 2996                                     Mobile 027 605 2427 

  After 20 years of selling in Auckland I have             
moved to Kaiwaka. 

  I have a relaxed attitude with years of  
        results and experience. 

  Please feel free to give me a call or email. 
licensed real estate agent (2008) 
Chris Barrington
Residential Sales
M 
Mangawhai
SING RIGHT 
Professional coaching for performance,  
recording and demos. 
All level singers, musicians, singer-songwriters. 
Phone Robyn Hill 431 9159 or 0274 725610 
No. 117345 
N.Z.C.A.D., L.B.P. 117345 
PH/Fax: 09 423 8092 Mob: 021 276 7369 
Office: 3 John Sinclair Avenue, Wellsford    brianwright@xtra.co.nz 
For Resource and Building Consents, planning restraints, new building materials - 
you need a capable, experienced, and professional designer with a clear 
knowledge of all the processes. Brian has been helping and organising all these 
facets of design and building for over 50 years. 
Wright Design offers free visits, consultations and advice on planning, design, 
building, council permit applications, guaranteed permit plan acceptance. 
O'MALLEY 
CONTRACTING LTD 
CONCRETE 
FOR ALL YOUR CONCRETING NEEDS 
T: 021 2200 198
E: omalleycontracting@outlook.com            W: omalleycontracting.co.nz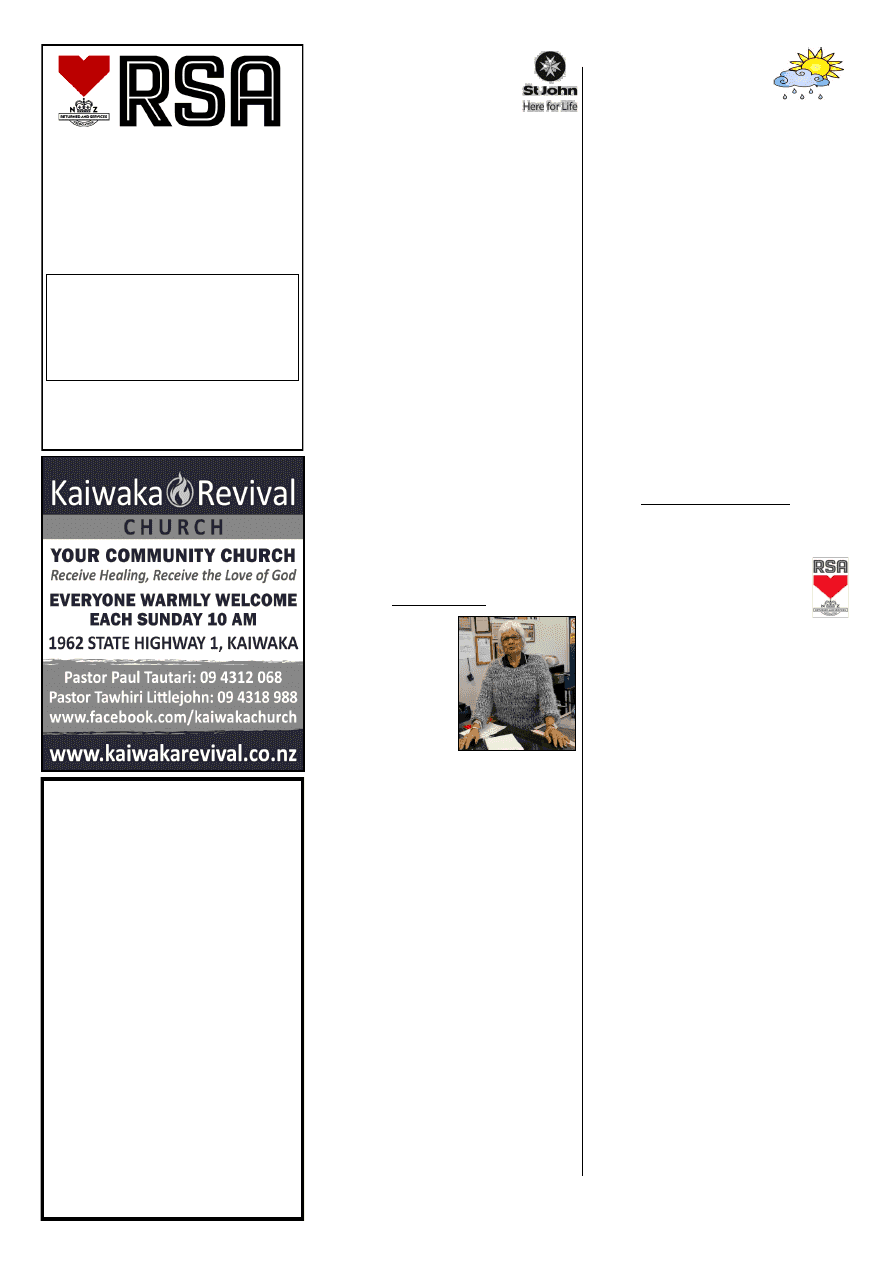 www.kaiwaka.co.nz 
Kaiwaka Bugle - 16 April 2019 
Page 5 
Willow Bend
HORSE  
HOTEL 
  
Total Horse Care 
 
Agistment 
 
Riding Lessons 
 
Arena Hire (60x40) 
 
Young Horse Starting 
 
Re-training/Exercising 
 
Hoof Trimming 
 
Problem Solving 
Phone Sue 09 431 2817 
or 021 623 776 
Or email  
susanjoll11@gmail.com 
ST. JOHN OP SHOP 
KAIWAKA  
We need for the shop please: 
Cooking pots, blankets, 
pillows, Knives and forks, Jars and 
anything else – all much appreciated. 
We have for sale: 

2x single beds with matching bases 
and mattresses with matching wheel 
shaped headboards 

1x single chrome bed with a slat base, 
but no mattress 

1x set of single bunks which can be 
separate beds, but no mattresses with 
them 

1x NZ made Kelvinator Fridge with 
metal shelves and also a Fridge/
Freezer. Both in good condition and go 
well. 

1x small T.V. cabinet with a large 
drawer 

1x white writing desk with 2 drawers. 
The shop will be closed Easter Friday, 
Saturday,  Sunday  and  Monday- 
opening  again  Tuesday.  We  will  be 
closed again on Thursday for ANZAC 
day.     
~ Milly and staff 
Phone 09-4312650 after 9.00 am. 
1919 SH1, Kaiwaka 
EASTER  RAFFLE  Winners:  1sr 
Prize:  No.  81A  Heather  Graham;  2nd 
Prize: No. 68A Jack.. Thank you! 
My resignation. 
I have now resigned 
as founder and 
manager of the Op. 
Shop. I would like to 
thank the many 
people who have 
helped me over the 
almost 10 years. It's 
now time for me to spend quality time 
with hubby Ray, and catch up on some 
rest, plus the tidying up of gardens and 
usual housework. 
To the men who have helped build 
shelves, made the counter and put up 
racks when the shop first opened, to 
Paula and Greg who took care of our 
banking plus their donations of other 
things for the shop like money bags 
and shelves, to the many people who 
have donated goods and continue to do 
so, I thank you dearly. I will miss your 
friendships. 
I feel I have given all that I can, and it 
is now time for someone else to take 
over. I haven't named people who have 
given as I don't want to leave names 
out. I will see you around. 
To my Staff- Thank you for sticking 
with me and I can't think of a better 
crew to have had. I am proud of the 
fact that over the years only 3 have left 
for good reasons. You were always 
willing to step in and help at any time. 
Thank you from the bottom of my 
heart. 
Arohanui to everyone – I finish on 
April 30
th
.    Millie 
HAKARU & DISTRICTS 
MEMORIAL RSA (INC)
Members & guests are invited to 
come along and enjoy our hospitality. 
New members welcome. 
Meals are served on Thursday and 
Friday nights from 6.30pm. 
Order from Blackboard Menu  
and a sing-a-long  
with Des Chitty. 
For more information please phone 
Graeme on 431 2563 
KAIWAKA 
WEATHER 
What  a  beautiful  start  to 
Autumn.  
Nice  days  and  Huey  threw  in  a  bit  of 
rain  after  a  few  days  as  we  were  very 
short of it followed by lovely hot calm 
weather.    Then  of  course  we  got  a  bit 
of  wind  and  more  fine.    The  rain  was 
more  than  welcome  at  the  end  of  the 
month.   
At  our  house  for  March  2019  we  had 
52mm and for 2018 we had 235mm.   
For the first 3 months of 2019 we had 
155mm and for 2018 we had 610mm.   
Our driest March since 1987 was 2005 
with  20mm  and  the  wettest  was  2017 
with 329mm.  
Our  driest  first  3  months  since  1987 
was  2013  with  69mm  and  the  wettest 
was 1999 with 615mm.   
We  had  rain  on  7  days  in  March  this 
year and on 14 days in 2018.   
 It looks like the water tankers will be 
running for a bit longer yet.   
What is the world's largest gem?  a. A 
Baseball  Diamond.  Be  safe  out  there 
and take car, Bev. 
Attendance  was  down  to  11  at 
the meeting on 28th March (we 
missed our bowling ladies). The 
raffle  was  won  by  Lena  and 
there were no Birthdays this month. 
We  received  an  invitation  to  attend 
Waiheke's  33rd  Birthday  on  1st  May 
but at this stage there is no one willing 
to brave the Auckland traffic. 
Mary 
Hitchcock 
is 
organising 
poppy  sellers  for  ANZAC  poppy  day, 
and  is  down  in  the  number  of 
volunteers,  mainly  in  the  Kaiwaka 
area.  Are  there  any  members  of  the 
public  who  would  like  to  volunteer 
their  services  please  ring  Mary  on 
4312563?  Thank  you  to  our  own 
members 
who 
have 
already 
volunteered. 
There  is  to  be  a  'Tripe  and  Onion' 
luncheon on Sunday 19th May, with an 
alternative  meal  at  12.30pm.  Non-
members  are  also  welcome.  If  you 
wish to attend please ring Jan Mann on 
4314512 if you would like to come. 
We  are  hoping  to  have  a  Mid-year 
luncheon  at  Northland  Tec  Whangarei 
-  date  to  be  announced  later,  it  was 
very enjoyable the last time we went. 
We  will  be  making  wreaths  for 
ANZAC  DAY  AT  10am  on 
Wednesday  24th  April,  anyone  with 
surplus flowers please let Ann know on 
4315913  or  Members  please  bring 
them  to  our  Monthly  meeting 
on  TUESDAY  23rd  April  at  1.30m  at 
the Clubrooms as Anzac Day is on the 
Thursday  which  is  our  usual  meeting 
Day, new members most welcome. 
Hostesses  for  April  are  June  Wilson 
and  Dawn  Powell.  (Don't  forget  the 
Milk) ~ Many Thanks, Ann 
HAKARU RSA 
WOMEN'S SECTION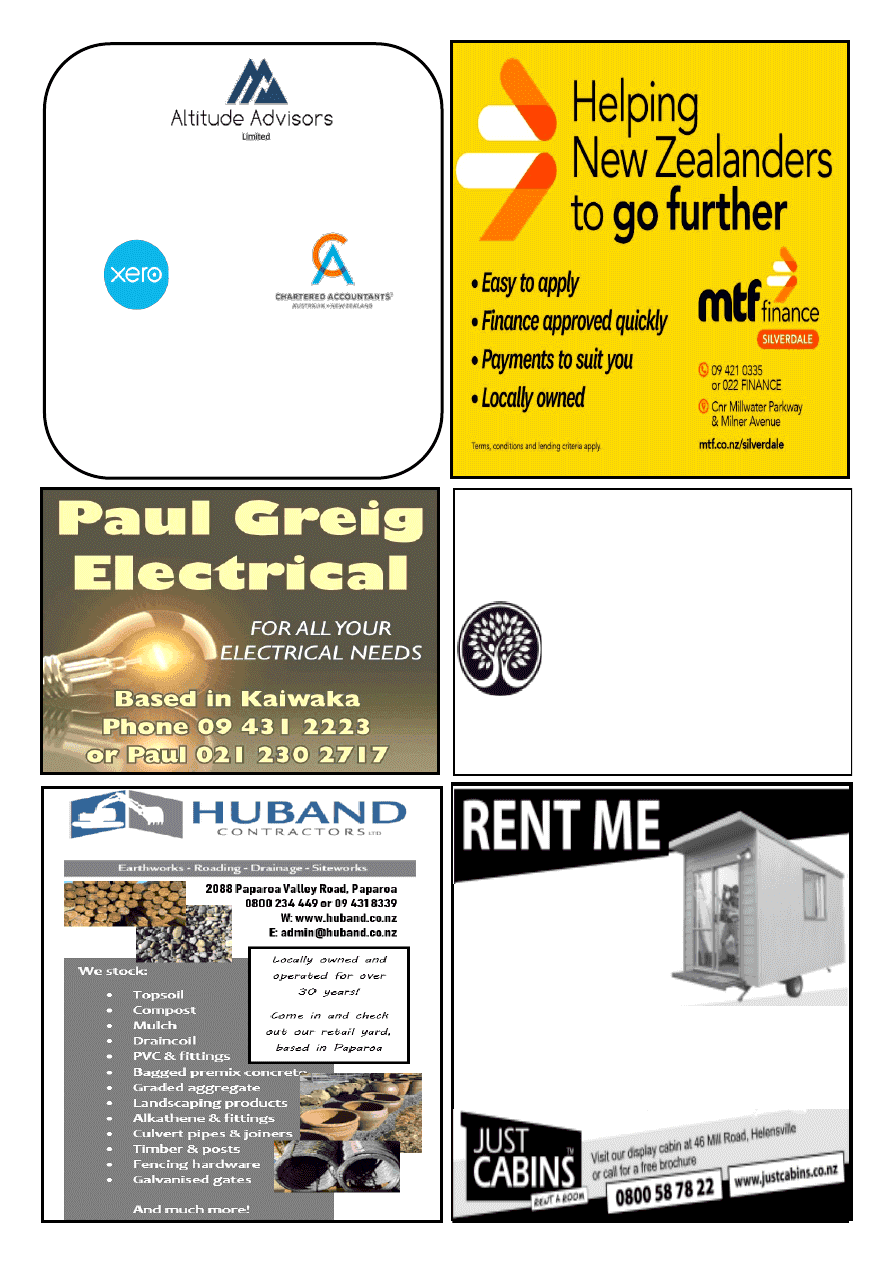 Ideal as an extra  
bedroom or office 
Three Convenient sizes: 
Standard 3.6m x 2.4m - $65 per week 
Large 4.2m x 2.4m - $80 per week 
Altitude with Attitude, helping your business 
scale new heights 
Time to try something different? 
Xero training          Accountancy Services 
We are offering two opportunities: 
15% saving off your annual report cost for your first 
year, & a further 10% saving for any referrals 
Call Corinne on 021 252 7680 or 
corinne@altitudeadvisors.nz 
Waipu Natural Health 
3 Cove Road, Waipu  (opposite the Pizza Barn) 
Ph: 09 432 1325 
www.waipunaturalhealth.co.nz
Clinical Nutritionist-Hair Analysis for Masked 
Allergies, Ozone Therapy, Prolotherapy, 
Naturopath-Medical Herbalist, Registered 
Massage Therapists, Reflexology-
Craniosacral Therapy, Acupuncture-Facial 
Acupuncture, Kineso Taping, Hypnotherapy, Counselling, 
ThetaHealing/Change Catalyst.
AFFORDABLE CONSULTS FOR KIDS – give us a call
Gift Vouchers available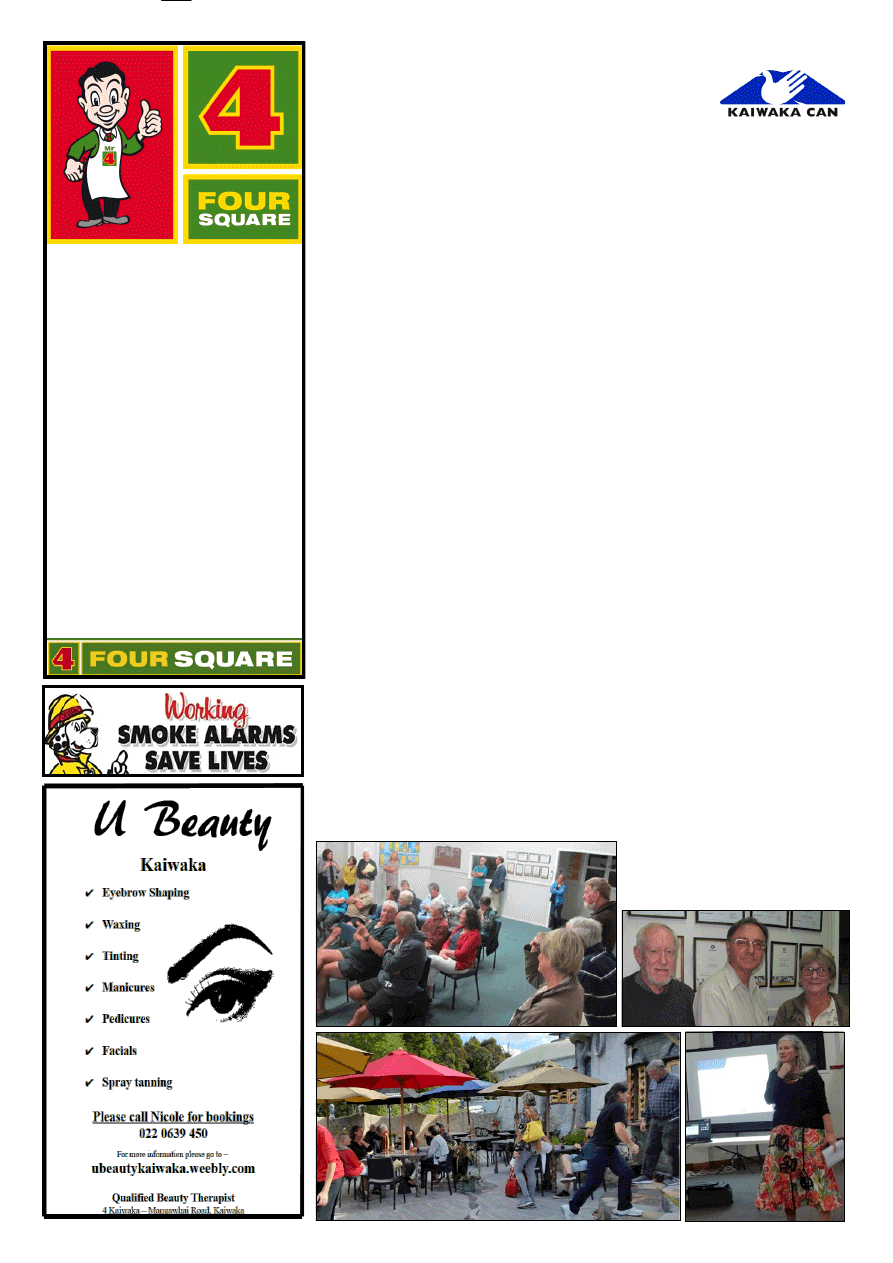 www.kaiwaka.co.nz 
Kaiwaka Bugle - 16 April 2019 
Page 7 
Fresh Daily Baked  
Hot X Buns 
6 Pack $5.99 
Along with our  
Freshly Baked Breads,  
Savoury Scrolls, 
Danishes, Chelsea buns, 
croissants and much more 
Easy Dinners 
Romano's fresh pizzas 
Hot Roast Chicken 
Range of good quality meats 
New range of socks  
for all the family 
Work socks & Beanies 
.
Jaques Four Square 
Phone: 4312227 
1 Kaiwaka-Mangawhai Road, Kaiwaka. 
I can't call my role with Kaiwaka Can 
dull!  This  past  week  for  example  has 
crammed in together some very 
diverse experiences. 
Let's  go  backwards  and  start  with  the 
knobblies and the shinies. Because our 
environment leader was away, I went 
last Thursday  to  meet an  entomologist 
to get a delivery of insects, not what I 
do every day! We have been working 
for some  time  with  NRC  to  find  ways 
to  deal  with  weeds  round  Kaiwaka. 
One  of  the  most  widespread  is 
Tradescantia,  which  you  probably 
know as Wandering Jew, no longer an 
acceptable name. But you are probably 
well  acquainted  with  it  if  you  have 
trees,  shade  and  limited  time  for 
weeding!  The  beetles  that  came  last 
Thursday  have  been  rehomed  into  a 
small  patch  of  Tradescantia  where  we 
hope  they  will  munch  and  chew  and 
wriggle  their  way  through  the  patch 
and  also  breed  prolifically  so  we  can 
then transfer them to other patches. Oh, 
I think there were also a few stripies in 
the mix. 
On  Wednesday  I  met  with  a  small 
group  setting  up  Kaiwaka  Community 
Support, which in many ways picks up 
a lot of what Kaiwaka Cares did until it 
was  disbanded.  But  it  also  goes  more 
widely, and current key issues are Civil 
Defence,  Neighbourhood  Support, 
Food Bank, Community Patrol and the 
community garden. 
The  linking  theme  in  all  of  these  is 
volunteers.  They  all  need  keen  people 
to  help.  I  am  excited  about  the  work 
done especially by Beth and Barry and 
Maria, persisting with this over a long 
time.  They  have  space  available, 
resources,  ideas  and  vision.  Now  they 
need  more  people,  new  people, 
recycled  volunteers  from  the  past  and 
people  with  special  gifts  and  skills.  I 
am  sure  they  will  be  doing  some  of 
their  own  publicity  but  if  any  of  this 
interest you, get in touch with me and I 
will  link  you  up 
with  the  group. 
They  aim  to  meet 
again second Wednesday in May (8th) 
early  evening.  So,  look  out  for  more 
information  and  developments.  And 
incidentally  one  of  the  other  projects 
floating  round,  both  with  this  group 
and others, is restoring the Information 
Centre  which  was  once  a  vital  part  of 
Kaiwaka  and  a  good  entry  point  into 
Northland. 
Last  Monday  Kaiwaka  Can  members 
made up more than half the audience at 
a Council discussion on the district 
plan. This is important stuff as we have 
been  strangled  in  our  development, 
both housing and industry, by the long 
ribbon  of  State  Highway  One  through 
the  middle  of  our  little  town.  So,  we 
talked about this and other planning 
issues  such  as  water,  rubbish  and 
community  services  with  a  team  from 
Council.  Hopefully  this  will  bring 
some real changes for the better as the 
district plan is updated and we will be 
actively working to bring this about. 
The  week  before  some  of us  met  with 
others  with  the  local  committee  of  St 
Johns.  As  you  will  be  aware  the 
ambulance  station  in  Kaiwaka  will  no 
longer have its current function and the 
discussion  was  around  ways  in  which 
this  might  provide  a  real  community 
service  with  activities  that  help  as  an 
'ambulance at the top of the cliff rather 
than the bottom' to use their words. It 
was  a  good  evening  and  we  look 
forward  to  more  developments  from 
this. 
And  just  to  add  to  these  few  days,  I 
went  to  the  Eutopia  open  day  Sunday 
7
th
  April.  What  a  place!  And  what  an 
effort  from  Marijke  and  Robert.  This 
will do a lot to put Kaiwaka on the map 
for many coming through. 
Derek Christensen 
0273572751, derekandisa@gmail.com 
 Pictures  from  the  meeting  in  the 
Kaiwaka  St.  John  Station;  at  Eutopia 
Café  opening;  the  KDC    planning 
review in the  Kaiwaka  War  memorial 
Hall.
KNOBBLIES, SHINIES and the DISTRICT PLAN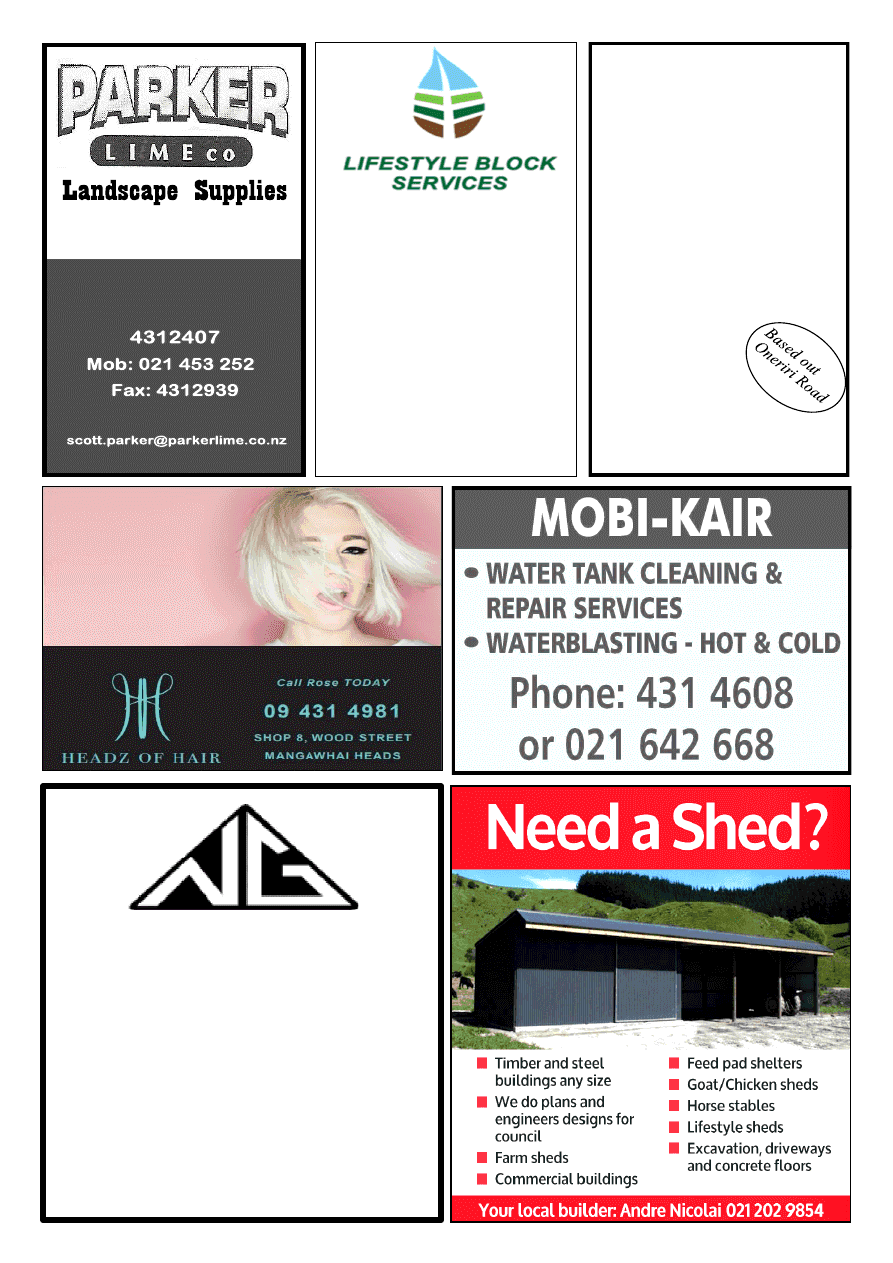 Make Baleage  
while the sun shines! 
Let us make hay/sileage for you. 
We sell small bale silage, 
conventional,  
& 5 bale equivalent hay. 
For more information  
Contact Mark on 021 801 065 or 
Contact Kathy on 027 4250520 
NORTH GLASS 
WINDSCREEN REPAIR OR REPLACE 
GLAZING SERVICES 
MIRRORS  •  SPLASH BACKS  •  SHOWERS 
0800 70 40 10
info@northglass.co.nz 
www.northglass.co.nz 
HODGETTS 
CONTRACTING
Digger Work 

Driveways   

House Sites   

Dams  

Drains, etc
Also available for HIRE 

4
3 ton Vib Roller   

Heavy Duty Tow  

4
Waterblaster     

Lazer Level 
Phone Mark 
4312877 
027 447 8554 
Bulk Cartage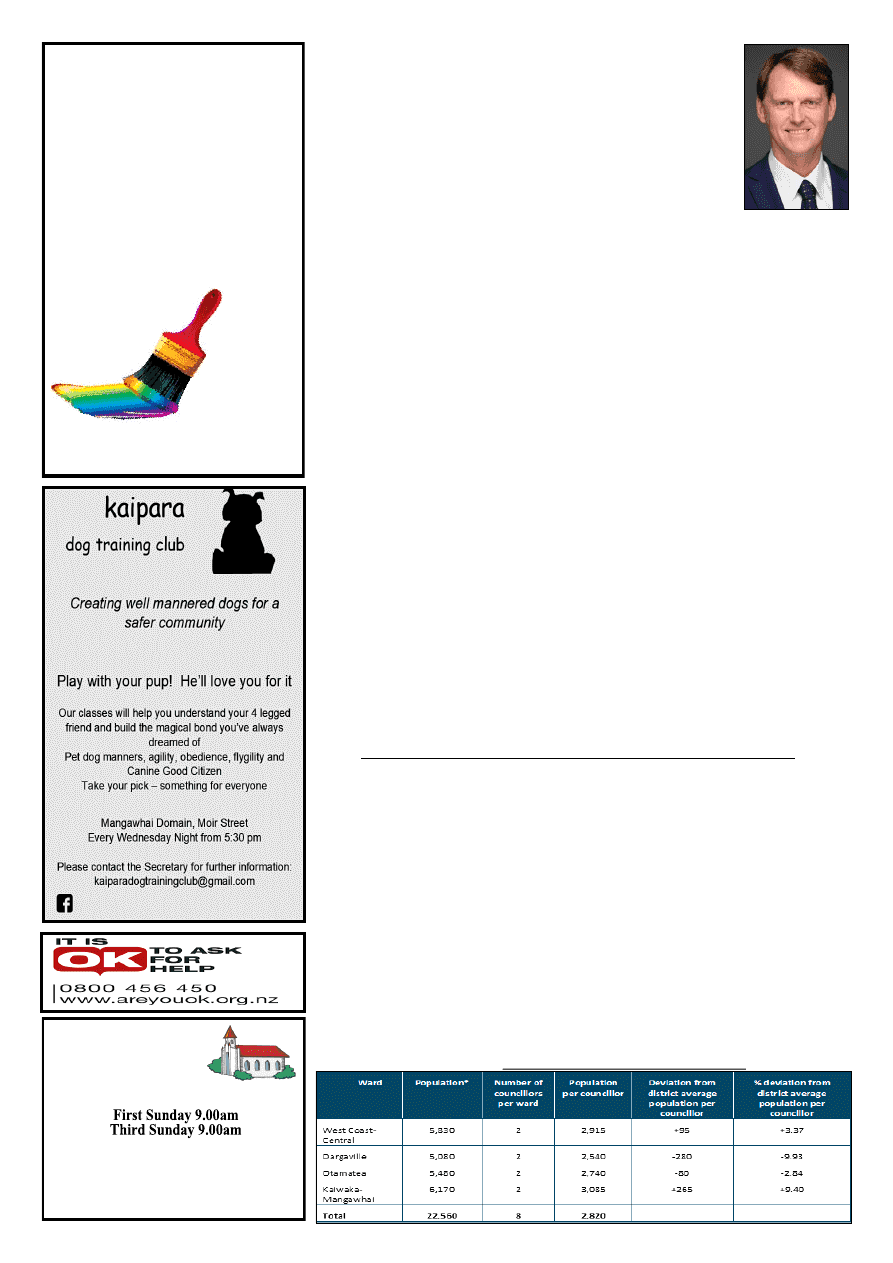 www.kaiwaka.co.nz 
Kaiwaka Bugle - 16 April 2019 
Page 9 
LEE COOPER 
PAINTERS 
(Kaiwaka Based) 
*30 yrs Experience 
*Interior/Exterior 
*New and Restoration 
*Honest and Reliable 
*Free Quotes 
09 4312918 
0274735171 
leecooper@xtra.co.nz 
ST PAUL'S  
ANGLICAN  
SUNDAY SERVICES
St Pauls Church: Kaiwaka-Mangawhai Rd. 
1st Sunday - Eucharist 
3rd Sunday - Family Service 
Rev. Wayne Thornton Ph 431 4122 
www.mangawhaianglican.org.nz
COUNCILLOR'S COMMENT 
* with Otamatea Ward Councillor Jonathan Larsen 
Success at Council Meeting 
At the March Council meeting I had an 
item on the agenda to try to get funding 
for  the  outdoor  fitness  trail  equipment 
for  Kaiwaka  Domain.  This  is  a  great 
initiative 
from 
Kaiwaka 
Sports 
Association  which  if  successful  will 
provide  more  outdoor  recreation 
opportunities 
for 
our 
growing 
community. 
After  a  long  debate  the  agenda  item 
was  passed.  As a  result,  the  CEO  will 
now  prepare  a  report  on  funding  the 
equipment  from  reserve  contributions, 
to  bring  back  to  Council  for 
consideration.  My  agenda  item  on 
funding  for  completing  the  skate  park 
at  Mangawhai  Activity  Zone  also 
passed  and  a  similar  report  will  be 
prepared on this too. 
Reserve  contributions  are  collected 
every time a new lot is created through 
subdivision.  These  funds  are  intended 
to  be  used  for  upgrading  existing 
reserves,  and  acquiring  new  reserves, 
to  compensate  for  the  effects  of 
growth. Kaiwaka and Mangawhai have 
both  seen  considerable  growth  (and 
collected considerable funds) in recent 
years. It is therefore really important to 
start  adding  to  the  outdoor  recreation 
facilities in our communities. 
Representation review 
The  Local  Government  Commission 
(LGC)  has  released  its  decision  on 
appeals  on  the  ward  structure  for 
Kaipara  District's  next  election. 
Despite  robust  evidence  presented  by 
several  local  appellants,  the  LGC 
approved  the  dividing  of  the  district 
into  four  wards  with  two  elected 
members  per  ward,  including  a  new 
ward  for  Kaiwaka/ 
Mangawhai. 
Although 
on 
the 
surface this looks like 
a 
balanced 
arrangement, 
it 
actually  results  in 
reduced 
representation 
for 
Kaiwaka/ 
Mangawhai. 
Under 
the 
current 
arrangement  there  are  three  elected 
members in the Otamatea Ward (which 
includes Kaiwaka/ Mangawhai)  versus 
five members in the western part of the 
district.  This  has  traditionally  made  it 
difficult  to  get  items  approved  for  the 
east,  especially  with  a  west-leaning 
Mayor.  The  new  arrangement  will 
reduce 
the 
representatives 
for 
Kaiwaka/  Mangawhai  to  two,  versus 
six in the western part of the district. If 
the  boundaries  had  been  left  as  they 
currently  are,  Otamatea  ward  would 
have been entitled to four Councillors. 
The  next  opportunity  to  review  this 
arrangement  is  in  three  years'  time, 
although  Council  is  not  obliged  to 
carry out a further review for a further 
six years. 
If you have any community projects or 
issues  that  you  would  like  assistance 
with, I can be contacted on Ph. 021 185 
8389  or  Cr.Larsen@kaipara.govt.nz. 
Check  out  my  'The  WorkBoot 
Councillor'  Facebook  page  for  regular 
updates.  For  any  roading  maintenance 
issues 
please 
email 
council@kaipara.govt.nz  and  describe 
the  defects  requiring  repair  (potholes 
etc.) and their locations.  
*
The views expressed are those of the writer and do 
not  necessarily  represent  the  consensus  position  of 
Council.
KAIWAKA – MANGAWHAI WARD 
Kaipara District Council representation arrangements confirmed for 2019 
The Local Government Commission has endorsed Council's final proposal from 
last  year's  Representation  Review  will  apply  in  this  year's  local  authority 
elections (October 2019). 
The changes include some boundary adjustments and the establishment of a new 
Kaiwaka – Mangawhai ward. Each ward will elect 2 councillors, with the mayor 
being elected 'at-large' across the district. 
The process of this review has taken just over a year, with the final judgment 
being set by the Local Government Commission. 
The  full  report  and  determination  can  be  found  at  www.kaipara.govt.nz/
repreview.  A  representation  review  is  required  to  be  held  every  six  years  to 
ensure  council  representation  is  fair,  effective  and  meets  the  needs  of  our 
communities.  However,  Council  may  choose  to  review  its  representation 
arrangements prior to the 2022 triennial elections. 
At  a  meeting  on  26  July  2018,  the  council  adopted  its  initial  representation 
proposal.  This  was  for  a  council  comprising  the  mayor  and  eight  councillors 
elected from four wards as set out in the following table. 
*Based on Statistics NZ 
2017 population estimate. Ref.https://www.kaipara.govt.nz/repreview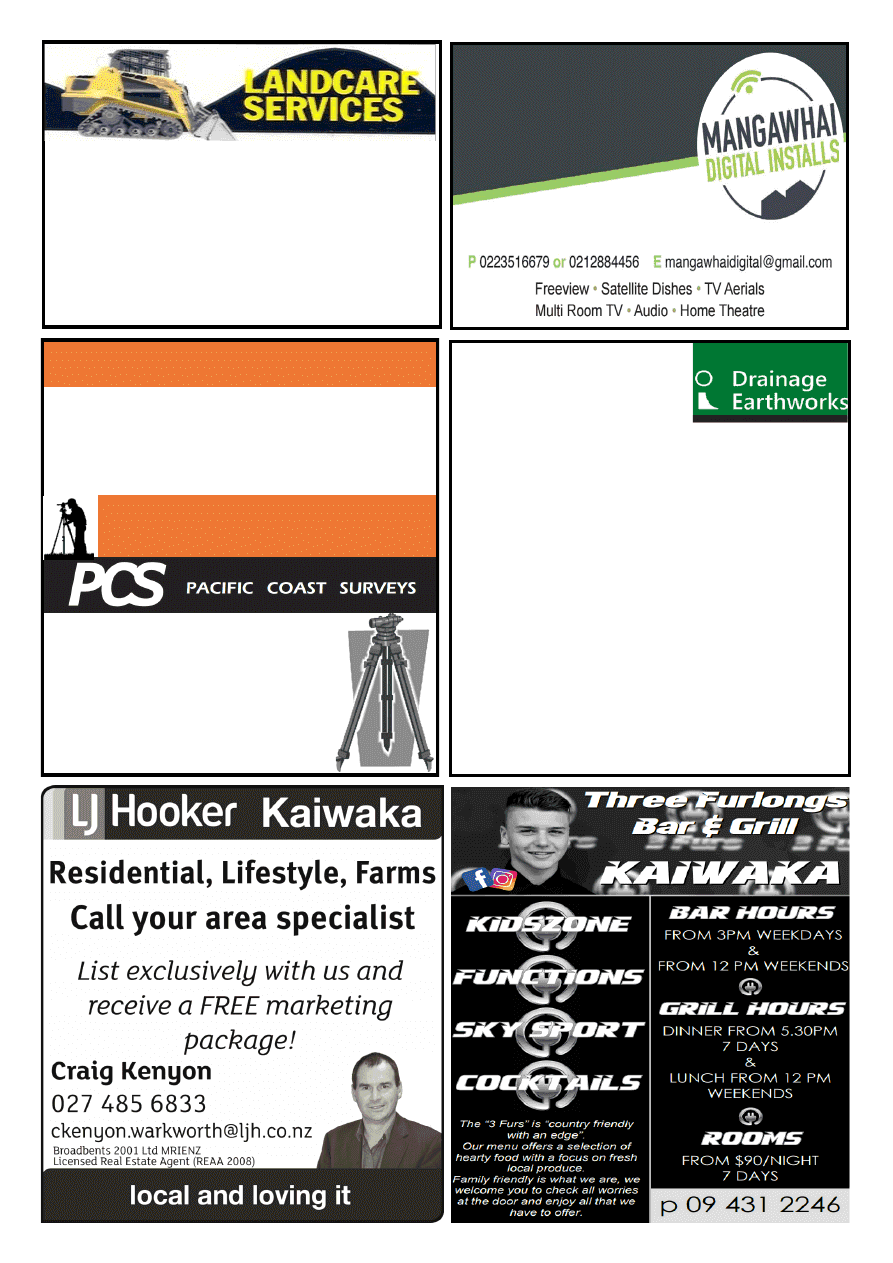 Drainage & Earthmoving 
nigel@clarkedrainage.nz 
027 2233 185 
Registered Drainlayer 
All Types of Earthworks  
> All Residential & Commercial Work  > House Sites 
> Septic System Design & Install 
> Footings & Drilling to 10m 
> Sewer Connections 
> Dams 
> Water Tank Installation 
> Roading & Races 
> Farm Work 
THE ONE STOP SHOP  
Phone Nigel for an Obligation Free Quote  
SURVEYORS 
SUBDIVISIONS 
HOUSE SITE SURVEYS 
CIVIL ENGINEERING 
WASTEWATER DESIGNS 
EXPERIENCED 
PROFESSIONAL 
INNOVATIVE 
Ph 09 431 5353 
0800 PACIFIC (0800 722 434) 
pacificcoastsurvey.com
Adam Booth - 027 415 5752 
Bsurv, Licensed Cadastral Surveyor
Surveying Kaipara since 1994 
LANDSCAPING 
4 IN 1 BUCKET 
TRENCHER 
POLE HOLES 
ROTARY HOE 
COMPACT ROLLER 
OFFAL HOLES 
CAN SUPPLY WOODCHIP & POST PEEL 
5 TON TIPPER 
FOR RELIABLE AND FRIENDLY SERVICE CONTACT DAVE 
Dave Hyndman 
 
KAIWAKA 
PH: 09 4312302 
MOB: 021 431 238 
www.kaiwaka.co.nz 
Kaiwaka Bugle - 16 April 2019 
Page 11 
KAIWAKA SPORTS ASSOCIATION
KAIWAKA SPORTS AWARDS 
One  of  our  biggest  events of  the  year, 
the Sports Awards, was held last week.  
From left: Senior Sportsperson of the Year 
Bron  Hames,  ANZ  Stacey  Beattie,  KSA 
Patron Brian Jaques. 
BASKETBALL 
Miniball  Basketball  coming  in  Term 
Two! Kaipara Basketball are running a 
Miniball  Basketball  competition  in 
Term Two in our gymnasium on Friday 
afternoons.  This  10-week  competition 
will  feature  talented  up  and  coming 
miniballers!  Suitable  for  beginners  as 
well as experienced Basketball players. 
To 
register, 
go 
to 
www.kaiparabasketball.com/2019  
FITNESS CENTRE 
Our  Fitness  Centre  will  hold  their 
Annual 
General 
Meeting 
this 
Wednesday  at  6pm,  in  the  Fitness 
Centre. All welcome. 
SQUASH 
Our  squash  club  is  gearing  up  for  the 
start of the squash season. If you would 
like to join our small and friendly club, 
contact Bruce Leslie on 021 1268015. 
DEFIBRILLATOR 
Did  you  know  that  we  have  a 
defibrillator on site? A defibrillator is a 
mobile electrical device that provides a 
shock to the heart when there is a life-
threatening  arrhythmia  present.  The 
defibrillator  features  voice  prompts 
which 
provide 
step-by-step 
instructions.  The  defibrillator  is  in  the 
toilet  block  (opposite  the  swimming 
pool) as this area is open to the public 
at all times. 
NETBALL TOURNAMENT 
The Otamatea Netball Club will hold a 
Mixed Netball tournament on 5th May 
at our courts, as a fundraiser for getting 
the  OHS  netball  team  to  AIMS  in 
September.  Open  to  mixed  teams  and 
female  only  teams.  This  will  be  a  fun 
day  of  netball,  with  a  hangi  and  neat 
prizes. To enter a team, please contact 
Jodie 
Bennetto 
on 
mgtonetball@gmail.com  
RUGBY – COACHING COURSE 
A  Small  Blacks  coaching  course  will 
be  held  at  the  KSA  this  Wednesday 
17th  at  6.30pm.  This  is  a  requirement 
for  all  coaches  of  rugby  teams  from 
Under 7s → Under 13s. Come along to 
pick up some new coaching tips, learn 
games  to  play  and  share  your 
experiences with fellow coaches. 
RUGBY – SENIOR 
Our  senior  rugby  club,  Otamatea 
Hawks,  will  next  play  at  our  grounds 
on  Saturday  11th  May  against  the 
Western  Sharks.  Reserves  kick-off  at 
12.30pm  and  are  followed  by  the 
Premiers at 2.15pm. 
RUGBY 
We  are  hosting  a  night  match  at  our 
grounds  on  Thursday  18th  April  at 
7.30pm,  Tomarata  vs  Whangaruru. 
Spectators welcome. 
MONSTER 
MOTHER'S 
DAY 
RAFFLE! 
I  have  gathered  lots  of  wonderful 
pampering-type  gifts  together  and  am 
running a raffle with 5 fabulous prizes! 
See the list of the prizes in the poster in 
this  edition  of  the  Bugle.  The  raffle 
will  be  drawn  in  time  for  Mother's 
Day. Tickets are $5 each (or 3 for $12) 
– you can buy your ticket by emailing 
me  at  kaiwakasports@gmail.com  or 
just catch me around town. 
~ Cheryl    kaiwakasports@gmail.com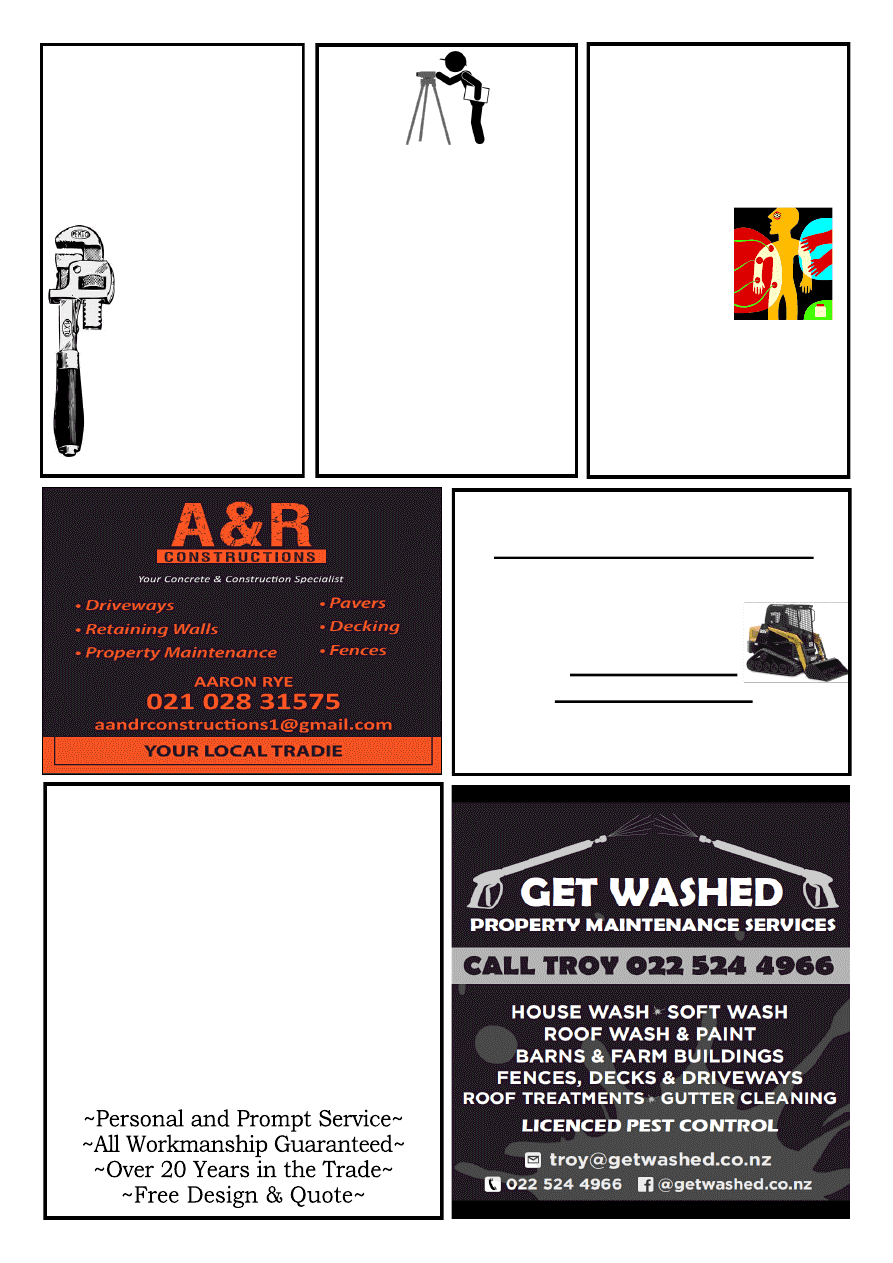 BARRY CURTIS 
PLUMBING LTD 
REGISTERED CRAFTSMAN 
PLUMBER 
Phone 431 5572 
027 257 9884 
25 years' experience 
Friendly reliable service 
All plumbing & 
maintenance 
Alterations and new 
housing 
Spouting  
Competitive rates 
PROMPT 
EFFICIENT 
SERVICE 
OWEN STEVENS 
Osteo Therapist
For careful adjustments to bones 
and joints 
Treatment for humans and their 
pets 
Clinics: 
Kate's Place, 
Kaiwaka: 
Last Friday of 
month 
For bookings: 
9.00am-5.00pm  
Phone 
09 4312661 
Or phone Owen  
09 4317123 anytime 
PLANNING A NEW KITCHEN?
 CONTACT NOEL McDOWELL
WELLSFORD 
KITCHENS
Ph/Fax 094312888
KAIWAKA-Any time
 QUALITY CUSTOM MADE 
KITCHENS
Ken Urquhart 
BSurv Licensed  
Cadastral Surveyor 
KMU Surveys Ltd 
467 Bickerstaffe Road 
RD 2 
Maungaturoto 0587 
Ph 09 431 8705 
Mob 021 161 2344 
kenurquhart@xtra.co.nz 
Natural Earth Ltd 
Landscape and Bobcat services 
 : Driveways :Landscaping :Retaining Walls 
 : Hole Boring: Land Levelling :Trenching 
 : Decks :Fences :Sections Cleared 
 : Plus much more
Tel 09 4312 885 
Mob 02102391280 
For A Fast Friendly Service  
Contact Tim Hicks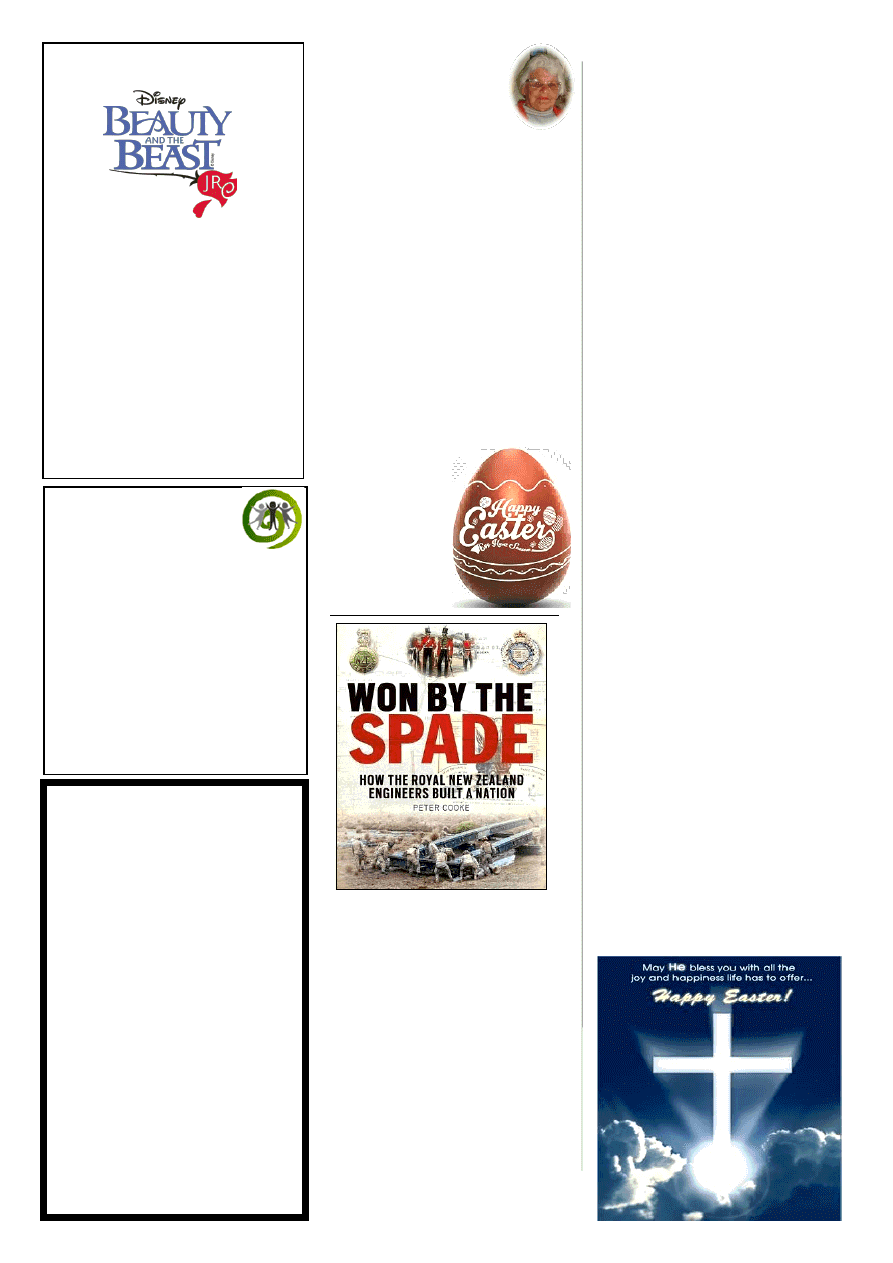 www.kaiwaka.co.nz 
Kaiwaka Bugle - 16 April 2019 
Page 13 
ITS FRIDAY BUT 
SUNDAY'S 
COMING!! 
  'Its power was in its simplicity. At 
first, the old pastor said nothing.  
He just looked at his people until all 
talking died down. You could hear 
a feather drop. Then he whispered, 
'It's Friday, but Sunday's coming." 
Then he said, "It's Friday: Mary's 
crying her eyes out 'cause her baby 
Jesus is dead.... but Sunday's 
coming. 
It's Friday: The disciples are on the 
run, like sheep without a 
shepherd.... but Sunday's coming. 
It's Friday: Pilate's strutting around 
'cause he thinks he's got all the 
power and the victory.... but 
Sunday's coming." 
After  forty-five  minutes,  that  old 
preacher  was  shouting  out,  "It's 
Friday!"  And  all  the  people  were 
shouting 
back, 
"Sunday's 
coming!"    Beloved,  I  don't  know 
why  Fridays  come  tearing  and 
ripping into our lives like a tornado. 
I  don't  know  why  health  suddenly 
fails,  marriages  split  up,  children 
break  parental  hearts,  careers  are 
destroyed,  jobs  lost.  I  don't 
understand  why  these  things 
happen,  even  to  the  best  and  most 
conscientious  believers.  But  Jesus 
understands our Fridays. He's been 
there.  He's  been  there  with  us  on 
the cross. 
I don't understand Fridays. But this 
I  do  know:  because  God  raised  up 
Jesus from the grave, Fridays do not 
last forever. 
Sunday's  coming!  It  always  comes 
to those who have placed their faith 
and  trust  in  Jesus,  who  said,  "I  am 
the  resurrection  and  the  life.  He 
who believes in me, even though he 
dies, yet shall he live!"  
THAT'S THE GOOD NEWS!" 
WANTED TO BUY 
I  am  a  local  private  collector  of 
Kaipara  &  Northland  Paper, 
Postal  &Photographic  History 
looking to purchase: 
Old Photos   Old Postcards 
  Old Documents 
Old Envelopes  
Old Advertising / Tourism 
Posters or Pamphlets 
Old books or old 'paper' 
relating to  
Kaipara and Northland. 
I will pay a fair price immediately 
so please contact me on either  
280 9544, text 021 757 107  
or email 
nigel.bermuda@gmail.com 
OTAMATEA 
COMMUNITY 
SERVICES   
Counsellors, Parent Coach, 
Senior Support, Financial 
Mentors, Social Worker, 
Addiction Support,  
Family Support. 
Monthly Activities: 
❖
Seniors' Lunch 1st Wednesday 
❖
Chocolate Bingo 3rd 
Wednesday
❖
Shopping  trips  to  Whangarei 
2nd Tuesday and 4th Wednesday 
Phone: 09 431 9080.  
155 Hurndall St. Maungaturoto. 
Otamatea Repertory Theatre Inc 
Proudly presents 
Music by Alan Menken 
Lyrics by  Howard Ashman and Tim Rice 
Book by Linda Woolverton 
Show dates: April 27, 28 @ 2pm and 
6pm,  
 May 3@ 7.30pm, May 4 @ 2pm & 
6pm, May 5 @ 2pm  
Tickets online at www.ort.org.nz or 
at Tony's Lotto Shop in 
Maungaturoto, Adults $28
Students $15 
Disney's Beauty and the Beast JR. is presented 
through special arrangement with and all 
authorized materials are supplied by Music 
Theatre International.  
421 West 54th Street, New York, NY  10019 
From Thelma's 
Scrapbook … 
EASTER EGGS 
The first mass-produced 
Easter egg appeared in 1873 and 
was produced by Cadbury. 
However, it wasn't until the early 
1900's that milk chocolate eggs 
became available. 
The tradition of giving chocolate 
Easter eggs can be traced back to 
19
th
-century France and Germany. 
The first eggs were small and solid 
and made of a coarse, bitter dark 
chocolate. As technology 
improved and cocoa became more 
widely available, so did chocolate 
Easter eggs. It's a 
big business- 
Britain's retailers 
sold over 264 
million pounds 
worth of Easter 
eggs in 2010. 
WON  BY  THE  SPADE
, by Peter 
Cooke,  is  the  definitive  history  of  the 
Royal 
New 
Zealand 
Engineers, 
providing  a  comprehensive  account  of 
the  corps'  actions,  events  and 
personnel from the New Zealand Wars 
of the nineteenth century to the present. 
It  examines  military  engineering  in 
New  Zealand,  including  that  of  Maori 
and  their  influence  on  the  corps,  the 
role  of  the corps in  overseas  wars and 
home  defences,  and  provides  a 
contemporary record of New Zealand's 
contribution  to  military  engineering, 
including 
demining 
operations, 
peacekeeping  and  civil  aid  missions. 
Key  themes  are  those  of  military 
innovation 
and 
the 
Engineers' 
contribution to national development.  
Ref. 
Exisle  Publishing.  Published  April 
2019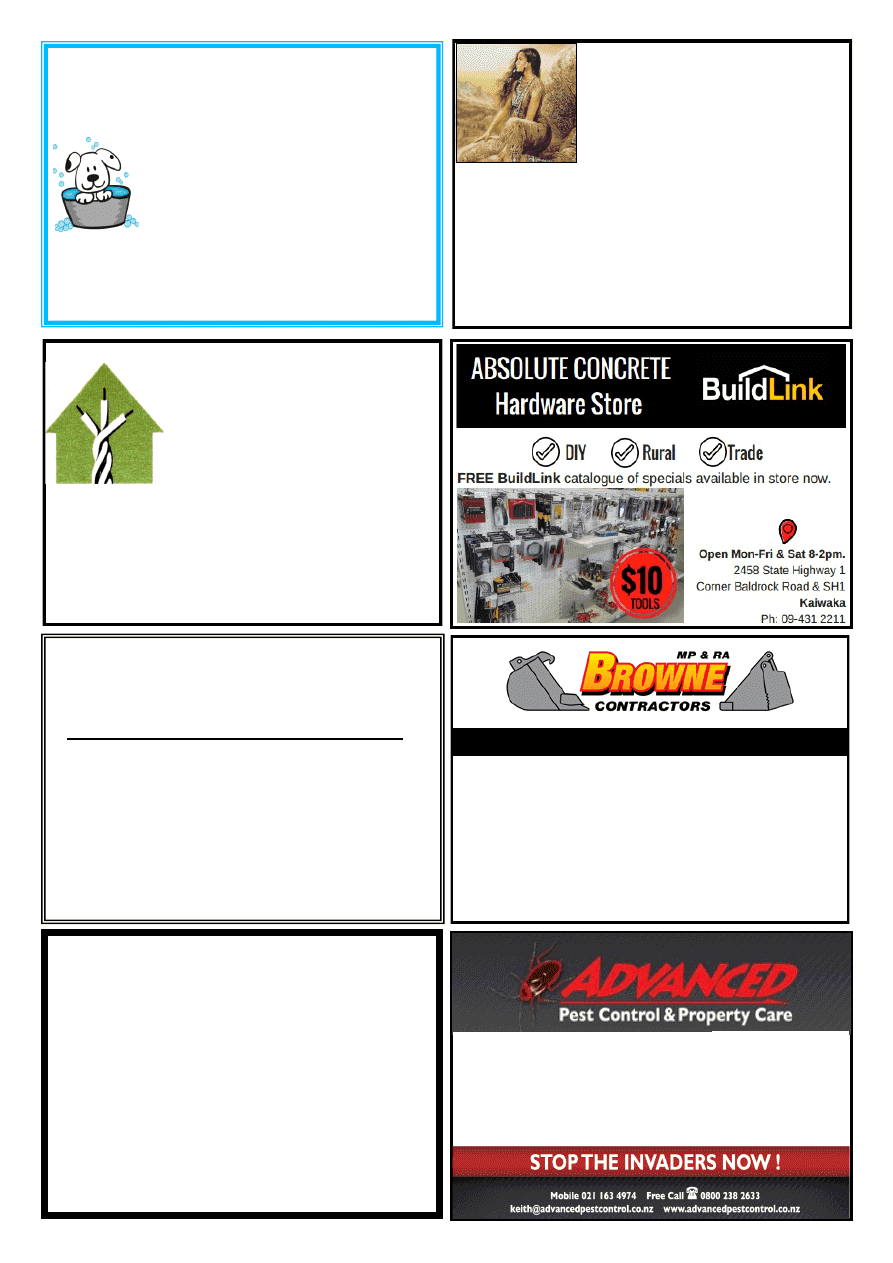 4T DIGGER – BOBCAT – TIP TRUCK 
Property Maintenance - Driveways  
 Building Sites 
Stump & Tree Removal  
Hole Boring - Chain Trencher  
Calf Shed and Stockyard Cleaning 
Phone Matt: 021 199 6677 
Email: mprabrownecontractors@gmail.com 
Mangawhai Heads 
Garden Centre
1758 Cove Road
945 0707 
021 165 2629 
Reyahn George 
Leng 
Registered Electrician 
Local, honest and reliable. 
For your residential and 
light-commercial projects. 
022 314 1068 
Trails end 
spiritualist gathering 
Last Sunday of every month  
10.30-2pm  
Tea/coffee provided  $5 koha 
For all inquiries: 
021 165 2629 evenings (09) 945 0707 
Trail.end@hotmail.com 
1758 Cove Road, Mangawhai
Bringing together like-minded people 
Guest speaker each month
Pest Control 
PLAN A: One-off treatments to customers with a specific pest problem 
PLAN B: Full maintenance service plans to commercial customers. 
This will include documentation kept in customer file on site: 
⚫
Pest treated 
⚫
Date of service 
⚫
Chemical or baits used 
⚫
Full pest check report done after each treatment 
⚫
Fair and reasonable fee with guarantee 
Flood Recovery  Carpet Care 
⚫
Carpet Drying 
This includes pre-spray treatments 
Upholstery Cleaning 
Full upholstery cleaning of all furniture.  
eg lounge suites and all office chairs 
Water Blasting 
⚫
Concrete - Decks 
House Washing 
⚫
Soft Chemical Was 
⚫
Pre-painting Wash 
Property Services 
Om Tara 
Mangawhai 
Healing Services 
Diann Glucina 
021 250 7461 diglucina.com  
FB OmTaraMangawhai 
Hot Diggity Dog 
DOG GROOMING 
All breeds dog grooming 
Professional Experienced Groomer 
Short practical grooms - summer 
Breed Standard Grooms 
Designer fusion Grooms 
Oneriri Road
By appt Phone Pam 09 4312143 
Or text only 0273335380 
Email  hot.diggitydog@outlook.com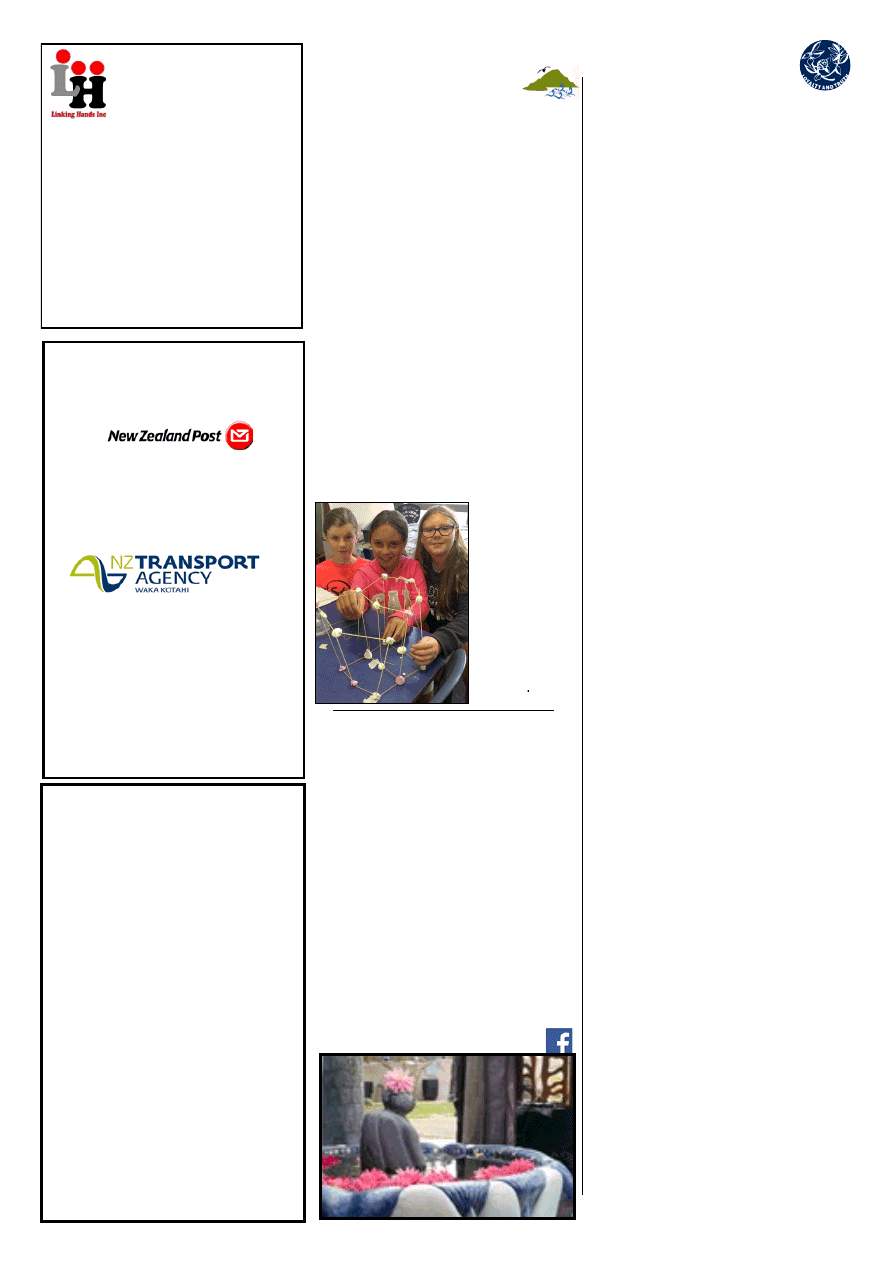 www.kaiwaka.co.nz 
Kaiwaka Bugle - 16 April 2019 
Page 15 
KAIWAKA SCHOOL 
We have come to the end of a 
really busy, action packed first 
term  of  2019.  There  has  been  daily 
swimming, rippa rugby for the Year 5 
and 
6 
students, 
swimming 
competitions  and  heaps  and  heaps  of 
school  work  for  everyone.  Thanks  to 
the  parents  and  caregivers  who  have 
assisted  on  trips  this  term,  and  to  the 
PTA for their fundraising lunches. 
There  will  be  a  few  property 
improvements  over  the  next  few 
months, starting with the school office 
over  the  holidays.  Room  6  will  be 
having  a  makeover  in  term  2.  We  are 
expecting  a  new  classroom  to  be 
installed  over  the  next  term  and  the 
Room 4 students will be able to move 
in at the beginning of term 3. 
Very  sadly  we  are  saying  goodbye  to 
Catherine  Elliot  and  Robyn  Froggatt, 
our  After  School  Care  staff.  We  have 
really 
appreciated 
Catherine's 
management  and  Robyn's  assistance 
with  the  ASC  programme.  We  wish 
them both the very best in their future 
endeavours. 
Wishing  you  all  a  very  happy  Easter 
Looking 
forward 
to 
starting  school 
again 
on 
Monday  29th 
April 
at 
8.30am.  
~ Rosie Ellis 
Photo:  Room  4  love 
science 
and 
technology 
Challenges.,  here  is 
a    Tallest  Building 
Challenge, 
using 
marshmallows  and 
spaghetti.
KAIWAKA POST 
CENTRE and 
FOOD MART 
POST CENTRE TRADING HOURS 
MONDAY to FRIDAY 8am to 5pm 
SATURDAY 8am to 12pm 
CLOSED ON SUNDAY and on 
PUBLIC HOLIDAYS 
FOOD MART (GROCERIES) 
MONDAY TO SUNDAY  
7:30am to 8pm 
IF ANY QUERIES PLEASE CALL 
STORE MANAGER AMRIT  
on 09 4312431 or 
EMAIL: kaiwakafood19a@gmail.com 
1919a State Highway1, Kaiwaka 0542 
OTAMATEA HIGH 
SCHOOL
School  Board  of  Trustee 
Elections – Otamatea High School 
Nominations for the election of parent 
representatives to the board of trustees 
are now open. A nomination form and 
a notice calling for nominations will be 
posted to all eligible voters. 
Additional  nomination  forms  can  be 
obtained from the school office.  
The  voting  roll  is  open  for  inspection 
at the school and can be viewed during 
normal school hours.  
There will also be a list of candidates' 
names,  as  they  come  to  hand,  for 
inspection at the school. 
Nominations  are  invited  for  the 
election of five parent representatives.  
Nominations close at noon on 24 May 
2019. Voting closes at noon on 7 June 
2019. 
From The Principal's news: 
Last  Thursday  the  kapa  haka  group 
took  the  stage  at  Whangarei  Girls' 
High  School  for  the  annual  Te  Tai 
Tokerau  Festival.  Congratulations  to 
these  students  who  performed  with 
such  pride  and  mana.    They  did 
themselves,  their  families  and  the 
school  proud.  Thank  you  to  the  staff 
members and whānau for their ongoing 
support  of  the  group;  the  group  are 
improving year on year and this is not 
possible  without  the  dedication  of 
many people.  
I had the privilege of judging the Year 
7  speech  competition  this  week  and 
was  very  impressed  with  both  the 
quality  of  the  speeches  and  the 
confidence  of  the  students  who 
participated.    This  was  the  first  time 
that  students  presented  their  speeches 
in the hall to the whole of year 7 and 8 
- quite a daunting task for them. They 
all did very well. The placings were as 
follows: 1st place - Adriana McLellan, 
2nd place - Connor Alcock, 3rd place - 
Chevy Mabbett. 
Friday, 5 April the school participated 
in  Gumboot  Friday  where  students 
and  staff  were  encouraged  to  wear 
gumboots  and  donate  towards  mental 
health  services  in  schools.    We  raised 
$380.80 towards this worthy cause. 
Construction works:  
taking place at the school.  By the start 
of term two the bus bay is scheduled to 
be  completed  as  well  as  the  concrete 
driveway  of  Te  Whare  o  Rongo  and 
the area at the back of the whare.  
During  the  holidays  the  new  courts 
will be worked on and next term the re 
surfacing  of  the  car  park  and  turning 
bay  will  take  place  -  this  is  likely  to 
take another 5 weeks in total 
Other  work  over  the  holidays  will 
include: new roofs for the hall, whare, 
alternative  education  shed,  whakairo 
shed  and  the  translucent  roof  between 
A4  and  A5.;  further  electrical 
distribution  boards  and  upgrading  the 
water  heater  system  for  the  PE 
changing rooms.  
EUTOPIA CAFÉ: 
FIND THE ARTWORK 
Please bring the art sculptures home ... 
"
We  have  had  a  great  first  week  finding 
our feet here at Eutopia and want to thank 
the  community  for  all  your  support. 
However we are reeling from the loss of so 
many  of  our  precious  art  works.  We  are 
still  finding  sculptures  that  are  missing,  at 
least 6 by our last count.  Our biggest loss 
is  the  carved  stone  centre  piece  from  the 
fountain  which  was  gone  within  12  hours 
of opening. These artworks hold little to 
no 
monetary  value  but  represent  a  tragic 
loss  of  hundreds  of  hours  of  work  put 
into  creating  things  of  beauty  for  the 
community to enjoy. 
Please  share  far  and  wide.  We  would 
love  to  have  our  artworks  back  for 
everyone's enjoyment."
Now open from 7.30am to 4pm every day. 
See Eutopia Café on Facebook 
Driveway  
& Farm Race 
Maintenance and 
Construction 
Grader, Roller,  
Digger, Trucks 
Supply of lime rock and 
metal 
Call Peter on 
0274441553 
For advice / estimate for 
your driveway / farm 
race needs 
  LINKING 
HANDS INC 
Maungaturoto - Kaiwaka - 
Mangawhai 
Meeting the needs of the community. 
A  free Health Shuttle Service, providing 
transport to those who would struggle to 
get  to  medical,  dental,  podiatry,  or 
optometrist appointments anywhere from 
Warkworth to Whangarei. 
HEALTH SHUTTLE SERVICES 
Ph/fax 09 431 8969 
OFFICE HOURS 
Maungaturoto - Monday to Friday  
10am to 4pm 
Closed Public Holidays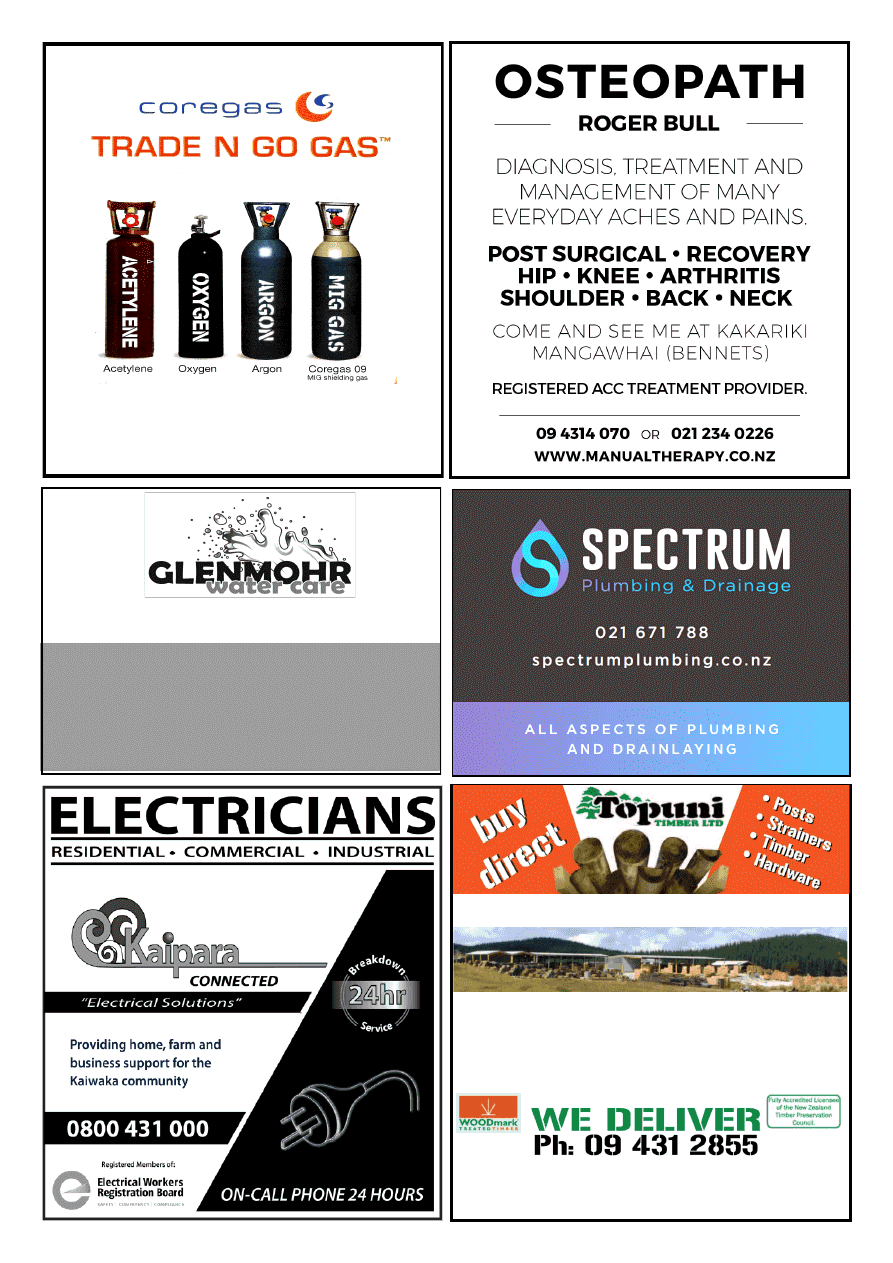 At Twinkle Tow 'n' Tyre 
Mob: 021 833 960 
Ph & Fax: 09 431 2823 
1837 State Highway 1, Kaiwaka 
Water Tank Cleaning 
• 
Keep your water safe & clean  
• 
Removal of sediment, silt etc. 
• 
Vacuum or full scrub 
• 
Minimal water loss 
Phone Mark (09) 432 0655 or 0274 707607 
LOCALLY OWNED AND OPERATED 
QUALITY PRODUCTS • FRIENDLY ADVICE • GREAT SERVICE 
Quality Products milled from High Density NORTHLAND Radiata Pine. 
Treated and guaranteed to NZS3640 with commitment to 
Environmental Safety.
Phone, fax, email, or come into the mill 
Schiska Rd, Topuni, SH1, 10 min north of Wellsford. Fax: 09 431 2856 
Email: sales@topunitimber.co.nz           Mon - Fri 7am-5pm 
• Fencing 
• Retaining 
• Decking 
• Landscaping 
• Gates 
• Hardware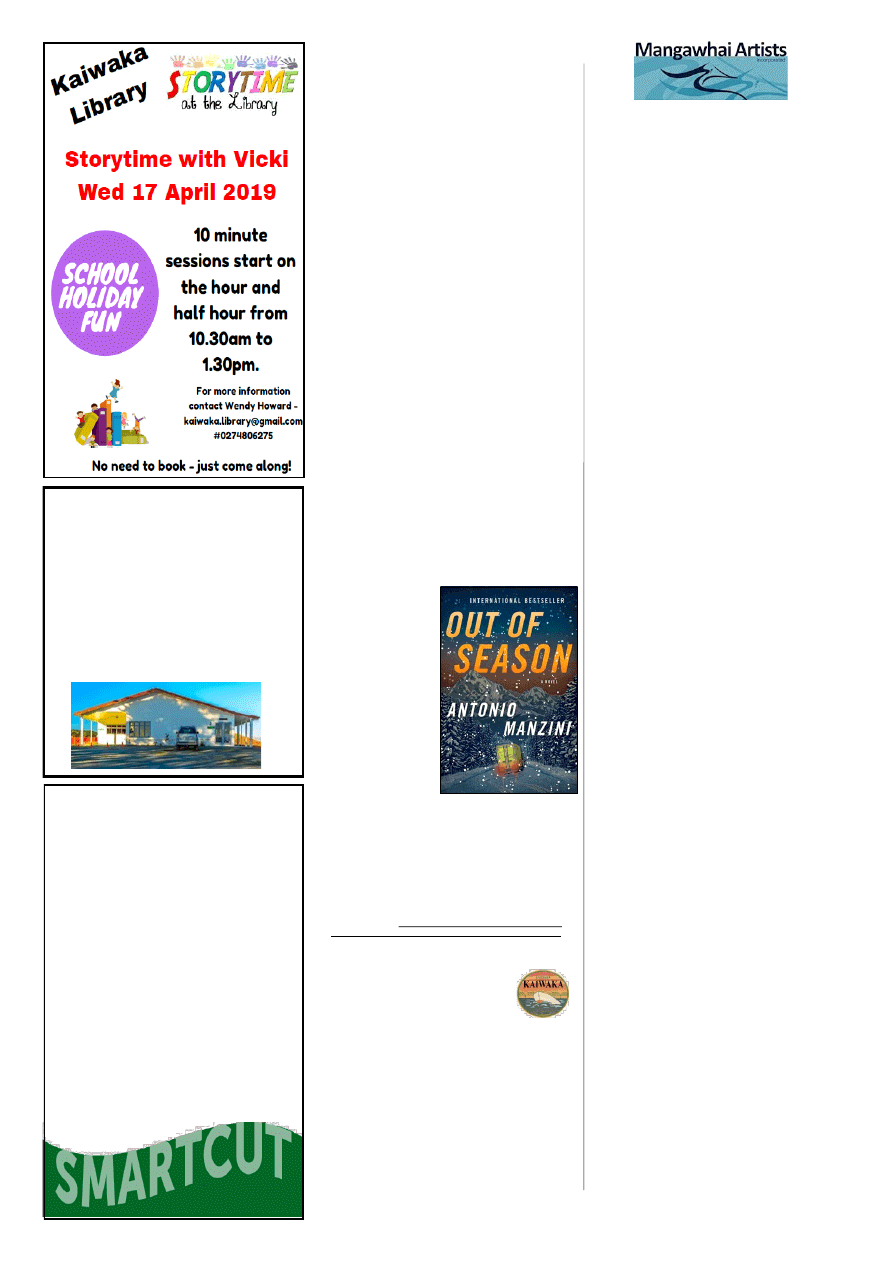 www.kaiwaka.co.nz 
Kaiwaka Bugle - 16 April 2019 
Page 17 
All your outdoor needs sorted 
so you don't have to... 
I can prune, chop, tidy, spray, 
mow, plant 
- you name it, I can do it! 
Residential & 
Commercial 
Lawn & Garden 
Care 
Call Rodney, your local  
lawnmowing contractor 
021 138 2344 
POINT CURTIS 
CRUISING 
CLUB  
⬧
Opening  Morning  Duck  shoot  and 
End 
of 
the 
year 
Prize 
Giving: Saturday 4th May. 
⬧
Results  of  the  East  v  West  fishing 
Competition will be in the next Bugle. 
⬧
Subs 
will  be  due  1st  June 
Family $30 & Single $20
⬧
Fish  of  the  Month  Winners  for 
Kingfish was Renna Brown, 23.309kg. 
⬧
Next Club Meeting: Tuesday 
14 May 
at 3 Furs Bar and Grill, 7pm
~ 
Wayne Leslie, Commodore
KAIWAKA LIBRARY 
Large Print & Audio 
By the time you read this, we will have 
completed 
the 
latest 
Northland 
Libraries  Network's  Large  Print  and 
Audio  book  swap  in  Whangarei  and 
brought back a fresh range of titles. We 
will  be  getting  these  onto  the  shelves 
on  Wednesday  17  April.  Many  thanks 
to  everyone  who  played  a  part  in 
making this swap a success. 
School Holiday activity 
Also,  on  17  April,  we  will  have  a 
school  holiday  activity  -  Storytime 
with  Vicki.  Starting  at  10:30am,  then 
running on the hour and half-hour until 
1:30pm,  our  library  volunteer  Vicki 
will  be  reading  stories  for  about  ten 
minutes.  No  need  to  book,  just  come 
along and enjoy the stories. 
Book review 
On  the  recommendation  of  a  library 
member, 
I've 
read 
the  Rocco 
Schiavone 
series 
by 
Antonio 
Manizini  -  Black  Run,  Adam's 
Rib  (also  known  as  A  Cold  Death), 
and  Out  of  Season.  The  fourth 
book  Spring  Cleaning  will  be  arriving 
after  it's  published  next  month.  "After 
getting on the wrong side of the wrong 
people  in  Rome,  Deputy  Police  Chief 
Rocco  Schiavone  is  exiled  to  Aosta, a 
small,  touristy  Alpine  town  far  from 
the  cobbled  streets  and  fritto  misto  of 
his  beloved  city. 
Schiavone's 
talent  for  solving 
crimes 
is 
matched  only  by 
his  disdain  for 
the  rules  and  his 
eye 
for 
a 
beautiful 
woman..."  (book 
cover) This  is  an 
entertaining 
series,  that  only 
gets  better  with 
each  book.  They  are  on  the  Rental 
Fiction  shelves  in  the  library,  50c  per 
book 
to 
borrow 
for 
three 
weeks.  Reserve  them  for  yourself  via 
Enterprise*,  and  I  will  let  you  know 
when  they're  ready  for  you  to  collect. 
See you in the library ~Wendy 
 *Enterprise: http://kaipara.kotui.org.nz/  
Te Pounga Marae 
130 Nathan Rd. Oneriri. Kaiwaka 0573 
COMPLEX FOR 
HIRE 
Functions: * Weddings  * Birthdays  
*Anniversaries * Meetings  * Wananga 5 
hour meeting * 12 hour stay or Overnight 
*All welcome   
For more information please contact: 
Kim Wallace  
Home: 09 832 1133  Mob: 0211275340  
Email: kimwallace@xtra.co.nz 
EASTER ART TRAIL 
Easter Saturday and Sunday  
20- 21 April, 10 – 3 daily 
Always 
popular, 
this 
year's 
Mangawhai Artists Easter Art trail is a 
cracker! Visitors will enjoy the chance 
to look at interesting and diverse art at 
the  same  time  as  peeking  into  artists' 
studios.  Nineteen  venues  plus  the 
Members'  Exhibition  in  the  Artists 
Gallery; Art Trail 2019 has the highest 
number  of  participating  artists  in  any 
trail  so  far.  Spokesperson  Kim 
Hamilton  says,  'We're  especially 
pleased  about  the  trail  this  year.  We 
have a cluster of venues in and around 
the  Pioneer  Village  and  the  far-flung 
studios  all  are  great  drives,  excellent 
for  people  who  seldom  travel  beyond 
the Heads and Village'. 
Central to the trail map are six venues, 
clustered  beside  Mangawhai  Museum 
(which  has  its  annual  book  fair  on  at 
the  same  time).  Hamilton  explains, 
'This year we are thrilled to be filling 
four  heritage  buildings,  the  church, 
post office, Tara Road School and the 
Te Arai library'.  Then there's an easy 
stroll to the studio of Sarah C – Indoor 
Outdoor  Art  and  across  the  road  to 
Stylish  Homes  who  have  offered  us  a 
beautiful show home for what is going 
to  be  a  super  display'.  For  those 
driving – park the car, then take in the 
work of eighteen artists. 
There  are  more  venues  tucked  in 
around  the  streets  of  Mangawhai  for 
people  to  visit  before  heading  for  the 
outer  reaches  of  the Trail  where  there 
are more superb venues – Barrier View 
Drive, Pigeon Berry Lane, Cove Road, 
Pebblebrook  Road  and  Daisy  Cottage 
on  Devich  Road  –  the  names  alone 
give  an  idea  of  the  beautiful  spots 
worth  visiting  plus  lots  of  art,  talking 
to  the  artists  and  enjoying  beautiful 
vistas  and  parts  of  Mangawhai  often 
unseen by visitors. 
Mangawhai  Artists  Gallery  is  venue 
number  one  and  is  a  good  place  to 
begin.  Thirty-five  artists  are  showing 
their  work  with  many  of  them 
participating in the Trail as well. 
For many people who look forward to 
the  Annual  Easter  Art  trail  this  is  an 
opportunity  to  enjoy  art  and  meeting 
people. There will be a lot of excellent 
art  on  offer  to  tempt  you  to  take 
something  home  –  eftpos  is  available 
at the Gallery and the heritage village, 
we  advise  having  some  cash  in  your 
pocket – you will be amazed at the art 
and the affordability of it. 
2019  Art  Trail  Guide  with  map  is  on 
sale  now  at  Mangawhai  Artists 
Gallery,  Gas  Mangawhai,  Mangawhai 
Museum  and  Mangawhai  Books  and 
Gifts. 
Participating  in  the  Trail  is  free.  The 
Art  trail  Guide  is  $10  contributing  to 
Mangawhai  Artists  fundraising.  All 
funds  go  towards  helping  Mangawhai 
Artists  involve  the  community  in  art 
and creativity.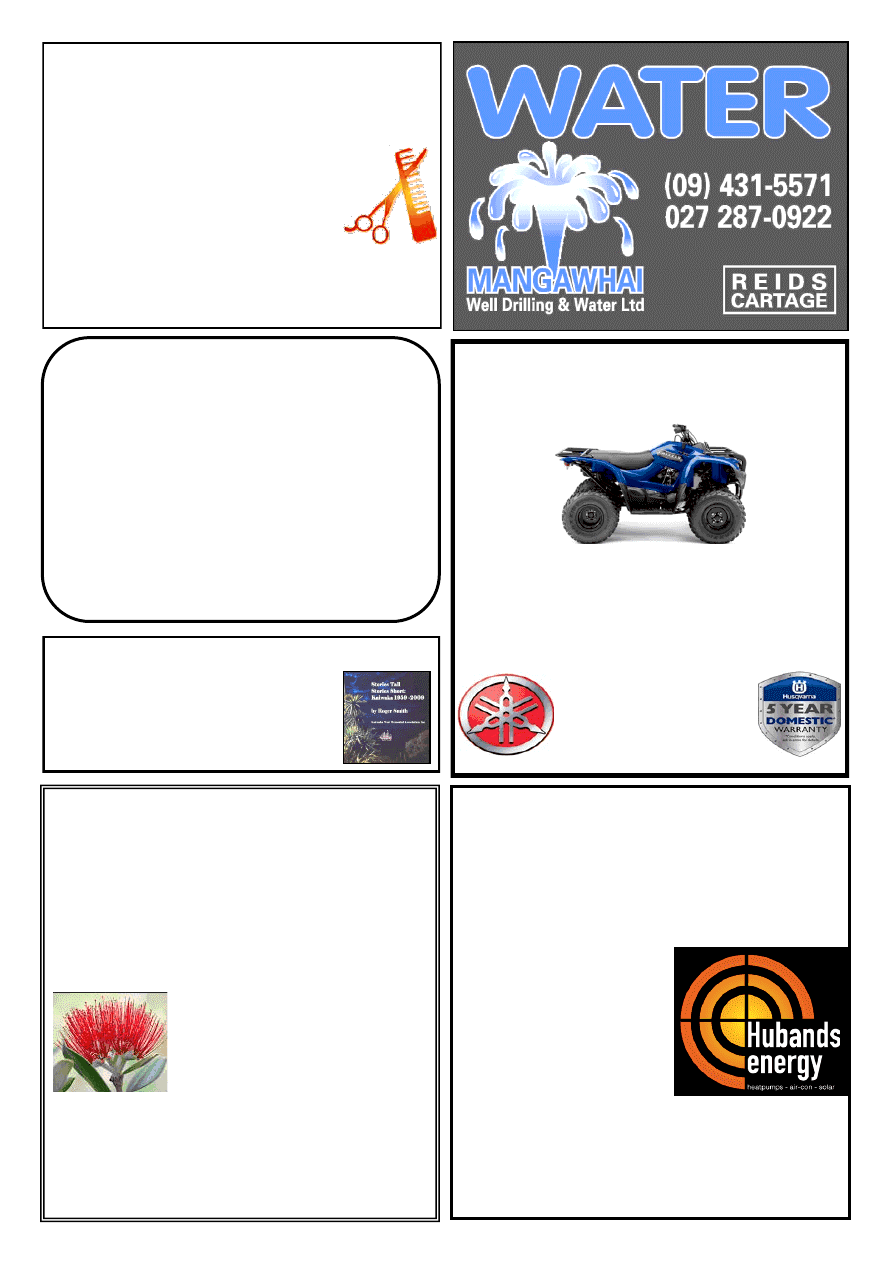 KAIWAKA 
MOTORCYCLES LTD
SALES – SERVICE – SPARES 
FARM BIKE SPECIALIST
PHONE 09 431-2127 
10 KAIWAKA-MANGAWHAI ROAD, KAIWAKA
Trimmers  
from $279
Chainsaws  
from $339
YAMAHA 
HUSQVARNA 
Northland's Award Winning 
Solar Company
SEANZ Best Solar Business Winners 2015/16
EXCLUSIVE 10 year installation warranty 
FREE No obligation onsite quote
Complete systems 
from $5990
See our range of: 
✓ 
Heatpumps 
✓ 
Airconditioning 
✓ 
Hot Water 
Heatpumps 
✓ 
Central Vacuum Systems
09 430 0019             sales@hubands.co.nz 
15 Kioreroa Road, Whangarei
Locally owned and operated for 35 years 
UP-LINK 
CHRIS WARING 
FREEVIEW INSTALLATIONS 
T.V. - HOME THEATRE &  
HI-FI ADVICE/SET UP
SKY ACCREDITED INSTALLER
MOB.0273403747 HM.094312328 
EMAIL cwaring44@gmail.com
28 YRS EXPERIENCE 
OFFERING UNBIASED ADVICE 
AFFORDABLE PRICES! 
MENS CUT FROM $20.00 
LADIES CUT FROM $30.00 
KIDS CUT FROM $18.00 
COLOUR & CUT FROM $120.00 
JUST CUTS'AND   
MORE 
021 165 2629 or (09) 945 0707  
NOW SELLING: scented tealights, incense, smudge sticks, 
copper bracelets, aurora ball crystals, dream catchers, healing 
stones, rose quartz, cds, and much more. Open 6 days. 
KAIPARA FLOORING CO 
Independently owned & operated 
32 HURNDALL ST MAUNGATUROTO
Supply & Installation of Carpet, Vinyl,  
Vinyl Wood Planking
Stockists of 2m & 3m wide 
vinyl & carpet short ends
Residential & Commercial
Q Card Finance Approved 
6-18 month terms 
6 mth interest free
First Class Installations
For a free measure & quote 
phone Christine  
09 946 9886 or 021 515 415 
kaiparaflooring@gmail.com 
http://www.kaiparaflooring.co.nz/ 
Stories Tall, Stories Short:  
Kaiwaka 1959-2009 
by Roger TW Smith 
And 
Kaiwaka: A Photographic History 
Available  at All-Sortz Collectables or 
phone  4312 045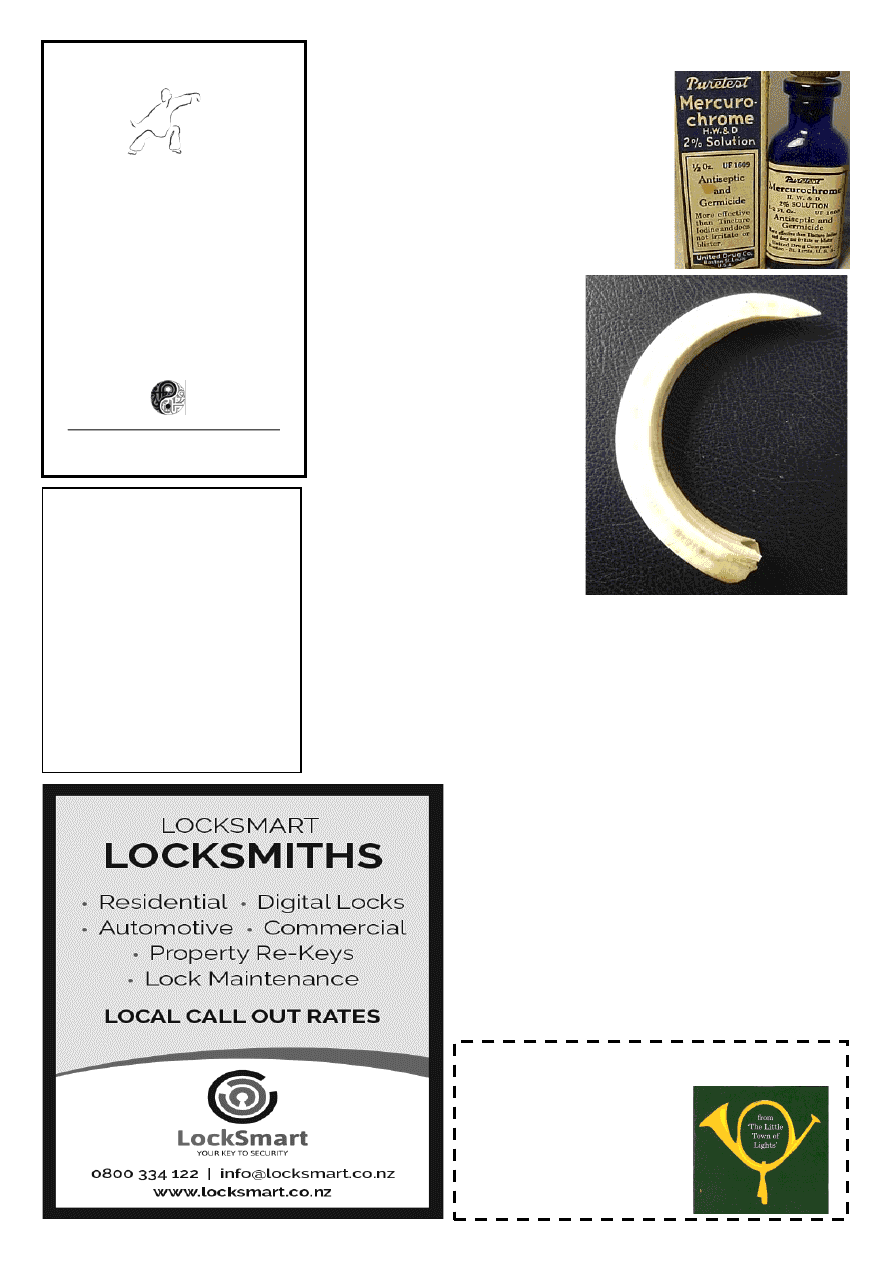 www.kaiwaka.co.nz 
Kaiwaka Bugle - 16 April 2019 
Page 19 
A PIG STORY
. 
By Bevan Lawrence
KAIWAKA BUGLE DEADLINE DATE 2019:  
Every second Friday 
April 26; May 10, 24;  
June 7, 21; July 5, 19;  
August 2, 16, 30 ;  
September 13, 27;  
October 11, 25;  
November 8, 22;  
December 6. 
Being  the  Chinese  year  of  the  Pig  I 
thought  a  Pig  story  might  be 
appropriate. 
My  father  was  well  respected  around 
town  as  a  'Huntin,  Fishin  &  Shootin' 
man.  On  one  particular  foray  into  the 
bush to feed the family and friends, the 
old  dad  spotted  a  boar  rutting  in  the 
ground.  He  shot  the  animal  but  not 
fatally  and  being  a  good  bushman 
couldn't leave it at that. He tracked the 
blood  spots;  the  animal  had  gone  to 
ground  it  was  holed  up  in  a  large 
hawthorn bush.  
Dad, knife in hand, crawled in after it. 
The  pig  was  in  no  mood  to  offer 
hospitality;  it  charged  at  him,  he  fell 
back  but  not  enough  to  avoid  a  tusk 
ripping  the  calf  of  one  leg.  In  that 
moment where one feels little pain due 
probably  to  the  adrenalin  rush,  he 
wrestled  the  animal  bodily  and  sunk 
the knife into its vitals.  
The  old  dad  had  been  a  medic  in  the 
home guard and always carried a sharp 
needle  and  cat  gut  in  a  sterile  silver 
tube  kept  in  his  pack.  He  painfully 
sewed up the slice and mercurochrome 
was  applied  to  the  wound  before  a 
bandage.  Despite  all  this,  he  dragged 
the  carcase  out,  loaded  it  onto  his 
bicycle  bar  and  pushed  it  miles  home. 
At  home  some  days  later,  a  fine  pig 
skin  was  pegged  out  on  the  fence 
where  it  had  been  treated  with 
potassium alum and borax paste. Father 
who  was,  as  previously  described,  a 
dab  hand  with  a  needle  made  a  very 
nice saddle bag for the bike, and some 
other items.  
At this time, we had no refrigerator, so 
the  meat  was  pickled,  salted,  and 
largely cooked up on the day. 
One  of  the  things  Father  would  do 
regularly is to ride 
out  to  the  country 
to feed food scraps 
to  the  farmer's 
pigs.  Placing  his 
bike  against  the 
fence,  he  went 
across the paddock 
to  the  pig  trough. 
While  he  mucked 
out 
the 
food 
trough  and  made 
sure the receptacle 
in the paddock had 
water,  a  pig  had 
come  around  the 
back 
and 
had  eaten 
his  saddle 
bag. 
The 
moral 
of 
the  story  is 
to  beware 
that 
pigs 
will 
eat 
anything 
including 
their  own 
kind! 
As a teen, my buddy, his little brother 
and I had been up the river (Wanganui) 
camping in a wharé. On the way home 
we  were  belting  along  the  dirt  road, 
rounded a corner and drove smack into 
an animal standing in the centre of the 
road.  The  two  of  them  were 
immediately  in  trauma,  never  having 
hit  anything  before.  I  had  to  yell  at 
them  asking  if  either  of  them  had  a 
knife?  Stutteringly  a  pocket  knife  was 
produced;  I  went  to  the  front  of  the 
vehicle where it lay panting and badly 
broken.  I  cut  its  throat  to  spare  it  any 
more pain. Then there was an involved 
discussion  as  to  what  to  do  with  the 
carcass,  take  it  home,  leave  it  on  the 
side of the road, try to find which farm 
it  had  come  from  and  inform  the 
farmer.  After  a  while  we  all  agreed  to 
leave  it  where  it  lay  as  supposed  road 
kill  and  hope  someone  would  come 
along  and  sort  it  out.  As  a  teenager 
driving,  an  inherent  fear  hovers  in  the 
mind, that whatever the truth is, it will 
always  be  the  teenager's  fault 
inevitably.  
Photo supplied
TAI CHI 
Balance,  
Co-ordination, 
Meditation,  
Settled mind, 
Confidence,  
Self-awareness 
Classes:  Sunday morning 
Kaiwaka
 8:30 – 10 am Kaiwaka 
Sports Association
For more information please contact 
 Otamatea Martial Arts
otamatea.kempo@farmside.co.nz 
Phone 09-431-5170 
www.facebook.com/
otamatea.kempo 
HAKARU HALL 
ACTIVITIES 

Monday: Line Dancing 10.00am 
Ph 4315160 

Tuesday: Pilates 9.00-10.00
am
Ph 0220643964 Certified Instructor 

Wednesday: Recreational Music 
Evening 7pm - instruments 
available or bring your own. 

Thursday: Pilates 9.00-10.00am. 
All welcome  Ph 0220643964 

Thursday: Scouts 5.00pm 
Hall Available for Hire Ph4312256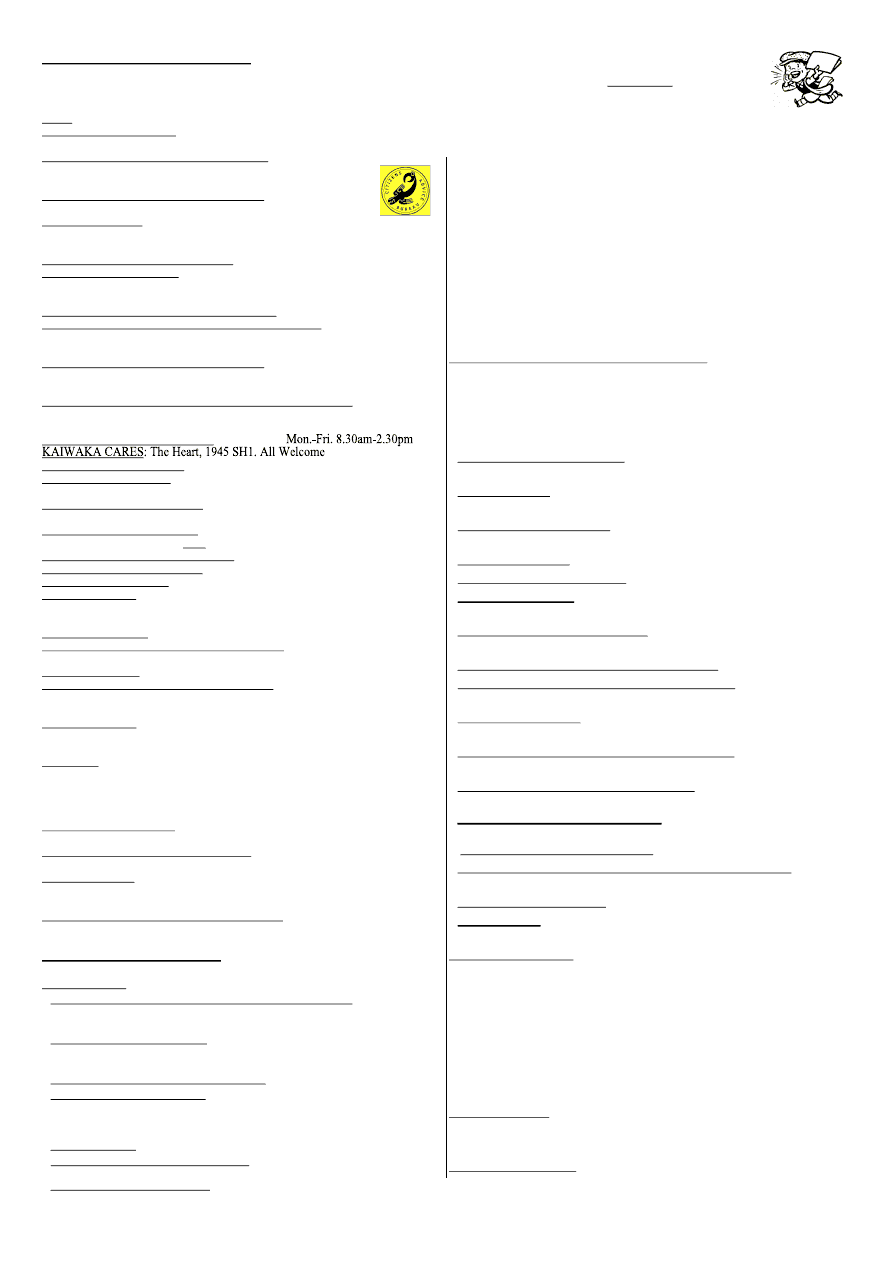 Next Bugle Deadline midday Friday 26 April  2019
WHAT'S ON
PLEASE ~ do let us know what is on - email 
kaiwakabugle@kaiwaka.co.nz 
*17Apr~Story Time with Vicki, Kaiwaka Library, 10.30am 
*17Apr~Kaiwaka Can meeting Archie Bull Hall 5.30pm 
*17Apr~Small Blacks Coaching Course, KSA 6pm 
*17Apr~Fitness Centre AGM, KSA, 7pm 
*19April~Movie 'The Favourite' KWMH, 7.30pm 
*21Apr~Easter Service St. Pauls Church, 9am 
*25Apr~ ANZAC  Service Hakaru RSA 10am 
*26Apr~Movie 'They Shall Not Grow Old' KWMH, 7.30 
*28Apr~Movie 'Mary Poppins Returns' KWMH, 2pm 
*29Apr~ School Term Two begins 
KWMH = Kaiwaka War Memorial Hall; KSA = Kaiwaka Sports Association 
See www.kaiwaka.co.nz for more information 
HOUSEHOLD RUBBISH COLLECTION  
Kaiwaka Pick up: 
Mondays = Green bags (Northland Waste - 09 430 3273) 
Wednesdays  =  Blue  bags  and  yellow  recycling  (at  Jaques  $3.00 
and  $1.50)  (Kaurilands  09  4392146);  ONLY  Blue  and  Yellow 
bags picked up on Oneriri Road. 
 DIABETES Support Group-for Kaiwaka, Mangawhai, Wellsford 
10am, 3rd Friday of month Ph: Colleen James 09 4314238 
 GENEALOGY - Wellsford: 1st Thursday in month Ph: 423 
7033; Waipu: 4th Monday in month Ph: 4312 725 
 HAKARU PONY CLUB - Secretary Denise Rogers 021423376 
secretary@hakaruponyclub.co.nz  
 KAIPARA HUNT - Secretary Albert Doonenbal Ph 4312059 
 KAIWAKA BADMINTON -Tuesdays 7.30pm Ph: 4312345 
 KAIWAKA CAN - 3rd Wednesday in month, Archie Bull Hall 
Ph: 0273572751 
 KAIWAKA  DRAMA  CLUB  - 
Hannah  Webb 
0272863352 
KaiwakaDrama@gmail.com - FB - "KaiwakaDramaClub" 
 KAIWAKA DRUM & DANCE CLASSES - 021 611198 
 KAIWAKA GARDEN & FLORAL GROUP - 2nd Thursday in 
month. Ph: 431 4744 
 KAIWAKA  CUBS  -  Thursdays  5.30-7pm,  Hakaru  Ph:Bruce 
4312542 
 KNITTING FOR WHANGAREI HOSPITAL - 2nd Tuesday in 
month, Archie Bull Hall 10am Ph 4314827 
 MANGAWHAI COMBINED REBUS CLUB - 2pm, 3rd 
Thursday month, Senior Citizens Hall Mangawhai. Ph: 4315777 
*PILATES-HAKARU HALL  -Tuesday & Thursdays, 9-
10am Ph: 
 0220643964
 *PT CURTIS CRUISING CLUB - Jean Ph: 4312227 (wk), 4312520 (hm) 
 RSA,  HAKARU  &  DISTRICTS  WOMEN'S  SECTION  –  meets 
1.30pm 4th Thursday of the month. Ph: 431 5818  
 SCOTTISH DANCING - Wednesday morn. Ph: 09 4320532 
 TRAMPING - Mondays 9am-2:30pm Maria 4312 234 
HALLS FOR HIRE: 
 St.Pauls  Archie  Bull  Hall  HIRE  $20  half  day,  $40  full  day  per 
hire, S McAulay, Ph 4312311 
 Kaiwaka  War  Memorial  Hall  HlRE  -  Phone  4312725  or 
kaiwaka.hall.bookings@gmail.com 
 Hakaru Community Hall HIRE -Ph. 4312256 or 4312110 
 Te Pounga Marae queries - R. O'Leary 4312 423, J.Nathan 021 
186 7382 
 Kaiwaka Sports Association hire/queries - C. Anderson 4312051 
or kaiwakasports@gmail.com 
Justice of Peace:  
B.FJaques  4312  048;  L.Donaldson  4312  228;  A.F.Hargreaves 
4312 045, W.Howard 4312 725 - please phone to make sure they 
are available www.justiceofthepeace.org.nz 
Marriage Celebrants:  
L.Donaldson; A.F.Hargreaves; Y Osborne
LOCAL SERVICES 
*Emergencies - Ambulance, Fire, Police - dial 111 
*Non-urgent Police phone 09 4311150
A A: Meets Wed., 8pm Kaiwaka Ph: 4315543, 0800229 6757 
ASUREQUALITY LTD (was AgriQuality) Call Free 0508 0011 22  
BUDGETING SERVICE, WELLSFORD: Free confidential advice & 
support for all areas of personal finance. Ph (09) 423 7123 
CAB-Citizens Advice Bureau.Wellsford Ph: 4237333 
0800 367 222 email:cab.wells@xtra.co.nz  
CIVIL DEFENCE - Kaiwaka Community Response Group: 
kaiwaka.civildefencecrg@gmail.com, 4312725 Wendy 
DOG/STOCK /NOISE CONTROL 0800 105 890 
FUNERAL SERVICES: Morris & Morris Ltd, 
Whangarei - Bev Jaques Ph:4312367 or 0800667747 
GRANDPARENTS Raising Grandchildren: Dianah Roberts 0223819539 
HAKARU & DISTRICTS MEMORIAL RSA (Inc) 733 Settlement Rd, 
Hakaru. Ph 4312 176 or Bill Warren (President) 431 2092 
HAKARU LANDFILL/Transfer Station:Open everyday except 
Tuesday10am-4pm.Ph4312629 Cost-$55 trailer load up to 1 cubic metre. 
Ph:4258567 - office 
KAIPARA DISTRICT COUNCIL www.kaipara.govt.nz:  
Help Desk FREEPHONE 0800 727 059  
KAIWAKA KOHANGA REO: Ph:4312620 
KAIWAKA CEMETERY: Ph: 4312045 or 4314017 
KAIWAKA LIBRARY: kaiwaka.library@gmail.com  
Mon. 4-6pm; Wed., Thurs., Fri., Sat. 10am-2pm Ph:4312539 
KAIWAKA PLAYCENTRE: Ph Juanita 0274134904; open Mon, Wed, 
Fri 9am-12pm. Hastie Lane; Monday to Friday 9.00am - 12 noon. 
KAIWAKA POST OFFICE:Ph:4312 431  
Post Code: 0573 for RD2 and 0542 for all Kaiwaka Post Office mail 
KAIWAKA PRIMARY SCHOOL: Ph: 4312309   
KAIWAKA SPORTS ASSN: Ph 4312005; 4312129 gym 
KAIWAKA ST JOHN: Manager Steve Rosser 09 4318403, 021 355734 
KATE'S PLACE Community Centre - Employment services, Free Health 
Nurse, Plunket, Advocacy, Osteopath, A.A., Legal Advice. 4312 661 
LINKING HANDS Health Shuttle Ph 4315906 or 09 4318969 
MINISTRY FOR PRIMARY INDUSTRIES - General inquiries Call 
Free 0800 008 333 
NORTHPOWER: Faults Kaiwaka area 0800 104040 
OTAMATEA COMMUNITY SERVICES: Counselling, parent coach, 
Family Support worker, budget advice, food bank. Mon-Fri 9am-3pm. Ph 
09 431 9080 http://www.otamateacs.org/ 
PARENTPORT: Free, practical family support service Puhoi to Paparoa 
Ph or txt: Dianne 027 280 5093 or 09 425 9357 
PLUNKET:  Kaiwaka  -Kate's  Place  Clinic  1st  Wednesday  of  the  month; 
Mangawhai  - Rose Madsen Cottage: Coffee Group 9:30 every Monday.  Clinic 
every Monday and Thursday. 
Maungaturoto - Good News Church, Clinic 2nd and 4th Wednesday.  
Cynthia 09 431 7340 or 027 675 3488 
PLUNKET HELPLINE -0800 933 922 (24 hours) 
TAITOKERAU COMMUNITY LAW: Free confidential legal advice and 
assistance, 2nd
Thursday
 of each month. Ph: 0800 155 529 for apps.  
TE URI O HAU Settlement Trust Tangata Developments: Whanau Ora 
021 793262  
VETERINARY SERVICE MANGAWHAI: 
Ph: 4314535 Mon-Fri 8.00-5.00, Sat 9-12, a/h appt. 
WELLSFORD DOCTORS: Ph: 4238 086 
CHURCHES:
 
Kaiwaka  Revival  Church  -  Your  Community  Church:  Sundays  10am. 
Ph: Pastor Tawhiri 09 431 8988 or Pastor Paul 09 4312 068 Visit us at 
www.facebook.com/kaiwakachurch or www.kaiwakarevival.co.nz 
 
St  Paul's  Anglican  Church  1st  Sun.  9.00am  (Eucharist),  3rd  Sun. 
9.00am (Family Service). Contact: Rev. Wayne Thornton Ph 431 4122 
www.mangawhaianglican.org.nz 
 
Church of Christ the King, Mangawhai:9.00am every Sunday 
 
St.Mary's  Catholic  Church:  Maungaturoto  –  Griffins  Road,  Saturday 
evening  Vigil  Mass  6pm;  Mangawhai  –  Senior  Citizens  Hall,  Sunday 
Mass  8:30am;  Wellsford  –  Matheson  Road,  Sunday  Mass  10:30am;  
Mid-week Mass times and all enquires to Fr. Bill Fletcher – phone 423 8170
 
Baptist Church: Sun. 10.30am Mangawhai Snr Cit.Hall.Ph:4312339 
 
Cause  Way  Church  Mangawhai:  Sundays  10.15am,  Mangawhai 
Community  Recreation  Centre,  Insley  St.  Ph:  09  4314782