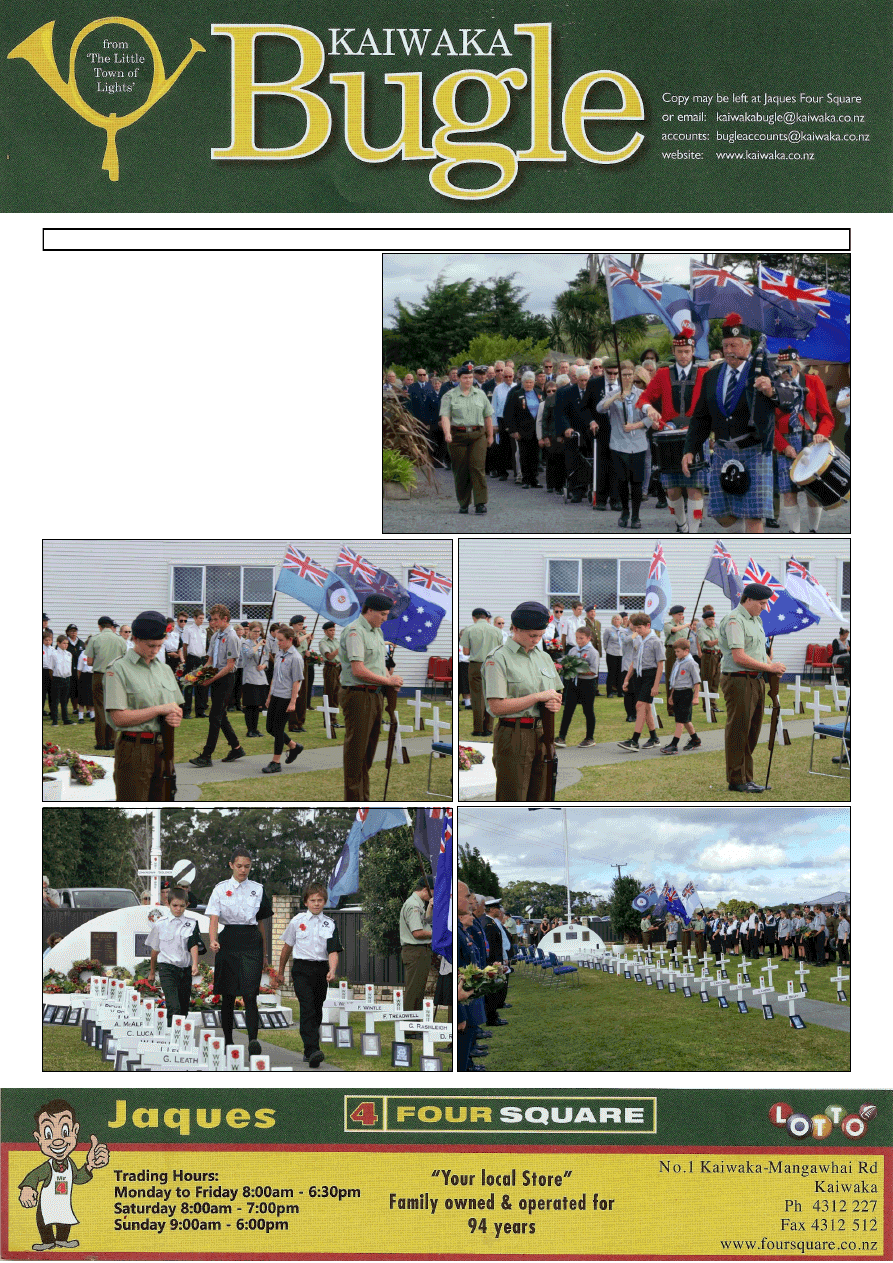 www.kaiwaka.co.nz 
Kaiwaka Bugle - 30 April, 2019 
Page 1 
No: 8 
 30 April 2019 
Trading Hours: 
Monday to Friday 8:00am - 6:30pm 
Saturday 8:00am - 7:00pm 
Sunday 9:00am - 6:00pm  
ANZAC 2019 
President Bill Warren led the ANZAC Service  at the 
Hakaru and Districts Memorial RSA in front of a very 
large crowd of observers on a fine, windy day. 
Photos:  Right  -  the  parade,  led  by  Barry  Wallis 
(bagpipes),  Louis  Prouting  and  Beth  Stone  (drums); 
Middle  -  left, 
Harry  Smithson  and  Jade  Johnson  lay 
the  wreath  for  Kaiwaka-Mangawhai  Scouts
;  right, 
Aliyah Connelly-Richards, Riley Rogers and Emerson 
Guenther-Leslie  lay  the  wreath  for  Kaiwaka-
Mangawhai  Cubs. 
Photos George  Mayfield
; Bottom  -
left, 
St. John Cadets Diego White, Stella White,  Jakob 
Buxton having laid their wreath. Photo Anneke White. 
At the Kaiwaka War Memorial Hall on the evening of 
26  April  Returned  Serviceman  Neville  Andrew    led 
the ode prior to the showing of Peter Jackson's movie 
'They  Shall  Not  Grow  Old'  - 
a  well  executed  and 
thought provoking homage to the British troops of the 
First World War.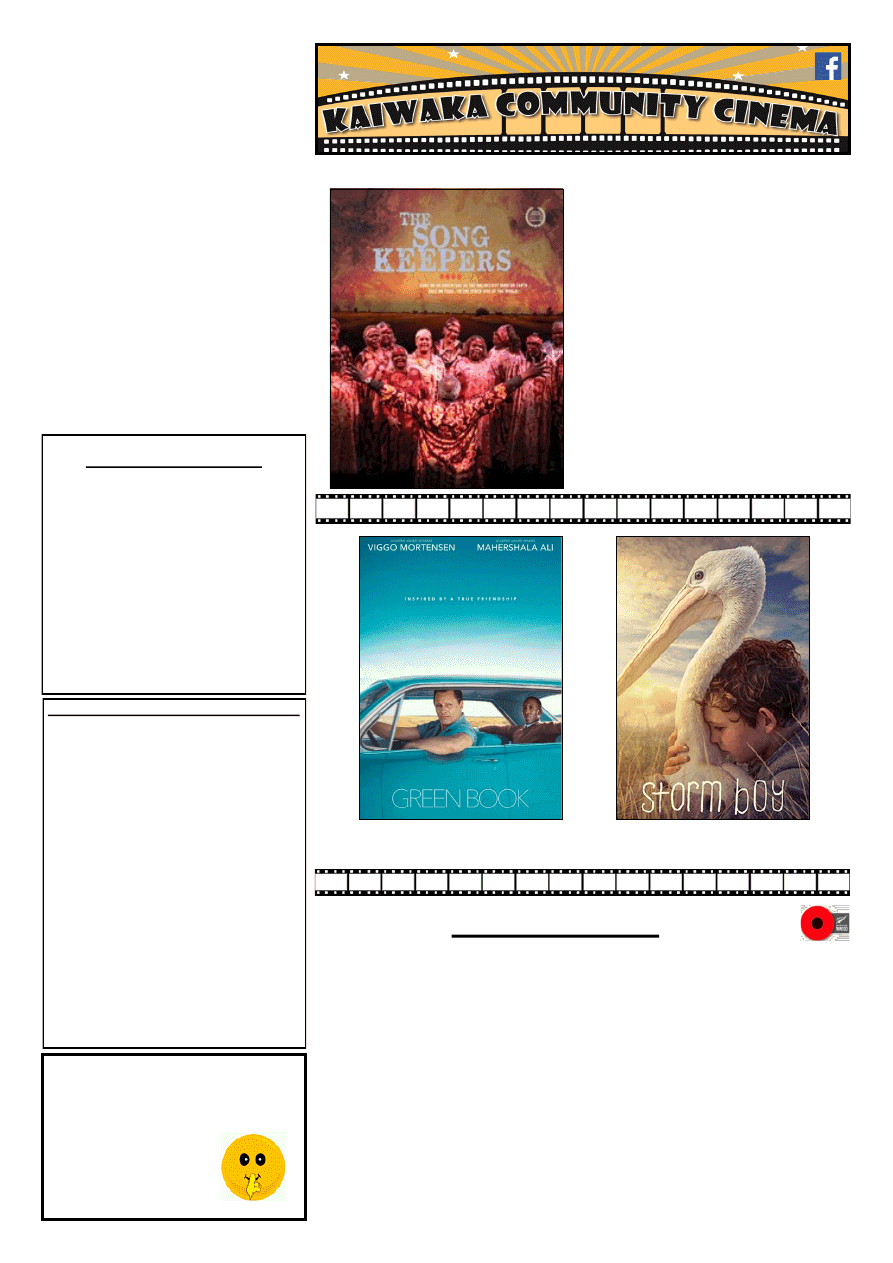 At Kaiwaka War Memorial Hall . Adults $10, Kids (under 16) $5, Family Pass (2 adults + 3 children) $25 
KAIWAKA BUGLE No. 8 
30 APRIL 2019 
CONTENTS 
Page 3: Public Notices, Classified 
Page 5: Otamatea Repertory Theatre; 
Page 7: Pt.Curtis Cruising Club 
Page 9: Otamatea Community 
Services; Rotary 
Page 11: Kaiwaka Sports Assn. 
Page 13:  Kaipara Hunting & Fishing; 
Thelma's Scrapbook 
Page 15:  Kaiwaka 's Centennial 
Page 17:  Purple Poppy 
Page 19: Fish Stories; Mangawhai 
Museum; Hakaru Activities 
Bugle 9 will appear 14 May 
Contact for advertising, reports, articles 
or information can be made by 
Email kaiwakabugle@kaiwaka.co.nz 
Ph: 09 4312 045 Lindsey 
Txt: 027 2724137 
Copy  may  be  left  at  Jaques'  Four 
Square. 
Kaiwaka Bugle 
Founded May 1978 
We appreciate articles and photos about local 
events, etc, as well as ads and suggestions. 
Copies available in Kaiwaka at Jaques Four 
Square, Kaiwaka Postal Centre, Shamrock 
Service Station, Animal Health Centre, 
Kaiwaka St John shop. 
Also outlets in Maungaturoto, 
Mangawhai and Paparoa. 
Can be viewed online at   
www.kaiwaka.co.nz/Bugle  
Or a copy can be posted to you if you supply 
stamped, self-addressed DLE envelopes. 
Proverbs 
10: 
19 
The more talk,  
the less truth;  
the wise measure 
their words.
Kaiwaka Bugle Advertisements 2019: 
All 
copy 
and 
queries 
to: 
kaiwakabugle@kaiwaka.co.nz 
The Bugle is printed on an A4 page   
Ad  sizes:  1/16  page  (3  x  9.5cm)  $5;  1/8 
(6.5  x  9.5cm  landscape  or  portrait)  $8; 
3/16 ( 10 x 9.5cm or 7.5 x 12,5)  $12.  
Classified  ads:  First  one  FREE,  $4  per 
entry (max. 30 words, max. 4 repeats). 
Payments  can  be  made  online  at 
ANZ 
06  0365  0006990  00
,  posted  or  left  at 
Jaques Four Square Store. 
We  use  Microsoft  Publisher,  and  can 
work  with  most  common  image 
formats, Word, Excel, and PDF files. 
Accounts:  
Email: bugleaccounts@kaiwaka.co.nz 
The  Kaiwaka  Bugle  is  a  community 
newspaper run by volunteers, as part of 
the Kaiwaka Media Group Inc.   
Articles, etc. printed are not necessarily 
the opinion of the Bugle Team. 
ABOUT TOWN 
 A very huge crowd were at the Hakaru ANZAC parade on a bright, sunny 
day;    a    large  number  of  wreaths  were  laid  by  servicemen  and  women,  community 
groups,  schools  and  the  public;  see  the  website  ww100.govt.nz  for  amazing 
information on WWI and finding their way back. 
 See Tyga Daniero, of Kaiwaka, as Mrs Potts in ORT's  'Beauty & the Beast Jnr' - 
only 4 shows left 

Maungaturoto  Country  Club  AGM  Tuesday  21  May  -  in  need  of  committee 
replacements, please. 
 Eutopia  Café  is  definitely  the  place  for  a  great  coffee,  but  have  you  seen  the 
missing sculptures?? 
 Milly is still doing a great job at the local OP Shop, but only for a short time. 

New  Zealand  borrowed  Mother's  Day,  as  well  as  the  date  of  second  Sunday  in 
May, from the United States. The Day was invented by Anna Jarvis in 1908 to honour 
her mother, who had been a militant peace activist during the US Civil War. In 1914 
US President Woodrow Wilson officially signed Mother's Day into existence.
~ Lindsey, Ed
"When your mother asks, 'Do you want a piece of advice?' it's a mere formality. It 
doesn't matter if you answer yes or no. You're going to get it anyway."  
~ Erma Bombeck  (Mother's Day 12th May!) 
GREEN BOOK 
Friday 17 May, 7.30pm (M)
STORM BOY 
Sunday 26 May, 2pm (G)  
The SONGKEEPERS 
Friday 3 May, 7.30pm (G)
'The Song Keepers tells the inspiring story 
of  an  Aboriginal  women's  choir  and  their 
historic tour of Germany.  
In  the  churches  of  remote  Central 
Australia,  a  140-year  musical  legacy  of 
ancient  Aboriginal  languages,  German 
sacred  hymns  and  baroque  music  is  being 
preserved  by  four  generations  of  song 
women  that  make  up  the  Central 
Australian Aboriginal Women's Choir. 
Most  of  the  scenes  are  from  rehearsals  in 
Central  Australia  and  performances  in 
Germany,  but  there  are  also  many  still 
images  from  the  Mission's  history  and 
some  archival  film  from  Hermannsburg 
over the past century.'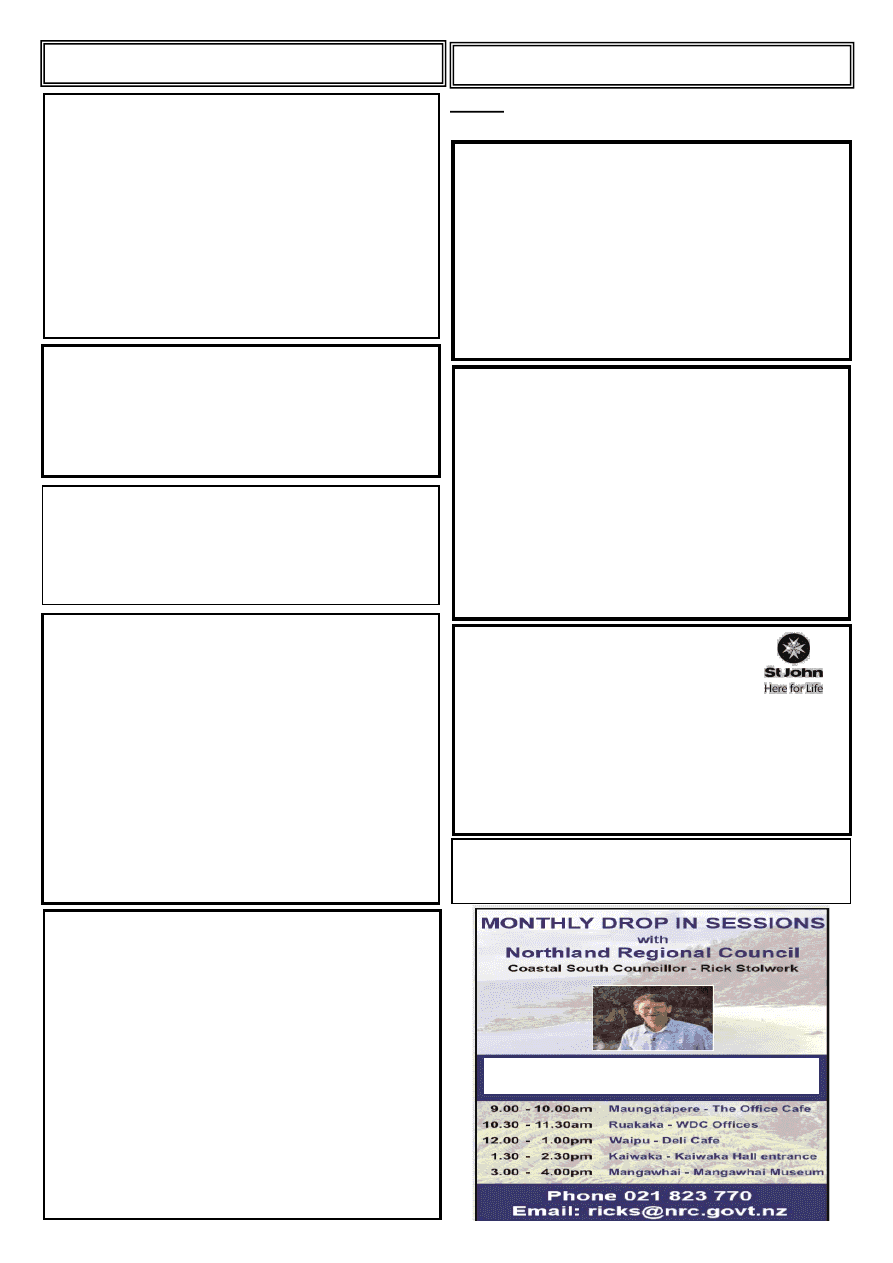 www.kaiwaka.co.nz 
Kaiwaka Bugle - 30 April, 2019 
Page 3 
PUBLIC NOTICES 
CLASSIFIED 
VOLUNTEERS NEEDED 
Would you like to help out your 
community for just a few hours a week 
working with a team in a busy retail 
environment? We need new volunteers to help out in 
the St John Opportunity Shop in Kaiwaka.  
Two of our long serving volunteers are retiring after 
several years of service.  
If you would like to help, please visit or call Milly at 
the Op Shop on 09 431 2650.
JENNY'S RURAL CLEANING SERVICES 
P. O. Box 87 
Kaiwaka 
Looking for a school student or adult. Must be able 
to work from 4pm to 7.15pm three days a week and 
the odd Saturday morning. Must be trustworthy and 
be able to work in a team. 
Please send your C.V if you got one to 
jrcleaningservices.chellew@yahoo.com 
Or phone Jenny on 431 2826 after 7pm.
Notice of AGM 
HAKARU BRANCH OF THE WELLSFORD 
DISTRICT PONY CLUB 
at The Tavern, Mangawhai 
Monday, 6 May 2019, 7pm 
All welcome! 
Enquiries to hakaruponyclub@gmail.com 
THANK YOU 
I would like to thank everyone who has supported 
the Animal Natural  Health Centre since it started 
over 6 years ago. I feel it has been a  privilege to 
have played some small part in helping with your 
pets'  wellness program by providing quality real 
food and alternatives to  chemical pet care products. 
I will still be providing the same service  and 
consultations at our clinic in Orewa.  
The Kaiwaka Animal Health  Centre will continue to 
provide quality health products under new  
management as from 1st May. 
Sandy Urwin, Animal Naturopath. 
FREE:  3  seater  lounge  suit,  includes  2  chairs. 
Kaiwaka township. Ph: 4312003  
M o n d a y   6   M a y  
KAIWAKA SCHOOL BOARD OF 
TRUSTEES ELECTION 
Nominations for the election of parent 
representatives to the board of trustees are now open. 
A nomination form and a notice calling for 
nominations will be posted to all eligible voters. 
Additional nomination forms can be obtained from 
the school office. 
The voting roll is open for inspection at the school 
and can be viewed during normal school hours. 
There will also be a list of candidates' names, as they 
come to hand, for inspection at the school. 
Nominations are invited for the election of three 
parent representatives. 
Nominations close at noon on 24 May 2019. Voting 
closes 7 June 2019. 
Sara McAulay, Returning Officer
SENIOR STYLIST WANTED – Headz of Hair 
$25 / hour. Full-time. 
Work  in  Paradise!  Join  us  in  our  professional  seaside 
salon  at  Mangawhai  Heads.  Our  client  base  is  growing 
and you might just be the right fit for our team. 
We'd  expect  you  to  manage  day-to-day  cut  and  colour 
challenges  and  you'll  have  our  team's  support  100%  in 
the  beginning  while  you're  finding  your  feet,  and  every 
day after that – as we're a hair family. 
We're really proud to specialize in NAK Vegan-friendly 
products  for  our  clients  who  love  our  everyday  salon 
atmosphere! 
If you're a creative, enthusiastic, experienced stylist, 
enjoy steady work and sometimes professionally chaotic 
days with lots of laughter,  
then call Rose or Cheryl on 09 4314 981.
SCHOOL BOARD OF TRUSTEE ELECTIONS 
OTAMATEA HIGH SCHOOL 
Nominations  for  the  election  of  five  parent 
representatives to the board of trustees are now open. 
A  nomination  form  and  a  notice  calling  for 
nominations will be posted to all eligible voters. 
Additional  nomination  forms  can  be  obtained  from 
the school office. 
The  voting  roll  is  open  for  inspection  at  the  school 
and can be viewed during normal school hours. 
There will also be a list of candidates' names, as they 
come to hand, for inspection at the school. 
Nominations close at noon on 24 May 2019. Should 
an election be required, the voting closes at noon on 
7 June 2019 
Eileen Parsons, Returning Officer
KAIWAKA WALKING GROUP 
Tuesdays at 8.30am and 4pm at the KSA walking track 
Meet at the helicopter pad 
Go at your own pace or walk with others.  
Stride out or shuffle round 
With Amy Griffiths, physio. (tel: 021 2072729) 
FREE activity! 
MAUNGATUROTO COUNTRY CLUB 
Annual General Meeting 
Tuesday 21 May at 7.30pm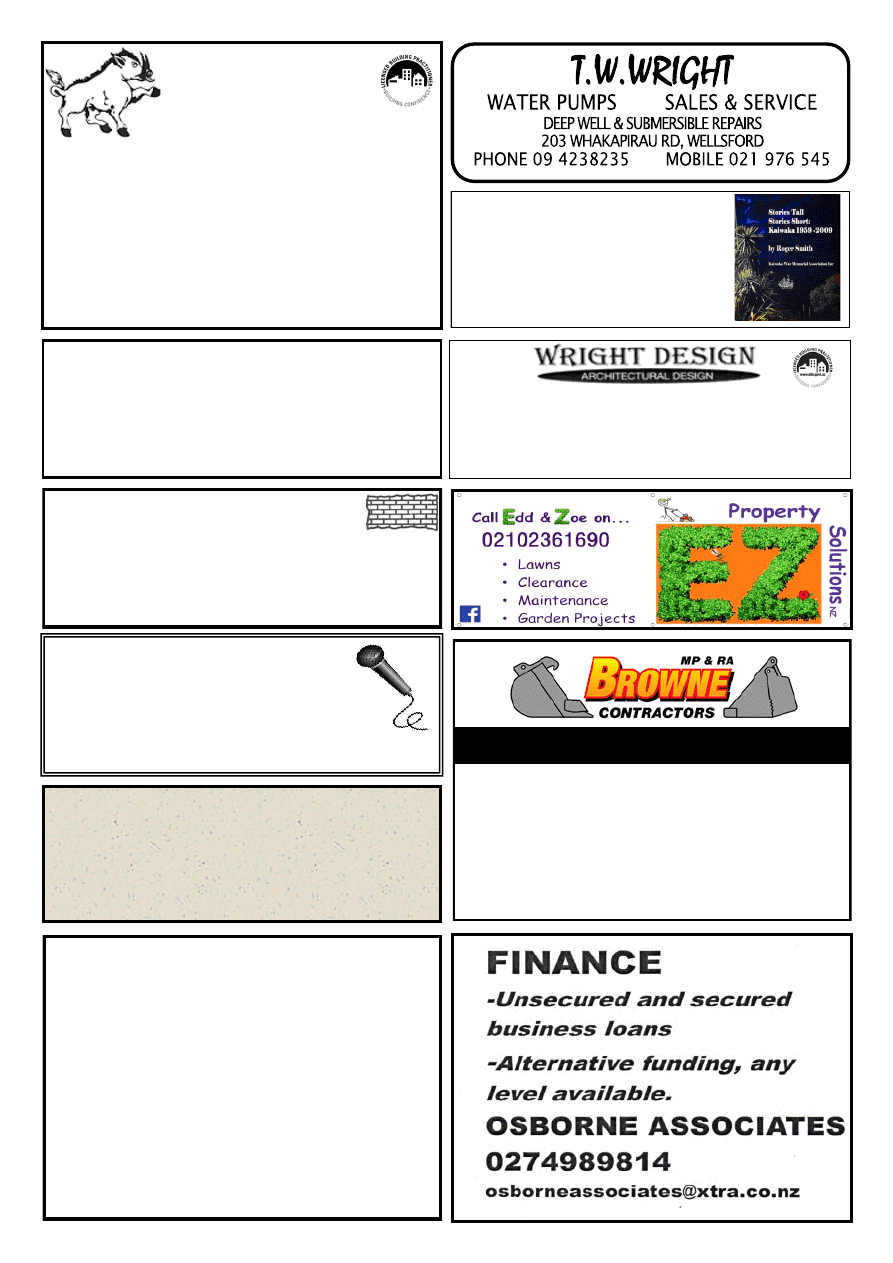 4T DIGGER – BOBCAT – TIP TRUCK 
 Property Maintenance - Driveways  
 Building Sites 
Stump & Tree Removal  
Hole Boring - Chain Trencher  
Calf Shed and Stockyard Cleaning 
Phone Matt: 021 199 6677 
Email: mprabrownecontractors@gmail.com 
Willow Bend
HORSE HOTEL 
#
Total Horse Care   
# 
Agistment 
# 
Riding Lessons    
#
 Arena Hire (60x40) 
# 
Young Horse Starting 
# 
Re-training/Exercising 
#
Hoof Trimming    
# 
Problem Solving 
Phone Sue 09 431 2817  
or 021 623 776  
Or email susanjoll11@gmail.com 
BRICK/BLOCKLAYER 
All aspects of masonry: 
Fireplaces, Restoration & Remedial Work.
JAMES EAGLETON
Tel. (09) 431 2514     Mob. 0274 749 232
jajueagles@yahoo.com.au 210A Pukenui Road, RD2, Kaiwaka 0573 
Stories Tall, Stories Short  
Kaiwaka 1959-2009 
by Roger TW Smith.  $40 
At All - Sortz Collectables  
or phone  4312 045 
Counsellor and Registered Psychotherapist 
Offers Supervision
Susan Matheson 
MNZAC 
Dip. Psychosynthesis Counselling and Psychotherapy 
Phone 09 431 2996                        Mobile 027 605 2427 
Passenger Service
Car & Van Hire   Bus & Coach Charters 
Airport Transfers    
Phone (09) 4237416 
SING RIGHT 
Professional coaching for performance,  
recording and demos. 
All level singers, musicians, singer-songwriters. 
Phone Robyn Hill 431 9159 or 0274 725610 
No. 117345 
N.Z.C.A.D., L.B.P. 117345 
PH/Fax: 09 423 8092 Mob: 021 276 7369 
Office: 3 John Sinclair Avenue, Wellsford    brianwright@xtra.co.nz 
For Resource and Building Consents, planning restraints, new building materials - 
you need a capable, experienced, and professional designer with a clear 
knowledge of all the processes. Brian has been helping and organising all these 
facets of design and building for over 50 years. 
Wright Design offers free visits, consultations and advice on planning, design, 
building, council permit applications, guaranteed permit plan acceptance. 
O'MALLEY 
CONTRACTING LTD 
CONCRETE 
FOR ALL YOUR CONCRETING NEEDS 
T: 021 2200 198 
E: omalleycontracting@outlook.com            W: omalleycontracting.co.nz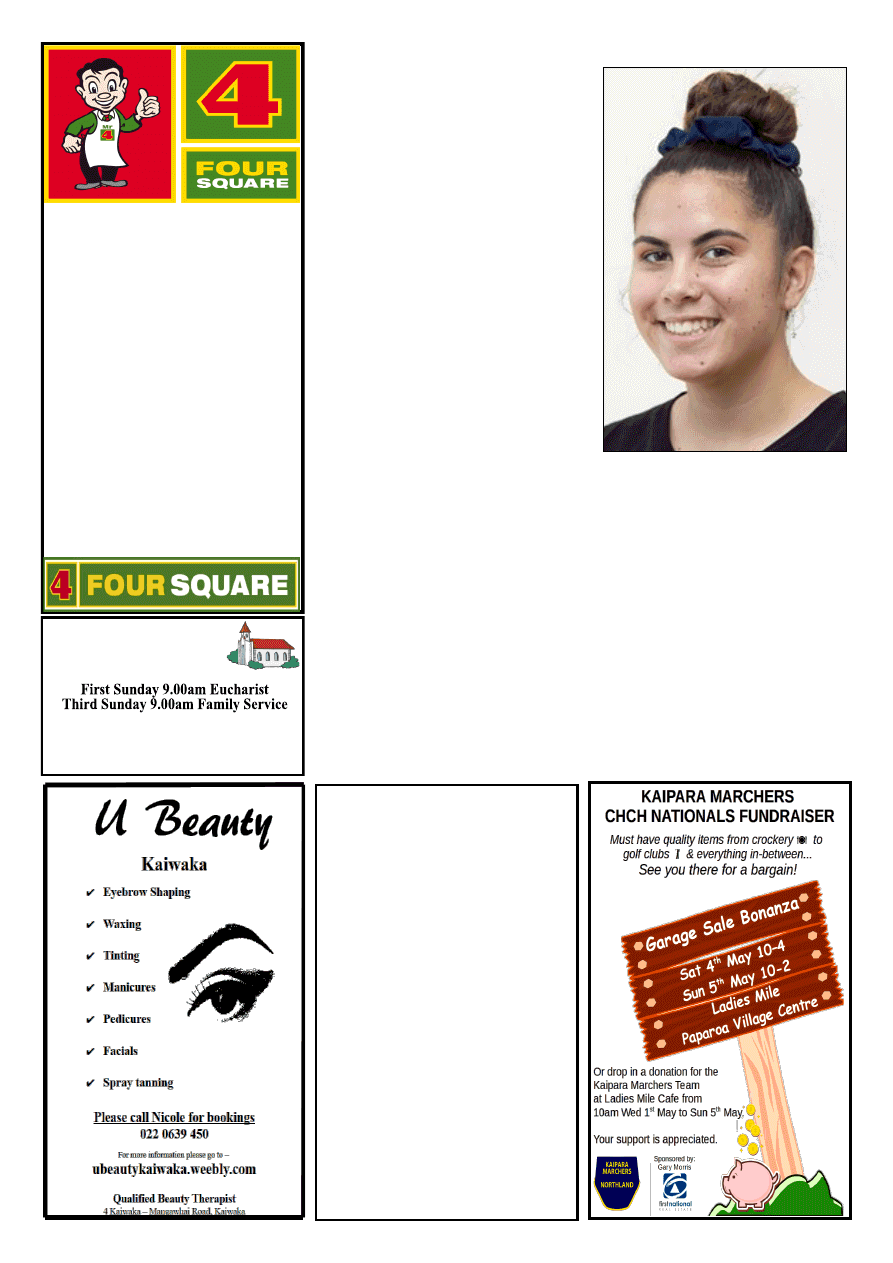 www.kaiwaka.co.nz 
Kaiwaka Bugle - 30 April, 2019 
Page 5 
This  weekend  is  your  final  chance  to 
come to Otamatea Repertory Theatre's 
amazing show.  
We hope you will be able to come for 
an  afternoon  –  or  evening  -  of  pure 
entertainment. 
Director, Maura Flower says, "The cast 
of  42  youngsters  have  worked 
extremely  hard,  and it  is  a  pleasure to 
watch  them  as  they  bring  the  story  to 
life. The show is a visual extravaganza 
–  with  wonderful  fantasy  costumes, 
artistic makeup, creative set and props, 
and brilliant lighting design. The 
singing,  dancing  and  acting  is 
wonderful,  with  many  stand-out 
performances. 
Lisa 
Johnson 
of 
Mangawhai's 
DancEnergy  has  been  involved  too  – 
she trained the small troupe of dancers 
for our forest scenes. It certainly takes 
a huge team of people to pull together 
to create a great production." 
Tyga  Daniero  of  Kaiwaka  is  playing 
the role of Mrs Potts. Tyga is 15 years 
old and enjoys many hobbies – singing 
and  performing,  playing  the  ukulele, 
playing  soccer  and  doing  artwork. 
Tyga  enjoys  her  role  "Mrs  Potts  is  a 
very  motherly  character  and  I  enjoy 
playing  her  as  I  think  she  is  outgoing 
and  friendly.  I  have  been  in  many 
shows at ORT over the past few years, 
however  my  favourite  role  so  far  was 
in  last  year's  show,  'Into  the  Woods' 
when  I  played  the  role  of  Little  Red 
Riding  Hood.  My  goal  in  life  is  to 
always  be  kind  and  make  people 
happy. 
Beauty and the Beast tells the story of 
Belle,  an  adventurous  young  girl,  and 
the Beast, her hideous captor who is a 
young prince trapped under a spell. To 
break the spell, the Beast must learn to 
love another and earn her love in return 
– 
before time runs out. With the help of 
the castle's enchanted staff, including a 
loving  teapot,  a  charming  candelabra, 
and a nervous mantel clock, Belle and 
the  Beast  find  a  beautiful  friendship 
and  love  that  neither  knew  was 
possible.  The  show  features  classic 
songs  from  the  Academy  Award-
winning  film  score  such  as  "Be  Our 
Guest" and "Belle," as well as original 
songs  from  the  1994  Tony-nominated 
Broadway musical. 
There  are  four  shows  left  - Friday 3 
May  @  7.30pm,  Saturday  4  May  @ 
2pm  and  6pm  and  Sunday  5  May  @ 
2pm 
Tickets  are  on  sale  -  either  online 
at  www.ort.org.nz    or  at  Tony's  Lotto 
Shop in Maungaturoto.  
If you thought your netball days 
were over, think again! Walking 
Netball is here in Mangawhai!!
Starting Thursday 2
nd
 May  
7.00- 8.00pm pm Mangawhai 
Recreational Gym. 
Walking Netball is for anyone 
who still wants to keep active, 
enjoys the game without the worry 
of having to run or jump. The 
same netball rules apply except 
you do not run or jump but you 
can take an extra step.
Open to all ages – children, 
women and men. 
There will be a big emphasis on 
keeping it fun and social. No 
previous playing ability required 
just turn up in your active wear 
and do what you can!! 
Please come and join us! 
For information email  
L
ots of Winter Stock 
Beanies, Socks, Gloves  
& Cozy blankets 
Kindling & Wood now 
available 
9kg Gas bottle swaps 
Punnet Seedlings  
$3.00 each 
Good Range of Fresh 
Vegetables and flowers 
Supplier advises price increase 
1
st
 of May  
Get in before price rise 
Jaques Four Square 
Phone: 4312227 
1 Kaiwaka-Mangawhai Road, Kaiwaka. 
ST PAUL'S  
ANGLICAN  
SUNDAY SERVICES 
St Pauls Church: Kaiwaka-Mangawhai Rd. 
Priest in Charge Rev. John Blundell  Ph 431 4122 
www.mangawhaianglican.org.nz
DISNEY'S BEAUTY AND THE BEAST JNR 
Tyga Daniero of Kaiwaka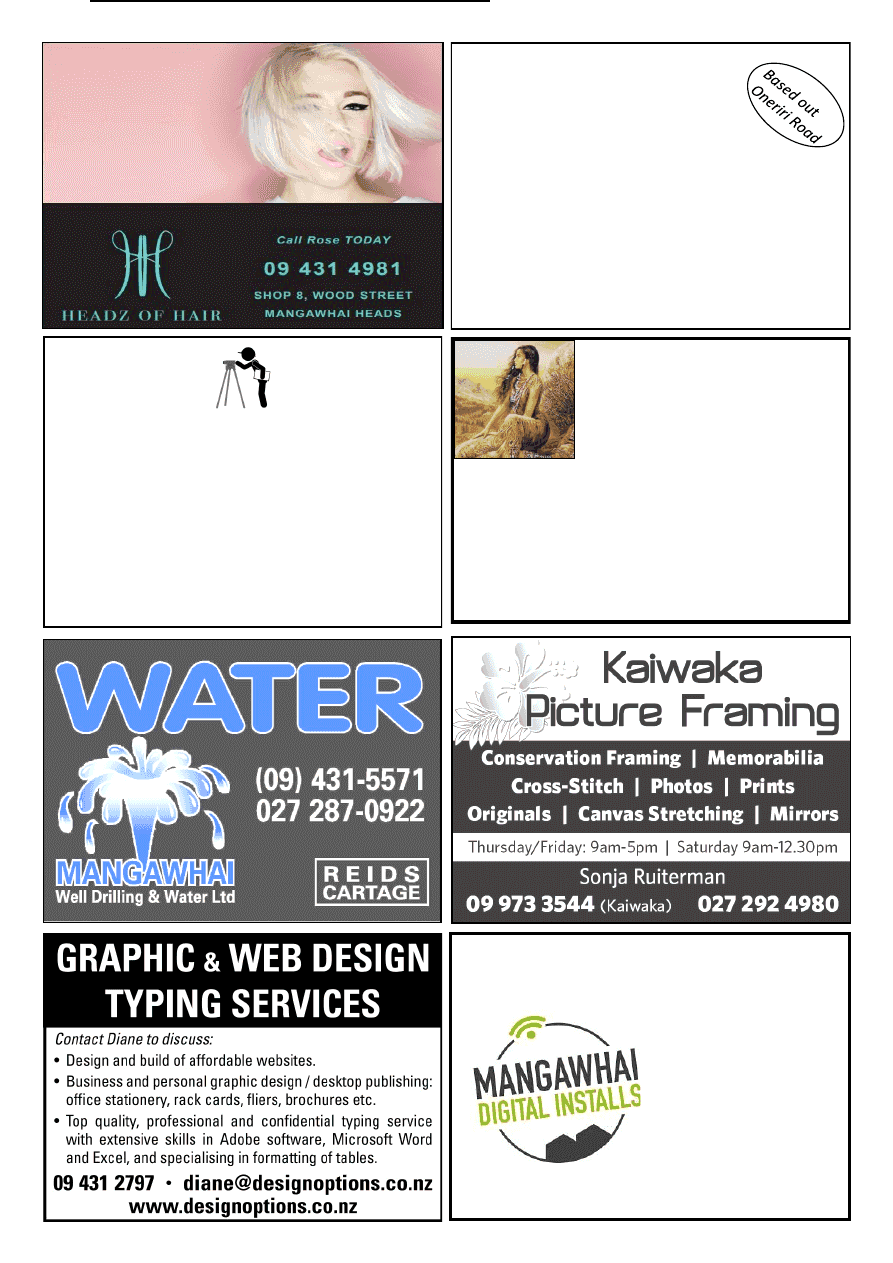 Ken Urquhart 
BSurv Licensed Cadastral Surveyor 
KMU Surveys Ltd
467 Bickerstaffe Road 
RD 2 
Maungaturoto 0587 
Ph 09 431 8705 
Mob 021 161 2344 
kenurquhart@xtra.co.nz 
Trails end 
spiritualist gathering 
Last Sunday of every month  
10.30-2pm  
Tea/coffee provided  $5 koha 
For all inquiries: 
021 165 2629 evenings (09) 945 0707 
Trail.end@hotmail.com 
1758 Cove Road, Mangawhai
Bringing together light minded people 
Guest speaker each month
(
Next to Kaiwaka Motorcycles)
Specialists in: 
Satellite Dish & TV Aerial Installations  
& Repairs 
Freeview  
Chromecast 
Smart TVs   
 Netflix 
Call or Text Adam on 022 351 6679 
E: mangawhai digital@gmail.com 
HODGETTS 
CONTRACTING
Digger Work   

Driveways 

House Sites   

Dams     

Drains, etc
Also available for HIRE 
3 ton Vib Roller Heavy Duty Tow  
Waterblaster     Lazer Level
Phone Mark 4312877 
        027 447 8554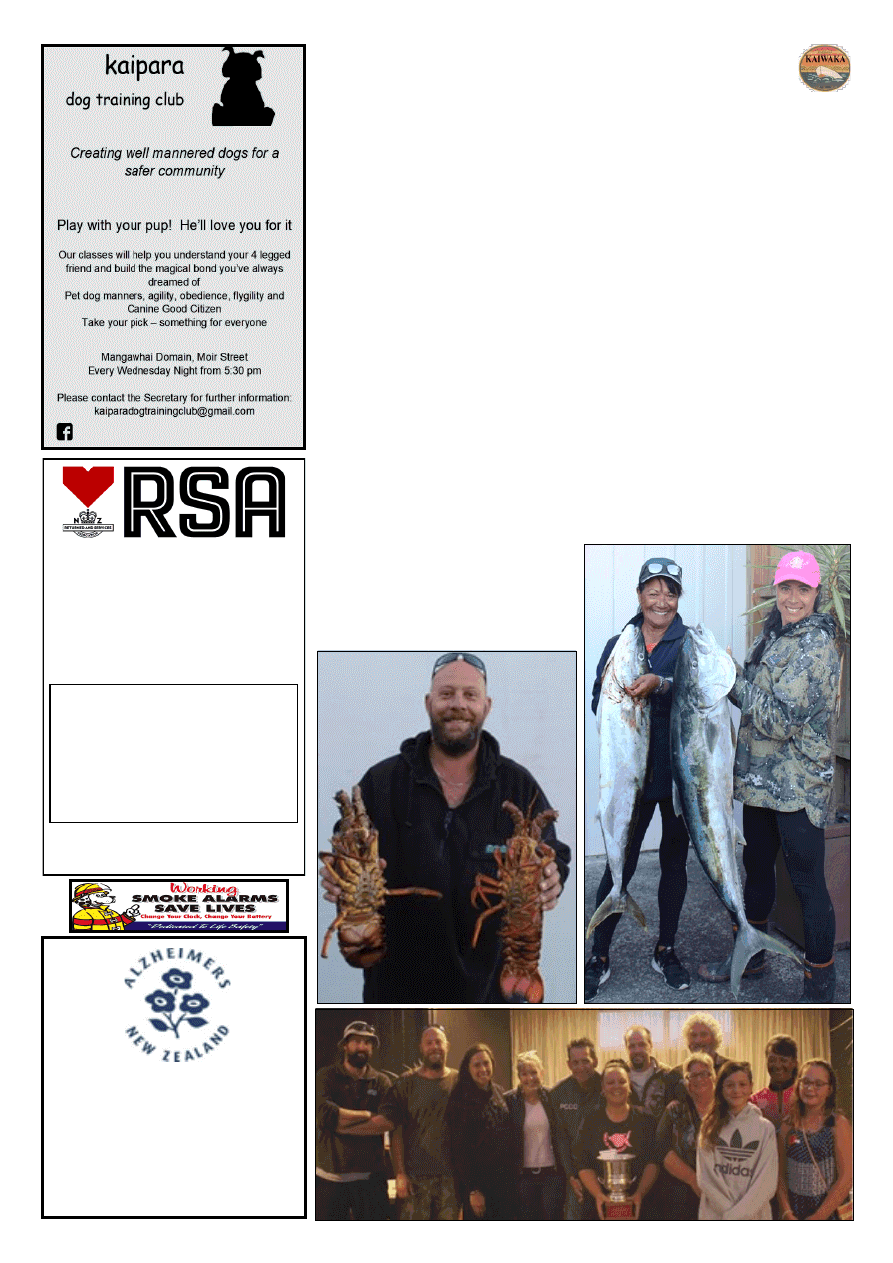 www.kaiwaka.co.nz 
Kaiwaka Bugle - 30 April, 2019 
Page 7 
HAKARU & DISTRICTS 
MEMORIAL RSA (INC)
Members & guests are invited to 
come along and enjoy our hospitality. 
New members welcome. 
Meals are served on 
Thursday and Friday nights 
from 6.30pm. 
Order from Blackboard Menu  
and a sing-a-long  
with Des Chitty. 
For more information please phone 
Graeme on 431 2563 
East Vs West Competition held 
on the 12th - 14th April Results: 
JUNIORS  - 
Snapper: 1st Bella Kake 1.276kg; 
2nd Casey Greig 1.245kg;3rd Bella 
Kake  1.130kg 
SENIORS - 
Snapper: 1st  Renna Brown 4.104kg;   
2nd   Pongo 4.033kg; 3rd   Linda 
Leslie 3.859kg 
Kingfish: 1stTracey Stewart 17.077kg; 
2nd Jeanette Stewart 13.065kg; 
3rd Pongo 11.422kg 
Kahawai:1st Louise Alpress 2.398kg;  
2nd Julian 2.49kg; 3rd   Tracey 
Stewart 2.210kg 
Trevally:1st Renna Brown  1.648kg; 
2nd   Lyndon Hall 1.562kg; 3rd Renna 
Brown 1.264kg 
John Dory: 1st Linda Leslie 1.540kg; 
2nd Kraig Steiner 1.302kg; 
3rd Jeanette Stewart 1.283kg 
Crayfish:1st    Nigel Ball 2.084kg; 
2nd   Dave Kennedy 1.880kg; 
3rd   Dave Kennedy 1.833kg 
Spearfish: 1st   Kraig Steiner 11.097kg 
(Kingfish) 
Winner  Of  the  Thunder  Cup  was 
Renna Brown. 
Average  overall  snapper  weight 
winner was Linda Leslie 1.622kg 
East Coast had the most Fish Caught. 
Raffle 
winners: 
Orange 
Ticket 
#50  David  Casey;  Grey  Ticket 
#22 Linda Leslie 
That  was  the  last  chance  to  get  your 
name on the board. 
Thank  you  to  all  the  helpers, 
Sandy,  Carol  Mills,  Delwyn 
McKenzie,  raffle  sellers  and  weigh 
masters. 
Thank you 3Furlongs Bar and Grill for 
Hosting and for our yummy meal. 

Opening  Day  Duck  shoot  Saturday 
4th May 2019 Club Members only. 

Species:  Mallard,  Grey,  Parry, 
Pheasant,  Canadian  Goose,  Pukeko, 
Black Swan, Peacock and Turkey. 

Tickets $30 Senior And Junior $10.  

Don't  forget  meal  tickets  available 
when  purchasing  tickets,  $15  Senior 
and $10 Junior. 

Tickets  Sold  at  3Furlongs  Bar  & 
Grill, Wellsford Sports and leisure and 
Jaques Store. 

End  of  Year  Prize  Giving  follows 
after  Duck  shooting  prize  giving  at 
3Furlongs Bar & Grill  
 ~Wayne Leslie (Commodore) 
Photos: Top left Dave Kennedy; Right - 
Jeanette and Tracey Stewart; Bottom - 
Renna  Brown,  centre  front,,  winner  of 
the Thunder Cup, with the East v West 
prize-winners,  at  the  Three  Furlongs 
Bar & Grill 
Alzheimers Society Northland Inc 
ALZHEIMERS SUPPORT 
GROUP 
Meet on 2nd Wednesday  
of each month 
11am - 12pm at the 
Mangawhai Golf Club Rooms 
Phone 0800 004 001 
POINT CURTIS CRUISING CLUB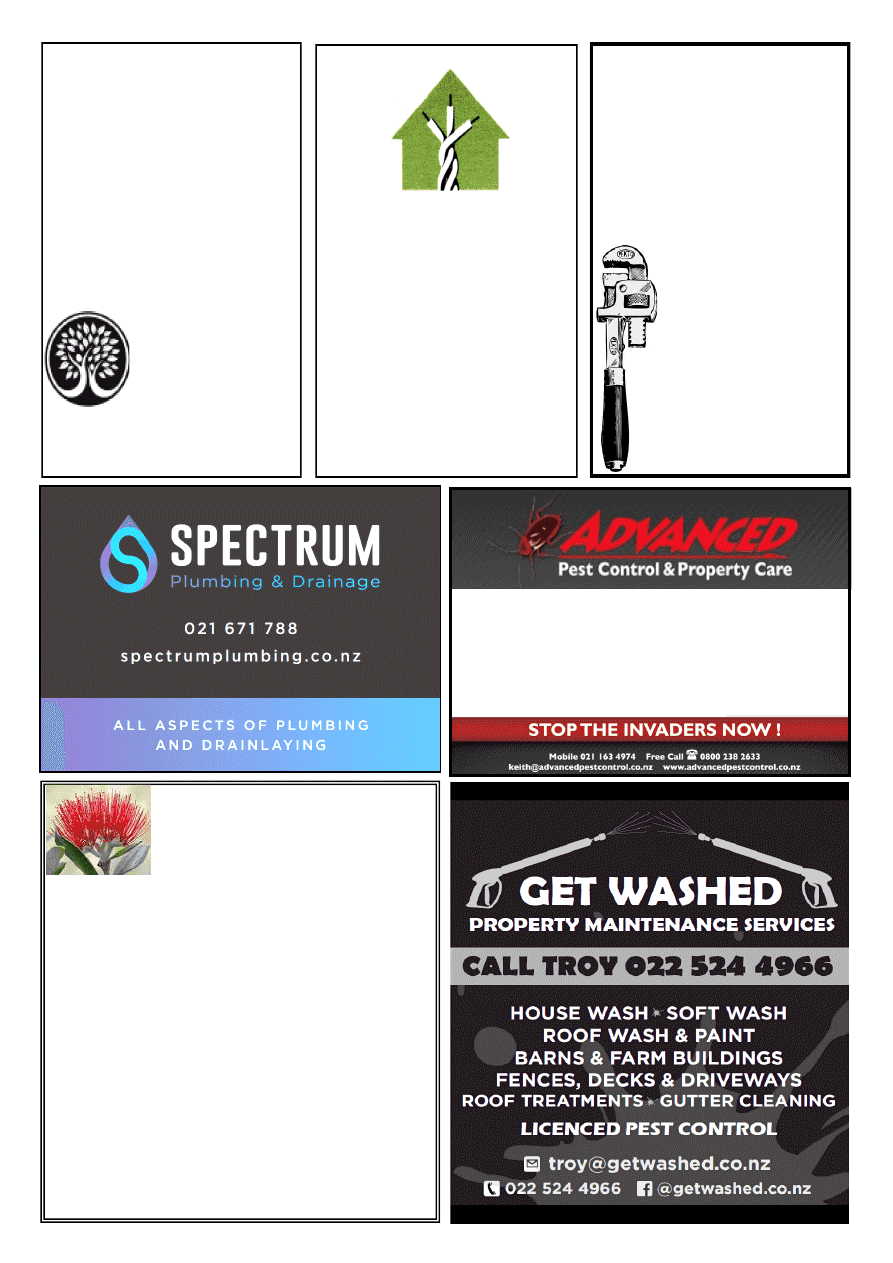 Waipu Natural 
Health 
3 Cove Road, Waipu  (opposite 
the Pizza Barn) 
Ph: 09 432 1325 
www.waipunaturalhealth.co
.nz
Clinical Nutritionist-Hair Analysis for 
Masked Allergies, Ozone Therapy, 
Prolotherapy, Naturopath-Medical 
Herbalist, Registered Massage 
Therapists, Reflexology-
Craniosacral Therapy, 
Acupuncture-Facial 
Acupuncture, Kineso 
Taping, Hypnotherapy, 
Counselling, 
ThetaHealing/Change 
Catalyst
.
AFFORDABLE CONSULTS FOR 
KIDS – give us a call
Gift Vouchers available
KAIPARA 
FLOORING CO 
Independently owned & operated 
32 HURNDALL ST MAUNGATUROTO
Supply & Installation of Carpet, Vinyl,  
Vinyl Wood Planking 
Stockists of 2m & 3m wide 
vinyl & carpet short ends 
Residential & Commercial 
Q Card Finance Approved 
6-18 month terms 
6 month interest free 
First Class Installations
For a free measure & quote 
phone Christine  
09 946 9886 or 021 515 415 
kaiparaflooring@gmail.com 
http://www.kaiparaflooring.co.nz/ 
BARRY CURTIS 
PLUMBING LTD 
REGISTERED CRAFTSMAN 
PLUMBER 
Phone 4315572 
027 257 9884 
25 years experience 
Friendly reliable service 
All plumbing and 
maintenance 
Alterations  
and new housing 
Spouting 
Competitive rates 
PROMPT 
EFFICIENT  SERVICE 
Reyahn George 
Leng 
Registered Electrician 
Local, honest and reliable. 
For your residential and 
light-commercial projects. 
022 314 1068  
Pest Control 
PLAN A: One-off treatments to customers with a specific pest problem 
PLAN B: Full maintenance service plans to commercial customers. 
This will include documentation kept in customer file on site: 
⚫
Pest treated 
⚫
Date of service 
⚫
Chemical or baits used 
⚫
Full pest check report done after each treatment 
⚫
Fair and reasonable fee with guarantee 
Flood Recovery  Carpet Care 
⚫
Carpet Drying   
This includes pre-spray treatments 
⚫
Dehumidifier Rental 
with stain removal and hot water extraction.  
Upholstery Cleaning 
Full upholstery cleaning of all furniture.  
eg lounge suites and all office chairs 
Water Blasting 
⚫
Concrete - Decks 
House Washing 
⚫
Soft Chemical Was 
⚫
Pre-painting Wash 
Property Services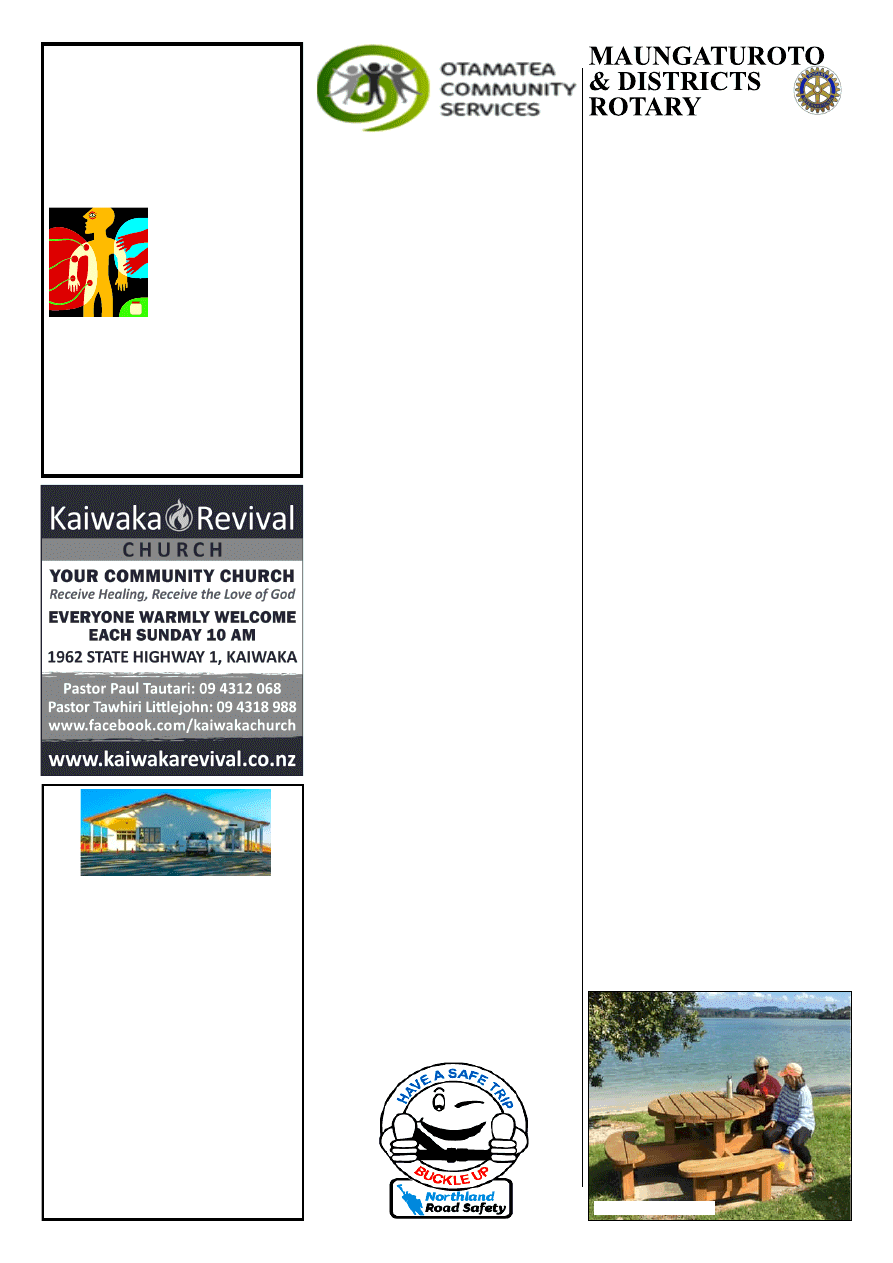 www.kaiwaka.co.nz 
Kaiwaka Bugle - 30 April, 2019 
Page 9 
OWEN STEVENS 
Osteo Therapist
For careful adjustments  
to bones and joints 
Treatment for humans  
and their pets 
Clinics: 
Kate's Place, 
Kaiwaka: 
Last Friday of 
month 
9.00am-5.00pm 
For bookings: 
Phone 
09 4312661 
Or phone Owen   
09 4317123  anytime 
Tramp
Te Pounga Marae 
130 Nathan Rd. Oneriri. Kaiwaka 0573 
COMPLEX FOR 
HIRE 
Functions 
* Weddings  * Birthdays  
*Anniversaries * Meetings  * Wananga 
5 hour meeting * 12 hour stay  * 
Overnight 
*All welcome - No more Drink-driving 
Amenities: 
*Convo Combi Steamer * Bratt Pan * 
Dish Washer/Sterilizer * 3 Door Glass 
Chiller (walk in) etc…All Crockery * 
Linen Supplied * Central Heating and 
Air Conditioning and much more.  
Can also cater for small groups…. 
For more information please contact: 
Kim Wallace  
Home: 09 832 1133  Mob: 0211275340  
Email: kimwallace@xtra.co.nz 
John Couper 
We  were  recently  able  to  have  one  of 
our  Charter  members,  John  Couper, 
along  to  a  tea  meeting  so  we  could 
celebrate 
his 
90th 
birthday. 
Congratulations  John  on  attaining  this 
milestone and thank you also for being 
one of the people who set up this club 
back in 1969. 
Picnic Table 
After  some  delay,  we  have  finally 
found  a  home  for  the  fantastic  picnic 
table  constructed  by  students  at 
Otamatea  High  school.  Originally  this 
was  destined  for  the  Brynderwyn 
walkway, but we were not able to place 
it  there  because  of  kauri  dieback. 
However,  it  has  now  been  placed  on 
the  waterfront  at  Whakapirau  so  will 
inevitably  get  a  great  deal  of  use 
through  the  year.  Thank  you  to  the 
locals at Whakapirau who have helped 
put this in place. See also page 17. 
Driving Academy  
I  was  fortunate  enough  to  attend  the 
Rotary  Youth  Driving  Academy  in 
Whangarei.  This  Rotary  initiative, 
which  we  support  financially,  enabled 
the  Year  12  students  from  Otamatea 
High  School  to  attend.  During  the 
course  of  the  day  they  completed  six 
modules  that  were  aimed  at  making 
them better drivers with a greater sense 
of road awareness and dangers. 
This  will  inevitably  mean  that  they 
know what to watch out for when they 
are  driving  and  to  be  aware  of  peer 
pressure when decisions are made. 
Once  again,  we  have  had  some  very 
thought-provoking  speakers.  One  of 
them  gave  a  message  that  was 
reiterated at our Annual conference by 
three of the keynote speakers. 
"The  way  one  develops  resilience  is 
with  perseverance  and  a  positive 
approach to life." 
Calf Litter  
A  reminder,  we  still  have  plenty  of 
bags  of  calf  litter  for  sale  at 
Maungaturoto Four Square. 
As  Rotarians  we  enjoy  many 
interesting  guest  speakers,  working 
bees and times of fellowship. If you are 
interested  in  joining  us,  please  get  in 
touch with any Rotarian. ~ Eileen 
It is getting a bit cooler these days, so 
people  are  getting  out  their  warmer 
clothes and raincoats etc. 
In  the  Community  House  we  have  a 
small  selection  of  clothes  for  toddlers 
and  babies,  mostly  for  boys  at  the 
moment, and among them  some warm 
pyjamas. These are all donated and free 
to take  so,  come  and  have  a look.  We 
have limited space for the clothes, but 
could find a home for a few more little 
girl's  winter  clothes  if  anyone  has 
them. It is nice to be able to hand good 
used items on and also, to receive them 
as they have been outgrown. 
We thank the wonderful Anne and her 
team  of  helpers  at  Arty  Farty  in 
Paparoa who do such a great job – and 
for  the  weekly  delivery  of  fresh 
produce  from  their  gardens.  We  also 
have  vegetables,  fruits  and  jams  etc. 
which  is  brought  in  on  occasion  from 
local  residents.  If  anyone  has  surplus 
packets of dry grocery items or tinned 
foods  these  will  be  welcomed  too.  A 
big thank you to the poultry farm who 
bring  pullet  eggs,  these  make  a  great 
addition to items passed on to those in 
need. 
You  are  all  very  generous  and  much 
appreciated. 
We  continue  to  support  people  in  the 
Otamatea  district  with  everyone  kept 
quite  busy.  We  have  counsellors, 
parent coach, senior support, addiction 
support,  budget  advisor,  and  social 
workers. 
These professional services can be self-
referred  or  through  Doctors,  Schools, 
Hospitals,  etc.  and  are  free  of  charge. 
However, we do welcome donations if 
people wish to do so. We remind those 
making  appointments  that  it  is 
important to let the counsellors or other 
staff  members  know  if  you  are  unable 
to attend your appointment. 
Whangarei Shopping 
Our  mini-bus  is  proving  to  be  a  very 
popular  service  with  groups,  schools, 
clubs  etc.  For  only  $20  per  day  it  can 
seat  12  people  for  shopping,  outings, 
tours etc. Phone us on 09 431 9080 to 
ask about the shopping trips, to use the 
mini-bus,  or  for  any  of  our  services 
listed above. 
The Team at OCS, 
155 Hurndall Street, Maungaturoto  
Email: reception@otamateacs.org.nz
Photo: G.Johnston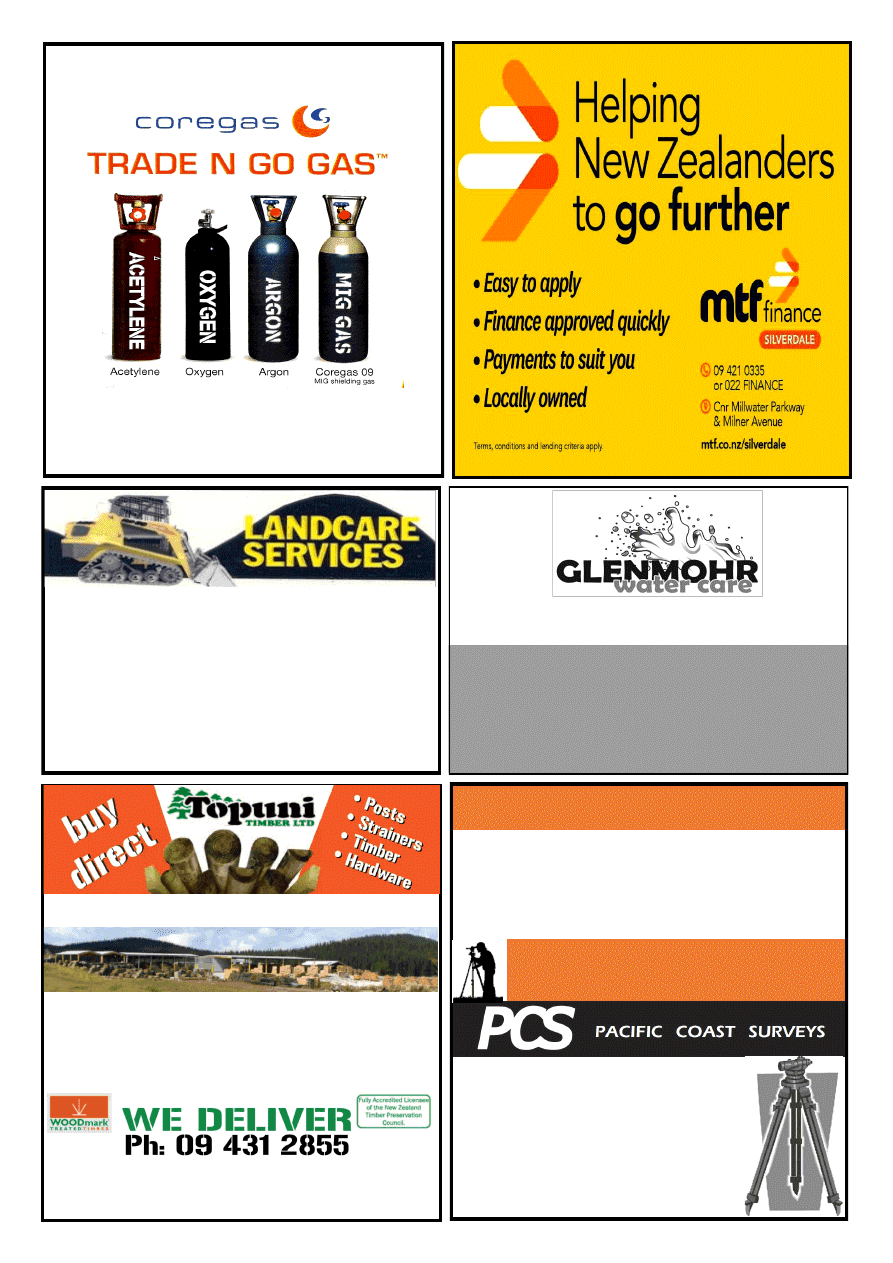 LOCALLY OWNED AND OPERATED 
QUALITY PRODUCTS • FRIENDLY ADVICE • GREAT SERVICE 
Quality Products milled from High Density NORTHLAND Radiata Pine. 
Treated and guaranteed to NZS3640 with commitment to 
Environmental Safety.
Phone, fax, email, or come into the mill 
Schiska Rd, Topuni, SH1, 10 min north of Wellsford. Fax: 09 431 2856 
Email: sales@topunitimber.co.nz           Mon - Fri 7am-5pm 
• Fencing 
• Retaining 
• Decking 
• Landscaping 
• Gates 
• Hardware 
SURVEYORS 
SUBDIVISIONS 
HOUSE SITE SURVEYS 
CIVIL ENGINEERING 
WASTEWATER DESIGNS 
EXPERIENCED 
PROFESSIONAL 
INNOVATIVE 
Ph 09 431 5353 
0800 PACIFIC (0800 722 434) 
pacificcoastsurvey.com
Adam Booth - 027 415 5752 
Bsurv, Licensed Cadastral Surveyor
Surveying Kaipara since 1994 
Water Tank Cleaning 
• 
Keep your water safe & clean  
• 
Removal of sediment, silt etc. 
• 
Vacuum or full scrub 
• 
Minimal water loss 
Phone Mark (09) 432 0655 or 0274 707607 
LANDSCAPING 
4 IN 1 BUCKET 
TRENCHER 
POLE HOLES 
ROTARY HOE 
COMPACT ROLLER 
OFFAL HOLES 
CAN SUPPLY WOODCHIP & POST PEEL 
5 TON TIPPER 
FOR RELIABLE AND FRIENDLY SERVICE CONTACT DAVE 
Dave Hyndman 
 
KAIWAKA 
PH: 09 4312302 
MOB: 021 431 238 
At Twinkle Tow 'n' Tyre 
Mob: 021 833 960 
Ph & Fax: 09 431 2823 
1837 State Highway 1, Kaiwaka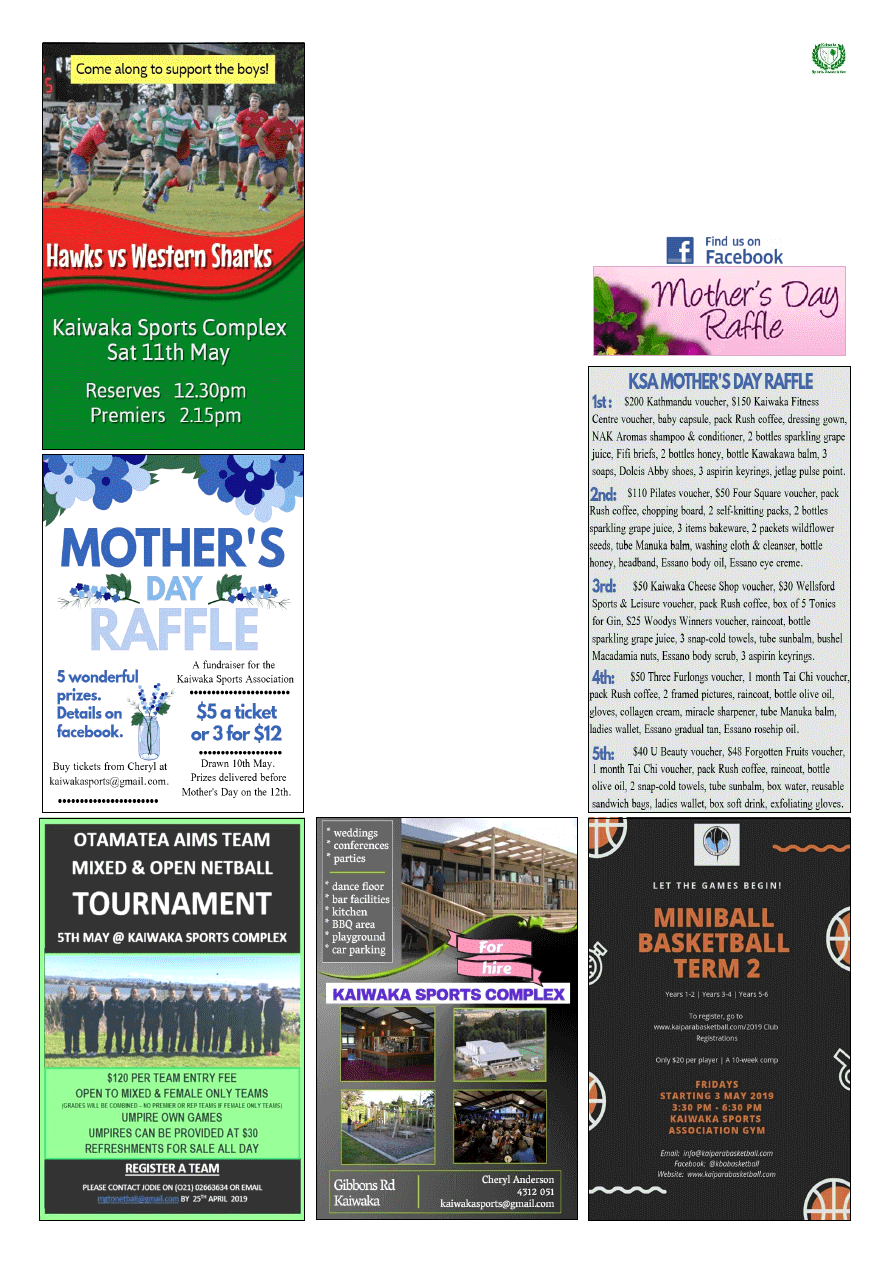 www.kaiwaka.co.nz 
Kaiwaka Bugle - 30 April, 2019 
Page 11 
           KAIWAKA SPORTS ASSN 
Basketball 
Miniball  Basketball  coming  in  Term 
Two! Kaipara Basketball are running a 
Miniball  Basketball  competition  in 
Term Two in our gymnasium on Friday 
afternoons.  This  10-week  competition 
will  feature  talented  up  and  coming 
miniballers!  Suitable  for  beginners  as 
well as experienced Basketball players. 
To 
register, 
go 
to 
www.kaiparabasketball.com/2019  
Squash 
Our  squash  club  is  gearing  up  for  the 
start of the squash season. If you'd like 
to  join  our  small  and  friendly  club, 
contact Bruce Leslie on 021 1268015. 
Rugby – JMB 
All  four  JMB  (Junior  Management 
Board)  rugby  clubs  (Maungaturoto, 
Eastern 
United, 
Wellsford 
and 
Tomarata) will play a Rally Day at our 
grounds on Saturday 11th May.  
The  Under  7s  kick-off  at  9am  and  the 
Under 9s kick-off at 9.45am. 
Rugby – Senior 
Our  senior  rugby  club,  Otamatea 
Hawks,  will  next  play  at  our  grounds 
on  Saturday  11th  May  against  the 
Western  Sharks.  Reserves  kick-off  at 
12.30pm  and  are  followed  by  the 
Premiers at 2.15pm. 
Gymnasium for hire 
Did  you  know  that  our  gymnasium  is 
available for hire? 
If  you've  got  a  family  get-together 
coming  up,  you  might  like  to  have  a 
fun,  energetic  afternoon  together.  If 
you  wanted  to  play  a  structured  sport, 
the  gymnasium  is  marked  for 
basketball,  netball,  turbo  touch  and 
badminton  -  or  you  could  just  let  the 
young ones run around! 
Email 
me 
on 
kaiwakasports@gmail.com  to  make  a 
booking. 
Mother's Day Raffle 
I've  gathered  lots  of  wonderful 
pampering-type  gifts  together  and  am 
running a raffle with 5 fabulous prizes! 
See the list of the prizes in the poster in 
this edition of the Bugle. Will be drawn 
in  time  for  Mother's  Day.  Tickets  are 
$5  each  (or  3  for  $12)  –  you  can  buy 
your  ticket  by  emailing  me  at 
kaiwakasports@gmail.com 
~ 
Cheryl 
kaiwakasports@gmail.com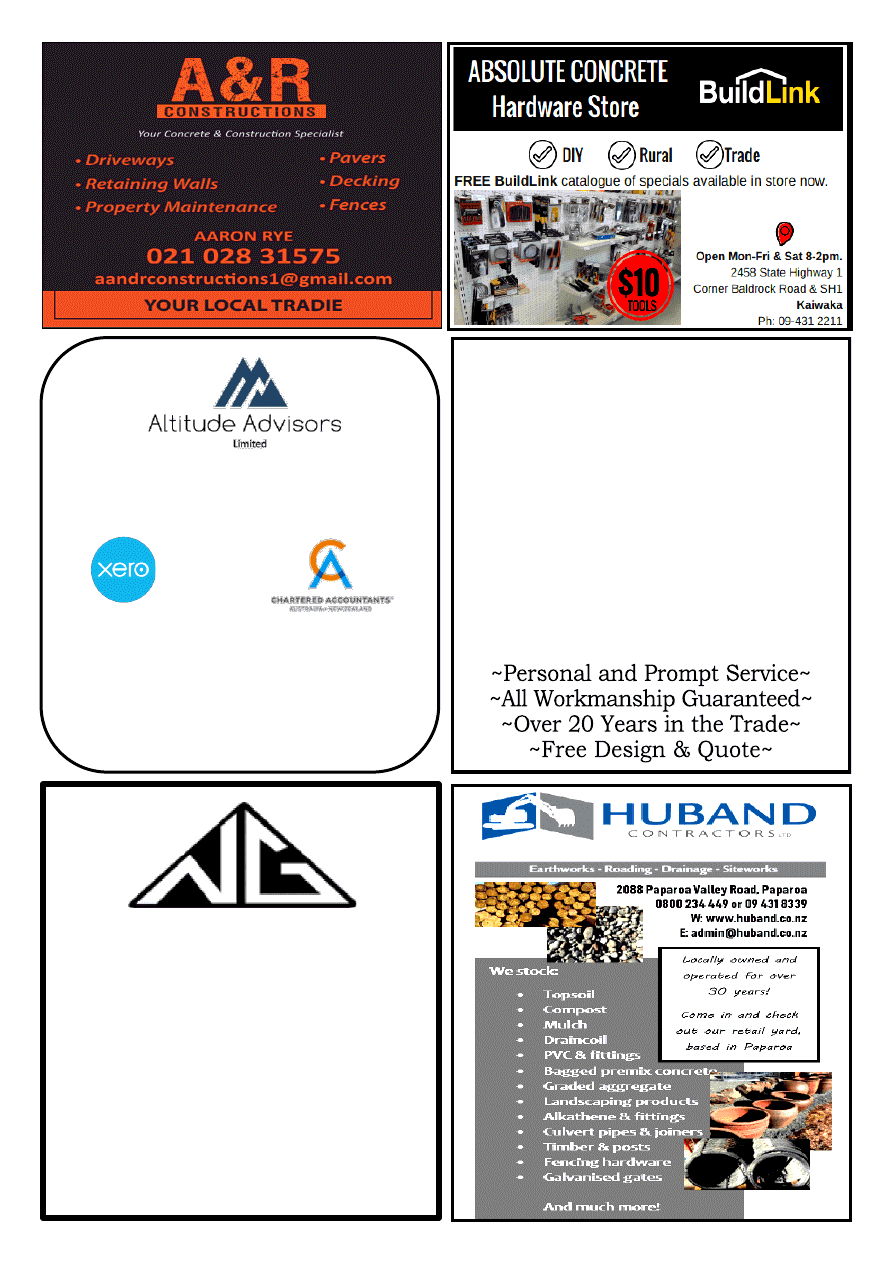 NORTH GLASS 
WINDSCREEN REPAIR OR REPLACE 
GLAZING SERVICES 
MIRRORS  •  SPLASH BACKS  •  SHOWERS 
0800 70 40 10
info@northglass.co.nz 
www.northglass.co.nz 
PLANNING A NEW KITCHEN?
 CONTACT NOEL McDOWELL
WELLSFORD 
KITCHENS
Ph/Fax 094312888
KAIWAKA-Any time
 QUALITY CUSTOM MADE 
KITCHENS
Altitude with Attitude, helping your business 
scale new heights 
Time to try something different? 
Xero training          Accountancy Services 
We are offering two opportunities: 
15% saving off your annual report cost for your first 
year, & a further 10% saving for any referrals 
Call Corinne on 021 252 7680 or 
corinne@altitudeadvisors.nz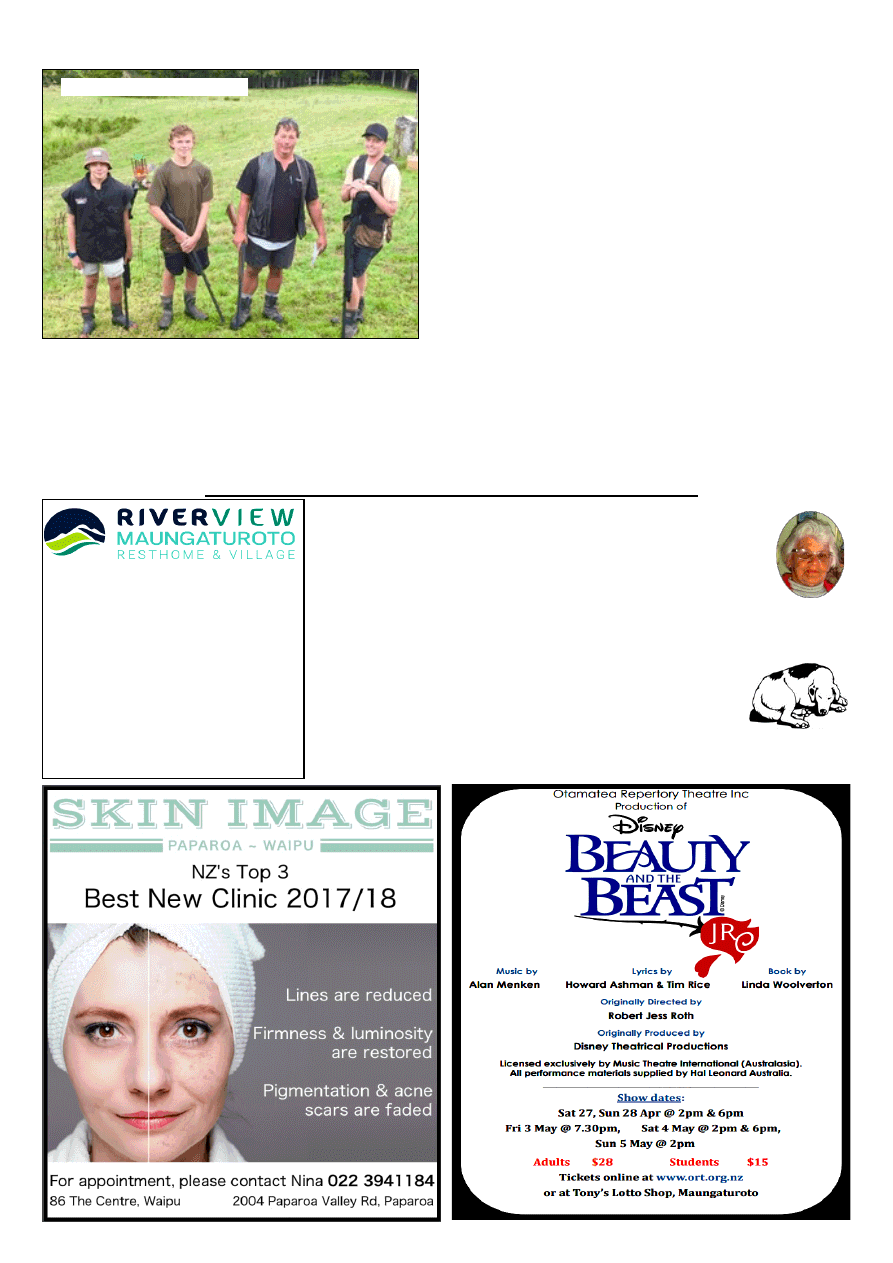 www.kaiwaka.co.nz 
Kaiwaka Bugle - 30 April, 2019 
Page 13 
From Thelma's Scrapbook. … 
LET SLEEPING DOGS LIE 
'An older, tired-looking dog wandered into my backyard. I could 
tell from his collar and well-fed belly that he had a home. He 
followed me into the house, down the hall, and fell asleep in a 
quiet, comfortable corner. 
An hour later, looking a lot better for it, he went to the door and I let him 
out. The next day he was back. He resumed his position in the hall and slept 
for an hour. This continued for several weeks.  
Curious, one day I pinned a note to his collar; ' 
'Every afternoon your dog comes to my house for a nap' 
The next day, he arrived again at my house with a return note 
pinned to his collar: 'He lives in a home with 10 children- he's trying to catch 
up on his sleep. Could I possibly come with him tomorrow?' 
Retirement Units  
For Sale and Rent 
Vacancies occur from time to time 
in the Community Trust's 2BR 
OYO units and 1BR rentals in 
Riverview Place, Maungaturoto. 
For information or to express  
an interest, please contact the  
rest home. 
Rest Home Manager  
Phone 09 431 8696 
KAIPARA HUNTING & FISHING CLUB  
A  great  turnout  for  the  annual  Duck 
Hunters  Clay  Shoot  with  49  shooters. 
Paul  Dunnett  once  again  with  the  top 
score,  shooting  75  targets  out  of  80. 
We  had  a  three-way  tie  for  2nd  place 
with  all  three  shooters  hitting  64 
targets. 
Shoot  Off  Results:  Seniors  Men:  1st 
Paul  Dunnett  75;  2nd  Hayden  64;  3rd 
Andy Thompson 64. 
Ladies:1st 
Lynn 
Heedham. 
Juniors:1st 
Lane 
Hickey 43; 2nd Aiden 
Hickey 42; 3rd Jarvis; 
4th  =  Carlo  and 
Xavier. It was great to 
see  so  many  up  and 
coming  juniors  out 
there on the day. 
Huge thank you to the 
sponsors 
for 
this 
event: 
Nola  Sports 
Dargaville,  Farmlands 
Dargaville, 
Fonterra, 
Mangawhai  Meat  Shop, 
Maungaturoto 
Liquor 
Centre,  Julie  at  NRM  Stockfoods,  Silver 
Fern  Farms  Dargaville,  D.A.E  Dargaville, 
Trev  Dickson,  Fish  and  Game,  Farm 
Source  Maungaturoto,  Farm  Source 
Dargaville,  Paul  Dunnet  Bobcat  Services 
Dargaville, Kaipara Kumara
FISHING: 
Game  fishing  is  nearing  the  end  with 
Jenny Mclean still leading with her first 
Marlin for the club this season. Annette 
Pull  has  been  pipped  at  the  post  by 
Steve  Wrathall  with  a  snapper 
weighing in at 8.74kg.  
Current ladder results: 
Senior: 
Snapper: Steve Wrathall 8.74kg 
Kingfish: Nothing weighed 
Kahawai: Annette Pull 2.56kg 
Gamefish:  Jenny  Mclean  90.4kg 
(Striped Marlin) 
Junior: 
Snapper: Max Tunnicliffe 6.91kg 
Kingfish: Tara Wrathall 16.26kg 
Kahawai: Nothing weighed 
Gamefish:  Bronson  Wrathall  8.47kg 
(Albacore Tuna) 
UP-COMING EVENTS: 
Mixed  Bag  Weekend: Birds shot over 
the weekend of the 18th and 19th May, 
will be taken on a points system. 
Species  to  be  weighed  in  –  everything 
on your license. 
Weigh  In:  19th  May,  4  -  5pm  at  the 
club 
Great prizes to be won.  
Regards Cam, 094316229 
Photos: annettebaker@slingshot.co.nz 
Chris Hickey and his boys 
Natural Earth Ltd 
 Landscape and Bobcat services 
 : Driveways  :Landscaping  :Retaining Walls 
 : Hole Boring: Land Levelling :Trenching 
 : Decks :Fences :Sections Cleared: Plus much 
more 
Tel   09 4312885 
Mob 02102391280   
For A Fast Friendly  
Service Contact Tim Hicks 
CALL CRIMESTOPPERS 
Worried about something that doesn't seem right to 
you? Concerned about activity that could be 
harmful? Call Crimestoppers.  
You don't need to know all the facts.
CALL 0800 555 111 ANONYMOUSLY 
Northland's Award Winning 
Solar Company
SEANZ Best Solar Business Winners 2015/16
EXCLUSIVE 10 year installation warranty 
FREE No obligation onsite quote
Complete systems 
from $5990
See our range of: 
✓ 
Heatpumps 
✓ 
Airconditioning 
✓ 
Hot Water 
Heatpumps 
✓ 
Central Vacuum Systems
09 430 0019             sales@hubands.co.nz 
15 Kioreroa Road, Whangarei
Locally owned and operated for 35 years 
Mangawhai Heads 
Garden Centre
1758 Cove Road
945 0707 
021 165 2629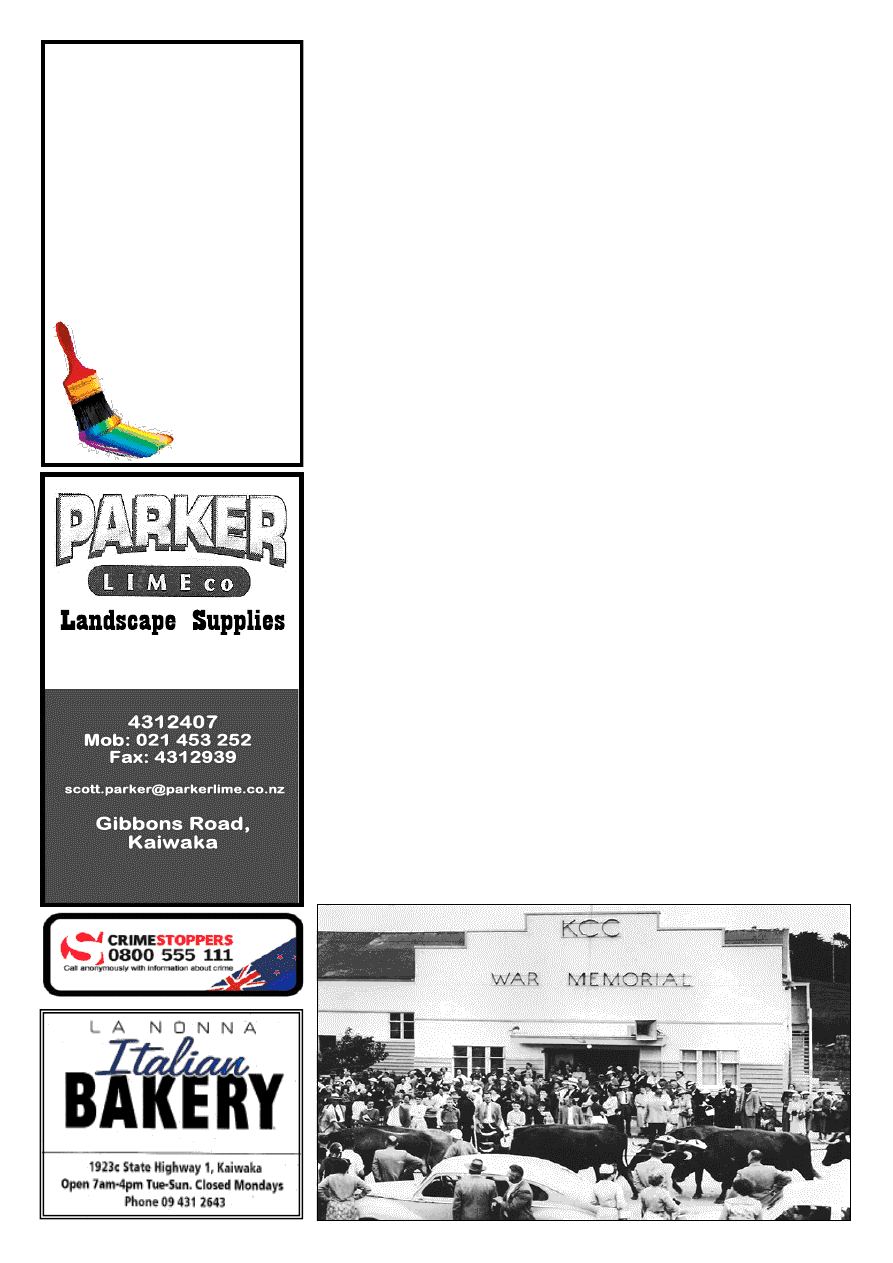 www.kaiwaka.co.nz 
Kaiwaka Bugle - 30 April, 2019 
Page 15 
Bulk Cartage 
LEE COOPER 
PAINTERS 
(Kaiwaka Based) 
*30 yrs Experience 
*Interior/Exterior 
*New and Restoration 
*Honest and Reliable 
*Free Quotes 
 
09 4312918 
0274735171 
leecooper@xtra.co.nz 
2019: KAIWAKA 160 Years - Remember when ... 
The Kaiwaka Centennial was celebrated  
2nd, 3rd, 4th, and 5th April,1959.  
The  book  'The  Centennial  of 
Kaiwaka - Rautau O Kaiwaka 1859 
-  1959'  gives  a  wonderful 
description of the first 100 years of 
our Kaiwaka community - from the 
hardships  to  the  recreation,  the 
farming to the transport, the history 
is  well  told.  The  following  is  an 
excerpt from the introduction: 
'INTRODUCTION 
One  hundred  years  have  passed  since 
the  settlement  of  the  Kaiwaka  Parish. 
which  consisted  of  16.528  acres 
stretching  from  the  Kaiwaka  township 
and  Pukekaroro  to  Hakaru.  Today  the 
Kaiwaka  Riding  of  the  Otamatea 
County  is  bounded  on  the  north  and 
west  by  the  Otamatea  River  and 
Kaipara  Harbour.  on  the  south  by  the 
Oruawharo  and  Topuni  Rivers,  and 
from Topuni follows the Hakaru River 
to  include  nearly  the  whole  of  the 
original Kaiwaka Parish. 
The 
Kaiwaka 
Riding 
is 
the 
southernmost  riding  of  the  Otamatea 
County  where  at  Topuni  the  traveller 
enters  the  Provincial  District  of 
Northland.  Predominately  devoted  to 
dairying  and  fat  lamb  farming,  the 
riding  includes  some  of  the  most 
productive  farming  land  in  the  North 
Auckland  peninsula, largely  consisting 
of  easy  rolling  gum  land  of  the better, 
less  heavily  leached  type,  with 
extensive  areas  of  strong  limestone 
land.  It  rises  in  places  to  moderately 
steep  bush  country  of  good  quality. 
Nearly  the  whole  is  farmable.  Some 
servicing  industries  are  located  at 
Kaiwaka. and at Topuni an exotic pine 
plantation  supports  a  sawmilling 
settlement. 
The area of the riding is 44,249 acres, 
or about 70 square miles. Capital value 
(1958)  is  £1,431,415,  including  the 
capital  valuation  of Kaiwaka  township 
of  £265,615,  while  the  unimproved 
value  is  £294,010  (including  the 
township at £42,190). 
The  population  is  approximately 
1,100… 
The 
present 
Kaiwaka 
Township was not always the centre of 
the  district.  Pukekaroro  and  the  upper 
reaches  of  the  Otamatea  were  busy 
when  the  kauri  timber  was  being 
worked. Hakaru with its store and hotel 
was the centre of the gum fields, while 
Young's  Point,  known  as  Otamatea 
(later  Ranganui)  railway  station,  was 
the rail terminus during the building of 
the  bridge  across  the  Otamatea  and 
dreamed  of  being  a  railway  wharf  for 
overseas steamers. 
The  railway  station,  the  improvement 
of  roads  radiating,  from  Kaiwaka,  and 
the  ever-increasing  traffic on  the  main 
Auckland-  Whangarei  highway,  have 
in  recent  years  made  Kaiwaka  the 
natural  centre  for  servicing  the 
surrounding farmlands.' 
KAIWAKA CENTENNIAL ASSN. 
The  Kaiwaka  Community  Centre 
Social and Welfare Committee met on 
21st  October 1955,  when the Kaiwaka 
Centennial  Association  was  formed  to 
arrange 
suitable 
celebrations. 
Preparations  were  continued  until  the 
beginning  of  1958,  when  sub-
committees  were  set  up  to  make 
detailed arrangements. The Association 
was chaired by B. deL. Linnell.   
'
The  material  for  this  booklet  has  been 
collected and prepared by the Pageant and 
Historical  Committee  and  arranged  by  the 
Editing  Committee.'  ref.  pg  112  of  the 
Centennial book
. 
The Rodney Courier 
A  large  report  of  the  Kaiwaka 
centennial  celebrations  was  in  The 
Rodney Courier, Wednesday 8th April 
1959, pages 2 and 3 -"Probably the day 
which  will live longest  in the  memory 
was  Friday,  3rd,  when  a  crowd 
estimated  at  1,500,  packed  the  streets 
of Kaiwaka to watch the procession … 
included  a  large  group  of  descendants 
of  the  pioneers  attired  in  authentic 
garments, some of them over 100 years 
old". 
Also included on the same page in the 
Courier was the advert for the Kaiwaka 
Pictures.  'Cockleshell  Heroes'  starring 
Jose  Ferrer  and  Trevor  Howard  was 
showing on 17th and18th April. 
Below: Nelson Hastie's bullock team as part of 
the 1959 procession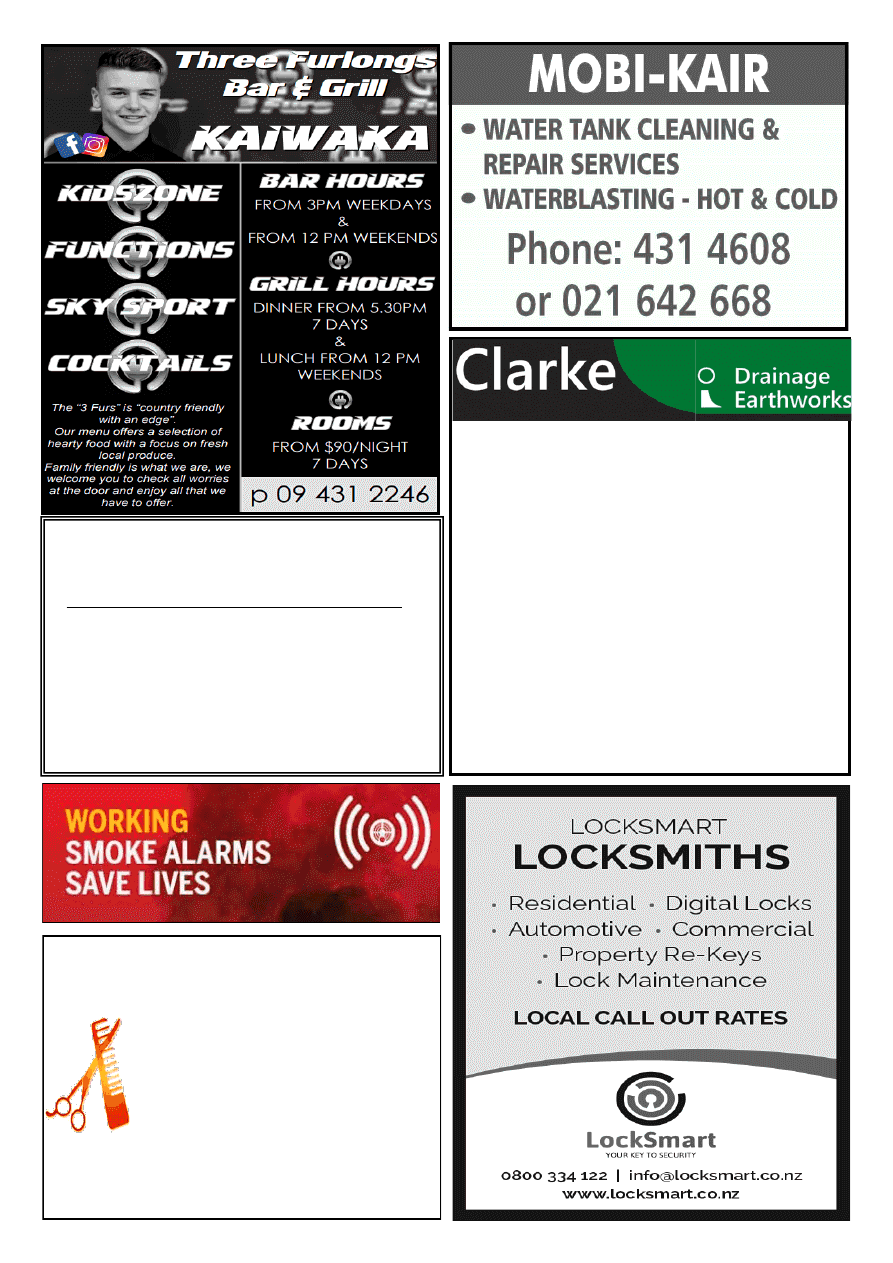 Registered Drainlayer 
All Types of Earthworks  
> All Residential & Commercial Work  > House Sites 
> Septic System Design & Install 
> Footings & Drilling to 10m 
> Sewer Connections 
> Dams 
> Water Tank Installation 
> Roading & Races 
> Farm Work 
THE ONE STOP SHOP  
Phone Nigel for an Obligation Free Quote  
Drainage & Earthmoving 
nigel@clarkedrainage.nz 
027 2233 185 
AFFORDABLE PRICES! 
MENS CUT FROM $20.00 
LADIES CUT FROM $30.00 
KIDS CUT FROM $18.00 
COLOUR & CUT FROM $120.00 
JUST CUTS'AND   
MORE 
021 165 2629 or (09) 945 0707  
NOW SELLING: scented tealights, incense, smudge sticks, 
copper bracelets, aurora ball crystals, dream catchers, healing 
stones, rose quartz, cds, and much more. Open 6 days. 
Om Tara 
Mangawhai 
Healing Services 
Diann Glucina 
021 250 7461 diglucina.com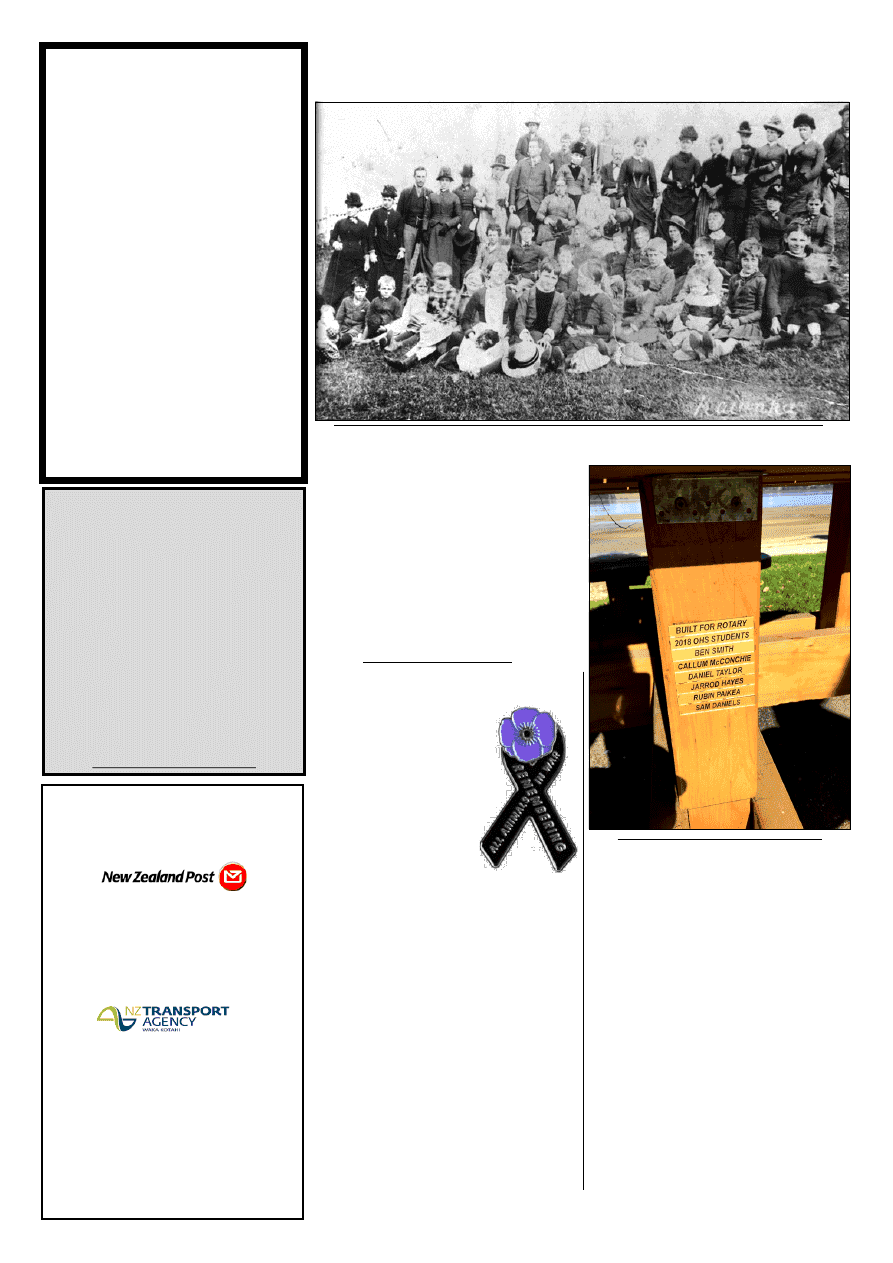 www.kaiwaka.co.nz 
Kaiwaka Bugle - 30 April, 2019 
Page 17 
KAIWAKA POST 
CENTRE and 
FOOD MART 
POST CENTRE TRADING HOURS 
MONDAY to FRIDAY 8am to 5pm 
SATURDAY 8am to 12pm 
CLOSED ON SUNDAY and on 
PUBLIC HOLIDAYS 
FOOD MART (GROCERIES) 
MONDAY TO SUNDAY  
7:30am to 8pm 
IF ANY QUERIES PLEASE CALL 
STORE MANAGER AMRIT  
on 09 4312431 or 
EMAIL: kaiwakafood19a@gmail.com 
1919a State Highway1, Kaiwaka 0542 
Maungaturoto  
Country Club 
SPORTS - SOCIAL - CONFERENCE CENTRE  
The club is open Fridays from 4pm and 
Thursdays from 6pm - come and enjoy a 
drink and a meal from Raquel's Kitchen.  
You can join the Club  - $15 a year. 
Application forms available on request. 
Affiliated activities: Bowls, Squash, 
Rugby, Theatre, Motorcross, Equestrian. 
PO Box 81 Bickerstaffe Rd 
Maungaturoto 0547 Tel 09 4318 326 
HELP WANTED 
Please can you help identify anyone in this photo? 
It is believed to be at an early Kaiwaka reunion.  
PURPLE POPPY  
The  purple  poppy  was 
worn  at  our  Hakaru 
RSA  Anzac  Parade  last 
Thursday. 
"In  conjunction  with 
New 
Zealand 
War 
Animal  Memorial  Day 
the 
National 
Army 
Museum  hopes  to  use 
the  24th  of  February  as 
an  annual  Purple  Poppy 
Day,  in  order  for  the 
animals to have a commemorative day. 
Most  people  are  unaware  that  as  well 
as  the  traditional  commemorative  red 
poppy, there are also white and purple. 
The  purple  poppy  symbolises  all 
animals  who  have  died  during 
conflict. It is estimated that more than 
8 million animals sacrificed their lives 
in World War I alone. 
As a way to commemorate the animals 
that  have  served,  and  those  that 
continue  to,  we  ask  you  to  wear  a 
purple  poppy.  These  purple  poppies 
can  be  worn  in  together  with  the 
traditional red poppy. Let us remember 
these  brave  animals,  their  deeds,  and 
their sacrifices. 
To  love  unconditionally,  to  serve 
unquestionably…  They  were  the 
animals." 
Ref.www.armymuseum.co.nz 
KAIWAKA 
ATHLETIC CLUB 
Our  club  has  just  completed  another 
season.  While  we  have  had  fewer 
youngsters  attending  each  week,  they 
have  competed  enthusiastically  with 
some excellent parental support.  
Two  athletes,  Keegan  and  Chiara 
Lydiard  competed  creditably  at  the 
Northland Children's championships in 
early March. 
Trophy  winners  for  this  season  are: 
Lifebuoy  Rubber Trophy  –  K  Lydiard; 
John  Metcalfe  Trophy  –  E  Fisher; 
Ridgeview  Trophy  –  Chiara  Lydiard 
and  Jodon  Holding  Trophy  –  Manu 
Martin; The 1500m  trophies  were  won 
by Keegan and Chiara Lydiard.  
Thank  you  to  all  who  helped  on  a 
weekly  basis.  We  will  now  have  a 
break over the winter and recommence 
in early November. 
ROTARY PICNIC TABLE 
Built  for  Rotary  by  2018  Otamatea 
High  School  students  -  Ben  Smith, 
Callum  McConchie,  Daniel  Taylor, 
Jarrod  Hayes,  Rubin  Paikea  and  Sam 
Daniels. 
The students built this picnic table, now 
in  position  on  the  Whakapirau 
waterfront,  in woodwork class with the 
supervision 
of 
Martin 
North. 
Maungaturoto & Districts  Rotary paid 
for the materials.  Ref. page 9 
Photo taken by Stella Clyde. 
WANTED TO BUY 
I  am  a  local  private  collector  of 
Kaipara  &  Northland  Paper, 
Postal  &Photographic  History 
looking to purchase: 
Old Photos  
Old Postcards 
Old Documents 
Old Envelopes  
Old Advertising / Tourism 
Posters or Pamphlets 
Old books or old 'paper' 
relating to  
Kaipara and Northland. 
I will pay a fair price immediately 
so please contact me on either  
280 9544, text 021 757 107  
or email 
nigel.bermuda@gmail.com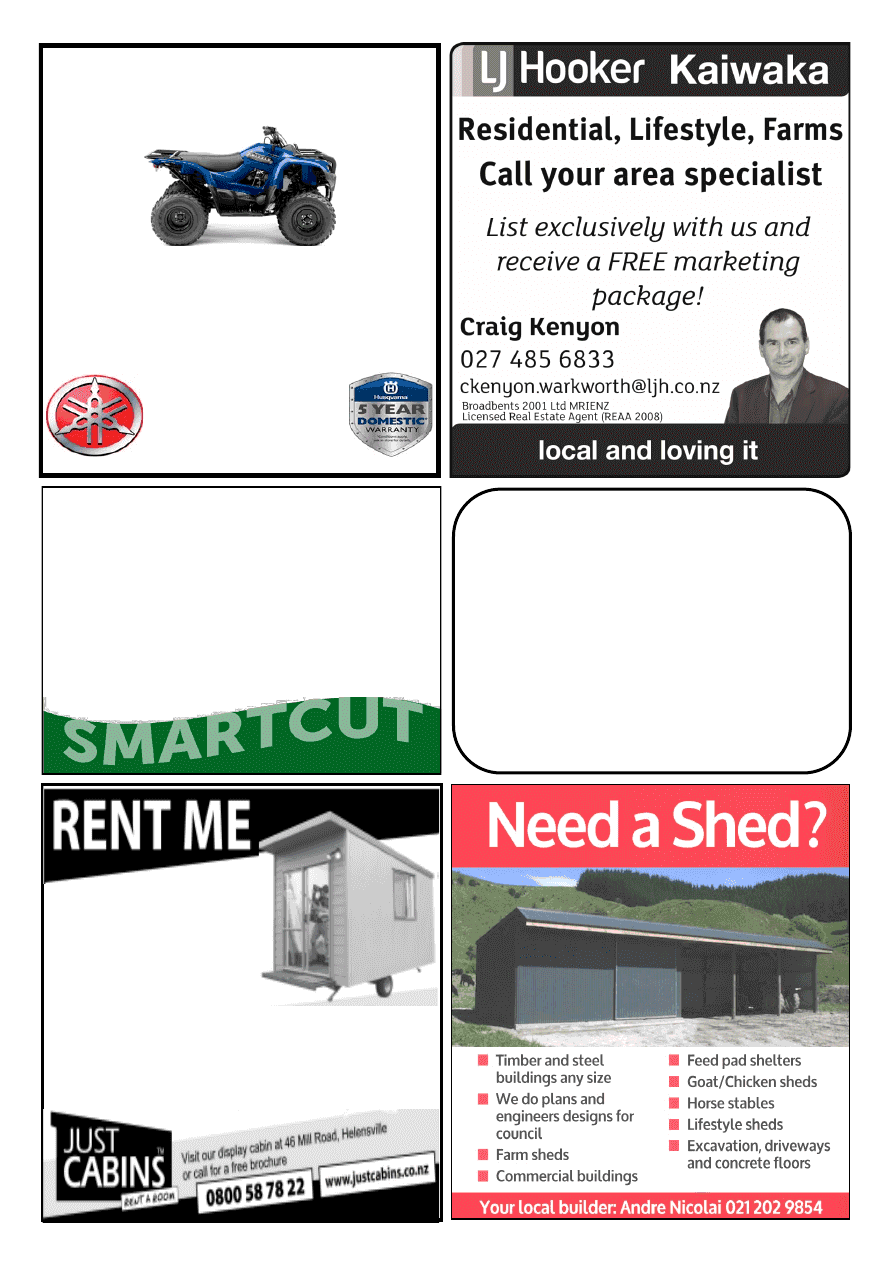 All your outdoor needs sorted so you don't have to... 
I can prune, chop, tidy, spray, mow, plant 
- you name it, I can do it! 
Residential & Commercial 
Lawn & Garden Care 
Call Rodney, your local  
lawnmowing contractor 
021 138 2344 
UP-LINK 
CHRIS WARING 
FREEVIEW INSTALLATIONS 
T.V. - HOME THEATRE &  
HI-FI ADVICE/SET UP
SKY ACCREDITED INSTALLER
MOB.0273403747 HM.094312328 
EMAIL cwaring44@gmail.com
28 YRS EXPERIENCE 
OFFERING UNBIASED ADVICE 
Ideal as an extra  
bedroom or office 
Three Convenient sizes: 
Standard 3.6m x 2.4m - $65 
per week 
Large 4.2m x 2.4m - $80 per week 
Extra Large 4.8m x 2.4m - $100 per week 
Fully insulated. Minimum 6 months rental period 
KAIWAKA 
MOTORCYCLES LTD
SALES – SERVICE – SPARES 
FARM BIKE SPECIALIST
PHONE 09 431-2127 
10 KAIWAKA-MANGAWHAI ROAD, KAIWAKA
Trimmers  
from $279
Chainsaws  
from $339
YAMAHA 
HUSQVARNA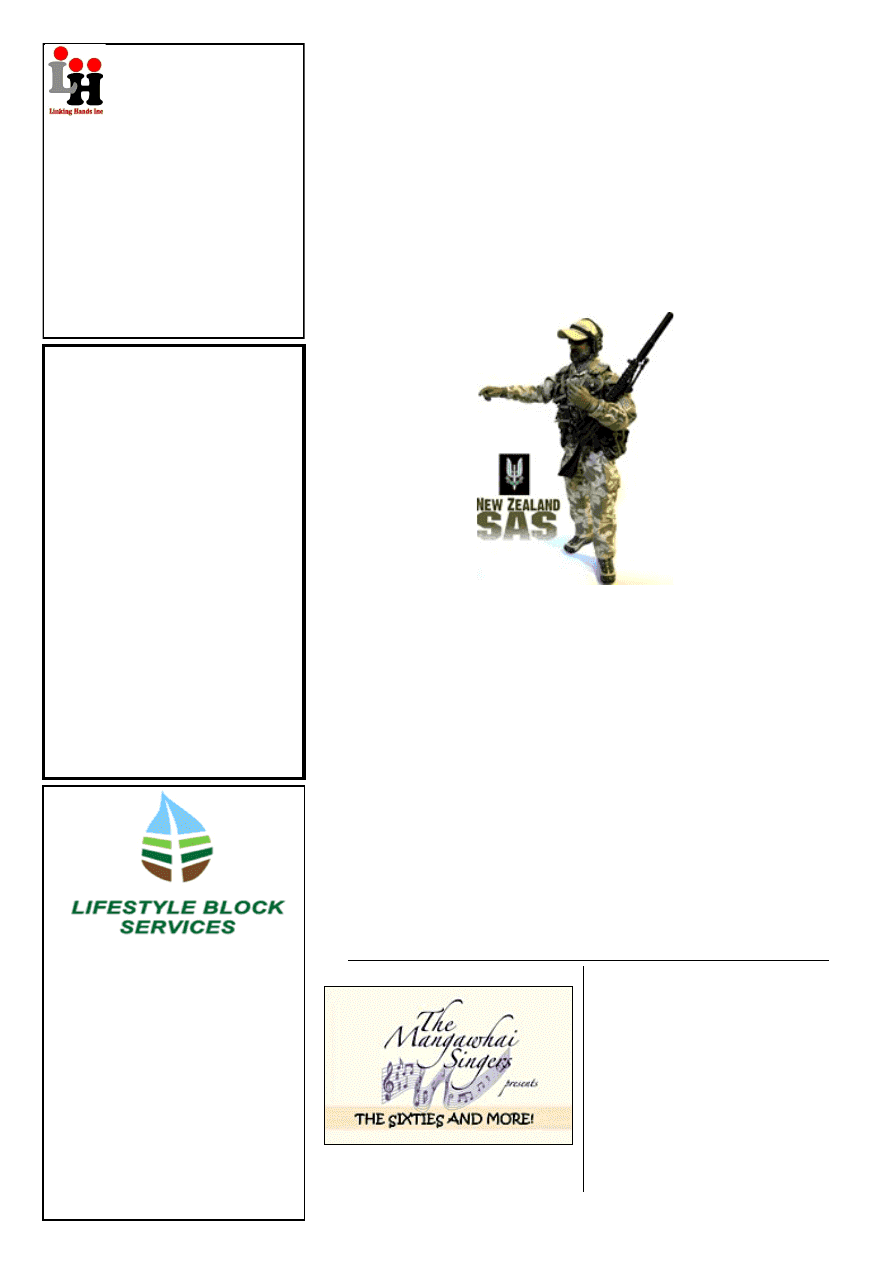 www.kaiwaka.co.nz 
Kaiwaka Bugle - 30 April, 2019 
Page 19 
  LINKING 
HANDS INC 
Maungaturoto - Kaiwaka - 
Mangawhai 
Meeting the needs of the community. 
A  free Health Shuttle Service, providing 
transport to those who would struggle to 
get  to  medical,  dental,  podiatry,  or 
optometrist appointments anywhere from 
Warkworth to Whangarei. 
HEALTH SHUTTLE SERVICES 
Ph/fax 09 431 8969 
OFFICE HOURS 
Maungaturoto - Monday to Friday - 
10am to 4pm 
Closed Public Holidays 
Part One: by Bevan Lawrence 
GLH.  These  are  the  initials  of  a  very 
interesting  man,  a  good  keen  bloke! 
My  best  friend  for  many  years  - 
mentor,  advisor,  companion,  and  font 
of wisdom, in his way.  
We  began  as  flatmates  and  have  gone 
through life's crazy twists and turns for 
fifty  years.  Incidentally,  the  New 
Zealand  actress  Danielle  Cormack, 
currently starring in Fresh Eggs, at just 
about  five  years  old,  wandered  up 
through our apartment into the kitchen. 
(We  lived  above  her  parents'  home  in 
Parnell)  The  kitchen  door  opened  out 
onto  a  deck,  the  pipe-
railing  of  which  was 
well  above  the  child's 
head, she fell from the 
first  story  down  into 
the  garden  below, 
missing  the  concrete 
edge 
by 
mere 
millimetres.  This  we 
saw 
as  we  rushed  to  stop 
her. We nearly lost an 
icon  of  NZ  television 
dramas! 
GLH  was  a  non-
commissioned  officer 
in  the  New  Zealand 
Army, a trainer of men 
who  were  to  become 
the  elite  Special  Air  Service.  I  recall 
one part of the training which was that 
of taking several of the men dressed in 
bright  football  gear,  out  into  the  bad 
lands  of  Waiouru  and  driving  them  in 
disorienting  circles  before  releasing 
them  with  one  live  chicken,  a  box  of 
matches and a magazine. 
For  a  few  days  police  would  be 
informed and road blocks would be set 
up both North and South of the Desert 
Road.  Farm  houses  in  the  area  were 
warned to lock up well and keep an eye 
out  for  suspicious  activity.  The  goal, 
should  they  achieve  it,  was  to  turn  up 
to  the  recruitment  office  on  the  third 
floor  of  a  Queen  Street  building  (in 
those days known as 246).  
Earlier on I had been privileged to meet 
a  friend  of  his,  Rangi,  who, 
disconcertingly,  would  jump  over 
random  parked  cars  as  we  walked 
down  the  street  talking.  Rangi  turned 
up  at  246  still  dressed  as  a  football 
player,  carrying  his  live  chicken, 
magazine and matches. 
After the army and a stint as an aircraft 
mechanic,  G.L.H.  became  a  'face  of 
Auckland'. At different times he could 
be  seen  in  many  ways:  a  doorman 
welcoming  folk  at  the  town  hall,  a 
butler  at  dinner  parties  given  by 
Hudson  &  Halls,  in  'life  studies'  by  a 
renowned photographer (because of his 
great physique) or as a fashion sales co
-ordinator  for  Queen  Street  fashion 
stores.  Then  eventually  as  part-owner 
of a fashion label. He has 
three daughters, all grown 
and married today.  
One  main  thing  I  admire 
about  G.L.H.  is  that 
despite  all  that  life  has 
thrown  at  him  he  is  a 
positive 
person. 
Not 
everything has been easy. 
Nowadays,  having  had  a 
wife  who  was  unfaithful, 
he  lives a  bachelor's  life. 
He owns a launch /fishing 
boat 
which 
he 
occasionally lives aboard, 
and a Volkswagen-Combi 
parked  in  an  orchard 
where he rents space. The 
land  by  the  Combi-
camper is good and annually he grows 
his  crops  which  he  sells  to  a  local 
restaurant.  Last  week  he  told  me  that 
he  had  caught  five  big  snapper  and  a 
large  trevally.  These  also  went  to  a 
local  chef.  I  recall  in  earlier  times  he 
had  studied  many  books  on  self 
sufficiency, today here is a man whose 
needs  are  small,  perhaps  sugar  and 
flour,  salt  and  pepper  all  the  rest  is 
caught, gathered or shot.  
On  a  farm  once  used  as  a  deer 
producing  unit,  near  the  Kaimanawa 
forest, he went to shoot rabbits for dog 
meat. Deer which had escaped into the 
forest  occasionally  came  back  to  the 
same  fence  line  so  they  soon  became 
home  kill  packages  for  the  local 
butcher and venison on many tables. 
Part Two next Bugle. 
~ from Bevan Lawrence 
Mangawhai Writers Group: Contact Bevan 
on 4801949 for more information. 
HOW WELL DO WE KNOW OUR FRIENDS?  
Make Baleage  
while the sun shines! 
Let us make hay/sileage for you. 
We sell small bale silage, 
conventional,  
& 5 bale equivalent hay. 
For more information  
Contact Mark on 021 801 065 or 
Contact Kathy on 027 4250520 
Driveway  
& Farm Race 
Maintenance and 
Construction 
Grader, Roller,  
Digger, Trucks 
Supply of lime rock and 
metal 
Call Peter on 
0274441553 
For advice / estimate for 
your driveway / farm 
race needs 
The Mangawhai Singers will be 
performing at the Mangawhai Museum 
on 24 and 25 May, 7pm 
Tickets: $20 at the Museum. 
HAKARU HALL 
ACTIVITIES 

Monday: Line Dancing 10.00am 
Ph 4315160 

Tuesday: Pilates 9.00-10.00
am
Ph 0220643964 Certified Instructor 

Wednesday: Recreational Music 
Evening 7pm - instruments 
available or bring your own. 

Thursday: Pilates 9.00-10.00am. 
All welcome  Ph 0220643964 

Thursday: Scouts 5.00pm 
Hall Available for Hire Ph4312256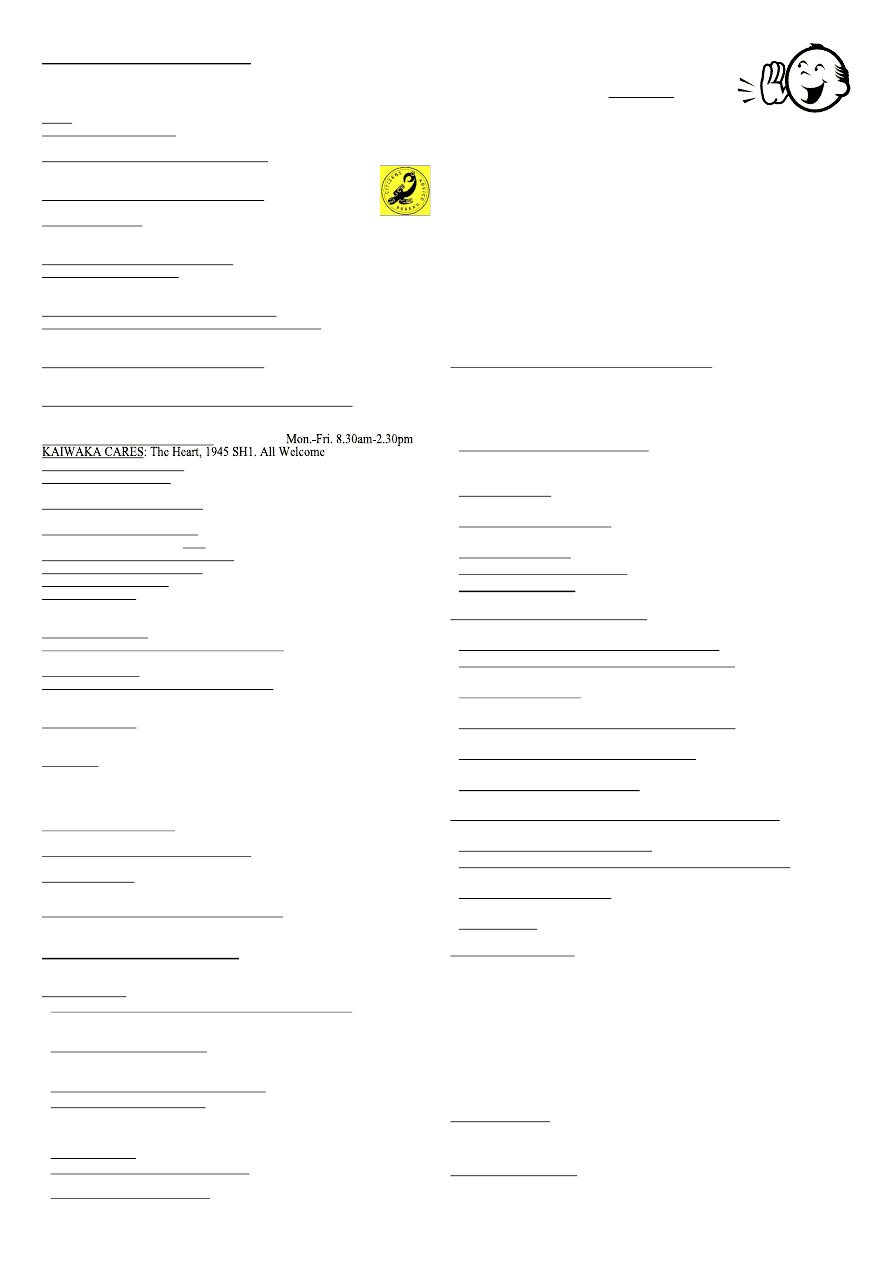 Next Bugle Deadline midday Friday 10 May 2019
WHAT'S ON
PLEASE ~ do let us know what is on - email 
kaiwakabugle@kaiwaka.co.nz 
Advertising in WHAT'S ON is FREE  
*3May~Movie "The Songkeepers", KWMH, 7.30pm 
*3/4/5May~ORT's Beauty & the Beast-see adverts 
*4May~Pt. Curtis CCC End of Year Prizegiving, 3 Furs 
*5May~Otamatea Aims Team netball Tournament, KSA 
*6May~Hakaru Pony Club AGM, Mangawhai Tavern 7pm 
*11May~JMB Rugby Rally, KSA grounds, 9am 
*11May~Rugby HAWKS v Western Sharks, 12.30pm KSA 
*17May~Movie "Green Book", KWMH, 7.30pm 
*21May~Maungaturoto Country Club AGM, 7.30pm 
*26May~Movie "Storm Boy", KWMH, 2pm 
KWMH = Kaiwaka War Memorial Hall; KSA = Kaiwaka Sports Association 
See www.kaiwaka.co.nz for more information 
HOUSEHOLD RUBBISH COLLECTION - Kaiwaka Pick up: 
Mondays = Green bags (Northland Waste - 09 430 3273) 
Wednesdays  = Blue bags and yellow recycling (at Jaques $3.00 
and  $1.50)  (Kaurilands  09  4392146);  ONLY  Blue  and  Yellow 
bags picked up on Oneriri Road. 
 DIABETES  Support  Group  -for  Kaiwaka,  Mangawhai, 
Wellsford  10am,  3rd  Friday  of  month  Ph:  Colleen  James  09 
4314238 
 GENEALOGY - Wellsford: 1st Thursday in month Ph: 423 
7033; Waipu: 4th Monday in month Ph: 4312 725 
 HAKARU PONY CLUB - Secretary Denise Rogers 021423376 
secretary@hakaruponyclub.co.nz  
 KAIPARA HUNT - Secretary Albert Doonenbal Ph 4312059 
 KAIWAKA BADMINTON -Tuesdays 7.30pm Ph: 4312345 
 KAIWAKA CAN - 3rd Wednesday in month, Archie Bull Hall 
Ph: 0273572751 
*KAIWAKA  DRAMA  CLUB  - 
Hannah  Webb 
0272863352 
KaiwakaDrama@gmail.com - FB - "KaiwakaDramaClub" 
 KAIWAKA DRUM & DANCE CLASSES - 021 611198 
 KAIWAKA GARDEN & FLORAL GROUP - 2nd Thursday in 
month. Ph: 431 4744 
 KAIWAKA  CUBS  -  Thursdays  5.30-7pm,  Hakaru  Ph:Bruce 
4312542 
 KNITTING FOR WHANGAREI HOSPITAL - 2nd Tuesday in 
month, Archie Bull Hall 10am Ph 4314827 
 MANGAWHAI COMBINED REBUS CLUB - 2pm, 3rd 
Thursday month, Senior Citizens Hall Mangawhai. Ph: 4315777 
 PILATES-HAKARU HALL Tuesday & Thursdays, 9-10am 
Ph: 
0220643964 
*PILATES - KAIWAKA WAR MEMORIAL HALL - Ph: 
021 
2072729  
 PT CURTIS CRUISING CLUB - Jean Ph: 4312227 (wk), 4312520 (hm) 
 RSA,  HAKARU  &  DISTRICTS  WOMEN'S  SECTION  –  meets 
1.30pm 4th Thursday of the month. Ph: 431 5818  
 SCOTTISH  DANCING  -  Wednesday  morn.  KWMHall  Ph:  09 
4320532 
 TRAMPING - Mondays 9am-2:30pm Maria 4312 234 
HALLS FOR HIRE: 
 St.Pauls Archie Bull Hall HIRE $20 half day, $40 full day per 
hire, S McAulay, Ph 4312311 
 Kaiwaka  War  Memorial  Hall  HlRE  -  Phone  4312725  or 
kaiwaka.hall.bookings@gmail.com 
 Hakaru Community Hall HIRE -Ph. 4312256 or 4312110 
 Te Pounga Marae queries - R. O'Leary 4312 423, J.Nathan 021 
186 7382 
 Kaiwaka Sports Association hire/queries - C. Anderson 4312051 
or kaiwakasports@gmail.com 
Justice of Peace:  
B.FJaques  4312  048;  L.Donaldson  4312  228;  A.F.Hargreaves 
4312 045, W.Howard 4312 725 - please phone to make sure they 
are available or go to www.justiceofthepeace.org.nz 
Marriage Celebrants:  
L.Donaldson; A.F.Hargreaves; Y Osborne
LOCAL SERVICES 
*Emergencies - Ambulance, Fire, Police - dial 111 
*Non-urgent Police phone 09 4311150
A A: Meets Wed., 8pm Kaiwaka Ph: 4315543, 0800229 6757 
ASUREQUALITY LTD (was AgriQuality) Call Free 0508 0011 22  
BUDGETING SERVICE, WELLSFORD: Free confidential advice & 
support for all areas of personal finance. Ph (09) 423 7123 
CAB-Citizens Advice Bureau.Wellsford Ph: 4237333 
0800 367 222 email:cab.wells@xtra.co.nz  
CIVIL DEFENCE - Kaiwaka Community Response Group: 
kaiwaka.civildefencecrg@gmail.com, 4312725 Wendy 
DOG/STOCK /NOISE CONTROL 0800 105 890 
FUNERAL SERVICES: Morris & Morris Ltd, 
Whangarei - Bev Jaques Ph:4312367 or 0800667747 
GRANDPARENTS Raising Grandchildren: Dianah Roberts 0223819539 
HAKARU & DISTRICTS MEMORIAL RSA (Inc) 733 Settlement Rd, 
Hakaru. Ph 4312 176 or Bill Warren (President) 431 2092 
HAKARU LANDFILL/Transfer Station:Open everyday except 
Tuesday10am-4pm.Ph4312629 Cost-$55 trailer load up to 1 cubic metre. 
Ph:4258567 - office 
KAIPARA DISTRICT COUNCIL www.kaipara.govt.nz:  
Help Desk FREEPHONE 0800 727 059  
KAIWAKA KOHANGA REO: Ph:4312620 
KAIWAKA CEMETERY: Ph: 4312045 or 4314017 
KAIWAKA LIBRARY: kaiwaka.library@gmail.com  
Mon. 4-6pm; Wed., Thurs., Fri., Sat. 10am-2pm Ph:4312539 
KAIWAKA PLAYCENTRE: Ph Juanita 0274134904; open Mon, Wed, 
Fri 9am-12pm. Hastie Lane; Monday to Friday 9.00am - 12 noon. 
KAIWAKA POST OFFICE:Ph:4312 431  
Post Code: 0573 for RD2 and 0542 for all Kaiwaka Post Office mail 
KAIWAKA PRIMARY SCHOOL: Ph: 4312309   
KAIWAKA SPORTS ASSN: Ph 4312005; 4312129 gym 
KAIWAKA ST JOHN: Manager Steve Rosser 09 4318403, 021 355734 
KATE'S PLACE Community Centre - Employment services, Free Health 
Nurse, Plunket, Advocacy, Osteopath, A.A., Legal Advice. 4312 661 
LINKING HANDS Health Shuttle Ph 4315906 or 09 4318969 
MINISTRY FOR PRIMARY INDUSTRIES - General inquiries Call 
Free 0800 008 333 
NORTHPOWER: Faults Kaiwaka area 0800 104040 
OTAMATEA COMMUNITY SERVICES: Counselling, parent coach, 
Family Support worker, budget advice, food bank. Mon-Fri 9am-3pm. Ph 
09 431 9080 http://www.otamateacs.org/ 
PARENTPORT: Free, practical family support service Puhoi to Paparoa 
Ph or txt: Dianne 027 280 5093 or 09 425 9357 
PLUNKET:  Kaiwaka  -Kate's  Place  Clinic  1st  Wednesday  of  the  month; 
Mangawhai  - Rose Madsen Cottage: Coffee Group 9:30 every Monday.  Clinic 
every Monday and Thursday. 
Maungaturoto - Good News Church, Clinic 2nd and 4th Wednesday.  
Cynthia 09 431 7340 or 027 675 3488 
PLUNKET HELPLINE -0800 933 922 (24 hours) 
TAITOKERAU COMMUNITY LAW: Free confidential legal advice and 
assistance, 2nd
Thursday
 of each month. Ph: 0800 155 529 for appts.  
TE URI O HAU Settlement Trust Tangata Developments: Whanau Ora 
021 793262  
VETERINARY SERVICE MANGAWHAI: 
Ph: 4314535 Mon-Fri 8.00-5.00, Sat 9-12, a/h appt. 
WELLSFORD DOCTORS: Ph: 4238 086 
CHURCHES:
 
Kaiwaka  Revival  Church  -  Your  Community  Church:  Sundays  10am. 
Ph: Pastor Tawhiri 09 431 8988 or Pastor Paul 09 4312 068 Visit us at 
www.facebook.com/kaiwakachurch 
 
St  Paul's  Anglican  Church  1st  Sun.  9.00am  (Eucharist),  3rd  Sun. 
9.00am (Family Service). Contact: Rev. Wayne Thornton Ph 431 4122 
www.mangawhaianglican.org.nz 
 
Church of Christ the King, Mangawhai:9.00am every Sunday 
 
St.Mary's  Catholic  Church:  Maungaturoto  –  Griffins  Road,  Saturday 
evening  Vigil  Mass  6pm;  Mangawhai  –  Senior  Citizens  Hall,  Sunday 
Mass  8:30am;  Wellsford  –  Matheson  Road,  Sunday  Mass  10:30am;  
Mid-week Mass times and all enquires to Fr. Bill Fletcher – phone 423 8170
 
Baptist Church: Sun. 10.30am Mangawhai Snr Cit.Hall.Ph:4312339 
 
Cause  Way  Church  Mangawhai:  Sundays  10.15am,  Mangawhai 
Community  Recreation  Centre,  Insley  St.  Ph:  09  4314782