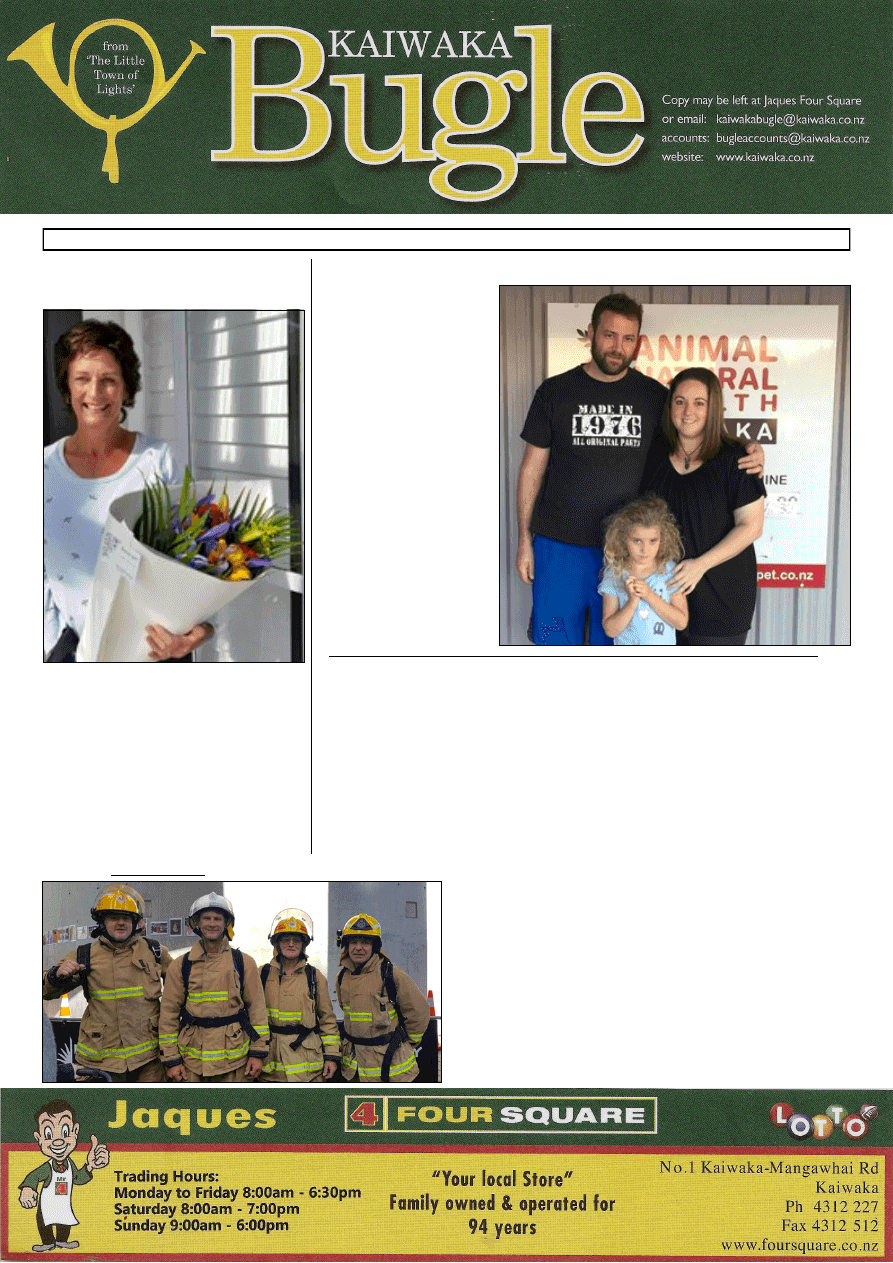 www.kaiwaka.co.nz 
Kaiwaka Bugle - 14 May 2019 
Page 1 
No: 9 
14 May 2019 
Trading Hours: 
Monday to Friday 8:00am - 6:30pm 
Saturday 8:00am - 7:00pm 
Sunday 9:00am - 6:00pm  
KAIWAKA BUSINESS: NEW OWNERS 
KAIWAKA GOOD 
SORT 
Meet  the  new  owners  of 
the 
'Animal 
Natural 
Health' shop - between La 
Nonna and BKs Sushi 
 Christelle 
Hynd 
my 
husband  Michael  and  our 
daughter Torin.  
"We  also  want  to  let  the 
community  know  that  we 
will  be  doing  our  best  to 
keep  the  shop  fully 
stocked and if anyone has 
any  suggestions  they  are 
welcome  to  come  in  and 
have 
a 
chat", 
says 
Christelle. 
We  are  open  Monday-
Friday 
9.30am-4.30pm 
and  Saturday  9.30am-
4pm. 
Our shop phone number is 
0225747332  and  people 
can text or call us on this 
number. 
FIREFIGHTERS SKY TOWER STAIR CLIMB 
The  Firefighter  Sky  Tower  Stair  Challenge  is  an  annual  fundraiser  for 
Leukaemia  &  Blood  Cancer  New  Zealand  (LBC).  Each  year  firefighters  from 
around  New  Zealand  and  international  competitors  from  Australia,  the  US, 
Chile and Germany fundraise and compete in this amazing event at Auckland's 
Sky Tower.   
Our local Brigade are taking on the challenge again this year. Pictured left (with 
Mike Law) - Tim Brown, Keith Mills and Kraig Steiner are gearing up to climb 
51  flights  of  stairs  (1,103  individual  steps)  in  full  Breathing  Apparatus  kit  - 
weighing up to 25kg, to help raise funds for LBCNZ.  This event takes place on 
Saturday 18th May 2019. 
Every  cent  raised  for  the  Firefighter  Sky  Tower  Stair  Challenge  goes  directly 
towards  helping  the  6  Kiwis  a  day  that  are  diagnosed  with  a  blood  cancer  or 
related  blood  condition.    The  funds  raised  will  be  used  to 
support    work  in  the  community  including  core  services 
such as personalised support for patients and their families. 
This includes running support groups, programmes, hospital 
visits  and  being  there  at  the  end  of  the  phone  to  answer 
questions and concerns patients and families may have and 
provide information about their condition.   
If you would like to donate to this great cause, please use 
the link below.  All support, no matter how big or small, is 
appreciated.  Our  brigade  works  tirelessly  for  our 
community. Please support our local Kaiwaka team. 
https://firefightersclimb.org.nz/  
Kristal has nominated Jenn Long for a 
beautiful bouquet from our Flower Girl 
Lindy:  "Jenn  is  a  busy  wife  and 
mother. Not only does she help on the 
farm  but  she  home-schools  her 
children and regularly drives their son 
to  Auckland  for  soccer.  She  is  on  the 
leadership  team  at  Kaiwaka  Revival 
Church and runs the ladies group. Jenn 
is  such  a  kind,  caring  lady  and  does 
sooo  much  for  others.  She  is  always 
cheerful  and  helpful.  She  deserves  a 
bunch of flowers."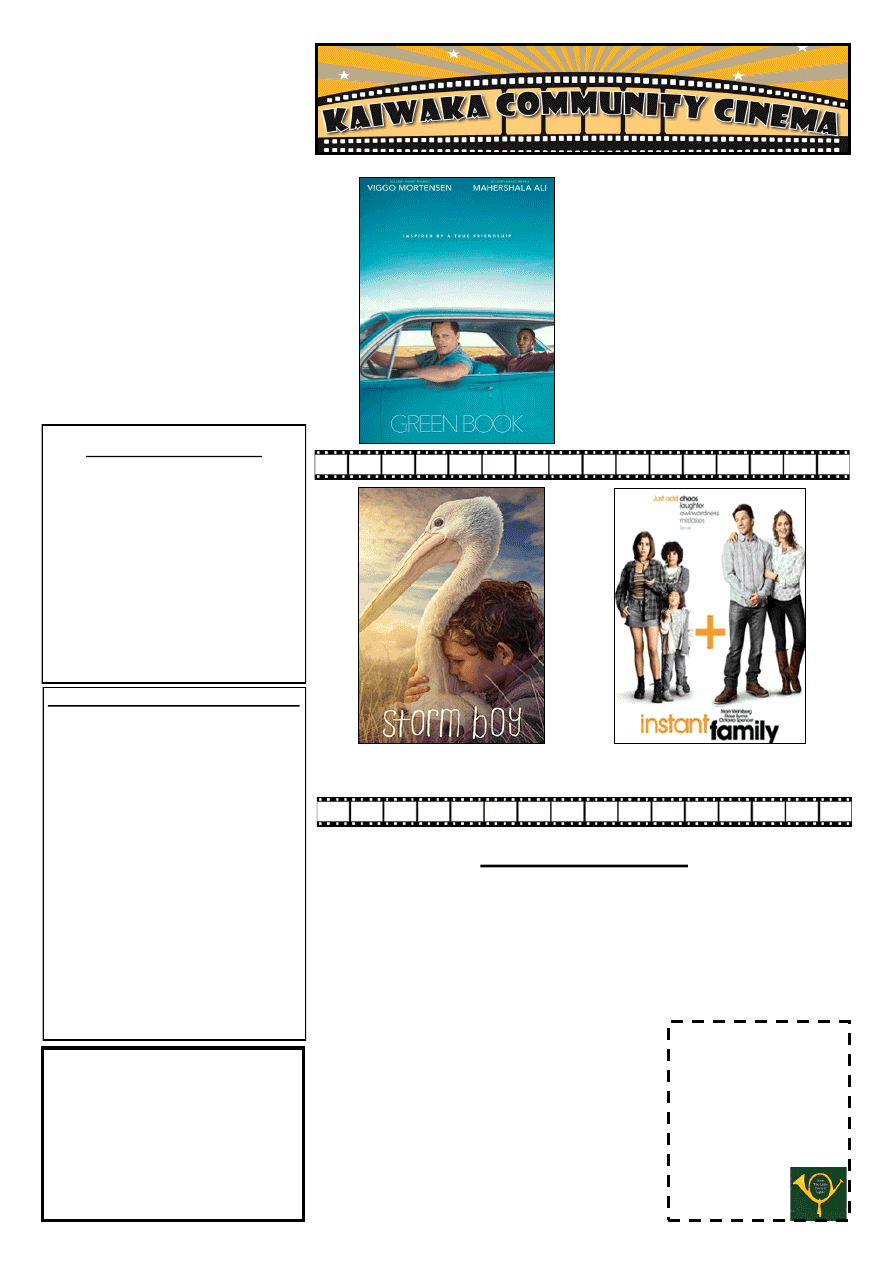 Proverbs 20:15 
Good sense is far more 
valuable than gold or 
precious jewels.
At Kaiwaka War Memorial Hall . Adults $10, Kids (under 16) $5, Family Pass (2 adults + 3 children) $25 
ABOUT TOWN 
 
A very big THANK YOU to our local Kaiwaka Fire Brigade  volunteers for 
the  wonderful  work  they  do;  please  support  them  on  their  Sky  Tower  Stair 
Climb.

Hakaru RSA  - 
Tripe and Onion luncheon on Sunday 19th May at 
12.30pm -
phone Jan on 4314512 to book a space 

 'Time to have your say' - keeping our community on the move - Kaiwaka 
Can AGM, Archie Bull Hall, Wednesday 15 May, 5.30pm 

Free Babylock Machine demonstration at The Apple Basket on Friday 24 
May, 10am - 2pm. Phone 4312443 to secure a place! 

KSA Fitness key change-over will be Monday 20 
May - see the Kaiwaka Sports Assn, news on page 
11 for more information. 

 Use the new Police 105 number and the online 
platform - 105.police.govt.nz - to make it easier to 
get non-emergency help, advice and support - see 
page17. 

See  the  Bugle  online  at  www.kaiwaka.co.nz  for 
great colour in the photos.        ~ Lindsey, Ed 
"The  greatest  discovery  of  our  generation  is  that 
human beings can alter their lives by altering their 
attitudes of mind. As you think, so shall you be." ~ 
William James
KAIWAKA BUGLE NO.9 
14 MAY 2019 
CONTENTS: 
Page 3: Public Notices, Classified 
Page 5: Women's RSA; Kaiwaka 
Weather; St. John Op Shop 
Page 7: Kaiwaka Can; Harlequin 
Ladybird 
Page 9: Pt. Curtis Cruising Club 
Page 11: Kaiwaka Sports Assn 
Page 13:Thelma's Scrapbook 
Page 15: Kaiwaka School; Otamatea 
High School 
Page 17: 
Library; Police 'ten five' 
Page 19: 'Part Two: GLH' 
Bugle 10 will appear  28 May 
Contact for advertising, reports, articles 
or information can be made by 
Email: kaiwakabugle@kaiwaka.co.nz 
Ph: 09 4312 045 Lindsey 
Txt: 027 2724137 
Copy  may  be  left  at  Jaques'  Four 
Square. 
Kaiwaka Bugle Advertisements 2019: 
All 
copy 
and 
queries 
to: 
kaiwakabugle@kaiwaka.co.nz 
The Bugle is printed on an A4 page, B&W  
Ad  sizes:  1/16  page  (3  x  9.5cm)  $5;  1/8 
(6.5  x  9.5cm  landscape  or  portrait)  $8; 
3/16 ( 10 x 9.5cm or 7.5 x 12,5)  $12.  
Classified  ads:  First  one  FREE,  $4  per 
entry (max. 30 words, max. 4 repeats). 
Payments  can  be  made  online  at 
ANZ 
06  0365  0006990  00
,  posted  or  left  at 
Jaques Four Square Store. 
We  use  Microsoft  Publisher,  and  can 
work  with  most  common  image 
formats, Word, Excel, and PDF files. 
Accounts:  
Email: bugleaccounts@kaiwaka.co.nz 
The  Kaiwaka  Bugle  is  a  community 
newspaper run by volunteers, as part of 
the Kaiwaka Media Group Inc.   
Articles, etc. printed are not necessarily 
the opinion of the Bugle Team. 
Kaiwaka Bugle 
Founded May 1978 
We appreciate articles and photos about local 
events, etc, as well as ads and suggestions. 
Copies available in Kaiwaka at Jaques Four 
Square, Kaiwaka Postal Centre, Shamrock 
Service Station, Animal Health Centre, 
Kaiwaka St John shop. 
Also outlets in Maungaturoto, 
Mangawhai and Paparoa. 
Can be viewed online at  
www.kaiwaka.co.nz/Bugle  
Or a copy can be posted to you if you supply 
stamped, self-addressed DLE envelopes. 
GREEN BOOK 
Friday 17 May, 7.30pm (M)
Green  Book  is  a  2018  American 
biographical  comedy-drama  film 
directed  by  Peter  Farrelly.  Set  in 
1962, the film is inspired by the true 
story  of  a  tour  of  the  Deep  South  by 
African  American  classical  and  jazz 
pianist Don Shirley (Mahershala Ali) 
and  Italian  American  bouncer  Frank 
"Tony  Lip"  Vallelonga  (Viggo 
Mortensen)  who  served  as  Shirley's 
driver  and  bodyguard.  The  film  was 
written  by  Farrelly,  Brian  Hayes 
Currie  and  Vallelonga's  son,  Nick 
Vallelonga. 
KAIWAKA BUGLE 
DEADLINE DATES 
2019:  
Every second Friday 
May 24;  
June 7, 21; July 5, 19;  
August 2, 16, 30 ;  
September 13, 27;  
October 11, 25;  
November 8, 22;  
December 6. 
STORM BOY
Sunday 26 May, 2pm (G)           
INSTANT FAMILY 
Friday 31 May, 7.30pm (M)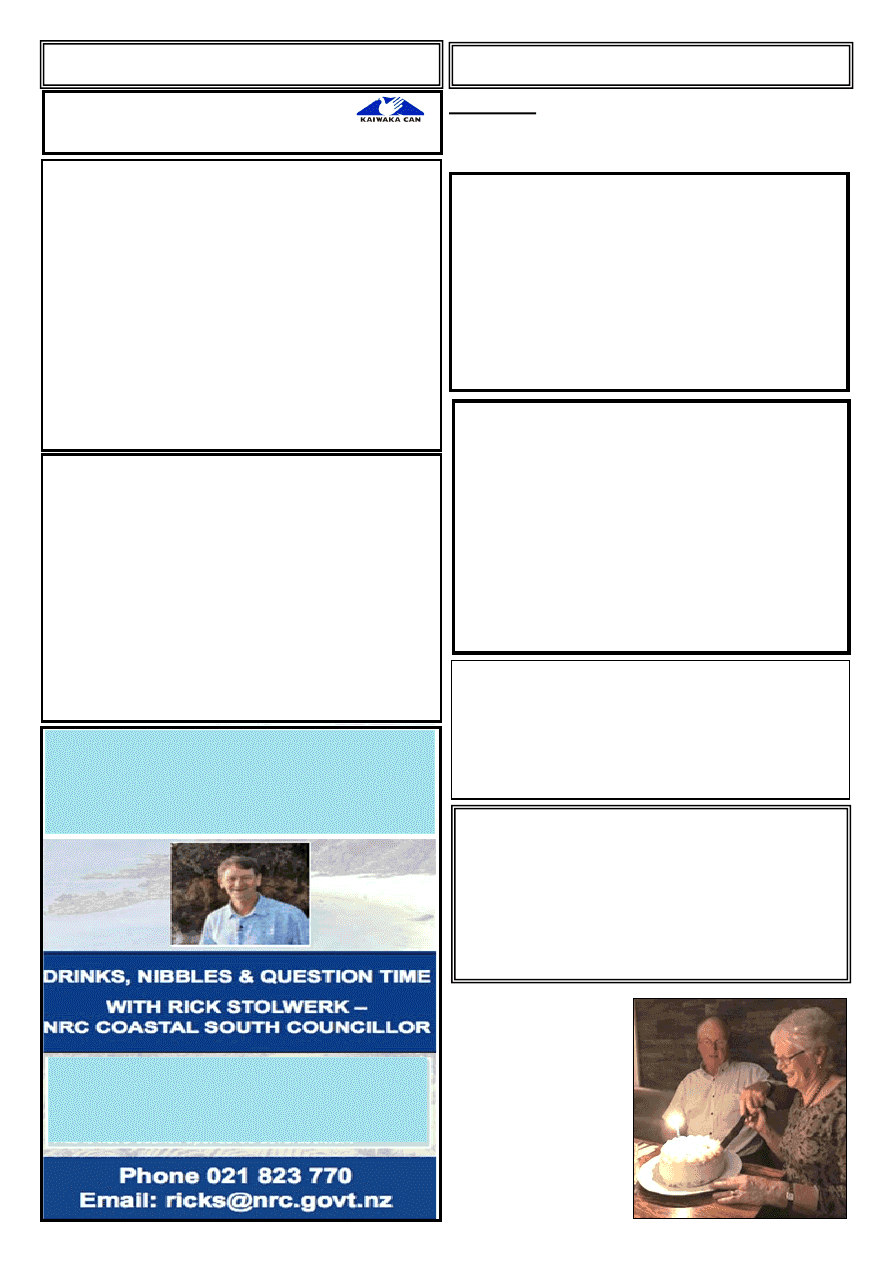 www.kaiwaka.co.nz 
Kaiwaka Bugle - 14 May 2019 
Page 3 
PUBLIC NOTICES 
CLASSIFIED 
KAIWAKA CAN 
Annual General Meeting  
Wednesday May 15th, Archie Bull Hall at 5.30pm.
COMMUNITY BARN DANCE 
Maungaturoto Centennial Hall,  
Saturday 15th June 7-10pm 
Live Band 'Twisty Willow', supper provided 
Cost: 5-16yrs $10, 17+ $20, Family $50 under 5's free 
Fun night for the whole family! 
Contact Otamatea Christian School for more details. 
OUR VERY BEST 
WISHES on your 
GOLDEN WEDDING 
ANNIVERSARY!! 
Congratulations  
Lynne and Eddie in your 
50th wedding 
anniversary! 
Seen here cutting their 
cake at the recent family 
celebration. 
HELLO KAIWAKA RESIDENTS: 
I am once again standing for the local 
body elections in October this year and 
I would like to invite you to a drinks, 
nibbles and question time with me 
WHEN:   Wednesday May 29th 
WHERE: Kaiwaka War Memorial Hall Foyer 
TIME:      5.30 – 6.30pm 
This is not a council sponsored advertisement 
WANTED: 
We have a home that would suit a trained 
outdoor  older  dog,  fenced  property  1  acre,  moderate 
energy,  good  with  livestock,  possibly  retiring 
Huntaway, or similar.  Call 027 5480312
UPDATE on MENS GROUP
...  
'Men of Integrity'- Making Better Choices 
Men's Group beginning Tuesday 7th May 7 - 9pm  
at Kates Place, Kaiwaka 
Koha Entry. All Men Welcome. 
Filling fast so be quick to get a place! 
Tools for Coping, become a better man,  
Relationship skills ... 
Contact Pete at 021825 970 evngs for further info.
SCHOOL BOARD OF TRUSTEE ELECTIONS 
OTAMATEA HIGH SCHOOL 
Nominations  for  the  election  of  five  parent 
representatives to the board of trustees are now open. 
A  nomination  form  and  a  notice  calling  for 
nominations will be posted to all eligible voters. 
Additional  nomination  forms  can  be  obtained  from 
the school office. 
The  voting  roll  is  open  for  inspection  at  the  school 
and can be viewed during normal school hours. 
There will also be a list of candidates' names, as they 
come to hand, for inspection at the school. 
Nominations close at noon on 24 May 2019. Should 
an election be required, the voting closes at noon on 
7 June 2019 
Eileen Parsons, Returning Officer
KAIWAKA SCHOOL BOARD OF 
TRUSTEES ELECTION 
Nominations for the election of parent representatives 
to the board of trustees are now open. A nomination 
form and a notice calling for nominations will be 
posted to all eligible voters. 
Additional nomination forms can be obtained from 
the school office. 
The voting roll is open for inspection at the school 
and can be viewed during normal school hours. 
There will also be a list of candidates' names, as they 
come to hand, for inspection at the school. 
Nominations are invited for the election of three 
parent representatives. 
Nominations close at noon on 24 May 2019. Voting 
closes 7 June 2019. 
Sara McAulay, Returning Officer
JENNY'S RURAL CLEANING SERVICES 
P. O. Box 87 
Kaiwaka 
Looking for a school student or adult. Must be able 
to work from 4pm to 7.15pm three days a week and 
the odd Saturday morning. Must be trustworthy and 
be able to work in a team. 
Please send your C.V if you got one to 
jrcleaningservices.chellew@yahoo.com 
Or phone Jenny on 431 2826 after 7pm.
SENIOR STYLIST WANTED – Headz of Hair 
$25 / hour. Full-time. 
Work  in  Paradise!  Join  us  in  our  professional  seaside 
salon  at  Mangawhai  Heads.  Our  client  base  is  growing 
and you might just be the right fit for our team. 
We'd  expect  you  to  manage  day-to-day  cut  and  colour 
challenges  and  you'll  have  our  team's  support  100%  in 
the  beginning  while  you're  finding  your  feet,  and  every 
day after that – as we're a hair family. 
We're really proud to specialize in NAK Vegan-friendly 
products  for  our  clients  who  love  our  everyday  salon 
atmosphere! 
If you're a creative, enthusiastic, experienced stylist, 
enjoy steady work and sometimes professionally chaotic 
days with lots of laughter, then call Rose or Cheryl on 09 
4314 981.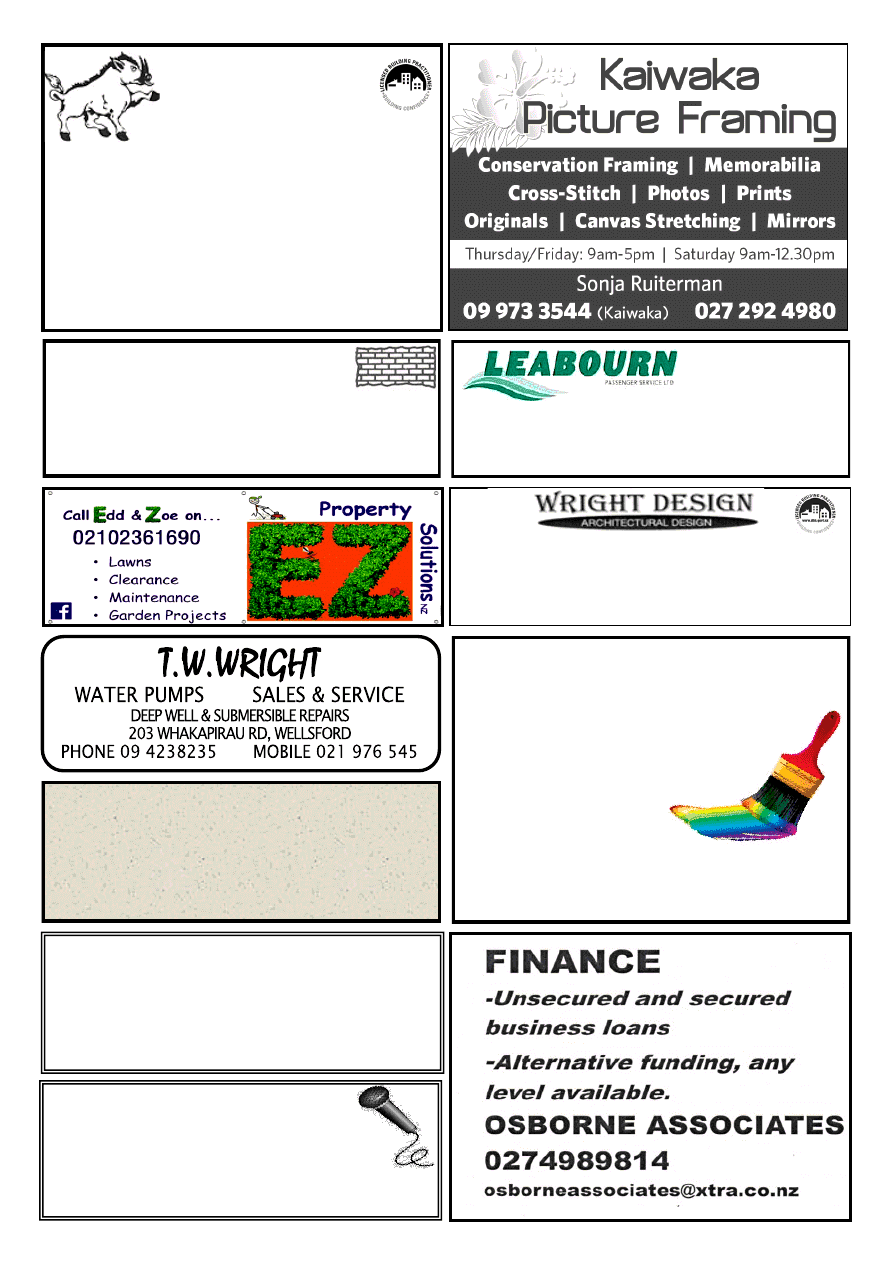 Passenger Service
Car & Van Hire   Bus & Coach Charters 
Airport Transfers    
Phone (09) 4237416 
BRICK/BLOCKLAYER 
All aspects of masonry:  
Fireplaces, Restoration & Remedial Work. 
JAMES EAGLETON 
Tel. (09) 431 2514    Mob. 0274 749 232 
jajueagles@yahoo.com.au 
210A Pukenui Road, RD2 Kaiwaka 0573 
Counsellor and Registered Psychotherapist 
Offers Supervision 
ACC Sensitive Claims 
Susan Matheson      MNZAC 
Dip. Psychosynthesis Counselling and Psychotherapy 
Phone 09 431 2996                                     Mobile 027 605 2427 
SING RIGHT 
Professional coaching for performance,  
recording and demos. 
All level singers, musicians, singer-songwriters. 
Phone Robyn Hill 431 9159 or 0274 725610 
No. 117345 
N.Z.C.A.D., L.B.P. 117345 
PH/Fax: 09 423 8092 Mob: 021 276 7369 
Office: 3 John Sinclair Avenue, Wellsford    brianwright@xtra.co.nz 
For Resource and Building Consents, planning restraints, new building materials - 
you need a capable, experienced, and professional designer with a clear 
knowledge of all the processes. Brian has been helping and organising all these 
facets of design and building for over 50 years. 
Wright Design offers free visits, consultations and advice on planning, design, 
building, council permit applications, guaranteed permit plan acceptance. 
O'MALLEY 
CONTRACTING LTD 
CONCRETE 
FOR ALL YOUR CONCRETING NEEDS 
T: 021 2200 198
E: omalleycontracting@outlook.com            W: omalleycontracting.co.nz 
Om Tara ~ Mangawhai 
Healing Services 
Diann Glucina 
021 250 7461 diglucina.com  
FB: OmTaraMangawhai 
LEE COOPER PAINTERS 
(Kaiwaka Based) 
*30 yrs Experience 
*Interior/Exterior 
*New and Restoration 
*Honest and Reliable 
*Free Quotes 
09 4312918 or 0274735171 
leecooper@xtra.co.nz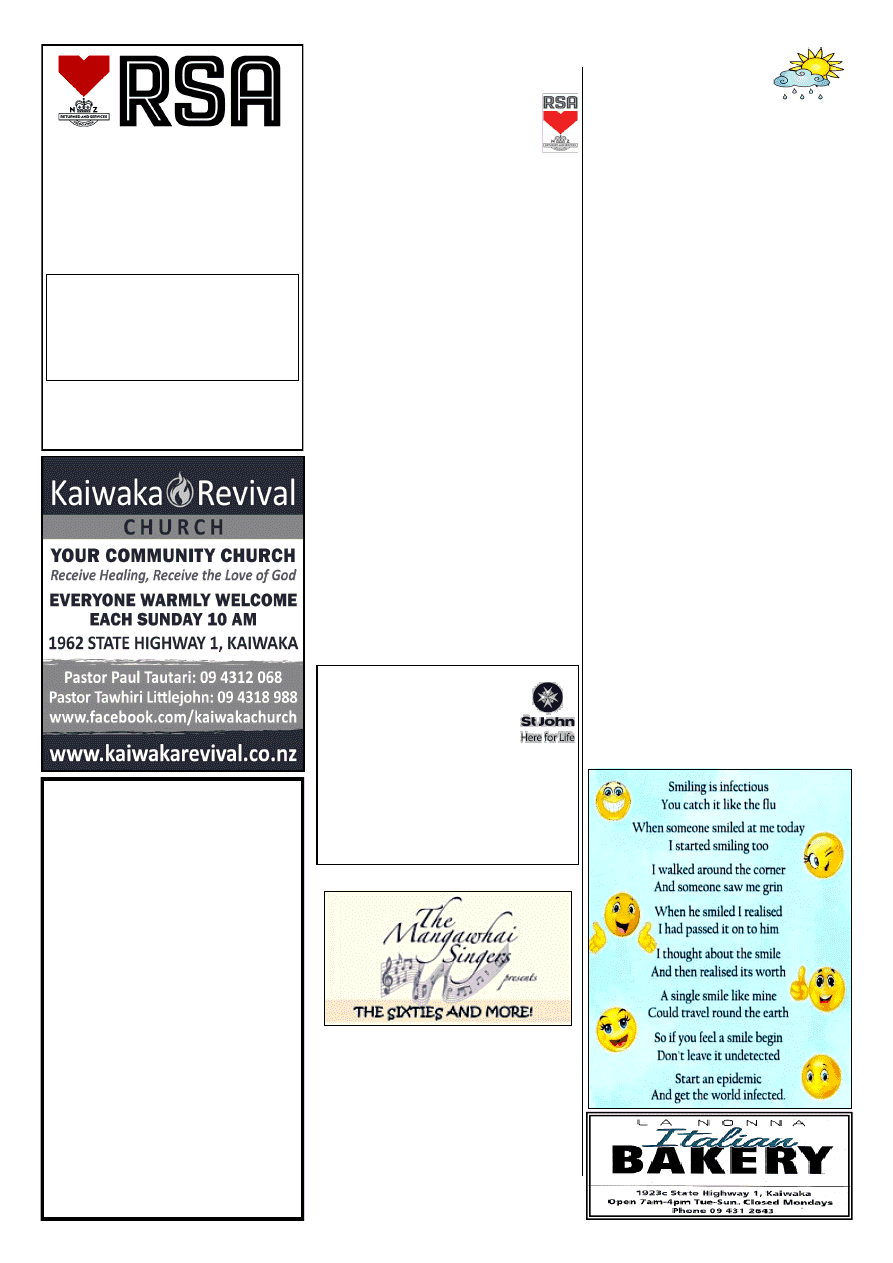 www.kaiwaka.co.nz 
Kaiwaka Bugle - 14 May 2019 
Page 5 
Willow Bend
HORSE  
HOTEL 
  
Total Horse Care 
 
Agistment 
 
Riding Lessons 
 
Arena Hire (60x40) 
 
Young Horse Starting 
 
Re-training/Exercising 
 
Hoof Trimming 
 
Problem Solving 
Phone Sue 09 431 2817 
or 021 623 776 
Or email  
susanjoll11@gmail.com 
ST. JOHN OP SHOP 
KAIWAKA  
We have for sale: 

1x F&P Fridge 

 1x Fridge/Freezer with 
small freezer compartment.  

 1x Trundler bed with mattress 

 X Wicker chair 
~ Milly and staff 
Phone 09-4312650 after 9.00 am. 
1919 SH1, Kaiwaka 
HAKARU & DISTRICTS 
MEMORIAL RSA (INC)
Members & guests are invited to 
come along and enjoy our hospitality. 
New members welcome. 
Meals are served on Thursday and 
Friday nights from 6.30pm. 
Order from Blackboard Menu  
and a sing-a-long  
with Des Chitty. 
For more information please phone 
Graeme on 431 2563 
KAIWAKA 
WEATHER 
Welcome  my  friends  to 
another  month  struck  off  the  2019 
calendar.  
It  was  a  rather  good  April  so  far  as 
weather goes.  Heaps of beautiful calm 
sunny  days  with  also  a  bit  of rain and 
some  rather  vicious  south  westerly 
winds.  So  vicious  in  fact  it  blew  over 
the  toilet  at  the  sheep  dog  trials.    At 
least it  was not  occupied.   The  bucket 
was left standing though! 
The Brynderwyn waterfall is down to a 
mere trickle.  It picks up for a day or so 
when  it  rains,  then  slackens  off  again.  
It  is  probably  time  for  those 
mushrooms  to  be  poking  their  heads 
through the ground again.  
Well  for  April  this  year  at  our  house 
we  had  105mm  rain  and  for  2018  we 
had 107mm rain.  
For the first 4 months of 2019 we had 
260mm and 2018 we had 717mm.  
Our  driest  April  since  1987  was  2005 
with  28mm  and  the  wettest  was 
260mm.   
Our  driest  first  4  months  since  1987 
was  1987  with  69mm  and  the  wettest 
was 2017 with 725mm.   
We had rain on 10 days in April 2019 
and in 2018 we had rain on 12 days.   
Well  as  I  type  this  report  out  our 
beautiful  weather  is  continuing  for 
Autumn  with  3  weeks  to  go  before 
winter kicks in.  It is still quite mild so 
may it continue.  I am not sure how the 
duck  shooters  made  out,  but  we  heard 
lots of gunfire so maybe they did well 
(unless  they  were  all  practice  shots.) 
Sorry shooters just joking.  Please take 
care  on  the  roads  out  there  and  look 
after each other. Bev. 
From Bev: 'What a great poem by the 
Spike Milligan about smiling'. 
There were not enough free days 
for  us  to  have  a  meeting  last 
month  and 
our  President  Lena 
was not well.  We hope Lena is 
enjoying  her  well-earned  rest  on  a 
cruise  with  June
  and  that  they  come 
back refreshed.
Many thanks to all who helped us with 
the  wreaths  for  ANZAC  DAY 
they 
looked great on the cenotaph, also 
thank 
you 
to 
those 
who 
supplied  flowers,  and  brought  plates 
for lunch and helped in the kitchen, we 
really value this support. 
Our  next  function  is  the  Tripe  and 
Onion  luncheon  on  Sunday  19th 
May  at 
12.30p.m.  (there  is  an 
alternative  meal  available  if  you  are 
not keen on tripe,) everyone welcome, 
that  includes  non-members,  but  please 
phone  Jan  on  4314512  so  she  knows 
how much to prepare. 
Remember  our  ex  member  Dawn 
Bright,  she  sends  her  regards  to  you 
all 
and would love a visit next time you 
are 
in 
Wellsford, 
she 
is 
at 
the  Retirement  Village;  also,  Bettie 
Marchant  in  Waipu  would  love  a 
visit  preferably  in  the  mornings.
Members  please  note  OUR  NEXT 
MEETING  is  on  Thursday  23rd 
May  arrive 1.15p.m. please remember 
to support the sales table, the Hostesses 
are 
Dawn Powell and June Wilson. 
That  is  all  for  now,  hope  you  are  all 
keeping well,
 Ann  
HAKARU RSA 
WOMEN'S SECTION
The Mangawhai Singers will be 
performing at the Mangawhai Museum 
on 24 and 25 May, 7pm 
Tickets: $20 at the Museum. 
The  Fairy  Tern  exhibition  at  the 
Museum, will close on Monday 20th May. 
Mangawhai  is  home  to  New  Zealand's 
rarest  endemic  bird  -  the  NZ  Fairy  Tern. 
There  are  only  about  45  birds  surviving 
and,  as  49.2%  of  all  chicks  surviving  to 
flying  stage  since  1992  hatched  in  the 
Wildlife  Refuge  on  the  Mangawhai  Spit, 
this area is critical to its survival.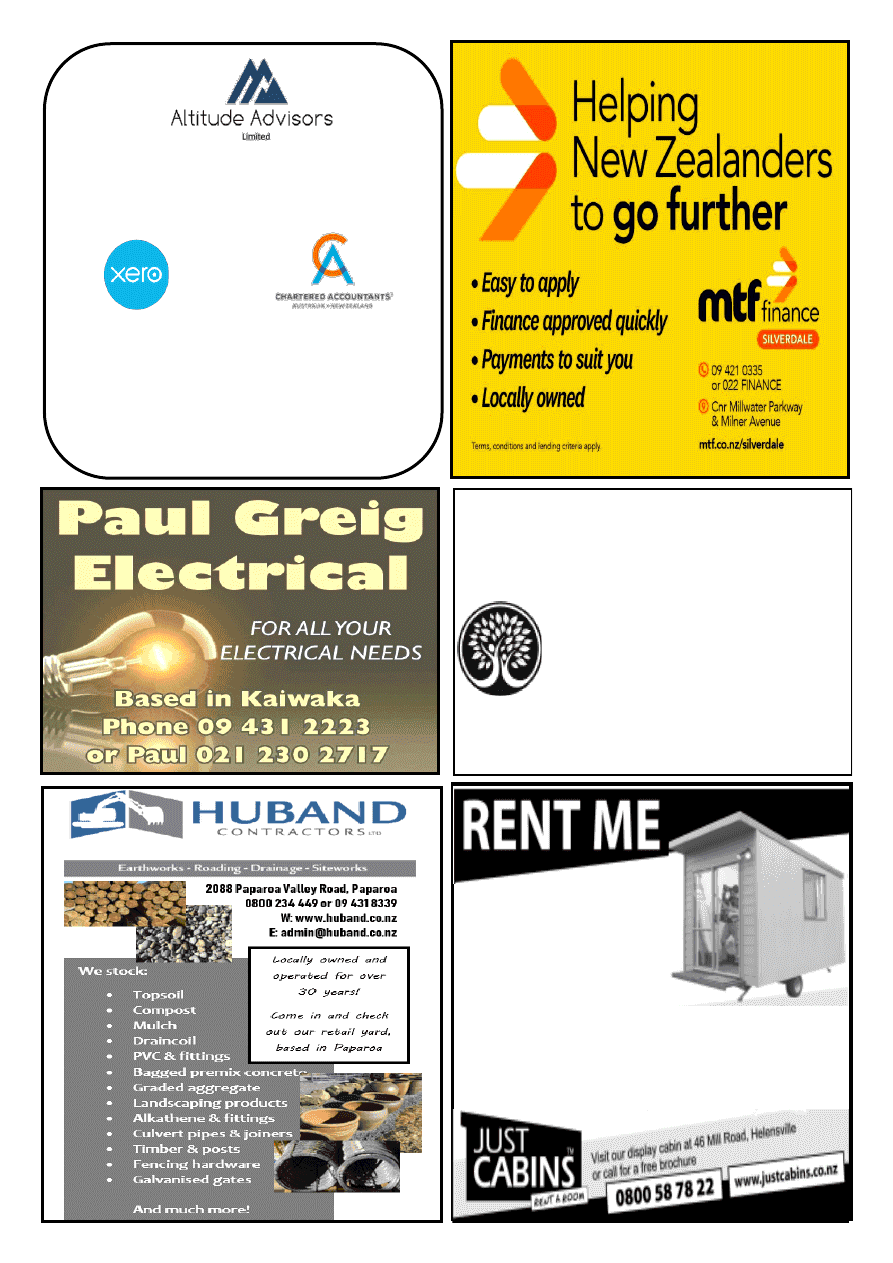 Ideal as an extra  
bedroom or office 
Three Convenient sizes: 
Standard 3.6m x 2.4m - $65 per week 
Large 4.2m x 2.4m - $80 per week 
Altitude with Attitude, helping your business 
scale new heights 
Time to try something different? 
Xero training          Accountancy Services 
We are offering two opportunities: 
15% saving off your annual report cost for your first 
year, & a further 10% saving for any referrals 
Call Corinne on 021 252 7680 or 
corinne@altitudeadvisors.nz 
Waipu Natural Health 
3 Cove Road, Waipu  (opposite the Pizza Barn) 
Ph: 09 432 1325 
www.waipunaturalhealth.co.nz
Clinical Nutritionist-Hair Analysis for Masked 
Allergies, Ozone Therapy, Prolotherapy, 
Naturopath-Medical Herbalist, Registered 
Massage Therapists, Reflexology-
Craniosacral Therapy, Acupuncture-Facial 
Acupuncture, Kineso Taping, Hypnotherapy, Counselling, 
ThetaHealing/Change Catalyst.
AFFORDABLE CONSULTS FOR KIDS – give us a call
Gift Vouchers available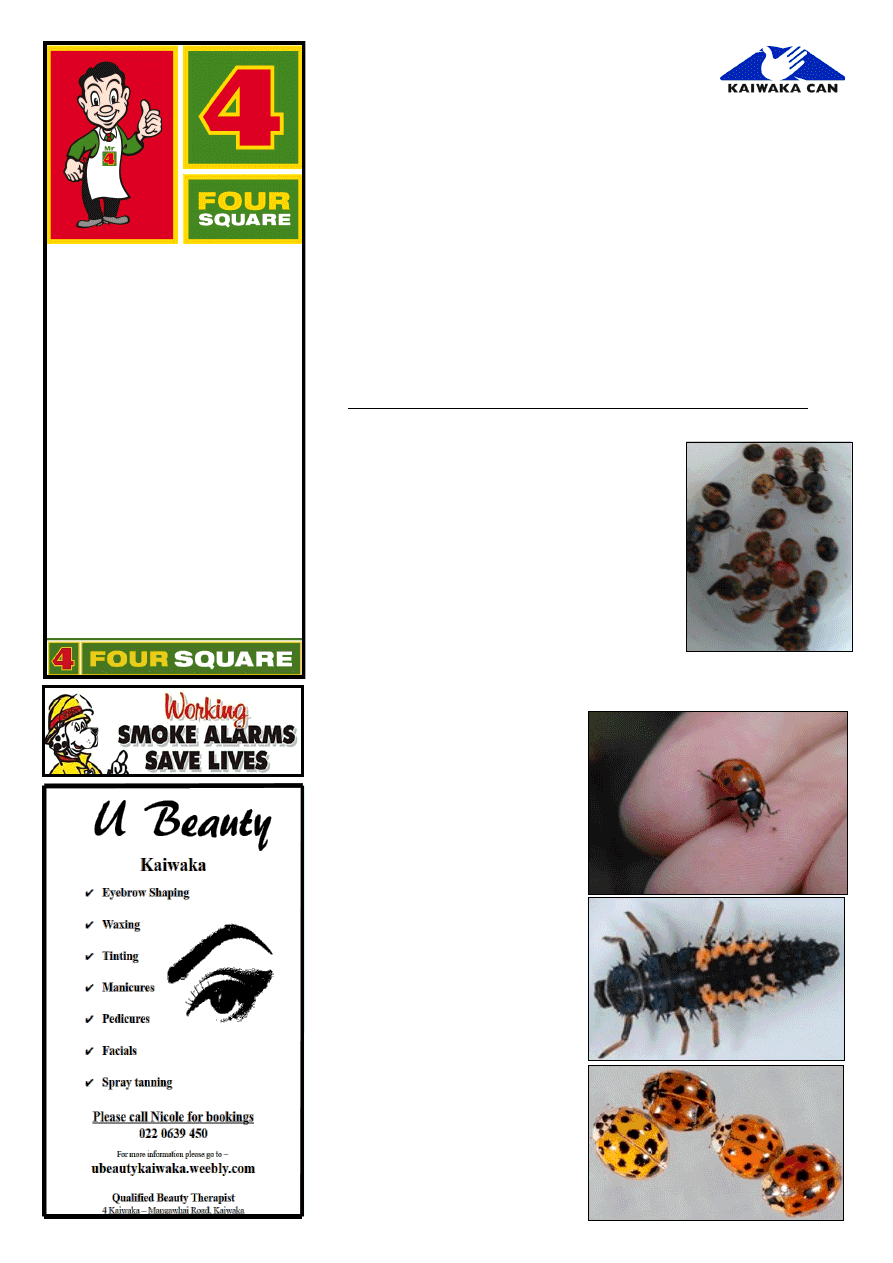 www.kaiwaka.co.nz 
Kaiwaka Bugle - 14 May 2019 
Page 7 
Fresh Daily Baked  
Freshly Baked Breads,  
Savoury Scrolls, 
Danishes, Chelsea buns, 
croissants and much more 
Easy Dinners 
Romano's fresh pizzas 
Hot Roast Chicken 
Range of good quality meats 
New range of socks  
for all the family 
Work socks & Beanies 
.
Jaques Four Square 
Phone: 4312227 
1 Kaiwaka-Mangawhai Road, Kaiwaka. 
HARLEQUIN LADYBIRD  
TIME TO HAVE YOUR SAY...
Kaiwaka residents have had two meetings recently in which 
to  express  thoughts  about  the  town  to  the  Council.  There 
was a public meeting to review the Township Improvement Plan. Only trouble 
was  we  had  no  opportunity  to  speak  up  publicly  or  hear  what  others  were 
thinking. Then there was the review meeting on the District Plan. More chance 
to  speak  up  there  but  all  in  tight  little  groups  rushing  round  ten  minute  table 
times. 
Kaiwaka Can holds its annual meeting this coming Wednesday, May 15th. We 
have a very small amount of the business type of stuff to do – approve the one-
page financial report and elect three officers, hardly an evening's work. 
Then we can talk about Kaiwaka, the things already under way and also, things 
we  think  about,  dream  about,  maybe  get  mad  about, maybe  worry  about. The 
meeting  is  open to anyone  and  everyone.  Yes,  we  have  a  membership  but  we 
have a totally open style, welcoming any who come to any meeting with ample 
opportunity  to  speak  up  and  out.  We  would  love  to  see  plenty  come  this 
Wednesday and do just this. In this way we can have a stronger and more united 
voice with Council. Time to move on with making our town what it can be and 
all of you can be a part of that. 
Derek Christensen (Chair) 
Meeting: Wednesday May 15th, Archie Bull Hall (behind the 
Anglican Church) at 5.30pm. 
Have you seen this wee insect?  
The  photo,  top  right,  was  taken  of 
these  Harlequin  ladybirds  in  an 
Oneriri,  Kaiwaka  home.  They  have 
been flying into the house and landing 
on  the  ceiling  and  furniture    daily  for 
the last few weeks. 
Stuff News reported on 30 April 2019 
that  this was 'an invasive species that 
could  spell  disaster  for  New  Zealand's 
lucrative wine industry.' 
The Asian harlequin ladybird was first 
discovered  in  Auckland  in  2016,  is 
now  being  found  throughout  the 
country.    The  bug,  which  is  slightly 
larger  than  New  Zealand's  native 
variety which it eats and out-competes 
for food . 
From  Scoop  News  3  April  2018 
"Harlequin  Ladybirds  are  a  potential 
threat  to  the  horticulture  industry 
where  they  feed  on  pip  fruit,  causing 
blemishes on the fruit. They are known 
to  cluster  within  bunches  of  grapes 
before  harvest  resulting  in  tainted 
juice. 
Harlequin  Ladybirds  also  pose  a 
nuisance to humans where they swarm 
in buildings and houses. They can bite 
and cause allergic rhinoconjunctivitis. 
They  eat  other  insect  species  and 
compete  for  food  resources,  posing  a 
risk  to  the  biodiversity  of  our 
ecosystem.  They  will  eat  native 
ladybirds  and  also  swarm  in  beehives 
over winter, requiring manual removal. 
Due  to  the  highly  variable  nature  of 
Harlequin  Ladybirds  it  can  be  hard  to 
distinguish  them  from  other  ladybird 
species.  The  M  shaped  markings 
between  the  head  and  abdomen  and 
two  small  bumps  on  the  rear  of  the 
back are their identifying features, they 
are  also  slightly  larger  than  common 
ladybirds. 
The  larvae  and  pupae  have  a  spikier 
skin than common spotted ladybirds. 
If  you  find 
Harlequin 
Ladybirds, 
please collect 
the 
specimen, 
photograph  it 
and  contact 
MPI's 
free 
24-hour  pest 
and  disease 
hotline 
on 
0800809966. 
MPI 
are 
tracking  their  spread  and  can  provide 
information to growers about the insect 
and its management."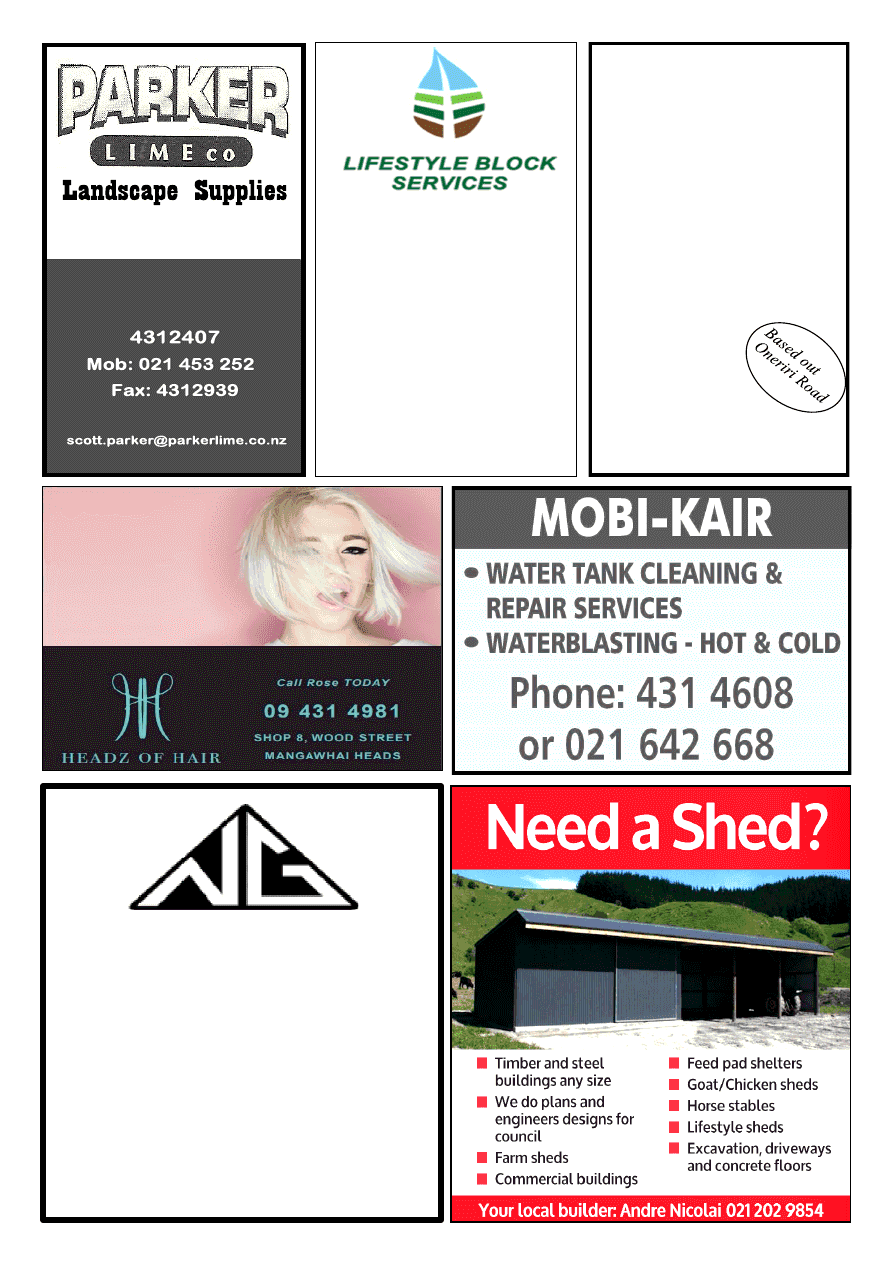 Make Baleage  
while the sun shines! 
Let us make hay/sileage for you. 
We sell small bale silage, 
conventional,  
& 5 bale equivalent hay. 
For more information  
Contact Mark on 021 801 065 or 
Contact Kathy on 027 4250520 
NORTH GLASS 
WINDSCREEN REPAIR OR REPLACE 
GLAZING SERVICES 
MIRRORS  •  SPLASH BACKS  •  SHOWERS 
0800 70 40 10
info@northglass.co.nz 
www.northglass.co.nz 
HODGETTS 
CONTRACTING
Digger Work 

Driveways   

House Sites   

Dams  

Drains, etc
Also available for HIRE 

4
3 ton Vib Roller   

Heavy Duty Tow  

4
Waterblaster     

Lazer Level 
Phone Mark 
4312877 
027 447 8554 
Bulk Cartage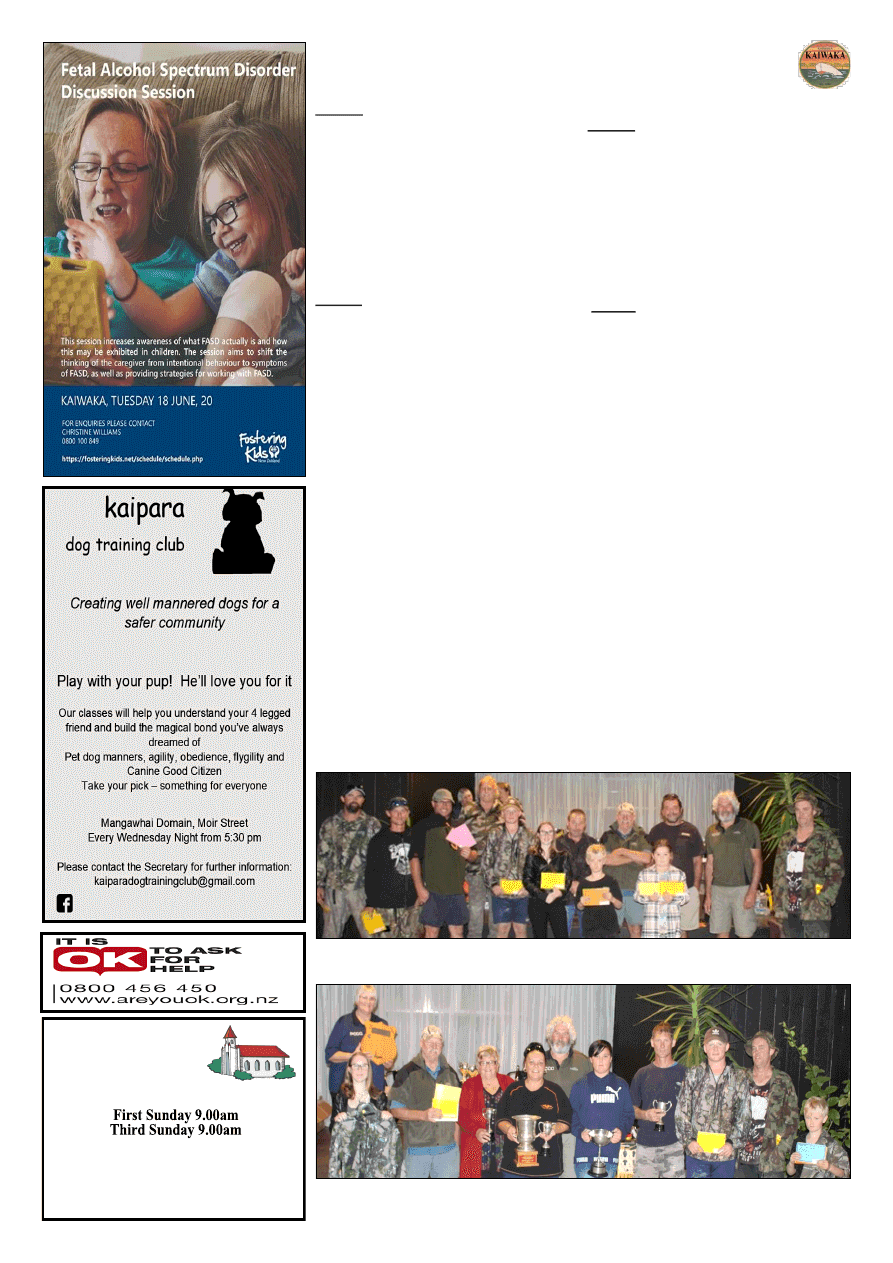 www.kaiwaka.co.nz 
Kaiwaka Bugle - 14 May 2019 
Page 9 
ST PAUL'S  
ANGLICAN  
SUNDAY SERVICES
St Pauls Church: Kaiwaka-Mangawhai Rd. 
1st Sunday - Eucharist 
3rd Sunday - Family Service 
Priest in Charge Rev. John Blundell  Ph 431 4122 
www.mangawhaianglican.org.nz
OPENING DAY DUCK SHOOT 
RESULTS 
Junior: 
Mallard 1st Jayden Wilson 1.333 
Parry 1st Jayden Wilson 1.926; 2nd 
Hunter Ries 1.784; 3
rd
 Jayden Wilson 
1.737 
Pukeko 1
st
 Amanda Ries   0.931 
Black Swan 1st Hunter Ries   6.30; 2nd 
Hunter Ries 6.055; 3rd Jayden Wilson 
5.369 
 Peacock 1
st
 Jayden Wilson 4.642 
 Turkey 1st Caleesto Mills 7.052 2nd 
Amanda Ries 6.780 
Senior:  
Mallard 1st Dale Hamlin 1.418; 2nd Matt 
Vaughan 1.385; 3rd Keith Mills 1.346 
 Grey 1st Tony Smith 1.243; 2nd Tony 
Smith 1.217; 3rdKevin Ries 1.217 
 Parry 1st   Kevin Watt 2.040;   2nd Kevin 
Ries 1.990; 3rd Kevin Watt 1.948 
 Pukeko 1st   Pongo 1.277; 2nd Pongo 
1.218; 3
rd
 Dale Hamlin 1.153 
Black Swan 1
st
 Kevin Ries 5.781; 2nd 
Trevor Wright 5.739; 3
rd
 Dale Hamlin 
5.730 
Peacock 1st Pongo 4.629 
Turkey1st Dave Kennedy8.968; 2nd Matt 
Vaughan7.452; 3rd Keith Mills 7.129 
Well done to those shooters that got out 
and gave it a go.  
Big  Thank  you  to  the  3Furlongs  and 
Staff for Hosting us, feathers and all. 
Thank you to the Weigh masters, Tony 
Smith  and  Pongo;  Sandy  and  Carol 
Mills with the collating of winners and 
prizes; Carol Welsford-Mills for selling 
Raffles. 
Raffle 
Winners 
Ticket: 
Green 
#30 Hunter Ries; Blue #14 Tony Smith 
⚫
Subs  are  due  on  the  1
st
  June  $30 
Family and $20 Single. 
END OF YEAR 
PRIZEGIVING RESULTS
Junior: 
 Snapper Tane Thomas 11.720kg 
Kahawai Tane Thomas 1.718kg 
 Trevally Tane Thomas 1.715kg 
Terakihi   Brad Kennedy   0.897kg 
 Turkey Jayden Wilson 6.292kg 
Mallard Loyd Clarke 1.242kg 
 Grey Loyd Clarke   1.084kg 
Peacock   Caleesto Mills     4.807kg 
Boar Hunter Ries 28kg 
Pukeko Hunter Ries 1.055kg 
Pheasant Tessa Ball 1.368kg 
 Senior: 
Snapper Renna Brown   8.760kg 
Kingfish Renna Brown 23.309kg 
Kahawai Jeremiah Smith 2.909kg 
Trevally Jeremiah Smith 3.224kg 
 Crayfish Jeremiah Smith 4.424kg 
Terakihi Dave Kennedy 1.025kg 
Peacock   Dave Kennedy 5.902kg 
Mallard   Dave Kennedy 1.500kg 
Parry Dave Kennedy 2.101kg 
 Gurnard Gravy 1.034kg 
 Spearfish Kraig Steiner 11.097kg 
 Boar Kevin Ries 101.70kg 
 Grey Tony Smith 1.319kg 
 Pheasant Tony Smith   1.606kg 
 Canadian Goose Tony Smith 5.355kg 
  Pukeko Joss Tolley 1.256kg 
  Swan (Black) Nigel Ball7.317kg 
  John Dory Linda Leslie 1.540kg 
  Turkey Pongo 10.702kg 
Boots & All Shield was awarded to Sandy 
Shaw. 
⚫
Congratulations to all the Winners. 
⚫
PCCC AGM is on Tuesday 11
th
 June 
2019  at  the  Kaiwaka  Sports  Assn., 
7pm.  Everyone  is  welcome  to  come 
along  
⚫
Next Club Meeting Tuesday 14
th
 May 
3Furlongs, 7pm. 
~ 
Wayne Leslie, Commodore
POINT CURTIS CRUISING CLUB  
Opening Duck Shoot Winners: L-R Dave Kennedy, Dale Hamlin, Matt Vaughan, 
Kevin Watt, Jayden Wilson, Caleesto Mills, Keith Mills, Tony Smith, Trevor Wright, 
Pongo, Kevin Ries. Back Sandy Shaw, Front Hunter Ries and Amanda Ries.
End of Year Winners: Back Sandy Shaw; L-R Caleesto Mills, Tony Smith, Linda 
Leslie, Renna Brown, Pongo, Tane Thomas, Kraig Steiner, Jayden Wilson, Kevin Ries, 
Hunter Ries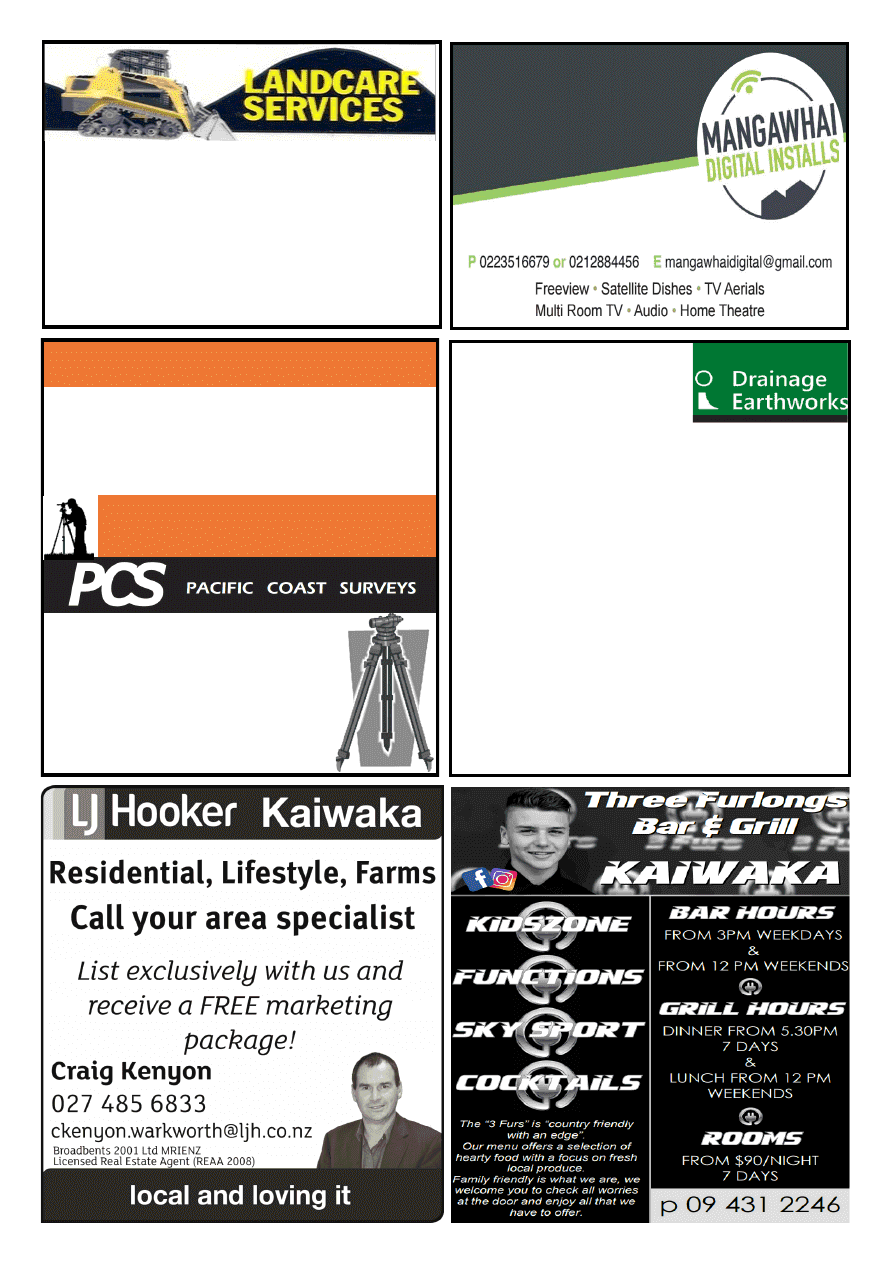 Drainage & Earthmoving 
nigel@clarkedrainage.nz 
027 2233 185 
Registered Drainlayer 
All Types of Earthworks  
> All Residential & Commercial Work  > House Sites 
> Septic System Design & Install 
> Footings & Drilling to 10m 
> Sewer Connections 
> Dams 
> Water Tank Installation 
> Roading & Races 
> Farm Work 
THE ONE STOP SHOP  
Phone Nigel for an Obligation Free Quote  
SURVEYORS 
SUBDIVISIONS 
HOUSE SITE SURVEYS 
CIVIL ENGINEERING 
WASTEWATER DESIGNS 
EXPERIENCED 
PROFESSIONAL 
INNOVATIVE 
Ph 09 431 5353 
0800 PACIFIC (0800 722 434) 
pacificcoastsurvey.com
Adam Booth - 027 415 5752 
Bsurv, Licensed Cadastral Surveyor
Surveying Kaipara since 1994 
LANDSCAPING 
4 IN 1 BUCKET 
TRENCHER 
POLE HOLES 
ROTARY HOE 
COMPACT ROLLER 
OFFAL HOLES 
CAN SUPPLY WOODCHIP & POST PEEL 
5 TON TIPPER 
FOR RELIABLE AND FRIENDLY SERVICE CONTACT DAVE 
Dave Hyndman 
 
KAIWAKA 
PH: 09 4312302 
MOB: 021 431 238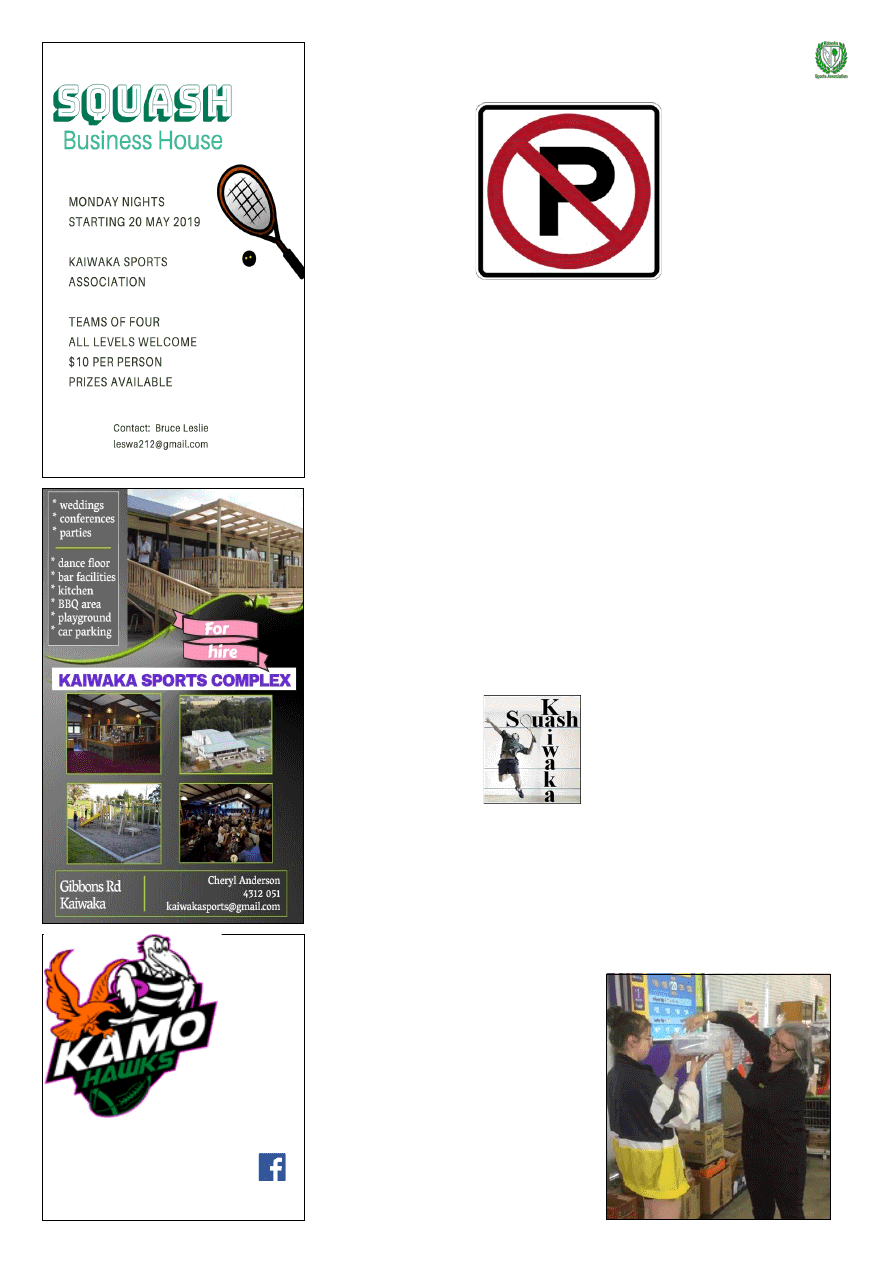 www.kaiwaka.co.nz 
Kaiwaka Bugle - 14 May 2019 
Page 11 
KAIWAKA SPORTS ASSOCIATION
No Parking 
There are three No Parking zones at 
the  Kaiwaka  Sports 
Complex.  They  are 
clearly marked but we 
have 
an 
ongoing 
problem  with  people 
ignoring  them.  These 
zones  are  in  place  as 
they  are  either  an 
accessway  onto  the 
fields  for  emergency 
vehicles  or  they  are 
disabled parking.  
The three areas are:  
⚫
in front of the gate by the swimming 
pool 
⚫
next  to  the  driveway  by  the  tennis 
court  
⚫
on  the  concreted  area  between  the 
gymnasium and the noticeboard.  
Please respect these No Parking zones. 
Badminton 
Keen  for  Badminton?  Turn  up  to  our 
gymnasium on Tuesday evenings, from 
7.30pm  -  all  ages  and  abilities 
welcome.  A  casual  sub  is  only  $3  per 
person  per  night.  Badminton  is  lots  of 
fun and an easy game to pick up. New 
members  welcome,  just  bring  soft 
soled  shoes  and  a  sense  of  humour! 
Club  racquets  are  available  for  you  to 
borrow.  
Squash  Business House 
Our  squash  club  are  putting  on  a 
Business  House  tournament.  The 
tournament  will be  played  on  Monday 
evenings  from  6pm,  starting  Monday 
20
th
 May.  Teams  of  four  players,  only 
$40  entry  fee  for  your  team,  one  of 
your  team  members 
must  be  a  novice 
player.  Great  fun  plus 
prizes  up  for  grabs! 
To  enter,  email  Bruce 
Leslie 
on 
Fitness Centre 
Keys to our Fitness Centre will change 
over  on  20
th
  May,  so  if  you've  ever 
thought about taking out a membership 
– now is the perfect time to do it! You 
can  purchase  a  year's  membership  for 
$150  which  will  give  you  24/7  access 
to a centre equipped with free weights, 
bikes, climbers, rowers, treadmills, CV 
machines, toilets and showers. You can 
buy a key from Jaques Four Square, or 
for  more  information  please  contact 
Fitness  Centre  President  Siobhan 
Henderson on 027 9791203. 
Martial Arts 
Did you know we have a Martial Arts 
club  which  operates  out  of  our 
gymnasium? The club offers classes in 
Tai  Chi  and  Kempo,  for  a  variety  of 
ages,  on  Wednesday  afternoons  and 
Sunday mornings. 
For  more  information  please  contact 
Craig Bennetts on 021 1524466. 
Netball Mixed Tournament 
Well  done  to  Jodie  Bennetto,  Pat 
Buxton  and  crew  for  running  an 
enjoyable 
Mixed 
Netball 
Tournament at our courts recently as a 
fundraiser  for  Otamatea 
Netball's  AIMS  team.  The 
tournament  winners  were 
The Metes with Otamatea-
Ex  coming  in  second. 
Team prize for effort went 
to  Harunas  Winners  - 
Otamatea  Senior2.  Thank 
you  to  umpires  Melissa 
Watts, 
Pat 
Buxton, 
Rebecca 
Fletcher 
and 
Taira Phillips. 
Hirage of the Sports Complex 
Did  you  know  our  Sports  Complex  is 
available  for  hire?  We  cater  for 
weddings, 
conferences, 
parties, 
corporate  events,  meetings  etc  with 
seated dining for up to 130 people. We 
provide a quality venue complete with 
bar,  kitchen,  a  spacious  lounge  with 
dance  floor,  plenty  of  parking,  and  all 
at 
a 
very 
reasonable 
rate. 
Plus we hire out our kitchen to groups 
who  require  a  commercially  licensed 
kitchen 
for 
food 
preparation. 
Check  out  our  website  for  all  the 
details www.kaiwakasports.co.nz.  
Mother's Day Raffle Winners 
Many  thanks  to  everyone  who 
supported  the  KSA  by  purchasing  a 
ticket  in  our  Mother's  Day  raffle.  The 
raffle was drawn at Jaques Four Square 
by Paula Jaques. Congratulations to the 
five lucky winners: 
1st prize: Sam Whitelaw 
2nd prize: Wendy Walker 
3rd prize: Shona Tautari 
4th prize: Gayle Draycott 
5th prize: Stephanie Masiutama 
A  big  thank  you  to  the  generous 
sponsors:   
Jaques  Four  Square,  Three 
Furlongs  Bar  &  Grill,  Headz  of  Hair, 
Kaiwaka  Cheese  Shop,  U  Beauty, 
Wellsford  Sports  &  Leisure,  The  Apple 
Basket, Bazaar World, Pumps N Plumbing, 
Forgotten 
Fruits, 
Kaiwaka 
Picture 
Framing,  Woodys  Winners,  Well  of 
Health,  Amy  Griffiths  Physiotherapist, 
Wild  Meadows,  Choose  Organic,  Rush 
Coffee,  Confident  Care,  Farmlands, 
Gardenpost,  Coffeepot  Cafe,  Kaiwaka 
Fitness  Centre,  Prime  Design  Furniture  & 
Cabinetry, Libby Clews, Amanda Grayson, 
Carey  Murphy,  Otamatea  Martial  Arts, 
Marshwood Apiaries and Kai Carrier.
~ Cheryl    kaiwakasports@gmail.com 
Below: Paula  drawing out a Mother's Day 
raffle prizewinner! 
As  
the  
Kamo 
Magpies 
and 
Otamatea 
Hawks 
Women's 
Rugby 
Team 
have 
combined 
for 2019… .so too has their logo. 
Follow the team on Facebook: 
Otamatea Hawks & Kamo  
Women's Rugby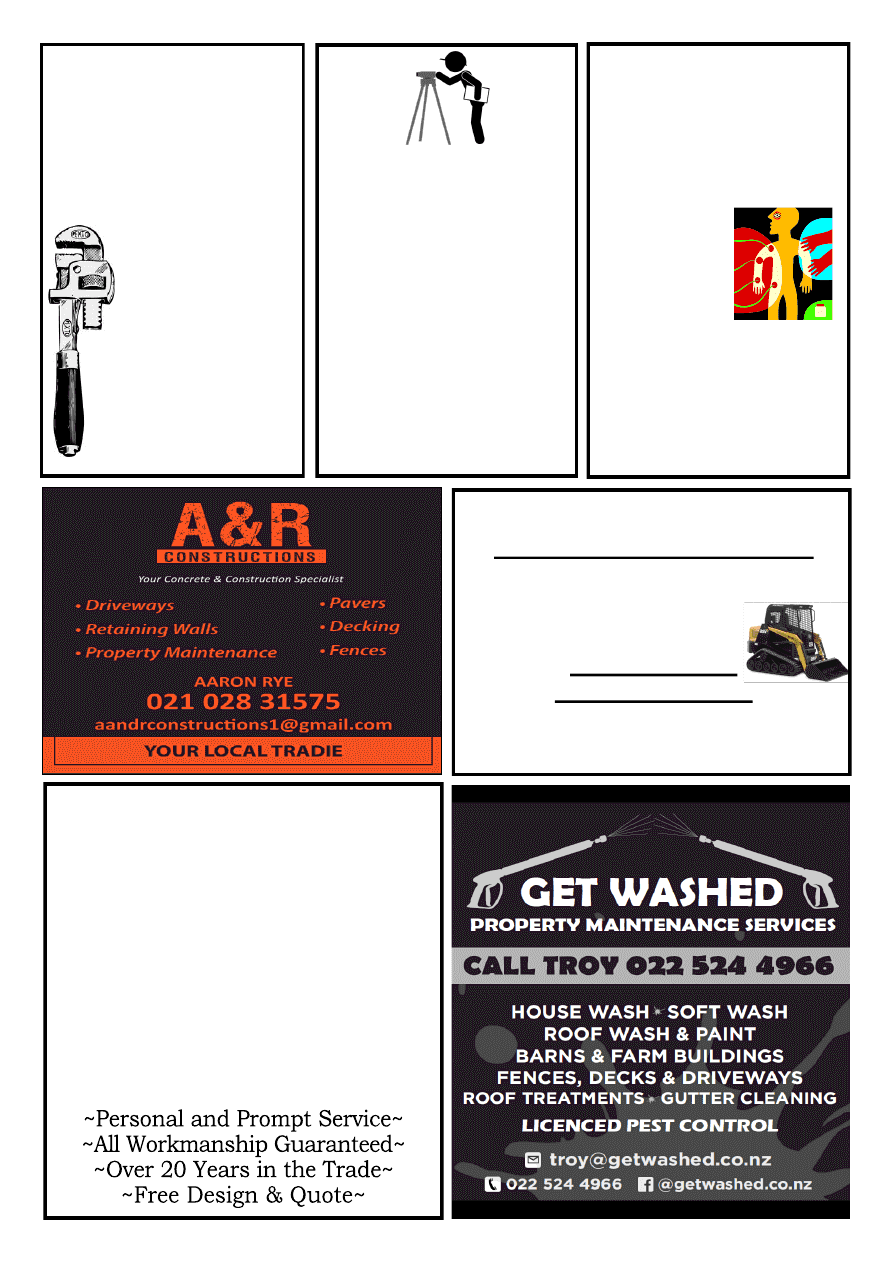 BARRY CURTIS 
PLUMBING LTD 
REGISTERED CRAFTSMAN 
PLUMBER 
Phone 431 5572 
027 257 9884 
25 years' experience 
Friendly reliable service 
All plumbing & 
maintenance 
Alterations and new 
housing 
Spouting  
Competitive rates 
PROMPT 
EFFICIENT 
SERVICE 
OWEN STEVENS 
Osteo Therapist
For careful adjustments to bones 
and joints 
Treatment for humans and their 
pets 
Clinics: 
Kate's Place, 
Kaiwaka: 
Last Friday of 
month 
For bookings: 
9.00am-5.00pm  
Phone 
09 4312661 
Or phone Owen  
09 4317123 anytime 
PLANNING A NEW KITCHEN?
 CONTACT NOEL McDOWELL
WELLSFORD 
KITCHENS
Ph/Fax 094312888
KAIWAKA-Any time
 QUALITY CUSTOM MADE 
KITCHENS
Ken Urquhart 
BSurv Licensed  
Cadastral Surveyor 
KMU Surveys Ltd 
467 Bickerstaffe Road 
RD 2 
Maungaturoto 0587 
Ph 09 431 8705 
Mob 021 161 2344 
kenurquhart@xtra.co.nz 
Natural Earth Ltd 
Landscape and Bobcat services 
 : Driveways :Landscaping :Retaining Walls 
 : Hole Boring: Land Levelling :Trenching 
 : Decks :Fences :Sections Cleared 
 : Plus much more
Tel 09 4312 885 
Mob 02102391280 
For A Fast Friendly Service  
Contact Tim Hicks 
www.kaiwaka.co.nz 
Kaiwaka Bugle - 14 May 2019 
Page 13 
LETTER TO THE 
EDITOR 44 YEARS 
AGO: 
14 May 1975 from the 
Rodney & Waitemata Times 
'Dear Sir,  
We, the New Zealand Folklore Society 
(Auckland),  are  engaged  in  the 
collection, research and preservation of 
the  folk  songs  and  stories  of  old  New 
Zealand.' 
Here  B.F.  Worsfold  of  Sandringham, 
Auckland  is  aiming  to  complete  the 
song fragments … 
…  'With  this  in  mind  I  am  taking  the 
liberty  of  sending  you  copies  of  the 
known  words  of  two  songs,  both 
relating to the races that used to be held 
at  Hakaru,  in  the  Otamatea  County, 
from  the  early  1876s  up  until  just 
before the First World War. Of the first 
one we have two verses, the chorus and 
the tune, These lyrics only just begin to 
tell  the  story.  The  second  song  should 
have six or seven verses and a chorus. 
We have only two verses and the tune, 
which  is  the  same  as  the  Australian 
song  "Wrap  me  up  in  my  stock  whip 
and  blanket."  This  song  used  to  be 
sung  at  concerts  in  Mangawhai  in 
about1902-1904  by  one  Jimmy  Birch 
and  the  words  were  apparently 
published  at  some  stage  in  the 
Whangarei Gazette… 
The two songs in question are: 
"
After the Hakaru Races, we 
thought we'd have a spree down 
here.  
Some people pulled long faces, and 
others said, "no fear!" 
Then up spoke old Bob Riddley.  
I've a plan I think will do,  
Get some money in, some money in 
and pull the races through. '  
We've heard there is residing a 
parson up the creek,  
who's taken, to depriving us of the 
harmless fun we keep. 
Then up spoke old Bob Riddley..." 
AND 
"I remember the joybells were 
ringing, 
Bill Sarah was riding a ring-in that 
day. 
When the judge said its 3 year's 
suspension  
When the rain washed the bay back 
to grey: 
His mother cried "Billy, don't leave 
us;  
Your bets keep the wolf from the 
door. Without them the "bookie 
will break us." 
As he turned and he whispered 
once more: …" 
Thank you, Sheryl Botica, for sharing 
this gem. 
WANTED TO BUY 
I  am  a  local  private  collector  of 
Kaipara  &  Northland  Paper, 
Postal  &Photographic  History 
looking to purchase: 
Old Photos   Old Postcards 
  Old Documents 
Old Envelopes  
Old Advertising / Tourism 
Posters or Pamphlets 
Old books or old 'paper' 
relating to  
Kaipara and Northland. 
I will pay a fair price immediately 
so please contact me on either  
280 9544, text 021 757 107  
or email 
nigel.bermuda@gmail.com 
OTAMATEA 
COMMUNITY 
SERVICES   
Counsellors, Parent Coach, 
Senior Support, Financial 
Mentors, Social Worker, 
Addiction Support,  
Family Support. 
Monthly Activities: 
❖
Seniors' Lunch 1st Wednesday 
❖
Chocolate Bingo 3rd 
Wednesday
❖
Shopping  trips  to  Whangarei 
2nd Tuesday and 4th Wednesday 
Phone: 09 431 9080.  
155 Hurndall St. Maungaturoto. 
From Thelma's 
Scrapbook …
POIGNANT PIPING 
There is a story of a young 
man who used to make a few extra 
dollars as a bagpiper, playing mostly 
for funerals. One time he was asked 
by a funeral director to play at a 
graveside service for a homeless man. 
He had no family or friends so the 
service was to be. at a cemetery in the 
Kentucky back country. 
The young man was not familiar with 
the area and got lost; and being a 
typical man, would not stop for 
directions. Finally, he arrived an hour 
late and saw the funeral guy had 
evidently gone and the hearse was 
nowhere in sight. 
All he saw were the diggers and crew 
left, and they were eating lunch. He 
felt bad and apologised to the men 
for being late, went to the side f the 
grave, and looked down. The vault lid 
was already in place, but not knowing 
what else to do, started to play. 
The workers put down their lunches 
and began to gather around. He 
played his heart out for this man with 
no family or friends. He played like 
he'd never played before for this 
homeless man's memory. 
As he played 
Amazing Grace
, the 
workers began to weep. They wept, 
he wept, they all wept together. 
When he finished he packed up his 
bagpipes and started for his car. 
Though his head hung low, his heart 
was full. 
Just as he was opening the door to 
his car, he heard one of the workers 
say, "I never seen nothin' like that 
before, and I've been putting in septic 
tanks for 20 years." 
HAKARU HALL 
ACTIVITIES 

Monday: Line Dancing 10am  
Ph 4315160 

Tuesday: Pilates 9-10am 
Ph 0220643964 
Certified Instructor 

Wednesday, First of The Month 
Hall Committee Meeting 7pm 

Following Wednesdays: Recreational 
Music Evening 7pm Ph: 
0210628631

Thursday: Pilates 9-10am  
Ph 0220643964 

Thursday: Scouts 5pm 

June 16
th
 Line Dancing Open 
day 1.30-5.30pm 

June 22
nd
 Zonta Ball 

Hall Hire Ph 4312256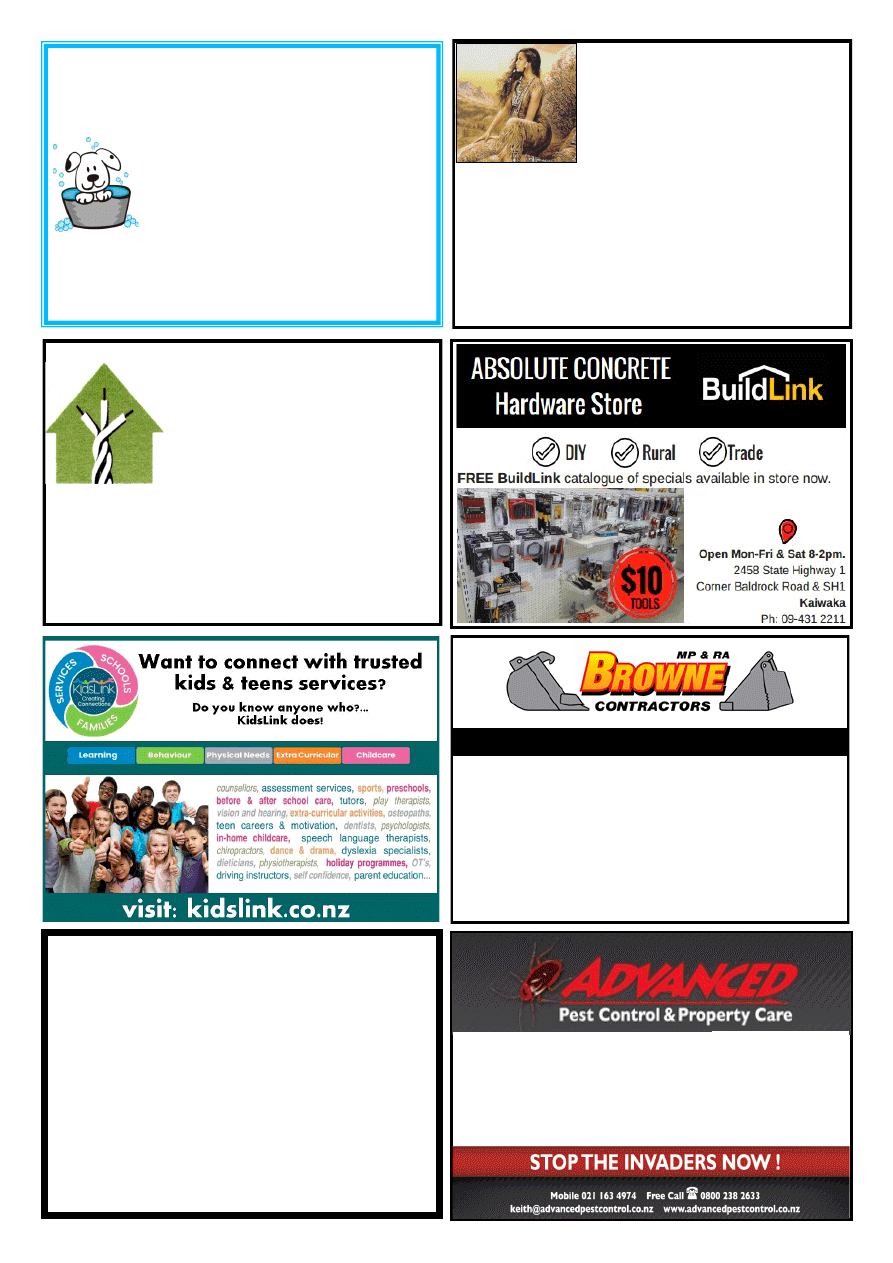 4T DIGGER – BOBCAT – TIP TRUCK 
Property Maintenance - Driveways  
 Building Sites 
Stump & Tree Removal  
Hole Boring - Chain Trencher  
Calf Shed and Stockyard Cleaning 
Phone Matt: 021 199 6677 
Email: mprabrownecontractors@gmail.com 
Mangawhai Heads 
Garden Centre
1758 Cove Road
945 0707 
021 165 2629 
Reyahn George 
Leng 
Registered Electrician 
Local, honest and reliable. 
For your residential and 
light-commercial projects. 
022 314 1068 
Trails end 
spiritualist gathering 
Last Sunday of every month  
10.30-2pm  
Tea/coffee provided  $5 koha 
For all inquiries: 
021 165 2629 evenings (09) 945 0707 
Trail.end@hotmail.com 
1758 Cove Road, Mangawhai
Bringing together like-minded people 
Guest speaker each month
Pest Control 
PLAN A: One-off treatments to customers with a specific pest problem 
PLAN B: Full maintenance service plans to commercial customers. 
This will include documentation kept in customer file on site: 
⚫
Pest treated 
⚫
Date of service 
⚫
Chemical or baits used 
⚫
Full pest check report done after each treatment 
⚫
Fair and reasonable fee with guarantee 
Flood Recovery  Carpet Care 
⚫
Carpet Drying 
This includes pre-spray treatments 
Upholstery Cleaning 
Full upholstery cleaning of all furniture.  
eg lounge suites and all office chairs 
Water Blasting 
⚫
Concrete - Decks 
House Washing 
⚫
Soft Chemical Was 
⚫
Pre-painting Wash 
Property Services 
Hot Diggity Dog 
DOG GROOMING 
All breeds dog grooming 
Professional Experienced Groomer 
Short practical grooms - summer 
Breed Standard Grooms 
Designer fusion Grooms 
Oneriri Road
By appt Phone Pam 09 4312143 
Or text only 0273335380 
Email  hot.diggitydog@outlook.com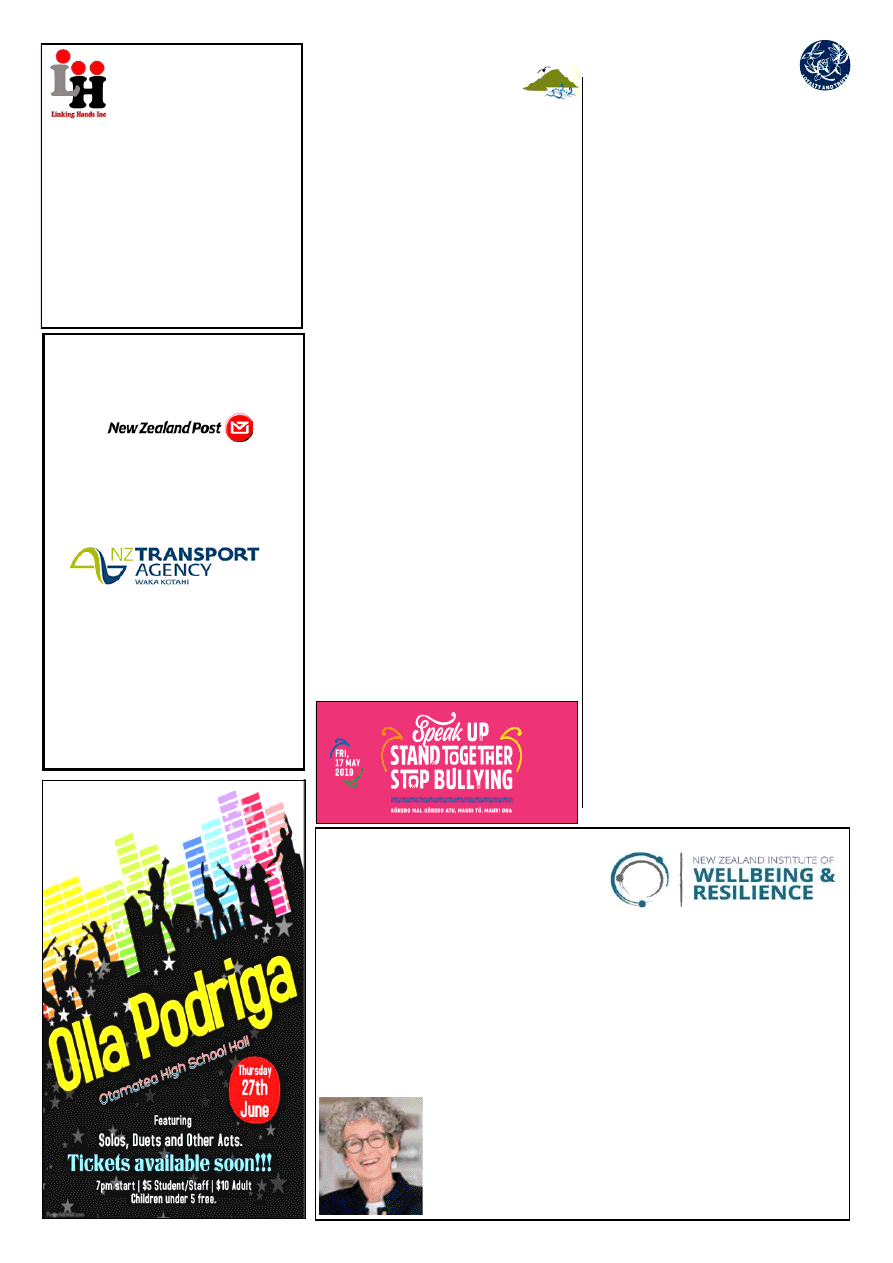 www.kaiwaka.co.nz 
Kaiwaka Bugle - 14 May 2019 
Page 15 
KAIWAKA SCHOOL 
Bully-Free Week  
To  recognise  this  our  school 
will  be  joining  in  with  the  other 
schools in our Twin Coast Kahui Ako 
by  everyone  wearing  pink  on  17th 
May.  All  of  the  schools  involved  will 
take  photos  and  enter  the  Twin  Coast 
Kahui  Ako  competition  for  the  best 
outfits.  There  will  be  prizes.  The 
categories are:  
1. Best Outfit Year 1-4 
2. Best Outfit Year 5-8 
3. Best Outfit on a staff member. 
Without going to any expense, can you 
please  help  your  children  prepare  for 
this fun day by dressing up in anything 
pink.  The  underlying  messages  about 
the ways to deal with being bullied and 
why  people  bully  will  be  discussed  in 
class. 
Renovations 
Our  school  renovations  are  in  full 
swing. Two new water tanks have been 
installed  and  the  Office  has  been 
renovated. Currently Room 6 is having 
wall  coverings  and  carpets  replaced. 
Our new classroom has arrived and the 
Ministry  of  Education  is  speedily 
having  it  prepared for  occupation. We 
thank  the  Board  of  Trustees  for 
approving  all  of  this  improvement. 
Warm regards, Rosie Ellis. 
Up coming events: 
17 May: Bully-Free NZ Pink Clothes Day 
22–23 May: DOC visitor re Kauri Dieback 
24  May:  Nominations  close  for  BOT 
candidates. 
3 June: Queens Birthday 
7 June: BOT Elections close 
17  June:  Visiting  Authors  -  Gavin  Bishop 
and Tania Roxborough.
KAIWAKA POST 
CENTRE and 
FOOD MART 
POST CENTRE TRADING HOURS 
MONDAY to FRIDAY 8am to 5pm 
SATURDAY 8am to 12pm 
CLOSED ON SUNDAY and on 
PUBLIC HOLIDAYS 
FOOD MART (GROCERIES) 
MONDAY TO SUNDAY  
7:30am to 8pm 
IF ANY QUERIES PLEASE CALL 
STORE MANAGER AMRIT  
on 09 4312431 or 
EMAIL: kaiwakafood19a@gmail.com 
1919a State Highway1, Kaiwaka 0542 
OTAMATEA HIGH 
SCHOOL
From the Principal's Notes 
Board  of  Trustees:    I  would  like  to 
take  this  opportunity  to  thank  the 
Board  of  Trustees  for  all  the  many 
hours  of  work  that  they  do  in 
governing the school.  I am extremely 
grateful  for  their  support  which  has 
enabled  Otamatea  High  School  to  go 
from  strength  to  strength.  Next 
Wednesday  15th  May  will  be  the  last 
meeting  for  this  Board  term.      If  you 
are  interested  in  standing  for  the  next 
Board  of  Trustees  I  would  encourage 
you to come along to our meeting or to 
speak  with  a  current  Board  member, 
including 
myself, 
about 
the 
role.    Nominations  for  the  parent 
representative  position  closes  on  24th 
May, and then voting (should there be 
more than 5 parent representatives put 
forward)  will  close  at  noon  on  7th 
June. The new Board will be in effect 
from the 26th June meeting. 
Pink shirt mufti day:  On Friday 17th 
May we will be holding a mufti day for 
Pink  Shirt  day  -  this  day  is  about 
standing up to bullying.  Students will 
be encouraged to wear pink and donate 
a  gold  coin  donation  towards  the 
cause.  
Community evening:  On Wednesday 
5th  June  from  6:00pm  -  7:30pm  we 
will be holding a community session - 
Practical  Strategies  to  Protect  and 
Promote  Wellbeing.    Denise Quinlan 
from  New  Zealand  Institute  of 
Wellbeing  and  Resilience  will  be 
delivering  this  session.    She  is  also 
working  with  the  whole  staff  and  the 
school's wellbeing team on developing 
a  strength-based  wellbeing  framework 
for  our  school~  Rachel  Clothier-
Simmonds, Principal 
The Otamatea AIMS Netball Team have 
entered  an  AIMS  Anchor  competition 
again.  They  need  to  collect  lots  and  lots 
Anchor
 bottle caps before August !
  LINKING 
HANDS INC 
Maungaturoto - Kaiwaka - 
Mangawhai 
Meeting the needs of the community. 
A  free Health Shuttle Service, providing 
transport to those who would struggle to 
get  to  medical,  dental,  podiatry,  or 
optometrist appointments anywhere from 
Warkworth to Whangarei. 
HEALTH SHUTTLE SERVICES 
Ph/fax 09 431 8969 
OFFICE HOURS 
Maungaturoto - Monday to Friday  
10am to 4pm 
Closed Public Holidays 
Parent/Caregiver and Community Presentation 
Venue: Otamatea High School 
Date: Wednesday 5 June 
Time: 6.00pm - 7.30pm 
Presenter: Dr Denise Quinlan 
KICKING FOR THE SURFACE: 
Practical Strategies to Protect and Promote Wellbeing 
This practical session will share tips and strategies that parents,/caregivers and students 
can use to keep their heads above water in a busy year. The good news - wellbeing is our 
best protection against the stresses and challenges of everyday life. You will find out what 
wellbeing is made up of, and simple ways to support it; why focusing on what's right and 
knowing your strengths can help wellbeing and achievement; how to combat the 'fragile 
thoroughbred' syndrome that sees many teenagers afraid to try or giving up after failure; 
and why we can all benefit from more self-compassion. Last but not least, this session will 
remind  parents  that  love,  acceptance  and  belonging  are  the  most  important  things  you 
can continue to give busy, worried or less-than-totally-lovely young people. 
Dr  Quinlan  is  acknowledged  nationally  and  internationally  as  an  outstanding  facilitator. 
Her  humour  and  honesty  allow  her  to  create  environments  where  participants  fully 
engage and safely contribute. 
Denise may be the best facilitator l know. If not she'd make the 'grand 
final'! 
Dr  Alexander  'Sandy'  Gordon,  Elite  Sports  Psychologist  and  Couch, 
Australia.
She  has  a  warm  way  of  communicating  the  science  of  well-being  to 
people with varied knowledge and experiences of Positive Psychology. 
There  was  a  general  consensus  that  we  left  the  training  wiser,  more 
connected  and  energised  for  our  work  with  young  people
. 
Paul Tupou-
Veo, Dilworth Rural Campus, Te Haerenga
.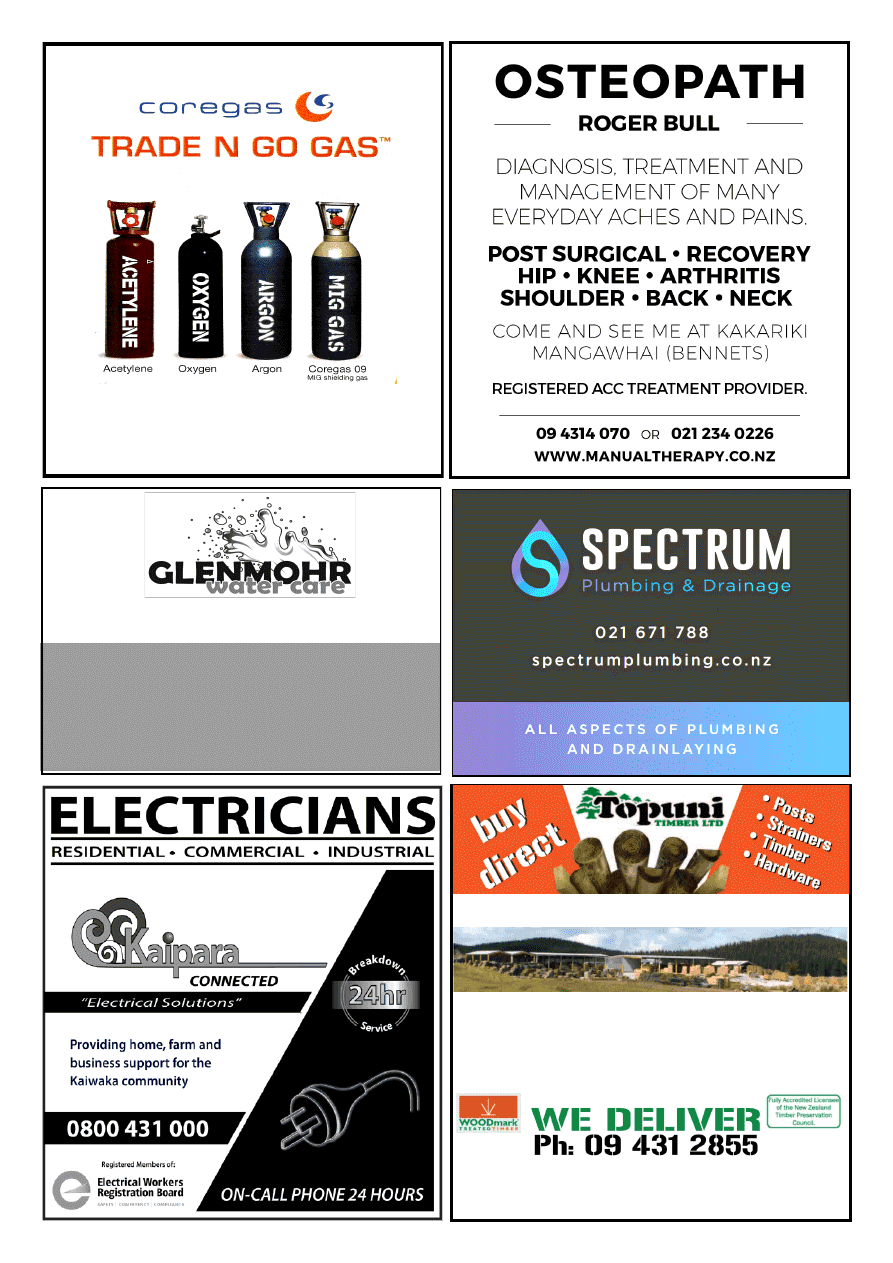 At Twinkle Tow 'n' Tyre 
Mob: 021 833 960 
Ph & Fax: 09 431 2823 
1837 State Highway 1, Kaiwaka 
Water Tank Cleaning 
• 
Keep your water safe & clean  
• 
Removal of sediment, silt etc. 
• 
Vacuum or full scrub 
• 
Minimal water loss 
Phone Mark (09) 432 0655 or 0274 707607 
LOCALLY OWNED AND OPERATED 
QUALITY PRODUCTS • FRIENDLY ADVICE • GREAT SERVICE 
Quality Products milled from High Density NORTHLAND Radiata Pine. 
Treated and guaranteed to NZS3640 with commitment to 
Environmental Safety.
Phone, fax, email, or come into the mill 
Schiska Rd, Topuni, SH1, 10 min north of Wellsford. Fax: 09 431 2856 
Email: sales@topunitimber.co.nz           Mon - Fri 7am-5pm 
• Fencing 
• Retaining 
• Decking 
• Landscaping 
• Gates 
• Hardware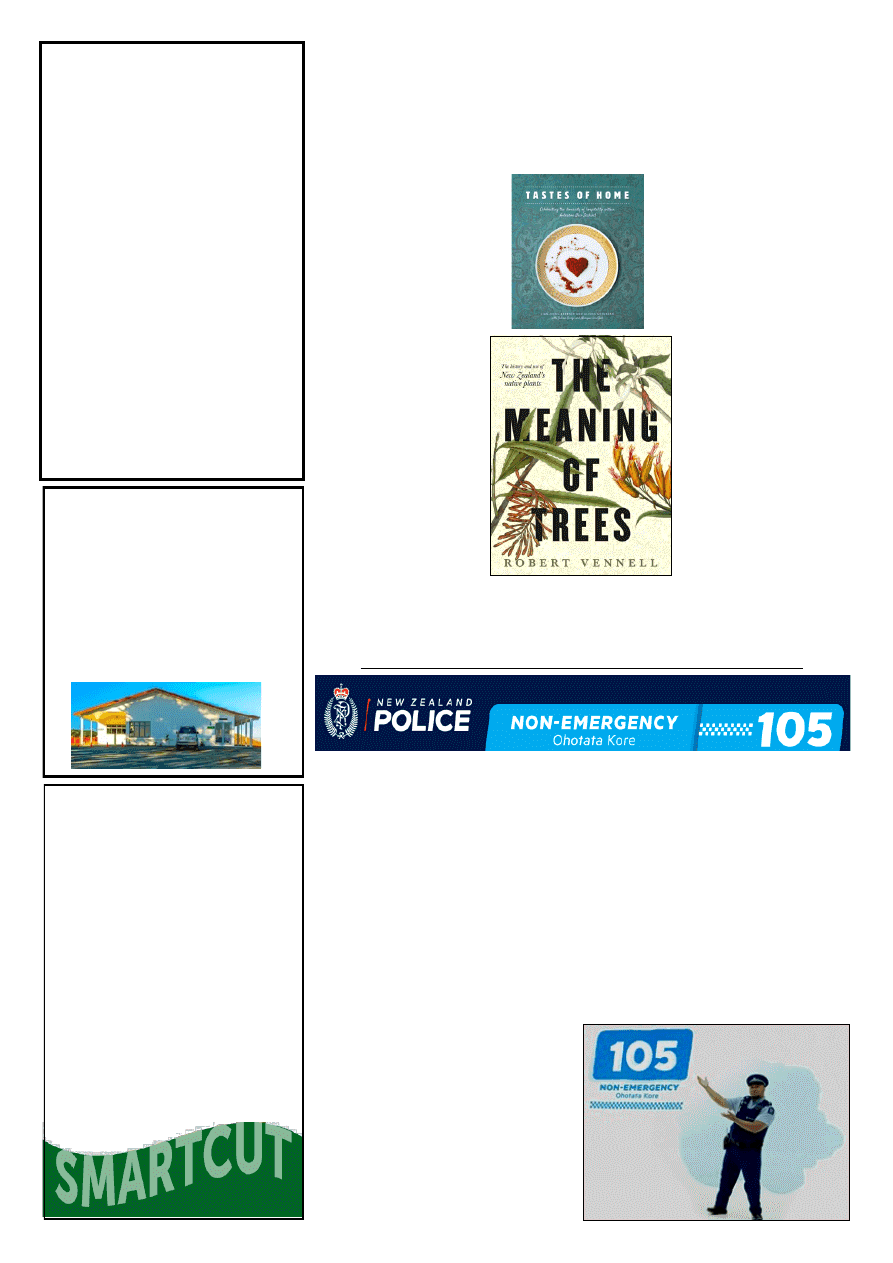 www.kaiwaka.co.nz 
Kaiwaka Bugle - 14 May 2019 
Page 17 
All your outdoor needs sorted 
so you don't have to... 
I can prune, chop, tidy, spray, 
mow, plant 
- you name it, I can do it! 
Residential & 
Commercial 
Lawn & Garden 
Care 
Call Rodney, your local  
lawnmowing contractor 
021 138 2344 
KAIWAKA LIBRARY 
NEW ON OUR SHELVES 
Some  of  the  new  titles  you'll  find  on 
our shelves... 
Rental Fiction:  
⬧
Redemption by David Baldacci - #5 in 
the Amos Decker series; 
⬧
Chestnut  Street  by  Maeve 
Binchy - her final book; 
⬧
Harrigan  &  Grace  series  by 
Alex 
Palmer 
- 
gritty, 
compelling thrillers 
⬧
 Ocean light by Nalini Singh 
-  #2  in  her  new  Psy-
Changling Trinity series. 
Rental Non-Fiction:  
⬧
The  meaning  of  trees  by 
Robert Vennell - "Beautifully 
illustrated with botanical 
drawings,  paintings  and 
photographs ... shows us 
how  a  globally  unique 
[New Zealand] flora has 
been  used  for  food, 
medicine, 
shelter, 
spirituality  and  science. 
From  Jurassic  giants  to 
botanical  oddballs  - 
these  are  our  wonderful 
native 
and 
endemic 
plants." (582 VEN); 
⬧
Tastes 
of 
Home: 
celebrating  the  diversity 
of  hospitality  within 
Aotearoa  New  Zealand,  by  Lian-Hong 
Brebner and Alison McIntosh - this is a 
beautiful  book,  telling  the  stories  of 
journeys  from  around  the  world  for 
refugees who have made New Zealand 
their home, and some of their favourite 
recipes (641 BRE) 
⬧
The  baker's  companion  by  Allyson 
Gofton - "everything you need to know 
about baking"! (641 GOF). 
This is just a small sample of the new 
titles  added  to  our  shelves 
recently.  For  full  lists,  follow 
Kaiwaka Library on Facebook, 
or  come  in  to  the  library, 
where the lists are hanging on 
clipboards. 
You  can  place  a  hold  on  our 
books  -  and  books  at  other 
libraries  in  the  district  -  via 
Enterprise*. Contact me if you 
need help with this. 
New  library  app  for 
your phone 
We now have an app for 
managing  your  library 
account from the comfort 
and  convenience  of  your 
own  phone.  Search  for 
kaipara  libraries  in  the 
PlayStore  (Android)  or 
the  Apple  App  Store  or 
go 
to 
https://
play.google.com/store/
search?q=kotui+kaipara 
Contact  me  if  you  need 
help with it. 
See you in the library, Wendy 
Kaiwaka  Library,  cnr  State  Highway  1  and  Kaiwaka 
Mangawhai  Road.  PO  Box  89,  Kaiwaka  0542.  Phone  4312 
539. Email kaiwaka.library@gmail.com Open Wed-Sat 10am-
2pm,  Mon  4-6pm.  Free  membership  is  available  to  all 
residents in the Kaiwaka area
. 
 *Enterprise: http://kaipara.kotui.org.nz/
Te Pounga Marae 
130 Nathan Rd. Oneriri. Kaiwaka 0573 
COMPLEX FOR 
HIRE 
Functions: * Weddings  * Birthdays  
*Anniversaries * Meetings  * Wananga 5 
hour meeting * 12 hour stay or Overnight 
*All welcome   
For more information please contact: 
Kim Wallace  
Home: 09 832 1133  Mob: 0211275340  
Email: kimwallace@xtra.co.nz 
"POLICE ANNOUNCE NON-
EMERGENCY NUMBER – IT'S 105" 
At 10:05 am on the 10th of the 5th, New Zealand Police is launched 105 -  
("ten  five"),  the  eagerly  anticipated  number  for  the  public  to  report  non-
emergency situations to Police. 
The  105  number  and  the  online  platform  -  105.police.govt.nz  -  will  make  it 
easier for the public to engage for non-emergency help, advice and support. 
105 is a national non-emergency number that will be answered 24/7 by highly 
trained Police staff. It is free to call from all landline and mobile numbers. 
❖use  105  to  report  non-emergency  situations.  For example, if your car has 
been  stolen,  your  property  has  been  damaged,  or  you  want  to  give  Police 
information about crime in your area; use 105. 
❖111, on the other hand, should still be called immediately if a crime is taking 
place or there's a threat to life or property. It's the number you use to connect 
with Police, Fire and Emergency, and the ambulance services (it is more than 60 
years on from the first 111 call). 
As  well  as  by  phone,  people  can  go 
online  to  the  105  website  to  report 
certain  non-emergency  situations,  and 
get  updates  on  or  add  more 
information to their existing reports. 
Currently,  lost  property,  intentional 
property  damage,  shoplifting,  general 
theft,  and  theft  from  a  car  can  be 
reported at 105.police.govt.nz. 
Further  information  about  105  and 
promotional  material  is  available 
online at 105.police.govt.nz 
Driveway  
& Farm Race 
Maintenance and 
Construction 
Grader, Roller,  
Digger, Trucks 
Supply of lime rock and 
metal 
Call Peter on 
0274441553 
For advice / estimate for 
your driveway / farm 
race needs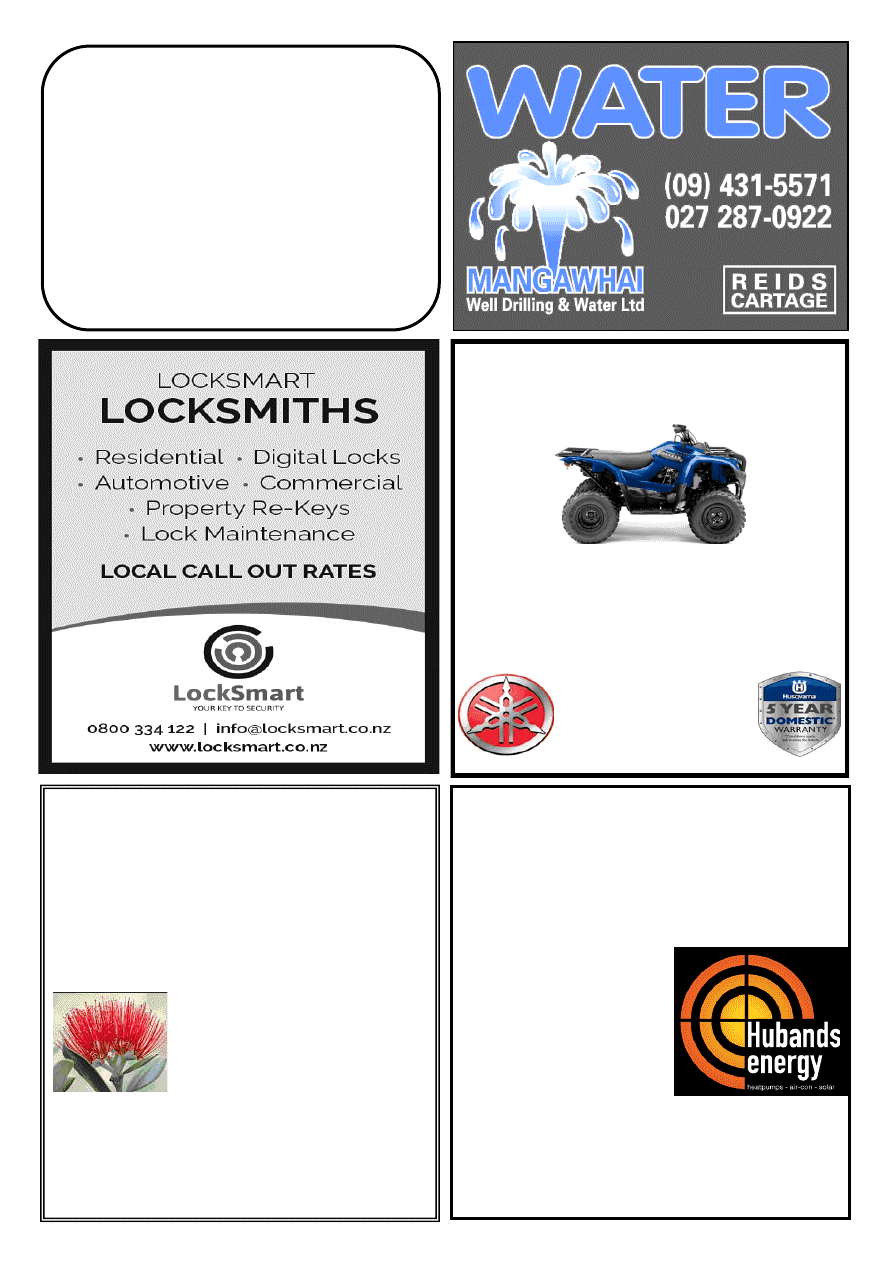 KAIWAKA 
MOTORCYCLES LTD
SALES – SERVICE – SPARES 
FARM BIKE SPECIALIST
PHONE 09 431-2127 
10 KAIWAKA-MANGAWHAI ROAD, KAIWAKA
Trimmers  
from $279
Chainsaws  
from $339
YAMAHA 
HUSQVARNA 
Northland's Award Winning 
Solar Company
SEANZ Best Solar Business Winners 2015/16
EXCLUSIVE 10 year installation warranty 
FREE No obligation onsite quote
Complete systems 
from $5990
See our range of: 
✓ 
Heatpumps 
✓ 
Airconditioning 
✓ 
Hot Water 
Heatpumps 
✓ 
Central Vacuum Systems
09 430 0019             sales@hubands.co.nz 
15 Kioreroa Road, Whangarei
Locally owned and operated for 35 years 
UP-LINK 
CHRIS WARING 
FREEVIEW INSTALLATIONS 
T.V. - HOME THEATRE &  
HI-FI ADVICE/SET UP
SKY ACCREDITED INSTALLER
MOB.0273403747 HM.094312328 
EMAIL cwaring44@gmail.com
28 YRS EXPERIENCE 
OFFERING UNBIASED ADVICE 
KAIPARA FLOORING CO 
Independently owned & operated 
32 HURNDALL ST MAUNGATUROTO
Supply & Installation of Carpet, Vinyl,  
Vinyl Wood Planking
Stockists of 2m & 3m wide 
vinyl & carpet short ends
Residential & Commercial
Q Card Finance Approved 
6-18 month terms 
6 mth interest free
First Class Installations
For a free measure & quote 
phone Christine  
09 946 9886 or 021 515 415 
kaiparaflooring@gmail.com 
http://www.kaiparaflooring.co.nz/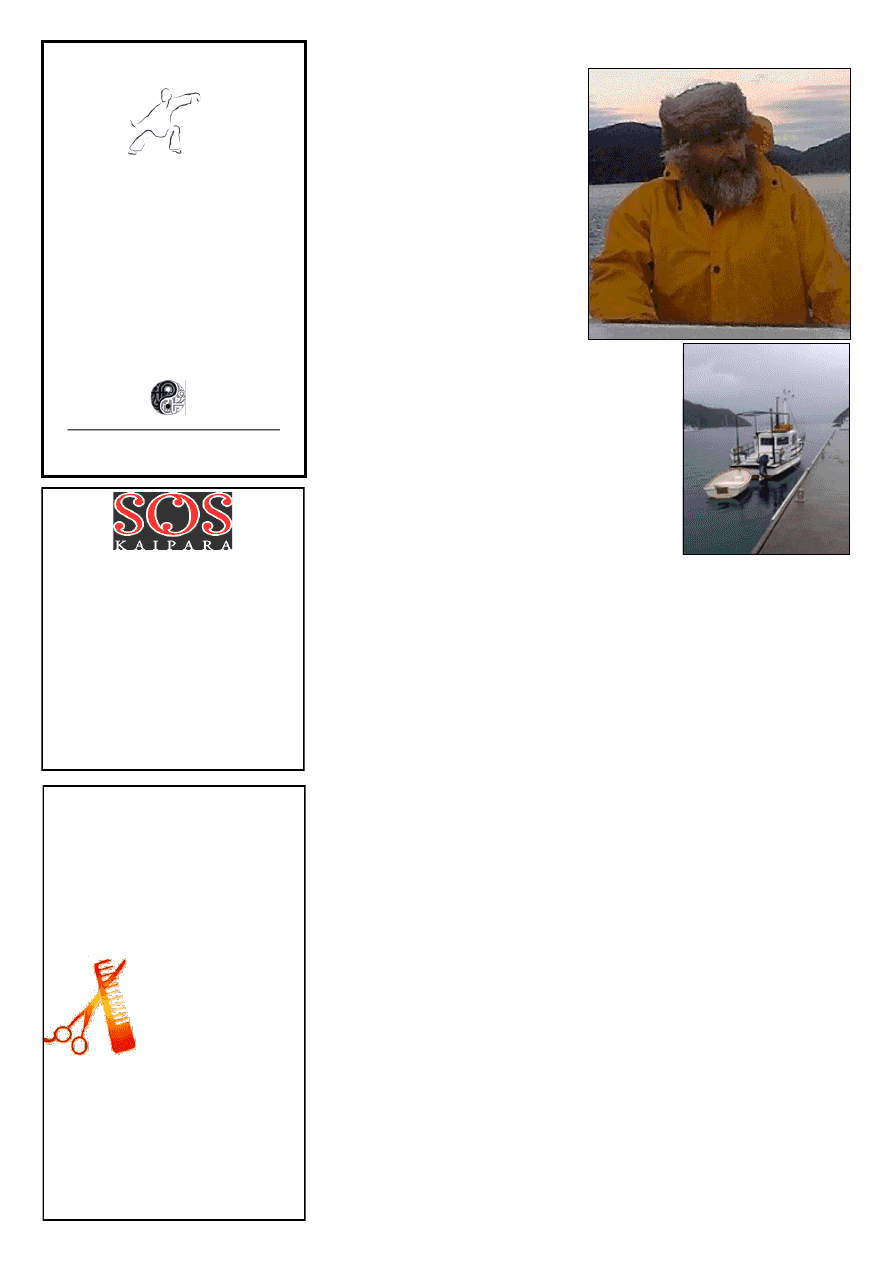 www.kaiwaka.co.nz 
Kaiwaka Bugle - 14 May 2019 
Page 19 
AFFORDABLE 
PRICES! 
MENS CUT FROM $20.00 
LADIES CUT FROM $30.00 
KIDS CUT FROM $18.00 
COLOUR & CUT FROM $120.00 
     JUST  
       CUTS'AND         
     MORE 
021 165 2629 or (09) 945 
0707  
NOW SELLING: scented tealights, 
incense, smudge sticks, copper bracelets, 
aurora ball crystals, dream catchers, 
healing stones, rose quartz, cds, and much 
more. Open 6 days. 
S.O.S Kaipara 
Support, advocacy, crisis and 
family therapy counselling, 
refuge housing to survivors of 
sexual abuse and domestic 
violence. Also Education 
prevention programmes for the 
community and clients.  
Office hours 9am to 3pm Monday to 
Friday; 24/7  phone 09 4396070 
Or phone 111 
PART TWO: GLH
. 
By Bevan Lawrence
GLH  Continued....  I  have  recently 
begun  to  call  him  Captain  H,  because 
surprisingly  he'd  bought  a  boat  in 
Picton  and  was  fitting  it  out  to  live 
aboard  -  an  ex-scallop  dredger,  about 
ten tonne in thirty feet.  
For months at that time I'd been under 
a promise to be 'first mate', but it kept 
being  put  off  because  ...  the  gear  box 
needed a new selector; "The shaft seal 
is dripping what can I do to fix it?" he 
asked me. The promise of my going to 
see this fine vessel was getting pushed 
back by events. The skipper knew that 
I  knew  a  lot  about  boats.  I  had  the 
qualifications  and  had  been  the  owner 
of  a  similar  boat.  So,  the  day  arrived, 
and  I  took  a  one-way  flight  into 
Nelson.  When  one  lands  at  Nelson 
Airport there is no transport to the city, 
no shuttle, only taxis. But more, if you 
want to go to the Sounds or Picton the 
bus  leaves  once  a  day,  the  next 
morning. Since the plane arrives in the 
afternoon,  rather  than  sleep  on  a  park 
bench one must find a hotel. 
The next day I headed off in the bus to 
Marlborough  Sounds.  Nearly  was 
prevented  from  getting  there,  as  along 
the  scenic  route  a  semi-trailer  driver 
had decided to back his unit across the 
road,  between  two  corners  of  the 
winding  road.  Our  driver,  thankfully, 
saw the trailer at the last moment! Full 
brakes! 
All 
passengers, 
myself 
included,  found  ourselves  piled  up 
against  the  seats  in  front.  I  arrived  in 
the village shaken but not stirred.  
On the boat, after a catch-up dinner we 
settled  in  for  the  night  to  the  gentle 
rhythm  of  the  sea.  Over  the  next  few 
days we got the little ship in order. As 
per  plan  we  started  up  and  pulled  off 
the  mooring,  headed  for  Picton  for 
supplies  and  diesel.  Each  day  as 
regular  as  clockwork  we  checked  the 
marine  forecast.  The  best  months  had 
passed  due  to  gearbox  complications; 
we just needed a good isobar pattern to 
attempt  the  Strait  now.  While  we 
waited,  anchored  in  a  protected  bay 
near a salmon farm, we caught fish for 
dinner and did much needed repairs to 
the  dinghy  combing.  We  moved  up  to 
the  mouth  near  an  abandoned  whaling 
station.  Since  the  heavy  fishing  boats 
were  heading  out,  we  strapped  up  and 
followed.  
Where  the  two  currents  meet,  we 
encountered waves which crashed over 
the  boat,  soaking  us,  drenching 
everything.  It  was  immediately  clear 
that  there  would  be  no  crossing  that 
day.  For  several  days  there  was  no 
change  in  the  weather.  One  night  we 
were  in  phone  range  and  I  got  a 
message from  my  wife that our lovely 
old  Samoyed  had  died.  The  dog  had 
been like a family  member  and  so  my 
presence  was  required  for  funeral 
duties and succour. 
Now  alone,  my  cobber  had  moved  up 
to Port Collingwood and could see the 
weather  improving,  so  left  the  sounds 
and  headed  for  Cape  Palliser,  had 
thoughts of heading for Wellington, but 
the current runs  toward  Palliser  so,  on 
he 
went, 
turning 
North 
toward  his 
first  night  at 
Castle  Point. 
Off  Palliser, 
for  the  first 
time  in  ages 
he  felt  sick, 
the 
emergency 
kit 
had 
medicine but 
as  he  recovered,  he  realised  that  the 
boat tanks had been stirred up by heavy 
seas. Also, a radio call to a mate back 
in the Sound said if his last fill up was 
Picton  then  it  was  surely  the  water 
making him sick.  
Castle  Point  channel  is  difficult  to 
navigate  so  asking  local  advice  he 
moored  off  the  beach  in  case  he 
dragged anchor in the night. Next stop 
would  be  Napier.  Asked  about  doing 
the  trip  alone  he  said  there  were  both 
advantages  and  disadvantages.  Going 
singularly,  he  was  responsible  for  his 
own decisions and didn't have to worry 
about  other  crew.  The  advantages  of 
two  were  safety  of  rescue  and 
consultation on navigation. Once in the 
safety  of  the  visitors'  berth  in  Napier, 
he  was  happily  prepared  to  stay  for 
months, but a nagging urgency pushed 
him on.  
East Cape can be a confused sea at any 
time  so  he  cut  close  to  shore,  but  the 
sea  was  very  rough,  the  boat  surfed 
into  holes  at  eight  to  12  knots,  holes 
big  enough  to  fit  a  twelve-bedroom 
house into, line of sight to shore broken 
for  hours.  Making  it  into  Hicks  Bay, 
the  boat  bobbed  around  the  old  jetty 
but gave some respite for a night. Next 
stop was Whakatane, but on arrival the 
visitors' berth was closed, however he 
found  a  berth  anyway  just  to  return 
after  some  shopping  to  find  that  his 
bike,  usually  tied  on  deck  had  been 
stolen.  Next  day  sixteen  hours  later, 
Mayor  Island  came  into  sight,  a 
welcome home to Tauranga. 
Captain G maintains a unique lifestyle 
today  in  Tauranga  and  is  known  for 
everything from motor racing (Audi) to 
growing shallots. 
Photos supplied: Captain H & his boat.
TAI CHI 
Balance,  
Co-ordination, 
Meditation,  
Settled mind, 
Confidence,  
Self-awareness 
Classes:  Sunday morning 
Kaiwaka
 8:30 – 10 am Kaiwaka 
Sports Association
For more information please contact 
 Otamatea Martial Arts
otamatea.kempo@farmside.co.nz 
Phone 09-431-5170 
www.facebook.com/
otamatea.kempo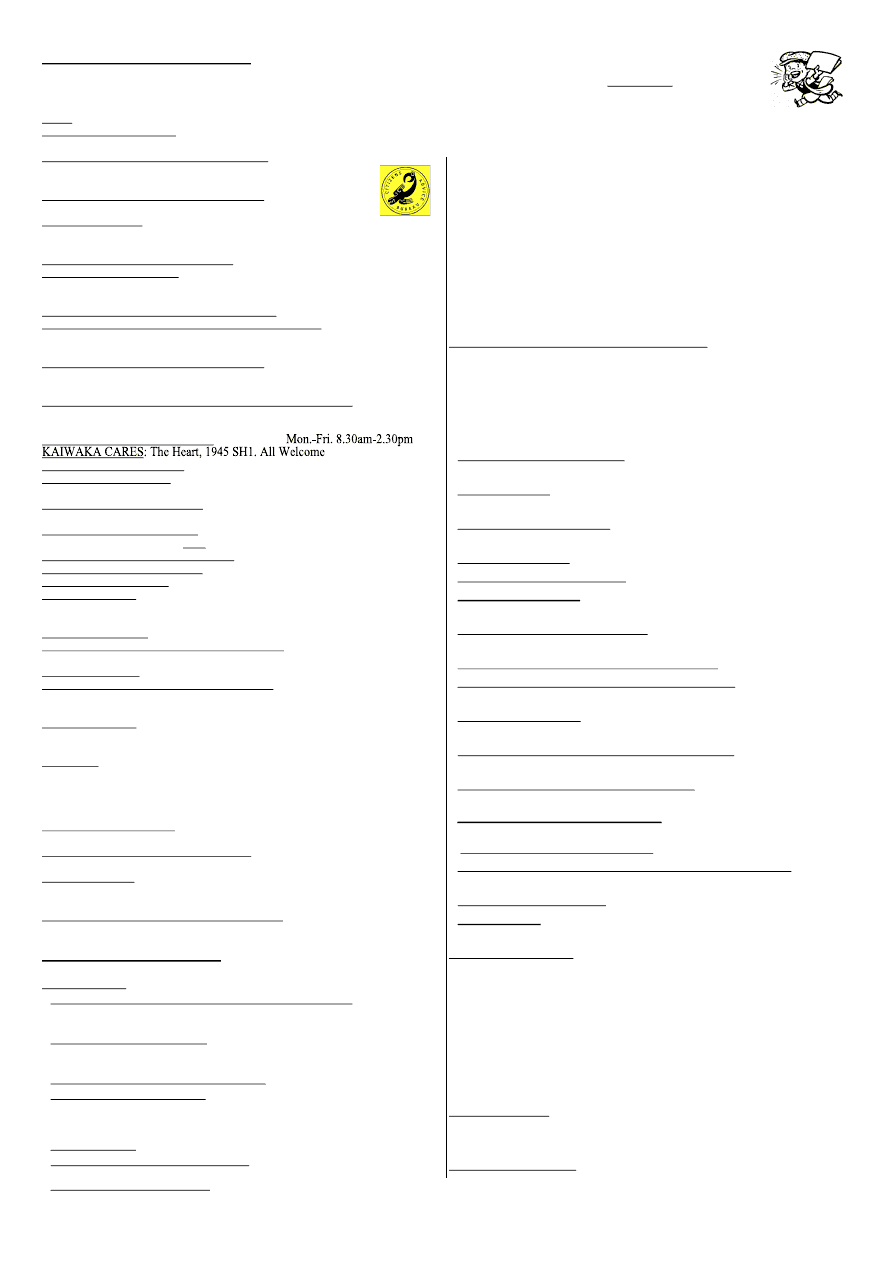 Next Bugle Deadline midday Friday 24 May  2019
WHAT'S ON
PLEASE ~ do let us know what is on - email 
kaiwakabugle@kaiwaka.co.nz 
*15May~Kaiwaka Can AGM, Archie Bull Hall, 5.30pm 
*17May~Movie "Green Book", KWMH, 7.30pm 
*18May~ Fire Fighters Sky Tower Stair Climb 
*19May~'Tripe & Onion' lunch, Hakaru RSA, Ph 4314512 
*20May~KSA Fitness Centre Key Changeover 
*21May~Maungaturoto Country Club AGM, 7.30pm 
*26May~Movie "Storm Boy", KWMH, 2pm 
*29May Rick Stolwerk, NRC, KWMH, 5.30pm 
*31May~Movie 'Instant Family', KWMH, 7.30pm 
*11Jun~Pt.CCC Annual Meeting, KSA, 7pm 
KWMH = Kaiwaka War Memorial Hall; KSA = Kaiwaka Sports Association 
See www.kaiwaka.co.nz for more information 
HOUSEHOLD RUBBISH COLLECTION  
Kaiwaka Pick up: 
Mondays = Green bags (Northland Waste - 09 430 3273) 
Wednesdays  =  Blue  bags  and  yellow  recycling  (at  Jaques  $3.00 
and  $1.50)  (Kaurilands  09  4392146);  ONLY  Blue  and  Yellow 
bags picked up on Oneriri Road. 
 DIABETES Support Group-for Kaiwaka, Mangawhai, Wellsford 
10am, 3rd Friday of month Ph: Colleen James 09 4314238 
 GENEALOGY - Wellsford: 1st Thursday in month Ph: 423 
7033; Waipu: 4th Monday in month Ph: 4312 725 
 HAKARU PONY CLUB - Secretary Denise Rogers 021423376 
secretary@hakaruponyclub.co.nz  
 KAIPARA HUNT - Secretary Albert Doonenbal Ph 4312059 
 KAIWAKA BADMINTON -Tuesdays 7.30pm Ph: 4312345 
 KAIWAKA  CAN  -  3rd Wednesday in  month, 5.30pm, Archie 
Bull Hall Ph: 0273572751 
 KAIWAKA  DRAMA  CLUB  - 
Hannah  Webb 
0272863352 
KaiwakaDrama@gmail.com - FB - "KaiwakaDramaClub" 
 KAIWAKA DRUM & DANCE CLASSES - 021 611198 
 KAIWAKA GARDEN & FLORAL GROUP - 2nd Thursday in 
month. Ph: 431 4744 
 KAIWAKA  CUBS  -  Thursdays  5.30-7pm,  Hakaru  Ph:Bruce 
4312542 
 KNITTING FOR WHANGAREI HOSPITAL - 2nd Tuesday in 
month, Archie Bull Hall 10am Ph 4314827 
 MANGAWHAI COMBINED REBUS CLUB - 2pm, 3rd 
Thursday month, Senior Citizens Hall Mangawhai. Ph: 4315777 
*PILATES-HAKARU HALL  -Tuesday & Thursdays, 9-
10am Ph: 
 0220643964
 *PT CURTIS CRUISING CLUB - Jean Ph: 4312227 (wk), 4312520 (hm) 
 RSA,  HAKARU  &  DISTRICTS  WOMEN'S  SECTION  –  meets 
1.30pm 4th Thursday of the month. Ph: 431 5818  
 SCOTTISH DANCING - Wednesday morn. Ph: 09 4320532 
 TRAMPING - Mondays 9am-2:30pm Maria 4312 234 
HALLS FOR HIRE: 
 St.Pauls  Archie  Bull  Hall  HIRE  $20  half  day,  $40  full  day  per 
hire, S McAulay, Ph 4312311 
 Kaiwaka  War  Memorial  Hall  HlRE  -  Phone  4312725  or 
kaiwaka.hall.bookings@gmail.com 
 Hakaru Community Hall HIRE -Ph. 4312256 or 4312110 
 Te Pounga Marae queries - R. O'Leary 4312 423, J.Nathan 021 
186 7382 
 Kaiwaka Sports Association hire/queries - C. Anderson 4312051 
or kaiwakasports@gmail.com 
Justice of Peace:  
B.FJaques  4312  048;  L.Donaldson  4312  228;  A.F.Hargreaves 
4312 045, W.Howard 4312 725 - please phone to make sure they 
are available www.justiceofthepeace.org.nz 
Marriage Celebrants:  
L.Donaldson; A.F.Hargreaves; Y Osborne
LOCAL SERVICES 
*Emergencies - Ambulance, Fire, Police - dial 111 
*Non-urgent Police phone 09 4311150
A A: Meets Wed., 8pm Kaiwaka Ph: 4315543, 0800229 6757 
ASUREQUALITY LTD (was AgriQuality) Call Free 0508 0011 22  
BUDGETING SERVICE, WELLSFORD: Free confidential advice & 
support for all areas of personal finance. Ph (09) 423 7123 
CAB-Citizens Advice Bureau.Wellsford Ph: 4237333 
0800 367 222 email:cab.wells@xtra.co.nz  
CIVIL DEFENCE - Kaiwaka Community Response Group: 
kaiwaka.civildefencecrg@gmail.com, 4312725 Wendy 
DOG/STOCK /NOISE CONTROL 0800 105 890 
FUNERAL SERVICES: Morris & Morris Ltd, 
Whangarei - Bev Jaques Ph:4312367 or 0800667747 
GRANDPARENTS Raising Grandchildren: Dianah Roberts 0223819539 
HAKARU & DISTRICTS MEMORIAL RSA (Inc) 733 Settlement Rd, 
Hakaru. Ph 4312 176 or Bill Warren (President) 431 2092 
HAKARU LANDFILL/Transfer Station:Open everyday except 
Tuesday10am-4pm.Ph4312629 Cost-$55 trailer load up to 1 cubic metre. 
Ph:4258567 - office 
KAIPARA DISTRICT COUNCIL www.kaipara.govt.nz:  
Help Desk FREEPHONE 0800 727 059  
KAIWAKA KOHANGA REO: Ph:4312620 
KAIWAKA CEMETERY: Ph: 4312045 or 4314017 
KAIWAKA LIBRARY: kaiwaka.library@gmail.com  
Mon. 4-6pm; Wed., Thurs., Fri., Sat. 10am-2pm Ph:4312539 
KAIWAKA PLAYCENTRE: Ph Juanita 0274134904; open Mon, Wed, 
Fri 9am-12pm. Hastie Lane; Monday to Friday 9.00am - 12 noon. 
KAIWAKA POST OFFICE:Ph:4312 431  
Post Code: 0573 for RD2 and 0542 for all Kaiwaka Post Office mail 
KAIWAKA PRIMARY SCHOOL: Ph: 4312309   
KAIWAKA SPORTS ASSN: Ph 4312005; 4312129 gym 
KAIWAKA ST JOHN: Manager Steve Rosser 09 4318403, 021 355734 
KATE'S PLACE Community Centre - Employment services, Free Health 
Nurse, Plunket, Advocacy, Osteopath, A.A., Legal Advice. 4312 661 
LINKING HANDS Health Shuttle Ph 4315906 or 09 4318969 
MINISTRY FOR PRIMARY INDUSTRIES - General inquiries Call 
Free 0800 008 333 
NORTHPOWER: Faults Kaiwaka area 0800 104040 
OTAMATEA COMMUNITY SERVICES: Counselling, parent coach, 
Family Support worker, budget advice, food bank. Mon-Fri 9am-3pm. Ph 
09 431 9080 http://www.otamateacs.org/ 
PARENTPORT: Free, practical family support service Puhoi to Paparoa 
Ph or txt: Dianne 027 280 5093 or 09 425 9357 
PLUNKET:  Kaiwaka  -Kate's  Place  Clinic  1st  Wednesday  of  the  month; 
Mangawhai  - Rose Madsen Cottage: Coffee Group 9:30 every Monday.  Clinic 
every Monday and Thursday. 
Maungaturoto - Good News Church, Clinic 2nd and 4th Wednesday.  
Cynthia 09 431 7340 or 027 675 3488 
PLUNKET HELPLINE -0800 933 922 (24 hours) 
TAITOKERAU COMMUNITY LAW: Free confidential legal advice and 
assistance, 2nd
Thursday
 of each month. Ph: 0800 155 529 for apps.  
TE URI O HAU Settlement Trust Tangata Developments: Whanau Ora 
021 793262  
VETERINARY SERVICE MANGAWHAI: 
Ph: 4314535 Mon-Fri 8.00-5.00, Sat 9-12, a/h appt. 
WELLSFORD DOCTORS: Ph: 4238 086 
CHURCHES:
 
Kaiwaka  Revival  Church  -  Your  Community  Church:  Sundays  10am. 
Ph: Pastor Tawhiri 09 431 8988 or Pastor Paul 09 4312 068 Visit us at 
www.facebook.com/kaiwakachurch or www.kaiwakarevival.co.nz 
 
St  Paul's  Anglican  Church  1st  Sun.  9.00am  (Eucharist),  3rd  Sun. 
9.00am (Family Service). Contact: Rev. Wayne Thornton Ph 431 4122 
www.mangawhaianglican.org.nz 
 
Church of Christ the King, Mangawhai:9.00am every Sunday 
 
St.Mary's  Catholic  Church:  Maungaturoto  –  Griffins  Road,  Saturday 
evening  Vigil  Mass  6pm;  Mangawhai  –  Senior  Citizens  Hall,  Sunday 
Mass  8:30am;  Wellsford  –  Matheson  Road,  Sunday  Mass  10:30am;  
Mid-week Mass times and all enquires to Fr. Bill Fletcher – phone 423 8170
 
Baptist Church: Sun. 10.30am Mangawhai Snr Cit.Hall.Ph:4312339 
 
Cause  Way  Church  Mangawhai:  Sundays  10.15am,  Mangawhai 
Community  Recreation  Centre,  Insley  St.  Ph:  09  4314782