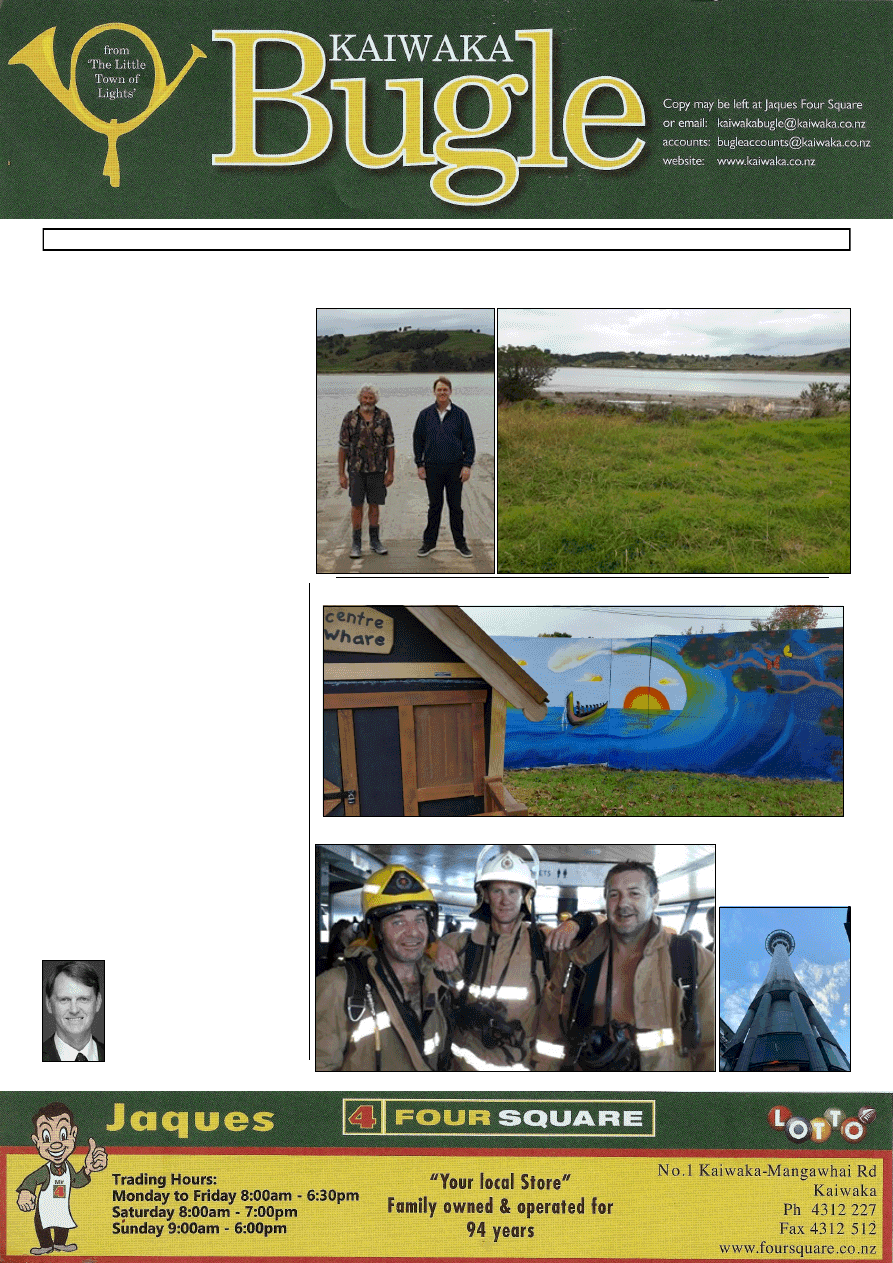 www.kaiwaka.co.nz 
Kaiwaka Bugle - 28 May, 2019 
Page 1 
No: 10 
 28 May 2019 
Trading Hours: 
Monday to Friday 8:00am - 6:30pm 
Saturday 8:00am - 7:00pm 
Sunday 9:00am - 6:00pm  
RANGIORA ROAD RESERVE 
Below:  Point  Curtis  Cruising  Club  Commodore  Wayne  Leslie  and  Jonathan  Larsen  at 
the boat ramp; The view from the reserve out over the Kaipara. 
FIREFIGHTERS SKY TOWER STAIR CLIMB 
Keith 
Mills, 
Craig Steiner and 
Tim  Brown  after 
their 1103 steps! 
COUNCILLOR'S 
COMMENT* 
with Otamatea Ward  
Councillor Jonathan Larsen 
Rangiora Road Reserve 
I had a really interesting meeting with a 
group  of  key  locals  recently  about  the 
Rangiora Road boat ramp and reserve. 
About ten years ago when the adjacent 
land  was  subdivided,  a  beautiful  piece 
of land was vested as Council reserve. 
The  land  is  immediately  beside  the 
boat  ramp,  and  has  space  for  vehicle 
and  trailer  parking,  and  a  flat  grassed 
area  with  views  out  over  the  harbour 
where  picnic  tables  (and  possibly 
toilets) could be installed. 
The  Point  Curtis  Cruising  Club  would 
like  to  see  the  reserve  developed  to 
enhance  the  area  and  improve  the 
usability 
of 
the 
boat 
ramp. 
Considerable work has previously been 
carried  out  by  locals  on  schematic 
designs 
for 
the 
reserve 
and 
consultation.  It  seems  however  that 
nothing  has  been  progressed  from 
Council's  end.  I  will  be  meeting  with 
Council's  CEO  this  week  to  discuss 
how to progress the development of the 
reserve.  I'd  be  interested  to  hearing 
your views on upgrading this asset. 
If you have any community projects or 
issues  that  you  would  like  assistance 
with, I can be contacted on ph. 021 185 
8389 or Cr.Larsen@kaipara.govt.nz.  
Check  out  my  'The  WorkBoot 
Councillor'  Facebook  page  for  regular 
updates.  
For  any  roading  maintenance  issues 
please  email  council@kaipara.govt.nz 
and  describe  the  defects  requiring 
repair  (potholes  etc.)  and  their 
locations. 
*
The  views expressed are  those 
of  the  writer  and  do  not 
necessarily 
represent 
the 
consensus position of Council. 
[Note:  Rangiora  Road  is  about 
11  kms    west  of  Kaiwaka  -  off 
Oneriri  Road;  the  boat  ramp 
another 2.6 kms.]
Part of Kaiwaka Playcentre's beautiful new mural - painted by young Joe Paikea.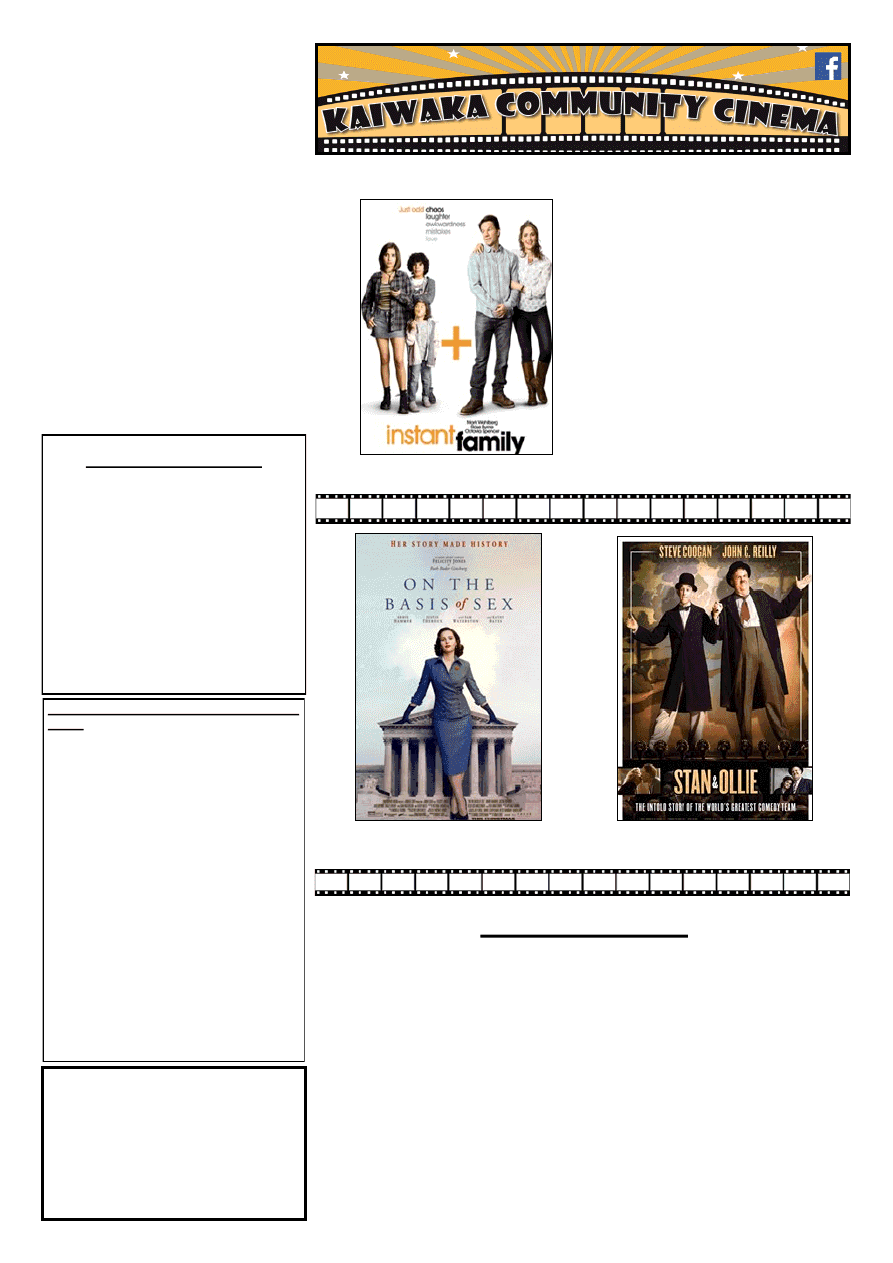 At Kaiwaka War Memorial Hall . Adults $10, Kids (under 16) $5, Family Pass (2 adults + 3 children) $25 
KAIWAKA BUGLE No. 10 
28 MAY 2019 
CONTENTS 
Page 3: Public Notices, Classified 
Page 5: Pt.Curtis CC; St. John 
Page 7: Otamatea Community 
Services; Rotary 
Page 9: Kauri Museum; Albertland 
Museum - 157th Anniversary 
Page 11: Kaiwaka Sports Assn. 
Page 13:  Nina Quan; Thelma's 
Scrapbook 
Page 15:  Kaiwaka School; OHS 
Page 17: Kaiwaka School photo; 
Councillor's News;    
Page 19: 'Hidden Gold' 
Bugle 11 will appear 11June 
Contact for advertising, reports, articles 
or information can be made by 
Email kaiwakabugle@kaiwaka.co.nz 
Ph: 09 4312 045 Lindsey 
Txt: 027 2724137 
Copy  may  be  left  at  Jaques'  Four 
Square. 
Kaiwaka Bugle 
Founded May 1978 
We appreciate articles and photos about local 
events, etc, as well as ads and suggestions. 
Copies available in Kaiwaka at Jaques Four 
Square, Kaiwaka Postal Centre, Shamrock 
Service Station, Animal Health Centre, 
Kaiwaka St John shop. 
Also outlets in Maungaturoto, 
Mangawhai and Paparoa. 
Can be viewed online at   
www.kaiwaka.co.nz/Bugle  
Or a copy can be posted to you if you supply 
stamped, self-addressed DLE envelopes. 
Proverbs 
10: 
9 
Honesty lives confident and 
carefree, but Shifty is sure 
to be exposed!  
(The Message Bible)
.
Kaiwaka 
Bugle 
Advertisements 
2019: 
All 
copy 
and 
queries 
to: 
kaiwakabugle@kaiwaka.co.nz 
The Bugle is printed on an A4 page   
Ad  sizes:  1/16  page  (3  x  9.5cm)  $5;  1/8 
(6.5  x  9.5cm  landscape  or  portrait)  $8; 
3/16 ( 10 x 9.5cm or 7.5 x 12,5)  $12.  
Classified  ads:  First  one  FREE,  $4  per 
entry (max. 30 words, max. 4 repeats). 
Payments  can  be  made  online  at 
ANZ 
06  0365  0006990  00
,  posted  or  left  at 
Jaques Four Square Store. 
We  use  Microsoft  Publisher,  and  can 
work  with  most  common  image 
formats, Word, Excel, and PDF files. 
Accounts:  
Email: bugleaccounts@kaiwaka.co.nz 
The  Kaiwaka  Bugle  is  a  community 
newspaper run by volunteers, as part of 
the Kaiwaka Media Group Inc.   
Articles, etc. printed are not necessarily 
the opinion of the Bugle Team. 
ABOUT TOWN 
 A very big WELL DONE to Craig, Tim and Keith, our local fire brigade team, on 
their fantastic Sky Tower stair challenge feat  
 A special thank you to Jesse White and his lads from the Kaiwaka Sports Assn. - see 
page11. 

Congratulations to the Maungaturoto Matters team on their 200th issue this May!

The  Maungaturoto  Residents  Assn.  AGM  will  be  5th  June  at  7pm  in  the 
Maungaturoto Centennial Hall.

Maungaturoto  Country  Club  new  executive  committee:  Richard  Moore 
President;  Kathy  Strong  -  Vice  President;  Brett  Strong  -  Treasurer;    Diana  Moore  - 
Secretary   
 Wonderful to watch a seal basking in the calm waters across from Batley this week. 
 Some  NZ Post rates will rise as 1st July e.g. an ordinary letter stamp  will go from 
$1.20 to $1.30. Pick up an information sheet at the Post Centre or got to nz.post.co.nz/
july2019 or phone 0800 501 501 for the full list. 
 See page 17 for the AIMS Netball fundraiser QUIZ NIGHT! 
~ Lindsey, Ed
"
It's pointless to be down in the dumps. All you find is rubbish."   Albert Facey author 
of 'A Fortunate Life'
On the BASIS of SEX 
Friday 14 June, 7.30pm (M)
STAN & OLLIE 
Friday 28 June, 7.30pm (PG)  
INSTANT FAMILY 
Friday 31 May, 7.30pm (M)
'INSTANT  FAMILY  is  inspired  by  the 
real  events  from  the  life  of  writer/
director  Sean  Anders.  When  Pete 
(Mark  Wahlberg)  and  Ellie  (Rose 
Byrne)  decide  to  start  a  family,  they 
stumble  into  the  world  of  foster  care 
adoption  -  they  find  themselves 
speeding  from  zero  to  three  kids 
overnight.  Now,  Pete  and  Ellie  must 
hilariously  try  to  learn  the  ropes  of 
instant  parenthood  in  the  hopes  of 
becoming a family. Also stars Octavia 
Spencer,  Tig  Notaro  and  Margo 
Martindale.'
www.kaiwaka.co.nz 
Kaiwaka Bugle - 28 May, 2019 
Page 3 
PUBLIC NOTICES 
CLASSIFIED 
JENNY'S RURAL CLEANING SERVICES 
P. O. Box 87 
Kaiwaka 
Looking for a school student or adult. Must be able 
to work from 4pm to 7.15pm three days a week and 
the odd Saturday morning. Must be trustworthy and 
be able to work in a team. 
Please send your C.V if you got one to 
jrcleaningservices.chellew@yahoo.com 
Or phone Jenny on 431 2826 after 7pm.
MAUNGATUROTO & DISTRICTS ROTARY CLUB 
Invites you to afternoon tea to find out about 
"What is on in our area" 
Sunday June 23rd – 2pm to 4pm 
Maungaturoto Country Club 
Come and meet representatives from Clubs, Support 
Groups and Local Businesses. 
Free Entry 
For more information (or if you would like to participate) 
Call Stella – 0211490877 or Eileen – 0211420357 
KAIWAKA SCHOOL 
Board of Trustees' Election 
Declaration of Parent Election Results 
At the close of nominations, as the number of valid 
nominations  was  equal  to  the  number  of  vacancies 
required  to  be  filled,  I  hereby  declare  the  following 
duly elected: 
Josie Gritten.   
Dominique Incorvaia.            
Blake Worsfold 
Signed 
Sara McAulay 
Returning Officer
FOR  SALE:  Drone  photography  of  your  property 
providing  high  res  digital  images  from  $50.  Contact 
0212457242 to book your time. 
WANTED:    Lease  farm  –  ideally  40-70ha  but  will 
consider  any  size.  Will  be  running  dry  stock.  Good 
rates paid. Contact 0212457242 
CLEANER  REQUIRED: 
for 5 Star Airbnb in Rangiora 
Road,  Kaiwaka.  A  high  standard  of  cleaning  is 
required.    Days  and  hours  are  variable  depending  on 
bookings.  Can  be  anything  from  1  up  to  7  days  a  week. 
Hours are generally 1 hour per clean during 11am and 1pm 
and again depends on bookings.  Will pay $35.00 per clean. 
Please ring Robyn 021669182 
CARAVAN  FOR  RENT:  in  Kaiwaka  on  owners  home 
property,  long  term;  large  fully  self-contained,  $200  per 
week,  includes  internet,  power,  water,  separate  bedroom, 
bathroom,  lounge,  kitchen;  would  suit  mature,  quiet 
working person. Ph: 027 678 8325 
M o n d a y   3   Ju n e  
Hakaru & Districts Memorial RSA  
Mid-Year Xmas Dinner 
DATE:   Friday 28
th
 June 2019 
TIME:    1830h – 2300h 
To be held at our clubrooms 
HAKARU & DISTRICTS 
MEMORIAL RSA 
733 SETTLEMENT ROAD, 
HAKARU 
Cost: $25 PER HEAD – children under 
15years old $1 per year of age.
INVITATION 
For supporters, friends, former members 
of the Kaiwaka St. John Division 
POT LUCK DINNER 
Saturday, 8 June, 6.30pm 
At the Kaiwaka Fire Brigade Station 
Further Information phone 09 4312229 
Bring your stories, memories, photos! 
Below: Kaiwaka's first First Response Unit - 
November 1990
Learn to sew for yourself. 
Seoul Blouse Class with Corrina McMath. 
We are having a blouse making class starting with a prep 
afternoon on Thursday 13th June from 1.30 - 3.30 then sewing 
on Wednesday 19th June 9.30 - 3.30. 
The prep day you will come in  and learn how to measure 
yourself properly for the pattern and choose your fabric.   
Then on the 19th you will get sewing.  
Such a great skill to learn. 
Book by email  or phone or come in 
and see us 
applebasketquilts@xtra.co.nz  
or ph. 09 4312443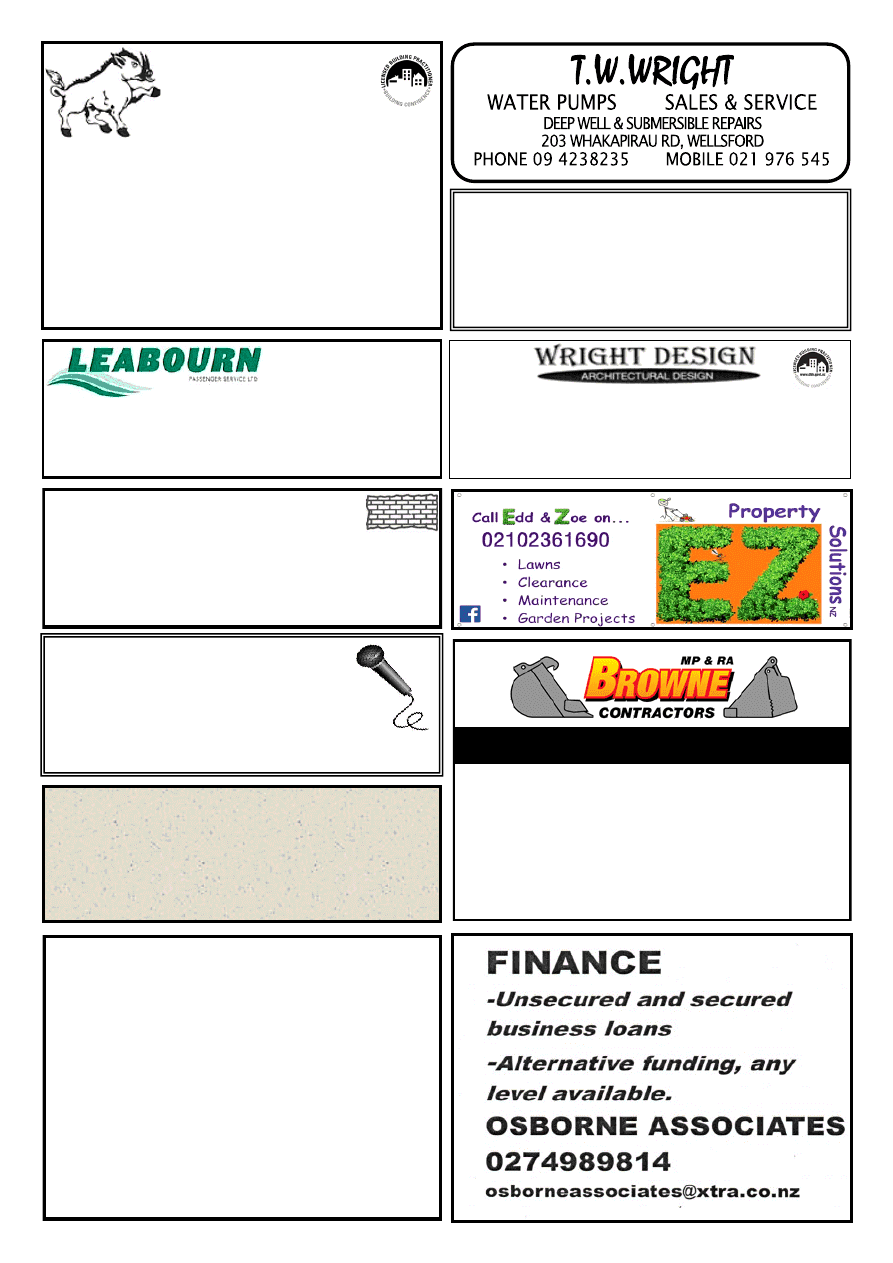 4T DIGGER – BOBCAT – TIP TRUCK 
 Property Maintenance - Driveways  
 Building Sites 
Stump & Tree Removal  
Hole Boring - Chain Trencher  
Calf Shed and Stockyard Cleaning 
Phone Matt: 021 199 6677 
Email: mprabrownecontractors@gmail.com 
Willow Bend
HORSE HOTEL 
#
Total Horse Care   
# 
Agistment 
# 
Riding Lessons    
#
 Arena Hire (60x40) 
# 
Young Horse Starting 
# 
Re-training/Exercising 
#
Hoof Trimming    
# 
Problem Solving 
Phone Sue 09 431 2817  
or 021 623 776  
Or email susanjoll11@gmail.com 
BRICK/BLOCKLAYER 
All aspects of masonry: 
Fireplaces, Restoration & Remedial Work.
JAMES EAGLETON
Tel. (09) 431 2514     Mob. 0274 749 232
jajueagles@yahoo.com.au 210A Pukenui Road, RD2, Kaiwaka 0573 
Counsellor and Registered Psychotherapist 
Offers Supervision
Susan Matheson 
MNZAC 
Dip. Psychosynthesis Counselling and Psychotherapy 
Phone 09 431 2996                        Mobile 027 605 2427 
Passenger Service
Car & Van Hire   Bus & Coach Charters 
Airport Transfers    
Phone (09) 4237416 
SING RIGHT 
Professional coaching for performance,  
recording and demos. 
All level singers, musicians, singer-songwriters. 
Phone Robyn Hill 431 9159 or 0274 725610 
No. 117345 
N.Z.C.A.D., L.B.P. 117345 
PH/Fax: 09 423 8092 Mob: 021 276 7369 
Office: 3 John Sinclair Avenue, Wellsford    brianwright@xtra.co.nz 
For Resource and Building Consents, planning restraints, new building materials - 
you need a capable, experienced, and professional designer with a clear 
knowledge of all the processes. Brian has been helping and organising all these 
facets of design and building for over 50 years. 
Wright Design offers free visits, consultations and advice on planning, design, 
building, council permit applications, guaranteed permit plan acceptance. 
O'MALLEY 
CONTRACTING LTD 
CONCRETE 
FOR ALL YOUR CONCRETING NEEDS 
T: 021 2200 198 
E: omalleycontracting@outlook.com            W: omalleycontracting.co.nz 
Om Tara ~ Mangawhai 
Healing Services 
Diann Glucina 
021 250 7461 diglucina.com  
FB: OmTaraMangawhai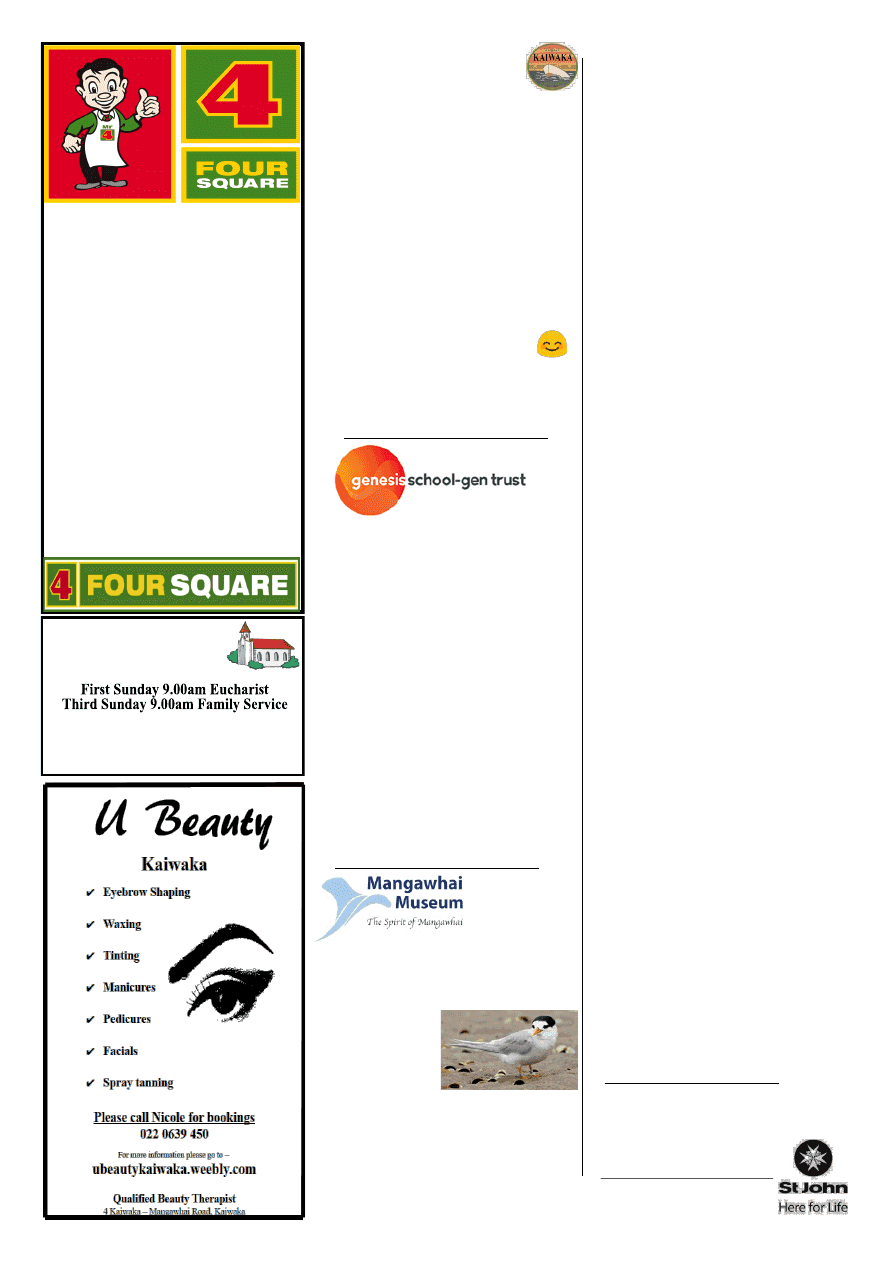 www.kaiwaka.co.nz 
Kaiwaka Bugle - 28 May, 2019 
Page 5 
ST. JOHN KAIWAKA 
OPPORTUNITY 
SHOP  
 SEEKING NEW 
MANAGER/S 
In  the  coming  month  St.  John  will 
farewell  Milly  O'Leary  as  manager  of 
Kaiwaka  Op  Shop.  It  was  Milly's 
initiative that started our shop in 2010 
and since then the shop has raised over 
$200,000  towards  St.  John  services  in 
the  Otamatea  catchment.  As  we 
farewell  Milly  with  gratitude  for  her 
incredible  volunteer  service,  we  are 
committed  to  building  on  these 
foundations into the future. 
We are now advertising for expressions 
of interest from individuals who could 
be  the  future  manager  or  managers  of 
the  St.  John  Kaiwaka  Opportunity 
Shop. 
We  are  a  seeking  a  person  (or  people 
sharing  the  role)  willing  to  take  on 
responsibility 
for 
ensuring 
our 
volunteer led shop is ready to trade six 
days a week.  
Our  new  manager(s)  will  be  key  in 
overseeing  our  volunteer  roster, 
managing  health  and  safety  (including 
the  handling  of  donations)  and 
implementing 
a 
refreshed 
merchandising 
and 
marketing 
strategy.   
St John is New Zealand's  most trusted 
charity.  To  support  our  emergency 
ambulance  and  community  health 
services,  we  operate  a  nationwide 
network of over 40 St John Stores. All 
stores  have  established  technology, 
point  of  sale,  strategy,  branding  and 
ongoing management support.  
St. John Otamatea Area Committee are 
the  local  volunteer  leadership  group 
who  oversee  St.  John  community 
presence 
in 
Maungaturoto 
and 
Kaiwaka.  Proceed  from  the  St.  John 
Kaiwaka support the Area Committee's 
activities. 
We  are  looking  to  hear  from 
individuals with the time, energy, skills 
and/or  background  who  are  interested 
in  finding  out  more.  For  the  right 
candidate(s)  a  per  diem  will  be 
provided. 
To  find  out  more  or  express  your 
interest  please  contact  by  Friday  7
th
June 2019: 
Wayne Maclennan   
    St. John Area Committee Chair 
    021 141 5163 (after 4pm) 
Henry Todd 
   Area Retail Manager –  
   Northern Region 
   027 580 7392 
The  popular  Fairy  Tern  Exhibition  at 
the Museum will now be extended for 
another  month  so  don't  miss  out  on  a 
chance to visit!  
The  last  day  will 
be 1st July. 
The New Zealand 
fairy tern/tara iti 
is probably New 
Zealand's rarest breeding bird.  
And one of the few places they nest is 
right here in Mangawhai. 
Molesworth Drive, Mangawhai 
Hours: 10am - 4pm 
/www.mangawhai-museum.org.nz
. 
FRESH SEAFOOD 
Oysters are Back 
Fresh Mussels, Fresh Fish, 
Smoked Fish & Salmon 
TOYS TOYS TOYS 
New Supplier 
Stocked up on Toys,  
Crafts & Activities 
Great Prices 
9 
KG Swap Gas Bottles 
or New Bottle and Gas 
Jaques Four Square 
Phone: 4312227 
1 Kaiwaka-Mangawhai Road, Kaiwaka. 
ST PAUL'S  
ANGLICAN  
SUNDAY SERVICES 
St Pauls Church: Kaiwaka-Mangawhai Rd. 
Priest in Charge Rev. John Blundell  Ph 431 4122 
www.mangawhaianglican.org.nz
SOLAR 
EQUIPMENT 
WINNERS 
The  Otamatea  High  School  has  been 
awarded  a  solar  panel/monitoring 
equipment  package  from  the  Genesis 
School-gen  Trust.  The  Trust  is  a  new 
charity  that  provides  schools  with 
solar, science, technology, engineering 
and  math  equipment  to  help  rangatahi 
(young  people)  solve  real-world 
problems. 
More  than  400  schools,  including 
primary,  intermediate  and  secondary 
schools  from  Northland  to  Southland 
applied for funding.  
Otamatea  High  School  was  one  of 
seven  schools  that  have  been  awarded 
equipment  packages  and  the  only  one 
to receive the solar equipment. 
POINT CURTIS 
CRUISING 
CLUB  

Pool  Competition:    North Vs South 
-  Queens  Birthday  Weekend    Sunday 
2
nd
 June 1pm @ 3Furlongs Bar & Grill, 
all  welcome  to  come  along  and  enjoy 
the afternoon. 

End  of  Season  Duck  Shoot  Sat 
29
th
 and Sun 30
th
 June 2019  

PCCC AGM 

The  Point  Curtis  Cruising  Club 
annual general meeting is on Tuesday 
11
th
  June  2019  at  Kaiwaka  Sports 
Association 7pm. Everyone is welcome 
to come along  

Annual Subscriptions 

Subs  are  due  on  the  1
st
  June 
$30 Family and $20 Single. 

Next Club Meeting  
Tuesday  11
th
  June  @  Kaiwaka  Sports 
Ass 7pm.  
Wayne Leslie (Commodore)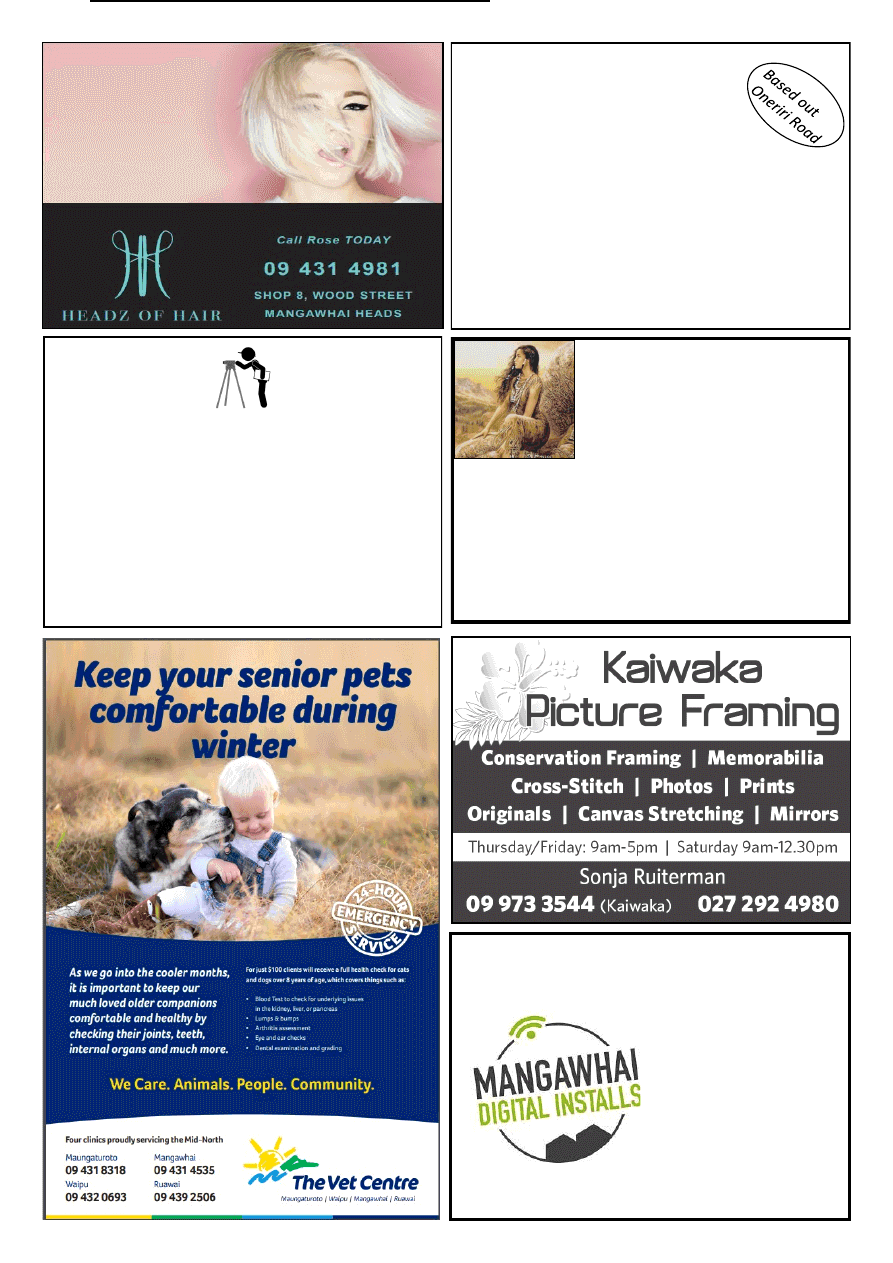 Ken Urquhart 
BSurv Licensed Cadastral Surveyor 
KMU Surveys Ltd
467 Bickerstaffe Road 
RD 2 
Maungaturoto 0587 
Ph 09 431 8705 
Mob 021 161 2344 
kenurquhart@xtra.co.nz 
Trails end 
spiritualist gathering 
Last Sunday of every month  
10.30-2pm  
Tea/coffee provided  $5 koha 
For all inquiries: 
021 165 2629 evenings (09) 945 0707 
Trail.end@hotmail.com 
1758 Cove Road, Mangawhai
Bringing together light minded people 
Guest speaker each month
(
Next to Kaiwaka Motorcycles)
Specialists in: 
Satellite Dish & TV Aerial Installations  
& Repairs 
Freeview  
Chromecast 
Smart TVs   
 Netflix 
Call or Text Adam on 022 351 6679 
E: mangawhai digital@gmail.com 
HODGETTS 
CONTRACTING
Digger Work   

Driveways 

House Sites   

Dams     

Drains, etc
Also available for HIRE 
3 ton Vib Roller Heavy Duty Tow  
Waterblaster     Lazer Level
Phone Mark 4312877 
        027 447 8554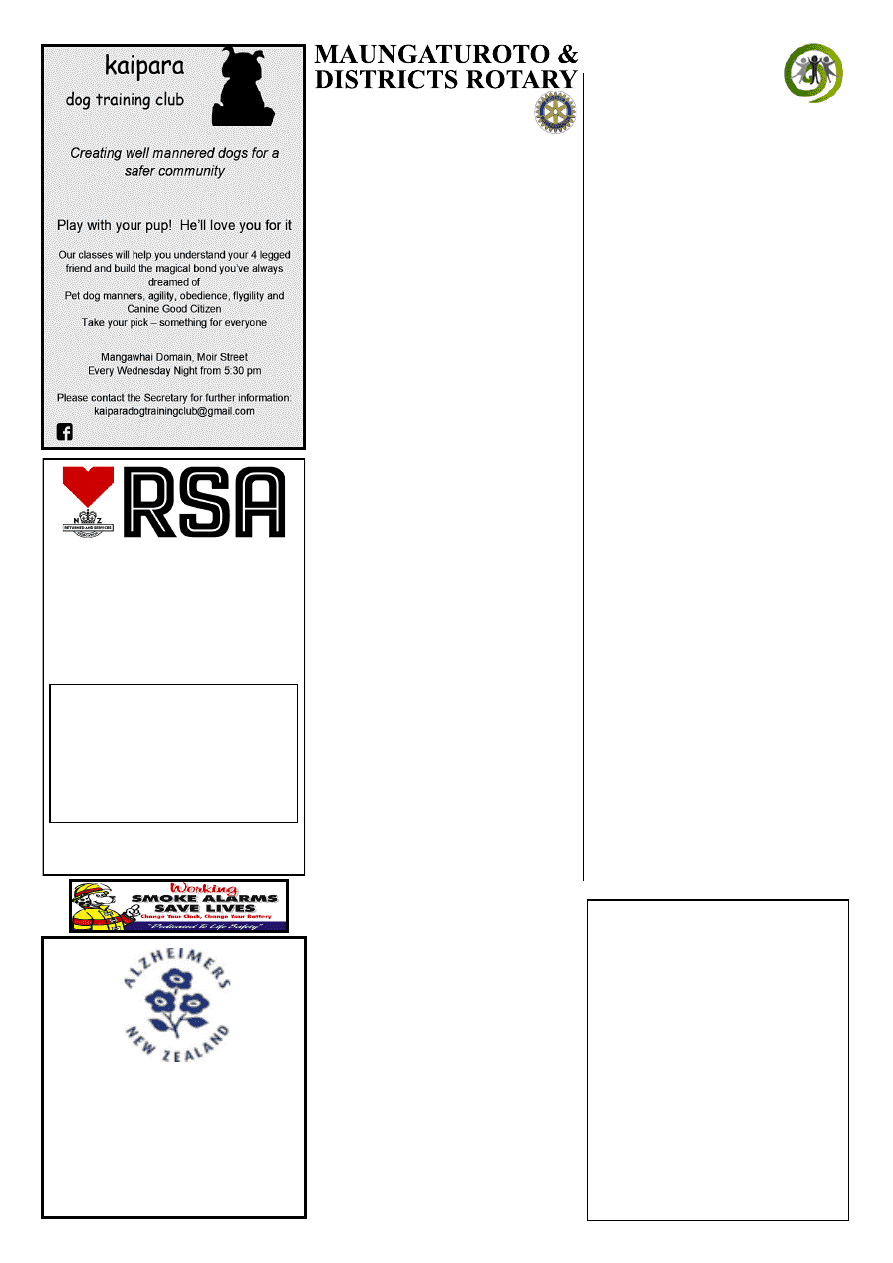 www.kaiwaka.co.nz 
Kaiwaka Bugle - 28 May, 2019 
Page 7 
HAKARU & DISTRICTS 
MEMORIAL RSA (INC)
Members & guests are invited to 
come along and enjoy our hospitality. 
New members welcome. 
Meals are served on 
Thursday and Friday nights 
from 6.30pm. 
Order from Blackboard Menu  
and a sing-a-long  
with Des Chitty. 
For more information please phone 
Graeme on 431 2563 
Alzheimers Society Northland Inc 
ALZHEIMERS SUPPORT 
GROUP 
Meet on 2nd Wednesday  
of each month 
11am - 12pm at the 
Mangawhai Golf Club Rooms 
Phone 0800 004 001 
OTAMATEA 
COMMUNITY 
SERVICES 
Fun  and  Games  –  Footprints  Room, 
Anglican  Church  Hurndall  Street, 
Maungaturoto. First and third Monday 
of the month from 10am to 12. A lot of 
fun  with  a  variety  of  games  ensuring 
there  is  something  for  everyone;  an 
informal  way  to  get  together  with 
others  for  a  little  light-hearted 
entertainment, friendship, morning tea, 
etc.  come  along  and  join  in,  or  better 
still,  come  and  take  charge,  be  the 
organiser.  Just  phone  Pauline  on  09 
431 9080. 
While  on  the  subject  of  senior 
entertainment here is a brief run-down 
on some of the other events going on. 
We  hope  that  people  find  something 
that will appeal to keep the 'brain cells 
ticking over' as one of our seniors calls 
her  sessions  at  Bingo.  There  probably 
are  more  events  taking  place  around 
the  district  that  are  not  listed  here, 
which  may  or  may  not  be  found 
elsewhere in the  Bugle. 
Seniors'  Lunch  – First Wednesday of 
the month at St John Hall in Hurndall 
Street. 10 – 1pm. 
Selwyn  Centre  –  Every  Thursday 
morning  at  St  Mark's  Church,  Hook 
Rd Paparoa. 
Shopping  Trips- Second Tuesday and 
fourth Wednesday of the month. 
Leaves  Maungaturoto  between  9  - 
9.30am. Open to anyone wanting to go 
to Whangarei for the day. 
Chocolate  Bingo  – Third Wednesday 
of  the  month  at  the  Footprints  Room, 
Anglican  Church,  Maungaturoto.  10  – 
12. 
Your  Community  House  09  431 
9080. 
155 
Hurndall 
Street, 
Maungaturoto. 
9am to 4pm Monday to Friday. Phone 
or call if we can help with any of our 
services:  Counselling,  Senior  Support, 
Addiction 
Support, 
Financial 
Mentoring,  Parent  Coaching,  Social 
Work. 
Best  wishes  from  all  at  Otamatea  
Community Services 
HAKARU HALL 
ACTIVITIES 

Monday: Line Dancing 10am  
Ph 4315160 

Tuesday: Pilates 9-10am 
Ph 0220643964 
Certified Instructor 

Wednesday, First of The Month 
Hall Committee Meeting 7pm 

Following Wednesdays: Recreational 
Music Evening 7pm Ph: 
0210628631

Thursday: Pilates 9-10am  
Ph 0220643964 

Thursday: Scouts 5pm 

June 16
th
 Line Dancing Open 
day 1.30-5.30pm 

June 22
nd
 Zonta Ball 

Hall Hire Ph 4312256 
Recently  we  were  sad  to 
farewell Margaret Marquet who 
passed  away  suddenly.  She  not 
only  supported  Dave  in  his  time  as  a 
member and Treasurer of this club but 
was also a very hardworking person in 
the local Opportunity shop. 
50 Years Chartered 
Advance  notice  about  our luncheon  to 
celebrate  50  years  of  having  been 
Chartered.  This  will  take  place  on 
Saturday 24th August in the Centennial 
Hall.  If  you  know  of  anyone  who  has 
been  associated  with  our  club  during 
the last 50 years, who you think might 
like  to  come  along,  please  let  Eileen 
know (0211420357). We hope to have 
all our living Charter members present. 
Pam  from  Country  Caterers  will 
provide the luncheon and we are in the 
process of arranging a very good guest 
speaker. 
Rotary Youth Leadership  
I  had  the  pleasure  of  attending  the 
Rotary  Youth  Leadership  dinner  at 
Muriwai.  This  week-long  fixture 
provides  a  fantastic  chance  for  young 
people  (aged  21  to  28)  to  be  involved 
in  an  incredibly  positive  environment 
where their leadership skills are tested 
and  enhanced.  Anyone  who  has 
previously attended this event endorses 
it wholeheartedly. The course is held at 
approximately  the  same  time  every 
year  so  if  you  know  of  someone  who 
might  benefit  from  it  in  the  future, 
please let a Rotarian know. 
Calf litter  
Those of you who have purchased our 
Calf litter will be pleased to know that 
we  have  contributed  $1,400  to  Rotary 
Foundation.  Foundation  is  able  to 
increase  the  spending  power  of  our 
donation  substantially.  This  branch  of 
Rotary was important to the late Terry 
Hanna,  and  it  was  his  initiative  that 
promoted this fund-raiser. A reminder, 
we  still  have  plenty  of  bags  of  calf 
litter  for  sale  at  Maungaturoto  Four 
Square. 
Thank You 
We  are  grateful  to  Jewell  Mills  who 
made our two wreaths that were laid at 
Hakaru  and  Maungaturoto  on  Anzac 
Day.  We  are  fortunate  to  have  such 
creative talent to draw upon when tasks 
need to be done. 
We continue to be very grateful to the 
parents  and  youngsters  from  Netball, 
DOE  and  Hockey  who  provide  our 
meals  on  a  roster  each  week.  These 
meals enhance the fellowship we enjoy 
at our meetings. 
Sunday 23  June, 2-4 
Rotary invitation 
"What is on in our area" 
Maungaturoto Country Club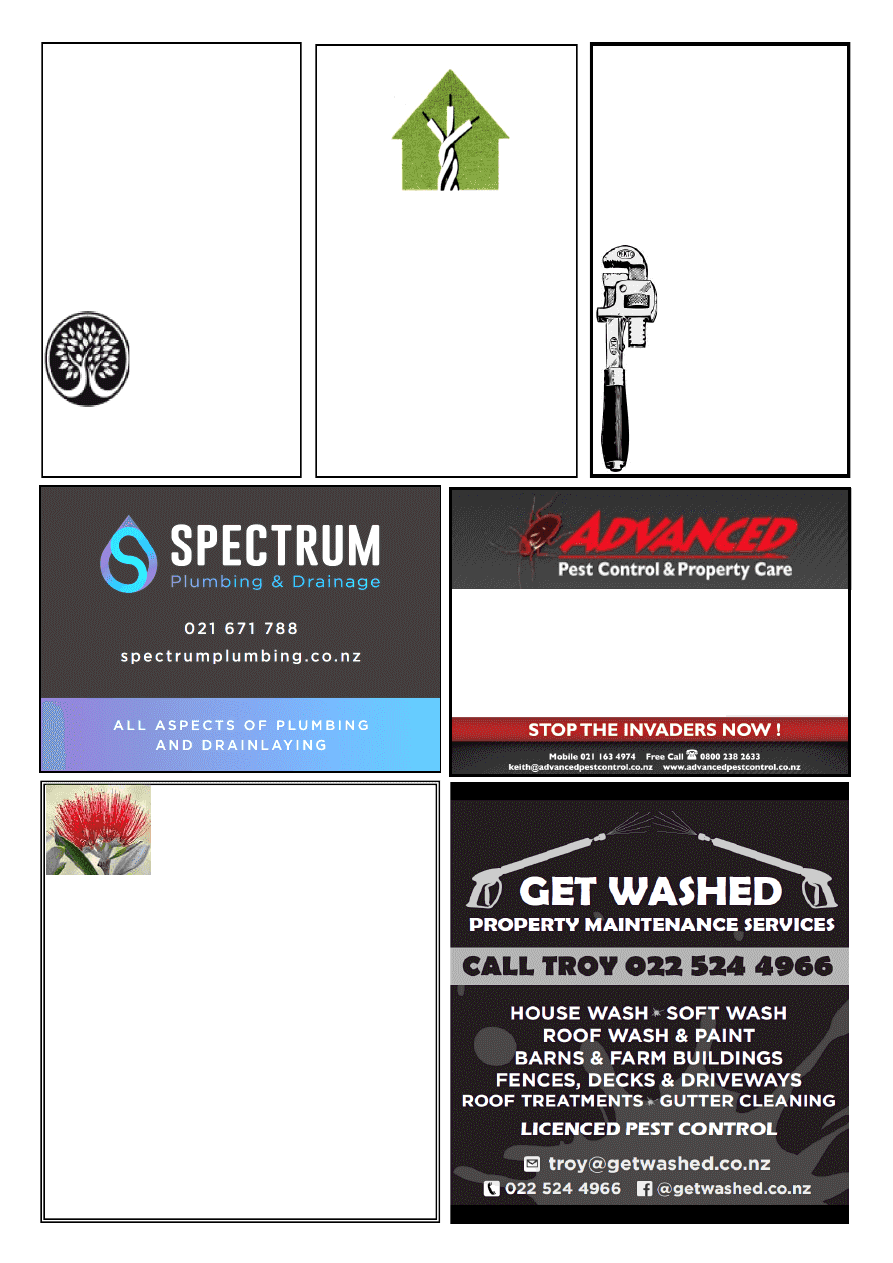 Waipu Natural 
Health 
3 Cove Road, Waipu  (opposite 
the Pizza Barn) 
Ph: 09 432 1325 
www.waipunaturalhealth.co
.nz
Clinical Nutritionist-Hair Analysis for 
Masked Allergies, Ozone Therapy, 
Prolotherapy, Naturopath-Medical 
Herbalist, Registered Massage 
Therapists, Reflexology-
Craniosacral Therapy, 
Acupuncture-Facial 
Acupuncture, Kineso 
Taping, Hypnotherapy, 
Counselling, 
ThetaHealing/Change 
Catalyst
.
AFFORDABLE CONSULTS FOR 
KIDS – give us a call
Gift Vouchers available
KAIPARA 
FLOORING CO 
Independently owned & operated 
32 HURNDALL ST MAUNGATUROTO
Supply & Installation of Carpet, Vinyl,  
Vinyl Wood Planking 
Stockists of 2m & 3m wide 
vinyl & carpet short ends 
Residential & Commercial 
Q Card Finance Approved 
6-18 month terms 
6 month interest free 
First Class Installations
For a free measure & quote 
phone Christine  
09 946 9886 or 021 515 415 
kaiparaflooring@gmail.com 
http://www.kaiparaflooring.co.nz/ 
BARRY CURTIS 
PLUMBING LTD 
REGISTERED CRAFTSMAN 
PLUMBER 
Phone 4315572 
027 257 9884 
25 years experience 
Friendly reliable service 
All plumbing and 
maintenance 
Alterations  
and new housing 
Spouting 
Competitive rates 
PROMPT 
EFFICIENT  SERVICE 
Reyahn George 
Leng 
Registered Electrician 
Local, honest and reliable. 
For your residential and 
light-commercial projects. 
022 314 1068  
Pest Control 
PLAN A: One-off treatments to customers with a specific pest problem 
PLAN B: Full maintenance service plans to commercial customers. 
This will include documentation kept in customer file on site: 
⚫
Pest treated 
⚫
Date of service 
⚫
Chemical or baits used 
⚫
Full pest check report done after each treatment 
⚫
Fair and reasonable fee with guarantee 
Flood Recovery  Carpet Care 
⚫
Carpet Drying   
This includes pre-spray treatments 
⚫
Dehumidifier Rental 
with stain removal and hot water extraction.  
Upholstery Cleaning 
Full upholstery cleaning of all furniture.  
eg lounge suites and all office chairs 
Water Blasting 
⚫
Concrete - Decks 
House Washing 
⚫
Soft Chemical Was 
⚫
Pre-painting Wash 
Property Services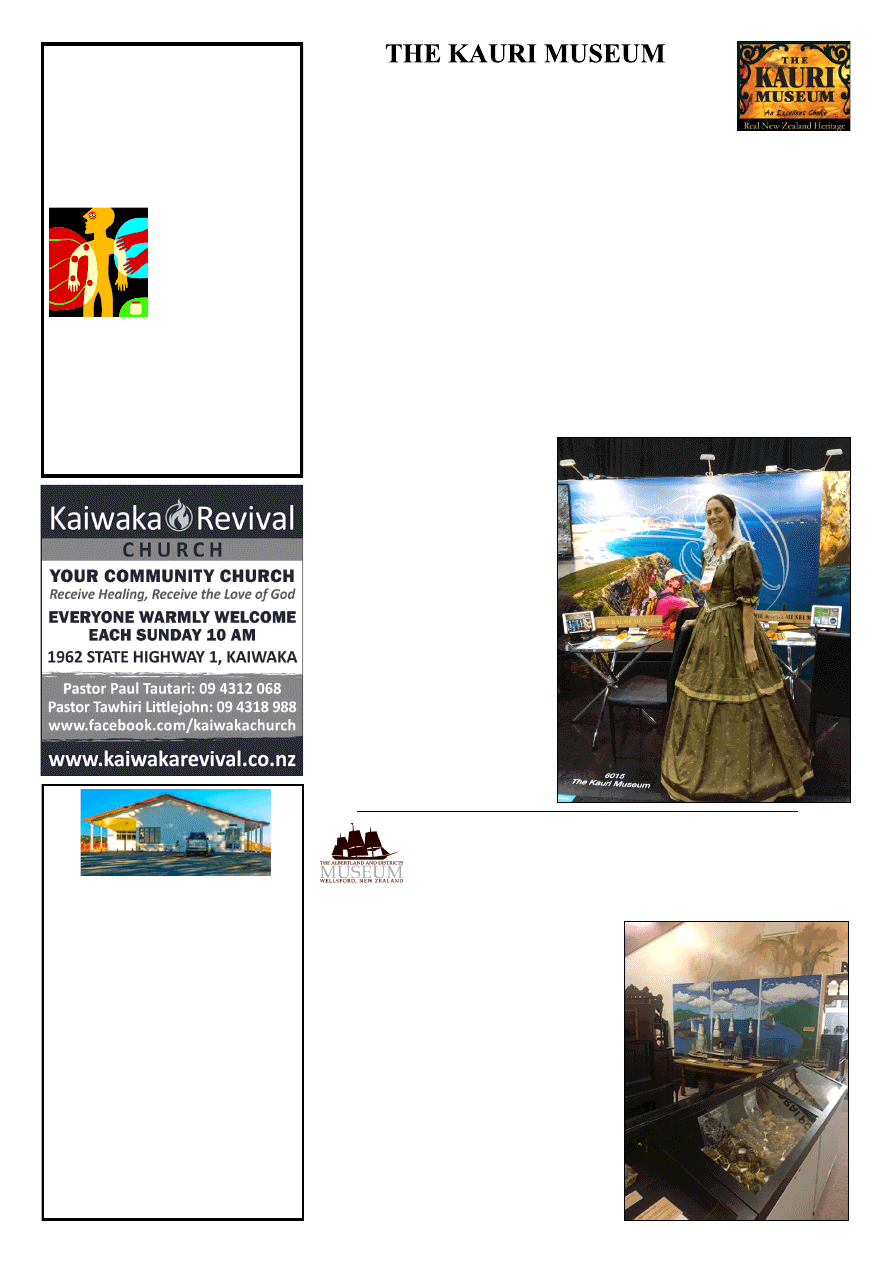 www.kaiwaka.co.nz 
Kaiwaka Bugle - 28 May, 2019 
Page 9 
OWEN STEVENS 
Osteo Therapist
For careful adjustments  
to bones and joints 
Treatment for humans  
and their pets 
Clinics: 
Kate's Place, 
Kaiwaka: 
Last Friday of 
month 
9.00am-5.00pm 
For bookings: 
Phone 
09 4312661 
Or phone Owen   
09 4317123  anytime 
Tramp! 
Te Pounga Marae 
130 Nathan Rd. Oneriri. Kaiwaka 0573 
COMPLEX FOR 
HIRE 
Functions 
* Weddings  * Birthdays  
*Anniversaries * Meetings  * Wananga 
5 hour meeting * 12 hour stay  * 
Overnight 
*All welcome - No more Drink-driving 
Amenities: 
*Convo Combi Steamer * Bratt Pan * 
Dish Washer/Sterilizer * 3 Door Glass 
Chiller (walk in) etc…All Crockery * 
Linen Supplied * Central Heating and 
Air Conditioning and much more.  
Can also cater for small groups…. 
For more information please contact: 
Kim Wallace  
Home: 09 832 1133  Mob: 0211275340  
Email: kimwallace@xtra.co.nz 
TRENZ 2019 
A very tired trio returned from Rotorua 
last week after attending TRENZ 2019, 
the largest annual tourism gathering in 
New Zealand. With over one thousand 
people present throughout the event it 
was a real eyeopener into the workings 
of tourism in our country. Members of 
Parliament  strolled  by,  top  level 
sportspeople were present (eg members 
of  the  Black  Ferns),  the  rugby  World 
Cup  was  on  show  and  available  for 
photo ops, ex All Blacks captain Richie 
McCaw  attended.  Selling  and  buying 
commenced  at  8.30am  and  concluded 
at  4.30pm,  followed  by  networking 
opportunities  late  into  the  night  over 
the  three  days  of  the  event.  Now  into 
the  work  of  follow-up  letters  and 
making  the  most  of  what  we  learnt 
from  our  trip.  Photo  below  shows 
Terri,  the  Victorian  Lady,  at  tourism 
gathering. 
Matariki 
The  art  boards  for  our  annual 
primary  schools'  art  exhibition 
have  been  delivered  to  the 
participating  schools  and  will  be 
collected  during  the  first  week  of 
June.  This  year's  theme  is 
'Kaimoana:  oranga  mai  it  te 
moana',  Seafood:  sustenance/life 
force  from  the  sea  and  we  are 
expecting 
some 
magnificent 
artworks. The exhibitions opens on 
Monday June 10 when the children 
will  watch  a  demonstration  of 
wood  carving,  view  their  art  and 
take part in kapa haka. 
Creating with Kauri 
Our  new  exhibition  opening  the 
day before Matariki features works 
in  kauri  timber  by  more  than 
twenty  artists  and  craftspeople. 
Pieces of kauri from the museum's 
collection have been turned into all 
manner  of  amazing  art  works  and 
we  are  very  excited 
about  what  we  will 
see  when  they  start 
arriving 
at 
the 
museum  shortly.  This  exhibition  is  a 
memorial  to  carver  Ewan  Macdonald 
who  lived  at  Tinopai  for  a  time  and 
taught the skill to numerous locals. It is 
also the first in what we are calling our 
'maker'  series  of  exhibitions  which 
will all feature kauri timber and gum in 
various 
different 
guises. 
This 
exhibition is also open from June 10. 
The summer tourist season is now over 
and  the  preparatory  work  for  the  next 
season  has  been  in  process  for  some 
time.  Over  the  winter  months  we  will 
be  hosting  a  number  of  speakers  who 
will  be  giving  talks  on  their  specialist 
subjects.  We  hope  you  will  find  the 
topics  interesting  and  come  to  listen. 
Look  out  for  our  publicity  and  we'll 
see you at The Kauri Museum. 
157TH ALBERTLAND 
ANNIVERSARY 
In  the  early  1860's  William  Rawson  Brame  had  a  vision  to 
establish  a  classless,  nonconformist  society  in  New  Zealand,  William  Rawson 
Brame had the vision of an ideal classless society to be established under the 40 
acre free land scheme of the time.  
On  May  29th,  1862  the  migrant  ships 
"Matilda  Wattenbach"  and  "Hanover" 
departed  from  the  London  Docks  with  688 
passengers  bound  for  the  Albertland 
Settlement in New Zealand with the first of 
over 3000 settlers. 
The  other  migrant  ships  included  Tyburnia,  
Ida Zeigler, William Miles, Gertrude, Annie 
Wilson  and  others  transported  almost  3000 
Albertland migrants to the colony.  
This  year  the  anniversary  was  marked  with 
an open weekend on the 25th and 26th May 
at the Heritage Centre, 15 Port Albert Road, 
Wellsford.  The  Heritage  Centre  at  the 
Albertland  and  Districts  Museum  in 
Wellsford 
houses 
extensive 
records, 
memorabilia,  artefacts,  and  other  items 
relating to Albertland from the 1860's.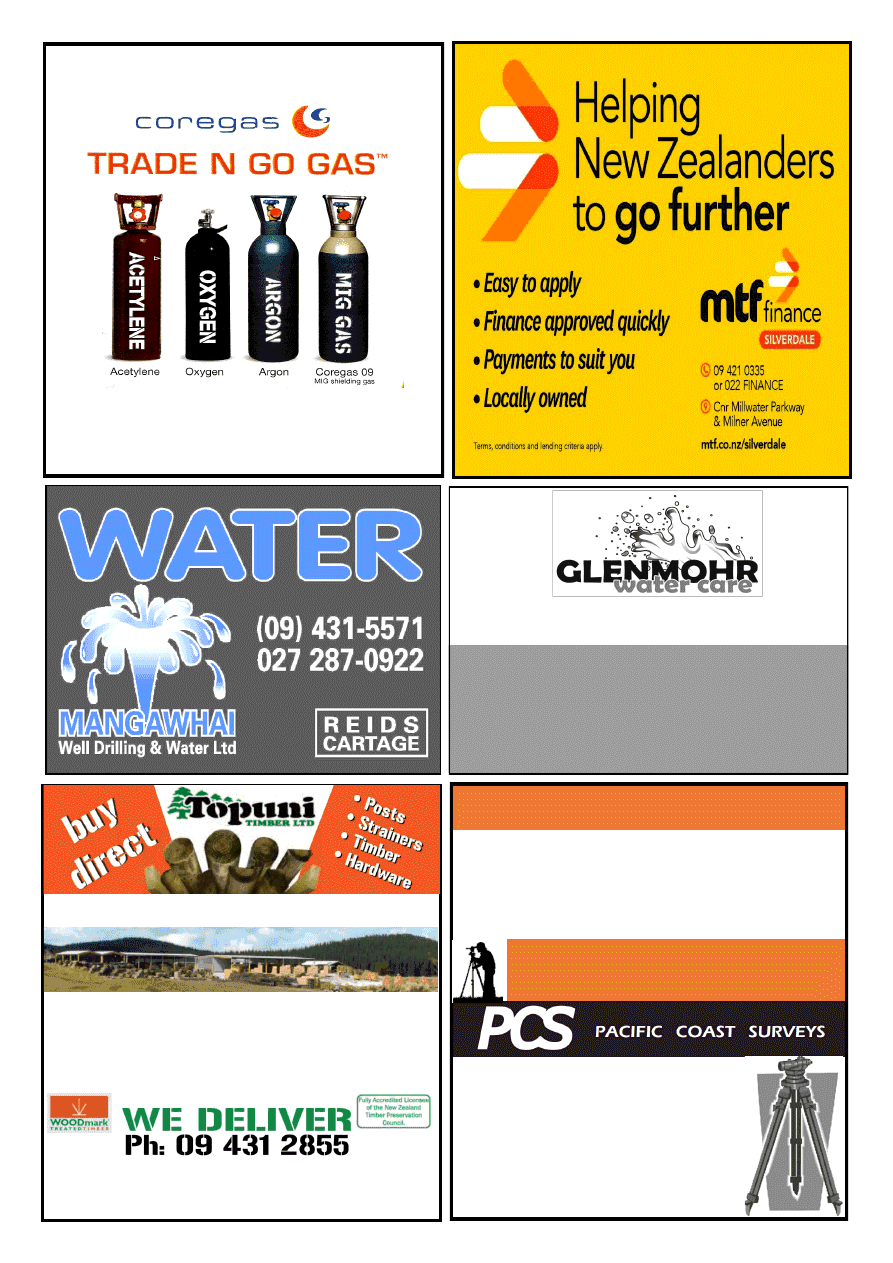 LOCALLY OWNED AND OPERATED 
QUALITY PRODUCTS • FRIENDLY ADVICE • GREAT SERVICE 
Quality Products milled from High Density NORTHLAND Radiata Pine. 
Treated and guaranteed to NZS3640 with commitment to 
Environmental Safety.
Phone, fax, email, or come into the mill 
Schiska Rd, Topuni, SH1, 10 min north of Wellsford. Fax: 09 431 2856 
Email: sales@topunitimber.co.nz           Mon - Fri 7am-5pm 
• Fencing 
• Retaining 
• Decking 
• Landscaping 
• Gates 
• Hardware 
SURVEYORS 
SUBDIVISIONS 
HOUSE SITE SURVEYS 
CIVIL ENGINEERING 
WASTEWATER DESIGNS 
EXPERIENCED 
PROFESSIONAL 
INNOVATIVE 
Ph 09 431 5353 
0800 PACIFIC (0800 722 434) 
pacificcoastsurvey.com
Adam Booth - 027 415 5752 
Bsurv, Licensed Cadastral Surveyor
Surveying Kaipara since 1994 
Water Tank Cleaning 
• 
Keep your water safe & clean  
• 
Removal of sediment, silt etc. 
• 
Vacuum or full scrub 
• 
Minimal water loss 
Phone Mark (09) 432 0655 or 0274 707607 
At Twinkle Tow 'n' Tyre 
Mob: 021 833 960 
Ph & Fax: 09 431 2823 
1837 State Highway 1, Kaiwaka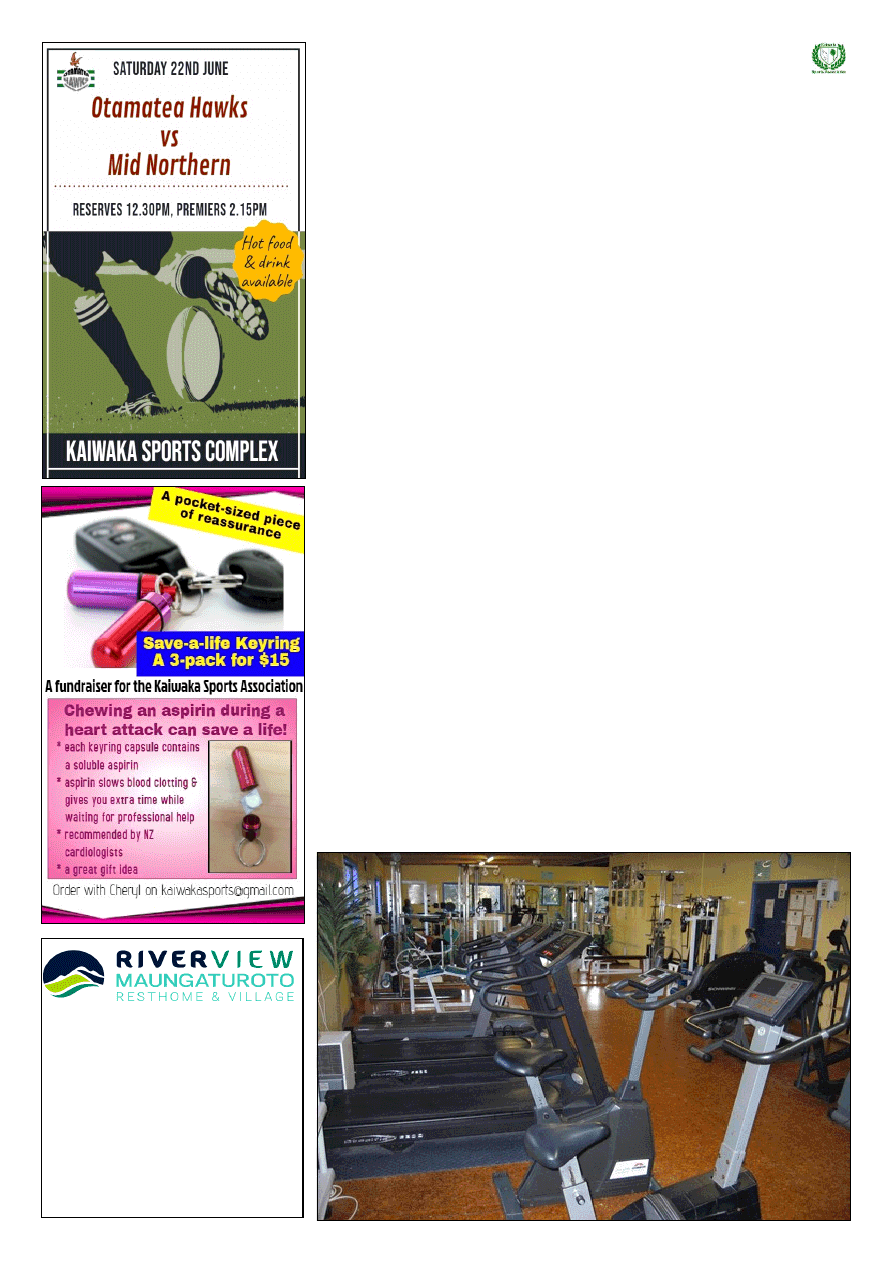 www.kaiwaka.co.nz 
Kaiwaka Bugle - 28 May, 2019 
Page 11 
           KAIWAKA SPORTS ASSN 
Community  Cooking  Classes  at 
the KSA 
Community  Cooking  Classes  will  be 
held  at  the  Sports  Complex  every 
Tuesday,  starting  this  Tuesday  28th 
May  at  5.30pm,  brought  to  you  by 
Kate's Place Community House. Come 
along  to  share,  eat  and  learn  all  about 
cheap,  filling  and  nutritious  meals  for 
your family. There will be a creche for 
the  kids  and  they  will  even  feed  them 
dinner,  while  you  are  busy.  Please  let 
them  know  if  you  are  coming  so  we 
can  cater  for  correct  numbers.  These 
classes are free but any koha would be 
welcomed.  Kate's  Place  Community 
House,  phone  Kirsty  Brown  on  431 
2661. 
Fitness Centre 
Keys  to  our  Fitness  Centre  have  just 
recently  changed  over,  so  if  you  have 
ever  thought  about  taking  out  a 
membership  –  now  is  the  perfect  time 
to  do  it!  You  can  purchase  a  year's 
membership  for  $150  which  will  give 
you  24/7  access  to  a  centre  equipped 
with  free  weights,  bikes,  climbers, 
rowers,  treadmills,  CV  machines, 
toilets and showers. You can buy a key 
from  Jaques  Four  Square,  or  for  more 
information  please  contact  Fitness 
Centre  President  Siobhan  Henderson 
on 027 9791203. 
Senior Hawks Rugby 
The  next  Hawks  rugby  day  to  be  held 
at  our  grounds  will  be  on  Saturday 
22nd  June.  The  match  will  be  against 
Mid  Northern;  the  Reserves  will  take 
the  field  at  12.30pm  and  the  Premiers 
kick-off straight after them, at 2.15pm. 
Come along to cheer on our boys! 
Would  you  like  to  become  a 
volunteer? 
A  lot  of  what  happens  at  the  KSA  is 
due  to  the  tireless  efforts  of  our 
volunteers. Volunteers are the  heart  of 
our  community  –  would  you  like  to 
become  a  KSA  volunteer?  Email  or 
ring me to talk about volunteering. 
A special thank you 
I  would  like  to  say  thank  you  very 
much to local man Jesse White, who I 
have  noticed regularly  walking  around 
the  KSA  grounds  with  his  two  young 
sons.  Jesse  and  his  boys  walk  up  and 
down  our  fields  picking  up  rubbish  – 
what  a  great  example  of  community 
spirit he is setting for his children, and 
for all of us. Thanks Jesse! 
KSA  Fundraiser:  Save-a-Life 
keyring 
If you have one of these keyrings, you 
could save a life! 
The Save-a-Life keyring has a capsule 
which  contains  a  soluble  aspirin. 
Chewed or placed under the tongue, an 
aspirin  can  make  all  the  difference 
when someone is experiencing signs of 
a  heart  attack.  The  aspirin  potentially 
helps  keep  a  patient  alive  for  what 
paramedics  call  "The  Golden  Hour". 
This  is  the  time  between  when  the 
attack  begins,  paramedics  arriving  on 
the  scene  and  the  time  it  takes  to 
transport the patient to hospital. 
The  keyrings  are  $15  for  a  3-pack  -  a 
small  price  to  pay  for  potentially 
saving somebody's life. 
Buy one for someone you love. Contact 
me  on  cherylanderson051@gmail.com 
and I can drop them off to you. 
Hiring at the Sports Complex 
The  Kaiwaka  Sports  Complex  has  a 
variety  of  facilities  and  sports  fields 
available  for  hire  for  sporting  events, 
tournaments, 
community 
events, 
conferences,  meetings  and  private 
parties. 
If  you  wish  to  use  part  of  the  Sports 
Complex, please email me on 
cherylanderson051@gmail.com . 
~ 
Cheryl, kaiwakasports@gmail.com 
Retirement Units  
For Sale and Rent 
Vacancies occur from time to time 
in the Community Trust's 2BR 
OYO units and 1BR rentals in 
Riverview Place, Maungaturoto. 
For information or to express  
an interest, please contact the  
rest home. 
Rest Home Manager  
Phone 09 431 8696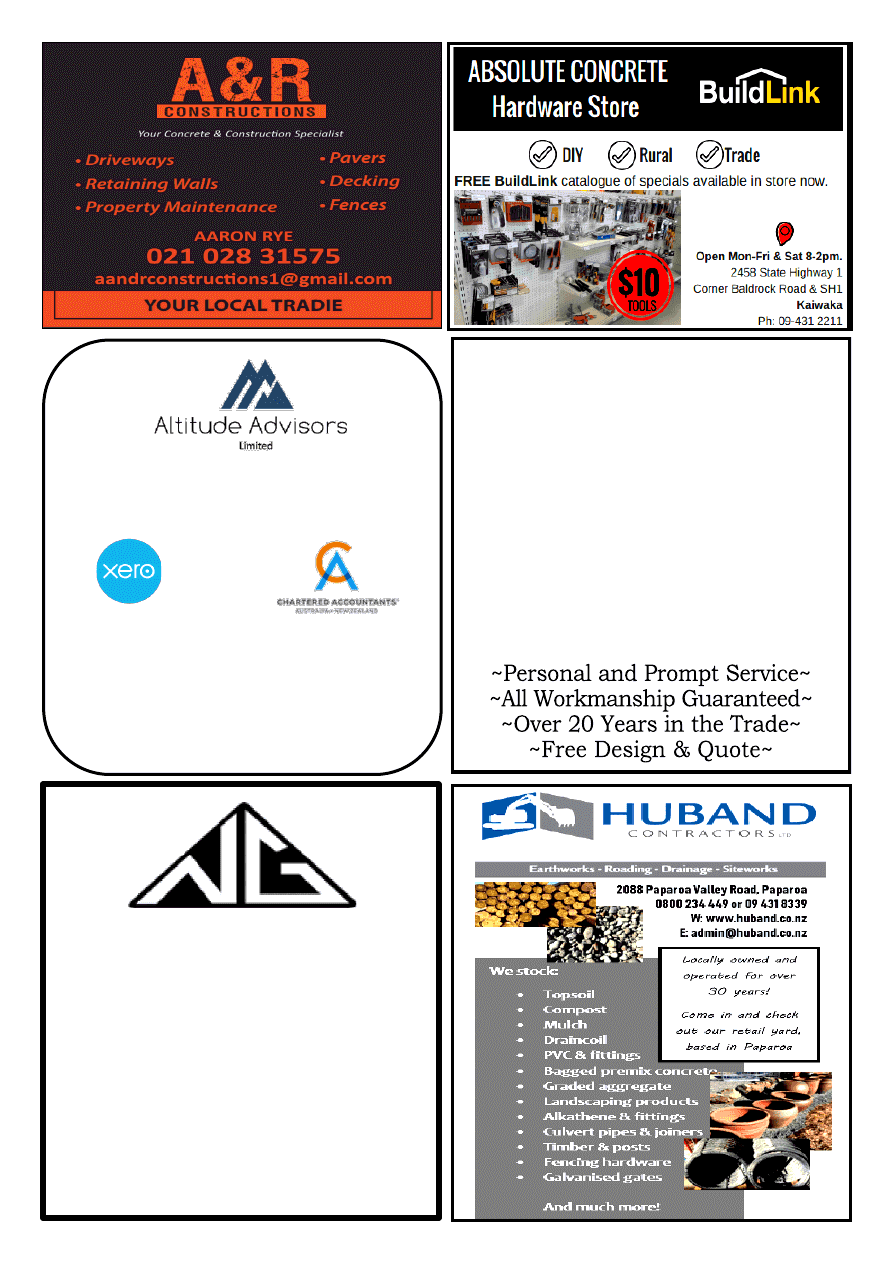 NORTH GLASS 
WINDSCREEN REPAIR OR REPLACE 
GLAZING SERVICES 
MIRRORS  •  SPLASH BACKS  •  SHOWERS 
0800 70 40 10
info@northglass.co.nz 
www.northglass.co.nz 
PLANNING A NEW KITCHEN?
 CONTACT NOEL McDOWELL
WELLSFORD 
KITCHENS
Ph/Fax 094312888
KAIWAKA-Any time
 QUALITY CUSTOM MADE 
KITCHENS
Altitude with Attitude, helping your business 
scale new heights 
Time to try something different? 
Xero training          Accountancy Services 
We are offering two opportunities: 
15% saving off your annual report cost for your first 
year, & a further 10% saving for any referrals 
Call Corinne on 021 252 7680 or 
corinne@altitudeadvisors.nz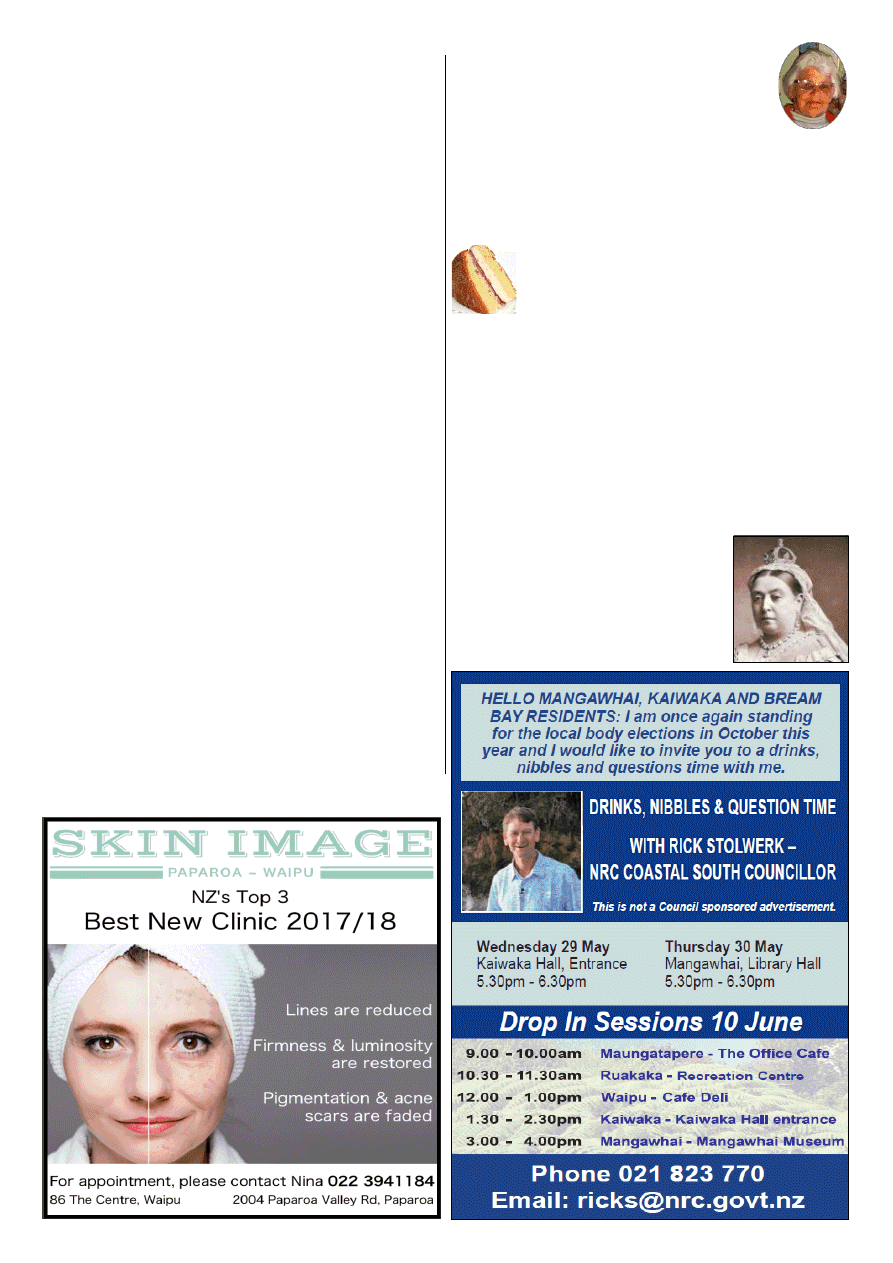 www.kaiwaka.co.nz 
Kaiwaka Bugle - 28 May, 2019 
Page 13 
From Thelma's Scrapbook...  
MONDAY 3 JUNE: QUEEN'S BIRTHDAY 
Few would deny New Zealand is a nation of 
people who love to bake. Baking is an integral 
part of our culinary heritage and we have developed a range 
of favourites that now form part of the foundation we 
consider New Zealand food. 
Ponder the origins of these favourites and it is hard to miss 
the influence royalty has had on the things we once 
considered tin-fillers or an afternoon tea treat. 
Take the Victoria Sponge Sandwich. This two-
layered, whipped cream and jam filled sponge was 
adopted by Queen Victoria after one of her ladies-
in-waiting developed it to satisfy her need for a 
sugar fix in the afternoons. 
Such was the enjoyment of this afternoon pick-me-up for 
the lady-in-waiting, she decided to share it with friends by 
asking them for 'tea' and a walk in the fields in the late 
afternoon. The afternoon tea party was born. Queen 
Victoria embraced the new craze for such socialising and this 
cake became one of her favourites. It started life as a simple 
jam and cream-filled sponge but was named the Victoria 
Sandwich - after the death of Queen Victoria's husband 
Prince Albert, in 1861. 
There are other baked favourites with a link to Queen 
Victoria and her family.  A recipe for Albert Square features 
in early editions of the Edmonds Cookery 
Book and was likely brought to New 
Zealand in the luggage of our British 
settlers . 
Find out what is probably our most 
popular baked recipe from the legacy of 
Queen Victoria and her family in Bugle 11.
It starts with the acid mantle which is the skin's first line of 
barrier defence. The acid mantle is made up of sebum (oil) 
secreted by the sebaceous gland and sweat secreted by the 
sudoriferous (sweat) gland. Combined they form a slightly 
acidic  film  on  the  skin's  surface  which  act  to  keep  bad 
bacteria in check and maintain hydration. If the natural oil 
gets stripped, we find the skin dry and dehydrated. 
In  my  consultation,  I  ask  the  following  questions  to  help 
determine the cause(s) of forever dry skin: 
1. Do you use a cleansing gel or soap that lathers or foam? 
This  foaming  effect  often  leaves  the  skin  squeaky  clean 
and  many  of  us  like  it  because  we  think  it's  a  sign  of  a 
deep cleanse but in reality, we are stripping the skin of its 
natural  oil,  leaving  the  skin  taut  and  dry.  Without  the 
protective  natural  oil,  skin  suffers  from  trans-epidermal 
water  loss  and  no  matter  how  much  you  drink,  water 
continues to evaporate. 
2. Do you use a toner that contains alcohol or is astringent? 
This also strips the skin's natural oil. 
3.  Do  you  use  a  moisturiser  that  contains  emulsifiers? 
Emulsifiers  are  agents  needed  to  bind  water  and  oil  to 
make  an  emulsion  with  a  nice  consistency.  Emulsifiers 
can also strip the skin's natural oil by binding to it causing 
a "washout effect". 
4.  Does  your  diet  include  a  lot  of  essential  fatty  acids 
contained in oily  fish,  avocado  and  olive?  If  not, do you 
take  omega  -3  supplements?  Not  enough  healthy  fats  in 
the  diet  can  contribute  to  the  skin's  lack  of  lipids  which 
then cause dehydration. 
5. Do you work in an office with air-conditioning? Do you 
sleep with the heat pump on? Have you been sitting close 
to the fire? All of these will draw moisture from the skin 
like a dehumidifier! 
6. What medication are you taking? Certain meds affect the 
skin's  barrier  defence  by  altering  its  balance,  therefore 
affecting its function in holding moisture. 
7. What's your age? Unfortunately, everything slows down 
when we age including our ability to make sebum. Lack of 
sebum/oil means lipid dryness which leads to dehydration. 
If  you  are  doing  everything  correctly  and  still  suffer  from 
dry, sensitive, irritated skin, then please seek advice from a 
skin therapist as healthy skin should be thick, supple and a 
little dewy. Your skin therapist should also be able to help 
you  identify  ingredients  in  your  products  that  could  be 
having a negative effect on your skin barrier. 
Nina Quan, 022 394 1184, Skin Treatment Therapist,  
Skin Image Paparoa – Waipu 
"WHY DOES MY SKIN STILL FEEL 
DRY, NO MATTER HOW MUCH 
MOISTURIZER I PUT ON?"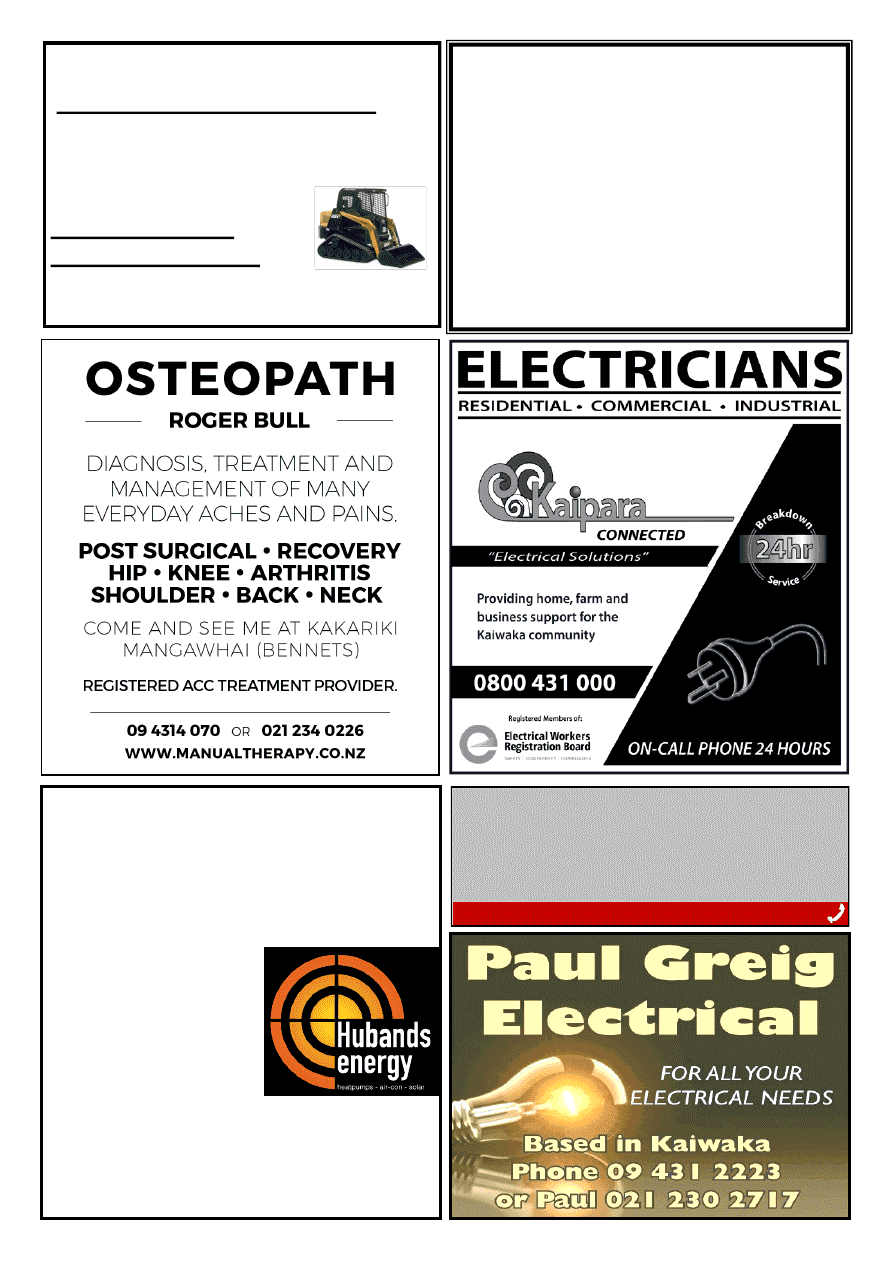 Natural Earth Ltd 
 Landscape and Bobcat services 
 : Driveways  :Landscaping  :Retaining Walls 
 : Hole Boring: Land Levelling :Trenching 
 : Decks :Fences :Sections Cleared: Plus much 
more 
Tel   09 4312885 
Mob 02102391280   
For A Fast Friendly  
Service Contact Tim Hicks 
CALL CRIMESTOPPERS 
Worried about something that doesn't seem right to 
you? Concerned about activity that could be 
harmful? Call Crimestoppers.  
You don't need to know all the facts.
CALL 0800 555 111 ANONYMOUSLY 
Northland's Award Winning 
Solar Company
SEANZ Best Solar Business Winners 2015/16
EXCLUSIVE 10 year installation warranty 
FREE No obligation onsite quote
Complete systems 
from $5990
See our range of: 
✓ 
Heatpumps 
✓ 
Airconditioning 
✓ 
Hot Water 
Heatpumps 
✓ 
Central Vacuum Systems
09 430 0019             sales@hubands.co.nz 
15 Kioreroa Road, Whangarei
Locally owned and operated for 35 years 
Mangawhai Heads 
Garden Centre
1758 Cove Road
945 0707 
021 165 2629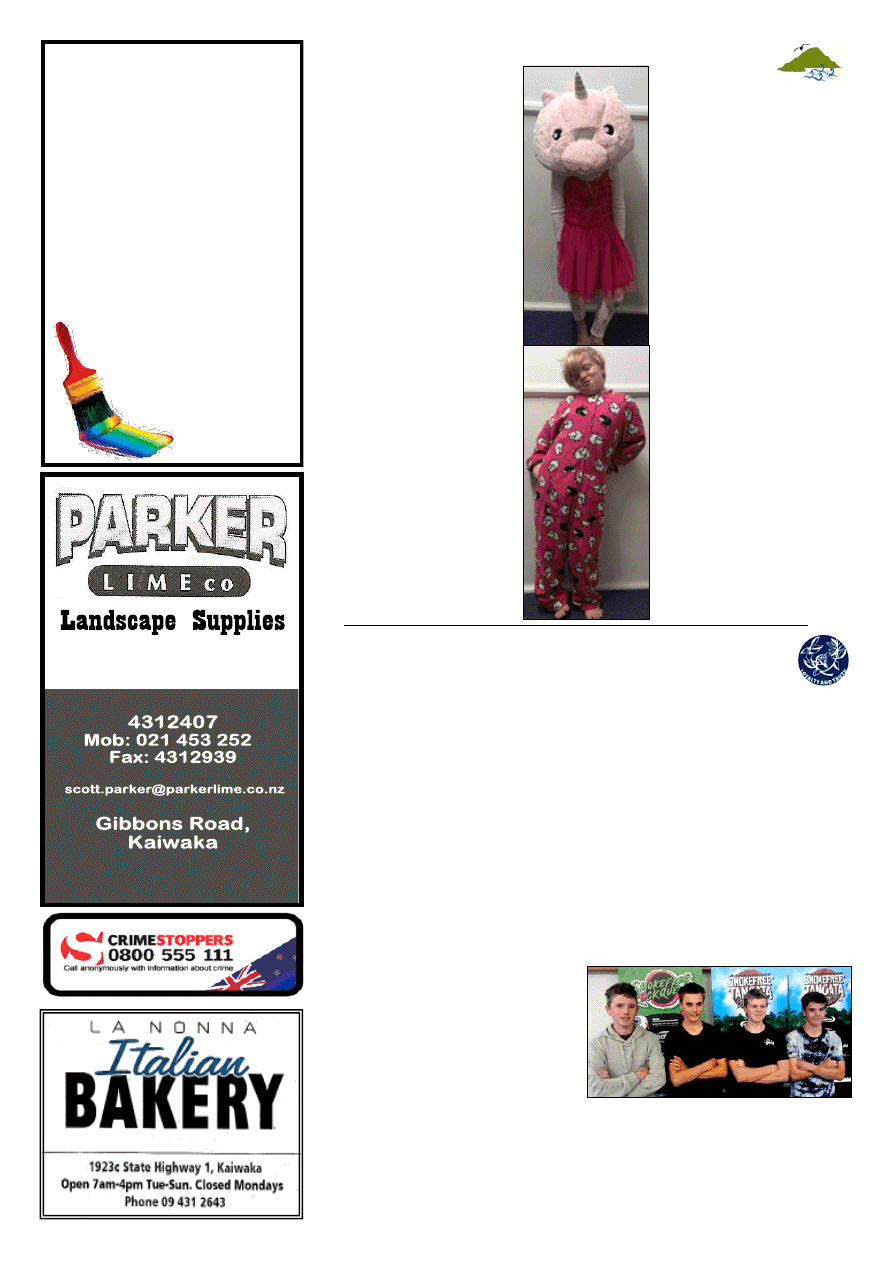 www.kaiwaka.co.nz 
Kaiwaka Bugle - 28 May, 2019 
Page 15 
Bulk Cartage 
KAIWAKA SCHOOL 
OTAMATEA HIGH SCHOOL
LEE COOPER 
PAINTERS 
(Kaiwaka Based) 
*30 yrs Experience 
*Interior/Exterior 
*New and Restoration 
*Honest and Reliable 
*Free Quotes 
 
09 4312918 
0274735171 
leecooper@xtra.co.nz 
From  the  Principal,  Rosie 
Ellis...our 
junior 
school 
students had a wonderful trip 
to  Forum  North,  Whangarei 
last  week  to  see  Mr  McGee 
and the Jumping Flea, a live  
theatre  experience.  Thank 
you to the parents who helped 
the  teachers  on  this  trip  and 
thank  you  to  Ms  Hannah 
Taylor-Rose for organising it. 
The  Board  of  Trustees  has 
regretfully 
accepted 
the 
resignation  of  our  Room  3 
teacher,  Karima  Bencheikh. 
Karima  is  leaving  our  school 
at the end of this term, to live 
and teach in  China.  We  wish 
her  the  very  best  and  thank 
her for all her time and work 
in  our  school.  We  will  miss 
her  zany  and  energetic 
presence. 
It  looks  like  there  will  be  a 
national  teacher  strike  on 
Wednesday  29  May  -  next 
Wednesday.  The  school  will 
be  closed,  and  you  will  need 
to 
make 
alternative 
arrangements 
for 
your 
children on this day. We will 
keep 
you 
informed 
if 
anything changes. 
Thank  you  for  letting  your 
children  participate  in  the 
Pink 
Dress-up 
day  last  week.  It  was 
enjoyed  by  all.    Photos  left 
of  two  of  the  participants  in 
pink! 
NOTICE 
Teachers  who  belong  to  the 
Teachers  Union,  NZEI,  will 
be  going  on  Strike  on 
Wednesday 29th May. 
The  school  will  be  closed. 
Please 
make 
alternative 
arrangements 
for 
your 
children. 
Thank you, parents, for your 
support  of  our  decision  to 
close  the  school  in  support 
of  our  teachers  who  will  be 
striking  next  Wednesday. 
Education is in need of more 
funding, 
resourcing, 
recruiting, staffing; retention 
of  staff.  This  is  a  nation-
wide  concern.  It  is  time  to 
act  and  I  thank  you  as 
parents  for  swinging  in 
behind our teachers as we all 
make  the  sacrifice  of  taking 
a  non-paid  day  for  your 
children's  future  and  our 
working conditions. 
3 June: Queens Birthday 
17 June: Visiting Authors 
Gavin Bishop and Tania 
Roxborough 
5 July: End of Term 2
Notes from Rachel Clothier-Simmonds, 
Principal ... 
Strike Day:  On Wednesday 29th May 
the  school  will  be  closed  without  su-
pervision for all  students.    This  is  due 
to  teacher  strike  action.  Please  keep 
your children at home on this day.    
 Car park and courts:  We are reach-
ing the final stages of this work and so 
the  full  car  park  is  now  sealed  off  for 
all  vehicles.    All  access  to  the  school 
for  visitors,  deliveries  and  parents/
caregivers is through Te Whare o Ron-
go  and  there  is  very  limited  park-
ing.   Parking along the bus bay outside 
of the before school drop off (8:15am - 
8:45am)  and  after  school  (3:15pm  - 
3:45pm)  pick  up  times  is  permitted  at 
this time.   The sealing of the car park 
and courts has been booked for the end 
of next week. After this is complete the 
turning  circle  will  be  sealed  off  for 
preparation then concreting, which will 
take a further week.   Once the turning 
circle  is  completed  this  will  become 
the new drop off and pick up point for 
parents  who  drive  their  children  to 
school.  In  the  interests  of  safety,  we 
would  like  to  minimise  the  number  of 
people  who  cross  Bickerstaffe  Road 
during these busy periods.  
Community evening:  On Wednesday 
5th  June  from  6:00pm  -  7:30pm  we 
will be holding a community session - 
Practical  Strategies  to  Protect  and 
Promote  Wellbeing.    Denise Quinlan 
from New Zealand Institute of Wellbe-
ing  and  Resilience  will  be  de-
livering  this  session.    She  is 
also  working  with  the  whole  staff  and 
the  school's  wellbeing  team  on  devel-
oping  a  strength-based  wellbeing 
framework  for  our  school.    (See  the 
flyer in Bugle 10). 
AIMS Games fundraiser:  Anchor are 
running  a  promotion  for  all  teams  in-
volved  in  the  AIMS  Games  competi-
tion.    This  year  we  are  encouraged  to 
collect  as  many  anchor  bottle  tops  as 
possible. The first prize is a Toyota van 
for  the  school.    For  the  last  two  years 
we have won first and second prizes in 
this  competition  so  we  know  what  we 
can  achieve  when  we  all  get  behind 
initiatives such as this.  If you use an-
chor  milk,  please  collect  these  bottle 
tops and send them to school.  
Otamatea  High  School  band  'Pahi 
State of Mind' qualified for the Smoke-
free  Rockquest  Northland  regional  fi-
nals.  Band  members  -  Ben  Donald, 
Jayke Parker, Joshua Sheppard, Roman 
Miru. There are over 400 photos of the 
Northland 
heats 
on 
'Smokefree 
rockquest' Facebook page.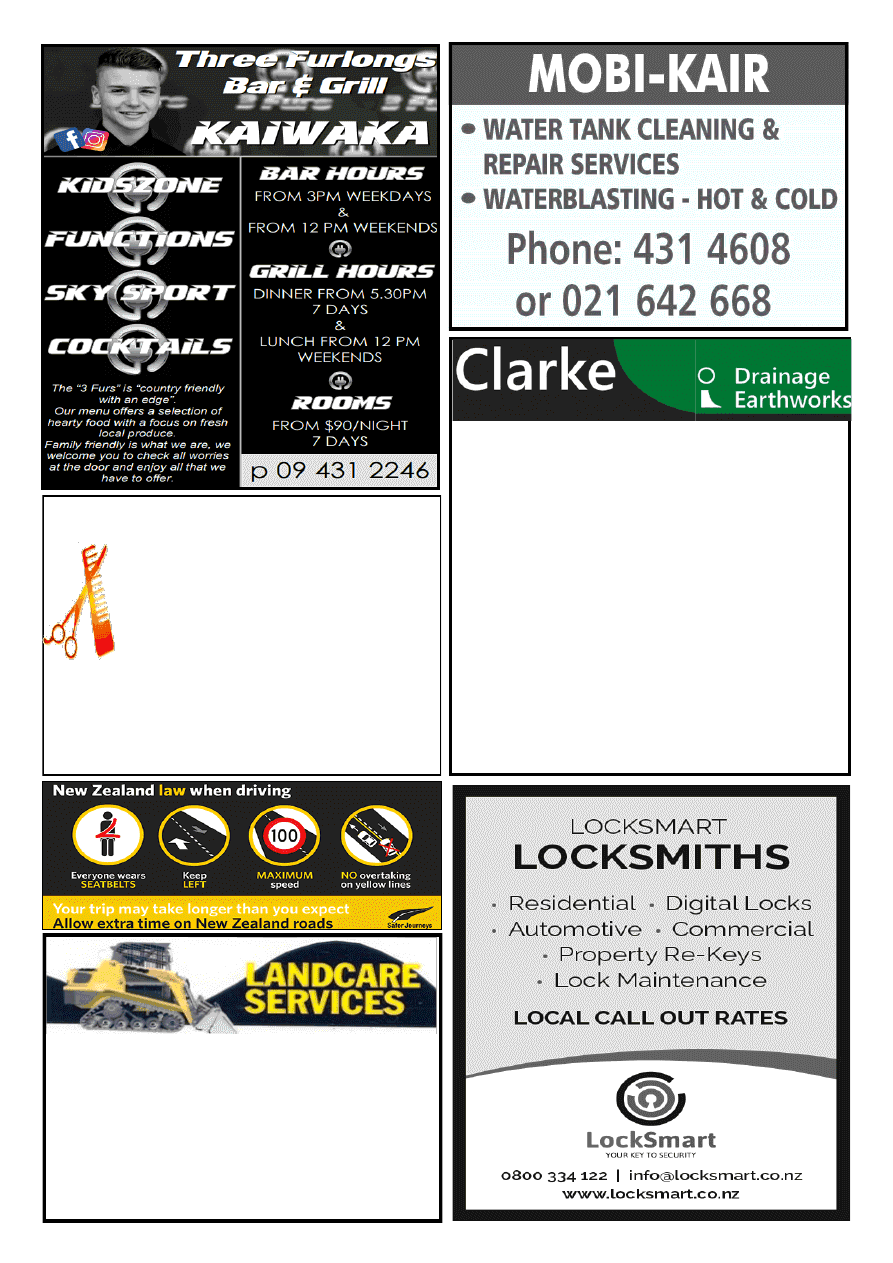 Registered Drainlayer 
All Types of Earthworks  
> All Residential & Commercial Work  > House Sites 
> Septic System Design & Install 
> Footings & Drilling to 10m 
> Sewer Connections 
> Dams 
> Water Tank Installation 
> Roading & Races 
> Farm Work 
THE ONE STOP SHOP  
Phone Nigel for an Obligation Free Quote  
Drainage & Earthmoving 
nigel@clarkedrainage.nz 
027 2233 185 
LANDSCAPING 
4 IN 1 BUCKET 
TRENCHER 
POLE HOLES 
ROTARY HOE 
COMPACT ROLLER 
OFFAL HOLES 
CAN SUPPLY WOODCHIP & POST PEEL 
5 TON TIPPER 
FOR RELIABLE AND FRIENDLY SERVICE CONTACT DAVE 
Dave Hyndman 
 
KAIWAKA 
PH: 09 4312302 
MOB: 021 431 238 
AFFORDABLE PRICES! 
MENS CUT FROM $20.00 
LADIES CUT FROM $30.00 
KIDS CUT FROM $18.00 
COLOUR & CUT FROM $120.00 
JUST CUTS'AND MORE 
021 165 2629 or (09) 945 0707  
NOW SELLING: scented tealights, incense, smudge sticks, 
copper bracelets, aurora ball crystals, dream catchers, healing 
stones, rose quartz, cds, and much more. Open 6 days.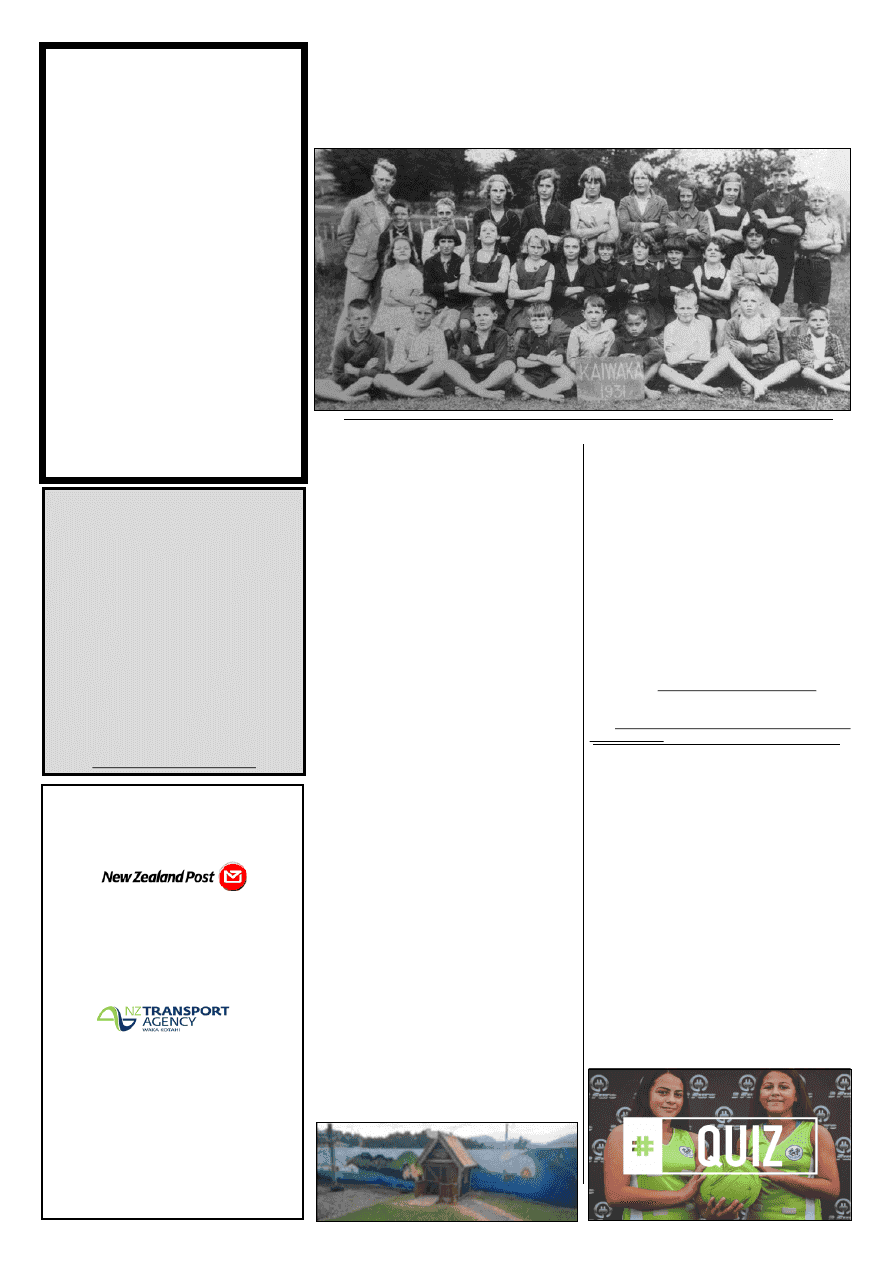 www.kaiwaka.co.nz 
Kaiwaka Bugle - 28 May, 2019 
Page 17 
KAIWAKA POST 
CENTRE and 
FOOD MART 
POST CENTRE TRADING HOURS 
MONDAY to FRIDAY 8am to 5pm 
SATURDAY 8am to 12pm 
CLOSED ON SUNDAY and on 
PUBLIC HOLIDAYS 
FOOD MART (GROCERIES) 
MONDAY TO FRIDAY  
7:30am to 7.30pm 
SATURDAY  8am to 7.30pm 
SUNDAY  8:30am to 7pm 
IF ANY QUERIES PLEASE CALL 
STORE MANAGER AMRIT  
on 09 4312431 or 
EMAIL: kaiwakafood19a@gmail.com 
1919a State Highway1, Kaiwaka 0542 
Maungaturoto  
Country Club 
SPORTS - SOCIAL - CONFERENCE CENTRE  
The club is open Fridays from 4pm and 
Thursdays from 6pm - come and enjoy a 
drink and a meal from Raquel's Kitchen.  
You can join the Club  - $15 a year. 
Application forms available on request. 
Affiliated activities: Bowls, Squash, 
Rugby, Theatre, Motorcross, Equestrian. 
PO Box 81 Bickerstaffe Rd 
Maungaturoto 0547 Tel 09 4318 326 
HELP WANTED 
Please can you help identify anyone in this photo? Kaiwaka School 1931.  
Next  year  Kaiwaka  School  will  celebrate  150  years  and  we  would  really 
appreciate having as many school photos as possible - named if we can. 
For those wishing to help please contact Lindsey 09 4312045 or Jennie 021 0276 
4171 or email kaiwakabugle@kaiwaka.co.nz 
WANTED TO BUY 
I  am  a  local  private  collector  of 
Kaipara  &  Northland  Paper, 
Postal  &Photographic  History 
looking to purchase: 
Old Photos  
Old Postcards 
Old Documents 
Old Envelopes  
Old Advertising / Tourism 
Posters or Pamphlets 
Old books or old 'paper' 
relating to  
Kaipara and Northland. 
I will pay a fair price immediately 
so please contact me on either  
280 9544, text 021 757 107  
or email 
nigel.bermuda@gmail.com 
Q
UIZ NIGHT 
FUNDRAISER  
 The  3  Furs  Bar  &  Grill  is  hosting  a 
Quiz  Night  Fundraiser  to  help  our 
Otamatea kids get to the AIMS Netball 
Tournament  in  Tauranga  later  this 
year.  
Details as follows:  
• Friday 14th June 2019
• 6.30pm start 
• Up to 8 people per team 
• $120 entry fee per team 
• Nibbles provided 
• Great prizes  
TEAM REGISTRATION:  
Please contact Pat Buxton at 
pat.buxton83@gmail.com to register. 
Be quick as tables are limited!   
All proceeds will go towards the cause.
KAIWAKA  
PLAYCENTRE  
In  term  2  our  theme  is  natural  science 
so  we're  looking  forward  to  doing 
activities  including  volcanoes,  baking, 
dyed flowers and much more. We had 
so  much  fun  at  the  Reptile  Park, 
Danielle  Adam's  did  a  great  job  in 
organizing this event. 
We  are  lucky  to  have  Juanita  as 
president,  Dena  as  secretary  and  our 
new treasurer Mandy.  
If  you'd  like  to  join  in  at  Kaiwaka 
Playcentre  our  sessions  are  Monday, 
Wednesday  and  Friday  at  9.30am  to 
12.30pm we would love for you to join 
us  with  your  pre-schooler  0-6  years. 
We  have  a  range  of  daily  activities 
including slime, arts and crafts, baking 
and much more. 
We  would  like  to  thank,  Chi  chi 
(Nicole  Whitehead)  for  being  our 
treasurer  we  are  so  sad  to  lose  you, 
Kaiwaka  Playcentre  really  appreciates 
all your hard work. 
Thank you 

Jaques 4 Square - for their generous 
donations and support. 

Joe  Paikea  - for the stunning mural 
on  the  fence  at  Playcentre.  Such  a 
talented  artist.  We  really  appreciate 
that  you  included  such  a  lovely 
sentimental  touch  with  the  butterflies 
in memory of Azaliya and Janaiah. 

Ngā Tupuranga O Ngā Puna Reo - 
Tuesdays  and  Thursdays  from  9am  - 
1pm at Kaiwaka Playcentre.  
It is fantastic to have you as part of the 
Playcentre  community,  we  appreciate 
your support . 
LIMITED OUTWARD BOUND 
SCHOLARSHIPS 
AVAILABLE NOW
! 
  Don't  miss  this  opportunity  to  attend 
Outward  Bound  with  a  Ka  Mahi 
scholarship,  which  provides  up  to  75% 
funding of a 21-day Classic Course.  
Ka  Mahi  or  'great  work',  is  funding 
available  for  young  people  who  are 
volunteering in their communities or doing 
something  great  in  their  personal  lives. 
This funding has been generously provided 
by Outward Bound donors. 
Applicants  need  to  be  between  18-26yrs 
and be active in their community and ready 
for  a  personal  challenge.  Scholarships  are 
available for Classic courses starting on 29 
July  and  27  August  2019.  If  this  sounds 
like  you  or  someone  you  know,  apply 
online  at  www.outwardbound.co.nz.  For 
more  information  and  criteria,  call  0800 
688 
927 
or 
head 
to  www.outwardbound.co.nz/community/
scholarships. Applications close Fri 7 
June.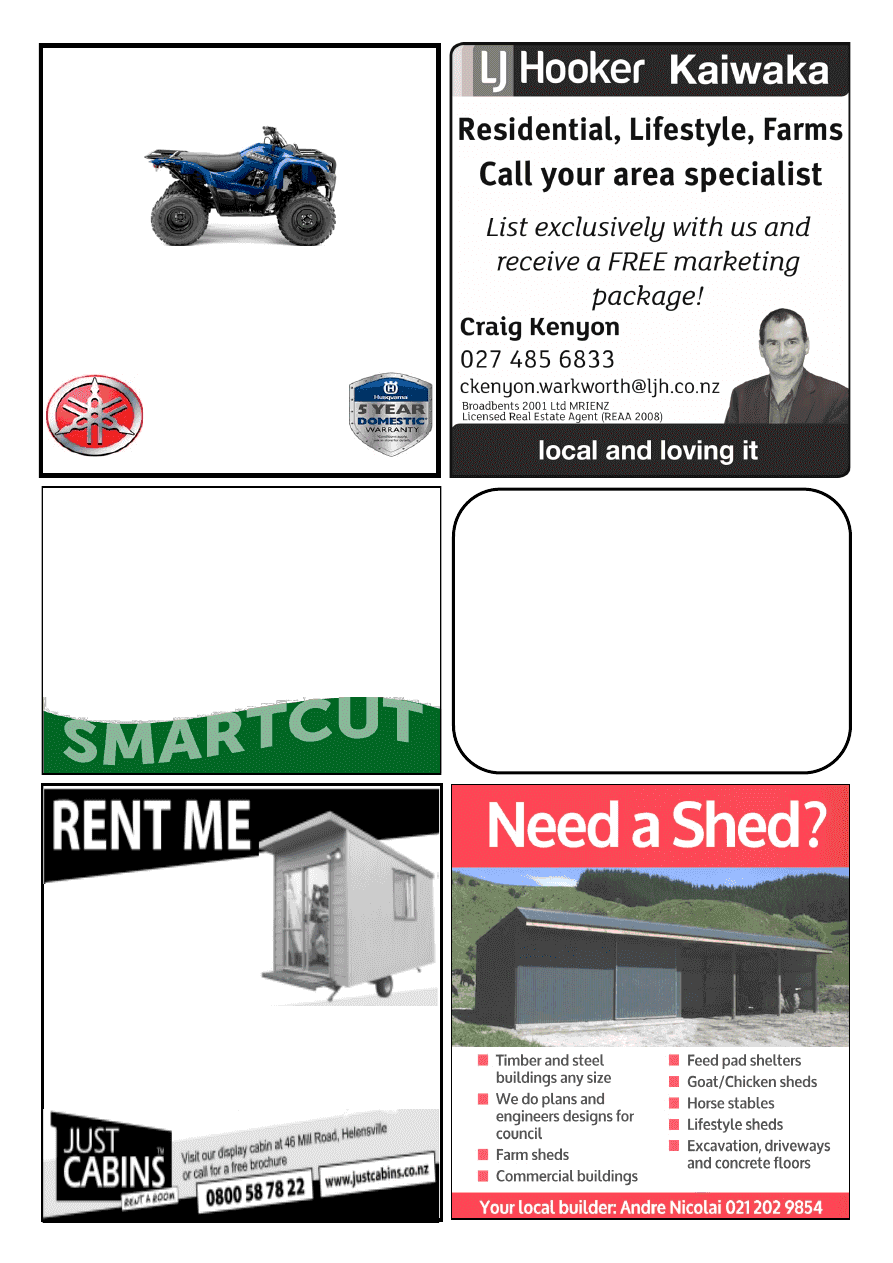 All your outdoor needs sorted so you don't have to... 
I can prune, chop, tidy, spray, mow, plant 
- you name it, I can do it! 
Residential & Commercial 
Lawn & Garden Care 
Call Rodney, your local  
lawnmowing contractor 
021 138 2344 
UP-LINK 
CHRIS WARING 
FREEVIEW INSTALLATIONS 
T.V. - HOME THEATRE &  
HI-FI ADVICE/SET UP
SKY ACCREDITED INSTALLER
MOB.0273403747 HM.094312328 
EMAIL cwaring44@gmail.com
28 YRS EXPERIENCE 
OFFERING UNBIASED ADVICE 
Ideal as an extra  
bedroom or office 
Three Convenient sizes: 
Standard 3.6m x 2.4m - $65 
per week 
Large 4.2m x 2.4m - $80 per week 
Extra Large 4.8m x 2.4m - $100 per week 
Fully insulated. Minimum 6 months rental period 
KAIWAKA 
MOTORCYCLES LTD
SALES – SERVICE – SPARES 
FARM BIKE SPECIALIST
PHONE 09 431-2127 
10 KAIWAKA-MANGAWHAI ROAD, KAIWAKA
Trimmers  
from $279
Chainsaws  
from $339
YAMAHA 
HUSQVARNA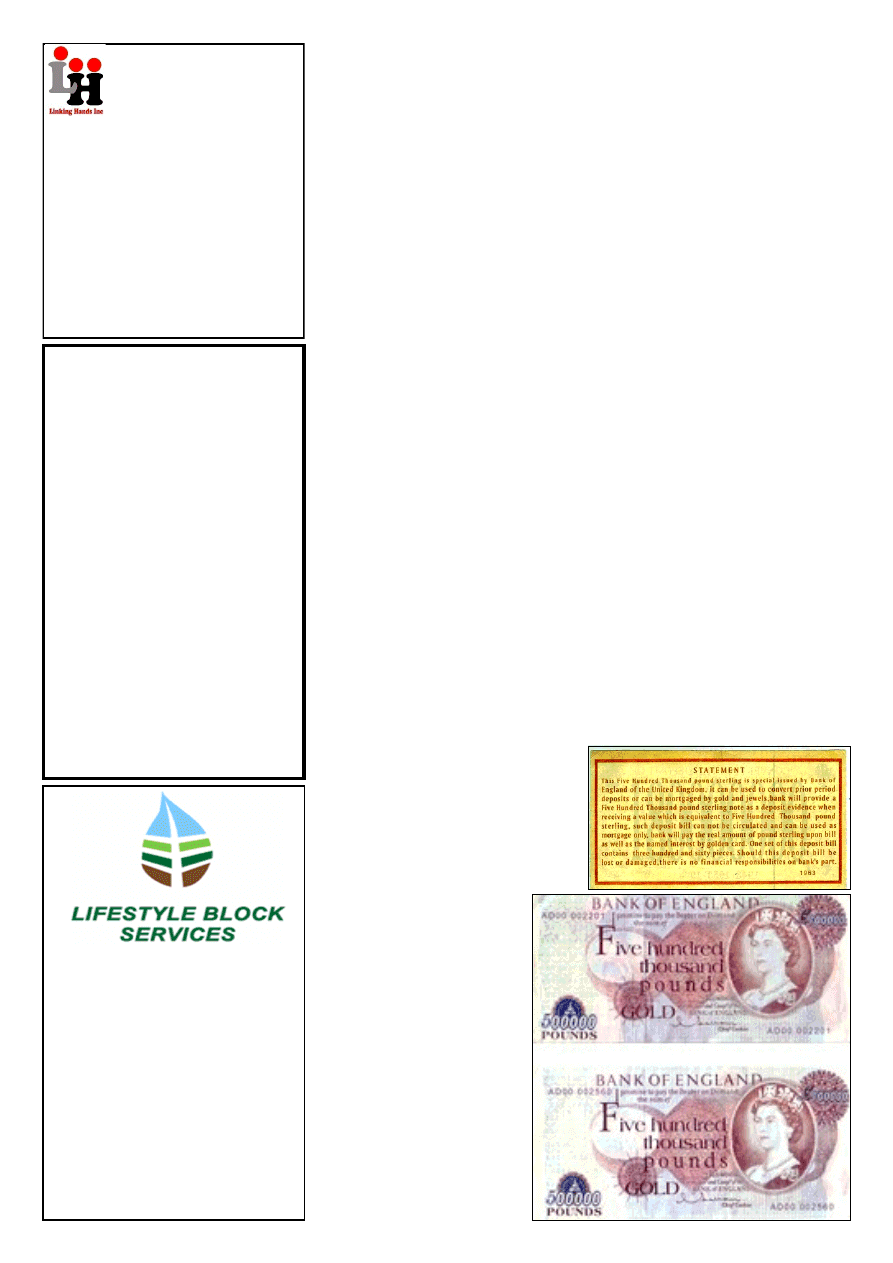 www.kaiwaka.co.nz 
Kaiwaka Bugle - 28 May, 2019 
Page 19 
  LINKING 
HANDS INC 
Maungaturoto - Kaiwaka - 
Mangawhai 
Meeting the needs of the community. 
A  free Health Shuttle Service, providing 
transport to those who would struggle to 
get  to  medical,  dental,  podiatry,  or 
optometrist appointments anywhere from 
Warkworth to Whangarei. 
HEALTH SHUTTLE SERVICES 
Ph/fax 09 431 8969 
OFFICE HOURS 
Maungaturoto - Monday to Friday - 
10am to 4pm 
Closed Public Holidays 
Some people's stories defy belief.  
A  long-time  friend  of  mine  asked  if  I 
could  ghost  write  his  book,  which  I 
have  since  done.  It  is  the  actual  true 
detail of his being incarcerated because 
of dishonest dealings with the whore of 
Thread  Needle Street  (i.e. the  Bank  of 
England).  A conspiracy; for this article 
and anonymity, I'll call him Midas.  
At the beginning of the Second World 
War  the  B  of  E  sent  gold  ingots  to 
China for safe keeping. Documentation 
was  prepared,  signed  and  the  gold 
became a paper fortune.  
Since  the  days  of  Genghis  Khan,  the 
Chinese  Dragons  (senior  old  generals) 
had a way of securing their wealth. The 
gold  was  divided  into  lots,  each  lot 
carefully  engraved  on  a  metal  scroll, 
showed  an  amount  hidden  in  far 
mountainous  Buddhist  temples.  Only 
one priest of each lot was charged upon 
death  as  to  where  the  gold  was.  One 
single  Chinese  man  who  lived  in 
Malaysia  was  charged  again  upon 
death to hide the scroll detailing which 
monasteries had what.  
Midas  was  approached  by  the  head 
Dragon  to  go  to  the  B  of  E  with  the 
documents  from  1945  and  redeem 
money  in  exchange  for  gold.  (N.B. 
Thing  about  gold  is  that  it's  pretty 
useless as ingots.)  
The  Communist  Party  had  spies 
watching the dragon and his family and 
at  one  stage  Midas  and  the  Malaysian 
Chinese  had  to  tear  away  in  a  car 
chase,  roll  out  as  it  slowed  at  traffic 
lights, run  down  dirty  alleys  to  escape 
the communist plain clothes police, just 
like a movie, but seriously dangerously 
life threatening.  
When  my  friend  and  his  two  business 
associates presented the documentation 
to the B of E everything was very civil 
but a few days later police arrested two 
of  the  men,  my  friend  having  since 
returned  to  New  Zealand.  Police  took 
him  from  his  home  one  evening 
without  explanation  and  put  him  in 
Waikeria 
prison. 
Despite 
legal 
assistance  he  languished  there  for  six 
months  while  the  British 
influenced 
NZ 
authorities 
decided what to do. 
Every  major  nation  has  gold 
reserves; China has a lot dating 
back  to  Genghis  Khan,  and 
more  from  the  Qing  Dynasty, 
this  being  the  biggest  in 
history,  this,  today  held  by  a 
Dragon  name  of  Lee  Haou-
cun. 
The 
quantity 
and 
whereabouts  of  the  gold  is 
engraved on an old scroll kept 
in Ghendu province. 
If  this  gold  came  onto  the 
world market, there would be a 
major crash in money markets. 
Today 
banks 
use 
'fiat 
money'  (inconvertible  paper 
money,  made  legal  tender  by 
government  decree).    Now  the 
B  of  E  printed  money  in  high 
denomination  with  deliberate  mistakes 
hidden in the print so that they could if 
need  be,  claim  the  money  was 
counterfeit.  
In  nineteen  forty-five  the  FBI  ordered 
three  B52  bombers  into  China  to 
collect  gold  ingots  in  a  deal  with  the 
Federal  Reserve.  Unfortunately,  the 
planes  flew  into  a  severe  storm  whilst 
crossing  back  over  the  Pacific  Ocean. 
All  three  headed  for  the  Philippines. 
Only  one  landed  and  was  confiscated, 
two  crashed  into  the  mountainous 
terrain,  one  on  the  far  side  of  the 
southern  archipelago  then  recently 
occupied by the Japanese and one near 
a mountain village.  
Today the Japanese commandant, who 
surrendered  but  decided  to  stay  in  the 
Philippines,  now  with  a  considerable 
mixed family, guards his gold lode. He 
would like to trade it for currency, but 
as  I  said,  gold  ingots  are  not  easily 
traded. The load from the plane which 
crashed  near  the  village  is  more 
interesting. Midas went inside a church 
which  was  built  with  an  external 
cloister. 
His  guide  scraped  away  plaster  from 
the  internal  wall  to  reveal  that  it  was 
made of solid ingots. Midas drilled into 
the  wall  with a  cordless  drill  and took 
some of the peelings to be assayed for 
value.  Due  to  the  corruption  by  the  B 
of  E  Midas  no  longer  works  as  a 
bullion fiduciary and is happy working 
elsewhere in New Zealand. To date as 
time  passes  and  the  characters  age  the 
gold remains where it is. There is much 
more  to  the  story  but  only  under 
confidentiality can it be revealed. 
Photos supplied.
. 
HIDDEN GOLD 
~ 
by Bevan Lawrence. 
Autumn is here, 
Now is time to think about 
heavy duty mulching. 
Contact Mark on  
021 801 065   
We also do: 

Fencing 

 Spraying 

  Mulching 
 
Stockwork 

  Stock Water 
Systems  

 Driveway & Track 
Maintenance 

  Tree Trimming  
Driveway  
& Farm Race 
Maintenance and 
Construction 
Grader, Roller,  
Digger, Trucks 
Supply of lime rock and 
metal 
Call Peter on 
0274441553 
For advice / estimate for 
your driveway / farm 
race needs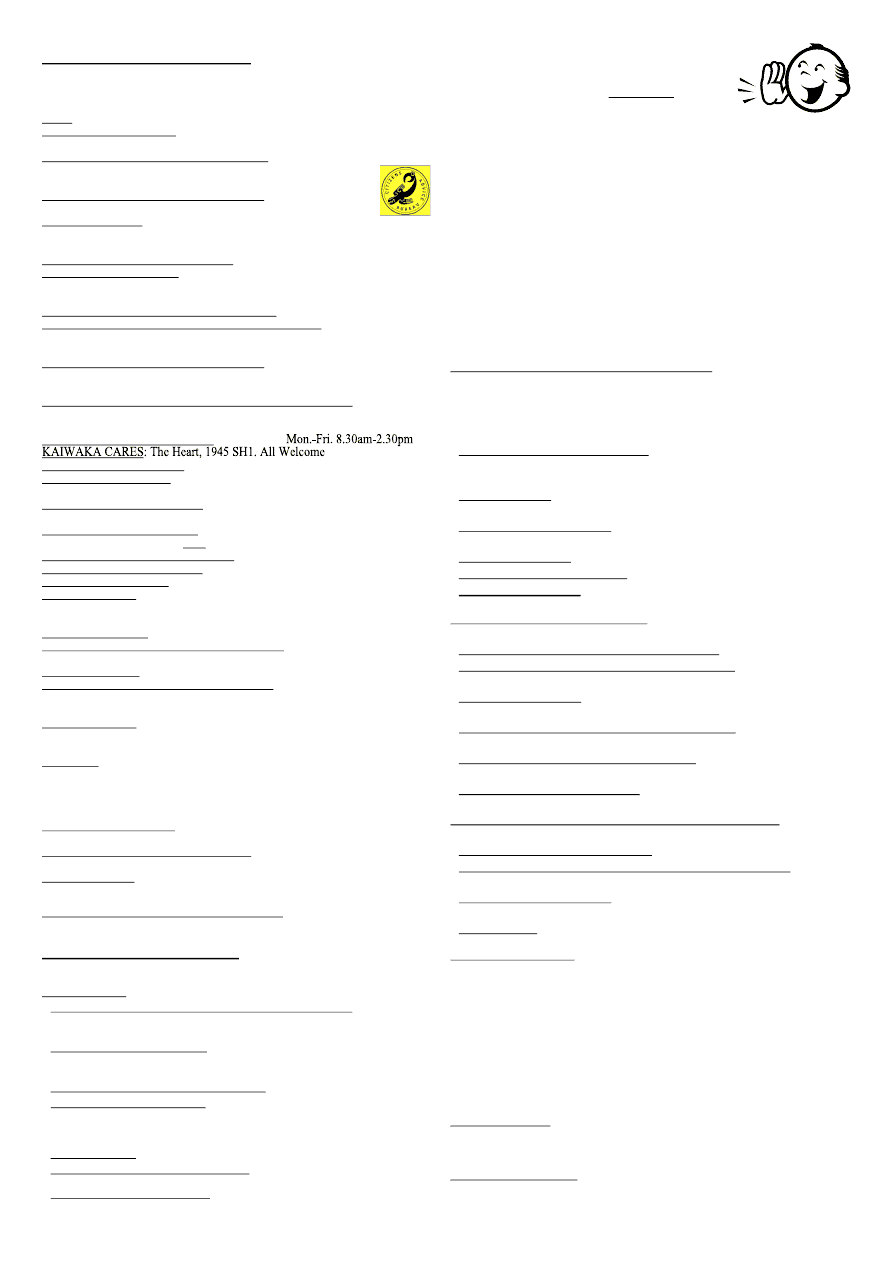 Next Bugle Deadline midday Friday 7 June 2019
WHAT'S ON
PLEASE ~ do let us know what is on - email 
kaiwakabugle@kaiwaka.co.nz 
Advertising in WHAT'S ON is FREE  
*26May~Movie "Storm Boy", KWMH, 2pm 
*29May ~OHS closed for tuition 
*29May Rick Stolwerk, NRC, KWMH, 5.30pm 
*31May~Movie 'Instant Family', KWMH, 7.30pm 
*3Jun~QUEEN'S BIRTHDAY 
*8Jun~ Potluck Dinner, friends of Kaiwaka St John 
*11Jun~Pt.CCC Annual Meeting, KSA, 7pm 
*14Jun~QUIZ NIGHT, 3 Furs, 6.30pm 
*28Jun~Hakaru RSA Mid Year Xmas Dinner 
KWMH = Kaiwaka War Memorial Hall; KSA = Kaiwaka Sports Association 
See www.kaiwaka.co.nz for more information 
HOUSEHOLD RUBBISH COLLECTION - Kaiwaka Pick up: 
Mondays = Green bags (Northland Waste - 09 430 3273) 
Wednesdays  = Blue bags and yellow recycling (at Jaques $3.00 
and  $1.50)  (Kaurilands  09  4392146);  ONLY  Blue  and  Yellow 
bags picked up on Oneriri Road. 
 DIABETES  Support  Group  -for  Kaiwaka,  Mangawhai, 
Wellsford  10am,  3rd  Friday  of  month  Ph:  Colleen  James  09 
4314238 
 GENEALOGY - Wellsford: 1st Thursday in month Ph: 423 
7033; Waipu: 4th Monday in month Ph: 4312 725 
 HAKARU PONY CLUB - Secretary Denise Rogers 021423376 
secretary@hakaruponyclub.co.nz  
 KAIPARA HUNT - Secretary Albert Doonenbal Ph 4312059 
 KAIWAKA BADMINTON -Tuesdays 7.30pm Ph: 4312345 
 KAIWAKA  CAN  - 3rd Wednesday in month, 5.30pm, Archie 
Bull Hall Ph: 0273572751 
*KAIWAKA  DRAMA  CLUB  - 
Hannah  Webb 
0272863352 
KaiwakaDrama@gmail.com - FB - "KaiwakaDramaClub" 
 KAIWAKA DRUM & DANCE CLASSES - 021 611198 
 KAIWAKA GARDEN & FLORAL GROUP - 2nd Thursday in 
month. Ph: 431 4744 
 KAIWAKA  CUBS  -  Thursdays  5.30-7pm,  Hakaru  Ph:Bruce 
4312542 
 KNITTING FOR WHANGAREI HOSPITAL - 2nd Tuesday in 
month, Archie Bull Hall 10am Ph 4314827 
 MANGAWHAI COMBINED REBUS CLUB - 2pm, 3rd 
Thursday month, Senior Citizens Hall Mangawhai. Ph: 4315777 
 PILATES-HAKARU HALL Tuesday & Thursdays, 9-10am 
Ph: 
0220643964 
*PILATES - KAIWAKA WAR MEMORIAL HALL - Ph: 
021 
2072729  
 PT CURTIS CRUISING CLUB - Jean Ph: 4312227 (wk), 4312520 (hm) 
 RSA,  HAKARU  &  DISTRICTS  WOMEN'S  SECTION  –  meets 
1.30pm 4th Thursday of the month. Ph: 431 5818  
 SCOTTISH  DANCING  -  Wednesday  morn.  KWMHall  Ph:  09 
4320532 
 TRAMPING - Mondays 9am-2:30pm Maria 4312 234 
HALLS FOR HIRE: 
 St.Pauls Archie Bull Hall HIRE $20 half day, $40 full day per 
hire, S McAulay, Ph 4312311 
 Kaiwaka  War  Memorial  Hall  HlRE  -  Phone  4312725  or 
kaiwaka.hall.bookings@gmail.com 
 Hakaru Community Hall HIRE -Ph. 4312256 or 4312110 
 Te Pounga Marae queries - R. O'Leary 4312 423, J.Nathan 021 
186 7382 
 Kaiwaka Sports Association hire/queries - C. Anderson 4312051 
or kaiwakasports@gmail.com 
Justice of Peace:  
B.FJaques  4312  048;  L.Donaldson  4312  228;  A.F.Hargreaves 
4312 045, W.Howard 4312 725 - please phone to make sure they 
are available or go to www.justiceofthepeace.org.nz 
Marriage Celebrants:  
L.Donaldson; A.F.Hargreaves; Y Osborne
LOCAL SERVICES 
*Emergencies - Ambulance, Fire, Police - dial 111 
*Non-urgent Police phone 09 4311150
A A: Meets Wed., 8pm Kaiwaka Ph: 4315543, 0800229 6757 
ASUREQUALITY LTD (was AgriQuality) Call Free 0508 0011 22  
BUDGETING SERVICE, WELLSFORD: Free confidential advice & 
support for all areas of personal finance. Ph (09) 423 7123 
CAB-Citizens Advice Bureau.Wellsford Ph: 4237333 
0800 367 222 email:cab.wells@xtra.co.nz  
CIVIL DEFENCE - Kaiwaka Community Response Group: 
kaiwaka.civildefencecrg@gmail.com, 4312725 Wendy 
DOG/STOCK /NOISE CONTROL 0800 105 890 
FUNERAL SERVICES: Morris & Morris Ltd, 
Whangarei - Bev Jaques Ph:4312367 or 0800667747 
GRANDPARENTS Raising Grandchildren: Dianah Roberts 0223819539 
HAKARU & DISTRICTS MEMORIAL RSA (Inc) 733 Settlement Rd, 
Hakaru. Ph 4312 176 or Bill Warren (President) 431 2092 
HAKARU LANDFILL/Transfer Station:Open everyday except 
Tuesday10am-4pm.Ph4312629 Cost-$55 trailer load up to 1 cubic metre. 
Ph:4258567 - office 
KAIPARA DISTRICT COUNCIL www.kaipara.govt.nz:  
Help Desk FREEPHONE 0800 727 059  
KAIWAKA KOHANGA REO: Ph:4312620 
KAIWAKA CEMETERY: Ph: 4312045 or 4314017 
KAIWAKA LIBRARY: kaiwaka.library@gmail.com  
Mon. 4-6pm; Wed., Thurs., Fri., Sat. 10am-2pm Ph:4312539 
KAIWAKA PLAYCENTRE: Ph Juanita 0274134904; open Mon, Wed, 
Fri 9am-12pm. Hastie Lane; Monday to Friday 9.00am - 12 noon. 
KAIWAKA POST OFFICE:Ph:4312 431  
Post Code: 0573 for RD2 and 0542 for all Kaiwaka Post Office mail 
KAIWAKA PRIMARY SCHOOL: Ph: 4312309   
KAIWAKA SPORTS ASSN: Ph 4312005; 4312129 gym 
KAIWAKA ST JOHN: Manager Steve Rosser 09 4318403, 021 355734 
KATE'S PLACE Community Centre - Employment services, Free Health 
Nurse, Plunket, Advocacy, Osteopath, A.A., Legal Advice. 4312 661 
LINKING HANDS Health Shuttle Ph 4315906 or 09 4318969 
MINISTRY FOR PRIMARY INDUSTRIES - General inquiries Call 
Free 0800 008 333 
NORTHPOWER: Faults Kaiwaka area 0800 104040 
OTAMATEA COMMUNITY SERVICES: Counselling, parent coach, 
Family Support worker, budget advice, food bank. Mon-Fri 9am-3pm. Ph 
09 431 9080 http://www.otamateacs.org/ 
PARENTPORT: Free, practical family support service Puhoi to Paparoa 
Ph or txt: Dianne 027 280 5093 or 09 425 9357 
PLUNKET:  Kaiwaka  -Kate's  Place  Clinic  1st  Wednesday  of  the  month; 
Mangawhai  - Rose Madsen Cottage: Coffee Group 9:30 every Monday.  Clinic 
every Monday and Thursday. 
Maungaturoto - Good News Church, Clinic 2nd and 4th Wednesday.  
Cynthia 09 431 7340 or 027 675 3488 
PLUNKET HELPLINE -0800 933 922 (24 hours) 
TAITOKERAU COMMUNITY LAW: Free confidential legal advice and 
assistance, 2nd
Thursday
 of each month. Ph: 0800 155 529 for appts.  
TE URI O HAU Settlement Trust Tangata Developments: Whanau Ora 
021 793262  
VETERINARY SERVICE MANGAWHAI: 
Ph: 4314535 Mon-Fri 8.00-5.00, Sat 9-12, a/h appt. 
WELLSFORD DOCTORS: Ph: 4238 086 
CHURCHES:
 
Kaiwaka  Revival  Church  -  Your  Community  Church:  Sundays  10am. 
Ph: Pastor Tawhiri 09 431 8988 or Pastor Paul 09 4312 068 Visit us at 
www.facebook.com/kaiwakachurch 
 
St  Paul's  Anglican  Church  1st  Sun.  9.00am  (Eucharist),  3rd  Sun. 
9.00am (Family Service). Contact: Rev. Wayne Thornton Ph 431 4122 
www.mangawhaianglican.org.nz 
 
Church of Christ the King, Mangawhai:9.00am every Sunday 
 
St.Mary's  Catholic  Church:  Maungaturoto  –  Griffins  Road,  Saturday 
evening  Vigil  Mass  6pm;  Mangawhai  –  Senior  Citizens  Hall,  Sunday 
Mass  8:30am;  Wellsford  –  Matheson  Road,  Sunday  Mass  10:30am;  
Mid-week Mass times and all enquires to Fr. Bill Fletcher – phone 423 8170
 
Baptist Church: Sun. 10.30am Mangawhai Snr Cit.Hall.Ph:4312339 
 
Cause  Way  Church  Mangawhai:  Sundays  10.15am,  Mangawhai 
Community  Recreation  Centre,  Insley  St.  Ph:  09  4314782