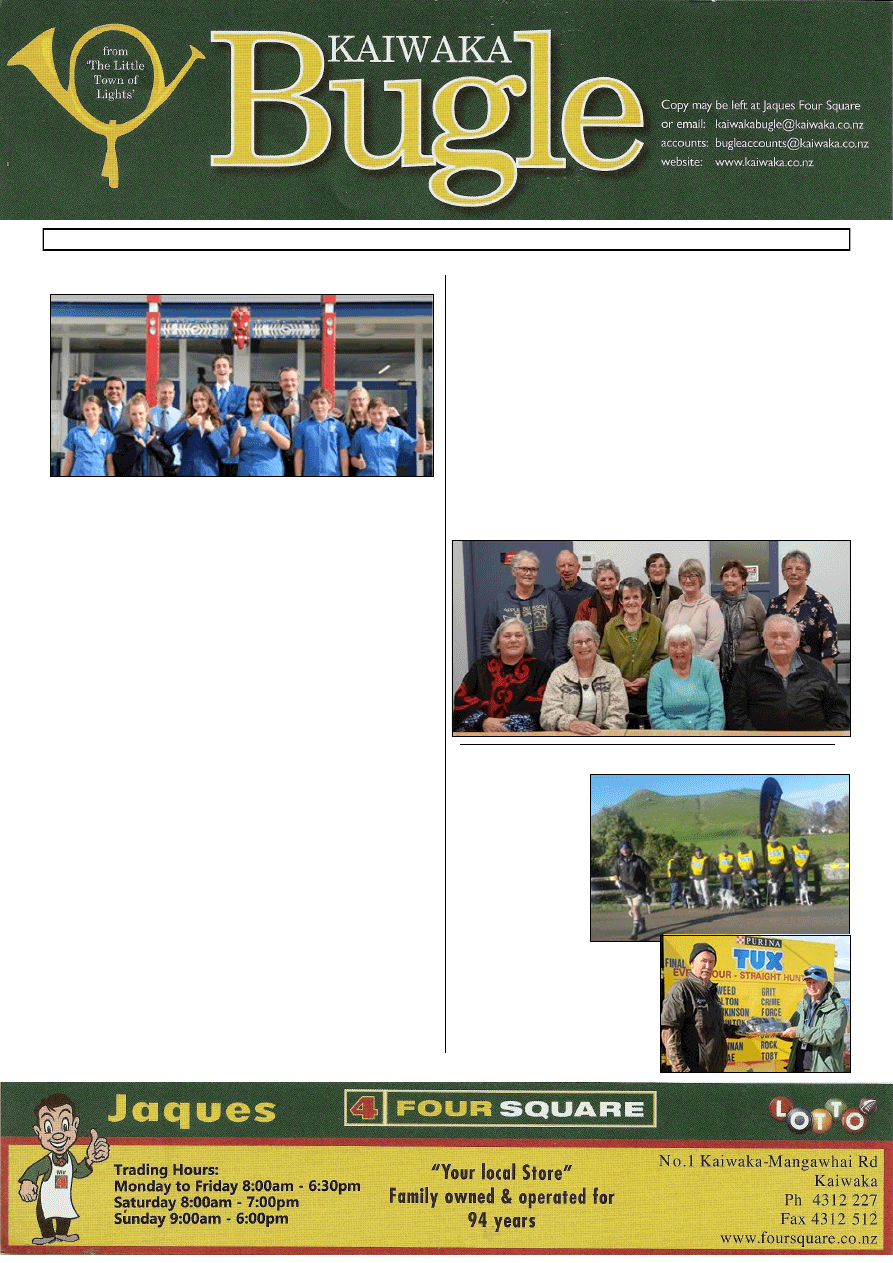 www.kaiwaka.co.nz 
Kaiwaka Bugle - 11 June  2019 
Page 1 
No:11 
11 June 2019 
Trading Hours: 
Monday to Friday 8:00am - 6:30pm 
Saturday 8:00am - 7:00pm 
Sunday 9:00am - 6:00pm  
KAIWAKA ST.JOHNERS 
OTAMATEA HIGH SCHOOL AWARDED $20,000 
SOLAR PANELS FROM GENESIS SCHOOL-GEN 
Our  local  Fire  Brigade  members  hosted  an  evening  down 
memory  lane  for  a  number  of  members  and  supporters  of 
the former Kaiwaka St. John Division, as there is no longer 
an  ambulance  based  in  Kaiwaka;  there  was  an  unease  felt 
for the future. 
The division was formed in 1976 and began training in the 
Archie Bull Hall, then moved to the former medical centre 
with  their  minimal  equipment  stored  by  the  butchers 
(Cheese)  shop.  A  massive  community  fundraiser  allowed 
the  purchase  of  the  building  in  1991,  on  the  corner  of 
Gibbons  Road.  This  was  base  for  training,  fellowship  and 
service for the next 28 years. 
Below  are  only  twelve  of  ambulance  volunteers,  but  these 
have given a total of nearly 200 years service: 
L to R Back: D Wright, N Dowson, J Eagleton, L Hargreaves, M 
Steiner, P Ottaway, K Stewart. Mid: B Jaques. Front: Y Boyd, C 
Bygrave, M McCabe, D Mills.
Molesworth SDTC at  NZ CHAMPS  
For the last week of 
May  the  team  from 
the 
Molesworth 
Sheep  Dog  Trial 
Club, 
proudly 
wearing  their  Vet 
Centre 
sponsored 
jackets, successfully 
ran  the  Class  II 
Event  Shorthead  at 
the  North  Is./NZ 
Champs held on Te Ahu Ahu 
(Ohaeawai)  -  held  every  16 
years. 
Left,  Scott  McRae  (president 
of 
Molesworth 
SDTC) 
receiving  his  trophy  for  the  
Straight  Hunt  final  placing 
with Toby. 
As  one  of  the  first  schools  to  receive  STEM  (science, 
technology, engineering and mathematics) equipment from 
the  Trust's  first  round  of  funding  Otamatea  High  School 
students  will  soon  be  harnessing  the  power  of  the  sun 
thanks  to  a  new  solar  panel  package  from  the  Genesis 
School-gen Trust, worth $20,000.  
Otamatea  High  School  principal  Rachel  Clothier-
Simmonds says Otamatea High School is fortunate to have 
staff  members  who  are  passionate  about  giving  students 
authentic learning experiences. 
"This  solar  equipment  package  will  help  engage  our 
students  in  real-world  learning.  We  are  already  making 
plans to create a new cross-curricular programme that will 
use  the  solar  panel  equipment,  together  with  the  data  it 
generates,  to  explore  science,  mathematics,  technology, 
business economics and sustainability topics," said Rachel.  
According  to  Deputy  Principal  Dirk  Smyth,  the  school's 
primary motivation for seeking solar equipment is to allow 
educators  to  develop  integrated  programmes  for  students, 
and  to  "raise  awareness  of  sustainability  and  help  involve 
and educate our community on the importance of investing 
in 
renewable 
energy 
resources. 
Environmental 
sustainability  is  an  important  issue  for  New  Zealand,  and 
we need our students to be engaged in a meaningful way," 
said Dirk. 
Schools,  including  primary,  intermediate  and  secondary 
schools, from Northland to Southland, applied for funding 
from an initial pool of $50,000. Genesis School-gen Trust 
Chair,  Lee  Mauger,  says  Otamatea  High  School's  interest 
in  wanting  to  involve  and  educate  the  community  on  the 
importance of renewable energy made its application stand 
out from the other 400 applications. 
Otamatea  can  now  compare  its  solar  energy  generation  to 
92  schools  in  New  Zealand,  from  Russell  to  Timaru, 
through  the  School-gen  website.  The  Genesis  School-gen 
Trustees,  including  education,  IT  and  energy-generation 
experts,  determined  which  schools  receive  equipment 
packages.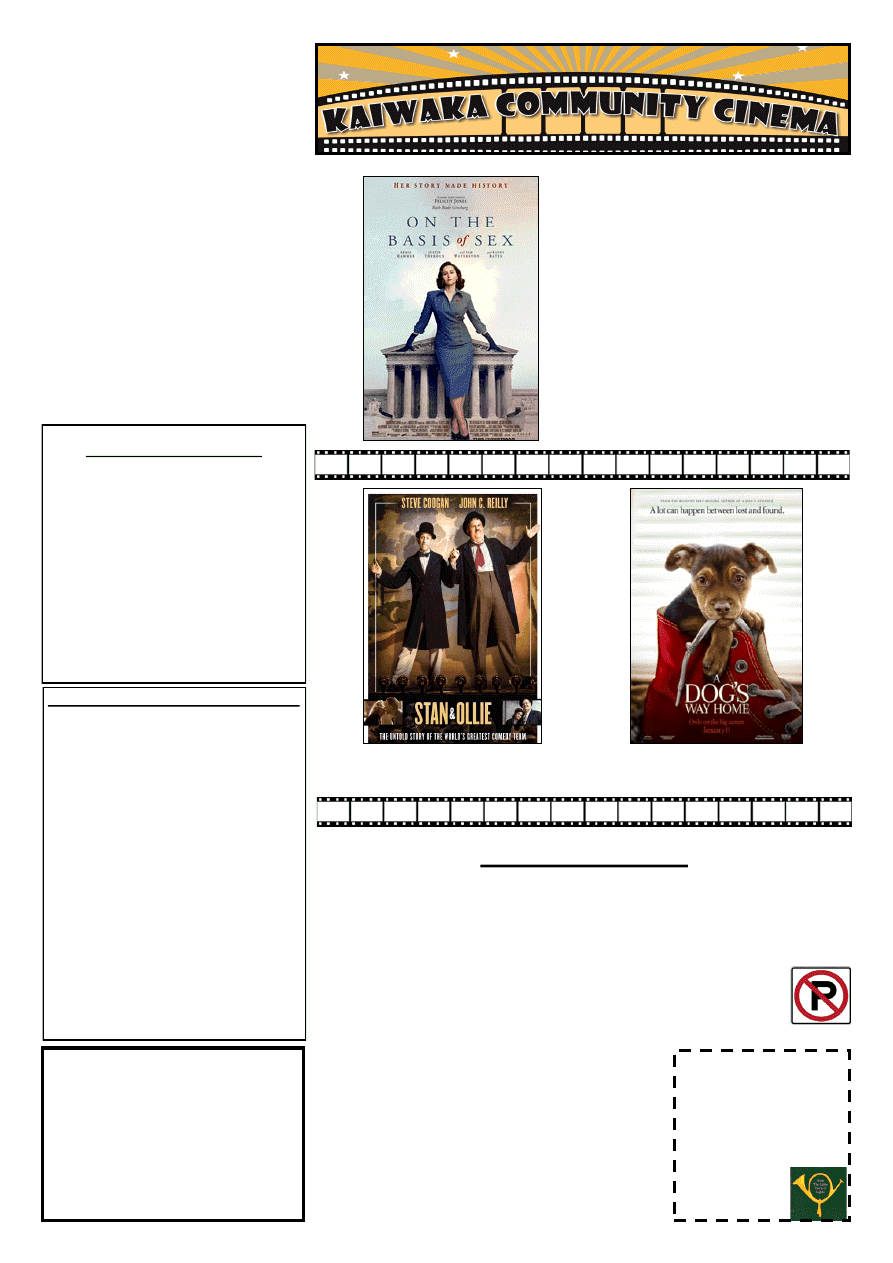 Proverbs 15:4  
Kind words  
heal and help;  
cutting words  
wound and maim. 
At Kaiwaka War Memorial Hall . Adults $10, Kids (under 16) $5, Family Pass (2 adults + 3 children) $25 
ABOUT TOWN 
 
Well done to Scott McRae and Toby for their success at the NZ Sheep Dog 
Trial  champs;  and  the  Molesworth  team  for  their  grand  work  for  this  national 
competition! 

 Hakaru  RSA    - 
Mid  Year  Christmas  Dinner  on  Friday  28  June,  6pm    for 
further information email:  
secretary@hakarursa.co.nz

 Rather rough weather was experienced last week, especially by the folk at the 
Hakaru end of Settlement road.

 'Working to get our town working' - Kaiwaka Can, Archie Bull 
Hall, Wednesday 12 June, 5.30pm 

 Dog registration opens 1st July - see www.kaipara.govt.nz 
⚫
 Please  respect  the  KSA  No  Parking  zones:  by  the  swimming  pool,  by  the 
tennis court, by the noticeboard 

 To report a Spark scam phone call or email phone 
0800 809 806 

 Use the new Police 105 number and the online 
platform - 105.police.govt.nz - to make it easier to 
get non-emergency help, advice and support . 

See  the  Bugle  online  at  www.kaiwaka.co.nz  for 
great colour in the photos.        ~ Lindsey, Ed 
"On love:  "How do you spell 'love'?" – Piglet.  
"You don't spell it…you feel it." – Pooh."   
~ Winnie-the-Pooh and  AA Milne
KAIWAKA BUGLE NO.11 
11 JUNE 2019 
CONTENTS: 
Page 3: Public Notices, Classified 
Page 5: Women's RSA; Kaiwaka 
Weather 
Page 7: Kaiwaka Can; School photo 
Page 9: Pt. CCC; ORT; D-DAY 
Page 11: Kaiwaka Sports Assn 
Page 13:Thelma's Scrapbook; Kate's 
Place 
Page 15: Kaiwaka School; Otamatea 
High School 
Page 17: 
Library; Police 'ten five' 
Page 19: Artist - Melanie Rodriga; 
Peach Lane 
Bugle 12 will appear  25 June 
Contact for advertising, reports, articles 
or information can be made by 
Email: kaiwakabugle@kaiwaka.co.nz 
Ph: 09 4312 045 Lindsey 
Txt: 027 2724137 
Copy  may  be  left  at  Jaques'  Four 
Square. 
Kaiwaka Bugle Advertisements 2019: 
All 
copy 
and 
queries 
to: 
kaiwakabugle@kaiwaka.co.nz 
The Bugle is printed on an A4 page, B&W  
Ad  sizes:  1/16  page  (3  x  9.5cm)  $5;  1/8 
(6.5  x  9.5cm  landscape  or  portrait)  $8; 
3/16 ( 10 x 9.5cm or 7.5 x 12,5)  $12.  
Classified  ads:  First  one  FREE,  $4  per 
entry (max. 30 words, max. 4 repeats). 
Payments  can  be  made  online  at 
ANZ 
06  0365  0006990  00
,  posted  or  left  at 
Jaques Four Square Store. 
We  use  Microsoft  Publisher,  and  can 
work  with  most  common  image 
formats, Word, Excel, and PDF files. 
Accounts:  
Email: bugleaccounts@kaiwaka.co.nz 
The  Kaiwaka  Bugle  is  a  community 
newspaper run by volunteers, as part of 
the Kaiwaka Media Group Inc.   
Articles, etc. printed are not necessarily 
the opinion of the Bugle Team. 
Kaiwaka Bugle 
Founded May 1978 
We appreciate articles and photos about local 
events, etc, as well as ads and suggestions. 
Copies available in Kaiwaka at Jaques Four 
Square, Kaiwaka Postal Centre, Shamrock 
Service Station, Animal Health Centre, 
Kaiwaka St John shop. 
Also outlets in Maungaturoto, 
Mangawhai and Paparoa. 
Can be viewed online at  
www.kaiwaka.co.nz/Bugle  
Or a copy can be posted to you if you supply 
stamped, self-addressed DLE envelopes. 
On the BASIS of SEX 
Friday 14 June, 7.30pm (M)
In the 1970s Ruth Bader Ginsburg is 
a struggling attorney and new mother 
who  faces  adversity  and  numerous 
obstacles in her fight for equal rights. 
When  Ruth  takes  on  a  ground-
breaking  tax  case  with  her  husband, 
attorney Martin Ginsburg, she knows 
it  could  change  the  direction  of  her 
career  and  the  way  the  courts  view 
gender discrimination. 
(
Ruth is 85 now, and a Justice of the US 
Supreme  Court.  Fighting  all  her  life  for 
equal rights
...) 
KAIWAKA BUGLE 
DEADLINE DATES 
2019:  
Every second Friday 
June 21; July 5, 19;  
August 2, 16, 30 ;  
September 13, 27;  
October 11, 25;  
November 8, 22;  
December 6. 
STAN & OLLIE
Friday 28 June, 7.30pm (PG)                         
A DOG'S WAY HOME 
Sunday 30 June,  2pm (PG)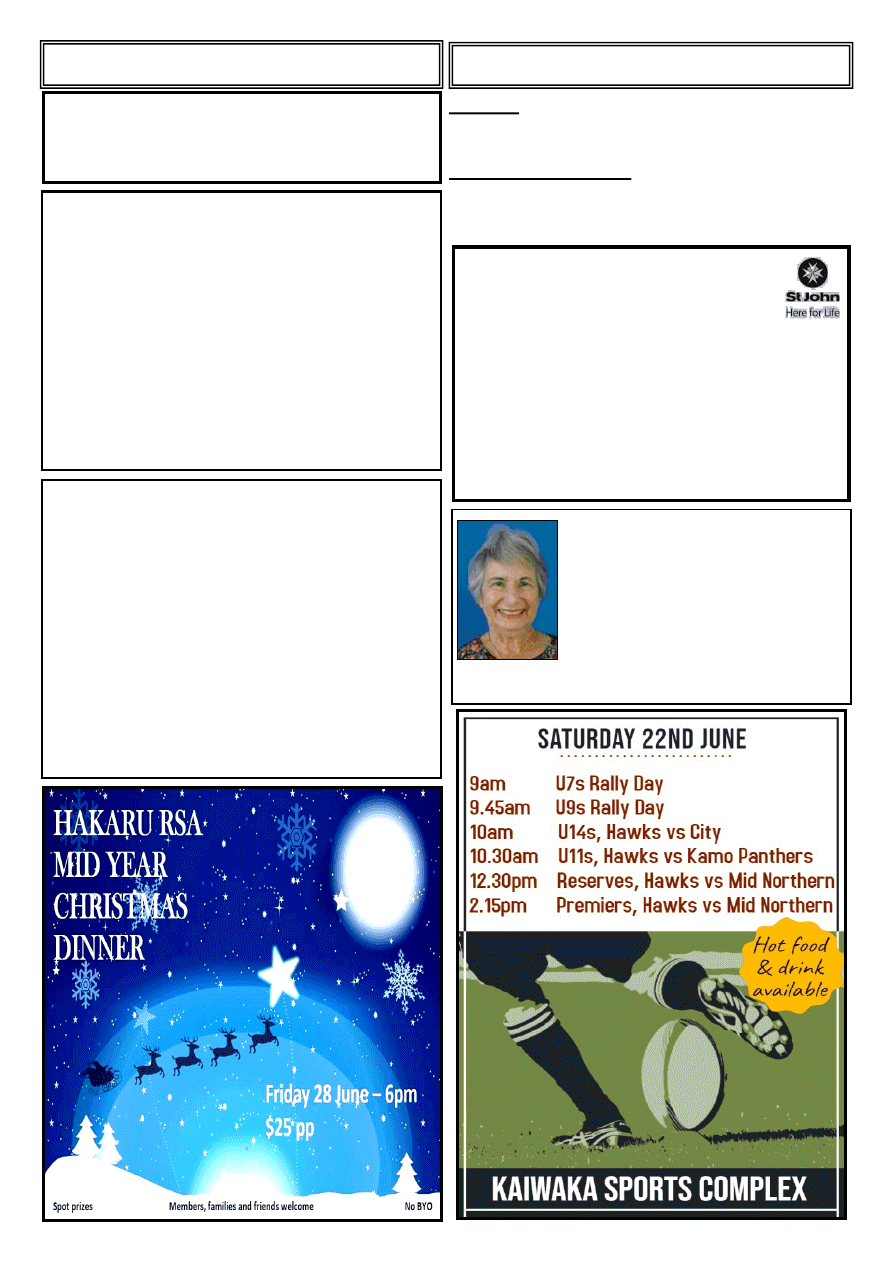 www.kaiwaka.co.nz 
Kaiwaka Bugle - 11 June  2019 
Page 3 
PUBLIC NOTICES 
CLASSIFIED 
PT. CURTIS CRUISING CLUB 
 Annual General Meeting  
Tuesday 11
th
 June 2019 7pm  
Kaiwaka Sports Association, 
Everyone welcome. 
CHRISTINE BYGRAVE, QSM 
Our congratulations to Christine Bygrave, 
who  received  the  Queen's  Service  Medal 
for services to the community on Queen's 
Birthday, 3rd June. 
Not  only  has  Christine  been  involved  in 
activities  in  Mangawhai,  most  latterly  the 
Mangawhai  Museum,  but  she  was 
involved  with  the  Kaiwaka  St.John 
Division, Kaiwaka Playcentre and the Kaiwaka School. 
Our best wishes to her husband, Bill, also. 
FOUND:  on  the  Kaiwaka  Mangawhai  road  a  trailer 
tailgate.  If  it's  yours  ring  Stuart  277111006  and 
describe it. It's one of a kind.  
CARAVAN  FOR  RENT:  in  Kaiwaka  on  owners  home 
property,  long  term;  large  fully  self-contained,  $200  per 
week,  includes  internet,  power,  water,  separate  bedroom, 
bathroom,  lounge,  kitchen;  would  suit  mature,  quiet 
working person. Ph: 027 678 8325 
OTAMATEA HIGH SCHOOL 
BOARD OF TRUSTEES ELECTION 
DECLARATION OF PARENT AND STAFF RESULTS 
At the close of nominations, as the number of valid 
nominations was equal to the number of vacancies 
required to be filled, I hereby declare the following 
duly elected: 
Parent Representatives 
Roger Bull 
Geraldine Jenkins 
Llewellyn Smart 
Kyle Van Harlingen 
Belinda Weber 
Staff Representative 
Nicola Cotching 
    ~ 
Eileen Parsons, Returning Officer
TE KURA KAUPAPA MAORI o 
NGARINGAOMATARIKI 
BOARD OF TRUSTEES ELECTION 
DECLARATION OF PARENT AND STAFF RESULTS 
At  the  close  of  nominations,  as  the  number  of  valid 
nominations  was  equal  to  the  number  of  vacancies 
required  to  be  filled,  I  hereby  declare  the  following 
duly elected: 
Parent Representatives 
Janie Nahi 
Jeanette Nathan 
Joshua Wikiriwhi 
Staff Representative 
Joseph Kapea 
Eileen Parsons, Returning Officer 
KAIWAKA ST. JOHN OP SHOP 
⚫
A range of ball gowns now on display.   
⚫
June is a sale month - we have a huge range of 
Winter Clothing, Books and Shoes on sale.  
⚫
Please  note:  that  due  to  the  Consumers  Guarantee  Act 
this shop can no longer accept any electrical goods.  
Our  shop  is  one  kilometre  on  left  north  of  the  Caltex 
Service Station; right next to the Kaiwaka Post Shop.   
Our staff look forward to meeting you all.  
Regards  
Dave Edwards  
Temporary Op Shop Manager 
021 611198 
Check us out at 1919 SH1, Kaiwaka 
Email: 
secretary@hakarursa.co.nz for further information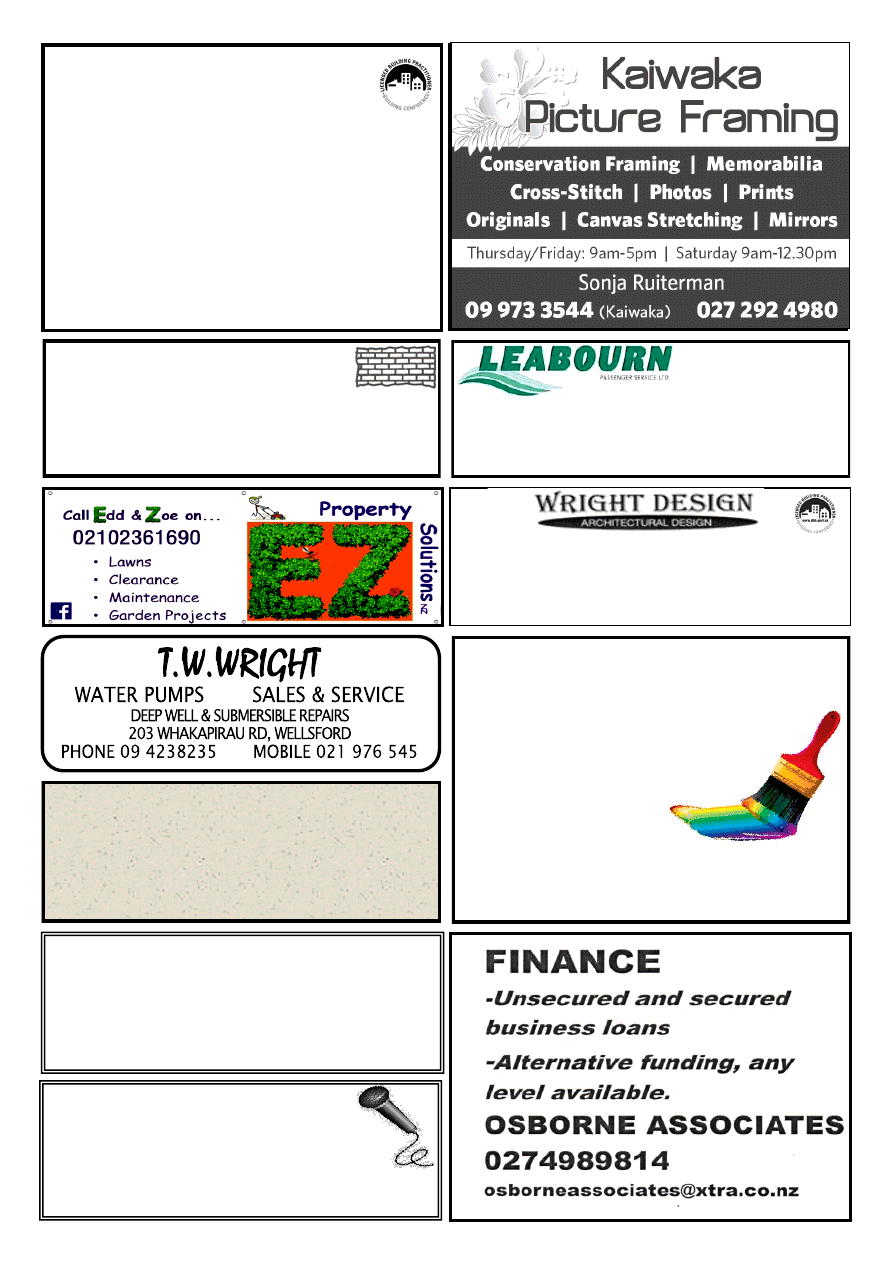 Passenger Service
Car & Van Hire   Bus & Coach Charters 
Airport Transfers    
Phone (09) 4237416 
BRICK/BLOCKLAYER 
All aspects of masonry:  
Fireplaces, Restoration & Remedial Work. 
JAMES EAGLETON 
Tel. (09) 431 2514    Mob. 0274 749 232 
jajueagles@yahoo.com.au 
210A Pukenui Road, RD2 Kaiwaka 0573 
Counsellor and Registered Psychotherapist 
Offers Supervision 
ACC Sensitive Claims 
Susan Matheson      MNZAC 
Dip. Psychosynthesis Counselling and Psychotherapy 
Phone 09 431 2996                                     Mobile 027 605 2427 
SING RIGHT 
Professional coaching for performance,  
recording and demos. 
All level singers, musicians, singer-songwriters. 
Phone Robyn Hill 431 9159 or 0274 725610 
No. 117345 
N.Z.C.A.D., L.B.P. 117345 
PH/Fax: 09 423 8092 Mob: 021 276 7369 
Office: 3 John Sinclair Avenue, Wellsford    brianwright@xtra.co.nz 
For Resource and Building Consents, planning restraints, new building materials - 
you need a capable, experienced, and professional designer with a clear 
knowledge of all the processes. Brian has been helping and organising all these 
facets of design and building for over 50 years. 
Wright Design offers free visits, consultations and advice on planning, design, 
building, council permit applications, guaranteed permit plan acceptance. 
O'MALLEY 
CONTRACTING LTD 
CONCRETE 
FOR ALL YOUR CONCRETING NEEDS 
T: 021 2200 198
E: omalleycontracting@outlook.com            W: omalleycontracting.co.nz 
Om Tara ~ Mangawhai 
Healing Services 
Diann Glucina 
021 250 7461 diglucina.com  
FB: OmTaraMangawhai 
LEE COOPER PAINTERS 
(Kaiwaka Based) 
*30 yrs Experience 
*Interior/Exterior 
*New and Restoration 
*Honest and Reliable 
*Free Quotes 
09 4312918 or 0274735171 
leecooper@xtra.co.nz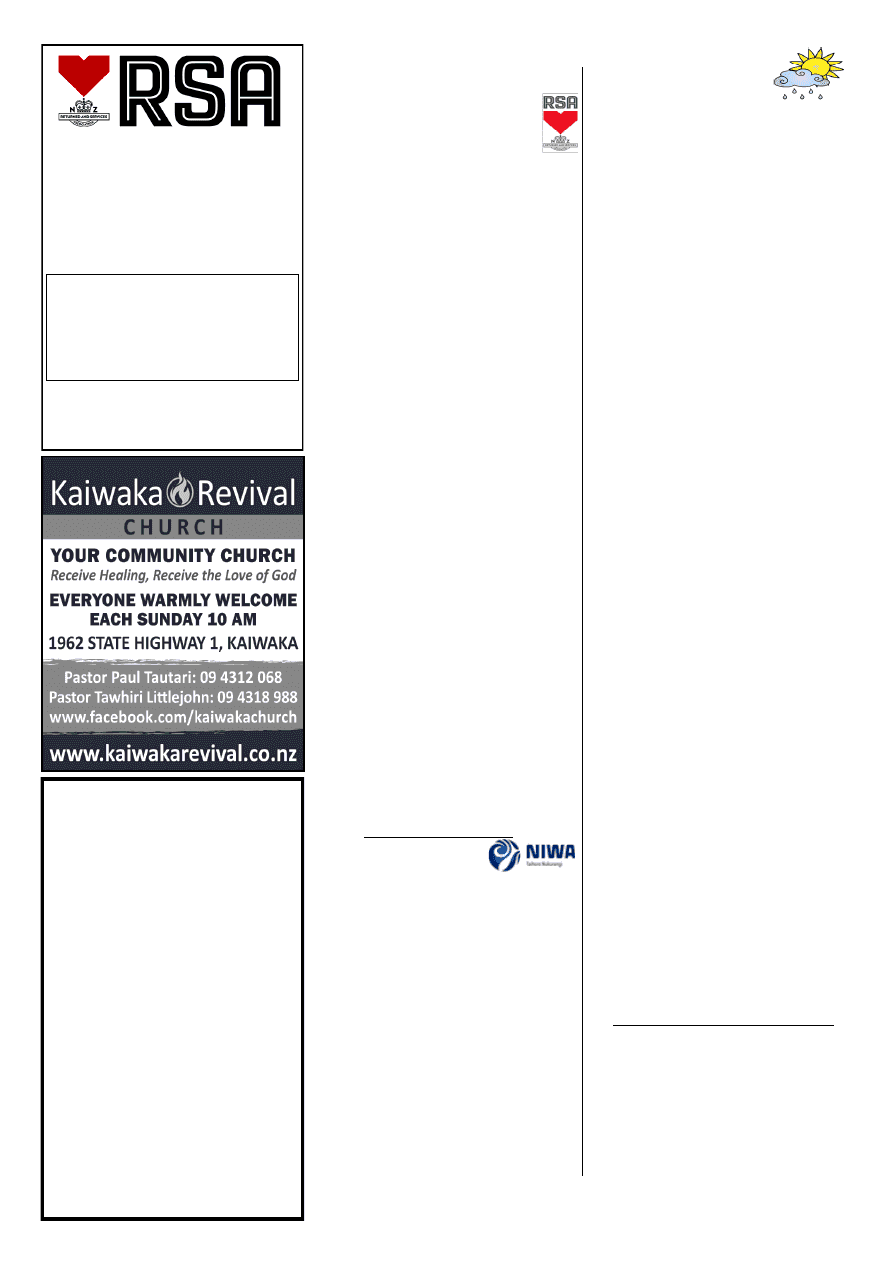 www.kaiwaka.co.nz 
Kaiwaka Bugle - 11 June  2019 
Page 5 
Willow Bend
HORSE  
HOTEL 
  
Total Horse Care 
 
Agistment 
 
Riding Lessons 
 
Arena Hire (60x40) 
 
Young Horse Starting 
 
Re-training/Exercising 
 
Hoof Trimming 
 
Problem Solving 
Phone Sue 09 431 2817 
or 021 623 776 
Or email  
susanjoll11@gmail.com 
NIWA's 
Autumn 
Seasonal 
Climate 
Summary highlights include: 

Autumn  2019  was  New  Zealand's 
4
th
  warmest  on  record.  Temperatures 
across  the  country  were  mostly  above 
average or well above average. 

This  autumn  was  characterised  by 
higher than normal mean pressure over 
and to the east of the country, resulting 
in  more  northerly  winds  than  normal 
across New Zealand. 

In  addition,  the  seas  around  the 
country  were  warmer  than  normal  -  a 
continuation  of  the  marine  heatwave 
we saw this summer. 

The  nationwide  average  temperature 
for autumn 2019 was 14.4˚C. 

Rainfall  over  much  of  the  North 
Island was below normal, with isolated 
pockets  of  well  below  normal. 
Conversely,  a  large  portion  of  the 
South  Island  received  above  or  well 
above normal rainfall. 
HAKARU & DISTRICTS 
MEMORIAL RSA (INC)
Members & guests are invited to 
come along and enjoy our hospitality. 
New members welcome. 
Meals are served on Thursday and 
Friday nights from 6.30pm. 
Order from Blackboard Menu  
and a sing-a-long  
with Des Chitty. 
For more information please phone 
Graeme on 431 2563 
KAIWAKA 
WEATHER 
What  a  lovely  Autumn  we 
have  had  and  now  we  can  all  look 
forward to winter. (Brrrrrr).   
22nd  May  I  got  a  round  of  golf  in  at 
Mangawhai and in all my years of golf 
out there I cannot remember the drains 
and  ditches  being  all  dried  up  at  this 
time of year.  You (not me) were able 
to  hit  the  ball  out  of the  dried-up  lake 
alongside  the  fairway  (as  long  as  you 
could  find  it  in  the  dried-up  reeds).  I 
have seen the lakes dry but not some of 
the ditches.  Then again, I could have a 
short memory.  
 As  I  put  this  month's  weather  report 
together,  we  have  just  had  a  vicious 
thunderstorm  with  horizontal  rain  to 
boot.  
May  was  quite  a  fine  month.  We  had 
18mm around the 11th and 12th of the 
month  bits  and  pieces  on  other  days. 
Strong  west  to  southwest  winds  after 
that  and  later  in  the  month  a  lot  of 
cloudy  days  and  calmer.    A  couple  of 
cold  snaps  and  two  lovely  days  to 
finish  Autumn.  It  was  good  shooting 
season  opening  although  I  have  only 
had  one  or  two  reports  for  that.  The 
deciduous trees have now lost or nearly 
lost most of their leaves. It is a bit of a 
shame  they  find  them  again  as  next 
year  it  is  back  to  rakes  or  blowers  to 
clean  up.  Mind  you  it  would  be  wet 
underfoot  if  they  didn't  lose  them  that 
would  make  them  evergreens  and  no 
sun to get through for the ground.  
Okay.  For  May  2019  we  had  36mm 
and  for  May  2018  we  had  96mm.  We 
had rain on 8 days for 2019 and rain on 
10 days for 2018.  
Our wettest May since 1987 was 2001 
with  281mm  and  our  driest  May  was 
2007 with 21mm. Our first 5 months of 
2019 we had 296mm and for 2018 we 
had 813mm.   
Our  wettest  first  5  months  since  1987 
was  2011  with  854mm  and  our  driest 
was 1999 with 108mm.   
We  notice  the  waterfall  on  the 
Brynderwyn is just a mere trickle still.   
Get  you  winter  woollies  out  of  the 
mothballs  and  wrap  up  well.    Please 
take care on the roads out there as well 
as the rain there are the winds to cope 
with  also.  Only  about  10  days  to  the 
winter  solstice  then  the  sun  will  be 
traveling back. At our house we had a 
5deg  in  the  mornings  so  not  too  bad 
yet.   ~ Bev. 
THE SHORTEST DAY 
June  Solstice  (Winter  Solstice)  is  on 
Saturday, 22 June 2019 at 3:54 a.m. in 
Auckland.  Daylight  will  be  5  hours,  4 
minutes  shorter  than  on  December 
Solstice. South of Equator, the shortest 
day of the year is around this date.  
The  Maori  New  Year  occurs  close  to 
the  Winter  Solstice  in  the  southern 
hemisphere.  The  herald  of  the  Maori 
New year is the rising of Matariki, also 
known as the Seven Sisters.  
12  Members  attended  the  May 
meeting which commenced with 
the "Ode". 
Hostesses  were  Dawn  Powell 
and June Wilson with the help of Lena 
-  a  yummy    afternoon  tea  thank  you 
Ladies. 
The  date  is  set  for  our  Midyear 
Luncheon,  it  is  Wednesday  19th  June 
at Whangarei Poly tech, if you haven't 
put  your  name  down  please  phone 
Lena  on 4315034 and you might get to 
have  a  ride  in  our  new  RSA  Car 
donated    by  a  very  generous  RSA 
member.  Members  and  Spouses  and 
Friends are welcome to attend for $30 
Ladies  RSA  members  subsidised. 
We 
have 
an 
invite 
to 
attend  Birkenhead's  Birthday,  1 
carload 
$25 
per 
person 
on  
Tuesday 23rd July at 11.30am. 
The  Annual  Northland  Women's 
conference  is  to  be  held  at  Hakaru 
assisted    by  Waipu,  members  please 
bring  something  for  a  raffle  and 
Heather  will  do  her  usual  magnificent 
job of preparing the raffles. 
Our Tripe and onion meal which had to 
be  cancelled  is  now  in  July  date  
to be finalised. 
On  the  9th June  Hakaru  RSA's  Patron 
and  oldest  member  turns 99,  we  wish  
Ron all the best and have a wonderful 
day. 
Lena  and  June  are  attending  the 
Annual  Conference  in  Wellington  in 
June and we wish them a safe journey 
and a great time and many thanks for  
representing our Women's Section. 
Birthday girls for May were Petronella 
Brom  and  Shirley  DeVries  -  Happy  
Birthday, Ladies. 
The raffle was won by Pat Judd. 
Next  meeting  will  be  held  on 
Thursday 27th June 1.15pm we hope to 
see  all  members  present.  Keep  warm 
and well. ~ Cheers, Ann 
HAKARU RSA 
WOMEN'S SECTION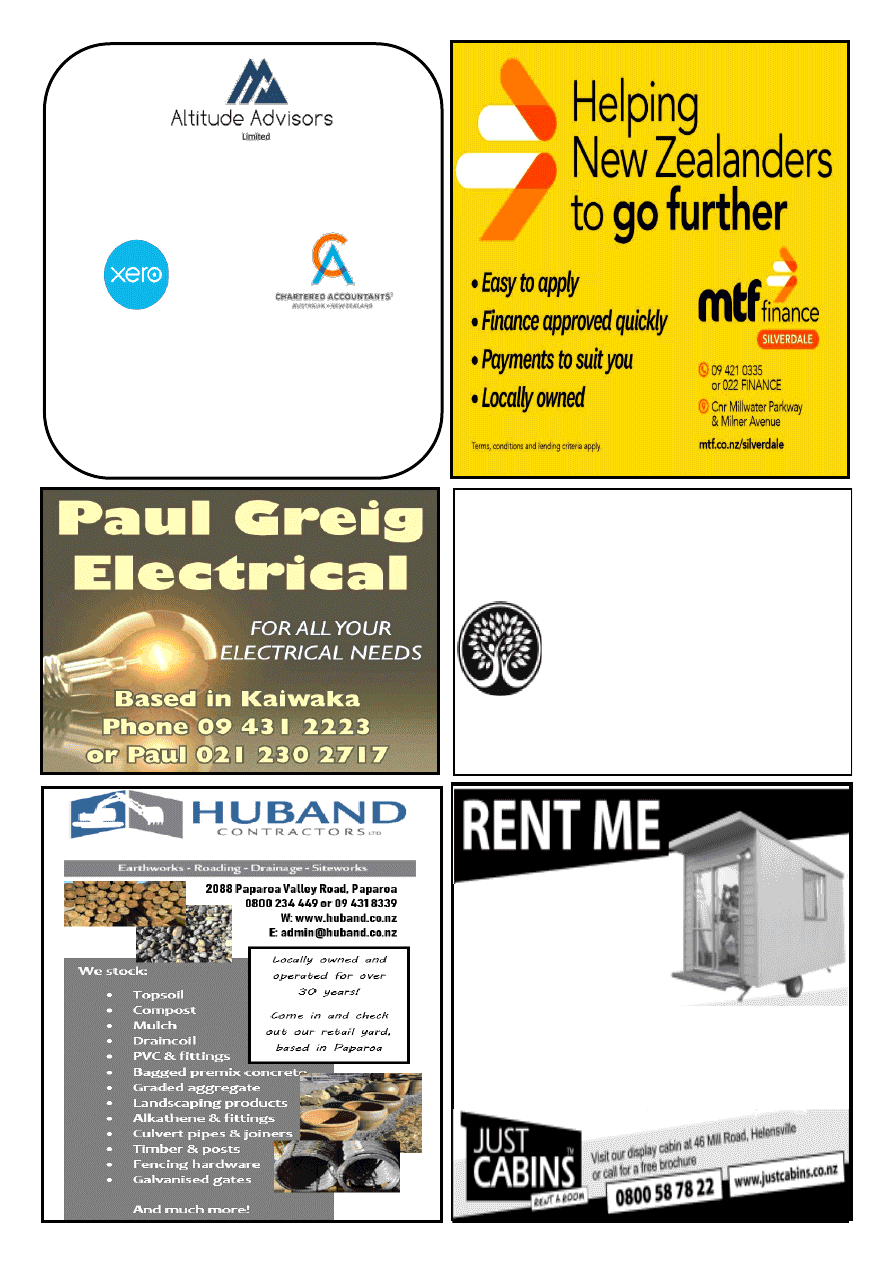 Ideal as an extra  
bedroom or office 
Three Convenient sizes: 
Standard 3.6m x 2.4m - $65 per week 
Large 4.2m x 2.4m - $80 per week 
Altitude with Attitude, helping your business 
scale new heights 
Time to try something different? 
Xero training          Accountancy Services 
We are offering two opportunities: 
15% saving off your annual report cost for your first 
year, & a further 10% saving for any referrals 
Call Corinne on 021 252 7680 or 
corinne@altitudeadvisors.nz 
Waipu Natural Health 
3 Cove Road, Waipu  (opposite the Pizza Barn) 
Ph: 09 432 1325 
www.waipunaturalhealth.co.nz
Clinical Nutritionist-Hair Analysis for Masked 
Allergies, Ozone Therapy, Prolotherapy, 
Naturopath-Medical Herbalist, Registered 
Massage Therapists, Reflexology-
Craniosacral Therapy, Acupuncture-Facial 
Acupuncture, Kineso Taping, Hypnotherapy, Counselling, 
ThetaHealing/Change Catalyst.
AFFORDABLE CONSULTS FOR KIDS – give us a call
Gift Vouchers available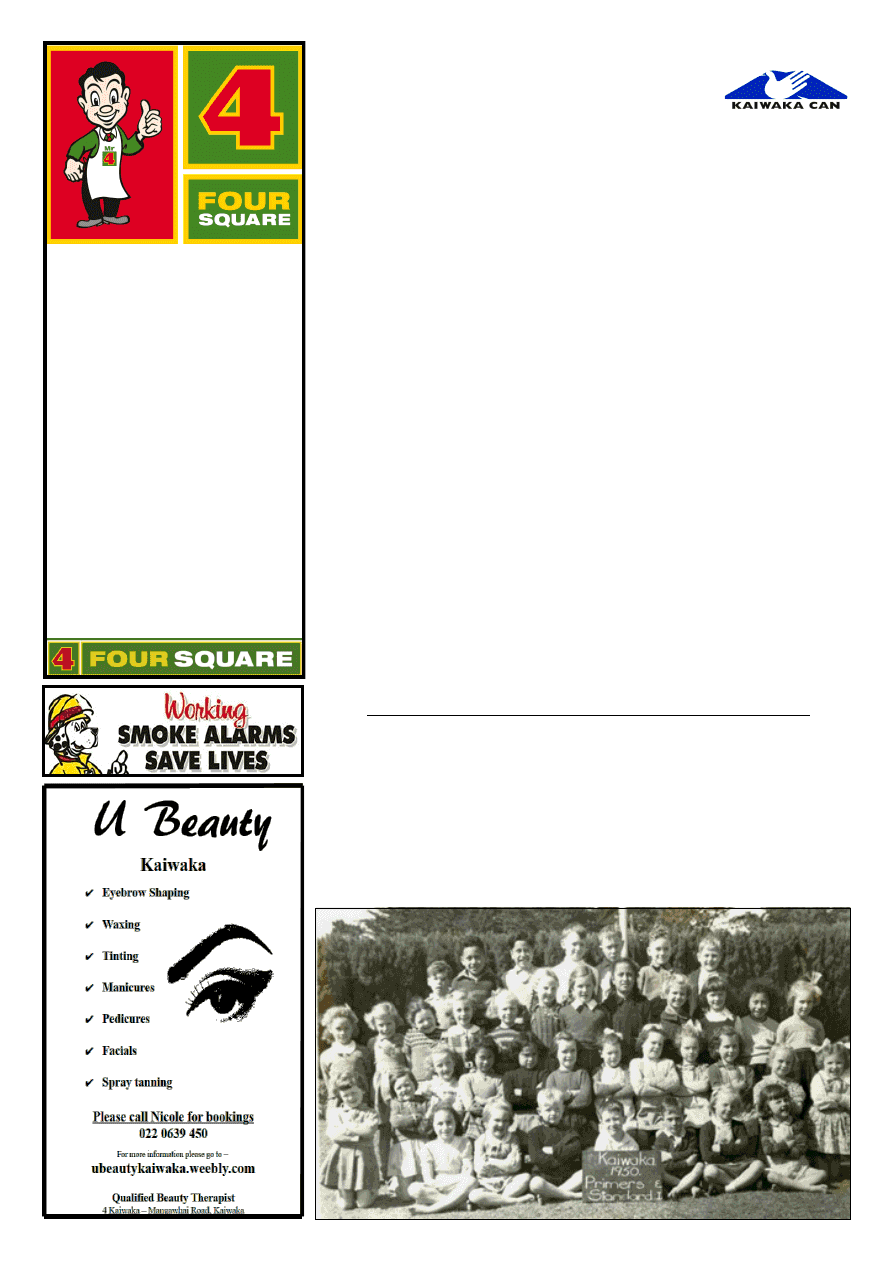 www.kaiwaka.co.nz 
Kaiwaka Bugle - 11 June  2019 
Page 7 
Fresh Daily Baked  
Freshly Baked Breads,  
Savoury Scrolls, 
Danishes, Chelsea buns, 
croissants and much more 
Easy Dinners 
Romano's fresh pizzas 
Hot Roast Chicken 
Range of good quality meats 
New range of socks  
for all the family 
Work socks & Beanies 
.
Jaques Four Square 
Phone: 4312227 
1 Kaiwaka-Mangawhai Road, Kaiwaka. 
WORKING TO GET THE TOWN WORKING  
Over  the  past  three  months  there  have 
been two community meetings to look 
at the future of Kaiwaka. 
The first asked whether the  Township 
Improvement  Plan  was  on  track  and 
the  second  asked  for  our  thoughts 
about  district  planning  as  it  affects 
Kaiwaka. 
Neither  meeting  changed  either  the 
world  or  Kaiwaka.  However  some 
messages came through loud and clear 
from  the  community.  Top  issue  raised 
was  Oneriri  Road  Intersection, 
hardly  surprising  with  the  growth  of 
housing  along  the  road.  Secondly  a 
strong  voice  supported  the  Kaiwaka 
Central  plan that would see us tidy up 
the area round the southern bridge, put 
a  footbridge  across,  increase  parking 
and  generally  create  easy  transition 
both  along  and  across  the  highway. 
And  thirdly,  many  expressed  their 
concern  that  all  development  in 
Kaiwaka was stifled by State Highway 
One  as  NZTA  will  not  allow  any 
more  vehicle  access  on  to  the 
highway.  That  makes  it  very  difficult 
for  commercial,  retail  and  residential 
development. 
We  have  expressed  our  thoughts. 
Council has the evidence. None of the 
issues  are  new  and  all  have  been 
expressed  before.  So  where  do  we  go 
from here? 
To  try  and  get  a  breakthrough, 
Kaiwaka Can members meet this week 
with  the  Mayor,  CEO  and  Town 
planner  from  Kaipara  District  Council 
to  set  in  place,  firm  agreements  and 
concrete  plans  for  moving  ahead.  We 
will  keep  everyone  in  touch  with  the 
outcomes  from  this 
meeting. 
Another  issue  that 
bothers  us  is  that  we  are  being 
questioned  by  Council  officers  as  to 
how  representative  we  are  of  the 
community.  In  a  perfect  world, 
everyone  would  come  to  meetings, 
express  their  views  and  as  a  total 
community, lobby for change. But our 
world  is  not  perfect  and  not  everyone 
comes to our meeting. Yet as far as we 
can  see  we  are  the  only  body  that  is 
there open to the whole community to 
come  and  say  what  is  on  their  mind. 
There  are  many  great  groups  in 
Kaiwaka but each is focused on a their 
own primary objective. Each does what 
it  is  set  up  to  do  very  well  but  none 
aims  to  be  a  voice  on  everything  for 
the whole community. 
So what would we like? 
Three things. 
1)  For  everyone  in  Kaiwaka  and 
surrounds  to  realise  they  are  welcome 
to  attend  Kaiwaka  Can  at  any  time  or 
to  ask  to  get  our  emails  on  things 
happening. 
2) For special interest groups to let us 
know  and  keep  us  in  touch  regarding 
projects  and  activities  you  need  help 
with. 
3)  And  more  than  anything,  for  those 
people sitting out there with leadership 
skills, drive and a passion for our great 
little  town,  to  join  and  help  us  bring 
about the change we look for. 
Derek Christensen (Chair) 
Meeting:  Wednesday  June  12th, 
Archie Bull Hall (behind the Anglican 
Church) at 5.30pm. 
SCHOOL PHOTOS WANTED 
We did not find any names for our last school photo of 1931, but by matching 
old school rolls you never know, we will get some clues! 
This week's photo, the next generation, was taken in 1950 - please can you help 
identify  anyone  in  this  photo?  Kaiwaka  School.  These  young  students  would 
have been born in the1940 - 1945 era.  Guess who is sixth from the left in the 
second row? 
With the Kaiwaka School 150 year celebrations and we would really appreciate 
having as many school photos as possible - named if we can. For those wishing 
to  help  please  contact  Lindsey  09  4312045  or Jennie  021  0276  4171 or  email 
kaiwakabugle@kaiwaka.co.nz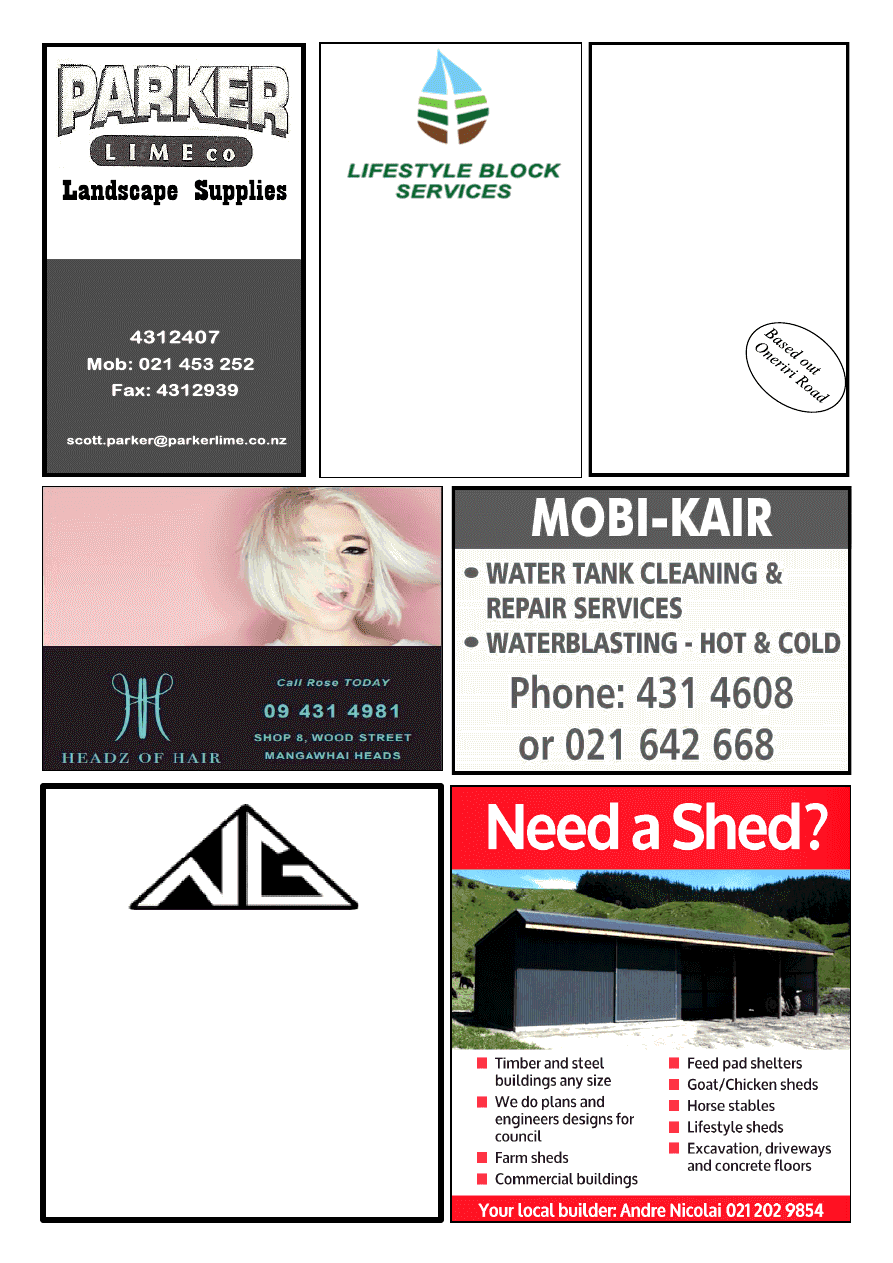 NORTH GLASS 
WINDSCREEN REPAIR OR REPLACE 
GLAZING SERVICES 
MIRRORS  •  SPLASH BACKS  •  SHOWERS 
0800 70 40 10
info@northglass.co.nz 
www.northglass.co.nz 
HODGETTS 
CONTRACTING
Digger Work 

Driveways   

House Sites   

Dams  

Drains, etc
Also available for HIRE 

4
3 ton Vib Roller   

Heavy Duty Tow  

4
Waterblaster     

Lazer Level 
Phone Mark 
4312877 
027 447 8554 
Bulk Cartage 
Autumn is here, 
Now is time to think about 
heavy duty mulching. 
Contact Mark on  
021 801 065   
We also do: 

Fencing 

 Spraying 

  Mulching 
 
Stockwork 

  Stock Water 
Systems  

 Driveway & Track 
Maintenance 

  Tree Trimming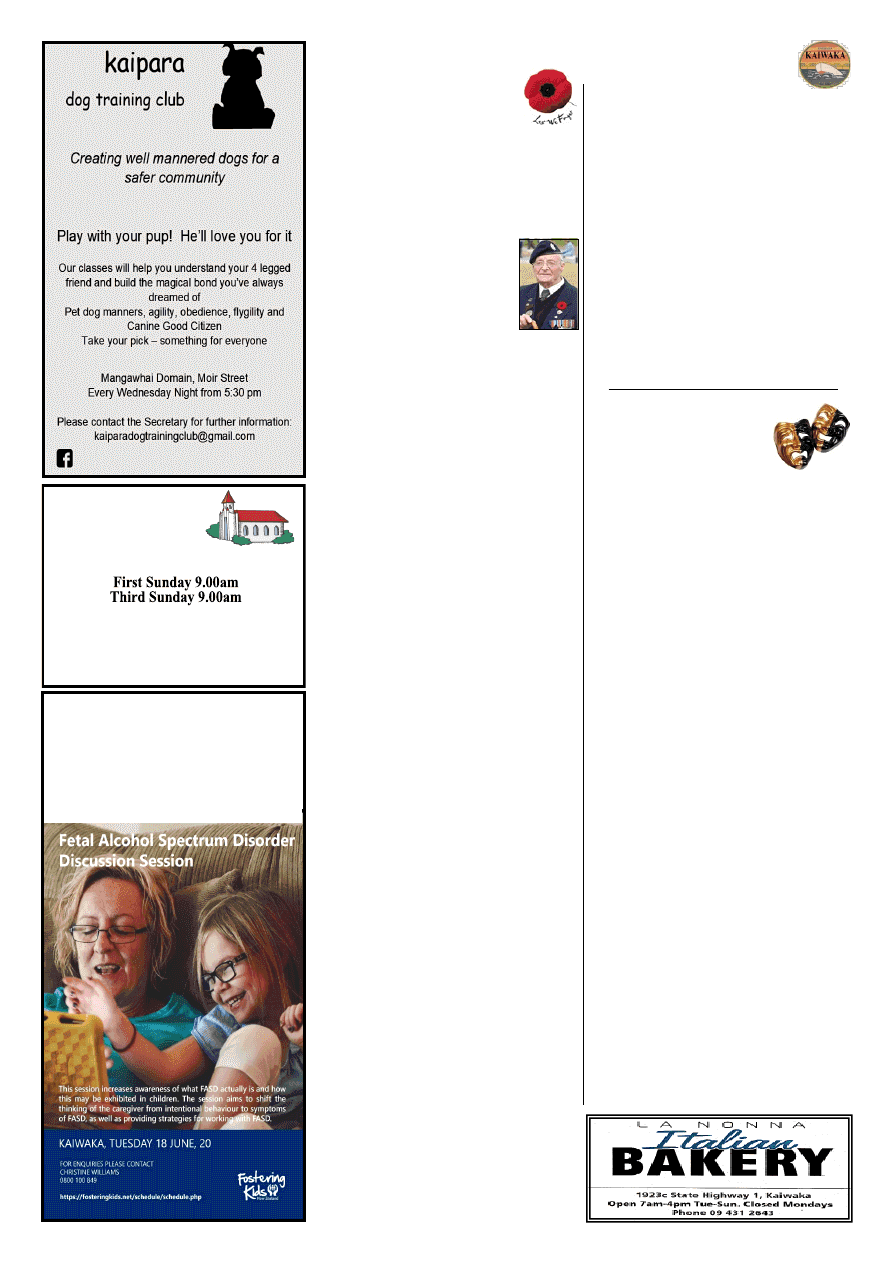 www.kaiwaka.co.nz 
Kaiwaka Bugle - 11 June  2019 
Page 9 
ST PAUL'S  
ANGLICAN  
SUNDAY SERVICES
St Pauls Church: Kaiwaka-Mangawhai Rd. 
1st Sunday - Eucharist 
3rd Sunday - Family Service 
Priest in Charge Rev. John Blundell  Ph 431 4122 
www.mangawhaianglican.org.nz
POINT CURTIS 
CRUISING 
CLUB  
North Vs South Pool Competition was 
on  Sunday  2
nd
  June  at  The  Three 
Furlongs Bar & Grill. 
Good  turn  out  and  a  Fun  afternoon. 
NORTH Won!!!  
Thank  you  to  those  who came  to  play 
and to The 3Furs Crew. 
⚫
End of Season Duck Shoot Saturday 
29
th
 and Sunday 30th June. 
⚫
PCCC AGM Tuesday 11
th
 June 2019 
7pm  at  Kaiwaka  Sports  Association, 
Everyone welcome. 
⚫
Subs were due 1
st
 of June 2019: 
 $30  Family  &  $20  Single;  Internet 
banking  12  3094  0008233  00  Please 
use Name/s as a reference. 
~ Wayne Leslie, Commodore
OTAMATEA 
REPERTORY 
THEATRE  
Disney's Beauty and the Beast Jnr  
We  had  a  brilliant  season  of  Disney's 
Beauty  and  the  Beast  Jnr.  All  cast 
members  were  aged  17  or  less  –  and 
the  standard  of  the  singing  and  acting 
was excellent. Audiences were dazzled 
by the visual spectacle – the costumes, 
makeup,  set,  props  and  lighting  were 
brilliant.  A  huge  support  crew  worked 
tirelessly to make this show happen for 
the  youngsters.  And  we  exceeded  box 
office targets.  
Thank  you  very  much  for  supporting 
our theatre and our talented youngsters.  
'This  is  Your  Captain  Speaking'  – 
Dinner Theatre comedy  
It's a play, musical, pantomime, movie 
and a dinner show. It's a madcap, high-
flying  comedy.  A  great  show  for 
people  who  don't  normally  go  to  live 
theatre.  We  have  delayed  the 
performance  dates  of  this  show.  We 
will  now  have  six  shows  at  the 
beginning  of  November,  over  three 
weekends. Peter Matheson is to be the 
director. Auditions will be held in July/
August.  
TheatreFest 2019  
A  small  cast  of  young  performers  is 
starting rehearsals soon with a One Act 
Play,  to  take  to  the  Local  TheatreFest 
in Dargaville in late July. There will be 
one opportunity to see this play at ORT 
before the TheatreFest. More details to 
follow.  
Costume Hire  
The  theatre  has  a  wide  range  of 
costumes  for  hire.  Reasonable  rates. 
For further information, contact Maura 
Flower  022  354  2670  or Katrina  Dyer 
021 701 079.     ~ Maura Flower  
LEST WE FORGET 
JUNE 6 1944 
WWII D-DAY 
It  is  75  years  since  the  D-Day 
landings  at  Normandy  during  World 
War  II.  Operation  Overlord  was  the 
largest naval, air and land operation the 
world  has  ever  seen.  Five  beaches 
along  the  Normandy  coast  were  the 
target, and they were named, from east 
to  west,  Sword,  Juno,  Gold,  Omaha 
and Utah. 
The  following  poem  is  by 
Juno  Veteran,  the  late  Cyril 
Crain - pictured 
NORMANDY 
'Come and stand in memory 
Of men who fought and died 
They gave their lives in Normandy 
Remember them with pride. 
Soldiers, Airman, sailors 
Airborne and marines 
Who in civvy life were tailors 
and men who worked machines. 
British and Canadian 
And men from USA 
Forces from the Commonwealth 
They all were there that day 
To Juno, Sword and Utah 
Beaches of renown 
Also Gold and Omaha 
That's where the ramps went down. 
The battle raged in Normandy 
Many lives were lost 
The war must end in victory 
And this must be the cost 
When my life is over 
And I reach the other side 
I'll meet my friends from Normandy 
And shake their hands with pride.' 
While  no  New  Zealand  military  units 
landed  on  the  beaches  of  Normandy, 
individual  New  Zealanders  did. 
Brigadier 
James 
Hargest, 
New 
Zealand's  official  observer  with  the 
Allied  forces,  went  ashore  with  the 
British  50th  Division  on  D-Day,  and 
radar  specialist  Ned  Hitchcock  landed 
amidst  the  carnage  on  Omaha  Beach 
the  following  day.  Other  New 
Zealanders  like  Jack  Ingham  were  on 
the ships and planes that carried troops 
to France on 6 June – D-Day – and in 
the months that followed. These young 
men  served  with  the  Royal  Air  Force 
(RAF), Royal Navy (RN) or Merchant 
Navy. Some were in charge of landing 
craft,  vessels  that  carried  troops  and 
tanks  to  the  invasion.  Others  were 
seamen  or  officers  on  battleships, 
destroyers or hospital ships. 
New  Zealanders  in  the  RAF  were 
among  the  crews  of  Dakotas  and 
gliders,  which  carried  airborne  troops. 
Other New Zealanders flew in fighters 
and bombers, sent out on operations in 
support of the landings.   
Ref. nzhistory.govt.nz 
 FETAL ALCOHOL SPECTRUM 
Open to all those caring for children  
not born to them.     
10am - 12 noon, Tuesday 18 June 
Archie Bull Hall, Kaiwaka. 
Please phone 0800 100 849  
to book a place.  See you all there.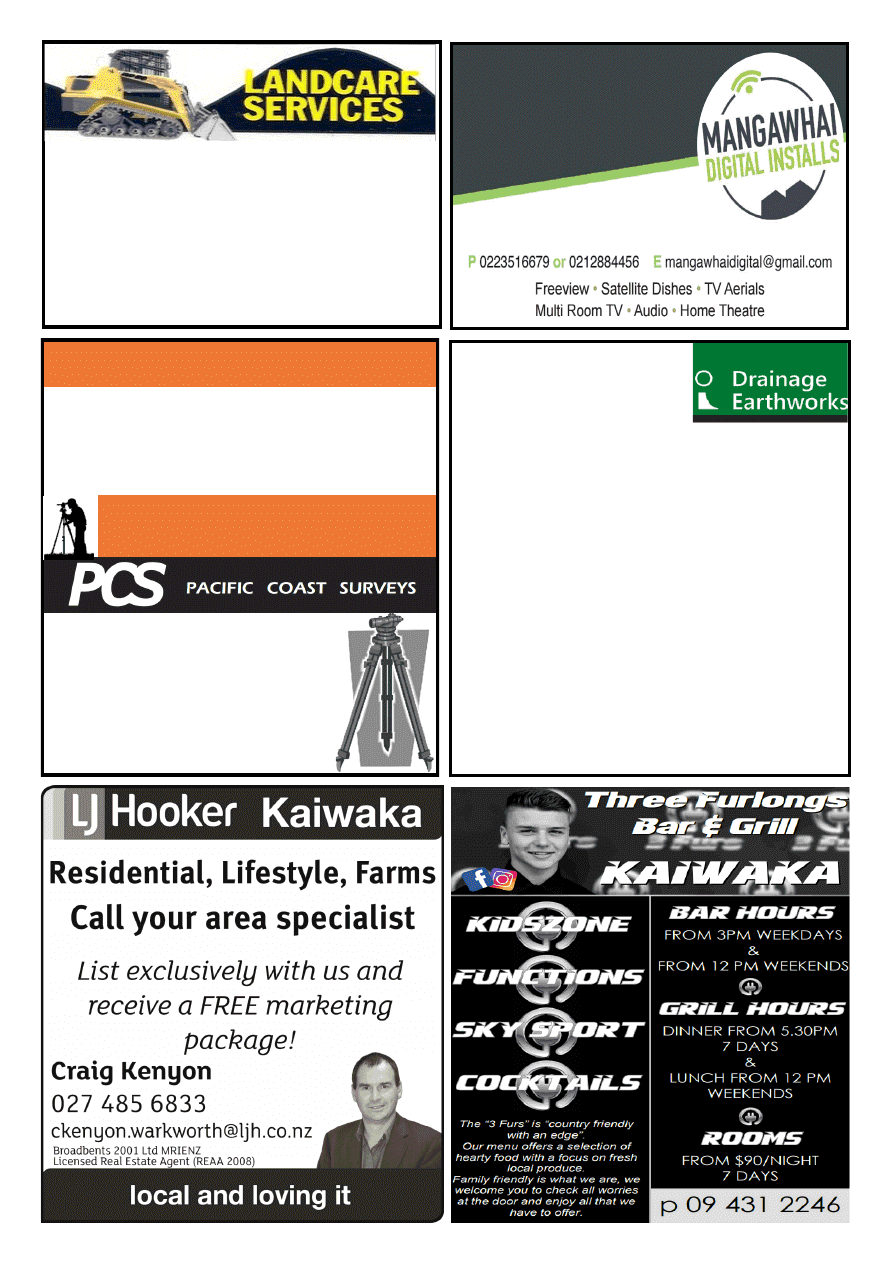 Drainage & Earthmoving 
nigel@clarkedrainage.nz 
027 2233 185 
Registered Drainlayer 
All Types of Earthworks  
> All Residential & Commercial Work  > House Sites 
> Septic System Design & Install 
> Footings & Drilling to 10m 
> Sewer Connections 
> Dams 
> Water Tank Installation 
> Roading & Races 
> Farm Work 
THE ONE STOP SHOP  
Phone Nigel for an Obligation Free Quote  
SURVEYORS 
SUBDIVISIONS 
HOUSE SITE SURVEYS 
CIVIL ENGINEERING 
WASTEWATER DESIGNS 
EXPERIENCED 
PROFESSIONAL 
INNOVATIVE 
Ph 09 431 5353 
0800 PACIFIC (0800 722 434) 
pacificcoastsurvey.com
Adam Booth - 027 415 5752 
Bsurv, Licensed Cadastral Surveyor
Surveying Kaipara since 1994 
LANDSCAPING 
4 IN 1 BUCKET 
TRENCHER 
POLE HOLES 
ROTARY HOE 
COMPACT ROLLER 
OFFAL HOLES 
CAN SUPPLY WOODCHIP & POST PEEL 
5 TON TIPPER 
FOR RELIABLE AND FRIENDLY SERVICE CONTACT DAVE 
Dave Hyndman 
 
KAIWAKA 
PH: 09 4312302 
MOB: 021 431 238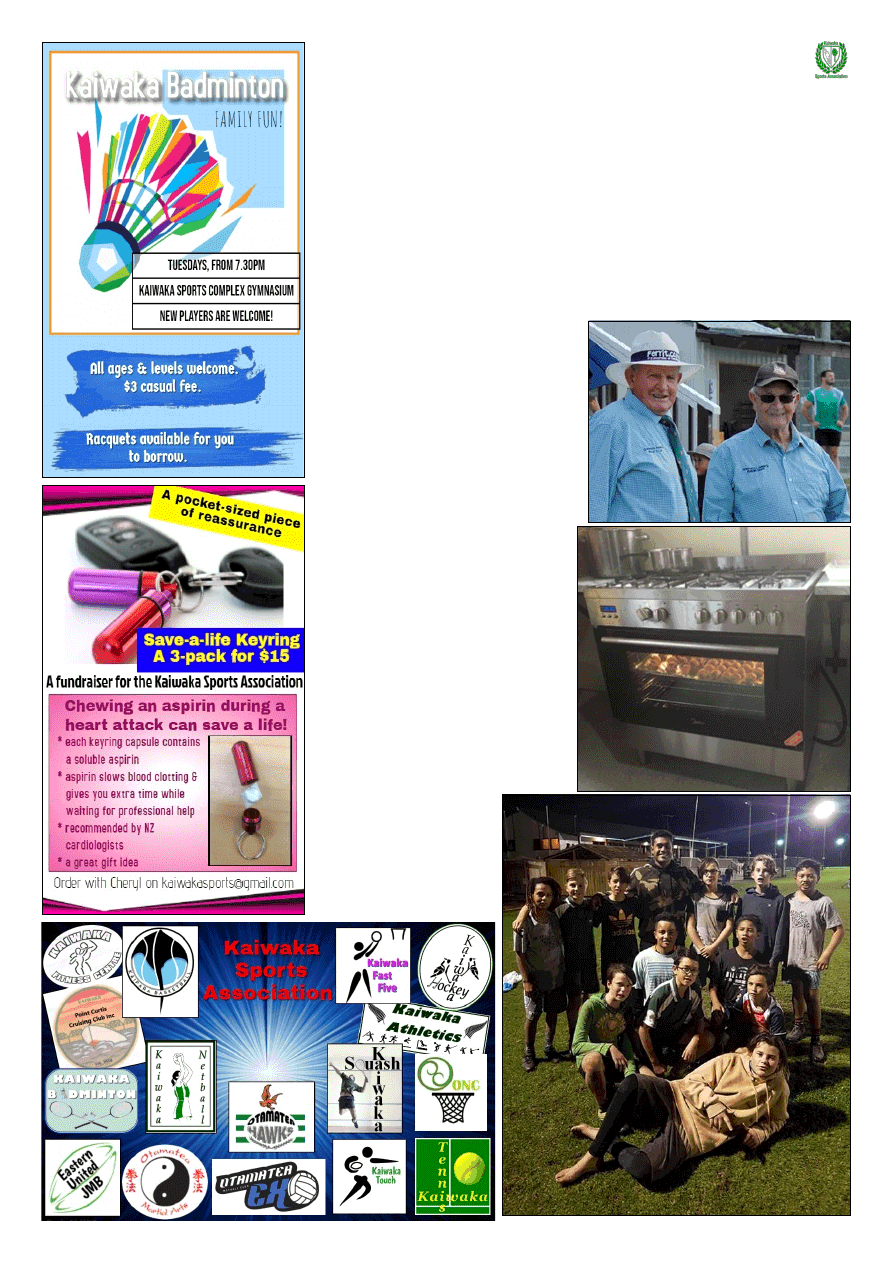 www.kaiwaka.co.nz 
Kaiwaka Bugle - 11 June  2019 
Page 11 
KAIWAKA SPORTS ASSOCIATION
THANK YOU 
A  big  thank  you  to  Tumua  Manu, 
outside back for the Super Rugby team 
the Waikato Chiefs, for taking time out 
of his days off to spend with our under 
11s,  13s  and  14s  Otamatea  Hawks 
players,  answering  questions  and 
sharing  some  drills  with  each  team. 
Inspiring the next generation. 
RUGBY 
Advance notice – there is a big day of 
rugby  coming  up  at  our  grounds  on 
Saturday  22nd  June.  Starting  with  the 
U7s  and  the  U9s  Rally  Days 
(Maungaturoto, Eastern, Wellsford and 
Tomarata  all  playing),  followed  by 
Otamatea  Haws  U14s  then  the 
Otamatea  Hawks  U11s  and  finishing 
off  with  our  Hawks  seniors  (Reserves 
and Premiers). Mark it in your diary! 
KAIWAKA SQUASH 
Did  you  know  that  squash  is  widely 
considered  to  be  the  healthiest  sport? 
This  is  because  squash  improves  your 
aerobic  fitness,  burns  off  calories, 
boosts  flexibility  and  sprint  speed, 
improves 
hand-eye 
co-ordination, 
develops  the  strength  and  power  of 
your  muscles  and  boosts  your 
cardiovascular fitness. Whew!! 
If  you  are  keen  to  give  squash  a  try, 
simply  turn  up  to  our  courts  on  our 
club  nights,  Mondays  from  5.30pm 
(the  door  to  the  squash  courts  is 
opposite the tennis courts). 
If you would like to join our club, an 
annual  membership  gives  you  access 
to the courts 24/7 with free lights. To 
purchase a membership contact Bruce 
Leslie on leswa212@gmail.com . 
KSA  FUNDRAISER:  SAVE-A-
LIFE KEYRING 
If you have one of these keyrings, you 
could save a life! 
The Save-a-Life keyring has a capsule 
which  contains  a  soluble  aspirin. 
Chewed  or  placed  under 
the  tongue,  an  aspirin  can 
make  all  the  difference 
when 
someone 
is 
experiencing  signs  of  a 
heart  attack.  The  aspirin 
potentially  helps  keep  a 
patient  alive  for  what 
paramedics  call  "The  Golden 
Hour". This  is the time  between  when 
the  attack  begins,  paramedics  arriving 
on  the  scene  and  the  time  it  takes  to 
transport the patient to hospital. 
The  keyrings  are  $15  for  a  3-pack  -  a 
small  price  to  pay  for  potentially 
saving  somebody's  life.  Buy  one  for 
someone you love. 
Contact me on: 
cherylanderson051@gmail.com  
and I can drop them off to you. 
~ Cheryl    kaiwakasports@gmail.com 
Pictured  below:  Two  Otamatea  Hawks  rugby 
stalwarts - Russell Foster and Peter Hargreaves 
(photo C Peeni); KSA;s new oven; Tumua with 
the young hawks players..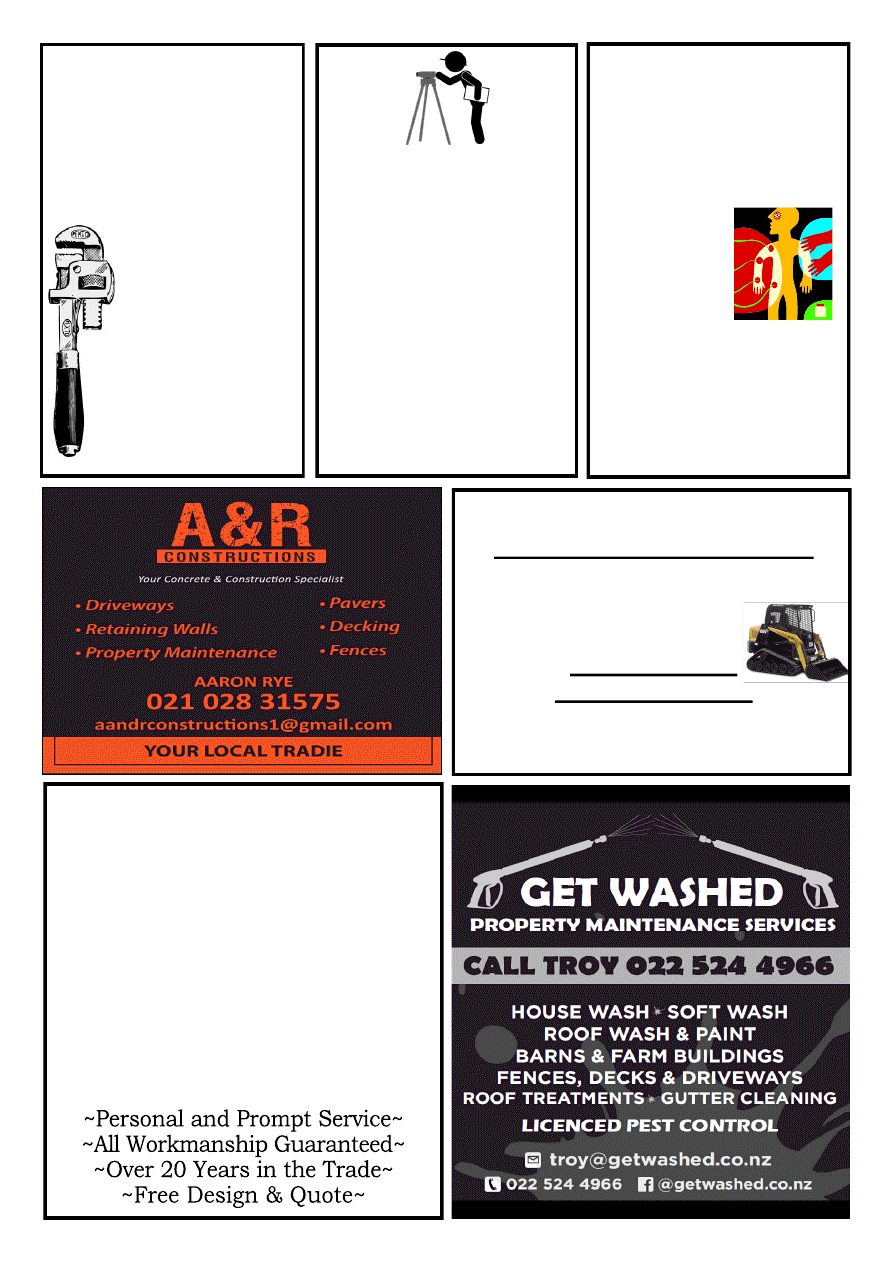 BARRY CURTIS 
PLUMBING LTD 
REGISTERED CRAFTSMAN 
PLUMBER 
Phone 431 5572 
027 257 9884 
25 years' experience 
Friendly reliable service 
All plumbing & 
maintenance 
Alterations and new 
housing 
Spouting  
Competitive rates 
PROMPT 
EFFICIENT 
SERVICE 
OWEN STEVENS 
Osteo Therapist
For careful adjustments to bones 
and joints 
Treatment for humans and their 
pets 
Clinics: 
Kate's Place, 
Kaiwaka: 
Last Friday of 
month 
For bookings: 
9.00am-5.00pm  
Phone 
09 4312661 
Or phone Owen  
09 4317123 anytime 
PLANNING A NEW KITCHEN?
 CONTACT NOEL McDOWELL
WELLSFORD 
KITCHENS
Ph/Fax 094312888
KAIWAKA-Any time
 QUALITY CUSTOM MADE 
KITCHENS
Ken Urquhart 
BSurv Licensed  
Cadastral Surveyor 
KMU Surveys Ltd 
467 Bickerstaffe Road 
RD 2 
Maungaturoto 0587 
Ph 09 431 8705 
Mob 021 161 2344 
kenurquhart@xtra.co.nz 
Natural Earth Ltd 
Landscape and Bobcat services 
 : Driveways :Landscaping :Retaining Walls 
 : Hole Boring: Land Levelling :Trenching 
 : Decks :Fences :Sections Cleared 
 : Plus much more
Tel 09 4312 885 
Mob 02102391280 
For A Fast Friendly Service  
Contact Tim Hicks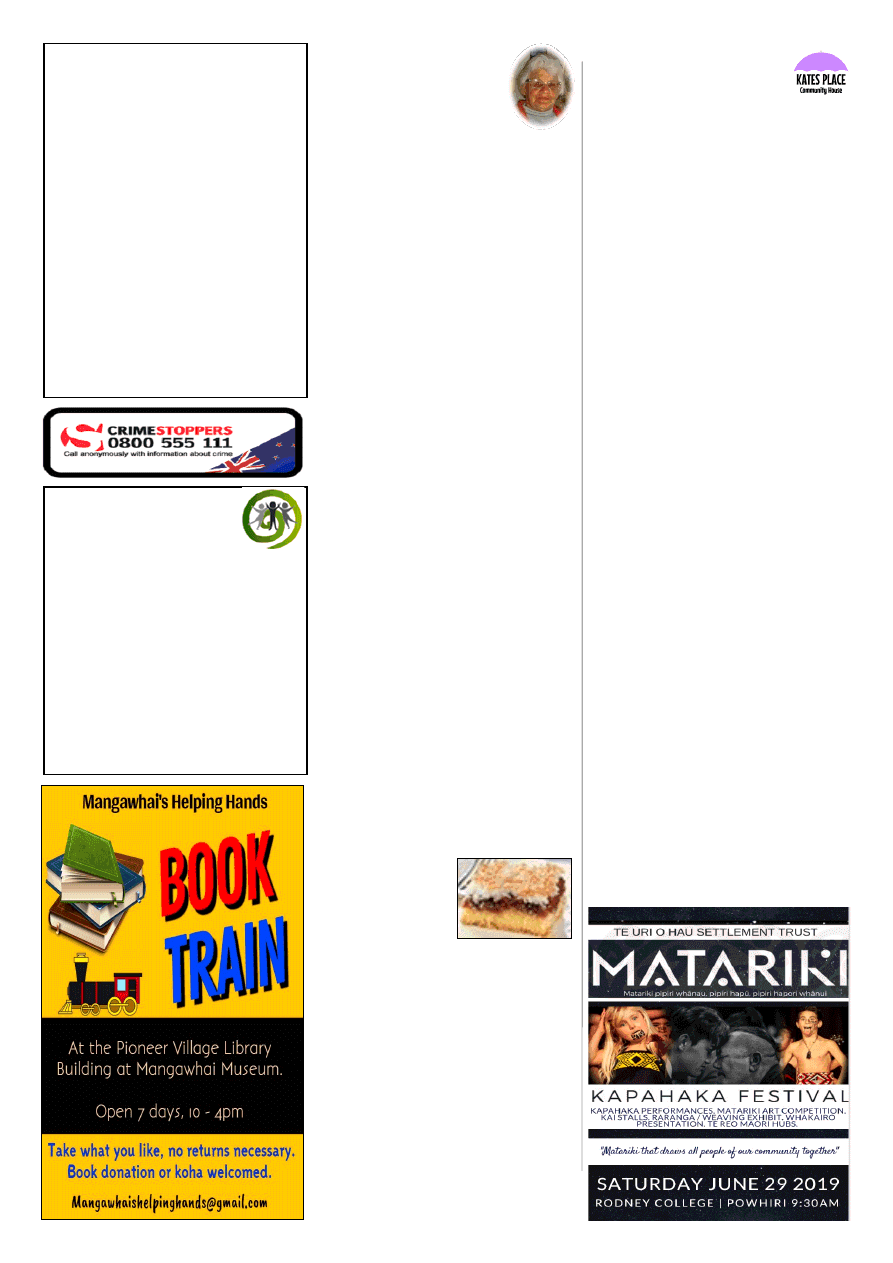 www.kaiwaka.co.nz 
Kaiwaka Bugle - 11 June  2019 
Page 13 
OTAMATEA 
COMMUNITY 
SERVICES   
Counsellors, Parent Coach, 
Senior Support, Financial 
Mentors, Social Worker, 
Addiction Support,  
Family Support. 
Monthly Activities: 
❖
Seniors' Lunch 1st Wednesday 
❖
Chocolate Bingo 3rd 
Wednesday
❖
Shopping  trips  to  Whangarei 
2nd Tuesday and 4th Wednesday 
Phone: 09 431 9080.  
155 Hurndall St. Maungaturoto. 
From Thelma's 
Scrapbook … 
Queen's Birthday 
Part 2 
Probably our most popular baked recipe 
from the legacy of Queen Victoria and her 
family is the slice we love either bought 
readyrnade from a bakery, enjoyed with tea 
or coffee at a cafe, or number of 
monuments and statues, made at home on 
one of those 'fill the tins' baking days. 
Louise Cake wins this popularity 
accolade. It was created to mark the 
wedding in 1871 of Queen Victoria's 
sixth child and fourth daughter, 
Princess Louise of England. She married 
a commoner, and their wedding cake 
stood five feet high (one-and-a-half 
metres) and weighed 225 pounds (over 
a hundred kilograms). 
A slice of this wedding cake was 
auctioned in 2009 in an antiques 
auction and fetched £215 from the 
successful bidder. 
Princess Louise was the rebel daughter of 
Queen Victoria and Prince Albert. She was 
liberal minded, supporting the suffragist 
movement, and was a prolific artist and 
sculptor. Perhaps she was the first 'People's 
Princess', as it appears none of (Queen 
Victoria's other children was thought well 
enough of to have a 'cake' named after 
them. 
There is not much that is cakey about 
Louise Cake. It is a slice that did not morph 
into something different as it passed from 
the nineteenth to the twentieth century 
and then on to the twenty—first century. 
This delicious shortcake base topped with 
raspberry jam and a lightly crunchy 
coconut meringue is easily made, especially 
when the base is made with a melt-and- 
mix method. 
Here is my take on this all-time favourite. 
LOUISE CAKE 
100g butter 
1/4 cup sugar 
3 eggs 
1
1
/2 cups flour 
2 teaspoons baking 
powder 
1/4 cup raspberry jam 
3/4cup sugar 
3/4 cup fine, desiccated coconut 
Preheat the oven to 180°C. Line the bottom 
of an 18 x 26cm slice tin with baking 
paper. 
Melt butter in a saucepan large enough to 
mix the base. Stir in the first measure of 
sugar. Separate the eggs. Add the yolks to 
the saucepan. Mix until combined. Sift the 
flour and baking powder into the saucepan. 
Mix to combine. Spread the mixture into 
the prepared tin. 
Spread the raspberry jam over the base. 
Beat the egg whites until stiff. Beat in the 
second measure of sugar. Mix in the 
coconut. 
Spread this over the jam. 
HAKARU HALL 
ACTIVITIES 

Monday: Line Dancing 10am  
Ph 4315160 

Tuesday: Pilates 9-10am 
Ph 0220643964 
Certified Instructor 

Wednesday, First of The Month 
Hall Committee Meeting 7pm 

Following Wednesdays: Recreational 
Music Evening 7pm Ph: 
0210628631

Thursday: Pilates 9-10am  
Ph 0220643964 

Thursday: Scouts 5pm 

June 16
th
 Line Dancing Open 
day 1.30-5.30pm 

June 22
nd
 Zonta Ball 

Hall Hire Ph 4312256 
KATE'S PLACE 
Some  new  things  happening 
at Kates Place....... 
⚫
Men's  Group  every  Tuesday  night 
@ 7pm 
⚫
Community Cooking Classes every 
Tuesday  at  the  KSA  all  welcome, 
creche  available  and  we  feed  the  kids 
while you cook! 
⚫
New  courses  -  "Work  Ready" 
preparing  yourself  to  enter  the 
workforce  for  youth  and  adults 
returning to the workforce. From CVs 
to  interview  techniques,  information 
on 
employment 
contracts 
and 
employment law. Providing confidence 
and support. 
⚫
"Living  on  a  Budget"  How  to 
survive  on  a  budget  using  life  hacks, 
how to prepare and use a budget, how 
to save money on  your food shopping 
and clothing, etc. How to still have fun 
without  getting  into  debt  or  running 
out  of  money  days  before  your  next 
pay. 
⚫
Learners  License  -  coaching  and 
support. Day or Night time available. 
⚫
Community  Conversations  -  next 
meeting  in  July-  the  subject  is  "Full 
time  Employment  for  Women  in  a 
rural area Are there adequate full time 
well  paid  jobs  available  for  women  if 
they  need  to  support  themselves  and 
children. 
All courses FREE, koha welcome! 
To  register  or  get  further  information 
on  these  new  activities  call  us  on  09 
431 2661 or 029 773 9085 or send us a 
pm. The courses and cooking class will 
only  go  ahead  when  we  have 
confirmed people attending. 
Just  a  reminder  we  also  have  the 
following  groups  that  run  throughout 
the week: 
⬧
Monday evening @ 7pm NA meeting. 
⬧
Wednesday  evenings  at  7pm  AA 
meetings.  
⬧
All  day  Tuesday  every  week 
Counselling for men women & youth. 
We have individual Addiction Support 
available.  
⬧
Advocacy  and  Budgeting  Services, 
and  Financial  Support  Monday  -
Friday, 10am-4pm.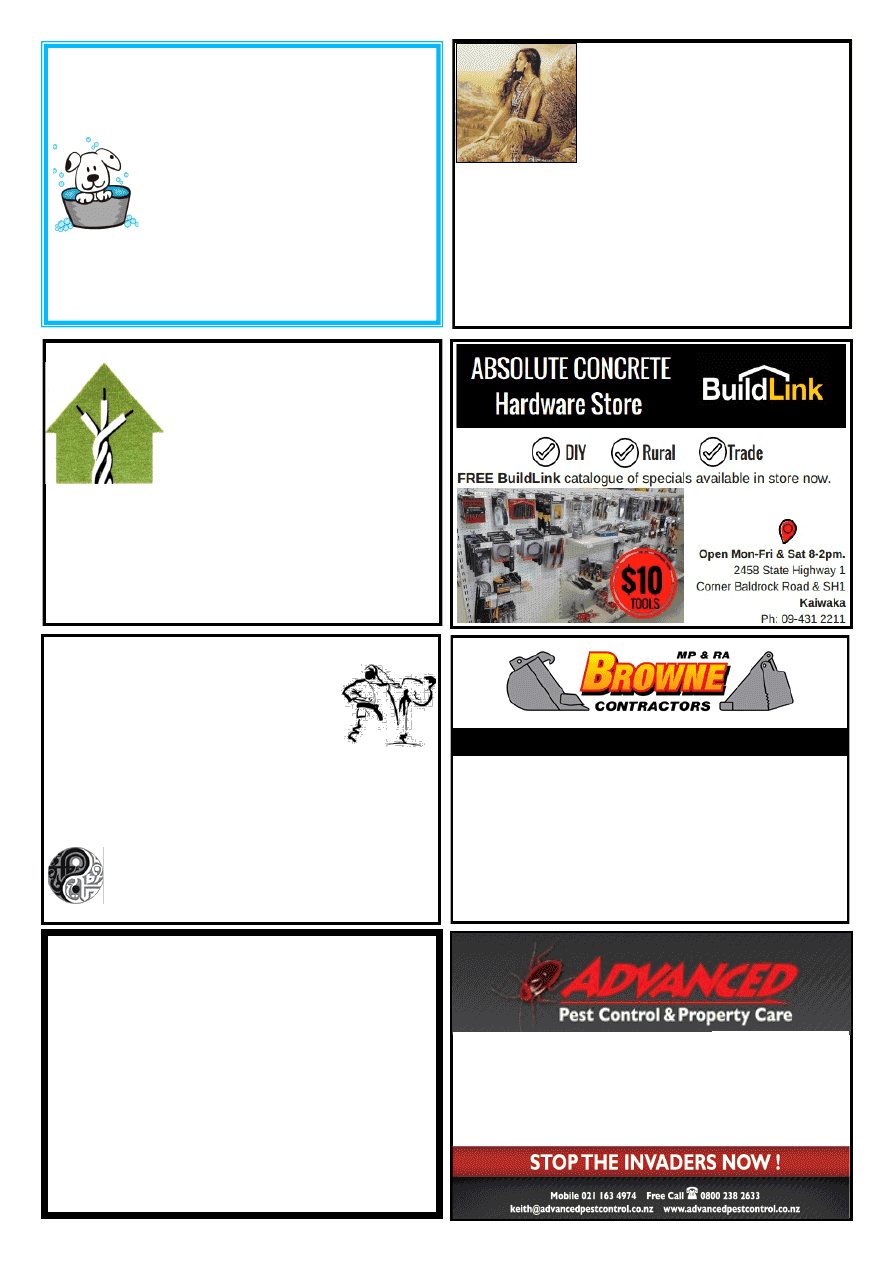 4T DIGGER – BOBCAT – TIP TRUCK 
Property Maintenance - Driveways  
 Building Sites 
Stump & Tree Removal  
Hole Boring - Chain Trencher  
Calf Shed and Stockyard Cleaning 
Phone Matt: 021 199 6677 
Email: mprabrownecontractors@gmail.com 
Mangawhai Heads 
Garden Centre
1758 Cove Road
945 0707 
021 165 2629 
Reyahn George 
Leng 
Registered Electrician 
Local, honest and reliable. 
For your residential and 
light-commercial projects. 
022 314 1068 
Trails end 
spiritualist gathering 
Last Sunday of every month  
10.30-2pm  
Tea/coffee provided  $5 koha 
For all inquiries: 
021 165 2629 evenings (09) 945 0707 
Trail.end@hotmail.com 
1758 Cove Road, Mangawhai
Bringing together like-minded people 
Guest speaker each month
Pest Control 
PLAN A: One-off treatments to customers with a specific pest problem 
PLAN B: Full maintenance service plans to commercial customers. 
This will include documentation kept in customer file on site: 
⚫
Pest treated 
⚫
Date of service 
⚫
Chemical or baits used 
⚫
Full pest check report done after each treatment 
⚫
Fair and reasonable fee with guarantee 
Flood Recovery  Carpet Care 
⚫
Carpet Drying 
This includes pre-spray treatments 
Upholstery Cleaning 
Full upholstery cleaning of all furniture.  
eg lounge suites and all office chairs 
Water Blasting 
⚫
Concrete - Decks 
House Washing 
⚫
Soft Chemical Was 
⚫
Pre-painting Wash 
Property Services 
Hot Diggity Dog 
DOG GROOMING 
All breeds dog grooming 
Professional Experienced Groomer 
Short practical grooms - summer 
Breed Standard Grooms 
Designer fusion Grooms 
Oneriri Road
By appt Phone Pam 09 4312143 
Or text only 0273335380 
Email  hot.diggitydog@outlook.com 
SELF DEFENCE 
KEMPO 
Fitness, Confidence, 
Discipline, Respect,  
Self-awareness 
Classes for all ages in: 
 Mangawhai
Kaiwaka Wellsford
For more information please contact
 Otamatea Martial Arts
otamatea.kempo@farmside.co.nz 
Phone 09-431-5170 
www.facebook.com/otamatea.kempo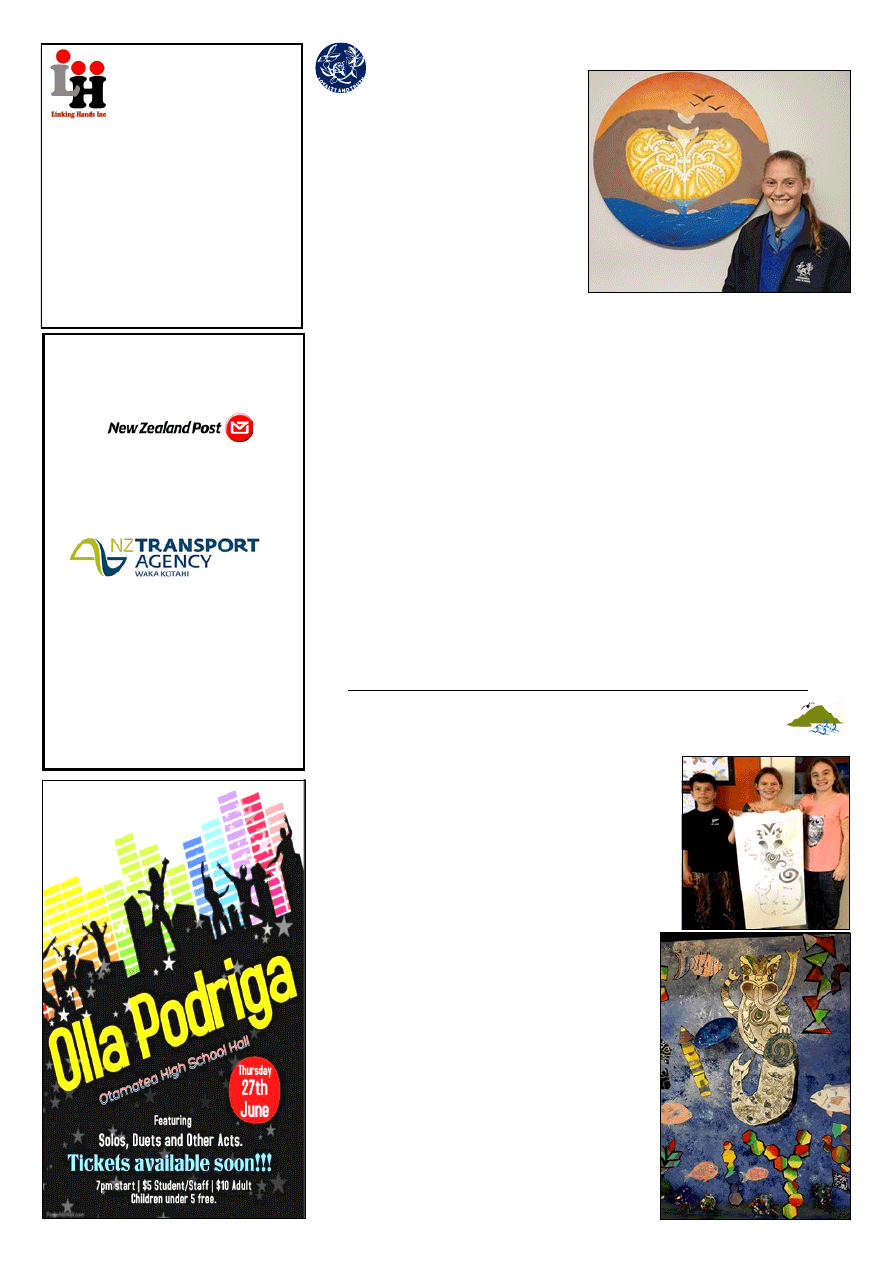 www.kaiwaka.co.nz 
Kaiwaka Bugle - 11 June  2019 
Page 15 
KAIWAKA POST 
CENTRE and 
FOOD MART 
POST CENTRE TRADING HOURS 
MONDAY to FRIDAY 8am to 5pm 
SATURDAY 8am to 12pm 
CLOSED ON SUNDAY and on 
PUBLIC HOLIDAYS 
FOOD MART (GROCERIES) 
MONDAY TO FRIDAY  
7:30am to 7.30pm 
SATURDAY  8am to 7.30pm 
SUNDAY  8:30am to 7pm 
IF ANY QUERIES PLEASE CALL 
STORE MANAGER AMRIT  
on 09 4312431 or 
EMAIL: kaiwakafood19a@gmail.com 
1919a State Highway1, Kaiwaka 0542 
KAIWAKA SCHOOL 
OTAMATEA HIGH SCHOOL
Board of Trustees 
Thank you Benji Woodman for his work on the Board of Trustees over the last 3 
years,  he  has  made  a  significant  contribution  to  the 
school's progress; just look at our magnificent waka. 
And welcome Dominique Incorvaia onto the Board,  
Matariki at the Kauri Museum 
On the right is a photo of our school's submission for 
the  Matariki  Festival  Art  Display  at  the    Matakohe 
Kauri Museum. It depicts the students' interpretation 
of  the  story  of  Tangaroa's  gift,  the  paua.  It  will  be 
displayed at the museum over the next few weeks, as 
will displays from the other schools in the area. Well 
worth a visit.  
Te Uri o Hau Festival 2019 
This  is  being  held  on  Saturday  the  29th  June.  It 
will  be  at  Rodney  College.  It  is  for  the  Senior 
Kapahaka  group  only.  This  is  always  a  highlight 
of the year and we look forward to our opportunity 
to perform. 
Swimming Pool Sails 
Our swimming pool area is undergoing an upgrade 
in  that  there  will  be  sails  over  the  pool  area,  to 
protect the students and teachers from the sun. 
We thank the Board for approving this health and 
safety aspect of our school. 
Events: 
17  June:  Visiting  Authors  Gavin  Bishop  and  Tania 
Roxborough 
29 June:  Te  Uri o Hau Kapa Haka  Festival  at  Rodney 
College. 
4 July: St John in Schools First 
Aid Training. 
5 July: End of Term 2 
Alana 
Yardley 
spent  a 
considerable  amount  of  time 
working  on  this  beautiful  artwork  – 
now in the school reception office. Her 
theme for this large tondo was Whānau 
Ora – thriving whanau - pictured right. 
OTAMATEA HIGH SCHOOL 2019 
CROSS COUNTRY 
Thursday  30th  May  brought  perfect 
weather for the cross country with a bit 
of  cloud  cover  and  a  cooling  breeze. 
The ground conditions were perfect for 
a fast race with it firm under foot. The 
outstanding  results  for  the  day  go 
to Sub Junior Dean Sheppard breaking 
the  2018  record  set  by  Ethan  Van 
Waveren of 14.27 with a new record of 
14  minutes  and  16  seconds.  Dean's 
brother  Joshua  Sheppard  broke  the 
intermediate  boys  record  set  by  Jon 
Duffy of 15.55 with a new record of 15 
minutes 
and 
47 
seconds. 
The  Level  One  PE  class  were  chief 
organisers  and  did  a  great  job  of 
making sure all students knew what to 
do and where to go.
READERS, 
WRITERS 
AND 
SUPERVISORS 
Otamatea High School needs people to 
be  readers,  writers  and  supervisors  for 
students who have Special Assessment 
Conditions.  Although this is voluntary 
work,  we  may  be  able  to  subsidise 
some travel costs.  You will need to be 
available  for  the  'mock  examination' 
period  September  16-20,  Junior 
Examinations  November  4-8  and  the 
NCEA  examinations  at  the  end  of  the 
year  (from  7  November  onward)  .  All 
training  will  be  given,  and  police 
vetting  will  be  required.  Please  email 
huia.coll@otamatea.school.nz  if  you 
are interested. 
PET DAY 2019 
Due  to  Mycoplasma  Bovis  the  High 
School will not be having calves at Pet 
Day again this year.  If there is enough 
interest  a  chicken  section  will  be 
offered  -  for  more  information,  please 
contact Pepe jimandpep@xtra.co.nz by 
14 July. There will  be lambs and goats 
again  this  year.    Terri  Donaldson  will 
be  taking  registrations  for  them  at  a 
later date.  
DAY 
RELIEF 
TEACHERS 
REQUIRED 
Otamatea  High  School  wishes  to  hear 
from  suitably  qualified  and  registered 
teachers who wish to be considered for 
day relief. 
Please  send  your  CV  to  Deborah 
Cornhill-Davies, Relief Co-ordinator 
email: 
deborah.cornhill@otamatea.school.nz
  LINKING 
HANDS INC 
Maungaturoto - Kaiwaka - 
Mangawhai 
Meeting the needs of the community. 
A  free Health Shuttle Service, providing 
transport to those who would struggle to 
get  to  medical,  dental,  podiatry,  or 
optometrist appointments anywhere from 
Warkworth to Whangarei. 
HEALTH SHUTTLE SERVICES 
Ph/fax 09 431 8969 
OFFICE HOURS 
Maungaturoto - Monday to Friday  
10am to 4pm 
Closed Public Holidays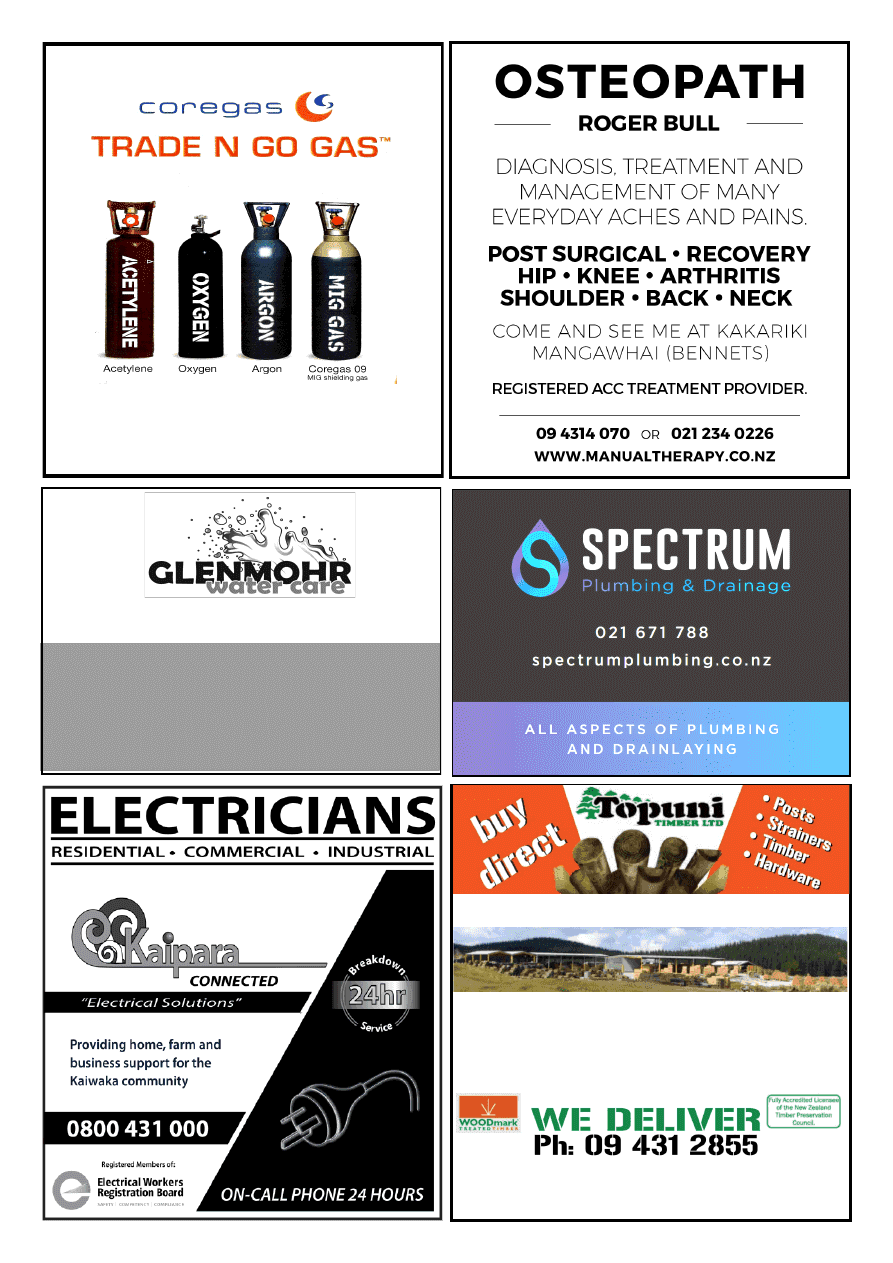 At Twinkle Tow 'n' Tyre 
Mob: 021 833 960 
Ph & Fax: 09 431 2823 
1837 State Highway 1, Kaiwaka 
Water Tank Cleaning 
• 
Keep your water safe & clean  
• 
Removal of sediment, silt etc. 
• 
Vacuum or full scrub 
• 
Minimal water loss 
Phone Mark (09) 432 0655 or 0274 707607 
LOCALLY OWNED AND OPERATED 
QUALITY PRODUCTS • FRIENDLY ADVICE • GREAT SERVICE 
Quality Products milled from High Density NORTHLAND Radiata Pine. 
Treated and guaranteed to NZS3640 with commitment to 
Environmental Safety.
Phone, fax, email, or come into the mill 
Schiska Rd, Topuni, SH1, 10 min north of Wellsford. Fax: 09 431 2856 
Email: sales@topunitimber.co.nz           Mon - Fri 7am-5pm 
• Fencing 
• Retaining 
• Decking 
• Landscaping 
• Gates 
• Hardware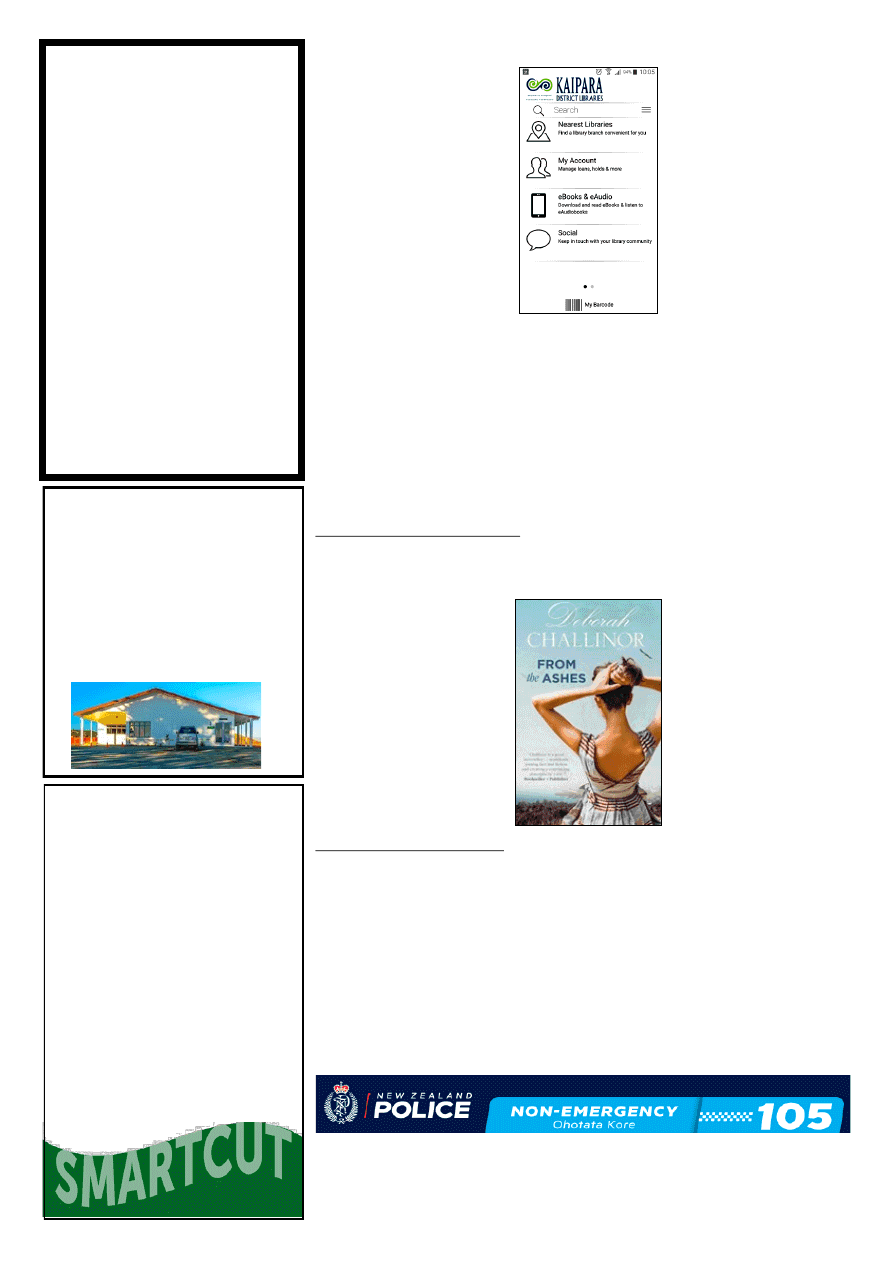 www.kaiwaka.co.nz 
Kaiwaka Bugle - 11 June  2019 
Page 17 
All your outdoor needs sorted 
so you don't have to... 
I can prune, chop, tidy, spray, 
mow, plant 
- you name it, I can do it! 
Residential & 
Commercial 
Lawn & Garden 
Care 
Call Rodney, your local  
lawnmowing contractor 
021 138 2344 
KAIWAKA LIBRARY 
WANTED TO BUY 
I  am  a  local  private  collector  of 
Kaipara  &  Northland  Paper, 
Postal  &Photographic  History 
looking to purchase: 
Old Photos   Old Postcards 
  Old Documents 
Old Envelopes  
Old Advertising / Tourism 
Posters or Pamphlets 
Old books or old 'paper' 
relating to  
Kaipara and Northland. 
I will pay a fair price 
immediately so please contact me 
on either  
280 9544, text 021 757 107  
or email 
nigel.bermuda@gmail.com 
APPS FOR PHONES AND 
TABLETS 
Have  you  installed  our  new 
library app on your phone or 
tablet  yet?  It  makes  it  very 
easy  to  search  our  library 
catalogue,  place  holds  on 
items  you  want  to  borrow, 
and  renew  the  ones  you 
already 
have. 
Search 
for  kaipara  libraries  in 
Google  PlayStore  or  Apple's 
App  Store  and  look  for  the 
Kaipara  District  Council 
logo. 
We  also  have  a  new  app  for 
the  free  e-magazine  service  from  RB 
Digital. With the app, you don't have to 
go  to  a  browser  to  select  your 
magazines  before  downloading  them, 
you  can  do  it  all  in  the  app.    Search 
for  rb  digital  in  Google  PlayStore  or 
Apple's  App  Store  and  look  for  the 
red rb logo. 
If  you  need  any  help  installing  these 
free  apps,  bring  your  device  in  to  the 
library for assistance - you can use our 
free Wi-Fi service while you're here. 
NEW TO OUR SHELVES 
New Teen Fiction (YP) titles added to 
our shelves recently include:  
⬧
books by Eoin Colfer, including some 
of the Artemis Fowl titles;  
⬧
Broken throne, a collection 
of short stories by Victoria 
Aveyard set in 
the Red Queen world;  
⬧
The Owl 
Road by Alexandra Diaz 
which comes highly 
recommended;  
⬧
Monster by Michael 
Grant, continuing the Gone 
story after the kids escape 
the Fayz;  
⬧
plus the Fever 
Crumb series by Philip 
Reeve (of Mortal 
Engines fame). 
New Rental Fiction includes  
⬧
the sequel to Jane Harper's The Dry -
Force of Nature;  
⬧
the latest Danielle Hawkins book  
When it all went to custard;  
⬧
the latest in Peter James's Roy Grace 
series;  
⬧
the latest by Stuart MacBride in the 
Logan McRae series;  
⬧
M.C. (Manda) Scott's Rome series - 
all four titles;  
⬧
Southern Gold by local author Jude 
Thomas. 
All of these titles are on the Rental shelves, 
though the YP ones are free to borrow. 
Place a Hold 
If  you  want  to  borrow  any 
of these titles, or any other 
title in the library, you can 
hop  on  to  Enterprise*  or 
the library  app  and  place a 
hold  on  it.  I  will  contact 
you when it's ready for you 
to  collect;  if  your  library 
account  is  already  set  to 
sent  you  automated  text 
messages  for  Holds  and 
overdues  reminders  then 
you  could  know  even 
sooner.  Contact  the  library 
to have that set up for you. 
DELIVERIES 
If  you're  accustomed  to  your  Holds 
from  other  libraries  arriving  at  our 
library  on  Wednesdays,  please  be 
aware  that  the  delivery  day  has  been 
changed to Thursdays. 
BOOK REVIEW 
I've 
recently  read  The  Dry  by  Jane 
Harper.  "It  hasn't  rained  in  Kiewarra  for 
two  years.  Tensions  in  the  farming 
community become unbearable when three 
members  of  the  Hadler  family  are 
discovered shot to death on their property. 
Everyone assumes Luke Hadler committed 
suicide after slaughtering his wife and six-
year-old  son.  Federal  Police  investigator 
Aaron Falk returns to his hometown for the 
funerals  and  is  unwillingly  drawn  into  the 
investigation. As suspicion spreads through 
the  town,  Falk  is  forced  to  confront  the 
community  that  rejected  him 
twenty  years earlier. Because 
Falk and his childhood friend 
Luke  Hadler  shared  a  secret, 
one  which  Luke's  death 
threatens  to  unearth..." 
This 
is  an  engaging  story,  and 
I'm looking forward to the 
next  Aaron  Falk  story, 
which  is  new  on  our 
shelves,  along  with  her 
other book The lost man.  
From 
the 
Ashes 
by 
Deborah 
Challinor.  "
Four  women. 
Three  families.  One  decade 
of  incredible  change...  Told  in  Deborah 
Challinor's  trademark  style  -  equal  parts 
heart  and  humour  -  [this]  is  the  first  in  a 
moving  new  trilogy  that  follows  the 
fortunes  of  the  women  of  three  families 
through  the  rapidly  changing  social  and 
cultural  landscape  of  the  1950s  and 
1960s.". 
What more needs to be said? If 
you  like  Deborah  Challinor  books, 
you'll like this one. I really enjoyed it, 
including the descriptions of Auckland 
back  in  the  day.  It  has  connections  to 
the  Tamar  series,  which  we  have  on 
our  shelves  as  well,  but  that  isn't 
essential reading to enjoy this one  
See you in the library, Wendy 
 *Enterprise: http://kaipara.kotui.org.nz/
Te Pounga Marae 
130 Nathan Rd. Oneriri. Kaiwaka 0573 
COMPLEX FOR 
HIRE 
Functions: * Weddings  * Birthdays  
*Anniversaries * Meetings  * Wananga 5 
hour meeting * 12 hour stay or Overnight 
*All welcome   
For more information please contact: 
Kim Wallace  
Home: 09 832 1133  Mob: 0211275340  
Email: kimwallace@xtra.co.nz 
NON EMERGENCY NUMBER – IT'S 105" 
Use  105  to  report  non-emergency  situations.  For  example,  if  your  car  has 
been  stolen,  your  property  has  been  damaged,  or  you  want  to  give  Police 
information about crime in your area; use 105. It is free to call from all landline 
and mobile numbers. Further information about 105 is at 105.police.govt.nz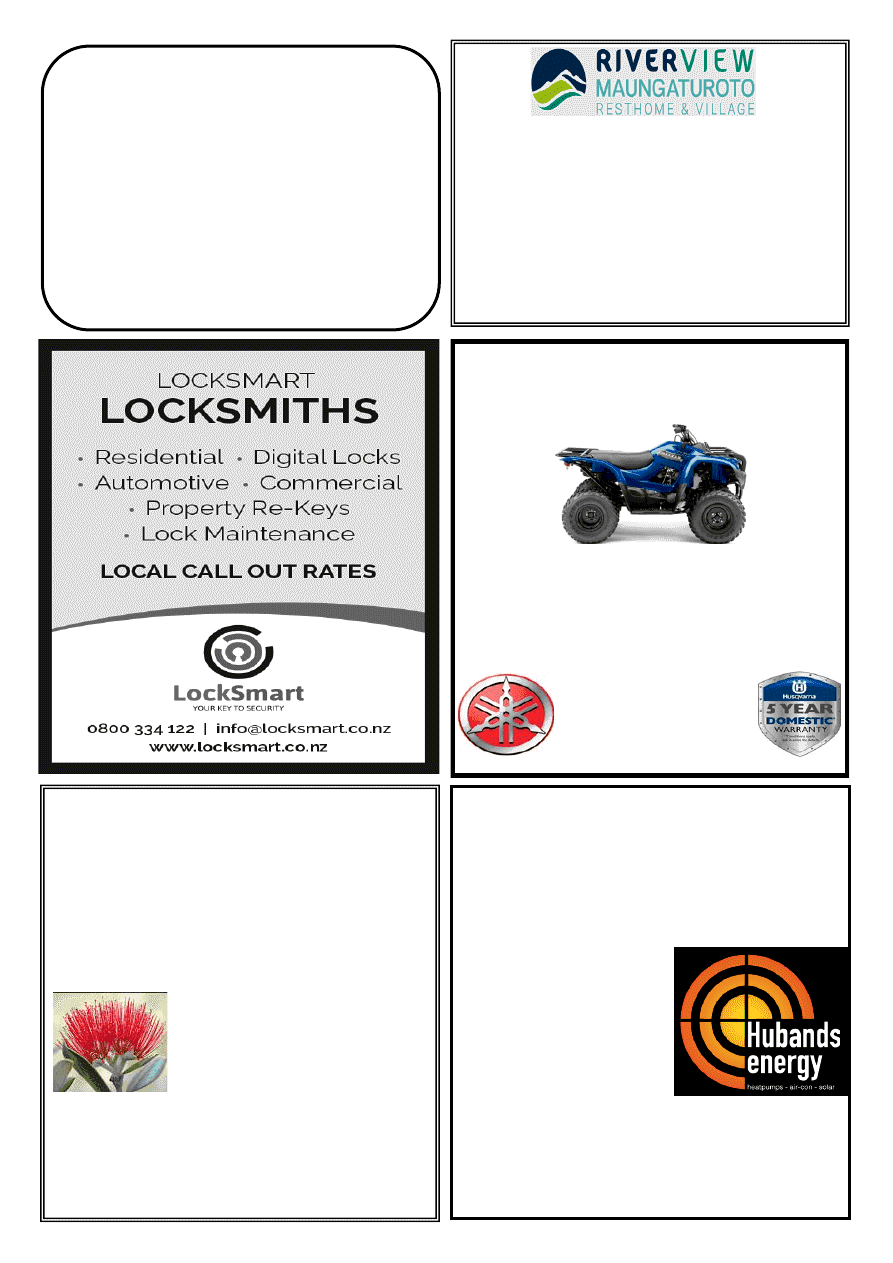 KAIWAKA 
MOTORCYCLES LTD
SALES – SERVICE – SPARES 
FARM BIKE SPECIALIST
PHONE 09 431-2127 
10 KAIWAKA-MANGAWHAI ROAD, KAIWAKA
Trimmers  
from $279
Chainsaws  
from $339
YAMAHA 
HUSQVARNA 
Northland's Award Winning 
Solar Company
SEANZ Best Solar Business Winners 2015/16
EXCLUSIVE 10 year installation warranty 
FREE No obligation onsite quote
Complete systems 
from $5990
See our range of: 
✓ 
Heatpumps 
✓ 
Airconditioning 
✓ 
Hot Water 
Heatpumps 
✓ 
Central Vacuum Systems
09 430 0019             sales@hubands.co.nz 
15 Kioreroa Road, Whangarei
Locally owned and operated for 35 years 
UP-LINK 
CHRIS WARING 
FREEVIEW INSTALLATIONS 
T.V. - HOME THEATRE &  
HI-FI ADVICE/SET UP
SKY ACCREDITED INSTALLER
MOB.0273403747 HM.094312328 
EMAIL cwaring44@gmail.com
28 YRS EXPERIENCE 
OFFERING UNBIASED ADVICE 
RETIREMENT UNITS  
FOR SALE AND RENT  
Vacancies occur from time to time in the 
Community Trust's 2BR OYO units and 
1BR rentals in Riverview Place, 
Maungaturoto.  
For information or to express an interest, 
please contact the rest home.  
Rest Home Manager Ph. 09 431 8696  
KAIPARA FLOORING CO 
Independently owned & operated 
32 HURNDALL ST MAUNGATUROTO
Supply & Installation of Carpet, Vinyl,  
Vinyl Wood Planking
Stockists of 2m & 3m wide 
vinyl & carpet short ends
Residential & Commercial
Q Card Finance Approved 
6-18 month terms 
6 mth interest free
First Class Installations
For a free measure & quote 
phone Christine  
09 946 9886 or 021 515 415 
kaiparaflooring@gmail.com 
http://www.kaiparaflooring.co.nz/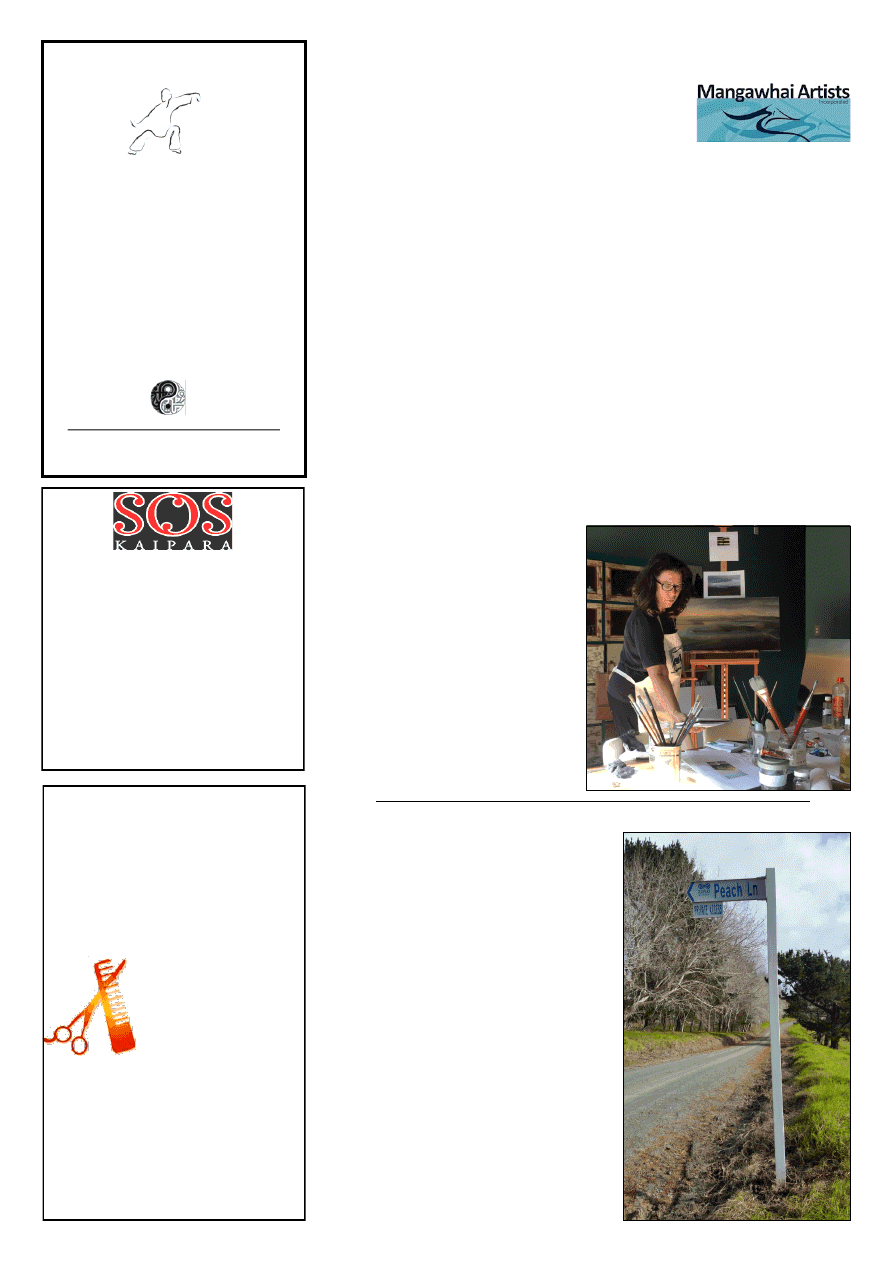 www.kaiwaka.co.nz 
Kaiwaka Bugle - 11 June  2019 
Page 19 
AFFORDABLE 
PRICES! 
MENS CUT FROM $20.00 
LADIES CUT FROM $30.00 
KIDS CUT FROM $18.00 
COLOUR & CUT FROM $120.00 
     JUST  
       CUTS'AND         
     MORE 
021 165 2629 or (09) 945 
0707  
NOW SELLING: scented tealights, 
incense, smudge sticks, copper bracelets, 
aurora ball crystals, dream catchers, 
healing stones, rose quartz, cds, and much 
more. Open 6 days. 
S.O.S Kaipara 
Support, advocacy, crisis and 
family therapy counselling, 
refuge housing to survivors of 
sexual abuse and domestic 
violence. Also Education 
prevention programmes for the 
community and clients.  
Office hours 9am to 3pm Monday to 
Friday; 24/7  phone 09 4396070 
Or phone 111 
KAIPARA DAY AND NIGHT 
Melanie Rodiga Opens Thursday 13 June 
KAIPARA'S LATEST ACCESS LANE 
Melanie Rodriga's forty year career as 
an  international  film-maker  could  be 
characterised  as  a  forty  year  career  of 
looking  at  light.  In  her  working  life, 
Melanie  has  directed  and  or  produced 
eight  feature  films,  as  well  as 
numerous  short  films,  TV  dramas  and 
documentaries,  both  in  New  Zealand 
and Australia. As a film director, each 
day on location, she had to be attentive 
to  the  four  major  filmic  elements  of 
form,  light,  shadow,  and  the  time  of 
day, and then she had to calculate how 
these  things  relate  to  one  other  under 
changing physical conditions.  
For  Rodriga,  "Painting  replicates  the 
attentiveness  of  filmmaking  and  also 
frees me from the tyranny of it. 
Industrial  filmmaking  is  the  art  of 
compromise,  whereas  painting  is 
making  art  that  aims  to  be  free  of 
compromise." 
In her large luminous oil paintings for 
her  solo  exhibition  Kaipara  Day  and 
Night,  Rodriga  utilises  soft  contours 
with  muted,  neutralised  tones,  with  an 
emphasis  on  atmosphere,  mood  and 
vaporous  effects.  Melanie  says  that  in 
these  paintings  she  is  "contemplating 
the  relationship  between  time,  form 
and light. I'm interested in representing 
the  memory  of  a  place's  atmosphere 
and  spiritual  essence  at  a  particular 
time  of  day,  shrouded  and  misted  by 
time. Living on the Kaipara, there is a 
strong  sense  of  the  natural  world, 
however modified it is. Landscape and 
light  are  always  vibrant,  dynamic  and 
changing. 
They 
evoke 
strong 
responses.  I  paint  to  express  my  own 
response  to  the  way  light  influences 
form and colour in the landscape." 
In  her  work,  Melanie  acknowledges 
other painters drawn to the west coast, 
artists  such  as  Sarah  McBeath,  Mark 
Cross and Stanley Palmer, however she 
often chooses Kaipara views that have 
not been painted before. Moreover, she 
likes  to  paint 
the 
same 
aspect 
again 
and 
again, 
often  at  different  times  of  day,  often 
working  towards a  diptych  of  day  and 
night, or dusk and dawn. Rodriga says, 
"Most of my paintings are the views I 
can  see  from  my  home  at  Oneriri  - 
from  a  peninsula  bordered  by  the 
Otamatea  river.  From  there  I  can  see 
Pukeareinga,  Pukekaroro  and  the 
Brynderwyns  in  the  north,  over  to 
Tanoa and  Ngaupiko  Point,  and  to  the 
west, Whakapirau and Pahi." 
A  treat  for  Gallery  visitors  will be the 
opportunity to see Melanie painting the 
second of two large canvases, a partner 
to  her  completed  painting  'Takahoa, 
Stormy  Afternoon.'  These  canvases 
require more space than Melanie has in 
her  studio  so,  for  her  and  us,  this  is  a 
great opportunity to use the gallery as a 
working  environment.  Having  been 
part  of  the  recent  fundraising  by 
Mangawhai  Artists,  Melanie  says,  "I 
shall  be  imagining,  not  only  the  mists 
of the Kaipara, but also a beautiful new 
Art Workspace that is soon to be built." 
TAI CHI 
Balance,  
Co-ordination, 
Meditation,  
Settled mind, 
Confidence,  
Self-awareness 
Classes:  Sunday morning 
Kaiwaka
 8:30 – 10 am Kaiwaka 
Sports Association
For more information please contact 
 Otamatea Martial Arts
otamatea.kempo@farmside.co.nz 
Phone 09-431-5170 
www.facebook.com/
otamatea.kempo 
Private Access - Peach Lane 
With all the Kaipara District's subdivisions it 
can  be  difficult  choosing  a  name  to  suit  the 
area. This latest road/private access is on the 
Oneriri Peninsula. As one turns onto the Lane 
and looks south across the Whakaki you can 
see  Peach  Island,  actually  Ngamotu  Island, 
but  has  always  been  known  to  locals  As 
Peach  Is.  Back  in  the  early  1900s  Ernest 
Hargreaves did grow peaches there, but they 
are long gone. 
Orchards, mainly apple,  were a big plan for 
the  end  of  the  peninsula  as  noted  in  NZ 
Herald  12  May  1914:    "
Opening  Fruit  lands, 
Experimental  Orchard:  The  planting  of  shelter  trees 
will  be  the  first  measure  taken  by  the  Kaipara  Fruit 
Lands 
Development 
Association 
towards 
the 
development  of  the  property  of  over  11,000  acres, 
which it recently purchased in the Otamatea district…" 
With  adverts  continuing  -  N  Z  Herald  14 
August 1917:
  "Komiti  and  Puketotara  [Oneriri]. The 
Twin  Fruit  Colonies  of  the  Kaipara.  First-Class  Fruit 
lands,  Easy  of  Access,  Glorious  Beaches  and  Splendid 
Fishing..."   
The  land  was  never  sold  for 
orchards.  Port  Albert  remained  the  great 
apple orchard area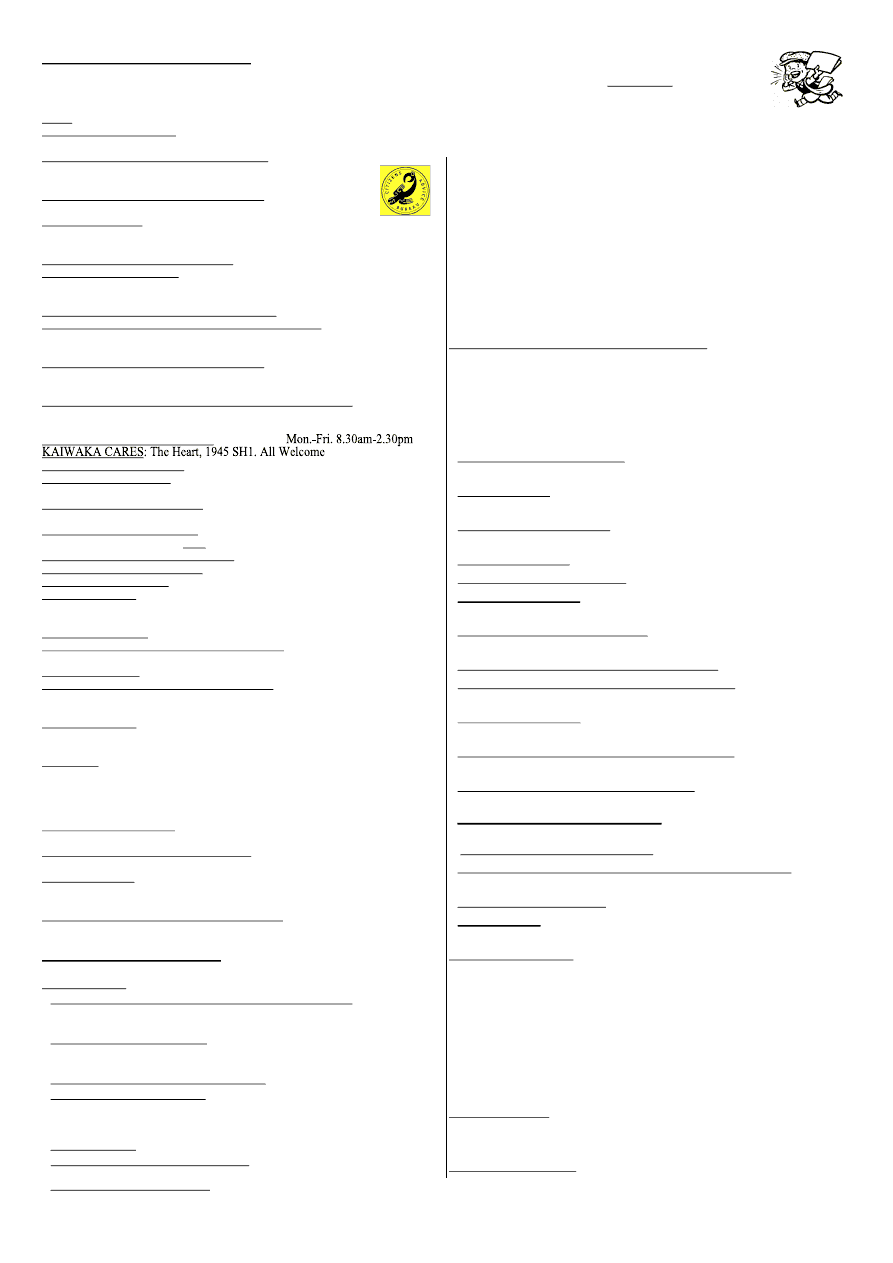 Next Bugle Deadline midday Friday 21 June  2019
WHAT'S ON
PLEASE ~ do let us know what is on - email 
kaiwakabugle@kaiwaka.co.nz 
*11Jun~Pt.CCC Annual Meeting, KSA, 7pm 
*14Jun~ Movie 'On the Basis of Sex', KWMH, 7.30pm 
*18Jun~Fostering Kids - Foetal Alcohol Discussion Archie 
Bull Hall 10am 
*27Jun~Olla Podriga, Otamatea High, 7pm 
*22Jun~Otamatea HAWKS Rugby day, 9am onwards, KSA 
*28Jun~Movie 'Stan & Ollie', KWMH, 7.30pm 
*28Jun~Hakaru RSA Mid Winter Xmas Dinner 
*30Jun~Movie 'A Dog's Way Home', KWMH, 2pm 
*2Jul~ End of School Term II 
KWMH = Kaiwaka War Memorial Hall; KSA = Kaiwaka Sports Association 
See www.kaiwaka.co.nz for more information 
HOUSEHOLD RUBBISH COLLECTION  
Kaiwaka Pick up: 
Mondays = Green bags (Northland Waste - 09 430 3273) 
Wednesdays  =  Blue  bags  and  yellow  recycling  (at  Jaques  $3.00 
and  $1.50)  (Kaurilands  09  4392146);  ONLY  Blue  and  Yellow 
bags picked up on Oneriri Road. 
 DIABETES Support Group-for Kaiwaka, Mangawhai, Wellsford 
10am, 3rd Friday of month Ph: Colleen James 09 4314238 
 GENEALOGY - Wellsford: 1st Thursday in month Ph: 423 
7033; Waipu: 4th Monday in month Ph: 4312 725 
 HAKARU PONY CLUB - Secretary Denise Rogers 021423376 
secretary@hakaruponyclub.co.nz  
 KAIPARA HUNT - Secretary Albert Doonenbal Ph 4312059 
 KAIWAKA BADMINTON -Tuesdays 7.30pm Ph: 4312345 
 KAIWAKA  CAN  -  3rd Wednesday in  month, 5.30pm, Archie 
Bull Hall Ph: 0273572751 
 KAIWAKA  DRAMA  CLUB  - 
Hannah  Webb 
0272863352 
KaiwakaDrama@gmail.com - FB - "KaiwakaDramaClub" 
 KAIWAKA DRUM & DANCE CLASSES - 021 611198 
 KAIWAKA GARDEN & FLORAL GROUP - 2nd Thursday in 
month. Ph: 431 4744 
 KAIWAKA  CUBS  -  Thursdays  5.30-7pm,  Hakaru  Ph:Bruce 
4312542 
 KNITTING FOR WHANGAREI HOSPITAL - 2nd Tuesday in 
month, Archie Bull Hall 10am Ph 4314827 
 MANGAWHAI COMBINED REBUS CLUB - 2pm, 3rd 
Thursday month, Senior Citizens Hall Mangawhai. Ph: 4315777 
*PILATES-HAKARU HALL  -Tuesday & Thursdays, 9-
10am Ph: 
 0220643964
 *PT CURTIS CRUISING CLUB - Jean Ph: 4312227 (wk), 4312520 (hm) 
 RSA,  HAKARU  &  DISTRICTS  WOMEN'S  SECTION  –  meets 
1.30pm 4th Thursday of the month. Ph: 431 5818  
 SCOTTISH DANCING - Wednesday morn. Ph: 09 4320532 
 TRAMPING - Mondays 9am-2:30pm Maria 4312 234 
HALLS FOR HIRE: 
 St.Pauls  Archie  Bull  Hall  HIRE  $20  half  day,  $40  full  day  per 
hire, S McAulay, Ph 4312311 
 Kaiwaka  War  Memorial  Hall  HlRE  -  Phone  4312725  or 
kaiwaka.hall.bookings@gmail.com 
 Hakaru Community Hall HIRE -Ph. 4312256 or 4312110 
 Te Pounga Marae queries - R. O'Leary 4312 423, J.Nathan 021 
186 7382 
 Kaiwaka Sports Association hire/queries - C. Anderson 4312051 
or kaiwakasports@gmail.com 
Justice of Peace:  
B.FJaques  4312  048;  L.Donaldson  4312  228;  A.F.Hargreaves 
4312 045, W.Howard 4312 725 - please phone to make sure they 
are available www.justiceofthepeace.org.nz 
Marriage Celebrants:  
L.Donaldson; A.F.Hargreaves; Y Osborne
LOCAL SERVICES 
*Emergencies - Ambulance, Fire, Police - dial 111 
*Non-urgent Police phone 09 4311150
A A: Meets Wed., 8pm Kaiwaka Ph: 4315543, 0800229 6757 
ASUREQUALITY LTD (was AgriQuality) Call Free 0508 0011 22  
BUDGETING SERVICE, WELLSFORD: Free confidential advice & 
support for all areas of personal finance. Ph (09) 423 7123 
CAB-Citizens Advice Bureau.Wellsford Ph: 4237333 
0800 367 222 email:cab.wells@xtra.co.nz  
CIVIL DEFENCE - Kaiwaka Community Response Group: 
kaiwaka.civildefencecrg@gmail.com, 4312725 Wendy 
DOG/STOCK /NOISE CONTROL 0800 105 890 
FUNERAL SERVICES: Morris & Morris Ltd, 
Whangarei - Bev Jaques Ph:4312367 or 0800667747 
GRANDPARENTS Raising Grandchildren: Dianah Roberts 0223819539 
HAKARU & DISTRICTS MEMORIAL RSA (Inc) 733 Settlement Rd, 
Hakaru. Ph 4312 176 or Bill Warren (President) 431 2092 
HAKARU LANDFILL/Transfer Station:Open everyday except 
Tuesday10am-4pm.Ph4312629 Cost-$55 trailer load up to 1 cubic metre. 
Ph:4258567 - office 
KAIPARA DISTRICT COUNCIL www.kaipara.govt.nz:  
Help Desk FREEPHONE 0800 727 059  
KAIWAKA KOHANGA REO: Ph:4312620 
KAIWAKA CEMETERY: Ph: 4312045 or 4314017 
KAIWAKA LIBRARY: kaiwaka.library@gmail.com  
Mon. 4-6pm; Wed., Thurs., Fri., Sat. 10am-2pm Ph:4312539 
KAIWAKA PLAYCENTRE: Ph Juanita 0274134904; open Mon, Wed, 
Fri 9am-12pm. Hastie Lane; Monday to Friday 9.00am - 12 noon. 
KAIWAKA POST OFFICE:Ph:4312 431  
Post Code: 0573 for RD2 and 0542 for all Kaiwaka Post Office mail 
KAIWAKA PRIMARY SCHOOL: Ph: 4312309   
KAIWAKA SPORTS ASSN: Ph 4312005; 4312129 gym 
KAIWAKA ST JOHN: Manager Steve Rosser 09 4318403, 021 355734 
KATE'S PLACE Community Centre - Employment services, Free Health 
Nurse, Plunket, Advocacy, Osteopath, A.A., Legal Advice. 4312 661 
LINKING HANDS Health Shuttle Ph 4315906 or 09 4318969 
MINISTRY FOR PRIMARY INDUSTRIES - General inquiries Call 
Free 0800 008 333 
NORTHPOWER: Faults Kaiwaka area 0800 104040 
OTAMATEA COMMUNITY SERVICES: Counselling, parent coach, 
Family Support worker, budget advice, food bank. Mon-Fri 9am-3pm. Ph 
09 431 9080 http://www.otamateacs.org/ 
PARENTPORT: Free, practical family support service Puhoi to Paparoa 
Ph or txt: Dianne 027 280 5093 or 09 425 9357 
PLUNKET:  Kaiwaka  -Kate's  Place  Clinic  1st  Wednesday  of  the  month; 
Mangawhai  - Rose Madsen Cottage: Coffee Group 9:30 every Monday.  Clinic 
every Monday and Thursday. 
Maungaturoto - Good News Church, Clinic 2nd and 4th Wednesday.  
Cynthia 09 431 7340 or 027 675 3488 
PLUNKET HELPLINE -0800 933 922 (24 hours) 
TAITOKERAU COMMUNITY LAW: Free confidential legal advice and 
assistance, 2nd
Thursday
 of each month. Ph: 0800 155 529 for apps.  
TE URI O HAU Settlement Trust Tangata Developments: Whanau Ora 
021 793262  
VETERINARY SERVICE MANGAWHAI: 
Ph: 4314535 Mon-Fri 8.00-5.00, Sat 9-12, a/h appt. 
WELLSFORD DOCTORS: Ph: 4238 086 
CHURCHES:
 
Kaiwaka  Revival  Church  -  Your  Community  Church:  Sundays  10am. 
Ph: Pastor Tawhiri 09 431 8988 or Pastor Paul 09 4312 068 Visit us at 
www.facebook.com/kaiwakachurch or www.kaiwakarevival.co.nz 
 
St  Paul's  Anglican  Church  1st  Sun.  9.00am  (Eucharist),  3rd  Sun. 
9.00am (Family Service). Contact: Rev. Wayne Thornton Ph 431 4122 
www.mangawhaianglican.org.nz 
 
Church of Christ the King, Mangawhai:9.00am every Sunday 
 
St.Mary's  Catholic  Church:  Maungaturoto  –  Griffins  Road,  Saturday 
evening  Vigil  Mass  6pm;  Mangawhai  –  Senior  Citizens  Hall,  Sunday 
Mass  8:30am;  Wellsford  –  Matheson  Road,  Sunday  Mass  10:30am;  
Mid-week Mass times and all enquires to Fr. Bill Fletcher – phone 423 8170
 
Baptist Church: Sun. 10.30am Mangawhai Snr Cit.Hall.Ph:4312339 
 
Cause  Way  Church  Mangawhai:  Sundays  10.15am,  Mangawhai 
Community  Recreation  Centre,  Insley  St.  Ph:  09  4314782