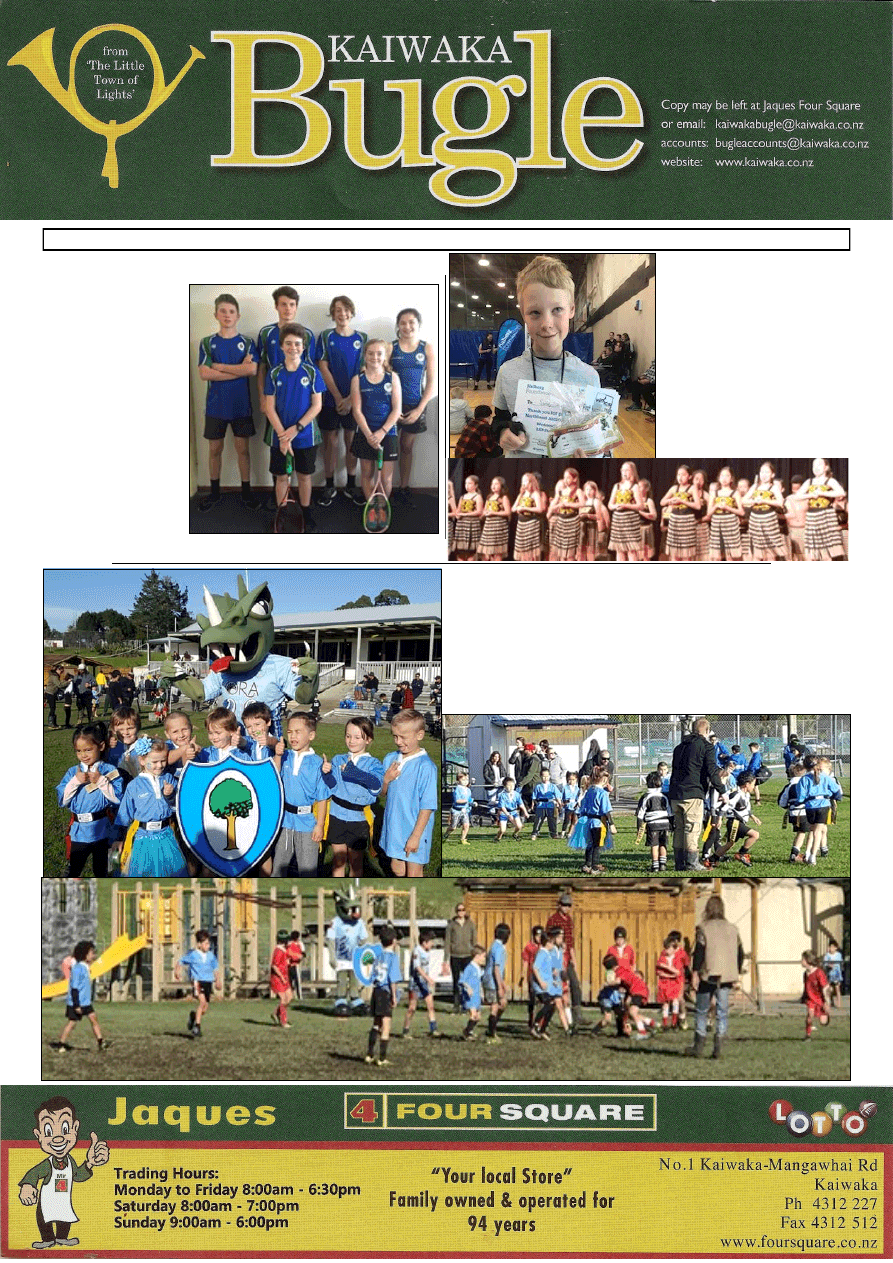 www.kaiwaka.co.nz 
Kaiwaka Bugle - 9 July  2019 
Page 1 
No:13 
9 July 2019 
Trading Hours: 
Monday to Friday 8:00am - 6:30pm 
Saturday 8:00am - 7:00pm 
Sunday 9:00am - 6:00pm  
KAIWAKA 
SCHOOL 
Congratulations  to  Sandy 
Hodgson,  who  represented 
our  school  at  the  Halberg 
Foundation 
Parafed 
Northland  Sports  Day  in 
Whangarei. 
And  our  school  performed 
at  the  Te  Uri  o  Hau  Kapa 
Haka  Festival  at  Rodney 
College  
OTAMATEA HIGH SCHOOL  
Congratulations  to 
our 
two 
squash 
teams who played in 
the 
Northland 
Secondary  Schools 
Teams  Tournament 
last  week.  Both 
teams  placed  4th  in 
their draws. 
Boys  Open  -  Jack 
Hodgson, 
Brett 
Allen 
and 
Ben 
Donald 
Mixed 
Open 
- 
Kieran 
Fergus, 
Milly Hodgson and Grace Kemp.  
EASTERN JMB FINALS 
The Under 7s and Under 9s enjoyed their final 2019 rugby 
day at the Kaiwaka Sports Grounds last Saturday. 
 Eastern, Maungaturoto, Tomarata and Wellsford. 
We  had  a  special  guest  pop  in  to  see  us  at  the  KSA  this 
morning!  Tane  the  Taniwha  came  along  to  cheer  on  our 
JMB youngsters on their last day of the season.  
Then field two was U13 Mangakahia vs Otamatea Hawks.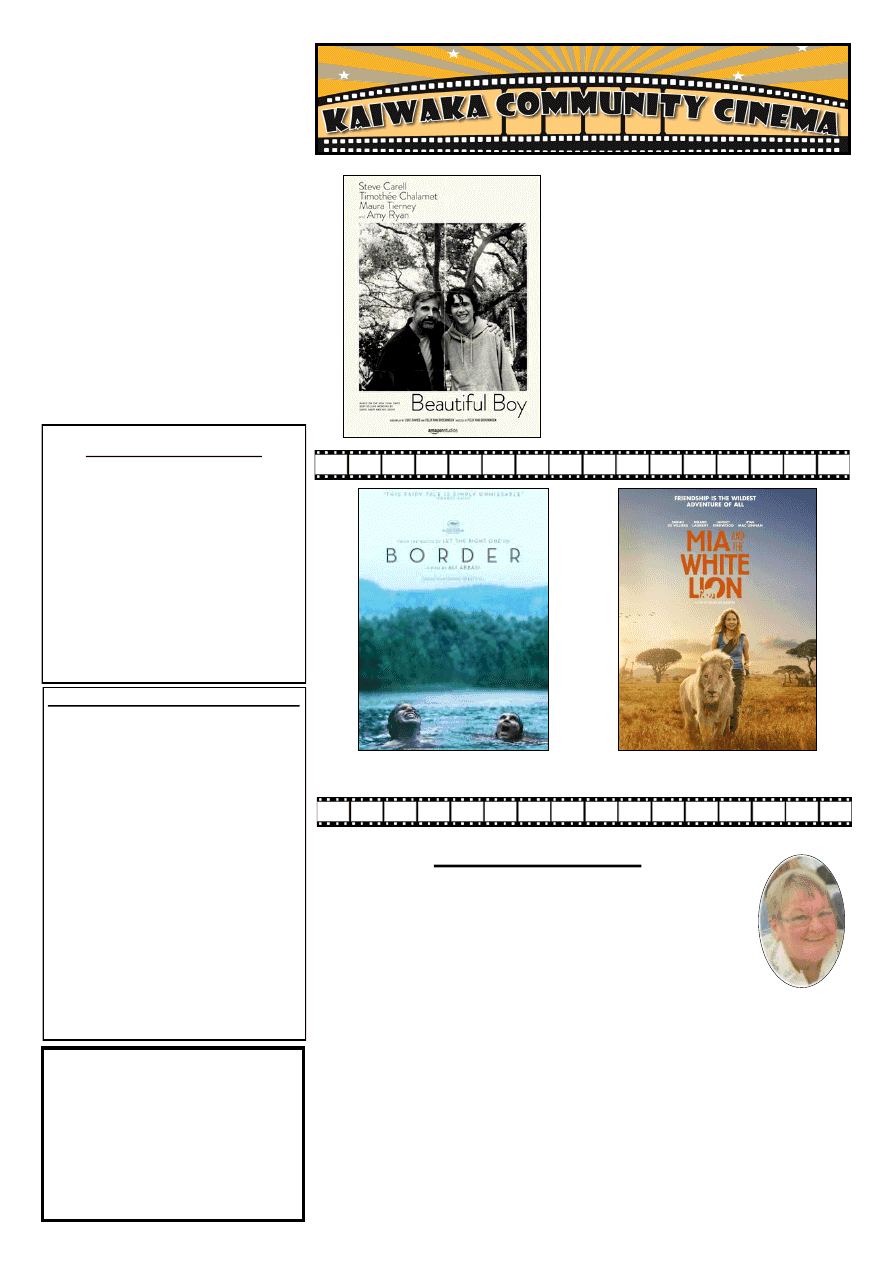 Proverbs 3:21  
Have two goals;  
Wisdom- that is, knowing 
and doing right – and 
common sense.  
Don't let them slip away.  
At Kaiwaka War Memorial Hall . Adults $10, Kids (under 16) $5, Family Pass (2 adults + 3 children) $25 
ABOUT TOWN 
 
A  well  done  to  all  our  young  folk!  So  great  to  see  them 
involved in their activities  

 Our sympathies go out to the Dowson family of Peggy Dowson, 
pictured right, who passed away recently. 

 Sympathies also to the family of Charlie Connelly 

 This  July,  Police  will  have  an  increased  focus  on  seatbelt 
wearing. 
 "
No matter when or where you are driving, everyone needs to 
be wearing a seatbelt.
"
Remember the take home message – buckle 
up, it could save your life.

 KSA Gym will be CLOSED from Thursday 11th July till Monday 15th July 
for floor replacement. 

 Dog registration opened 1st July - see www.kaipara.govt.nz 

 RSA Tripe and onion luncheon see Hakaru RSA Women's Section news on 
page 5 

 Local physiotherapist, Amy Griffiths, is opening a clinic at the Kaiwaka 
Fitness Centre, beginning 23 July.  

 Fonterra Maungaturoto - Open Day Friday 19 July, 2pm Ph 4318014 

 The Bugle crew welcome local stories, news and photos ... 

See the Bugle online at www.kaiwaka.co.nz for great colour in the photos.   
                              ~ Lindsey, Ed 
'Conflicting proverbs: The bigger, the better. The best things come in small packages ; 
Many hands make light work. Too many cooks spoil the broth.' 
KAIWAKA BUGLE NO.13 
9 JULY 2019 
CONTENTS: 
Page 3: Public Notices, Classified 
Page 5: Women's RSA; Kaiwaka 
Weather; Toonskool 
Page 7: Topuni Mill; Kauri Museum: 
Gun Buy Back 
Page 9: Pt. CCC; Writing Workshop; 
Otamatea High School 
Page 11: Kaiwaka Sports Assn 
Page 13:Thelma's Scrapbook; Come 
Dance with me; Nina Quan 
Page 15: Linking Hands; Kate's Place 
Page 17: 
Library; DNA Family History 
Page 19: 'Honey - how much was that? 
Bugle 14 will appear  23 July 
Contact for advertising, reports, articles 
or information can be made by 
Email: kaiwakabugle@kaiwaka.co.nz 
Ph: 09 4312 045 Lindsey 
Txt: 027 2724137 
Copy  may  be  left  at  Jaques'  Four 
Square. 
Kaiwaka Bugle Advertisements 2019: 
All 
copy 
and 
queries 
to: 
kaiwakabugle@kaiwaka.co.nz 
The Bugle is printed on an A4 page, B&W  
Ad  sizes:  1/16  page  (3  x  9.5cm)  $5;  1/8 
(6.5  x  9.5cm  landscape  or  portrait)  $8; 
3/16 ( 10 x 9.5cm or 7.5 x 12,5)  $12.  
Classified  ads:  First  one  FREE,  $4  per 
entry (max. 30 words, max. 4 repeats). 
Payments  can  be  made  online  at 
ANZ 
06  0365  0006990  00
,  posted  or  left  at 
Jaques Four Square Store. 
We  use  Microsoft  Publisher,  and  can 
work  with  most  common  image 
formats, Word, Excel, and PDF files. 
Accounts:  
Email: bugleaccounts@kaiwaka.co.nz 
The  Kaiwaka  Bugle  is  a  community 
newspaper run by volunteers, as part of 
the Kaiwaka Media Group Inc.   
Articles, etc. printed are not necessarily 
the opinion of the Bugle Team. 
Kaiwaka Bugle 
Founded May 1978 
We appreciate articles and photos about local 
events, etc, as well as ads and suggestions. 
Copies available in Kaiwaka at Jaques Four 
Square, Kaiwaka Postal Centre, Shamrock 
Service Station, Animal Health Centre, 
Kaiwaka St John shop. 
Also outlets in Maungaturoto, 
Mangawhai and Paparoa. 
Can be viewed online at  
www.kaiwaka.co.nz/Bugle  
Or a copy can be posted to you if you supply 
stamped, self-addressed DLE envelopes. 
BEAUTIFUL BOY 
Friday 12 July, 7.30pm (R16)
'Beautiful 
Boy' 
is 
a 
biographical  drama  film  directed 
by Felix Van Groeningen. 
Teenager  Nicolas  Sheff  seems  to 
have  it  all  with  good  grades  and 
being  an  actor,  artist,  athlete  and 
editor  of  the  school  newspaper. 
When  Nic's  addiction  to  meth 
threatens to destroy him, his father 
does  whatever  he  can  to  save  his 
son and family.  
Starring  Steve  Carell,  Timothée 
Chalamet, 
Maura 
Tierney, 
and Amy Ryan  
BORDER
Friday 26 July, 7.30pm (R16)                         
MIA and the WHITE LION 
Sunday 28 July,  2pm (PG)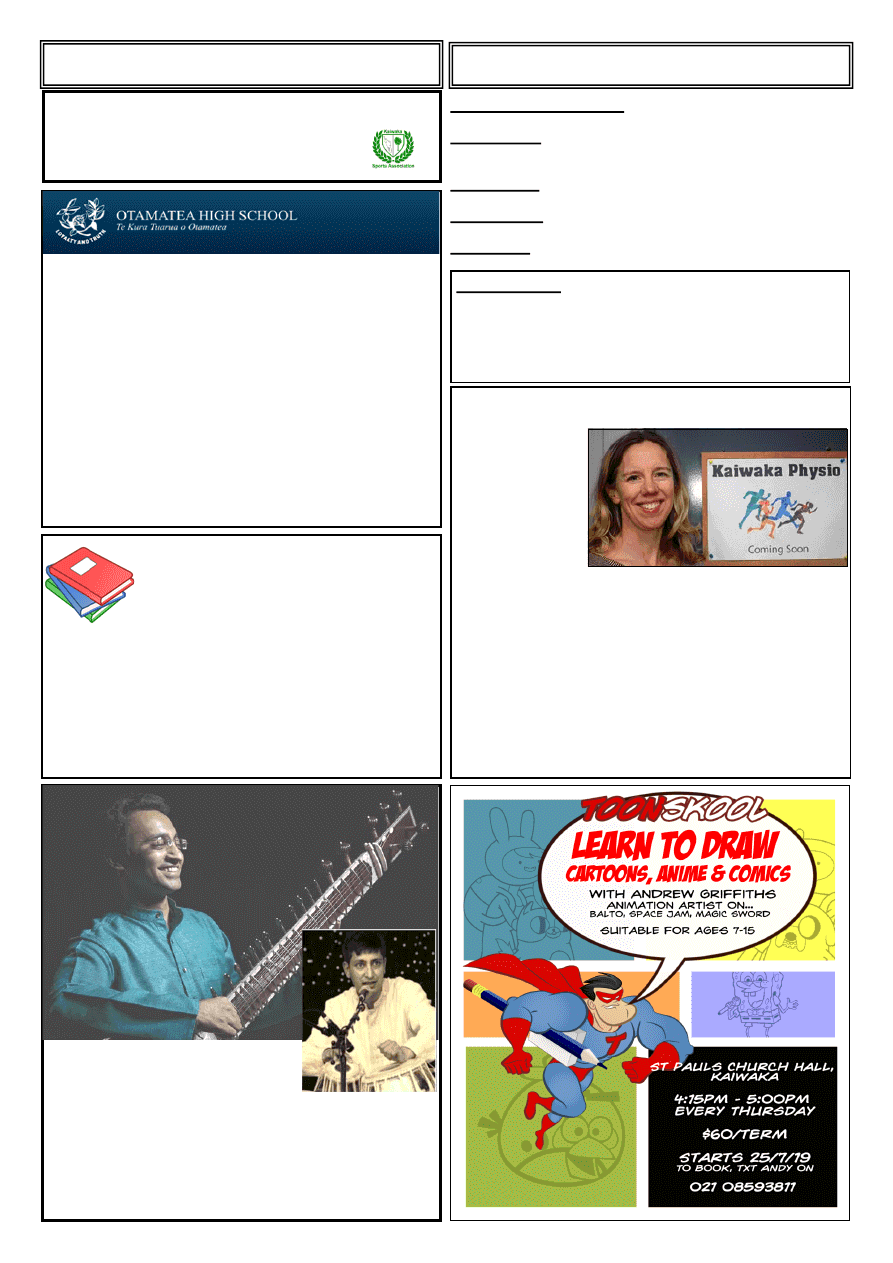 www.kaiwaka.co.nz 
Kaiwaka Bugle - 9 July  2019 
Page 3 
PUBLIC NOTICES 
CLASSIFIED 
KAIWAKA SPORTS ASSOCIATION 
MEETING 
Wednesday 31st July, 7pm 
Kaiwaka Sports Complex 
LOCAL PHYSIOTHERAPIST, AMY GRIFFITHS  
IS OPENING A PHYSIO CLINIC IN KAIWAKA. 
Amy  has  been  a 
physio  for  23 
years  and  has 
lived  in  Kaiwaka 
for 13.  
"I've  been  very 
busy  as  a  physio 
seeing  people  in 
their  homes  with 
serious  injuries  and  so  haven't  had  the  need  for  a  clinic. 
However I feel it's now time to offer clinic physio. 
I have an interest and experience in many areas of physio 
including  the  older  adult  with  arthritis,  young 
sportspeople, any sprains and strains, back pain and neck 
pain. 
I  am  ACC  registered  and  you  can  come  directly  to  me 
without having to see a GP first. 
I am currently running a Pilates class and a walking group 
and these will link in nicely with the clinic." 
The clinic will be at Kaiwaka Fitness Centre and will open 
Tuesday and Thursday mornings from 23rd July. 
Call Amy to make an appointment 021 2072729 
SITUATION VACANT: Work for IHC in our community. 
Contact 0800 WORK 4 IHC or recruitment@ihc.org.nz 
FOR  SALE:  Alternative power system, second hand, (pv 
panels,  inverter,  charge  controller).  For  details  please 
contact Wolfgang 0211701581  
FOR SALE: Portable Steam Sauna - 1 person; as new $50. 
Ph: 09 4312869.   
FOR  SALE:  Brand  new  3  tonne  hydraulic  trolley  jack. 
$129. Ph: 09 4312981   
WANTED:  A  flat  screen  TV  for  our  local  IHC  home  
activities room. Ph: 09 4312605 or 09 4312485.
KAIWAKA LIBRARY 
Are you having difficulties getting out of 
the house and can't get to the library? 
Can we help with book deliveries? 
We are looking at starting a new service where volunteers 
deliver books to house-bound people in the area. 
If you are interested in making use of this,  
Please contact Wendy to talk about it.  
Library: 4312 539, home 4312 725,  
or mobile 027 480 6275. 
Library: cnr State Highway 1 and Kaiwaka Mangawhai Road 
Phone 4312 539 Email kaiwaka.library@gmail.com 
Open: Mon 4-6pm, Wed-Sat 10am-2pm
OPEN DAY 
Thursday 8th August at 9.30am 
Parents & whanau are warmly invited to join their 
child at our fun, interactive, hands-on day. 
Find out what OTA has to offer. 
Enrolment Afternoon will be held on  
Wednesday 21 August, at Otamatea High School. 
Please contact Nikki Donaldson at 0800 682 628  
prior to 8 August to secure your enrolment appointment 
on our Enrolment Afternoon. 
For more details please ring Otamatea High School  
0800 682 628 or email ohs@otamatea.school.nz 
Sounds of India 
2019 
Featuring 
SITAR MAESTRO 
DHRUV BEDI 
Disciple of Budhadiyar Mukherjee 
Performances by: 
Shalu Garg, Sargam Madhur & 
Divya - Sitar 
Prof. Sukhdev Madhur - Violin 
Akhil Madhur - Tabla 
3PM on Sun 14 July 2019 
Tickets 
Early Bird - $15 
Door Sales - $20 
Venue:  Absurdistan Hall 
317A Parekura Road, Kaiwaka 
Tickets available at Kaiwaka Cheese Shop 
For Bookings & Early Bird Sales Contact: 
0212377678 
Tabla: Basant Madhur
FOR  RENT:  Nice  flat  in  Otamatea  Eco  Village, 
Oneriri  Rd,  with  view.  50m
2
,  1  to  2  bedr.,  living, 
kitchen, bathr., covered outside, lawn, carport. Long-
term  to  tidy,  single  (preferred)  or  couple,  non 
smoker.  $220  per  week  +  power.  Reference,  Bond. 
Call Peter & Ning for more details 09 4312718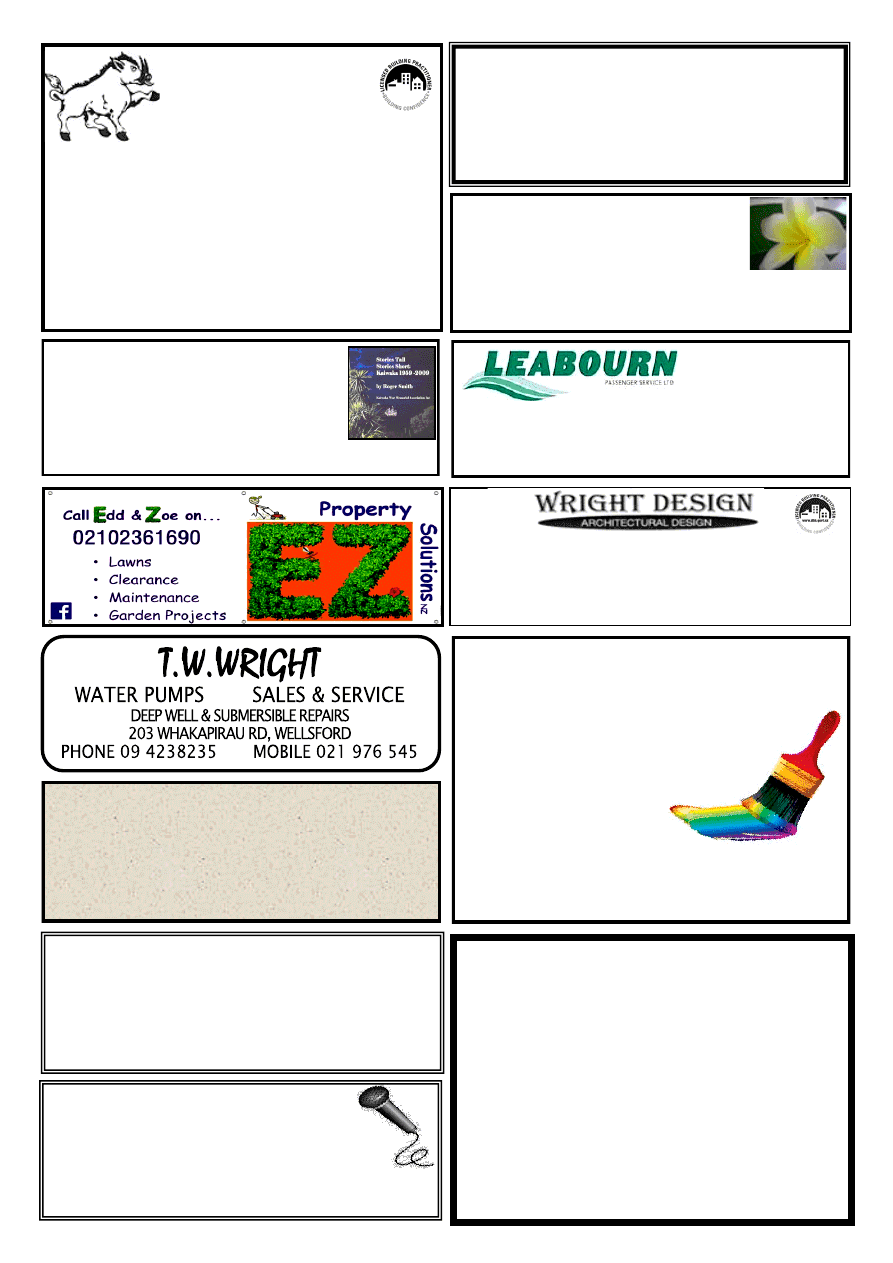 Passenger Service
Car & Van Hire   Bus & Coach Charters 
Airport Transfers    
Phone (09) 4237416 
Counsellor and Registered Psychotherapist 
Offers Supervision 
ACC Sensitive Claims 
Susan Matheson      MNZAC 
Dip. Psychosynthesis Counselling and Psychotherapy 
Phone 09 431 2996                                     Mobile 027 605 2427 
SING RIGHT 
Professional coaching for performance,  
recording and demos. 
All level singers, musicians, singer-songwriters. 
Phone Robyn Hill 431 9159 or 0274 725610 
No. 117345 
N.Z.C.A.D., L.B.P. 117345 
PH/Fax: 09 423 8092 Mob: 021 276 7369 
Office: 3 John Sinclair Avenue, Wellsford    brianwright@xtra.co.nz 
For Resource and Building Consents, planning restraints, new building materials - 
you need a capable, experienced, and professional designer with a clear 
knowledge of all the processes. Brian has been helping and organising all these 
facets of design and building for over 50 years. 
Wright Design offers free visits, consultations and advice on planning, design, 
building, council permit applications, guaranteed permit plan acceptance. 
O'MALLEY 
CONTRACTING LTD 
CONCRETE 
FOR ALL YOUR CONCRETING NEEDS 
T: 021 2200 198
E: omalleycontracting@outlook.com            W: omalleycontracting.co.nz 
Stories Tall, Stories Short:  
Kaiwaka 1959-2009 
by Roger TW Smith 
And 
Kaiwaka: A Photographic History 
Available  at All-Sortz Collectables or phone  4312 045 
Om Tara ~ Mangawhai 
Healing Services 
Diann Glucina 
021 250 7461 diglucina.com  
FB: OmTaraMangawhai 
LEE COOPER PAINTERS 
(Kaiwaka Based) 
*30 yrs Experience 
*Interior/Exterior 
*New and Restoration 
*Honest and Reliable 
*Free Quotes 
09 4312918 or 0274735171 
leecooper@xtra.co.nz 
FINANCE  
- Unsecured and secured   
business loans 
Plus 
- Alternative funding for any  
situation. 
OSBORNE ASSOCIATES  
0274989814 
osborneassociates@xtra.co.nz 
 Therapeutic Massage
Head, back and shoulders  
- qualified massage therapist -  
Every Thursday at Kate's Place, Kaiwaka.  
HANDYMAN 
Gardens * Lawns * Landscaping * Painting 
* Small gib-stopping * 
* General repairs and maintenance *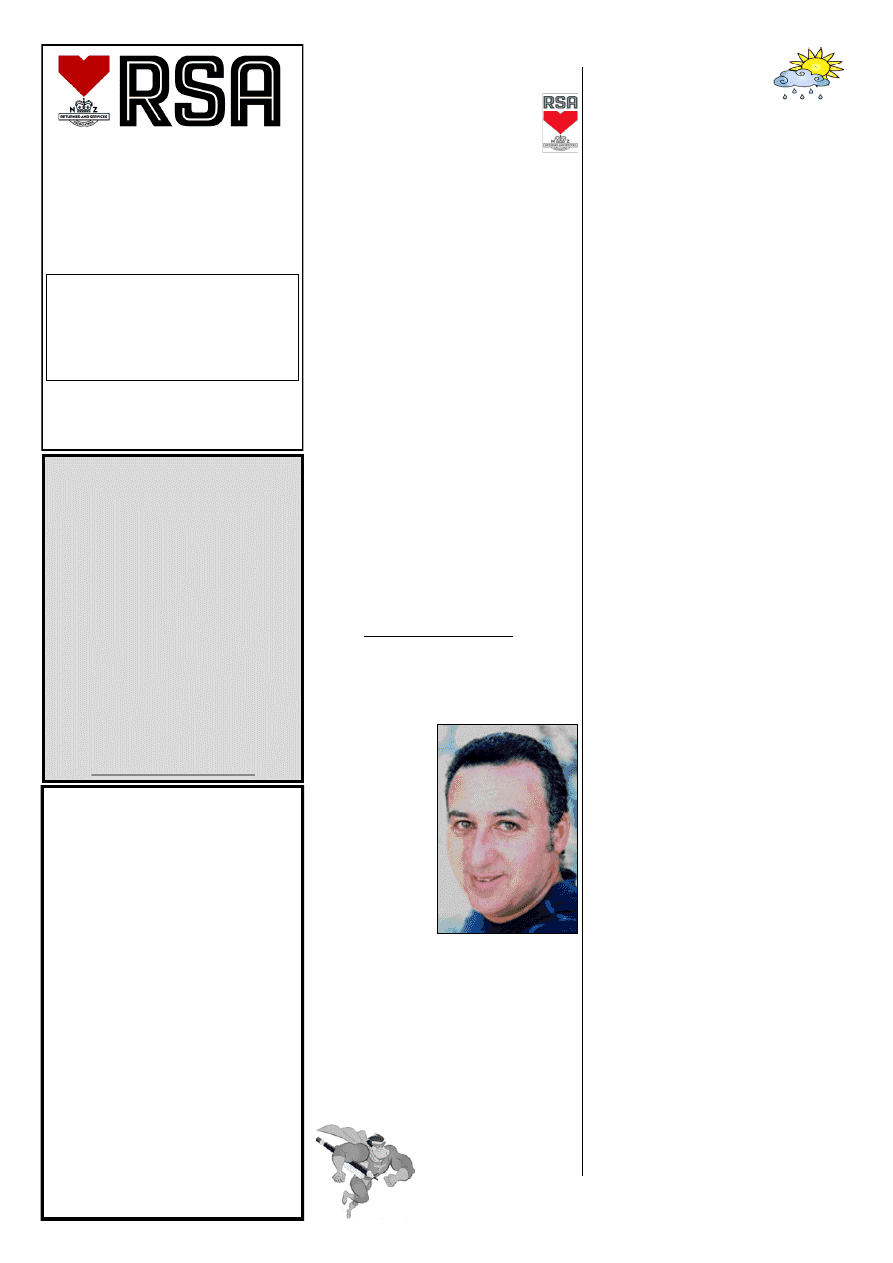 www.kaiwaka.co.nz 
Kaiwaka Bugle - 9 July  2019 
Page 5 
Willow Bend
HORSE  
HOTEL 
  
Total Horse Care 
 
Agistment 
 
Riding Lessons 
 
Arena Hire (60x40) 
 
Young Horse Starting 
 
Re-training/Exercising 
 
Hoof Trimming 
 
Problem Solving 
Phone Sue 09 431 2817 
or 021 623 776 
Or email  
susanjoll11@gmail.com 
HAKARU & DISTRICTS 
MEMORIAL RSA (INC)
Members & guests are invited to 
come along and enjoy our hospitality. 
New members welcome. 
Meals are served on Thursday and 
Friday nights from 6.30pm. 
Order from Blackboard Menu  
and a sing-a-long  
with Des Chitty. 
For more information please phone 
Graeme on 431 2563 
KAIWAKA 
WEATHER 
Well 
another 
month 
crossed  off  the  calendar.  Having  past 
the  shortest  day  it  is  so  good  to  know 
the sun is heading south again and it is 
getting a bit of warmth in it.   
June  was  rather  good  for  its  time  of 
year.  We had  all sorts. There were icy 
cold days and frosts in some places no 
doubt as where we are the temperature 
was  down  to  0  degrees.    Then  there 
were  miserable  cold  easterlies  and 
westerlies thrown in, all have different 
degrees  of  dampness  and  we  had  a 
vicious  thunderstorm  early  in  the 
month.  The  fog  hung  around  till 
midday on 3 days. We have not had the 
rain  we  expected  however  the  damp 
nights  left  a  lot  of  dew  around  in  the 
mornings with long shadows takes a bit 
for the shaded areas to dry out.   
Well  the  water  table  is  extremely 
low.  The  Brynderwyn  Waterfall  is 
scarcely a trickle now and drains at the 
golf course are still dry (unheard of for 
this time of year).  It is great to see and 
hear of so many animals having covers 
and boots big and small made for them 
to wear.   
I  am  so  glad  the  sun  is tracking  south 
again  having  passed  the  shortest  day 
and  is  a  little  bit  warmer  in  the  sun 
also.    
Here  we  go  again,  for  June  2019  we 
had  104mm  and  for  2018  we  had 
318mm.   
Our wettest June since 1987 was 2018 
with  318mm  and  the  driest  was  2012 
with 52mm.   
For the first 6 months of 2019 we  have 
had  400mm,  and  the  first 6  months  of 
2018 we had 1131mm.   
Our  wettest  first  6  months  since  1987 
was 2018 with 1131mm and the driest 
was 1987 with 333mm.   
At  our  house  for  June  we  had  rain 
on 16 days and for 2018 we had rain on 
11 days.  
Derek,  from  Hakaru  Valley,  tells  me 
the  rainfall  at  the  Mason  farm  since 
1976 that the driest January to June for 
2019  was  402.50mm  and  the  wettest 
was  2018  with  981mm.    The  last 
wettest  January  to  June  was  2018  and 
the driest was 2019.   
Ok I think is enough to digest.   
'
Poor old Paddy and Murphy again - Paddy 
walks  into  the  site  office  carrying  a  flask. 
Murphy asks what he has there. "Tis a new 
flask,"  replies  Paddy.  "What  does  it  do 
then?"  asks  Murphy.  Paddy  says  "it  keeps 
hot  tings  hot  and  cold  tings  cold".  So 
Murphy asks, "So what you got in it then?" 
Paddy  replies,  "I  have  two  cups  of  coffee 
and an ice cream."  
Take  care  out  there  in  our  winter 
conditions. Be kind to each other
. ~ Bev
. 
From  NIWA: 'Of the six main centres 
in  June  2019,  Auckland  was  the 
warmest  and  sunniest,  Christchurch 
was  the  coldest,  Wellington  was  the 
wettest  and  least  sunny  and  Dunedin 
was the driest.' 
Attendance was down to 9 at the 
June  meeting,  this  was  due  to 
Flu  and  sickness,  hope  you  are 
all on deck by next meeting? 
14  members  attended  the  Mid  Year 
Christmas  luncheon,  the  meal  was 
superb    and  the  Students  all  did  a 
wonderful  job  of  waitressing,  they 
were  so polite and efficient. We were 
sorry our special guest Ron Paiggi was  
unable  to  join  us  so  we  could  help 
celebrate 
his 
99th 
Birthday,  
congratulations  and  love  from  us  all 
Ron,  hope  you  are  well  again  now. 
Tripe and onion luncheon 
Our next function is the tripe and onion 
luncheon  on  Sunday  21st  July  at  
12.30pm. Other options are cottage pie 
or  Kidney  and  bacon.  Please  phone  
Jan  on  4314512  before  15th  July  for 
catering  numbers.  Members  of  the  
public  as  well  as  RSA  members  most 
welcome.  
Margaret  Haverfield  was  our  Birthday 
Girl for June congratulations Margaret. 
Three 
members 
are 
going 
to 
Birkenhead Birthday on 23rd July and 
if  anyone  else  wishes  to  go  please 
phone Ann on 4315913 
This months raffle was won by Ann. 
On  27th  July  there  is  a  Northern 
District 
meeting 
at 
Opononi. 
NEXT MEETING is 25th July.  
~ Cheers, Ann 
HAKARU RSA 
WOMEN'S SECTION
GET ANIMATED 
WITH 
TOONSKOOL! 
Have  you  ever 
dreamed  about 
creating 
your 
own 
cartoon 
characters, 
comic  books  or 
even 
an 
animated 
TV 
show?  Are  you 
aged between 7 - 
15  ?  Then  Andy 
Griffiths' 
Toonskool is for 
you.  Andy  will 
be  teaching  all  these  things  and  more 
with  lots  of  new  fun  projects  and 
challenges. 
Andy is a freelance illustrator who has 
created  hundreds  of  illustrations  for 
clients  all  over  the  world  and  worked 
on  animated  TV  shows  and  movies 
such  as  Space  Jam,  Balto,  The  Quest 
For Camelot, and Spot the Dog. 
Toonskool  starts  Thursday  the  25th 
July  from  4:15pm  to  5:00pm  and  will 
be  at  St  Pauls  Church 
Hall, Kaiwaka.  
$60/Term.  
Text  Andy  on  021 
08593811  to  book,  as 
places are limited. 
Maungaturoto  
Country Club 
SPORTS - SOCIAL - CONFERENCE CENTRE  
Open for drinks and dining – Thursday 
and Friday evenings from 6.30pm  
EVENTS ROOM AVAILABLE FOR HIRE  
Affiliated activities: Bowls, Squash, 
Rugby, Theatre, Motorcross, Equestrian. 
❖
Walkway CLOSED from 1 July till 
September for lambing. 
❖
Monday 22 July: Meet the 
Candidates standing for KDC 
elections 
PO Box 81 Bickerstaffe Rd 
Maungaturoto 0547 Tel 09 4318 326 
maungaturotocountryclub@gmail.com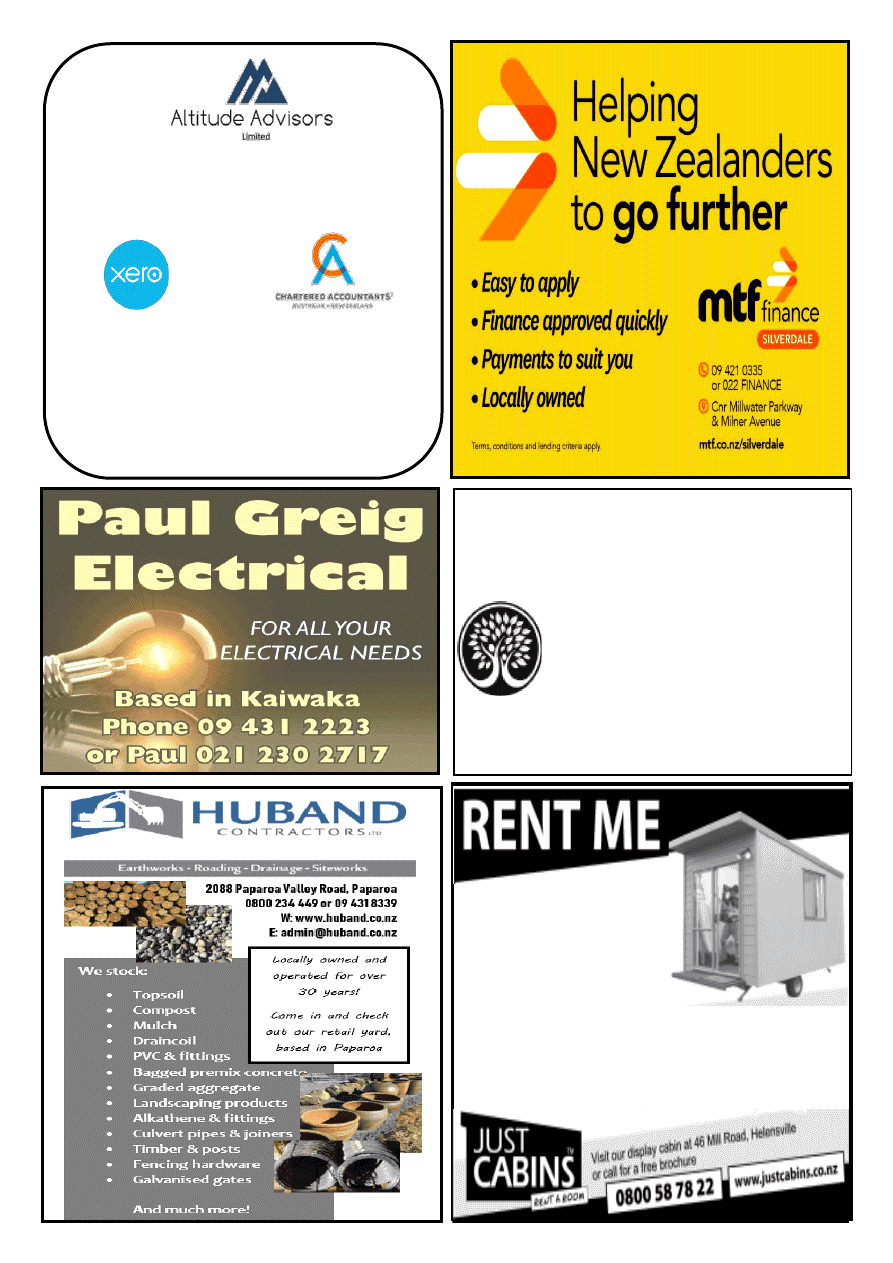 Ideal as an extra  
bedroom or office 
Three Convenient sizes: 
Standard 3.6m x 2.4m - $65 per week 
Large 4.2m x 2.4m - $80 per week 
Altitude with Attitude, helping your business 
scale new heights 
Time to try something different? 
Xero training          Accountancy Services 
We are offering two opportunities: 
15% saving off your annual report cost for your first 
year, & a further 10% saving for any referrals 
Call Corinne on 021 252 7680 or 
corinne@altitudeadvisors.nz 
Waipu Natural Health 
3 Cove Road, Waipu  (opposite the Pizza Barn) 
Ph: 09 432 1325 
www.waipunaturalhealth.co.nz
Clinical Nutritionist-Hair Analysis for Masked 
Allergies, Ozone Therapy, Prolotherapy, 
Naturopath-Medical Herbalist, Registered 
Massage Therapists, Reflexology-
Craniosacral Therapy, Acupuncture-Facial 
Acupuncture, Kineso Taping, Hypnotherapy, Counselling, 
ThetaHealing/Change Catalyst.
AFFORDABLE CONSULTS FOR KIDS – give us a call
Gift Vouchers available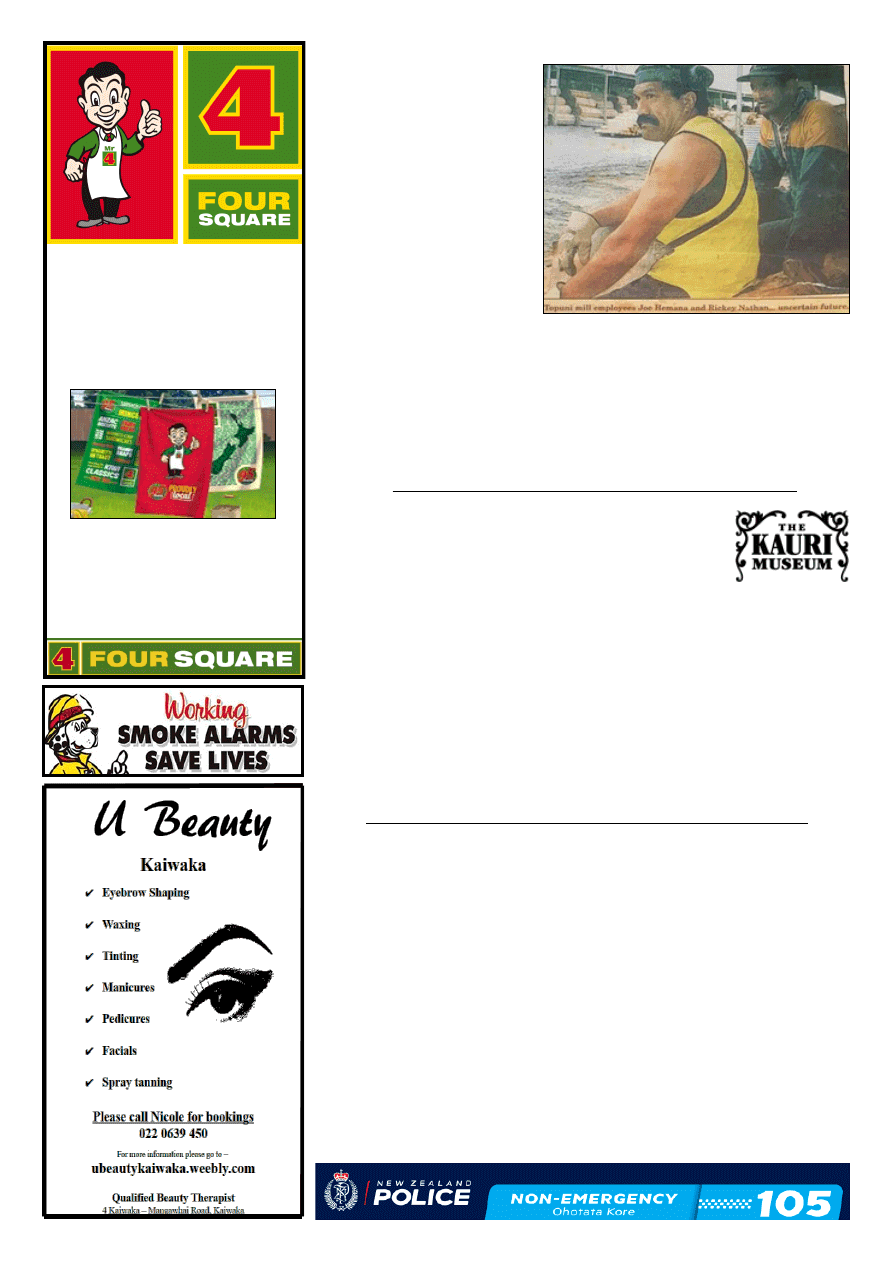 www.kaiwaka.co.nz 
Kaiwaka Bugle - 9 July  2019 
Page 7 
TOPUNI 21 YEARS AGO 
From  The  Rodney  Times 
Thursday 9 July 1998: 
'After  almost  70  years  of 
business  the  Topuni  mill    will 
grind to a halt at the end of this 
month. 
Employing generations of locals 
throughout the years, the Topuni 
Roundwod plant is the backbone 
of  the  small  settlement  12 
kilometres north of Wellsford. 
The plant produces about 15,000 
cubic  metres  of  treated  timber 
roundwood  and  sawn  timber 
products yearly. 
The  owners 
(Carter 
Holt 
Harvey) cite pricing pressures, the Asian downturn and the need to cut costs as 
reasons for its demise. 
For  Mr  Rickey  Nathan  (pictured  above)  with  Joe  Hemana  the  news  is  a 
disappointing end to his 30-year career at the mill …' 
A  number  of  the  workers  took  redundancy  or  transferred  to  other  CHH 
operations.  The  houses  disappeared.  The  closure  was  noticed  in  Kaiwaka  - 
numbers declined at school, the playcentre and the rugby club. 
But the pine trees still grew! 
The Topuni  mill  has  survived.    Robert  Grimmett    took  ownership,  moved  the 
mill  site  and  still  operates  Topuni Timber. The forestry  is  owned  by  Matariki 
Rayonier. 
DISCOVER THE KAURI MUSEUM 
THESE SCHOOL HOLIDAYS  
See their  Facebook  page  'the  kauri  museum'  or  go  to  https://
www.kaurimuseum.com/visit 
❖
School  Holiday  workshops  at  the  Kauri  museum 
Wednesday 10th and 17th July, 10.am  - 2.pm. We will be using discarded tin 
cans and recycling them into useful objects of fun and beauty. Workshops led 
by  art  teacher,  Stephen  Davies.  To  book  email  admin@kaurimuseum.com  or 
phone 09 431 7417 
❖
Matariki Schools Exhibition 26 June – 21 July 
❖
Creating with Kauri 26 June – 16 August  
POETRY AND SONG COMPETITION 
To  celebrate  national  poetry  day  the  Kauri  Museum  is  running  a  poetry  and 
song competition with the theme of 'Voyaging' - to, in or around the Kaipara. 
20 July – 10 August (entries open),16 August Finalists announced, 23 August 
Finalists reading/performance. 
Entries are invited from residents of the Kaipara and Northland districts. 
1.Open category, 18 and over 2.Youth category (13 – 17 yrs). 3.Primary schools (5 – 7 
years) 
& 
(8 
– 
11 
years) 
.
Entry 
by 
written 
submission 
to 
poetry@kaurimuseum.com 
LOCAL COLLECTION POINTS  
AMNESTY & BUY BACK 2019 
Dates and nearby locations for you to hand in your firearms,  and what you need 
to bring with you: 
17 July Waipu Rugby Club, 5 St Marys Road, Waipu, 3pm - 7pm 
18 July Maungaturoto Community Hall, View Street, Maungaturoto, 3pm - 7pm 
24 July Barge Park, Maunu, Whangarei, 3pm - 7pm 
30 July Dargaville Rugby Club, Murdoch Street, Dargaville, 3pm - 7pm 
4-5 August Mahurangi Rugby Club, Warkworth A&P Showgrounds, SH1, 10am 
- 3pm 
29-30  September  Wellsford  Community  Centre,  1  Matheson  Road,  Wellsford, 
10am - 3pm 
Please also bring the following with you to collection events: 
Your firearms licence (if applicable) 
Photo identification (drivers' licence or passport) 
Your bank account number 
Your online notification reference number 
All your prohibited parts, cleared of all ammunition 
Any other non-prohibited firearm/s or parts you wish to hand-in to Police. 
For more information visit www.police.govt.nz or call 0800 311 311.  
Happy 95th 
Birthday Four 
Square 
Spend $25 and get a free 
Tea Towel until the 
15th July  
NB. Our very own Jaques Four 
Square celebrates 95 years in 
August! 
Jaques Four Square 
Phone: 4312227 
1 Kaiwaka-Mangawhai Road, Kaiwaka.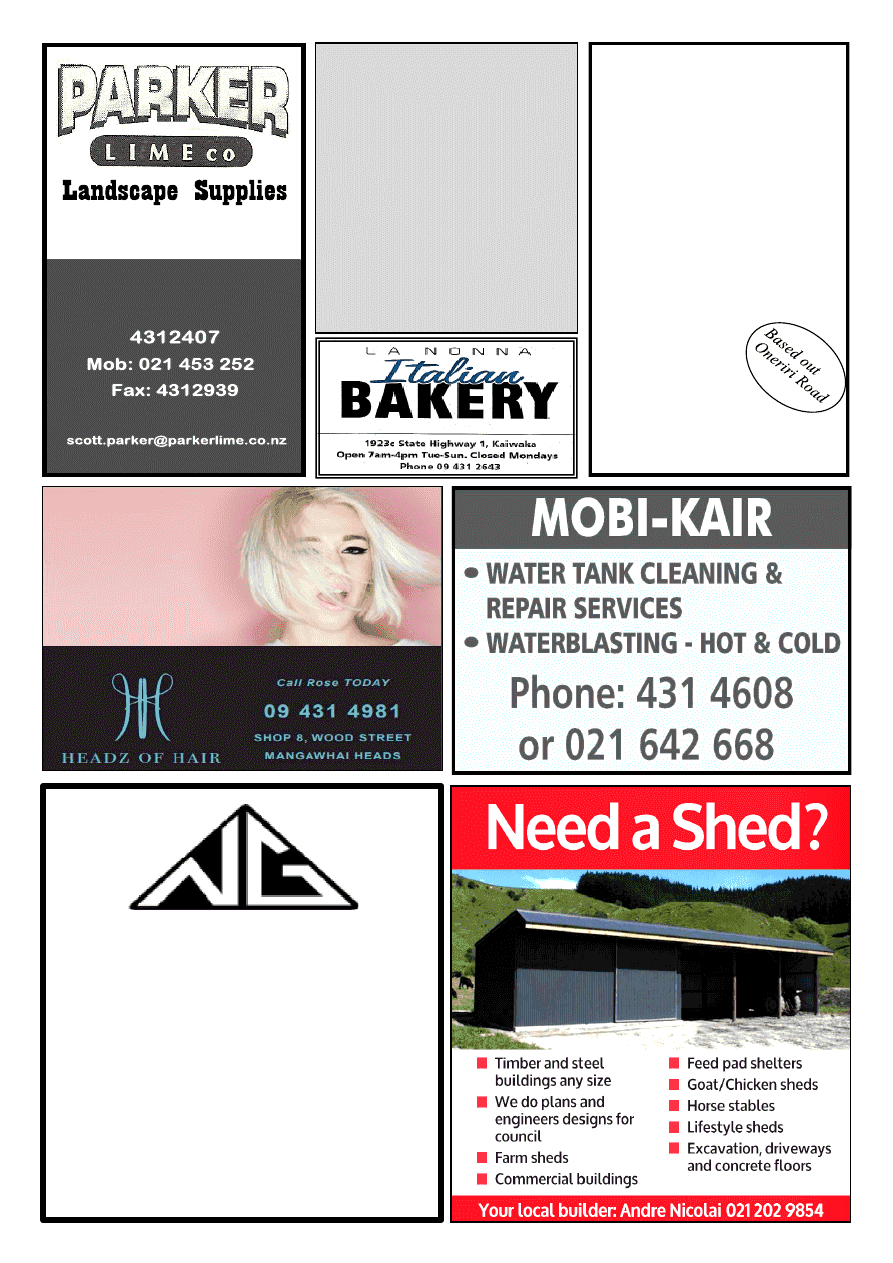 NORTH GLASS 
WINDSCREEN REPAIR OR REPLACE 
GLAZING SERVICES 
MIRRORS  •  SPLASH BACKS  •  SHOWERS 
0800 70 40 10
info@northglass.co.nz 
www.northglass.co.nz 
HELP 
PHONE NUMBERS 
HEALTHLINE:  
0800 611 116 
SAMARITANS:  
0800 726 666
YOUTHLINE:  
0800 376 633 
LIFELINE     
0800 543 354
DEPRESSION HELPLINE:  
          0800 111 756 
ALCOHOL & DRUG HELPLINE:   
 
0800 787 797 
URGENT MENTAL HEALTH LINE:  
 
0800 223 371
HODGETTS 
CONTRACTING
Digger Work 

Driveways   

House Sites   

Dams  

Drains, etc
Also available for HIRE 

4
3 ton Vib Roller   

Heavy Duty Tow  

4
Waterblaster     

Lazer Level 
Phone Mark 
4312877 
027 447 8554 
Bulk Cartage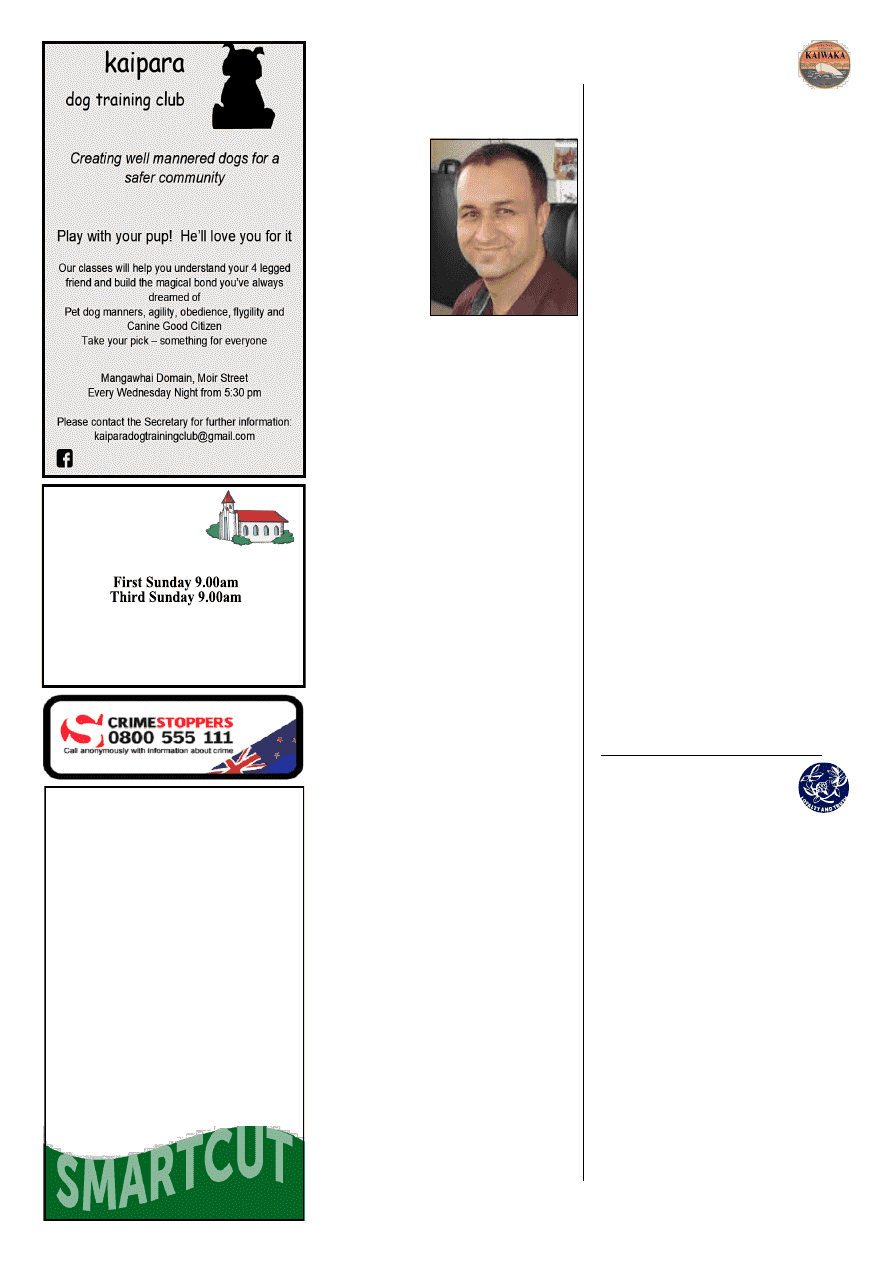 www.kaiwaka.co.nz 
Kaiwaka Bugle - 9 July  2019 
Page 9 
All your outdoor needs sorted 
so you don't have to... 
I can prune, chop, tidy, spray, 
mow, plant 
- you name it, I can do it! 
Residential & 
Commercial 
Lawn & Garden 
Care 
Call Rodney, your local  
lawnmowing contractor 
021 138 2344 
ST PAUL'S  
ANGLICAN  
SUNDAY SERVICES
St Pauls Church: Kaiwaka-Mangawhai Rd. 
1st Sunday - Eucharist 
3rd Sunday - Family Service 
Priest in Charge Rev. John Blundell  Ph 431 4122 
www.mangawhaianglican.org.nz
WINTER WRITING 
WORKSHOPS 
COMING TO 
MANGAWHAI
Award-winning 
author  Michael 
Botur 
is 
bringing  some 
creative 
warmth 
to 
Mangawhai 
this winter with 
a  course  of 
creative writing 
workshops. 
Held on all five 
Saturdays during August, the course is 
focused  on  fiction,  primarily  short 
stories,  and  will  be  delivered  in  the 
Mangawhai  Pioneer  Village  church 
hall (movie theatre).' 
The  course  will  help  new  and 
emerging  writers  to  learn  about  plot, 
characterisation,  prose,  point-of-view 
and  other  literary  essentials  with  a 
focus  on  'keeping  it  real'  and  staying 
on top of digital publishing trends. The 
course  will  emphasise  empowerment 
and confidence, with beginners warmly 
welcomed. 
Botur praised local author Judy Tindill 
(pen-name  Jude  Thomas)  for  bringing 
the course together. 
"
Without  people  like  Jude  bringing  this 
together, people in Mangawhai would find 
it  very  hard  to  learn  fiction  writing  in 
person  –  you  would  have  to  go  to 
Auckland
." 
"
Jude  is one  of  many  people  tucked away 
in  the  corners  of  Northland  keeping 
literature  alive
," Botur said. "
I  published 
a  widely-read  piece  of  journalism  last 
September  revealing  how  many  talented 
and  successful  writers  are  living  in 
Northland's  small  towns.  It's  been 
heartening to see Bevan Lawrence get the 
Mangawhai Writers Group going. Now it's 
time to expand our homegrown talent with 
some short, intense training for locals. We 
should  be  at  an  advantage  as  hopefully  a 
lot of people in the room will already feel 
comfortable around each other
." 
Participants  are  expected  to  attend  all 
five  workshops,  with  some  discretion 
for drop-ins. 
Week Two of the course author Fiona 
Sussman 
sharing 
her 
expertise. 
Sussman  is  author  of  two  award-
winning novels and many short stories. 
The course should appeal to the many 
creative  people  who  live  and  work  in 
the  Mangawhai  area,  as  the  same 
artistic mindset which creates painting, 
pottery  or  carving  can  create  literary 
works of art. 
"
Artists  will  be  provided  with  a  positive 
creative,  learning  environment
,"  Judy 
Tindill said. "
Our objective is to establish 
a similar hub for writers to make art with 
words,  beginning  with  this  introductory 
series of workshops
." 
The fee for the five weekly classes is $385. 
To book, email 
judy@silvereyepress.co.nz or contact Judy 
Tindill 021-794394. 
POINT CURTIS 
CRUISING 
CLUB  
End of Season Duck Shooting was on 
Saturday 29th and Sunday 30th June 
Results: 
⚫
Juniors 
Hunter  Ries:    Parry  -  1st     1.554kg  & 
2nd  1.403kg;  Pukeko  -  1st  0.865kg; 
Swan (Black) – 1st 5.886kg 
Amanda  Ries:  Pukeko  2nd  0.842kg; 
Swan (Black) - 2nd   5.148kg; Turkey - 
1st   7.102kg & 2nd 6.834kg 
⚫
Seniors 
⚫
Mallard-1st  Trevor  Wright  1.441kg, 
2ndNeilWright 1.389kg 
⚫
Grey-1st  Mikayla  Kennedy  1.358kg, 
2ndTonySmith 1.320kg 
⚫
Parry-1st  Neil  Wright  1.956kg,  2nd 
Trevor Wright 1.864kg 
⚫
Pheasant-1stHayden  Smith      1.324kg, 
2nd Tony Smith 1.289kg 
⚫
Canadian 
Goose-1st 
Dale 
Hamlin   
4.739kg, 2nd Michael Donnelly 4.498kg 
⚫
Pukeko- 1st Trevor Wright 1.116kg, 2nd 
Trevor Wright 1.055kg 
⚫
Swan  (Black)-1st  Kevin  Ries      6.395kg, 
2nd Dale Hamlin 6.023kg  
⚫
Peacock-1st  Mikayla  Kennedy  4.969kg, 
2nd Hayden Smith 4.708kg 
⚫
Turkey-1st Mikayla Kennedy 
9.063kg, 2nd Mikayla Kennedy 7.615kg 
Well done to those who went for a hunt 
over  the  weekend  and  congratulations 
to all the winners.  
⚫
A  Raffle  was  held,  and  Ticket  #42 
was the winner. 
⚫
Subs were due 1st of June 2019  
$30  Family  &  $20  Single;  Internet 
banking  12  3094  0008233  00  Please 
use Name/s as a reference 
⚫
Fish  of  the  Month  is  Snapper  till 
9th July. 
⚫
Next Club Meeting  9th July 2019 @ 
Kaiwaka Sports Association 7pm 
~ Wayne Leslie, Commodore
OTAMATEA HIGH 
SCHOOL ARE  
LOOKING FOR: 
⚫
Someone who is able to teach any of 
the 
following 
brass/woodwind 
instruments:  flute,  trumpet,  clarinet, 
and 
saxophone. 
Please 
email 
expressions 
of 
interest 
to 
fionn.murphy@otamatea.school.nz 
⚫
Volunteers to be readers, writers and 
supervisors  for  students  who  have 
Special  Assessment  Conditions.  We 
may  be  able  to  subsidise  some  travel 
costs. You will need to be available for 
the 
'mock 
examination' 
period 
September 16-20, Junior Examinations 
Nov  4-8  and  the  NCEA  examinations 
at  the  end  of  the  year  (from  7 
November  onward).  All  training  will 
be  given  and  police  vetting  will  be 
required.  Interested,  please  email 
huia.coll@otamatea.school.nz 
⚫
Suitably  qualified  and  registered 
teachers who wish to be considered for 
day  relief.  Please  send  your  CV  to 
Deborah  Cornhill-Davies,  Relief  Co-
ordinator: 
deborah.cornhill@otamatea.school.nz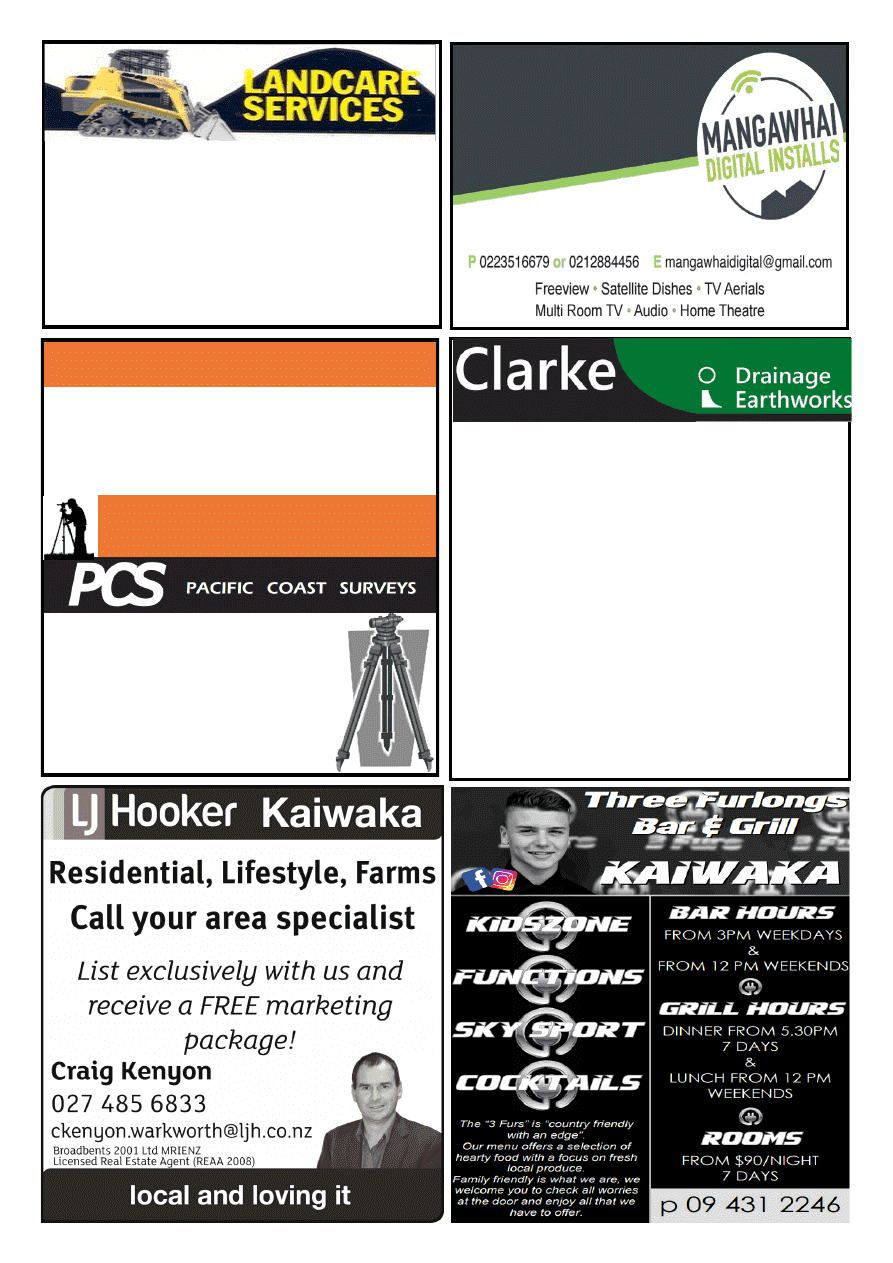 SURVEYORS 
SUBDIVISIONS 
HOUSE SITE SURVEYS 
CIVIL ENGINEERING 
WASTEWATER DESIGNS 
EXPERIENCED 
PROFESSIONAL 
INNOVATIVE 
Ph 09 431 5353 
0800 PACIFIC (0800 722 434) 
pacificcoastsurvey.com
Adam Booth - 027 415 5752 
Bsurv, Licensed Cadastral Surveyor
Surveying Kaipara since 1994 
LANDSCAPING 
4 IN 1 BUCKET 
TRENCHER 
POLE HOLES 
ROTARY HOE 
COMPACT ROLLER 
OFFAL HOLES 
CAN SUPPLY WOODCHIP & POST PEEL 
5 TON TIPPER 
FOR RELIABLE AND FRIENDLY SERVICE CONTACT DAVE 
Dave Hyndman 
 
KAIWAKA 
PH: 09 4312302 
MOB: 021 431 238 
Registered Drainlayer 
All Types of Earthworks  
> All Residential & Commercial Work  > House Sites 
> Septic System Design & Install 
> Footings & Drilling to 10m 
> Sewer Connections 
> Dams 
> Water Tank Installation 
> Roading & Races 
> Farm Work 
THE ONE STOP SHOP  
Phone Nigel for an Obligation Free Quote  
Drainage & Earthmoving 
nigel@clarkedrainage.nz 
027 2233 185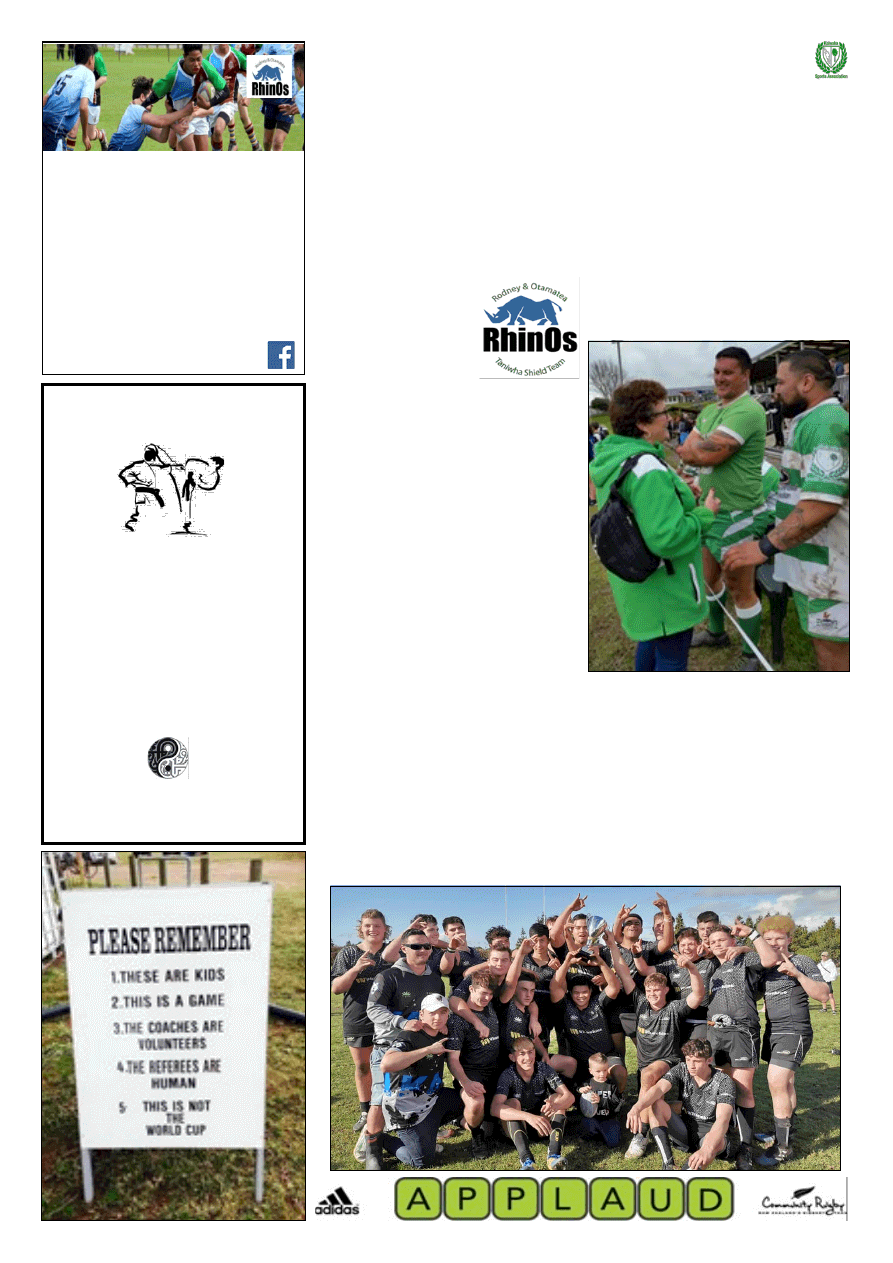 www.kaiwaka.co.nz 
Kaiwaka Bugle - 9 July  2019 
Page 11 
KAIWAKA SPORTS ASSOCIATION
Fitness Centre Closure 
Our Fitness Centre will be closed from 
this  Thursday  11th  until  Monday  15th 
July.  We  are  replacing  the  floor  -  the 
door  will  be  decoded  during  this  time 
and your key will not work. 
Our  gymnasium  will  not  be  available 
for hire during this time (as we will be 
storing all the Fitness Centre's exercise 
equipment in the gymnasium). 
Apologies  for  any  inconvenience  this 
may  cause,  thank  you  for  your 
cooperation. 
Taniwha Shield Tournament 
Northland's  prestigious 
Primary  Schools  Rugby 
Tournament, 
the 
Taniwha 
Shield, 
is 
being held next week in 
Waipu.  All  the  best  to 
our  local  team,  the 
Rodney/Otamatea Rhino's. 
Rugby – JMB 
The  junior  rugby  season  has  now 
wrapped up. Well done to Te Awhina 
Whitehead  on  running  yet  another 
successful season for Eastern United 
JMB. I  know the JMB families are all 
very appreciative of the time and effort 
she puts into the club. 
KSA meeting 
A  KSA  meeting  will  be  held  on 
Wednesday  31st  July  at  7pm,  at  the 
Sports Complex. All welcome. 
School Holiday ideas – free! 
The  school  holidays  have  arrived  -  if 
you  are  looking  for  something  to  do 
with the kids, you are welcome to bring 
them along to the Sports Complex: 
*  bring  a  basketball  and  shoot  some 
hoops on our outside backboard 
*  go  for  a  stroll  (or  run!)  along  our 
Fitness Trail 
*  bring  your  frisbee/bike/golf  clubs/
dog  and  take  advantage  of  the  wide 
spaces 
* enjoy our playground 
* have a hit of tennis on our courts. 
Applaud 
The  Kaiwaka  Sports  Association  is  a 
member  of  Applaud;  a  New  Zealand 
Rugby 
initiative 
to 
encourage 
supporters  to  be  good  sports  and  to 
stamp 
out 
anti-social 
side-line 
behaviour.  We  want  to  continue  to 
have positive attitudes at matches 
held  at  the  Sports  Complex,  and  we 
expect  all  visitors  to  the  KSA  to 
support this. 
Rubbish 
A  reminder  that  the  wheelie  bins 
alongside  the  back  of  the  gymnasium 
are for KSA rubbish only. Thank you. 
Funeral Services at the KSA 
I would like to say thank you to those 
groups who have bookings at the KSA, 
who  are  always  willing  to  shift  their 
booking  to  another  day,  so  that  a 
funeral service can take place. 
~ Cheryl,    kaiwakasports@gmail.com 
Pictured  below:  Otamatea  Hawks  Rugby 
secretary,  Vivienne  Goldsmith  with  players  - 
Whetu and Toby, at the KSA grounds.
OTAMATEA HAWKS U18s  
Kaipara Wolves   
Congratulations, 2019 Northland U18 
CHAMPIONS.  
The players are a combined team from 
Wellsford,  Dargaville  and  Otamatea, 
coached  by  Otamatea  Hawks  own 
Mike  Peeni.  They  won  their  final 
against Kerikeri 22-20, pictured below 
after the match.  
These  boys  have  been  playing 
outstanding  and  consistently  setting 
the bar throughout this season.  
NORTHLAND PRIMARY 
SCHOOLS RUGBY  
TOURNAMENT 
TANIWHA SHIELD 2019 
Waipu Rugby Club Grounds 
16 to 20 July 
POOL A: Bay of Islands, Whangarei 
Grizzlies, Rodney/Otamatea, Northern 
Wairoa. 
POOL B: Whangarei Bears, Mangonui, 
Hokianga, Presidents. 
See Facebook Taniwha Shield Northland 
u13 Tournament for the full draw and 
updates. 
SELF DEFENCE 
KEMPO 
Fitness, Confidence, 
Discipline, Respect,  
Self-awareness 
Classes for all ages in: 
 Mangawhai
Kaiwaka Wellsford
For more information please 
contact
Otamatea Martial Arts 
otamatea.kempo@farmside.co.nz 
Phone 09-431-5170 
www.facebook.com/
otamatea.kempo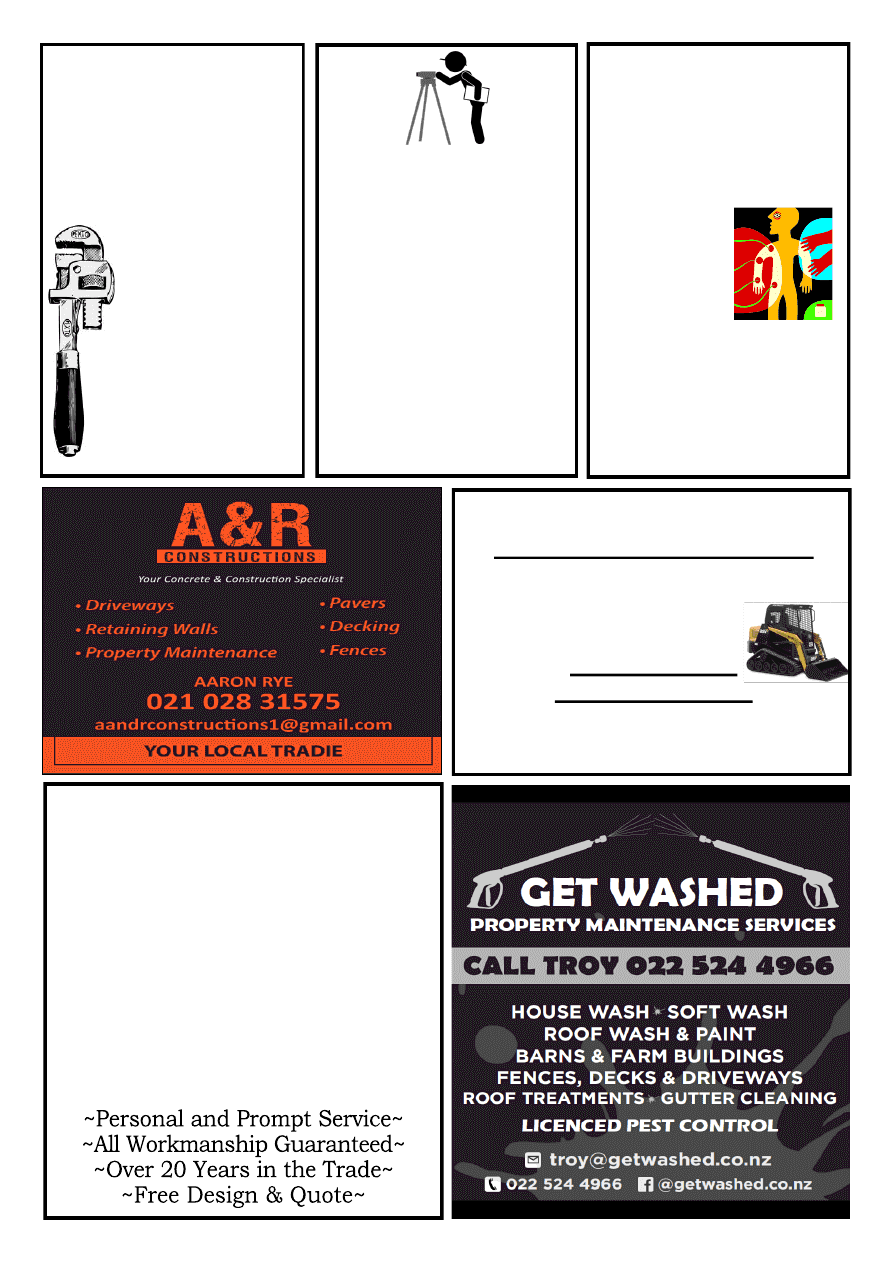 BARRY CURTIS 
PLUMBING LTD 
REGISTERED CRAFTSMAN 
PLUMBER 
Phone 431 5572 
027 257 9884 
25 years' experience 
Friendly reliable service 
All plumbing & 
maintenance 
Alterations and new 
housing 
Spouting  
Competitive rates 
PROMPT 
EFFICIENT 
SERVICE 
OWEN STEVENS 
Osteo Therapist
For careful adjustments to bones 
and joints 
Treatment for humans and their 
pets 
Clinics: 
Kate's Place, 
Kaiwaka: 
Last Friday of 
month 
For bookings: 
9.00am-5.00pm  
Phone 
09 4312661 
Or phone Owen  
09 4317123 anytime 
PLANNING A NEW KITCHEN?
 CONTACT NOEL McDOWELL
WELLSFORD 
KITCHENS
Ph/Fax 094312888
KAIWAKA-Any time
 QUALITY CUSTOM MADE 
KITCHENS
Ken Urquhart 
BSurv Licensed  
Cadastral Surveyor 
KMU Surveys Ltd 
467 Bickerstaffe Road 
RD 2 
Maungaturoto 0587 
Ph 09 431 8705 
Mob 021 161 2344 
kenurquhart@xtra.co.nz 
Natural Earth Ltd 
Landscape and Bobcat services 
 : Driveways :Landscaping :Retaining Walls 
 : Hole Boring: Land Levelling :Trenching 
 : Decks :Fences :Sections Cleared 
 : Plus much more
Tel 09 4312 885 
Mob 02102391280 
For A Fast Friendly Service  
Contact Tim Hicks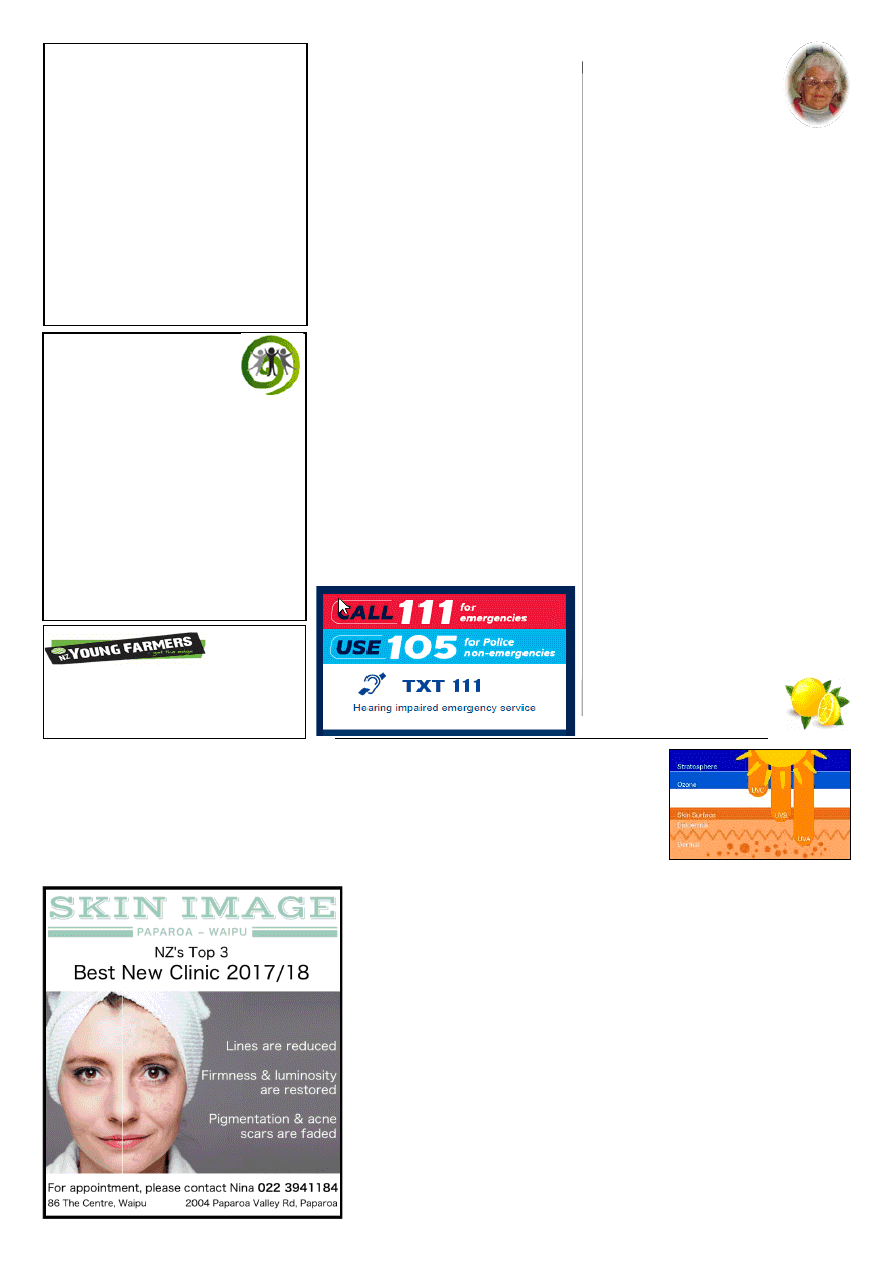 www.kaiwaka.co.nz 
Kaiwaka Bugle - 9 July  2019 
Page 13 
Kaipara 
Young 
Farmers meet 
on the last Thursday of each month at 
7pm in the Three Furlongs Bar and 
Grill. Contact: Kurtis Danks, chairman, 
0211598453 or kwdanks@gmail.com 
OTAMATEA 
COMMUNITY 
SERVICES   
Counsellors, Parent Coach, 
Senior Support, Financial 
Mentors, Social Worker, 
Addiction Support,  
Family Support. 
Monthly Activities: 
❖
Seniors' Lunch 1st Wednesday 
❖
Chocolate Bingo 3rd 
Wednesday
❖
Shopping  trips  to  Whangarei 
2nd Tuesday and 4th Wednesday 
Phone: 09 431 9080.  
155 Hurndall St. Maungaturoto. 
From Thelma's 
Scrapbook … 
USES FOR LEMON JUICE: 

Fine oatmeal mixed with 
Lemon Juice in the palm of the hand, and 
then rubbed well in, makes an excellent 
dirt and stain remover. It will also help to 
keep the hands both soft and white. 

Icing sugar mixed with lemon juice 
makes a delicious biscuit filling. 

Beat lemon juice into mashed potatoes 
to make to make them taste more 
palatable. Allow 1 dessertspoon lemon 
juice to each 1 lb potatoes. Especially 
good when potatoes happen to be on the 
old side! 

If mint sauce is made with the juice of 
lemons, it is much nicer than when 
vinegar is used. 

If steak is rubbed about an hour before 
frying with lemon juice ,it will be 
improved with tenderness and flavour. 

Tripe, cutlets, fish croquettes etc, are 
more tasty if a little lemon juice is poured 
on a few seconds before serving. 

To whiten piano keys, bone or ivory 
handles of cutlery, apply a paste made 
with ordinary whiting and lemon juice. 
Leave on for about 5 minutes, then rinse 
and polish. 

Rust marks can be removed with 
lemon juice. Stretch the stained area over 
a bowl of boiling water and squeeze 
lemon juice on it. Allow to remain a few 
minutes, then wash. Repeat if necessary. If 
stain is old, first sprinkle with 
salt, squeeze lemon juice on it 
and leave to dry in the sun.
HAKARU HALL 
ACTIVITIES 

Monday: Line Dancing 10am  
Ph 4315160 

Tuesday: Pilates 9-10am 
Ph 0220643965 
Certified Instructor 

Wednesday, First of The Month 
Hall Committee Meeting 7pm 

Following Wednesdays: Recreational 
Music Evening 7pm Ph: 
0210628631

Thursday: Pilates 9-10am  
Ph 0220643965 

Thursday: Scouts 5pm 

Hall Hire Ph 4312256 
The right amount of sunlight is so good 
for us because it directly influences our 
feel  good  hormone  (serotonin).  That's 
why being outdoor generally makes us 
feel  happier.  We  also  need  sunlight  to 
help  us  make  Vitamin  D,  which  helps 
prevent  bone  disease  (osteoporosis) 
and 
impaired 
immunity. 
It's 
recommended  that  we  get  10  to  20 
minutes  of  sunlight  each  day  to  stay 
healthy. 
The  sun  radiates  numerous  types  of 
waves including UVA and UVB. UVB 
are shorter rays which hits the top layer 
of  the  skin  (the  epidermis) 
causing  damage  that  you  can  see 
and 
feel 
like 
redness, 
inflammation and burns. UVA are 
longer  rays  able  to  penetrate  the 
epidermis  and  into  the  dermis 
where they destroy cells essential 
for healthy skin. Their danger lies 
in  the  fact  that  we  can't  feel  or 
see the damage because it's deep 
in the dermis. 
The damage accumulates over the 
years  and  shows  up  as  solar 
keratosis,  irregular  pigmentation, 
laxity  and  possibly  skin  cancer 
much later in life. 
Here are the interesting facts that 
no  one  gets  told  -  UVB  occur 
mostly  in  summer  or  between 
11am  to  3pm  when  sunburn 
occurs.  UVA  occur  all  year 
round, 
from 
sunrise  to 
sunset,  at 
the  same 
intensity, 
even  on  cloudy  days.  Because  UVA 
rays  bypass  the  upper  skin  layer,  we 
can't see or feel the damage so we tend 
not to wear sun protection in the winter 
or on cloudy days but this is when skin 
stem  cells,  fibroblasts  (cells  that  make 
collagen,  elastin  and  hyaluronic  acid) 
are  damaged  causing  our  skin  to  age. 
Most sun damage and photo ageing is a 
result  of  exposure  to  UVA  on  a  daily 
basis – gardening, driving, walking. 
That  is  why  it  is  important  to  protect 
your skin even in winter, not just when 
on  holiday  or  down  at  the  beach. 
Protection  can  be  sun-wise  clothes, 
hats  and  a  good  broad  spectrum 
sunscreen which can protect from both 
UVB and UVA rays. 
Next  month,  I  will  be  sharing  about 
SPF's,  the  pros  and  cons  of  chemical 
vs physical blockers. 
Nina  Quan,  Skin  Therapist,  Skin  Image 
Paparoa - Waipu 
SUNSHINE AND SKIN – PART I 
COME DANCE  
WITH ME 
On  Sunday  16  June  our  district  line 
dancers  held  a  mid-winter  Xmas-
themed social to raise funds for the St 
Johns  Ambulance  service.    The  event 
was  held  in  the  Hakaru  Hall,  which 
had  been  beautifully  decorated  with 
silver  lights.    The  social  resulted  in  a 
generous donation of $500 to St Johns 
Mangawhai.    Our  thanks  to  all  who 
took  part  and  helped  make  the 
afternoon a success. 
 'We said to all line dancers  
"Come Dance With Me" 
 To raise funds for St Johns you see. 
 We were Over the Moon as all towns 
came together - 
 Mangawhai, Paparoa, Wellsford and 
more danced without pause, 
 Happy, Happy Happy to support the 
cause. 
 No One Horse Towns are we. 
 We Walked the Line, and were 
Beyond the Sea; 
 Gypsy Queen beat the Lonely Drum, 
no Achey Breakey knees were seen. 
 It was a Red Hot Salsa mid Xmas 
theme 
 A Waltz to Heaven with plentiful food 
and twinkling lights set the tone, 
 Flying High to benefit St John 
 Til One and One and One we went 
Rolling Home.'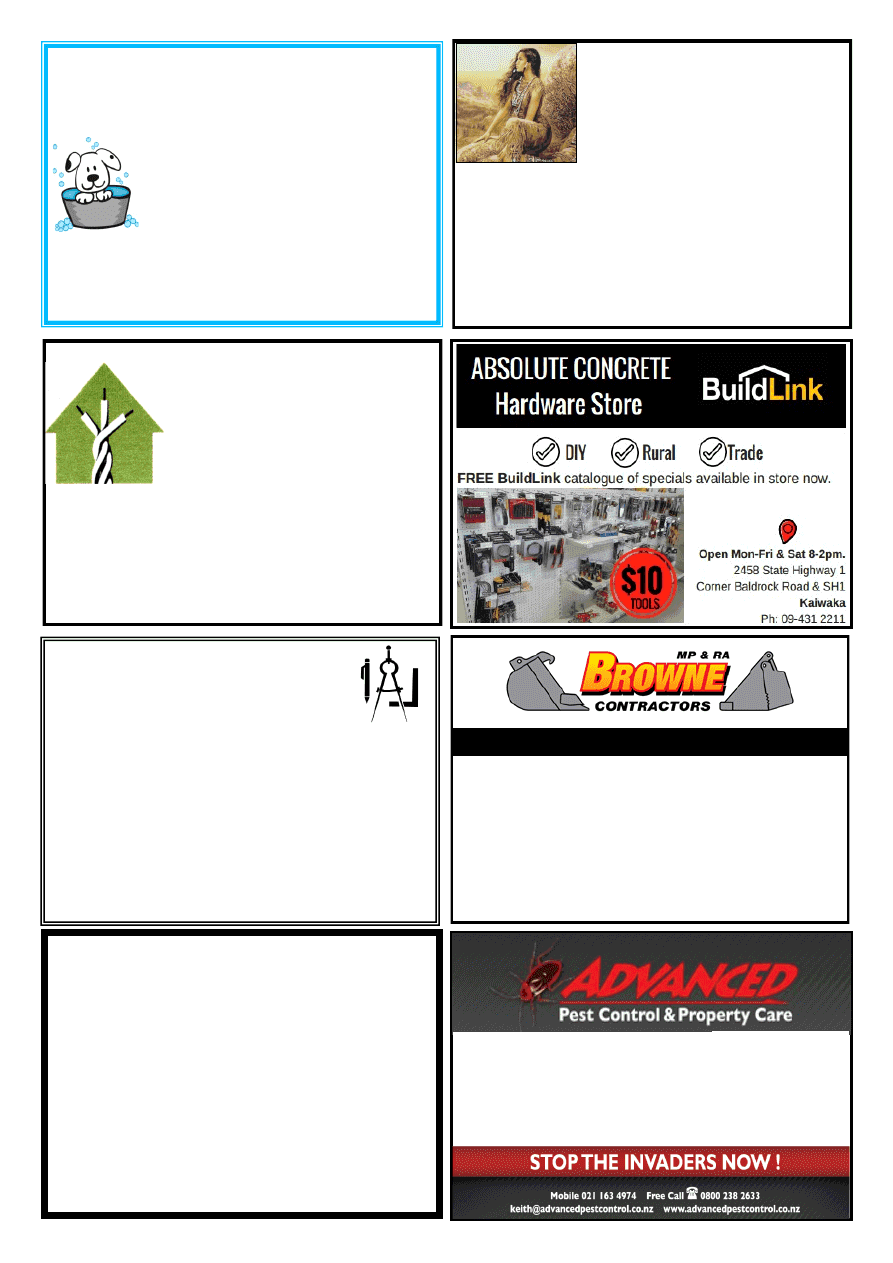 4T DIGGER – BOBCAT – TIP TRUCK 
Property Maintenance - Driveways  
 Building Sites 
Stump & Tree Removal  
Hole Boring - Chain Trencher  
Calf Shed and Stockyard Cleaning 
Phone Matt: 021 199 6677 
Email: mprabrownecontractors@gmail.com 
Mangawhai Heads 
Garden Centre
1758 Cove Road
945 0707 
021 165 2629 
Reyahn George 
Leng 
Registered Electrician 
Local, honest and reliable. 
For your residential and 
light-commercial projects. 
022 314 1068 
Trails end 
spiritualist gathering 
Last Sunday of every month  
10.30-2pm  
Tea/coffee provided  $5 koha 
For all inquiries: 
021 165 2629 evenings (09) 945 0707 
Trail.end@hotmail.com 
1758 Cove Road, Mangawhai
Bringing together like-minded people 
Guest speaker each month
Pest Control 
PLAN A: One-off treatments to customers with a specific pest problem 
PLAN B: Full maintenance service plans to commercial customers. 
This will include documentation kept in customer file on site: 
⚫
Pest treated 
⚫
Date of service 
⚫
Chemical or baits used 
⚫
Full pest check report done after each treatment 
⚫
Fair and reasonable fee with guarantee 
Flood Recovery  Carpet Care 
⚫
Carpet Drying 
This includes pre-spray treatments 
Upholstery Cleaning 
Full upholstery cleaning of all furniture.  
eg lounge suites and all office chairs 
Water Blasting 
⚫
Concrete - Decks 
House Washing 
⚫
Soft Chemical Was 
⚫
Pre-painting Wash 
Property Services 
Hot Diggity Dog 
DOG GROOMING 
All breeds dog grooming 
Professional Experienced Groomer 
Short practical grooms - summer 
Breed Standard Grooms 
Designer fusion Grooms 
Oneriri Road
By appt Phone Pam 09 4312143 
Or text only 0273335380 
Email  hot.diggitydog@outlook.com 
design drafting  
service 
Retired builder and manufacturer with over 40 years  
experience in the building industry is offering a design 
drafting service for domestic housing, sleepouts and 
sheds.  
Plans formulated in consultation with clients, with 
working drawings completed and submitted to  
council for processing.  Extensive practical experience,  
able to identify & resolve problems. 
Please ring Mike Lean on 
09 431 2260 
or 
021 431 196 
www.kaiwaka.co.nz 
Kaiwaka Bugle - 9 July  2019 
Page 15 
KAIWAKA POST 
CENTRE and 
FOOD MART 
POST CENTRE TRADING HOURS 
MONDAY to FRIDAY 8am to 5pm 
SATURDAY 8am to 12pm 
CLOSED ON SUNDAY and on 
PUBLIC HOLIDAYS 
FOOD MART (GROCERIES) 
MONDAY TO FRIDAY  
7:30am to 7.30pm 
SATURDAY  8am to 7.30pm 
SUNDAY  8:30am to 7pm 
IF ANY QUERIES PLEASE CALL 
STORE MANAGER AMRIT  
on 09 4312431 or 
EMAIL: kaiwakafood19a@gmail.com 
1919a State Highway1, Kaiwaka 0542 
Fiona  B is  back  in the  office  after  her 
trip and is settling back in, so thanks to 
Fiona  P  and  Bruce  L  who  kept  the 
office running in her absence.  
A  very  brief  bit  of  history  about 
Linking  Hands  …  we  were  set  up 
originally  as  an  information  outlet,  to 
link  the  public  with  help  in  various 
health  areas  that  they  may  not  have 
been aware was available to them.  
In  2008,  the  Dargaville  Health  Shuttle 
were  upgrading  their  vehicle  and 
offered  their  old  vehicle  to  Linking 
Hands,  so  the  service  expanded  to 
include  transport  for  people  who  were 
struggling  to  get  to  their  Health 
appointments.  We  have  grown  a  lot 
since  our  humble  beginnings  and  now 
have  vehicles  based  in  Maungaturoto, 
Kaiwaka, Mangawhai and Bream Bay- 
including a wheelchair hoist van.  
If  you  need  help  with  transport to  any 
Health related appointments, give us a 
call  on  4318969.  We  appreciate  as 
much  notice  as  possible  of  your 
appointment  times,  as  it  allows  us  to 
juggle things if we need to and help as 
many people as we can.  
Our  drivers  are  all  volunteers  and  an 
invaluable  part  of  Linking  Hands,  so 
without them, we would not be able to 
offer  this  great  service  to  our 
communities.  
Our  office  is  located  at  131  Hurndall 
St.  Maungaturoto.  We  have  3 
computers  at  the  office,  connected  to 
the  internet,  that  are  available  to  the 
public  for  a  small  fee.  They  are  all 
connected to printers as well.  
We have a small selection of books and 
jigsaws available for sale as a means of 
income  to  help  towards  our  running 
costs,  as  we  are  a  non-government 
organisation and rely on donations and 
grants to keep us running.  
If  you  have  some  free  time,  enjoy 
driving and would like to volunteer as 
a  driver  for  this  very  worthwhile 
organisation,  pop  into  the  office  and 
have a chat!  
This is a  volunteer  community  service 
that  runs  on  donations  and  small 
grants. Thank you for your support.  
Maungaturoto  Ph./Fax  09  431  8969  or 
Mangawhai Ph. 09 431 5906  
linkinghands@xtra.co.nz 
www.linkinghands.co.nz  
Linking Hands Inc 
Annual General Meeting 
Thursday 18 July, 7pm 
Anglican Church Hall, Maungaturoto 
  LINKING 
HANDS INC 
Maungaturoto - Kaiwaka - 
Mangawhai 
Meeting the needs of the community. 
A  free Health Shuttle Service, providing 
transport to those who would struggle to 
get  to  medical,  dental,  podiatry,  or 
optometrist appointments anywhere from 
Warkworth to Whangarei. 
HEALTH SHUTTLE SERVICES 
Ph/fax 09 431 8969 
OFFICE HOURS 
Maungaturoto - Monday to Friday  
10am to 4pm 
Closed Public Holidays 
KATE'S PLACE 
Some new things happening at 
Kates Place....... 
⚫
Men's Group every Tuesday 
night @ 7pm 
⚫
Community  Cooking  Classes  every 
Tuesday  at  the  KSA  all  welcome, 
creche  available  and  we  feed  the  kids 
while you cook! 
⚫
New  courses  -  "Work  Ready" 
preparing  yourself  to  enter  the 
workforce  for  youth  and  adults 
returning  to  the  workforce.  From  CVs 
to interview techniques, information on 
employment contracts and employment 
law. Providing confidence and support. 
⚫
"Living  on  a  Budget"  How  to 
survive  on  a  budget  using  life  hacks, 
how to prepare and use a budget, how 
to  save  money  on  your  food  shopping 
and clothing, etc. How to still have fun 
without getting into debt or running out 
of money days before your next pay. 
⚫
Learners  License  -  coaching  and 
support. Day or Night time available. 
⚫
Community  Conversations  -  next 
meeting  in  July-  the  subject  is  "Full 
time Employment for Women in a rural 
area  Are  there  adequate  full  time  well 
paid  jobs  available  for  women  if  they 
need  to  support  themselves  and 
children. 
All courses FREE, koha welcome! 
To  register  or  get  further  information 
on  these  new  activities  call  us  on  09 
431 2661 or 029 773 9085 or send us a 
pm. The courses and cooking class will 
only  go  ahead  when  we  have 
confirmed people attending. 
Just  a  reminder  we  also  have  the 
following  groups  that  run  throughout 
the week: 
⬧
Monday evening @ 7pm NA meeting. 
⬧
Wednesday  evenings  at  7pm  AA 
meetings.  
⬧
All  day  Tuesday  every  week 
Counselling  for  men  women  &  youth. 
We have individual Addiction Support 
available.  
⬧
Advocacy  and  Budgeting  Services, 
and Financial Support Monday -Friday, 
10am-4pm. 
LINKING HANDS  
HEALTH SHUTTLE  
Saturday 20 July, 10.30-12.30pm 
 Women's Workshop 
With Sharon Tan 
Pastor, Author, Life Coach 
Register: 021 144 2615  
Sunday 21st July, 10am 
With Pastor Benny Tan 
KAIPARA DISTRICT 
COUNCIL ELECTIONS 
19 July Candidate nominations open 
16  August  Candidate  nominations 
close and electoral roll closes 
21  August  Public notice of candidates' 
names by Electoral Office 
Voting  documents  will  be  sent  to  all 
eligible  electors,  by  post,  from  Friday 
20 September 2019.  
The  voting  period  is  three  weeks 
(Friday  20  September  2019  –  12pm 
Saturday 12 October 2019). 
12 October Voting Closes 12 noon . 
CANDIDATE MEETING 
For Kaiwaka:  
Monday  29  July,  5:30-6:30pm, 
Kaiwaka War Memorial Hall, and hear 
about where the council is up to, what 
projects  and  challenges  are  on  the 
horizon,  and  what  sort  of  people 
council need to address the future.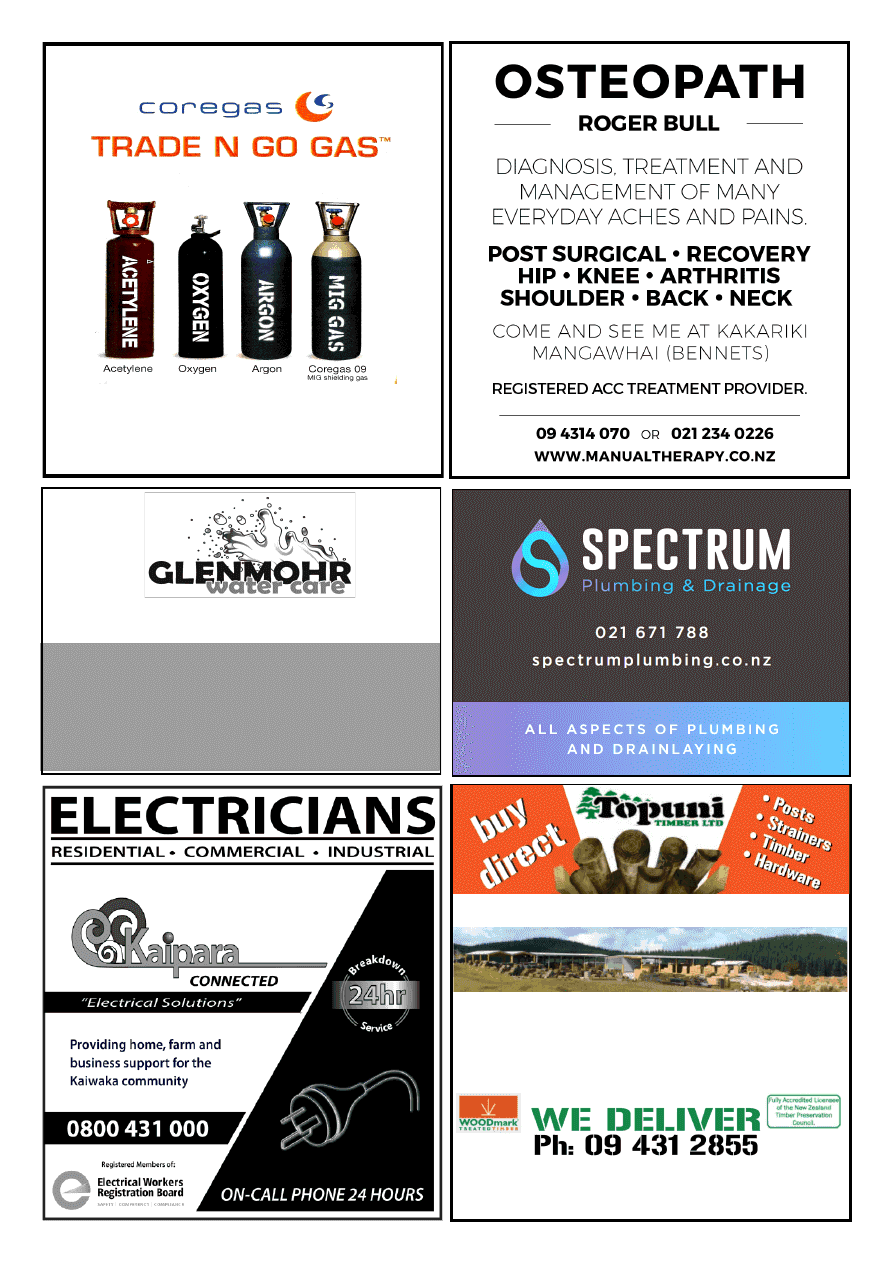 At Twinkle Tow 'n' Tyre 
Mob: 021 833 960 
Ph & Fax: 09 431 2823 
1837 State Highway 1, Kaiwaka 
Water Tank Cleaning 
• 
Keep your water safe & clean  
• 
Removal of sediment, silt etc. 
• 
Vacuum or full scrub 
• 
Minimal water loss 
Phone Mark (09) 432 0655 or 0274 707607 
LOCALLY OWNED AND OPERATED 
QUALITY PRODUCTS • FRIENDLY ADVICE • GREAT SERVICE 
Quality Products milled from High Density NORTHLAND Radiata Pine. 
Treated and guaranteed to NZS3640 with commitment to 
Environmental Safety.
Phone, fax, email, or come into the mill 
Schiska Rd, Topuni, SH1, 10 min north of Wellsford. Fax: 09 431 2856 
Email: sales@topunitimber.co.nz           Mon - Fri 7am-5pm 
• Fencing 
• Retaining 
• Decking 
• Landscaping 
• Gates 
• Hardware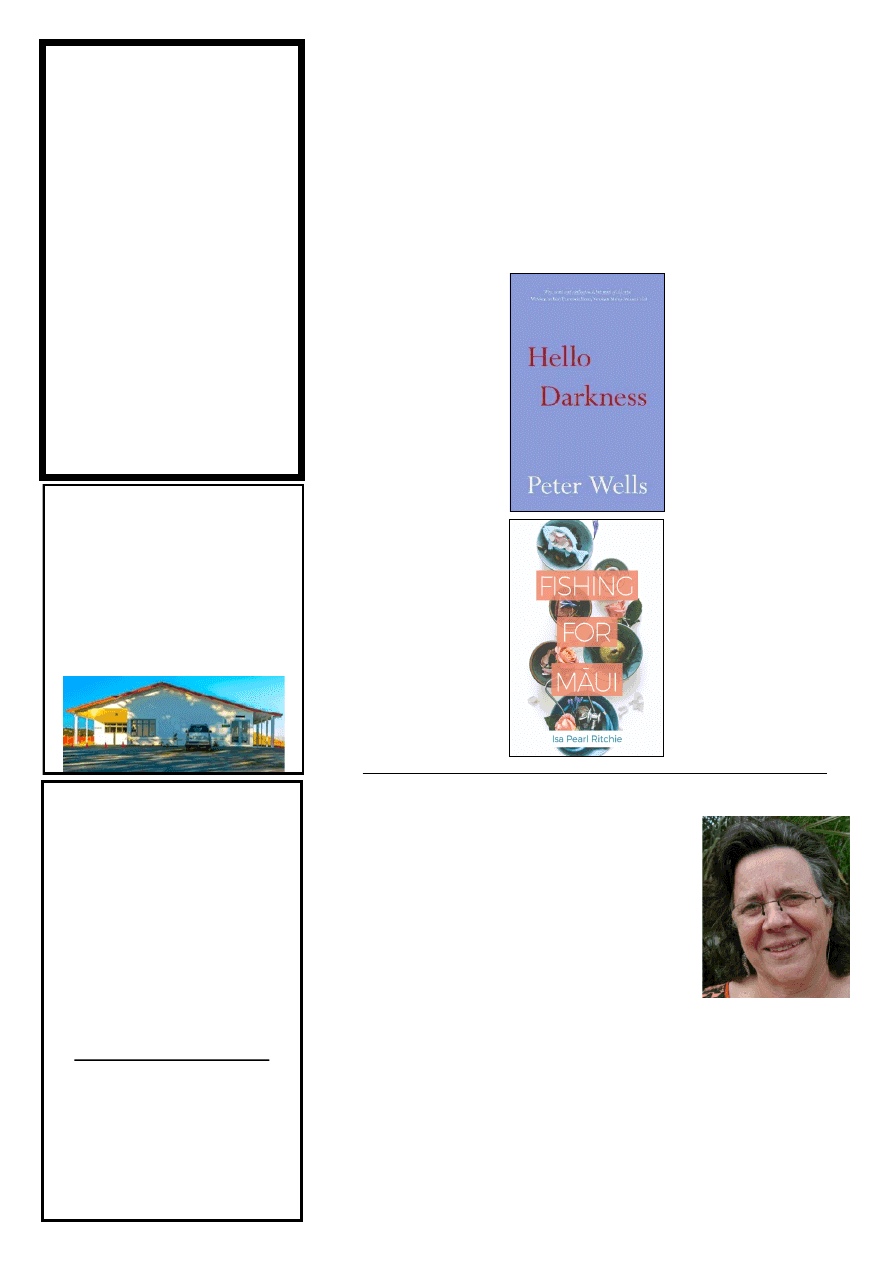 www.kaiwaka.co.nz 
Kaiwaka Bugle - 9 July  2019 
Page 17 
Te Pounga Marae 
130 Nathan Rd. Oneriri. Kaiwaka 0573 
COMPLEX FOR 
HIRE 
Functions: * Weddings  * Birthdays  
*Anniversaries * Meetings  * Wananga 5 
hour meeting * 12 hour stay or Overnight 
*All welcome   
For more information please contact: 
 Pearl Nathan 0223933533 
Email: tepoungamarae130@outlook.com  
KAIWAKA LIBRARY 
WANTED TO BUY 
I  am  a  local  private  collector  of 
Kaipara  &  Northland  Paper, 
Postal  &Photographic  History 
looking to purchase: 
Old Photos   Old Postcards 
  Old Documents 
Old Envelopes  
Old Advertising / Tourism 
Posters or Pamphlets 
Old books or old 'paper' 
relating to  
Kaipara and Northland. 
I will pay a fair price 
immediately so please contact me 
on either  
280 9544, text 021 757 107  
or email 
nigel.bermuda@gmail.com 
Dargaville book swap 
Come  in  and  see  the  great  range  of 
books  we  brought  back  from 
Dargaville  Public  Library  the  other 
week  -  there's  something  there  for 
everyone.  We  have  these  titles  until 
December. 
Overdue reminders 
Someone commented the other day that 
she  felt  guilty  about  creating  work  for 
me  because  of  her  overdue  books  and 
the reminders I send her. We've solved 
that  by  setting  her  up  to 
receive  automated  text 
messages.  We  can  have 
texts  and/or  emails  sent  to 
you  by  the  library  system, 
and both include a courtesy 
message  3  days  before  any 
items are due to alert you to 
the  upcoming  date.  If  you 
would like this too, contact 
me  or  the  library  volunteer 
on duty. 
Book reviews 
I've  recently  read  Hello 
darkness  by  Peter  Wells. 
"Peter  Wells  is  an  award-
winning  writer  and  film 
maker. Hello Darkness tells 
the  story  of  facing  a 
challenge  and  meeting  it 
with grace, intelligence, wit 
and  resilience...  This  is  a 
book  for  anyone  who 
wonders  who  they  will 
respond  when  the  end  is 
near."  The  book  is  an 
excellent  read,  and  I  have 
no 
hesitation 
in 
recommending  it.  It's  on 
our  Rental  Non-Fiction 
shelves (616 WEL). 
Fishing  for  Māui  by  Isa  Pearl  Ritchie. 
''A  novel  about  food,  whānau,  and 
mental  illness...  Valerie  reads  George 
Eliot  to  get  to  sleep  –  just  to  take  her 
mind off worries over her patients, her 
children,  their  father  and  the  next 
family  dinner.  Elena  is  so  obsessed 
with  health,  traditional  food,  her 
pregnancy  and  her  blog  she  doesn't 
notice  that  her  partner,  Malcolm  the 
ethicist, is getting himself into a moral 
dilemma  of  his  own  making.  Evie 
wants  to  save  the  world 
one  chicken  at  a  time. 
Meanwhile  her  boyfriend, 
Michael  is  on  a  quest  to 
reconnect  with  his  Māori 
heritage  and  discover  his 
own identity. Rosa is eight 
years  old  and  lost  in  her 
own  fantasy  world,  but 
she's  the  only  one  who 
can  tell  something's  not 
right. Crisis has the power 
to  bring  this  family 
together, but will it be too 
late?" This was a nominee 
for  the  NZ  Booklovers 
Award  this  year,  and  an 
enjoyable  read.  It's  on  the 
Rental  Fiction  shelves  in 
the library. 
You can place a request to 
borrow any or all of these 
books  by  logging  in  to 
your 
account 
at 
Enterprise*,  or  via  our 
library app, and I'll contact 
you  when  the  item(s)  are 
ready for you to pick up. 
See you in the library, Wendy 
 *Enterprise: 
http://
kaipara.kotui.org.nz/
DNA in FAMILY HISTORY 
On  Monday  22  July  2019,  the  Waipu 
Genealogy  Group  will  be  welcoming 
Michelle Patient for a full-day seminar 
on using DNA testing in family history 
research. 
An  Australian  genealogist  with  Kiwi 
roots,  Michelle  is  also  a  scientist, 
computer  geek  and  DNA  enthusiast. 
She grew up with a grandmother whose 
family 
stories, 
photographs 
and 
memorabilia  sparked  her  life-long 
interest in genealogy. 
In  1989  Michelle  began  searching  for 
her English half-sister, and in 2005 she 
reconnected  her  mother  with  her  birth 
family.  Adding  DNA  research  to  her 
genealogy  tool  kit  has  increased  the 
range  of  Michelle's  methods,  revealed 
skeletons and broken down many brick 
walls. 
Topics  covered  in  the  seminar  include 
what  DNA  test  results  look  like,  and 
how  to  start  analysing  them.  There  is 
lots  of  question-time  built-in  to  the 
day's  schedule,  and  handouts  will  be 
available 
for 
reference. 
Bookings 
for 
the  seminar  are 
essential  –  see 
the 
advertisement 
in this paper for 
details. 
The 
Waipu 
Genealogy 
Group has been 
around  since  the  1980s  –  no-one  can 
quite remember exactly when it started 
now. The members meet once a month 
to  help  each  other  with  their  family 
history  research,  listen  to  engaging 
guest  speakers,  and  work  towards 
extending their family trees. There is a 
wide  range  of  backgrounds  amongst 
the members – some are descendants of 
the  Waipu  settlers,  some  have 
extensive  European  family  histories… 
everyone's family tree is unique.  
~ Wendy 
One day seminar with Michelle Patient 
DNA and Family History 
Monday 22nd July 2019 
9:30am to 4:30pm 
Waipu Coronation Hall 
$25.00 per person 
BYO Lunch 
Morning and afternoon tea provided 
Booking is essential 
- waipu.igg@gmail.com 
- Wendy 4312-725 (Kaiwaka) 
or 027-480-6275 
- Nancy 09-432-7079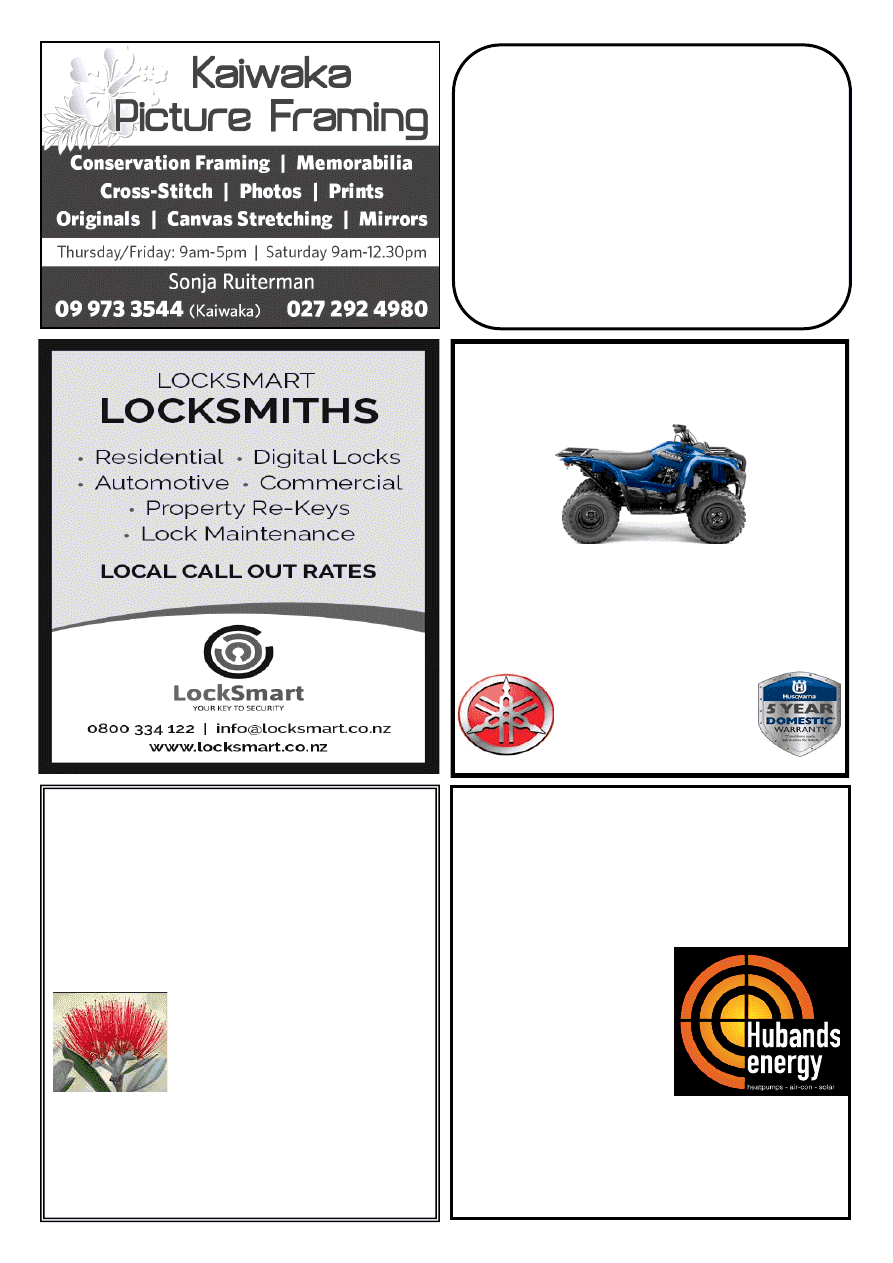 KAIWAKA 
MOTORCYCLES LTD
SALES – SERVICE – SPARES 
FARM BIKE SPECIALIST
PHONE 09 431-2127 
10 KAIWAKA-MANGAWHAI ROAD, KAIWAKA
Trimmers  
from $279
Chainsaws  
from $339
YAMAHA 
HUSQVARNA 
Northland's Award Winning 
Solar Company
SEANZ Best Solar Business Winners 2015/16
EXCLUSIVE 10 year installation warranty 
FREE No obligation onsite quote
Complete systems 
from $5990
See our range of: 
✓ 
Heatpumps 
✓ 
Airconditioning 
✓ 
Hot Water 
Heatpumps 
✓ 
Central Vacuum Systems
09 430 0019             sales@hubands.co.nz 
15 Kioreroa Road, Whangarei
Locally owned and operated for 35 years 
UP-LINK 
CHRIS WARING 
FREEVIEW INSTALLATIONS 
T.V. - HOME THEATRE &  
HI-FI ADVICE/SET UP
SKY ACCREDITED INSTALLER
MOB.0273403747 HM.094312328 
EMAIL cwaring44@gmail.com
28 YRS EXPERIENCE 
OFFERING UNBIASED ADVICE 
KAIPARA FLOORING CO 
Independently owned & operated 
32 HURNDALL ST MAUNGATUROTO
Supply & Installation of Carpet, Vinyl,  
Vinyl Wood Planking
Stockists of 2m & 3m wide 
vinyl & carpet short ends
Residential & Commercial
Q Card Finance Approved 
6-18 month terms 
6 mth interest free
First Class Installations
For a free measure & quote 
phone Christine  
09 946 9886 or 021 515 415 
kaiparaflooring@gmail.com 
http://www.kaiparaflooring.co.nz/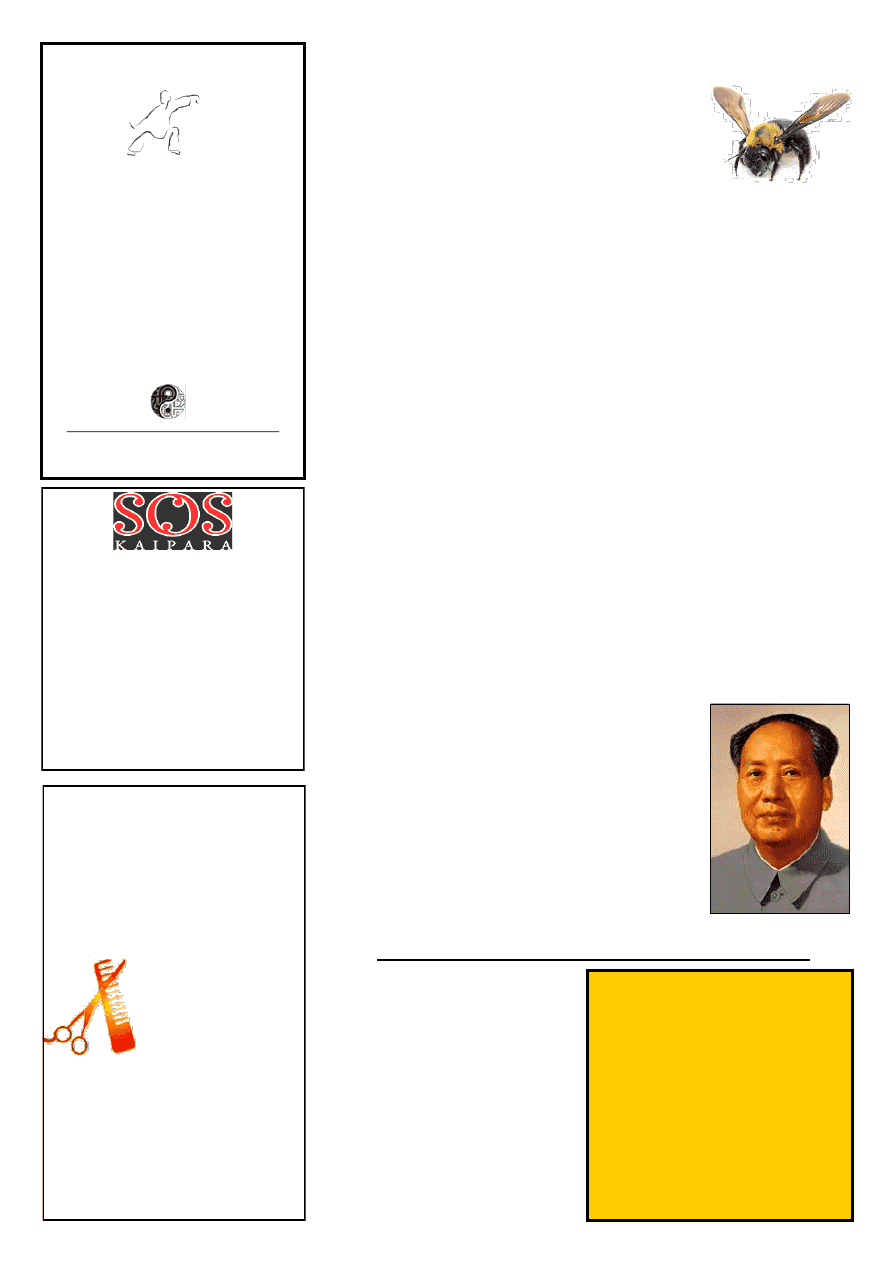 www.kaiwaka.co.nz 
Kaiwaka Bugle - 9 July  2019 
Page 19 
AFFORDABLE 
PRICES! 
MENS CUT FROM $20.00 
LADIES CUT FROM $30.00 
KIDS CUT FROM $18.00 
COLOUR & CUT FROM $120.00 
     JUST  
       CUTS'AND         
     MORE 
021 165 2629 or (09) 945 
0707  
NOW SELLING: scented tealights, 
incense, smudge sticks, copper bracelets, 
aurora ball crystals, dream catchers, 
healing stones, rose quartz, cds, and much 
more. Open 6 days. 
S.O.S Kaipara 
Support, advocacy, crisis and 
family therapy counselling, 
refuge housing to survivors of 
sexual abuse and domestic 
violence. Also Education 
prevention programmes for the 
community and clients.  
Office hours 9am to 3pm Monday to 
Friday; 24/7  phone 09 4396070 
Or phone 111 
"HONEY - HOW MUCH WAS THAT?" 
~ by Bevan Lawrence
TAI CHI 
Balance,  
Co-ordination, 
Meditation,  
Settled mind, 
Confidence,  
Self-awareness 
Classes:  Sunday morning 
Kaiwaka
 8:30 – 10 am Kaiwaka 
Sports Association
For more information please contact 
 Otamatea Martial Arts
otamatea.kempo@farmside.co.nz 
Phone 09-431-5170 
www.facebook.com/
otamatea.kempo 
Years ago, mum would send me down 
the road and around to the edge of the 
new  state-housing  to  Benson's  old 
place,  where,  for  ten  shillings,  I  could 
get  a  jar  of  creamed  honey  straight 
from the vat. 
Years  later  I  would  go  with  Capt. 
Hansen  out  to  farms  in  the  dead  of 
night,  to  move  hives  in  order  to 
pollinate  kiwifruit  orchards  in  the 
Tauranga  area.  Despite  the  inevitable 
stings I still like a bit of honey on my 
toast. 
On  harking  back  to  the  title,  if  you 
know  why  honey  is  so  expensive  then 
read  no  further.  The  story,  as  far  as  I 
understand,  goes  back  to  1958  Mao 
Zedong  ordered  all  sparrows  killed  as 
he  said  they  ate  too  much  grain.  Mao 
(1893  -1976)  was  responsible  for 
disastrous  policies  including  'The 
Great 
Leap 
Forward'- 
mass 
mobilisation of labour, agricultural and 
industrial.  The  result  instead,  was  a 
massive  decline  in  agricultural  output, 
which, together with poor harvests, led 
to  famine  and the  death  of  millions  of 
people.  Mao  had  all  his  obedient 
communist peoples kill sparrows by the 
hundreds of thousands. This caused the 
insect 
population 
to 
grow 
exponentially. These insects ate all the 
nectar leaving none for bees which then 
died  of  starvation  like  so  many  of  the 
Chinese human population. 
So even today, the Chinese people still 
have  to  pollinate  the  flowers  on  fruit 
trees with little fluffy brushes to get the 
fruit  to  grow.  They  have  also  been 
importing bees for some time. 
In the nineteen-eighties, when living in 
the republic of South Korea, we found 
it  difficult  to  get  some  basic  western 
food  items.  Of  course,  we  took  things 
with  us,  like  crunchy  peanut  butter, 
honey,  jam  and  marmite.  When  our 
items cleared customs all the items had 
been  confiscated  except  the  marmite 
which  had  been  opened  and  a  finger 
scoop  removed  then,  lid  replaced, 
returned to us. 
Some weeks later in the black- market 
we found most of our goods including 
perfumed  soap  made  in  New  Zealand. 
In  the  Korean  supermarkets  we  could 
see packets of 'white powder' but you 
couldn't  tell  if  it  was  baking  powder, 
baking  soda,  icing  sugar  or  even  just 
rice  flour,  unless 
of  course  you 
could 
read 
Korean. 
Even 
then  it  would  not 
be  named  as  any 
word  you  could 
understand.  Of  course  one  couldn't 
open a packet and taste it.  
At  the  UN  Commissary,  I  was  able  to 
get  some  things,  for  example  bacon, 
this  came  in  a  can  packaged  in 
Denmark. I managed to fix the problem 
by  going  to  a  bakery  and  pointing  to 
ingredients  out  the  back  and  buying 
small  amounts.  However,  it  had  been 
some time since we had enjoyed honey 
until,  by  accident,  in  a  pharmacy 
window,  we  saw  golden  liquid in jars. 
There was no problem identifying it as 
honey,  because  several  dead  bees 
floated in the top layer. 
I  now  have  a  friend  who  lives  in 
Mangawhai  whose  bees  produce 
copious  quantities  of  honey.  On  a 
regular  basis  the  combs  are  loaded  up 
and  taken  down  country  to  a  health 
consortium which buys and packages it 
for export. High quality Manuka honey 
is most of the load, sixteen tonne in all, 
from 800  - 900 hives. This is amazing 
as  worker  bees  only  live  for  about  six 
weeks  before  their  wings  simply  wear 
out.  The  drones  mate  with  the  queen 
during  flight  and  mating  results  in  the 
loss  of  the  drone's  abdominal 
reproduction parts and therefore death. 
The man who set up one of our leading 
honey companies was originally taught 
bee  keeping  by  my  friend  Capt. 
Hansen.  Recently  I've  seen  an  Asian 
woman  literally 
scrape  dozens  of 
Manuka  honey 
tubs off the shelf 
at  Pack  'n  Save, 
into  a  shopping 
trolley,  no  doubt 
to  send  home  to 
family 
and 
friends. 
Although 
we 
obviously  think 
the price is high, 
it's  much  lower 
here  than  in 
China. 
Pictures supplied the honey bee; Mao Zedong 
Otamatea Repertory Theatre 
presents  
Winter  
"Razzle Dazzle' 
Saturday 3 August 2.30pm  
Fantasy Fashion and 
Entertainment 
Door Sales only  ~ EFTPOS available 
Adults $10 Students $2 
DRIVER'S LICENCE? 
Maungaturoto and Districts Rotary (In 
Conjunction with Te Roroa): 
'Have you got a Learner's Licence and 
wish  to  get  some  driving  practice  to 
enable  you  to  progress  to  your  Re-
stricted Licence? We have purchased a 
car  and  will  provide  12  free  one-hour 
lessons to those who are eligible. Age 
is not an issue.  
If  you  want  to  find  out  more,  please 
call:  0800  555  635  and  leave  contact 
details. We aim for one lesson a week 
and  endeavour  to  provide  mentoring 
on most days.'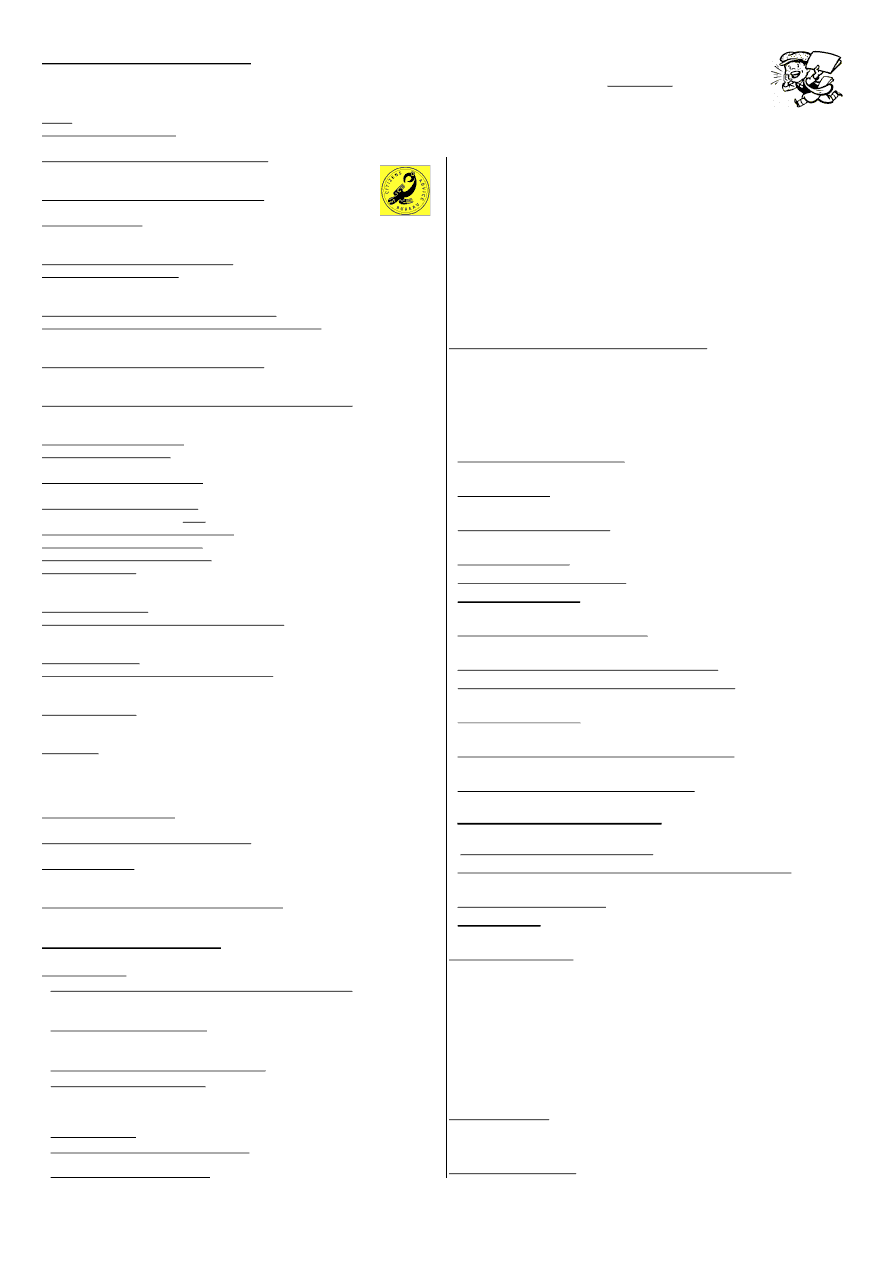 Next Bugle Deadline midday Friday 19 July  2019
WHAT'S ON
PLEASE ~ do let us know what is on - email 
kaiwakabugle@kaiwaka.co.nz 
*12Jul~Movie 'BEAUTIFUL BOY', KWMH, 7.30pm 
*16-20Jul~Taniwha Rugby Tournament, Waipu Rugby Grds 
*18Jul~Linking Hands Inc AGM, 7pm. Mgto 
*21Jul~Tripe & Onion Lunch, Hakaru RSA, 12.20pm 
*22Jul~Waipu Genealogy, DNA Day Ph: 4312725 
*26Jul~Movie 'BORDER' , KWMH, 7.30pm 
*28Jul~Movie 'MIA and the WHITE LION', KWMH 2pm 
*29Jul~KDC Candidate Evening, KWMH, 5.30-6.30pm 
*31Jul~Kaiwaka Sports Assn. Meeting, 7pm, KSA 
*3Aug~ORT 'Winter Razzle Dazzle', 2.30pm. Mgto 
KWMH = Kaiwaka War Memorial Hall; KSA = Kaiwaka Sports Association 
See www.kaiwaka.co.nz for more information 
HOUSEHOLD RUBBISH COLLECTION  
Kaiwaka Pick up: 
Mondays = Green bags (Northland Waste - 09 430 3273) 
Wednesdays  =  Blue  bags  and  yellow  recycling  (at  Jaques  $3.00 
and  $1.50)  (Kaurilands  09  4392146);  ONLY  Blue  and  Yellow 
bags picked up on Oneriri Road. 
 DIABETES Support Group-for Kaiwaka, Mangawhai, Wellsford 
10am, 3rd Friday of month Ph: Colleen James 09 4314238 
 GENEALOGY - Wellsford: 1st Thursday in month Ph: 423 
7033; Waipu: 4th Monday in month Ph: 4312 725 
 HAKARU PONY CLUB - Secretary Denise Rogers 021423376 
secretary@hakaruponyclub.co.nz  
 KAIPARA HUNT - Secretary Albert Doonenbal Ph 4312059 
 KAIWAKA BADMINTON -Tuesdays 7.30pm Ph: 4312345 
 KAIWAKA  CAN  -  3rd Wednesday in  month, 5.30pm, Archie 
Bull Hall Ph: 0273572751 
 KAIWAKA  DRAMA  CLUB  - 
Hannah  Webb 
0272863352 
KaiwakaDrama@gmail.com - FB - "KaiwakaDramaClub" 
 KAIWAKA DRUM & DANCE CLASSES - 021 611198 
 KAIWAKA GARDEN & FLORAL GROUP - 2nd Thursday in 
month. Ph: 431 4744 
 KAIWAKA  CUBS  -  Thursdays  5.30-7pm,  Hakaru  Ph:Bruce 
4312542 
 KNITTING FOR WHANGAREI HOSPITAL - 2nd Tuesday in 
month, Archie Bull Hall 10am Ph 4314827 
 MANGAWHAI COMBINED REBUS CLUB - 2pm, 3rd 
Thursday month, Senior Citizens Hall Mangawhai. Ph: 4315777 
*PILATES-HAKARU HALL  -Tuesday & Thursdays, 9-
10am Ph: 
 0220643965 
 *PT CURTIS CRUISING CLUB - Jean Ph: 4312227 (wk), 4312520 (hm) 
 RSA,  HAKARU  &  DISTRICTS  WOMEN'S  SECTION  –  meets 
1.30pm 4th Thursday of the month. Ph: 431 5818  
 SCOTTISH DANCING - Wednesday morn. Ph: 09 4320532 
 TRAMPING - Mondays 9am-2:30pm Maria 4312 234 
HALLS FOR HIRE: 
  Kaiwaka St. John Hall: Phone Marj  0272941227  
 St.Pauls  Archie  Bull  Hall  HIRE  $20  half  day,  $40  full  day  per 
hire, S McAulay, Ph 4312311 
 Kaiwaka  War  Memorial  Hall  HlRE  -  Phone  4312725  or 
kaiwaka.hall.bookings@gmail.com 
 Hakaru Community Hall HIRE -Ph. 4312256 or 4312110 
 Te Pounga Marae queries - Pearl Nathan  0223933533 
 Kaiwaka Sports Association hire/queries - C. Anderson 4312051 
or kaiwakasports@gmail.com 
Justice of Peace:  
B.FJaques  4312  048;  L.Donaldson  4312  228;  A.F.Hargreaves 
4312 045, W.Howard 4312 725 - please phone to make sure they 
are available www.justiceofthepeace.org.nz 
Marriage Celebrants:  
L.Donaldson; A.F.Hargreaves; Y Osborne
LOCAL SERVICES 
*Emergencies - Ambulance, Fire, Police - dial 111 
*Non-urgent Police phone 09 4311150
A A: Meets Wed., 8pm Kaiwaka Ph: 4315543, 0800229 6757 
ASUREQUALITY LTD (was AgriQuality) Call Free 0508 0011 22  
BUDGETING SERVICE, WELLSFORD: Free confidential advice & 
support for all areas of personal finance. Ph (09) 423 7123 
CAB-Citizens Advice Bureau.Wellsford Ph: 4237333 
0800 367 222 email:cab.wells@xtra.co.nz  
CIVIL DEFENCE - Kaiwaka Community Response Group: 
kaiwaka.civildefencecrg@gmail.com, 4312725 Wendy 
DOG/STOCK /NOISE CONTROL 0800 105 890 
FUNERAL SERVICES: Morris & Morris Ltd, 
Whangarei - Bev Jaques Ph:4312367 or 0800667747 
GRANDPARENTS Raising Grandchildren: Dianah Roberts 0223819539 
HAKARU & DISTRICTS MEMORIAL RSA (Inc) 733 Settlement Rd, 
Hakaru. Ph 4312 176 or Bill Warren (President) 431 2092 
HAKARU LANDFILL/Transfer Station:Open everyday except 
Tuesday10am-4pm.Ph4312629 Cost-$55 trailer load up to 1 cubic metre. 
Ph:4258567 - office 
KAIPARA DISTRICT COUNCIL www.kaipara.govt.nz:  
Help Desk FREEPHONE 0800 727 059  
KAIWAKA CEMETERY: Ph: 4312045 or 4314017 
KAIWAKA LIBRARY: kaiwaka.library@gmail.com  
Mon. 4-6pm; Wed., Thurs., Fri., Sat. 10am-2pm Ph:4312539 
KAIWAKA PLAYCENTRE: Ph Juanita 0274134904; open Mon, Wed, 
Fri 9am-12pm. Hastie Lane; Monday to Friday 9.00am - 12 noon. 
KAIWAKA POST OFFICE:Ph:4312 431  
Post Code: 0573 for RD2 and 0542 for all Kaiwaka Post Office mail 
KAIWAKA PRIMARY SCHOOL: Ph: 4312309   
KAIWAKA SPORTS ASSN: Ph 4312005; 4312129 gym 
KAIWAKA ST. JOHN HALL: Phone Marj  0272941227  
KATE'S PLACE Community Centre - Employment services, Free Health 
Nurse, Plunket, Advocacy, Osteopath, A.A., Legal Advice. 4312 661 
LINKING HANDS Health Shuttle Ph 4315906 or 09 4318969 
MINISTRY FOR PRIMARY INDUSTRIES - General inquiries Call 
Free 0800 008 333 
NORTHPOWER: Faults Kaiwaka area 0800 104040 
OTAMATEA COMMUNITY SERVICES: Counselling, parent coach, 
Family Support worker, budget advice, food bank. Mon-Fri 9am-3pm. Ph 
09 431 9080 http://www.otamateacs.org/ 
PARENTPORT: Free, practical family support service Puhoi to Paparoa 
Ph or txt: Dianne 027 280 5093 or 09 425 9357 
PLUNKET:  Kaiwaka  -Kate's  Place  Clinic  1st  Wednesday  of  the  month; 
Mangawhai  - Rose Madsen Cottage: Coffee Group 9:30 every Monday.  Clinic 
every Monday and Thursday. 
Maungaturoto - Good News Church, Clinic 2nd and 4th Wednesday.  
Cynthia 09 431 7340 or 027 675 3488 
PLUNKET HELPLINE -0800 933 922 (24 hours) 
TAITOKERAU COMMUNITY LAW: Free confidential legal advice and 
assistance, 2nd
Thursday
 of each month. Ph: 0800 155 529 for apps.  
TE URI O HAU Settlement Trust Tangata Developments: Whanau Ora 
021 793262  
VETERINARY SERVICE MANGAWHAI: 
Ph: 4314535 Mon-Fri 8.00-5.00, Sat 9-12, a/h appt. 
WELLSFORD DOCTORS: Ph: 4238 086 
CHURCHES:
 
Kaiwaka  Revival  Church  -  Your  Community  Church:  Sundays  10am. 
Ph: Pastor Tawhiri 09 431 8988 or Pastor Paul 09 4312 068 Visit us at 
www.facebook.com/kaiwakachurch or www.kaiwakarevival.co.nz 
 
St  Paul's  Anglican  Church  1st  Sun.  9.00am  (Eucharist),  3rd  Sun. 
9.00am (Family Service). Contact: Rev. Wayne Thornton Ph 431 4122 
www.mangawhaianglican.org.nz 
 
Church of Christ the King, Mangawhai:9.00am every Sunday 
 
St.Mary's  Catholic  Church:  Maungaturoto  –  Griffins  Road,  Saturday 
evening  Vigil  Mass  6pm;  Mangawhai  –  Senior  Citizens  Hall,  Sunday 
Mass  8:30am;  Wellsford  –  Matheson  Road,  Sunday  Mass  10:30am;  
Mid-week Mass times and all enquires to Fr. Bill Fletcher – phone 423 8170
 
Baptist Church: Sun. 10.30am Mangawhai Snr Cit.Hall.Ph:4312339 
 
Cause  Way  Church  Mangawhai:  Sundays  10.15am,  Mangawhai 
Community  Recreation  Centre,  Insley  St.  Ph:  09  4314782