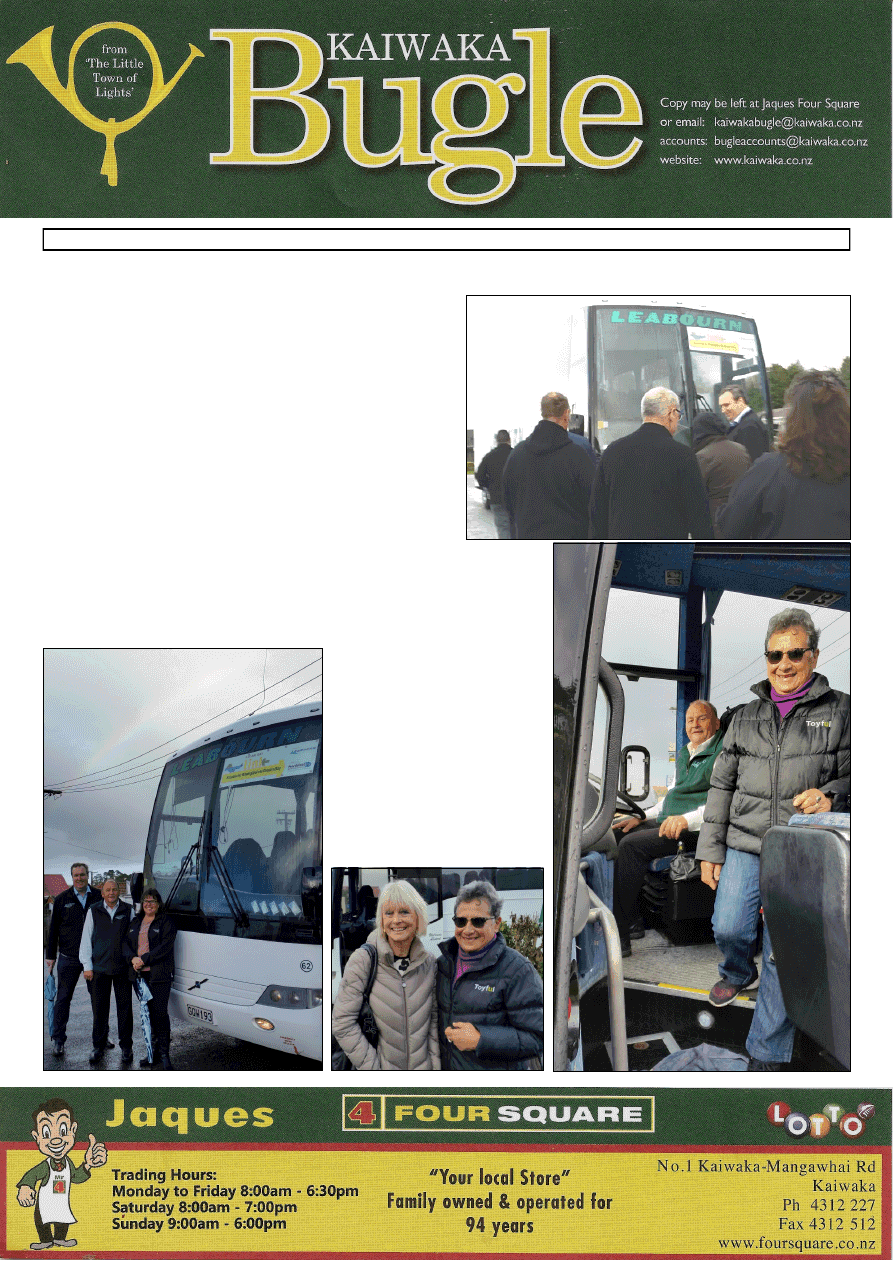 www.kaiwaka.co.nz 
Kaiwaka Bugle - 6 August 2019 
Page 1 
No:15 
6 August 2019 
Trading Hours: 
Monday to Friday 8:00am - 6:30pm 
Saturday 8:00am - 7:00pm 
Sunday 9:00am - 6:00pm  
AN EAST COAST RUN 
The  first  Public  Bus  Service  from  Kaiwaka  to  Whangarei 
started last Thursday 1st August.  A blessing was held before 
the bus left Kaiwaka and Barbie Tauarua was happy to be the 
first person to ride the new weekly route to Whangarei.  
Lyndon  Leabourn  was  really  pleased  to  announce  this  new 
service  in  partnership  with  Northland  Regional  Council,  and 
says this is a great opportunity for our local community.  
The Thursday trial will follow a route that takes in Kaiwaka/
Mangawhai Rd, Molesworth Rd, Mangawhai Heads Rd, Cove 
Rd, The Centre Waipu, Nova Scotia Dr, SH1, Marsden Point 
Rd, Peter Snell Rd, Marsden Point Rd, SH15A, SH 1, Otaika 
Rd,  Maunu  Rd,  Walton  St  and  Whangarei's  Rose  Street  bus 
terminus.  
Lyndon has said one does not need to  travel the whole trip - 
you can just go from Kaiwaka to Mangawhai  (at little cost!) 
Intending users who would like to be picked up elsewhere along the route 
may phone Leabourn on (0800) 994 404 or 09 4237416 book your seat on  
Wednesday (the day before they want to travel) to arrange this. 
Northland Regional Council Transport Strategic Planning Officer Sharlene 
Selkirk is keen to see this bus service a success, especially in an area where 
there is little public transport. 
Feedback  during  the  trial  can 
be emailed to  
buslink@nrc.govt.nz  
See  bus  timetable  'Bream  Bay 
Link'on page 19 . 
Photos  -  clockwise  from  the 
top:  The  Blessing;  Barbie 
Taurua  first  passenger  on  the 
bus with driver Peter Mortlock; 
Number  Two  passenger  and 
Barbie;  Lyndon  Leabourn, 
Peter  Mortlock  and  Sharlene 
Selkirk  of  Northland  Regional 
Council. 
THURSDAY BUS: KAIWAKA - WHANGAREI - KAIWAKA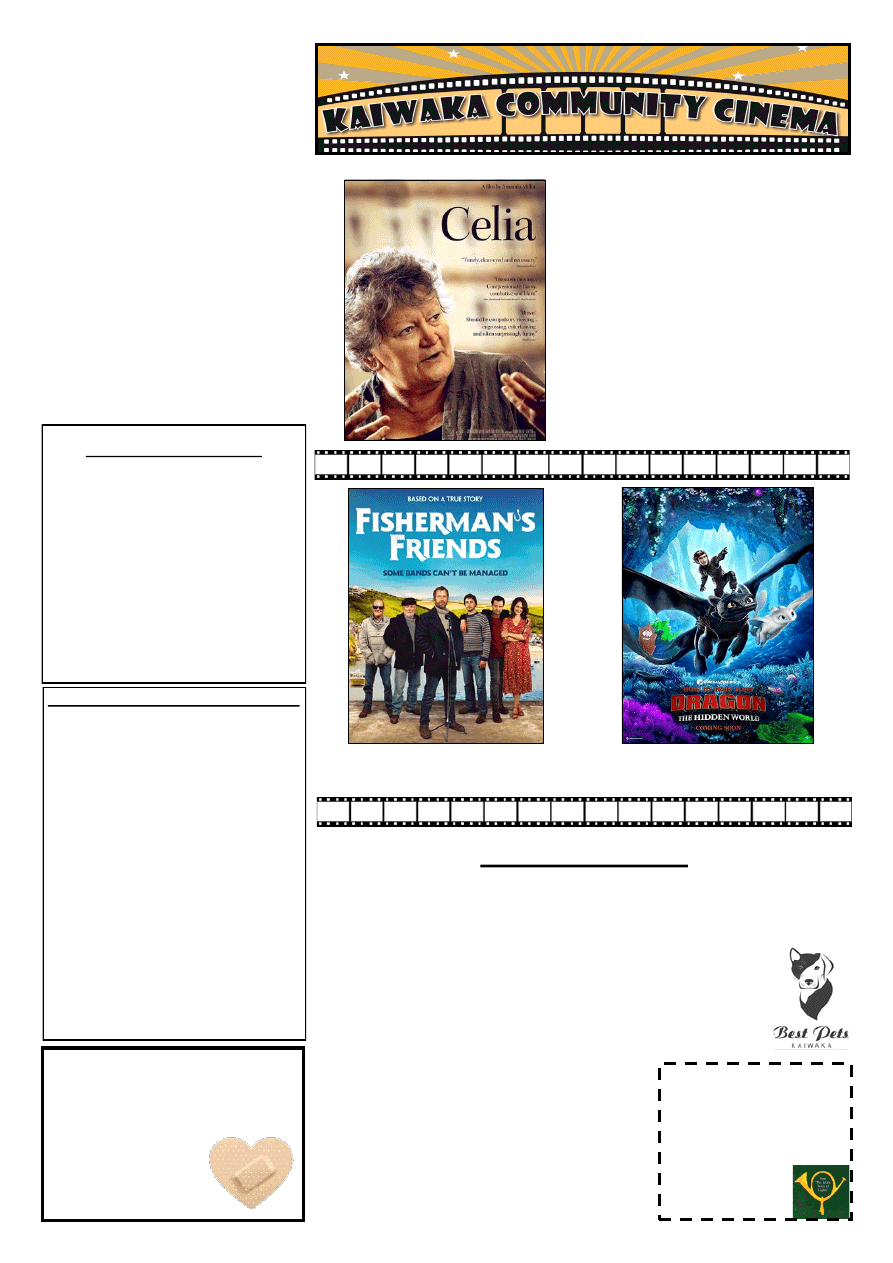 Proverbs 10:12  
Hatred stirs old quarrels, 
but love 
overlooks 
insults. 
At Kaiwaka War Memorial Hall . Adults $10, Kids (under 16) $5, Family Pass (2 adults + 3 children) $25 
ABOUT TOWN 
 
A  big  thank  you  to  Lyndon  Leabourn  and  NRC  for  the  new  bus  route  to 
Whangarei - a great asset for the east coast.  

 Congratulations to locals Jayden Kemp and Tyler Foster on their selection for 
Northland Rugby's U19s squad. 

 KDC Council Elections: Candidate nominations close and electoral roll closes 
midday Saturday 16 August. 

At  this  stage  both  Jonathan  Larsen  and  Peter  Wethey  have  put 
their  names  forward  for  the  local  Kaiwaka-Mangawhai  ward  of 
Kaipara District Council. 

 Kauri Museum Northland Photography entries close 12 August  

 Dog registration by 31 August - see www.kaipara.govt.nz 

 Note:  our  Animal  Health  Centre  has  a  new  name  -  Best  Pets 
Kaiwaka. 

 The Bugle crew welcome local stories, news 
and photos ... 

Earlier  issues  of  the  Bugle  don't  disappear  - 
they can be seen online at www.kaiwaka.co.nz at 
any time - also great colour in the photos.      
                    ~ Lindsey, Ed 
'No one ever injured their eyesight by looking on the 
bright side!"  
KAIWAKA BUGLE NO.15 
6 AUGUST 2019 
CONTENTS: 
Page 3: Public Notices, Classified 
Page 5: Broadband Fibre; Dahlias for 
Dementia 
Page 7: Women's RSA; Kaiwaka 
Weather; Furs Got talent 
Page 9: Hospice Shop; Boarding 
Kennels; Te Hana Orchard; Pt. CCC  
Page 11: KSA; Otamatea Hawks 
Page 13:; Kaiwaka School; Photos 
Page 15: Kaiwaka CAN; Thelma's 
Scrapbook 
Page 17: Otamatea High School 
Page 19: Thursday Bus Timetable 
Bugle 16 will appear  20 August 
Contact for advertising, reports, articles 
or information can be made by 
Email: kaiwakabugle@kaiwaka.co.nz 
Ph: 09 4312 045 Lindsey 
Txt: 027 2724137 
Copy  may  be  left  at  Jaques'  Four 
Square. 
Kaiwaka Bugle Advertisements 2019: 
All 
copy 
and 
queries 
to: 
kaiwakabugle@kaiwaka.co.nz 
The Bugle is printed on an A4 page, B&W  
Ad  sizes:  1/16  page  (3  x  9.5cm)  $5;  1/8 
(6.5  x  9.5cm  landscape  or  portrait)  $8; 
3/16 ( 10 x 9.5cm or 7.5 x 12,5)  $12.  
Classified  ads:  First  one  FREE,  $4  per 
entry (max. 30 words, max. 4 repeats). 
Payments  can  be  made  online  at 
ANZ 
06  0365  0006990  00
,  posted  or  left  at 
Jaques Four Square Store. 
We  use  Microsoft  Publisher,  and  can 
work  with  most  common  image 
formats, Word, Excel, and PDF files. 
Accounts:  
Email: bugleaccounts@kaiwaka.co.nz 
The  Kaiwaka  Bugle  is  a  community 
newspaper run by volunteers, as part of 
the Kaiwaka Media Group Inc.   
Articles, etc. printed are not necessarily 
the opinion of the Bugle Team. 
Kaiwaka Bugle 
Founded May 1978 
We appreciate articles and photos about local 
events, etc, as well as ads and suggestions. 
Copies available in Kaiwaka at Jaques Four 
Square, Kaiwaka Postal Centre, Shamrock 
Service Station, Animal Health Centre, 
Kaiwaka St John shop. 
Also outlets in Maungaturoto, 
Mangawhai and Paparoa. 
Can be viewed online at  
www.kaiwaka.co.nz/Bugle  
Or a copy can be posted to you if you supply 
stamped, self-addressed DLE envelopes. 
CELIA 
Friday 9 August, 7.30pm (M)
Celia 
Lashlie 
was 
a 
fearless, 
impassioned  and  charismatic  advocate 
for the at-risk and vulnerable. 
In this documentary, she lays it all out 
in  an  honest  and  heartfelt  way  that 
inspires  us  all  to  make  a  difference  in 
our  own  lives  and  to  the  communities 
that surround us. 
The  film's  director  and  producer, 
former  TV  current  affairs  journalist 
Amanda  Millar  followed  Lashlie's 
career  over  15  years  and  captured  the 
crusader as she confronted bureaucracy 
and challenged the establishment.
KAIWAKA BUGLE 
DEADLINE DATES 
2019:  
Every second Friday 
August 16, 30 ;  
September 13, 27;  
October 11, 25;  
November 8, 22;  
December 6. 
FISHERMAN'S  FRIENDS
Friday 23 August, 7.30pm (M)                        
How to Train You Dragon - the Hidden 
World Sunday 25 August,  2pm (PG)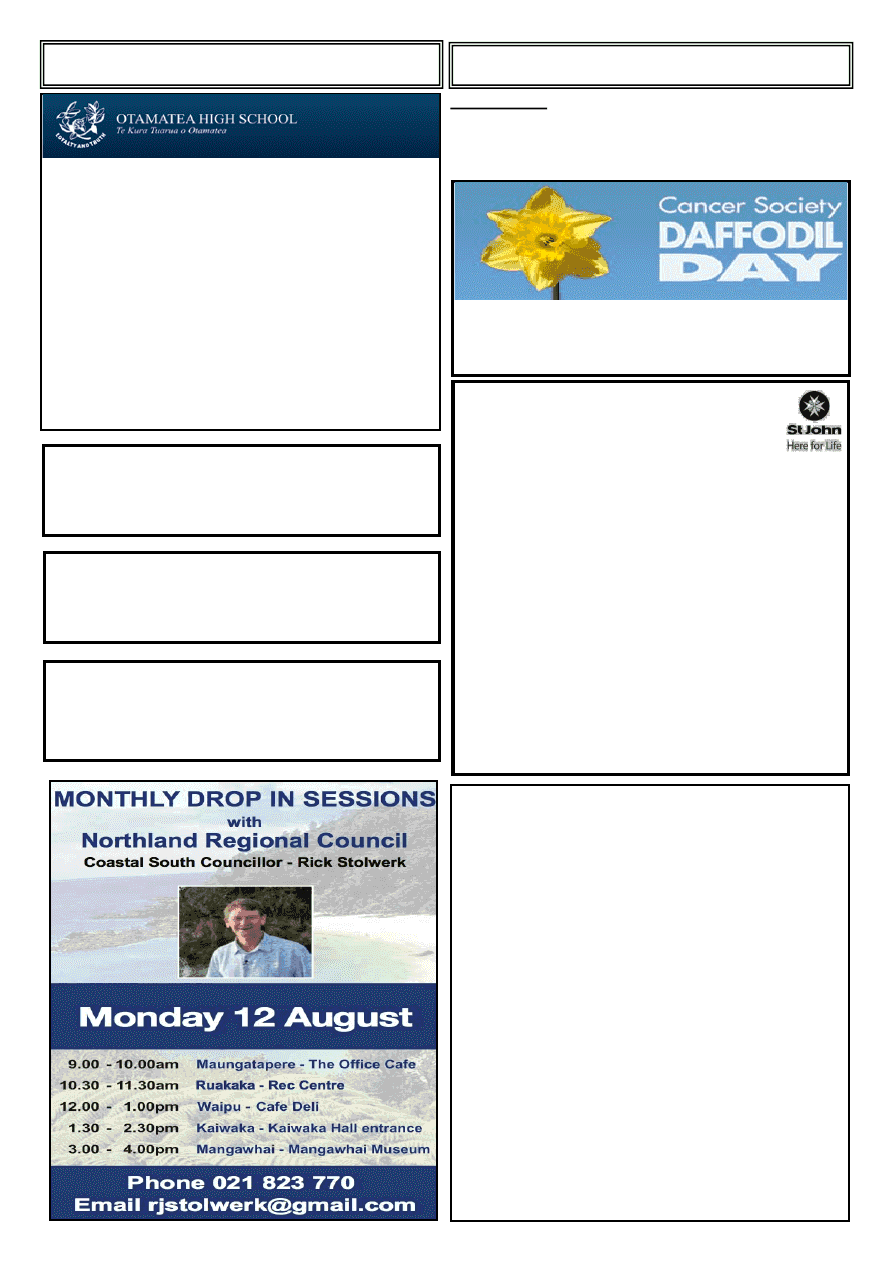 www.kaiwaka.co.nz 
Kaiwaka Bugle - 6 August 2019 
Page 3 
PUBLIC NOTICES 
CLASSIFIED 
The AGM of the 
MAUNGATUROTO MX CLUB 
Will be held at the Maungaturoto Hotel 
On Monday 12 August 2019, at 7pm 
MEETING / HUI  
1PM Thursday 8th August 
Kaiwaka Community Support Office 
(beside U Beauty / Kaiwaka War Memorial Hall) 
Are  you  interested  in  how  the  young  people 
in  and  around  Kaiwaka  are  interacting  with 
the community? 
Do you have a young person who feels lonely 
or isolated? 
Have you had any problems with youth in or 
around our town? 
This meeting is for you! 
Proudly  led  by  our  local  Neighbourhood  Support 
Group; Maria Paikea and Rau Morgan and other locals. 
Come and hear what our speakers have to say; contribute 
any positive thoughts you may have; learn how to better 
support your struggling teen if you have concerns. 
Make Kaiwaka great for all our people. 
FOR SALE: Stove, F&P Ceramic top. Saffron Model. 
Self cleaning oven, fan bake, warmer drawer,2 baking trays 
& slides, grill or baking dish & grill tray. 3 small & 1 large 
element. Clock not working and needs new left front outer 
element. Otherwise exc. cond. $300. (09) 4312367. 
OPEN DAY 
Thursday 8th August at 9.30am 
Parents & whanau are warmly invited to join their 
child at our fun, interactive, hands-on day. 
Find out what OTA has to offer. 
Enrolment Afternoon will be held on  
Wednesday 21 August, at Otamatea High School. 
Please contact Nikki Donaldson at 0800 682 628  
prior to 8 August to secure your enrolment appointment 
on our Enrolment Afternoon. 
For more details please ring Otamatea High School  
0800 682 628 or email ohs@otamatea.school.nz 
KAIWAKA ST. JOHN OP SHOP 
The St John Op Shop is going well but there is 
always a need for stock for us to sell. 
We are looking for the following  : 

Pots and pans, Kitchenware  

Linen, Bedding 

China, Bric-a-brac, Jewellery  

Tools, Craft items, Toys 

Clean clothing and shoes 

Furniture  and any items you may not need but could be 
useful for others 
We also have electrical items which are checked by an 
electrician before we sell them. 
We do have available : 

1 x wall china cabinet 

1 x low china cabinet  

1 x white dressing table with mirror and matching 
bedhead and bedside table and desk 

1 x wheelchair  
Many thanks to you all for your support. If you have any 
queries please do not hesitate to contact the Op 
Shop  094312650 or Gale Matheson 0274149576. 
Check us out at 1919 SH1, Kaiwaka 
DAFFODIL DAY Friday 30 August 
Kaiwaka Collection Points: Jaques Store, La Nonna Café 
If you would to be a collection volunteer please contact  
Lynne on 09 4312020 
PAHI BOATING and FISHING CLUB 
Annual General Meeting 
Tuesday 20 August, 7pm 
At the Clubrooms 
KAIPARA HUNT 
Annual General Meeting 
Friday 16 August, 8pm at 
Maungaturoto Country Club 
All Welcome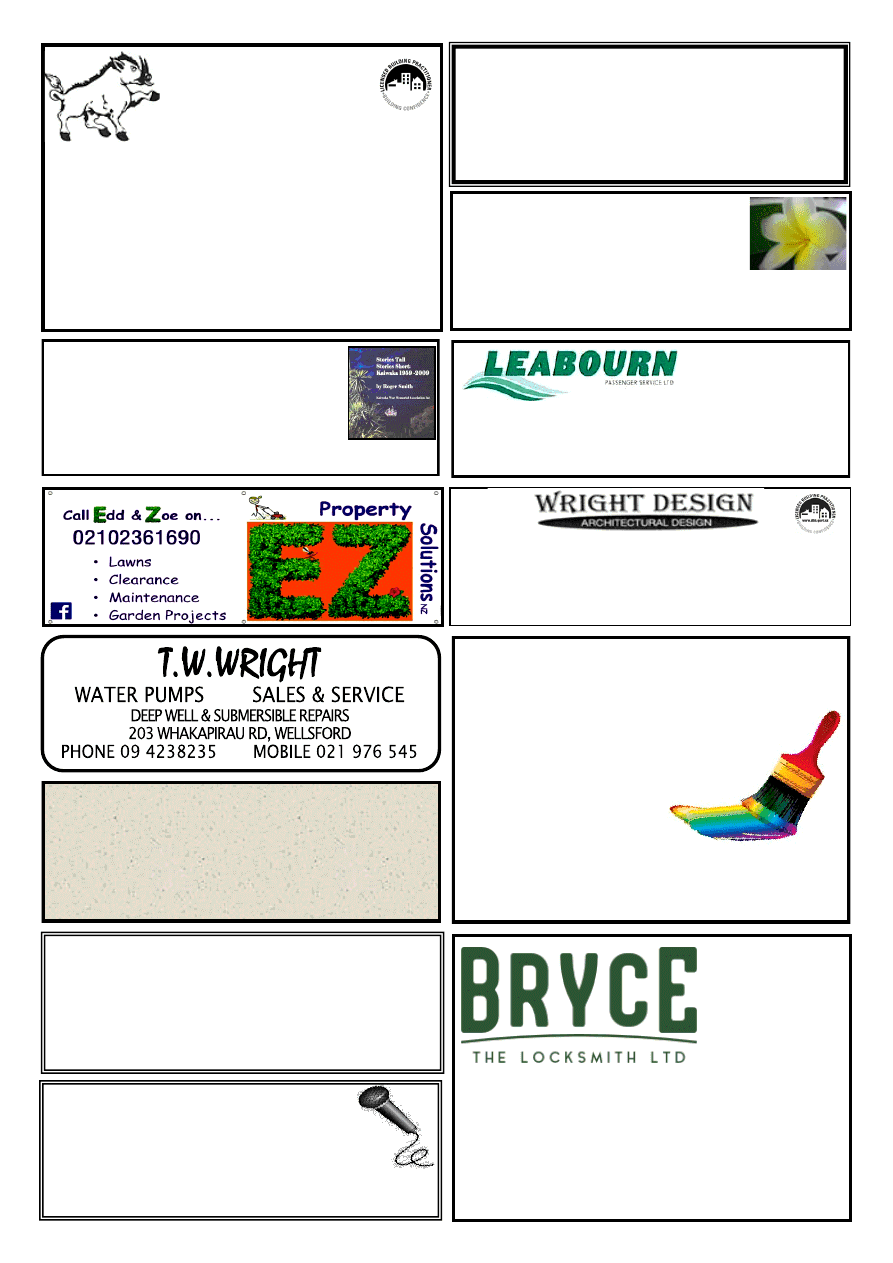 Passenger Service
Car & Van Hire   Bus & Coach Charters 
Airport Transfers    
Phone (09) 4237416 
Counsellor and Registered Psychotherapist 
Offers Supervision 
ACC Sensitive Claims 
Susan Matheson      MNZAC 
Dip. Psychosynthesis Counselling and Psychotherapy 
Phone 09 431 2996                                     Mobile 027 605 2427 
SING RIGHT 
Professional coaching for performance,  
recording and demos. 
All level singers, musicians, singer-songwriters. 
Phone Robyn Hill 431 9159 or 0274 725610 
No. 117345 
N.Z.C.A.D., L.B.P. 117345 
PH/Fax: 09 423 8092 Mob: 021 276 7369 
Office: 3 John Sinclair Avenue, Wellsford    brianwright@xtra.co.nz 
For Resource and Building Consents, planning restraints, new building materials - 
you need a capable, experienced, and professional designer with a clear 
knowledge of all the processes. Brian has been helping and organising all these 
facets of design and building for over 50 years. 
Wright Design offers free visits, consultations and advice on planning, design, 
building, council permit applications, guaranteed permit plan acceptance. 
O'MALLEY 
CONTRACTING LTD 
CONCRETE 
FOR ALL YOUR CONCRETING NEEDS 
T: 021 2200 198
E: omalleycontracting@outlook.com            W: omalleycontracting.co.nz 
Stories Tall, Stories Short:  
Kaiwaka 1959-2009 
by Roger TW Smith 
And 
Kaiwaka: A Photographic History 
Available  at All-Sortz Collectables or phone  4312 045 
Om Tara ~ Mangawhai 
Healing Services 
Diann Glucina 
021 250 7461 diglucina.com  
FB: OmTaraMangawhai 
LEE COOPER PAINTERS 
(Kaiwaka Based) 
*30 yrs Experience 
*Interior/Exterior 
*New and Restoration 
*Honest and Reliable 
*Free Quotes 
09 4312918 or 0274735171 
leecooper@xtra.co.nz 
 Therapeutic Massage
Head, back and shoulders  
- qualified massage therapist -  
Every Thursday at Kate's Place, Kaiwaka.  
$40 for 40 minutes. Keep the winter blues away.
  Ph: 09 431-2661 or 0211510780. 
HANDYMAN 
Gardens * Lawns * Landscaping * Painting 
* Small gib-stopping * 
* General repairs and maintenance * 
Honest - Reliable 
Phone Burn 0211900555 or Brenda 0211185578 
Bryce Frewin 
Ph: 021 850 983 
Kaipara Based Master Locksmith 
bryce@brycethelocksmith.co.nz 
www.brycethelocksmith.co.nz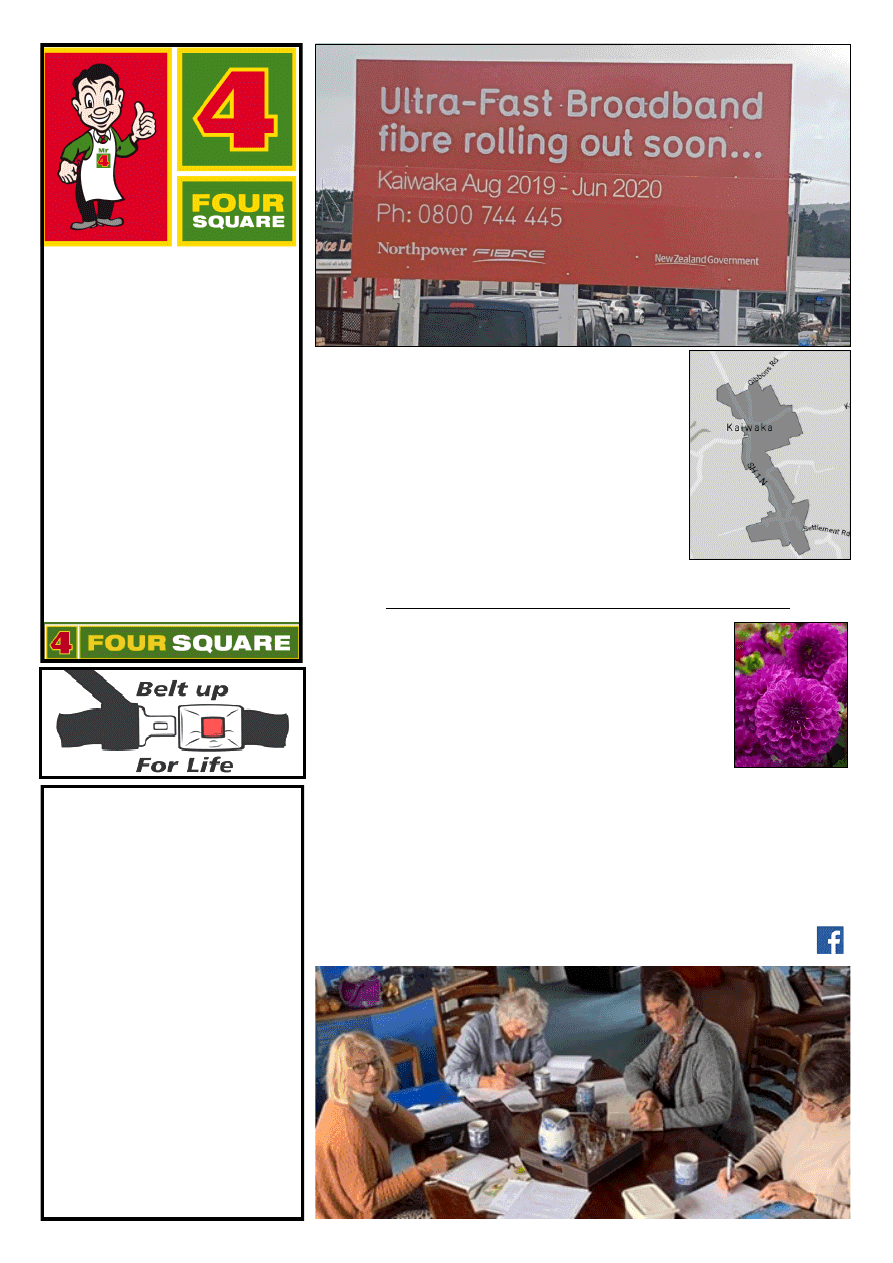 www.kaiwaka.co.nz 
Kaiwaka Bugle - 6 August 2019 
Page 5 
Willow Bend
HORSE  
HOTEL 
  
Total Horse Care 
 
Agistment 
 
Riding Lessons 
 
Arena Hire (60x40) 
 
Young Horse Starting 
 
Re-training/Exercising 
 
Hoof Trimming 
 
Problem Solving 
Phone Sue 09 431 2817 
or 021 623 776 
Or email  
susanjoll11@gmail.com 
FIBRE IS COMING TO 
KAIWAKA 
Yes,  ultra-fast  broadband  is  coming  to  Kaiwaka,  but 
just  the  Kaiwaka  township.  The  estimated  time  the 
work will be finished is 28 April 2020. 
By  going  to  the  Northpower  website  https://
northpower.com/fibre  and typing in Kaiwaka you can 
see the area the fibre will cover. 
To  find  out  if  fibre  will  be  available  at  your  address 
type in your address. Ed. I did this as I live outside the 
dark grey area. Northpower have replied, "At this point 
in  time,  Northpower  currently  have  no  plans  to  build 
UFB  outside  our  Government  funded  boundaries.  
Have  you  looked  into  RBI  which  may  be  a  solution  for  your 
locationwww.crowninfrastructure.govt.nz ." 
DAHLIAS FOR DEMENTIA 
Dahlias for Dementia fundraising garden and house tour 22nd 
and 23rd February 2020 is underway. There will be so much 
to  see  and  enjoy  over  those  2  days  and  all  funds  raised  go 
directly  to  the  new  Maungaturoto  Dementia  unit  at  the 
Riverview Rest Home. 
Dahlias  for  Dementia  fundraisers,  pictured  below  –  Rae 
Radley,  Anne  Pryde,  Karen  Smales,  Marj  Paton,  plan  an 
extensive  garden  and  house  tour  from  Maungaturoto  to 
Matakohe. Prominent on the list of visits will be Totara House, attached to The 
Kauri  Museum,  where  the  late  Mavis  Smith  raised  prize-winning  blooms,  as 
well as the gardens of Sir Lockwood and Lady Alexandra Smith. 
Dementia  can  be  a  frightening  prospect  as  we  grow  older.  Losing  memory, 
cognitive ability and the human functions we take for granted is heart-breaking, 
not only for patients themselves, but for loved ones who are charged with caring 
for  them.  Dementia  is  caused  by  damage  to  brain  cells.  The  most  common 
conditions in New Zealand include Vascular dementia and Alzheimer's disease. 
Other variants include Lewy Body Dementia and Frontotemporal Dementia.  
Check for more information on their Facebook page - Dahlias for Dementia. 
Saturday and Sunday  22 and  23 FEBRUARY 2020   
Dahlias for Dementia Garden & House Tour 
Happy 95th 
Birthday  
JAQUES 
FOUR SQUARE 
From Centennial of Kaiwaka 1959 
page 55 'In 1914 Mr Hamilton sold out 
to T. Randle, after whose death, it was 
purchased in 1924 by F. J. Jaques, who, 
with his four sons, still carries on in an 
up-to-date and modern premise. Well 
worthy of note is the coincidence that 
these Jaques boys are direct 
descendants and the great-great-
grandsons of the first storekeeper in 
this part of the Kaiwaka district. In 
about 1870 John Curtis had a store at 
Point Curtis …'  
Jaques Four Square 
Phone: 4312227 
1 Kaiwaka-Mangawhai Road, Kaiwaka.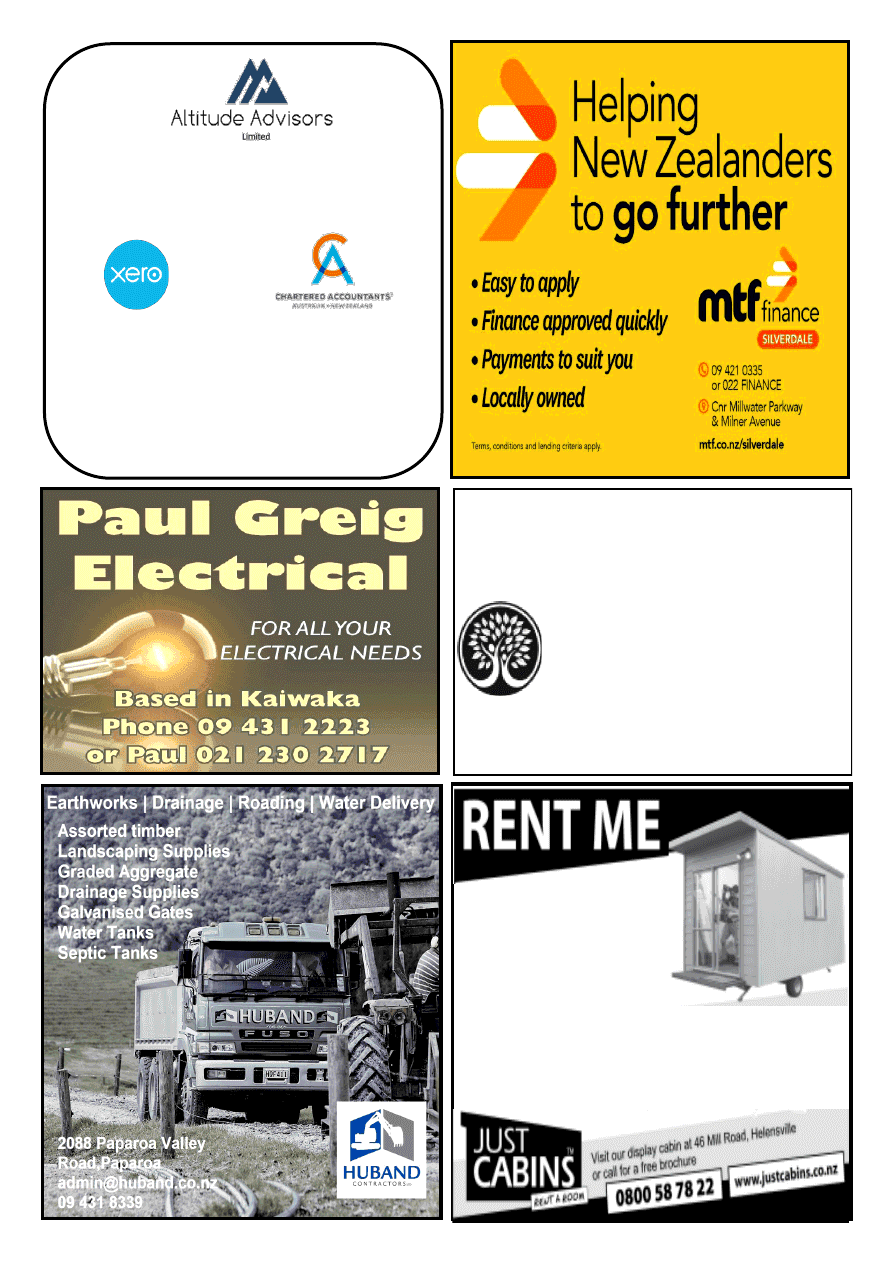 Ideal as an extra  
bedroom or office 
Three Convenient sizes: 
Standard 3.6m x 2.4m - $65 per week 
Large 4.2m x 2.4m - $80 per week 
Altitude with Attitude, helping your business 
scale new heights 
Time to try something different? 
Xero training          Accountancy Services 
We are offering two opportunities: 
15% saving off your annual report cost for your first 
year, & a further 10% saving for any referrals 
Call Corinne on 021 252 7680 or 
corinne@altitudeadvisors.nz 
Waipu Natural Health 
3 Cove Road, Waipu  (opposite the Pizza Barn) 
Ph: 09 432 1325 
www.waipunaturalhealth.co.nz
Clinical Nutritionist-Hair Analysis for Masked 
Allergies, Ozone Therapy, Prolotherapy, 
Naturopath-Medical Herbalist, Registered 
Massage Therapists, Reflexology-
Craniosacral Therapy, Acupuncture-Facial 
Acupuncture, Kineso Taping, Hypnotherapy, Counselling, 
ThetaHealing/Change Catalyst.
AFFORDABLE CONSULTS FOR KIDS – give us a call
Gift Vouchers available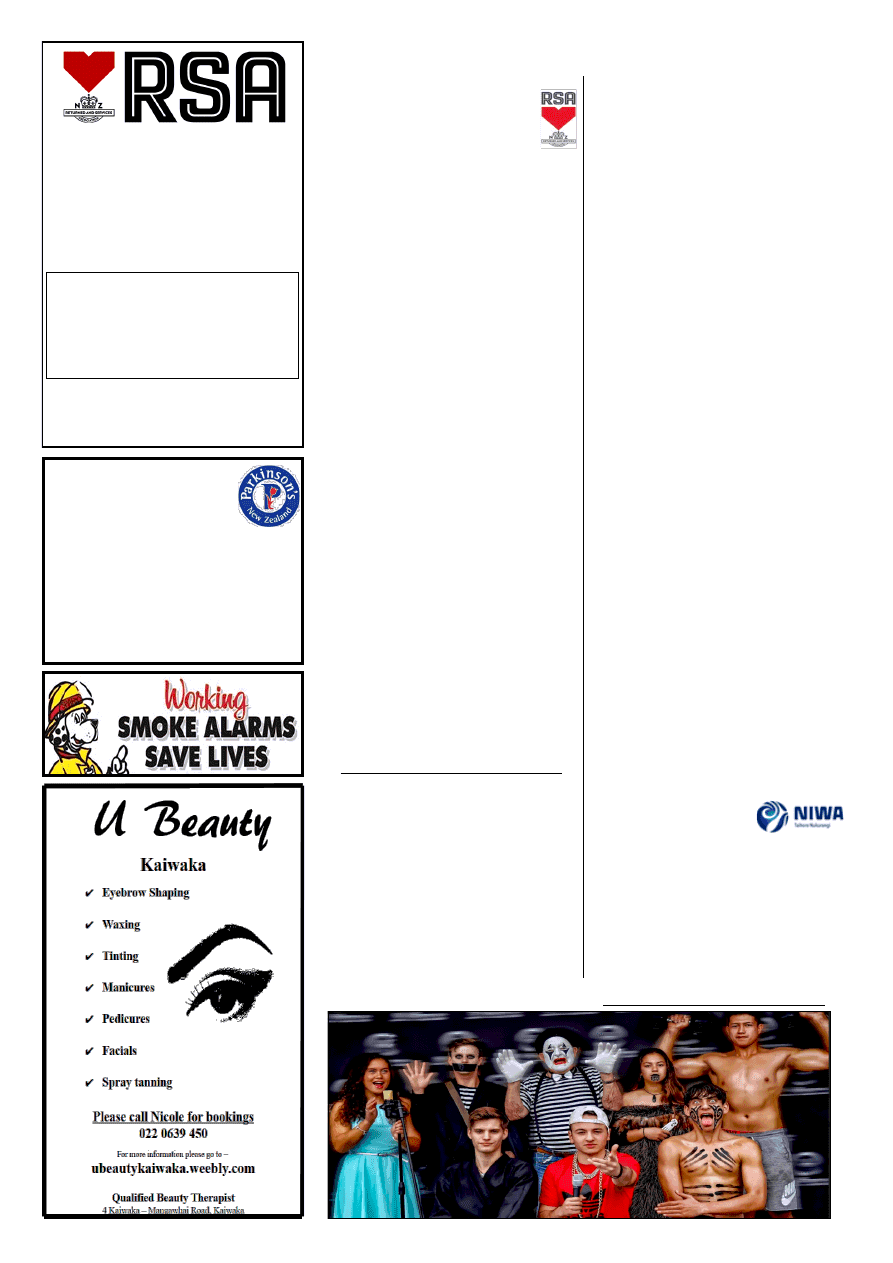 www.kaiwaka.co.nz 
Kaiwaka Bugle - 6 August 2019 
Page 7 
Parkinson's  
Northland 
Provide: 

Home based consultations 

Information and education on living with 
Parkinson's 

Support and exercise groups 

In-service training for other health 
providers 
Barbara Leslie RN,  
Community Educator 
09 4376881  or 027 5306221 
barbara.leslie@parkinsons.org.nz 
www.parkinsons.org.nz 
KAIWAKA 
WEATHER 
JULY 
No  wonder  we  are  suddenly  wet 
underfoot.  At  our  house  we  recorded 
(with  a  little  help  from  Jan  and  Stella 
up  the  hill  thank  you)  177mm  rain. 
(equates  to  7  inches  of  rain 
approximately in old terms).   
Now  being  past  the  middle  of  the 
Winter  with  1  month  to  go  to  Spring 
what  a  mild  winter  we  have  had  even 
though it is cold. A very cold day as I 
type this report out.   
We  have  not  had  any  frosts  at  our 
house  although  some  of  Kaiwaka  and 
the Hakaru Valley may have had some 
as it did get a really icy feel here.  We 
did not have a lot of strong cold winds. 
Well  not  a  lot  at  our  house  compared 
to  other  years.    School  holidays  all 
over  again  and  children  back  at 
school.    Please  be  aware  of  those 
school  buses  and children running  out 
from behind them.   
I  am  wondering  how  August  is  going 
to  treat  us  this  year.    I  have  heard  of 
predictions of a wet month.  Well that 
waterfall  on  the  Brynderwyn  all  but 
dried up again.   
Ok.  At  our  house  last  month  we 
recorded for July 2019 177mm and for 
2018 130mm.   
Our wettest July since 1987 was 1998 
with  602mm  and  the  driest  was  1993 
33mm.   
For the first 7 months of 2019 we had 
577mm and 2018 we had 1261mm.   
Our  wettest  first  7  months  since1987 
was 2018 with 1261mm and the driest 
was  1987  with  480mm.    We  had  rain 
on  23  days  for  2019  and  for  2018  we 
rain on 16 days.   
Ending on an icy note Q. What did the 
icy road say to the truck?" 
A. "Want to go for a spin?." 
 Take  care  on  the  wet  roads  and  keep 
warm.  
~ Bev
. 
From NIWA:  
Climate outlook for August-October  
Highlights of the outlook include: 
⚫
Temperatures likely to be average for 
all of New Zealand, despite a cold snap 
in early August. 
⚫
September  likely  to  be  particularly 
unsettled 
⚫
Frequent  cyclonic  air  flows  may 
produce  regular  rainfall  events  across 
the country. 
11  members  attended  the  July 
meeting and it was good to have 
our  President  Lena  back  at  the 
helm,  we  hope  daughter  Bobby 
will  continue  to  improve  in  health. 
On the 9th September we are invited to 
Franklyn  RSA  Pukekohe  for  their 
Birthday $24 p.p. Members wishing to 
go  please  phone  Lena  on  4315034. 
Happy  Birthday  to  Pat  Judd  and 
Pamela  Truscott,  both  members  had 
Birthdays  in  July.  Unfortunately 
Pamela  wasn't  well  enough  to  attend 
hope  you  are  feeling  better  now 
Pamela. 
Raffle prizes  
Raffle  prizes  are  needed  for  the  raffle 
on  October  5th  for  the  Northern 
Conference  being  held  at  Hakaru  and 
also items for the Trading table. Please 
bring raffle items to meeting in August 
so  Heather  can  arrange  them  in 
baskets. 
New President 
Angel  Erstich  has  stood  down  from 
N.Z 
President 
after 
doing 
an 
outstanding  job  for  which  we  thank 
her.  Dianne  Wilson  is  the  new 
President  with  Lynda  Gage  from 
Birkenhead  whom  a  lot  of  us  know  is 
Vice President. 
August Meeting 
The Hostesses for August are Pat Judd 
and  Doreen  Woodhouse.  The  next 
meeting  will  be  on  Tuesday  22nd 
August  1.15p.m.  New  Members 
Welcome. 
Friday Night Dinners 
Public  and  Members  don't  forget  to 
come along and enjoy a lovely meal at 
the RSA Club on a Friday night 6 pm, 
you will be made most welcome!!  
~ Cheers, Ann 
HAKARU RSA 
WOMEN'S SECTION
HAKARU & DISTRICTS 
MEMORIAL RSA (INC)
Members & guests are invited to 
come along and enjoy our hospitality. 
New members welcome. 
Meals are served on Thursday and 
Friday nights from 6.30pm. 
Order from Blackboard Menu  
and a sing-a-long  
with Des Chitty. 
For more information please phone 
Graeme on 431 2563 
FURS GOT TALENT 
For Show Times 
Check their Facebook page 
Three Furlongs Bar & Grill 
SEMI - FINAL:  
Saturday August 24th 
GRAND FINAL:  
Saturday August 31st   
Three Furlongs Bar & Grill 
1942 State Highway 1 
09-431 2246 
.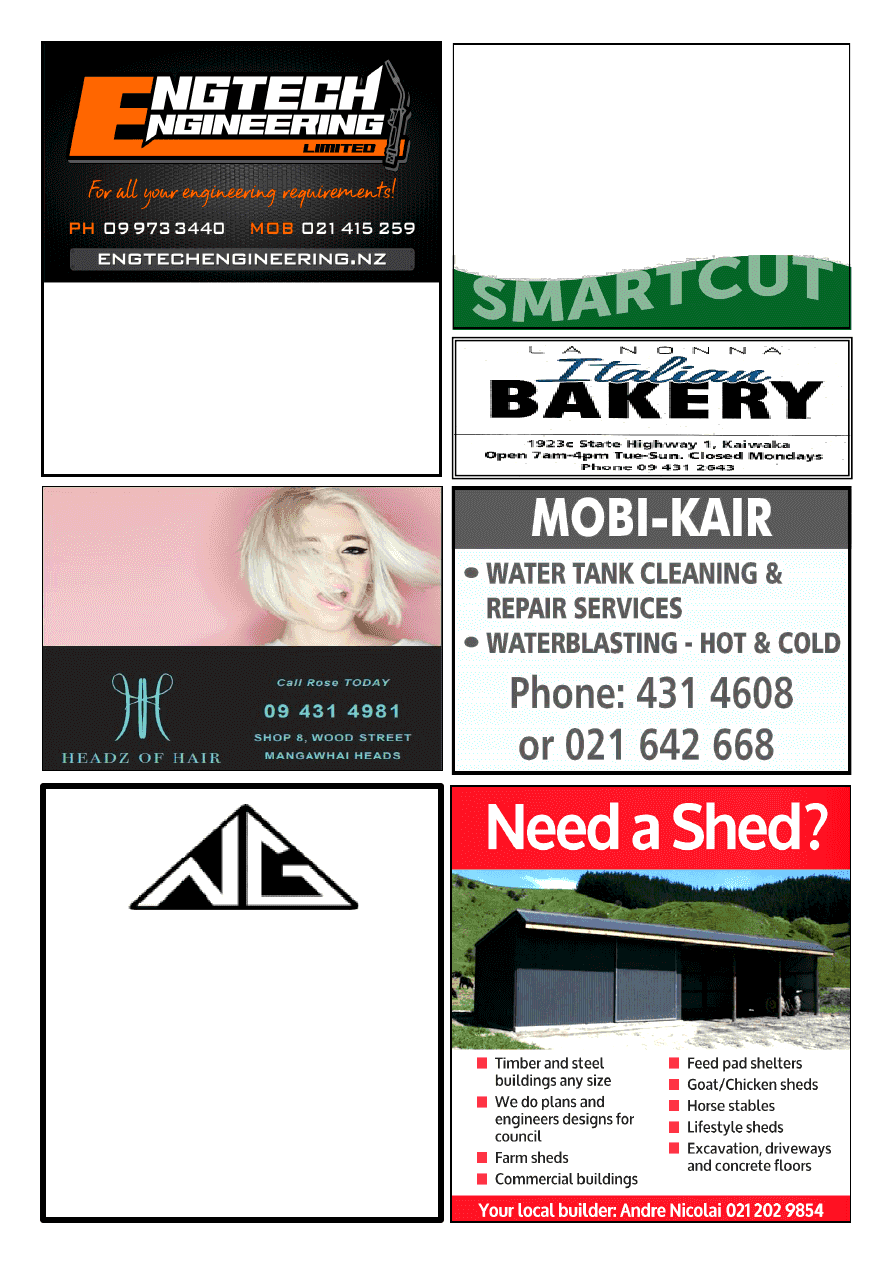 All your outdoor needs sorted so you don't have 
to... 
I can prune, chop, tidy, spray, mow, plant 
- you name it, I can do it! 
Residential & Commercial 
Lawn & Garden Care 
Call Rodney, your local  
lawnmowing contractor 
021 138 2344 
NORTH GLASS 
WINDSCREEN REPAIR OR REPLACE 
GLAZING SERVICES 
MIRRORS  •  SPLASH BACKS  •  SHOWERS 
0800 70 40 10
info@northglass.co.nz 
www.northglass.co.nz 
Ryan Lusty and Tracey's  
New Workshop is Now Open 
648 Kaiwaka-Mangawhai Rd, Hakaru 
Engtech Engineering facility is big, 
modern and ready to help solve problems 
for the wider community. 
www.kaiwaka.co.nz 
Kaiwaka Bugle - 6 August 2019 
Page 9 
ST PAUL'S  
ANGLICAN  
SUNDAY SERVICES
St Pauls Church: Kaiwaka-Mangawhai Rd. 
1st Sunday - Eucharist 
3rd Sunday - Family Service 
Priest in Charge Rev. John Blundell  Ph 431 4122 
www.mangawhaianglican.org.nz
TE HANA 
HOSPICE SHOP
August  1st  was  the  first  day  for  the 
smart  new  Hospice  Shop  in  Te  Hana, 
joining  the  Wellsford  and  Warkworth 
Hospice shops in our area. 
This large airy shop is right next to the 
Te Hana Orchards driveway. 
Pictured  below  are  Julie  and  Natalie 
showing the  opening hours - Thursday 
to Sunday, 9am - 4pm. 
The  official  opening  was  on  Friday  2 
August - pictured below.   
All  proceeds  help  fund  Harbour 
Hospice 
services  in 
the 
local 
community. 
POINT CURTIS 
CRUISING CLUB  
⚫
 Our  club  is  supporting  the  Three 
Furlongs Bar & Grill Pool Challenge at 
Wellsford  Inn  on  Sunday  18th  August 
–  leaving  Kaiwaka  at  12.30pm.    Start 
time is around 1pm.  
⚫
Subs were due 1st of June 2019  
$30  Family  &  $20  Single;  Internet 
banking  12  3094  0008233  00  Please 
use Name/s as a reference 
⚫
Fish  of  the  Month  is  Snapper  till 
7th August 
⚫
Next Club Meeting 7th August 2019 
@  Kaiwaka  Sports  Association  7pm 
~ Wayne Leslie, Commodore
LOOKING SOUTH 
WANDERING WILLOWS 
KENNELS AND CATTERY 
Candy  Best  has  not  long  opened  her 
Wandering  Willows  Kennels  situated 
at 1415 State Highway One - south of 
Kaiwaka and before the Topuni corner 
Candy  is  busy  extending  her  kennel 
space.  
She  can  be  contacted  by  phone:  027 
211  5211  or  email:  wandering-
willows@hotmail.com 
See  her  website  www.wandering-
willows.com or Facebook page - where 
you  can  see  lots  of  photos  and  even  
take part in a competition 
Bulk Cartage 
TE HANA 
ORCHARD
 The Orchard shop, down the lane from 
the Hospice Shop, are now under new 
management.  Daryn  and  Louise,  of 
Salty River Farm, have had a great first 
week in Te Hana Orchard shop and are 
enjoying meeting the locals.  
They, too, have a Facebook page with 
wonderful  photos  of    their  fruit  and 
vegetables.  The Orchard shop is open 
Monday to Saturday 8.30am-4.30pm.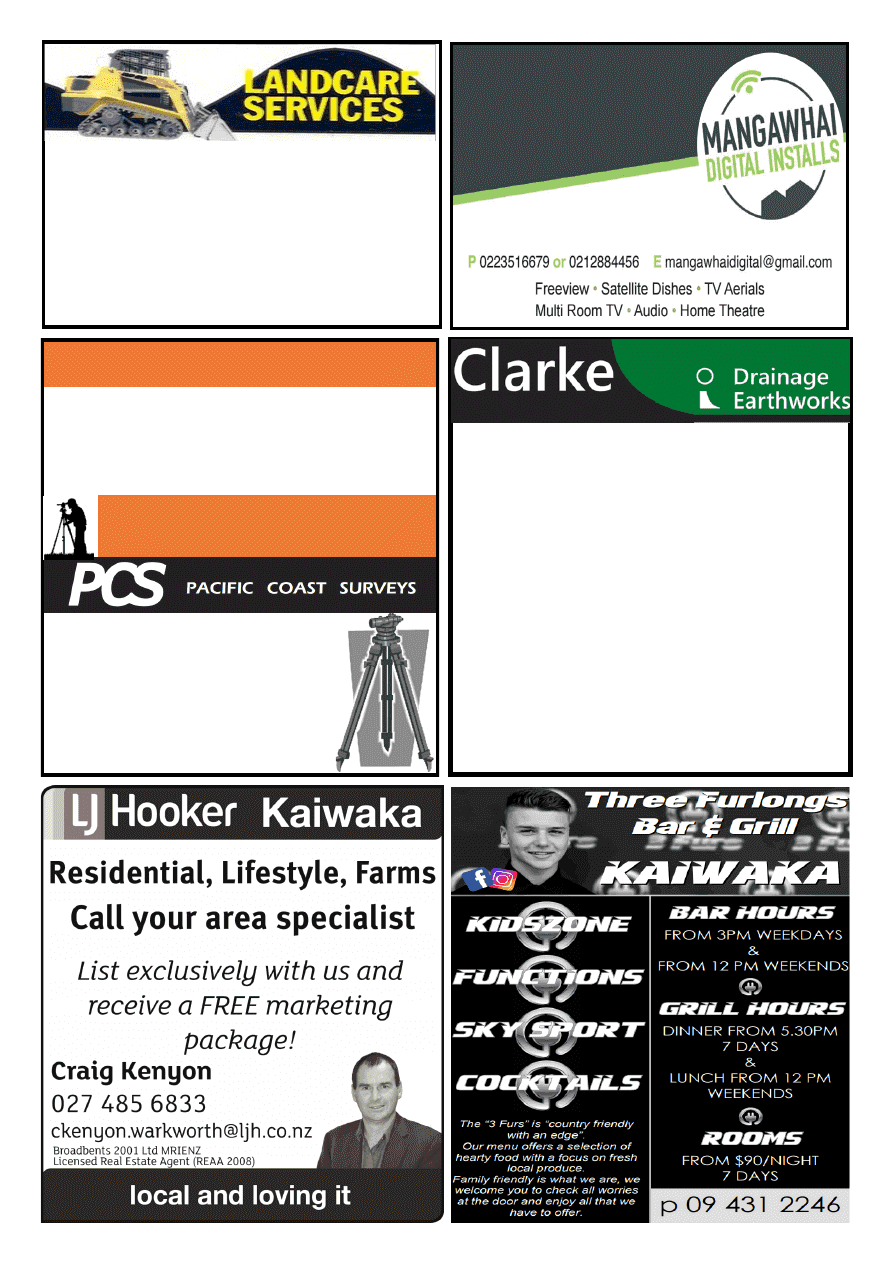 SURVEYORS 
SUBDIVISIONS 
HOUSE SITE SURVEYS 
CIVIL ENGINEERING 
WASTEWATER DESIGNS 
EXPERIENCED 
PROFESSIONAL 
INNOVATIVE 
Ph 09 431 5353 
0800 PACIFIC (0800 722 434) 
pacificcoastsurvey.com
Adam Booth - 027 415 5752 
Bsurv, Licensed Cadastral Surveyor
Surveying Kaipara since 1994 
LANDSCAPING 
4 IN 1 BUCKET 
TRENCHER 
POLE HOLES 
ROTARY HOE 
COMPACT ROLLER 
OFFAL HOLES 
CAN SUPPLY WOODCHIP & POST PEEL 
5 TON TIPPER 
FOR RELIABLE AND FRIENDLY SERVICE CONTACT DAVE 
Dave Hyndman 
 
KAIWAKA 
PH: 09 4312302 
MOB: 021 431 238 
Drainage & Earthmoving 
nigel@clarkedrainage.nz 
027 2233 185 
Registered Drainlayer                 All Types of Earthworks  
> All Residential & Commercial Work  > House Sites 
> Septic System Design & Install 
> Footings & Drilling to 10m 
> Sewer Connections 
> Dams 
> Water Tank Installation 
> Roading & Races 
> Farm Work 
THE ONE STOP SHOP  
Phone Nigel for an Obligation Free Quote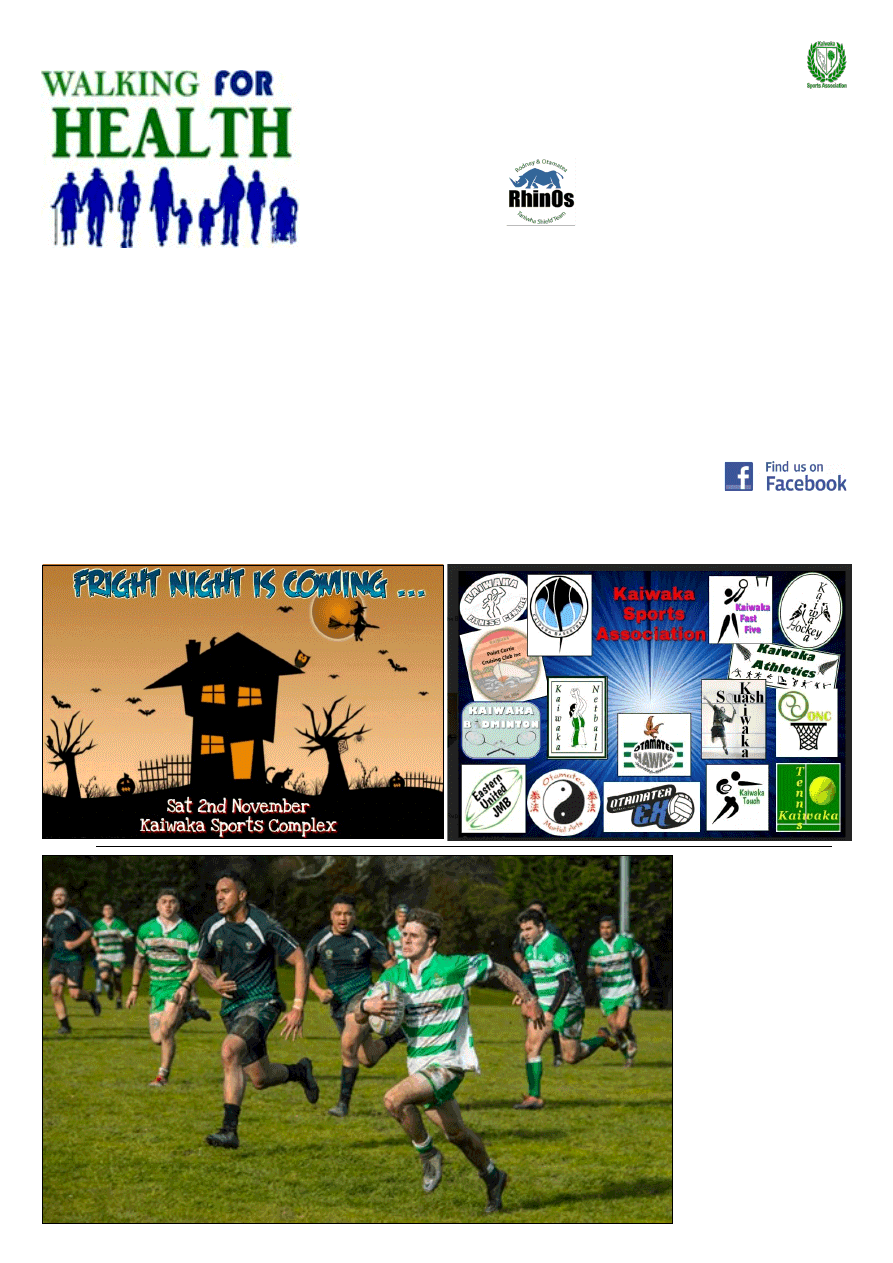 www.kaiwaka.co.nz 
Kaiwaka Bugle - 6 August 2019 
Page 11 
KAIWAKA SPORTS ASSOCIATION
Walking For Health 
The  day  for  the  Kaiwaka  Walking 
Group  has  changed  from  Tuesdays  to 
Mondays.  Meet  at  8.30am  and  4pm  at 
our  Fitness  Trail.  Come  and  have  a 
walk  with  others  and  your  local 
physiotherapist  Amy  Griffiths.  Some 
people  manage  once  round  slowly, 
others  will  walk  round  several  times 
more quickly, just go at your own pace. 
Te Tai Tokerau Sports Awards 
The 2019 Te Tai Tokerau Māori Sports 
Awards  will  be  held  on  27  th  October 
in Waitangi. 
These  awards  aim  to  recognise  the 
achievements  and  service  to  sport  of 
people  who  whakapapa  to  Te  Tai 
Tokerau. 
Nominate 
online 
at 
www.sportnorthland.co.nz . 
Summer Sports 
With  our  winter  sports  winding  up 
shortly,  we  will  soon  be  looking  at 
getting  organised  for  our  summer 
sports – touch and tennis. More details 
to follow. 
Congratulations 
Well  done  to  our boys  from 
our  Junior  Hawks  who 
represented  our  district  in 
the combined "Rhinos" team 
which competed at the Taniwha Shield 
tournament  in  the  school  holidays.  A 
great  effort  from:  Wiremu  Makea, 
Wade  Anderson,  Ethan  Van  Waveren, 
Max  Kemp,  Jayden  Schaumkel, 
Hamuera  Henderson,  Kya  Wilson-
Hiraka,  Tembo  Kimani  and  Wiremu 
Phillips. See photos in Bugle No.14. 
Fright Night – help please 
Our Fright Night will be in a couple of 
months.  This  is  one  of  Kaiwaka's 
biggest events of the year, with several 
hundred people coming along to enjoy 
our  Haunted  House  and  other  spooky 
activities. 
I would love some new decorations and 
props  to  deck  out  the  pavilion  –  so  if 
there are any creative people out there 
who  would  be  interested  in  making 
some  Halloween-themed  items,  please 
get 
in 
touch 
with 
me: 
cherylanderson051@gmail.com . 
Rugby Achievements 
A huge congratulations to locals 
Jayden  Kemp  and  Tyler  Foster  who 
have  been  selected  for  Northland 
Rugby's  U19s  squad,  a  superb 
achievement! 
A special mention also, to rugby coach 
Mike  Peeni,  a  previous  winner  of  our 
Service  to  Sport  category  in  the  KSA 
Sports  Awards.  Mike  has  continued 
with  his  impressive  coaching  track 
record,  by  coaching  his  U18s  Kaipara 
Wolves  team  to  victory  in  the 
Northland  U18s  Championship,  well 
done to Mike and the boys. 
KSA News 
There  is  always  a  lot  happening  at the 
Kaiwaka Sports Association!  
We  are  available  for  hire  for  private 
functions,  plus  we  host  lots  of 
community  events  as  well  as  holding 
trainings and matches for our affiliated 
sports clubs: 
rugby,  squash,  badminton,  touch, 
netball,  martial  arts,  tennis,  athletics, 
fitness centre, hockey, fishing, fast five 
and basketball.  
To  keep  up  to  date 
with  KSA  news, 
please  like  my  Kaiwaka  Sports 
Complex Facebook page, or check out 
our website www.kaiwakasports.co.nz . 
~ Cheryl,    kaiwakasports@gmail.com
OTAMATEA 
HAWKS  
The  2019  season  has 
finished  for  the  seniors 
and  unfortunately,  they 
lost  the  relegation  game 
last week at Kaiwaka. 
The  game  had  plenty  of 
action and showed a lot of 
team work. 
The 
team 
may 
be 
relegated 
to 
the 
championship 
division 
depending  on  Moerewa/
Kawakawa  being  able  to 
fit  the  requirements  the 
Northland  Rugby  Union 
set. 
Pictured  right  is  Rhys 
Shadbolt  powering  to  the 
touchline,  nearing  the  line 
he  gave  a  short  kick  which 
was  caught  by  No.12    who 
scored. 
Mike Houston then 
converted the try.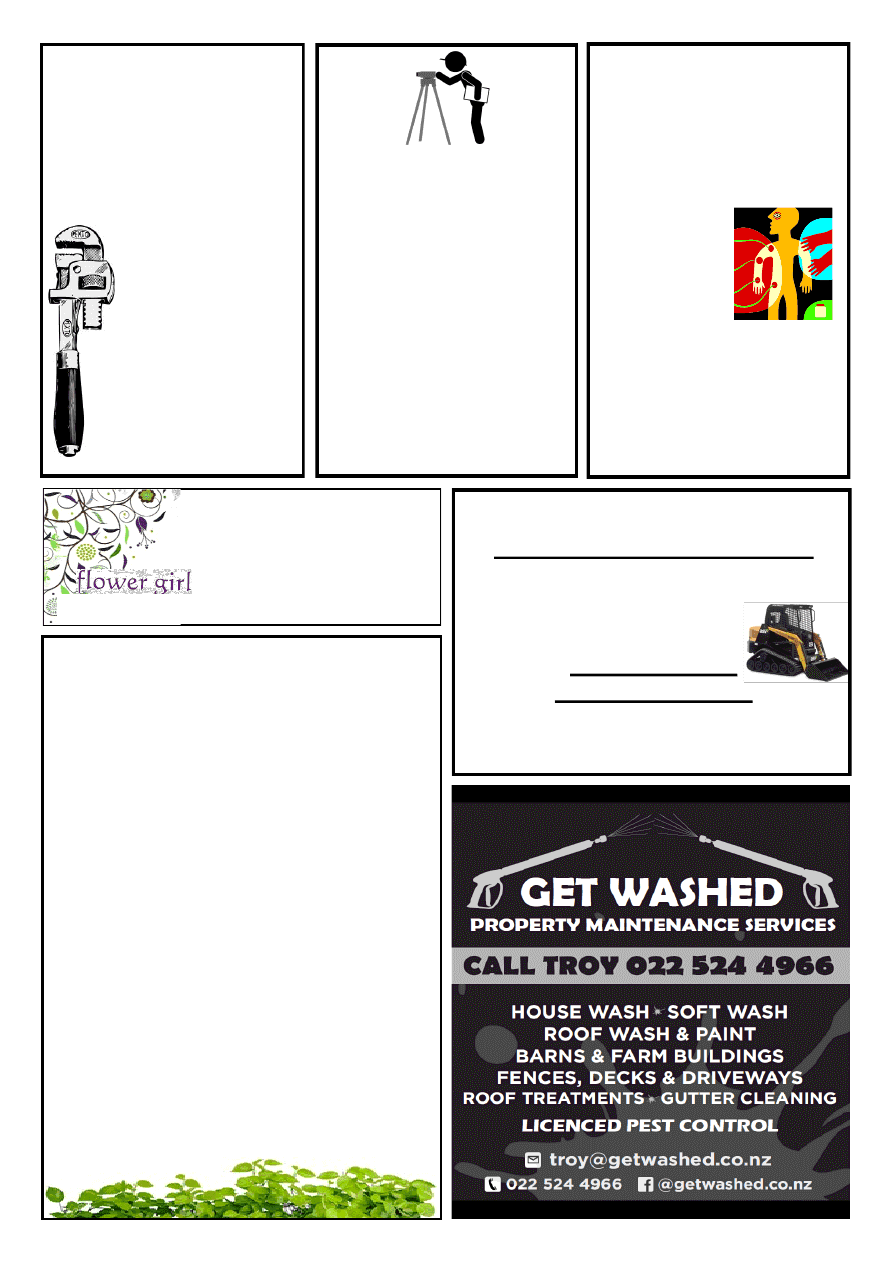 BARRY CURTIS 
PLUMBING LTD 
REGISTERED CRAFTSMAN 
PLUMBER 
Phone 431 5572 
027 257 9884 
25 years' experience 
Friendly reliable service 
All plumbing & 
maintenance 
Alterations and new 
housing 
Spouting  
Competitive rates 
PROMPT 
EFFICIENT 
SERVICE 
OWEN STEVENS 
Osteo Therapist
For careful adjustments to bones 
and joints 
Treatment for humans and their 
pets 
Clinics: 
Kate's Place, 
Kaiwaka: 
Last Friday of 
month 
For bookings: 
9.00am-5.00pm  
Phone 
09 4312661 
Or phone Owen  
09 4317123 anytime 
Ken Urquhart 
BSurv Licensed  
Cadastral Surveyor 
KMU Surveys Ltd 
467 Bickerstaffe Road 
RD 2 
Maungaturoto 0587 
Ph 09 431 8705 
Mob 021 161 2344 
kenurquhart@xtra.co.nz 
Kaiwaka Good Sorts 
Do you know someone in our community 
who is deserving of a beautiful bunch of 
flowers? 
Send an email to us at 
kaiwakabugle@kaiwaka.co.nz 
or drop a note to Jaques Four Square to 
let the Bugle team know. 
lindywatson@hotmail.com 
4312 847 
Natural Earth Ltd 
Landscape and Bobcat services 
 : Driveways :Landscaping :Retaining Walls 
 : Hole Boring: Land Levelling :Trenching 
 : Decks :Fences :Sections Cleared 
 : Plus much more
Tel 09 4312 885 
Mob 02102391280 
For A Fast Friendly Service  
Contact Tim Hicks 
Landscaping Service 
Available  
20 yrs experience 
'Smallscapes' and Native Plants a Forte. 
Imagine.. 
Whispering, rustling plants.. 
Birdsong.. 
Rewards to your Well Being.. 
Satisfaction.. 
Enhancement of  Your Place.. 
Aesthetic, functional, practical 
What Plants, Design with you,  
Site Assessment, Project estimation, 
Eclectic Approach… 
Gardens, Orchards, Wetland areas,  
Shelter, Privacy, 
Natives, Greywater Plantings, Themes,  
Edible Landscapes. 
Pete Worsfold Cert Landscape Des 
'Full Circle Landscapes' 
'SmallScapes' 
021 825 970 
peteworsfold65@gmail.com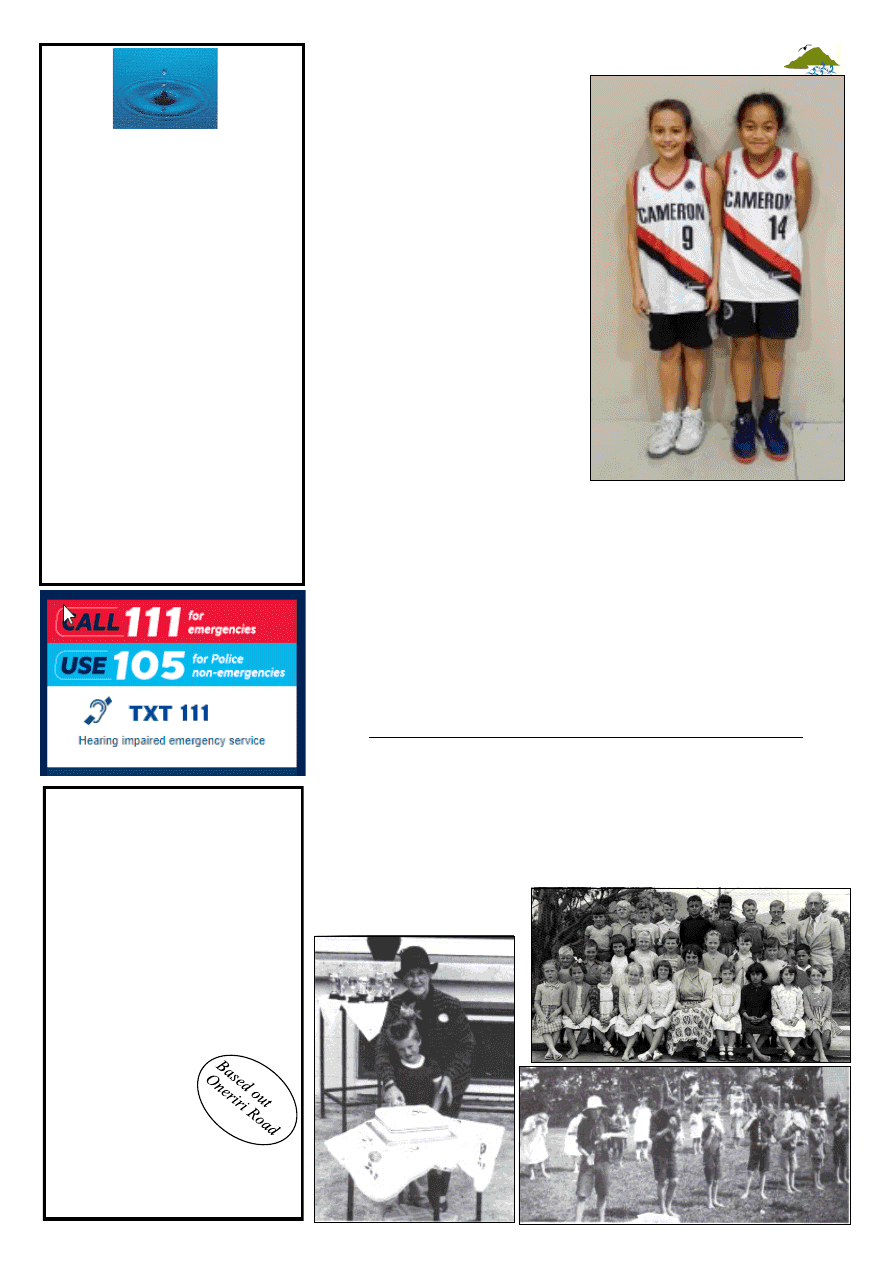 www.kaiwaka.co.nz 
Kaiwaka Bugle - 6 August 2019 
Page 13 
KAIWAKA SCHOOL 
KAIWAKA SCHOOL PHOTOS 
Thank you for the names for the last school photo, below - we nearly got them 
all. It is thought the photo was taken in 1960. The lad  second from left, back 
row was Leigh Hunt; Mid row - 4 in was his sister, with Sheryl Clarke at 5; the 
front row, either side of Miss Abbott were Lethbridge and Rogers girls. 
HELP: We would love to have more photos of school activities. For example, 
below left is Mrs Tui Prouting (wife of Harold Prouting, former headmaster) and 
young Jamie Chapman cutting the 50th anniversary cake for the school calf club 
in 1987; the photo at the bottom is of toothbrush drill in the 1920s - at morning 
assembly  the  pupils  would 
brush  with  a  heavy  salt 
solution. 
The  swimming  pool  changing  sheds 
have  been  re-roofed.  They  are  now 
waterproof,  tidy  to  look  at,  and  safe. 
We thank the Kaiwaka Sports Assn. for 
their  generous  donation  towards  the 
cost of carrying out this project. 
Roll  on  summer!  You  may  have 
noticed  that  there  are  now  sail  cloths 
over the pool. This is to cut the burning 
power  of  the  sun  during  our  daily 
lessons  in  summer.  The  Board  of 
Trustees has funded this project. 
We  also  welcome  Ms  Rebecca  Harris 
onto  the  teaching  staff,  teaching  in 
Room 3. ~  
Warm regards, Rosie Ellis 
The FUN RUN is back. 
We  are  participating  in  the  Fun  Run 
again  this  year.  This  combines  cross 
country  and fundraising,  and  was  very 
successful last year. The money raised 
is for playground equipment. Please set 
aside 12 August for this fabulous day.  
SITUATIONS VACANT 
Relief School Cleaner 
Our  school  cleaners  are  taking  annual 
leave in September, so we are looking 
for a relief cleaner for this month. The 
cleaning  needs  to  be  done  daily, 
between 2.00pm and 6.00pm, 5 days a 
week.  $17.70  per  hour.  Please  email 
the  school  admin@kaiwaka.school.nz 
if  you  are  interested  in  this  position, 
before August 16th. 
Congratulations  to  Pyper  Buxton 
and  Trinity  Ulisala  (pictured  above) 
who  played  basketball  for  Cameron 
Sports,  in  Melbourne.  The  Under  12's 
girls team made the final and came 4th 
in  their  grade.  Overall  there  were  15 
teams  for  the  Under  12  girls.  They 
were in the A grade. 
Dates to Remember 
Term 3 
8 August: Otamatea High School Open 
Day 
12 August Fun Run 
22 August Interschool cross country. 
26 August Teacher Only Day 
28 August St John in Schools First Aid 
Training for juniors 
30 August Daffodil Day 
9 Sept Scholastic Book Fair 
12  Sept  Book  Character  Dress  up  and 
parade 
17 Sept Year 3 & 4 Rippa Rugby 
Week 10 Planting Day 
27 Sept End of Term 3 
HODGETTS 
CONTRACTING
Digger Work 

Driveways   

House Sites   

Dams  

Drains, etc
Also available for HIRE 

4
3 ton Vib Roller   

Heavy Duty Tow  

4
Waterblaster     

Lazer Level 
Phone Mark 
4312877 
027 447 8554 
PRIVATE 
COUNSELLING 
AVAILABLE 
'In these days of uncertainty, 
ever wondered why Life is not a 
Joy for you?' 
Well, there is a Competent, 
Professional, Experienced Counsellor 
available to HELP YOU..!   
All Genders, Ages, Eclectic approach 
to ALL your issues. 
Can be 'Dark' issues... 
Depression , Anxiety, Panic Attacks, 
Trauma, Abuse, Grief and Loss, 
Custody and Parenting issues, Identity .. 
or Lighter issues ... 
Life style, balance, Skills and strengths, 
Planning, Loving life, better 
Relationships, Creativity,  
Rural Lifestyle adjustment, for example 
Based at Kates Place Kaiwaka.. 
'Be Whole Again' 
By Appointment only 
Pete Worsfold, Counsellor 
B.Soc.Sc. M.Soc.Sc, Dip Prof Couns, MNZAC 
'Full Circle Counselling' 
021825970 
peteworsfold65@gmail.com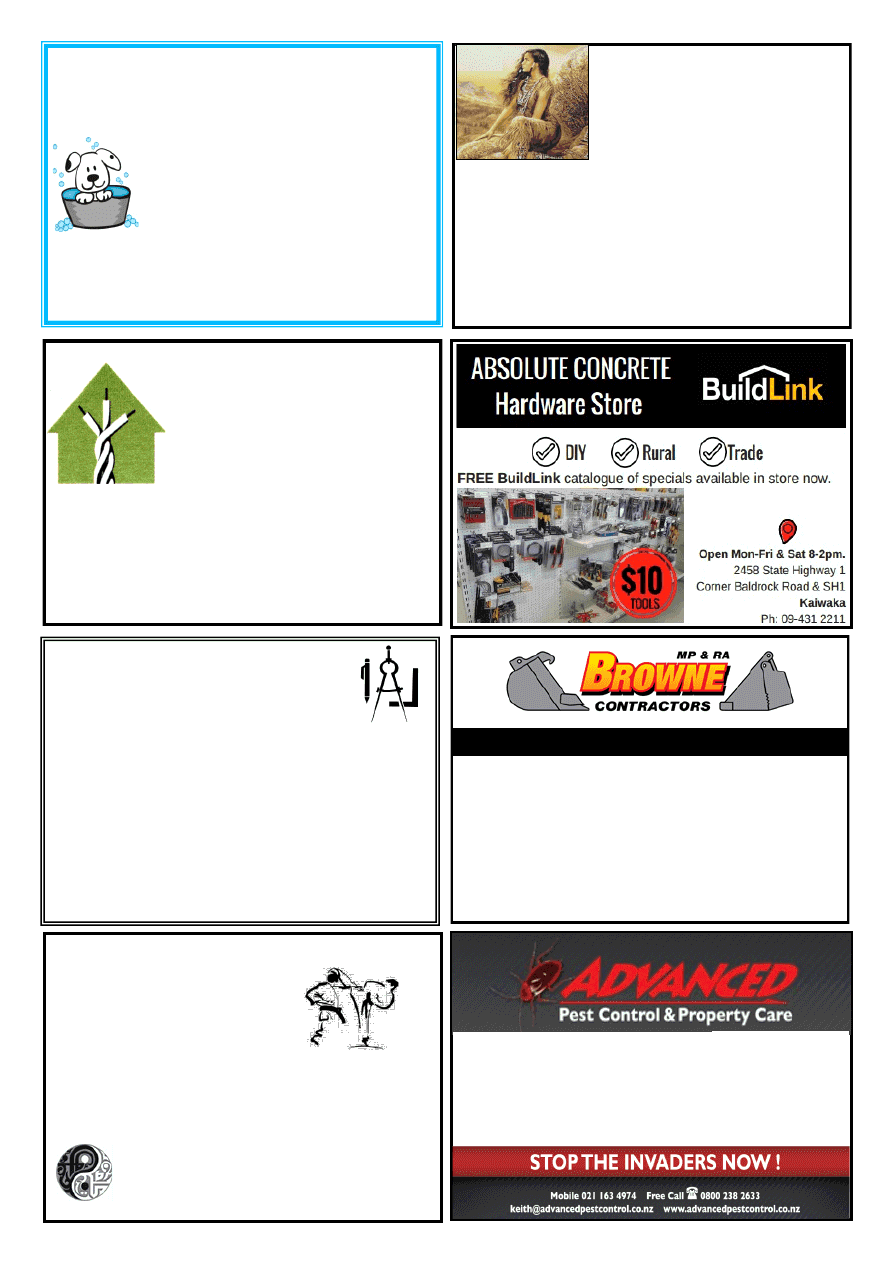 4T DIGGER – BOBCAT – TIP TRUCK 
Property Maintenance - Driveways  
 Building Sites 
Stump & Tree Removal  
Hole Boring - Chain Trencher  
Calf Shed and Stockyard Cleaning 
Phone Matt: 021 199 6677 
Email: mprabrownecontractors@gmail.com 
Reyahn George 
Leng 
Registered Electrician 
Local, honest and reliable. 
For your residential and 
light-commercial projects. 
022 314 1068 
TRAILS END 
RONGOA MAORI 
HEALING 
And Gifts 
Stocking all your needs from incense, crystals, dream 
catchers, greeting cards, jewellery, perfume, dragons and 
more dates for groups each month are: 
August 25th ~ September 22nd 
October 27th  ~ November 24th ~ December 15th 
From 10.30-2pm  
For all inquiries Phone 0211652629  
Light refreshments available $5 koha  
1758 Cove Road Mangawhai
Pest Control 
PLAN A: One-off treatments to customers with a specific pest problem 
PLAN B: Full maintenance service plans to commercial customers. 
This will include documentation kept in customer file on site: 
⚫
Pest treated 
⚫
Date of service 
⚫
Chemical or baits used 
⚫
Full pest check report done after each treatment 
⚫
Fair and reasonable fee with guarantee 
Flood Recovery 
Carpet Care 
⚫
Carpet Drying 
This includes pre-spray treatments 
⚫
Dehumidifier Rental 
with stain removal and hot water extraction.  
⚫
Full Commercial Cleaning  Patch repair also available 
Upholstery Cleaning 
Full upholstery cleaning of all furniture.  
eg lounge suites and all office chairs 
Water Blasting 
⚫
Concrete - Decks 
House Washing 
⚫
Soft Chemical Was 
⚫
Pre-painting Wash 
Property Services 
⚫
Property Cleaning  Lawn Mowing 
⚫
Hedges General   Tidy Ups 
Hot Diggity Dog 
DOG GROOMING 
All breeds dog grooming 
Professional Experienced Groomer 
Short practical grooms - summer 
Breed Standard Grooms 
Designer fusion Grooms 
Oneriri Road
By appt Phone Pam 09 4312143 
Or text only 0273335380 
Email  hot.diggitydog@outlook.com 
SELF DEFENCE KEMPO 
Fitness, Confidence, 
Discipline, Respect,  
Self-awareness 
Classes for all ages in: 
 Mangawhai
Kaiwaka Wellsford
For more information please contact
 Otamatea Martial Arts
otamatea.kempo@farmside.co.nz 
Phone 09-431-5170 
www.facebook.com/otamatea.kempo 
design drafting  
service 
Retired builder and manufacturer with over 40 years  
experience in the building industry is offering a design 
drafting service for domestic housing, sleepouts and 
sheds.  
Plans formulated in consultation with clients, with 
working drawings completed and submitted to  
council for processing.  Extensive practical experience,  
able to identify & resolve problems. 
Please ring Mike Lean on 
09 431 2260 
or 
021 431 196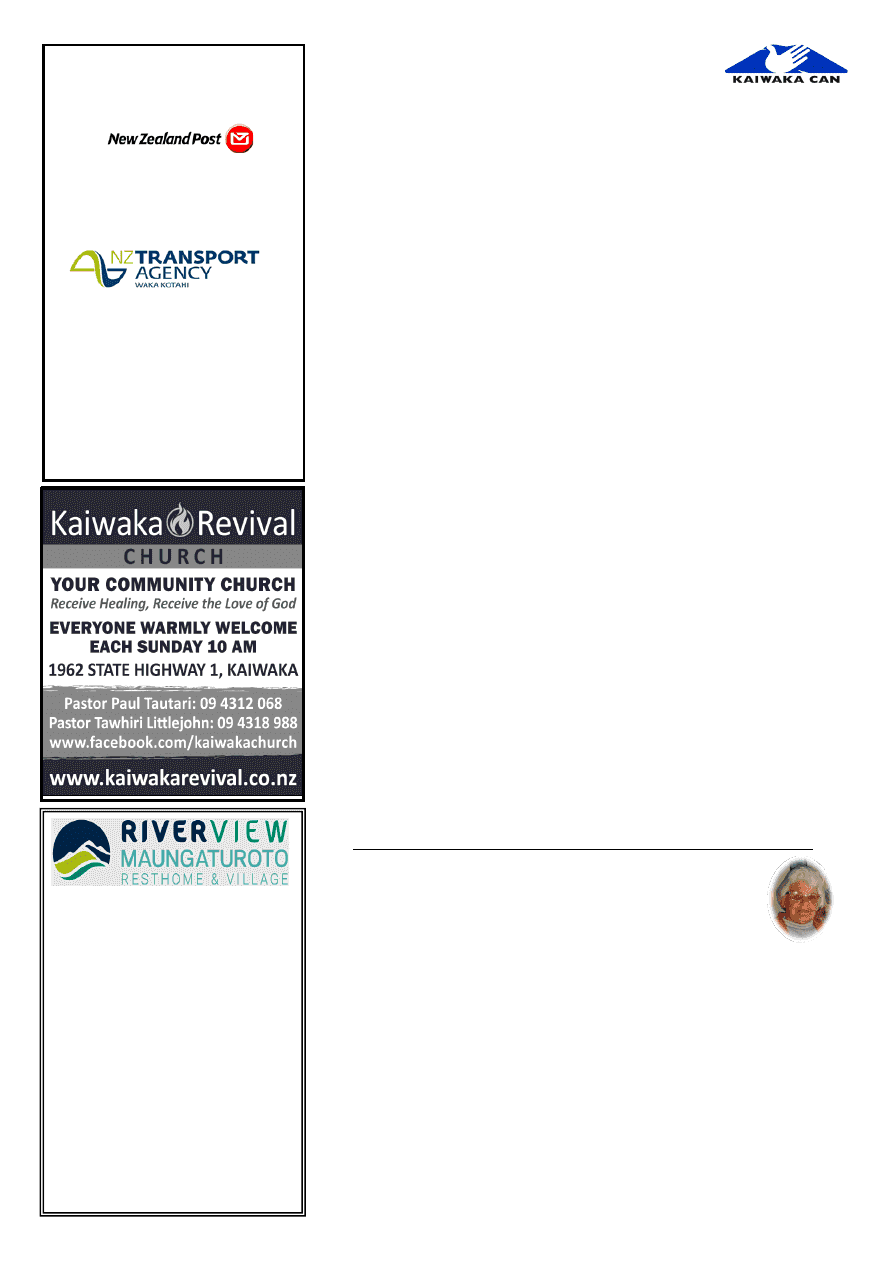 www.kaiwaka.co.nz 
Kaiwaka Bugle - 6 August 2019 
Page 15 
KAIWAKA POST 
CENTRE and 
FOOD MART 
POST CENTRE TRADING HOURS 
MONDAY to FRIDAY 8am to 5pm 
SATURDAY 8am to 12pm 
CLOSED ON SUNDAY and on 
PUBLIC HOLIDAYS 
FOOD MART (GROCERIES) 
MONDAY TO FRIDAY  
7:30am to 7.30pm 
SATURDAY  8am to 7.30pm 
SUNDAY  8:30am to 7pm 
IF ANY QUERIES PLEASE CALL 
STORE MANAGER AMRIT  
on 09 4312431 or 
EMAIL: kaiwakafood19a@gmail.com 
1919a State Highway1, Kaiwaka 0542 
RETIREMENT UNITS  
FOR SALE AND RENT  
Vacancies occur from time to 
time in the Community  
Trust's 2BR OYO units and 
1BR rentals in Riverview 
Place, Maungaturoto.  
For information or to express 
an interest, please contact  
the rest home.  
Rest Home Manager  
Ph. 09 431 8696  
When  I  was  at  school,  in  Music  class 
we used to (had to) sing a song called 
Forty  Years  on.  I  never  liked  it  then 
and like it even less now, especially as 
I  look  at  the  verses  reflecting  on  life 
forty years later and it gets into words 
like: 
Forty  years  on,  growing  older  and 
older, 
Shorter  in  wind,  as  in  memory  long... 
well, enough to get the picture! 
Last  Wednesday,  several  of  us  from 
Kaiwaka  Can  attended  a  Council  led 
meeting called "Spatial Planning". The 
team is going round all the districts in 
the  Council,  trying  to  work  out  how 
best to plan for the future, in fact even 
forty  years  on.  I  am  not  going  to  be 
bothered much then but I am bothered 
now about how Kaiwaka does plan for 
the future. 
It  was  a  good  session,  best  of  the 
Council led sessions I have been to this 
year,  with  a  great  deal  of  information 
about 
geology, 
infrastructure, 
activities,  population.  It  also  looked  at 
possibilities  and  challenges.  The 
morning  meeting  was  for  stakeholders 
in  Kaiwaka.  Sadly,  local  iwi  and 
Kaiwaka  Can  were  represented  but 
very  few  others  and  certainly  not  key 
figures  from  the  major  clubs, 
businesses, 
school, 
service 
organisations.  But  we  spoke  out  as 
strongly as we could about our love for 
Kaiwaka, our belief it can have a great 
future  and  also  aimed  to  pinpoint 
things holding us back. 
Opportunities 
Kaiwaka  is  the  entry  point  to 
Northland.  It  is  also  a  community  of 
great  creativity  and  talent,  some 
excellent  clubs  and  services  and  a 
school  that  just  doesn't  stop  growing. 
There  are  fine  businesses  here, 
including  the  Brethren businesses  who 
provide  significant  employment  and 
who would love to expand. 
People  are  moving  in,  people  fed  up 
with  the  city  or 
driven  out  by  prices.  People  who  still 
commute  either  full  or  part  time. 
People  retiring  to  somewhere  of  quiet 
and  beauty.  We  are  the  first  town 
outside of Auckland coming north. 
Challenges 
However there are certainly challenges. 
State  Highway  One  is  the  biggest.  It 
controls  so  much  of  what  we  do, 
residential 
and 
commercial 
development,  safety,  signage.  So  the 
challenge is to find ways of developing 
Kaiwaka  housing  and  businesses  off 
the highway. 
One group at the meeting saw us with a 
population  of  5000 in five  years! That 
is quite a burst of growth. 
If we did that, all of our infrastructure 
would  need  a  rebuild,  extra  roading, 
water  supply,  sewerage,  stormwater, 
traffic  safety,  retailing  and  education. 
The  Spatial  Survey  was  partly  about 
exploring  these  issues  so  we  can  plan 
well  ahead.  So  in  that  sense  it  was  a 
good  meeting,  not  perfect  because 
these  things  never  are  but  certainly 
worth  the  time  and  effort.  The  team 
will stay in touch to update on findings 
and further check where we are. 
But a final concern 
When  we  do  something  like  this,  it  is 
something we all do together. From the 
school  to  the  sports  club,  the 
householder  to  the  business  owner, 
from the original tangata whenua to the 
newest arrival. We do this together. 
As  Kaiwaka  Can  we  are  committed  to 
being  part  of  this and  over  nearly  five 
years  have  gathered  a  great  store  of 
information. But we need all of us to be 
involved, some directly with us and all 
with the long term bigger picture.  
If  you  want  us  to  help  you  get 
involved, come along as we meet, each 
third  Wednesday,  5.30  pm  at  Archie 
Bull Hall. 
Derek 
Christensen 
(Chair) 
09 
9469, 
0273572751 or derekandisa@google.com 
From Thelma's Scrapbook … 
EVER WONDER.... 
...why the sun lightens our hair, but darkens our skin? 
...why women can't put on mascara with their mouth closed? 
...why you don't ever see the headline "Psychic Wins Lottery?" 
...why doctors call what they do "practice"? 
...why lemon juice is made with artificial flavour, while dishwashing liquid is 
made with real lemons? 
...why the man who invests all your money is called a broker? 
...why there isn't mouse-flavoured cat food? 
...who tastes dog food when it has a "new and improved flavour"? 
...why Noah didn't swat those two mosquitoes? 
...why they don't make the whole plane out of the material used for the 
indestructible black box? 
...why sheep don't shrink when it rains? 
...why they are called apartments when they are all stuck together? 
...why do they call the Airport the "Terminal" if flying is so safe? 
KAIWAKA CAN: Forty years on...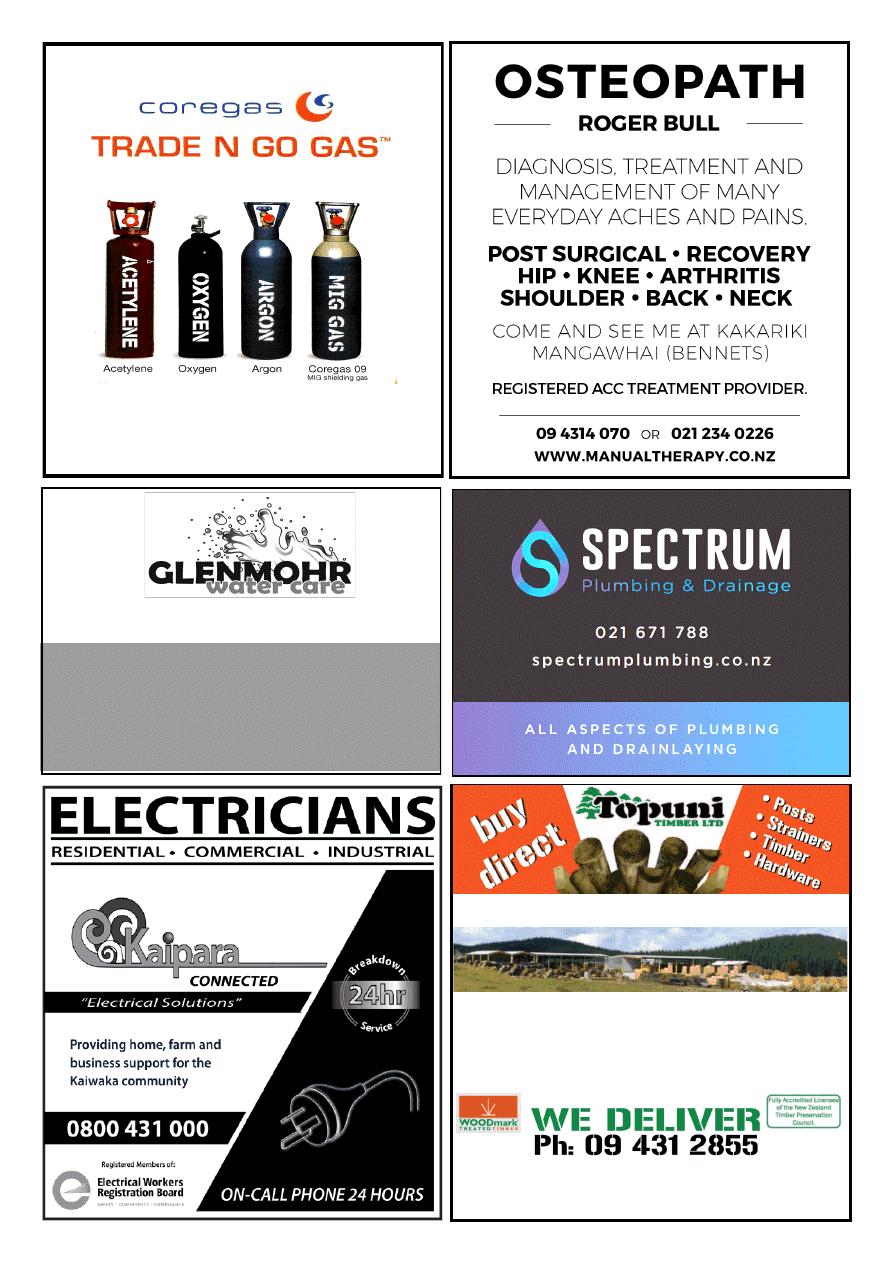 At Twinkle Tow 'n' Tyre 
Mob: 021 833 960 
Ph & Fax: 09 431 2823 
1837 State Highway 1, Kaiwaka 
Water Tank Cleaning 
• 
Keep your water safe & clean  
• 
Removal of sediment, silt etc. 
• 
Vacuum or full scrub 
• 
Minimal water loss 
Phone Mark (09) 432 0655 or 0274 707607 
LOCALLY OWNED AND OPERATED 
QUALITY PRODUCTS • FRIENDLY ADVICE • GREAT SERVICE 
Quality Products milled from High Density NORTHLAND Radiata Pine. 
Treated and guaranteed to NZS3640 with commitment to 
Environmental Safety.
Phone, fax, email, or come into the mill 
Schiska Rd, Topuni, SH1, 10 min north of Wellsford. Fax: 09 431 2856 
Email: sales@topunitimber.co.nz           Mon - Fri 7am-5pm 
• Fencing 
• Retaining 
• Decking 
• Landscaping 
• Gates 
• Hardware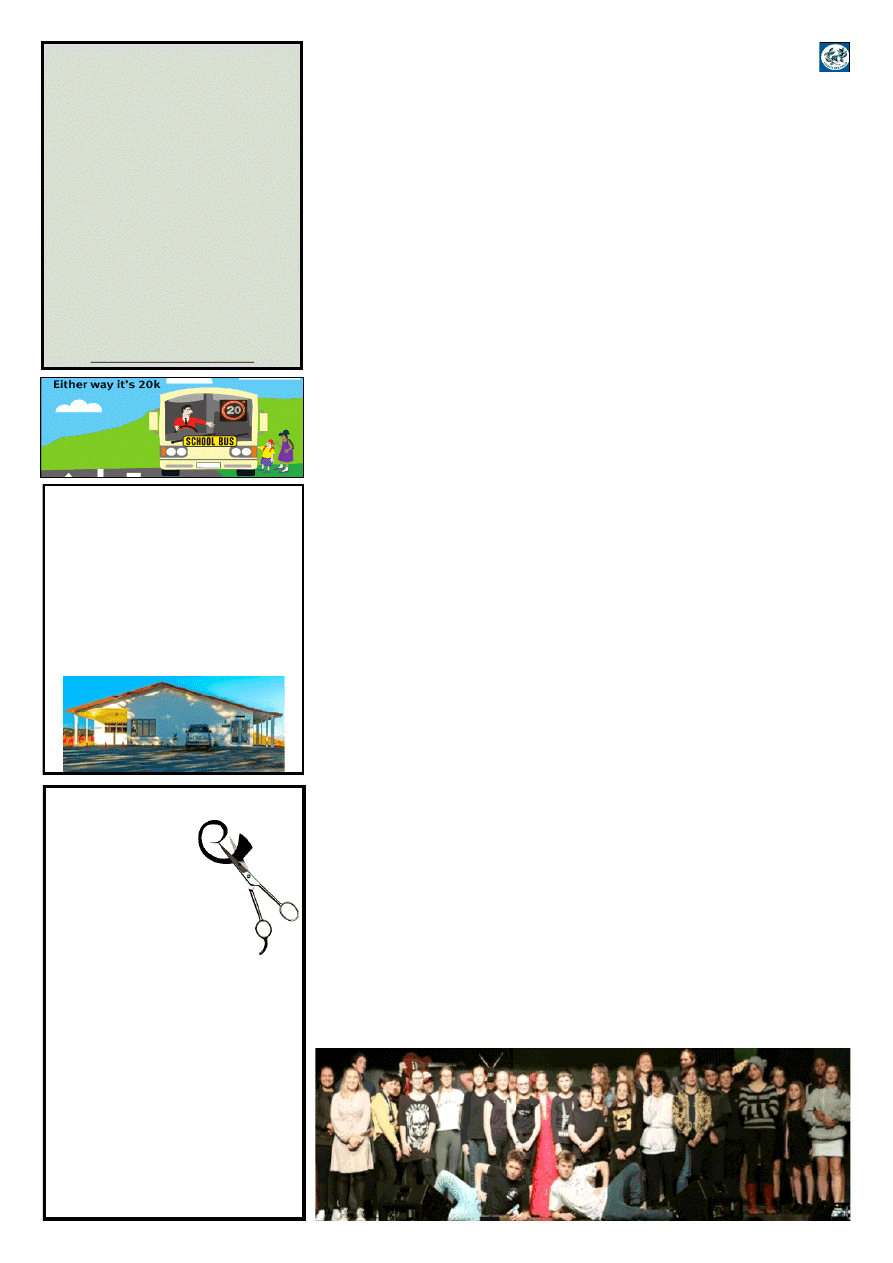 www.kaiwaka.co.nz 
Kaiwaka Bugle - 6 August 2019 
Page 17 
JUST 
CUTS 
and 
MORE  
1758 Cove Road  
Open Monday-Saturday  
by appointment only 
Saturday 9-12pm  
Affordable prices: 
Ladies cuts from $35 
Colours from $120 
Men's from$25 
Kids from $18 
0211652629  
Te Pounga Marae 
130 Nathan Rd. Oneriri. Kaiwaka 0573 
COMPLEX FOR 
HIRE 
Functions: * Weddings  * Birthdays  
*Anniversaries * Meetings  * Wananga 5 
hour meeting * 12 hour stay or Overnight 
*All welcome   
For more information please contact: 
 Pearl Nathan 0223933533 
Email: tepoungamarae130@outlook.com  
OTAMATEA HIGH SCHOOL
From the Principal 
OPEN DAY starting 9.30am 
Thursday 8 August  
Senior  Ball:    During  the holidays  the 
senior  students  organised  an  excellent 
ball.    Many  thanks  to  all  the  parents 
who  made  the  night  such  a  success, 
from  the  PTCA  who  did  a  wonderful 
job  of  catering  to  those  parents  who 
provided  security  and  others  who 
assisted  with  the  decorating  and 
supplying  props.    It  really  was  a  night 
to  remember  and  the  students  looked 
fabulous.     
Bring  Your  Own  Chromebook 
(BYOC):    From  2020  we  will  be 
beginning  a  BYOC  programme  for 
year  11  students.    All  the  families  of 
year  10  students  have  been  sent  a 
separate  e  mail  about  this  programme.  
Further  information  will follow to  this 
year  group  as  well  as  further 
information  being  provided  at  our 
Options Afternoon on Wednesday 28th 
August.   
Options Afternoon:   
On Wednesday 28th August we will be 
hosting  an  options  afternoon  at  the 
school.  All year 10 students and their 
parent/caregivers  are  invited  from 
2:30pm.  There will be an opportunity 
to  hear  about  what  options  are 
available  at  the  school  as  well  as  an 
introduction  to  NCEA.    There  will  be 
an  afternoon  tea  at  4:00pm  where 
everyone  is  welcome  to  mix  and 
mingle  and  ask  questions  about 
different curriculum areas.   
From 4:00pm students from years 11 
-  13  and  their  parents/caregivers  are 
welcome to arrive for the afternoon tea 
where  they  can  learn  about  senior 
courses  and  speak  to  various  teachers 
about  their  programmes.    The  second 
session  which  starts  at  4:30pm  is 
specifically  designed  with  the  senior 
students  in  mind.    There  will  be 
representatives  from  Northtec,  the 
trades  and  university  who  will  each 
outline  what  they  offer  to  school 
leavers.  There will also be a chance to 
hear  about  the  school's  gateway, 
careers  and  self-directed  pathways 
programmes.   
Science Fair 2019 
This  year  our  winners  are  planning  to 
exhibit  at  The  Central  Northland 
Science  Fair  in  Whangarei  on  26th 
August,  here  they  will  compete  with 
the  best  students  in  the  region.  There 
are  some  significant  prizes  available 
for  the  winners.  For  more  information 
on 
this 
event 
check 
out 
www.centralnorthlandsciencefair.co.nz 
Reporoa  College  v  Otamatea  High 
School  Exchange  at Reporoa College, 
Sunday  11th  August  -  Tuesday  13th 
August  
PTCA News:  
The  Otamatea  High  School  Parent 
Teacher  and  Citizens  Association 
would  wish  to  give  gratitude  for 
assistance with catering the School Ball 
last Friday to: 
Ruth  Mason  and  her  team  of  helpers; 
Samid Buksh for his unending devotion 
to  our  children;  Mangawhai  Hire  for 
providing  the  food  warming  devices; 
Otamatea  Marae  for  providing  plates 
and  cutlery;  Whangarei  Kmart  for  a 
$50 donation towards the glasses. 
The  OHS  PTCA  now  have  166  wine 
glasses  for  hire  to  raise  funds  for  the 
school. If you need glasses for any kind 
of  event  contact  Karen  Flanagan  on 
021 128 1670. 
Day Relief Teachers Required 
Otamatea  High  School  wishes  to  hear 
from  suitably  qualified  and  registered 
teachers who wish to be considered for 
day  relief.  Please  send  your  CV  to 
Deborah  Cornhill-Davies,  Relief  Co-
ordinator 
deborah.cornhill@otamatea.school.nz 
Readers, Writers and Supervisors 
Otamatea High School needs people to 
be  readers,  writers  and  supervisors  for 
students who have Special Assessment 
Conditions.  Although this is voluntary 
work,  we  may  be  able  to  subsidise 
some travel costs.  You will need to be 
available  for  the  'mock  examination' 
period  September  16-20,  Junior 
Examinations  Nov  4-8  and  the  NCEA 
examinations  at  the  end  of  the  year 
(from 7 November onward).   
All  training  will  be  given,  and  police 
vetting will be required. 
email  huia.coll@otamatea.school.nz  if 
you are interested. 
 Music Teachers 
Otamatea  High  School  is  seeking 
anyone who is able to teach any of the 
following brass/woodwind instruments: 
flute, trumpet, clarinet, and saxophone. 
Please  email  expressions  of  interest  to 
fionn.murphy@otamatea.school.nz 
Pictured  below:  20th  Olla  Podriga,  was 
also  a  hotly  contested  competition,  with 
Emma Millard first place; second place to 
Danni  McKie;  third  place  and  winner  of 
the  people's  choice  award  was  Oscar 
Longdon .
Maungaturoto  
Country Club 
SPORTS - SOCIAL - CONFERENCE 
CENTRE  
Open for drinks and dining – Thursday 
and Friday evenings from 6.30pm  
EVENTS ROOM AVAILABLE FOR HIRE  
Affiliated activities: Bowls, Squash, 
Rugby, Theatre, Motorcross, Equestrian. 
❖
Walkway CLOSED from 1 July till 
September for lambing. 
❖
Monday 22 July: Meet the 
Candidates standing for KDC 
elections 
PO Box 81 Bickerstaffe Rd 
Maungaturoto 0547 Tel 09 4318 326 
maungaturotocountryclub@gmail.com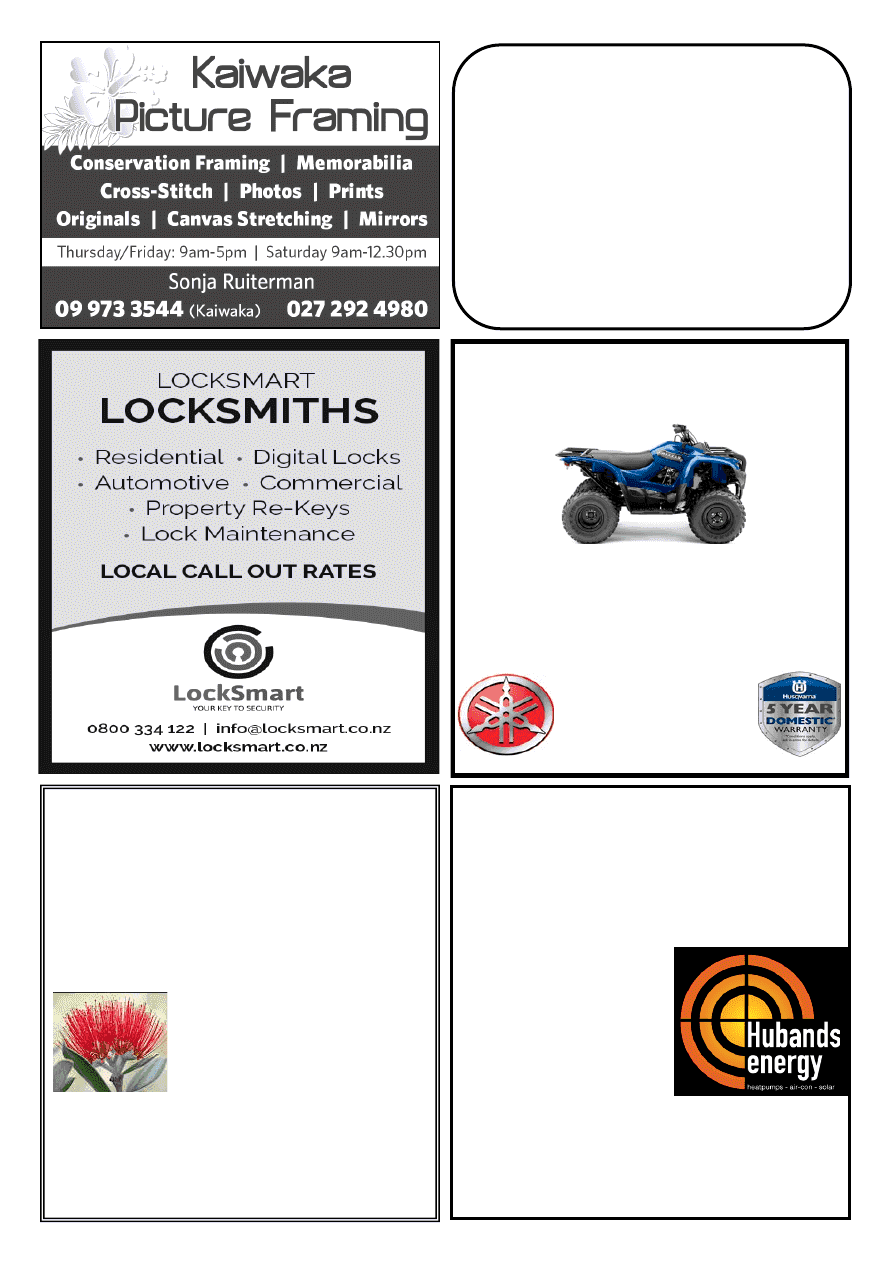 KAIWAKA 
MOTORCYCLES LTD
SALES – SERVICE – SPARES 
FARM BIKE SPECIALIST
PHONE 09 431-2127 
10 KAIWAKA-MANGAWHAI ROAD, KAIWAKA
Trimmers  
from $279
Chainsaws  
from $339
YAMAHA 
HUSQVARNA 
Northland's Award Winning 
Solar Company
SEANZ Best Solar Business Winners 2015/16
EXCLUSIVE 10 year installation warranty 
FREE No obligation onsite quote
Complete systems 
from $5990
See our range of: 
✓ 
Heatpumps 
✓ 
Airconditioning 
✓ 
Hot Water 
Heatpumps 
✓ 
Central Vacuum Systems
09 430 0019             sales@hubands.co.nz 
15 Kioreroa Road, Whangarei
Locally owned and operated for 35 years 
UP-LINK 
CHRIS WARING 
FREEVIEW INSTALLATIONS 
T.V. - HOME THEATRE &  
HI-FI ADVICE/SET UP
SKY ACCREDITED INSTALLER
MOB.0273403747 HM.094312328 
EMAIL cwaring44@gmail.com
28 YRS EXPERIENCE 
OFFERING UNBIASED ADVICE 
KAIPARA FLOORING CO 
Independently owned & operated 
32 HURNDALL ST MAUNGATUROTO
Supply & Installation of Carpet, Vinyl,  
Vinyl Wood Planking
Stockists of 2m & 3m wide 
vinyl & carpet short ends
Residential & Commercial
Q Card Finance Approved 
6-18 month terms 
6 mth interest free
First Class Installations
For a free measure & quote 
phone Christine  
09 946 9886 or 021 515 415 
kaiparaflooring@gmail.com 
http://www.kaiparaflooring.co.nz/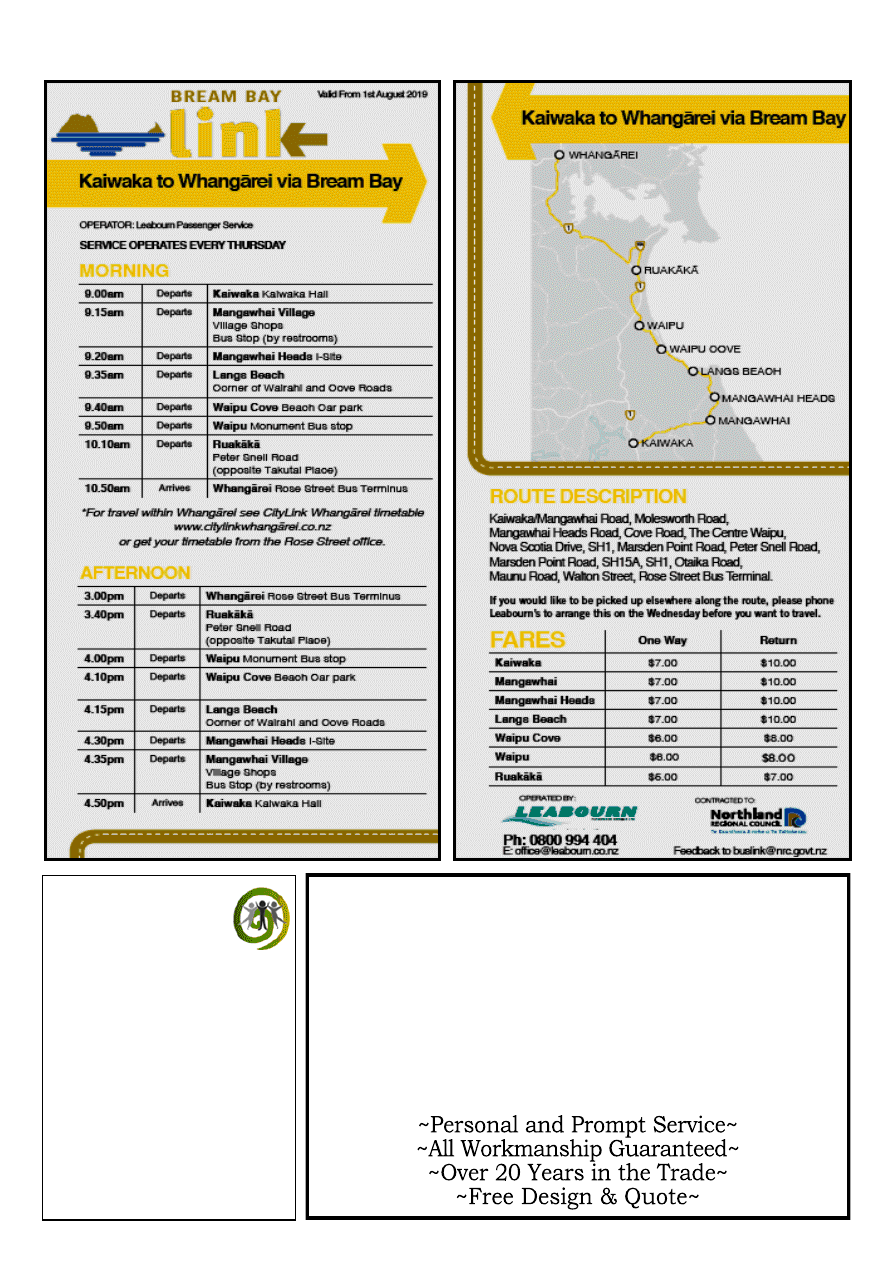 www.kaiwaka.co.nz 
Kaiwaka Bugle - 6 August 2019 
Page 19 
THURSDAY BUS: KAIWAKA - WHANGAREI - KAIWAKA
OTAMATEA 
COMMUNITY 
SERVICES   
Counsellors, Parent 
Coach, Senior Support, 
Financial Mentors, Social 
Worker, Addiction Support,  
Family Support. 
Monthly Activities: 
❖
Seniors' Lunch 1st 
Wednesday 
❖
Chocolate Bingo 3rd 
Wednesday
❖
Shopping trips to Whangarei 
2nd Tuesday and 4th 
Wednesday 
Phone: 09 431 9080.  
155 Hurndall St. Maungaturoto. 
PLANNING A NEW KITCHEN?
 CONTACT NOEL McDOWELL
WELLSFORD KITCHENS 
Ph/Fax 094312888
KAIWAKA-Any time
 QUALITY CUSTOM MADE KITCHENS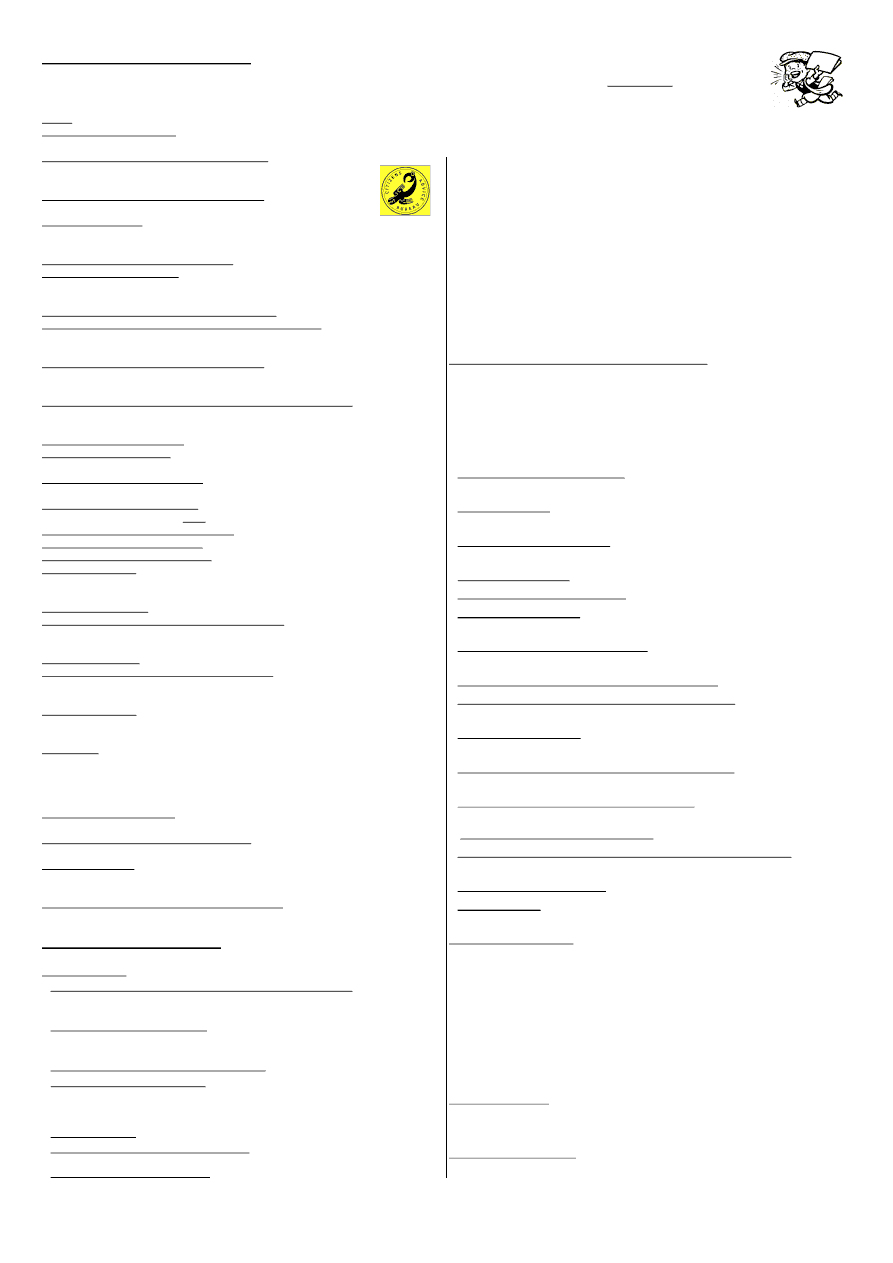 Next Bugle Deadline midday Friday 16 August  2019
WHAT'S ON
PLEASE ~ do let us know what is on - email 
kaiwakabugle@kaiwaka.co.nz 
*8Aug~Meeting/Hui, Kaiwaka Community Support, 1pm 
*8Aug~Otamatea High School OPEN DAY, 9.30am 
*9Aug~Movie 'CELIA', KWMH, 7.30pm 
*12Aug~Maungaturoto MX Club AGM, Mgto Hotel 7pm 
*16Aug~Kaipara Hunt AGM, Mgto Country Club,8pm 
*20Aug~Pahi Boating & Fishing AGM, 7pm 
*21Aug~Kaiwaka CAN meet. Archie Bull Hall 5.30pm 
*23Aug~Movie 'Fisherman's Friends', KWMH, 7.30pm 
*25Aug~Movie 'How to Train Your Dragon' KWMH 2pm 
*30Aug~DAFFODIL Day 
KWMH = Kaiwaka War Memorial Hall; KSA = Kaiwaka Sports Association 
See www.kaiwaka.co.nz for more information 
HOUSEHOLD RUBBISH COLLECTION  
Kaiwaka Pick up: 
Mondays = Green bags (Northland Waste - 09 430 3273) 
Wednesdays  =  Blue  bags  and  yellow  recycling  (at  Jaques  $3.00 
and  $1.50)  (Kaurilands  09  4392146);  ONLY  Blue  and  Yellow 
bags picked up on Oneriri Road. 
 DIABETES Support Group-for Kaiwaka, Mangawhai, Wellsford 
10am, 3rd Friday of month Ph: Colleen James 09 4314238 
 GENEALOGY - Wellsford: 1st Thursday in month Ph: 423 
7033; Waipu: 4th Monday in month Ph: 4312 725 
 HAKARU PONY CLUB - Secretary Denise Rogers 021423376 
secretary@hakaruponyclub.co.nz  
 KAIPARA HUNT - Secretary Albert Doonenbal Ph 4312059 
 KAIWAKA BADMINTON -Tuesdays 7.30pm Ph: 4312345 
 KAIWAKA  CAN  -  3rd Wednesday in  month, 5.30pm, Archie 
Bull Hall Ph: 0273572751 
 KAIWAKA  DRAMA  CLUB  - 
Hannah  Webb 
0272863352 
KaiwakaDrama@gmail.com - FB - "KaiwakaDramaClub" 
 KAIWAKA DRUM & DANCE CLASSES - 021 611198 
 KAIWAKA GARDEN & FLORAL GROUP - 2nd Thursday in 
month. Ph: 431 4744 
 KAIWAKA  CUBS  -  Thursdays  5.30-7pm,  Hakaru  Ph:Bruce 
4312542 
 KNITTING FOR WHANGAREI HOSPITAL - 2nd Tuesday in 
month, Archie Bull Hall 10am Ph 4314827 
 MANGAWHAI COMBINED REBUS CLUB - 2pm, 3rd 
Thursday month, Senior Citizens Hall Mangawhai. Ph: 4315777 
 *PT CURTIS CRUISING CLUB - Jean Ph: 4312227 (wk), 4312520 (hm) 
 RSA,  HAKARU  &  DISTRICTS  WOMEN'S  SECTION  –  meets 
1.30pm 4th Thursday of the month. Ph: 431 5818  
 SCOTTISH DANCING - Wednesday morn. Ph: 09 4320532 
 TRAMPING - Mondays 9am-2:30pm Maria 4312 234 
HALLS FOR HIRE: 
  Kaiwaka St. John Hall: Phone Marj  0272941227  
 St.Pauls  Archie  Bull  Hall  HIRE  $20  half  day,  $40  full  day  per 
hire, S McAulay, Ph 4312311 
 Kaiwaka  War  Memorial  Hall  HlRE  -  Phone  4312725  or 
kaiwaka.hall.bookings@gmail.com 
 Hakaru Community Hall HIRE -Ph. 4312256 or 4312110 
 Te Pounga Marae queries - Pearl Nathan  0223933533 
 Kaiwaka Sports Association hire/queries - C. Anderson 4312051 
or kaiwakasports@gmail.com 
Justice of Peace:  
B.FJaques  4312  048;  L.Donaldson  4312  228;  A.F.Hargreaves 
4312 045, W.Howard 4312 725 - please phone to make sure they 
are available www.justiceofthepeace.org.nz 
Marriage Celebrants:  
L.Donaldson; A.F.Hargreaves; Y Osborne
LOCAL SERVICES 
*Emergencies - Ambulance, Fire, Police - dial 111 
*Non-urgent Police phone 09 4311150
A A: Meets Wed., 8pm Kaiwaka Ph: 4315543, 0800229 6757 
ASUREQUALITY LTD (was AgriQuality) Call Free 0508 0011 22  
BUDGETING SERVICE, WELLSFORD: Free confidential advice & 
support for all areas of personal finance. Ph (09) 423 7123 
CAB-Citizens Advice Bureau.Wellsford Ph: 4237333 
0800 367 222 email:cab.wells@xtra.co.nz  
CIVIL DEFENCE - Kaiwaka Community Response Group: 
kaiwaka.civildefencecrg@gmail.com, 4312725 Wendy 
DOG/STOCK /NOISE CONTROL 0800 105 890 
FUNERAL SERVICES: Morris & Morris Ltd, 
Whangarei - Bev Jaques Ph:4312367 or 0800667747 
GRANDPARENTS Raising Grandchildren: Dianah Roberts 0223819539 
HAKARU & DISTRICTS MEMORIAL RSA (Inc) 733 Settlement Rd, 
Hakaru. Ph 4312 176 or Bill Warren (President) 431 2092 
HAKARU LANDFILL/Transfer Station:Open everyday except 
Tuesday10am-4pm.Ph4312629 Cost-$55 trailer load up to 1 cubic metre. 
Ph:4258567 - office 
KAIPARA DISTRICT COUNCIL www.kaipara.govt.nz:  
Help Desk FREEPHONE 0800 727 059  
KAIWAKA CEMETERY: Ph: 4312045 or 4314017 
KAIWAKA LIBRARY: kaiwaka.library@gmail.com  
Mon. 4-6pm; Wed., Thurs., Fri., Sat. 10am-2pm Ph:4312539 
KAIWAKA PLAYCENTRE: Ph Juanita 0274134904; open Mon, Wed, 
Fri 9am-12pm. Hastie Lane; Monday to Friday 9.00am - 12 noon. 
KAIWAKA POST OFFICE:Ph:4312 431  
Post Code: 0573 for RD2 and 0542 for all Kaiwaka Post Office mail 
KAIWAKA PRIMARY SCHOOL: Ph: 4312309   
KAIWAKA SPORTS ASSN: Ph 4312005; 4312129 gym 
KAIWAKA ST. JOHN HALL: Phone Marj  0272941227  
KATE'S PLACE Community Centre - Employment services, Free Health 
Nurse, Plunket, Advocacy, Osteopath, A.A., Legal Advice. 4312 661 
LINKING HANDS Health Shuttle Ph 4315906 or 09 4318969 
MINISTRY FOR PRIMARY INDUSTRIES - General inquiries Call 
Free 0800 008 333 
NORTHPOWER: Faults Kaiwaka area 0800 104040 
OTAMATEA COMMUNITY SERVICES: Counselling, parent coach, 
Family Support worker, budget advice, food bank. Mon-Fri 9am-3pm. Ph 
09 431 9080 http://www.otamateacs.org/ 
PARENTPORT: Free, practical family support service Puhoi to Paparoa 
Ph or txt: Dianne 027 280 5093 or 09 425 9357 
PLUNKET:  Kaiwaka  -Kate's  Place  Clinic  1st  Wednesday  of  the  month; 
Mangawhai  - Rose Madsen Cottage: Coffee Group 9:30 every Monday.  Clinic 
every Monday and Thursday. 
Maungaturoto - Good News Church, Clinic 2nd and 4th Wednesday.  
Cynthia 09 431 7340 or 027 675 3488 
PLUNKET HELPLINE -0800 933 922 (24 hours) 
TAITOKERAU COMMUNITY LAW: Free confidential legal advice and 
assistance, 2nd
Thursday
 of each month. Ph: 0800 155 529 for apps.  
TE URI O HAU Settlement Trust Tangata Developments: Whanau Ora 
021 793262  
VETERINARY SERVICE MANGAWHAI: 
Ph: 4314535 Mon-Fri 8.00-5.00, Sat 9-12, a/h appt. 
WELLSFORD DOCTORS: Ph: 4238 086 
CHURCHES:
 
Kaiwaka  Revival  Church  -  Your  Community  Church:  Sundays  10am. 
Ph: Pastor Tawhiri 09 431 8988 or Pastor Paul 09 4312 068 Visit us at 
www.facebook.com/kaiwakachurch or www.kaiwakarevival.co.nz 
 
St  Paul's  Anglican  Church  1st  Sun.  9.00am  (Eucharist),  3rd  Sun. 
9.00am (Family Service). Contact: Rev. Wayne Thornton Ph 431 4122 
www.mangawhaianglican.org.nz 
 
Church of Christ the King, Mangawhai:9.00am every Sunday 
 
St.Mary's  Catholic  Church:  Maungaturoto  –  Griffins  Road,  Saturday 
evening  Vigil  Mass  6pm;  Mangawhai  –  Senior  Citizens  Hall,  Sunday 
Mass  8:30am;  Wellsford  –  Matheson  Road,  Sunday  Mass  10:30am;  
Mid-week Mass times and all enquires to Fr. Bill Fletcher – phone 423 8170
 
Baptist Church: Sun. 10.30am Mangawhai Snr Cit.Hall.Ph:4312339 
 
Cause  Way  Church  Mangawhai:  Sundays  10.15am,  Mangawhai 
Community  Recreation  Centre,  Insley  St.  Ph:  09  4314782