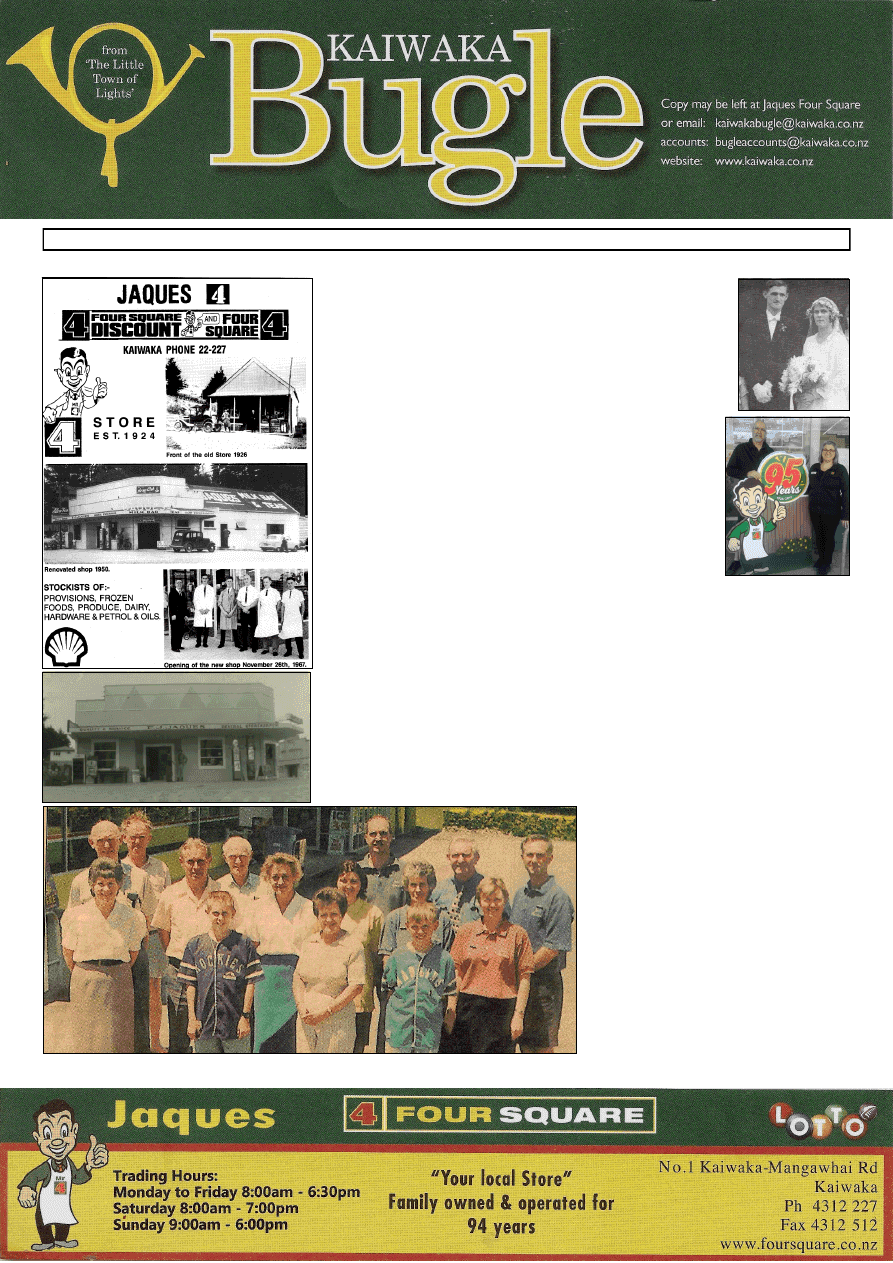 www.kaiwaka.co.nz 
Kaiwaka Bugle - 20 August, 2019 
Page 1 
No: 16 
 20 August 2019 
Trading Hours: 
Monday to Friday 8:00am - 6:30pm 
Saturday 8:00am - 7:00pm 
Sunday 9:00am - 6:00pm  
"
Among the  archives of the  Jaques family 
is  an  account  "Bought  off  W.T.Randle" 
addressed  to  Mr  J.Bowmar.  Dated  August 
12,  1924,  the  account  is  for  £5  lls  9d. 
Beneath the list of items is a brief note: 
"Kindly let me have a cheque to amount as 
Mr  Jaques  takes  over  the  business  today. 
Thanking you, W.R
."* 
Four  generations  of  the  Jaques  family 
have  run  this  business  and  now 
celebrate  their  Four  Square  95th 
Birthday. 
Frank  Jaques  married  Ella  Cullen, 
pictured, in 1931. Their five sons, Bill, 
Brian,  Reg,  Ken,  Alan  and  daughter 
Pam,  all  worked  in  the  shop,  with  the 
'boys' making it their career. 
August  1924:  Frank  and  Ella  Jaques 
established  the  General  Store  after 
purchasing  it  from  Tom  Randall.  As 
their  five  sons  left  school,  they 
followed into the family  business. 
1950s  and  60s  Renovations  were 
carried out on the 2nd store on site. 
November  26  1967:  A  740sqm 
grocery  store  was  built  and  opened  as 
Jaques 
Superstore 
under 
the 
Foodstuffs,  Four  Square  banner.  The 
five sons and their wives carried on the 
Jaques  family  tradition  in  the  new 
store. 
November  1998:  Frank's  son  Brian, 
wife  Gay,  their  two  sons  Greg  and 
Glen,  and  their  wives  Paula  and 
Dalleise  purchased 
the  shop  from  the 
other  four  brothers. 
This  was  also  the 
year 
Kaiwaka 
celebrated 
the 
'changing  of  the 
guard'. 
Some 
wonderful 
stories  emerged  on 
this  occasion.  One 
notable  from  the 
brothers  memories 
-  "Geoff  Linnell 
was 
blowing 
macropcarpa 
stumps  over  the 
road 
where 
Kaiwaka  Clothing 
now  stands.  He  put  a  very  generous 
gelatine charge under one huge stump, 
lined  it  with  hay  bales  from  Archie 
McClean's  shed  and  lit  the  fuse.  The 
blast  showered  hay  and  chunks  of 
macrocarpa 
all 
over 
Kaiwaka, 
including some impressive holes in the 
side  of  Jaques'  Store".  That  is  what 
you would call a blast from the past! 
"In the early days all the products were 
on  shelves  behind  the  counter.  You 
would  get  the  ladder,  reach  for  the 
items, pack them in paper bags for the 
customers  and  write  out  the  receipt 
with a pen." 
March  2005  Glen, Greg, Dalleise and 
Paula purchased Brian and Gay's share 
of the Store, Brian to this day continues 
to work 3 days a week in store. 
September  2014:  Greg  and  Paula 
purchased Glen and Dalleise's share in 
the business. 
"Our  staff  have  been  the  heart  of  our 
store  and  we  receive  so  many  positive 
compliments  about  their  service  and 
care  for  our  community,"  Paula.  and 
Gregg. 
* 
From Stories Tall, stories short by Roger TW 
Smith - this begins his wonderful chapter on the 
Jaques  'Wonderstore';  The  advert  above 
appears on page54 of the Kaiwaka Photographic 
History; Coast to Coast Courier, Paul Charman.
KAIWAKA: 95 YEARS OF THE JAQUES FAMILY BUSINESS 
1998: Jaques Family - Generations 2, 3 and some of the 4th: Back -Alan, Reg, Greg, Brian, Glen; 
Mid -Bill, Ken, Mary, Paula, Gay, Dalleise; Front - Lola, Leon, Bev, Darcy. 
Coast to Coast Courier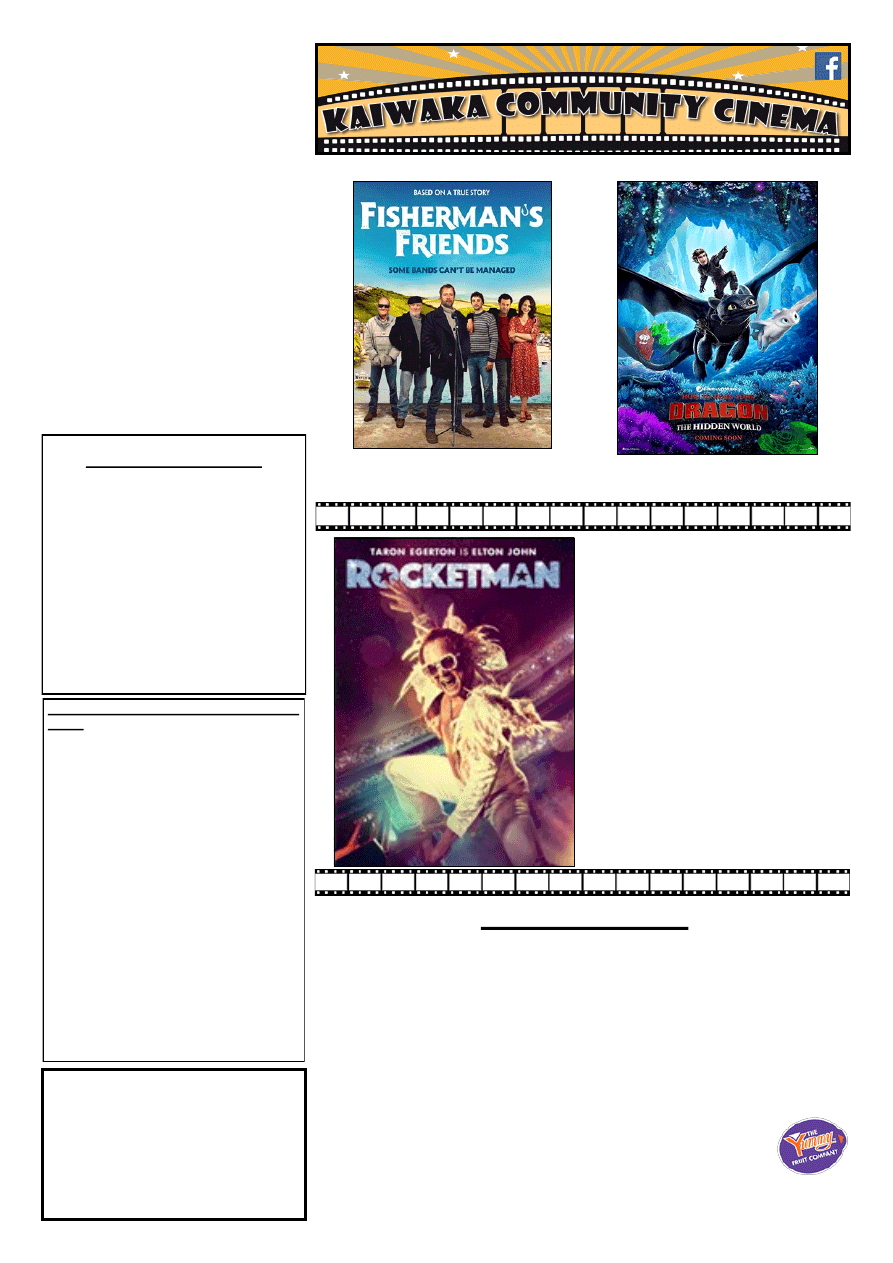 At Kaiwaka War Memorial Hall . Adults $10, Kids (under 16) $5, Family Pass (2 adults + 3 children) $25 
KAIWAKA BUGLE No. 16 
20 AUGUST 2019 
CONTENTS 
Page 3: Public Notices, Classified 
Page 5: Flaxrose; StJohn Hall; Three 
Furs 'Got Talent' 
Page 7: Rotary; 1967 Eastern Seniors 
Page 9:Councillor's Comment J Larsen 
Page 11: Kaiwaka Sports Assn.; 
Kaiwaka School  
Page 13:  The Kauri Museum 
Page 15:  Zonta; Nettles; Pt.Curtis 
Cruising Club  
Page 17: Library; Thelma's Scrapbook 
Page 19: OHS; Mangawhai Artists 
Bugle 17 will appear 3 September 
Contact for advertising, reports, articles 
or information can be made by 
Email kaiwakabugle@kaiwaka.co.nz 
Ph: 09 4312 045 Lindsey 
Txt: 027 2724137 
Copy  may  be  left  at  Jaques'  Four 
Square. 
Kaiwaka Bugle 
Founded May 1978 
We appreciate articles and photos about local 
events, etc, as well as ads and suggestions. 
Copies available in Kaiwaka at Jaques Four 
Square, Kaiwaka Postal Centre, Shamrock 
Service Station, Animal Health Centre, 
Kaiwaka St John shop. 
Also outlets in Maungaturoto, 
Mangawhai and Paparoa. 
Can be viewed online at   
www.kaiwaka.co.nz/Bugle  
Or a copy can be posted to you if you supply 
stamped, self-addressed DLE envelopes. 
Proverbs 20:7  
It is a wonderful heritage  
to have an honest Father.  
Kaiwaka 
Bugle 
Advertisements 
2019: 
All 
copy 
and 
queries 
to: 
kaiwakabugle@kaiwaka.co.nz 
The Bugle is printed on an A4 page   
Ad  sizes:  1/16  page  (3  x  9.5cm)  $5;  1/8 
(6.5  x  9.5cm  landscape  or  portrait)  $8; 
3/16 ( 10 x 9.5cm or 7.5 x 12,5)  $12.  
Classified  ads:  First  one  FREE,  $4  per 
entry (max. 30 words, max. 4 repeats). 
Payments  can  be  made  online  at 
ANZ 
06  0365  0006990  00
,  posted  or  left  at 
Jaques Four Square Store. 
We  use  Microsoft  Publisher,  and  can 
work  with  most  common  image 
formats, Word, Excel, and PDF files. 
Accounts:  
Email: bugleaccounts@kaiwaka.co.nz 
The  Kaiwaka  Bugle  is  a  community 
newspaper run by volunteers, as part of 
the Kaiwaka Media Group Inc.   
Articles, etc. printed are not necessarily 
the opinion of the Bugle Team. 
FISHERMAN'S  FRIENDS 
Friday 23 August, 7.30pm (M)                         
How to Train You Dragon - the Hidden 
World Sunday 25 August,  2pm (PG) 
ROCKETMAN 
Friday 30  August, 7.30pm  
MOVIE &SUPPER. 
TICKETS ON SALE NOW 
$25.00 
To order text/ring 0212154495 
BYO … Ticket entry only. 
Awesome finger food supper freshly 
made by  
THE COFFEE POT  
~ Traditional German fare ~ 
Free tea /coffee during supper
ABOUT TOWN 
 
Congratulations and Happy Birthday, Jaques Four Square Store!! Our wonderful 
family Superstore! 

 Jonathan Larsen and Peter Wethey are the only KDC candidates standing for our 
Kaiwaka-Mangawhai Ward - no election needed; there will be an election for the 
Kaipara mayor. 

The  Vet  Centre  is  running  a  dental  special  for  pets  during  the  month  of 
September so give them a call on (09) 431 8318 to find out more. 

Great movies lately  in the KWMHall - book in for supper and 'Rocketman'! 

 Mangawhai Beach School roll is now reaching 500 - remember when Kaiwaka 
School was the bigger school! 

 Mangawhai Museum celebrates their 5th birthday on Saturday 24  August., with 
a dinner and Auction. Tickets available at the Museum.

 Collect  Yummy  fruit  stickers  and  help  Kaiwaka  School  earn  more 
sports gear; this ends Friday 27 September 2019 (end of Term 3) . 

 15 August was VJ Day  - bringing an end to WWII. 
~ Lindsey, Ed
"A  society  grows  great  when  old  men  plant  trees  whose  shade  they  know  they  shall 
never sit in." ~ (Greek proverb)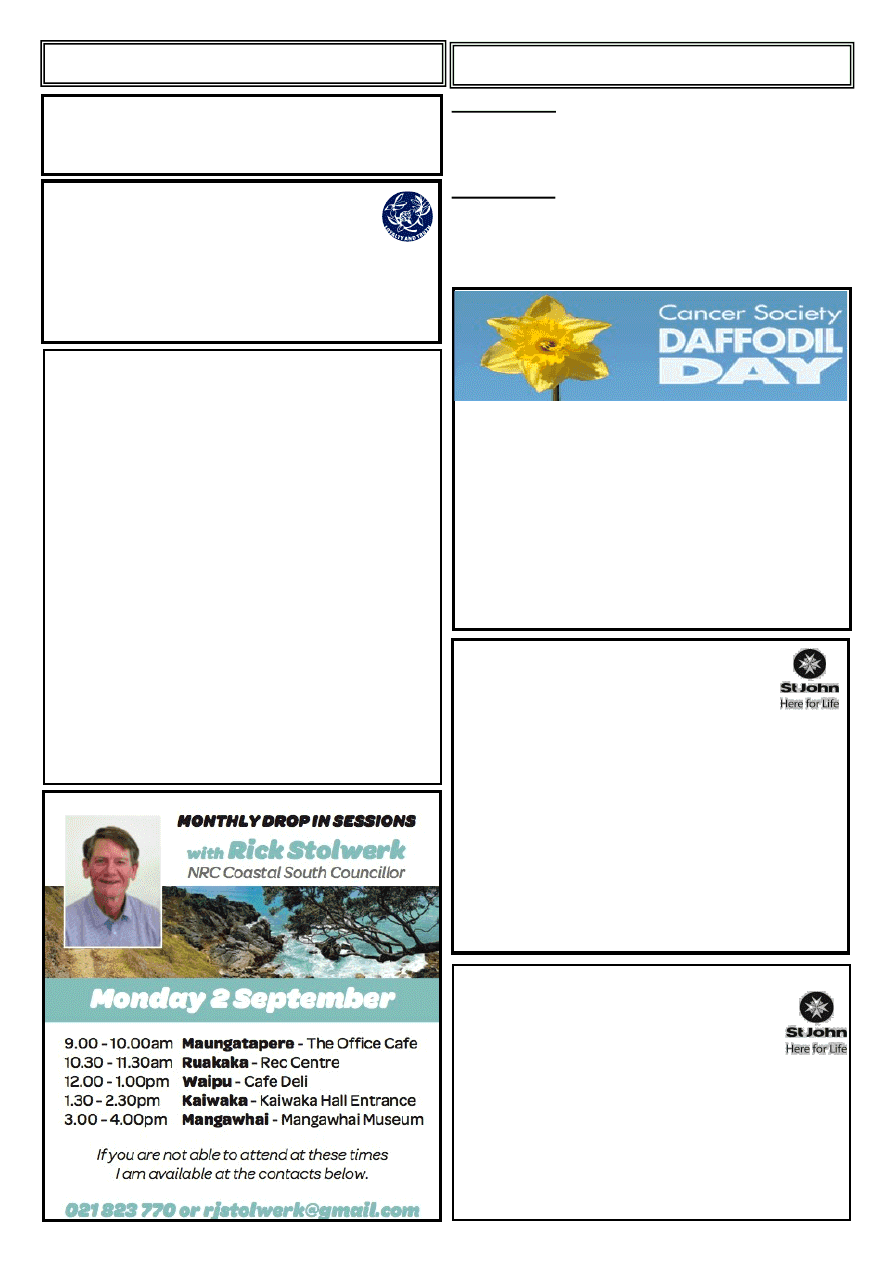 www.kaiwaka.co.nz 
Kaiwaka Bugle - 20 August, 2019 
Page 3 
PUBLIC NOTICES 
CLASSIFIED 
 FOR  RENT:  Large  apartment  style  cottage  in 
Kaiwaka.  Sunny  1  bedrm,  furnished  (or  not).  Bond  1 
wk.  $300  pw  (incl.  pwr,  water,  waste  disposal  & 
Freeview TV. Ph 021 2537661 or 09 9450593.  
FOR  RENT:  Good  flat  364  Oneriri  Rd.,  Otamatea 
Eco  Village,  with  nice  view.  50m
2
.  living,  bedroom, 
office,  kitchen,  bath.  Covered  outside,  carport,  lawn. 
Long-term  to  tidy,  single  (preferred),  non-smoker. 
Reference. Bond. $245 inc. power. Call Peter for more 
details 09 4312718 or 0211502260.
ST JOHN TRASH AND TREASURE 
30th September to 4th October 
Thank  you  to  those  of  you  who  have 
responded to my request for help for this.  
It  is  not  too  late  to  offer  your  help.  Please 
note, even two or three hours would be great.  
We  have  a  particular  need  for  many  hands  when 
setting up on the Sunday afternoon 29th and packing 
up on the Friday afternoon. 
Seeking  donations  of  good  second  hand  items  -  no 
TVs  please.  We  are  also  seeking  donations  for  our 
multi-draw raffle. 
If  you  can  help  in  any  way,  please  get  in  touch. 
Eileen 0211420357. 
SOLAR ENERGY workshop + visit to EUTOPIA 
ART CAFE 
Workshop: Solar Hot Water is a NO Brainer ! 
We have analysed the many quality and performance 
issues of Solar Hot Water systems in New Zealand. 
Short  life  span,  low  performing  systems,  wrong 
concepts,  non  suited  materials,  freezing  and 
overheating  problems,    and  inefficient  backup 
heating are the main shortcomings. 
WHY this workshop ? Solar hot  water, state-of-the-
art, saves a dollar for a dollar! 
It is time for clear, transparent information about the 
DO's and the DONT's in NZ. 
We  will  visit  the  solar  hot  water  system  at 
EUTOPIA  and  demonstrate  a  state-of-the-art 
system. 
Location: Kaiwaka War Memorial Hall 
Workshop :       7/09/2019 at 1.30 pm 
Cost: $10 including drink at EUTOPIA 
VISIT  to  EUTOPIA's  Solar  Hot  Water  System 
after the workshop at 3 pm.  
Bookings essential so give us a call or email! 
Email: ericjansseune1957@gmail.com  
Web: www.ewatec-global.com 
Phone home 09 4312408 Cell 021 022 31 700 
KAIWAKA WAR MEMORIAL HALL Inc. 
ANNUAL GENERAL MEETING 
Tuesday 10th September, 5pm 
In the Hall ~  All welcome 
OTAMATEA HIGH SCHOOL 
OPTIONS AFTERNOON 
Wednesday 28 August 2019 
Year 10s and parents from 2.30pm  
Year 11-13s and parents from 4.pm
Otamatea High School   0800 682 628 
DAFFODIL DAY Friday 30 August 
The  Cancer  Society  of  New  Zealand's  Daffodil 
Day  symbolises  hope  for  1  in  3  New  Zealanders 
affected by cancer. Since 1990, this iconic event has 
inspired  people  to  come  together  and  support 
the  Cancer  Society's  work.  As  well  as  providing  an 
opportunity  to  raise  awareness  of  cancer  in  New 
Zealand.  
Kaiwaka Collection Points: Jaques Store, La Nonna 
Café 
If you would be a collection volunteer please contact 
Lynne on 09 4312020 
KAIWAKA ST. JOHN OP SHOP 
Thankyou to the Kaiwaka Community for your 
ongoing support. 
Clothing Sale: 
We currently have a clothing sale until the end of August. 
5 items for $1.00 from racks out the front. 
We have for sale: 

3 seater sofa bed 

2 single bed bases and mattresses 

2 single mattresses 

There are also some electrical appliances which have all 
been checked by an electrician. 

Kitchenware and crockery. 
Come on in and have a look around you never know what 
you might  find. 
For more information contact the shop 4312650 or Gale 
Matheson 4314827 or 0274149576. 
Check us out at 1919 SH1, Kaiwaka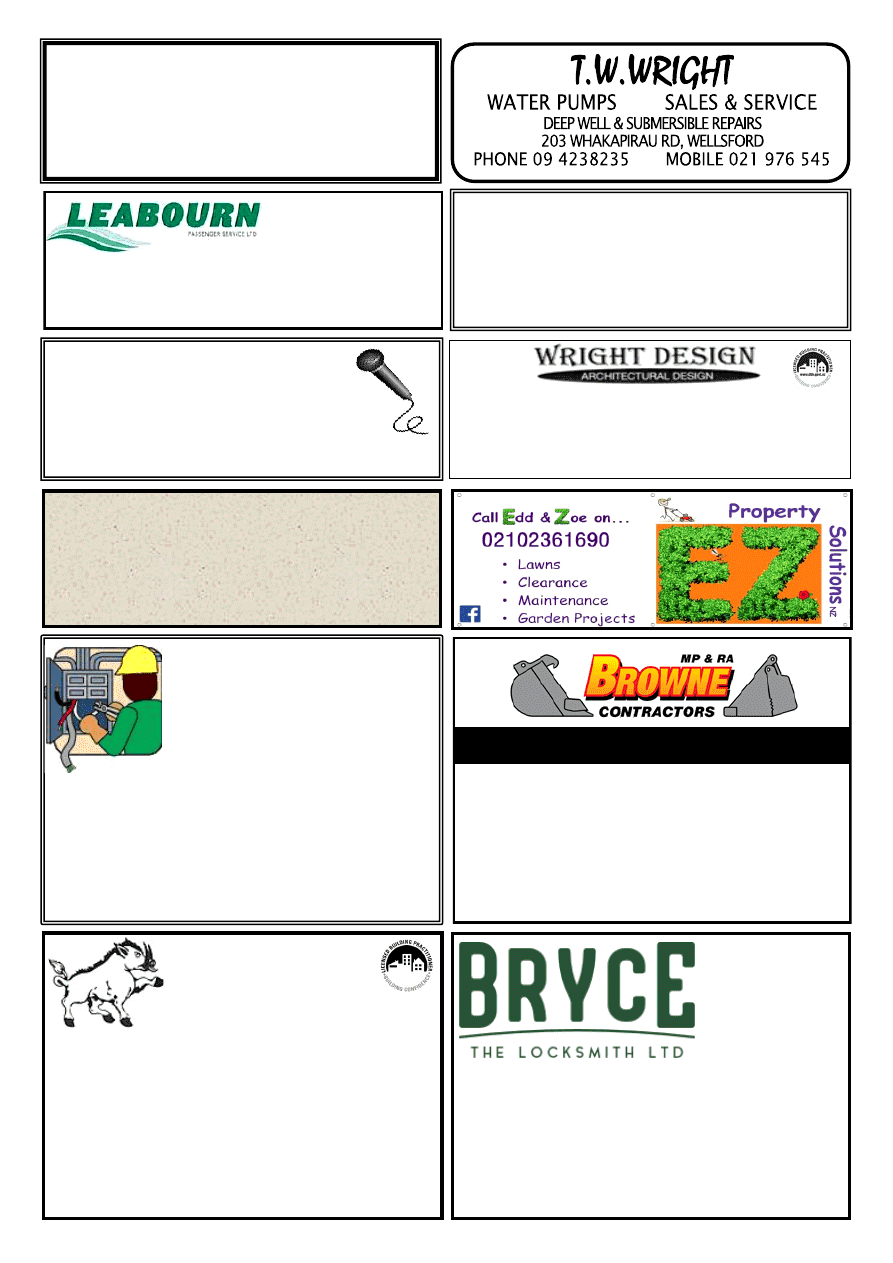 4T DIGGER – BOBCAT – TIP TRUCK 
 Property Maintenance - Driveways  
 Building Sites 
Stump & Tree Removal  
Hole Boring - Chain Trencher  
Calf Shed and Stockyard Cleaning 
Phone Matt: 021 199 6677 
Email: mprabrownecontractors@gmail.com 
Counsellor and Registered Psychotherapist 
Offers Supervision
Susan Matheson 
MNZAC 
Dip. Psychosynthesis Counselling and Psychotherapy 
Phone 09 431 2996                        Mobile 027 605 2427 
Passenger Service
Car & Van Hire   Bus & Coach Charters 
Airport Transfers    
Phone (09) 4237416 
SING RIGHT 
Professional coaching for performance,  
recording and demos. 
All level singers, musicians, singer-songwriters. 
Phone Robyn Hill 431 9159 or 0274 725610 
No. 117345 
N.Z.C.A.D., L.B.P. 117345 
PH/Fax: 09 423 8092 Mob: 021 276 7369 
Office: 3 John Sinclair Avenue, Wellsford    brianwright@xtra.co.nz 
For Resource and Building Consents, planning restraints, new building materials - 
you need a capable, experienced, and professional designer with a clear 
knowledge of all the processes. Brian has been helping and organising all these 
facets of design and building for over 50 years. 
Wright Design offers free visits, consultations and advice on planning, design, 
building, council permit applications, guaranteed permit plan acceptance. 
O'MALLEY 
CONTRACTING LTD 
CONCRETE 
FOR ALL YOUR CONCRETING NEEDS 
T: 021 2200 198 
E: omalleycontracting@outlook.com            W: omalleycontracting.co.nz 
Om Tara ~ Mangawhai 
Healing Services 
Diann Glucina 
021 250 7461 diglucina.com  
FB: OmTaraMangawhai 
HANDYMAN 
Gardens * Lawns * Landscaping * Painting 
* Small gib-stopping * 
* General repairs and maintenance * 
Honest - Reliable 
Phone Burn 0211900555 or Brenda 0211185578 
Bryce Frewin 
Ph: 021 850 983 
Kaipara Based Master Locksmith 
bryce@brycethelocksmith.co.nz 
www.brycethelocksmith.co.nz 
Mike Thorne  
Electrical 
"No job too small" 
  Domestic, solar, industrial 
Dip Elect Eng  EWRB registered 
0275691710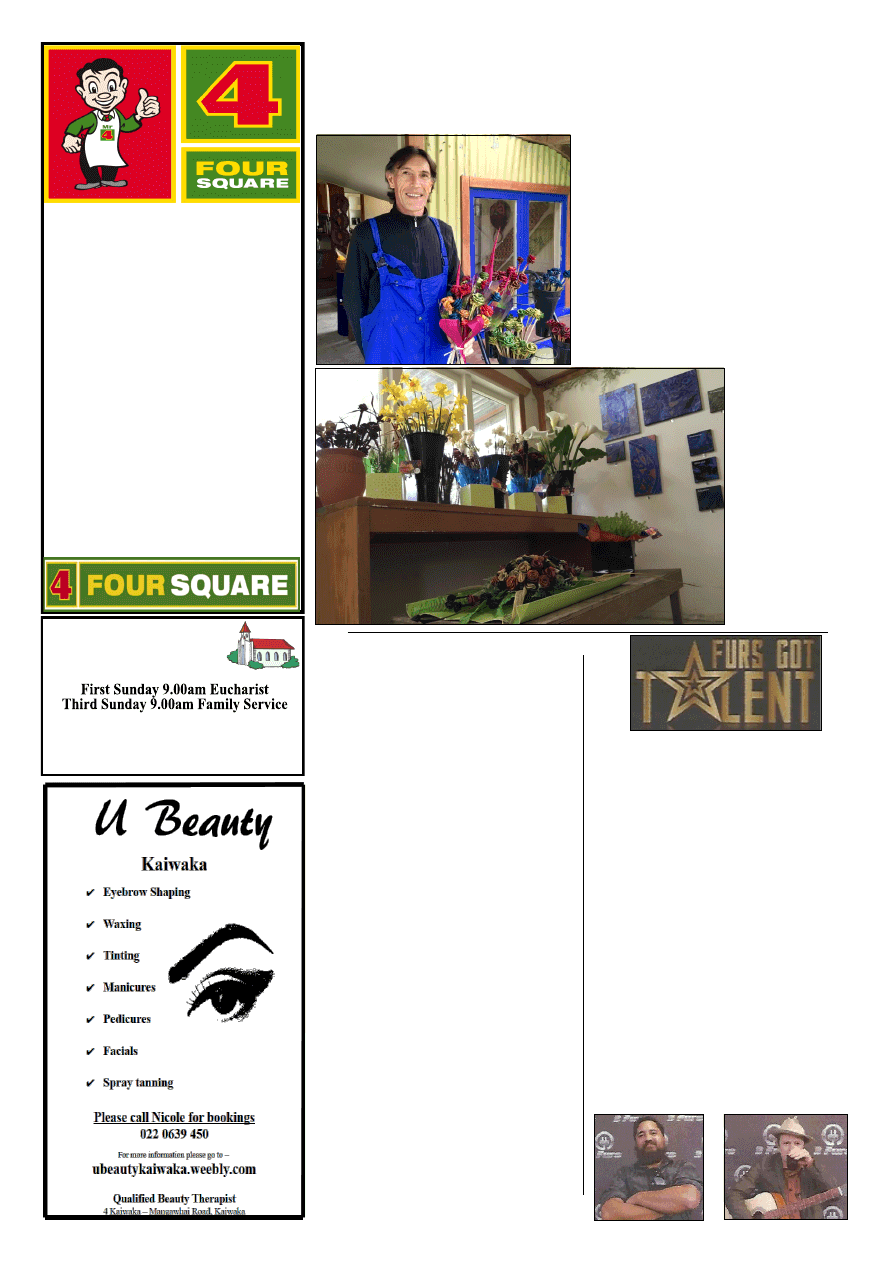 www.kaiwaka.co.nz 
Kaiwaka Bugle - 20 August, 2019 
Page 5 
Happy 95th 
Birthday  
JAQUES 
FOUR SQUARE 
'Celebrating 95 years since  
Frank & Ella Jaques  
bought the general store.  
Three stores have operated on this 
site. In November 1967 the 
Supermarket was built & became part 
of Foodstuffs as a Four Square.  
We are extremely proud of our 95 
years of family ownership.  
We love our very special community. 
Thank you for your support.' 
~ Paula & Greg 
Jaques Four Square 
Phone: 4312227 
1 Kaiwaka-Mangawhai Road, Kaiwaka. 
ST PAUL'S  
ANGLICAN  
SUNDAY SERVICES 
St Pauls Church: Kaiwaka-Mangawhai Rd. 
Priest in Charge Rev. John Blundell  Ph 431 4122 
www.mangawhaianglican.org.nz
FLAXROSE AT TAONGA GARDENS 
Just opened Friday, a new look for the beloved garden shop at Taonga Gardens. 
The  creative  hub,  Flaxrose,  combines  traditional  and  contemporary  Māori 
weaving, a gallery for local artists,  and a unique style of floral arrangements for 
funerals and weddings. Flax weaving classes will be on offer in the near future. 
Michael Algar,  pictured  left,  brings  a 
passion  for  weaving  learned  from  his 
grandparents  as  a  young  boy,  with  his 
training and many years experience as a 
florist, to create tasteful flax and flower 
bouquets  for  weddings  and  funerals.  In 
addition,  Michael  hopes  to  encourage 
local artists through his connection with 
Michael Lett Gallery in Auckland. 
Also  featured  currently  at  Flaxrose  are 
artists  Scissy  and  Edie Nielsen.  Scissy 
displays  traditional  flax  bags  with  a  bit 
of colour flair. Edie works in a variety of 
media, including flax weaving, sculpture 
and painting. 
Located  at  2395 
State 
Highway 
One,  5  minutes 
north 
of 
Kaiwaka.  
Open  7  days  a 
week.  
Stop by for a chat 
and  to  watch 
Michael and Edie 
working  in  the 
weaving studio.  
Pictured 
left: 
Flaxrose  Flowers 
and Art Gallery 
'FURS GOT TALENT' 
The  Three  Furlongs  Bar  &  Grill  is 
hosting  it's  first  annual  'Furs  Got 
Talent' event. They now have 13 semi-
finalists  …  one  of  which  will  win 
$1000,  and  great  judges  on  board  for 
the  Finale,  including  Toast  from  the 
MoreFM Northland breakfast show and 
Auckland's  leading  Magician  and 
Illusionist  –  Mike  Lindsay!  Hosted  by 
'Mangawhai  Karaoke'  duo,  Jonathan 
and  Pam.  The  show  starts  at  7pm,  but 
you are advised to be early! 
Below:  Two  local  semi-finalists: 
Raniera Littlejohn and Elliot Brown. 
For Show Times 
Check their Facebook page 
Three Furlongs Bar & Grill 
SEMI - FINAL:  
Saturday August 24th 
GRAND FINALE:  
Saturday August 31st   
KAIWAKA ST.JOHN 
HALL  

FREE  TALK  ON  ARTHRITIS 
with Julie  Stacey.  Are  you  living  with 
the 
pain 
and 
limitations 
of 
Osteoarthritis or Rheumatoid Arthritis? 
Thursday  22nd  August  from  10-11am 
to  discuss  how  Natural  Therapies  can 
help  improve  your  long-term  health 
outcomes.  Cost  is  free.    Talk  is  being 
held by Julie Stacey who is a qualified 
Naturopath  and  Health  Coach.  For 
more information: 

www.simplyandnaturallyherbalhealth.co.nz 

We have a psychotherapist operating 
in the building.   

Those  who  are  interested  in 
Apiculture, (bee keeping), we can start 
this course at the end of this month, or 
beginning  of  September,  but  we  need 
numbers.   Contact  Marj  if  you  require 
further  information  or  look  at  the 
NORTH 
TEC 
website, 
https://
www.northtec.ac.nz/    and  see  what 
courses are available. 

We  also  have  a  person  who  does 
therapy  with  colour  -  art  type 
activities.    This  is  designed  to  bring 
resilience and self esteem with Art and 
promote communication skills.   

North  Tec  have  been    to  talk  to  the 
public  re  courses  that  they  can 
take.  We are in the process of sorting 
this one out so watch this space.  
Marj: 09 4312035 or email 
frank.marj@gmail.com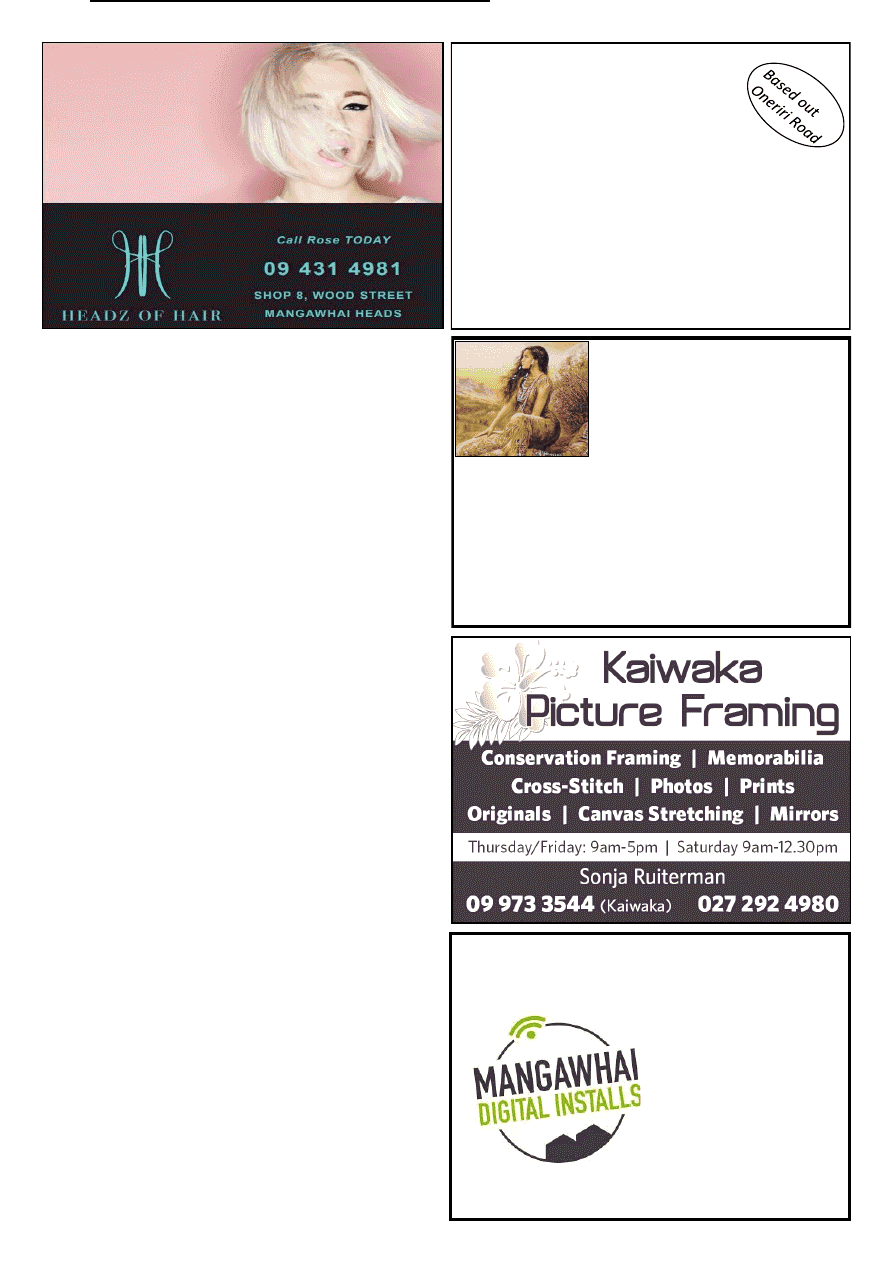 (
Next to Kaiwaka Motorcycles)
Specialists in: 
Satellite Dish & TV Aerial Installations  
& Repairs 
Freeview  
Chromecast 
Smart TVs   
 Netflix 
Call or Text Adam on 022 351 6679 
E: mangawhai digital@gmail.com 
HODGETTS 
CONTRACTING
Digger Work   

Driveways 

House Sites   

Dams     

Drains, etc
Also available for HIRE 
3 ton Vib Roller Heavy Duty Tow  
Waterblaster     Lazer Level
Phone Mark 4312877 
        027 447 8554 
TRAILS END 
RONGOA MAORI 
HEALING 
And Gifts 
Stocking all your needs from incense, crystals, dream 
catchers, greeting cards, jewellery, perfume, dragons and 
more dates for groups each month are: 
August 25th ~ September 22nd 
October 27th  ~ November 24th ~ December 15th 
From 10.30-2pm  
For all inquiries Phone 0211652629  
Light refreshments available $5 koha  
1758 Cove Road Mangawhai
KAIWAKA Energy Saving Plan … 
FREE PUBLIC ENERGY MEETING 
Kaiwaka  is  a  diverse  community  of  many  interests  and 
talents.  As  a  community,  many  individuals  and 
organisations  try  to  create  a  better  environment  for  the 
Kaiwaka area. One important aspect of every community is 
the use of power and electricity. Increasing electricity prices 
and  on-going  issues  with  low  energy  efficiency  increased 
the  FUEL  POVERTY  in  NZ,  so  it  is  also  important  to 
evaluate  and  tackle  the  future  energy  problem  in  Kaiwaka 
Community. 
According  to  the  GOVT  and  many  Energy  Providers 
though, the future of power companies looks bright and NZ 
must be more "electrified".  
We  quote:  "More  electrification  will  be  needed  each  year, 
electricity prices will increase fast and more than 30 % extra 
capacity of power plants will be needed by 2030". 
This  future  GOVT  outlook  will  only  lead  to  higher 
electricity bills and more dependency on the GRID. 
Many  houses  and  buildings  in  Kaiwaka  use  a  lot  of 
electricity for all the 'wrong' reasons. Hot water production 
with  electrical  cylinders  is  very  inefficient,  as  well  as 
electrical  cooking  and  electrical  home  heating.  Also  heat 
pumps in winter are not exactly the cheapest way to heat a 
home  in  the  NZ  winter  climate.  Also,  there  are  a  lot  of 
opportunities  for  energy  savings  in  the  Kaiwaka 
BUSINESSES. 
The  Kaiwaka  Community  can  save  a  lot  of  electricity 
without  loss  of  comfort  and  reduce  the  dependence  on  the 
MAINS GRID. 
To  achieve  this  unique  goal,  we  will  organise  a  FREE 
ENERGY  SURVEY  for  households  and  business  in  the 
Kaiwaka  region.  This  is  important  to  evaluate  the  overall 
energy  use  of  the  Kaiwaka  community  before  efficient 
energy  savings  actions  can  be  defined  for  different  energy 
users. 
Energy efficiency measures can easily save 10-30 % on the 
electricity  bill in  an  average  household.  Electricity  savings 
on  hot  water  production,  cooking  and  heating  are  just  the 
start.  The  cream  on  the  cake  is  a  solar  hot  water  system, 
state-of-the-art,  that  can  save  as  much  as  70  %  on  the 
electrical hot water bill. 
In cooperation with Kaiwaka Can, more 'efficiency' actions 
are  planned  in  the  near  future  to  further  reduce  the 
ecological  footprint  of  the  Kaiwaka  Community  and 
become a low carbon community. 
Join our Public Free Energy Survey Meeting where we will 
explain  the  many  opportunities  for  energy  savings  in 
Kaiwaka households and businesses. 
7th September, 10 till 11am + question time. 
Kaiwaka War Memorial Hall  
Cost: Koha to cover the hall hire 
Contacts: Bookings are not essential but appreciated, so email or 
phone us please 
For Kaiwaka Can: Derek Christensen-email: 
derekandisa@gmail.com -Cell 0273572751 
For Repower NZ: Eric Jansseune-email: 
ericjansseune1957@gmail.com - Cell 02102231700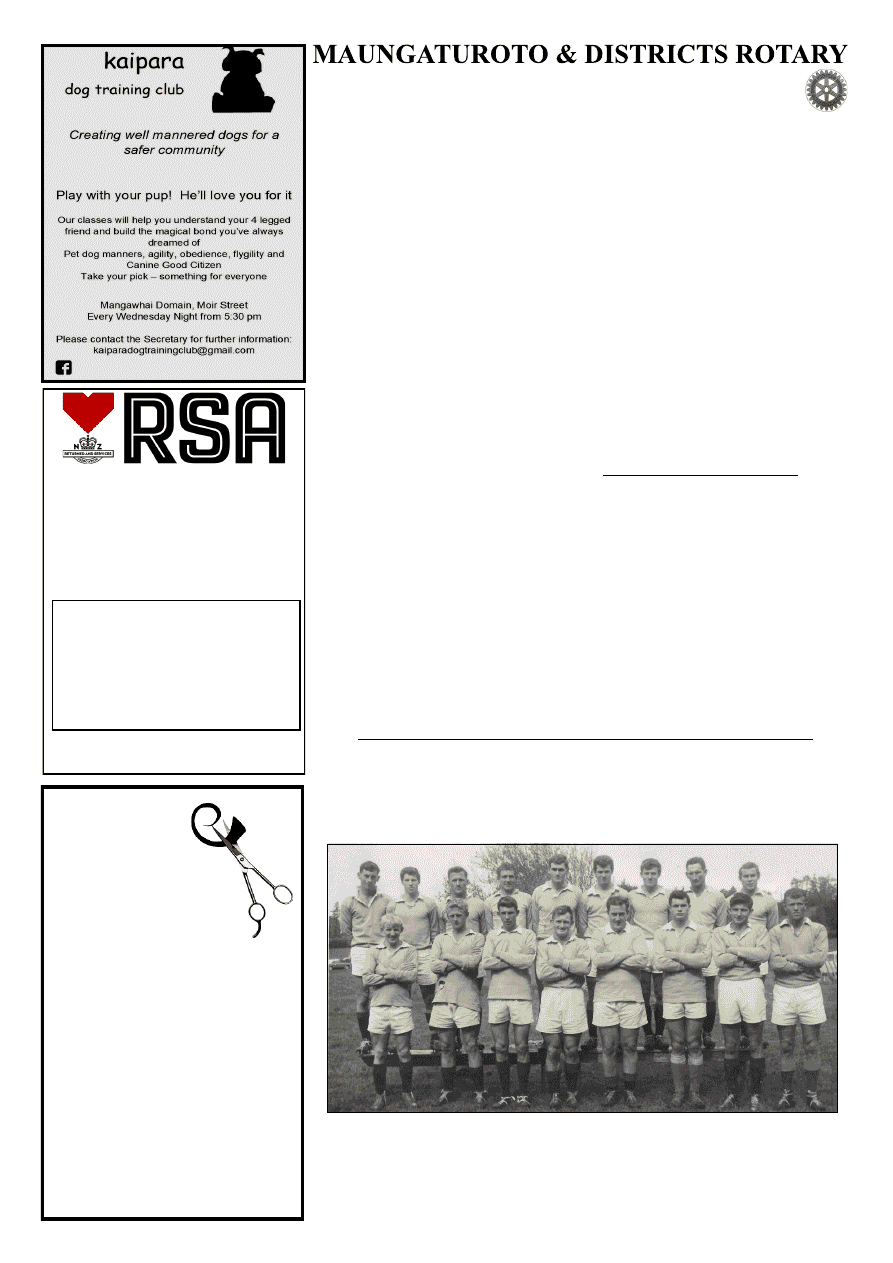 www.kaiwaka.co.nz 
Kaiwaka Bugle - 20 August, 2019 
Page 7 
HAKARU & DISTRICTS 
MEMORIAL RSA (INC)
Members & guests are invited to 
come along and enjoy our hospitality. 
New members welcome. 
Meals are served on 
Thursday and Friday nights 
from 6.30pm. 
Order from Blackboard Menu  
and a sing-a-long  
with Des Chitty. 
For more information please phone 
Graeme on 431 2563 
At  a  recent  meeting  of  our  Club,  we 
were  fortunate  to  have  one  of  our 
Charter  members  attend.  Colin  Smith 
is  still  actively  involved  in  Rotary  in 
Whangarei. He was able to give us an 
impromptu  talk  on  the  early  years  in 
our Club and for many of us "newbies" 
this was most enlightening.  
Some  of  the  projects  undertaken  in 
those early days were the purchase and 
development 
of 
the 
Children's 
playground in Hurndall St (the Council 
now attends to this);  
the  foundation  of  the  Retirement 
Village  on  land  owned  by  Lyn  Ball's 
parents.  The  village  initially  consisted 
of  six  rental  units  which  were 
decorated  by  the  Rotarians.  This  too 
was taken over by the KDC, expanded 
and  then  on-sold  to  the  community 
trust (compare this to the complex that 
is now in place.)  
Two  natural  areas  that  have  been 
developed  (and  still  are  being 
maintained  by  the  club)  are  Nikau 
Grove and Piroa Falls.  
And by the time you read this, we will 
have celebrated the fiftieth anniversary 
of our Charter. 
Samuel Orchard  a DOE participant at 
OHS  (who  we  supported  financially) 
shared his Outward Bound experience. 
Up  at  5.30am;  warm-up,  aerobic  run, 
swim and cold shower started each day 
(temperatures were between 5 and 10°
C).  Daily  activities  included  sailing, 
white  water  kayaking  and  high  ropes. 
He had two nights out solo camping – 
no  watches  or  phones  and  just  a 
tarpaulin  for  shelter.  Biggest  lesson 
learnt – "how easy life at home is." 
We  also  had  our  Assistant  Governor 
Gary  Richards  visit.  Gary  and  his 
wife are  both  Rotarians and  he 
currently works as a Health and 
Safety advisor. Gary belongs to 
the Millwater Club which is a Satellite 
club of Orewa. They only meet for one 
hour and have a focus on projects and 
fundraising.  He  has  suggested  that  we 
engage  with  local  schools  doing 
projects  such  as  tree  planting  and 
rubbish removal on beaches.  
Our  community  connexions  meetings 
have  opened  the  door  to  projects  that 
we  can  be  involved  in,  or  encourage 
collaboration 
between 
other 
community  groups.  Thank  you  Gail 
Fotheringham for facilitating these. We 
appreciate your expertise. 
Calf Litter 
A  reminder,  we  still  have  plenty  of 
bags  of  calf  litter  for  sale  at 
Maungaturoto Four Square. 
As  Rotarians,  we  enjoy  many 
interesting  guest  speakers,  working 
bees and times of fellowship. If you are 
interested  in  joining  us,  please  get  in 
touch with any Rotarian. 
Maungaturoto and Districts Rotary 
in conjunction with Te Roroa and 
Roadsafe Northland 
Purchasing a car and providing driving 
lessons for people who have 
their  Learner's  licence  and  are  aiming 
for  their  Restricted  has  been  a  great 
success 
(approximately 
80% 
of 
learners  have  passed  their  licence  on 
the first attempt – the norm is 20%.) 
However,  because  this  is  so  popular, 
we  now  need  more  Driver  Mentors. 
The requirements are not huge and the 
number of clients each Mentor has is a 
matter  of  personal  choice  (as  is  the 
time  that  they  make  available.) 
JUST 
CUTS 
and 
MORE  
1758 Cove Road  
Open Monday-Saturday  
by appointment only 
Saturday 9-12pm  
Affordable prices: 
Ladies cuts from $35 
Colours from $120 
Men's from$25 
Kids from $18 
0211652629  
1967 Eastern United Rugby Club Senior Team 
Photos  tell  a  lot  of  stories!  While  we  are  looking  for  more  Kaiwaka  School 
photos  we  are  noting  other  group  photos.  Many  may  remember  schoolteacher 
Brian Pankhurst  who taught at Kaiwaka in 1966 and 1967. Sadly Brian died 5 
years ago, and sadly also others who have passed away: Bob Donaldson, Adrian 
Reddy, Terence Leabourn, and John Wintle. 
L-R Back Row: T Hargreaves, R Buckle, K McClean, R Murray, B Pankhurst, W Buckle,  
J Wintle, D Hargreaves, K Phillips. Front Row: G Wintle, R Donaldson, T Priscott, A Reddy 
(Captain), T Leabourn, D Chitty, B Watt, R Moir. Absent: R Hargreaves, Manager 
Eastern rugby colours - Cambridge blue jerseys, white shorts, black socks with 
red tops, and black boots with white laces! This team went on to become runners 
up in the Northland Rugby prestigious 'Cock of the North"! See page 17 for the 
16 September game as in the 'Rugbyite' programme.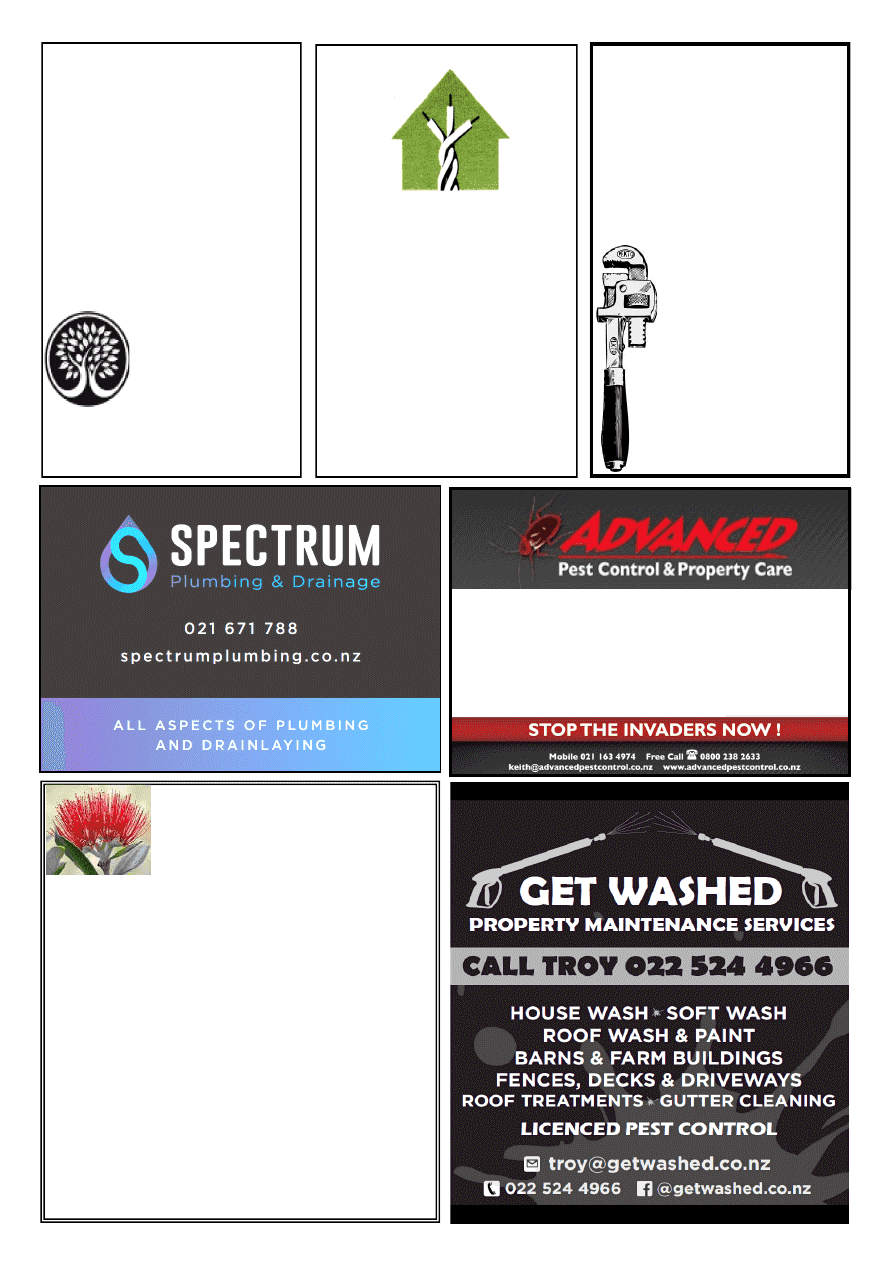 Waipu Natural 
Health 
3 Cove Road, Waipu  (opposite 
the Pizza Barn) 
Ph: 09 432 1325 
www.waipunaturalhealth.co
.nz
Clinical Nutritionist-Hair Analysis for 
Masked Allergies, Ozone Therapy, 
Prolotherapy, Naturopath-Medical 
Herbalist, Registered Massage 
Therapists, Reflexology-
Craniosacral Therapy, 
Acupuncture-Facial 
Acupuncture, Kineso 
Taping, Hypnotherapy, 
Counselling, 
ThetaHealing/Change 
Catalyst
.
AFFORDABLE CONSULTS FOR 
KIDS – give us a call
Gift Vouchers available
KAIPARA 
FLOORING CO 
Independently owned & operated 
32 HURNDALL ST MAUNGATUROTO
Supply & Installation of Carpet, Vinyl,  
Vinyl Wood Planking 
Stockists of 2m & 3m wide 
vinyl & carpet short ends 
Residential & Commercial 
Q Card Finance Approved 
6-18 month terms 
6 month interest free 
First Class Installations
For a free measure & quote 
phone Christine  
09 946 9886 or 021 515 415 
kaiparaflooring@gmail.com 
http://www.kaiparaflooring.co.nz/ 
BARRY CURTIS 
PLUMBING LTD 
REGISTERED CRAFTSMAN 
PLUMBER 
Phone 4315572 
027 257 9884 
25 years experience 
Friendly reliable service 
All plumbing and 
maintenance 
Alterations  
and new housing 
Spouting 
Competitive rates 
PROMPT 
EFFICIENT  SERVICE 
Reyahn George 
Leng 
Registered Electrician 
Local, honest and reliable. 
For your residential and 
light-commercial projects. 
022 314 1068  
Pest Control 
PLAN A: One-off treatments to customers with a specific pest problem 
PLAN B: Full maintenance service plans to commercial customers. 
This will include documentation kept in customer file on site: 
⚫
Pest treated 
⚫
Date of service 
⚫
Chemical or baits used 
⚫
Full pest check report done after each treatment 
⚫
Fair and reasonable fee with guarantee 
Flood Recovery 
Carpet Care 
⚫
Carpet Drying   
This includes pre-spray treatments 
⚫
Dehumidifier Rental 
with stain removal and hot water extraction.  
⚫
Full Commercial Cleaning  Patch repair also available 
Upholstery Cleaning 
Full upholstery cleaning of all furniture.  
eg lounge suites and all office chairs 
Water Blasting 
⚫
Concrete - Decks 
House Washing 
⚫
Soft Chemical Was 
⚫
Pre-painting Wash 
Property Services 
⚫
Property Cleaning  
Lawn Mowing 
⚫
Hedges General  Tidy Ups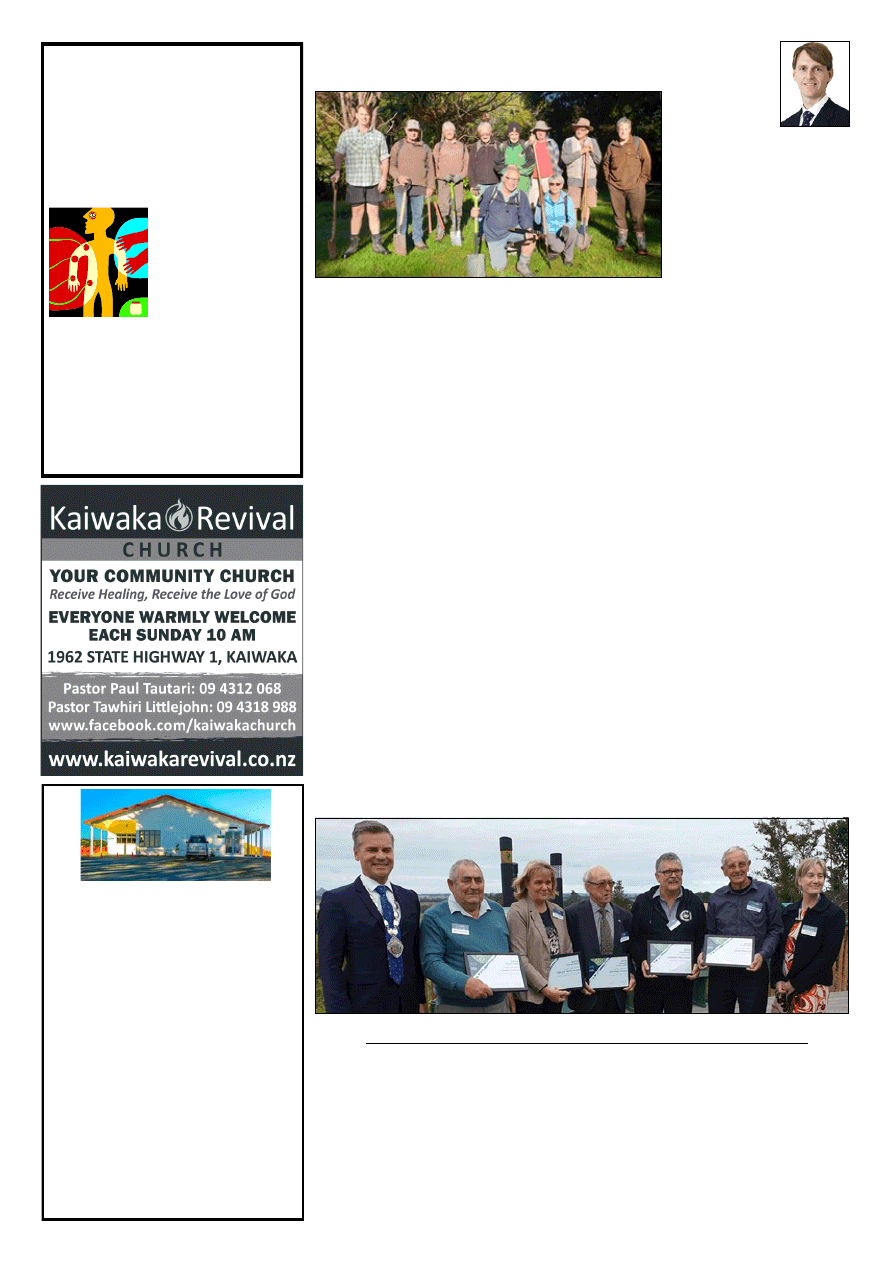 www.kaiwaka.co.nz 
Kaiwaka Bugle - 20 August, 2019 
Page 9 
OWEN STEVENS 
Osteo Therapist
For careful adjustments  
to bones and joints 
Treatment for humans  
and their pets 
Clinics: 
Kate's Place, 
Kaiwaka: 
Last Friday of 
month 
9.00am-5.00pm 
For bookings: 
Phone 
09 4312661 
Or phone Owen   
09 4317123  anytime 
Tramp! 
Te Pounga Marae 
130 Nathan Rd. Oneriri. Kaiwaka 0573 
COMPLEX FOR 
HIRE 
Functions 
* Weddings  * Birthdays  
*Anniversaries * Meetings  * Wananga 
5 hour meeting * 12 hour stay  * 
Overnight 
*All welcome - No more Drink-driving 
Amenities: 
*Convo Combi Steamer * Bratt Pan * 
Dish Washer/Sterilizer * 3 Door Glass 
Chiller (walk in) etc…All Crockery * 
Linen Supplied * Central Heating and 
Air Conditioning and much more.  
Can also cater for small groups…. 
For more information please 
contact: 
 Pearl Nathan 0223933533  
tepoungamarae130@outlook.com  
Mangawhai Tracks Charitable Trust 
- awesome local volunteers doing great 
work for the district, pictured above. 
I had the pleasure of being hosted last 
week  by  the  hardworking  team  from 
the  Mangawhai  Tracks  Charitable 
Trust.  One  group  headed  off  to  do 
maintenance  of  tracks  that  the  Trust 
has already developed, whilst I headed 
up into the hills with the track building 
team. 
This  group  lead  by  local  stalwart 
chairman  Gordon  Hosking,  have  built 
an  amazing  network  of  walking  tracks 
up into the Brynderwyn Ranges. 
In  an  earlier  post  I  discussed  the 
proposal  to  create  a  mountain  biking 
and walking park on Council's Lincoln 
Downs bush block in Brown's Rd. The 
Trust  members  are  eager  to  push  on 
and get this started, but are still waiting 
on  a  formal  go  ahead  from  Council.  I 
will  be  taking  this  up  with  Council's 
CEO  again  this  month  to  try  to  get  it 
started  -  another  great  local  volunteer 
initiative  that  will  benefit  the  whole 
district. 
Anyone who would like to be involved 
can contact the Trust  
www.mangawhaitracks.com 
Kaipara 
Citizen's 
Awards 
- 
recognising  exceptional  service  to  the 
community. 
I  recently  had  the  pleasure  of 
deliberating  on 
the 
Citizens' 
Awards  Committee  and 
last  week  attended  the 
presentation  ceremony  in 
Dargaville. 
Locals  featured  heavily 
amongst  the  winners  who 
were – 
John Phillis – Mangawhai 
(extensive 
service 
in 
across  a  wide  range  of 
areas) 
Gordon Finlayson – Mangawhai (fifty 
years of dedication to surf lifesaving) 
Albie 
Paton 
– 
Maungaturoto 
(extensive  community  and  sporting 
service  over  many  years).  I  remember 
fondly  some  great  rugby  games  in 
Albie's  paddocks  which  served  as  the 
Maungaturoto  rugby  fields  for  a  time 
back  in  the  70s  and  80s  –  others  who 
were  around  last  century  probably 
recall this too. 
Sally 
Parkinson 
– 
Dargaville 
(extensive 
service  to 
St 
John 
Ambulance). 
Richard  Drake  who  is  soon  to  leave 
the  district  after  significant  lifelong 
contributions  was  presented  with  an 
Honorary Citizens Award. 
If you have any community projects or 
issues  that  you  would  like  assistance 
with, I can be contacted 
on 
Ph. 
021 
185 
8389 
or 
Cr.Larsen@kaipara.govt.nz.  Check  out 
my 'The WorkBoot Councillor' 
Facebook page for regular updates. For 
any  roading  maintenance issues  please 
email  council@kaipara.govt.nz  and 
describe  the  defects  requiring  repair 
(potholes etc.) and their locations. 
*The  views  expressed  are  those  of  the  writer 
and do not necessarily represent  the consensus 
position of Council. 
Councillor's Comment* 
with Otamatea Ward Councillor Jonathan Larsen 
L  to  R  -  Mayor  Jason  Smith,  Albie  Paton,  Sally  Parkinson,  Richard  Drake,  Gordon 
Finlayson, John Phillis, CEO Louise Miller 
MELA Funds awarded for 2019 
The  Mangawhai  Endowment  Lands  Account  (MELA)  Committee  awarded  a  total  of 
$118,754.55 of funding to various community projects around the Mangawhai Harbour: 
Mangawhai  Activity  Zone  Shade  sails  including  installation,  curved  retaining  walls,  earthworks 
$36,065.00; Mangawhai Domain Showers, plumbing, gas fitting $26,259.02; Mangawhai Heads 
Volunteer Lifeguard Service Inc. Architect,  engineer, first aid supplies, rescue boat  fuel, repairs 
and maintenance$12,822.25; Mangawhai Historic Village Trust Computer hardware $1,470.43; 
Mangawhai Museum and Historical Society Inc  Story boards, graphic work, acrylic display cases, 
supply materials for Fairy Tern exhibit, re-design of birds on sand dunes box display 12,836.00; 
Mangawhai  Public  Library  20  deluxe  folding  tables  $6,461.85;  Mangawhai  Tennis  Club 
Refurbishment  of  four  Tiger  Turf  courts  $2,840.0;  Mangawhai  Tracks  Charitable  Trust 
Contribution towards timber and posts for boardwalk$20,000.00.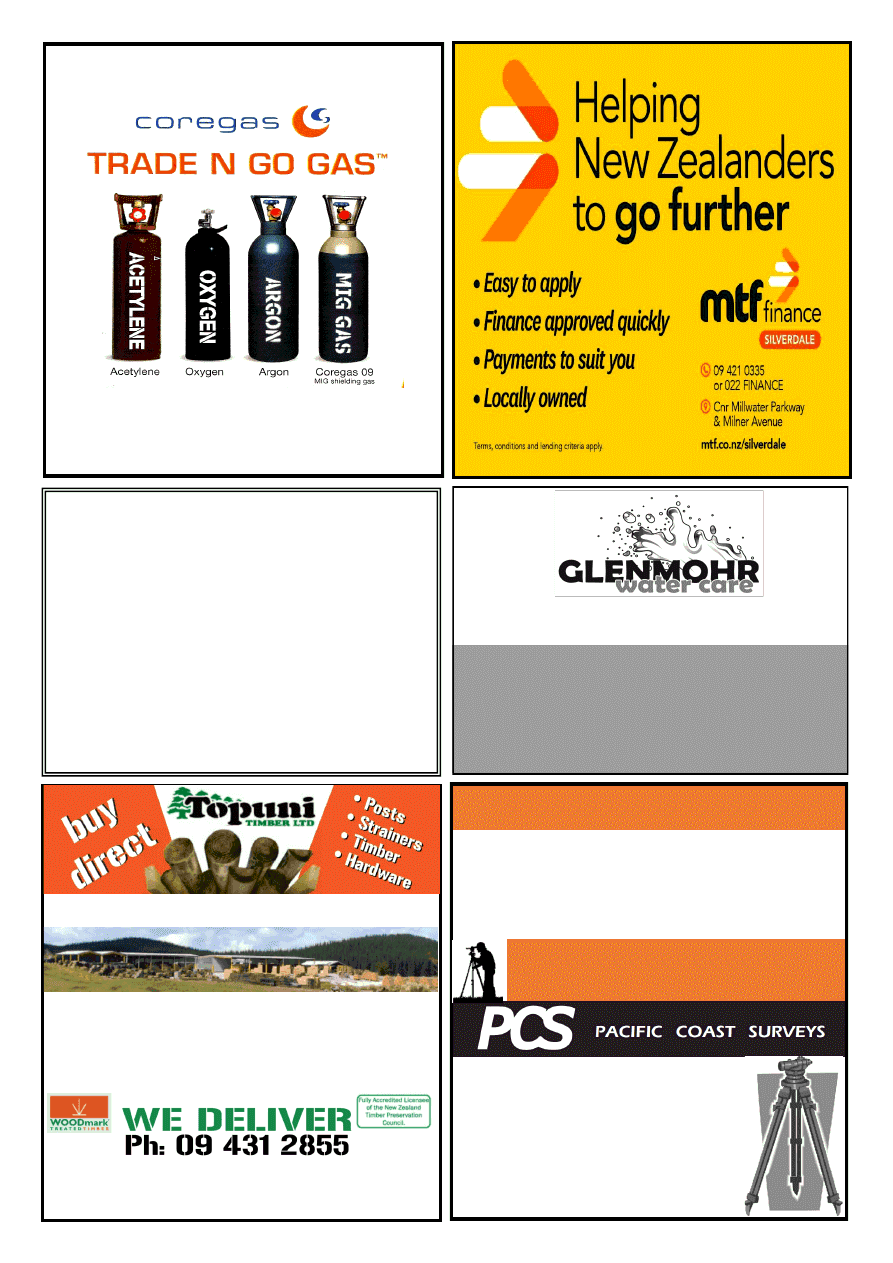 LOCALLY OWNED AND OPERATED 
QUALITY PRODUCTS • FRIENDLY ADVICE • GREAT SERVICE 
Quality Products milled from High Density NORTHLAND Radiata Pine. 
Treated and guaranteed to NZS3640 with commitment to 
Environmental Safety.
Phone, fax, email, or come into the mill 
Schiska Rd, Topuni, SH1, 10 min north of Wellsford. Fax: 09 431 2856 
Email: sales@topunitimber.co.nz           Mon - Fri 7am-5pm 
• Fencing 
• Retaining 
• Decking 
• Landscaping 
• Gates 
• Hardware 
SURVEYORS 
SUBDIVISIONS 
HOUSE SITE SURVEYS 
CIVIL ENGINEERING 
WASTEWATER DESIGNS 
EXPERIENCED 
PROFESSIONAL 
INNOVATIVE 
Ph 09 431 5353 
0800 PACIFIC (0800 722 434) 
pacificcoastsurvey.com
Adam Booth - 027 415 5752 
Bsurv, Licensed Cadastral Surveyor
Surveying Kaipara since 1994 
Water Tank Cleaning 
• 
Keep your water safe & clean  
• 
Removal of sediment, silt etc. 
• 
Vacuum or full scrub 
• 
Minimal water loss 
Phone Mark (09) 432 0655 or 0274 707607 
At Twinkle Tow 'n' Tyre 
Mob: 021 833 960 
Ph & Fax: 09 431 2823 
1837 State Highway 1, Kaiwaka 
design drafting  
service 
Retired builder and manufacturer with over 40 years  
experience in the building industry is offering a design 
drafting service for domestic housing, sleepouts and 
sheds.  
Plans formulated in consultation with clients, with 
working drawings completed and submitted to  
council for processing.  Extensive practical experience,  
able to identify & resolve problems. 
Please ring Mike Lean on 
09 431 2260 
or 
021 431 196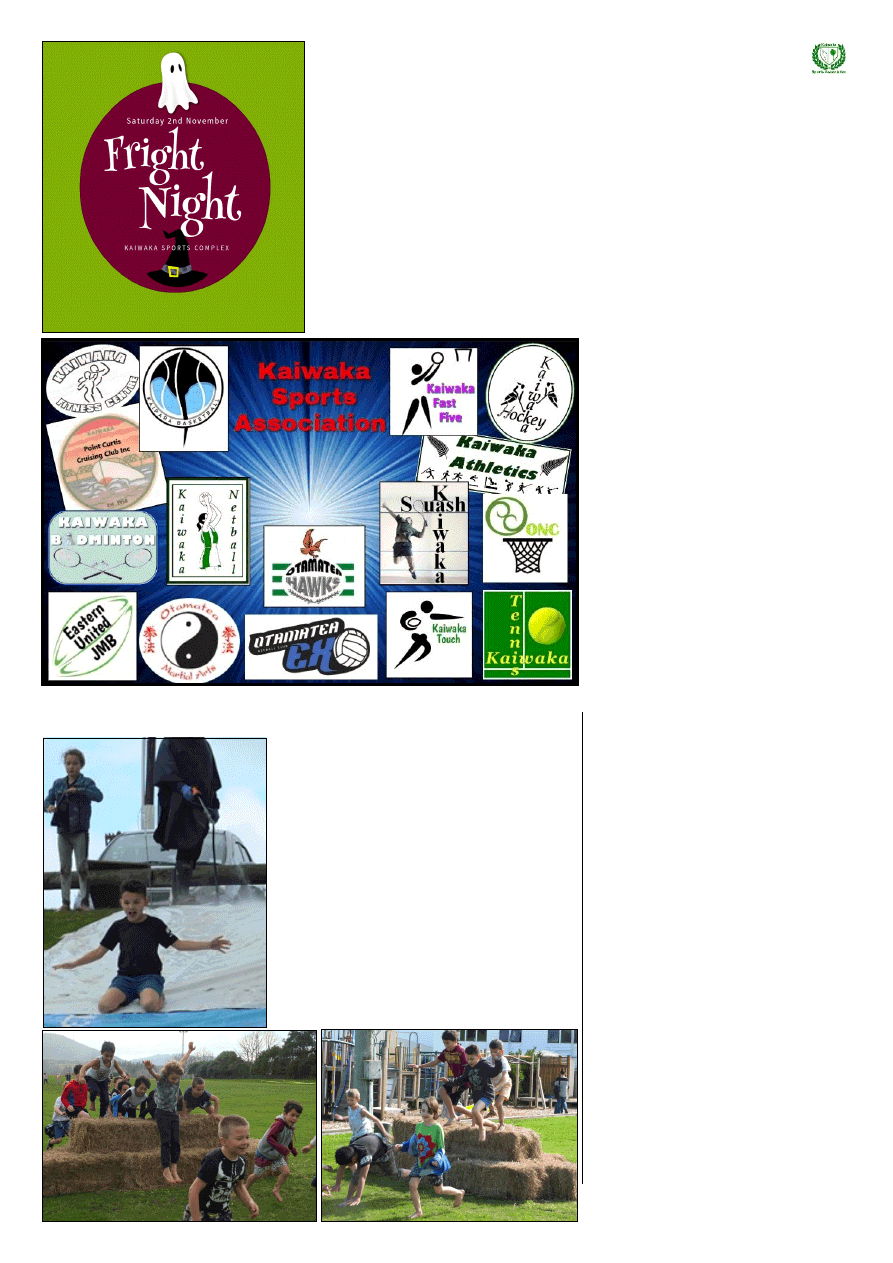 www.kaiwaka.co.nz 
Kaiwaka Bugle - 20 August, 2019 
Page 11 
           KAIWAKA SPORTS ASSN 
Eastern United JMB 
Eastern  United  JMB  have  had  an 
outstanding  season  and  would  like  to 
congratulate  all  the  children  and  prize 
winners: 
U7  Player  of  the  Year  -  Poesiden  and  
Riverblue Gordon 
U7 Most Improved - Van Walker 
U7 Team Spirit - Jovarn Connelly-Richards 
U9  Player  of  the  Year  -  Leighton  Greig 
(Eastern Blue), Toby Walker & Rylee-
Jae Fisher (Eastern Red) 
U9  Most  Improved  -  Layne  Panhuis 
(Eastern  Blue),  Nikau  Phillips  &  Rio 
Larritt (Eastern Red) 
U9  Team  Spirit  -  Seth  Frecklington 
(Eastern  Blue),  Brooklyn  Hemara  (Eastern 
Red) 
Special  mention  to  those  people  who 
have  supported  our  club  this  year; 
coaches, parents and supporters, as well 
as  Rural  Design,  Jaques  Four  Square, 
Orang Otang Tree Trimmers, Selwyn 
and  Marilyn  Wright  and  The  Beauty 
Studio by Angela Clare. 
Junior Hawks 
The season for our young rugby players 
is  coming  to  an  end.  Prizegiving  for 
Under  11s,  Under  13s  and  Under  14s 
will  be  held  at  the  Sports  Complex  at 
9am this Sunday 25th August. Players, 
whanau and supporters welcome. 
Otamatea Netball 
All  of  the  Otamatea  High  School 
netball  teams  are  finishing  the 
competition  rounds  at  the  top  of  their 
grades.  Senior  1  and  Junior  1  have 
moved straight to finals for 1st and 2nd 
on the 24th August, with Senior 2 and 
Junior 2 in semis this weekend hoping 
to finish on top for Finals. 
Rippa Rugby 
An 
inter-schools 
Rippa 
Rugby 
Tournament will be held at our grounds 
on Tuesday 17th September from 9am. 
Spectators welcome. 
Squash 
Did  you  know  that  squash  is  widely 
considered  to  be  the  healthiest  sport? 
This  is  because  squash  improves  your 
aerobic  fitness,  burns  off  calories, 
boosts  flexibility  and  sprint  speed, 
improves 
hand-eye 
co-ordination, 
develops  the  strength  and  power  of 
your  muscles  and  boosts  your 
cardiovascular fitness. Whew!! 
If  you  would  like  to  join  our  club,  an 
annual membership gives you access to 
the  courts  24/7  with  free  lights. 
Membership is $80 for a single adult or 
$150  for  a  family.  For  more 
information,  contact  Bruce  Leslie  on 
leswa212@gmail.com . 
KSA meeting 
Thank  you  to  everyone  who  attended 
the KSA meeting last week. And many 
thanks  as  always,  to  all  our  tireless 
volunteers who work hard to make the 
Kaiwaka  Sports  Association  hum 
along. 
Touch Module 
I  know  it  is  still  the  middle  of  winter, 
but just letting people know that I have 
decided  to  run  the  Summer  Touch 
Module  again.  It  will  be  held  on 
Wednesday  evenings  in  January  and 
February 2020. 
Keep  an  eye out  for  more details a  bit 
closer to the time. 
Fright Night – help please 
Our Fright Night will be in a couple of 
months  on  Saturday  2nd  November. 
This is one of Kaiwaka's biggest events 
of  the  year,  with  several  hundred 
people  coming  along  to  enjoy  our 
Haunted  House  and  other  spooky 
activities. 
I would love some new decorations and 
props  to  deck  out  the  pavilion  –  so  if 
there  are  any  creative  people out  there 
who  would  be  interested  in  making 
some  Halloween-themed  items,  please 
get in touch with me: 
cherylanderson051@gmail.com . 
~ Cheryl, kaiwakasports@gmail.com 
KAIWAKA SCHOOL 
Last Wednesday the pupils truly enjoyed their fantastic cross country/ Fun Run.  
SAVE THE DATE 
Please  set  aside  Labour  Weekend  2020  for 
our  150  years  celebrations.  Please  let 
everyone  you  know  who  has  been  a  part  of 
the 
school 
community 
about 
these 
celebrations,  and  invite  them  to  be  with  us. 
There  is  a  timeline  being  constructed  up  at 
the  school.  We  are  looking  for  your  input 
about  historic  events  concerning  the  school 
over the 150 years to record on the timeline.  
DAFFODIL DAY 
On Friday 30th of August Kaiwaka School is 
supporting Daffodil Day. Students are invited 
to  dress  in  yellow  and  donate  to  the  Cancer 
Society. We will also be creating a coin trail 
with  our  donations.  Money  raised  will  help 
the  1  in  3  New  Zealanders  affected  by 
cancer.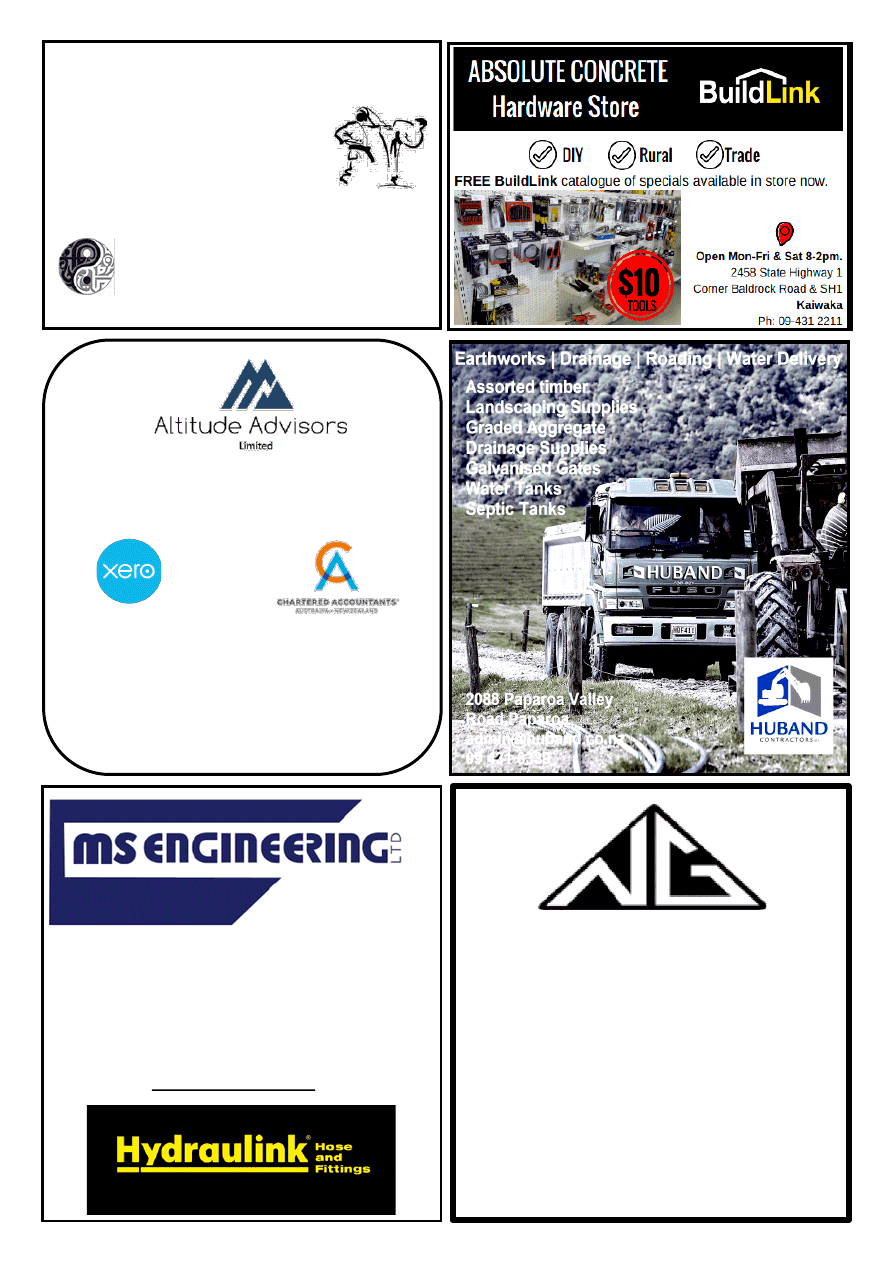 NORTH GLASS 
WINDSCREEN REPAIR OR REPLACE 
GLAZING SERVICES 
MIRRORS  •  SPLASH BACKS  •  SHOWERS 
0800 70 40 10
info@northglass.co.nz 
www.northglass.co.nz 
Altitude with Attitude, helping your business 
scale new heights 
Time to try something different? 
Xero training          Accountancy Services 
We are offering two opportunities: 
15% saving off your annual report cost for your first 
year, & a further 10% saving for any referrals 
Call Corinne on 021 252 7680 or 
corinne@altitudeadvisors.nz 
SELF DEFENCE KEMPO 
Fitness, Confidence, Discipline, 
Respect,  
Self-awareness 
Classes for all ages in: 
 Mangawhai
Kaiwaka Wellsford
For more information please contact
 Otamatea Martial Arts
otamatea.kempo@farmside.co.nz 
Phone 09-431-5170 
www.facebook.com/otamatea.kempo 

Peter Buckley 

Mobile Hose Technician –  
                      Based from Oneriri Road 

Available for all mobile hose                                
                      requirements onsite 

Call – 0800 425 7116 

Email – mse@mseng.co.nz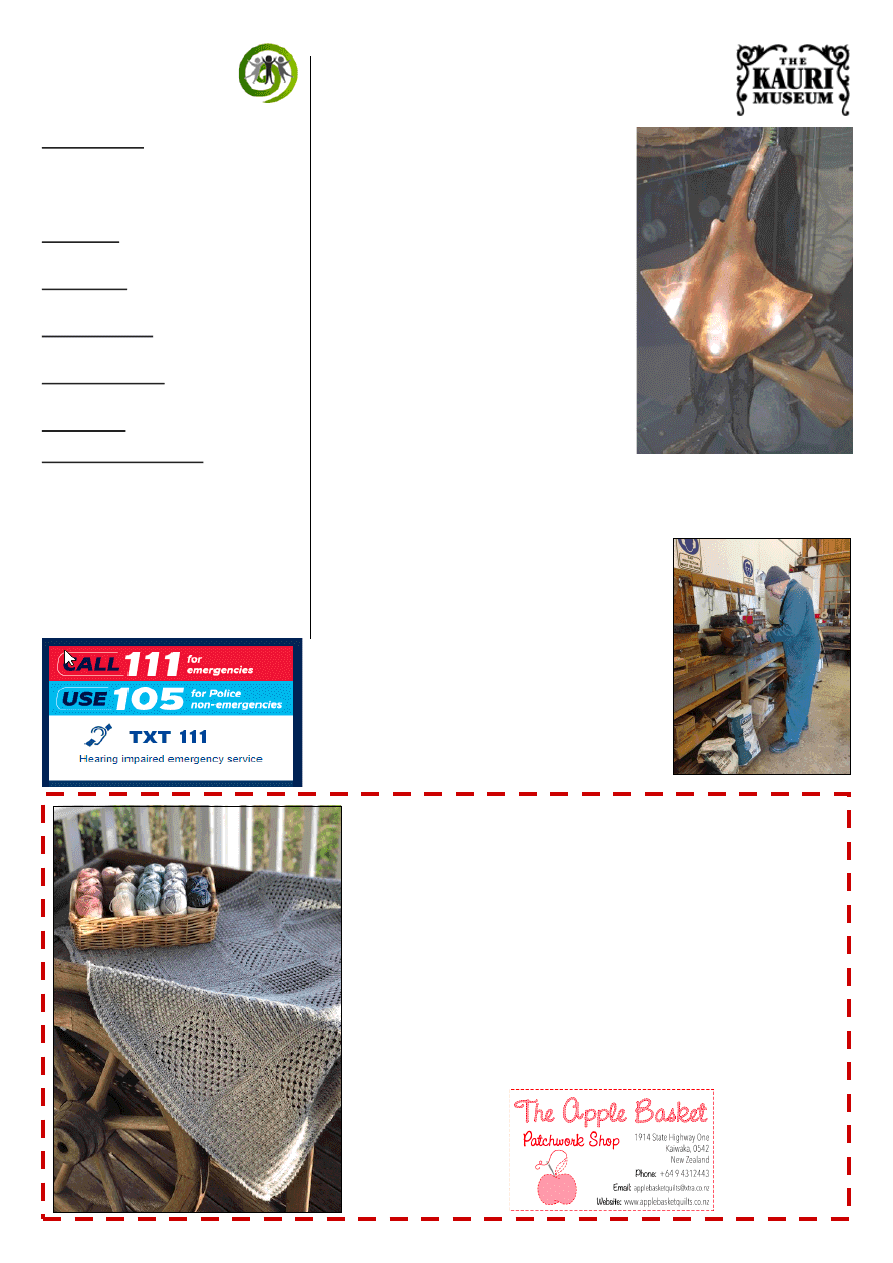 www.kaiwaka.co.nz 
Kaiwaka Bugle - 20 August, 2019 
Page 13 
OTAMATEA 
COMMUNITY 
SERVICES
SEPTEMBER CALENDAR 
Wednesday  4:   Free lunch for seniors. 
St John Hall, Hurndall St. 
Morning  tea,  lunch  and  dessert  plus  a 
produce  and  raffle  table.  Come  and 
meet new people, or catch up with your 
friends. 10-1 
Monday  9:  Fun  &  Games  morning. 
Footprints  Room,  Anglican  Church, 
Hurndall St. 10 - 12 
Tuesday  10:  Free  bus  to  Whangarei. 
Shopping,  Doctor  or  Dentist,  lunch  or 
window shop. 9-4 
Wednesday  18:  Chocolate  bingo  -
Anglican Church Footprints Room, 
Hurndall St. 10 – 12. 
Wednesday 
25: 
Free 
bus 
to 
Whangarei. Another day in town for 
shopping etc. 
Sunday  29:  DAYLIGHT  SAVING 
STARTS 
Thursday  3  October:  OCS  AGM 
3pm. All welcome. 
Phone for more information on any of 
the above. 431 9080.  
Times are approximate. 
Call  in  or  phone  to  ask  about 
Counselling,  Parenting,  Addictions, 
Finances,  also  if  you  are  keen  to 
volunteer  or  to  become  a  Board 
Member.  Phone  431  9080  or  call  into 
the  House.  ~  Best  wishes  from  Your 
Community House. 
Beginner Crochet Class  
29th August 10.30 - 1.30 
Learn to crochet by making a scarf in the first class then start on the blanket in 
the  second  class.    A  very  enjoyable  and  fast  skill  to  learn.  Olga  is  very 
experienced  tutor  and    has  been  a  teaching  for  6  years  and  has  been  doing 
crochet for 40 years so we are very lucky to have her share her knowledge with 
us.  
 
Knit Clinic with Corrina  
28th August 9.30 - 1.00 
In over your head on a Knitting project? Or just need some help getting started? 
Whatever  the  obstacle  and  whatever  your  skill  level,  bring  in  your  project  or 
choose  a  new  project  (who  doesn't  want  to  start  a  new  project  anyway!!)  and 
enjoy  the  assistance  of  a  teacher  and  the  pleasure  of  knitting  companions!  
Corrina  is  a  very  experienced  knitter  so  she  will  have  lots  of  tips,  secrets, 
techniques etc to share with you.   
AT THE KAURI MUSEUM 
CREATING WITH KAURI EXHIBITION  
Is on display until 30 September. 
Nineteen  amazing  artworks  have  been  crafted  from  kauri 
timber.  Each exhibitor  was  given  an  open-ended  invitation  to 
create any type of work. The results: furniture, 
sculpture,  jewellery,  musical  instruments, 
decorative  pieces;  there  is  something  on 
display to suit everyone's taste. This exhibition 
is  free  to  view.  Pictured:  beautiful  kauri 
stingrays 
KAURI REPLANTING PROGRAMME 
This  initiative,  led  by  The  Kauri  Museum 
Board  members,  has  already  donated  kauri 
trees to several of the local primary schools for 
planting  in their  grounds. Kauri trees are  also 
being  planted  at  other  private  land  sites  and 
will  soon  be  planted  on  public  land  and  road 
reserves  with  the  co-operation  of  Kaipara 
District council and NZTA. If you would like 
to  be  part  of  this  programme,  now  or  in  the 
future,  good  specimen  trees  can  be  purchased 
at the museum for you to plant yourself or you 
can arrange for the museum to plant them for 
you.  More  information  on  this  exciting 
development for the future of the kauri can be 
found at www.kaurimuseum.com 
THE KAURI MUSEUM'S NORTHLAND PHOTOGRAPHY AWARDS 
The  theme  'This  is  Northland  –  Home  of  the  Kauri'  is  an  exploration  of  our 
beautiful  region  where  kauri  once  covered  the  land.  Finalists  will  have  their 
photographs displayed in the Museum from 13 September till 16 October.   
EVENTS COMING UP 
SETTLERS  DAY  -  Saturday  5  October  -  theme 
'Hearth and Home'.  
Entry to the museum is free for the day so come and 
see what we have lined up. Lots of tried and trusty 
stalls plus some new exhibitors based on this year's 
theme.  If  you  want  to  be  part  of  the  action  let  us 
know and we will find a space for you. 
ALL  HALLOWS  EVE  -  Thursday  31  October. 
This is one not to be missed, put it in your diary now 
- it's a new event guaranteed to be full of surprises! 
For those aged 12 years upwards.  
~ Mary Stevens, The Kauri Museum 
Pictured right: Volunteer Ralph in the museum workshop.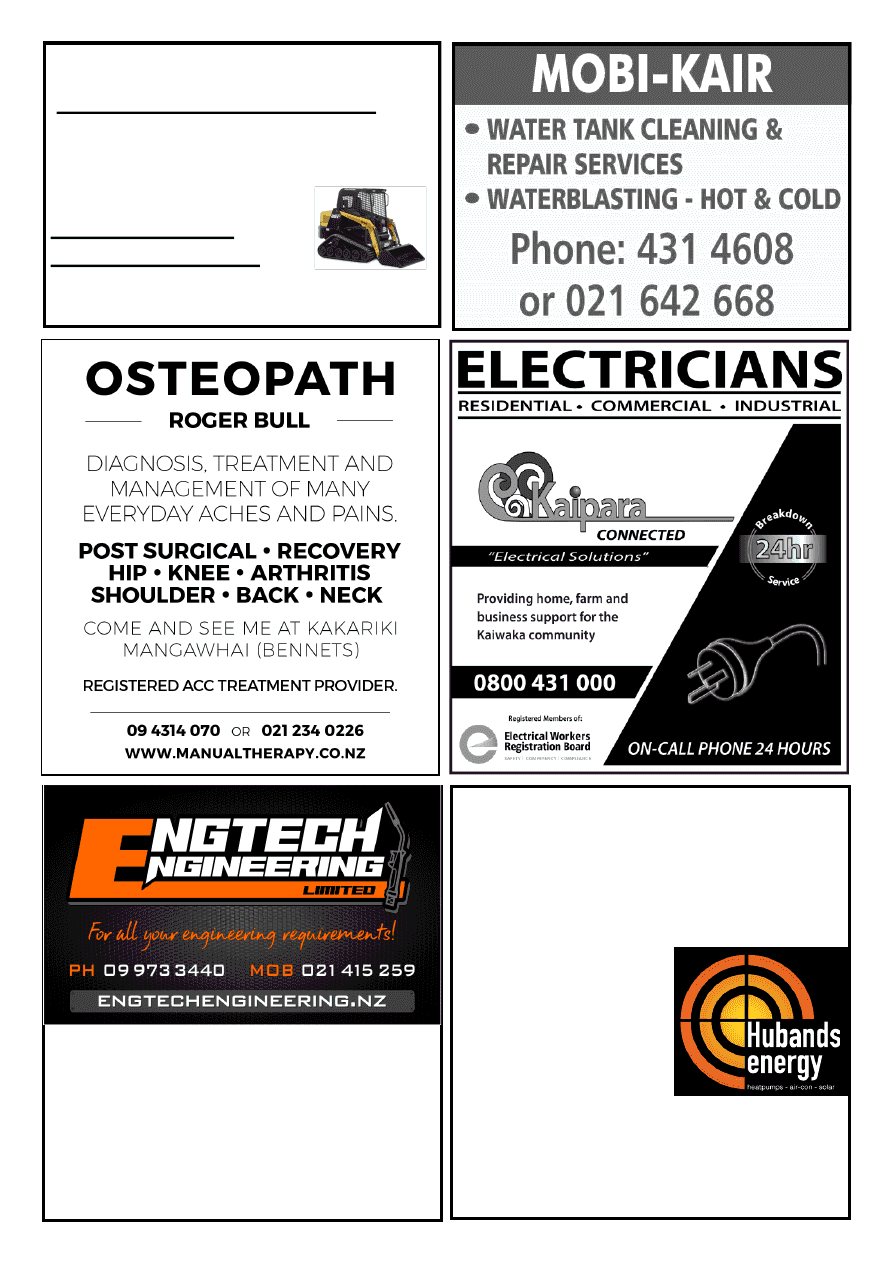 Natural Earth Ltd 
 Landscape and Bobcat services 
 : Driveways  :Landscaping  :Retaining Walls 
 : Hole Boring: Land Levelling :Trenching 
 : Decks :Fences :Sections Cleared: Plus much 
more 
Tel   09 4312885 
Mob 02102391280   
For A Fast Friendly  
Service Contact Tim Hicks 
Northland's Award Winning 
Solar Company
SEANZ Best Solar Business Winners 2015/16
EXCLUSIVE 10 year installation warranty 
FREE No obligation onsite quote
Complete systems 
from $5990
See our range of: 
✓ 
Heatpumps 
✓ 
Airconditioning 
✓ 
Hot Water 
Heatpumps 
✓ 
Central Vacuum Systems
09 430 0019             sales@hubands.co.nz 
15 Kioreroa Road, Whangarei
Locally owned and operated for 35 years 
Ryan Lusty and Tracey's  
New Workshop is Now Open 
648 Kaiwaka-Mangawhai Rd, Hakaru 
Engtech Engineering facility is big, 
modern and ready to help solve problems 
for the wider community.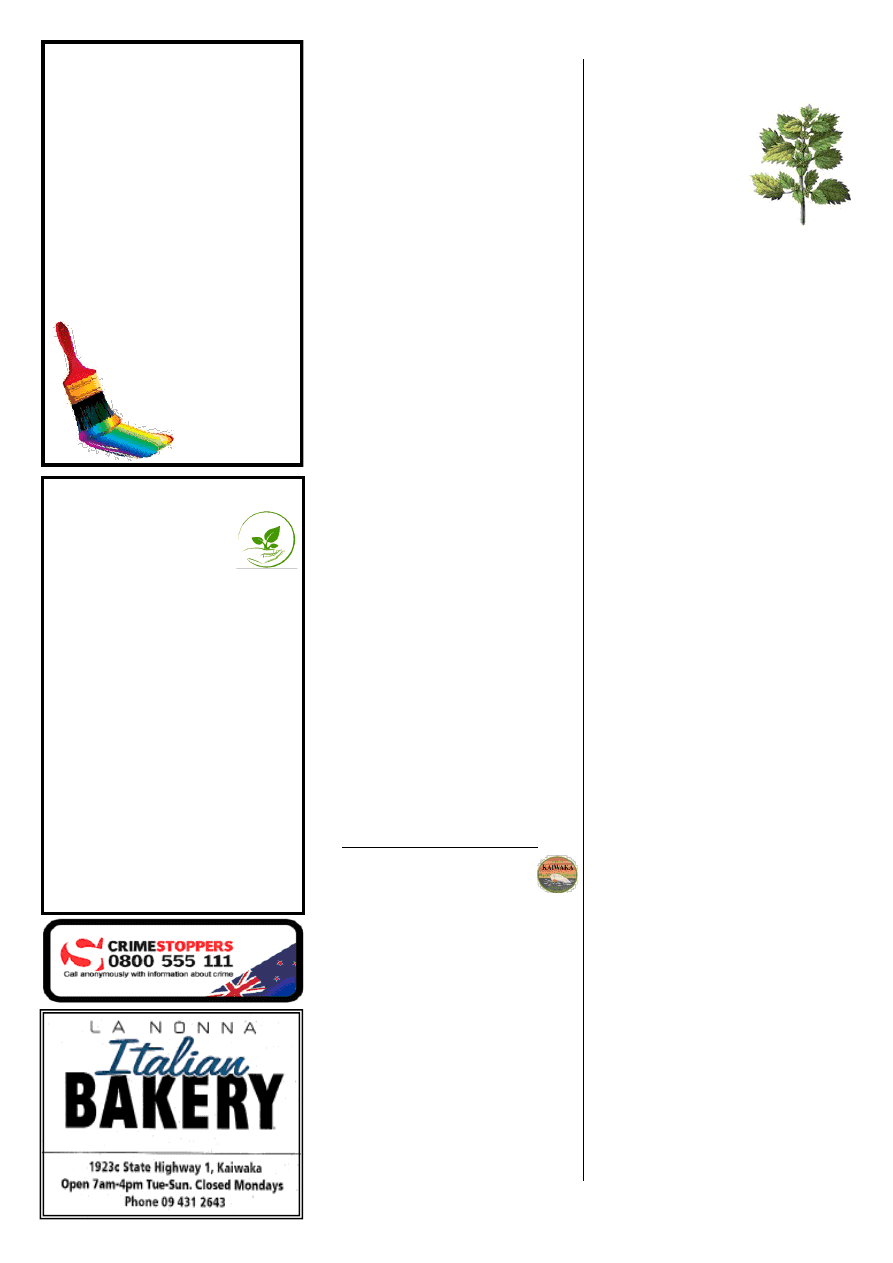 www.kaiwaka.co.nz 
Kaiwaka Bugle - 20 August, 2019 
Page 15 
LEE COOPER 
PAINTERS 
(Kaiwaka Based) 
*30 yrs Experience 
*Interior/Exterior 
*New and Restoration 
*Honest and Reliable 
*Free Quotes 
 
09 4312918 
0274735171 
leecooper@xtra.co.nz 
The  Zonta  Club  of  Mangawhai  is 
delighted  to  offer  our  9th  Annual 
Award for young women in the form of 
a  10  Day  Youth  Development  Voyage 
on  the  Spirit  of  New  Zealand.  
Criteria for application are as follows: 
The applicant: 

is  a  young  woman  from  15-18  years  of 
age 

Is    a  New  Zealand  citizen  or  permanent 
resident of New Zealand 

Is    a  resident  of  Mangawhai,  Tomorata, 
Wellsford,  Kaiwaka,  Maungaturoto  or 
Waipu areas 

has shown leadership potential or would 
like to develop leadership skills 

meets the medical criteria of the Spirit of 
Adventure Trust 

must be able to swim 100 metres unaided 

will  report  back  to  the  Zonta  Club  of 
Mangawhai after the voyage 

Application  to  include  letter  from 
applicant  outlining  reasons  for  application 
e.g. involvement in community activities or 
associations? How does the voyage fit into 
your personal  goals and how  do you think 
this  experience  will  help  you  achieve 
them?  
How  you  will  share  your  voyage 
experiences  with  your  school  or  local 
community. 

Application  to  include  2  referees  (not  a 
family member).  
Application  forms  are  available  by 
request by emailing  
mangawhai@zonta.org.nz  or  text  Sue 
on  027  555  6636  with  your  email 
address. 
 APPLICATIONS ARE DUE BY 
September 27th, 2019 
  This  award  is  made  possible  by  the 
generosity of the local community and 
this  year  our  Midwinter  Ball  and 
Auction raised enough funds to support 
this  award  and  our  Second  Chance 
Scholarship  which  benefits  women 
who  are  studying  to  return  to  the 
workforce. 
Zonta  is  a  global  organisation  that 
empowers  women  through  service  and 
advocacy  and  the  Zonta  Club  of 
Mangawhai  meets  on  the  4th  Monday 
of each month - for further information 
go to www.zonta.org  
ZONTA AWARD 
POINT CURTIS 
CRUISING CLUB  

Subs  were  due  1st  of  June 
2019 $30 Family & $20 Single
Internet  banking  12  3094  0008233  00 
Please use Name/s as a reference.

Don't  forget  to  have  a  look  on  our 
Facebook  page  for  updates  of  the 
board,  also  pool  competitions  and 
please add pics of your fun day out on 
the water.

 There are still  a  few  gaps  that need 
filling on the Board, peps!!! 

  Fish  of  the  Month  winner  for 
Snapper  was    Gravy  5.357kg,  Gravy 
4.304kg  and  Gravy  2.986kg  -  well 
done !

New  Fish  of  the  Month  is  Kahawai 
till 4th September

Next 
Club 
Meeting: 
4th 
September,  2019  @  Kaiwaka  Sports 
Association 7pm.                
~ Wayne Leslie (Commodore) 
LET FOOD BE 
YOUR MEDICINE 
Nettle – Friend or Foe? 
Nettle (Urtica dioca) 
Nettle 
can 
be 
considered  as  natures 
multi 
vitamin 
and 
mineral  tonic.  It  is 
highly  nutritious  and 
contains  almost  every 
nutrient 
the 
body 
requires 
including 
B 
vitamins, 
potassium, 
magnesium, 
iodine, 
silicone,  calcium  phosphorus,  sodium, 
iron,  vitamin  C,  A,  K,  D,  essential 
amino  acids,  polyphenols,  antioxidants 
and  beta-carotenes  which  protect 
against cancer. 
The highly nutritive properties in Nettle 
allow  it  to  be  beneficial  to  regenerate, 
strengthen and support the whole body 
after  a  bout  of  chronic  diarrhoea  or 
heavy menstrual bleeding. 
Nettle  is  a  natural  anti-inflammatory 
which  contains  histamine  and  formic 
acid. 
It is these chemicals which allow great 
pain relief by its counter irritant action 
for anyone who is dealing with the pain 
and 
unpleasant 
symptoms 
of 
Osteoarthritis,  Rheumatoid  Arthritis  or 
Gout.  Using  thick  gloves  cut  nettles 
back to the base of the stem. Collect 3-
4  bushy  stems  and  whip  over  affected 
painful  area.  It  will  initially  cause 
stinging, but this will soon subside, and 
great  relief  may  be  found  from  this 
simple action. If you find this treatment 
works well for you it is best to continue 
3-4 times a week. Then cease treatment 
for 3  days  before resuming.  The  break 
in  treatment  is  required  to  allow  for 
optimum ongoing effectiveness. 
To read the full article on this amazing 
herb go to  
simplyandnaturallyherbalhealth.co.nz 
Julie-ann Stacey 
Naturopath,  Chef,  Medical  Herbalist  and 
Health Coach 
GREEN PESTO 
4 cups silverbeet or spinach 
1  cup  young  nettle  leaves  (rinsed  to 
eliminate stinging effect) 
2 cups fresh mixed herbs such as basil, 
parsley or coriander 
1/3 cup pumpkin seeds 
1/3 cup sunflower seeds 
Juice and grated rind of 1 lemon 
4 cloves garlic 
1/2  cup  olive  oil,  flaxseed  oil  or 
avocado oil 
Celtic sea salt to taste 
Place  seeds  in  a  food  processor  and 
blend  until  fine.  Add  washed  nettle 
leaves and remaining ingredients. Store 
in  an  airtight  glass  jar.  The  contents 
keep  for  14-21  days.  A  great  natural 
vitamin  and  mineral  supplement.  High 
in  Potassium,  iron,  zinc  and  many 
nutrients. 
Serve  on  top  of  soups/stews.  Great  on 
toast or added to a salad dressing. Mix 
into homemade tomato sauce or take 1-
2 teaspoons daily as a supplement. 
Simply and Naturally 
Herbal Health
Individual care for  
your health and wellbeing 
Julie-ann Stacey 
B. N, Dip Nat, Dip 
H.M, Cert F.Med 
Naturopath, Medical Herbalist and 
Functional Medicine Health Coach 
Experienced in conditions such as 
Cancer, Thyroid imbalances, 
Diabetes, Parkinson's Disease, 
Autoimmune issues and many 
more. 
I can create a wellness plan to 
suit the individual 
Comprehensive Health 
Consultations available  
For more details give me a call for a no 
obligation chat  
021-025 97035  
www.simplyandnaturallyherbalhealth.co.nz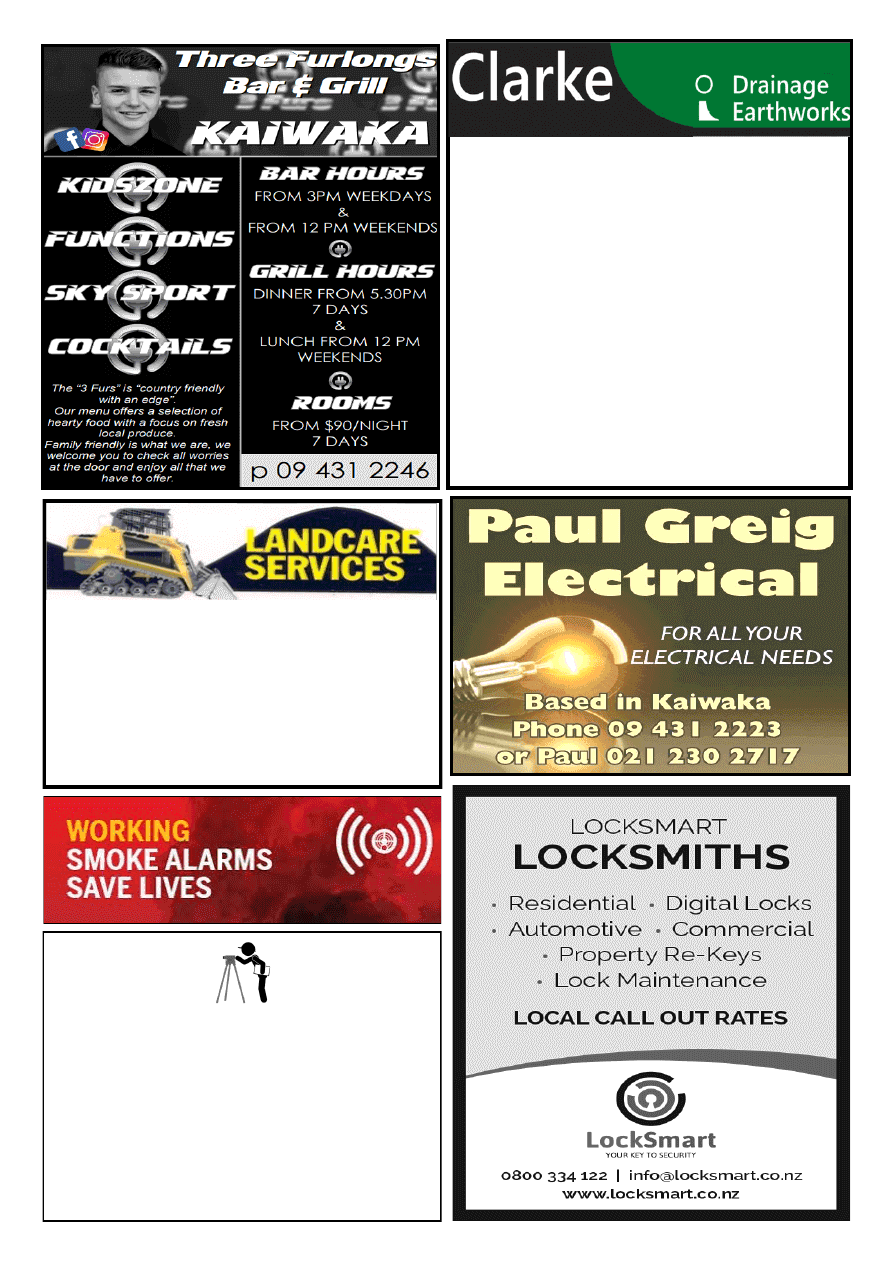 Drainage & Earthmoving 
nigel@clarkedrainage.nz 
027 2233 185 
Registered Drainlayer                    All Types of Earthworks  
> All Residential & Commercial Work  > House Sites 
> Septic System Design & Install          > Footings & Drilling to 10m 
> Sewer Connections 
                       > Dams 
> Water Tank Installation 
               > Roading & Races 
       > Farm Work 
THE ONE STOP SHOP  
Phone Nigel for an Obligation Free Quote  
LANDSCAPING 
4 IN 1 BUCKET 
TRENCHER 
POLE HOLES 
ROTARY HOE 
COMPACT ROLLER 
OFFAL HOLES 
CAN SUPPLY WOODCHIP & POST PEEL 
5 TON TIPPER 
FOR RELIABLE AND FRIENDLY SERVICE CONTACT DAVE 
Dave Hyndman 
 
KAIWAKA 
PH: 09 4312302 
MOB: 021 431 238 
Ken Urquhart 
BSurv Licensed Cadastral Surveyor 
KMU Surveys Ltd
467 Bickerstaffe Road 
RD 2 
Maungaturoto 0587 
Ph 09 431 8705 
Mob 021 161 2344 
kenurquhart@xtra.co.nz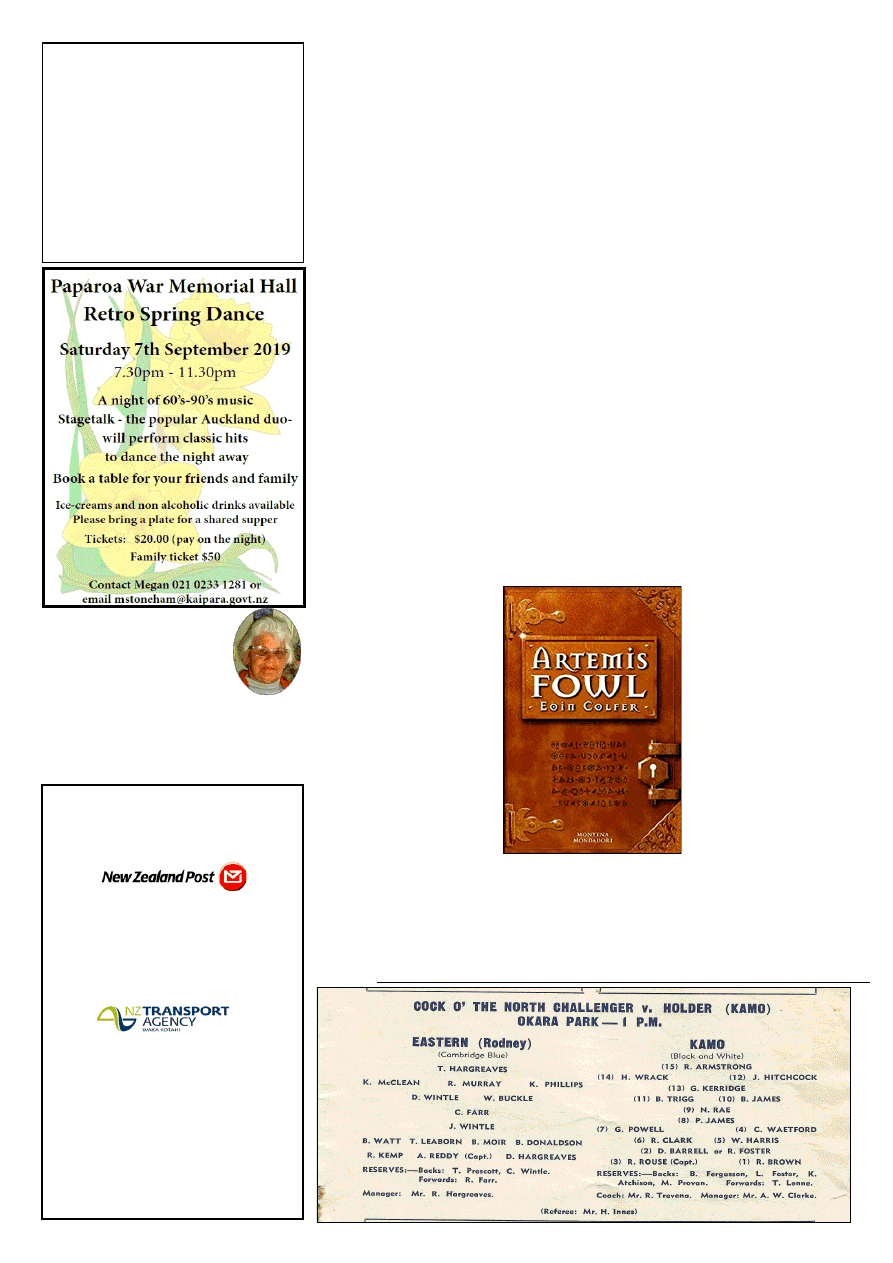 www.kaiwaka.co.nz 
Kaiwaka Bugle - 20 August, 2019 
Page 17 
KAIWAKA LIBRARY
KAIWAKA POST 
CENTRE and 
FOOD MART 
POST CENTRE TRADING HOURS 
MONDAY to FRIDAY 8am to 5pm 
SATURDAY 8am to 12pm 
CLOSED ON SUNDAY and on 
PUBLIC HOLIDAYS 
FOOD MART (GROCERIES) 
MONDAY TO FRIDAY  
7:30am to 7.30pm 
SATURDAY  8am to 7.30pm 
SUNDAY  8:30am to 7pm 
IF ANY QUERIES PLEASE CALL 
STORE MANAGER AMRIT  
on 09 4312431 or 
EMAIL: kaiwakafood19a@gmail.com 
1919a State Highway1, Kaiwaka 0542 
From Thelma's 
Scrapbook...  
A Blonde calls Delta Airlines 
and asks, "Can you please tell 
me how long it'll take to fly from San 
Francisco to New York city?" 
The agent replies, "Just a minute". 
"Thankyou", the blonde says, and hangs 
up. 
Overdue notices 
Here's  a  way  to  save  your  friendly 
librarian some time in the library, time 
better  spent  doing  things  like  getting 
new books ready to put on the shelves 
for you to read - have your card set to 
receive  automated  email  and/or  text 
messages. 
Contact 
the 
library 
(email 
kaiwaka.library@gmail.com, 
text  to  027  480  6275,  or  phone  4312 
539  during  opening  hours)  with  your 
name and library card number, and ask 
to  have  this  set  up.  For  email  notices 
we  need  to  know  your  email  address, 
and  for  text  messages  we  need  your 
mobile 
phone 
number. 
These 
automated messages include a courtesy 
reminder  message  3  days  before  items 
are  due  back.  This  is  a  free  service  to 
library members 
Joining the library 
Library  membership  is  free  to  all 
residents  and  ratepayers  of  Kaipara 
District.  Go  to  Enterprise*  to  sign  up 
and then bring your ID in to finish your 
membership  and  get  your library  card, 
or if you don't have easy access to the 
internet come in and we will fill in the 
online form for you. The two forms of 
ID  are  (1)  personal  identification  that 
has  your  name  and  signature  (eg 
driver's  licence,  Community  Services 
card,  or  passport),  and  (2)  proof  of 
address  less  than  3  months  old  (eg  an 
account  or  invoice,  or  a 
bank statement, or tenancy 
agreement). 
Your  Kaiwaka  Library 
card  can  be  used  at  any 
library  in  Kaipara  District 
(Dargaville 
Public, 
Paparoa, 
Maungaturoto, 
Mangawhai),  and  you  can 
request  items  from  those 
other  libraries  to  be 
delivered  for  you  to  pick 
up from Kaiwaka. 
You  can  also  access  for 
free  hundreds  of  e-books, 
and  audio  books,  and 
digital magazines, and the 
online 
Encyclopedia 
Britannica,  and  Generosity  New 
Zealand's  database  (information  on 
where  to  apply  for  scholarships  and 
grants, 
for 
individuals 
and 
organisations). Go to Enterprise* to get 
started,  or  come  in  to  the  library  and 
speak  to  the  volunteer  on  duty  for 
assistance. 
Facebook 
Do  you  'do'  Facebook?  Follow  the 
library 
there 
(https://
www.facebook.com/Kaiwaka-Library-
291797071494/) to see posts about new 
books  in  the  library,  book  reviews, 
competitions,  and  more.  And  I  post 
there  when  I'm  in  the  library  and 
available as a Justice of the Peace. 
Justice of the Peace Service Centre 
Did you know that I'm a Justice of the 
Peace?  When  I  (Wendy)  am  in  the 
library I hang a sign by the front doors 
to  indicate  that  there  is  a  JP  available 
here. Any time you see that sign, you're 
welcome  to  come  in  to  the  library  to 
access that service, without making an 
appointment  first.  I  can  witness 
signatures,  take  Statutory  Declarations 
and  Affidavits,  and  certify  copies  of 
documents. Bring some ID, and if you 
need  to  have  copies  of  documents 
certified  bring  the  originals  and  the 
copies  with  you.  I'm  usually  in  the 
library  three  days  of  the  week,  and 
which specific days that is varies week 
to  week.  Contact  me  if  you  want  to 
check  I'll  be  there  on  a  specific  day  - 
027 480 6275 - or call the library 4312 
539. This is a free service. 
Book review 
Recently I've been reading the Artemis 
Fowl  series  of  books  by  Eoin  Colfer. 
I'm almost finished the second book as 
I  type  this  report. 
"Twelve-year-old 
Artemis  Fowl  is  a 
brilliant 
criminal 
mastermind.  But  even 
Artemis  doesn't  know 
what he's taken on when 
he  kidnaps  a  fairy, 
Captain  Holly  Short  of 
the  LEPrecon  Unit. 
These  aren't  the  fairies 
of 
bedtime 
stories. 
These  fairies  are  armed 
and  they're  dangerous. 
Artemis  thinks  he's  got 
them  just  where  he 
wants  them,  but  then 
they stop playing by the 
rules..." The books are a lot of fun, and 
I'm  enjoying  reading  them.  They're 
Teen  Fiction  (YP)  books  and  free  to 
borrow,  but  because  they're  new  to  us 
they're  located  on  the  Rental  Fiction 
shelves for exposure for now. 
See you in the library, Wendy 
 *Enterprise: http://kaipara.kotui.org.nz/
HAKARU HALL 
ACTIVITIES 

Monday: Line Dancing 10am  
Ph 4315160 

Tuesday: Pilates 9-10am 
Ph 0220643965 
Certified Instructor 

Wednesday, First of The Month 
Hall Committee Meeting 7pm 

Following Wednesdays: Recreational 
Music Evening 7pm Ph: 
0210628631

Thursday: Scouts 5pm 

Hall Hire Ph 4312256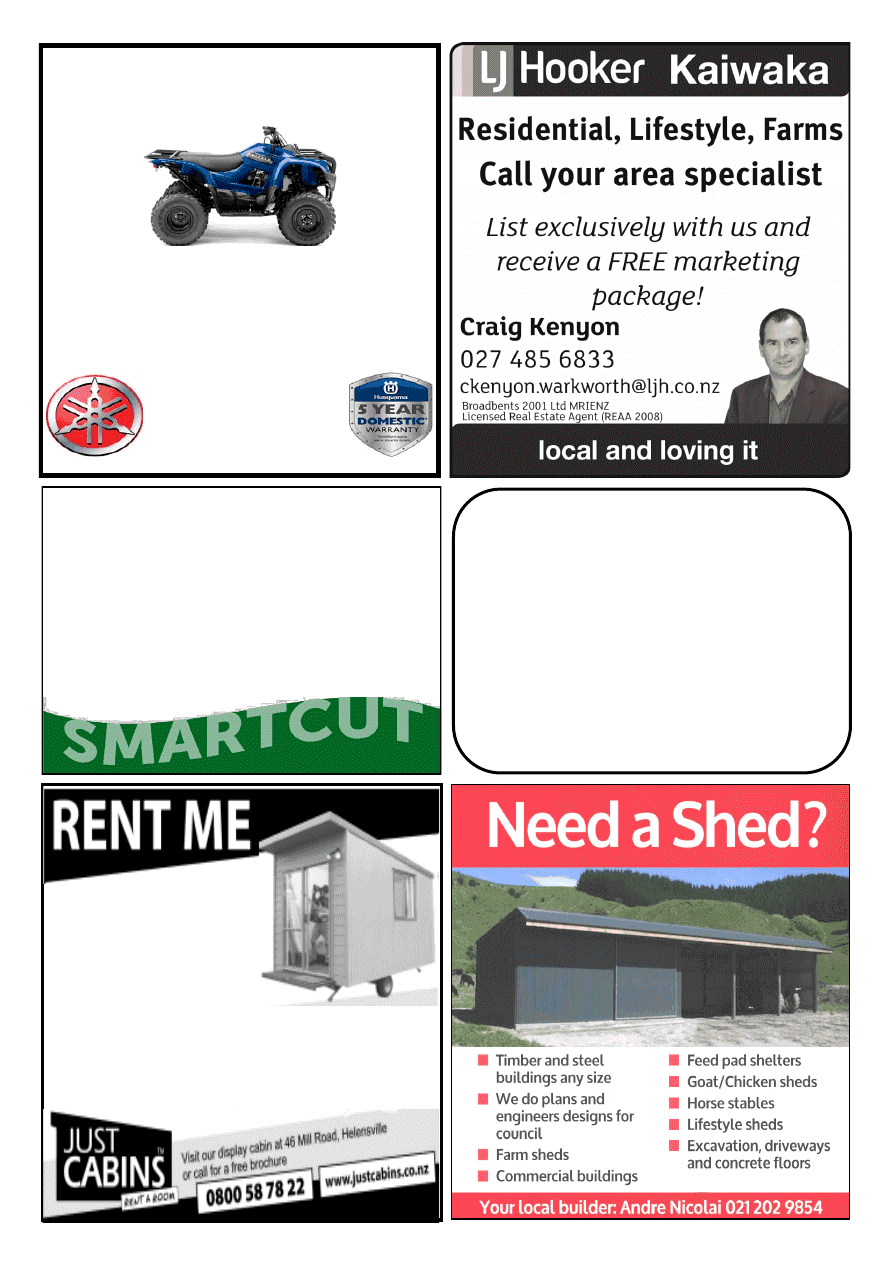 All your outdoor needs sorted so you don't have to... 
I can prune, chop, tidy, spray, mow, plant 
- you name it, I can do it! 
Residential & Commercial 
Lawn & Garden Care 
Call Rodney, your local  
lawnmowing contractor 
021 138 2344 
UP-LINK 
CHRIS WARING 
FREEVIEW INSTALLATIONS 
T.V. - HOME THEATRE &  
HI-FI ADVICE/SET UP
SKY ACCREDITED INSTALLER
MOB.0273403747 HM.094312328 
EMAIL cwaring44@gmail.com
28 YRS EXPERIENCE 
OFFERING UNBIASED ADVICE 
Ideal as an extra  
bedroom or office 
Three Convenient sizes: 
Standard 3.6m x 2.4m - $65 
per week 
Large 4.2m x 2.4m - $80 per week 
Extra Large 4.8m x 2.4m - $100 per week 
Fully insulated. Minimum 6 months rental period 
KAIWAKA 
MOTORCYCLES LTD
SALES – SERVICE – SPARES 
FARM BIKE SPECIALIST
PHONE 09 431-2127 
10 KAIWAKA-MANGAWHAI ROAD, KAIWAKA
Trimmers  
from $279
Chainsaws  
from $339
YAMAHA 
HUSQVARNA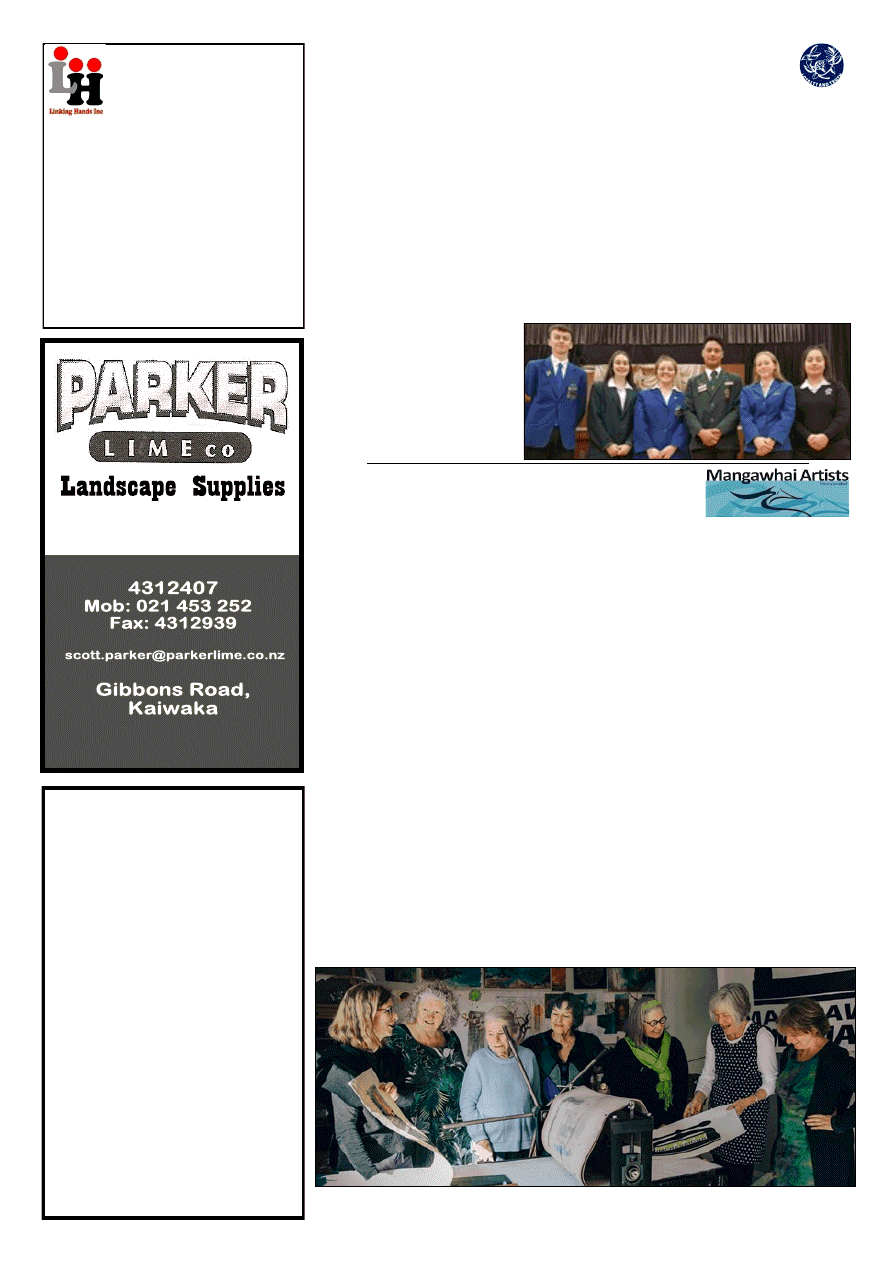 www.kaiwaka.co.nz 
Kaiwaka Bugle - 20 August, 2019 
Page 19 
OTAMATEA HIGH SCHOOL 
Willow Bend
HORSE  
HOTEL 
#
Total Horse Care    
# 
Agistment 
# 
Riding Lessons    
#
 Arena Hire (60x40) 
# 
Young Horse Starting 
# 
Re-training/Exercising 
#
Hoof Trimming    
# 
Problem Solving 
Phone Sue  
09 431 2817  
or 021 623 776  
Or email  
susanjoll11@gmail.com 
  LINKING 
HANDS INC 
Maungaturoto - Kaiwaka - 
Mangawhai 
Meeting the needs of the community. 
A  free Health Shuttle Service, providing 
transport to those who would struggle to 
get  to  medical,  dental,  podiatry,  or 
optometrist appointments anywhere from 
Warkworth to Whangarei. 
HEALTH SHUTTLE SERVICES 
Ph/fax 09 431 8969 
OFFICE HOURS 
Maungaturoto - Monday to Friday - 
10am to 4pm 
Closed Public Holidays 
The  Annual  Mangawhai  Printmakers 
Exhibition  opens  a  new  season  at 
Mangawhai  Artists  Gallery  of  21 
exhibitions  running  from  August  2019 
until June 2020. 
'Exhibitions  change  every  two  weeks' 
explains  Chris  den  Hartogh  of  the 
Mangawhai  Artists  committee  who 
liaises with all exhibiting artists. 
The  launch  of  the  new  season  of 
exhibitions  coincides  with  a  Call  for 
Entries  into  the  Kaipara  Art  Awards, 
another  annual  highlight;  open  to  all 
artists in Kaipara who are members of 
a  Kaipara  art  group.  Judge  Dr  Carole 
Shepheard, ONZM, a former Professor 
of  Fine  Arts  at  the  University  of 
Auckland,  will  be  awarding  prizes  in 
painting,  mixed  media,  print  media, 
sculpture and three dimensions and for 
an emerging artist. Entries close on 20 
September.  
With  'Seven  Impressions'  from  seven 
printmakers you will see seven distinct 
forms  of  printmaking.  This  year,  to 
celebrate  their  third  annual  exhibition, 
Rosina  Kamphuis,  spokeswoman  for 
'Seven  Impressions'  said,  'we  artists 
set  ourselves  a  challenge  –  to  move 
beyond  tradition  and  push  boundaries, 
to  include  fresh 
perspectives  on 
printmaking 
– 
tradition 
and 
contemporary art practice'. 
Each 
artist 
has 
explored 
and 
experimented  technically  so  there  will 
be 
conventional 
two-dimensional 
works  along  with  printed  papers 
presented three dimensionally. 
Two 
years 
ago, 
Mangawhai 
Printmakers  thrilled  and  surprised 
Mangawhai with bright turquoise doors 
at  the  entrance  of  Mangawhai  Artists 
Gallery. This year they have decided a 
new pop and splash of colour is called 
for  –  visitors  will  be  greeted  with  a 
zing and burst of a new colour 'Dizzie 
Lizzie'  by  Resene,  as  they  enter  the 
Gallery. 
Seven  Impressions  –  Mangawhai 
Printmakers  3rd  Annual  Exhibition 
with exhibiting artists: Wendy Clifford, 
Nicola  Everett,  Gayle  Forster,  Jean 
Fountain,  Chris  den  Hartogh,  Rosina 
Kamphuis and Lynn Middleton.  
Opens  Thursday  22  August  at  6pm, 
closes  Wednesday  4  September. 
Kaipara 
Art 
Awards 
– 
for 
information  and  entry  forms  go  to 
mangawhaiartists.co.nz; dargavillearts.co.nz  
or kaiparaartawards@gmail.com 
Bulk Cartage 
L  to  R:  Gayle  Forster,  Lynn  Middleton,  Wendy  Clifford,  Rosina  Kamphuis,  Nicola 
Everett, Jean Fountain and Christine den Hartogh.  Photo by Jess Holdaway  
SEVEN IMPRESSIONS 
Reporoa College Exchange:  Recently 
our  senior  students  represented  the 
school  with  pride  and  mana  at  the 
Reporoa annual exchange.  We won the 
shield for the fourth year in a row.  We 
have  also  received  lots  of  positive 
feedback  from  the  families  of  those 
who  billeted  our  students  commenting 
on 
their 
exemplary 
conduct.    
Congratulations to all the students who 
participated  and  thank  you  to  the  staff 
and  parents  who  supported  this  trip.  
The results were: 
Mixed  hockey  -  8  – 
win;  Netball  -  44-16  win;  Debating  686  - 
693 points loss - pictured; Boys' basketball 
50-30  loss;  Girls'  basketball  32-25  loss; 
Mixed football 5 - 0 win; Boys' rugby 53-7 
win;
  Overall  a  4-3  win  to 
Otamatea,  fourth  year  in  a 
row!  
Staff  only  day:    Please note 
on  Friday  23rd  August  the 
school  will  be  closed  for 
instruction as we have a staff 
only  day.    The  focus  for  this 
day for staff is wellbeing and 
resilience.  
Options Afternoon:   
On Wednesday 28th August we will be 
hosting  an  options  afternoon  at  the 
school.  All Year 10 students and their 
parent/caregivers  are  invited  from 
2.30pm.    There  will  be  an  opportunity 
to  hear  about  what  options  are 
available  at  the  school  as  well  as  an 
introduction to NCEA.   
From 4.30pm the second session starts 
for  students  from  Years  11  -  13  and 
their parents/caregivers .  There will be 
representatives  from  Northtec,  the 
trades  and  university  who  will  each 
outline  what  they  offer  to  school 
leavers.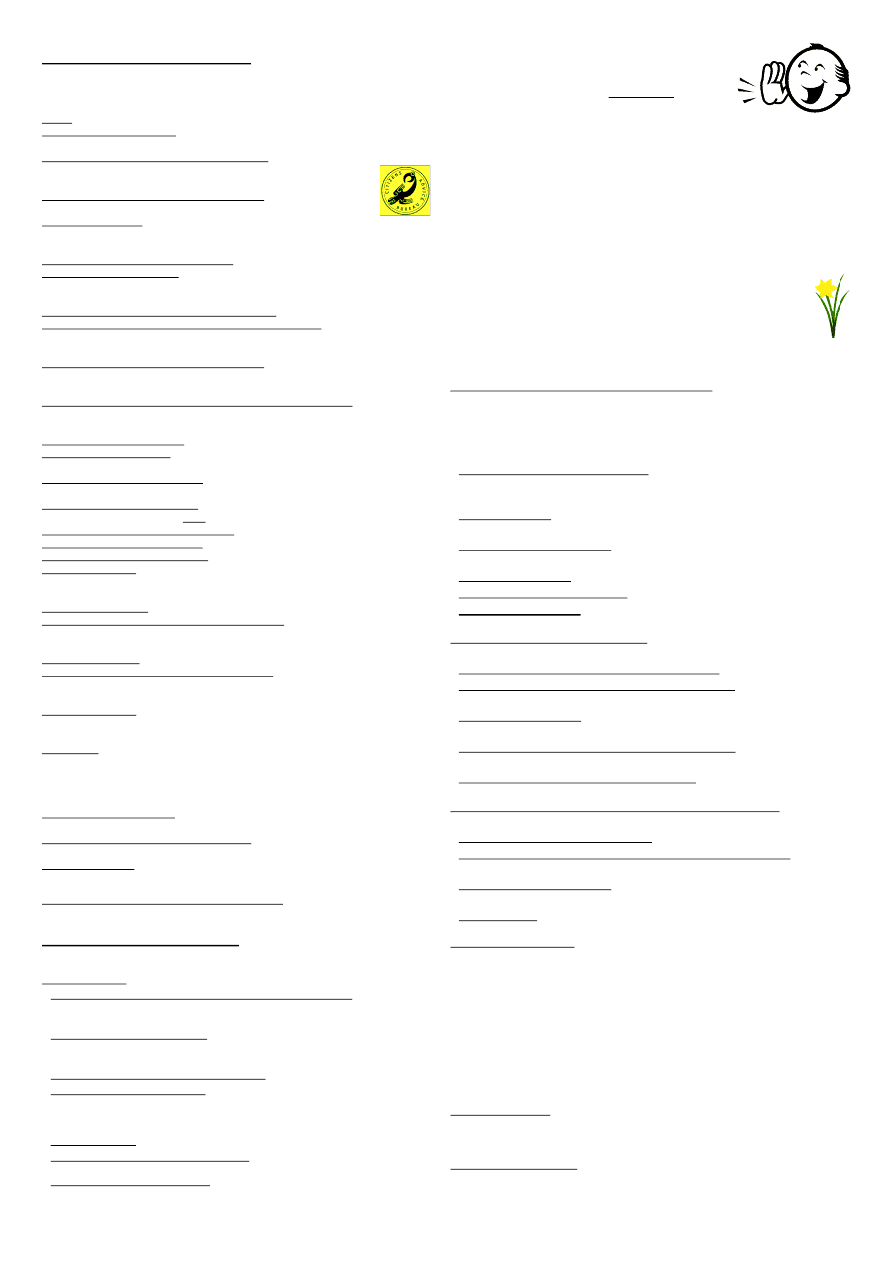 Next Bugle Deadline midday Friday 30 August 2019
WHAT'S ON
PLEASE ~ do let us know what is on - email 
kaiwakabugle@kaiwaka.co.nz 
Advertising in WHAT'S ON is FREE  
*20Aug~Pahi Boating & Fishing AGM, 7pm 
*21Aug~Kaiwaka CAN meet. Archie Bull Hall 5.30pm 
*23Aug~Movie 'Fisherman's Friends', KWMH, 7.30pm 
*25Aug~Movie 'How to Train Your Dragon' KWMH 2pm 
*28Aug~Otamatea High Options Afternoon 
*30Aug~DAFFODIL Day 
*31Aug~3Furs  Got Talent - Final, 7pm 
*30Aug~Movie & Supper 'The ROCKETMAN', KWMH 
*7Sep~Solar Hot Water Workshop, KWMH, 1.30pm  
*10Sep~Kaiwaka War Memorial Hall AGM, 5pm 
KWMH = Kaiwaka War Memorial Hall; KSA = Kaiwaka Sports Association 
See www.kaiwaka.co.nz for more information 
HOUSEHOLD RUBBISH COLLECTION - Kaiwaka Pick up: 
Mondays = Green bags (Northland Waste - 09 430 3273) 
Wednesdays  = Blue bags and yellow recycling (at Jaques $3.00 
and  $1.50)  (Kaurilands  09  4392146);  ONLY  Blue  and  Yellow 
bags picked up on Oneriri Road. 
 DIABETES  Support  Group  -for  Kaiwaka,  Mangawhai, 
Wellsford  10am,  3rd  Friday  of  month  Ph:  Colleen  James  09 
4314238 
 GENEALOGY - Wellsford: 1st Thursday in month Ph: 423 
7033; Waipu: 4th Monday in month Ph: 4312 725 
 HAKARU PONY CLUB - Secretary Denise Rogers 021423376 
secretary@hakaruponyclub.co.nz  
 KAIPARA HUNT - Secretary Albert Doonenbal Ph 4312059 
 KAIWAKA BADMINTON -Tuesdays 7.30pm Ph: 4312345 
 KAIWAKA  CAN  - 3rd Wednesday in month, 5.30pm, Archie 
Bull Hall Ph: 0273572751 
*KAIWAKA  DRAMA  CLUB  - 
Hannah  Webb 
0272863352 
KaiwakaDrama@gmail.com - FB - "KaiwakaDramaClub" 
 KAIWAKA DRUM & DANCE CLASSES - 021 611198 
 KAIWAKA GARDEN & FLORAL GROUP - 2nd Thursday in 
month. Ph: 431 4744 
 KAIWAKA  CUBS  -  Thursdays  5.30-7pm,  Hakaru  Ph:Bruce 
4312542 
 KNITTING FOR WHANGAREI HOSPITAL - 2nd Tuesday in 
month, Archie Bull Hall 10am Ph 4314827 
 MANGAWHAI COMBINED REBUS CLUB - 2pm, 3rd 
Thursday month, Senior Citizens Hall Mangawhai. Ph: 4315777 
*PILATES - KAIWAKA WAR MEMORIAL HALL - Ph: 
021 
2072729  
 PT CURTIS CRUISING CLUB - Jean Ph: 4312227 (wk), 4312520 (hm) 
 RSA,  HAKARU  &  DISTRICTS  WOMEN'S  SECTION  –  meets 
1.30pm 4th Thursday of the month. Ph: 431 5818  
 SCOTTISH  DANCING  -  Wednesday  morn.  KWMHall  Ph:  09 
4320532 
 TRAMPING - Mondays 9am-2:30pm Maria 4312 234 
HALLS FOR HIRE: 
  Kaiwaka St. John Hall: Phone Marj  0272941227  
 St.Pauls Archie Bull Hall HIRE $20 half day, $40 full day per 
hire, S McAulay, Ph 4312311 
 Kaiwaka  War  Memorial  Hall  HlRE  -  Phone  4312725  or 
kaiwaka.hall.bookings@gmail.com 
 Hakaru Community Hall HIRE -Ph. 4312256 or 4312110 
 Te Pounga Marae queries - Pearl Nathan  0223933533 
 Kaiwaka Sports Association hire/queries - C. Anderson 4312051 
or kaiwakasports@gmail.com 
Justice of Peace:  
B.FJaques  4312  048;  L.Donaldson  4312  228;  A.F.Hargreaves 
4312 045, W.Howard 4312 725 - please phone to make sure they 
are available or go to www.justiceofthepeace.org.nz 
Marriage Celebrants:  
L.Donaldson; A.F.Hargreaves; Y Osborne
LOCAL SERVICES 
*Emergencies - Ambulance, Fire, Police - dial 111 
*Non-urgent Police phone 09 4311150
A A: Meets Wed., 8pm Kaiwaka Ph: 4315543, 0800229 6757 
ASUREQUALITY LTD (was AgriQuality) Call Free 0508 0011 22  
BUDGETING SERVICE, WELLSFORD: Free confidential advice & 
support for all areas of personal finance. Ph (09) 423 7123 
CAB-Citizens Advice Bureau.Wellsford Ph: 4237333 
0800 367 222 email:cab.wells@xtra.co.nz  
CIVIL DEFENCE - Kaiwaka Community Response Group: 
kaiwaka.civildefencecrg@gmail.com, 4312725 Wendy 
DOG/STOCK /NOISE CONTROL 0800 105 890 
FUNERAL SERVICES: Morris & Morris Ltd, 
Whangarei - Bev Jaques Ph:4312367 or 0800667747 
GRANDPARENTS Raising Grandchildren: Dianah Roberts 0223819539 
HAKARU & DISTRICTS MEMORIAL RSA (Inc) 733 Settlement Rd, 
Hakaru. Ph 4312 176 or Bill Warren (President) 431 2092 
HAKARU LANDFILL/Transfer Station:Open everyday except 
Tuesday10am-4pm.Ph4312629 Cost-$55 trailer load up to 1 cubic metre. 
Ph:4258567 - office 
KAIPARA DISTRICT COUNCIL www.kaipara.govt.nz:  
Help Desk FREEPHONE 0800 727 059  
KAIWAKA CEMETERY: Ph: 4312045 or 4314017 
KAIWAKA LIBRARY: kaiwaka.library@gmail.com  
Mon. 4-6pm; Wed., Thurs., Fri., Sat. 10am-2pm Ph:4312539 
KAIWAKA PLAYCENTRE: Ph Juanita 0274134904; open Mon, Wed, 
Fri 9am-12pm. Hastie Lane; Monday to Friday 9.00am - 12 noon. 
KAIWAKA POST OFFICE:Ph:4312 431  
Post Code: 0573 for RD2 and 0542 for all Kaiwaka Post Office mail 
KAIWAKA PRIMARY SCHOOL: Ph: 4312309   
KAIWAKA SPORTS ASSN: Ph 4312005; 4312129 gym 
KAIWAKA ST JOHN HALL: Phone Marj  0272941227  
KATE'S PLACE Community Centre - Employment services, Free Health 
Nurse, Plunket, Advocacy, Osteopath, A.A., Legal Advice. 4312 661 
LINKING HANDS Health Shuttle Ph 4315906 or 09 4318969 
MINISTRY FOR PRIMARY INDUSTRIES - General inquiries Call 
Free 0800 008 333 
NORTHPOWER: Faults Kaiwaka area 0800 104040 
OTAMATEA COMMUNITY SERVICES: Counselling, parent coach, 
Family Support worker, budget advice, food bank. Mon-Fri 9am-3pm. Ph 
09 431 9080 http://www.otamateacs.org/ 
PARENTPORT: Free, practical family support service Puhoi to Paparoa 
Ph or txt: Dianne 027 280 5093 or 09 425 9357 
PLUNKET:  Kaiwaka  -Kate's  Place  Clinic  1st  Wednesday  of  the  month; 
Mangawhai  - Rose Madsen Cottage: Coffee Group 9:30 every Monday.  Clinic 
every Monday and Thursday. 
Maungaturoto - Good News Church, Clinic 2nd and 4th Wednesday.  
Cynthia 09 431 7340 or 027 675 3488 
PLUNKET HELPLINE -0800 933 922 (24 hours) 
TAITOKERAU COMMUNITY LAW: Free confidential legal advice and 
assistance, 2nd
Thursday
 of each month. Ph: 0800 155 529 for appts.  
TE URI O HAU Settlement Trust Tangata Developments: Whanau Ora 
021 793262  
VETERINARY SERVICE MANGAWHAI: 
Ph: 4314535 Mon-Fri 8.00-5.00, Sat 9-12, a/h appt. 
WELLSFORD DOCTORS: Ph: 4238 086 
CHURCHES:
 
Kaiwaka  Revival  Church  -  Your  Community  Church:  Sundays  10am. 
Ph: Pastor Tawhiri 09 431 8988 or Pastor Paul 09 4312 068 Visit us at 
www.facebook.com/kaiwakachurch 
 
St  Paul's  Anglican  Church  1st  Sun.  9.00am  (Eucharist),  3rd  Sun. 
9.00am (Family Service). Contact: Rev. Wayne Thornton Ph 431 4122 
www.mangawhaianglican.org.nz 
 
Church of Christ the King, Mangawhai:9.00am every Sunday 
 
St.Mary's  Catholic  Church:  Maungaturoto  –  Griffins  Road,  Saturday 
evening  Vigil  Mass  6pm;  Mangawhai  –  Senior  Citizens  Hall,  Sunday 
Mass  8:30am;  Wellsford  –  Matheson  Road,  Sunday  Mass  10:30am;  
Mid-week Mass times and all enquires to Fr. Bill Fletcher – phone 423 8170
 
Baptist Church: Sun. 10.30am Mangawhai Snr Cit.Hall.Ph:4312339 
 
Cause  Way  Church  Mangawhai:  Sundays  10.15am,  Mangawhai 
Community  Recreation  Centre,  Insley  St.  Ph:  09  4314782