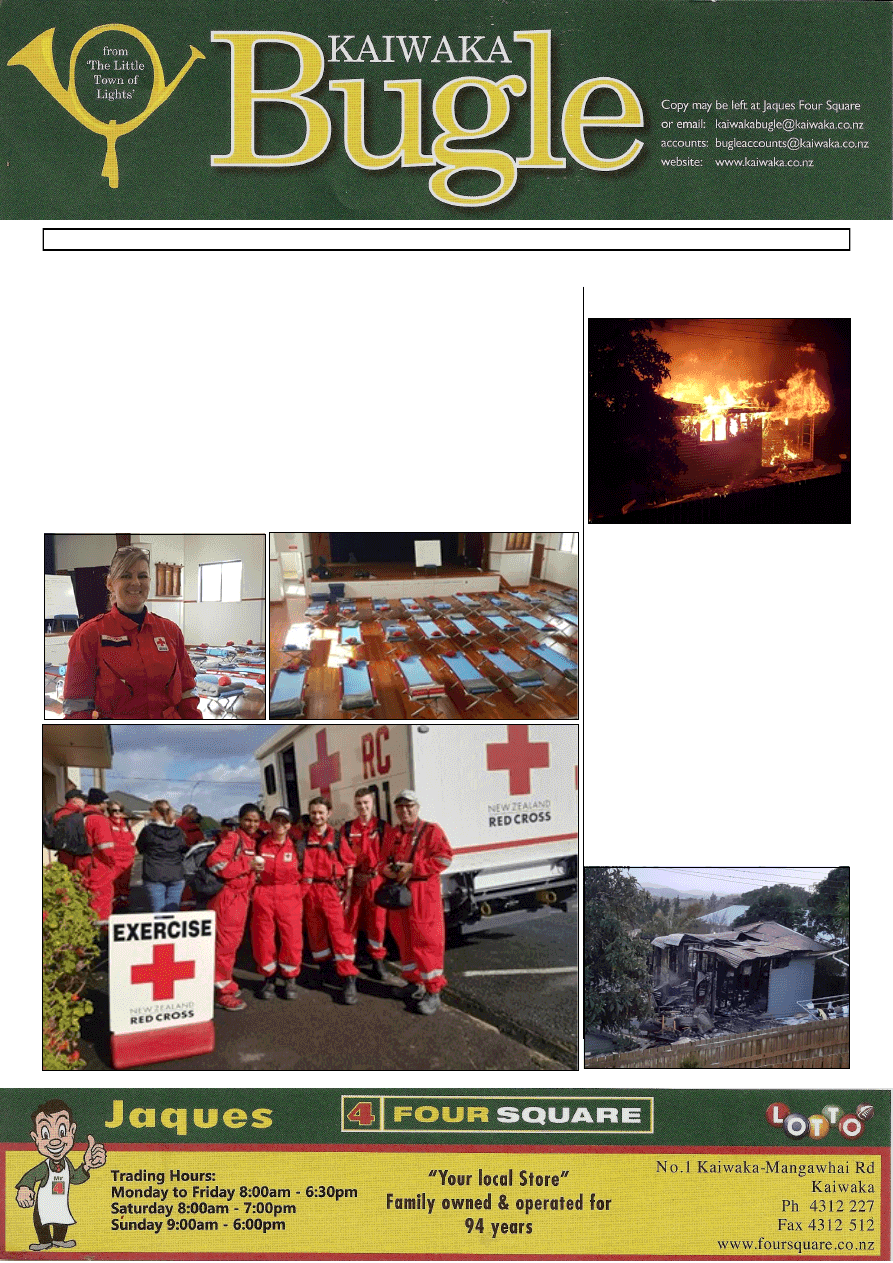 www.kaiwaka.co.nz 
Kaiwaka Bugle - 3 September 2019 
Page 1 
No:17 
3 September 2019 
Trading Hours: 
Monday to Friday 8:00am - 6:30pm 
Saturday 8:00am - 7:00pm 
Sunday 9:00am - 6:00pm  
RED CROSS 
The  Kaiwaka  Memorial  Hall  was  the  scene  of  a  Civil  Defence  Centre  on 
Saturday 24th August. The centre was set up in a joint exercise by Red Cross 
Disaster  Welfare  Support  Team  (DWST)  volunteers  from  Whangarei  and 
Auckland.  The  teams  were  doing  an  exercise  to  practice  setting  up  a  centre 
which can look after evacuees in an emergency. The centre was set up with 30 
beds, first aid, psychosocial support and basic catering facilities.  
Victoria Harwood, Deputy Team Leader of Whangarei DWST - pictured below, 
organised the exercise to enable neighbouring regional teams to work together 
and practice their skills. 
In  the  afternoon  teams  also  practiced  some  of  their  field  work  from  their 
Incident  Control  Point  within  the  large  Red  Cross  truck,  teams  extracted 
casualties, set up a radio repeater, carried out a disaster preparedness leaflet drop 
and practiced first aid skills. The NZ Red Cross work closely with Civil Defence 
Emergency Management in NZ as a support agency in disasters. 
KAIWAKA ACTION 24/8/2019
Neighbours woke to the noise of a fire 
and  were  astounded  to  see  the  large 
flames and how  quickly  they  engulfed 
the house on Settlement Road. 
The fact  that  it  was  a  very  calm  night 
and  all  vegetation  was  damp  was  a 
relief for the neighbouring properties. 
Firefighters  managed  to  extinguish  a 
fire that engulfed the rental property in 
Kaiwaka but could not save the house. 
Emergency  services  received  a  call 
about  4.35am  on  Saturday  and  fire 
appliances from Kaiwaka, Mangawhai, 
Maungaturoto and Wellsford rushed to 
the scene on Settlement Rd.  
Kaiwaka Fire Chief John Bowmar said 
the house was fully involved when fire 
crews arrived.  
Nobody was in the house  at the time. 
The  photo  below  shows  some  of  the 
devastation. 
HOUSE FIRE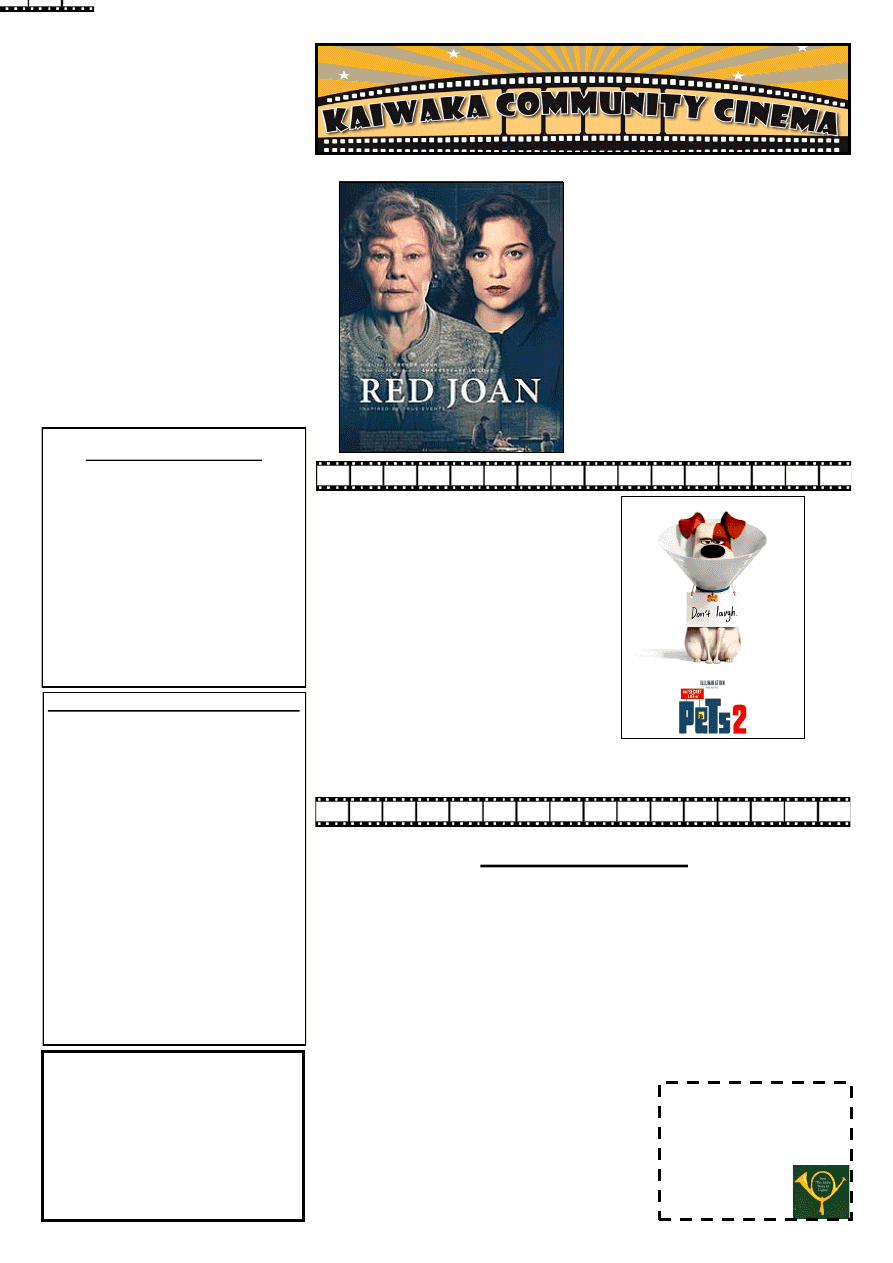 Proverbs 20:28  
Love and truth form a 
good leader; sound 
leadership is based on 
loving integrity.  
(The Message) 
At Kaiwaka War Memorial Hall . Adults $10, Kids (under 16) $5, Family Pass (2 adults + 3 children) $25 
ABOUT TOWN 
 
A big thank you to our Daffodil Day supporters, and a special thank you to 
Jaques Four Square and La Nonna Bakery - see page 5 

 Last  Friday  was  an  awesome  night  out  at  the  movies  with  the  'Rocketman' 
and  a  beautiful  Supper  courtesy  of  Kaiwaka  s  THE  COFFEEPOT  -genuine 
German Fare.   

Jonathan Larsen and Peter Wethey the two councillors for our local Kaiwaka-
Mangawhai  ward  of  Kaipara  District  Council  are  now  elected  -  no  need  for  a 
vote as they were the only two candidates. 

 Our  sympathies  to  the  family  and  friends  of  Taupae  Connelly  who  passed 
away recently  

 Kaiwaka revival Youth are fundraising for upcoming Youth events - see their 
poster on page 15 for the movie 'Overcomer'.

 Apologies: We had hoped to bring you the results of  the wonderful 'Furs Got 
Talent' show from Saturday night - next time …

Earlier  issues  of  the  Bugle  don't  disappear  - 
they can be seen online at www.kaiwaka.co.nz at 
any time - also great colour in the photos.      
                    ~ Lindsey, Ed 
'Many a failure turns about, when he might have won 
if he'd stuck it out; so stick to your task, though the 
pace seems slow, for you may succeed with one more 
blow." 
KAIWAKA BUGLE NO.17 
3 SEPTEMBER 2019 
CONTENTS: 
Page 3: Public Notices, Classified 
Page 5: Daffodil Day; Policing Area; 
OHS Business Team 
Page 7: Women's RSA; Kaiwaka 
Weather; Winning Poem 
Page 9: Kaipara Art Awards; Young 
Gardener  
Page 10: Spring Flower Order Form 
Page 11: KSA; Oldest Living Pupil 
Page 13: Cr. Larsen; Kaiwaka Photos 
Page 15: Kaiwaka CAN; Thelma's 
Scrapbook 
Page 17: Weber Sawmill 
Page 19: Election Information 
Bugle 18 will appear  17 September 
Contact for advertising, reports, articles 
or information can be made by 
Email: kaiwakabugle@kaiwaka.co.nz 
Ph: 09 4312 045 Lindsey 
Txt: 027 2724137 
Copy  may  be  left  at  Jaques'  Four 
Square. 
Kaiwaka Bugle Advertisements 2019: 
All 
copy 
and 
queries 
to: 
kaiwakabugle@kaiwaka.co.nz 
The Bugle is printed on an A4 page, B&W  
Ad  sizes:  1/16  page  (3  x  9.5cm)  $5;  1/8 
(6.5  x  9.5cm  landscape  or  portrait)  $8; 
3/16 ( 10 x 9.5cm or 7.5 x 12,5)  $12.  
Classified  ads:  First  one  FREE,  $4  per 
entry (max. 30 words, max. 4 repeats). 
Payments  can  be  made  online  at 
ANZ 
06  0365  0006990  00
,  posted  or  left  at 
Jaques Four Square Store. 
We  use  Microsoft  Publisher,  and  can 
work  with  most  common  image 
formats, Word, Excel, and PDF files. 
Accounts:  
Email: bugleaccounts@kaiwaka.co.nz 
The  Kaiwaka  Bugle  is  a  community 
newspaper run by volunteers, as part of 
the Kaiwaka Media Group Inc.   
Articles, etc. printed are not necessarily 
the opinion of the Bugle Team. 
Kaiwaka Bugle 
Founded May 1978 
We appreciate articles and photos about local 
events, etc, as well as ads and suggestions. 
Copies available in Kaiwaka at Jaques Four 
Square, Kaiwaka Postal Centre, Shamrock 
Service Station, Animal Health Centre, 
Kaiwaka St John shop. 
Also outlets in Maungaturoto, 
Mangawhai and Paparoa. 
Can be viewed online at  
www.kaiwaka.co.nz/Bugle  
Or a copy can be posted to you if you supply 
stamped, self-addressed DLE envelopes. 
RED JOAN 
Friday 6 September 7.30pm (M)
Inspired  by  an  extraordinary  true 
story,  'Red  Joan'  is  the  taut  and 
emotional  discovery.  Joan  Stanley 
(Dame Judi Dench), lives in contented 
retirement. Then suddenly her tranquil 
existence  is  shattered  as  she's 
shockingly arrested by MI5. For Joan 
has been hiding an incredible past; she 
is one of the most influential spies in 
living history... Cambridge University 
in  the  1930s,  and  the  young  Joan 
(Sophie  Cookson),  a  demure  physics 
student,  falls  intensely  in  love  with  a 
seductively 
attractive 
Russian 
saboteur …" 
KAIWAKA BUGLE 
DEADLINE DATES 
2019:  
Every second Friday
September 13, 27;  
October 11, 25;  
November 8, 22;  
December 6. 
WILD 
ROSE
Friday 20 September 7.30pm (M)                         
SECRET  LIFE of PETS 2 
 Sunday 22 September,  2pm (PG)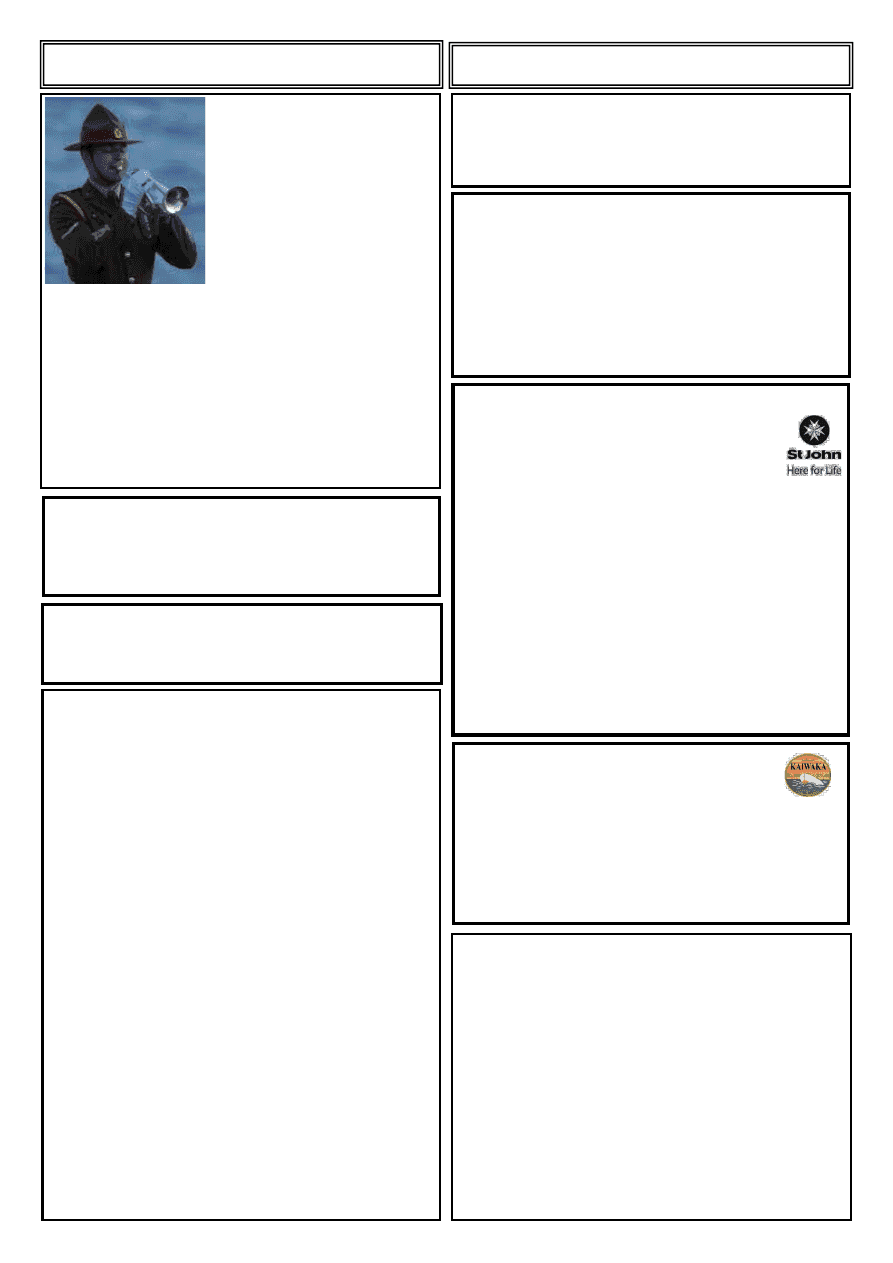 www.kaiwaka.co.nz 
Kaiwaka Bugle - 3 September 2019 
Page 3 
PUBLIC NOTICES 
CLASSIFIED 
POINT CURTIS  
CRUISING CLUB  
Subs: $30 Family & $20 Single 
Internet banking 12 3094 0008233 00 Please use 
Name/s as a reference. 
Fish of the Month is Kahawai till 4th September 
Next Club Meeting: Wednesday 4th September 
2019,  Kaiwaka Sports Association, 7pm           
Wayne Leslie (Commodore) 
OTAMATEA COMMUNITY SERVICES INC. 
Annual General Meeting 
Thursday 3rd October, 3pm 
155 Hurndall St Maungaturoto. 
All welcome 
FLAXROSE AT TOANGA GARDENS 
www.flaxrose.co.nz 
flaxrose@gmail.com  
Edie Nielsen-0220902396 
Michael Algar- 0220367576 
WANTED 
Can you play the 
BUGLE? or the 
TRUMPET? or the 
CORNET? 
Do you think you could 
play the LAST POST and 
REVEILLE? 
The  Hakaru  and  Districts 
Memorial  RSA  would  like  to 
have  a  real  live  person  to  play  the  Last  Post  and 
Reveille for ANZAC DAY, ARMISTICE DAY, and 
for any other official occasions, including funerals. 
Sheet  music  can  be  provided  for  the  official  RSA 
version plus we can supply a CD 
The  applicant  need  not  to  have  any  affiliation  with  the 
RSA, but a commitment is required for this very important 
task. 
For further information contact our Vice President  
Neville Andrew @ 09 431 8191 or 022 614 0155 
Or email vice-president@hakarursa.co.nz 
KAIWAKA ST. JOHN OP SHOP 
Thanks again for all your support.  
We are so grateful for all your donations. 
⚫
We still have our clothing rack sale of 5 items 
for $1 until the end of September. This is going 
very well. 
⚫
We are in need of bedding and towels as these usually 
go very quickly.  
⚫
Kitchenware and utensils are always needed.  
⚫
Our stock is always changing so come along and see 
what's happening.  
⚫
We still have a good range of furniture - we have 
photographs of each piece if it is not in the shop. 
⚫
If you require a First Aid Kit, we have kits from $19.95 
to $79.95 and our boxes of ambulance printed plasters are 
$3.50 per box. 
For more information and any enquiries please call the 
shop on 4312650 or Gale on 4314827 or 0274149576. 
Thankyou Team, Gale 
Check us out at 1919 SH1, Kaiwaka 
JENNY'S RURAL CLEANING SERVICES 
P.O. Box 87 
Kaiwaka 
Looking for a casual to part time worker.  
Must be able to work the odd Saturday morning. 
Must be trustworthy and have a driver license and be 
able to work in a team. 
Please send your C.V if you got one to 
jrcleaningservices.chellew@yahoo.com 
Or phone Jenny on 431 2826 after 7pm  
KAIWAKA Future Energy Outlook Plan … 
FREE PUBLIC ENERGY MEETING 
How will the future energy outlook for Kaiwaka look 
like? 
According to the GOVT and many Energy Providers, the 
future of power companies looks bright and NZ must be 
more "electrified".  
We quote: "More electrification will be needed each year, 
electricity  prices  will  increase  fast  and  more  than  30  % 
extra capacity of power plants will be needed by 2030" . 
Many  houses  and  buildings  in  Kaiwaka  use  a  lot  of 
electricity for all the 'wrong' reasons BUT the Kaiwaka. 
Community  can  save  a  lot  of  electricity  without  loss  of 
comfort  while  reducing  the  dependence  on  the  MAINS 
GRID. 
In  cooperation  with  Kaiwaka  Can,  more  'efficiency' 
actions are planned in the near future to further reduce the 
ecological  footprint  of  the  Kaiwaka  Community  and 
become a low carbon community. 
Join  our  Public  Free  Energy  Outlook  Plan  Meeting  …
where we will explain the many opportunities for energy 
savings in Kaiwaka households and businesses. 
DATE:  7th  September  2019.  Time:  Start  at  10  till 
11am + question time. 
Location:  Kaiwaka  War  Memorial  Hall  Cost: 
KOHA to cover the hall hire 
Contacts:  Bookings  are  not  essential  but 
appreciated, so email or phone us please 
For  Kaiwaka  Can:  Derek  Christensen-email: 
derekandisa@gmail.com -Cell 0273572751 
For 
Repower 
NZ: 
Eric 
Jansseune-email: 
ericjansseune1957@gmail.com - Cell 02102231700 
KAIWAKA WAR MEMORIAL HALL Inc. 
ANNUAL GENERAL MEETING 
Tuesday 10th September, 5pm 
In the Hall ~  All welcome 
SOLAR ENERGY workshop  
+ exclusive visit to EUTOPIA ART CAFE 
Workshop: Solar Hot Water is a NO Brainer! 
WHY  this  workshop?  Solar  hot  water,  state-of-the-
art, saves a dollar for a dollar! 
Including  an  exclusive  visit  to  the  solar  hot  water 
system at EUTOPIA. 
Location workshop: Kaiwaka War Memorial Hall 
Date: Saturday 7/09/2019 from 1.30-3 pm                
Cost: $ 10 including drink at EUTOPIA 
Bookings essential so give us a call or email! 
Email: ericjansseune1957@gmail.com  
Cell 021 022 31 700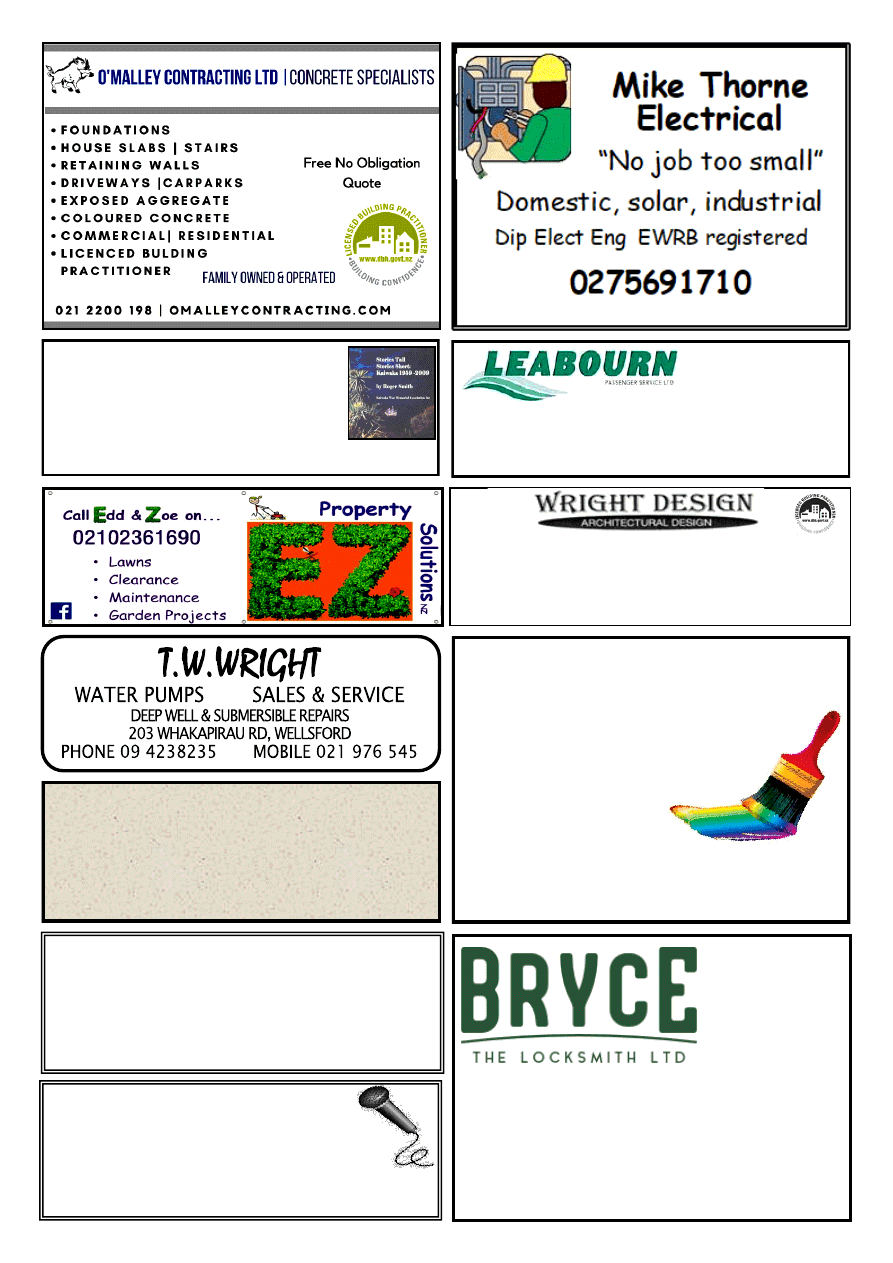 Passenger Service
Car & Van Hire   Bus & Coach Charters 
Airport Transfers    
Phone (09) 4237416 
Counsellor and Registered Psychotherapist 
Offers Supervision 
ACC Sensitive Claims 
Susan Matheson      MNZAC 
Dip. Psychosynthesis Counselling and Psychotherapy 
Phone 09 431 2996                                     Mobile 027 605 2427 
SING RIGHT 
Professional coaching for performance,  
recording and demos. 
All level singers, musicians, singer-songwriters. 
Phone Robyn Hill 431 9159 or 0274 725610 
No. 117345 
N.Z.C.A.D., L.B.P. 117345 
PH/Fax: 09 423 8092 Mob: 021 276 7369 
Office: 3 John Sinclair Avenue, Wellsford    brianwright@xtra.co.nz 
For Resource and Building Consents, planning restraints, new building materials - 
you need a capable, experienced, and professional designer with a clear 
knowledge of all the processes. Brian has been helping and organising all these 
facets of design and building for over 50 years. 
Wright Design offers free visits, consultations and advice on planning, design, 
building, council permit applications, guaranteed permit plan acceptance. 
Stories Tall, Stories Short:  
Kaiwaka 1959-2009 
by Roger TW Smith 
And 
Kaiwaka: A Photographic History 
Available  at All-Sortz Collectables or phone  4312 045 
Om Tara ~ Mangawhai 
Healing Services 
Diann Glucina 
021 250 7461 diglucina.com  
FB: OmTaraMangawhai 
LEE COOPER PAINTERS 
(Kaiwaka Based) 
*30 yrs Experience 
*Interior/Exterior 
*New and Restoration 
*Honest and Reliable 
*Free Quotes 
09 4312918 or 0274735171 
leecooper@xtra.co.nz 
Bryce Frewin 
Ph: 021 850 983 
Kaipara Based Master Locksmith 
bryce@brycethelocksmith.co.nz 
www.brycethelocksmith.co.nz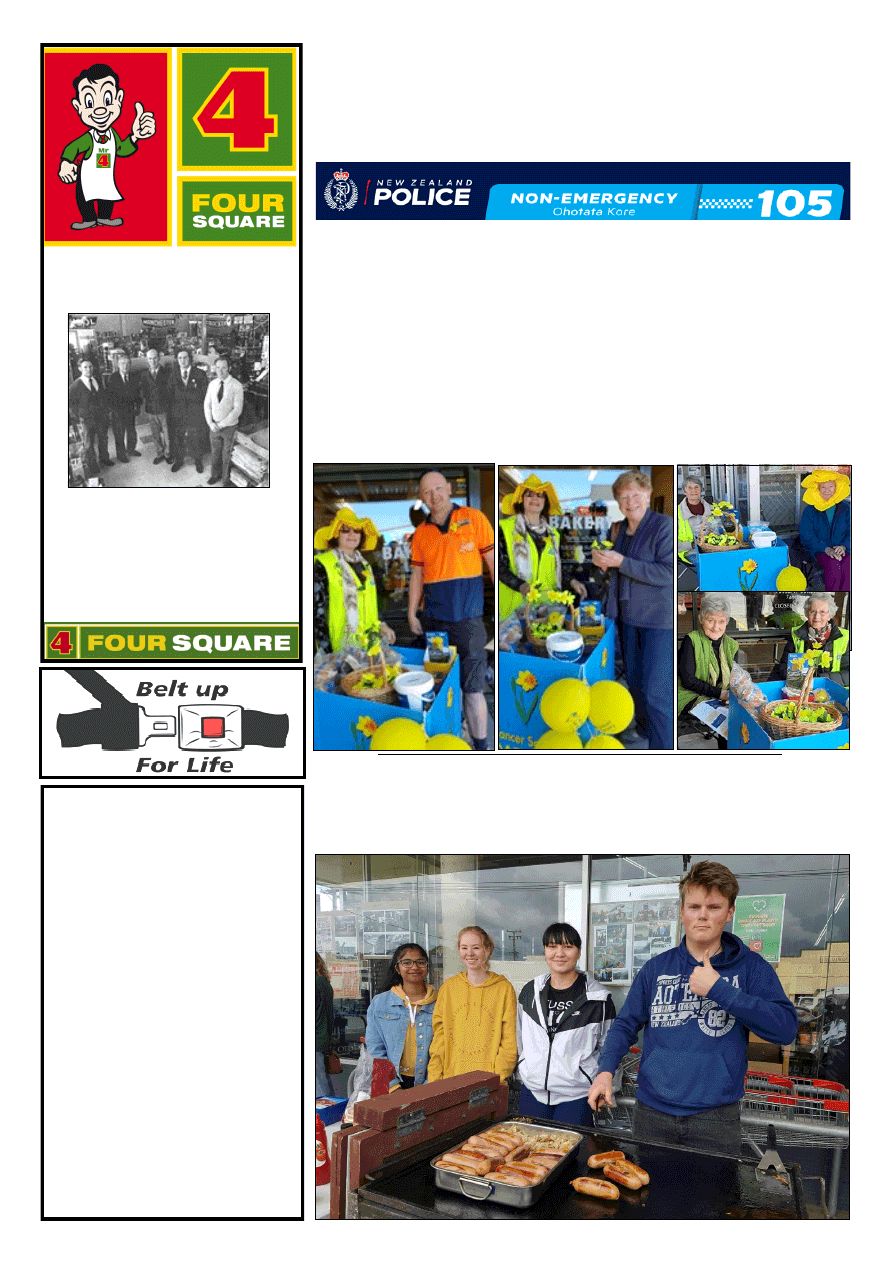 www.kaiwaka.co.nz 
Kaiwaka Bugle - 3 September 2019 
Page 5 
Willow Bend
HORSE  
HOTEL 
  
Total Horse Care 
 
Agistment 
 
Riding Lessons 
 
Arena Hire (60x40) 
 
Young Horse Starting 
 
Re-training/Exercising 
 
Hoof Trimming 
 
Problem Solving 
Phone Sue 09 431 2817 
or 021 623 776 
Or email  
susanjoll11@gmail.com 
DAFFODIL DAY: KAIWAKA 
WELL  DONE  KAIWAKA!!!  Due  to  our  20  amazing  volunteers  who  were 
willing  to  volunteer  2  hours  of  their  day  to  man  the  two  collection  points  and 
your generosity as a community, we raised $1,577.80 for our Northland Cancer 
Support Services! Thankyou s-o-o-o much lovely people! 
This money, among many other free services, helps to enable cancer patients to 
have  free  accommodation  at  Auckland's'  Domain  Lodge  while  having  cancer 
treatment.  Along  with  lessening  the  effects  of  cancer  through  funding  of  our 
wonderful  support  nursing  people,  20%  of  the  total  Northland  collection  goes 
towards research as well. 
Also  a  HUGE  THANKYOU  to  Jaques  Foursquare  and  La  Nonna  Bakery  for 
being  our  collection  locations  and  The  Coffeepot  Cafe,  Kaiwaka  Caltex  and 
St.John Op. Shop for looking after our little Daffodil Collection boxes through 
the last 3 weeks. 
Bless you all Heaps, Lynne Coates, Kaiwaka Daffodil Day Co-ordinator. 
Photos of volunteers with donors from Kaiwaka and Auckland. 
POLICING BOUNDARY 
As of the 8th of August 2019, the Waitemata North Policing boundary has now 
been expanded to include Kaiwaka, Oruawharo and the Oneriri Peninsula and is 
being looked after by the staff at the Wellsford Police Station. 
Please remember to call 105 for anything historic or incidents that don't require 
immediate Police attendance. However, in the event of an emergency that does 
requires immediate Police attendance, please call 111 
Happy 95th Birthday  
JAQUES FOUR SQUARE 
From Northern Advocate 28 July 1976 
'Businesses come and go in Kaiwaka, 
but the Jaques family endures - and has 
done so since Mr F Jaques founded the 
Jaques Store in 1924.' 
Jaques Four Square 
Phone: 4312227 
1 Kaiwaka-Mangawhai Road, Kaiwaka. 
OTAMATEA HIGHSCHOOL ENTREPRENEURS 
Hamish Ferguson led his High School Business team with a fundraising Sausage 
Sizzle on Saturday  outside Jaques Four Square. All money made goes towards 
starting  a  'business'  which  is  a  part  of  their  business  assessment  at  Otamatea 
High  School.  Profits  made  from  the  sausage  sizzle  will  be  going  towards  the 
Maungaturoto Dementia Unit.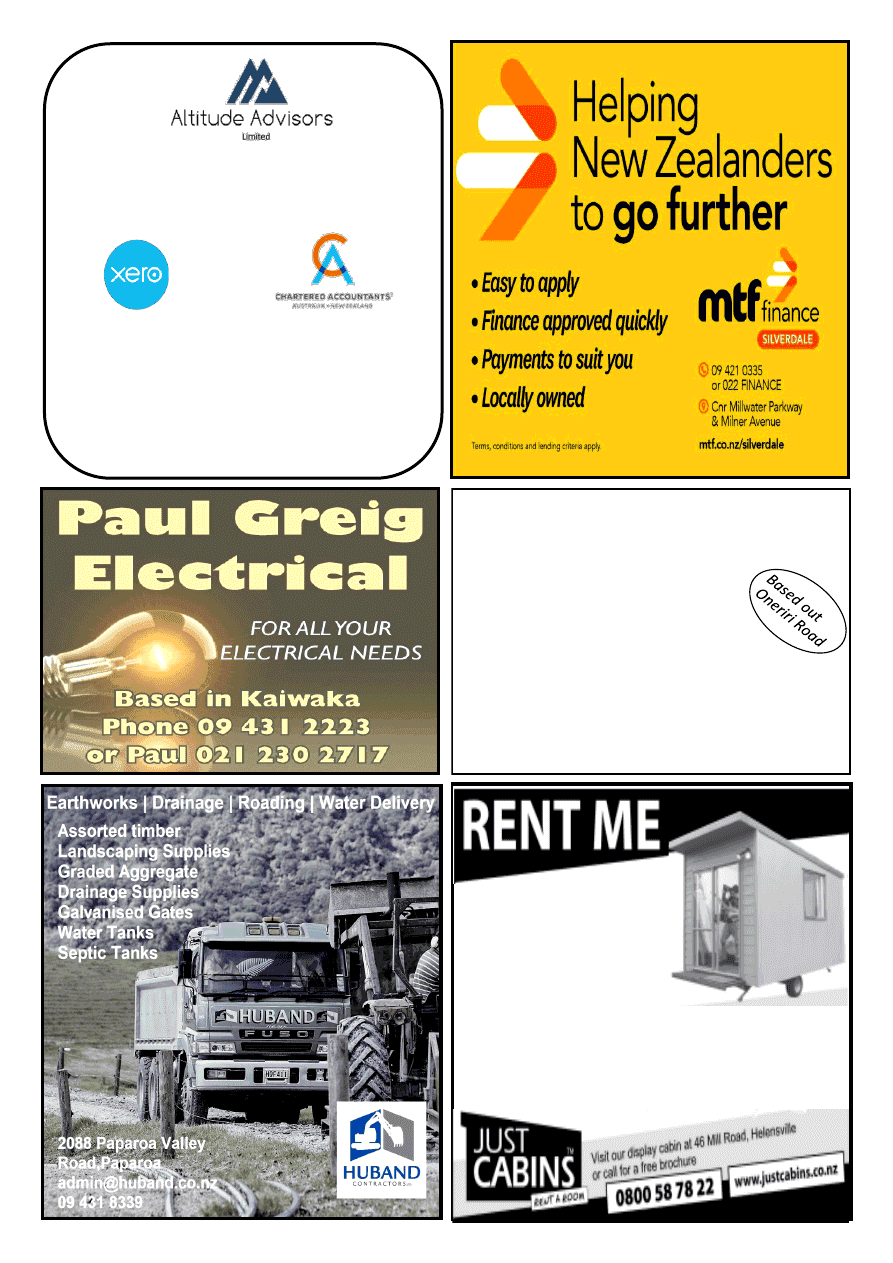 Ideal as an extra  
bedroom or office 
Three Convenient sizes: 
Standard 3.6m x 2.4m - $65 per week 
Large 4.2m x 2.4m - $80 per week 
Altitude with Attitude, helping your business 
scale new heights 
Time to try something different? 
Xero training          Accountancy Services 
We are offering two opportunities: 
15% saving off your annual report cost for your first 
year, & a further 10% saving for any referrals 
Call Corinne on 021 252 7680 or 
corinne@altitudeadvisors.nz 
HODGETTS 
CONTRACTING
Digger Work    

Driveways 

House Sites 

Dams     

Drains, etc
Also available for HIRE 
3 ton Vib Roller Heavy Duty Tow  
Waterblaster     Lazer Level
Phone Mark 4312877 
        027 447 8554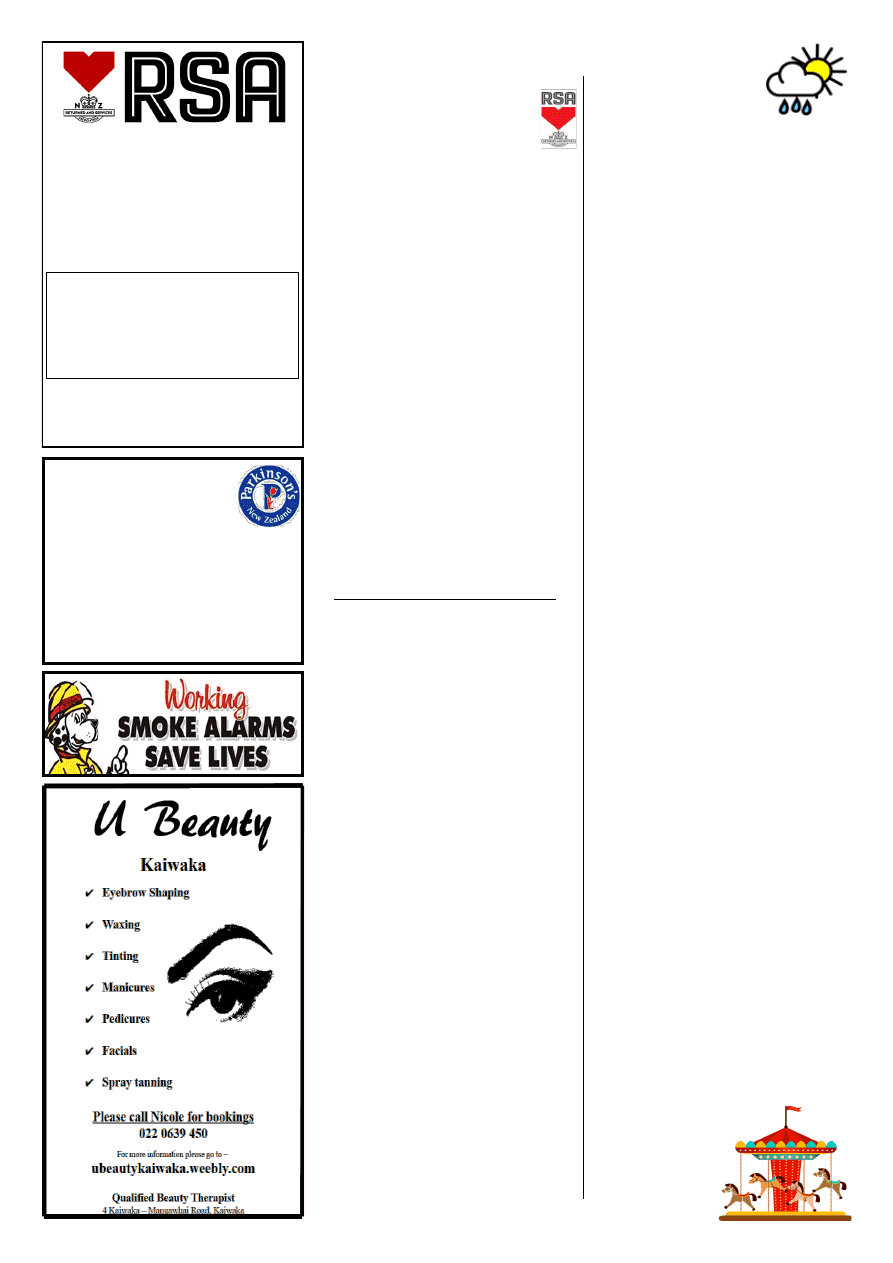 www.kaiwaka.co.nz 
Kaiwaka Bugle - 3 September 2019 
Page 7 
Parkinson's  
Northland 
Provide: 

Home based consultations 

Information and education on living with 
Parkinson's 

Support and exercise groups 

In-service training for other health 
providers 
Barbara Leslie RN,  
Community Educator 
09 4376881  or 027 5306221 
barbara.leslie@parkinsons.org.nz 
www.parkinsons.org.nz 
KAIWAKA 
WEATHER 
Yahoo  winter  has  gone. 
Now  you  can  look 
forward to Spring.   
Our  winter  treated  us  rather  kindly 
until August then it turned up or down 
should  I  say  the  temperatures.    It  got 
bitterly  cold.    Sorry  I  don't  keep  the 
temperatures  although  I  probably 
should  but  hey,  I  am  not  a  farmer  or 
have to get out of bed early to read the 
thermometer.  The wind chill factor or 
just plain cold tells me how cold it is. 
We did not get the frosts to kill off the 
bugs like Green Vegetable beetles and 
those  white  butterflies  which  hung 
around very late this year.   
Already  we  are  having  warnings  of  a 
hot  summer.    The  sun  is  warming  up 
very fast now if today is anything to go 
by.    Spring  seems  to  be  tracking  very 
nicely  and  our  Magnolia  and  Kowhai 
trees  seem  to  have  flowered  on  time. 
Lots  of  Daffodils  and  Freesia  and 
Jonquils etc.  
Okay.  At  our  house  this  August  we 
had  147mm  and  2018  we  had  86mm.  
For  2019  Tony  at  Parekura  Oneriri 
recorded 117mm.   
Our  wettest  August  since  1987  was 
1987  with  547mm,  and  our  driest 
August  since1987  was  2005  with. 
50mm. 
Our  first  8  months  of 2019 we had 
724mm and for 2018 we had 1347mm. 
oh  dear  what  a  difference.  You  will 
probably  need  another  water  tank  for 
summer this year.   
Our wettest first 8 months since 1987 
was 2018 with 1368mm and our driest 
was 1987 with 547mm.   
We  had  rain  on  21  days  in  August 
2019 and 2018 we had rain on 12 days. 
We had those terribly cold south east-
to-south  west  winds  that  were  terribly 
cold.  Some of the showers almost like 
snow. 
That  waterfall  on  the  Brynderwyn  is 
hardly falling very much.  It goes well 
when  we  get  some  rain  and  does  not 
seem  to  maintain  its  flow  for  long.   
Make  the  most  of  the  Spring  weather 
and get out there.   
Just  think  -  You  are  on  a  horse 
galloping at a constant speed. On your 
right  is  a  sharp  drop  off  and  on  your 
left  is  an  elephant  travelling  at  the 
same speed as you. Directly in front of 
you is another galloping horse but your 
horse is unable to overtake it.  Behind 
you is a lion running at the same speed 
as  you  and  the  horse  in  front  of  you.  
What must you do to safely get out of 
this  highly  dangerous  situation?    Get 
your  drunk  self  off  the  Merry-go-
round.  
Yes,  well  our 
weather is a bit of 
a  merry-go-round 
at  times.  Take 
care out there.  
~ Bev
. 
11  members  attended  the 
meeting on 22nd August. 
Four  members  are  attending 
Franklyn  Women's  Section 
Birthday  at  Pukekohe  on  9th 
September. 
Thank you, St. John 
St  Johns  have  given  us  a  new  coded 
Regulator,  so  we  need  to  renew  our 
knowledge  as  to  how  to  use  it, 
hopefully  it  won't  be  needed!!  Many 
thanks St Johns. 
Northland Conference 
The  main  topic  for discussion  was the 
Northland  Conference  to  be  held  in 
conjunction  with  Waipu  at  Hakaru  on 
the 5th October. 
Members we still need more items for 
raffles,  and  we  hope  to  make  a  big 
effort  with  the  sales  table,  baking, 
plants,  fruit  veges,  jams,  pickles, 
preserves,  and  knick-knacks  all 
popular.  There  will  be  9  other  Clubs 
attending  with  an  average  of  6 
members coming from each club. 
August  "Babes"  Hazel  and  Frances  - 
hope you had lovely birthdays, Ladies. 
The raffle was won by Heather. 
Next  meeting  26th  September  - Ann 
and  Dawn  are  on  afternoon  tea,  it 
would be lovely if we could have a full 
attendance. Keep well and warm, Ann 
HAKARU RSA 
WOMEN'S SECTION
HAKARU & DISTRICTS 
MEMORIAL RSA (INC)
Members & guests are invited to 
come along and enjoy our hospitality. 
New members welcome. 
Meals are served on Thursday and 
Friday nights from 6.30pm. 
Order from Blackboard Menu  
and a sing-a-long  
with Des Chitty. 
For more information please phone 
Graeme on 431 2563 
ON THE SHORES OF GOLD 
Tell me again of tales of old, acted out on the 
shores of gold 
There was a time when kauri giants lined the 
bays 
Axe and saw took them all away 
Land left bare and waters plundered 
Tangata whenua were torn asunder 
Memories lost and buried under the shores of 
gold. 
Settlers came and settlers went 
Names of places changed and meanings 
forgotten 
Some we know and some we don't 
History wrote of men seeking gum, of saw 
millers and farmers, Living life's dramas 
Taming the land on the shores of gold 
Fish factories appeared and took all the mullet 
No kai left for the gullet 
Bones were ground in Colbeck's mill and the 
soil did they till 
Cattle and pigs ran wild in the ever-shrinking 
bush 
Man's wrath made sure payment was a lead pill 
Masefield's three children were lost and 
drowned by the shores of gold. 
Spade and hoe dug the drains in the hope to 
tame the rains 
Tokatoka swamp vast and wide 
Sliced up into a green divide 
Grazed by Jersey and Friesian cattle beast 
Said to be better than a bog at least on the 
shores of gold. 
Now I stand on Whakapirau Beach looking out 
to beyond eye reach 
Gulls cry an unspoken tale of journeys taken - 
some nevermore 
Baches line the shore and kids lean out a door 
I take my leave and turn away 
I'll be back another day on the shores of gold. 
Liz Clark, Maungaturoto 
Winner of The Kauri Museum Poetry & Song Lyric 
Competition 
All your outdoor needs sorted so you don't have 
to... 
I can prune, chop, tidy, spray, mow, plant 
- you name it, I can do it! 
Residential & Commercial 
Lawn & Garden Care 
Call Rodney, your local  
lawnmowing contractor 
021 138 2344 
NORTH GLASS 
WINDSCREEN REPAIR OR REPLACE 
GLAZING SERVICES 
MIRRORS  •  SPLASH BACKS  •  SHOWERS 
0800 70 40 10
info@northglass.co.nz 
www.northglass.co.nz 
Ryan Lusty and Tracey's  
New Workshop is Now Open 
648 Kaiwaka-Mangawhai Rd, Hakaru 
Engtech Engineering facility is big, 
modern and ready to help solve problems 
for the wider community. 
www.kaiwaka.co.nz 
Kaiwaka Bugle - 3 September 2019 
Page 9 
ST PAUL'S  
ANGLICAN  
SUNDAY SERVICES
St Pauls Church: Kaiwaka-Mangawhai Rd. 
1st Sunday - Eucharist 
3rd Sunday - Family Service 
Priest in Charge Rev. W Thorton Ph 431 4122 
www.mangawhaianglican.org.nz
GROWING GREAT GARDENERS 
 A national search is on for young kiwi gardeners who have a 
passion for plants and dig gardening. 
The Yates Budding Young Gardener competition opens  
1st September to children aged 5-15 years, with all levels of 
capability,  who  just  love  spending  time  in  the  garden 
growing  things.  The  lucky  winner  will  become  a  Yates 
ambassador  for  one  year  and  win  an  amazing  family  trip  to 
Hawaii.  
Judge and gardening guru, Ruud Kleinpaste said learning how to garden sets children up 
for life.  "It  is becoming a  fading  skill  with  many of today's  kids  not knowing  what a 
seed is, or where potatoes come from.  As our lives get busier and more complex, the art 
of  gardening  becomes  more  important.    Producing  food  is  one  obvious  benefit  but 
caring for a plant can teach children about responsibility as well as science, nature and 
nutrition.  Taking time to learn the basics of gardening brings so many rewards," said 
Mr Kleinpaste. 
All  entrants  will  need  to  complete  the  entry  form, 
answer  a  number  of  gardening  questions  and  either 
submit  a  short  video  sharing  their  garden  and  what 
they get up to in it or photographs. 
Seven regional winners will be selected by the judges 
and  they  will  win  a  massive  Yates  Budding  Young 
Gardener  Hamper  valued  at  over  $300.    An  overall 
winner  will  be  selected  from  the  seven  regional 
winners and will be off to Hawaii with their family.  
The five-day visit will include flights, accommodation 
and  a  rental  car  plus  tickets  to  some  of  the  islands 
wonderful  natural  attractions.  The  grand  prize  also 
includes spending a  day in  your garden  with a  Yates 
horticulturist picking up some great skills and tips. 
 To  find  out  how  to  enter  and  terms  and  conditions 
visit 
https://www.yates.co.nz/budding-young-
gardener/.    Entries  close  Sunday  6th  October  2019 
and the grand prize winner will be announced during 
National Gardening Week (21-28 October). 
 NEW CATEGORIES, AWARDS, SPONSORS 
AND JUDGE FOR 2019 KAIPARA ART AWARDS 
Bulk Cartage 
Four  award  categories  and  two  new 
awards  have  been  announced  with  the 
calling of entries for the 2019 Kaipara 
Art Awards. 
"The  Kaipara  Art  Awards  encourage, 
highlight  and  celebrate  creativity  in 
Kaipara," said BelindaVernon, Kaipara 
Art  Awards  coordinator.  "We  are 
calling artists of all disciplines to enter 
a  new  work  (created  in  the  last  year 
and  not  previously  exhibited)  into  one 
of  four  categories:  Painting  (all  paint 
media),  Mixed  media  (including 
drawing  collage,  fabric  art),  Print 
Media 
(including 
printmaking, 
photography,  digital)  and  3D  & 
sculpture (including jewellery)." 
In  addition  to  the  four  core  award 
categories,  there  will  also  be  an 
Emerging  Artist  Award  sponsored  by 
Creative  Northland  and  a  People's 
Choice  Award  sponsored  by  The 
French Art Shop. 
The  Awards  will  be  judged  by  highly 
respected  artist,  writer,  curator  and 
judge,  retired  Professor  of  Fine  Arts, 
University  of  Auckland,  Dr  Carole 
Shepheard, ONZM. 
Entries 
close 
on 
Friday 
20th 
September,  with  artworks  to  be 
submitted in Mangawhai or Dargaville 
on Tuesday 15th October. The Awards 
will  be  judged  and  awarded  on 
Thursday  17thOctober  at  an  Awards 
Ceremony in the Courtyard at Bennetts 
of  Mangawhai.  This  will  be  followed 
by  exhibitions  in  both  Mangawhai 
(Mangawhai  Artists  Gallery)  and 
Dargaville (Muddy Waters Gallery). 
Creative  Northland  is  the  naming 
sponsor  of  the  3D  and  Sculpture 
category  together  with  the  Emerging 
Artist category. 
The French Art Shop is sponsoring first 
prizes  in  the  Painting  and Print  Media 
categories.  Long  term  supporters 
Mangawhai 
Optometrists 
and 
Westmoreland 
Homes 
are 
also 
sponsoring  prizes  with  the  Kaipara 
Lifestyler 
providing 
advertising 
support. 
"We  are  extremely  appreciative  of  the 
generous  sponsorship  received  from 
the business and creative community," 
said  KAA 
co-ordinator 
Belinda 
Vernon.  "Their  support  enables  us  to 
recognise and encourage creative talent 
and skill in Kaipara." 
Entry  forms  are  available  from 
kaiparaartawards@gmail.com 
or 
www.mangawhaiartists.co.nz or 
www.dargavillearts.co.nz  
Pictured:  Christine  Moginie  with  her  winning 
2D artwork from Kaipara Art Awards 2018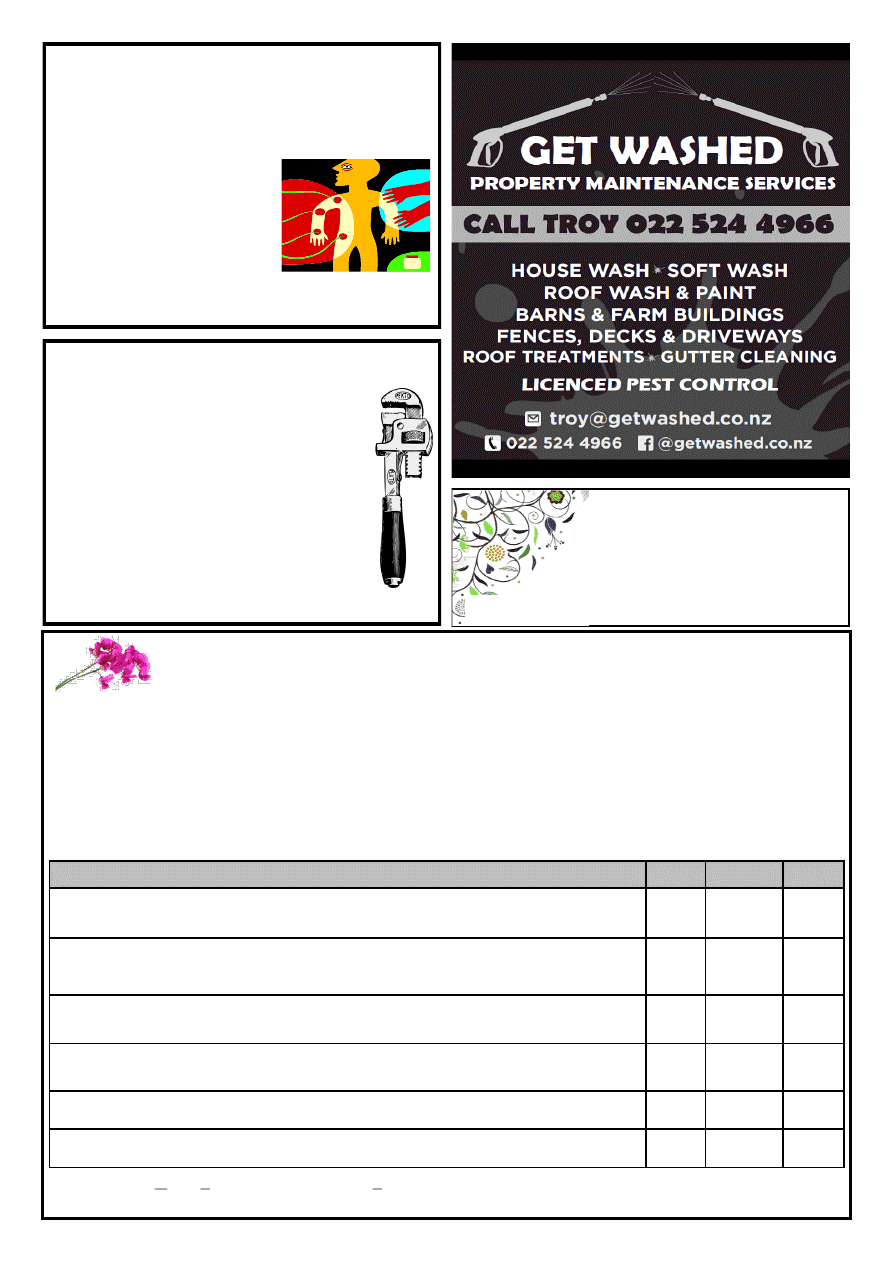 BARRY CURTIS PLUMBING LTD 
REGISTERED CRAFTSMAN PLUMBER 
Phone 431 5572 
027 257 9884 
25 years' experience 
Friendly reliable service 
All plumbing & maintenance 
Alterations and new housing 
Spouting  
Competitive rates 
PROMPT EFFICIENT SERVICE 
OWEN STEVENS 
Osteo Therapist
For careful adjustments to bones and joints 
Treatment for humans and their pets 
Clinics: 
Kate's Place, Kaiwaka: 
Last Friday of month 
For bookings: 
9.00am-5.00pm  
Phone 
09 4312661 
Or phone Owen  
09 4317123 anytime 
Kaiwaka Good Sorts 
Do you know someone in our community 
who is deserving of a beautiful bunch of 
flowers? 
Send an email to us at 
kaiwakabugle@kaiwaka.co.nz 
or drop a note to Jaques Four Square to 
let the Bugle team know. 
lindywatson@hotmail.com 
4312 847 
SEEDS FUNDRAISER 
Help us grow by beautifying your garden!  
Fund Raising for the Kaiwaka Sports Association 
Here is a great opportunity to purchase seeds to show your support. Seeds are easy to sow, fun to grow and will 
reward  you  with  gorgeous  flowers  year  after  year.  Prices  are  less  than  normal  retail  &  the  Kaiwaka  Sports 
Association will make 40% profit on all sales. Growing information is included on each packet. 
To  order  please  return  this  form  with  your  payment  by  4th  October.  Delivery  will  be  the  following  fortnight. 
Queries to Cheryl Anderson on kaiwakasports@gmail.com.  
Seeds Order Form 
Name:      _________________________________________ 
Phone number:     ___________________________ 
Seed Type 
Price
# Packs 
Total
Wildflower Bee Friendly Mix – 10 gms
Plant wildflower seeds, the ultimate in colourful low maintenance gardening, in your garden to 
provide essential nutrition for bees and other pollinating insects. Covers 10m
2
.
$10 
Wildflower Butterfly Garden Mix – 10 gms
An easy to grow gourmet blend of wildflowers specially formulated to attract butterflies into your 
garden. A balanced mix of colourful annuals and perennials that will cover an area of 10m
2
. 
Height: 30-70 cm
$10 
Fragrant Garden – 7 gms
A mix of fragrant flower seeds ideal for planter boxes around your outdoor areas. Packed full of 
colourful & heavenly scented wildflowers. Covers 7m
2
.  Height: 40-50cm
$7 
Micro Greens – 10 gms
'Micro Greens" is a term used for vegetables that are harvested at small seedling 
stage. They are a nutritious and tasty addition to salads. 
$7 
Sweet Pea – Summer Rainbow Mix – 20 seeds
A colourful & fragrant mix of climbing sweet peas. Plant against a fence or trellis. 
$5 
Sunflowers – 20 seeds
Sunflowers are a great way to add colour to your garden. Plus are super easy to grow! 
$5 
Payment options: 
…
Cash 
...
 Cheque (payable to KSA) 
...
Internet Banking 060365002247200 (use reference seeds and your full name) 
Ways to return form: 1) Post to Cheryl Anderson, 233 Baldrock Rd, RD2, Maungaturoto, 0587. 2) Drop off in KSA folder at Jaques 
Four Square. 3) Scan and email to Cheryl at kaiwakasports@gmail.com.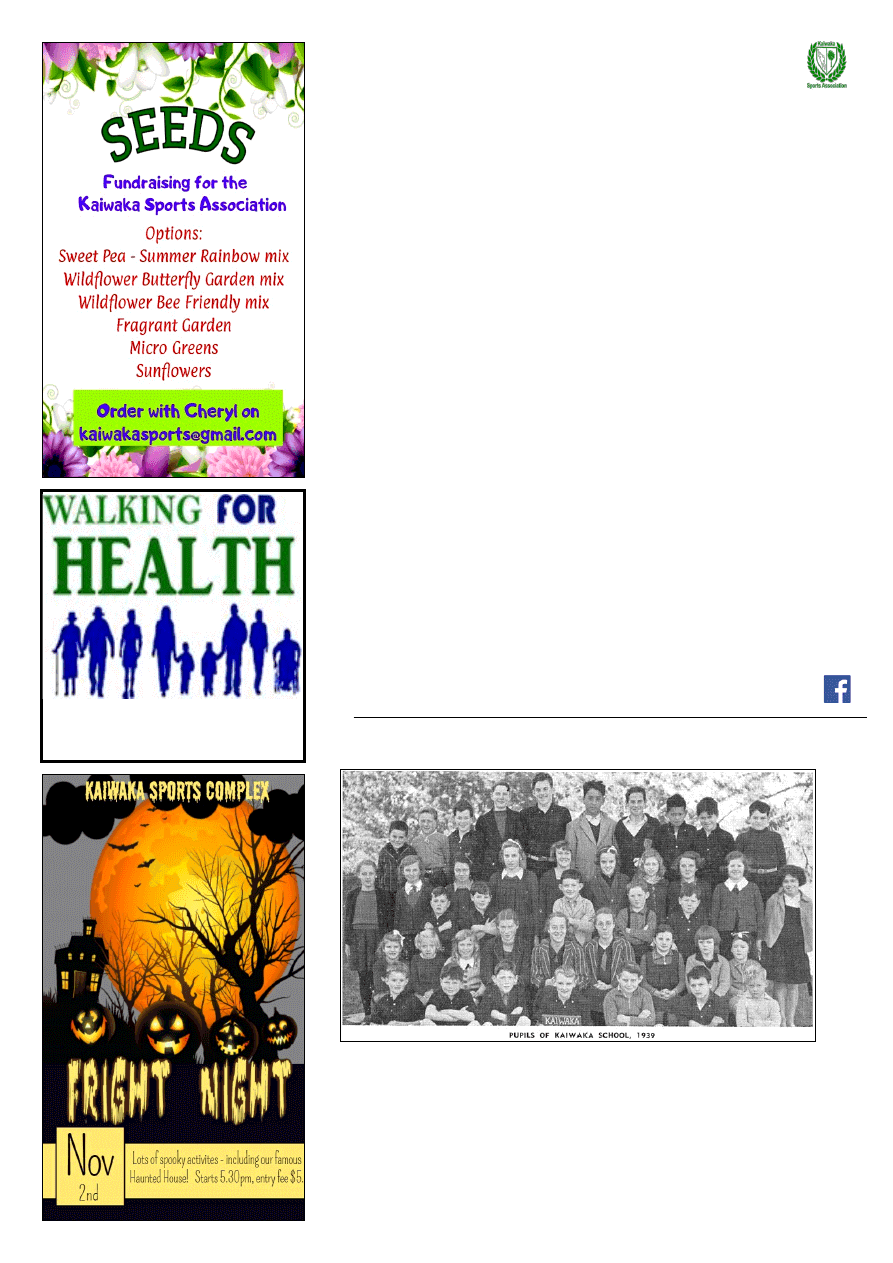 www.kaiwaka.co.nz 
Kaiwaka Bugle - 3 September 2019 
Page 11 
KAIWAKA SPORTS ASSOCIATION
Junior Hawks Prizegiving 
Our  Junior  Hawks  rugby  teams  held 
their 
prizegiving 
last 
week, 
congratulations to the prize winners: 
Under 14s: 
Player of the Year: Josh Sheppard 
Best Forward: Romen Miru 
Best Back: Toby Henderson 
Most Improved: Jayke Parker 
Teams Choice: Tawhetu Phillips 
Under 13s: 
Player of the Year: Tembo Kimani 
Best Forward: Kya Wilson-Hiraka 
Best Back: Wiremu Makea 
Most Improved: Junior Ulisala 
Teams Choice: Tembo Kimani 
Under 11s: 
Player of the Year: Zak Wakeling 
Best Forward: Max Kemp 
Best Back: Mason Thomas-Harris 
Most Improved: Kingsley Loughran 
Teams Choice: Maasi Schaumkel 
Rippa Rugby 
An 
inter-schools 
Rippa 
Rugby 
Tournament  will  be  held  at  our 
grounds  on  Tuesday  17th  September 
from 9am. Spectators welcome. 
Walking Group 
Join  Kaiwaka's  Physio  Amy  Griffiths 
on Mondays, for the Walking Group at 
our  Fitness  Trail.  There  are  two 
sessions every Monday: at 8.30am and 
at  4pm.  Have  a  walk,  a  chat  and  do 
some bird watching! 
Badminton 
Players  of  all  ages  and  abilities  are 
welcome at our Badminton club nights 
so  if  you  are  keen,  simply  turn  up  to 
our  gymnasium  on  Tuesdays  from 
7.30pm.  Only  $3  per  person,  play  as 
long as you like (please wear soft soled 
shoes).  Club  rackets  are  available  for 
you to borrow at no cost. 
Kaipara Sports Awards 
Nominations for the 2019 Silver 
Fern Farms Kaipara Sports Awards are 
now  open.  The  awards  aim  to 
recognise the achievements and service 
to sport by people from throughout the 
Kaipara District. It is an opportunity to 
showcase some  of the  amazing  people 
involved in sport. Nominations are due 
by 6 October 2019.  
Visit www.sportnorthland.co.nz 
Group Day 
Otamatea  Group  Day,  the  regional 
animal  showing  competition,  will  be 
held  at  our  grounds  on  Sunday  20th 
October.  For  details,  follow  the 
Otamatea  Group  Day  2019  Facebook 
page. 
Seeds Fundraiser 
I  am  running  a  Seeds  Fundraiser.  A 
couple  of  seed  packets  would  make  a 
great  little  Christmas  gift  for  those 
people in your life who are hard to buy 
for! 
An  order  form  is  in  on  page  10  - 
opposite,  of this Bugle.  
Fright Night – help please 
Our Fright Night will be in a couple of 
months  on  Saturday  2nd  November. 
This  is  one  of  Kaiwaka's  biggest 
events  of  the  year,  with  several 
hundred people coming along to enjoy 
our  Haunted  House  and  other  spooky 
activities. 
I  would  love  some  new  decorations 
and props to deck out the pavilion – so 
if  there  are  any  creative  people  out 
there  who  would  be  interested  in 
making 
some 
Halloween-themed 
items,  please  get  in  touch  with  me: 
cherylanderson051@gmail.com . 
~ Cheryl,     
kaiwakasports@gmail.com
REMEMBER THE 39ers?  
IS ONE of KAIWAKA SCHOOL'S OLDEST LIVING PUPILS HERE? 
Back  Row:  Bill  Wright,  Doug  Anderson,  Ray  Eltringham,  Jack  Mills,  Harry  Wright,  Ngapuhi 
Nathan, Ian Balderston, Benny Nathan, Eric Eltringham, Selwyn Gubb.  
4th  Row:  Merle  Stewart,  Bonnie  Gibbons,  Mary  Smith,  Inez  Wright,  Dorothy  Pierce,  Betty 
Wright, Eileen Gibbons, Joyce Dunn, Sonny Bowmar, Joan Eltringham.  
3rd Row: Ron Littin, George Eltringham, Murray Stewart, Ian (Sandy) Mills, Ernest Eltringham.  
2nd  Row:  Marjorie  Pierce,  Fay  Leabourn,  Gabrielle  Gibbons,  Jill  Mills  (twin  of  Jack  in  back 
row), Alvene and Noeline Stewart (twins), Linda Bowmar, Edith Smith, Elaine Ross.  
Front  row:  Doug  Leslie,  Clarrie  Eltringham,  Bill  Jaques,  Jack  Leslie,  Steve  Smith,  Owen 
Bowmar, Dick Brewer.  
❖We want to have a special commemoration with the oldest and youngest 
student at the school on the day. Please can you help find our oldest living  
former  pupil.  Respondents  should  contact  me,  Rosie  Ellis,  at 
principal@kaiwaka.school.nz  
At Kaiwaka Sports Assn. 
Fitness Trail 
Mondays  8.s0am and 4pm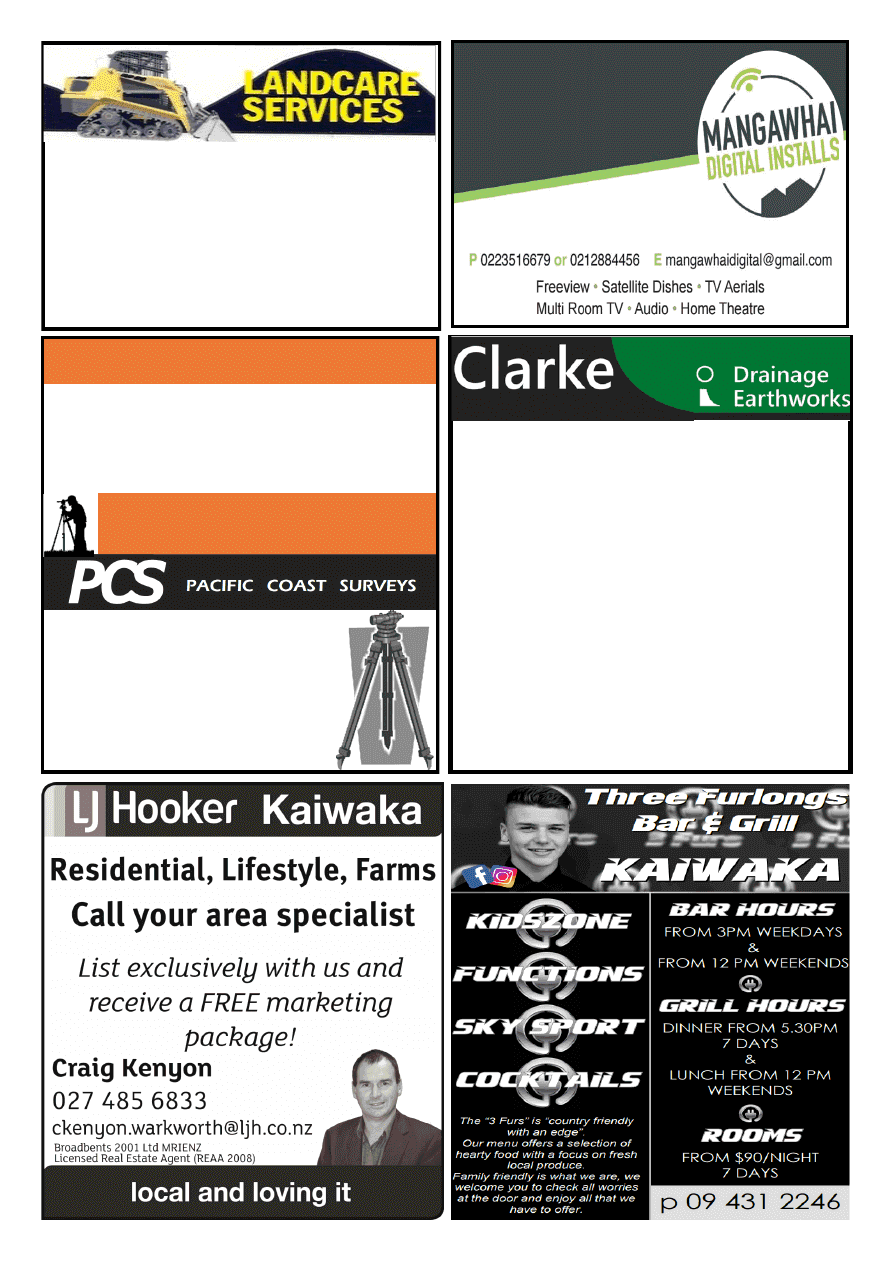 SURVEYORS 
SUBDIVISIONS 
HOUSE SITE SURVEYS 
CIVIL ENGINEERING 
WASTEWATER DESIGNS 
EXPERIENCED 
PROFESSIONAL 
INNOVATIVE 
Ph 09 431 5353 
0800 PACIFIC (0800 722 434) 
pacificcoastsurvey.com
Adam Booth - 027 415 5752 
Bsurv, Licensed Cadastral Surveyor
Surveying Kaipara since 1994 
LANDSCAPING 
4 IN 1 BUCKET 
TRENCHER 
POLE HOLES 
ROTARY HOE 
COMPACT ROLLER 
OFFAL HOLES 
CAN SUPPLY WOODCHIP & POST PEEL 
5 TON TIPPER 
FOR RELIABLE AND FRIENDLY SERVICE CONTACT DAVE 
Dave Hyndman 
 
KAIWAKA 
PH: 09 4312302 
MOB: 021 431 238 
Drainage & Earthmoving 
nigel@clarkedrainage.nz 
027 2233 185 
Registered Drainlayer                 All Types of Earthworks  
> All Residential & Commercial Work  > House Sites 
> Septic System Design & Install 
> Footings & Drilling to 10m 
> Sewer Connections 
> Dams 
> Water Tank Installation 
> Roading & Races 
> Farm Work 
THE ONE STOP SHOP  
Phone Nigel for an Obligation Free Quote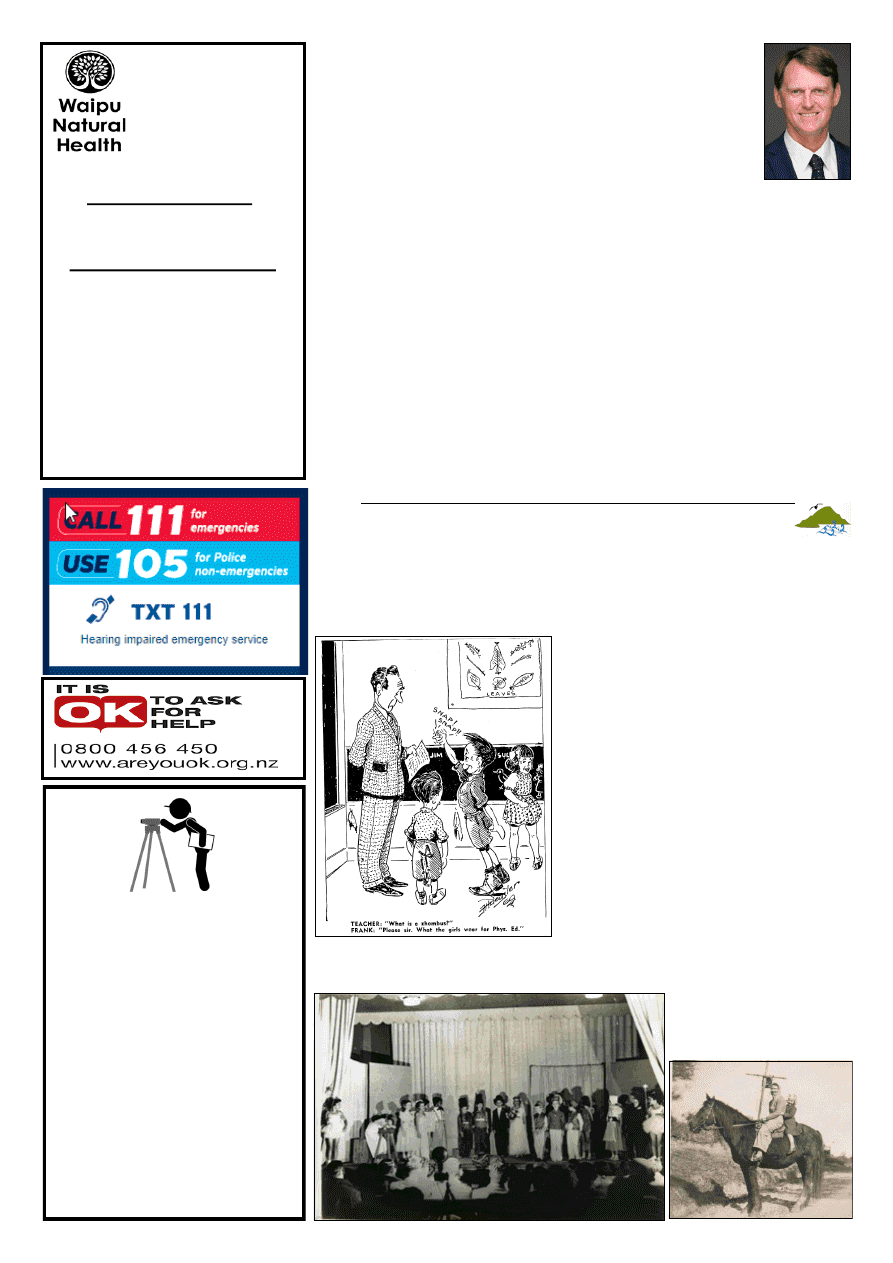 www.kaiwaka.co.nz 
Kaiwaka Bugle - 3 September 2019 
Page 13 
Ken Urquhart 
BSurv Licensed  
Cadastral Surveyor 
KMU Surveys Ltd 
467 Bickerstaffe Road 
RD 2 
Maungaturoto 0587 
Ph 09 431 8705 
Mob 021 161 2344 
kenurquhart@xtra.co.nz 
Good news for Kaiwaka reserves 
In  earlier  columns  I  have  reported  on 
the  large  amounts  of  funds  collected 
from  development  from  the  greater 
Kaiwaka area from development. After 
a  couple  of  years  of  persistence 
including  a  full  policy  review,  I  am 
pleased to announce that some funding 
is finally coming this way. Earlier this 
year  a  budget  allocation  of  $150,000 
was  made  for  Kaiwaka  reserve 
projects.  
At  last  week's  Council  meeting  the 
investigation  and  delivery  of  two 
projects was approved. 
The two projects are 
– 
⚫
Installation of the Kaiwaka Fitness 
Trail 
equipment 
(approximately 
$60,000). 
⚫
Development of the Rangiora Road 
Reserve and Boat Ramp (budget to be 
determined). 
I  am  also  looking  to  see  maintenance 
and improvements to the parking areas 
at the Kaiwaka Sports Association and 
am working on that this week. 
This  is  a  good  start,  but 
there 
have 
been 
significantly  more  funds 
collected  locally.  I  hope 
to  see  more  of  these 
funds  used  locally  over 
the  next  couple  of  years.  I  am 
interested  to  hear  what  locals  would 
like.  
What would you like to see developed 
in  the  Kaiwaka/  Hakaru/  Oneriri/  and 
Oruawharo area in the way of reserves 
and recreation? Please let me know. 
If you have any community projects or 
issues  that  you  would  like  assistance 
with, I can be contacted on Ph. 021 185 
8389 
or 
jlarsen@kaipara.govt.nz. 
Check  out  my  'The  WorkBoot 
Councillor'  Facebook  page  for  regular 
updates.  
For  any  roading  maintenance  issues 
please  email  council@  kaipara.govt.nz 
and  describe  the  defects  requiring 
repair  (potholes  etc.)  and  their 
locations.
*The  views expressed are  those of  the writer  and do 
not  necessarily  represent  the  consensus  position  of 
Council. 
KAIWAKA SCHOOL PHOTOS 
Our 150 years celebration planning is going well, in readiness for the  reunion 
celebration at Labour Weekend 2020. 
Please do you have any old photos of the school buildings and grounds over the 
years.  These  are  to  put  onto  our  timeline.  All  members  of  our  community  are 
welcome to come up to school to help us out with the timeline, where we want 
to indicate significant events in the school community over the 150 years.  
For  example,  does  anyone  have  photos  of 
the  building  of  the  school  swimming  pool 
and the later extension? Or school concerts 
and calf club days, as pictured below. 
Left:  This  cartoon  …"has  been  drawn  and 
donated  by  Hans  Haeusler  who  graduated  to 
school  teaching  from  the  school  at  Kaiwaka 
in  the  years  1911-16,  and  over  the  years 
following  became  one  of  the  foremost 
cartoonists in the country.  In his memoirs of 
his  younger  days  at  the  school  house  at 
Kaiwaka,  Hans  recalls  coming  by  rail  to  Te 
Hana, then the rail head, in 1910 and thence 
by "road" to the school residence at Kaiwaka, 
a road on paper only; deep mud and no sign 
of  metal  was  the  order  of  the  day.  To  quote 
Hans Haeusler, "I carried my bicycle from Te 
Hana to the school at Kaiwaka, I had brought 
it from  the Waikato where we were last at a 
schoolhouse. I recall coming to Ross Hill and 
talking  with  Frank  and  Dick  Leslie  and 
Nobby  Keith,  who  were  clearing  bush;  and  how  they  looked at  me,  a  young  chap 
carrying  a  bicycle;  it  was  impossible  to  ride  on  these  roads…" 
reference  'The 
History  of  Education  in  the  Kaiwaka  District  ~  100  Years  of  Progress  1870-
1970'. Hans Haeusler was 
assistant  teacher  for  his 
mother  who  was  head 
teacher 1910-1917. 
3 Cove Road, Waipu 
(opposite the Pizza Barn
) 
094321325 
www.waipunaturalhealth.co.nz 
Clinical Nutritionist: 
Nutritional Checkups, Diets for 
Chronic Diseases,  
Food Sensitivities 
Naturopathic Physician: 
Ozone Therapy, Prolotherapy, 
Mesozone 
Reflexology, Craniosacral 
Therapy, Trauma Release 
Massage Therapy 
Counselling and Hypnotherapy 
Change Catalyst/ThetaHealer 
Affordable Children's Consults 
All therapists are fully qualified
THE COUNCILLOR'S COMMENT* 
with Otamatea Ward Councillor Jonathan Larsen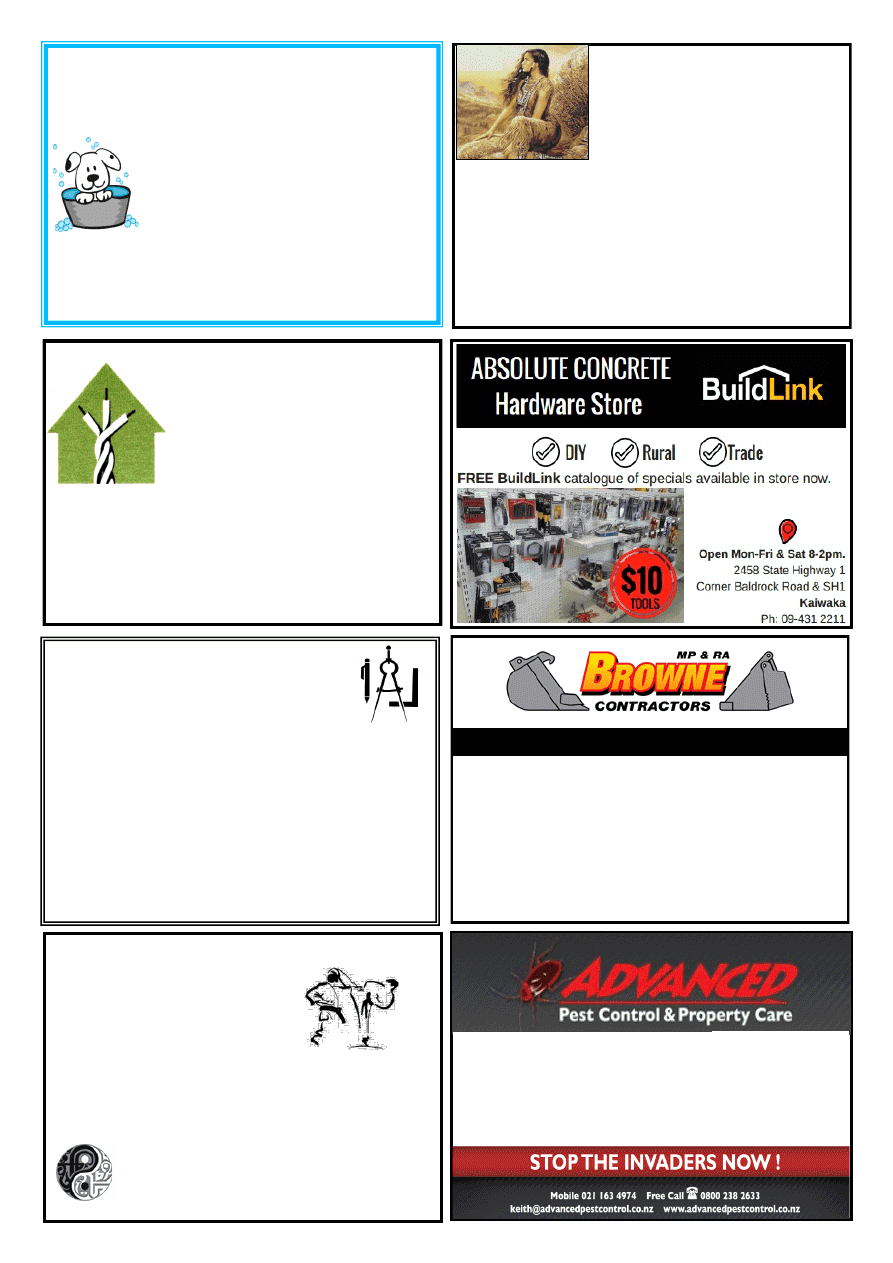 4T DIGGER – BOBCAT – TIP TRUCK 
Property Maintenance - Driveways  
 Building Sites 
Stump & Tree Removal  
Hole Boring - Chain Trencher  
Calf Shed and Stockyard Cleaning 
Phone Matt: 021 199 6677 
Email: mprabrownecontractors@gmail.com 
Reyahn George 
Leng 
Registered Electrician 
Local, honest and reliable. 
For your residential and 
light-commercial projects. 
022 314 1068 
TRAILS END 
RONGOA MAORI 
HEALING 
And Gifts 
Stocking all your needs from incense, crystals, dream 
catchers, greeting cards, jewellery, perfume, dragons and 
more dates for groups each month are: 
August 25th ~ September 22nd 
October 27th  ~ November 24th ~ December 15th 
From 10.30-2pm  
For all inquiries Phone 0211652629  
Light refreshments available $5 koha  
1758 Cove Road Mangawhai
Pest Control 
PLAN A: One-off treatments to customers with a specific pest problem 
PLAN B: Full maintenance service plans to commercial customers. 
This will include documentation kept in customer file on site: 
⚫
Pest treated 
⚫
Date of service 
⚫
Chemical or baits used 
⚫
Full pest check report done after each treatment 
⚫
Fair and reasonable fee with guarantee 
Flood Recovery 
Carpet Care 
⚫
Carpet Drying 
This includes pre-spray treatments 
⚫
Dehumidifier Rental 
with stain removal and hot water extraction.  
⚫
Full Commercial Cleaning  Patch repair also available 
Upholstery Cleaning 
Full upholstery cleaning of all furniture.  
eg lounge suites and all office chairs 
Water Blasting 
⚫
Concrete - Decks 
House Washing 
⚫
Soft Chemical Was 
⚫
Pre-painting Wash 
Property Services 
⚫
Property Cleaning  Lawn Mowing 
⚫
Hedges General   Tidy Ups 
Hot Diggity Dog 
DOG GROOMING 
All breeds dog grooming 
Professional Experienced Groomer 
Short practical grooms - summer 
Breed Standard Grooms 
Designer fusion Grooms 
Oneriri Road
By appt Phone Pam 09 4312143 
Or text only 0273335380 
Email  hot.diggitydog@outlook.com 
SELF DEFENCE KEMPO 
Fitness, Confidence, 
Discipline, Respect,  
Self-awareness 
Classes for all ages in: 
 Mangawhai
Kaiwaka Wellsford
For more information please contact
 Otamatea Martial Arts
otamatea.kempo@farmside.co.nz 
Phone 09-431-5170 
www.facebook.com/otamatea.kempo 
design drafting  
service 
Retired builder and manufacturer with over 40 years  
experience in the building industry is offering a design 
drafting service for domestic housing, sleepouts and 
sheds.  
Plans formulated in consultation with clients, with 
working drawings completed and submitted to  
council for processing.  Extensive practical experience,  
able to identify & resolve problems. 
Please ring Mike Lean on 
09 431 2260 
or 
021 431 196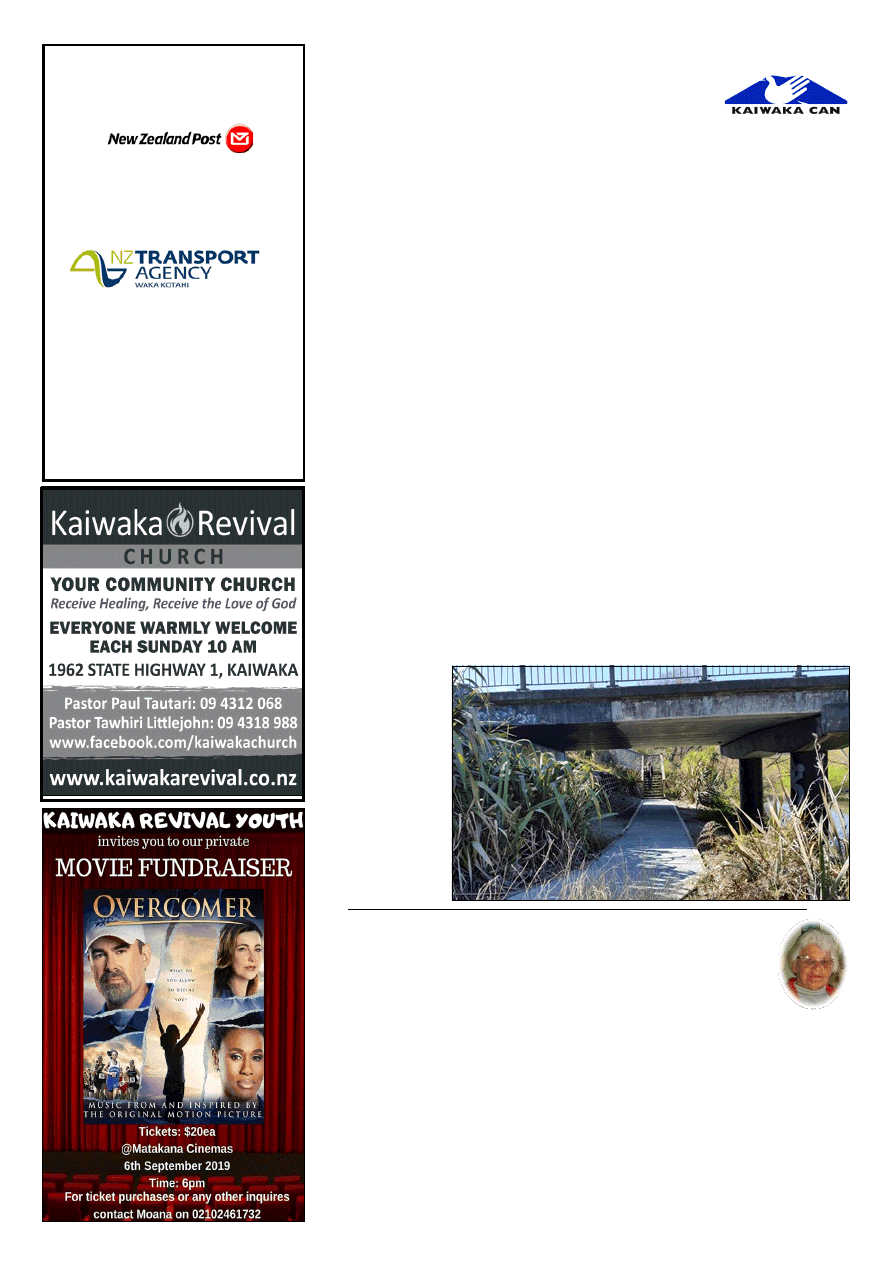 www.kaiwaka.co.nz 
Kaiwaka Bugle - 3 September 2019 
Page 15 
KAIWAKA POST 
CENTRE and 
FOOD MART 
POST CENTRE TRADING HOURS 
MONDAY to FRIDAY 8am to 5pm 
SATURDAY 8am to 12pm 
CLOSED ON SUNDAY and on 
PUBLIC HOLIDAYS 
FOOD MART (GROCERIES) 
MONDAY TO FRIDAY  
7:30am to 7.30pm 
SATURDAY  8am to 7.30pm 
SUNDAY  8:30am to 7pm 
IF ANY QUERIES PLEASE CALL 
STORE MANAGER AMRIT  
on 09 4312431 or 
EMAIL: kaiwakafood19a@gmail.com 
1919a State Highway1, Kaiwaka 0542 
Spring  is  a  great  time  of  year.  The 
leaves come back. The blossom starts. 
And of course there's some rain in the 
mix as well. 
Kaiwaka  Can  feels  like  it  is  getting 
close  to  spring.  There  are  signs  we 
might see a bit of action on some of the 
dreams  and  plans  our  community  has 
had for a long time. But there is always 
delay, always something to slow things 
down  and  we  are  working  through 
some of this at the moment. 
Anyway,  some  of  the  things 
beginning to move. 
We have fresh interest in getting some 
of  the  lighting  under  way.  We  have 
good  people  with the  skills  to  make  it 
happen.  We  have  ideas  and  also  have 
some  of  the  interesting  frames  left 
from  the  height  of  our  'little  town  of 
lights'  fame.  We  have  a  bit  of  money 
to  use.  So  hopefully  that  will  lead  to 
results. 
Kaiwaka  Central  has  a  few  signs  of 
life  too.  Council  plans  to  do  some 
geotech work on the areas affected by 
our plans – mainly round the southern 
bridge. A group is also scoping out and 
costing  what  it  would  take  to  get  a 
walking  bridge  across  the river  on  the 
western  side,  to  connect  Kaiwaka 
together  a  bit  more.  A  new  concrete 
path has gone in under the bridge - see 
picture below. 
Eric  Jansseune  brought  us  up  to  date 
with  his  plans  for  a  power  solutions 
meeting  based  on  solar  solutions. 
There  is  a  public  meeting  on  this 
September  7th    in 
the  Memorial  Hall 
– a must attend for 
anyone 
who 
watches 
their 
power bill closely. 
It  was  good  to 
have a report from 
the 
school 
including the news 
their 
150th 
anniversary  will 
be 
Labour 
weekend next year. 
Quite 
an 
achievement! 
The  environmental 
group  does  a  great 
job  working  quietly 
to  make  our  place  safer  and  greener 
with  special  emphasis  on  major  weed 
pests and also predator control. 
The  reserve  contribution  fund  has 
been  the  topic  of  a  lot  of  discussion 
recently as we try to understand 
the  relationship  between  what  our 
district has taken in by way of reserve 
contribution payments and what is left 
and  available  for  our  town  and 
surrounds  to  use.  Three  key  groups  in 
Kaiwaka are working with groups from 
Mangawhai to try and get clarity.  
The aim of the reserve contributions 
is to increase the  quality  and  scope  of 
reserve  and  recreational  facilities  to 
compensate for  population  growth.  As 
the  second  fastest  growing  area  in 
Kaipara, we certainly have the need for 
an  upgrade  of  what  is  available  to  us. 
Watch  this  space  for  developments 
especially  as  local  body  elections  are 
very close. 
We  are  working  to  establish  even 
greater  collaboration  between  the 
various  organisations  in  Kaiwaka  so 
that we have maximum impact for our 
community.  And  part  of  that  is  the 
involvement  of  individuals  and  we 
enjoy  the  steady  flow  of  new  faces  in 
our work.  
We  look  forward  to  seeing  your  face 
on  a  third  Wednesday,  5.30pm  at 
Archie Bull Hall. 
Derek 
Christensen 
(Chair) 
09 
9469, 
0273572751 or derekandisa@google.com 
From Thelma's Scrapbook … 
He was 28 when we first met and for him it was love at first sight. 
It took me a little longer to realise that I loved him as I loved no 
other. It didn't occur to us that our time together would be short. 
Ruggedly handsome, he worked underground at the pit and, like many 
miners he delighted in sunlight, fresh air and open country. We went for 
long walks together, in search of the first catkins, bluebells and acorns. 
He believed that the strong should protect the weak and, although he was 
tough, he could be wonderfully gentle. He was devoted to his dog, his pit-
pony and his blind bantam hen. 
He was killed by a roof-fall when he was 33 and I was 5 ½, but our love 
warms me still. 
My first love was, of course, my father. 
HOPE YOUR FATHERS' DAY WAS HAPPY ALL YOU DADS!! 
KAIWAKA CAN: Waiting for blossom time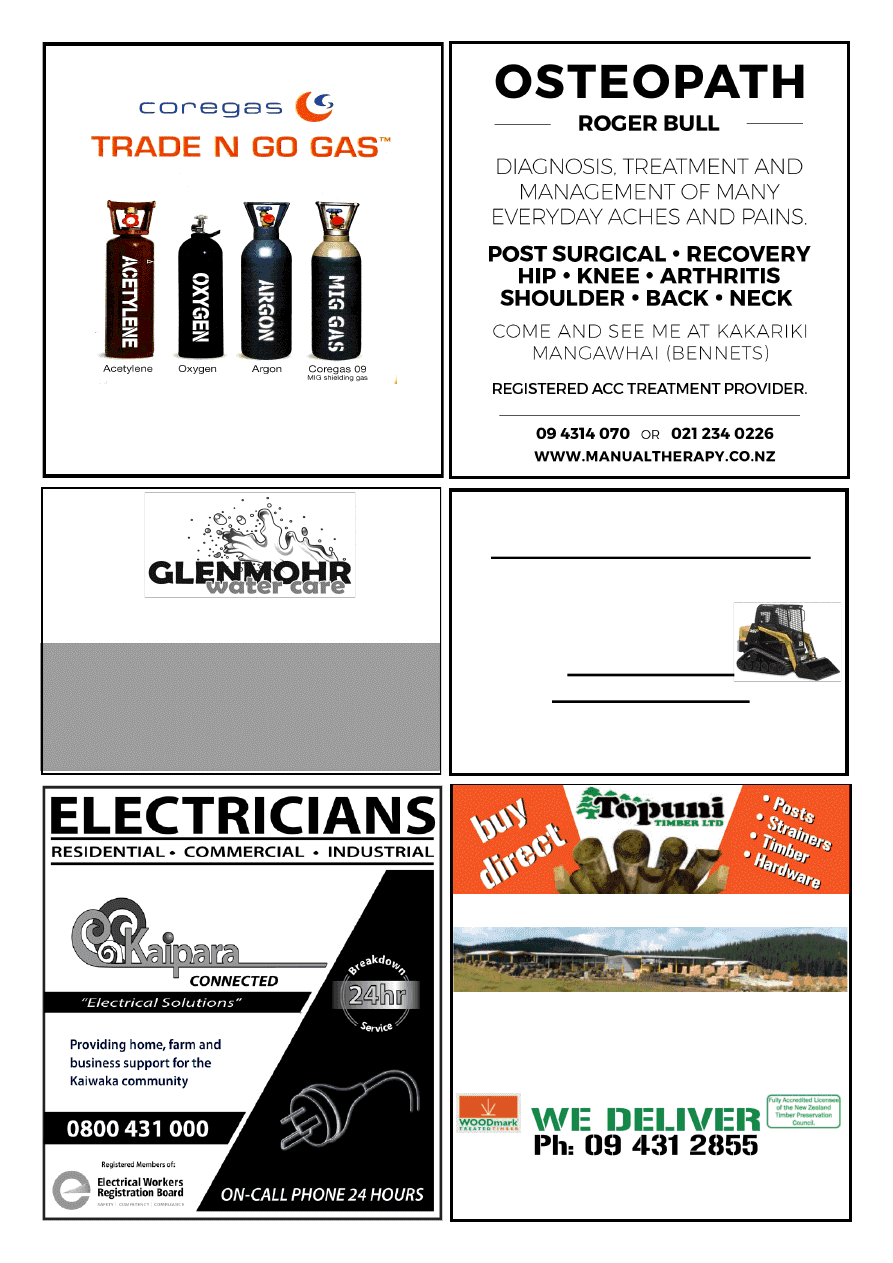 At Twinkle Tow 'n' Tyre 
Mob: 021 833 960 
Ph & Fax: 09 431 2823 
1837 State Highway 1, Kaiwaka 
Water Tank Cleaning 
• 
Keep your water safe & clean  
• 
Removal of sediment, silt etc. 
• 
Vacuum or full scrub 
• 
Minimal water loss 
Phone Mark (09) 432 0655 or 0274 707607 
LOCALLY OWNED AND OPERATED 
QUALITY PRODUCTS • FRIENDLY ADVICE • GREAT SERVICE 
Quality Products milled from High Density NORTHLAND Radiata Pine. 
Treated and guaranteed to NZS3640 with commitment to 
Environmental Safety.
Phone, fax, email, or come into the mill 
Schiska Rd, Topuni, SH1, 10 min north of Wellsford. Fax: 09 431 2856 
Email: sales@topunitimber.co.nz           Mon - Fri 7am-5pm 
• Fencing 
• Retaining 
• Decking 
• Landscaping 
• Gates 
• Hardware 
Natural Earth Ltd 
Landscape and Bobcat services 
 : Driveways :Landscaping :Retaining Walls 
 : Hole Boring: Land Levelling :Trenching 
 : Decks :Fences :Sections Cleared 
 : Plus much more
Tel 09 4312 885 
Mob 02102391280 
For A Fast Friendly Service  
Contact Tim Hicks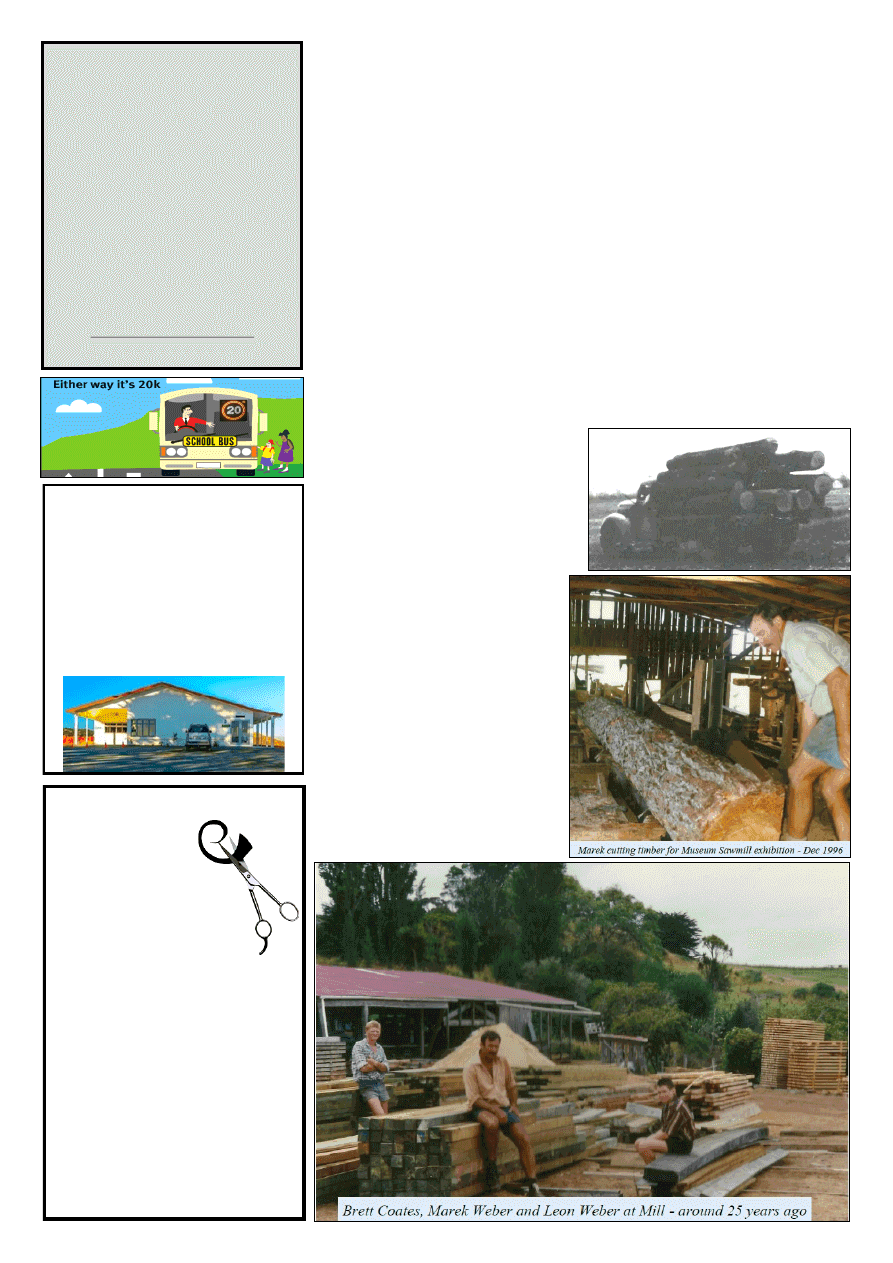 www.kaiwaka.co.nz 
Kaiwaka Bugle - 3 September 2019 
Page 17 
JUST 
CUTS 
and 
MORE  
1758 Cove Road  
Open Monday-Saturday  
by appointment only 
Saturday 9-12pm  
Affordable prices: 
Ladies cuts from $35 
Colours from $120 
Men's from$25 
Kids from $18 
0211652629  
Te Pounga Marae 
130 Nathan Rd. Oneriri. Kaiwaka 0573 
COMPLEX FOR 
HIRE 
Functions: * Weddings  * Birthdays  
*Anniversaries * Meetings  * Wananga 5 
hour meeting * 12 hour stay or Overnight 
*All welcome   
For more information please contact: 
 Pearl Nathan 0223933533 
Email: tepoungamarae130@outlook.com  
Maungaturoto  
Country Club 
SPORTS - SOCIAL - CONFERENCE 
CENTRE  
Open for drinks and dining – Thursday 
and Friday evenings from 6.30pm  
EVENTS ROOM AVAILABLE FOR HIRE  
Affiliated activities: Bowls, Squash, 
Rugby, Theatre, Motorcross, Equestrian. 
❖
Walkway CLOSED from 1 July till 
September for lambing. 
❖
Yearly membership fees - only 
$15 per person   
PO Box 81 Bickerstaffe Rd 
Maungaturoto 0547 Tel 09 4318 326 
maungaturotocountryclub@gmail.com  
MATAKOHE SAWMILLING:  
END OF AN ERA 
So this month [August] marks the end 
of an era, as Marek Weber cuts his last 
lengths  of  timber,  cleans  his  last  saw 
and serves his last loyal customers.   
This  is  a  story  written  by  Marek's 
mother June Weber,  who sadly  passed 
away last month, aged very nearly 95. 
It has been published by the Matakohe 
Messenger  previously,  so  please 
forgive us for publishing it again. 
"A long history of sawmilling  
In August 1955 the Weber Sawmill on 
Tinopai  Rd  was  opened. This  year  the 
family celebrate 60 years of operation. 
This is quite an achievement, but when 
you look back at the history of the mill, 
you  discover  that  Webers  have  been 
sawmilling  in  the  Matakohe  area  for 
longer than that. In the early 1900s the 
sawmill began its life as a portable unit 
owned  and  operated  by  Bruno  Weber 
of Hukatere.  
It  was  taken  to  farms  in  the  district  to 
cut  kauri  stumps,  natives  and  other 
trees,  until  it  became  redundant  about 
the  1930s,  when  it  was  stored  away. 
When  Bruno's  son  Ken  returned  from 
overseas at the end of the war in 1945 
he bought a farm "Te Kawau" from the 
Thomas  Coates estate. Ken  and  Bruno 
re-established  the  mill  there  to  cut 
the  many  mature  pines  and 
macrocarpa on the farm into timber, 
which  found  a  ready  sale.  Farmers 
would  also  bring  their  logs  to  be 
sawn  to  suit  their  needs.  Ken 
married  June  Mockett  in  1946  and 
eight  years  later,  with  four  children 
and  schooling  and  transport  to 
consider,  they  bought  the  two 
sections at Matakohe by the Te Mate 
o Te Tawa creek (on Tinopai Rd, the 
current  site  of  the  sawmill).  Ken, 
with  his  fathers  help,  built  a  house 
and  once  again  re-established  the 
mill.  The  mill  opened  on  the  12th 
August 1955 and is still in operation, 
now  owned  and  operated  by  Ken's 
son Marek. Marek took over the mill in 
1976. 
With a local history this extensive, it is 
only  right  that  it  is  preserved  in  the 
local museum, so if you head into The 
Kauri  Museum  you  can  visit  Marek 
working in the sawmill exhibition. The 
vertical  breakdown  saw  that  Marek  is 
operating  was  located  in  the  mill  until 
it  was  replaced  with  the  saws  that  are 
still in use today." 
Marek  is  still  at  the  mill,  tidying  up, 
talking  to  those  same  loyal  customers, 
but  it  wont  be  for  much  longer.  He  is 
heading  towards  retirement  finally  -  a 
chance to go fishing (though without a 
boat  it  is  difficult),  hunting  and  spend 
time  with  friends  and  family. 
BW 
(Belinda Weber) Printed with permission of the 
Matakohe Messenger, Editor L Cates. 
Below: Their first truck - purchased in 1955 for 
$350. It was a 1947 KB-7 international .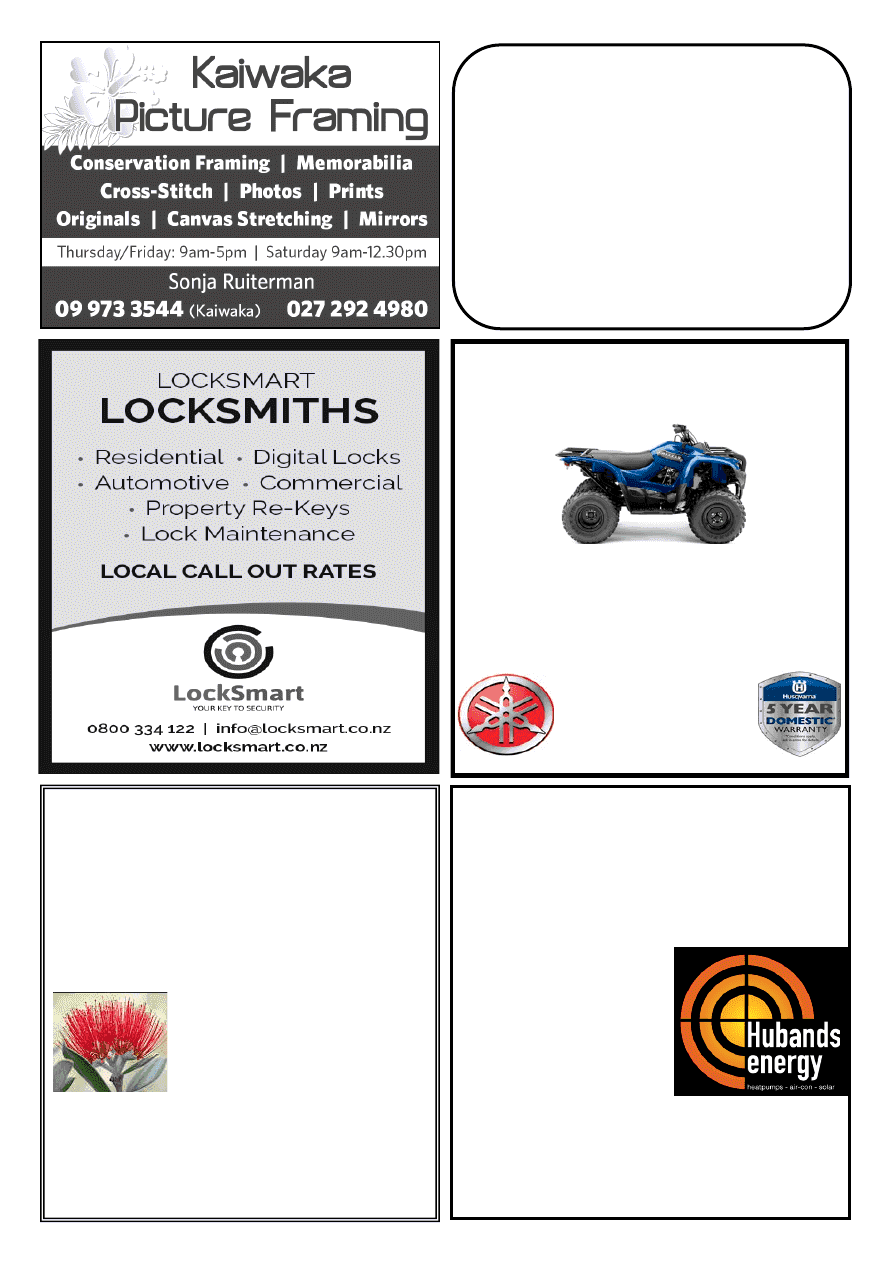 KAIWAKA 
MOTORCYCLES LTD
SALES – SERVICE – SPARES 
FARM BIKE SPECIALIST
PHONE 09 431-2127 
10 KAIWAKA-MANGAWHAI ROAD, KAIWAKA
Trimmers  
from $279
Chainsaws  
from $339
YAMAHA 
HUSQVARNA 
Northland's Award Winning 
Solar Company
SEANZ Best Solar Business Winners 2015/16
EXCLUSIVE 10 year installation warranty 
FREE No obligation onsite quote
Complete systems 
from $5990
See our range of: 
✓ 
Heatpumps 
✓ 
Airconditioning 
✓ 
Hot Water 
Heatpumps 
✓ 
Central Vacuum Systems
09 430 0019             sales@hubands.co.nz 
15 Kioreroa Road, Whangarei
Locally owned and operated for 35 years 
UP-LINK 
CHRIS WARING 
FREEVIEW INSTALLATIONS 
T.V. - HOME THEATRE &  
HI-FI ADVICE/SET UP
SKY ACCREDITED INSTALLER
MOB.0273403747 HM.094312328 
EMAIL cwaring44@gmail.com
28 YRS EXPERIENCE 
OFFERING UNBIASED ADVICE 
KAIPARA FLOORING CO 
Independently owned & operated 
32 HURNDALL ST MAUNGATUROTO
Supply & Installation of Carpet, Vinyl,  
Vinyl Wood Planking
Stockists of 2m & 3m wide 
vinyl & carpet short ends
Residential & Commercial
Q Card Finance Approved 
6-18 month terms 
6 mth interest free
First Class Installations
For a free measure & quote 
phone Christine  
09 946 9886 or 021 515 415 
kaiparaflooring@gmail.com 
http://www.kaiparaflooring.co.nz/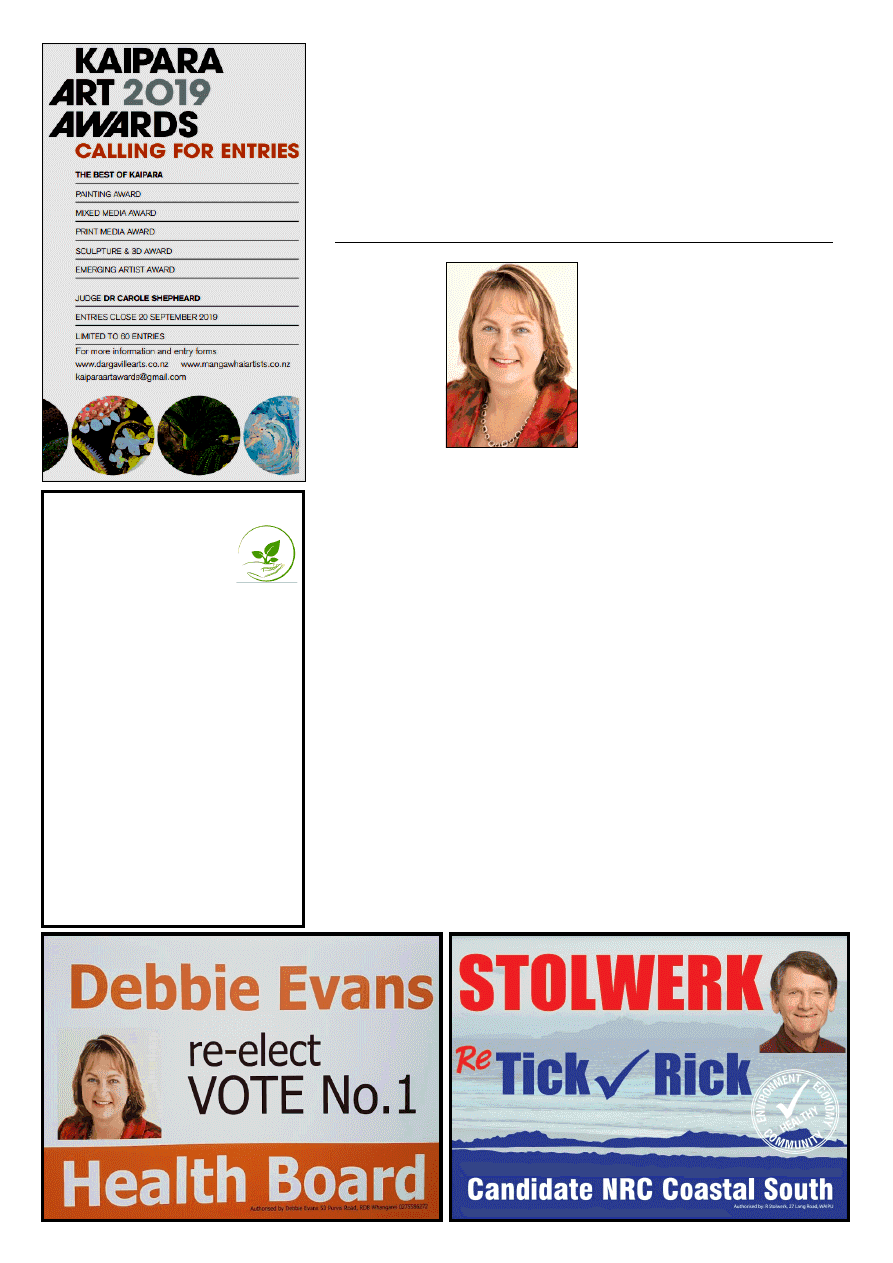 www.kaiwaka.co.nz 
Kaiwaka Bugle - 3 September 2019 
Page 19 
TODAY IN HISTORY: 3 SEPTEMBER 1939
Simply and Naturally 
Herbal Health
Individual care for  
your health and wellbeing 
Julie-ann Stacey 
B. N, Dip Nat, Dip 
H.M, Cert F.Med 
Naturopath, Medical Herbalist and 
Functional Medicine Health Coach 
Experienced in conditions such as 
Cancer, Thyroid imbalances, 
Diabetes, Parkinson's Disease, 
Autoimmune issues and many 
more. 
I can create a wellness plan to 
suit the individual 
Comprehensive Health 
Consultations available  
RICK STOLWERK 
Candidate NRC : 
Coastal South 
I  am  passionate  about  our  Northland 
environment,  protecting  it  as  well  as 
encouraging  sustainable  economic 
development  in the region. I believe in 
healthy  communities,  which  support 
one another. I understand the pressures 
on  the  environment  and  on  people. 
Environmental, economic and commu-
nity integration is vital. 
This  regional  council  has  achieved  a 
great  deal  in  improving  water  quality, 
controlling  flooding  and  pest  manage-
ment, however  the  job  has  only  just 
begun. I see my role in the next term 
of  council  as  assisting  in  building  on 
these  achievements.  One  way  these 
ambitious  targets  can  be  achieved  by 
the incoming council is by further sup-
porting a strong community base from 
which  to  move  forward,  especially  in 
the eradication of pests. 
Without  community  support  this  re-
gion  will  not  move  forward  economi-
cally  or  ecologically.  It  is  paramount 
that  our  'Volunteer  Army'  of  7000+ 
community members is supported, en-
couraged  and  most  importantly  in-
creased  across  all  council  work 
streams.  The  acceptance  of  'Citizen 
Science'  as  a  way  forward  is  produc-
ing  impressive  results  and  engaging 
ever  increasing  members  of  our  com-
munity.  As  individuals  we  cannot 
achieve  these  ambitious  targets,  in-
creased  council  supported  and  coordi-
nated community initiatives are essen-
tial in moving Northland forward.  
Authorised  by    Rick  Stolwerk,  27  Lang  Road, 
Waipu 
DEBBIE 
EVANS  
2019 
Northland 
District 
Health 
Board 
Elections 
Debbie Evans is serving her third term 
on  the  Health  Board,  initially  as  a 
Government  Appointee  and  then 
Publicly  Elected.  Debbie's  an  active 
member  whose  contributions  are 
valued  at  the  Board  table.  A  logical, 
critical  thinker  who  is  able  to  analyse 
and  challenge  management,  she 
doesn't  shy  away  from  the  hard 
questions.  Known  as  a  'voice  for  the 
community',  Debbie  is  CEO  of 
Kaipara  Community  Health  Trust  and 
has  significant  governance  training 
through  NZ  Institute  of  Directors. 
Raised  in  Ruawai,  married  to 
Maungakaramea  Dairy  Farmer  Rex 
Buisman,  Debbie  is  committed  to 
Northland and focused on making sure 
we  have  a  quality  health  system  that 
services the needs of Northlanders. 
Debbie  would  like  to  utilise  her 
experience  and  continue  serving  the 
people of Northland. 
Her  mission  is  to  ensure  locals  have 
access to the best healthcare as close to 
home  as  possible.  Voting  Debbie 
Evans  'Number  1'  is  a  sound 
investment. 
Authorised by Debbie Evans, Purvis Road, RD8 
Whangarei 0178, 0275586272 
Alongside Britain and Australia, New Zealand was one of the first countries to 
become involved in the global conflict precipitated by Germany's invasion of 
Poland on 1 September 1939. 
When  formal  advice  of  the  expiry  of  the  ultimatum  was  received  the  acting 
prime minister, Peter Fraser, issued a statement confirming that New Zealand 
was at war:  "This is not an occasion for many words; it is a dark day in the 
history  of  the  world  …  It  is  with  deep  regret  and  sadness  that  I  make  this 
announcement on behalf of the Government, and the people will receive it with 
similar  feelings.  That  will  not,  however,  affect  the  determination  of  both 
Government and people to play their part."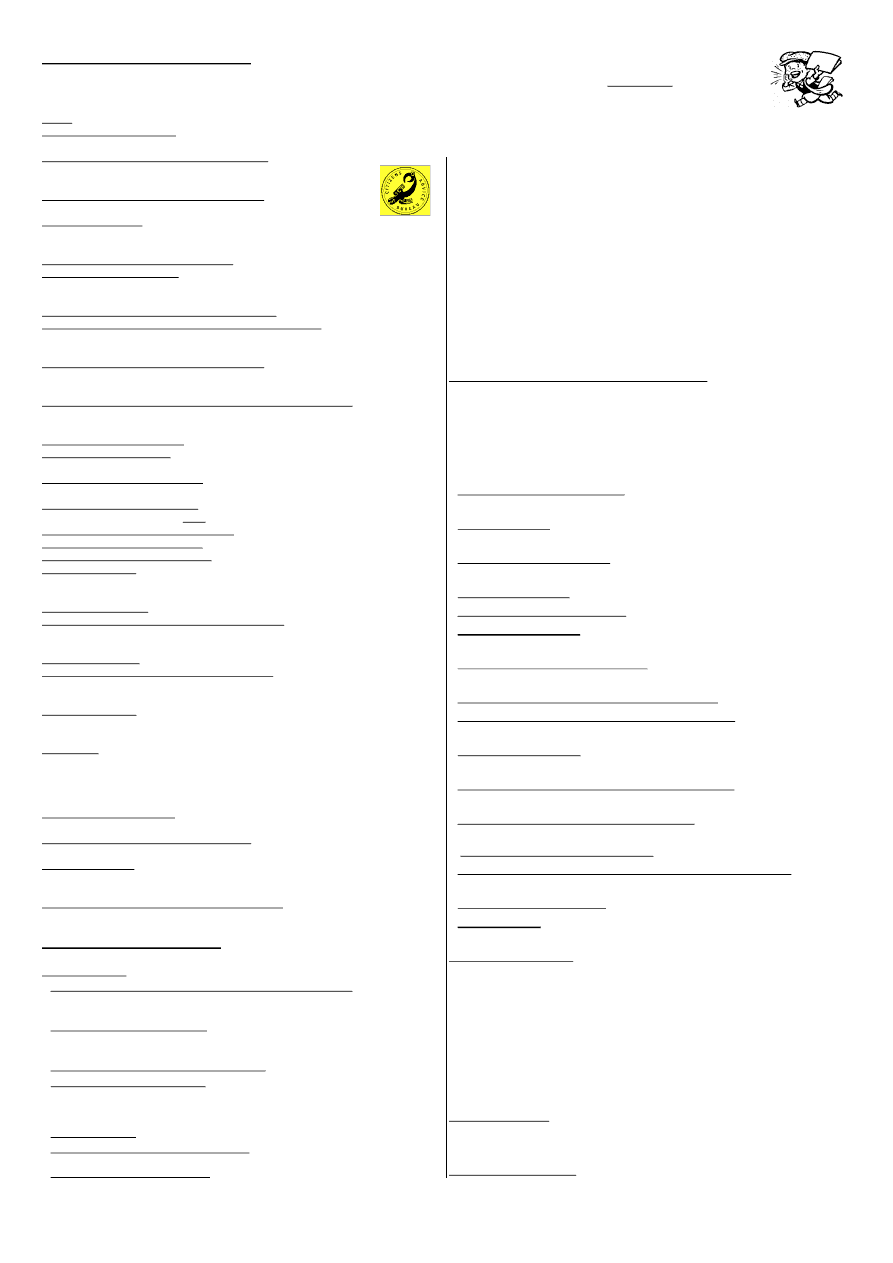 Next Bugle Deadline midday Friday 13 September  2019
WHAT'S ON
PLEASE ~ do let us know what is on - email 
kaiwakabugle@kaiwaka.co.nz 
*6Sep~Movie 'RED JOAN', KWMH 7.30pm 
*7Sep~Solar Hot Water Workshop, KWMH, 1.30pm  
*10Sep~Kaiwaka War Memorial Hall AGM, 5pm 
*17Sep~Rippa Rugby Tournament, 9am, KSA grounds 
*20Sep~Kaipara Art Awards Entries close 
*20Sep~Movie 'WILD ROSE', KWMH, 7.30pm 
*22Sep~Movie 'SECRET LIFE of PETS 2', KWMH 2pm 
*26Sep~Hakaru RSA Women's Section meet. Ph4315818 
*3Oct~Oamatea Community Services AGM, Maungaturoto 
*4Oct~Final date for KSA Seed Order 
*20Oct~Paparoa Dogs Day Out, Paparoa Showgrounds 
*20Oct~Otamatea Group Day, KSA grounds 
KWMH = Kaiwaka War Memorial Hall; KSA = Kaiwaka Sports Association 
See www.kaiwaka.co.nz for more information 
HOUSEHOLD RUBBISH COLLECTION  
Kaiwaka Pick up: 
Mondays = Green bags (Northland Waste - 09 430 3273) 
Wednesdays  =  Blue  bags  and  yellow  recycling  (at  Jaques  $3.00 
and  $1.50)  (Kaurilands  09  4392146);  ONLY  Blue  and  Yellow 
bags picked up on Oneriri Road. 
 DIABETES Support Group-for Kaiwaka, Mangawhai, Wellsford 
10am, 3rd Friday of month Ph: Colleen James 09 4314238 
 GENEALOGY - Wellsford: 1st Thursday in month Ph: 423 
7033; Waipu: 4th Monday in month Ph: 4312 725 
 HAKARU PONY CLUB - Secretary Denise Rogers 021423376 
secretary@hakaruponyclub.co.nz  
 KAIPARA HUNT - Secretary Albert Doonenbal Ph 4312059 
 KAIWAKA BADMINTON -Tuesdays 7.30pm Ph: 4312345 
 KAIWAKA  CAN  -  3rd Wednesday in  month, 5.30pm, Archie 
Bull Hall Ph: 0273572751 
 KAIWAKA  DRAMA  CLUB  - 
Hannah  Webb 
0272863352 
KaiwakaDrama@gmail.com - FB - "KaiwakaDramaClub" 
 KAIWAKA DRUM & DANCE CLASSES - 021 611198 
 KAIWAKA GARDEN & FLORAL GROUP - 2nd Thursday in 
month. Ph: 431 4744 
 KAIWAKA  CUBS  -  Thursdays  5.30-7pm,  Hakaru  Ph:Bruce 
4312542 
 KNITTING FOR WHANGAREI HOSPITAL - 2nd Tuesday in 
month, Archie Bull Hall 10am Ph 4314827 
 MANGAWHAI COMBINED REBUS CLUB - 2pm, 3rd 
Thursday month, Senior Citizens Hall Mangawhai. Ph: 4315777 
 *PT CURTIS CRUISING CLUB - Jean Ph: 4312227 (wk), 4312520 (hm) 
 RSA,  HAKARU  &  DISTRICTS  WOMEN'S  SECTION  –  meets 
1.30pm 4th Thursday of the month. Ph: 431 5818  
 SCOTTISH DANCING - Wednesday morn. Ph: 09 4320532 
 TRAMPING - Mondays 9am-2:30pm Maria 4312 234 
HALLS FOR HIRE: 
  Kaiwaka St. John Hall: Phone Marj  0272941227  
 St.Pauls  Archie  Bull  Hall  HIRE  $20  half  day,  $40  full  day  per 
hire, S McAulay, Ph 4312311 
 Kaiwaka  War  Memorial  Hall  HlRE  -  Phone  4312725  or 
kaiwaka.hall.bookings@gmail.com 
 Hakaru Community Hall HIRE -Ph. 4312256 or 4312110 
 Te Pounga Marae queries - Pearl Nathan  0223933533 
 Kaiwaka Sports Association hire/queries - C. Anderson 4312051 
or kaiwakasports@gmail.com 
Justice of Peace:  
B.FJaques  4312  048;  L.Donaldson  4312  228;  A.F.Hargreaves 
4312 045, W.Howard 4312 725 - please phone to make sure they 
are available www.justiceofthepeace.org.nz 
Marriage Celebrants:  
L.Donaldson; A.F.Hargreaves; Y Osborne
LOCAL SERVICES 
*Emergencies - Ambulance, Fire, Police - dial 111 
*Non-urgent Police phone 09 4311150
A A: Meets Wed., 8pm Kaiwaka Ph: 4315543, 0800229 6757 
ASUREQUALITY LTD (was AgriQuality) Call Free 0508 0011 22  
BUDGETING SERVICE, WELLSFORD: Free confidential advice & 
support for all areas of personal finance. Ph (09) 423 7123 
CAB-Citizens Advice Bureau.Wellsford Ph: 4237333 
0800 367 222 email:cab.wells@xtra.co.nz  
CIVIL DEFENCE - Kaiwaka Community Response Group: 
kaiwaka.civildefencecrg@gmail.com, 4312725 Wendy 
DOG/STOCK /NOISE CONTROL 0800 105 890 
FUNERAL SERVICES: Morris & Morris Ltd, 
Whangarei - Bev Jaques Ph:4312367 or 0800667747 
GRANDPARENTS Raising Grandchildren: Dianah Roberts 0223819539 
HAKARU & DISTRICTS MEMORIAL RSA (Inc) 733 Settlement Rd, 
Hakaru. Ph 4312 176 or Bill Warren (President) 431 2092 
HAKARU LANDFILL/Transfer Station:Open everyday except 
Tuesday10am-4pm.Ph4312629 Cost-$55 trailer load up to 1 cubic metre. 
Ph:4258567 - office 
KAIPARA DISTRICT COUNCIL www.kaipara.govt.nz:  
Help Desk FREEPHONE 0800 727 059  
KAIWAKA CEMETERY: Ph: 4312045 or 4314017 
KAIWAKA LIBRARY: kaiwaka.library@gmail.com  
Mon. 4-6pm; Wed., Thurs., Fri., Sat. 10am-2pm Ph:4312539 
KAIWAKA PLAYCENTRE: Ph Juanita 0274134904; open Mon, Wed, 
Fri 9am-12pm. Hastie Lane; Monday to Friday 9.00am - 12 noon. 
KAIWAKA POST OFFICE:Ph:4312 431  
Post Code: 0573 for RD2 and 0542 for all Kaiwaka Post Office mail 
KAIWAKA PRIMARY SCHOOL: Ph: 4312309   
KAIWAKA SPORTS ASSN: Ph 4312005; 4312129 gym 
KAIWAKA ST. JOHN HALL: Phone Marj  0272941227  
KATE'S PLACE Community Centre - Employment services, Free Health 
Nurse, Plunket, Advocacy, Osteopath, A.A., Legal Advice. 4312 661 
LINKING HANDS Health Shuttle Ph 4315906 or 09 4318969 
MINISTRY FOR PRIMARY INDUSTRIES - General inquiries Call 
Free 0800 008 333 
NORTHPOWER: Faults Kaiwaka area 0800 104040 
OTAMATEA COMMUNITY SERVICES: Counselling, parent coach, 
Family Support worker, budget advice, food bank. Mon-Fri 9am-3pm. Ph 
09 431 9080 http://www.otamateacs.org/ 
PARENTPORT: Free, practical family support service Puhoi to Paparoa 
Ph or txt: Dianne 027 280 5093 or 09 425 9357 
PLUNKET:  Kaiwaka  -Kate's  Place  Clinic  1st  Wednesday  of  the  month; 
Mangawhai  - Rose Madsen Cottage: Coffee Group 9:30 every Monday.  Clinic 
every Monday and Thursday. 
Maungaturoto - Good News Church, Clinic 2nd and 4th Wednesday.  
Cynthia 09 431 7340 or 027 675 3488 
PLUNKET HELPLINE -0800 933 922 (24 hours) 
TAITOKERAU COMMUNITY LAW: Free confidential legal advice and 
assistance, 2nd
Thursday
 of each month. Ph: 0800 155 529 for apps.  
TE URI O HAU Settlement Trust Tangata Developments: Whanau Ora 
021 793262  
VETERINARY SERVICE MANGAWHAI: 
Ph: 4314535 Mon-Fri 8.00-5.00, Sat 9-12, a/h appt. 
WELLSFORD DOCTORS: Ph: 4238 086 
CHURCHES:
 
Kaiwaka  Revival  Church  -  Your  Community  Church:  Sundays  10am. 
Ph: Pastor Tawhiri 09 431 8988 or Pastor Paul 09 4312 068 Visit us at 
www.facebook.com/kaiwakachurch or www.kaiwakarevival.co.nz 
 
St  Paul's  Anglican  Church  1st  Sun.  9.00am  (Eucharist),  3rd  Sun. 
9.00am (Family Service). Contact: Rev. Wayne Thornton Ph 431 4122 
www.mangawhaianglican.org.nz 
 
Church of Christ the King, Mangawhai:9.00am every Sunday 
 
St.Mary's  Catholic  Church:  Maungaturoto  –  Griffins  Road,  Saturday 
evening  Vigil  Mass  6pm;  Mangawhai  –  Senior  Citizens  Hall,  Sunday 
Mass  8:30am;  Wellsford  –  Matheson  Road,  Sunday  Mass  10:30am;  
Mid-week Mass times and all enquires to Fr. Bill Fletcher – phone 423 8170
 
Baptist Church: Sun. 10.30am Mangawhai Snr Cit.Hall.Ph:4312339 
 
Cause  Way  Church  Mangawhai:  Sundays  10.15am,  Mangawhai 
Community  Recreation  Centre,  Insley  St.  Ph:  09  4314782