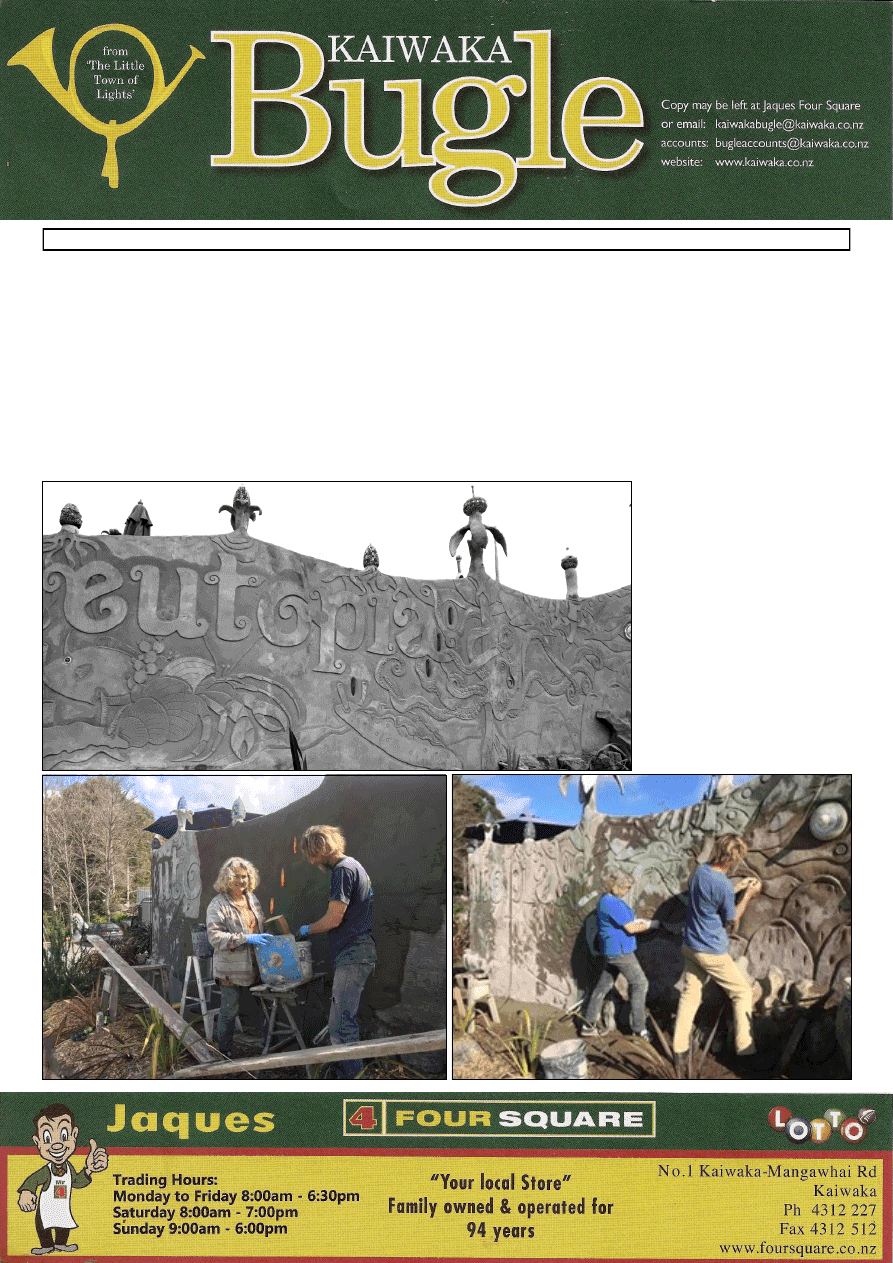 www.kaiwaka.co.nz 
Kaiwaka Bugle - 1 October 2019 
Page 1 
No:19 
1 October 2019 
Trading Hours: 
Monday to Friday 8:00am - 6:30pm 
Saturday 8:00am - 7:00pm 
Sunday 9:00am - 6:00pm  
At last we have Eutopia's name carved in stone!  
Nothing happens fast (it has been 5 1⁄2 years so far) with this project but Rob and I have completed most of the carvings 
now, between the rain squalls, and at long last we have finished the front wall. We also have just completed plastering 
and carving the last unfinished area in the front courtyard. We had one final push to complete it all before it got too hot 
and dry. It is not so good and then it is too hard as the plaster goes hard too quick. 
The carvings are based on Aotearoa's flora and fauna, a celebration of our unique and precious heritage. The front wall 
depicts creatures of the shallower waters and shoreline. With the main feature being an octopus. They are so smart and so 
unusual. 
The final art work shows some of the more vulnerable species that are threatened, or already have become extinct in a 
spiral of time. Next thing is to paint and stain all this work. That is going to be a huge job. That is one massive mural! 
There is still a bit to do apart from the endless odd jobs. We are looking at making a lot more covered area especially at 
the back. We are working on ways to mitigate the Winter exposure and the Summer heat. Working around the original 
building  and  layout  and  the 
compound  curves  everywhere 
present 
us 
with 
some 
challenges on this front. 
We have been open now going 
on 6 months and are gearing up 
for 
summer. 
We 
are 
introducing  a  new  Summer 
menu  and  bringing  in  a  lot 
more counter food, in terms of 
space that is another challenge. 
We  have  been  listening  to 
feedback 
and 
improving 
accordingly.  Thanks  to  all  that 
have given us help and support 
along the way. 
 ~  Marijke  Valkenburg  and 
Rob ter Veer 021 891484 
EUTOPIA: CARVED IN STONE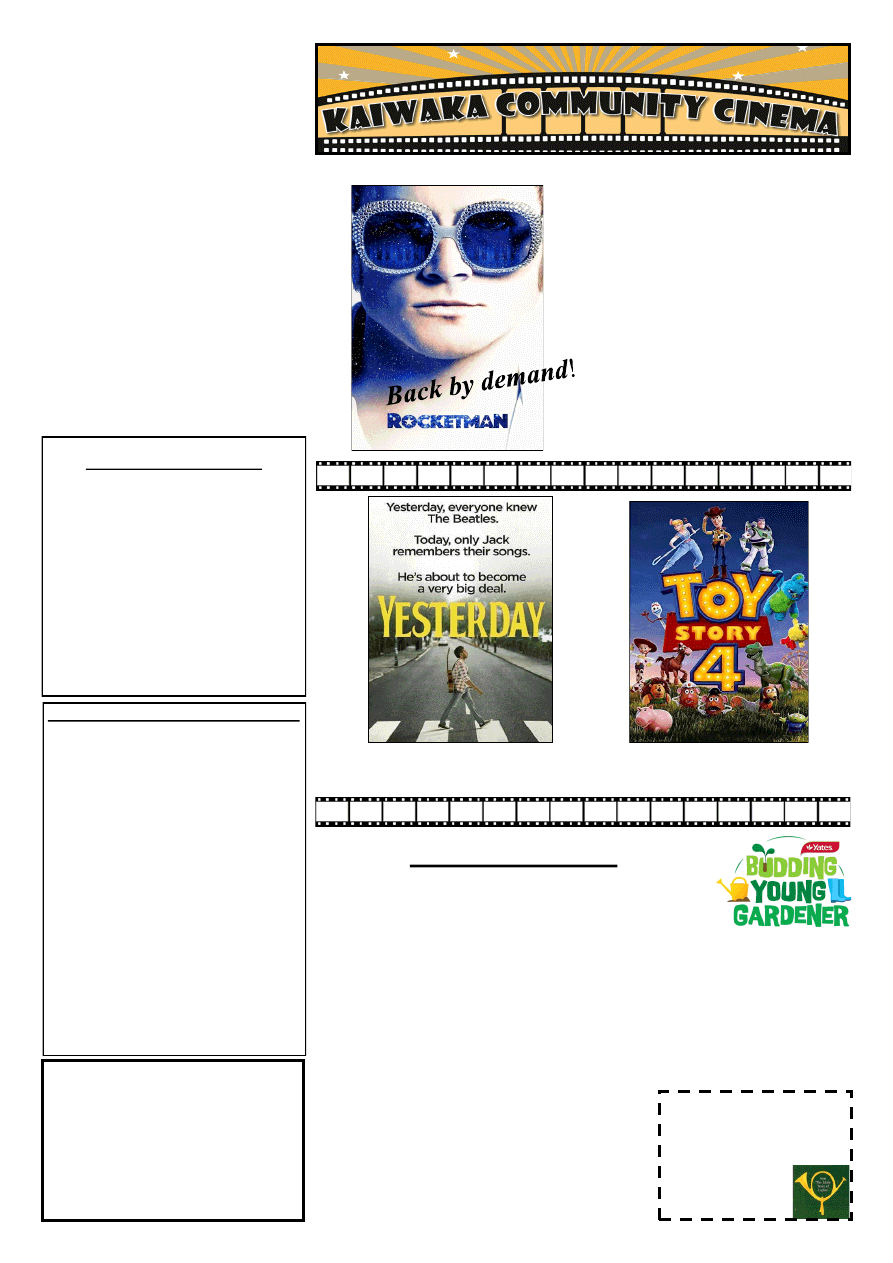 Proverbs 22:1  
If you must choose, take a 
good name rather than great 
riches: for to be held in 
loving esteem is better than 
silver or gold. 
At Kaiwaka War Memorial Hall . Adults $10, Kids (under 16) $5, Family Pass (2 adults + 3 children) $25 
ABOUT TOWN 
 
We have a WINNER! Kierra Hastie has won the Yates 
Garden Hamper  - photo next Bugle! 

 Donate  Blood  at  Mangawhai  Tuesday  8  October,  12  - 
5pm - book first 0800 448 325  

POST YOUR VOTE BY 8 OCTOBER! Or drop into  our Library when it is 
open by morning 10 October or a KDC office by midday 12 October. 

Exhibition: 'Seed' is at Mangawhai Artists Gallery from 3 – 15 October; You 
are invited to join Josie, Nicola and Lynn at the opening at 6pm on Thursday 3 
October  

An  unusual  call-out  for  our  local  Fire  Brigade  at  1am  on  the  weekend  -  a 
traffic camera on fire!! 

The Kaiwaka -Whangarei LINK BUS leaves WMH at 9.30am every Thursday 

Big  THANK  YOU  to  all  our  Bugle  advertisers  -  your  support  is  most 
appreciated. Did you know Bryce the locksmith can organise car keys? 

 NB:  November  2  Mangawhai  Tavern  Speed 
Shear 2019

 Kaiwaka    Earlier  issues  of  the  Bugle  don't 
disappear  -  they  can  be  seen  online  at 
www.kaiwaka.co.nz  at  any  time  -  also  great 
colour in the photos.                   
        ~ Lindsey, Ed 
'Otamatea High School Motto: 'Loyalty and Truth' 
KAIWAKA BUGLE NO.19 
1 OCTOBER 2019 
CONTENTS: 
Page 3: Public Notices, Classified 
Page 5: People We Know 
Page 7: Kates Place; Kaipara Hunting 
& Fishing 
Page 9: Rotary; Maungaturoto Country 
Club 
Page 10: Spring Flower Order Form 
Page 11: Kaiwaka Sports Assn 
Page 13: OHS; Pt.CCC; Kaiwaka 
School; Maungaturoto CC Trust 
Page 15: Kauri Museum; Kaiwaka 
Energy 
Page 17: Albertland Museum; Kaiwaka 
Library; Thelma's Scrapbook 
Page 19: Kate, a Kaipara Cutter 
Bugle 20 will appear  15 October 
Contact for advertising, reports, articles 
or information can be made by 
Email: kaiwakabugle@kaiwaka.co.nz 
Ph: 09 4312 045 Lindsey 
Txt: 027 2724137 
Copy  may  be  left  at  Jaques'  Four 
Kaiwaka Bugle Advertisements 2019: 
All 
copy 
and 
queries 
to: 
kaiwakabugle@kaiwaka.co.nz 
The Bugle is printed on an A4 page, B&W  
Ad  sizes:  1/16  page  (3  x  9.5cm)  $5;  1/8 
(6.5  x  9.5cm  landscape  or  portrait)  $8; 
3/16 ( 10 x 9.5cm or 7.5 x 12,5)  $12.  
Classified  ads:  First  one  FREE,  $4  per 
entry (max. 30 words, max. 4 repeats). 
Payments  can  be  made  online  at 
ANZ 
06  0365  0006990  00
,  posted  or  left  at 
Jaques Four Square Store. 
We  use  Microsoft  Publisher,  and  can 
work  with  most  common  image 
formats, Word, Excel, and PDF files. 
Accounts:  
Email: bugleaccounts@kaiwaka.co.nz 
The  Kaiwaka  Bugle  is  a  community 
newspaper run by volunteers, as part of 
the Kaiwaka Media Group Inc.   
Articles, etc. printed are not necessarily 
the opinion of the Bugle Team. 
Kaiwaka Bugle 
Founded May 1978 
We appreciate articles and photos about local 
events, etc, as well as ads and suggestions. 
Copies available in Kaiwaka at Jaques Four 
Square, Kaiwaka Postal Centre, Shamrock 
Service Station, Animal Health Centre, 
Kaiwaka St John shop. 
Also outlets in Maungaturoto, 
Mangawhai and Paparoa. 
Can be viewed online at  
www.kaiwaka.co.nz/Bugle  
Or a copy can be posted to you if you supply 
stamped, self-addressed DLE envelopes. 
ROCKETMAN 
Friday 4 October 7.30pm (M)
MOVIE ONLY 
Musical  film  -  'Young  Reginald 
Dwight  changes  his  name  to  Elton 
John  and  collaborates  with  singer-
songwriter Bernie Taupin to become 
one of the most iconic figures in pop 
history.  Set  to  his  most  beloved 
songs,  it's  the  epic  musical  story  of 
Elton  John,  his  breakthrough  years 
in  the  1970s  and  his  fantastical 
transformation  from  shy  piano 
prodigy to international superstar.'  
KAIWAKA BUGLE 
DEADLINE DATES 
2019:  
Every second Friday
October 11, 25;  
November 8, 22;  
December 6. 
YESTERDAY
Friday 18 October 7.30pm (M)                         
TOY STORY 4 
 Sunday 27 October  2pm (PG)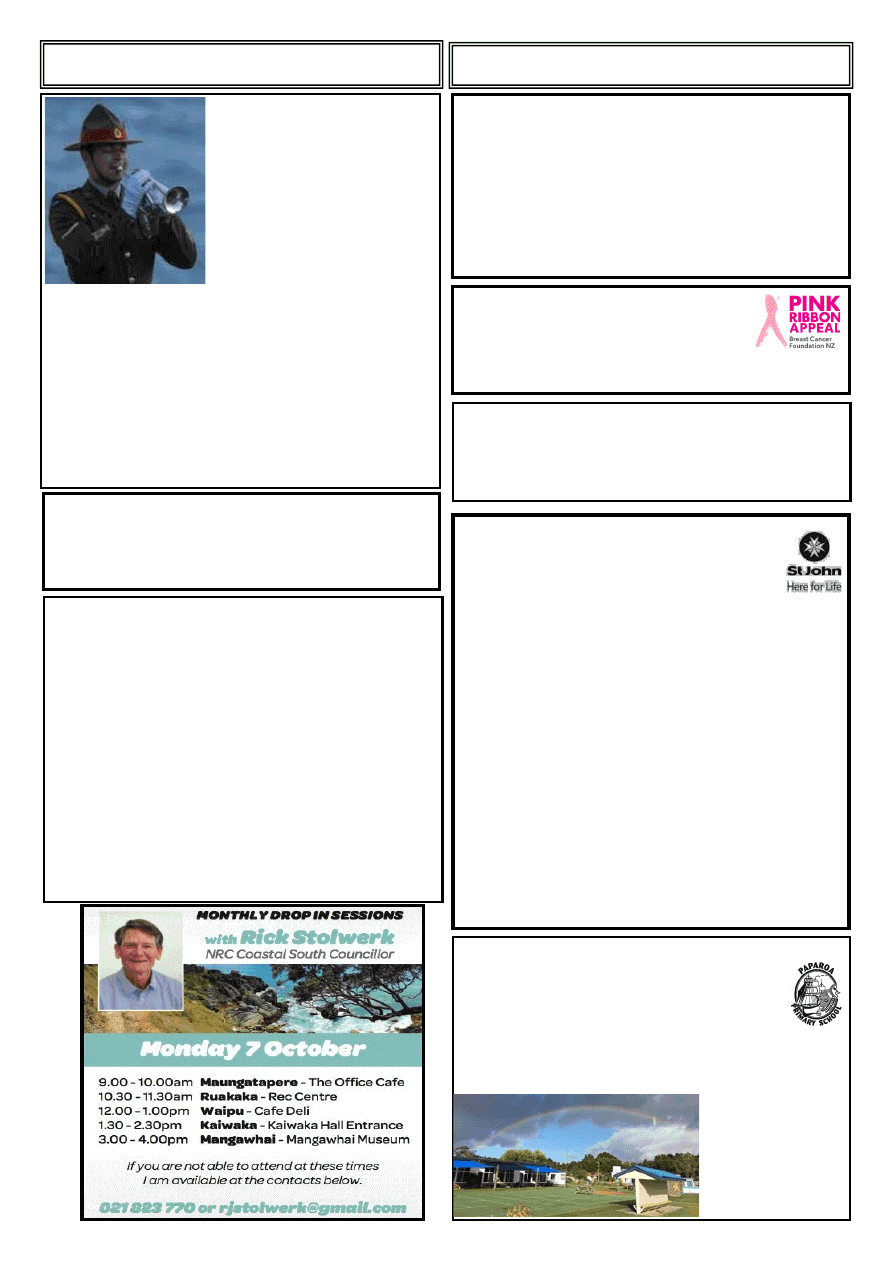 www.kaiwaka.co.nz 
Kaiwaka Bugle - 1 October 2019 
Page 3 
PUBLIC NOTICES 
CLASSIFIED 
OTAMATEA COMMUNITY SERVICES INC. 
Annual General Meeting 
Thursday 3rd October, 3pm 
155 Hurndall St Maungaturoto. 
All welcome 
MINIBALL COACHING CLINIC 
Basic Skills with Blake Worsfold 
5th October, 10am - 11.30am 
FREE at Kaiwaka Sports Assn. Gym 
Website: www.kaiparabasketball.com 
WANTED 
Can you play the 
BUGLE? or the 
TRUMPET? or the 
CORNET? 
Do you think you could 
play the LAST POST and 
REVEILLE? 
The  Hakaru  and  Districts 
Memorial  RSA  would  like  to 
have  a  real  live  person  to  play  the  Last  Post  and 
Reveille for ANZAC DAY, ARMISTICE DAY, and 
for any other official occasions, including funerals. 
Sheet  music  can  be  provided  for  the  official  RSA 
version plus we can supply a CD 
The  applicant  need  not  to  have  any  affiliation  with  the 
RSA, but a commitment is required for this very important 
task. 
For further information contact our Vice President  
Neville Andrew @ 09 431 8191 or 022 614 0155 
Or email vice-president@hakarursa.co.nz 
KAIWAKA ST. JOHN OP SHOP 
Again, thank you for all your support.  
We have some changed taking place during the 
month of October. 

Our new Manager starts on 15th October.  

The changes from this date will be : 

Shop Closed on Sunday and Monday and open from 
10-3 Tuesday to Friday. Saturday will still be 9-1pm. 

We have some great products in store which include 
Books, Craft Items, Linen, Armchair, Single base and 
Mattress x 2, Single Bedroom Suite, and 2 60's Style 
China Cabinets.  Also camping gear – sleeping bags and 
foam mattresses. Jeans for $1.00 and our Clothing Rack 
is 'All Items for $1.00'. 

We will be changing from winter to summer clothing so 
there will be lots to choose from. 

We are always on the lookout for quality items of linen - 
towels, kitchenware - pots and pans, craft, bric a brac, 
glassware and jewellery. 

From time to time we receive donations and we find 
some valuable items in them. If you think you may have 
accidently passed these to us, we will hold them for you 
if you give us a call. 
Thank you again and if you have any queries give us a 
call on 4312650 or Gale on 0274149576 
PINK RIBBON STREET APPEAL 
KAIWAKA 
Friday 11th & Saturday 12th of October 
At Jaques Four Square and La Nonna 
Our appeal helps us make a difference to the lives of New 
Zealanders touched by breast cancer.  
PAPAROA PRIMARY SCHOOL 
 150th Anniversary
Paparoa  Primary  School  invites  current  or 
past students, parents, family or staff to help 
us  celebrate  our  150th  Anniversary.  This 
event  will  be  held  in  Paparoa  on  8th,  9th  and  10th 
May 2020.  
This is your chance to catch up with old friends and 
see how the school 
is getting on.  
Please  see  our 
School  Facebook 
page  for  details 
and 
registration 
information. 
KAIWAKA PRIMARY SCHOOL 
BOARD OF TRUSTEES 
Casual vacancy for an elected trustee 
A  casual  vacancy  has  occurred  on  the  Board  of 
Trustees for an elected parent representative. 
The  Board  has  resolved  under  section  105  of  the 
Education Act 1989 to fill the vacancy by selection. 
If ten percent or more of eligible voters on the school 
roll ask the board, within 28 days of this notice being 
published,  to  hold  a  by-election  to  fill  the  vacancy, 
then a by-election will be held. 
Any  eligible  voter  who  wishes  to  ask  the  board  to 
hold a by-election should write to: 
Chairperson 
Board of Trustees 
Kaiwaka School 
PO Box 104 Kaiwaka.    Before 22 October 2019. 
JENNY'S RURAL CLEANING SERVICES 
P.O. Box 87 
Kaiwaka 
Looking for a casual to part time worker.  
Must be able to work the odd Saturday morning. 
Must be trustworthy and have a driver license and be 
able to work in a team. 
Please send your C.V if you got one to 
jrcleaningservices.chellew@yahoo.com 
Or phone Jenny on 431 2826 after 7pm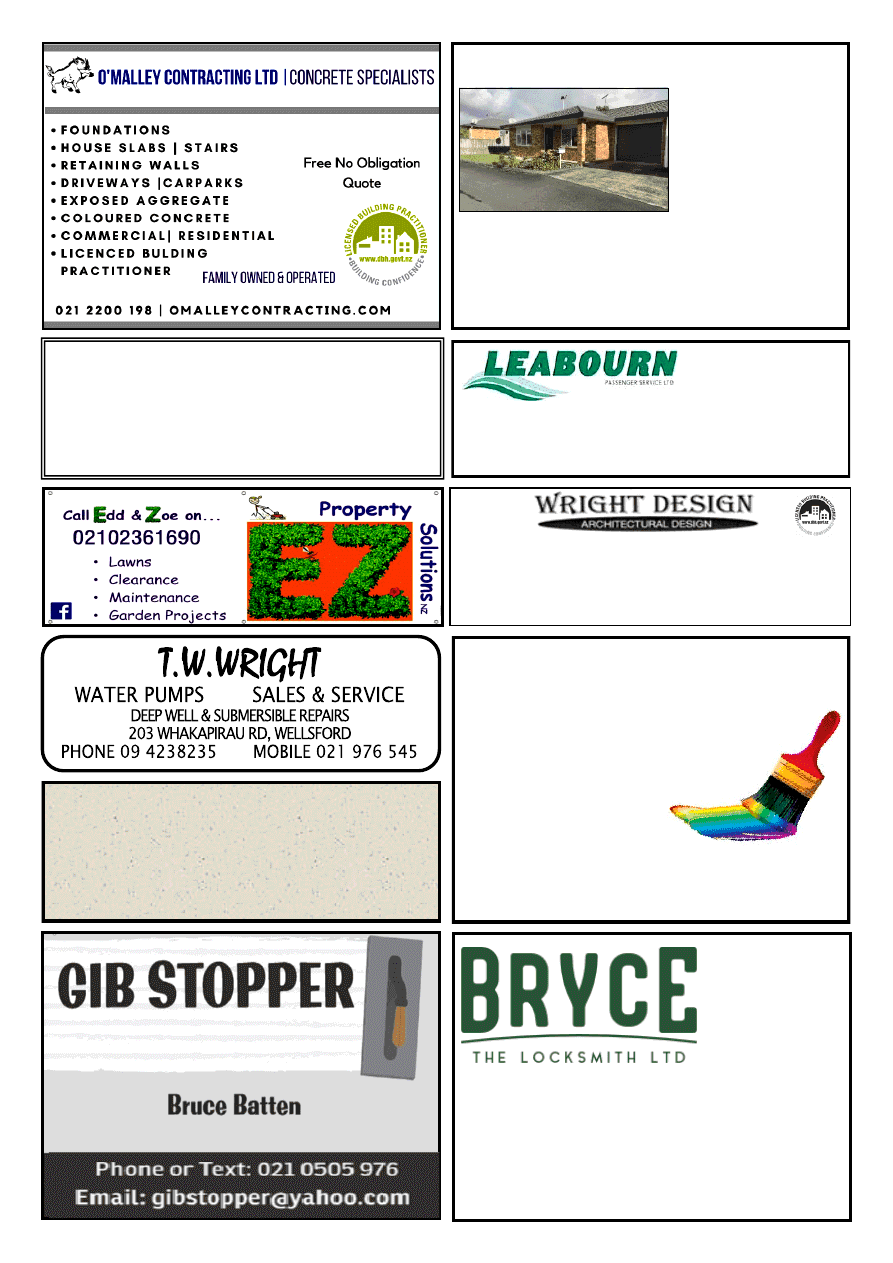 Passenger Service
Car & Van Hire   Bus & Coach Charters 
Airport Transfers    
Phone (09) 4237416 
Counsellor and Registered Psychotherapist 
Offers Supervision 
ACC Sensitive Claims 
Susan Matheson      MNZAC 
Dip. Psychosynthesis Counselling and Psychotherapy 
Phone 09 431 2996                                     Mobile 027 605 2427 
No. 117345 
N.Z.C.A.D., L.B.P. 117345 
PH/Fax: 09 423 8092 Mob: 021 276 7369 
Office: 3 John Sinclair Avenue, Wellsford    brianwright@xtra.co.nz 
For Resource and Building Consents, planning restraints, new building materials - 
you need a capable, experienced, and professional designer with a clear 
knowledge of all the processes. Brian has been helping and organising all these 
facets of design and building for over 50 years. 
Wright Design offers free visits, consultations and advice on planning, design, 
building, council permit applications, guaranteed permit plan acceptance. 
Om Tara ~ Mangawhai 
Healing Services 
Diann Glucina 
021 250 7461 diglucina.com  
FB: OmTaraMangawhai 
LEE COOPER PAINTERS 
(Kaiwaka Based) 
*30 yrs Experience 
*Interior/Exterior 
*New and Restoration 
*Honest and Reliable 
*Free Quotes 
09 4312918 or 0274735171 
leecooper@xtra.co.nz 
Bryce Frewin 
Ph: 021 850 983 
Kaipara Based Master Locksmith 
bryce@brycethelocksmith.co.nz 
www.brycethelocksmith.co.nz 
MAUNGATUROTO COMMUNITY 
CHARITABLE TRUST (Inc) 
FOR SALE  
 2 Bedroom Unit  
in as new condition 
In the peaceful and caring atmosphere of 
Maungaturoto Riverview Village, handy to all 
amenities [Price $440,000] 
For further information contact  
Don McKay Ph (09)4318308 
 or Craig Fergus Ph 021 378482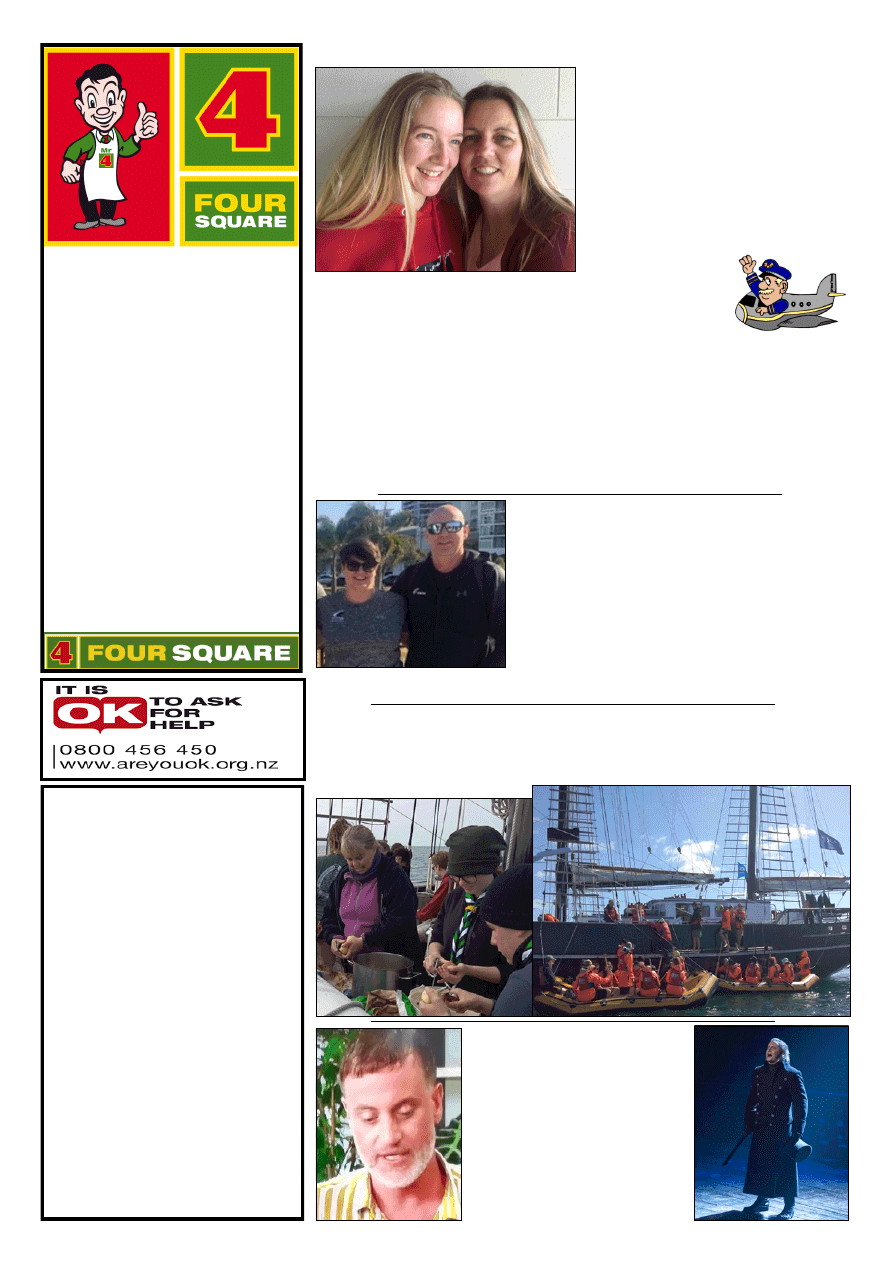 www.kaiwaka.co.nz 
Kaiwaka Bugle - 1 October 2019 
Page 5 
Willow Bend
HORSE  
HOTEL 
  
Total Horse Care 
 
Agistment 
 
Riding Lessons 
 
Arena Hire (60x40) 
 
Young Horse Starting 
 
Re-training/Exercising 
 
Hoof Trimming 
 
Problem Solving 
Phone Sue 09 431 2817 
or 021 623 776 
Or email  
susanjoll11@gmail.com 
Pictured  left:  Mother  and  daughter, 
Cindy  and  Monique  Balfour,  of 
Kaiwaka, both feature in the latest ORT 
production  'This  is  Your  Captain 
Speaking'. 
Otamatea Repertory 
Theatre Inc present 
'
This is Your Captain Speaking' – 
Dinner Theatre comedy
Bookings  are  now  open.  It's  a  play, 
musical,  pantomime, 
movie and a dinner 
show.  It's  a  madcap,  high-flying  comedy.  A  great  show  for 
people who don't normally go to live theatre. 
There will be six shows over three weekends – the dates are as 
follows… 
Friday 1 November @ 6.15pm and Sunday 3 November @ 4.45pm 
Friday 8 November @ 6.15pm and Saturday 9 November @ 6.15pm 
Saturday 16 November @ 6.15pm and Sunday 17 November @ 4.45pm 
There are two pricing options. Both options include a 3-course meal. 
Economy class $50 or Business class $70 
Please bring a piece of luggage, which will be required for 'boarding the plane'. 
Entry is at Terminal #3 at the Maungaturoto Country Club. 
Drinks are available to purchase at the bar of the 'departure lounge'. 
Tickets are available at Tony's Lotto Shop or please email Maura Flower at 
maura.flower@gmail.com and details for payment will be sent to you.
HAYDEN  TEE  -  Hayden  has 
had  starring  roles  in  both 
Broadway 
and 
West 
End 
productions.    is  back  home  to 
play  Inspector  Javert  in  Victor 
Hugo's  mega  hit  musical  Les 
Misérables  in  Auckland  this 
November,  having  previously 
played  the  role  in  Australia, 
Broadway,  the  West  End  and 
Dubai  (
Ref  RNZ.). 
Maungaturoto 
born  Hayden is the grandson of the 
late  Dudley  and  Joyce  Brooks,  and 
son of Debbie and John.
PEOPLE WE KNOW 
9Kg Gas Bottle swap or 
Purchase New Bottle Filled
Soda Stream  
30L and 60L Refills 
Healthy
 Punnet Seedlings 
from KeriKeri Low Price $3.50 
~ Spring Cleaning ~ 
Rug Doctor Hire from 39.95 for 
4 hours - All the spot cleaners 
and Upholstery attachment 
Daily Freshly Baked in 
store Breads, sweets & 
savouries 
JAQUES FOUR SQUARE 
Phone: 4312227 
1 Kaiwaka-Mangawhai Road, 
Kaiwaka. 
FIONA  HASTIE  -  is  part  of  the  2019 
International  Surf  Rescue  Challenge  in  Durban, 
which runs from 28 September till 2 October.  
This  year  South  Africa,  Australia  and  New 
Zealand  will  compete  with  athletes  from  Japan, 
Spain  and  the  USA.  The  athletes.  12  Black  Fins 
and 12 Junior Black Fins, will be competing in 23 
events incorporating a mix of individual and team 
races.  
Pictured  left  Black  Fins  Team  manager  Steve 
Vaughan  and  assistant  manager  Fiona  Hastie  are 
there  to  take  care  of  the  logistics,  ensuring  the 
team  has  everything  they  need  and  planning  everything  down  to  the  very  last 
degree to help deliver success. Fiona is the daughter of Deb and Rob Hastie 
TARA  MOYLE  -  Kaiwaka/Mangawhai  Scout  and  Otamatea  student  was 
among the Scouts and Guides on the ATL@S 2019 Voyage aboard the Spirit of 
New Zealand for a 5 day sailing experience that left Auckland 18 September, 
learning the ropes and  joining in a wetland planting with DOC on Great Barrier 
Island for Conservation Week. Tara is the daughter of Rosie and Terry and is 
pictured centre below.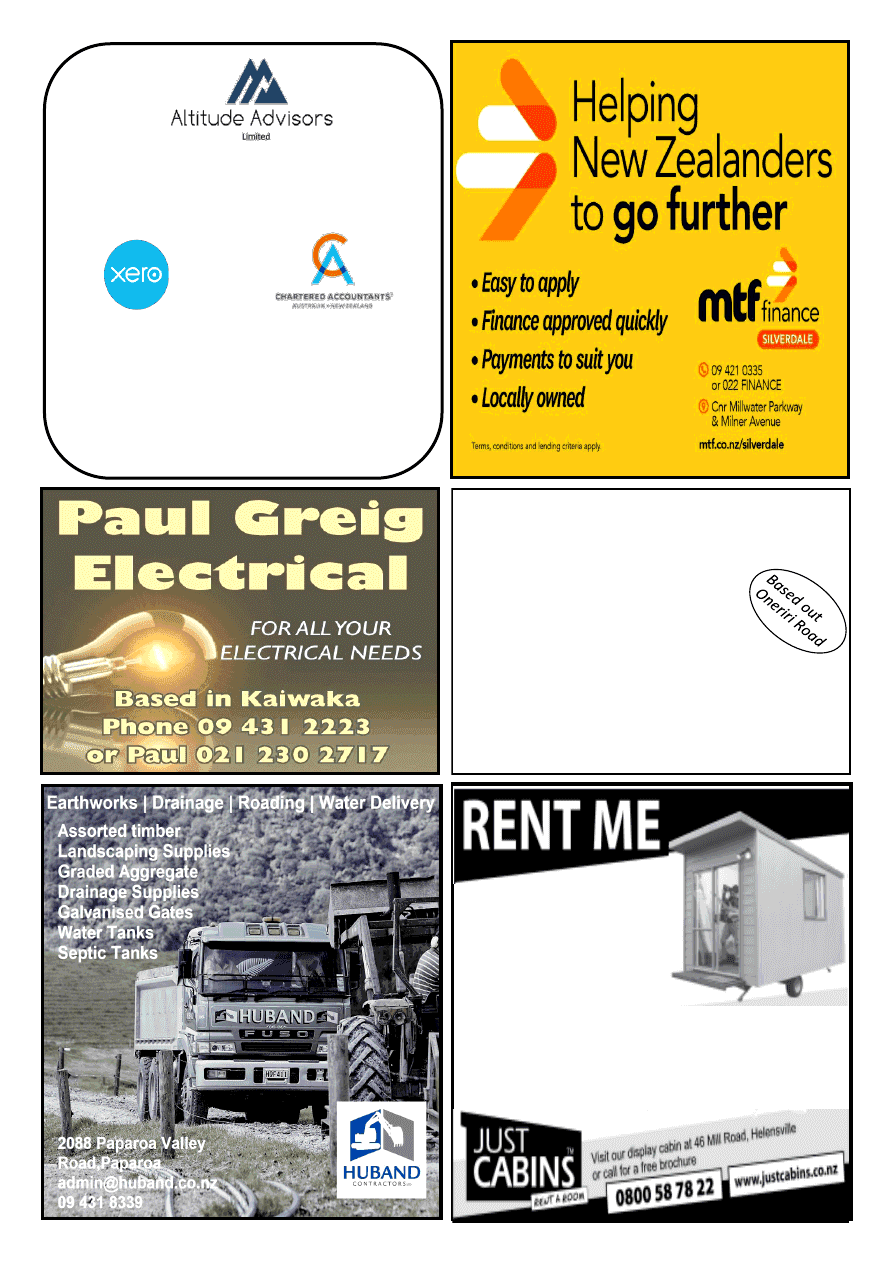 Ideal as an extra  
bedroom or office 
Three Convenient sizes: 
Standard 3.6m x 2.4m - $65 per week 
Large 4.2m x 2.4m - $80 per week 
Altitude with Attitude, helping your business 
scale new heights 
Time to try something different? 
Xero training          Accountancy Services 
We are offering two opportunities: 
15% saving off your annual report cost for your first 
year, & a further 10% saving for any referrals 
Call Corinne on 021 252 7680 or 
corinne@altitudeadvisors.nz 
HODGETTS 
CONTRACTING
Digger Work    

Driveways 

House Sites 

Dams     

Drains, etc
Also available for HIRE 
3 ton Vib Roller Heavy Duty Tow  
Waterblaster     Lazer Level
Phone Mark 4312877 
        027 447 8554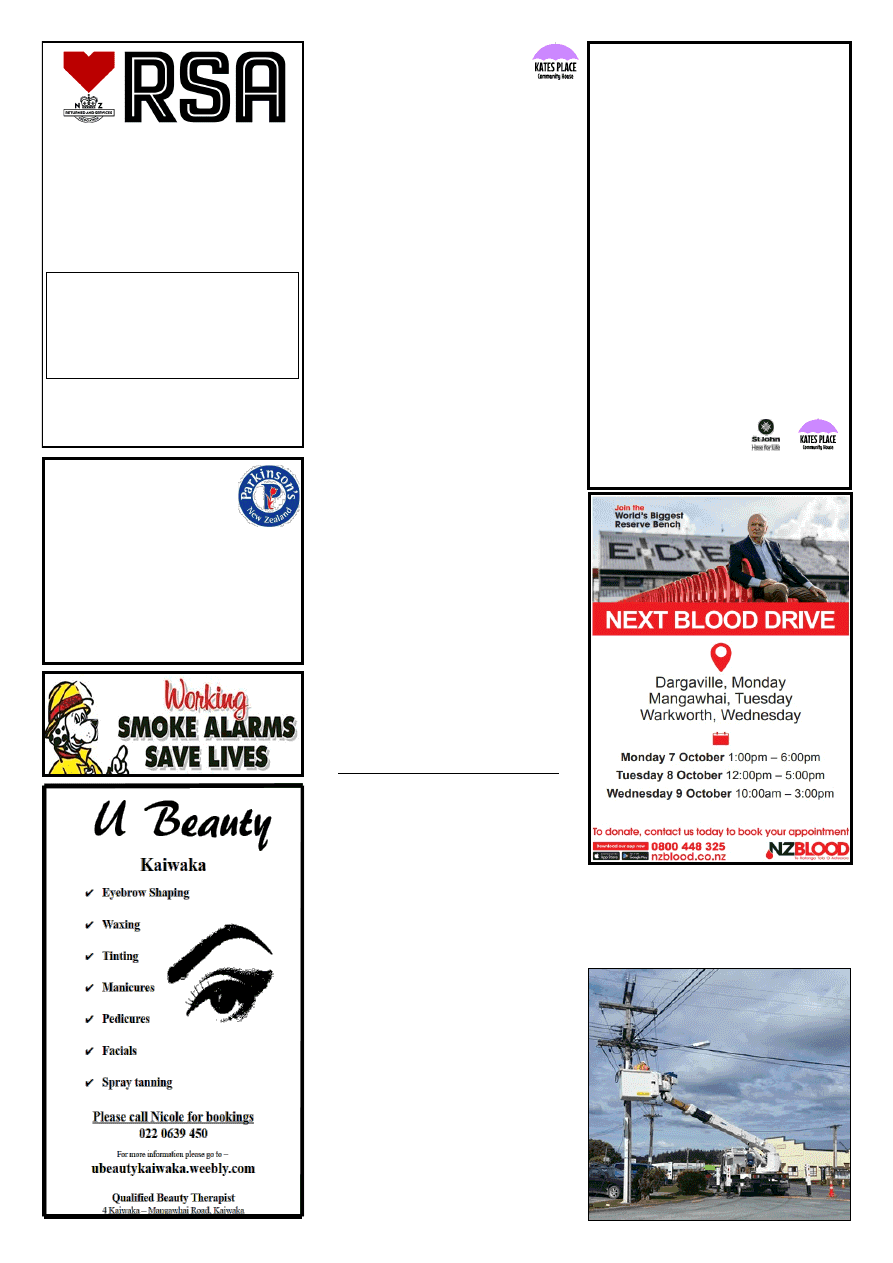 www.kaiwaka.co.nz 
Kaiwaka Bugle - 1 October 2019 
Page 7 
Parkinson's  
Northland 
Provide: 

Home based consultations 

Information and education on living with 
Parkinson's 

Support and exercise groups 

In-service training for other health 
providers 
Barbara Leslie RN,  
Community Educator 
09 4376881  or 027 5306221 
barbara.leslie@parkinsons.org.nz 
www.parkinsons.org.nz 
KATES PLACE 
Community 
KAIPARA HUNTING 
& FISHING 
Working  Bee  at  the  club  grounds  - 
Saturday  12th  October  10am.  All 
welcome 
October  Shoot:  The  club  will  be 
holding  its  October  shoot  on  the  13th 
October  as  below.  Normal  80  target 
course  with  prizes  out  to  section 
winners  as  well  as  draw  prize  that  all 
that attend is eligible for. 
Shoot details: Sunday 13th October 
2019, 10am start 
Club grounds: Hames Road, 
Maungaturoto 
Entry: $40.00 per person Juniors: 16 
years and under – Free 
Ammo: $14.00 per box (25) 
No Dogs please on course. Can be tied 
up at your vehicle. 
All new members welcome so bring 
your shooting friends 
Great prizes to be won. See you all 
there. 
~ Cam Shanks, Cam Shanks 09 
4316229 
For New Membership: Email, Andy at 
awthompson@outlook.co.nz 
FIBRE IS NEARLY 
HERE! 
Well,  for  the  Kaiwaka  township  and 
short  distances  from  State  Highway 
One.  Pictured  are  the  workers  outside 
Jaques Four Square last week. 
HAKARU & DISTRICTS 
MEMORIAL RSA (INC)
Members & guests are invited to 
come along and enjoy our hospitality. 
New members welcome. 
Meals are served on Thursday and 
Friday nights from 6.30pm. 
Order from Blackboard Menu  
and a sing-a-long  
with Des Chitty. 
For more information please phone 
Graeme on 431 2563 
Spring is here……. And we are getting 
busy at Kates Place 
⚫
In November we are starting a "Work 
Ready"  course  for  anyone  who  wants 
to enter the workforce for the first time 
or  someone  who  wants  to  re-enter  it. 
This five  week course is being funded 
by  St  John  Area  Committee.  This 
course  will  cover  personal  and 
employment  skills,  communication, 
CVs,  interview  techniques,  health  & 
safety,  employment  contracts  and  law, 
on  job  training,  first  aid  certificate, 
drivers  license  training  and  payment, 
and much more. Transport is available 
and lunch is included. Please call us or 
drop  in  for  an  application  form, 
numbers are limited. 
⚫
Tutoring  available  every  Tuesday 
from 3pm for primary students only. 
⚫
Learners  License  Training  every 
Wednesday from 3pm 
⚫
We 
have 
just 
begun 
some 
improvements  to  the  Centre.  A  new 
bathroom  has  gone  in  this  week,  next 
we  are  hoping  we  will  get  hot  water 
connected and then some new flooring. 
⚫
Volunteers  Needed:  We  urgently 
need  some  volunteers  for  a  variety  of 
jobs we need a driver to pick up people 
attending  our  course,  we  need  an 
assistant to help organising courses and 
a  part  time  admin  person  for  the 
Centre. 
⚫
Please refer to our brochure to see all 
of our other services. 
To support the ongoing viability of our 
centre  we  would  appreciate  any 
donation to our give a little page: 
givealittle.co.nz/cause/kaiwaka-free-
counselling 
WORK READY 
COURSE 
November - Kaiwaka 
Team Building & Personal Skills 
Communication skills 

Introduction to training options 

Site visits to local employers 

Work experience 

CV'S & introduction letters 

Information 
on 
employment 
contracts and law 

First aid course 

Health & Safety 

License training & payment 

Assistance  &  support  to  find 
employment 
Course starts 4 November and runs 
every Monday and Thursday  
10am- 3pm 
Transport available + FREE lunch 
Contact  Kirstie  for  a  registration 
form on  09 431-2661  
or 029 773 9085 
1960 SH1, Kaiwaka. 
This course is funded and supported by  
St John Kaiwaka.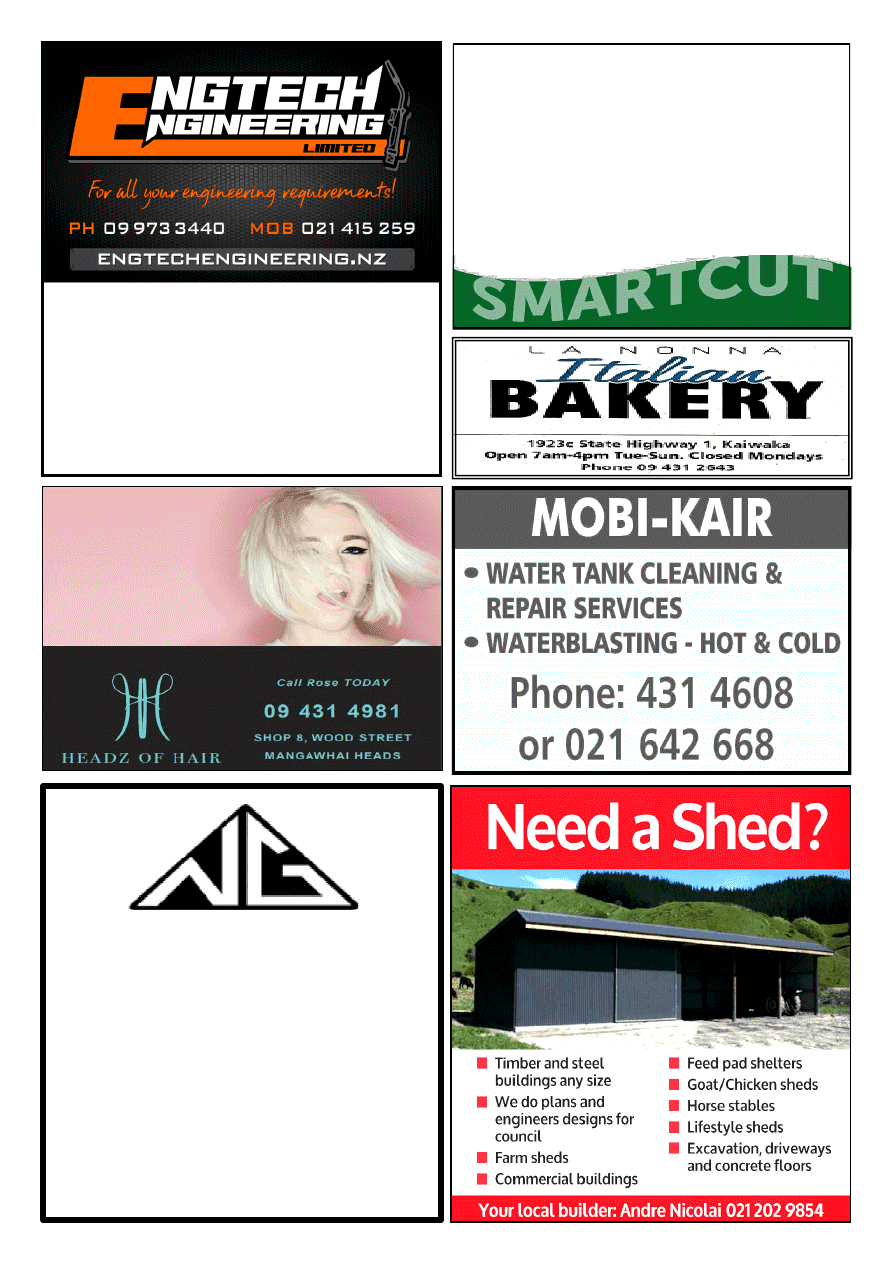 All your outdoor needs sorted so you don't have 
to... 
I can prune, chop, tidy, spray, mow, plant 
- you name it, I can do it! 
Residential & Commercial 
Lawn & Garden Care 
Call Rodney, your local  
lawnmowing contractor 
021 138 2344 
NORTH GLASS 
WINDSCREEN REPAIR OR REPLACE 
GLAZING SERVICES 
MIRRORS  •  SPLASH BACKS  •  SHOWERS 
0800 70 40 10
info@northglass.co.nz 
www.northglass.co.nz 
Ryan Lusty and Tracey's  
New Workshop is Now Open 
648 Kaiwaka-Mangawhai Rd, Hakaru 
Engtech Engineering facility is big, 
modern and ready to help solve problems 
for the wider community.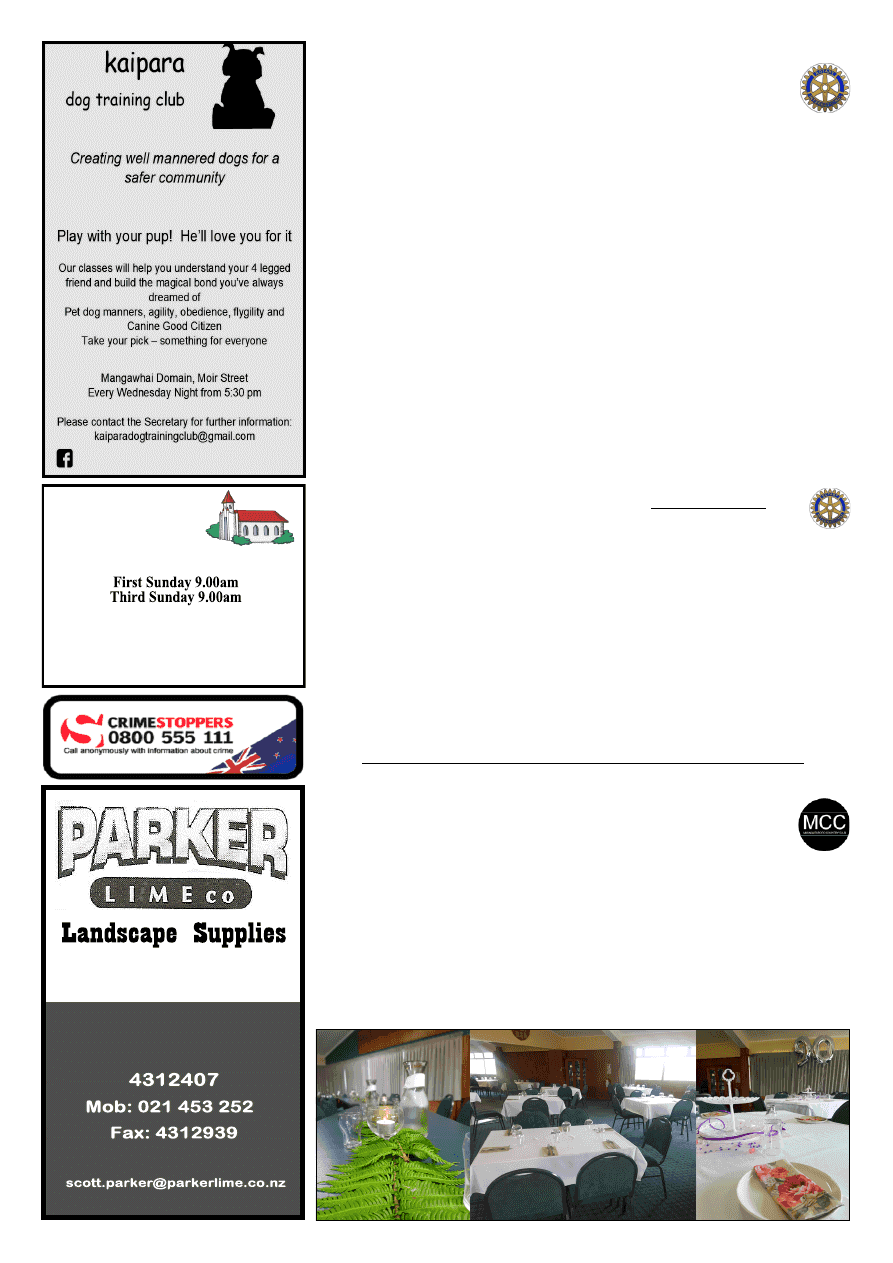 www.kaiwaka.co.nz 
Kaiwaka Bugle - 1 October 2019 
Page 9 
ST PAUL'S  
ANGLICAN  
SUNDAY SERVICES
St Pauls Church: Kaiwaka-Mangawhai Rd. 
1st Sunday - Eucharist 
3rd Sunday - Family Service 
Priest in Charge Rev. W Thorton Ph 431 4122 
www.mangawhaianglican.org.nz
 THE MAUNGATUROTO COUNTRY CLUB   
 The  Maungaturoto  Country  Club  is  situated  on  Bickerstaffe  Road 
Maungaturoto  and  is  an  awesome  community  facility,  the  home  of  several 
sports clubs and a great place to dine and socialise. Enthusiasm, commitment, 
boundless  generosity  and  hard  work  have  provided  Maungaturoto  with  a 
sporting and social complex that is the envy of much larger communities. The 60ha (140 
acre)  grounds  include  a  community  walkway,  rugby  fields,  bowling  Greens,  squash 
club, Repertory Theatre and a sheep farm. The Club is currently open on Thursday and 
Friday's from 5.30pm and at other times by arrangement. 
The  Kitchen  now  under  new  management  and  is  producing  some  yummy  affordable 
meals,  it  is  open  Thursdays  and  Fridays  5.30pm  to  8.30pm  and  through  summer  will 
extend to 9pm. 
Did  you  know  The  Clubs  large  function  lounge  is  available  for  private  events  - 
birthdays, weddings, conferences and other celebrations and can seat up to 250 people. 
Come and join us at the club and become a member the costs of membership is only $15 
per year. 
Contact Kathy –0212927649 or email- maungaturotocountryclub@gmail.com 
 MAUNGATUROTO AND DISTRICTS ROTARY 
Bulk Cartage 
50 years  Chartered 
An undoubted highlight during the past 
month  has  been  the  celebration  of  the 
Club's  50  years  since  being  chartered. 
We  had  hoped  to  have  four  of  our 
Charter (original) members present but 
because  of  sickness  we  had  only  two, 
Colin  Smith  (who  is  still  actively 
involved  in  Rotary  in  Whangarei  and 
because  of  this  he  received  a  special 
award  from  the  President  of  Rotary 
International)  and  John  Couper.  Also 
present  was  Rosemary  Eilering,  the 
daughter of one of our sponsors (one of 
two  people  who  initiated  the  club's 
beginning.) 
Almost  90  people  helped  us  celebrate 
and  there  was  a  reasonable  time  for 
people to reconnect prior to the lunch. 
After  the  meal  we  heard  from  Colin 
about  some  of  the  activities  that  were 
undertaken  in  the  early  years  of  the 
Club.  This  included  fundraising  for 
the  three  "H's"  –  Health,  Hunger 
and  Humanity.  Colin  also  shared  the 
personal  benefits  he  has  gained  from 
being  a  member  of  Rotary.  These 
included  getting  to  know  Rotarians 
from  different  vocations  and  working 
with  them  on  community  projects  as 
well as trips to Conferences. 
Hayley Linton on DOE 
The  second  speaker  on  the  day  was 
Hayley  Linton  who  has  been  actively 
involved in Duke of Edinburgh through 
the  grades.  She  mentioned  that  under 
the  guidance  of  Mrs  Bruce  there  are 
approximately 100 students involved at 
Otamatea  High  school.  At  each  level 
these  youngsters  are  expected  to 
complete  community  service,  adopt  a 
new  skill  and  be  involved  in  tramps 
with  varying  degrees  of  difficulty. 
Hayley  believes  that  as  a  result  of  the 
scheme  her  confidence  has  improved 
greatly,  she  has  created  special 
friendships  and  has  developed 
leadership skills. 
Continue Youth Support 
To celebrate our 50 years of service to 
the  community,  the  club  has  decided 
that  in  the  ensuing  three  years,  in 
conjunction  with  a  Private  Education 
trust, we will support DOE with $2,800 
each  year,  and  the  William  Pike 
Challenge  (a  junior  version  of  DOE 
aimed  at  building  resilience  in  our 
youngsters)  $1,200  per  year.  We  look 
forward  to  this  association  with  these 
two groups. 
President's Scholarship $1500 
To  continue  the  theme  of  being 
involved  with  younger  people.  The 
President's Scholarship is now open to 
any  person  planning  to  be  involved  in 
tertiary  education  (not  necessarily 
university).  It  is  valued  at  $1,500  and 
application  forms  can  be  obtained  by 
asking  any  Rotarian  or  writing  to  the 
Secretary,  Maungaturoto  and  Districts 
Rotary,  P  O  Box  65,  Maungaturoto 
0547.  Applications  will  close  on  29th 
October.  
MAUNGATUROTO AND 
DISTRICTS ROTARY – SENIORS' 
AFTERNOON TEA  
Friday 22nd November between 1pm 
and 4pm at the Centennial Hall, 
Maungaturoto.  
Entertainment  will  be  provided  by  a 
group of Maura Flower's performers. 
Please  note:  All  seniors  from 
Mangawhai  to  Tinopai  are  invited  to 
this  event,  so  please  tell  people  about 
it.  If  you  are  interested  in  coming 
please call  Eileen on  021 142  0357  or 
Stella on 021 1490877.  
Please tell your friends about this.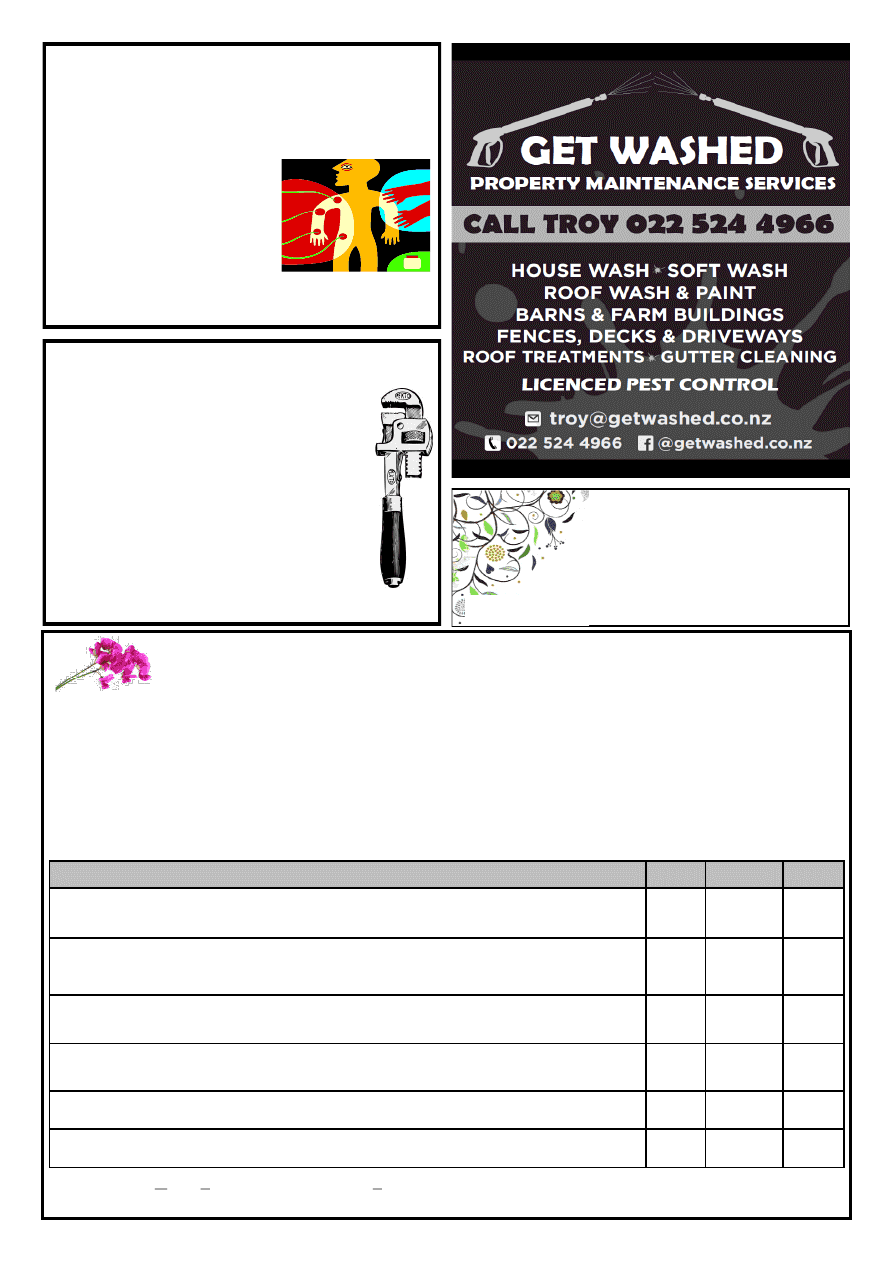 BARRY CURTIS PLUMBING LTD 
REGISTERED CRAFTSMAN PLUMBER 
Phone 431 5572 
027 257 9884 
25 years' experience 
Friendly reliable service 
All plumbing & maintenance 
Alterations and new housing 
Spouting  
Competitive rates 
PROMPT EFFICIENT SERVICE 
OWEN STEVENS 
Osteo Therapist
For careful adjustments to bones and joints 
Treatment for humans and their pets 
Clinics: 
Kate's Place, Kaiwaka: 
Last Friday of month 
For bookings: 
9.00am-5.00pm  
Phone 
09 4312661 
Or phone Owen  
09 4317123 anytime 
Kaiwaka Good Sorts 
Do you know someone in our community 
who is deserving of a beautiful bunch of 
flowers? 
Send an email to us at 
kaiwakabugle@kaiwaka.co.nz 
or drop a note to Jaques Four Square to 
let the Bugle team know. 
lindywatson@hotmail.com 
4312 847 
SEEDS FUNDRAISER 
Help us grow by beautifying your garden!  
Fund Raising for the Kaiwaka Sports Association 
Here is a great opportunity to purchase seeds to show your support. Seeds are easy to sow, fun to grow and will 
reward  you  with  gorgeous  flowers  year  after  year.  Prices  are  less  than  normal  retail  &  the  Kaiwaka  Sports 
Association will make 40% profit on all sales. Growing information is included on each packet. 
To  order  please  return  this  form  with  your  payment  by  4th  October.  Delivery  will  be  the  following  fortnight. 
Queries to Cheryl Anderson on kaiwakasports@gmail.com.  
Seeds Order Form 
Name:      _________________________________________ 
Phone number:     ___________________________ 
Seed Type 
Price
# Packs 
Total
Wildflower Bee Friendly Mix – 10 gms
Plant wildflower seeds, the ultimate in colourful low maintenance gardening, in your garden to 
provide essential nutrition for bees and other pollinating insects. Covers 10m
2
.
$10 
Wildflower Butterfly Garden Mix – 10 gms
An easy to grow gourmet blend of wildflowers specially formulated to attract butterflies into your 
garden. A balanced mix of colourful annuals and perennials that will cover an area of 10m
2
. 
Height: 30-70 cm
$10 
Fragrant Garden – 7 gms
A mix of fragrant flower seeds ideal for planter boxes around your outdoor areas. Packed full of 
colourful & heavenly scented wildflowers. Covers 7m
2
.  Height: 40-50cm
$7 
Micro Greens – 10 gms
'Micro Greens" is a term used for vegetables that are harvested at small seedling 
stage. They are a nutritious and tasty addition to salads. 
$7 
Sweet Pea – Summer Rainbow Mix – 20 seeds
A colourful & fragrant mix of climbing sweet peas. Plant against a fence or trellis. 
$5 
Sunflowers – 20 seeds
Sunflowers are a great way to add colour to your garden. Plus are super easy to grow! 
$5 
Payment options: 
…
Cash 
...
 Cheque (payable to KSA) 
...
Internet Banking 060365002247200 (use reference seeds and your full name) 
Ways to return form: 1) Post to Cheryl Anderson, 233 Baldrock Rd, RD2, Maungaturoto, 0587. 2) Drop off in KSA folder at Jaques 
Four Square. 3) Scan and email to Cheryl at kaiwakasports@gmail.com.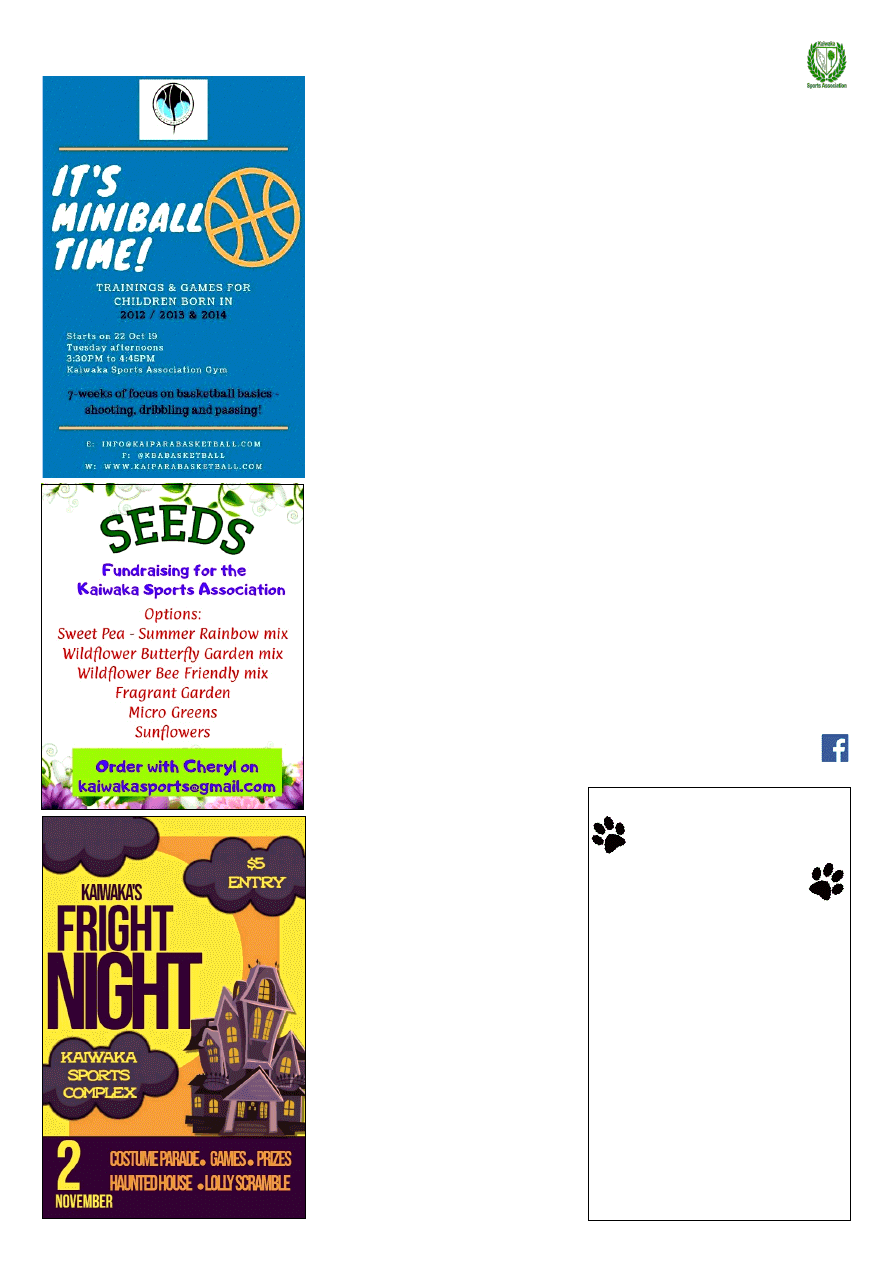 www.kaiwaka.co.nz 
Kaiwaka Bugle - 1 October 2019 
Page 11 
KAIWAKA SPORTS ASSOCIATION
Canine Obedience 
A  Canine  Obedience  Funday  will  be 
held  at  our  grounds  on  Sunday  6th 
October  at  9.30am.  Members  of  the 
public  are  welcome  to  enter  or  watch, 
if you bring your dog please keep them 
on  lead  and  bring  a  poo  bag.  If  you 
would like to enter, refer to the contact 
details on the Canine Obedience poster 
in  this  edition  of  the  Bugle.  Entries 
close this Thursday 3rd October. 
Congratulations  to  Otamatea 
Netball! 
Our  High  School  netball  club, 
Otamatea Netball, came away from the 
Whangarei  Netball  prizegiving  last 
week  with  a  swag  of  trophies! 
Congratulations  to  all  the  players, 
coaches,  management  and  families  for 
a wonderful season. 
SENIOR 1 
Championship 
Trophy 
Coll 
A1 
Championship Rounds 
Championship  Trophy  Coll  A1  Prelim 
Rounds 
SENIOR 2 
Runner  up  Trophy  Coll  B1  Championship 
Rounds 
Championship  Trophy  Coll  B1  Prelim 
Rounds 
Preliminary Highest Goals Trophy 
JUNIOR 1 
Runner  up  Trophy  Intermediate  S2 
Championship Rounds 
Championship  Trophy  Intermediate  S2 
Prelim Rounds 
Intermediate  Champion  Highest  goal 
Average Trophy 
Uniform Presentation Trophy (Shared with 
Junior 2) 
JUNIOR 2 
Runner  up  Trophy  Intermediate  S5 
Championship Rounds 
Championship  Trophy  Intermediate  S5 
Prelim Rounds 
Uniform Presentation Trophy (Shared with 
Junior 1) 
Jodie Bennetto - Top Junior Coach Trophy 
Jemma  Kurupo  was  presented  with  a 
Certificate for achieving her Centre Badge 
Renee  Allen,  Leayah  Buxton  and  Harlia 
Harris were mentioned as top performers in 
their selected positions. 
Basketball 
Ever  thought  of  coaching  a  miniball 
team?  Here  is  your  opportunity!  A 
Coaching  Clinic  will  be  held  in  our 
gymnasium  this  Saturday  5th  October 
at  10am.  No  prior  Basketball  or 
coaching  experience  is  needed  –  just 
enthusiasm!  Register  your  interest  by 
emailing: 
info@kaiparabasketball.com . 
Sports Day 
An inter-schools Sports Day for Years 
7  and  8  will  be  held  at  the  Sports 
Complex  on  Tuesday  22nd  October. 
Spectators welcome. 
School Holiday Boredom Busters 
The  school  holidays  have  arrived,  if 
you  are  looking  for  something  to  do 
with  the  kids,  you  are  welcome  to 
bring  them  along  to  the  Sports 
Complex:  
*  bring  a  basketball  and  shoot  some 
hoops on our outside backboard 
*  go  for  a  stroll/run/cycle 
around our Fitness Trail 
* have a hit of tennis on our courts 
* bring your frisbee/golf clubs and take 
advantage  of  the  wide  spaces  on  our 
rugby fields 
* enjoy our playground and then have a 
picnic lunch - our BBQ takes $1 coins 
for 20 minutes of heat. 
Group Day 
Otamatea  Group  day,  the  regional 
animal  showing  competition,  will  be 
held  at  our  grounds  on  Sunday  20th 
October.  For  details,  follow  the 
Otamatea  Group  Day  2019  Facebook 
page. 
Kaipara Basketball AGM 
Kaipara  Basketball  will  hold  their 
Annual  General  Meeting  at  the  Sports 
Complex  this  Tuesday  1st  October  at 
6.30pm. All welcome. 
Seeds Fundraiser 
Last  chance  to  order  your  seeds  from 
our  fundraiser  as  the  deadline  is  this 
Friday.  See  the  order  form  in  this 
edition of the Bugle. 
Fright Night 
Get  ready  for  Fright  Night  2019! 
Saturday 2nd November, running from 
5.30pm til late. 
Start  thinking  about  your  scary 
costume  (there  will  be  prizes  for  best 
dressed boy, girl and adult). There will 
also  be  prizes  for  the  best  Halloween-
inspired  supper  plates  –  last  year  we 
had  chocolate  spiders,  bloodshot 
eyeball  eggs,  cobweb  cupcakes, 
deadman finger sandwiches and more! 
Fright Night has lots of fun and spooky 
activities,  including  our  popular 
Haunted House – and this year it 
is going to be bigger and better!! 
~ 
Cheryl,   
kaiwakasports@gmail.com
Awhero Canine Academy 
Rally-obedience 
Fun day 
SUNDAY OCTOBER 6TH 
KAIWAKA SPORTS ASSN  
9:30 am start 
Entries close 3rd October  
Four events available: 
Each dog may enter 2 events 

PRE-NOVICE: For dogs who have 
not competed 

NOVICE: For dogs eligible to enter 
novice rally'o 

ADVANCED – ON LEAD: An 
advanced course onlead (will not 
have a jump or cone exercises) 

ADVANCED – OFF LEAD: An 
advanced level course completed off 
lead 

NOVELTY EVENT X 2 
Each dog may enter one novelty 
event 
For more information see Facebook  
Awhero Canine Academy or 
www.awherocanineacademy.co.nz/
competitions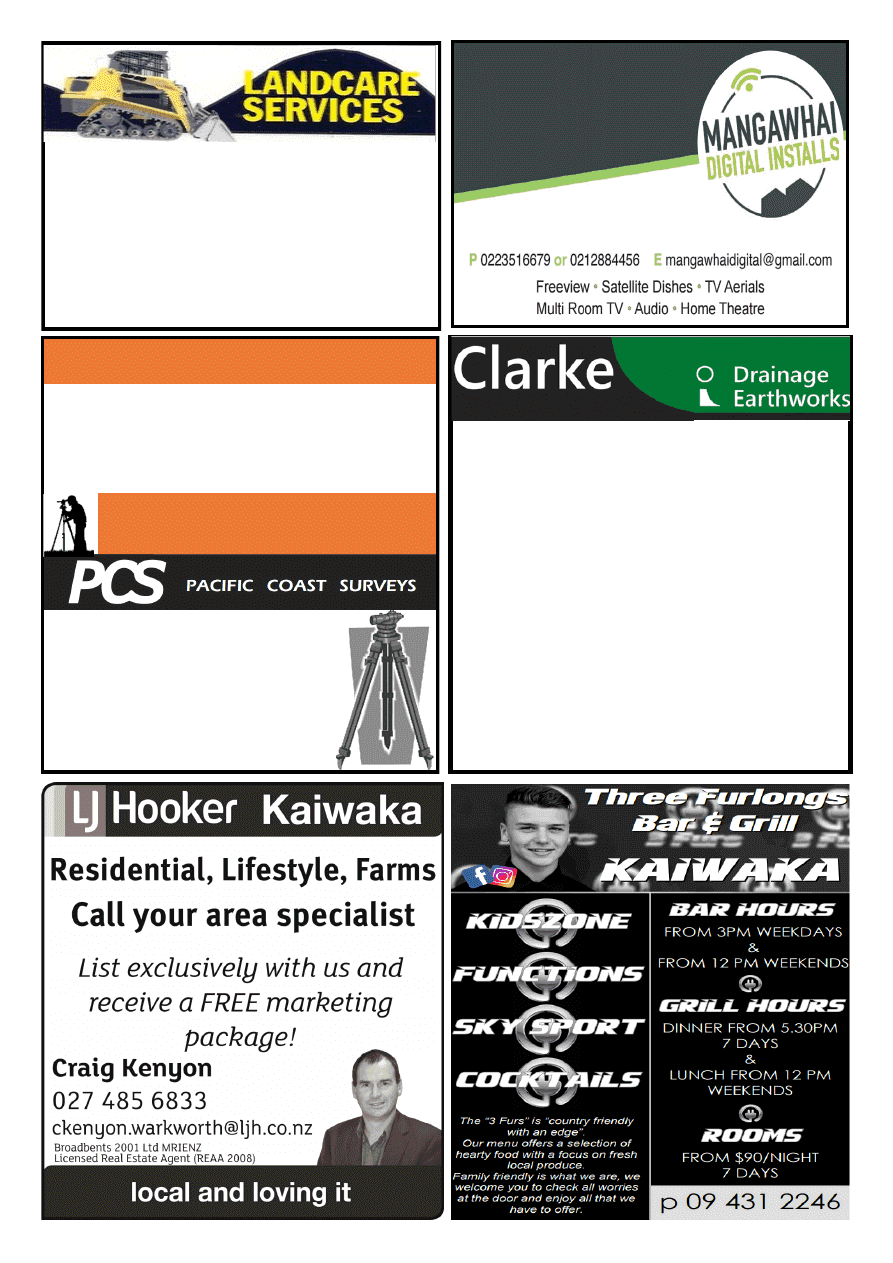 SURVEYORS 
SUBDIVISIONS 
HOUSE SITE SURVEYS 
CIVIL ENGINEERING 
WASTEWATER DESIGNS 
EXPERIENCED 
PROFESSIONAL 
INNOVATIVE 
Ph 09 431 5353 
0800 PACIFIC (0800 722 434) 
pacificcoastsurvey.com
Adam Booth - 027 415 5752 
Bsurv, Licensed Cadastral Surveyor
Surveying Kaipara since 1994 
LANDSCAPING 
4 IN 1 BUCKET 
TRENCHER 
POLE HOLES 
ROTARY HOE 
COMPACT ROLLER 
OFFAL HOLES 
CAN SUPPLY WOODCHIP & POST PEEL 
5 TON TIPPER 
FOR RELIABLE AND FRIENDLY SERVICE CONTACT DAVE 
Dave Hyndman 
 
KAIWAKA 
PH: 09 4312302 
MOB: 021 431 238 
Drainage & Earthmoving 
nigel@clarkedrainage.nz 
027 2233 185 
Registered Drainlayer                 All Types of Earthworks  
> All Residential & Commercial Work  > House Sites 
> Septic System Design & Install 
> Footings & Drilling to 10m 
> Sewer Connections 
> Dams 
> Water Tank Installation 
> Roading & Races 
> Farm Work 
THE ONE STOP SHOP  
Phone Nigel for an Obligation Free Quote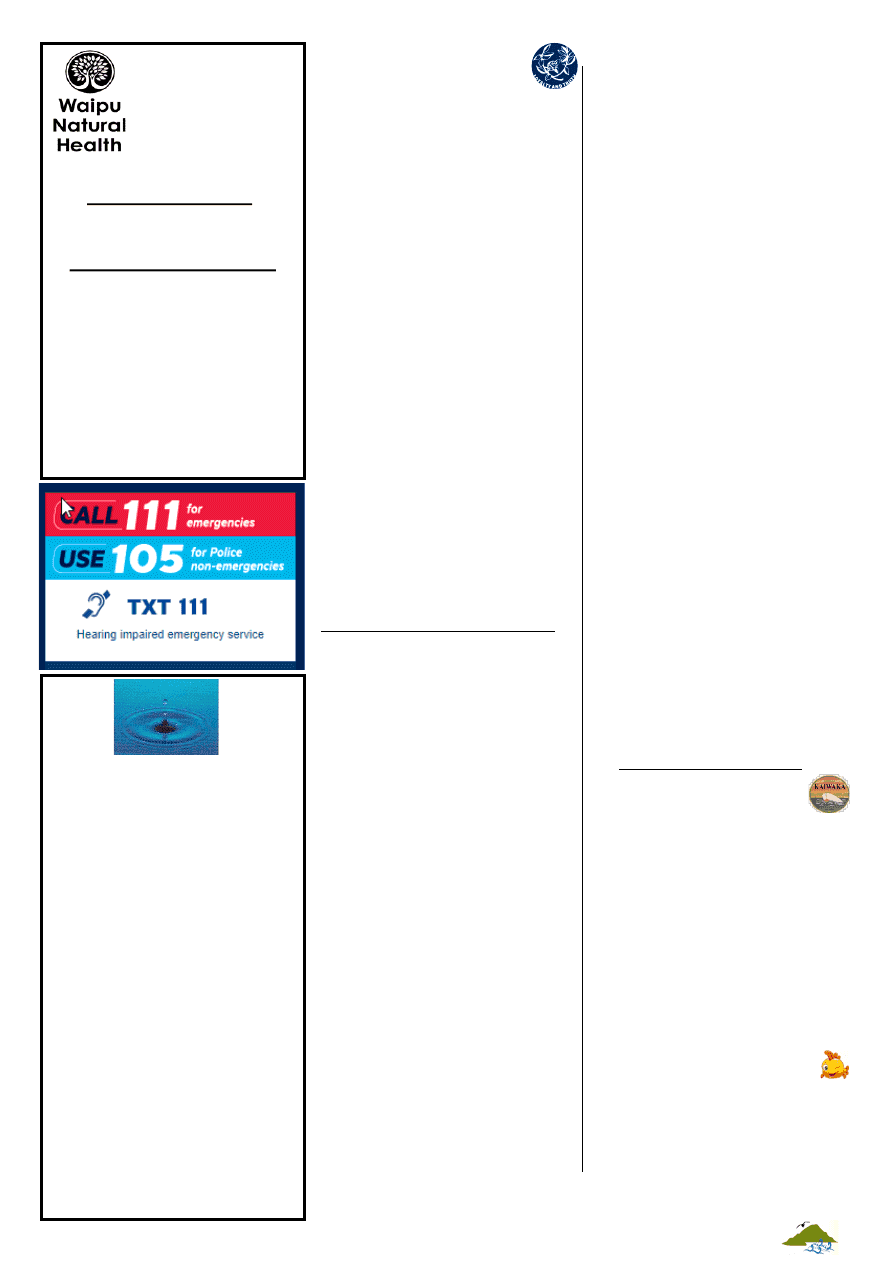 www.kaiwaka.co.nz 
Kaiwaka Bugle - 1 October 2019 
Page 13 
POINT CURTIS  
CRUISING CLUB  
⚫
Point Curtis Fishing Competition  
Fishing  Competition  is  on  Saturday 
16th and Sunday 17th November 2019 
Weigh in 5-6pm on both days.  
Species  are  Kingfish,  Snapper, 
Kahawai and Crayfish. 
All  fish  being  weighed  in  must  be 
Gilled & Gutted. 
Auction  will  follow  prize  giving  on 
the Sunday. 
⚫
Christmas  Dinner  is  on  Monday 
25th  November.  Please  let  Jean 
(Jaques 
Superstore) 
or 
Sandy 
(Wellsford  Sports  &  Leisure)  or 
Renna  (text  0212509549)  know 
so we can have numbers. 
Everyone  is  welcome  to  come  along; 
you don't have to be a member . 
⚫
Subs  - have you paid your sub? 
⚫
Fish  of  the  Month  is  Snapper  till 
9th October 
⚫
Next Club Meeting  Wednesday 9th 
October  2019,  Kaiwaka  Sports 
Association 7pm.           
Wayne Leslie (Commodore) 
KAIWAKA SCHOOL  
Sabbatical leave:  In term four I am on 
sabbatical leave so Dirk Smyth will be 
Acting  Principal,  Paul  Chambers  will 
be  Acting  Deputy  Principal  and  Bruce 
Alison  will  be  assisting  on  the  Senior 
Leadership Team.   
As  part  of  my  sabbatical  I  will  be 
visiting schools in the UK to interview 
staff and students about what strategies 
they have in place to support wellbeing 
and resilience.  I will bring ideas back 
to  Otamatea  in  2020  as  we  continue 
one  of  our  strategic  goals  of  creating 
and  embedding  a  whole  school, 
wellbeing  strengths  based  wellbeing 
framework for the school.   I will also 
be  doing  some  travelling  and  visiting 
family and friends. I would like to take 
this  opportunity  to  thank  the  students, 
staff  and  families  for  their  support  of 
the school over the last 6 years whilst I 
have been Principal.  I feel very proud 
of  the  progress  that  the  school  has 
made  in  all  areas.  It  is  also  incredibly 
reassuring  to  be  able  to  leave  the 
school in good hands knowing that the 
staff  have  the  best  interests  of  the 
students  at  the  centre.  See  you  in 
2020.    ~ 
Rachel  Clothier-Simmonds, 
Principal 
PTCA  meeting:  Wednesday  16 
October 7pm at the Three Furlongs Bar 
&  Grill.  Nibbles  will  be  provided. 
Please RSVP to ohsptca@gmail.com  
MAUNGATUROTO 
COMMUNITY CHARITABLE 
TRUST NEWS 
Recent  Census  Statistics  indicate  that 
Northland  has  experienced  the  largest 
population growth of all the provinces 
within  New  Zealand.  The  MCCT  has 
always  been  proactive  about  trying  to 
cater to the needs of the community. A 
flow-on  of  these  results  is  a  greater 
future demand for facilities such as the 
Dementia  Unit  we  are  building. 
Progress continues with the foundation 
work  now  complete,  and  the  concrete 
floor  has  been  poured. We  would  like 
to  thank  Atlas  Quarries  for  their 
continued support in this area. Brogan 
Builders are currently finalising the pre
-nailed framing for the next stage. 
Much  welcomed  financial  support 
from  the  community  totalling  $330K 
has  been  received  so  far,  however, 
fundraising  continues  with  events 
including: 
⚫
Sit down breakfast at the Mangawhai 
Club (date to be confirmed). 
⚫
Dahlias  for  Dementia  -  House  and 
Garden Tour 22-23 Feb 2020 – tickets 
on  sale  from  1st  December,  available 
at  100%  Fergus  Appliances  or  online 
via Facebook 
⚫
Stock Drive – if you are a farmer and 
have  stock  you  would  like  to  donate 
for us to farm on, or send to the works 
in  MCCT's  name  please  contact 
Michael Smales 09 4316829 
For  more  information  on  any  of  the 
fundraising 
initiatives 
visit 
the 
Facebook  page:  MCCT  Fundraising 
Committee. 
Within  the  Riverview  Resthome  and 
Village,  an  Own  your  Own  unit  has 
recently become available for sale. For 
more  information  please  see  our 
advertisement  or  contact  Craig  Fergus 
021378482. 
3 Cove Road, Waipu 
(opposite the Pizza Barn
) 
094321325 
www.waipunaturalhealth.co.nz 
Clinical Nutritionist: 
Nutritional Checkups, Diets for 
Chronic Diseases,  
Food Sensitivities 
Naturopathic Physician: 
Ozone Therapy, Prolotherapy, 
Mesozone 
Reflexology, Craniosacral 
Therapy, Trauma Release 
Massage Therapy 
Counselling and Hypnotherapy 
Change Catalyst/ThetaHealer 
Affordable Children's Consults 
All therapists are fully qualified
OTAMATEA HIGH 
SCHOOL
PRIVATE 
COUNSELLING 
AVAILABLE 
'In these days of uncertainty, 
ever wondered why Life is not a 
Joy for you?' 
Well, there is a Competent, 
Professional, Experienced Counsellor 
available to HELP YOU..!   
All Genders, Ages, Eclectic approach 
to ALL your issues. 
Can be 'Dark' issues... 
Depression , Anxiety, Panic Attacks, 
Trauma, Abuse, Grief and Loss, 
Custody and Parenting issues, Identity .. 
or Lighter issues ... 
Life style, balance, Skills and strengths, 
Planning, Loving life, better 
Relationships, Creativity,  
Rural Lifestyle adjustment, for example 
Based at Kates Place Kaiwaka.. 
'Be Whole Again' 
By Appointment only 
Pete Worsfold, Counsellor 
B.Soc.Sc. M.Soc.Sc, Dip Prof Couns, MNZAC 
'Full Circle Counselling' 
021825970 
peteworsfold65@gmail.com 
The  senior  students  visited  a  local 
farm  on  Wednesday  25th  September, 
to  plant  along  a  waterway  the  300 
native  trees  they  have  grown.  This 
expedition  is  a  part  of  their  science 
curriculum-looking 
after 
our 
environment.  Thank  you  to  Mr 
Massey and the team for organising it. 
The second trip was for all the junior 
students,  who  went  to  Te  Pounga 
Marae  on  Thursday  26th  September. 
They were welcomed with a powhiri, 
learnt  about  the  history  of  the  marae 
and  participated  in  marae  activities.  
Thank  you  to  Mrs  Jamieson  and  the 
team for organising this trip. 
Thank you to Mr Tim Merwood, who 
has  helped  the  school  out  with 
caretaking  while  Len  has  been  on 
annual  leave.  Term  Four  begins  on 
Monday 13th October at 8.30 am. 
BOT message 
It is with regret that I have to inform 
you  that  Rosie  [principal]  will  be 
leaving us at the end of the year. The 
Board  of  Trustees  would  like  to 
express  their  sadness  to  receive  her 
resignation.  We  would  like  to  thank 
Rosie  for  her  time  at  the  Kaiwaka 
School 
and 
what 
she 
has 
accomplished  while  she  has  been 
principal at the school. We would like 
to wish her well for her new adventure 
ahead of her. ~ 
Regards  Adrian  Buxton, 
Chairperson of the Board of Trustees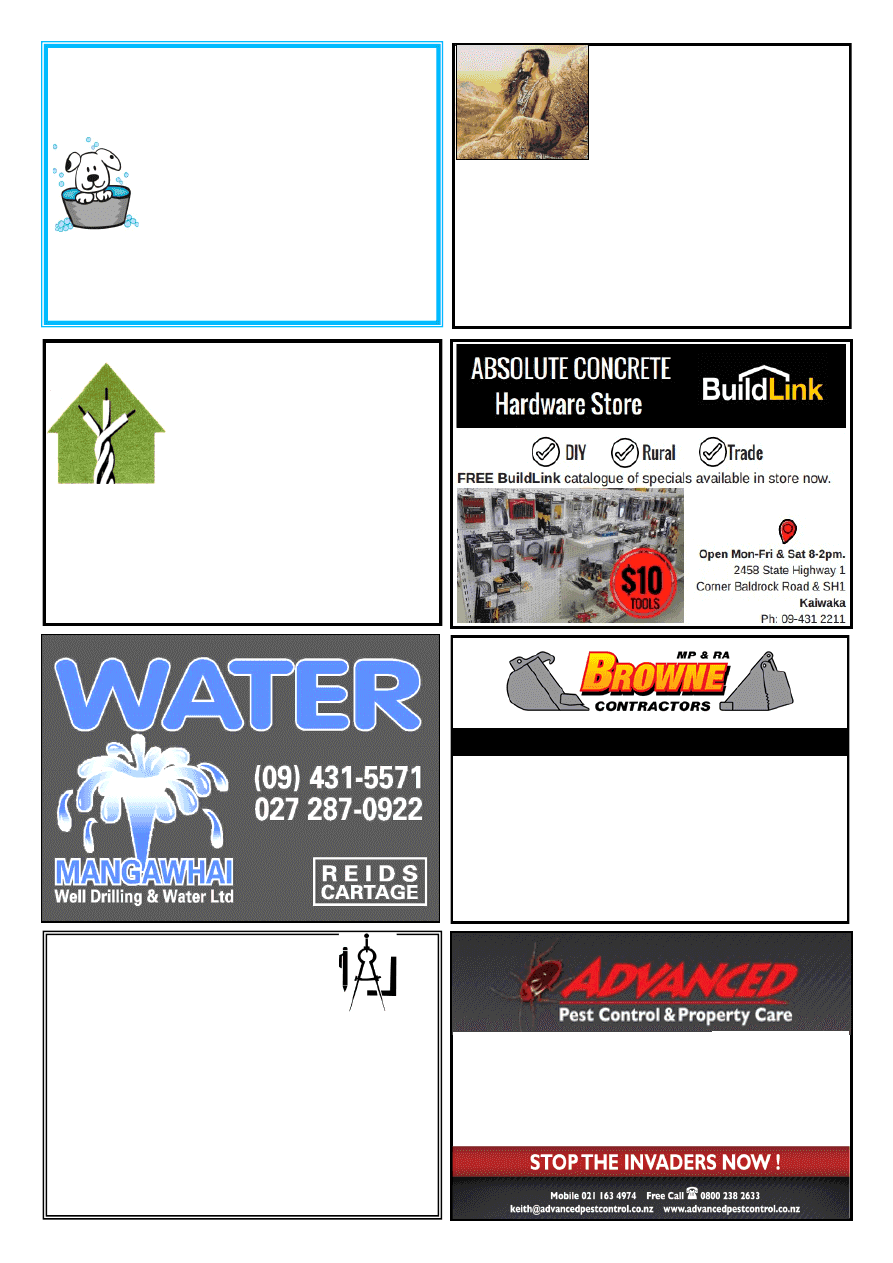 4T DIGGER – BOBCAT – TIP TRUCK 
Property Maintenance - Driveways  
 Building Sites 
Stump & Tree Removal  
Hole Boring - Chain Trencher  
Calf Shed and Stockyard Cleaning 
Phone Matt: 021 199 6677 
Email: mprabrownecontractors@gmail.com 
Reyahn George 
Leng 
Registered Electrician 
Local, honest and reliable. 
For your residential and 
light-commercial projects. 
022 314 1068 
TRAILS END 
RONGOA MAORI 
HEALING 
And Gifts 
Stocking all your needs from incense, crystals, dream 
catchers, greeting cards, jewellery, perfume, dragons and 
more dates for groups each month are: 
August 25th ~ September 22nd 
October 27th  ~ November 24th ~ December 15th 
From 10.30-2pm  
For all inquiries Phone 0211652629  
Light refreshments available $5 koha  
1758 Cove Road Mangawhai
Pest Control 
PLAN A: One-off treatments to customers with a specific pest problem 
PLAN B: Full maintenance service plans to commercial customers. 
This will include documentation kept in customer file on site: 
⚫
Pest treated 
⚫
Date of service 
⚫
Chemical or baits used 
⚫
Full pest check report done after each treatment 
⚫
Fair and reasonable fee with guarantee 
Flood Recovery 
Carpet Care 
⚫
Carpet Drying 
This includes pre-spray treatments 
⚫
Dehumidifier Rental 
with stain removal and hot water extraction.  
⚫
Full Commercial Cleaning  Patch repair also available 
Upholstery Cleaning 
Full upholstery cleaning of all furniture.  
eg lounge suites and all office chairs 
Water Blasting 
⚫
Concrete - Decks 
House Washing 
⚫
Soft Chemical Was 
⚫
Pre-painting Wash 
Property Services 
⚫
Property Cleaning  Lawn Mowing 
⚫
Hedges General   Tidy Ups 
Hot Diggity Dog 
DOG GROOMING 
All breeds dog grooming 
Professional Experienced Groomer 
Short practical grooms - summer 
Breed Standard Grooms 
Designer fusion Grooms 
Oneriri Road
By appt Phone Pam 09 4312143 
Or text only 0273335380 
Email  hot.diggitydog@outlook.com 
design drafting  
service 
Retired builder and manufacturer with over 40 years  
experience in the building industry is offering a design 
drafting service for domestic housing, sleepouts and 
sheds.  
Plans formulated in consultation with clients, with 
working drawings completed and submitted to  
council for processing.  Extensive practical experience,  
able to identify & resolve problems. 
Please ring Mike Lean on 
09 431 2260 
or 
021 431 196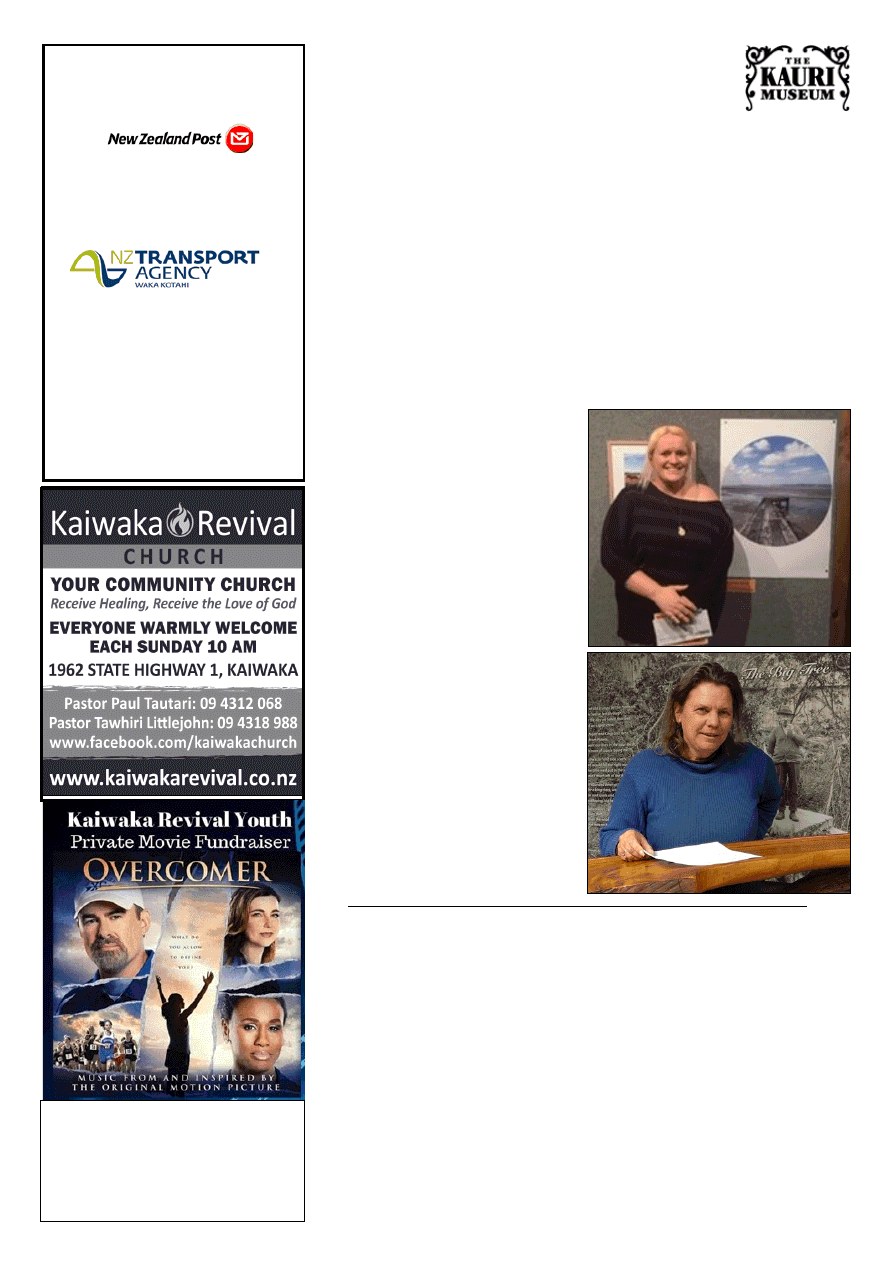 www.kaiwaka.co.nz 
Kaiwaka Bugle - 1 October 2019 
Page 15 
KAIWAKA POST 
CENTRE and 
FOOD MART 
POST CENTRE TRADING HOURS 
MONDAY to FRIDAY 8am to 5pm 
SATURDAY 8am to 12pm 
CLOSED ON SUNDAY and on 
PUBLIC HOLIDAYS 
FOOD MART (GROCERIES) 
MONDAY TO FRIDAY  
7:30am to 7.30pm 
SATURDAY  8am to 7.30pm 
SUNDAY  8:30am to 7pm 
IF ANY QUERIES PLEASE CALL 
STORE MANAGER AMRIT  
on 09 4312431 or 
EMAIL: kaiwakafood19a@gmail.com 
1919a State Highway1, Kaiwaka 0542 
HOW TO FUTURE ENERGY PROOF KAIWAKA 
HOMES AND BUSINESSES ? 
"More  electrification  will  be  needed  each  year,  electricity  prices  will  increase 
faster  and  more  than  30  %  extra  capacity  of  power  plants  will  be  needed  by 
2030".  To  tackle  this  growing  electricity  demand,  Kaiwaka  Community  can 
realise  a  huge  savings  to  in  the  near  future.  Saving  energy  starts  with  an 
Energy  Survey  to  evaluate  where  the  biggest  savings  can  be  created.  Also 
many  solar  energy  systems  are  NOT  performing  or  not  state-of-art  with 
quality and low performance issues. 
Eric Jansseune would like folk to contact him regarding your household 
energy use and so build a map of Kaiwaka energy. 
Contribute TO THIS FREE ENERGY Survey KAIWAKA: 
Please contact Eric with information on your GENERAL USE Electricity 
for  2018  eg  kWh  units  used,  including  hot  water,  cooking,  heating  or/and 
SOLAR ENERGY SYSTEMS -which type is installed? 
Contact Eric Jansseune, EWATEC, Ph: 09/431 24 08 cell 021 022 31 700 or 
email ericjansseune1957@gmail.com 
 www.ewatec-global.com - 114 Vista Lane, 0573 Kaiwaka  
It has been a very busy two months at 
The Kauri Museum.  
Poetry Event 
Prize  giving  for  our  poetry  event  was 
held  on  23  August,  National  Poetry 
Day. This was also an Open Mic event 
with members of the public performing 
along  with  those  who  had won  prizes. 
A  good-sized  crowd  heard  Liz  Clark 
of  Maungaturoto  proclaimed  as  the 
winner by our judges for her entry 'On 
the shores of gold'. 
Photography Award 
Next  up  was  The  Kauri  Museum 
Northland  Photography  Award.  This 
was the third time The Kauri Museum 
had  organised  this  event  which  is 
growing  in  popularity  every  year.  The 
theme  of  'This  is  Northland-  home  of 
the  kauri'  saw  some  very  imaginative 
images  entered.  The  prize  giving  took 
place  on  Friday  13  September  with 
Jenn 
Burrows,  art  teacher  at 
Northland  College,  Kaikohe  taking 
home  the  major  prize  in  the  Open 
Category.  Chloe  Smith  who  lives 
locally  but  attends  Whangarei  Girls 
High  School  took  out  the  Senior 
Student  class  with  Ryan  Johnson  a 
pupil at Matarua School won the Junior 
Student  prize.  Images  of  all  entries  in 
this competition have been uploaded to 
the  museum's  Facebook  page  for 
online  voting  for  the  Tudor  Collins 
People's  Choice  Award.  Voting 
continues  until  16  October.  It  is  well 
worth a look to cast your vote. 
Schools Poetry Awards 
Our  final  prize  giving  night  was  20 
September  for  the  Schools  Poetry 
Awards.  Using  the  same  theme  as  the 
National Poetry Day event 'Voyaging - 
to,  in,  or  around  the  Kaipara',  we 
received a large number of entries from 
five  local  schools.  A  big  crowd  of 
parents  and  supporters  attended  and 
watched  some  very  energetic  young 
poets  perform  their  poems  and  rap  to 
their  song  lyrics.  A  great  night. 
Museum  General  Manager,  Dr  Tracey 
Wedge  commented  "the creativity  and 
confidence of the young wordsmiths of 
the  Kaipara  is  outstanding  and 
demonstrates  a  bright 
future  for  the  arts  in 
our  area.  This  is  how 
we bring the Museum alive!" 
Settlers Day 
Also bringing the museum alive is our 
annual  Open  Day,  Settlers  Day,  to  be 
held on Saturday 5 October. Beginning 
at 9.30am with a service in the Pioneer 
Church before moving across the road 
to  the  museum,  all  the  old,  favourite 
activities and displays will be on hand, 
along  with  some  new  activities  which 
reflect this year's theme of Hearth and 
Home.  We look forward to seeing you 
there! 
Photos:  Top  -  Jenn  Burrows  with  her 
winning  entry  'Abandoned  Wharf  at 
Kelly's  Bay';  Below  -  Liz  Clark  of 
Maungaturoto  performing  her  winning 
entry  'On  the  shores  of  gold'  in  the 
National Poetry Day event 
AT THE KAURI MUSEUM 
Second 
screening 
of 
the 
movie 
Overcomer at Matakana Cinemas Sunday 
13th October  at 6.15pm. Cost - $20 
Contact  Moana  02102461732  for  tickets. 
Thank  you  for  supporting  Kaiwaka 
Revival  Youth  and  our  fundraising  for 
2020  Easter  Camp
. 
A great must watch movie, 
come enjoy an evening out with the family.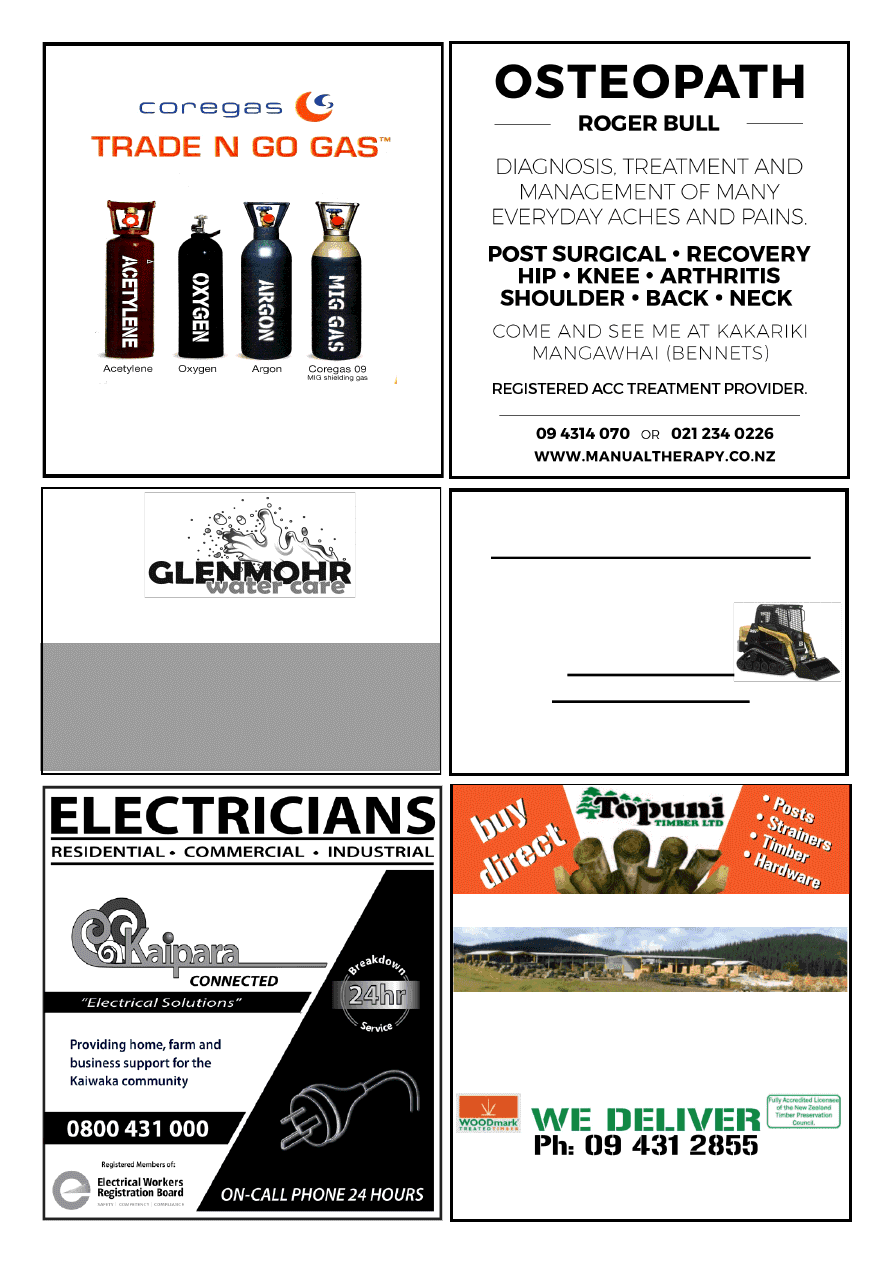 At Twinkle Tow 'n' Tyre 
Mob: 021 833 960 
Ph & Fax: 09 431 2823 
1837 State Highway 1, Kaiwaka 
Water Tank Cleaning 
• 
Keep your water safe & clean  
• 
Removal of sediment, silt etc. 
• 
Vacuum or full scrub 
• 
Minimal water loss 
Phone Mark (09) 432 0655 or 0274 707607 
LOCALLY OWNED AND OPERATED 
QUALITY PRODUCTS • FRIENDLY ADVICE • GREAT SERVICE 
Quality Products milled from High Density NORTHLAND Radiata Pine. 
Treated and guaranteed to NZS3640 with commitment to 
Environmental Safety.
Phone, fax, email, or come into the mill 
Schiska Rd, Topuni, SH1, 10 min north of Wellsford. Fax: 09 431 2856 
Email: sales@topunitimber.co.nz           Mon - Fri 7am-5pm 
• Fencing 
• Retaining 
• Decking 
• Landscaping 
• Gates 
• Hardware 
Natural Earth Ltd 
Landscape and Bobcat services 
 : Driveways :Landscaping :Retaining Walls 
 : Hole Boring: Land Levelling :Trenching 
 : Decks :Fences :Sections Cleared 
 : Plus much more
Tel 09 4312 885 
Mob 02102391280 
For A Fast Friendly Service  
Contact Tim Hicks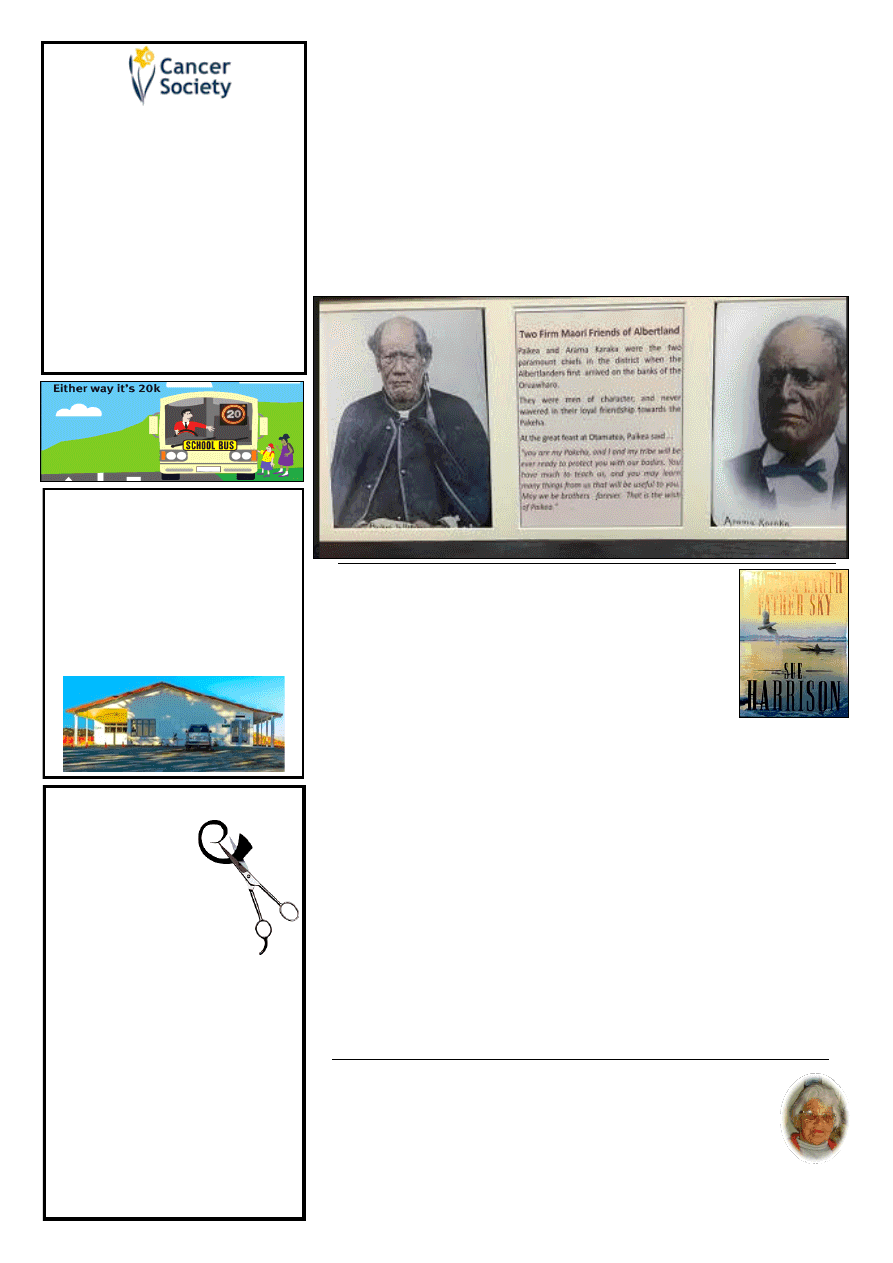 www.kaiwaka.co.nz 
Kaiwaka Bugle - 1 October 2019 
Page 17 
JUST 
CUTS 
and 
MORE  
1758 Cove Road  
Open Monday-Saturday  
by appointment only 
Saturday 9-12pm  
Affordable prices: 
Ladies cuts from $35 
Colours from $120 
Men's from$25 
Kids from $18 
0211652629  
Te Pounga Marae 
130 Nathan Rd. Oneriri. Kaiwaka 0573 
COMPLEX FOR 
HIRE 
Functions: * Weddings  * Birthdays  
*Anniversaries * Meetings  * Wananga 5 
hour meeting * 12 hour stay or Overnight 
*All welcome   
For more information please contact: 
 Pearl Nathan 0223933533 
Email: tepoungamarae130@outlook.com  
From Thelma's Scrapbook … 
The Fairies At The Bottom Of The Garden 
The hour was late – came a knock on the back door. When he 
opened it, there on the door-mat stood a little silver fairy. She was 
covered in mud, her dress was torn, her wand was broken, and her crown was 
in a sorry state. "Look," she said, "when are you going to do something 
about the bottom of your garden?"
ALBERTLAND MUSEUM UPDATE 
We  have  some  great  new  events  to  report  on-  first,  we  are  delighted  that  the 
Museum now has a new patron in Mr Alan Gibbs, a well-known businessman 
who also owns Gibbs Farm, the outdoor sculpture exhibition on SH16. We are 
able to offer a fundraising visit to the farm sometime in the new year, so check 
the  website  -  https://www.albertland.co.nz/    Our  new  website  is  coming  up  to 
launch  time,  with  everything  easier  to  see  and  use,  more  interactive  and  lots 
more to look at – keep an eye out for the changes. 
And  our  current  special  display  in  the  Harold  Marsh  Gallery  is  of  local 
photographers  past  and  present  ,  with  some  of  their  stunning  photos  and 
amazing old cameras, some dating back to the late 1800s.  
A  photograph  by  Harold  Marsh  of  two  paramount  chiefs,  Arama  Karaka  and 
Paikea,  has  been  mounted  in  the  main  collection.  Paikea  is  quoted  as  saying 
"You are my pakeha. …may we be brothers forever". 
The Museum is open every day in Wellsford
. ~ Helen
CANCER SOCIETY 
SUPPORT GROUP  
Cancer  Society  Support  Group 
Maungaturoto 
is  an  informal 
support  group  for  anyone  with  a 
cancer diagnosis and their family. 
Come  and  meet  with  others  who 
understand  what  you  are  going 
through on then 4th Tuesday of each 
month  at  134  Hurndall  Street  East 
Footprints  Room  (behind  Holy 
Trinity 
Church, 
beside 
the 
Maungaturoto Medical Centre).  
Contact Annette Davis,  
office co-ordinator on 09 4375593 or 
027 607 1469 
Ballot box for local body elections 
We have a ballot box for the local body 
elections  in  the  library  until  the 
morning of Thursday 10 October.  
Drop  your  completed  voting  papers  in 
our box during our opening hours, and 
they  will  be  counted.  It's  okay  if  you 
don't  have  the  envelope,  we've  been 
told  the  papers  will  be  accepted 
without  that.  If  you  miss  our  box  and 
the  postal  deadline  (8  October),  you'll 
need to deliver your voting papers to a 
KDC  office  at  Mangawhai  or 
Dargaville  by  midday  Saturday  12 
October.  
Don't forget to vote! 
Price increase + loyalty cards 
From  1st  October  2019  the  rental  fee 
for  books  has  increased  to  $1.00  for 
three weeks. This applies to any rental 
book borrowed or renewed from today. 
At  the  same  time,  we  are  introducing 
two  new  loyalty  cards  -  one  for  rental 
books,  the  other  for  DVDs  and  Blu-
Rays.  Borrow  10  of  one  type,  get  10 
stamps  on  your  card,  and  get  the  next 
one free. 
Book swap 
The  NLN  large  print  and  audio  book 
swap is coming up in 
a  couple  of  weeks, 
on 
15 
October. 
Please  have  any  of 
these  items  (that  is, 
all  audio  books,  and 
LP  books  with  the 
yellow  spine  label) 
back to us the week beforehand so they 
can be exchanged for other titles. 
Book review 
Jill  has  read  Mother  Earth  Father  Sky 
by  Sue  Harrison.  She  says  it  was  "a 
really  good  read.  Set  at  the  end  of the 
last  ice-age,  it  seems  to  be  well 
researched  and  has  details  of  how 
native  Aleutian  Islanders  existed. 
Hunting  methods,  house  construction, 
and many daily tasks included in a very 
convincing  story  of  a  young  woman 
surviving many hardships to eventually 
find  a  place  among  her  people.  Any 
reader  interested  in  survivalist  living 
would  glean  useful  tips  to  enhance 
their chances!" You'll find this book on 
our  Rental  Fiction  shelves  for  some 
months,  before  it  moves  to  the  free 
shelves. 
See you in the library, Wendy 
 *Enterprise: http://kaipara.kotui.org.nz/
KAIWAKA LIBRARY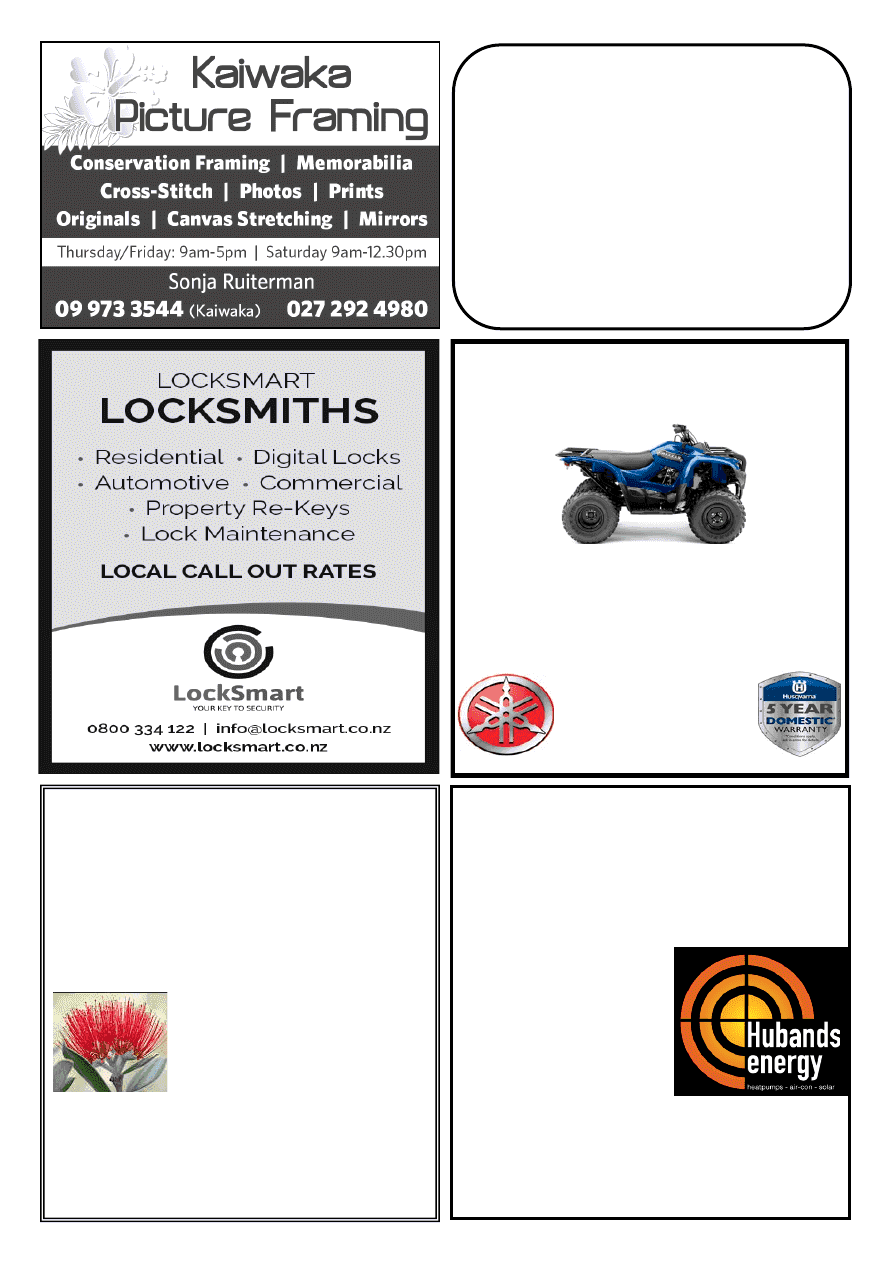 KAIWAKA 
MOTORCYCLES LTD
SALES – SERVICE – SPARES 
FARM BIKE SPECIALIST
PHONE 09 431-2127 
10 KAIWAKA-MANGAWHAI ROAD, KAIWAKA
Trimmers  
from $279
Chainsaws  
from $339
YAMAHA 
HUSQVARNA 
Northland's Award Winning 
Solar Company
SEANZ Best Solar Business Winners 2015/16
EXCLUSIVE 10 year installation warranty 
FREE No obligation onsite quote
Complete systems 
from $5990
See our range of: 
✓ 
Heatpumps 
✓ 
Airconditioning 
✓ 
Hot Water 
Heatpumps 
✓ 
Central Vacuum Systems
09 430 0019             sales@hubands.co.nz 
15 Kioreroa Road, Whangarei
Locally owned and operated for 35 years 
UP-LINK 
CHRIS WARING 
FREEVIEW INSTALLATIONS 
T.V. - HOME THEATRE &  
HI-FI ADVICE/SET UP
SKY ACCREDITED INSTALLER
MOB.0273403747 HM.094312328 
EMAIL cwaring44@gmail.com
28 YRS EXPERIENCE 
OFFERING UNBIASED ADVICE 
KAIPARA FLOORING CO 
Independently owned & operated 
32 HURNDALL ST MAUNGATUROTO
Supply & Installation of Carpet, Vinyl,  
Vinyl Wood Planking
Stockists of 2m & 3m wide 
vinyl & carpet short ends
Residential & Commercial
Q Card Finance Approved 
6-18 month terms 
6 mth interest free
First Class Installations
For a free measure & quote 
phone Christine  
09 946 9886 or 021 515 415 
kaiparaflooring@gmail.com 
http://www.kaiparaflooring.co.nz/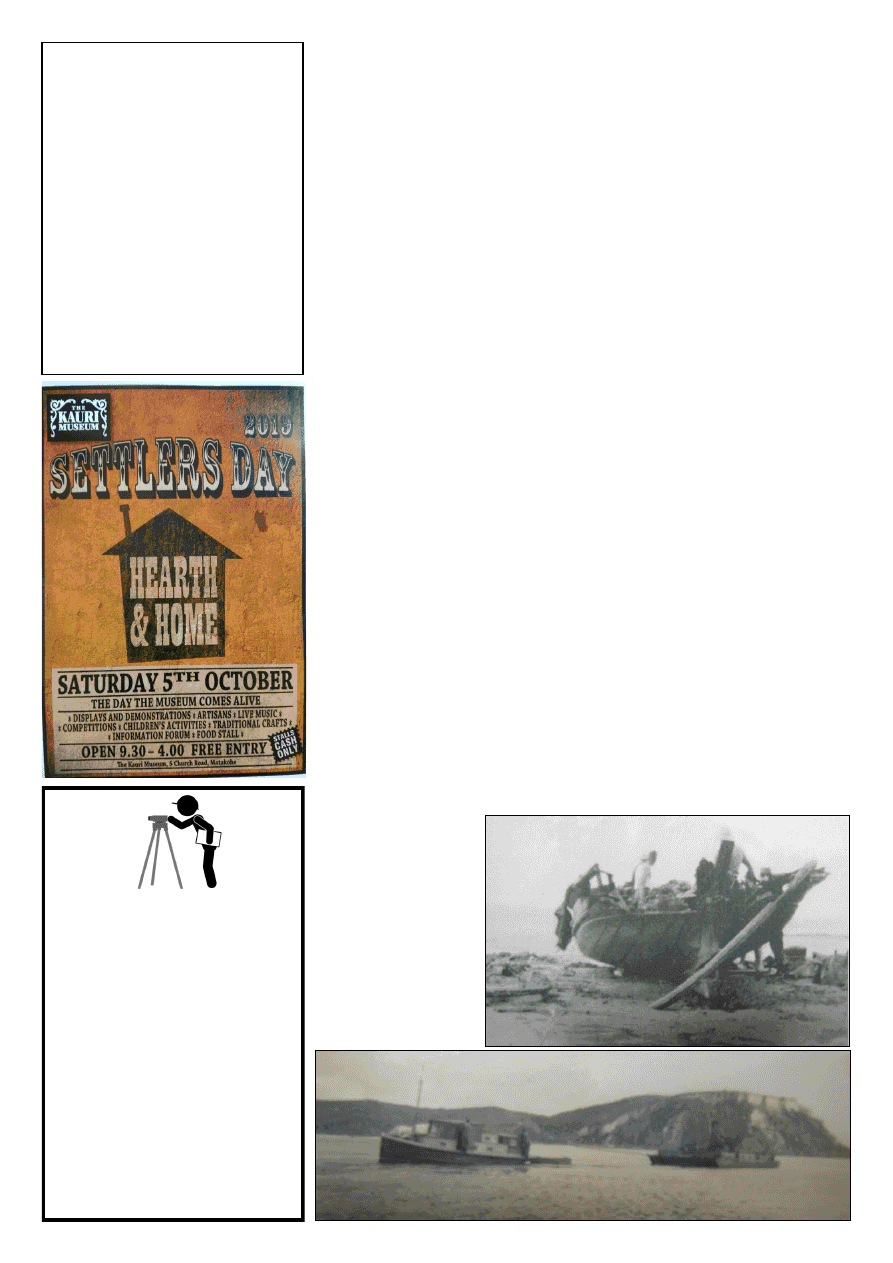 www.kaiwaka.co.nz 
Kaiwaka Bugle - 1 October 2019 
Page 19 
Ken Urquhart 
BSurv Licensed  
Cadastral Surveyor 
KMU Surveys Ltd 
467 Bickerstaffe Road 
RD 2 
Maungaturoto 0587 
Ph 09 431 8705 
Mob 021 161 2344 
kenurquhart@xtra.co.nz 
NINE LIVES OF A KAIPARA CUTTER 
A  relic  of  Kaipara  Harbour  shipping 
history is being given renewed purpose 
at  Putiki  Bay.  A  connection  has  been 
forged between historic shipping on the 
Kaipara  and  a  modern  day  youth  sail-
training project on Waiheke Island. But 
first a bit of history on this indomitable 
boat, the trading cutter, 'Kate'. 
The Story of the 'Kate' 
Built  in  1898  on the Kaipara  Harbour, 
'Kate'  is  one  of  only  three  surviving 
examples of her type, the sailing cutters 
that played a vital part in the pioneering 
development  of  New  Zealand.  She 
embodies a unique part of our heritage. 
She was used for towing kauri logs out 
to waiting ships for export, and later for 
towing  a  shingle  barge.  She  was 
originally built for Captain Seymour by 
Erik  Thompson,  who  emigrated  from 
Sweden and set up business at Aratapu, 
south of Dargaville, in 1873.  She cost 
84 pounds complete with sails. 
Mr. Terry Curel, an 86 year old master 
mariner,  whose  father  Bill  was  a  pilot 
for  the  Kaipara  Harbour  and  who 
bought  the  'Kate'  in  1919,  has  many 
fond  memories  of  her.  In  1925  Bill 
Curel,  with  his  wife  of  3  months  on 
board,  was  washed  ashore  at  midnight 
in  a  gale,  at  Tinopai.  The  couple  left 
the  boat  and  started  a  long  walk  to 
shelter.  On  the  way  they  realised  his 
bride  had  left  her  wedding  ring  on 
board,  hopefully  still  hanging  on  a 
hook inside the companionway where it 
was  placed  whenever  she  took  it  off. 
Bill  walked  5 or  6  km  back,  then,  due 
to the rising tide, had to swim out to the 
boat to successfully retrieve the ring. 
Once  the  boat  had  been  salvaged,  the 
original  engine  was  replaced  with  a  2 
cylinder  18hp.  Twigg,  a  brand 
manufactured  in  New  Zealand.    Bill 
used to chant to the rhythm of the slow-
revving  engine  as  it  ticked  over:  "One 
penny,  two  pennies,  three  pennies, 
four;  You  benzine  drinking  monster, 
always 
asking 
for 
more!" 
Bill 
subsequently  sold  the 
'Kate'  to  his  brother 
Arch around 1933, who 
kept  her  at  Helensville. 
Terry  remembers  his 
first  job  as  a  boy  in 
1943,  crewing  on  the 
'Kate' 
for 
Harry 
Stanaway,  who  owned 
her then, towing logs. 
In  1946  she  was  burnt 
to the waterline in a gas 
explosion 
and 
fire. 
Purchased 
for 
50 
pounds  by  Ray  Crawford,  she  was  re-
built  using  the  best  kauri  for  planking 
and puriri for the frames. This explains 
the difference in the shape of her stern 
now from the half model on display at 
Dargaville Museum. 
Peter  Lindegreen,  a  retired  fisherman 
who  lives  on  his  boat  in  Ostend 
remembers  crewing  on  her  as  a  boy 
when she was a net fishing boat on the 
Kaipara in the 'fifties. She was trucked 
over  to  the  Waitemata  sometime 
around  1960,  and  was  used  as  a 
crayfishing  boat  during  the  boom  time 
of the late sixties. 
In  1973  she  was  bought  by  Grahame 
Wharton,  who  moored  her  off 
Kawakawa  Beach  and  used  her  as  a 
pleasure  boat  with  his  family.  He 
recalls  encountering  20-foot  seas  off 
Cape  Brett  on  a  trip  to  the  Bay  of 
Islands, and reports she is an excellent 
sea boat. His son Lance presently owns 
the  houseboat  "Sunflower",  moored 
next  to  the  "Kate"  in  the  Causeway 
inlet  on  Waiheke.  Lance  fondly 
remembers trips on her as a boy when 
they  set  steadying  sails  and  learnt  the 
basics  of  sailing  before  swapping  her 
for a yacht. 
The next owner  reputedly lived aboard 
her with his family in the Tamaki river. 
There are reports that  at  one  stage  she 
sank in St. Mary's Bay. 
The  'Kate'  arrived  on  Waiheke  in  the 
mid  1980s,  bought  by  Thomas  and 
Sharonagh Tengblad, who lived aboard 
with  their  young  family  for  a  while, 
and  began another  major re-build. The 
decks were stripped off and replaced, a 
new  cabin built  and  the  keel  deepened 
by  8′′  using  Kwila  hardwood  and 
bronze  bolts.  But  the  work  proved 
challenging  and  expensive.  They  had 
fitted  a  beautiful  set  of  bronze 
portholes  off  a  wrecked  steamer,  but 
these were stolen, and that was the last 
straw.  The  "Kate"  was  put  on  the 
market…again. 
To be continued….  
Photos - ref. Dargaville Museum 
HAKARU HALL 
ACTIVITIES 

Monday: Line Dancing  

Wednesday Music Jam Session  
  0210628631 

First Wednesday of the Month 
Hall Committee Meeting 7.30pm 

October 19th Saturday Night  
Down At The Hall   
4.00pm  til late 
Music Variety Concert  
BYO Shared Plate Raffles 
$10 Adults Kids Free Money 
Towards Hall Upkeep 
Hakaru Hall Settlement Rd 

Hall Bookings  4312256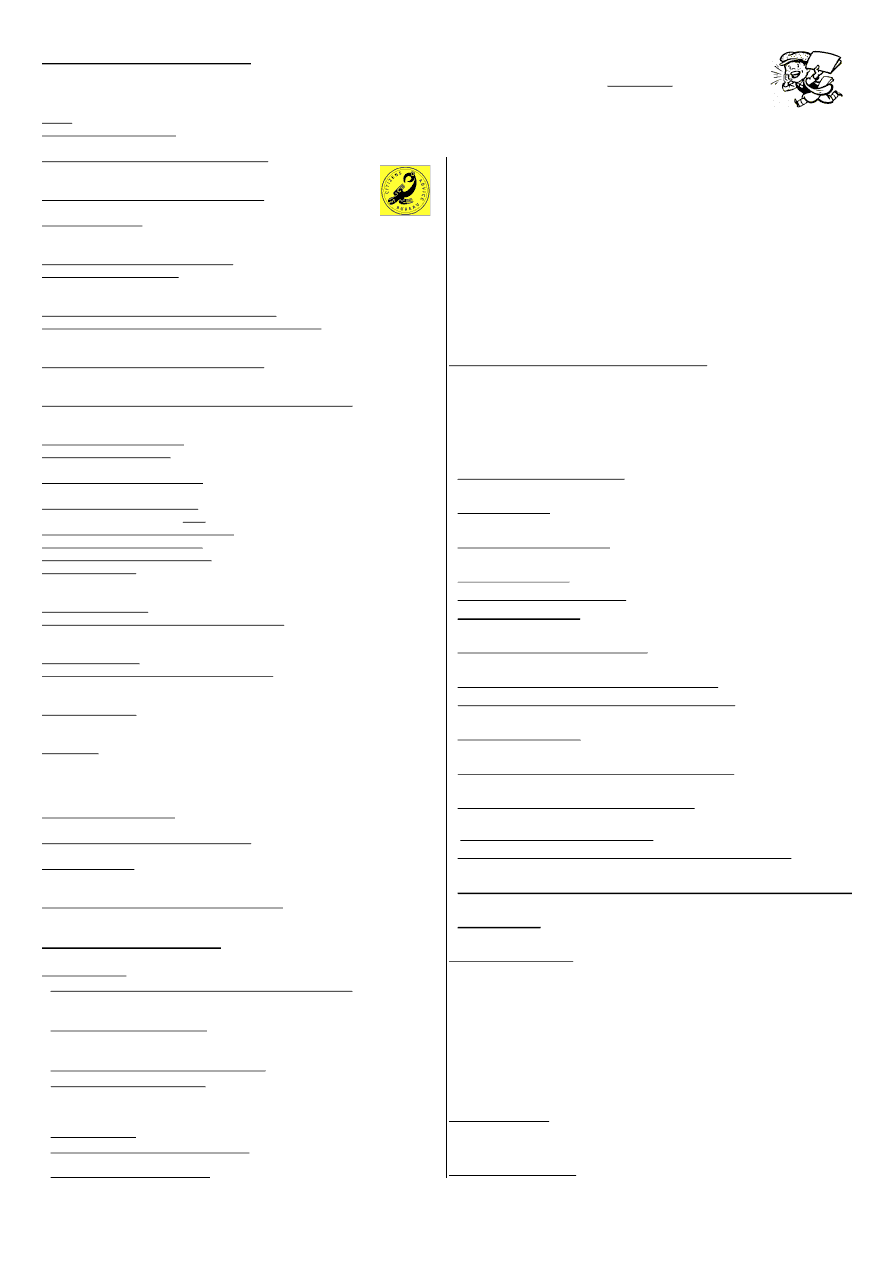 Next Bugle Deadline midday Friday 11 October  2019
WHAT'S ON
PLEASE ~ do let us know what is on - email 
kaiwakabugle@kaiwaka.co.nz 
*3Oct~Oamatea Community Services AGM, Maungaturoto 
*4Oct~Final date for KSA Seed Order 
*4Oct~Movie 'ROCKETMAN', KWMH, 7.30pm 
*5Oct~Settlers Open Day, Kauri Museum, 9.30  
*5Oct~Basketball Coaching Clinic, KSA, 10am 
*6Oct~ Canine Obedience Funday, KSA, 9.30 start 
*18Oct~Movie 'YESTERDAY', KWMH, 7.30pm 
*19Oct~Music Variety Concert, Hakaru Hall, 4pm on ... 
*20Oct~Paparoa Dogs Day Out, Paparoa Showgrounds 
*20Oct~Otamatea Group Day, KSA grounds 
*27Oct~Movie 'TOY STORY 4', KWMH 2pm 
KWMH = Kaiwaka War Memorial Hall; KSA = Kaiwaka Sports Association 
See www.kaiwaka.co.nz for more information 
HOUSEHOLD RUBBISH COLLECTION  
Kaiwaka Pick up: 
Mondays = Green bags (Northland Waste - 09 430 3273) 
Wednesdays  =  Blue  bags  and  yellow  recycling  (at  Jaques  $3.00 
and  $1.50)  (Kaurilands  09  4392146);  ONLY  Blue  and  Yellow 
bags picked up on Oneriri Road. 
 DIABETES Support Group-for Kaiwaka, Mangawhai, Wellsford 
10am, 3rd Friday of month Ph: Colleen James 09 4314238 
 GENEALOGY - Wellsford: 1st Thursday in month Ph: 423 
7033; Waipu: 4th Monday in month Ph: 4312 725 
 HAKARU PONY CLUB - Secretary Denise Rogers 021423376 
secretary@hakaruponyclub.co.nz  
 KAIPARA HUNT - Secretary Albert Doonenbal Ph 4312059 
 KAIWAKA BADMINTON -Tuesdays 7.30pm Ph: 4312345 
 KAIWAKA  CAN  -  3rd Wednesday in  month, 5.30pm, Archie 
Bull Hall Ph: 0273572751 
 KAIWAKA  DRAMA  CLUB  - 
Hannah  Webb 
0272863352 
KaiwakaDrama@gmail.com - FB - "KaiwakaDramaClub" 
 KAIWAKA DRUM & DANCE CLASSES - 021 611198 
 KAIWAKA GARDEN & FLORAL GROUP - 2nd Thursday in 
month. Ph: 431 4744 
 KAIWAKA  CUBS  -  Thursdays  5.30-7pm,  Hakaru  Ph:Bruce 
4312542 
 KNITTING FOR WHANGAREI HOSPITAL - 2nd Tuesday in 
month, Archie Bull Hall 10am Ph 4314827 
 MANGAWHAI COMBINED REBUS CLUB - 2pm, 3rd 
Thursday month, Senior Citizens Hall Mangawhai. Ph: 4315777 
 *PT CURTIS CRUISING CLUB - Jean Ph: 4312227 (wk), 4312520 (hm) 
 RSA,  HAKARU  &  DISTRICTS  WOMEN'S  SECTION  –  meets 
1.30pm 4th Thursday of the month. Ph: 431 5818  
 KAIWAKA  SCOTTISH  COUNTRY  DANCING  CLUB-
Wednesdays 10am - 12 noon  Ph: Elaine 027 432 0032  
 TRAMPING - Mondays 9am-2:30pm Maria 4312 234 
HALLS FOR HIRE: 
  Kaiwaka St. John Hall: Phone Marj  0272941227  
 St.Pauls  Archie  Bull  Hall  HIRE  $20  half  day,  $40  full  day  per 
hire, S McAulay, Ph 4312311 
 Kaiwaka  War  Memorial  Hall  HlRE  -  Phone  4312725  or 
kaiwaka.hall.bookings@gmail.com 
 Hakaru Community Hall HIRE -Ph. 4312256 or 4312110 
 Te Pounga Marae queries - Pearl Nathan  0223933533 
 Kaiwaka Sports Association hire/queries - C. Anderson 4312051 
or kaiwakasports@gmail.com 
Justice of Peace:  
B.FJaques  4312  048;  L.Donaldson  4312  228;  A.F.Hargreaves 
4312 045, W.Howard 4312 725 - please phone to make sure they 
are available www.justiceofthepeace.org.nz 
Marriage Celebrants:  
L.Donaldson; A.F.Hargreaves; Y Osborne
LOCAL SERVICES 
*Emergencies - Ambulance, Fire, Police - dial 111 
*Non-urgent Police phone 09 4311150
A A: Meets Wed., 8pm Kaiwaka Ph: 4315543, 0800229 6757 
ASUREQUALITY LTD (was AgriQuality) Call Free 0508 0011 22  
BUDGETING SERVICE, WELLSFORD: Free confidential advice & 
support for all areas of personal finance. Ph (09) 423 7123 
CAB-Citizens Advice Bureau.Wellsford Ph: 4237333 
0800 367 222 email:cab.wells@xtra.co.nz  
CIVIL DEFENCE - Kaiwaka Community Response Group: 
kaiwaka.civildefencecrg@gmail.com, 4312725 Wendy 
DOG/STOCK /NOISE CONTROL 0800 105 890 
FUNERAL SERVICES: Morris & Morris Ltd, 
Whangarei - Bev Jaques Ph:4312367 or 0800667747 
GRANDPARENTS Raising Grandchildren: Dianah Roberts 0223819539 
HAKARU & DISTRICTS MEMORIAL RSA (Inc) 733 Settlement Rd, 
Hakaru. Ph 4312 176 or Bill Warren (President) 431 2092 
HAKARU LANDFILL/Transfer Station:Open everyday except 
Tuesday10am-4pm.Ph4312629 Cost-$55 trailer load up to 1 cubic metre. 
Ph:4258567 - office 
KAIPARA DISTRICT COUNCIL www.kaipara.govt.nz:  
Help Desk FREEPHONE 0800 727 059  
KAIWAKA CEMETERY: Ph: 4312045 or 4314017 
KAIWAKA LIBRARY: kaiwaka.library@gmail.com  
Mon. 4-6pm; Wed., Thurs., Fri., Sat. 10am-2pm Ph:4312539 
KAIWAKA PLAYCENTRE: Ph Juanita 0274134904; open Mon, Wed, 
Fri 9am-12pm. Hastie Lane; Monday to Friday 9.00am - 12 noon. 
KAIWAKA POST OFFICE:Ph:4312 431  
Post Code: 0573 for RD2 and 0542 for all Kaiwaka Post Office mail 
KAIWAKA PRIMARY SCHOOL: Ph: 4312309   
KAIWAKA SPORTS ASSN: Ph 4312005; 4312129 gym 
KAIWAKA ST. JOHN HALL: Phone Marj  0272941227  
KATE'S PLACE Community Centre - Employment services, Free Health 
Nurse, Plunket, Advocacy, Osteopath, A.A., Legal Advice. 4312 661 
LINKING HANDS Health Shuttle Ph 4315906 or 09 4318969 
MINISTRY FOR PRIMARY INDUSTRIES - General inquiries Call 
Free 0800 008 333 
NORTHPOWER: Faults Kaiwaka area 0800 104040 
OTAMATEA COMMUNITY SERVICES: Counselling, parent coach, 
Family Support worker, budget advice, food bank. Mon-Fri 9am-3pm. Ph 
09 431 9080 http://www.otamateacs.org/ 
PARENTPORT: Free, practical family support service Puhoi to Paparoa 
Ph or txt: Dianne 027 280 5093 or 09 425 9357 
PLUNKET:  Kaiwaka  -Kate's  Place  Clinic  1st  Wednesday  of  the  month; 
Mangawhai  - Rose Madsen Cottage: Coffee Group 9:30 every Monday.  Clinic 
every Monday and Thursday. 
Maungaturoto - Good News Church, Clinic 2nd and 4th Wednesday.  
Cynthia 09 431 7340 or 027 675 3488 
PLUNKET HELPLINE -0800 933 922 (24 hours) 
TAITOKERAU COMMUNITY LAW: Free confidential legal advice and 
assistance, 2nd
Thursday
 of each month. Ph: 0800 155 529 for apps.  
TE URI O HAU Settlement Trust Tangata Developments: Whanau Ora 
021 793262  
VETERINARY SERVICE MANGAWHAI: 
Ph: 4314535 Mon-Fri 8.00-5.00, Sat 9-12, a/h appt. 
WELLSFORD DOCTORS: Ph: 4238 086 
CHURCHES:
 
Kaiwaka  Revival  Church  -  Your  Community  Church:  Sundays  10am. 
Ph: Pastor Tawhiri 09 431 8988 or Pastor Paul 09 4312 068 Visit us at 
www.facebook.com/kaiwakachurch or www.kaiwakarevival.co.nz 
 
St  Paul's  Anglican  Church  1st  Sun.  9.00am  (Eucharist),  3rd  Sun. 
9.00am (Family Service). Contact: Rev. Wayne Thornton Ph 431 4122 
www.mangawhaianglican.org.nz 
 
Church of Christ the King, Mangawhai:9.00am every Sunday 
 
St.Mary's  Catholic  Church:  Maungaturoto  –  Griffins  Road,  Saturday 
evening  Vigil  Mass  6pm;  Mangawhai  –  Senior  Citizens  Hall,  Sunday 
Mass  8:30am;  Wellsford  –  Matheson  Road,  Sunday  Mass  10:30am;  
Mid-week Mass times and all enquires to Fr. Bill Fletcher – phone 423 8170
 
Baptist Church: Sun. 10.30am Mangawhai Snr Cit.Hall.Ph:4312339 
 
Cause  Way  Church  Mangawhai:  Sundays  10.15am,  Mangawhai 
Community  Recreation  Centre,  Insley  St.  Ph:  09  4314782