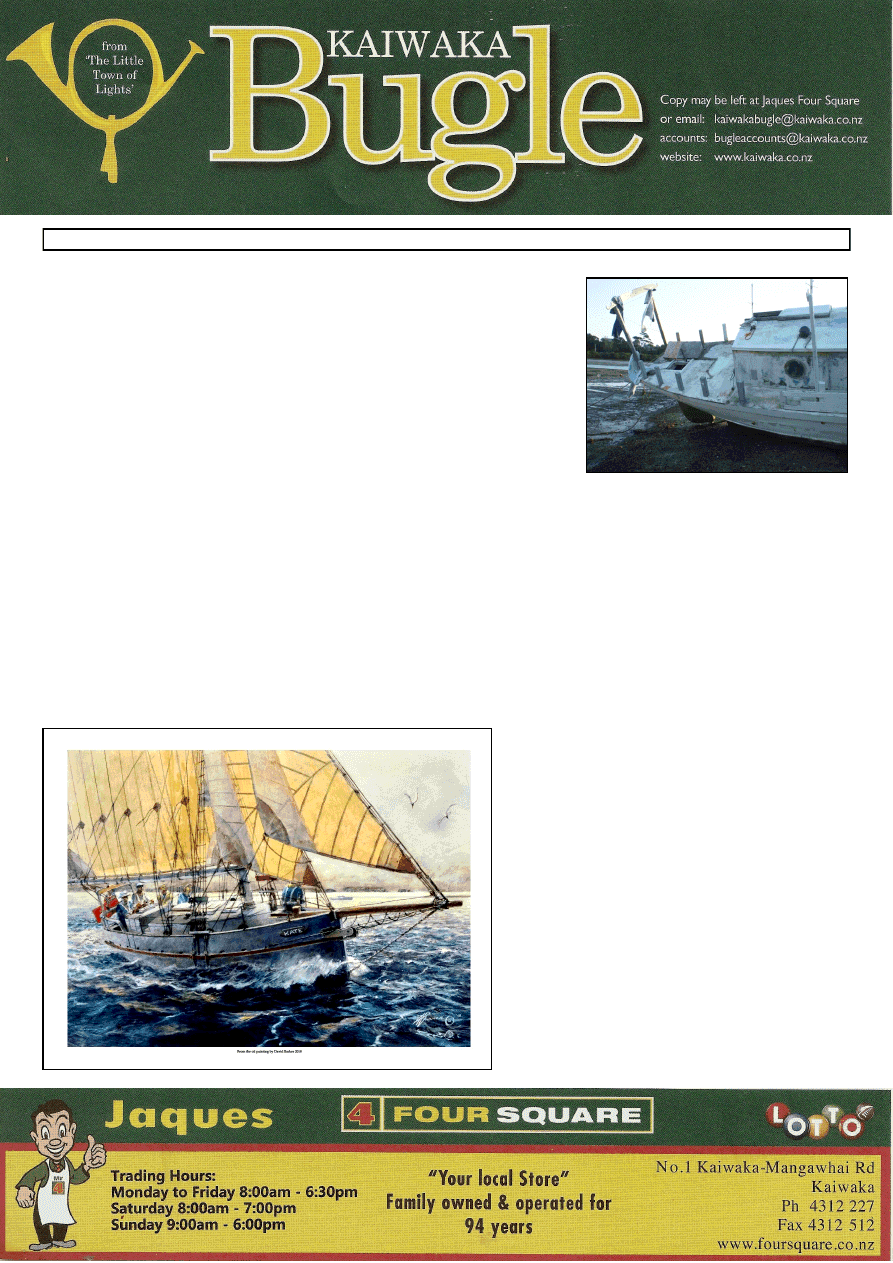 www.kaiwaka.co.nz 
Kaiwaka Bugle - 15 October, 2019 
Page 1 
No: 20 
 15 October 2019 
Trading Hours: 
Monday to Friday 8:00am - 6:30pm 
Saturday 8:00am - 7:00pm 
Sunday 9:00am - 6:00pm  
Update 
from  Part  One,  Bugle  19:  Kate,  built  on  the 
Kaipara  Harbour  in  1898  is  a  relic  of  Kaipara  Harbour 
shipping history and is now being given renewed purpose at 
Putiki Bay, Waiheke Island.
Waiheke Working Sail - The Story of WWS 
In 2011, against the backdrop of the GFC and the oil price 
hike,  a  small  group  gathered  around  lifelong  sailor  and 
naval  architect  Bernard  Rhodes  to  discuss  how  Waiheke 
would  move  supplies  on  and  off  the  island  should  the 
ferries  ever  stop  running.  A  cargo  sailing  vessel  was 
needed,  but  in  the  modern  age,  sailboats  are  exclusively 
recreational.  At  the  same  time,  there  was  a  need  to  find  a 
purpose  for  the  boat  the  rest  of  the  time.  The  Waiheke 
Working Sail Charitable Trust was formed with the intent to 
make affordable voyages of adventure available to all youth 
on Waiheke Island, with a focus on ages 13 and 14. 
The near-term goal of Waiheke Working Sail is to establish 
a  sail  training,  ship  building  and  youth  development 
organisation  on  Waiheke,  teaching  and  developing 
traditional skills in boat building and seamanship as well as 
preserving  our  sailing  heritage.    21st  Century  Coastal 
Shipping for the Hauraki Gulf is the long-term goal. 
The  Trust  needed  a  vessel  suited  to  local  conditions,  in 
particular  with  a  shallow  draft  to  allow  berthing  in  the 
Causeway  Inlet  of  Putiki  Bay.  Concept  drawings  were 
prepared  for  a  purpose-built  ship,  but  the  project  was 
simply too ambitious in terms of both cost and construction. 
The trust then conducted a wide search but failed to find a 
suitable vessel on the second-hand market.  
The 
'Kate's' 
Last Chance 
At  the  same  time, 
the 'Kate' was at a 
low  ebb  in  her 
journey.  She  had 
sat  on  the  beach 
for  several  years 
before 
architect 
David 
Brady 
bought  her.  He 
lived  aboard  and 
did  much  work  on 
her,  but  the  problems  were  challenging,  and  progress 
slowed.  Eventually  the  supporting  legs  gave  way,  she  fell 
on  her  side  and  sprang  a  leak  - 
see  photo  by  Tom  McCann
. 
Engine oil floated through the interior, coating it in a black, 
slippery film. 
It  was  then  that  Justin  Stewart,  who  lived  aboard  the 
'Destiny'  in  Putiki  Bay,  gave  Bernard  an  idea.  They  were 
standing  on  the  beach  looking  at  the  'Kate',  a  sorry  sight, 
aware  that  she  was  practically  the  last  of  her  kind,  and  a 
valuable part of NZ Maritime heritage. "This boat should be 
in a Trust", Justin said. She was soundly built, planked in 
kauri  on  grown  pohutukawa  frames.  Her  fine  lines  shone 
through  more  than  a  century  of  hard  work  and 
mistreatment.  An  initial  assessment  showed  she  could  be 
adapted to carry six trainees, a master and a mate for coastal 
voyaging. Encouraged by a world-wide movement towards 
restoring  classic  vessels  and  returning  them  to 
service, the Trust decided to buy her. They needed 
to  act  fast,  or  she  would  become  derelict.  So  they 
pitched in together and bought her for $2,000. 
Restoration 
The restoration of the 'Kate' has been a six year (so 
far) labour of love with steady milestones along the 
way. The bulk of the work has been undertaken by 
Bernard  with  the  help  of  apprentices  Tom  and  Joe 
Foster-Christie  who  were  teens  when  they  started. 
Much work and supplies have been donated over the 
years,  with  periodic  fundraising  drives  injecting 
needed cash. The restoration now needs $45,000 to 
get  the  boat  survey  ready  and  there  is  a  givealittle 
webpage for anyone wishing to donate. 
Marine artist  David  Barker  has  painted  a depiction 
of the 'Kate' under sail with her youth crew to help 
with fundraising. A limited run of 100 prints of the 
painting  have  been  made  available  for  $225  each. 
Once all prints are sold a drawing will be held and 
the  winner  will  receive  the  original  framed  oil 
painting.  
For  more  information  on  Kate  and  her  fundraising 
see page 13. 
 ~ Waiheke Working Sail 
NINE LIVES OF A KAIPARA CUTTER: KATE PART 2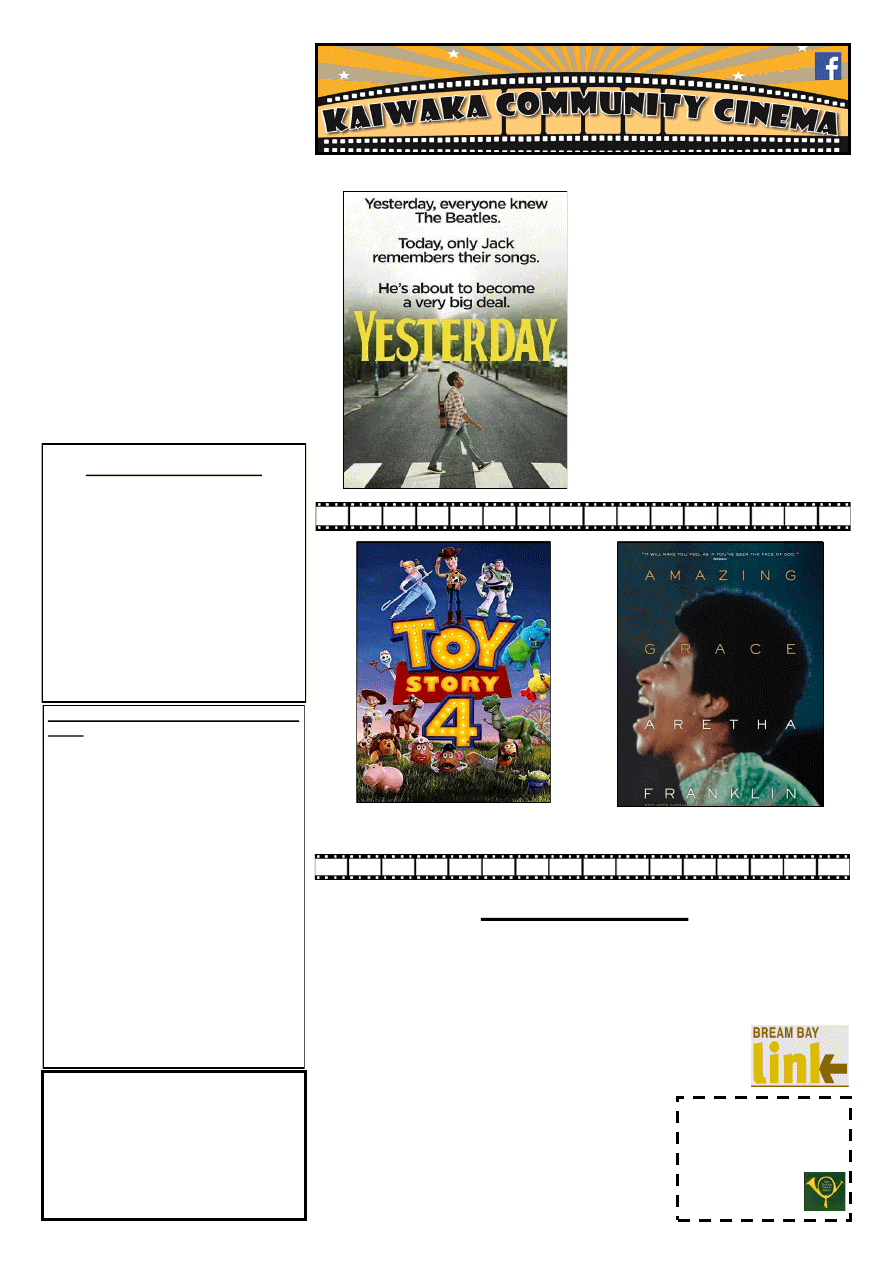 At Kaiwaka War Memorial Hall . Adults $10, Kids (under 16) $5, Family Pass (2 adults + 3 children) $25 
KAIWAKA BUGLE No. 20 
15 OCTOBER 2019 
CONTENTS 
Page 3: Public Notices, Classified 
Page 5: Hakaru RSA; Kaipara Prelim. 
Election results 
Page 7: Hakaru Women's RSA; 
Kaiwaka Weather 
Page 9:Kaiwaka Can 
Page 11: Kaiwaka Sports Assn. 
Page 13:  Eutopia Café; Kate Info 
Page 15: Fright Night ; Carrie 
Page 17: Library; Thelma's Scrapbook; 
Pink Ribbon Day 
Page 19: Kaiwaka School First Calf 
Club 
Bugle 21 will appear 29 October 
Contact for advertising, reports, articles 
or information can be made by 
Email kaiwakabugle@kaiwaka.co.nz 
Ph: 09 4312 045 Lindsey 
Txt: 027 2724137 
Copy  may  be  left  at  Jaques'  Four 
Square. 
Kaiwaka Bugle 
Founded May 1978 
We appreciate articles and photos about local 
events, etc, as well as ads and suggestions. 
Copies available in Kaiwaka at Jaques Four 
Square, Kaiwaka Postal Centre, Shamrock 
Service Station, Animal Health Centre, 
Kaiwaka St John shop. 
Also outlets in Maungaturoto, 
Mangawhai and Paparoa. 
Can be viewed online at   
www.kaiwaka.co.nz/Bugle  
Or a copy can be posted to you if you supply 
stamped, self-addressed DLE envelopes. 
Proverbs 3:5 & 6
Trust God from the bottom of 
your heart; don't try to figure out 
everything on your own. Listen 
for Gods' voice in everything 
you do, everywhere you go; He's 
the one who will keep you on 
track. 
(The Message Bible) 
. 
Kaiwaka 
Bugle 
Advertisements 
2019: 
All 
copy 
and 
queries 
to: 
kaiwakabugle@kaiwaka.co.nz 
The Bugle is printed on an A4 page   
Ad  sizes:  1/16  page  (3  x  9.5cm)  $5;  1/8 
(6.5  x  9.5cm  landscape  or  portrait)  $8; 
3/16 ( 10 x 9.5cm or 7.5 x 12,5)  $12.  
Classified  ads:  First  one  FREE,  $4  per 
entry (max. 30 words, max. 4 repeats). 
Payments  can  be  made  online  at 
ANZ 
06  0365  0006990  00
,  posted  or  left  at 
Jaques Four Square Store. 
We  use  Microsoft  Publisher,  and  can 
work  with  most  common  image 
formats, Word, Excel, and PDF files. 
Accounts:  
Email: bugleaccounts@kaiwaka.co.nz 
The  Kaiwaka  Bugle  is  a  community 
newspaper run by volunteers, as part of 
the Kaiwaka Media Group Inc.   
Articles, etc. printed are not necessarily 
the opinion of the Bugle Team. 
ABOUT TOWN 

Thank you to Millie Watkins for bringing us the Working journey of the Kaipara 

Well  done,  Blood  Donors!  The  recent  collection  received  91  units  from 
Dargaville and 91 units from Mangawhai - thank you from NZ Blood. 

Welcome to 'FRESH Kaiwaka'! The lovely fresh green shop  that was Mormors. 

 Sincere condolences to the family and friends of Cam McRae, late farmer on the 
Oneriri, who recently passed away in Warkworth. 

The  HAKARU  LANDFILL/Transfer  Station  is  now  OPEN 
EVERY DAY  10am-4pm. 

Hakaru RSA  are calling for more members and helpers - see pg 5 

 Remember  the  weekly  bus  trip  to  Whangarei  via    Mangawhai 
and  the  east  coast    -  leaves  Kaiwaka  at  9am  each 
Thursday 

 Kaiwaka Fire Brigade  can help young families and 
senior  citizens  with  their  SMOKE  ALARMS  -  give 
Fire Chief John a call on 09 4312248
~ Lindsey, Ed
"A  successful  marriage  requires  falling  in  love  many 
times,  always  with  the  same  person."  Mignon 
McLaughlin 
KAIWAKA BUGLE 
DEADLINE DATE 
2019:  
Every second Friday -  
October 25;  
November 8, 22;  
December 6. 
TOY STORY 4 
 Sunday 27 October  2pm (PG) 
Amazing Grace -  Aretha Franklin 
 Friday 1 November, 7.30pm (M)
YESTERDAY 
Friday 18 October 7.30pm (M)        
Another  great  feel  good  movie  - 
with lots of music. 
'Jack  Malik  is  a  struggling  singer-
songwriter  in  an  English  seaside 
town  whose  dreams  of  fame  are 
rapidly  fading,  despite  the  fierce 
devotion  and  support  of  his 
childhood  best  friend,  Ellie.  After  a 
freak  bus  accident  during  a 
mysterious  global  blackout,  Jack 
wakes  up  to  discover  that  The 
Beatles 
have 
never 
existed. 
Performing  songs  by  the  greatest 
band  in  history  to  a  world  that  has 
never heard them, Jack becomes on 
overnight sensation with a little help 
from his agent.'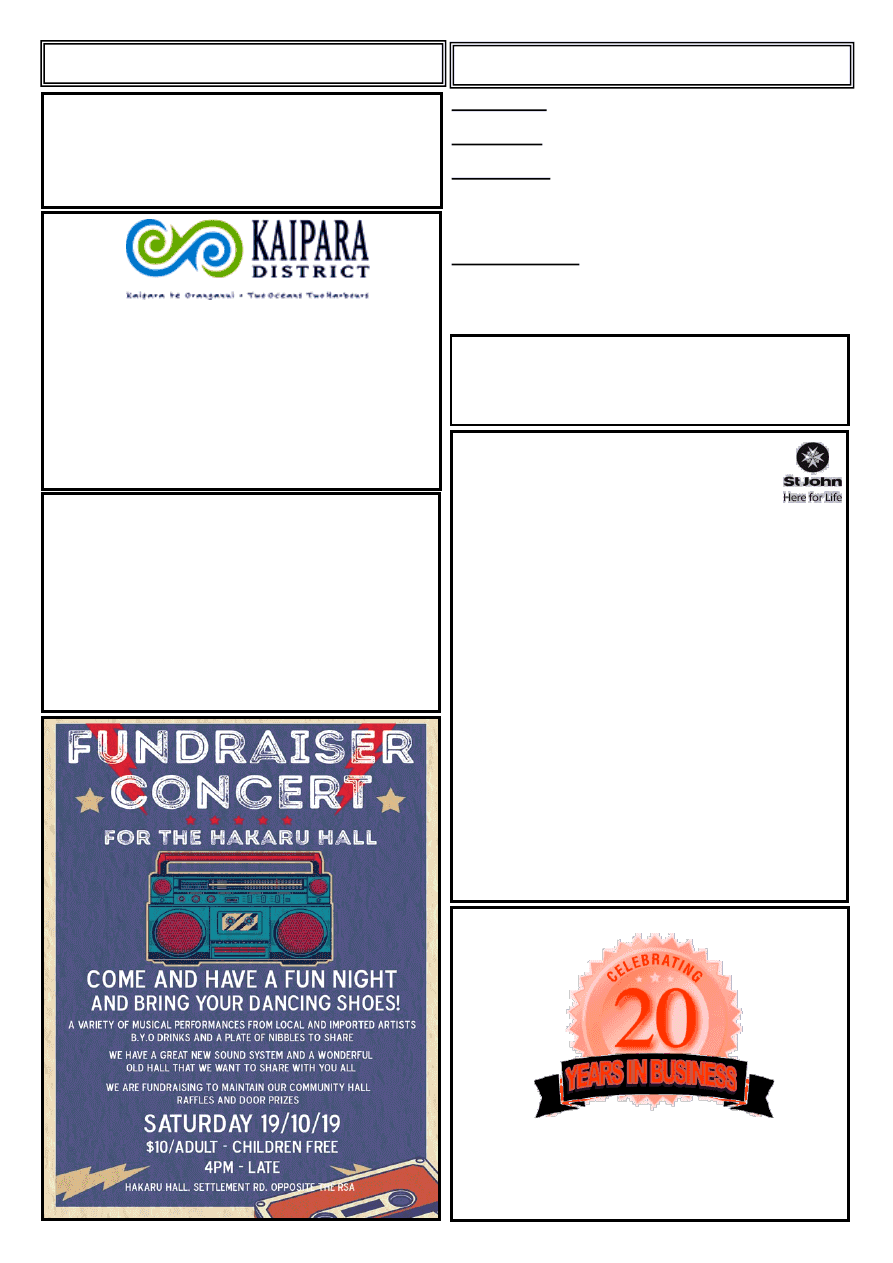 www.kaiwaka.co.nz 
Kaiwaka Bugle - 15 October, 2019 
Page 3 
PUBLIC NOTICES 
CLASSIFIED 
 FOR  SALE:  Trailer,  good  condition;  ply  deck  and 
sides; Reg and Warrant. Ph: 021 283 7541 
FOR SALE: 1998 Mazda Familia. Excellent condition 
$2000 ono. Ph: Annette 09 4312852 
FOR  RENT:  Large  1  bdrm  cottage  near  Kaiwaka 
township. Nice views, cool during summer. $300 pw. 
Incls pwr, freeview & wifi. 1 wk bond. Tidy working 
tenant preferred. No pets plse. Ph: 09 9450593 
HELP  PLEASE:  Extra  FRIGHT  NIGHT  volunteers 
needed, please, to  cover all the brilliant  activities and 
fun available. Please contact Cheryl 09 4312051 
BIG NOTE: The Rugby World Cup Final begins at 10pm - 
plenty of time to get home to get in front of the TV : ) 
HAKARU TRANSFER STATION 
KAIWAKA-MANGAWHAI ROAD 
Open every day 10am - 4pm 
Closed All Public Holidays 
Telephone: 09 431 2629 
HAKARU COMMUNITY HALL  
AND DOMAIN SOCIETY Inc 
Annual General Meeting  
Wednesday, 30th of October 7.30 pm 
ALL WELCOME 
 Settlement Road Hakaru Hall 
KAIWAKA ST. JOHN OP SHOP 
Hi to our Great Community 
I  would  like  to  take  this  opportunity  to  give  a 
HUGE  Thankyou  to  Milly,  Marge  and  Lynne 
for  all  their  hard  work  in  setting  up  the  St  John  shop 
almost 10 years ago. A great service to our community. 
This week we welcome our new manager Diane Wright. 
She will be starting this Tuesday - come on in and meet 
Diane from 15th October, and also have a browse around 
to see what we have. 

We have some good furniture with Beds and China 
Cabinets which are in the shop.  

We also have a 70's style lounge suite and Wall Unit 
and China Cabinet in the St John garage. - to see these 
items just give us a call to arrange a time. 

We are always looking for bedding, kitchenware, china, 
Bric Brac and jewellery. Craft items are also always 
welcome. 

As of this week opening hours will be as follows 

Monday Closed  

Tuesday -Friday 10.00am-3.00pm 

Saturday 9.00-1.00pm 
If you have any donations outside of these hours please 
phone so we can arrange to have someone available to 
receive them. 
For more information please contact the Op Shop 
4312650 or Gale Matheson 0274149576 or 4314827 
Check us out at 1919 SH1, Kaiwaka 
You are cordially invited to the 
Inaugural Meeting of 
Kaipara District's 
newly elected Council 
at Northern Wairoa War Memorial Hall 
37 Hokianga Road, Dargaville 
beginning with a pōwhiri at 
10am on Friday 25 October 2019 
There will be light refreshments following the  
Inaugural Meeting and all are welcome to attend
. 
OTAMATEA REPERTORY THEATRE INC. 
Notice of Annual General Meeting 
to be held at the theatre,  
Bickerstaffe Road, Maungaturoto 
Thursday 14 November 2019, 7pm 
Notice of motion  
to remove the following Membership  
Categories from the Constitution: 
3 c Show members 
3 e FORT members 
Plus, one nomination for Life Membership. 
JENNY'S RURAL CLEANING SERVICES 
Jenny and her Team would like to take this opportunity to 
express their gratitude to both existing and past clients for 
their support over 2 decades. 
It has been our pleasure to provide our services to you all 
throughout this time, and we hope to continue this 
relationship in the coming years
.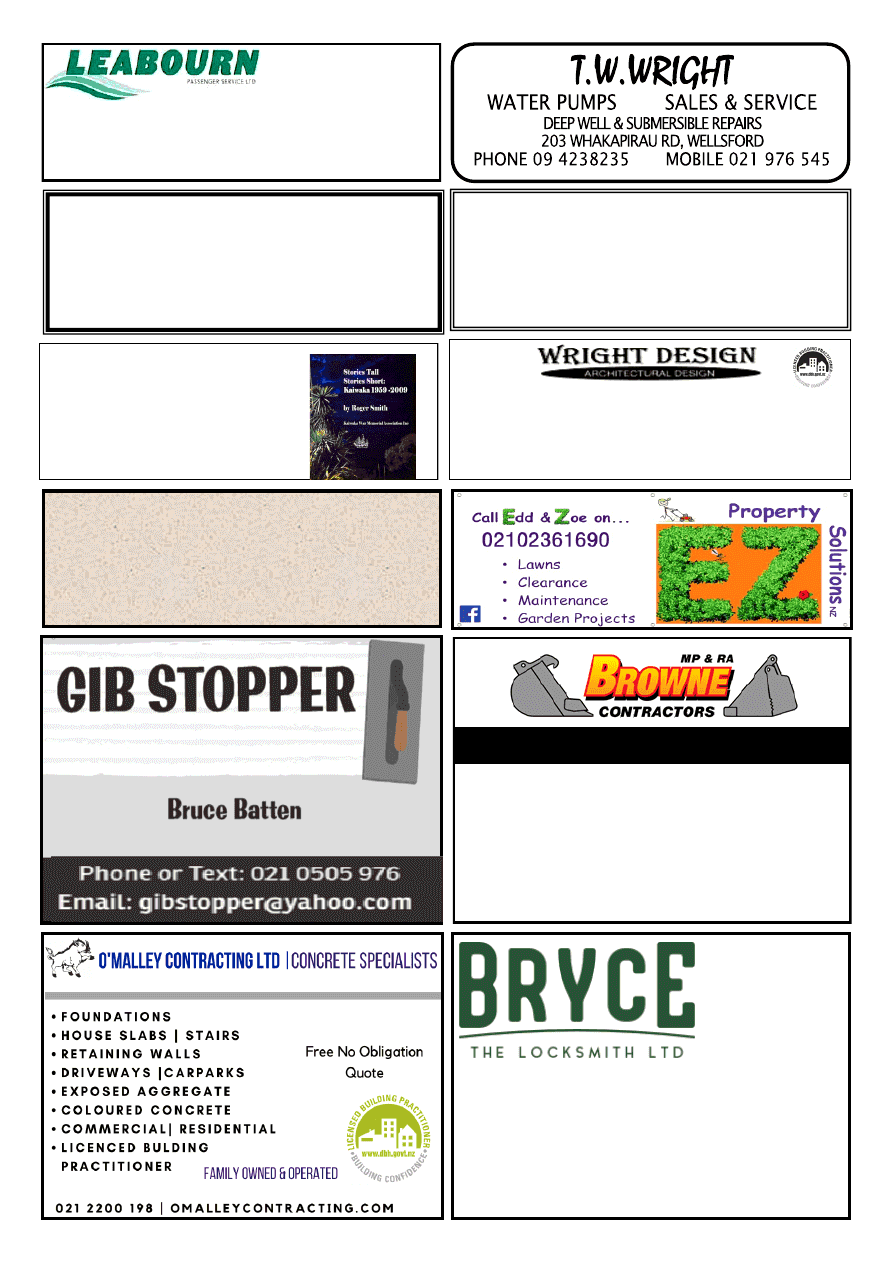 No. 117345 
N.Z.C.A.D., L.B.P. 117345 
PH/Fax: 09 423 8092 Mob: 021 276 7369 
Office: 3 John Sinclair Avenue, Wellsford    brianwright@xtra.co.nz 
For Resource and Building Consents, planning restraints, new building materials - 
you need a capable, experienced, and professional designer with a clear 
knowledge of all the processes. Brian has been helping and organising all these 
facets of design and building for over 50 years. 
Wright Design offers free visits, consultations and advice on planning, design, 
building, council permit applications, guaranteed permit plan acceptance. 
4T DIGGER – BOBCAT – TIP TRUCK 
 Property Maintenance - Driveways  
 Building Sites 
Stump & Tree Removal  
Hole Boring - Chain Trencher  
Calf Shed and Stockyard Cleaning 
Phone Matt: 021 199 6677 
Email: mprabrownecontractors@gmail.com 
Stories Tall, Stories Short  
Kaiwaka 1959-2009 
by Roger TW Smith.  $40 
At All - Sortz Collectables  
or phone  4312 045 
Counsellor and Registered Psychotherapist 
Offers Supervision
Susan Matheson 
MNZAC 
Dip. Psychosynthesis Counselling and Psychotherapy 
Phone 09 431 2996                        Mobile 027 605 2427 
Passenger Service
Car & Van Hire   Bus & Coach Charters 
Airport Transfers    
Phone (09) 4237416 
Om Tara ~ Mangawhai 
Healing Services 
Diann Glucina 
021 250 7461 diglucina.com  
FB: OmTaraMangawhai 
Bryce Frewin 
Ph: 021 850 983 
Kaipara Based Master Locksmith 
bryce@brycethelocksmith.co.nz 
www.brycethelocksmith.co.nz 
HANDYMAN 
Gardens * Lawns * Landscaping * Painting 
* Small gib-stopping * 
* General repairs and maintenance * 
Honest - Reliable 
Phone Burn 0211900555 or Brenda 0211185578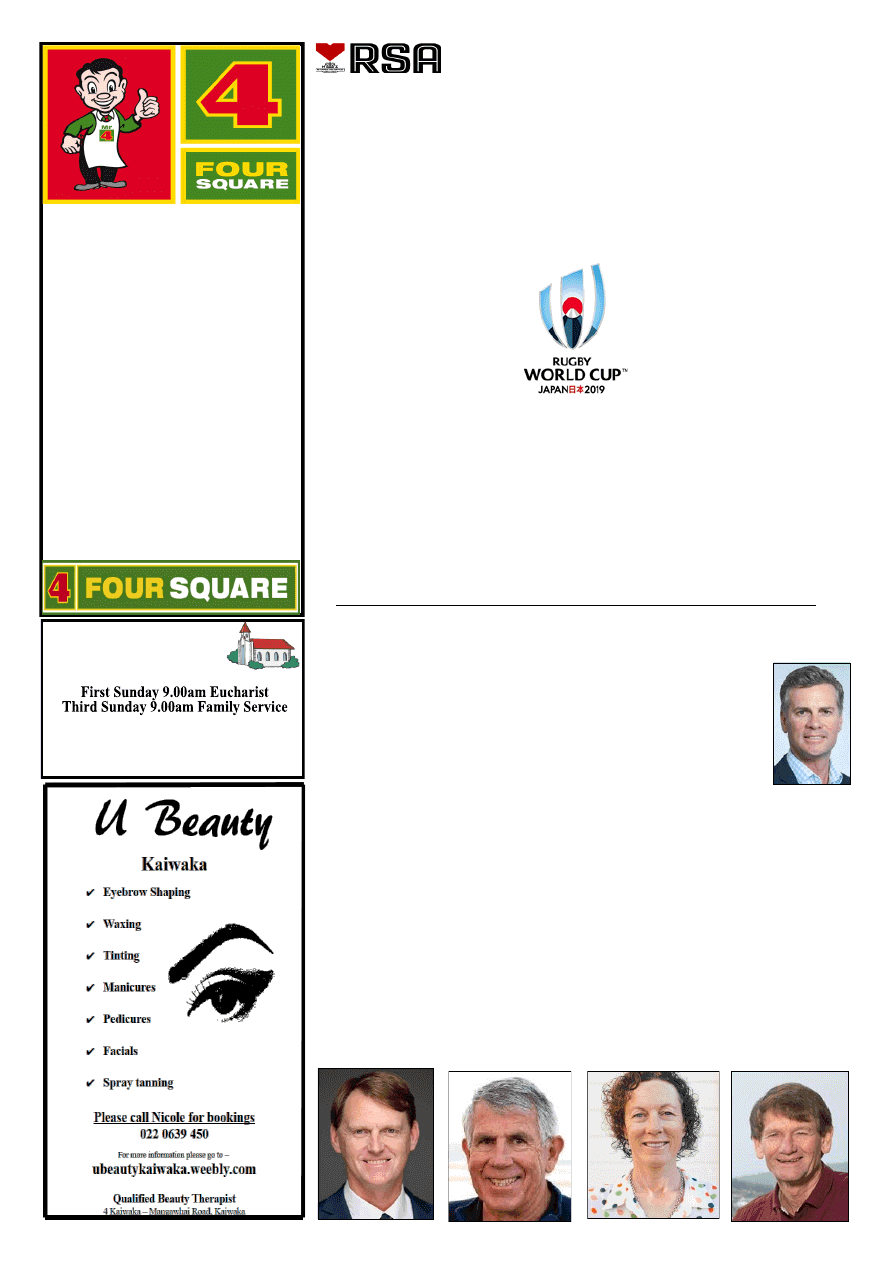 www.kaiwaka.co.nz 
Kaiwaka Bugle - 15 October, 2019 
Page 5 
SPRING GARDENING 
Good Range of Seedling 
Punnets $3.50 
Grown in Kerikeri 
TUI Range of  
growing media 
Quash for slugs 
Gardening Gloves 
We are going out of  
packet seeds 
Sale Price $2.00 a packet 
Jaques Four Square 
Phone: 4312227 
1 Kaiwaka-Mangawhai Road, Kaiwaka. 
ST PAUL'S  
ANGLICAN  
SUNDAY SERVICES 
St Pauls Church: Kaiwaka-Mangawhai Rd. 
Priest in Charge Rev. W Thornton Ph 431 4122 
www.mangawhaianglican.org.nz
THIS IS A PLEA FOR 
HELP.  
The club needs the help of its members 
to  survive.    I  have  been  at  the  club 
rooms up to 6 days a week sometimes 3 
times  a  day  organising  maintenance, 
attending meetings and opening up for 
the live streaming of the Rugby World 
Cup.  All this is taking a toll. 
Next  week  I  am  away  in 
Christchurch for  a  week,  if  no 
one  puts  their  hand  up  to help 
there will be no live screening 
of  the  quarter  finals  of  the 
rugby. 
We have installed an overhead 
projector  and  huge  screen  for 
your, the members, benefit.  The rugby 
and  other  sports  and  programs  look 
great on it. 
Below is listed the areas that need to be 
addressed immediately to keep the club 
going and viable. 
1.We need the assistance of a member 
with  a  wood  splitter  to  split  some 
firewood  that  is  stored  in  our 
woodshed, we have run out of suitable 
sized firewood. 
2.Bar  Staff:  You don't need a license, 
just  common  sense  and  knowledge  of 
the liquor laws.  We will, if you wish, 
pay  for  you  to  go  on  a  course  and 
obtain  a  LCQ  certification.    We  need 
about  4  members  to  be  involved  and 
take the load of Heather and myself. 
3.  Kitchen:    We  need  help  in  the 
kitchen  on  both  Thursday  and  Friday 
nights.    The  help  involves  washing 
dishes and putting them away, cleaning 
up in the kitchen and on Fridays 
help  would  be  appreciated  with 
assisting  to  prep  the  meal  with 
the  cook.  i.e.  peeling  spuds, 
chopping up pumpkin etc. 
As  the  saying  goes:  MANY 
HANDS MAKE LIGHT WORK 
At  the  moment  there  are  not 
enough hands to achieve this.  If 
we  don't  get  the  members  help,  there 
will be no alternative in the end but to 
close  up  shop.    This  could  happen  as 
early as next week if we don't get help 
to  open  for  the  rugby,  I'm  away  for  a 
week  and  will  not  hesitate  to  close  up 
until I get back. 
If you can help contact me at: - 
email:  president@hakarursa.co.nz 
phone:  021 02454955 
Yours Aye, Bill Warren 
With special votes still to process, the final results from Saturday's 
local election will be announced on Thursday 17 October, followed 
by the official declaration on Monday 21 October. 
But preliminary results for Kaipara District Council elections are: 
Mayor: SMITH, Jason - Elected, pictured right. 
Dargaville  Ward:  WILSON-COLLINS,  Eryn  –  Elected; 
MCEWING, Brian John - Elected 
Otamatea  Ward:  CURNOW,  Anna  –  Elected;  VINCENT,  Mark  Gregory  - 
Elected 
West  Coast-Central  Ward:  DEL  LA  VARIS-WOODCOCK,  Victoria  – 
Elected; WILLS, David - Elected 
Kaiwaka-Mangawhai  Ward:  LARSEN,  Jonathan  Elected  unopposed; 
WETHEY, Peter Elected unopposed 
As of Friday 11 October, the electoral returns rate for the district was 37.8%. 
A  powhiri  and  inaugural  meeting  of  the  incoming  mayor  and  councillors  will 
start at 10am on Friday 25 October at Dargaville Town Hall. The new elected 
members will make their official declaration and Council encourages members 
of our community to come along and support this event. 
See KDC website at https://www.kaipara.govt.nz/council/local-elections 
Kaipara representatives on Northland Regional Council: 
Coastal South – Rick Stolwerk;  Kaipara - Penny Smart 
Pictured below: Jonathan Larsen, Peter Wethey, Penny Smart, Rick Stolwerk 
HAKARU & DISTRICTS MEMORIAL RSA (Inc) 
PRELIMINARY LOCAL ELECTION 
RESULTS FOR KAIPARA DISTRICT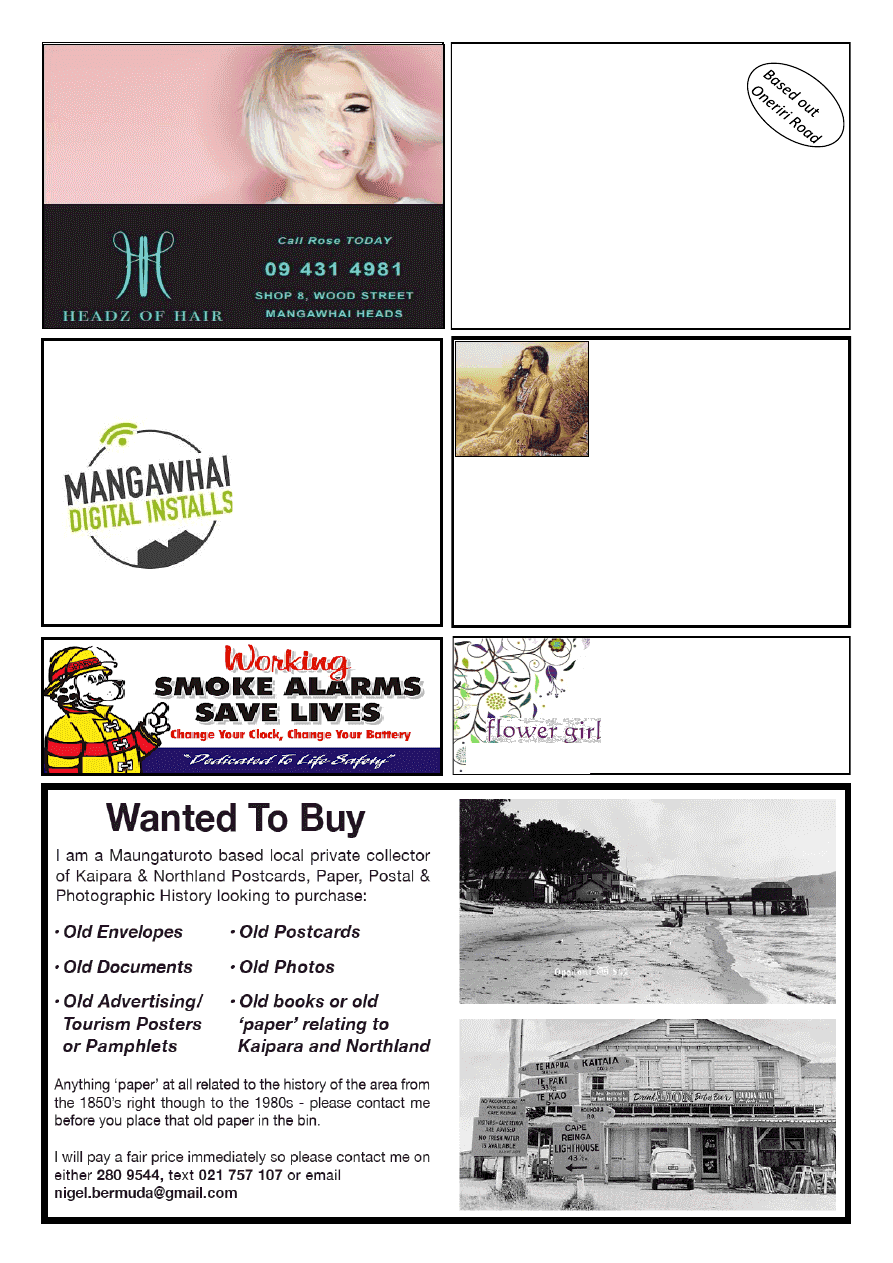 Kaiwaka Good Sorts 
Do you know someone in our community 
who is deserving of a beautiful bunch of 
flowers? 
Send an email to us at 
kaiwakabugle@kaiwaka.co.nz 
lindywatson@hotmail.com 
Specialists in: 
Satellite Dish & TV Aerial Installations  
& Repairs 
Freeview  
Chromecast 
Smart TVs   
 Netflix 
Call or Text Adam on 022 351 6679 
E: mangawhai digital@gmail.com 
HODGETTS 
CONTRACTING
Digger Work   

Driveways 

House Sites   

Dams     

Drains, etc
Also available for HIRE 
3 ton Vib Roller Heavy Duty Tow  
Waterblaster     Lazer Level
Phone Mark 4312877 
        027 447 8554 
TRAILS END 
RONGOA MAORI 
HEALING 
And Gifts 
Stocking all your needs from incense, crystals, dream 
catchers, greeting cards, jewellery, perfume, dragons and 
more dates for groups each month are: 
August 25th ~ September 22nd 
October 27th  ~ November 24th ~ December 15th 
From 10.30-2pm  
For all inquiries Phone 0211652629  
Light refreshments available $5 koha  
1758 Cove Road Mangawhai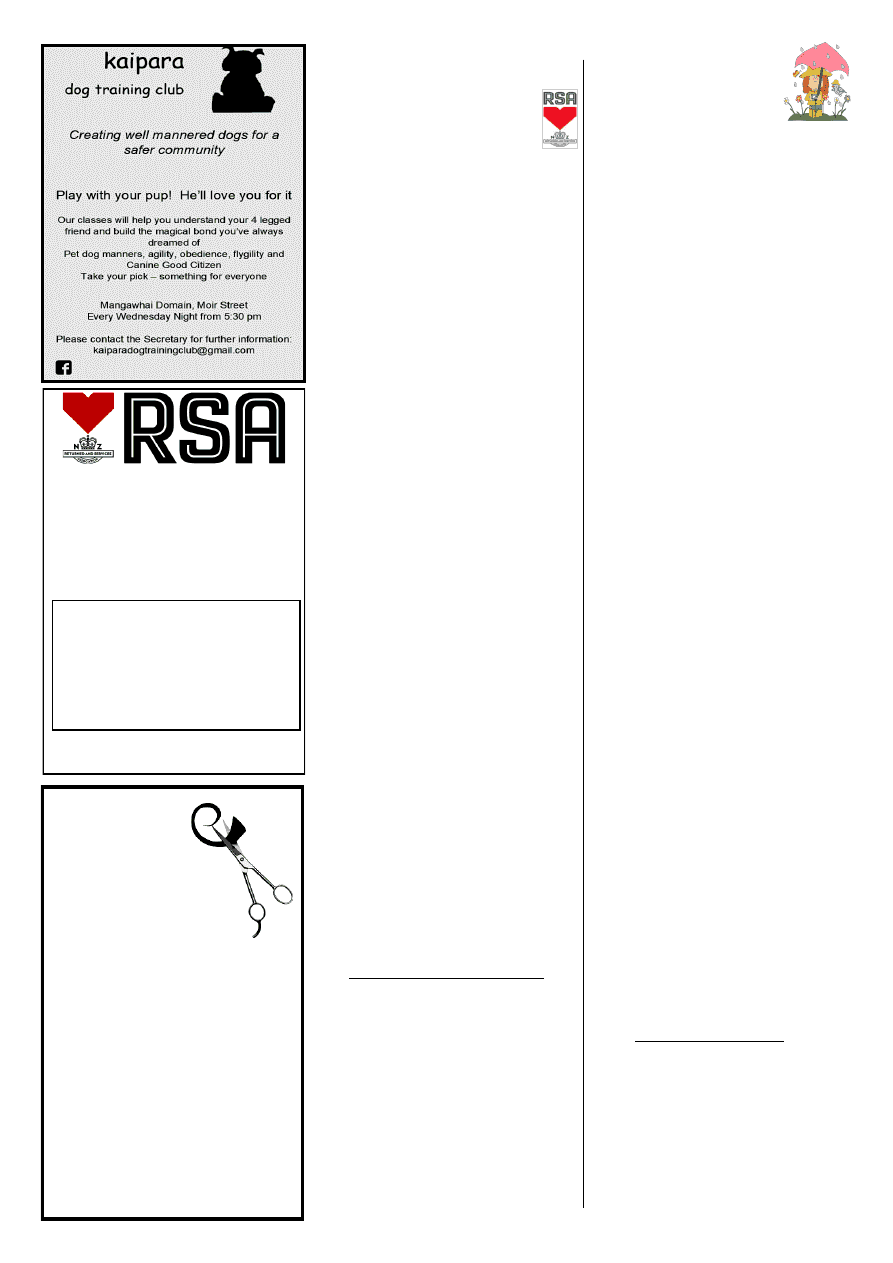 www.kaiwaka.co.nz 
Kaiwaka Bugle - 15 October, 2019 
Page 7 
HAKARU & DISTRICTS 
MEMORIAL RSA (INC)
Members & guests are invited to 
come along and enjoy our hospitality. 
New members welcome. 
Meals are served on 
Thursday and Friday nights 
from 6.30pm. 
Order from Blackboard Menu  
and a sing-a-long  
with Des Chitty. 
For more information please phone 
Graeme on 431 2563 
 Q.  What  do  you  call  a  story  told  by  a 
giraffe? A: A tall tale! 
Q: Why did the M&M go to school? 
A:  Because  he  really  wanted  to  be  a 
Smartie! 
Q:  What's  the  difference  between  a 
teacher and a train? 
A: A teacher says, "Spit out that gum!" and 
a train says, "Chew! Chew!" 
A  first-year  kid  goes  to  school  with  his 
shoes on the wrong feet.  "Johnny", says the 
teacher, "you have your shoes on the wrong 
feet"  The  kid  looks  up  puzzled  "But  Miss, 
these are the only feet I have" .  
JUST 
CUTS 
and 
MORE  
1758 Cove Road  
Open Monday-Saturday  
by appointment only 
Saturday 9-12pm  
Affordable prices: 
Ladies cuts from $35 
Colours from $120 
Men's from$25 
Kids from $18 
0211652629  
KAIWAKA  
WEATHER 
Welcome my avid readers.  
I did not miss the last Bugle 
it was how the calendar days fell with 
the  printing  of  the  Bugle.    I  am  sure 
you  would  not  want  me  to  make  a 
mistake of 1mm of rain for the month.   
Giving  you  the  measurements  first 
before my blurb:  
At our house for September  2019  we 
had  180mm  rain and for 2018 we had 
120mm of rain. 
For  2019  we  had  rain  on  14  days  and 
for 2018 we had rain on 13 days.  
So far the total for 2019 is 904mm and 
for 2018 1467mm.   
Our  driest  September  since  1987  was 
2000  with  40mm  and  the  wettest  was 
1989 with 240mm.  
Our  driest  9  months  since  1987  was 
1987 with 687mm and the wettest was 
2017 with 1512mm.  
The  Brynderwyn  waterfall  was 
flowing reasonably well last week. It is 
a  bit  better  than  it  has  been.    It  was  a 
rather  cloudy  month  but  has  warmed 
up nicely with a few awesome days to 
boot.  Our last month of winter brought 
with  it  icy  cold  south-east  to  west 
strong  winds.  As  we  had  a  few  days 
over  the  early  months  of  winter  wet 
and  windy  on  the  whole.  The 
temperatures  were  mild  compared  to 
other  years.  So,  September  gave  us 
something  to  remember  our  2019 
winter weather by.  
We  started  September  with  two 
beautiful days of weather then the rain 
set  in  and  forgot  to  stop  again.  The 
wind  died  down  after  a  fortnight 
although  not  strong  the  light  winds 
were very icy and then the wind picked 
up  again  with  showers  and  very  low 
temperatures  and  continued  to  the  end 
of  the  month.    The  Spring  flowers 
came  through  the  ground and  the  fruit 
trees are covered in blossom. Also, the 
flowering peaches, cherry, plum etc are 
covered in blossom.  The flowers seem 
to  be  holding  on  very  well.    The 
ground is still very wet in places.    
As I learnt to type using all my digits I 
found  it  hard  work  as  I  have  a  very 
sore finger and am unable to use it. So 
takes a lot more time and mistakes.   
Q.  What  continents  are  south  of  the 
North  Pole?    A.  All  of  them.    Sorry 
folk best I can do this month.   
Please  take  care  out  there  and  look 
after each other, Bev 
From  NIWA:  This  was  the  fourth 
coldest  September  in  New  Zealand 
since  2000.  Throughout  the  month,  a 
few  stretches  of  high  pressure brought 
periods of calm conditions to much of 
New  Zealand.  Of  the  six main  centres 
in  September  2019,  Auckland  was  the 
warmest,  Hamilton  was  the  wettest, 
Christchurch  was  the  sunniest,  and 
Dunedin  was  the  coldest,  driest  and 
least sunny. 
Nine  members  attended  our 
meeting on the 26th September. 
We  hope  our  Patroness,  Fay 
Wintle,  is  keeping  better  health 
by now we miss you Fay. 
It is with concern we hear of Pat Judd's 
second  fall  which  has  put  her  in 
hospital  once  again  this  time  for  3 
weeks. We miss you Pat and will miss 
you  even  more  when  you  and  Don 
move  to  Orewa.  Pat  has  been  a  loyal 
and  helpful  member  of  our  Women's 
Section for many years, best wishes for 
a speedy recovery. 
Four  Members  attended  the  Northern 
Wairoa  RSA  AGM,  and  it  is  with 
sadness  they  learnt  of  KeriKeri  and 
Kaikohe Clubs closing. 
We  hope  Margaret  Schutt  had  a  very 
Happy  Birthday  recently  and  that  you 
are keeping well Margaret. 
The main topic of the meeting was the 
NWA  Annual  conference  and  AGM 
hosted  by  Hakaru  and  Waipu  on 
Saturday  5th  October  at  Hakaru. 
Members  from  Kaitaia,  Kaikohe, 
Warkworth  plus  our  Hakaru  and  the 
Waipu  members  attended.  Also,  the 
Vice  President  and  2  members  of  the 
Hibiscus  Executive.  and  D.J  Clarke 
President  RNZRSA  and  one  of  own 
President Bill Warren 
A  high  light  of  the  day  was  the 
Presentation  to  our  President  Lena 
Carleton  by  Angel  Erstitch  of  the 
NWA  Long  Service  Medal  along  with 
lovely flowers. Congratulations Lena. 
Graham Gough was the Guest Speaker, 
and  in  Lena's  words  was  his  "Usual 
Fantastic Self" 
Trish  Black  gave  a  very  amusing 
comedy act about an elderly Woman at 
an ATM machine. 
Many  thanks  to  members  who 
contributed  to  the  raffles  and  trading 
table  and  helped  on  the  day,  also 
Heather  who  made  posy  bowls  for 
Presidents  of  visiting  clubs  who  were 
also given goody bags with pens etc. 
Lena 
and 
Heather 
attended 
Whangarei's  74th  Birthday  on  9th 
October and had a very enjoyable time. 
The  next  meeting 
will  be  on 
Thursday  24th  October  1.15  p.m.  All 
Welcome including Visitors. 
~ cheers, Ann
HAKARU RSA 
WOMEN'S SECTION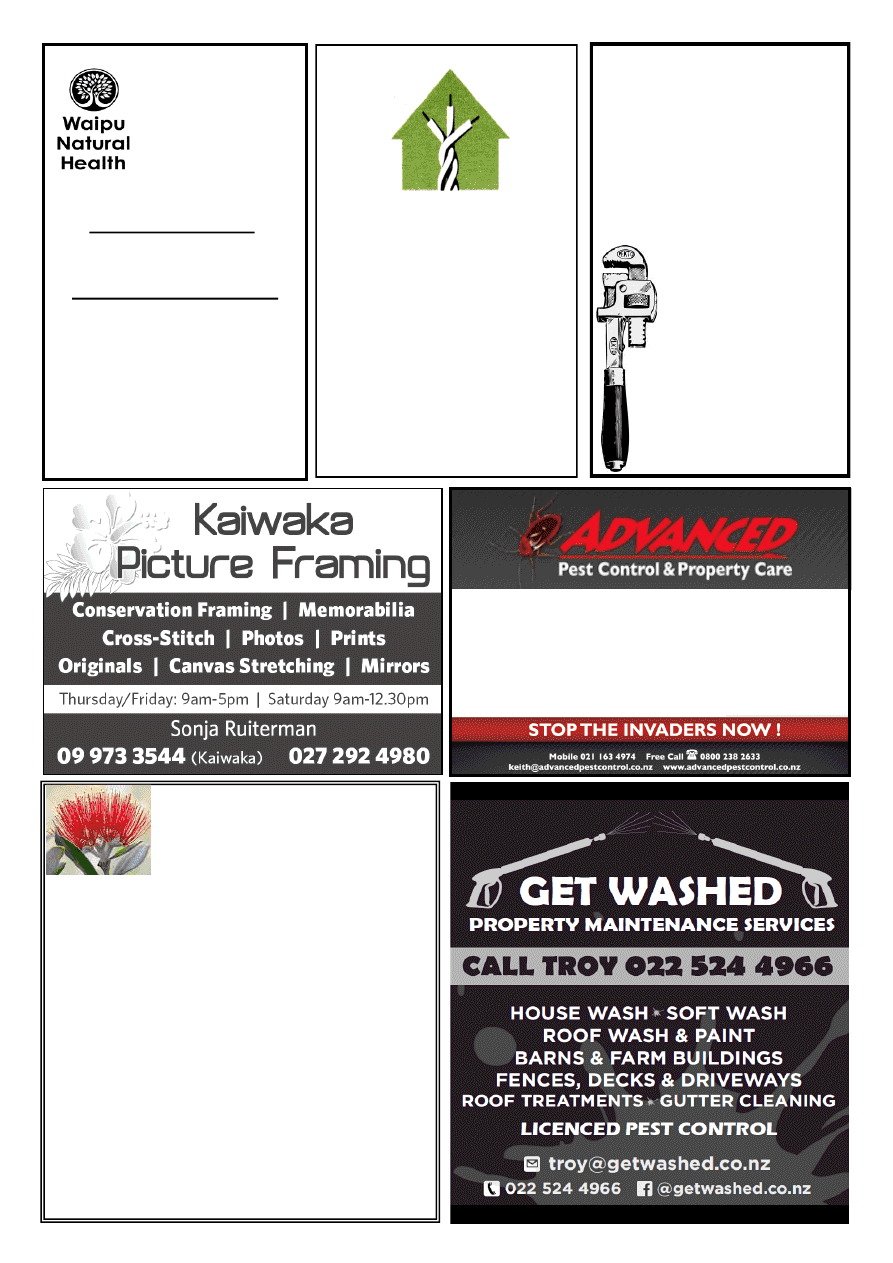 KAIPARA 
FLOORING CO 
Independently owned & operated 
32 HURNDALL ST MAUNGATUROTO
Supply & Installation of Carpet, Vinyl,  
Vinyl Wood Planking 
Stockists of 2m & 3m wide 
vinyl & carpet short ends 
Residential & Commercial 
Q Card Finance Approved 
6-18 month terms 
6 month interest free 
First Class Installations
For a free measure & quote 
phone Christine  
09 946 9886 or 021 515 415 
kaiparaflooring@gmail.com 
http://www.kaiparaflooring.co.nz/ 
BARRY CURTIS 
PLUMBING LTD 
REGISTERED CRAFTSMAN 
PLUMBER 
Phone 4315572 
027 257 9884 
25 years experience 
Friendly reliable service 
All plumbing and 
maintenance 
Alterations  
and new housing 
Spouting 
Competitive rates 
PROMPT 
EFFICIENT  SERVICE 
Reyahn George 
Leng 
Registered Electrician 
Local, honest and reliable. 
For your residential and 
light-commercial projects. 
022 314 1068  
Pest Control 
PLAN A: One-off treatments to customers with a specific pest problem 
PLAN B: Full maintenance service plans to commercial customers. 
This will include documentation kept in customer file on site: 
⚫
Pest treated 
⚫
Date of service 
⚫
Chemical or baits used 
⚫
Full pest check report done after each treatment 
⚫
Fair and reasonable fee with guarantee 
Flood Recovery 
Carpet Care 
⚫
Carpet Drying   
This includes pre-spray treatments 
⚫
Dehumidifier Rental 
with stain removal and hot water extraction.  
⚫
Full Commercial Cleaning  Patch repair also available 
Upholstery Cleaning 
Full upholstery cleaning of all furniture.  
eg lounge suites and all office chairs 
Water Blasting 
⚫
Concrete - Decks 
House Washing 
⚫
Soft Chemical Was 
⚫
Pre-painting Wash 
Property Services 
⚫
Property Cleaning  
Lawn Mowing 
⚫
Hedges General  Tidy Ups 
3 Cove Road, Waipu 
(opposite the Pizza Barn
) 
094321325 
www.waipunaturalhealth.co.nz 
Clinical Nutritionist: 
Nutritional Checkups, Diets for 
Chronic Diseases,  
Food Sensitivities 
Naturopathic Physician: 
Ozone Therapy, Prolotherapy, 
Mesozone 
Reflexology, Craniosacral 
Therapy, Trauma Release 
Massage Therapy 
Counselling and Hypnotherapy 
Change Catalyst/ThetaHealer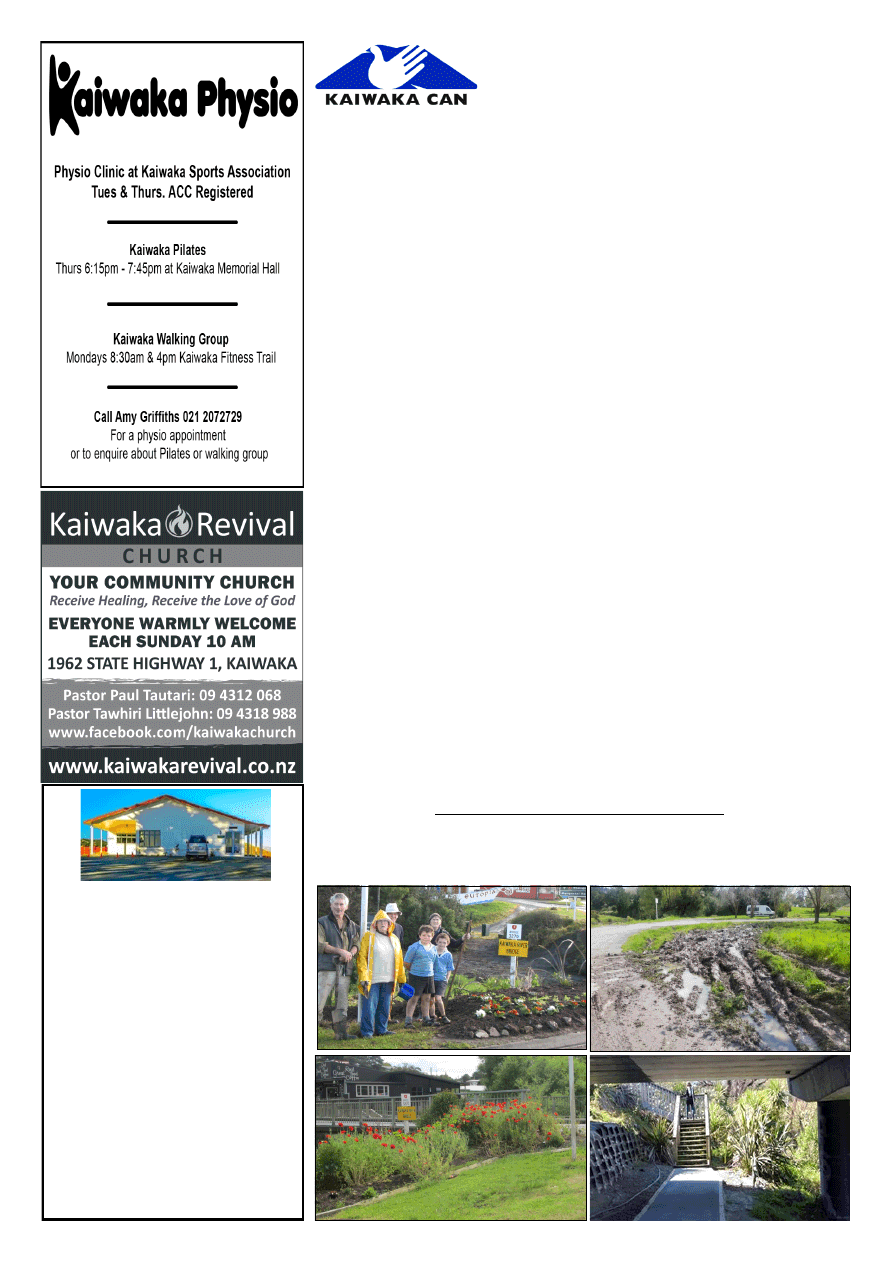 www.kaiwaka.co.nz 
Kaiwaka Bugle - 15 October, 2019 
Page 9 
Tramp! 
Te Pounga Marae 
130 Nathan Rd. Oneriri. Kaiwaka 0573 
COMPLEX FOR 
HIRE 
Functions 
* Weddings  * Birthdays  
*Anniversaries * Meetings  * Wananga 
5 hour meeting * 12 hour stay  * 
Overnight 
*All welcome - No more Drink-driving 
Amenities: 
*Convo Combi Steamer * Bratt Pan * 
Dish Washer/Sterilizer * 3 Door Glass 
Chiller (walk in) etc…All Crockery * 
Linen Supplied * Central Heating and 
Air Conditioning and much more.  
Can also cater for small groups…. 
For more information please 
contact: 
 Pearl Nathan 0223933533  
tepoungamarae130@outlook.com  
What  do  the 
real  estate  agents  tell  you  when  you 
want to sell your house? They tell you 
that  first  impressions  count.  So  paint 
the  letterbox,  tidy  up  the  path  or 
driveway,  get  rid  of  the  clutter  on  the 
front  doorstep  and  make  your  house 
looked loved and liveable. If people are 
put off before they even get inside, you 
are off to a bad start. 
So  how  about  applying  that  to 
Kaiwaka?  Where  are  we?  State 
Highway  One  just  inside  Northland, 
the  first  town  people  meet  coming 
north.  What  are  we?  The  gateway  to 
Kaipara and the gateway to Northland. 
Do  we  look  welcoming?  Everything 
clean, tidy, bright and shiny? Or a drab 
drag  for  two  kilometres  before  the 
"real"  north  and  the  "real"  Kaipara 
start?  Apparently  one  Otamatea  local 
body  candidate  thought  that  as  he 
described 
Maungaturoto 
as 
the 
gateway to Kaipara. Hate to think what 
he  was  doing  for  the  previous  15 
kilometres  driving  north  before  he  got 
there or where he thought he was! 
So  what  is  our  "real  estate" 
reality? 
Great! Northland is the fastest growing 
region  in  NZ.  And  we  are  the  third 
fastest growing area of Northland after 
Mangawhai  and  Waipu,  the  second 
fastest in Kaipara. We are still holding 
our  breath  for  the  latest  figures  from 
Stats  NZ  but  we  know  they  are  good. 
Retirees  escape  from  Auckland  to 
downsize  and  get  a  whiff  of  country 
air.  Young  couples  are  willing  to  do 
the  hard  commute  to  the  North  Shore 
to secure a better lifestyle. Tradies are 
finding  lots  of  work  here  and  over  by 
the  beach.  The  smart  tech  ones  are 
working  partly  from  home  and 
occasionally go and check the office in 
town. Good news! 
BUT 
We  want  to  make  this  place  worth 
coming to. Our main drag is still drab. 
Our  lights  have  gone  out.  Our  green 
areas  are  mainly  weeds.  Our  retail  is 
fractured and unplanned. The highway 
still stifles development. 
So what do we do? 
I  am  sick  of  complaining  about  slow 
action  from  Council,  unwelcome 
control  from  NZTA  and  money  we 
thought was ours ending up elsewhere. 
Complaining  gets  us  nowhere.  I 
believe strongly that the next two years 
are  critical  for  the  future  of  Kaiwaka. 
We  need  to  prove  we  are  worth 
spending  money  on,  prove  we  are 
willing  to  do  our  part  and  that  we  are 
smart enough to design a town for the 
future  that  is  a  gateway  to  Northland 
that  people  will  remember  and  keep 
coming  back  to.  Two  years  to  make 
this happen! 
So  nothing  this  time  about  Kaiwaka 
Can projects. We will keep working on 
them  and  invite  you  to  join  us  (every 
third  Wednesday,  5.30pm  Archie  Bull 
Hall).  
But  my  personal  call  to  Kaiwaka  and 
our beautiful surrounds is that it is time 
to:  
WAKE  UP  SPEAK  UP  and 
WORK  UP  A  SWEAT  to  make 
this town what it ought to be. 
Derek Christensen, Chair 
099469077 or 0273572751 
derekandisa@gmail.com
KAIWAKA CAN: The first rule 
for selling a house ...
WORK UP A SWEAT FOR KAIWAKA 
The corner of Oneriri  Road and SH One - 1. in 2011, preparing for the Rugby 
World  Cup.  2.  In  2013  the  poppies  were  flowering  on  the  corner.  3.  2018 
McClean Park. 4. Under the bridge, now has a concrete path ...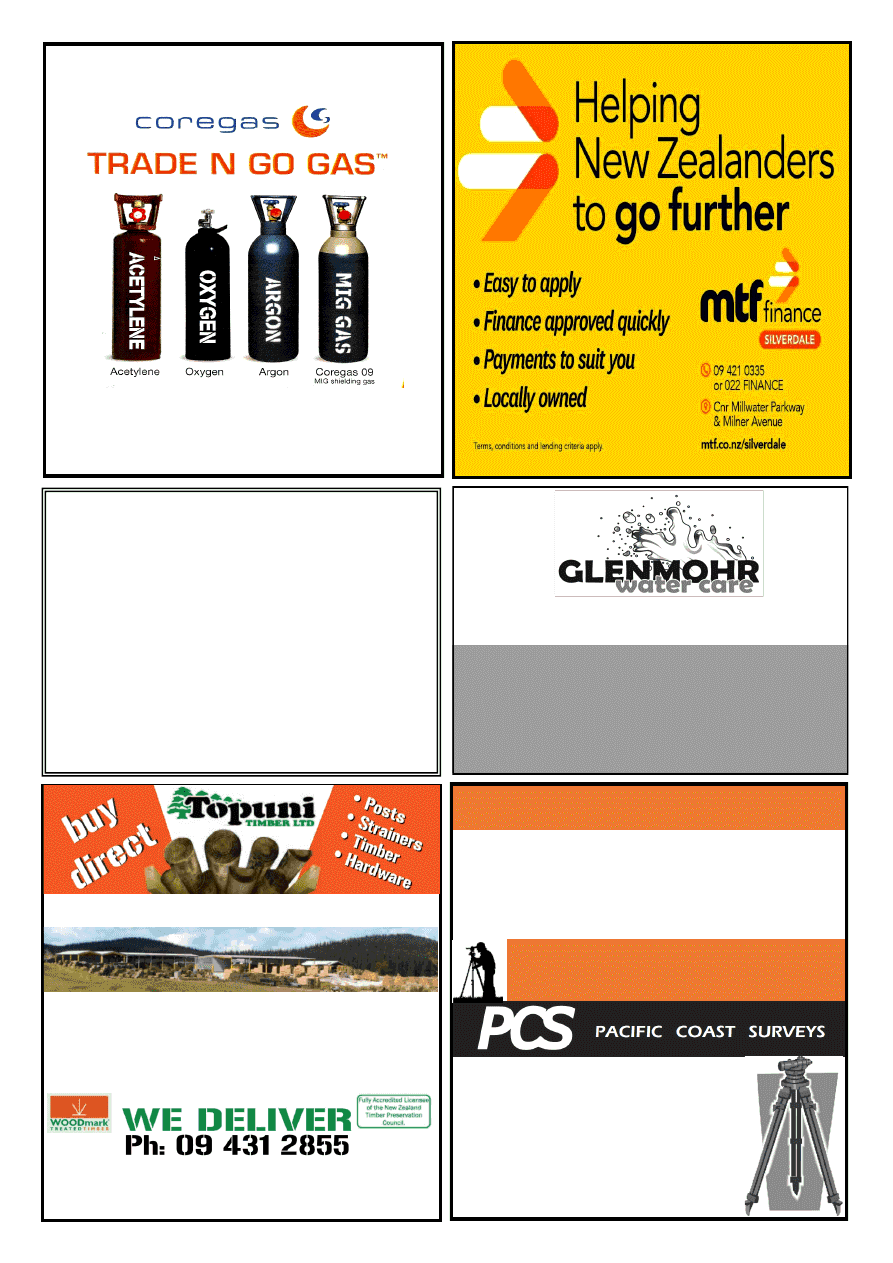 LOCALLY OWNED AND OPERATED 
QUALITY PRODUCTS • FRIENDLY ADVICE • GREAT SERVICE 
Quality Products milled from High Density NORTHLAND Radiata Pine. 
Treated and guaranteed to NZS3640 with commitment to 
Environmental Safety.
Phone, fax, email, or come into the mill 
Schiska Rd, Topuni, SH1, 10 min north of Wellsford. Fax: 09 431 2856 
Email: sales@topunitimber.co.nz           Mon - Fri 7am-5pm 
• Fencing 
• Retaining 
• Decking 
• Landscaping 
• Gates 
• Hardware 
SURVEYORS 
SUBDIVISIONS 
HOUSE SITE SURVEYS 
CIVIL ENGINEERING 
WASTEWATER DESIGNS 
EXPERIENCED 
PROFESSIONAL 
INNOVATIVE 
Ph 09 431 5353 
0800 PACIFIC (0800 722 434) 
pacificcoastsurvey.com
Adam Booth - 027 415 5752 
Bsurv, Licensed Cadastral Surveyor
Surveying Kaipara since 1994 
Water Tank Cleaning 
• 
Keep your water safe & clean  
• 
Removal of sediment, silt etc. 
• 
Vacuum or full scrub 
• 
Minimal water loss 
Phone Mark (09) 432 0655 or 0274 707607 
At Twinkle Tow 'n' Tyre 
Mob: 021 833 960 
Ph & Fax: 09 431 2823 
1837 State Highway 1, Kaiwaka 
design drafting  
service 
Retired builder and manufacturer with over 40 years  
experience in the building industry is offering a design 
drafting service for domestic housing, sleepouts and 
sheds.  
Plans formulated in consultation with clients, with 
working drawings completed and submitted to  
council for processing.  Extensive practical experience,  
able to identify & resolve problems. 
Please ring Mike Lean on 
09 431 2260 
or 
021 431 196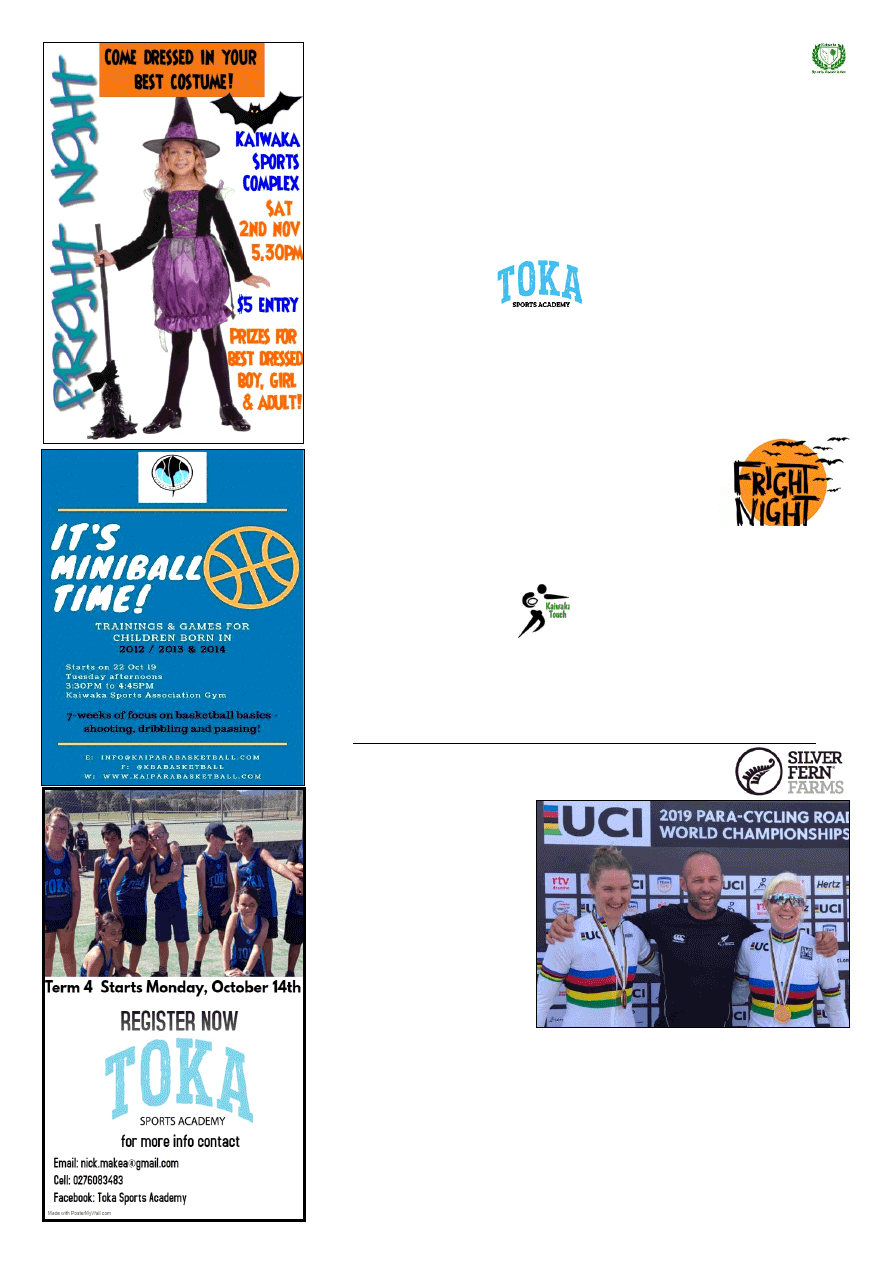 www.kaiwaka.co.nz 
Kaiwaka Bugle - 15 October, 2019 
Page 11 
           KAIWAKA SPORTS ASSN 
SILVER FERN FARMS  
KAIPARA SPORTS AWARDS  
The  guest  speaker  this  years' 
Silver  Fern  Farms  Kaipara 
Sports  Awards  will  be    Emma 
Foy.  Emma  is  fresh  from  her 
recent 
success 
in 
the 
Netherlands  where  she  was 
crowned  the  World  Champion 
along  with  her  riding  partner 
Hannah  van  Kampen  in  the 
Women's BV1 Road Race, she 
will  be  sharing  with  guests  her 
recent experiences.   
The awards are being hosted at 
the  Maungaturoto  Country 
Club 
on 
Saturday 
2 
November, 6pm. 
The  Silver  Fern  Farms  Kaipara  Sports  Awards  aim  to  recognise  the 
achievements and service by sports people from throughout the Kaipara. It is an 
opportunity to showcase some of the amazing people involved in sport and who 
make it happen. Sports clubs and other organisations from around the district 
are encouraged to nominate their high achieving athletes, coaches, officials and 
administrators  for  consideration  in  various  categories  at  the  Kaipara  Sports 
Awards. 
Emma Foy, born in Dargaville, is a New Zealand para-cyclist. She represented 
New  Zealand  at  the  2016  Summer  Paralympics  in  Rio  de  Janeiro,  where  she 
won  a  silver  and  a  bronze  medal  with  sighted  pilot  Laura  Thompson.  From 
2013 to 2019 she won a total of twelve medals at the UCI Para-cycling Track 
and Road Championships.  
Kaiwaka Boot Camp 
Keen to get into shape for the summer? 
There  will  be  a  Fitness  Boot  Camp  at 
our  grounds,  on  Tuesdays  and 
Thursdays 
at 
6.30pm, 
starting 
Thursday 7th November. Will run right 
through  until  Christmas.  This  is 
suitable  for  people  of  all  ages  and 
fitness        levels.  Just  bring  yourself  - 
fun  and  laughter  provided!  $7  a 
session. Queries to 
Siobhan Henderson on 027 9791203. 
Toka Sports Academy 
Did you know that we host 
the  Toka  Sports  Academy 
at  the  Sports  Complex?  This  is  an 
exciting  programme,  run  by  Nick 
Makea,  which  runs  during  term  time 
for  children  to  develop  their  sporting 
skills and mental resilience. 
Next term the sessions will be held on 
Mondays and Wednesdays. 
To register your child, give Nick a call 
on 027 608 3483. 
Sports Day 
An inter-schools Sports Day for Years 
7  and  8  will  be  held  at  the  Sports 
Complex  on  Tuesday  22nd  October. 
Spectators welcome. 
Advance notice – Touch Module 
Who  wants  to  play  Summer 
Touch?  Our  Touch  Module 
will  be  held  at  the  Sports 
Complex  for  eight  weeks  on 
Wednesday  evenings  starting 
15th  January.  This  is  a  social  Module 
for  mixed  teams  of  men,  women  and 
teenagers. If you would like to enter a 
team,  contact  me  for  the  registration 
form. 
Group Day 
Otamatea  Group  Day,  the  regional 
animal  showing  competition,  will  be 
held  at  our  grounds  on  Sunday  20th 
October. Spectators welcome. 
Fitness Trail 
Did you know we have a Fitness Trail 
at  our  grounds?  It's  free  for  members 
of the public to use: go for a stroll or a 
run, or kids can zoom around it on their 
bikes!  The  path  is  extra  wide,  so  it  is 
suitable  for  wheelchairs  and  parents 
with  strollers.  It  is  marked  with 
distances  so  you  can  see  how  far  you 
have  walked.  And  has  a  bench  so  you 
can stop off for a spell. 
Venue Hireage 
Looking to hire the Sports Complex for 
an event? Visit our website 
www.kaiwakasports.co.nz  and  click  of 
the  Complex  Hire  tab  for  all  the 
information. 
Fright Night 
Get 
ready 
for 
Fright  Night  2019! 
Saturday 
2nd 
November, running 
from 5.30pm til late. 
Start  thinking  about  your  scary 
costume  (there  will  be  prizes  for  best 
dressed boy, girl and adult). There will 
also  be  prizes  for  the  best  halloween-
inspired  supper  plates  –  last  year  we 
had  chocolate  spiders,  bloodshot 
eyeball  eggs,  cobweb  cupcakes, 
deadman finger sandwiches and more! 
Fright Night has lots of fun and spooky 
activities,  including  our  popular 
Haunted  House  –  and  this  year  it's 
going to be bigger and better!! 
~ Cheryl, kaiwakasports@gmail.com 
NORTH GLASS 
WINDSCREEN REPAIR OR REPLACE 
GLAZING SERVICES 
MIRRORS  •  SPLASH BACKS  •  SHOWERS 
0800 70 40 10
info@northglass.co.nz 
www.northglass.co.nz 
Altitude with Attitude, helping your business 
scale new heights 
Time to try something different? 
Xero training          Accountancy Services 
We are offering two opportunities: 
15% saving off your annual report cost for your first 
year, & a further 10% saving for any referrals 
Call Corinne on 021 252 7680 or 
corinne@altitudeadvisors.nz 
SELF DEFENCE KEMPO 
Fitness, Confidence, Discipline, 
Respect,  
Self-awareness 
Classes for all ages in: 
 Mangawhai
Kaiwaka Wellsford
For more information please contact
 Otamatea Martial Arts
otamatea.kempo@farmside.co.nz 
Phone 09-431-5170 
www.facebook.com/otamatea.kempo 

Peter Buckley 

Mobile Hose Technician –  
                      Based from Oneriri Road 

Available for all mobile hose                                
                      requirements onsite 

Call – 0800 425 7116 

Email – mse@mseng.co.nz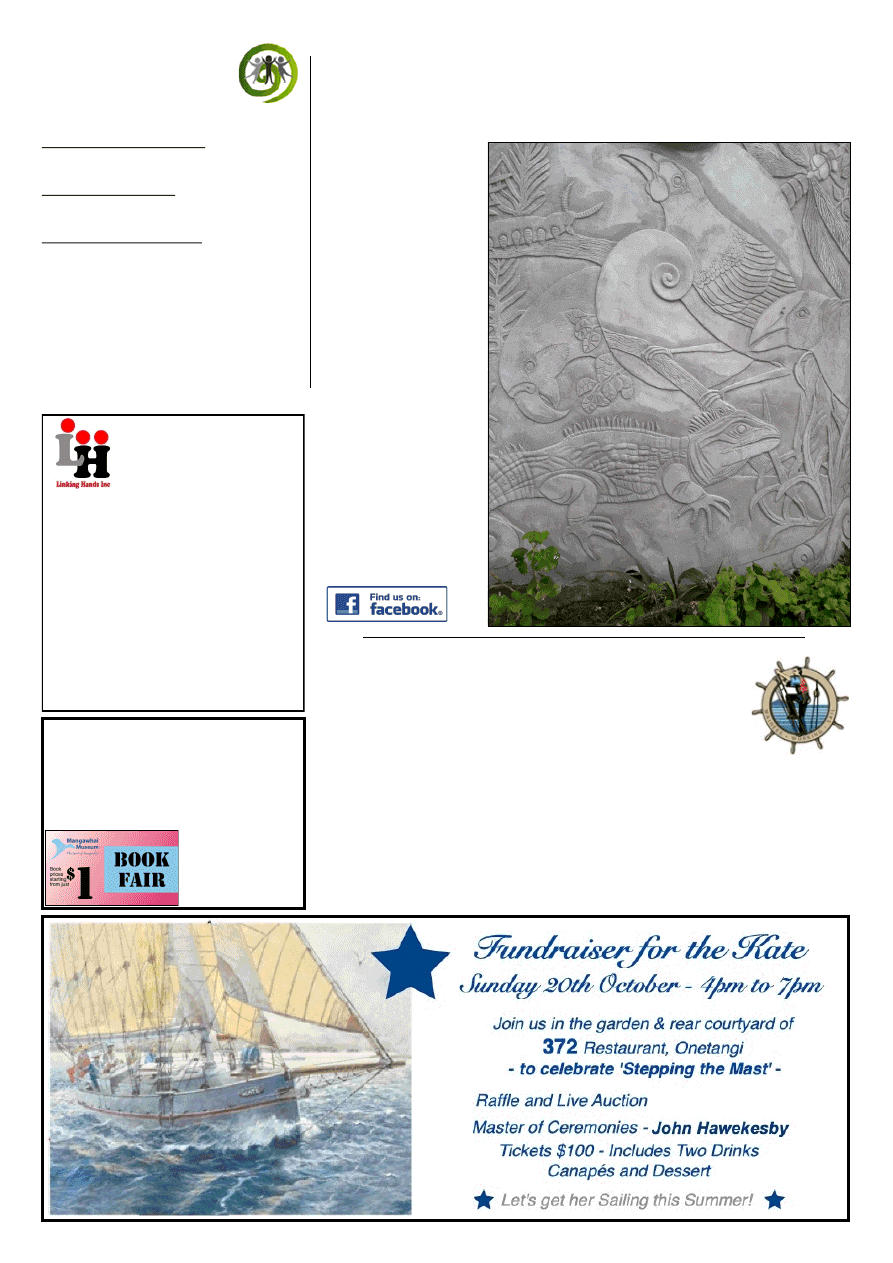 www.kaiwaka.co.nz 
Kaiwaka Bugle - 15 October, 2019 
Page 13 
OTAMATEA 
COMMUNITY 
SERVICES
OCTOBER CALENDAR 
Wednesday 
16th:  Chocolate 
Bingo,  Footprints  Room,  Anglican 
Church 10am 
Monday 
21st:  Fun  &Games 
morning, 
Footprints 
Room, 
Anglican Church. 10.30-12pm 
Wednesday  23rd:  Free  trip  to 
Whangarei  –  enjoy  a  day  in  town 
without parking hassles 
Call  in  or  phone  to  ask  about 
Counselling,  Parenting,  Addictions, 
Finances,  also  if  you  are  keen  to 
volunteer or become a Board Member. 
Phone 4319080 or call into the House. 
Conditions  including  Police  check 
apply.  ~  Best  wishes  from  Your 
Community House. 
EUTOPIA CAFE 
WORK CONTINUES ... 
Folk will know of another devastating theft of Marijke and Robert's Eutopia art 
on  10  October.  Hundreds  of  online  viewers  have  seen  and  shared  the  CCTV 
pictures of the two thieves. Do check these photos so we can help look after our 
iconic café. 
Another  new  art  work  - 
see  right  -  in  the  front 
courtyard  shows  some 
of  the  more  vulnerable 
animals,  threatened  or 
already  extinct,  in  a 
spiral  of  time.  Other 
walls  show  NZ  plants 
and  flowers,  fungi  and 
birds.   
Next  thing  is  to  paint 
and stain all this work. 
Marijke  and  Robert  are 
working  on  bringing 
music  events  to  Eutopia 
and  people  have  been 
asking  about  using  the 
space  for  weddings  and 
functions.  They  even 
did  a  high  tea  recently 
which was a lot of fun. 
They 
are 
always 
working 
hard 
to 
improve  things  and 
thank  all  who  have 
given    help,  feedback 
and  support  along  the 
way. 
Kaipara Cutter: KATE Part 2  
… continued from front page 
Marine artist David Barker has painted a depiction of the 'Kate' 
under sail with her youth crew to help with fundraising. A limited 
run  of  100  prints  of  the  painting  have  been  made  available  for 
$225 each. Once all prints are sold a drawing will be held and the 
winner  will  receive  the  original  framed  oil  painting.  For  an 
informative card with details for payment, a ticket for the draw and for delivery 
of the print, please email your postal address to info@waihekeworkingsail.org. 
The  latest  news  is  that  a  party  and  fundraising  auction  is  scheduled  for  19 
October on Waiheke to celebrate the stepping of the mast:  
https://www.waihekeworkingsail.org/2019/10/07/mast-stepping-party-for-the-kate/ . 
Donation page from Givealittle here:  
https://givealittle.co.nz/donate/org/avowkind 
A  recent  video  showing  progress  on  the  restoration  is  available  here:  https://
vimeo.com/354308322 and on the WWS website:  
https://www.waihekeworkingsail.org/. 
Labour Weekend Book Fair 
Saturday 26th October 9am - Sunday 
27th 
October 
2019 
4pm 
at    Mangawhai 
Museum 
More  information 
at 
https://
mangawhai-
LINKING 
HANDS INC 
Maungaturoto - Kaiwaka - 
Mangawhai 
Meeting the needs of the community. 
A  free  Health  Shuttle  Service,  providing 
transport  to  those  who  would  struggle  to 
get  to  medical,  dental,  podiatry,  or 
optometrist  appointments  anywhere  from 
Warkworth to Whangarei. 
HEALTH SHUTTLE SERVICES Ph/
fax 09 431 8969 
OFFICE HOURS 
Maungaturoto - Monday to Friday - 
10am to 4pm 
Closed Public Holidays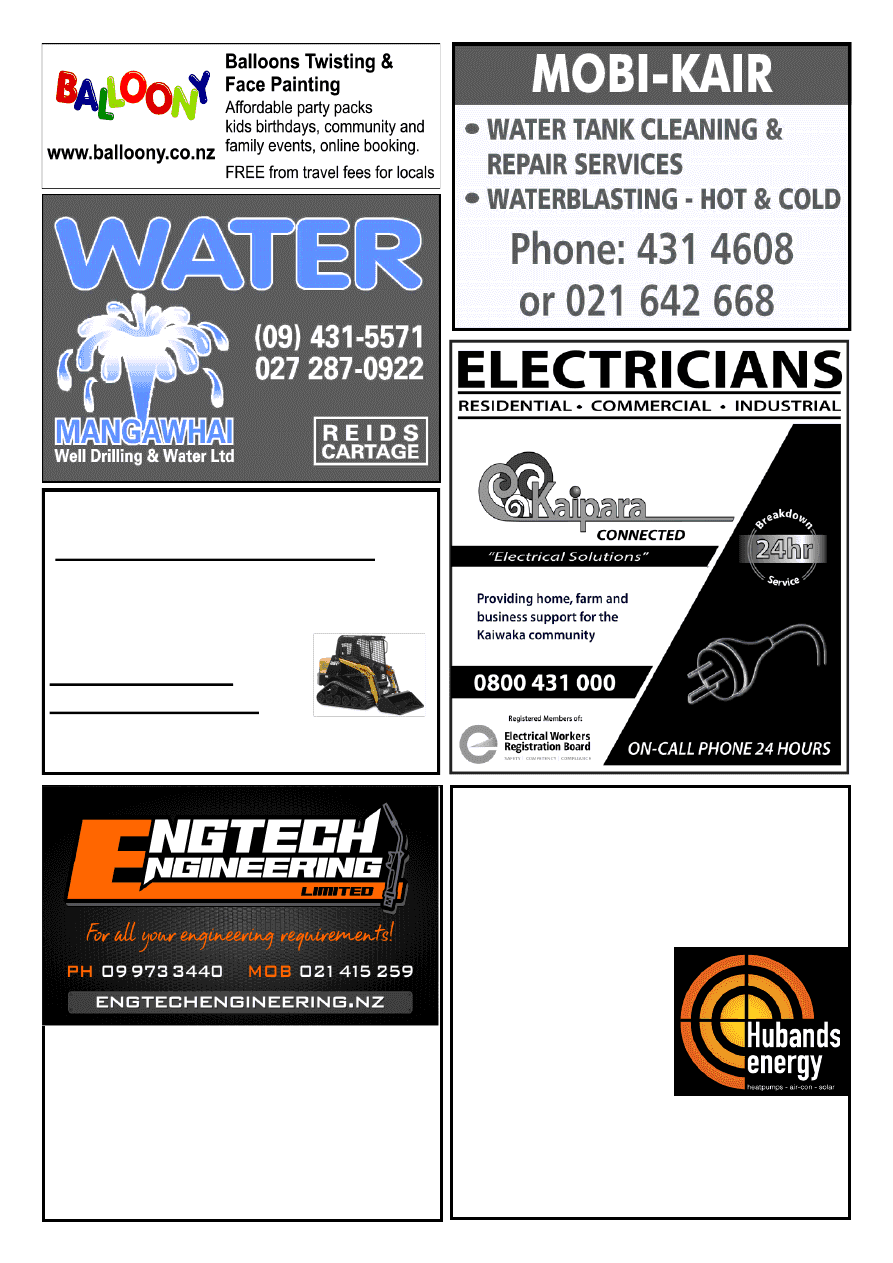 Natural Earth Ltd 
 Landscape and Bobcat services 
 : Driveways  :Landscaping  :Retaining Walls 
 : Hole Boring: Land Levelling :Trenching 
 : Decks :Fences :Sections Cleared: Plus much 
more 
Tel   09 4312885 
Mob 02102391280   
For A Fast Friendly  
Service Contact Tim Hicks 
Northland's Award Winning 
Solar Company
SEANZ Best Solar Business Winners 2015/16
EXCLUSIVE 10 year installation warranty 
FREE No obligation onsite quote
Complete systems 
from $5990
See our range of: 
✓ 
Heatpumps 
✓ 
Airconditioning 
✓ 
Hot Water 
Heatpumps 
✓ 
Central Vacuum Systems
09 430 0019             sales@hubands.co.nz 
15 Kioreroa Road, Whangarei
Locally owned and operated for 35 years 
Ryan Lusty and Tracey's  
New Workshop is Now Open 
648 Kaiwaka-Mangawhai Rd, Hakaru 
Engtech Engineering facility is big, 
modern and ready to help solve problems 
for the wider community.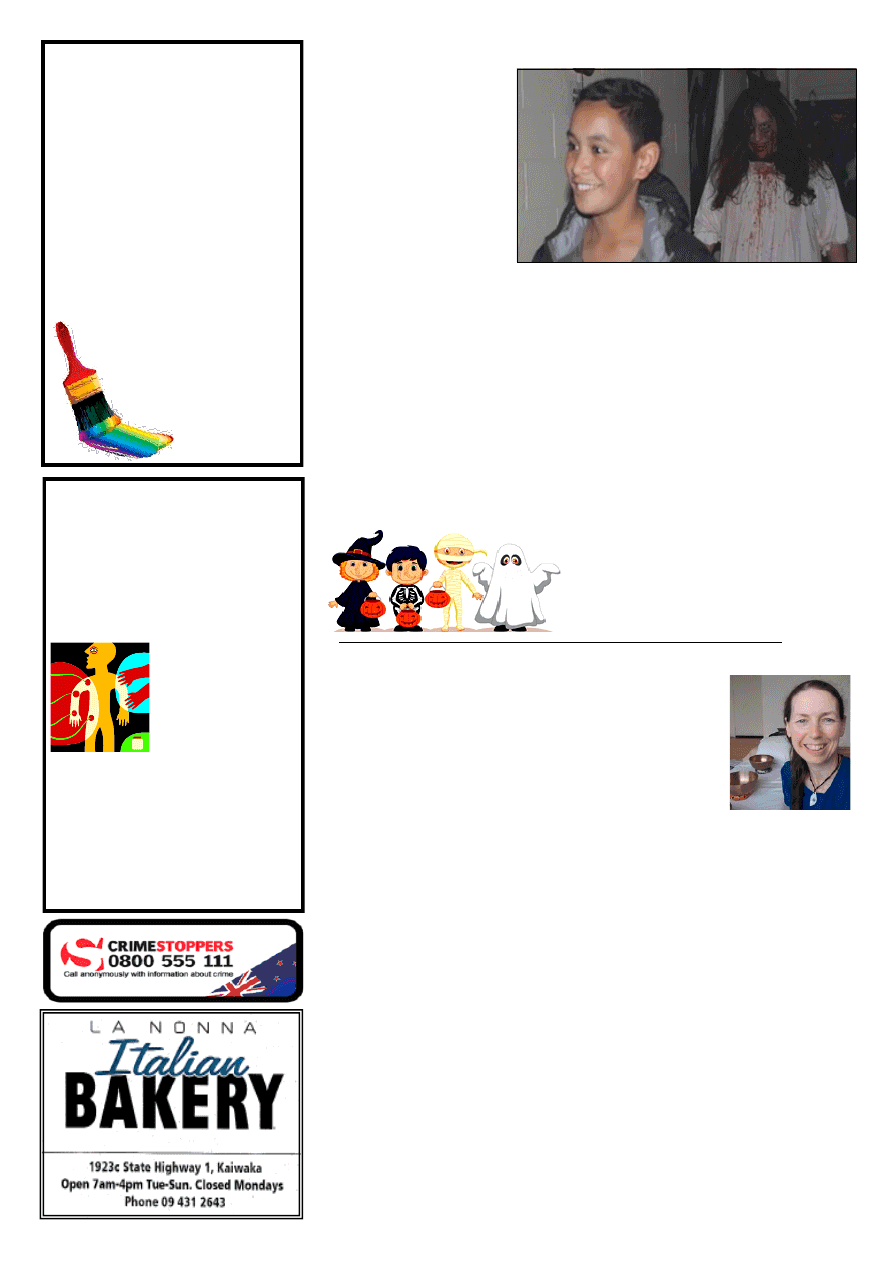 www.kaiwaka.co.nz 
Kaiwaka Bugle - 15 October, 2019 
Page 15 
OWEN STEVENS 
Osteo Therapist
For careful adjustments  
to bones and joints 
Treatment for humans  
and their pets 
Clinics: 
Kate's Place, 
Kaiwaka: 
Last Friday of 
month 
9.00am-5.00pm 
For bookings: 
Phone 
09 4312661 
Or phone Owen   
09 4317123  anytime 
LEE COOPER 
PAINTERS 
(Kaiwaka Based) 
*30 yrs Experience 
*Interior/Exterior 
*New and Restoration 
*Honest and Reliable 
*Free Quotes 
 
09 4312918 
0274735171 
leecooper@xtra.co.nz 
One  of  the  Kaiwaka  Sports 
Association's  most  popular 
events of the year will be on 
Saturday  2nd  November  – 
yes, it is Fright Night! 
Fright  Night  is  fun  for  the 
whole family, there will be a 
photo  booth,  lolly  scramble, 
face  painting,  games  with 
prizes, 
haunted 
house 
sessions,  costume  parade, 
dancing and glow items. 
Costume Parade 
Polish  your  vampire  fangs,  dust  off 
your  cobweb  coat  and  strut  your  stuff 
at our Costume Parade. There are some 
great  prizes  to  be  won  for  the  best 
dressed boy, girl and adult. 
Haunted House  
Take  your  bravest  friends  and  venture 
into the haunted house – but beware of 
creatures which might be lurking in the 
shadows!  
First  up  there  will  be  a  very  mild 
haunted  house  session  (no  scarers,  no 
loud  music,  no  fog,  lights  on  full), 
which  would  be  suitable  for  pre-
schoolers, then the scare factor will be 
ramped  up  for  the  second  session 
which  is  suitable  for  primary-aged 
children.  After  that,  we  will  run  an 
extra  scary  session  in  darkness  –  only 
for the very brave! 
Supper Plate! 
Please  bring  a  halloween-themed  plate 
for supper. There will be prizes for the 
top  four  plates,  think  creative:  ghost 
meringues,  graveyard  cakes,  cobweb 
biscuits,  eyeball  cupcakes  –  have  fun 
with it ! 
Be at the Kaiwaka Sports Complex on 
Saturday 2nd November at 5.30pm, the 
entry fee is $5 (pre-schoolers are free). 
You  don't  need  to  have  dinner  before 
you arrive, as Kaiwaka Playcentre will 
be selling food. 
Get ready for a fa-BOO-lous night! 
Any 
queries 
to 
Cheryl 
on 
cherylanderson051@gmail.com 
Your Cells Are Alive With the Sound of Music... 
"We are slowed down sound and light 
waves,  a  bundle  of  frequencies  tuned 
into the cosmos.  We  are  souls  dressed 
up in sacred biochemical garments and 
our bodies are the instruments through 
which  our  souls  play  their  music." 
Unknown 
In  2001  Jim  Gimzeweski,  a  UCLA 
biophysicist,  discovered  that  the 
vibrations  emitted  by  cells  could  be 
interpreted as sound when converted to 
a frequency, pitch and volume that the 
human ear could detect. He discovered 
that healthy cells made pleasant sounds 
while  unhealthy,  distressed  or  dying 
cells sounded chaotic. 
Imagine,  your  body  is  an  orchestra 
playing  the  most  complex  symphony, 
when  it's  playing  in  perfect  harmony 
we  say  we  are in  "Sound Health";  but 
if  the  second  violin  player  loses  his 
sheet  music  they  start  to  play  out  of 
tune, and out of harmony; this is like a 
part  of  our  body  that  is  no  longer 
vibrating  at  it's  normal  healthy 
frequency,  when  it  is  out  of  harmony; 
out of ease we say it is "dis-eased." 
But  what  if  we  could  give  the  violin 
player  back  his  sheet  music?  What  if 
we  could  bring  harmony  back  to  the 
disharmony, order to chaos and ease to 
dis-ease  so  that  the  body  is  able  to 
experience  it's  healthy  resonant 
frequencies again? 
This  is  the  principal  of  any  energy-
based  therapy  including  Chiropractic 
and  is  the  premise 
for Sound Massage. 
When a harmonious 
tone  is  projected  at 
a 
dis-harmonious 
one 
for 
long 
enough,  eventually 
the  dis-harmonious 
vibration 
will 
match the harmonious one through the 
process of resonance. 
We  are  affected  by  sound  through 
hearing 
and/or 
feeling. 
Using 
instruments  such  as,  Singing  Bowls 
which  create  beautiful  sounds,  chimed 
in  a  gentle  soothing  rhythm  on  the 
body  affects  our  brainwaves  through 
our ears, enabling our mind to begin to 
quieten as the brain becomes entrained 
to  the  harmonic  tones  while  our  cells 
become  harmonised  through  the 
sensations  of  the  vibrations  which 
stimulates the release of Nitric Oxide. 
Nitric Oxide is a wonder molecule that 
relaxes blood vessels, increasing blood 
flow,  it  also  lifts  our  energy  levels, 
strengthens  immune  system,  increases 
resistance to stress, improves focus and 
clarity. 
So,  the  next time  you  notice  pain  or a 
feeling of being "out of tune" check out 
the 
videos 
on 
fb.me/
soundenergyhealing  for  ways  to  help 
you become "in tune" again. 
~ In bliss, Carrie 
KSA 
FRIGHT NIGHT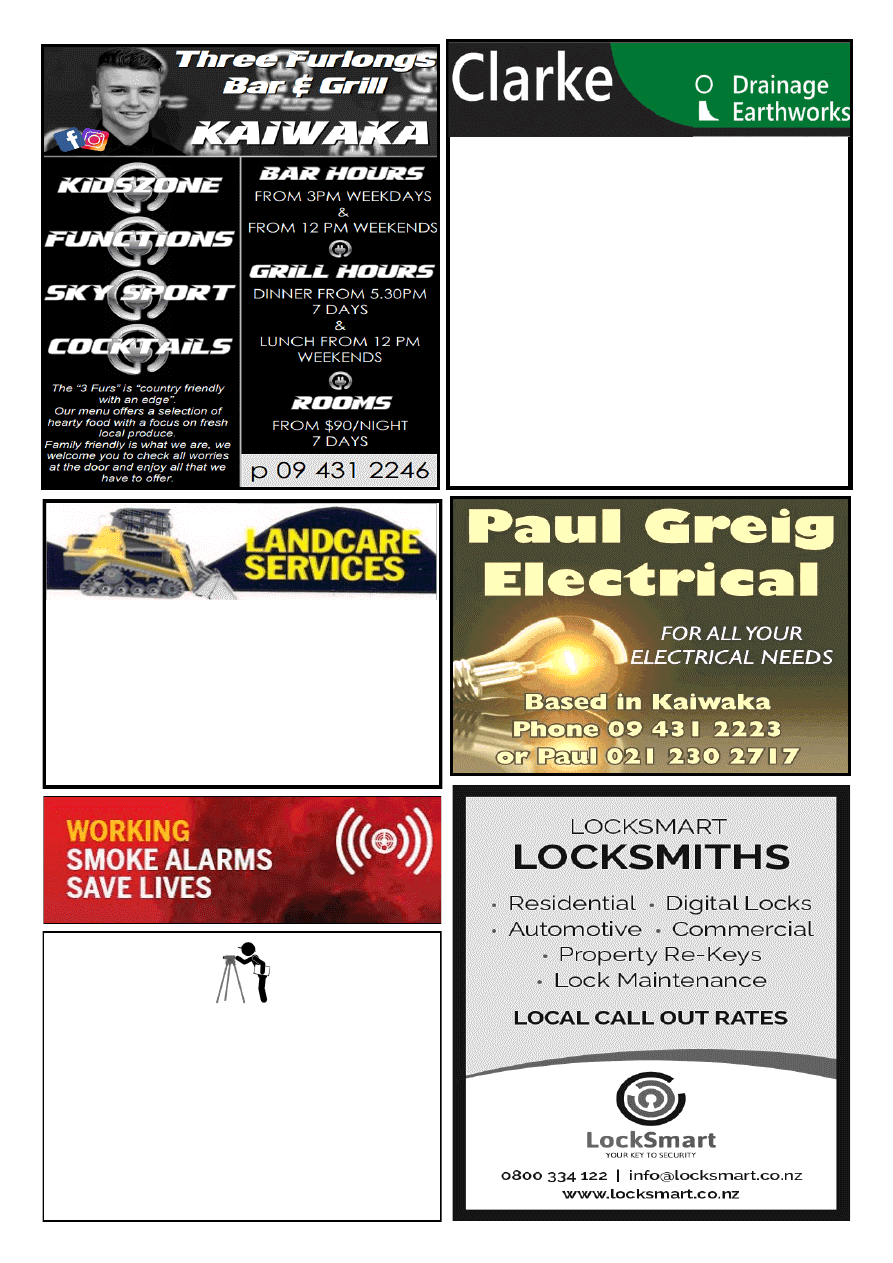 Drainage & Earthmoving 
nigel@clarkedrainage.nz 
027 2233 185 
Registered Drainlayer                    All Types of Earthworks  
> All Residential & Commercial Work  > House Sites 
> Septic System Design & Install          > Footings & Drilling to 10m 
> Sewer Connections 
                       > Dams 
> Water Tank Installation 
               > Roading & Races 
       > Farm Work 
THE ONE STOP SHOP  
Phone Nigel for an Obligation Free Quote  
LANDSCAPING 
4 IN 1 BUCKET 
TRENCHER 
POLE HOLES 
ROTARY HOE 
COMPACT ROLLER 
OFFAL HOLES 
CAN SUPPLY WOODCHIP & POST PEEL 
5 TON TIPPER 
FOR RELIABLE AND FRIENDLY SERVICE CONTACT DAVE 
Dave Hyndman 
 
KAIWAKA 
PH: 09 4312302 
MOB: 021 431 238 
Ken Urquhart 
BSurv Licensed Cadastral Surveyor 
KMU Surveys Ltd
467 Bickerstaffe Road 
RD 2 
Maungaturoto 0587 
Ph 09 431 8705 
Mob 021 161 2344 
kenurquhart@xtra.co.nz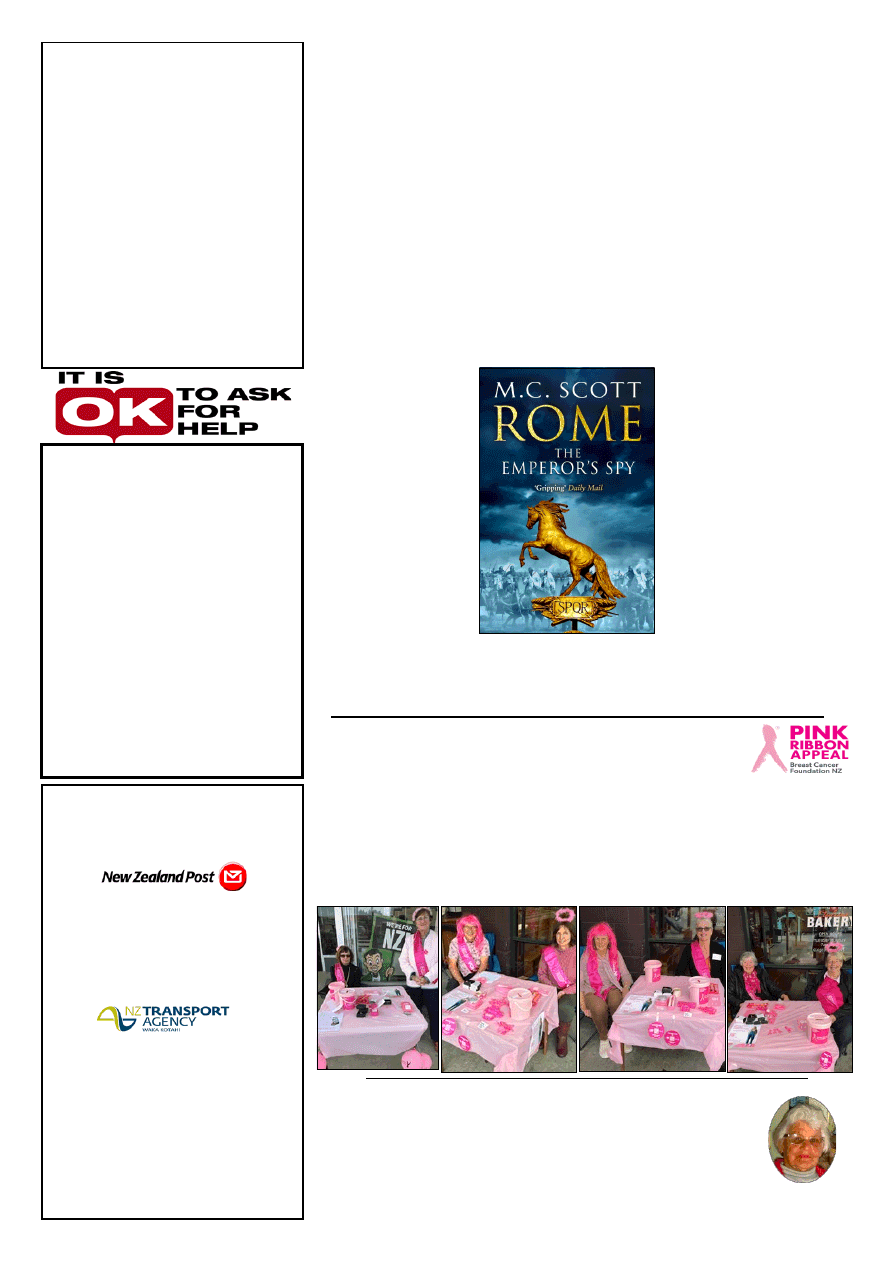 www.kaiwaka.co.nz 
Kaiwaka Bugle - 15 October, 2019 
Page 17 
KAIWAKA LIBRARY
KAIWAKA POST 
CENTRE and 
FOOD MART 
POST CENTRE TRADING HOURS 
MONDAY to FRIDAY 8am to 5pm 
SATURDAY 8am to 12pm 
CLOSED ON SUNDAY and on 
PUBLIC HOLIDAYS 
FOOD MART (GROCERIES) 
MONDAY TO FRIDAY  
7:30am to 7.30pm 
SATURDAY  8am to 7.30pm 
SUNDAY  8:30am to 7pm 
IF ANY QUERIES PLEASE CALL 
STORE MANAGER AMRIT  
on 09 4312431 or 
EMAIL: kaiwakafood19a@gmail.com 
1919a State Highway1, Kaiwaka 0542 
From Thelma's Scrapbook...  
The Pattern 
Not till the loom is silent and the shuttles cease to fly, 
Will God unroll the canvas and explain the reasons why. 
For the dark threads are as needful in the Weavers skilful hands, 
As the threads of gold and silver, in the pattern He has planned. 
Ballot box 
Thank  you  to  everyone  who  posted 
their local body election papers into the 
ballot  box  in  our  library.  It's  the  first 
time  we've  done  this,  and  we  had  a 
good response. 
Large Print and Audio books 
By the time you're reading this, we will 
have  done  the  swap  at  the  Northland 
Libraries  Network  collection,  and  the 
new  titles  will  be  ready  for  you  to 
borrow. Many thanks to everyone who 
helped  with  the  work  in  making  it  all 
happen. 
You  can  search  our  library  catalogue 
online  to  find  these  books  -  go  to 
Enterprise*  and  simply  use  large 
print  in  the  search  field  to  find  Large 
Print  books,  or  talking 
book  to  find  Audio 
books.  You  can  see 
across 
the 
whole 
district, or narrow your 
search  down  to  only 
our  library.  Either 
way,  log  in  to  your 
library  account  and 
you  can  place  a  hold 
on  any  borrowable 
item in the district and 
have 
it 
sent 
to 
Kaiwaka  Library  for 
you to collect. 
Loyalty cards 
Don't  forget  to  get  (or 
update)  your  loyalty  card  when  you 
borrow  Rental  books  or  DVDs/Blu-
rays.  Collect  10  stamps  on  your  card, 
and get one free. 
Book review 
Recently  I've  read  Rome:  The 
emperor's  spy  by  MC  Scott.  It's  the 
first  in  a  four-book  series,  and  I'm 
enjoying  it  a  lot.  "Stop  this  fire, 
whatever  it  takes.  I,  your  Emperor, 
order  it'  The  Emperor  Nero,  Emperor 
of  Rome  and  all  her  provinces,  feared 
by  his  subjects  for  his  temper  and 
cruelty,  is  in  possession  of  an  ancient 
document  predicting  that  Rome  will 
burn.  The  Spy  Sebastos  Pantera, 
assassin  and  spy  for  the  Roman 
Legions,  is  ordered  to  stop  the 
impending cataclysm. He knows that if 
he  does  not,  his  life  -  and  those  of 
thousands  of  others  -  are  in  terrible 
danger.  The  Chariot  Boy  Math,  a 
young charioteer, is a pawn drawn into 
the  deadly  game  between 
the  Emperor  and  the  Spy, 
where  death  stalks  the 
drivers  -  on  the  track  and 
off  it.  Rich  characterisation 
and 
spine 
tingling 
adventure  combine  in  a 
vividly  realised  novel  set 
amid the bloodshed and the 
chaos,  the  heroism  and 
murderous 
betrayal 
of 
ancient  Rome."  The  whole 
series  is  on  the  Rental 
Fiction  shelves  in  the 
library. 
See  you  in  the  library! 
~Wendy 
 Phone 4312 539 
Email kaiwaka.library@gmail.com  
Open Wed-Sat 10am-2pm, Mon 4-6pm.  
Free  membership  is  available  to  all  residents  in  the 
Kaiwaka area.  
*Enterprise: http://kaipara.kotui.org.nz/  
HAKARU HALL 
ACTIVITIES 

Monday: Line Dancing  

Wednesday Music Jam Session  
0210628631 

First Wednesday of the Month 
Hall Committee Meeting 7.30pm 

October 19th Saturday Night  
Down At The Hall   
4.00pm  til late 
Music Variety Concert  
BYO Shared Plate Raffles 
$10 Adults Kids Free Money 
Towards Hall Upkeep 
Hakaru Hall Settlement Rd 

Hall Bookings  4312256 
WHERE TO GET HELP 

1737, Need to talk? Free call or 
text1737 to talk to a trained counsellor  

Rural Support Trust 0800 787 254   

Lifeline, 0800 543 354  

Youthline, 0800 376 63, text 234, 
email talk@youthline.co.nz or online 
chat 

Samaritans, 0800 726 666  

Depression Helpline, 0800 111 757   

Suicide Crisis Helpline, 0508 828 
865 (TAUTOKO)      

In a life-threatening situation 
call 
111
KAIWAKA's PINK RIBBON STREET APPEAL
A very big thank you to all of our Collectors and Supporters this 
year  
For the first time we were able to collect on the Saturday too at one of the sites. 
We picked up a few more helpers this time and even managed to get some more 
for  next  year.  I  am  sorry  I  did  not  manage  a  photo  of  everyone  who  helped. 
The  official  money  count  is  not  in  but  I  believe  we  collected  about  $1200.00 
which is double what we did last year. 
A  great  effort  by  an  amazing  team!  Heartfelt  thanks  to  all  involved  as  well 
as the businesses, Jaques Four Square and La Nonna Bakery, who let us camp at 
their entrances.  ~ Jacqui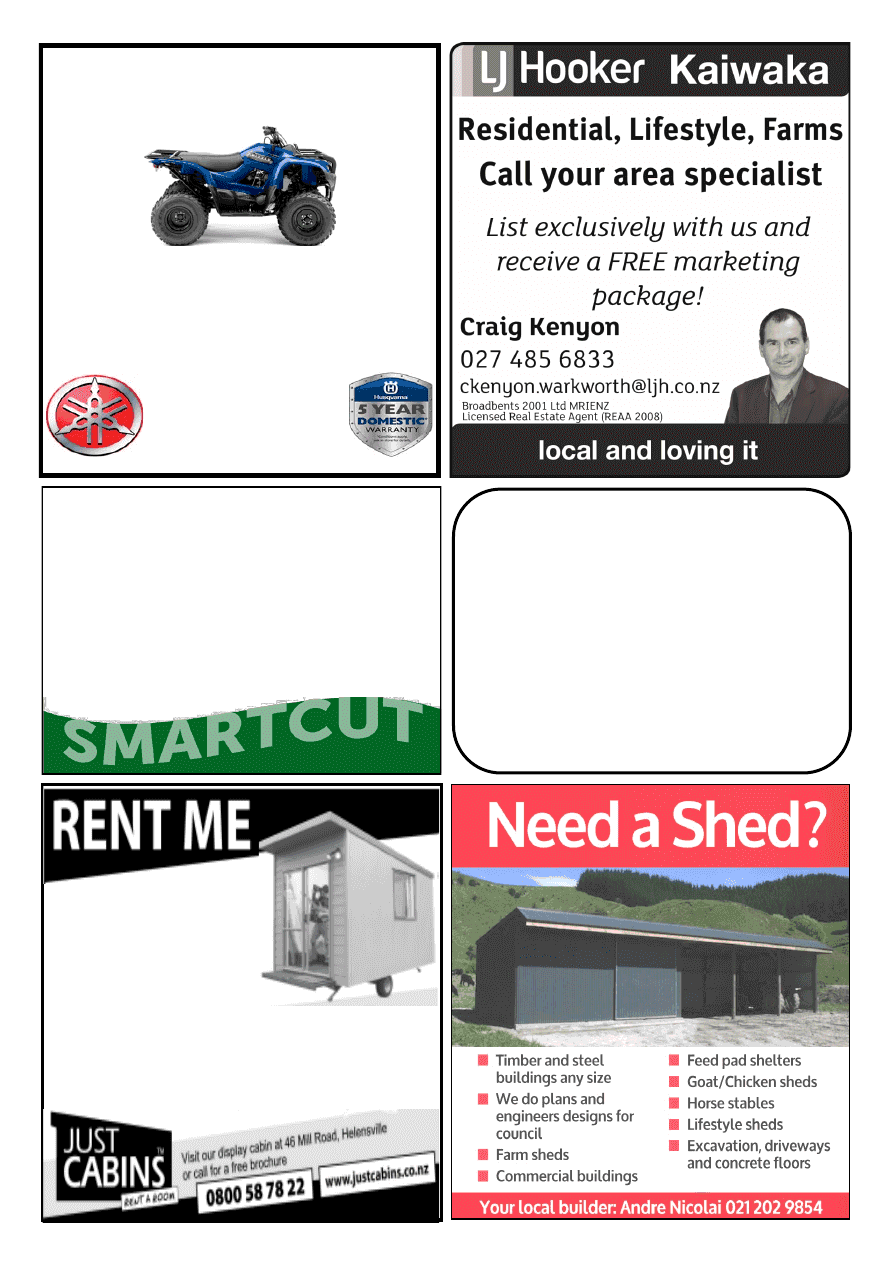 All your outdoor needs sorted so you don't have to... 
I can prune, chop, tidy, spray, mow, plant 
- you name it, I can do it! 
Residential & Commercial 
Lawn & Garden Care 
Call Rodney, your local  
lawnmowing contractor 
021 138 2344 
UP-LINK 
CHRIS WARING 
FREEVIEW INSTALLATIONS 
T.V. - HOME THEATRE &  
HI-FI ADVICE/SET UP
SKY ACCREDITED INSTALLER
MOB.0273403747 HM.094312328 
EMAIL cwaring44@gmail.com
28 YRS EXPERIENCE 
OFFERING UNBIASED ADVICE 
Ideal as an extra  
bedroom or office 
Three Convenient sizes: 
Standard 3.6m x 2.4m - $65 
per week 
Large 4.2m x 2.4m - $80 per week 
Extra Large 4.8m x 2.4m - $100 per week 
Fully insulated. Minimum 6 months rental period 
KAIWAKA 
MOTORCYCLES LTD
SALES – SERVICE – SPARES 
FARM BIKE SPECIALIST
PHONE 09 431-2127 
10 KAIWAKA-MANGAWHAI ROAD, KAIWAKA
Trimmers  
from $279
Chainsaws  
from $339
YAMAHA 
HUSQVARNA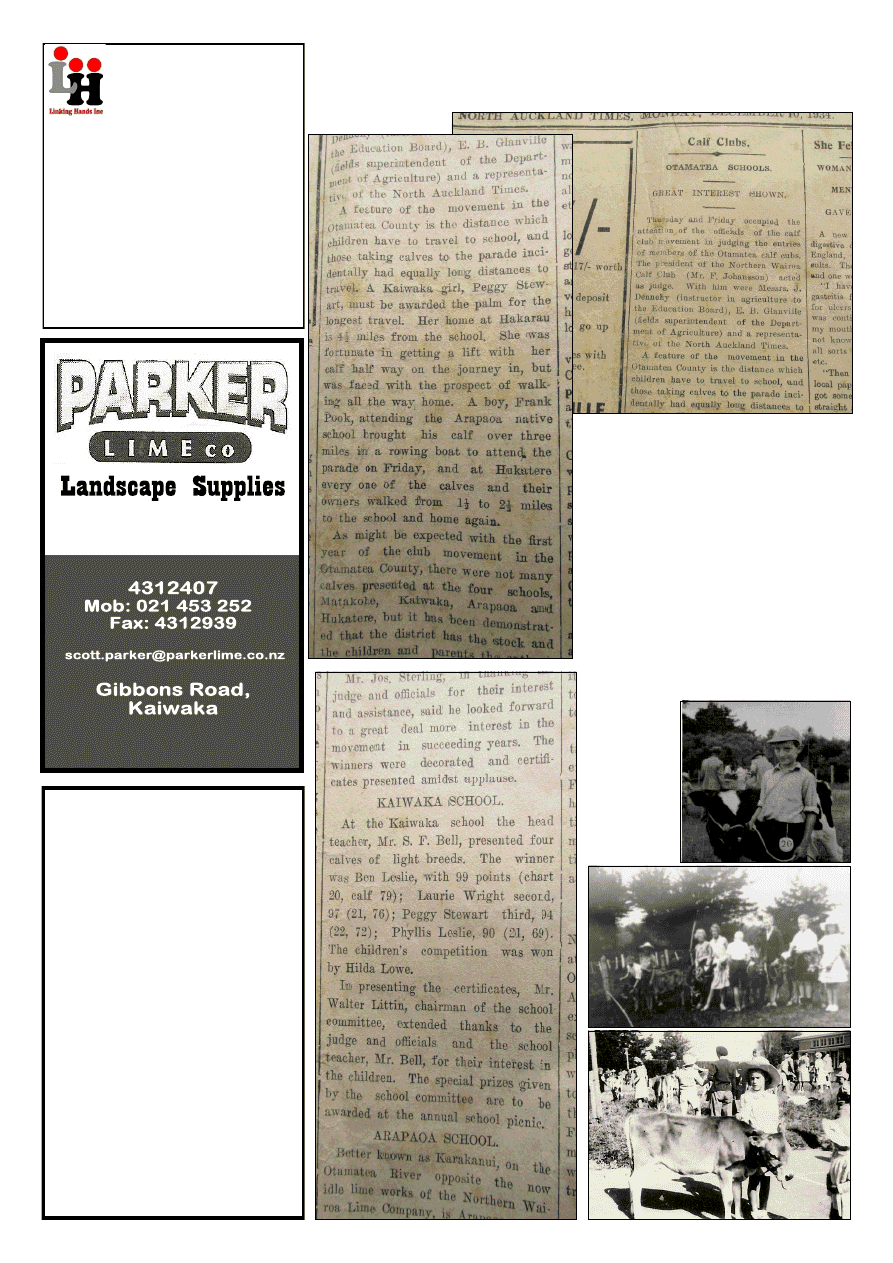 www.kaiwaka.co.nz 
Kaiwaka Bugle - 15 October, 2019 
Page 19 
Willow Bend
HORSE  
HOTEL 
#
Total Horse Care    
# 
Agistment 
# 
Riding Lessons    
#
 Arena Hire (60x40) 
# 
Young Horse Starting 
# 
Re-training/Exercising 
#
Hoof Trimming    
# 
Problem Solving 
Phone Sue  
09 431 2817  
or 021 623 776  
Or email  
susanjoll11@gmail.com 
  LINKING 
HANDS INC 
Maungaturoto - Kaiwaka - 
Mangawhai 
Meeting the needs of the community. 
A  free Health Shuttle Service, providing 
transport to those who would struggle to 
get  to  medical,  dental,  podiatry,  or 
optometrist appointments anywhere from 
Warkworth to Whangarei. 
HEALTH SHUTTLE SERVICES 
Ph/fax 09 431 8969 
OFFICE HOURS 
Maungaturoto - Monday to Friday - 
10am to 4pm 
Closed Public Holidays 
The  North  Auckland  Times  is  not  on 
paperspast.natlib.govt.nz  as  yet  so  we 
don't  have  a  clear  print  of  this 
newspaper  -  these  are  photographs 
from a page found being used as an old 
drawer liner! 
The  school  pupils  were  certainly  not 
deterred  by    a  long  walk  to  school 
when the calf club days began. 
For  example,  a  Kaiwaka  girl,  Peggy 
Stewart, from Hakaru lived 4 
1
/
2
 miles 
from  school,  walked  her  calf  halfway 
and  was  then   fortunate  to  get  a ride  , 
but  still  had  to  walk  home!  Frank 
Pook,  at    Arapaoa  School,  rowed  his 
calf for 3 miles in his boat. 
The  photos  below  are  of  Kaiwaka 
School  pupils  -  the  top  one  is  Ray 
Mason 
and 
Joy  at  the 
Kaiwaka 
School  Calf 
Club in 1952. 
Please 
can 
you 
help 
name  or  date 
the  next  two 
photos?
Bulk Cartage 
KAIWAKA SCHOOL CALF CLUB 
Kaiwaka School will be celebrating 150 years  during Labour Weekend 2020. 
here  is  record  of  their  first  calf  club  recorded  in  the  North  Auckland  Times  , 
Monday 10 December 1934., along with other schools in Otamatea.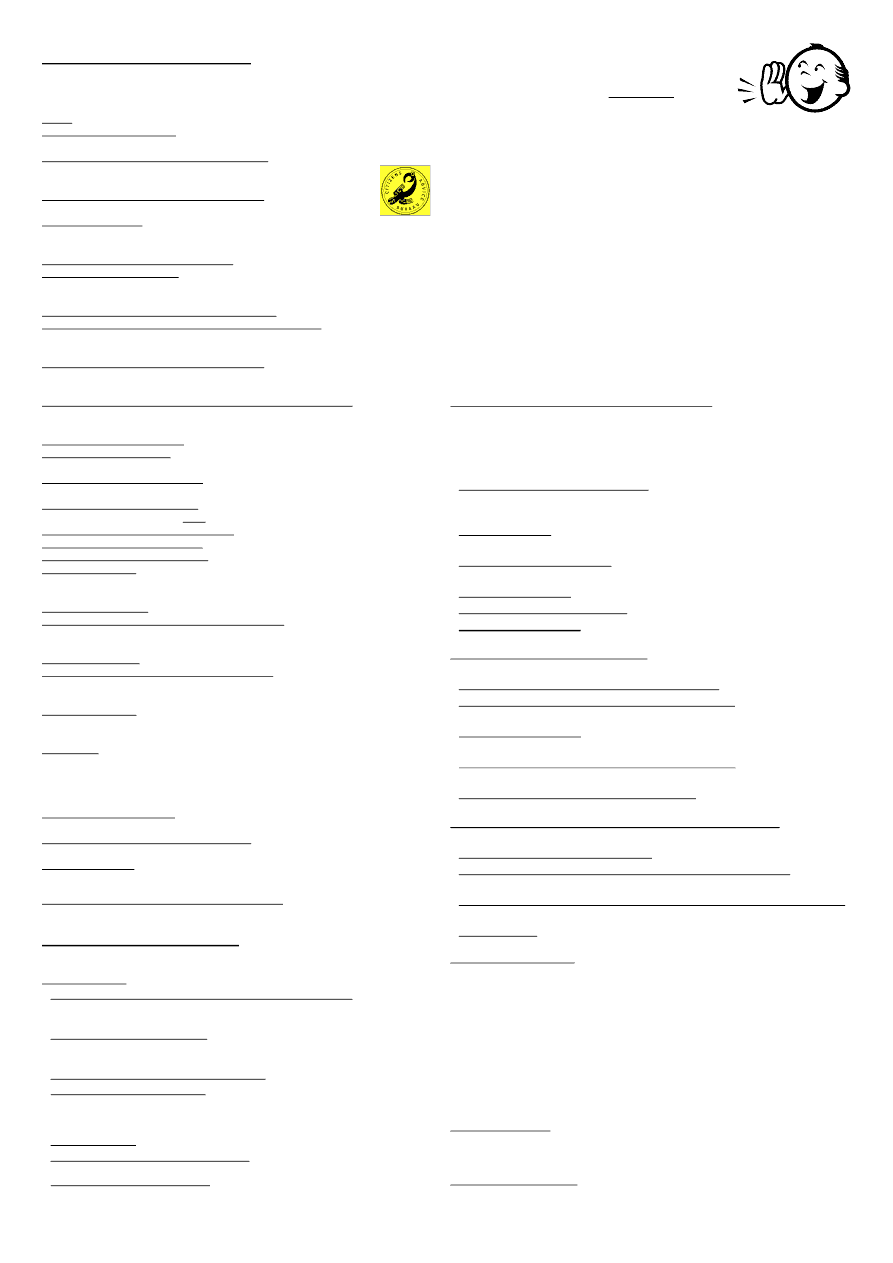 Next Bugle Deadline midday Friday 25 October 2019
WHAT'S ON
PLEASE ~ do let us know what is on - email 
kaiwakabugle@kaiwaka.co.nz 
Advertising in WHAT'S ON is FREE  
*16Oct~KAIWAKA CAN meet Archie Bull Hall, 5.30pm 
*17Oct~Managawhai Beach School Ag Day, 9am 
*18Oct~Movie 'Yesterday', KWMH, 7.30pm 
*19Oct~Music Variety Concert, Hakaru Hall, 4pm on ... 
*20Oct~Paparoa Dogs Day Out, Paparoa Showgrounds 
*20Oct~Otamatea Group Day, KSA grounds 
*27Oct~Movie 'TOY STORY 4', KWMH 2pm 
*30Oct~Hakaru Hall AGM, 7.30pm 
*1Nov~ Movie 'AMAZING GRACE' KWMH, 7.30pm 
*2Nov~ KSA FRIGHT NIGHT, 5.30pm 
*14Nov~ Otamatea Repertory AGM, 7pm 
KWMH = Kaiwaka War Memorial Hall; KSA = Kaiwaka Sports Association 
See www.kaiwaka.co.nz for more information 
HOUSEHOLD RUBBISH COLLECTION - Kaiwaka Pick up: 
Mondays = Green bags (Northland Waste - 09 430 3273) 
Wednesdays  = Blue bags and yellow recycling (at Jaques $3.00 
and  $1.50)  (Kaurilands  09  4392146);  ONLY  Blue  and  Yellow 
bags picked up on Oneriri Road. 
 DIABETES  Support  Group  -for  Kaiwaka,  Mangawhai, 
Wellsford  10am,  3rd  Friday  of  month  Ph:  Colleen  James  09 
4314238 
 GENEALOGY - Wellsford: 1st Thursday in month Ph: 423 
7033; Waipu: 4th Monday in month Ph: 4312 725 
 HAKARU PONY CLUB - Secretary Denise Rogers 021423376 
secretary@hakaruponyclub.co.nz  
 KAIPARA HUNT - Secretary Albert Doonenbal Ph 4312059 
 KAIWAKA BADMINTON -Tuesdays 7.30pm Ph: 4312345 
 KAIWAKA  CAN  - 3rd Wednesday in month, 5.30pm, Archie 
Bull Hall Ph: 0273572751 
*KAIWAKA  DRAMA  CLUB  - 
Hannah  Webb 
0272863352 
KaiwakaDrama@gmail.com - FB - "KaiwakaDramaClub" 
 KAIWAKA DRUM & DANCE CLASSES - 021 611198 
 KAIWAKA GARDEN & FLORAL GROUP - 2nd Thursday in 
month. Ph: 431 4744 
 KAIWAKA  CUBS  -  Thursdays  5.30-7pm,  Hakaru  Ph:Bruce 
4312542 
 KNITTING FOR WHANGAREI HOSPITAL - 2nd Tuesday in 
month, Archie Bull Hall 10am Ph 4314827 
 MANGAWHAI COMBINED REBUS CLUB - 2pm, 3rd 
Thursday month, Senior Citizens Hall Mangawhai. Ph: 4315777 
*PILATES - KAIWAKA WAR MEMORIAL HALL - Ph: 
021 
2072729  
 PT CURTIS CRUISING CLUB - Jean Ph: 4312227 (wk), 4312520 (hm) 
 RSA,  HAKARU  &  DISTRICTS  WOMEN'S  SECTION  –  meets 
1.30pm 4th Thursday of the month. Ph: 431 5818  
 KAIWAKA  SCOTTISH  COUNTRY  DANCING  CLUB-
Wednesdays 10am - 12 noon  Ph: Elaine 027 432 0032  
 TRAMPING - Mondays 9am-2:30pm Maria 4312 234 
HALLS FOR HIRE: 
  Kaiwaka St. John Hall: Phone Marj  0272941227  
 St.Pauls Archie Bull Hall HIRE $20 half day, $40 full day per 
hire, S McAulay, Ph 4312311 
 Kaiwaka  War  Memorial  Hall  HlRE  -  Phone  4312725  or 
kaiwaka.hall.bookings@gmail.com 
 Hakaru Community Hall HIRE -Ph. 4312256 or 4312110 
 Te Pounga Marae queries - Pearl Nathan  0223933533 
 Kaiwaka Sports Association hire/queries - C. Anderson 4312051 
or kaiwakasports@gmail.com 
Justice of Peace:  
B.FJaques  4312  048;  L.Donaldson  4312  228;  A.F.Hargreaves 
4312 045, W.Howard 4312 725 - please phone to make sure they 
are available or go to www.justiceofthepeace.org.nz 
Marriage Celebrants:  
L.Donaldson; A.F.Hargreaves; Y Osborne
LOCAL SERVICES 
*Emergencies - Ambulance, Fire, Police - dial 111 
*Non-urgent Police phone 09 4311150
A A: Meets Wed., 8pm Kaiwaka Ph: 4315543, 0800229 6757 
ASUREQUALITY LTD (was AgriQuality) Call Free 0508 0011 22  
BUDGETING SERVICE, WELLSFORD: Free confidential advice & 
support for all areas of personal finance. Ph (09) 423 7123 
CAB-Citizens Advice Bureau.Wellsford Ph: 4237333 
0800 367 222 email:cab.wells@xtra.co.nz  
CIVIL DEFENCE - Kaiwaka Community Response Group: 
kaiwaka.civildefencecrg@gmail.com, 4312725 Wendy 
DOG/STOCK /NOISE CONTROL 0800 105 890 
FUNERAL SERVICES: Morris & Morris Ltd, 
Whangarei - Bev Jaques Ph:4312367 or 0800667747 
GRANDPARENTS Raising Grandchildren: Dianah Roberts 0223819539 
HAKARU & DISTRICTS MEMORIAL RSA (Inc) 733 Settlement Rd, 
Hakaru. Ph 4312 176 or Bill Warren (President) 431 2092 
HAKARU LANDFILL/Transfer Station:Open everyday  10am-
4pm.Ph4312629 Cost-$55 trailer load up to 1 cubic metre. Ph:4258567 - 
office 
KAIPARA DISTRICT COUNCIL www.kaipara.govt.nz:  
Help Desk FREEPHONE 0800 727 059  
KAIWAKA CEMETERY: Ph: 4312045 or 4314017 
KAIWAKA LIBRARY: kaiwaka.library@gmail.com  
Mon. 4-6pm; Wed., Thurs., Fri., Sat. 10am-2pm Ph:4312539 
KAIWAKA PLAYCENTRE: Ph Juanita 0274134904; open Mon, Wed, 
Fri 9am-12pm. Hastie Lane; Monday to Friday 9.00am - 12 noon. 
KAIWAKA POST OFFICE:Ph:4312 431  
Post Code: 0573 for RD2 and 0542 for all Kaiwaka Post Office mail 
KAIWAKA PRIMARY SCHOOL: Ph: 4312309   
KAIWAKA SPORTS ASSN: Ph 4312005; 4312129 gym 
KAIWAKA ST JOHN HALL: Phone Marj  0272941227  
KATE'S PLACE Community Centre - Employment services, Free Health 
Nurse, Plunket, Advocacy, Osteopath, A.A., Legal Advice. 4312 661 
LINKING HANDS Health Shuttle Ph 4315906 or 09 4318969 
MINISTRY FOR PRIMARY INDUSTRIES - General inquiries Call 
Free 0800 008 333 
NORTHPOWER: Faults Kaiwaka area 0800 104040 
OTAMATEA COMMUNITY SERVICES: Counselling, parent coach, 
Family Support worker, budget advice, food bank. Mon-Fri 9am-3pm. Ph 
09 431 9080 http://www.otamateacs.org/ 
PARENTPORT: Free, practical family support service Puhoi to Paparoa 
Ph or txt: Dianne 027 280 5093 or 09 425 9357 
PLUNKET:  Kaiwaka  -Kate's  Place  Clinic  1st  Wednesday  of  the  month; 
Mangawhai  - Rose Madsen Cottage: Coffee Group 9:30 every Monday.  Clinic 
every Monday and Thursday. 
Maungaturoto - Good News Church, Clinic 2nd and 4th Wednesday.  
Cynthia 09 431 7340 or 027 675 3488 
PLUNKET HELPLINE -0800 933 922 (24 hours) 
TAITOKERAU COMMUNITY LAW: Free confidential legal advice and 
assistance, 2nd
Thursday
 of each month. Ph: 0800 155 529 for appts.  
TE URI O HAU Settlement Trust Tangata Developments: Whanau Ora 
021 793262  
VETERINARY SERVICE MANGAWHAI: 
Ph: 4314535 Mon-Fri 8.00-5.00, Sat 9-12, a/h appt. 
WELLSFORD DOCTORS: Ph: 4238 086 
CHURCHES:
 
Kaiwaka  Revival  Church  -  Your  Community  Church:  Sundays  10am. 
Ph: Pastor Tawhiri 09 431 8988 or Pastor Paul 09 4312 068 Visit us at 
www.facebook.com/kaiwakachurch 
 
St  Paul's  Anglican  Church  1st  Sun.  9.00am  (Eucharist),  3rd  Sun. 
9.00am (Family Service). Contact: Rev. Wayne Thornton Ph 431 4122 
www.mangawhaianglican.org.nz 
 
Church of Christ the King, Mangawhai:9.00am every Sunday 
 
St.Mary's  Catholic  Church:  Maungaturoto  –  Griffins  Road,  Saturday 
evening  Vigil  Mass  6pm;  Mangawhai  –  Senior  Citizens  Hall,  Sunday 
Mass  8:30am;  Wellsford  –  Matheson  Road,  Sunday  Mass  10:30am;  
Mid-week Mass times and all enquires to Fr. Bill Fletcher – phone 423 8170
 
Baptist Church: Sun. 10.30am Mangawhai Snr Cit.Hall.Ph:4312339 
 
Cause  Way  Church  Mangawhai:  Sundays  10.15am,  Mangawhai 
Community  Recreation  Centre,  Insley  St.  Ph:  09  4314782