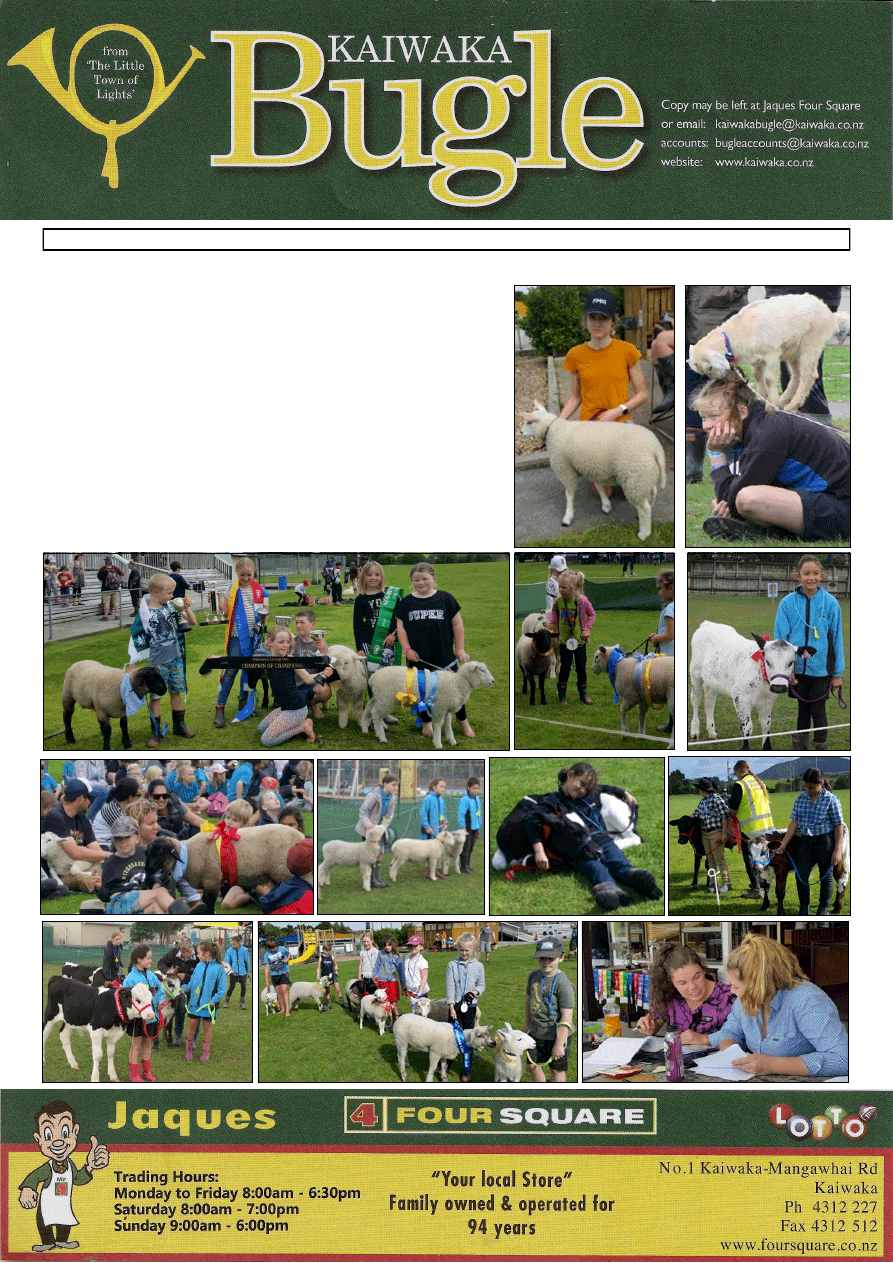 www.kaiwaka.co.nz 
Kaiwaka Bugle - 29 October 2019 
Page 1 
No: 21 
29 October 2019 
Trading Hours: 
Monday to Friday 8:00am - 6:30pm 
Saturday 8:00am - 7:00pm 
Sunday 9:00am - 6:00pm  
What a pleasure it has been to watch our young school pupils parade 
their  prized  lambs,  calves,  goats,  chickens  and  rabbits  in  the  last 
fortnight. 
The  number  of  participants  is  on  the  increase  -at  the  Mangawhai 
Beach  School  Agriculture  Day  with  27  pupils.  Mangawhai  Beach 
was one of the few local schools who had calves participating on the 
day  after  a  year  off  last  year  due  to  mycoplasma  bovis.    With 
guidelines  from  MPI  to  minimise  the  risk  the  day  was  a  great 
success.    Other  local  school  Agriculture  or  Pet  Days  were  held  at 
Wellsford,  Waipu  and  Maungaturoto  with  the  culmination  at 
Otamatea Group Day, held the Kaiwaka Sport Grounds. 
There well presented lambs of all breeds - the new Beltex, Cheviot, 
Suffolks, East Friesian, Wiltshires and Romneys; the calves saw the 
new Speckle Park, plus the Hereford, Friesians and Jerseys. 
The time and effort put into these animals was well paid off at the 
end of the day with many proud kids heading home with ribbons to 
show for their efforts. 
YOUNG FARMERS AND THEIR PETS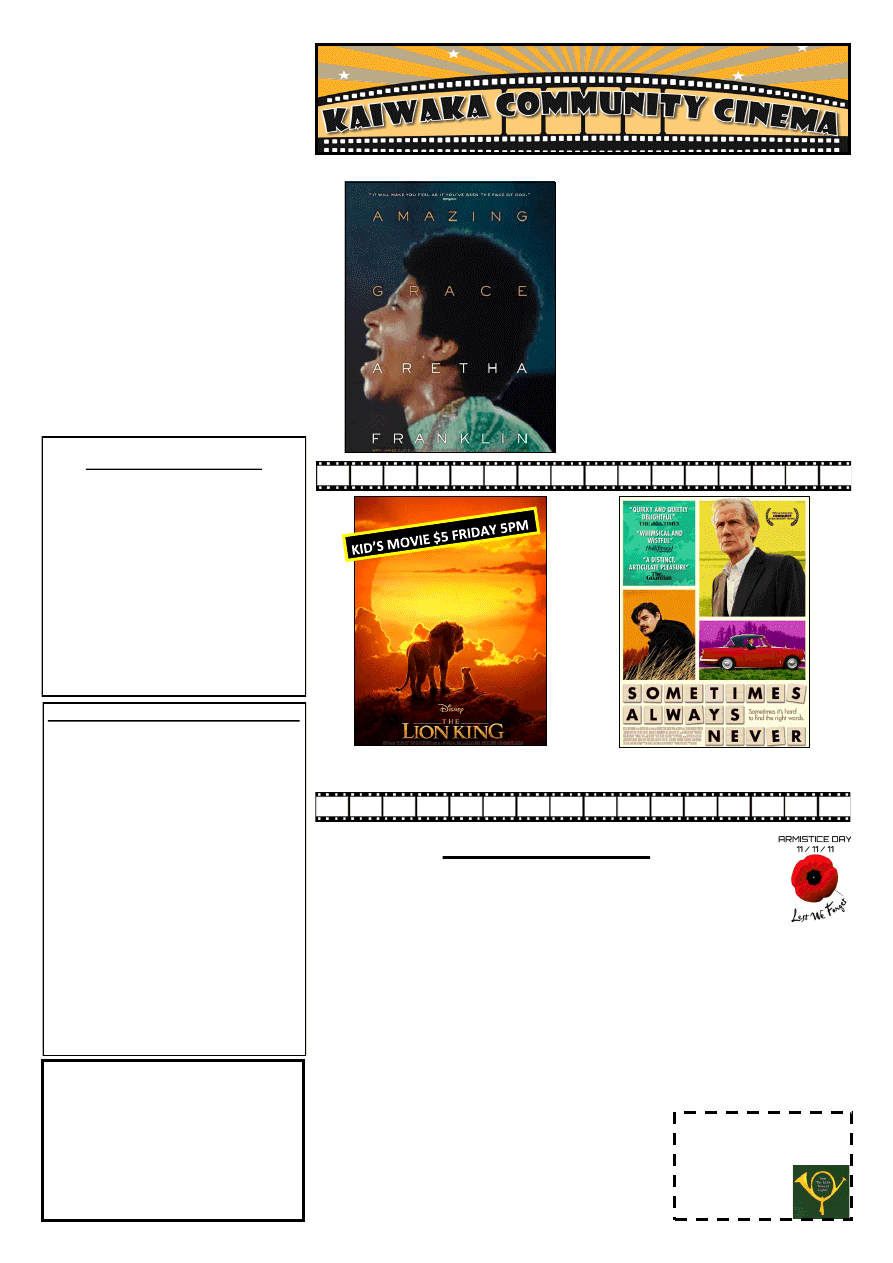 Proverbs 25:8 
Don't jump to conclusions – 
there may be a perfectly 
good explanation for what 
you just saw.  
(The Message Bible)  
At Kaiwaka War Memorial Hall . Adults $10, Kids (under 16) $5, Family Pass (2 adults + 3 children) $25 
ABOUT TOWN 
 
Our  Kaiwaka  Sports  Assn  FRIGHT  NIGHT  is  going  to  be 
spooktacular!    

See  page  19  to  name  the  folk  at  the  Kaiwaka  School  75th 
anniversary; the Northern Advocate article tells us Terry Dowson was 
there! 

 Our  condolences  to  the  family  and  friends  of  Barbara  Stewart  who  passed 
away recently. Barbara was a former resident of Kaiwaka. 

From the 2018 Census - our Kaiwaka area has a population of nearly 3000! 

Did you know Kaiwaka Spring water from the base of the  Brynderwyn range 
(actually  Pukekaroro)  is  being  used  for  Matakana  Moonshine? 
Ref. Mahurangi 
Matters 23 October. 

The  latest  Mangawhai/Kaiwaka  phone  directory  can  be  picked  up  at  the 
Kaiwaka Food Mart - for free 

LINK BUS - every Thursday; leaves Kaiwaka 9am; 0800 994 404 

NOTE: Next young folks' movie will be screening on a Friday at 5pm!

 So pleased to hear from the Wellsford Police Sgt 
that the Eutopia Café burglars have been caught.

Earlier issues of the Bugle don't disappear - they 
can  be  seen  online  at  www.kaiwaka.co.nz  at  any 
time - also great colour in the photos.         
                  ~ Lindsey, Ed 
' When you get knocked down, like we were, we have to stand 
up and wear our big man pants. ' ~ Steve Hansen 27 /10/2019 
KAIWAKA BUGLE NO.21 
29 OCTOBER 2019 
CONTENTS: 
Page 3: Public Notices, Classified 
Page 5: Kaiwaka Fresh; Kaiwaka Can 
Page 7: Hakaru RSA ; Raepare 
Page 9: Rotary; Otamatea Repertory 
Page 11: Kaiwaka Sports Assn; Bonfire  
Page 13: OHS; Pt.Curtis CC  
Page 15: Kaiwaka School; Kaipara 
Hunting & Fishing 
Page 17: OCS; Thelma's Scrapbook;  
      K Hastie - winner 
Page 19: Book Opinion; Kaiwaka 
School 75th Anniversary 
Bugle 22 will appear  12 November 
Contact for advertising, reports, articles 
or information can be made by 
Email: kaiwakabugle@kaiwaka.co.nz 
Ph: 09 4312 045 Lindsey 
Txt: 027 2724137 
Copy  may  be  left  at  Jaques'  Four 
Square. 
Kaiwaka Bugle Advertisements 2019: 
All 
copy 
and 
queries 
to: 
kaiwakabugle@kaiwaka.co.nz 
The Bugle is printed on an A4 page, B&W  
Ad  sizes:  1/16  page  (3  x  9.5cm)  $5;  1/8 
(6.5  x  9.5cm  landscape  or  portrait)  $8; 
3/16 ( 10 x 9.5cm or 7.5 x 12,5)  $12.  
Classified  ads:  First  one  FREE,  $4  per 
entry (max. 30 words, max. 4 repeats). 
Payments  can  be  made  online  at 
ANZ 
06  0365  0006990  00
,  posted  or  left  at 
Jaques Four Square Store. 
We  use  Microsoft  Publisher,  and  can 
work  with  most  common  image 
formats, Word, Excel, and PDF files. 
Accounts:  
Email: bugleaccounts@kaiwaka.co.nz 
The  Kaiwaka  Bugle  is  a  community 
newspaper run by volunteers, as part of 
the Kaiwaka Media Group Inc.   
Articles, etc. printed are not necessarily 
the opinion of the Bugle Team. 
Kaiwaka Bugle 
Founded May 1978 
We appreciate articles and photos about local 
events, etc, as well as ads and suggestions. 
Copies available in Kaiwaka at Jaques Four 
Square, Kaiwaka Postal Centre, Shamrock 
Service Station, Animal Health Centre, 
Kaiwaka St John shop. 
Also outlets in Maungaturoto, 
Mangawhai and Paparoa. 
Can be viewed online at  
www.kaiwaka.co.nz/Bugle  
Or a copy can be posted to you if you supply 
stamped, self-addressed DLE envelopes. 
Amazing Grace -   
Aretha Franklin 
 Friday 1 November, 7.30pm (G) 
'Concert film of the Queen of Soul's 1972 
gospel shows has taken decades to see the 
light  of  day  —  and  it's  more  than  worth 
the wait. 
It's  the  closest  thing  to  witnessing  a 
miracle  —  just  some  cameras,  a  crowd 
and  a  voice  touched  by  God.  Over  two 
days in January of 1972, Aretha Franklin 
got  up  to  sing  out  her  gospel  at  the  New 
Temple  Missionary  Baptist  Church  in 
Watts, backed by the Southern California 
Community Choir. A film crew was there 
to catch the Queen of Soul blow the roof 
off the place.' 
KAIWAKA BUGLE 
DEADLINE DATES 
2019:  Every second 
Friday
November 8, 22 
December 6. 
The LION KING
Friday 15 November, 5pm (PG)                        
SOMETIMES ALWAYS NEVER 
 Friday 15 November, 7.30pm (G)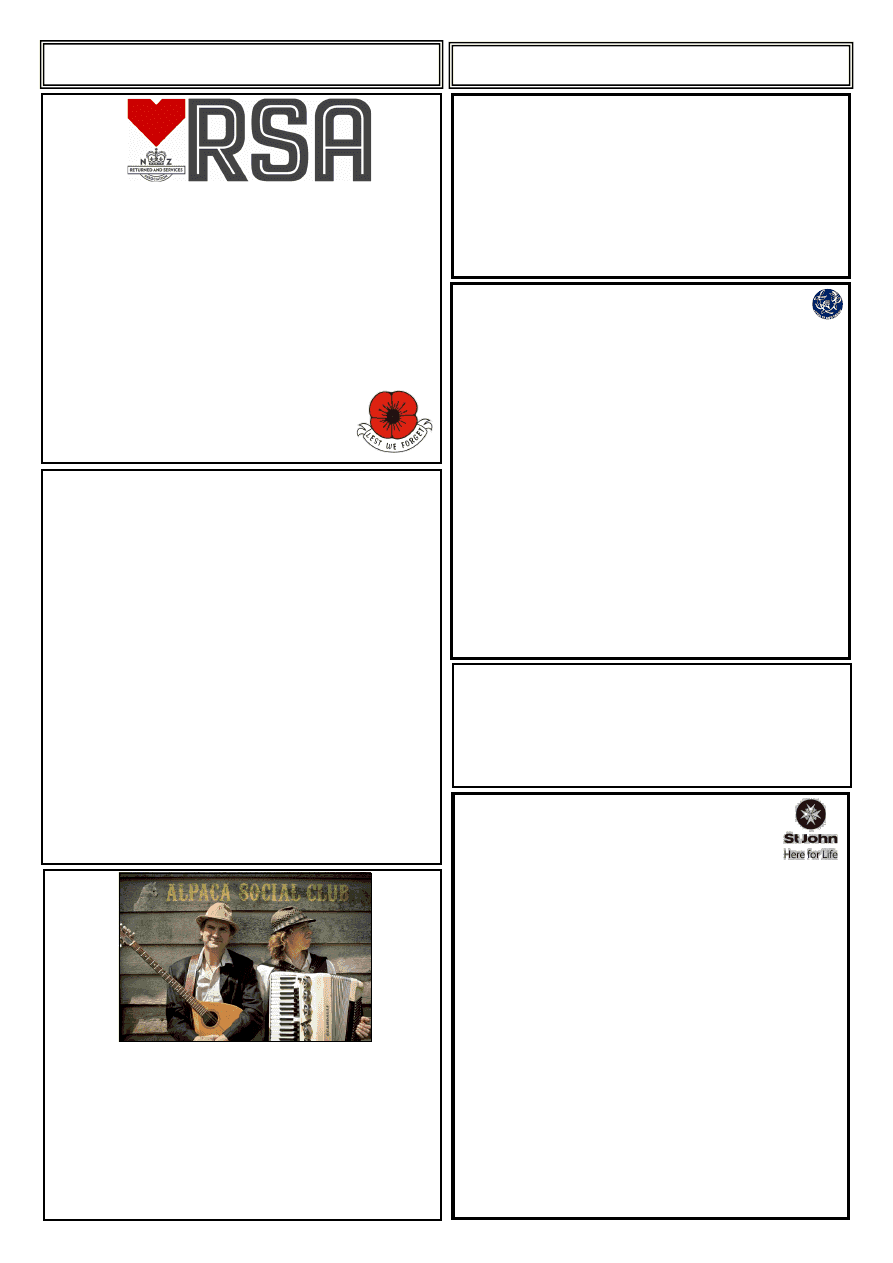 www.kaiwaka.co.nz 
Kaiwaka Bugle - 29 October 2019 
Page 3 
PUBLIC NOTICES 
CLASSIFIED 
OTAMATEA HIGH SCHOOL 
Day  Relief  Teachers  Required:  Otamatea  High 
School  wishes  to  hear  from  suitably  qualified  and 
registered  teachers  who  wish  to  be  considered  for  day 
relief. Please send your CV to Deborah Cornhill-Davies, 
Relief Co-ordinator 
e mail: deborah.cornhill@otamatea.school.nz 
Relief  Administrator/s  Required:  Otamatea  High 
School are looking for Relief Administrators who can be 
called  on  to  work  in  our  main  office  and/or  student 
support  centre  to  cover  administration  staff  leave  or 
support  administration  staff  at  busy  times.  Training  will 
be  provided  prior  to  work  commencing.    Please  contact 
Nikki  Donaldson,  Principal's  PA,  on  0800682628  for 
further details.  
PTCA  -Uniform  Exchange:  Did  you  know  we  run  a 
second-hand  uniform  shop?  If  you  have  anything  your 
child has grown out of (items in need of buttons and basic 
mending  are  fine)  please  donate.  SENIORS  leaving,  we 
would love you to donate. Clothes can be dropped off at 
the  office,  please  label  PTCA.  Contact  Karen  Flanagan 
0211281670 
All proceeds go towards PTCA fundraising 
KAIPARA DISTRICT COUNCIL 
KAIWAKA SPATIAL PLANNING MEETING 
Wednesday 20 November 
 3.30 – 8pm.  
Kaiwaka Sports Complex 
Come to see what is planned for Kaiwaka 
and  have your say.. 
FREE PEST TRAPPING 
WORKSHOP 
SUNDAY 24 November 2019 
1.30-4.00pm 
Domain Hall, Moir St, Mangawhai 
Organised by 
Piroa-Brynderwyns Landcare and Kiwi Coast 
Afternoon tea provided 
KIWI live in the Brynderwyns 
Learn from a professional trapper 
⚫
 how to keep kiwi & other birds safe; 
⚫
 the range of traps available to catch possums, 
stoats, ferrets & rats; 
⚫
 where to put traps; what baits to use. 
To register your attendance 
Contact John not later than 20 Nov 
john.hawley@xtra.co.nz 
Tel. 09 376 4069; 027 262 7904 
KAIWAKA ST. JOHN OP SHOP 
Thankyou all for your support and many 
donations, they are greatly appreciated.  
We are currently moving things around in the 
shop so come along and see what we have been doing.  
WE HAVE: 
❖
 Credit Card Facility for your convenience. 
❖
 Sports equipment available, badminton and tennis 
racquets and some hockey stick to name a few.  
❖
 2 single beds and 2 70's style china cabinets and a wall 
unit. 
❖
 St John First Aid Kits from $20.00 to $80.00 in a range 
of sizes.  
❖
 St John Sticking Plasters, a box for $3.50. 
Want to pay your ambulance payments and subscriptions 
you can also do this in store. 
We are always looking for Bric a Brac, Toys, 
Kitchenware, Lines and Bedding. Tools are always 
required. 
NEW SHOP HOURS  
Closed Monday and Sunday  
Open Tuesday-Friday 10.00am – 3.00pm,  
Saturday 9.00am – 1.00pm.  
For donations and enquiries please phone the shop 
4312650 or Gale 0274149576   
Jon Sanders and Craig Denham  
Playing the music they love, and loving the music they play 
Hear them on youtube.com as Alpaca Social Club Demo 2018 
FRIDAY 1st NOVEMBER 7.30pm start  
(arrive by 7pm) 
Venue: ABSURDISTAN HALL, 317A Parekura Rd Kaiwaka 
Tickets: Early bird $15 at Kaiwaka Cheese Shop, $20 at door. 
Contact: 021 237 7678 for more information. 
HAKARU & DISTRICTS MEMORIAL RSA 
733 Settlement Rd., Hakaru 
ARMISTICE DAY COMMEMORATIONS 
Monday 11-11-19 
Come and join us for our  
commemorative ceremony    

Muster at 1030    

Short Service at 1100   

Refreshments to follow in the club rooms.  
We  will  also  screen  some  interesting 
videos relating to Armistice Day for those 
that are interested. 
A good attendance would be appreciated. 
Hi  ya'll,  Nicholas  is  59  years  old  and  has  been 
working as a Maintenance Rigger and Scaffolder for 
the  last  30  odd  years.    Has  finally  had  enough  of 
living  away  from  home  and  is  seeking  local  work, 
good  work  ethics,  reliable,  fit  and  honest,  with  a 
good  sense  of  humour.  I'm  sure  to  be  an  asset  to 
someone out there.  
Please phone 0211706097 or 4312778 
P.S.  Don't  let  me  near  wood  work,  by  order  of  my 
wife Elaine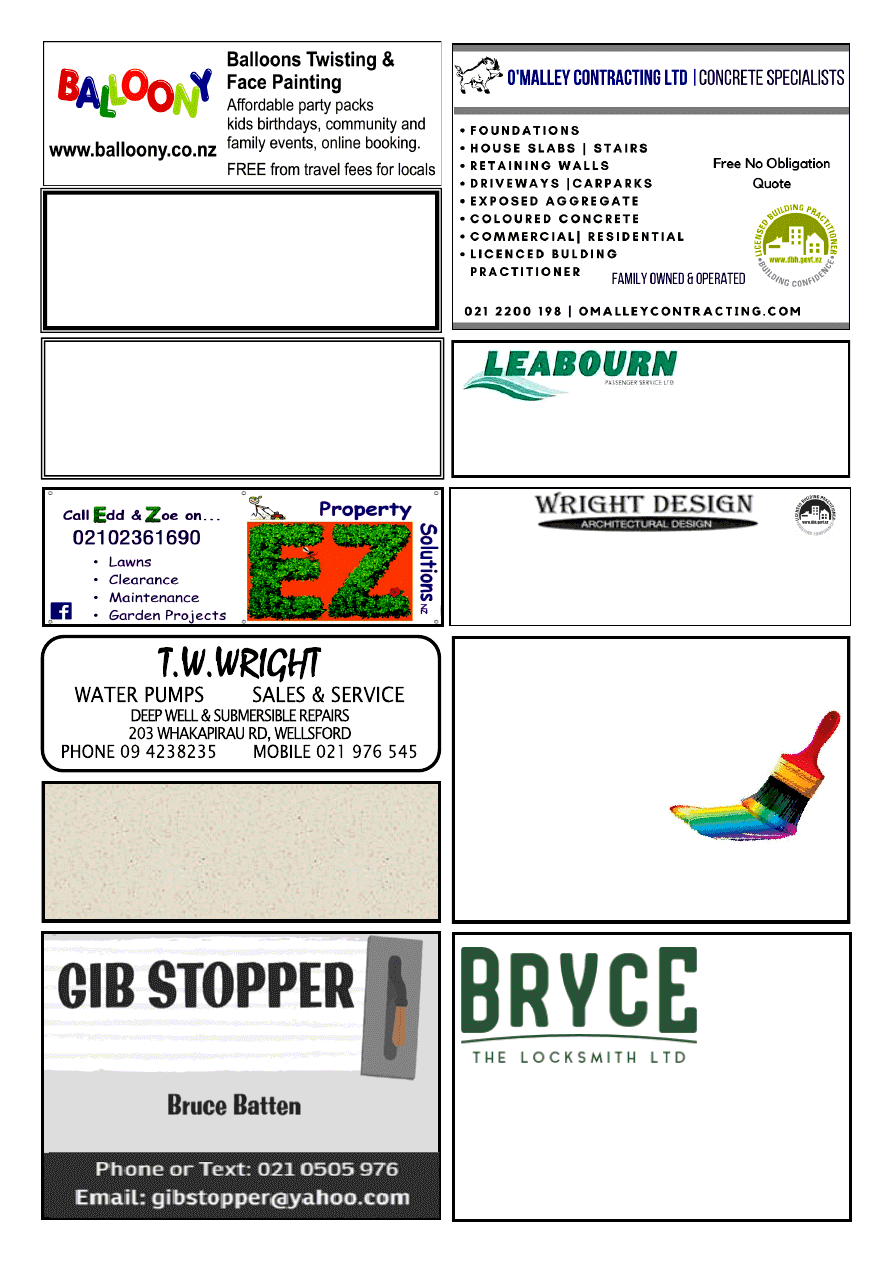 Passenger Service
Car & Van Hire   Bus & Coach Charters 
Airport Transfers    
Phone (09) 4237416 
Counsellor and Registered Psychotherapist 
Offers Supervision 
ACC Sensitive Claims 
Susan Matheson      MNZAC 
Dip. Psychosynthesis Counselling and Psychotherapy 
Phone 09 431 2996                                     Mobile 027 605 2427 
No. 117345 
N.Z.C.A.D., L.B.P. 117345 
PH/Fax: 09 423 8092 Mob: 021 276 7369 
Office: 3 John Sinclair Avenue, Wellsford    brianwright@xtra.co.nz 
For Resource and Building Consents, planning restraints, new building materials - 
you need a capable, experienced, and professional designer with a clear 
knowledge of all the processes. Brian has been helping and organising all these 
facets of design and building for over 50 years. 
Wright Design offers free visits, consultations and advice on planning, design, 
building, council permit applications, guaranteed permit plan acceptance. 
Om Tara ~ Mangawhai 
Healing Services 
Diann Glucina 
021 250 7461 diglucina.com  
FB: OmTaraMangawhai 
LEE COOPER PAINTERS 
(Kaiwaka Based) 
*30 yrs Experience 
*Interior/Exterior 
*New and Restoration 
*Honest and Reliable 
*Free Quotes 
09 4312918 or 0274735171 
leecooper@xtra.co.nz 
Bryce Frewin 
Ph: 021 850 983 
Kaipara Based Master Locksmith 
bryce@brycethelocksmith.co.nz 
www.brycethelocksmith.co.nz 
HANDYMAN 
Gardens * Lawns * Landscaping * Painting 
* Small gib-stopping * 
* General repairs and maintenance * 
Honest - Reliable 
Phone Burn 0211900555 or Brenda 0211185578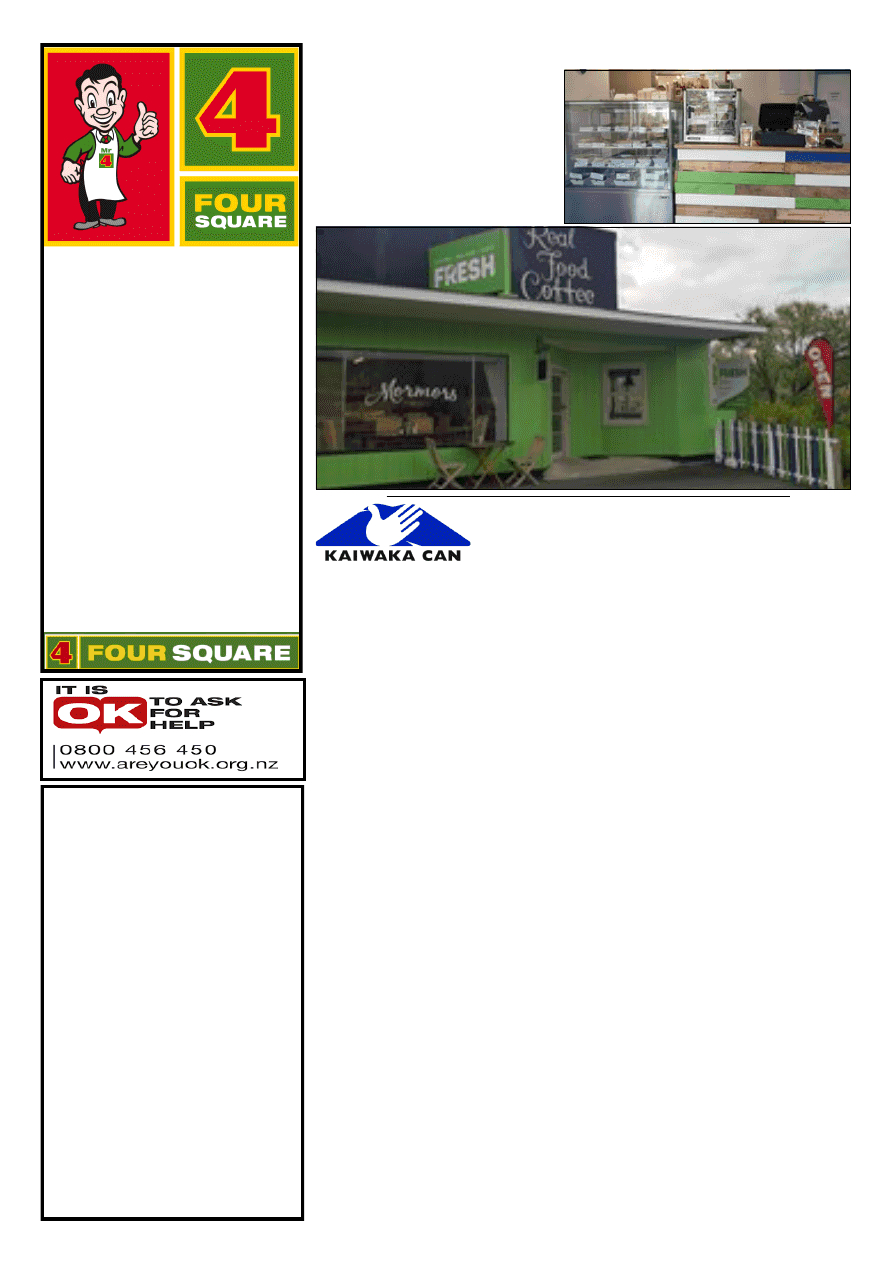 www.kaiwaka.co.nz 
Kaiwaka Bugle - 29 October 2019 
Page 5 
Willow Bend
HORSE  
HOTEL 
  
Total Horse Care 
 
Agistment 
 
Riding Lessons 
 
Arena Hire (60x40) 
 
Young Horse Starting 
 
Re-training/Exercising 
 
Hoof Trimming 
 
Problem Solving 
Phone Sue 09 431 2817 
or 021 623 776 
Or email  
susanjoll11@gmail.com 
Welcome  to  Anna  and 
Mark 
from Mangawhai who have 
recently moved into Mormor's Cafe.  
They  offer  fresh,  healthy,  delicious 
food,  including  a  range  of  salads, 
together  with  Kokako  organic 
coffee  and  other  treats  such  as 
Niceblocks  and  ready  meals.  Their 
menu  will  be  developing  over  the 
coming weeks, providing something 
new to the Kaiwaka food scene. 
KAIWAKA HAS A FRESH BUSINESS 
9Kg Gas Bottle swap or 
Purchase New Bottle Filled
Soda Stream  
30L and 60L Refills 
Healthy
 Punnet Seedlings 
from KeriKeri Low Price $3.50 
~ Spring Cleaning ~ 
Rug Doctor Hire from 39.95 for 
4 hours - All the spot cleaners 
and Upholstery attachment 
Daily Freshly Baked in 
store Breads, sweets & 
savouries 
JAQUES FOUR SQUARE 
Phone: 4312227 
1 Kaiwaka-Mangawhai Road, 
Kaiwaka. 
A couple of weeks ago I wrote that we 
had two years to make real progress in 
securing  the  future  of  Kaiwaka.  How 
did  I  arrive  at  two  years?  We  haven't 
discussed  it  at  Kaiwaka  Can,  it  is  not 
official policy so what is it all about? 
It comes from five years with Kaiwaka 
Can watching what is happening in and 
to  Kaiwaka.  They  have  been  hard 
years,  with really  very  little  change to 
the  appearance  or  amenities  in 
Kaiwaka.  The  weeds  are  still  there, 
Oneriri Road is just as dangerous, there 
are  no  footbridges  to  keep  us  out  of 
danger  across  the  highway,  there  are 
no more reserve spaces in town. 
But  these  next  two  years  can  be 
crucial.  Let  me  say  why  I  believe  this 
so strongly: 
1) 
The  Kaipara  District  Council 
Spatial  Planning 
exercise  is  at  the 
public phase for offering options. This 
is  about  decisions  on  where  new 
housing  can  go,  light  industry  and  a 
worthy commercial heart for Kaiwaka. 
A few days ago, I received the official 
Stats department figures from the 2018 
Census  for  Kaiwaka  and  surrounds. 
Result?
Kaiwaka  township,  700.  Not  a  great 
increase  because  there  is  nowhere  to 
build! But Kaiwaka  Surrounds  2200. 
Wow! That is a major increase and that 
is more than a year ago. That gives us a 
district  population  of  nearly  3000, 
whom  we  need  to  service,  provide 
recreation for, amenities, shopping and 
essential  services.  The  Spatial  Plan  is 
all about doing just that. And we have 
a  part.  Early  meetings  were  badly 
attended.  But  the  next  one  is  the  big 
one.  November  20th,  Kaiwaka 
Sports  Assn,  3.30  –  8pm.  Nobody 
should  miss  this  one  as  it  is  about 
taking  the  sticky  tape  off  our 
development.  I  have  seen  the  draft 
options and they look exciting. 
2) 
The  next  Kaipara  District 
Council Long Term Plan 
begins its 
process  next  year.  Last  Long  Term 
Plan  we  were  promised  much  but 
somehow 
it 
all 
mysteriously 
disappeared.  This  time  we  all  need  to 
come  back  stronger,  more  determined 
and more organised in what we need. 
3)  A  new  Council  has  just  been 
elected,  well  sort  of  new.  The  hard 
thing  for  us  is  that  boundary  changes 
restrict  Kaiwaka-Mangawhai  to  two 
councillors  while  Maungaturoto  west 
has  six  plus  the  mayor.  A  bit  of  an 
uphill  battle!  So,  what  do  we  do? 
Persist.  Organise.  Fight  for  our  rights 
and  our  future  so  that  by  the  time  the 
next  council  is  elected,  they  really 
know we are here.  
Incidentally  the  Census  figures  make 
nonsense  of  the  changed  ward 
boundaries as the greatest growth is in 
the east and not the west. 
4) Now is a good time to explore how 
we  can  work  together  more  closely. 
There  are  great  organisations  in 
Kaiwaka.  Come  together  when  it  is 
needed,  and  our  voice  will  be  more 
powerful. 
Instead  of  being  an  annoying  traffic 
hiccup  on  the  highway  north,  we  can 
be  a  delightful  rest  stop,  a  great  place 
to  live  and  a  well  organised  and 
attractive  township  that  welcomes 
people to the north. 
Challenging times, exciting times, time 
to  get  off  the  couch  and  into  the 
community of the future. 
Derek Christensen 
Chair, Kaiwaka Can 
099469077 or 0273572751 
KAIWAKA CAN: TWO YEARS TO 
ACT FOR OUR FUTURE?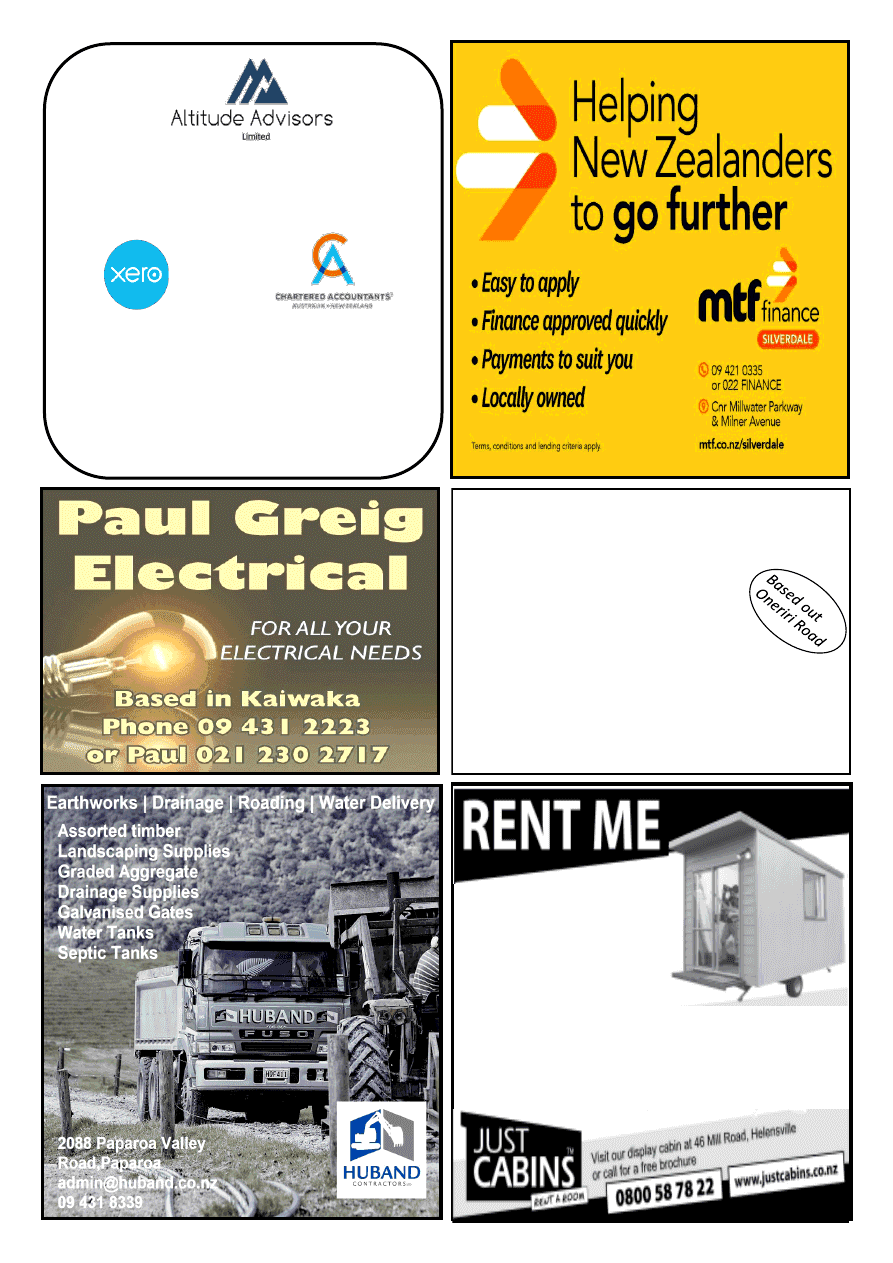 Ideal as an extra  
bedroom or office 
Three Convenient sizes: 
Standard 3.6m x 2.4m - $65 per week 
Large 4.2m x 2.4m - $80 per week 
Altitude with Attitude, helping your business 
scale new heights 
Time to try something different? 
Xero training          Accountancy Services 
We are offering two opportunities: 
15% saving off your annual report cost for your first 
year, & a further 10% saving for any referrals 
Call Corinne on 021 252 7680 or 
corinne@altitudeadvisors.nz 
HODGETTS 
CONTRACTING
Digger Work    

Driveways 

House Sites 

Dams     

Drains, etc
Also available for HIRE 
3 ton Vib Roller Heavy Duty Tow  
Waterblaster     Lazer Level
Phone Mark 4312877 
        027 447 8554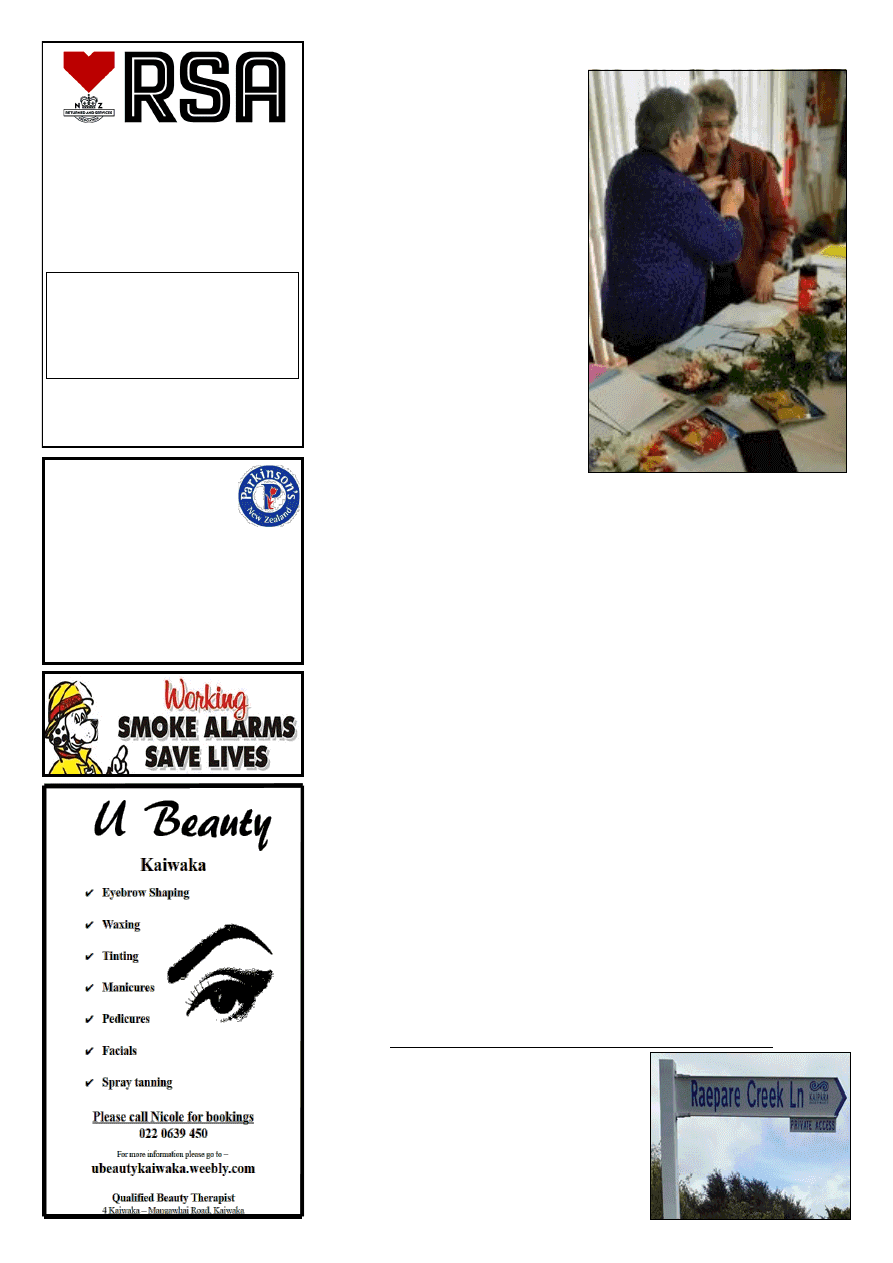 www.kaiwaka.co.nz 
Kaiwaka Bugle - 29 October 2019 
Page 7 
Parkinson's  
Northland 
Provide: 

Home based consultations 

Information and education on living with 
Parkinson's 

Support and exercise groups 

In-service training for other health 
providers 
Barbara Leslie RN,  
Community Educator 
09 4376881  or 027 5306221 
barbara.leslie@parkinsons.org.nz 
www.parkinsons.org.nz 
HAKARU & DISTRICTS MEMORIAL RSA Inc 
LATEST LOCAL ROAD SIGN 
RAEPARE CREEK LANE: 
'RAEPARE  This  is  a  very  ancient  name,  from  an 
order  given  by  a  chief  of  Ngatiawa.  'Parea'  meaning 
"Miss the first point, land at the second point." Should 
it  be  Raeparea?  The  last  'a'  appears  to  have  been 
dropped  over  the  years.' 
Ref.  'Centennial  of  Kaiwaka 
1859-1959 page 14. 
The  Raepare  Creek,  fed  by  Waihakari  and 
Rotokiekie  Creeks,  flows  into  the  Otamatea 
River. The sign is at 364 Oneriri Road. 
HAKARU & DISTRICTS 
MEMORIAL RSA (INC)
Members & guests are invited to 
come along and enjoy our hospitality. 
New members welcome. 
Meals are served on Thursday and 
Friday nights from 6.30pm. 
Order from Blackboard Menu  
and a sing-a-long  
with Des Chitty. 
For more information please phone 
Graeme on 431 2563 
Crossed The Bar & Sickbay Rangers 
Sorry  to  hear  that  Patricia  Judd  is  in 
Hospital,  we  wish  her  a  speedy 
recovery. 
Upcoming Events
Normal Weekly Happenings: 
Tuesdays  1600  –  1800  Men's  Time, 
spin a yarn, talk rugby racing and cars 
or whatever. A time just to get together 
for a couple of hours and chew the fat. 
Thursdays 1730 – 2200 Games Night, 
Snooker  on  the  big  tables,  8  ball  and 
the  small  table.  Board  games; 
Monopoly, Scrabble, Risk, or bring you 
own and get a team playing. 
Fridays 1730 – 2200: 
2nd  Friday  of  month,  entertainment 
by Aaron and Jasmine 
Last  Friday  of  month,  entertainment 
from Des Chitty 
Full meals available on Thursdays and 
Fridays. 
11th November: Armistice Day 
We  will  be  holding  a  commemorative 
ceremony  with  a    muster  at  1030  and 
short service at 1100 and refreshments 
after  in  the  club  rooms.    We  will  also 
screen some interesting videos relating 
to  Armistice  Day  for  those  that  are 
interested. 
A 
good 
attendance 
would 
be 
appreciated.  We  will  not  have  the 
Cadets  available  due  to  it  being  a 
school day. 
Snowball & Jag the Joker 
Congratulations  to  Phyllis  Browne  on 
her  winning  the  Snowball  a  couple  of 
weeks  ago,  she  is  now  $220.00  better 
off. 
The  Snowball  currently  stands  at 
$70.00; this is a member only draw, to 
collect  you  must  be  there  and  have 
your membership card with you.  
Drawn  every  Thursday  and  Friday 
night after the Ode. 
Jag  the  Joker  is  currently  standing  at 
$527.00; this is a raffle and costs $2.00 
a ticket, it is drawn every Friday night.  
If  your  number  comes  up,  you  get  a 
chance to turn the card on the board.  If 
you  turn  over  the  Joker,  you  get  the 
pool. 
Kitchen & Bar 
We are still in need of help in the both 
areas,  we  desperately  need  committed 
help on the 2nd and 3rd Friday of each 
month in the kitchen, the work involves 
setting  the  tables  at  the  start  of  the 
evening, washing and sterilising dishes 
and  general  help  for  the  cook  in 
keeping the place clean and workable. 
We  need  help  in  the  bar,  the  work 
involves  normal  bar  service  and 
cleaning  of  area  and  glasses.    A 
knowledge of the liquor laws would be 
an advantage and the club are prepared 
to pay for you to attend an LCQ course 
if you wish to do it. 
Rugby World Cup Finals 
As  we  have  invested  in  an  overhead 
projector  and  large  125"  screen  we 
have  streaming  for  the  all  the  games. 
The  following  is  the  schedule  for  the 
Finals this weekend: 
Friday 1st November 2200:   Bronze 
Medal  Play off NZ v Wales 
Saturday  2nd  November  2200: 
World  Cup  Final  England  v    South 
Africa 
These  games  promise  to  be  great 
exciting  entertainment,  the  clubrooms 
and bar will open  1 hour ahead of the 
Final  on  Saturday,  and  with  normal 
opening  hours  on  Friday.  The  bar  will 
close on the completion of the game or 
at the bar persons discretion. 
Presentation of Awards 
Last  month  the  Northern  District 
Ladies  Section  held  their  AGM  at 
Hakaru,  during  this  Lena  Carlton  was 
presented with her Long Service Badge 
for  her  10  years'  service to  the  Ladies 
Section.    A  big  BZ  to  Lena,  it's  not 
easy  to  be  as  committed  as  she  is. 
Pictured  above:  Angel  Erstitch  of  the 
NWA  presenting  President  Lena 
Carleton with her Long Service Medal.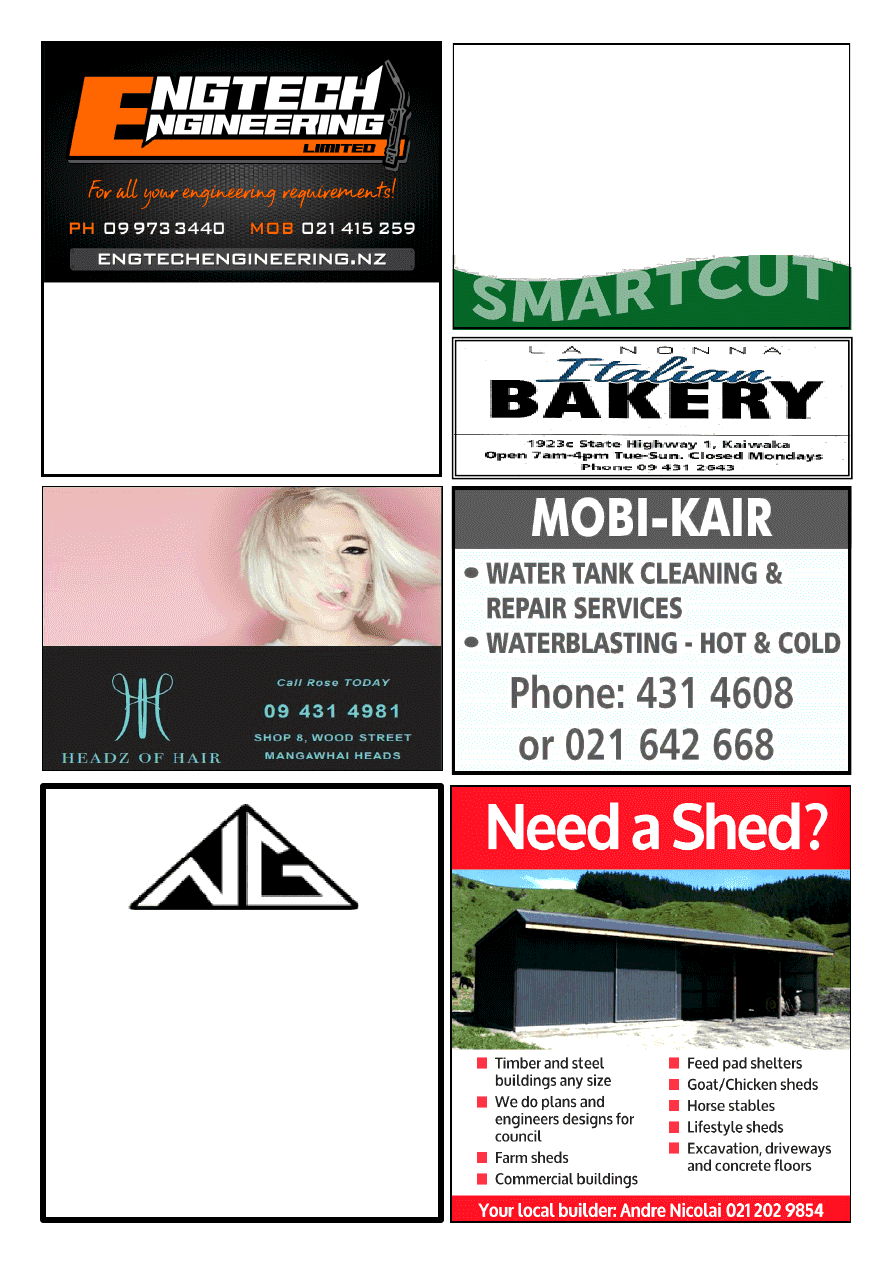 All your outdoor needs sorted so you don't have 
to... 
I can prune, chop, tidy, spray, mow, plant 
- you name it, I can do it! 
Residential & Commercial 
Lawn & Garden Care 
Call Rodney, your local  
lawnmowing contractor 
021 138 2344 
NORTH GLASS 
WINDSCREEN REPAIR OR REPLACE 
GLAZING SERVICES 
MIRRORS  •  SPLASH BACKS  •  SHOWERS 
0800 70 40 10
info@northglass.co.nz 
www.northglass.co.nz 
Ryan Lusty and Tracey's  
New Workshop is Now Open 
648 Kaiwaka-Mangawhai Rd, Hakaru 
Engtech Engineering facility is big, 
modern and ready to help solve problems 
for the wider community.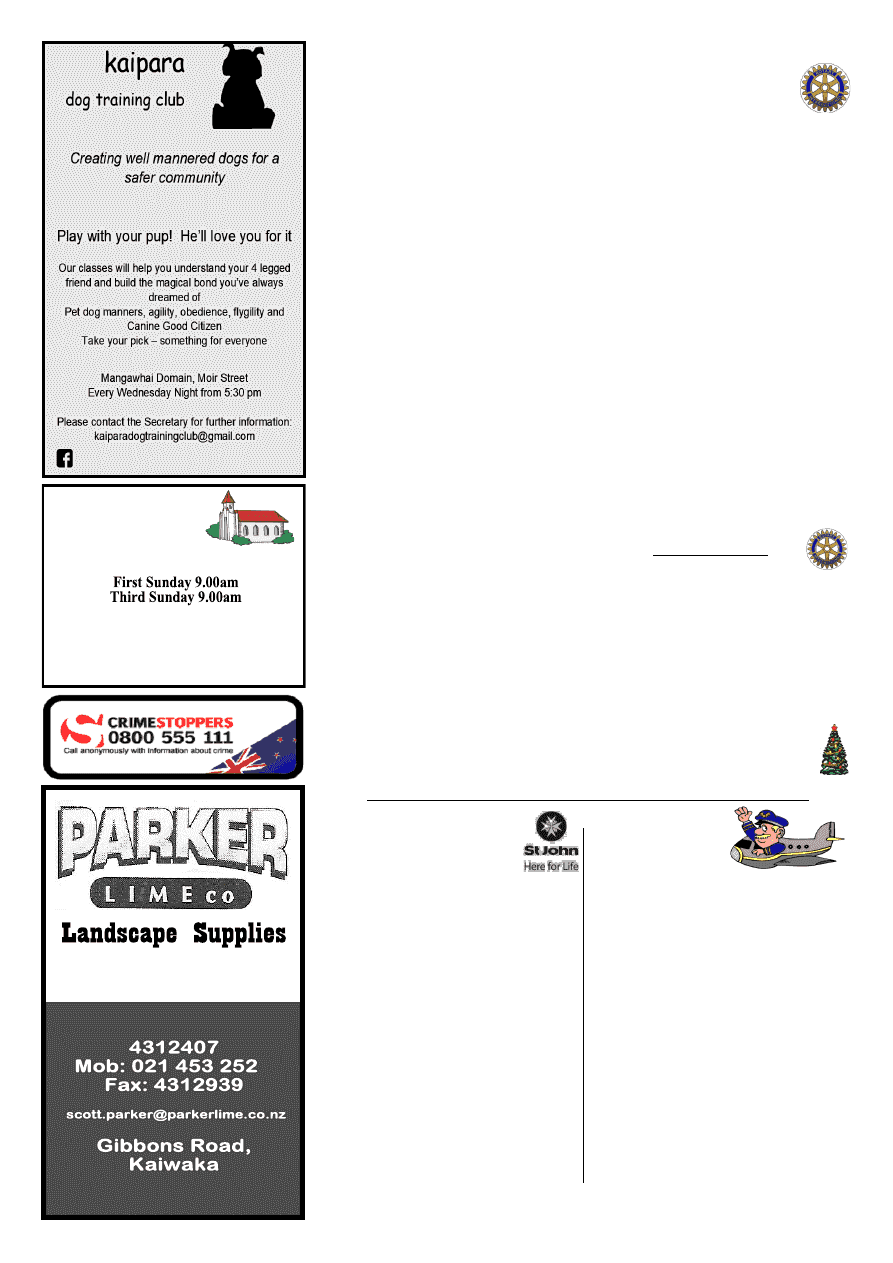 www.kaiwaka.co.nz 
Kaiwaka Bugle - 29 October 2019 
Page 9 
ST PAUL'S  
ANGLICAN  
SUNDAY SERVICES
St Pauls Church: Kaiwaka-Mangawhai Rd. 
1st Sunday - Eucharist 
3rd Sunday - Family Service 
Priest in Charge Rev. W Thornton Ph 431 4122 
www.mangawhaianglican.org.nz
OTAMATEA 
TRASH AND 
TREASURE 
This fundraising effort for St John has 
proved  to  me  that  we  live  in  an 
incredible  community.  The  team 
would  like  to  thank  you  all  for  your 
support during the week. Not only did 
you bring many items in that we could 
recycle,  but  you  purchased  while  you 
were there. Thank you also to those of 
you  who  provided  food  for  us  to  sell. 
This is always something that is sought 
after. 
Thank you also to the golf club people 
who  helped  us  set  up  on the  Saturday 
and  the  Fonterra  employees  who 
helped us pack down on the Friday. 
Raffle  winners  have  all  been  notified 
and prizes delivered. 
We  will  hopefully  net  around  $7,000 
which  will  be  used  to  support  our 
Volunteers  and  Cadets,  but  the  social 
benefit to all who spent time during the 
week is immeasurable. Thank you all!! 
Otamatea 
Repertory  
Theatre Inc   
'
This is Your Captain Speaking' 
Dinner Theatre comedy
Bookings are now open:   
Friday 1 November, 6.15pm   
Sunday 3 November, 4.45pm 
Friday 8 November, 6.15pm 
Saturday 9 November,  6.15pm 
Saturday 16 November, 6.15pm 
Sunday 17 November, 4.45pm 
Prices, both options include a 3-course 
meal:  Economy  class  $50  or  Business 
class $70 
Please bring a piece of luggage, which 
will  be  required  for  'boarding  the 
plane'.  Entry  is  at  Terminal  #3  at  the 
Maungaturoto  Country  Club.  Drinks 
are  available  to  purchase  at  the  bar  of 
the 'departure lounge'. 
Tickets: Tony's Lotto Shop  
or please email Maura Flower at 
maura.flower@gmail.com  and  details 
for payment will be sent to you.
 MAUNGATUROTO AND DISTRICTS ROTARY 
Bulk Cartage 
As the year has continued, so too have 
some of our ongoing projects. 
Driver  Mentoring,  in  conjunction 
with Roadsafe Northland and Te Roroa 
has  taken  on  a  new  lease  of  life  with 
two more Mentors having been signed 
up.  The  number  of  students  each 
Mentor  has  is  dependent  on  the  time 
the  Mentor  has  available  as  it  is 
important  that  the  students  are  able  to 
practice  their  driving  for  at  least  an 
hour once a week. We are hopeful that 
there  will  be  a  number  of  success 
stories in the coming months.  
If  you  are  interested  in  either 
Mentoring  or  want  some  lessons, 
please call 0800 555 635. 
It  was  interesting  to  speak  to  some  of 
the  people  at  The  Museum's  Settlers' 
Day.  We  had  some  photos  of  projects 
undertaken  and  there  was  a  great  deal 
of  discussion  on  one  of  our  projects 
some  years  ago,  Piroa  Falls.  The 
concrete picnic table that is on site had 
to  be  winched  in  by  helicopter.  While 
we now work in partnership with DOC, 
this area still remains quite special. It is 
hoped  that  before  too  long  the  water 
quality  will  have  improved  so  people 
can go swimming again. 
Nikau Grove 
During  early  November  we  are 
planning to work on the track in Nikau 
Grove.  There  are  two  aspects  to  this 
effort. One is to place a bridge over the 
boggy  area  at  the  eastern  end  of  the 
bush  and  the  other  is  to  place  a 
protective  structure  over  the  kauri  tree 
roots. 
Speakers: Bruce Lydiard  
We have had two local identities speak 
to us in the past month, covering very 
different  topics  but  both  very 
interesting.  One  was  Bruce  Lydiard 
who  spoke  about  growing  up  with  the 
prominent coach, Arthur Lydiard as his 
Dad  and  how  the  family 
became  extended  when  there 
were athletes to coach. (For the 
record,  six  of  Arthur's  athletes  were 
the  recipients  of  seven  gold  medals  in 
NZ and Finland.)  
Mark Vincent  
Another  interesting  speaker  was  Mark 
Vincent  who  spoke  about  the 
development of Harbour Care and now 
his involvement with Fonterra to work 
on a different level with landowners in 
the Wairau Stream catchment area. 
Calf Litter 
For  those  of  you  who  have  been 
seeking calf litter you may just have to 
wait  a  little  longer.  We  had  a 
substantial  stockpile  but  unfortunately 
this  has  disappeared,  and  the  weather 
has not been kind in giving us access to 
the  paddocks  to  help  replenish  our 
supplies.  Hopefully,  by  the  time  you 
read  this,  the  situation  will  have  been 
resolved. 
Should you want to join us at any time 
please  don't  hesitate  to  get  in  touch. 
We  have  been    fortunate  throughout 
this  year  to  have  delicious  meals 
provided by various High School 
fundraisers. 
MAUNGATUROTO AND 
DISTRICTS ROTARY –  
SENIORS' AFTERNOON TEA  
Friday 22nd November 1pm to 4pm at 
the Centennial Hall, Maungaturoto.  
Entertainment  will  be  provided  by  a 
group of Maura Flower's performers. 
Please  note:  All  seniors  from 
Mangawhai  to  Tinopai  are  invited  to 
this event.  
If  you  are  interested  in  coming 
please call Eileen on 021 142 0357 
or Stella on 021 1490877.  
Please tell your friends about this.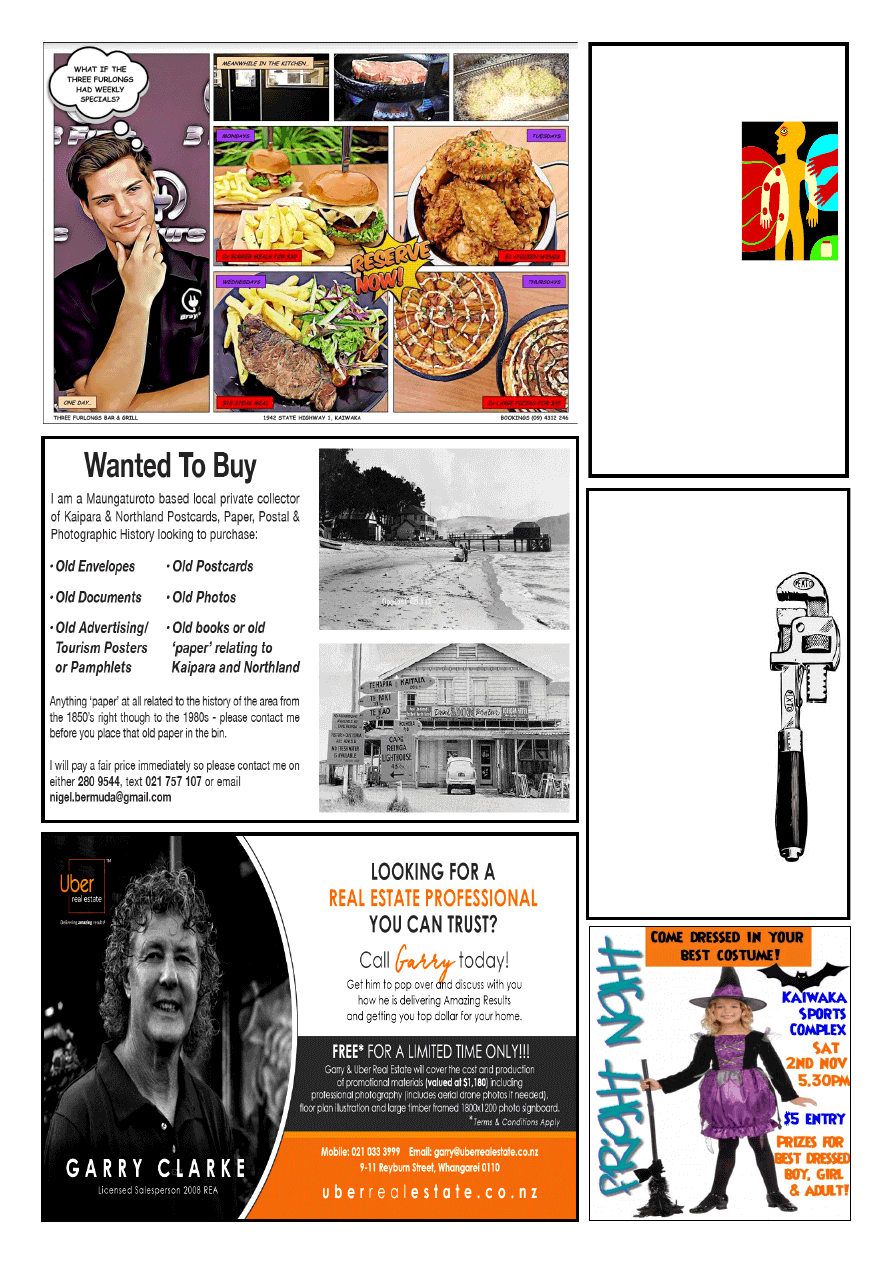 BARRY CURTIS 
PLUMBING LTD 
REGISTERED CRAFTSMAN 
PLUMBER 
Phone  
431 5572 
027 257 9884 
25 years' experience 
Friendly reliable 
service 
All plumbing & 
maintenance 
Alterations and new 
housing 
Spouting  
Competitive rates 
PROMPT EFFICIENT 
SERVICE 
OWEN STEVENS 
Osteo Therapist
For careful 
adjustments to 
bones and joints 
Treatment for 
humans and their 
pets 
Clinics: 
Kate's Place, Kaiwaka: 
Last Friday of month 
For bookings: 
9.00am-5.00pm  
Phone 
09 4312661 
Or phone Owen  
09 4317123 anytime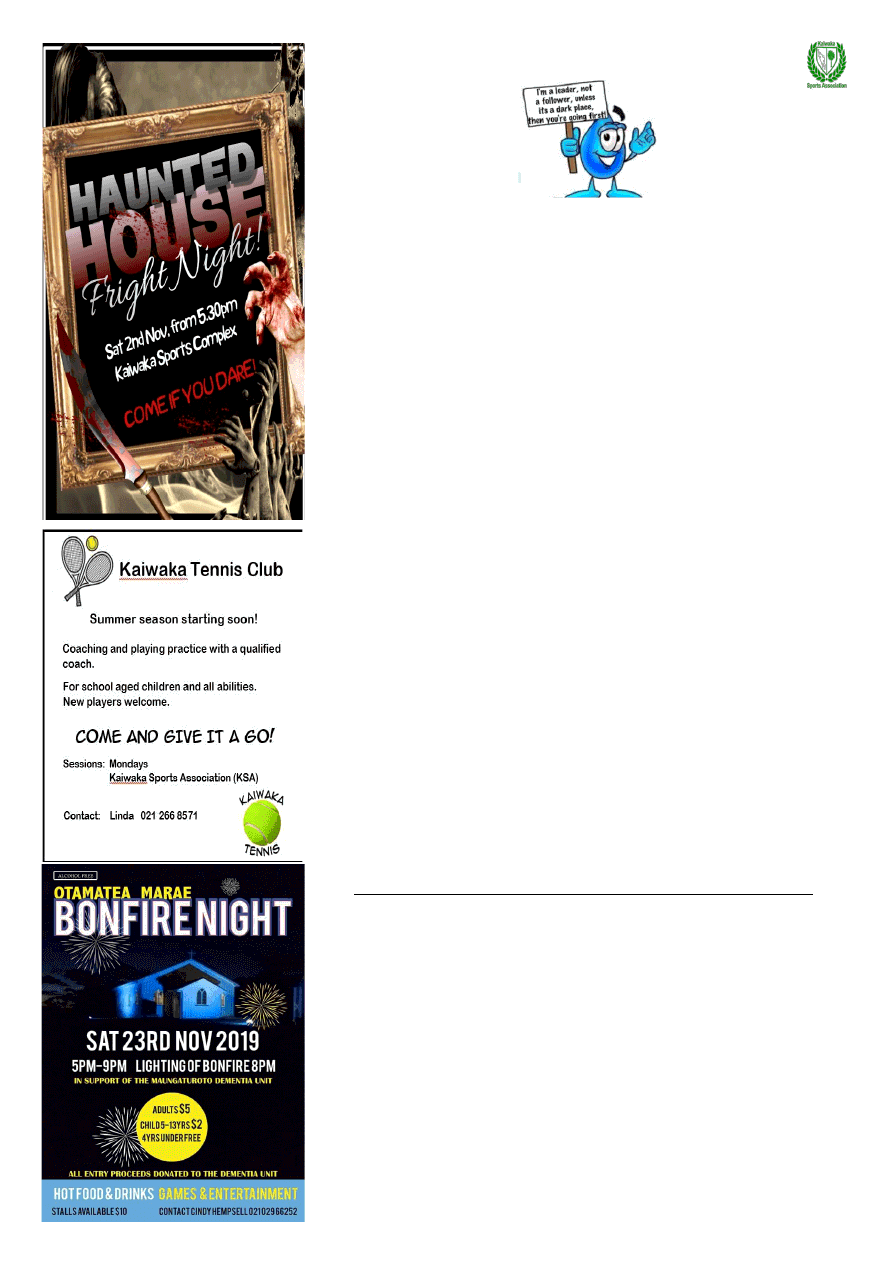 www.kaiwaka.co.nz 
Kaiwaka Bugle - 29 October 2019 
Page 11 
KAIWAKA SPORTS ASSOCIATION
Fright Night: 
Fright  Night  is  this 
Saturday! 
Have  you  got  your  costume 
sorted?  I  have  got  lots  of 
great  donations  to  use  as 
prizes  for  the  best  dressed 
boys, girls and adults.  
Creative 
costumes 
and 
makeup will take the eye of our judges, 
so put your thinking cap on! 
There will be a costume  parade,  lolly 
scramble, music, games, a photo booth, 
glow  items,  spooky  supper,  face-
painting and of course our ever-popular 
haunted house. 
There  will  be  prizes  for  the  top  three 
halloween-themed supper plates – last 
year  we  had  chocolate  spiders, 
bloodshot  eyeball  eggs,  cobweb 
cupcakes,  deadman  finger  sandwiches 
and more. Get creative! 
The  Haunted  House 
will have three 
sessions: 
1)  An  extra  mild  session  (lights  on 
full, no loud noises, no scarers, no fog, 
no strobe light). Perfect for those little 
kids  who  might  not  handle  a  scary 
session  but  want  to  look  at  the 
decorations. This  session will begin  at 
5.30pm. 
2)  Primary-aged  children  (and 
parents  if  your  kids  need  support).  A 
scary session. 
3) High-school children + adults. An 
extra  scary  session.  Only  for  the  very 
brave! 
Hidden Items 
There  will  be  several  special  items 
hidden  in  the  Haunted  House  and  if 
you  find  one  of  them,  you  will  win  a 
prize. But they won't be in the hallway, 
oh no, that would be way too easy for 
you . They will be hidden in the rooms, 
so  you  will  have  to  venture  into  each 
room – but beware of what might be in 
there to greet you!! 
Dinner  for  the  family  is  sorted,  as 
Kaiwaka  Playcentre  will  be  there, 
serving up hot food and snacks. 
PS:  don't  worry  about  missing  the 
Rugby  World  Cup  final,  as  it  is  being 
televised  at  10pm,  so  you  will  have 
plenty of time after Fright Night to get 
home 
and 
get 
yourself  parked  in 
front of the TV! 
The  entry  fee  is  $5  (pre-
schoolers free). Hope to see 
you  there,  we  are  looking 
forward  to  a  'Spooktacular' 
night! 
Junior Tennis 
Does your child want to try something 
new?  Why  not  give  tennis  a  go.  Our 
children's tennis lessons are being held 
at  our  courts  on  Monday  afternoons. 
Great  coach,  very  reasonable  fees. 
Contact  Linda  on  021  266  8571  for 
more information. 
Kaiwaka Athletics Club 
The  Athletics  season  is  about  to  start, 
with  the  first  session  on  Monday  4th 
November. 
The  sessions  run  on  Mondays  5  - 
6.30pm, at Otamatea High School. All 
athletes  are  welcome  but  we  tend  to 
have  a  predominance  of  younger 
athletes. 
Parents/caregivers 
are 
expected to stay with the youngsters as 
we need a number of adults to help run 
the  evening  successfully.  Queries, 
please call Eileen on 021 1420357. 
Kaiwaka Boot Camp 
Keen to get into shape for the summer? 
There  will  be  a  Fitness  Boot  Camp  at 
our  grounds,  on  Tuesdays  and 
Thursdays 
at 
6.30pm, 
starting 
Thursday  7th  November  and  running 
right  through  until  Christmas.  This  is 
suitable  for  people  of  all  ages  and 
fitness levels. Just bring yourself - fun 
and  laughter  provided!  $7  a  session. 
Queries  to  Siobhan  Henderson  on  027 
9791203. 
Public Meeting 
The  Kaipara  District  Council  invites 
members  of  the  public  to  a  public 
meeting  to  share  their  feedback  on 
draft  plans  for  the  direction  of  the 
Kaiwaka township. 
To  be  held  at  the  Sports  Complex  on 
Wednesday  20th  November,  4  - 
7.30pm. Come along to have your say. 
~ Cheryl,   kaiwakasports@gmail.com
BONFIRE  FUN FUNDRAISER 
The large bonfire at Otamatea Marae is the centre for a fun evening with lots of 
activities to raise funds for the Riverview Rest Home Dementia Unit. Scott and 
Cindy Hempsall are the Bonfire Night organisers and say everyone is allowed to 
bring their own fireworks. Entry is $5 adult, $2 for child 5 to 13 years, under 5 
free, and is a cash only event. All entry proceeds will be donated to the dementia 
unit. Leabourn Passenger Service will be running a shuttle bus to and from the 
marae,  gold  coin  donation  each  way.  Pick  up  from  Otamatea  High  School 
Maungaturoto (
please do not park or go into the school grounds
) 
First pick up Otamatea High School 4pm; 2nd pick up Otamatea High School 
5pm. First departure from Marae  9pm; 2nd departure 10pm 
Updates on the Facebook page OTAMATEA BONFIRE NIGHT 
FURTHER FUNDRAISING: Community Breakfasts - Thursday 14 November 
Mangawhai Club; and another at a later date at Maungaturoto; Garden & House 
Tour  22nd  &  23rd  February  2020  -  9:30am  until  5pm  hosted  by  Dahlias  for 
Dementia to view beautiful local gardens and houses in Maungaturoto, Paparoa 
and  Matakohe,  and  The  DEN  on  Bickerstaffe  Road  for  second-hand  goods  
sales.  See  the  Facebook  page  MCCT  Fundraising  Committee  for  further 
information and contact details.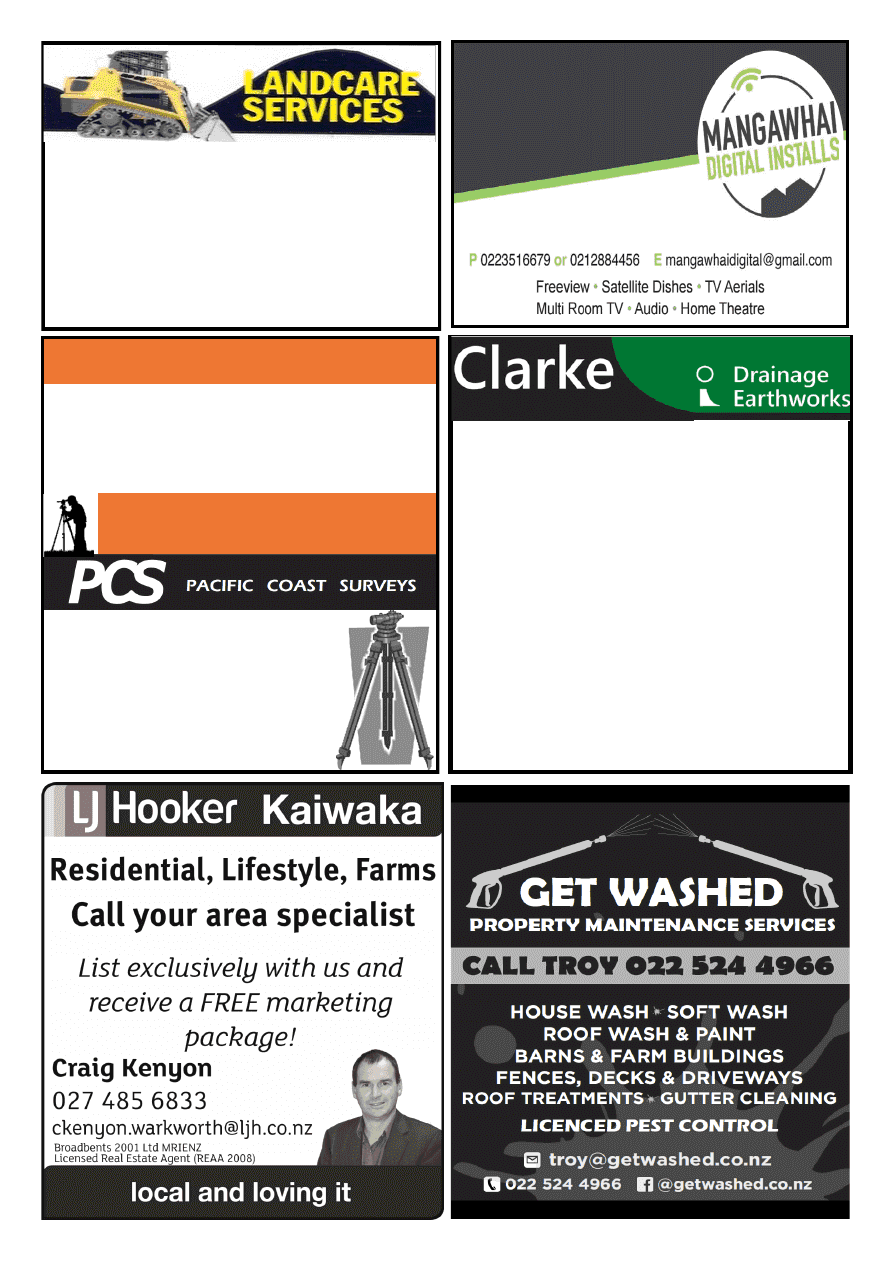 SURVEYORS 
SUBDIVISIONS 
HOUSE SITE SURVEYS 
CIVIL ENGINEERING 
WASTEWATER DESIGNS 
EXPERIENCED 
PROFESSIONAL 
INNOVATIVE 
Ph 09 431 5353 
0800 PACIFIC (0800 722 434) 
pacificcoastsurvey.com
Adam Booth - 027 415 5752 
Bsurv, Licensed Cadastral Surveyor
Surveying Kaipara since 1994 
LANDSCAPING 
4 IN 1 BUCKET 
TRENCHER 
POLE HOLES 
ROTARY HOE 
COMPACT ROLLER 
OFFAL HOLES 
CAN SUPPLY WOODCHIP & POST PEEL 
5 TON TIPPER 
FOR RELIABLE AND FRIENDLY SERVICE CONTACT DAVE 
Dave Hyndman 
 
KAIWAKA 
PH: 09 4312302 
MOB: 021 431 238 
Drainage & Earthmoving 
nigel@clarkedrainage.nz 
027 2233 185 
Registered Drainlayer                 All Types of Earthworks  
> All Residential & Commercial Work  > House Sites 
> Septic System Design & Install 
> Footings & Drilling to 10m 
> Sewer Connections 
> Dams 
> Water Tank Installation 
> Roading & Races 
> Farm Work 
THE ONE STOP SHOP  
Phone Nigel for an Obligation Free Quote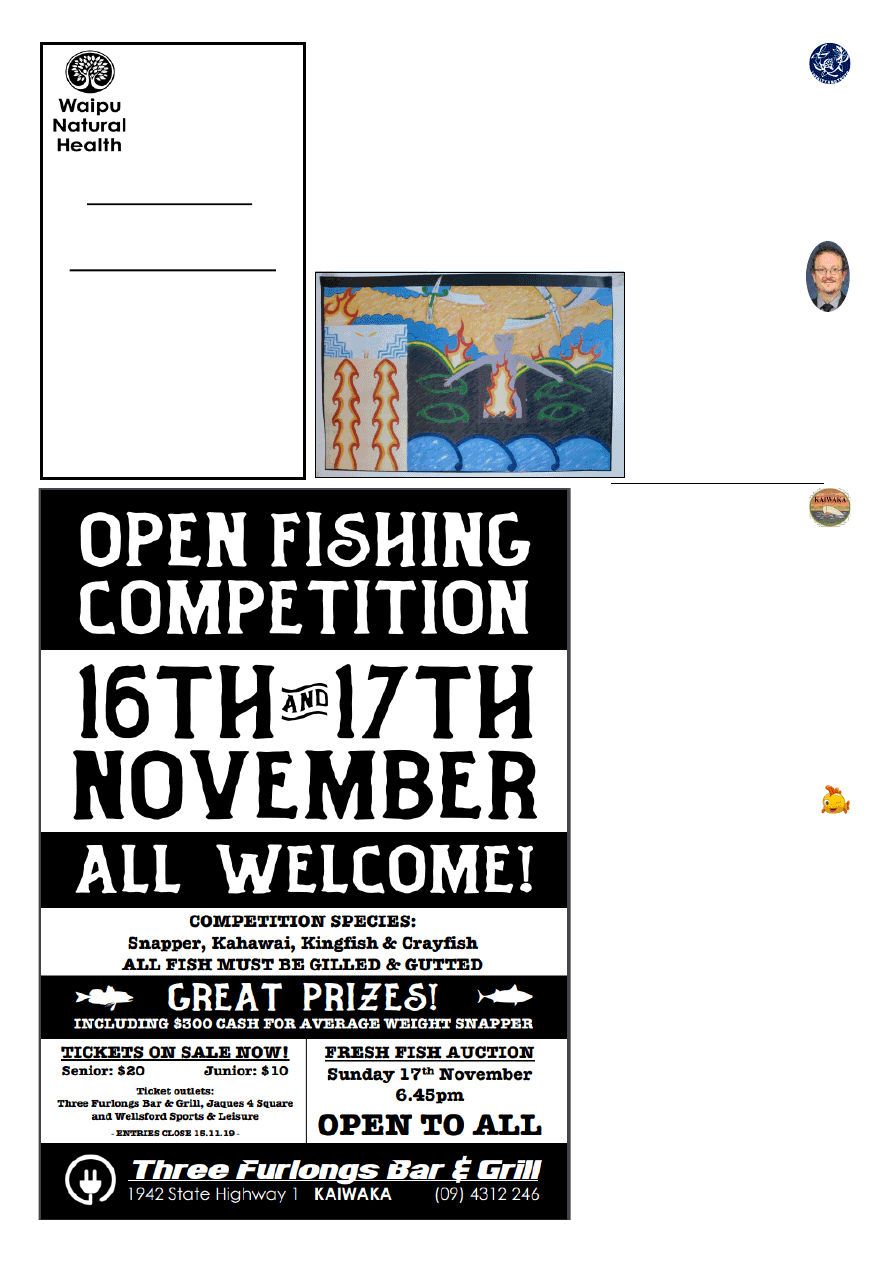 www.kaiwaka.co.nz 
Kaiwaka Bugle - 29 October 2019 
Page 13 
POINT CURTIS  
CRUISING CLUB  
⚫
Open  Fishing  Competition  Saturday 
16th & Sunday 17th November 2019. 
Species  are  Snapper,  Kingfish, 
Kahawai and Crayfish. 
Weigh  in  between  5pm-6pm  on  both 
days. 
All  Fish  being  weighed  in  must  be 
GILLED & GUTTED!! 
ENTRY  FEES:  $10  Junior  and  $20 
Seniors. 
Tickets  will  be  available  from 
3Furlongs,  Jaques  and  Wellsford 
Sports & Leisure. 
⚫
FISH  AUCTION  will follow Prize 
giving on the Sunday, EVERYONE is 
welcome to come . 
⚫
Don't  forget  our  Club  Christmas 
Dinner which will be held on Monday 
25th  November  at  3Furlongs  Bar  & 
Grill 6pm. 
If  you  are  interested  please  let  Jean 
(Jaques),  Sandy  (Wellsford  Sports  & 
Leisure)  or  Renna  (via  Text 
0212509549),  so  we  have  an  idea  of 
numbers.  $35  per  head  -  3  course 
meal!! 
You  don't  have  to  be a  club  member 
to  come  along,  so  hope  to  see  you 
there. 
⚫
Subs:  $30  Family  &  $20  Single; 
Internet banking 12 3094 0008233 00 
Please use Name/s as a reference. 
⚫
No Fish of The Month for October. 
⚫
New  Fish  of  the  Month  is Snapper 
till 13th November 2019 
⚫
Next Club Meeting: 
Wednesday13th November 7pm, 
Kaiwaka Sports Association. 
Wayne Leslie (Commodore) 
Solar power: We are now a Genesis Energy Solar School and are drawing 
a great deal of power each day from our newly installed solar panels on 
the hall roof. This can be monitored live at Solar Schools. In fact, as I write this, 
I note that we have generated 1kWh of power in the last 5 minutes! 
Senior Prizegiving: We would love for you to attend our annual prize-giving in 
the school hall on Friday 1st November from 1.30pm to 3.30pm. Afternoon tea 
for guests and prizewinners will follow. This is a wonderful occasion where we 
celebrate the success of our senior students and farewell our year 13s. 
Study Leave: All senior students will find out by Thursday 31st October if they 
have been awarded study leave from the 4th November. Students not on study 
leave are to attend school in their school uniform and go to A4 for at the start of 
period 1 straight after whānau time. 
Facebook:  Don't  forget  to  follow  us  on  our  popular  Otamatea  High 
School  Facebook  page. 
We  regularly  send  news 
and  information  out  to 
our community using Facebook. 
~ Dirk Smyth, Acting Principal 
Level  1  art  students  have 
successfully  completed  all  course 
work  and  are  now  creating  murals 
to  add  some  colour  and  interest  to 
our school environment. The  mural 
pictured  was  designed  by  year  10 
student  Alana  Yardley  -  it  is  of 
Mahuika  and  tells  the  story  of  the 
origin of fire. 
3 Cove Road, Waipu 
(opposite the Pizza Barn
) 
094321325 
www.waipunaturalhealth.co.nz 
Clinical Nutritionist: 
Nutritional Checkups, Diets for 
Chronic Diseases,  
Food Sensitivities 
Naturopathic Physician: 
Ozone Therapy, Prolotherapy, 
Mesozone 
Reflexology, Craniosacral 
Therapy, Trauma Release 
Massage Therapy 
Counselling and Hypnotherapy 
Change Catalyst/ThetaHealer 
Affordable Children's Consults 
All therapists are fully qualified
OTAMATEA HIGH SCHOOL NEWS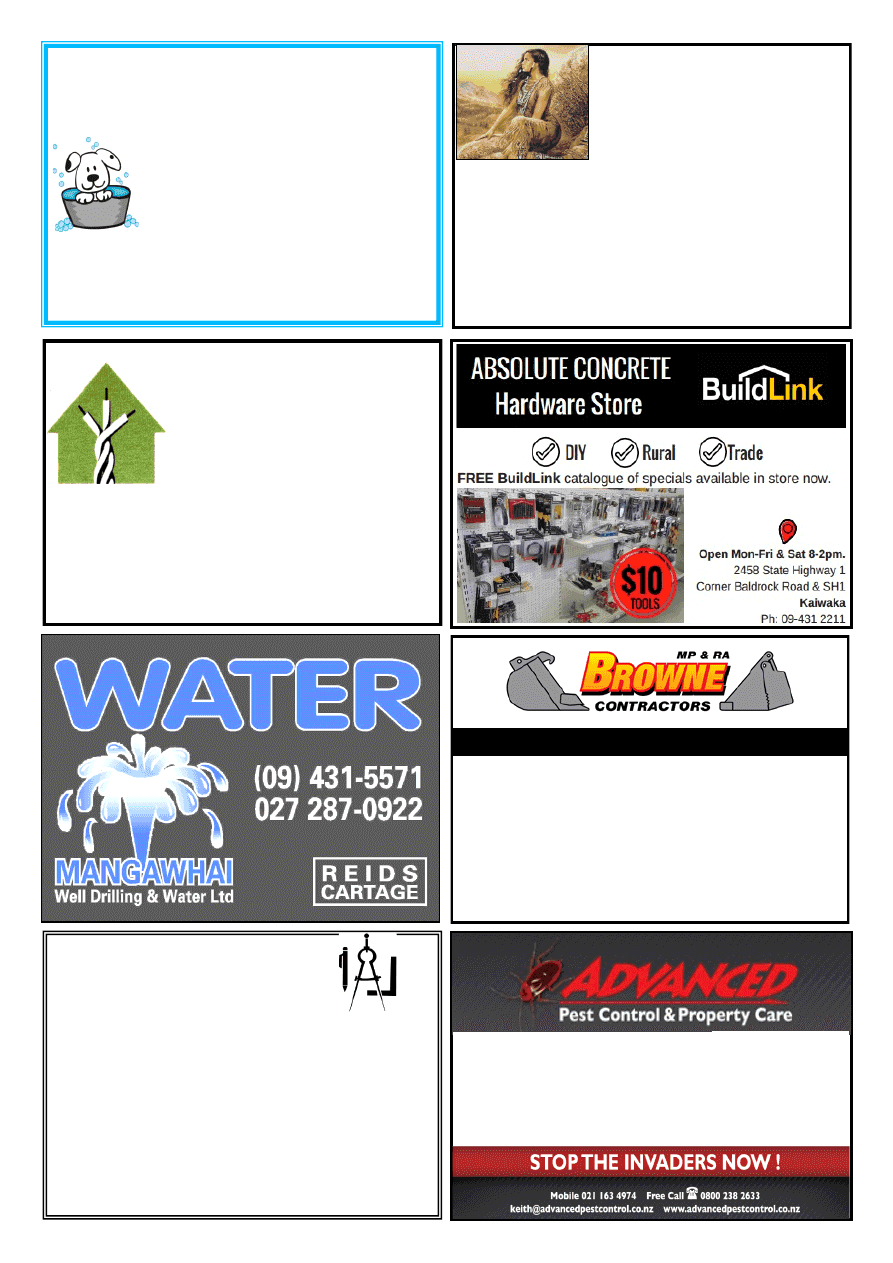 4T DIGGER – BOBCAT – TIP TRUCK 
Property Maintenance - Driveways  
 Building Sites 
Stump & Tree Removal  
Hole Boring - Chain Trencher  
Calf Shed and Stockyard Cleaning 
Phone Matt: 021 199 6677 
Email: mprabrownecontractors@gmail.com 
Reyahn George 
Leng 
Registered Electrician 
Local, honest and reliable. 
For your residential and 
light-commercial projects. 
022 314 1068 
TRAILS END 
RONGOA MAORI 
HEALING 
And Gifts 
Stocking all your needs from incense, crystals, dream 
catchers, greeting cards, jewellery, perfume, dragons and 
more dates for groups each month are: 
August 25th ~ September 22nd 
October 27th  ~ November 24th ~ December 15th 
From 10.30-2pm  
For all inquiries Phone 0211652629  
Light refreshments available $5 koha  
1758 Cove Road Mangawhai
Pest Control 
PLAN A: One-off treatments to customers with a specific pest problem 
PLAN B: Full maintenance service plans to commercial customers. 
This will include documentation kept in customer file on site: 
⚫
Pest treated 
⚫
Date of service 
⚫
Chemical or baits used 
⚫
Full pest check report done after each treatment 
⚫
Fair and reasonable fee with guarantee 
Flood Recovery 
Carpet Care 
⚫
Carpet Drying 
This includes pre-spray treatments 
⚫
Dehumidifier Rental 
with stain removal and hot water extraction.  
⚫
Full Commercial Cleaning  Patch repair also available 
Upholstery Cleaning 
Full upholstery cleaning of all furniture.  
eg lounge suites and all office chairs 
Water Blasting 
⚫
Concrete - Decks 
House Washing 
⚫
Soft Chemical Was 
⚫
Pre-painting Wash 
Property Services 
⚫
Property Cleaning  Lawn Mowing 
⚫
Hedges General   Tidy Ups 
Hot Diggity Dog 
DOG GROOMING 
All breeds dog grooming 
Professional Experienced Groomer 
Short practical grooms - summer 
Breed Standard Grooms 
Designer fusion Grooms 
Oneriri Road
By appt Phone Pam 09 4312143 
Or text only 0273335380 
Email  hot.diggitydog@outlook.com 
design drafting  
service 
Retired builder and manufacturer with over 40 years  
experience in the building industry is offering a design 
drafting service for domestic housing, sleepouts and 
sheds.  
Plans formulated in consultation with clients, with 
working drawings completed and submitted to  
council for processing.  Extensive practical experience,  
able to identify & resolve problems. 
Please ring Mike Lean on 
09 431 2260 
or 
021 431 196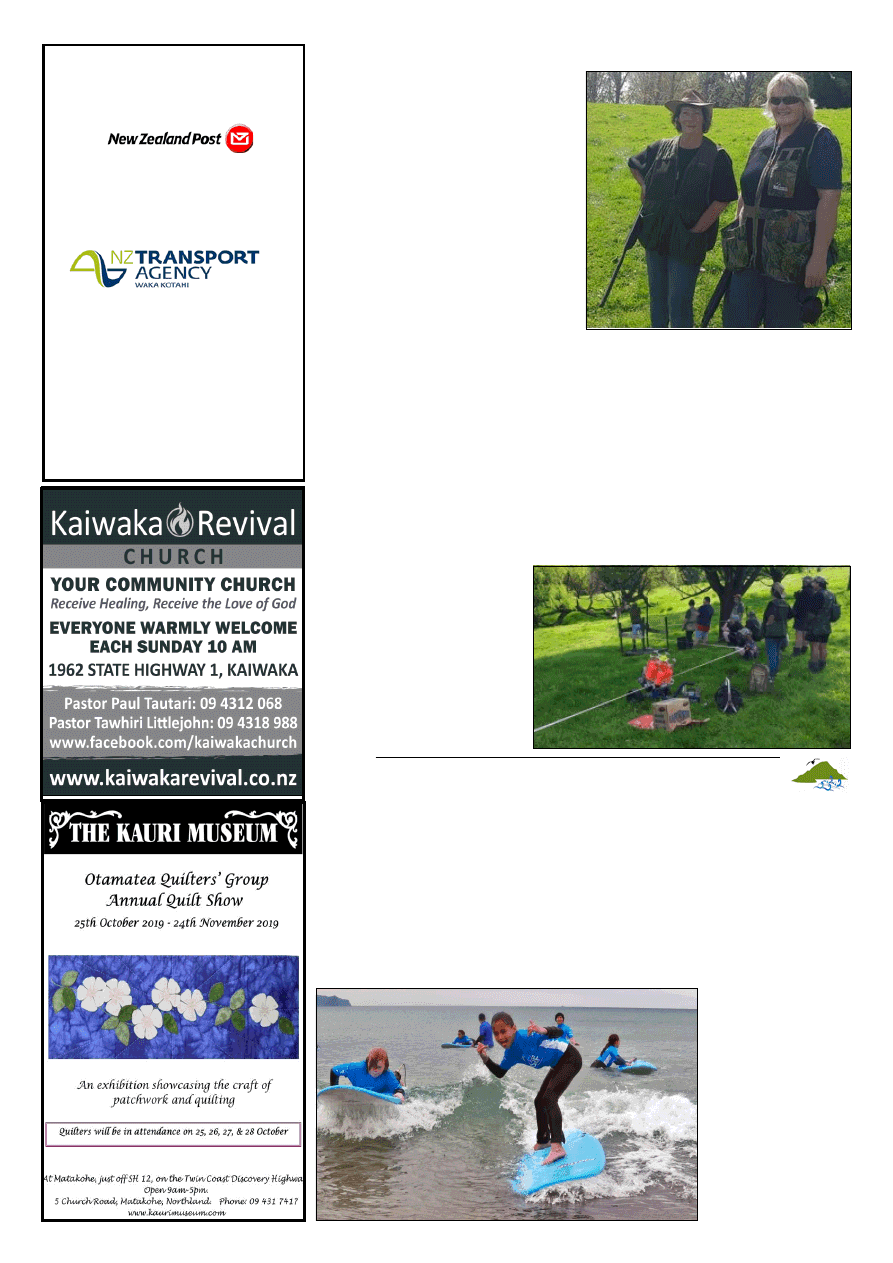 www.kaiwaka.co.nz 
Kaiwaka Bugle - 29 October 2019 
Page 15 
KAIWAKA POST 
CENTRE and 
FOOD MART 
POST CENTRE TRADING HOURS 
MONDAY to FRIDAY 8am to 5pm 
SATURDAY 8am to 12pm 
CLOSED ON SUNDAY and on 
PUBLIC HOLIDAYS 
FOOD MART (GROCERIES) 
MONDAY TO FRIDAY  
7:30am to 7.30pm 
SATURDAY  8am to 7.30pm 
SUNDAY  8:30am to 7pm 
IF ANY QUERIES PLEASE CALL 
STORE MANAGER AMRIT  
on 09 4312431 or 
EMAIL: kaiwakafood19a@gmail.com 
1919a State Highway1, Kaiwaka 0542 
What  a  great  turnout  for  the  October 
shoot on the 13th October 2019. 
27 shooters turned out on the day. Well 
done  to  Andy  Thompson,  taking  out 
1st  place  in  the  Senior  Men's  shoot. 
Senior  Men's  shoot  also  had  an 
awesome  shoot  off  for  3rd  place 
between Hayden, Dylan and Paul. Well 
done to all who attended. 
Results:  
Senior  Men: 1st  Andy  Thompson  67; 
2nd  Dale  Hamlin  64;  3rd  Dylan 
Thompson 63 - Men's shoot off for 3rd 
place 
Ladies:  1st  Lynn  Dunnett  41;  2nd 
Annette Pull 14; 3rd Jenny McLean 10 
Juniors:  1st Jack Hewitt 20; 2nd Liam 
McFarlane 14; 3rd Luke Jackson 1 
Huge thank you to the sponsors for this 
event:  These  events  wouldn't  happen 
without  them,  so  please  support  these 
local  businesses: 
Jason  at  Hunting  and 
Fishing  Dargaville;  Mangawhai  Meat  Shop; 
Maungaturoto  Liquor  Centre;  Manu  at 
Ecolab. 
Thank you to Jenny McLean for 
cooking  the  BBQ  on  the  day.  Great 
sausages supplied by Mangawhai Meat 
Shop. 
Welcome  to  all  new  members.  Thank 
you  all  for  updating  your  email 
addresses  as  this  is  the  only 
communication  line  we  use.  Photos: 
Please  forward  any  photos  of 
our events to Annette Pull. We 
would like to add more photos 
to our newsletters, thanks. 
Up-coming Events: 
AGM 
and 
Privegiving: 
Sunday  November  17th  at  12 
noon. 
BBQ 
and 
refreshments 
available, on the Club grounds, 
Hames Road, Maungaturoto 
Christmas  Shoot:  Sunday 8th 
December  2019  on  the  Club  grounds, 
Hames Road Maungaturoto, 10am start 
Entry:  $40.00  per  person  Juniors:  16 
years and under – $20.00 
Ammo: $14.00 per box (25) 
No Dogs please on course. Can be tied 
up  at  your  vehicle.  All  new  members 
welcome  so  bring  your  shooting 
friends.  Great  prizes  to  be  won 
including Hams.  
See you all there, Your Committee 
Secretary  Annette  Pull  0272862329 
annettebaker@slingshot.co.nz 
Photos:  Top  left  to  right  -  Jenny  McLean, 
Annette Pull; Below - field action 
KAIWAKA SCHOOL NEWS 
Congratulations Mrs Jamieson 
We  congratulate  our  teacher,  Mrs  Anna 
Jamieson,  on  being  awarded  a  full-time 
scholarship 
to 
study 
at 
Auckland 
University  in  2020.  Anna  is  one  of  only 
four  New  Zealanders  to  be  selected  to  be 
trained  to  become  a  Tutor  Teacher  for 
Reading Recovery in 2020. Once qualified, 
she will teach the teachers. This award will 
mean  that  she  will  be  on  leave  for  2020. 
Her replacement will be announced shortly. 
Surfing at Mangawhai 
Last week our Year 5 and 6 students went 
to  Mangawhai  Beach  for  a  surfing  lesson. 
They  all  had  a  great  time.  Thank  you, 
parents  who  went  along  for  the  day  to 
assist. It would have been cold out there for 
all  that  time.  Thanks  to  Che  and  the 
Aotearoa  Surf  School  (Mangawhai)  for 
giving  the  school  this  opportunity.  The 
students all loved it, and many are eager to 
have another go. 
Kapa Haka Performance 
As  we  were  unable  to  attend  the  Kaipara 
Kapa Haka Festival this year we would like 
to still perform for our community, so will 
be  preparing  a  local  Kapa  Haka 
Performance.  This  will  be  on  Friday  22 
November.   
Giant 
Pumpkin 
Competition  2019  – 
2020 
Who  can  grow  the 
biggest pumpkin?  
Seeds 
available 
at 
school  or  you  can  use 
your  own.  Start  now 
and  bring  to  school  in 
March 
next 
year. 
Competition  is  for: 
heaviest 
pumpkin, 
fancy  dress  pumpkin, 
ugliest  pumpkin,  roll 
down the hill pumpkin. 
KAIPARA HUNTING & FISHING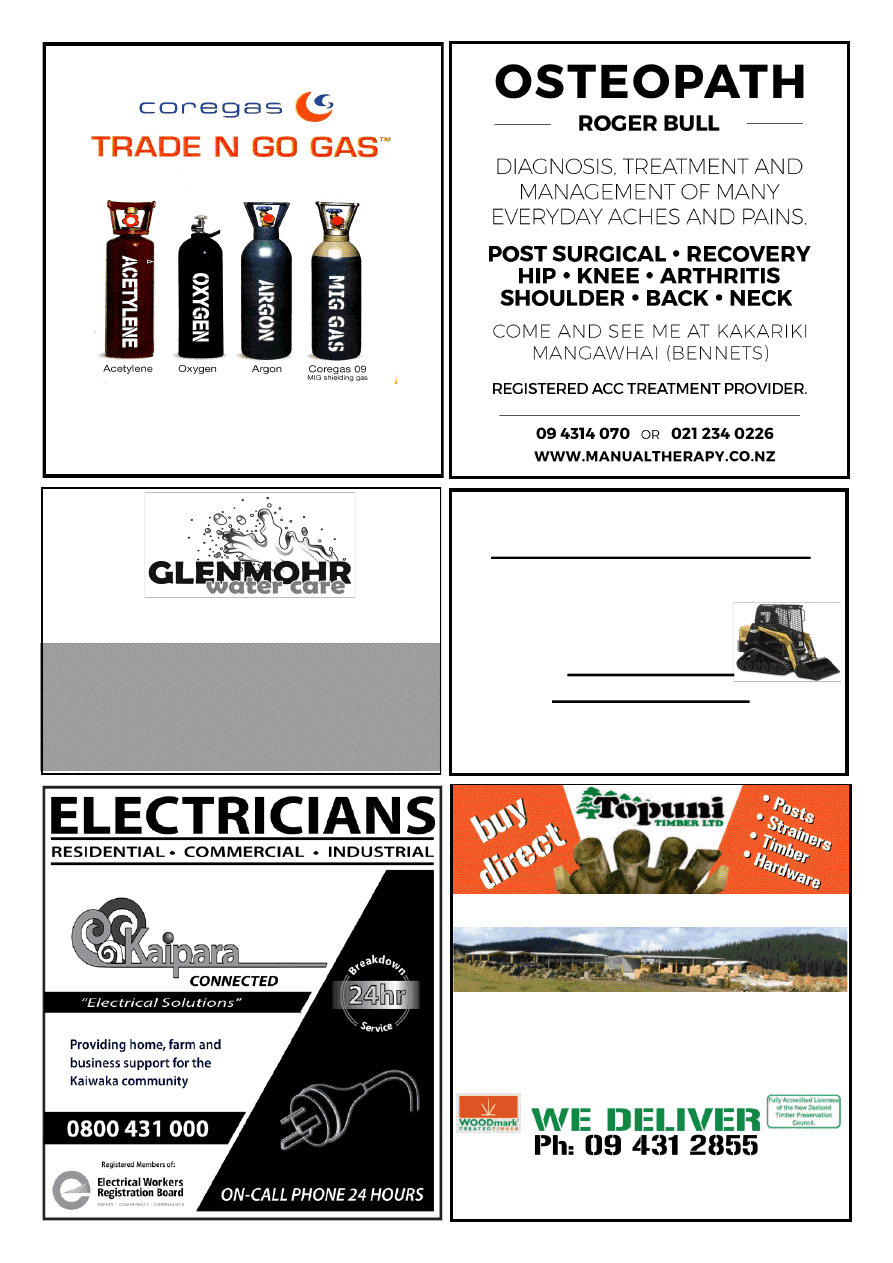 At Twinkle Tow 'n' Tyre 
Mob: 021 833 960 
Ph & Fax: 09 431 2823 
1837 State Highway 1, Kaiwaka 
Water Tank Cleaning 
• 
Keep your water safe & clean  
• 
Removal of sediment, silt etc. 
• 
Vacuum or full scrub 
• 
Minimal water loss 
Phone Mark (09) 432 0655 or 0274 707607 
LOCALLY OWNED AND OPERATED 
QUALITY PRODUCTS • FRIENDLY ADVICE • GREAT SERVICE 
Quality Products milled from High Density NORTHLAND Radiata Pine. 
Treated and guaranteed to NZS3640 with commitment to 
Environmental Safety.
Phone, fax, email, or come into the mill 
Schiska Rd, Topuni, SH1, 10 min north of Wellsford. Fax: 09 431 2856 
Email: sales@topunitimber.co.nz           Mon - Fri 7am-5pm 
• Fencing 
• Retaining 
• Decking 
• Landscaping 
• Gates 
• Hardware 
Natural Earth Ltd 
Landscape and Bobcat services 
 : Driveways :Landscaping :Retaining Walls 
 : Hole Boring: Land Levelling :Trenching 
 : Decks :Fences :Sections Cleared 
 : Plus much more
Tel 09 4312 885 
Mob 02102391280 
For A Fast Friendly Service  
Contact Tim Hicks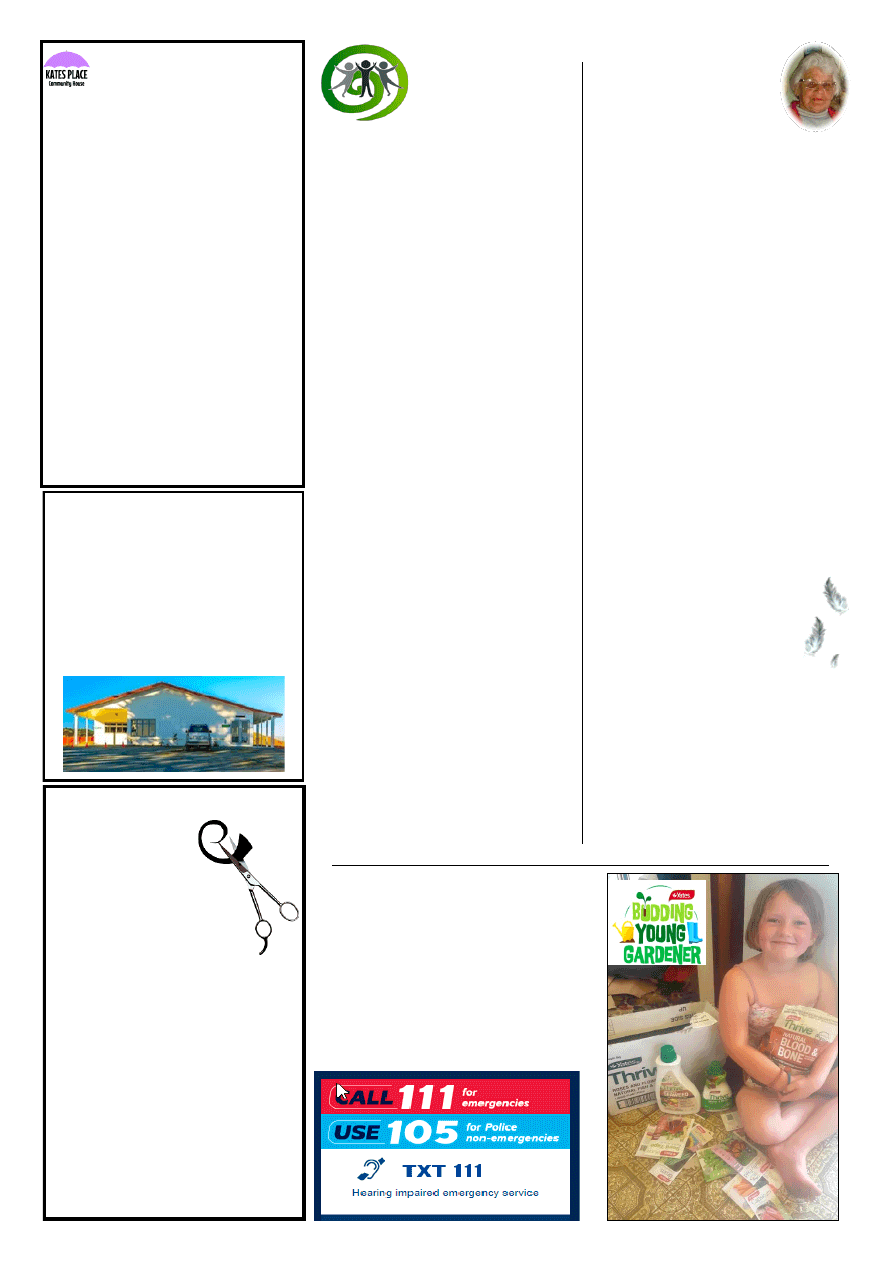 www.kaiwaka.co.nz 
Kaiwaka Bugle - 29 October 2019 
Page 17 
JUST 
CUTS 
and 
MORE  
1758 Cove Road  
Open Monday-Saturday  
by appointment only 
Saturday 9-12pm  
Affordable prices: 
Ladies cuts from $35 
Colours from $120 
Men's from$25 
Kids from $18 
0211652629  
Te Pounga Marae 
130 Nathan Rd. Oneriri. Kaiwaka 0573 
COMPLEX FOR 
HIRE 
Functions: * Weddings  * Birthdays  
*Anniversaries * Meetings  * Wananga 5 
hour meeting * 12 hour stay or Overnight 
*All welcome   
For more information please contact: 
 Pearl Nathan 0223933533 
Email: tepoungamarae130@outlook.com  
From Thelma's 
Scrapbook … 
Gossip: 
"I've gossiped about my 
neighbour," the woman confessed 
to her minister.  
"One day I saw her staggering 
about the yard and I told a few 
friends that she had been drinking. 
Now I find that her staggering was 
caused by a leg injury. How can I 
undo this gossip I started?" 
The minister excused himself for a 
moment, and returned with a 
pillow. He then asked the woman 
to follow him to the side porch. 
There he took out his pocket-
knife and cut a big hole in the 
pillow, and emptied the feathers 
over the porch railing. A small 
breeze soon scattered the tiny 
feathers all about the yard, among 
shrubs, flowers and even up the 
branches of the tallest trees. A few 
feathers also floated across 
the street, headed for 
unknown destinations. 
The minister turned to the 
woman, "Will you go out now 
and gather up every one of those 
feathers?" 
The woman looked stunned. 
"Why, that would be impossible," 
she said. 
"Exactly," replied the minister 
sorrowfully, "That's just the way it 
is with gossip!" 
OUR BUDDING YOUNG 
GARDNER 
KIERRA HASTIE, the  Budding  Young 
Gardner,  pictured  left  with  her  grand 
Yates Garden Hamper. 
Kierra's  winning  gardening  sentence  was 
drawn  out  as  why  she  likes  gardening  - 
"Because  you  can  grow  so  many  things, 
flowers,  trees,  roses,  carrots,  potatoes."  
Kierra  says  now  her  pet  lamb  is  back  in 
the  paddock  she  can  make  her  vege 
garden! 
WORK READY 
COURSE 
November - Kaiwaka 
Team Building & Personal Skills 
Communication skills 

Introduction to training options 

Site visits to local employers 

Work experience 

CV'S & introduction letters 

Information 
on 
employment 
contracts and law 

First aid course 

Health & Safety 

License training & payment 

Assistance  &  support  to  find 
employment 
Course starts 4 November and runs 
every Monday and Thursday  
10am- 3pm 
Transport available + FREE lunch 
Contact  Kirstie  for  a  registration 
form on  09 431-2661  
or 029 773 9085 
1960 SH1, Kaiwaka. 
This course is funded and supported by  
St John Kaiwaka. 
OTAMATEA  
COMMUNITY 
SERVICES 
October  was  a  busy 
month as among other events we held 
our  Annual  General  Meeting.  Thank 
you  to  those  members  of  the 
community  who  attended,  your 
presence  and  contributions  are  well 
received  and  appreciated.  Some 
already acted upon. 
We  have  a  wonderful  group  of 
volunteers who make up the members 
of  our  Governance  Board;  they  are 
dedicated  and  motivated,  but  some 
members  have  been  giving  their  time 
for many years and would like to step 
aside to let others step into their place. 
So,  if  you  or  someone  you  know  is 
interested please come along and talk 
to us about being on the Board. 
NOVEMBER: 
As  always,  we  have  a  pretty  full 
calendar this month, with the  
Monday  4th:  Fun  and  Games 
morning 
at 
the 
Maungaturoto 
Anglican  Church  Footprints  Room, 
Wednesday  6th:  the  Seniors'  lunch  
at St John Hall. 
Tuesday  12th:  the  mini-bus  goes  to 
Whangarei  for  anyone  wanting  to 
spend the day in town. 
Wednesday 
20th: 
there's 
the 
chocolate  bingo  in  the  Footprints 
Room. 
Wednesday 27th:  the mini-bus again 
goes  to  Whangarei  for  another  free 
shopping trip. 
Hope  all  is  well  for  everyone;  our 
prayers  go  out  to  those  not  well  or 
grieving. 
Next  month  will  be  December  when 
things get a bit busy in the lead-up to 
Christmas.  It's  so  hard  to  believe 
another year has almost gone. 
Regards  from  all  at  Your  Community 
House. 
Phone: 09 4319080 
Email: reception@otamateacs.org.nz 
155 Hurndall Street West, Maungaturoto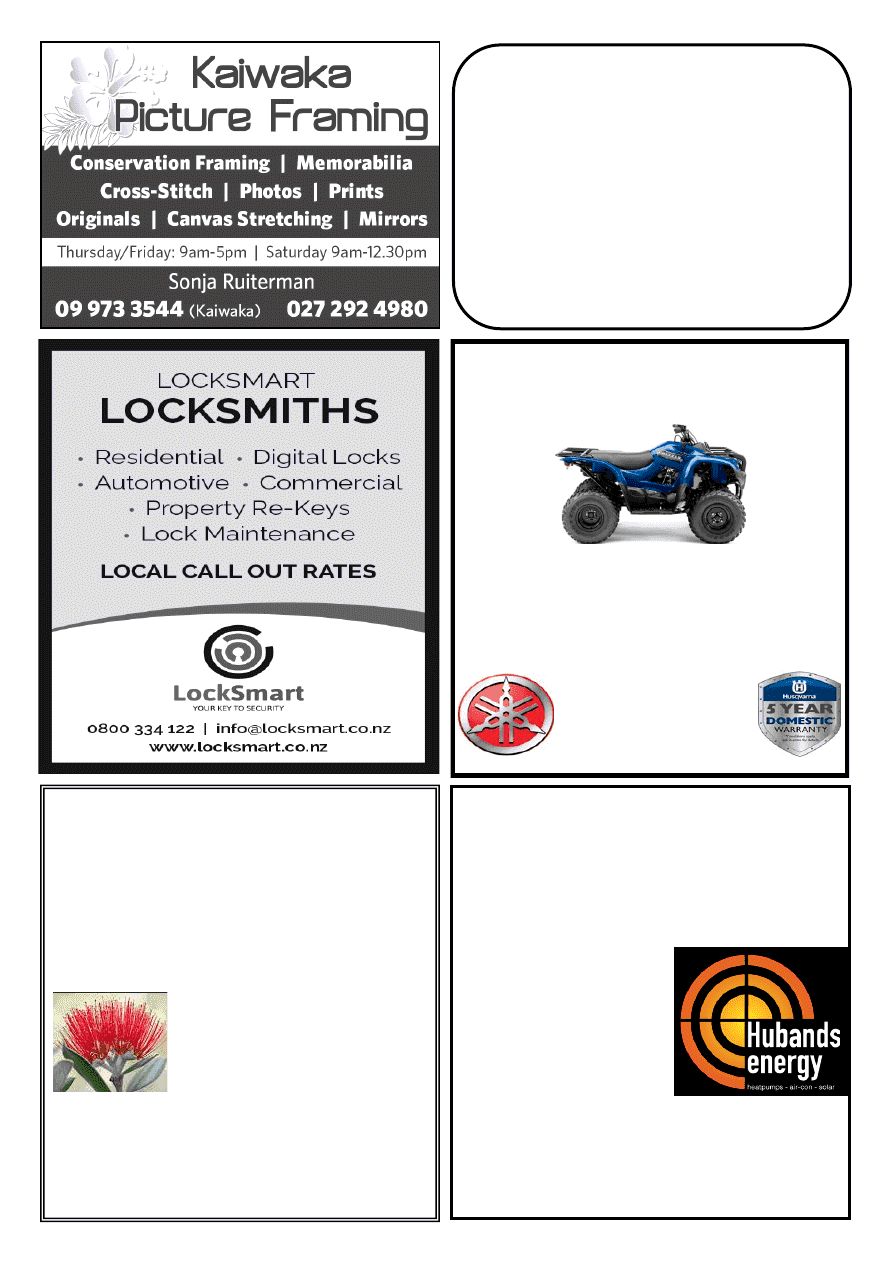 KAIWAKA 
MOTORCYCLES LTD
SALES – SERVICE – SPARES 
FARM BIKE SPECIALIST
PHONE 09 431-2127 
10 KAIWAKA-MANGAWHAI ROAD, KAIWAKA
Trimmers  
from $279
Chainsaws  
from $339
YAMAHA 
HUSQVARNA 
Northland's Award Winning 
Solar Company
SEANZ Best Solar Business Winners 2015/16
EXCLUSIVE 10 year installation warranty 
FREE No obligation onsite quote
Complete systems 
from $5990
See our range of: 
✓ 
Heatpumps 
✓ 
Airconditioning 
✓ 
Hot Water 
Heatpumps 
✓ 
Central Vacuum Systems
09 430 0019             sales@hubands.co.nz 
15 Kioreroa Road, Whangarei
Locally owned and operated for 35 years 
UP-LINK 
CHRIS WARING 
FREEVIEW INSTALLATIONS 
T.V. - HOME THEATRE &  
HI-FI ADVICE/SET UP
SKY ACCREDITED INSTALLER
MOB.0273403747 HM.094312328 
EMAIL cwaring44@gmail.com
28 YRS EXPERIENCE 
OFFERING UNBIASED ADVICE 
KAIPARA FLOORING CO 
Independently owned & operated 
32 HURNDALL ST MAUNGATUROTO
Supply & Installation of Carpet, Vinyl,  
Vinyl Wood Planking
Stockists of 2m & 3m wide 
vinyl & carpet short ends
Residential & Commercial
Q Card Finance Approved 
6-18 month terms 
6 mth interest free
First Class Installations
For a free measure & quote 
phone Christine  
09 946 9886 or 021 515 415 
kaiparaflooring@gmail.com 
http://www.kaiparaflooring.co.nz/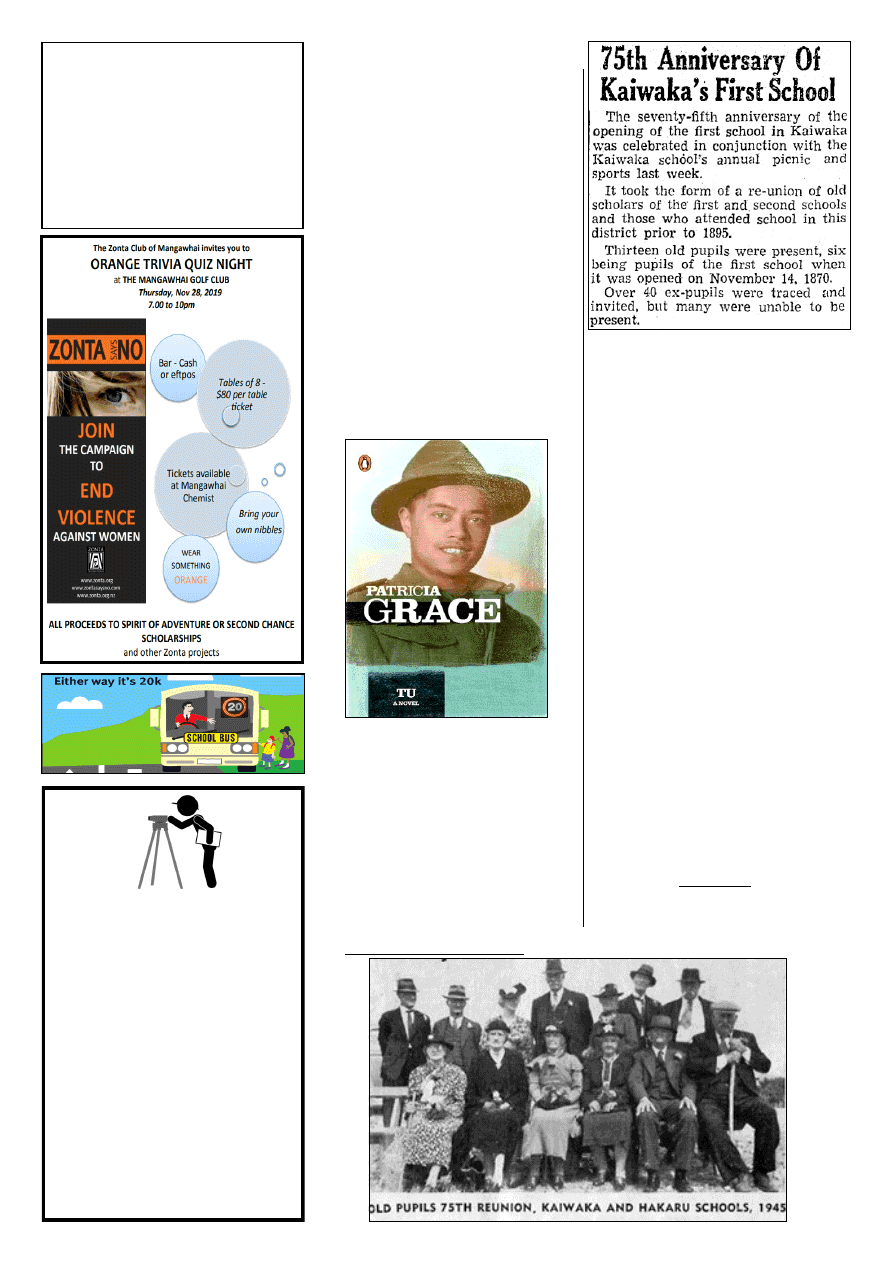 www.kaiwaka.co.nz 
Kaiwaka Bugle - 29 October 2019 
Page 19 
Ken Urquhart 
BSurv Licensed  
Cadastral Surveyor 
KMU Surveys Ltd 
467 Bickerstaffe Road 
RD 2 
Maungaturoto 0587 
Ph 09 431 8705 
Mob 021 161 2344 
kenurquhart@xtra.co.nz 
BOOK OPINIONS 
Tu, A Novel
Pacy story of interwar New Zealand 
from  respected  writer  Patricia 
Grace. 
Tu, the third son of a tormented WWI 
veteran,  travels  with  mother  and  older 
brothers  from  the  pa  to  Wellington  in 
the  30s,  meets  a  European  girl,  and 
achieves  college  success  only  to  hurl 
himself at 17 into the last campaign of 
WW2, disregarding hapu advice. 
"'And one war is enough too,' his aunts 
and uncles told him. 'Think of what the 
first one did to your father, think what 
it did to your Ma. Think what it did to 
all  of  you.'  But  they  couldn't  prevent 
Pita  [or  Tu]  from  enlisting  once  he'd 
made up his mind." 
Tu  shares  the  storytelling  with  older 
brother  Pita.  He  pursues  his  older 
brothers  to  Italy  and  into  Cassino 
trench warfare. Middle brother Rangi is 
a  veteran  of  the  Greek  expedition  and 
retreat to Crete.  
Wonderfully  researched,  Tu  rings  true 
as a account of life in New Zealand in 
60  to  90  years  ago.  Trench  warfare  at 
Cassino is shown to lack the nobility of 
its  origins  at  Ruapekapeka,  a  fortress 
every  local  child  will  come  to 
appreciate  with  the  new  emphasis  on 
local history. 
Patricia  Grace's  novels  include  Potoki, 
Tangi  and  Chappy.  These  and  her 
several  short  story  collections  are 
highly recommended. ~ HP 
 Tu,  A  Novel;  Penguin,  2004,  ISBN  0  14 
301920 1, Winner Deutz Medal 2005 
Available  in  the  KDC  Kaiwaka  Library 
collection. 
HAKARU HALL 
ACTIVITIES 

Monday: Line Dancing  

Wednesday Music Jam Session  
  0210628631 

First Wednesday of the Month 
Hall Committee Meeting 7.30pm 

Hall Bookings  4312256 
From: Northern Advocate  
26 December 1945  Page 5  
75th Anniversary Of 
Kaiwaka's First School 
The  seventy-fifth  anniversary  of  the 
opening of the first school in Kaiwaka 
was celebrated in conjunction with the 
Kaiwaka  school's  annual  picnic  and 
sports last week.  
It  took  the  form  of  a  re-union  of  old 
scholars  of  the  first  and,  second 
schools and those who attended school 
in this district prior to 1895.  
Thirteen  old  pupils  were  present,  six 
being pupils of the first school when it 
was  opened  on  November  14,  1870. 
Over  40  ex-pupils  were  traced  and 
invited,  but  many  were  unable  to  be 
present.  
SPIRAL CAKE  
A special table was set out for the old 
pupils,  who  also  enjoyed  an  iced  and 
decorated  cake  given  in  their  honour 
by  Mr.  W.  R.  Dowson,  who  himself 
was a pupil of the second school. 
The cake was cut by the oldest ex-pupil 
present, Mrs. M. Stewart, of Hakaru. 
Following the calling of the roll by the 
present headmaster (Mr. Prouting), two 
tiny  tots,  Judy  Leslie  and  Terence 
Dowson,  descendants  of  the  earliest 
settlers in Kaiwaka, handed posies and 
button holes to the old scholars.  
Items or the entertainment of the guests 
were given by the school children. 
Kaiwaka 
School 
will 
be 
celebrating  150  years  during 
Labour Weekend 2020.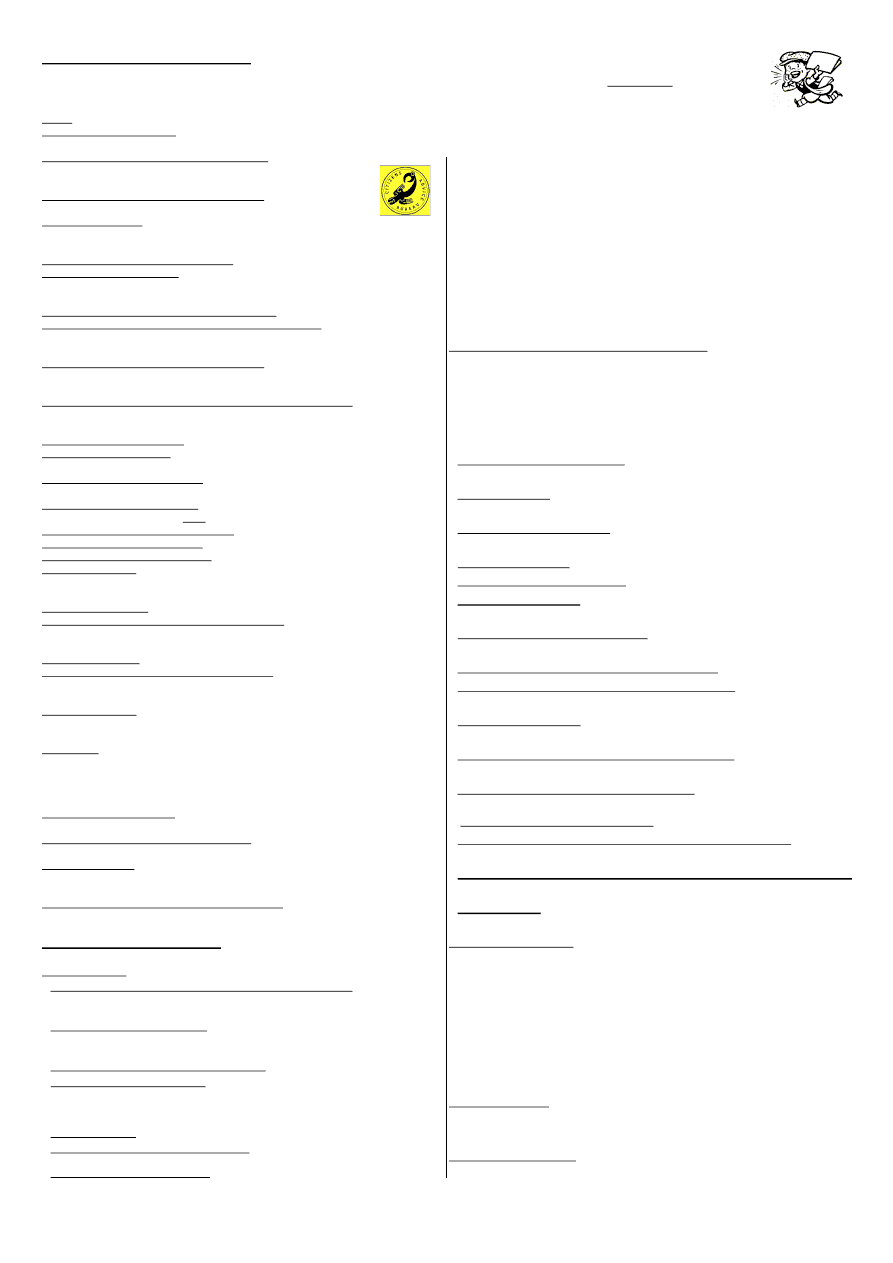 Next Bugle Deadline midday Friday 8 November  2019
WHAT'S ON
PLEASE ~ do let us know what is on - email 
kaiwakabugle@kaiwaka.co.nz 
*1Nov~ Otamatea High Senior Prizegiving 
*1Nov~Movie 'AMAZING GRACE', KWMH, 7.30pm 
*2Nov~ FRIGHT NIGHT, 5.30, KSA 
*4Nov~Kaiwaka Athletics first session, OHS 5pm 
*11Nov~Hakaru RSA ARMISTICE DAY muster 10.30am 
*15Nov~Movie 'The LION KING', KWMH, 5pm 
*15Nov~Movie 'Sometimes Always Never' KWMH7.30pm 
*16-17Nov~Pt.Curtis Fishing Competition 
*20Nov~KDC-Kaiwaka Spatial Meeting, 3.30-8pm, KSA 
*29Nov~Movie 'LATE NIGHT', KWMH, 7.30pm 
KWMH = Kaiwaka War Memorial Hall; KSA = Kaiwaka Sports Association 
See www.kaiwaka.co.nz for more information 
HOUSEHOLD RUBBISH COLLECTION  
Kaiwaka Pick up: 
Mondays = Green bags (Northland Waste - 09 430 3273) 
Wednesdays  =  Blue  bags  and  yellow  recycling  (at  Jaques  $3.00 
and  $1.50)  (Kaurilands  09  4392146);  ONLY  Blue  and  Yellow 
bags picked up on Oneriri Road. 
 DIABETES Support Group-for Kaiwaka, Mangawhai, Wellsford 
10am, 3rd Friday of month Ph: Colleen James 09 4314238 
 GENEALOGY - Wellsford: 1st Thursday in month Ph: 423 
7033; Waipu: 4th Monday in month Ph: 4312 725 
 HAKARU PONY CLUB - Secretary Denise Rogers 021423376 
secretary@hakaruponyclub.co.nz  
 KAIPARA HUNT - Secretary Albert Doonenbal Ph 4312059 
 KAIWAKA BADMINTON -Tuesdays 7.30pm Ph: 4312345 
 KAIWAKA  CAN  -  3rd Wednesday in  month, 5.30pm, Archie 
Bull Hall Ph: 0273572751 
 KAIWAKA  DRAMA  CLUB  - 
Hannah  Webb 
0272863352 
KaiwakaDrama@gmail.com - FB - "KaiwakaDramaClub" 
 KAIWAKA DRUM & DANCE CLASSES - 021 611198 
 KAIWAKA GARDEN & FLORAL GROUP - 2nd Thursday in 
month. Ph: 431 4744 
 KAIWAKA  CUBS  -  Thursdays  5.30-7pm,  Hakaru  Ph:Bruce 
4312542 
 KNITTING FOR WHANGAREI HOSPITAL - 2nd Tuesday in 
month, Archie Bull Hall 10am Ph 4314827 
 MANGAWHAI COMBINED REBUS CLUB - 2pm, 3rd 
Thursday month, Senior Citizens Hall Mangawhai. Ph: 4315777 
 *PT CURTIS CRUISING CLUB - Jean Ph: 4312227 (wk), 4312520 (hm) 
 RSA,  HAKARU  &  DISTRICTS  WOMEN'S  SECTION  –  meets 
1.30pm 4th Thursday of the month. Ph: 431 5818  
 KAIWAKA  SCOTTISH  COUNTRY  DANCING  CLUB-
Wednesdays 10am - 12 noon  Ph: Elaine 027 432 0032  
 TRAMPING - Mondays 9am-2:30pm Maria 4312 234 
HALLS FOR HIRE: 
  Kaiwaka St. John Hall: Phone Marj  0272941227  
 St.Pauls  Archie  Bull  Hall  HIRE  $20  half  day,  $40  full  day  per 
hire, S McAulay, Ph 4312311 
 Kaiwaka  War  Memorial  Hall  HlRE  -  Phone  4312725  or 
kaiwaka.hall.bookings@gmail.com 
 Hakaru Community Hall HIRE -Ph. 4312256 or 4312110 
 Te Pounga Marae queries - Pearl Nathan  0223933533 
 Kaiwaka Sports Association hire/queries - C. Anderson 4312051 
or kaiwakasports@gmail.com 
Justice of Peace:  
B.FJaques  4312  048;  L.Donaldson  4312  228;  A.F.Hargreaves 
4312 045, W.Howard 4312 725 - please phone to make sure they 
are available www.justiceofthepeace.org.nz 
Marriage Celebrants:  
L.Donaldson; A.F.Hargreaves; Y Osborne
LOCAL SERVICES 
*Emergencies - Ambulance, Fire, Police - dial 111 
*Non-urgent Police phone 09 4311150
A A: Meets Wed., 8pm Kaiwaka Ph: 4315543, 0800229 6757 
ASUREQUALITY LTD (was AgriQuality) Call Free 0508 0011 22  
BUDGETING SERVICE, WELLSFORD: Free confidential advice & 
support for all areas of personal finance. Ph (09) 423 7123 
CAB-Citizens Advice Bureau.Wellsford Ph: 4237333 
0800 367 222 email:cab.wells@xtra.co.nz  
CIVIL DEFENCE - Kaiwaka Community Response Group: 
kaiwaka.civildefencecrg@gmail.com, 4312725 Wendy 
DOG/STOCK /NOISE CONTROL 0800 105 890 
FUNERAL SERVICES: Morris & Morris Ltd, 
Whangarei - Bev Jaques Ph:4312367 or 0800667747 
GRANDPARENTS Raising Grandchildren: Dianah Roberts 0223819539 
HAKARU & DISTRICTS MEMORIAL RSA (Inc) 733 Settlement Rd, 
Hakaru. Ph 4312 176 or Bill Warren (President) 431 2092 
HAKARU LANDFILL/Transfer Station:Open everyday except 
Tuesday10am-4pm.Ph4312629 Cost-$55 trailer load up to 1 cubic metre. 
Ph:4258567 - office 
KAIPARA DISTRICT COUNCIL www.kaipara.govt.nz:  
Help Desk FREEPHONE 0800 727 059  
KAIWAKA CEMETERY: Ph: 4312045 or 4314017 
KAIWAKA LIBRARY: kaiwaka.library@gmail.com  
Mon. 4-6pm; Wed., Thurs., Fri., Sat. 10am-2pm Ph:4312539 
KAIWAKA PLAYCENTRE: Ph Juanita 0274134904; open Mon, Wed, 
Fri 9am-12pm. Hastie Lane; Monday to Friday 9.00am - 12 noon. 
KAIWAKA POST OFFICE:Ph:4312 431  
Post Code: 0573 for RD2 and 0542 for all Kaiwaka Post Office mail 
KAIWAKA PRIMARY SCHOOL: Ph: 4312309   
KAIWAKA SPORTS ASSN: Ph 4312005; 4312129 gym 
KAIWAKA ST. JOHN HALL: Phone Marj  0272941227  
KATE'S PLACE Community Centre - Employment services, Free Health 
Nurse, Plunket, Advocacy, Osteopath, A.A., Legal Advice. 4312 661 
LINKING HANDS Health Shuttle Ph 4315906 or 09 4318969 
MINISTRY FOR PRIMARY INDUSTRIES - General inquiries Call 
Free 0800 008 333 
NORTHPOWER: Faults Kaiwaka area 0800 104040 
OTAMATEA COMMUNITY SERVICES: Counselling, parent coach, 
Family Support worker, budget advice, food bank. Mon-Fri 9am-3pm. Ph 
09 431 9080 http://www.otamateacs.org/ 
PARENTPORT: Free, practical family support service Puhoi to Paparoa 
Ph or txt: Dianne 027 280 5093 or 09 425 9357 
PLUNKET:  Kaiwaka  -Kate's  Place  Clinic  1st  Wednesday  of  the  month; 
Mangawhai  - Rose Madsen Cottage: Coffee Group 9:30 every Monday.  Clinic 
every Monday and Thursday. 
Maungaturoto - Good News Church, Clinic 2nd and 4th Wednesday.  
Cynthia 09 431 7340 or 027 675 3488 
PLUNKET HELPLINE -0800 933 922 (24 hours) 
TAITOKERAU COMMUNITY LAW: Free confidential legal advice and 
assistance, 2nd
Thursday
 of each month. Ph: 0800 155 529 for apps.  
TE URI O HAU Settlement Trust Tangata Developments: Whanau Ora 
021 793262  
VETERINARY SERVICE MANGAWHAI: 
Ph: 4314535 Mon-Fri 8.00-5.00, Sat 9-12, a/h appt. 
WELLSFORD DOCTORS: Ph: 4238 086 
CHURCHES:
 
Kaiwaka  Revival  Church  -  Your  Community  Church:  Sundays  10am. 
Ph: Pastor Tawhiri 09 431 8988 or Pastor Paul 09 4312 068 Visit us at 
www.facebook.com/kaiwakachurch or www.kaiwakarevival.co.nz 
 
St  Paul's  Anglican  Church  1st  Sun.  9.00am  (Eucharist),  3rd  Sun. 
9.00am (Family Service). Contact: Rev. Wayne Thornton Ph 431 4122 
www.mangawhaianglican.org.nz 
 
Church of Christ the King, Mangawhai:9.00am every Sunday 
 
St.Mary's  Catholic  Church:  Maungaturoto  –  Griffins  Road,  Saturday 
evening  Vigil  Mass  6pm;  Mangawhai  –  Senior  Citizens  Hall,  Sunday 
Mass  8:30am;  Wellsford  –  Matheson  Road,  Sunday  Mass  10:30am;  
Mid-week Mass times and all enquires to Fr. Bill Fletcher – phone 423 8170
 
Baptist Church: Sun. 10.30am Mangawhai Snr Cit.Hall.Ph:4312339 
 
Cause  Way  Church  Mangawhai:  Sundays  10.15am,  Mangawhai 
Community  Recreation  Centre,  Insley  St.  Ph:  09  4314782