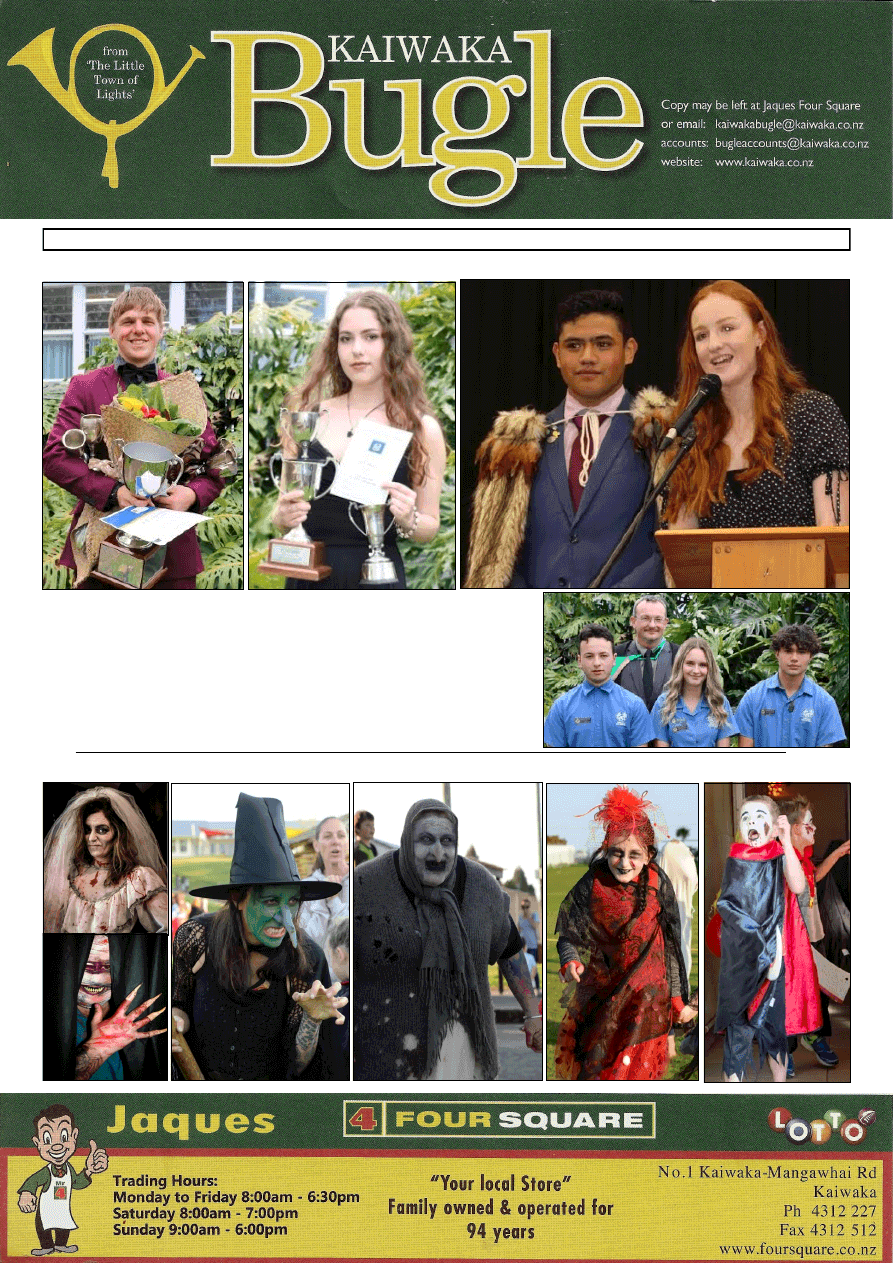 www.kaiwaka.co.nz 
Kaiwaka Bugle - 12 November, 2019 
Page 1 
No: 22 
 12 November 2019 
Trading Hours: 
Monday to Friday 8:00am - 6:30pm 
Saturday 8:00am - 7:00pm 
Sunday 9:00am - 6:00pm  
KAIWAKA ON FRIGHT NIGHT! 
SENIOR PRIZEGIVING, FRIDAY 1ST NOVEMBER : 
See a further list of prize winners on page 13. 
Photos: Above left to right -  2019 Dux Isaac Sheppard; 2019 Proxime 
Accessit Mya Lawrence; 2019 Head Boy Quintin Brown and Head Girl 
Emma Millard. 
Photo right: 2020 Head Prefects Head Boy Denzal Peeni, Deputy Head 
Girl Paige Kenyon, Deputy Head Boy Tyrone De Ardenne with Acting 
Principal, Dirk Smyth 
OTAMATEA HIGH SCHOOL SENIOR PRIZEGIVING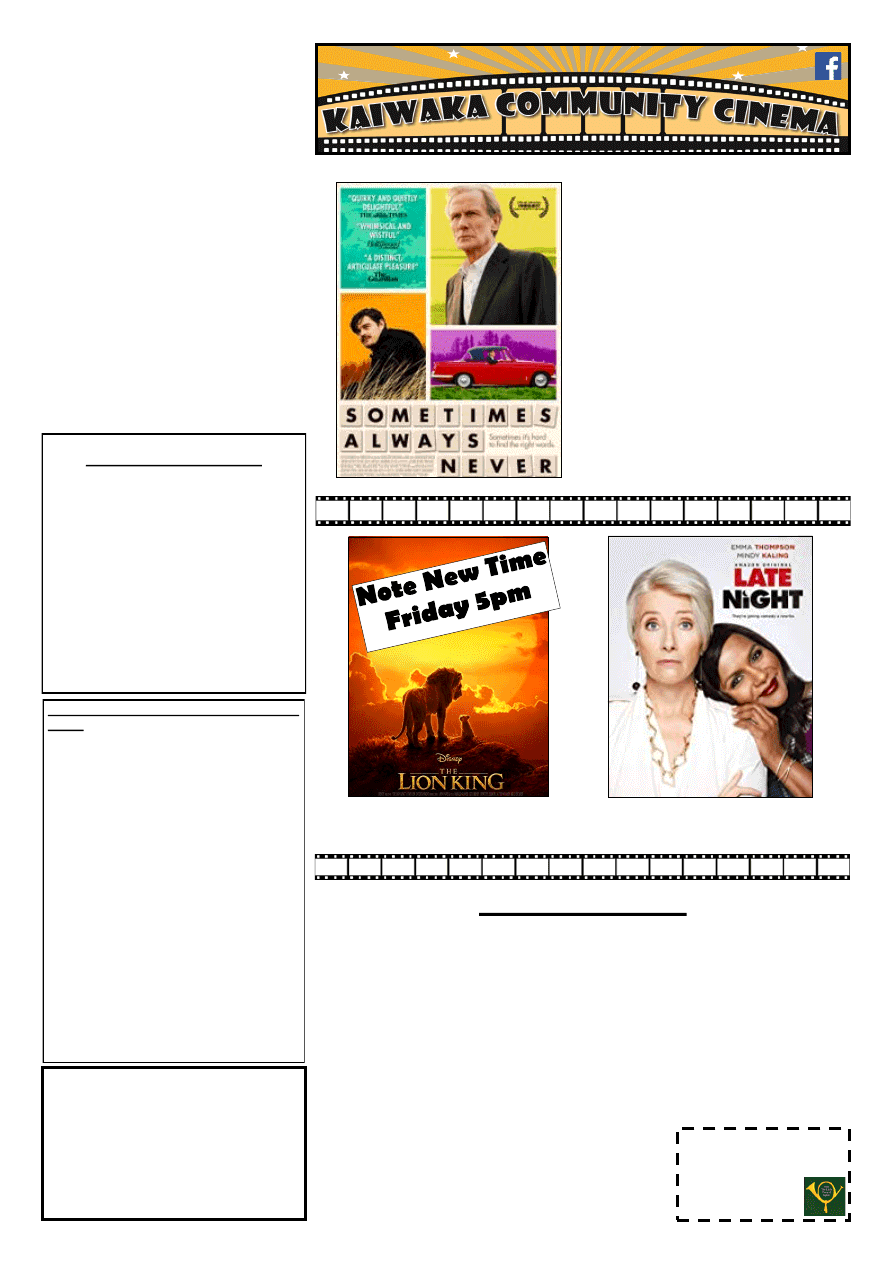 At Kaiwaka War Memorial Hall . Adults $10, Kids (under 16) $5, Family Pass (2 adults + 3 children) $25 
KAIWAKA BUGLE No. 22 
12 NOVEMBER 2019 
CONTENTS 
Page 3: Public Notices, Classified 
Page 5: Brynderwyn Stop; Pt.Curtis 
CC; Albertland Museum 
Page 7: Hakaru Women's RSA; 
Kaiwaka Weather 
Page 9: Kaiwaka Can; Kaipara Sports 
Awards; Bees 
Page 11: Kaiwaka Sports Assn. 
Page 13:  OHS; Kaiwaka School 
Page 15: Protect Kiwis; Maungaturoto CC 
Page 17: Kaiwaka Library 
Page 19: Mangawhai Players; Book 
Opinion 
Bugle 23 will appear 26 November 
Contact for advertising, reports, articles 
or information can be made by 
Email kaiwakabugle@kaiwaka.co.nz 
Ph: 09 4312 045 Lindsey 
Txt: 027 2724137 
Copy  may  be  left  at  Jaques'  Four 
Square. 
Kaiwaka Bugle 
Founded May 1978 
We appreciate articles and photos about local 
events, etc, as well as ads and suggestions. 
Copies available in Kaiwaka at Jaques Four 
Square, Kaiwaka Postal Centre, Shamrock 
Service Station, Animal Health Centre, 
Kaiwaka St John shop. 
Also outlets in Maungaturoto, 
Mangawhai and Paparoa. 
Can be viewed online at   
www.kaiwaka.co.nz/Bugle  
Or a copy can be posted to you if you supply 
stamped, self-addressed DLE envelopes. 
Proverbs 26: 18 
People who 
shrug off deliberate deceptions 
saying, "I didn't mean it, I was 
only joking", are worse than 
careless campers who walk away 
from smouldering campfires.  
(The Message Bible) 
. 
Kaiwaka 
Bugle 
Advertisements 
2019: 
All 
copy 
and 
queries 
to: 
kaiwakabugle@kaiwaka.co.nz 
The Bugle is printed on an A4 page   
Ad  sizes:  1/16  page  (3  x  9.5cm)  $5;  1/8 
(6.5  x  9.5cm  landscape  or  portrait)  $8; 
3/16 ( 10 x 9.5cm or 7.5 x 12,5)  $12.  
Classified  ads:  First  one  FREE,  $4  per 
entry (max. 30 words, max. 4 repeats). 
Payments  can  be  made  online  at 
ANZ 
06  0365  0006990  00
,  posted  or  left  at 
Jaques Four Square Store. 
We  use  Microsoft  Publisher,  and  can 
work  with  most  common  image 
formats, Word, Excel, and PDF files. 
Accounts:  
Email: bugleaccounts@kaiwaka.co.nz 
The  Kaiwaka  Bugle  is  a  community 
newspaper run by volunteers, as part of 
the Kaiwaka Media Group Inc.   
Articles, etc. printed are not necessarily 
the opinion of the Bugle Team. 
ABOUT TOWN 

Thank  you  to  all  the  wonderful  volunteers  who  helped  make  the  KSA  Fright 
Night such a success. 

Folk certainly enjoyed Scott and Cindy Hempsall's rock hunt in readiness for the 
BONFIRE NIGHT on 23rd November at Otamatea Marae 

Monday 11th November was the centenary of the first Remembrance Day, when 
the sacrifices made by the fallen of the Great War were commemorated.  

 Kaiwaka  Movies  final  showing  for  2019:  DOWNTON  ABBEY  on  Friday  13 
December; ticket only 0212154495 

The  St.  John  building  at  the  corner  of  Gibbons  Road  now  homes  the  new 
Kaiwaka Health Collective, led by Cherie Gwillam. For more info: Kaiwaka Health 
Collective on Facebook 

 Remember the weekly bus trip to Whangarei via the east coast; leaves Kaiwaka 
at 9am every Thursday morning - only $10 a return trip 

 Big thank you to folk who contribute articles, stories and anecdotes
  to  the  Bugle 
- we have some new contributors  in the latest issues! 

 Note only 2 issues for 2019 to go!    
~ Lindsey, Ed
"There  is  no  evidence  at  any  time  during  the  course  of 
human history that worrying ever improved anything." ~ 
Worzell, Mangawhai Focus 4/11/19 
KAIWAKA BUGLE 
DEADLINE DATE  
Every second Friday -  
November 22;  
December 6. 
The LION KING 
Friday 15 November, 5pm (PG)  
  SOMETIMES ALWAYS NEVER 
 Friday 15 November, 7.30pm (G) 
SOMETIMES ALWAYS 
NEVER
 Friday 15 November, 7.30pm (G) 
Sometimes  Always  Never  (Triple 
Word  Score)  ...  the  heart  of  its 
unique  story  is  about  a  father 
whose life has come unstuck after 
a contentious Scrabble game.   
Sometimes  Always  Never  is  a 
comedy-drama  film,  directed  by 
Carl Hunter and written by Frank 
Cottrell  Boyce.  and  stars  Bill 
Nighy,  Sam  Riley,  Alice  Lowe, 
Jenny 
Agutter, 
and 
Tim 
McInnerny.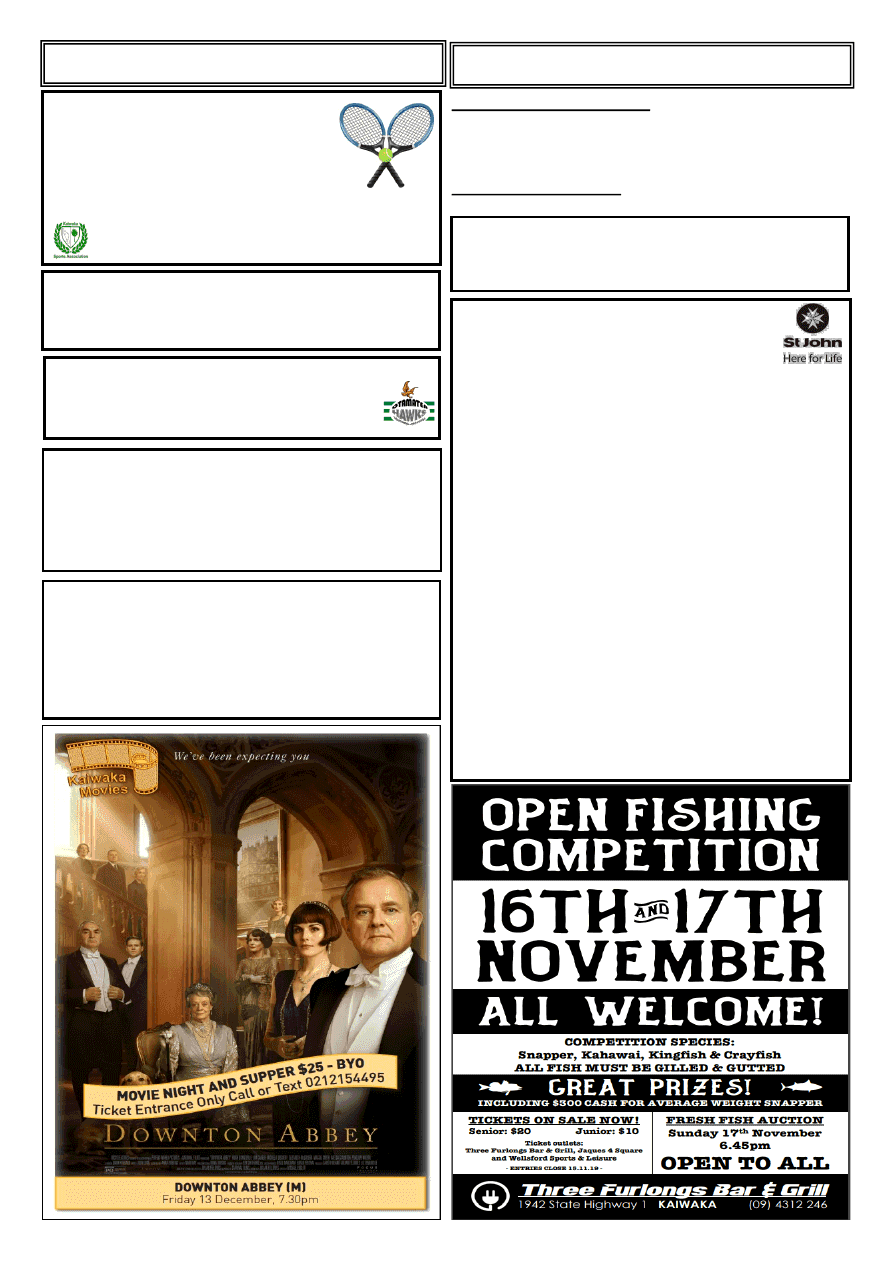 www.kaiwaka.co.nz 
Kaiwaka Bugle - 12 November, 2019 
Page 3 
PUBLIC NOTICES 
CLASSIFIED 
 SITUATION  VACANT:  Relief  Farm  Worker  – 
Kaiwaka.  Required  to  cover  holidays  and  additional 
work.    No  milking  required.    Will  involve  weekends. 
May  suit  a  Semi  Retired  person.  Contact  Jacqui 
021416048 or jacqui@cluster.net.nz   
CHRISTMAS  TREES  available  from  Monday  2nd 
December at the Kaiwaka St. John Op Shop. 
HAKARU TRANSFER STATION 
KAIWAKA-MANGAWHAI ROAD 
Open every day 10am - 4pm ~Closed All Public Holidays 
Telephone: 09 431 2629 
KAIWAKA ST. JOHN OP SHOP 
Thankyou  again  for  all  your  support  over  the 
past  months  with  the  changes  that  have  taken 
place. 

We are now into our Spring/Summer changeover. Great 
prices  with  our  $1.00  SALE.  This  is  on  clothing  across 
the store with some marked prices but lots of $1.00 deals. 
Men's Tee Shirts and Polo Shirts are $2.00.   

We  have  some  wet  suits  for  the  summer  and  sleeping 
bags  for  camping.  Camping  kitchen  items  are  also 
available. 

All Baby Clothes are $1.00 unless otherwise stated. 
Come on in and have a look and  
see the new things we now have in store. 

Books From 20 cents and magazines 8 for $1.00. Plus a 
a great selection of paperbacks for the time relaxing in the 
holidays. 

Furniture available - a 3 seater settee and 2 single chairs, 
single  mattresses  and  single  mattress  and  base,  there  are 
also 2 queen mattresses. We have pictures of all items not 
in  the  store  and  can  take  prospective  buyers  to  look  at 
them if required. 

We will be running raffles from next week leading up to 
Christmas. 

Any item for donation are gratefully accepted but being 
clean is an advantage. Kitchenware, bedding and linen is 
always required. We all look forward to seeing you all in 
the near future. For more information and queries phone 
the store 4312650 or Gale 0274149576 
Check us out at 1919 SH1, Kaiwaka 
It is time to dust off that old tennis 
racquet!!!! 
 TWILIGHT SOCIAL MIXED 
TENNIS 
KAIWAKA SPORTS COMPLEX 
WEDNESDAY 13th NOVEMBER 6.30pm 
We are keen to start Twilight Tennis again in Kaiwaka 
Further Info: Carol 0274900271 
Karen 0210467490 or 4312090. 
OTAMATEA REPERTORY THEATRE INC. 
Notice of Annual General Meeting 
at the theatre, Bickerstaffe Road, Maungaturoto 
Thursday 14 November 2019, 7pm 
FREE PEST TRAPPING 
WORKSHOP 
SUNDAY 24 November 1.30-4.00pm 
Domain Hall, Moir St, Mangawhai 
To register  Contact John not later than 20 Nov 
john.hawley@xtra.co.nz 
Tel. 09 376 4069; 027 262 7904 
KAIPARA DISTRICT COUNCIL 
KAIWAKA SPATIAL PLANNING MEETING 
Wednesday 20 November 
 3.30 – 8pm.  
Kaiwaka Sports Complex 
Come to see what is planned for Kaiwaka 
   OTAMATEA HAWKS RUGBY CLUB 
Annual General Meeting 
Thursday 14 November 2019, 7pm 
Kaiwaka Sports Complex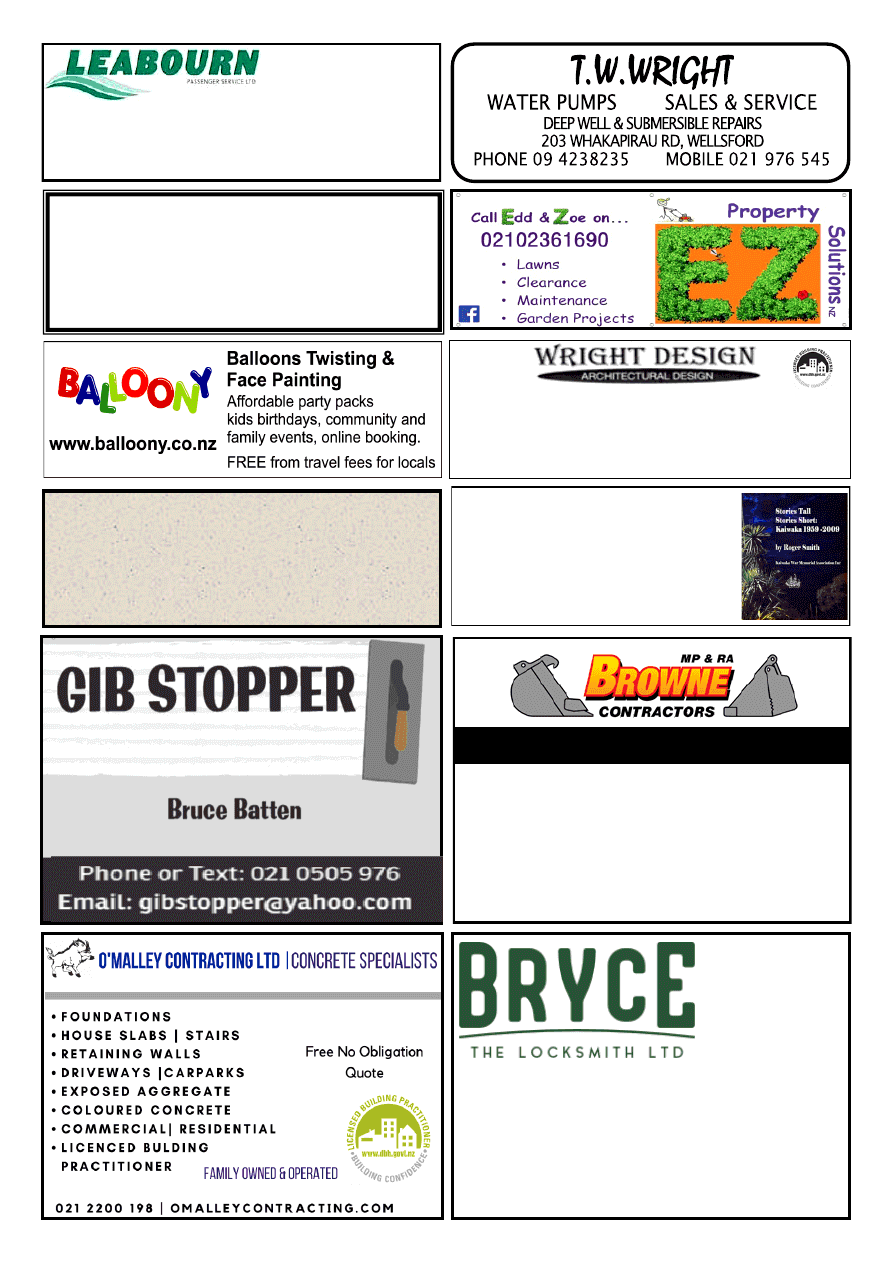 4T DIGGER – BOBCAT – TIP TRUCK 
 Property Maintenance - Driveways  
 Building Sites 
Stump & Tree Removal  
Hole Boring - Chain Trencher  
Calf Shed and Stockyard Cleaning 
Phone Matt: 021 199 6677 
Email: mprabrownecontractors@gmail.com 
Stories Tall, Stories Short  
Kaiwaka 1959-2009 
by Roger TW Smith.  $40 
Kaiwaka Photographic History $25 
At All - Sortz Collectables  
or phone  4312 045 
Counsellor and Registered Psychotherapist 
Offers Supervision
Susan Matheson 
MNZAC 
Dip. Psychosynthesis Counselling and Psychotherapy 
Phone 09 431 2996                        Mobile 027 605 2427 
Passenger Service
Car & Van Hire   Bus & Coach Charters 
Airport Transfers    
Phone (09) 4237416 
No. 117345 
N.Z.C.A.D., L.B.P. 117345 
PH/Fax: 09 423 8092 Mob: 021 276 7369 
Office: 3 John Sinclair Avenue, Wellsford    brianwright@xtra.co.nz 
For Resource and Building Consents, planning restraints, new building materials - 
you need a capable, experienced, and professional designer with a clear 
knowledge of all the processes. Brian has been helping and organising all these 
facets of design and building for over 50 years. 
Wright Design offers free visits, consultations and advice on planning, design, 
building, council permit applications, guaranteed permit plan acceptance. 
Bryce Frewin 
Ph: 021 850 983 
Kaipara Based Master Locksmith 
bryce@brycethelocksmith.co.nz 
www.brycethelocksmith.co.nz 
HANDYMAN 
Gardens * Lawns * Landscaping * Painting 
* Small gib-stopping * 
* General repairs and maintenance * 
Honest - Reliable 
Phone Burn 0211900555 or Brenda 0211185578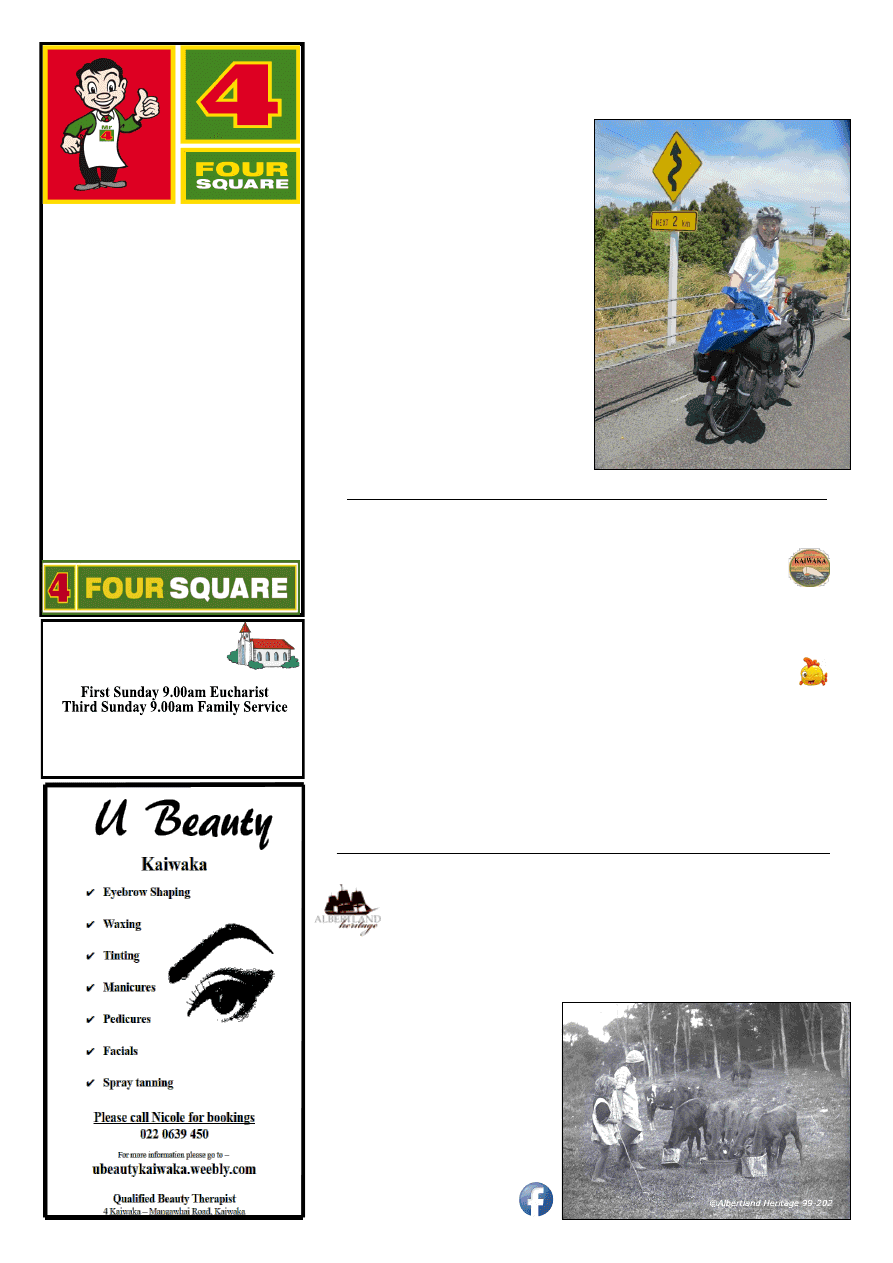 www.kaiwaka.co.nz 
Kaiwaka Bugle - 12 November, 2019 
Page 5 
SPRING GARDENING 
Good Range of Seedling 
Punnets $3.50 
Grown in Kerikeri 
TUI Range of  
growing media 
Quash for slugs 
Gardening Gloves 
We are going out of  
packet seeds 
Sale Price $2.00 a packet 
Jaques Four Square 
Phone: 4312227 
1 Kaiwaka-Mangawhai Road, Kaiwaka. 
ST PAUL'S  
ANGLICAN  
SUNDAY SERVICES 
St Pauls Church: Kaiwaka-Mangawhai Rd. 
Priest in Charge Rev. W Thornton Ph 431 4122 
www.mangawhaianglican.org.nz
POINT CURTIS CRUISING CLUB  

Open Fishing Competition Saturday 16th & Sunday 17th November 2019. 
Species are Snapper, Kingfish, Kahawai and Crayfish. 
Weigh in between 5pm-6pm on both days. 
All Fish being weighed in must be GILLED & GUTTED!! 
ENTRY FEES: $10 Junior and $20 Seniors. 
Tickets  will  be  available  from  3Furlongs,  Jaques  and  Wellsford  Sports  & 
Leisure. 

FISH  AUCTION  will  follow  Prize  giving  on  the  Sunday,  EVERYONE  is 
welcome to come and get you a bag' of fresh fish for dinner! 

Christmas  Dinner  is on Monday 25th November at 3Furlongs Bar & Grill 
6pm. If you are interested please let Jean (Jaques), Sandy (Wellsford Sports & 
Leisure) or Renna (via Text 0212509549), so we have an idea of numbers.  
You don't have to be a club member to come along, so hope to see you there. 

Subs: $30 Family & $20 Single; Internet banking 12 3094 0008233 00 Please 
use Name/s as a reference. 

New Fish of the Month is Snapper till 13th November 2019 

Next  Club  Meeting:  Wednesday  13th  November  7pm,  Kaiwaka  Sports 
Association. ~      
Wayne Leslie (Commodore)
 ALBERTLAND AND DISTRICTS MUSEUM
If you were interested in the local photographs highlighted last month 
on  our  Facebook  page  Albertland  Heritage  Centre,  and  website 
https://albertlandmuseum.co.nz/  I am pleased to say that the Museum 
does make copies available if you find something about your family 
or  district  and  would  like  one  to  keep.  Check  out  the  many  others  on  the 
website. 
Many  of  the  photos  show  that  things  don't  really  change  that  much  down  the 
years - this time of year means calves, lambs etc being raised for local school 
shows  –  thought  the  ones  in  this 
photo, pictured right  would be for 
the family. 
Local  families  of  the  past  are  the 
focus of the new Calendar available 
for  2020,  including  Marshes, 
Hargreaves,  Parkers  and  others, 
fascinating  to  look  back  at,  and 
available online or at the Museum. 
The Albertland Museum is on Port 
Albert  Road  right  next  to  the 
Wellsford  Library.  Their  archives 
include  much  of  the  Oneriri 
and Oruawharo history too. 
FLOATING ON AIR 
Twenty-three thousand kilometres brought Wolfgang Hollmer to the 
top of the Brynderwyn Hills in this photograph for the future. 
Predictions  are that  with  growing  dislike  for  plastics (and the  oil industry  that 
produces them), cycle tourism will be a 
more  popular  model  for  visiting  our 
country  -  and  will  do  more  for  small 
towns  and  villages  like  Kaiwaka  than 
the hotel-and-bus or campervan models. 
Wolfgang, 
a 
76-year-old 
former 
newspaper  layout  man  from  Köln  (aka 
Cologne),  had  ridden  5000km  on  his 
electric  bike  round  our  islands  to 
Brynderwyn  after  jetting  18.174km  to 
be with his Christchurch-based daughter 
and her Kiwi family. 
His  travels  with  the  WarmShowers 
Cycle  Network  may  seem  risky  as  he 
shares  roads  with  cars,  vans  and  trucks 
but  regional  council  'cycle  network' 
plans  well  and  truly  connect  Kaiwaka 
and  other  small  towns  to  the  tourist 
model. 
Wolfgang  is  so  delighted  with  his 
adventure  and  personal  encounters  that 
"if there's another life to come" he says 
he'd love to be reborn a New Zealander. 
Cheers Wolfgang.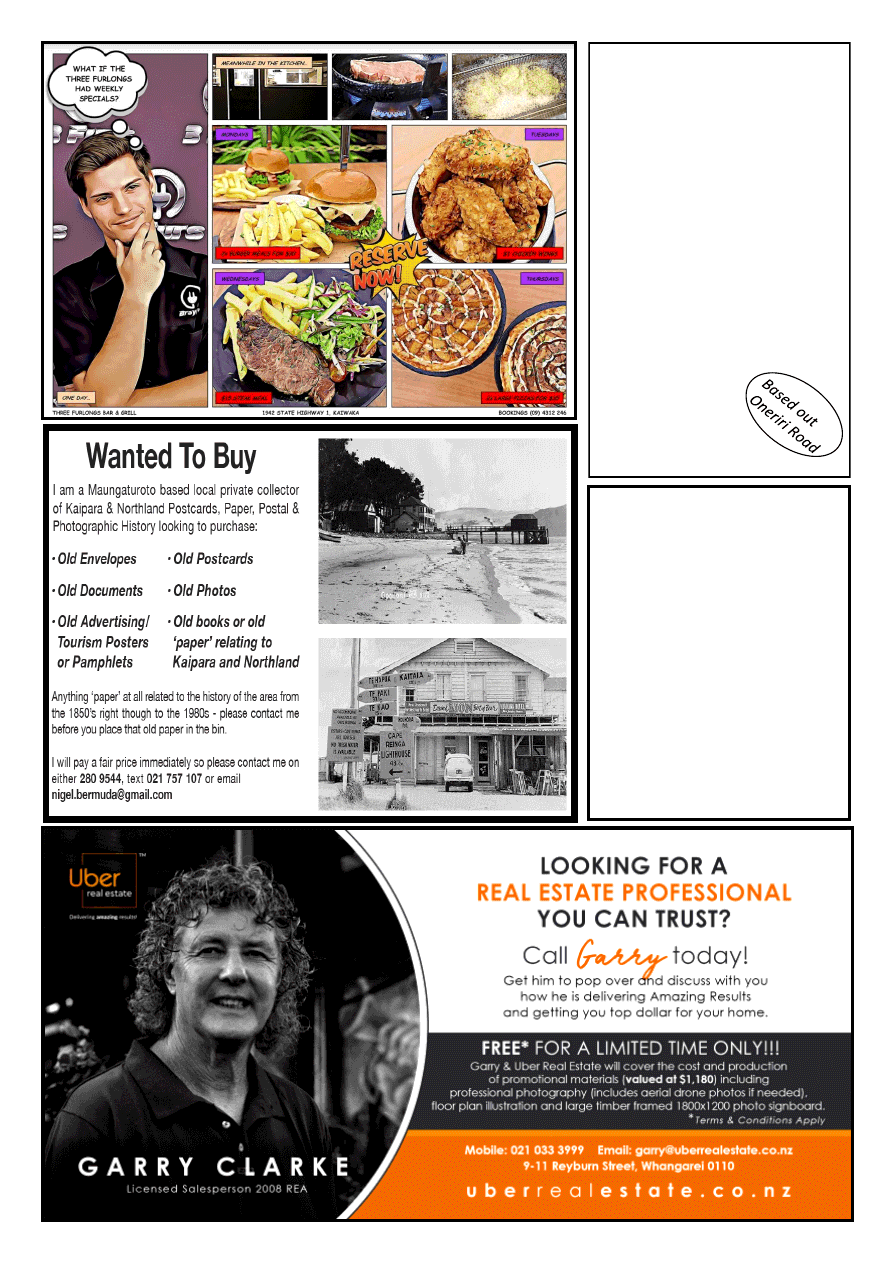 HODGETTS 
CONTRACTING
Digger Work    
Driveways   
House Sites  
Dams      
Drains, etc
Also available for HIRE 
3 ton Vib Roller  
Heavy Duty Tow  
Waterblaster      
Lazer Level
Phone Mark  
4312877 
027 447 8554 
WHERE TO GET HELP 

1737, Need to talk? Free call or 
text1737 to talk to a trained counsellor  

Rural Support Trust 0800 787 254   

Lifeline, 0800 543 354  

Youthline, 0800 376 63, text 234, 
email talk@youthline.co.nz or online 
chat 

Samaritans, 0800 726 666  

Depression Helpline, 0800 111 757   

Suicide Crisis Helpline, 0508 828 
865 (TAUTOKO)      

In a life-threatening situation 
call 
111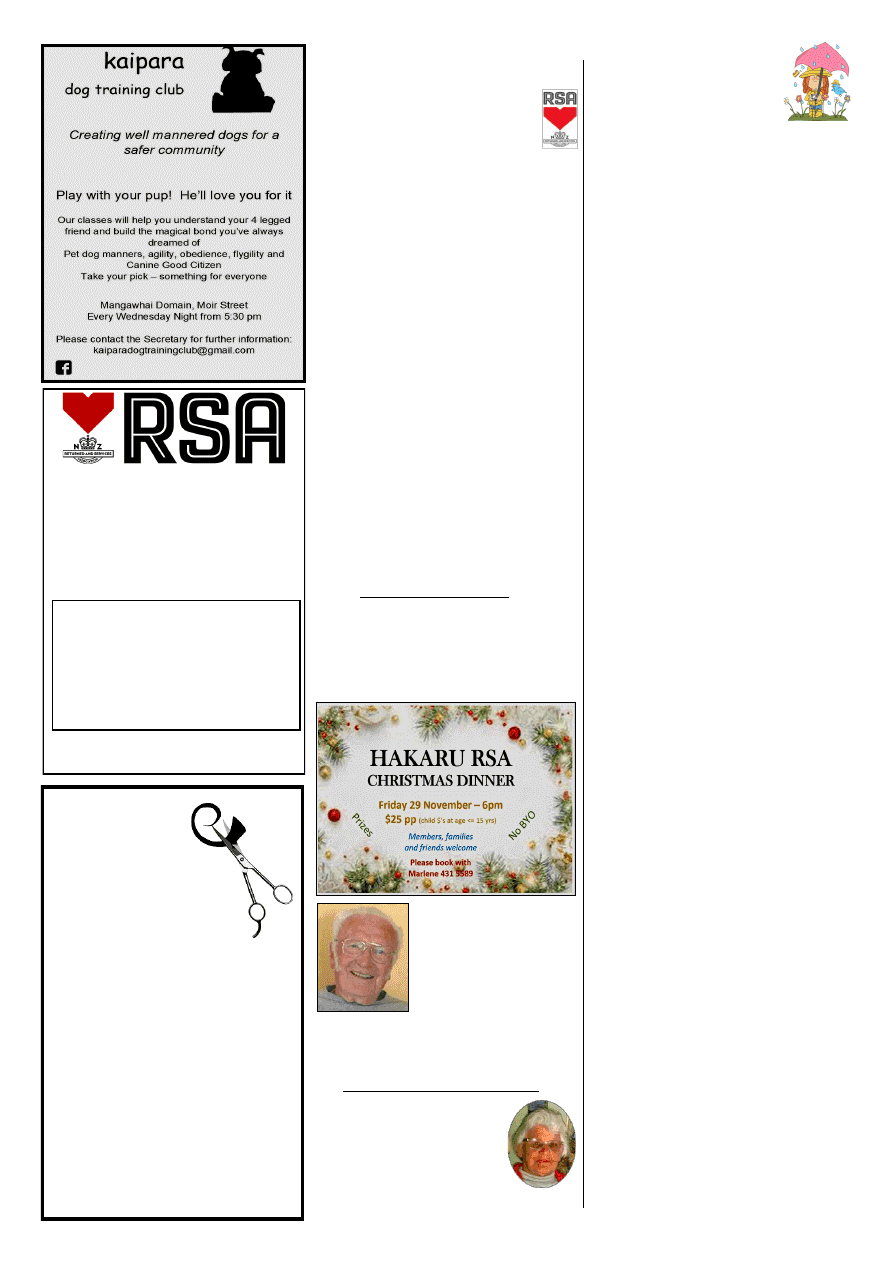 www.kaiwaka.co.nz 
Kaiwaka Bugle - 12 November, 2019 
Page 7 
HAKARU & DISTRICTS 
MEMORIAL RSA (INC)
Members & guests are invited to 
come along and enjoy our hospitality. 
New members welcome. 
Meals are served on 
Thursday and Friday nights 
from 6.30pm. 
Order from Blackboard Menu  
and a sing-a-long  
with Des Chitty. 
For more information please phone 
Graeme on 431 2563 
From Thelma's 
Scrapbook...  
Why can't life's problems 
hit us when we're eighteen 
and know everything?!! 
JUST 
CUTS 
and 
MORE  
1758 Cove Road  
Open Monday-Saturday  
by appointment only 
Saturday 9-12pm  
Affordable prices: 
Ladies cuts from $35 
Colours from $120 
Men's from$25 
Kids from $18 
0211652629  
KAIWAKA  
WEATHER 
Welcome to all readers.   
For newcomers to the district 
my  report  comes  from  State  Highway 
One, 1KM north of Kaiwaka.   
The  rain  especially  varies  from 
kilometre to kilometre so you may get 
a  slightly  different  reading  at  your 
house.   
Well  thank  goodness  we  are  into  our 
last  month  of  winter.    Going  by  what 
we  are  having  now  it  is  going  to  be  a 
scorcher of a summer.  Maybe another 
water  tank  will  help  with  the  water 
situation.  You cannot get a tank top up 
at  a  moment's  notice.  It  takes  3  to  4 
weeks  at  least  to  get  a  tanker  load  of 
water.  
October  gave  us  all  it  could  give. 
Starting  with  wintry  conditions  as  we 
would  expect.    We  did  get  some  sun 
between  the  clouds  and  freezing  cold 
strong  south  westerly  for  a  couple  of 
weeks. With beautiful days in between 
the  cold  south  westerlies  picked  up 
again  and  we  did  end  up  with  a  few 
calm  days  though.    With  our  rainfall 
measurement  down  on  last  year  over 
the  first  10  months  things  are  starting 
to look very dry.  537mm drop already 
on last year.   
I  read  where  the  Far  North  have  had 
one  third  their  normal  rainfall  with 
some  restrictions  in  Kaikohe  already. 
Fair  warning  about  conserving  the 
water  already.    Derek  on  Valley  Road 
was  telling  me  a  couple  of  weeks  ago 
about how he can go anywhere on the 
farm  without  leaving  big  tracks  in  the 
paddocks.   
Ok here we go.  
Rainfall for October 2019 was 110mm 
and for 2018 - 84mm.   
We  had  rain  on  14  days  for  2019  and 
2018 we had rain on 11 days.   
Our total for the first 10months of 2019 
was  1014mm  and  for  2018  was 
1551mm.   
Our  driest  October  since  1987  was  in 
2000  with  17mm  and  the  wettest  was 
1989 with 249mm.   
Our  driest  10  months  since  1987  was 
1987 with 792mm and the wettest was 
2017 with 1512mm.  
As  I  type  this  out  the  weather  is 
sparkling  and  calm  and  warming  up  a 
treat.   
"What is the world's largest Gem?"  
"A baseball Diamond."  
Please  take  care  out  there  and  look 
after  each  other.    The  Silly  Season  is 
starting  already.    Well  I  do  not  know 
where  this  year  has  gone  as  do  all  of 
us.  Another calendar soon. Bev. 
From NIWA: 
Of  the  six  main  centres  in  October 
2019,  Auckland  was  the  warmest, 
Dunedin  was  the  coldest,  Wellington 
was  the  wettest,  Hamilton  was  the 
driest 
and 
least 
sunny, 
and 
Christchurch was the sunniest.  
Well  we  are  heading  towards 
that  busy  time  of  the  year, 
hopefully  Summer  will  come 
and "Stay" soon. 
We  enjoyed  a  nice  social  get-together 
on October 30th. 
Lena  Welcomed  two  visitors,  one  of 
them  Jan  Pedrotti  is  now  a  new 
member  and  it  was  lovely  to  have 
Shirley's sister an Ex WAAF visit us. 
The  raffle  was  won  by  Shirley  and 
Dawn won 2nd prize. 
Pat  Judd  is  now  out  of  hospital  and 
settled in her new home in Orewa, we 
will  miss  Pat,  but  we  all want  what  is 
best for her. 
We  are  looking  forward  to  our  next 
meeting  on  November  28  which  will 
be a Christmas Dinner. 
Please  note  we  are  arriving  at  11.30 
a.m.  not  1.30.  Everyone  please  make 
an effort to attend the last meeting for 
the year. 
We  are  sorry  Jan  our  Secretary  is 
unable to be there, but we will drink to 
your health Jan! 
As this is our last meeting for the year 
The  Hakaru  Womens  Section  wish 
everyone  a  Happy  and  Healthy 
Christmas  Break,  and  don't  forget  we 
would  love  to  welcome  some  more 
members. ~ Shirley 
HAKARU RSA 
CHRISTMAS DINNER 
Friday 29 November, 6pm 
Members, families, friends welcome 
Book with Marlene 4315589 
HAKARU RSA 
WOMEN'S SECTION
JOHN O'NEILL 
90  year  old,  John 
O'Neill,  long  while 
Kaiwaka  resident  and 
now  of  Dargaville,  has 
just 
published 
his 
rather  autobiographical 
short  story  in  'Human  Kindness'  – 
beginning  with  radio  telegraphy  on 
ships, the SOS call and Morse code. 
See Northern Advocate 8/11/19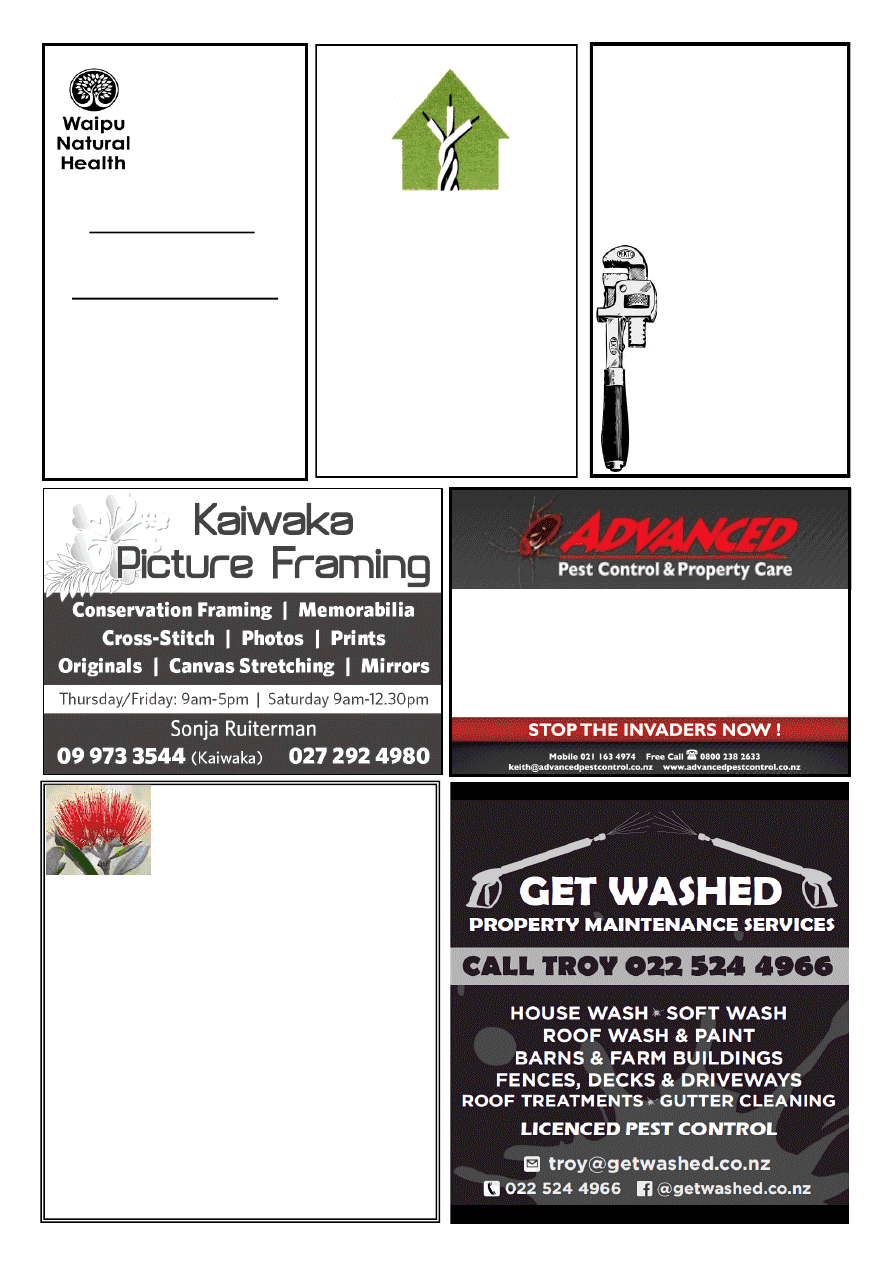 KAIPARA 
FLOORING CO 
Independently owned & operated 
32 HURNDALL ST MAUNGATUROTO
Supply & Installation of Carpet, Vinyl,  
Vinyl Wood Planking 
Stockists of 2m & 3m wide 
vinyl & carpet short ends 
Residential & Commercial 
Q Card Finance Approved 
6-18 month terms 
6 month interest free 
First Class Installations
For a free measure & quote 
phone Christine  
09 946 9886 or 021 515 415 
kaiparaflooring@gmail.com 
http://www.kaiparaflooring.co.nz/ 
BARRY CURTIS 
PLUMBING LTD 
REGISTERED CRAFTSMAN 
PLUMBER 
Phone 4315572 
027 257 9884 
25 years experience 
Friendly reliable service 
All plumbing and 
maintenance 
Alterations  
and new housing 
Spouting 
Competitive rates 
PROMPT 
EFFICIENT  SERVICE 
Reyahn George 
Leng 
Registered Electrician 
Local, honest and reliable. 
For your residential and 
light-commercial projects. 
022 314 1068  
Pest Control 
PLAN A: One-off treatments to customers with a specific pest problem 
PLAN B: Full maintenance service plans to commercial customers. 
This will include documentation kept in customer file on site: 
⚫
Pest treated 
⚫
Date of service 
⚫
Chemical or baits used 
⚫
Full pest check report done after each treatment 
⚫
Fair and reasonable fee with guarantee 
Flood Recovery 
Carpet Care 
⚫
Carpet Drying   
This includes pre-spray treatments 
⚫
Dehumidifier Rental 
with stain removal and hot water extraction.  
⚫
Full Commercial Cleaning  Patch repair also available 
Upholstery Cleaning 
Full upholstery cleaning of all furniture.  
eg lounge suites and all office chairs 
Water Blasting 
⚫
Concrete - Decks 
House Washing 
⚫
Soft Chemical Was 
⚫
Pre-painting Wash 
Property Services 
⚫
Property Cleaning  
Lawn Mowing 
⚫
Hedges General  Tidy Ups 
3 Cove Road, Waipu 
(opposite the Pizza Barn
) 
094321325 
www.waipunaturalhealth.co.nz 
Clinical Nutritionist: 
Nutritional Checkups, Diets for 
Chronic Diseases,  
Food Sensitivities 
Naturopathic Physician: 
Ozone Therapy, Prolotherapy, 
Mesozone 
Reflexology, Craniosacral 
Therapy, Trauma Release 
Massage Therapy 
Counselling and Hypnotherapy 
Change Catalyst/ThetaHealer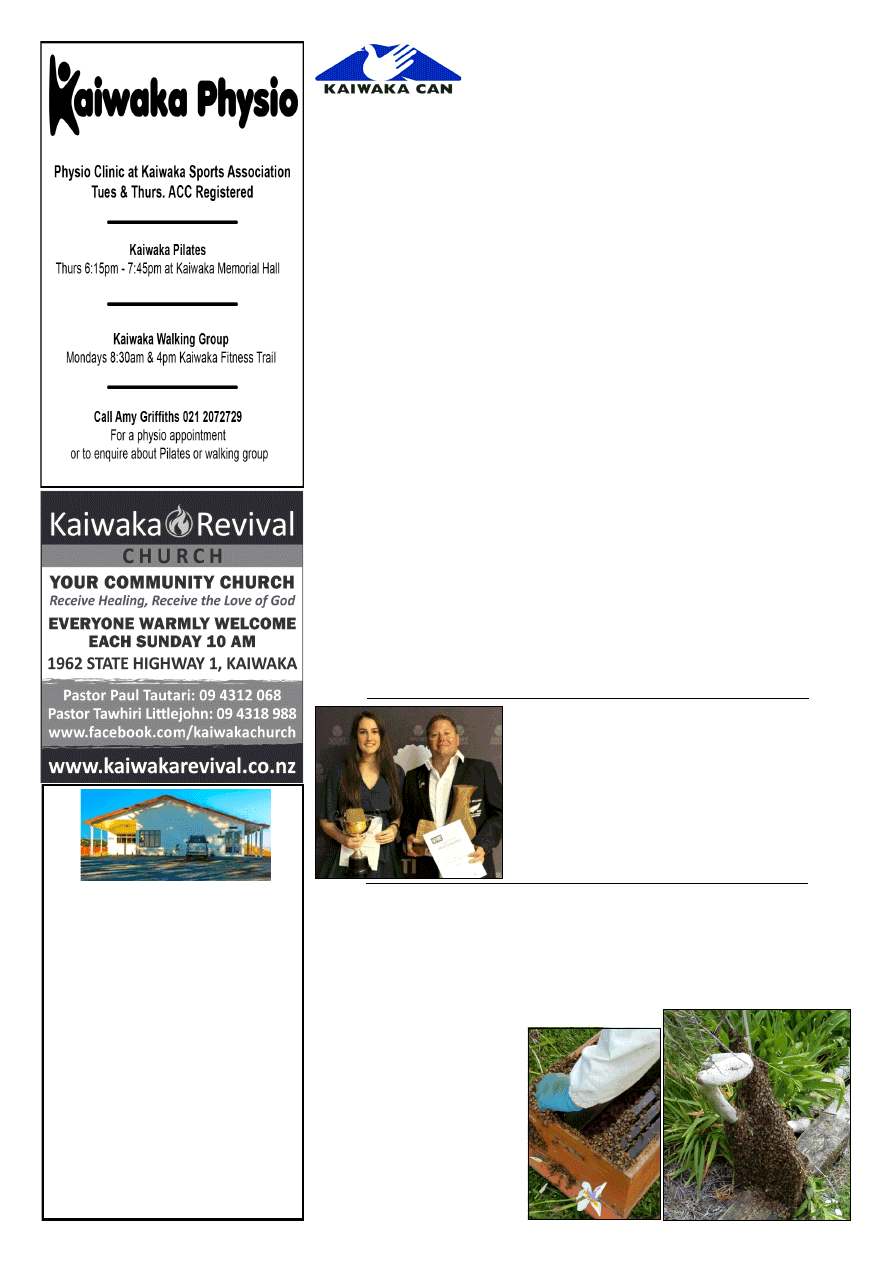 www.kaiwaka.co.nz 
Kaiwaka Bugle - 12 November, 2019 
Page 9 
Tramp! 
Te Pounga Marae 
130 Nathan Rd. Oneriri. Kaiwaka 0573 
COMPLEX FOR 
HIRE 
Functions 
* Weddings  * Birthdays  
*Anniversaries * Meetings  * Wananga 
5 hour meeting * 12 hour stay  * 
Overnight 
*All welcome - No more Drink-driving 
Amenities: 
*Convo Combi Steamer * Bratt Pan * 
Dish Washer/Sterilizer * 3 Door Glass 
Chiller (walk in) etc…All Crockery * 
Linen Supplied * Central Heating and 
Air Conditioning and much more.  
Can also cater for small groups…. 
For more information please 
contact: 
 Pearl Nathan 0223933533  
tepoungamarae130@outlook.com  
SILVER FERN FARMS 
KAIPARA SPORTS AWARDS  
A  special  night  at  the  Silver  Fern  Farms  Kaipara 
Sports  Awards  when    Richard  Westlake,  skeet 
shooter, was awarded the Supreme  Award and the 
Sportsman  of  the  Year,  and  to  Annmarie  Holst, 
squash  player,    the  Sportswoman  of  the  Year 
Award  and  Junior  Sportsperson  of  the  Year  on 
Saturday  2  November  held  at  the  Maungaturoto 
Country Club  
An apology 
Last  time  I  wrote  I  gave  figures  from 
Statistics  NZ  for  our  Kaiwaka 
population.  I  said  there  were  nearly 
3000 people in the district. But I got it 
wrong!  There  is  Kaiwaka  Township 
(700)  and  Kaiwaka  Statistical  Area. 
The  township  is  part  of  the  total  area 
and  not  in  addition  to  it  so  our  town 
and district population is 2200 and not 
nearer  3000.  Sorry  Stats  NZ  –  I  never 
was  any  good  at  maths.  Still  quite  a 
bunch of us to serve and to provide for. 
And a reminder 
How  often  do  we  get  the  chance  to 
have  major input into  the future  shape 
of Kaiwaka?  
Not  very  often  but  Wednesday 
November 20th we are invited to have 
our  say  on  the  Spatial  Planning 
exercise  of  Kaipara  District  Council. 
This looks at how we can grow, where 
we  can  put  housing  (no  room  in  the 
town  at  present),  where  we  can  put 
retail and commercial (very fragmented 
and  unplanned  at  present)  and  where 
we  can  put  industrial  development 
(some  great  firms  at  present  but  lots 
more possibilities). 
And  to  go  with  all  that,  we  need 
services (water and sewerage), we need 
recreational  facilities  and  we  need 
connections, beautification, more sense 
of  identity  and  somewhere  to  call  our 
town centre. 
The  full  consultation  document  with 
three major options is now available on 
the council website: 
https://www.kaipara.govt.nz/council/
consultation-and-public-notices/have-
your-say 
Click  on  options  and  then  you  will 
plough 
through 
Dargaville 
and 
Maungaturoto and then the lead in stuff 
for  Kaiwaka  until  you  come  to  the 
options.  
Interesting, stimulating, a huge amount 
to think about and exciting as well. We 
have  been  cramped,  confined  and 
controlled for too long. Time to throw 
off the old clothes that no longer fit and 
put  on  ones fit  for this  time,  fit  for  us 
as  a  people  and  fit  for  Kaipara  as  a 
whole.  But  unless  we  all  pitch  in  and 
have  our  say,  the  planners  will  sit  in 
their  offices  with  their  computers  and 
decide for us! Or else one or two loud 
voices  will  get  in  and say theirs  is the 
only way to go. 
So,  see  you  there.  November  20th, 
from  4  –  7.30pm  at  Kaiwaka  Sports 
Association.  It  looks  like  a  drop  in 
when  you  can  and  go  when  you  must 
sort  of  occasion,  which  is  frustrating 
when  we  want  to  hear  what  others 
think but we can still be there, be seen 
and  be  heard.  Look  forward  to  a 
packed meeting with lots of input. 
And  be  assured,  Kaiwaka  Can  will  be 
working  through  the  whole  process  to 
help integrate, activate and make good 
things happen. 
Derek Christensen, Chair Kaiwaka Can 
099469077 or 0273572751 
derekandisa@gmail.com
KAIWAKA  CAN:  An  apology 
and a reminder ...
SWARMING HONEY BEES 
It is now honey bee swarming season  - pictured is a swarm in our garden last 
week. The sound (like a close by helicopter!) alerted us to the very large number 
of bees in the garden. We then watched as they found a place to form a 'hive'. 
The  bees  were  not  aggressive  -  no  concerns  about  being  stung!  A  local 
beekeeper, Rod Heron, was  extremely helpful in collecting this swarm. 
Bees can no longer survive in the wild by themselves, due to Varroa Mites in 
New  Zealand.    They  swarm,  a  natural 
phenomenon,  as  part  of  their 
instinct to spread their genetic 
line  and  ensure  their  survival 
as  a  species.  Over  the  'Bee 
Season'  numbers  in  the  hive 
increase  to  around  60,000  -
overcrowding  can  trigger  'the 
swarm  instinct'.  Beekeepers 
are  essential  these  days  to 
keep the bees alive - do call a 
local  beekeeper,  who  will  be 
happy  to  rehouse  the  bee 
swarm for you.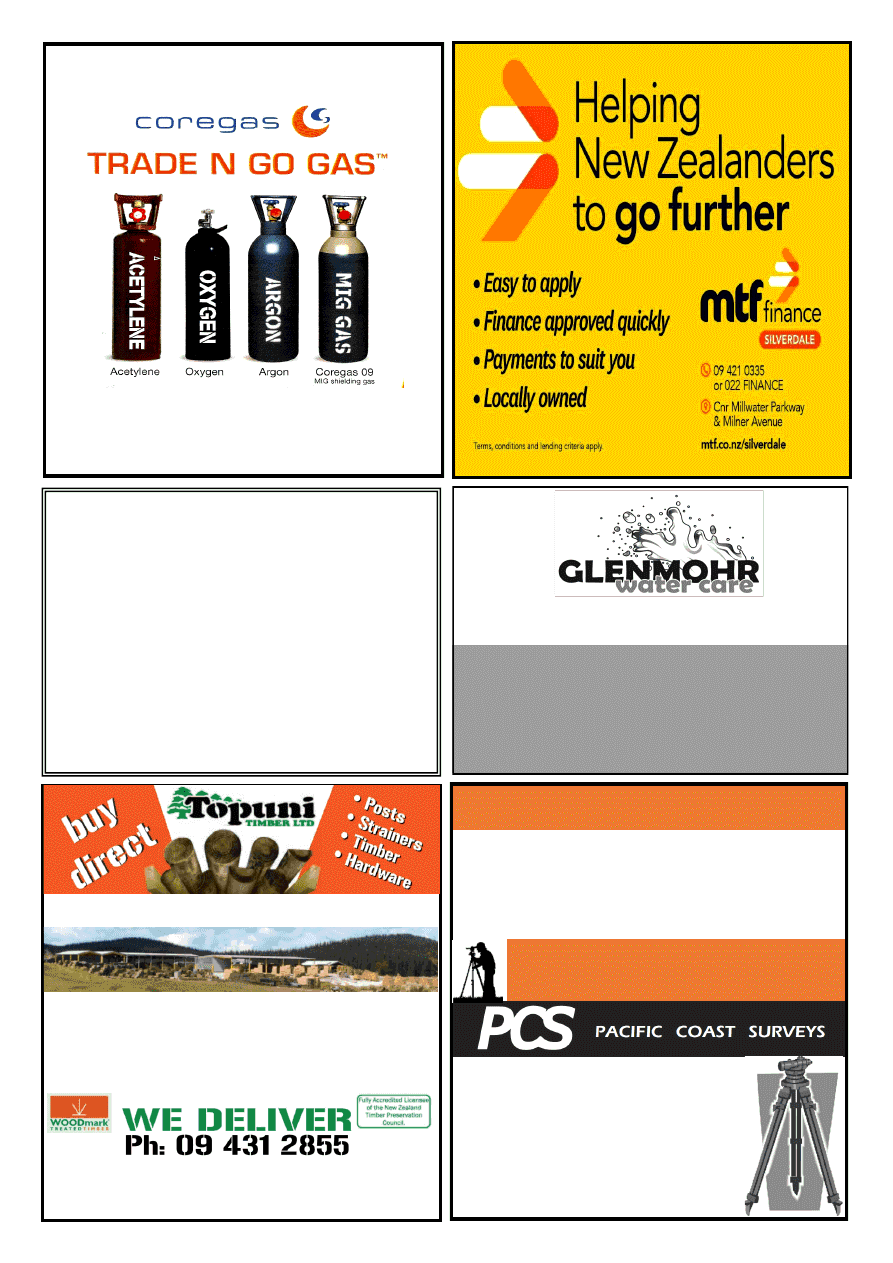 LOCALLY OWNED AND OPERATED 
QUALITY PRODUCTS • FRIENDLY ADVICE • GREAT SERVICE 
Quality Products milled from High Density NORTHLAND Radiata Pine. 
Treated and guaranteed to NZS3640 with commitment to 
Environmental Safety.
Phone, fax, email, or come into the mill 
Schiska Rd, Topuni, SH1, 10 min north of Wellsford. Fax: 09 431 2856 
Email: sales@topunitimber.co.nz           Mon - Fri 7am-5pm 
• Fencing 
• Retaining 
• Decking 
• Landscaping 
• Gates 
• Hardware 
SURVEYORS 
SUBDIVISIONS 
HOUSE SITE SURVEYS 
CIVIL ENGINEERING 
WASTEWATER DESIGNS 
EXPERIENCED 
PROFESSIONAL 
INNOVATIVE 
Ph 09 431 5353 
0800 PACIFIC (0800 722 434) 
pacificcoastsurvey.com
Adam Booth - 027 415 5752 
Bsurv, Licensed Cadastral Surveyor
Surveying Kaipara since 1994 
Water Tank Cleaning 
• 
Keep your water safe & clean  
• 
Removal of sediment, silt etc. 
• 
Vacuum or full scrub 
• 
Minimal water loss 
Phone Mark (09) 432 0655 or 0274 707607 
At Twinkle Tow 'n' Tyre 
Mob: 021 833 960 
Ph & Fax: 09 431 2823 
1837 State Highway 1, Kaiwaka 
design drafting  
service 
Retired builder and manufacturer with over 40 years  
experience in the building industry is offering a design 
drafting service for domestic housing, sleepouts and 
sheds.  
Plans formulated in consultation with clients, with 
working drawings completed and submitted to  
council for processing.  Extensive practical experience,  
able to identify & resolve problems. 
Please ring Mike Lean on 
09 431 2260 
or 
021 431 196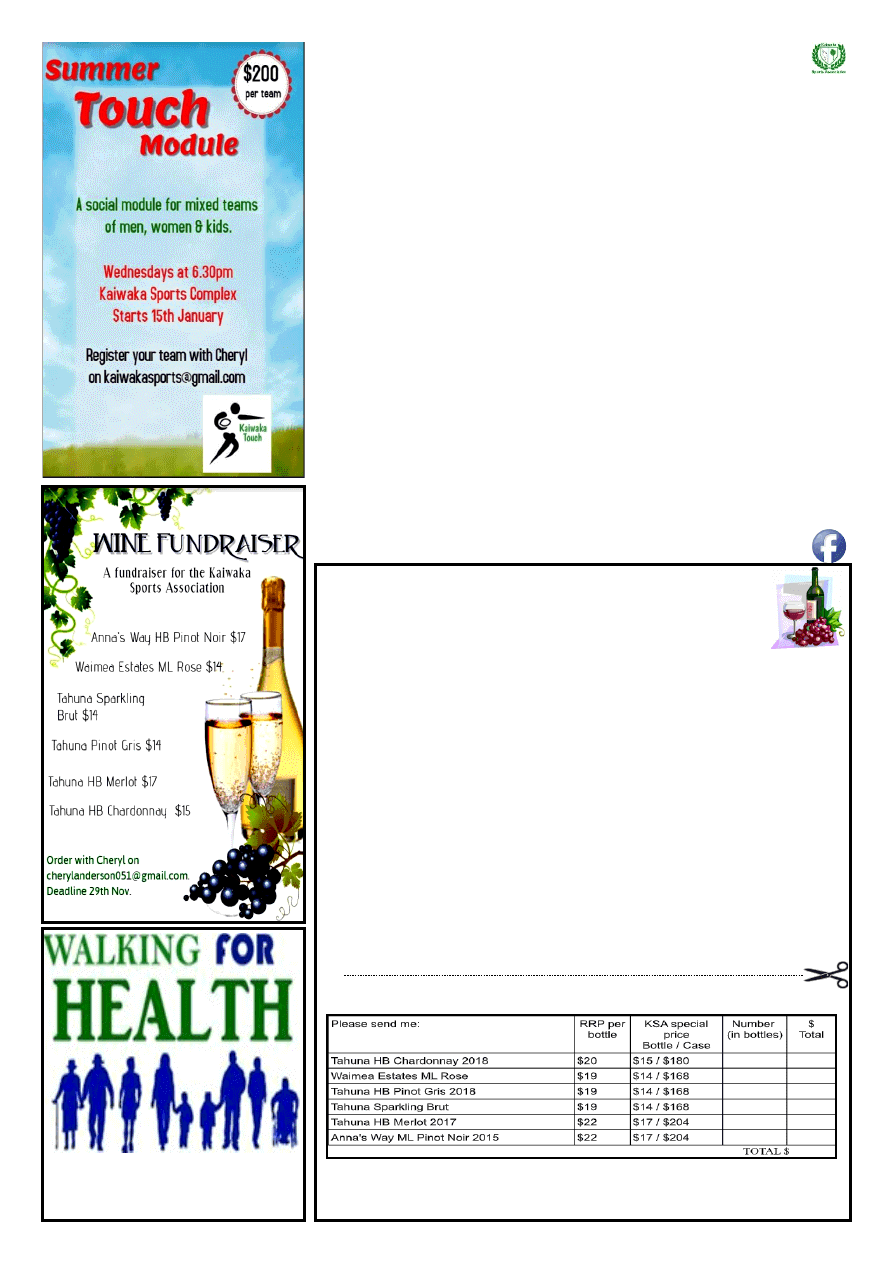 www.kaiwaka.co.nz 
Kaiwaka Bugle - 12 November, 2019 
Page 11 
           KAIWAKA SPORTS ASSN 
Fright Night 
Many  thanks  to  everyone  who  helped 
pull off another successful Fright Night 
–  from  photographers,  through  to 
kitchen  helpers.  A  special  thank  you 
my  crazy  bunch  of  Haunted  House 
decorators/scarers – you are the best! 
To  view  a  video  of  the  highlights  of 
our  Haunted  House,  head  over  to  the 
Kaiwaka  Sports  Complex  Facebook 
page. 
Junior Tennis 
Does your child want to try something 
new?  Why  not  give  tennis  a  go.  Our 
children's tennis lessons are being held 
at  our  courts  on  Monday  afternoons. 
Great  coach,  very  reasonable  fees. 
Contact  Linda  on  021  266  8571  for 
more information. 
Twilight Tennis 
It's  time  to  dust  off  that  old  tennis 
racquet! Twilight Tennis will be held at 
the  Kaiwaka  Sports  Complex  from 
Wednesday 13th November at 6.30pm. 
For  further  information,  please  call 
Carol on 027 4900 271. 
Otamatea  Hawks  Rugby  Club 
AGM 
Our  Otamatea  Hawks  club  will  hold 
their  Annual  General  Meeting  this 
Thursday  14th  November,  7pm  at  our 
Sports Complex. All welcome. 
Kaiwaka Athletics Club 
The  Athletics  season  has  now  started. 
The  sessions  run  on  Mondays  5  - 
6.30pm, at Otamatea High School. All 
athletes  are  welcome  but  we  tend  to 
have a predominance of  
younger athletes. Parents/caregivers are 
expected to stay with the youngsters as 
we need a number of adults to help run 
the  evening  successfully.  Queries, 
please call Eileen on 021 1420357. 
Kaiwaka Boot Camp 
Keen to get into shape for the summer? 
There  will  be  a  Fitness  Boot  Camp  at 
our  grounds,  on  Tuesdays  and 
Thursdays at 6.30pm. Will run through 
until  Christmas.  This  is  suitable  for 
people  of  all  ages  and  fitness  levels. 
Just  bring  yourself  -  fun  and  laughter 
provided!  $7  a  session.  Queries  to 
Siobhan Henderson on 027 9791203. 
Public Meeting 
The  Kaipara  District  Council  invites 
members  of  the  public  to  a  public 
meeting  to  share  their  feedback  on 
draft  plans  for  the  direction  of  the 
Kaiwaka township. 
To  be  held  at  the  Sports  Complex  on 
Wednesday  20th  November,  4  - 
7.30pm. Come along to have your say. 
~ Cheryl, kaiwakasports@gmail.com 
WINE FUNDRAISER 
Here is an opportunity to purchase fantastic wines at unbeatable prices – 
and support the Kaiwaka Sports Association at the same time! Enjoy them 
now, or stock up ready for the holiday season. 
Wine can be purchased by the bottle or in case lots. Please return this 
form with your payment by 3rd December. Delivery will be mid-December. Queries 
to Cheryl on cherylanderson051@gmail.com . 
SELECT FROM: 
*  TAHUNA  HAWKE'S  BAY  CHARDONNAY:  This  wine  is  sourced  from  our 
Hawke's Bay vineyards. It is  a lightly  oaked, fruit driven style of  wine  with layers of 
citrus and stone fruit characters. Delicious. 
* WAIMEA ESTATES ML ROSE: This Marlborough Rose is a predominately Pinot 
Noir blend. Rose hip, red berry and rhubarb notes on the nose with bright florals of 
jasmine and lavender. The palate is ripe melon and crunchy red apple. 
* TAHUNA PINOT GRIS: This Pinot Gris labelled for our European markets has 
ripe, juicy stone fruit, pear and citrus flavours, with a little spice and beautifully 
balanced acidity. 
*  TAHUNA  SPARKLING  BRUT:  The  Chardonnay  for  this  Sparkling  Brut  is 
sourced  from  Hawkes  Bay  vineyards.  It  is  a  fruit  driven  style  with  fresh  melon  and 
apple flavours on the palate. It is a clean and refreshing wine. 
* TAHUNA MERLOT: Great colour and aromas of plum and dark berryfruit, typical 
of Hawkes Bay Merlot. This wine has silky tannins giving it a soft finish, perfect for 
drinking at any time of year. 
*  ANNA'S  WAY  PINOT  NOIR:  This  wine  is  made  with  gentle  handling  and 
sourced from fruit in Marlborough. The wine has good depth of flavour, sweet fruit on 
the palate and aromas of cherry, plum and blueberry with a touch of savoury and spicy 
complexity. 
ORDER FORM:  
NAME: ………………………………………….  PHONE NUMBER …………... 
Ways to pay: cash, cheque or internet banking 060365002247200 (reference Wine 
Fundraiser & your name) 
Ways to return form: leave in the KSA folder at Jaques Four Square or email to Cheryl 
at cherylanderson051@gmail.com . 
At Kaiwaka Sports Assn. 
Fitness Trail 
Mondays  8.30am and 4pm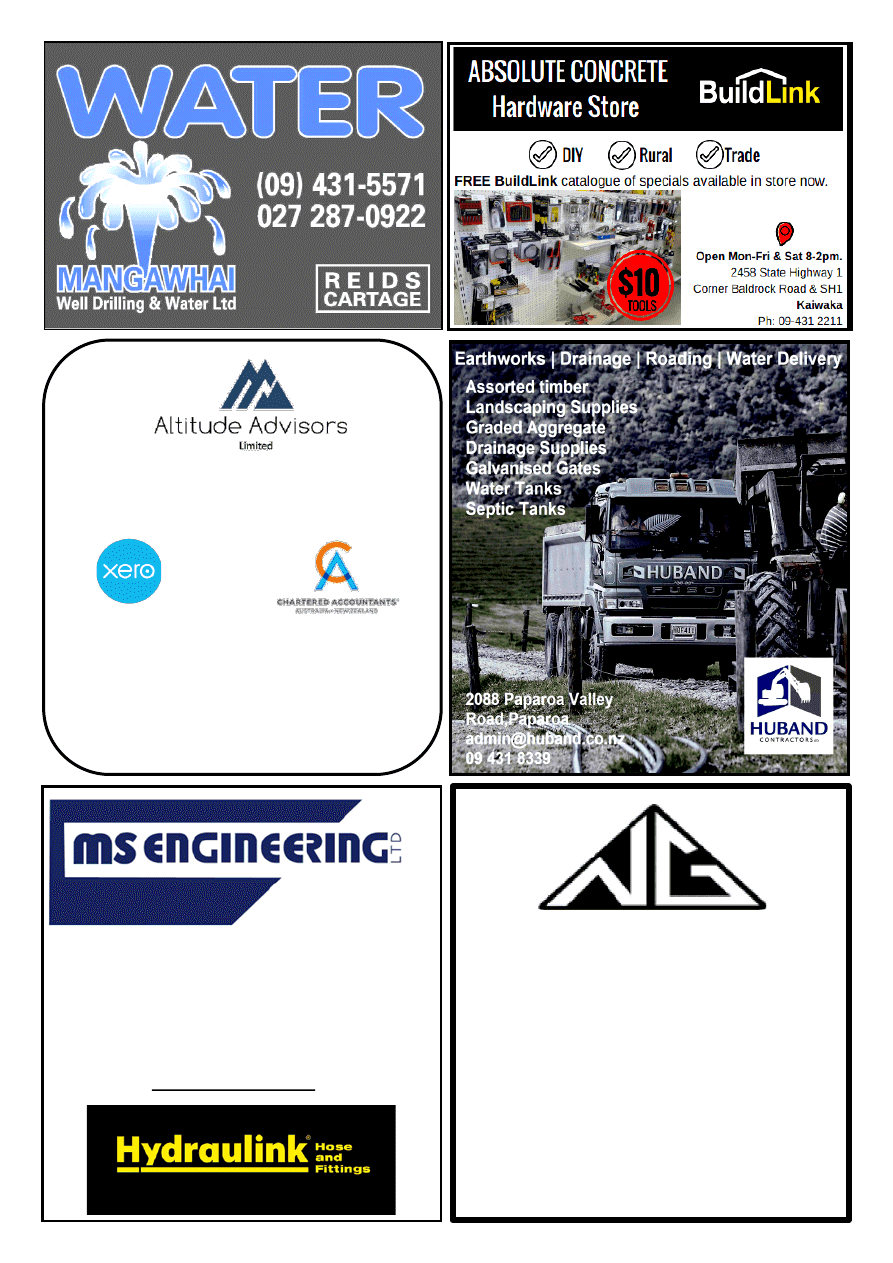 NORTH GLASS 
WINDSCREEN REPAIR OR REPLACE 
GLAZING SERVICES 
MIRRORS  •  SPLASH BACKS  •  SHOWERS 
0800 70 40 10
info@northglass.co.nz 
www.northglass.co.nz 
Altitude with Attitude, helping your business 
scale new heights 
Time to try something different? 
Xero training          Accountancy Services 
We are offering two opportunities: 
15% saving off your annual report cost for your first 
year, & a further 10% saving for any referrals 
Call Corinne on 021 252 7680 or 
corinne@altitudeadvisors.nz 

Peter Buckley 

Mobile Hose Technician –  
                      Based from Oneriri Road 

Available for all mobile hose                                
                      requirements onsite 

Call – 0800 425 7116 

Email – mse@mseng.co.nz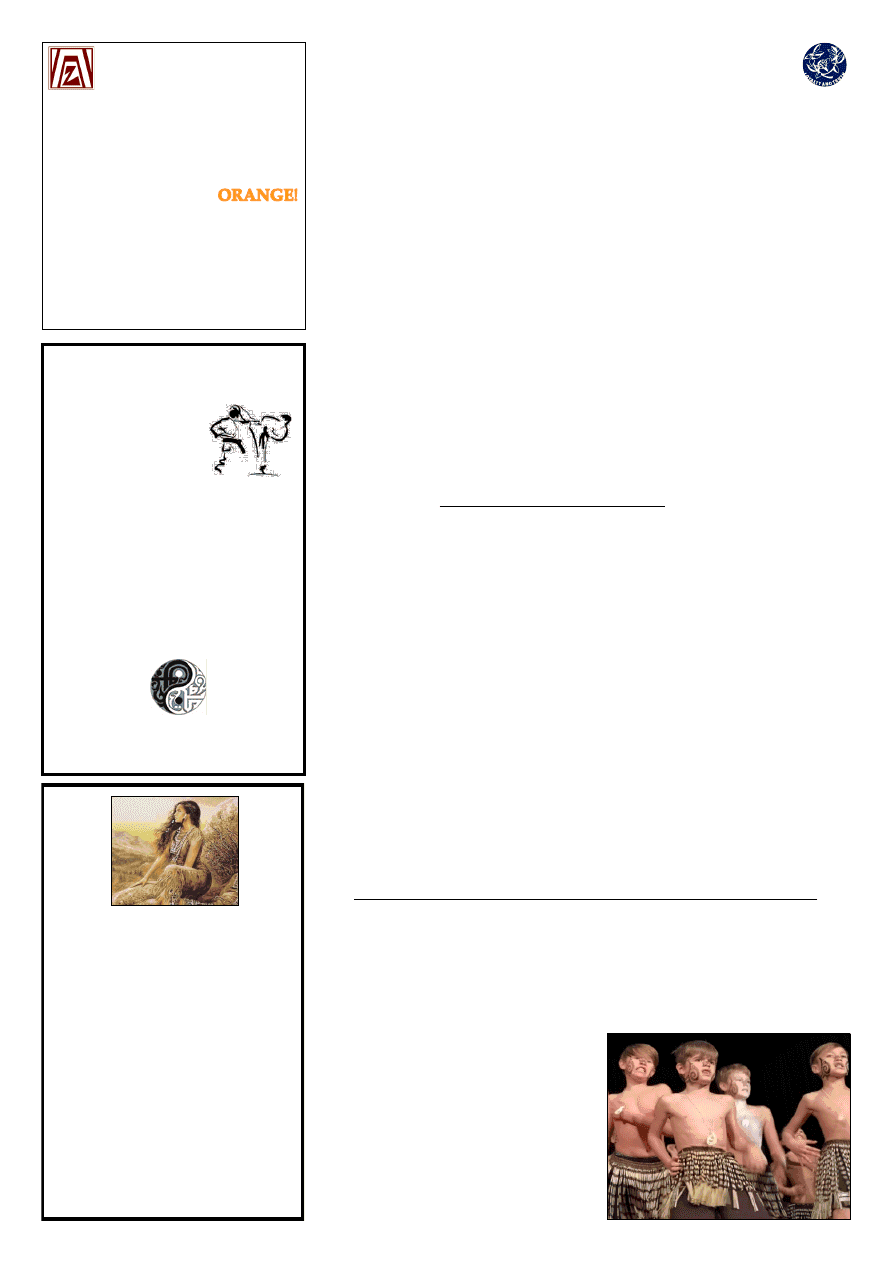 www.kaiwaka.co.nz 
Kaiwaka Bugle - 12 November, 2019 
Page 13 
OTAMATEA HIGH SCHOOL 
SENIOR PRIZEGIVING 
SPECIAL PRIZES   
Kia Maia – 
Be  Brave  in  Learning  (Te  Uri 
o  Hau  Development  Ltd)
:  Brandon 
Roberts-Murphy 
Peer  Support  Award
  (Kaipara  District 
Council): 
Mya Lawrence 
Best  Aggregate  of  Science  Subjects in 
Year 13 
(Fonterra Cup)
: Mya Lawrence 
Jessie  Vaughan  Trophy  for  Senior 
Citizenship  (
Ferguson  and  Oldham 
Trophy)
: Benicio Van Zwinjdregt 
General  Excellence  by  a  Senior 
Student  (
D A Finlayson Cup
): Alex Parr 
Student Exhibiting School Spirit 
(
Te 
Jay Cup
): Cheylysse Flannagan 
Best All-Round Maori Pupil  (
Rennie 
Trophy
): Denzal Peeni 
Fair  Play  &  Sportsmanship  Trophy
(
Engraving Systems
): Hyde Massey 
Outstanding  Sporting  Achievement
(
Haydn  &  Mary  Hutching  Cup)
:  Maia 
Fairburn 
Excellence  in  Level  2  English  & 
Science  (
R  &  F  Tornquist  Trophy
): 
Jessica Evans 
Most  Promising  Student  Returning  to 
School  (
Thompson  Trophy)
:  Maggie 
Hames 
Senior 
Victrix 
Ludorum
(
Karen  McNay  Cup
):  Grace 
Kemp 
Senior  Victor  Ludorum  (
Webster 
Brothers Cup
): Jack Hodgson 
First in Year 11  (
OHS 
Board 
of 
Trustees Cup
): Amy Lawrence 
First in Year 12  (
Neil  McKay  Trophy
): 
Juliana Bangcong 
Proxime Accessit (
Mr & Mrs J Morrison 
Cup
): Mya Lawrence 
DUX OF THE SCHOOL  (
Mr  & Mrs L 
Mitchell Trophy
): Isaac Sheppard   
2020 PREFECTS 
Head Girl: Maggie Hames 
Head Boy: Denzal Peeni 
Deputy Head Girl: Paige Kenyon 
Deputy Head Boy: Tyrone De Ardenne 
Manukura:  Harmony Henderson 
Arawa House Captain: Hayley Linton 
Ngāpuhi House Captain: Cassidy Allen 
Maniapoto  House  Captain:  Hamish 
Ferguson 
Whātua  House  Captain:  Jemma 
Kurupo 
BOT representative: Paige Kenyon 
Prefects:  Kelly  Huband,  Paris  Rika, 
Jeff  Smith,  Bipasa  Patel,  CJ  Smart, 
Tiva Kingi  
SELF DEFENCE 
KEMPO 
Fitness, 
Confidence, 
Discipline, 
Respect,  
Self-awareness 
Classes for all ages in: 
 Mangawhai
Kaiwaka Wellsford
For more information please 
contact
 Otamatea  
Martial Arts
otamatea.kempo@farmside.co.nz 
Phone 09-431-5170 
www.facebook.com/
otamatea.kempo 
TRAILS END 
RONGOA MAORI 
HEALING 
And Gifts 
Stocking all your needs from incense, 
crystals, dream catchers, greeting 
cards, jewellery, perfume, dragons and 
more dates for groups each month are: 
November 24th ~ December 15th 
From 10.30am -2pm  
For all inquiries Phone 0211652629  
Light refreshments available $5 koha  
1758 Cove Road Mangawhai
KAIWAKA SCHOOL 
SPEECHES:  Last  Thursday  the  finalists  presented  their  speeches  for  our 
school competition. Everyone really enjoyed these. Thank you to all the parents 
who came along to support the children. Thank you to our judges Lis Hyndman 
and Andrew Alan.  
KAPA HAKA PERFORMANCE and Whanau/Grandparents Day  
Grandparents,  Whanau,  and  Friends  of  the  School  are  invited  to  join  us  for 
Small Pukekos and Kaiwaka School Kapa 
Haka  Performance  on  Friday  22 
November  at  11am.  This  will  be  on  the 
school  deck  area  outside  the  senior 
classrooms  or  in  the  Kaiwaka  Sports 
Complex if wet. 
Programme: 
11am  -  Performances  from  Small 
Pukekos, Juniors and Seniors.  
11.45am - Students take their whanau and 
friends  to  look  through  the  school 
Then a Picnic Lunch with whanau. 
     The Zonta Club of Mangawhai  
invites you to 
ORANGE TRIVIA QUIZ NIGHT 
At the Mangawhai Golf Club 
Thursday 28 November 
7pm to 10pm 
WEAR SOMETHING 
Tables of 8 - $80 per table ticket 
Bring your own nibbles 
Tickets at Mangawhai Chemist 
ALL PROCEEDS to SPRIRT OF ADVENTURE 
or SECOND CHANCE SCHOLARSHIPS 
 and other Zonta projects 
From Dirk Smyth, Acting Principal: 
Senior  Prizegiving:  Congratulations 
to  all  prize  winners  and  to  our  new 
prefects for 2020! It was lovely to see 
so  many  parents/friends  and  whānau 
joining  us  last  week  to  celebrate  the 
outstanding achievements of our senior 
students.  
Senior Leavers' Dinner: The year 13s 
were joined by a group of teachers for 
their  final  get  together  of  the  year  at 
the Stables restaurant in Matakana last 
Friday,  after  prizegiving.  It  was  a 
lovely evening and a reminder of how 
much  our  year  13s  have  grown  over 
the  year.  All  the  best  to  our  year  13s 
who  will  soon  be  starting  the  next 
chapter of their lives. 
NCEA  Exams:  These have begun and 
will continue for the next 4 weeks.   
Good2Great:  Over  the  last  two  days, 
our  year  10  students  have  enjoyed 
participating  in  the  Good2Great 
programme  here  at  school.  Students 
have  been  learning  how  to  manage 
stress,  support  their  friends,  stand  up 
for  themselves  and  to  take  charge  of 
their  thoughts,  feelings  and  actions.  It 
was  a  great  way  for  them  to end their 
week after finishing their last exams. 
OTA  Fun  Day:  The  weather  was 
amazing last Tuesday and an awesome 
day was enjoyed by all. It really was a 
fun day! Thanks to all the Year 6s and 
their teachers who came along, and to 
Mrs Randell, Mrs Alcock, Ms Snelling 
and  Mr  Alison  for  organising  such  a 
great day. 
RETIREMENT:  Teacher  Wayne 
Maclennan's farewell function is being 
held  on  Friday  29th  November.  We 
would  very  much  like  for  as  many 
former  students,  former  staff  and 
friends  to  attend.  Please  share  and 
encourage  those  who  know  Wayne  to 
come along. 
RSVP by 3pm Thursday 21 November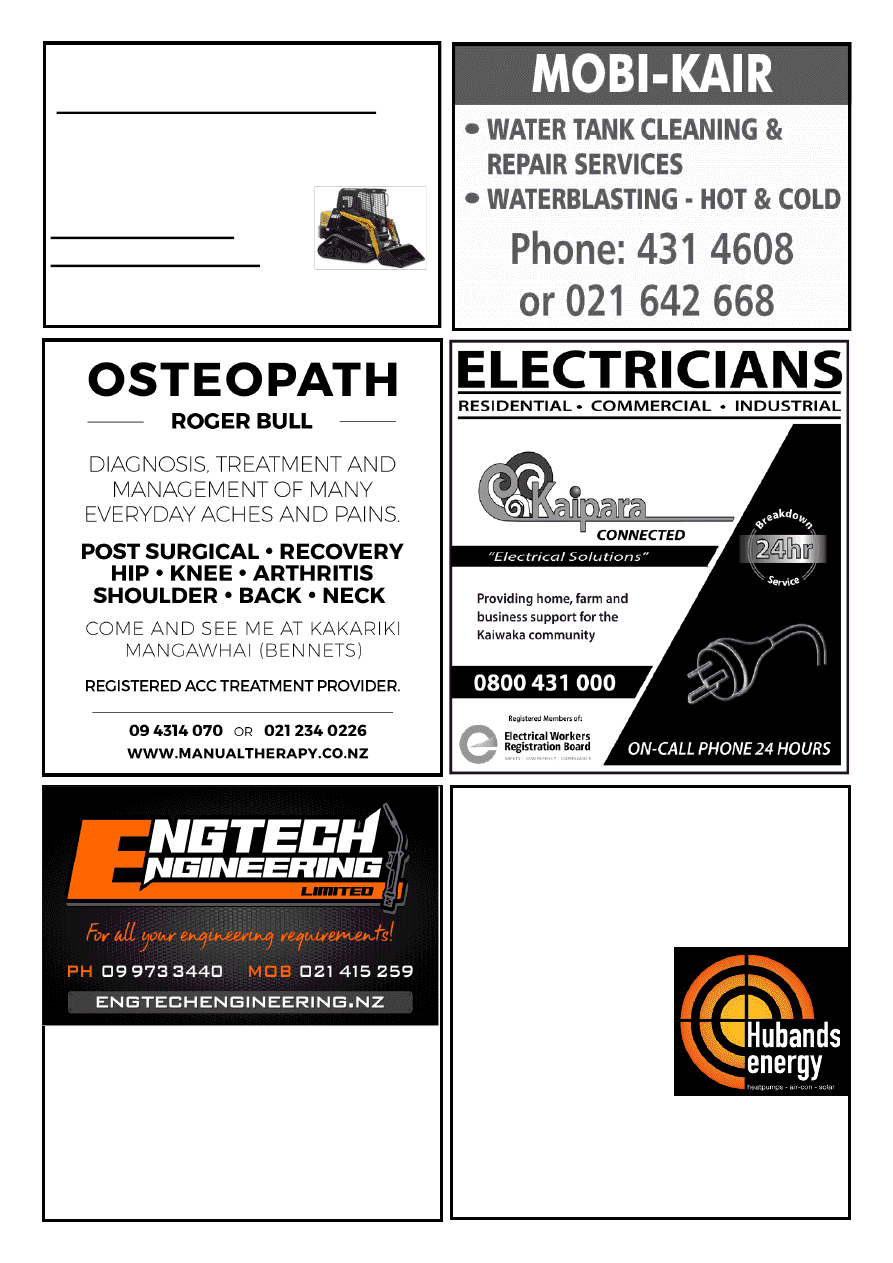 Natural Earth Ltd 
 Landscape and Bobcat services 
 : Driveways  :Landscaping  :Retaining Walls 
 : Hole Boring: Land Levelling :Trenching 
 : Decks :Fences :Sections Cleared: Plus much 
more 
Tel   09 4312885 
Mob 02102391280   
For A Fast Friendly  
Service Contact Tim Hicks 
Northland's Award Winning 
Solar Company
SEANZ Best Solar Business Winners 2015/16
EXCLUSIVE 10 year installation warranty 
FREE No obligation onsite quote
Complete systems 
from $5990
See our range of: 
✓ 
Heatpumps 
✓ 
Airconditioning 
✓ 
Hot Water 
Heatpumps 
✓ 
Central Vacuum Systems
09 430 0019             sales@hubands.co.nz 
15 Kioreroa Road, Whangarei
Locally owned and operated for 35 years 
Ryan Lusty and Tracey's  
New Workshop is Now Open 
648 Kaiwaka-Mangawhai Rd, Hakaru 
Engtech Engineering facility is big, 
modern and ready to help solve problems 
for the wider community.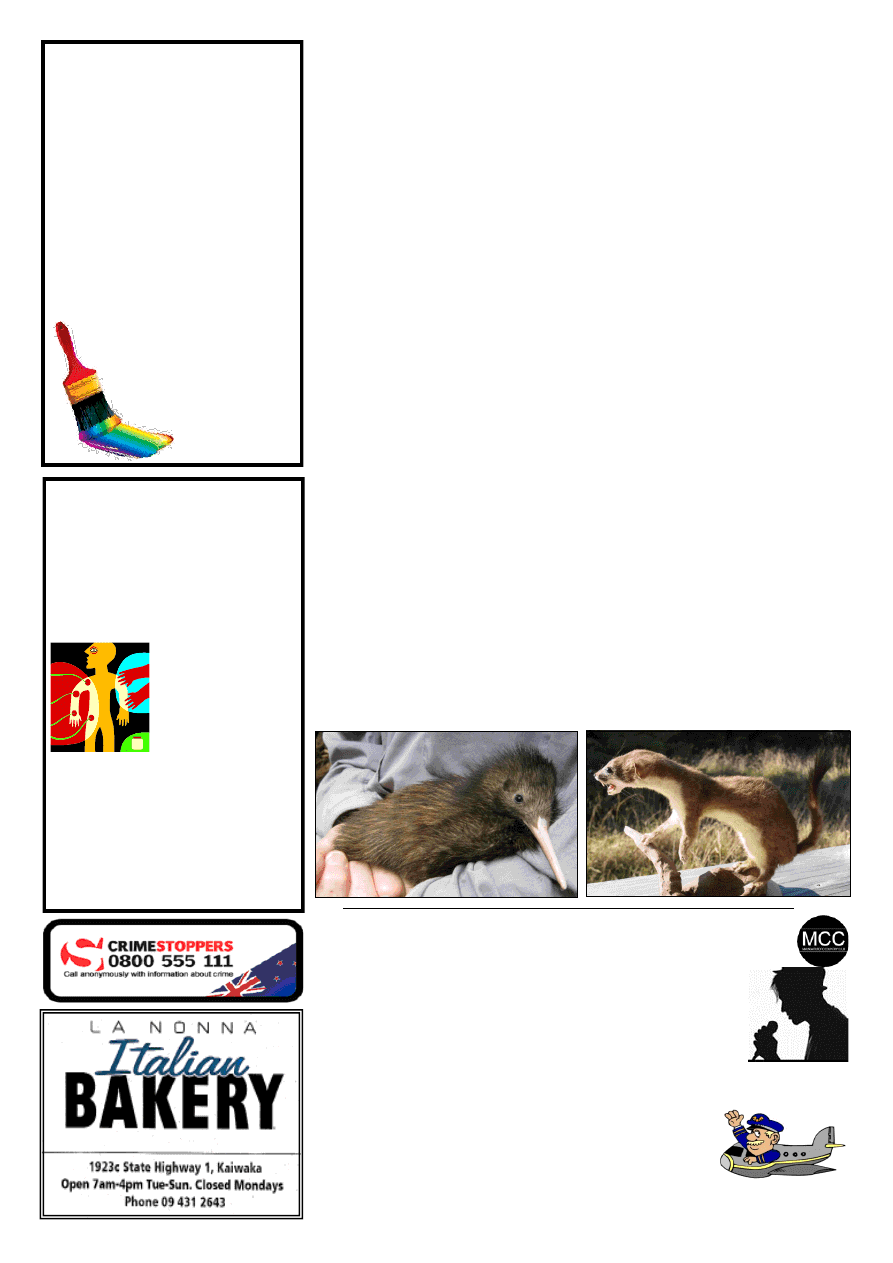 www.kaiwaka.co.nz 
Kaiwaka Bugle - 12 November, 2019 
Page 15 
OWEN STEVENS 
Osteo Therapist
For careful adjustments  
to bones and joints 
Treatment for humans  
and their pets 
Clinics: 
Kate's Place, 
Kaiwaka: 
Last Friday of 
month 
9.00am-5.00pm 
For bookings: 
Phone 
09 4312661 
Or phone Owen   
09 4317123  anytime 
LEE COOPER 
PAINTERS 
(Kaiwaka Based) 
*30 yrs Experience 
*Interior/Exterior 
*New and Restoration 
*Honest and Reliable 
*Free Quotes 
 
09 4312918 
0274735171 
leecooper@xtra.co.nz 
The survival of kiwi and their chicks in 
the  Brynderwyns  depends  on  effective 
trapping  and  the  elimination  of 
predators,  particularly  stoats  and  feral 
cats. 
As kiwi extend their territories beyond 
Marunui  Conservation,  an  intensively 
trapped  area  where  they  were  released 
between 2013 and 2015, it is vital that 
predator  control  is  undertaken  in  the 
wider area to help them survive. 
To  this 
end 
Piroa-Brynderwyns 
Landcare,  under  the  umbrella  of  Kiwi 
Coast, is organising a free pest trapping 
workshop for those just starting out and 
for those already active and wanting to 
upskill. 
Kiwi Coast is a collaborative initiative 
linking 
120 
community-led 
conservation  projects  along  the  east 
coast,  from  Pukenui  in  the  north  to 
Mangawhai in the south. Its vision is to 
restore native forest health, help native 
wildlife 
thrive 
and 
increase 
Northland's kiwi numbers. 
Todd  Hamilton,  a  professional  trapper 
and Backyard Kiwi Project Manager in 
Whangarei Heads, will give advice and 
practical demonstrations. He will cover 
the  range  of  traps  available  for  stoats, 
ferrets,  weasels,  feral  cats,  possums 
and  rats,  how  to  use  them  safely  and 
effectively, where to put them and what 
baits  to  use.  Steve  Henderson, 
Biosecurity  Officer  from  the  Regional 
Council, will also be on hand to advise 
on  the  support  Council  makes 
available. 
Information on pest plants affecting the 
area  and  opportunities  to  help  control 
or  remove  them  will  be  provided  by 
Weed  Action  Coordinator,  Nancy 
Chaves. 
Peter  Hunt  works  with  the  Waipu 
Kiwis trapping group and together with 
Ann 
Neill 
co-chairs 
Piroa-
Brynderwyns  Landcare.  He  says,  "We 
are keen to involve as many people as 
possible  in  assisting  kiwi  recovery  in 
our  project  area.  Kiwi  chicks  are 
mainly killed by stoats and feral cats so 
eliminating  these  predators  is  a  key 
focus.  Attending  trapping  workshops 
was a huge help in guiding our efforts. 
In the year to date volunteer groups and 
professional  trappers  in  17  projects 
surrounding  Marunui  trapped  or 
otherwise  removed  114  stoats,  7 
ferrets,  27  feral  cats,  65  weasels,  well 
over  2000  possums  and  962  rats. 
Thanks  to  them  our  success  rate 
continues." 
John Hawley of Marunui Conservation 
reported their catch from January 2018 
to date, combined with its surrounding 
Ring  of  Steel  traps,  totalled  77  stoats, 
23 feral cats, 2 ferrets, 130 weasels and 
hundreds of possums and rats. 
"These  numbers  show  how  many 
predators  are  out  there.  The  workshop 
last  year  was  oversubscribed  so  we 
encourage  those  keen  to  help  protect 
kiwi  and  other  native  wildlife  to 
register promptly." 
Workshop  date:  Sunday  24  November 
2019,  1.30-4.00pm,  Domain  Hall,  Moir 
Street, Mangawhai. To register attendance 
contact John by 20 November. 
john.hawley@xtra.co.nz; Tel. 09 376 4069; 
027 262 7904. 
MAUNGATUROTO COUNTRY CLUB 
XMAS OPEN MIC NIGHT 
Join us for a fun evening. No need to register, just come along 
and 'pic up the mic'! 
Friday 6th December, from 7pm 
Meals and Drinks available from 5.30pm 
WORKING BEE AT THE CLUB 
Please  bring  your  garden  gear  and  a  drink  bottle  on  Saturday 
30th November, 9 -12pm. 
XMAS HOLIDAY CLOSING DATES 
Last  Friday  of the  year  will  be  Friday  20th  December  2019-  reopening  Friday 
10th January 2020. 
OTAMATEA REPERTORY THEATRE INC   
'This is Your Captain Speaking' Dinner Theatre comedy 
Two shows to go:  Saturday 16 November, 6.15pm and  
Sunday 17 November, 4.45pm 
Tickets:  Tony's  Lotto  Shop    or  please  email  Maura  Flower  at 
maura.flower@gmail.com and details for payment will be sent to you. 
FREE TRAPPING WORKSHOP TO HELP 
PROTECT KIWI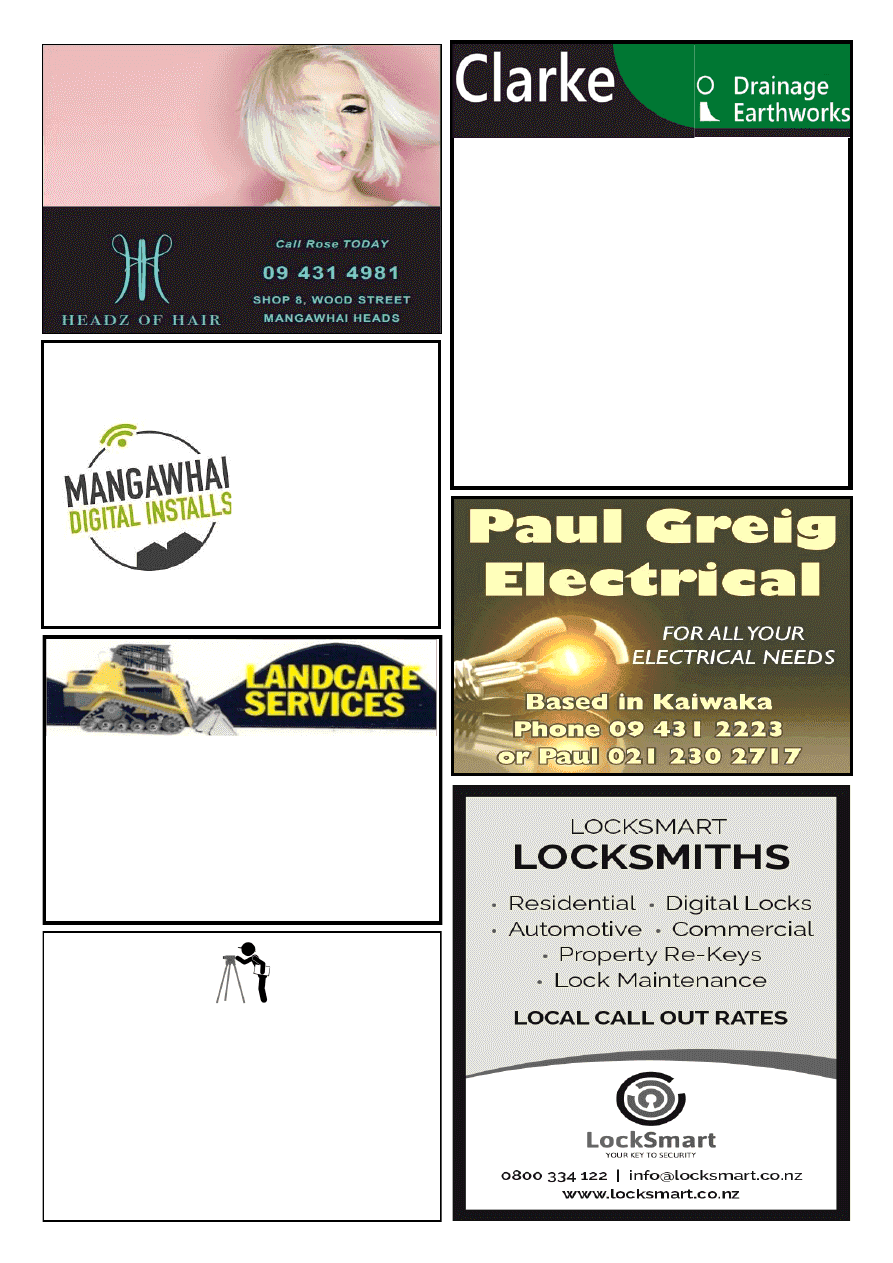 Drainage & Earthmoving 
nigel@clarkedrainage.nz 
027 2233 185 
Registered Drainlayer                    All Types of Earthworks  
> All Residential & Commercial Work  > House Sites 
> Septic System Design & Install          > Footings & Drilling to 10m 
> Sewer Connections 
                       > Dams 
> Water Tank Installation 
               > Roading & Races 
       > Farm Work 
THE ONE STOP SHOP  
Phone Nigel for an Obligation Free Quote  
LANDSCAPING 
4 IN 1 BUCKET 
TRENCHER 
POLE HOLES 
ROTARY HOE 
COMPACT ROLLER 
OFFAL HOLES 
CAN SUPPLY WOODCHIP & POST PEEL 
5 TON TIPPER 
FOR RELIABLE AND FRIENDLY SERVICE CONTACT DAVE 
Dave Hyndman 
 
KAIWAKA 
PH: 09 4312302 
MOB: 021 431 238 
Specialists in: 
Satellite Dish & TV Aerial Installations  
& Repairs 
Freeview  
Chromecast 
Smart TVs   
 Netflix 
Call or Text Adam on 022 351 6679 
E: mangawhai digital@gmail.com 
Ken Urquhart 
BSurv Licensed Cadastral Surveyor 
KMU Surveys Ltd
467 Bickerstaffe Road 
RD 2 
Maungaturoto 0587 
Ph 09 431 8705 
Mob 021 161 2344 
kenurquhart@xtra.co.nz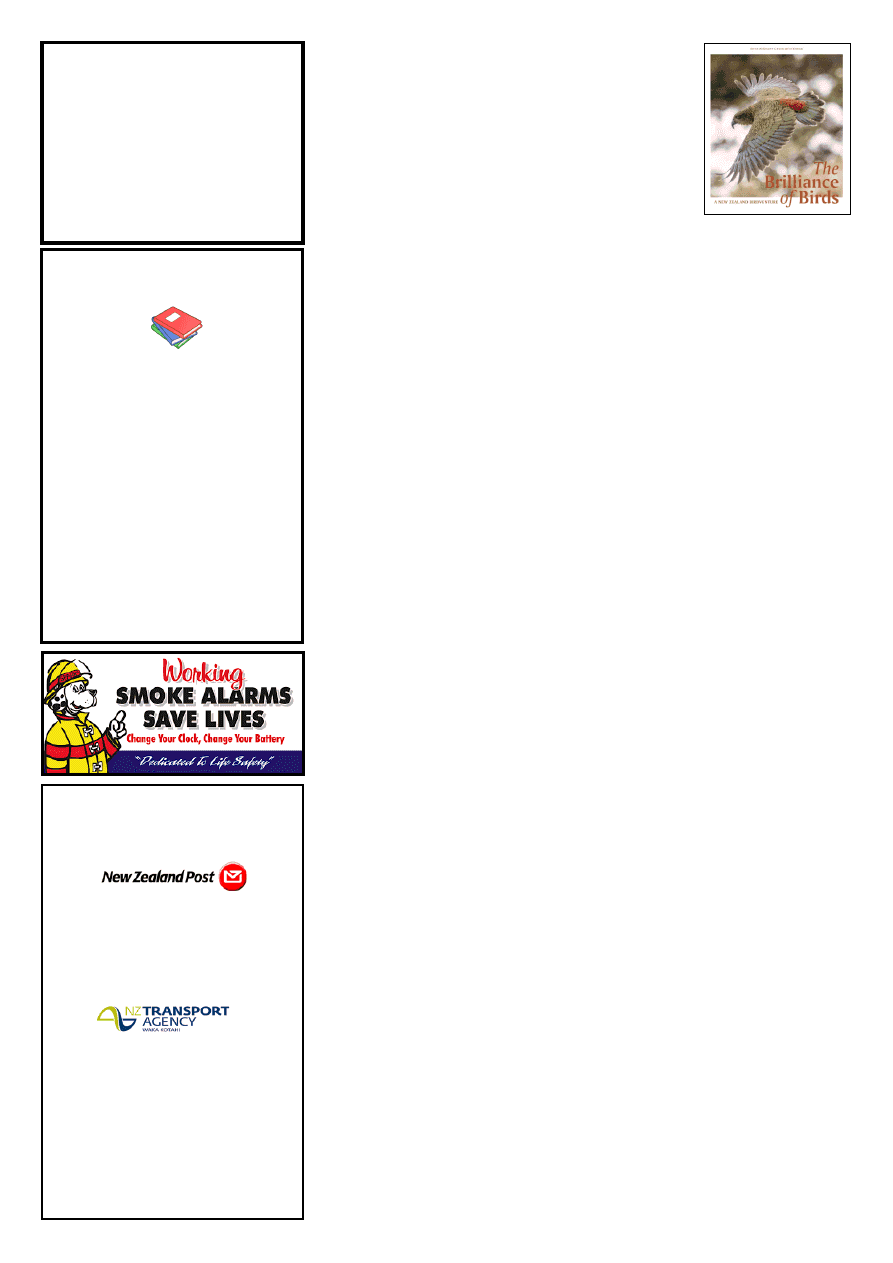 www.kaiwaka.co.nz 
Kaiwaka Bugle - 12 November, 2019 
Page 17 
KAIWAKA LIBRARY
KAIWAKA POST 
CENTRE and 
FOOD MART 
POST CENTRE TRADING HOURS 
MONDAY to FRIDAY 8am to 5pm 
SATURDAY 8am to 12pm 
CLOSED ON SUNDAY and on 
PUBLIC HOLIDAYS 
FOOD MART (GROCERIES) 
MONDAY TO FRIDAY  
7:30am to 7.30pm 
SATURDAY  8am to 7.30pm 
SUNDAY  8:30am to 7pm 
IF ANY QUERIES PLEASE CALL 
STORE MANAGER AMRIT  
on 09 4312431 or 
EMAIL: kaiwakafood19a@gmail.com 
1919a State Highway1, Kaiwaka 0542 
SECONDHAND BOOK SALE 
From now until the end of the year, we 
are having a "monster clearance" of old 
books.  Everything  is  half  the  normal 
price - one book for 50c, two for $1.00, 
or  ten  books  for  $2.50.  These  are  old 
library books that have been discarded, 
and  books  that  have  been  donated  to 
us.  Come  in  and  check  the  sale  book 
shelves  for  the  gems  waiting  for  you. 
We will be bringing out more stock as 
space  is  made,  so  check  back  again 
another day. 
NEW  FREE  MAGAZINE  AND 
NEWSPAPER SERVICE 
If  you  have  been  using  our  old 
magazine service, RB Digital (formerly 
known as Zinio), you may have noticed 
by now that we no longer have that. In 
its  place  is  a  much  better  service  - 
PressReader. Not only does it have all 
the  magazines  you  had  before,  but 
there's hundreds more from around the 
world,  and  newspapers  too.  There  are 
121  titles just  from  New  Zealand.  Fed 
up  with  not  being  able  to  view  the 
'premium' content at the NZ Herald and 
Advocate  online?  See  it  all  in 
PressReader.  You  can  view  it  on  your 
computer 
(www.pressreader.com/
catalog),or  install  their  app  on  your 
phone or tablet. Did I mention that it's 
free? All you need is your library card - 
and  it's  free  to  join  the  library  for 
residents and ratepayers in the district - 
see the Enterprise* link below. 
NEW  ON  THE  RENTAL  NON-
FICTION SHELVES 
Books  added  recently  to  the  Rental 
Non-Fiction  shelves  include  Tessa 
Duder's  lovely  new  book  written  for 
Tuia250, First map: how James Cook 
charted  Aotearoa  New  Zealand;  it's 
about  "the  human  story  behind  the 
creation of Cook's famous chart". (993 
DUD). 
For  the  serious  gardener
,  life-style 
block  owner,  or  self-sufficiency 
enthusiast we have The  lean  farm  by 
Ben  Hartman  (628  HAR),  Dirt  to  soil 
by 
Gabe 
Brown 
(631 
BRO), 
Management-intensive  grazing  by 
Jim Gerrish (633 GER), and The  lean 
farm guide to growing vegetables by 
Ben Hartman (635 HAR); these books 
were  recommended  by  former  Koanga 
Gardens gardener Jodi Roebuck who is 
now  on  his  own  property  in  Taranaki 
with a successful horticultural business 
- you may have seen him and his wife 
Tanya  Mercer  on  Country  Calendar 
recently. 
For  the  intellectually-minded,  or  those 
who  just  like  a  good  biography,  we 
have  The  ministry  of  truth:  a 
biography  of  George  Orwell's  1984 
by  Dorian  Lynskey  -  it  had  a  lot  of 
publicity here a few months back, you 
might have seen or heard an interview 
with  the  author  (823  LYN),  and  Ian 
McKellen:  the  biography  by  Garry 
O'Connor (920 OCO). 
Interested in stargazing? We have 2020 
guide  to  the  night  sky:  Southern 
hemisphere  and  2020  Australasian 
sky guide (both 
523). 
The  brilliance 
of  birds:  a 
New  Zealand 
birdventure by 
Skye  Wishart 
& 
Edin 
Whitehead  is  a 
beautiful  tome 
about New Zealand birds. "Who knew 
that  the  morepork,  our  forest-dwelling 
owl, can turn its head 270 degrees? Or 
that the eastern bar-tailed godwit triples 
its  body  weight  before  undertaking  an 
epic  and  continuous  migration  of 
11,000  kilometres?  Or  that  the  tui  has 
two  voiceboxes  -  enabling  it  to  duet 
with  itself  -  one  producing  sounds  too 
high-frequency 
for 
humans 
to 
hear?" (598 WIS) 
CHRISTMAS HOLIDAYS 
That  time  is  rapidly  approaching! 
Kaiwaka  Library  will  close  at  2pm  on 
Saturday  21  December  2019  for  the 
festive  season  and  reopen  at  4pm  on 
Monday 6 January 2020. 
Any books issued before we close that 
would  normally  be  due  back  while 
we're  closed  will  be  automatically 
extended  to  the  first  day,  we  open  in 
2020.  As  always,  books  can  be 
returned  when  we're  not  open  through 
the slot by the door. 
Borrowers  with  an  adult's  library  card 
(green and black) may borrow up to 40 
items,  and  those  with  children's  cards 
(yellow  and  green)  may  borrow  up  to 
10 items at a time. Still have one of our 
old  white  laminated  cards?  -  they're 
adult  cards.  Stock  up  to  get  yourself 
through the holidays! 
NEXT BOOK SWAP 
Our next book swap is with Dargaville 
Library  in  early  December.  Now  is  a 
good  time  and  really  trawl  through 
those  shelves  for  some  good  reading! 
These  books  don't  need  to  be  back 
before  the  swap,  just  return  them  as 
usual. 
BOOK REVIEW 
Have you read a book from our library 
that you really enjoyed and want to tell 
others  about?  We  welcome  reviews 
from anyone - I'm sure people get tired 
of mostly hearing about what I've read 
and  would  enjoy  other  opinions  and 
tastes. It doesn't have to be long, just a 
sentence  or  two  saying  what  you 
enjoyed  about  it  is  enough  if  that's  all 
you have. Write it, or type it, and send 
it  in  -  leave  it  at  the  library,  pop  it  in 
the after-hours returns box by the door, 
post it to us, or send it by email. We'd 
love to hear from you. 
Want  to  know  more  about  what  I've 
been  reading?  I've  set  up  a  page  in 
Facebook 
for 
that 
- 
https://
www.facebook.com/
WendyReadsBooks/  -  or  you  can  find 
me  at  Goodreads.com  -  find  Kaiwaka 
Library there, and you'll see that I'm it's 
friend on that site. 
See you in the library! ~Wendy 
*Enterprise: http://kaipara.kotui.org.nz/  
HAKARU HALL 
ACTIVITIES 

Monday: Line Dancing  

Wednesday Music Jam Session  
0210628631 

First Wednesday of the Month 
Hall Committee Meeting 7.30pm 

Hall Bookings  4312829  or  
lorrainehepple@gmail.com 
K
aiwaka 
L
ibrary 
Monster Clearance 
Second-hand 
Book Sale 
Until 21 December 2019 
50c each 
2 for $1 
10 for $2.50 
cnr SH1 and Kaiwaka Mangawhai Road 
Phone  4312 539 
Email kaiwaka.library@gmail.com 
Open Mon 4-6pm, Wed-Sat 10am-2pm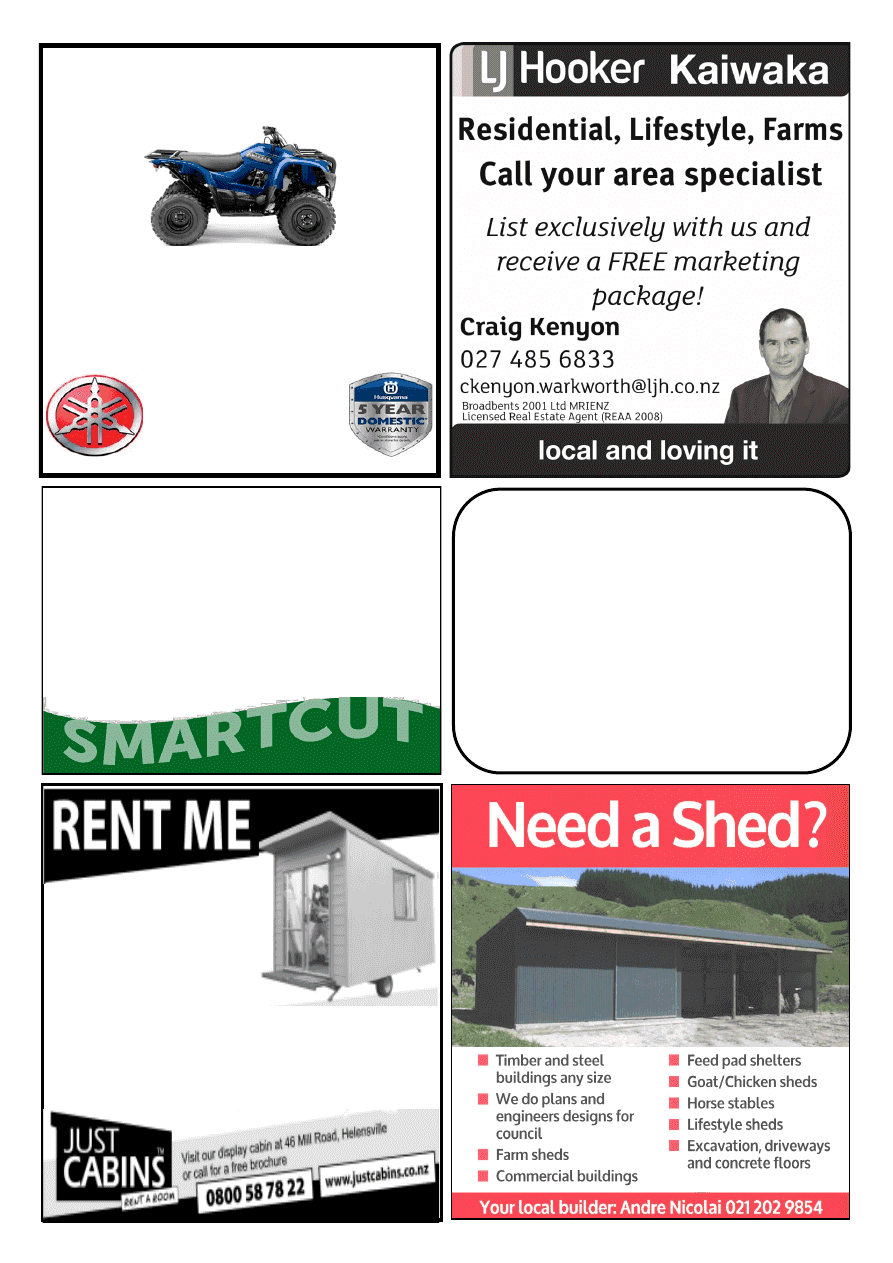 All your outdoor needs sorted so you don't have to... 
I can prune, chop, tidy, spray, mow, plant 
- you name it, I can do it! 
Residential & Commercial 
Lawn & Garden Care 
Call Rodney, your local  
lawnmowing contractor 
021 138 2344 
UP-LINK 
CHRIS WARING 
FREEVIEW INSTALLATIONS 
T.V. - HOME THEATRE &  
HI-FI ADVICE/SET UP
SKY ACCREDITED INSTALLER
MOB.0273403747 HM.094312328 
EMAIL cwaring44@gmail.com
28 YRS EXPERIENCE 
OFFERING UNBIASED ADVICE 
Ideal as an extra  
bedroom or office 
Three Convenient sizes: 
Standard 3.6m x 2.4m - $65 
per week 
Large 4.2m x 2.4m - $80 per week 
Extra Large 4.8m x 2.4m - $100 per week 
Fully insulated. Minimum 6 months rental period 
KAIWAKA 
MOTORCYCLES LTD
SALES – SERVICE – SPARES 
FARM BIKE SPECIALIST
PHONE 09 431-2127 
10 KAIWAKA-MANGAWHAI ROAD, KAIWAKA
Trimmers  
from $279
Chainsaws  
from $339
YAMAHA 
HUSQVARNA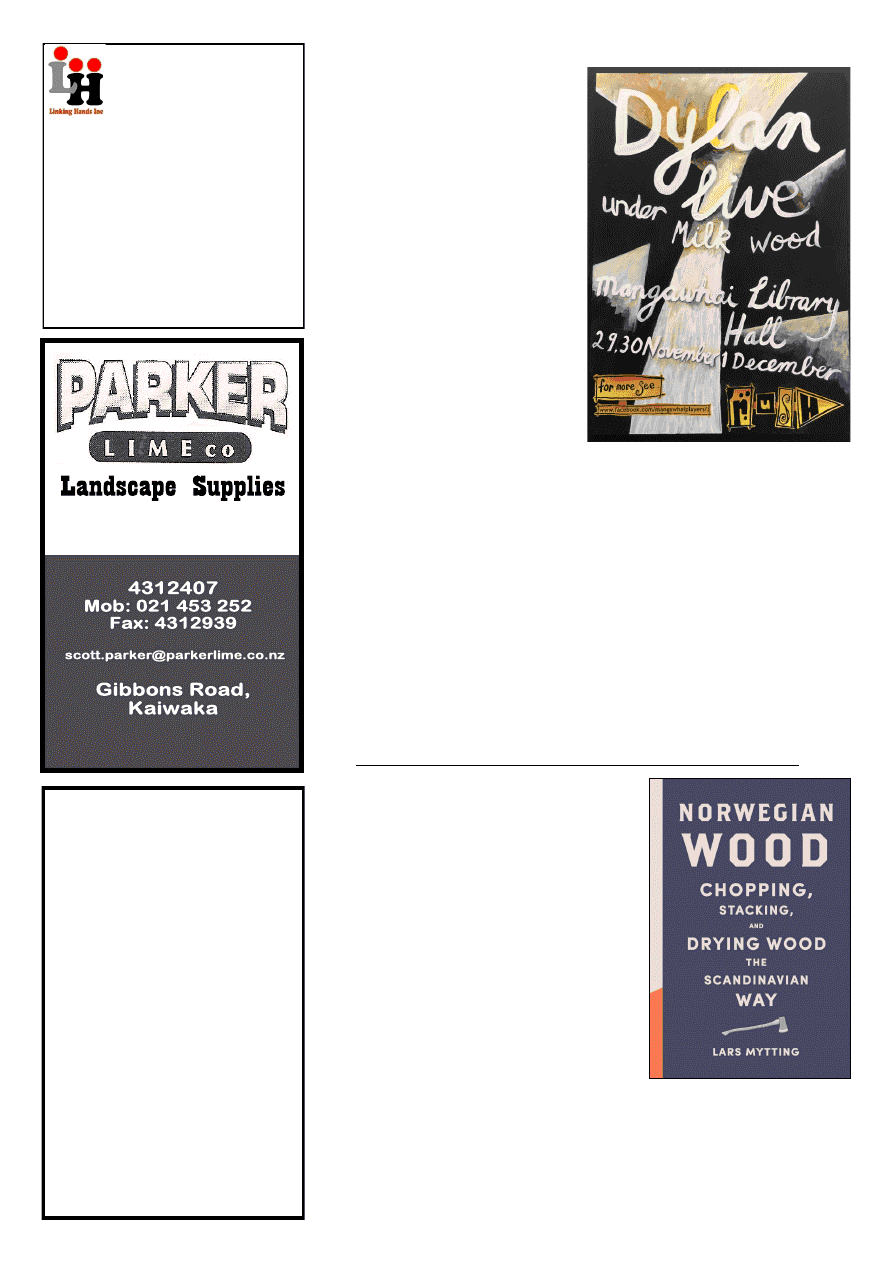 www.kaiwaka.co.nz 
Kaiwaka Bugle - 12 November, 2019 
Page 19 
Willow Bend
HORSE  
HOTEL 
#
Total Horse Care    
# 
Agistment 
# 
Riding Lessons    
#
 Arena Hire (60x40) 
# 
Young Horse Starting 
# 
Re-training/Exercising 
#
Hoof Trimming    
# 
Problem Solving 
Phone Sue  
09 431 2817  
or 021 623 776  
Or email  
susanjoll11@gmail.com 
  LINKING 
HANDS INC 
Maungaturoto - Kaiwaka - 
Mangawhai 
Meeting the needs of the community. 
A  free Health Shuttle Service, providing 
transport to those who would struggle to 
get  to  medical,  dental,  podiatry,  or 
optometrist appointments anywhere from 
Warkworth to Whangarei. 
HEALTH SHUTTLE SERVICES 
Ph/fax 09 431 8969 
OFFICE HOURS 
Maungaturoto - Monday to Friday - 
10am to 4pm 
Closed Public Holidays 
Mangawhai Players 
Under  Milkwood,  the  much  loved 
classic  play  by  Welsh  poet  Dylan 
Thomas,  is  to  be  performed  in 
Mangawhai, in the Mangawhai Library 
Hall,  by  the newly  formed  community 
theatre  group, the Mangawhai  Players, 
on November 29, 30 and 1 December. 
While some of the Mangawhai Players 
have 
extensive 
backgrounds 
in 
performance others are new to the joys 
of being on stage. However they are all 
share  the  fun  and  pleasure  of  working 
together. 
In Llareggub 
Join  us  for  a  glorious  celebration  of 
life, love and language. Share 24 hours 
in  the  lives  of  the  villagers  in 
Llareggub, a small Welsh town by the 
sea. Meet Captain Cat, the retired blind 
sea captain who dreams of his drowned 
shipmates  and  long  lost  lover  Rosie 
Probert,  Mrs  Ogmore-Pritchard  who 
nags  the  ghosts  of  her  two  dead 
husbands,  Mr  Pugh,  school  teacher, 
who schemes and dreams about getting 
rid  of  Mrs  Pugh,  Mr  Mog  Edwards, 
draper,  who  adores  Miss  Price,  sweet 
shop keeper, and many more wonderful 
eccentric characters. 
To  begin  at  the  beginning,  director 
Susan  Dugdale  posted  a  message  on 
the  Mangawhai  Community  Facebook 
page  asking  for  people  interested  in 
being  in  a  production  of  Under 
Milkwood to come along to a meeting. 
From there the word spread. 
She  says  we  have  a  cast  of  twenty: 
twelve  adults  and  eight  children,  who 
between  them  play  sixty  characters. 
That  includes  the  narration  weaving 
their stories together. 
We also are very fortunate to have the 
support  of  Rush  coffee.  Owners 
Hayden and Emma Prujean, in addition 
to covering costs, are both involved in 
the  production.  Hayden  has  taken  on 
the  challenge  of  lighting  the  show 
while  Emma,  an  accomplished  singer-
songwriter,  will  provide,  and  play, 
original music. 
Under  Milk  Wood  is  an  unforgettable 
journey.  It's  sad  and  sensual,  bawdy 
and beautiful. 
As the Reverend Eli Jenkins says, "We 
are  not  wholly  bad  or  good,  Who  live 
our lives under Milk Wood." 
You could say pretty much the same of 
any  small  town  any  where.  Even 
Mangawhai. 
Tickets  are  on  sale  now.  Buy  online. 
See 
https://www.facebook.com/
mangawhaiplayers/ for details. 
Bulk Cartage 
DYLAN LIVE IN MANGAWHAI 
BOOK OPINIONS 
Norwegian  Wood:  Chopping,  Stacking, 
and Drying Wood the Scandinavian Way  
If a book can be called 'reliable' then this is 
it. 
I  read  about  woodcutting  in  Norway  and 
translate  it  to  Kaiwaka  in  my  mind.    It  is  both 
interesting and weighty. 
Author  Lars  Mytting  was  paid  to  produce  a 
book about his national wood fire culture and he 
determined  that  it  had  to  be  useful  to  the 
practical  people  who'd  built  that  culture  over 
centuries.  
The book has been loaned to me by a godson for 
whom  it  is  a  'dip  in'  book.  I'm  doing  the  same 
and  will  have  to  buy  myself  a  copy  when  I 
return  it  to  him.  Mytting  writes  of  axes, 
chainsaws,  magnetic  measures  for  length, 
coppicing, types of tree, burning heat  ...  all in a 
way I can relate to, and with great coloured photos of tools and people. And he 
doesn't 'go on'. 
Just now I studied the development of the chainsaw. 
It  has  been  a  runaway  success  as  a  book  in  recent  years,  selling  hundreds  of 
thousands of copies both in Norway and wherever the European empires have 
spread. 
I'll possibly be reading it for years. Just as well it is in hard cover. ~ HP 
Norwegian  Wood:  Chopping,  Stacking,  and  Drying  Wood  the  Scandinavian  Way,  Hardcover; 
Quercus, 2015, ISBN 10 85705255 1, US edition a hit with women and men on GoodReads.com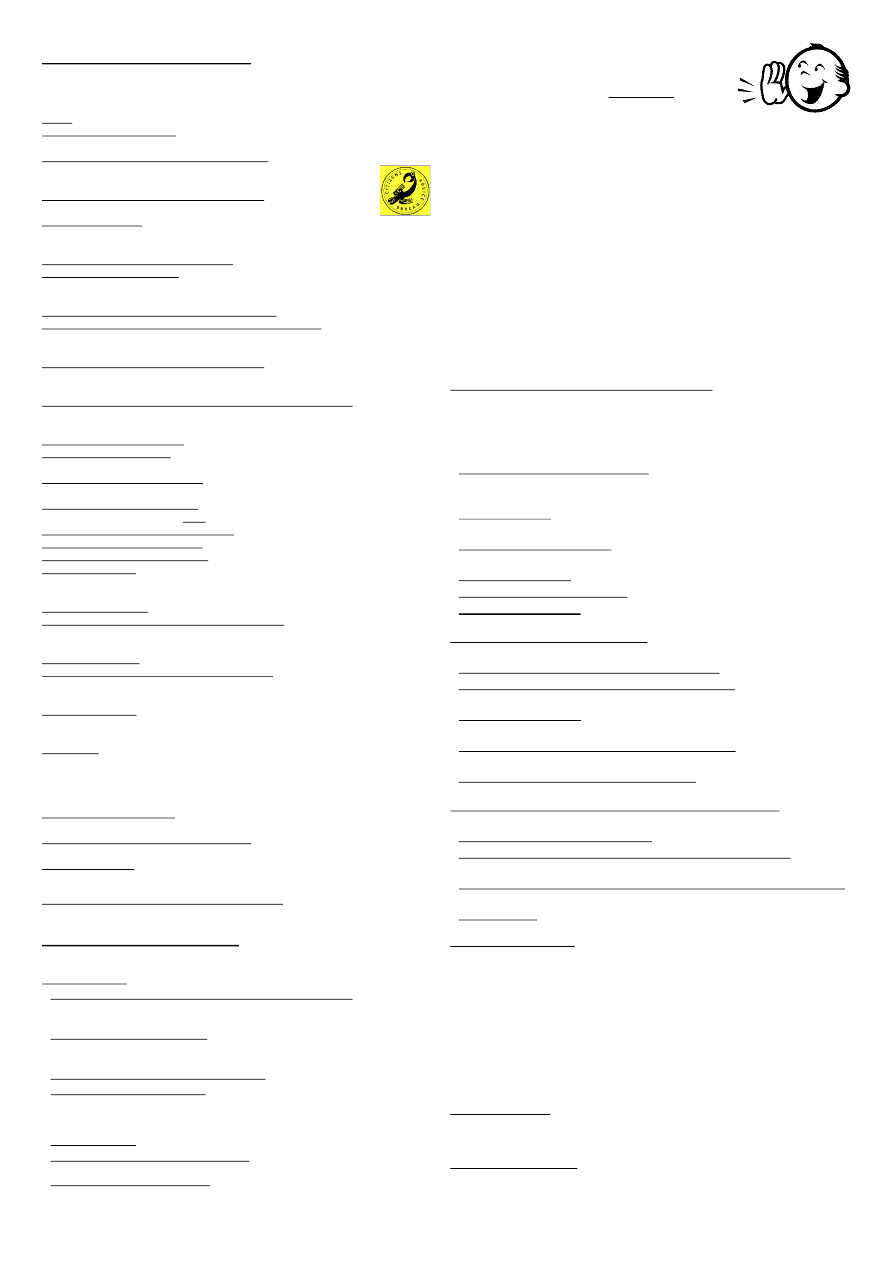 Next Bugle Deadline midday Friday 22 November 2019
WHAT'S ON
PLEASE ~ do let us know what is on - email 
kaiwakabugle@kaiwaka.co.nz 
Advertising in WHAT'S ON is FREE  
*13Nov~TWILIGHT TENNIS, KSA, 6.30pm 
*14Nov~Otamatea Hawks AGM, 7pm KSA 
*14Nov~Otamatea Repertory Theatre AGM,, 7pm 
*15Nov~Movie 'The LION KING', KWMH, 5pm 
*15Nov~Movie 'Sometimes Always Never'KWMH7.30pm 
*16-17Nov~Pt.Curtis Fishing Competition 
*20Nov~KDC-Kaiwaka Spatial Meeting, 4 -7.30pm, KSA 
*23Nov~Bonfire Night, Otamatea Marae - see Facebook 
*29Nov~Hakaru RSA Christmas Dinner, 6pm Ph.43125589 
*29Nov~Movie 'LATE NIGHT', KWMH, 7.30pm 
* 13Dec~Movie 'DOWNTON ABBEY', KWMH 7.30pm 
KWMH = Kaiwaka War Memorial Hall; KSA = Kaiwaka Sports Association 
See www.kaiwaka.co.nz for more information 
HOUSEHOLD RUBBISH COLLECTION - Kaiwaka Pick up: 
Mondays = Green bags (Northland Waste - 09 430 3273) 
Wednesdays  = Blue bags and yellow recycling (at Jaques $3.00 
and  $1.50)  (Kaurilands  09  4392146);  ONLY  Blue  and  Yellow 
bags picked up on Oneriri Road. 
 DIABETES  Support  Group  -for  Kaiwaka,  Mangawhai, 
Wellsford  10am,  3rd  Friday  of  month  Ph:  Colleen  James  09 
4314238 
 GENEALOGY - Wellsford: 1st Thursday in month Ph: 423 
7033; Waipu: 4th Monday in month Ph: 4312 725 
 HAKARU PONY CLUB - Secretary Denise Rogers 021423376 
secretary@hakaruponyclub.co.nz  
 KAIPARA HUNT - Secretary Albert Doonenbal Ph 4312059 
 KAIWAKA BADMINTON -Tuesdays 7.30pm Ph: 4312345 
 KAIWAKA  CAN  - 3rd Wednesday in month, 5.30pm, Archie 
Bull Hall Ph: 0273572751 
*KAIWAKA  DRAMA  CLUB  - 
Hannah  Webb 
0272863352 
KaiwakaDrama@gmail.com - FB - "KaiwakaDramaClub" 
 KAIWAKA DRUM & DANCE CLASSES - 021 611198 
 KAIWAKA GARDEN & FLORAL GROUP - 2nd Thursday in 
month. Ph: 431 4744 
 KAIWAKA  CUBS  -  Thursdays  5.30-7pm,  Hakaru  Ph:Bruce 
4312542 
 KNITTING FOR WHANGAREI HOSPITAL - 2nd Tuesday in 
month, Archie Bull Hall 10am Ph 4314827 
 MANGAWHAI COMBINED REBUS CLUB - 2pm, 3rd 
Thursday month, Senior Citizens Hall Mangawhai. Ph: 4315777 
*PILATES - KAIWAKA WAR MEMORIAL HALL - Ph: 
021 
2072729  
 PT CURTIS CRUISING CLUB - Jean Ph: 4312227 (wk), 4312520 (hm) 
 RSA,  HAKARU  &  DISTRICTS  WOMEN'S  SECTION  –  meets 
1.30pm 4th Thursday of the month. Ph: 431 5818  
 KAIWAKA  SCOTTISH  COUNTRY  DANCING  CLUB-
Wednesdays 10am - 12 noon  Ph: Elaine 027 432 0032  
 TRAMPING - Mondays 9am-2:30pm Maria 4312 234 
HALLS FOR HIRE: 
  Kaiwaka St. John Hall: Phone Marj  0272941227  
 St.Pauls Archie Bull Hall HIRE $20 half day, $40 full day per 
hire, S McAulay, Ph 4312311 
 Kaiwaka  War  Memorial  Hall  HlRE  -  Phone  4312725  or 
kaiwaka.hall.bookings@gmail.com 
 Hakaru Community Hall HIRE -Ph. 4312256 or 4312110 
 Te Pounga Marae queries - Pearl Nathan  0223933533 
 Kaiwaka Sports Association hire/queries - C. Anderson 4312051 
or kaiwakasports@gmail.com 
Justice of Peace:  
B.FJaques  4312  048;  L.Donaldson  4312  228;  A.F.Hargreaves 
4312 045, W.Howard 4312 725 - please phone to make sure they 
are available or go to www.justiceofthepeace.org.nz 
Marriage Celebrants:  
L.Donaldson; A.F.Hargreaves; Y Osborne
LOCAL SERVICES 
*Emergencies - Ambulance, Fire, Police - dial 111 
*Non-urgent Police phone 09 4311150
A A: Meets Wed., 8pm Kaiwaka Ph: 4315543, 0800229 6757 
ASUREQUALITY LTD (was AgriQuality) Call Free 0508 0011 22  
BUDGETING SERVICE, WELLSFORD: Free confidential advice & 
support for all areas of personal finance. Ph (09) 423 7123 
CAB-Citizens Advice Bureau.Wellsford Ph: 4237333 
0800 367 222 email:cab.wells@xtra.co.nz  
CIVIL DEFENCE - Kaiwaka Community Response Group: 
kaiwaka.civildefencecrg@gmail.com, 4312725 Wendy 
DOG/STOCK /NOISE CONTROL 0800 105 890 
FUNERAL SERVICES: Morris & Morris Ltd, 
Whangarei - Bev Jaques Ph:4312367 or 0800667747 
GRANDPARENTS Raising Grandchildren: Dianah Roberts 0223819539 
HAKARU & DISTRICTS MEMORIAL RSA (Inc) 733 Settlement Rd, 
Hakaru. Ph 4312 176 or Bill Warren (President) 431 2092 
HAKARU LANDFILL/Transfer Station:Open everyday  10am-
4pm.Ph4312629 Cost-$55 trailer load up to 1 cubic metre. Ph:4258567 - 
office 
KAIPARA DISTRICT COUNCIL www.kaipara.govt.nz:  
Help Desk FREEPHONE 0800 727 059  
KAIWAKA CEMETERY: Ph: 4312045 or 4314017 
KAIWAKA LIBRARY: kaiwaka.library@gmail.com  
Mon. 4-6pm; Wed., Thurs., Fri., Sat. 10am-2pm Ph:4312539 
KAIWAKA PLAYCENTRE: Ph Juanita 0274134904; open Mon, Wed, 
Fri 9am-12pm. Hastie Lane; Monday to Friday 9.00am - 12 noon. 
KAIWAKA POST OFFICE:Ph:4312 431  
Post Code: 0573 for RD2 and 0542 for all Kaiwaka Post Office mail 
KAIWAKA PRIMARY SCHOOL: Ph: 4312309   
KAIWAKA SPORTS ASSN: Ph 4312005; 4312129 gym 
KAIWAKA ST JOHN HALL: Phone Marj  0272941227  
KATE'S PLACE Community Centre - Employment services, Free Health 
Nurse, Plunket, Advocacy, Osteopath, A.A., Legal Advice. 4312 661 
LINKING HANDS Health Shuttle Ph 4315906 or 09 4318969 
MINISTRY FOR PRIMARY INDUSTRIES - General inquiries Call 
Free 0800 008 333 
NORTHPOWER: Faults Kaiwaka area 0800 104040 
OTAMATEA COMMUNITY SERVICES: Counselling, parent coach, 
Family Support worker, budget advice, food bank. Mon-Fri 9am-3pm. Ph 
09 431 9080 http://www.otamateacs.org/ 
PARENTPORT: Free, practical family support service Puhoi to Paparoa 
Ph or txt: Dianne 027 280 5093 or 09 425 9357 
PLUNKET:  Kaiwaka  -Kate's  Place  Clinic  1st  Wednesday  of  the  month; 
Mangawhai  - Rose Madsen Cottage: Coffee Group 9:30 every Monday.  Clinic 
every Monday and Thursday. 
Maungaturoto - Good News Church, Clinic 2nd and 4th Wednesday.  
Cynthia 09 431 7340 or 027 675 3488 
PLUNKET HELPLINE -0800 933 922 (24 hours) 
TAITOKERAU COMMUNITY LAW: Free confidential legal advice and 
assistance, 2nd
Thursday
 of each month. Ph: 0800 155 529 for appts.  
TE URI O HAU Settlement Trust Tangata Developments: Whanau Ora 
021 793262  
VETERINARY SERVICE MANGAWHAI: 
Ph: 4314535 Mon-Fri 8.00-5.00, Sat 9-12, a/h appt. 
WELLSFORD DOCTORS: Ph: 4238 086 
CHURCHES:
 
Kaiwaka  Revival  Church  -  Your  Community  Church:  Sundays  10am. 
Ph: Pastor Tawhiri 09 431 8988 or Pastor Paul 09 4312 068 Visit us at 
www.facebook.com/kaiwakachurch 
 
St  Paul's  Anglican  Church  1st  Sun.  9.00am  (Eucharist),  3rd  Sun. 
9.00am (Family Service). Contact: Rev. Wayne Thornton Ph 431 4122 
www.mangawhaianglican.org.nz 
 
Church of Christ the King, Mangawhai:9.00am every Sunday 
 
St.Mary's  Catholic  Church:  Maungaturoto  –  Griffins  Road,  Saturday 
evening  Vigil  Mass  6pm;  Mangawhai  –  Senior  Citizens  Hall,  Sunday 
Mass  8:30am;  Wellsford  –  Matheson  Road,  Sunday  Mass  10:30am;  
Mid-week Mass times and all enquires to Fr. Bill Fletcher – phone 423 8170
 
Baptist Church: Sun. 10.30am Mangawhai Snr Cit.Hall.Ph:4312339 
 
Cause  Way  Church  Mangawhai:  Sundays  10.15am,  Mangawhai 
Community  Recreation  Centre,  Insley  St.  Ph:  09  4314782