www.kaiwaka.co.nz 
Kaiwaka Bugle - 26 November 2019 
Page 1 
No:23 
26 November 2019 
Trading Hours: 
Monday to Friday 8:00am - 6:30pm 
Saturday 8:00am - 7:00pm 
Sunday 9:00am - 6:00pm  
Kaiwaka  School  students  have  had  a 
number  of  activities  this  month  –  speech 
competitions,  Noho  Marae,  athletic  days, 
Grandparents  Day  and  even  a  Disco  last 
Friday evening. 
The recent Noho Marae at Otamatea was a 
wonderful  experience  for  our  senior 
students.  The  juniors  had  their  athletics 
day on Thursday 21 November, with sprint 
races  followed  by  fun  races  -  sack  races, 
relays, throwing, parachutes.   
Te  Awhina  Whitehead  is  now 
the  parent  trustee  on  the  school 
Board of Trustees.  
The pool is ready for swimming 
now. If the water temperature is 
above  18  degrees,  the  students 
will go swimming. At this stage 
we  will  take  every  day  as  it 
comes,  due  to  the  variability  of 
the weather.  Keys for the public 
will  be  available  in  December. 
We are looking into after school 
swimming  instruction  being 
available next year. 
Kaiwaka 
School 
Speech 
Competition  Results: 
Year  6: 
Wairua  Nathan;  Year  5:  Roy 
Bickerton;  Year  4:  Victoria  Kingi; 
Year 3: Carter Sanford; Year 2: Ivy 
Linnell;  Year  1:  Amara  Ashton-
Videla;  Overall  Best  Speech: 
Wairua  Nathan. 
Congratulations 
to all finalists and winners 
The  school  has  a  new  logo 
designed  and  drawn  by  Rosie 
Hyndman - see above 
KAIWAKA SCHOOL IS BUSY! 
THANK YOU,  
PAULA AND GREG 
Thank  you,  Paula  and  Greg  for 
donating the front page to our Kaiwaka 
Bugle. 
Their  support  for  our  local  newsletter, 
and to our community, is outstanding. 
This  page  now  shows  95  years  of 
Jaques  family  as  store  owners  in 
Kaiwaka. 
RESTRICTED FIRE 
SEASON 
From 8am Tuesday  
26th November, 2019 
This is both Urban and Rural 
areas, Far North Whangarei, 
Kaipara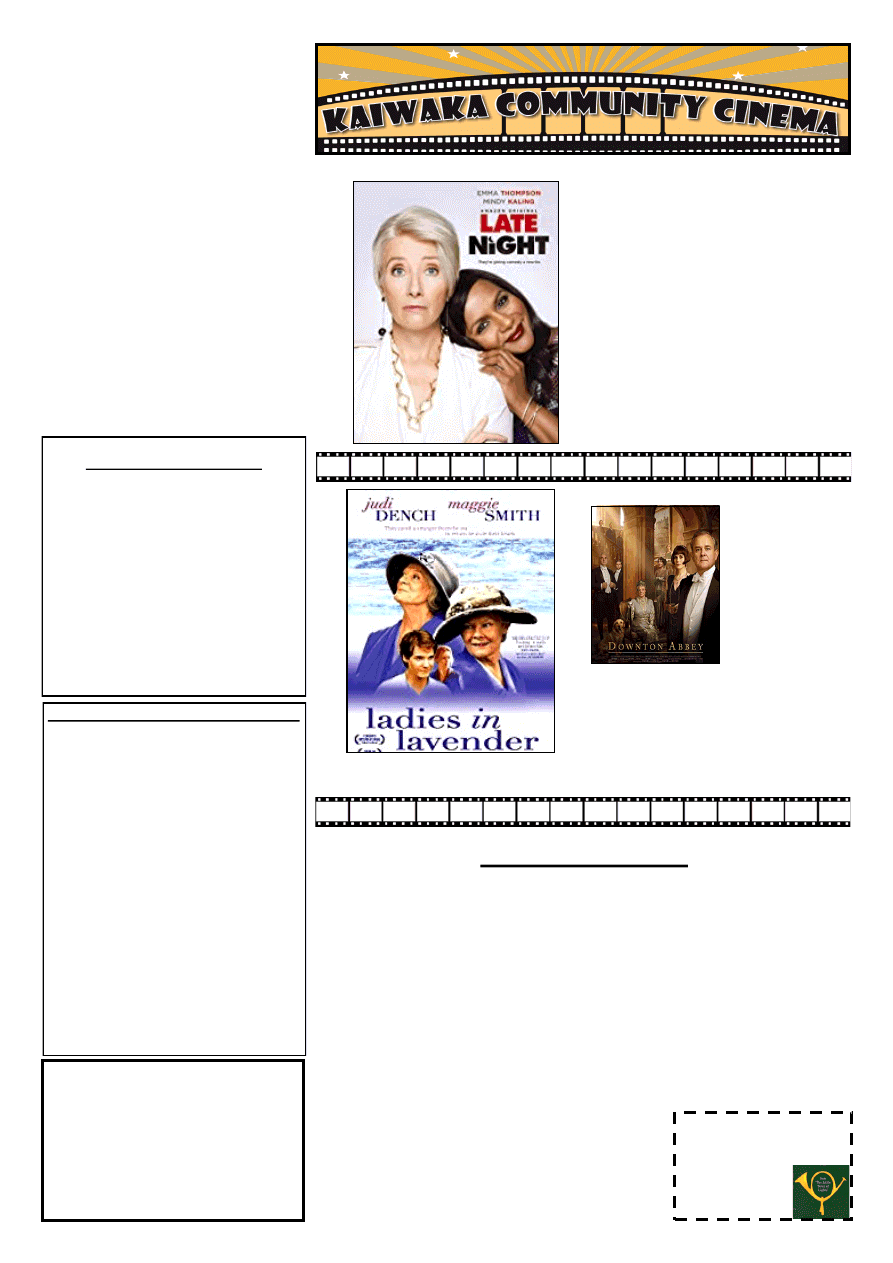 Proverbs 27:19 
Just as water mirrors  
your face,  
so your face mirrors  
your heart.  
(The Message Bible)  
At Kaiwaka War Memorial Hall . Adults $10, Kids (under 16) $5, Family Pass (2 adults + 3 children) $25 
ABOUT TOWN 
 
Well done to Scott and Cindy Hempsall, and all involved in creating the fun  
night at the Otamatea Marae, in support of the Dementia Unit  

 The  RESTRICTED  FIRE  SEASON  has  begun!  Go  to  -  checkitsalright.nz  - 
here you can apply for a permit. 

 We  were  saddened  to  hear  of the  sudden  passing  of  Lynn  Middleton.  Lynn 
was a regular contributor to the Bugle on behalf of the Mangawhai Artists. 

The Kaiwaka lights are coming back! See the glasses & book on the library! 

Did  you  know    where  the  community  Automated  External  Defibrillators 
(AEDs)? Eileen Parsons is compiling a list -see page 19 

The Electoral boundary changes - see the large map of these changes on the 
wall  in  Kaiwaka  Library  or  go  to  www.nz  Northland  Electorate's  southern 
boundary will be on the Kaipara District line. Rodney will 'go' and become part 
of Helensville Electorate ... 

LINK BUS - every Thursday; leaves Kaiwaka 9am; 0800 994 404

NB: Final Kaiwaka Bugle for 2019 comes out on 10 December.

Earlier issues of the Bugle don't disappear - they 
can  be  seen  online  at  www.kaiwaka.co.nz  at  any 
time - also great colour in the photos.         
                  ~ Lindsey, Ed 
'To see a world in a grain of sand and heaven in a wild 
flower Hold infinity in the palm of your hand and eternity 
in an hour.'  ~ William Blake
KAIWAKA BUGLE NO.23 
26 NOVEMBER 2019 
CONTENTS: 
Page 3: Public Notices, Classified 
Page 5: Stockcars; Lights; Fire & 
Emergency; St. John Op Shop 
Page 7: Garden & House Tour; 
Dementia Unit  
Page 9: Otamatea Repertory; Otamatea 
High School 
Page 11: Kaiwaka Sports Assn  
Page 13: Rotary; Pt.Curtis CC ; YFC 
Page 15: Kaiwaka Can; Mike Jung 
Page 17: OCS; Thelma's Scrapbook 
Page 19: 'Little Bother'; Linking 
Hands; AEDs 
Bugle 24 will appear  10 December 
Contact for advertising, reports, articles 
or information can be made by 
Email: kaiwakabugle@kaiwaka.co.nz 
Ph: 09 4312 045 Lindsey 
Txt: 027 2724137 
Copy  may  be  left  at  Jaques'  Four 
Square. 
Kaiwaka Bugle Advertisements 2019: 
All 
copy 
and 
queries 
to: 
kaiwakabugle@kaiwaka.co.nz 
The Bugle is printed on an A4 page, B&W  
Ad  sizes:  1/16  page  (3  x  9.5cm)  $5;  1/8 
(6.5  x  9.5cm  landscape  or  portrait)  $8; 
3/16 ( 10 x 9.5cm or 7.5 x 12,5)  $12.  
Classified  ads:  First  one  FREE,  $4  per 
entry (max. 30 words, max. 4 repeats). 
Payments  can  be  made  online  at 
ANZ 
06  0365  0006990  00
,  posted  or  left  at 
Jaques Four Square Store. 
We  use  Microsoft  Publisher,  and  can 
work  with  most  common  image 
formats, Word, Excel, and PDF files. 
Accounts:  
Email: bugleaccounts@kaiwaka.co.nz 
The  Kaiwaka  Bugle  is  a  community 
newspaper run by volunteers, as part of 
the Kaiwaka Media Group Inc.   
Articles, etc. printed are not necessarily 
the opinion of the Bugle Team. 
Kaiwaka Bugle 
Founded May 1978 
We appreciate articles and photos about local 
events, etc, as well as ads and suggestions. 
Copies available in Kaiwaka at Jaques Four 
Square, Kaiwaka Postal Centre, Shamrock 
Service Station, Animal Health Centre, 
Kaiwaka St John shop. 
Also outlets in Maungaturoto, 
Mangawhai and Paparoa. 
Can be viewed online at  
www.kaiwaka.co.nz/Bugle  
Or a copy can be posted to you if you supply 
stamped, self-addressed DLE envelopes. 
LATE  NIGHT 
 Friday 29 November, 7.30pm (M) 
'Emma  Thompson  plays  Katherine 
Newbury,  who  is  a  legendary  late-
night  talk  show  host,  whose  world  is 
turned  upside  down  when  she  hires 
her only female staff writer played by 
Mindy  Kaling.  Originally  intended  to 
smooth  over  diversity  concerns,  her 
decision  has  unexpectedly  hilarious 
consequences 
as 
two 
women 
separated  by  culture  and  generation 
are  united  by  their  love  of  a  biting 
punchline .' 
KAIWAKA BUGLE 
DEADLINE DATES 
2019:  Every second 
Friday
December 6. 
LADIES in LAVENDER
Friday 13 December, 7.30pm (PG)                        
DOWNTON 
ABBEY 
  Now in FEBRUARY 
The  Movie  Team  apologise  for  the 
delayed showing of Downton Abbey  -  
the  'license  to  screen'  for  our  small 
theatre is not available until 2020.  
Watch  for  a  February  showing  plus  a 
beautiful supper.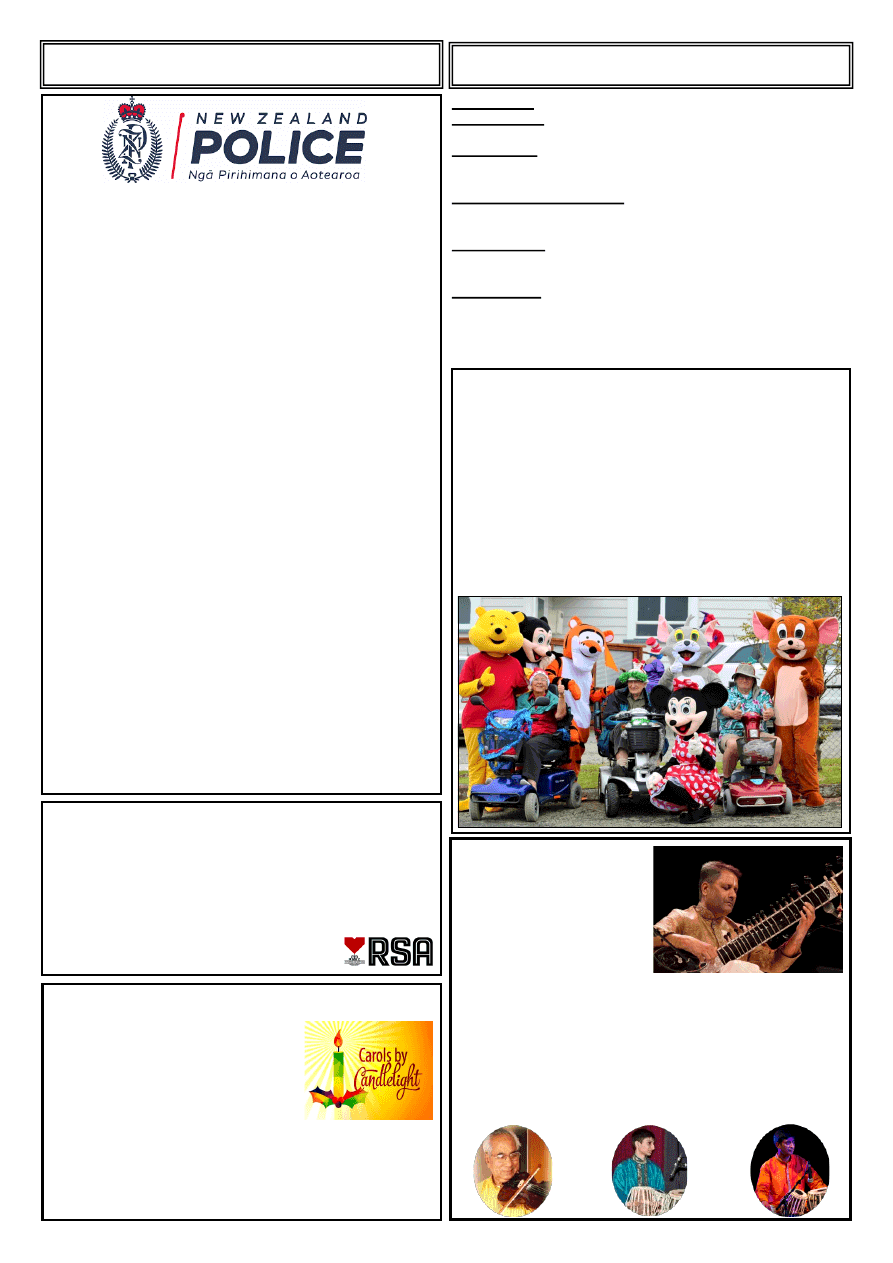 www.kaiwaka.co.nz 
Kaiwaka Bugle - 26 November 2019 
Page 3 
PUBLIC NOTICES 
CLASSIFIED 
MAUNGATUROTO  
CHRISTMAS PARADE 
Hey, hey, Kaiwaka, have you ever wanted to be part of a 
Christmas  parade?    Well  now  is  your  chance,  the 
Maungaturoto parade is on Saturday the 21st December at 
4pm  and  we  would  love  to  have  not  only  heaps  of 
Kaiwakaians come and watch but also take part.  
You can be part of a community group, a business or have 
something  of  interest  to  enter  into  the  parade,  we  will 
have full road closure so large vehicles can take part, all 
you need to do is either jump on the Maungaturoto Parade 
Facebook page or give me a call to enter. 
Terri Donaldson 02102220218 
SHUT THE GATE ON RURAL 
CRIME 
Police Emergency phone 111 
Police non-emergency phone 105 
Crimestoppers anonymous information 
0800 555 111 
Going on Holiday ? When ? tell us 
We may not be able to feed the sheep while you are away, 
but we can visit your property to carry out random checks 
for you. 
Have a vacant house ? Where ? tell us 
Farm cottages / empty houses / batches are often targets 
for criminals.  
Help us to help you keep your valuables safe.
New workers ? Who ? tell us 
Farm workers often move around. Let us know who your 
farm workers are. They may be able to assist us in your 
absence. 
Suspicious behaviour observed ? Where ?Tell us ? 
- - - - - - - - - - - - - - - - - - - - - - - - - -  
Owners Name /Phone/Email/Address: 
___________________________________________ 
_______________________________________________ 
I am going to be absent/dates: _____________ 
I am happy for Police and Community patrols to visit my 
property to ensure there is no suspicious activity taking 
place in my absence.  
Alternative contact persons name/Address/Phone/
Email:________________________________________ 
Or: I wish to advise the following: 
_______________________________________________ 
_______________________________________________
____________________________ 
Signed :________________________________ 
Deliver to Mangawhai Station  
or post to P O Box 9, Wellsford 0900 
ST PAUL'S ANGLICAN CHURCH 

Carols by Candlelight 
Sunday 15th December, 
7.30 pm 
Refreshments to follow 

Christmas Day 
Communion Service - 9.00 am 
All Welcome! 
HAKARU & DISTRICTS MEMORIAL RSA 
733 Settlement Rd., Hakaru 
Extraordinary General Meeting 
Notice is hereby given of the Hakaru & 
Districts Memorial RSA Extraordinary General 
Meeting in clubrooms on 
Sunday 8th December 2019 at 1400hrs: 
⚫
Way forward in 2020 
⚫
Membership fees in 2020 
Music  
Of 
 India 
Pt. Harvinder Sharma, popular Sitarist from India 
With Prof. Shukdev Madhur, Akhil Madhur and Basant Madhur 
Absurdistan Hall 
317A Parekura Road, Kaiwaka 
 Sunday 8th December at 5pm  
Tickets at Kaiwaka Cheese Shop $15 Early Bird or $20 Door Sales  
Contact 0212377678 for more information 
FOR SALE: Large Preserving Jars. $1 each Ph: 4312970 
FOR  SALE:  Scrapbooking  Tools,  Paper,  Card  and 
Accessories Ph: 4312970 
FOR  SALE:  Approx.  20  Ducks;  good  layers.  $22  ea.  or 
$200  for  10  ducks.  Call  Peter,  Eco  Village,  4312718  or 
0211502260 
CHRISTMAS  TREES:  Available  from  Monday  2nd 
December at the Kaiwaka St. John Op Shop. 
FOR  RENT:  STUDIO  FLAT.  Sunny,  north  facing; 
currently  unfurnished.  $210/wk  incl.  Water  &  power  + 
bond. For more details phone or txt Kim 021823224. 
FOR  RENT:  Good  flat  in  Eco  Village.  50m
2
,  bedroom, 
living,  office,  kitchen,  bathroom.  Carport,  lawn,  garden 
optional.  Sky  disk  &  phone  existing.  Long-term  to  tidy, 
honest single. $255 p.week, incl. power. Reference, Bond. 
Call Peter on 4312718 or 0211502260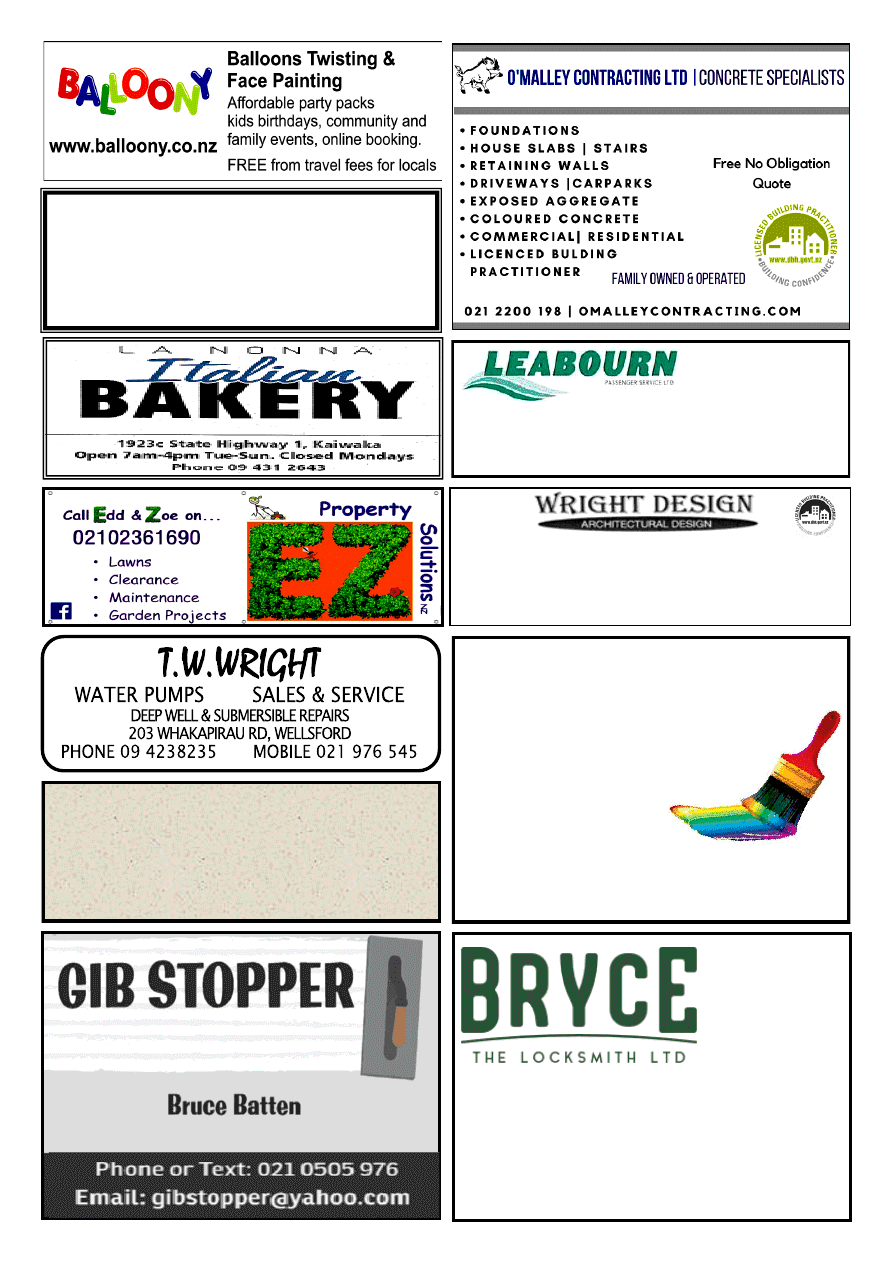 Passenger Service
Car & Van Hire   Bus & Coach Charters 
Airport Transfers    
Phone (09) 4237416 
Counsellor and Registered Psychotherapist 
Offers Supervision 
ACC Sensitive Claims 
Susan Matheson      MNZAC 
Dip. Psychosynthesis Counselling and Psychotherapy 
Phone 09 431 2996                                     Mobile 027 605 2427 
No. 117345 
N.Z.C.A.D., L.B.P. 117345 
PH/Fax: 09 423 8092 Mob: 021 276 7369 
Office: 3 John Sinclair Avenue, Wellsford    brianwright@xtra.co.nz 
For Resource and Building Consents, planning restraints, new building materials - 
you need a capable, experienced, and professional designer with a clear 
knowledge of all the processes. Brian has been helping and organising all these 
facets of design and building for over 50 years. 
Wright Design offers free visits, consultations and advice on planning, design, 
building, council permit applications, guaranteed permit plan acceptance. 
LEE COOPER PAINTERS 
(Kaiwaka Based) 
*30 yrs Experience 
*Interior/Exterior 
*New and Restoration 
*Honest and Reliable 
*Free Quotes 
09 4312918 or 0274735171 
leecooper@xtra.co.nz 
Bryce Frewin 
Ph: 021 850 983 
Kaipara Based Master Locksmith 
bryce@brycethelocksmith.co.nz 
www.brycethelocksmith.co.nz 
HANDYMAN 
Gardens * Lawns * Landscaping * Painting 
* Small gib-stopping * 
* General repairs and maintenance * 
Honest - Reliable 
Phone Burn 0211900555 or Brenda 0211185578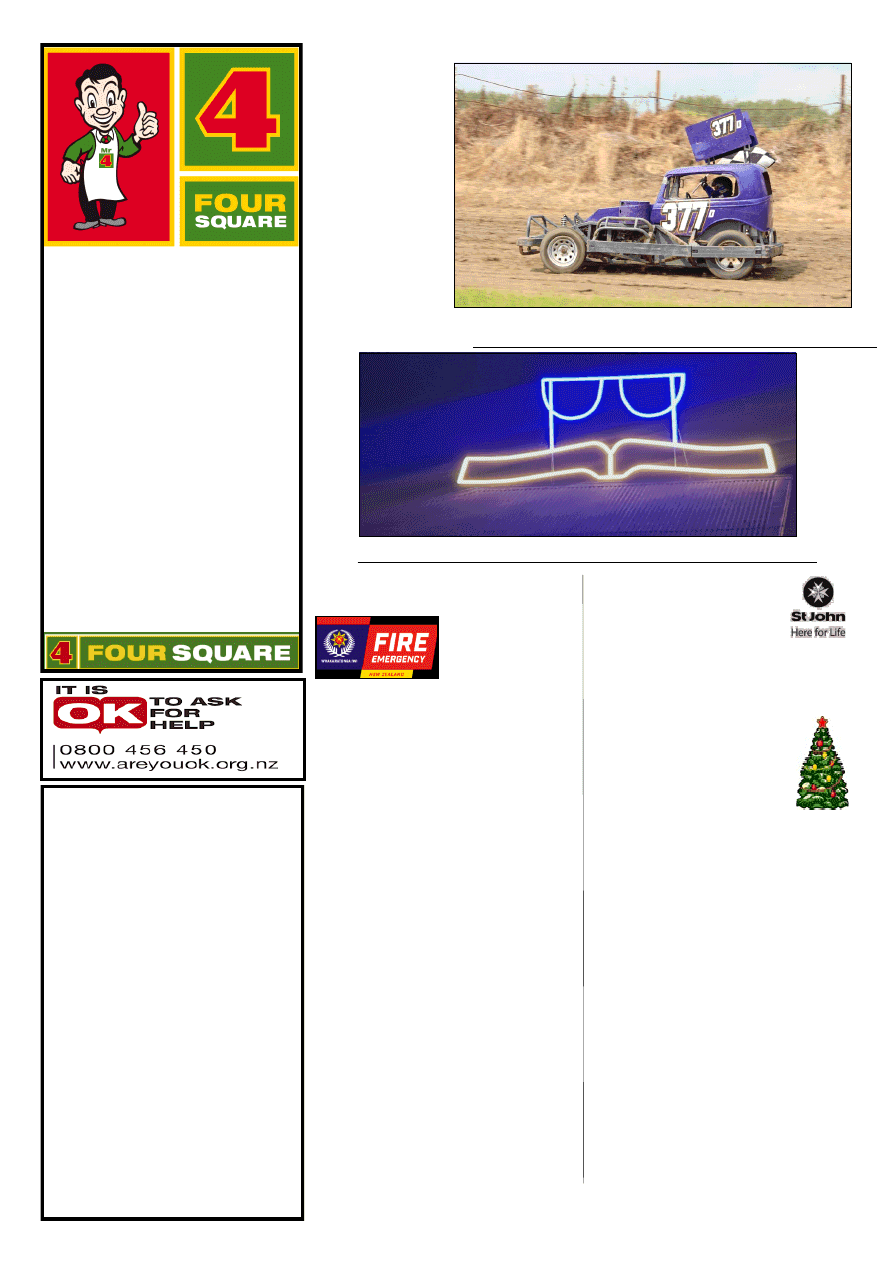 www.kaiwaka.co.nz 
Kaiwaka Bugle - 26 November 2019 
Page 5 
Willow Bend
HORSE  
HOTEL 
  
Total Horse Care 
 
Agistment 
 
Riding Lessons 
 
Arena Hire (60x40) 
 
Young Horse Starting 
 
Re-training/Exercising 
 
Hoof Trimming 
 
Problem Solving 
Phone Sue 09 431 2817 
or 021 623 776 
Or email  
susanjoll11@gmail.com 
DARGAVILLE PRODUCTION STOCKCAR CLUB 
Fire  &  Emergency 
New Zealand 
On 
the 
14 
November 
2019 
Kaiwaka 
Volunteered 
Fire 
Brigade  turned  out 
to a potential very dangerous house fire 
at a Marshall Road address. 
The  fire  started  in  the  kids'  room  and 
the occupants were able to get quickly 
out  of  the  room  and  house  due  to  a 
working smoke alarm that alerted all 
occupants in the house. 
The  room  was  completely  fire 
damaged  with  melted  power  sockets 
and  light  fittings,  but  the  fire  was 
contained in the one room due to good 
fire  proofing  and  quick  response  from 
the fire crew. 
Fire  &  Emergency  New  Zealand 
believe  people's  best  protection  is  to 
have  working  long-life  photoelectric 
smoke alarms in every bedroom, living 
area and hallway in their home. 
When  you're  asleep,  you  lose  your 
sense  of  smell.  Don't  assume  your 
smoke  alarms  are  working.  Press  the 
button to check regularly. If  you are a 
Landlord,  please  install  smoke  alarms 
for tenants. 
For  further  information  about  smoke 
alarms 
please 
go 
to 
http://
www.fireandemergency.nz/at-home/
smoke-alarms  and  escape  plans  http://
www.fireandemergency.nz/at-home/
creating-an-escape-plan/ 
Smoke Alarms 
The  local  Kaiwaka  Volunteered  Fire 
Brigade has access to smoke alarms for 
some  the  local  community  members, 
please 
contact 
the 
Kaiwaka 
Volunteered  Fire  Brigade  (09-431 
2290) for further information.
KAIWAKA  
ST. JOHN OP SHOP 
To 
our 
Wonderful 
Community, 
Thank  you  for  your  ongoing  support 
through  the  changes  over  the  past 
months.    Come  along  and  meet  our 
new  manager  Dianne  and  our  great 
Team.  We  are  here  to  help  where  we 
can. 
❖
We  will  have  Christmas 
trees  ready  on  the  2nd 
December for $40 if you want 
to  order  please  contact  us  on 
4312650. 
❖
Remember  your  First  Aid  Kit.  We 
have  a  wide  range  from  $19.95  to 
$79.95.  
❖
We  have  the  new  Baby  kit  $34.95 
and  a  keyring  resus  mask  for 
emergencies $11.95. 
❖
In  store  raffles  1 Tickets for $2.00 
or 3 for $5.00 great gift for Christmas 
❖
Cup Sale buy 2 get 1 free. 
❖
Clothing  Sale  $1.00  unless  marked 
and Baby Clothes 5 for $1.00. 
We are always on the lookout for more 
kitchenware,  pot  and  pans,  camping 
gear, linen, towels, china and crockery, 
gardening  tools  and  tools  and  always 
bric-brac and craft items. 
NEW SHOP HOURS  
Closed Monday and Sunday  
Open Tuesday-Friday 10am – 3pm 
Saturday 9am – 1pm.  
 For more information please contact 
Shop 094312650 
Dianne 0274627567 
or Gale 0274149576 
SPRING GARDENING 
Good Range of Seedling 
Punnets $3.50,  
Grown in Kerikeri 
Range of Herbs for 
planting $4.20 
TUI Range of growing 
media 
Quash for slugs 
4pack strawberries $9.50 
Fresh Daily baked in store 
Bread, Savouries & Sweets 
JAQUES FOUR SQUARE 
Phone: 4312227 
1 Kaiwaka-Mangawhai Road, 
Kaiwaka. 
Pictured  here,  one 
of  our  Kaiwaka 
Bugle 
team 
celebrating 
17th  November  at 
the 
opening 
meeting 
of 
Dargaville 
Speedway;  over  40 
years of motorsport 
have  run  in  the 
Kaipara.  
After race meetings 
on 
Sundays, 
drivers  take  kids 
out  on  the  track, 
only $2 child entry.  For summer race dates see 
https://dargavillespeedway.nz 
.  
As our racer says, "Training at the Kaiwaka Fitness Centre pays off!" 
LIGHTS ABOVE THE LIBRARY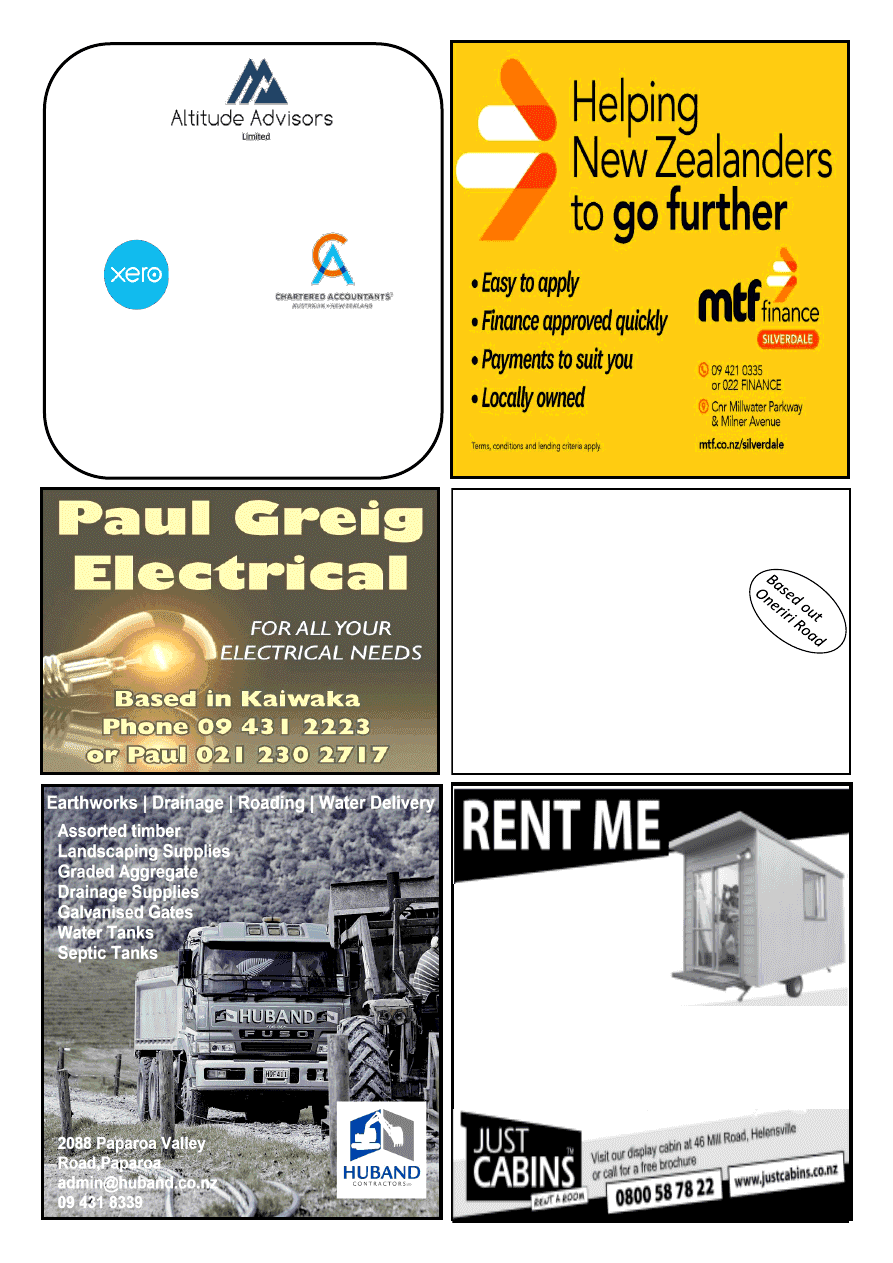 Ideal as an extra  
bedroom or office 
Three Convenient sizes: 
Standard 3.6m x 2.4m - $65 per week 
Large 4.2m x 2.4m - $80 per week 
Altitude with Attitude, helping your business 
scale new heights 
Time to try something different? 
Xero training          Accountancy Services 
We are offering two opportunities: 
15% saving off your annual report cost for your first 
year, & a further 10% saving for any referrals 
Call Corinne on 021 252 7680 or 
corinne@altitudeadvisors.nz 
HODGETTS 
CONTRACTING
Digger Work    

Driveways 

House Sites 

Dams     

Drains, etc
Also available for HIRE 
3 ton Vib Roller Heavy Duty Tow  
Waterblaster     Lazer Level
Phone Mark 4312877 
        027 447 8554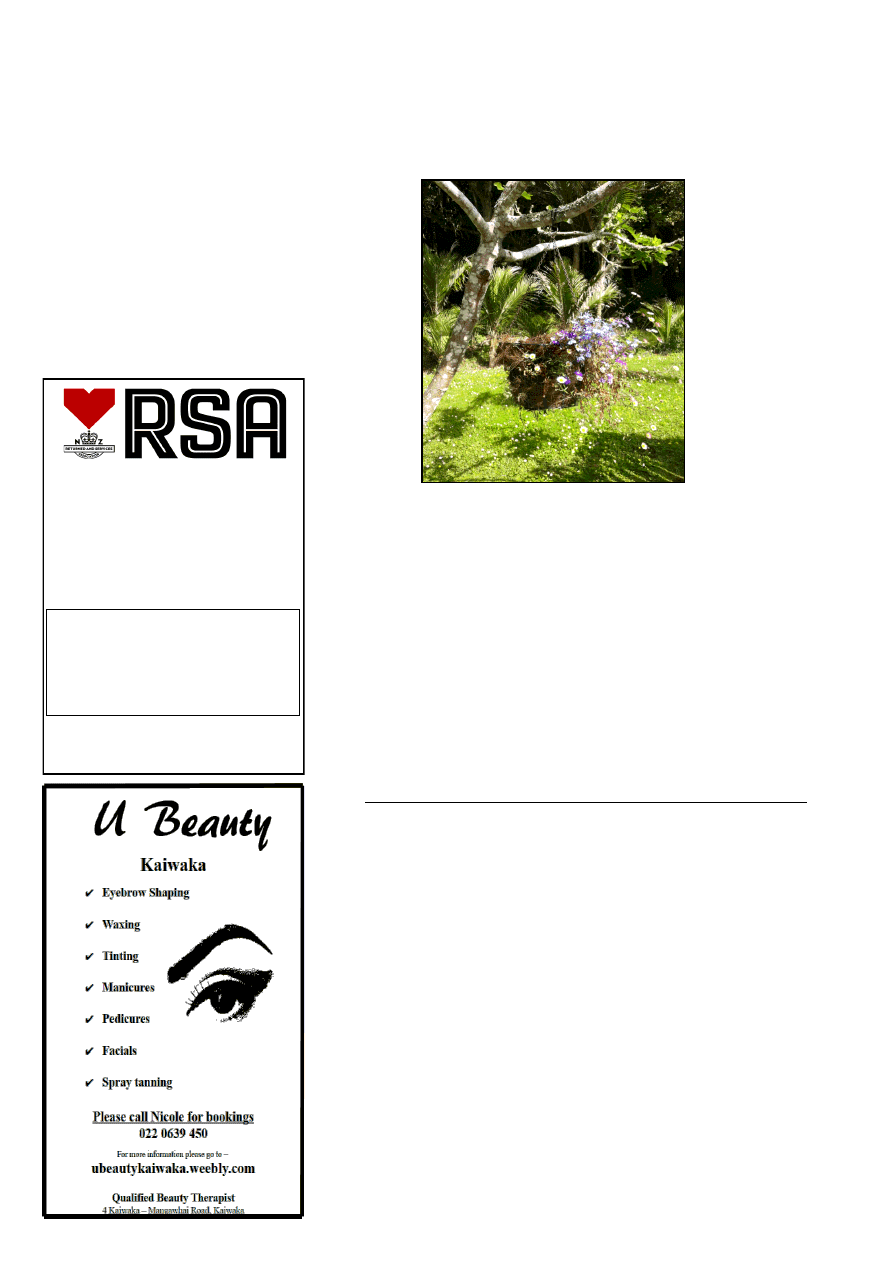 www.kaiwaka.co.nz 
Kaiwaka Bugle - 26 November 2019 
Page 7 
 TICKETS FOR KAIPARA GARDEN AND HOUSE TOUR NOW ON SALE 
PROGRESS ON MAUNGATUROTO  
DEMENTIA UNIT 
MANGAWHAI BREAKFAST 
The fund-raising  committee  of  the  Maungaturoto  Community  Charitable Trust 
held a breakfast at the Mangawhai Club on November 14th. Approximately 80 
people attended to hear Craig Fergus chairman of the MCCT explain progress 
on the building and some facts on dementia in Northland. 
Craig told how even without the support of major funding organisation the trust 
has been granted a substantial loan by the ANZ bank enabling them to order the 
pre  nail  of  the  framing  to  be  on  site  before  Christmas  and  ready  for  erection 
early in the New Year. 
He  also  quoted  figures  on  the  number  of  secure  beds  available  to  dementia 
patients in Northland. There are 152 beds all of which are all occupied and 2-3 
patients  a  week  are  referred  south.  This  in  a  lot  of  cases  means  disruption  to 
families sometimes meaning having to move to be near their loved ones. 
MAUNGATUROTO BREAKFAST 
Another breakfast is to be held in Maungaturoto at the St John Car Park and hall 
on Friday 29th November - Takeaways 6.30am and 'Sit down' from 7am. Kevin 
Salmon from Alzheimers Northland will be there. The Rapid Relief Team has 
come on board again to provide $10 takeaway bacon and egg burgers. Many of 
the  local  factories  and  work  sites  are  supplying  these  to  their  workers  from 
6.30am. Also, a team will be cooking scrambled eggs and bacon for those that 
want a sit down breakfast from 7am for $14 - in the St John hall. 
Any groups or factories not already contacted that would like to take part should 
contact Albie  Paton  Ph  0274949448. There will be plenty for all and walk up 
customers will be welcomed. 
Tickets  for  the  Dahlias  for  Dementia 
Garden and House Tour 2020 are now 
on  sale  on  the  Alzheimers  Northland 
website at the early bird price of $40. 
The  tour  includes  20  exceptional 
properties  from  Maungaturoto  to 
beyond Matakohe and is to be held on 
the  weekend  of  22  and  23  February 
next    year.  Seven  homes  will  also  be 
open. 
The  tour  will  raise  funds  for  a  14-bed 
dementia  unit  at  Riverview  Resthome 
and 
Retirement 
Village 
in 
Maungaturoto  which  is  community 
owned and services the wider area. 
Karen  Smales,  who  initiated  the 
project,  says  each  of  the  properties  is 
different but they all have one thing in 
common.  "They  are  tended  by 
committed  gardeners  who  get  a  great 
deal  of  pleasure  from  their  efforts  and 
are  all  delighted  to  be  sharing  the 
results  of  their  labours  for  a  good 
cause." 
The  gardens  range  from  a  sub-tropical 
paradise that has featured in magazines 
to  rambling  gardens  alongside  historic 
homes 
and 
ancient trees – 
and 
everything  in 
between. 
"When 
our 
organising 
team  visited 
the  properties 
we 
were 
impressed  to 
learn 
that 
many  of  our 
generous 
exhibitors  had 
created  their 
magnificent 
gardens  from 
nothing  but  a 
bare  paddock, 
with  maybe  a  couple  of  trees  that  had 
been there for generations." 
Karen  says  it's  a  bonus  that  some 
homeowners  agreed  to  open  their 
homes. "Each of these adds a different 
and fresh perspective to the tour." 
A  drawcard  is  that  most  of  the  open 
homes  have  been  recently  renovated 
and  treated  to  inspiring  interior  design 
makeovers.  They  include  a  relocated 
farm  homestead,  an  art-deco  home,  an 
historic  house  with  spectacular  views 
and  a  home  which,  for  the  first  time 
since  it  was  built  in  1886,  has  owners 
outside  of  the  original  family.  Several 
homes  were  built  or  renovated  by 
Brogan Builders, which is a sponsor. 
Karen  says  because  the  tour  is  in  a 
rural  area,  some  homes  are  on  farms, 
therefore  people  will  get  the  pleasure 
of  driving  along  farm  roads.  "There 
will be countless opportunities to enjoy 
expansive  views,  including  of  the 
magnificent  Kaipara  Harbour.  People 
can do their tour at their own pace – on 
just  one  day  or  both  Saturday  and 
Sunday. 
"We already know that 
people from Whangarei 
to 
Warkworth 
and 
beyond  are  getting 
together  with  friends, 
family and members of 
their  garden  or  sports 
club  and  are  planning 
to  have  a  fabulous 
time." 
There are several cafes 
along  the  tour  route, 
plus  lunch  can  be  pre-
ordered  online  and 
collected  at  one  of  the 
houses  to  be  enjoyed 
there  or  as  a  picnic 
elsewhere.  Numerous 
gardens 
will 
have 
artworks  and  crafts  on  display  and  for 
sale. 
Tickets 
Holders of early bird tickets will go in 
a lucky draw to win a bar fridge kindly 
donated by 100% Fergus Appliances & 
Beds in Maungaturoto. 
Tickets  will  also  be  on  sale  at  their 
shop. 
The  early  bird  price  of  $40  will  be  in 
place  until  January  15;  thereafter 
tickets  will  be  $50.  A  programme 
listing  the  homes  and  gardens  will  be 
emailed  to  ticketholders  in  the  week 
before the tour. 
To  buy  tickets  online,  go  to  the 
Alzheimers Northland website, click on 
Events then Garden and House Tour - 
- 
http://www.alzheimersnorthland.org.nz/
events/dahlias-for-dementia/
HAKARU & DISTRICTS 
MEMORIAL RSA (INC)
Members & guests are invited to 
come along and enjoy our hospitality. 
New members welcome. 
Meals are served on Thursday and 
Friday nights from 6.30pm. 
Order from Blackboard Menu  
and a sing-a-long  
with Des Chitty. 
For more information please phone 
Graeme on 431 2563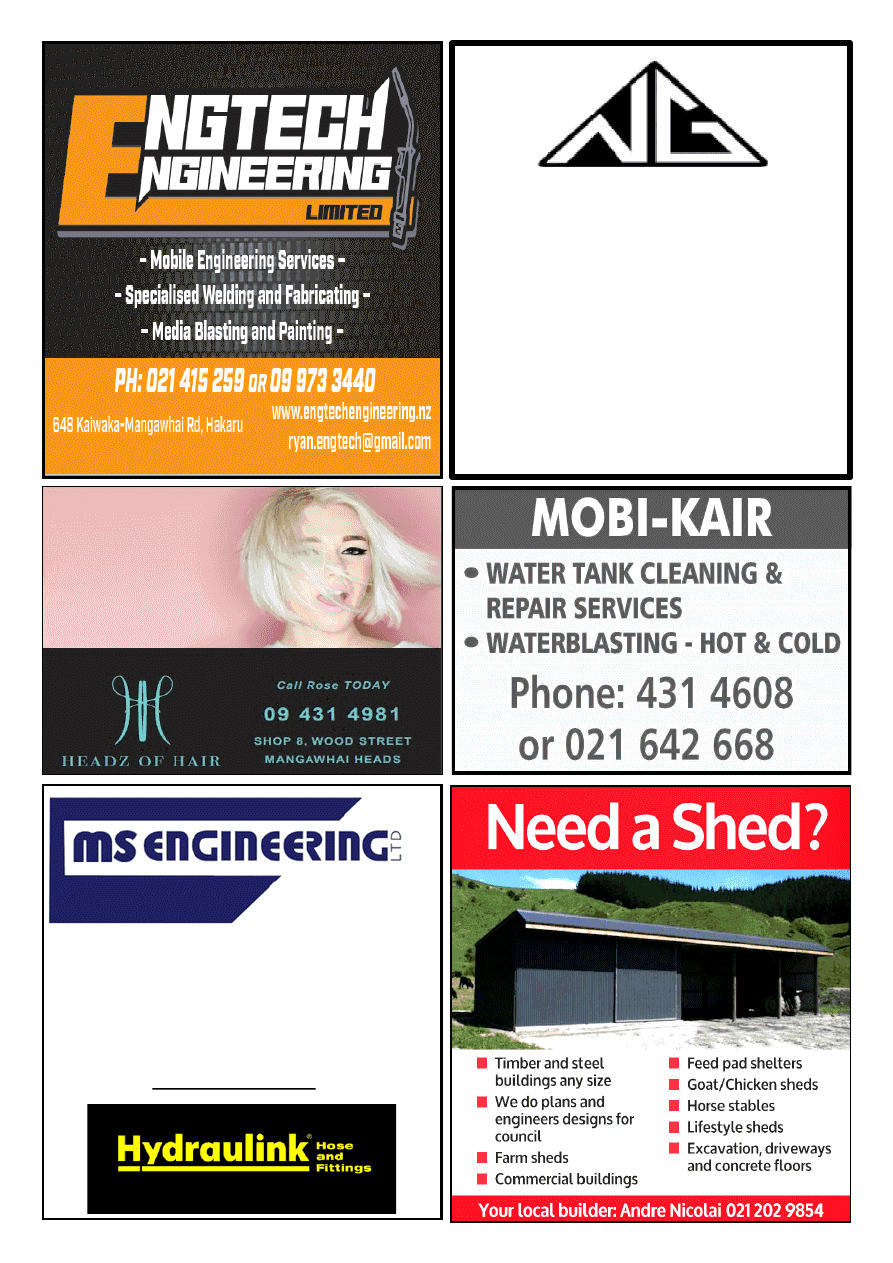 NORTH GLASS 
WINDSCREEN REPAIR OR REPLACE 
GLAZING SERVICES 
MIRRORS  •  SPLASH BACKS  •  SHOWERS 
0800 70 40 10
info@northglass.co.nz 
www.northglass.co.nz 

Peter Buckley 

Mobile Hose Technician –  
                      Based from Oneriri Road 

Available for all mobile hose                                
                        requirements onsite 

Call – 0800 425 7116 

Email – mse@mseng.co.nz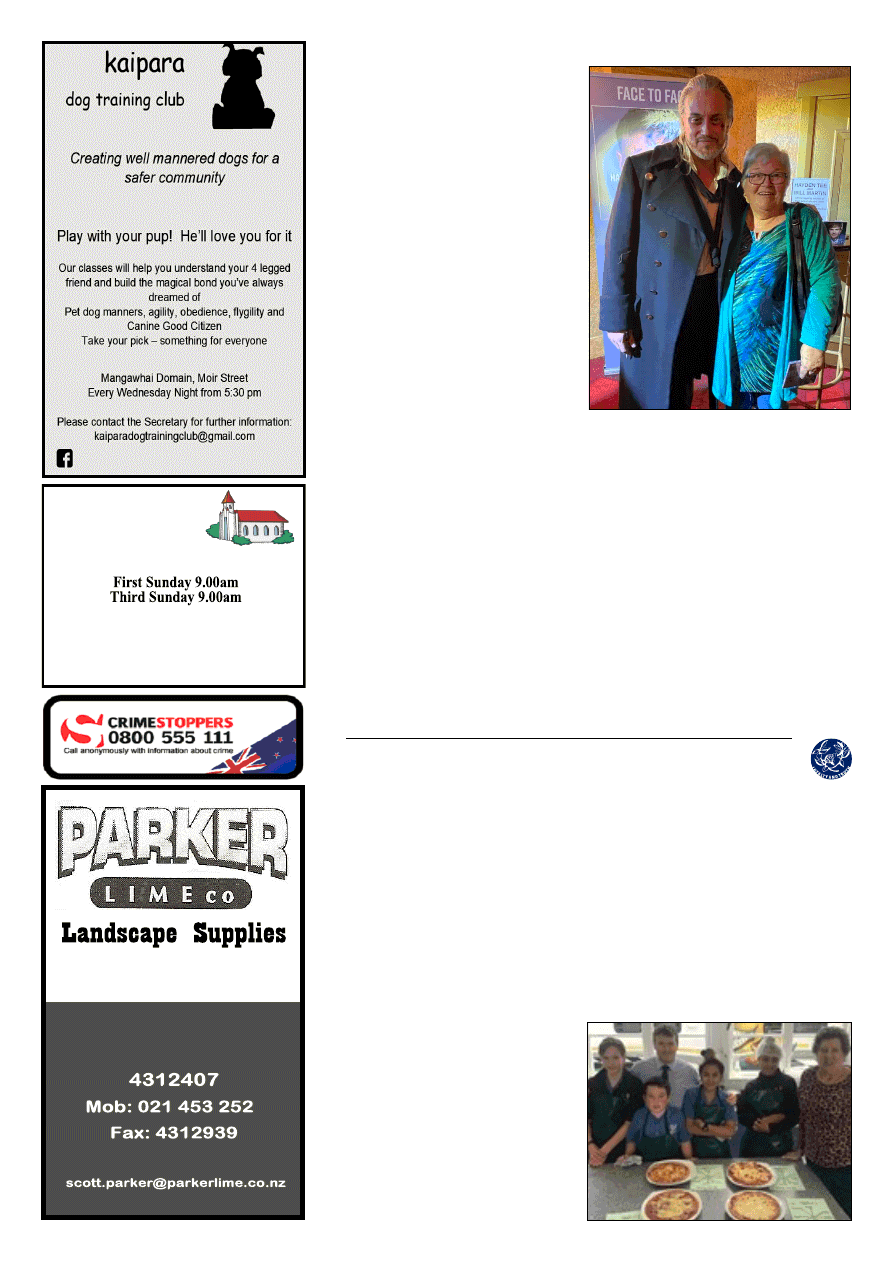 www.kaiwaka.co.nz 
Kaiwaka Bugle - 26 November 2019 
Page 9 
ST PAUL'S  
ANGLICAN  
SUNDAY SERVICES
St Pauls Church: Kaiwaka-Mangawhai Rd. 
1st Sunday - Eucharist 
3rd Sunday - Family Service 
Priest in Charge Rev. W Thornton Ph 431 4122 
www.mangawhaianglican.org.nz
'This is Your Captain Speaking' – 
Dinner Theatre comedy 
Thank  you  to  everyone  who  joined  us 
on  our  madcap  adventure.  We  had  a 
great  season  and  had  a  lot  of  positive 
feed-back. 
New  Patron  and  New  Life 
Member for ORT 
At  the  Annual  General  Meeting  last 
month, Hayden Tee was elected Patron 
of  the  theatre.  Hayden  is  a  great 
ambassador  for  our  theatre,  and  for 
Maungaturoto.  We  are  delighted  to 
have him as our Patron. And Dennise 
Brownlie 
was 
awarded 
Life 
Membership  at  the  Annual  General 
Meeting.  Dennise  has  been  an  active 
member  of  Otamatea  Repertory 
Theatre over the years, and has served 
in  many  roles,  both  on  and  off  the 
stage.  She  is  particularly  renown  for 
her artistic talents. 
Photo  of  Dennise  Brownlie  with 
Hayden Tee, at 'Les Miserables' at the 
Civic Theatre in Auckland.  
Youth Theatre 2020 
Bookings  are  now  open  for  Youth 
Theatre next year. 
Week  One  –  13-17  January  2020. 
Week Two – 20-24 January 2020 
Monday  to  Friday  9am  till  3pm  with 
the show on Friday night @ 6pm 
Costs will be the same as last year. 
$100  for  the  week,  plus  ORT  junior 
membership of $20 
$25  for the  Mangawhai  Bus  –  first in, 
first served. 
For  bookings,  please  contact  Maura 
Flower  022  354  2670  or  email 
maura.flower@gmail.com 
Youth Scholarship Winners 
This  year's  Youth  Scholarship  winner 
was  Katrina  Poyner,  with  Natalia 
Orchard  as  runner-up.  The  Junior 
Scholarship,  which  is  sponsored  by 
Peter  and  Maura  Flower,  was  Jacob 
Lord,  with  Stella  Fulton  as  runner-up. 
Congratulations to you all – and thanks 
for your wonderful contribution to our 
theatre. 
Seussical Jnr 
We  are  calling  for  expressions  of 
interest to direct this show. 
Dates are 15-17 May 2020, 22-24 May 
2020 and 29-31 May 2020 
Please contact the Secretary, Otamatea 
Repertory  Theatre,  PO  Box  35, 
Maungaturoto,  in  the  first  instance,  to 
register your interest. 
Merry Christmas to you all, and all the 
best for 2020. ~ Maura Flower
Bulk Cartage 
The Life Education Van:  
We  have  been  fortunate  to  have  the 
Life  Education  mobile  classroom  here 
at  school  this  week  and  our  students 
have enjoyed spending time in the van, 
learning  about  how  to  make  healthy 
choices  so  they  can  live  full  and 
healthy lives. The Life Education Trust 
teaches  children  about  their  body, 
friendships,  their  identity,  food  and 
nutrition  and  helpful  and  harmful 
substances. 
PTCA News 
Calling Hot Rod Enthusiasts! 
We  need  helpers  to  collect  the  gold 
coin  entry  to  the  Hot  Rod  Run  in 
Mangawhai  Saturday  4th  January  - 
8am  to  11ish.  If  you  are  able  to  help, 
please  call  Sandra  Brunt  on  027 
5310788. 
Junior Prizegiving 
We  also  seek  helpers  for  the  junior 
prizegiving catering effort on Thursday 
12th  December.  Mainly  making  club 
sandwiches  and  heating  sausage  rolls 
etc.  If  you  can  help,  please  call  Anna 
on 027 464 8048. 
Uniform Exchange   
Second-hand uniform shop: If you have 
anything  your  child  has  grown  out  of 
(items  in  need  of  buttons  and  basic 
mending  are  fine)  please  donate. 
SENIORS leaving, we would love you 
to  donate.  Clothes  can  be  dropped  off 
at the office, please label PTCA.  If you 
are  in  need  of  reasonably  priced 
uniform  items,  please  contact  Karen 
Flanagan 0211281670. All proceeds go 
towards PTCA fundraising. 
Pictured  below:  Recently  our  school 
held  the  'My  Iwi  rules'  competition 
- Pizza challenge 
Winning Iwi ... well done WHĀTUA! 
OTAMATEA HIGH SCHOOL NEWS
OTAMATEA REPERTORY THEATRE Inc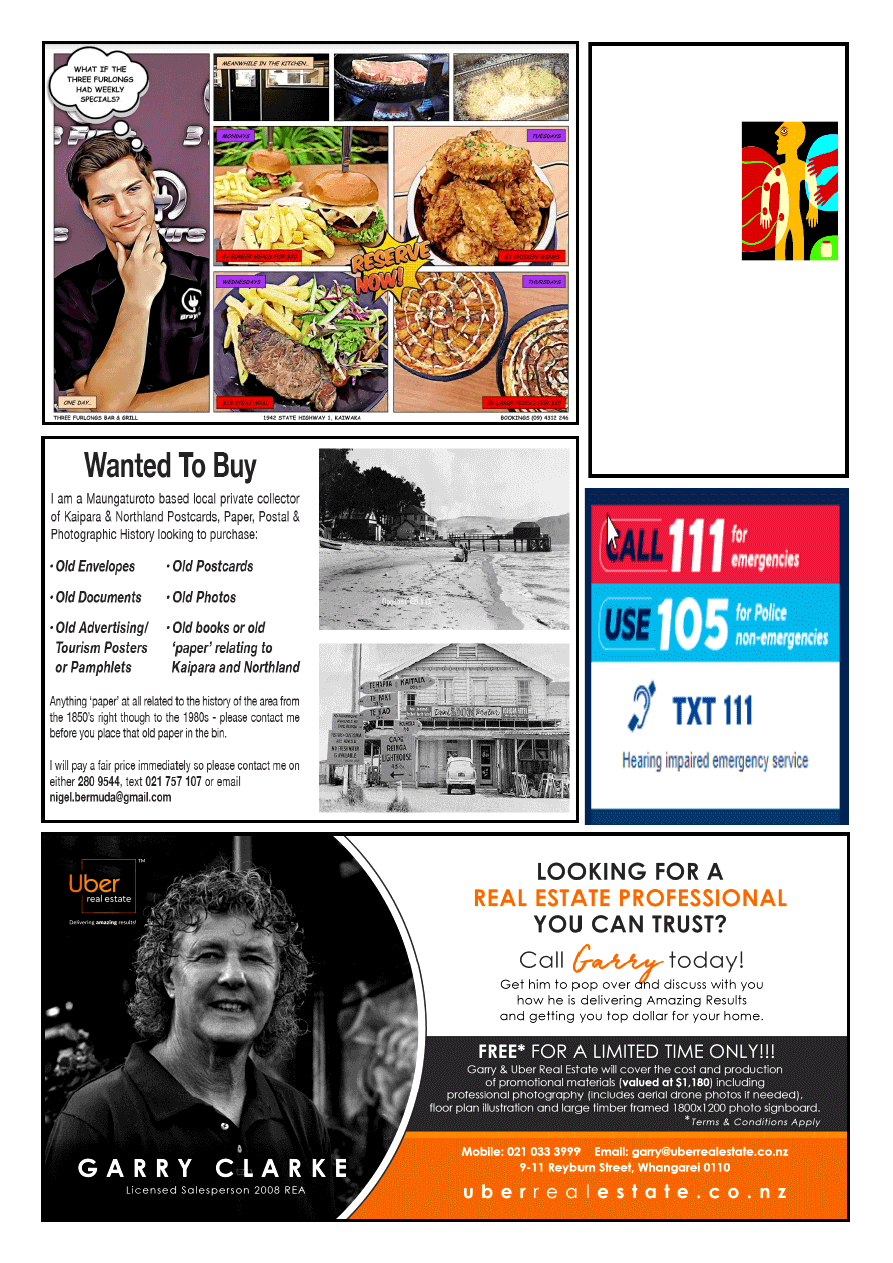 OWEN STEVENS 
Osteo Therapist
For careful 
adjustments to 
bones and joints 
Treatment for 
humans and their 
pets 
Clinics: 
Kate's Place, Kaiwaka: 
Last Friday of month 
For bookings: 
9.00am-5.00pm  
Phone 
09 4312661 
Or phone Owen  
09 4317123 anytime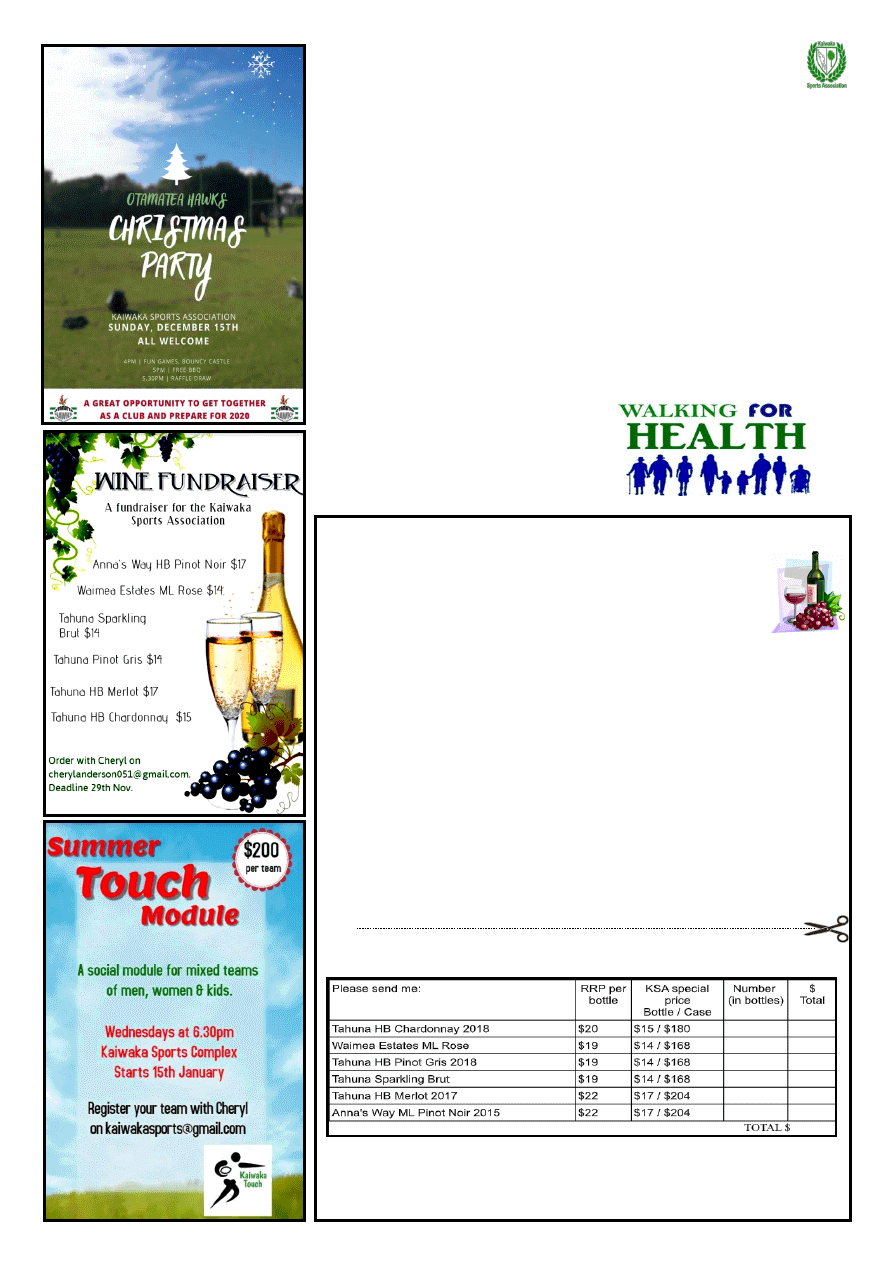 www.kaiwaka.co.nz 
Kaiwaka Bugle - 26 November 2019 
Page 11 
KAIWAKA SPORTS ASSOCIATION
Wines for Christmas 
Here's  an  opportunity  to  buy  great 
wines  at  cheaper-than-retail  prices  – 
and support the KSA at the same time! 
Enjoy them now, or stock up for Xmas. 
Wine can be purchased by the bottle or 
in  case  lots.  The  order  form  with  a 
description of the wines, is below. 
Junior Tennis 
Does your child want to try something 
new?  Why  not  give  tennis  a  go?  Our 
children's tennis lessons are being held 
at  our  courts  on  Monday  afternoons. 
Great  coach,  very  reasonable  fees. 
Contact  Linda  on  021  266  8571  for 
more information. 
Twilight Tennis 
It  is  time  to  dust  off  that  old  tennis 
racquet!  Twilight  Tennis  is  underway 
at  the  Kaiwaka  Sports  Complex  – 
Wednesdays  at  6.30pm.  For  further 
information,  please  call  Carol  on  027 
4900 271. 
Otamatea  Hawks  Rugby 
Club Christmas Party 
Everyone  is  welcome  to  the  Hawks 
Christmas  Party,  to  be  held  at  the 
Sports  Complex  on  Sunday  15th 
December. Plenty of fun for the 
whole  family,  with  games, 
bouncy castle, raffles, free BBQ etc. It 
all kicks off at 4pm. 
Kaiwaka Athletics Club 
The  Athletics  season  has  now  started. 
The  sessions  run  on  Mondays  5  - 
6.30pm, at Otamatea High School. All 
athletes  are  welcome,  but  we  tend  to 
have  a  predominance  of  younger 
athletes. 
Parents/caregivers 
are 
expected to stay with the youngsters as 
we need a number of adults to help run 
the  evening  successfully.  Queries, 
please call Eileen on 021 1420357. 
KSA Meeting 
We will hold a Special KSA Meeting, 
on  Thursday  5th  December  at  7pm,  at 
the Sports Complex. This is to discuss 
a  potential  project  at  the  KSA.  All 
welcome. 
~ Cheryl,   kaiwakasports@gmail.com
WINE FUNDRAISER 
Here is an opportunity to purchase fantastic wines at unbeatable prices – 
and support the Kaiwaka Sports Association at the same time! Enjoy them 
now, or stock up ready for the holiday season. 
Wine can be purchased by the bottle or in case lots. Please return this 
form with your payment by 3rd December. Delivery will be mid-
December. Queries to Cheryl on cherylanderson051@gmail.com . 
SELECT FROM: 
*  TAHUNA  HAWKE'S  BAY  CHARDONNAY:  This  wine  is  sourced  from  our 
Hawke's Bay vineyards. It is a lightly oaked, fruit driven style of  wine with layers of 
citrus and stone fruit characters. Delicious. 
*  WAIMEA  ESTATES  ML  ROSE:  This  Marlborough  Rose  is  a  predominately 
Pinot Noir blend. Rose hip, red berry and rhubarb notes on the nose with bright florals 
of jasmine and lavender. The palate is ripe melon and crunchy red apple. 
* TAHUNA PINOT GRIS: This Pinot Gris labelled for our European markets has 
ripe, juicy stone fruit, pear and citrus flavours, with a little spice and beautifully 
balanced acidity. 
*  TAHUNA  SPARKLING  BRUT:  The  Chardonnay  for  this  Sparkling  Brut  is 
sourced  from  Hawkes  Bay  vineyards.  It  is  a  fruit  driven  style  with  fresh  melon  and 
apple flavours on the palate. It is a clean and refreshing wine. 
* TAHUNA MERLOT: Great colour and aromas of plum and dark berryfruit, typical 
of Hawkes Bay Merlot. This wine has silky tannins giving it a soft finish, perfect for 
drinking at any time of year. 
*  ANNA'S  WAY  PINOT  NOIR:  This  wine  is  made  with  gentle  handling  and 
sourced from fruit in Marlborough. The wine has good depth of flavour, sweet fruit on 
the palate and aromas of cherry, plum and blueberry with a touch of savoury and spicy 
complexity. 
ORDER FORM:  
NAME: ………………………………………….  PHONE NUMBER ………... 
Ways to pay: cash, cheque or internet banking 060365002247200 (reference Wine 
Fundraiser & your name) 
Ways to return form: leave in the KSA folder at Jaques Four Square or email to Cheryl 
at cherylanderson051@gmail.com . 
Mondays  8.30am and 4pm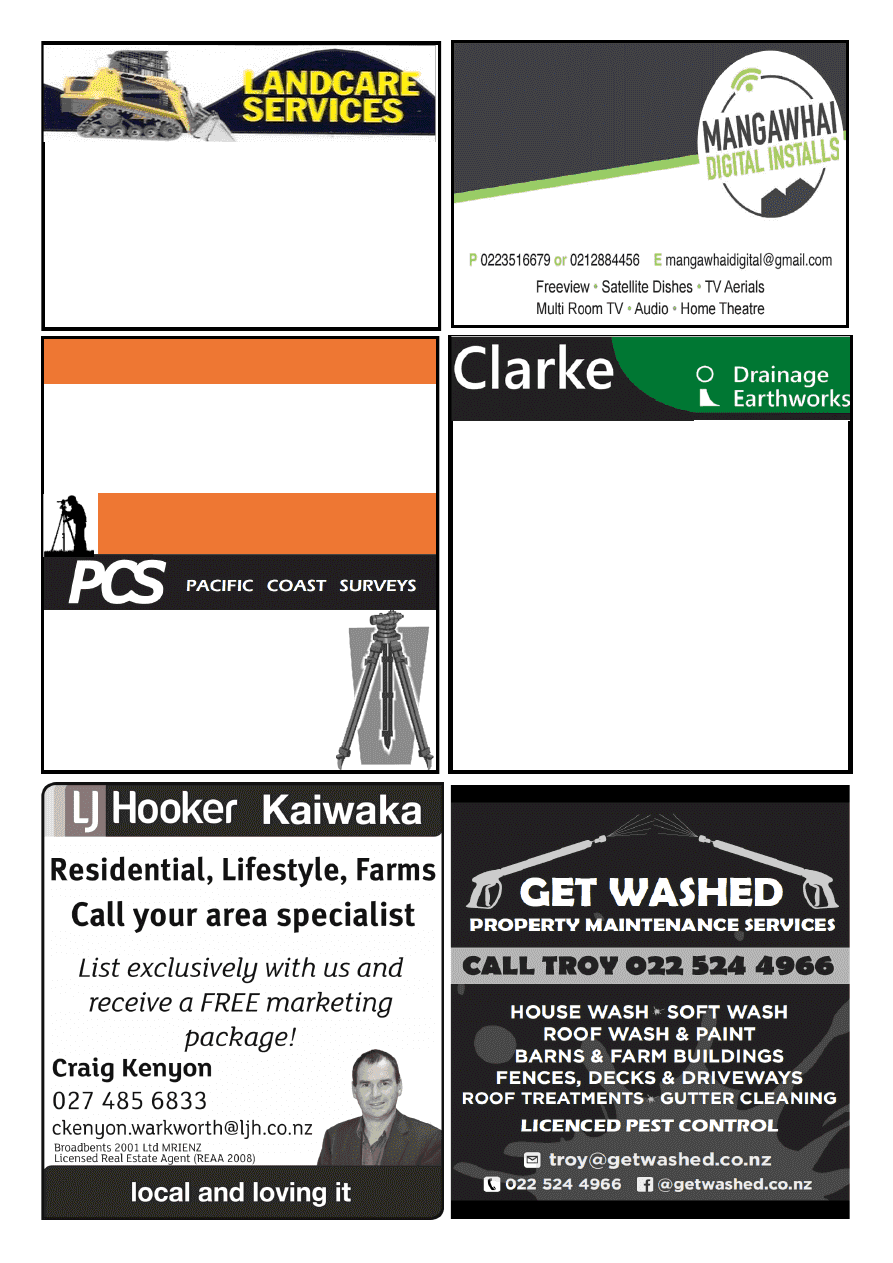 SURVEYORS 
SUBDIVISIONS 
HOUSE SITE SURVEYS 
CIVIL ENGINEERING 
WASTEWATER DESIGNS 
EXPERIENCED 
PROFESSIONAL 
INNOVATIVE 
Ph 09 431 5353 
0800 PACIFIC (0800 722 434) 
pacificcoastsurvey.com
Adam Booth - 027 415 5752 
Bsurv, Licensed Cadastral Surveyor
Surveying Kaipara since 1994 
LANDSCAPING 
4 IN 1 BUCKET 
TRENCHER 
POLE HOLES 
ROTARY HOE 
COMPACT ROLLER 
OFFAL HOLES 
CAN SUPPLY WOODCHIP & POST PEEL 
5 TON TIPPER 
FOR RELIABLE AND FRIENDLY SERVICE CONTACT DAVE 
Dave Hyndman 
 
KAIWAKA 
PH: 09 4312302 
MOB: 021 431 238 
Drainage & Earthmoving 
nigel@clarkedrainage.nz 
027 2233 185 
Registered Drainlayer                 All Types of Earthworks  
> All Residential & Commercial Work  > House Sites 
> Septic System Design & Install 
> Footings & Drilling to 10m 
> Sewer Connections 
> Dams 
> Water Tank Installation 
> Roading & Races 
> Farm Work 
THE ONE STOP SHOP  
Phone Nigel for an Obligation Free Quote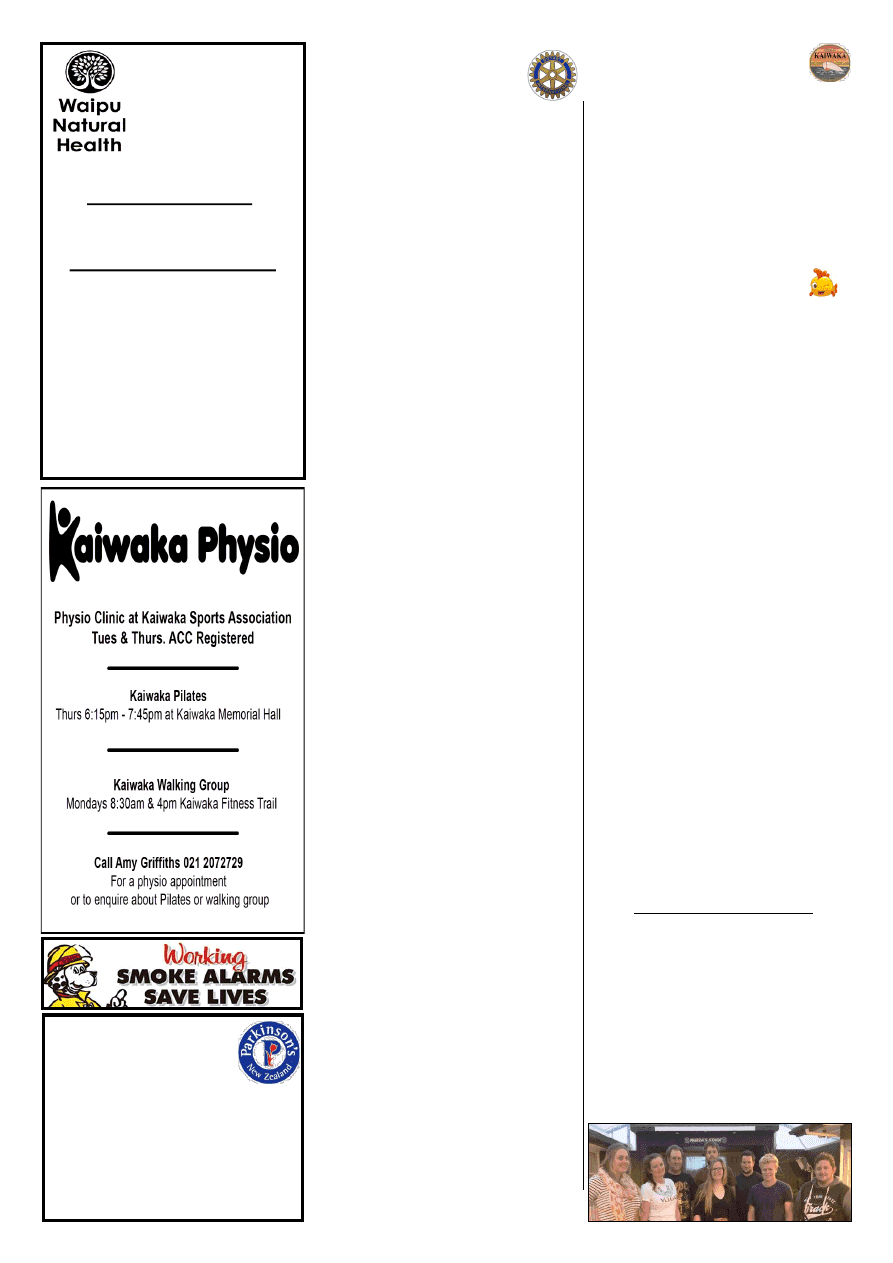 www.kaiwaka.co.nz 
Kaiwaka Bugle - 26 November 2019 
Page 13 
POINT CURTIS  
CRUISING 
CLUB  
Great turn out for the Open Fishing 
Competition held on Saturday 16th 
& Sunday 17th November. 
Big Thank you to everyone that went 
fishing and those who came along and 
managed to get themselves some fish 
at the auction. 
Huge  'Thank  You'  to  Dave  Lincoln 
our  Auctioneer,  you  do  an  amazing 
job and very much appreciated.  
Results: 
Junior  Snapper:  Sonya  Steiner 
4.943kg; Sonya Steiner 1.528kg  
Senior Snapper:  Paul Greig 5.129kg; 
Grant  Stewart  5.016kg;  Grabba  Mills 
4.888kg  
Kahawai:  Paul  Tornquist  1.059kg; 
Mike Reid 0.940kg; Pacey   0.623kg 
Kingfish:  Renna Brown 7.175kg 
Crayfish:  Kraig  Steiner  1.409kg; 
Kraig  Steiner  1.337kg;  Paul  Greig 
1.078kg 
Average  Snapper  Weight  Winner:   
Teresa Underwood 1.725kg  
Raffle  Winners:  #1  (Blue  Ticket) 
Bruce;  #2  (Orange  Ticket);  Di  #3 
(Grey Ticket) Joyce.  
Thanks  for  all  the  help  Jean, 
Christine,  Sandy,  Lyndon  and  Carol 
Mills. These amazing people help sell 
raffles,  weigh  fish,  bag  fish,  sort 
prizes,  record  &  collecting  auction 
money. 
Thank  you  3Furlongs  for  another 
great meal and for letting us hold the 
competition and auction. 
All  profits  from  the  auction  goes 
towards improving the Rangiora Boat 
Ramp Carpark.  
⚫
Subs were due 1st of June 2019 $30 
Family  &  $20  Single;  Internet 
banking  12  3094  0008233  00  Please 
use Name/s as a reference.  
⚫
There  was  no  Snapper  weighed  in 
last month. 
⚫
New  fish  of  the  Month  is Snapper 
till 4th December. 
⚫
Next  Club  Meeting:  4th December 
7pm Kaiwaka Sports Association 
~ Wayne Leslie (Commodore)
Parkinson's  
Northland 
Provide: 

Home based consultations 

Information and education on living with 
Parkinson's 

Support and exercise groups 

In-service training for other health 
providers 
Barbara Leslie RN,  
Community Educator 
09 4376881  or 027 5306221 
barbara.leslie@parkinsons.org.nz 
www.parkinsons.org.nz 
KAIPARA YOUNG 
FARMERS 
Pictured  are  Kaipara  Young  Farmers 
Club  members  at  the  Three  Furlongs 
Bar  &  Grill:   
Molly  Dagger,  Nicole 
Levens,  Alan  Boler,  Kurtis  Danks,  Natalie 
Lynch, 
Colin 
Beazley, 
Brody 
Goodmon  and  Jack  Bellamy. 
They meet 
at  The  Three  Furlongs  Bar  &  Grill  on 
the  last  Thursday  of  each  month  at 
7pm.  The  next  meeting  will  be  their 
Annual General Meeting, on Thursday 
28 November, 7pm. 
MAUNGATUROTO 
AND DISTRICTS 
ROTARY 
During  the  past  month  we  have  been 
involved  in  several  areas  within  the 
community. A number of us manned a 
stall on Settlers Day at the Matakohe 
Kauri  Museum.  This  was  quite  timely 
as  the  week  before  we  had  had  Mark 
Vincent  come  and  talk  about  the 
positive progress that had been made in 
a number of areas, including financial. 
He  also  spoke  about  the  restoration  to 
the  Museum  of  a  large  collection  of 
artefacts,  donated  by  the  Rintoul 
family,  that  had  been  held  in  trust  by 
the Auckland Museum. 
(These  will  be  on 
display from about mid-December.) 
Another  interesting  speaker  provided 
first-hand information from an electric 
car  owner.  Because  our  speaker  had 
owned  the  car  for  several  years,  she 
was  able  to  dispel  many  myths  about 
the  capabilities  of  these  vehicles. 
Obviously,  a  big  advantage  is  a  fewer 
number  of  moving  parts  and  a 
relatively  cheap  mode  of  transport, 
even  in  the  country  area  because  fast 
charging stations are greater in number. 
We were also fortunate to have Robyn 
Bruce  talk  about  her  trip  to  Everest 
Base camp. She noted that people were 
still  repairing  their  properties  that  had 
been damaged in the 2015 earthquake. 
She  was  able  to  visit  the  school 
founded by Sir Ed. It would seem that 
the large number of people wanting to 
climb Everest has both a positive and a 
negative  effect.  Positive  because  it 
provides  work  for  a  large  number  of 
porters,  but  negative  because  of  the 
huge  amount  of  rubbish  that  is  left 
behind. 
Another area we have been working on 
is  the  track  in  Nikau  Grove.  Because 
the  lower  end  of  this  reserve  is  rather 
damp, we have placed a "bridge" over 
this  area.  We  were  pleased  to  see  that 
the metal laid on the track had stood up 
to the damp of winter. 
Three  applications  had  been  received 
for the President's Scholarship and the 
successful  recipient  should  have  been 
notified of this by now. You may also 
notice some Rotarians out selling raffle 
tickets  for  a  Christmas  hamper.  This 
has been donated, as in many previous 
years, by Pam  Chapman. Thank you, 
Pam, for your support of us in this way. 
Unfortunately, we have run out of calf-
litter in the meantime. One supply has 
been  exhausted  and  the  other  is  not 
mature enough at this stage. However, 
it is hoped to have this product back on 
the market next year. Not only is it an 
excellent fundraiser for us, but also has 
proven  to  be  a  great  addition  to  the 
garden. 
We have been fortunate throughout this 
year  to  have  delicious  meals  provided 
by various High School fundraisers. 
We  wish  you  all  a  peaceful  Christmas 
holiday.  Keep  safe  on  the  roads  and 
make the most of your time with family 
and friends. 
3 Cove Road, Waipu 
(opposite the Pizza Barn
) 
094321325 
www.waipunaturalhealth.co.nz 
Clinical Nutritionist: 
Nutritional Checkups, Diets for 
Chronic Diseases,  
Food Sensitivities 
Naturopathic Physician: 
Ozone Therapy, Prolotherapy, 
Mesozone 
Reflexology, Craniosacral 
Therapy, Trauma Release 
Massage Therapy 
Counselling and Hypnotherapy 
Change Catalyst/ThetaHealer 
Affordable Children's Consults 
All therapists are fully qualified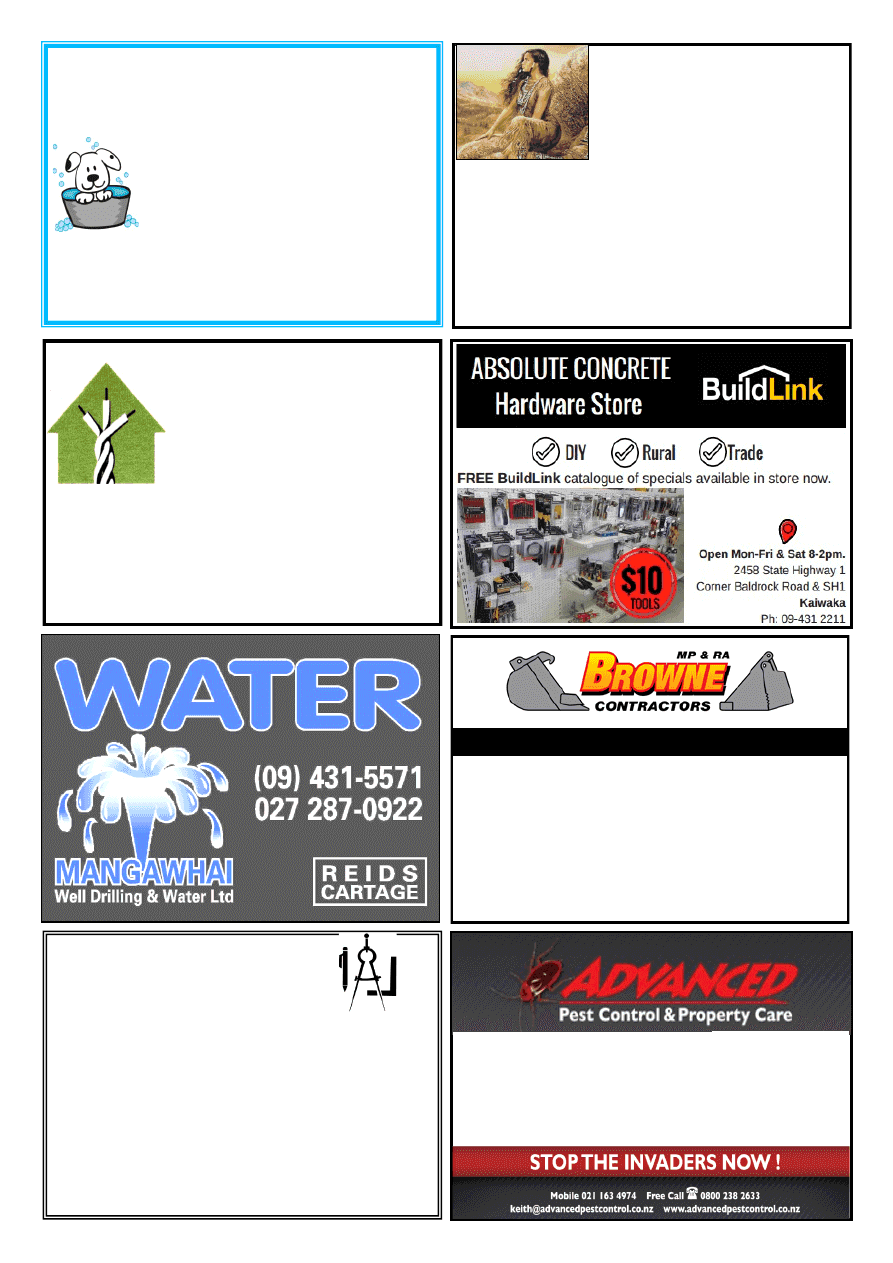 4T DIGGER – BOBCAT – TIP TRUCK 
Property Maintenance - Driveways  
 Building Sites 
Stump & Tree Removal  
Hole Boring - Chain Trencher  
Calf Shed and Stockyard Cleaning 
Phone Matt: 021 199 6677 
Email: mprabrownecontractors@gmail.com 
Reyahn George 
Leng 
Registered Electrician 
Local, honest and reliable. 
For your residential and 
light-commercial projects. 
022 314 1068 
TRAILS END 
RONGOA MAORI 
HEALING 
And Gifts 
Stocking all your needs from incense, crystals, dream 
catchers, greeting cards, jewellery, perfume, dragons and 
more dates for groups each month are: 
August 25th ~ September 22nd 
October 27th  ~ November 24th ~ December 15th 
From 10.30-2pm  
For all inquiries Phone 0211652629  
Light refreshments available $5 koha  
1758 Cove Road Mangawhai
Pest Control 
PLAN A: One-off treatments to customers with a specific pest problem 
PLAN B: Full maintenance service plans to commercial customers. 
This will include documentation kept in customer file on site: 
⚫
Pest treated 
⚫
Date of service 
⚫
Chemical or baits used 
⚫
Full pest check report done after each treatment 
⚫
Fair and reasonable fee with guarantee 
Flood Recovery 
Carpet Care 
⚫
Carpet Drying 
This includes pre-spray treatments 
⚫
Dehumidifier Rental 
with stain removal and hot water extraction.  
⚫
Full Commercial Cleaning  Patch repair also available 
Upholstery Cleaning 
Full upholstery cleaning of all furniture.  
eg lounge suites and all office chairs 
Water Blasting 
⚫
Concrete - Decks 
House Washing 
⚫
Soft Chemical Was 
⚫
Pre-painting Wash 
Property Services 
⚫
Property Cleaning  Lawn Mowing 
⚫
Hedges General   Tidy Ups 
Hot Diggity Dog 
DOG GROOMING 
All breeds dog grooming 
Professional Experienced Groomer 
Short practical grooms - summer 
Breed Standard Grooms 
Designer fusion Grooms 
Oneriri Road
By appt Phone Pam 09 4312143 
Or text only 0273335380 
Email  hot.diggitydog@outlook.com 
design drafting  
service 
Retired builder and manufacturer with over 40 years  
experience in the building industry is offering a design 
drafting service for domestic housing, sleepouts and 
sheds.  
Plans formulated in consultation with clients, with 
working drawings completed and submitted to  
council for processing.  Extensive practical experience,  
able to identify & resolve problems. 
Please ring Mike Lean on 
09 431 2260 
or 
021 431 196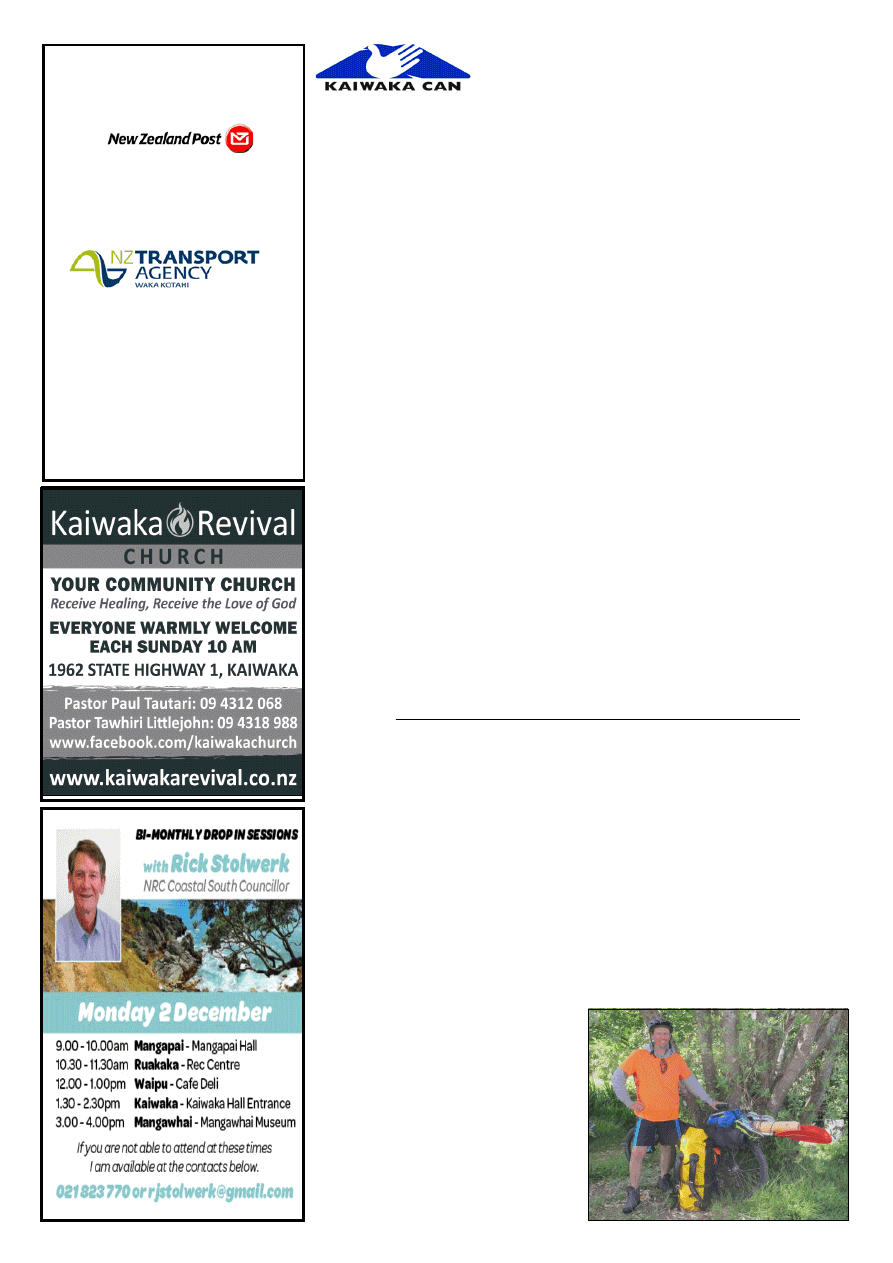 www.kaiwaka.co.nz 
Kaiwaka Bugle - 26 November 2019 
Page 15 
KAIWAKA POST 
CENTRE and 
FOOD MART 
POST CENTRE TRADING HOURS 
MONDAY to FRIDAY 8am to 5pm 
SATURDAY 8am to 12pm 
CLOSED ON SUNDAY and on 
PUBLIC HOLIDAYS 
FOOD MART (GROCERIES) 
MONDAY TO FRIDAY  
7:30am to 7.30pm 
SATURDAY  8am to 7.30pm 
SUNDAY  8:30am to 7pm 
IF ANY QUERIES PLEASE CALL 
STORE MANAGER AMRIT  
on 09 4312431 or 
EMAIL: kaiwakafood19a@gmail.com 
1919a State Highway1, Kaiwaka 0542 
Cycle  adventurer  Mike  Jung  takes 
extraordinary  measures  to  avoid  the 
dangers of Northland's heavy traffic. 
Mike, from north of Berlin in the old East 
Germany,  rides  farm  tracks  and  country 
roads  and  uses  a  2.2  metre  inflatable 
dinghy  to  cross  harbours  or  rivers  on  the 
high tide. 
On his third summer in Northland (he first 
came  10  years  ago  hitching  between  east 
and  west  coasts  with  a  paraglider)  he 
bought  gear  locally  in  January  2019  and 
began a bike-raft circumnavigation, starting 
up  the  east  coast  from  Auckland.  That 
summer  he  made  it  to  Omapere  on  the 
Hokianga.  He  returned  in  October  and  set 
off again mid-November. 
Mike  has  run  adventure  businesses,  built 
and  restored  houses  and  explored  what 
Europe and the world offers. He loves New 
Zealand  and  the  people  he  meets  with  his 
two-gear  bike,  tent,  sleeping  bag  and  light 
provisions.  
While  he's  a  very  competent  ocean 
kayaker,  having  trained  and  escorted 
numerous  groups  to  the  Seychelles,  he 
accepts that his circumnavigation plans are 
fluid with terrain, access and weather. 
This  week  Mike  arrived  at  our  house  in 
Oneriri Road after crossing to the Rangiora 
Road boat ramp from Otamatea Marae. He 
contacted  us  through  the  WarmShowers 
social  network  through  which  he  was 
applying  for  the  first  time.  (The  network 
has MMM members worldwide.) 
He  doesn't  assume  that  he  can  cross 
privately  owned  property,  preferring  to 
accept offers. In Northland where there are 
centuries  of  Maori  occupation,  he  respects 
tradition..  "I'm  cautious  about  it  because 
theirs is a physical culture, where there is a 
connection to the land." Maori people have 
been very welcoming in his experience. 
He  left  our  place  for  Farr  Road  the  next 
morning  heading  to  Port  Albert  and 
Highway 16. 
"I can't say what will happen [with my aim 
to  circumnavigate  New  Zealand  with  bike 
and raft or how far I'll get this summer]. I'll 
just  have  to  wait  for  the  situations  to 
arrive." 
But if Mike  Jung, pictured below,  doesn't 
complete  the  tour  in  summer,  he'll  have 
reason to return to a country he loves. ~ HP 
TOURING BY BIKE AND RAFT
I  went  to  two  meetings  last  week,  one 
Wednesday,  one  Thursday.  Each  nearly 
three  hours  long.  Both  were  about 
Kaiwaka, both extremely important. Only 
one other person as far as I know was at 
both. 
So different! One, the meeting on spatial 
planning, to look at future housing space, 
commercial and light industrial space for 
Kaiwaka,  with  the  needed  infrastructure. 
It  was  well  organised,  lots  of  charts, 
consultants and council officers there for 
all  your  questions.  It  was  calm,  factual, 
quiet,  organised  and  a  step  towards  our 
future.  It  ended  at  the  agreed  time  for 
packing  up  and  the  organisers  went 
home. 
The  other  was  about  drugs  and  family 
violence  in  Kaiwaka.  It  too  was 
organised,  but  it  was  passionate, 
sometimes  angry,  sometimes  tearful, 
always deeply personal as various people 
spoke  about  their  own  journey  from 
despair  to  hope  and  their  work  with 
others  still  struggling.  It  ended  with 
prayers and song. 
At  the  first  meeting  I  saw  no  Maori  and 
no young people. At the second meeting, 
I  was  one  of  only  three  or  four  pakeha, 
ages from teens to tottering along. 
What  troubled  me  most  was  not  the 
presence  in  Kaiwaka  and  surrounds  of 
violence,  drugs  and  homelessness.  I  had 
heard it all before but rarely saw it. What 
troubled me was the fact the two groups 
are  separate.  Maori  and  Pakeha.  And  of 
course,  there  are  other  little  pigeonholes 
we  put  people  in  here  too  –  newcomers 
and  pioneers,  lifestylers  and  those  with 
nowhere else to go. Younger and older. 
But  both  meetings  were  needed.  And 
they  needed  each  other.  Good  housing 
plans can make it easier for the homeless 
and overcrowded to find a home. Careful 
development  of  commerce  and  industry 
can provide jobs and security. Strong and 
deliberate  plans  for  a  town  centre,  a 
centre  with  heart,  can  bring  the 
communities  closer  together.  But  vital 
too  is  the  passionate  commitment  of 
skilled  people  to  walk  with  the  broken, 
trapped  and  hopeless  as  they  find  their 
way back. I was filled with admiration of 
the work being done and noted one of the 
most  powerful  sources  of  help  for  many 
of the troubled in Kaiwaka is the Revival 
Church  with  services  far  beyond  their 
services. 
Thank  you  to  the  organisers  of  each 
meeting  for  your  skills,  commitment, 
planning and honesty. Thank you for the 
passion of those immersed in the struggle 
to  give  those  who have  nearly  given  up, 
some hope and a way out. 
The person sitting next to me, one whose 
journey  had  been  long  and  painful  but 
now  bright  and  filled  with  hope,  said  to 
me  "Community  means  common  unity." 
If we plan land and buildings, we need to 
plan for hope and freedom as well. If we 
plan for a commercial centre, we need to 
plan  for  a  place  with  heart  and  with 
spirit. I have no Te Reo, growing up in a 
world without it and never caught up, but 
I  can  echo  after  those  two  meetings  the 
famous  Maori  proverb,  hopefully  as 
Pakeha without offence: 
He aha te mea nui o te ao 
What  is  the  most  important  thing  in  the 
world? 
He tangata, he tangata, he tangata 
It is the people, it is the people, it is the 
people. 
Derek Christensen, Chair Kaiwaka Can 
0273572751 or 099469077 
derekandisa@gmail.com 
PS  Last  meeting  of  Kaiwaka  Can  for 
the  year  this  Wednesday  5.30pm 
Archie Bull Hall. And I look forward in 
the future to it being a meeting place of 
the two meetings and two cultures. 
KAIWAKA CAN:  
A TALE OF TWO MEETINGS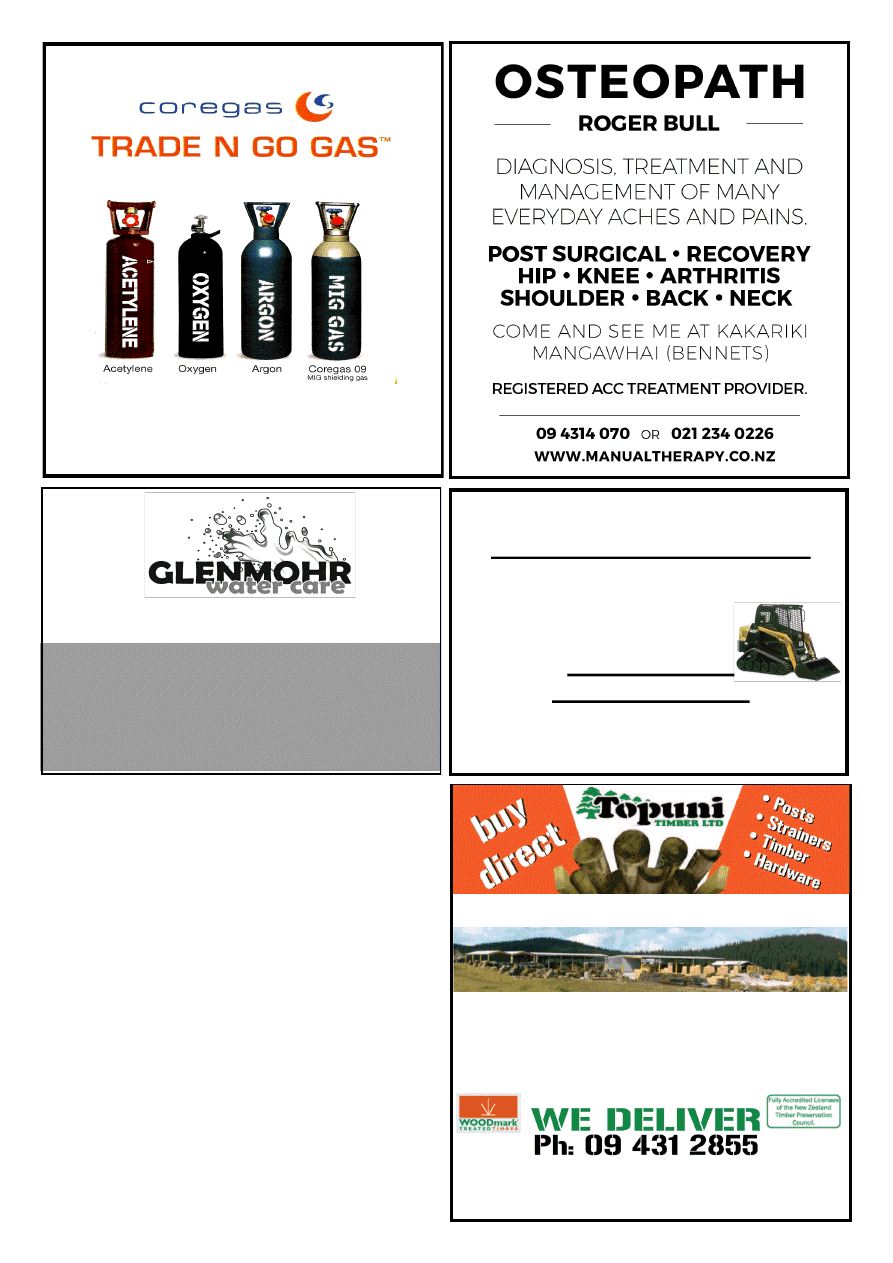 At Twinkle Tow 'n' Tyre 
Mob: 021 833 960 
Ph & Fax: 09 431 2823 
1837 State Highway 1, Kaiwaka 
Water Tank Cleaning 
• 
Keep your water safe & clean  
• 
Removal of sediment, silt etc. 
• 
Vacuum or full scrub 
• 
Minimal water loss 
Phone Mark (09) 432 0655 or 0274 707607 
LOCALLY OWNED AND OPERATED 
QUALITY PRODUCTS • FRIENDLY ADVICE • GREAT SERVICE 
Quality Products milled from High Density NORTHLAND Radiata Pine. 
Treated and guaranteed to NZS3640 with commitment to 
Environmental Safety.
Phone, fax, email, or come into the mill 
Schiska Rd, Topuni, SH1, 10 min north of Wellsford. Fax: 09 431 2856 
Email: sales@topunitimber.co.nz           Mon - Fri 7am-5pm 
• Fencing 
• Retaining 
• Decking 
• Landscaping 
• Gates 
• Hardware 
Natural Earth Ltd 
Landscape and Bobcat services 
 : Driveways :Landscaping :Retaining Walls 
 : Hole Boring: Land Levelling :Trenching 
 : Decks :Fences :Sections Cleared 
 : Plus much more
Tel 09 4312 885 
Mob 02102391280 
For A Fast Friendly Service  
Contact Tim Hicks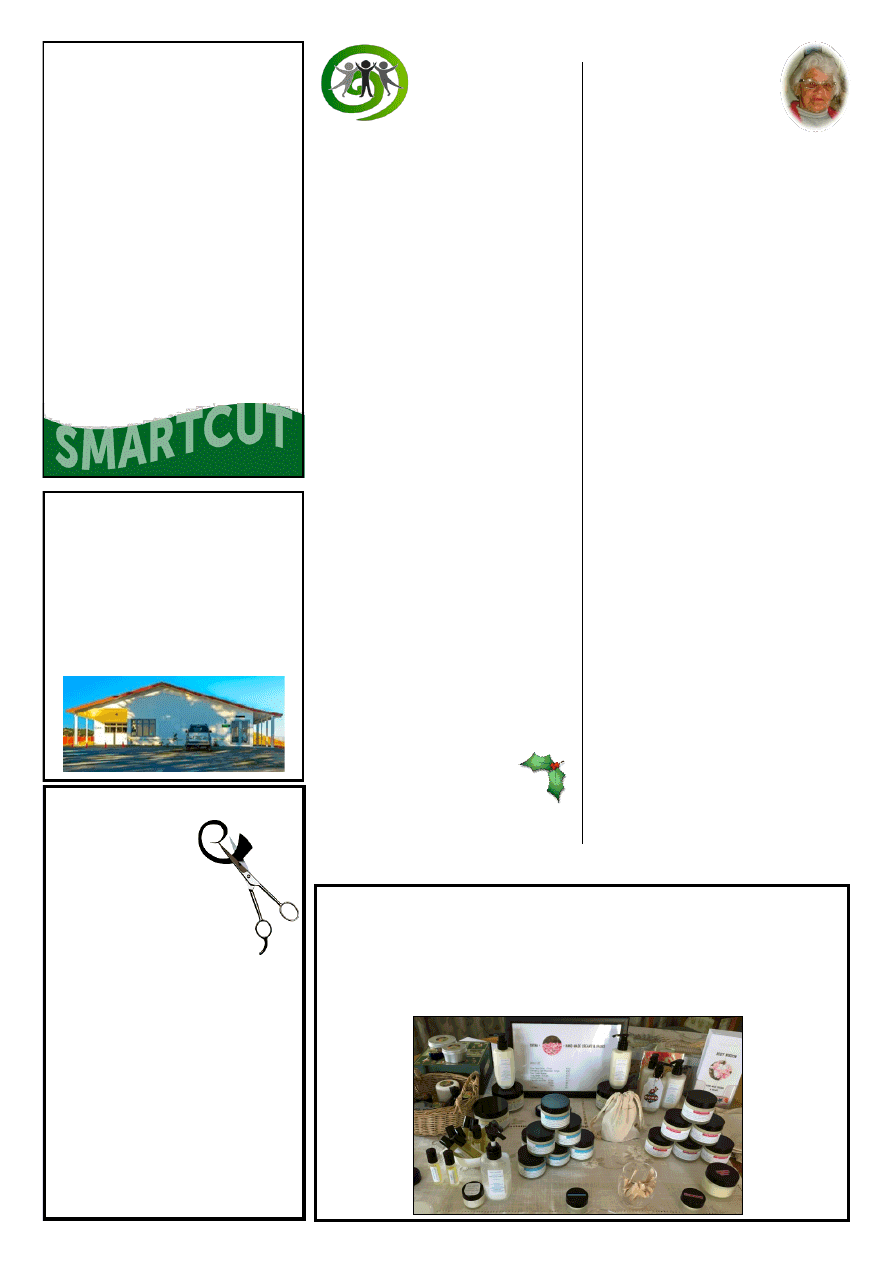 www.kaiwaka.co.nz 
Kaiwaka Bugle - 26 November 2019 
Page 17 
All your outdoor needs sorted 
so you don't have to… 
I can prune, chop, tidy, 
spray, mow, plant 
You name it, I can do it! 
Residential & 
Commercial 
Lawn & Garden 
Care 
Call Rodney, your local  
lawnmowing contractor 
021 138 2344 
JUST 
CUTS 
and 
MORE  
1758 Cove Road  
Open Monday-Saturday  
by appointment only 
Saturday 9-12pm  
Affordable prices: 
Ladies cuts from $35 
Colours from $120 
Men's from$25 
Kids from $18 
0211652629  
Te Pounga Marae 
130 Nathan Rd. Oneriri. Kaiwaka 0573 
COMPLEX FOR 
HIRE 
Functions: * Weddings  * Birthdays  
*Anniversaries * Meetings  * Wananga 5 
hour meeting * 12 hour stay or Overnight 
*All welcome   
For more information please contact: 
 Pearl Nathan 0223933533 
Email: tepoungamarae130@outlook.com  
From Thelma's 
Scrapbook … 
The Woman In The 
Queue 
What is loneliness? It is impossible 
to describe it in a word, but 
sometime ago I witnessed an 
example. During a bread shortage, 
long queues gathered in the 
supermarket, and, as so often 
happens, all were making the best 
of the situation and the queue was 
cheery and friendly. Then a 
strange thing happened. The 
assistant saw a white-haired 
pensioner leave the queue just 
before she reached the counter 
and slip away to join it at the end 
again. Puzzled, the girl kept an eye 
on her and to her surprise the 
same thing happened again – as 
soon as the old woman drew near 
the counter, she turned away to 
the back of the queue. 
Why on earth was she doing it? 
You may have guessed that it was 
because she was lonely. No one 
ever dropped into her home for a 
chat. Her family was far away, her 
neighbours were young people 
who were out all day, but in the 
queue, she found warmth, a sense 
of belonging, and someone to 
speak to, even though they were 
strangers. 
That is loneliness. Please don't let 
it happen to anyone you know! 
XMAS SALE 
Yatra's luxurious Face Creams,  
healing Calendula Skin Balm, Body Butter and more. 
KAIWAKA CHEESE SHOP 
Saturday 30th November 10.30am to 1pm 
OTAMATEA  
COMMUNITY 
SERVICES 

Monday  2  December  -  Fun  & 
Games  at  the  Anglican  Church 
Footprints Room 

Wednesday  4  December-  Seniors' 
Lunch at St John Hall. 

Tuesday  10  December  -  Free 
shopping  trip  to  Whangarei.  Phone 
431 9080 for enquiries. This is the last 
shopping trip for the year as we close 
on  19th  December.  Shopping  trips  to 
Whangarei resume in February. 

Wednesday 
18 
December– 
Chocolate  Bingo  at  the  Footprints 
Room 

Thursday  19  December  -  Closed 
for Christmas break. 
2020: 

Monday  13  January  - open at 9am 
after holiday break. 

Monday  3  February  -  Fun  & 
Games,  Anglican  Church  Footprints 
Room 

Wednesday  5  February  – Senior's 
Lunch - St John Hall 

Tuesday  11  February  -  Free 
shopping trip to Whangarei 

Wednesday 
20 
February 
– 
Chocolate Bingo 

Wednesday 
26 
February 
– 
Shopping trip to Whangarei 
We  would  like  to  thank  all  those 
amazing  people  who  have  supported 
us  over  2019;  your  generosity  goes  a 
long way towards the smooth running 
of the Community House. 
A big thank you also to the wonderful 
organisers  of  this  year's  Christmas 
Parades  and  town  celebrations,  we 
know it takes a tremendous amount of 
planning  and  organising  to 
make  it  happen.  Great  work 
all of you. 
Merry  Christmas  everyone, 
have a safe and happy festive season. 
From all at your community House. 
Phone: 09 4319080 
Email: reception@otamateacs.org.nz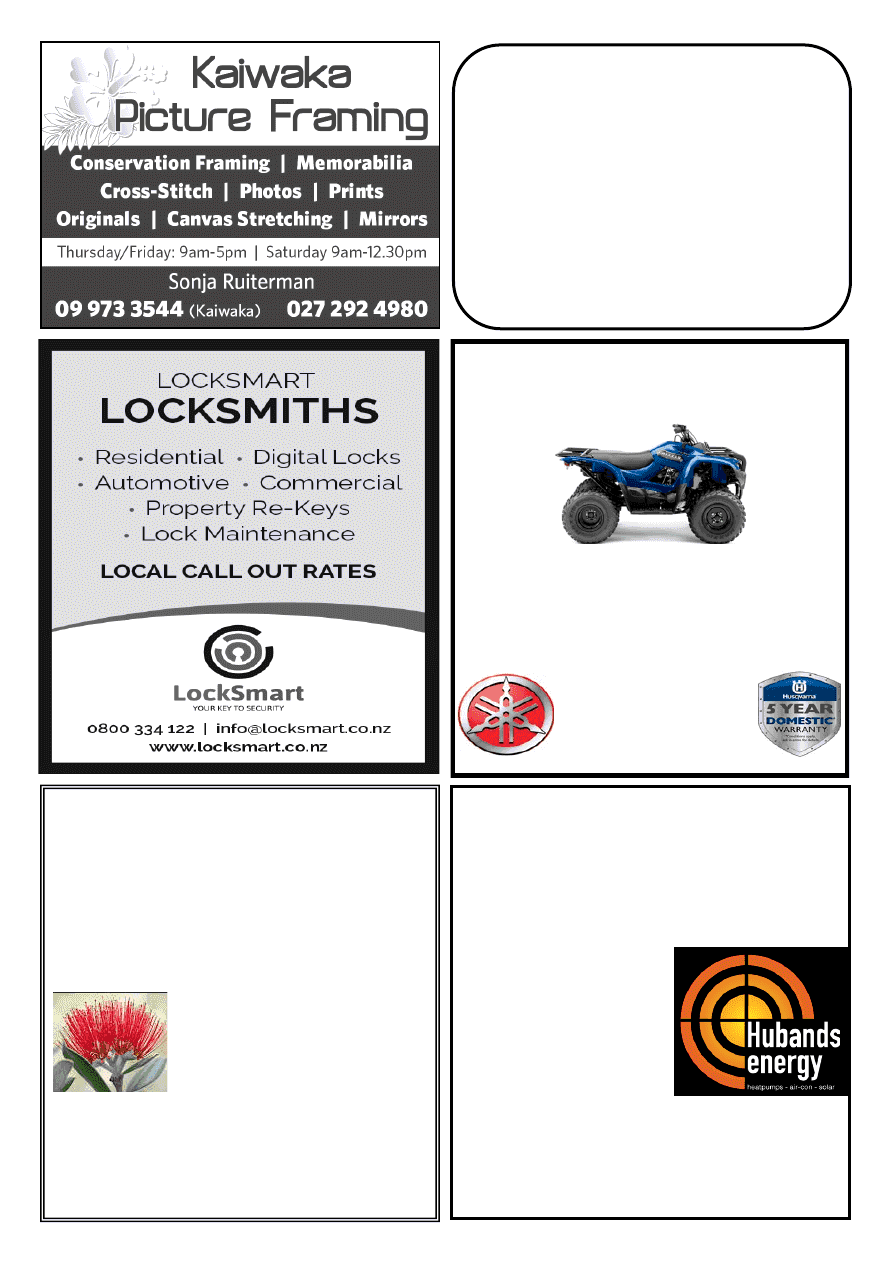 KAIWAKA 
MOTORCYCLES LTD
SALES – SERVICE – SPARES 
FARM BIKE SPECIALIST
PHONE 09 431-2127 
10 KAIWAKA-MANGAWHAI ROAD, KAIWAKA
Trimmers  
from $279
Chainsaws  
from $339
YAMAHA 
HUSQVARNA 
Northland's Award Winning 
Solar Company
SEANZ Best Solar Business Winners 2015/16
EXCLUSIVE 10 year installation warranty 
FREE No obligation onsite quote
Complete systems 
from $5990
See our range of: 
✓ 
Heatpumps 
✓ 
Airconditioning 
✓ 
Hot Water 
Heatpumps 
✓ 
Central Vacuum Systems
09 430 0019             sales@hubands.co.nz 
15 Kioreroa Road, Whangarei
Locally owned and operated for 35 years 
UP-LINK 
CHRIS WARING 
FREEVIEW INSTALLATIONS 
T.V. - HOME THEATRE &  
HI-FI ADVICE/SET UP
SKY ACCREDITED INSTALLER
MOB.0273403747 HM.094312328 
EMAIL cwaring44@gmail.com
28 YRS EXPERIENCE 
OFFERING UNBIASED ADVICE 
KAIPARA FLOORING CO 
Independently owned & operated 
32 HURNDALL ST MAUNGATUROTO
Supply & Installation of Carpet, Vinyl,  
Vinyl Wood Planking
Stockists of 2m & 3m wide 
vinyl & carpet short ends
Residential & Commercial
Q Card Finance Approved 
6-18 month terms 
6 mth interest free
First Class Installations
For a free measure & quote 
phone Christine  
09 946 9886 or 021 515 415 
kaiparaflooring@gmail.com 
http://www.kaiparaflooring.co.nz/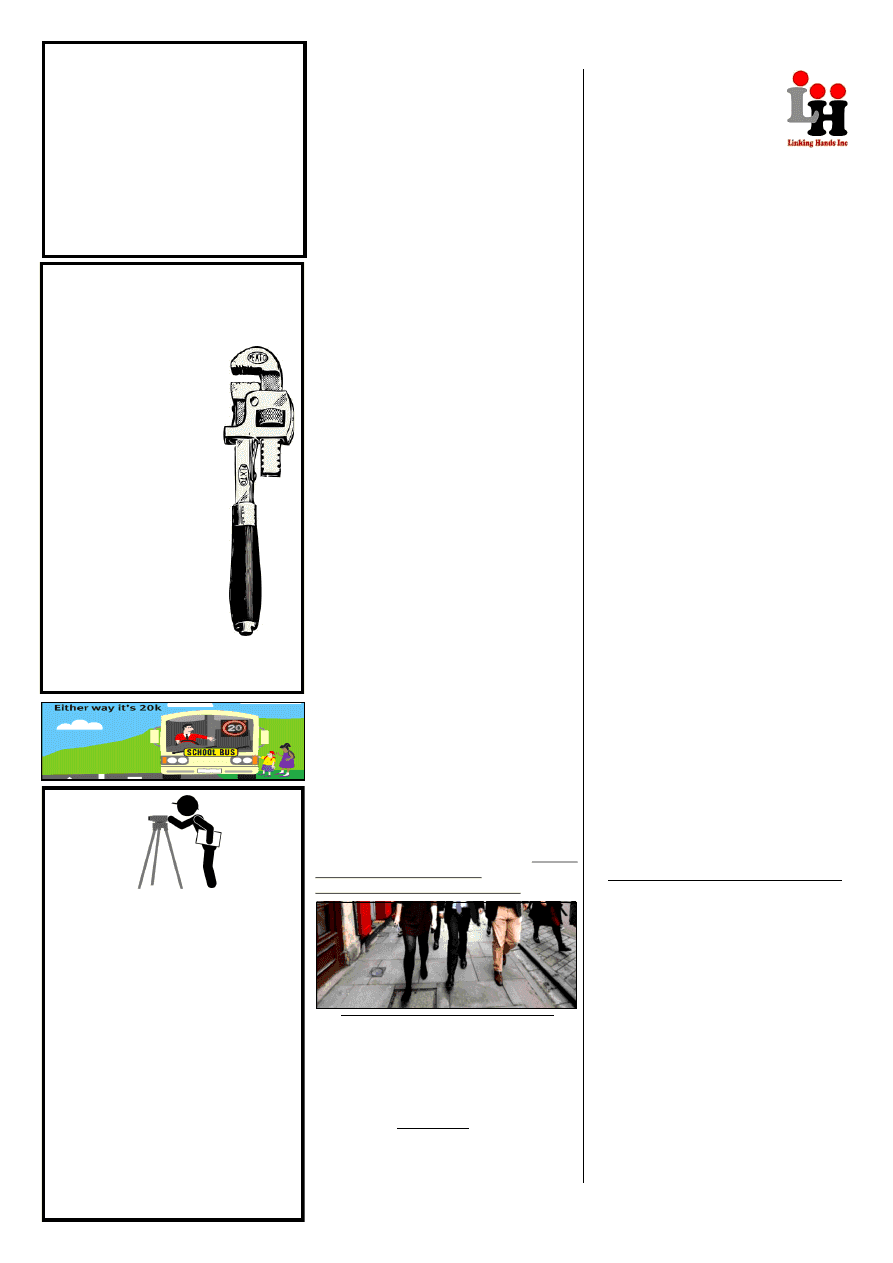 www.kaiwaka.co.nz 
Kaiwaka Bugle - 26 November 2019 
Page 19 
BARRY CURTIS 
PLUMBING LTD 
REGISTERED CRAFTSMAN 
PLUMBER 
Phone  
431 5572 
027 257 9884 
25 years' experience 
Friendly reliable 
service 
All plumbing & 
maintenance 
Alterations and new 
housing 
Spouting  
Competitive rates 
PROMPT EFFICIENT 
SERVICE 
Ken Urquhart 
BSurv Licensed  
Cadastral Surveyor 
KMU Surveys Ltd 
467 Bickerstaffe Road 
RD 2 
Maungaturoto 0587 
Ph 09 431 8705 
Mob 021 161 2344 
kenurquhart@xtra.co.nz 
AUTOMATED  EXTERNAL 
DEFIBRILLATORS 
(AEDs) 
You  may  have  noticed  a  number  of 
these around the community. Some of 
these  were  donated  by  the  St  John 
Area  committee  in  Otamatea,  and 
some  were  purchased  by  the  property 
owner. 
These  are  excellent  tools  to  have  on 
hand  if  someone  is  having  a  heart 
attack,  but  unfortunately,  the  location 
of  them  all  has  not  been  noted  on  the 
national  database.  It  is  important  that 
in  a  medical  event,  these  can  be 
located promptly. 
It  would  be  appreciated  if  you  could 
text me the location of any AEDs you 
are aware of. 
Thank you for your help in this matter. 
Eileen Parsons – 021 142 0357 
A lady opened her refrigerator and saw a 
rabbit sitting on one of the shelves. 
"What are you doing in there?" she asked. 
The rabbit replied: "This is a Westinghouse, 
isn't it?", to which the lady replied "Yes." 
"Well," the rabbit said, "I'm westing."  
A first-year kid goes to school with his 
shoes on the wrong feet.  "Johnny", says the 
teacher, "you have your shoes on the wrong 
feet". The kid looks up puzzled "But Miss, 
these are the only feet I have"   
LINKING HANDS 
Season's  Greetings  from 
the  Team  at  Linking 
Hands 
Hi everyone. I am just sitting 
here  wondering  where  the 
year  has  gone?!  It  seems  like 
Christmas  has  just  gone,  and  here  we 
are nearly back to Christmas again. 
The  Maungaturoto  Office  will  be 
closed  from  23rd  December  and  re-
opening for business at 10am Monday 
6th January 2020. 
If  you  have  any  appointments  during 
this  time,  if  possible,  please  book  in 
before we close on the 20th December. 
If  you  find  you  do  need  transport 
during  this  time,  Bruce  in  Mangawhai 
will  sort  it  for  you.  Please  phone  him 
on (09)4315906 with as much notice as 
possible. 
The  team  would  like  to  take  this 
opportunity to wish you all a safe and 
happy  festive  holiday,  and  to  thank 
those  of  you  who  continue  to  support 
us. 
Merry Christmas ... see you next year! 
⚫
Kaiwaka  needs  one  or  two  more 
drivers  to  cope  with  the  increasing 
number  of  trips  to  take  folk  to  their 
medical  appointments.  Drivers  are 
volunteers  and  travel  anywhere  from 
Warkworth to Kamo. A driver is often 
needed a couple of times a fortnight - if 
you are keen contact the Maungaturoto 
office  for  further  information  -  09 
4318969.
⚫
Linking  Hands  are  a  free  health 
shuttle service that relies on donations 
and  grants,  and  provides  transport  for 
folk  who  would  otherwise  struggle  to 
get  to  medical,  dental,  podiatry  or 
optometrist  appointments  anywhere 
from Warkworth to Whangarei/Kamo
⚫
 Did you know Northland DHB daily 
shuttle  service  from  Whangarei  to 
Auckland  hospitals,  stopping  at  the 
Three Furlongs Bar & Grill in Kaiwaka 
on  the  way?  You  need  to  book  in 
advance  by  phoning  Whangarei 
Hospital.  A  Linking  Hands  driver  will 
help connect with this bus if needed.
CALLS FROM 
LITTLE BOTHER 
When  all  of  a  sudden  strange 
number  start  appearing  on  your 
mobile, it's time for attention. 
In 12 days 12 calls came to my mobile 
from numbers with the prefixes: +222, 
+212,  +166,  +126,  +966,  +372,  +221, 
+358 and +505. 
The trouble is I knew no-one resident, 
or travelling, in Mauritania, Nicaragua, 
Lithuania,  Saudi  Arabia  etcetera  or 
Montserrat. So, who rang for a second 
or two, and why? Should you call back 
since you have the number? 
A  little  research  on  the  internet 
explains. 
These 
are 
computer- 
generated 'robocalls'.  It's easy enough, 
it  seems,  to  buy  a  string  of  numbers 
obtained  from  someone  or  other's 
computer  database,  assign  'country 
codes'  to  those  numbers  and  set  your 
robot computer ['bot'] to bother.  
The payoff
The payoff in the scheme is when you 
dial  a  number/s  back  and  are  charged 
exorbitantly  for  doing  it.  Your  call 
goes  to  the local  or  foreign  equivalent 
of an 0900 pay-to-call number. 
It's  a  modern  version  of  sawdust  in 
sausages,  watered  milk  and  shaved 
sovereigns. 
My first bot call was answered, as was 
my  second  two  days  after.  Smelling  a 
rat, I researched then ignored the third 
two  days  later.  But  I  slipped,  called 
back the fourth and, while an answered 
number  lingers  on  a  bot  base,  if  you 
call, you get Bother with a bigger B.  
My pattern by day was a, 0, a, 0, n, 0, 
0,  n,  0,  0,  aR  +  6n,  n;  where  'a'  is 
answered, 'n' not answered, '0' no call, 
'aR'  returned  call.  All  the  calls  on  the 
day I slipped to aR came from different 
numbers  and  largely  different  country 
codes. 
Most phone providers publish warnings 
about the trick on their sites and, if you 
challenge, refund charges.    ~ 
HP 
Data is from my phone log this month
Country  code  checker  is  at  https://
en.m.wikipedia.org/wiki/
List_of_country_calling_codes 
HAKARU HALL 
ACTIVITIES 

Monday: Line Dancing  

Wednesday Music Jam Session  
  0210628631 

First Wednesday of the Month 
Hall Committee Meeting 7.30pm 

Hall Bookings  4312829  or  
lorrainehepple@gmail.com 
Next Bugle Deadline midday Friday 6 December  2019
WHAT'S ON
PLEASE ~ do let us know what is on - email 
kaiwakabugle@kaiwaka.co.nz 
*27Nov~Kaiwaka Can meet. Archie Bull Hall, 5.30pm 
*28Nov~Kaipara Young Farmer AGM, 3 Furs, 7pm 
*29Nov~Maungaturoto Breakfast, 6.30m 
*29Nov~Movie 'LATE NIGHT', KWMH, 7.30pm 
*29Nov~Hakaru RSA Christmas Dinner,6pm Ph: 4315589 
*5Dec~KSA Special Meeting, 7pm 
*8Dec~Hakaru RSA Extraordinary Meeting, 1400hrs 
*8Dec~Music of India, Absurdistan Hall, 5pm 
*13Dec~Movie 'LADIES in LAVENDER',KWMH,7.30pm 
*15Dec~Otamatea Hawks Christmas Party, 4pm KSA 
*15Dec~St Pauls Carols by Candlelight, 7.30pm 
KWMH = Kaiwaka War Memorial Hall; KSA = Kaiwaka Sports Association 
See www.kaiwaka.co.nz for more information 
HOUSEHOLD RUBBISH COLLECTION  
Kaiwaka Pick up: 
Mondays = Green bags (Northland Waste - 09 430 3273) 
Wednesdays  =  Blue  bags  and  yellow  recycling  (at  Jaques  $3.00 
and  $1.50)  (Kaurilands  09  4392146);  ONLY  Blue  and  Yellow 
bags picked up on Oneriri Road. 
 DIABETES Support Group-for Kaiwaka, Mangawhai, Wellsford 
10am, 3rd Friday of month Ph: Colleen James 09 4314238 
 GENEALOGY - Wellsford: 1st Thursday in month Ph: 423 
7033; Waipu: 4th Monday in month Ph: 4312 725 
 HAKARU PONY CLUB - Secretary Denise Rogers 021423376 
secretary@hakaruponyclub.co.nz  
 KAIPARA HUNT - Secretary Albert Doonenbal Ph 4312059 
 KAIWAKA BADMINTON -Tuesdays 7.30pm Ph: 4312345 
 KAIWAKA  CAN  -  3rd Wednesday in  month, 5.30pm, Archie 
Bull Hall Ph: 0273572751 
 KAIWAKA  DRAMA  CLUB  - 
Hannah  Webb 
0272863352 
KaiwakaDrama@gmail.com - FB - "KaiwakaDramaClub" 
 KAIWAKA DRUM & DANCE CLASSES - 021 611198 
 KAIWAKA GARDEN & FLORAL GROUP - 2nd Thursday in 
month. Ph: 431 4744 
 KAIWAKA  CUBS  -  Thursdays  5.30-7pm,  Hakaru  Ph:Bruce 
4312542 
 KNITTING FOR WHANGAREI HOSPITAL - 2nd Tuesday in 
month, Archie Bull Hall 10am Ph 4314827 
 MANGAWHAI COMBINED REBUS CLUB - 2pm, 3rd 
Thursday month, Senior Citizens Hall Mangawhai. Ph: 4315777 
 *PT CURTIS CRUISING CLUB - Jean Ph: 4312227 (wk), 4312520 (hm) 
 RSA,  HAKARU  &  DISTRICTS  WOMEN'S  SECTION  –  meets 
1.30pm 4th Thursday of the month. Ph: 431 5818  
 KAIWAKA  SCOTTISH  COUNTRY  DANCING  CLUB-
Wednesdays 10am - 12 noon  Ph: Elaine 027 432 0032  
 TRAMPING - Mondays 9am-2:30pm Maria 4312 234 
HALLS FOR HIRE: 
  Kaiwaka St. John Hall: Phone Marj  0272941227  
 St.Pauls  Archie  Bull  Hall  HIRE  $20  half  day,  $40  full  day  per 
hire, S McAulay, Ph 4312311 
 Kaiwaka  War  Memorial  Hall  HlRE  -  Phone  4312725  or 
kaiwaka.hall.bookings@gmail.com 
 Hakaru Community Hall HIRE -Ph.  Lorraine 4312829  
 Te Pounga Marae queries - Pearl Nathan  0223933533 
 Kaiwaka Sports Association hire/queries - C. Anderson 4312051 
or kaiwakasports@gmail.com 
Justice of Peace:  
B.FJaques  4312  048;  L.Donaldson  4312  228;  A.F.Hargreaves 
4312 045, W.Howard 4312 725 - please phone to make sure they 
are available www.justiceofthepeace.org.nz 
Marriage Celebrants:  
L.Donaldson; A.F.Hargreaves; Y Osborne
LOCAL SERVICES 
*Emergencies - Ambulance, Fire, Police - dial 111 
*Non-urgent Police phone 09 4311150
A A: Meets Wed., 8pm Kaiwaka Ph: 4315543, 0800229 6757 
ASUREQUALITY LTD (was AgriQuality) Call Free 0508 0011 22  
BUDGETING SERVICE, WELLSFORD: Free confidential advice & 
support for all areas of personal finance. Ph (09) 423 7123 
CAB-Citizens Advice Bureau.Wellsford Ph: 4237333 
0800 367 222 email:cab.wells@xtra.co.nz  
CIVIL DEFENCE - Kaiwaka Community Response Group: 
kaiwaka.civildefencecrg@gmail.com, 4312725 Wendy 
DOG/STOCK /NOISE CONTROL 0800 105 890 
FUNERAL SERVICES: Morris & Morris Ltd, 
Whangarei - Bev Jaques Ph:4312367 or 0800667747 
GRANDPARENTS Raising Grandchildren: Dianah Roberts 0223819539 
HAKARU & DISTRICTS MEMORIAL RSA (Inc) 733 Settlement Rd, 
Hakaru. Ph 4312 176 or Bill Warren (President) 431 2092 
HAKARU LANDFILL/Transfer Station:Open everyday except 
Tuesday10am-4pm.Ph4312629 Cost-$55 trailer load up to 1 cubic metre. 
Ph:4258567 - office 
KAIPARA DISTRICT COUNCIL www.kaipara.govt.nz:  
Help Desk FREEPHONE 0800 727 059  
KAIWAKA CEMETERY: Ph: 4312045 or 4314017 
KAIWAKA LIBRARY: kaiwaka.library@gmail.com  
Mon. 4-6pm; Wed., Thurs., Fri., Sat. 10am-2pm Ph:4312539 
KAIWAKA PLAYCENTRE: Ph Juanita 0274134904; open Mon, Wed, 
Fri 9am-12pm. Hastie Lane; Monday to Friday 9.00am - 12 noon. 
KAIWAKA POST OFFICE:Ph:4312 431  
Post Code: 0573 for RD2 and 0542 for all Kaiwaka Post Office mail 
KAIWAKA PRIMARY SCHOOL: Ph: 4312309   
KAIWAKA SPORTS ASSN: Ph 4312005; 4312129 gym 
KAIWAKA ST. JOHN HALL: Phone Marj  0272941227  
KATE'S PLACE Community Centre - Employment services, Free Health 
Nurse, Plunket, Advocacy, Osteopath, A.A., Legal Advice. 4312 661 
LINKING HANDS Health Shuttle Ph 4315906 or 09 4318969 
MINISTRY FOR PRIMARY INDUSTRIES - General inquiries Call 
Free 0800 008 333 
NORTHPOWER: Faults Kaiwaka area 0800 104040 
OTAMATEA COMMUNITY SERVICES: Counselling, parent coach, 
Family Support worker, budget advice, food bank. Mon-Fri 9am-3pm. Ph 
09 431 9080 http://www.otamateacs.org/ 
PARENTPORT: Free, practical family support service Puhoi to Paparoa 
Ph or txt: Dianne 027 280 5093 or 09 425 9357 
PLUNKET:  Kaiwaka  -Kate's  Place  Clinic  1st  Wednesday  of  the  month; 
Mangawhai  - Rose Madsen Cottage: Coffee Group 9:30 every Monday.  Clinic 
every Monday and Thursday. 
Maungaturoto - Good News Church, Clinic 2nd and 4th Wednesday.  
Cynthia 09 431 7340 or 027 675 3488 
PLUNKET HELPLINE -0800 933 922 (24 hours) 
TAITOKERAU COMMUNITY LAW: Free confidential legal advice and 
assistance, 2nd
Thursday
 of each month. Ph: 0800 155 529 for apps.  
TE URI O HAU Settlement Trust Tangata Developments: Whanau Ora 
021 793262  
VETERINARY SERVICE MANGAWHAI: 
Ph: 4314535 Mon-Fri 8.00-5.00, Sat 9-12, a/h appt. 
WELLSFORD DOCTORS: Ph: 4238 086 
CHURCHES:
 
Kaiwaka  Revival  Church  -  Your  Community  Church:  Sundays  10am. 
Ph: Pastor Tawhiri 09 431 8988 or Pastor Paul 09 4312 068 Visit us at 
www.facebook.com/kaiwakachurch or www.kaiwakarevival.co.nz 
 
St  Paul's  Anglican  Church  1st  Sun.  9.00am  (Eucharist),  3rd  Sun. 
9.00am (Family Service). Contact: Rev. Wayne Thornton Ph 431 4122 
www.mangawhaianglican.org.nz 
 
Church of Christ the King, Mangawhai:9.00am every Sunday 
 
St.Mary's  Catholic  Church:  Maungaturoto  –  Griffins  Road,  Saturday 
evening  Vigil  Mass  6pm;  Mangawhai  –  Senior  Citizens  Hall,  Sunday 
Mass  8:30am;  Wellsford  –  Matheson  Road,  Sunday  Mass  10:30am;  
Mid-week Mass times and all enquires to Fr. Bill Fletcher – phone 423 8170
 
Baptist Church: Sun. 10.30am Mangawhai Snr Cit.Hall.Ph:4312339 
 
Cause  Way  Church  Mangawhai:  Sundays  10.15am,  Mangawhai 
Community  Recreation  Centre,  Insley  St.  Ph:  09  4314782