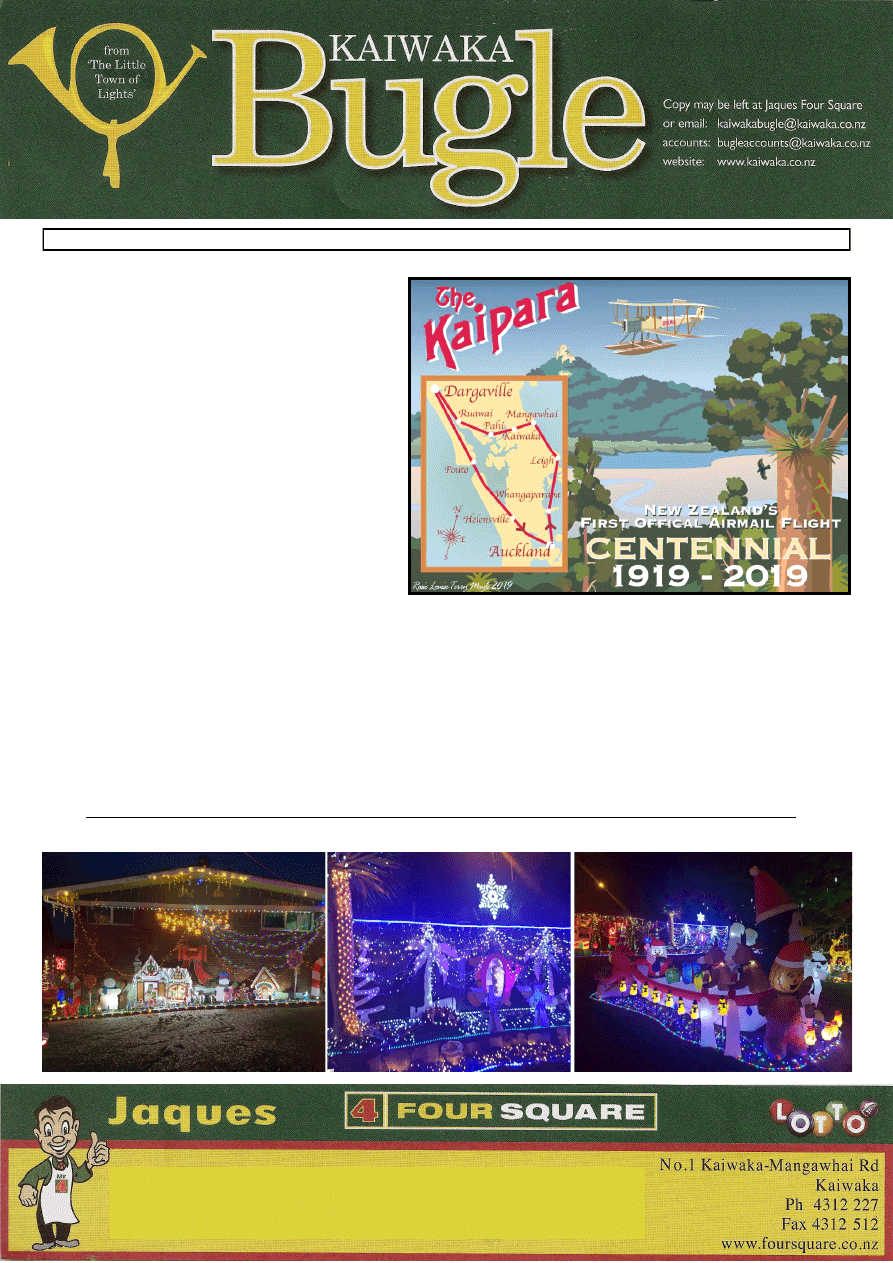 www.kaiwaka.co.nz 
Kaiwaka Bugle - 10 December, 2019 
Page 1 
No: 24 
 10 December 2019 
NEW EXTENDED HOURS: 
Sunday – Thursday 8am – 6.30pm 
Friday – Saturday 8am – 7pm 
KAIWAKA'S CHRISTMAS LIGHTS! 
NEW ZEALAND'S FIRST MAIL FLIGHT CENTENNIAL 
One  of  Kaipara  District's  claim  to  fame  is  its 
connection  with  New  Zealand's  first  official  mail 
flight which took place one hundred years ago on 16 
December 1919. 
Leo  Walsh,  the  director  of  the  New  Zealand  Flying 
School  in  Mission  Bay  had  approached  the  Postal 
Department to undertake air mail experiments. 
The first experiment involved a special mail delivery 
from Auckland to Dargaville and back. The aeroplane 
used was a Boeing-Westervelt floatplane. Leo Walsh, 
the  flying  school  managing  director  was  supervisor 
and George Bolt was the pilot. 
The flight started at 10.15 a.m. and carried 825 letters 
and a quantity of newspapers. The floatplane flew up 
the  east  coast  turning  inland  to  fly  over  the  post 
offices  at  Mangawhai,  Kaiwaka,  Bickerstaffe,  Pahi, 
Hukatere, Ruawai, Raupo, Tokatoka, Te Kopuru. The 
machine  alighted  at  the  Dargaville  wharf  at  11.50 
a.m. 
The  mail  was  unloaded  and  after  lunch  the  flight 
returned  to  Auckland  via  Helensville  without 
incident. 
Critics immediately drew attention to the very high cost of 
airmail  delivery.  For  Kaipara  MP,  Joseph  Gordon  Coates 
who  was  also  the  Postmaster-General,  the  costs  of  New 
Zealand's  first  official  mail  flight  were  entirely  justified. 
While  ostensibly  an  experiment  it  is  almost  universally 
unknown  the  prearranged  Postal  Department  flight  took 
place  on  the  eve  of  the  1919  General  Election.  The  flight 
precisely  traversed  the  population  centres  of  the  Kaipara 
electorate  where  the  Reform  Party  candidate  Coates  was 
seeking  election  the  next  day.  In  fact,  on  the  day  of  the 
flight, polling for the Maori seats was underway. 
Coates  had  served  in  the  First  World  War.  He  was 
appointed Postmaster-General in early September 1919 and 
was showing the initiative one might expect from a future 
Prime  Minister.  The  day  following  the  launch  of  the 
Reform  Party  election  campaign  at  the  Auckland  Town 
Hall,  he  publicly  announced  the  mail  flight  experiments. 
The  flight  provided  a  pre-election  day  spectacle  in 
Auckland. 
According  to  the  family  of  his  political  opponent,  leaflets 
supporting  Coates  were  dropped  at  Ruawai.  At  Dargaville 
the  schools  had  been  closed  for  the  day  and  almost  the 
entire  population  turned  out.  The  Postmaster-General, 
Gordon Coates triumphantly received the mail. 
All citizens of Dargaville knew across 
… continued on page 5 
NEW EXTENDED HOURS: 
Sunday – Thursday 8am – 6.30pm 
Friday – Saturday 8am – 7pm 
"
Your local Store" 
Family owned & operated for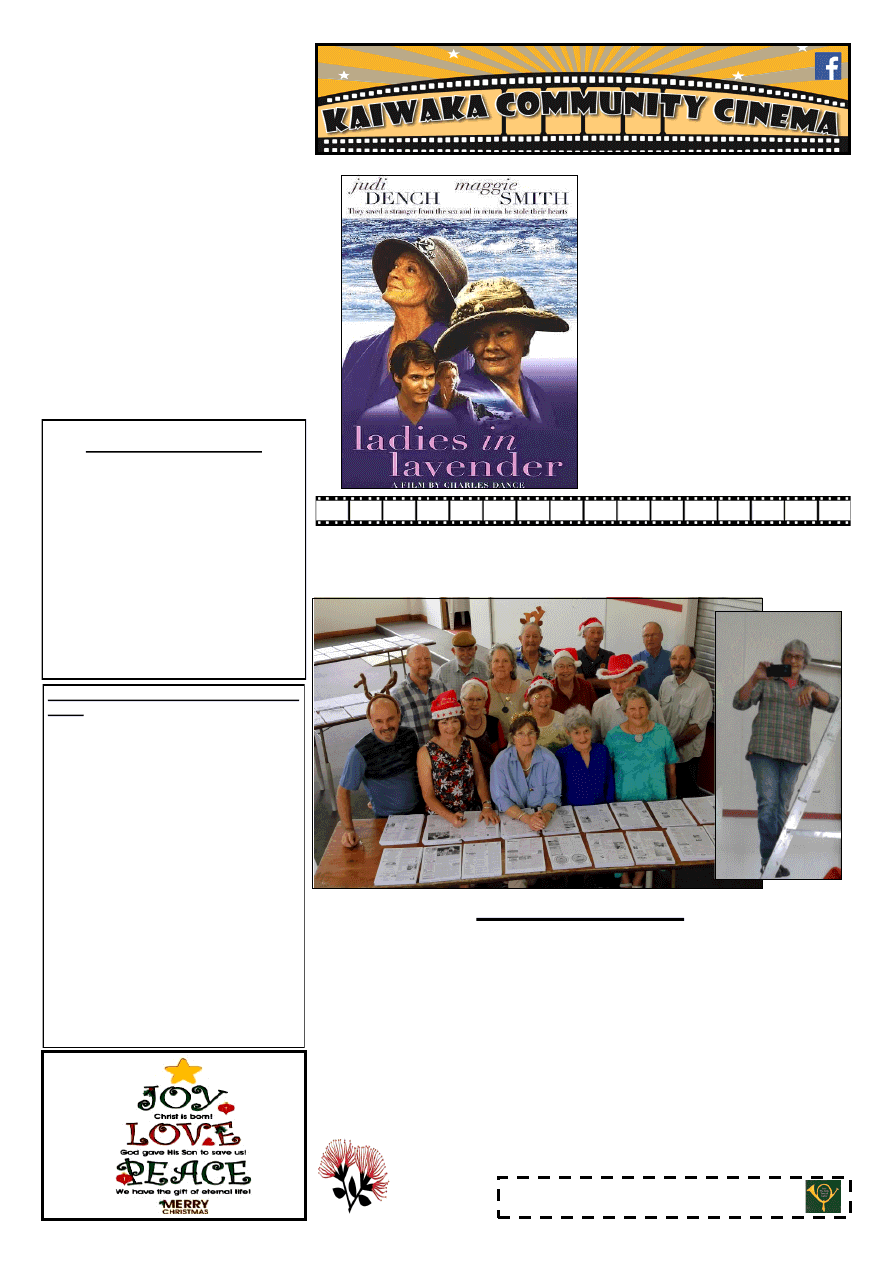 At Kaiwaka War Memorial Hall . Adults $10, Kids (under 16) $5, Family Pass (2 adults + 3 children) $25 
KAIWAKA BUGLE No. 24 
10 DECEMBER 2019 
CONTENTS 
Page 3: Public Notices, Classified 
Page 5: Cr. Larsen; Centennial Flight. 
Page 7: Thelma's Scrapbook; Kaiwaka 
Weather 
Page 9: Kaiwaka Revival Church; Pt. 
Curtis CC; KWMHall 
Page 11: Kaiwaka Sports Assn. 
Page 13:  OHS; Kaiwaka School 
Page 15: Paparoa Show; Linnell Diary 
Page 17: Kaiwaka Library; Kaipara 
Hunting & Fishing; Blue Christmas 
Page 19: A Realistic Christmas 
Bugle 1 will appear 21 January 2020 
Contact for advertising, reports, articles 
or information can be made by 
Email kaiwakabugle@kaiwaka.co.nz 
Ph: 09 4312 045 Lindsey 
Txt: 027 2724137 
Copy  may  be  left  at  Jaques'  Four 
Square. 
Kaiwaka Bugle 
Founded May 1978 
We appreciate articles and photos about local 
events, etc, as well as ads and suggestions. 
Copies available in Kaiwaka at Jaques Four 
Square, Kaiwaka Postal Centre, Shamrock 
Service Station, Animal Health Centre, 
Kaiwaka St John shop. 
Also outlets in Maungaturoto, 
Mangawhai and Paparoa. 
Can be viewed online at   
www.kaiwaka.co.nz/Bugle  
Or a copy can be posted to you if you supply 
stamped, self-addressed DLE envelopes. 
Kaiwaka 
Bugle 
Advertisements 
2019: 
All 
copy 
and 
queries 
to: 
kaiwakabugle@kaiwaka.co.nz 
The Bugle is printed on an A4 page   
Ad  sizes:  1/16  page  (3  x  9.5cm)  $5;  1/8 
(6.5  x  9.5cm  landscape  or  portrait)  $8; 
3/16 ( 10 x 9.5cm or 7.5 x 12,5)  $12.  
Classified  ads:  First  one  FREE,  $4  per 
entry (max. 30 words, max. 4 repeats). 
Payments  can  be  made  online  at 
ANZ 
06  0365  0006990  00
,  posted  or  left  at 
Jaques Four Square Store. 
We  use  Microsoft  Publisher,  and  can 
work  with  most  common  image 
formats, Word, Excel, and PDF files. 
Accounts:  
Email: bugleaccounts@kaiwaka.co.nz 
The  Kaiwaka  Bugle  is  a  community 
newspaper run by volunteers, as part of 
the Kaiwaka Media Group Inc.   
Articles, etc. printed are not necessarily 
the opinion of the Bugle Team. 
ABOUT TOWN 

Beautiful  Christmas  lights  -  thank  you  Pam  and  Mark  for  this  wonderful 
pleasure you give to all; and our local fire Brigade gets a helping hand too! 

 For a real buzz we could have Christmas lights on all the trees down (or is it 
up?) the main road! 

New lights: Check out the Coffee Pot at Gateway North Motel. 

Congratulations Jonathan Larsen - we are proud of this Kaiwaka young man! 

A  plea  from  the  Kaiwaka  Sports  Assn,  "If  you  like  to  walk  your  dog  on  our 
fields, that's fine, but please scoop that poop!" 

Old4New lifejackets at Mangawhai, Alamar Cres, 14 December 3-6pm - heavily 
discounted Hutchwilco models. 

 Remember the weekly bus trip to Whangarei via the east coast  

 Big thank you to folk who contribute articles, stories and anecdotes
   - the Bugle 
Team appreciate your support and encouragement. 

 Best wishes to all, from The Kaiwaka Bugle Team
'Little things seem nothing, but they give peace, like those meadow flowers 
which  individually  seem  odourless  but  all  together  perfume  the  air." 
 ~Georges 
Bernanos  
KAIWAKA BUGLE DEADLINE DATE  
First issue 2020 will be Friday 17 January 
  LADIES in LAVENDER 
Friday 13 December, 7.30pm (PG)     
Aging spinster sisters Ursula (Judi 
Dench)  and  Janet  (Maggie  Smith) 
discover  a  young  man  (Daniel 
Brühl) near death on the beach by 
their  home  in  a  small  Cornish 
fishing  village.  Taking  him  in, 
they  discover  that  he is  Andrea,  a 
violinist  from  Krakow,  Poland, 
who  had  been  swept  off  an  ocean 
liner on which he was sailing to a 
fresh start in America ... 
Merry Christmas from the  Bugle Team!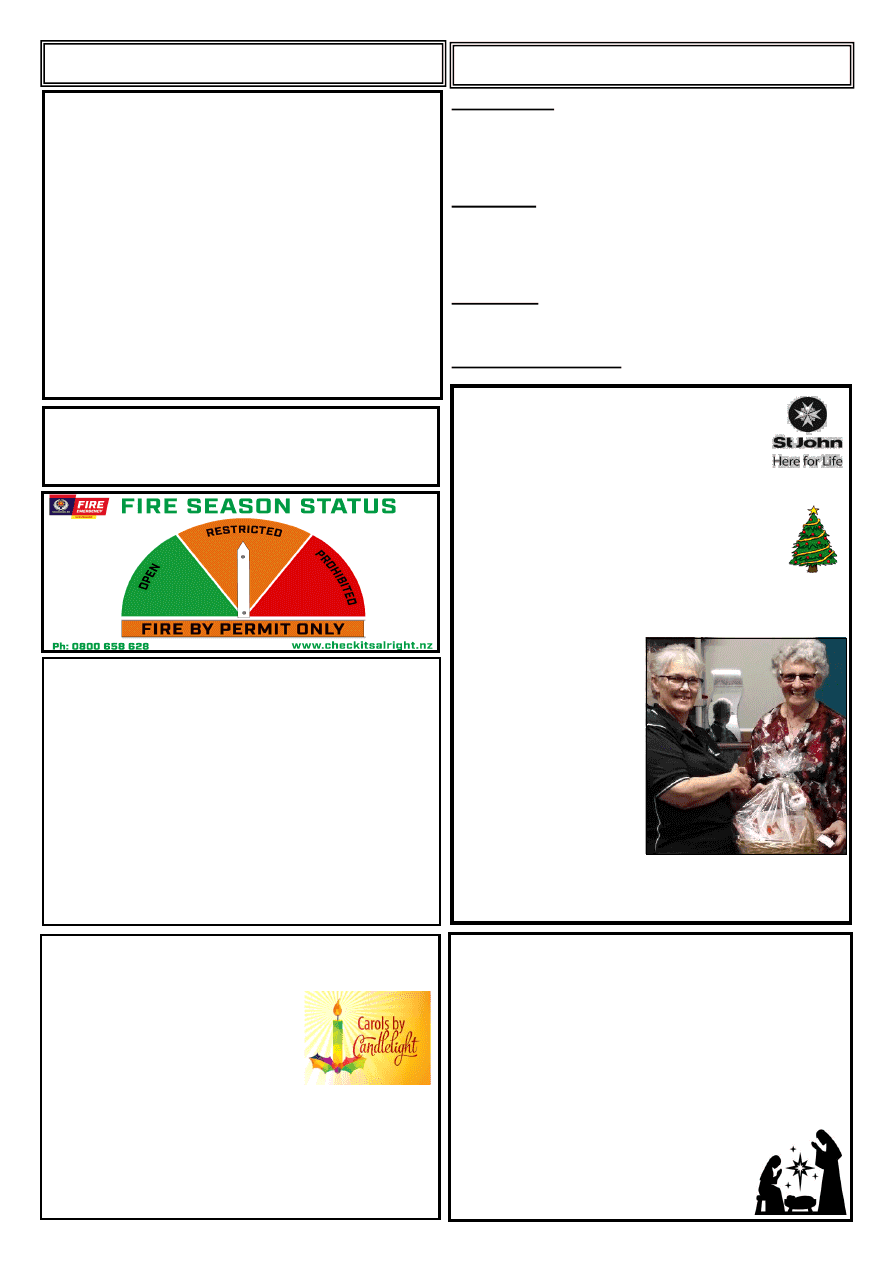 www.kaiwaka.co.nz 
Kaiwaka Bugle - 10 December, 2019 
Page 3 
PUBLIC NOTICES 
CLASSIFIED 
JESUS IS BORN. 
Matthew  2:6 & 7.... While Mary and Joseph were there in 
Bethlehem, the time came for her baby to be born; and she 
gave birth to her first child, a son. She wrapped Him in a 
blanket  and  laid  Him  in  a  manger  (an  animals  feeding 
trough) because there was no room for them in the village 
inn. 
LET HIM GROW UP 
Although  our  first  impression  of  Jesus  is  as  a  baby  in  a 
manger,  it  must  not  be  our  last.  The  Christ  child  in  a 
manger makes a beautiful Christmas scene, but we can not 
leave Him there! This tiny, helpless baby lived an amazing 
life, died for each of us, ascended to Heaven 
and  will  return  to  earth  as  King  of  Kings. 
Do  you  still  picture  Jesus  as  a  baby  in  a 
manger  –  or  is  He  your  Lord?  Make  sure 
you  don't  underestimate  Jesus.  Let  Him 
grow up in your life.   
FOR  SALE:  Treadmill  Pro-form  530x  with  cover 
$100;    AB  King  pro  $30;    Exercise  cycle  (basic) 
$25;    Belt  massage  machine,  Excelle      $25;    Saw 
Bench 10inch 240v Tanner De Lux Tilting Arbour Plus 
Tungsten  tipped  Blades  $375;  6  inch  buzzer  Tanner 
$250. Phone 021 036 8929 
TO  RENT:  STUDIO  FLAT,  northerly  aspect,  dry  & 
warm;  fully  insulated,  minutes  from  Kaiwaka  shops, 
off  street  parking,  semi-rural.  Best  suited  to  single, 
active non-smoker (couples considered). $210/wk incl. 
power.  Reference,  bond.  Phone  Kim  021823224  or 
4312711 
TO  RENT:  Large  cottage  near  Kaiwaka.  Carpeted, 
semi-furnished,  insulated.  Off-road  parking.  Power, 
water  &  waste,  wifi  &  freeview.  $300  per  week,  1 
week bond. Ph: 09 9450593 after 5pm please. 
CHRISTMAS  TREES  available  from  Monday  2nd 
December at the Kaiwaka St. John Op Shop. 
KAIWAKA ST. JOHN OP SHOP 
Christmas is almost upon us. 

We have Christmas trees $40 each.  

We  have  a  good  selection  of  Christmas 
decorations.  

The  first  Christmas  raffle  was  won  by  Eileen 
Parsons,  congratulations - pictured below with Diane. 

Clothing is still $1 per item unless marked.  

Babywear is 5 for $1.  

Books and magazines on trolley all 8 for $1. 

Camping and sports gear. 

We  are  always  looking  for  kitchenware  and  bedding. 
Pictures and bric a brac. 

If  you  have  or  want  to  buy  large  furniture  these  items 
are  in our garage opposite 
Jaques  and  there  will  be 
someone  there  on  22nd 
December from 9am. 

Remember  your  First 
Aid kits - we have a great 
range. 

You  can  also  pay  your 
subscription 
and 
ambulance  payments  at 
the shop. 

The shop will be open on 
Monday 
the 
23rd 
December.  
For more information contact the op shop  09 4312650 
Diane  0274 627567 or Gale 0274 149576  
Check us out at 1919 SH1, Kaiwaka 
KAIPARA REFUSE 
REFUSE AND RECYCLING COLLECTION 
CHANGE 
ONLY AFFECTED COLLECTION DAY DURING 
the 2019/20 Holiday season is  
Wednesday 25th December 2019 
Areas affected are Paparoa/Whakapirau/Maungaturoto/
Kaiwaka Rubbish and Recycling 
Ruawai/Kai Iwi Lakes/Omamari/Trounson Park Rubbish  
These collections will now take place on  
Thursday 26th December 2019. 
All other collection days remain the same. 
Please note over this time that collection times may vary 
from normal to avoid non collection, please ensure that all 
bags are placed on the kerbside by 8am. 
MANGAWHAI EXTRA COLLECTIONS 
Thursdays: Mangawhai Rubbish – starting 19th December 2019 
until 30th January; Thursdays: Mangawhai Recycling 2nd, 9th, 
16th January 2020.   
OTAMATEA REPERTORY 
THEATRE Inc 
Youth Theatre 2020 
Bookings are now open for Youth Theatre next year.  
Week One – 13-17 January 2020 
Week Two – 20-24 January 2020 
Monday to Friday 9am till 3pm  
with the show on Friday night @ 6pm 
Costs will be the same as last year. 
$100 for the week, plus ORT junior membership of $20   
$25 for the Mangawhai Bus – first in, first served. 
For bookings, please contact Maura Flower 022 354 2670 
or email maura.flower@gmail.com 
   KAIWAKA MEDIA GROUP 
Annual General Meeting 
Monday 20 January, 5.30pm 
Kaiwaka War Memorial Hall 
ST PAUL'S ANGLICAN CHURCH 
KAIWAKA 

Carols by Candlelight 
Sunday 15th December, 
7.30 pm 
Refreshments to follow 

Christmas Day 
Communion Service - 9.00 am 
All Welcome!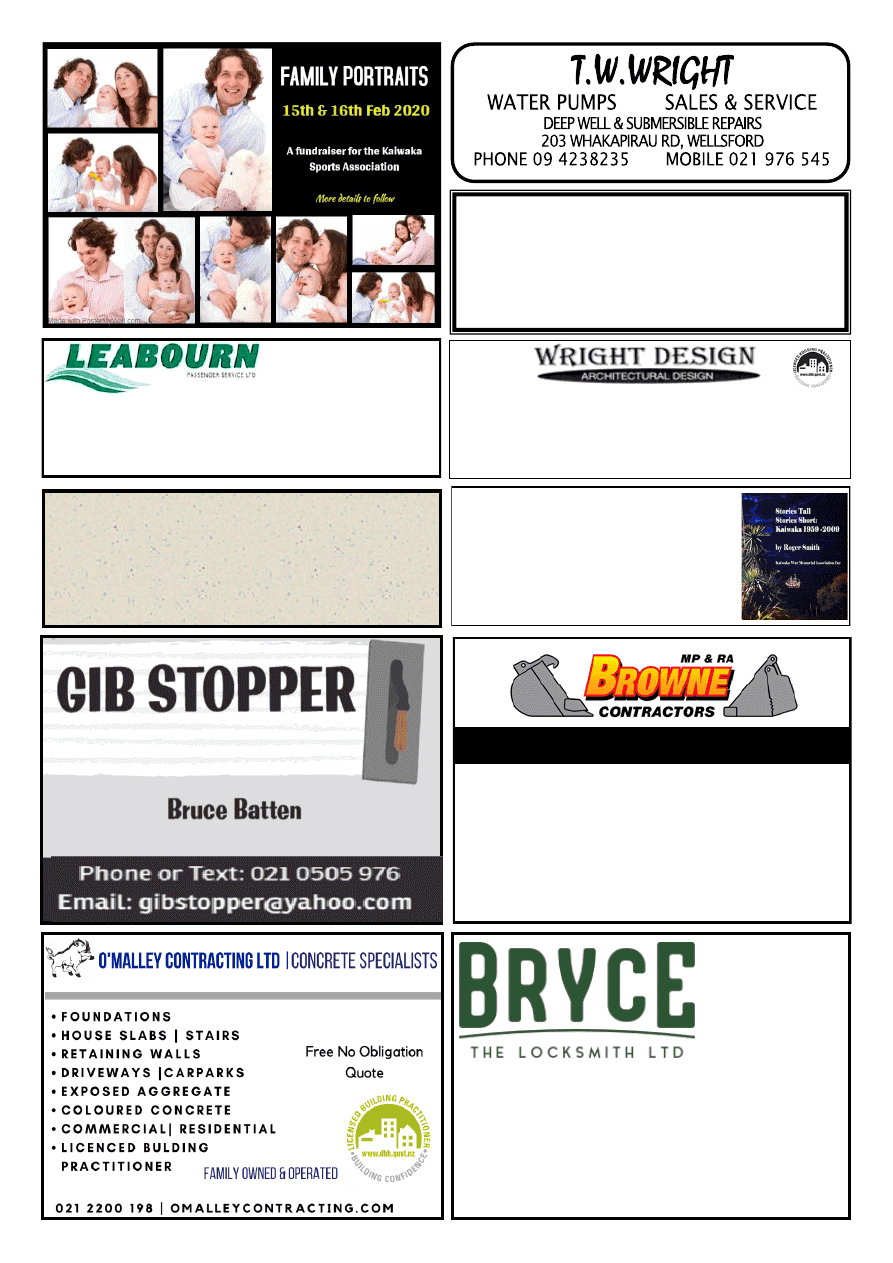 4T DIGGER – BOBCAT – TIP TRUCK 
 Property Maintenance - Driveways  
 Building Sites 
Stump & Tree Removal  
Hole Boring - Chain Trencher  
Calf Shed and Stockyard Cleaning 
Phone Matt: 021 199 6677 
Email: mprabrownecontractors@gmail.com 
Stories Tall, Stories Short  
Kaiwaka 1959-2009 
by Roger TW Smith.  $40 
Kaiwaka Photographic History $25 
At All - Sortz Collectables  
or phone  4312 045 
Counsellor and Registered Psychotherapist 
Offers Supervision
Susan Matheson 
MNZAC 
Dip. Psychosynthesis Counselling and Psychotherapy 
Phone 09 431 2996                        Mobile 027 605 2427 
Passenger Service
Car & Van Hire   Bus & Coach Charters 
Airport Transfers    
Phone (09) 4237416 
No. 117345 
N.Z.C.A.D., L.B.P. 117345 
PH/Fax: 09 423 8092 Mob: 021 276 7369 
Office: 3 John Sinclair Avenue, Wellsford    brianwright@xtra.co.nz 
For Resource and Building Consents, planning restraints, new building materials - 
you need a capable, experienced, and professional designer with a clear 
knowledge of all the processes. Brian has been helping and organising all these 
facets of design and building for over 50 years. 
Wright Design offers free visits, consultations and advice on planning, design, 
building, council permit applications, guaranteed permit plan acceptance. 
Bryce Frewin 
Ph: 021 850 983 
Kaipara Based Master Locksmith 
bryce@brycethelocksmith.co.nz 
www.brycethelocksmith.co.nz 
HANDYMAN 
Gardens * Lawns * Landscaping * Painting 
* Small gib-stopping * 
* General repairs and maintenance * 
Honest - Reliable 
Phone Burn 0211900555 or Brenda 0211185578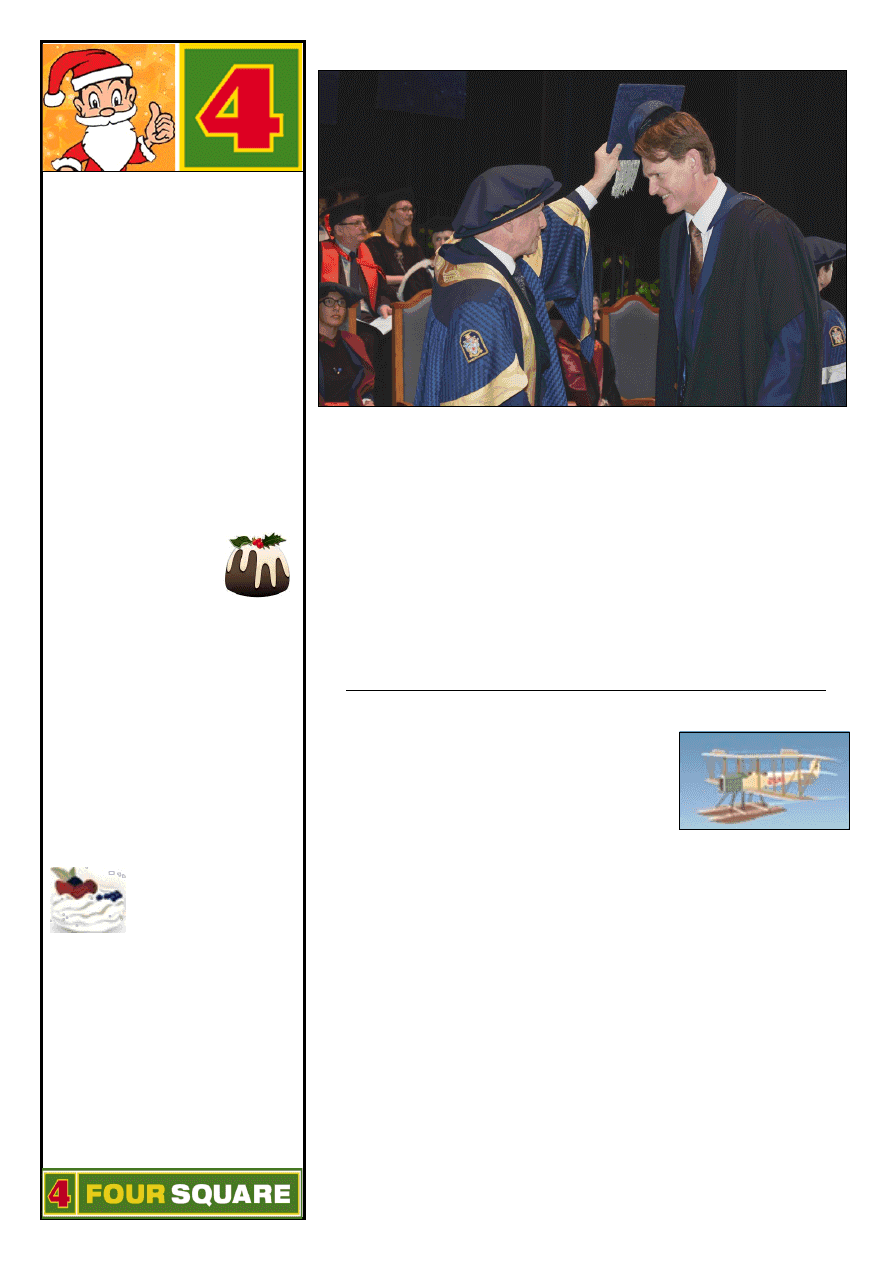 www.kaiwaka.co.nz 
Kaiwaka Bugle - 10 December, 2019 
Page 5 
COUNCILLOR GRADUATES 
Pictured above is Massey University Chancellor Mr Michael Ahie capping 
Jonathan  Larsen  at  Massey  University  graduation  on  29  November  in 
Palmerston North. 
Kaipara  District  councillor  Jonathan  Larsen  recently  graduated  from  Massey 
University,  with  a  Master  of  Business  Administration  (Executive)  degree 
passing  with  first  class  honours.  The  intensive  two-year  course  included 
business  law,  accounting,  economics,  finance,  marketing,  logistics,  leadership, 
strategy, and an extensive business research project on financial modelling. 
"Completing  the  course  gave  me  further  confidence  when  looking  out  for  the 
interests  of  ratepayers,  and  presiding  over  the  district's  $60  million  annual 
budget" said Mr. Larsen.  "The strategy, finance and leadership components of 
the course have proven particularly useful". 
During the course a range of New Zealand businesses were studied, along with a 
two-week study tour of companies and state entities in Chile and Argentina. 
"The  programme  allowed  me  to  build  networks  across  the  private  and  public 
sectors, and look closely at local and international commerce" said Mr Larsen.
NEW EXTENDED HOURS
: 
Sunday – Thursday  
8am – 6.30pm 
Friday – Saturday  
8am – 7pm 
Don't miss out for Christmas 
Day! Pre-Order your  
Fresh Fruit & vege, bakery 
items & cream by  
FRIDAY 20th DECEMBER 
Phone 4312227 or txt Paula 
021 2178565  
(
please don't use Facebook for orders
) 
WE ARE CLOSED CHRISTMAS 
DAY ONLY - USUAL OPENING 
HOURS ALL OTHER DAYS 
We have got 
Christmas 
covered 
All your grocery needs! 
Pavs, Xmas Pud,  
Cakes & tarts ,  
Hams, Dips & crackers 
Great range of toys direct 
from supplier,  
Gift cards, Decorations,  
novelty Xmas headwear 
Last minute gifts, 
hammocks, throw rugs, 
picnic sets & blankets, 
outdoor candles,  
Range of gift chocolates 
Great range of 
Bubbly, Wine & 
Beer 
Always a carpark and a 
friendly face!! 
We  would  like  to  thank  all  our 
customer  for  their  support 
throughout the year and Wish you 
all  a  very  happy  &  safe  holiday 
season. 
From all the Team,  
Jaques Four Square 
Jaques Four Square 
Phone: 4312227 
1 Kaiwaka-Mangawhai Road, Kaiwaka. 
DEDICATED COUNCILLOR
the  road  from  the  Dargaville  Post 
Office  in  Hokianga  Road  was  the 
drapery  shop  of  his  opponent,  Alfred 
Gregory.  In  his  shop,  in  1916,  the 
Labour  party  candidate,  socialist  and 
pacifist  had  refused  to  put  up  a 
recruiting poster. In 1914 Gregory had 
built  a  large  public  hall  in  Normanby 
Street, named in the spirit of socialism, 
'Gregory's  International  Hall'.  The 
hall's  'socialist'  presence  among  the 
important buildings of Dargaville could 
not  be  ignored.  Alfred  Gregory  had 
been  subject  to  hostile  attacks  and 
assaulted  by  those  not  sharing  his 
views. 
On  16  December  the  official  airmail 
was  delivered  to  the  Dargaville  Post 
Office,  escorted  by  cadets  with  rifles. 
They  marched  past  Gregory's  shop, 
surely delivering a message to Coates' 
pacifist opponent as well as voters. The 
Dargaville polling booth was the Royal 
skating rink, just across the road and up 
from the suddenly famous post office. 
In  an  interview  on  his  prospects  the 
following day, Coates, caught up in the 
last  hours  of his campaign,  referred  to 
his  Labour  opponent,  'the  disloyalist 
with 
his 
revolutionary 
ideals' 
unsettling  progress,  deserving  'a  blow 
at 
the 
people's 
hands'  and 
permanent 
removal. 
The 
mail 
flight  was 
reported  in  the  morning  papers 
throughout  New  Zealand  on  election 
day.  New  Zealand's  first  official 
airmail  and  unofficial  campaign  flight 
assisted  Coates  majority  to  over  3000, 
the  second  largest  in  the  country. 
Today  such  electioneering  would 
instantly 
raise 
accusations 
of 
impropriety.  In  1919  the  hypnotic 
power of aviation and Coates personal 
popularity apparently saw no questions 
raised.  In  any  case  the  Reform  Party 
with Coates as a leader-in-waiting was 
returned  to  Government  and  the 
summer holidays were beckoning. 
Note.  A  mailbag  dropped  at  Kaiwaka 
was  from  a  later  flight  on  31  March 
1920. ~ Terry Moyle 
Terry Moyle is an author living in Kaiwaka. 
His  latest  book,  'The First – The Walsh 
Brothers  and  the  Aeroplane  Days  of 
Edwardian  New  Zealand'  rewrites  the 
story  of  New  Zealand's  first  successful 
aeroplane  flights.  It  will  be  available  in 
January 2020. 
… from the front page … 
CENTENNIAL MAIL FLIGHT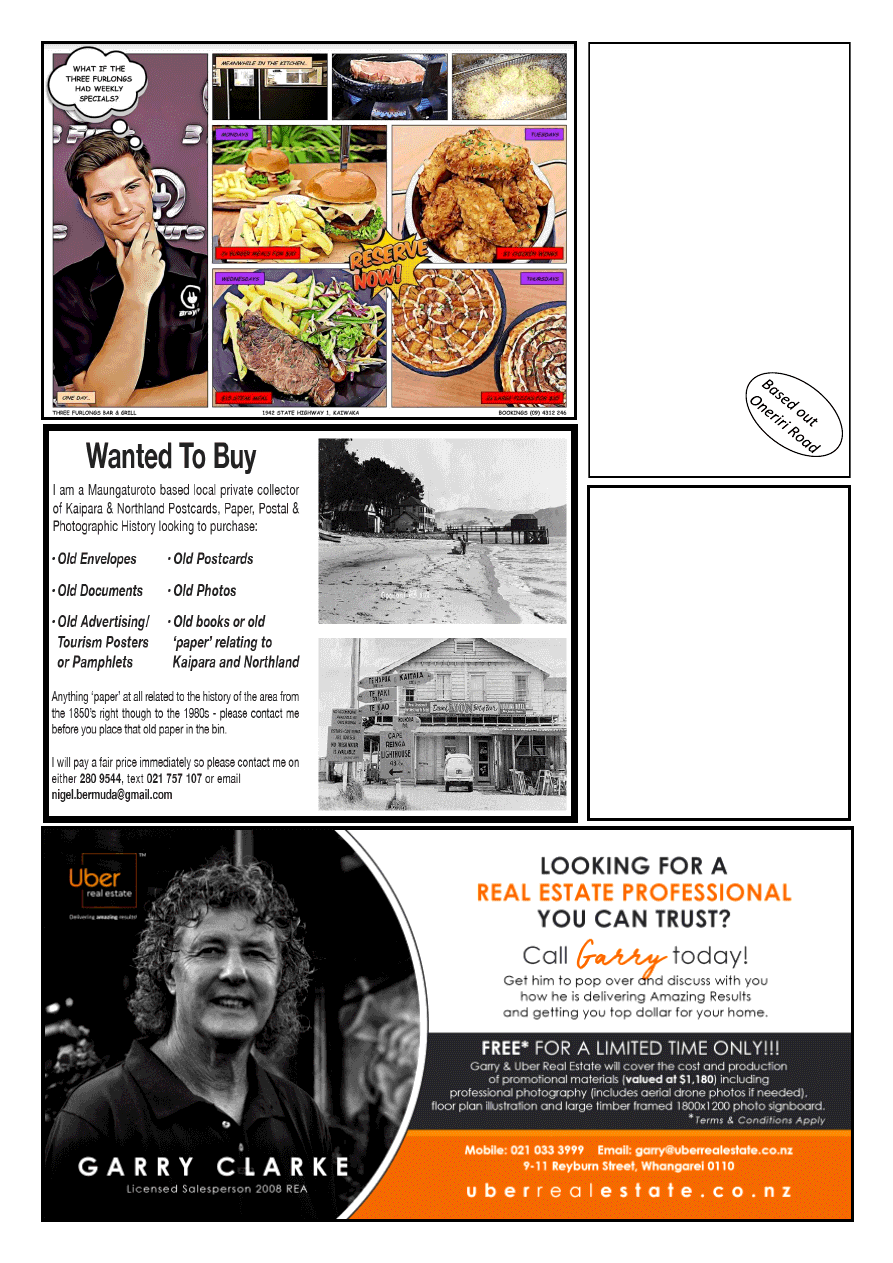 HODGETTS 
CONTRACTING
Digger Work    
Driveways   
House Sites  
Dams      
Drains, etc
Also available for HIRE 
3 ton Vib Roller  
Heavy Duty Tow  
Waterblaster      
Lazer Level
Phone Mark  
4312877 
027 447 8554 
WHERE TO GET HELP 

1737, Need to talk? Free call or 
text1737 to talk to a trained counsellor  

Rural Support Trust 0800 787 254   

Lifeline, 0800 543 354  

Youthline, 0800 376 63, text 234, 
email talk@youthline.co.nz or online 
chat 

Samaritans, 0800 726 666  

Depression Helpline, 0800 111 757   

Suicide Crisis Helpline, 0508 828 
865 (TAUTOKO)      

In a life-threatening situation 
call 
111
www.kaiwaka.co.nz 
Kaiwaka Bugle - 10 December, 2019 
Page 7 
HAKARU & DISTRICTS 
MEMORIAL RSA (INC)
Members & guests are invited to 
come along and enjoy our hospitality. 
New members welcome. 
Meals are served on 
Thursday and Friday nights 
from 6.30pm. 
Order from Blackboard Menu  
and a sing-a-long  
with Des Chitty. 
For more information please phone 
Graeme on 431 2563 
From Thelma's 
Scrapbook...  
On the first day of 
Christmas My true 
love said to me: 
'I'm glad we bought fresh turkey And 
a proper Christmas tree.' 
On the second day of Christmas 
Much laughter could be heard 
Roast Turkey on a Cutting Board 
As we tucked into our turkey, 
A most delicious bird. 
On the third day we entertained 
The people from next door. 
The turkey tasted just as good 
As it had the day before. 
Day four, relations came to stay; 
Poor Gran is looking old. 
We finished up the festive pud  
And ate the turkey cold. 
On the fifth day of Christmas 
Outside the snowflakes flurried. 
But we were nice and warm inside 
For we had our turkey curried. 
On the sixth day I must admit 
The Christmas spirit died. 
The children fought and bickered; 
We ate turkey rissoles fried. 
On the seventh day of Christmas 
My true love he did wince 
When he sat at the table 
And was offered turkey mince. 
Day eight, the nerves were getting 
frayed, The dog had run for shelter 
I served up turkey pancakes 
With a glass of Alka Seltzer. 
On the ninth day our cat left home 
By lunchtime Dad was blotto. 
He said he had to have a drink 
To face turkey risotto. 
By the tenth day the booze had gone 
Except for our home-made brew. 
And if that wasn't bad enough 
We suffered turkey stew. 
On the eleventh day of Christmas 
The Christmas tree was moulting. 
The mince pies were as hard as rock 
And the turkey was revolting. 
On the twelfth day my true love 
Had a smile upon her lips: 
The guests had gone, the turkey too, 
And we dined on fish and chips. 
JUST 
CUTS 
and 
MORE  
1758 Cove Road  
Open Monday-Saturday  
by appointment only 
Saturday 9-12pm  
Affordable prices: 
Ladies cuts from $35 
Colours from $120 
Men's from$25 
Kids from $18 
0211652629  
KAIWAKA  
WEATHER 
Welcome  folks.  We  really 
are in the Silly Season now 
but let us deal with what we 
had for November weather-wise.   
November  2019  we  had  47mm  rain 
and 2018 we had 86mm.   
We had  rain on 7 days in 2019 and on 
11 days in 2018.   
For the first 11 months of 2019 we had 
1061mm  and  for  2018  we  had 
1637mm.   
Our  driest  November  since  1987  was  
2010  with  20mm  and  the  wettest  was 
1999 with 340mm.   
Our driest first 11 months for any year 
since  1987  was  1993  with  888m  and 
the wettest was 1990 with 1663mm.   
November  was  very  pleasant  mostly 
with  a  lot  more  calm  days  and  some 
very  hot.  The  rain  was  noticeable  by 
it's absence so take that was our end to 
Spring  and  now  we  are  into 
summer.  A few very hot sticky nights 
in there also.  
Some  of  you  are  saying  bring    on 
summer  while  others  saying  bring  on 
some rain please. Take it easy on your 
water  supply  and  do  not  forget  the 
water  for  your  animals.    We  had 
thunderstorms  and  rain,  rain  and  rain 
followed  by  strong  Westerly  winds 
about  the  middle  of  the  month 
followed  by  those  strong  winds  and 
showers.  
We  eventually  got  the  Australian 
smoke  big  time.  Beautiful  photos 
everywhere  of  sunrises  and  sunsets. 
Driving  over  to  Waipu  on  the  24th  as 
we  went  over  the  top  of  the 
Brynderwyns if you did not know any 
better,  you  would  not  have  known 
there was any ocean beyond the Waipu 
Coast line.  The Smoke was so close in 
to  the  land that  it  came  right  in  to the 
shoreline.    The  smoke  has  subsided 
here now.   
Perhaps we should put  our  Santa  out 
in November as it mostly seems to rain 
and  send  showers  when  we  put  him 
out    in  December.    I  think  a  lot  of 
people are thankful that we got him out 
as  a  few  got  heaps  of  rain  on  Sunday 
when we put him out.  
Looks  as  though  it  may  be  a  showery 
month.  Please drive a bit slower on the 
wet  greasy  roads.  They  get  very 
slippery  as  a  lot  of  the  seal  has  worn 
out and they are dangerous in the rain. 
Share the roads and drive a bit slower. 
Leave  earlier  if  you  are  going  to  be 
pushed  for  time.    There  is  a  lot  of 
traffic on the roads.   
A  man takes  his Dalmatian  to  a vet  and  says,  " 
He has been behaving funny lately and his nose 
is  not  wet anymore".  The  vet  picked the dog  up 
and looked at its nose. "I am going to have to put 
him  down"  said  the  vet.  "Why  just  because  his 
nose  is  dry?"  asked  the  man  in  disbelief.    "No 
because he is too heavy for me to hold" said the 
Vet.   
Till 2020 take care out there and enjoy 
the holiday break. ~ Bev.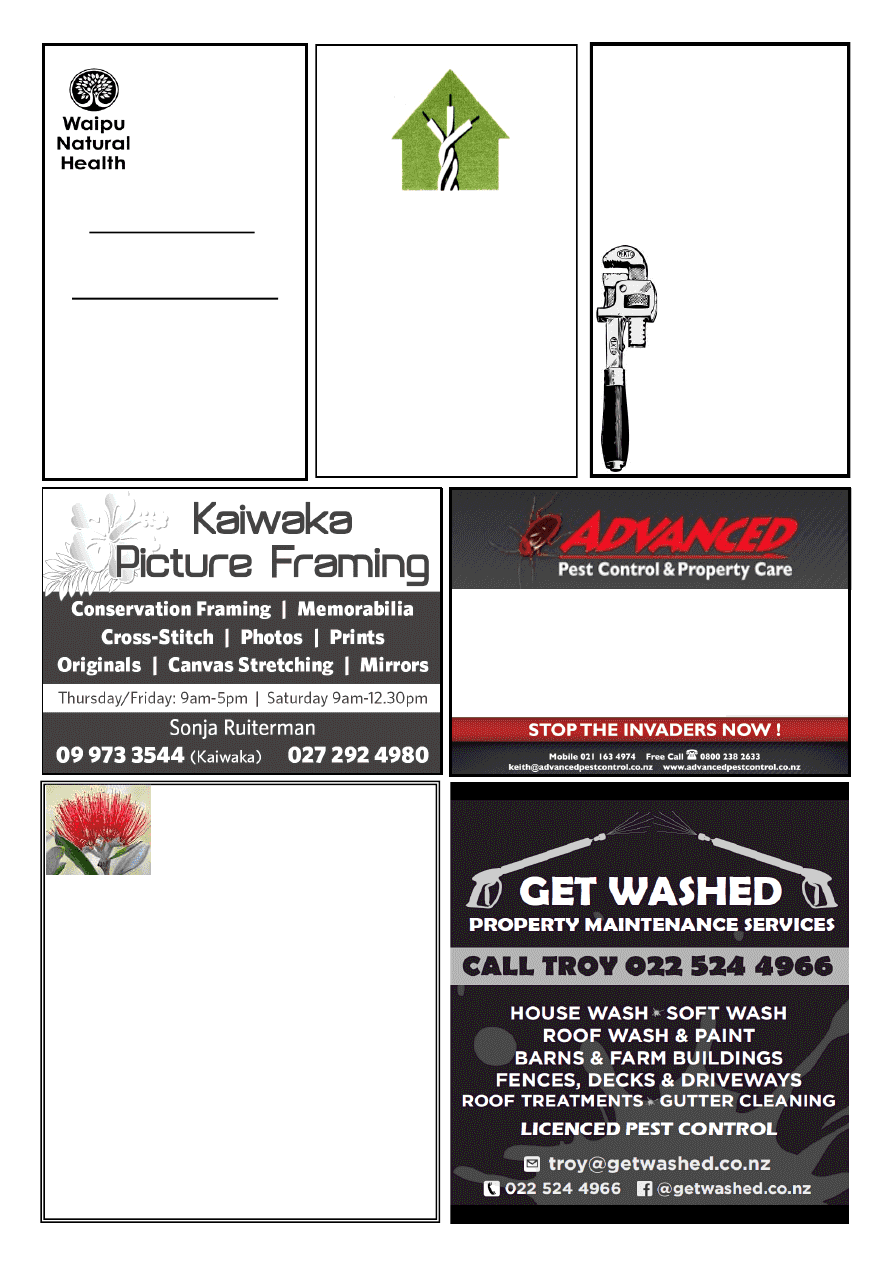 KAIPARA 
FLOORING CO 
Independently owned & operated 
32 HURNDALL ST MAUNGATUROTO
Supply & Installation of Carpet, Vinyl,  
Vinyl Wood Planking 
Stockists of 2m & 3m wide 
vinyl & carpet short ends 
Residential & Commercial 
Q Card Finance Approved 
6-18 month terms 
6 month interest free 
First Class Installations
For a free measure & quote 
phone Christine  
09 946 9886 or 021 515 415 
kaiparaflooring@gmail.com 
http://www.kaiparaflooring.co.nz/ 
BARRY CURTIS 
PLUMBING LTD 
REGISTERED CRAFTSMAN 
PLUMBER 
Phone 4315572 
027 257 9884 
25 years experience 
Friendly reliable service 
All plumbing and 
maintenance 
Alterations  
and new housing 
Spouting 
Competitive rates 
PROMPT 
EFFICIENT  SERVICE 
Reyahn George 
Leng 
Registered Electrician 
Local, honest and reliable. 
For your residential and 
light-commercial projects. 
022 314 1068  
Pest Control 
PLAN A: One-off treatments to customers with a specific pest problem 
PLAN B: Full maintenance service plans to commercial customers. 
This will include documentation kept in customer file on site: 
⚫
Pest treated 
⚫
Date of service 
⚫
Chemical or baits used 
⚫
Full pest check report done after each treatment 
⚫
Fair and reasonable fee with guarantee 
Flood Recovery 
Carpet Care 
⚫
Carpet Drying   
This includes pre-spray treatments 
⚫
Dehumidifier Rental 
with stain removal and hot water extraction.  
⚫
Full Commercial Cleaning  Patch repair also available 
Upholstery Cleaning 
Full upholstery cleaning of all furniture.  
eg lounge suites and all office chairs 
Water Blasting 
⚫
Concrete - Decks 
House Washing 
⚫
Soft Chemical Was 
⚫
Pre-painting Wash 
Property Services 
⚫
Property Cleaning  
Lawn Mowing 
⚫
Hedges General  Tidy Ups 
3 Cove Road, Waipu 
(opposite the Pizza Barn
) 
094321325 
www.waipunaturalhealth.co.nz 
Clinical Nutritionist: 
Nutritional Checkups, Diets for 
Chronic Diseases,  
Food Sensitivities 
Naturopathic Physician: 
Ozone Therapy, Prolotherapy, 
Mesozone 
Reflexology, Craniosacral 
Therapy, Trauma Release 
Massage Therapy 
Counselling and Hypnotherapy 
Change Catalyst/ThetaHealer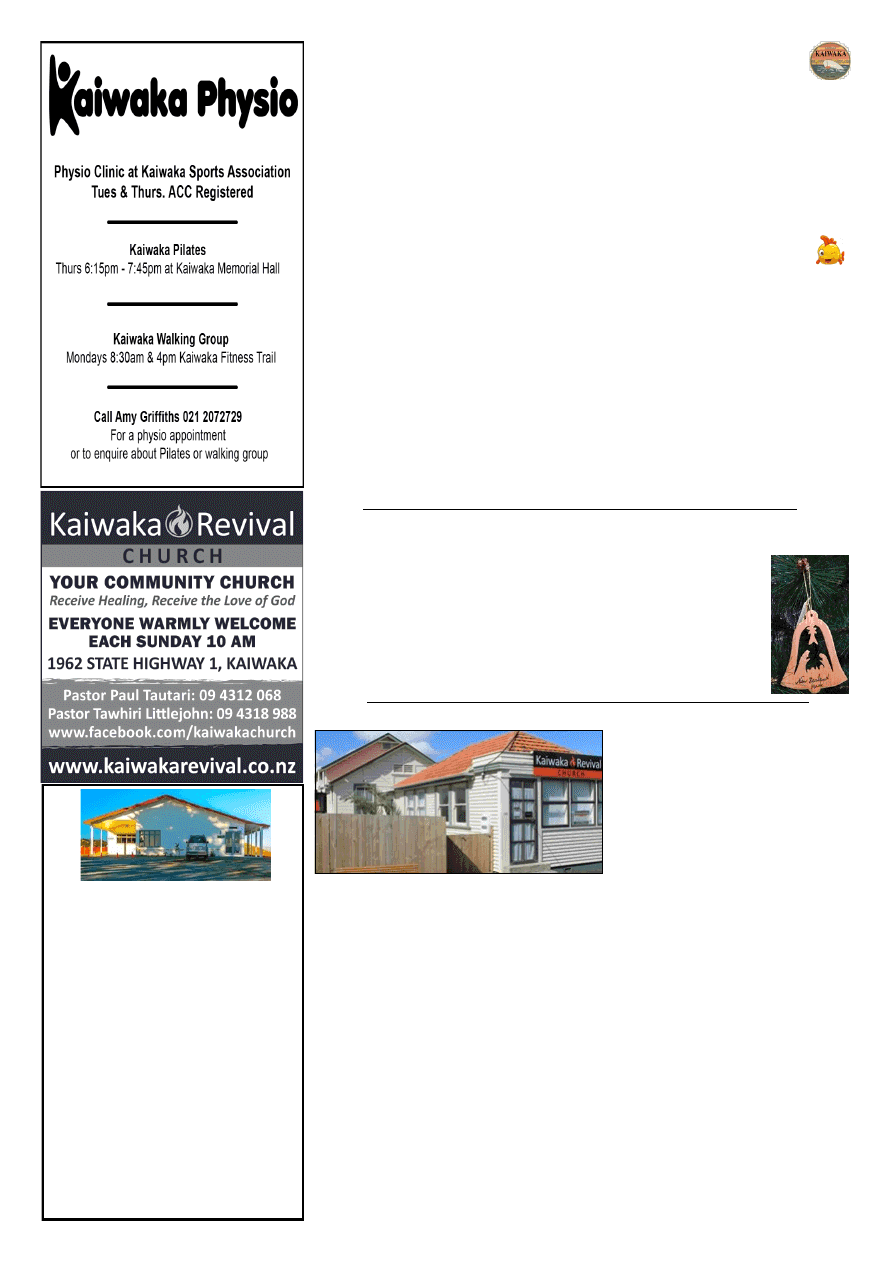 www.kaiwaka.co.nz 
Kaiwaka Bugle - 10 December, 2019 
Page 9 
Tramp! 
Te Pounga Marae 
130 Nathan Rd. Oneriri. Kaiwaka 0573 
COMPLEX FOR 
HIRE 
Functions 
* Weddings  * Birthdays  
*Anniversaries * Meetings  * Wananga 
5 hour meeting * 12 hour stay  * 
Overnight 
*All welcome - No more Drink-driving 
Amenities: 
*Convo Combi Steamer * Bratt Pan * 
Dish Washer/Sterilizer * 3 Door Glass 
Chiller (walk in) etc…All Crockery * 
Linen Supplied * Central Heating and 
Air Conditioning and much more.  
Can also cater for small groups…. 
For more information please 
contact: 
 Pearl Nathan 0223933533  
tepoungamarae130@outlook.com  
Greetings Church! 
We  are  coming  into  that  time  of  the 
year, December, when things can seem 
a little hectic and busy to say the least. 
However, it's also a special time of the 
year  to  take  time  to  reflect  and 
celebrate.  Reflect  on  the  year  that  has 
passed  and  celebrate  our  Lord  and 
saviour  and  all  he  has  done  for  us  in 
2019. 
Dinner 
We just want to say a BIG thank you to 
all  the  amazing  people  who  have 
served  in  our  Church  this  year! 
Whatever  area  you  served  in;  Kids 
Church,  Women's  Ministry,  Men's 
Ministry,  Prayer  Meetings,  Youth, 
Administration,  Worship,  Ushering  or 
Church Maintenance, we would like to 
extend  an  invitation  to  you  and  your 
family to join us for Dinner on Friday 
13th  December  at  6pm  at  Church. 
Please  RSVP  for  catering  purposes 
to admin@kaiwakarevival.co.nz.  
2019 Service and 2020 Service 
Our last service for the year will be 
a  Celebration  Service  on  Sunday 
15th December, Church will then be 
closed and reopen again on the 12th 
January 2020. 
I  think  we  can  all  agree  that  our 
Pastors  do  an  incredible  job  of 
juggling ministry, family, and full-time 
jobs!  They  will  be  enjoying  some 
quality  time  with  friends  and  whanau 
over  our  closing  period.  If  you  would 
still  like  to  attend  Church  during  this 
time,  we encourage  you to  head  along 
to  local  Churches  such  as  Causeway 
who are running services.  
Thank you for your aroha and support 
for our Church this year! May you and 
your  family  enjoy  the  presence  and 
peace of Jesus this December! 
The  first  BBQ  Sunday  for  2020  will 
be  on  our  first  service  back  Sunday 
12th January after Church. Please bring 
a  plate  and  invite  your  friends  or 
neighbours!  This  is  an  event  that  is 
open for the community to come along 
and enjoy! 
Don't  forget  to  check  Facebook  for  the  latest 
Church  updates  and  follow  us  on  our  new 
Church instagram page
. 
POINT CURTIS 
CRUISING CLUB  
Christmas Dinner   
There  was  a  great  turn  out  for  our 
Christmas  Dinner  on  Monday  25th 
November. Thanks to all who joined us 
and it was really nice to see a few new 
faces☺. 
Thank  you,  Three  Furlongs  and  staff, 
for having us and the great meal. 
We had 2 Raffles and the winners were 
#1 Linda and #2 Bob Mills. 
2020 Annual Picnic  
Our  Annual  Picnic  at  the  section 
adjacent to the Rangiora Boat Ramp is 
going to be on Saturday afternoon 11th 
January 2020. 
Anyone  warmly  welcome!    Watch 
Facebook  and  emails  for  more  info 
nearer the time.  

Fish  of  the  Month  winner  for 
Snapper,  Sonya  Steiner  6.041kg.  Well 
done ! 

New Fish of the Month is Snapper.  

Have a Merry Christmas & safe New 
Year's  celebrations;  Good  luck  out  on 
the water, and tight lines everyone. 
~      
Wayne Leslie (Commodore)
THE KAURI MUSEUM at MATAKOHE 
Come to The Kauri Museum for your Christmas shopping! Our shop is looking 
wonderful  with  a  huge  selection  of  gifts.  Kauri  timber  bowls, 
clocks,  jewellery,  Christmas  tree  decorations,  wooden  eggs  and 
kauri snails, polished gum pendants and other items, also bags and 
planters,  toys,  tins,  tea,  soaps,  and  silk  scarves  made  using  roses 
from our gardens. 
EXHIBITSCOMING UP:  

The Rintoul Collection - from 13 December 

Christmas Decorations until New Year 

'The Perfect Accessory' - Textiles Exhibition 

'Local Holiday Hotspots' - till end of January.  
KAIWAKA REVIVAL CHURCH 
KAIWAKA WAR 
MEMORIAL HALL 
It  has  been  a  good  year  for  the 
Kaiwaka War Memorial Hall. 
THE HALL is looking great inside and 
out. This year 2019 
1.Polished and restored the Matai floor 
in  hall  and  on  the  stage  -  it looks  and 
feels awesome... 
2.  Kitchen  has  2  new  ovens...  and  is 
well appointed... 
3.New tables.... 
4.Men's urinal upgraded.... 
5.The  hall  and  library  had  an  outside 
Wash too... 
KAIWAKA  COMMUNITY 
MOVIES
,  under  the  umbrella  of 
Kaiwaka  War  Memorial  Hall  and  run 
by  the  MOVIE  TEAM,  has  been 
showing  great  movies  and  for  a lot of 
you  it  has  become  a  fortnightly  social  
It's  great  to  see  so  many  of  you 
making it a regular evening out. 
The  Movies  will  restart  again  on 
Friday 24 January 2020. 
Merry  Xmas  and  a  happy  new  year 
from all of us.... 
~ Ad Clarijs, president 
LOCALLY OWNED AND OPERATED 
QUALITY PRODUCTS • FRIENDLY ADVICE • GREAT SERVICE 
Quality Products milled from High Density NORTHLAND Radiata Pine. 
Treated and guaranteed to NZS3640 with commitment to 
Environmental Safety.
Phone, fax, email, or come into the mill 
Schiska Rd, Topuni, SH1, 10 min north of Wellsford. Fax: 09 431 2856 
Email: sales@topunitimber.co.nz           Mon - Fri 7am-5pm 
• Fencing 
• Retaining 
• Decking 
• Landscaping 
• Gates 
• Hardware 
SURVEYORS 
SUBDIVISIONS 
HOUSE SITE SURVEYS 
CIVIL ENGINEERING 
WASTEWATER DESIGNS 
EXPERIENCED 
PROFESSIONAL 
INNOVATIVE 
Ph 09 431 5353 
0800 PACIFIC (0800 722 434) 
pacificcoastsurvey.com
Adam Booth - 027 415 5752 
Bsurv, Licensed Cadastral Surveyor
Surveying Kaipara since 1994 
Water Tank Cleaning 
• 
Keep your water safe & clean  
• 
Removal of sediment, silt etc. 
• 
Vacuum or full scrub 
• 
Minimal water loss 
Phone Mark (09) 432 0655 or 0274 707607 
At Twinkle Tow 'n' Tyre 
Mob: 021 833 960 
Ph & Fax: 09 431 2823 
1837 State Highway 1, Kaiwaka 
design drafting  
service 
Retired builder and manufacturer with over 40 years  
experience in the building industry is offering a design 
drafting service for domestic housing, sleepouts and 
sheds.  
Plans formulated in consultation with clients, with 
working drawings completed and submitted to  
council for processing.  Extensive practical experience,  
able to identify & resolve problems. 
Please ring Mike Lean on 
09 431 2260 
or 
021 431 196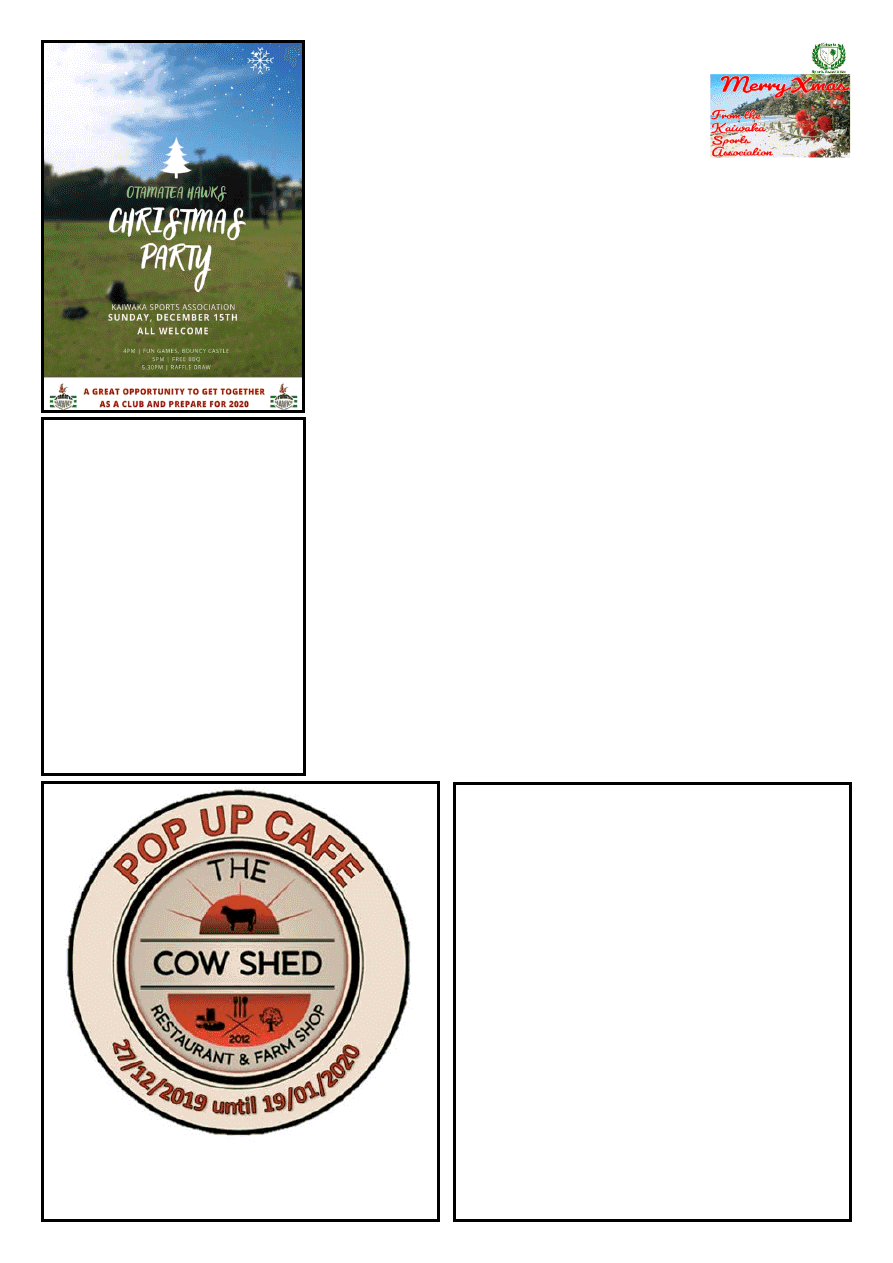 www.kaiwaka.co.nz 
Kaiwaka Bugle - 10 December, 2019 
Page 11 
           KAIWAKA SPORTS ASSN 
Otamatea Hawks Rugby Xmas Party 
Everyone  is  welcome  to  the  Hawks 
Christmas  Party,  to  be  held  at  the 
Sports  Complex  this  Sunday  15th 
December. Plenty of fun for the whole 
family,  with  games,  bouncy  castle, 
raffles, free BBQ etc. It all kicks off at 
4pm. 
Badminton 
Our  Badminton  club  will  continue  to 
hold  their  Club  Nights  on  Tuesdays 
from  7pm,  until  17th  December  when 
the  season  will  end  with  a  fun 
Christmas  night.  After  a  break  over 
Christmas and the New Year, they will 
start again on 14th January. 
70th Otamatea Tennis Tournament 
Our  annual  tennis  tournament  will  be 
held  at  our  courts  over  Anniversary 
Weekend. This is the 70th Otamatea 
Tennis  Tournament!  This  tournament 
attracts  top  quality  players  from  all 
over  Northland  and  Auckland  and  we 
also have places for locals to compete. 
So,  dust  off  that  racquet  and  get  in 
some practice! To enter online, visit the 
Tennis NZ website. 
Family Portraits Fundraiser 
Had a new baby? Want to update your 
family portrait? 
I  am  running  a  Family  Portrait 
fundraiser  on  Saturday  15th  and 
Sunday  16th  February.  For  just  $20, 
you  will  receive  a  30-minute  sitting 
with a range of poses and backdrops in 
colour  and  black  &  white.  Plus,  you 
will receive a free 8 x 10" professional 
quality  print.  A  week  later  you  will 
come  back  to  view  all  your  beautiful 
photos,  select  your  free  one,  and 
purchase  more  if  you  wish.  The  last 
time I ran this fundraiser the spaces got 
booked up super-fast, so to secure your 
space contact me as soon as possible. 
Kaiwaka Athletics Club 
The  Athletics  season  has  started.  The 
sessions  run  on 
Mondays  5  - 
6.30pm, 
at 
Otamatea  High 
School. 
All 
athletes 
are 
welcome.  Queries,  please  call  Eileen 
on 021 1420357. 
Dog Owners 
We  are  having  a  problem  with  dog 
poop on our fields. If you like to walk 
your dog on our fields, that's fine, but 
please scoop that poop! 
We have many people who train on our 
fields  as  well  as  children  playing  on 
them, and it's not nice for them to step 
in  poop.  Please  be  a  responsible  pet 
owner  and  clean  up  after  your  dog. 
Thank you. 
Kaiwaka Touch Module 
Would you like to play in my Summer 
Touch  Module?  The  Touch  module 
will be held at the Sports Complex for 
eight  weeks  on  Wednesday  evenings 
starting  on  Wednesday  15th  January. 
Teams  are  6  a-side  with  at  least  three 
females on the field, double points for 
female try-scorers. You can have up to 
14  players  in  your  team,  team  fee  is 
$200.  This  is  a  casual,  friendly 
competition  for  mixed  teams  of  men, 
women and teenagers. Touch is easy to 
learn  and  just  about  anyone  can  play. 
Why not start getting a team together! 
Thank you 
Many thanks to all the Kaiwaka Sports 
Association  committee  members  and 
club  committee  members  who  have 
worked  hard  throughout  the  year  to 
provide  sporting  and  recreational 
opportunities for our community. 
On  behalf  of  the  Kaiwaka  Sports 
Association  I  would  like  to  wish 
everyone  a  Merry  Christmas  and  a 
Happy New Year.  
Cheryl, kaiwakasports@gmail.com 
The Cow Shed Restaurant 
Open for evening meals all year round  
3 Course Set Menu B.Y.O 
Bookings Essential (09)431 2354 
www.thecowshedandshop.co.nz 
The Cow Shed Summer Cafe is back for its 5th year 
Limited time only 27/12/2019 - 19/01/2020 
7days  9:00am - 3:00pm 
Come and enjoy the tranquillity Pebblebrooke Rd, Mangawhai 
www.thecowshedandshop.co.nz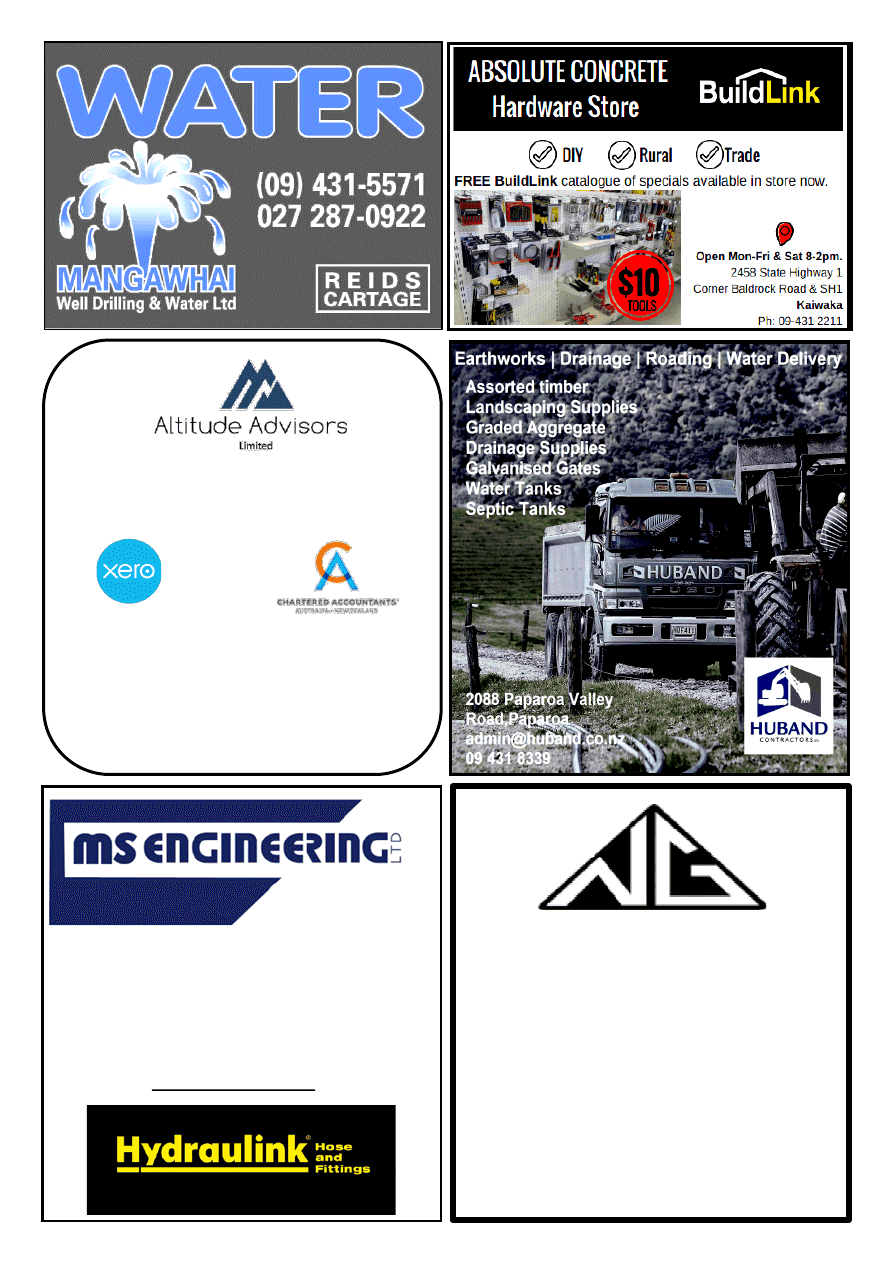 NORTH GLASS 
WINDSCREEN REPAIR OR REPLACE 
GLAZING SERVICES 
MIRRORS  •  SPLASH BACKS  •  SHOWERS 
0800 70 40 10
info@northglass.co.nz 
www.northglass.co.nz 
Altitude with Attitude, helping your business 
scale new heights 
Time to try something different? 
Xero training          Accountancy Services 
We are offering two opportunities: 
15% saving off your annual report cost for your first 
year, & a further 10% saving for any referrals 
Call Corinne on 021 252 7680 or 
corinne@altitudeadvisors.nz 

Peter Buckley 

Mobile Hose Technician –  
                      Based from Oneriri Road 

Available for all mobile hose                                
                      requirements onsite 

Call – 0800 425 7116 

Email – mse@mseng.co.nz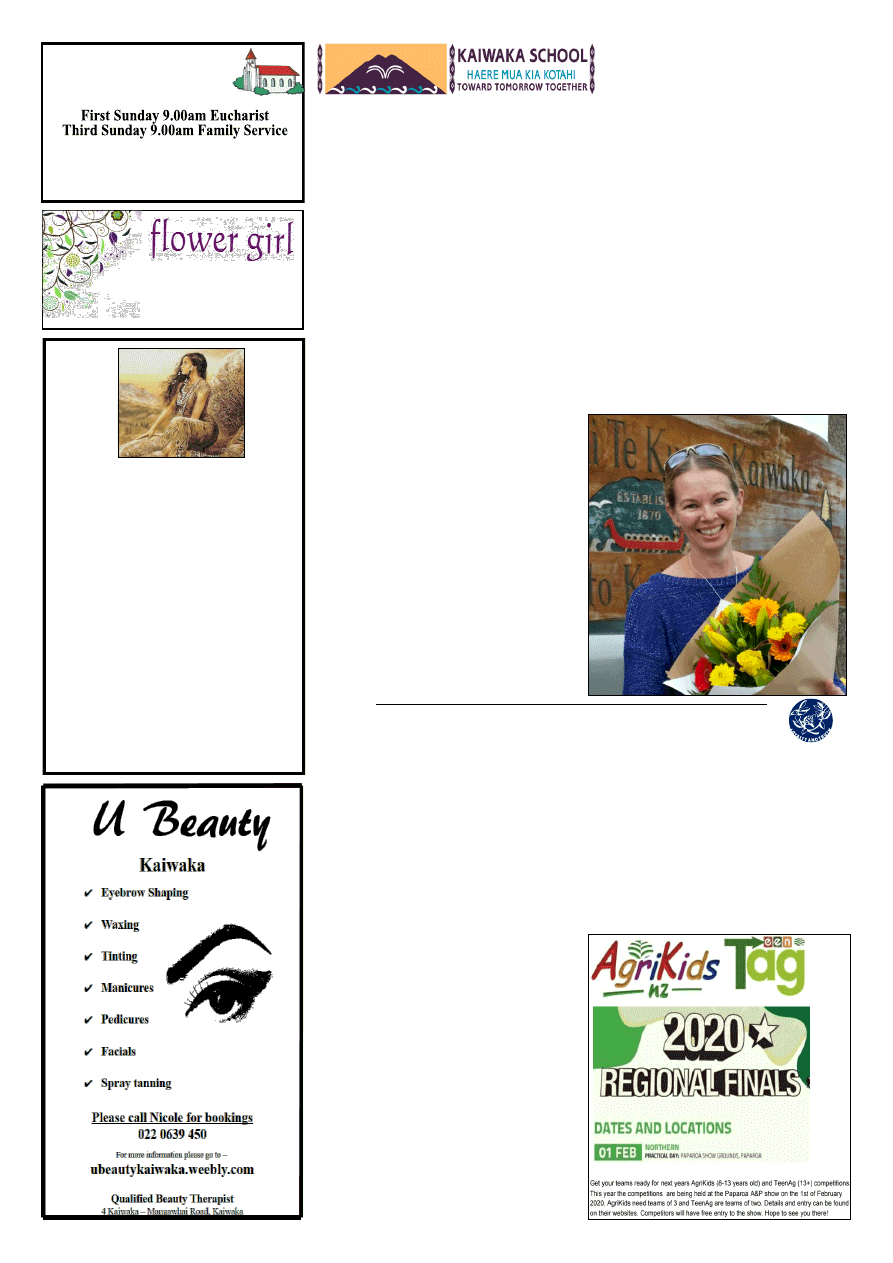 www.kaiwaka.co.nz 
Kaiwaka Bugle - 10 December, 2019 
Page 13 
OTAMATEA HIGH SCHOOL 
Wiremu Ngatipa  
We  had  the  honour  of  welcoming 
Wiremu  Ngatipa  to  our  school  with  a 
powhiri on Wednesday. Wiremu is our 
new  Te  Reo  Maori  teacher  starting 
next year and he arrived with a number 
of  students  and  staff  from  St  Peter's 
College in Auckland for the occasion.  
NCEA  exams  are  now  over  for  the 
year.  They  ran  very  smoothly,  and  I 
look  forward  to  some  excellent  results 
when  these  are  released  by  NZQA  on 
the 14th of January.  
End  of  year  mail  out:      All families 
will  receive  their  start  of  year 
information through the post.   
Building  works  over  the  holiday 
period:    
Tech block will have 2 weeks of floor 
sanding  and  finishing  followed  by  4 
weeks  of  interior  painting,  all  to  be 
completed  before  the  start  of  school 
next year. 
The hall will have a ventilation system 
installed over  the  holidays,  which  will 
take  approximately  two  weeks  to 
complete. 
Have  a  safe  and  relaxing  holiday 
period  and  don't  forget  to  join  us  for 
junior  prizegiving  on  Thursday  the  12 
December, starting at 10.30am.  
~ Dirk Smyth, Acting Principal 
PTCA News:  
Calling Hot Rod Enthusiasts! 
We  need  helpers  to  collect  the  gold 
coin  entry  to  the  Hot  Rod  Run  in 
Mangawhai  Saturday  4th  January  - 
8am  to  11ish.  If  you  are  able  to  help, 
please  call  Sandra  Brunt  on  027 
5310788. 
Second-hand  Uniform  Shop 
- for 
more  information  contact  Karen 
Flanagan 0211281670. All proceeds go 
towards PTCA fundraising. 
TRAILS END 
RONGOA MAORI 
HEALING 
And Gifts 
Stocking all your needs from incense, 
crystals, dream catchers, greeting 
cards, jewellery, perfume, dragons and 
more dates for groups each month are: 
November 24th ~ December 15th 
From 10.30am -2pm  
For all inquiries Phone 0211652629  
Light refreshments available $5 koha  
1758 Cove Road Mangawhai
KAIWAKA 
SCHOOL 
Board  of  Trustees: 
It is with 
great  pleasure  we  announce  that 
Sharlene  Tornquist  has  accepted  the 
position  of  Principal  for  Kaiwaka 
School. 
Please 
welcome 
and 
congratulate her on her achievement in 
being  selected  for  the  position.  The 
BoT  look  forward  to  work  along  with 
Sharlene to continue the great progress 
Rosie  has  done  for  the  Kaiwaka 
School.  Sharlene  will  become  acting 
principal  as  of  the  last  day  of  school 
2019  until  29  January  2020  when  she 
officially starts her new role. ~  Adrian 
Buxton, BoT Chairperson 
School News 
Currently  we  are  recruiting  for  a  new 
deputy  principal  and  a  part  time 
teacher.   
You  can  purchase  a  key  for  the 
swimming  pool  from  the  School 
Office,  but  access  isn't  available  yet. 
We need to get some work done on the 
gate and get security cameras installed. 
There  will  be  a  limit  of  60  keys 
available. 
Creative  Craft  Day  Wednesday 
11 December 2019 
This  is  an  annual  event.  Our  students 
make  a  variety  of  exhibits  -  some  are 
made at home and some at school. The 
senior  students'  exhibits  are  peer 
judged.  Rooms  will  be  open  to  the 
school community for viewing between 
1.00—2.00pm  on  the  day.  Junior 
exhibits  include  Gingerbread  creation; 
Scene on a tray; Christmas decoration; 
Corrugated  card  photo  frame;  Nature 
Art and Senior School exhibits include 
Gingerbread creation; Scene on a tray; 
Photography  exhibit;  Iris  folding; 
Wrapping paper. 
New  School  Logo  designed  by 
Rosie Hyndman 
Pukekaroro  is  depicted,  and  in  its 
centre  is  a  shape  that  resembles  an 
open book (learning) or the wings of a 
bird  in  flight;  The  line  of  Maori  wave 
patterns  along  the  bottom  represents 
the  Kaipara  Harbour;  The  dividers  are 
a  diamond  shaped  Maori  pattern  that 
represents  the  flounder,  this  pattern  is 
also  decoration  on  the  bodice  of 
Kaiwaka School Kapa haka group. The 
colours  are  vibrant  and  continue  the 
Maori themes. 
Photo below: Sharlene Tornquist 
ST PAUL'S  
ANGLICAN  
SUNDAY SERVICES 
St Pauls Church: Kaiwaka-Mangawhai Rd. 
Priest in Charge Rev. W Thornton Ph 431 4122 
www.mangawhaianglican.org.nz
designs for all occasions 
lindywatson@hotmail.com 
4312 847  0211234164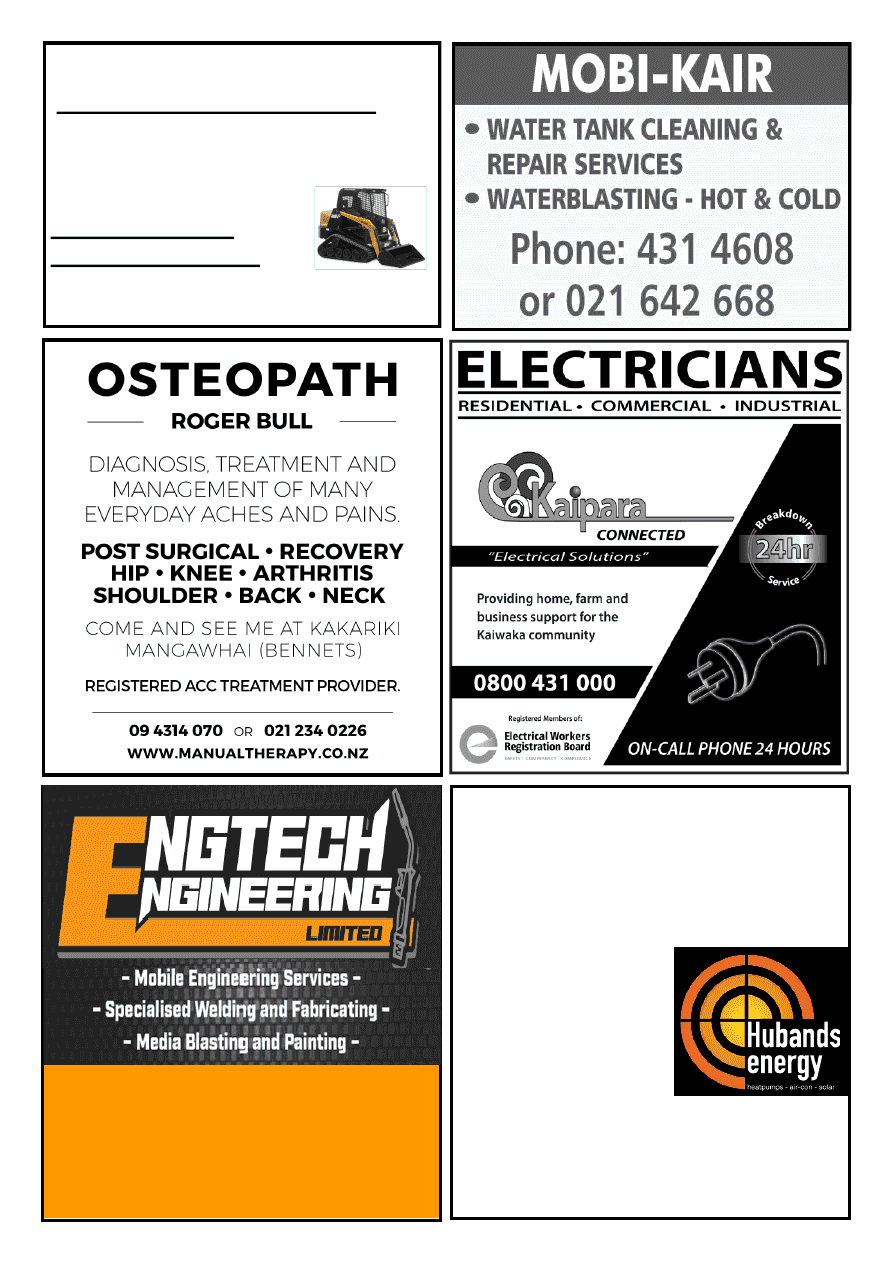 Natural Earth Ltd 
 Landscape and Bobcat services 
 : Driveways  :Landscaping  :Retaining Walls 
 : Hole Boring: Land Levelling :Trenching 
 : Decks :Fences :Sections Cleared: Plus much 
more 
Tel   09 4312885 
Mob 02102391280   
For A Fast Friendly  
Service Contact Tim Hicks 
Northland's Award Winning 
Solar Company
SEANZ Best Solar Business Winners 2015/16
EXCLUSIVE 10 year installation warranty 
FREE No obligation onsite quote
Complete systems 
from $5990
See our range of: 
✓ 
Heatpumps 
✓ 
Airconditioning 
✓ 
Hot Water 
Heatpumps 
✓ 
Central Vacuum Systems
09 430 0019             sales@hubands.co.nz 
15 Kioreroa Road, Whangarei
Locally owned and operated for 35 years 
PH: 021 415 259 
OR
 09 973 3440 
648 Kaiwaka-Mangawhai Rd, Hakaru 
www.engtechengineering.nz 
ryan.engtech@gmail.com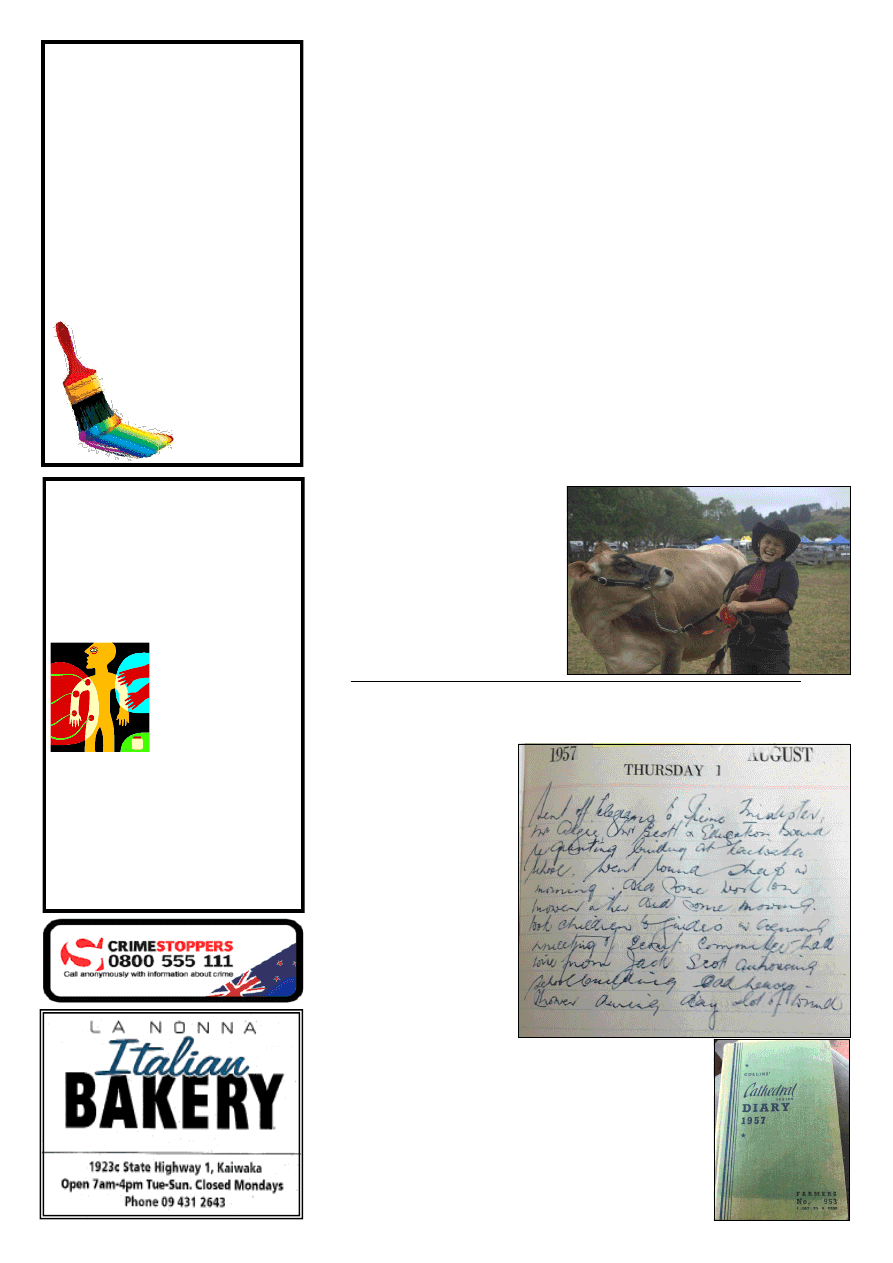 www.kaiwaka.co.nz 
Kaiwaka Bugle - 10 December, 2019 
Page 15 
OWEN STEVENS 
Osteo Therapist
For careful adjustments  
to bones and joints 
Treatment for humans  
and their pets 
Clinics: 
Kate's Place, 
Kaiwaka: 
Last Friday of 
month 
9.00am-5.00pm 
For bookings: 
Phone 
09 4312661 
Or phone Owen   
09 4317123  anytime 
LEE COOPER 
PAINTERS 
(Kaiwaka Based) 
*30 yrs Experience 
*Interior/Exterior 
*New and Restoration 
*Honest and Reliable 
*Free Quotes 
 
09 4312918 
0274735171 
leecooper@xtra.co.nz 
2020's Paparoa A&P Show is looking 
up with the Northern Regional Final 
of  FMG  Young  Farmer  of  the  Year 
being held on show day, February 1. 
Contestants in the FMG Young Farmer 
of the year, FMG Junior Young Farmer 
of  the  year  and  AgriKids  will  be  put 
through  a  diverse  range  of  practical, 
theoretical  and  technical  farming 
challenges. 
Each  level 
of 
the 
competition  combines  practical  hands-
on  agriculture  skills  and  general 
knowledge.  The  level  of  complexity 
and  difficulty  increases  as  the 
contestant's  progress  from  districts  to 
regionals  and  finally  at  the  Grand 
Final. 
Live entertainment  
Next  year's  upcoming  show  will  be 
action-packed 
with 
family 
entertainment  for  adults  and  kids  both 
alike. Run away to  Circus  Kumarani 
who  will  be  providing  community 
workshops for the younger show-goers 
including  learning  to  walk  the  tight 
rope, working with hoops and many 
other  fantastic  ways  to  have  fun. 
Adults  won't  be  missing  out  either. 
A  full  range  of  live  entertainment 
will  be  on  throughout  the  day, 
including  bands,  sheep  shearing 
competition,  team  roping,  and  of 
course,  the  ever-popular  woodchop 
events. 
Equine  lovers  will  be  able  to  enjoy 
everything 
horse-related 
with 
miniature,  led,  ridden  and  harness 
classes expecting a strong turnout. Our 
livestock  sections  continue  to  grow 
from strength to strength. Cattle classes 
remain  a  feature  with  a  new  section 
being  introduced  for  dairy  breeds. 
Visitors  will  also  be  able  to  enjoy  the 
outstanding dairy goat section and kids 
can  join  in  the  Kid's  Country 
Challenge.  2019's  event  was  an 
immense success, so it's back again for 
next year. 
The  indoor  competitions  are  a  great 
chance  for  people  of  all  ages  to  show 
off their skills and enter into the spirit 
of  the  show  and  with  a  vast  array  of 
classes  to  enter  the  choices  to  get 
creative  are  limitless.  Don't  forget 
Paparoa A&P Show also has the largest 
dahlia competition in Northland so get 
those  blooms  perfect  for  display  on 
show day. 
More  information  is  available  on  our 
revamped website paparoashow.org.nz/
home  or  visit  us  on  Facebook 
@PaparoaShow.  ~ Liz Clark
GETTING THINGS DONE IN 1957  
- RE KAIWAKA SCHOOL 
Diary  entry  Brian  Linnell 
Thursday 1 August 1957 
"Sent off telegrams to Prime 
Minister, Mr Algie, Mr Scott 
and  Education  Board  re 
granting building at Kaiwaka 
school. Went round sheep in 
morning.  Did  some  work  on 
mower  and  then  did  some 
mowing.  Took  children  to 
Guides  in  evening  and 
meeting of Scout Committee 
- Had a wire from Jack Scott 
authorising  school  building 
additional  houses  -  Shower 
during  day  and  a  lot  of 
wind." 
Note:  Jack  Scott  was  sitting 
MP for Rodney. ~ P.Linnell, 
from his father's diary. 
Those were the days! Telegrams were responded to more 
quickly than emails it seems. 
With reference to '100 Years of Progress 1870 - 1970 History of 
Education  in  the  Kaiwaka  District.  The  building  that  was 
referred to would have been the infant block - page 52 - in 1957. 
The new teacher's house was built in 1959. Ed. 
KAIWAKA SCHOOL CELEBRATES 150 YEARS  
LABOUR WEEKEND 2020. 
If you have information, photos or even tales from bygone 
years  please  make  touch with  the Kaiwaka  School office 
or the Kaiwaka Bugle. 
YOUNG FARMER REGIONAL FINAL  
A PAPAROA HIGHLIGHT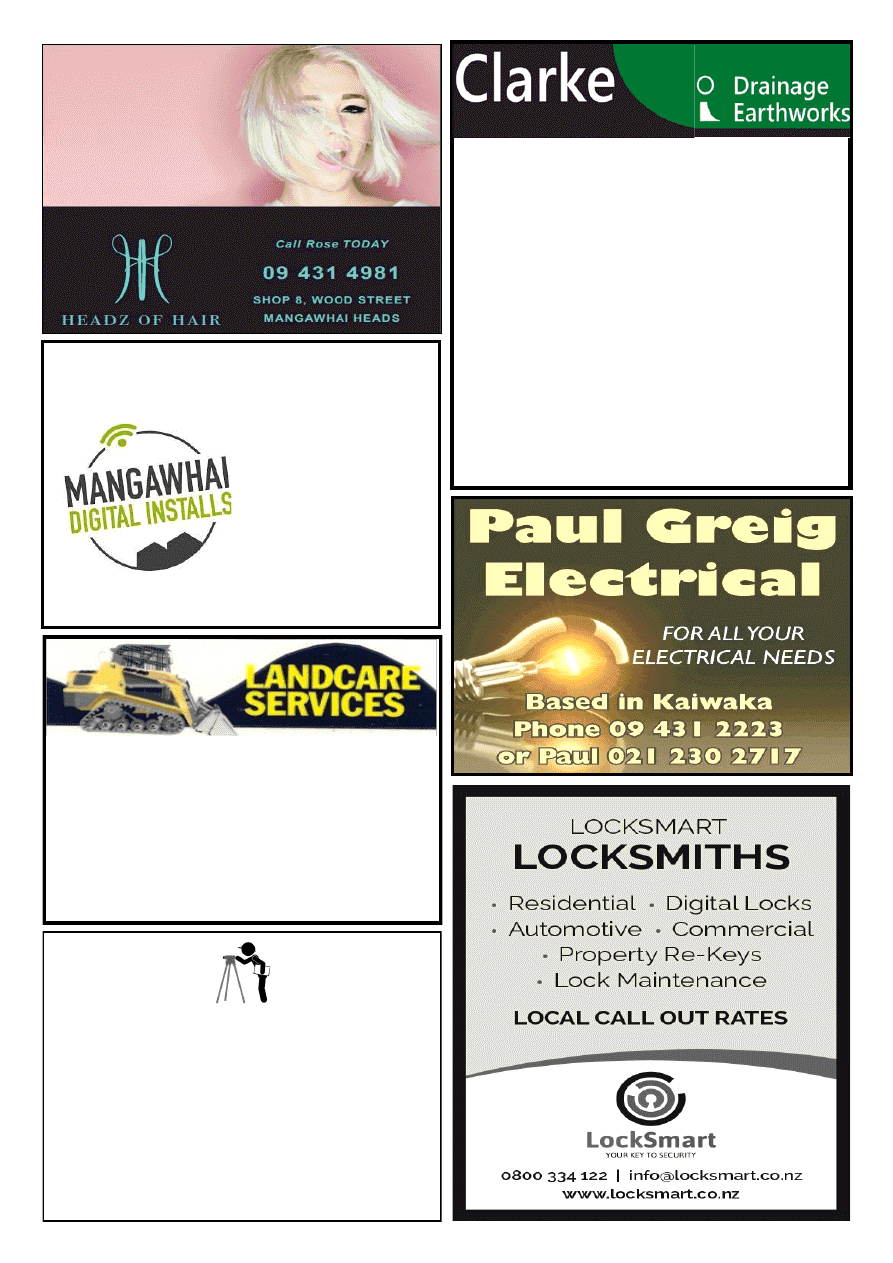 Drainage & Earthmoving 
nigel@clarkedrainage.nz 
027 2233 185 
Registered Drainlayer                    All Types of Earthworks  
> All Residential & Commercial Work  > House Sites 
> Septic System Design & Install          > Footings & Drilling to 10m 
> Sewer Connections 
                       > Dams 
> Water Tank Installation 
               > Roading & Races 
       > Farm Work 
THE ONE STOP SHOP  
Phone Nigel for an Obligation Free Quote  
LANDSCAPING 
4 IN 1 BUCKET 
TRENCHER 
POLE HOLES 
ROTARY HOE 
COMPACT ROLLER 
OFFAL HOLES 
CAN SUPPLY WOODCHIP & POST PEEL 
5 TON TIPPER 
FOR RELIABLE AND FRIENDLY SERVICE CONTACT DAVE 
Dave Hyndman 
 
KAIWAKA 
PH: 09 4312302 
MOB: 021 431 238 
Specialists in: 
Satellite Dish & TV Aerial Installations  
& Repairs 
Freeview  
Chromecast 
Smart TVs   
 Netflix 
Call or Text Adam on 022 351 6679 
E: mangawhai digital@gmail.com 
Ken Urquhart 
BSurv Licensed Cadastral Surveyor 
KMU Surveys Ltd
467 Bickerstaffe Road 
RD 2 
Maungaturoto 0587 
Ph 09 431 8705 
Mob 021 161 2344 
kenurquhart@xtra.co.nz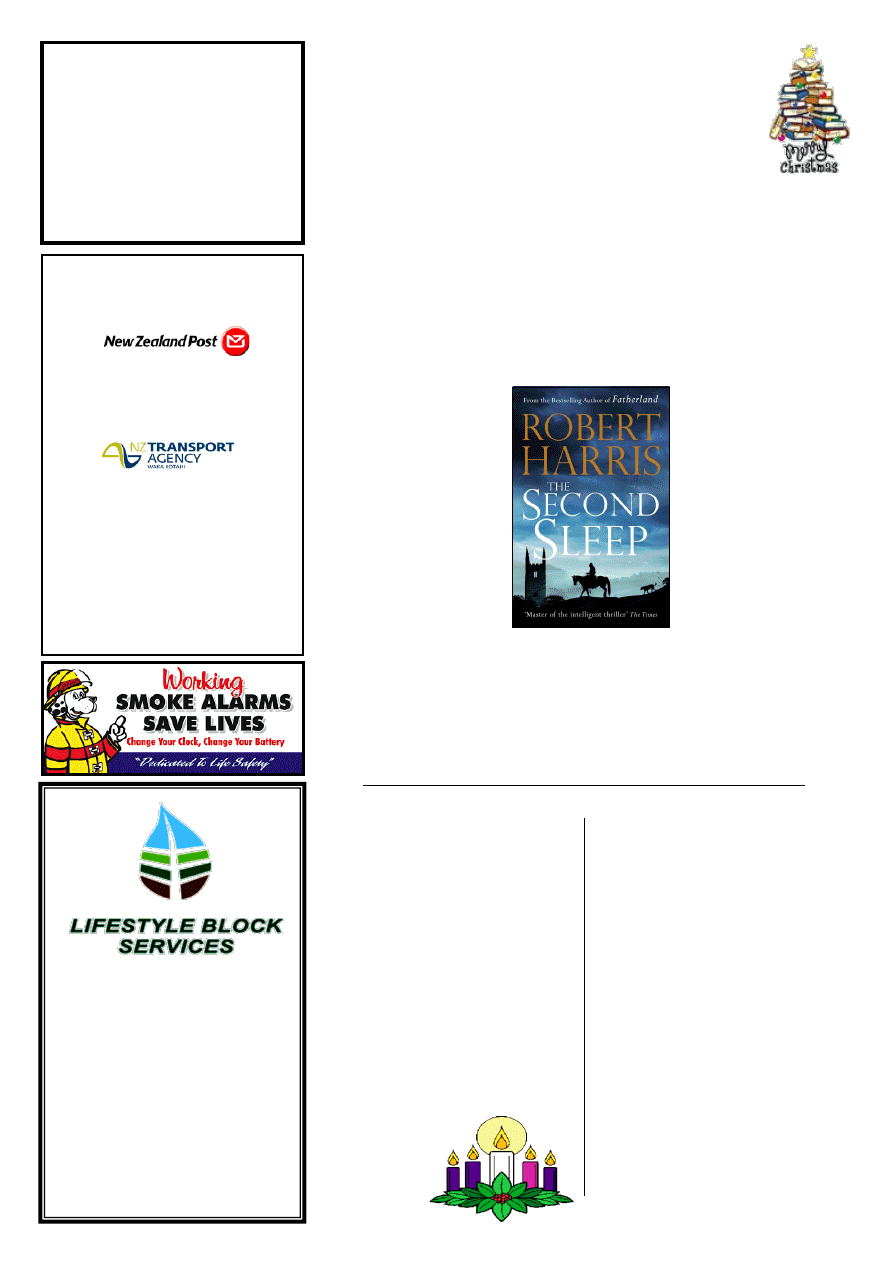 www.kaiwaka.co.nz 
Kaiwaka Bugle - 10 December, 2019 
Page 17 
KAIWAKA LIBRARY
KAIWAKA POST 
CENTRE and 
FOOD MART 
POST CENTRE TRADING HOURS 
MONDAY to FRIDAY 8am to 5pm 
SATURDAY 8am to 12pm 
CLOSED ON SUNDAY and on 
PUBLIC HOLIDAYS 
FOOD MART (GROCERIES) 
MONDAY TO FRIDAY  
7:30am to 7.30pm 
SATURDAY  8am to 7.30pm 
SUNDAY  8:30am to 7pm 
IF ANY QUERIES PLEASE CALL 
STORE MANAGER AMRIT  
on 09 4312431 or 
EMAIL: kaiwakafood19a@gmail.com 
1919a State Highway1, Kaiwaka 0542 
Christmas Holidays 
The library will be closed from 2pm on 
Saturday 21 December 2019 until 4pm 
Monday 6 January 2020. 
Before then, please feel free to come in 
and  stock  up  on  reading/viewing 
material  before  then.  Adult  cards  may 
borrow up to 40 items at a time, junior 
cards are limited to 10 items. 
Any  items  issued  in  December  that 
would  normally  be  due  back  while 
we're  closed  will  be  automatically 
adjusted  to  a  due  date  of  6  January 
2020, so you don't need to worry about 
things  going  overdue  while  we're 
closed.  That  includes  DVDs  and  Blu-
Rays  issued  in  that  last  week  we're 
open - you can hold on to them until 6 
Jan without any overdue fees. 
The after-hours slot by the main library 
doors  is  always  there  for  returning 
items when we're not open. We will be 
clearing it regularly during the holiday 
so it doesn't get over-full. 
Dargaville Books 
We have a new selection of 
books  and  DVDs  from 
Dargaville  Public  Library 
on  our  shelves,  having 
swapped  the  old  stock  for 
new  last  week.  Many 
thanks  to  Sue,  Fay,  and 
Heather  for  their  efforts 
with selecting the items and 
getting  them  onto  the 
shelves;  it's  a  big  job,  and 
your  time  and  energy  is 
much  appreciated.  Come  in 
and  see  what's  new  on  our 
shelves  -  we  have  these 
items until about June 2020. 
Book Sale 
Don't  forget our  big sale  of  old/excess 
books.  There's  something  there  for 
everyone, including books for kids. 50c 
each,  or  two  for  $1,  or  10  for  $2.50. 
Come  and  find a treat  for you  and the 
family. 
Summer Reading Catalogue 
There  is  a  new  catalogue  from 
Dargaville Library out for the summer 
season.  Lots  of  interesting 
recommendations  for  your 
reading  pleasure,  and  a 
competition  for  adults  and 
kids.  Come  and  get  your 
free copy from the library. 
Thank you 
Thank  you  to  the  team  of 
willing volunteers at the library, for all 
of  your  efforts  this  year,  they're  much 
appreciated. 
Book review 
Recently,  I've  read  The  Second 
Sleep 
by 
Robert 
Harris. 
"All 
civilisations 
think 
they 
are 
invulnerable. History warns us none is. 
1468.  A  young  priest,  Christopher 
Fairfax,  arrives  in  a  remote  Exmoor 
village  to  conduct  the  funeral  of  his 
predecessor. The land around is strewn 
with  ancient  artefacts  –  coins, 
fragments  of  glass,  human  bones  – 
which  the  old  parson  used  to  collect. 
Did  his  obsession  with 
the past lead to his death? 
As Fairfax is drawn more 
deeply  into  the  isolated 
community, everything he 
believes  –  about  himself, 
his  faith  and  the  history 
of his world – is tested to 
destruction."  From  the 
description,  you'd  think 
this is an historical novel, 
but  it's  much  more  than 
that.  I  won't  spoil  the 
twist  -  go  and  read  it  for 
yourself! I've read several 
Robert 
Harris 
books 
before 
(Imperium, 
Enigma,  Pompeii,  The 
Ghost, The Fear Index, An Officer and 
a  Spy,  Munich  -  all  in  the  library),  so 
had  high  expectations  for  this  latest 
novel - and I wasn't disappointed. This 
book is on the Rental Fiction shelves in 
the library for now, before it moves to 
the free shelves some time next year. 
Season's  Greetings,  and  we'll  see  you 
in the library! ~Wendy 
 *
Enterprise: http://kaipara.kotui.org.nz/
HAKARU HALL 
ACTIVITIES 

Monday: Line Dancing  

Wednesday Music Jam Session  
0210628631 

First Wednesday of the Month 
Hall Committee Meeting 7.30pm 

Hall Bookings  4312829  or  
lorrainehepple@gmail.com 
KAIPARA HUNTING 
& FISHING 
The  Club  held  its  AGM  on  the  17th 
November. 
Elected  Offices:  President  Cam 
Shanks;  Treasurer  Andy  Thompson; 
Secretary Annette Pull. 
Committee:  Trev,  Stick,  Tony,  Jenny, 
Steve, Gary, Dillion and Hayden. 
Yearly  Subs  are  now  due:  Adult  $25 
Family $35 Junior $15. 
End Of season Prizegiving Results 
Top Gun Prize: Paul Dunnett 280 
Fishing: 
Seniors:  Snapper  Steve  Wrathall 
8.74kg;  Kahawai  Dillion  Thompson 
2.71kg; Kingfish David Byles 14.96kg; 
Gamefish  Jenny  McLean  90.4kg 
Marlin 
Juniors:  Snapper  Max  Tunicliff  6.91; 
Kingfish  Tara  Wrathall  16.26kg; 
Gamefish  Bronson  Wrathall  8.47kg 
Albacore. 
Congratulations to you all. 
For  New  Membership:  Email  Andy  at 
awthompson@outlook.co.nz 
HOLY TRINITY 
CHURCH 
MAUNGATUROTO 
You  are  invited  to  visit  during 
December to see the Bethlehem Scene 
at  the  front  of  the  Church,  and  the 
Remembrance  Tree  on  which  you  can 
place  verses  and/or  names.  There  is 
also a Gift Tree where you may leave a 
gift  for  any  age  (these  will  be 
distributed  through  an  appropriate 
agency for Christmas).  
Blue Christmas  
Sunday15  December,  7pm  is  the  Blue 
Christmas Service, especially for those 
who  have  lost  family  members  or 
friends this year or who find Christmas 
a  particularly  difficult  time  any  year. 
There will be an opportunity to light a 
candle 
in 
memory 
of 
those  no  longer 
with  us  and/or 
to  put  a  star  on 
the prayer tree. 
For all your 
fencing & 
mulching needs. 
Contact Mark  
on  
021801065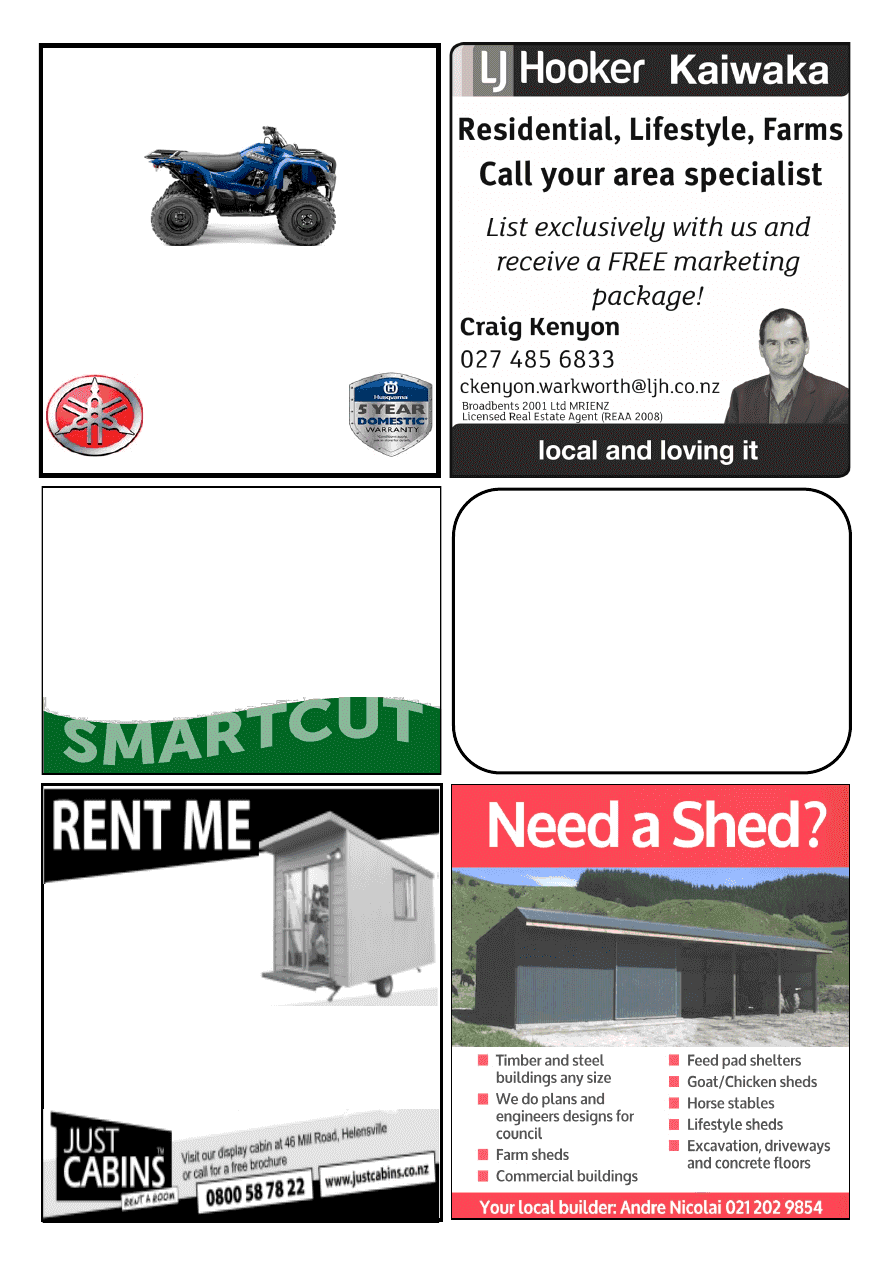 All your outdoor needs sorted so you don't have to... 
I can prune, chop, tidy, spray, mow, plant 
- you name it, I can do it! 
Residential & Commercial 
Lawn & Garden Care 
Call Rodney, your local  
lawnmowing contractor 
021 138 2344 
UP-LINK 
CHRIS WARING 
FREEVIEW INSTALLATIONS 
T.V. - HOME THEATRE &  
HI-FI ADVICE/SET UP
SKY ACCREDITED INSTALLER
MOB.0273403747 HM.094312328 
EMAIL cwaring44@gmail.com
28 YRS EXPERIENCE 
OFFERING UNBIASED ADVICE 
Ideal as an extra  
bedroom or office 
Three Convenient sizes: 
Standard 3.6m x 2.4m - $65 
per week 
Large 4.2m x 2.4m - $80 per week 
Extra Large 4.8m x 2.4m - $100 per week 
Fully insulated. Minimum 6 months rental period 
KAIWAKA 
MOTORCYCLES LTD
SALES – SERVICE – SPARES 
FARM BIKE SPECIALIST
PHONE 09 431-2127 
10 KAIWAKA-MANGAWHAI ROAD, KAIWAKA
Trimmers  
from $279
Chainsaws  
from $339
YAMAHA 
HUSQVARNA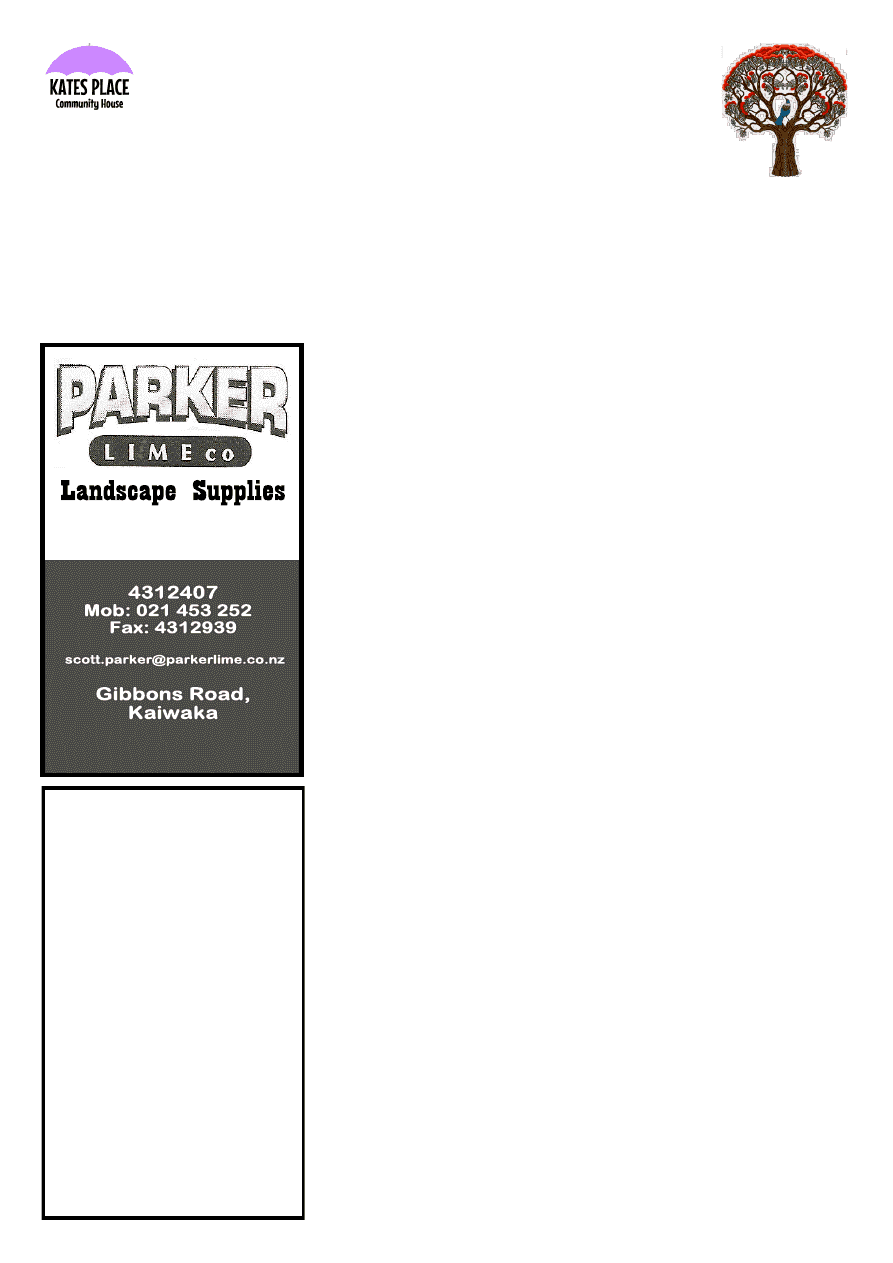 www.kaiwaka.co.nz 
Kaiwaka Bugle - 10 December, 2019 
Page 19 
What  is  it  about  this 
time  of  the  year?  It 
either  seems  to  bring 
out the very best in people or the stress 
can  make  us  see  the  very  worst  in 
people? 
Whatever Christmas means to you and 
your  family  it  will  inevitably  create 
more work, cost more money and may 
be  more  stressful  than  other  times  of 
the year.  
For  some  it  may  be  a  time  to  look 
forward  to,  a  time  to  relax  and  spend 
time  with  your  friends  and  whanau, 
sharing  food,  swims  at  the  beach  and 
creating memories.  
For  others  this  time  of  the  year  only 
highlights 
their 
isolation 
and 
loneliness,  a  time  to  reflect  on  broken 
relationships,  lost  children  or  lack  of 
resources. 
Our advice to you is, keep it simple, 
light  and  fun  and  place  no  more 
significance  on the  day  than  any  other 
day.  If  you  have  strained  relationships 
with  family  members  normally  and 
then  add  to  it  by  having  to  spend  the 
day  together  and  drinking  wine  in  the 
sun,  there  is  a  high  chance  or  conflict 
and dramas. 
Financially  it always costs us more in 
December  than  any  other  month,  we 
always push to our clients to put away 
for  the  whole  year  even  $5  a  week 
would help us to buy a few pressies and 
have  a  nice  meal.  But  as  it  is  heading 
towards  December  now  and  if  you 
haven't put away anything by now the 
reality is you are going to be tight.  
Here  are  some  basic  tips  for 
keeping it real this Christmas :-) 
1.If  you  have  it  share  it  - if you have 
extra  money  donate  a  few  things  to 
local  food  banks,  or  gifts  for  children 
wrap  and  label  them,  there  are 
collection  points  in  every  local 
community.  Kate's  Place  are  donated 
gifts and food every year so if you are a 
family  in  need  or  know  of  one  please 
let us know. There is a gift in giving a 
feel  good  factor  and  it  really  can 
change  a  family  or  child's  Christmas 
time, don't be a grinch by thinking that 
people  on  benefits  or low  incomes  are 
there  because  they  choose  to  be  or  all 
beneficiaries  smoke  drink  and  gamble, 
because this just isn't true and even if it 
was true put that aside and think about 
the kids who have no control over their 
environment.  Teach  your  children  the 
importance  of  kindness  and  gratitude 
and  how  lucky  they  are  to  be  able  to 
share some of what they have. 
2.  Don't  borrow!!!!  Don't fall into the 
trap of After Pay. I know we all want to 
give  our  kids  nice  pressies  at 
Christmas,  but  the  reality  is  if  you 
haven't got it you can't spend it. Don't 
panic  whatever  your  situation  is  this 
year,  it  doesn't  mean  it  will  be  the 
same next year, so maybe less gifts this 
year but more fun!! 
Create  a  tight  budget,  put  a  limit  on 
gifts, food and decorations & games. 
3.  Presents/Gifts  - little kids are quite 
easily  pleased  maybe  one  toy  or  game 
they  want  and  lots  of  little  treats, 
bucket  and  spades,  balls,  water  slides, 
indoor  games  arts  and  crafts  stuff,  try 
and  get  to  Kmart  they  have  low  cost 
things  that  when  wrapped up  can  look 
like a lot, items from $5. Teenagers are 
harder  but  if  you  can't  afford  the 
clothes  or  technology,  they  want  get 
things  like  phone  cases,  vouchers  for 
top ups or stores they like or one item 
they 
want 
and 
add 
toiletries, 
chocolates,  books  and  games.  If  you 
buy  for  adults  and  are  tight  this  year, 
go op shopping find good books,  make 
a  herb  garden,  bake  or  make  food 
treats,  go  to  Kmart  and  buy  cheap 
kitchen 
utensils 
and put in a basket, 
make  up  pamper 
packs 
with 
toiletries,  make  up 
vouchers 
for 
babysitting 
or 
gardening, buy someone their favourite 
coffee or bottle of wine or cheese from 
our  local  cheese  shop  that  is  usually  a 
treat.  It  really  is  the  thought  that 
counts. 
With any gift make the effort with the 
wrapping  and  presentation,  decorate 
gifts with bows or fresh pohutukawa or 
flax.  Google  for  ideas  there  are  heaps 
of cheap and creative things online. 
4.  Food  - However, you usually eat at 
Christmas  whether  you  have  a 
traditional  English  type  Christmas 
dinner  of  ham,  turkey  etc,  you  can 
create  the  same  feel  for  way  less 
money.  Buy  big  chickens  and  stuff 
with  cranberry  stuffing  or  serve  with 
cranberry sauce, roast veges and salad. 
Make  kids  jellies  and  mousse  and 
lollies instead of expensive pre bought 
desserts or make your own pavlova and 
make  your  own  sponge  for  trifles.  If 
spending  Christmas  with  family  make 
sure  everyone  brings  an  equal  share, 
one  type  of  meat,  one  dessert,  drinks, 
even  a  game  to  make  sure  the  cost  is 
spread,  and  the  work  is  spread  more 
equally  between  everyone.    Again 
make  sure  your  Xmas  table  is 
decorated  with  candles  and  fresh 
pohutukawa, lots of tinsel, save up the 
empty  toilet  rolls  and  make  your  own 
Xmas crackers (that sounds a bit gross) 
even  if  they  just  have  a  chocolate  or 
lollies  in  them,  put  your  own  jokes  in 
them.  Make  a  fruit  punch  with  lots  of 
ice  and  fruit  to  make  festive.  Play 
heaps  of  terrible  Christmas  music  or 
find  some  cool  Christmas  music  on 
You Tube. Try and make as much food 
yourself rather than buying premade. 
5.  Create  an  atmosphere  of  fun,  lots 
of  decorations,  lots  of  games  and 
music. Google fun "Christmas Games" 
I  have  6  for  my  family  this  year  from 
Xmas Bingo to Hook the Candy Canes 
and  making  Reindeer  antlers.  Get 
Christmas movies booked or borrowed 
to  watch  as  a family,  avoid  the  booze, 
well  at  least  until  the  kids  are  asleep 
and mainly just be grateful, be grateful 
for  living  in  such  a  beautiful  country, 
be grateful for our families and friends, 
our  health  and  wealth  and  freedoms. 
Try and put aside family differences for 
another  day.    If  you  are  ignoring 
Christmas  due  to  being  alone  or 
because  of  the  stress  of  it,  consider 
volunteering  at  community  dinners  or 
community  events  put  yourself  out 
there  take  a  risk  and  at  the  very  least 
try and make someone else's Christmas 
Day a better one than it might of been 
without you. 
Meri Kirihimete  
and have a wonderful 2020. 
Please  contact  us  on  09  431-2661  or  029  773 
9085  or  add  to  our  Facebook  page  "Kates 
Place  Community  House"  if  you  need  support 
or assistance 
Bulk Cartage 
HAVING A REALISTIC CHRISTMAS  
Willow Bend
HORSE  
HOTEL 
#
Total Horse Care    
# 
Agistment 
# 
Riding Lessons    
#
 Arena Hire (60x40) 
# 
Young Horse Starting 
# 
Re-training/Exercising 
#
Hoof Trimming    
# 
Problem Solving 
Phone Sue  
09 431 2817  
or 021 623 776  
Or email  
susanjoll11@gmail.com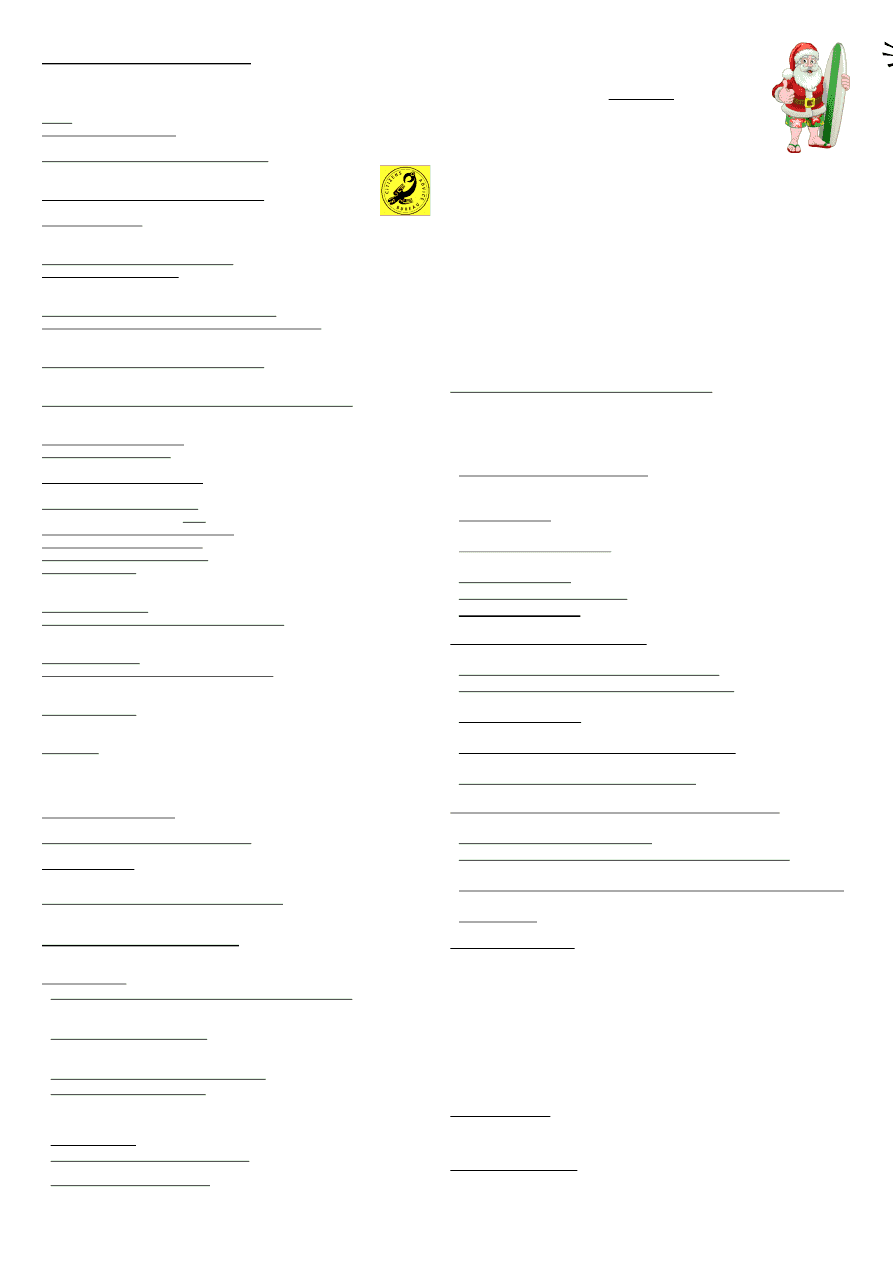 Next Bugle Deadline midday Friday 17 January 2020
WHAT'S ON
PLEASE ~ do let us know what is on - email 
kaiwakabugle@kaiwaka.co.nz 
Advertising in WHAT'S ON is FREE  
*13Dec~Kaiwaka School Prizegiving 
*13Dec~Movie 'Ladies in Lavender',KWMH,7.30pm 
*15Dec~Otamatea Hawks Christmas Party, 4pm KSA 
*15Dec~St Pauls Kaiwaka, Carols by Candlelight, 7.30pm 
*16Dec~Kaiwaka School End of Term 4 
Christmas Day~ St. Pauls  Kaiwaka Service, 9am 
*11Jan~Pt. Curtis CC Annual Picnic, Rangiora Rd  
*15Jan~Touch Module begins, 6.30pm, KSA 
Anniversary Weekend~Otamatea Tennis Tournament, KSA 
*29Jan~Kaiwaka School Term1 begins 
*1Feb~Paparoa A&P Show 
KWMH = Kaiwaka War Memorial Hall; KSA = Kaiwaka Sports Association 
See www.kaiwaka.co.nz for more information 
HOUSEHOLD RUBBISH COLLECTION - Kaiwaka Pick up: 
Mondays = Green bags (Northland Waste - 09 430 3273) 
Wednesdays  = Blue bags and yellow recycling (at Jaques $3.00 
and  $1.50)  (Kaurilands  09  4392146);  ONLY  Blue  and  Yellow 
bags picked up on Oneriri Road. 
 DIABETES  Support  Group  -for  Kaiwaka,  Mangawhai, 
Wellsford  10am,  3rd  Friday  of  month  Ph:  Colleen  James  09 
4314238 
 GENEALOGY - Wellsford: 1st Thursday in month Ph: 423 
7033; Waipu: 4th Monday in month Ph: 4312 725 
 HAKARU PONY CLUB - Secretary Denise Rogers 021423376 
secretary@hakaruponyclub.co.nz  
 KAIPARA HUNT - Secretary Albert Doonenbal Ph 4312059 
 KAIWAKA BADMINTON -Tuesdays 7.30pm Ph: 4312345 
 KAIWAKA  CAN  - 3rd Wednesday in month, 5.30pm, Archie 
Bull Hall Ph: 0273572751 
*KAIWAKA  DRAMA  CLUB  - 
Hannah  Webb 
0272863352 
KaiwakaDrama@gmail.com - FB - "KaiwakaDramaClub" 
 KAIWAKA DRUM & DANCE CLASSES - 021 611198 
 KAIWAKA GARDEN & FLORAL GROUP - 2nd Thursday in 
month. Ph: 431 4744 
 KAIWAKA  CUBS  -  Thursdays  5.30-7pm,  Hakaru  Ph:Bruce 
4312542 
 KNITTING FOR WHANGAREI HOSPITAL - 2nd Tuesday in 
month, Archie Bull Hall 10am Ph 4314827 
 MANGAWHAI COMBINED REBUS CLUB - 2pm, 3rd 
Thursday month, Senior Citizens Hall Mangawhai. Ph: 4315777 
*PILATES - KAIWAKA WAR MEMORIAL HALL - Ph: 
021 
2072729  
 PT CURTIS CRUISING CLUB - Jean Ph: 4312227 (wk), 4312520 (hm) 
 RSA,  HAKARU  &  DISTRICTS  WOMEN'S  SECTION  –  meets 
1.30pm 4th Thursday of the month. Ph: 431 5818  
 KAIWAKA  SCOTTISH  COUNTRY  DANCING  CLUB-
Wednesdays 10am - 12 noon  Ph: Elaine 027 432 0032  
 TRAMPING - Mondays 9am-2:30pm Maria 4312 234 
HALLS FOR HIRE: 
  Kaiwaka St. John Hall: Phone Marj  0272941227  
 St.Pauls Archie Bull Hall HIRE $20 half day, $40 full day per 
hire, S McAulay, Ph 4312311 
 Kaiwaka  War  Memorial  Hall  HlRE  -  Phone  4312725  or 
kaiwaka.hall.bookings@gmail.com 
 Hakaru Community Hall HIRE -Ph.  Lorraine 4312829  
 Te Pounga Marae queries - Pearl Nathan  0223933533 
 Kaiwaka Sports Association hire/queries - C. Anderson 4312051 
or kaiwakasports@gmail.com 
Justice of Peace:  
B.FJaques  4312  048;  L.Donaldson  4312  228;  A.F.Hargreaves 
4312 045, W.Howard 4312 725 - please phone to make sure they 
are available or go to www.justiceofthepeace.org.nz 
Marriage Celebrants:  
L.Donaldson; A.F.Hargreaves; Y Osborne
LOCAL SERVICES 
*Emergencies - Ambulance, Fire, Police - dial 111 
*Non-urgent Police phone 09 4311150
A A: Meets Wed., 8pm Kaiwaka Ph: 4315543, 0800229 6757 
ASUREQUALITY LTD (was AgriQuality) Call Free 0508 0011 22  
BUDGETING SERVICE, WELLSFORD: Free confidential advice & 
support for all areas of personal finance. Ph (09) 423 7123 
CAB-Citizens Advice Bureau.Wellsford Ph: 4237333 
0800 367 222 email:cab.wells@xtra.co.nz  
CIVIL DEFENCE - Kaiwaka Community Response Group: 
kaiwaka.civildefencecrg@gmail.com, 4312725 Wendy 
DOG/STOCK /NOISE CONTROL 0800 105 890 
FUNERAL SERVICES: Morris & Morris Ltd, 
Whangarei - Bev Jaques Ph:4312367 or 0800667747 
GRANDPARENTS Raising Grandchildren: Dianah Roberts 0223819539 
HAKARU & DISTRICTS MEMORIAL RSA (Inc) 733 Settlement Rd, 
Hakaru. Ph 4312 176 or Bill Warren (President) 431 2092 
HAKARU LANDFILL/Transfer Station:Open everyday  10am-
4pm.Ph4312629 Cost-$55 trailer load up to 1 cubic metre. Ph:4258567 - 
office 
KAIPARA DISTRICT COUNCIL www.kaipara.govt.nz:  
Help Desk FREEPHONE 0800 727 059  
KAIWAKA CEMETERY: Ph: 4312045 or 4314017 
KAIWAKA LIBRARY: kaiwaka.library@gmail.com  
Mon. 4-6pm; Wed., Thurs., Fri., Sat. 10am-2pm Ph:4312539 
KAIWAKA PLAYCENTRE: Ph Juanita 0274134904; open Mon, Wed, 
Fri 9am-12pm. Hastie Lane; Monday to Friday 9.00am - 12 noon. 
KAIWAKA POST OFFICE:Ph:4312 431  
Post Code: 0573 for RD2 and 0542 for all Kaiwaka Post Office mail 
KAIWAKA PRIMARY SCHOOL: Ph: 4312309   
KAIWAKA SPORTS ASSN: Ph 4312005; 4312129 gym 
KAIWAKA ST JOHN HALL: Phone Marj  0272941227  
KATE'S PLACE Community Centre - Employment services, Free Health 
Nurse, Plunket, Advocacy, Osteopath, A.A., Legal Advice. 4312 661 
LINKING HANDS Health Shuttle Ph 4315906 or 09 4318969 
MINISTRY FOR PRIMARY INDUSTRIES - General inquiries Call 
Free 0800 008 333 
NORTHPOWER: Faults Kaiwaka area 0800 104040 
OTAMATEA COMMUNITY SERVICES: Counselling, parent coach, 
Family Support worker, budget advice, food bank. Mon-Fri 9am-3pm. Ph 
09 431 9080 http://www.otamateacs.org/ 
PARENTPORT: Free, practical family support service Puhoi to Paparoa 
Ph or txt: Dianne 027 280 5093 or 09 425 9357 
PLUNKET:  Kaiwaka  -Kate's  Place  Clinic  1st  Wednesday  of  the  month; 
Mangawhai  - Rose Madsen Cottage: Coffee Group 9:30 every Monday.  Clinic 
every Monday and Thursday. 
Maungaturoto - Good News Church, Clinic 2nd and 4th Wednesday.  
Cynthia 09 431 7340 or 027 675 3488 
PLUNKET HELPLINE -0800 933 922 (24 hours) 
TAITOKERAU COMMUNITY LAW: Free confidential legal advice and 
assistance, 2nd
Thursday
 of each month. Ph: 0800 155 529 for appts.  
TE URI O HAU Settlement Trust Tangata Developments: Whanau Ora 
021 793262  
VETERINARY SERVICE MANGAWHAI: 
Ph: 4314535 Mon-Fri 8.00-5.00, Sat 9-12, a/h appt. 
WELLSFORD DOCTORS: Ph: 4238 086 
CHURCHES:
 
Kaiwaka  Revival  Church  -  Your  Community  Church:  Sundays  10am. 
Ph: Pastor Tawhiri 09 431 8988 or Pastor Paul 09 4312 068 Visit us at 
www.facebook.com/kaiwakachurch 
 
St  Paul's  Anglican  Church  1st  Sun.  9.00am  (Eucharist),  3rd  Sun. 
9.00am (Family Service). Contact: Rev. Wayne Thornton Ph 431 4122 
www.mangawhaianglican.org.nz 
 
Church of Christ the King, Mangawhai:9.00am every Sunday 
 
St.Mary's  Catholic  Church:  Maungaturoto  –  Griffins  Road,  Saturday 
evening  Vigil  Mass  6pm;  Mangawhai  –  Senior  Citizens  Hall,  Sunday 
Mass  8:30am;  Wellsford  –  Matheson  Road,  Sunday  Mass  10:30am;  
Mid-week Mass times and all enquires to Fr. Bill Fletcher – phone 423 8170
 
Baptist Church: Sun. 10.30am Mangawhai Snr Cit.Hall.Ph:4312339 
 
Cause  Way  Church  Mangawhai:  Sundays  10.15am,  Mangawhai 
Community  Recreation  Centre,  Insley  St.  Ph:  09  4314782