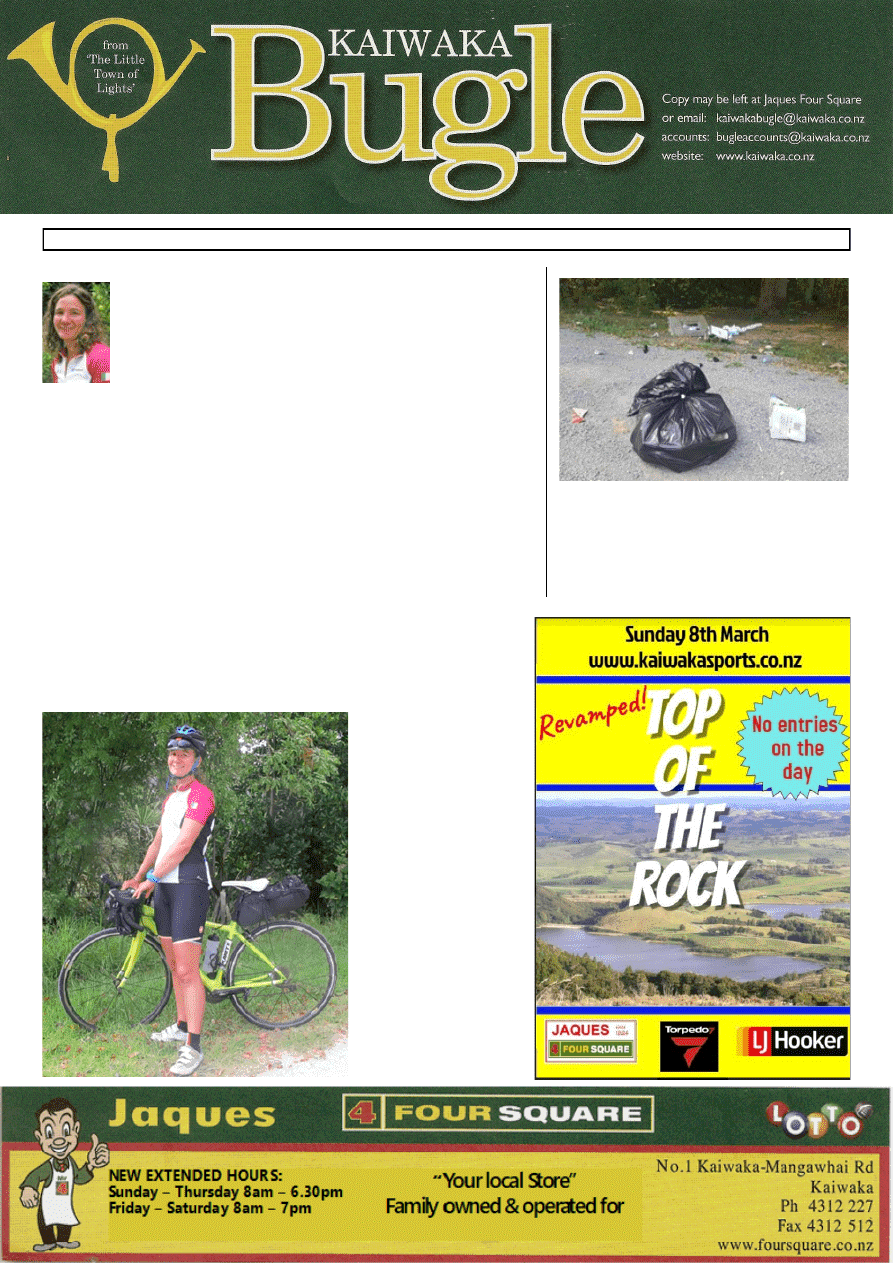 www.kaiwaka.co.nz 
Kaiwaka Bugle - 4 February, 2020 
Page 1 
No: 2 
 4 February 2020 
NEW EXTENDED HOURS: 
Sunday – Thursday 8am – 6.30pm 
Friday – Saturday 8am – 7pm 
MCCLEAN PARK  
BIANCA MARTIN CYCLE TOURIST 
Expect  future  tourism  to 
be  low  impact  and 
rebuild small towns. 
The  social  networks  for 
walkers,  cyclists,  home 
sitters  and  voluntary 
workers  are  growing 
massively  and  those  using  them 
value  a  local  experience.  Whether 
they arrive by bus, van, foot or on a 
bike,  these  tourists  want  to  lend  a 
hand  and  learn  about  some  of  the 
neighbourliness that New Zealand is 
rightly famous for. 
Take  Bianca  Marton.  26  years  old 
and on her second visit here, she has 
ridden  up  the  west  coast  through 
Kaiwaka  to  the  Capes  and  plans  to 
come down the East through Waipu, 
Lang's Beach and Mangawhai. 
Bianca  is  a  keen  triathlete  and 
prepared to tackle the traffic and the 
roads. 
Her  impressions  of  what  she  has 
seen of the country, south and north: 
"It's  been  wonderful.  People  go  out 
of their way. It reaffirms for me that 
people are kind. 
"People  have  their  own  gardens, 
growing  their  own  vegetables  and 
fruit and use that to cook with." 
Born  in  Nice  on  the  French 
Mediterranean  coast,  her  mother  is 
Italian  and  her  father  Romanian. 
She  shares  her  cultural  knowledge 
and  experiences  with  those  she 
meets  and  looks  forward  to  hosting 
people  back  in  Europe  where  until 
18 months ago she was marketing a 
small scale UK chocolate company. 
Chooses to cycle
Bianca  chooses  to  cycle  because  of 
its  low  impact  on  the  environment 
"and I meet people. I bring also the 
different cultures I have within me." 
She  spends  much  longer  in  the 
country  than  an  8-day  package 
tourist. 
The  Warmshowers  network  [see 
Wikipedia] 
had 
116,000 
participants  a  few  months  back 
with  more  than  half  of  those 
registered as hosts. 
What  could  Kaiwaka  and 
the  Kaipara  do  to  help? 
Councils  and  groups  like 
Kaiwaka 
Can 
are 
identifying  courses  for 
cycle  trails  especially 
some  clear  of  motor 
traffic. 
Likely benefits
What benefits can low key 
travellers  bring?  Serving 
them  will  be  local  shops, 
parcel  depots, information 
boards  describing  local 
histories and cultures, and 
events in local halls. 
The  low  key  focus  looks 
good  for  small  towns  and 
country folk. ~ HP 
NB: Don't tear down your 
woolshed.  It  may  be 
needed for a party. 
Or is it McDirty? Sadly folk are not taking 
their  rubbish  with  them,  or  even  disposing  
of it in the correct places. 
A  kind  local  filled  two  black  bags  and  at 
least  four  large  cartons  last  week  from 
round our local rest area at McClean Park. 
We do miss Mrs Elizabeth Preston who has 
now retired after many years of cleaning up.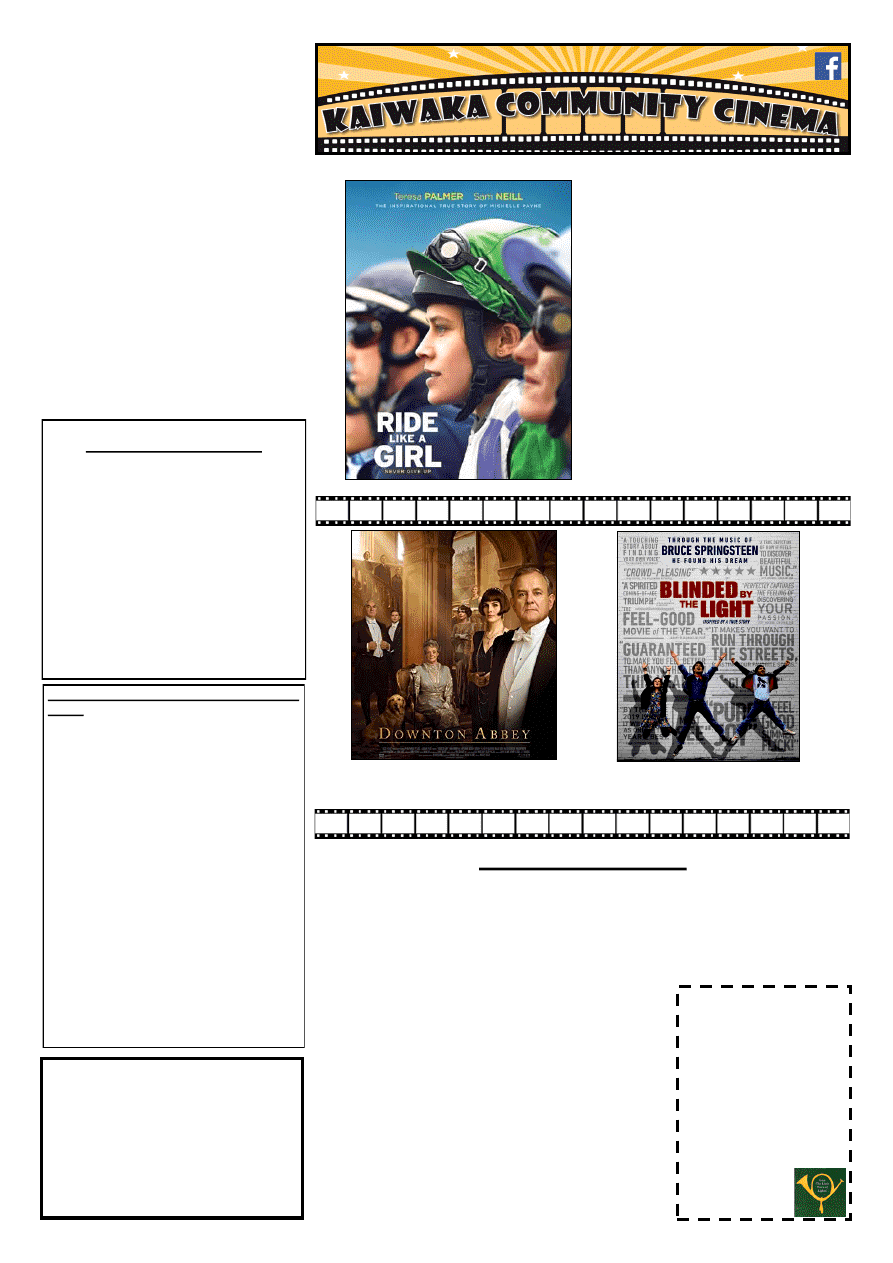 At Kaiwaka War Memorial Hall . Adults $10, Kids (under 16) $5, Family Pass (2 adults + 3 children) $25 
KAIWAKA BUGLE No. 2 
4 FEBRUARY 2020 
CONTENTS 
Page 3: Public Notices, Classified 
Page 5: Local Vocals; Pt.Curtis CC 
Page 7: Kaiwaka Weather; Hakaru 
Women's RSA 
Page 9: Mangawhai Artists; ORT 
Page 11: Kaiwaka Sports Assn. 
Page 13: Kaiwaka School; Jamboree 
Page 15: Otamatea Day Camp; Thelma's 
Scrapbook 
Page 17: Kaiwaka Library  
Page 19: Kaipara Hunting & Fishing; 
Your Electricity Bill 
Bugle 3 will appear 18 February 2020 
Contact for advertising, reports, articles 
or information can be made by 
Email kaiwakabugle@kaiwaka.co.nz 
Ph: 09 4312 045 Lindsey 
Txt: 027 2724137 
Copy  may  be  left  at  Jaques'  Four 
Square. 
Kaiwaka Bugle 
Founded May 1978 
We appreciate articles and photos about local 
events, etc, as well as ads and suggestions. 
Copies available in Kaiwaka at Jaques Four 
Square, Kaiwaka Postal Centre, Shamrock 
Service Station, Animal Health Centre, 
Kaiwaka St John shop. 
Also outlets in Maungaturoto, 
Mangawhai and Paparoa. 
Can be viewed online at   
www.kaiwaka.co.nz/Bugle  
Or a copy can be posted to you if you supply 
stamped, self-addressed DLE envelopes. 
Kaiwaka 
Bugle 
Advertisements 
2020: 
All 
copy 
and 
queries 
to: 
kaiwakabugle@kaiwaka.co.nz 
The Bugle is printed on an A4 page   
Ad  sizes:  1/16  page  (3  x  9.5cm)  $5;  1/8 
(6.5  x  9.5cm  landscape  or  portrait)  $8; 
3/16 ( 10 x 9.5cm or 7.5 x 12,5)  $12.  
Classified  ads:  First  one  FREE,  $4  per 
entry (max. 30 words, max. 4 repeats). 
Payments  can  be  made  online  at 
ANZ 
06  0365  0006990  00
,  posted  or  left  at 
Jaques Four Square Store. 
We  use  Microsoft  Publisher,  and  can 
work  with  most  common  image 
formats, Word, Excel, and PDF files. 
Accounts:  
Email: bugleaccounts@kaiwaka.co.nz 
The  Kaiwaka  Bugle  is  a  community 
newspaper run by volunteers, as part of 
the Kaiwaka Media Group Inc.   
Articles, etc. printed are not necessarily 
the opinion of the Bugle Team. 
ABOUT TOWN 

 Sadly  the  Bugle  Team  lost  a  valuable  member,  Ann  Cullen,  who  passed  away 
recently. Sincerest condolences to her family and friends. 

Last Sunday, 02/02/2020, is the first time in 909 years that a date is written the 
same  frontwards  and  backwards  worldwide.  The  next  one    will  be  in  101  years 
12/12/2121 . 

Waitangi  Day  Celebration Thursday  6  February,  10am-3pm-  at  Te Hana  Te  Ao 
Marama Culture Centre & Marae; service, hangi, kapa haka …; free entry 

 The Paparoa A&P Show and the Northern Young Farmers Regional finals were a 
great  success.  Congratulations  to  Lisa  Kendall  -  this 
year's  FMG  Young  Farmer  of  the  Year  Northern 
Regional Final winner. 

The Otamatea 70th Open Tennis Tournament had to 
be  cancelled  due  to  lack  of  entries.  A  national 
tournament in Hamilton took players who have always 
enjoyed the wonderful atmosphere in Kaiwaka. 

 Remember the weekly bus trip to Whangarei via the 
east coast - Ph: 0800 994 404, www.buslink.co.nz or E: 
office@leabourn.co.nz for details. 

 Have you seen a Kaiwaka Good Sort lately? Let us 
know - a bouquet of beautiful flowers awaits them!
~ Lindsey, Ed 
"…if you've got a dream, never give up, always have faith in 
yourself."  ~  Michelle  Payne,  after  winning  the  Melbourne 
Cup – see the movie 'Ride Like a Girl' 
  RIDE LIKE A GIRL 
Friday 7 February, 7.30pm (M) 
'As  a  little  girl,  Michelle  Payne 
(Teresa  Palmer)  dreams  of  the 
impossible:  winning  the  Melbourne 
Cup  -  horse-racing's  toughest  two-
mile  race.  The  youngest  of  10 
children, Michelle is raised by single 
father Paddy (Sam Neill). She leaves 
school at 15 to become a jockey and 
after early failures she finds her feet, 
but a family tragedy, followed by her 
own near fatal horse fall all but ends 
the  dream.  But  with  the  love  of  her 
dad and her brother Stevie, Michelle 
will not give up. ' 
KAIWAKA BUGLE 
DEADLINE DATES 
2020:   
Every second Friday
February 14, 28 
March 13, 27 
April 10, 24 
May 8, 22 
June 5, 19 
July 3, 17, 31 
August 14, 28 
September 11, 25 
October 9, 23 
November 6, 20 
December 4 
Proverbs 10:17 
 He/she who heeds discipline 
shows the way to life,  
but whoever ignores 
correction leads others astray 
 DOWNTON ABBEY 
Friday 14 February, 7.30pm                
BLINDED By The LIGHT 
Friday 21 February, 7.30pm (PG-13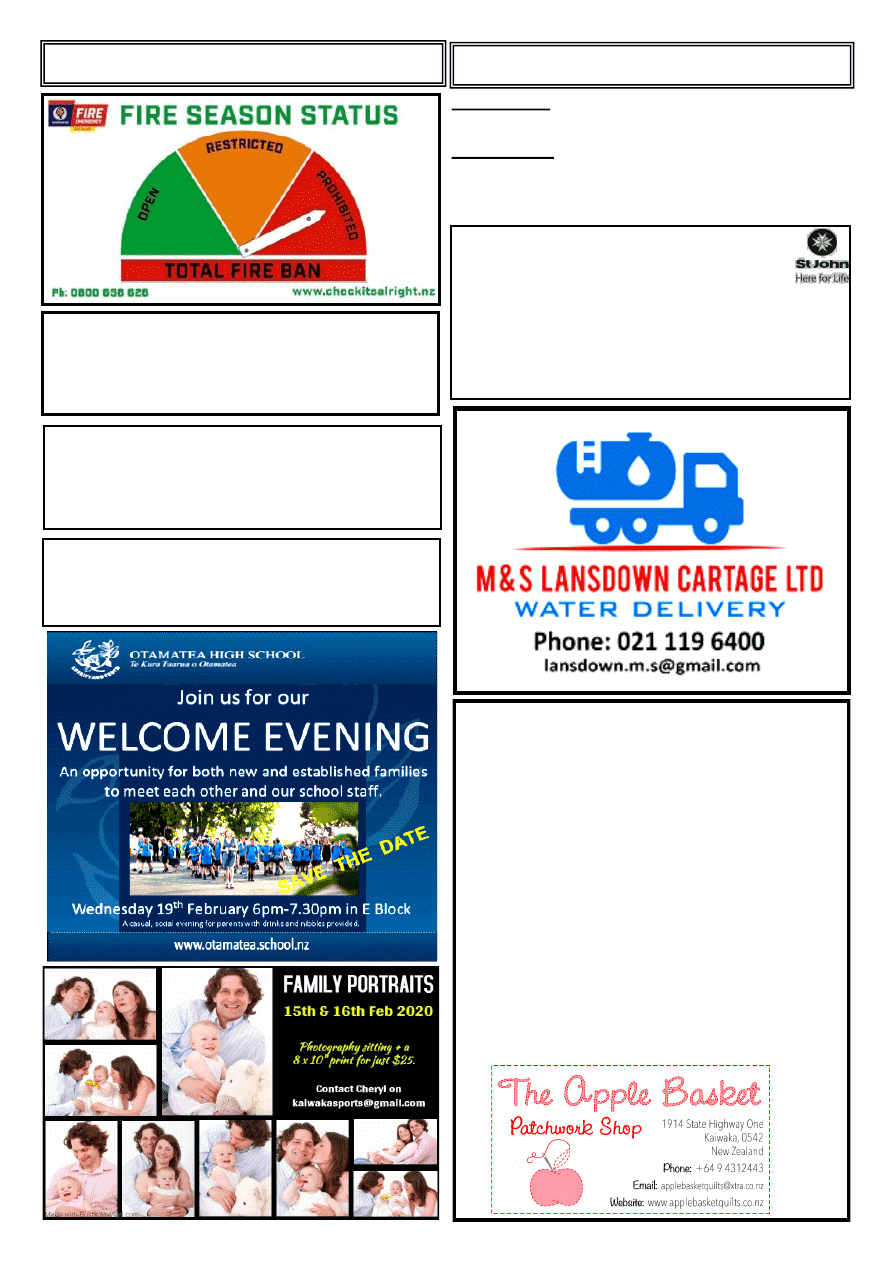 www.kaiwaka.co.nz 
Kaiwaka Bugle - 4 February, 2020 
Page 3 
PUBLIC NOTICES 
CLASSIFIED 
 FOR  SALE:  TPanasonic TV, 50", LED, LCD. Good 
condition,  full  working,  5  yrs  old.  Energy  rating  5 
stars. $200. Call Peter on 4312718 or 0211502260. 
FOR  RENT: 
Good flat, beautiful area, 7km to Kaiwaka. 
50m
2
,  bedroom,  living,  office,  kitchen,  bathroom.  Carport, 
lawn,  garden  optional.  Sky  disk  &  phone  existing.  Long-
term  to  tidy,  honest  single.  $255  p.week,  incl.  power. 
Reference, Bond. Call Peter on 4312718 or 0211502260. 
KAIWAKA ST. JOHN OP SHOP 
Thank you for your support.  

We  still  have  our  $1.00  clothing  sale  until  the 
end of February, and more furniture available. 

We are always on the lookout for good used kitchenware 
and linen. Pictures and photo frames. Children's toys and 
games and puzzles. Bedding is always in short supply.  

We also have excess seasonal fruit and vegetables. 
Phone 09 4312650 for more information. 
Check us out at 1919 SH1, Kaiwaka 
OTAMATEA REPERTORY THEATRE Inc 
'Seussical Jnr' 
Auditions  
Saturday 15 February and Sunday 16 February,  
between 1pm and 5pm 
Please contact Peter Flower for an audition time. 
Email peter.flower58@gmail.com or phone/text 021 164 8318
KAIWAKA LIBRARY
Used Book Sale 
Clearance 
50c each, 3 for $1, or 10 for $2.50
Overlocking Class 
Project T-Shirt 
14th February 2020 10am-2.30pm 
This project is a great way to learn more about your overlocker.   
Your overlocker is not just for neatening seams, it can do so much 
more.  In this class you will learn how to use your overlocker to more 
of its potential.   Techniques you will do:  4thread safety stitch, flat 
locking.   Using  different feet or not, tips to help you, and all your 
questions answered.  
Come along and get to know your overlocker, and make a t-shirt.  
Don't have an overlocker ? Then just come along and get a 
demonstration on how these amazing machines work and what you 
can do with them. 
Fabrics for your project must be purchased at The Apple Basket 
before class. 
Don't miss this opportunity. 
Email or ring to book a space. 
applebasketquilts@xtra.co.nz  
or ph. 09 4312443 
KAIWAKA WHANGAREI HOSPITAL KNITTERS
Meet 2nd Tuesday every month at the Archie Bull Hall 
10am – 12 midday.  
New Members are always welcome to join us. 
Contact Gale Matheson 027414576 for more information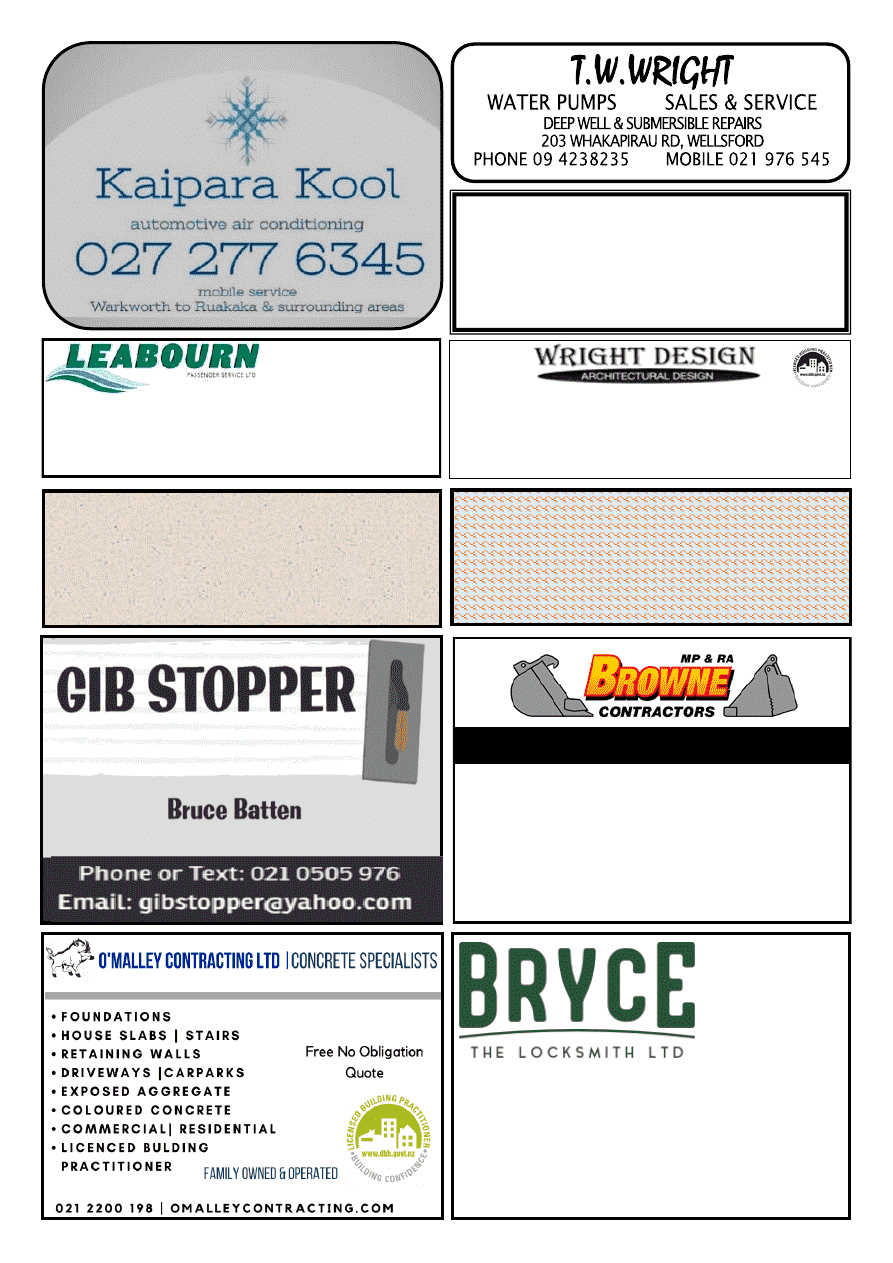 4T DIGGER – BOBCAT – TIP TRUCK 
 Property Maintenance - Driveways  
 Building Sites 
Stump & Tree Removal  
Hole Boring - Chain Trencher  
Calf Shed and Stockyard Cleaning 
Phone Matt: 021 199 6677 
Email: mprabrownecontractors@gmail.com 
Counsellor and Registered Psychotherapist 
Offers Supervision
Susan Matheson 
MNZAC 
Dip. Psychosynthesis Counselling and Psychotherapy 
Phone 09 431 2996                        Mobile 027 605 2427 
Passenger Service
Car & Van Hire   Bus & Coach Charters 
Airport Transfers    
Phone (09) 4237416 
No. 117345 
N.Z.C.A.D., L.B.P. 117345 
PH/Fax: 09 423 8092 Mob: 021 276 7369 
Office: 3 John Sinclair Avenue, Wellsford    brianwright@xtra.co.nz 
For Resource and Building Consents, planning restraints, new building materials - 
you need a capable, experienced, and professional designer with a clear 
knowledge of all the processes. Brian has been helping and organising all these 
facets of design and building for over 50 years. 
Wright Design offers free visits, consultations and advice on planning, design, 
building, council permit applications, guaranteed permit plan acceptance. 
Bryce Frewin 
Ph: 021 850 983 
Kaipara Based Master Locksmith 
bryce@brycethelocksmith.co.nz 
www.brycethelocksmith.co.nz 
HANDYMAN 
Gardens * Lawns * Landscaping * Painting 
* Small gib-stopping * 
* General repairs and maintenance * 
Honest - Reliable 
Phone Burn 0211900555 or Brenda 0211185578 
WRIGHT 
HOUSE CLEANING 
WATERBLASTING  
And 
CAR GROOMING
Phone GEOFF 
02108770230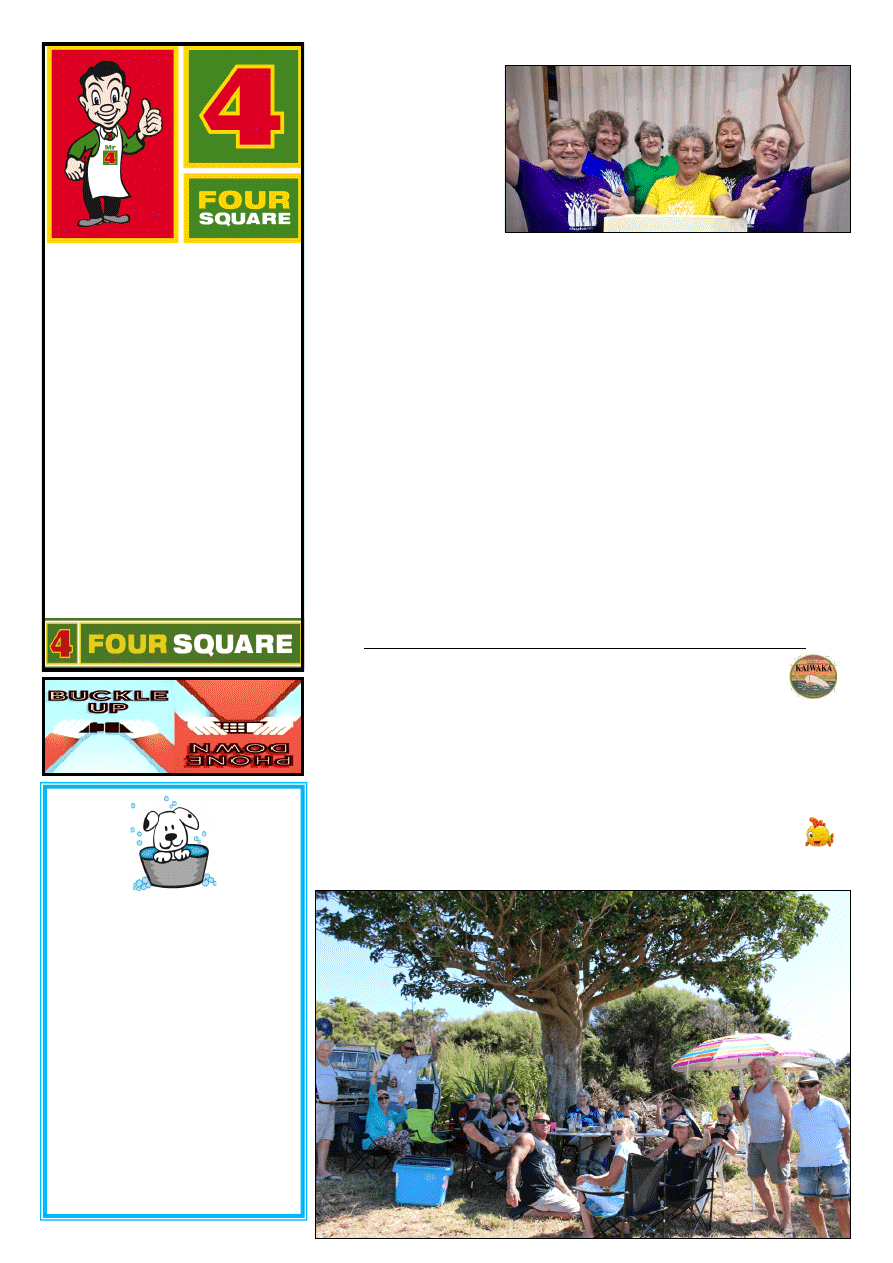 www.kaiwaka.co.nz 
Kaiwaka Bugle - 4 February, 2020 
Page 5 
The  beginning  of  the  year 
is the perfect time to come 
along  and  try  singing  with 
the Local Vocals Choir. 
They  started  their  new 
term  on  the  30th  January 
with  an  exciting  new 
theme  of  "Songs  from 
around  the  World"  to  take 
them through 2020. 
Anna 
Pendred, 
LVC 
President says "singing songs with this 
theme  will  allow  us  a  glimpse  into 
different 
musical 
genres 
both 
traditional  and  contemporary.  It  will 
connect  people  with  diverse  cultures 
from  all  around  the  world  and  reflects 
our  philosophy  of  embracing  this 
diversity within our local community." 
LVC  has  a  membership  of  about  30 
regular  singers  and  been  singing  since 
2013.  It  is  open  to  all  as  a  non-
auditioning,  affordable,  all-inclusive 
community  choir.  "We  encourage 
anyone  to  come  along,  even  if  you've 
never  sung  before  -  you  don't  need  to 
be able to read music or have any prior 
experience." 
Their  passionate  song  leader,  Helen 
Diaz, continues "Harmony singing in a 
group  provides  an  opportunity  for  an 
authentic, 
interactive 
musical 
experience…  a  [tradition]  probably  as 
old as human culture." 
What's  more,  many  socio-cultural 
studies  have  proven  that,  engaging  in 
inclusive  community  group  singing 
also  boosts  the  wellbeing  of  all  those 
involved, 
both 
physically 
and 
mentally.
1
Proof  is  in the testimonials  from  choir 
members: 
"[LVC] is just the most supportive and fun 
way  of  learning  and  expressing  ourselves 
that anyone could wish for!" W.L 
"It's a rare opportunity to be involved in a 
choir  like  LVC.  Feedback  from  audiences 
is that we are constantly improving how we 
sing  together,  but  most  importantly  we 
have  developed  a  real  sense  of  family. 
'Harmonic  and  nurturing'  is  what  we  are 
all about!!!" 
W.S 
LVC  sessions  are  on  Thursday 
evenings, 7 till 9pm during school 
terms  at  the  Wellsford  District 
Community Centre. 
Please  email  singlvc@gmail.com  for 
more  details  or  come  along  to  a 
session. 
Website  for  more  info:  https://
www.lvcwellsford.co.nz/   ~ Wayne 
1
  Pearce  E,  Launay  J,  Dunbar  RIM.  2015,  "The  ice-breaker 
effect:  singing  mediates  fast  social  bonding."  R.Soc.opensci. 
https://royalsocietypublishing.org/doi/full/10.1098/
rsos.150221 
LOCAL VOCALS 
POINT CURTIS CRUISING CLUB  
Happy New Year  
Our Picnic at the Rangiora Boat Ramp went well. It was great to see some new 
faces,  even  some  all  the  way  from  England.  Cheers  Mark  and  Julie,  we  hope 
you enjoyed yourselves while you were here. 
A few stayed down and camped the night and went floundering too. Thanks for 
coming down and enjoying the afternoon and the shared BBQ.  
We had a couple of Raffles and the Winners were #1 Linda; #2 TC. 

Subs: $30 Family & $20 Single; Internet banking 12 3094 0008233 00 Please 
use Name/s as a reference. 

Fish of the Month is Snapper till 12th February 

Next Club Meeting: 12th February 7pm Kaiwaka Sports Association. 
~      
Wayne Leslie (Commodore) 
Photo: Picnic at the Rangiora Road Boat Ramp 
 Everything you need 
All in one place 
We're Here 
OPEN 7 DAYS 
. 
In Store Fresh Bakery,  
Hot Chicken, 
Mussels,  
Fresh Fruit & Vege,  
9kg Gas & Sodastream Gas 
Bottle Swap, 
Lotto & ATM 
JAQUES FOUR SQUARE 
Phone: 4312227 
1 Kaiwaka-Mangawhai Road, 
Kaiwaka. 
Hot Diggity Dog 
DOG GROOMING 
All breeds dog grooming 
Professional Experienced Groomer 
Short practical grooms - summer 
Breed Standard Grooms 
Designer fusion Grooms 
Oneriri Road
By appt Phone Pam  
09 4312143 
Or text only 0273335380 
Email  
hot.diggitydog@outlook.com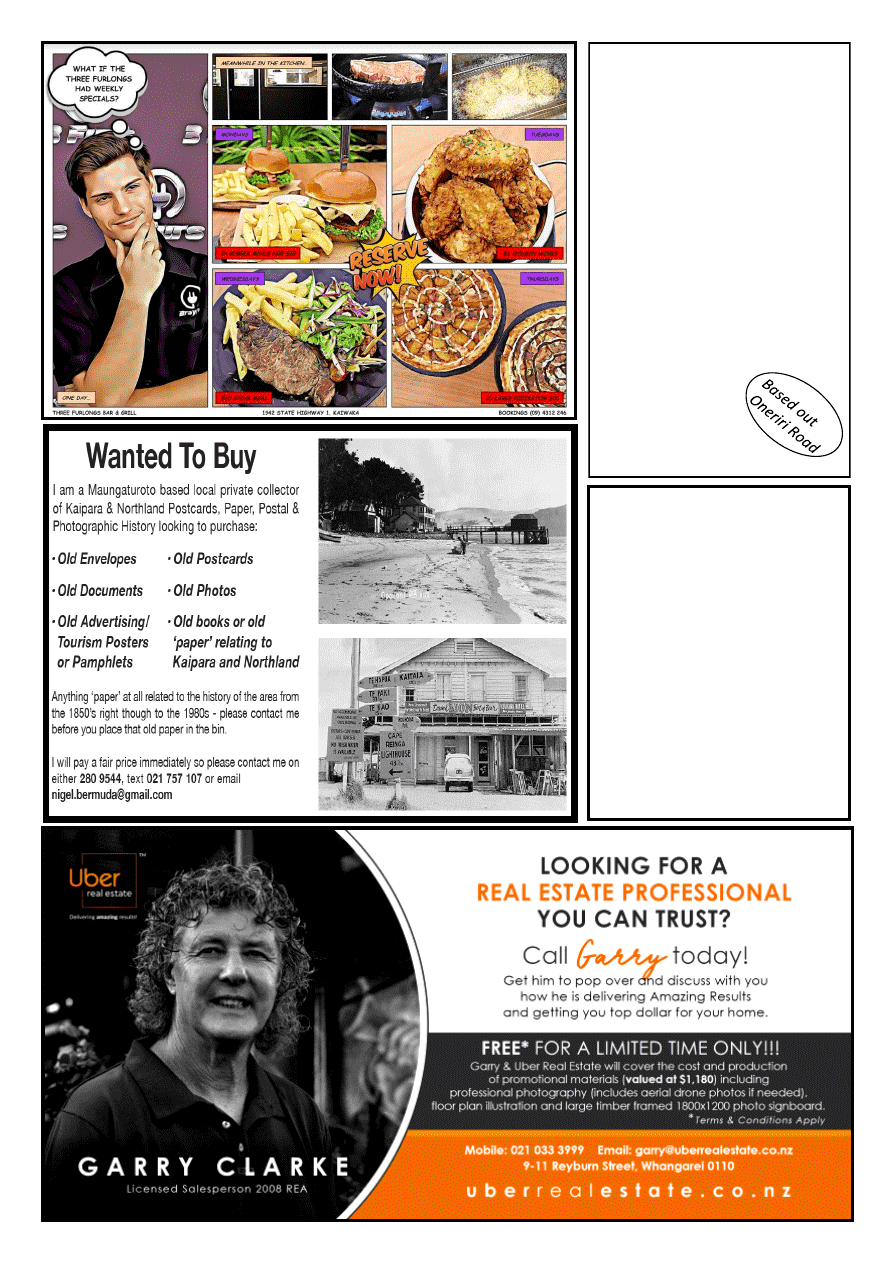 HODGETTS 
CONTRACTING
Digger Work    
Driveways   
House Sites  
Dams      
Drains, etc
Also available for HIRE 
3 ton Vib Roller  
Heavy Duty Tow  
Waterblaster      
Lazer Level
Phone Mark  
4312877 
027 447 8554 
WHERE TO GET HELP 

1737, Need to talk? Free call or 
text1737 to talk to a trained counsellor  

Rural Support Trust 0800 787 254   

Lifeline, 0800 543 354  

Youthline, 0800 376 63, text 234, 
email talk@youthline.co.nz or online 
chat 

Samaritans, 0800 726 666  

Depression Helpline, 0800 111 757   

Suicide Crisis Helpline, 0508 828 
865 (TAUTOKO)      

In a life-threatening situation 
call 
111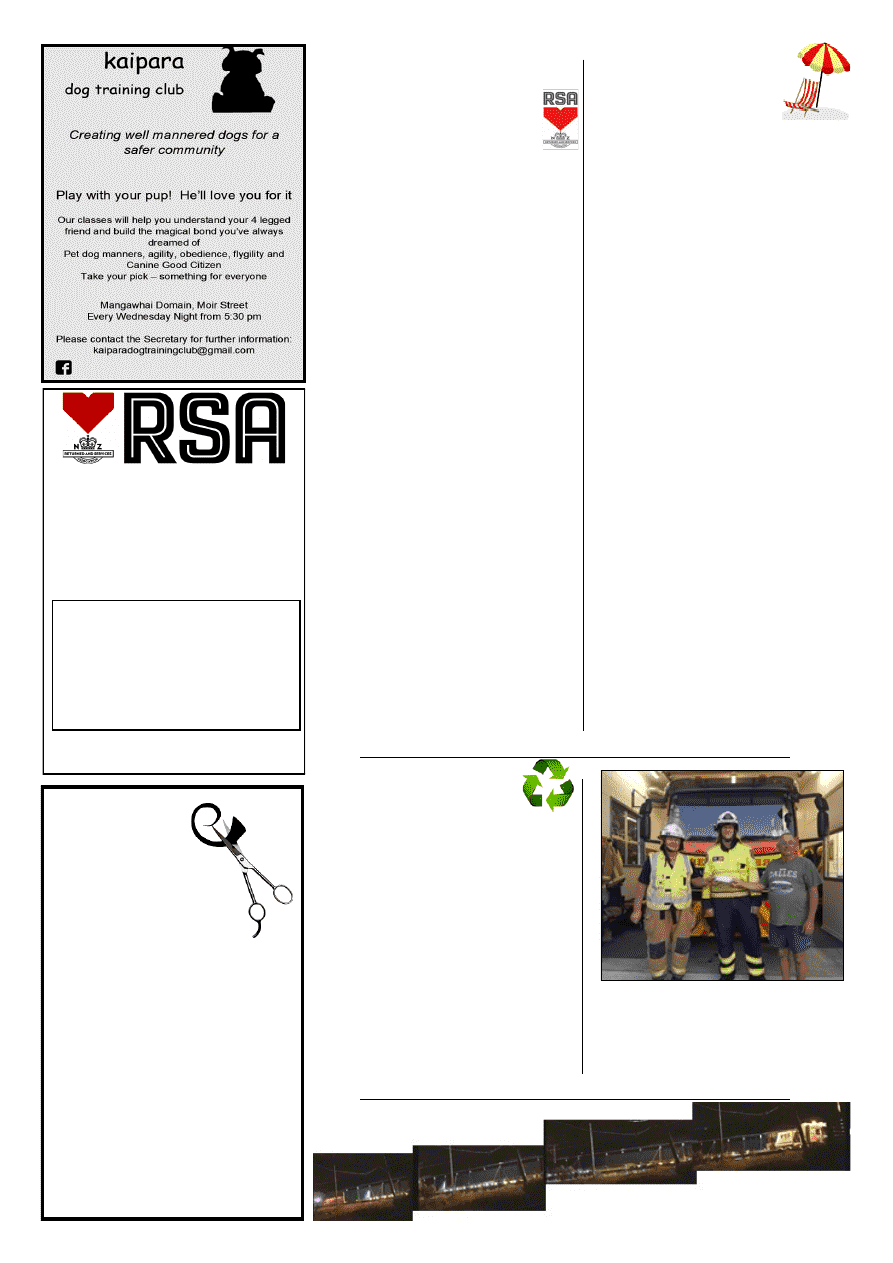 www.kaiwaka.co.nz 
Kaiwaka Bugle - 4 February, 2020 
Page 7 
HAKARU & DISTRICTS 
MEMORIAL RSA (INC)
Members & guests are invited to 
come along and enjoy our hospitality. 
New members welcome. 
Meals are served on 
Thursday and Friday nights 
from 6.30pm. 
Order from Blackboard Menu  
and a sing-a-long  
with Des Chitty. 
For more information please phone 
Graeme on 431 2563 
JUST 
CUTS 
and 
MORE  
1758 Cove Road  
Open Monday-Saturday  
by appointment only 
Saturday 9-12pm  
Affordable prices: 
Ladies cuts from $35 
Colours from $120 
Men's from$25 
Kids from $18 
0211652629  
KAIWAKA  
WEATHER 
Welcome 
readers 
to 
February 2020.  
Well 2020 has got off to a flying start.  
The  children  are  back  at  school  with 
the  little  newbies  and  maybe  new 
families that have shifted to the area.  It 
will  be  another  scorcher  for  the 
children  trying  to  concentrate  on 
schoolwork  and  the  heat.  It  is  bad 
enough  for  the  adults  in  jobs  that  sap 
their energy.   
For  a  while  there  in  January  a  lot  of 
folk  thought  we  were not going  to  get 
any  summer  much  as  it  turned  rather 
cool. It soon straightened itself up and 
here  we  are  with  temperatures  up  to 
33deg at least.  In the shade under our 
terrace we have been up to 38 deg. the 
cracks in the ground are getting big and 
the garden needs a lot of water and that 
is  another  job  every  day.    The 
Brynderwyn  waterfall  has  got  very 
slow now. Not a good sign.   
Well  for  January  2020  we  had  10mm 
of rain and 2019 we had 31mm.  
We had rain on 3 days in 2020 and rain 
on 2 days for 2019.   
Our driest January of any year since 
1987  was  2013  and  2020  both  with 
10mm of rain.   
Our  wettest  January  was  1989  with 
343mm.   
Well  our  land  is  starting  to  look  like 
Australia  and  with  no  rain  in  sight 
things are bad.  Please keep the animals 
watered  as  they  too  like  to  drink  to 
keep  hydrated.    Until  next  time  take 
care out there.  ~ Bev.  
Parekura  Road  recorded  3.5mm  for 
January 2020 - the lowest recorded for 
any month in over 20 years. Ed. 
VISITORS SAY THANK YOU 
Mark  Ottaway  presented  a  cheque  to 
Fire  Chief  Bowmar  and  Deputy  Fire 
Chief Buxton for $2633 from the Otta-
way Christmas Light display. 
Thank you to all who helped.   
Happy  New  Year  from  Hakaru 
RSA Women's Section. 
This report covers 3 months: 
We had our Christmas Dinner at 
the November meeting, and a delicious 
meal was enjoyed by all, mainly thanks 
to  Lena  who  organised  most  of  the 
food. 
There was no meeting in December as 
we  all had  a  date  with  Santa,  hope  all 
your  Christmas  festivities  went  well 
and  our  first  meeting  for  the  year  was 
on  Thursday  23rd  January  with  an 
excellent attendance of 16 members. 
We were sad to lose a very special and 
long-standing member Bettie Marchant 
2  days  before  Christmas,  There  was  a 
large  attendance  at  her  Memorial 
service, and we send deepest sympathy 
to all her family. 
Lena,  Trish,  Doreen  and  Ann  visited 
Pat Judd in Orewa, it was good to see 
her looking well and happy. 
Congratulations  to  our  Patroness  Fay 
Wintle  on  turning  90  years  old,  in 
Fay's case maybe it should be 90 years 
young,  we  presented  Fay  with  flowers 
and messages in a card. 
The raffle was won by Trish Black and 
2nd prize went to Margaret Haverfield 
Birkenhead  RSA  have  invited  us  to 
their  Animal  Remembrance  day  on 
Monday  24th  February  members 
wishing to go please ring Lena, there is 
plenty of transport available. 
The next meeting will be on Thursday 
27th  February  at  1.30pm  followed  by 
the A.G.M. All members please attend, 
new  members  very  welcome,  ring 
4315913 if transport is required. 
Hostesses  for  February  Trish  and 
Doreen. ~ See you there, cheers Ann 
HAKARU RSA 
WOMEN'S SECTION
RECYCLING 
There  are  a  number  of  items 
unsuitable for recycling, which 
Kaipara  Refuse  had  collected  in    the 
yellow bags.   
In  simple  terms  paper,  cardboard, 
glass,  aluminium  cans,  tins,  plastics 
(only Grade 1 & 2) can be recycled.    
This  means  that  the  other  grades  of 
plastics  are  not  suitable  and  should  be 
disposed  of  with  the  regular  rubbish.  
Surprisingly, takeaway coffee cups are 
not recyclable.   
There  is  a  downloadable  flyer  on  the 
www.lovekaipara.co.nz/recycling  site, 
which sets it all out clearly. 
Our local Transfer Station 
Hakaru (Managed by Northland Waste) 
636 Kaiwaka - Mangawhai Road, Hakaru 
Open: Monday - Sunday 10am - 4pm 
Closed: All Public Holidays 
Telephone: 09 431 2629 
THE BEAM GOES BY 
A  Kaiwaka  local  filmed  a  52  metre-long,  100  tonne 
steel beam being trucked south through Kaiwaka from 
Whangarei to Auckland last week.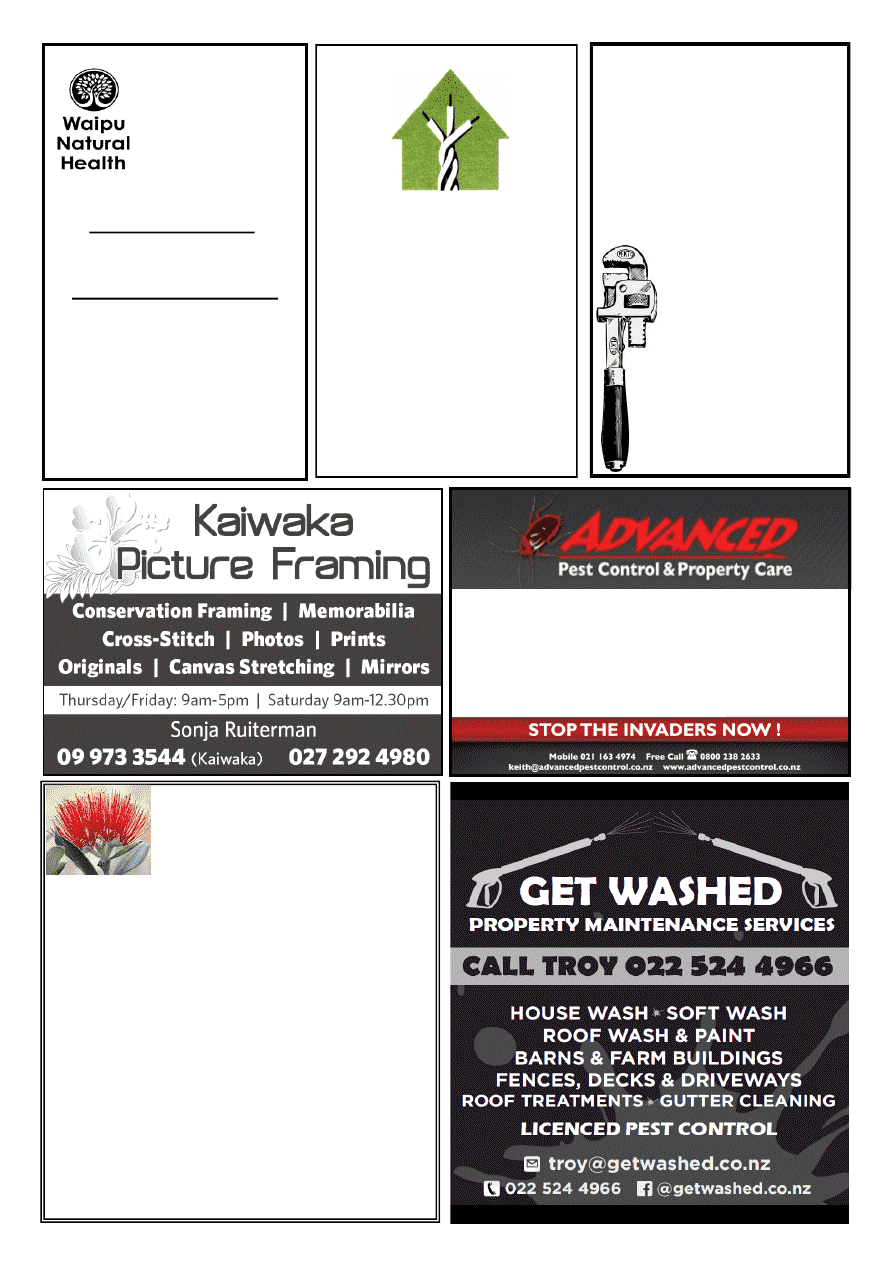 KAIPARA 
FLOORING CO 
Independently owned & operated 
32 HURNDALL ST MAUNGATUROTO
Supply & Installation of Carpet, Vinyl,  
Vinyl Wood Planking 
Stockists of 2m & 3m wide 
vinyl & carpet short ends 
Residential & Commercial 
Q Card Finance Approved 
6-18 month terms 
6 month interest free 
First Class Installations
For a free measure & quote 
phone Christine  
09 946 9886 or 021 515 415 
kaiparaflooring@gmail.com 
http://www.kaiparaflooring.co.nz/ 
BARRY CURTIS 
PLUMBING LTD 
REGISTERED CRAFTSMAN 
PLUMBER 
Phone 4315572 
027 257 9884 
25 years experience 
Friendly reliable service 
All plumbing and 
maintenance 
Alterations  
and new housing 
Spouting 
Competitive rates 
PROMPT 
EFFICIENT  SERVICE 
Reyahn George 
Leng 
Registered Electrician 
Local, honest and reliable. 
For your residential and 
light-commercial projects. 
022 314 1068  
Pest Control 
PLAN A: One-off treatments to customers with a specific pest problem 
PLAN B: Full maintenance service plans to commercial customers. 
This will include documentation kept in customer file on site: 
⚫
Pest treated 
⚫
Date of service 
⚫
Chemical or baits used 
⚫
Full pest check report done after each treatment 
⚫
Fair and reasonable fee with guarantee 
Flood Recovery 
Carpet Care 
⚫
Carpet Drying   
This includes pre-spray treatments 
⚫
Dehumidifier Rental 
with stain removal and hot water extraction.  
⚫
Full Commercial Cleaning  Patch repair also available 
Upholstery Cleaning 
Full upholstery cleaning of all furniture.  
eg lounge suites and all office chairs 
Water Blasting 
⚫
Concrete - Decks 
House Washing 
⚫
Soft Chemical Was 
⚫
Pre-painting Wash 
Property Services 
⚫
Property Cleaning  
Lawn Mowing 
⚫
Hedges General  Tidy Ups 
3 Cove Road, Waipu 
(opposite the Pizza Barn
) 
094321325 
www.waipunaturalhealth.co.nz 
Clinical Nutritionist: 
Nutritional Checkups, Diets for 
Chronic Diseases,  
Food Sensitivities 
Naturopathic Physician: 
Ozone Therapy, Prolotherapy, 
Mesozone 
Reflexology, Craniosacral 
Therapy, Trauma Release 
Massage Therapy 
Counselling and Hypnotherapy 
Change Catalyst/ThetaHealer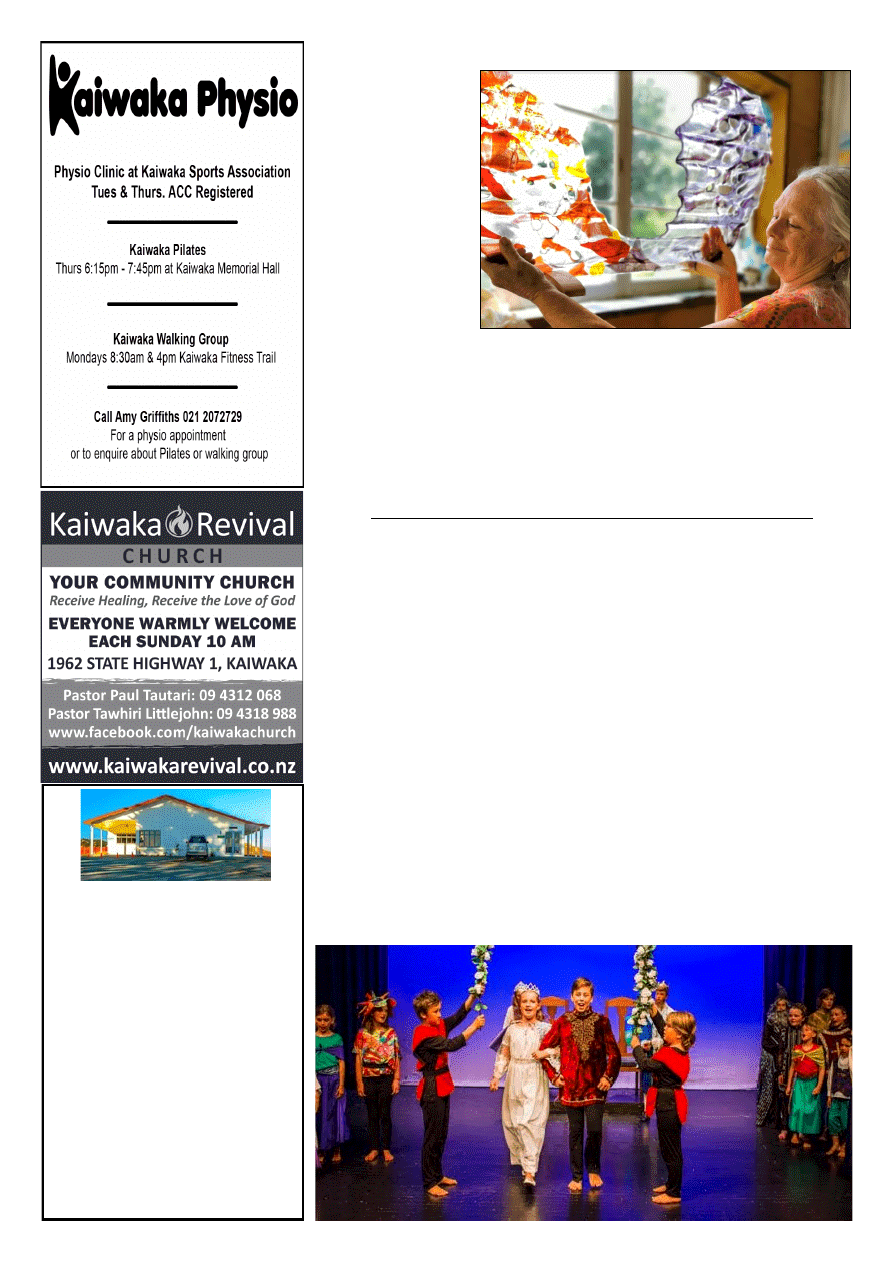 www.kaiwaka.co.nz 
Kaiwaka Bugle - 4 February, 2020 
Page 9 
Tramp! 
Te Pounga Marae 
130 Nathan Rd. Oneriri. Kaiwaka 0573 
COMPLEX FOR 
HIRE 
Functions 
* Weddings  * Birthdays  
*Anniversaries * Meetings  * Wananga 
5 hour meeting * 12 hour stay  * 
Overnight 
*All welcome - No more Drink-driving 
Amenities: 
*Convo Combi Steamer * Bratt Pan * 
Dish Washer/Sterilizer * 3 Door Glass 
Chiller (walk in) etc…All Crockery * 
Linen Supplied * Central Heating and 
Air Conditioning and much more.  
Can also cater for small groups…. 
For more information please 
contact: 
 Pearl Nathan 0223933533  
tepoungamarae130@outlook.com  
Youth Theatre 2020 
We  had  two  fabulous  weeks  of  Youth 
Theatre in January. 
The  theme  was  'The  Princess  of  Pure 
Delight',  based  on  the  song  by  Kurt 
Weill and Ira Gershwin. 
The  young  actors  had  great  fun 
creating  an  hour-long  show;  they  all 
learnt  songs,  dances,  and  stage  craft. 
Our  shows,  on  each  of  the  Friday 
evenings,  were  in  full  costume  with 
make-up, props, sets, lights and special 
effects.  It  is  heartening  to  see  how 
many  of  the  children  return  year  after 
year  –  some  travel  up  from  the  South 
Island. Lifelong friendships are formed 
at  Youth  Theatre.  It  takes  a  lot  of 
volunteer  labour  to  run  this  program 
and  we  are  particularly  indebted  to  all 
those  who  give  so  willingly  of  their 
time and energy. 
A  special  thank  you  to  the  Otamatea 
Community  Services  for  the  use  of 
their minibus. 
Seussical Jnr 
Peter  Flower  has  been  appointed 
Director  of  this  show  with  Musical 
Direction by Maura Flower. 
The popular show features stories from 
Dr  Seuss  and  has  lots  of  colourful 
characters. The music is contemporary. 
All members of the cast must be 17 or 
younger. 
Auditions will be held over two days - 
Saturday  15  February  and  Sunday  16 
February, between 1pm and 5pm 
Please  contact  Peter  Flower  for  an 
audition time. 
Email  peter.flower58@gmail.com  or 
phone or text 021 164 8318 
There will be eight shows held between 
9 May and 24 May 2020. 
Maura Flower 
Photo: below: Main characters (left to 
right)  Lucas  Kemp  (guard),  Ellen 
Kirkland  (Princess),  Oscar  Longdon 
(Minstrel), Felix Longdon (guard).  
Photo credit Josie Gritten Photography. 
SCULPTURE IN THE GARDEN  
This  year's  Sculpture 
in 
the 
Garden 
exhibition  promises  to 
be  more  exciting  than 
ever  says  Organiser 
Pauline 
Mann 
(pictured).  With  more 
than  30  New  Zealand 
and 
international 
sculptors showing their 
work,  there  will  be 
much  to  provoke  the 
interest  of  visitors  to 
the  exhibition.  The 
show 
occupies 
a 
beautiful 
garden 
generously 
provided 
for the event by Brian and Isobel Hollis. All the sculptures are for sale and the 
proceeds will benefit Te Whai Community Trust, and Mangawhai Artists Inc. 
Te  Whai  Community  Trust  acts  as  a  first  point  of  contact,  to  help  people  to 
access  social  services,  and  Mangawhai  Artists  is  a  group  which  actively 
supports local artists of all kinds, from beginners to professionals. 
The exhibition will be held at 69 Moir St, Mangawhai village, on the weekend 
of  15-16  February  9am-5pm.  Entry  is  $5  or  $10  for  two  adults  and  two 
children. 
There will be a café, where visitors can purchase Devonshire teas, a children's 
sculpture  play  area,  and  music  will  be  provided  by  local  group  Raw  Jam. 
People are asked to leave their dogs at home.
OTAMATEA REPERTORY THEATRE INC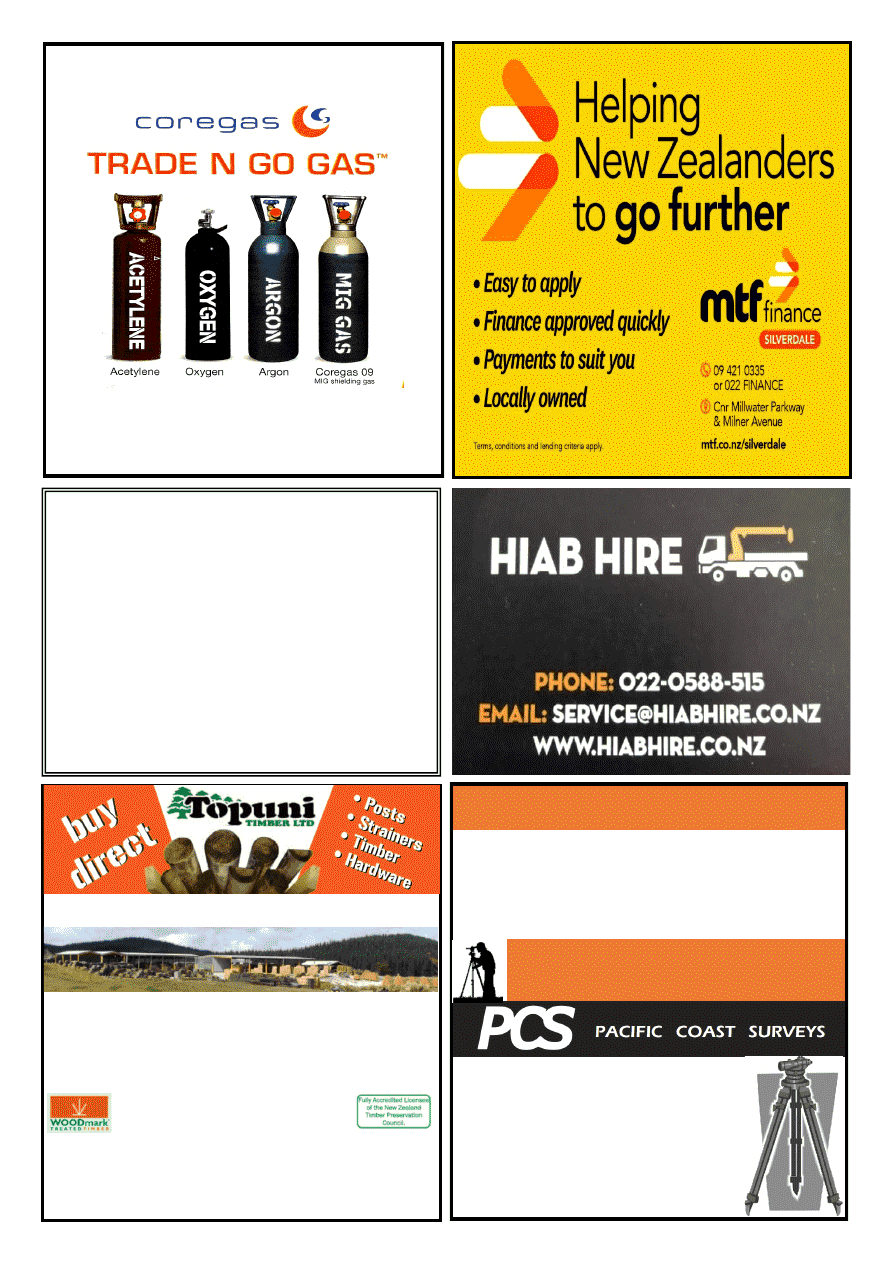 LOCALLY OWNED AND OPERATED 
QUALITY PRODUCTS • FRIENDLY ADVICE • GREAT SERVICE 
Quality Products milled from High Density NORTHLAND Radiata Pine. 
Treated and guaranteed to NZS3640 with commitment to 
Environmental Safety.
Phone, fax, email, or come into the mill 
Schiska Rd, Topuni, SH1, 10 min north of Wellsford. Fax: 09 431 2856 
Email: sales@topunitimber.co.nz           Mon - Fri 7am-5pm 
• Fencing 
• Retaining 
• Decking 
• Landscaping 
• Gates 
• Hardware 
SURVEYORS 
SUBDIVISIONS 
HOUSE SITE SURVEYS 
CIVIL ENGINEERING 
WASTEWATER DESIGNS 
EXPERIENCED 
PROFESSIONAL 
INNOVATIVE 
Ph 09 431 5353 
0800 PACIFIC (0800 722 434) 
pacificcoastsurvey.com
Adam Booth - 027 415 5752 
Bsurv, Licensed Cadastral Surveyor
Surveying Kaipara since 1994 
At Twinkle Tow 'n' Tyre 
Mob: 021 833 960 
Ph & Fax: 09 431 2823 
1837 State Highway 1, Kaiwaka 
design drafting  
service 
Retired builder and manufacturer with over 40 years  
experience in the building industry is offering a design 
drafting service for domestic housing, sleepouts and 
sheds.  
Plans formulated in consultation with clients, with 
working drawings completed and submitted to  
council for processing.  Extensive practical experience,  
able to identify & resolve problems. 
Please ring Mike Lean on 
09 431 2260 
or 
021 431 196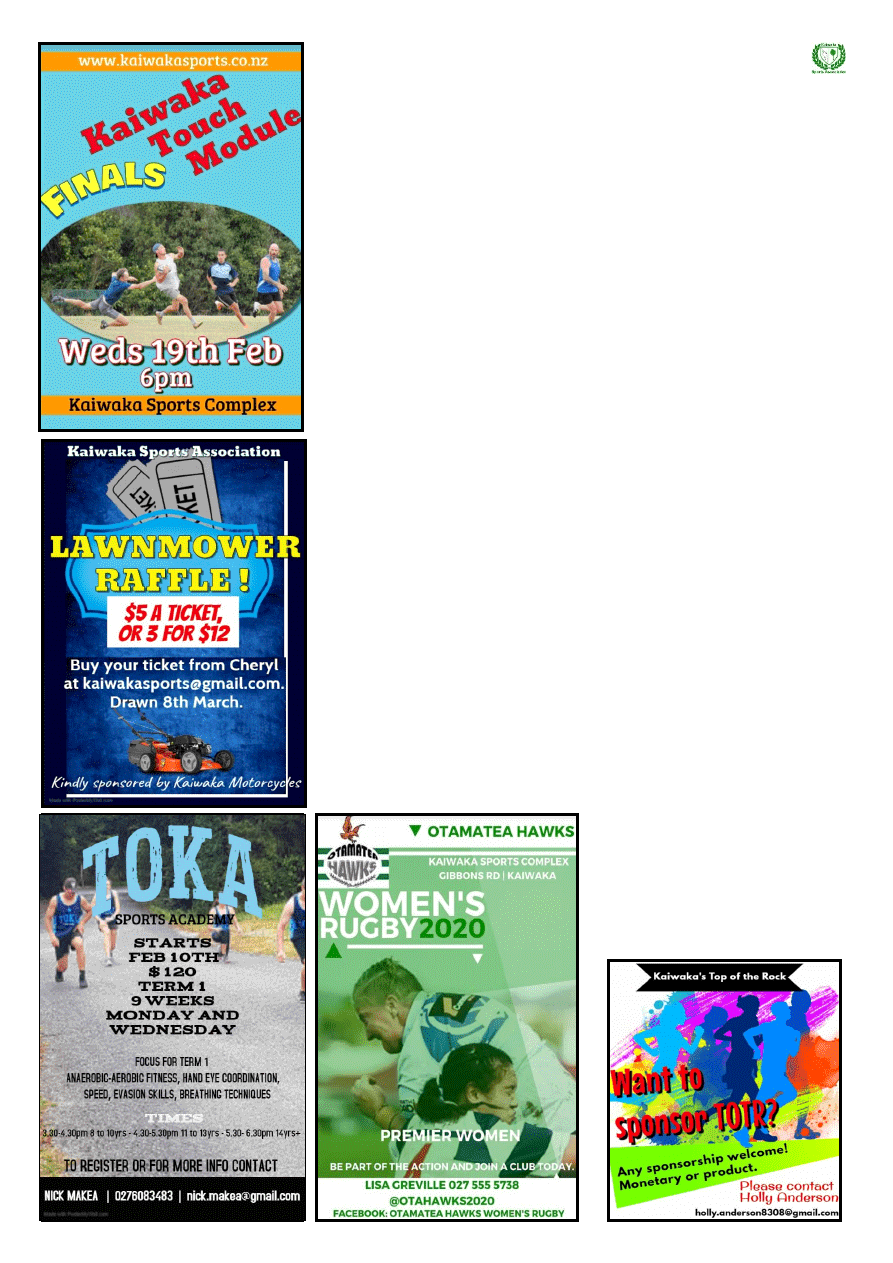 www.kaiwaka.co.nz 
Kaiwaka Bugle - 4 February, 2020 
Page 11 
           KAIWAKA SPORTS ASSN 
Watch this space! 
We  are  excited!  A  project  for  the 
Sports Complex which has been in the 
pipeline for some time, is 
now  almost  ready  to  start.  It's 
something  that  will  be  a  wonderful 
asset for our community. 
Details in next Bugle. 
Family Portraits 
Had  a  new  baby?  Or  kids  off  to 
university soon? Or just want to update 
your family portrait? 
I  am  running  a  Family  Portrait 
fundraiser  on  Saturday  15th  and 
Sunday  16th  February.  For  $25,  you 
will  receive  a  30  min  sitting  with  a 
range of poses and backdrops in colour 
and  black  and  white.  Plus,  you  will 
receive  a  free  8  x  10  professional 
quality  print.  A  week  later  you  will 
come  back  to  view  all  your  beautiful 
photos,  select  your  free  one,  and 
purchase more if you wish. 
Contact 
me 
on 
kaiwakasports@gmail.com . 
Touch Module 
Our Touch Module is going great guns, 
with  fast-paced  matches  being  played 
each week. Pop along to check out the 
action  –  on  Wednesdays  from  6.30pm 
at  our  grounds.  The  finals  will  be  on 
Wednesday 19th February. 
Junior Tennis 
Do  you  have  a  child  who  might  be 
interested  in  getting  tennis  lessons? 
Please  email  Linda  Cowbourne  on 
lcowbourne@yahoo.co.nz . 
Kaiwaka Sports Awards 
For  our  annual  Sports  Awards,  our 
affiliated 
clubs 
nominate 
their 
members in the categories of Senior 
Sportsperson  of  the  Year,  Junior 
Sportsperson  of  the  Year,  Service  to 
Sport  and  the  Greg  McRae  Memorial 
Trophy.  The  date  of  the  awards 
evening  will  be  published  in  the  next 
Bugle. 
Toka Sports Academy 
We  are  so  lucky  to  have  the  Toka 
Sports  Academy  based  at  the  KSA. 
Nick Makea does a wonderful job with 
the  youth  -  boosting  their  fitness  and 
skills in an engaging, fun way. 
Registrations for Term 1 are now open, 
so if you have got a child who is keen 
to  improve  their  sporting  performance 
and resilience, give Nick Makea a call 
on 027 608 3483. 
REVAMPED
 Top  of  the  Rock  – 
Sunday 8th March. 
There  are  two  running/walking  routes: 
a 5km and a 10km. The 5km route goes 
past  the  two  lakes  near  Baldrock  Rd. 
The  10km  route  traverses  private  land 
never  before  opened  to  the  public, 
reaching a lofty spot on the hills at the 
base of the Brynderwyns with fantastic 
views  to  the  ocean  to  the  east  and 
through  to  the  Kaipara  Harbour  to  the 
west. Spectacular! (Please note, Top of 
the  Rock  does  NOT  go  up  Baldrock 
Mountain this year). 
Back 
at 
the 
Sports 
Complex 
afterwards,  there  will  be  prizegiving 
with prizes for place-getters plus lots of 
great spot prizes, including a mountain 
bike! Plus, a fun bike ride for under 10-
year olds. 
Prices  are  very  reasonable  for  an 
enjoyable day out - both routes are $25 
for  adults,  $10  for  children  and 
preschoolers  are  free.  The  Under  10's 
bike ride is also free. 
A raffle will be drawn for a Husqvarna 
lawnmower,  kindly  donated  by  Matt 
from Kaiwaka Motorcycles. Tickets are 
$5  (or  3  for  $12)  and  you  can  buy 
tickets from me, from now up until the 
day  (you  don't  have  to  be  present  at 
Top of the Rock to claim it). 
We are very appreciative of the support 
from  all  our  sponsors,  particularly 
major  sponsors  Jaques  Four  Square, 
Northern Bass, LJ Hooker and Torpedo 
7.  If  you  would  like  to  support  us  by 
sponsoring TOTR, please contact Holly 
Anderson 
on 
holly.anderson8308@gmail.com . 
There  are  NO  ENTRIES  ON  THE 
DAY  –  your  last  chance  to  register  is 
Friday  6th  March.  Easy  to  enter:  visit 
www.kaiwakasports.co.nz  ,  or  pick  up 
an  entry  form  from  Jaques  Four 
Square.  For  more  information  contact 
Cheryl (details below). 
Cheryl, kaiwakasports@gmail.com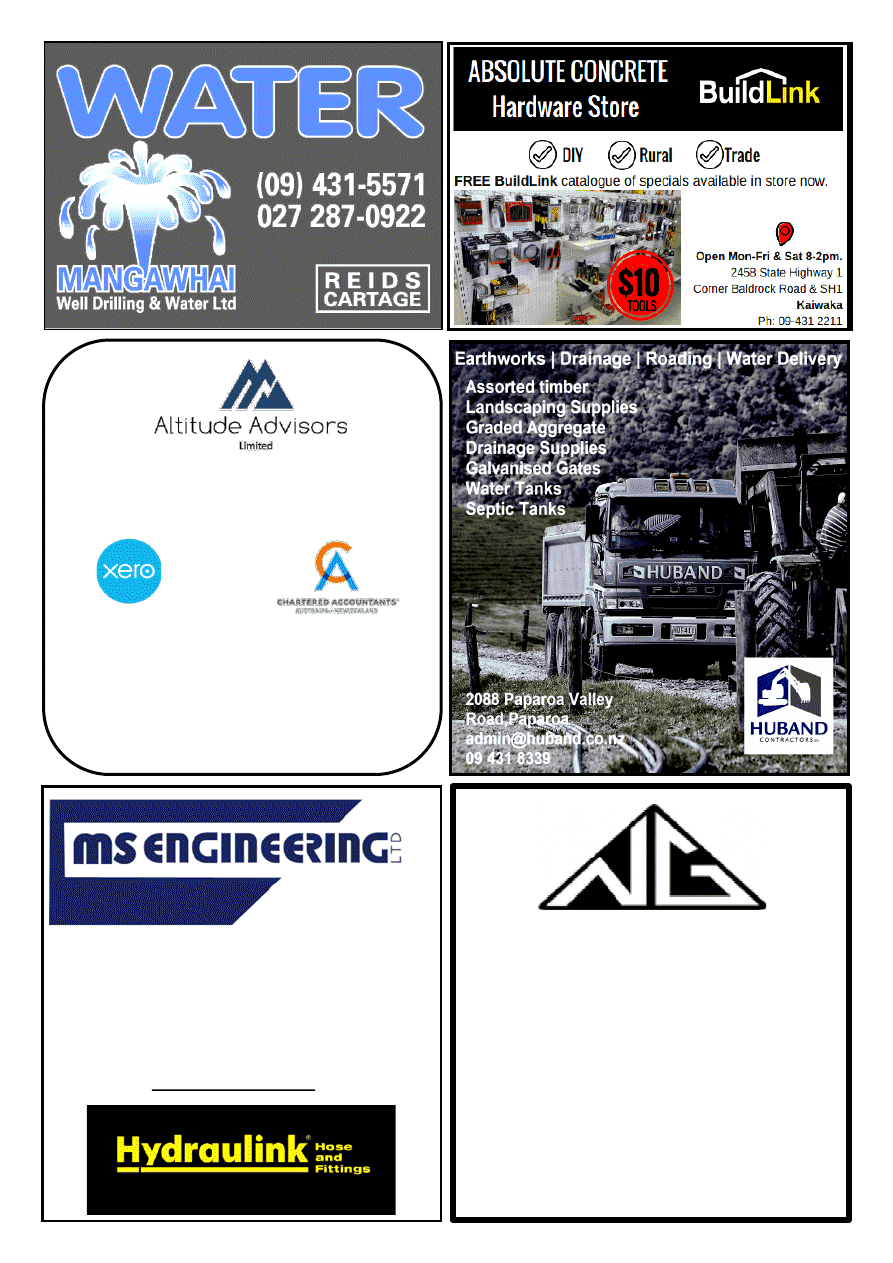 NORTH GLASS 
WINDSCREEN REPAIR OR REPLACE 
GLAZING SERVICES 
MIRRORS  •  SPLASH BACKS  •  SHOWERS 
0800 70 40 10
info@northglass.co.nz 
www.northglass.co.nz 
Altitude with Attitude, helping your business 
scale new heights 
Time to try something different? 
Xero training          Accountancy Services 
We are offering two opportunities: 
15% saving off your annual report cost for your first 
year, & a further 10% saving for any referrals 
Call Corinne on 021 252 7680 or 
corinne@altitudeadvisors.nz 

Peter Buckley 

Mobile Hose Technician –  
                      Based from Oneriri Road 

Available for all mobile hose                                
                      requirements onsite 

Call – 0800 425 7116 

Email – mse@mseng.co.nz 
www.kaiwaka.co.nz 
Kaiwaka Bugle - 4 February, 2020 
Page 13 
New friendships were made, and older 
Scouts  enjoyed  catching  up  with 
friends from previous events during the 
11-day  action-packed  Jamboree.  Three 
thousand  Scouts  aged  12  to  15  years 
from  New  Zealand  and  overseas 
enjoyed  a  wide  variety  of  activities 
during  Jamboree,  at  Mystery  Creek 
Events  Centre  from  28  December  to  7 
January. 
While  most  activities  were  based  on 
site at Mystery Creek, jetboating was a 
surprise  activity  and  well-kept  secret 
that  was  part  of  an  off-site  overnight 
water  base  at  Lake  Karapiro.  Included 
were  sailing,  kayaking,  raft  making,  a 
water slide and stand-up paddleboards. 
According  to  the  six  Kaiwaka-
Mangawhai  Scouts,  who  with  Scouts 
from  Dargaville  (4),  Whangarei  (15) 
and  Australia  (11)  made  up  the 
Northern 
Nightmares 
contingent, 
"Jamboree  was  awesome".  Other 
activity 
favourites 
were 
digger 
operating,  flying  fox,  rock  climbing, 
abseiling,  target  shooting,  archery, 
quad bikes, drift bikes, laser tag, Leap, 
and  'Scout  Champion  of  the 
World'  inflatable  obstacle 
course,  human  fly,  human 
foosball, and dodgeball. 
Each  group  went  on  different 
mystery  day  tours,  which 
included  Hamilton  Gardens, 
Te  Awamutu  Space  Centre, 
Otorohanga  Kiwi  House  and 
Cambridge. International night 
performances, 
New 
Year 
party,  market  day,  an  indoor 
campfire, and the opening and 
closing 
ceremonies 
were 
special  events  throughout  the 
Jamboree. 
Badge  swapping  and  community 
service  building  rat  traps  added  to  the 
experiences,  plus  life  skills  such  as 
patrol  team  building,  cooking,  grocery 
shopping and doing laundry by hand. 
Scout  leader  Julia  Watson  from 
Mangawhai  said,  "Jamboree  was  such 
an  awesome  experience.  The  Scouts 
have done things that will be with them 
for  life.  They  have  grown  so  much  in 
confidence  and  come  back  different 
people.  We  thank  the  community  for 
supporting  our  fundraising  efforts  – 
especially  MCOST  and  Mangawhai 
Walking Weekend. 
"Jamboree  is  a  once  in  a  life-time 
experience,  with  activities,  adventure, 
challenges,  friendship  and  fun.  Scouts 
designed their own troop badge, special 
camp uniform, site entrance and market 
day  activity  –  ours  choosing  a 
Halloween/horror  theme  based  on  the 
Northern  Nightmares  troop  name." 
~ 
Kaiwaka-Mangawhai Scouts 
Photo  above
: 4  the  passengers  to  the  left are 
with  Northern  Nightmares  contingent:  Harry 
Smithson, Callum Booth, Lucas Watson & front 
Morgan Guenther-Leslie, with Lesley Smith, an 
Australians at mid left).
TRAILS END 
RONGOA MAORI 
HEALING 
And Gifts 
Stocking all your needs from incense, 
crystals, dream catchers, greeting 
cards, jewellery, perfume, dragons and 
more dates for groups each month are: 
November 24th ~ December 15th 
From 10.30am -2pm  
For all inquiries Phone 0211652629  
Light refreshments available $5 koha  
1758 Cove Road Mangawhai
KAIWAKA 
SCHOOL 
Twenty-ninth 
January 
Sharlene 
Tornquist, 
our 
new 
Principal, 
welcomed  staff,  students  and  families 
to  the  new  school  year.  She  also 
recognised and thanked all the staff for 
their  hard  work  over  the  previous  two 
weeks  in  getting  the  school  and 
classrooms  ready  for  the  start  of  the 
year. 
Kapahaka Practice    
Kaphaka takes place every Friday from 
11am  to  12pm.  If  you  would  like  to 
come along and help, please 
do.  Juniors,  Year  1-3,  are  in  Room  3 
and  Seniors,  Year  4-6,  are  at  the 
Kaiwaka Sports Complex 
Nga  Tumanako  takes  place  on 
Tuesday  afternoons  from  1pm  to 
2.10pm.  The  students  are  once  again 
split into Junior and Senior groups with 
Whaea Mina leading them. 
School Picnic 
The school picnic will be on Friday the 
7th of February, at Mangawhai Beach.  
Family and friends are welcome to join 
them there. 
Staff for 2020 
Sharlene Tornquist Principal 
Michelle Dempsey Deputy Principal, Room 
1, Year 5/6 
Cathryn Stevens Room 14, Year 5/6 
Katherine  Brown  Junior  Syndicate,  Room 
2, Year 1 
Rebecca Harris Room 3, Year 1 
Hannah Taylor-Rose Reading Recovery and 
Room 4, Year 2 
Doreen Dervan Room 4, Year 2 
Nik Massey Room 5, Year 3/4 
Susan Butler Room 6, Year 3 
Eileen  Nesbitt,  Special  Needs  Support 
Teacher 
Mina Paikiea, Kaiarahi I te Reo 
Heather Gilligan, Secretary 
Sam Orange, Cleaner 
Len Whitelaw, Caretaker 
Sarah  McAulay,  Librarian  and  Teacher 
Assistant 
Teacher  Aides:  Barbara  Brom,  Chris 
Harrison,  Stephanie  Brown,  Uzma  Aslam, 
Pat Buxton. 
JETBOATING AT JAMBOREE
ST PAUL'S  
ANGLICAN  
SUNDAY SERVICES 
St Pauls Church: Kaiwaka-Mangawhai Rd. 
Priest in Charge Rev. W Thornton Ph 431 4122 
www.mangawhaianglican.org.nz
designs for all occasions 
lindywatson@hotmail.com 
4312 847  0211234164 
Natural Earth Ltd 
 Landscape and Bobcat services 
 : Driveways  :Landscaping  :Retaining Walls 
 : Hole Boring: Land Levelling :Trenching 
 : Decks :Fences :Sections Cleared: Plus much 
more 
Tel   09 4312885 
Mob 02102391280   
For A Fast Friendly  
Service Contact Tim Hicks 
Northland's Award Winning 
Solar Company
SEANZ Best Solar Business Winners 2015/16
EXCLUSIVE 10 year installation warranty 
FREE No obligation onsite quote
Complete systems 
from $5990
See our range of: 
✓ 
Heatpumps 
✓ 
Airconditioning 
✓ 
Hot Water 
Heatpumps 
✓ 
Central Vacuum Systems
09 430 0019             sales@hubands.co.nz 
15 Kioreroa Road, Whangarei
Locally owned and operated for 35 years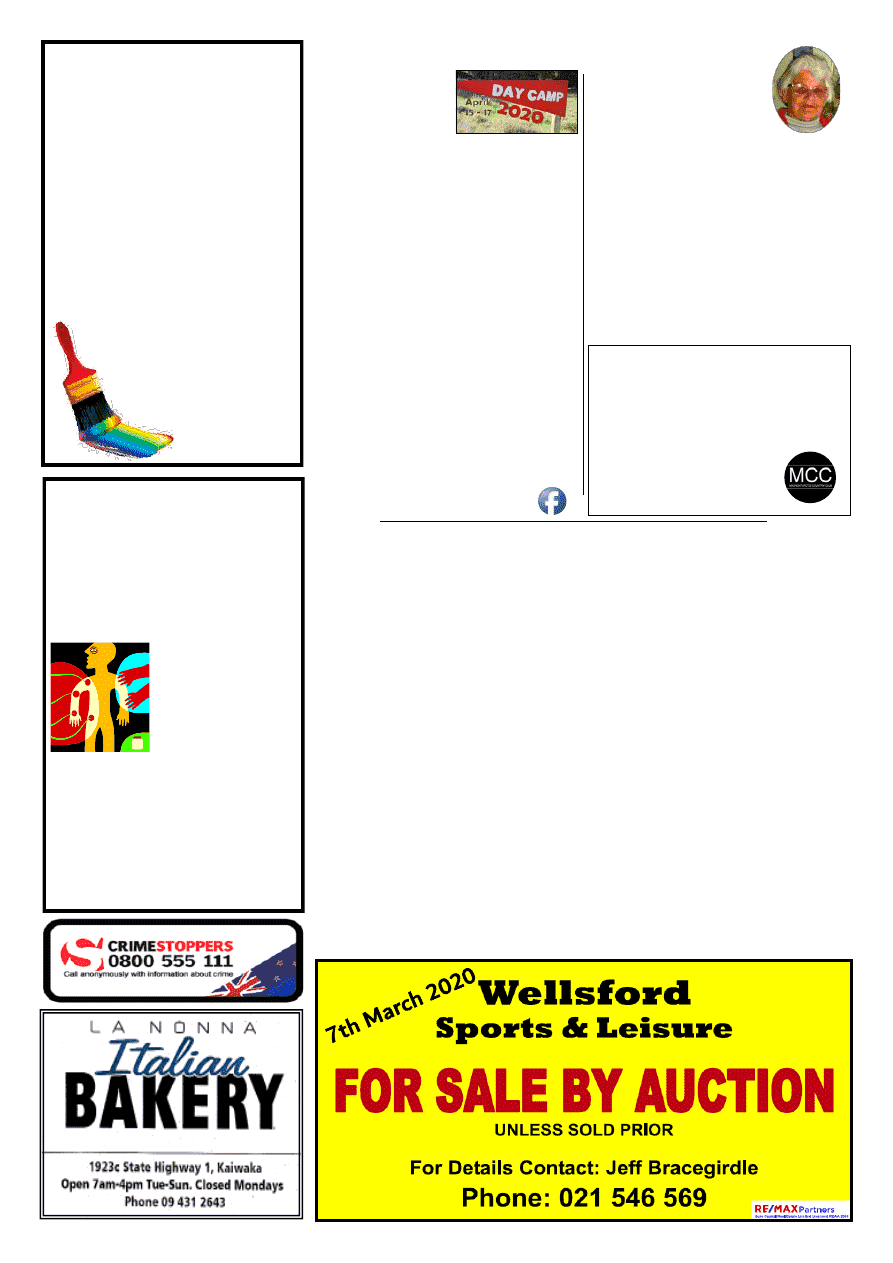 www.kaiwaka.co.nz 
Kaiwaka Bugle - 4 February, 2020 
Page 15 
OWEN STEVENS 
Osteo Therapist
For careful adjustments  
to bones and joints 
Treatment for humans  
and their pets 
Clinics: 
Kate's Place, 
Kaiwaka: 
Last Friday of 
month 
9.00am-5.00pm 
For bookings: 
Phone 
09 4312661 
Or phone Owen   
09 4317123  anytime 
LEE COOPER 
PAINTERS 
(Kaiwaka Based) 
*30 yrs Experience 
*Interior/Exterior 
*New and Restoration 
*Honest and Reliable 
*Free Quotes 
 
09 4312918 
0274735171 
leecooper@xtra.co.nz 
From Thelma's 
Scrapbook...  
LITTLE PLEASURES 
A good night's sleep 
Finding a forgotten $10 in your 
pocket 
Crying with laughter 
Having a lie-in 
Sleeping in newly laundered 
bedding 
Getting a bargain 
Making someone smile 
Catching up with an old friend 
Laughing at things that have 
happened in the past.
OTAMATEA DAY 
CAMP 
Get  your  children 
off the couch, away 
from  their  screens 
and into the great outdoors! 
Otamatea  Day  Camp  is  a  3  day 
adventure  for  6  –  12  year  olds  where 
kids  can  spend  time  having  classic 
kiwi fun – cook sausages over an open 
fire, try their hand at a variety of sports 
and fun activities, learn new skills like 
archery,  wood  work  or  t  shirt  design, 
meet new people and hang out with old 
friends.  
They  will  spend  time  in  our  big  tent 
listening  to  Bible  stories  and  singing 
songs,  and  compete  as  teams  in  our 
bush hut building competition! 
We also have opportunities for kids 13 
years and over to be "Teen Leaders" to 
help out while having fun. 
Day Camp 2020 will be held on April 
15,  16  and  17  on  an  amazing  farm  at 
Paparoa Station Road. More info about 
registrations and fees will be out soon 
– mark the dates on your calendar and 
follow 
us 
on 
Facebook: 
"Otamatea Day Camp".
FOR SALE - Wellsford Sports & Leisure  
owned by Sandra Shaw 
Having owned Wellsford Sport & Leisure since February 1995 I have decided to 
put the business up for sale. 
It has been an interesting journey and I have thoroughly enjoyed myself helping 
customers, clubs and groups find what they need. 
I have employed wonderful staff whom I now call my "family" and have made a 
tremendous  number  of  friends  through  customers,  salespersons  etc  –  many  of 
them now life-long friends. 
My promise to all my fantastic customers who have supported me so well over 
all these years is that I will absolutely, definitely do everything in my power to 
make sure that whoever takes over running this business will continue on all the 
truly valued relationships that I have built up over the years. If it wasn't for all 
these  wonderful  and  magnificent  friends  and  family  I  wouldn't  be  here  today, 
the shop wouldn't still be servicing Wellsford and the wider community as it is 
and the relationship that has been mutually built up with clubs and groups would 
not be as successful as it is. The support has been great for Wellsford Sports & 
Leisure  and  in  return  Wellsford  Sports  &  Leisure  has  helped  many  clubs  and 
groups grow and achieve their goals. I am very proud to have been part of that. 
The  slogan for  my  shop  has always  been  "Locals  Supporting  Locals" and  this 
has been "on point". 
I am extremely hopeful that whoever takes over ownership of Wellsford Sports 
& Leisure will continue servicing the area and have that youthful passion, ideas 
and enthusiasm to provide an even better service bringing on board their vision 
for Wellsford and the wider community for 2020. 
The business is for sale by auction (7 March 2020)unless sold prior. 
For further details please contact the broker – Jeff Bracegirdle -Remax- Ph: 
021546569 
MAUNGATUROTO COUNTRY 
CLUB 
Twilight Bowls 
Fridays from 5.30pm 
Ever wanted to have a go at bowls? 
All welcome 
$2 per person 
All you need is flat sole shoes or 
bare feet 
All prizes drawn
.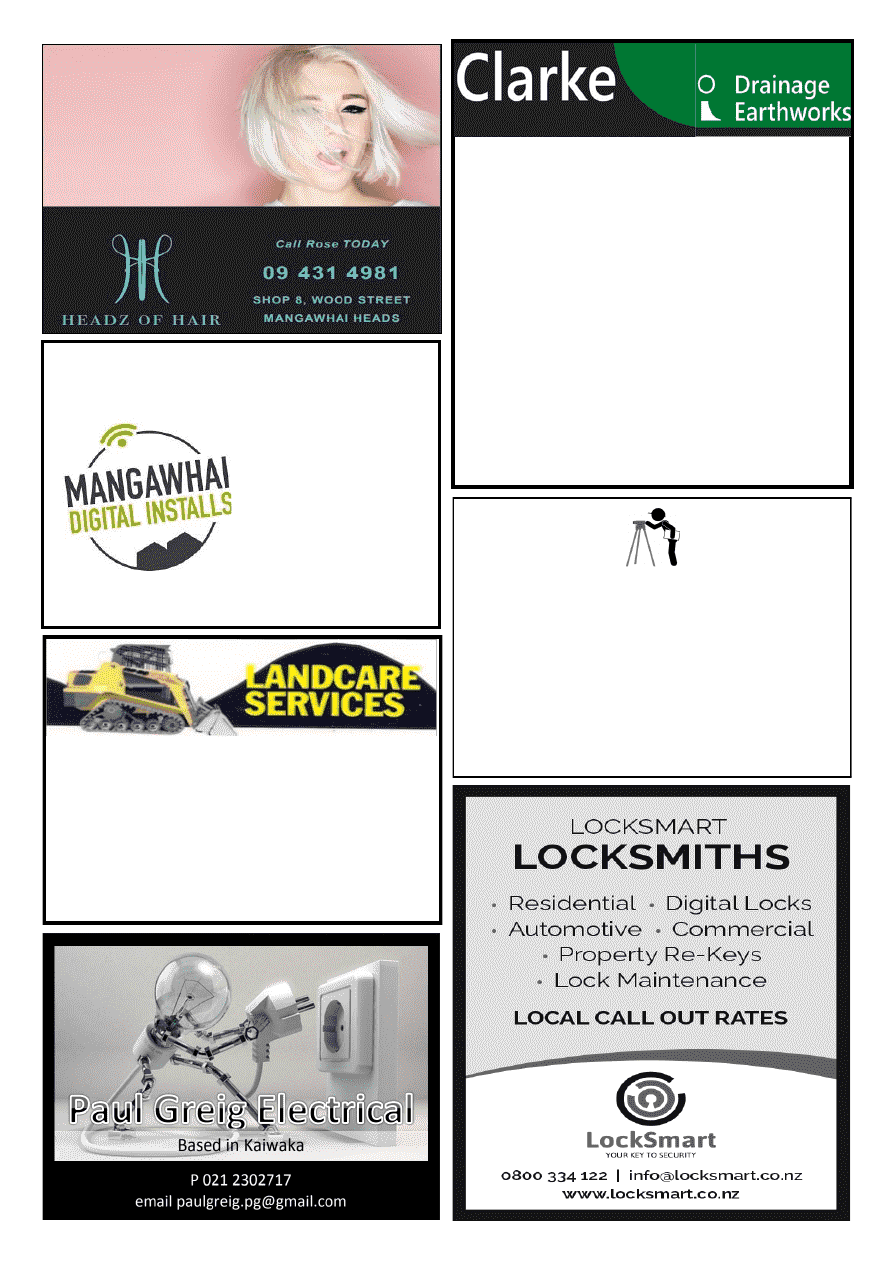 Drainage & Earthmoving 
nigel@clarkedrainage.nz 
027 2233 185 
Registered Drainlayer                    All Types of Earthworks  
> All Residential & Commercial Work  > House Sites 
> Septic System Design & Install          > Footings & Drilling to 10m 
> Sewer Connections 
                       > Dams 
> Water Tank Installation 
               > Roading & Races 
       > Farm Work 
THE ONE STOP SHOP  
Phone Nigel for an Obligation Free Quote  
LANDSCAPING 
4 IN 1 BUCKET 
TRENCHER 
POLE HOLES 
ROTARY HOE 
COMPACT ROLLER 
OFFAL HOLES 
CAN SUPPLY WOODCHIP & POST PEEL 
5 TON TIPPER 
FOR RELIABLE AND FRIENDLY SERVICE CONTACT DAVE 
Dave Hyndman 
 
KAIWAKA 
PH: 09 4312302 
MOB: 021 431 238 
Specialists in: 
Satellite Dish & TV Aerial Installations  
& Repairs 
Freeview  
Chromecast 
Smart TVs   
 Netflix 
Call or Text Adam on 022 351 6679 
E: mangawhai digital@gmail.com 
Ken Urquhart 
BSurv Licensed Cadastral Surveyor 
KMU Surveys Ltd
467 Bickerstaffe Road 
RD 2 
Maungaturoto 0587 
Ph 09 431 8705 
Mob 021 161 2344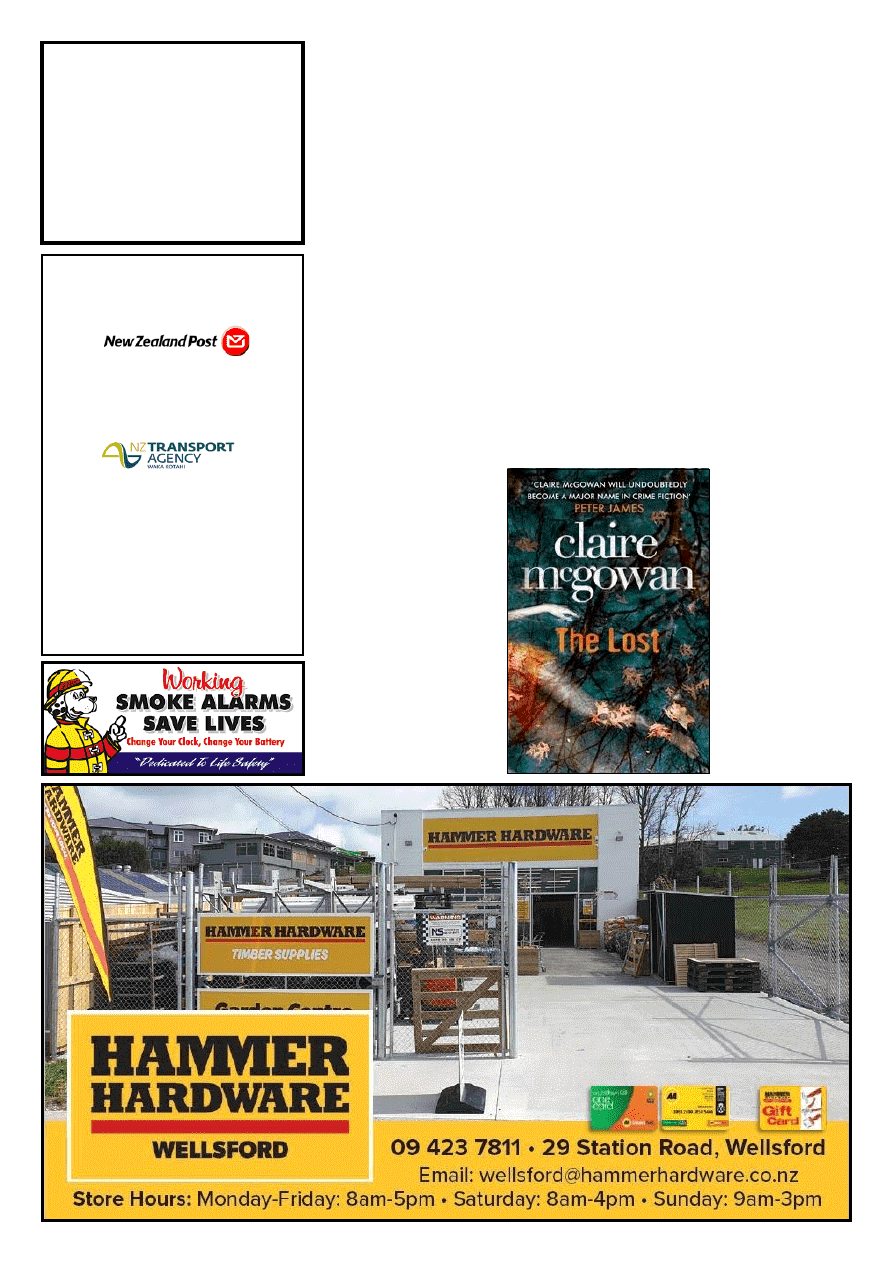 www.kaiwaka.co.nz 
Kaiwaka Bugle - 4 February, 2020 
Page 17 
KAIWAKA LIBRARY
KAIWAKA POST 
CENTRE and 
FOOD MART 
POST CENTRE TRADING HOURS 
MONDAY to FRIDAY 8am to 5pm 
SATURDAY 8am to 12pm 
CLOSED ON SUNDAY and on 
PUBLIC HOLIDAYS 
FOOD MART (GROCERIES) 
MONDAY TO FRIDAY  
7:30am to 7.30pm 
SATURDAY  8am to 7.30pm 
SUNDAY  8:30am to 7pm 
IF ANY QUERIES PLEASE CALL 
STORE MANAGER AMRIT  
on 09 4312431 or 
EMAIL: kaiwakafood19a@gmail.com 
1919a State Highway1, Kaiwaka 0542 
Monster book sale 
Our  big  sale  of  old  books  is  such  a 
success,  we're  going  to  continue  it 
indefinitely.  One  book  for  50  cents, 
three for $1, or 10 books for $2.50. We 
have new stock being added to the sale 
shelves  regularly,  so  pop  in  and  find 
something for you or the kids. 
Summer Reading Challenge 
Many  thanks  to  everyone  who  entered 
the  Summer  Reading  Challenge.  As  I 
type,  there's  still  a  day  left  to  get 
entries  in,  so  I  don't  know  who  the 
winners are yet. 
NLN  Large  Print  &  Audio 
Books 
The decision has been made that all the 
libraries  in  Kaipara  District  will  pull 
out  of  this  service  when  the  current 
titles  we  hold  expire  in  April.  Our 
libraries'  needs  have  changed,  and  it's 
no longer effective for us for the effort 
involved. 
We  will  continue  to  carry  Large  Print 
books  in  our  library,  so  you  won't  see 
much  change  there.  There  is  little  call 
for  audio  books  in  our 
library  now  -  we've  been 
issuing  only  a  couple  each 
month for some time - so I 
have no immediate plans to 
replace  that  collection. 
Most  of  our  audio  book 
fans  have  switched  to  the 
digital 
formats 
that 
download to a computer or 
portable  device.  But  we 
can source them if there is 
a  demand,  so  if  you  miss 
them  when  they're  gone, 
talk  to  me  and  we  will 
work it out. 
Book Review 
Where  do  I  start?  -  I  have 
read 17 books since the last 
one  I  reviewed  in  the 
Bugle!  No,  I  didn't  know 
that  number  off  the  top  of  my  head,  I 
keep  track  of  my  reading  at 
goodreads.com.  You  can  'friend'  me 
there  or  find  my  book  review  page  at 
Facebook  (https://www.facebook.com/
WendyReadsBooks/) if you want to see 
what I've been reading. 
At  the  moment,  I'm  reading  the  5th 
book  in  the  Paula  Maguire  series  by 
Claire  McGowan.  It  starts  with  Lost, 
where  we  meet  Paula,  newly-arrived 
back  at  her  home  town  in  Northern 
Ireland,  having  left  when  she  was  18 
and  thought  she  would  never  go  back. 
She is a forensic psychologist, brought 
in  to  join  a  new  cross-border  missing 
persons' team, to work on current cases 
and  from  back  in  the  'troubles'.  Of 
course,  she  comes  with  her  own 
baggage,  including  the  boyfriend  who 
dumped  her  and  her  high-school  best 
friend who are still in town, and in the 
course  of  the  books  as  she  works  on 
cases  we  find  out  more  about  what 
happened 
when 
her 
mother 
disappeared,  when  Paula  was  just  13 
years old. We have all six books in the 
series  on  our  shelves,  currently  on  the 
Rental 
Fiction 
shelves,  and  the 
first book is also on 
our  Large  Print 
shelves  until  early 
April. 
You  can  find  these 
and our other books 
at Enterprise* or the 
library  app  on  your 
smartphone/tablet 
and  place  a  hold  to 
be  the  next  in  line 
to  borrow  them. 
Ask  me  for  help  if 
you  need  assistance 
with it. 
See  you  in  the 
library! ~Wendy 
 *
Enterprise: 
http://
kaipara.kotui.org.nz/
HAKARU HALL 
ACTIVITIES 

Monday: Line Dancing  

Wednesday Music Jam Session  
0210628631 

First Wednesday of the Month 
Hall Committee Meeting 7.30pm 

Hall Bookings  4312829  or  
lorrainehepple@gmail.com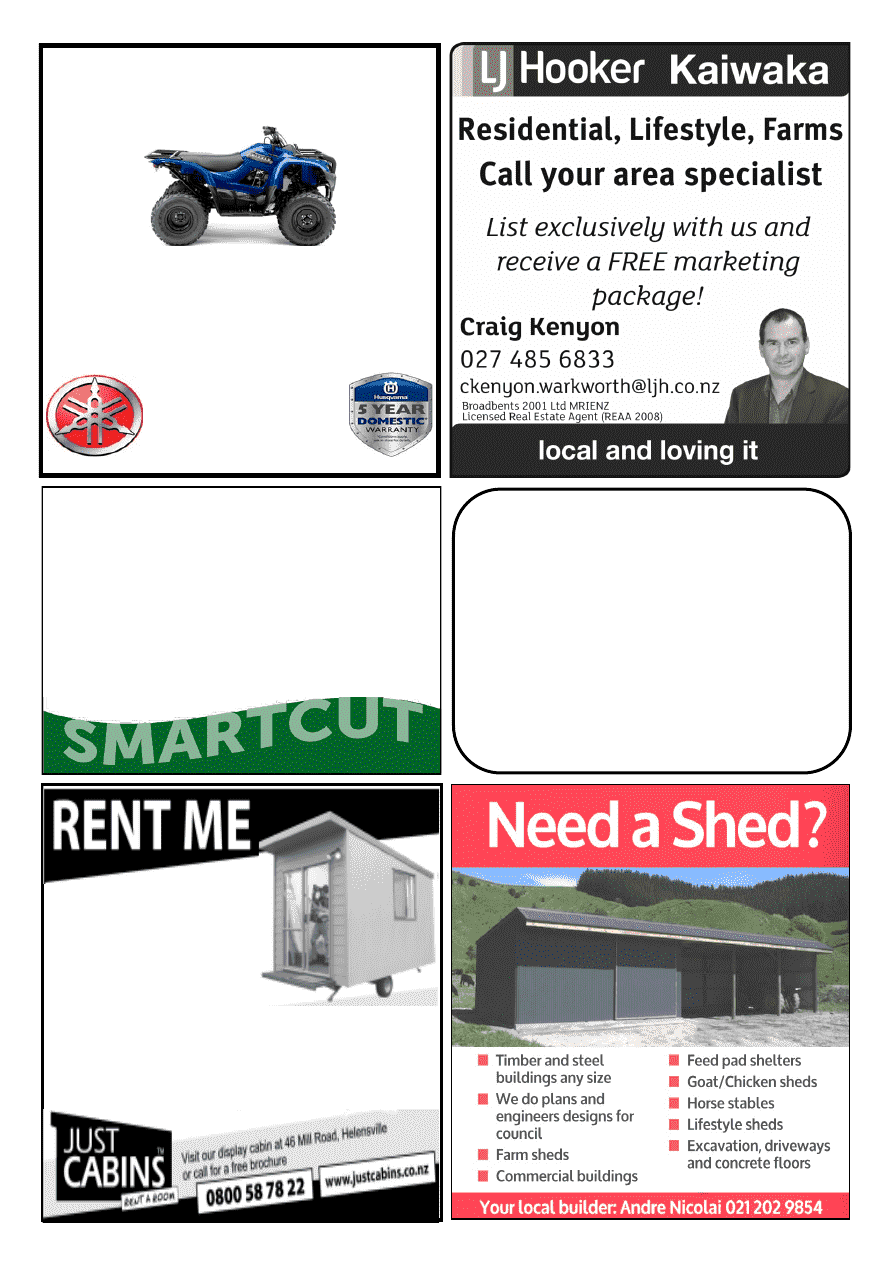 All your outdoor needs sorted so you don't have to... 
I can prune, chop, tidy, spray, mow, plant 
- you name it, I can do it! 
Residential & Commercial 
Lawn & Garden Care 
Call Rodney, your local  
lawnmowing contractor 
021 138 2344 
UP-LINK 
CHRIS WARING 
FREEVIEW INSTALLATIONS 
T.V. - HOME THEATRE &  
HI-FI ADVICE/SET UP
SKY ACCREDITED INSTALLER
MOB.0273403747 HM.094312328 
EMAIL cwaring44@gmail.com
28 YRS EXPERIENCE 
OFFERING UNBIASED ADVICE 
Ideal as an extra  
bedroom or office 
Three Convenient sizes: 
Standard 3.6m x 2.4m - $65 
per week 
Large 4.2m x 2.4m - $80 per week 
Extra Large 4.8m x 2.4m - $100 per week 
Fully insulated. Minimum 6 months rental period 
KAIWAKA 
MOTORCYCLES LTD
SALES – SERVICE – SPARES 
FARM BIKE SPECIALIST
PHONE 09 431-2127 
10 KAIWAKA-MANGAWHAI ROAD, KAIWAKA
Trimmers  
from $279
Chainsaws  
from $339
YAMAHA 
HUSQVARNA 
www.kaiwaka.co.nz 
Kaiwaka Bugle - 4 February, 2020 
Page 19 
Hot  water  cylinders  and  electric  heaters 
have  huge  standing  losses  of  more  than 
30%  which  are  directly  reflected  in  high 
energy  bills.  The  use  of  LPG  for  cooking, 
hot  water  and  heating  is  much  more 
efficient and cheaper to run. Instantaneous 
gas  califont  for  hot  water  production  only 
cost 19 ct/kWh compared to 30-35 ct/kWh 
for electricity. Cost savings can be as high 
as $750/y. 
You only use gas when you open a tap. 
Economic evaluation? 
LPG  califonts  have  similar  initial  costs 
than  electric  cylinders,  but  have  much 
lower  running  costs  and  almost  NO 
maintenance  cost.  Electric  cylinders  have 
huge  standing  losses,  need  maintenance 
and have shorter lifespans. 
Expansion of water = daily loss of water 
+ energy 
Expansion of hot  water in cylinders create 
daily  losses  of  water  and  energy  to  the 
drain or on the roof. 
Safety  valves  are  'famous'  for  leaking  or 
clogging. Vent pipes through the roof show 
water spouting and create corrosion on the 
roof.  Gas  califonts  have  NO  expansion 
issues of hot water. 
NO Dependency on the grid 
When  installing  LPG  bottles  for  cooking 
and  hot  water  production,  the  power 
company  has  no  financial  control  on  your 
electricity  bill  or  RIPPLE  CONTROL 
where  the  energy  provider  cuts  the  power 
to the cylinder. The on-going power-cuts in 
NZ do not really contribute to the comfort 
that  every  NZ-er  wants  to  create  in  the 
house. 
CONCLUSION 
The  advantages  of  LPG  for  cooking  and 
hot water can be summarised as following: 
- More comfort for less cost. 
- No standing losses. 
-  Low  running  cost  per  kWh  compared  to 
electricity. 
-  Independency  from  the  grid,  no  ripple 
control, no power cut problems. 
Copyright Eric Jansseune- Master Environmental 
Solar Engineer- CPengNZ; cell 021 022 31 700  
email: ericjansseune1957@gmail.com  
www.ewatec-global.com 
Bulk Cartage 
Energy Series:  
HOW TO 'KILL'YOUR ELECTRICITY BILL 
Article 2: LPG is cheap and efficient 
LPG for cooking + hot water is much cheaper than electricity 
The last club event was our Christmas 
shoot  back  on  the  8th  December.  32 
shooters  turned  out  on  the  day.  Tony 
Smith  with  the  top  score  -  66  targets 
out of 80. Well done Tony. 
Results: 
Senior Men: 1st Tony Smith 66; 2nd Chris; 3rd 
Blair;  4th  Dale.  Ladies:  1stDenise.  Juniors:  1st 
Lane  5;  2nd  Jack  47;3rd  Bronson  35;4th  Blake 
30; 5th Liam 24; 6th Max 13; 7th Tara 5 
Excellent turn out for our juniors with 
some great talented shooters in the mix 
Watch  out  when  these  young  guns 
become seniors! 
Big  thank  you  to  the  sponsors for  this 
event: 
Nola  Sports,  Kaipara  Kumara,  Ruawai 
Transport,  Maungaturoto  Liquor  Centre,  Jason 
at  Hunting  and  Fishing  Dargaville,  Mangawhai 
Meat Shop.
Thank  you  also  to  Jenny  Mc  for 
cooking the BBQ. 
Fishing: 
Current ladder results: 
Senior:  Snapper  Chris  Hicky  9.11  kg 
(the only 
fish weighed in so far) 
Up-coming Events: 
Pre  Parry  Shoot 
Sunday  9th  February, 
10  am  start  at  the  Club  grounds  on 
Hames Road Maungaturoto. 
Chance  to  get  some  practice  in  before 
Parry  Weekend;  a  normal  80  target 
course  with  prizes  for  section  winners 
as  well  as  a  major  draw  item  that  all 
who attend will eligible. 
Parry Weekend: 
The  Summer  Parry  shooting  weekend 
this  year  is  the  22nd  and  23rd  of 
February.  Note  from  our  resident  Fish 
and Game council - remember day bag 
limits have dropped to 20 per person / 
day. Heaviest Parry Weigh-In: 
Sunday  23rd  February  -  bring  your 
heaviest Drake and Hen and go into the 
draw  to  win  some  prizes.  (Senior  and 
Junior) 
Reminder: Yearly Subs are now due: 
Adult $25 Family $35 Junior $15 
Membership: 
Email 
Andy 
at 
awthompson@outlook.co.nz 
Willow Bend
HORSE  
HOTEL 
#
Total Horse Care    
# 
Agistment 
# 
Riding Lessons    
#
 Arena Hire (60x40) 
# 
Young Horse Starting 
# 
Re-training/Exercising 
#
Hoof Trimming    
# 
Problem Solving 
Phone Sue  
09 431 2817  
or 021 623 776  
Or email  
susanjoll11@gmail.com 
'KILL' YOUR ENERGY BILL … GROUP PURCHASE DEALS 2020 
Reduce your power bill and use LPG gas for cooking and hot water at 19 ct/kWh. 
Solarise your house and install a state-of-the-art European certified solar hot water system  
APPLICATION    
MINIMUM SAVINGS incl. 
Cooking on LPG gas (19ct) instead of electric (35ct)    
$60 / year 
Hot water on LPG gas (19ct) instead of electric (35ct)   
$700 / year 
Solar Hot Water (European state-of-the-art ) instead of electric (35ct)   
$700-900 /year 
GROUP PURCHASE FOR KAIWAKA AREA: gas bottles-gas califont-SHW package for 2-4 persons 
EWATEC Ltd. created an unique group purchase at strongly reduced cost. Local energy engineer Eric Jansseune has used his 28 years 
of experience to select carefully the solar equipment, imported from Europe with worldwide certification and proven lifespan  of 30 
years. 
EQUIPMENT  
GROUP PRICE excl. 
LPG 2 x 18 kg. bottles +switch over system   
$395 
LPG 2 x 45 kg. bottles +switch over system   
$550 
Gas califont 16L ( 2 taps demand)-LPG instantaneous    
$1,024 
Gas califont 24L ( 3 taps demand)- LPG instantaneous   
$1,047 
Solar Hot Water package 2-3 persons family   
$4,052 
Solar Hot Water package 4-5 persons family   
$4,437 
Not included: 
gas fitter, gas certificate, solar roof set, copper piping, labour solar technicians, plumber cost, tempering valve. 
Included
: solar collector, solar cylinder, controller and sensors, solar pump, electric element, freezing and overheating protection. 
Contact ERIC: phone 09 431 24 08 cell 021 022 31 700 Email: ericjansseune1957@gmail.com www.ewatec-global.com 
………DON'T MISS THIS UNIQUE OPPORTUNITY ………………… 
KAIPARA HUNTING & FISHING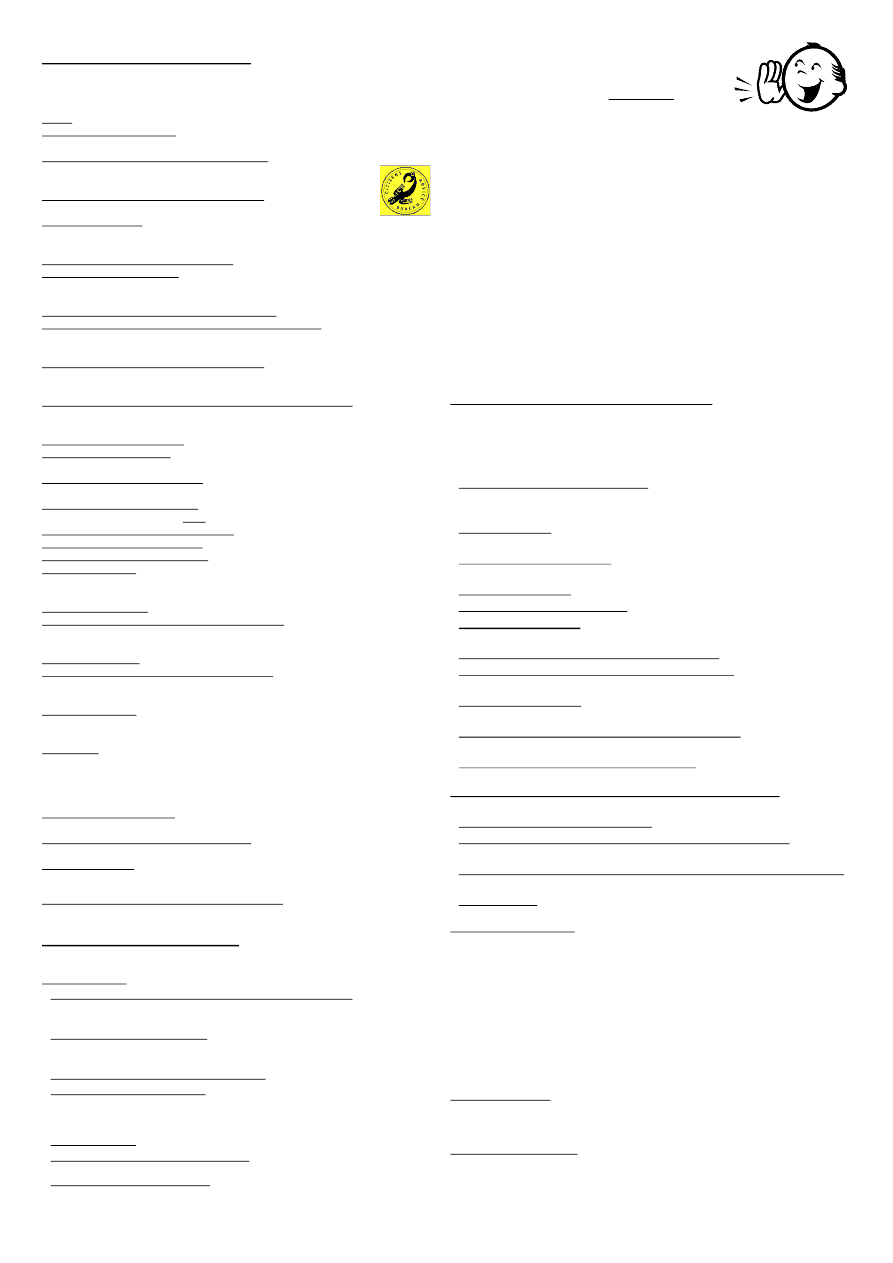 Next Bugle Deadline midday Friday 14 February 2020
WHAT'S ON
PLEASE ~ do let us know what is on - email 
kaiwakabugle@kaiwaka.co.nz 
Advertising in WHAT'S ON is FREE  
*6Feb~ WAITANGI DAY 
*7Feb~Movie 'Ride Like A Girl', KWMH 7.30pm 
*13Feb~Otamatea High School Swimming Sports 
*14Feb~ Revival Youth, Revival Church, 7-9pm 
*14Feb~Movie 'DOWNTON ABBEY', KWMH 7.30pm 
*19Feb~Touch Finals, KSA, 6pm 
*19Feb~Otamatea High Welcome Evening, 6 - 7.30pm 
*21Feb~Movie'Blinded By The Light' KWMH, 7.30pm 
*23-23Feb~Dahlias for Dementia House & Garden Tour 
*25Feb~Otamatea High School Athletics 
*8Mar~TOP OF THE ROCK 
KWMH = Kaiwaka War Memorial Hall; KSA = Kaiwaka Sports Association 
See www.kaiwaka.co.nz for more information 
HOUSEHOLD RUBBISH COLLECTION - Kaiwaka Pick up: 
Mondays = Green bags (Northland Waste - 09 430 3273) 
Wednesdays  = Blue bags and yellow recycling (at Jaques $3.00 
and  $1.50)  (Kaurilands  09  4392146);  ONLY  Blue  and  Yellow 
bags picked up on Oneriri Road. 
 DIABETES  Support  Group  -for  Kaiwaka,  Mangawhai, 
Wellsford  10am,  3rd  Friday  of  month  Ph:  Colleen  James  09 
4314238 
 GENEALOGY - Wellsford: 1st Thursday in month Ph: 423 
7033; Waipu: 4th Monday in month Ph: 4312 725 
 HAKARU PONY CLUB - Secretary Denise Rogers 021423376 
secretary@hakaruponyclub.co.nz  
 KAIPARA HUNT - Secretary Albert Doonenbal Ph 4312059 
 KAIWAKA BADMINTON -Tuesdays 7.30pm Ph: 4312345 
 KAIWAKA  CAN  - 3rd Wednesday in month, 5.30pm, Archie 
Bull Hall Ph: 0273572751 
 KAIWAKA DRUM & DANCE CLASSES - 021 611198 
 KAIWAKA GARDEN & FLORAL GROUP - 2nd Thursday in 
month. Ph: 431 4744 
 KAIWAKA  CUBS  -  Thursdays  5.30-7pm,  Hakaru  Ph:Bruce 
4312542 
 KNITTING FOR WHANGAREI HOSPITAL - 2nd Tuesday in 
month, Archie Bull Hall 10am Ph 4314827 
 MANGAWHAI COMBINED REBUS CLUB - 2pm, 3rd 
Thursday month, Senior Citizens Hall Mangawhai. Ph: 4315777 
*PILATES - KAIWAKA WAR MEMORIAL HALL - Ph: 
021 
2072729  
 PT CURTIS CRUISING CLUB - Jean Ph: 4312227 (wk), 4312520 (hm) 
 RSA,  HAKARU  &  DISTRICTS  WOMEN'S  SECTION  –  meets 
1.30pm 4th Thursday of the month. Ph: 431 5818  
 KAIWAKA  SCOTTISH  COUNTRY  DANCING  CLUB-
Wednesdays 10am - 12 noon  Ph: Elaine 027 432 0032  
 TRAMPING - Mondays 9am-2:30pm Maria 4312 234 
HALLS FOR HIRE: 
  Kaiwaka St. John Hall: Phone Marj  0272941227  
 St.Pauls Archie Bull Hall HIRE $20 half day, $40 full day per 
hire, S McAulay, Ph 4312311 
 Kaiwaka  War  Memorial  Hall  HlRE  -  Phone  4312725  or 
kaiwaka.hall.bookings@gmail.com 
 Hakaru Community Hall HIRE -Ph.  Lorraine 4312829  
 Te Pounga Marae queries - Pearl Nathan  0223933533 
 Kaiwaka Sports Association hire/queries - C. Anderson 4312051 
or kaiwakasports@gmail.com 
Justice of Peace:  
B.FJaques  4312  048;  L.Donaldson  4312  228;  A.F.Hargreaves 
4312 045, W.Howard 4312 725 - please phone to make sure they 
are available or go to www.justiceofthepeace.org.nz 
Marriage Celebrants:  
L.Donaldson; A.F.Hargreaves; Y Osborne
LOCAL SERVICES 
*Emergencies - Ambulance, Fire, Police - dial 111 
*Non-urgent Police phone 09 4311150
A A: Meets Wed., 8pm Kaiwaka Ph: 4315543, 0800229 6757 
ASUREQUALITY LTD (was AgriQuality) Call Free 0508 0011 22  
BUDGETING SERVICE, WELLSFORD: Free confidential advice & 
support for all areas of personal finance. Ph (09) 423 7123 
CAB-Citizens Advice Bureau.Wellsford Ph: 4237333 
0800 367 222 email:cab.wells@xtra.co.nz  
CIVIL DEFENCE - Kaiwaka Community Response Group: 
kaiwaka.civildefencecrg@gmail.com, 4312725 Wendy 
DOG/STOCK /NOISE CONTROL 0800 105 890 
FUNERAL SERVICES: Morris & Morris Ltd, 
Whangarei - Bev Jaques Ph:4312367 or 0800667747 
GRANDPARENTS Raising Grandchildren: Dianah Roberts 0223819539 
HAKARU & DISTRICTS MEMORIAL RSA (Inc) 733 Settlement Rd, 
Hakaru. Ph 4312 176 or Bill Warren (President) 431 2092 
HAKARU LANDFILL/Transfer Station:Open everyday  10am-
4pm.Ph4312629 Cost-$55 trailer load up to 1 cubic metre. Ph:4258567 - 
office 
KAIPARA DISTRICT COUNCIL www.kaipara.govt.nz:  
Help Desk FREEPHONE 0800 727 059  
KAIWAKA CEMETERY: Ph: 4312045 or 4314017 
KAIWAKA LIBRARY: kaiwaka.library@gmail.com  
Mon. 4-6pm; Wed., Thurs., Fri., Sat. 10am-2pm Ph:4312539 
KAIWAKA PLAYCENTRE: Ph Juanita 0274134904; open Mon, Wed, 
Fri 9am-12pm. Hastie Lane; Monday to Friday 9.00am - 12 noon. 
KAIWAKA POST OFFICE:Ph:4312 431  
Post Code: 0573 for RD2 and 0542 for all Kaiwaka Post Office mail 
KAIWAKA PRIMARY SCHOOL: Ph: 4312309   
KAIWAKA SPORTS ASSN: Ph 4312005; 4312129 gym 
KAIWAKA ST JOHN HALL: Phone Marj  0272941227  
KATE'S PLACE Community Centre - Employment services, Free Health 
Nurse, Plunket, Advocacy, Osteopath, A.A., Legal Advice. 4312 661 
LINKING HANDS Health Shuttle Ph 4315906 or 09 4318969 
MINISTRY FOR PRIMARY INDUSTRIES - General inquiries Call 
Free 0800 008 333 
NORTHPOWER: Faults Kaiwaka area 0800 104040 
OTAMATEA COMMUNITY SERVICES: Counselling, parent coach, 
Family Support worker, budget advice, food bank. Mon-Fri 9am-3pm. Ph 
09 431 9080 http://www.otamateacs.org/ 
PARENTPORT: Free, practical family support service Puhoi to Paparoa 
Ph or txt: Dianne 027 280 5093 or 09 425 9357 
PLUNKET:  Kaiwaka  -Kate's  Place  Clinic  1st  Wednesday  of  the  month; 
Mangawhai  - Rose Madsen Cottage: Coffee Group 9:30 every Monday.  Clinic 
every Monday and Thursday. 
Maungaturoto - Good News Church, Clinic 2nd and 4th Wednesday.  
Cynthia 09 431 7340 or 027 675 3488 
PLUNKET HELPLINE -0800 933 922 (24 hours) 
TAITOKERAU COMMUNITY LAW: Free confidential legal advice and 
assistance, 2nd
Thursday
 of each month. Ph: 0800 155 529 for appts.  
TE URI O HAU Settlement Trust Tangata Developments: Whanau Ora 
021 793262  
VETERINARY SERVICE MANGAWHAI: 
Ph: 4314535 Mon-Fri 8.00-5.00, Sat 9-12, a/h appt. 
WELLSFORD DOCTORS: Ph: 4238 086 
CHURCHES:
 
Kaiwaka  Revival  Church  -  Your  Community  Church:  Sundays  10am. 
Ph: Pastor Tawhiri 09 431 8988 or Pastor Paul 09 4312 068 Visit us at 
www.facebook.com/kaiwakachurch 
 
St  Paul's  Anglican  Church  1st  Sun.  9.00am  (Eucharist),  3rd  Sun. 
9.00am (Family Service). Contact: Rev. Wayne Thornton Ph 431 4122 
www.mangawhaianglican.org.nz 
 
Church of Christ the King, Mangawhai:9.00am every Sunday 
 
St.Mary's  Catholic  Church:  Maungaturoto  –  Griffins  Road,  Saturday 
evening  Vigil  Mass  6pm;  Mangawhai  –  Senior  Citizens  Hall,  Sunday 
Mass  8:30am;  Wellsford  –  Matheson  Road,  Sunday  Mass  10:30am;  
Mid-week Mass times and all enquires to Fr. Bill Fletcher – phone 423 8170
 
Baptist Church: Sun. 10.30am Mangawhai Snr Cit.Hall.Ph:4312339 
 
Cause  Way  Church  Mangawhai:  Sundays  10.15am,  Mangawhai 
Community  Recreation  Centre,  Insley  St.  Ph:  09  4314782