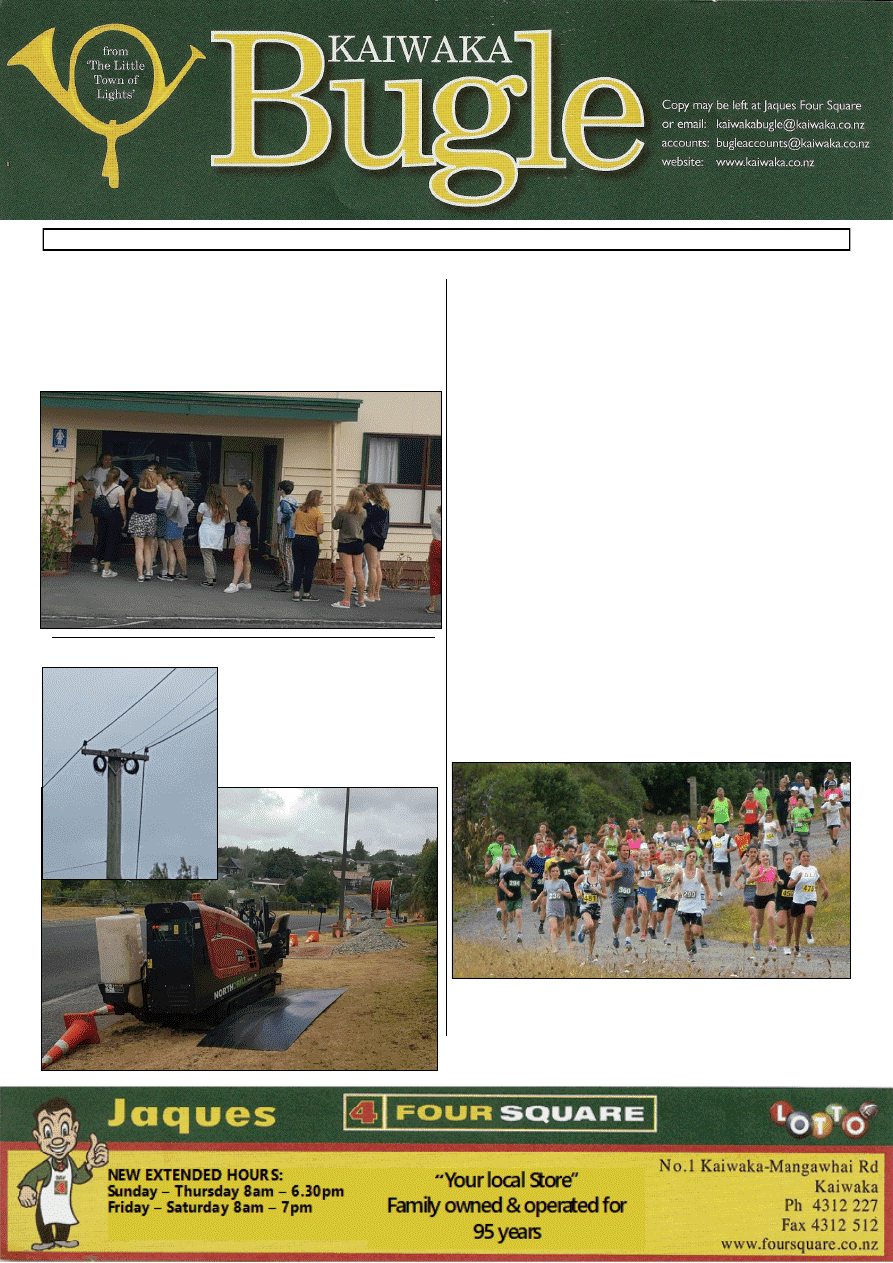 www.kaiwaka.co.nz 
Kaiwaka Bugle - 18 February 2020 
Page 1 
No:3 
18 February 2020 
SH1 Kaiwaka homes have fibre 
'wires'  looped  on  the  poles  - 
pictured, waiting to connect. 
For  the  las  two  weeks  Fibre  
wiring 
has 
been 
laid 
underground  down  Marshall 
Road - pictured below. 
FIBRE IN KAIWAKA 
THE TOP OF THE ROCK 
The  Kaiwaka  Sports  Association's  annual  multi-sport 
event, the Top of the Rock, will be held on Sunday 8th 
March. 
The  owners  of  Baldrock  Mountain  are  no  longer  granting 
access to the mountain, so the KSA has had to re-think their 
usual routes and have come up with a revamped Top of the 
Rock! 
There are two running/walking routes: a 5km and a 10km. 
The 5km route goes around the two lakes near Baldrock Rd. 
The 10km route goes around those two lakes then traverses 
private land  never  before opened to  the  public, reaching  a 
lofty spot on the hills at the base of the Brynderwyns with 
fantastic views to the ocean to the east and through to the 
Kaipara Harbour to the west. 
You don't need to be concerned about your fitness level as 
there is no time limit on completing the events and the KSA 
will  have  marshals  in  utes  following  the  tail  enders  who 
will give you a ride back if you get tired! Participants of all 
ages enter Top of the Rock, from pre-schoolers upwards – 
with $50 cash going to the oldest participant! 
There will be a Kids Fun Bike  Ride  for children under 11 
years, which is free to enter. It is a short, flat course (going 
around the Sports Complex grounds, school grounds and a 
neighbour's  farm),  and  takes  around  10  minutes,  so  it  is 
perfect  for  the  young  ones.  Children  will  need  a  bike/
scooter plus a helmet. Every child who enters the Fun Bike 
Ride will go in the draw for a prize pack. 
Prizegiving will be held at the Sports Complex afterwards, 
with  prizes  for  place  getters  as  well  as  lots  of  great  spot 
prizes, including a mountain bike. 
Please note that there are NO ENTRIES ON THE DAY  – 
the last day to enter is Friday 6th March. 
Entry  forms  and  all  the  details  can  be  downloaded  from 
www.kaiwakasports.co.nz. 
Enquiries, 
please 
contact 
Cheryl 
Anderson 
on 
kaiwakasports@gmail.com 
NEW EXTENDED HOURS: 
Sunday – Thursday 8am – 6.30pm 
Friday – Saturday 8am – 7pm 
Pictured  is  a  queue  waiting  to  use  the  Kaipara  District 
Council public toilets at the Kaiwaka War Memorial Hall. 
Such  a  queue  occurs  every  day,  especially  at  the  Ladies 
Toilet.  The  pressure  is  so  great  the  women  even  join  the 
men's queue!  
A  bouquet  to  cleaners  (Janet)!  This  is  one  of  the  reasons 
these toilets are so popular with the travellers. 
KAIPARA'S BUSIEST TOILETS 
Proverbs 3: 5+6 
Trust God from the bottom of 
your heart; don't try to figure 
out everything on your own. 
Listen for Gods' voice in 
everything you do, everywhere 
you go;  He's the one who will 
keep you on track. 
At Kaiwaka War Memorial Hall . Adults $10, Kids (under 16) $5, Family Pass (2 adults + 3 children) $25 
ABOUT TOWN 
 
Remember    Dahlias  for  Dementia  Garden  and  House 
Tour on the weekend of 22 and 23 February - see Facebook 

 Well done Toa Henderson - brilliant shearing! 

Northland  Field  Days  -  5th  to  7th  March  2020,  9am  - 
4:30pm  (3:30pm  on  the  7th),  at  33  Awakino  Point  East 
Road, Dargaville. 

 Our  condolences  to  the  family  of  Garry  Mills 
who passed away at the weekend. 

 LIGHT NO FIRES - message from our Fire Chief 

 The  Graduate  Choir  New  Zealand  will  be 
giving  a  free  concert  in  Waipu  on  Saturday  21 
March  at  1pm  in  the  Waipu  Coronation  Hall  - 
02102878606 

Kaiwaka Library is still looking for volunteers.   

Great proverb in Kaiwaka Can News on page 7! 

Note: It is LEAP YEAR! 29 days this February.

Earlier issues of the Bugle don't disappear - they 
can  be  seen  online  at  www.kaiwaka.co.nz  at  any 
time - also great colour in the photos.         
                  ~ Lindsey, Ed 
'
As you grow older you will discover you have two hands - one 
to help yourself and one to help others' ~ Audrey Hepburn
KAIWAKA BUGLE NO.3 
18 FEBRUARY 2020 
CONTENTS: 
Page 3: Public Notices, Classified 
Page 5: Wwoofer Experience 
Page 7: Kaiwaka Can; Pt. Curtis CC 
Page 9: Kaiwaka School ; Otamatea 
High School 
Page 11: Kaiwaka Sports Assn  
Page 13: Rotary;  OCS 
Page 15: Best Pets;  
Page 17: Library; Thelma's Scrapbook 
Page 19: Albertland Heritage Museum; 
Your Electricity Bill 
Bugle 4 will appear  3 March 
Contact for advertising, reports, articles 
or information can be made by 
Email: kaiwakabugle@kaiwaka.co.nz 
Ph: 09 4312 045 Lindsey 
Txt: 027 2724137 
Copy  may  be  left  at  Jaques'  Four 
Square. 
Kaiwaka Bugle Advertisements 2020: 
All 
copy 
and 
queries 
to: 
kaiwakabugle@kaiwaka.co.nz 
The Bugle is printed on an A4 page, B&W  
Ad  sizes:  1/16  page  (3  x  9.5cm)  $5;  1/8 
(6.5  x  9.5cm  landscape  or  portrait)  $8; 
3/16 ( 10 x 9.5cm or 7.5 x 12,5)  $12.  
Classified  ads:  First  one  FREE,  $4  per 
entry (max. 30 words, max. 4 repeats). 
Payments  can  be  made  online  at 
ANZ 
06  0365  0006990  00
,  posted  or  left  at 
Jaques Four Square Store. 
We  use  Microsoft  Publisher,  and  can 
work  with  most  common  image 
formats, Word, Excel, and PDF files. 
Accounts:  
Email: bugleaccounts@kaiwaka.co.nz 
The  Kaiwaka  Bugle  is  a  community 
newspaper run by volunteers, as part of 
the Kaiwaka Media Group Inc.   
Articles, etc. printed are not necessarily 
the opinion of the Bugle Team. 
Kaiwaka Bugle 
Founded May 1978 
We appreciate articles and photos about local 
events, etc, as well as ads and suggestions. 
Copies available in Kaiwaka at Jaques Four 
Square, Kaiwaka Postal Centre, Shamrock 
Service Station, Animal Health Centre, 
Kaiwaka St John shop. 
Also outlets in Maungaturoto, 
Mangawhai and Paparoa. 
Can be viewed online at  
www.kaiwaka.co.nz/Bugle  
Or a copy can be posted to you if you supply 
stamped, self-addressed DLE envelopes. 
BLINDED By The LIGHT 
Friday 21 February, 7.30pm (PG-13) 
Blinded  by  the  Light  is  a  2019  British 
comedy-drama film directed by Gurinder 
Chadha, inspired by the  life  of journalist 
Sarfraz  Manzoor  and  his  love  of  the 
works of Bruce Springsteen. Manzoor co-
wrote  the  script,  with  Chadha  and  Paul 
Mayeda Berges.  
"Javed  is  a  Pakistani  teenager  who 
experiences  racial  and  economic  turmoil 
while  living  in  Luton,  England,  in  1987. 
He  writes  poetry  as  a  way  to  escape  the 
intolerance  of  his  hometown  and  the 
stubborn  views  of  his  traditional  father. 
When  a  classmate  introduces  him  to  the 
music of Bruce Springsteen …" 
KAIWAKA BUGLE 
DEADLINE DATES 
2020:   
Every second Friday
February 28 
March 13, 27 
April 10, 24 
May 8, 22 
June 5, 19 
July 3, 17, 31 
August 14, 28 
September 11, 25 
October 9, 23 
November 6, 20 
December 4 
JOJO RABBIT 
Friday 6 March, 7.30pm (PG-13) 
 JUDY 
Friday 20 March, 7.30pm  (PG-13)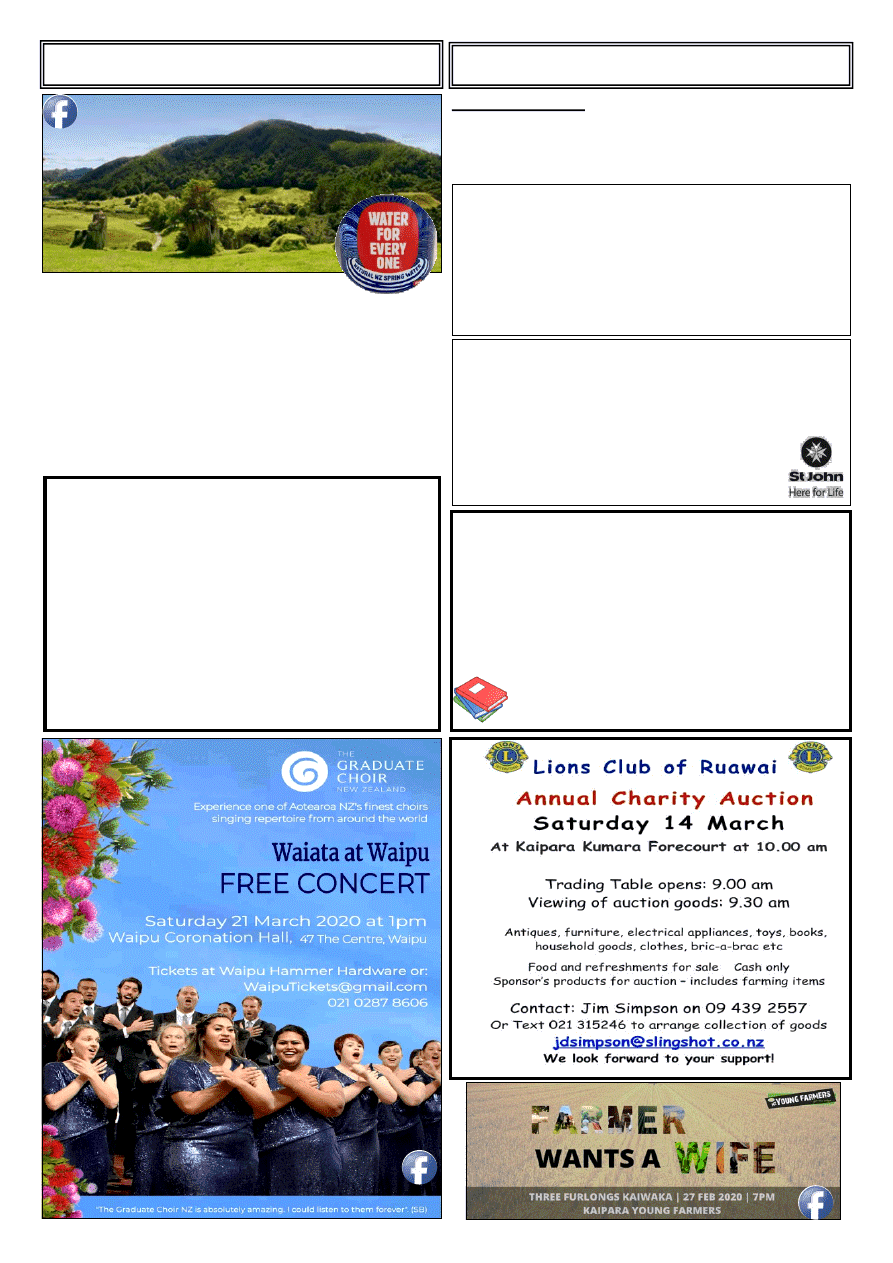 www.kaiwaka.co.nz 
Kaiwaka Bugle - 18 February 2020 
Page 3 
PUBLIC NOTICES 
CLASSIFIED 
KAIWAKA  ST. JOHN OP SHOP 
Thank you for your donations.  
❖
We are in need of Bric a Brac, linen, towels, kitchenware, 
bedding and craft and children's toys and puzzles. 
❖
Our $1 clothing sale runs until the end of February. 
For more information contact  
the shop 094312650 or Gale 0274149576 
 Open Tuesday-Friday 10am – 3pm 
Saturday 9am – 1pm. 
HAKARU HALL 
ACTIVITIES 

Monday:  Line Dancing 10.00am   Ph 4315160 

Monday:  Dance Energy Afternoon 0275610469 
         Children's Ballet and Jazz 

Tuesday: Afternoon Dance Energy 

First Tuesday of the month 
Hall Meeting, 7.45pm 

Wednesday: Afternoon Dance Energy 

 Thursday: Pilates 9.00am 0220643965 

Sunday: Morning Canine Coaching 
ALL BOOKINGS PLEASE  
PHONE LORRAINE 0272846162 
GARAGE  SALE: Sat. 22nd Feb 9 am -5 pm. @ 306 
Oneriri Rd. Kaiwaka.  NB. 2nd driveway on left down 
ROW.  Hand  tools,  nuts,  bolts,  4  stroke  lawn  mower, 
weed  eater,  camping  gear,  large  cupboard  unit, 
children's outdoor lawn games, plus lots more.
WATER  FOR  EVERYONE  - 
KAIWAKA SPRINGS LTD  
Treated drinkable spring water.  
We  will  fill  1000L  Water  Pods  for  $30  (Cash  only) 
when you bring your own pod and transport. 
Recommended 4WD as The drive way is steep gravel 
so  recommend  a  4WD;  due  to  heavy  traffic  area  on 
SH1  the  safest  entry  is  from  north  and  then  exit 
heading south (opposite Mountain Road).  
Any enquires please call Anna 02041494090 or send 
PM. Please make a booking beforehand thank you. 
KAIWAKA LIBRARY 
Volunteers Needed 
2nd Thursday, 2nd Saturday, 4th Wednesday, 10am -2pm 
Would you like to join our friendly team of library 
volunteers? Are you available on one or more of these 
days each month? Do you have basic Windows skills? 
Do you have regular access to your email account? 
If yes to all of these questions, email Wendy  
kaiwaka.library@gmail.com 
Full training given. 
THANK YOU 
I would like to thank Norm Brown, our caring Postie, 
St.  John  First  Response,  the  local  police  and  our 
brilliant  Fire  Brigade  for  attending  my  accident  and 
also the Rescue Helicopter team. 
All those involved were amazing and we are grateful 
to  have  these  people  and  organisations  in  our  great 
community. ~ Dave.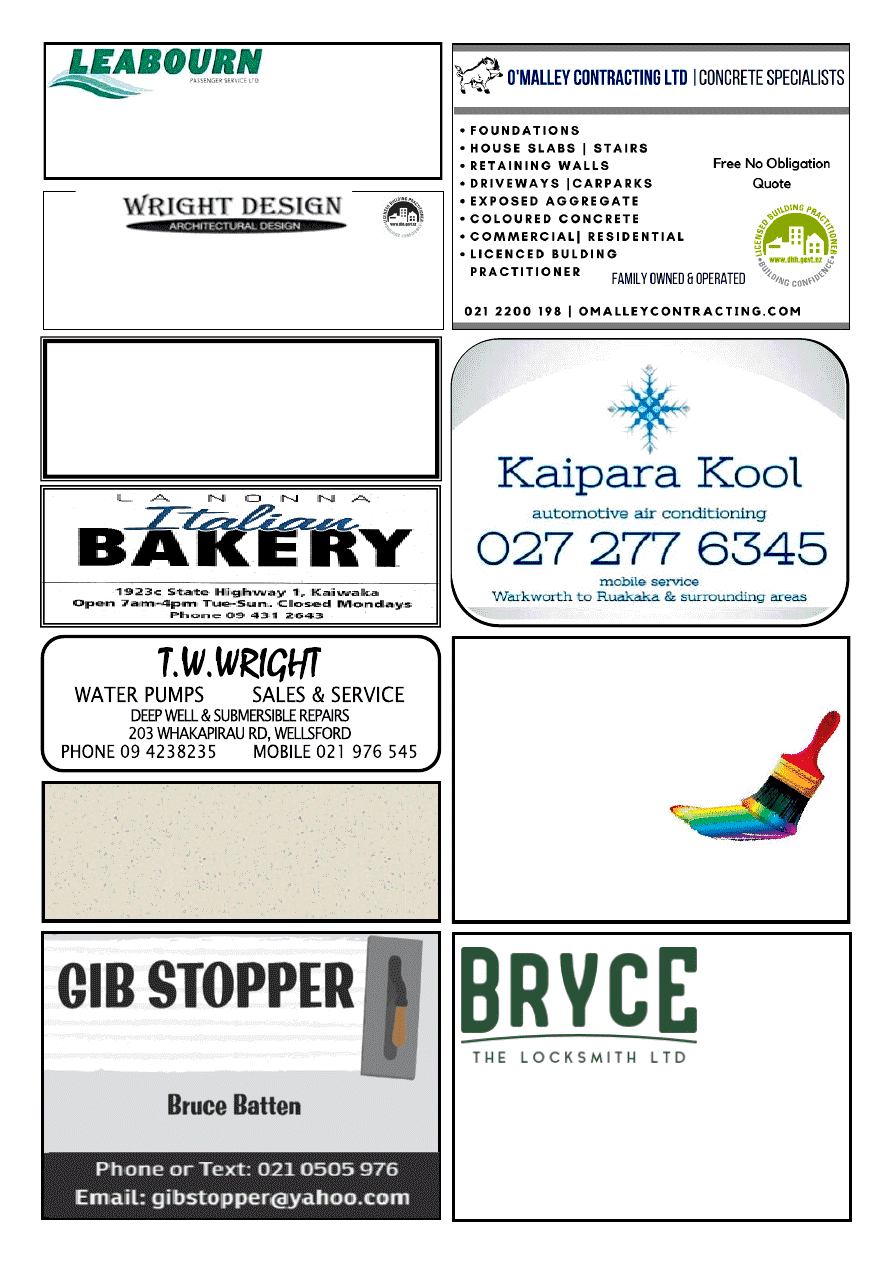 Passenger Service
Car & Van Hire   Bus & Coach Charters 
Airport Transfers    
Phone (09) 4237416 
Counsellor and Registered Psychotherapist 
Offers Supervision 
ACC Sensitive Claims 
Susan Matheson      MNZAC 
Dip. Psychosynthesis Counselling and Psychotherapy 
Phone 09 431 2996                                     Mobile 027 605 2427 
No. 117345 
N.Z.C.A.D., L.B.P. 117345 
PH/Fax: 09 423 8092 Mob: 021 276 7369 
Office: 3 John Sinclair Avenue, Wellsford    brianwright@xtra.co.nz 
For Resource and Building Consents, planning restraints, new building materials - 
you need a capable, experienced, and professional designer with a clear 
knowledge of all the processes. Brian has been helping and organising all these 
facets of design and building for over 50 years. 
Wright Design offers free visits, consultations and advice on planning, design, 
building, council permit applications, guaranteed permit plan acceptance. 
LEE COOPER PAINTERS 
(Kaiwaka Based) 
*30 yrs Experience 
*Interior/Exterior 
*New and Restoration 
*Honest and Reliable 
*Free Quotes 
09 4312918 or 0274735171 
leecooper@xtra.co.nz 
Bryce Frewin 
Ph: 021 850 983 
Kaipara Based Master Locksmith 
bryce@brycethelocksmith.co.nz 
www.brycethelocksmith.co.nz 
HANDYMAN 
Gardens * Lawns * Landscaping * Painting 
* Small gib-stopping * 
* General repairs and maintenance * 
Honest - Reliable 
Phone Burn 0211900555 or Brenda 0211185578 
www.kaiwaka.co.nz 
Kaiwaka Bugle - 18 February 2020 
Page 5 
Willow Bend
HORSE  
HOTEL 
  
Total Horse Care 
 
Agistment 
 
Riding Lessons 
 
Arena Hire (60x40) 
 
Young Horse Starting 
 
Re-training/Exercising 
 
Hoof Trimming 
 
Problem Solving 
Phone Sue 09 431 2817 
or 021 623 776 
Or email  
susanjoll11@gmail.com 
 Everything you need 
All in one place 
We're Here 
OPEN 7 DAYS 
In Store Fresh Bakery,  
Hot Chicken, 
Mussels,  
Fresh Fruit & Vege,  
9kg Gas & Sodastream Gas 
Bottle Swap, 
Lotto & ATM 
JAQUES FOUR SQUARE 
Phone: 4312227 
1 Kaiwaka-Mangawhai Road, 
Kaiwaka. 
On  his  few  days  with  us  our 
wwoofer 
helped 
with 
maintenance,  gardened,  made 
crepes  and  salad  and  was 
photographed  with  the  Prime 
Minister. 
But besides Waitangi Day no labour or 
pleasure was significant. 
He  requested  time  off  to  attend  the 
ceremonies  on  February  5-6th  on  the 
recommendation  of  Kiwis  he'd  met 
hitching.  Many  said  he,  a  25-year-old 
Frenchman from Mont Saint-Michel in 
Normandy  where  WW1  was  fought, 
ought to attend to see how Kiwis are. 
He took a tent, a sleeping bag and food 
from us and says he rose at 5am for the 
dawning  of  Waitangi  Day.  He  queued 
to  be  served  sausages  by  Jacinda 
Ardern,  an  event  he  says  could  never 
happen  in  France  where  ex-corporate 
banker president Emmanuel Macron is 
deeply unpopular. 
But  while  the  political  mire  of 
Waitangi,  and  persuading  the  PM  to 
pose  for  a  selfie,  interested  him,  none 
of it rattled him. 
Not a word 
The 
shock 
for 
this 
visitor 
contemplating  moving  to  NZ  with  his 
partner  (and  in  possession  of  a  work 
visa) is that no Waitangi speaker raised 
the  issue  of  climate  change  on  our 
national  day.  Since  France  celebrates 
Bastille Day July 14 with reflections on 
the nation's direction, he gasped. 
Talk  at  Waitangi,  he  says,  was  about 
religion,  money  and  material  things. 
Personal 
troubles 
and 
beliefs 
dominated  instead  of  thought  for  the 
future and health of our environment. 
His  thoughts  as  he  travelled  from 
Southland  to  Northland  were  on 
drought, 
the 
flooding 
emergencies 
and 
frequent 
extreme  weather  events  in 
Europe, the Americas, Africa and 
Australia. 
"It  really  shocked  me.  No  one 
said anything," said Florian Huc, 
a  senior  lifeguard  and  teacher 
who  turned  a  fear  of  swimming 
into  a  strength,  becoming  the 
France  butterfly  champion  in 
successive  age  group  contests. 
He ran lifeguard services in Mont 
Saint-Michel and Corsica and for 
two  months  in  New  Zealand  has 
investigated  sustainable  farming 
and mutual lifestyles. 
Getting along 
Hitchhiking  from  south to north, 
Florian  rarely  had  to  wait  for  a 
ride,  due,  he  thinks,  to  having  a 
positive  attitude  and  being 
willing  to  get  and  walk  with  his 
rucksack  when  he  had  the 
chance. 
Complaint  and  frustration  get 
you  nowhere,  he  says,  recalling 
another hitchhiker venting to him 
about  ungenerous  motorists. 
Florian  soon  found  a  ride, 
leaving him to moan. 
That  helpful  motorist  had  avoided  the 
other hiker because of his 'angry face'. 
Coming  back  to  us  from  Waitangi, 
Florian was invited to stay by an elder 
who'd led the welcoming party. But he 
declined. His sense of respect to hosts, 
to  us,  is  evident.  He  left  as  he  came, 
hitchhiking  to  the  Matakohe  Kauri 
museum,  the  fifth  such  museum  he 
would  visit  before  flying  off  to 
Thailand. ~ HP 
Photos:  Above  -  Florian's  selfie  with 
Jacinda & sausages; elow - Florian Huc is 
a  lifeguard  and  a  France  age  group 
national butterfly swimming champion.
WHAT SHOCKED OUR WWOOFER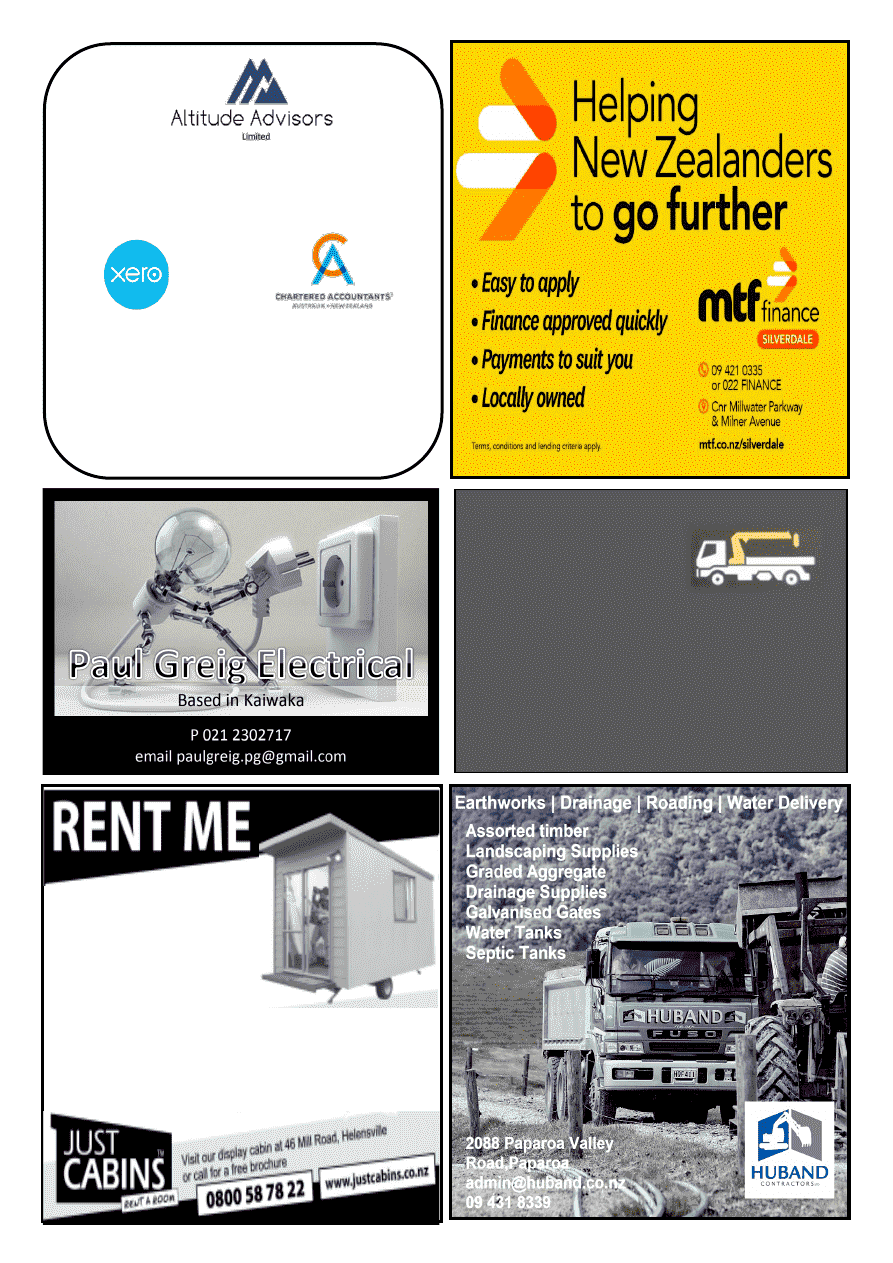 Ideal as an extra  
bedroom or office 
Three Convenient sizes: 
Standard 3.6m x 2.4m - $65 per week 
Large 4.2m x 2.4m - $80 per week 
Altitude with Attitude, helping your business 
scale new heights 
Time to try something different? 
Xero training          Accountancy Services 
We are offering two opportunities: 
15% saving off your annual report cost for your first 
year, & a further 10% saving for any referrals 
Call Corinne on 021 252 7680 or 
corinne@altitudeadvisors.nz 
HIAB HIRE 
PHONE: 
022-0588-515 
EMAIL: 
SERVICE@HIABHIRE.CO.NZ 
WWW.HIABHIRE.CO.NZ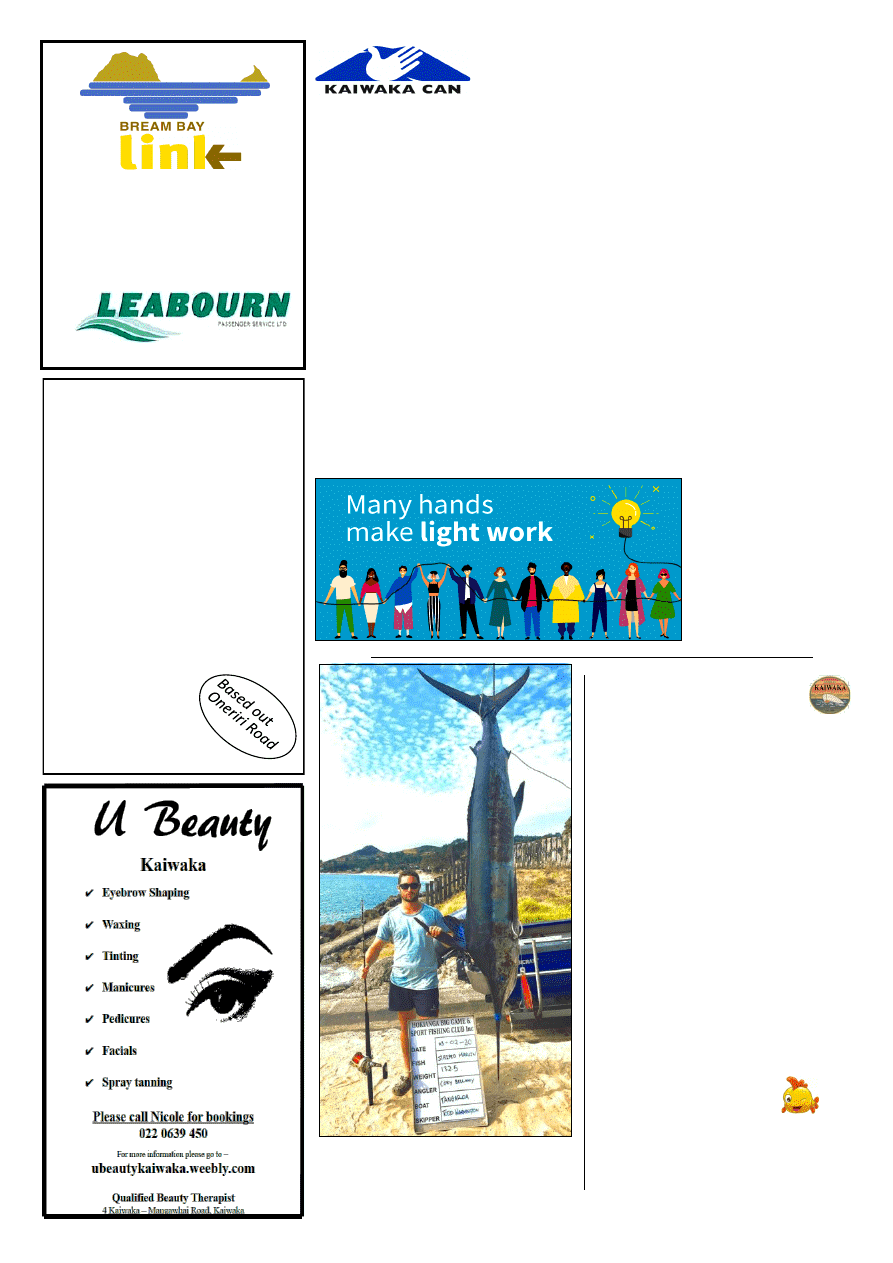 www.kaiwaka.co.nz 
Kaiwaka Bugle - 18 February 2020 
Page 7 
Pictured:  Kaipara  Hunting  &  Fishing 
member,  Cory  Bellamy  caught  the 
elusive  Marlin  on  the  west  coast  - 
weighing in at 132.5kg. He also caught 
a kingfish weighing in at 12.86kg. 
Kaiwaka Can has been going five years 
now.  And  from  time  to  time  we  get  a 
burst  of  criticism  about  what  we  have 
or  haven't  done,  mainly  what  we 
haven't done. Some have nicknamed us 
Kaiwaka  Can't  and  others  have  said 
they are Kaiwaka Do not Kaiwaka Can. 
The  group  was  named  Kaiwaka  Can 
because  we  can  make  a  difference  to 
this town and its surrounds.  
So why is it all so slow? 
Let  me  turn  that  question  round  and 
ask, "What would make it faster?" 
The simple answer is 'you' or to make 
it even better, 'all of us'. I am sure you 
have heard the old joke about someone 
coming  across  a  small  village  and  all 
the  people  are  in  a  circle  around  their 
one  and  only  street  light  which  has 
gone  out.  They  are  holding  hands  and 
waiting  patiently.  The  visitor  asked 
them  what  they  were  doing  to  which 
they  replied,  "old  proverb  says  many 
hands  make  light  work".  I  was 
fascinated  to  learn  this  proverb  first 
appeared  in  the  early  1300's  well 
before they had electric lights! 
So what am I saying? 
Kaiwaka is a town and district of more 
than 2000 people and amongst us all is 
an amazing array of gifts, skills, talents 
and  experiences.  Artists,  architects, 
designers,  environmentalists,  writers, 
sculptors, 
engineers, 
gardeners, 
landscape  designers,  social  workers, 
managers, IT specialists... 
Then  there  are  the  down  to  earth 
practical  people  who  see  a  job  that 
needs  doing  and  grab  some  mates  and 
get  it  done.  In  the  past  it  has  been 
mainly  this  group  that  got  things  done 
here.  But  now,  cramped  as  we  are  so 
often 
by 
regulation, 
council 
requirements, NZTA, workplace safety, 
traffic 
management, 
resource 
management  consents  and  red  tape 
enough to wrap up Mt Everest, it is not 
as easy as it was. 
We  need  both  groups and in  fact  need 
all  of  you. There are  lots of things  we 
want to get done this year and we invite 
you all to be part of that. What we like 
to do is form people of like skills into a 
team and let them get on with it. 
We 
meet 
third 
Wednesday 
every 
month, 
5.30pm 
at 
Archie 
Bull 
Hall 
behind  the  Anglican 
Church.  Next  meeting  
19 February. 
Look  forward  to  seeing 
you. 
Derek  Christensen,  Chair 
Kaiwaka Can 
0273572751 or 099469077 
derekandisa@gmail.com
KAIWAKA CAN:  CAN, CAN'T, 
SHOULD, COULD... 
POINT CURTIS 
CRUISING CLUB  
⚫
 Open 
Fishing 
Competition 
Saturday 21st and Sunday 22nd March. 
Species 
are 
Snapper, 
Kingfish, 
Kahawai & Crayfish. 
There  is  an  auction  after  prize  giving 
on  the  Sunday  so  don't  forget  all  Fish 
being  weighed  are  to  be  Gilled  & 
Gutted... 
⚫
Fishing  Competition:  Friday  17th 
Saturday 18th & Sunday 19th April. 
All Species on the board. This will also 
be  the  cut  off  for  end  of  year  prize 
giving winners.   
⚫
Clay  Bird  Shoot,  Saturday  14th 
March on Pongo's farm at 1pm. If you 
are  interested  please  let  Pongo,  Jean 
from  Jaques,  Sandy  from  Wellsford 
Sports  &  Leisure  or  Renna  know. 
There is a $20 deposit (non-refundable) 
and hope to see you there. 
⚫
Fish  of  the  month  winners  for 
Snapper: 
Linda Leslie      9.655kg 
Chainsaw          8.925kg 
Renna Brown    7.925kg 
⚫
New  fish  of  the  month:  Snapper till 
11th March 
⚫
Next Cub Meeting: Wednesday 11th 
March  2020  7pm  @  Kaiwaka  Sports 
Association. 
~ Wayne Leslie, (Commodore) 
RETURN BUS  
to WHANGAREI 
Every Thursday 
9.00am Departs Kaiwaka 
4.50pm Returns Kaiwaka 
Via  Mangawhai,  and east coast . 
Operated By:  
wwwbuslink.co.nz 
HODGETTS 
CONTRACTING
Digger Work    
Driveways  
House Sites  
Dams      
Drains, etc
Also available for HIRE 
3 ton Vib Roller  
Heavy Duty Tow  
Waterblaster      
Lazer Level
Phone Mark  
4312877 
027 447 8554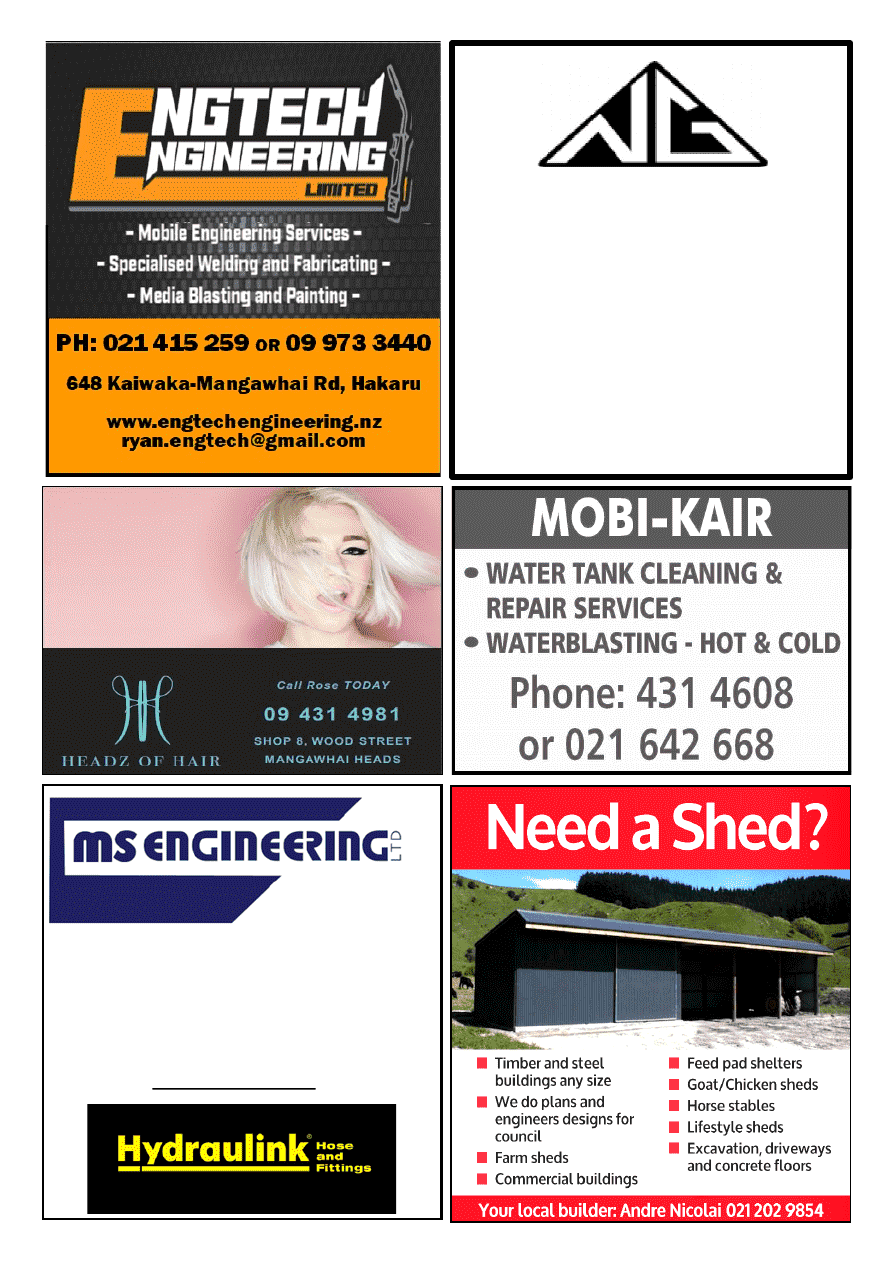 NORTH GLASS 
WINDSCREEN REPAIR OR REPLACE 
GLAZING SERVICES 
MIRRORS  •  SPLASH BACKS  •  SHOWERS 
0800 70 40 10
info@northglass.co.nz 
www.northglass.co.nz 

Peter Buckley 

Mobile Hose Technician –  
                      Based from Oneriri Road 

Available for all mobile hose                                
                        requirements onsite 

Call – 0800 425 7116 

Email – mse@mseng.co.nz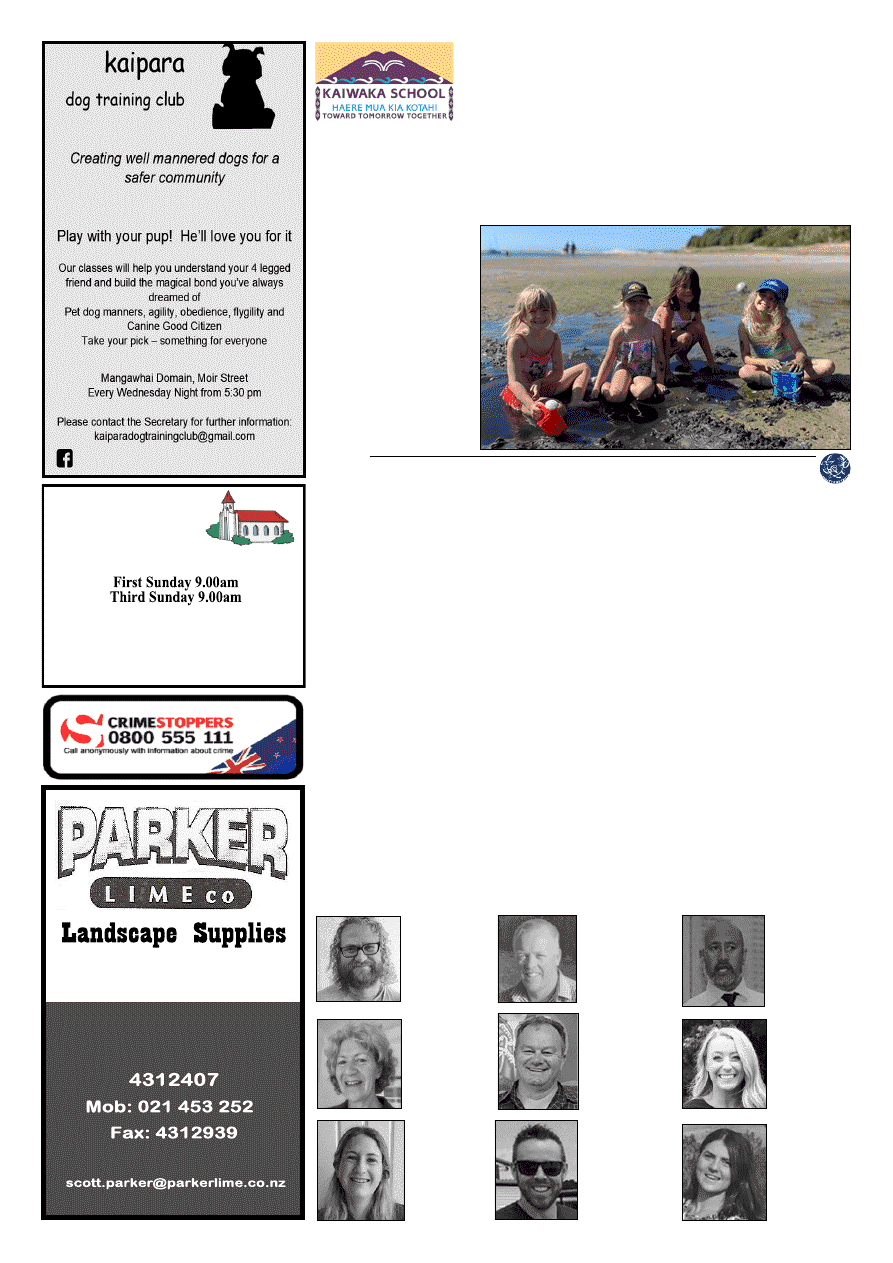 www.kaiwaka.co.nz 
Kaiwaka Bugle - 18 February 2020 
Page 9 
ST PAUL'S  
ANGLICAN  
SUNDAY SERVICES
St Pauls Church: Kaiwaka-Mangawhai Rd. 
1st Sunday - Eucharist 
3rd Sunday - Family Service 
Priest in Charge Rev. W Thornton Ph 431 4122 
www.mangawhaianglican.org.nz
The last week has been a busy week with the Senior School 
Year 3-6 completing various nationally used Assessments., 
and a very successful school picnic at Mangawhai Beach. 
This year we have decided to rename the classrooms using 
native  trees.  It  will  take  some  getting  used  to  but  sits  nicely  with  the  other 
Enviro School ideas we are looking at implementing. 
R1 - Matai (Michelle Dempsey); R2 - Kawakawa (Katherine Brown) 
R3 - Kowhai (Rebecca Harris); R4 - Manuka (Hannah Taylor-Rose and Doreen 
Dervan); R5 - Puriri (Nik Massey); R6 - Pohutakawa (Susan Butler) 
R14 - Kauri (Cathryn Stevens) 
HELP NEEDED 
We  would  like  to  get 
our  woodwork  tables 
being used more by the 
children.  If  you  would 
like to donate any tools 
such as hammers, files, 
screwdrivers, 
nails, 
screws  etc  we  would 
be  grateful.  Wood  for 
hammering 
and 
constructing 
would  also  be  happily 
received. 
Bulk Cartage 
OTAMATEA HIGH SCHOOL NEWS
KAIWAKA SCHOOL 
What a fabulous day of participation and competition in the annual swimming 
sports event.  Thank you to all the helpers and family members who came along 
to support.  Well done to the students who seemed to have a wonderful time. 
Welcome evening:  
On Wednesday 19th February we have our annual welcome evening.  This is a 
great chance to meet the staff, prefects and other parents/caregivers.  I will be 
given a presentation about the school and this will be followed by a chance to 
either have a tour of the school with the prefects, speak to staff members or go to 
one  of  the  presentations.    Nyree  Alcock  will  be  presenting  about  the  junior 
school which is especially useful for those parents/caregivers who have children 
in  year  7  or  8.    Arina  Bosch  and  Alexandra  Smith  will  be  running  a  session 
about the teenage brain.  Drinks and nibbles will be provided. 
~ Rachel Clothier-
Simmonds, Principal  
Congratulations to all of our students who gained NCEA endorsements in 2019 
Year 11 NCEA Level 1 Certificate Endorsements 
Excellence:  Amy  Lawrence;  Cory  Browne;  Renee  Allen;  Trista  Comer;  Abby  Cant; 
Lola Smyth; Sophie Gribble; Lilli McCarthy; Adriana Phillips 
Merit:  Alyssa Flannagan; Brenda Ferguson; Emma Britton; Alida Spencer; Asher Tito; 
Jaden  Sheppard;  Teina  Seager;  Beth  Horne;  Shayla  Hyndman;  Grace  Kemp;  Bella 
Moore; Sharon Sun 
Year 12 NCEA Level 2 Certificate Endorsements 
Excellence:  Maggie  Hames;  Bipasa  Patel;  Juliana  Bangcong;  Paige  Kenyon;  Toni 
Tornquist; Jessica Evans 
Merit: CJ Smart; Kelly Huband; Hayley Linton; Katrina Poyner; Katie Ferguson; Stacey 
Liu; Laura Mickell; Jeff Smith; Cassidy Allen; Ayla Driver; Amyee Sheppard 
Year 13 NCEA Level 3 Certificate Endorsements 
Excellence: Suzy Hames; Isaac Sheppard; Mya Lawrence; Hannah Cant; Kinga Harding 
Merit: Alex Parr; Emma Millard; Quintin Brown; Bridgette Hosford; Julia Mickell 
INTRODUCING OUR NEW TEACHING STAFF: 
Damon 
George:  
Head  of 
English  
Annette 
Atkins   
Drama 
Teacher 
Simone 
Ransley 
English, 
History  & 
Junior 
Syndicate 
Teacher 
Tony Baker   
Arawa  Iwi 
Dean 
& 
Social 
Sciences 
Nigel  Mills     
Languages 
Teacher  
Adam 
Blake    
Music 
Teacher  
Wiremu 
Ngatipa   
Te 
Reo 
Maori 
Teacher  
Alysha 
Baker   
Junior 
Syndicate   
Kari 
Meachin   
Hospitality 
& 
Food 
Technology 
Teacher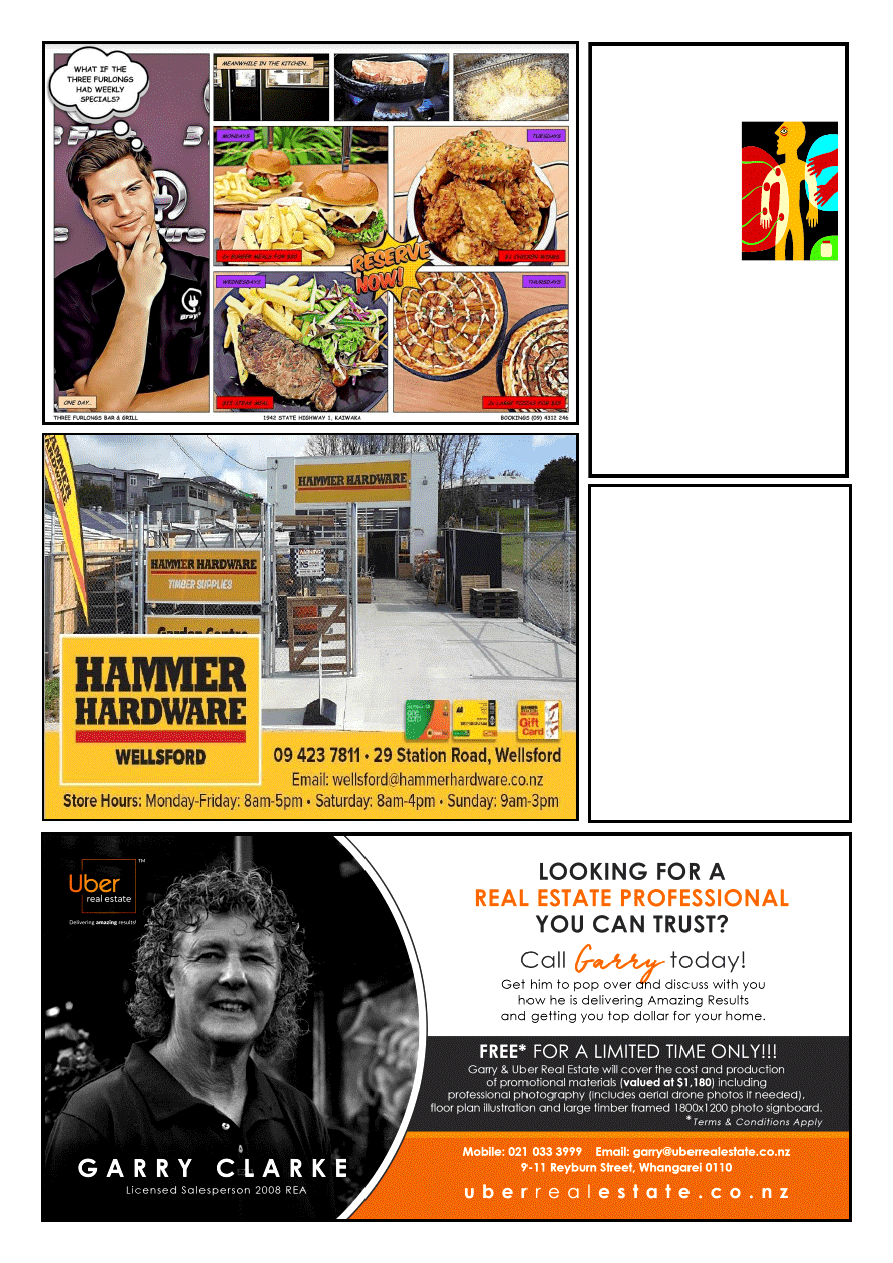 OWEN STEVENS 
Osteo Therapist
For careful 
adjustments to 
bones and joints 
Treatment for 
humans and their 
pets 
Clinics: 
Kate's Place, Kaiwaka: 
Last Friday of month 
For bookings: 
9.00am-5.00pm  
Phone 
09 4312661 
Or phone Owen  
09 4317123 anytime 
WHERE TO GET HELP 

1737, Need to talk? Free call or 
text1737 to talk to a trained counsellor  

Rural Support Trust 0800 787 254   

Lifeline, 0800 543 354  

Youthline, 0800 376 63, text 234, 
email talk@youthline.co.nz or online 
chat 

Samaritans, 0800 726 666  

Depression Helpline, 0800 111 757   

Suicide Crisis Helpline, 0508 828 
865 (TAUTOKO)      

In a life-threatening situation 
call 
111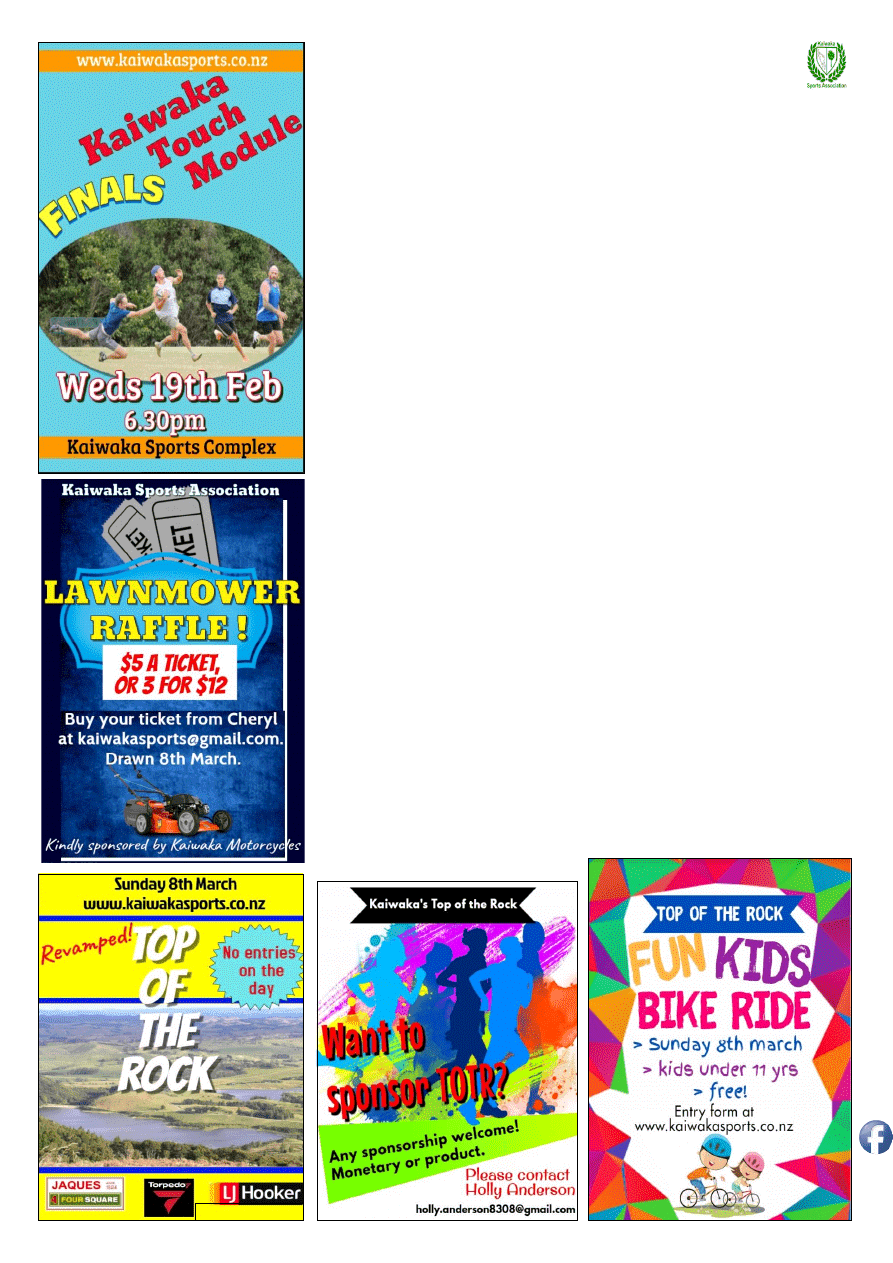 www.kaiwaka.co.nz 
Kaiwaka Bugle - 18 February 2020 
Page 11 
KAIWAKA SPORTS ASSOCIATION
AN  EXCITING  ADDITION  TO 
THE KSA!
Our  Fitness  Trail  is  about  to  get  a 
fantastic  addition  -  several  stations  of 
outdoors exercise equipment. So, when 
you are running or walking around the 
trail,  you  will  now  be  able  to  stop  off 
for a workout! 
The  exercise  pieces  we  have  selected 
are  designed  to  be  able  to  be  used  by 
any  person,  regardless  of  their  age, 
body type and physical condition. Our 
Fitness Trail is available to members of 
the  public  at  no  cost  -  making  the 
health benefits of exercise available to 
everyone! 
Many  thanks  to  the  KDC  for  the 
funding  so  that  we  could  turn  our 
vision  into  reality,  we  greatly 
appreciate the support. 
TOUCH MODULE 
Our  Touch  Module  is  coming  to  an 
end.  Finals  will  be  held  this 
Wednesday  19th  February,  starting  at 
6.30pm. Spectators welcome. 
WEDDINGS AT THE KSA 
If  you  are  looking  for  a  wedding 
venue,  the  KSA  has  lovely  outside 
spots  by  the  native  bush  which  are 
ideal  for  the  ceremony,  then  the 
reception  can  be  held  inside  the 
pavilion. 
Check  out  our  website  for  all  the 
details www.kaiwakasports.co.nz . 
RUGBY – SENIOR HAWKS 
Trainings  are  underway  for  the  2020 
rugby  season.  Our  Hawks  (men  and 
women) are training at our grounds on 
Tuesdays  and  Thursdays  at  6.30pm  – 
past  and  new  players  welcome.  The 
Hawks first home match of the season 
will be at our grounds on Saturday 21st 
March  at  2.30pm  when  we  take  on 
Onerahi. 
BADMINTON 
Badminton has started up again for the 
new  year.  Players  of  all  ages  and 
abilities  are  welcome  so  if  you  are 
keen, simply turn up to our gymnasium 
on Tuesdays from 7.30pm. Only $3 per 
person,  play  as  long  as  you  like.  Club 
rackets are available for you to borrow 
at  no  cost.  For  badminton  queries, 
please ring Kaye Fleming on 4312 345. 
WINTER SPORTS 
Winter sports are starting to gear 
up,  and  you  may  be  thinking  that  you 
or your children would like to try out a 
new sport. 
Did  you  know  that  we  now  have  20 
affiliated sports clubs? We have a wide 
range of sports: competitive and social, 
for adults and for children, team sports 
and  solo  sports.  For  the  full  list  of 
clubs  and  contact  details,  visit  our 
website  www.kaiwakasports.co.nz  . 
Why  not  try  your  hand  at  something 
new! 
TOP  OF  THE  ROCK  –  Sunday 
8th March 
Have you entered Top of the Rock yet? 
It will be a fun family day out – plus a 
great way for you to support the Sports 
Association.  All  profits  will  go  into 
providing  sporting  and  recreational 
opportunities for our community. 
You  can  enter  the 5km  or  10km  route 
and  choose  to  either  run  or  walk  it. 
Plus,  we  will  have  a  Kids  Fun  Bike 
Ride for under 11-year olds back at the 
KSA  –  which  is  free!  It's  a  short,  flat 
course  (going  around  the  KSA 
grounds,  school  grounds  and  a 
neighbour's  farm),  and  takes  about  10 
minutes,  so  it's  perfect  for  the  young 
ones.  Your  child  will  need  a  bike/
scooter plus a helmet. I am going to get 
together  a  prize  pack,  so  every  child 
who  enters  the  Fun  Bike  Ride  will  be 
in the draw! 
A raffle will be drawn for a Husqvarna 
lawnmower,  kindly  donated  by  Matt 
from  Kaiwaka  Motorcycles.  Tickets 
are $5 (or 3 for $12) and you can buy 
tickets from myself, from now up until 
the day (you don't have to be present at 
Top of the Rock to claim it). 
There  are  NO  ENTRIES  ON  THE 
DAY  –  your  last  chance  to  register  is 
Friday 6th March. 
Easy 
to 
enter: 
visit 
www.kaiwakasports.co.nz  ,  or  pick  up 
a entry form from Jaques Four Square. 
For  more  information  contact  Cheryl 
on kaiwakasports@gmail.com . 
~ Cheryl, kaiwakasports@gmail.com
See Page 11 for more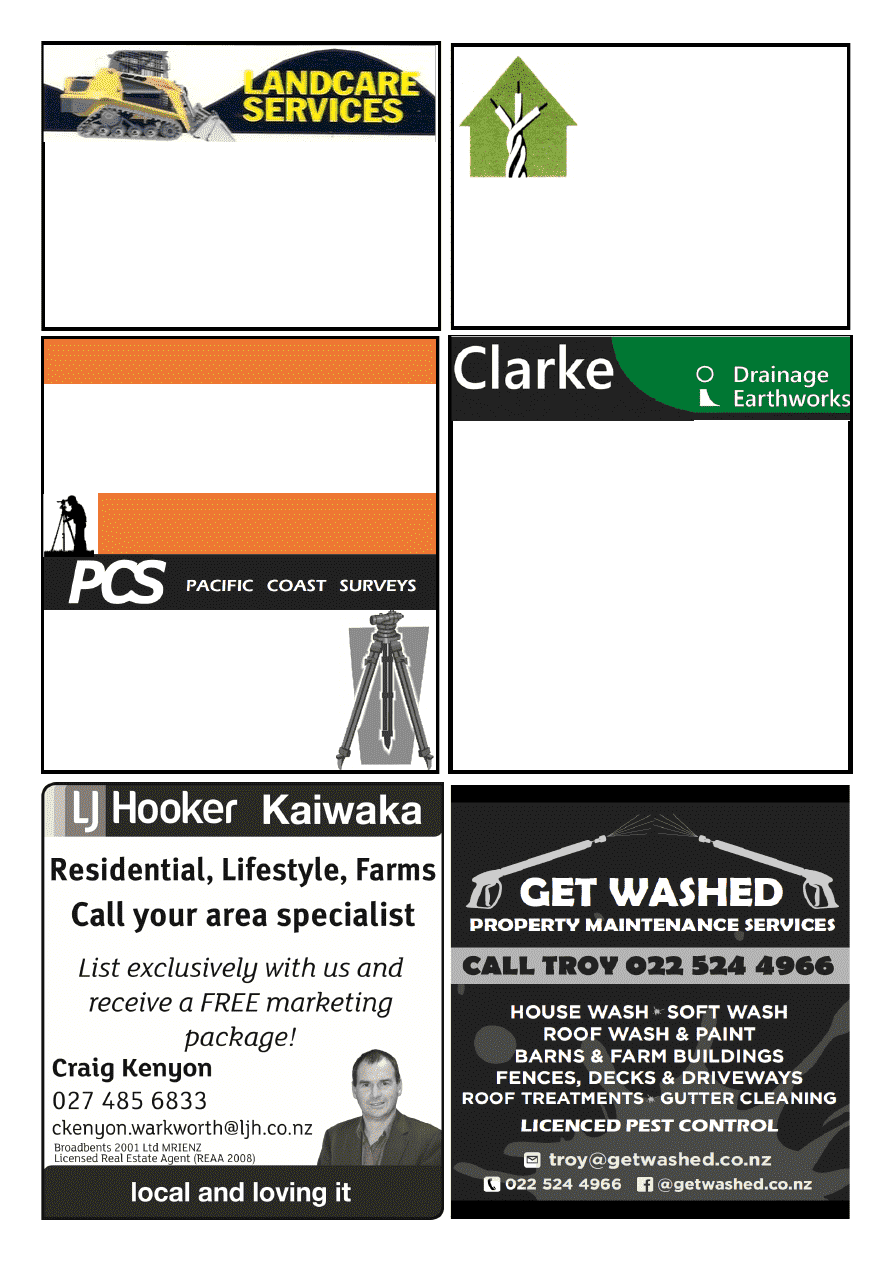 Reyahn  Leng 
Registered Electrician 
Local, honest and reliable. 
For your residential and 
light-commercial projects. 
022 314 1068 
SURVEYORS 
SUBDIVISIONS 
HOUSE SITE SURVEYS 
CIVIL ENGINEERING 
WASTEWATER DESIGNS 
EXPERIENCED 
PROFESSIONAL 
INNOVATIVE 
Ph 09 431 5353 
0800 PACIFIC (0800 722 434) 
pacificcoastsurvey.com
Adam Booth - 027 415 5752 
Bsurv, Licensed Cadastral Surveyor
Surveying Kaipara since 1994 
LANDSCAPING 
4 IN 1 BUCKET 
TRENCHER 
POLE HOLES 
ROTARY HOE 
COMPACT ROLLER 
OFFAL HOLES 
CAN SUPPLY WOODCHIP & POST PEEL 
5 TON TIPPER 
FOR RELIABLE AND FRIENDLY SERVICE CONTACT DAVE 
Dave Hyndman 
 
KAIWAKA 
PH: 09 4312302 
MOB: 021 431 238 
Drainage & Earthmoving 
nigel@clarkedrainage.nz 
027 2233 185 
Registered Drainlayer                 All Types of Earthworks  
> All Residential & Commercial Work  > House Sites 
> Septic System Design & Install 
> Footings & Drilling to 10m 
> Sewer Connections 
> Dams 
> Water Tank Installation 
> Roading & Races 
> Farm Work 
THE ONE STOP SHOP  
Phone Nigel for an Obligation Free Quote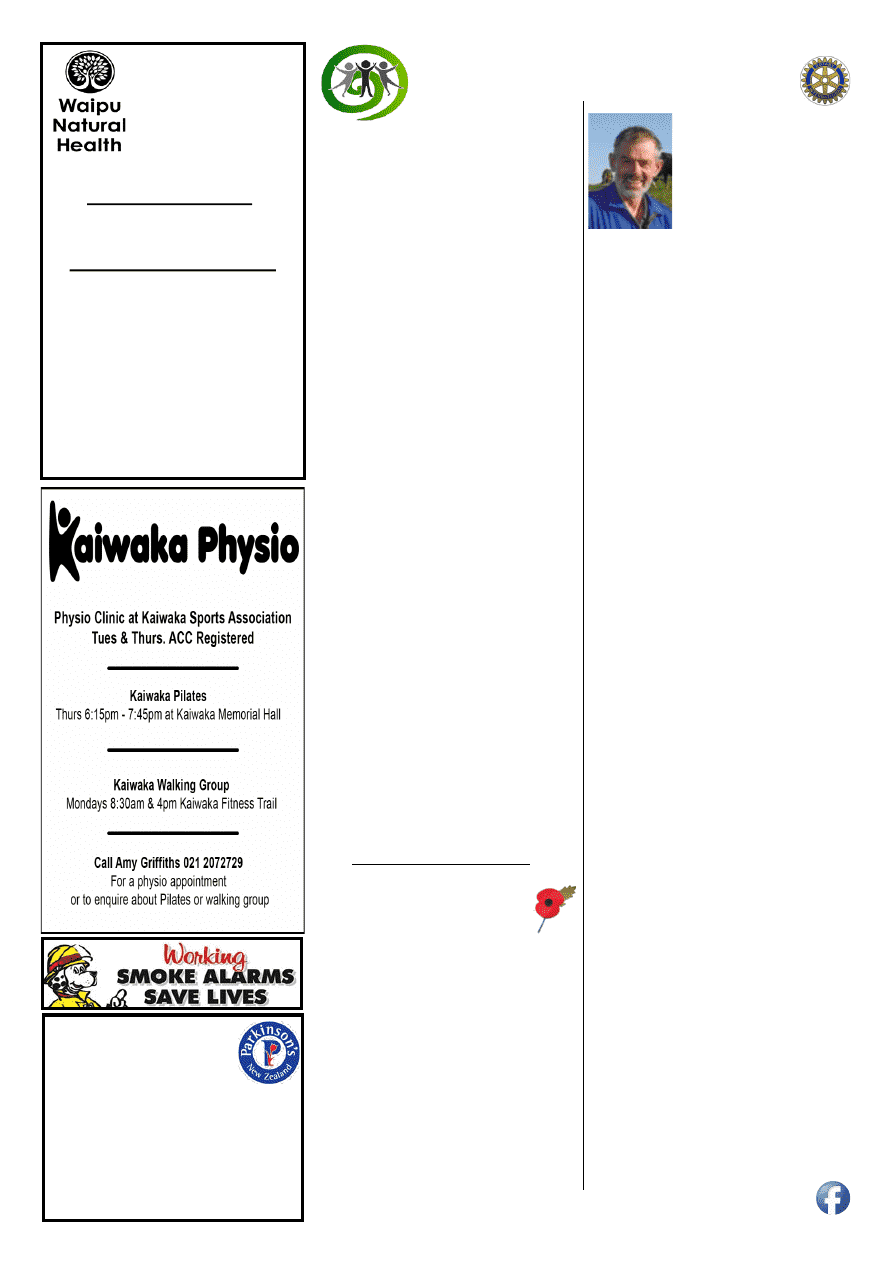 www.kaiwaka.co.nz 
Kaiwaka Bugle - 18 February 2020 
Page 13 
Parkinson's  
Northland 
Provide: 

Home based consultations 

Information and education on living with 
Parkinson's 

Support and exercise groups 

In-service training for other health 
providers 
Barbara Leslie RN,  
Community Educator 
09 4376881  or 027 5306221 
barbara.leslie@parkinsons.org.nz 
www.parkinsons.org.nz 
MAUNGATUROTO 
AND DISTRICTS 
ROTARY 
We had a very successful 
BBQ  at  President  Les 
Kenworthy-Thompson's 
home  in  mid-January. 
This  is  a  great  way  to 
start  the  year  and  it  was 
followed  up  with  a 
potluck  dinner  the  next 
week. 
We  are  fortunate  this  year  again  to 
have the catering services of Otamatea 
High  School  Netball  and  Duke  of 
Edinburgh  Gold  level  parents  and 
students.  It  is  a  win-win  situation  for 
both of us because not only do we get a 
delicious  meal,  but  the  students  are 
able to fundraise in the process. We are 
also  grateful  for  the  effort  the  parents 
make on behalf of these youngsters. 
Driver Mentoring  
Most  of  you  will  be  aware  of  our 
Driver Mentoring scheme. We have six 
drivers who help those with a Learner's 
licence progress to their Restricted. We 
attended  a  training  day  in  Whangarei 
which  ensured  that  we  know  the 
expectations  of  the  testing  officer.  So 
far  this  year  we  are  aware  of  four  of 
our students being successful. This will 
mean that they will have more freedom 
when job seeking. 
At the start of the month approximately 
a  third  of  us  were  involved  in  helping 
with the Paparoa A&P show in various 
capacities.  Those  of  us  on  the  gate 
were  able  to  share  this  duty  with  our 
fellow service club, Lions. 
Earlier  in  February  we  had  a  surprise 
visit  from  members  of  the  Orewa/
Stillwater  satellite  club  of  which  our 
Assistant Governor is a member. It was 
great to be able to socialise with these 
people and there was also an excellent 
chance  to  hear  about  the  types  of 
activities  they  focus  on  and  the 
fundraisers that they take part in. As a 
result  of  this  visit,  we  have  been 
invited to reciprocate later in February 
at  Silverdale.  As  a  club  we  have 
decided that these types of visits are a 
very  important  part  of  Rotary  and  we 
hope to participate in them more often. 
We  have  also  had  a  club  assembly. 
This  enabled  us  to  talk  about  what  is 
important  to  each  of  us  and  helps  us 
plan  the  year  ahead.  We  will  continue 
to  meet  on  a  weekly  basis  but  will  be 
looking  at  having  some  form  of 
Associate membership. Details for this 
are  under  discussion  so  more  to  come 
in subsequent newsletters. 
While we have successfully completed 
the  bridge  at  the  bottom  of  the  Nikau 
Grove  walkway,  our  next  project  in 
that  vicinity  is  to  have  a  structure 
placed over the roots of the kauri tree. 
We  are  also  looking  at  planting  a 
companion tree in this grove as this is 
needed if we want the kauri to seed. 
If  you  are  interested  in  joining  us  at 
any time, please don't hesitate to get in 
touch with one of the current Rotarians 
or  leave  a  message  on  the 
Facebook page. 
3 Cove Road, Waipu 
(opposite the Pizza Barn
) 
094321325 
www.waipunaturalhealth.co.nz 
Clinical Nutritionist: 
Nutritional Checkups, Diets for 
Chronic Diseases,  
Food Sensitivities 
Naturopathic Physician: 
Ozone Therapy, Prolotherapy, 
Mesozone 
Reflexology, Craniosacral 
Therapy, Trauma Release 
Massage Therapy 
Counselling and Hypnotherapy 
Change Catalyst/ThetaHealer 
Affordable Children's Consults 
All therapists are fully qualified
OTAMATEA  
COMMUNITY 
SERVICES 
It  is  with  sadness  that  we  share  the 
news  of  the  passing  of  one  of  our  ex-
colleagues. Liz Bourne came to work at 
the House as volunteer on the reception 
desk.  After  a  couple  of  years,  she 
trained  as  financial  mentor  where  she 
helped  numerous  clients  with  their 
WINZ  account,  budgets  and  generally 
provided  great  support  to  them.  She 
also  took  charge  of  the  monthly 
seniors'  lunch,  doing  most  of  the 
cooking and became very popular with 
the  seniors  due  to  her  bubbly 
personality.  She  suffered  ill  health  for 
years until it became such that she had 
to leave work just over a year ago. 
Sadly, her illness finally took over and 
we  said  our final  goodbye  on Tuesday 
4th February with her partner, son and 
daughter,  her  extended  family  and 
many friends. Liz will be missed by all. 
February  events  went  smoothly  and 
helped  entertain  a  good  mix  of  locals, 
especially  the  monthly  senior's  lunch 
where  the  St  John  kitchen  was  in  the 
skilled  hands  of  our  new  caterers.  A 
beautiful  meal  was  enjoyed  by 
everyone with high praise coming back 
to us for days afterwards. 
March calendar: 

Monday  -  Fun  &  Games,  Anglican 
Church Footprints Room 10-12pm 

Wednesday  4  March  –  Senior's 
Lunch - St John Hall 

Tuesday  11  March  -  Free  shopping 
trip to Whangarei 

Wednesday  18  March  –  Chocolate 
Bingo 

Wednesday  25  March  –  Shopping 
trip to Whangarei 
Check  out  our  website  'Otamatea 
Community  Services' for details of all 
of our services for your information. 
From all at your community House. 
Phone: 09 4319080 
Email: reception@otamateacs.org.nz 
155 Hurndall Street West, Maungaturoto
ANZAC DAY POETRY  
Entries  are  now  open  for  the 
annual  Anzac  Day  poetry 
competition. This year's theme is 
"Children of War".  
The  competition  is  open  to  all  ages, 
with  three  categories: 18  years  +,  12  - 
17 years and 11 years and under. Each 
of  the  nine  finalists  receive  a  $150 
Prezzy® Card.  
Finalists  from  each  age  category  will 
be  invited  to  read  their  entries  on 
Anzac  Day  at  9.30am  followed  by 
morning tea. 
Entries  must  be  received  by  5pm  on 
Tuesday 14 April 2020.  
Email: 
please 
attach 
poems 
competitions@aucklandmuseum.com  
Or post your entries to:  
Lest We Forget Poetry Competition 
Auckland Museum, Private Bag 92018 
Victoria Street West, Auckland 1142. 
4T DIGGER – BOBCAT – TIP TRUCK 
Property Maintenance - Driveways  
 Building Sites 
Stump & Tree Removal  
Hole Boring - Chain Trencher  
Calf Shed and Stockyard Cleaning 
Phone Matt: 021 199 6677 
Email: mprabrownecontractors@gmail.com 
Pest Control 
PLAN A: One-off treatments to customers with a specific pest problem 
PLAN B: Full maintenance service plans to commercial customers. 
This will include documentation kept in customer file on site: 
⚫
Pest treated 
⚫
Date of service 
⚫
Chemical or baits used 
⚫
Full pest check report done after each treatment 
⚫
Fair and reasonable fee with guarantee 
Flood Recovery 
Carpet Care 
⚫
Carpet Drying 
This includes pre-spray treatments 
⚫
Dehumidifier Rental 
with stain removal and hot water extraction.  
⚫
Full Commercial Cleaning  Patch repair also available 
Upholstery Cleaning 
Full upholstery cleaning of all furniture.  
eg lounge suites and all office chairs 
Water Blasting 
⚫
Concrete - Decks 
House Washing 
⚫
Soft Chemical Was 
⚫
Pre-painting Wash 
Property Services 
⚫
Property Cleaning  Lawn Mowing 
⚫
Hedges General   Tidy Ups 
design drafting  
service 
Retired builder and manufacturer with over 40 years  
experience in the building industry is offering a design 
drafting service for domestic housing, sleepouts and 
sheds.  
Plans formulated in consultation with clients, with 
working drawings completed and submitted to  
council for processing.  Extensive practical experience,  
able to identify & resolve problems. 
Please ring Mike Lean on 
09 431 2260 
or 
021 431 196 
CANCER SOCIETY SUPPORT GROUP  
Cancer  Society  Support  Group  Maungaturoto 
is  an 
informal support group for anyone with a cancer diagnosis and 
their  family.  Come  and  meet  with  others  who 
understand  what  you  are  going  through  on  then  4th 
Tuesday  of  each  month  at  134  Hurndall  Street  East 
Footprints  Room  (behind  Holy  Trinity  Church,  beside 
the Maungaturoto Medical Centre).  
Contact Annette Davis, office co-ordinator on  
09 4375593 or 027 607 1469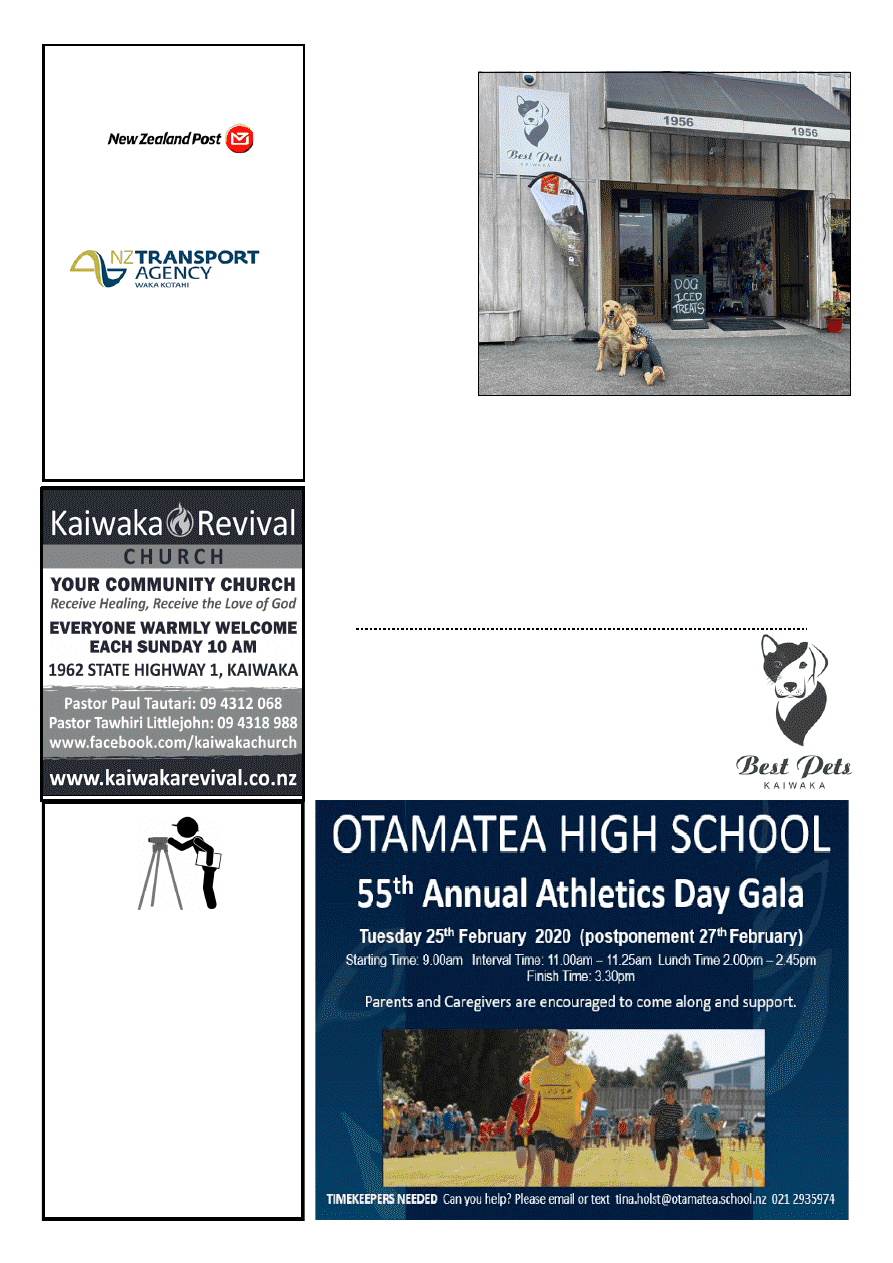 www.kaiwaka.co.nz 
Kaiwaka Bugle - 18 February 2020 
Page 15 
KAIWAKA POST 
CENTRE and 
FOOD MART 
POST CENTRE TRADING HOURS 
MONDAY to FRIDAY 8am to 5pm 
SATURDAY 8am to 12pm 
CLOSED ON SUNDAY and on 
PUBLIC HOLIDAYS 
FOOD MART (GROCERIES) 
MONDAY TO FRIDAY  
7:30am to 7.30pm 
SATURDAY  8am to 7.30pm 
SUNDAY  8:30am to 7pm 
IF ANY QUERIES PLEASE CALL 
STORE MANAGER AMRIT  
on 09 4312431 or 
EMAIL: kaiwakafood19a@gmail.com 
1919a State Highway1, Kaiwaka 0542 
Ken Urquhart 
BSurv Licensed  
Cadastral Surveyor 
KMU Surveys Ltd 
467 Bickerstaffe Road 
RD 2 
Maungaturoto 0587 
Ph 09 431 8705 
Mob 021 161 2344 
kenurquhart@xtra.co.nz 
Best Pets Kaiwaka has 
a  new  location,  the 
shop  has  moved  from 
beside 
the 
Italian 
Bakery  to  down  the 
road;  across  from  the 
Dutch  Cheese  Shop. 
This  locally  owned 
and 
run 
business 
provides 
the 
community  with  a 
variety of pet supplies, 
including raw food for 
dogs 
and 
cats, 
premium  dry  food, 
bird  seed,  fish  and 
turtle  food,  as  well  as 
leads,  collars,  bowls, 
toys  and  homeopathic 
remedies.  There  is  a 
focus  towards  additive 
free, natural products to help support healthy animals.  
In  the  future  the  owners  Christelle  and  Michael  hope  to  extend  their  range  to 
include  farm  animals.  "We  are  in  the  process  of  sourcing  chicken  feed  and 
pellets  for  other  farm  animals  like  sheep,  goats  and  pigs.  We  are  open  to 
suggestions so if anyone would like us to get in certain products please get in 
contact with us".  
Christelle is also a fully qualified naturopath and will be adding to her human 
section  which  currently  consist  of  Dirty  Hippie  all  natural  skin  care  and  body 
products, homeopathic remedies, colloidal silver and mineral supplements.  
Best Pets Kaiwaka is just about to start their new late night Thursdays where the 
shop will be open until 6.30pm. This starts Thursday the 20th of February.  
For more information check them out on Facebook and Instagram, or pop in and 
have a chat or call on 022 574 7332. Don't be afraid to bring your pooch, there's 
always a treat floating around for furry friends of the shop. 
10% OFF   
BRING THIS AD IN BEFORE  
29TH FEBRUARY 2020  
FOR 10% OFF YOUR NEXT PURCHASE  
*Valid for one purchase per customer. 
THE BEST A PET CAN GET, IN KAIWAKA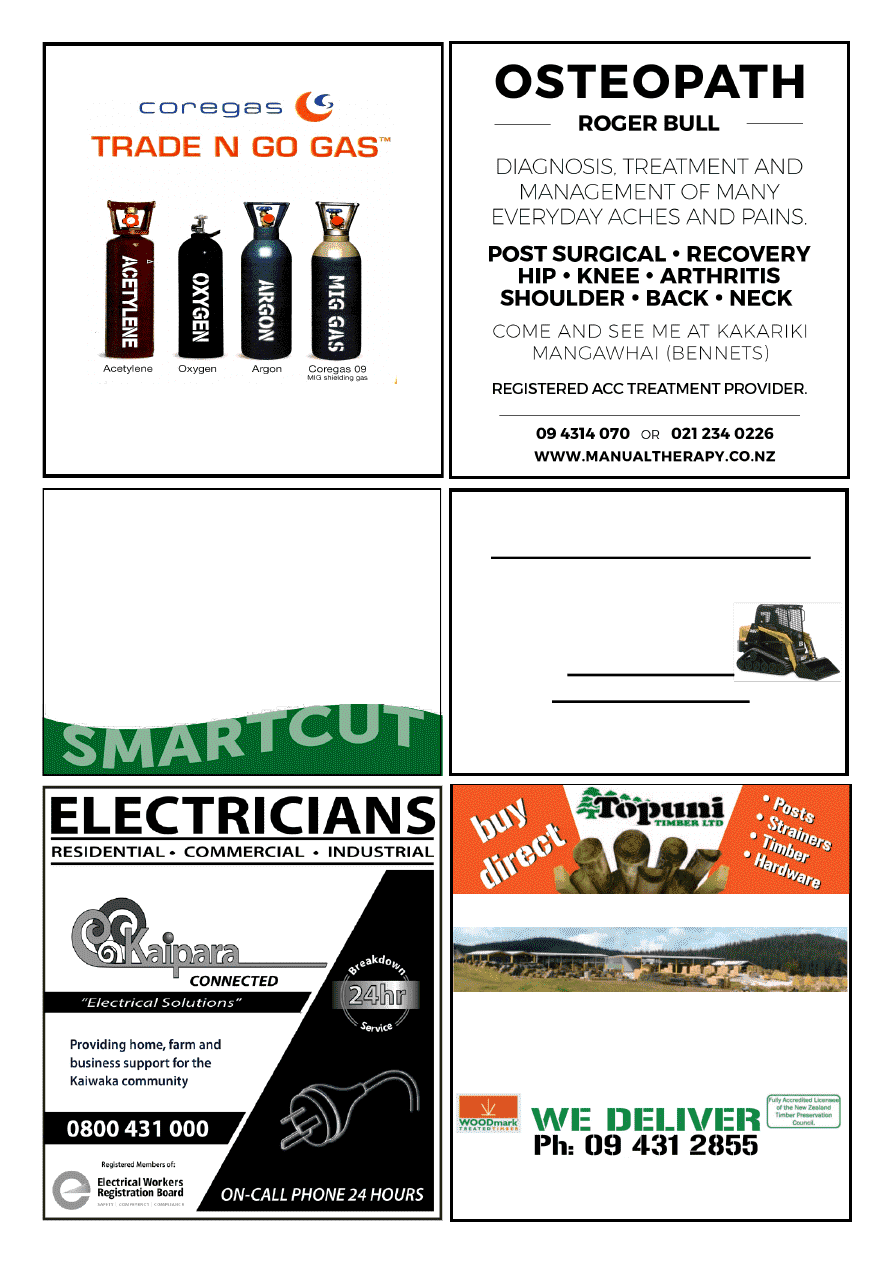 All your outdoor needs sorted so you don't have to… 
I can prune, chop, tidy, spray, mow, plant 
You name it, I can do it! 
Residential & Commercial 
Lawn & Garden Care 
Call Rodney,  
your local lawnmowing contractor 
021 138 2344 
At Twinkle Tow 'n' Tyre 
Mob: 021 833 960 
Ph & Fax: 09 431 2823 
1837 State Highway 1, Kaiwaka 
LOCALLY OWNED AND OPERATED 
QUALITY PRODUCTS • FRIENDLY ADVICE • GREAT SERVICE 
Quality Products milled from High Density NORTHLAND Radiata Pine. 
Treated and guaranteed to NZS3640 with commitment to 
Environmental Safety.
Phone, fax, email, or come into the mill 
Schiska Rd, Topuni, SH1, 10 min north of Wellsford. Fax: 09 431 2856 
Email: sales@topunitimber.co.nz           Mon - Fri 7am-5pm 
• Fencing 
• Retaining 
• Decking 
• Landscaping 
• Gates 
• Hardware 
Natural Earth Ltd 
Landscape and Bobcat services 
 : Driveways :Landscaping :Retaining Walls 
 : Hole Boring: Land Levelling :Trenching 
 : Decks :Fences :Sections Cleared 
 : Plus much more
Tel 09 4312 885 
Mob 02102391280 
For A Fast Friendly Service  
Contact Tim Hicks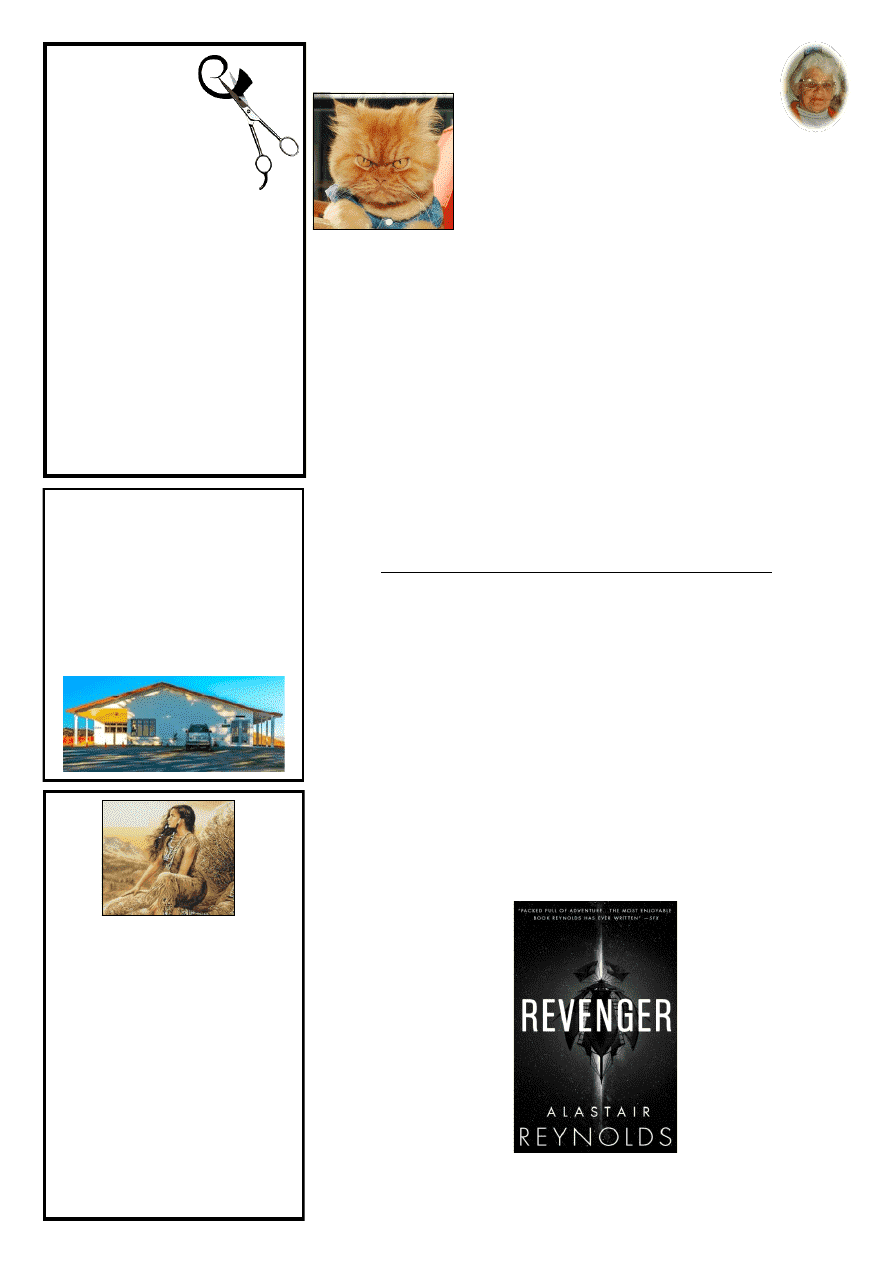 www.kaiwaka.co.nz 
Kaiwaka Bugle - 18 February 2020 
Page 17 
Te Pounga Marae 
130 Nathan Rd. Oneriri. Kaiwaka 0573 
COMPLEX FOR 
HIRE 
Functions: * Weddings  * Birthdays  
*Anniversaries * Meetings  * Wananga 5 
hour meeting * 12 hour stay or Overnight 
*All welcome   
For more information please contact: 
 Pearl Nathan 0223933533 
Email: tepoungamarae130@outlook.com  
1. 
If you have to 
throw up, get 
into a chair 
quickly. If you 
can't manage 
this in time, get 
to an oriental 
rug shag is good. 
2. 
Determine quickly which guest 
hates cats. Sit on that lap during the 
evening. He won't dare push you off 
and will even call you "nice kitty" 
3. 
For sitting on laps or rubbing 
against trouser legs, select colours 
that contrast your own. 
4. 
Always accompany guests to the 
bathroom. Its not necessary to do 
anything. Just sit and stare. 
5.For guests that say "I love kitties", 
be ready with aloof disdain, claws 
applied to stockings, or a quick nip on 
the ankles. 
6.
Do not allow closed doors in any 
room. To get one open, stand on 
hind legs and hammer 
doorknob with forepaws. 
When you have ordered an outside 
door opened, stand half in and half 
out and think about several things. 
This is important during very cold 
weather or mosquito season. 
7. 
If one person is busy and the other 
is idle, sit with the busy one. For 
book readers, get in close under the 
chin, unless you can lie across the 
book itself. 
8.
For ladies knitting, curl quietly into 
lap and pretend to doze. Then reach 
out and slap knitting needles sharply. 
This is what she calls a dropped stitch. 
She will try to distract you. Ignore it. 
9. 
For people doing homework, sit 
on the paper being worked on. After 
being removed the second time, push 
anything moveable off the table 
(pens, pencils, etc) one at a time. 
10. 
Get enough sleep during the day. 
JUST 
CUTS 
and 
MORE  
1758 Cove Road  
Open Monday-Saturday  
by appointment only 
Saturday 9-12pm  
Affordable prices: 
Ladies cuts from $35 
Colours from $120 
Men's from$25 
Kids from $18 
0211652629  
KAIWAKA LIBRARY
Things  you  can  do  for  free  with 
your Kaiwaka Library card: 
⚫
borrow books for 3 weeks,  
⚫
borrow magazines for 7 days,  
⚫
borrow  DVDs  marked  FREE  for  7 
days,  
⚫
download over 6000 eNewspapers or 
eMagazines with PressReader,  
⚫
download  thousands  of  eBooks  from 
our 3 eBook apps,  
⚫
tap into our wifi 24/7 (no library card 
needed!) 
⚫
borrow and return books from any of 
the five libraries in the Kaipara district. 
New lights on roof 
Many thanks to the Kaiwaka Can crew 
for  replacing  the  lights  on  our  roof.  It 
has  been  a  few  years  since  we've  had 
them working, and it's great to see the 
'book  and  glasses'  refreshed  and 
glowing in the dark once more. 
Book review 
Over  the  Christmas  break  I 
read  Revenger  by  Alastair 
Reynolds. 
"The galaxy has seen great empires 
rise  and  fall.  Planets  have 
shattered  and  been  remade. 
Amongst  the  ruins  of  alien 
civilizations, building our own from 
the  rubble,  humanity  still  thrives. 
And  there  are  vast  fortunes  to  be 
mad,  if  you  know  where  to  find 
them... 
Captain  Rackamore  and  his  crew 
do.  It's  their  business  to  find  the 
tiny,  enigmatic  worlds  which  have 
been  hidden  away,  booby-trapped, 
surrounded by layers of protection - and to crack 
them  open  for  the  ancient  relics  and  barely 
remembered  technologies inside. But  while  they 
ply their risky trade with integrity, not everyone 
is so scrupulous. 
Revenger is a science fiction adventure story set 
in  the  rubble  of  our  solar  system  in  the  dark, 
distant  future  -  a  tale  of  space  pirates,  buried 
treasure, and phantom weapons, of unspeakable 
hazards  and  single-minded  heroism...  and  of 
vengeance..." 
I've  read  a  few  books  by  this  author 
before (I've reviewed Slow bullets here 
in  the  past),  and  he's  one  that  my 
science 
fiction-loving 
friends 
particularly recommended when I went 
looking  for  suggestions  to  expand  our 
library's  collection.  This  book  did  not 
disappoint, and I'm looking forward to 
the next two books in the series, which 
as  I  type  are  sitting  in  my  office 
waiting  their  turn  to  be  processed  and 
put on the shelves. Revenger is on the 
Rental Fiction shelves in the library. 
You  can  put  a  hold  on 
this  and  any  other 
borrowable  item  in  the 
library 
by 
visiting 
Enterprise* or using the 
Kaipara  Libraries  app 
on  your  smartphone  or 
tablet. We can help you 
with  those  if  you  need 
assistance.  If  you're  set 
up  for  it,  you'll  be  sent 
an automated email and/
or  text  message  when 
the  item  is  ready  to  be 
collected,  otherwise  I 
will  contact  you.  The 
automated  services  are 
quicker than waiting for 
me.  Contact  the  library 
to  have  either  or  both  services  turned 
on for you. 
See you in the library! ~Wendy 
 *
Enterprise: http://kaipara.kotui.org.nz/
TRAILS END 
RONGOA MAORI 
HEALING 
And Gifts 
Stocking all your needs from incense, 
crystals, dream catchers, greeting 
cards, jewellery, perfume, dragons 
and more ... 
For all inquiries 
 Phone 0211652629  
Light refreshments available $5 koha  
1758 Cove Road Mangawhai
From Thelma's Scrapbook … 
ETIQUETTE FOR INEXPERIENCED CATS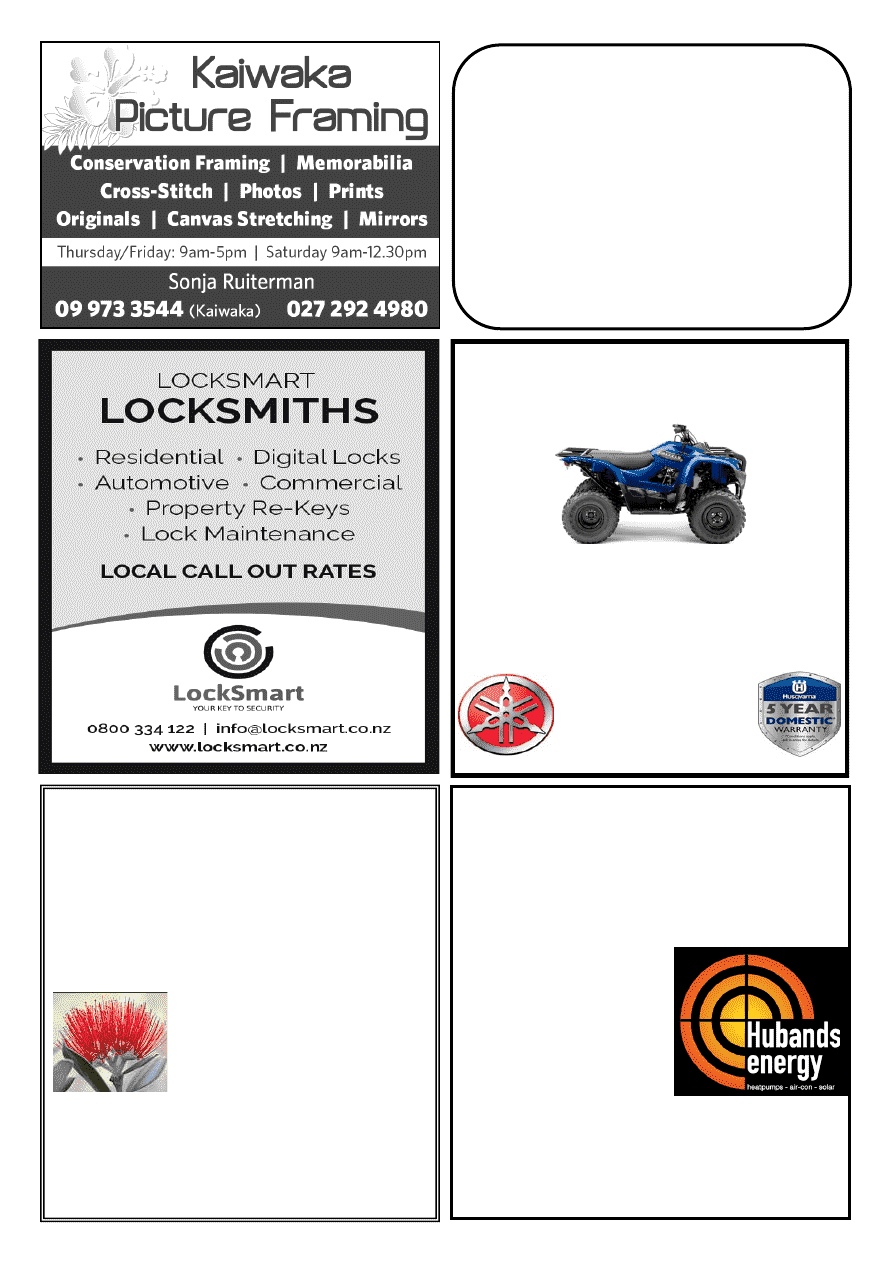 KAIWAKA 
MOTORCYCLES LTD
SALES – SERVICE – SPARES 
FARM BIKE SPECIALIST
PHONE 09 431-2127 
10 KAIWAKA-MANGAWHAI ROAD, KAIWAKA
Trimmers  
from $279
Chainsaws  
from $339
YAMAHA 
HUSQVARNA 
Northland's Award Winning 
Solar Company
SEANZ Best Solar Business Winners 2015/16
EXCLUSIVE 10 year installation warranty 
FREE No obligation onsite quote
Complete systems 
from $5990
See our range of: 
✓ 
Heatpumps 
✓ 
Airconditioning 
✓ 
Hot Water 
Heatpumps 
✓ 
Central Vacuum Systems
09 430 0019             sales@hubands.co.nz 
15 Kioreroa Road, Whangarei
Locally owned and operated for 35 years 
UP-LINK 
CHRIS WARING 
FREEVIEW INSTALLATIONS 
T.V. - HOME THEATRE &  
HI-FI ADVICE/SET UP
SKY ACCREDITED INSTALLER
MOB.0273403747 HM.094312328 
EMAIL cwaring44@gmail.com
28 YRS EXPERIENCE 
OFFERING UNBIASED ADVICE 
KAIPARA FLOORING CO 
Independently owned & operated 
32 HURNDALL ST MAUNGATUROTO
Supply & Installation of Carpet, Vinyl,  
Vinyl Wood Planking
Stockists of 2m & 3m wide 
vinyl & carpet short ends
Residential & Commercial
Q Card Finance Approved 
6-18 month terms 
6 mth interest free
First Class Installations
For a free measure & quote 
phone Christine  
09 946 9886 or 021 515 415 
kaiparaflooring@gmail.com 
http://www.kaiparaflooring.co.nz/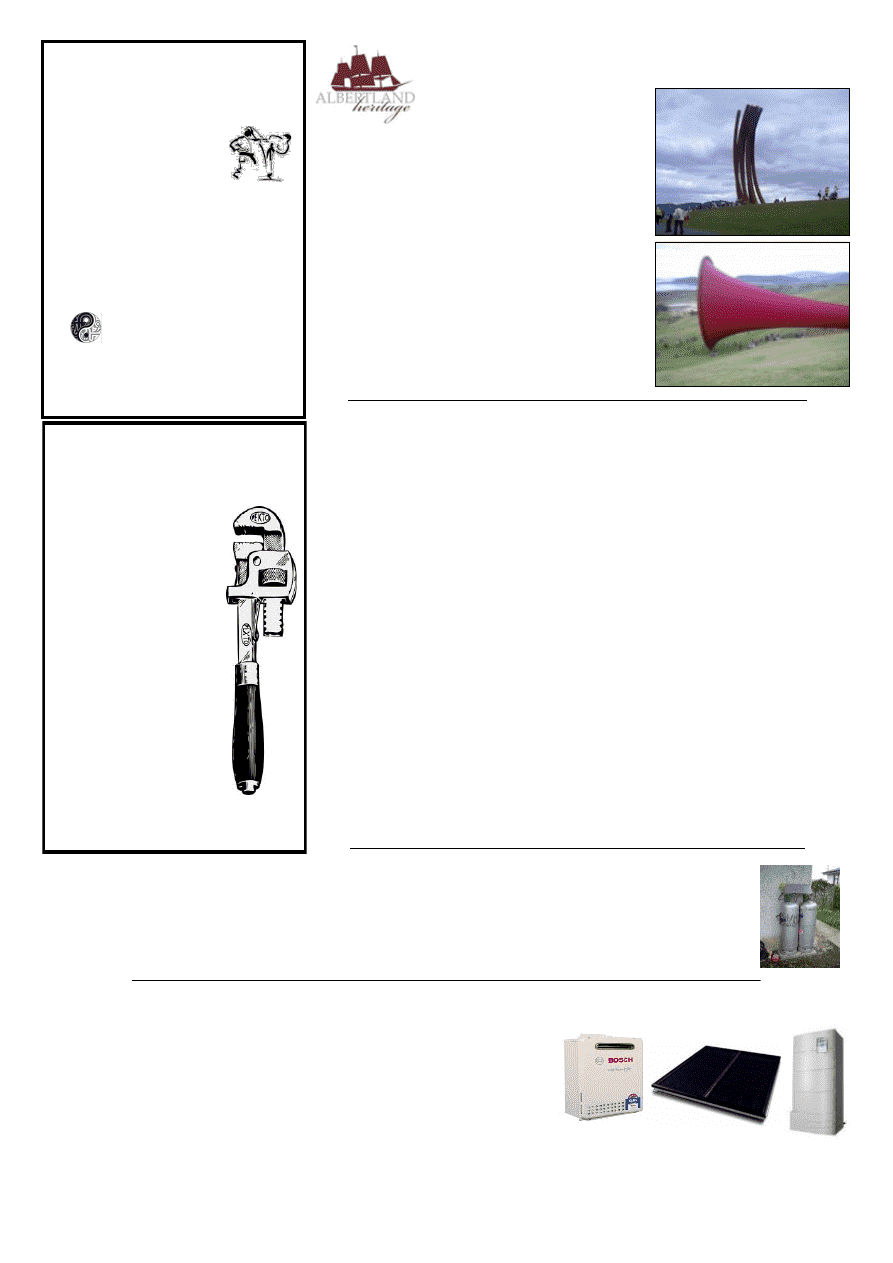 www.kaiwaka.co.nz 
Kaiwaka Bugle - 18 February 2020 
Page 19 
BARRY CURTIS 
PLUMBING LTD 
REGISTERED CRAFTSMAN 
PLUMBER 
Phone  
431 5572 
027 257 9884 
25 years' experience 
Friendly reliable 
service 
All plumbing & 
maintenance 
Alterations and new 
housing 
Spouting  
Competitive rates 
PROMPT EFFICIENT 
SERVICE 
Article  3:  Solar  Hot  Water 
systems are a NO BRAINER 
Electricity  needs  for  hot  water  use  are 
high and estimated at 40 to 50% of the 
electricity  bill  in  a  normal  NZ 
household. 
Solar  hot  water  (SHW)  systems  are  a 
NO BRAINER 
The  SHW  state-of-the-art  systems  can 
produce as much as 3,000 kWh/year of 
'free' hot water. A small SHW of less 
than 3 m2 can easily cover 70 % of the 
yearly  hot  water  needs  for  a  4  person 
family.  The  hot  water  temperatures  at 
the end of the day will vary between 45
-85C  in  summer,  and  will  preheat  the 
water to 30-45C in winter. 
Auxiliary heating can be provided with 
electricity, gas or wetback to guarantee 
maximum 
comfort. 
Economic 
evaluation? 
In 
respect 
of 
life 
expectancy? 
The  main  economic  factor  to  evaluate 
solar  systems  is  NOT  the  price  only, 
but  the  ratio  of  price  on  performance. 
The  question  is  how  much  energy  a 
solar system  will  produce in  kWh/y  at 
what  price  during  a  lifespan  of  30 
years? Solar hot water systems always 
save a dollar for a dollar whenever the 
family  uses  hot  water.  Solar  hot  water 
systems,  state-of-the-art,  have  proven 
life span of 30 years in Europe without 
dropping on efficiency. 
If  you  install  a  SHW  system,  the 
energy  provider  has  no  financial 
control  whatever  on  your  savings  or 
feed-in tariff. Your savings are always 
created  at  the  highest  electricity  tariff. 
If  you  install  a  state-of-the-art  SHW 
you can save $ 800-1,000/y  at  35  ct.  /
kWh. 
CONCLUSION 
The  use  of  solar  energy  for  hot  water 
production  can  contribute  significantly 
to  reduce  the  ecological  footprint  of 
every  New  Zealander  and  should  be  a 
NO BRAINER in New Zealand. 
~ Eric Jansseune
Copyright Eric Jansseune,  Master 
Environmental Solar Engineer- CPengNZ 
Ph: 021 022 31 700  
Email: ericjansseune1957@gmail.com 
www.ewatec-global.com 
Energy Series:  
HOW TO 'KILL' …YOUR ELECTRICITY BILL 
SELF DEFENCE 
KEMPO 
Fitness, Confidence, 
Discipline, 
Respect,  
Self-awareness 
Classes for all ages in: 
 Mangawhai
Kaiwaka Wellsford
For more information please 
contact
 Otamatea Martial 
Arts
otamatea.kempo@farmside.co.nz 
Phone 09-431-5170 
www.facebook.com/
otamatea.kempo 
Update from the Albertland and  
Districts Museum
Pack  a  picnic  lunch  and  enjoy  a 
day out with all the family on the 
Gibbs Farm, admire the sculptures 
and  exotic  animals,  including  giraffes,  zebra, 
bison  and  more!  You  will  need  good  walking 
shoes,  though  some  transport  will  be  provided. 
More  details  on  the  Museum  website,  https://
albertlandmuseum.co.nz/ 
ALBERTLAND HERITAGE GIBBS 
SCULPTURE FARM VISIT 
Thursday 9 April 2020 
You are invited to join us. Entry will be by 
prepaid ticket only. Register your interest by 
email to museum@albertland.co.nz 
We thank Alan Gibbs for allowing us to visit his 
property. 
All  proceeds  go  towards  the  Museum  building 
extension project. 
'KILL' YOUR ENERGY BILL … GROUP PURCHASE DEALS 2020 
Reduce your power bill and use LPG gas for cooking and hot water at 19 ct/kWh. 
Solarise your house and install a state-of-the-art European certified solar hot water system  
APPLICATION   
MINIMUM SAVINGS incl. 
Cooking on LPG gas (19ct) instead of electric (35ct)    
$60 / year 
Hot water on LPG gas (19ct) instead of electric (35ct)    
$700 / year 
Solar Hot Water (European state-of-the-art ) instead of electric (35ct)    $700-900 /year 
GROUP PURCHASE FOR KAIWAKA AREA: gas bottles-gas califont-SHW package for 2-4 persons 
EWATEC Ltd. created an unique group purchase at strongly reduced cost. Local energy engineer Eric Jansseune has used his 28 years 
of experience to select carefully the solar equipment, imported from Europe with worldwide certification and proven lifespan  of 30 
years. 
EQUIPMENT    
GROUP PRICE excl. 
LPG 2 x 18 kg. bottles +switch over system  
$395 
LPG 2 x 45 kg. bottles +switch over system  
$550 
Gas califont 16L ( 2 taps demand)-LPG instantaneous    
$1,024 
Gas califont 24L ( 3 taps demand)- LPG instantaneous    
$1,047 
Solar Hot Water package 2-3 persons family    
$4,052 
Solar Hot Water package 4-5 persons family    
$4,437 
Not included: 
gas fitter, gas certificate, solar roof set, copper piping, labour solar technicians, plumber cost, tempering valve. 
Included
: solar collector, solar cylinder, controller and sensors, solar pump, electric element, freezing and overheating protection. 
Contact ERIC: phone 09 431 24 08 cell 021 022 31 700 Email: ericjansseune1957@gmail.com www.ewatec-global.com 
………DON'T MISS THIS UNIQUE OPPORTUNITY …………………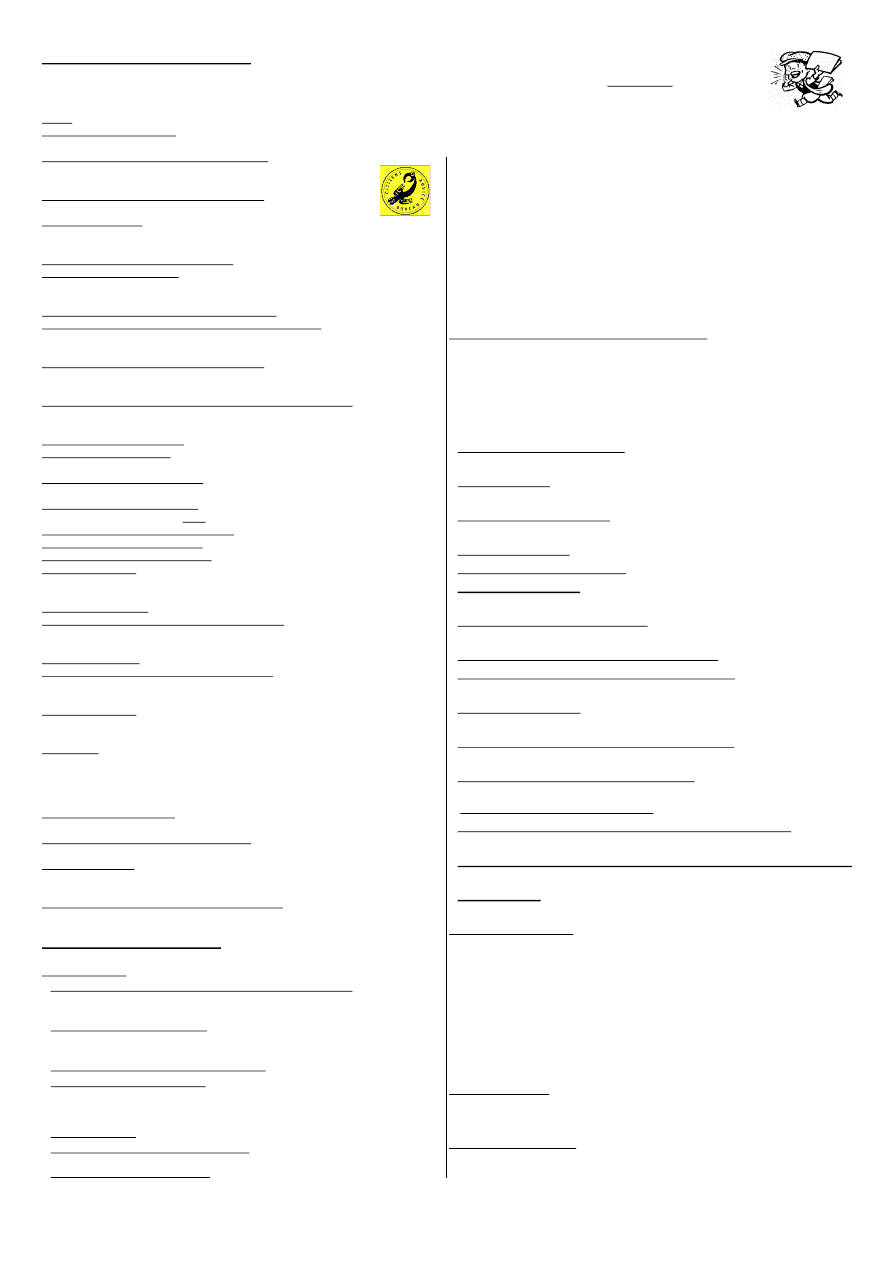 Next Bugle Deadline midday Friday 28 February 2020
WHAT'S ON
PLEASE ~ do let us know what is on - email 
kaiwakabugle@kaiwaka.co.nz 
*19Feb~Kaiwaka Can, 5.30pm, Archie Bull Hall 
*19Feb~Touch Finals, KSA, 6pm 
*19Feb~Otamatea High Welcome Evening, 6 - 7.30pm 
*21Feb~Movie'Blinded By The Light' KWMH, 7.30pm 
*22-23Feb~Dahlias for Dementia House & Garden Tour 
*25Feb~Otamatea High School Athletics 
*27Feb~Kaipara YFC, Three Furlongs, 7pm 
*6Mar~Movie 'JOJO RABBIT', KWMH 7.30pm 
*8Mar~KSA - TOP OF THE ROCK 
*20Mar~Movie 'JUDY', KWMH, 7.30pm 
KWMH = Kaiwaka War Memorial Hall; KSA = Kaiwaka Sports Association 
See www.kaiwaka.co.nz for more information 
HOUSEHOLD RUBBISH COLLECTION  
Kaiwaka Pick up: 
Mondays = Green bags (Northland Waste - 09 430 3273) 
Wednesdays  =  Blue  bags  and  yellow  recycling  (at  Jaques  $3.00 
and  $1.50)  (Kaurilands  09  4392146);  ONLY  Blue  and  Yellow 
bags picked up on Oneriri Road. 
 DIABETES Support Group-for Kaiwaka, Mangawhai, Wellsford 
10am, 3rd Friday of month Ph: Colleen James 09 4314238 
 GENEALOGY - Wellsford: 1st Thursday in month Ph: 423 
7033; Waipu: 4th Monday in month Ph: 4312 725 
 HAKARU PONY CLUB - Secretary Denise Rogers 021423376 
secretary@hakaruponyclub.co.nz  
 KAIPARA HUNT - Secretary Albert Doonenbal Ph 4312059 
 KAIWAKA BADMINTON -Tuesdays 7.30pm Ph: 4312345 
 KAIWAKA  CAN  -  3rd Wednesday in  month, 5.30pm, Archie 
Bull Hall Ph: 0273572751 
 KAIWAKA  DRAMA  CLUB  - 
Hannah  Webb 
0272863352 
KaiwakaDrama@gmail.com - FB - "KaiwakaDramaClub" 
 KAIWAKA DRUM & DANCE CLASSES - 021 611198 
 KAIWAKA GARDEN & FLORAL GROUP - 2nd Thursday in 
month. Ph: 431 4744 
 KAIWAKA  CUBS  -  Thursdays  5.30-7pm,  Hakaru  Ph:Bruce 
4312542 
 KNITTING FOR WHANGAREI HOSPITAL - 2nd Tuesday in 
month, Archie Bull Hall 10am Ph 4314827 
 MANGAWHAI COMBINED REBUS CLUB - 2pm, 3rd 
Thursday month, Senior Citizens Hall Mangawhai. Ph: 4315777 
 *PT CURTIS CRUISING CLUB - Jean Ph: 4312227 (wk), 4312520 (hm) 
 RSA,  HAKARU  &  DISTRICTS  WOMEN'S  SECTION  –  meets 
1.30pm 4th Thursday of the month. Ph: 431 5818  
 KAIWAKA  SCOTTISH  COUNTRY  DANCING  CLUB-
Wednesdays 10am - 12 noon  Ph: Elaine 027 432 0032  
 TRAMPING - Mondays 9am-2:30pm Maria 4312 234 
HALLS FOR HIRE: 
  Kaiwaka St. John Hall: Phone Marj  0272941227  
 St.Pauls  Archie  Bull  Hall  HIRE  $20  half  day,  $40  full  day  per 
hire, S McAulay, Ph 4312311 
 Kaiwaka  War  Memorial  Hall  HlRE  -  Phone  4312725  or 
kaiwaka.hall.bookings@gmail.com 
 Hakaru Community Hall HIRE -Ph.  Lorraine 4312829  
 Te Pounga Marae queries - Pearl Nathan  0223933533 
 Kaiwaka Sports Association hire/queries - C. Anderson 4312051 
or kaiwakasports@gmail.com 
Justice of Peace:  
B.FJaques  4312  048;  L.Donaldson  4312  228;  A.F.Hargreaves 
4312 045, W.Howard 4312 725 - please phone to make sure they 
are available www.justiceofthepeace.org.nz 
Marriage Celebrants:  
L.Donaldson; A.F.Hargreaves; Y Osborne
LOCAL SERVICES 
*Emergencies - Ambulance, Fire, Police - dial 111 
*Non-urgent Police phone 09 4311150
A A: Meets Wed., 8pm Kaiwaka Ph: 4315543, 0800229 6757 
ASUREQUALITY LTD (was AgriQuality) Call Free 0508 0011 22  
BUDGETING SERVICE, WELLSFORD: Free confidential advice & 
support for all areas of personal finance. Ph (09) 423 7123 
CAB-Citizens Advice Bureau.Wellsford Ph: 4237333 
0800 367 222 email:cab.wells@xtra.co.nz  
CIVIL DEFENCE - Kaiwaka Community Response Group: 
kaiwaka.civildefencecrg@gmail.com, 4312725 Wendy 
DOG/STOCK /NOISE CONTROL 0800 105 890 
FUNERAL SERVICES: Morris & Morris Ltd, 
Whangarei - Bev Jaques Ph:4312367 or 0800667747 
GRANDPARENTS Raising Grandchildren: Dianah Roberts 0223819539 
HAKARU & DISTRICTS MEMORIAL RSA (Inc) 733 Settlement Rd, 
Hakaru. Ph 4312 176 or Bill Warren (President) 431 2092 
HAKARU LANDFILL/Transfer Station:Open everyday except 
Tuesday10am-4pm.Ph4312629 Cost-$55 trailer load up to 1 cubic metre. 
Ph:4258567 - office 
KAIPARA DISTRICT COUNCIL www.kaipara.govt.nz:  
Help Desk FREEPHONE 0800 727 059  
KAIWAKA CEMETERY: Ph: 4312045 or 4314017 
KAIWAKA LIBRARY: kaiwaka.library@gmail.com  
Mon. 4-6pm; Wed., Thurs., Fri., Sat. 10am-2pm Ph:4312539 
KAIWAKA PLAYCENTRE: Ph Juanita 0274134904; open Mon, Wed, 
Fri 9am-12pm. Hastie Lane; Monday to Friday 9.00am - 12 noon. 
KAIWAKA POST OFFICE:Ph:4312 431  
Post Code: 0573 for RD2 and 0542 for all Kaiwaka Post Office mail 
KAIWAKA PRIMARY SCHOOL: Ph: 4312309   
KAIWAKA SPORTS ASSN: Ph 4312005; 4312129 gym 
KAIWAKA ST. JOHN HALL: Phone Marj  0272941227  
KATE'S PLACE Community Centre - Employment services, Free Health 
Nurse, Plunket, Advocacy, Osteopath, A.A., Legal Advice. 4312 661 
LINKING HANDS Health Shuttle Ph 4315906 or 09 4318969 
MINISTRY FOR PRIMARY INDUSTRIES - General inquiries Call 
Free 0800 008 333 
NORTHPOWER: Faults Kaiwaka area 0800 104040 
OTAMATEA COMMUNITY SERVICES: Counselling, parent coach, 
Family Support worker, budget advice, food bank. Mon-Fri 9am-3pm. Ph 
09 431 9080 http://www.otamateacs.org/ 
PARENTPORT: Free, practical family support service Puhoi to Paparoa 
Ph or txt: Dianne 027 280 5093 or 09 425 9357 
PLUNKET:  Kaiwaka  -Kate's  Place  Clinic  1st  Wednesday  of  the  month; 
Mangawhai  - Rose Madsen Cottage: Coffee Group 9:30 every Monday.  Clinic 
every Monday and Thursday. 
Maungaturoto - Good News Church, Clinic 2nd and 4th Wednesday.  
Cynthia 09 431 7340 or 027 675 3488 
PLUNKET HELPLINE -0800 933 922 (24 hours) 
TAITOKERAU COMMUNITY LAW: Free confidential legal advice and 
assistance, 2nd
Thursday
 of each month. Ph: 0800 155 529 for apps.  
TE URI O HAU Settlement Trust Tangata Developments: Whanau Ora 
021 793262  
VETERINARY SERVICE MANGAWHAI: 
Ph: 4314535 Mon-Fri 8.00-5.00, Sat 9-12, a/h appt. 
WELLSFORD DOCTORS: Ph: 4238 086 
CHURCHES:
 
Kaiwaka  Revival  Church  -  Your  Community  Church:  Sundays  10am. 
Ph: Pastor Tawhiri 09 431 8988 or Pastor Paul 09 4312 068 Visit us at 
www.facebook.com/kaiwakachurch or www.kaiwakarevival.co.nz 
 
St  Paul's  Anglican  Church  1st  Sun.  9.00am  (Eucharist),  3rd  Sun. 
9.00am (Family Service). Contact: Rev. Wayne Thornton Ph 431 4122 
www.mangawhaianglican.org.nz 
 
Church of Christ the King, Mangawhai:9.00am every Sunday 
 
St.Mary's  Catholic  Church:  Maungaturoto  –  Griffins  Road,  Saturday 
evening  Vigil  Mass  6pm;  Mangawhai  –  Senior  Citizens  Hall,  Sunday 
Mass  8:30am;  Wellsford  –  Matheson  Road,  Sunday  Mass  10:30am;  
Mid-week Mass times and all enquires to Fr. Bill Fletcher – phone 423 8170
 
Baptist Church: Sun. 10.30am Mangawhai Snr Cit.Hall.Ph:4312339 
 
Cause  Way  Church  Mangawhai:  Sundays  10.15am,  Mangawhai 
Community  Recreation  Centre,  Insley  St.  Ph:  09  4314782