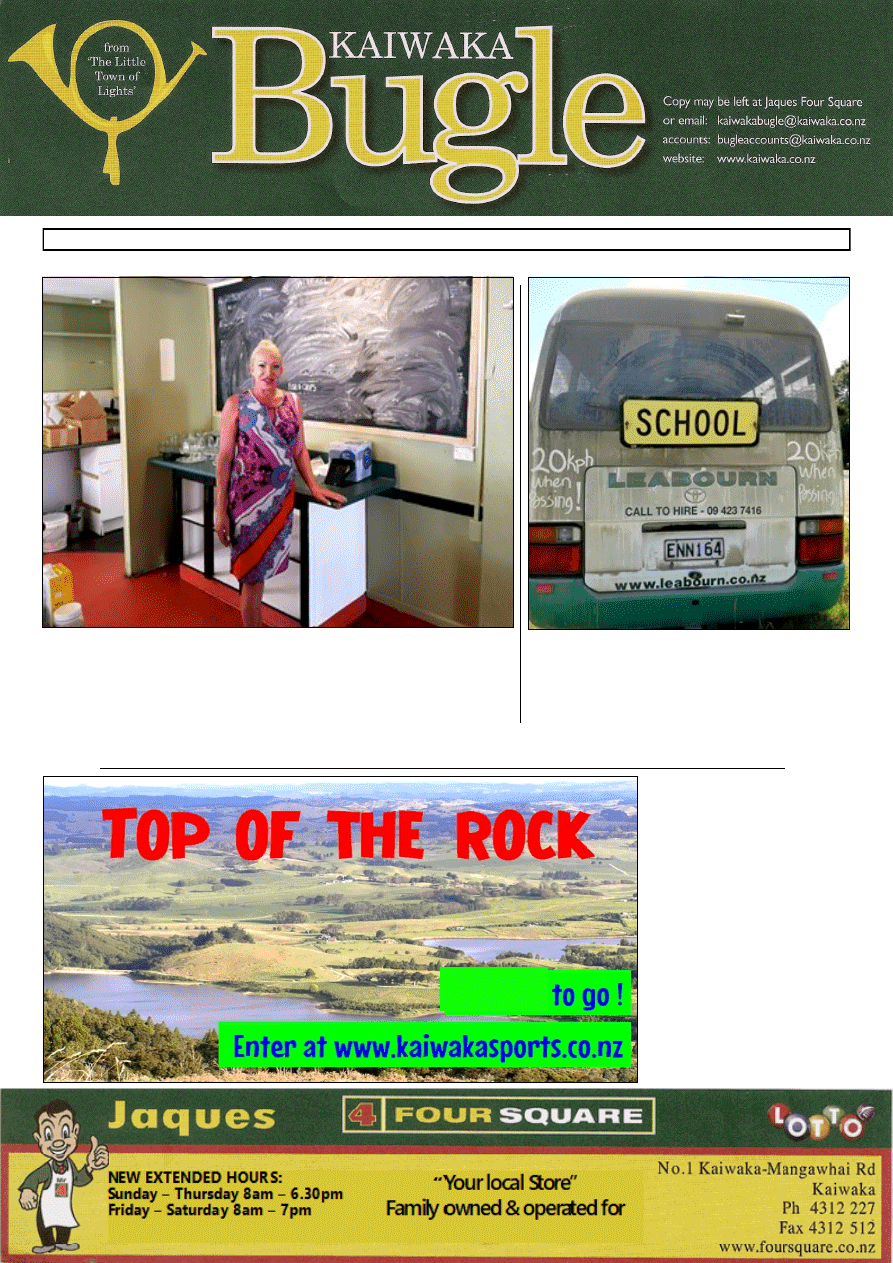 www.kaiwaka.co.nz 
Kaiwaka Bugle - 3 March, 2020 
Page 1 
No: 4 
 3 March 2020 
NEW EXTENDED HOURS: 
Sunday – Thursday 8am – 6.30pm 
Friday – Saturday 8am – 7pm 
USING THE DUST! 
BIANCA'S BITTERSWEET MOVE  
Margaret Baker posted this brilliant photo of the 
back of one our Leabourn school buses 
Making use of the dust on the back of the bus… 

Please slow down when passing a school bus 
dropping off or picking up school children.  

And  a  reminder  that  the  dusty  roads  mean 
there hasn't been enough rain! 
TOP OF THE 
ROCK 
The 
Kaiwaka 
Sports 
Associations  annual  run/walk 
event,  is  this  Sunday  and  it's 
not too late to enter! 
5km  and  10km  run  or  walk 
routes  travel  through  some  of 
Kaiwaka's 
most 
scenic 
countryside  –  bush,  lakes  and 
farmland,  culminating  with  a 
view atop the 10km course that 
has  never  been  open  to  the 
public  before,  spanning  the 
ocean to the harbour.  
See  page  11  for  full  details  or 
enquiries:  Cheryl Anderson on 
kaiwakasports@gmail.com . 
5 days 
Bianca's  Café  closes:  Last  Friday  was  a  bittersweet  moment  for 
Bianca as she moved out from her café.  She has run the café for the 
last  six  years    -  displaying  a  wonderful  array  of  antiques  and 
memorabilia.    Six  years  before  she  moved  her  amazing  clothing 
boutique next door - this boutique first opened many years before next 
to Kaiwaka Motorcycles. 
Bianca wishes to say a big thank you to Kaiwaka, the community and 
her amazing staff, and also that she that loves our gorgeous wee town.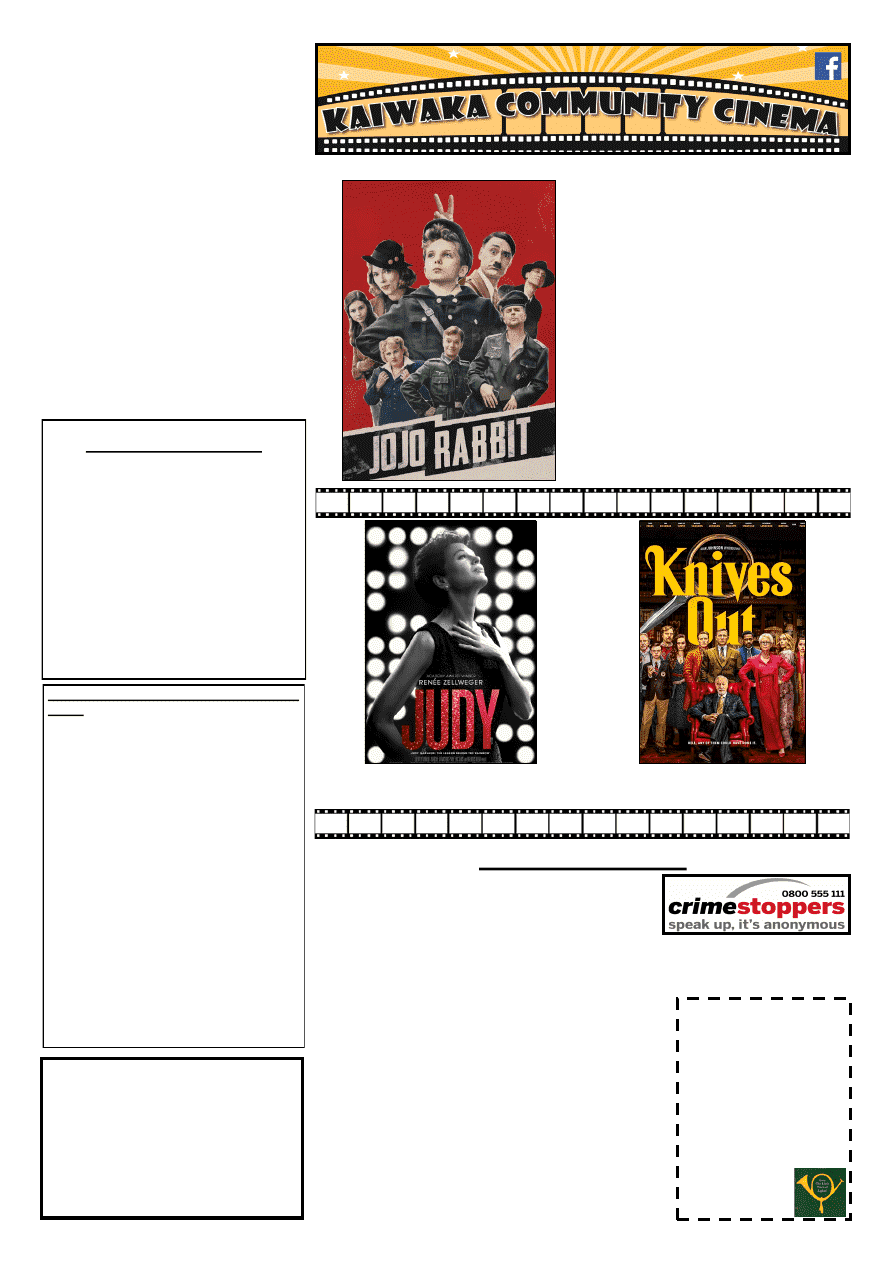 At Kaiwaka War Memorial Hall . Adults $10, Kids (under 16) $5, Family Pass (2 adults + 3 children) $25 
KAIWAKA BUGLE No. 4 
3 MARCH 2020 
CONTENTS 
Page 3: Public Notices, Classified 
Page 5: Crimestoppers; Pt.Curtis CC; 
Kaiwaka Fire Chief 
Page 7: Kaiwaka Weather; Libby Jones 
Page 9: Local Scenes 
Page 11: Kaiwaka Sports Assn. 
Page 13: Kaiwaka School; Shearing 
Sports New Zealand 
Page 15: KSA Grants; Possies, Rats ... 
Page 17: Kaiwaka Library ; Thelma's 
Scrapbook 
Page 19: HP's Overseas Help 
Bugle 5 will appear 17 March 2020 
Contact for advertising, reports, articles 
or information can be made by 
Email kaiwakabugle@kaiwaka.co.nz 
Ph: 09 4312 045 Lindsey 
Txt: 027 2724137 
Copy  may  be  left  at  Jaques'  Four 
Square. 
Kaiwaka Bugle 
Founded May 1978 
We appreciate articles and photos about local 
events, etc, as well as ads and suggestions. 
Copies available in Kaiwaka at Jaques Four 
Square, Kaiwaka Postal Centre, Shamrock 
Service Station, Animal Health Centre, 
Kaiwaka St John shop. 
Also outlets in Maungaturoto, 
Mangawhai and Paparoa. 
Can be viewed online at   
www.kaiwaka.co.nz/Bugle  
Or a copy can be posted to you if you supply 
stamped, self-addressed DLE envelopes. 
Kaiwaka 
Bugle 
Advertisements 
2020: 
All 
copy 
and 
queries 
to: 
kaiwakabugle@kaiwaka.co.nz 
The Bugle is printed on an A4 page   
Ad  sizes:  1/16  page  (3  x  9.5cm)  $5;  1/8 
(6.5  x  9.5cm  landscape  or  portrait)  $8; 
3/16 ( 10 x 9.5cm or 7.5 x 12,5)  $12.  
Classified  ads:  First  one  FREE,  $4  per 
entry (max. 30 words, max. 4 repeats). 
Payments  can  be  made  online  at 
ANZ 
06  0365  0006990  00
,  posted  or  left  at 
Jaques Four Square Store. 
We  use  Microsoft  Publisher,  and  can 
work  with  most  common  image 
formats, Word, Excel, and PDF files. 
Accounts:  
Email: bugleaccounts@kaiwaka.co.nz 
The  Kaiwaka  Bugle  is  a  community 
newspaper run by volunteers, as part of 
the Kaiwaka Media Group Inc.   
Articles, etc. printed are not necessarily 
the opinion of the Bugle Team. 
ABOUT TOWN 

 Checkout  the  Northern  Advocate    Monday  2 
March - great feature on Kaiwaka!  

What  a  brilliant  House  and  Garden  Tour  --  a  big 
well done to 'Dahlias for Dementia'! 

 Best wishes for the future, Bianca. We remember 
the    absolutely  wonderful  fashion  parade  she  ran  as  a  fundraiser  for  our  local 
Kaiwaka St. John Division. 

Leap Day, 29 February is added to the calendar in leap (4) years as a corrective 
measure  -  it  takes  about  365.2422  days  for  Earth  to 
complete  one  orbit  of  the  sun  from  March  equinox  to 
March equinox ... 

 The  Narcotics  Anonymous  group  meets  at  Kate's 
Place,  Mondays  6.30pm;  Cost  –  free  with  koha  for 
Kate's Place. Open to anyone who is experiencing drug 
and alcohol related issues; phone 02102412348 

 Northland Field Days2020 - Dargaville 5 - 7 March 

Remember the weekly bus trip to Whangarei via the 
east coast - Ph: 0800 994 404, www.buslink.co.nz or E: 
office@leabourn.co.nz for details. 

 Have you seen a Kaiwaka Good Sort lately? Let us 
know - a bouquet of beautiful flowers awaits them!
~ Lindsey, Ed 
"If  you  want  to  change  the  world,  go  home  and  love  your 
family". ~ Mother Teresa 
  JOJO RABBIT 
Friday 6 March, 7.30pm  
(
PG-13)
'Jojo  is  a  lonely  German  boy  who 
discovers  that  his  single  mother  is 
hiding  a  Jewish  girl  in  their  attic. 
Aided only by his imaginary friend -- 
Adolf Hitler -- Jojo must confront his 
blind  nationalism  as  World  War  II 
continues to rage on '. 
Jojo  Rabbit  is  a  2019  American 
comedy-drama  film  written  and 
directed  by  Taika  Waititi,  based  on 
Christine  Leunens's  book  Caging 
Skies.  
KAIWAKA BUGLE 
DEADLINE DATES 
2020:   
Every second Friday
March 13, 27 
April 10, 24 
May 8, 22 
June 5, 19 
July 3, 17, 31 
August 14, 28 
September 11, 25 
October 9, 23 
November 6, 20 
December 4 
Proverbs 21:2 
We justify our actions  
by appearances;  
God examines our motives.
 JUDY 
Friday 20 March, 7.30pm  (PG-13) 
KNIVES OUT 
Friday 3 April, 7.30pm (M)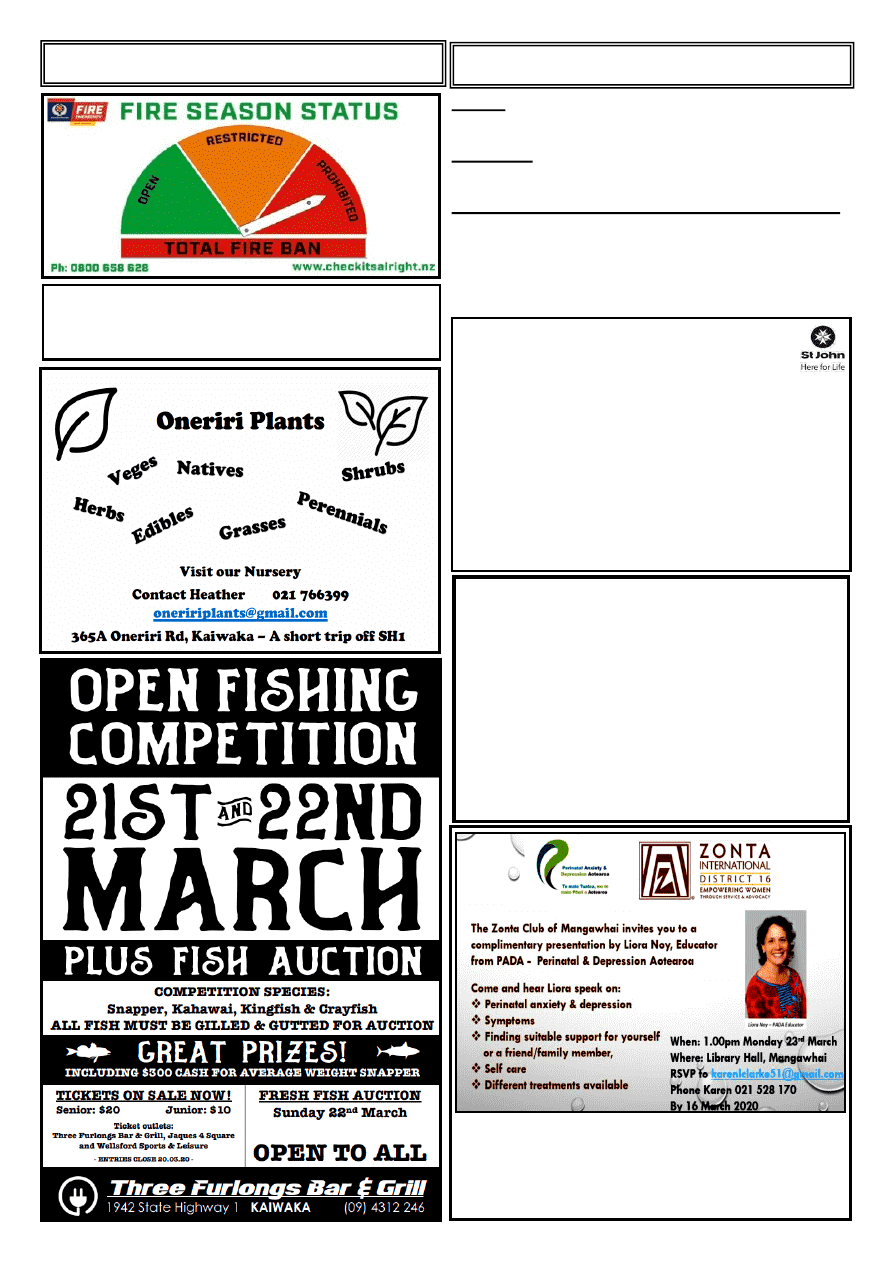 www.kaiwaka.co.nz 
Kaiwaka Bugle - 3 March, 2020 
Page 3 
PUBLIC NOTICES 
CLASSIFIED 
 FREE:  Lounge Suite - 4 piece =  3 seater, 2 seater, 1 
seater & footstool. Old, comfortable John Young.  
Ph: 09 9450935 
WANTED:  In  exchange  for  honey,  panes  of  glass 
(over 60cm
2
) to clad a glasshouse. Please phone Adrian 
09 9450593 
THE  MANGAWHAI  COMMUNITY  MARKET  is 
inviting  applications  for  a  Market  Manager's  position 
which  will  be  remunerated.  The  market  is  located  in 
the Village and held every Saturday morning. For more 
information  and  an  application  form  go  to  our 
Facebook  page:  Mangawhai  Village  Market. 
Applications close March 29. 
KAIWAKA ST. JOHN OP SHOP 
Thank  you  for  your  continued  support  and 
donations. 

Clothing  Clearance:    Fill a St John Bag (provided by 
shop)  for  $6.50.  Tuesday  3rd  March  to  end  of  trading 
Saturday  8th  March.    Also,  the  St  John  Garage  will  be 
open for sale of furniture. 9.00am till 1.00pm. 

Fiction Books -  buy one get one FREE. 

Raffle  for  the  Month  of  March:  Lovely  Baby  Cot 
Quilt. $2.00 each ticket or 3 for $5.00. 

We  are  in  need: Bric a Brac, Clean Linen, Towels and 
Kitchenware. 
Shop Hours: Tuesday thru Friday 10.00 – 3.00pm and Saturday 
9.00 – 1.00pm 
Phone 4312650 or Manager Diane 0274627567 
Check us out at 1919 SH1, Kaiwaka 
EASTERN UNITED JMB KAIWAKA 
Annual General Meeting 
Wednesday 4th March 5pm  
Kaiwaka Sorts Complex 
HAKARU HALL ACTIVITIES 

Monday:  Line Dancing 10.00am   Ph 4315160 

Monday:  Dance Energy Afternoon 0275610469 
 Children's Ballet and Jazz 

Tuesday: Afternoon Dance Energy 

First Tuesday of the month Hall Meeting, 7.45pm 

Wednesday: Afternoon Dance Energy 

Wednesday: 7.30pm Music Jam Session    
0210628631 

 Thursday: Pilates 9.00am 0220643965 

Sunday: Morning Canine Coaching 
ALL BOOKINGS PLEASE  
PHONE LORRAINE 0272846162 
On  behalf  of  the  Zonta  Club  of  Mangawhai  we 
would like to share this invitation, for you in turn to 
share it with your community. 
PADA  awareness  is  the  national  focus  for  Zonta 
2019-2020. We know this will be a very informative 
afternoon. 
6.45pm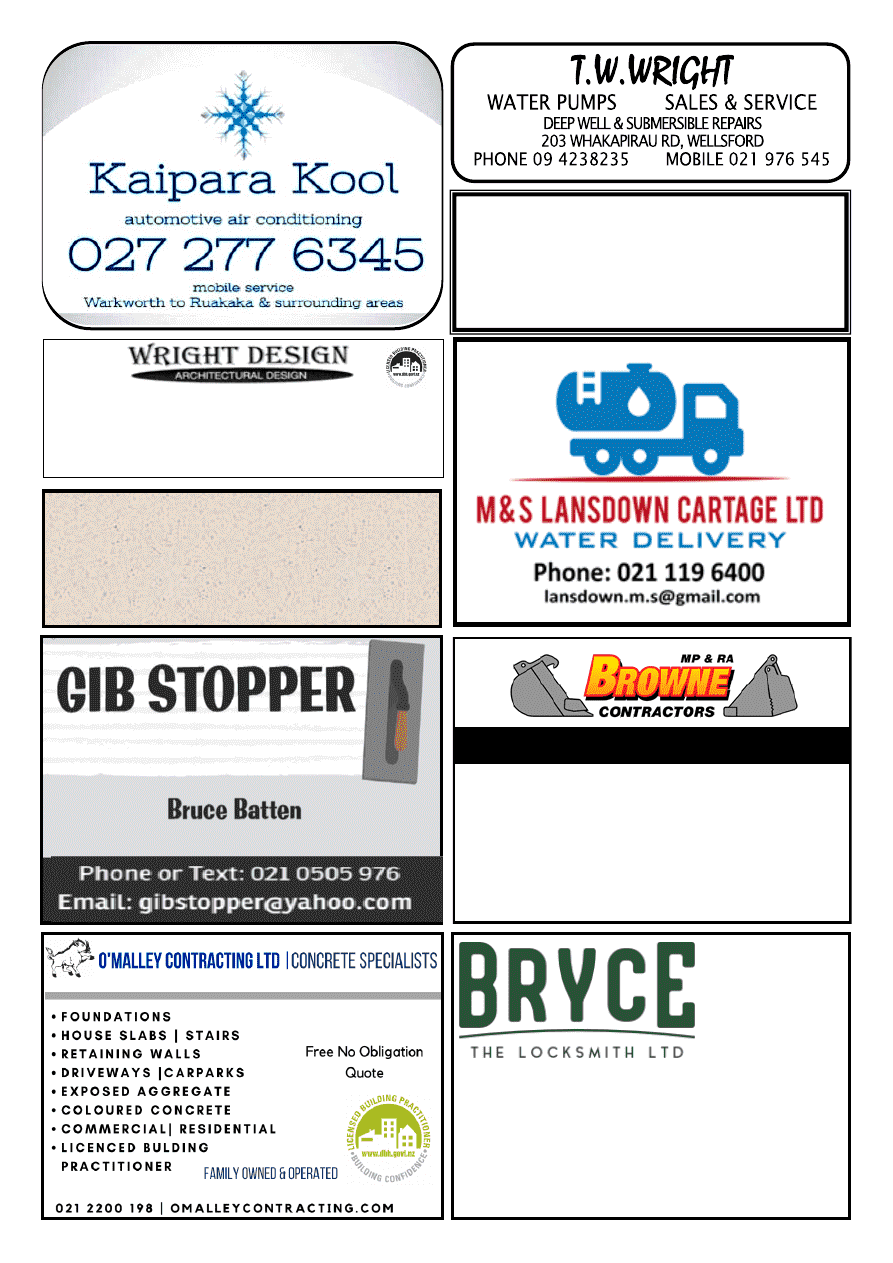 4T DIGGER – BOBCAT – TIP TRUCK 
 Property Maintenance - Driveways  
 Building Sites 
Stump & Tree Removal  
Hole Boring - Chain Trencher  
Calf Shed and Stockyard Cleaning 
Phone Matt: 021 199 6677 
Email: mprabrownecontractors@gmail.com 
Counsellor and Registered Psychotherapist 
Offers Supervision
Susan Matheson 
MNZAC 
Dip. Psychosynthesis Counselling and Psychotherapy 
Phone 09 431 2996                        Mobile 027 605 2427 
No. 117345 
N.Z.C.A.D., L.B.P. 117345 
PH/Fax: 09 423 8092 Mob: 021 276 7369 
Office: 3 John Sinclair Avenue, Wellsford    brianwright@xtra.co.nz 
For Resource and Building Consents, planning restraints, new building materials - 
you need a capable, experienced, and professional designer with a clear 
knowledge of all the processes. Brian has been helping and organising all these 
facets of design and building for over 50 years. 
Wright Design offers free visits, consultations and advice on planning, design, 
building, council permit applications, guaranteed permit plan acceptance. 
Bryce Frewin 
Ph: 021 850 983 
Kaipara Based Master Locksmith 
bryce@brycethelocksmith.co.nz 
www.brycethelocksmith.co.nz 
HANDYMAN 
Gardens * Lawns * Landscaping * Painting 
* Small gib-stopping * 
* General repairs and maintenance * 
Honest - Reliable 
Phone Burn 0211900555 or Brenda 0211185578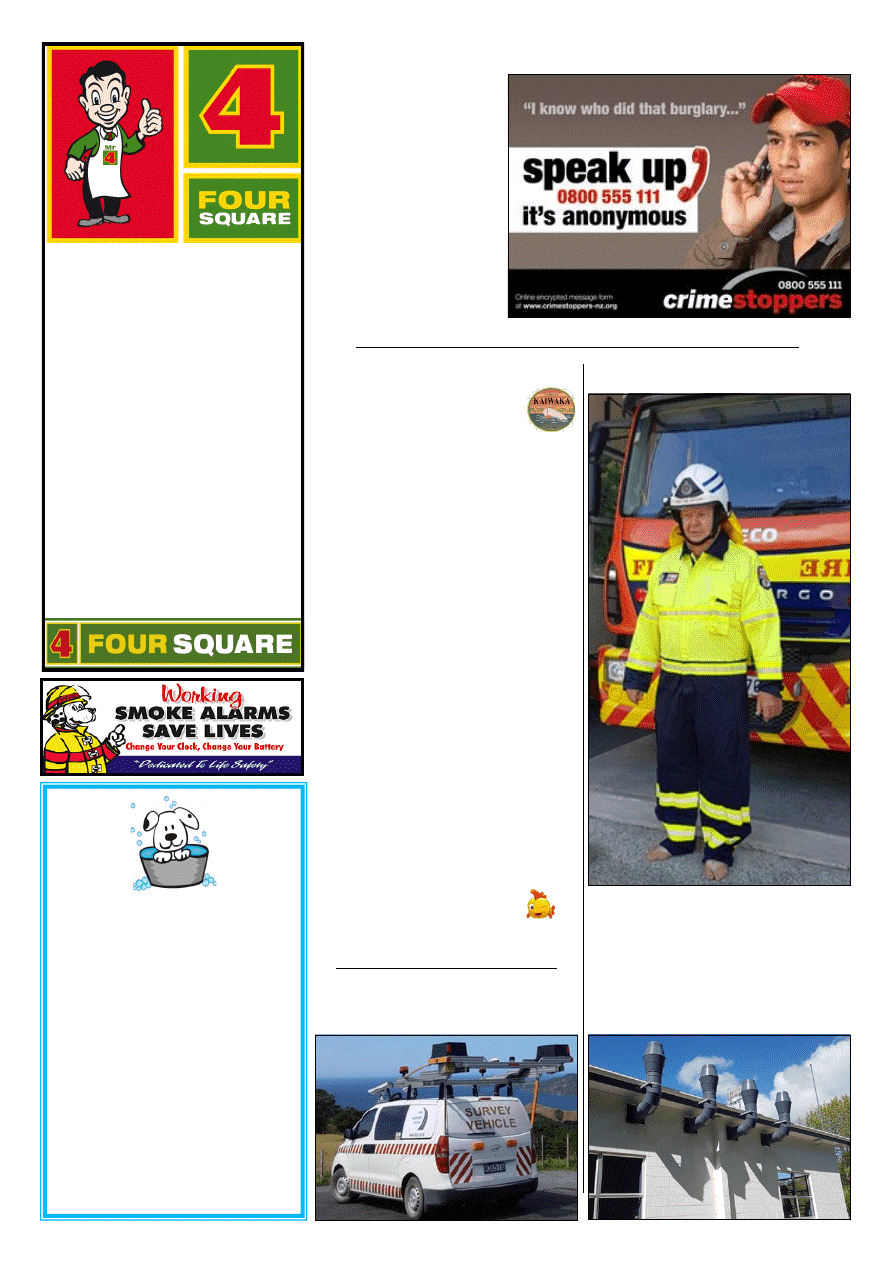 www.kaiwaka.co.nz 
Kaiwaka Bugle - 3 March, 2020 
Page 5 
CRIMESTOPPERS: 
Crimestoppers 
is 
an 
independent  charity.  They 
are not part of the Police.  
Crimestoppers  will  take 
your 
information 
on 
criminal activity and report 
it  on  your  behalf  to  the 
appropriate authority. 
If  you  have  information 
about  crime  or  a  criminal 
activity  and  you  wish  to 
remain  anonymous  then 
call  Crimestoppers  free 
24/7 on 0800555111 
Or use the online encrypted message form at https://www.crimestoppers-nz.org/ 
POINT CURTIS 
CRUISING 
CLUB 

Open Fishing Competition  
Our 
Open 
Fishing 
Competition 
Saturday 21st and Sunday 22nd March. 
You don't have to be a club member to 
enter competition. 
Species 
are 
Snapper, 
Kingfish, 
Kahawai and Crayfish. 
There  is  an  auction  after  prize  giving 
on  the  Sunday  so  don't  forget  all  Fish 
being  weighed  are  to  be  Gilled  and 
Gutted... 

Fishing Competition  
Friday 17th Saturday 18th and Sunday 
19th April. 
All Species on the board. This will also 
be  the  cut  off  for  end  of  year  prize 
giving winners.   

Clay  Bird  Shoot,  Saturday  14th 
March  on  Pongo's  farm  at  1pm.  If 
you're interested please let Pongo, Jean 
from  Jaques,  Sandy  from  Wellsford 
Sports  &  Leisure  or  Renna  know. 
There is a $20 deposit (non-refundable) 
and hope to see you there. 

Subs were due 1st of June 2019;  $30 
Family & $20 Single; Internet banking 
12 3094 0008233 00 Please use Name/
s as a reference. 

New  fish  of  the  month  is Snapper 
till 11th March 

Next 
Cub 
Meeting 
Wednesday  11th  March  2020  7pm, 
Kaiwaka  Sports  Association.    ~ 
Wayne 
Leslie (Commodore)
Above:  Kaiwaka  Fire  Chief  John 
Bowmar  photographed  in  his  new 
uniform  helmet  and  overalls  -  just 
waiting for the new boots … 
Below:  'Chimneys'  on  the  north  side 
of the Fire Station are connected to the 
extractor  fans  that  remove  the  exhaust 
fumes  from  inside  when  the  engine 
first starts. 
 Everything you need 
All in one place 
We're Here 
OPEN 7 DAYS 
. 
In Store Fresh Bakery,  
Hot Chicken, 
Mussels,  
Fresh Fruit & Vege,  
9kg Gas & Sodastream Gas 
Bottle Swap, 
Lotto & ATM 
JAQUES FOUR SQUARE 
Phone: 4312227 
1 Kaiwaka-Mangawhai Road, 
Kaiwaka. 
Hot Diggity Dog 
DOG GROOMING 
All breeds dog grooming 
Professional Experienced Groomer 
Short practical grooms - summer 
Breed Standard Grooms 
Designer fusion Grooms 
Oneriri Road
By appt Phone Pam  
09 4312143 
Or text only 0273335380 
Email  
hot.diggitydog@outlook.com
KAIWAKA 
FIRE STATION NEWS 
Below:  The  Data  Survey  vehicle  was 
around  last  Friday  measuring  and 
mapping our roads.  
Ref. http://dcl.co.nz/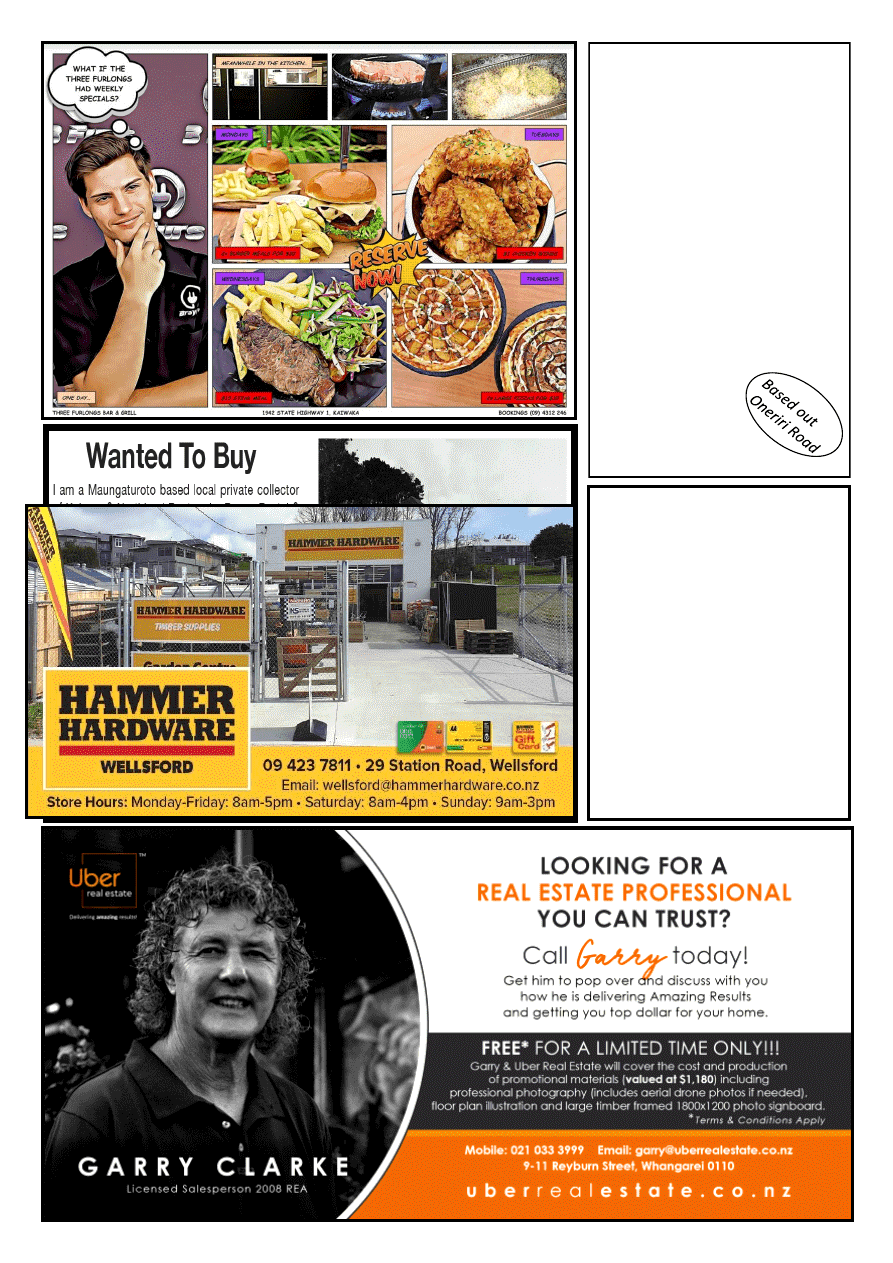 HODGETTS 
CONTRACTING
Digger Work    
Driveways   
House Sites  
Dams      
Drains, etc
Also available for HIRE 
3 ton Vib Roller  
Heavy Duty Tow  
Waterblaster      
Lazer Level
Phone Mark  
4312877 
027 447 8554 
WHERE TO GET HELP 

1737, Need to talk? Free call or 
text1737 to talk to a trained counsellor  

Rural Support Trust 0800 787 254   

Lifeline, 0800 543 354  

Youthline, 0800 376 63, text 234, 
email talk@youthline.co.nz or online 
chat 

Samaritans, 0800 726 666  

Depression Helpline, 0800 111 757   

Suicide Crisis Helpline, 0508 828 
865 (TAUTOKO)      

In a life-threatening situation 
call 
111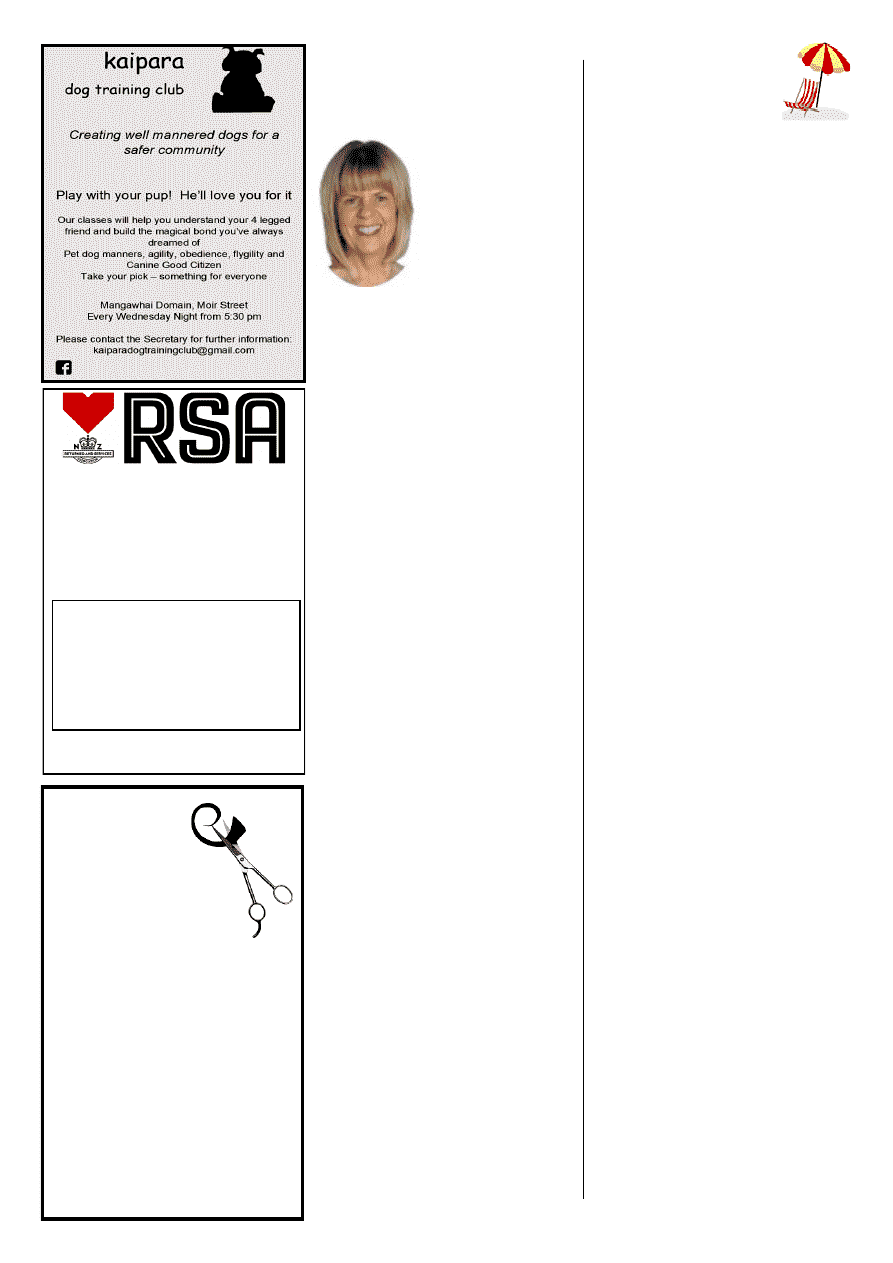 www.kaiwaka.co.nz 
Kaiwaka Bugle - 3 March, 2020 
Page 7 
HAKARU & DISTRICTS 
MEMORIAL RSA (INC)
Members & guests are invited to 
come along and enjoy our hospitality. 
New members welcome. 
Meals are served on 
Thursday and Friday nights 
from 6.30pm. 
Order from Blackboard Menu  
and a sing-a-long  
with Des Chitty. 
For more information please phone 
Graeme on 431 2563 
LIBBY JONES – 
NORTHLAND 
DISTRICT HEALTH 
BOARD 
We  had  a  great  turn 
out  at  the  community 
meeting  organised  by 
Northland  DHB  in 
Maungaturoto,  to  get 
feedback  from  our 
area 
on 
our 
experiences  of  health 
services and our health 
priorities.  This  was  to 
help 
the 
DHB 
develop 
the 
new Northland Health Strategy, which 
will  provide  high-level  direction  for 
delivering 
health 
services 
and 
improving wellbeing in Northland. 
It  was  a  privilege  to  be  part  of  this 
group  of  around  30  residents  from 
Paparoa  to  Mangawhai  and  listen  to 
their  stories  of  good  and  bad 
experiences  and  their  ideas  on  how 
things could be done better. 
 Focus on issues 
There  was  a  large  focus  on  issues  in 
primary  care,  covering  access  to 
GPs;  community  services;  mental 
health 
services; 
transport 
to 
services; 
desire 
for 
cultural 
alternatives 
such 
as 
Rongoā 
medicine;  options  for  young  people, 
including  those  who  are  not  in  the 
relative  security  of  a  school 
environment  any  longer;  desire  for 
more  holistic  approach  to  health 
care;  dignity  and  care  for  our 
vulnerable  citizens,  both  older 
people  and  those  with  disabilities; 
hospital 
issues 
re 
discharge 
planning, 
especially 
obtaining 
services 
after 
discharge 
over 
weekends, 
and 
communication 
between  hospital  and  primary  care; 
as  well  as  some  questions  about 
Ministry of Health Funding such as the 
low payment for Carer Support, lack of 
subsidised  dental  care,  and  cost  of 
running  community  services  such  as 
Linking Hands.  
There was also a strong focus on being 
proactive about our own health to keep 
ourselves well and seeking information 
to make good decisions. 
You  may  have  other  experiences  and 
ideas to add, so if you were not able to 
attend but would still like to have your 
voice  heard,  complete  the  survey 
online 
https://community.northlanddhb.org.nz/NHS/
feedback/ 
We  started  to  talk  about  solutions  for 
our area and there was certainly lots of 
energy for this. Maybe as a follow on 
we  could  organise  a  meeting  to  look 
further  at  local  options  for  wellness 
solutions,  communication  and  co-
ordination.  Do  get  in  touch  if  this 
interests you. 
Stay well, Libby Jones  
hames.jones@xtra.co.nz 021 2080093
JUST 
CUTS 
and 
MORE  
1758 Cove Road  
Open Monday-Saturday  
by appointment only 
Saturday 9-12pm  
Affordable prices: 
Ladies cuts from $35 
Colours from $120 
Men's from$25 
Kids from $18 
0211652629  
KAIWAKA  
WEATHER 
Well we have leaped into (ha 
ha)  leap  year  yet  again  after 
4  years.  Watch  out  guys,  the  gals  can 
propose officially so it is said.   
Also,  we  are  at  the  start  of  Autumn.  
The  temperatures  have  cooled  down  a 
bit.  Those that wanted summer surely 
did  get  it  and  are  still  having  it.    Our 
thermometer  reached a  mean  35deg  in 
the  shade  and  breeze  and  some  days 
would  have  been  higher  however  we 
were  not  at  home  to  read  the 
thermometer.   
No  use  telling  you  how  hard  the 
ground is as if you are a gardener you 
will  know.  We  have  not  kept  up  with 
the watering and now plants are dying. 
I  should  practice  what  I  preach  about 
watering.   
We  had  a  tempting  11mm  of  rain  on 
the 22nd February.  We are 1km north 
of Kaiwaka and 1km south of Kaiwaka 
they  got  3mm.      We  have  seen 
numerous truck and trailer loads of hay 
daily  heading  North  lately.  At  least 
those dreadful winds subsided.    
One  feels  sorry  for  the  animals  -  and 
the  farmers  watching  pastures  dry  up.  
The  cracks  in  the  lawns  are  getting 
horrendous. The way we are going we 
will soon be able to see the other side 
of the world. Please keep up the water 
for  the  animals.  We  can  go  buy 
something  to  drink  as  the  animals  etc 
cannot. They rely on you to help them.  
You still need to slip, slop and slap, the 
sun  is  still  burning  hot.    I  still  advise 
you  to  get  that  extra  water  tank  as  we 
seem  to  be  getting  drier  nearly  every 
year.  I believe the water tanker wait is 
6 
weeks 
in 
Mangawhai 
and 
surrounding  areas  so  be  warned.    Not 
sure  about  Kaiwaka.    Oh,  now  it  is 
really scary. The Brynderwyn waterfall 
is  hardly  trickling  at  all,  it  is  hard  to 
see a trickle as you drive past (being a 
passenger) that is now.  
February  rainfall  for  2020  -  we  had 
11mm  and  2019  we  had  72mm.    We 
had rain on 1 day in 2020 and 6 days in 
2019.  For the first two months of 2020 
we  had  32mm  and  2019  we  had 
103mm.   
Our  driest  February  since  1987  was 
1990  with  3mm  and  the  wettest  was 
2004 with 260mm.   
Our driest first two months of any year 
since  1987  was  1990  with  38mm  and 
the wettest was 2018 with 375mm.   
Just  remember  when  we  do  get  some 
rain  the  roads  will  be  slippery.  You 
may  think  you  are  the  world's  best 
driver but there are heaps of people out 
there who should not be driving and do 
not even pay for a licence.   
A  distraught  senior  citizen  phoned  her  doctor's  office 
and  asked,  "is  it  true  that  the  medication  you 
prescribed me has to be taken for the rest of my life"? 
"I am afraid so" her doctor told her. After a moment's 
silence the senior citizen replied, "I am wondering just 
how serious my condition is, because the prescription is 
marked "No more repeats".   
Please  take  care  out  there  and  enjoy 
the rest of the good weather. ~ Bev.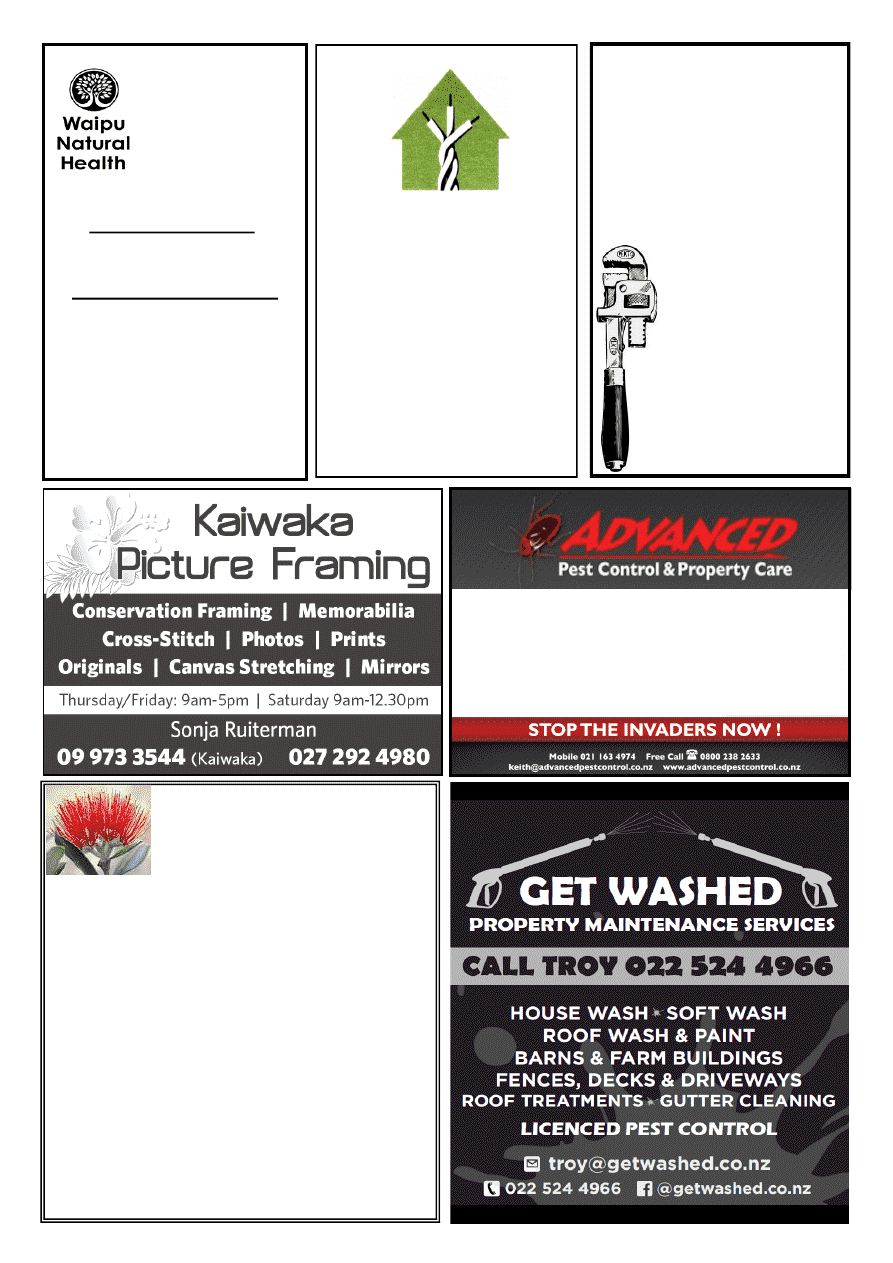 KAIPARA 
FLOORING CO 
Independently owned & operated 
32 HURNDALL ST MAUNGATUROTO
Supply & Installation of Carpet, Vinyl,  
Vinyl Wood Planking 
Stockists of 2m & 3m wide 
vinyl & carpet short ends 
Residential & Commercial 
Q Card Finance Approved 
6-18 month terms 
6 month interest free 
First Class Installations
For a free measure & quote 
phone Christine  
09 946 9886 or 021 515 415 
kaiparaflooring@gmail.com 
http://www.kaiparaflooring.co.nz/ 
BARRY CURTIS 
PLUMBING LTD 
REGISTERED CRAFTSMAN 
PLUMBER 
Phone 4315572 
027 257 9884 
25 years experience 
Friendly reliable service 
All plumbing and 
maintenance 
Alterations  
and new housing 
Spouting 
Competitive rates 
PROMPT 
EFFICIENT  SERVICE 
Reyahn George 
Leng 
Registered Electrician 
Local, honest and reliable. 
For your residential and 
light-commercial projects. 
022 314 1068  
Pest Control 
PLAN A: One-off treatments to customers with a specific pest problem 
PLAN B: Full maintenance service plans to commercial customers. 
This will include documentation kept in customer file on site: 
⚫
Pest treated 
⚫
Date of service 
⚫
Chemical or baits used 
⚫
Full pest check report done after each treatment 
⚫
Fair and reasonable fee with guarantee 
Flood Recovery 
Carpet Care 
⚫
Carpet Drying   
This includes pre-spray treatments 
⚫
Dehumidifier Rental 
with stain removal and hot water extraction.  
⚫
Full Commercial Cleaning  Patch repair also available 
Upholstery Cleaning 
Full upholstery cleaning of all furniture.  
eg lounge suites and all office chairs 
Water Blasting 
⚫
Concrete - Decks 
House Washing 
⚫
Soft Chemical Was 
⚫
Pre-painting Wash 
Property Services 
⚫
Property Cleaning  
Lawn Mowing 
⚫
Hedges General  Tidy Ups 
3 Cove Road, Waipu 
(opposite the Pizza Barn
) 
094321325 
www.waipunaturalhealth.co.nz 
Clinical Nutritionist: 
Nutritional Checkups, Diets for 
Chronic Diseases,  
Food Sensitivities 
Naturopathic Physician: 
Ozone Therapy, Prolotherapy, 
Mesozone 
Reflexology, Craniosacral 
Therapy, Trauma Release 
Massage Therapy 
Counselling and Hypnotherapy 
Change Catalyst/ThetaHealer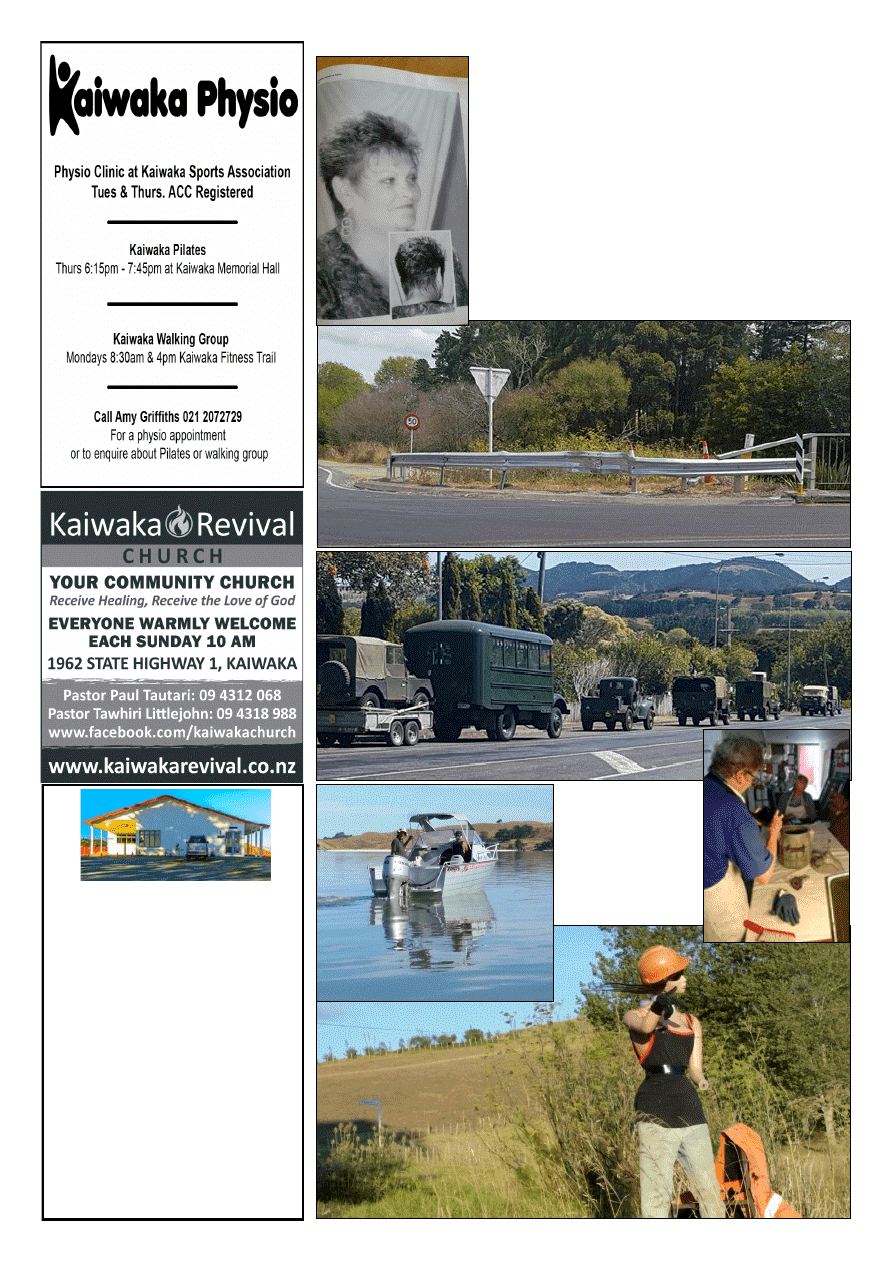 www.kaiwaka.co.nz 
Kaiwaka Bugle - 3 March, 2020 
Page 9 
Tramp! 
Te Pounga Marae 
130 Nathan Rd. Oneriri. Kaiwaka 0573 
COMPLEX FOR 
HIRE 
Functions 
* Weddings  * Birthdays  
*Anniversaries * Meetings  * Wananga 
5 hour meeting * 12 hour stay  * 
Overnight 
*All welcome - No more Drink-driving 
Amenities: 
*Convo Combi Steamer * Bratt Pan * 
Dish Washer/Sterilizer * 3 Door Glass 
Chiller (walk in) etc…All Crockery * 
Linen Supplied * Central Heating and 
Air Conditioning and much more.  
Can also cater for small groups…. 
For more information please 
contact: 
 Pearl Nathan 0223933533  
tepoungamarae130@outlook.com  
LOCAL SCENES 

Spotted  in  a  local  hairdressers  1980s  magazine      - 
fashions  come  and  go  …  and  this  was  just  one  of 
similar styles. 

Another  bruising  for  the  Oneriri  -  SH1  intersection! 
Damaged observed a week ago. 

Some  of  the  17  World  War  Two  and  1950s  historic 
military  vehicles  from  the  Far  North  Convoy  2020 
travelling through Kaiwaka 24 February. 

The  Kauri  Museum  Tuesday  volunteers,  Chris  and 
Yvonne  from  Kaiwaka,    at  work  in  the  museum  - 
photographing  and  entering  data  in  a  spreadsheet  to 
record  Collection  items  being  prepared  for  transfer  to 
the new storage facility. 

And  what  else  do 
you  do  when  it  is 
too  hot    -  enjoy  the 
Kaipara! 

Out the Oneriri - a 
special 
worker 
minding the stock!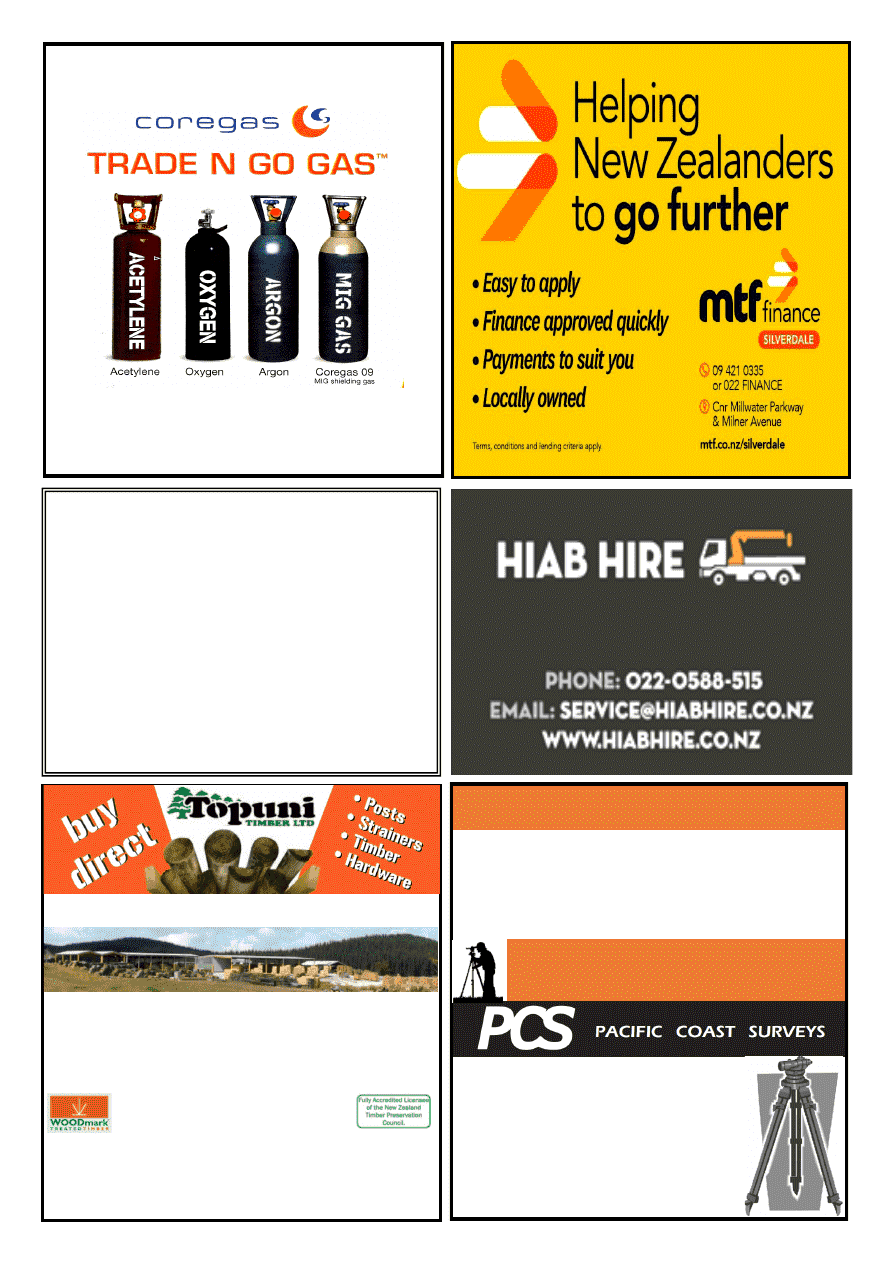 LOCALLY OWNED AND OPERATED 
QUALITY PRODUCTS • FRIENDLY ADVICE • GREAT SERVICE 
Quality Products milled from High Density NORTHLAND Radiata Pine. 
Treated and guaranteed to NZS3640 with commitment to 
Environmental Safety.
Phone, fax, email, or come into the mill 
Schiska Rd, Topuni, SH1, 10 min north of Wellsford. Fax: 09 431 2856 
Email: sales@topunitimber.co.nz           Mon - Fri 7am-5pm 
• Fencing 
• Retaining 
• Decking 
• Landscaping 
• Gates 
• Hardware 
SURVEYORS 
SUBDIVISIONS 
HOUSE SITE SURVEYS 
CIVIL ENGINEERING 
WASTEWATER DESIGNS 
EXPERIENCED 
PROFESSIONAL 
INNOVATIVE 
Ph 09 431 5353 
0800 PACIFIC (0800 722 434) 
pacificcoastsurvey.com
Adam Booth - 027 415 5752 
Bsurv, Licensed Cadastral Surveyor
Surveying Kaipara since 1994 
At Twinkle Tow 'n' Tyre 
Mob: 021 833 960 
Ph & Fax: 09 431 2823 
1837 State Highway 1, Kaiwaka 
design drafting  
service 
Retired builder and manufacturer with over 40 years  
experience in the building industry is offering a design 
drafting service for domestic housing, sleepouts and 
sheds.  
Plans formulated in consultation with clients, with 
working drawings completed and submitted to  
council for processing.  Extensive practical experience,  
able to identify & resolve problems. 
Please ring Mike Lean on 
09 431 2260 
or 
021 431 196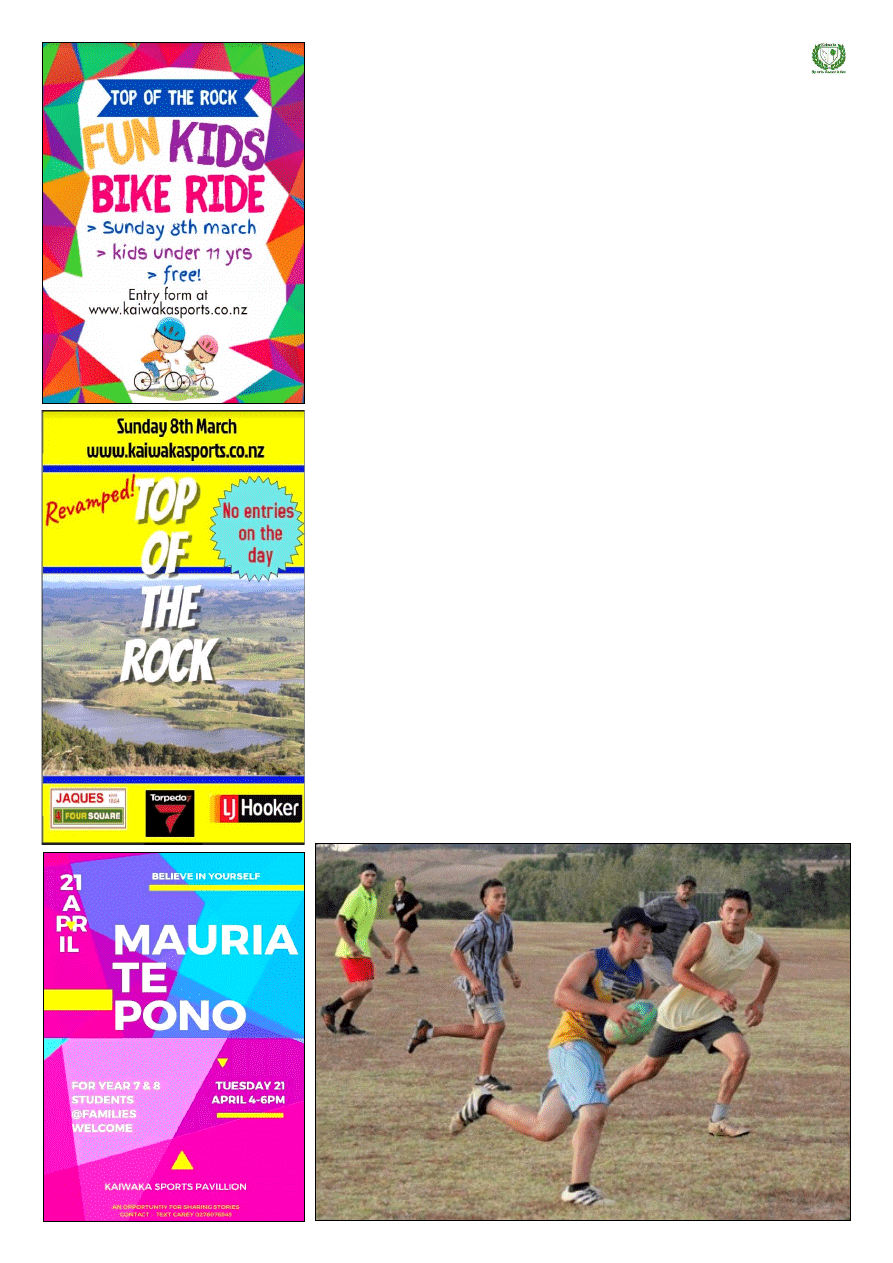 www.kaiwaka.co.nz 
Kaiwaka Bugle - 3 March, 2020 
Page 11 
           KAIWAKA SPORTS ASSN 
Touch Module 
Our  Touch  Module  wrapped  up  last 
week with semis and finals. The Semis 
match  between  Toka  Sports  Academy 
and Kaipara Wolves was super tight - a 
draw  at  fulltime,  so  the  Drop  Off 
Procedure  was  played.  My  Player  of 
the Match went to Jesse Manuell, who 
thundered down the field to prevent the 
opposition  scoring  and  then  thundered 
straight  back  down  the  other  end  to 
score the winning try! 
The  finals  between  The  Spartans  and 
Kaipara  Wolves  was  a  nail-biter  too, 
also  going  into  Drop  Off,  with  the 
Kaipara Wolves eventually scoring for 
the  win  and  taking  out  the 
Championship. 
Many  thanks  to  all  the  players  who 
competed with good sportsmanship and 
heart.  And  a  big  thank  you  to  our 
referees:  Bruce  Leslie,  Gerrin Taiaroa, 
Zac Langridge and Kenny Finlayson. 
Kaiwaka Sports Awards 
For  our  annual  Sports  Awards,  our 
affiliated 
clubs 
nominate 
their 
members  in  the  categories  of  Senior 
Sportsperson  of  the  Year,  Junior 
Sportsperson  of  the  Year,  Service  to 
Sport  and  the  Greg  McRae  Memorial 
Trophy. The awards dinner will be held 
on Wednesday 22nd April. 
Eastern United JMB 
Our junior rugby club, Eastern United, 
are  gearing  up  for  the  new  season. 
There  will  be  a  JMB  meeting  at  the 
Sports  Complex  this  Wednesday  4 
March at 5pm, all welcome. 
Website 
Would  you  like  more  detailed 
information about  our  affiliated  clubs? 
Our clubs are:
Athletics, 
Badminton, 
Basketball, 
Fitness  Centre,  Hockey,  Martial  Arts, 
Netball,  Pt  Curtis  Cruising,  Rugby, 
Squash,  Tennis  and  Touch.  Check  out 
our website for more information: 
www.kaiwakasports.co.nz . 
Top of the Rock 
The  Kaiwaka  Sports  Associations 
annual  run/walk  event,  the  Top  of  the 
Rock,  is  this  Sunday  and  it's  not  too 
late to enter! 
There  are  two  run  or  walk  courses: 
5km  and  10km.  Routes  travel  through 
some  of  Kaiwaka's  most  scenic 
countryside – bush, lakes and farmland, 
culminating with a view atop the 10km 
course that has never been open to the 
public  before,  spanning  the  ocean  to 
the harbour.  
Note:  Top  of  the  Rock  does  NOT  go 
up Baldrock Mountain this year. 
There  is  no  time  limit  on  completing 
the  events  and  we  have  marshalls  in 
utes following the tail enders who will 
give you a ride back if you get tired! 
Participants of all ages enter Top of the 
Rock,  from  pre-schoolers  upwards  – 
and  they  have  a  prize  for  the  oldest 
participant! 
There  will  also  be  an  Under  11-year 
olds  Fun  Bike  Ride  at  11.30am, 
which is free to enter. 
This is a short, flat course going around 
the  KSA  and  school  grounds  plus  a 
neighbour's farm and takes only about 
10 minutes, so it is ideal for the young 
ones. Children will need a bike/scooter 
and  a  helmet.  All  children  who  enter 
this Fun Bike Ride will go in the draw 
for a prize pack. 
Prizegiving at the Sports Complex after 
the events, with prizes for place getters 
as well as lots of great spot prizes. The 
major  spot  prize  is  a  mountain  bike, 
donated by Torpedo 7. Entry forms can 
be found at Jaques Four Square and on 
www.kaiwakasports.co.nz. 
Ways to enter: 

scan  and  email  your  form  to  Cheryl 
at kaiwakasports@gmail.com 

 hand  your  form  to  one  of  the 
checkout staff at Jaques Four Square 

 register  in  person  at  the  Kaiwaka 
Sports Complex on Friday 6.30 – 8pm 
For enquiries please contact  
Cheryl Anderson on 
kaiwakasports@gmail.com 
Denzal  Peeni  from  Kaipara  Wolves  with  ball  in  hand,  marked  by 
John-Luke Whitehead from Spartans. 
Photo credit: Chantelle Peeni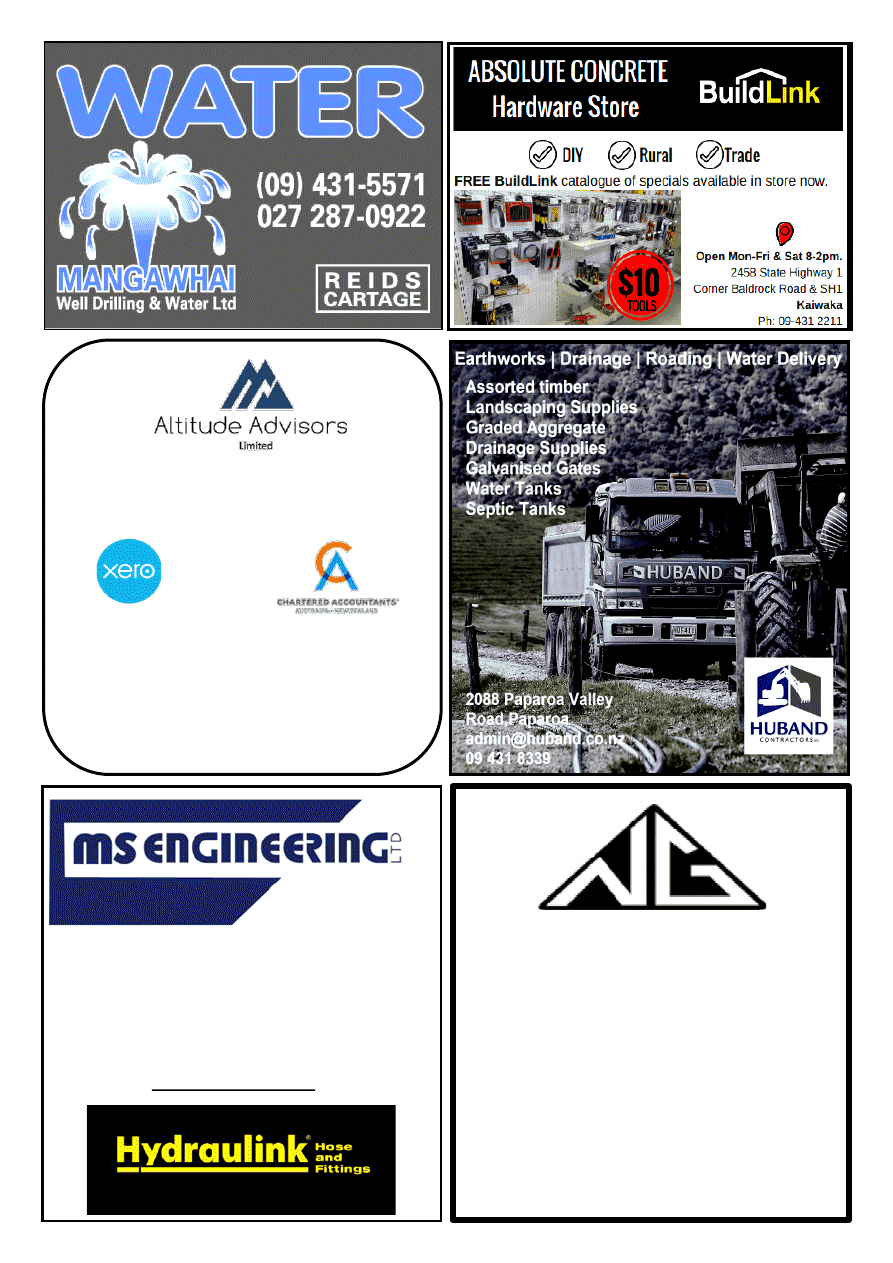 NORTH GLASS 
WINDSCREEN REPAIR OR REPLACE 
GLAZING SERVICES 
MIRRORS  •  SPLASH BACKS  •  SHOWERS 
0800 70 40 10
info@northglass.co.nz 
www.northglass.co.nz 
Altitude with Attitude, helping your business 
scale new heights 
Time to try something different? 
Xero training          Accountancy Services 
We are offering two opportunities: 
15% saving off your annual report cost for your first 
year, & a further 10% saving for any referrals 
Call Corinne on 021 252 7680 or 
corinne@altitudeadvisors.nz 

Peter Buckley 

Mobile Hose Technician –  
                      Based from Oneriri Road 

Available for all mobile hose                                
                      requirements onsite 

Call – 0800 425 7116 

Email – mse@mseng.co.nz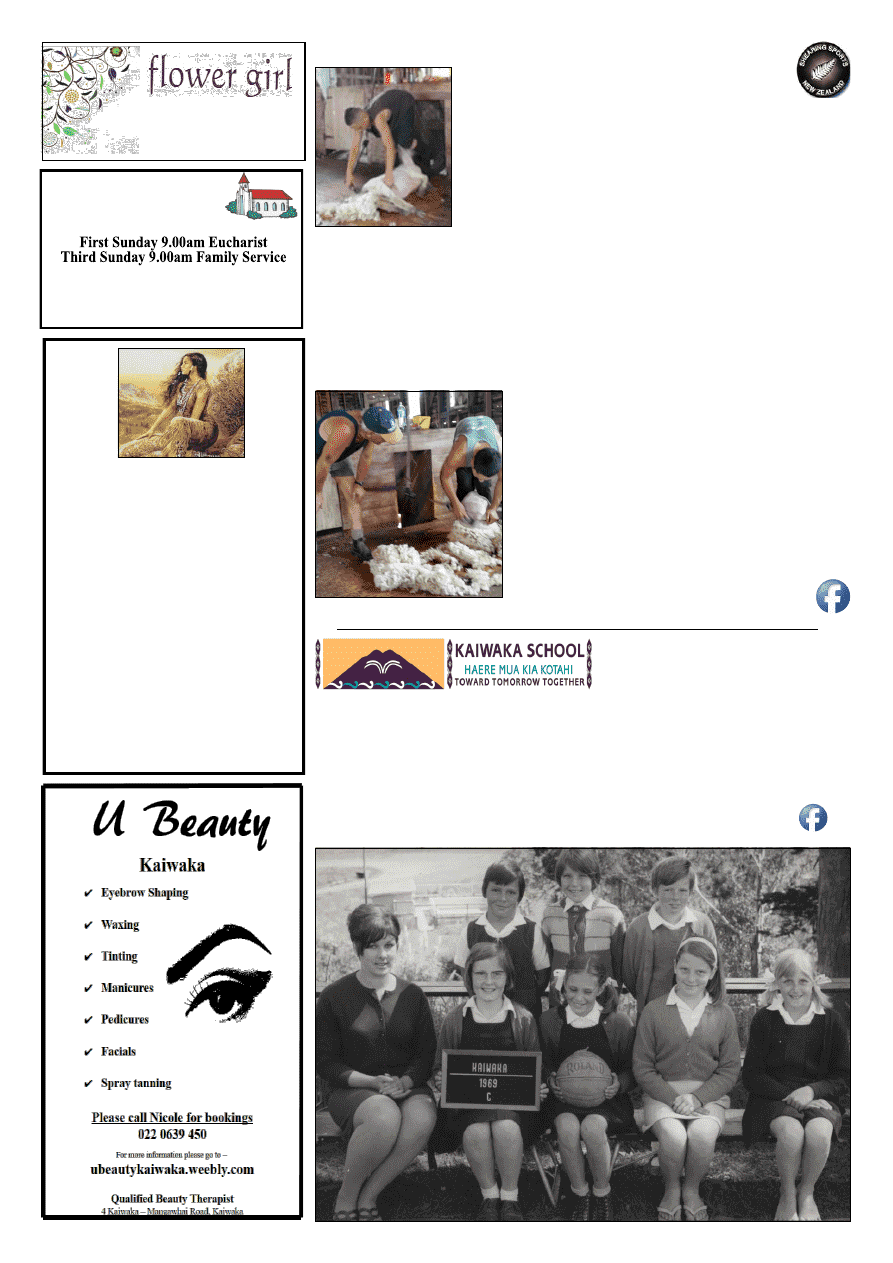 www.kaiwaka.co.nz 
Kaiwaka Bugle - 3 March, 2020 
Page 13 
TRAILS END 
RONGOA MAORI 
HEALING 
And Gifts 
Stocking all your needs from incense, 
crystals, dream catchers, greeting 
cards, jewellery, perfume, dragons and 
more  … 
For all inquiries  
Phone 0211652629  
Light refreshments available $5 koha  
1758 Cove Road Mangawhai
ON the WAY to the GOLDEN SHEARS! 
We have been watching the results of the Shearing 
Sports  especially  around  the  A  &  P  Shows  and 
have  been  impressed  with  performances  reported 
for  the  Kaiwaka  Henderson  whanau  –  Toa  Henderson, 
Whetu Henderson and his 14 year-old son Hamu, and their 
brother-in-law  Tama  Nahona  as  they  head  towards  the 
60th Golden Shears in Masterton Wednesday  4 March to 
Saturday 7 March. 
They all made the prize money at the North Kaipara A and 
P  Show  shearing  championships  at  Paparoa  on    1st 
February  – in the Open final (10 sheep): Toa Henderson 
(Kaiwaka)  10min  21sec,    was  first  and  Whetu  Henderson  (Kaiwaka)  11min 
15sec,  was  4th;  in  the  Senior  final  (5  sheep)  Tama  Nahona  (Kaiwaka)  7min 
1sec, was 4th; and in Novice final (2 sheep): Hamu Henderson (Kaiwaka) 6min 
28sec, 34.9pts, was first. 
At the Northern Wairoa A and P Show, Arapohue on 8 February Toa was first 
in the open final in 8 mins.39secs., and young Hamu was first in the Novice (2 
sheep) 6 mins.49secs.  
North  Hokianga  A  and  P  Show  shearing  championship  at  Broadwood  on 
Saturday,  February  15,  :Novice  (1  sheep)  Hamu  Henderson  (Kaiwaka)  3min 
22sec, 1; Tess Berger (Ahuroa) 6min 4sec, 2; And the next day, 16 February, at  
he won the Novice at the Franklin A & P Show in  
3min 2sec. 
The Taumarunui  Shears  on  Friday,  February  28,  
Open  final  with  20  sheep  Toa  came  in  4th  at  17 
mins.11secs.  He  really  stepped  up  with  Rowland 
Smith who was first at 17min 6.72secs. 
Then  at  the  Apiti  Sports  Shears    Saturday, 
February  29  -  Open  final  (20  sheep):  Toa 
Henderson  (Kaiwaka)  18min  15sec,  was  first, 
again  with  excellent  points.  And  his  nephew, 
Hamu was 2nd in the Novice final with 2 sheep , 
with a grand time and points. 
Photos:  Top  -  Hamu  Henderson;  Bottom  - 
Toa Henderson under Tony's watchful eye. 
Follow on Facebook Shearing Sports New Zealand 
Kaiwaka School 150 Reunion ~ 24th October 2020 
Kaiwaka  school  is  150  years  old  this  year  we  will  be  holding  a  reunion  on 
Saturday  24th  October at  the  school this  will  be  a  great  time  to catch up  with 
your old friends and we would like as many to register as possible to make this a 
great event. Arrangements are under way so keep a look out in the Bugle and 
our Facebook page Kaiwaka School 150 Reunion for upcoming info.  
Contact: kaiwakaschool150reunion@mail.com 
Can you name the people in this school netball photo? 
KAIWAKA 
SCHOOL 
ST PAUL'S  
ANGLICAN  
SUNDAY SERVICES 
St Pauls Church: Kaiwaka-Mangawhai Rd. 
Priest in Charge Rev. W Thornton Ph 431 4122 
www.mangawhaianglican.org.nz
designs for all occasions 
lindywatson@hotmail.com 
4312 847  0211234164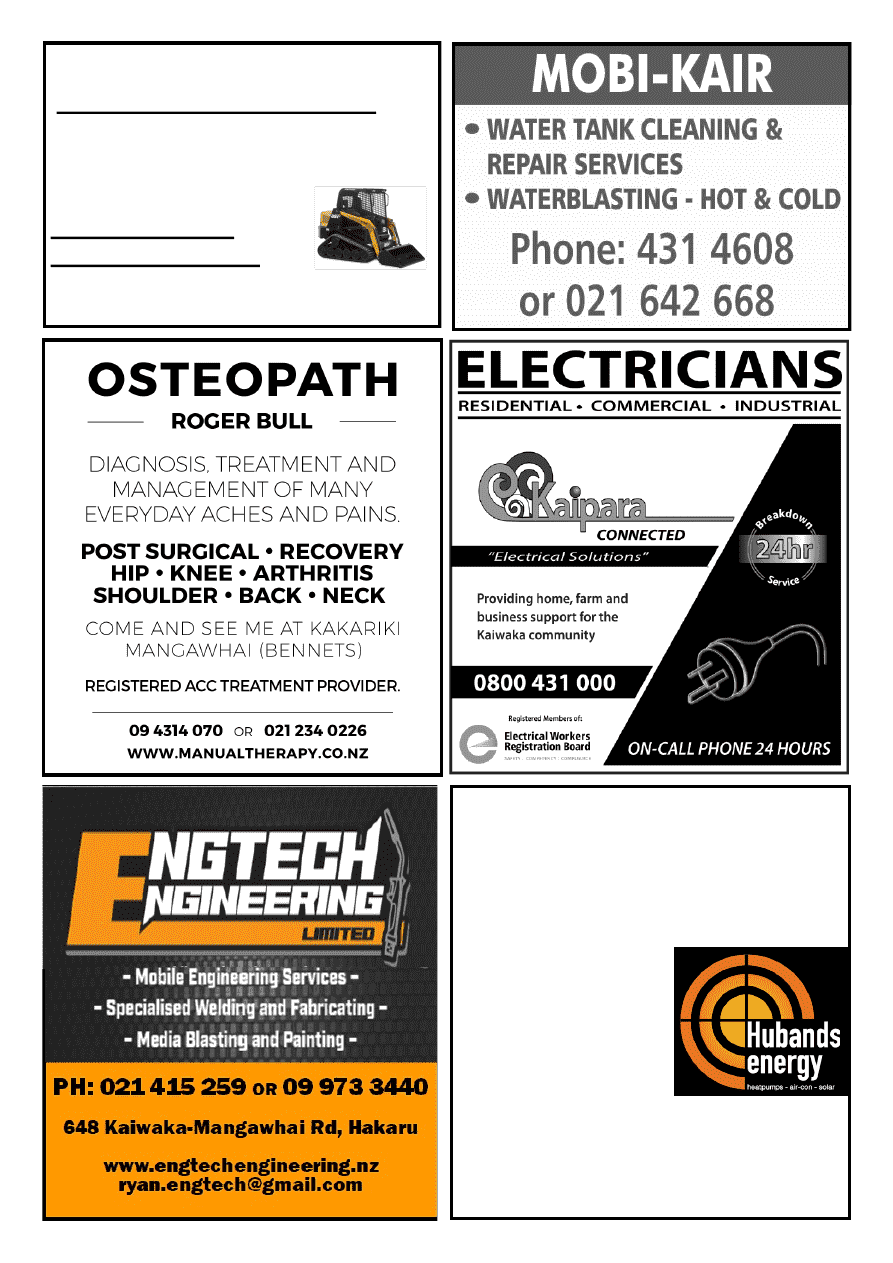 Natural Earth Ltd 
 Landscape and Bobcat services 
 : Driveways  :Landscaping  :Retaining Walls 
 : Hole Boring: Land Levelling :Trenching 
 : Decks :Fences :Sections Cleared: Plus much 
more 
Tel   09 4312885 
Mob 02102391280   
For A Fast Friendly  
Service Contact Tim Hicks 
Northland's Award Winning 
Solar Company
SEANZ Best Solar Business Winners 2015/16
EXCLUSIVE 10 year installation warranty 
FREE No obligation onsite quote
Complete systems 
from $5990
See our range of: 
✓ 
Heatpumps 
✓ 
Airconditioning 
✓ 
Hot Water 
Heatpumps 
✓ 
Central Vacuum Systems
09 430 0019             sales@hubands.co.nz 
15 Kioreroa Road, Whangarei
Locally owned and operated for 35 years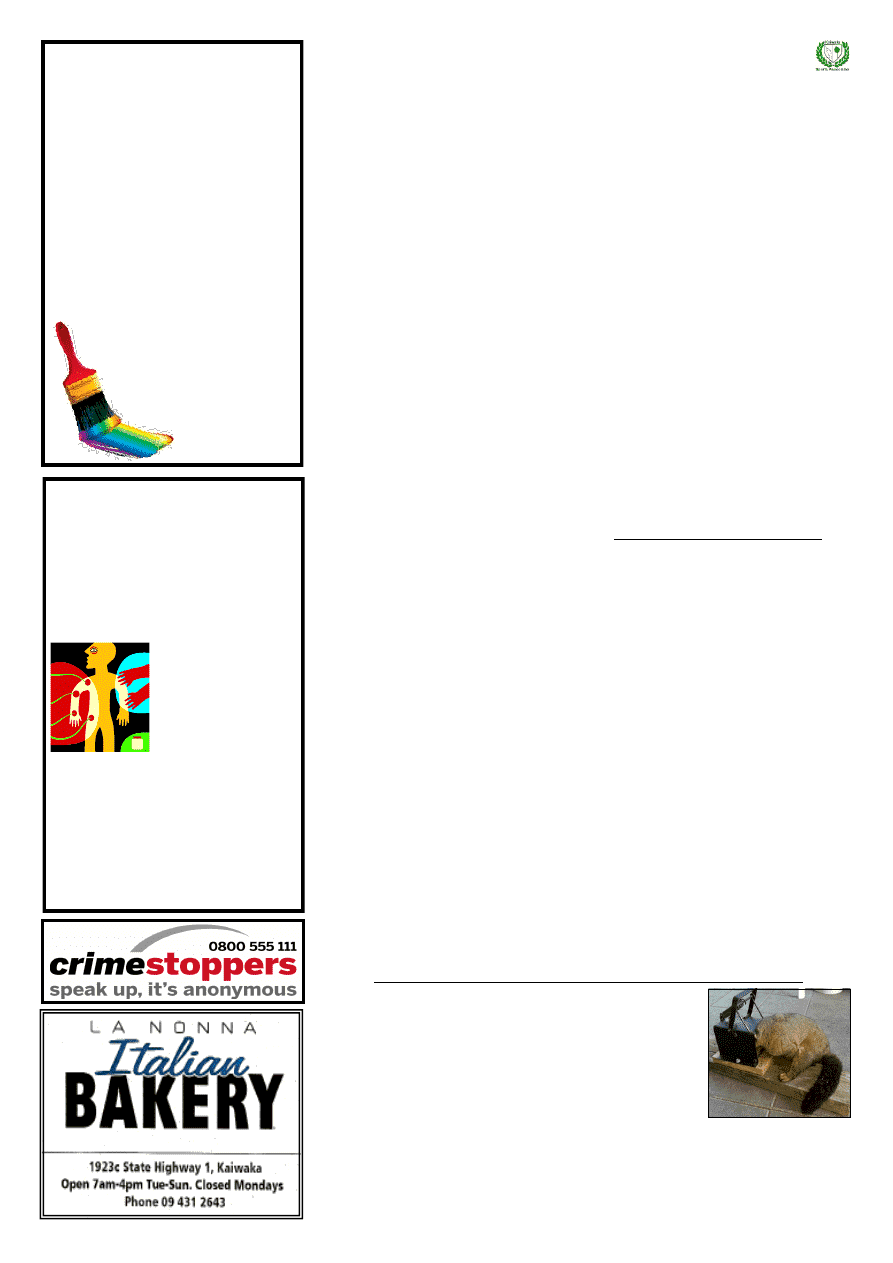 www.kaiwaka.co.nz 
Kaiwaka Bugle - 3 March, 2020 
Page 15 
OWEN STEVENS 
Osteo Therapist
For careful adjustments  
to bones and joints 
Treatment for humans  
and their pets 
Clinics: 
Kate's Place, 
Kaiwaka: 
Last Friday of 
month 
9.00am-5.00pm 
For bookings: 
Phone 
09 4312661 
Or phone Owen   
09 4317123  anytime 
LEE COOPER 
PAINTERS 
(Kaiwaka Based) 
*30 yrs Experience 
*Interior/Exterior 
*New and Restoration 
*Honest and Reliable 
*Free Quotes 
 
09 4312918 
0274735171 
leecooper@xtra.co.nz 
Community-based  predator  control  is 
tipping  the  balance  in  the  northern 
Kaipara. 
Support  for  Community  predator  control 
areas [CPCAs] comes from the Northland 
Regional  Council  with  four  of  these  on 
Oneriri Peninsula alone. 
A  Kaipara  Harbour  based  management 
group  wants  to  meet  with  the  neighbours 
who  do  the  work  so  there  can  be  a 
"catchment wide approach". 
Integrated  Kaipara  Harbour  Management 
Group  [IKHMG]  coordinator  Kym  Burke 
says three discussions will be set up in the 
south  at  Helensville,  north  at  Dargaville 
and  centrally  at 
Kaiwaka. 
At 
Kaiwaka  people 
from 
Tinopai, 
Pahi, 
Whakapirau, 
Oneriri 
and 
Tapora peninsulas 
who participate and provide input into the 
predator  scoping  study  can  hear  what's 
being  done  across  the  CPCA  areas  and 
offer further input. 
It  will  give  communities  the  opportunity 
to  work  together  and  public  meetings  are 
likely by midyear. ~ HP  
KAIWAKA SPORSTS ASSN. GRANTS 
POSSIES, RATS AND STOATS 
Applications  for  grant  funding  are 
being  accepted  for  the  following 
periods -March and April 
APPLICATION  PROCESS  -  HOW 
TO APPLY: 
Applicants 
can 
uplift 
a 
KSA 
application  form  from  The  Three 
Furlongs Hotel operating KSA gaming 
machines. Forms can also be requested 
directly from KSA.  
All relevant details are displayed below 
and are also displayed at the venue. 
Venue:  The  Three  Furlongs  Hotel; 
Postal: PO Box 62, Kaiwaka;  
Tel: 094312329 Fax: 094312229 
You  must  return  the  application  form 
and  any  associated  documentation  to 
the  Association  at  the  address  printed 
on the application form. 
The  application  form  contains  a 
checklist of important information that 
must  be  included  with  the  application 
for funding to be considered. Failure to 
supply  all  Information  requested  may 
result in the application being declined 
or returned to you unprocessed. 
Applications 
are 
checked 
for 
completeness  and  considered  by  the 
Grants  Committee  on  a  regular  basis. 
An application may take up to 6 weeks 
to be processed. 
CRITERIA: 
1.  Applications  are  checked  for 
compliance  against  the  criteria  of  the 
Department of Internal Affairs and the 
definition  of  Authorised  Purposes  as 
set out in the Gambling Act 2003. 
2.  Funding  is  distributed  in  the  local 
community area – 
a. 
Provision, 
maintenance 
and 
development 
of 
club 
buildings, 
furniture, 
fittings, 
grounds 
and 
equipment. Excludes any bar area and/
or facilities. 
b.  Assist  sporting  adjuncts  within  the 
club through the provision of uniforms, 
equipment, premises and the actual and 
reasonable  expenses  to  travel  to  and 
compete  in  tournaments  with  kindred 
groups. 
Excludes  professional  sports  people/
teams. 
c.   Funds for the promotion of amateur 
sport  within  the  local  community. 
Excludes  the  payment  of  wages/
salaries  
d.  Donations  to  support  recognised 
community  organisations  within  the 
local community with the provision of 
facilities.  Excludes  bar  area  and/or 
facilities. 
Applicants  should  be  aware  that  the 
ultimate decision on funding rests with 
the 
Association's 
Grants 
Committee  and  that  there  are  no 
guarantees  that  the  full  amount  of  the 
application will be supported or indeed 
the application will be supported at all. 
WHO 
WILL 
CONSIDER 
APPLICATIONS: 
All  applications  will  be  considered  by 
the  Grants  Committee  which  is  made 
up of KSA Trustees. 
Applications  are  generally  considered 
in the week following the closing date. 
Applicants  are  usually  notified  in 
writing within 10 Days. 
The Trustees of KSA are: 
Brian  Jaques  JP.  QSM  -  Managing 
Director, Kaiwaka 
Evan Wright -Farmer, Kaiwaka 
Tony Hargreaves, JP- Farmer, Kaiwaka 
Wayne Leslie - Farmer, Kaiwaka 
Mark Ottaway QSM - Baker, Kaiwaka 
Paula Jaques - Business owner, Kaiwaka 
Innes Anderson - Farmer, Kaiwaka 
COMPLAINTS POLICY: 
Any 
complaints 
regarding 
the 
distribution  of  grant  proceeds  must  be 
sent in writing addressed to: 
The Principal Officer/Complaints. 
KSA. PO Box 62. Kaiwaka 
Complaints  received  in  this  manner 
will be acknowledged in writing. 
2019 GRANT RECIPIENTS 
Otamatea Tennis   
3084.79 
ORFC    
1500.00 
Otamatea Netball  
1000.00 
Family Support    
2000.00 
Blue Light    
1000.00 
Otamatea Netball  
2000.00 
ORFC Juniors    
500.00 
Kaiwaka Playcentre    
900.00 
Otamatea X Netball    
1500.00 
OHS Uniss    
1400.00 
OHS Duke of Edinburgh   800.00 
Kaiwaka School    
2000.00 
KSA  
1247.98 
Otamatea Netball Aims   800.00 
KSA  
775.98 
KSA    
4782.61 
KSA  
7652.00 
Otamatea Netball  
500.00 
OHS Heaphy Track    
1000.00 
Pt Curtis Cruising Club   5000.00 
KSA  
3675.17 
KSA  
11,000.00 
Oruawharo Marae  
3000.00 
Otamatea Marae   
2000.00 
MHSLC  
3000.00 
KSA  
2637.65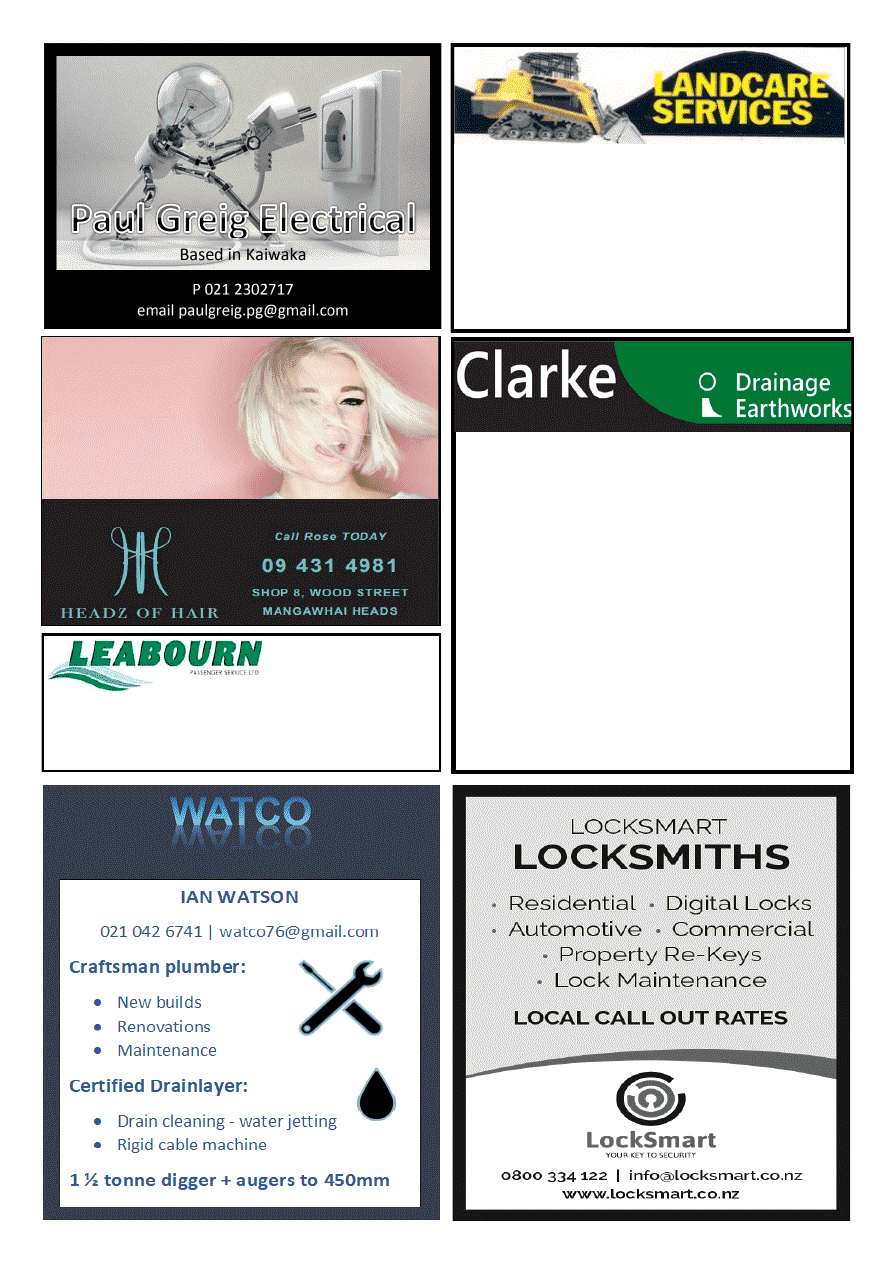 Drainage & Earthmoving 
nigel@clarkedrainage.nz 
027 2233 185 
Registered Drainlayer                    All Types of Earthworks  
> All Residential & Commercial Work  > House Sites 
> Septic System Design & Install          > Footings & Drilling to 10m 
> Sewer Connections 
                       > Dams 
> Water Tank Installation 
               > Roading & Races 
       > Farm Work 
THE ONE STOP SHOP  
LANDSCAPING 
4 IN 1 BUCKET 
TRENCHER 
POLE HOLES 
ROTARY HOE 
COMPACT ROLLER 
OFFAL HOLES 
CAN SUPPLY WOODCHIP & POST PEEL 
5 TON TIPPER 
FOR RELIABLE AND FRIENDLY SERVICE CONTACT DAVE 
Dave Hyndman 
 
KAIWAKA 
PH: 09 4312302 
MOB: 021 431 238 
Passenger Service
Car & Van Hire   Bus & Coach Charters 
Airport Transfers    
Phone (09) 4237416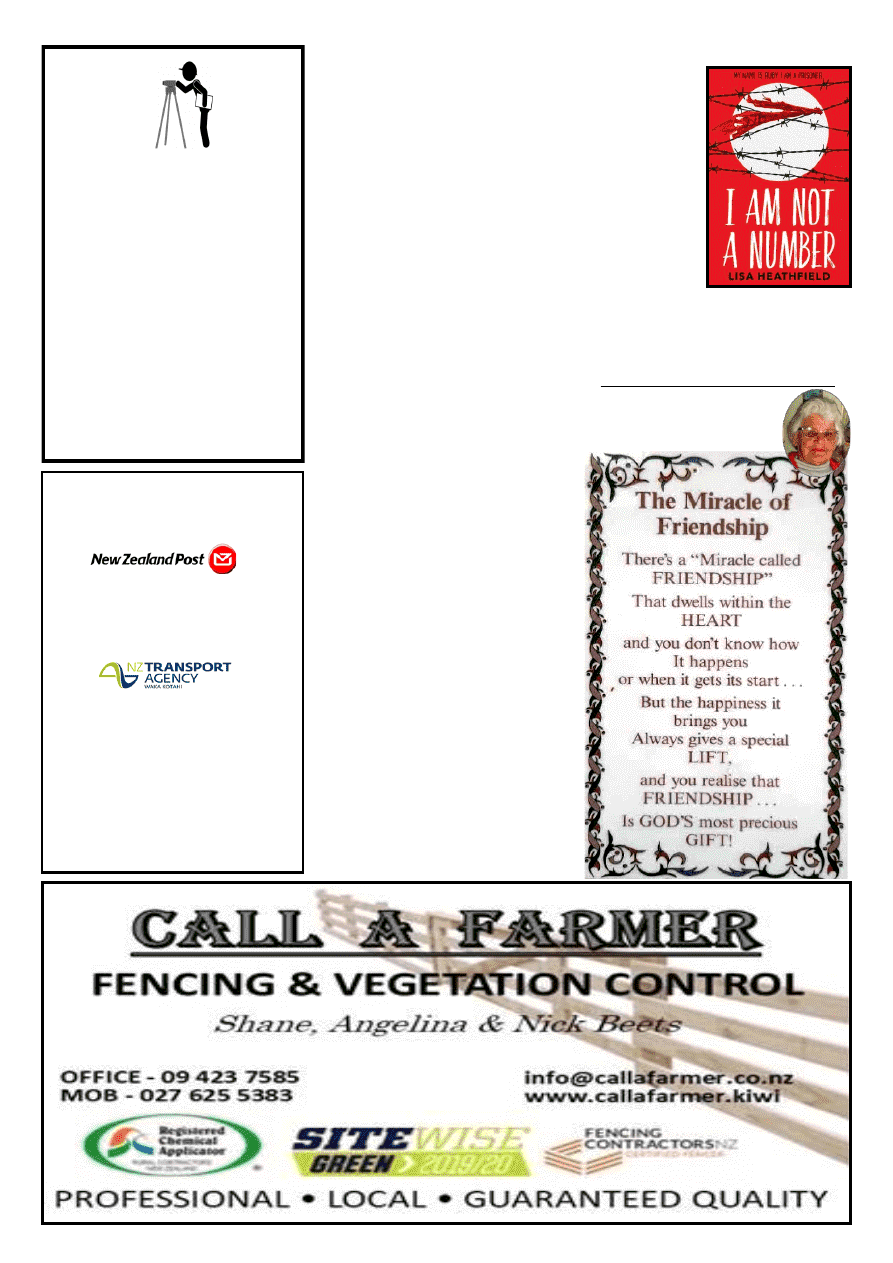 www.kaiwaka.co.nz 
Kaiwaka Bugle - 3 March, 2020 
Page 17 
KAIWAKA LIBRARY
KAIWAKA POST 
CENTRE and 
FOOD MART 
POST CENTRE TRADING HOURS 
MONDAY to FRIDAY 8am to 5pm 
SATURDAY 8am to 12pm 
CLOSED ON SUNDAY and on 
PUBLIC HOLIDAYS 
FOOD MART (GROCERIES) 
MONDAY TO FRIDAY  
7:30am to 7.30pm 
SATURDAY  8am to 7.30pm 
SUNDAY  8:30am to 7pm 
IF ANY QUERIES PLEASE CALL 
STORE MANAGER AMRIT  
on 09 4312431 or 
EMAIL: kaiwakafood19a@gmail.com 
1919a State Highway1, Kaiwaka 0542 
From Thelma's 
Scrapbook...  
Summer Reading 
Competition results 
Congratulations to Cathy and John who 
both  won  prizes  in  the  competition. 
They  won  a  selection  of  books  in  one 
of the lovely cotton KDC bags each. 
Cotton bags for sale 
We have the lovely cotton bags printed 
with the Kaipara District logo for sale. 
$3 each. Ask for them at the counter. 
Autumn Catalogue 
We  have  the  new  Kaipara  Libraries 
Autumn  Catalogue  2020  in  stock  - 
come and pick up your free copy. It is 
full  of  great  books,  all  available  with 
your  library  card.  Some  are  on  our 
shelves, others are at the other libraries 
in the district, and all can be borrowed 
through  our  library.  Hop  on  to 
Enterprise* or the library app, or come 
see  us,  to  place  a  hold  request  on  the 
titles of your choice. 
Joining is now easier 
Joining  Kaiwaka  Library  is  now  even 
easier  than  ever!  It's  free  to  join,  and 
you no longer have to prove you live in 
the district. Go to Enterprise* and click 
on the nice big "join the library" button 
to follow the instructions and fill in the 
form  or  come  into  the  library  and  we 
can  do  it  for  you.  Some  form  of 
personal ID is required - a NZ driver's 
licence,  current  passport,  Community 
Services  card,  firearms  licence,  etc  - 
before  you  can  get  your  library  card, 
then you're away laughing. 
A  Kaiwaka  Library  card  gets  you 
access  to  all  the  libraries  in  Kaipara 
District 
(Dargaville, 
Paparoa, 
Maungaturoto and Mangawhai), and to 
our free digital services. 
Book review 
Recently I've read I  am not  a  number 
by  Lisa  Heathfield.  "The  Traditionals  have 
been  voted  to  lead  the  country,  winning  people  over 
with  talks  of  healing  a  broken  society,  of  stronger 
families  and  safer  streets.  They  promised  a  happier 
future  for  everyone.  They  didn't  promise  this.  When 
Ruby is swept up with protesters from the opposition, 
her life is changed forever. Locked in a prison camp far 
from  home  and  with  her  belongings  taken  from  her, 
she's  now  known  by  the  number  276.  With  horror 
escalating in the camp, Ruby knows that she has to get 
her  family  out  -  and  let  the  world  know  what's 
happening." 
This 
was 
a 
stunning  read, 
along  the  lines 
of  CK  Stead's 
Smith's  Dream 
which 
was 
turned  into  the 
movie  Sleeping 
Dogs - set in the 
current 
day, 
posing 
an 
horrific 
situation  that  is 
all-to  possible. 
It  is  on  the 
Rental  Fiction 
shelves  in  the 
library at the moment but is a YP (teen 
fiction) title and free to borrow - don't 
let  the  'teen'  label  put  your  off,  it's  an 
excellent read. 
See you in the library! ~Wendy 
 *
Enterprise: http://kaipara.kotui.org.nz/
Ken Urquhart 
BSurv Licensed Cadastral 
Surveyor 
KMU  
Surveys Ltd
467 Bickerstaffe Road 
RD 2 
Maungaturoto 0587 
Ph 09 431 8705 
Mob 021 161 2344 
kenurquhart@xtra.co.nz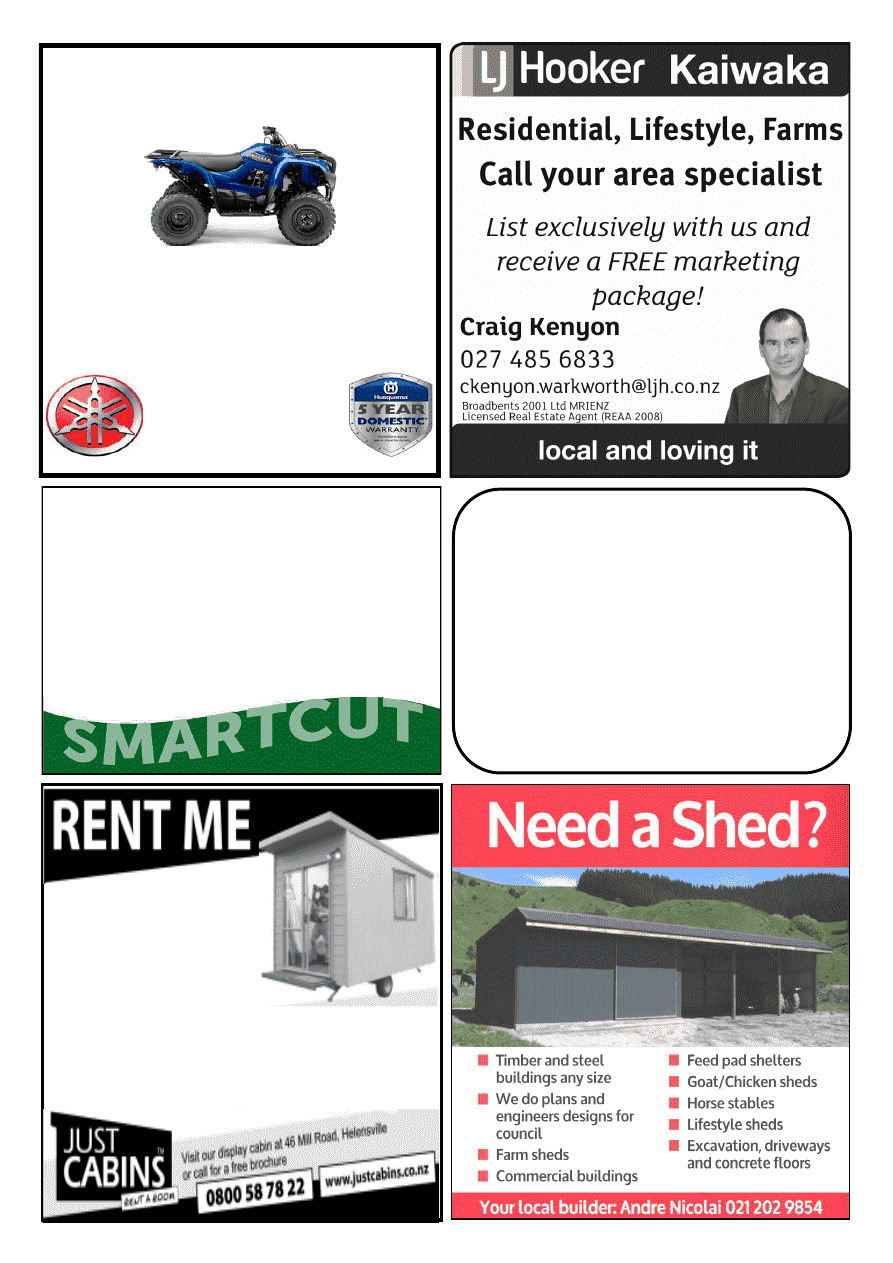 All your outdoor needs sorted so you don't have to... 
I can prune, chop, tidy, spray, mow, plant 
- you name it, I can do it! 
Residential & Commercial 
Lawn & Garden Care 
Call Rodney, your local  
lawnmowing contractor 
021 138 2344 
UP-LINK 
CHRIS WARING 
FREEVIEW INSTALLATIONS 
T.V. - HOME THEATRE &  
HI-FI ADVICE/SET UP
SKY ACCREDITED INSTALLER
MOB.0273403747 HM.094312328 
EMAIL cwaring44@gmail.com
28 YRS EXPERIENCE 
OFFERING UNBIASED ADVICE 
Ideal as an extra  
bedroom or office 
Three Convenient sizes: 
Standard 3.6m x 2.4m - $65 
per week 
Large 4.2m x 2.4m - $80 per week 
Extra Large 4.8m x 2.4m - $100 per week 
Fully insulated. Minimum 6 months rental period 
KAIWAKA 
MOTORCYCLES LTD
SALES – SERVICE – SPARES 
FARM BIKE SPECIALIST
PHONE 09 431-2127 
10 KAIWAKA-MANGAWHAI ROAD, KAIWAKA
Trimmers  
from $279
Chainsaws  
from $339
YAMAHA 
HUSQVARNA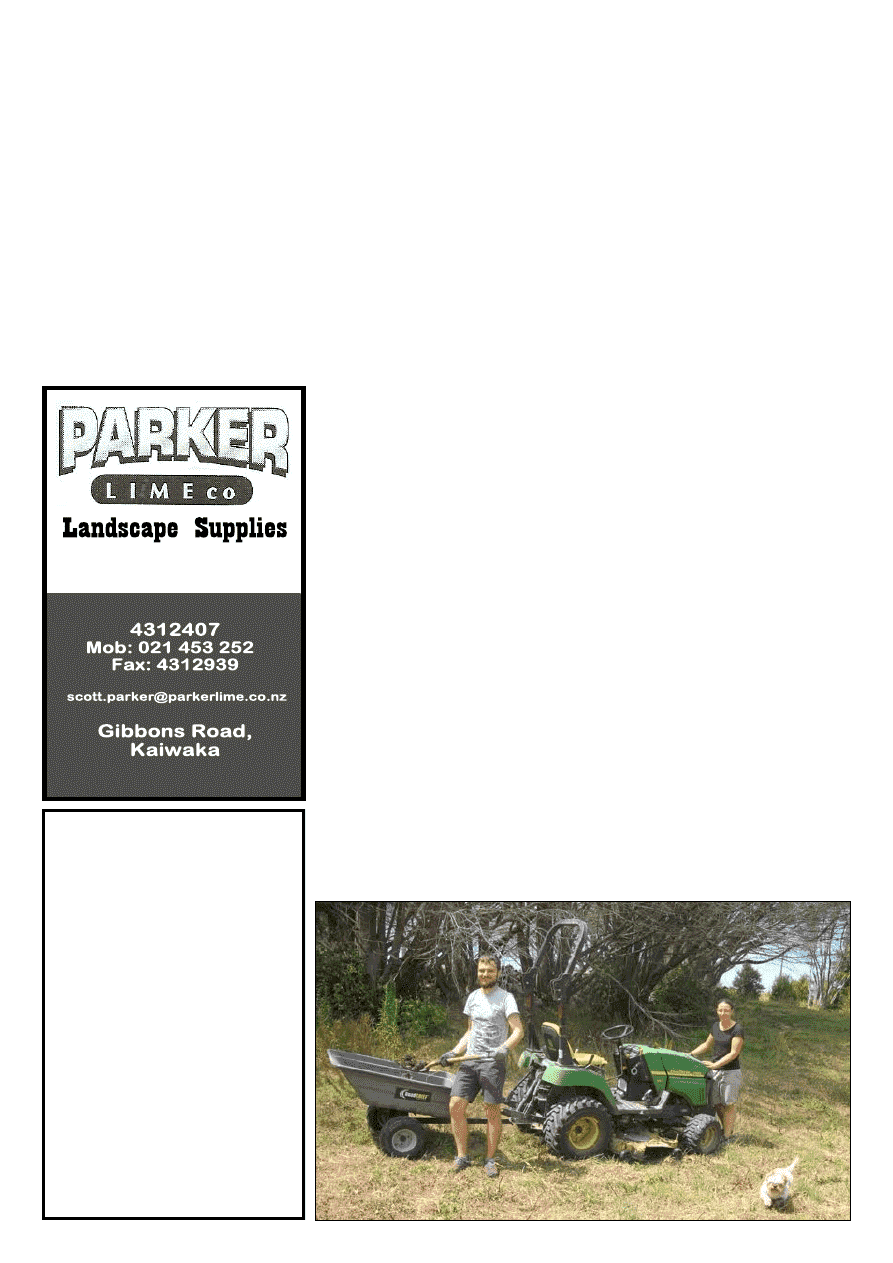 www.kaiwaka.co.nz 
Kaiwaka Bugle - 3 March, 2020 
Page 19 
Many  young  millennials  are 
skipping  tourist  packages  and 
holidaying with social networks. 
Two  recent  arrivals  from  central 
Germany  to  Oneriri  came  via  seven 
weeks  in  Australia  and  plan  to  be  in 
New  Zealand  around  four  months, 
mostly working with Kiwis through the 
Wwoof  [Willing  Workers  on  Organic 
Farms]  network  and  between  times 
checking  out  the  sights,  and  cultural 
attractions. 
A  similarity  between  these  millennials 
[*  those  born  between  1981  and  1996 
according  to  Wikipedia]  and  Kiwis 
who've done an 'OE' is their eagerness 
to work and learn about local cultures. 
Thousands  are  coming  –  for  some 
Europeans,  North  Americans  and 
Japanese  ~  there  are  no  limits  on 
numbers  under  the  age  of  30  -  and 
individuals  can  elect  to  stay  up  to  23 
months provided they have funds for a 
return 
ticket. 
[see 
https://
www.immigration.govt.nz/new-
zealand-visas/options/work/thinking-
about-coming-to-new-zealand-to-
work/working-holiday-visa]. 
Our  recent  guests,  Bianca  and  Benni, 
both  30  years  old,  arrived  Monday 
evening  direct  from  Australia  via  an 
Intercity bus. 
They  had  been  seven  weeks  in 
Australia  –  largely  in  Tasmania  to 
avoid the bushfires. They had returned 
to  a  Tasmanian  host  to  build,  garden 
and bee keep when smoke was choking 
on the East Coast. 
"Where  we  were  at  Noosa  we  were 
having  to  wear  facemasks  in  the 
house," says Bianca. 
Second visit
That was her second visit to Australia. 
She has worked in human resources for 
federal  and  state  governments  in 
Hessen, 
near 
Frankfurt 
as 
'sachbearbeiterin  im  haushalt  und 
control' after 'wwoofing' as an 18-year
-old  school  leaver  with  Davidsons 
Arnhemland  Safaris;  at  Kin  Kin  'eco 
lodge' in the Noosa Unesco Biosphere; 
and near Mission Beach, Queensland. 
Benni,  then  as  now  her  close  friend, 
had chosen not to go. 
He regrets that but is glad to be given a 
furlough 
from 
his 
post 
as 
'stellvertretender 
gruppenleiter'  [deputy  group  leader  or 
middle  manager]  at  a  large  German 
company. 
"We can see something different, leave 
out the tourist traps. I really envied her 
guts to do that [early trip].  I had felt I 
needed to do something in my working 
and  turned  out  more  adult  because  of 
the jobs." 
Both are keen concertgoers and collect 
band set lists from concerts. They have 
a  close  circle  of  friends  with  similar 
interests. 
Against habit 
The  trip  south  for  six  months  is  their 
deliberate  step  against  a  previous 
pattern  of  'frequent  flying'  in  Europe 
and  North  America,  to  spurn  package 
holidays and air pollution. 
Coming  down  under  they  come  here 
and go back by air and can move freely 
by bus, taxi and boat. 
Bianca  has  an  economics  degree  and 
wants to learn about sustainability, how 
to  do  permaculture,  to  build  a  food 
forest and to replace artificial fertilisers 
with mulches of various plants. 
So,  both  came  to  a  small  wwoof  farm 
in Kaiwaka prepared to share. 
They  lift  heavy  loads,  edge  gardens, 
help  with  watering,  use  our  machines 
and see how we subsist. 
They  love  our  oranges,  our  bananas, 
our  passionfruit,  our  tomatoes,  our 
salads and our supply of water from the 
sky. 
Prepared to share
Bianca  says  that  they  have  been 
learning  to  accept  what  comes  and  to 
work with a positive attitude. 
"We are where we are, collecting horse 
manure,  digging  under  a  woolshed, 
watering gardens in the dry and making 
a special hummus for our hosts, doing 
it up to a standard we would expect at 
home,  and  getting  appreciation  for  it," 
says Benni. 
 "Where  we've  been  in  Australia  and 
Kaiwaka  has  been  terrific.  Good  food, 
good  projects,  good  people,"  says 
Bianca. 
"It's  a  cultural  exchange  and  we  feel 
we've made a difference with helping." 
She  says  the  working  volunteer  costs 
are  similar  across  the  Tasman  though 
Wwoof  membership  here  is  lower  and 
a  working  holiday  visa  dearer  at 
NZ$208  even  though  it  initially 
appears  harder  to  find  hosts  than 
Australia  where  many  wwoofers  are 
their age or older. 
In  Coromandel  they  will  compare 
experiences  with  friends  nearing  the 
end of their Wwoof trip.  ~ HP
Willow Bend
HORSE  
HOTEL 
#
Total Horse Care    
# 
Agistment 
# 
Riding Lessons    
#
 Arena Hire (60x40) 
# 
Young Horse Starting 
# 
Re-training/Exercising 
#
Hoof Trimming    
# 
Problem Solving 
Phone Sue  
09 431 2817  
or 021 623 776  
Or email  
susanjoll11@gmail.com 
THE OVERSEAS HELP 
Bulk Cartage 
Shovelling horse manure is fine by Benni and Bianca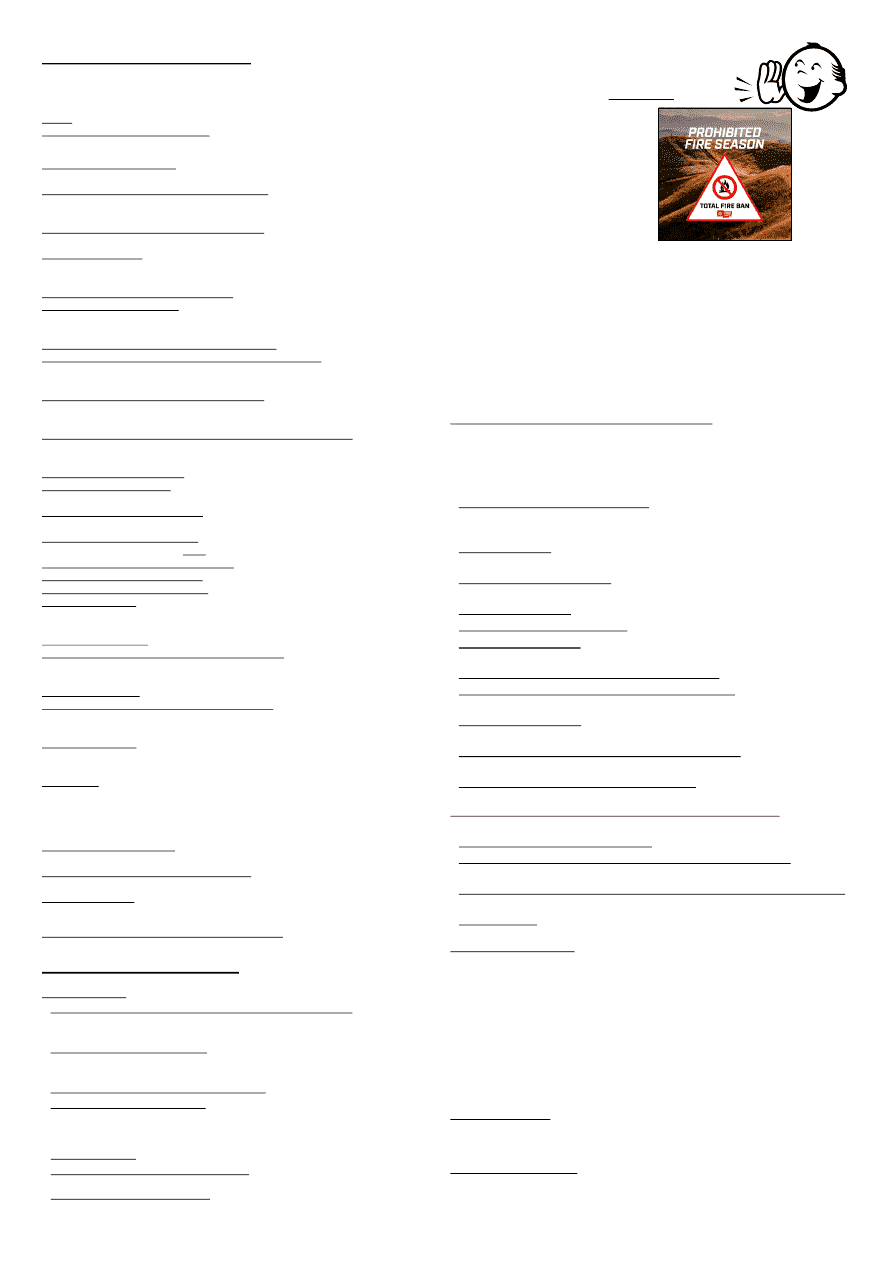 Next Bugle Deadline midday Friday 13 March 2020
WHAT'S ON
PLEASE ~ do let us know what is on - email 
kaiwakabugle@kaiwaka.co.nz 
Advertising in WHAT'S ON is FREE  
*4Mar~Eastern United JMB Rugby AGM, 5pm KSA 
*6Mar~Movie 'JOJO RABBIT', KWMH 7.30pm 
*8Mar~KSA - TOP OF THE ROCK 
*20Mar~Movie 'JUDY', KWMH, 7.30pm 
*21-22Mar~Open Fishing Competition 
*23Mar~Zonta PADA Awareness, Mangawhai, 1pm 
*3Apr~Movie 'KNIVES OUT', KWMH, 7.30pm 
KWMH = Kaiwaka War Memorial Hall; KSA = Kaiwaka Sports Association 
See www.kaiwaka.co.nz for more information 
HOUSEHOLD RUBBISH COLLECTION - Kaiwaka Pick up: 
Mondays = Green bags (Northland Waste - 09 430 3273) 
Wednesdays  = Blue bags and yellow recycling (at Jaques $3.00 
and  $1.50)  (Kaurilands  09  4392146);  ONLY  Blue  and  Yellow 
bags picked up on Oneriri Road. 
 DIABETES  Support  Group  -for  Kaiwaka,  Mangawhai, 
Wellsford  10am,  3rd  Friday  of  month  Ph:  Colleen  James  09 
4314238 
 GENEALOGY - Wellsford: 1st Thursday in month Ph: 423 
7033; Waipu: 4th Monday in month Ph: 4312 725 
 HAKARU PONY CLUB - Secretary Denise Rogers 021423376 
secretary@hakaruponyclub.co.nz  
 KAIPARA HUNT - Secretary Albert Doonenbal Ph 4312059 
 KAIWAKA BADMINTON -Tuesdays 7.30pm Ph: 4312345 
 KAIWAKA  CAN  - 3rd Wednesday in month, 5.30pm, Archie 
Bull Hall Ph: 0273572751 
 KAIWAKA DRUM & DANCE CLASSES - 021 611198 
 KAIWAKA GARDEN & FLORAL GROUP - 2nd Thursday in 
month. Ph: 431 4744 
 KAIWAKA  CUBS  -  Thursdays  5.30-7pm,  Hakaru  Ph:Bruce 
4312542 
 KNITTING FOR WHANGAREI HOSPITAL - 2nd Tuesday in 
month, Archie Bull Hall 10am Ph 4314827 
 MANGAWHAI COMBINED REBUS CLUB - 2pm, 3rd 
Thursday month, Senior Citizens Hall Mangawhai. Ph: 4315777 
*PILATES - KAIWAKA WAR MEMORIAL HALL - Ph: 
021 
2072729  
 PT CURTIS CRUISING CLUB - Jean Ph: 4312227 (wk), 4312520 (hm) 
 RSA,  HAKARU  &  DISTRICTS  WOMEN'S  SECTION  –  meets 
1.30pm 4th Thursday of the month. Ph: 431 5818  
 KAIWAKA  SCOTTISH  COUNTRY  DANCING  CLUB-
Wednesdays 10am - 12 noon  Ph: Elaine 027 432 0032  
 TRAMPING - Mondays 9am-2:30pm Maria 4312 234 
HALLS FOR HIRE: 
  Kaiwaka St. John Hall: Phone Marj  0272941227  
 St.Pauls Archie Bull Hall HIRE $20 half day, $40 full day per 
hire, S McAulay, Ph 4312311 
 Kaiwaka  War  Memorial  Hall  HlRE  -  Phone  4312725  or 
kaiwaka.hall.bookings@gmail.com 
 Hakaru Community Hall HIRE -Ph.  Lorraine 4312829  
 Te Pounga Marae queries - Pearl Nathan  0223933533 
 Kaiwaka Sports Association hire/queries - C. Anderson 4312051 
or kaiwakasports@gmail.com 
Justice of Peace:  
B.FJaques  4312  048;  L.Donaldson  4312  228;  A.F.Hargreaves 
4312 045, W.Howard 4312 725 - please phone to make sure they 
are available or go to www.justiceofthepeace.org.nz 
Marriage Celebrants:  
L.Donaldson; A.F.Hargreaves; Y Osborne
LOCAL SERVICES 
*Emergencies - Ambulance, Fire, Police - dial 111 
*Non-urgent Police phone 105
A A: Meets Wed., 7.30pm Kaiwaka Ph: 4315543, 0800229 6757 
NARCOTICS ANONYMOUS : Mon., 6.30pm, Kates Place; drug and 
alcohol related issues. Ph. 02102412348 
ASUREQUALITY LTD (was AgriQuality) Call Free 0508 0011 22  
BUDGETING SERVICE, WELLSFORD: Free confidential advice & 
support for all areas of personal finance. Ph (09) 423 7123 
CAB-Citizens Advice Bureau.Wellsford Ph: 4237333 
0800 367 222 email:cab.wells@xtra.co.nz  
CIVIL DEFENCE - Kaiwaka Community Response Group: 
kaiwaka.civildefencecrg@gmail.com, 4312725 Wendy 
DOG/STOCK /NOISE CONTROL 0800 105 890 
FUNERAL SERVICES: Morris & Morris Ltd, 
Whangarei - Bev Jaques Ph:4312367 or 0800667747 
GRANDPARENTS Raising Grandchildren: Dianah Roberts 0223819539 
HAKARU & DISTRICTS MEMORIAL RSA (Inc) 733 Settlement Rd, 
Hakaru. Ph 4312 176 or Bill Warren (President) 431 2092 
HAKARU LANDFILL/Transfer Station:Open everyday  10am-
4pm.Ph4312629 Cost-$55 trailer load up to 1 cubic metre. Ph:4258567 - 
office 
KAIPARA DISTRICT COUNCIL www.kaipara.govt.nz:  
Help Desk FREEPHONE 0800 727 059  
KAIWAKA CEMETERY: Ph: 4312045 or 4314017 
KAIWAKA LIBRARY: kaiwaka.library@gmail.com  
Mon. 4-6pm; Wed., Thurs., Fri., Sat. 10am-2pm Ph:4312539 
KAIWAKA PLAYCENTRE: Ph Juanita 0274134904; open Mon, Wed, 
Fri 9am-12pm. Hastie Lane; Monday to Friday 9.00am - 12 noon. 
KAIWAKA POST OFFICE:Ph:4312 431  
Post Code: 0573 for RD2 and 0542 for all Kaiwaka Post Office mail 
KAIWAKA PRIMARY SCHOOL: Ph: 4312309   
KAIWAKA SPORTS ASSN: Ph 4312005; 4312129 gym 
KAIWAKA ST JOHN HALL: Phone Marj  0272941227  
KATE'S PLACE Community Centre - Employment services, Free Health 
Nurse, Plunket, Advocacy, Osteopath, A.A., Legal Advice. 4312 661 
LINKING HANDS Health Shuttle Ph 4315906 or 09 4318969 
MINISTRY FOR PRIMARY INDUSTRIES - General inquiries Call 
Free 0800 008 333 
NORTHPOWER: Faults Kaiwaka area 0800 104040 
OTAMATEA COMMUNITY SERVICES: Counselling, parent coach, 
Family Support worker, budget advice, food bank. Mon-Fri 9am-3pm. Ph 
09 431 9080 http://www.otamateacs.org/ 
PARENTPORT: Free, practical family support service Puhoi to Paparoa 
Ph or txt: Dianne 027 280 5093 or 09 425 9357 
PLUNKET:  Kaiwaka  -Kate's  Place  Clinic  1st  Wednesday  of  the  month; 
Mangawhai  - Rose Madsen Cottage: Coffee Group 9:30 every Monday.  Clinic 
every Monday and Thursday. 
Maungaturoto - Good News Church, Clinic 2nd and 4th Wednesday.  
Cynthia 09 431 7340 or 027 675 3488 
PLUNKET HELPLINE -0800 933 922 (24 hours) 
TAITOKERAU COMMUNITY LAW: Free confidential legal advice and 
assistance, 2nd
Thursday
 of each month. Ph: 0800 155 529 for appts.  
TE URI O HAU Settlement Trust Tangata Developments: Whanau Ora 
021 793262  
VETERINARY SERVICE MANGAWHAI: 
Ph: 4314535 Mon-Fri 8.00-5.00, Sat 9-12, a/h appt. 
WELLSFORD DOCTORS: Ph: 4238 086 
CHURCHES:
 
Kaiwaka  Revival  Church  -  Your  Community  Church:  Sundays  10am. 
Ph: Pastor Tawhiri 09 431 8988 or Pastor Paul 09 4312 068 Visit us at 
www.facebook.com/kaiwakachurch 
 
St  Paul's  Anglican  Church  1st  Sun.  9.00am  (Eucharist),  3rd  Sun. 
9.00am (Family Service). Contact: Rev. Wayne Thornton Ph 431 4122 
www.mangawhaianglican.org.nz 
 
Church of Christ the King, Mangawhai:9.00am every Sunday 
 
St.Mary's  Catholic  Church:  Maungaturoto  –  Griffins  Road,  Saturday 
evening  Vigil  Mass  6pm;  Mangawhai  –  Senior  Citizens  Hall,  Sunday 
Mass  8:30am;  Wellsford  –  Matheson  Road,  Sunday  Mass  10:30am;  
Mid-week Mass times and all enquires to Fr. Bill Fletcher – phone 423 8170
 
Baptist Church: Sun. 10.30am Mangawhai Snr Cit.Hall.Ph:4312339 
 
Cause  Way  Church  Mangawhai:  Sundays  10.15am,  Mangawhai 
Community  Recreation  Centre,  Insley  St.  Ph:  09  4314782