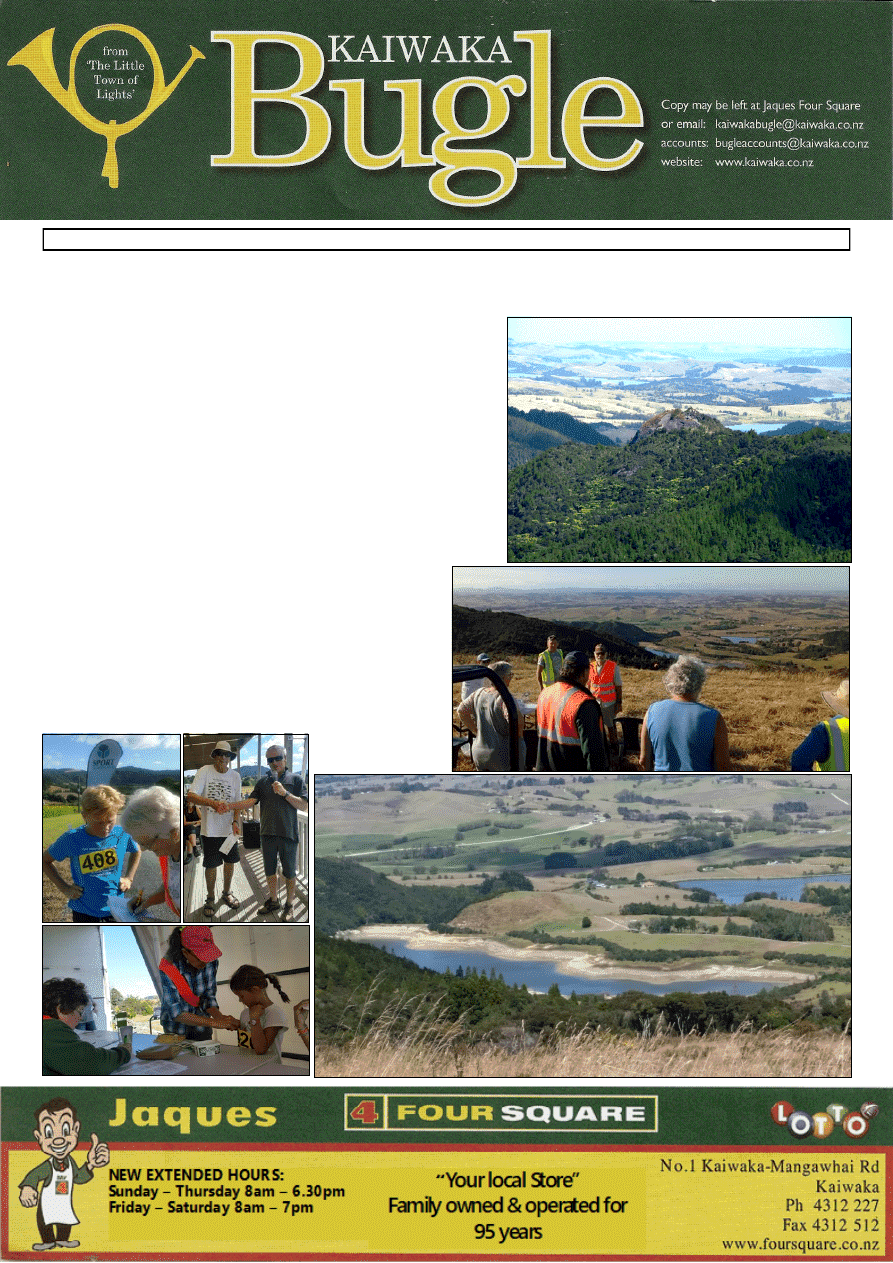 www.kaiwaka.co.nz 
Kaiwaka Bugle - 17 March 2020 
Page 1 
No:5 
17 March 2020 
More  than  two  hundred  folk  of 
all  ages  took  part in this fun  run 
or  walk  event  -  family  groups, 
teams, even barefooted! 
With  thanks  to  the  generous 
sponsors,  there  were  over  60 
prizes up for grabs. Place getters 
got  first  choice  from  the  prize 
table,  then  the  remaining  prizes 
were given out by a draw. 
Results:
10km  run,  male:  1st  -  Martin 
Wilson, 2nd - Mason Spiers, 3rd - 
James Turner 
10km  run,  female:  1st - Rebecca 
Ferris,  2nd  -  Toni  Wright,  3rd  - 
Sonia Cameron 
5km  run,  male:  1st  -  Casey 
Wright,  2nd  -  Faelan  Smith,  3rd  - 
Shayne Smith 
5km run, female: 1st - Sophie van 
Harlington, 2nd - Tate Smart, 3rd - 
Annaliese Allen 
Kids  Fun  Bike  Ride: 1st – Toby 
Walker 
Spot Prize: Laura Hunt 
Mangawhai  Tyres  donated  2  x 
$50  for  the  oldest  competitors. 
The  winners  were  Jewel  Mills 
and  Gerry  Richardson,  both  79 
years, who did the 10km walk. A 
lawnmower,  generously  donated 
by  Kaiwaka  Motorcycles,  was 
auctioned off, as were meat packs 
donated  by  Silver  Fern  Farms. 
The  Volunteers  Prize  Draw  was 
won by Blake Anderson.  
The  main  spot  prize  of  a 
mountain  bike  kindly  sponsored 
by Torpedo 7 was won by Heath 
Worsfold. 
As with most community 
events  this  is  a  team 
effort,  so  thank  you  to: 
the  many  marshals  and 
registration 
officials; 
Kaiwaka  School  PTA 
who 
provided 
food;  
Kaiwaka  Fire  Brigade 
for the route supervision; 
bar  staff,  St  John, 
landowners 
and 
Sport Northland. 
NEW EXTENDED HOURS: 
Sunday – Thursday 8am – 6.30pm 
Friday – Saturday 8am – 7pm 
Looking down on Baldrock! The Kaiwaka Sports Association's annual multi-sport event, the Top of the Rock, was 
held on Sunday 8th March on a brilliant clear day. See more photos on the Top of the Rock Facebook page and on 
the KSA website. 
KAIWAKA'S TOP OF THE ROCK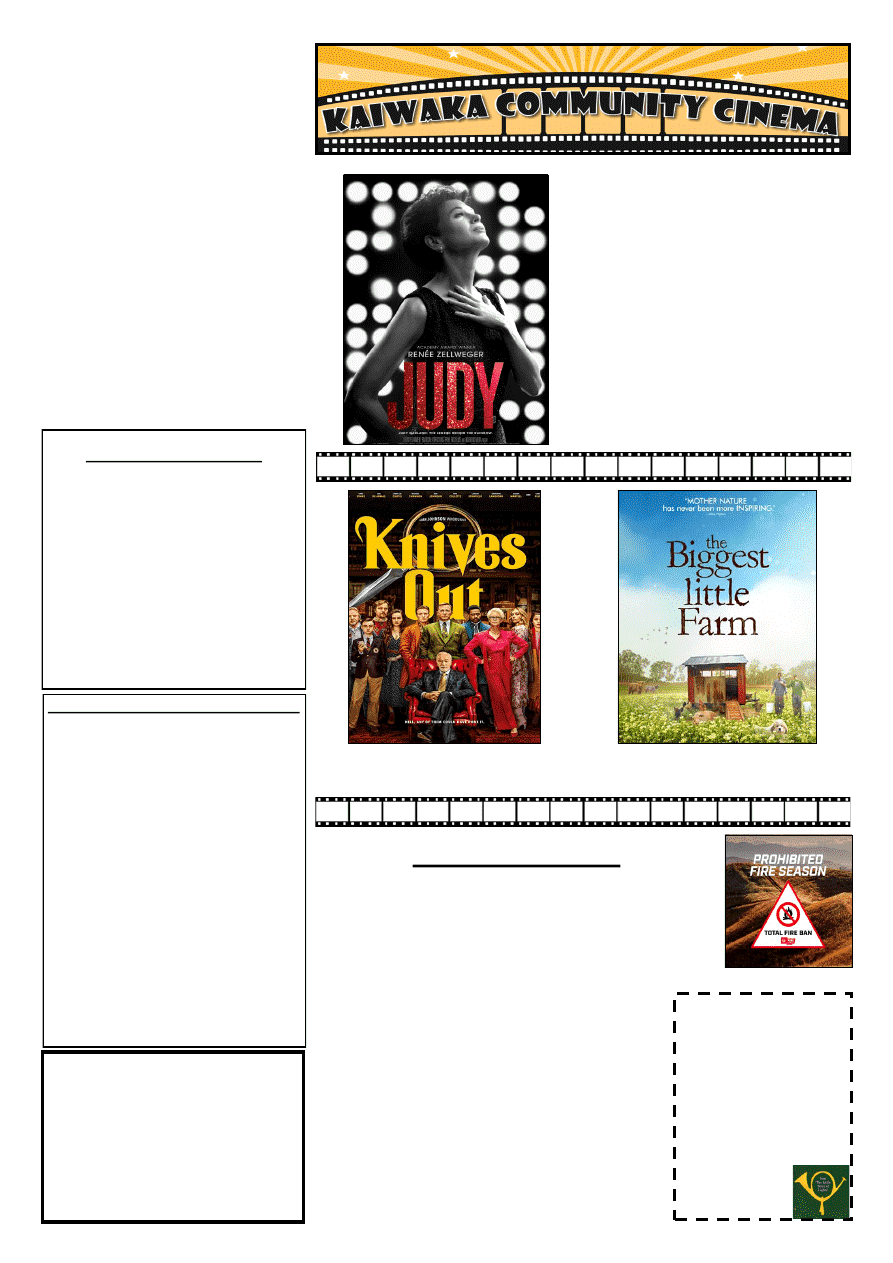 Proverbs 29: 25 
The fear of human 
opinion disables;  
trusting in GOD protects 
you from that.  
At Kaiwaka War Memorial Hall . Adults $10, Kids (under 16) $5, Family Pass (2 adults + 3 children) $25 
ABOUT TOWN 
 
What a stunning  time was had by all at this year's Top of 
the  Rock  event!    Well  done  all  entrants,  sponsors  and 
workers. 

Our  very  best  wishes  to  the  ZONTA  Yellow  Rose 
recipients - Terri Donaldson and Heather Quinn. 

 Local  NZ  Courier  pick  up  depot  now  at  Kaiwaka's 
Warkworth Motorcycles, 1916 SH 1, opposite the Op Shop 

 LIGHT  NO  FIRES  -  message  from  our  Fire 
Chief.

Our condolences to the family and friends of John 
Dekker who passed away at the weekend.

Check  where  the  nearest  Automated  External 
Defibrillator is to you - see page 19 

See  the  Kaiwaka  Bugle  in  colour  online  at 
www.kaiwaka.co.nz at any time          
                      ~ Lindsey, Ed 
'May your blessings outnumber the shamrocks that grow. 
And may trouble avoid you wherever you go." For the 
whole world is Irish on the Seventeenth o' March! ... For 
each petal on the shamrock, this brings a wish your way: 
Good health, good luck, and happiness for today and 
every day. 
KAIWAKA BUGLE NO.5 
17 MARCH 2020 
CONTENTS: 
Page 3: Public Notices, Classified 
Page 5:  Pt. Curtis CC; Hakaru 
Women's RSA 
Page 7: Dahlias for Dementia;  ORT 
Page 9: Kaiwaka Playcentre; Kaiwaka 
School ; Otamatea High School 
Page 11: Kaiwaka Sports Assn  
Page 13: Thelma's Scrapbook; Mike's 
Autos 
Page 15: Kaiwaka Can; Kaiwaka 1977 
Page 17: Kaiwaka Library 
Page 19:  Automated External 
Defibrillator 
Bugle 6 will appear  31 March 
Contact for advertising, reports, articles 
or information can be made by 
Email: kaiwakabugle@kaiwaka.co.nz 
Ph: 09 4312 045 Lindsey 
Txt: 027 2724137 
Copy  may  be  left  at  Jaques'  Four 
Square. 
Kaiwaka Bugle Advertisements 2020: 
All 
copy 
and 
queries 
to: 
kaiwakabugle@kaiwaka.co.nz 
The Bugle is printed on an A4 page, B&W  
Ad  sizes:  1/16  page  (3  x  9.5cm)  $5;  1/8 
(6.5  x  9.5cm  landscape  or  portrait)  $8; 
3/16 ( 10 x 9.5cm or 7.5 x 12,5)  $12.  
Classified  ads:  First  one  FREE,  $4  per 
entry (max. 30 words, max. 4 repeats). 
Payments  can  be  made  online  at 
ANZ 
06  0365  0006990  00
,  posted  or  left  at 
Jaques Four Square Store. 
We  use  Microsoft  Publisher,  and  can 
work  with  most  common  image 
formats, Word, Excel, and PDF files. 
Accounts:  
Email: bugleaccounts@kaiwaka.co.nz 
The  Kaiwaka  Bugle  is  a  community 
newspaper run by volunteers, as part of 
the Kaiwaka Media Group Inc.   
Articles, etc. printed are not necessarily 
the opinion of the Bugle Team. 
Kaiwaka Bugle 
Founded May 1978 
We appreciate articles and photos about local 
events, etc, as well as ads and suggestions. 
Copies available in Kaiwaka at Jaques Four 
Square, Kaiwaka Postal Centre, Shamrock 
Service Station, Animal Health Centre, 
Kaiwaka St John shop. 
Also outlets in Maungaturoto, 
Mangawhai and Paparoa. 
Can be viewed online at  
www.kaiwaka.co.nz/Bugle  
Or a copy can be posted to you if you supply 
stamped, self-addressed DLE envelopes. 
JUDY 
Friday 20 March 7.30pm (PG-13) 
 Judy 
is 
a 
2019  biographical  drama  film  about 
American  singer  and  actress  Judy 
Garland. Directed by Rupert Goold - 
starring Renée Zellweger as Garland.    
The  film  follows  Judy  Garland's 
career during the last year of her life 
when  she  relocated  her  stage  career 
to  Britain  and  features  some  of  her 
best-known songs, the film celebrates 
the  voice,  the  capacity  for  love,  and 
the  sheer  pizzazz  of  "the  world's 
greatest entertainer... " 
KAIWAKA BUGLE 
DEADLINE DATES 
2020:   
Every second Friday
March 27 
April 10, 24 
May 8, 22 
June 5, 19 
July 3, 17, 31 
August 14, 28 
September 11, 25 
October 9, 23 
November 6, 20 
December 4 
KNIVES OUT 
Friday 3 April 7.30pm (M) 
The BIGGEST LITTLE FARM 
Friday 17 April, 7.30pm  (PG-13)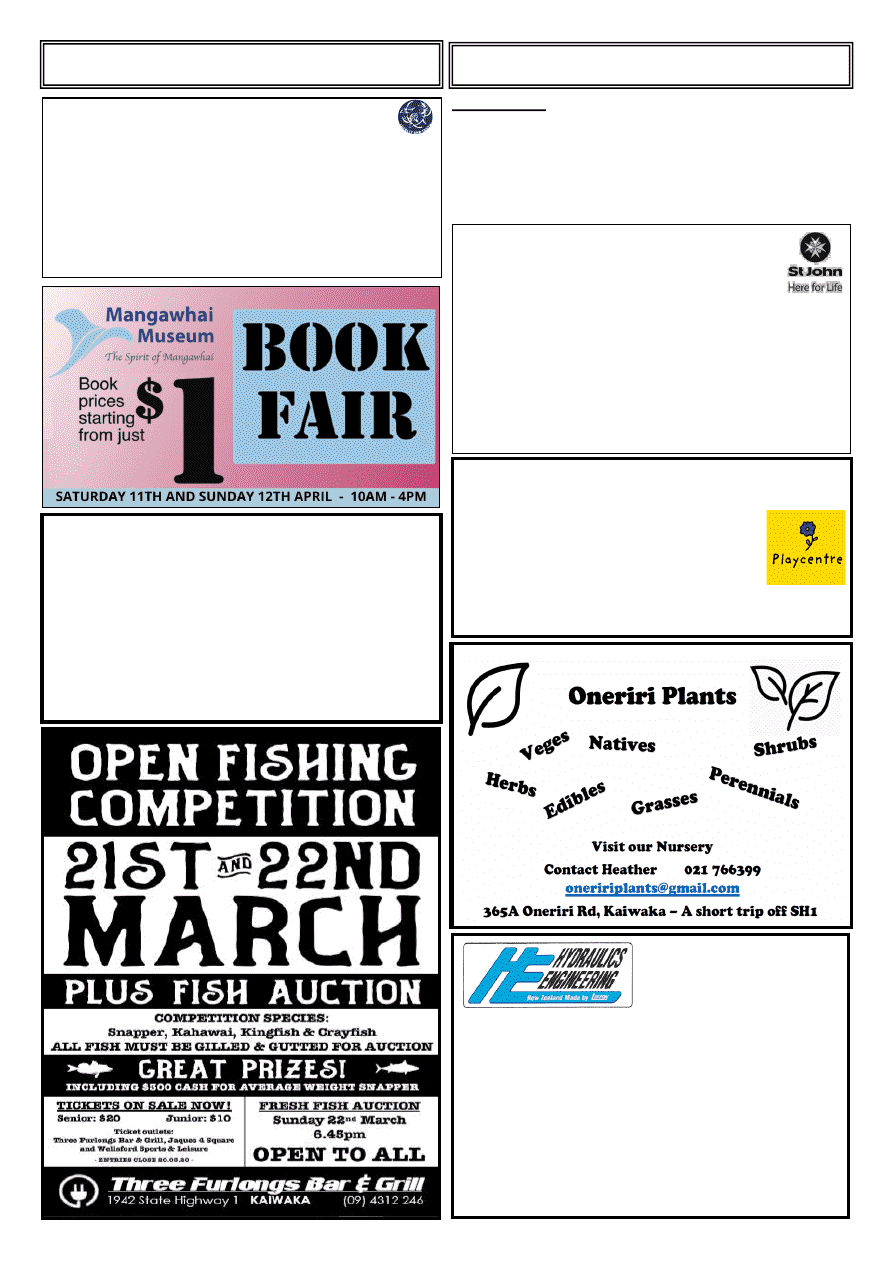 www.kaiwaka.co.nz 
Kaiwaka Bugle - 17 March 2020 
Page 3 
PUBLIC NOTICES 
CLASSIFIED 
KAIWAKA  ST. JOHN OP SHOP 
Thank you for your continued support.   
❖
Thanks to the community we had a great 
Garage Sale and now we have room for receiving 
larger items as the next Garage Sale will be on Saturday 
4th April at the St. John Hall opposite Jaques Four Square. 
❖
Raffle is available until 20/3 Friday Lunchtime. 
❖
We are in need of Bric a Brac, Ornaments, Jewellery, 
Kitchenware and Towels ready for the winter.   
❖
We also will take clean Pet accessories. 
If you have large items to donate, please contact the shop 
on 09431 2650 to organise a time to meet. 
 Open Tuesday-Friday 10am – 3pm 
Saturday 9am – 1pm. 
OTAMATEA HIGH SCHOOL 
JUNIOR AND SENIOR TRIATHLONS  
Helpers needed 
Wednesday 25th March 8.45 am - 11.30am 
Helpers are needed as Marshalls  out on the run and 
cycle  sections  of  the  course  and  Pool  lap  counters 
for the swim section. 
If you are able to help out please email 
tina.holst@otamatea.school.nz  
or phone 094318230 ext 255. 
CLEANER: 
Required for 5 Star Airbnb in Rangiora Rd., 
Kaiwaka. High standard of cleaning is required.  Days and 
hours are variable depending on bookings. Can be anything 
from 1 up to 7 days a week. Hours are generally 1 hour per 
clean  during  11am  and  1pm  and  again  depends  on 
bookings.    Will  pay  $40.00  per  clean.  Please  ring  Robyn 
021669182 
KAIWAKA PLAYCENTRE 
Location: Hastie Lane  
Sessions: Monday, Wednesday & Friday  
      9.30am - 12pm 
Bring yourself, children, packed lunch and a 
change of clothes. 
Be prepared to have fun and meet new 
friends. 
We look forward to seeing you there!  
Call Sharon Church for more information 09 4312111  
HAKARU HALL ACTIVITIES 

Monday:  Line Dancing 10.00am   Ph 4315160 

Monday:  Dance Energy Afternoon 0275610469 
         Children's Ballet and Jazz 

Tuesday: Afternoon Dance Energy 

First Tuesday of the month Hall Meeting, 7.45pm 

Wednesday: Afternoon Dance Energy 

Wednesday: 7.30pm Music Jam Session 
0210628631 

 Thursday: Pilates 9.00am 0220643965 

Sunday: Morning Canine Coaching 
ALL BOOKINGS PLEASE PHONE 0272846162 
Hydraulics  
Engineering Ltd 
Kaiwaka 
Sales - Service - Parts - Hire - Manufacture 
Service Contractors & Industrial Equipment: 
Rams, Pumps, Valves 
Logsplitter Hire, Manufacturer, Sales 
Dennis Linton 
Lot 2 / 161 Ranganui Road, RD2, Kaiwaka, 0573, New Zealand 
Mobile: 0274 381 700 
Email: hydraulicsengineering@xtra.co.nz 
Website: www.hydraulicsengineeringco.nz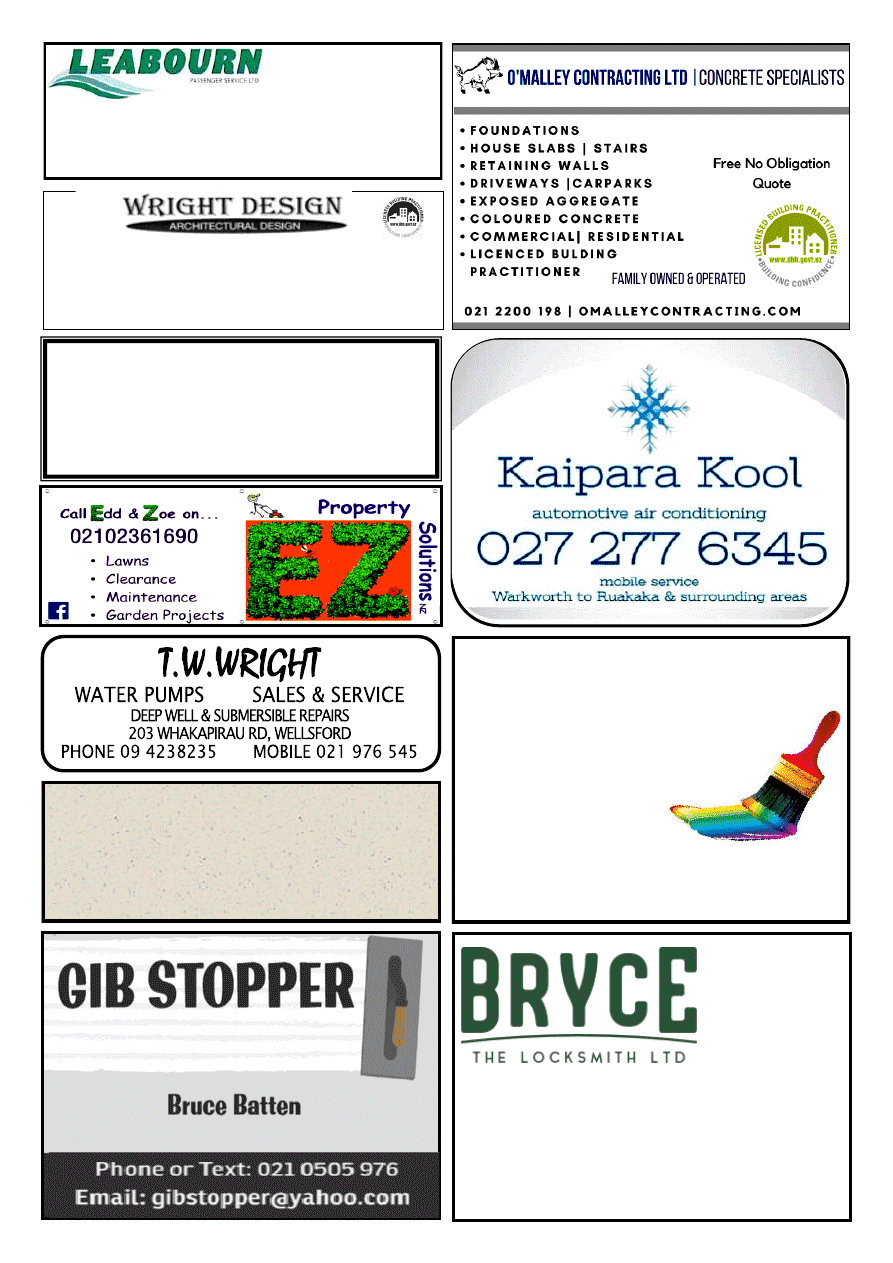 Passenger Service
Car & Van Hire   Bus & Coach Charters 
Airport Transfers    
Phone (09) 4237416 
Counsellor and Registered Psychotherapist 
Offers Supervision 
ACC Sensitive Claims 
Susan Matheson      MNZAC 
Dip. Psychosynthesis Counselling and Psychotherapy 
Phone 09 431 2996                                     Mobile 027 605 2427 
No. 117345 
N.Z.C.A.D., L.B.P. 117345 
PH/Fax: 09 423 8092 Mob: 021 276 7369 
Office: 3 John Sinclair Avenue, Wellsford    brianwright@xtra.co.nz 
For Resource and Building Consents, planning restraints, new building materials - 
you need a capable, experienced, and professional designer with a clear 
knowledge of all the processes. Brian has been helping and organising all these 
facets of design and building for over 50 years. 
Wright Design offers free visits, consultations and advice on planning, design, 
building, council permit applications, guaranteed permit plan acceptance. 
LEE COOPER PAINTERS 
(Kaiwaka Based) 
*30 yrs Experience 
*Interior/Exterior 
*New and Restoration 
*Honest and Reliable 
*Free Quotes 
09 4312918 or 0274735171 
leecooper@xtra.co.nz 
Bryce Frewin 
Ph: 021 850 983 
Kaipara Based Master Locksmith 
bryce@brycethelocksmith.co.nz 
www.brycethelocksmith.co.nz 
HANDYMAN 
Gardens * Lawns * Landscaping * Painting 
* Small gib-stopping * 
* General repairs and maintenance * 
Honest - Reliable 
Phone Burn 0211900555 or Brenda 0211185578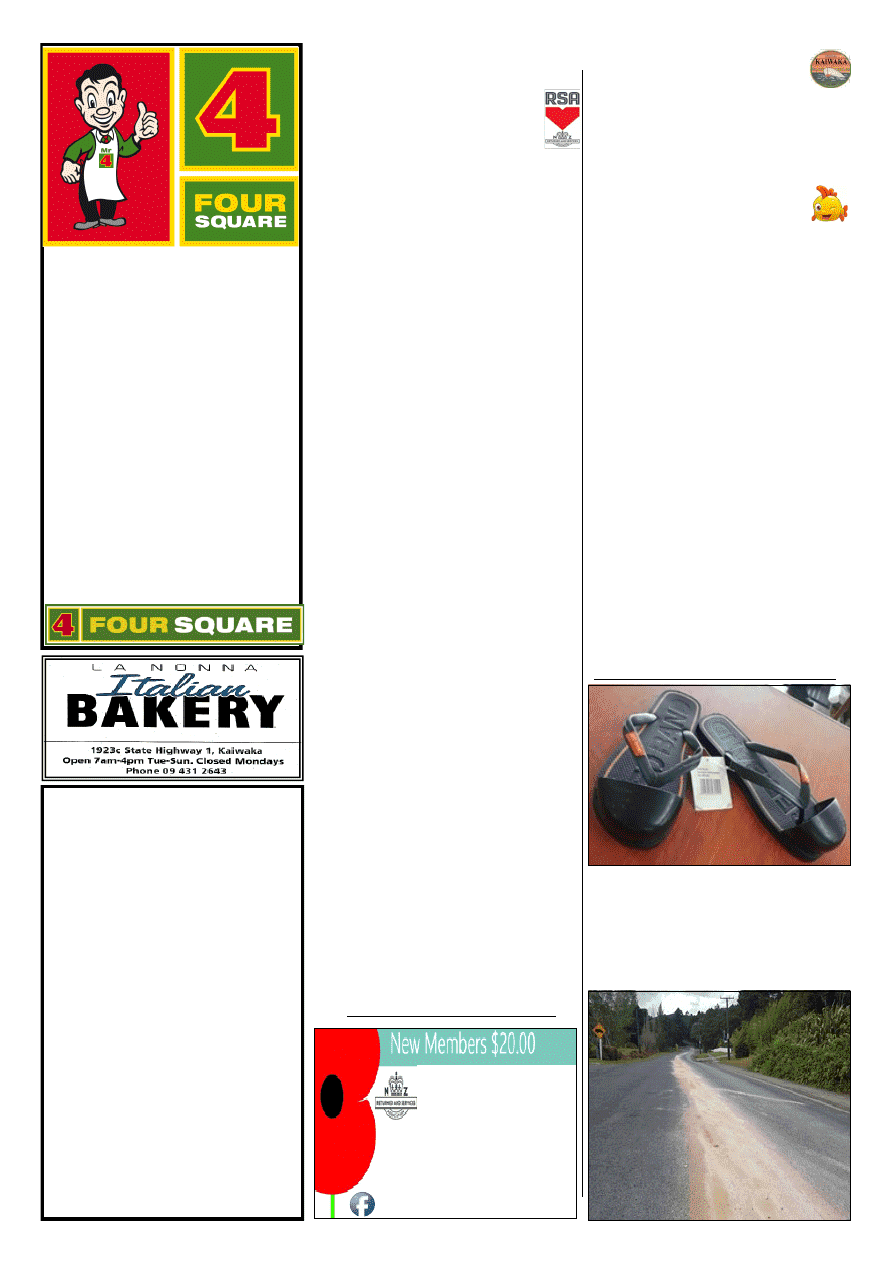 www.kaiwaka.co.nz 
Kaiwaka Bugle - 17 March 2020 
Page 5 
Willow Bend
HORSE  
HOTEL 
  
Total Horse Care 
 
Agistment 
 
Riding Lessons 
 
Arena Hire (60x40) 
 
Young Horse Starting 
 
Re-training/Exercising 
 
Hoof Trimming 
 
Problem Solving 
Phone Sue 09 431 2817 
or 021 623 776 
Or email  
susanjoll11@gmail.com 
FIREY NEWS 
Above: Our local Fire Chief's uniform 
is now 'complete'?! (
see Bugle 4
) 
Below: One of the latest callouts came 
close to home - an oil spill outside our 
local  fire  station.  Sand  quickly 
covered the oil - as seen looking to the 
Sports Assn. driveway. 
 Everything you need 
All in one place 
We're Here 
OPEN 7 DAYS 
In Store Fresh Bakery,  
Hot Chicken, 
Mussels,  
Fresh Fruit & Vege,  
9kg Gas & Sodastream Gas 
Bottle Swap, 
Lotto & ATM 
JAQUES FOUR SQUARE 
Phone: 4312227 
1 Kaiwaka-Mangawhai Road, 
Kaiwaka. 
POINT CURTIS 
CRUISING CLUB  
⚫
 Open 
Fishing 
Competition 
Saturday 21st and Sunday 22nd March. 
Species 
are 
Snapper, 
Kingfish, 
Kahawai & Crayfish. 

All  Fish  weighed  must  be  Gilled  & 
Gutted. 

$300  cash  for  the  Average 
Weight Snapper.  

Weigh in is 5-6pm both days.  

The  Fresh  fish  auction  will  follow 
prize giving on the Sunday.  

Tickets  available  from  3Furs  Bar  & 
Grill,  Jaques  4  Square  and  Wellsford 
Sports & Leisure. Adult $20 and Junior 
$10(under 15).  

Don't forget meal tickets can also be 
purchased at the bar prior to the meal. 
Adult $10 and Junior $5 (under 15yrs). 

 Everyone  is  welcome,  hope  to  see 
you there. 

This is a fundraiser for upgrading the 
facilities at the Rangiora Boat Ramp. 
⚫
Fishing  Competition:  Friday  17th 
Saturday  18th  &  Sunday  19th  April  - 
with the Thunder Cup up for grabs. 
All Fish species and this will be the last 
chance  to  get  your  name  on  the  board 
for end of year prize giving. 
⚫
Duck  Shoot and End  of  Year  Prize 
giving:  Saturday 2nd May. 
⚫
Fish of the month   was Snapper: 
Nothing weighed in. 
⚫
New  fish  of  the  month:  Snapper 
Next  Cub  Meeting:  Wednesday  8th 
April  7pm  @  Kaiwaka  Sports 
Association. 
~ Wayne Leslie, (Commodore) 
Twelve  members  attended  the 
meeting on 25th February. 
President  Lena  recited  the  ODE 
and  1  minute's  silence  was 
observed in memory of those no longer 
with us. 
The  next  Northern  District  conference 
will  be  held  in  Warkworth  on  5th 
October,  nice  and  close  for  us  all  to 
attend Ladies!! 
Waipu  Women's  Section  have  invited 
Hakaru  to  join  them  on  a  trip  to 
Russell,  Lena  and  Heather  planned  to 
join them. 
Northern  District  RSA  meet  on 
Saturday  2nd  May,  anyone  wishing  to 
attend contact Lena. 
Lena  is  planning  to  take  a  car  load  to 
visit Pat and Don Judd who are now in 
Orewa,  anyone  wishing  to  go  please 
contact Lena as soon as possible. 
We  are  planning  a  few  outings  in  the 
next  few  months,  namely  a  movie  at 
Matakana, The Kumara Patch Train, or 
a  Garden  visit,  or  somewhere  else 
Members would like to visit! 
The  NZ  conference  is  in Hastings  this 
year,  Lena  is  our  delegate  and  would 
welcome another member to join her. 
Birthdays  for  February  were  Norma 
Whynn  and  Dawn  Powell.  Hope  you 
both had a Happy Day. 
The raffle was won by Trish Black and 
2nd prize went to Birthday Girl Dawn. 
The  AGM  followed  the  monthly 
meeting  and  the  executives  and 
committee were elected: 
Patroness Fay Wintle 
President Lena Carleton 
V/President -June Wilson 
Secretary/Treasurer Jan Mann 
Committee:  -  Trish  Black,  Pamela 
Truscott,  Heather  Small,  and  Ann 
Dowson 
Congratulations all. 
New  Members  are  always  welcome 
we  meet  the  4th  Thursday  in  each 
month at 1.30pm. 
Our next meeting is on Thursday 26th 
March. 
Members  and  members  of  the  public 
don't  forget  each  Thursday  and  Friday 
evenings  from  6  p.m.  there  are 
delicious meals served at the RSA and 
we would love you to attend. 
Cheers for now, Ann  
HAKARU RSA 
WOMEN'S SECTION
The  Hakaru  and  Districts 
RSA invite new members for 
a special annual membership 
of $20.00 for 2020. 
Please 
contact 
the 
committee  or  pop  in  to 
register your interest. 
733 Settlement Rd., Hakaru 
secretary@hakarursa.co.nz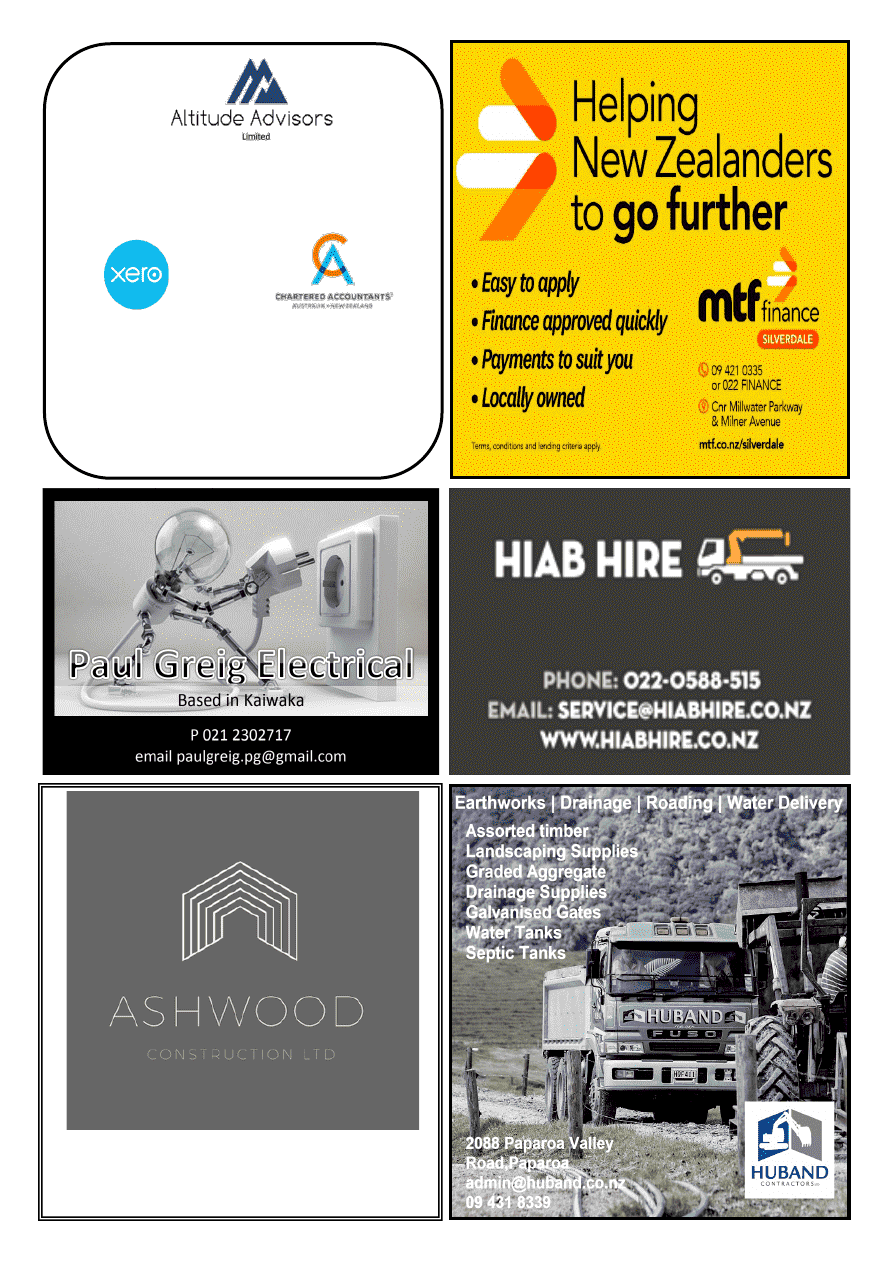 Altitude with Attitude, helping your business 
scale new heights 
Time to try something different? 
Xero training          Accountancy Services 
We are offering two opportunities: 
15% saving off your annual report cost for your first 
year, & a further 10% saving for any referrals 
Call Corinne on 021 252 7680 or 
corinne@altitudeadvisors.nz 
ASHWOOD CONSTRUCTION  LTD 
LBP registered 
New Builds Renovations Extensions Decks & more 
After a quote? Call Lee on 0223408353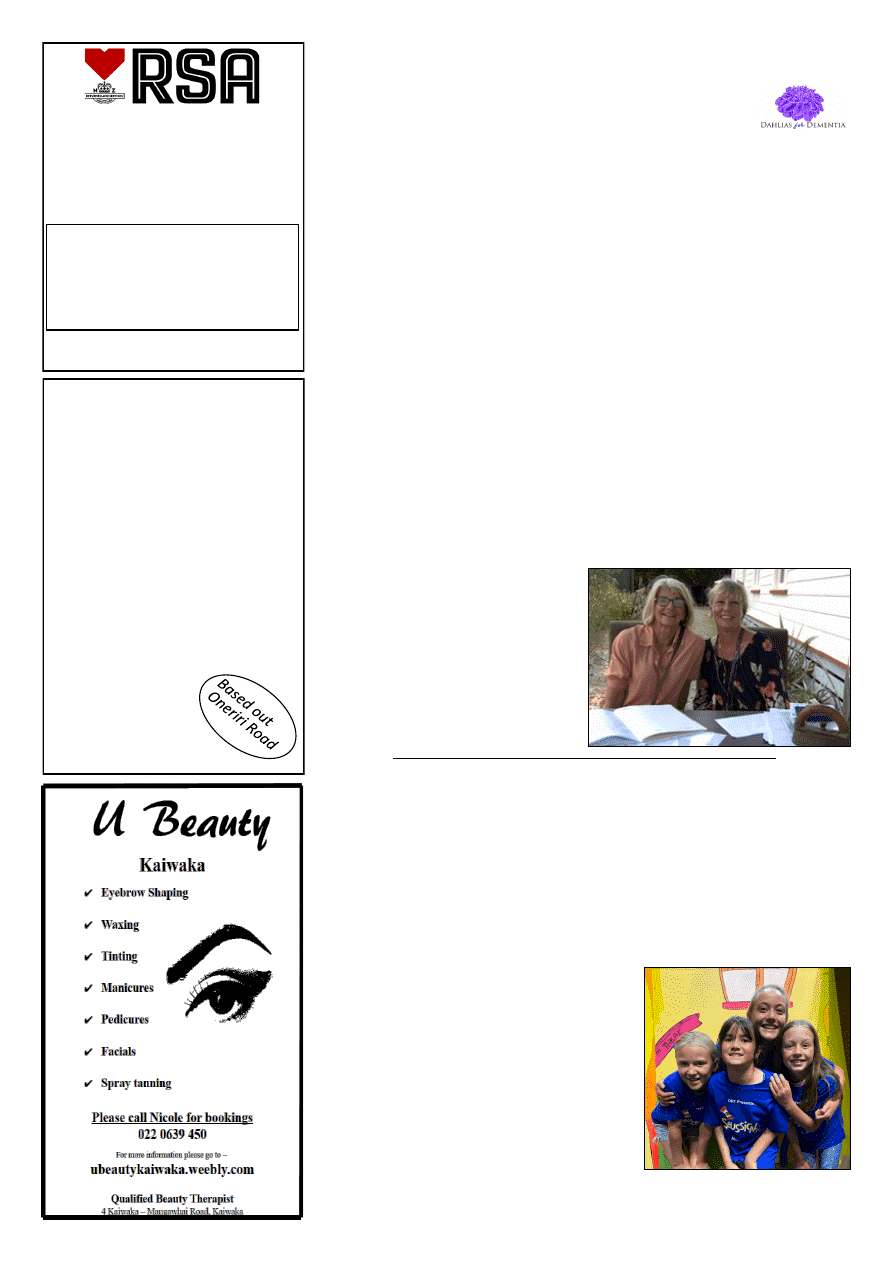 www.kaiwaka.co.nz 
Kaiwaka Bugle - 17 March 2020 
Page 7 
OTAMATA REPERTORY THEATRE 
HAKARU & DISTRICTS 
MEMORIAL RSA (INC)
Members & guests are invited to 
come along and enjoy our hospitality. 
New members welcome. 
Meals are served on Thursday and 
Friday nights from 6.30pm. 
Order from Blackboard Menu  
and a sing-a-long  
with Des Chitty. 
For more information please phone 
Graeme on 431 2563 
Little towns that could raise $44,000 
from Garden and House Tour 
The  success  of  the  Dahlias  for 
Dementia Garden & House Tour 2020 
held  in  Kaipara  late  last  month  is  a 
heart-warming story of the little towns 
that could. 
The  fundraiser  for  a  dementia  unit 
in  Maungaturoto  that  will  serve 
Kaipara  district  involved  almost  20 
garden  and  home  owners  from  within 
and 
near 
the 
townships 
of 
Maungaturoto, Paparoa and Matakohe.  
Solid  support  also  came  from  the 
Kaiwaka community.  
When the organising team launched the 
project,  they  didn't  dream  they  would 
sell  more  than  700  tickets  and  raise  a 
whopping $44,000 – but those dizzying 
numbers were achieved. 
Karen  Smales,  who came up with the 
idea while working in her garden, says 
the  project  seemed  to  capture  the 
attention  of  people,  organisations  and 
businesses. People bought tickets from 
far  afield,  including  in  London,  and 
many  locals  hosted  family  and  friends 
who  converged  on  Kaipara  for  the 
weekend. 
"It's  vital  for  small  communities  to 
attract  outsider  funds  –  and  the  tour 
achieved  that.  Both  locals  and  visitors 
made 
financial 
donations, 
from 
thousands of dollars to saying 'keep the 
change'  when  they  bought  the  art, 
food,  coffee,  plants,  fruit  and 
vegetables sold at various properties. 
"In the grounds of iconic Totara House 
in  Matakohe,  members  of  a  local  art 
group  sold  their  work  while  a  ukulele 
group played for the cause. 
"Hundreds  bought  fundraising  lunches 
at Sevenoaks near Maungaturoto, while 
at  Woodleigh,  west  of  Matakohe, 
morning and afternoon teas were in hot 
demand. 
Volunteers 
managed  a  steady  flow 
of  ticketholders  across 
the  district.  It  was  a  huge  community 
effort." 
Karen  says  a  major  challenge  for  the 
generous  and  hard-working  hosts  was 
keeping their gardens looking fabulous 
despite the long drought. 
"They all succeeded – and then some," 
she  says.  "Every  garden  was  a 
showpiece  and  ticketholders  were 
universal in their praise. The tour was a 
massive  team  effort  by  the  wider 
community and the area was alive with 
people." 
The  garden  and  house  tour  was 
supported  by  Bayleys  Real  Estate 
Northland  and  Alzheimers  Northland 
plus many other businesses, some from 
as  far  away  as  Whangarei  and 
Auckland.  Community  newspapers 
were  also  supportive  -  including  the 
Kaiwaka Bugle. 
The  14-bed  unit  will  be  part  of 
Riverview  Resthome  and  Retirement 
Village  which  is  owned  by  the 
Maungaturoto  Community  Charitable 
Trust.  It  will  increase  the  number  of 
dementia  beds  in  Northland  by  about 
10 percent. 
Photo by Liz Clarke: Rae and Lotty on duty. 
Seussical Jnr – directed by Peter Flower 
We had a very successful audition weekend, and the show has now been cast, 
with  rehearsals  underway.  Some  of  you  will  remember  that  we  performed  the 
full-length version of 'Seussical' – in 2013. 
This  year's  production  is  the  junior  version  of  the  show  –  to  be  performed  in 
May  2020.  The  entire  cast  is  comprised  of  a  very  talented  bunch  of  young 
performers. 'Seussical Jnr', described as a fantastical, magical musical, is based 
on the books of Dr Seuss. 
The story is an amalgamation of many of his most famous books with the "Cat 
in the Hat" acting as "your host and MC" and goes from the Jungle of Nool to 
the  Circus  McGurkus  to  the  invisible  world  of  the  Whos.  The  pace  will  be 
lively, with plenty of opportunity for inventive set, lighting and costume design 
and music both ensemble and solo. 
Dr.  Seuss'  lessons  –  "don't  ever  give  up,  use 
your  imagination  and  be  faithful  one  hundred 
percent"  are  lovingly  brought  to  life  on  the 
stage. 
"Now,  imagine  a curtain and  what lies  behind, 
the  kind  of  a  place  you  might  see  in  your 
mind…. From the page to the stage, come along 
and enjoy – this tale of an elephant, a bird and a 
boy!" 
Eight shows, all in May – 
Sat 9 May and Sun 10 May @ 2pm 
Sat 16 May @ 2pm and 7pm, Sun 17 May @ 2pm 
Fri  22 May  @  7.30pm,  Sat 23 May  @  2pm,  Sun 
24 May @ 2pm 
Tickets  will  be  on  sale  soon  though  Tony's  Lotto  Shop  and  online  at 
www.ort.org.nz   
Photo: Left to right: Stella Fulton, Marama Aperahama, Lian Cullen, Carden 
Kidd. Mayzie La Bird and her Bird Girls.    
~Maura Flower 
LITTLE TOWNS THAT COULD RAISE $44,000 
FROM GARDEN AND HOUSE TOUR 
HODGETTS 
CONTRACTING
Digger Work    
Driveways  
House Sites  
Dams      
Drains, etc
Also available for HIRE 
3 ton Vib Roller  
Heavy Duty Tow  
Waterblaster      
Lazer Level
Phone Mark  
4312877 
027 447 8554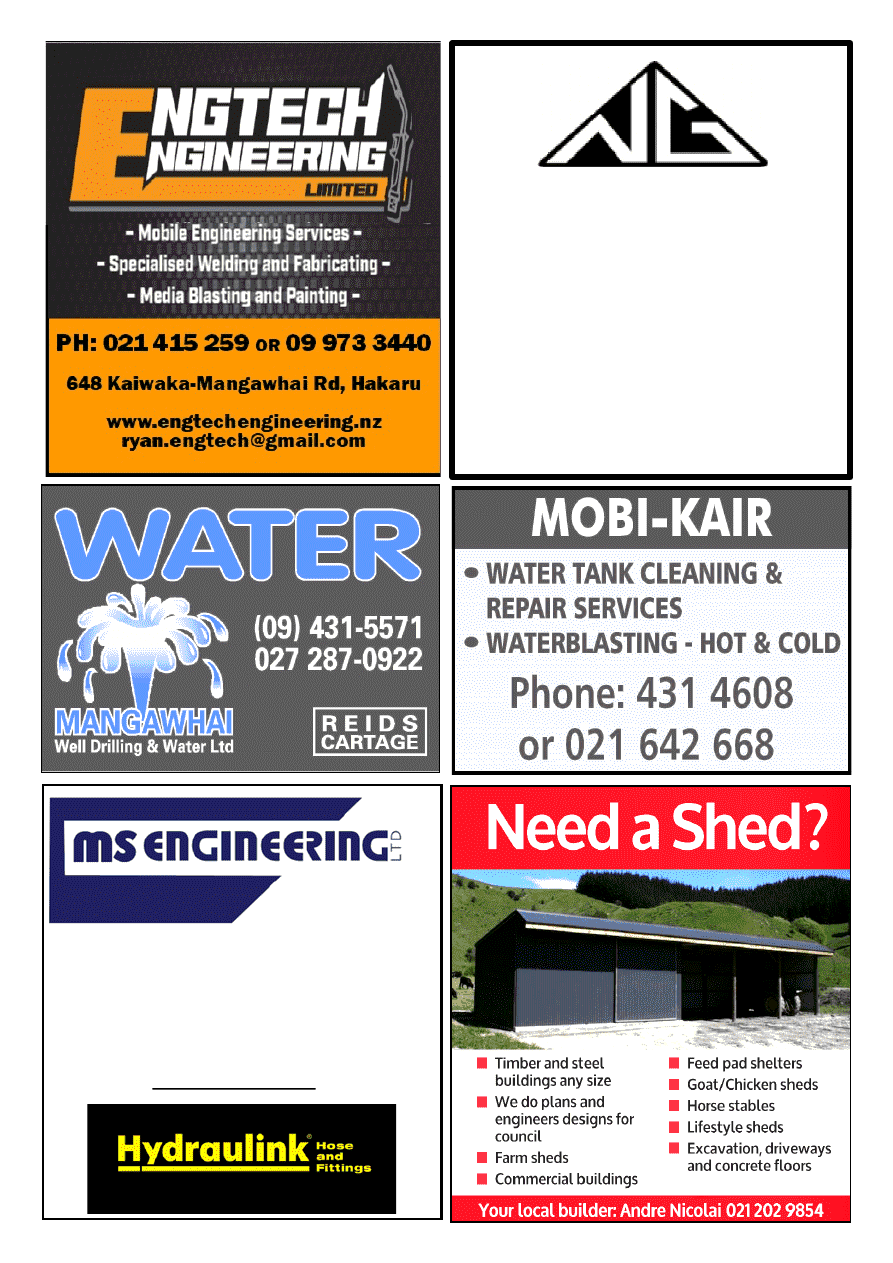 NORTH GLASS 
WINDSCREEN REPAIR OR REPLACE 
GLAZING SERVICES 
MIRRORS  •  SPLASH BACKS  •  SHOWERS 
0800 70 40 10
info@northglass.co.nz 
www.northglass.co.nz 

Peter Buckley 

Mobile Hose Technician –  
                      Based from Oneriri Road 

Available for all mobile hose                                
                        requirements onsite 

Call – 0800 425 7116 

Email – mse@mseng.co.nz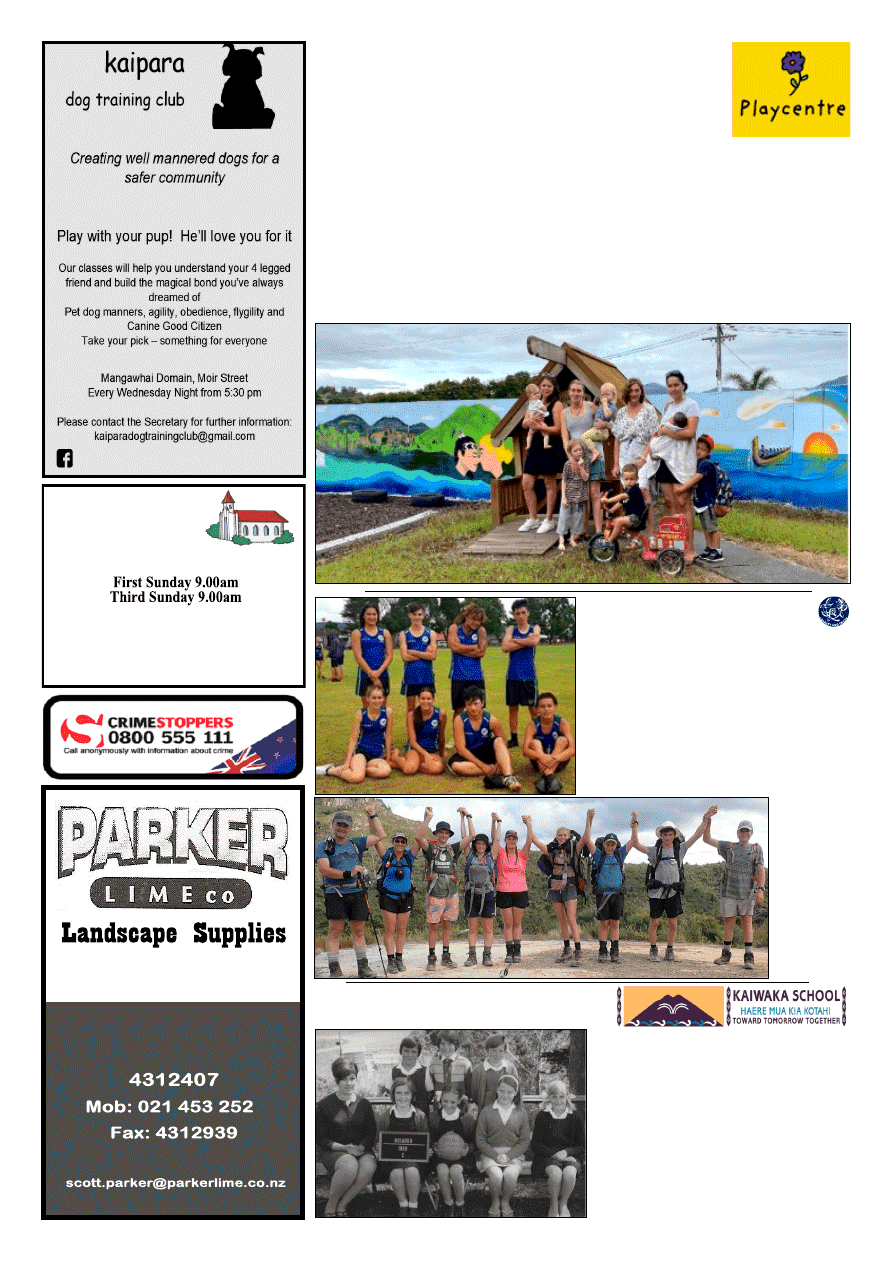 www.kaiwaka.co.nz 
Kaiwaka Bugle - 17 March 2020 
Page 9 
ST PAUL'S  
ANGLICAN  
SUNDAY SERVICES
St Pauls Church: Kaiwaka-Mangawhai Rd. 
1st Sunday - Eucharist 
3rd Sunday - Family Service 
Priest in Charge Rev. W Thornton Ph 431 4122 
www.mangawhaianglican.org.nz
From Bugle 4: 1969 Netball Team 
Miss  Cullen  with,  back,  Lucinda  Pert, 
Gail King, Lynette McCabe, and front, 
Fiona McAulay, Sandra Leslie, Jennie 
Linnell, Kenda Stewart. 
Kaiwaka School 150 Reunion   
  Saturday 24th October  
See  Kaiwaka  Bugle  and  Facebook 
Kaiwaka School 150 Reunion for more 
information 
or 
contact: 
kaiwakaschool150reunion@mail.com  
Bulk Cartage 
OTAMATEA HIGH 
SCHOOL NEWS
KAIWAKA SCHOOL 
Check 
out 
the 
new 
website, 
www.otamatea.school.nz,  to  follow  the 
amazing  activities  of  our  high  school 
students.  Left:  Otamatea  Mixed  Senior 
Touch Team won the Division 2 Mixed 
Competition at the Northland Secondary 
Schools  Touch  Tournament  held  at 
Lindvart Park Kaikohe. 
Below:  Thirteen  DoE  Gold  level 
students 
trekked 
the 
Tongariro 
Northern 
Circuit 
track. 
 PLAY, LEARN, GROW  
If  you  are  looking  for  friendship,  community  and  a  place  to 
watch  your  children  learn,  grow  and  have  lots  of  fun,  then 
come visit Kaiwaka Playcentre. Located on Hastie Lane, this 
Playcentre offers a variety of activities. Sessions are Monday, 
Wednesday  and  Friday  from  9.30am-12pm.  Playcentre 
welcomes both mums and dads, you stay with your child during the sessions, so 
this creates a great environment for building friendships with local likeminded 
people.  It's  a  great  time  for  children  to  socialise  and  become  independent. 
Playcentre is open to children from 0-6 years old. First 3 sessions are free, then 
only  $20  per  term.  Bring  yourself,  children,  packed  lunch  and  a  change  of 
clothes. Be prepared to have fun and meet new friends. Ring Sharon Church for 
more information 09 4312111.  
Also  available,  Nga  Tupuranga  O  Nga  Puna  Reo,  Maori  Incentive  Learning, 
Tuesdays and Thursdays 9.00am - 12pm. Call Tracey on 0275291705 for more 
information. 
We look forward to seeing you!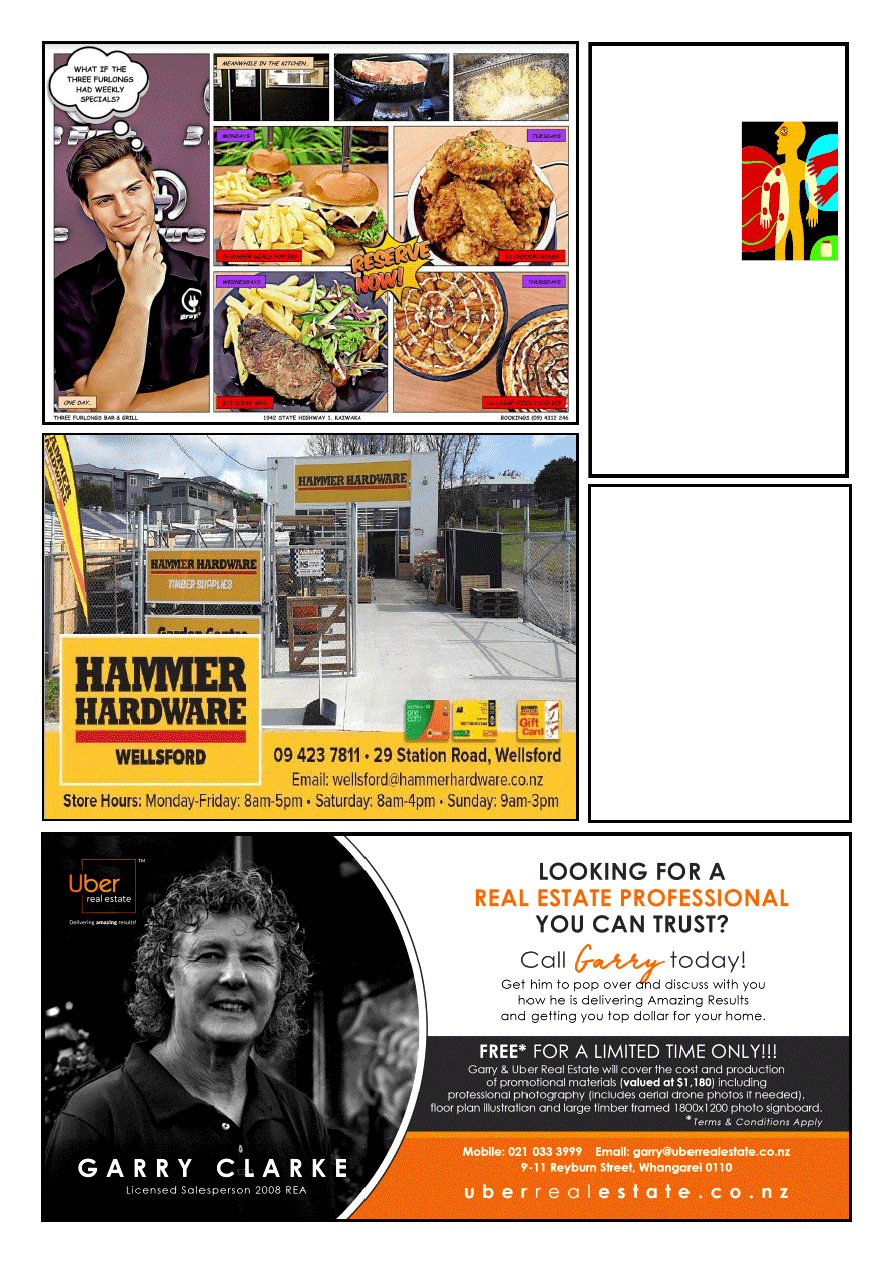 OWEN STEVENS 
Osteo Therapist
For careful 
adjustments to 
bones and joints 
Treatment for 
humans and their 
pets 
Clinics: 
Kate's Place, Kaiwaka: 
Last Friday of month 
For bookings: 
9.00am-5.00pm  
Phone 
09 4312661 
Or phone Owen  
09 4317123 anytime 
WHERE TO GET HELP 

1737, Need to talk? Free call or 
text1737 to talk to a trained counsellor  

Rural Support Trust 0800 787 254   

Lifeline, 0800 543 354  

Youthline, 0800 376 63, text 234, 
email talk@youthline.co.nz or online 
chat 

Samaritans, 0800 726 666  

Depression Helpline, 0800 111 757   

Suicide Crisis Helpline, 0508 828 
865 (TAUTOKO)      

In a life-threatening situation 
call 
111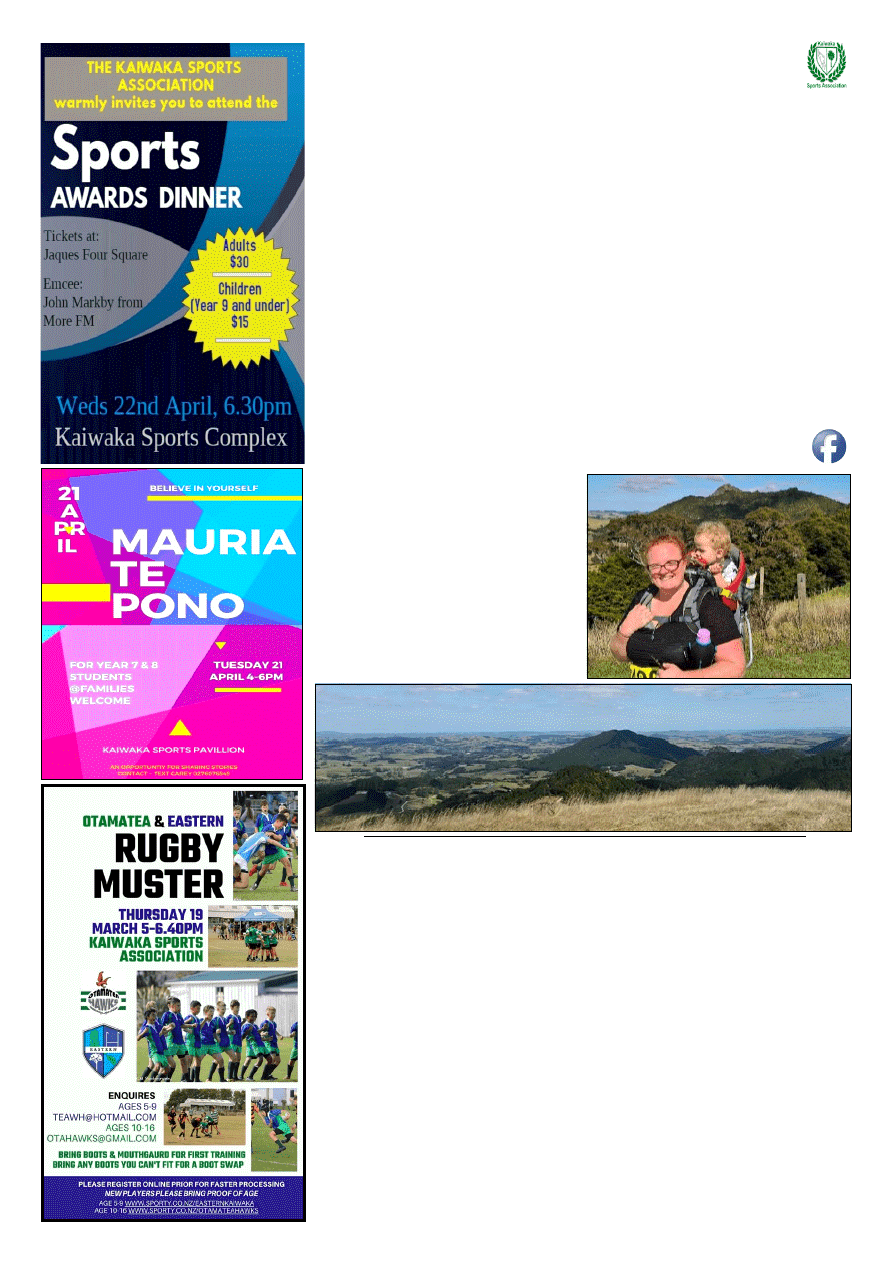 www.kaiwaka.co.nz 
Kaiwaka Bugle - 17 March 2020 
Page 11 
KAIWAKA SPORTS ASSOCIATION
KAIWAKA SPORTS AWARDS 
For  our  annual  Sports  Awards,  our 
affiliated 
clubs 
nominate 
their 
members  in  the  categories  of  Senior 
Sportsperson  of  the  Year,  Junior 
Sportsperson  of  the  Year,  Service  to 
Sport  and  the  Greg  McRae  Memorial 
Trophy. The awards dinner will be held 
on Wednesday 22nd April. 
EASTERN UNITED JMB 
Our junior rugby club, Eastern United, 
are gearing up for the new season with 
a  muster  at  the  Sports  Complex  this 
Friday  at  5pm,  all  boys  and  girls 
welcome. 
FITNESS CENTRE 
Our  Fitness  Centre  is  available  24/7 
and  provides  extensive  exercise 
equipment  as  well  as  toilets  and 
showers. 
Memberships 
can 
be 
purchased  from  Jaques  Four  Square. 
For all  Fitness  Centre  enquiries  please 
contact  Siobhan  on  027  9791203  or 
check out our Facebook page. 
POINT  CURTIS  CRUISING 
CLUB 
The  Point  Curtis  Cruising  Club  is  a 
thriving,  busy  club  for  men,  women 
and  kids  interested  in  fishing,  hunting 
and socialising. They meet regularly at 
the  KSA,  and  always  welcome  new 
members. 
For  queries  on  the  club,  you  can 
contact 
Sandy 
Shaw 
on 
wfdsports@xtra.co.nz . 
EMERGENCY ACCESSWAY 
Please note that the gate in our carpark 
which  leads  onto  the  #1  field  (next  to 
the  swimming  pool)  is  our  emergency 
accessway for ambulances. It is painted 
yellow and has a Keep Clear sign on it. 
Please do not park in front of the 
gate. You would not want to be 
responsible  for  holding  up  an 
ambulance trying to reach a patient! 
MARTIAL ARTS 
Are you or your child keen to join our 
Martial  Arts  classes  this  year?  Black 
belt  instructor  Craig  Bennetts  offers  a 
variety  of  classes  out  of  our 
gymnasium  for  all  ages.  For  more 
information please phone Craig on 021 
1524466. 
GYMNASIUM HIRE 
Our  gymnasium  is  used  by  several  of 
our affiliated clubs but is also available 
for  hire  to  individuals  and  public 
groups. 
If  you  have  got  a  family  get-together 
coming  up,  you  might  like  to  have  a 
fun, energetic afternoon together. 
If  you  wanted  to  play  a  structured 
sport,  the  gymnasium  is  marked  for 
basketball,  netball,  turbo  touch  and 
badminton  -  or  you  could  just  let  the 
young ones run around! 
Email me to make a booking. 
~ Cheryl, kaiwakasports@gmail.com 
TOP OF THE ROCK 
The Top of the Rock was a wonderful success, and we have had very positive 
feedback  from  the  participants.  This  is  truly  a  community  event,  with  many 
volunteers working together. Thank you to everyone involved for their support. 
Many thanks to the generous sponsors: 
Absolute Concrete 
Agridustrial 
Amy Griffiths Physiotherapy 
ANZ 
Coffeepot 
Confident Care 
Dream Planning 
Engtech 
Eutopia 
Farmshop 
Farmsource 
Forgotten Fruits 
Happy Fish 
Heads FM 
Home & Hobbies (
formerly 
Bazaar World) 
Hubands 
Jaques Four Square 
Kaiwaka Cheese Shop 
Kaiwaka Clothing 
Kaiwaka Fitness Centre 
Kaiwaka Liquor 
Kaiwaka Motorcycles 
Kaiwaka Picture Framing 
Kauri Park Nurseries 
La Nonna 
Landcare Services 
LJ Hooker 
Mangawhai Tyres 
Mangawhai Vet Centre 
Marshwood Apiaries 
Maungaturoto Carters 
Neil Jones 
Northern Bass 
Otamatea Martial Arts 
Pacific Coast Surveys 
Parker Lime 
Peter Botica 
Plane Support 
Powerfarming 
Pumps & Plumbing 
Ranganui Farms 
Rob & Deb Hastie 
Rob Whitehead 
Ross Hargreaves 
Rural Design 
Rush Coffee 
Silver Fern Farms 
Smythe Haulage 
Sport Northland 
Three Furlongs 
Tony & Lindsey Hargreaves 
Torpedo 7 
Wellsford Pharmacy 
Wellsford Sports & Leisure 
Woody's Winners 
Wrightsons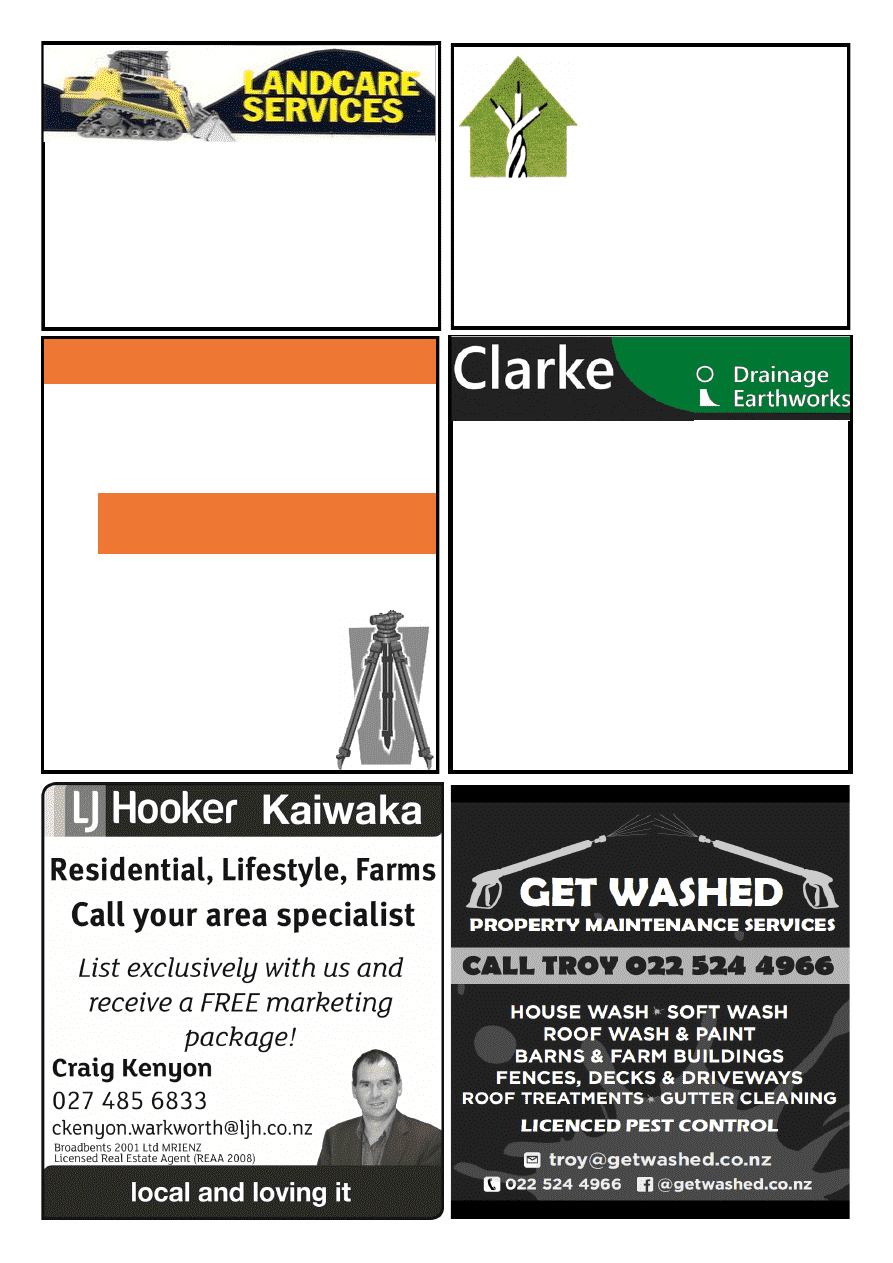 Reyahn  Leng 
Registered Electrician 
Local, honest and reliable. 
For your residential and 
light-commercial projects. 
022 314 1068 
SURVEYORS 
SUBDIVISIONS 
HOUSE SITE SURVEYS 
CIVIL ENGINEERING 
WASTEWATER DESIGNS 
EXPERIENCED 
PROFESSIONAL 
INNOVATIVE 
Ph 09 431 5353 
0800 PACIFIC (0800 722 434) 
pacificcoastsurvey.com
Adam Booth - 027 415 5752 
Bsurv, Licensed Cadastral Surveyor
Surveying Kaipara since 1994 
LANDSCAPING 
4 IN 1 BUCKET 
TRENCHER 
POLE HOLES 
ROTARY HOE 
COMPACT ROLLER 
OFFAL HOLES 
CAN SUPPLY WOODCHIP & POST PEEL 
5 TON TIPPER 
FOR RELIABLE AND FRIENDLY SERVICE CONTACT DAVE 
Dave Hyndman 
 
KAIWAKA 
PH: 09 4312302 
MOB: 021 431 238 
Drainage & Earthmoving 
nigel@clarkedrainage.nz 
027 2233 185 
Registered Drainlayer                 All Types of Earthworks  
> All Residential & Commercial Work  > House Sites 
> Septic System Design & Install 
> Footings & Drilling to 10m 
> Sewer Connections 
> Dams 
> Water Tank Installation 
> Roading & Races 
> Farm Work 
THE ONE STOP SHOP  
Phone Nigel for an Obligation Free Quote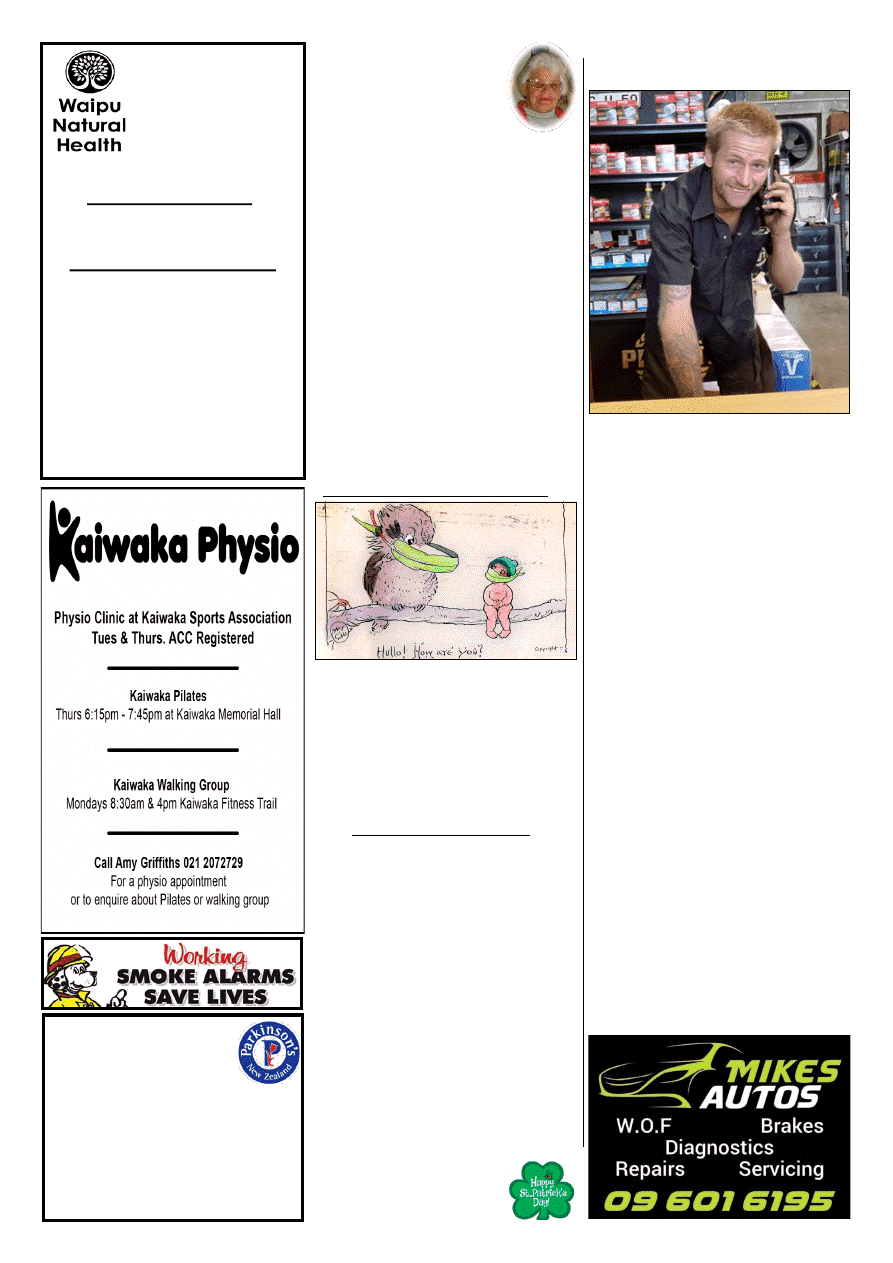 www.kaiwaka.co.nz 
Kaiwaka Bugle - 17 March 2020 
Page 13 
Parkinson's  
Northland 
Provide: 

Home based consultations 

Information and education on living with 
Parkinson's 

Support and exercise groups 

In-service training for other health 
providers 
Barbara Leslie RN,  
Community Educator 
09 4376881  or 027 5306221 
barbara.leslie@parkinsons.org.nz 
www.parkinsons.org.nz 
3 Cove Road, Waipu 
(opposite the Pizza Barn
) 
094321325 
www.waipunaturalhealth.co.nz 
Clinical Nutritionist: 
Nutritional Checkups, Diets for 
Chronic Diseases,  
Food Sensitivities 
Naturopathic Physician: 
Ozone Therapy, Prolotherapy, 
Mesozone 
Reflexology, Craniosacral 
Therapy, Trauma Release 
Massage Therapy 
Counselling and Hypnotherapy 
Change Catalyst/ThetaHealer 
Affordable Children's Consults 
All therapists are fully qualified
MIKE'S AUTOS 
KAIWAKA
Mikes  Autos  is  a  small  family  run 
Automotive  shop  in  Kaiwaka.    Mike 
Mitchell (pictured  above)  and his wife 
Emma  opened  up  their  business  in 
September 2019.  
Word  on  the  street  got  around  pretty 
fast and Mike hasn't really had a quiet 
day  since.  He  is  proud  to  offer  great 
service that  is reliable and  honest,  and 
most importantly not too expensive. 
Mike is originally from  Zimbabwe but 
has  been  a  New  Zealand  citizen  for 
almost  20  years  now.  He  has  over  15 
years' experience as a mechanic, and at 
one  time  was  the  youngest  W.O.F 
inspector in New Zealand. 
Mike, Emma and their daughter live on 
a  small  Kaiwaka  lifestyle block      with 
plenty  of  animals  that  keep  them  on 
their toes. 
Mikes 
Autos 
offers 
Servicing, 
Diagnostics, 
W.O.F 
inspections, 
Repairs,  Brakes  &  more.  Open 
Mondays  to  Fridays  &  also  offering 
late  night  Thursdays  &  Saturdays  by 
appointment it's easy to find a suitable 
time to book. 
So  far  customers  have  been  pretty 
supportive,  and  they  have  received 
fantastic  feedback  which  is  exactly 
what they wanted to be able to offer as 
Kaiwaka  needed  a  good  reliable 
mechanic  as  the  small  town  of  lights 
begins to grow. 
You can contact them on 09 6016195. 
Located  at  1837  SH  1  directly  behind 
Twinkle Tow & Tyre - they are easy to 
find, and you can also message them on 
Facebook @MikesAutosKaiwaka. 
ST. PATRICK'S DAY 
Why  do  you  pinch  on  St  Patrick 
Day? 
Pinching  people  on  St  Patrick's 
day  is  thought  to  revolve  around  the 
leprechaun and the legend that wearing 
green  makes  one  invisible  to  the 
mischievous  fairies.  As  the  dubious 
legend  dictates,  leprechauns  would 
pinch  anyone  not  wearing  green  –  so 
people  pinch  those  not  wearing  green 
to remind them … 
Saint  Patrick's  Day,  is  a  cultural  and 
religious celebration held on 17 March, 
the  traditional  death  date  of  Saint 
Patrick (c. AD 385–461), the foremost 
patron 
saint 
of 
Ireland 
and 
commemorates  Saint  Patrick  and  the 
arrival  of  Christianity  in  Ireland,  and 
celebrates  the  heritage  and  culture  of 
the  Irish  in  general.  Celebrations 
generally  involve  public 
parades and festivals, céilís, 
and  the  wearing  of  green 
attire or shamrocks. 
From Thelma's 
Scrapbook … 
SERVICE WITH A 
SMILE 
Prospective officers were being 
trained in ship handling aboard our 
destroyer. For most of them, it was 
their first time they had handled a 
vessel this size and we suspected they 
would be nervous. To add to their 
tension, the captain often ordered 
surprise manoeuvres to see how the 
trainees would operate under 
pressure. 
One day, he arrived on the bridge 
and, pointing to starboard, ordered 
the officer-trainee on duty to "Go 
over there." The fellow ran to the 
starboard side and looked back. The 
captain sighed. "Good,  officer of the 
watch. Now take the ship with 
you."    -JOHN MOORE
HISTORY REPEATS 
An  original  May  Gibbs  drawing  from 
1919  which  she  drew  for  the  Spanish 
Flu  epidemic.  Ref.  maygibbs.org  for 
more on the Gumnuts stories  
Good hygiene practices still needed. 
Hand  washing  and  good  cough 
etiquette  are  very  important  tools  in 
preventing  the  spread  of  illness 
including colds, flu and COVID-19.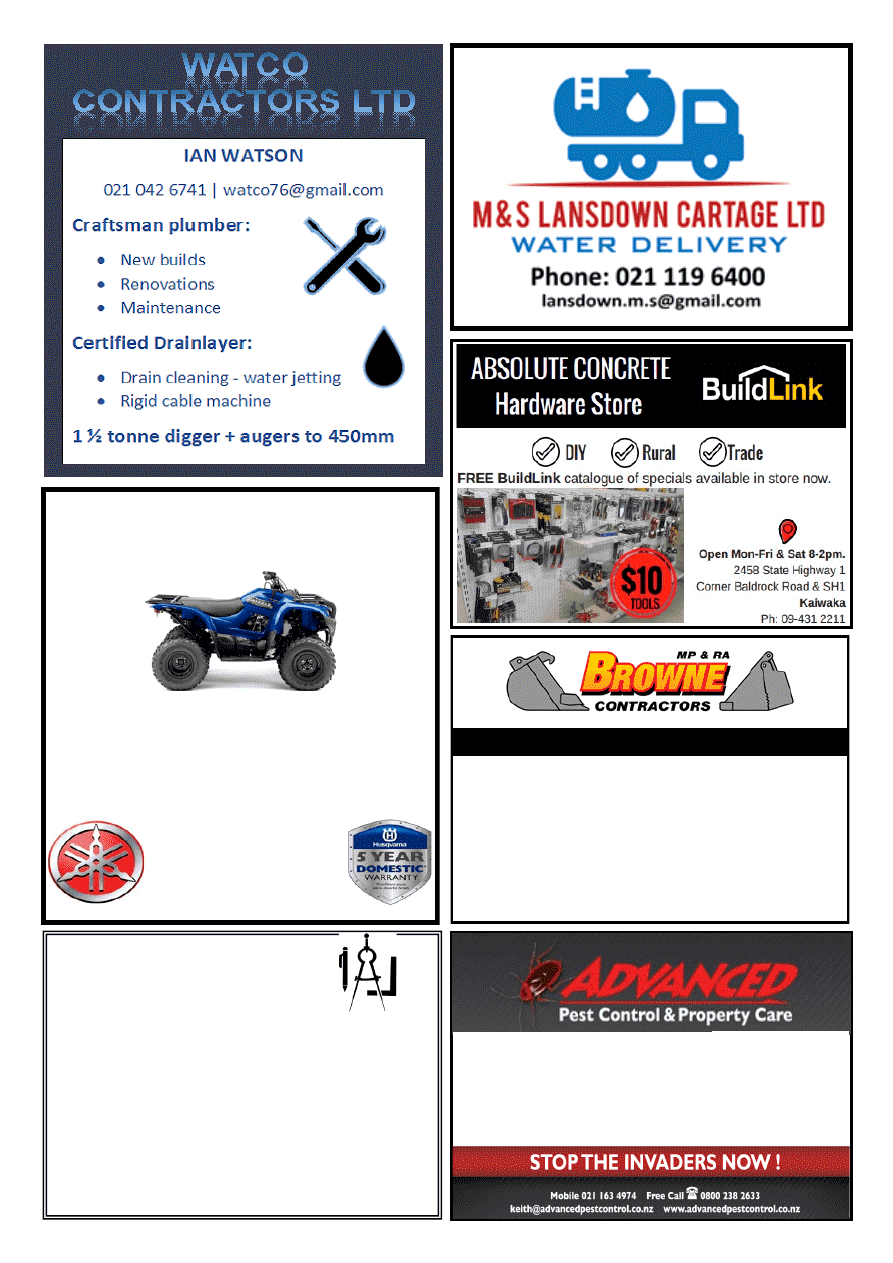 KAIWAKA 
MOTORCYCLES LTD
SALES – SERVICE – SPARES 
FARM BIKE SPECIALIST
PHONE 09 431-2127 
10 KAIWAKA-MANGAWHAI ROAD, KAIWAKA
Trimmers  
from $279
Chainsaws  
from $339
YAMAHA 
HUSQVARNA 
4T DIGGER – BOBCAT – TIP TRUCK 
Property Maintenance - Driveways  
 Building Sites 
Stump & Tree Removal  
Hole Boring - Chain Trencher  
Calf Shed and Stockyard Cleaning 
Phone Matt: 021 199 6677 
Email: mprabrownecontractors@gmail.com 
Pest Control 
PLAN A: One-off treatments to customers with a specific pest problem 
PLAN B: Full maintenance service plans to commercial customers. 
This will include documentation kept in customer file on site: 
⚫
Pest treated 
⚫
Date of service 
⚫
Chemical or baits used 
⚫
Full pest check report done after each treatment 
⚫
Fair and reasonable fee with guarantee 
Flood Recovery 
Carpet Care 
⚫
Carpet Drying 
This includes pre-spray treatments 
⚫
Dehumidifier Rental 
with stain removal and hot water extraction.  
⚫
Full Commercial Cleaning  Patch repair also available 
Upholstery Cleaning 
Full upholstery cleaning of all furniture.  
eg lounge suites and all office chairs 
Water Blasting 
⚫
Concrete - Decks 
House Washing 
⚫
Soft Chemical Was 
⚫
Pre-painting Wash 
Property Services 
⚫
Property Cleaning  Lawn Mowing 
⚫
Hedges General   Tidy Ups 
design drafting  
service 
Retired builder and manufacturer with over 40 years  
experience in the building industry is offering a design 
drafting service for domestic housing, sleepouts and 
sheds.  
Plans formulated in consultation with clients, with 
working drawings completed and submitted to  
council for processing.  Extensive practical experience,  
able to identify & resolve problems. 
Please ring Mike Lean on 
09 431 2260 
or 
021 431 196 
www.kaiwaka.co.nz 
Kaiwaka Bugle - 17 March 2020 
Page 15 
KAIWAKA POST 
CENTRE and 
FOOD MART 
POST CENTRE TRADING HOURS 
MONDAY to FRIDAY 8am to 5pm 
SATURDAY 8am to 12pm 
CLOSED ON SUNDAY and on 
PUBLIC HOLIDAYS 
FOOD MART (GROCERIES) 
MONDAY TO FRIDAY  
7:30am to 7.30pm 
SATURDAY  8am to 7.30pm 
SUNDAY  8:30am to 7pm 
IF ANY QUERIES PLEASE CALL 
STORE MANAGER AMRIT  
on 09 4312431 or 
EMAIL: kaiwakafood19a@gmail.com 
1919a State Highway1, Kaiwaka 0542 
Ken Urquhart 
BSurv Licensed  
Cadastral Surveyor 
KMU Surveys Ltd 
467 Bickerstaffe Road 
RD 2 
Maungaturoto 0587 
Ph 09 431 8705 
Mob 021 161 2344 
kenurquhart@xtra.co.nz 
During  the  week  my  wife  picked  up  a 
couple of interesting bits of news about 
Kaiwaka. 
The  first  was  an  article  in  a 
Northern  Advocate,  March  2nd
, 
headed  up  "Towns  beckon  city 
runaways".  A  number  of  well-known 
locals were interviewed on their views 
about  Kaiwaka,  what  makes  it 
attractive and what it needs to make it 
even more so. 
The  attractions  include  freedom  from 
city life, close enough to Auckland and 
Whangarei to  commute,  a great  option 
for  those  working  from  home  and  a 
community with a sense of being ready 
to  take  off.  The  school  is  already 
showing  this  with  a  roll  now  of  more 
than  140.  It  is  also  close  to  the  beach 
and  is  centrally  located  for  people 
exploring  the  lower  north.  And  people 
certainly  stop  on their  way  through,  at 
the  Bakery  (with  a  side  trip  to  check 
out  the  Op  Shop),  at  Eutopia  and  the 
cheese shop and more mundanely at the 
toilets  rated  the  best  kept  in  Kaipara 
with  a  dash  over  the  road  to  Jaques. 
And forgive me for not mentioning all 
the  other  great  efforts  being  made 
because it is a long list indeed. 
The 
needs 
included 
better 
infrastructure,  especially  roading  to 
open  up  new  housing  areas,  better 
services  such  as  a  medical  clinic  and 
pharmacy,  an  integrated  town  centre 
and a wider range of shops. 
The second interesting item came 
from  the  One  Roof  property 
guide
. Kaiwaka is in the top ten places 
in  New  Zealand  for  the  jump  in 
property  prices  in  the  three  months  to 
January,  8.4%  and  10%  for  the  last 
twelve  months.  It  had  the  highest 
percentage  rise  for  the  whole  of 
Kaipara.  44  houses  sold  over  the  past 
year.  Not  bad  for  a  town  that  is  really 
pretty small. 
The question is, how do we make 
the  most  of  this? 
We  need  more 
roads,  more  land  for  houses,  better 
services,  more  recreational  space  and 
more  innovative  businesses  that  make 
us a top stopping place. 
I suggest this is a year to work hard on 
our  future.  Some  of  our  future  is 
determined  at  Council  level  after 
consultation.  Some  of  it  needs  really 
creative  thinking.  Some  of  it  means 
narrowing  in  on  specific  projects  and 
working like mad to get them in place. 
There  is  room  for  industry  here,  some 
good  land  for  cropping  and  a  wide 
range of recreational opportunities that 
just need the right bunch of people with 
a  dream  to  get  them  started.  Kaiwaka 
Can  is  working  on  some  of  these, 
forming small project teams such as for 
lighting,  environmental  clean  up, 
getting our welcome sculptures in place 
on  the  town  boundaries,  getting 
Kaiwaka Central cleaned up, accessible 
and integrated. 
I  guess  the  point  of  this  article  is  to 
simply  ask,  "What  would  you  like  to 
see?"  quickly  followed  by  another 
question, "What are you prepared to do 
about it?" 
Kaiwaka  Can  would  love  to  hear 
from you or welcome you to join us, 
third  Wednesday  every  month, 
5.30pm in the Archie Bull Hall. 
Next meeting 18 March. 
Derek Christensen Chair.  
099469077, 0273572751 or 
derekandisa@gmail.com
WHAT THE TOWN NEEDS 
NOW... 
An aerial photo of Kaiwaka looking East, SH 1 is left to right in the foreground 
with Kaiwaka Clothing, Access Furniture and the Cheese Shop - the Crawshaw 
home is being demolished. Jaques Four Square still had the petrol bowsers at 
their Kaiwaka Mangawhai Road entrance. 
KAIWAKA: IS IT 1977 OR 1988?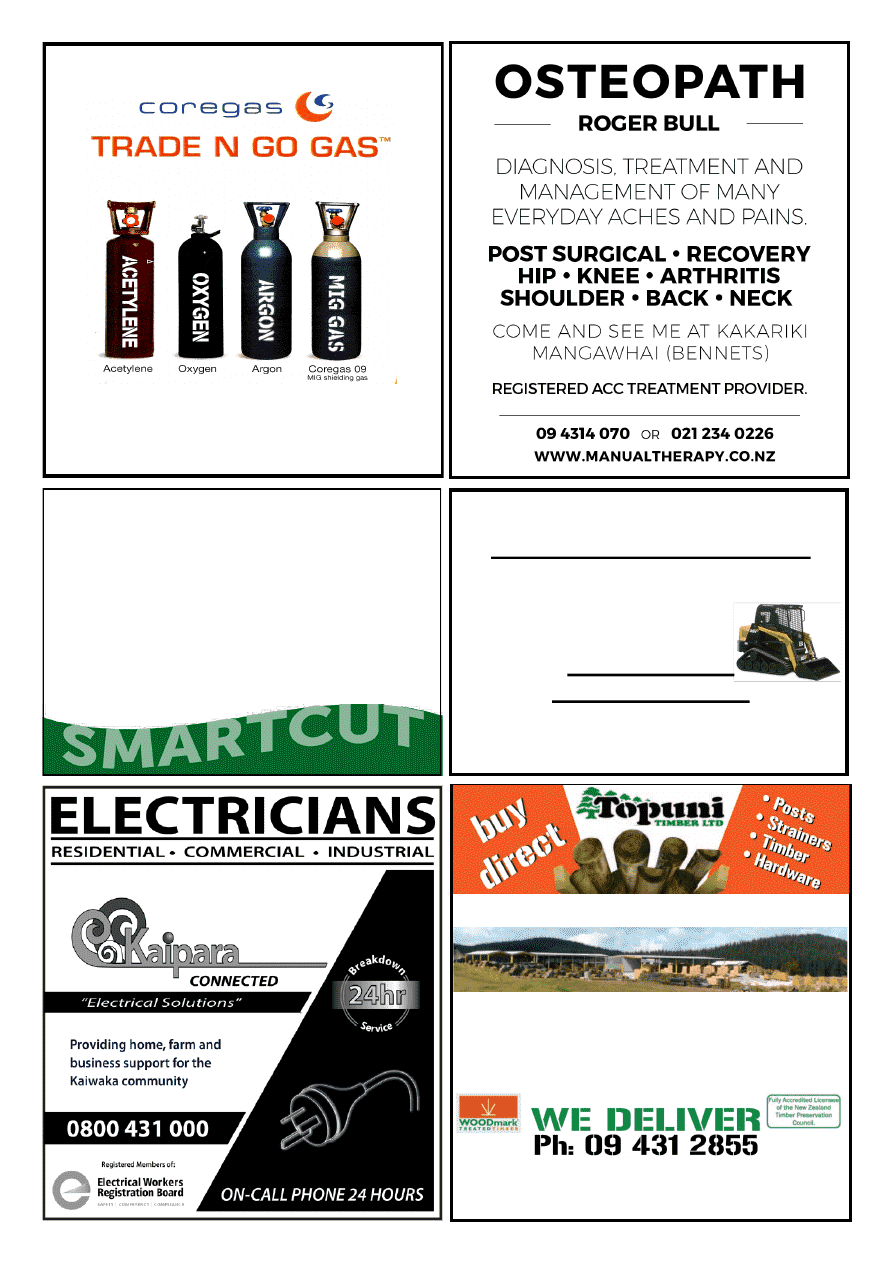 All your outdoor needs sorted so you don't have to… 
I can prune, chop, tidy, spray, mow, plant 
You name it, I can do it! 
Residential & Commercial 
Lawn & Garden Care 
Call Rodney,  
your local lawnmowing contractor 
021 138 2344 
At Twinkle Tow 'n' Tyre 
Mob: 021 833 960 
Ph & Fax: 09 431 2823 
1837 State Highway 1, Kaiwaka 
LOCALLY OWNED AND OPERATED 
QUALITY PRODUCTS • FRIENDLY ADVICE • GREAT SERVICE 
Quality Products milled from High Density NORTHLAND Radiata Pine. 
Treated and guaranteed to NZS3640 with commitment to 
Environmental Safety.
Phone, fax, email, or come into the mill 
Schiska Rd, Topuni, SH1, 10 min north of Wellsford. Fax: 09 431 2856 
Email: sales@topunitimber.co.nz           Mon - Fri 7am-5pm 
• Fencing 
• Retaining 
• Decking 
• Landscaping 
• Gates 
• Hardware 
Natural Earth Ltd 
Landscape and Bobcat services 
 : Driveways :Landscaping :Retaining Walls 
 : Hole Boring: Land Levelling :Trenching 
 : Decks :Fences :Sections Cleared 
 : Plus much more
Tel 09 4312 885 
Mob 02102391280 
For A Fast Friendly Service  
Contact Tim Hicks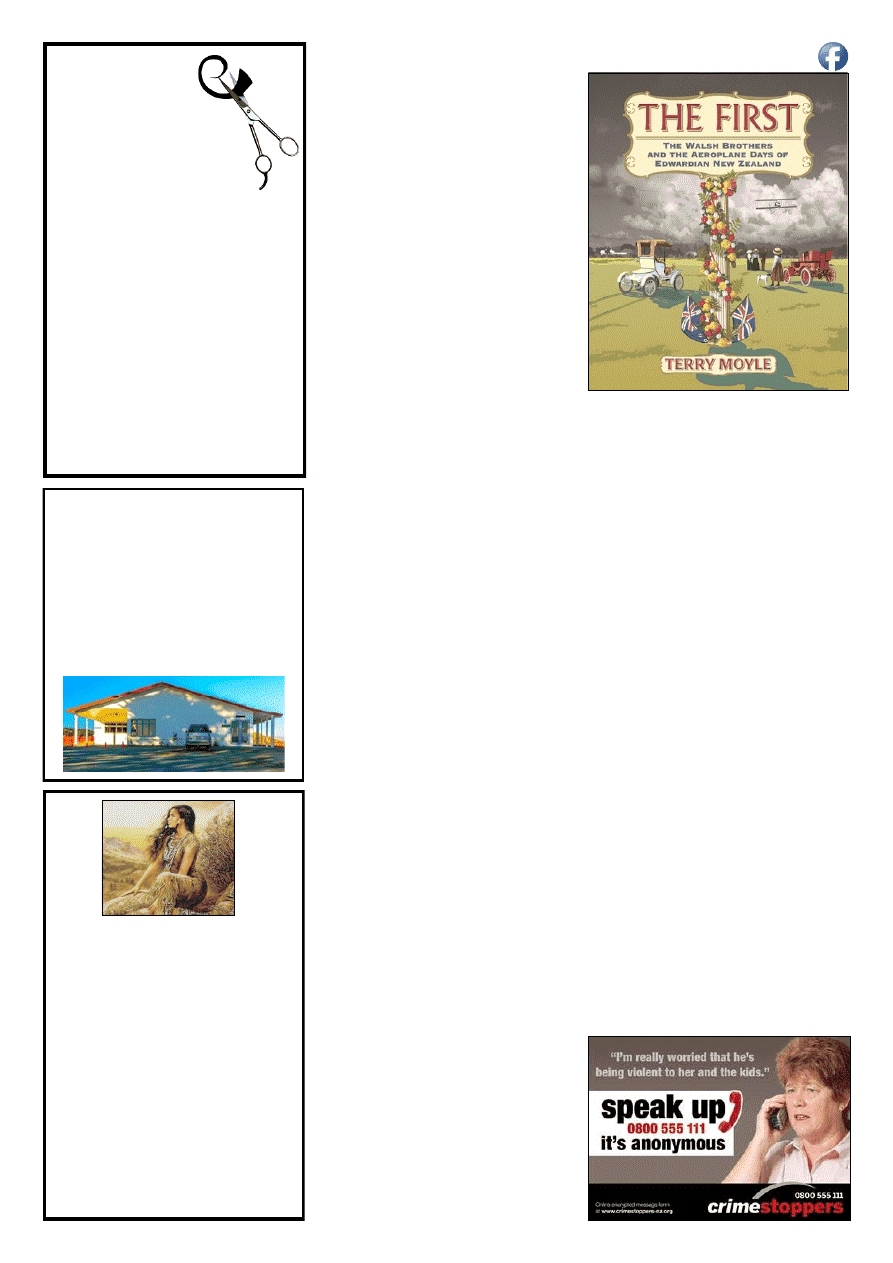 www.kaiwaka.co.nz 
Kaiwaka Bugle - 17 March 2020 
Page 17 
Te Pounga Marae 
130 Nathan Rd. Oneriri. Kaiwaka 0573 
COMPLEX FOR 
HIRE 
Functions: * Weddings  * Birthdays  
*Anniversaries * Meetings  * Wananga 5 
hour meeting * 12 hour stay or Overnight 
*All welcome   
For more information please contact: 
 Pearl Nathan 0223933533 
Email: tepoungamarae130@outlook.com  
JUST 
CUTS 
and 
MORE  
1758 Cove Road  
Open Monday-Saturday  
by appointment only 
Saturday 9-12pm  
Affordable prices: 
Ladies cuts from $35 
Colours from $120 
Men's from$25 
Kids from $18 
0211652629  
KAIWAKA LIBRARY
NEIGHBOUR'S DAY 
Kaipara 
District 
Libraries 
are 
supporting 
the 
Neighbours 
Day 
philosophy by running a promotion that 
encourages  our  customers/members  to 
do one small neighbourly thing during 
the ten-day event, which runs from 27 
March – 5 April this year.  We have a 
checklist  of  five  actions  (located 
nearby  on  this  page),  and  you  only 
have to check off one of the items to go 
into  the  draw  for  a  prize.  All  five 
libraries  across  the  district  are  taking 
part  in  this  promotion  and  we  invite 
you  to  take  a  checklist  and  take  part.  
Libraries  are  located  in  Dargaville, 
Paparoa,  Maungaturoto,  Kaiwaka  and 
Mangawhai.    For  further  information, 
call  your  local  library  (that's  us!)  or 
check  our  Facebook  page  (https://
www.facebook.com/Kaiwaka-Library-
291797071494/) for further details. 
NLN  LARGE  PRINT  AND  AUDIO 
BOOKS 
As  announced  before,  we  are 
withdrawing  from  the  Northland 
Libraries  Network,  where  we  have 
been  getting  large  print  and  audio 
books  for  many  years  now.  Over  the 
coming week or so we will be packing 
up  these  books  ready  to  send  back  to 
the collection. We will still have large 
print  books  on  our  shelves  -  our  own 
and  others  sourced  from  Dargaville 
Public  Library's  extensive  collection  - 
but  we  won't  be  carrying  audio  books 
anymore. 
AUDIO BOOKS 
Still want to borrow audio books, even 
though we're not stocking them on the 
shelves  anymore?  There  are  thousands 
of  titles  to  choose  from  via  our  three 
digital  book  suppliers,  which  you  can 
download  to  a  computer,  phone,  or 
tablet  to  listen  to,  and  there  are 
physical  audio  books  at  Dargaville 
Library  that  can  be  delivered  to  our 
library  for  you.  Contact  me  or  come 
into  the  library  to  talk  to  the  library 
volunteer  on  duty,  if  you  need 
assistance  accessing  these  collections. 
They  can  all  be  found  by  searching 
Enterprise*  and  placing  a  request  to 
borrow from there when you're logged 
in to your library account. 
GRANTS & SCHOLARSHIPS 
Are 
you 
looking 
for 
funding 
opportunities,  either  for  yourself  or  a 
family  member,  or  for  an  organisation 
you're  with?  You  can  use  your  library 
card  to  access  Generosity  NZ's  vast 
database of funding providers for free. 
Go  directly  to  their  web  site,  and 
Generosity  will  ask  you  to  subscribe 
and  pay  a  fee  -  but  go  through  the 
portal  at  Enterprise*  and  log  in  with 
your  library  card,  and  it's  free.  This  is 
your rates in action - make good use of 
it.  Contact  me  for  more  information if 
you need assistance. 
BOOK REVIEWS 
Rather  than  tell  you  about  something 
I've read recently, I'm going to tell you 
about  some  of  the  new  books  on  our 
shelves that  I  haven't  had time  to read 
for myself yet. 
The First: the Walsh brothers and the aeroplane 
days  of  Edwardian  New  Zealand  by  Terry 
Moyle.  Does  that  name  sound  familiar  to 
you?  Terry  is  a  Kaiwaka  local.  He  and  his 
wife  Rosie  have  put  together this  beautiful 
book outlining the early history of aviation 
in  NZ,  and  there's  a  strong  presence  of 
Northland  in  the  book.  Loads  of  pictures, 
both photos and images carefully crafted in 
Terry  and  Rosie's  distinctive  style.  Rental 
Non-Fiction - 993 MOY. 
Tales from a financial hot mess: the realest guide 
to  money…  and  how  to  have  more  of  it,  by 
Frances  Cook.  "Are  you  stymied  by  debt? 
Clueless  about  where  your  pay  checks  go? 
Journalist,  podcaster  and  reformed  money 
mess  Frances  Cook  is  here  for  you.  Tales 
from  a  Financial  Hot  Mess  is  the  story  of 
Frances  getting  her  money  sh*t  sorted. 
With  no  idea  where  she  was  going  wrong 
and  what  to  do  about  it,  she  took  it  upon 
herself  to  learn  from  the  best  –  and  soon 
found out that the fixes were right in front 
of her the whole time. (She just needed to 
wise  up  a  bit.)  Frances  learned  the  hard 
way,  so  you  don't  have  to."  Frances  is  a 
regular on radio in NZ, you may have heard 
her  talk  there.  Rental  Non-Fiction  -  332 
COO. 
The Sea Detective, by  Mark  Douglas-Home  - 
I  bought  this  book  plus  the  other  three 
books in this series on the recommendation 
of  one  of  our  library  members,  who  had 
read one of them and wanted the rest. This 
is a crime series based around Cal McGill, a 
"part-time  PhD  oceanographer  with  a 
macabre interest in floating corpses".  
I'm looking forward to getting to these 
books! See you in the library! ~Wendy 
TRAILS END 
RONGOA MAORI 
HEALING 
And Gifts 
Stocking all your needs from incense, 
crystals, dream catchers, greeting 
cards, jewellery, perfume, dragons 
and more ... 
For all inquiries 
 Phone 0211652629  
Light refreshments available $5 koha  
1758 Cove Road Mangawhai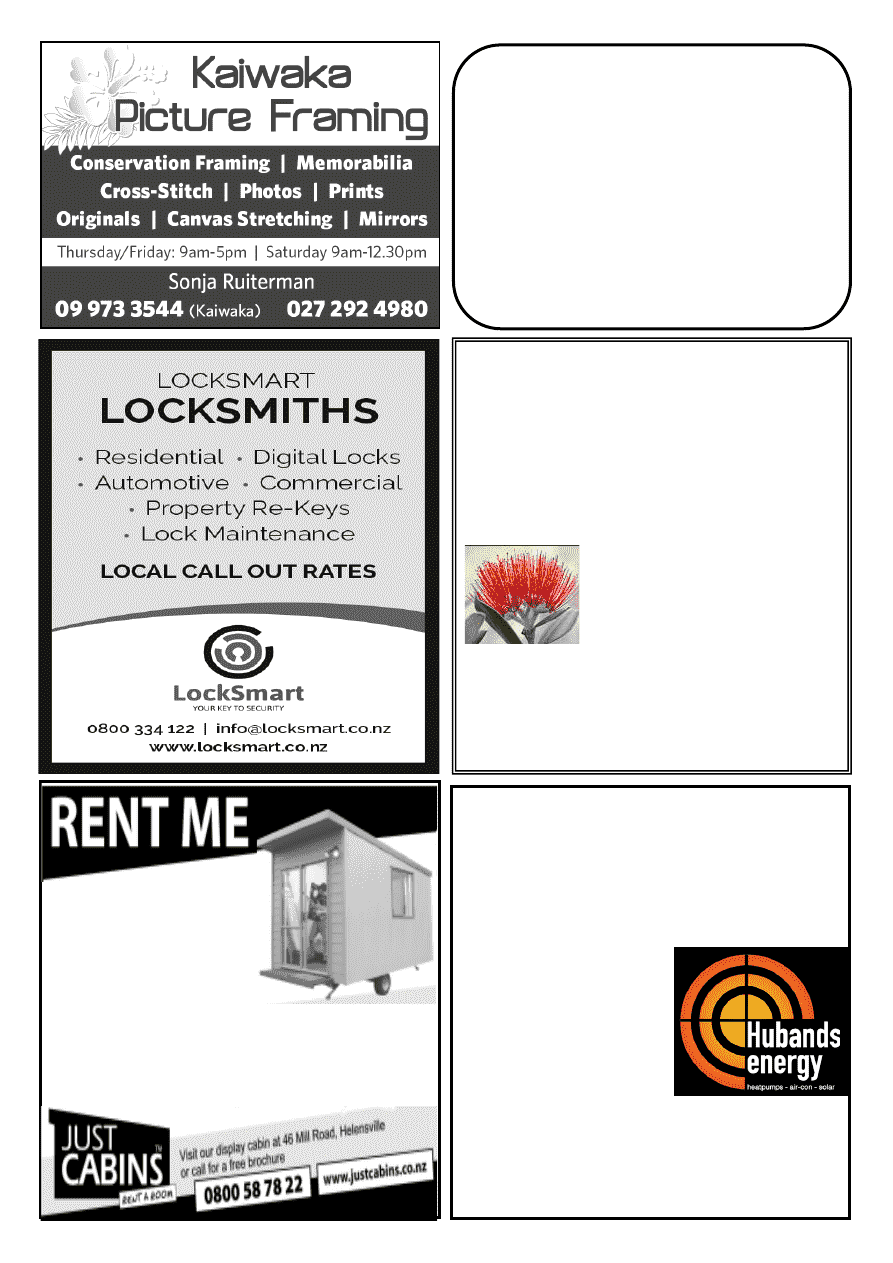 Northland's Award Winning 
Solar Company
SEANZ Best Solar Business Winners 2015/16
EXCLUSIVE 10 year installation warranty 
FREE No obligation onsite quote
Complete systems 
from $5990
See our range of: 
✓ 
Heatpumps 
✓ 
Airconditioning 
✓ 
Hot Water 
Heatpumps 
✓ 
Central Vacuum Systems
09 430 0019             sales@hubands.co.nz 
15 Kioreroa Road, Whangarei
Locally owned and operated for 35 years 
UP-LINK 
CHRIS WARING 
FREEVIEW INSTALLATIONS 
T.V. - HOME THEATRE &  
HI-FI ADVICE/SET UP
SKY ACCREDITED INSTALLER
MOB.0273403747 HM.094312328 
EMAIL cwaring44@gmail.com
28 YRS EXPERIENCE 
OFFERING UNBIASED ADVICE 
Ideal as an extra  
bedroom or office 
Three Convenient sizes: 
Standard 3.6m x 2.4m - $65 per week 
Large 4.2m x 2.4m - $80 per week 
KAIPARA FLOORING CO 
Independently owned & operated 
32 HURNDALL ST MAUNGATUROTO
Supply & Installation of Carpet, Vinyl,  
Vinyl Wood Planking
Stockists of 2m & 3m wide 
vinyl & carpet short ends
Residential & Commercial
Q Card Finance Approved 
6-18 month terms 
6 mth interest free
First Class Installations
For a free measure & quote 
phone Christine  
09 946 9886 or 021 515 415 
kaiparaflooring@gmail.com 
http://www.kaiparaflooring.co.nz/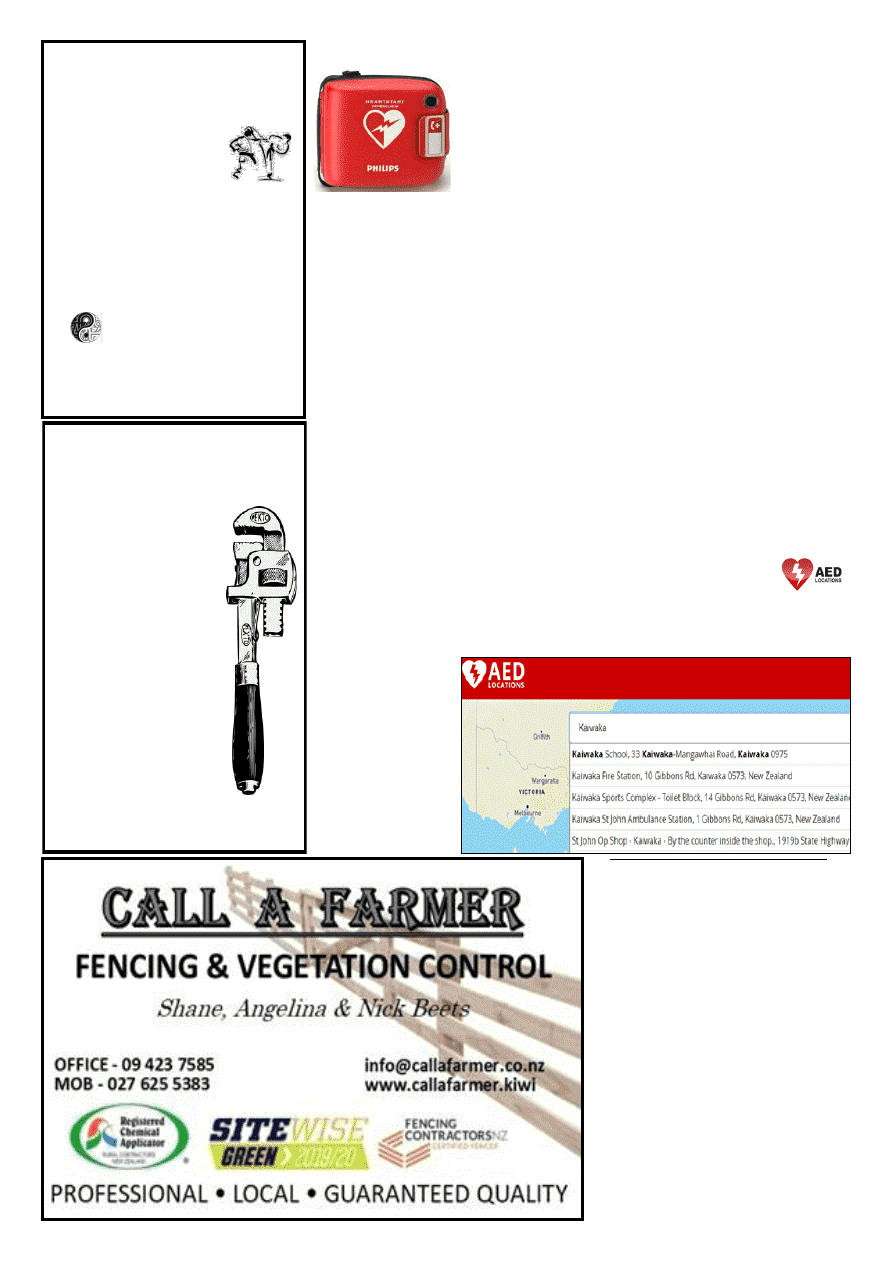 www.kaiwaka.co.nz 
Kaiwaka Bugle - 17 March 2020 
Page 19 
BARRY CURTIS 
PLUMBING LTD 
REGISTERED CRAFTSMAN 
PLUMBER 
Phone  
431 5572 
027 257 9884 
25 years' experience 
Friendly reliable 
service 
All plumbing & 
maintenance 
Alterations and new 
housing 
Spouting  
Competitive rates 
PROMPT EFFICIENT 
SERVICE 
Famous last words… 
"I think there is a world market for maybe 
five  computers"  -
Thomas  Watson, 
chairman of IBM, 1943 
"There  is  no  reason  anyone  would  want  a 
computer  in  their  home" 
-Ken  Olson, 
chairman & founder of Digital equipment, 
1977 
"This  'telephone'  has  too  many 
shortcomings to be seriously considered as 
a  means  of  communication.  The  device  is 
inherently  of  no  value  to  us." 
-Western 
Union internal memo, 1876 
"640  kilobytes  [computer  storage  space] 
ought  to  be  enough  for  anybody."  -
Bill 
Gates, 1981 
"Computers  in  the  future  may  weigh  no 
more  than  1.5  tons."  -
Popular  Mechanics, 
1949 
St  John  releases 
Out  of  Hospital 
Cardiac 
Arrest 
Annual 
Report 
2019 
Research 
undertaken  by  St 
John  shows  there  is  a  13%  chance  of 
survival  from  a  cardiac  arrest  outside 
of hospital. 
St  John    Out  of  Hospital  Cardiac 
Arrest  Report    -  this  year's  study 
reveals that while survival rates remain 
constant, there is much more we can do 
to save lives. 
Each  day  in  New  Zealand  St  John 
treats approximately five people for an 
out-of-hospital  cardiac  arrest,  and  in 
76%  of  cases  a  bystander  starts  CPR, 
but  an  AED  (automated  external 
defibrillator)  is  only  used  4%  of  the 
time. 
St  John  Medical  Director  Dr  Tony 
Smith  says  these  statistics  show  that 
while  New  Zealanders  are  becoming 
aware  of  the  importance  of  CPR,  not 
only  are  more  AEDs  needed  in  local 
communities,  but  the  public  needs  to 
be comfortable using them. 
Automated External Defibrillator 
⚫
Anyone can use an AED 
⚫
Know  where  the  AEDs  are  in  your 
area 
⚫
All  you  need  to  do  is  turn  it  on  and 
follow the simple instructions.  
⚫
and have the confidence to use one.  
For every minute that goes by without 
CPR  or  using  an  AED  the  chance  of 
survival drops by 10
-15%. 
The  report  shows 
community 
defibrillation 
can 
improve 
cardiac 
arrest  survival  by 
over  35%  and  St 
John  is  working 
with 
community 
partners,  such  as 
ASB,  to  get  AEDs 
into 
remote 
communities,  including  marae,  to  help 
address this inequity. 
Dr  Smith  explains that there are  many 
factors  that  go  into  cardiac  arrest 
survival. 
"The  chain  of  survival  starts  from 
the bystander recognising someone is 
in  cardiac  arrest,  calling  an 
ambulance,  starting  CPR  and  using 
an  AED,  and  continues  with 
treatment  on  scene  by  skilled 
ambulance  officers,  through to arrival 
at  hospital  and  ongoing  treatment  by 
hospital clinicians." 
Dr  Smith  says  more  work  and 
resourcing  is  needed  in  order  for  St 
John to improve cardiac arrest survival 
statistics  to  a  similar  level  of 
comparable 
ambulance 
services 
internationally. 
"St  John's  clinical  processes  continue 
to  be  of  a  high  standard  but  without 
greater  funding  and  resources  we  are 
unable to make the same improvements 
as other services. " 
Download the free St John mobile CPR 
app for instructions on how to do CPR 
Learn how to locate the nearest public 
AED.  
"Nonetheless  the  message  is  clear,  if 
someone is  in  cardiac arrest,  call  an 
ambulance  (111),  start 
CPR and use an AED." 
AED locations website: 
 https://aedlocations.co.nz/ 
Type in where you are e.g. Kaiwaka - 
the graphic below shows 6 places in 
Kaiwaka. 
WHAT'S YOUR CHANCE OF SURVIVING A 
CARDIAC ARREST? 
SELF DEFENCE 
KEMPO 
Fitness, Confidence, 
Discipline, 
Respect,  
Self-awareness 
Classes for all ages in: 
 Mangawhai
Kaiwaka Wellsford
For more information please 
contact
 Otamatea Martial 
Arts
otamatea.kempo@farmside.co.nz 
Phone 09-431-5170 
www.facebook.com/
otamatea.kempo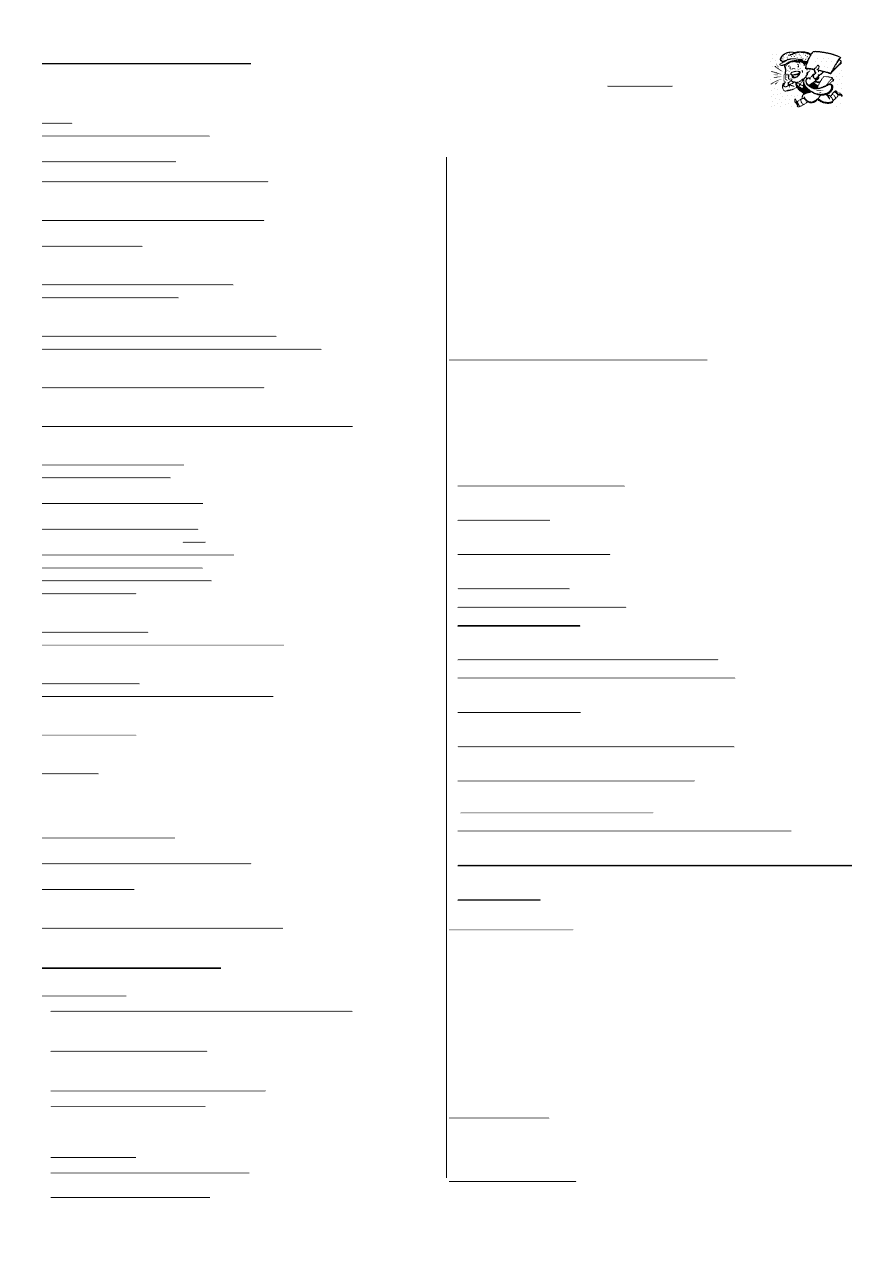 Next Bugle Deadline midday Friday 27 March 2020
WHAT'S ON
PLEASE ~ do let us know what is on - email 
kaiwakabugle@kaiwaka.co.nz 
*17Mar~St.Patrick's Day 
*18Mar~Kaiwaka Can, 5.30pm, Archie Bull Hall 
*19Mar~Otamatea & Eastern Rugby Muster, 5pm KSA 
*20Mar~KDC Spatial Planning meeting Hakaru Hall 6-8pm 
*20Mar~Movie 'JUDY', KWMH, 7.30pm 
*21-22Mar~Open Fishing Competition 
*23Mar~Zonta PADA Awareness, Mangawhai, 1pm 
*25Mar~Otamatea High School Triathlon 
*3Apr~Movie 'KNIVES OUT', KWMH, 7.30pm 
*9Apr~End of School Term One 
KWMH = Kaiwaka War Memorial Hall; KSA = Kaiwaka Sports Association 
See www.kaiwaka.co.nz for more information 
HOUSEHOLD RUBBISH COLLECTION  
Kaiwaka Pick up: 
Mondays = Green bags (Northland Waste - 09 430 3273) 
Wednesdays  =  Blue  bags  and  yellow  recycling  (at  Jaques  $3.00 
and  $1.50)  (Kaurilands  09  4392146);  ONLY  Blue  and  Yellow 
bags picked up on Oneriri Road. 
 DIABETES Support Group-for Kaiwaka, Mangawhai, Wellsford 
10am, 3rd Friday of month Ph: Colleen James 09 4314238 
 GENEALOGY - Wellsford: 1st Thursday in month Ph: 423 
7033; Waipu: 4th Monday in month Ph: 4312 725 
 HAKARU PONY CLUB - Secretary Denise Rogers 021423376 
secretary@hakaruponyclub.co.nz  
 KAIPARA HUNT - Secretary Albert Doonenbal Ph 4312059 
 KAIWAKA BADMINTON -Tuesdays 7.30pm Ph: 4312345 
 KAIWAKA  CAN  -  3rd Wednesday in  month, 5.30pm, Archie 
Bull Hall Ph: 0273572751 
 KAIWAKA DRUM & DANCE CLASSES - 021 611198 
 KAIWAKA GARDEN & FLORAL GROUP - 2nd Thursday in 
month. Ph: 431 4744 
 KAIWAKA  CUBS  -  Thursdays  5.30-7pm,  Hakaru  Ph:Bruce 
4312542 
 KNITTING FOR WHANGAREI HOSPITAL - 2nd Tuesday in 
month, Archie Bull Hall 10am Ph 4314827 
 MANGAWHAI COMBINED REBUS CLUB - 2pm, 3rd 
Thursday month, Senior Citizens Hall Mangawhai. Ph: 4315777 
 *PT CURTIS CRUISING CLUB - Jean Ph: 4312227 (wk), 4312520 (hm) 
 RSA,  HAKARU  &  DISTRICTS  WOMEN'S  SECTION  –  meets 
1.30pm 4th Thursday of the month. Ph: 431 5818  
 KAIWAKA  SCOTTISH  COUNTRY  DANCING  CLUB-
Wednesdays 10am - 12 noon  Ph: Elaine 027 432 0032  
 TRAMPING - Mondays 9am-2:30pm Maria 4312 234 
HALLS FOR HIRE: 
  Kaiwaka St. John Hall: Phone Marj  0272941227  
 St.Pauls  Archie  Bull  Hall  HIRE  $20  half  day,  $40  full  day  per 
hire, S McAulay, Ph 4312311 
 Kaiwaka  War  Memorial  Hall  HlRE  -  Phone  4312725  or 
kaiwaka.hall.bookings@gmail.com 
 Hakaru Community Hall HIRE -Ph.  Lorraine 4312829  
 Te Pounga Marae queries - Pearl Nathan  0223933533 
 Kaiwaka Sports Association hire/queries - C. Anderson 4312051 
or kaiwakasports@gmail.com 
Justice of Peace:  
B.FJaques  4312  048;  L.Donaldson  4312  228;  A.F.Hargreaves 
4312 045, W.Howard 4312 725 - please phone to make sure they 
are available www.justiceofthepeace.org.nz 
Marriage Celebrants:  
L.Donaldson; A.F.Hargreaves; Y Osborne
LOCAL SERVICES 
*Emergencies - Ambulance, Fire, Police - dial 111 
*Non-urgent Police phone 105
A A: Meets Wed., 7.30pm Kaiwaka Ph: 4315543, 0800229 6757 
NARCOTICS ANONYMOUS: Mon., 6.30pm, Kates Place; drug and 
alcohol related issues. Ph. 02102412348 
ASUREQUALITY LTD (was AgriQuality) Call Free 0508 0011 22  
BUDGETING SERVICE, WELLSFORD: Free confidential advice & 
support for all areas of personal finance. Ph (09) 423 7123 
CAB-Citizens Advice Bureau.Wellsford Ph: 4237333 
0800 367 222 email:cab.wells@xtra.co.nz  
CIVIL DEFENCE - Kaiwaka Community Response Group: 
kaiwaka.civildefencecrg@gmail.com, 4312725 Wendy 
DOG/STOCK /NOISE CONTROL 0800 105 890 
FUNERAL SERVICES: Morris & Morris Ltd, 
Whangarei - Bev Jaques Ph:4312367 or 0800667747 
GRANDPARENTS Raising Grandchildren: Dianah Roberts 0223819539 
HAKARU & DISTRICTS MEMORIAL RSA (Inc) 733 Settlement Rd, 
Hakaru. Ph 4312 176 or Bill Warren (President) 431 2092 
HAKARU LANDFILL/Transfer Station:Open everyday except 
Tuesday10am-4pm.Ph4312629 Cost-$55 trailer load up to 1 cubic metre. 
Ph:4258567 - office 
KAIPARA DISTRICT COUNCIL www.kaipara.govt.nz:  
Help Desk FREEPHONE 0800 727 059  
KAIWAKA CEMETERY: Ph: 4312045 or 4314017 
KAIWAKA LIBRARY: kaiwaka.library@gmail.com  
Mon. 4-6pm; Wed., Thurs., Fri., Sat. 10am-2pm Ph:4312539 
KAIWAKA PLAYCENTRE: Ph Juanita 0274134904; open Mon, Wed, 
Fri 9am-12pm. Hastie Lane; Monday to Friday 9.00am - 12 noon. 
KAIWAKA POST OFFICE:Ph:4312 431  
Post Code: 0573 for RD2 and 0542 for all Kaiwaka Post Office mail 
KAIWAKA PRIMARY SCHOOL: Ph: 4312309   
KAIWAKA SPORTS ASSN: Ph 4312005; 4312129 gym 
KAIWAKA ST. JOHN HALL: Phone Marj  0272941227  
KATE'S PLACE Community Centre - Employment services, Free Health 
Nurse, Plunket, Advocacy, Osteopath, A.A., Legal Advice. 4312 661 
LINKING HANDS Health Shuttle Ph 4315906 or 09 4318969 
MINISTRY FOR PRIMARY INDUSTRIES - General inquiries Call 
Free 0800 008 333 
NORTHPOWER: Faults Kaiwaka area 0800 104040 
OTAMATEA COMMUNITY SERVICES: Counselling, parent coach, 
Family Support worker, budget advice, food bank. Mon-Fri 9am-3pm. Ph 
09 431 9080 http://www.otamateacs.org/ 
PARENTPORT: Free, practical family support service Puhoi to Paparoa 
Ph or txt: Dianne 027 280 5093 or 09 425 9357 
PLUNKET:  Kaiwaka  -Kate's  Place  Clinic  1st  Wednesday  of  the  month; 
Mangawhai  - Rose Madsen Cottage: Coffee Group 9:30 every Monday.  Clinic 
every Monday and Thursday. 
Maungaturoto - Good News Church, Clinic 2nd and 4th Wednesday.  
Cynthia 09 431 7340 or 027 675 3488 
PLUNKET HELPLINE -0800 933 922 (24 hours) 
TAITOKERAU COMMUNITY LAW: Free confidential legal advice and 
assistance, 2nd
Thursday
 of each month. Ph: 0800 155 529 for apps.  
TE URI O HAU Settlement Trust Tangata Developments: Whanau Ora 
021 793262  
VETERINARY SERVICE MANGAWHAI: 
Ph: 4314535 Mon-Fri 8.00-5.00, Sat 9-12, a/h appt. 
WELLSFORD DOCTORS: Ph: 4238 086 
CHURCHES:
 
Kaiwaka  Revival  Church  -  Your  Community  Church:  Sundays  10am. 
Ph: Pastor Tawhiri 09 431 8988 or Pastor Paul 09 4312 068 Visit us at 
www.facebook.com/kaiwakachurch or www.kaiwakarevival.co.nz 
 
St  Paul's  Anglican  Church  1st  Sun.  9.00am  (Eucharist),  3rd  Sun. 
9.00am (Family Service). Contact: Rev. Wayne Thornton Ph 431 4122 
www.mangawhaianglican.org.nz 
 
Church of Christ the King, Mangawhai:9.00am every Sunday 
 
St.Mary's  Catholic  Church:  Maungaturoto  –  Griffins  Road,  Saturday 
evening  Vigil  Mass  6pm;  Mangawhai  –  Senior  Citizens  Hall,  Sunday 
Mass  8:30am;  Wellsford  –  Matheson  Road,  Sunday  Mass  10:30am;  
Mid-week Mass times and all enquires to Fr. Bill Fletcher – phone 423 8170
 
Baptist Church: Sun. 10.30am Mangawhai Snr Cit.Hall.Ph:4312339 
 
Cause  Way  Church  Mangawhai:  Sundays  10.15am,  Mangawhai 
Community  Recreation  Centre,  Insley  St.  Ph:  09  4314782