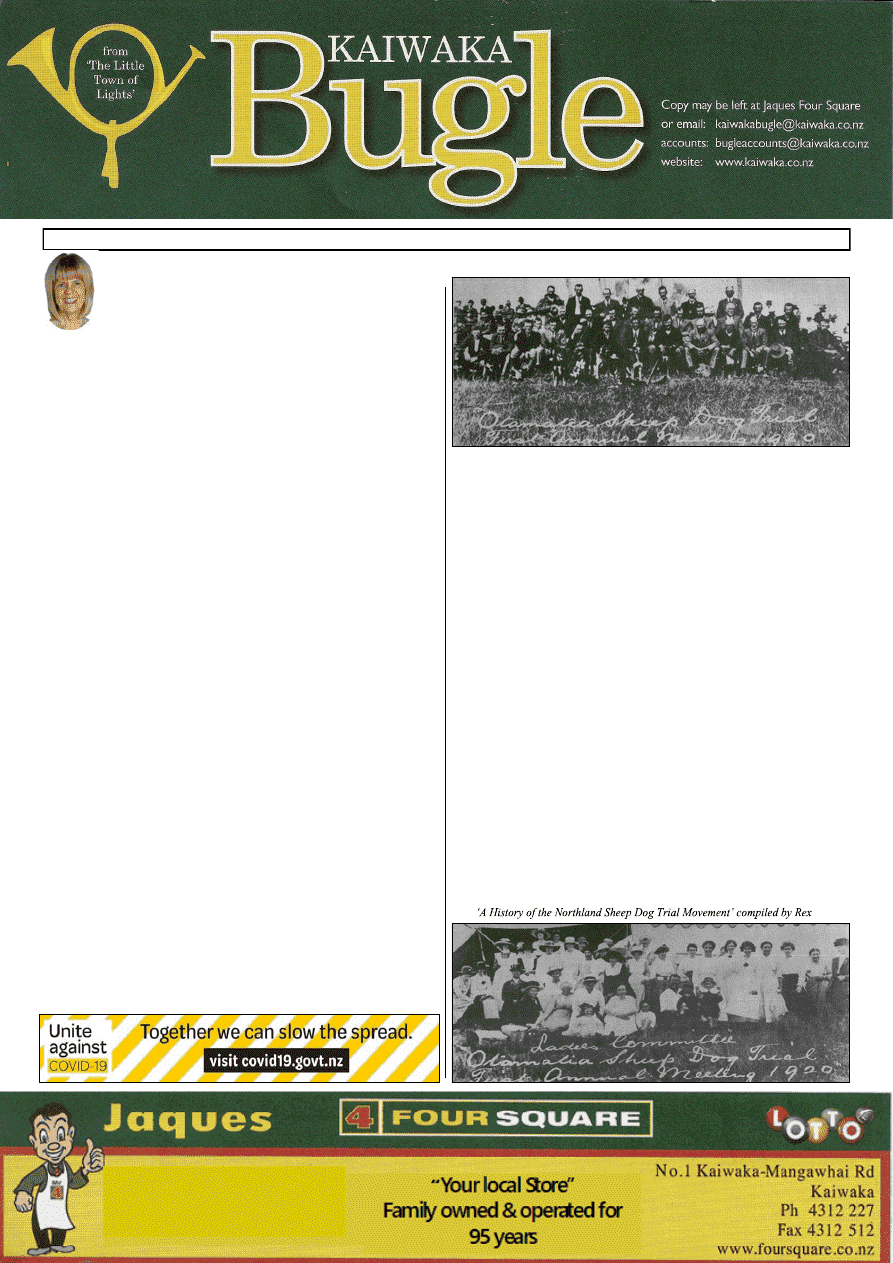 www.kaiwaka.co.nz 
Kaiwaka Bugle - 31 March, 2020 
Page 1 
No: 6 
 31 March 2020 
OTAMATEA SHEEP DOG TRIALS  100! 
LIBBY JONES – NORTHLAND  
DISTRICT HEALTH BOARD  
The Otamatea Sheep Dog Trial Club  was to celebrate their 
centennial on 3-5April this year. Sadly all dog trials have been 
cancelled for the time being. 
Their first annual trials were held on Quaife brothers' property 
on  Petley  Road,  Paparoa  15  -  16  April  1920.  Approximately 
25  dogs  competed  that  first  year  and  the  winner  was  Ned 
Sloane with Glen.  
The trials were a huge success with a concert and dance on the 
first night, and concluded with a banquet and smoke concert in 
the  Garrison  Hall  (Paparoa)  on  the  second  night.  The  event 
was well reported in the "Northern Advocate" (l9 April 1920). 
In his speech, H.McCarroll Esq (president) thanked the ladies 
for  catering.  He  stated  that  '
several  ladies  slept  in  the  tent 
overnight in order to protect the food. 75 people were expected, 
but 200 actually attended, enabling them to raise 80 pounds for 
the Nurse Cavell Hospital in Paparoa
.' 
1921 and 1922 trials were at the racecourse at Matakohe. The 
1923  trials  were  at  Finlayson's  "Wharepuke"  property.  '
If  it 
was  wet  a  horse  and  buggy  was  used  for  transport,  otherwise 
Cliff Massey drove his mum's model A Ford. Cliff's mother was 
the caterer, providing a three course dinner in a large marquee'
. 
In 1924, on the second morning of the trials a wild black boar 
arrived  on  the  side  of  the  course.  '
T.Finlayson  (Ross's  uncle) 
shot the pig, and the almost spent bullet passed through the pig 
and up the unfortunate dog's nose, killing it as well'
. 
From 1925/26 until 1958 the trials were on Keith Montaine's 
property  on  Doctors  Hill  Road  (his  father  was  the  local 
doctor). Then to the Huband and Massey properties at Golden 
Stairs Road. No trials were held in 1942 and 1943, but one day 
trials  were  held  during  the  war  1944  and  1945.  By  the  late 
1960's the  trials were  held  on  Trewin's property,  now  owned 
by Luptons and have continued on this same property. 
Ref. 
Ries
. 
In such a short period of time our health and staying 
virus free has become our number one priority.  
The  impacts  of  the  Coronavirus  global  pandemic 
on  our  economy,  schooling,  work,  travel,  shopping,  social 
activities  and  everything  else  in  between  has  been  enormous 
and unprecedented. In amongst it all, while we have seen a lot 
of panic and some selfish behaviour, we have also seen a surge 
of  community  spirit  and  neighbourhood  support,  acts  of 
kindness and goodwill.  
We  have  the  opportunity  during  this  to  think  about  what  is 
actually important in life and increase our focus on the things 
that really matter – family, relationships, kindness and caring. 
Focusing  on  the  things  you  can  control  such  as  your  hand 
hygiene  and  physical  distancing  if  getting  essential  supplies, 
not the things that are out of your control, will reduce anxiety 
and panic. 
So, what are you doing to keep yourself well and calm?  
While  it  is  normal  to  sometimes  feel  overwhelmed  and 
worried, doing the things that you normally enjoy is important 
right now too. Take a moment to admire the sunset, or sunrise; 
listen  to  your  favourite  music;  sing  along  loudly;  go  for  a 
walk, do some gardening; give yourself time out from the rest 
of  your  household;  give  your  friends  a  call,  use  Skype  or 
FaceTime to see their faces; check out is your neighbours need 
anything.  Research  has  shown  that  these  things  can  build 
resilience,  boost  your  wellbeing  and  lower  your  risk  of 
developing mental health problems. 
The Northland DHB as a central player for our area has been 
working  overtime  to  cope  with  the  changing  situation  and  to 
keep our community safe and well, as well as supporting our 
health care workers who are at the forefront of the crisis. Other 
work is getting put aside while the focus is rightly on dealing 
with the rapidly changing situation day by day. Sick people are 
still  being  cared  for  and  kept  separate  from  any  COVID-19 
related patients. 
New  Zealand  has  faced  a number  of  crises over  the  last  year 
which  have  impacted  on  health,  including  in  Northland  the 
measles and meningococcal outbreaks. While nothing has been 
like  this,  DHBs  know  about  dealing  with  crises  and 
emergencies, and Northland has had an Incident Management 
team set up for several weeks.  
It is up to all of us now to keep ourselves and our household 
bubble safe and well and keep Socially connecting with each 
other while we 'Physically distance'. 
Stay well, Libby Jones hames.jones@xtra.co.nz 021 2080093
CHECK THE HOURS 
OF OPENING 
AT FACEBBOOK 
DURING COVID-19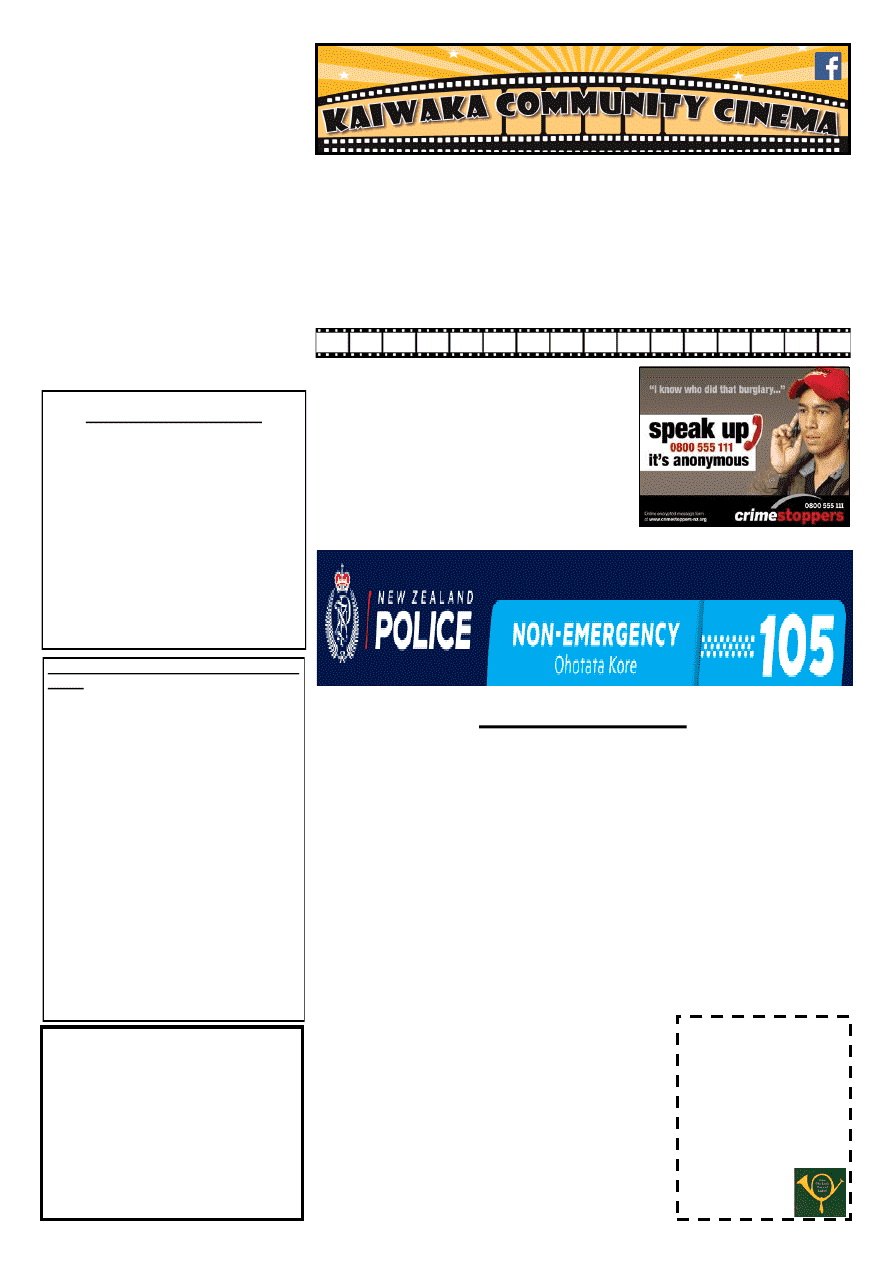 At Kaiwaka War Memorial Hall . Adults $10, Kids (under 16) $5, Family Pass (2 adults + 3 children) $25 
KAIWAKA BUGLE No. 6 
31 MARCH 2020 
CONTENTS 
Page 3: Public Notices, Classified 
Page 5:  Jaques;  Civil Defence 
Page 7: Kaiwaka Revival Church; 
Music Tuition; The First 
Page 9: Local Scenes; Kaiwaka Can 
Page 11: KSA.; Pt. CCC 
Page 13: The Cross 
Page 15: Kaiwaka School;  Rotary 
Page 17: Kaiwaka Library   
Page 19: HP's Marching On 
Bugle 7 will appear 14 April 2020 
Contact for advertising, reports, articles 
or information can be made by 
Email kaiwakabugle@kaiwaka.co.nz 
Ph: 09 4312 045 Lindsey 
Txt: 027 2724137 
Copy  may  be  left  at  Jaques'  Four 
Square. 
Kaiwaka Bugle 
Founded May 1978 
We appreciate articles and photos about local 
events, etc, as well as ads and suggestions. 
Copies available in Kaiwaka at Jaques Four 
Square, Kaiwaka Postal Centre, Shamrock 
Service Station, Animal Health Centre, 
Kaiwaka St John shop. 
Also outlets in Maungaturoto, 
Mangawhai and Paparoa. 
Can be viewed online at   
www.kaiwaka.co.nz/Bugle  
Or a copy can be posted to you if you supply 
stamped, self-addressed DLE envelopes. 
Kaiwaka 
Bugle 
Advertisements 
2020: 
All 
copy 
and 
queries 
to: 
kaiwakabugle@kaiwaka.co.nz 
The Bugle is printed on an A4 page   
Ad  sizes:  1/16  page  (3  x  9.5cm)  $5;  1/8 
(6.5  x  9.5cm  landscape  or  portrait)  $8; 
3/16 ( 10 x 9.5cm or 7.5 x 12,5)  $12.  
Classified  ads:  First  one  FREE,  $4  per 
entry (max. 30 words, max. 4 repeats). 
Payments  can  be  made  online  at 
ANZ 
06  0365  0006990  00
,  posted  or  left  at 
Jaques Four Square Store. 
We  use  Microsoft  Publisher,  and  can 
work  with  most  common  image 
formats, Word, Excel, and PDF files. 
Accounts:  
Email: bugleaccounts@kaiwaka.co.nz 
The  Kaiwaka  Bugle  is  a  community 
newspaper run by volunteers, as part of 
the Kaiwaka Media Group Inc.   
Articles, etc. printed are not necessarily 
the opinion of the Bugle Team. 
ABOUT TOWN 

 Kaiwaka Bugle is ONLINE ONLY for the first time! 

Thank you to our all our Bugle advertisers. The advertisements are as usual in 
our  ONLINE  ONLY  Bugle  -  please  phone  them  first  as  many  are  essential 
services  and other s are there for when we come out of our 'lockdown'! 

A big WELL DONE to Jaques Four Square - Paula, Greg and Crew! And to 
Amrit at the Postal Agency. And thank you to all who are  following the rules to 
keep us all safe! 

 Note church services have been cancelled, along with all gatherings outside 
your bubble'.  

Great to see Rosie Louise and Terry Moyle on morning television with their 
book - THE FIRST. 

A thank you to Rob Pooley for your 15 years of leadership with the wonderful  
Mangawhai Focus newspaper. 

 Eutopia Café would have been celebrating their first birthday this month 

 The KSA playground is out of bounds; maybe the one by the KWMH is too - 
just missing the hazard tape? 

 Otamatea Day Camp is only one of the activities cancelled for these holidays. 

 Daylight  Saving  next  weekend.  Q:  What  did  the  digital  clock  say  to  the 
grandfather clock?   A: Look, Grandpa, no hands! 

Q: What did the clock say to the watch? A: Tock 
to you later. 

 Kaiwaka  Bugle  7  will  be  ONLINE  too  at 
www.kaiwaka.co.nz  Please  email  your  photos, 
adverts, news, reports as before
 .  A  very  big  thank 
you from the crew at the Bugle. 
~ Lindsey, Ed 
"Don't let the fear of striking out keep you from playing 
the game" 
From  Vera  Lynn,  103  years  old,  last  week  said, 
"Keep smiling and keep singing"
CANCELLED       CANCELLED
KAIWAKA MOVIES..... 
DUE TO COVID 19 ....Corona Virus..... 
ALL SCREENINGS WILL BE CANCELLED 
....from Friday 20 March and onwards.... 
We will let you know when we will start again .....Be safe., be healthy.   
KAIWAKA BUGLE 
DEADLINE DATES 
2020:   
Every second Friday
April 10, 24 
May 8, 22 
June 5, 19 
July 3, 17, 31 
August 14, 28 
September 11, 25 
October 9, 23 
November 6, 20 
December 4 
Proverbs 23:12 
Apply your heart to 
instruction and your ears to 
words of knowledge.  NIV 
Proverbs 19:22 
Kindness makes a person 
attractive. LB
CRIMESTOPPERS: 
Crimestoppers is an independent charity.  
They are not part of the Police.  
Crimestoppers  will  take  your  information  on 
criminal activity and report it on your behalf to 
the appropriate authority. 
If  you  have  information  about  crime  or  a 
criminal  activity  and  you  wish  to  remain 
anonymous  then  call  Crimestoppers  free  24/7 
on 0800555111 
Or use the online encrypted message form at https://www.crimestoppers-nz.org/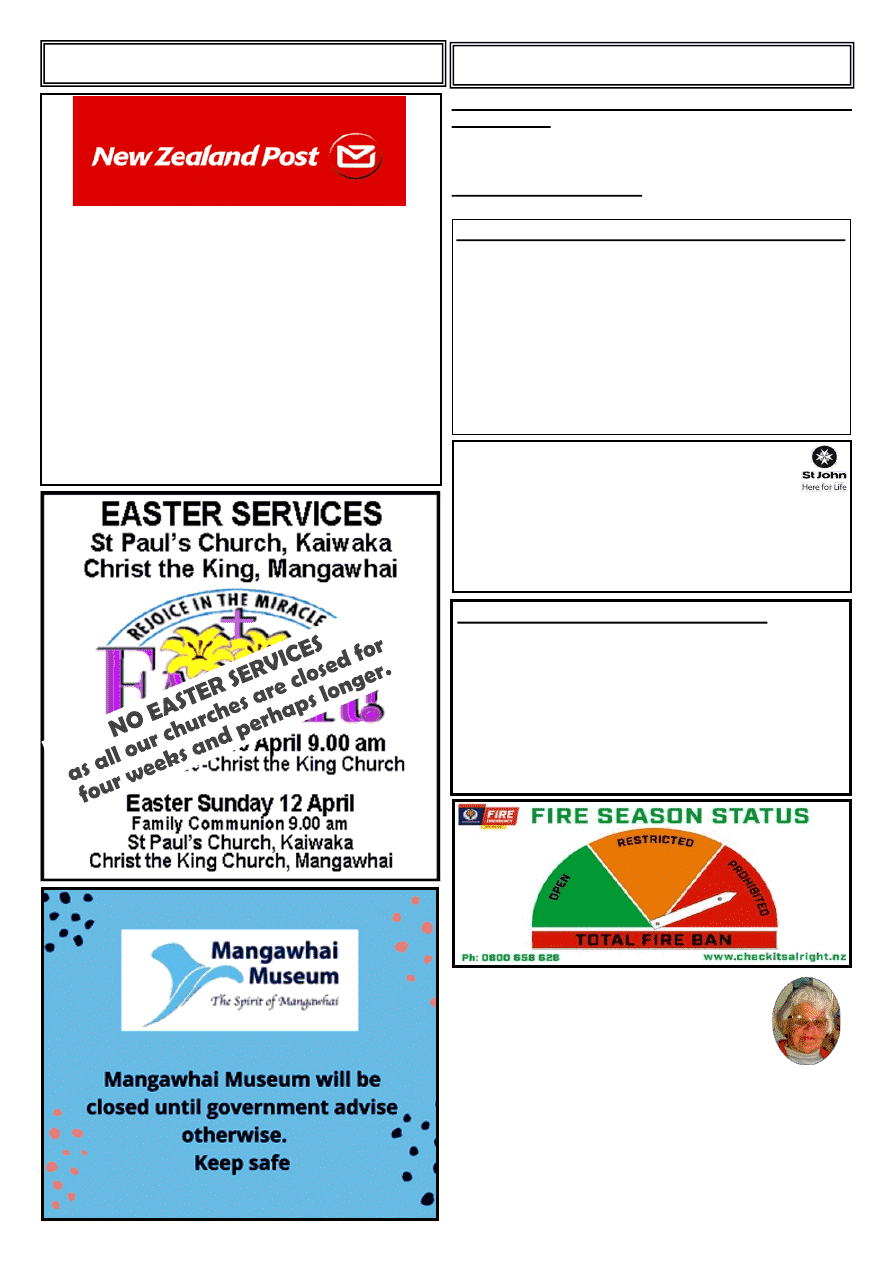 www.kaiwaka.co.nz 
Kaiwaka Bugle - 31 March, 2020 
Page 3 
PUBLIC NOTICES 
CLASSIFIED 
From Thelma's Scrapbook...  
What is life without a friend, 
to help you get along, 
To strengthen you when troubles come and 
things are going wrong, 
When problems loom like mountains and the sudden 
storms descend, 
When everything looks hopeless, 
What is life without a friend! 
(We NOW have the time to catch up with our old 
friends....BY PHONE!!!!)
KAIWAKA 
WHANGAREI 
HOSPITAL 
KNITTERS:  The  group  knitting  is  suspended  until 
further  notice.    For  any  details  or  information  contact 
Gale 094314827 or 0274149576.  Take care everyone. 
WANTED  TO  RENT:  2-3  bedroom  house  in 
Kaiwaka or surrounding areas. Ph: Patrick 0272692805 
KAIWAKA ST. JOHN OP SHOP 
Thank you for your support.  
CURRENTLY CLOSED 
We will be closed for the lockdown period.   
No donations until further notice.  
Take care and stay safe.  
Catch up when things return to normal
. 
Diane and the Team from Kaiwaka St John Op Shop 
OUR BOX LOBBY WILL STILL BE SERVICED 
DURING THE  
COVID 19 LEVEL4 STATUS.  
THE SERVICE DOOR IN THE LOBBY WILL 
BE MANNED FROM 10am TO 12pm FOR THE 
COLLECTION OF YOUR PARCELS THAT 
WERE CARDED TO YOUR BOX. 
 NO OTHER SERVICES WILL BE AVAILABLE 
FROM THIS LOBBY. 
PLEASE TAKE CARE AND STAY SAFE IN 
THESE CHALLENGING TIMES. 
~ Amrit, Kaiwaka Postal Agency 
St John, Assistant Youth Leader wanted 
We have been providing an excellent programme for 
young people for ten years but our Leader, Nyree, is 
now  in  need  of  a  supporting  adult  to  assist  in 
Maungaturoto. 
Are you: 

Able to communicate and relate to adults and children? 

 Able to contribute an average of three hours per week? 

 Able to adapt to a diverse range of cultures? 
If  the  answer  is  yes  (or  maybe,  but  I  would  like  to 
know more) please call Eileen on 021 142 0357.  
CHANNELLED ENERGY HEALING SESSIONS 
Working  within  your  energy  field  to  heal  and  in-
crease energy flow for better health. 
Work with what works.  
Options:  Via DISTANCE (Equally effective)  
            or Via APPOINTMENT (Mangawhai)  
Booking times: 10am, 12.30pm, 3.00pm 
$150/session. 
Txt your booking time by Wednesday prior to Nicola 
& Christine: 02041620844 
Demonstration:  Go to our YouTube Channel:   
Channelled Healings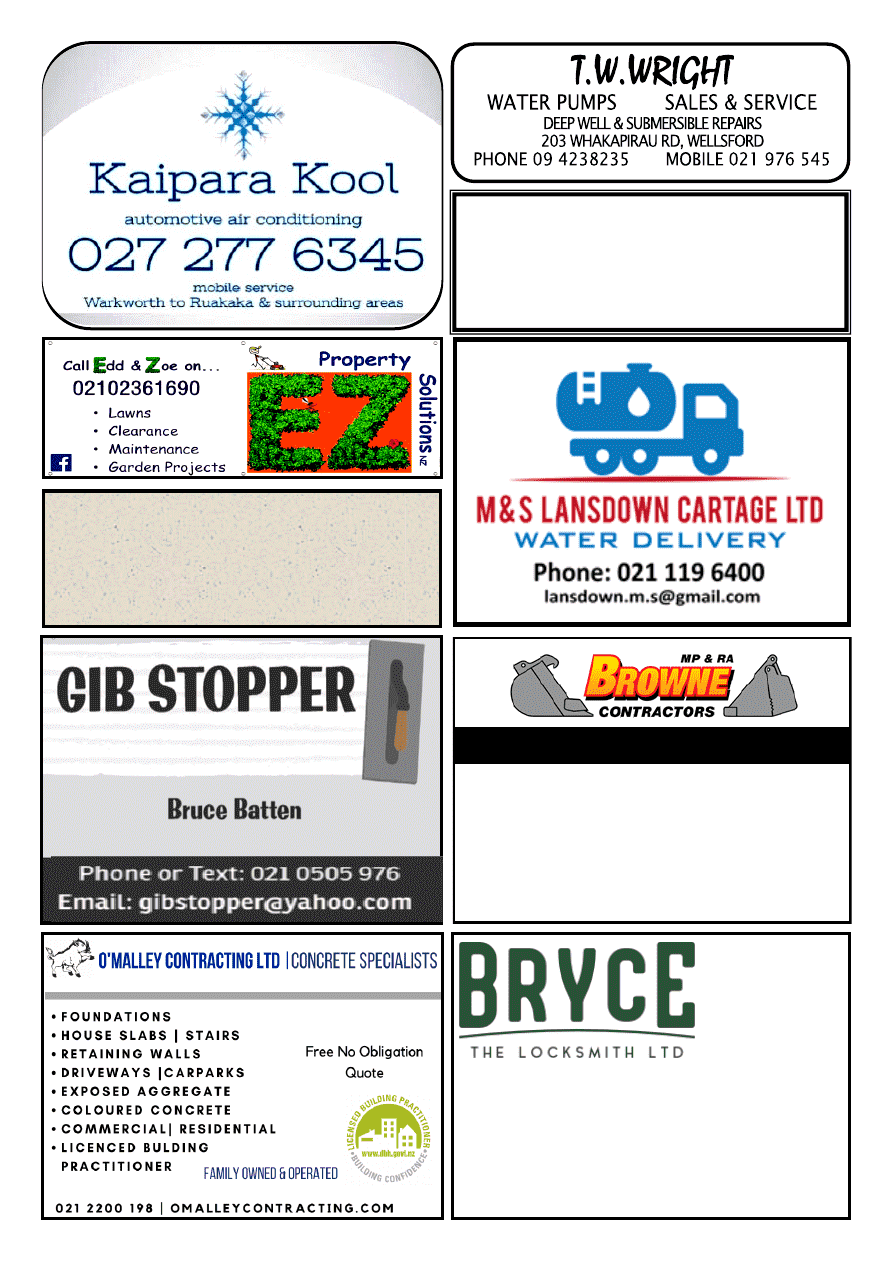 4Tonne DIGGER – BOBCAT – TIP TRUCK 
 Property Maintenance - Driveways  
 Building Sites 
Stump & Tree Removal  
Hole Boring - Chain Trencher  
Calf Shed and Stockyard Cleaning 
Phone Matt: 021 199 6677 
Email: mprabrownecontractors@gmail.com 
Counsellor and Registered Psychotherapist 
Offers Supervision
Susan Matheson 
MNZAC 
Dip. Psychosynthesis Counselling and Psychotherapy 
Phone 09 431 2996                        Mobile 027 605 2427 
Bryce Frewin 
Ph: 021 850 983 
Kaipara Based Master Locksmith 
bryce@brycethelocksmith.co.nz 
www.brycethelocksmith.co.nz 
HANDYMAN 
Gardens * Lawns * Landscaping * Painting 
* Small gib-stopping * 
* General repairs and maintenance * 
Honest - Reliable 
Phone Burn 0211900555 or Brenda 0211185578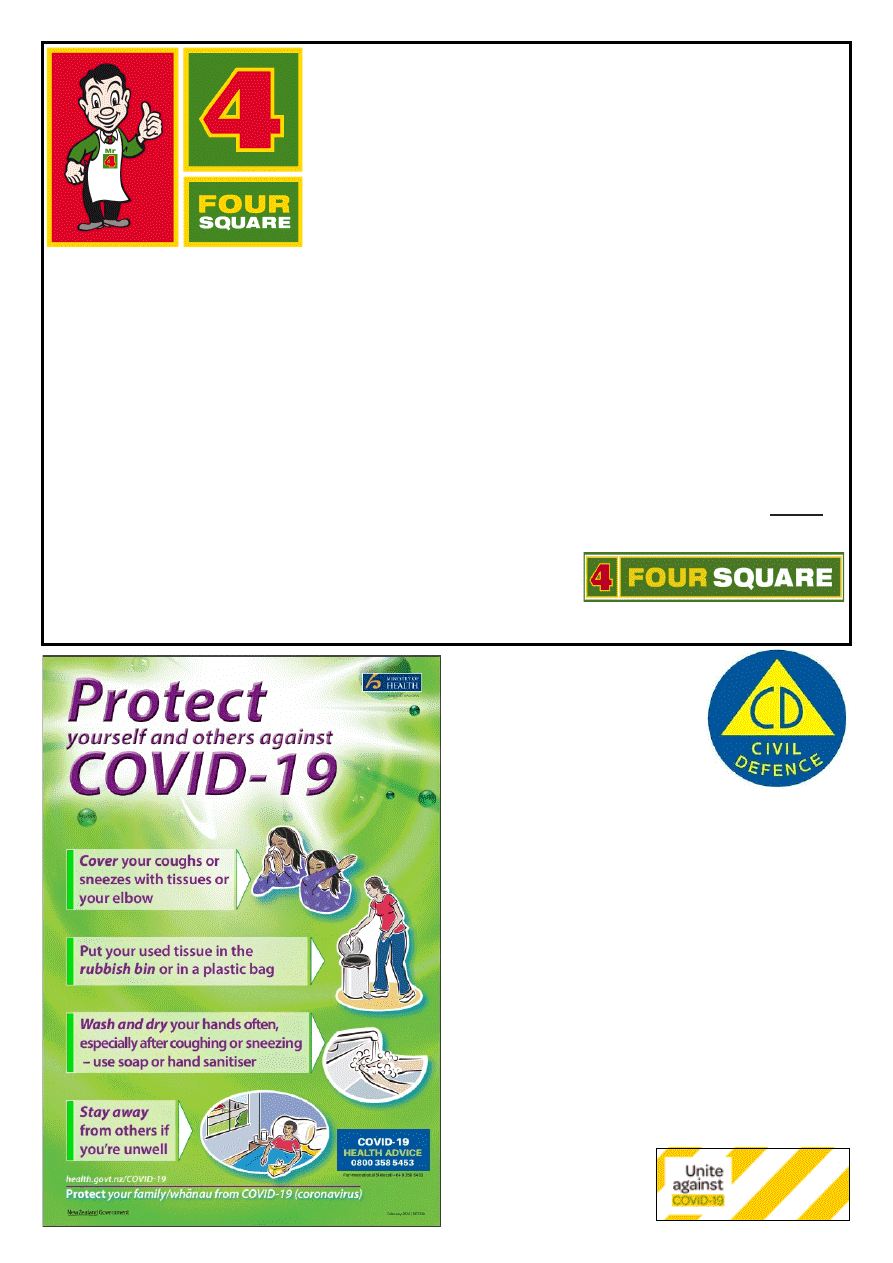 www.kaiwaka.co.nz 
Kaiwaka Bugle - 31 March, 2020 
Page 5 
IMPORTANT INFORMATION 
JAQUES FOUR SQUARE  
WILL REMAIN OPEN THROUGHOUT LEVEL 
4  COVID-19 LOCKDOWN  
AS WE ARE AN ESSENTIAL SERVICE 
MEASURES ARE IN PLACE TO KEEP OUR 
TEAM AND CUSTOMERS SAFE. 
1. 10 Customers will be permitted in Store at one time.   
2. Remain 2 METRES APART from people in STORE when shopping and also in the QUEUE OUTSIDE the door.  
3. Where practical send ONE MEMBER of your FAMILY into the STORE to shop.  
REMEMBER YOUR BAGS as they are in SHORT SUPPLY! 
4.
STRICTLY 2 ITEMS PER FAMILY of a SIMILAR CATEGORY. 
5.
We are SANITISING  after EVERY CUSTOMER at the CHECKOUT.  
Please use PAYWAVE if you have it. 
6.
We will post our OPENING HOURS on our FACEBOOK Page, KAIWAKA COMMUNITY PAGES and  
SIGNS on our SHOP DOORS. These may have to change to restock the shop. 
7.
PLEASE DO NOT USE JAQUES FOUR SQUARE FACEBOOK Page for QUERIES. This is for outgoing 
Important Messages ONLY. 
8.
For Customers 70 YEAR + and IMMUNE Compromised people - You can PHONE an ORDER into our STORE 
09 4312227 or 0212178565 (Paula's Cell) and have someone collect your order from us. PAYMENT is done 
with online Banking. If you need a DELIVERY PLEASE CALL OUR STORE. 
This SERVICE IS ONLY for 
the ABOVE PEOPLE as we do not have the capability to manage orders and delivery to anyone else.   
Please Be Kind, Look Out For Neighbours and Elderly.  
We Are An Amazing Community and We Will Get Thru … Be Safe  
From GREG, PAULA & TEAM at JAQUES 
JAQUES FOUR SQUARE 
Phone: 4312227 1 Kaiwaka-Mangawhai Road, Kaiwaka. 
KAIPARA CIVIL 
DEFENCE 
You're  used  to  me  writing  here 
regularly  from  Kaiwaka  Library,  but 
as  some  of  you  know,  I  wear  a  few 
hats in our community. A new one as 
of  last  week  is that  I  am  managing  a 
Facebook  page  for  Civil  Defence  in 
the Kaipara District, with the blessing of the Civil Defence 
Northland staff. Actually, it was their idea, and I agreed to 
do it. 
Go  to  https://www.facebook.com/Kaipara-Civil-Defence
-1420330038202900/ or search online for 'Kaipara Civil 
Defence' to find it. You don't need a Facebook account 
to  view  that  page,  so  don't  be  put  off  if  you've  not  gone 
there before. 
On that page I'm posting items relating to Civil Defence in 
our district, especially about the Covid-19 pandemic at the 
moment,  but  also  about  anything  else  that  relates  to  Civil 
Defence,  including  fire,  tsunami,  earthquakes,  storms,  and 
the like. 
But, if  you  want to  get  your information  straight  from  the 
horse's  mouth,  so  to  speak,  the  official  government  web 
site for the pandemic is at https://covid19.govt.nz/   
There's also a Facebook page at https://www.facebook.com/
UniteAgainstCovid19/ - that's currently my first port of call 
each day to see what is new. 
Keep  yourself  informed  from  reliable  sources  -  you  won't 
get  any  urban  legends  or  hoaxes  at  any  of  the  links  I've 
mentioned  here,  unless  it's  to 
debunk them. 
Stay safe and healthy, 
Nga mihi.,  
Wendy Howard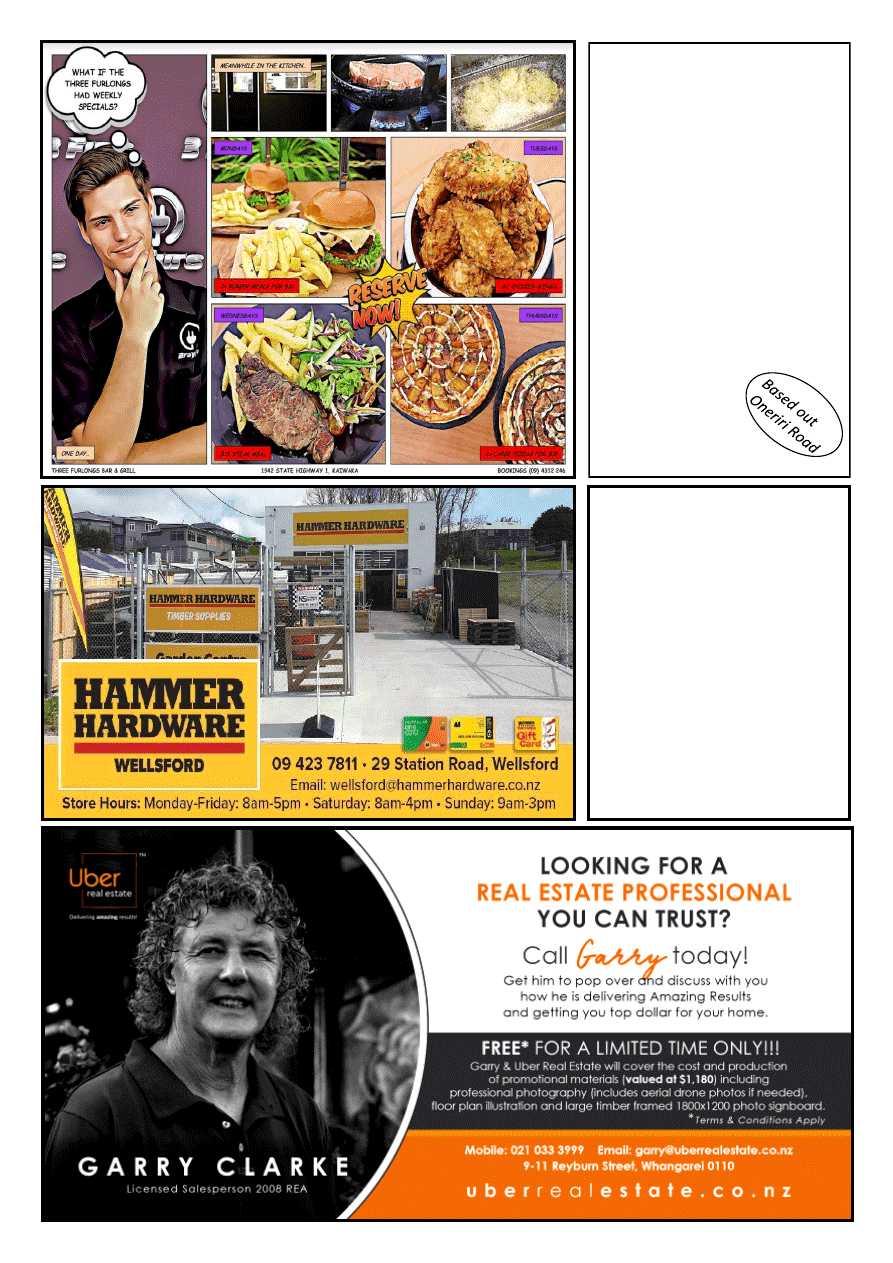 HODGETTS 
CONTRACTING
Digger Work    
Driveways   
House Sites  
Dams      
Drains, etc
Also available for HIRE 
3 ton Vib Roller  
Heavy Duty Tow  
Waterblaster      
Lazer Level
Phone Mark  
4312877 
027 447 8554 
WHERE TO GET HELP 

1737, Need to talk? Free call or 
text1737 to talk to a trained counsellor  

Rural Support Trust 0800 787 254   

Lifeline, 0800 543 354  

Youthline, 0800 376 63, text 234, 
email talk@youthline.co.nz or online 
chat 

Samaritans, 0800 726 666  

Depression Helpline, 0800 111 757   

Suicide Crisis Helpline, 0508 828 
865 (TAUTOKO)      

In a life-threatening situation 
call 
111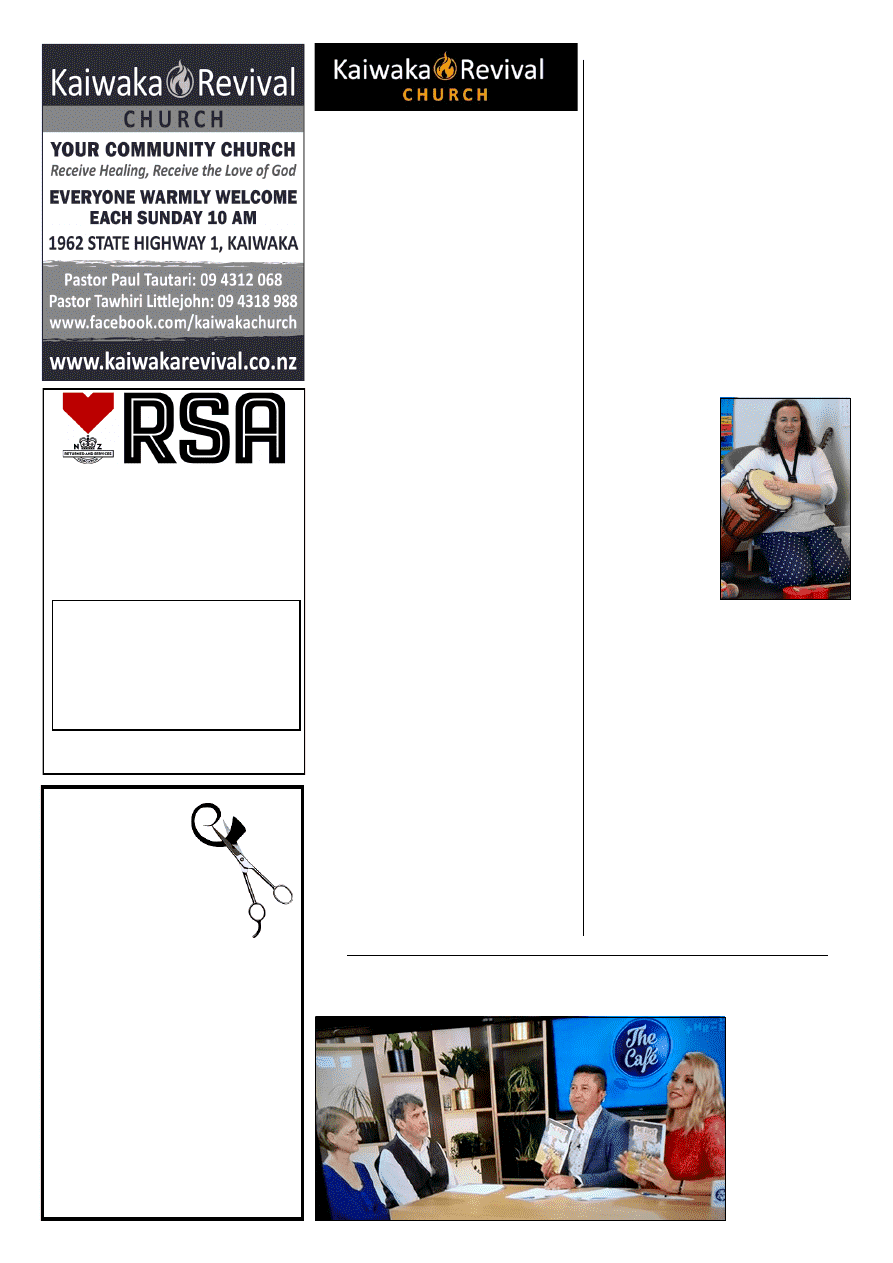 www.kaiwaka.co.nz 
Kaiwaka Bugle - 31 March, 2020 
Page 7 
HAKARU & DISTRICTS 
MEMORIAL RSA (INC)
Members & guests are invited to 
come along and enjoy our hospitality. 
New members welcome. 
Meals are served on 
Thursday and Friday nights 
from 6.30pm. 
Order from Blackboard Menu  
and a sing-a-long  
with Des Chitty. 
For more information please phone 
Graeme on 431 2563 
THE FIRST ON THE CAFÉ 
Rosie  Louise  and  Terry  Moyle  were  guests  on  TV  Three's  'The  Café'  recently.  The 
presenters  can  be  seen  here  holding  up  'The  First'  written  by  Terry  and  including 
many  wonderful 
artworks by Rosie. 
The 
wonderful 
book  for  the  first 
time  tells  the  true 
story 
of 
New 
Zealand's 
first 
successful 
aeroplane  flights 
and  the  people 
behind 
them. 
Extensive  research 
corrects more than 
a hundred years of 
history  
Kia Ora Church Family,  
Because  of  the  current  announcement 
of  the  covid-19  virus  made  by  our 
Government  there  will  be  a  few 
changes  that  will  be  happening  with 
our church in regard to this response. 
For  the  next  four  weeks  the  whole 
country  is  on  shutdown  until  further 
notice. Over the next 4 weeks we have 
been told to stay at home and only go 
out to get the essential resources.  
Services  we  will  no  longer  be 
running 
at 
Kaiwaka 
Revival 
Church.  We  will  be  running  all 
services  via  livestream  on  my  page 
@Tawhiri  Littlejohn  which  will  be 
shared  to  Kaiwaka  Revival  Church  fb 
page  as  well.  Please  follow/like  my 
personal page to stay connected. I will 
be  doing  weekly  encouragements  and 
teachings so keep an eye out for details 
on  both  pages.  There  will  be  regular 
updates  made  to  our  church  family 
regarding any changes. 
I  want  to  encourage  everyone  please 
keep  praying  for  our  country,  for  our 
leaders to come up with great solutions 
for  this  virus  pandemic  to  cease  and 
things  to  come  back  better  than 
normal,  stabilization  of  our  economy 
for workers, and the business that will 
be effected. 
Pray  for  the  stability  of  our  nations 
essential  needs  and  that  resources 
would be made available to all families 
and  communities.  Pray  for  people  to 
look  out  for  the  most  vulnerable,  our 
elderly,  and  those  that  work  within 
your  communities  to  keep  your  area 
safe. Pray to follow the guidelines that 
are set so that we all can stay safe and 
secure. 
To  use  this  time  wisely.  Pray for our 
nation to turn back to God in humility 
and prayer. Let It be a time where we 
stay  close  as  family  to  build  up 
stronger relationships  with  each  other. 
Get  creative  with  how  you  can  most 
effectively  use  your  time  with  each 
other. 
Reflect reset revise refine refire your 
life for Christ.  
~ Blessings, Pastor Tawhiri
JUST 
CUTS 
and 
MORE  
1758 Cove Road  
Open Monday-Saturday  
by appointment only 
Saturday 9-12pm  
Affordable prices: 
Ladies cuts from $35 
Colours from $120 
Men's from$25 
Kids from $18 
0211652629  
LOCKDOWN 
MUSIC TUITION 
Life  as  we  know  it  has  changed  as 
we're all aware. Sports, gatherings and 
any socialising has been stopped.   
It's a brilliant opportunity to sign your 
kids  or  yourself  up  for  music  lessons. 
A  professional  musician  and  music 
teacher  in  the  area  is  offering  lessons 
online.  Lessons  can  be  via  Skype 
which  is  a  free  app  that  can  be 
downloaded 
onto 
phones 
and 
computers with built in cameras.  
Online  lessons  are  fun,  practical  and 
progressive.  All  we  need  is  for  your 
device  to  be  directed  at  the  student 
including  their  hands  and  instrument. 
Students  can  see  their  teacher  and 
follow her direction. 
Introducing your online teacher. 
Heather  has  been 
teaching 
both 
online and face to 
face 
in 
the 
Kaipara area for 4 
years  now  after 
moving  here  from 
Auckland  where 
she 
taught 
in 
private  and  state 
schools, 
and 
privately  in  the 
community 
for 
over 30 years. 
Online  lessons  with  Heather  are 
available  on  piano,  guitar,  ukulele  as 
well as Music Theory. 
Lockdown  Lessons  are  30mins  and  if 
you register before Kaiwaka Bugle No 
7 is published and distributed you will 
get lessons at a discounted rate. 
Lessons can begin at age 5 and parents 
are asked to be on hand during 5 to 7-
year olds lessons. 

Do you have an instrument at home? 

Have you learnt before? 

Are  you  wanting  to  begin  music 
lessons? 

For your child? 

Or for yourself? 

Do  you  want  the  special  Lockdown 
price? 
Contact Heather today at 
heather.m.revell@gmail.com 
Or 027 513 8141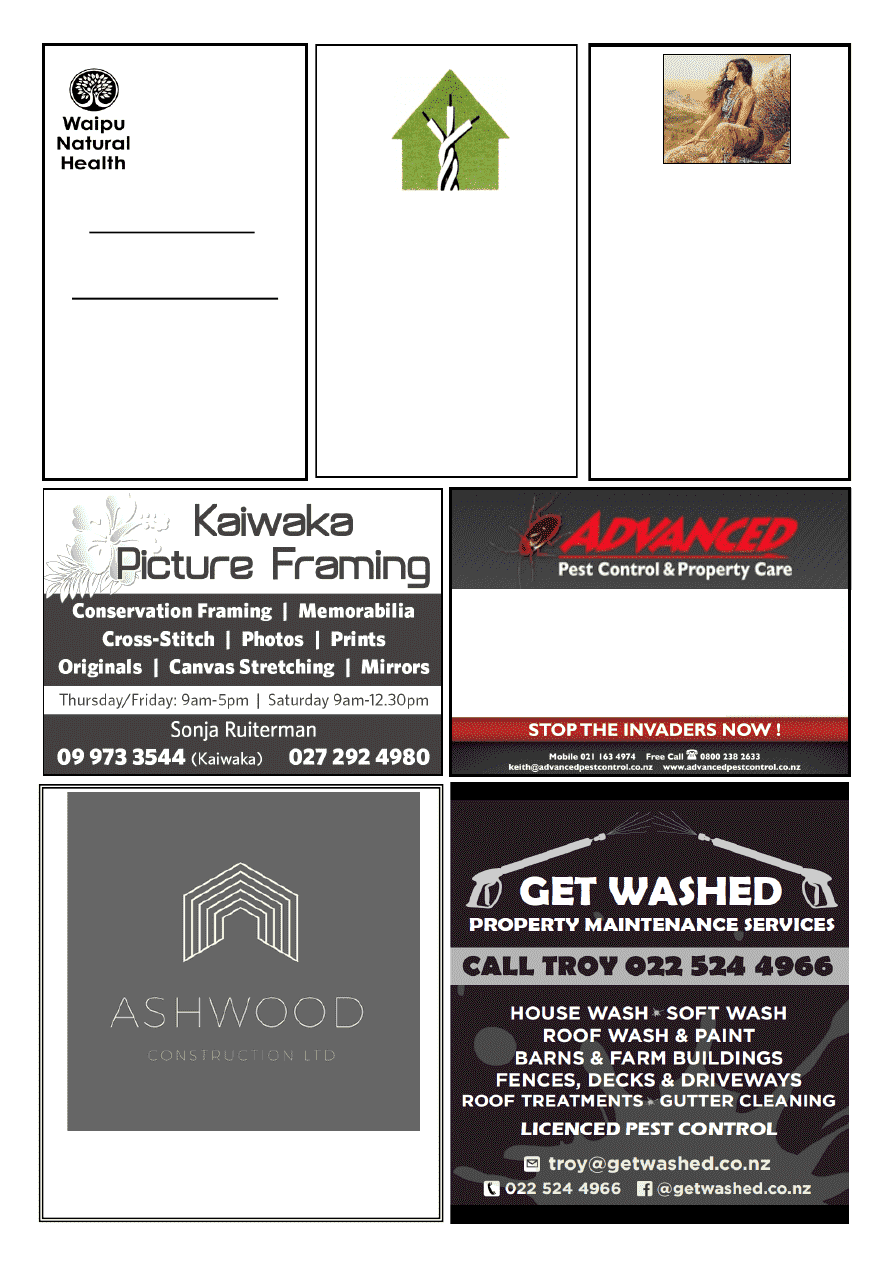 Reyahn George 
Leng 
Registered Electrician 
Local, honest and reliable. 
For your residential and 
light-commercial projects. 
022 314 1068  
Pest Control 
PLAN A: One-off treatments to customers with a specific pest problem 
PLAN B: Full maintenance service plans to commercial customers. 
This will include documentation kept in customer file on site: 
⚫
Pest treated 
⚫
Date of service 
⚫
Chemical or baits used 
⚫
Full pest check report done after each treatment 
⚫
Fair and reasonable fee with guarantee 
Flood Recovery 
Carpet Care 
⚫
Carpet Drying   
This includes pre-spray treatments 
⚫
Dehumidifier Rental 
with stain removal and hot water extraction.  
⚫
Full Commercial Cleaning  Patch repair also available 
Upholstery Cleaning 
Full upholstery cleaning of all furniture.  
eg lounge suites and all office chairs 
Water Blasting 
⚫
Concrete - Decks 
House Washing 
⚫
Soft Chemical Was 
⚫
Pre-painting Wash 
Property Services 
⚫
Property Cleaning  
Lawn Mowing 
⚫
Hedges General  Tidy Ups 
TRAILS END 
RONGOA MAORI 
HEALING 
And Gifts 
Stocking all your needs from incense, 
crystals, dream catchers, greeting 
cards, jewellery, perfume, dragons and 
more  … 
For all inquiries  
Phone 0211652629  
Light refreshments available $5 koha  
1758 Cove Road Mangawhai
3 Cove Road, Waipu 
(opposite the Pizza Barn
) 
094321325 
www.waipunaturalhealth.co.nz 
Clinical Nutritionist: 
Nutritional Checkups, Diets for 
Chronic Diseases,  
Food Sensitivities 
Naturopathic Physician: 
Ozone Therapy, Prolotherapy, 
Mesozone 
Reflexology, Craniosacral 
Therapy, Trauma Release 
Massage Therapy 
Counselling and Hypnotherapy 
Change Catalyst/ThetaHealer 
ASHWOOD CONSTRUCTION  LTD 
LBP registered 
New Builds Renovations Extensions Decks & more 
After a quote? Call Lee on 0223408353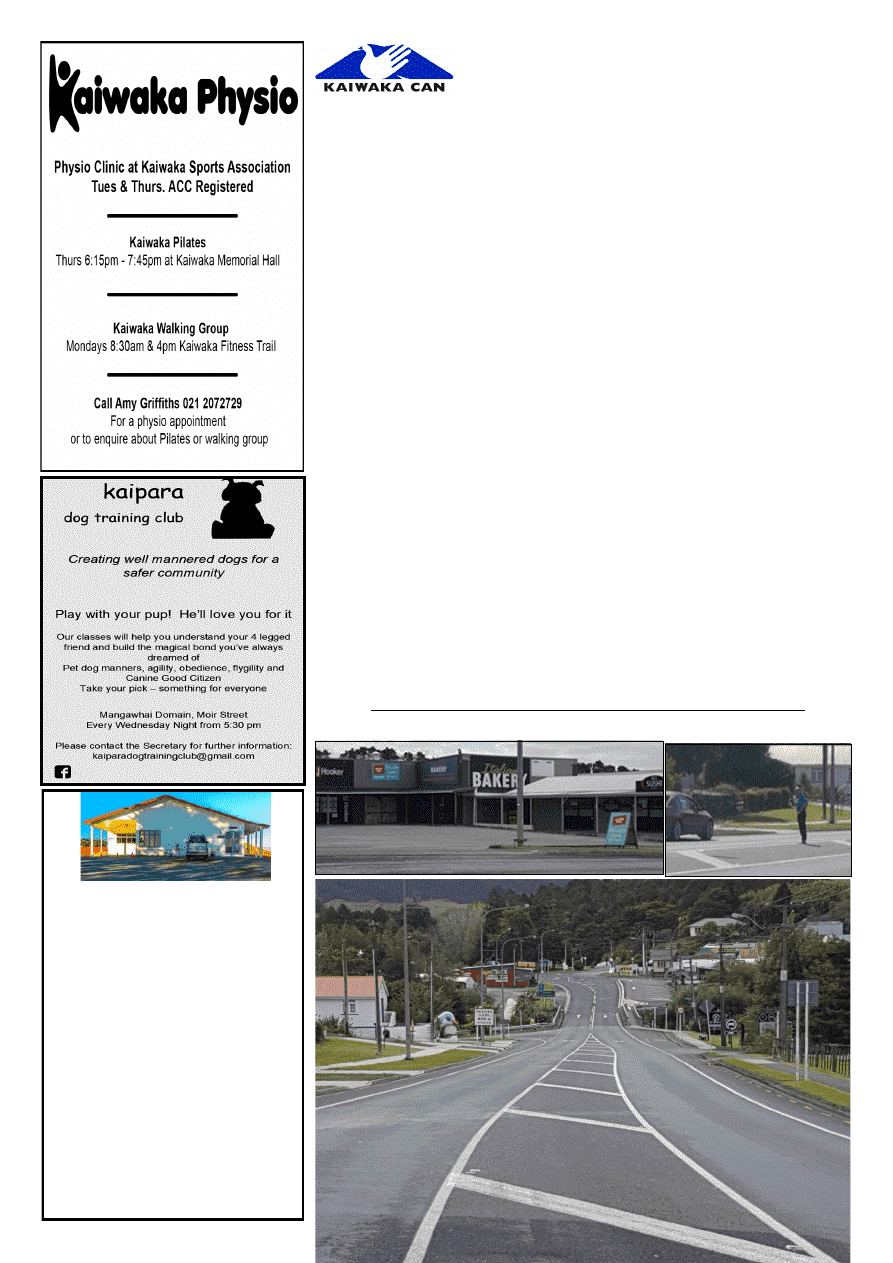 www.kaiwaka.co.nz 
Kaiwaka Bugle - 31 March, 2020 
Page 9 
Tramp! 
Te Pounga Marae 
130 Nathan Rd. Oneriri. Kaiwaka 0573 
COMPLEX FOR 
HIRE 
Functions 
* Weddings  * Birthdays  
*Anniversaries * Meetings  * Wananga 
5 hour meeting * 12 hour stay  * 
Overnight 
*All welcome - No more Drink-driving 
Amenities: 
*Convo Combi Steamer * Bratt Pan * 
Dish Washer/Sterilizer * 3 Door Glass 
Chiller (walk in) etc…All Crockery * 
Linen Supplied * Central Heating and 
Air Conditioning and much more.  
Can also cater for small groups…. 
For more information please 
contact: 
 Pearl Nathan 0223933533  
tepoungamarae130@outlook.com  
"Stay in your own bubble." 
These 
are the words of the Prime Minister to 
everyone  as  we  begin  the  month-long 
lockdown.  Strange  times,  difficult 
times  but  also  times  that  create  some 
opportunities too. 
Kaiwaka  Can  last  met  a  couple  of 
weeks  back.  Nothing  new  or  startling 
at our meeting as we continue to work 
towards  a  footbridge  by  Oneriri  Road, 
an  expanded  central  and  community 
commercial  centre  and  generally  work 
towards  a  more  vibrant  and  connected 
Kaiwaka.  Oops  almost  forgot.  A 
couple of our members are working on 
the Kaiwaka Wikipedia page to try and 
bring it up to present realities. 
But  I  have  been  reflecting  on  some  of 
the  advice  given  to  help  us  through 
lockdown. 
One  of  the  things  recommended  was 
declutter.  Now  most  of  us  think  in 
terms  of  doing  something  about  that 
cupboard  that  has  been  crammed  full 
for years, or sort through our clothes to 
discard  those  way  outdated  items  we 
have just left on their hangers. 
But if we apply it to our little township, 
one way of decluttering is to notice the 
areas that could be tidied up, the weeds 
clear, little patches of land through the 
town  put  to  maximum  use.  We 
currently  have  a  very  healthy  crop  of 
tree privet, tradescantia (the carpet that 
grows  very  quickly  on  unused  space), 
pampas  grass  and  the  rest.  Why  don't 
you  make  your  own  list  of  weeds  we 
could  tackle?  We  are  still  allowed  out 
for  a  walk  and  fresh  air,  to  a  very 
limited  number  of  spaces.  Kaiwaka  is 
hardly  overloaded  with  parks  and 
walking  tracks  and  biking  along  State 
Highway  One  tends  to  increase 
adrenalin.  But  the  sports  ground  is 
there,  always  a  beautiful  and  peaceful 
place for a walk. Can I suggest that as 
we walk, carefully sticking to our own 
bubble,  we  dream  of  what  Kaiwaka 
could  be  in  terms  of  green  spaces, 
walking  and  cycling  trails  and 
improved  civic  amenities.  It  is  only 
when  we  dare  to  dream  about  what 
might  be  that  we  set  in  motion  the 
work  required  to  bring  them  into 
reality. 
Shopping  is  now  almost  non-existent 
apart  from  the  Four  Square  and  the 
dairy. That frees us from travel 
to  larger  centres  to  shop,  reduces  our 
petrol  bill  and  gives  us  more  time  for 
other things. I want to give a shout out 
especially  to  Jaques  Four  Square  and 
the  staff  for  the  magnificent  job  they 
are doing to keep us in vital supplies. 
We  have  also  been  asked  to  look  out 
for  our  neighbours  to  see  if  they  have 
problems coping. We still have phones, 
computers,  internet  making  it  easy  to 
get in touch with others. Civil Defence 
has appointed a coordinator to  help  us 
respond to those not coping or finding 
things  tough.  The  over  70's  in 
particular  are  more  likely  to  find 
themselves in trouble. 
So, this time might be down time, but it 
doesn't have to be out time. It is catch 
up  time,  clean  up  time,  relax  time, 
reach  out to  others time  and  hopefully 
virus free time for us all. 
From  Derek  Christensen's  bubble  to  your 
bubble on behalf of Kaiwaka Can 
MAKING THE MOST OF  
BUBBLE TIME 
LOCAL SCENES - KAIWAKA LAST FRIDAY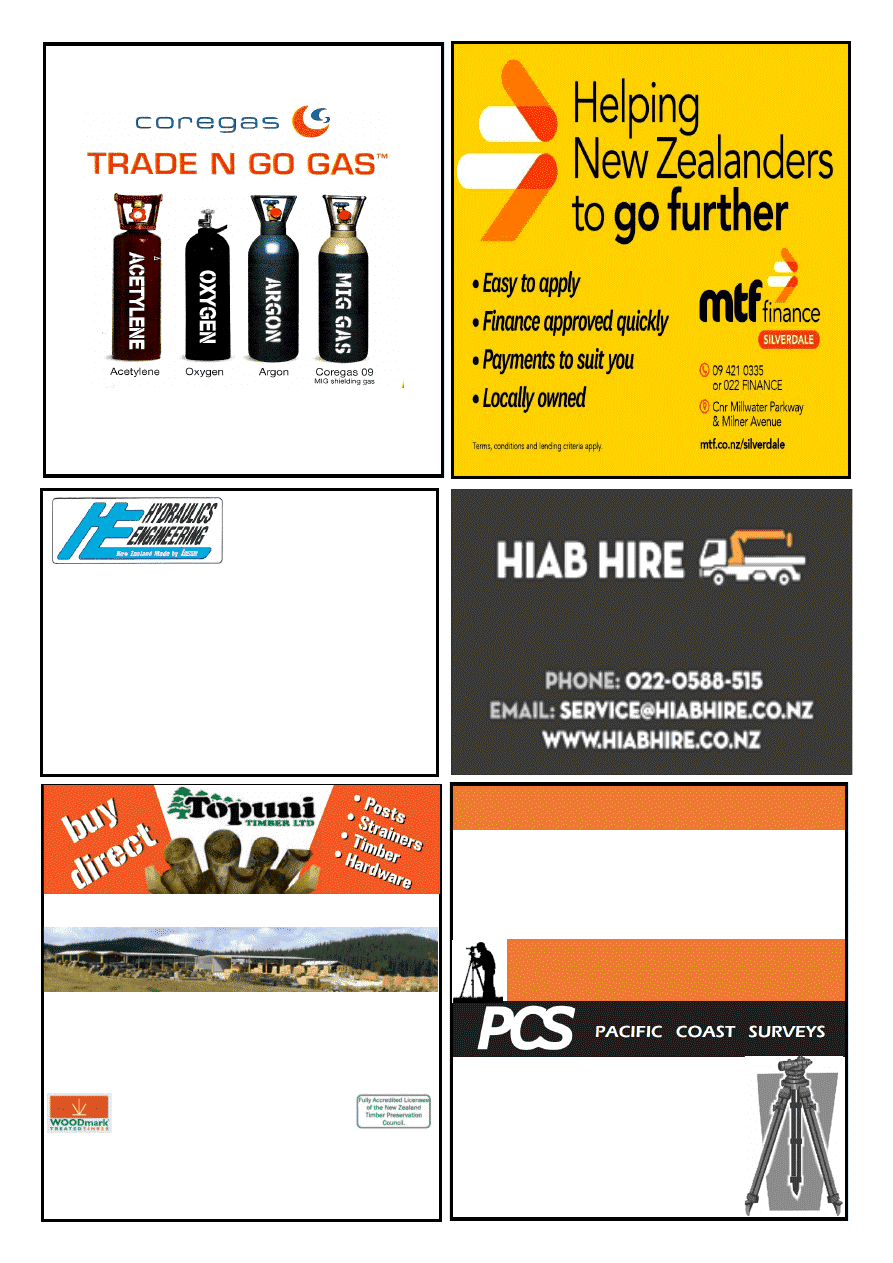 LOCALLY OWNED AND OPERATED 
QUALITY PRODUCTS • FRIENDLY ADVICE • GREAT SERVICE 
Quality Products milled from High Density NORTHLAND Radiata Pine. 
Treated and guaranteed to NZS3640 with commitment to 
Environmental Safety.
Phone, fax, email, or come into the mill 
Schiska Rd, Topuni, SH1, 10 min north of Wellsford. Fax: 09 431 2856 
Email: sales@topunitimber.co.nz           Mon - Fri 7am-5pm 
• Fencing 
• Retaining 
• Decking 
• Landscaping 
• Gates 
• Hardware 
SURVEYORS 
SUBDIVISIONS 
HOUSE SITE SURVEYS 
CIVIL ENGINEERING 
WASTEWATER DESIGNS 
EXPERIENCED 
PROFESSIONAL 
INNOVATIVE 
Ph 09 431 5353 
0800 PACIFIC (0800 722 434) 
pacificcoastsurvey.com
Adam Booth - 027 415 5752 
Bsurv, Licensed Cadastral Surveyor
Surveying Kaipara since 1994 
At Twinkle Tow 'n' Tyre 
Mob: 021 833 960 
Ph & Fax: 09 431 2823 
1837 State Highway 1, Kaiwaka 
Hydraulics  
Engineering Ltd 
Kaiwaka 
Sales - Service - Parts - Hire - Manufacture 
Service Contractors & Industrial Equipment: 
Rams, Pumps, Valves 
Logsplitter Hire, Manufacturer, Sales 
Dennis Linton 
Lot 2 / 161 Ranganui Road, RD2, Kaiwaka, 0573, New Zealand 
Mobile: 0274 381 700 
Email: hydraulicsengineering@xtra.co.nz 
Website: www.hydraulicsengineeringco.nz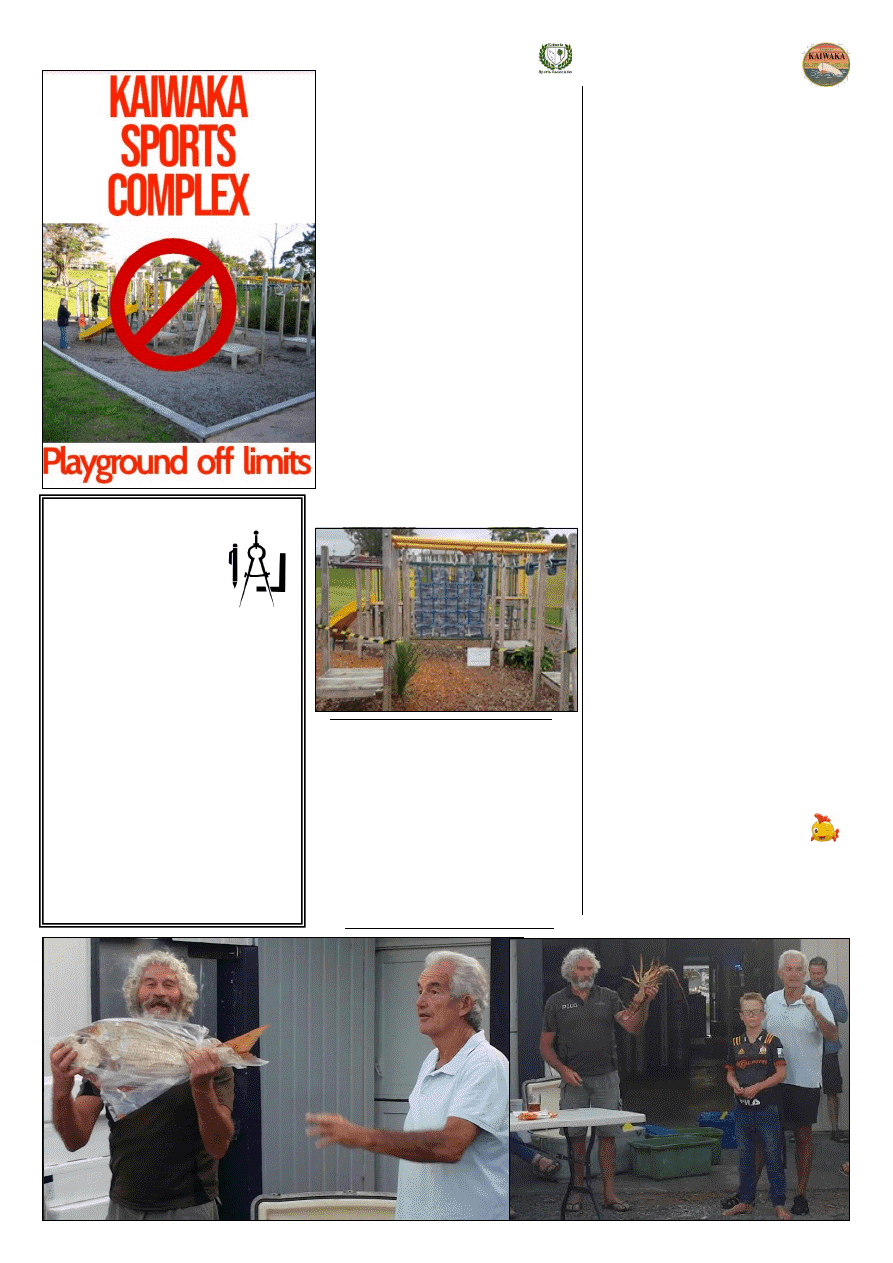 www.kaiwaka.co.nz 
Kaiwaka Bugle - 31 March, 2020 
Page 11 
           KAIWAKA SPORTS ASSN 
Sports Complex shut due to 
Covid-19 
The  entire  Sports  Complex  has  shut 
down under Alert Level 4 regulations. 
This  includes  our  lounge,  Fitness 
Centre,  gymnasium,  squash  courts 
etc. 
The Grounds
 Our  grounds  are  still  open  to  the 
public,  but  you  must  keep  a  2-metre 
distance  from  other  people  at  all 
times. 
Playground  Closed 
Due to the risk of Covid-19 remaining 
on hard surfaces for a length of time, 
our  playground  is  closed  and  is 
cordoned off. 
Sports Awards  
Our  Sports  Awards  Dinner  has  been 
postponed.  We  are  still  accepting 
nominations  from  our  clubs  for  their 
nominees,  but  the  Voting  Meeting 
will happen at a later date also. 
Stay safe Kaiwaka.  
He  waka  eke  noa  –  we're  all  in  this 
together.  
~ Cheryl, kaiwakasports@gmail.com 
Photo below: The KSA playground is  
taped off with black and yellow tape. 
POINT CURTIS 
CRUISING 
CLUB 

Open Fishing Competition  
The  open  fishing  competition  held  on 
the 21st and 22nd March went well. 
The Auction was well attended.  
Thank  you  to  those  that  came  along 
and supported us. 
Thank  you,  Dave  Lincoln  you  do,  an 
amazing job and the club appreciates it. 
Also  thank  you  Jean,  Christine  and 
Carol who were our weigh masters. 
Raffle  winner  with  ticket  #37  was 
Steve. 
Thanks  to  The  3Furlongs  Bar  &  Grill 
for allowing us to run competition thru 
their Pub. 
Thank  you  to  Leyton  Greig  you  did  a 
great  job  helping  out  with  the  fish 
auction. 
Results: 
Juniors: Snapper  
1st  Leyton  Greig  3.377kg;  2nd  Casey 
Greig  2.201kg;  3rd  Ashley  Greig        
1.984kg 
Seniors: 
Snapper: 
1st 
Harmon 
Walker     
4.704kg:2nd  Harmon  Walker  4.388kg; 
3rd Paul Greig 3.861kg 
Kahawai: 
1st 
Harmon 
Walker 
2.005kg: 2nd Sasha Tito  1.647kg; 3rd  
Grant Stewart 1.628kg 
Crayfish:  1st  Dave Kennedy  2.056kg; 
2nd Dave Kennedy 1.989kg; 3rd Dave 
Kennedy 1.734kg 
Winner for average Snapper was Dave 
Casey, well done. 

East 
Vs 
West 
Fishing 
Competition: CANCELLED 

Next Club Meeting: CANCELLED 

Fish of the Month: CANCELLED 

Opening  Day  Duck  Shoot:  To  be 
confirmed 

End  of  Year  Prize  Giving:  To  be 
confirmed 
Take care everyone & Stay safe 
~ 
Wayne Leslie (Commodore) 
Photos below at the Point Curtis Cruising Club 
auction:  Left  -  Pongo,  Club  Commodore  and 
Dave Lincoln, auctioneer. 
Right - Pongo, with crayfish, Leyton Greig and 
Dave  Lincoln  during  the  auction  at  Three 
Furlongs Bar & Grill
KAIPARA HUNTING AND 
FISHING CLUB 
The  Duck  Shooters  Shoot  scheduled 
for  the  12th  April  is  cancelled  due  to 
the Covid -19 lockdown. 
Also  please  read  the  NZ  Fish  and 
Game Covid-19 updates that are being 
released 
on 
Stay safe everyone 
Your Committee Kaipara Hunting  
and Fishing Club 
design  
drafting  
service 
Retired builder and manufacturer 
with over 40 years experience in the 
building industry is offering a design 
drafting service for domestic housing, 
sleepouts and sheds.  
Plans formulated in consultation 
with clients, with working drawings 
completed and submitted to  
council for processing.   
Extensive practical experience,  
able to identify & resolve problems. 
Please ring Mike Lean on 
09 431 2260  
or 
021 431 196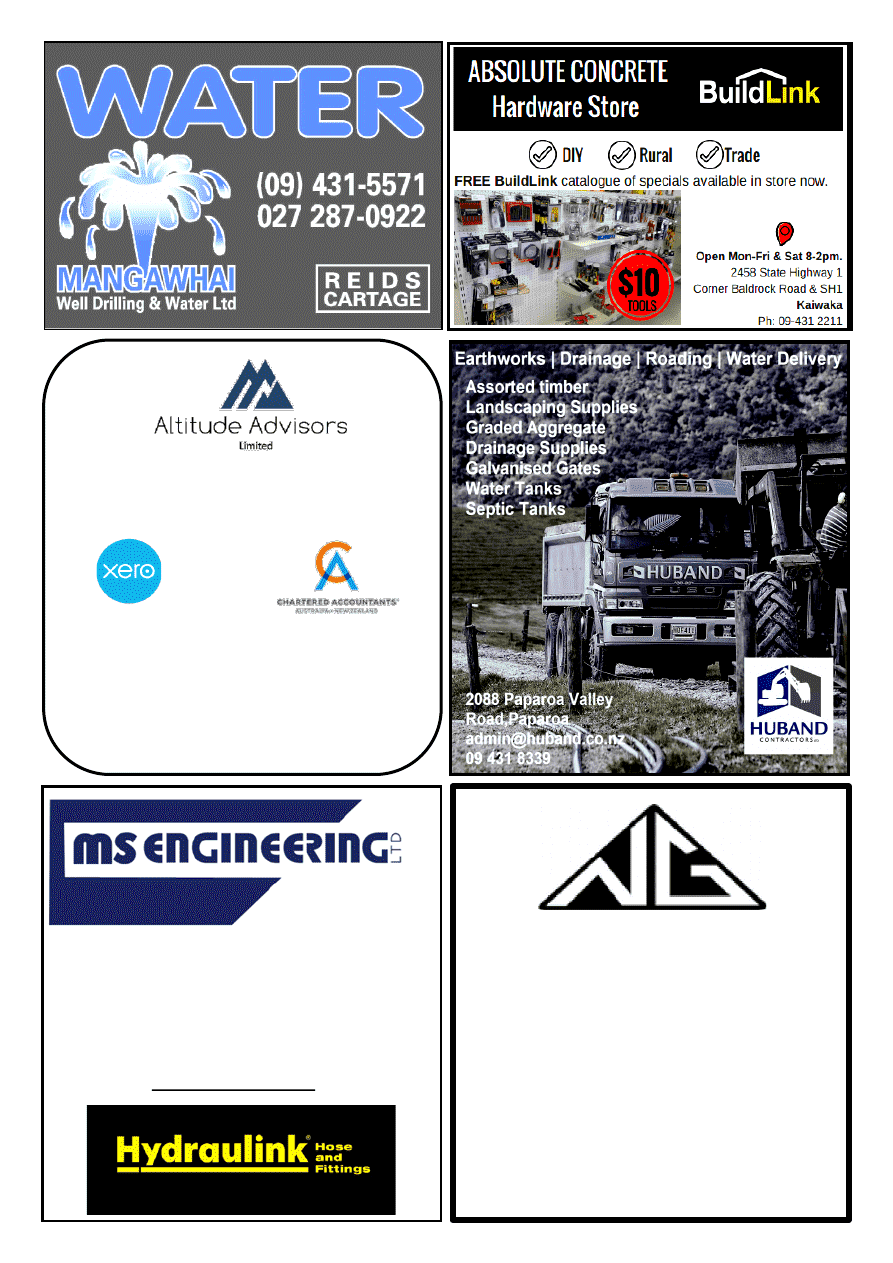 NORTH GLASS 
WINDSCREEN REPAIR OR REPLACE 
GLAZING SERVICES 
MIRRORS  •  SPLASH BACKS  •  SHOWERS 
0800 70 40 10
info@northglass.co.nz 
www.northglass.co.nz 
Altitude with Attitude, helping your business 
scale new heights 
Time to try something different? 
Xero training          Accountancy Services 
We are offering two opportunities: 
15% saving off your annual report cost for your first 
year, & a further 10% saving for any referrals 
Call Corinne on 021 252 7680 or 
corinne@altitudeadvisors.nz 

Peter Buckley 

Mobile Hose Technician –  
                      Based from Oneriri Road 

Available for all mobile hose                                
                      requirements onsite 

Call – 0800 425 7116 

Email – mse@mseng.co.nz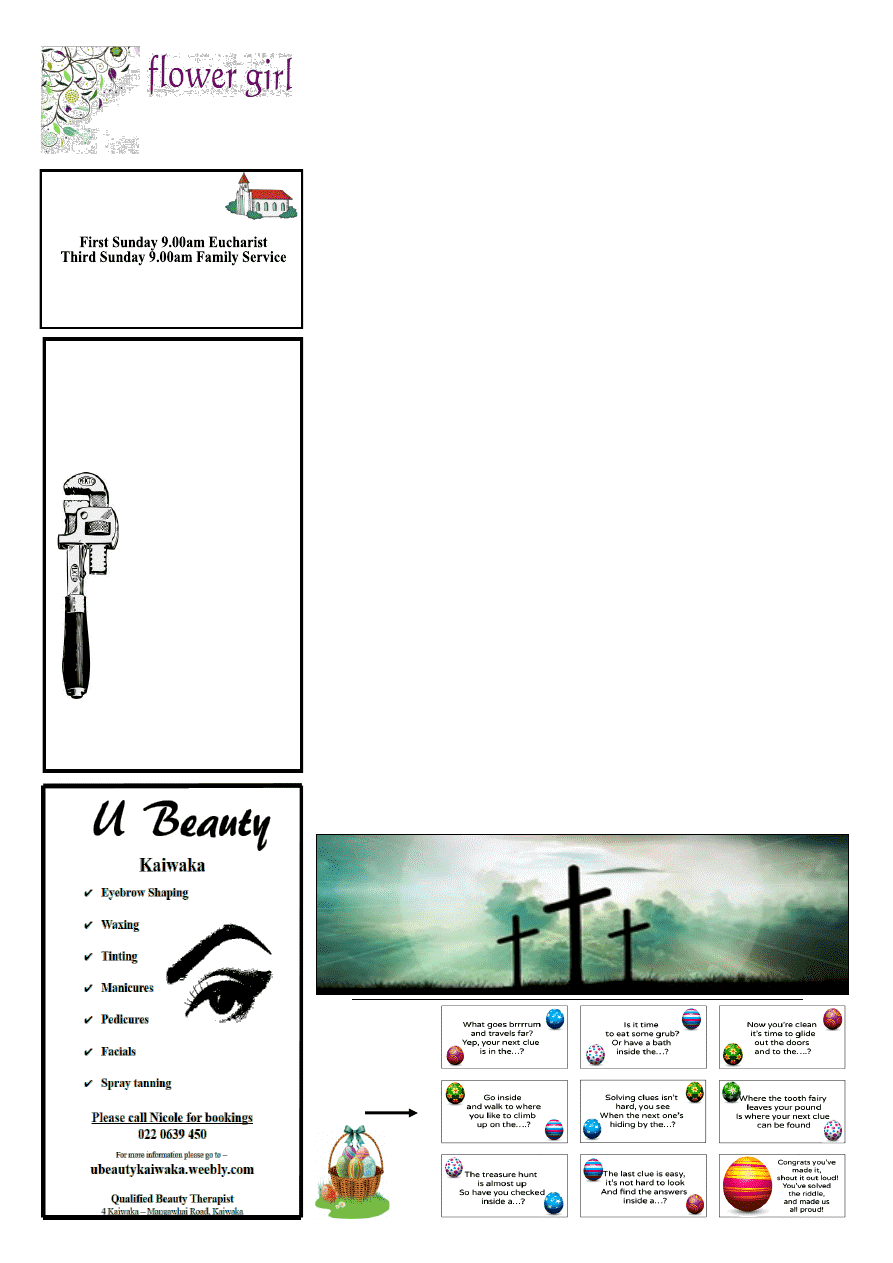 www.kaiwaka.co.nz 
Kaiwaka Bugle - 31 March, 2020 
Page 13 
BARRY CURTIS 
PLUMBING LTD 
REGISTERED CRAFTSMAN 
PLUMBER 
Phone 4315572 
027 257 9884 
25 years experience 
Friendly reliable service 
All plumbing and 
maintenance 
Alterations  
and new housing 
Spouting 
Competitive rates 
PROMPT  
FFICIENT  SERVICE 
"THE OLD RUGGED CROSS"  
"The  Old  Rugged  Cross"  is  a  hymn 
written  in  1912  by  evangelist  and 
song-leader George Bennard. 
On  a  hill  far  away,  stood  an  old 
rugged Cross 
The emblem of suff'ring and shame 
And I love that old Cross where the 
dearest and best 
For a world of lost sinners was slain 
Chorus 
So I'll cherish the old rugged Cross 
Till my trophies at last I lay down 
I will cling to the old rugged Cross 
And  exchange  it  some  day  for  a 
crown 
Oh,  that  old  rugged  Cross  so 
despised by the world 
Has a wondrous attraction for me 
For  the  dear  Lamb  of  God,  left  His 
Glory above 
To bear it to dark Calvary 
Chorus 
In the old rugged Cross, stain'd with 
blood so divine 
A wondrous beauty I see 
For  'twas  on  that  old  cross  Jesus 
suffered and died 
To pardon and sanctify me 
Chorus 
To  the  old  rugged  Cross,  I  will  ever 
be true 
Its shame and reproach gladly bear 
Then He'll call me some day to my 
home far away 
Where His glory forever I'll share 
Chorus 
'Behold, they have rejected the word of 
the  Lord;  so  what  wisdom  do  they 
have?' Jeremiah 8:9 NKJV 
You will never understand the message 
of  the  cross  or  receive  the  benefits  of 
salvation  that  come  from  the  cross, 
until  you  first  kneel  at  the  cross  and 
receive  Jesus  Christ  as  your  personal 
Saviour. 
The  story  is  told  of  a  great  preacher 
who  was  touring  Italy.  A  friend  told 
him to go to a certain village and see a 
painting  of  the  crucifixion  of  Christ. 
'What  is  it  like?'  he  asked.  His  friend 
said,  'Never  mind  what  it  is  like.  I 
want  you  to  see  it.  Please promise  me 
you will.'  He replied, 'I will.' He went 
to  the  village  and  visited  the  chapel 
where  the  painting  was.  The  old 
caretaker said, 'You've come to see the 
painting, haven't you?' 
He  said,  'Why,  yes  I  have.'  The 
caretaker responded, 'Follow me.' The 
great  preacher  was  not  prepared  for 
what he was about to see. instead of a 
beautiful  masterpiece,  the  painting 
seemed all out of proportion and didn't 
make  sense.  'I  don't  understand  this 
painting,'  he  said.  The  caretaker 
replied,  'Come  closer.'  He  did.  The 
caretaker  said,  'Get  lower.'  He  did. 
Finally, as he was kneeling at the foot 
of the cross, he looked up and saw the 
power  and  beauty  of  the  painting  and 
was reduced to tears. 
It's  only  when  you  lay  aside  your 
pride,  preconceived  notions  and 
intellectual  approach,  and  humble 
yourself, that the message of the cross 
transforms you. 
'For  the  message  of  the  cross  is 
foolishness to those who are perishing, 
but to us who are being saved it is the 
power  of  God'  (1  Corinthians  1:18 
NKJV). 
Ref.  The  Word  For  the  Day,  Rhema  Media.  A 
free  copy  of  the  this  daily  devotional  is 
available from Rhema Media 
ST PAUL'S  
ANGLICAN  
SUNDAY SERVICES 
St Pauls Church: Kaiwaka-Mangawhai Rd. 
Priest in Charge Rev. W Thornton Ph 431 4122 
www.mangawhaianglican.org.nz
designs for all occasions 
lindywatson@hotmail.com 
4312 847  0211234164 
THE IMPORTANCE OF THE CROSS  
HAPPY 
EASTER 
Here are some 
Clues ready for 
your Easter Egg  
Hunt  
Keep 
safe 
and 
enjoy!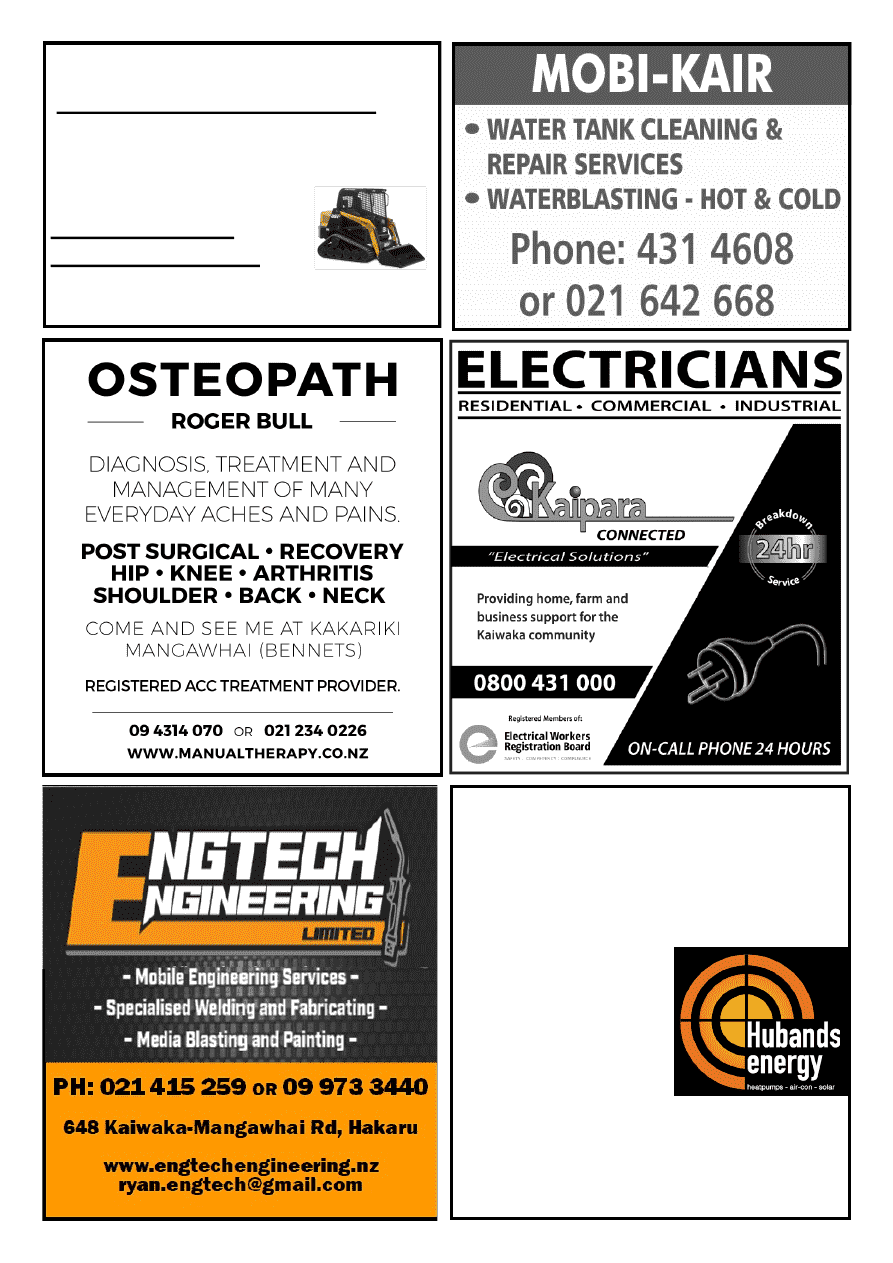 Natural Earth Ltd 
 Landscape and Bobcat services 
 : Driveways  :Landscaping  :Retaining Walls 
 : Hole Boring: Land Levelling :Trenching 
 : Decks :Fences :Sections Cleared: Plus much 
more 
Tel   09 4312885 
Mob 02102391280   
For A Fast Friendly  
Service Contact Tim Hicks 
Northland's Award Winning 
Solar Company
SEANZ Best Solar Business Winners 2015/16
EXCLUSIVE 10 year installation warranty 
FREE No obligation onsite quote
Complete systems 
from $5990
See our range of: 
✓ 
Heatpumps 
✓ 
Airconditioning 
✓ 
Hot Water 
Heatpumps 
✓ 
Central Vacuum Systems
09 430 0019             sales@hubands.co.nz 
15 Kioreroa Road, Whangarei
Locally owned and operated for 35 years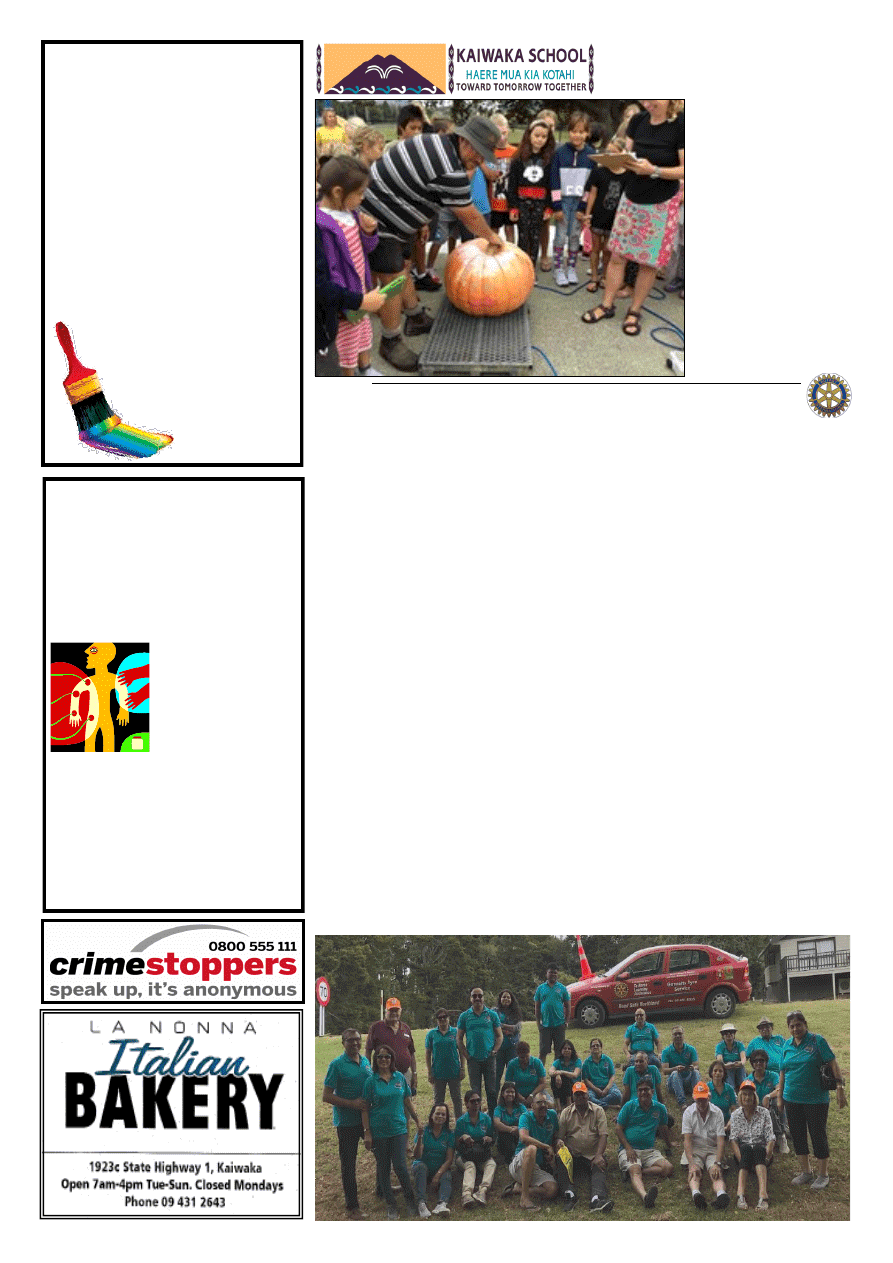 www.kaiwaka.co.nz 
Kaiwaka Bugle - 31 March, 2020 
Page 15 
OWEN STEVENS 
Osteo Therapist
For careful adjustments  
to bones and joints 
Treatment for humans  
and their pets 
Clinics: 
Kate's Place, 
Kaiwaka: 
Last Friday of 
month 
9.00am-5.00pm 
For bookings: 
Phone 
09 4312661 
Or phone Owen   
09 4317123  anytime 
LEE COOPER 
PAINTERS 
(Kaiwaka Based) 
*30 yrs Experience 
*Interior/Exterior 
*New and Restoration 
*Honest and Reliable 
*Free Quotes 
 
09 4312918 
0274735171 
leecooper@xtra.co.nz 
MAUNGATUROTO & DISTRICTS ROTARY 
The  school  holidays 
have 
been 
brought 
forward  two  weeks, 
starting  Monday  30 
March 
and 
finish 
Tuesday 14 April.  
A  great  Giant  Pumpkin 
competition  was  held. 
Photo 
of 
the  pumpkin 
weighing.
Heaviest: 
1. Kierra Hastie- 50.5kg 
2. Amelia Hastie -38kg 
3.Esme Worsfold- 34kg 
4.Rylee-Jae Fisher- 28kg 
Best Dresser - Senior      
1. Harper Sutcliffe    
Best Dressed – Junior 
1. Katie Sutcliffe 
The Roll 
1. Penny Worsfold     
KAIWAKA 
SCHOOL 
The  past  month  has  seen  our  Club 
involved  in  a  number  of  different 
activities  as  we  have  been  involved 
with  Rotary  Clubs  from  India,  the 
Orewa-Millwater  Satellite  club  and  a 
working bee in Nikau Grove. 
District 3131 India  
In  the  middle  of  February  several 
Rotarians travelled to Paparoa with the 
Driver 
Mentoring 
Car 
and 
refreshments,  see  photo,  to  meet  22 
Rotarians  and  partners  from  12  Clubs 
in District 3131 India who were taking 
part in a car rally through the length of 
NZ.  They  had  previously  completed  a 
rally through Nepal and Bhutan (I hope 
they found our roads better than those, 
but  sometimes  I  wonder.)  This  was  a 
great  chance  to  talk  to  Rotarians  from 
another  part  of  the  world  and  learn 
more about what they were doing. 
Orewa-Millwater Satellite  
At a tea meeting early in February our 
Assistant  Governor,  District  Trainer 
and two others from Millwater Satellite 
visited  our  club.  This  club  has  more 
fundraising  opportunities  than  we  do 
but  is  also  involved  in  community 
service.  As  a  result  of  this  visit,  we 
visited  Silverdale  and  took  part  in  a 
pool  tournament  which  was  a 
fundraiser  for  them.  This  was  a  great 
way to fellowship with Rotarians from 
various  parts  of  the  Shore.  Then  in 
early  March,  several  members  of  their 
club  joined  us  in  Nikau  Grove  to 
construct  a  bridge  over  the  kauri  tree 
roots. Not only was it a great chance to 
work  together  on  a  common  goal  but 
also to fellowship afterwards. We had a 
pleasant  surprise  when  our  District 
Governor  and  his  wife  turned  up.  We 
are  also  grateful  to  Barnbuilders  for 
donating the timber for this project. We 
still have some finishing touches to do 
but, in the end, we will have protected 
one of our iconic trees. 
Polio  
Some  good  news  in  relation  to  Polio 
from  our  incoming  President,  Rodney. 
Nigeria is very close to becoming Wild 
polio  virus  free  and  after  much 
negotiation, the vaccination teams have 
permission  from  the  Taleban  to  take 
the  vaccine  to  both  Pakistan  and 
Afghanistan so the youngsters in these 
areas can be protected. 
Rotary Youth Driver Awareness 
Once  again,  we  have  been  able  to 
provide  financial  support  for  students 
from  Otamatea  to  attend  RYDA.  This 
driving  academy  takes  place  over  one 
day and is aimed at making our 16-year 
olds more aware of things they need to 
watch  out  for  on  the  roads  and  the 
consequences  of  making  the  wrong 
choice.  Six  modules  provide  some 
thought-provoking  information.  Thank 
you also to Roadsafe Northland (one of 
our sponsors for Driver Mentoring) for 
making  this  available to  students  from 
throughout Northland.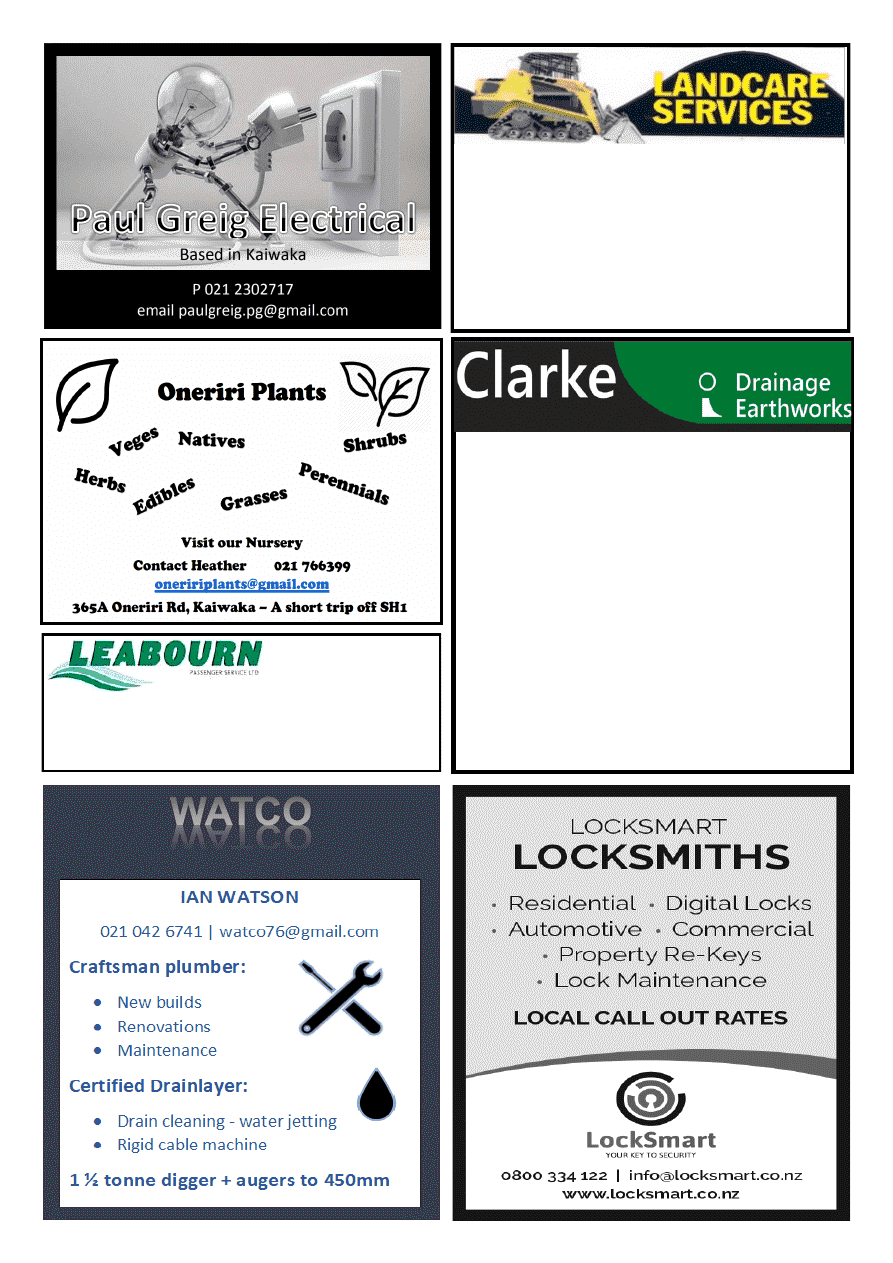 Drainage & Earthmoving 
nigel@clarkedrainage.nz 
027 2233 185 
Registered Drainlayer                    All Types of Earthworks  
> All Residential & Commercial Work  > House Sites 
> Septic System Design & Install          > Footings & Drilling to 10m 
> Sewer Connections 
                       > Dams 
> Water Tank Installation 
               > Roading & Races 
       > Farm Work 
THE ONE STOP SHOP  
LANDSCAPING 
4 IN 1 BUCKET 
TRENCHER 
POLE HOLES 
ROTARY HOE 
COMPACT ROLLER 
OFFAL HOLES 
CAN SUPPLY WOODCHIP & POST PEEL 
5 TON TIPPER 
FOR RELIABLE AND FRIENDLY SERVICE CONTACT DAVE 
Dave Hyndman 
 
KAIWAKA 
PH: 09 4312302 
MOB: 021 431 238 
Passenger Service
Car & Van Hire   Bus & Coach Charters 
Airport Transfers    
Phone (09) 4237416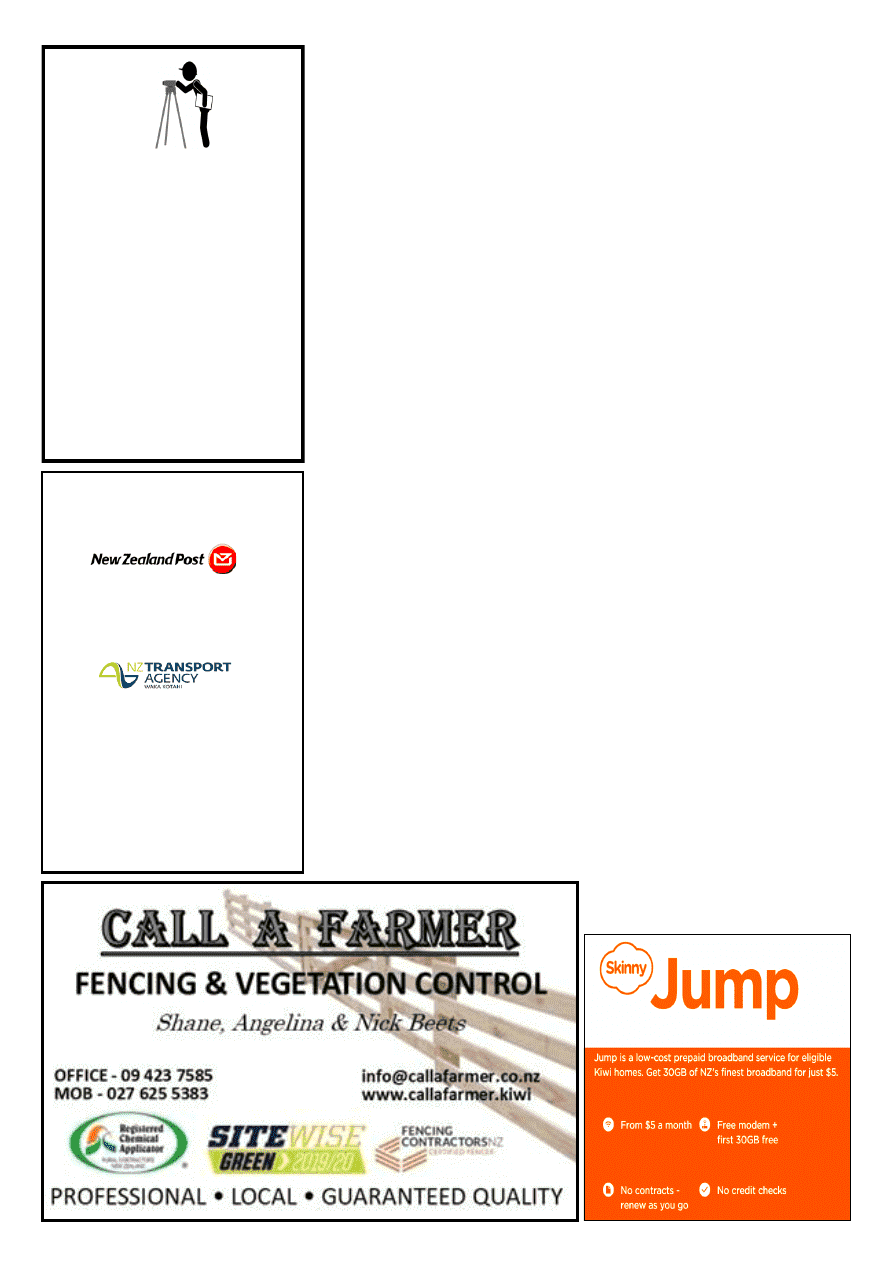 www.kaiwaka.co.nz 
Kaiwaka Bugle - 31 March, 2020 
Page 17 
KAIWAKA LIBRARY
KAIWAKA POST 
CENTRE and 
FOOD MART 
POST CENTRE TRADING HOURS 
MONDAY to FRIDAY 8am to 5pm 
SATURDAY 8am to 12pm 
CLOSED ON SUNDAY and on 
PUBLIC HOLIDAYS 
FOOD MART (GROCERIES) 
HOURS MAY CHANGE
MONDAY TO FRIDAY  
7:30am to 7.30pm 
SATURDAY  8am to 7.30pm 
SUNDAY  8:30am to 7pm 
IF ANY QUERIES PLEASE CALL 
STORE MANAGER AMRIT  
on 09 4312431 or 
EMAIL: kaiwakafood19a@gmail.com 
1919a State Highway1, Kaiwaka 0542 
Welcome  to  the  strange  new  world  of 
Covid-19.  The  physical  library  is,  of 
course,  closed  while  the  country  is  in 
lockdown,  but  there's  still  plenty  on 
offer here... 
Join the library 
It's not too late to sign up to the library! 
Go  to  Enterprise*  and  click  on  the 
button  to  join.  Select  a  digital-only 
membership  (not  adult  or  junior),  and 
you'll  be  able  to  use  your  new 
membership  straight  away  with  our 
digital  collections.  If  you  have 
problems signing up, get in touch with 
me for help. 
Don't forget that the kids can have their 
own library accounts - sign them up to 
a  digital  membership  too  so  they  can 
use  their  own  card  for  their  own 
reading materials. 
If  you  want  to  turn  your  digital-only 
membership  into  a  physical  library 
card  and  borrow  items  from  our 
shelves  later  on  when  life  returns  to 
normal, bring some ID into the library 
when  we're  open  and  we  can  do  that 
for you. Kids don't need to provide ID. 
Get in touch 
If  you  need  help  with  library  things 
during  the  lockdown,  you  can  contact 
me or the staff at Dargaville Library. 
Call  Dargaville  on  their  free  number 
0800  532  542  -  the  staff  are  all 
working  from  home  during  the 
lockdown,  and  ready  and  willing  to 
help across the district. 
As  I  type  this  on  Thursday  afternoon, 
I'm  still  waiting  for  our  landline  at 
Kaiwaka  Library  to  be  diverted  to  my 
mobile  so  I  can  answer  calls.  If  you 
phone  the  library  and  get  no  answer, 
please  feel  free  to  call  me  at  home  - 
431 2725 - or call/text my mobile - 027 
480  6275.  Or  send  me  a  message 
through  Facebook,  either  to  my 
personal  page  or  the  library  one 
(https://www.facebook.com/Kaiwaka-
Library-291797071494/). 
Keep  your  library  books  at 
home 
If you have library books issued to you 
at  the  moment,  please  keep  them  at 
home  until  the  library  is  open  again. 
All  due  dates  will  be  extended,  and 
charges  waived.  If  you  receive  an 
automated  reminder about an  overdue, 
please ignore it. 
Books  that  have  been  returned  while 
we've  been  closed  for  Covid-19  won't 
be  processed in the  computer  until  we 
open  again,  so  don't  worry  if  you're 
sure  you  returned  something  but  it's 
still  showing  as  issued  to you  -  it  will 
go through when we can do that again. 
Use our digital library 
We  have  thousands  of  eBooks  and 
eAudiobooks from our three suppliers, 
as well as about 4500 newspapers and 
magazines  from  around  the  world  at 
PressReader.com, all available for free 
with  your  library  card.  See  the  button 
for  eBooks  and  eAudiobooks  at 
Enterprise*  for  information  about 
getting started. 
Keep  up  with  the  library's 
news 
You can now keep up with our news at 
Enterprise*, without any need to go to 
Facebook  where  it  was  originally 
posted.  Click  on  the  green  button  for 
Kaiwaka  down  the  right-hand  side  of 
the  page,  and  you'll  see  our  Facebook 
feed  in  the  middle  of  the  page.  The 
most recent post is at the top and scroll 
down  to  see  older  posts.  I'm  posting 
information  about  activities  for  kids, 
etc,  while  we're  on  lockdown,  as  well 
as library news and information. 
JP Service Centre 
From  the JP  web  site: "All Justices  of 
the  Peace  services  are  suspended  due 
to the lockdown. This includes private 
visits to Justices and all Service Desks. 
Many  regulatory  requirements  have 
changed at this time. Please refer to the 
agency  requesting  your  documents  to 
confirm  their  requirements."  (http://
justiceofthepeace.org.nz/) 
When the library opens again, I will be 
available  as  a  JP  at  the  library  once 
more.  In  the  meantime,  please  do  not 
ask - you will be turned away. 
Stay safe and healthy! ~Wendy 
Kaiwaka  Library,  Phone  4312  539.  Email 
kaiwaka.library@gmail.com 
Free 
membership is available  to all residents in 
the Kaiwaka area.  
 *
Enterprise: http://kaipara.kotui.org.nz/ 
Skinny  Jump:  It's  cheap  broadband 
via  this  mobile  network,  and  the 
modem  will  be  delivered  to  you. 
Perfect while you're stuck at home, but 
of course it's only going to be seen by 
those  who  are  already  online,  so  it 
would  be  great  if  people  could  pass  it 
on to their friends who aren't currently 
online  or  use  their  expensive  phone 
data to get online
.
Ken Urquhart 
BSurv Licensed Cadastral 
Surveyor 
KMU  
Surveys Ltd
467 Bickerstaffe Road 
RD 2 
Maungaturoto 0587 
Ph 09 431 8705 
Mob 021 161 2344 
kenurquhart@xtra.co.nz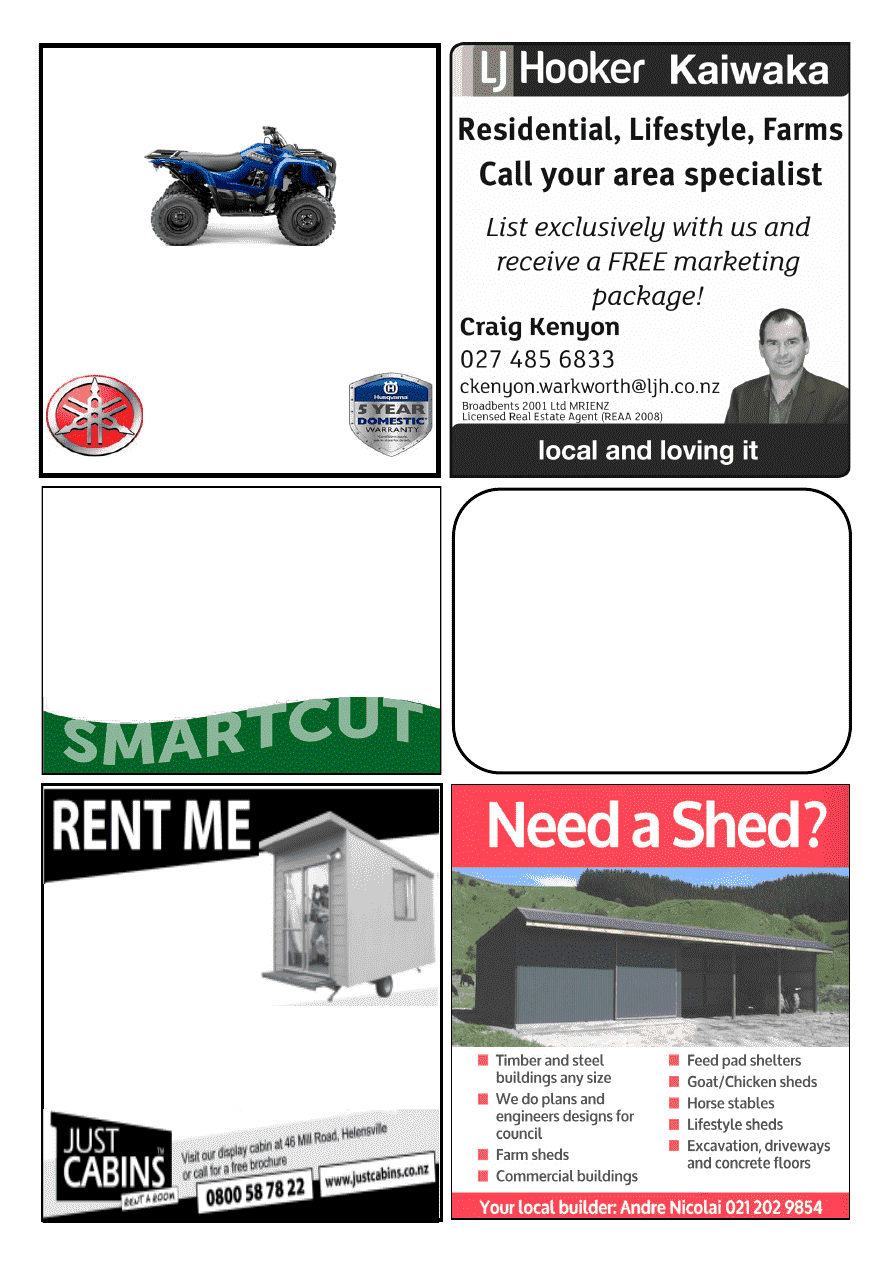 All your outdoor needs sorted so you don't have to... 
I can prune, chop, tidy, spray, mow, plant 
- you name it, I can do it! 
Residential & Commercial 
Lawn & Garden Care 
Call Rodney, your local  
lawnmowing contractor 
021 138 2344 
UP-LINK 
CHRIS WARING 
FREEVIEW INSTALLATIONS 
T.V. - HOME THEATRE &  
HI-FI ADVICE/SET UP
SKY ACCREDITED INSTALLER
MOB.0273403747 HM.094312328 
EMAIL cwaring44@gmail.com
28 YRS EXPERIENCE 
OFFERING UNBIASED ADVICE 
Ideal as an extra  
bedroom or office 
Three Convenient sizes: 
Standard 3.6m x 2.4m - $65 
per week 
Large 4.2m x 2.4m - $80 per week 
Extra Large 4.8m x 2.4m - $100 per week 
Fully insulated. Minimum 6 months rental period 
KAIWAKA 
MOTORCYCLES LTD
SALES – SERVICE – SPARES 
FARM BIKE SPECIALIST
PHONE 09 431-2127 
10 KAIWAKA-MANGAWHAI ROAD, KAIWAKA
Trimmers  
from $279
Chainsaws  
from $339
YAMAHA 
HUSQVARNA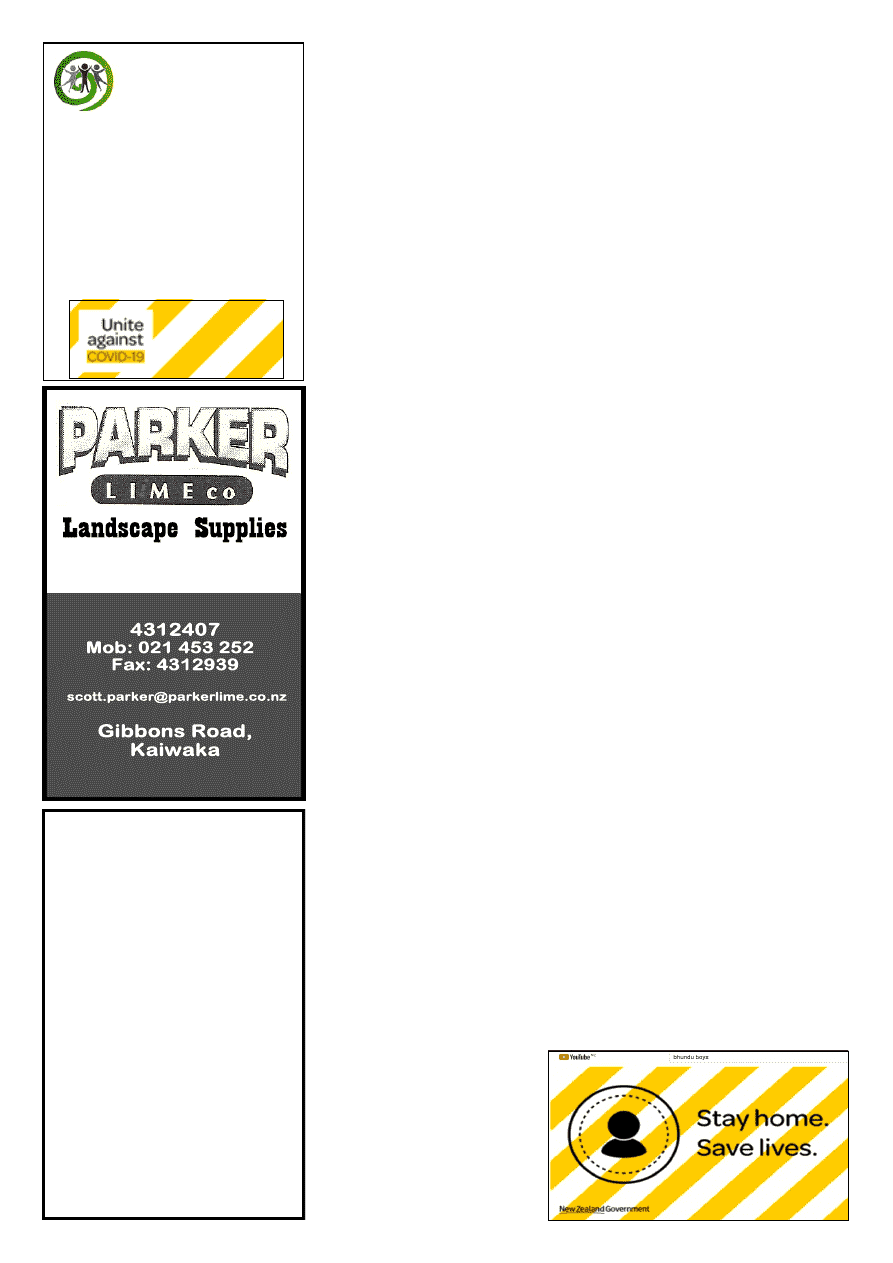 www.kaiwaka.co.nz 
Kaiwaka Bugle - 31 March, 2020 
Page 19 
Staying  home  the  first  lockdown  day,  I 
cored  tamarillos  for  chutney  and 
listening  on  repeat  to  an  80s  cd  for  the 
first time which I was gifted some years 
back ... 
If  the  virus  lockdown  has  taught 
anything,  it's  that  mankind  is  not  on 
top. The  news  of  an  outbreak  in  China 
was  no  surprise,  say  scientists,  and  the 
scale  of  disruption  no  surprise  to  them 
either. 
However,  it  is  to  most  of  us  when  it 
affects us. Even if some need a knock on 
the  car  window  to  remind  them  that 
we're all in this together. 
People, particularly the elderly and frail, 
have  been  reducing  contact,  having 
nightmares  and  buying  guns  to  protect 
themselves  from  a  force  without  a  face. 
Yet  neighbours  are  rallying,  offering 
supplies with kind words and good cheer. 
Splintered media 
The  media  in  all  its  splintered  glory  is 
giving  people  both  distraction  and 
information.  There  have  been  countless 
words of advice on the best films/shows/
series  to  watch  during  the  lockdown. 
Programme:  normal.  Ads  blare  even 
when we can't go buy. 
Sure we have jobs to do, games to play, 
people  to  consider  and  assist,  but  being 
able  to  understand  and  not  panic  is 
bigger. 
I  think  we  all  should  go  into  StudyLink 
https://www.studylink.govt.nz  along  with 
the kids. 
Viral space 
So far what I've learned is that there are 
more  viruses  on  Earth  than  stars  in  the 
sky. 
Before  I  didn't  know  bacteria  from 
archaea  or  which  viruses  were  phages. 
Thanks  to  Wikipedia  and  its  editorial 
teams, there is a glimmering idea. 
So  many  are  the  phages  apparently  that 
they're reckoned at 10 to the power of 31 
which 
is 
10x10x10x10x10x10x10x10x10x10x10x
10  and  so  on,  a  very  big  number  (and 
that's  only  an  estimate).  One  of  these 
could mutate at any time. 
One bacterium that has done so down the 
ages  -  and  three  times  at  least  in  recent 
history  -  is  Yersinia  pestis,  the  plague 
microbe, which attacks the human lymph 
system as well as slaughtering fleas, rats 
and creatures like prairie dogs on its way. 
These  are  long  and  fact-filled  entries  on 
the online encyclopaedia. 
The entry on Covid-19 is smaller. 
Kansas killer 
Unlike  the  H1N1  virus  which  arose  in 
Kansas in the USA in 1918 and resulted 
in  9000  deaths  in  NZ  over  two  months 
<https://nzhistory.govt.nz/keyword/
influenza>,  we  know  little  of 
Covid-19.  It  was  mislabelled 
'Spanish flu' rather than Kansas flu 
because  Spain's  government  took 
public  health  steps  to  stop  its 
rampage.  Governments  implicated 
in  the  1914-18  inter-colonial 
conflict  made  light  of  it  and  the 
virus which probably jumped from 
birds wrought  havoc. Between 17 
and  50  million  or  more  died  of  it, 
more than from the bullet battles. 
"In  New  Zealand,  the  flu  killed  an 
estimated  6,400  Pakeha  and  2,500 
indigenous  Maori  in  six  weeks,  with 
Māori  dying  at  eight  times  the  rate  of 
Pakeha." All this and more on Wikipedia 
this week. 
London lesson 
Through  reading  online  news  sources, 
my elbow was jogged to read 'A Journal 
of  the  Plague  Year',  in  London.  So 
before  the  Thursday  Lockdown  here  I'd 
read  how  most  of  the  population  was 
thrown out of work, how people laughed 
about  the  plague  until  it  came  to  their 
street  and  how  some,  but  not  all,  took 
precautions.  Much  of  what's  described 
seems crazy in hindsight. 
Some succumbed, some recovered, some 
were  immune.  Pastors  preached,  people 
raved. 
There  was  no  assistance  bar  charity  and 
those who fled could carry disease since 
no one knew the cause. 
Defoe's  informant  didn't  know.  Defoe 
didn't  either  60  years  after.  The  source 
spoke  of  'contagion',  'foul  air',  'hysteria' 
not about the rat flea. 
Only  in  recent  times  have  people 
seriously  received  advice  that  when  rats 
die in numbers, plague is close behind. 
Kindle tips 
I  read  journo  Defoe's  book  on  Kindle 
where  notes  can  be  highlighted  for 
reference. Didn't know that before either. 
Pretty useful. 
I've  been  very  grateful  to  world  media. 
There's  radio  over  the  air  and  online, 
there  are  pictures  through  the  internet 
and television, and reference books from 
the shop and Kaiwaka library. 
Currently,  I  have  'Hard  Times'  by 
Charles  Dickens  with  a  bunch  of 
characters  unknown  to  me.  Gradgrind  is 
a  rigid  philosopher,  Mrs  Gradgrind  a 
mother who won't listen and Bounderby 
an  unscrupulous  and  unkind  factory 
owner.  Two  of  the  Gradgrind  kids  are 
called  Adams  Smith  and  Malthus  after 
ancient  theorists  still  influential  today. 
Dickens  serialised  this  for  his  printed 
weekly  in  the  1850s  but  I'd  never  read 
beyond  his  mainliners  like  'Great 
Expectations' and 'Oliver Twist'. 
So  far  my  main  message  from  'Hard 
Times' is don't grind down the kids, they 
need to have fun. 
Our  government  seems to  have  got  that. 
We can also be kind to one another as we 
are calm and considerate to all. 
As  I  am  active  outdoors  and  entertained 
indoors I think of the ethical saying: "Do 
unto  others."  "Love  thy  Neighbour"  and 
"As  above,  so  below."  are  also  useful 
considerations
. ~ HP 
Willow Bend
HORSE  
HOTEL 
#
Total Horse Care    
# 
Agistment 
# 
Riding Lessons    
#
 Arena Hire (60x40) 
# 
Young Horse Starting 
# 
Re-training/Exercising 
#
Hoof Trimming    
# 
Problem Solving 
Phone Sue  
09 431 2817  
or 021 623 776  
Or email  
susanjoll11@gmail.com 
Bulk Cartage 
Message from Otamatea 
Community Services  
If you feel you have been 
on  a  roller  coaster,  we 
would like to help. 
If you would like to look forward to a 
regular friendly chat, we can oblige. 
We  at  OCS  have  set  up  a  Caring 
Caller service for our community. 
We have a team of volunteers keen to 
call  anyone,  at  regular  intervals,  as 
arranged.  We  are  willing  to  call 
people of any age. 
Call Pauline at 021 2510 225 if you 
wish  to  receive  a  call,  and  we  can 
talk more about this service. 
MARCHING ON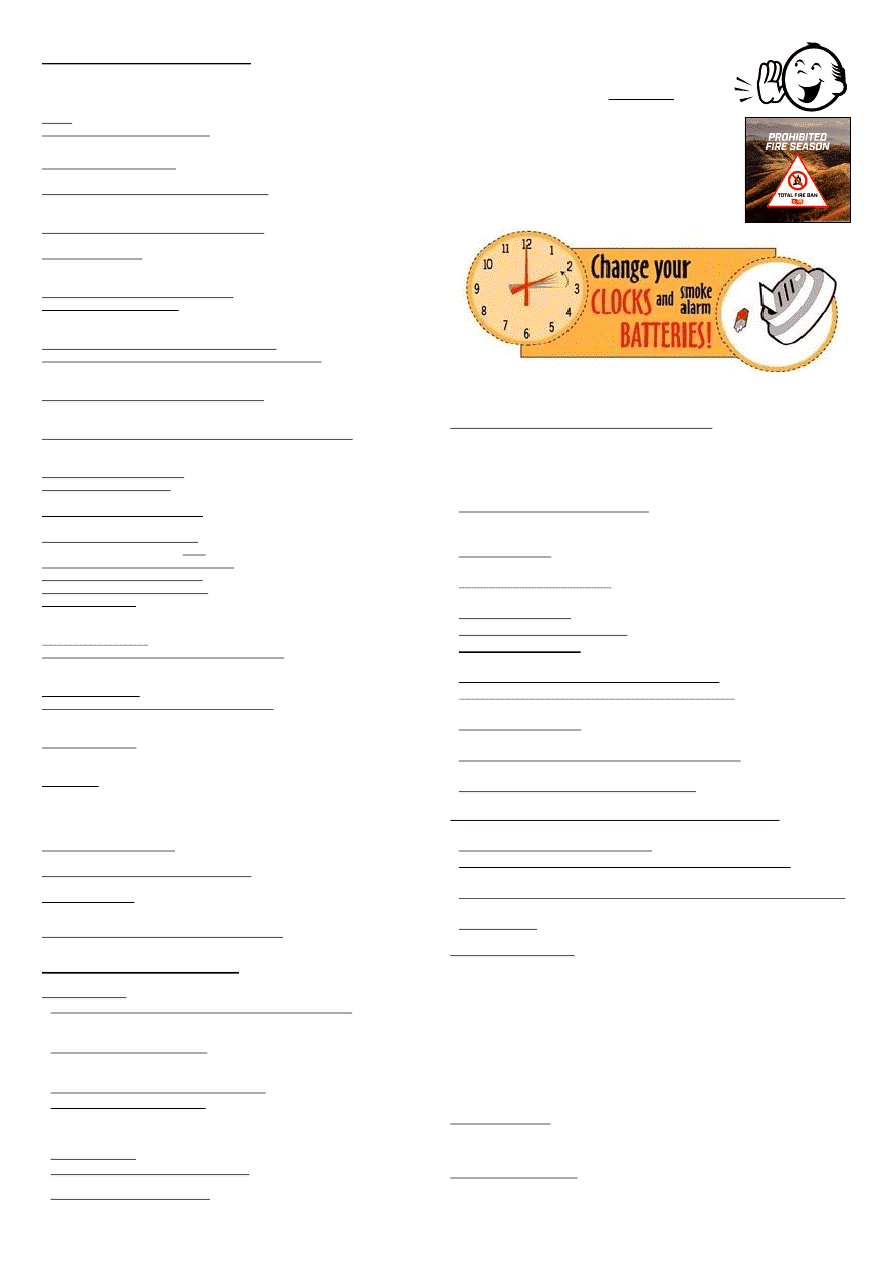 Next Bugle Deadline midday Friday 10 April 2020
WHAT'S ON
PLEASE ~ do let us know what is on - or what 
is NOT on at the moment! 
email kaiwakabugle@kaiwaka.co.nz 
Advertising in WHAT'S ON is FREE  
*1Apr~ Rubbish Pick Up - Blue Bags only 
*5Apr~DAYLIGHT SAVING ENDS 
*10Apr~ Good Friday 
*25Apr~ANZAC DAY 
KWMH = Kaiwaka War Memorial Hall; KSA = Kaiwaka Sports Association 
See www.kaiwaka.co.nz for more information 
HOUSEHOLD RUBBISH COLLECTION - Kaiwaka Pick up: 
Mondays = Green bags (Northland Waste - 09 430 3273) 
Wednesdays  = Blue bags and yellow recycling (at Jaques $3.00 
and  $1.50)  (Kaurilands  09  4392146);  ONLY  Blue  and  Yellow 
bags picked up on Oneriri Road. 
 DIABETES  Support  Group  -for  Kaiwaka,  Mangawhai, 
Wellsford  10am,  3rd  Friday  of  month  Ph:  Colleen  James  09 
4314238 
 GENEALOGY - Wellsford: 1st Thursday in month Ph: 423 
7033; Waipu: 4th Monday in month Ph: 4312 725 
 HAKARU PONY CLUB - Secretary Denise Rogers 021423376 
secretary@hakaruponyclub.co.nz  
 KAIPARA HUNT - Secretary Albert Doonenbal Ph 4312059 
 KAIWAKA BADMINTON -Tuesdays 7.30pm Ph: 4312345 
 KAIWAKA  CAN  - 3rd Wednesday in month, 5.30pm, Archie 
Bull Hall Ph: 0273572751 
 KAIWAKA DRUM & DANCE CLASSES - 021 611198 
 KAIWAKA GARDEN & FLORAL GROUP - 2nd Thursday in 
month. Ph: 431 4744 
 KAIWAKA  CUBS  -  Thursdays  5.30-7pm,  Hakaru  Ph:Bruce 
4312542 
 KNITTING FOR WHANGAREI HOSPITAL - 2nd Tuesday in 
month, Archie Bull Hall 10am Ph 4314827 
 MANGAWHAI COMBINED REBUS CLUB - 2pm, 3rd 
Thursday month, Senior Citizens Hall Mangawhai. Ph: 4315777 
*PILATES - KAIWAKA WAR MEMORIAL HALL - Ph: 
021 
2072729  
 PT CURTIS CRUISING CLUB - Jean Ph: 4312227 (wk), 4312520 (hm) 
 RSA,  HAKARU  &  DISTRICTS  WOMEN'S  SECTION  –  meets 
1.30pm 4th Thursday of the month. Ph: 431 5818  
 KAIWAKA  SCOTTISH  COUNTRY  DANCING  CLUB-
Wednesdays 10am - 12 noon  Ph: Elaine 027 432 0032  
 TRAMPING - Mondays 9am-2:30pm Maria 4312 234 
HALLS FOR HIRE: 
  Kaiwaka St. John Hall: Phone Marj  0272941227  
 St.Pauls Archie Bull Hall HIRE $20 half day, $40 full day per 
hire, S McAulay, Ph 4312311 
 Kaiwaka  War  Memorial  Hall  HlRE  -  Phone  4312725  or 
kaiwaka.hall.bookings@gmail.com 
 Hakaru Community Hall HIRE -Ph.  Lorraine 4312829  
 Te Pounga Marae queries - Pearl Nathan  0223933533 
 Kaiwaka Sports Association hire/queries - C. Anderson 4312051 
or kaiwakasports@gmail.com 
Justice of Peace:  
B.FJaques  4312  048;  L.Donaldson  4312  228;  A.F.Hargreaves 
4312 045, W.Howard 4312 725 - please phone to make sure they 
are available or go to www.justiceofthepeace.org.nz 
Marriage Celebrants:  
L.Donaldson; A.F.Hargreaves; Y Osborne
LOCAL SERVICES 
*Emergencies - Ambulance, Fire, Police - dial 111 
*Non-urgent Police phone 105
A A: Meets Wed., 7.30pm Kaiwaka Ph: 4315543, 0800229 6757 
NARCOTICS ANONYMOUS : Mon., 6.30pm, Kates Place; drug and 
alcohol related issues. Ph. 02102412348 
ASUREQUALITY LTD (was AgriQuality) Call Free 0508 0011 22  
BUDGETING SERVICE, WELLSFORD: Free confidential advice & 
support for all areas of personal finance. Ph (09) 423 7123 
CAB-Citizens Advice Bureau.Wellsford Ph: 4237333 
0800 367 222 email:cab.wells@xtra.co.nz  
CIVIL DEFENCE - Kaiwaka Community Response Group: 
kaiwaka.civildefencecrg@gmail.com, 4312725 Wendy 
DOG/STOCK /NOISE CONTROL 0800 105 890 
FUNERAL SERVICES: Morris & Morris Ltd, 
Whangarei - Bev Jaques Ph:4312367 or 0800667747 
GRANDPARENTS Raising Grandchildren: Dianah Roberts 0223819539 
HAKARU & DISTRICTS MEMORIAL RSA (Inc) 733 Settlement Rd, 
Hakaru. Ph 4312 176 or Bill Warren (President) 431 2092 
HAKARU LANDFILL/Transfer Station:Open everyday  10am-
4pm.Ph4312629 Cost-$55 trailer load up to 1 cubic metre. Ph:4258567 - 
office 
KAIPARA DISTRICT COUNCIL www.kaipara.govt.nz:  
Help Desk FREEPHONE 0800 727 059  
KAIWAKA CEMETERY: Ph: 4312045 or 4314017 
KAIWAKA LIBRARY: kaiwaka.library@gmail.com  
Mon. 4-6pm; Wed., Thurs., Fri., Sat. 10am-2pm Ph:4312539 
KAIWAKA PLAYCENTRE: Ph Juanita 0274134904; open Mon, Wed, 
Fri 9am-12pm. Hastie Lane; Monday to Friday 9.00am - 12 noon. 
KAIWAKA POST OFFICE:Ph:4312 431  
Post Code: 0573 for RD2 and 0542 for all Kaiwaka Post Office mail 
KAIWAKA PRIMARY SCHOOL: Ph: 4312309   
KAIWAKA SPORTS ASSN: Ph 4312005; 4312129 gym 
KAIWAKA ST JOHN HALL: Phone Marj  0272941227  
KATE'S PLACE Community Centre - Employment services, Free Health 
Nurse, Plunket, Advocacy, Osteopath, A.A., Legal Advice. 4312 661 
LINKING HANDS Health Shuttle Ph 4315906 or 09 4318969 
MINISTRY FOR PRIMARY INDUSTRIES - General inquiries Call 
Free 0800 008 333 
NORTHPOWER: Faults Kaiwaka area 0800 104040 
OTAMATEA COMMUNITY SERVICES: Counselling, parent coach, 
Family Support worker, budget advice, food bank. Mon-Fri 9am-3pm. Ph 
09 431 9080 http://www.otamateacs.org/ 
PARENTPORT: Free, practical family support service Puhoi to Paparoa 
Ph or txt: Dianne 027 280 5093 or 09 425 9357 
PLUNKET:  Kaiwaka  -Kate's  Place  Clinic  1st  Wednesday  of  the  month; 
Mangawhai  - Rose Madsen Cottage: Coffee Group 9:30 every Monday.  Clinic 
every Monday and Thursday. 
Maungaturoto - Good News Church, Clinic 2nd and 4th Wednesday.  
Cynthia 09 431 7340 or 027 675 3488 
PLUNKET HELPLINE -0800 933 922 (24 hours) 
TAITOKERAU COMMUNITY LAW: Free confidential legal advice and 
assistance, 2nd
Thursday
 of each month. Ph: 0800 155 529 for appts.  
TE URI O HAU Settlement Trust Tangata Developments: Whanau Ora 
021 793262  
VETERINARY SERVICE MANGAWHAI: 
Ph: 4314535 Mon-Fri 8.00-5.00, Sat 9-12, a/h appt. 
WELLSFORD DOCTORS: Ph: 4238 086 
CHURCHES:
 
Kaiwaka  Revival  Church  -  Your  Community  Church:  Sundays  10am. 
Ph: Pastor Tawhiri 09 431 8988 or Pastor Paul 09 4312 068 Visit us at 
www.facebook.com/kaiwakachurch 
 
St  Paul's  Anglican  Church  1st  Sun.  9.00am  (Eucharist),  3rd  Sun. 
9.00am (Family Service). Contact: Rev. Wayne Thornton Ph 431 4122 
www.mangawhaianglican.org.nz 
 
Church of Christ the King, Mangawhai:9.00am every Sunday 
 
St.Mary's  Catholic  Church:  Maungaturoto  –  Griffins  Road,  Saturday 
evening  Vigil  Mass  6pm;  Mangawhai  –  Senior  Citizens  Hall,  Sunday 
Mass  8:30am;  Wellsford  –  Matheson  Road,  Sunday  Mass  10:30am;  
Mid-week Mass times and all enquires to Fr. Bill Fletcher – phone 423 8170
 
Baptist Church: Sun. 10.30am Mangawhai Snr Cit.Hall.Ph:4312339 
 
Cause  Way  Church  Mangawhai:  Sundays  10.15am,  Mangawhai 
Community  Recreation  Centre,  Insley  St.  Ph:  09  4314782