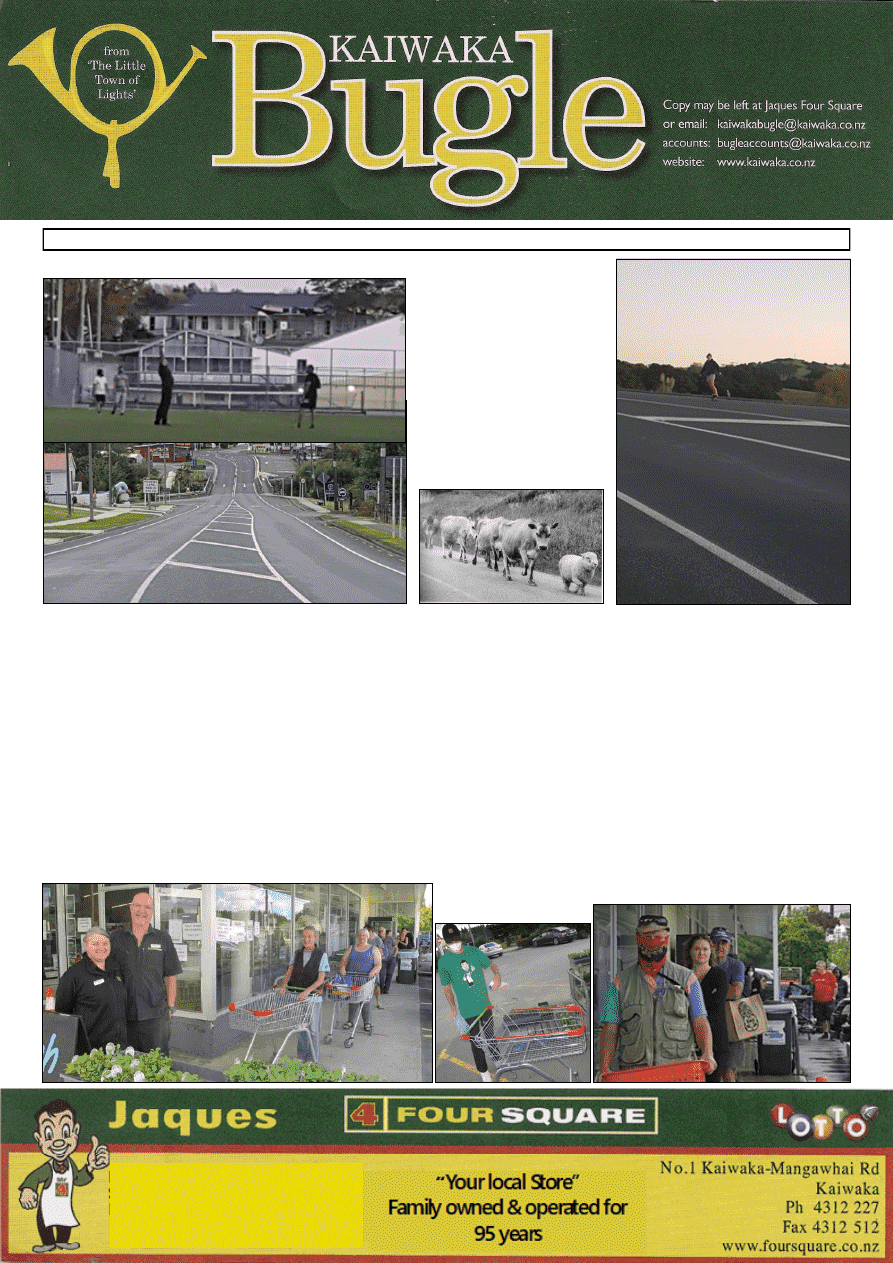 www.kaiwaka.co.nz 
Kaiwaka Bugle - 14 April 2020 
Page 1 
No:7 
14 April 2020 
A young lass spotted whizzing 
down  State  Highway  One  on 
her skateboard - not a vehicle 
in  sight  on  a  beautiful 
evening.  Reminds  one  of  the 
Reddy boys playing tennis on 
the  main  road,  out  from  the 
concrete works, more than 70 
years  ago;  and  the  times 
Ritchie led McClean's cows to 
and from the shed in the 60s. 
Left  -  spacing  at  the  sports 
ground and  a clear run on the 
highway.
KEEPING OUR DISTANCE AT JAQUES 
The  worrying  new  virus  doesn't  work 
like flu viruses. 
It takes longer to develop (median of 5
–6days)  than  influenza  (1–3  days)  and 
can  be  expelled  by  normal  speech. 
Being  extremely  infectious,  someone 
infects two to  three  others  on average, 
the  effectiveness  of  our  public  health 
and 
decisionmaker 
response 
is 
impressive. 
An  editorial  in  the  New  Zealand 
Medical Journal [April 3] suggests that 
14,400  could  die  without  our  Level  4 
social  control.  "In  addition,  large 
numbers  of  people  who  are  ill  and 
hospitalised  could  swamp  health 
services  at  all  levels  and  prevent  the 
delivery  of  elective  services  and 
preventive care." 
Unlike 
measles 
virus 
<https://
en.wikipedia.org/wiki/
Measles_morbillivirus>,  which  floats 
on the breeze, the new virus sinks onto 
surfaces; that's why to wipe them well. 
Also,  soap  <https://en.wikipedia.org/
wiki/Soap.,  breaks  into  the  virus, 
taking it out of action like Ironman. A 
homemade  material  facemask  will 
protect  you  if  you're  worried  about  a 
visitor bringing it to you. 
The  capacity  of  the  respiratory  viral 
disease  to  tuck  into  human  saliva  and 
sit  for  days  on 
unwiped  surfaces  in 
places  like  the  Queenstown  Hereford 
tour,  Marist  Sisters  staffroom  and  the 
Matamata  bar,  fed  SARS  covid-19 
loads of 'oats' but over Easter Kaiwaka 
folk and their guests demonstrated how 
to keep calm and carry on. 
Jaques  family  and  staff  met people's 
needs with confidence in this all-round 
test  for  a  community  where  many 
vulnerable  folk  are  cared  for  at  home. 
Home  support  workers  employed  by 
various  companies,  some  overseas 
owned, have standards to meet  
At  Kaiwaka  support  workers  are 
getting  priority  because  they  are 
recognised though  elsewhere, they  can 
be challenged as 'queue-jumpers'. H.P. 
KEEPING OUR DISTANCE  
CHECK THE HOURS 
OF OPENING 
AT FACEBBOOK  
DURING COVID-19 
Proverbs 20:5 
A plan in the heart of a 
man (/woman/child) is 
like deep water, but a 
person of understanding 
draws it out.  
At Kaiwaka War Memorial Hall . Adults $10, Kids (under 16) $5, Family Pass (2 adults + 3 children) $25 
ABOUT TOWN 
 A big thank you to all our folks who are sticking to their bubbles and keeping to their 
distances! 

And  a  big  thank  you  to  our Jaques  Four  Square  crew  -  Paula  and  Greg  and 
their  great  staff;  also  our  essential  services  -  our  mail  delivery  service,  Caltex 
Service Station crew

 Our mail folk are definitely having to deliver more parcels!

 And again, thank you to all our Bugle advertisers. The advertisements are as 
usual  in  our  ONLINE  ONLY  Bugle  -  please  phone  them  first  as  many  are 
essential services  and others are there for when we come out of our 'lockdown'!

 Our  best  wishes  to  Doug  and  Norma  Leslie  –  they  now  have  9  great 
grandsons and 2 great granddaughters; and congratulations to their families!   

 Do  check  the  website  www.standatdawn.com    -  'Apart,  but  together  as 
one. Join us in commemorating Anzac Day from home. Saturday April 25th 
2020 at 6am .'  

 Page 19 - Judy and James  fly back to NZ the day before Lockdown 

 Note - the Business, Services and Organisations numbers, on kaiwaka.co.nz 
website  have been updated. 

 Covid surprise: To go to the grocery store, they said a mask and gloves were 
enough – they lied – everybody else had clothes on ! 

 Thank you Happy Fish - folk on Settlement Road 
are  enjoying  your  music 
in  the  evenings  -  at  a 
distance.  Happy  Fish  are 
one of our local bands. 

 See the Kaiwaka Bugle 
in 
colour 
online 
at 
www.kaiwaka.co.nz 
at 
any time. ~ Lindsey, Ed 
'When do we stop being a 
worrier and start being a 
warrior?" 
KAIWAKA BUGLE NO.7 
14 APRIL 2020 
CONTENTS: 
Page 3: Public Notices, Classified 
Page 5: Jaques Notice;  
Page 7: Kaiwaka Weather;  A Mouse 
Story 
Page 9: Eutopia Café; Kaiwaka School  
Page 11: Kaiwaka Sports Assn  
Page 13: Thelma's Scrapbook; Pt. 
Curtis CC;  Kate' Place 
Page 15: Kaiwaka Can;  Helicopter 
fundraiser 
Page 17: Kaiwaka Library 
Page 19: Cuba in Strange Times 
Bugle 8 will appear  28 April 
Contact for advertising, reports, articles 
or information can be made by 
Email: kaiwakabugle@kaiwaka.co.nz 
Ph: 09 4312 045 Lindsey 
Txt: 027 2724137 
Copy  may  be  left  at  Jaques'  Four 
Square. 
Kaiwaka Bugle Advertisements 2020: 
All 
copy 
and 
queries 
to: 
kaiwakabugle@kaiwaka.co.nz 
The Bugle is printed on an A4 page, B&W  
Ad  sizes:  1/16  page  (3  x  9.5cm)  $5;  1/8 
(6.5  x  9.5cm  landscape  or  portrait)  $8; 
3/16 ( 10 x 9.5cm or 7.5 x 12,5)  $12.  
Classified  ads:  First  one  FREE,  $4  per 
entry (max. 30 words, max. 4 repeats). 
Payments  can  be  made  online  at 
ANZ 
06  0365  0006990  00
,  posted  or  left  at 
Jaques Four Square Store. 
We  use  Microsoft  Publisher,  and  can 
work  with  most  common  image 
formats, Word, Excel, and PDF files. 
Accounts:  
Email: bugleaccounts@kaiwaka.co.nz 
The  Kaiwaka  Bugle  is  a  community 
newspaper run by volunteers, as part of 
the Kaiwaka Media Group Inc.   
Articles, etc. printed are not necessarily 
the opinion of the Bugle Team. 
Kaiwaka Bugle 
Founded May 1978 
We appreciate articles and photos about local 
events, etc, as well as ads and suggestions. 
Copies available in Kaiwaka at Jaques Four 
Square, Kaiwaka Postal Centre, Shamrock 
Service Station, Animal Health Centre, 
Kaiwaka St John shop. 
Also outlets in Maungaturoto, 
Mangawhai and Paparoa. 
Can be viewed online at  
www.kaiwaka.co.nz/Bugle  
Or a copy can be posted to you if you supply 
stamped, self-addressed DLE envelopes. 
KAIWAKA BUGLE 
DEADLINE DATES 
2020:   
Every second Friday
April 24 
May 8, 22 
June 5, 19 
July 3, 17, 31 
August 14, 28 
September 11, 25 
October 9, 23 
November 6, 20 
December 4 
KAIWAKA FIRE BRIGADE 
SCRAP METAL 
SCRAP  METAL  is  collected  as  a  fundraiser  for  our 
local  for  brigade  and  stored  at  one  point.  This  is  the 
scrap metal collection point  NOT  the  HOUSEHOLD 
RUBBISH DUMP. 
Please  help  our  'firies'.    They    have  been  out  on  a 
number of callouts during this Lockdown time. We are 
still in a restricted fire season. ~ our Fire Chief 
CANCELLED       CANCELLED
KAIWAKA MOVIES..... 
DUE TO COVID 19 ....Corona Virus..... 
ALL SCREENINGS WILL BE CANCELLED 
....from Friday 20 March and onwards.... 
We will let you know when we will start again .....Be safe., be healthy.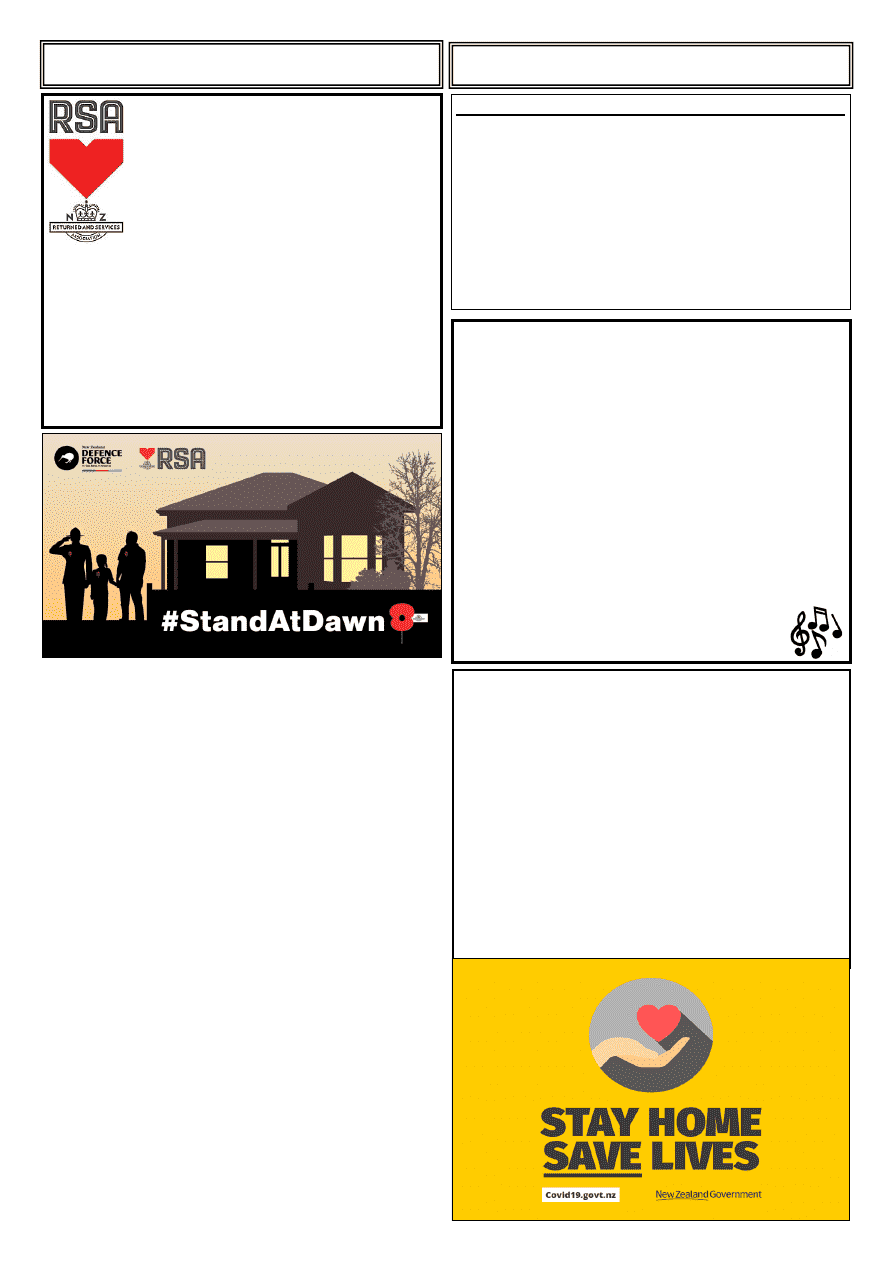 www.kaiwaka.co.nz 
Kaiwaka Bugle - 14 April 2020 
Page 3 
PUBLIC NOTICES 
CLASSIFIED 
STAND AT DAWN 25 APRIL
Anzac Day is one of the most important national occasions 
for both Australians and New Zealanders. In 2020, for the 
first  time  in  history,  Anzac  Day  Services  across  New 
Zealand have been cancelled due to COVID-19.  
Even though public Anzac Services are unable to go ahead, 
it  does  not  mean  that  the  tradition  of  remembering  and 
commemorating our veterans and service personnel should 
be cancelled too. 
The RSA and New Zealand Defence Force would like you 
to join us to remember those who have given their lives for 
our country. This is a time to pay respect and acknowledge 
the many thousands of our military people who are serving 
or  have  served,  who  are  called  upon  to  support  New 
Zealand in times of war, conflict and disasters. 
Join us at 6:00 am on Saturday 25 April. Stand at your 
letterbox,  at  the  front  door,  in  your  lounge  rooms, 
balconies,  in  your  driveway.  Wherever  you  are  in  the 
world,  stand  with  us  and  take  a  moment  to  remember 
our fallen – but please stay within your 'bubble'. 
Tune  into  Radio  NZ  National  (AM  &  FM  frequencies), 
listen live on the internet or on your phone (download app) 
for the official dawn service broadcast commencing at 6:00 
am.  Veterans  are  encouraged  to  wear  their  medals  just  as 
they  would  for  the  official  public  gathering.  The  morning 
service includes... 
The Last Post 
Ode of Remembrance in Te Reo & English  
National Anthems 
Address  by  Hon.  Ron  Mark,  Minister  of 
Defence / Minister for Veterans 
Let's show the world our support! Take a photo or a video 
clip and Tag #StandAtDawn #AnzacDay @RSANational 
@NZDefenceForce  
N.B.  Just  thinking.... 
are  we  taking 
advantage of all the 'TIME' we have at present in our 
family bubbles to talk to one another… 
REALLY talk to one another I mean!  To talk about the 
deeper  things  of  life  with  our  spouses/partners...to  share 
our  innermost  thoughts,  our  hopes  and  dreams,  our 
questions  about life issues  and  then to  LISTEN  to theirs 
and then with our children to get to know about the things 
they  love  to  do,  their  favourite  foods  and  colours,  the 
things  that  worry  them...all  the  little  things  that  we  can 
then  hide  in  our  hearts  so  our  relationships  can  be 
deepened.  
Let's  not  waste  this  TIME  we  have...  let's  take  the 
opportunity  to  strengthen  and  grow  our  family 
relationships,  so  that  this  time  becomes  a  real  positive 
"REMEMBER WHEN" in our family history...a time 
when we really had TIME to talk and listen!! ~  M.L.C 
CHANNELLED ENERGY HEALING SESSIONS 
Working  within  your  energy  field  to  heal  and  in-
crease energy flow for better health. 
Work with what works.  
Options:  Via DISTANCE (Equally effective)  
            or Via APPOINTMENT (Mangawhai)  
Booking times: 10am, 12.30pm, 3.00pm 
$150/session. 
Txt your booking time by Wednesday prior to Nicola 
& Christine: 02041620844 
Demonstration:  Go to our YouTube Channel:   
Channelled Healings 
HAKARU  AND  DISTRICTS 
MEMORIAL RSA (INC). 
As  things  stand  at  the  moment  there  are 
no public ANZAC Day services allowed. 
We  do  not  intend  to  change  that  other 
than have our flag at half-mast on the day. 
Both  ANZAC  Day  and  POPPY  Day 
collections  are  being  planned  for  a  later 
date  and  it  will  be  a  National  event  so  more  about 
that will come from wellington in due course. 
We  do  however  encourage  people  if  they  wish  to 
show their support to place a poppy, or if they don't 
have a poppy a flower or two from  their garden, on 
their letterbox on ANZAC day. 
Bill Warren, President  
Hakaru & Districts Memorial RSA Inc 
733 Settlement Road,  Hakaru 
ONLINE MUSIC LESSONS. 
The Lockdown has been a great opportunity for kids 
to continue or start music lessons.  
The  children  I  have  been  working  with  during  this 
lockdown period are making great progress.  
Thank  goodness  for  technology.  I  use  Skype  and 
Zoom, both are easy and free options for students to 
use. 
It can be a new normal for this 'new-normal' time. 
I offer Piano, Guitar, Ukulele lessons, Music Theory 
and  Coaching  for  NCEA  music  Students  with  their 
practical or Theory Assignments. 
Text,  phone  or  email  Heather  to  discuss  options  to 
get your kids started on their musical pathway. 
Music Makes Intelligent Children 
heather.m.revell@gmail.com 
027 513 8141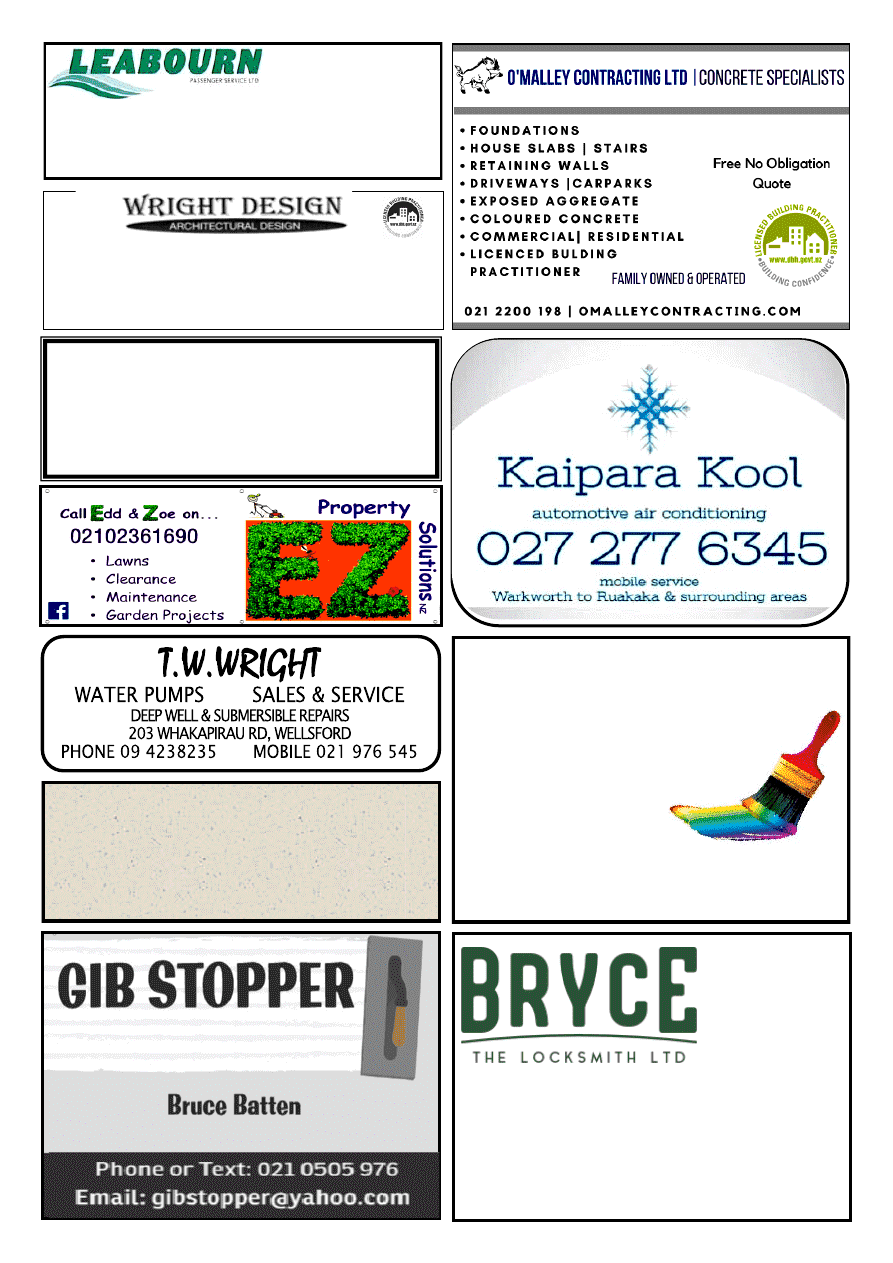 Passenger Service
Car & Van Hire   Bus & Coach Charters 
Airport Transfers    
Phone (09) 4237416 
Counsellor and Registered Psychotherapist 
Offers Supervision 
ACC Sensitive Claims 
Susan Matheson      MNZAC 
Dip. Psychosynthesis Counselling and Psychotherapy 
Phone 09 431 2996                                     Mobile 027 605 2427 
No. 117345 
N.Z.C.A.D., L.B.P. 117345 
PH/Fax: 09 423 8092 Mob: 021 276 7369 
Office: 3 John Sinclair Avenue, Wellsford    brianwright@xtra.co.nz 
For Resource and Building Consents, planning restraints, new building materials - 
you need a capable, experienced, and professional designer with a clear 
knowledge of all the processes. Brian has been helping and organising all these 
facets of design and building for over 50 years. 
Wright Design offers free visits, consultations and advice on planning, design, 
building, council permit applications, guaranteed permit plan acceptance. 
LEE COOPER PAINTERS 
(Kaiwaka Based) 
*30 yrs Experience 
*Interior/Exterior 
*New and Restoration 
*Honest and Reliable 
*Free Quotes 
09 4312918 or 0274735171 
leecooper@xtra.co.nz 
Bryce Frewin 
Ph: 021 850 983 
Kaipara Based Master Locksmith 
bryce@brycethelocksmith.co.nz 
www.brycethelocksmith.co.nz 
HANDYMAN 
Gardens * Lawns * Landscaping * Painting 
* Small gib-stopping * 
* General repairs and maintenance * 
Honest - Reliable 
Phone Burn 0211900555 or Brenda 0211185578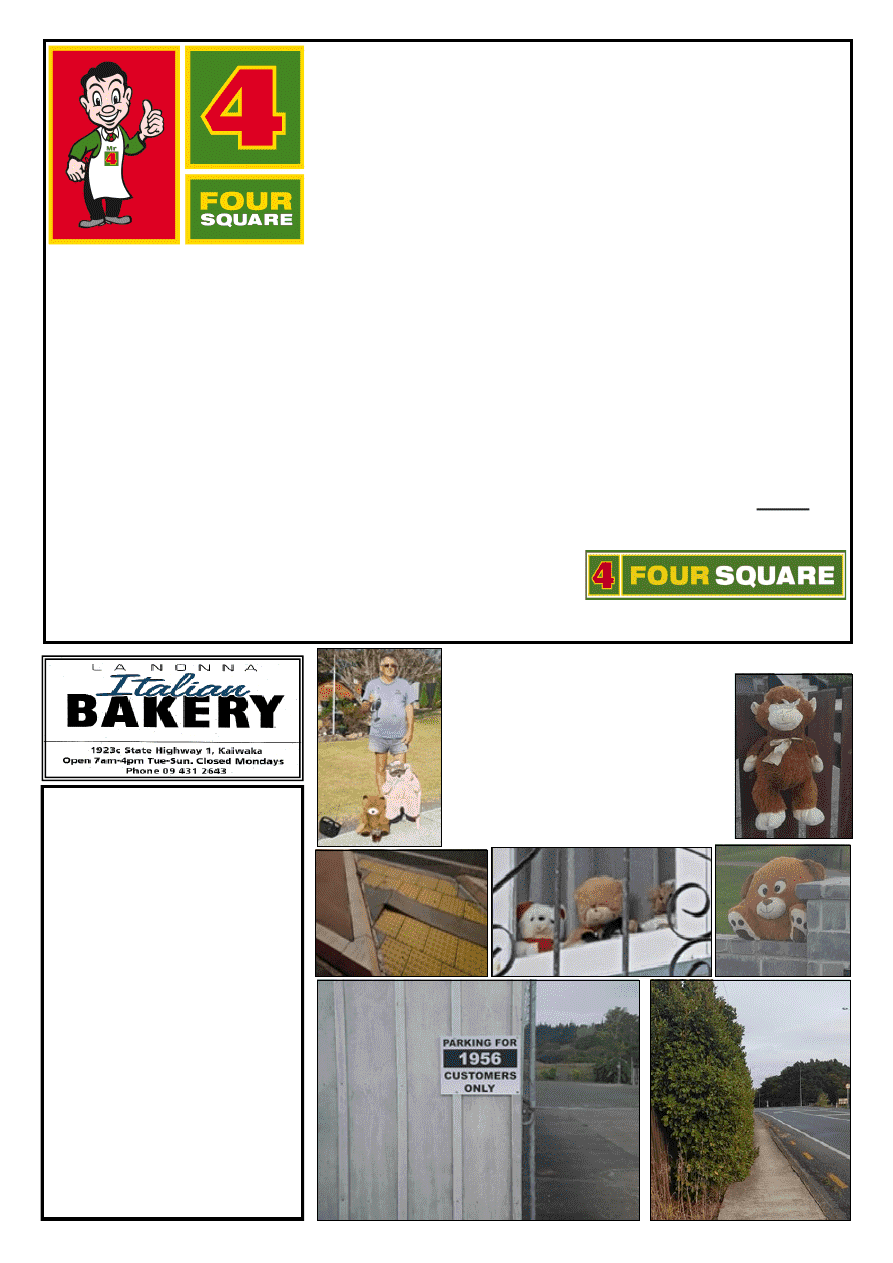 www.kaiwaka.co.nz 
Kaiwaka Bugle - 14 April 2020 
Page 5 
Willow Bend
HORSE  
HOTEL 
  
Total Horse Care 
 
Agistment 
 
Riding Lessons 
 
Arena Hire (60x40) 
 
Young Horse Starting 
 
Re-training/Exercising 
 
Hoof Trimming 
 
Problem Solving 
Phone Sue 09 431 2817 
or 021 623 776 
Or email  
susanjoll11@gmail.com 
ON A WALK ROUND TOWN 
Pictured clockwise 

Some bears around town 

Single file and no passing on east side 
of SH 1 

Curious - how many cars or customers 
will fit in the cark park? 

A  rough  crossing  out  from  the  Postal 
Agency - concrete piece has lifted. 

A  5pm  toast  to  recognise  all  our 
frontline workers! 
IMPORTANT INFORMATION 
JAQUES FOUR SQUARE  
WILL REMAIN OPEN THROUGHOUT LEVEL 
4  COVID-19 LOCKDOWN  
AS WE ARE AN ESSENTIAL SERVICE 
MEASURES ARE IN PLACE TO KEEP OUR 
TEAM AND CUSTOMERS SAFE. 
1. 10 Customers will be permitted in Store at one time.   
2. Remain 2 METRES APART from people in STORE when shopping and also in the QUEUE OUTSIDE the door.  
3. Where practical send ONE MEMBER of your FAMILY into the STORE to shop.  
    REMEMBER YOUR BAGS as they are in SHORT SUPPLY! 
4.
STRICTLY 2 ITEMS PER FAMILY of a SIMILAR CATEGORY. 
5.
We are SANITISING  after EVERY CUSTOMER at the CHECKOUT.  
    Please use PAYWAVE if you have it. 
6.
We will post our OPENING HOURS on our FACEBOOK Page, KAIWAKA COMMUNITY PAGES and    
  SIGNS on our SHOP DOORS. These may have to change to restock the shop. 
7.
PLEASE DO NOT USE JAQUES FOUR SQUARE FACEBOOK Page for QUERIES. This is for outgoing  
    Important Messages ONLY. 
8.
For Customers 70 YEAR + and IMMUNE Compromised people - You can PHONE an ORDER into our STORE  
  09 4312227 or 0212178565 (Paula's Cell) and have someone collect your order from us. PAYMENT is done  
  with online Banking. If you need a DELIVERY PLEASE CALL OUR STORE. 
This SERVICE IS ONLY for  
  the ABOVE PEOPLE as we do not have the capability to manage orders and delivery to anyone else.   
Please Be Kind, Look Out For Neighbours and Elderly.  
We Are An Amazing Community and We Will Get Thru … Be Safe  
From GREG, PAULA & TEAM at JAQUES 
JAQUES FOUR SQUARE 
Phone: 4312227 1 Kaiwaka-Mangawhai Road, Kaiwaka.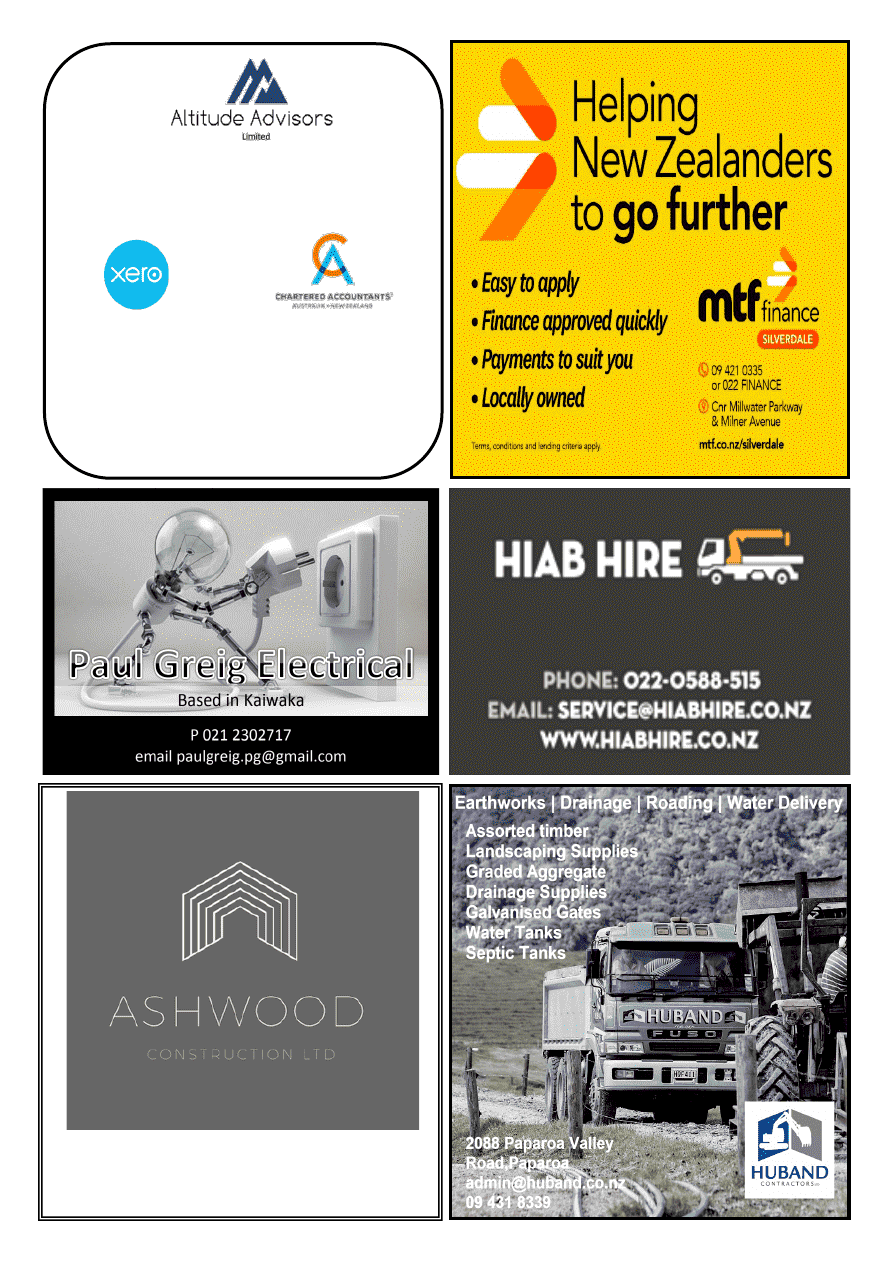 Altitude with Attitude, helping your business 
scale new heights 
Time to try something different? 
Xero training          Accountancy Services 
We are offering two opportunities: 
15% saving off your annual report cost for your first 
year, & a further 10% saving for any referrals 
Call Corinne on 021 252 7680 or 
corinne@altitudeadvisors.nz 
ASHWOOD CONSTRUCTION  LTD 
LBP registered 
New Builds Renovations Extensions Decks & more 
After a quote? Call Lee on 0223408353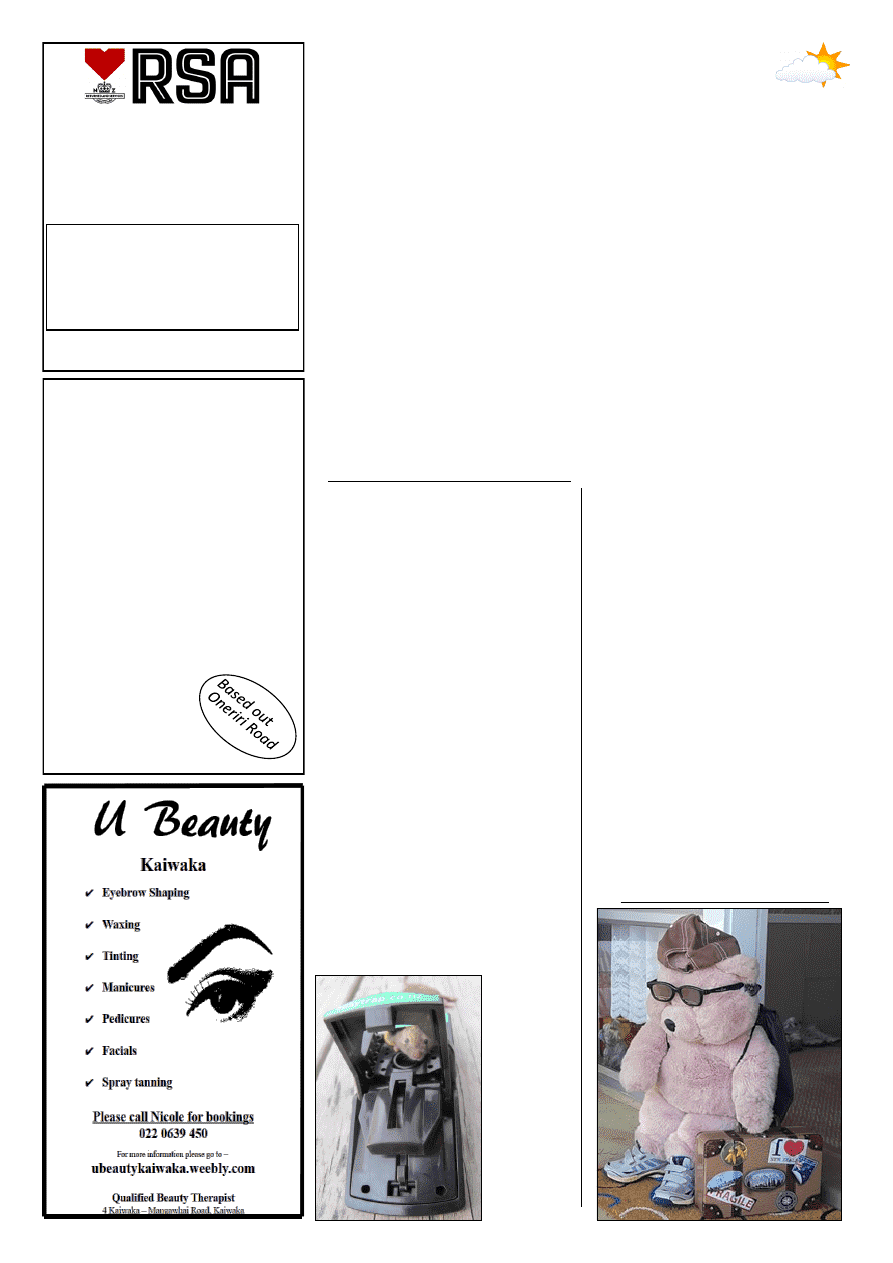 www.kaiwaka.co.nz 
Kaiwaka Bugle - 14 April 2020 
Page 7 
KAIWAKA WEATHER 
HAKARU & DISTRICTS 
MEMORIAL RSA (INC)
Members & guests are invited to 
come along and enjoy our hospitality. 
New members welcome. 
Meals are served on Thursday and 
Friday nights from 6.30pm. 
Order from Blackboard Menu  
and a sing-a-long  
with Des Chitty. 
For more information please phone 
Graeme on 431 2563 
Welcome  to  April  already,  the  deer 
over  the  road  are  roaring  signalling 
colder  weather  is  on  its  way  and  it  is 
the beginning of the mating season.  
Our first month of Autumn was mostly 
pleasant  except  for  a  few  very  windy 
days  and  odd  showers  round  about. 
There were rather heavy falls of rain in 
some  areas.  Strong  South  Easterlies 
turning  south  westerlies  later  cooled  it 
down a lot.  On the 31st March we had 
a downpour which gave us at our house 
25mm in a very short time. There was 
no wind, so it was more than welcome.  
About  1k  south  of  Kaiwaka  they  got 
6mm and in Kaiwaka about 7mm. Parts 
of  Hakaru  had  13mm.  Very  localised 
you would say.  
On the 30th March Kaira Road, Oneriri 
had  40mm  and  then  opposite  Batley 
they  had  1mm.  Out  towards  Oneriri 
Peninsula  they  had  a  very  welcome 
15mm.  Our  25mm  on  the  31st  will 
show up in April's report as that is how 
the  rainfall  records  are  recorded  -  the 
next day. 
Our  March  temperatures 
have  dropped  to  the  late 
20's and will drop quite fast by the feel 
of it. I loved those days with no wind at 
all. Feeling sorry for the beach buddies 
not being able to do their thing. (Most 
of  them)  remember  we  are  all  in  it 
together. Do not be too gung-ho about 
it. Some people do not wish to get the 
Coronavirus from you.   
Well  for  March  2020  we  had  82mm 
rain  and  for  March  2019  we  had 
52mm.  We  had  rain  on  11  days  for 
2020 and 2019 we had rain on 7 days.   
First  3  months  2020  we  had  134mm 
rain and 2019 we had 155mm rain.  
Our driest March since 1987 was 2005 
with  20mm  and  the  wettest  was  2017 
with 329mm.  
Our  driest  first  3  months  since  1987 
was  69mm  and  the  wettest  was  1999 
with 615mm.  
Derek  from  Valley  Road,  Hakaru, 
sent me this report, however I had sent 
my  report  in  so  here  it  is  now:  In 
January  they  had  12mm  rain  over  4 
days.  In  February  they  had  4mm  on  1 
day. In January and February, they had 
55  days  without  rain.  January  16th  - 
22nd  February  38  days  without  rain. 
Their  average  temperature in  February 
was 
32deg 
and 
their 
highest 
temperature was 33deg.   
I  saw  a  report  that  for  Northland  the 
worst  dry  start  for 60  years  was  2013.  
Record  low  rainfall,  higher  than 
average temperatures and soil moisture 
exceedingly low.    
Take  care  out  there  when  you  can  get 
your wheels on the road again.  As we 
are  on  State  Highway  1  it  was  rather 
funny to see 3 pukekos walk out on to 
the  road  and  started  pecking  at 
whatever they might get. One car went 
past,  and  they  looked  up  as  if  to  say 
what are you? A few minutes the same 
thing  happened  then  3  or  4  minutes 
later a tanker truck went down the road 
and that scared them.  I realise they are 
often  getting  run  over  on  roads 
however we haven't seen them so brave 
here.  We  have  to  play  dodgems  these 
days normally. Peace and quiet, Bev. 
MOUSE: A LITTLE 
SORRY 
In the finish his lives ran out. The 
mouse  had  winked  at  me  from 
between  the  bricks,  tradescantia 
and  dahlias  and  evaded  my 
snapper black trap six times. 
But  on  the  seventh,  armed  by  Jaques, 
success  was  mine.  Stretched  out. 
Whiskers enquiring. Looking alive still 
in  his  eyes.  His  downfall  after  five 
long  days  arrived  40  minutes  after  I 
was  back  from  the  store.  His  death 
made 30 in a couple of weeks, the end 
delayed  by  a  malfunction  in  the 
snapper  trap  that  put  an  end  to 
brothers, sisters, wife and parents. 
We've  had  inverminations  in  our 
hundred-plus  year-old  villa  and  until 
last  year  we  resorted  to  poison. 
Abandoning  that  in  autumn-winter 
2019  we  had  to  deal  many  storming 
the  ramparts.  Now  we've  established 
mutually  why  to  keep  our  food 
supplies,  and  the  animals',  in  metal 
and  glass,  and  aim  to  halt  the  little 
tourists when they arrive. 
With  two  new  black  snappers  from 
Jaques, I'm confident of defeating the 
next  wave  and  hope  they  will  find 
outdoor winter retreats. 
Note: 
Control  also 
demands 
secure  stock 
supplies 
including  a 
secure  home 
for  compost 
worms  since 
mice  slip  in 
and 
rats 
chew 
out 
wood 
or 
plastic. 
HODGETTS 
CONTRACTING
Digger Work    
Driveways  
House Sites  
Dams      
Drains, etc
Also available for HIRE 
3 ton Vib Roller  
Heavy Duty Tow  
Waterblaster      
Lazer Level
Phone Mark  
4312877 
027 447 8554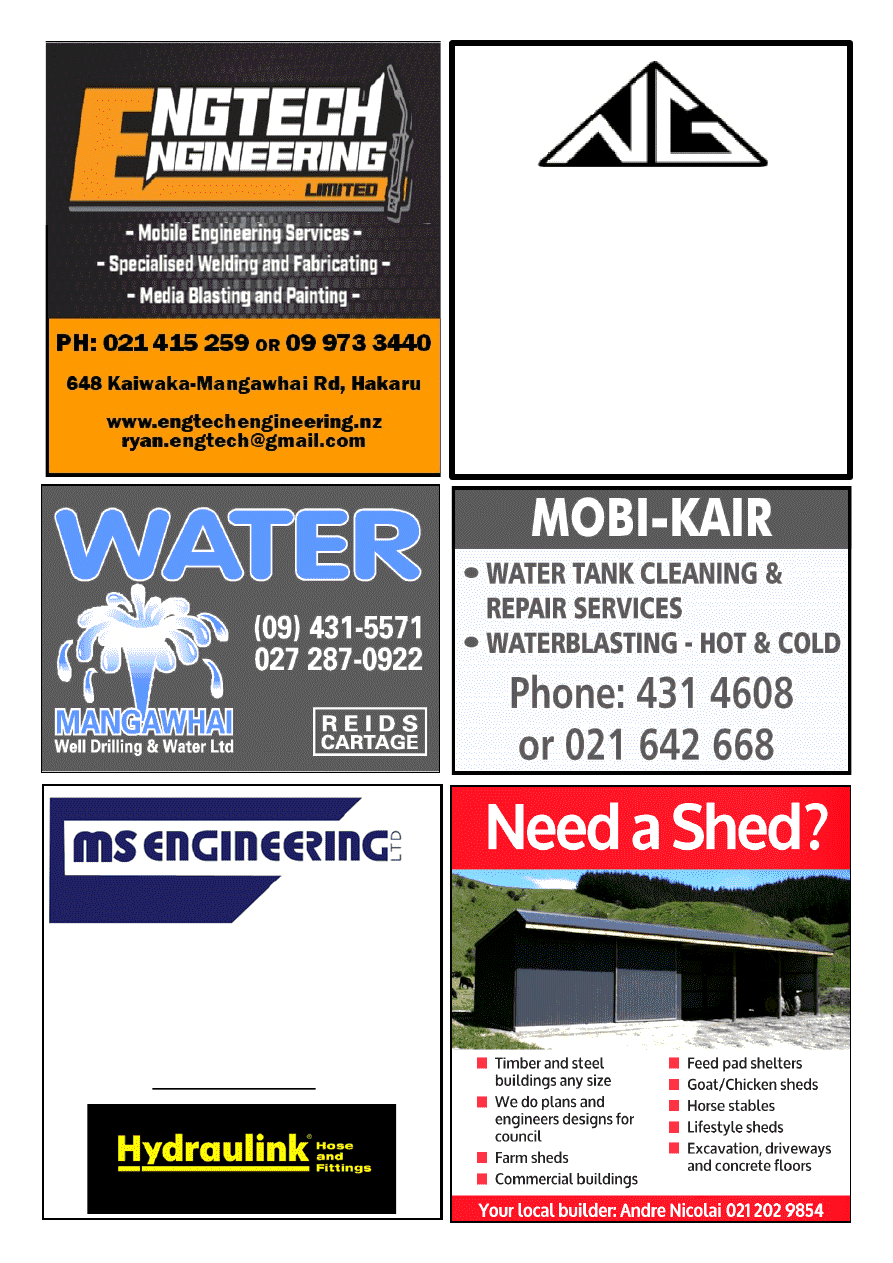 NORTH GLASS 
WINDSCREEN REPAIR OR REPLACE 
GLAZING SERVICES 
MIRRORS  •  SPLASH BACKS  •  SHOWERS 
0800 70 40 10
info@northglass.co.nz 
www.northglass.co.nz 

Peter Buckley 

Mobile Hose Technician –  
                      Based from Oneriri Road 

Available for all mobile hose                                
                        requirements onsite 

Call – 0800 425 7116 

Email – mse@mseng.co.nz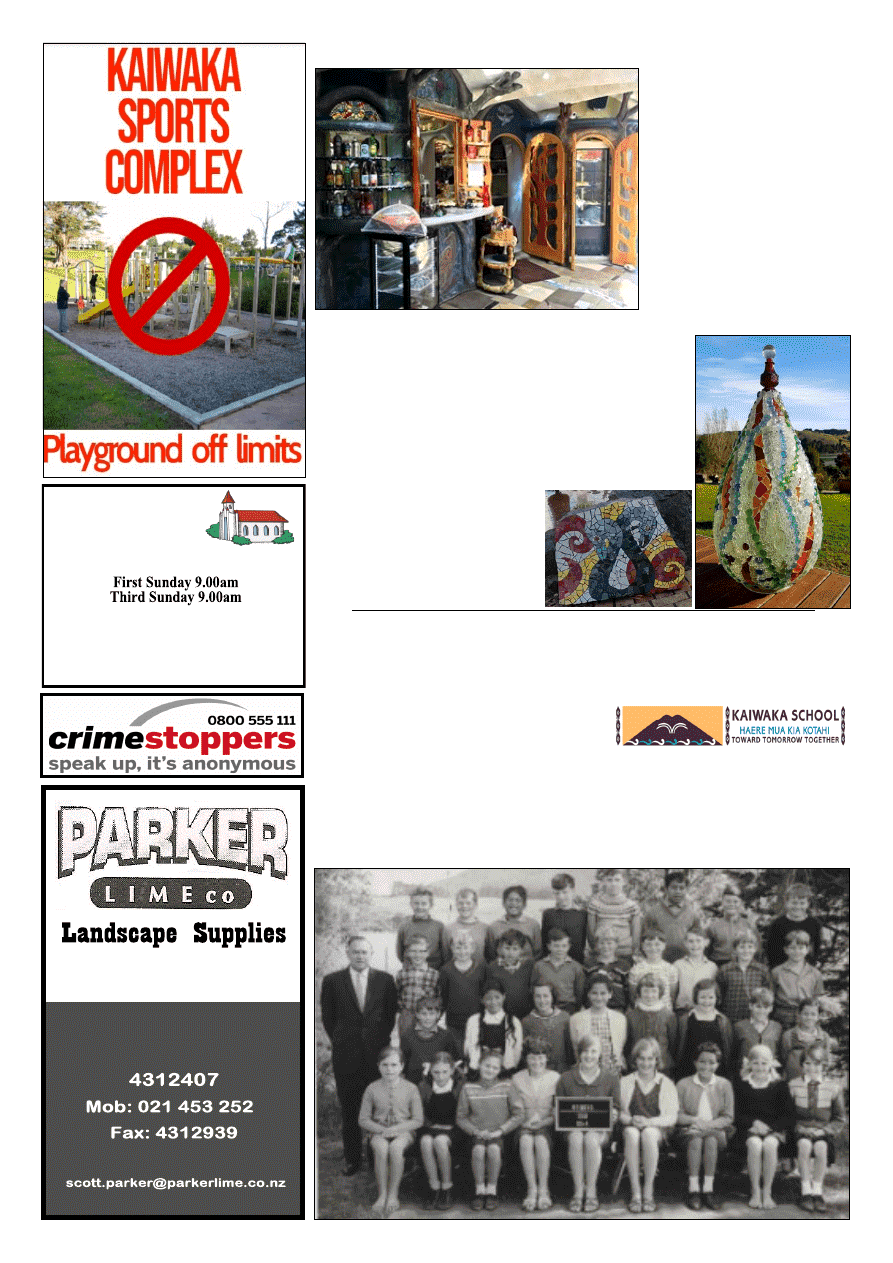 www.kaiwaka.co.nz 
Kaiwaka Bugle - 14 April 2020 
Page 9 
ST PAUL'S  
ANGLICAN  
SUNDAY SERVICES
St Pauls Church: Kaiwaka-Mangawhai Rd. 
1st Sunday - Eucharist 
3rd Sunday - Family Service 
Priest in Charge Rev. W Thornton Ph 431 4122 
www.mangawhaianglican.org.nz
KAIWAKA SCHOOL 150 REUNION   
Due to Covid-19 plans for the Kaiwaka School Reunion are on hold.  
We are waiting to see what the world will be up to in October.  
See Kaiwaka Bugle and Facebook 'Kaiwaka School 150 Reunion' for more 
information or contact: kaiwakaschool150reunion@mail.com  
Kaiwaka School 1969 Standard 3 & 4 
Back: Maurice Stewart, Philip Morrison, ?, Ross 
McAulay,  Wayne  Jaques,  Brownie  Tito,  Chris 
Ellis, Colin McLellan. 
Next  Row:  ?, Garry Donaldson, ? Brown, Leonard McCabe, Neil Judd, John Dunn, ?, 
Donald Corker, Colin Dowson. 
Standing:  Ross  Mann,  Alamaine  Connelly,  Irene  Wilson,  Manukau  Kaihe,,  Clare 
Burns, Fiona McAulay, ? Simpson, Neil Cameron. 
Sitting: Linda Haitana, Sandra Leslie, Donna Nicklas, Alisha Walsh, ?, Kathryn Jaques, 
Moira Phillips, Kenda Stewart, Gail King. Principal: Mr Madgwick
. 
Please, can you name the missing ones; is the spelling correct? [Sorry the photo isn't clear] 
Bulk Cartage 
 EUTOPIA CAFÉ IS 1 YEAR OLD 
Eutopia opened on the 8th of 
April  last  year,  if  it  hadn't 
been for COVID 19 we would 
be celebrating our 1st birthday, 
as  a  cafe.  It  has  been  an 
interesting  year  as  we  have 
grown,  learned  and  adapted 
along the way. We are bracing 
for  what  is  ahead  of  us,  with 
the  global  situation  being  so 
unknown,  we  cannot  be  sure 
how everything is going to pan 
out in the year ahead. 
We  have  not  been  idle  over 
these  last  few  weeks.  It  has 
been an opportunity to sit back, 
breathe  a  little  slower  and  reflect  on  where  we  are  now.    We  have  used  the 
lockdown to start working on the art works once again 
and  finish  some  long-neglected  projects.  There  should 
be  a  few  additions  when  we  open,  some  new  tables, 
sculptures  and  glassworks.  We  are  also  looking  at  a 
winter menu. 
We  are  still  getting  many  people  coming  in  who  are 
very  surprised  to  discover  Eutopia,  not  realising  we 
were  there.  Many  travellers  have  made  Kaiwaka  their 
stop  place  on  their  journey  North  or  South.  With  the 
downturn  on  visitor  numbers  to  NZ  we  will  all  be 
relying on locals getting out and 
about once again. So, we hope to 
see  you  all  back  soon.  We  think 
we are so lucky to live in the best 
country  in  the  world  and  an 
especially  great  little  town  in 
these very strange times.  
        ~ 
Marijke and Robert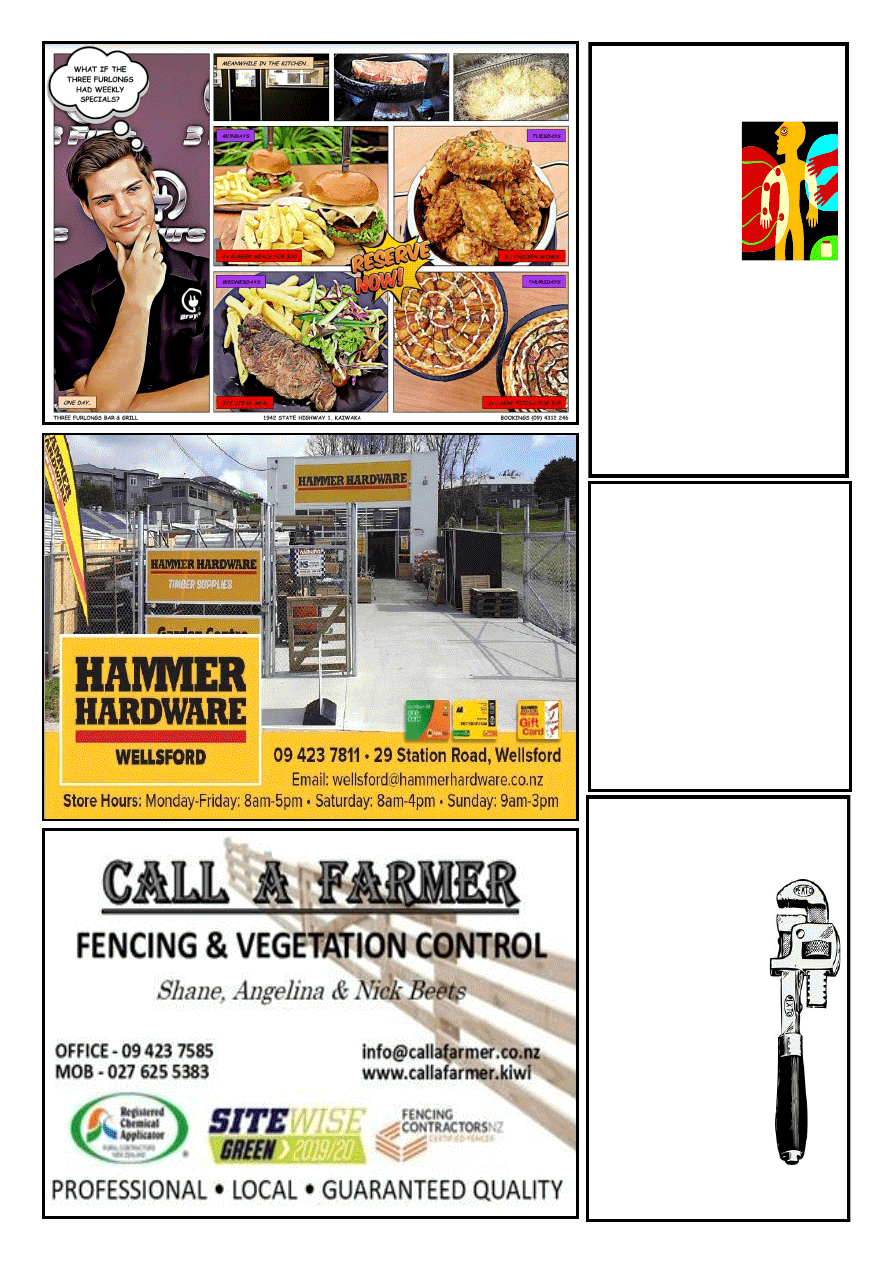 OWEN STEVENS 
Osteo Therapist
For careful 
adjustments to 
bones and joints 
Treatment for 
humans and their 
pets 
Clinics: 
Kate's Place, Kaiwaka: 
Last Friday of month 
For bookings: 
9.00am-5.00pm  
Phone 
09 4312661 
Or phone Owen  
09 4317123 anytime 
BARRY CURTIS 
PLUMBING LTD 
REGISTERED CRAFTSMAN 
PLUMBER 
Phone  
431 5572 
027 257 9884 
25 years' experience 
Friendly reliable 
service 
All plumbing & 
maintenance 
Alterations and new 
housing 
Spouting  
Competitive rates 
PROMPT EFFICIENT 
WHERE TO GET HELP 

1737, Need to talk? Free call or 
text1737 to talk to a trained counsellor  

Rural Support Trust 0800 787 254   

Lifeline, 0800 543 354  

Youthline, 0800 376 63, text 234, 
email talk@youthline.co.nz or online chat

Samaritans, 0800 726 666  

Depression Helpline, 0800 111 757   

Suicide Crisis Helpline, 0508 828 
865 (TAUTOKO)      

In a life-threatening situation 
call 
111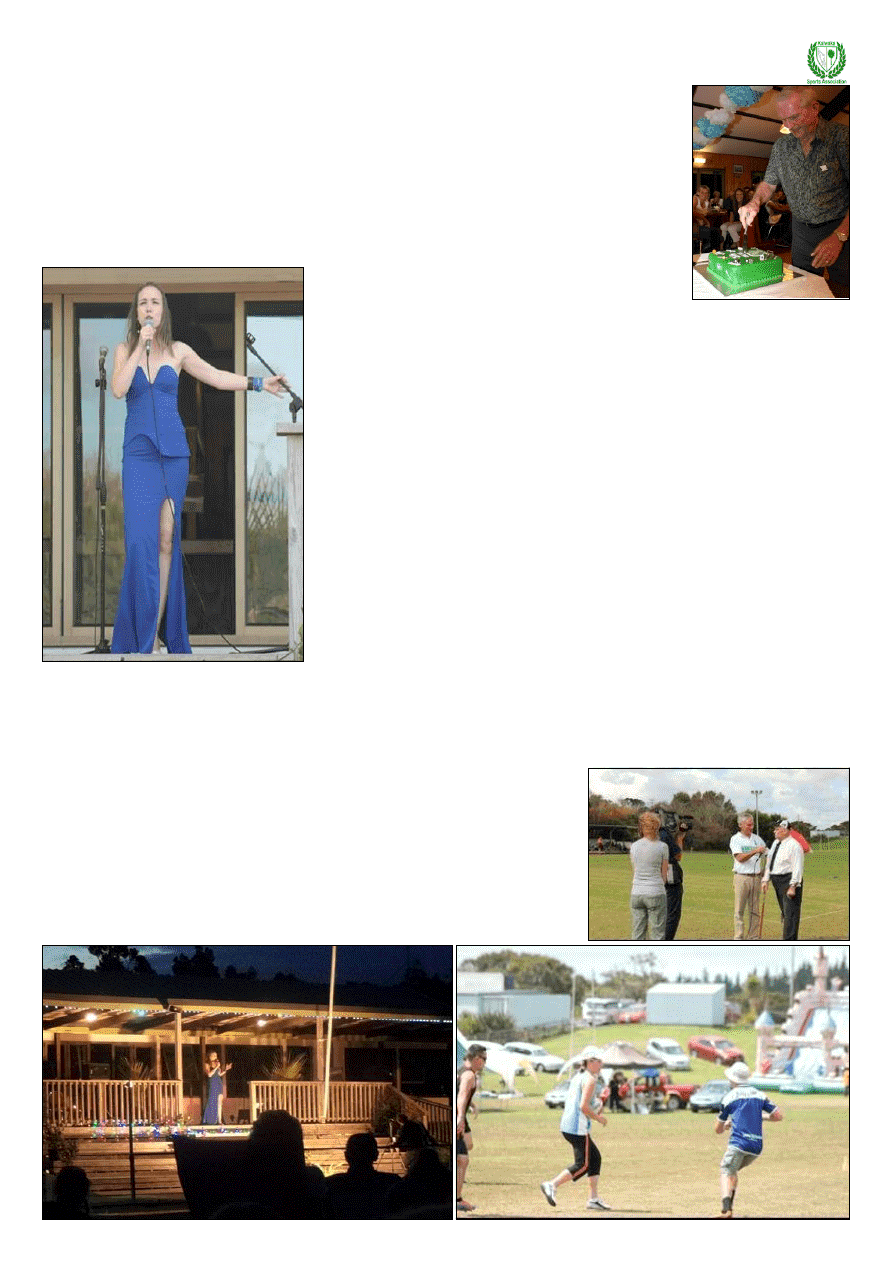 www.kaiwaka.co.nz 
Kaiwaka Bugle - 14 April 2020 
Page 11 
KAIWAKA SPORTS ASSOCIATION
FOR  A  TRIP  DOWN  MEMORY 
LANE: 
For my KSA reports for the Bugle, I've 
usually got plenty to write about as the 
KSA is always a hive of activity! Now 
of  course  with  the  lockdown,  there's 
nothing  happening.  So,  what  to  write 
for  this  report?  I  thought  a  little  trip 
down 
memory 
lane 
might 
be 
interesting, so here's a brief look back 
on  a  small  selection  of  some  of  the 
events  we  have  held  at  the  Sports 
Complex. 
FEBRUARY 2015 
Back  in  late  2014,  I  was  thrilled  to 
secure  international  singer  Yulia  to 
perform  at  a  charity  concert  as  a 
fundraiser  for  the  KSA.  For  those  of 
you who don't know of Yulia, she is a 
Russian-born  New  Zealander  now 
based  in  Australia  who  sings  all  over 
the  world  and  has  won  many  singing 
awards.  The  concert  was  to  be  called 
Yulia & Friends, so I needed to find six 
talented  local  singers.  Who  knew  that 
we  had  so  much  talent  in  our 
community!  I  finally  whittled  it  down 
to  Michelle  Clark,  Mercedes  Von 
Dinklage,  Tasha  Perret,  Jasmine 
Sampson,  Olly  Knox  and  Molly 
Curnow.  On  a  beautiful,  still  February 
evening  at  the  Sports  Complex,  the 
crowd of over 300 were spellbound by 
Yulia's  beautiful  songs  and  were  also 
delighted  with  the  singing  from  the 
locals.  Yulia  graciously  stayed  behind 
for  over  an  hour  signing  autographs 
and taking selfies. 
I  probably  view  the  Yulia  &  Friends 
concert  as  one  of  the  events  I'm  most 
proud  of  –  because  organising  a 
musical  event  was  certainly  out  of  my 
comfort  zone!  Everyone  seemed  to 
enjoy  the  evening  and  it  certainly  was 
fabulous  to  have  such  a  high-profile 
performer come to our little town. 
APRIL 2013 
We  decided  to  mark  the  Otamatea 
Hawks  rugby  club's  quarter  of  a 
century  of  play  with  a  reunion. 
Luckily, we came up with the idea over 
a  year  beforehand,  because  this  sure 
was a big undertaking! Coming up with 
all  the  names  of  Hawks  players, 
committee 
members, 
coaches, 
managers etc from the last 25 years and 
then  tracking  down  their  present 
addresses  was  a  daunting  task!  In  the 
end  we  had  several  hundred  people 
from  all  our  New  Zealand  and  some 
from  overseas  attend  the  weekend 
reunion.  The  reunion  included  a  Meet 
&  Greet,  seven  exhibition  rugby 
matches, interviews by Grassroots TV, 
memorabilia 
displays, 
a 
life 
memberships  ceremony  and  a  Gala 
Dinner. I had fantastic feedback from 
the attendees with everyone loving the 
opportunity  to  revisit  their  old 
stomping  ground  and  catch  up  with 
past teammates. 
APRIL 2014 
In  April  of  each  year,  I  organise  the 
KSA  Sports  Awards  Dinner.  In  2014 
we  realised  it  would  be  the  30th 
anniversary  of  the  awards  dinner  so  I 
decided  to  do  a  few  extras.  The 
anniversary was commemorated with a 
PowerPoint  presentation  of  highlights 
and  past  winners,  a  cake  cutting 
performed  by  Patron  Brian Jaques and 
a  sports  trivia  quiz.  Pam  and  Mark 
Ottaway were presented with a special 
gift  in recognition  of  their  30  years  of 
service  to  the  Kaiwaka  Sports 
Association  and  Life  Memberships 
were  awarded  to  Evan  Wright  and 
Wayne Leslie. 
Emcee John Markby, from More 
FM,  read  the 
profiles  of  the 
28  nominees. 
The 
winners 
were: 
Senior 
Sportsperson of 
the Year - Julie 
Harris 
(body 
building), 
Junior 
Sportsperson of 
the 
Year 
- 
Danyon  Tana 
(tennis), 
Service 
to 
Sport  -  Eileen  Parsons  (athletics)  and 
Greg  McRae  Memorial  Trophy  - 
Caitlin Foster (squash). 
JANUARY 2015 
The  year  of  2015  kicked  off  with  our 
inaugural 
Whanaunga 
Touch 
tournament.  The  day  included  a 
powhiri,  hangi,  food  stalls,  Touch 
matches,  live  music  and  other 
entertainment.  Teams  and  spectators 
from all over the north gathered at the 
Sports  Complex  for  an  action-packed 
day  of  Touch  and  whanau.  One 
memory  I  have:  knowing  that  I  would 
be  emceeing  the  day  over  the 
loudspeaker  I  had  been  practising  my 
pronunciation  of  all  the  Maori  team 
names  -  but  obviously  not  practised 
enough  as  some  giggles  from  the 
crowd told me my pronunciation left a 
lot to be desired! Something to work on 
in  the  future!  The  whole  day  was  a 
wonderful  success  and  a  great  effort 
from the hard-working organising 
team. 
A  few  more  reminiscences  in  my  next 
Bugle report! 
~ Cheryl, kaiwakasports@gmail.com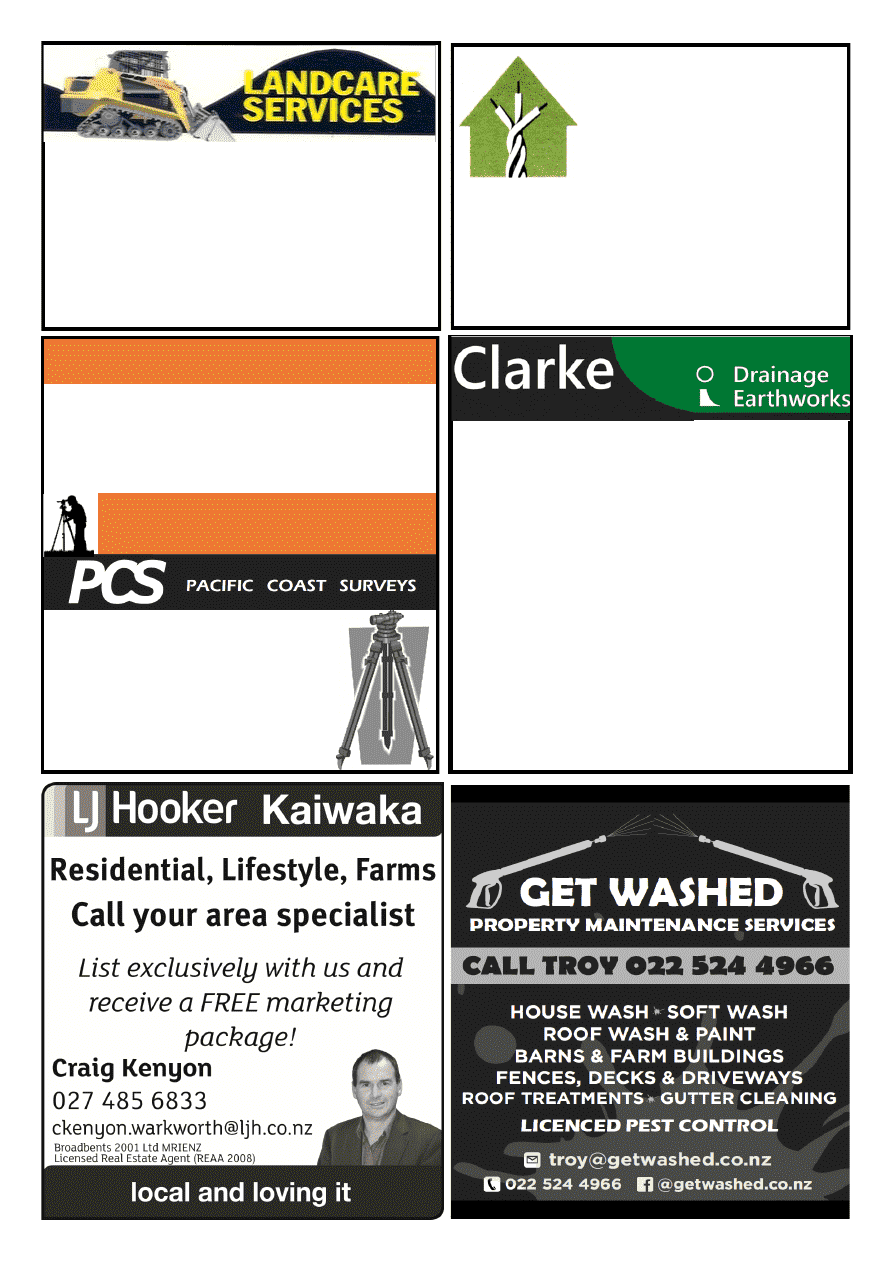 Reyahn  Leng 
Registered Electrician 
Local, honest and reliable. 
For your residential and 
light-commercial projects. 
022 314 1068 
SURVEYORS 
SUBDIVISIONS 
HOUSE SITE SURVEYS 
CIVIL ENGINEERING 
WASTEWATER DESIGNS 
EXPERIENCED 
PROFESSIONAL 
INNOVATIVE 
Ph 09 431 5353 
0800 PACIFIC (0800 722 434) 
pacificcoastsurvey.com
Adam Booth - 027 415 5752 
Bsurv, Licensed Cadastral Surveyor
Surveying Kaipara since 1994 
LANDSCAPING 
4 IN 1 BUCKET 
TRENCHER 
POLE HOLES 
ROTARY HOE 
COMPACT ROLLER 
OFFAL HOLES 
CAN SUPPLY WOODCHIP & POST PEEL 
5 TON TIPPER 
FOR RELIABLE AND FRIENDLY SERVICE CONTACT DAVE 
Dave Hyndman 
 
KAIWAKA 
PH: 09 4312302 
MOB: 021 431 238 
Drainage & Earthmoving 
nigel@clarkedrainage.nz 
027 2233 185 
Registered Drainlayer                 All Types of Earthworks  
> All Residential & Commercial Work  > House Sites 
> Septic System Design & Install 
> Footings & Drilling to 10m 
> Sewer Connections 
> Dams 
> Water Tank Installation 
> Roading & Races 
> Farm Work 
THE ONE STOP SHOP  
Phone Nigel for an Obligation Free Quote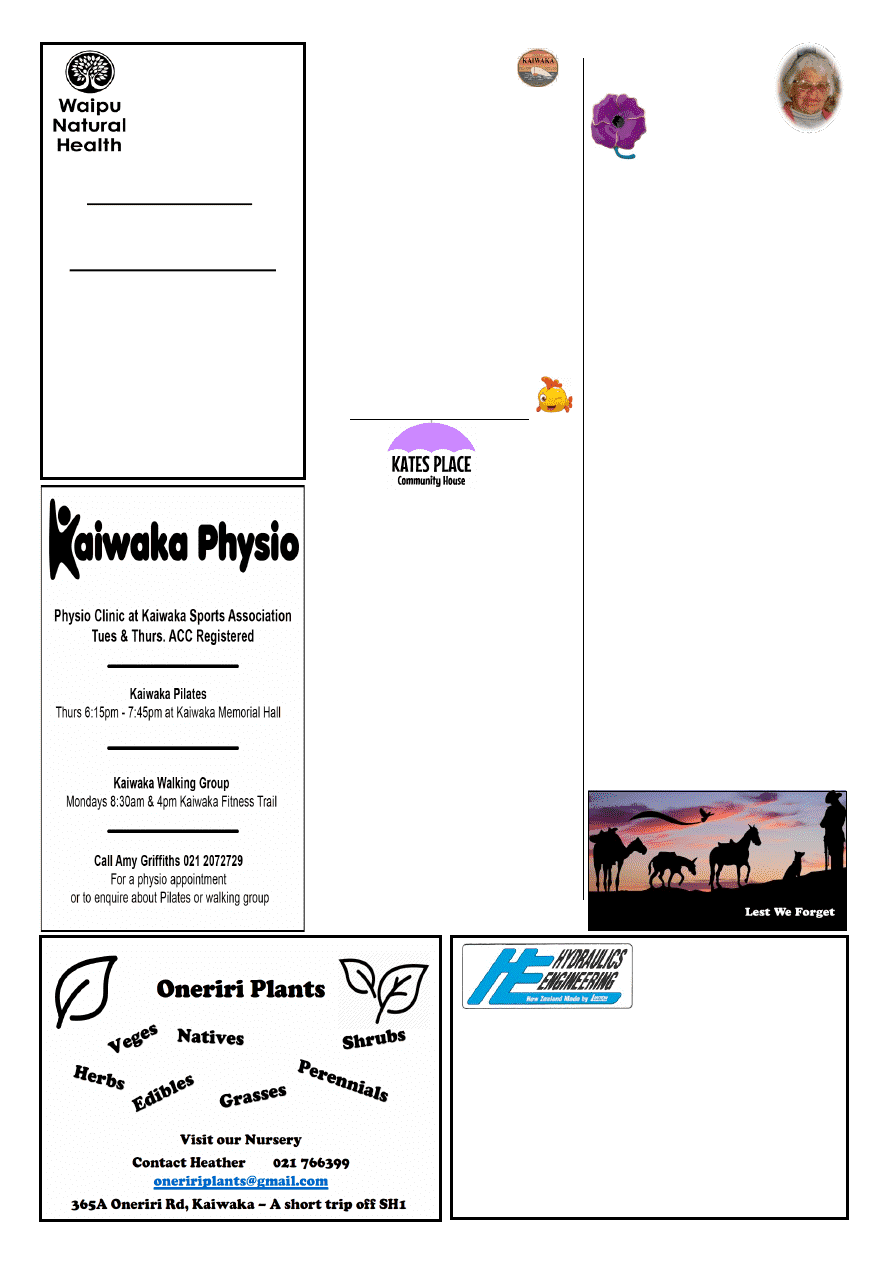 www.kaiwaka.co.nz 
Kaiwaka Bugle - 14 April 2020 
Page 13 
KATE'S PLACE 
WOAH WE"RE OVER  
HALFWAY THERE!!!! 
Kia  Ora....we  are  at  the  halfway  point 
and hopefully all still in one piece :) 
Lets hope that if our numbers continue 
to decline we are able to start dropping 
down the Covid-19 levels. 
At Kate's Place we continue to operate 
remotely, providing counselling, phone 
support  and  food  deliveries  and 
prescription pick ups. We are available 
by  phone  and  will  be  available 
throughout  Easter  Weekend  if  you  are 
experiencing  issues  in  the  home  or 
with your mental wellbeing or with just 
practical issues around shopping etc.  
We can offer you support to deal with 
any  agencies  such  as  WINZ  ,  IRD, 
medical issues or employment. 
We  thank  and  greatly  appreciate 
individuals  and  organisations  who  are 
supporting  Kates  Place  to  be  able  to 
offer  these  additional  services  at  this 
extraordinary time. 
Ph:  029  773  9085  or  email 
kirstie.katesplace@gmail.com 
3 Cove Road, Waipu 
(opposite the Pizza Barn
) 
094321325 
www.waipunaturalhealth.co.nz 
Clinical Nutritionist: 
Nutritional Checkups, Diets for 
Chronic Diseases,  
Food Sensitivities 
Naturopathic Physician: 
Ozone Therapy, Prolotherapy, 
Mesozone 
Reflexology, Craniosacral 
Therapy, Trauma Release 
Massage Therapy 
Counselling and Hypnotherapy 
Change Catalyst/ThetaHealer 
Affordable Children's Consults 
All therapists are fully qualified
POINT CURTIS 
CRUISING 
CLUB  
Hope  everyone  is  staying  safe  in  their 
'bubbles'.  
Remember  NO  Hunting  or 
Fishing at the moment.  
This  could  be  a  good  time  to  pamper 
the gear and clean out the tackle boxes 
ready for after lockdown. 
⚫
East Vs West Fishing Competition - 
CANCELLED
⚫
Fish of the Month - CANCELLED
⚫
Opening  Day  Duck  Shoot  -  To  be 
Confirmed
⚫
End  of  Year  Prize  Giving  - To be 
confirmed
⚫
Committee Meeting - CANCELLED
Take care everyone.  
~ 
Wayne Leslie, (Commodore)
From Thelma's 
Scrapbook … 
THE 
PURPLE 
POPPY 
"Men could speak of what they 
endured…Their animals could not.." 
~
The Hon Dr Brendan Nelson AO
We  honour and remember the men 
and women who have serviced and 
died in war and service. As we pay 
tribute to our fallen soldiers, we also 
turn our minds to the animals that 
served alongside them. 
While many are familiar with the red 
poppies commemorating those who 
perished in World Wars I and II, less is 
known about the purple poppy. 
Worn alongside the traditional red 
poppy, the purple poppy honours the 
deeds and sacrifices of the hundreds 
of thousands of animals that have 
served in conflict in every conceivable 
way from messengers to mascots. 
The purple poppy symbolises all 
animals who have died during 
military conflict and throughout the 
world 
While most people will know about 
Simpson and his donkey or the 
charging horses of Beersheba, the 
deeds of many other horses, camels, 
dogs, cats, pigeons, and even marine 
animals will be remembered. 
"
Animals, so loyal and trusting 
stimulate the imaginative capacity 
within us to see the world and its 
conflicts through the eyes of others
". 
Hydraulics  
Engineering Ltd 
Kaiwaka 
Sales - Service - Parts - Hire - Manufacture 
Service Contractors & Industrial Equipment: 
Rams, Pumps, Valves 
Logsplitter Hire, Manufacturer, Sales 
Dennis Linton 
Lot 2 / 161 Ranganui Road, RD2, Kaiwaka, 0573, New Zealand 
Mobile: 0274 381 700 
Email: hydraulicsengineering@xtra.co.nz 
Website: www.hydraulicsengineeringco.nz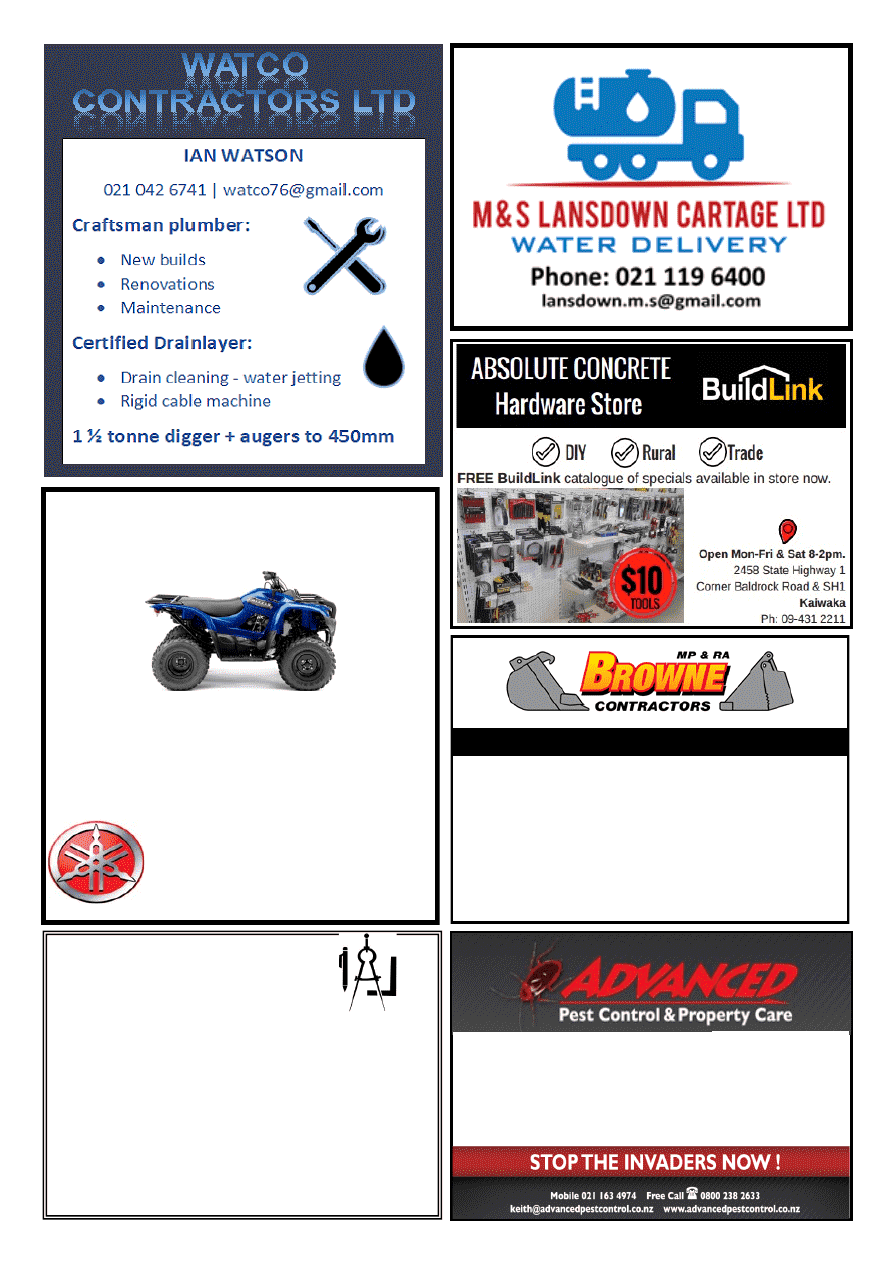 KAIWAKA 
MOTORCYCLES LTD
SALES – SERVICE – SPARES 
FARM BIKE SPECIALIST
PHONE 09 431-2127 
10 KAIWAKA-MANGAWHAI ROAD, KAIWAKA
Trimmers  
from $279
Chainsaws  
from $339
YAMAHA 
HUSQVARNA 
4Tonne DIGGER – BOBCAT – TIP TRUCK 
Property Maintenance - Driveways  
 Building Sites 
Stump & Tree Removal  
Hole Boring - Chain Trencher  
Calf Shed and Stockyard Cleaning 
Phone Matt: 021 199 6677 
Email: mprabrownecontractors@gmail.com 
Pest Control 
PLAN A: One-off treatments to customers with a specific pest problem 
PLAN B: Full maintenance service plans to commercial customers. 
This will include documentation kept in customer file on site: 
⚫
Pest treated 
⚫
Date of service 
⚫
Chemical or baits used 
⚫
Full pest check report done after each treatment 
⚫
Fair and reasonable fee with guarantee 
Flood Recovery 
Carpet Care 
⚫
Carpet Drying 
This includes pre-spray treatments 
⚫
Dehumidifier Rental 
with stain removal and hot water extraction.  
⚫
Full Commercial Cleaning  Patch repair also available 
Upholstery Cleaning 
Full upholstery cleaning of all furniture.  
eg lounge suites and all office chairs 
Water Blasting 
⚫
Concrete - Decks 
House Washing 
⚫
Soft Chemical Was 
⚫
Pre-painting Wash 
Property Services 
⚫
Property Cleaning  Lawn Mowing 
⚫
Hedges General   Tidy Ups 
design drafting  
service 
Retired builder and manufacturer with over 40 years  
experience in the building industry is offering a design 
drafting service for domestic housing, sleepouts and 
sheds.  
Plans formulated in consultation with clients, with 
working drawings completed and submitted to  
council for processing.  Extensive practical experience,  
able to identify & resolve problems. 
Please ring Mike Lean on 
09 431 2260 
or 
021 431 196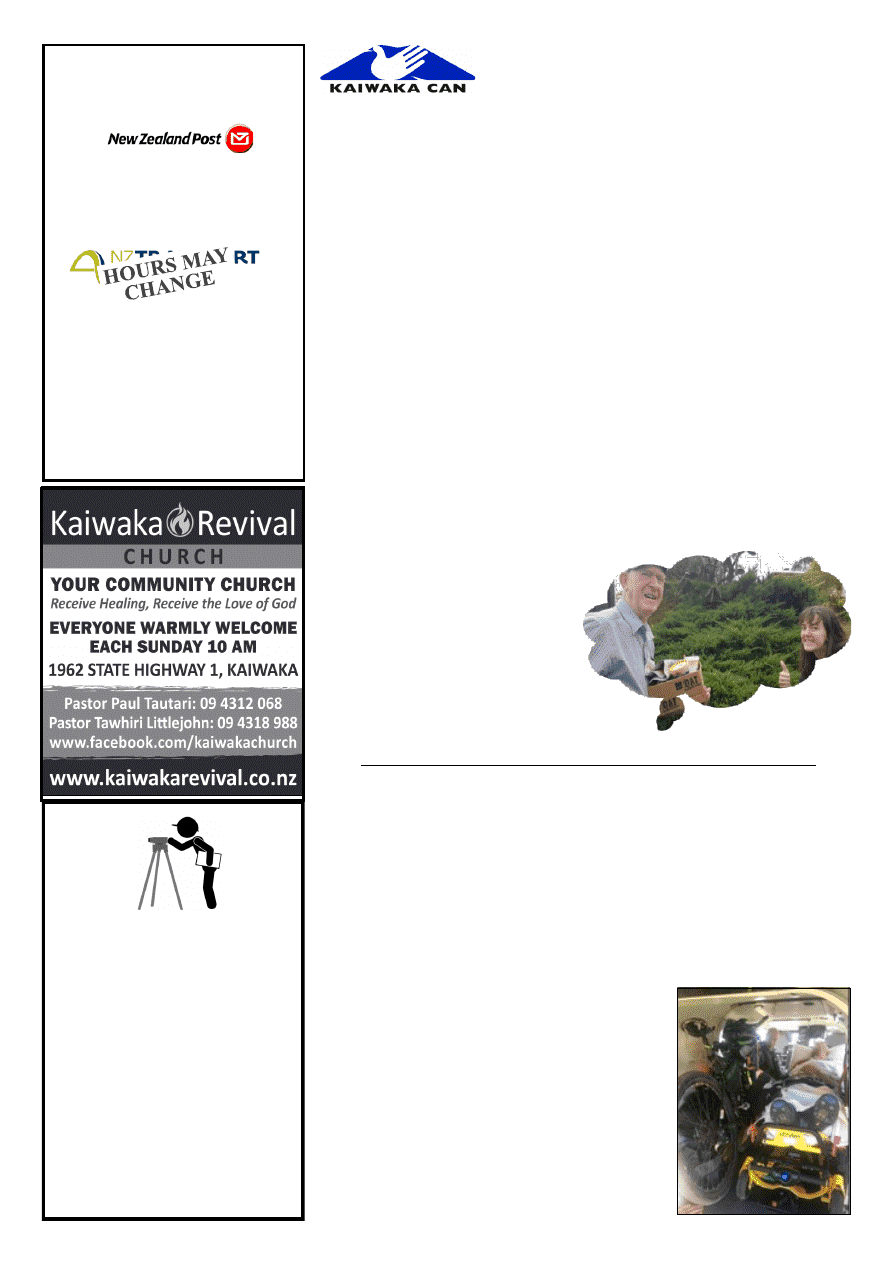 www.kaiwaka.co.nz 
Kaiwaka Bugle - 14 April 2020 
Page 15 
KAIWAKA POST 
CENTRE and 
FOOD MART 
POST CENTRE TRADING HOURS 
MONDAY to FRIDAY 8am to 5pm 
SATURDAY 8am to 12pm 
CLOSED ON SUNDAY and on 
PUBLIC HOLIDAYS 
FOOD MART (GROCERIES) 
MONDAY TO FRIDAY  
7:30am to 7.30pm 
SATURDAY  8am to 7.30pm 
SUNDAY  8:30am to 7pm 
IF ANY QUERIES PLEASE CALL 
STORE MANAGER AMRIT  
on 09 4312431 or 
EMAIL: kaiwakafood19a@gmail.com 
1919a State Highway1, Kaiwaka 0542 
Ken Urquhart 
BSurv Licensed  
Cadastral Surveyor 
KMU Surveys Ltd 
467 Bickerstaffe Road 
RD 2 
Maungaturoto 0587 
Ph 09 431 8705 
Mob 021 161 2344 
kenurquhart@xtra.co.nz 
How's life in your bubble? For most 
of  us  it  is  an  entirely  new 
experience. 
Sometimes 
in 
a 
particular area people have been told to 
stay  inside  (toxic  fumes  for  example), 
stay away from places (Christchurch 
earthquakes) or stay where they are and 
not  travel  (Cyclone  Bola).  But  all  of 
these  have  been  localised,  specific  in 
their cause and Lockdown for Covid 19 
comes as something totally unexpected, 
unbelievably disruptive and takes a lot 
of adjusting. 
But  before  I  get  overwhelmed  by 
global  statistics  and  damage  to  the 
world  economy,  here  are  a  few 
reflections about being in a bubble. 
Bubbles  are  generally  transparent 
which means when we are in a bubble 
it is  a  good time  to look  at  everything 
round about us. And that looking has to 
be  very  local.  A  walk,  a  box  of 
groceries  from  Jaques,  a  trip  to  the 
chemist  and  that  is  about  it.  But  what 
do  we  see  on  the  way?  How  does 
Kaiwaka  look  without  the  traffic 
madness through the heart of our town? 
It  is  a  great  time  to  notice  things  that 
could be tidied up and things that could 
be  an  enhancement  to  our  own  little 
town.  Be  creative  and  let  your 
imagination  run  wild.  What  could  we 
look  like  in  the  future,  for  young,  old 
and all the in betweens? 
What  could  draw  the  gaze  of  people 
passing through and not just a wary eye 
on the speed cameras? By the way, an 
article  in  Mahurangi  Matters  March 
18th  gives  a  tentative  starting  date  for 
the  Warkworth-Te  Hana  motorway  as 
somewhere  round  2030.  Which  means 
of  course  our  patch  will  be  a  lot  later 
than  that!  We  have  to  live  with  SH  1 
through  our  heart  for  a  decade  or  two 
yet. Let your dreams add colour to your 
bubble. 
Bubbles also float in the air. Imagine 
floating above Kaiwaka looking down. 
Does  that  make  it  easier  to  see  just 
what could be done? 
And bubbles by their very nature are 
sealed  off  from  everything  outside 
which  is  a  good  time  to  reflect  on  the 
state  of  our  bubble  and  the  ones  we 
share  it  with.  It  is  also  a  great  time  to 
think  about  what  we  really  need  as 
against  what  the  advertisers  tell  us  we 
need.  Maybe  we  are  doing  a  sort 
through  stuff,  decluttering,  which 
makes us think about what we need to 
keep and why and how long we need to 
keep it. 
And bubbles by their very nature are 
transient. They burst, they blow away 
and  we  are  back  where  we  began 
except  we  now  have  a  new  beginning 
in  which  the  rules  are  changed,  the 
economics have changed and the entire 
workforce  scrambles  to  find  stability. 
We  are  fortunate  in  our  town  to  have 
some significant employers and we are 
well placed to have even more. 
May  your  bubble  be  peaceable,  your 
thoughts creative and your minds wiser 
because  we  have  all  been  through  this 
unique experience. ~ 
Derek Christensen 
REFLECTIONS ON LIFE IN A 
BUBBLE ... 
A few weeks back Whangarei's Rob Meadows set out on a fundraising mission 
to ride the length of New Zealand. 
Rob and five friends were to raise money for the life-saving Northland Rescue 
Helicopter  Service.  Seven  days  in  and  800km  into  a  3000km  ride,  heading 
downhill on a gravel road in Pureora Forest Park near Taupo, Rob's front wheel 
hit a pothole and he went flying. 
Fast  forward  an  hour  and  Rob  was  on  route  to  Waikato  Hospital  aboard  the 
Taupo Rescue Chopper  (pictured)– what irony!  
Rob is now recovering from a broken collar bone and broken ribs but still with a 
smile  on  his  face.  In  fact,  he  plans  to  complete  the  ride  in  its  entirety  in  two 
years' time and again raise money for the Northland service. 
His mates did finish the ride and combined, their Givealittle page raised $5,651. 
As  for  his  unexpected  adventure  and  apart  from 
having a new appreciation for Rescue Choppers, Rob 
had  this  to  say:  "When  it  happened,  I  thought 
Bugger, it's all over, every day was an adventure and 
it was so much fun. The Paramedics in the Chopper 
were amazing guys." 
"The rest of my team completed the trip in 23 days 
and  on  behalf  of  them  all I  want  to thank  everyone 
who donated – thank you" 
"You  never  know  when  you  are  going  to  need  a 
Rescue Chopper Service, be that in Northland, or as I 
found out, anywhere else around the country!" 
Meantime, Rob continues his recovery and is 
working hard to get his fitness back up on the indoor 
trainer in the virtual world of Zwift! ~ Sophie Sager 
ROB MEADOWS FLYING HIGH FOR CHARITY 
Keeping in their bubbles - Bill and Holly!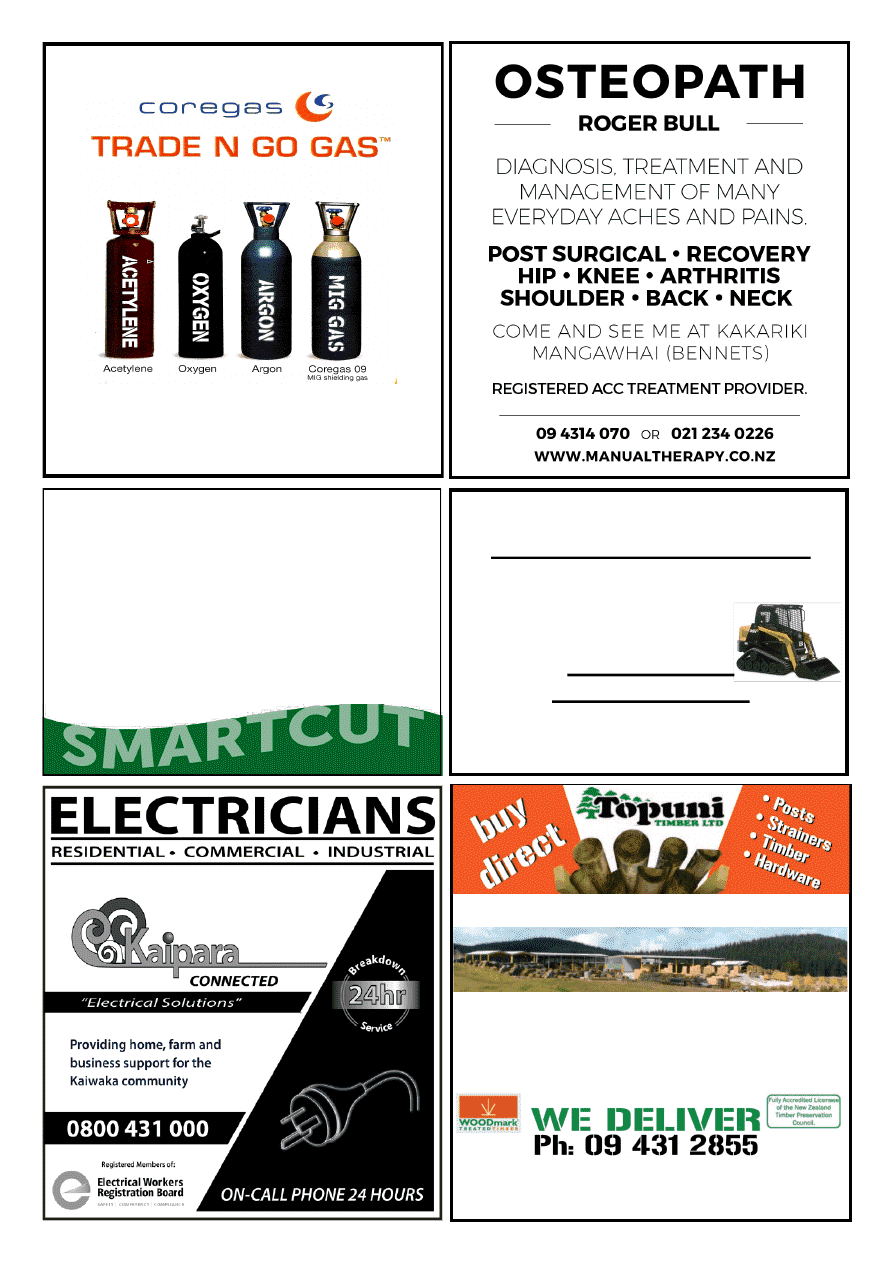 All your outdoor needs sorted so you don't have to… 
I can prune, chop, tidy, spray, mow, plant 
You name it, I can do it! 
Residential & Commercial 
Lawn & Garden Care 
Call Rodney,  
your local lawnmowing contractor 
021 138 2344 
At Twinkle Tow 'n' Tyre 
Mob: 021 833 960 
Ph & Fax: 09 431 2823 
1837 State Highway 1, Kaiwaka 
LOCALLY OWNED AND OPERATED 
QUALITY PRODUCTS • FRIENDLY ADVICE • GREAT SERVICE 
Quality Products milled from High Density NORTHLAND Radiata Pine. 
Treated and guaranteed to NZS3640 with commitment to 
Environmental Safety.
Phone, fax, email, or come into the mill 
Schiska Rd, Topuni, SH1, 10 min north of Wellsford. Fax: 09 431 2856 
Email: sales@topunitimber.co.nz           Mon - Fri 7am-5pm 
• Fencing 
• Retaining 
• Decking 
• Landscaping 
• Gates 
• Hardware 
Natural Earth Ltd 
Landscape and Bobcat services 
 : Driveways :Landscaping :Retaining Walls 
 : Hole Boring: Land Levelling :Trenching 
 : Decks :Fences :Sections Cleared 
 : Plus much more
Tel 09 4312 885 
Mob 02102391280 
For A Fast Friendly Service  
Contact Tim Hicks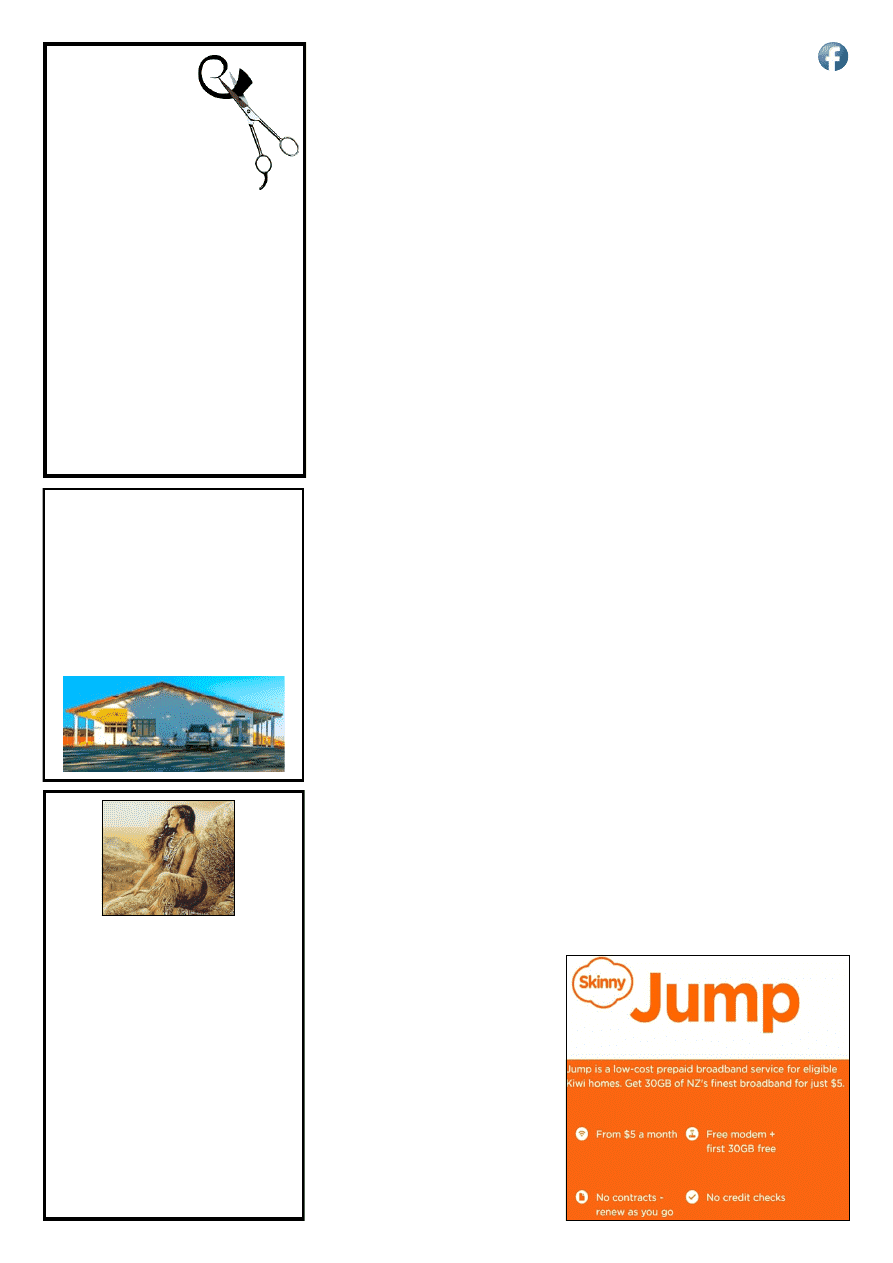 www.kaiwaka.co.nz 
Kaiwaka Bugle - 14 April 2020 
Page 17 
Te Pounga Marae 
130 Nathan Rd. Oneriri. Kaiwaka 0573 
COMPLEX FOR 
HIRE 
Functions: * Weddings  * Birthdays  
*Anniversaries * Meetings  * Wananga 5 
hour meeting * 12 hour stay or Overnight 
*All welcome   
For more information please contact: 
 Pearl Nathan 0223933533 
Email: tepoungamarae130@outlook.com  
JUST 
CUTS 
and 
MORE  
1758 Cove Road  
Open Monday-Saturday  
by appointment only 
Saturday 9-12pm  
Affordable prices: 
Ladies cuts from $35 
Colours from $120 
Men's from$25 
Kids from $18 
0211652629  
KAIWAKA LIBRARY
The finish line 
is almost in sight! I hope 
you are all keeping well and managing to 
cope in this lockdown. 
For information about joining the digital 
library during the lockdown, and keeping 
up with our news, please check Bugle #6 
which  is  online  at  the  same  place  you 
found 
this 
issue 
- 
http://
www.kaiwaka.co.nz/Bugle/ 
CHEAP 
BROADBAND 
AT 
HOME 
Dargaville  Library  has  partnered  with 
Skinny Jump and Stepping Up to  help 
get  broadband  into  households  without 
internet.  This  is  a  low-cost  prepaid 
broadband  service  for  eligible  Kiwi 
homes.  It  costs  from  $5  per  month,  has 
no  contract,  no  credit  checks,  and  they 
provide  a  free  modem  with  the  first 
30GB of data free. 
There are two ways to get a Skinny Jump 
modem and package: 
(1) If  you  have  access  to  the  internet, 
check  that  you  have  coverage  at  your 
address.  Go  to  the  address  finder  link 
here  and  type  in  your  home  address: 
https://www.skinny.co.nz/jump/home/
#availability 
If  you  get  the  green  light  for  coverage, 
you 
can 
register 
here: 
https://
bit.ly/2xnSklz 
Fill in the first three pages. When you get 
to  page  4  "Skinny  Jump  Order  Form" 
LEAVE  IT  BLANK  (this  was  pre 
COVID-19)  -  just  press  submit  at  the 
bottom  of  the  page.  If  you  have  trouble 
with  this  form,  you  can  contact  the 
Skinny Helpdesk on 0800 4 SKINNY. 
Once  submitted  successfully,  you  will 
receive  an  email  to  confirm  your  order 
has  been  received.  A  modem  preloaded 
with 30GB of data and "how to connect" 
instructions  will  be  couriered  to  you 
directly. 
If  you  need  help  setting  up  once  you 
receive  your  modem,  call  Dargaville 
Library on 0800 532 542. 
(2) If  you  have  no  internet  access  and 
need  help  to  register  online  call 
Dargaville  Library  on  0800  532542  and 
someone will complete the form on your 
behalf. 
Once you have the modem, you can call 
the library again if you need help setting 
it up and they can talk you through it. 
The people who need this the most might 
not  have  the  means  to  view  this 
information  right  now  -  if  you  know 
someone who could benefit from this 
offer, please spread the word! 
Want  to  know  more  about  Skinny 
Jump  before going ahead? Check  out 
their 
website: 
https
://
www.skinny.co.nz/jump/home.html 
GETTING IN TOUCH 
A small snag in the works has popped 
up  during  the  lockdown  -  I  can't 
access the library management system 
from  home  as  I  type  this, and  I  don't 
know 
when  it 
will  be  resolved.  It's 
due to a security update at  Kotui and 
unconnected to Covid-19. 
This means if you have a query where 
it  might  be  necessary  to  go  into  the 
library  system,  you  should  call 
Dargaville  Library  for  assistance,  as 
they're able to access the system. Call for 
free  on  0800  532  542  and  you'll  be  put 
through  to  a  library  staff  member 
working from home. 
You can still call me if you want to talk 
to me. The diversion on the library phone 
is now working so if you call the library 
(09  431  2539)  you'll  be  put  through  to 
my  mobile.  The  call  will  not  cost  you 
anything  if  calling  the  library  phone  is 
normally  free  on  your  phone.  You  can 
also phone me at home (09 431 2725) or 
call/text my mobile (027 480 6275). 
KEEP YOUR LIBRARY BOOKS 
AT HOME 
Thank  you  to  everyone  who  has  kept 
their  library  books  at  home  for  the 
duration. You're making things easier for 
me  than  they  would  be  otherwise.  It 
hasn't  been  possible  to  get  the  news  to 
everyone,  so  I'm  still  clearing  the  box 
periodically  when  I'm  in  town.  There's 
only  been  a  few  each  time,  and  it's 
actually  taken  me  longer  to  wash  my 
hands  before  leaving  the  library  than  it 
did to clear the box. Good stuff! 
GETTING  READY  FOR  END 
OF LOCKDOWN 
When the Alert Level 4 lockdown ends - 
at  a  date  yet  to  be  announced  -  I  don't 
expect  that  the  library  will  be  open 
immediately,  but  I  am  hoping  that  we 
will be able to start getting books out to 
people  one  way  or  another.  It  may 
involve  books  being  picked  off  the 
shelves for you and arranging delivery to 
homes or a collection point. 
To  that  end,  we  will  be  wanting  you  to 
make  good  use  of  the  online  catalogue, 
and  have  you  place  a  hold  on  titles  you 
want to borrow, so we can then get them 
to you. 
You can place a hold on any borrowable 
title  in  the  library  catalogue.  Start  at 
Enterprise*  and  have  a  look  around.  If 
you need assistance, contact me and I can 
either talk you through how to search, or 
I can share an email I've written with you 
to help you find your way around. 
For  borrowers  who  don't  have  access  to 
the  internet,  feel  free  to  call  me  and  let 
me  know  what  you'd  like  closer  to  the 
end of the lockdown. 
Stay safe and healthy! ~Wendy 
Phone 4312 539.  
Email kaiwaka.library@gmail.com 
Free  membership  is  available  to  all 
residents in the Kaiwaka area  
 *
Enterprise: http://kaipara.kotui.org.nz/
TRAILS END 
RONGOA MAORI 
HEALING 
And Gifts 
Stocking all your needs from incense, 
crystals, dream catchers, greeting 
cards, jewellery, perfume, dragons 
and more ... 
For all inquiries 
 Phone 0211652629  
Light refreshments available $5 koha  
1758 Cove Road Mangawhai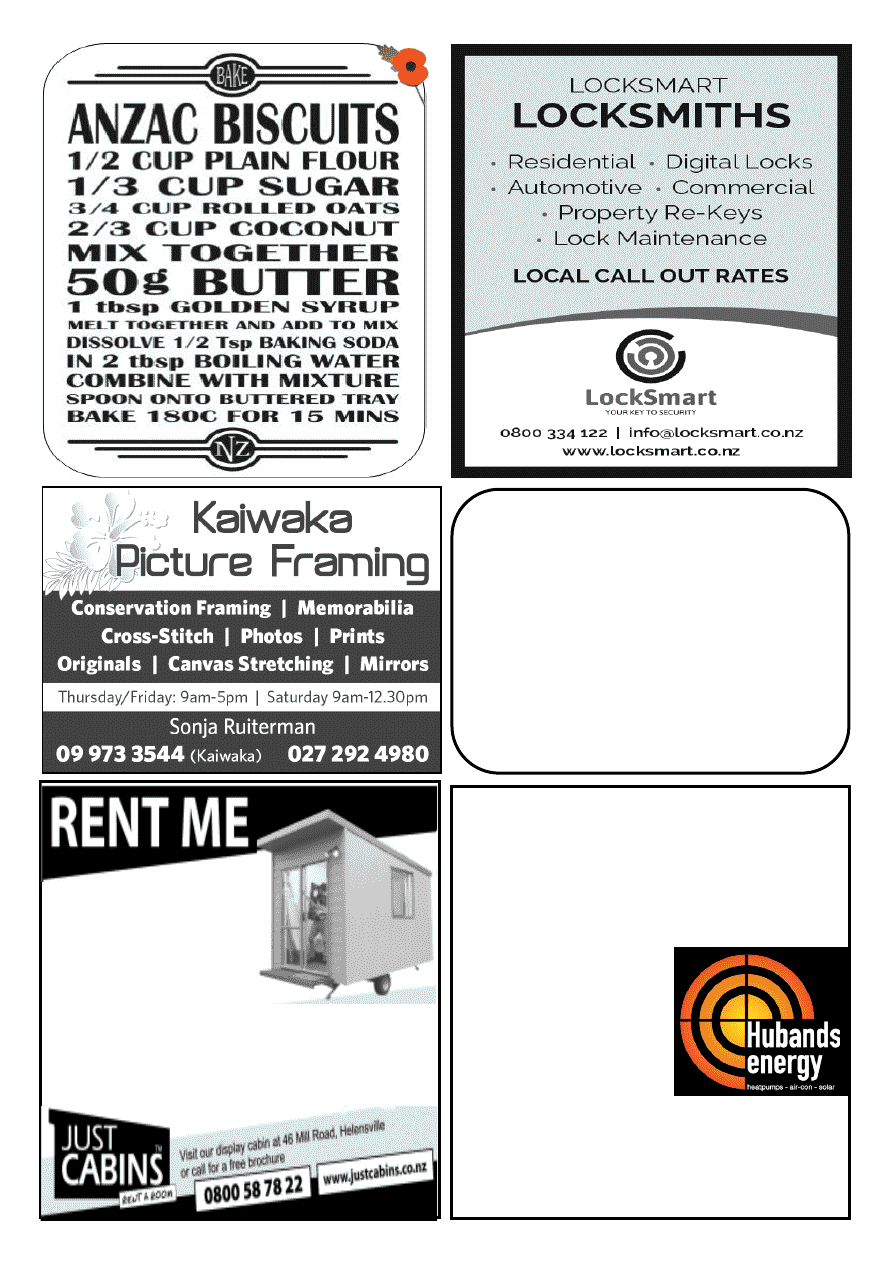 Northland's Award Winning 
Solar Company
SEANZ Best Solar Business Winners 2015/16
EXCLUSIVE 10 year installation warranty 
FREE No obligation onsite quote
Complete systems 
from $5990
See our range of: 
✓ 
Heatpumps 
✓ 
Airconditioning 
✓ 
Hot Water 
Heatpumps 
✓ 
Central Vacuum Systems
09 430 0019             sales@hubands.co.nz 
15 Kioreroa Road, Whangarei
Locally owned and operated for 35 years 
UP-LINK 
CHRIS WARING 
FREEVIEW INSTALLATIONS 
T.V. - HOME THEATRE &  
HI-FI ADVICE/SET UP
SKY ACCREDITED INSTALLER
MOB.0273403747 HM.094312328 
EMAIL cwaring44@gmail.com
28 YRS EXPERIENCE 
OFFERING UNBIASED ADVICE 
Ideal as an extra  
bedroom or office 
Three Convenient sizes: 
Standard 3.6m x 2.4m - $65 per week 
Large 4.2m x 2.4m - $80 per week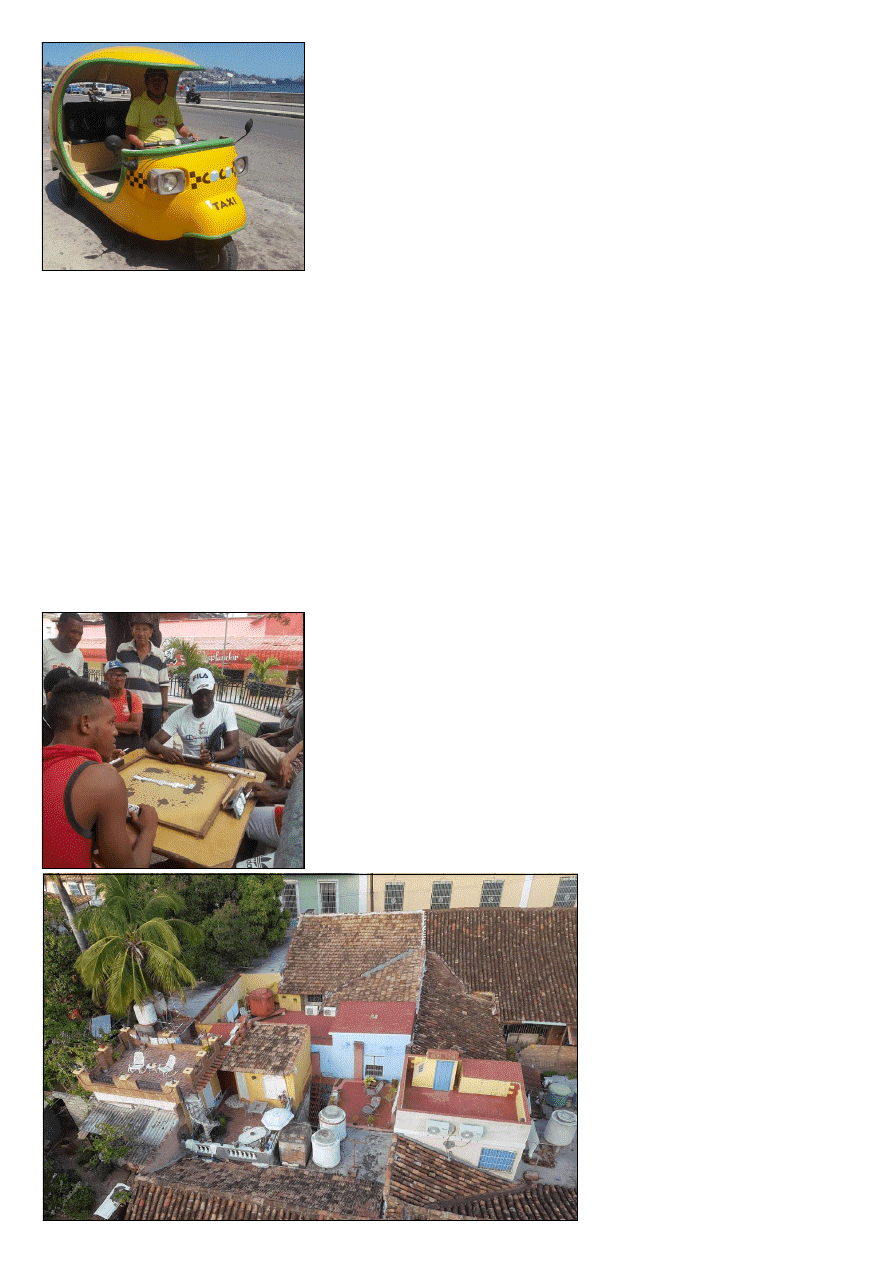 www.kaiwaka.co.nz 
Kaiwaka Bugle - 14 April 2020 
Page 19 
A VISIT TO CUBA IN STRANGE TIMES 
We  recently  got  back  from  a  short  trip 
to Cuba, arriving back home  just hours 
before lockdown. 
When we arrived there on 6 March,  there 
had  been  no  cases  of  COVID-19  in  that 
country and only a few reported in NZ. By 
the  time  we  left,  on  23  March,  all  tourists 
had  to  either  leave  or  book  into  the  few 
remaining  hotels  that  were  still  operating, 
all 
private 
accommodation 
(Casa 
Particulares)  was  closed  and  taxi  services 
suspended. 
Cuba  is  a  communist-socialist  country, 
originally  colonized  by  the  Spanish  and 
dominated by the US after independence in 
the  early  20th  century,  where,  since  the 
1953 
Revolution, 
everything 
was 
nationalized, education and health services 
are  free  (reportedly  it  has  8  doctors  for 
every 1000 people, compared with NZ's 3), 
military  service  is  compulsory  for  all 
young people (2 years, reduced to 1 year if 
you intend to go on to tertiary study), there 
is  a  very  cheap  rations  system  (so  no  one 
starves),  salaries  are  typically  between 
US$30  and  $50  per  month,  water  and 
power  are  also  cheap.  Home  ownership  is 
limited to one house per person, so few pay 
rent.  Most  of  the  hotels  are  government 
owned,  though  more  privately  owned 
hotels  and  resorts  have  been  allowed  to 
open. The  highest  paid  are  the  military.  A 
lot  of  people  receive  financial  assistance 
from  family  members  who  live  abroad. 
Tipping  is  optional  but  very  common  and 
becoming  increasingly  expected  as  people 
rely on tips to supplement their income. 
The U.S. trade embargo (imposed in 1958) 
against  Cuba  forced  it  to  look  elsewhere 
for  trade,  resulting  in  an  almost  total 
dependence  on  the  Soviet  Bloc  until  the 
latter's collapse in the 90s. 
Cuba  then  entered  the  "special  period" 
which saw it encourage foreign tourism by 
allowing private  homes to be  registered as 
"casa 
particulares", 
offering 
budget 
accommodation 
(typically 
bed 
and 
breakfast  in  their  homes  –  a  double 
bedroom  with  ensuite)  to  tourists.  More 
and  more  private  businesses  are  being 
allowed to operate. 
There  is  a  dual  currency:  The  Peso 
Convertible  (CUC),  which  is  fixed  at  the 
rate  of  1CUC=US$1(go  figure!)  and  the 
Cuban  Peso  (CUP),  roughly  worth  4c, 
which is used by the locals.  
The  internet  is  becoming  increasingly 
available – WiFi is available at the airport, 
in hotels and public squares and we found a 
number of the casas we stayed in had their 
own.  One  still  needs  to  buy  an  ETECSA 
card  from  the  internet  company  for  which 
the charge is $1 per hour. 
Connections  were  patchy  in  some  places. 
Public phones were much in evidence (and 
not  vandalised)  Cards  to  the  value  of  $10 
and  $25  could  be  purchased  but 
international  calls  are  expensive.  There  is 
only one mobile company, from which one 
can rent a SIM card for use in the country. 
It's  an  extremely  interesting  country: 
unable  to  source  new  vehicles  or  spare 
parts,  the  country  uses  anything  from 
donkey and horse carts, to bicycle carts, to 
1950  &  60s  cars  to  modern  vehicles  for 
transport.  In  recent  times  they  have 
managed  to  import  new  trains  from  China 
to  replace  the  extremely  run-down  old 
carriages and engines. They recycle and re-
purpose almost everything! 
Our guide was very proud of the country's 
history  and  achievements.  At  the  same 
time,  he  was  realistic  about  the 
shortcomings  of  the  system  under  which 
they  live.  We  stayed  in  casas  which  were 
comfortable  and  clean,  in  the  old  parts  of 
the  cities.  The  plumbing  in  Cuba  does 
not  cope  with  toilet  paper  –  even  in 
hotels and resorts one has to use a bin to 
dispose  of  it  and  it  takes  some  getting 
used to! 
Cuba has freedom of religion: most people 
are  nominally  Catholic,  with  every  city 
boasting several churches and a Cathedral, 
but  we  also  saw  a  synagogue,  Russian 
Orthodox and Greek Orthodox Church (the 
latter  having  been  gifted  to  the  Greek 
community by the government) in Havana. 
Free Masonry is also permitted to operate. 
Monuments,  celebrating  their  national 
heroes  abound  –  some  quite  magnificent 
and all well-maintained in public parks. 
Cuba  is  famous  for  its  rum  and  cigars, 
which  it  still  exports.  The  main  crops  are 
sugar cane, cacao, coffee, bananas and rice. 
Other  tropical  fruits  such  as  mangoes, 
pawpaw,  guavas  are  also  common.  Fish 
and shellfish are part of the local diet. Cuba 
has  to  import  food  to  feed  its  population. 
There  was  some  evidence  of  market 
gardening  close  to  the  cities.  Agricultural 
methods and equipment are outdated. 
In restaurants, chicken, fish, pork, beef and 
lamb (goat) was always available. Lobster, 
prawns  and  calamari  was  often  on  the 
menu  but  not  always  available.  A  typical 
meal  was  around  US$13-15,  which 
included  a  main  plus  rice  or  rice  &  beans 
plus  a  "salad"  –  often  cabbage,  carrot  and 
tomato.  The  best  salad  we  had  was  at  a 
little restaurant near the harbour in Havana: 
the owner had lived in France for 10 years. 
We  learned  the  "other  side"  of  the  story 
surrounding  events  such  as  the  Cuban 
Missile  Crisis,  the  Bay  of  Pigs  invasion, 
and  the  Peter  Pan  project,  which  saw 
thousands of Cuban children sent to the US 
in the early 60s. 
Cubans  are  resourceful,  sociable,  music-
loving  people.  They  spill  out  on  to  the 
streets  at  night  and  readily  share  their 
music with anyone and everyone. There are 
a  few  scam  artists  around,  but  they  are 
usually  easy  to  pick.  There  was  a  little 
begging  but  mostly  people  were  friendly 
and  just  wanted  to  know  where  we  were 
from.  We  always  felt  safe  out  on  the 
sometimes-crowded  streets  whatever  hour 
we  were  out and about.  We were  told that 
economic  crime,  domestic  abuse  and 
alcoholism (rum is only $3 a bottle) are the 
biggest problems. 
Owing  to  uncertainty  surrounding  our 
return  via  Chile,  we  came  home  via 
Canada: 
Havana-Toronto-Vancouver-
Auckland.  On  the  domestic  flights  in 
Canada,  no  food  was  served  –  we  were 
given  bottled  water  to  drink.  We  were  29 
passengers  on  a  Dreamliner  from  Toronto 
to  Vancouver  and  56  from  Vancouver  to 
Auckland.  Food  on  the  long  international 
leg was pre-packaged and unheated (so the 
yoghurt  we  had  for  breakfast  was  frozen). 
There  were  no  blankets  on  the  planes, 
either, though crew handed out duvets from 
the front end of the plane when we were a 
few hours out from Auckland. 
On  arrival,  we  completed  the  new  Arrival 
Card,  stating  where  we'd  been  in  the  past 
14  days,  declaring  whether  we  had  any 
symptoms and what our self-isolation plan 
was  for  the  next  14  days  We  all 
disembarked  together,  and  the  Customs 
Official vetted our arrival cards. After that, 
we  were  free  to  go.  We  collected  our  car 
and  drove  home  to  Kaiwaka,  stopping  for 
fuel at Wellsford, where the  night window 
was  being  used.  Fortunately,  our  house 
sitters had laid in some supplies to keep us 
going. ~ J & J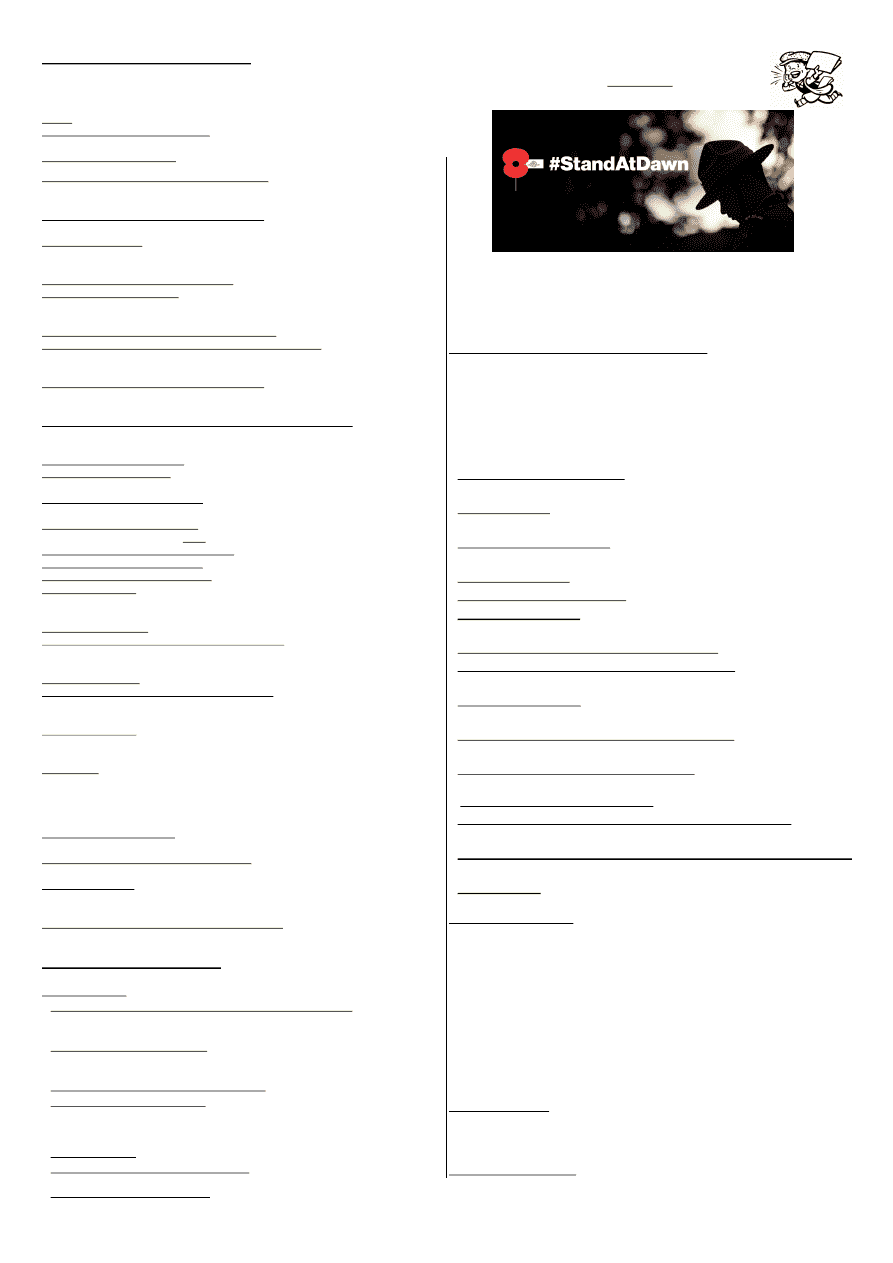 Next Bugle Deadline midday Friday 24 April 2020
WHAT'S ON
PLEASE ~ do let us know what is on - email 
kaiwakabugle@kaiwaka.co.nz 
*25Apr~ANZAC DAY 
KWMH = Kaiwaka War Memorial Hall; KSA = Kaiwaka Sports Association 
See www.kaiwaka.co.nz for more information 
HOUSEHOLD RUBBISH COLLECTION  
Kaiwaka Pick up: 
Mondays = Green bags (Northland Waste - 09 430 3273) 
Wednesdays  =  Blue  bags  and  yellow  recycling  (at  Jaques  $3.00 
and  $1.50)  (Kaurilands  09  4392146);  ONLY  Blue  and  Yellow 
bags picked up on Oneriri Road. 
 DIABETES Support Group-for Kaiwaka, Mangawhai, Wellsford 
10am, 3rd Friday of month Ph: Colleen James 09 4314238 
 GENEALOGY - Wellsford: 1st Thursday in month Ph: 423 
7033; Waipu: 4th Monday in month Ph: 4312 725 
 HAKARU PONY CLUB - Secretary Denise Rogers 021423376 
secretary@hakaruponyclub.co.nz  
 KAIPARA HUNT - Secretary Albert Doonenbal Ph 4312059 
 KAIWAKA BADMINTON -Tuesdays 7.30pm Ph: 4312345 
 KAIWAKA  CAN  -  3rd Wednesday in  month, 5.30pm, Archie 
Bull Hall Ph: 0273572751 
 KAIWAKA DRUM & DANCE CLASSES - 021 611198 
 KAIWAKA GARDEN & FLORAL GROUP - 2nd Thursday in 
month. Ph: 431 4744 
 KAIWAKA  CUBS  -  Thursdays  5.30-7pm,  Hakaru  Ph:Bruce 
4312542 
 KNITTING FOR WHANGAREI HOSPITAL - 2nd Tuesday in 
month, Archie Bull Hall 10am Ph 4314827 
 MANGAWHAI COMBINED REBUS CLUB - 2pm, 3rd 
Thursday month, Senior Citizens Hall Mangawhai. Ph: 4315777 
 *PT CURTIS CRUISING CLUB - Jean Ph: 4312227 (wk), 4312520 (hm) 
 RSA,  HAKARU  &  DISTRICTS  WOMEN'S  SECTION  –  meets 
1.30pm 4th Thursday of the month. Ph: 431 5818  
 KAIWAKA  SCOTTISH  COUNTRY  DANCING  CLUB-
Wednesdays 10am - 12 noon  Ph: Elaine 027 432 0032  
 TRAMPING - Mondays 9am-2:30pm Maria 4312 234 
HALLS FOR HIRE: 
  Kaiwaka St. John Hall: Phone Marj  0272941227  
 St.Pauls  Archie  Bull  Hall  HIRE  $20  half  day,  $40  full  day  per 
hire, S McAulay, Ph 4312311 
 Kaiwaka  War  Memorial  Hall  HlRE  -  Phone  4312725  or 
kaiwaka.hall.bookings@gmail.com 
 Hakaru Community Hall HIRE -Ph.  Lorraine 4312829  
 Te Pounga Marae queries - Pearl Nathan  0223933533 
 Kaiwaka Sports Association hire/queries - C. Anderson 4312051 
or kaiwakasports@gmail.com 
Justice of Peace:  
B.FJaques  4312  048;  L.Donaldson  4312  228;  A.F.Hargreaves 
4312 045, W.Howard 4312 725 - please phone to make sure they 
are available www.justiceofthepeace.org.nz 
Marriage Celebrants:  
L.Donaldson; A.F.Hargreaves; Y Osborne
LOCAL SERVICES 
*Emergencies - Ambulance, Fire, Police - dial 111 
*Non-urgent Police phone 105
A A: Meets Wed., 7.30pm Kaiwaka Ph: 4315543, 0800229 6757 
NARCOTICS ANONYMOUS: Mon., 6.30pm, Kates Place; drug and 
alcohol related issues. Ph. 02102412348 
ASUREQUALITY LTD (was AgriQuality) Call Free 0508 0011 22  
BUDGETING SERVICE, WELLSFORD: Free confidential advice & 
support for all areas of personal finance. Ph (09) 423 7123 
CAB-Citizens Advice Bureau.Wellsford Ph: 4237333 
0800 367 222 email:cab.wells@xtra.co.nz  
CIVIL DEFENCE - Kaiwaka Community Response Group: 
kaiwaka.civildefencecrg@gmail.com, 4312725 Wendy 
DOG/STOCK /NOISE CONTROL 0800 105 890 
FUNERAL SERVICES: Morris & Morris Ltd, 
Whangarei - Bev Jaques Ph:4312367 or 0800667747 
GRANDPARENTS Raising Grandchildren: Dianah Roberts 0223819539 
HAKARU & DISTRICTS MEMORIAL RSA (Inc) 733 Settlement Rd, 
Hakaru. Ph 4312 176 or Bill Warren (President) 431 2092 
HAKARU LANDFILL/Transfer Station:Open everyday except 
Tuesday10am-4pm.Ph4312629 Cost-$55 trailer load up to 1 cubic metre. 
Ph:4258567 - office 
KAIPARA DISTRICT COUNCIL www.kaipara.govt.nz:  
Help Desk FREEPHONE 0800 727 059  
KAIWAKA CEMETERY: Ph: 4312045 or 4314017 
KAIWAKA LIBRARY: kaiwaka.library@gmail.com  
Mon. 4-6pm; Wed., Thurs., Fri., Sat. 10am-2pm Ph:4312539 
KAIWAKA PLAYCENTRE: Ph Juanita 0274134904; open Mon, Wed, 
Fri 9am-12pm. Hastie Lane; Monday to Friday 9.00am - 12 noon. 
KAIWAKA POST OFFICE:Ph:4312 431  
Post Code: 0573 for RD2 and 0542 for all Kaiwaka Post Office mail 
KAIWAKA PRIMARY SCHOOL: Ph: 4312309   
KAIWAKA SPORTS ASSN: Ph 4312005; 4312129 gym 
KAIWAKA ST. JOHN HALL: Phone Marj  0272941227  
KATE'S PLACE Community Centre - Employment services, Free Health 
Nurse, Plunket, Advocacy, Osteopath, A.A., Legal Advice. 4312 661 
LINKING HANDS Health Shuttle Ph 4315906 or 09 4318969 
MINISTRY FOR PRIMARY INDUSTRIES - General inquiries Call 
Free 0800 008 333 
NORTHPOWER: Faults Kaiwaka area 0800 104040 
OTAMATEA COMMUNITY SERVICES: Counselling, parent coach, 
Family Support worker, budget advice, food bank. Mon-Fri 9am-3pm. Ph 
09 431 9080 http://www.otamateacs.org/ 
PARENTPORT: Free, practical family support service Puhoi to Paparoa 
Ph or txt: Dianne 027 280 5093 or 09 425 9357 
PLUNKET:  Kaiwaka  -Kate's  Place  Clinic  1st  Wednesday  of  the  month; 
Mangawhai  - Rose Madsen Cottage: Coffee Group 9:30 every Monday.  Clinic 
every Monday and Thursday. 
Maungaturoto - Good News Church, Clinic 2nd and 4th Wednesday.  
Cynthia 09 431 7340 or 027 675 3488 
PLUNKET HELPLINE -0800 933 922 (24 hours) 
TAITOKERAU COMMUNITY LAW: Free confidential legal advice and 
assistance, 2nd
Thursday
 of each month. Ph: 0800 155 529 for apps.  
TE URI O HAU Settlement Trust Tangata Developments: Whanau Ora 
021 793262  
VETERINARY SERVICE MANGAWHAI: 
Ph: 4314535 Mon-Fri 8.00-5.00, Sat 9-12, a/h appt. 
WELLSFORD DOCTORS: Ph: 4238 086 
CHURCHES:
 
Kaiwaka  Revival  Church  -  Your  Community  Church:  Sundays  10am. 
Ph: Pastor Tawhiri 09 431 8988 or Pastor Paul 09 4312 068 Visit us at 
www.facebook.com/kaiwakachurch or www.kaiwakarevival.co.nz 
 
St  Paul's  Anglican  Church  1st  Sun.  9.00am  (Eucharist),  3rd  Sun. 
9.00am (Family Service). Contact: Rev. Wayne Thornton Ph 431 4122 
www.mangawhaianglican.org.nz 
 
Church of Christ the King, Mangawhai:9.00am every Sunday 
 
St.Mary's  Catholic  Church:  Maungaturoto  –  Griffins  Road,  Saturday 
evening  Vigil  Mass  6pm;  Mangawhai  –  Senior  Citizens  Hall,  Sunday 
Mass  8:30am;  Wellsford  –  Matheson  Road,  Sunday  Mass  10:30am;  
Mid-week Mass times and all enquires to Fr. Bill Fletcher – phone 423 8170
 
Baptist Church: Sun. 10.30am Mangawhai Snr Cit.Hall.Ph:4312339 
 
Cause  Way  Church  Mangawhai:  Sundays  10.15am,  Mangawhai 
Community  Recreation  Centre,  Insley  St.  Ph:  09  4314782