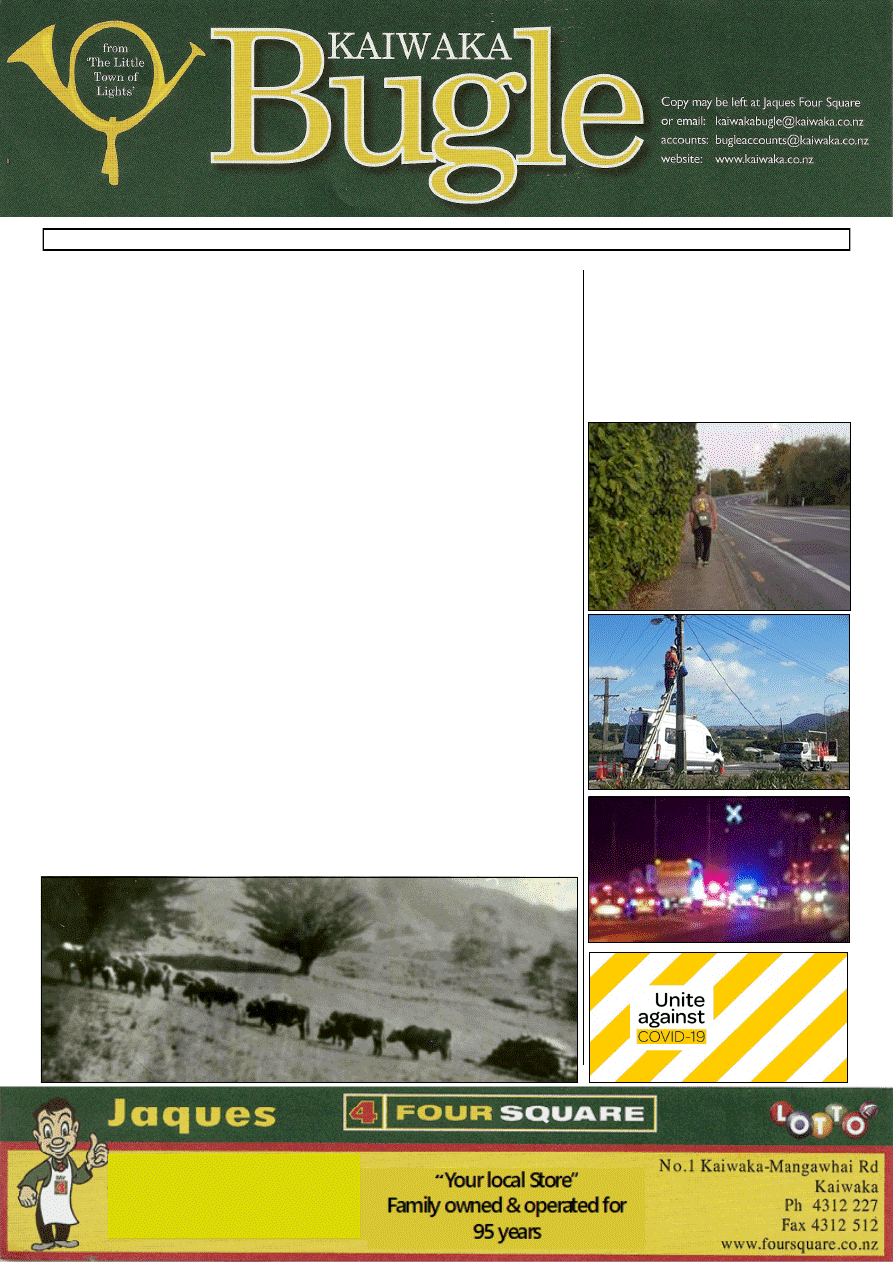 www.kaiwaka.co.nz 
Kaiwaka Bugle - 12 May 2020 
Page 1 
No:9 
12 May 2020 
Top: A narrow pathway next to SH 1 - 
just up from the Apple Basket. 
Mid:  Final  stages  of  connecting  Fibre 
through Kaiwaka 
Bottom:  Friday  night  in  the  centre  of 
town  -  six  police  cars  -  checking 
where folk were travelling.
AROUND KAIWAKA 
3  May  1820  saw  the  first  bullock 
drawn  plough  in  Kerikeri;    a  hundred 
years  later  the  Coates  bullock  team 
(photo left) was at work at Pukekaroro. 
Here  is  a    story  from  *APB  Watson's 
book 'Hill of the Sea Bird' Page 213: 
"On a hot January day in the mid-nineteen 
twenties, Edward Coates was on that road, 
the  last  stage  of  the  carry  to  the 
backcountry  shed.  Inside  the  first  gate  he 
greased all four axles, though only the one 
rear wheel was calling for it. The bullocks 
in their ponderous, steady way, made light 
of  the  work,  and  followed  the  excellent 
track picked out by the leaders, Prince and 
Dandy.  Soon  they  were  at  the  start  of  the 
longest curve on the entire road, and, when 
it began to narrow towards its end, and the 
team  constantly  prodded  into  hugging  the 
inside bank, Edward crossed over to the off 
side. With a heavy load such as this behind 
them,  the  tendency  is  for  the  bullocks  to 
work  their  way  outwards,  but  this  was  of 
little  consequence  here  —  until  the  edge 
gave  way.  The  off  front  wheel  dipped  
immediately,  the  wagon  slewed,  and  the 
rearmost bullocks scrabbled and scuffled in 
vain against the sideways press of the pole. 
Three  things  were  in  their  favour.  The 
massive  polers  were  forced  down  against 
the rough base of a giant tree fern growing 
strongly three feet below. It held firm; and 
the  risk  of  choking  was  eased,  if  only 
temporarily, when the laden sacks, all two 
hundred  of  them,  slid  from  the  deck  and 
tumbled  end  over  end  down  the  slope. 
Much  of  the  dead  weight  of  the  dangling 
wagon  was  taken  by  the  shoulders  of  the 
rest  of  the  team  standing  firm  on  the 
roadway above. 
Edward  seemed  in  no  great  hurry.  He  sat 
on a stump, pipe unlit in his left hand, and 
rested his head on his arm. Within seconds, 
it seemed, he leapt to his feet purposefully, 
grabbed the block and wire attached at the 
front  of  the  wagon,  hooked  it  by  its  chain 
to  a  stump  opposite,  attached  one  end  of 
the wire to the Dee of the wagon pole, 
unhooked  the  first  four  pairs  of  bullocks, 
and  drove  them  quickly  back  down  the 
road,  trailing  the  wire  until  the  kinks 
straightened,  then  moved  it  forward  a 
further  yard.  The  bullocks  would  hold  the 
tension  until  new  orders  were  given.  He 
returned  to  the  two  polers,  unhooked  the 
slackened  chain,  and  the  two  pairs  on  the 
road  helped  massive  Punch  and  Ben  to 
scramble  up and regain the  positions  from 
which they had been so roughly swept. Ben 
had  a  long  red  scratch  down  the  inside  of 
his right leg, but both bullocks moved quite 
freely.  They  had  not  been  cramped  long 
enough to stiffen them. 
It  was  certain  that  the  bullocks  down  the 
road  had  never  previously  been  called  on 
to  back  up  over  such  a  distance,  as  they 
were  now required to do; yet Edward  was 
in  complete  control  of  this  prolonged  and 
odd  manoeuvre,  which  was  feasible,  and 
orderly,  because  the  team  was  under 
constant  tension  throughout.  The  empty 
wagon  was  by  this  means  eased  down  the 
steep  slope,  the  vertical  and  horizontal 
movements  in  exact  correspondence.  Near 
the extremity of the  wire rope, the  wagon, 
in an unscheduled gesture, swivelled round 
to  come  to  rest,  parallel  to  the  creek,  and 
just above it. Within a week it was back on 
the road, a quarter of a mile ahead of where 
it  had  left  it;  and  the  longest  job  was  the 
recovery  of  the  basic  slag  by  packhorses, 
two bags at a time." 
*
APB Watson's mother was Edward's sister..
NEW EXTENDED HOURS: 
Sunday – Thursday 8am – 6.30pm 
Friday – Saturday 8am – 7pm 
A BULLOCK STORY 
CHECK THE HOURS 
OF OPENING 
AT FACEBBOOK  
DURING COVID-19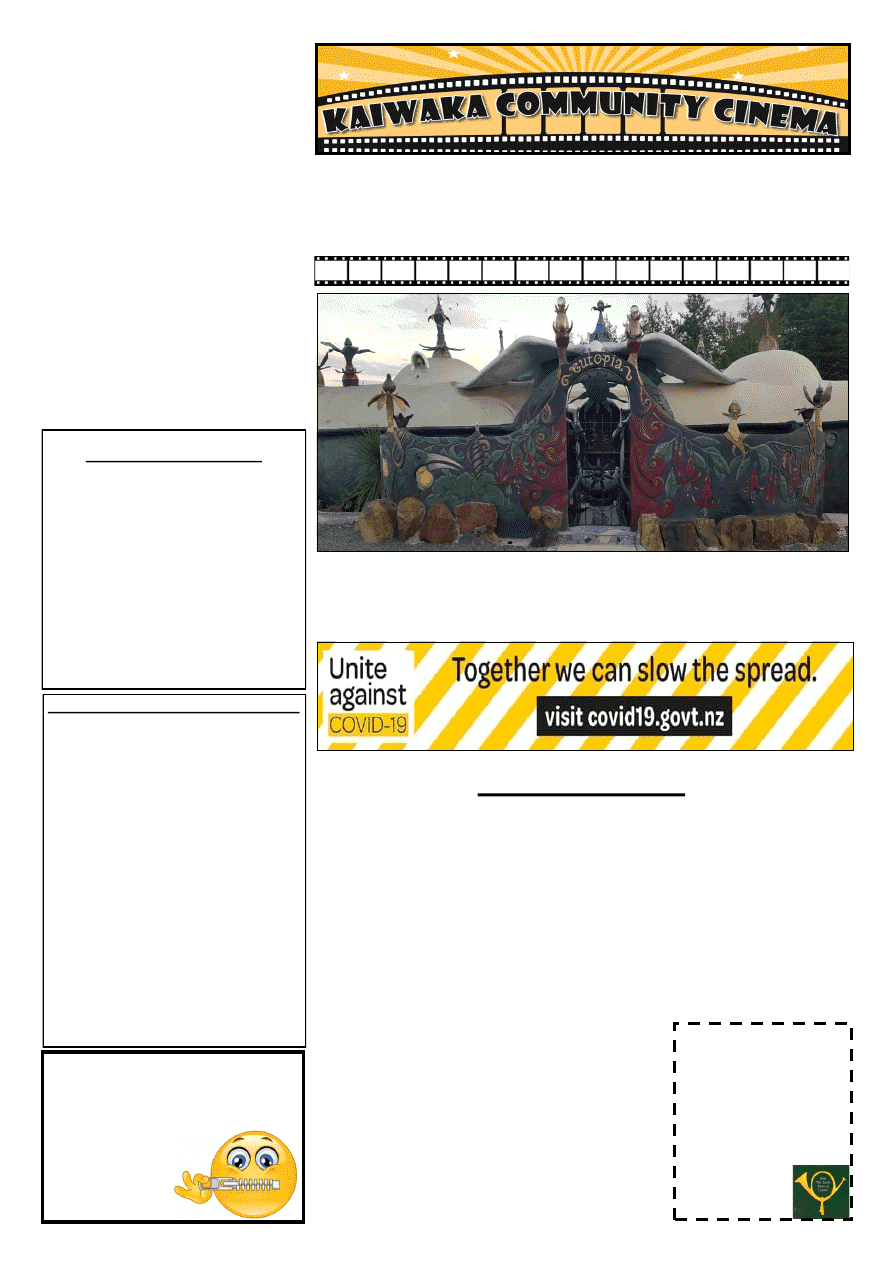 Proverbs 18: 13 
Answering before 
listening is 
both  
stupid and 
rude! 
At Kaiwaka War Memorial Hall . Adults $10, Kids (under 16) $5, Family Pass (2 adults + 3 children) $25 
ABOUT TOWN 

A big thank you to our Jaques Four Square crew - Paula and Greg and their 
great staff; also our essential services - our mail delivery service with loads more 
parcels ...

 Covid Level 3 has bought more access to businesses and Level 2 will bring 
more changes - check their protocols!

 Kaiwaka Historical Society Facebook page is now up and running, joining the 
other local history pages - Albertland heritage Centre, The Kauri Museum and 
the Mangawhai Museum. 

Rainfall: Kaiwaka Rainfall, as recorded by Bev, had 82 mm for April and the 
year total is 185 mm, but at the end of Oneriri the rainfall for April was 41.5mm, 
and the total for the year is 78.5 mm! What a difference a few kilometres make. 

 EUTOPIA CAFÉ - looking wonderful!! 

 Do you know an outstanding citizen or an environmental champion? We want 
to hear about them. The KDC Citizen's Awards and 
Environmental  Awards  are  open  for  nominations. 
Nominate  now  via  www.kaipara.govt.nz/funding. 
You have until 31 May 2020.  

 See  the  Kaiwaka  Bugle  in  colour  online  at 
www.kaiwaka.co.nz at any time.  ~ Lindsey, Ed 
'MOTHER'S DAY 
Thank you for years of wiping tears tucking in,  
cleaning cuts, making dinner, making sacrifices, 
 sharing laughter, smiling, and just plain loving me. 
Happy Mother's Day!
KAIWAKA BUGLE NO.9 
12 MAY 2020 
CONTENTS: 
Page 3: Public Notices, Classified 
Page 5: Jaques Notice;  Brewers; NZ 
Post 
Page 7: Kaiwaka Weather;  Kaiwaka 
Mangawhai Garden & Floral Club 
Page 9: Kaiwaka School  
Page 11: Kaiwaka Sports Assn; Pt. 
Curtis CC  
Page 13: Thelma's Scrapbook; ;  Kate' 
Place 
Page 15: Kaiwaka Can 
Bugle 10 will appear  26  May 
Contact for advertising, reports, articles 
or information can be made by 
Email: kaiwakabugle@kaiwaka.co.nz 
Ph: 09 4312 045 Lindsey 
Txt: 027 2724137 
Copy  may  be  left  at  Jaques'  Four 
Square. 
Kaiwaka Bugle Advertisements 2020: 
All 
copy 
and 
queries 
to: 
kaiwakabugle@kaiwaka.co.nz 
The Bugle is printed on an A4 page, B&W  
Ad  sizes:  1/16  page  (3  x  9.5cm)  $5;  1/8 
(6.5  x  9.5cm  landscape  or  portrait)  $8; 
3/16 ( 10 x 9.5cm or 7.5 x 12,5)  $12.  
Classified  ads:  First  one  FREE,  $4  per 
entry (max. 30 words, max. 4 repeats). 
Payments  can  be  made  online  at 
ANZ 
06  0365  0006990  00
,  posted  or  left  at 
Jaques Four Square Store. 
We  use  Microsoft  Publisher,  and  can 
work  with  most  common  image 
formats, Word, Excel, and PDF files. 
Accounts:  
Email: bugleaccounts@kaiwaka.co.nz 
The  Kaiwaka  Bugle  is  a  community 
newspaper run by volunteers, as part of 
the Kaiwaka Media Group Inc.   
Articles, etc. printed are not necessarily 
the opinion of the Bugle Team. 
Kaiwaka Bugle 
Founded May 1978 
We appreciate articles and photos about local 
events, etc, as well as ads and suggestions. 
Copies available in Kaiwaka at Jaques Four 
Square, Kaiwaka Postal Centre, Shamrock 
Service Station, Animal Health Centre, 
Kaiwaka St John shop. 
Also outlets in Maungaturoto, 
Mangawhai and Paparoa. 
Can be viewed online at  
www.kaiwaka.co.nz/Bugle  
Or a copy can be posted to you if you supply 
stamped, self-addressed DLE envelopes. 
KAIWAKA BUGLE 
DEADLINE DATES 
2020:   
Every second Friday
May 22 
June 5, 19 
July 3, 17, 31 
August 14, 28 
September 11, 25 
October 9, 23 
November 6, 20 
December 4 
EUTOPIA CAFE 
Marijke and Robert have been working hard at their wonderful art work! They 
have  just  finished  the  side  entrance,  huias  etc  at  Eutopia.  Marijke  says,  "All 
painted - it is great having the time at last to do all this stuff." 
DUE TO COVID 19 ....Corona Virus..... 
ALL SCREENINGS WILL BE CANCELLED 
We will let you know when we will start again .....Be safe., be healthy.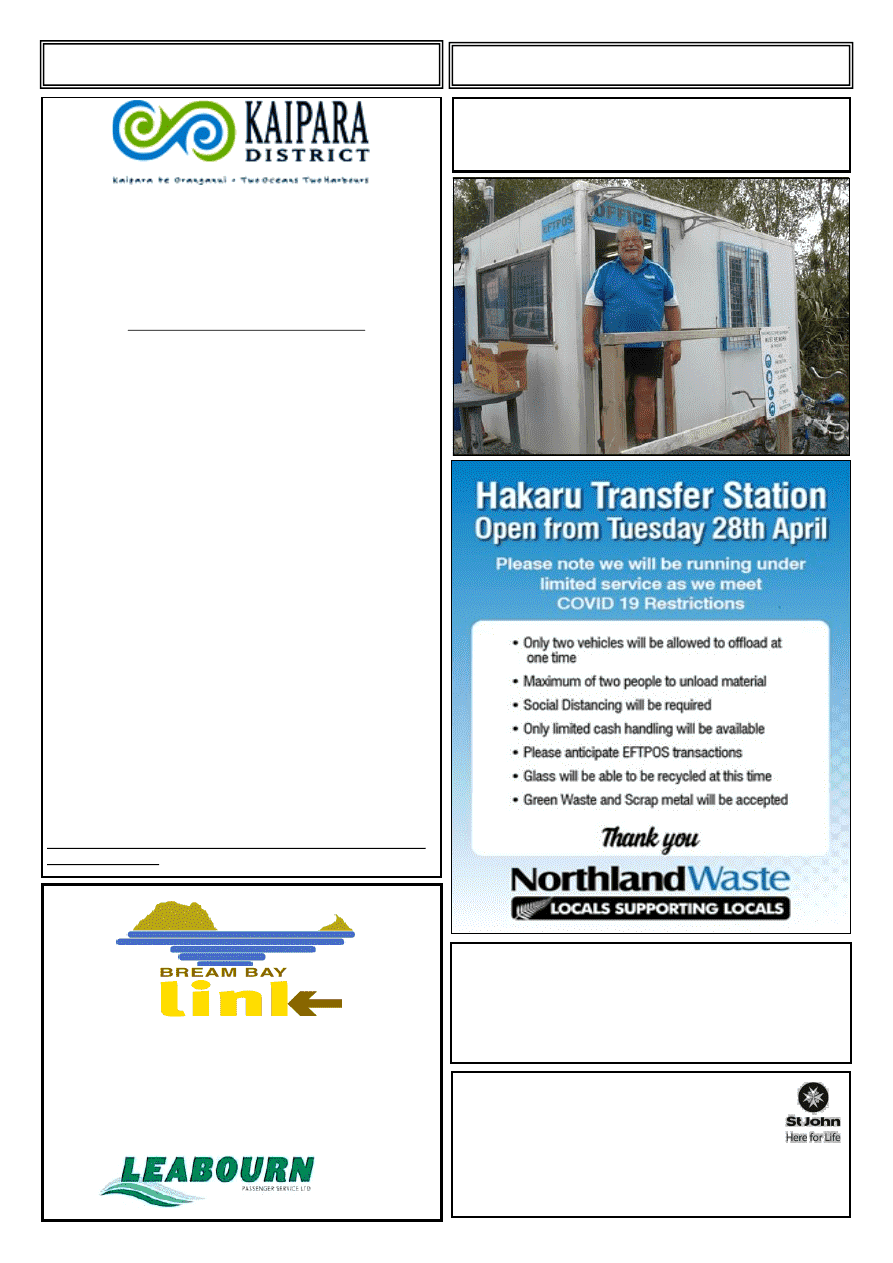 www.kaiwaka.co.nz 
Kaiwaka Bugle - 12 May 2020 
Page 3 
PUBLIC NOTICES 
CLASSIFIED 
Fire & Emergency New Zealand 
RESTRICTED FIRE SEASON 
PERMITS NEEDED
www.checkitsalright.nz  
for information about Authorised Fire Types 
Invitation to Town Centre Businesses 
in Kaiwaka to join Zoom Conference 
with Kaipara District Council 
Town  Centre  businesses  collectively  make  up  the 
heart  of  our  towns  across  the  district.  The  Kaipara 
Mayor's  Taskforce  for  Economic  Support  and 
Recovery (www.kaipara.govt.nz/taskforce) is hosting 
a series of meetings with local town centre businesses 
on the online meeting platform Zoom. 
We invite you to join us (on Zoom) on Thursday  14 
May  at  7pm  to  share  your  experiences  as  a  town 
centre  business  in  Kaiwaka  during  the  Covid  19 
lockdown and what recovery might look like for you. 
The agenda is very open and will be led by you and 
your  fellow  business  owners  and  operators.  But  to 
guide your thinking leading up to the meeting and to 
generate  some  early  ideas  for  the  discussion  we 
would  be  grateful  if  you  were  able  to  complete  this 
very short survey: 
https://www.surveymonkey.com/r/VYW7CPD 
From Council you can expect to see the Mayor Jason 
Smith,  Deputy  Mayor  Anna  Curnow  and  local  ward 
Councillors. 
The intention is to continue to host these sessions for 
as  long  as  they  are  useful.  We  also  envisage  this 
being a way to connect you with agencies who can do 
more  to  support  and  inform  you.  But  how  this 
unfolds will be entirely guided by you and what your 
community wants. 
Kaiwaka  Can  will  be  distributing  the  full 
announcement  and  details  on  the  Zoom  link  early 
next week. We encourage you to watch the video clip 
about  the  taskforce  on  the  site  above.  For  more 
information you may contact either the Task Force. 
NB.  If  you  are  unable  to  attend  the  session  at  this 
time, please feel free to drop any of us a line to share 
your thoughts. Our contact details can be found here: 
https://www.kaipara.govt.nz/kaipara-council/mayor-
and-councillors 
RETURN BUS to WHANGAREI 
Every Thursday 
9.00am Departs Kaiwaka 
4.50pm Returns Kaiwaka 
Via  Mangawhai,  and east coast . 
please phone 0800 994 404  
wwwbuslink.co.nz 
Operated By:  
HAKARU TRANSFER STATION 
KAIWAKA-MANGAWHAI ROAD 
Open every day 10am - 4pm ~Closed All Public Holidays 
Telephone: 09 431 2629 
KAIWAKA ST. JOHN OP SHOP 
Thank you for your support.  
CURRENTLY CLOSED 
But aiming to open under Covid Level 2 
Take care and stay safe.  
Catch up when things return to normal
. 
Phone 09 4312650 
Diane and the Team from Kaiwaka St John Op Shop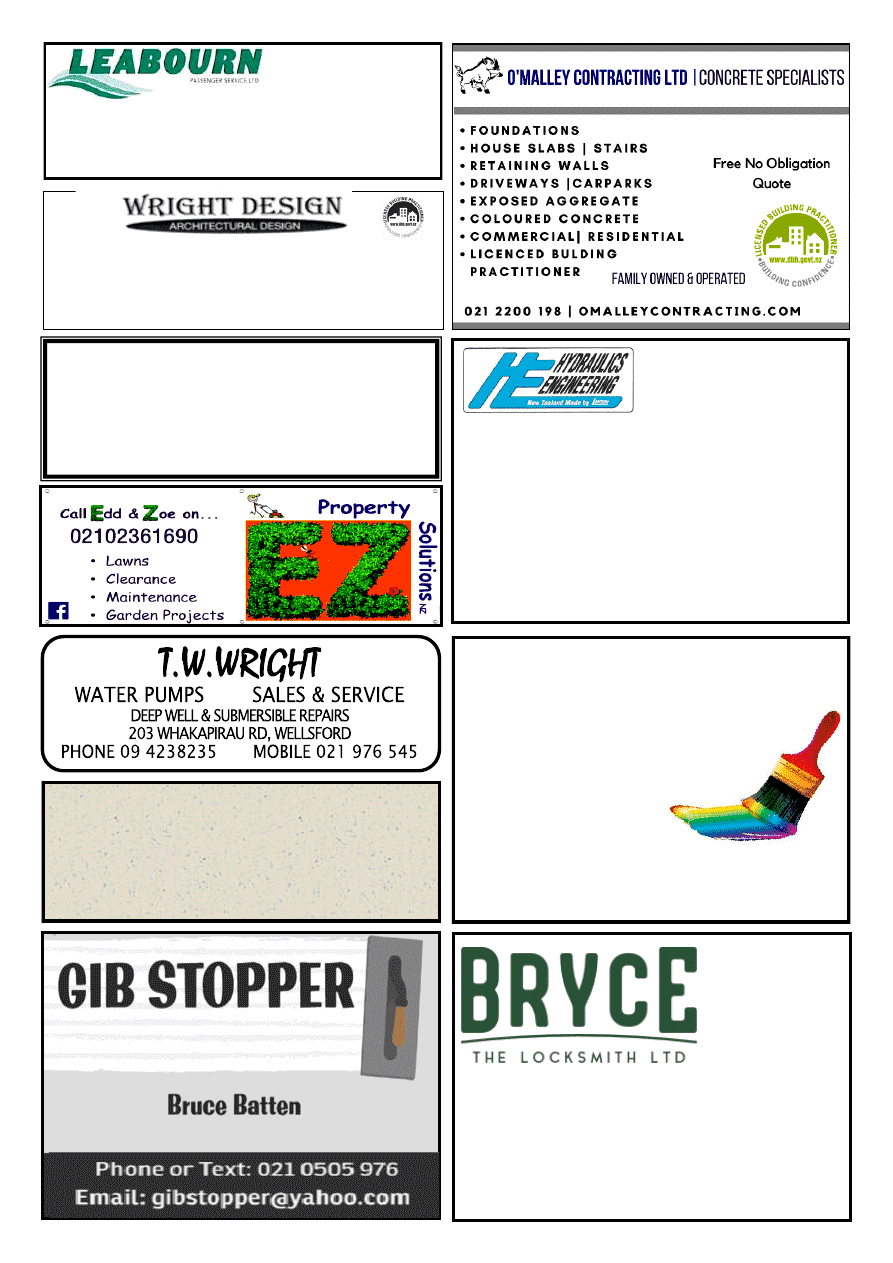 Passenger Service
Car & Van Hire   Bus & Coach Charters 
Airport Transfers    
Phone (09) 4237416 
Counsellor and Registered Psychotherapist 
Offers Supervision 
ACC Sensitive Claims 
Susan Matheson      MNZAC 
Dip. Psychosynthesis Counselling and Psychotherapy 
Phone 09 431 2996                                     Mobile 027 605 2427 
No. 117345 
N.Z.C.A.D., L.B.P. 117345 
PH/Fax: 09 423 8092 Mob: 021 276 7369 
Office: 3 John Sinclair Avenue, Wellsford    brianwright@xtra.co.nz 
For Resource and Building Consents, planning restraints, new building materials - 
you need a capable, experienced, and professional designer with a clear 
knowledge of all the processes. Brian has been helping and organising all these 
facets of design and building for over 50 years. 
Wright Design offers free visits, consultations and advice on planning, design, 
building, council permit applications, guaranteed permit plan acceptance. 
LEE COOPER PAINTERS 
(Kaiwaka Based) 
*30 yrs Experience 
*Interior/Exterior 
*New and Restoration 
*Honest and Reliable 
*Free Quotes 
09 4312918 or 0274735171 
leecooper@xtra.co.nz 
Bryce Frewin 
Ph: 021 850 983 
Kaipara Based Master Locksmith 
bryce@brycethelocksmith.co.nz 
www.brycethelocksmith.co.nz 
HANDYMAN 
Gardens * Lawns * Landscaping * Painting 
* Small gib-stopping * 
* General repairs and maintenance * 
Honest - Reliable 
Phone Burn 0211900555 or Brenda 0211185578 
Hydraulics  
Engineering Ltd 
Kaiwaka 
Sales - Service - Parts - Hire - Manufacture 
Service Contractors & Industrial Equipment: 
Rams, Pumps, Valves 
Logsplitter Hire, Manufacturer, Sales 
Dennis Linton 
Lot 2 / 161 Ranganui Road, RD2, Kaiwaka, 0573, New Zealand 
Mobile: 0274 381 700 
Email: hydraulicsengineering@xtra.co.nz 
Website: www.hydraulicsengineeringco.nz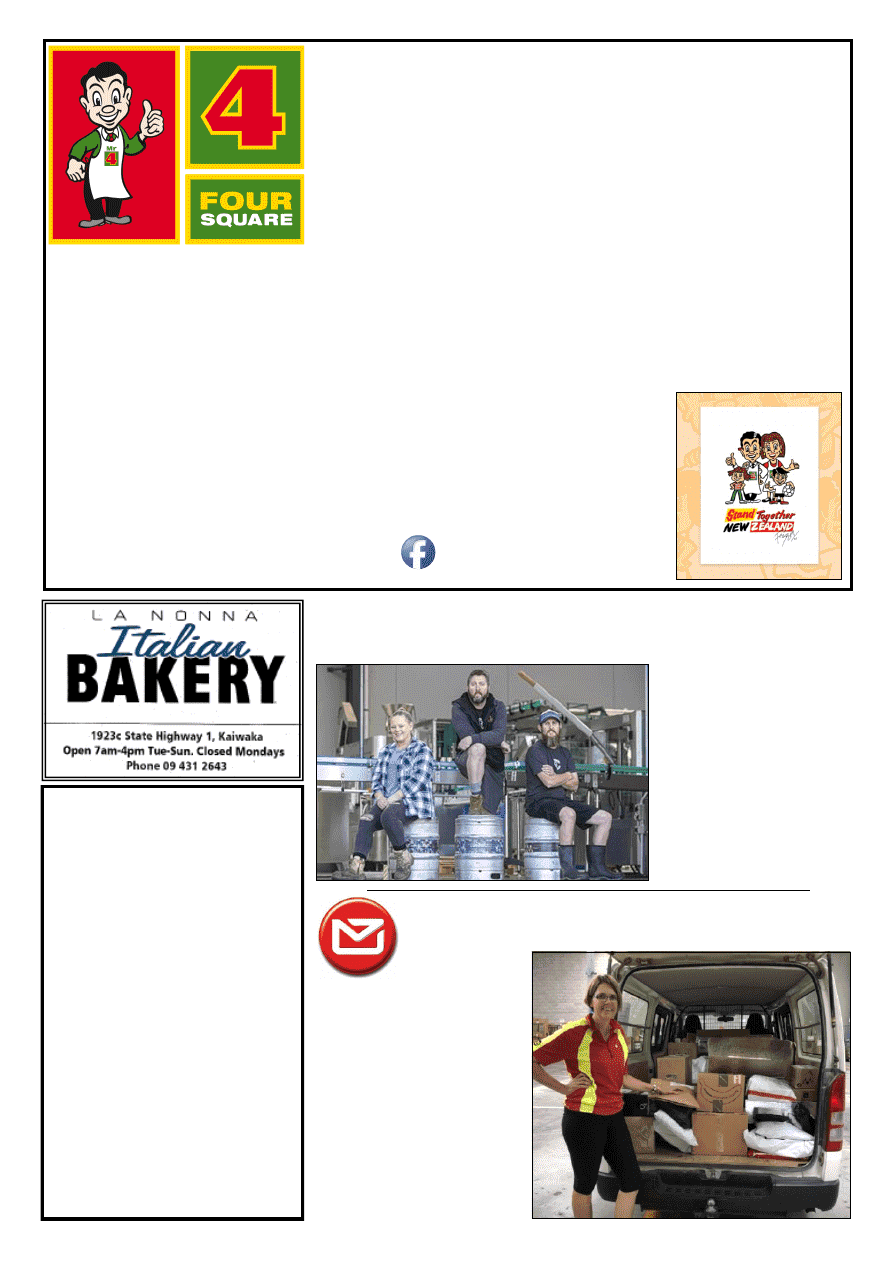 www.kaiwaka.co.nz 
Kaiwaka Bugle - 12 May 2020 
Page 5 
Willow Bend
HORSE  
HOTEL 
  
Total Horse Care 
 
Agistment 
 
Riding Lessons 
 
Arena Hire (60x40) 
 
Young Horse Starting 
 
Re-training/Exercising 
 
Hoof Trimming 
 
Problem Solving 
Phone Sue 09 431 2817 
or 021 623 776 
Or email  
susanjoll11@gmail.com 
EX-LOCALS TURNED BREWERS 
Paul  and  Annie  Ottaway  and  Paul's  brother,  Robin,  known  as  Skin  - 
pictured 
below (courtesy of Stuff)
, set up the Craft Brewing Co last year to provide contract 
small-batch brewing services 
in West Auckland. Covid-19 
came  along  and  as  they  say  
it  left  them  with  "a  lovely 
stainless  steel  museum".  So 
"Lockdown" 
pre-mixed 
drinks  were  born  and  the 
team  got  to  work  making 
1200L each of pre-mixed gin 
and  tonic  and  bourbon  and 
cola.  They  joined  New 
Zealand  Made  Products 
Facebook 
group 
and 
business has boomed. 
FROM NZ POST:  
Extraordinary  moments  call  for  extraordinary  people.  With  Alert 
Level 3 and the increase in volume of parcels our teams are now 
delivering 
on 
average over 300k 
items a day, every day – that's 
bigger  than  our  volumes  at 
Christmas!  Our  whole  team, 
including  our  wider  NZ  Post 
teams  are  working  round  the 
clock  to  get  you  what  you've 
ordered.  Thankyou  NZ  for 
your  kindness  and  patience 
during  this  time,  we  know 
you're  waiting  for  your 
parcels, 
we're 
doing 
everything we can to get them 
to you as soon as possible. For 
the latest updates, visit  https://
www.nzpost.co.nz/COVID-19  
JAQUES FOUR SQUARE  
WELL DONE,   
WE MADE IT THROUGH LEVEL 3!! 
LEVEL 2, HERE WE COME! 
Due to NOT recording customer contact tracing details 
when entering the store, we still need to have protocols 
in place to keep our staff and customers safe. 
If we don't have a staff member at the door you can enter safely.  
At peak times a person will be on the door to monitor numbers 
⚫
10 Customers  in Store at one time.   
⚫
Very important to keep 2 METRE distance from all other people in the STORE and in the line outside at all times 
⚫
One person from each household. Come prepared with a shopping list. Stay in store no longer than 15 minutes 
⚫
Once in Level Two Our Store Opening Hours Will revert to normal.  Monday – Friday 8am to 6pm, Saturday 8am 
to 7pm & Sunday 9am to 6pm
⚫
At level Two LOTTO will be OPEN
  Thank you to all our customers for your patience and understanding through 
  these changing times. We are here to help.  
  Stay safe from the Team at Jaques Four Square! 
JAQUES FOUR SQUARE 
Phone: 4312227  
1 Kaiwaka-Mangawhai Road, Kaiwaka.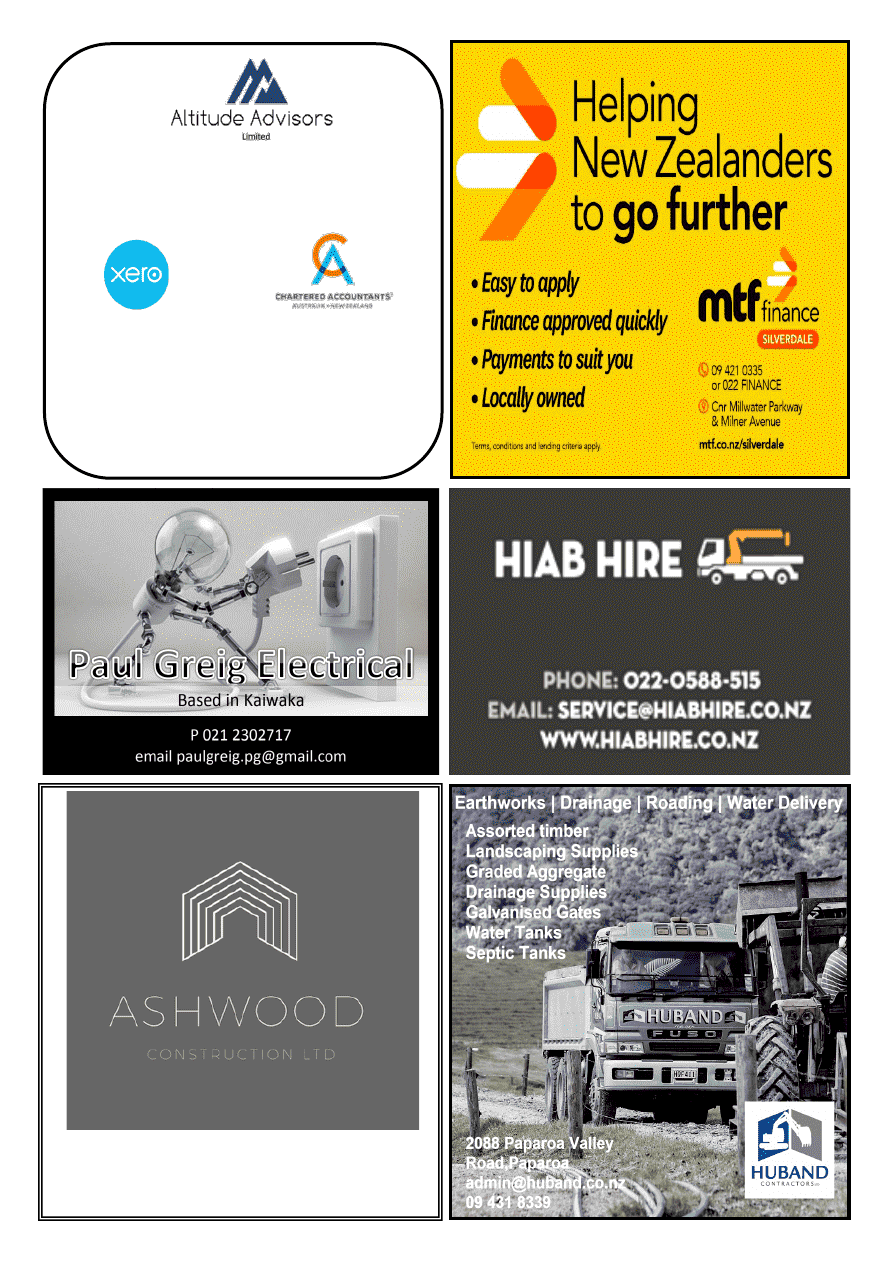 Altitude with Attitude, helping your business 
scale new heights 
Time to try something different? 
Xero training          Accountancy Services 
We are offering two opportunities: 
15% saving off your annual report cost for your first 
year, & a further 10% saving for any referrals 
Call Corinne on 021 252 7680 or 
corinne@altitudeadvisors.nz 
ASHWOOD CONSTRUCTION  LTD 
LBP registered 
New Builds Renovations Extensions Decks & more 
After a quote? Call Lee on 0223408353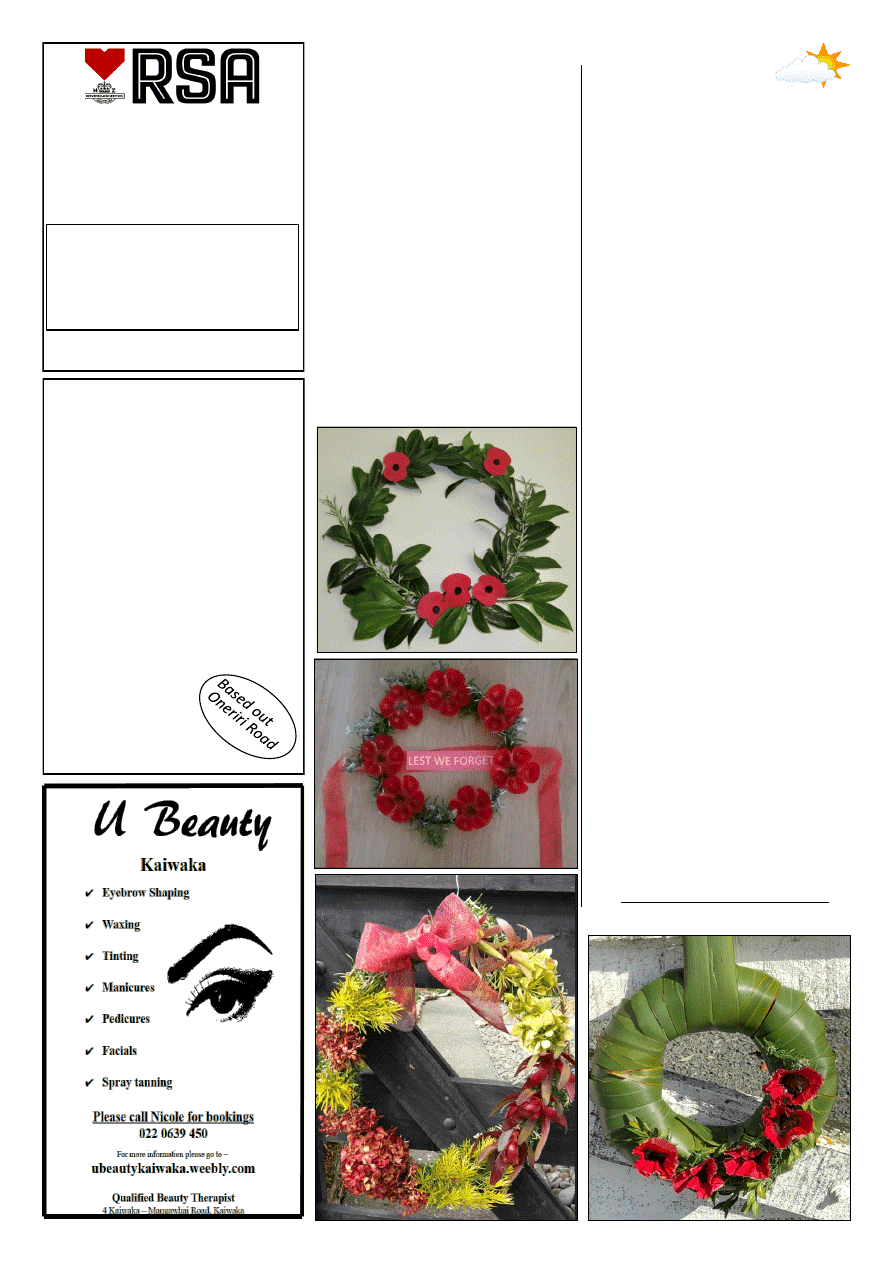 www.kaiwaka.co.nz 
Kaiwaka Bugle - 12 May 2020 
Page 7 
HAKARU & DISTRICTS 
MEMORIAL RSA (INC)
Members & guests are invited to 
come along and enjoy our hospitality. 
New members welcome. 
Meals are served on Thursday and 
Friday nights from 6.30pm. 
Order from Blackboard Menu  
and a sing-a-long  
with Des Chitty. 
For more information please phone 
Graeme on 431 2563 
KAIWAKA 
WEATHER 
Welcome to our last month of Autumn 
for 2020.  It was reasonable and at last 
we  got  some  well  needed  rain  for  the 
water tanks. There is still a lot needed 
as  with  the  families  at  home  through 
this  Covid  19  more  water  is  getting 
used out of the water tanks. I notice the 
pastures have greened up a lot. Passing 
the  waterfall  on  the  Brynderwyn  on 
Monday  we  noticed  a  good  trickle 
coming  down  compared  to  March 
where it was all but dried up.  No, we 
were  not  breaking  the  Covid  rule  as  I 
had  a  (necessary)  health  appointment.  
I do hope you are sticking to the rules.  
The  sooner  everyone  behaves  the 
sooner we will be out of it.   We were 
given  some  yummy  mushrooms  in 
April.  
The weather was not too bad for April. 
Some  beautiful  days  -  some  cold 
miserable  days.    Not  a  lot  of  sun 
sometimes - some cold blustery windy 
days  and  those  welcome  days  of  rain. 
There were a few April Showers round 
about.  
April 2020 at our house we had 82mm 
rain and 2019 we 105mm.  
The  first  4  months  of  2020  we  had 
185mm rain and 2019 we had 260mm. 
Wow  that  is  80mm  down  already  on 
last year.   
Our  driest  April  since  1987  was  2005 
with  28mm  and  the  wettest  was  2017 
with 260mm.  
Our  driest  first  4  months  since  1987 
was  1987  with  69mm  and  the  wettest 
was 2017 with 725mm.  
We  had  rain  on  20  days  in  April  this 
year  and  2019  we  also  had  rain on  10 
days.  (Interesting  to  see  both  March 
and April this year we had 82mm both 
months).   
No reports of shooting season this year 
as this report has gone to print being as 
shooting  season  opened  a  week  late 
due to Covid.   
Please  take  care  and  Do  Not  Be  Too 
Macho to not wear a mask at least and 
remember to wishy washy those hands 
properly. Bev.   
Below: Wreath by Caron Bastable 
KAIWAKA & 
MANGAWHAI 
GARDEN & 
FLORAL CLUB 
The 
ANZAC 
DAY 
Online 
Competition: 
Due  to  Covid-19  the  members  were 
unable  to  meet  for  their  usual 
competitions.  This  time  they  made 
their  Anzac  Day  wreath  at  home  and 
sent in their photos for judging. There 
was  a  very  good  response  to  this 
format. 
1st: Fay Burnett 
2nd: Meredy Ballard 
3rd:  Glynis Smith 
Their  next  online  competition  for  the 
flower  of  the  month  and  the 
arrangement will be Tussi Mussi. 
The  Garden  and  Floral  Club  is  very 
popular - they currently have a waiting 
list. 
HODGETTS 
CONTRACTING
Digger Work    
Driveways  
House Sites  
Dams      
Drains, etc
Also available for HIRE 
3 ton Vib Roller  
Heavy Duty Tow  
Waterblaster      
Lazer Level
Phone Mark  
4312877 
027 447 8554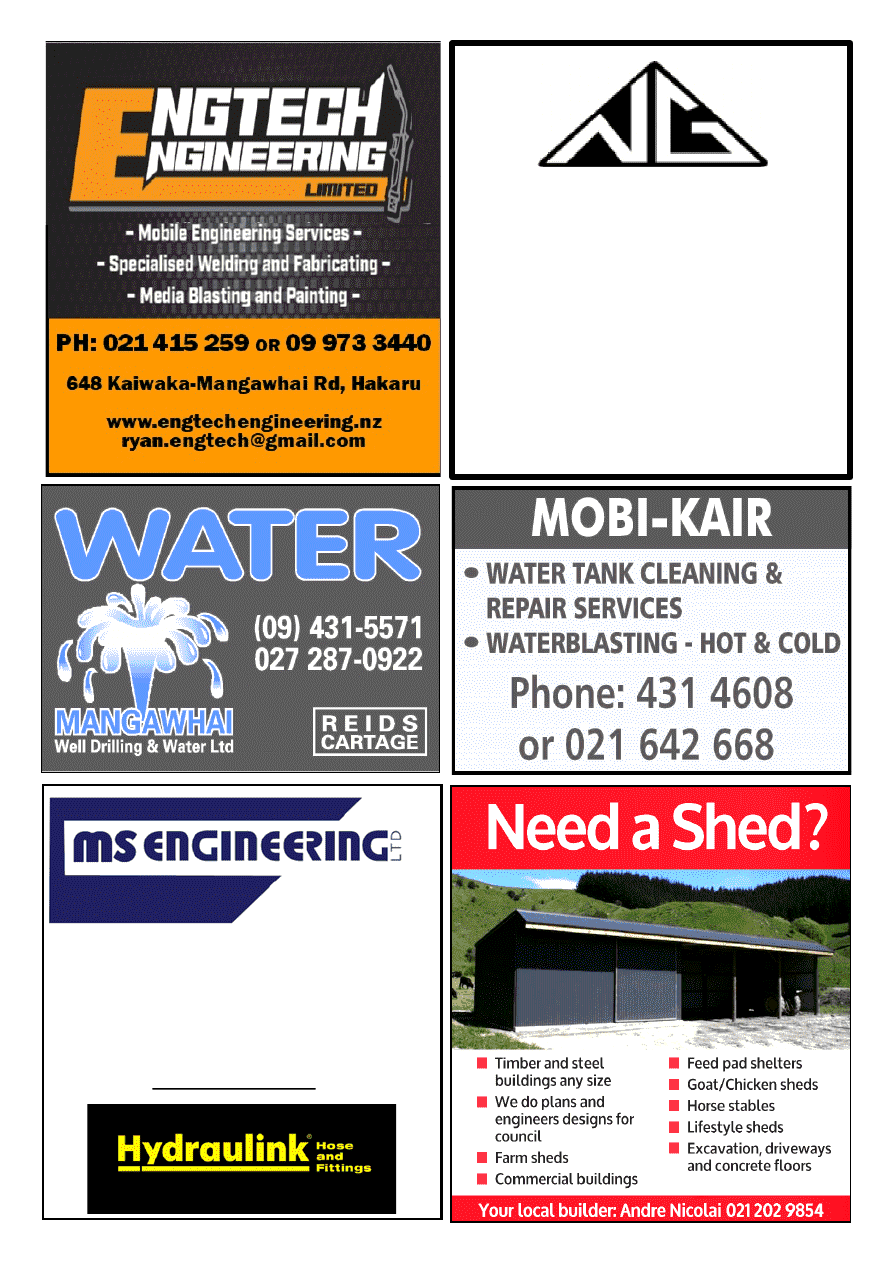 NORTH GLASS 
WINDSCREEN REPAIR OR REPLACE 
GLAZING SERVICES 
MIRRORS  •  SPLASH BACKS  •  SHOWERS 
0800 70 40 10
info@northglass.co.nz 
www.northglass.co.nz 

Peter Buckley 

Mobile Hose Technician –  
                      Based from Oneriri Road 

Available for all mobile hose                                
                        requirements onsite 

Call – 0800 425 7116 

Email – mse@mseng.co.nz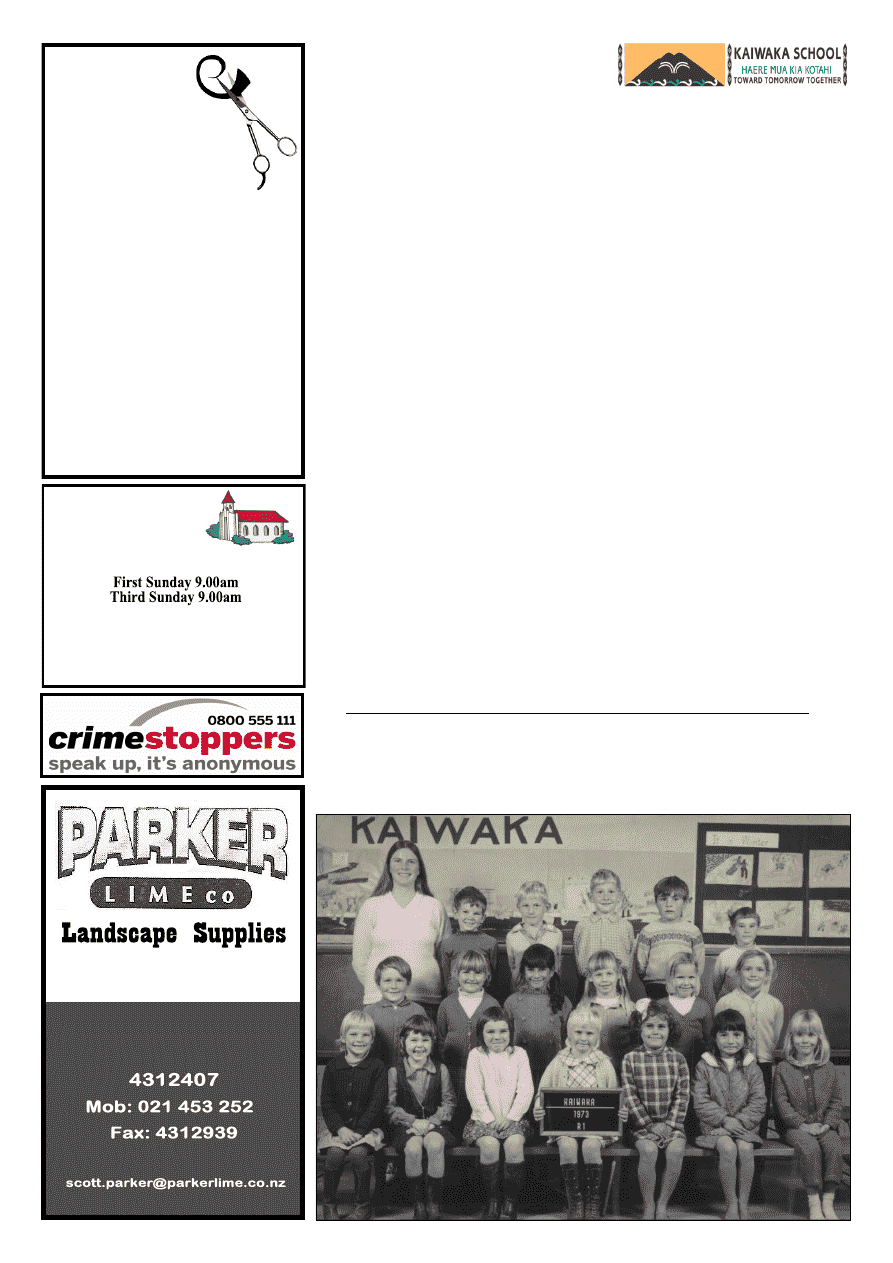 www.kaiwaka.co.nz 
Kaiwaka Bugle - 12 May 2020 
Page 9 
ST PAUL'S  
ANGLICAN  
SUNDAY SERVICES
St Pauls Church: Kaiwaka-Mangawhai Rd. 
1st Sunday - Eucharist 
3rd Sunday - Family Service 
Priest in Charge Rev. W Thornton Ph 431 4122 
www.mangawhaianglican.org.nz
Bulk Cartage 
 KAIWAKA SCHOOL  
Kia ora koutou, 
Like me, I am sure you have followed with 
interest the announcements made by the Prime Minister. 
It is reassuring to hear how well our country has done at minimising the impacts 
of COVID-19. Alert Levels 4 and 3 have not been easy and I thank you for your 
ongoing support for the work we are doing. 
Today,  the  Prime  Minister  advised  that  in  Alert  Level  2  schools  are  safe 
environments  for  children,  young  people  and  staff  and  that  additional  public 
health  control  measures  are  in  place  to  prevent  the  spread  of  disease  and  to 
support contact tracing. 
The  good  news  is  that  when  we  are  able  to,  we  will  be  ready  to  welcome  all 
students and staff back to our school site. 
The  key  Public  Health  approach  is  to  minimise  the  risk  that  someone  gets 
infected  in  the  first  place,  and  second  to  ensure  we  can  identify  and  contact 
anyone who has been in close contact with a person, if someone in a school is 
infected. 
As we have done in Alert Level 3, you can be assured that in Alert Level 2 we 
will  know  who  is  at  school,  who  our  staff  and  students  have  been  in  close 
contact with and take appropriate measures to keep everyone safe. 
Physical distancing is a good precaution to prevent the spread of disease. We do 
however  know  it  is  challenging  in  schools,  so  good  hygiene  practices  and 
regular cleaning are even more important here. This includes staff and students 
coughing  into  their  elbows,  handwashing  and  drying  and  regular  cleaning  of 
commonly touched surfaces. 
Under Alert Level 2, we advise any students and staff to stay at home if they are 
sick, and we will send anyone home immediately if they show any symptoms. 
Our school has safe and sensible practices to maintain the health and safety of 
everyone  on  the  school  site.  As  described  by  Dr  Payinda  in  his  NZ  Herald 
article, "Covid's not measles or chickenpox, it doesn't hang in the air for hours 
waiting to infect passers-by. It travels on invisible drops of spit. You don't have 
to  cross  the  street  to  avoid  anyone.  Just  avoid  getting  in  their  'moist  breath' 
zone".  We  all  just  need  to  remember  to  have  some  breathing  space  at  Alert 
Level 2! 
It's important however that not just at school but at home, safe hygiene habits 
are practised by everyone, as this is essential to minimise the risk that someone 
gets infected with Covid-19. 
For more information about the public health measures at Alert Level 2, you can 
visit the covid19.govt.nz website: https://covid19.govt.nz/ 
If you have any questions about our health and safety plan or have a child who 
might be vulnerable to serious illness and would like to discuss a plan for them, 
please contact me. 
We will be in touch again soon to update you on our plans. 
Ngā mihi, Sharlene Tornquist 
KAIWAKA SCHOOL PHOTO
This week's photo is of Room 1 pupils in 1973 - can you name them? 
The Kaiwaka School staff members as pictured in Bugle 8: L to R,  Peter and 
Linda McKellar, Frank Fitchett (principal), Sue Smith, Mary Hargreaves 
See  Facebook  'Kaiwaka  School  150  Reunion' for  more information  or  upload 
your favourite school photo! 
JUST 
CUTS 
and 
MORE  
1758 Cove Road  
Open Monday-Saturday  
by appointment only 
Saturday 9-12pm  
Affordable prices: 
Ladies cuts from $35 
Colours from $120 
Men's from$25 
Kids from $18 
0211652629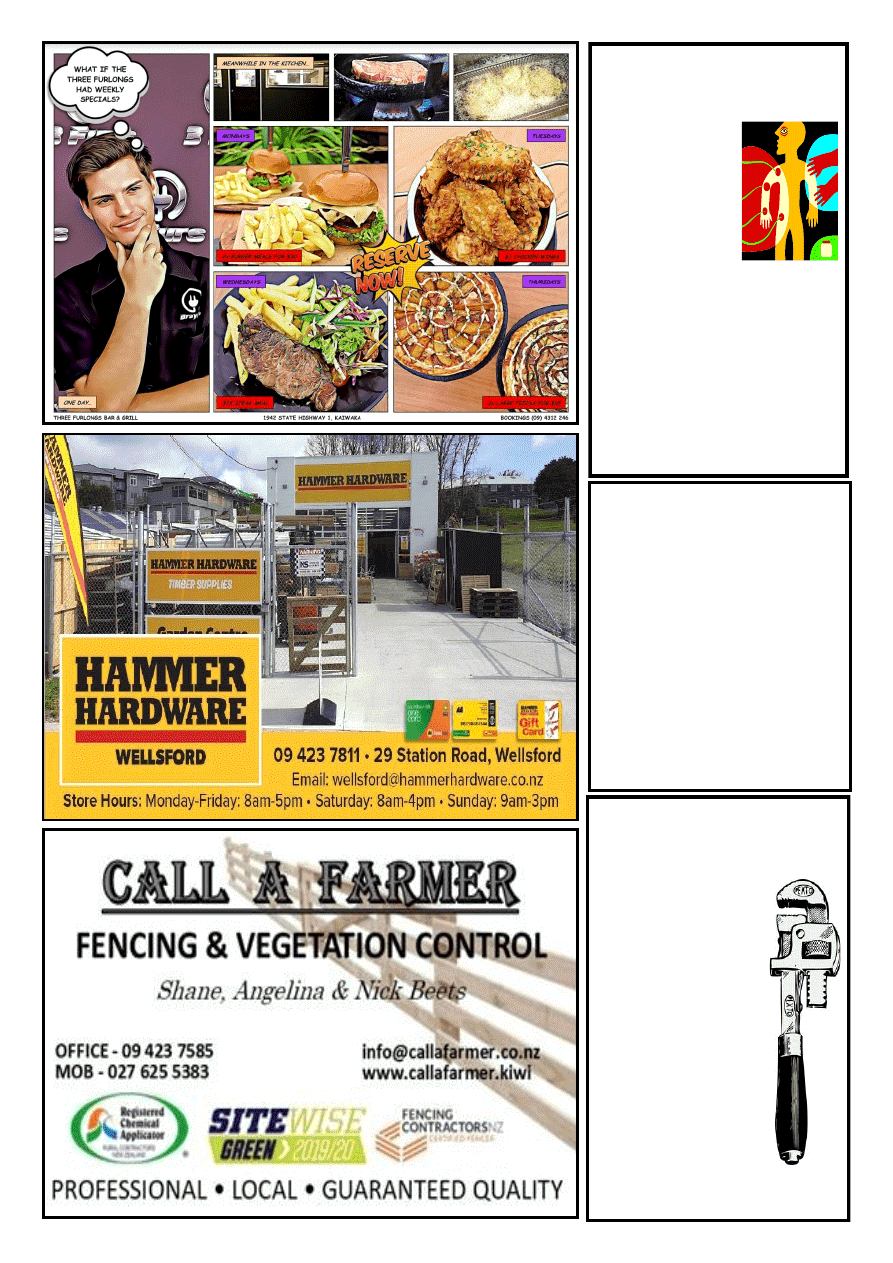 OWEN STEVENS 
Osteo Therapist
For careful 
adjustments to 
bones and joints 
Treatment for 
humans and their 
pets 
Clinics: 
Kate's Place, Kaiwaka: 
Last Friday of month 
For bookings: 
9.00am-5.00pm  
Phone 
09 4312661 
Or phone Owen  
09 4317123 anytime 
BARRY CURTIS 
PLUMBING LTD 
REGISTERED CRAFTSMAN 
PLUMBER 
Phone  
431 5572 
027 257 9884 
25 years' experience 
Friendly reliable 
service 
All plumbing & 
maintenance 
Alterations and new 
housing 
Spouting  
Competitive rates 
PROMPT EFFICIENT 
WHERE TO GET HELP 

1737, Need to talk? Free call or 
text1737 to talk to a trained counsellor  

Rural Support Trust 0800 787 254   

Lifeline, 0800 543 354  

Youthline, 0800 376 63, text 234, 
email talk@youthline.co.nz or online chat

Samaritans, 0800 726 666  

Depression Helpline, 0800 111 757   

Suicide Crisis Helpline, 0508 828 
865 (TAUTOKO)      

In a life-threatening situation 
call 
111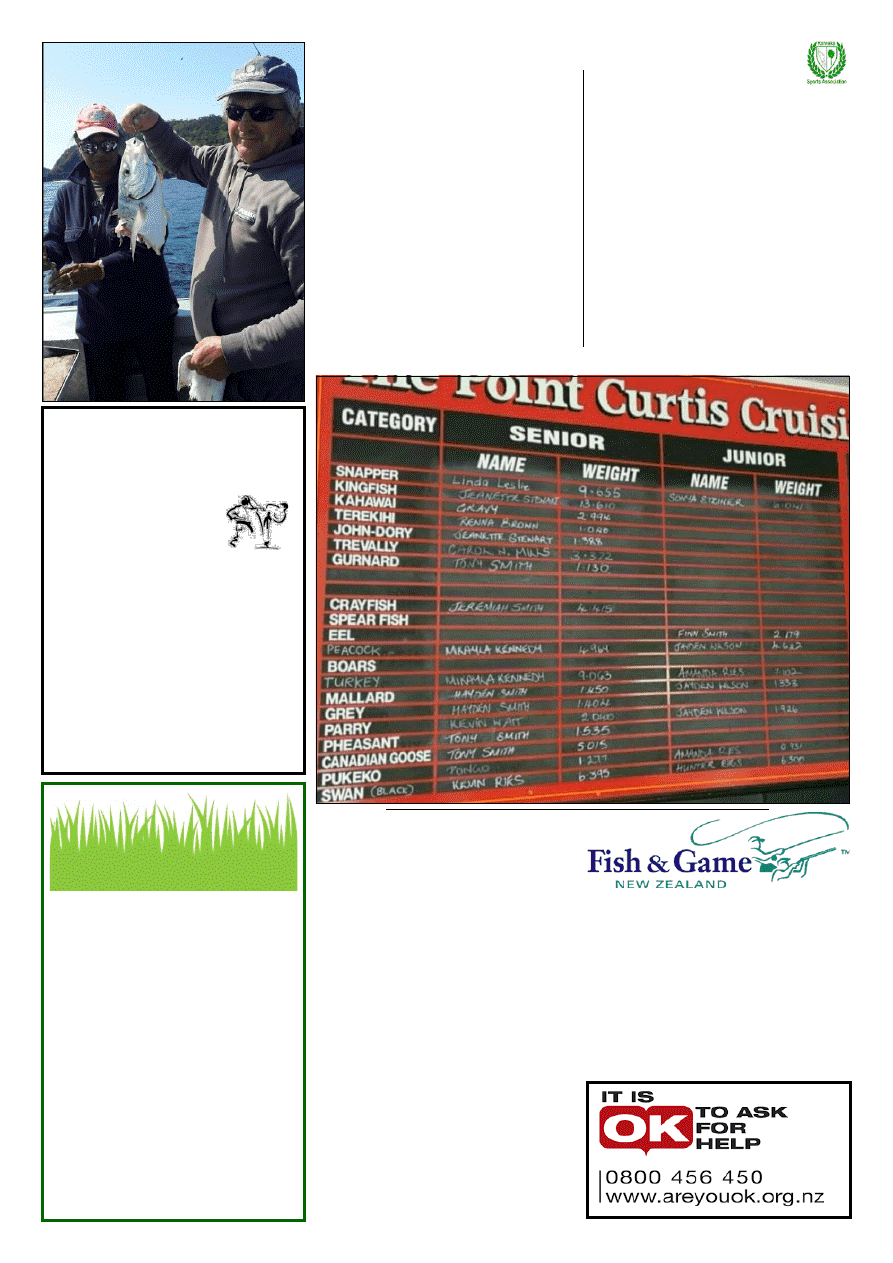 www.kaiwaka.co.nz 
Kaiwaka Bugle - 12 May 2020 
Page 11 
FROM FISH & GAME 
The game bird season will not open at 
Queen's Birthday weekend specifically 
to avoid Moving Day on the 1st of June 
(an important date in the rural calendar 
when  large  numbers  of  farmers  move 
to new farms).   
Based 
on 
current 
Government 
projections,  we  are  likely  to  see  an 
opening  day  mid-May  or  early  June. 
An example of how this would work 
is:  
Level  2  introduced  between  May  11 
& 15 – Opening Day May 23  
Level  2  introduced  between  May  16 
& 29 – Opening Day June 6  
This  will  allow  a  fair  and  equitable 
game  bird  season  for  everyone.  This 
new  date  also  allows  hunters  and 
retailers some time at Alert Level 2 to 
get a licence and get themselves set up 
for the new season start date.  
All  hunters  will  have  to  comply  with 
the  restrictions  of  Alert  Level  2  while 
hunting  and  travelling  to  their  hunting 
spots.  
All  hunters  will  start  hunting  on  the 
same day and it will be illegal for any 
game bird hunting to take place before 
this as it is a legal change to the season 
dates. This applies to people hunting on 
private  land,  their  own  land  and  in 
publicly accessible areas. 
Also  please  read  the  NZ  Fish  and 
Game Covid-19 updates that are being 
released on   
https://fishandgame.org.nz/ 
KAIWAKA 
SPORTS ASSN
FOR COVID-19 
As I write this, New Zealand is still in 
Level 
3 
Lockdown 
and 
the 
Government  will  make  a  decision  on 
Monday as to whether we will go down 
to Level 2. 
Once  NZ  is  at  Level  2  some  parts  of 
the Sports Complex can start operating 
again,  albeit  with  extra  hygiene  and 
social distancing precautions in place. 
Some of our sporting clubs may be in a 
position  to  gradually  get  back  into 
things, others may not. Keep an eye on 
the KSA Facebook page for updates. 
Cheryl, KSA Manager, 
kaiwakasports@gmail.com  
POINT CURTIS 
CRUISING CLUB  
⚫
Fish of the Month - To be confirmed 
Opening  Day  Duck  Shoot  -  To  be 
Confirmed (see below)
⚫
End  of  Year  Prize  Giving  - To be 
confirmed
⚫
Committee  Meeting  -  To  be 
confirmed 
Subs will be due 1st of June 2020 $30 
Family & $20 Single  
Internet  banking  12  3094  0008233  00 
Please use Name/s as a reference. 
Take care everyone.  
~ 
Wayne Leslie, (Commodore) 
Left: Oh darn!! 
Below: The Point  Curtis C.C.C. winners board 
and end of year prize giving winners – this can 
be  seen  at  the  Three  Furlongs  Bar  &  Grill 
(when next open)
SELF DEFENCE 
KEMPO 
Fitness, Confidence, 
Discipline, 
Respect,  
Self-awareness 
Classes for all ages in: 
 Mangawhai
Kaiwaka Wellsford
For more information please 
contact
 Otamatea Martial 
Arts
otamatea.kempo@farmside.co.nz 
Phone 09-431-5170 
www.facebook.com/
otamatea.kempo 
➢ 
TRACTOR WORK 
➢ 
FENCING: 
     POST & RAIL 
     WIRE & BATTEN 
     ELECTRIC 
➢ 
PADDOCK 
➢ 
MULCHING/TOPPING 
➢ 
SPRAYING: 
    GORSE 
    WEEDS 
 
PHONE MARK 021 801065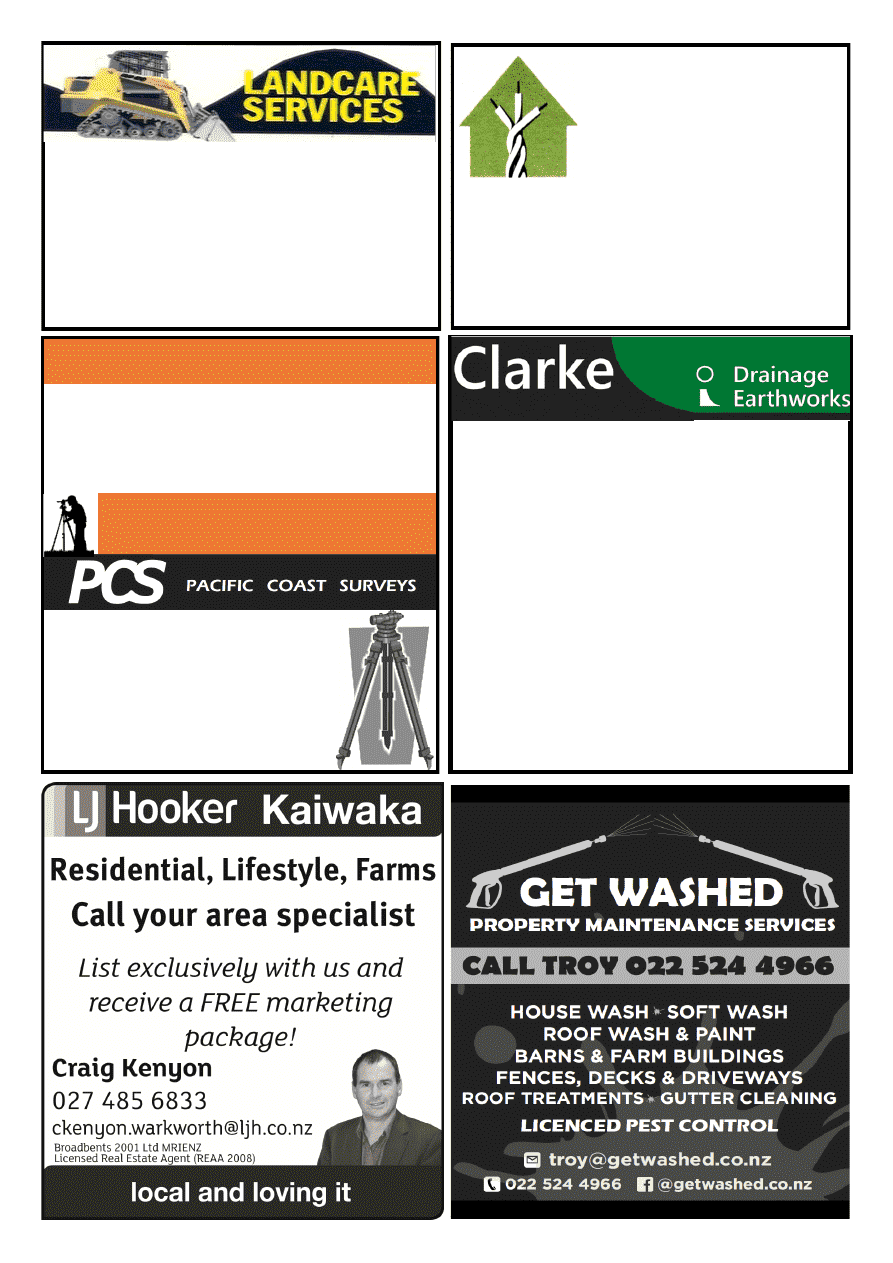 Reyahn  Leng 
Registered Electrician 
Local, honest and reliable. 
For your residential and 
light-commercial projects. 
022 314 1068 
SURVEYORS 
SUBDIVISIONS 
HOUSE SITE SURVEYS 
CIVIL ENGINEERING 
WASTEWATER DESIGNS 
EXPERIENCED 
PROFESSIONAL 
INNOVATIVE 
Ph 09 431 5353 
0800 PACIFIC (0800 722 434) 
pacificcoastsurvey.com
Adam Booth - 027 415 5752 
Bsurv, Licensed Cadastral Surveyor
Surveying Kaipara since 1994 
LANDSCAPING 
4 IN 1 BUCKET 
TRENCHER 
POLE HOLES 
ROTARY HOE 
COMPACT ROLLER 
OFFAL HOLES 
CAN SUPPLY WOODCHIP & POST PEEL 
5 TON TIPPER 
FOR RELIABLE AND FRIENDLY SERVICE CONTACT DAVE 
Dave Hyndman 
 
KAIWAKA 
PH: 09 4312302 
MOB: 021 431 238 
Drainage & Earthmoving 
nigel@clarkedrainage.nz 
027 2233 185 
Registered Drainlayer                 All Types of Earthworks  
> All Residential & Commercial Work  > House Sites 
> Septic System Design & Install 
> Footings & Drilling to 10m 
> Sewer Connections 
> Dams 
> Water Tank Installation 
> Roading & Races 
> Farm Work 
THE ONE STOP SHOP  
Phone Nigel for an Obligation Free Quote  
www.kaiwaka.co.nz 
Kaiwaka Bugle - 12 May 2020 
Page 13 
In Memory of  
Narelle Nimmo 
The memorial marker pictured above is 
in  the  car  park  at  the  Kaiwaka  Sports 
Association  and  is  in  memory  of  13 
year  old  Narelle  Nimmo,  of  Kaiwaka,  
who  lost  her  life  following  a 
devastating  trip  through  the  250m 
stormwater 
drain 
that 
runs 
underground  from  the  east  side  of  the 
sports  fields  down  through  the  car 
park.   
There  was  torrential  rain  following  a 
touch  tournament  on  21  January  1999 
when  a  large  pond  formed  in  a 
neighbouring  paddock  and  a  group  of 
youngsters  played  there  not  realising 
there  was  a  culvert.  Narelle  and  12 
year  old  Patrick  O'Donoghue  were 
swept  through  the  450cm  culvert. 
Patrick  survived  the  ordeal,  but  sadly 
Narelle  died  2  days  later  in  Starship 
Hospital. 
The culvert entrance  was then fenced. 
OTAMATEA 
COMMUNITY 
SERVICES 
Over the next few weeks we are going 
to  share  a  little  series  of  introductions 
so  you  get  to  know  our  friendly  team 
and their roles.at Otamatea Community 
Services.  
Hello, my name is Gail  Barnett,  I can 
usually be found at the front desk ready 
to  meet  and  greet  visitors  to  our 
agency.    Mostly  those  visitors  will  be 
asking  about  our  services  which  I  am 
happy  to  explain  and  in  some  cases 
they are here to see one of our staff. It 
is my pleasure to show them the way.  I 
love  to  be  of  help  to  any  of  our  staff 
and  aim  to  make  life  a  little  easier  by 
doing so. 
3 Cove Road, Waipu 
(opposite the Pizza Barn
) 
094321325 
www.waipunaturalhealth.co.nz 
Clinical Nutritionist: 
Nutritional Checkups, Diets for 
Chronic Diseases,  
Food Sensitivities 
Naturopathic Physician: 
Ozone Therapy, Prolotherapy, 
Mesozone 
Reflexology, Craniosacral 
Therapy, Trauma Release 
Massage Therapy 
Counselling and Hypnotherapy 
Change Catalyst/ThetaHealer 
Affordable Children's Consults 
All therapists are fully qualified
From Thelma's 
Scrapbook … 
"When to flowers so 
beautiful, the Father gave 
a name, 
There came a little blue-eyed one, all 
cuddly it came, 
And standing at the Fathers 
feet and gazing in His face, 
It said with low and timid 
voice, and yet with gentle 
grace, 
"Dear Lord, the name you 
gavest me, alas I have forgot", 
The Father kindly looked at her and 
said "
Forget-me-not".
Te Pounga Marae 
130 Nathan Rd. Oneriri. Kaiwaka 0573 
COMPLEX FOR 
HIRE 
Functions: * Weddings  * Birthdays  
*Anniversaries * Meetings  * Wananga 5 
hour meeting * 12 hour stay or Overnight 
*All welcome   
For more information please contact: 
 Pearl Nathan 0223933533 
Email: tepoungamarae130@outlook.com  
Full moon over Oneriri from Corina and over 
Maungaturoto from Sonya.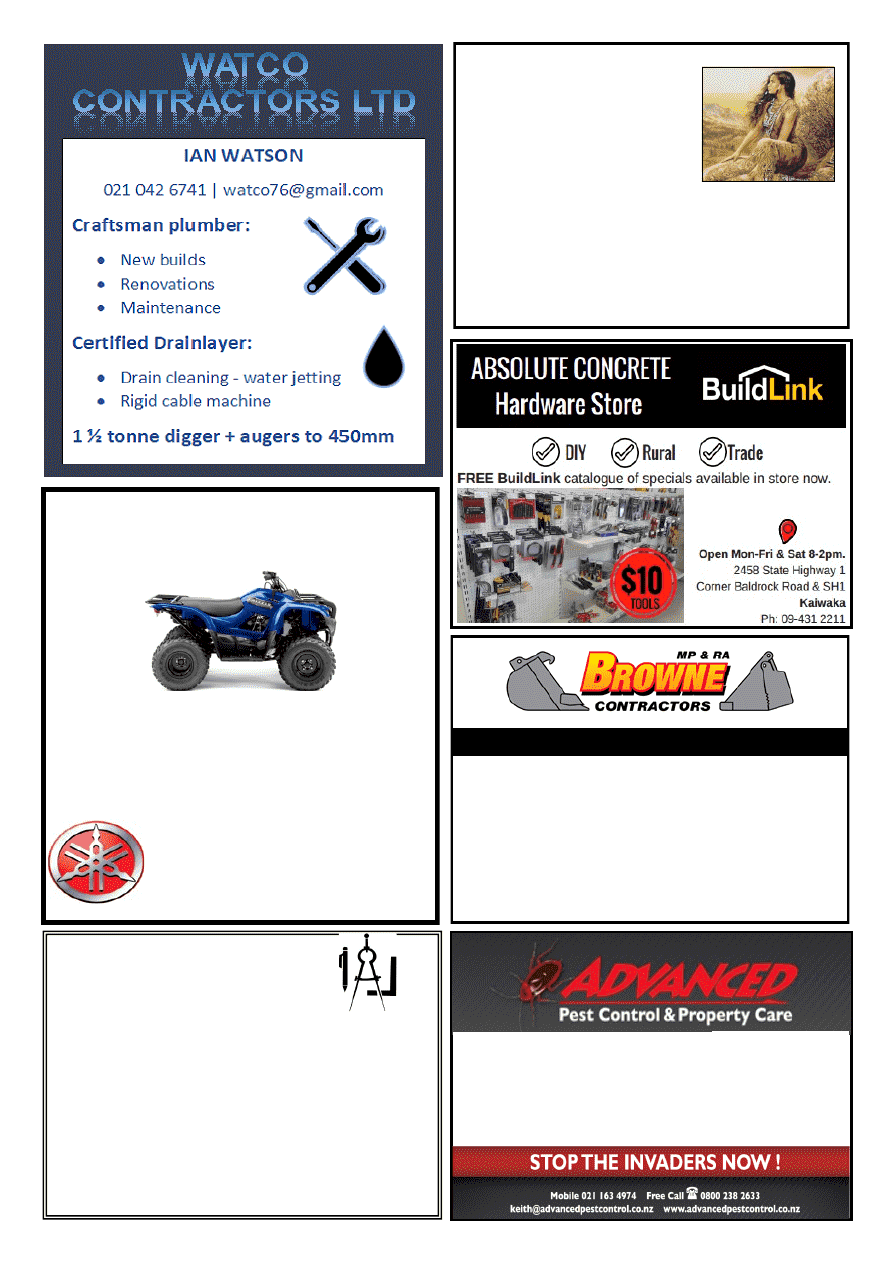 KAIWAKA 
MOTORCYCLES LTD
SALES – SERVICE – SPARES 
FARM BIKE SPECIALIST
PHONE 09 431-2127 
10 KAIWAKA-MANGAWHAI ROAD, KAIWAKA
Trimmers  
from $279
Chainsaws  
from $339
YAMAHA 
HUSQVARNA 
4Tonne DIGGER – BOBCAT – TIP TRUCK 
Property Maintenance - Driveways  
 Building Sites 
Stump & Tree Removal  
Hole Boring - Chain Trencher  
Calf Shed and Stockyard Cleaning 
Phone Matt: 021 199 6677 
Email: mprabrownecontractors@gmail.com 
Pest Control 
PLAN A: One-off treatments to customers with a specific pest problem 
PLAN B: Full maintenance service plans to commercial customers. 
This will include documentation kept in customer file on site: 
⚫
Pest treated 
⚫
Date of service 
⚫
Chemical or baits used 
⚫
Full pest check report done after each treatment 
⚫
Fair and reasonable fee with guarantee 
Flood Recovery 
Carpet Care 
⚫
Carpet Drying 
This includes pre-spray treatments 
⚫
Dehumidifier Rental 
with stain removal and hot water extraction.  
⚫
Full Commercial Cleaning  Patch repair also available 
Upholstery Cleaning 
Full upholstery cleaning of all furniture.  
eg lounge suites and all office chairs 
Water Blasting 
⚫
Concrete - Decks 
House Washing 
⚫
Soft Chemical Was 
⚫
Pre-painting Wash 
Property Services 
⚫
Property Cleaning  Lawn Mowing 
⚫
Hedges General   Tidy Ups 
design drafting  
service 
Retired builder and manufacturer with over 40 years  
experience in the building industry is offering a design 
drafting service for domestic housing, sleepouts and 
sheds.  
Plans formulated in consultation with clients, with 
working drawings completed and submitted to  
council for processing.  Extensive practical experience,  
able to identify & resolve problems. 
Please ring Mike Lean on 
09 431 2260 
or 
021 431 196 
TRAILS END 
RONGOA 
MAORI 
HEALING 
And Gifts 
Stocking all your needs from incense, crystals, dream 
catchers, greeting cards, jewellery, perfume, dragons and 
more ... 
For all inquiries 
 Phone 0211652629  
Light refreshments available $5 koha  
1758 Cove Road Mangawhai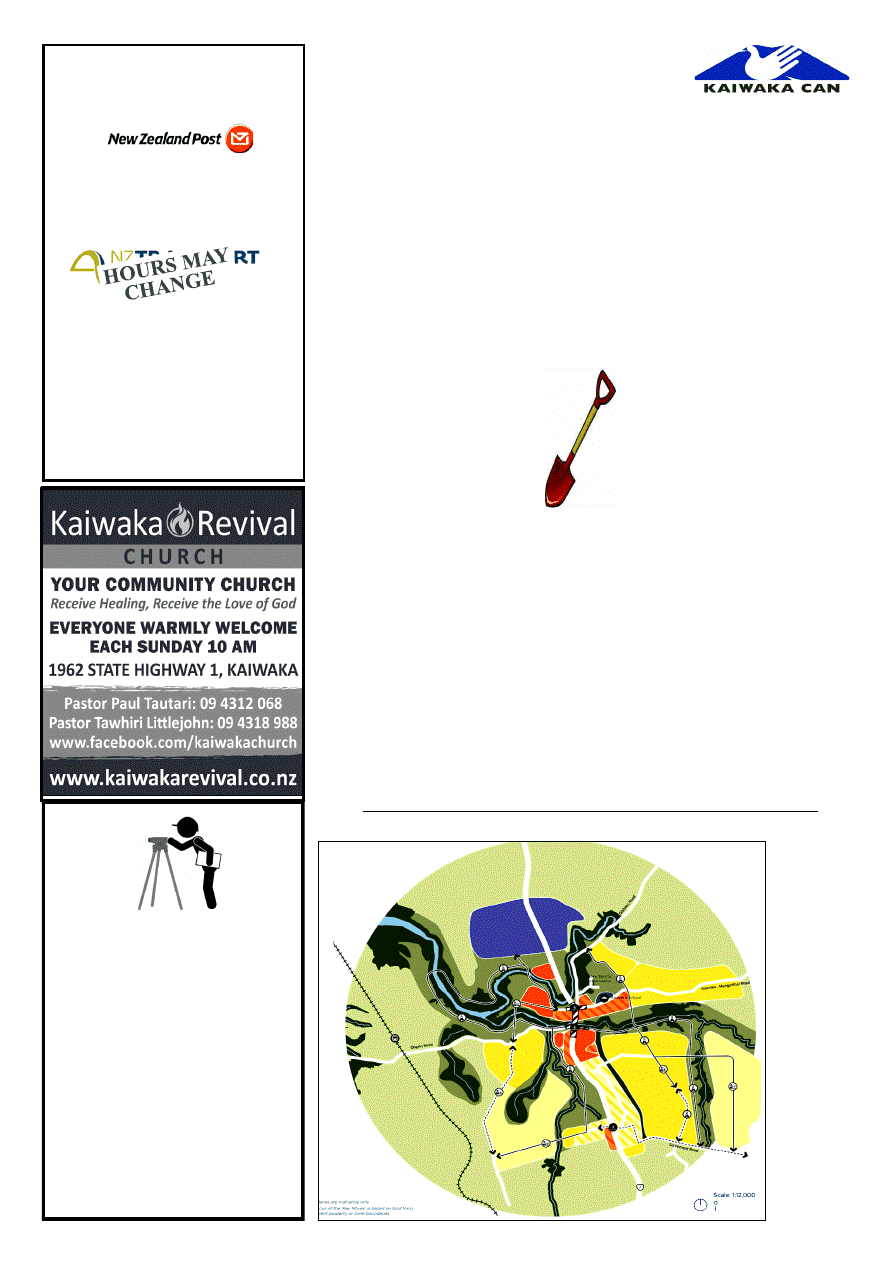 www.kaiwaka.co.nz 
Kaiwaka Bugle - 12 May 2020 
Page 15 
KAIWAKA POST 
CENTRE and 
FOOD MART 
POST CENTRE TRADING HOURS 
MONDAY to FRIDAY 8am to 5pm 
SATURDAY 8am to 12pm 
CLOSED ON SUNDAY and on 
PUBLIC HOLIDAYS 
FOOD MART (GROCERIES) 
MONDAY TO FRIDAY  
7:30am to 7.30pm 
SATURDAY  8am to 7.30pm 
SUNDAY  8:30am to 7pm 
IF ANY QUERIES PLEASE CALL 
STORE MANAGER AMRIT  
on 09 4312431 or 
EMAIL: kaiwakafood19a@gmail.com 
1919a State Highway1, Kaiwaka 0542 
Ken Urquhart 
BSurv Licensed  
Cadastral Surveyor 
KMU Surveys Ltd 
467 Bickerstaffe Road 
RD 2 
Maungaturoto 0587 
Ph 09 431 8705 
Mob 021 161 2344 
kenurquhart@xtra.co.nz 
One  of  the  standout  features  of  the 
covid  crisis  has  been  a  whole  new 
vocabulary,  words  either  we  hadn't 
heard  before  or  words  we  had  never 
used  this  way.  Bubble,  lockdown, 
social  distancing,  self-isolation,  zoom 
meetings, levels (how we hang out for 
those  levels  to  go  down!)...  and  a  few 
others as well. These words roll off our 
lips  with  their  new  meaning  as  if  we 
had been using them all our life. 
Much  of  the  nation  stops  to  watch  the 
News  Special  each  day,  updating  the 
figures  for  new  cases,  deaths,  testing 
figures  and  the  like  and  while  most  of 
us  had  never  heard  of  Ashley 
Bloomfield  before,  he  is  now  a 
powerful figure in our day. 
But  one  phrase  that  caught  my 
attention  is  "shovel  ready".  To 
get the economy going again, we 
need shovel ready projects to get 
people  back  to  work,  money 
flowing  and  some  of  that  $50 
billion  of  borrowings  repaid. 
Does  that  figure  send  a  shiver 
down your spine? 
But  "shovel  ready"  is  an  interesting 
phrase  in  a  day  when  most  of  these 
projects  use  a  shovel,  a  shiny  brand 
new stainless steel one, to turn the first 
sod,  wielded  by  someone  who  never 
uses one in their ordinary life and after 
that,  the  "shovels"  are  normally  huge 
buckets  attached  to  monstrous  yellow 
machines. 
But  its  meaning  is  clear.  There  is  a 
project  ready  to  start.  The  need  has 
been  identified,  the  geology  done,  the 
business case  presented and  the tender 
process ready to start. Most of the ones 
we  hear  about  are  massive  roading 
projects, conference centres to cater for 
international  visitors  who  can't  come 
yet  or  housing  projects  trying  to 
eradicate 
the 
slightly 
bad 
smell of Kiwi build. 
But  I  am  interested  in  shovel  ready 
projects for Kaiwaka. Do we have any 
ready  to  go?  Mangawhai  has  their 
Olympic  size  skate  park  ready  and 
"only" need $850,000 to get it done.  
What do we have? 
Well  there  is  a  lot  we  can  do. 
Improving  connections  between  north 
and  south  bits  of  our  town,  making  it 
safe to get across SH 1, working to get 
more  recreational  space  for  a  growing 
population. 
And now is a great time to be doing it. 
The  Spatial  Plans  for  Kaiwaka  are 
almost back for final consultation 
and  will  mean  a  lot  more 
designated  space  for  housing, 
industry  and  commerce.  The 
Long  Term  Plan  has  begun  its 
process  of  exploration  for  the 
needs  of  Kaipara.  Other  major 
plans  are  sitting  in  the  wings 
ready  to  go.  And  you  may  well 
have  ideas  for  other  good  things 
we can do. 
So Kaiwaka, get shovel ready!  
Let's bounce back out of Covid 19 with 
the ideas, the plans, the enthusiasm and 
the  commitment  that  will  make  the 
most of our great little town. 
Zoom Conference  
By the way, next Thursday the Mayor 
and  Deputy  Mayor  are  hosting  a 
Zoom  conference  for  shop  front 
owners in Kaiwaka to look at ways the 
Council can help you recover from any 
setbacks the crisis has met for you. See 
the separate notice in The Bugle. 
From, my Bubble to yours  
Derek  Christensen,  Chair  Kaiwaka  Can 
099469, 0273572751,   
derekandisa@gmail.com
ALL THOSE NEW WORDS! 
KAIPARA SPATIAL PLAN 
Kaiwaka-Key Moves 
Diagram 
left: 
As  seen  on 
the 
KDC 
online 
meeting  last 
week. 
For  a    full 
and  clearer  
picture  plus 
the  legend, 
contact  the 
council  for 
where 
to 
find 
this  
map on their 
website.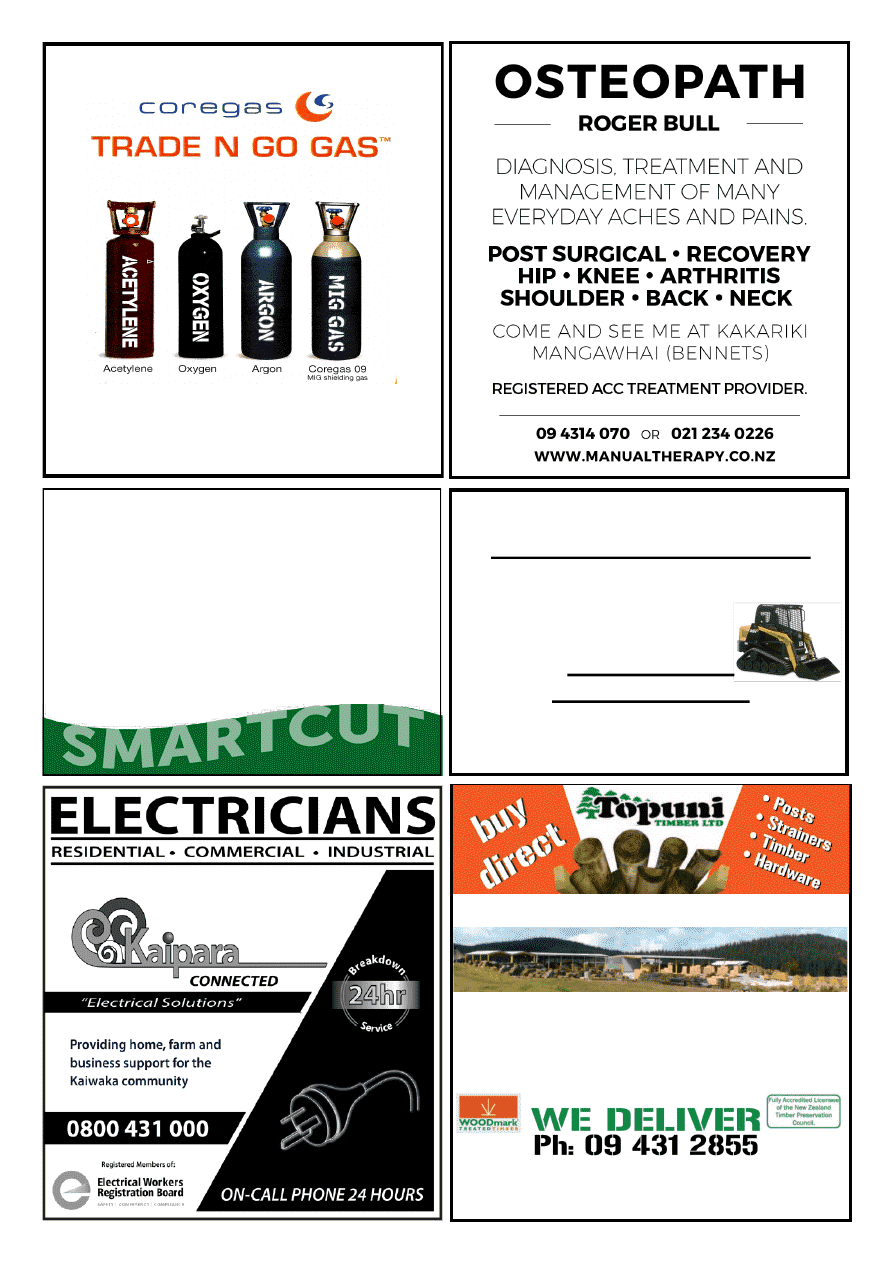 All your outdoor needs sorted so you don't have to… 
I can prune, chop, tidy, spray, mow, plant 
You name it, I can do it! 
Residential & Commercial 
Lawn & Garden Care 
Call Rodney,  
your local lawnmowing contractor 
021 138 2344 
At Twinkle Tow 'n' Tyre 
Mob: 021 833 960 
Ph & Fax: 09 431 2823 
1837 State Highway 1, Kaiwaka 
LOCALLY OWNED AND OPERATED 
QUALITY PRODUCTS • FRIENDLY ADVICE • GREAT SERVICE 
Quality Products milled from High Density NORTHLAND Radiata Pine. 
Treated and guaranteed to NZS3640 with commitment to 
Environmental Safety.
Phone, fax, email, or come into the mill 
Schiska Rd, Topuni, SH1, 10 min north of Wellsford. Fax: 09 431 2856 
Email: sales@topunitimber.co.nz           Mon - Fri 7am-5pm 
• Fencing 
• Retaining 
• Decking 
• Landscaping 
• Gates 
• Hardware 
Natural Earth Ltd 
Landscape and Bobcat services 
 : Driveways :Landscaping :Retaining Walls 
 : Hole Boring: Land Levelling :Trenching 
 : Decks :Fences :Sections Cleared 
 : Plus much more
Tel 09 4312 885 
Mob 02102391280 
For A Fast Friendly Service  
Contact Tim Hicks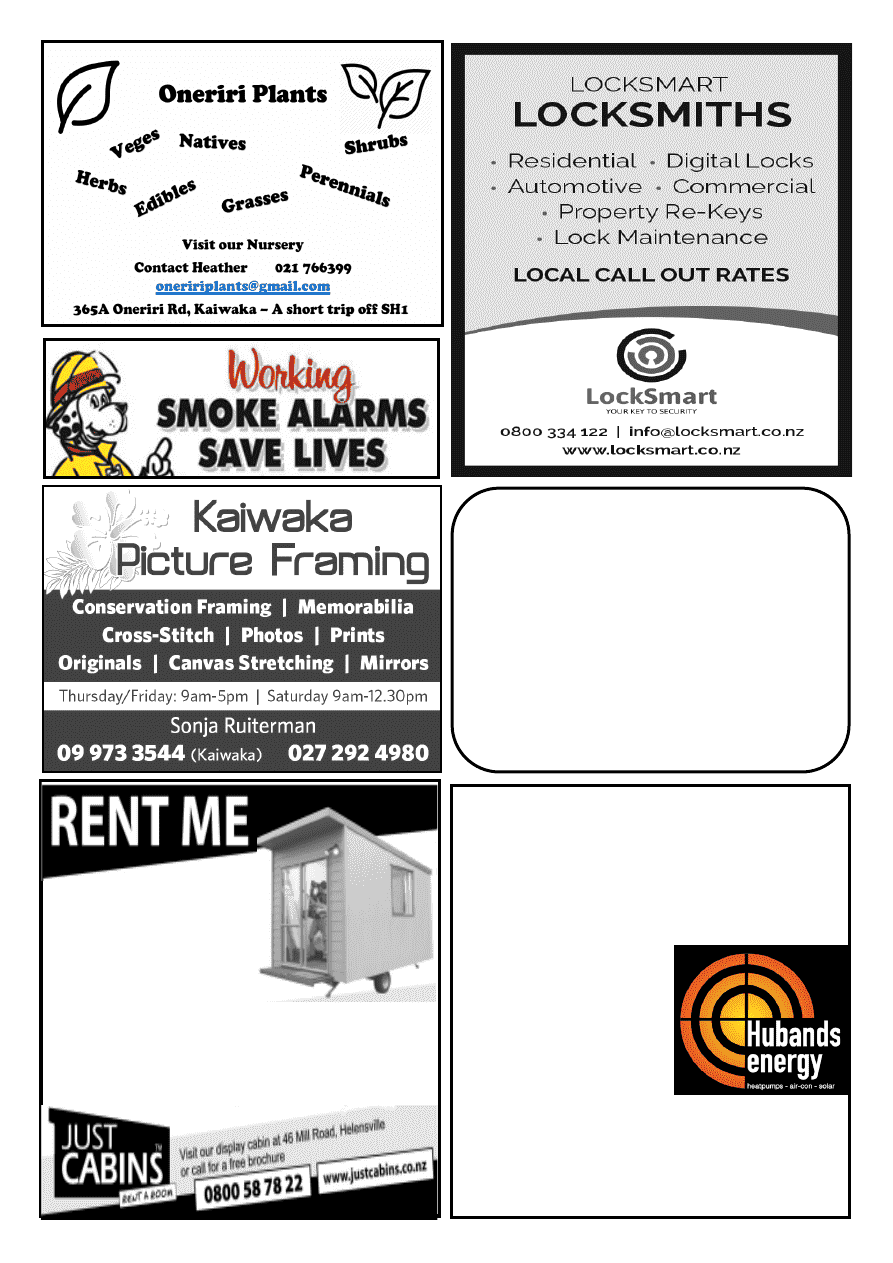 www.kaiwaka.co.nz 
Kaiwaka Bugle - 12 May 2020 
Page 17 
Northland's Award Winning 
Solar Company
SEANZ Best Solar Business Winners 2015/16
EXCLUSIVE 10 year installation warranty 
FREE No obligation onsite quote
Complete systems 
from $5990
See our range of: 
✓ 
Heatpumps 
✓ 
Airconditioning 
✓ 
Hot Water 
Heatpumps 
✓ 
Central Vacuum Systems
09 430 0019             sales@hubands.co.nz 
15 Kioreroa Road, Whangarei
Locally owned and operated for 35 years 
UP-LINK 
CHRIS WARING 
FREEVIEW INSTALLATIONS 
T.V. - HOME THEATRE &  
HI-FI ADVICE/SET UP
SKY ACCREDITED INSTALLER
MOB.0273403747 HM.094312328 
EMAIL cwaring44@gmail.com
28 YRS EXPERIENCE 
OFFERING UNBIASED ADVICE 
Ideal as an extra  
bedroom or office 
Three Convenient sizes: 
Standard 3.6m x 2.4m - $65 per week 
Large 4.2m x 2.4m - $80 per week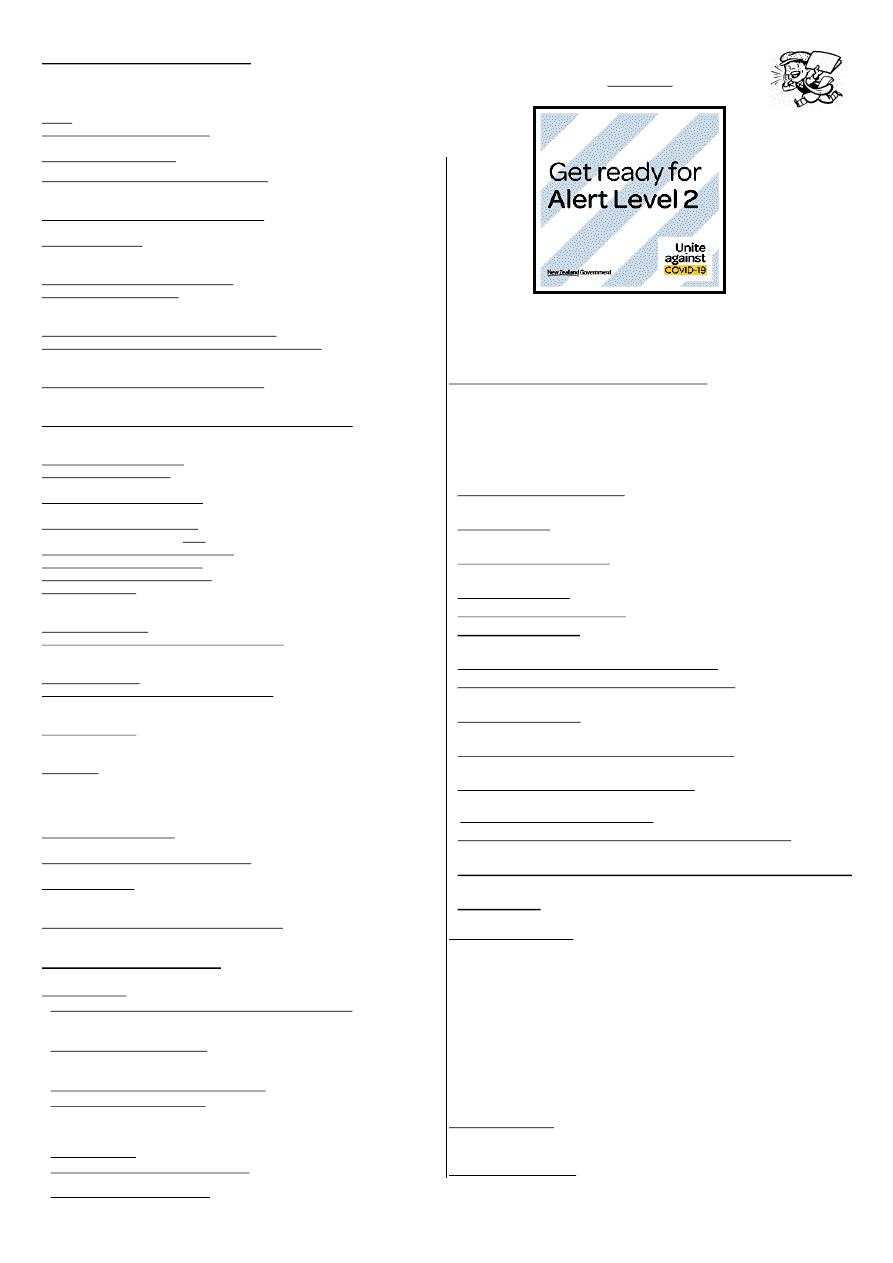 Next Bugle Deadline  Friday 22 May 2020
WHAT'S ON
PLEASE ~ do let us know what is on - email 
kaiwakabugle@kaiwaka.co.nz 
*14May~KDC ZOOM Conference, 7pm 
KWMH = Kaiwaka War Memorial Hall; KSA = Kaiwaka Sports Association 
See www.kaiwaka.co.nz for more information 
HOUSEHOLD RUBBISH COLLECTION  
Kaiwaka Pick up: 
Mondays = Green bags (Northland Waste - 09 430 3273) 
Wednesdays  =  Blue  bags  and  yellow  recycling  (at  Jaques  $3.00 
and  $1.50)  (Kaurilands  09  4392146);  ONLY  Blue  and  Yellow 
bags picked up on Oneriri Road. 
 DIABETES Support Group-for Kaiwaka, Mangawhai, Wellsford 
10am, 3rd Friday of month Ph: Colleen James 09 4314238 
 GENEALOGY - Wellsford: 1st Thursday in month Ph: 423 
7033; Waipu: 4th Monday in month Ph: 4312 725 
 HAKARU PONY CLUB - Secretary Denise Rogers 021423376 
secretary@hakaruponyclub.co.nz  
 KAIPARA HUNT - Secretary Albert Doonenbal Ph 4312059 
 KAIWAKA BADMINTON -Tuesdays 7.30pm Ph: 4312345 
 KAIWAKA  CAN  -  3rd Wednesday in  month, 5.30pm, Archie 
Bull Hall Ph: 0273572751 
 KAIWAKA DRUM & DANCE CLASSES - 021 611198 
 KAIWAKA GARDEN & FLORAL GROUP - 2nd Thursday in 
month. Ph: 431 4744 
 KAIWAKA  CUBS  -  Thursdays  5.30-7pm,  Hakaru  Ph:Bruce 
4312542 
 KNITTING FOR WHANGAREI HOSPITAL - 2nd Tuesday in 
month, Archie Bull Hall 10am Ph 4314827 
 MANGAWHAI COMBINED REBUS CLUB - 2pm, 3rd 
Thursday month, Senior Citizens Hall Mangawhai. Ph: 4315777 
 *PT CURTIS CRUISING CLUB - Jean Ph: 4312227 (wk), 4312520 (hm) 
 RSA,  HAKARU  &  DISTRICTS  WOMEN'S  SECTION  –  meets 
1.30pm 4th Thursday of the month. Ph: 431 5818  
 KAIWAKA  SCOTTISH  COUNTRY  DANCING  CLUB-
Wednesdays 10am - 12 noon  Ph: Elaine 027 432 0032  
 TRAMPING - Mondays 9am-2:30pm Maria 4312 234 
HALLS FOR HIRE: 
  Kaiwaka St. John Hall: Phone Marj  0272941227  
 St.Pauls  Archie  Bull  Hall  HIRE  $20  half  day,  $40  full  day  per 
hire, S McAulay, Ph 4312311 
 Kaiwaka  War  Memorial  Hall  HlRE  -  Phone  4312725  or 
kaiwaka.hall.bookings@gmail.com 
 Hakaru Community Hall HIRE -Ph.  Lorraine 4312829  
 Te Pounga Marae queries - Pearl Nathan  0223933533 
 Kaiwaka Sports Association hire/queries - C. Anderson 4312051 
or kaiwakasports@gmail.com 
Justice  of  Peace:    B.FJaques  4312  048;  L.Donaldson  4312  228; 
A.F.Hargreaves 4312 045, W.Howard 4312 725 - please phone to 
make sure they are available www.justiceofthepeace.org.nz 
Marriage Celebrants:  
L.Donaldson; A.F.Hargreaves; Y Osborne
LOCAL SERVICES 
*Emergencies - Ambulance, Fire, Police - dial 111 
*Non-urgent Police phone 105
A A: Meets Wed., 7.30pm Kaiwaka Ph: 4315543, 0800229 6757 
NARCOTICS ANONYMOUS: Mon., 6.30pm, Kates Place; drug and 
alcohol related issues. Ph. 02102412348 
ASUREQUALITY LTD (was AgriQuality) Call Free 0508 0011 22  
BUDGETING SERVICE, WELLSFORD: Free confidential advice & 
support for all areas of personal finance. Ph (09) 423 7123 
CAB-Citizens Advice Bureau.Wellsford Ph: 4237333 
0800 367 222 email:cab.wells@xtra.co.nz  
CIVIL DEFENCE - Kaiwaka Community Response Group: 
kaiwaka.civildefencecrg@gmail.com, 4312725 Wendy 
DOG/STOCK /NOISE CONTROL 0800 105 890 
FUNERAL SERVICES: Morris & Morris Ltd, 
Whangarei - Bev Jaques Ph:4312367 or 0800667747 
GRANDPARENTS Raising Grandchildren: Dianah Roberts 0223819539 
HAKARU & DISTRICTS MEMORIAL RSA (Inc) 733 Settlement Rd, 
Hakaru. Ph 4312 176 or Bill Warren (President) 431 2092 
HAKARU LANDFILL/Transfer Station:Open everyday 10am-4pm 
Ph4312629 Cost-$55 trailer load up to 1 cubic metre. Ph:4258567 - office 
KAIPARA DISTRICT COUNCIL www.kaipara.govt.nz:  
Help Desk FREEPHONE 0800 727 059  
KAIWAKA CEMETERY: Ph: 4312045 or 4314017 
KAIWAKA LIBRARY: kaiwaka.library@gmail.com  
Mon. 4-6pm; Wed., Thurs., Fri., Sat. 10am-2pm Ph:4312539 
KAIWAKA PLAYCENTRE: Ph Juanita 0274134904; open Mon, Wed, 
Fri 9am-12pm. Hastie Lane; Monday to Friday 9.00am - 12 noon. 
KAIWAKA POST OFFICE:Ph:4312 431  
Post Code: 0573 for RD2 and 0542 for all Kaiwaka Post Office mail 
KAIWAKA PRIMARY SCHOOL: Ph: 4312309   
KAIWAKA SPORTS ASSN: Ph 4312005; 4312129 gym 
KAIWAKA ST. JOHN HALL: Phone Marj  0272941227  
KATE'S PLACE Community Centre - Employment services, Free Health 
Nurse, Plunket, Advocacy, Osteopath, A.A., Legal Advice. 4312 661 
LINKING HANDS Health Shuttle Ph 4315906 or 09 4318969 
MINISTRY FOR PRIMARY INDUSTRIES - General inquiries Call 
Free 0800 008 333 
NORTHPOWER: Faults Kaiwaka area 0800 104040 
OTAMATEA COMMUNITY SERVICES: Counselling, parent coach, 
Family Support worker, budget advice, food bank. Mon-Fri 9am-3pm. Ph 
09 431 9080 http://www.otamateacs.org/ 
PARENTPORT: Free, practical family support service Puhoi to Paparoa 
Ph or txt: Dianne 027 280 5093 or 09 425 9357 
PLUNKET:  Kaiwaka  -Kate's  Place  Clinic  1st  Wednesday  of  the  month; 
Mangawhai  - Rose Madsen Cottage: Coffee Group 9:30 every Monday.  Clinic 
every Monday and Thursday. 
Maungaturoto - Good News Church, Clinic 2nd and 4th Wednesday.  
Cynthia 09 431 7340 or 027 675 3488 
PLUNKET HELPLINE -0800 933 922 (24 hours) 
TAITOKERAU COMMUNITY LAW: Free confidential legal advice and 
assistance, 2nd
Thursday
 of each month. Ph: 0800 155 529 for apps.  
TE URI O HAU Settlement Trust Tangata Developments: Whanau Ora 
021 793262  
VETERINARY SERVICE MANGAWHAI: 
Ph: 4314535 Mon-Fri 8.00-5.00, Sat 9-12, a/h appt. 
WELLSFORD DOCTORS: Ph: 4238 086 
CHURCHES:
 
Kaiwaka  Revival  Church  -  Your  Community  Church:  Sundays  10am. 
Ph: Pastor Tawhiri 09 431 8988 or Pastor Paul 09 4312 068 Visit us at 
www.facebook.com/kaiwakachurch or www.kaiwakarevival.co.nz 
 
St  Paul's  Anglican  Church  1st  Sun.  9.00am  (Eucharist),  3rd  Sun. 
9.00am (Family Service). Contact: Rev. Wayne Thornton Ph 431 4122 
www.mangawhaianglican.org.nz 
 
Church of Christ the King, Mangawhai:9.00am every Sunday 
 
St.Mary's  Catholic  Church:  Maungaturoto  –  Griffins  Road,  Saturday 
evening  Vigil  Mass  6pm;  Mangawhai  –  Senior  Citizens  Hall,  Sunday 
Mass  8:30am;  Wellsford  –  Matheson  Road,  Sunday  Mass  10:30am;  
Mid-week Mass times and all enquires to Fr. Bill Fletcher – phone 423 8170
 
Baptist Church: Sun. 10.30am Mangawhai Snr Cit.Hall.Ph:4312339 
 
Cause  Way  Church  Mangawhai:  Sundays  10.15am,  Mangawhai 
Community  Recreation  Centre,  Insley  St.  Ph:  09  4314782