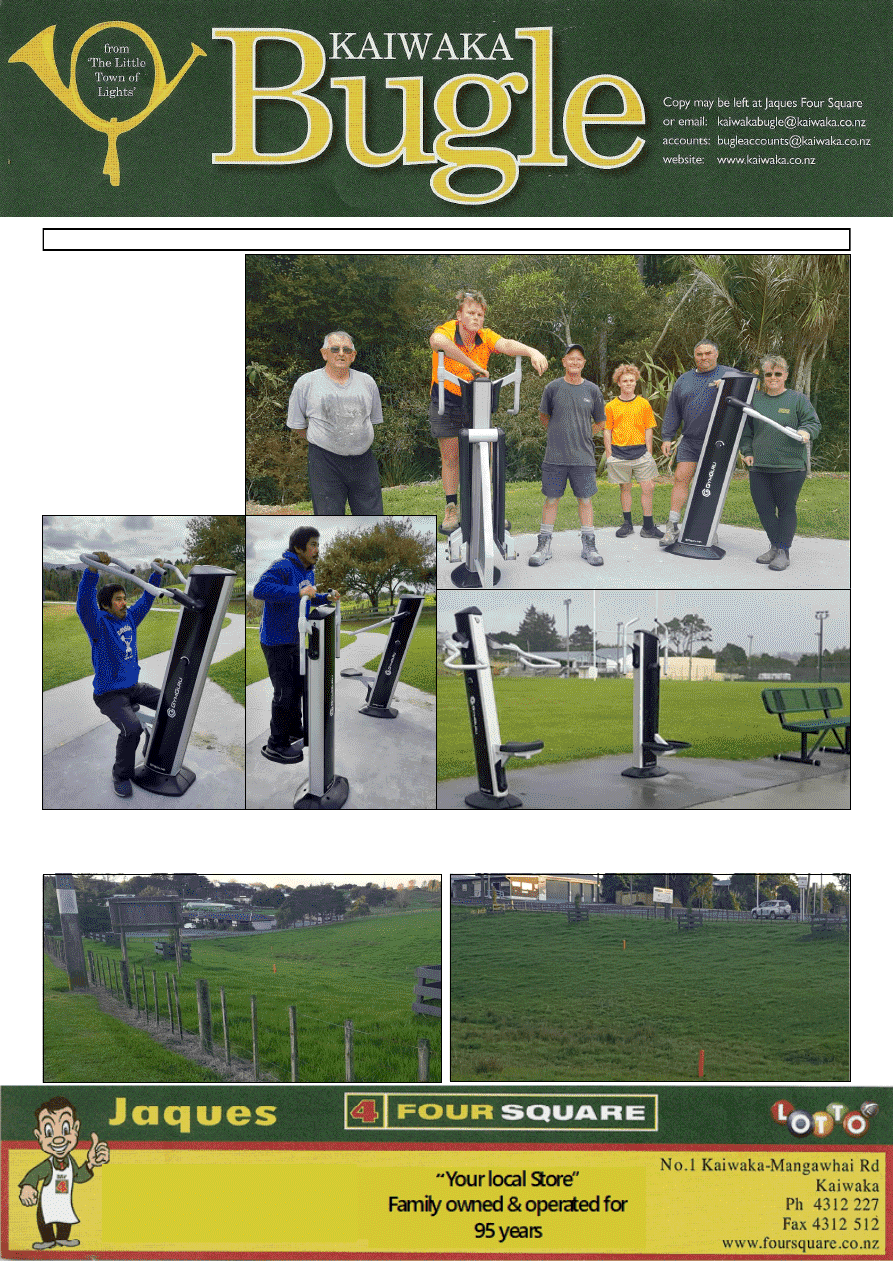 www.kaiwaka.co.nz 
Kaiwaka Bugle - 26 May, 2020 
Page 1 
No: 1 
 26 May 2020 
WINTER HOURS: 
Monday - Friday 8am – 6.30pm 
Saturday 8am – 7pm 
Sunday 9am - 6pm 
 KEEP FIT  
KAIWAKA  
GUESS WHAT IS GOING HERE? 
The latest news is that Gull NZ is planning a service station in Kaiwaka!  
Picture left - looking north to Three Furlongs Bar & Grill; Right - looking westward to SH 1.
Eight  stations  of  fitness 
equipment are now in place at 
the  Kaiwaka  Sports  Assn. 
walking  path.  These  stations 
were 
erected 
by 
Mark 
Ottaway,  Hamish  Ferguson, 
Paul  Tornquist  and  Gareth, 
Bruce  and  Lindell  Ferguson, 
and  Pam  Ottaway  -  the 
photographer. Thank you! 
Dingo  Garcia,  who  works  at 
Kauri  Park  Nurseries,  can  be 
seen here trying out two of the 
stations.
WINTER HOURS: 
Monday - Friday 8am – 6.30pm 
Saturday 8am – 7pm 
Sunday 9am - 6pm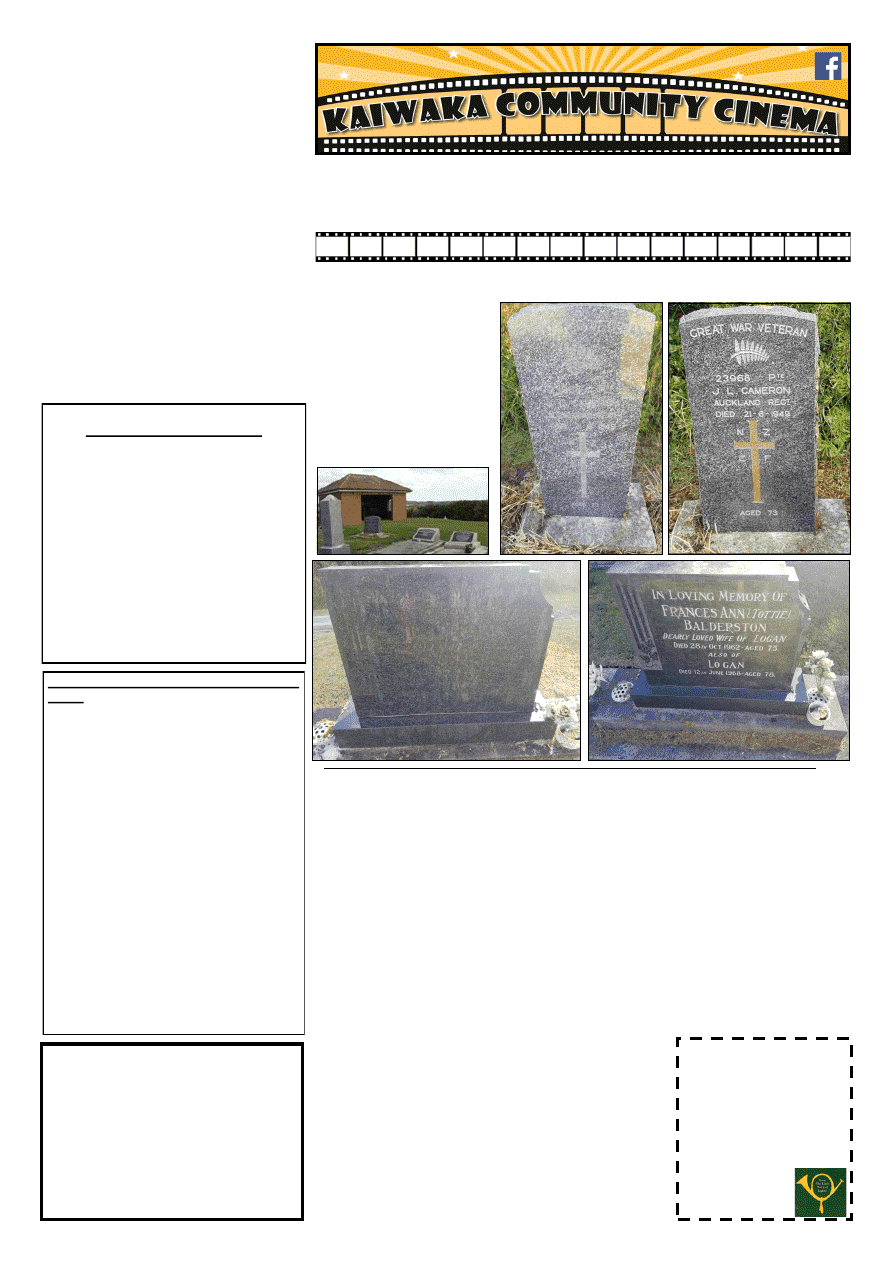 At Kaiwaka War Memorial Hall . Adults $10, Kids (under 16) $5, Family Pass (2 adults + 3 children) $25 
KAIWAKA BUGLE No. 10 
26 MAY 2020 
CONTENTS 
Page 3: Public Notices, Classified 
Page 5:  Jaques;  Masks 
Page 7: Kaiwaka Can;  
Page 9: Cancer Soc.; Rotary 
Page 11: Pt. CCC; OHS 
Page 13: Kaiwaka School;   
Page 15:  KDC - the big dry 
Page 17: Kaiwaka Library 
Page 19: Physio: Super 7 
Bugle 11 will appear 9 June 2020 
Contact for advertising, reports, articles 
or information can be made by 
Email kaiwakabugle@kaiwaka.co.nz 
Ph: 09 4312 045 Lindsey 
Txt: 027 2724137 
Copy  may  be  left  at  Jaques'  Four 
Square. 
Kaiwaka Bugle 
Founded May 1978 
We appreciate articles and photos about local 
events, etc, as well as ads and suggestions. 
Copies available in Kaiwaka at Jaques Four 
Square, Kaiwaka Postal Centre, Shamrock 
Service Station, Animal Health Centre, 
Kaiwaka St John shop. 
Also outlets in Maungaturoto, 
Mangawhai and Paparoa. 
Can be viewed online at   
www.kaiwaka.co.nz/Bugle  
Or a copy can be posted to you if you supply 
stamped, self-addressed DLE envelopes. 
Kaiwaka 
Bugle 
Advertisements 
2020: 
All 
copy 
and 
queries 
to: 
kaiwakabugle@kaiwaka.co.nz 
The Bugle is printed on an A4 page   
Ad  sizes:  1/16  page  (3  x  9.5cm)  $5;  1/8 
(6.5  x  9.5cm  landscape  or  portrait)  $8; 
3/16 ( 10 x 9.5cm or 7.5 x 12,5)  $12.  
Classified  ads:  First  one  FREE,  $4  per 
entry (max. 30 words, max. 4 repeats). 
Payments  can  be  made  online  at 
ANZ 
06  0365  0006990  00
,  posted  or  left  at 
Jaques Four Square Store. 
We  use  Microsoft  Publisher,  and  can 
work  with  most  common  image 
formats, Word, Excel, and PDF files. 
Accounts:  
Email: bugleaccounts@kaiwaka.co.nz 
The  Kaiwaka  Bugle  is  a  community 
newspaper run by volunteers, as part of 
the Kaiwaka Media Group Inc.   
Articles, etc. printed are not necessarily 
the opinion of the Bugle Team. 
ABOUT TOWN 

 Do  try  out  the  grand  new  exercise  stations  at  the  Kaiwaka  Sports  Assn. 
walking track! 

 Our sincere condolences to the family of Graham (Grabba) Mills who paseed 
away last week. 

 MANGAWHAI/KAIWAKA  Phone  Directory  is  a  very  handy  PHONE 
directory - deadline is 29 May to be included or TO update 

 Gull NZ  - see page 19 of the latest Mangawhai Focus for more information 

 JP Dave Edwards is now available for Justice of the Peace work - he can be 
contacted on 021611198  

Latest  Census  figures  from  2018  released  by  Stats  New  Zealand  show 
Northland registered an 18.1 per cent growth between 2013 and 2018 to sit at 
179,076,  followed  by  Bay  of  Plenty  (15.2  per  cent),  and  Waikato  (13.5  per 
cent). Mangawhai rural recorded the largest population growth of 702 over 
that period, followed by 633 at Waipū, and 537 at Kaiwaka. 

 Page 19 from our physio Amy - Super 7 exercises 
are simple but worth  the time to keep in shape 

  The Walking Group at the Kaiwaka Sports Assn. 
pathway  recommences  1st  June  8.30am  &  4pm. 
Amy,  our  local  physio  has  Pilates  classes  in  the 
KWMH each Thursday 4.30pm and 6.15pm

 Kaiwaka  Bugle  No.  10  is  online  at 
www.kaiwaka.co.nz  and  is  in  print  for  our  local 
READERS.  Please  email  your  photos,  adverts, 
news, reports as before
.  
~ Lindsey, Ed
"You  will  live  longer  once  you  realise  that  time  spent 
being unhappy is wasted. " ~ R. E. Renkl 
KAIWAKA CEMETERY 
Proverbs 16:12 
Good leaders abhor 
wrongdoing of all kinds; 
sound leadership has a 
moral foundation. 
DUE TO COVID 19 ....Corona Virus..... 
ALL SCREENINGS ARE CANCELLED 
We will let you know when we will start again .....Be safe., be healthy. 
KAIWAKA BUGLE 
DEADLINE DATES 
2020:   
Every second Friday
June 5, 19 
July 3, 17, 31 
August 14, 28 
September 11, 25 
October 9, 23 
November 6, 20 
December 4 
A very big THANK YOU 
to our local folk who have 
been  doing  an  amazing 
tidy  up  in  our  local 
cemetery. 
The  before  and  after 
photos  are  gravestones  of 
two  long  living  Kaiwaka  
residents:  JL  Cameron 
and Tottie Balderston, nee 
Leslie.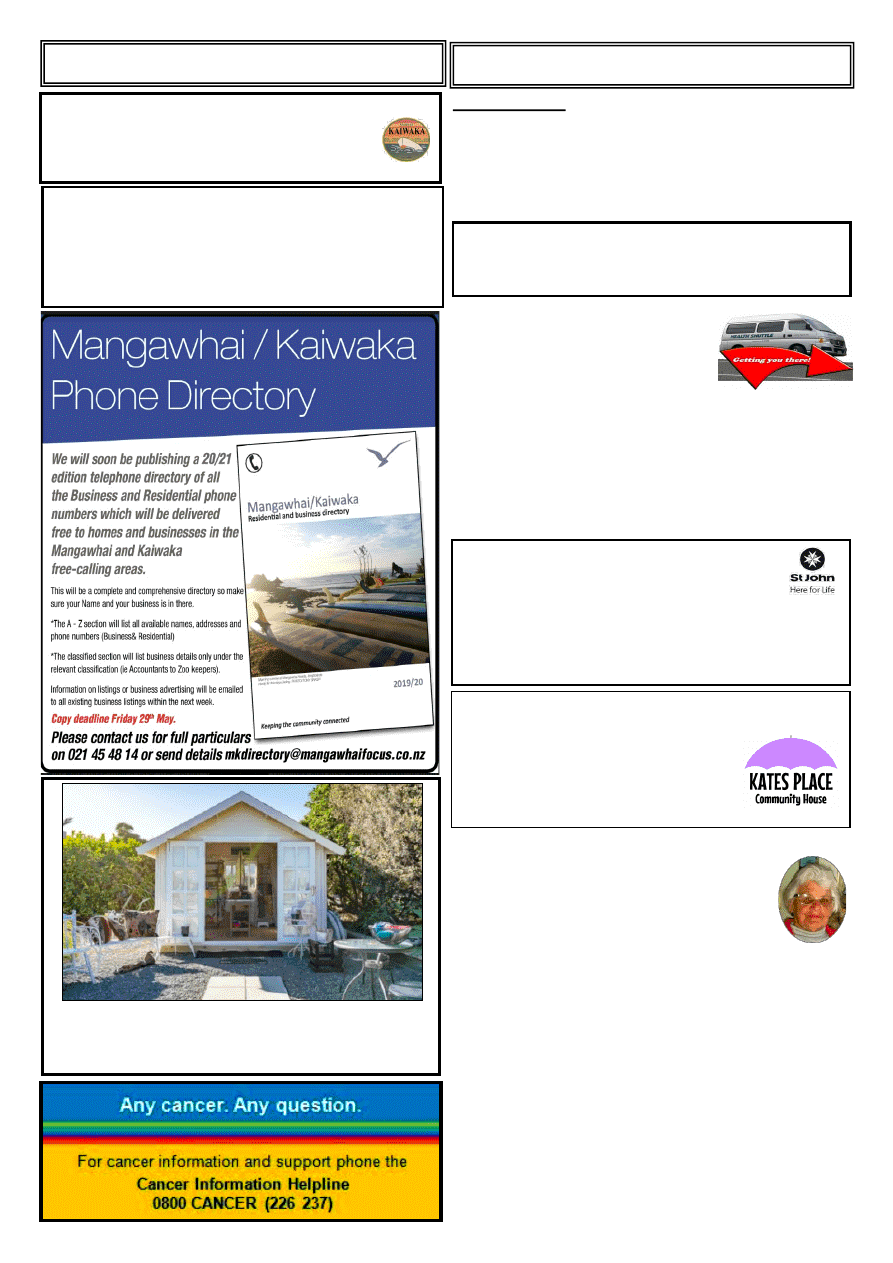 www.kaiwaka.co.nz 
Kaiwaka Bugle - 26 May, 2020 
Page 3 
PUBLIC NOTICES 
CLASSIFIED 
From Thelma's Scrapbook...  
WHY,WHY, WHY? 
Why do people order Double cheeseburgers, 
large fries and a diet coke? 
Why does the sun lighten our hair and darken 
our skin? 
Why can't women put mascara on with their mouth 
closed? 
Why is abbreviated such a long word? 
Why is lemon juice  made with artificial flavouring and 
dishwashing liquid made with real lemons? 
Why is the man who invests all your money called a 
broker? 
Why is the time of the day with the slowest traffic called 
rush hour? 
Why isn't there mouse flavoured cat food. 
Why do they sterilize the needle for lethal injections? 
Why are they called apartments when they are all stuck 
together?
KAIWAKA ST. JOHN OP SHOP 
Thank you for your support.  
NOW OPEN 
With Covid Level 2 safety measures 
Take care and stay safe.  
Phone 09 4312650 for more information. 
 Check us out at 1919 SH1, Kaiwaka 
Diane and the Team from Kaiwaka St John Op Shop 
STUDIO 56 GIFTS & ART 
Karen Johnson opened her new unique, fun, beachy 
boutique last week at  
56 Moir Point Road, Mangawhai Heads. 
FOR  RENT:  Good  flat,  7km  out  of  Kaiwaka,  with 
beautiful  view  over  Kaipara  Harbour.  Approx.  50m
2
, 
bedroom,  living,  office,  kitchen,  shower/toilet. 
Covered outside area lawn, garden optional. Long-term 
to tidy, honest single person. $240 p.week, incl. power. 
Reference,  Bond.  Call  Peter  on  4312718  or 
0211502260. 
Linking Hands Incorporated 
The  Linking  Hands  Health  Shuttle 
Service  is  back    transporting  clients  to 
their health related appointments.  
We are operating under strict Covid -19 
health and safety guidelines. At Level 2. the office will be 
manned from Monday to Friday 10am-4pm.  
If  you  require  help  being  transported  to  and  from 
appointments  please  ring  in  and  book  a  ride.  Ph  (09)
4318969. The office staff are ready to help you.  
We  are  however  sorry  the  computers  room  is  not  yet 
available  to  be  used  by  the  public.  We  will  notify  you  as 
soon as we able to open that part up. If you have any further 
inquiries please phone into the office (09)4318969. 
POINT CURTIS CRUISING CLUB 
Annual General Meeting 
Wednesday 10 June 2020, at 7pm 
Kaiwaka Sports Complex 
Fire & Emergency New Zealand 
RESTRICTED FIRE SEASON 
PERMITS NEEDED
www.checkitsalright.nz  
for information about Authorised Fire Types 
HAKARU TRANSFER STATION 
KAIWAKA-MANGAWHAI ROAD 
Open every day 10am - 4pm ~Closed All Public Holidays 
Telephone: 09 431 2629 
KATE'S PLACE - COMMUNITY HOUSE 
LEARNERS LICENSE COACHING 
Coaching  has  resumed.  Anyone 
wanting  to  get  their  learners  license 
we  will  support  you  to  study  and 
transport you to testing. 
Ph: 09 431 2661 or 029 7739085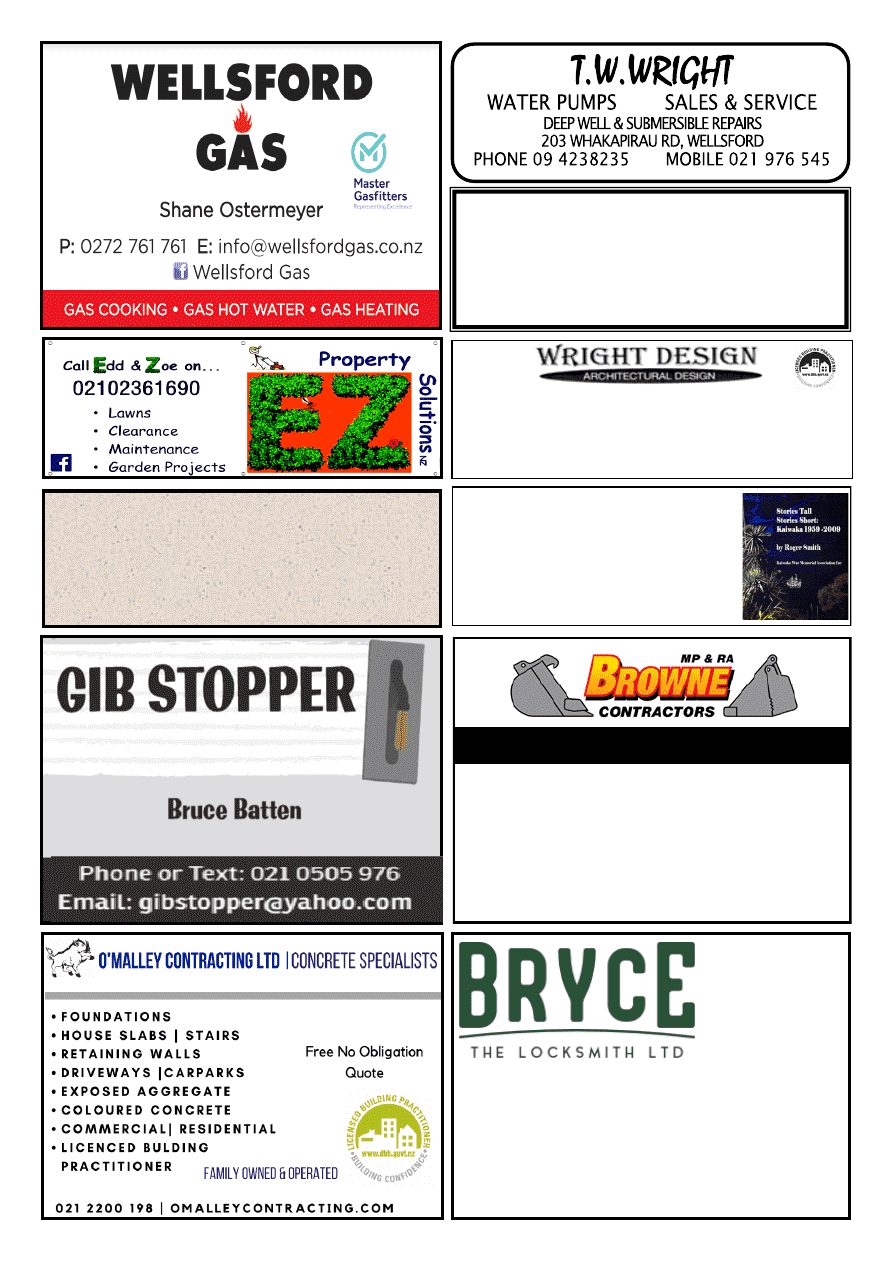 4Tonne DIGGER – BOBCAT – TIP TRUCK 
 Property Maintenance - Driveways  
 Building Sites 
Stump & Tree Removal  
Hole Boring - Chain Trencher  
Calf Shed and Stockyard Cleaning 
Phone Matt: 021 199 6677 
Email: mprabrownecontractors@gmail.com 
Stories Tall, Stories Short  
Kaiwaka 1959-2009 
by Roger TW Smith.  $40 
Kaiwaka Photographic History $25 
At All - Sortz Collectables  
or phone  4312 045 
Counsellor and Registered Psychotherapist 
Offers Supervision
Susan Matheson 
MNZAC 
Dip. Psychosynthesis Counselling and Psychotherapy 
Phone 09 431 2996                        Mobile 027 605 2427 
No. 117345 
N.Z.C.A.D., L.B.P. 117345 
PH/Fax: 09 423 8092 Mob: 021 276 7369 
Office: 3 John Sinclair Avenue, Wellsford    brianwright@xtra.co.nz 
For Resource and Building Consents, planning restraints, new building materials - 
you need a capable, experienced, and professional designer with a clear 
knowledge of all the processes. Brian has been helping and organising all these 
facets of design and building for over 50 years. 
Wright Design offers free visits, consultations and advice on planning, design, 
building, council permit applications, guaranteed permit plan acceptance. 
Bryce Frewin 
Ph: 021 850 983 
Kaipara Based Master Locksmith 
bryce@brycethelocksmith.co.nz 
www.brycethelocksmith.co.nz 
HANDYMAN 
Gardens * Lawns * Landscaping * Painting 
* Small gib-stopping * 
* General repairs and maintenance * 
Honest - Reliable 
Phone Burn 0211900555 or Brenda 0211185578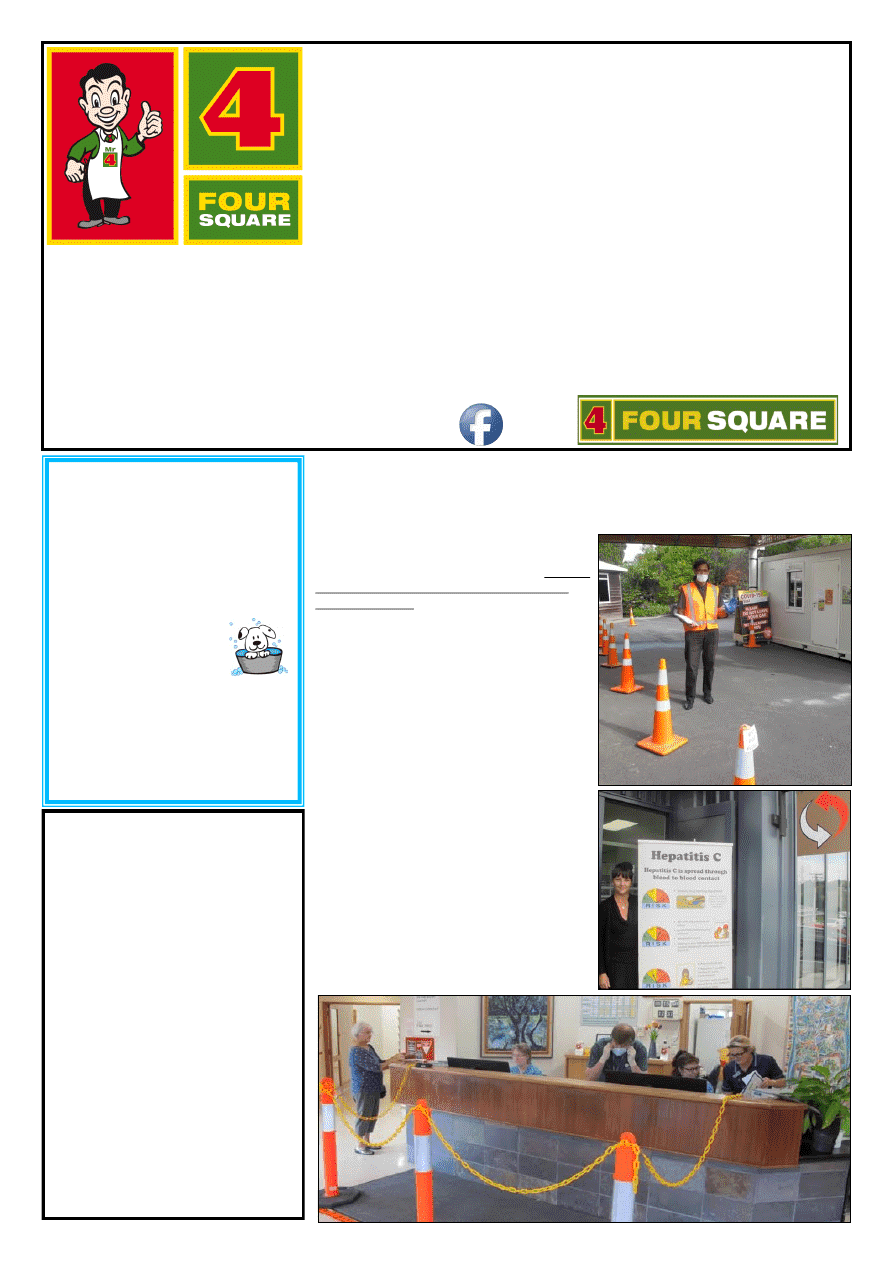 www.kaiwaka.co.nz 
Kaiwaka Bugle - 26 May, 2020 
Page 5 
JAQUES FOUR SQUARE  
At COVID LEVEL 2 
Due to NOT recording customer contact tracing details 
when entering the store, we still need to have protocols 
in place to keep our staff and customers safe. 
If we don't have a staff member at the door you can enter safely.  
At peak times a person will be on the door to monitor numbers 
⚫
10 Customers  in Store at one time.   
⚫
Very important to keep 2 METRE distance from all other people in the STORE and in the line outside at all times 
⚫
One person from each household. Come prepared with a shopping list. Stay in store no longer than 15 minutes 
⚫
Once in Level Two Our Store Opening Hours Will revert to normal.  Monday – Friday 8am to 6pm, Saturday 8am 
to 7pm & Sunday 9am to 6pm
⚫
At level Two LOTTO will be OPEN
Thank you to all our customers for your patience and understanding through these changing times.  
We are here to help.    Stay safe from the Team at Jaques Four Square! 
JAQUES FOUR SQUARE 
Phone: 4312227  
1 Kaiwaka-Mangawhai Road, Kaiwaka. 
Hot Diggity Dog 
DOG GROOMING 
All breeds dog grooming 
Professional Experienced Groomer 
Short practical grooms  
Breed Standard Grooms 
Designer fusion Grooms 
 
Oneriri Road
By appt Phone Pam  
09 4312143 
Or text only 0273335380 
Email  
hot.diggitydog@outlook.com
Willow Bend
HORSE  
HOTEL 
#
Total Horse Care    
# 
Agistment 
# 
Riding Lessons    
#
 Arena Hire (60x40) 
# 
Young Horse Starting 
# 
Re-training/Exercising 
#
Hoof Trimming    
# 
Problem Solving 
Phone Sue  
09 431 2817  
or 021 623 776  
Or email  
susanjoll11@gmail.com 
MASKS AND DISTANCING 
Masks and distancing are part and parcel of a health check-up these days. 
The  2020  Lockdown  shas  raised  awareness  of  the  ever-present  nonbacterial 
microbes known as viruses which lurk behind common colds, flu, chickenpox, 
measles, hepatitis and other illnesses. For 
useful  information  on  the  distinction 
between bacteria and viruses see  https://
www.healthdirect.gov.au/bacterial-vs-
viral-infection. 
At Coast to Coast Healthcare's Wellsford 
Medical  Centre,  Hastie  Lane  resident 
Greg  Nathan  directs  comers  to  safe 
seating  and  asks  questions  to  screen  out 
any coronavirus threat to centre staff. In 
a  friendly  way  he  and  other  screeners 
greet  the  steady,  well-paced  arrival  of 
patients 
who 
ring 
ahead 
for 
appointments. 
There  is  ample  space  in  the  waiting 
room. 
In  addition  to  the  busy  Wellsford  MC, 
the  ADIO  clinic  in  Station  Road 
addresses those managing viruses such as 
the  "enveloped,  positive-sense  single-
stranded  RNA  virus  of  the  family 
Flaviviridae" that results in Hepatitis C. 
More  about  viruses  can  be  found  on 
Wikipedia and from scientific journals. 
Photos  -  permission  given:  Top  -Greg 
Nathan  by  Wellsford  MC's  coronavirus  test 
container  office;  Mid-    Victoria  Goodwin  at 
ADIO with information about the HCV virus; 
Bottom- Wellsford MC reception staff use the 
yellow chain for visitor and staff safety. HP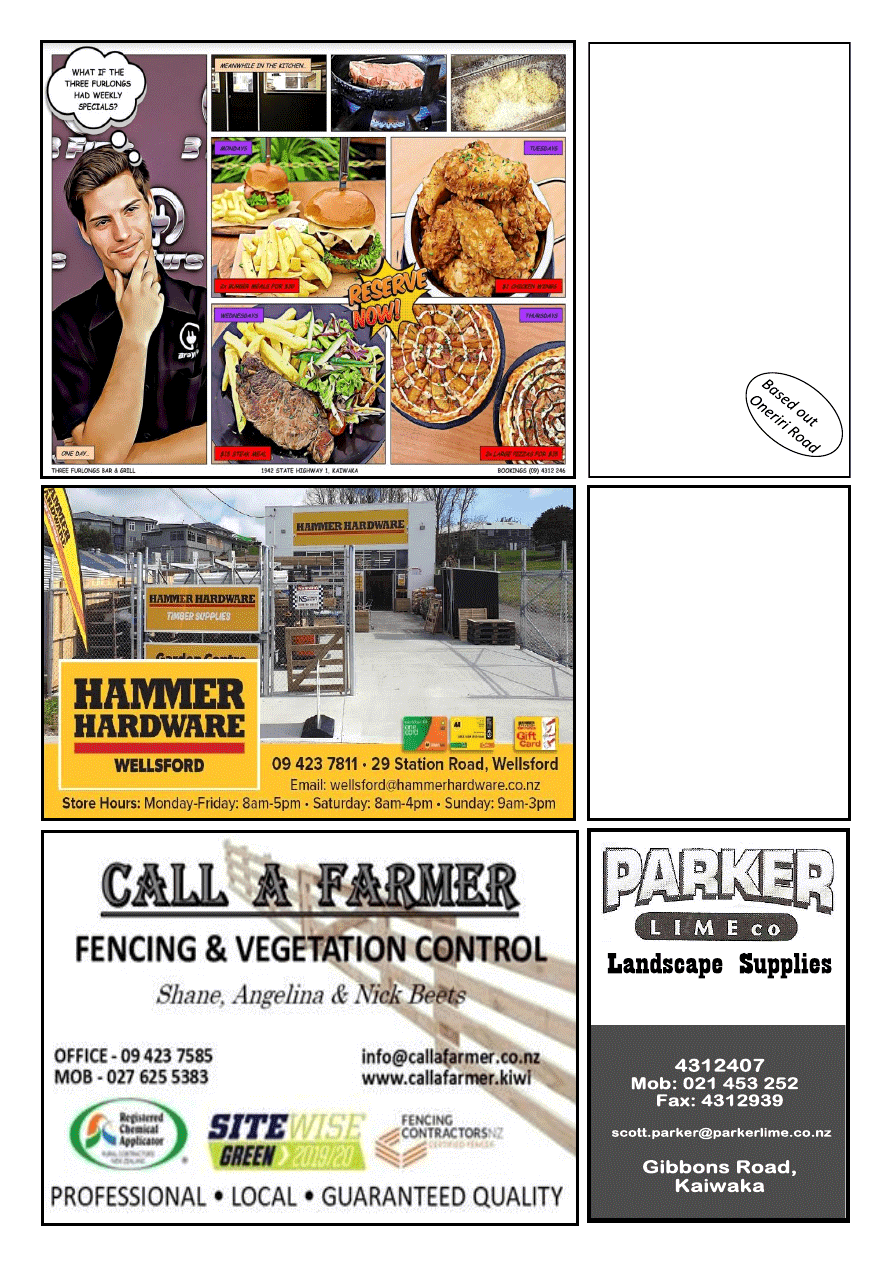 HODGETTS 
CONTRACTING
Digger Work    
Driveways   
House Sites  
Dams      
Drains, etc
Also available for HIRE 
3 ton Vib Roller  
Heavy Duty Tow  
Waterblaster      
Lazer Level
Phone Mark  
4312877 
027 447 8554 
WHERE TO GET HELP 

1737, Need to talk? Free call or 
text1737 to talk to a trained counsellor  

Rural Support Trust 0800 787 254   

Lifeline, 0800 543 354  

Youthline, 0800 376 63, text 234, 
email talk@youthline.co.nz or online 
chat 

Samaritans, 0800 726 666  

Depression Helpline, 0800 111 757   

Suicide Crisis Helpline, 0508 828 
865 (TAUTOKO)      

In a life-threatening situation 
call 
111
Bulk Cartage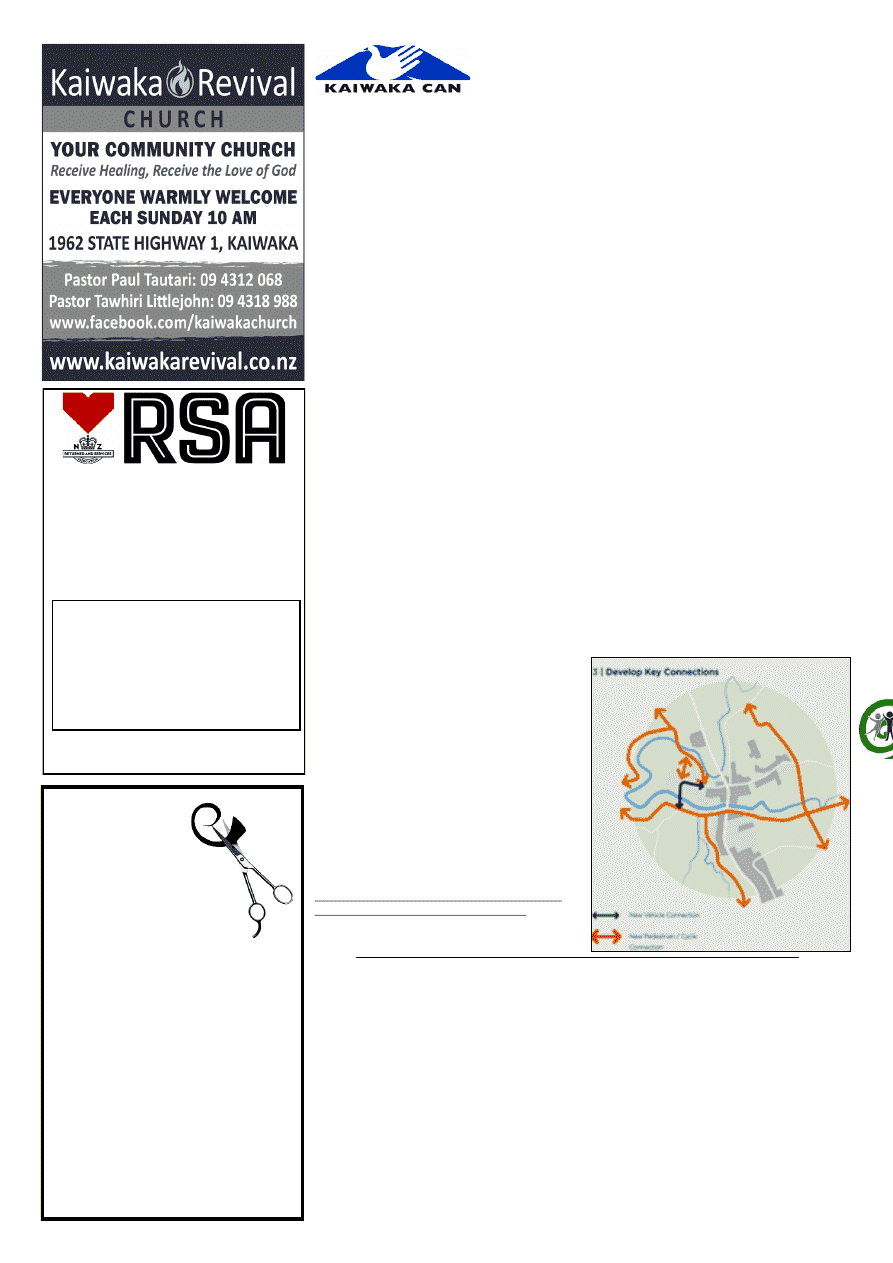 www.kaiwaka.co.nz 
Kaiwaka Bugle - 26 May, 2020 
Page 7 
HAKARU & DISTRICTS 
MEMORIAL RSA (INC)
Members & guests are invited to 
come along and enjoy our hospitality. 
New members welcome. 
Meals are served on 
Thursday and Friday nights 
from 6.30pm. 
Order from Blackboard Menu  
and a sing-a-long  
with Des Chitty. 
For more information please phone 
Graeme on 431 2563 
They  say  that  the  other  side  of  Covid 
19 there will be a new normal. Things 
will be the same but different. And that 
is  not  just  for  us  but  for  the  whole 
world. 
In  a  small  rural  town  like  Kaiwaka, 
perhaps we won't notice it as much. We 
can now get out and about a bit more, 
meet  friends  and  family  more  easily, 
shop a little more easily and in general, 
get back into the old groove. 
But Kaiwaka will not be the same as it 
was  because  while  we  were  in 
lockdown,  things  were  happening 
which are going to affect us all sooner 
or later. 
One  of  these  is  the  Spatial 
Planning  process
,  in  its  final  stages 
before it is moulded into a new district 
plan.  Look  at  some  of  the  major 
changes. 
The  big  thing  in  it  is  the 
realignment  of  Oneriri  Road 
through  the  Brethren  property  coming 
out  opposite  Kaiwaka  Mangawhai. 
Road.  It  doesn't  detail  the  nature  of 
intersection  but  is  something  we  need 
to watch out for. (
See  diagram  from  page 
109 Kaiwaka Spatial Plan -  right
) 
The town centre for development 
of 
more retail, public space and parking is 
in  the  area  on  the  corner  of  State 
Highway 
One 
and 
Kaiwaka 
Mangawhai  Road,  stretching  out  and 
back  from  the  strip  of  shops  that  used 
to include Bianca's and Mormors. 
And  there  is  a  lot  of  extra  land 
designated  for  housing  (both  sides  of 
the 
Highway), 
light 
industrial 
development  (north  of  the  Coffee  Pot 
where  the  Highland  cattle  are)  and 
plenty  of  ideas  for  walkways, 
cycleways and connectivity. Look at it 
yourself on: 
https://pub-kaipara.escribemeetings.com/
filestream.ashx?DocumentId=1055  
but  give  yourself  plenty  of  time  for 
working through all the detail. 
The other piece of news (a bit old now 
for  Mangawhai)  is  the 
coming 
construction  of  a  Gull  Service 
Station  just  south  of  Three 
Furlongs. 
Strange we had to learn of 
it  through  the  Mangawhai  paper  and 
not during the spatial planning process. 
It  is  strange  also  that  NZTA  has 
allowed  it  when  they  have  constantly 
blocked  any  more  driveways  coming 
out on to the highway. It will mean big 
changes for the Caltex Station and also 
mean there is going to be traffic chaos 
from  the  southern  bridge  almost  up  to 
the  Italian  Bakery  set  of  shops,  until 
Oneriri is realigned. 
I  am  sure  there  will  be  other  changes 
too  to  the  way  we  live  and  act  in  the 
future. Many of us have been involved 
in  Zoom  meetings  or  family  catch  up 
and  this  may  be  something  a  lot  more 
common in the future. It has even been 
suggested for Kaiwaka Can meetings to 
expand the meeting by Zoom to those 
unable to be there in person! 
So  have  a  fun  future  Kaiwaka! 
Some  of  us  are  not  going  to  see  it  all 
but it is great to see some movement in 
mapping  out  a  future  for  a  great  little 
town  that  will  be  greater  in  the  future 
and not so little. 
Derek Christensen (Chair Kaiwaka Can) 
0273572751 or derekandisa@gmail.com 
JUST 
CUTS 
and 
MORE  
1758 Cove Road  
Open Monday-Saturday  
by appointment only 
Saturday 9-12pm  
Affordable prices: 
Ladies cuts from $35 
Colours from $120 
Men's from$25 
Kids from $18 
0211652629  
THE MEANING OF KAIWAKA 
According  to  the  KDC  SPATIAL  PLAN  Kaiwaka  (Resilio  Studio,  AR  + 
Associates Limited | April 2020 99 4.1 ) Local  & Historical  Context Kaiwaka, 
as a personal name, translates to 'a star, possibly Kaus Astralis, which appears in 
late winter and heralds the beginning of the lunar month of Kohitātea (January) 
or Hakihea (December).' As a noun, Kaiwaka means 'threatening clouds (on the 
horizon)'. 
The CENTENNIAL OF KAIWAKA RAUTAU O KAIWAKA 1859 ~ 1959 
records on page 9 the interpretation of "'Kaiwaka' - A cloud against a clear sky 
resembling a big tree. The cloud Kaiwaka, has never been observed anywhere 
else in Kaipara, when the cloud Kaiwaka appears against a clear sky it foretells 
the passing of a person of high rank. It has been said that persons of high rank or 
tribal  leaders  have  great  resistance  against  death  and  will  live  on  longer  than 
they should if there is no one else to succeed them, The passing of such people 
and  the  Cloud  Kaiwaka,  may  all  seem  a  co-incidence.  The  reason  assumed  is 
that a certain atmospheric pressure will weaken all resistance against sickness." 
STARTING ON THE NEW 
NORMAL...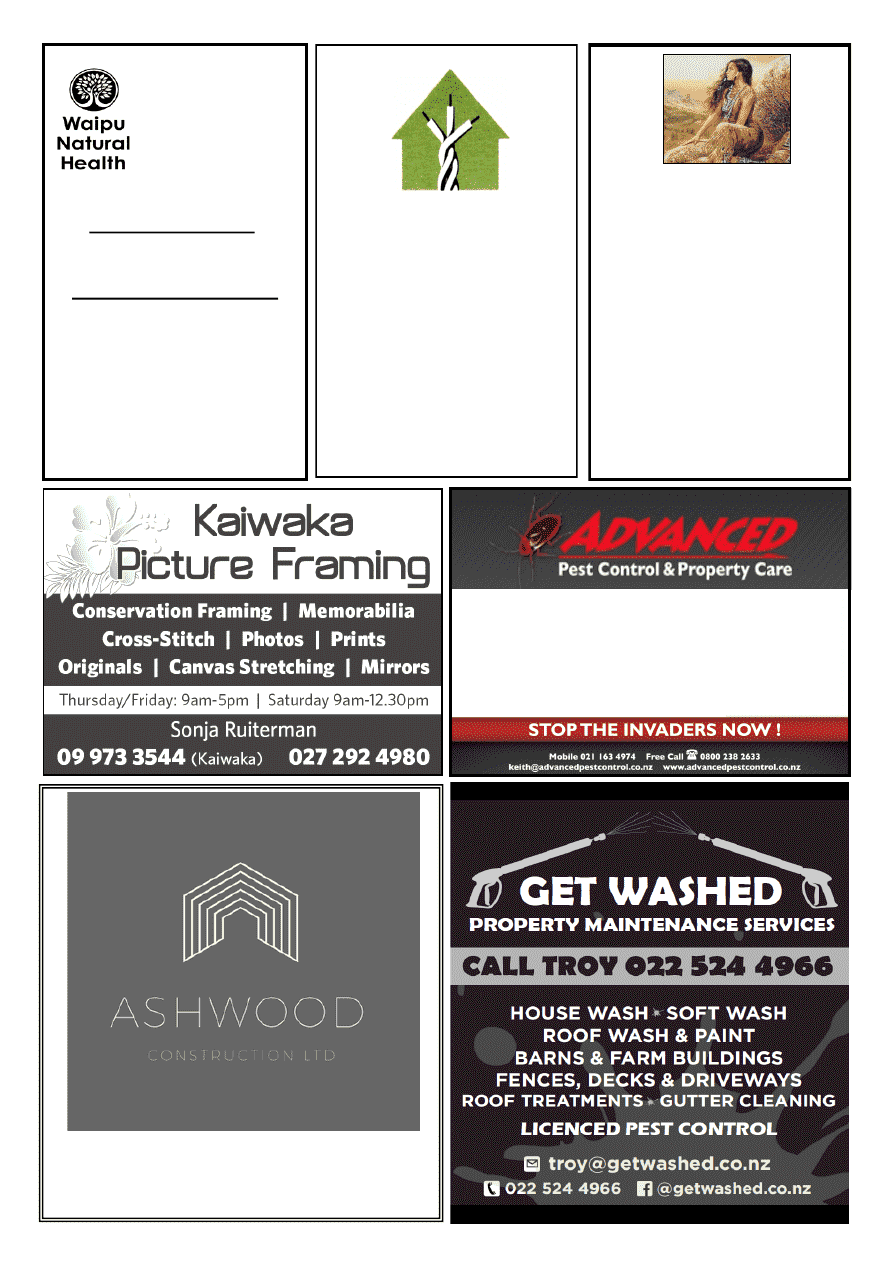 Reyahn George 
Leng 
Registered Electrician 
Local, honest and reliable. 
For your residential and 
light-commercial projects. 
022 314 1068  
Pest Control 
PLAN A: One-off treatments to customers with a specific pest problem 
PLAN B: Full maintenance service plans to commercial customers. 
This will include documentation kept in customer file on site: 
⚫
Pest treated 
⚫
Date of service 
⚫
Chemical or baits used 
⚫
Full pest check report done after each treatment 
⚫
Fair and reasonable fee with guarantee 
Flood Recovery 
Carpet Care 
⚫
Carpet Drying   
This includes pre-spray treatments 
⚫
Dehumidifier Rental 
with stain removal and hot water extraction.  
⚫
Full Commercial Cleaning  Patch repair also available 
Upholstery Cleaning 
Full upholstery cleaning of all furniture.  
eg lounge suites and all office chairs 
Water Blasting 
⚫
Concrete - Decks 
House Washing 
⚫
Soft Chemical Was 
⚫
Pre-painting Wash 
Property Services 
⚫
Property Cleaning  
Lawn Mowing 
⚫
Hedges General  Tidy Ups 
TRAILS END 
RONGOA MAORI 
HEALING 
And Gifts 
Stocking all your needs from incense, 
crystals, dream catchers, greeting 
cards, jewellery, perfume, dragons and 
more  … 
For all inquiries  
Phone 0211652629  
Light refreshments available $5 koha  
1758 Cove Road Mangawhai
3 Cove Road, Waipu 
(opposite the Pizza Barn
) 
094321325 
www.waipunaturalhealth.co.nz 
Clinical Nutritionist: 
Nutritional Checkups, Diets for 
Chronic Diseases,  
Food Sensitivities 
Naturopathic Physician: 
Ozone Therapy, Prolotherapy, 
Mesozone 
Reflexology, Craniosacral 
Therapy, Trauma Release 
Massage Therapy 
Counselling and Hypnotherapy 
Change Catalyst/ThetaHealer 
ASHWOOD CONSTRUCTION  LTD 
LBP registered 
New Builds Renovations Extensions Decks & more 
After a quote? Call Lee on 0223408353 
www.kaiwaka.co.nz 
Kaiwaka Bugle - 26 May, 2020 
Page 9 
Tramp! 
Te Pounga Marae 
130 Nathan Rd. Oneriri. Kaiwaka 0573 
COMPLEX FOR 
HIRE 
Functions 
* Weddings  * Birthdays  
*Anniversaries * Meetings  * Wananga 
5 hour meeting * 12 hour stay  * 
Overnight 
*All welcome - No more Drink-driving 
Amenities: 
*Convo Combi Steamer * Bratt Pan * 
Dish Washer/Sterilizer * 3 Door Glass 
Chiller (walk in) etc…All Crockery * 
Linen Supplied * Central Heating and 
Air Conditioning and much more.  
Can also cater for small groups…. 
For more information please 
contact: 
 Pearl Nathan 0223933533  
tepoungamarae130@outlook.com  
This 
year 
the 
Cancer 
Society 
celebrates  the  30th 
anniversary 
of 
Daffodil  Day  and 
is  looking  for  30 
people to tell their story. 
"
We're  looking  to  hear  and  share 
stories  of  what  the  Cancer  Society 
and Daffodil Day means for people. 
We  want  to  hear  about  what 
difference  the  Cancer  Society  has 
made  in  people's  lives
," says Cancer 
Society  Auckland  Northland  CE 
Andrew Young. 
The Cancer Society wants to be able to 
tell the story about how the generosity 
of everyday Kiwis has helped it make a 
difference  for people  with cancer  over 
these 30 years. 
The  stories  will  be  featured  as  part  of 
its Daffodil Day campaign in August. 
"
We rely on Daffodil Day to support 
the  work  we  do.  Every  day  the 
Cancer  Society  provides  expert 
information  services,  counselling, 
nutritious  meals,  accommodation 
near 
hospitals, 
transport 
to 
treatment,  as  well  as  important 
education 
and 
prevention 
campaigns,  and  vital  cancer 
research in New Zealand
." 
The  first  Daffodil  Day  was  held  in 
Wellington  and  Manawatu  in  1990.  A 
group  of  Feilding  volunteers  picked 
daffodils  from  local  paddocks  to 
exchange  for  a  donation  on  the  last 
Friday of August. 
Since  then,  Daffodil  Day  has  grown 
into  a  nation-wide  annual  campaign 
involving more than 12,000 volunteers. 
This  year,  Daffodil  Day  will 
take place on 28 August.
ANZ  has  been  a  major  sponsor  of  the 
Cancer  Society  since  1990  and  the 
principal sponsor of Daffodil Day.  
Each  year  ANZ  staff  get  involved  in 
fundraising activities that fund services 
and support for Kiwis with cancer. 
People  wanting  to  tell  their  story  can 
fill  out  an  easy  online  form  https://
bit.ly/30storiesproject  and  the  Cancer 
Society will be in touch. 
"
We'd  love  to  use  every  story 
submitted  in  some  way,  we  know 
there's  many  people  out  there  who 
will  want  to  tell  their  story  about 
Daffodil  Day  and  the  Cancer 
Society
." 
CANCER SOCIETY SEEKING STORIES 
Well  as  you  read  this,  you  will 
probably have been challenged in many 
ways that you had not thought of at the 
beginning  of  the  year,  but  it  would 
seem  that  we  are  making  progress 
downwards, so let us keep the lowering 
of numbers ongoing. 
Since  my  last  report  to  you  we  have 
been  two  months  without  an  official 
Rotary  meeting  and  now  we  are 
looking at ways of moving forward so 
that we can continue to be of service to 
the  community  and  start  connecting 
again  as  the  Fellowship  is  very 
important  to  our  club.  As  mentioned 
last  time,  many  of  us  did  not  know 
about Zoom in March, but more than a 
few of us have used it to interact with 
our groups for many different reasons. 
My  latest  venture  into  this  was  on 
Saturday  when  we  had  the  chance  to 
listen and watch a variety of presenters 
at  a  Rotary  district  training.  We  were 
not  only  provided  information  about 
the many facets of Rotary but also with 
tools  to  progress  forward  in  this 
demanding environment. Several of our 
youth  initiatives  have  had  to  be 
cancelled  for  this  year.  Like  the 
Challenge  camp  which  is  a  weeklong 
camp at Muriwai for 16-24yr olds with 
a  physical  or  intellectual  disability. 
This  camp  focuses  on  what  the 
youngsters  can  do  and  makes  a  huge 
difference  in  the  lives  of 
attendees. 
One  area  that  I  do  believe  we  need  to 
make  progress  in  is  the  use  of  Social 
Media  to  not  only  let  people  know 
what  we  are  doing  but  also  to  let  the 
readers  know  what  Rotary  offers  and 
ways  that they  may  be  able  to  help  us 
with various activities. 
Our  Rotary  club  is  only  one  type  of 
Club that is now on offer. These newer 
clubs reflect the changing times. I have 
previously  mentioned  the 
Millwater 
satellite  club
 that has helped us with 
projects,  but  there  are  also 
E-clubs, 
Corporate  clubs,  Passport  clubs 
and  even  an  Eco  club.  For  14  to 
18-year  olds  there  is  an  Interact 
club, 
but with Duke of Edinburgh and 
William Pike being offered in our area, 
I  think  this  age  group  is  well  catered 
for.  
We  are  gradually  climbing  back  down 
the  Alert  level  Ladder  but  remember, 
wherever  you  are  and  whatever  your 
circumstance,  keep  safe  and  take  care 
of  each  other  and  be  mindful  of  those 
around  you.  It  is  now  more  than  ever, 
when we are outside, reconnecting, that 
we  need  to  be  kind  and  supportive  of 
each other. 
He kura te tangata  ~ We are all precious 
. ~Eileen 
MAUNGATUROTO & DISTRICTS ROTARY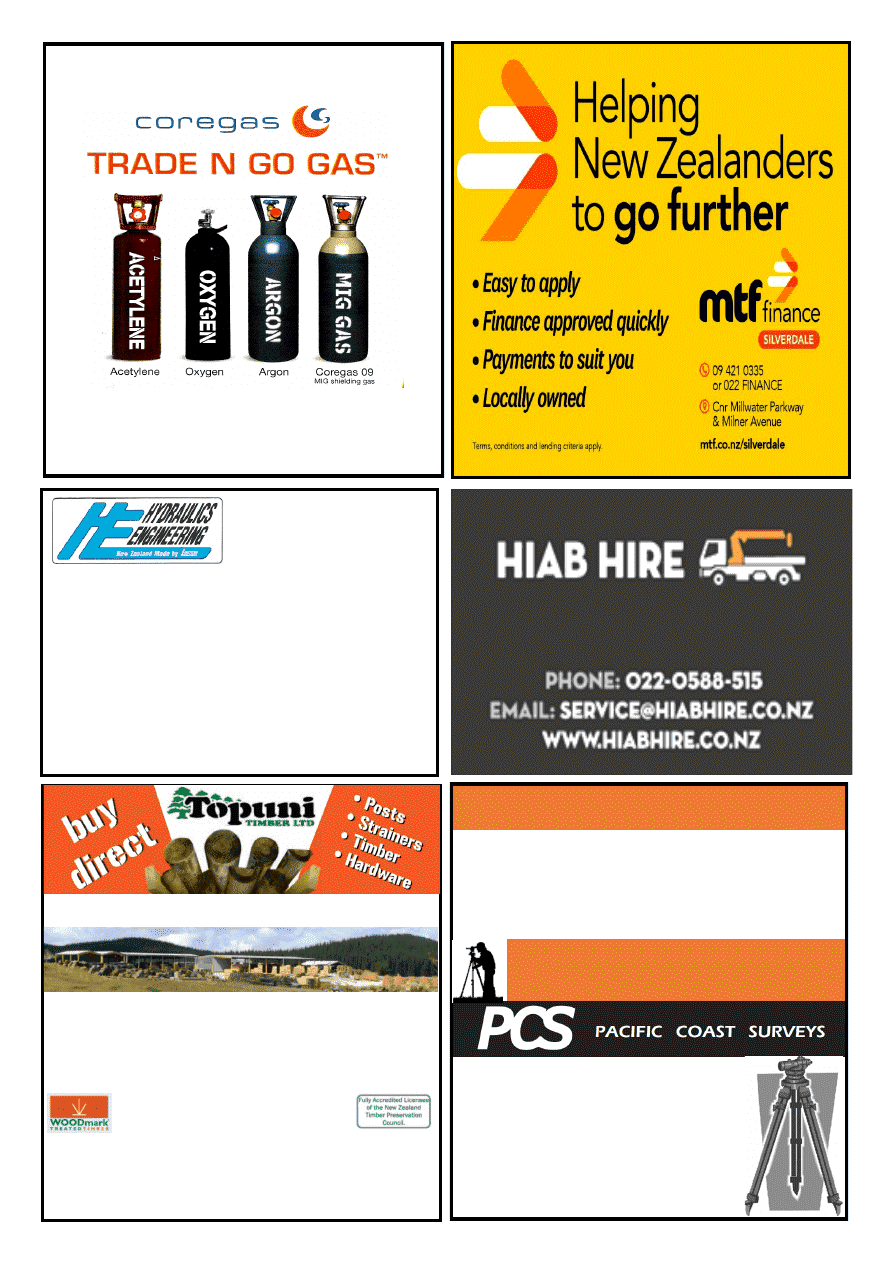 LOCALLY OWNED AND OPERATED 
QUALITY PRODUCTS • FRIENDLY ADVICE • GREAT SERVICE 
Quality Products milled from High Density NORTHLAND Radiata Pine. 
Treated and guaranteed to NZS3640 with commitment to 
Environmental Safety.
Phone, fax, email, or come into the mill 
Schiska Rd, Topuni, SH1, 10 min north of Wellsford. Fax: 09 431 2856 
Email: sales@topunitimber.co.nz           Mon - Fri 7am-5pm 
• Fencing 
• Retaining 
• Decking 
• Landscaping 
• Gates 
• Hardware 
SURVEYORS 
SUBDIVISIONS 
HOUSE SITE SURVEYS 
CIVIL ENGINEERING 
WASTEWATER DESIGNS 
EXPERIENCED 
PROFESSIONAL 
INNOVATIVE 
Ph 09 431 5353 
0800 PACIFIC (0800 722 434) 
pacificcoastsurvey.com
Adam Booth - 027 415 5752 
Bsurv, Licensed Cadastral Surveyor
Surveying Kaipara since 1994 
At Twinkle Tow 'n' Tyre 
Mob: 021 833 960 
Ph & Fax: 09 431 2823 
1837 State Highway 1, Kaiwaka 
Hydraulics  
Engineering Ltd 
Kaiwaka 
Sales - Service - Parts - Hire - Manufacture 
Service Contractors & Industrial Equipment: 
Rams, Pumps, Valves 
Logsplitter Hire, Manufacturer, Sales 
Dennis Linton 
Lot 2 / 161 Ranganui Road, RD2, Kaiwaka, 0573, New Zealand 
Mobile: 0274 381 700 
Email: hydraulicsengineering@xtra.co.nz 
Website: www.hydraulicsengineeringco.nz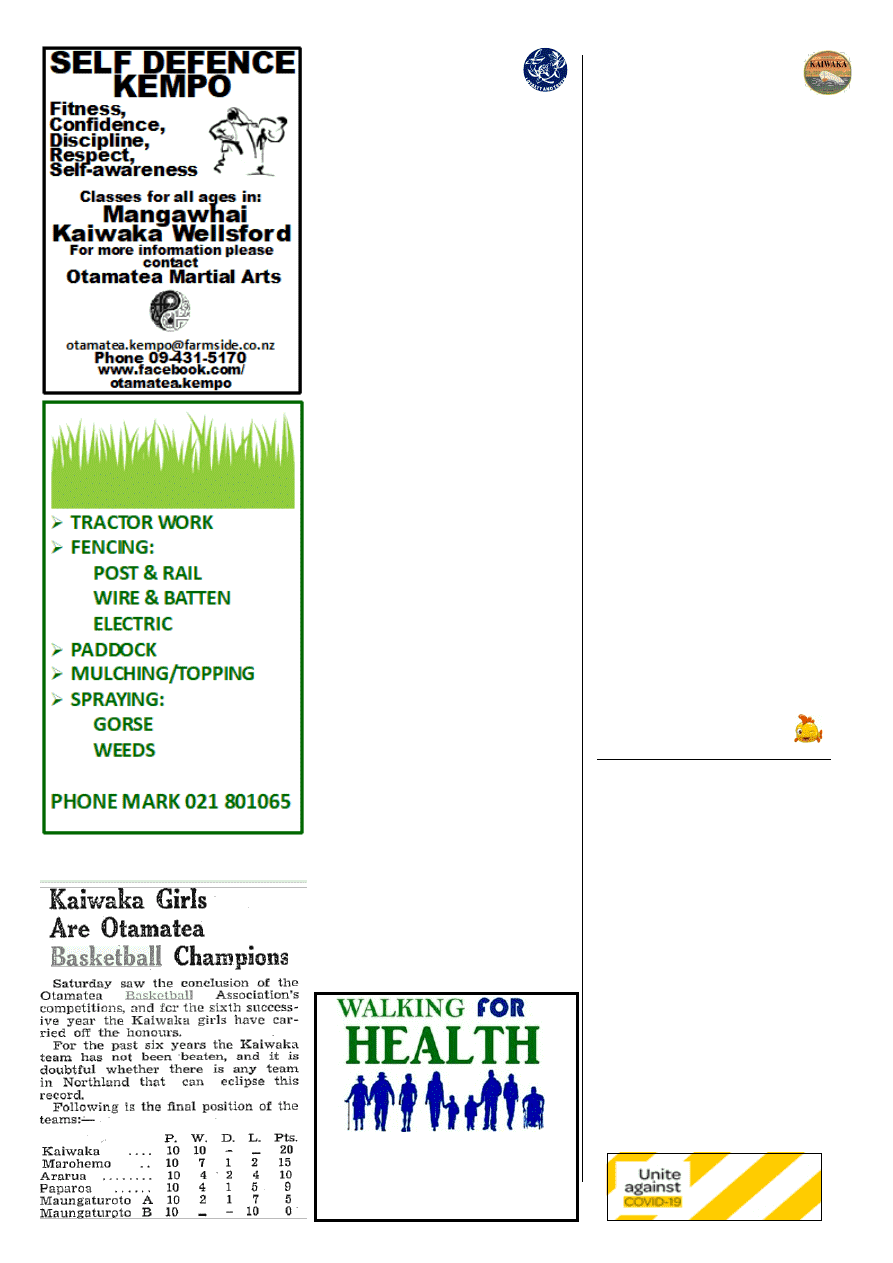 www.kaiwaka.co.nz 
Kaiwaka Bugle - 26 May, 2020 
Page 11 
OTAMATEA 
HIGH SCHOOL 
Principal's Notes 
We've  had  a  great  first  week  back  at 
school  with  students  enthusiastically 
returning  to  lessons  and  enjoying 
catching up with their friends and staff.   
We  have  outlined  to  students  that  the 
remainder of this term will be a period 
of  catch  up  to  ensure  that  any 
momentum that was lost as a result of 
the  lockdown  doesn't  hinder  their 
overall  progress  for  the  year.    Due  to 
the  practical  nature  of  some  courses 
more  catch  up  is  required.    For  senior 
students we have set aside 3 additional 
days during term two for this.  Usually 
senior  students  would  have  'banked' 
lots  of  credits  in  term  one  but  due  to 
the  lockdown  the  timeline  for  this  has 
been  pushed  out.    In  many  cases 
courses  were  adapted  so  that  work 
could  be  continued  at  home  through 
the  online  platform.      We  have 
rescheduled  our  academic  mentoring 
afternoon  to  Wednesday  17th  June.  
This  involves  all  senior  students  and 
their  families.    More  information  will 
follow  closer  to  the  time.      Staff  will 
also  begin  working  on  senior  reports 
soon which will be posted out towards 
the  end  of  the  term.    The  midyear 
report  afternoon  is  on  Wednesday  1st 
July.  
ONLINE STUDENT LINKS  
We  have  decided  to  keep  the  online 
student links site active as at alert level 
2  there  may  be  more  absence  than 
usual, particularly as students are being 
asked  to  stay  home  if  they  are  sick.  
The online platform allows all students 
to  check  what  their  class  has  been 
working  on  and  if  they  are  able  to 
continue working online.  
CANCELLATIONS  
Cancellations  of  events  and  activities:  
There  have  been  a  number  of 
cancellations  of  events  and  activities 
due  to  the  COVID  19  restrictions.  
Whilst  this  is  disappointing  it  also 
gives more time at school for the catch 
up to occur.   If you are unsure whether 
an event is taking place, please contact 
the school office or the event organiser. 
CHROMEBOOKS  
Thank  you  to  all  the  families  who 
ensured  that  the  school  issued 
chromebooks  were  returned  to  school 
promptly.    This  has  enabled  our 
students to use them at school.  
Rachel Clothier-Simmonds, Principal  
POINT CURTIS 
CRUISING 
CLUB 
It  is  with  great  sadness that  we  advise 
Graham  (Grabba)  Mills 
passed 
away  last Wednesday  20th  May  2020.  
He  had  battled  with  cancer  for  years 
and  it  finally  was  too  hard  for  him  to 
fight  any  more.  His  funeral  was  held 
on 25th May 2020. 
He was born and bred in Kaiwaka and 
was 
a 
long-standing 
committee 
member of this Club.   He was always 
ready to give a hand and participated in 
all events the Club put on.  Our sincere 
condolences go out to Carol and family 
and  I  just  want  to  acknowledge  what 
great loving care Carol bestowed upon 
Grabba. 
Fly High Grabba (way higher than the 
ducks on Saturday !!) and enjoy a beer 
or  two  up  there  with  your  family  and 
friends that went before you. 

On other news we held our 
Opening 
Day  Game  Bird  Shoot 
and Annual 
Prize  giving  on  Saturday  23rd  May 
2020.  Results for the shoot will be in 
the next Bugle. 

While  out  shooting  please  be  careful 
and  adhere  to  all  the  Fish  &  Game 
Rules. 

Northland 
& 
Auckland/Waikato 
Game Bird Seasons finishes on Sunday 
28th June 2020. 

Fish of the month – Cancelled 

Next  meetings 
–  Both  the  AGM 
and  a  committee  meeting  will  be  held 
at the Kaiwaka Sports Complex at 7pm 
Wednesday  10th  June  2020.    All 
Welcome. 
Take care everyone. 
Wayne Leslie (Commodore) 
KAIWAKA FITNESS 
CENTRE 
At Covid – 19 Level 2 the gym is open. 
The  committee  have  also  decided  to 
extend  the  membership  renewal  date 
until the 20th June, so all memberships 
will be valid until then. 
Due to the strict requirements from the 
government  there  are  some  rules  that 
MUST be followed in order to keep the 
gym open: 

MEMBERS ONLY, NO CASUALS 

YOU  MUST  SIGN  IN  -  WITH 
YOUR  FIRST  AND  LAST  NAME 
AND  PHONE  NUMBER  -  this  is  for 
contact tracing purposes 

YOU  MUST  SANITIZE  YOUR 
HANDS 
ON 
ARRIVAL 
AND 
SANITIZE 
ALL 
EQUIPMENT 
AFTER USE 

PLEASE  PRACTICE  SOCIAL 
DISTANCING WHERE POSSIBLE 
Kaiwaka Fitness Centre Management 
NORTHERN ADVOCATE,  
25 JUNE 1940 
KAIWAKA SPORTS ASSN. 
Walking Group meets 
Mondays 8.30am and 4pm 
Starting 1st June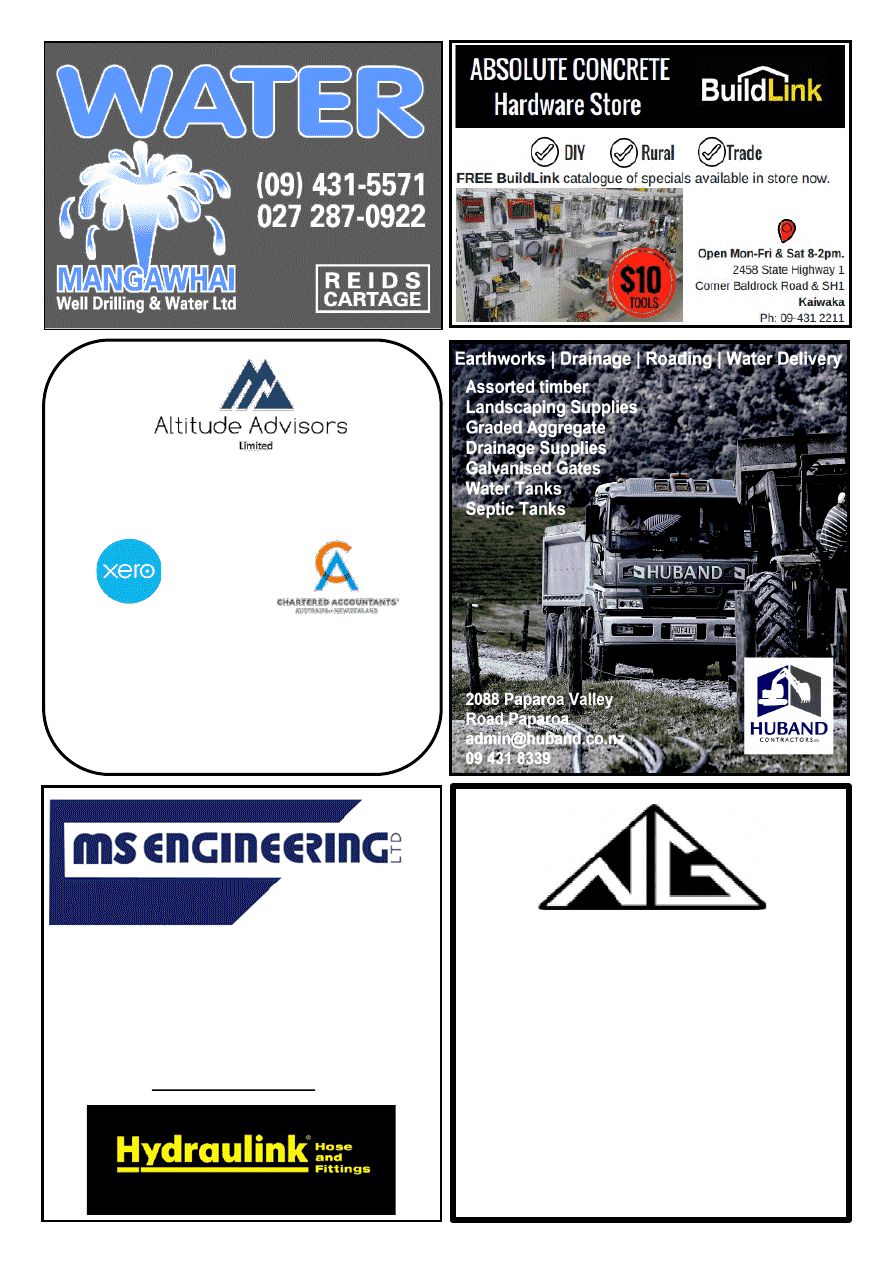 NORTH GLASS 
WINDSCREEN REPAIR OR REPLACE 
GLAZING SERVICES 
MIRRORS  •  SPLASH BACKS  •  SHOWERS 
0800 70 40 10
info@northglass.co.nz 
www.northglass.co.nz 
Altitude with Attitude, helping your business 
scale new heights 
Time to try something different? 
Xero training          Accountancy Services 
We are offering two opportunities: 
15% saving off your annual report cost for your first 
year, & a further 10% saving for any referrals 
Call Corinne on 021 252 7680 or 
corinne@altitudeadvisors.nz 

Peter Buckley 

Mobile Hose Technician –  
                      Based from Oneriri Road 

Available for all mobile hose                                
                      requirements onsite 

Call – 0800 425 7116 

Email – mse@mseng.co.nz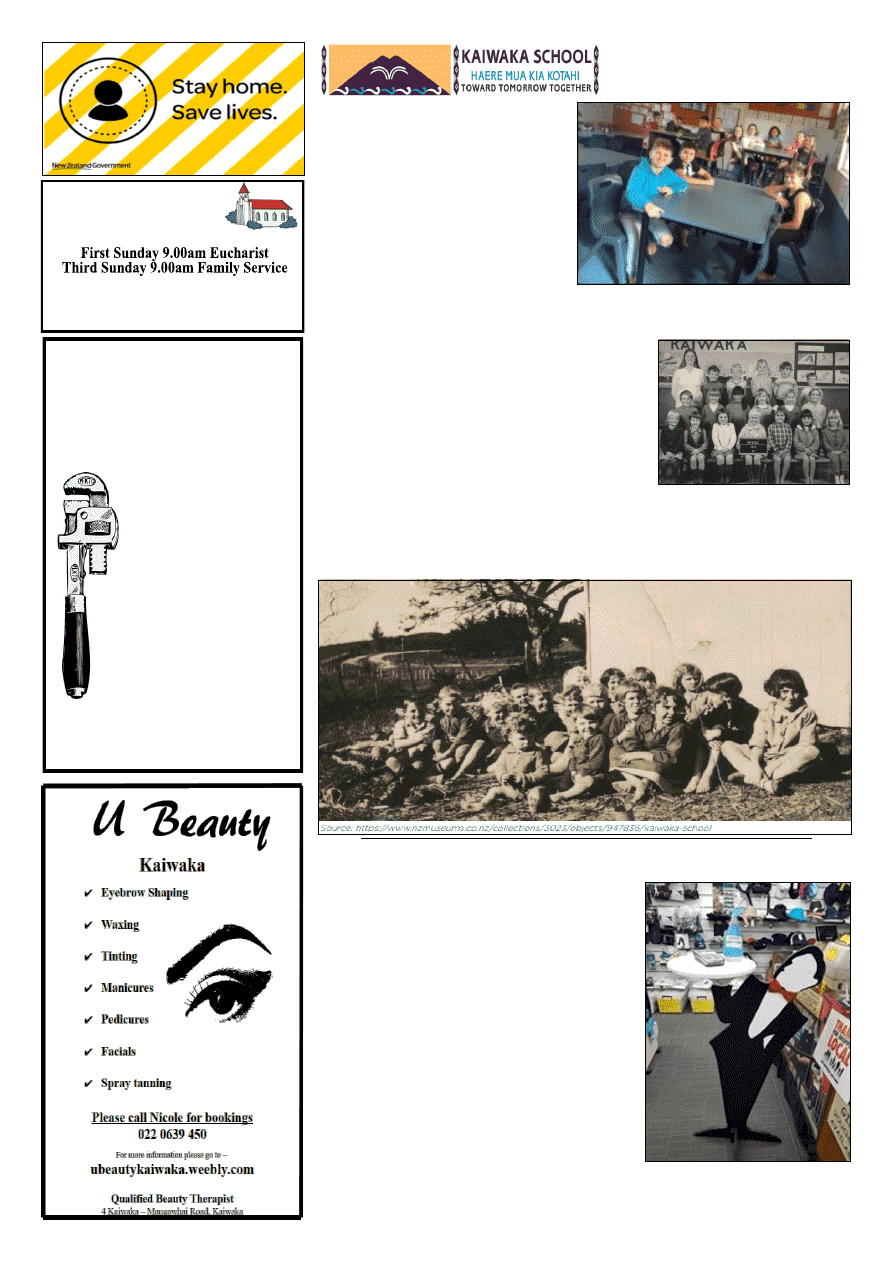 www.kaiwaka.co.nz 
Kaiwaka Bugle - 26 May, 2020 
Page 13 
BARRY CURTIS 
PLUMBING LTD 
REGISTERED CRAFTSMAN 
PLUMBER 
Phone 4315572 
027 257 9884 
25 years experience 
Friendly reliable service 
All plumbing and 
maintenance 
Alterations  
and new housing 
Spouting 
Competitive rates 
PROMPT  
FFICIENT  SERVICE 
From  Principal,  Sharlene  Tornquist: 
'It has been an awesome week having 
all the students back at school. All the 
children seem happy to see each other 
and  the  playground  has  a  calm, 
friendly feel. 
Please  ensure  that  your  child  stays 
home  if  they  are  sick.  This  will  help 
everyone stay well.  If you do need to 
come  into  the  school  grounds  please 
come up to the office to sign in, even 
if you are just dropping off lunch. We 
need be very careful with contact tracing.' 
Dates to Remember: 23rd /25th June -Parent/Teacher Interviews, Reports out 
1st July -Kidz Bop Dance Event (11am) 
3rd July -End of Term 
KAIWAKA SCHOOL PHOTO 
Room 1 pupils in 1973 - Bugle 9: 
Teacher:  Glenis  McAdam;  Back  Row:  Greg 
Holst,  David  Dowson,  Russell  Stewart,  Thomas 
Stewart,  Mark  Bygrave;  Mid  Row:  Davy 
Gibbons,  Sharon  Leslie,  Bonita  Kaihe,  Tina 
Nixon, Amanda Linnell, Nicola Lawrence; Front 
Row:    Susan  Dowson,  Kim  Ireland,  Cathy 
Bagley, Michelle Lawrie, Jenny Ingley, Ilya Brown,  ? 
See  Facebook  'Kaiwaka  School  150  Reunion'  for  more  information  or  upload 
your favourite school photo! 
INFORMATION HELP needed for the Kaiwaka School photo below, please. 
Ref:  https://www.nzmuseums.co.nz/collections/3023/objects/947836/kaiwaka-
school  
KAIWAKA 
SCHOOL 
ST PAUL'S  
ANGLICAN  
SUNDAY SERVICES 
St Pauls Church: Kaiwaka-Mangawhai Rd. 
Priest in Charge Rev. W Thornton Ph 431 4122 
www.mangawhaianglican.org.nz
SEEN AT WELLSFORD SPORTS & LEISURE 
At Wellsford Sports & Leisure we have a new Staff Member!! 
His  name  is  Cooper.  He  will  be  assisting  you 
throughout  Level  2  and  maybe  beyond 
depending on his performance. 
His  main role  is to  keep  you  at  a  safe  distance 
from us and to provide you with a safe place to 
use  the  eftpos  terminal  and  to  sanitise  your 
hands. 
He  is  the  perfect  acquisition  for  us  -  he  says 
nothing,  he  doesn't  want  breaks,  he  dresses 
flash, we always know where he is and get this - 
he doesn't want to be paid !! 
After  being  the  proud  owner  of  Wellsford 
Sports  &  Leisure  for  25+  years  and  loving 
running this iconic business, it is now time for a 
change.    Wellsford  Sports  &  Leisure  is  FOR 
SALE  –  all  enquiries  please  Phone  Sandy 
02102360740. 
If you think this retail store may be for you or someone you know please feel 
free to pass on these details.  
In the meantime – it is business as usual  ~ Sandra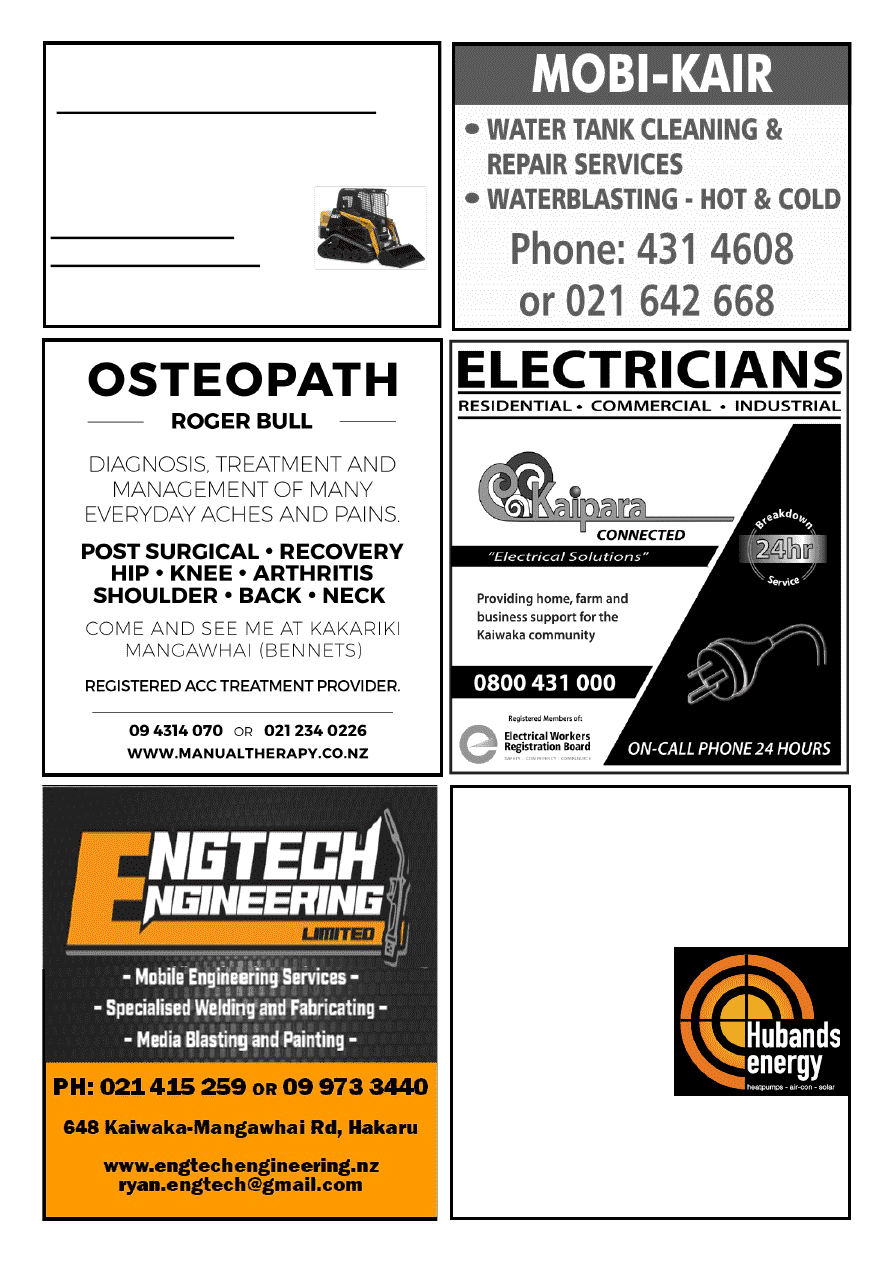 Natural Earth Ltd 
 Landscape and Bobcat services 
 : Driveways  :Landscaping  :Retaining Walls 
 : Hole Boring: Land Levelling :Trenching 
 : Decks :Fences :Sections Cleared: Plus much 
more 
Tel   09 4312885 
Mob 02102391280   
For A Fast Friendly  
Service Contact Tim Hicks 
Northland's Award Winning 
Solar Company
SEANZ Best Solar Business Winners 2015/16
EXCLUSIVE 10 year installation warranty 
FREE No obligation onsite quote
Complete systems 
from $5990
See our range of: 
✓ 
Heatpumps 
✓ 
Airconditioning 
✓ 
Hot Water 
Heatpumps 
✓ 
Central Vacuum Systems
09 430 0019             sales@hubands.co.nz 
15 Kioreroa Road, Whangarei
Locally owned and operated for 35 years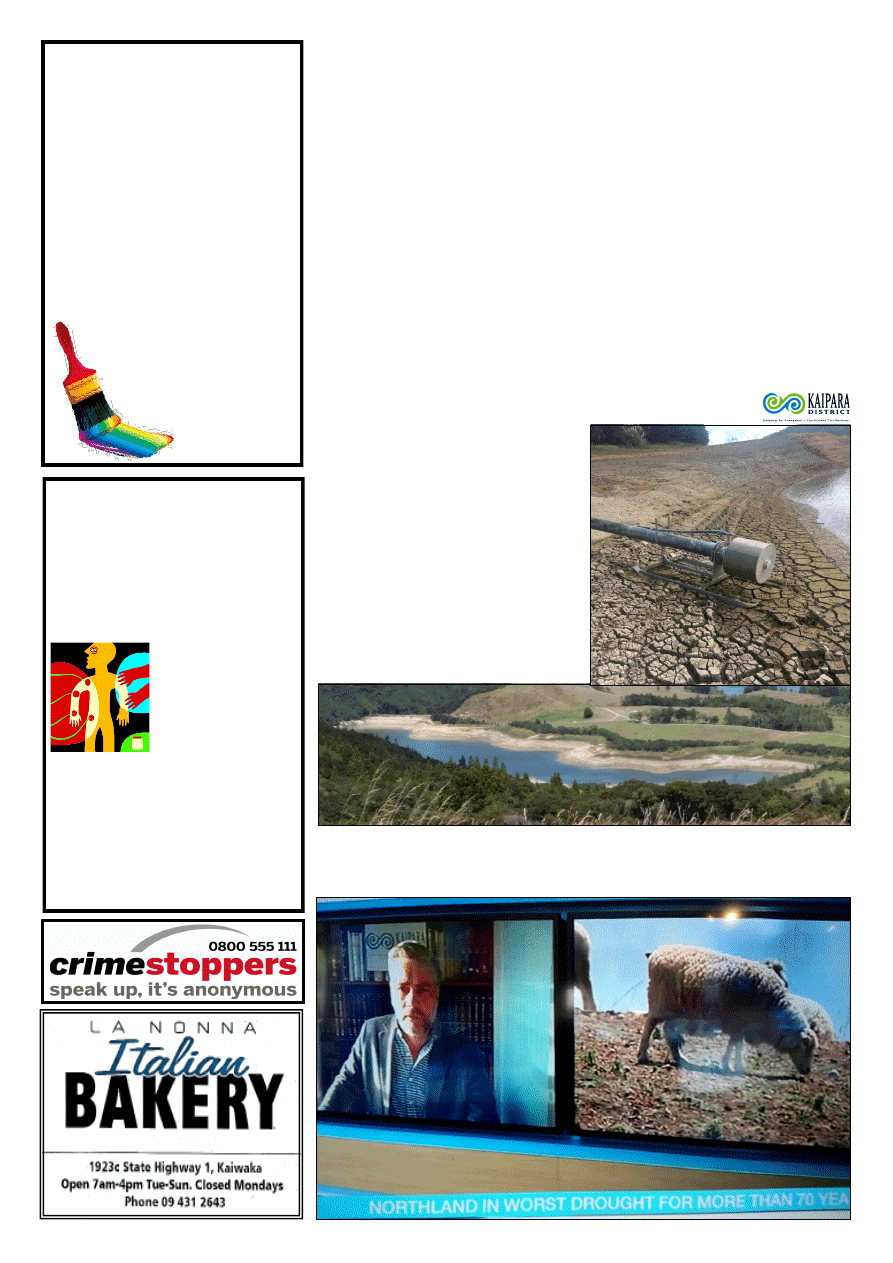 www.kaiwaka.co.nz 
Kaiwaka Bugle - 26 May, 2020 
Page 15 
OWEN STEVENS 
Osteo Therapist
For careful adjustments  
to bones and joints 
Treatment for humans  
and their pets 
Clinics: 
Kate's Place, 
Kaiwaka: 
Last Friday of 
month 
9.00am-5.00pm 
For bookings: 
Phone 
09 4312661 
Or phone Owen   
09 4317123  anytime 
LEE COOPER 
PAINTERS 
(Kaiwaka Based) 
*30 yrs Experience 
*Interior/Exterior 
*New and Restoration 
*Honest and Reliable 
*Free Quotes 
 
09 4312918 
0274735171 
leecooper@xtra.co.nz 
SPOTTED ON TV THREE NEWSHUB 
Kaipara District Council Mayor Jason Smith was interviewed last week on the 
TV3 Morning News regarding Northland's water shortage - Northland's Worst 
Drought For More Than 70 Years. 
Treat  water  like  gold  is  the  advice 
given  by  Waters  and  Waste  Manager 
Donnick  Mugusto  from  Kaipara  
District Council. 
Donnick  and  his  team  have  been 
monitoring 
water 
levels 
across 
Kaipara,  and  says  they  are  still 
critically  low,  even  though  we've  had 
some rain over the last few days. "The 
rain we've had is only surface deep and 
we're  still  in  one  of  the  most  severe 
droughts  on  record,"  says  Mr 
Mugusto.   
Water  restrictions  have  remained  at 
Level 4, which means no outdoor water 
use, including hoses, water blasters and 
sprinkler systems. 
"We're  encouraging  people  to  take 
shorter  showers,  turn  taps  off  while 
brushing  their  teeth  and  insert  a  bottle 
in  their  toilet  cistern  to  reduce  the 
amount  of  water  flushed  down  the 
drain." 
Periods  of  heavy  rainfall  have 
been  followed  by  dry  conditions  and 
cold  southerlies;  much  more  rain  will 
be 
needed 
this 
winter 
to 
get  Kaipara  back  to  healthy  waterway 
levels.  
"The dry winter in 2018 preceded by a 
dry  year  in  2019  were  the  perfect  set-
up  conditions  for  the  drought,"  says 
Mr  Mugutso.  Although  the  rain  we 
have  had  has  been  welcomed  by 
farmers,  most  of  it  has  been  in  'the 
wrong  place'  for  our  aquifers.    What 
little we have had within the catchment 
has  resulted  in  temporary  surges  in 
supply,  that  do  not  last.  We  need  rain 
in the streams and tributaries that feed 
into our large water supplies." 
Baldrock Dam, 
pictured  below  during  the 
KSA Top of the Rock 8 March and now at right 
-  a  supplementary  source  of  water  on 
the  East  Coast  is  at  the  lowest  the 
Water 
Team 
has 
seen, 
and 
the  Kaihu  River,  where  the  main 
Dargaville  supply  is  drawn,  quickly 
drops back to drought levels following 
rain.  
We have been advised the dry weather 
will  continue  a  while  longer.  The 
council  is  already  urging  people  to 
think  ahead  to  next  summer  and 
consider their  water  storage  options to 
protect  against  possible  acute  water 
shortages again next year. 
The  Council  also  works  closely  with 
the 
Northland 
Regional 
Council  in  managing  water  sources 
in  times  of  water  shortage.  A  long- 
term  solution  is  water  storage  is 
currently 
being 
considered 
for  Dargaville.    According  to  the 
Northland  Regional  Council,  river 
flows  for  this  year  are  currently 
tracking  40  to  47%  below  normal 
levels  across  all  the  main 
centres in Northland.
THE BIG DRY STILL AFFECTING KAIPARA 
Coping with Covid-19! 
Sheep and horses make good mowers when the diesel tractor is in 
for service. It has also been good for the garden to have a compost 
supply close by. The electric tape and pigtails have been put to 
good use. Now looking forward to getting the machine back to 
tidy the edges. HP.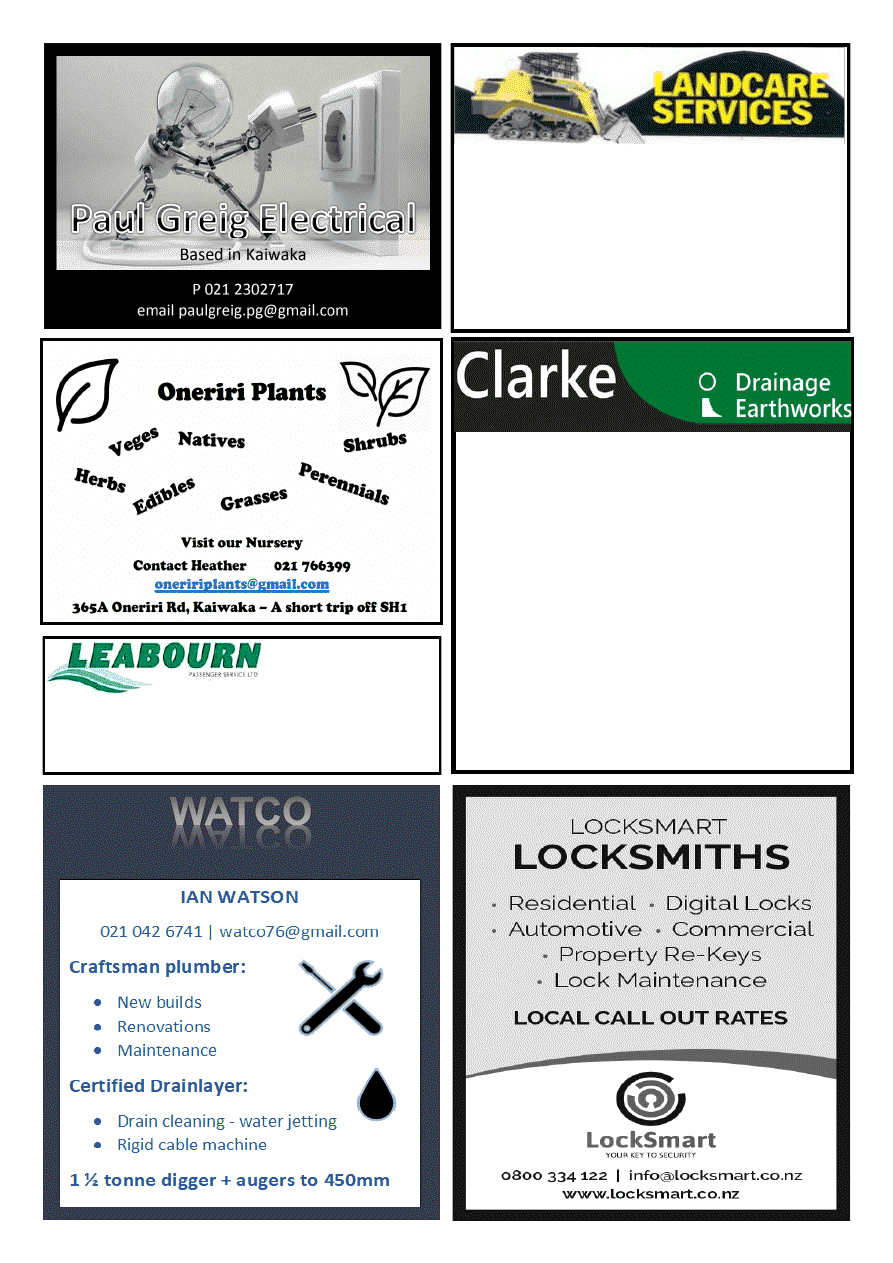 Drainage & Earthmoving 
nigel@clarkedrainage.nz 
027 2233 185 
Registered Drainlayer                    All Types of Earthworks  
> All Residential & Commercial Work  > House Sites 
> Septic System Design & Install          > Footings & Drilling to 10m 
> Sewer Connections 
                       > Dams 
> Water Tank Installation 
               > Roading & Races 
       > Farm Work 
THE ONE STOP SHOP  
LANDSCAPING 
4 IN 1 BUCKET 
TRENCHER 
POLE HOLES 
ROTARY HOE 
COMPACT ROLLER 
OFFAL HOLES 
CAN SUPPLY WOODCHIP & POST PEEL 
5 TON TIPPER 
FOR RELIABLE AND FRIENDLY SERVICE CONTACT DAVE 
Dave Hyndman 
 
KAIWAKA 
PH: 09 4312302 
MOB: 021 431 238 
Passenger Service
Car & Van Hire   Bus & Coach Charters 
Airport Transfers    
Phone (09) 4237416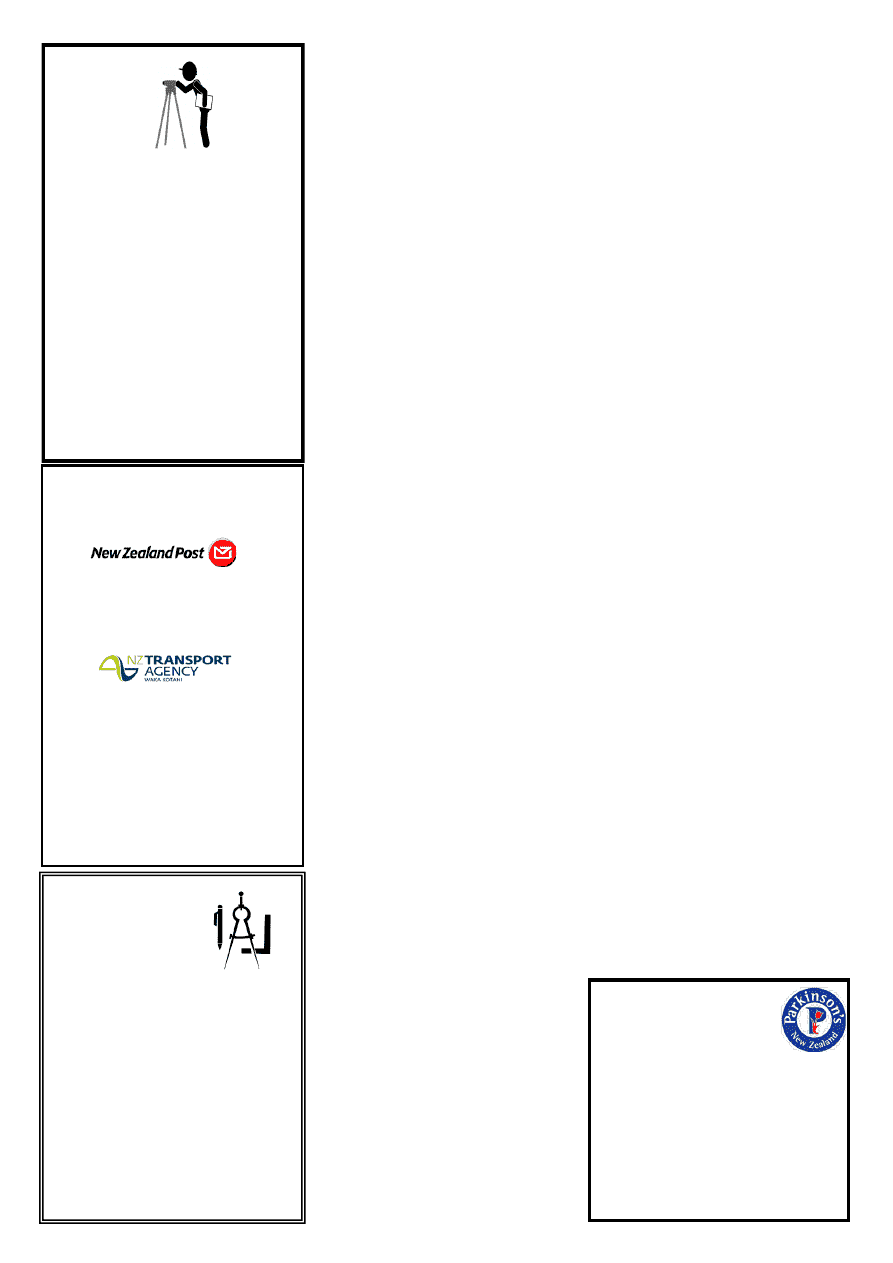 www.kaiwaka.co.nz 
Kaiwaka Bugle - 26 May, 2020 
Page 17 
KAIWAKA LIBRARY
KAIWAKA POST 
CENTRE and 
FOOD MART 
POST CENTRE TRADING HOURS 
MONDAY to FRIDAY 8am to 5pm 
SATURDAY 8am to 12pm 
CLOSED ON SUNDAY and on 
PUBLIC HOLIDAYS 
FOOD MART (GROCERIES)  
MONDAY TO FRIDAY  
7:30am to 7.30pm 
SATURDAY  8am to 7.30pm 
SUNDAY  8:30am to 7pm 
IF ANY QUERIES PLEASE CALL 
STORE MANAGER AMRIT  
on 09 4312431 or 
EMAIL: kaiwakafood19a@gmail.com 
1919a State Highway1, Kaiwaka 0542 
Library still closed 
The  library  is  closed  for  now.  We're 
not quite ready to face the world, given 
that  the  vast  majority  of  our  team  of 
volunteers  either  fits  the  70+  age 
category, and/or have health issues that 
makes  them  vulnerable.  We  will  be 
reviewing the situation in early June. 
N
ot too late to join the library
You  can  sign  up  to  a  digital-only 
membership and access our free digital 
services  -  eBooks,  eAudiobooks, 
eMagazines,  online  encyclopedia...  - 
without  needing  to  come  in  to  see  us. 
You can upgrade this, if you wish, to a 
full  membership  when  we  open  once 
again. Go to Enterprise* to sign up. 
Members can borrow books 
Despite the doors being closed, we are 
able  to  distribute  books  to  our  library 
members  via  contactless  means.  This 
involves  you  taking  steps  to  let  us 
know what you want to borrow... 
New service - My Book Bag 
Don't  know  which  specific  titles  you 
want to borrow, but want something to 
read?  We  have  a  new  service  on  our 
web  site  called  My  Book  Bag  -  Tākū 
Peke  Pukapuka.  You  tell  us  what  sort 
of thing you would like to read, and we 
will  find  something  to  suit.  You  don't 
even  need  to  log  in  to  your  library 
account  to  fill  in  the  form.  Go  to 
Enterprise* and click on the My Book 
Bag  -  Tākū  Peke  Pukapuka  button  to 
get started. 
Placing a Hold on library items 
If you want to borrow specific titles, go 
to  Enterprise*,  log  in  to  your  library 
account,  find  what  you're  looking  for 
(you  can  search  on  title,  author, 
subject,  series,  and  more)  and  place  a 
hold on the titles you want to borrow. 
Log in to your library account 
To place a hold on items, you need to 
know  your  library  card  number  and 
your  PIN.  The  library  card  number  is 
easy - look on the back of your library 
card. If it's an old laminated card, you 
may  have  to  type  KP  before  the 
Bxxxxx. 
If you don't know your PIN, there is a 
link  on  the  log-in  screen:  Forgotten 
your  PIN?  Click  on  that  to  start  the 
process of resetting your number.  
Need help with logging in? 
If  you  have  problems  with  logging  in, 
please  contact  Dargaville  Library  for 
assistance  -  0800  532  542  -  and  they 
will  get  you  sorted.  As  I  write  this 
article,  I  still  can't  access  the  library 
management system from home, which 
prevents me from doing this for you. 
Can't get online? 
For  people  who  don't  have  internet 
access  (please  tell  your  friends  who 
might  not  see  the  Bugle  about  this), 
you'll need to have a conversation with 
us about what you'd like to read. 
Call the library (09 4312 539 - the call 
will be diverted to my phone), call me 
at home (09 4312 725) or call/text my 
mobile  (027  480  6275),  or  phone  the 
staff  at  Dargaville  Library  (0800  532 
542 9am-5pm Monday-Friday) and we 
will  do  our  best  to  find  suitable  titles 
from our shelves for you. 
Deliveries 
Then we need to work out a way to get 
the  books  to  you.  Whether  that 
involves  me  taking  a  little  drive  to 
deliver to your letterbox or doorstep in 
a  contactless  way  or  leaving  them 
somewhere  in town for  you  to  collect, 
will  be  worked  out  at  the  time. 
However, it is done, I will call or email 
you to make the arrangements that suit 
us both when your items are ready. 
Returning your items 
All items issued to members when the 
lockdown  started  have  had  their  due 
dates  extended  to  the  end  of  June.  No 
fines  or  penalties  will  be  incurred  on 
those items before then. 
The after-hours returns slot is open, so 
you can return your items when you're 
done  with  them.  We've  had  a  lot  of 
books  returned  lately,  so  if  the  box  is 
full  when  you  stop  by  to  return  your 
items,  please  take  them  home  again 
and return them another day. 
Items  will  stay  on  your  account  until 
they  have  sat  in  quarantine  for  a 
minimum of three days after they have 
been  removed  from  the  afterhours 
returns box. 
Since  we  are  not  in  the  library  every 
day,  the  actual  period  may  be  longer 
from  the  time  you  returned  them;  the 
books  will  be  processed  the  next  time 
we're in the library after the three days 
are up. 
If  you  have  been  ill  or  are  in  self-
isolation, please  keep  your  items  for a 
bit longer. 
Brown bags 
If  you  have  clean  brown  paper 
shopping  bags,  you  can  put  them 
through the returns slot so we can reuse 
them  in  our  book  delivery  service. 
These will be held in quarantine, along 
with  the  returned  books,  before  being 
used. 
Many  thanks  for  the  bags  that  have 
already been donated. 
Justice of the Peace services 
While the library remains closed, I am 
not available as a Justice of the Peace. 
The JP Service Desk in the library will 
reopen  at  the  same  time  as  the  library 
reopens. 
Keep safe and read a book! ~Wendy 
 *
Enterprise: http://kaipara.kotui.org.nz/
Ken Urquhart 
BSurv Licensed Cadastral 
Surveyor 
KMU  
Surveys Ltd
467 Bickerstaffe Road 
RD 2 
Maungaturoto 0587 
Ph 09 431 8705 
Mob 021 161 2344 
kenurquhart@xtra.co.nz 
design  
drafting  
service 
Retired builder and manufacturer with over 
40 years experience in the building industry is 
offering a design drafting service for domestic 
housing, sleepouts and sheds.  
Plans formulated in consultation with clients, 
with working drawings completed and sub-
mitted to  
council for processing.   
Extensive practical experience,  
able to identify & resolve problems. 
Please ring Mike Lean on 
09 431 2260  
or 
021 431 196 
Parkinson's  
Northland 
Provide: 

Home based consultations 

Information and education on living with 
Parkinson's 

Support and exercise groups 

In-service training for other health 
providers 
Barbara Leslie RN,  
Community Educator 
09 4376881  or 027 5306221 
barbara.leslie@parkinsons.org.nz 
www.parkinsons.org.nz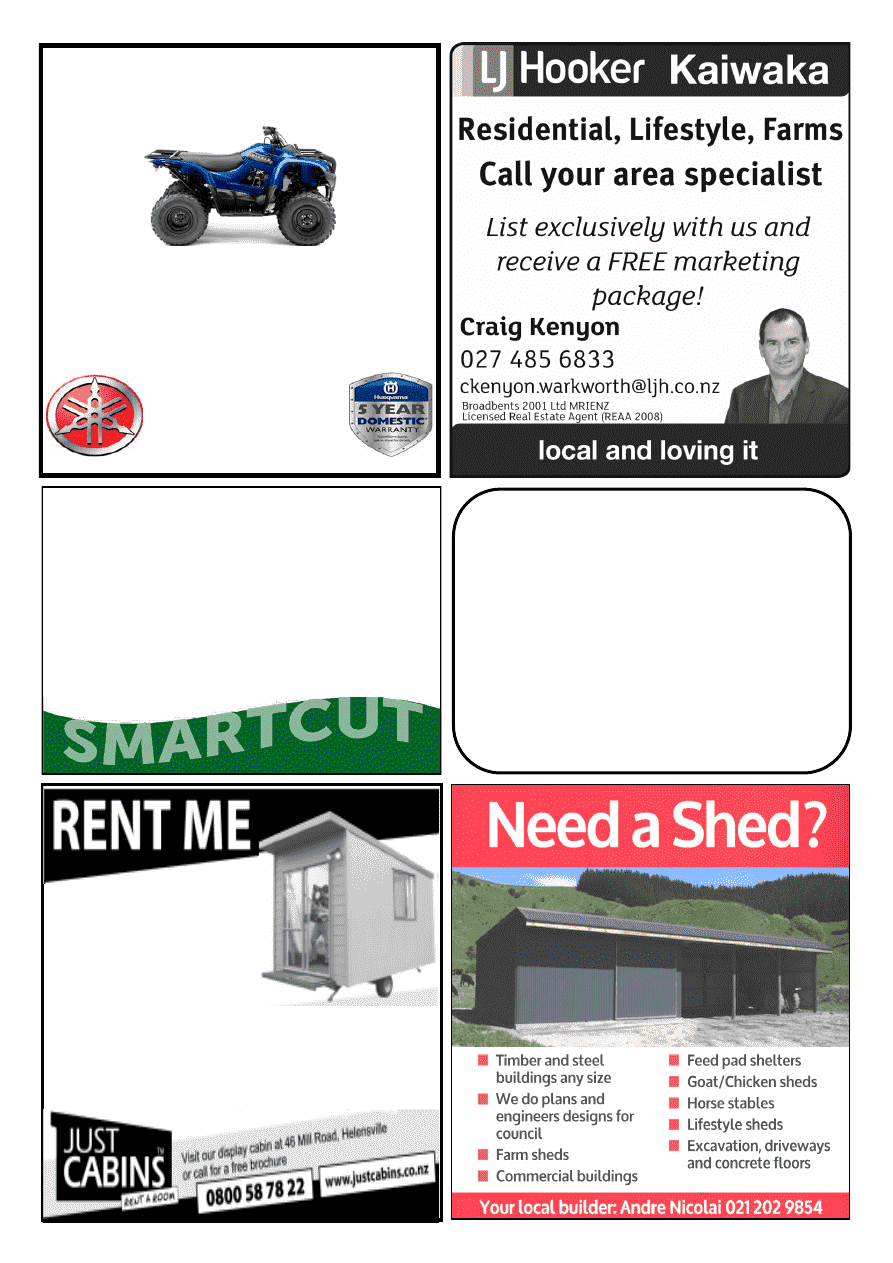 All your outdoor needs sorted so you don't have to... 
I can prune, chop, tidy, spray, mow, plant 
- you name it, I can do it! 
Residential & Commercial 
Lawn & Garden Care 
Call Rodney, your local  
lawnmowing contractor 
021 138 2344 
UP-LINK 
CHRIS WARING 
FREEVIEW INSTALLATIONS 
T.V. - HOME THEATRE &  
HI-FI ADVICE/SET UP
SKY ACCREDITED INSTALLER
MOB.0273403747 HM.094312328 
EMAIL cwaring44@gmail.com
28 YRS EXPERIENCE 
OFFERING UNBIASED ADVICE 
Ideal as an extra  
bedroom or office 
Three Convenient sizes: 
Standard 3.6m x 2.4m - $65 
per week 
Large 4.2m x 2.4m - $80 per week 
Extra Large 4.8m x 2.4m - $100 per week 
Fully insulated. Minimum 6 months rental period 
KAIWAKA 
MOTORCYCLES LTD
SALES – SERVICE – SPARES 
FARM BIKE SPECIALIST
PHONE 09 431-2127 
10 KAIWAKA-MANGAWHAI ROAD, KAIWAKA
Trimmers  
from $279
Chainsaws  
from $339
YAMAHA 
HUSQVARNA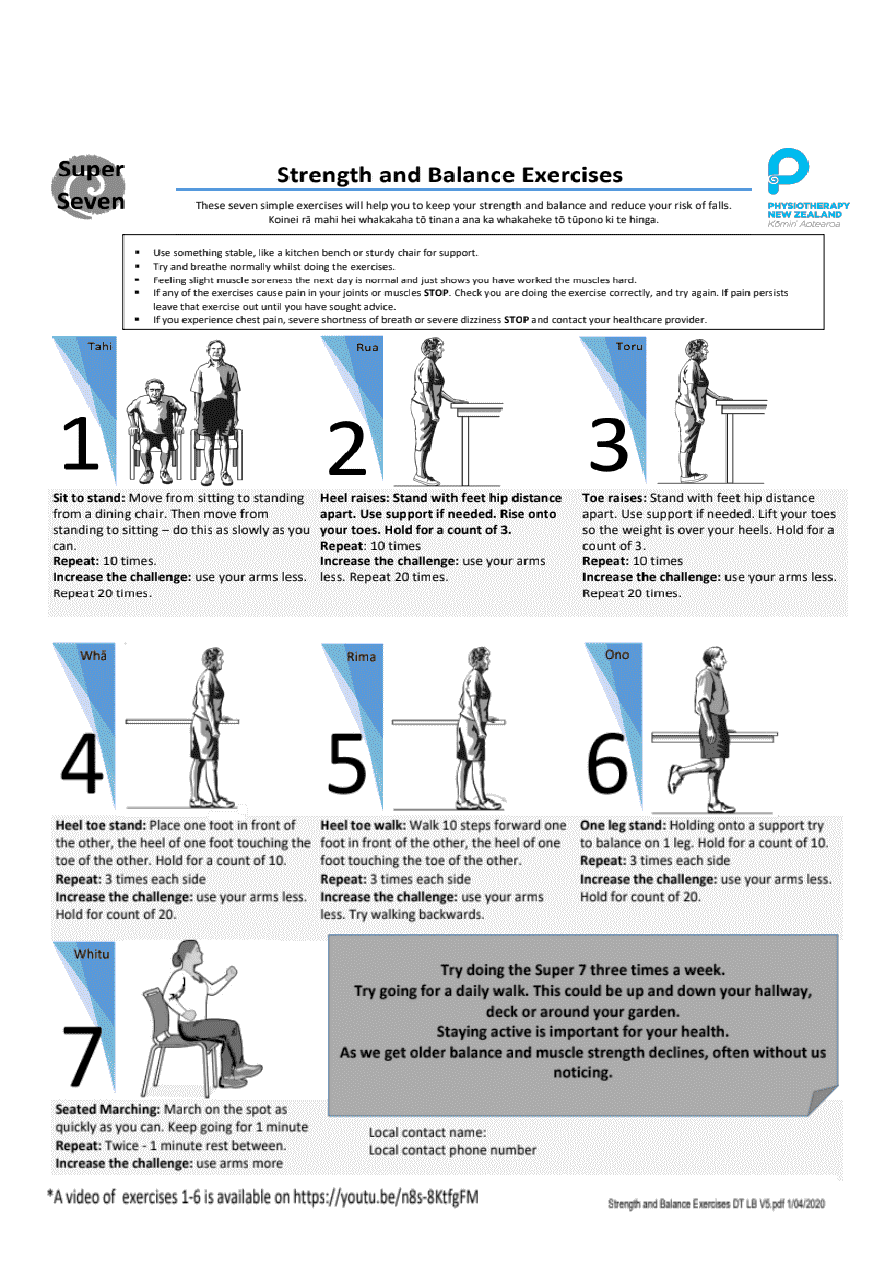 www.kaiwaka.co.nz 
Kaiwaka Bugle - 26 May, 2020 
Page 19 
If you, or someone you care for, has been unable to get out and about as much during the Covid 19 restrictions try giving 
these "Super seven" exercises a go. They have been put together by physiotherapists and selected to challenge balance, 
strength and the cardiovascular system in a safe way. 
Give me a call if you have any questions. Amy Griffiths, Kaiwaka Physio. 021 2072729 
FROM OUR PHYSIO: SUPER 7 
Amy Griffiths, Kaiwaka Physio 
021 2072729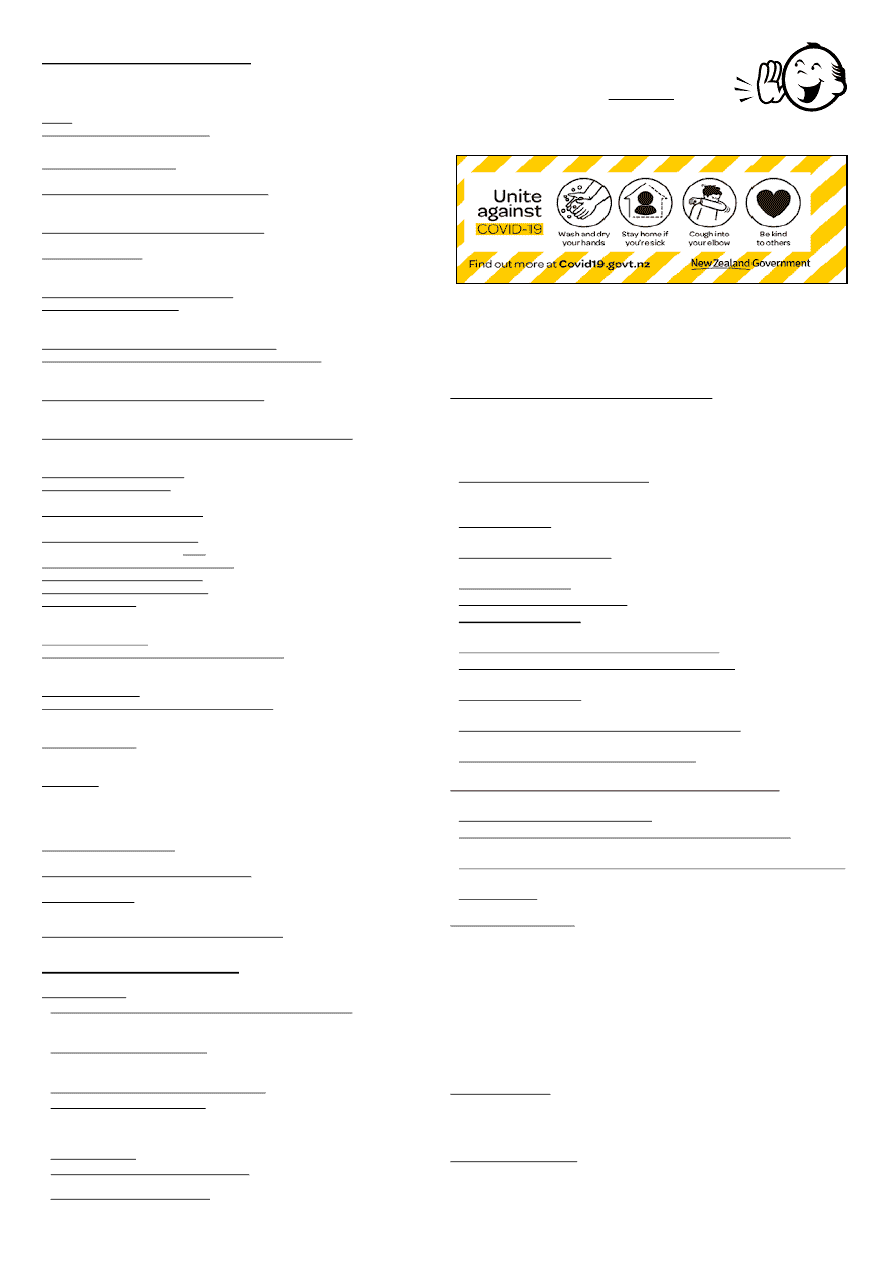 Next Bugle Deadline Friday 5 June 2020
WHAT'S ON
PLEASE ~ do let us know what is on - or what 
is NOT on at the moment! 
email kaiwakabugle@kaiwaka.co.nz 
Advertising in WHAT'S ON is FREE  
*1 Jun~ QUEEN'S BIRTHDAY 
*1 Jun~ Walking Group, 8.30am & 4pm,  KSA grounds 
KWMH = Kaiwaka War Memorial Hall; KSA = Kaiwaka Sports Association 
See www.kaiwaka.co.nz for more information 
HOUSEHOLD RUBBISH COLLECTION - Kaiwaka Pick up: 
Mondays = Green bags (Northland Waste - 09 430 3273) 
Wednesdays  = Blue bags and yellow recycling (at Jaques $3.00 
and  $1.50)  (Kaurilands  09  4392146);  ONLY  Blue  and  Yellow 
bags picked up on Oneriri Road. 
 DIABETES  Support  Group  -for  Kaiwaka,  Mangawhai, 
Wellsford  10am,  3rd  Friday  of  month  Ph:  Colleen  James  09 
4314238 
 GENEALOGY - Wellsford: 1st Thursday in month Ph: 423 
7033; Waipu: 4th Monday in month Ph: 4312 725 
 HAKARU PONY CLUB - Secretary Denise Rogers 021423376 
secretary@hakaruponyclub.co.nz  
 KAIPARA HUNT - Secretary Albert Doonenbal Ph 4312059 
 KAIWAKA BADMINTON -Tuesdays 7.30pm Ph: 4312345 
 KAIWAKA  CAN  - 3rd Wednesday in month, 5.30pm, Archie 
Bull Hall Ph: 0273572751 
 KAIWAKA DRUM & DANCE CLASSES - 021 611198 
 KAIWAKA GARDEN & FLORAL GROUP - 2nd Thursday in 
month. Ph: 431 4744 
 KAIWAKA  CUBS  -  Thursdays  5.30-7pm,  Hakaru  Ph:Bruce 
4312542 
 KNITTING FOR WHANGAREI HOSPITAL - 2nd Tuesday in 
month, Archie Bull Hall 10am Ph 4314827 
 MANGAWHAI COMBINED REBUS CLUB - 2pm, 3rd 
Thursday month, Senior Citizens Hall Mangawhai. Ph: 4315777 
*PILATES - KAIWAKA WAR MEMORIAL HALL - Ph: 
021 
2072729  
 PT CURTIS CRUISING CLUB - Jean Ph: 4312227 (wk), 4312520 (hm) 
 RSA,  HAKARU  &  DISTRICTS  WOMEN'S  SECTION  –  meets 
1.30pm 4th Thursday of the month. Ph: 431 5818  
 KAIWAKA  SCOTTISH  COUNTRY  DANCING  CLUB-
Wednesdays 10am - 12 noon  Ph: Elaine 027 432 0032  
 TRAMPING - Mondays 9am-2:30pm Maria 4312 234 
HALLS FOR HIRE: 
  Kaiwaka St. John Hall: Phone Marj  0272941227  
 St.Pauls Archie Bull Hall HIRE $20 half day, $40 full day per 
hire, S McAulay, Ph 4312311 
 Kaiwaka  War  Memorial  Hall  HlRE  -  Phone  4312725  or 
kaiwaka.hall.bookings@gmail.com 
 Hakaru Community Hall HIRE -Ph.  Lorraine 4312829  
 Te Pounga Marae queries - Pearl Nathan  0223933533 
 Kaiwaka Sports Association hire/queries - C. Anderson 4312051 
or kaiwakasports@gmail.com 
Justice of Peace:  
B.FJaques  4312  048;  L.Donaldson  4312  228;  A.F.Hargreaves 
4312 045, W.Howard 4312 725,  D.Edwards 021611198 - please 
phone  to  make  sure  they  are  available  or  go  to 
www.justiceofthepeace.org.nz 
Marriage Celebrants:  
L.Donaldson; A.F.Hargreaves; Y Osborne
LOCAL SERVICES 
*Emergencies - Ambulance, Fire, Police - dial 111 
*Non-urgent Police phone 105
A A: Meets Wed., 7.30pm Kaiwaka Ph: 4315543, 0800229 6757 
NARCOTICS ANONYMOUS : Mon., 6.30pm, Kates Place; drug and 
alcohol related issues. Ph. 02102412348 
ASUREQUALITY LTD (was AgriQuality) Call Free 0508 0011 22  
BUDGETING SERVICE, WELLSFORD: Free confidential advice & 
support for all areas of personal finance. Ph (09) 423 7123 
CAB-Citizens Advice Bureau.Wellsford Ph: 4237333 
0800 367 222 email:cab.wells@xtra.co.nz  
CIVIL DEFENCE - Kaiwaka Community Response Group: 
kaiwaka.civildefencecrg@gmail.com, 4312725 Wendy 
DOG/STOCK /NOISE CONTROL 0800 105 890 
FUNERAL SERVICES: Morris & Morris Ltd, 
Whangarei - Bev Jaques Ph:4312367 or 0800667747 
GRANDPARENTS Raising Grandchildren: Dianah Roberts 0223819539 
HAKARU & DISTRICTS MEMORIAL RSA (Inc) 733 Settlement Rd, 
Hakaru. Ph 4312 176 or Bill Warren (President) 431 2092 
HAKARU LANDFILL/Transfer Station:Open everyday  10am-
4pm.Ph4312629 Cost-$55 trailer load up to 1 cubic metre. Ph:4258567 - 
office 
KAIPARA DISTRICT COUNCIL www.kaipara.govt.nz:  
Help Desk FREEPHONE 0800 727 059  
KAIWAKA CEMETERY: Ph: 4312045 or 4314017 
KAIWAKA LIBRARY: kaiwaka.library@gmail.com  
Mon. 4-6pm; Wed., Thurs., Fri., Sat. 10am-2pm Ph:4312539 
KAIWAKA PLAYCENTRE: Ph Juanita 0274134904; open Mon, Wed, 
Fri 9am-12pm. Hastie Lane; Monday to Friday 9.00am - 12 noon. 
KAIWAKA POST OFFICE:Ph:4312 431  
Post Code: 0573 for RD2 and 0542 for all Kaiwaka Post Office mail 
KAIWAKA PRIMARY SCHOOL: Ph: 4312309   
KAIWAKA SPORTS ASSN: Ph 4312005; 4312129 gym 
KAIWAKA ST JOHN HALL: Phone Marj  0272941227  
KATE'S PLACE Community Centre - Employment services, Free Health 
Nurse, Plunket, Advocacy, Osteopath, A.A., Legal Advice. 4312 661 
LINKING HANDS Health Shuttle Ph 4315906 or 09 4318969 
MINISTRY FOR PRIMARY INDUSTRIES - General inquiries Call 
Free 0800 008 333 
NORTHPOWER: Faults Kaiwaka area 0800 104040 
OTAMATEA COMMUNITY SERVICES: Counselling, parent coach, 
Family Support worker, budget advice, food bank. Mon-Fri 9am-3pm. Ph 
09 431 9080 http://www.otamateacs.org/ 
PARENTPORT: Free, practical family support service Puhoi to Paparoa 
Ph or txt: Dianne 027 280 5093 or 09 425 9357 
PLUNKET:  Kaiwaka  -Kate's  Place  Clinic  1st  Wednesday  of  the  month; 
Mangawhai  - Rose Madsen Cottage: Coffee Group 9:30 every Monday.  Clinic 
every Monday and Thursday. 
Maungaturoto - Good News Church, Clinic 2nd and 4th Wednesday.  
Cynthia 09 431 7340 or 027 675 3488 
PLUNKET HELPLINE -0800 933 922 (24 hours) 
TAITOKERAU COMMUNITY LAW: Free confidential legal advice and 
assistance, 2nd
Thursday
 of each month. Ph: 0800 155 529 for appts.  
TE URI O HAU Settlement Trust Tangata Developments: Whanau Ora 
021 793262  
VETERINARY SERVICE MANGAWHAI: 
Ph: 4314535 Mon-Fri 8.00-5.00, Sat 9-12, a/h appt. 
WELLSFORD DOCTORS: Ph: 4238 086 
CHURCHES:
 
Kaiwaka  Revival  Church  -  Your  Community  Church:  Sundays  10am. 
Ph: Pastor Tawhiri 09 431 8988 or Pastor Paul 09 4312 068 Visit us at 
www.facebook.com/kaiwakachurch 
 
St  Paul's  Anglican  Church  1st  Sun.  9.00am  (Eucharist),  3rd  Sun. 
9.00am (Family Service). Contact: Rev. Wayne Thornton Ph 431 4122 
www.mangawhaianglican.org.nz 
 
Church of Christ the King, Mangawhai:9.00am every Sunday 
 
St.Mary's  Catholic  Church:  Maungaturoto  –  Griffins  Road,  Saturday 
evening  Vigil  Mass  6pm;  Mangawhai  –  Senior  Citizens  Hall,  Sunday 
Mass  8:30am;  Wellsford  –  Matheson  Road,  Sunday  Mass  10:30am;  
Mid-week Mass times and all enquires to Fr. Bill Fletcher – phone 423 8170
 
Baptist Church: Sun. 10.30am Mangawhai Snr Cit.Hall.Ph:4312339 
 
Cause  Way  Church  Mangawhai:  Sundays  10.15am,  Mangawhai 
Community  Recreation  Centre,  Insley  St.  Ph:  09  4314782