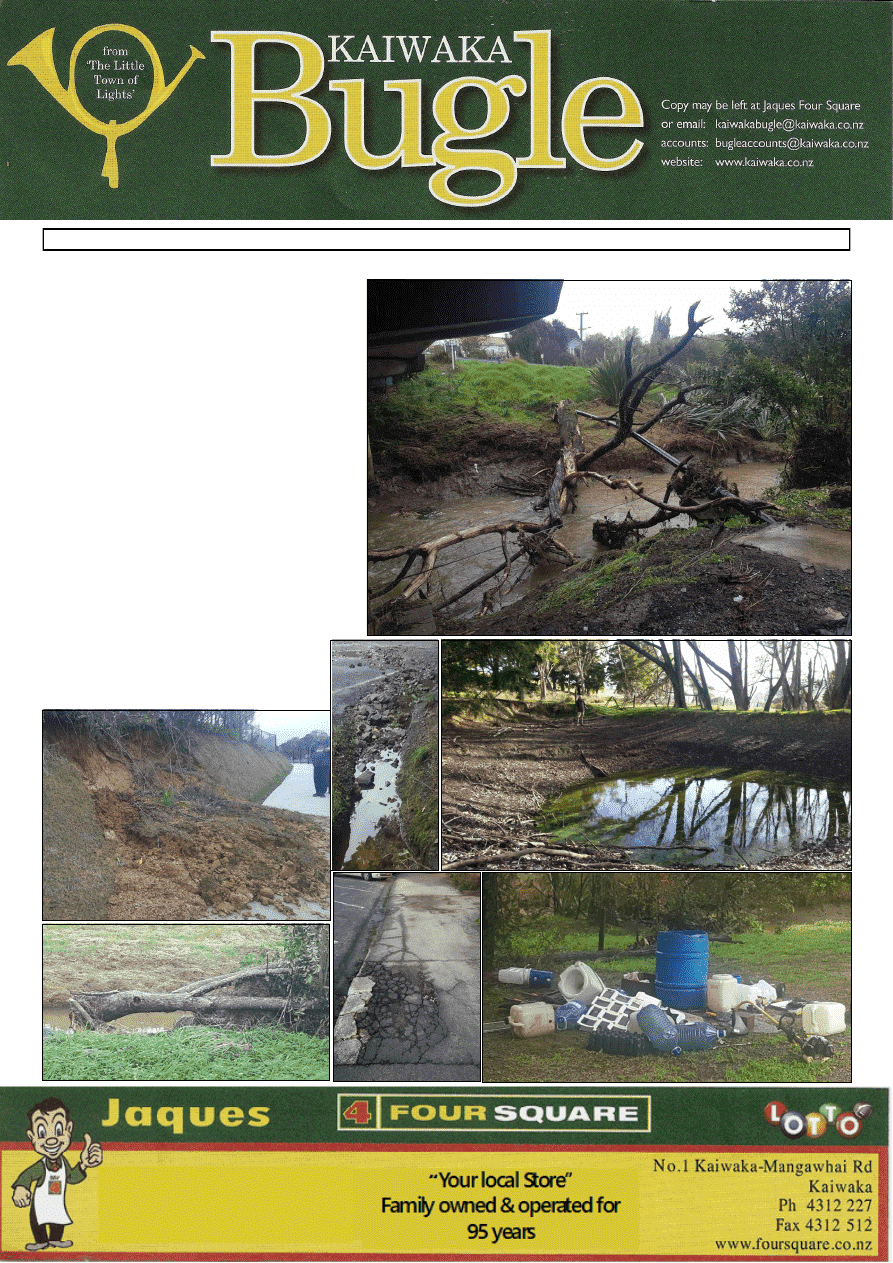 www.kaiwaka.co.nz 
Kaiwaka Bugle - 9 June 2020 
Page 1 
No11 
9 June 2020 
Kaiwaka  township  certainly  made  up  for  their 
lack of rainfall early on the morning of Sunday 
31 May! 
The  local  Kaiwaka  Volunteer  Fire  Brigade 
were  out  assisting  from  before  2am.  Jaques 
Four Square team were thankful for the firemen 
checking  the  store  and  helping  with  the  clean 
up. The Herald delivery driver noted the flood 
was from the Jaques car park right across to the 
public  loos,  couldn't  see  the  footpaths,  "The 
water coming down the hill past the church was 
unreal!" 
As dawn broke the 6" sewer pipe crossing the 
Kaiwaka  Creek  from  the  Eutopia  side  to 
Oneriri  Rd  had  caught  a  large  tree  (no  splits 
were  found  in  the  pipe)  when  the  stream 
became 3-4 times its normal width - as pictured 
right.  Other  trees  floated  down  the  creek  too, 
and further up Oneriri  Road 50 meters of fence 
was taken out. 
Damage  to  paths  and  drains  was  noted,  but 
sadly the Oneriri's dams didn't get filled - see 
Tony standing below the overflow! 
See  Bev's  weather  report  on  page  7  for 
more on the rain records. 
Then  there  was  the  household  rubbish 
dumped in McClean Park - bottom right. 
FOR THE RECORD: WET AND DRY 31 MAY 2020 
WINTER HOURS: 
Monday - Friday 8am – 6.30pm 
Saturday 8am – 7pm 
Sunday 9am - 6pm 
WINTER HOURS: 
Monday - Friday 8am – 6.30pm 
Saturday 8am – 7pm 
Sunday 9am - 6pm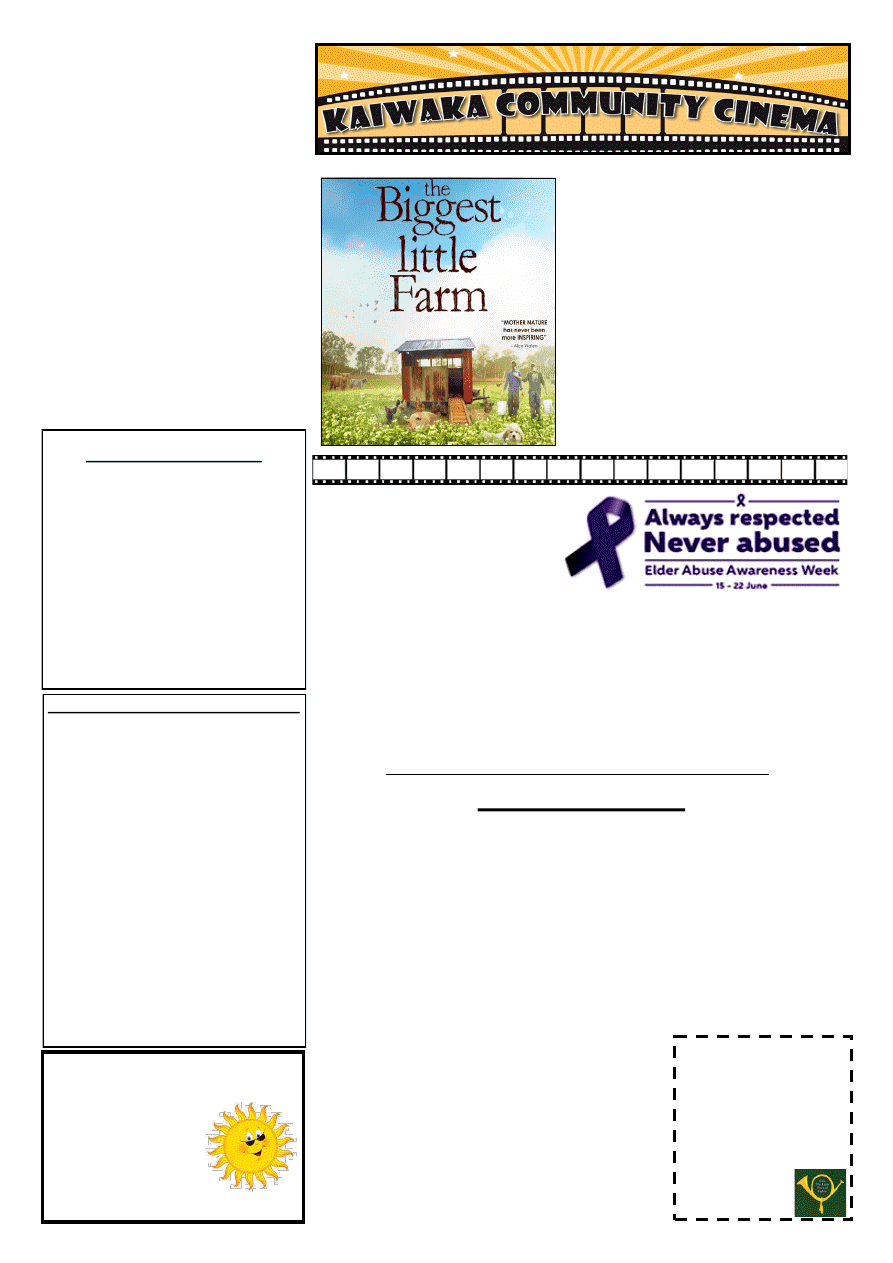 Proverbs 15: 4 
Kind words 
heal and help;  
cutting words 
wound and 
maim.  
At Kaiwaka War Memorial Hall . Adults $10, Kids (under 16) $5, Family Pass (2 adults + 3 children) $25 
ABOUT TOWN 

The  drought  certainly  broke  for  Kaiwaka  town  on  31  May,  causing  quite  a 
clean up all round town!

Going to Covid Level 2 has certainly opened up the activity in our community 
- Level 1 will make things easier for many.

 Note:  Absolute  Concrete  have  changed  our  Saturday  opening  times  -  now 
8am - 12pm.  

 JMB rugby training begins this Thursday 11th, 5pm at KSA; registrations at 
www.sporty.co.nz/easternkaiwaka; six week season - 1st rally day 27 June.   

 Badminton has begun at the KSA gym - Tuesdays 7.30pm 

 Our  local  RSA  Hakaru  Mid  Year  Xmas  dinner  to  be  held  on 
26th June.  At  6pm – all welcome. Further info phone 4312092. 

 See  the  article  on  page  9  from  our  Kaiwaka-Mangawhai  Ward  Councillor 
Jonathan Larsen 

Otamatea  Hawks  Rugby  -  Full  training  has 
resumed  for  the  Men  and  Women  at  Kaiwaka  on 
Tuesday  and  Thursday  nights  from  6.30pm.  New 
players  of  all  experience  and  fitness  levels  are 
welcome. 

Big thank you to Bugle photographer - Pam! 

 See  the  Kaiwaka  Bugle  in  colour  online  at 
www.kaiwaka.co.nz at any time.  ~ Lindsey, Ed 
"I went to sleep in my chair watching T. V. yesterday. 
When I woke up someone had put a teabag in my mouth.  
I hate being taken for a mug!" 
KAIWAKA BUGLE NO.11 
9 JUNE 2020 
CONTENTS: 
Page 3: Public Notices, Classified 
Page 5: Jaques Notice;  Double 
Slammer 
Page 7: Kaiwaka Weather;  Thelma's 
Scrapbook;  
Page 9:  Councillor's Comments 
Page 11: Pt. Curtis CC  
Page 13: Kaiwaka School;  Otamatea 
High School 
Page 15:  Kaiwaka Library; Albertland 
Heritage Centre 
Page 17:  Museums; Snippets from the 
Past 
Bugle 12 will appear  23 June 
Contact for advertising, reports, articles 
or information can be made by 
Email: kaiwakabugle@kaiwaka.co.nz 
Ph: 09 4312 045 Lindsey 
Txt: 027 2724137 
Copy  may  be  left  at  Jaques'  Four 
Square. 
Kaiwaka Bugle Advertisements 2020: 
All 
copy 
and 
queries 
to: 
kaiwakabugle@kaiwaka.co.nz 
The Bugle is printed on an A4 page, B&W  
Ad  sizes:  1/16  page  (3  x  9.5cm)  $5;  1/8 
(6.5  x  9.5cm  landscape  or  portrait)  $8; 
3/16 ( 10 x 9.5cm or 7.5 x 12,5)  $12.  
Classified  ads:  First  one  FREE,  $4  per 
entry (max. 30 words, max. 4 repeats). 
Payments  can  be  made  online  at 
ANZ 
06  0365  0006990  00
,  posted  or  left  at 
Jaques Four Square Store. 
We  use  Microsoft  Publisher,  and  can 
work  with  most  common  image 
formats, Word, Excel, and PDF files. 
Accounts:  
Email: bugleaccounts@kaiwaka.co.nz 
The  Kaiwaka  Bugle  is  a  community 
newspaper run by volunteers, as part of 
the Kaiwaka Media Group Inc.   
Articles, etc. printed are not necessarily 
the opinion of the Bugle Team. 
Kaiwaka Bugle 
Founded May 1978 
We appreciate articles and photos about local 
events, etc, as well as ads and suggestions. 
Copies available in Kaiwaka at Jaques Four 
Square, Kaiwaka Postal Centre, Shamrock 
Service Station, Animal Health Centre, 
Kaiwaka St John shop. 
Also outlets in Maungaturoto, 
Mangawhai and Paparoa. 
Can be viewed online at  
www.kaiwaka.co.nz/Bugle  
Or a copy can be posted to you if you supply 
stamped, self-addressed DLE envelopes. 
KAIWAKA BUGLE 
DEADLINE DATES 
2020:   
Every second Friday
June 19 
July 3, 17, 31 
August 14, 28 
September 11, 25 
October 9, 23 
November 6, 20 
December 4 
ELDER ABUSE 
AWARENESS 
WEEK   
15-22 JUNE 2020  
FACT: 81% of alleged abusers are family members. 
"We  need  to  face  the  facts  that  much  of  the  abuse  we  see  at  Age  Concerns 
across New Zealand is at the hands of people we should be able to trust and ask 
for  help  from,"  says  Age  Concern  New  Zealand  Chief  Executive,  Stephanie 
Clare.  "Our  Age  Concern's  Elder  Abuse  services  received  2,500  referrals  for 
older people last year. That's ten referrals every working day." 
If you suspect an older person is not being treated well or want to report abuse, 
please call either the elder  abuse  helpline  0800  EA  IS  NOT  OK  or freephone 
Age Concern 0800 65 2 105 for free and confidential support. 
You  can  also  show  support  by  donating  to  Age  Concern  New  Zealand 
www.ageconcern.org.nz 
  The BIGGEST LITTLE FARM 
Friday 12 June, 7.30pm (G)  
Movie/doco  chronicles  the  eight-year 
quest of John and Molly Chester as they 
trade  city  living  for  200  acres  of  barren 
farmland  and  a  dream  to  harvest  in 
harmony with nature. 
Through  dogged  perseverance  and 
embracing  the  opportunity  provided  by 
nature's  conflicts,  the  Chesters  unlock 
and  uncover  a  biodiverse  design  for 
living  that  exists  far  beyond  their  farm, 
its seasons, and our wildest imagination. 
YES, WE ARE BACK AGAIN, AS SAFE 
AND AS NORMAL AS CAN BE .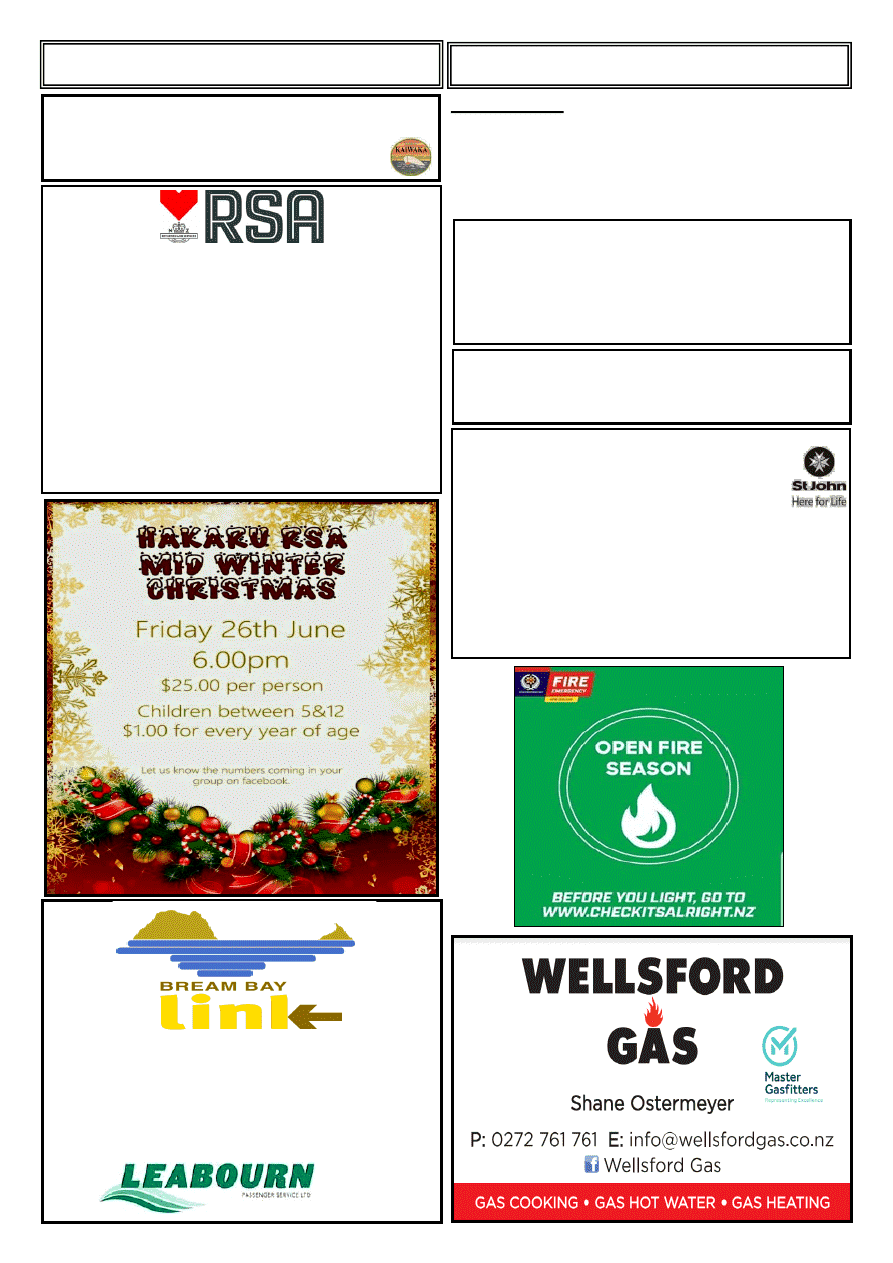 www.kaiwaka.co.nz 
Kaiwaka Bugle - 9 June 2020 
Page 3 
PUBLIC NOTICES 
CLASSIFIED 
HAKARU & DISTRICTS MEMORIAL 
RSA (INC) 
ANNUAL GENERAL MEETING 
Please take note that the Annual General Meeting  
of the Association will be held  
at the Clubrooms, 733 Settlement Rd, Hakaru  
at 2pm – 4pm on 19th July 2020 
BUSINESS 
1. Receive apologies. 
2. Confirm minutes of the AGM held 5 May 2019 
3. Presentation of Annual reports and accounts. 
4. Election of Executive and committee 
5. Remits/Notices of motion to be presented at the AGM 
are available at the Clubrooms from 5th July 2020   
~ Bill Warren, President 
RETURN BUS to WHANGAREI 
Every Thursday 
9.00am Departs Kaiwaka 
4.50pm Returns Kaiwaka 
Via  Mangawhai,  and east coast . 
please phone 0800 994 404  
wwwbuslink.co.nz 
Operated By:  
HAKARU TRANSFER STATION 
636 KAIWAKA-MANGAWHAI ROAD 
Open every day 10am - 4pm ~Closed All Public Holidays 
Telephone: 09 431 2629 
KAIWAKA ST. JOHN OP SHOP 
We are open again and are now taking donations, 
especially Bric a Brac, Towels, Winter Bedding 
and Sheets. 
BUT NOT Clothing  
We have room to take larger furniture items, please call 
shop or number below as these are stored off site. 
Good to be back helping the community again after the 
Covid Level 3 and 4 
Break.
Pop in a check out the shop.   
Tuesday to Friday 10-3pm Or Saturday 9 to 1. 
Contact shop 4312650 or Dianne 0274627567 
1919 SH1, Kaiwaka 
KAIWAKA WHANGAREI HOSPITAL KNITTERS
We will all meet again on July 14th at 10.00am 
Archie Bull Hall, 
behind St Pauls Church on Kaiwaka Mangawhai Rd. 
Come along for a catch up.  
New members are very welcome.   
Contact Gale Matheson 094314827, 0274149576 for 
more information. 
POINT CURTIS CRUISING CLUB 
Annual General Meeting 
Wednesday 10 June 2020, at 7pm 
Kaiwaka Sports Complex 
FOR  RENT:  Good  flat,  7km  out  of  Kaiwaka,  with 
beautiful  view  over  Kaipara  Harbour.  Approx.  50m
2
, 
bedroom,  living,  office,  kitchen,  shower/toilet. 
Covered outside area lawn, garden optional. Long-term 
to tidy, honest single person. $240 p.week, incl. power. 
Reference,  Bond.  Call  Peter  on  4312718  or 
0211502260.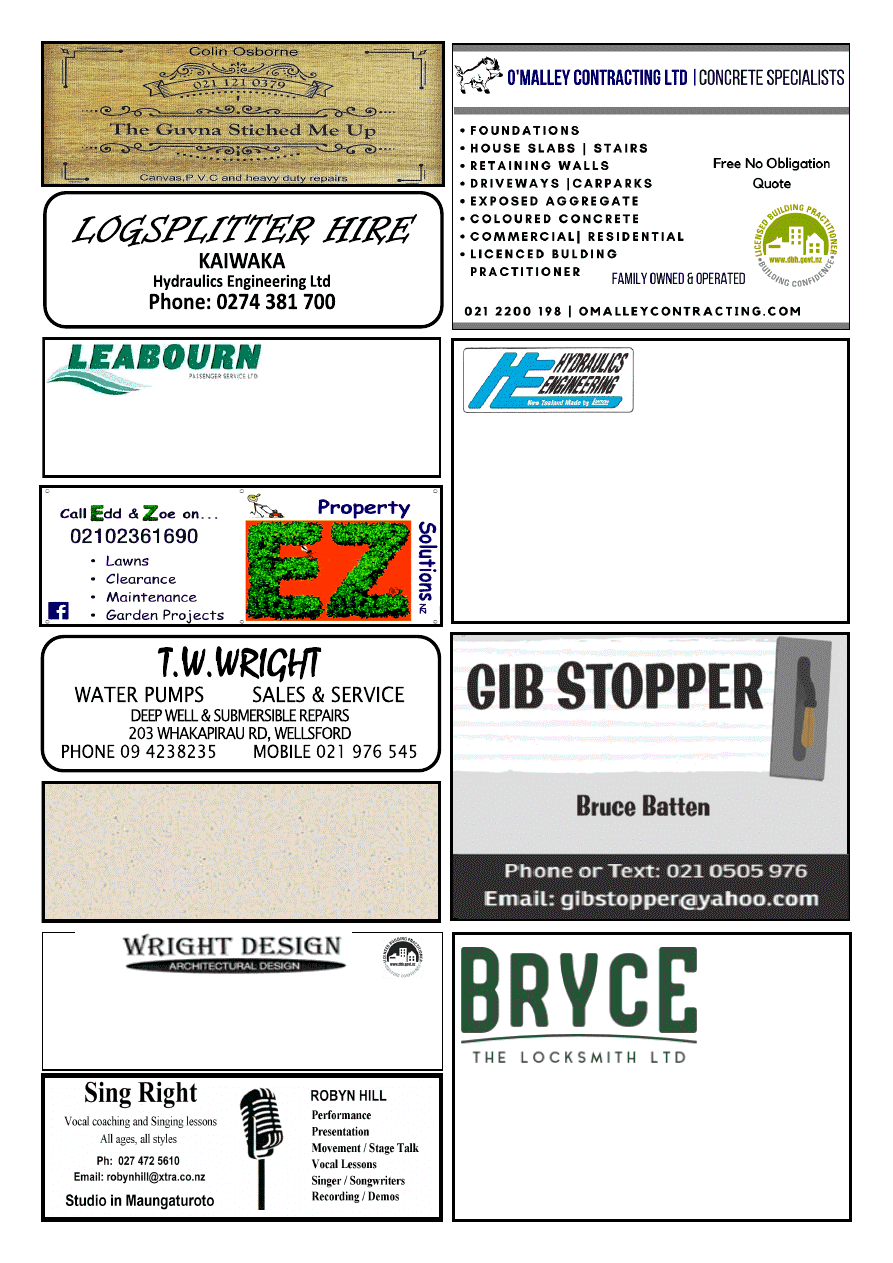 Passenger Service
Car & Van Hire   Bus & Coach Charters 
Airport Transfers    
Phone (09) 4237416 
Counsellor and Registered Psychotherapist 
Offers Supervision 
ACC Sensitive Claims 
Susan Matheson      MNZAC 
Dip. Psychosynthesis Counselling and Psychotherapy 
Phone 09 431 2996                                     Mobile 027 605 2427 
No. 117345 
N.Z.C.A.D., L.B.P. 117345 
PH/Fax: 09 423 8092 Mob: 021 276 7369 
Office: 3 John Sinclair Avenue, Wellsford    brianwright@xtra.co.nz 
For Resource and Building Consents, planning restraints, new building materials - 
you need a capable, experienced, and professional designer with a clear 
knowledge of all the processes. Brian has been helping and organising all these 
facets of design and building for over 50 years. 
Wright Design offers free visits, consultations and advice on planning, design, 
building, council permit applications, guaranteed permit plan acceptance. 
Bryce Frewin 
Ph: 021 850 983 
Kaipara Based Master Locksmith 
bryce@brycethelocksmith.co.nz 
www.brycethelocksmith.co.nz 
Hydraulics  
Engineering Ltd 
Kaiwaka 
Sales - Service - Parts - Hire - Manufacture 
Service Contractors & Industrial Equipment: 
Rams, Pumps, Valves 
Logsplitter Hire, Manufacturer, Sales 
Dennis Linton 
Lot 2 / 161 Ranganui Road, RD2, Kaiwaka, 0573, New Zealand 
Mobile: 0274 381 700 
Email: hydraulicsengineering@xtra.co.nz 
Website: www.hydraulicsengineeringco.nz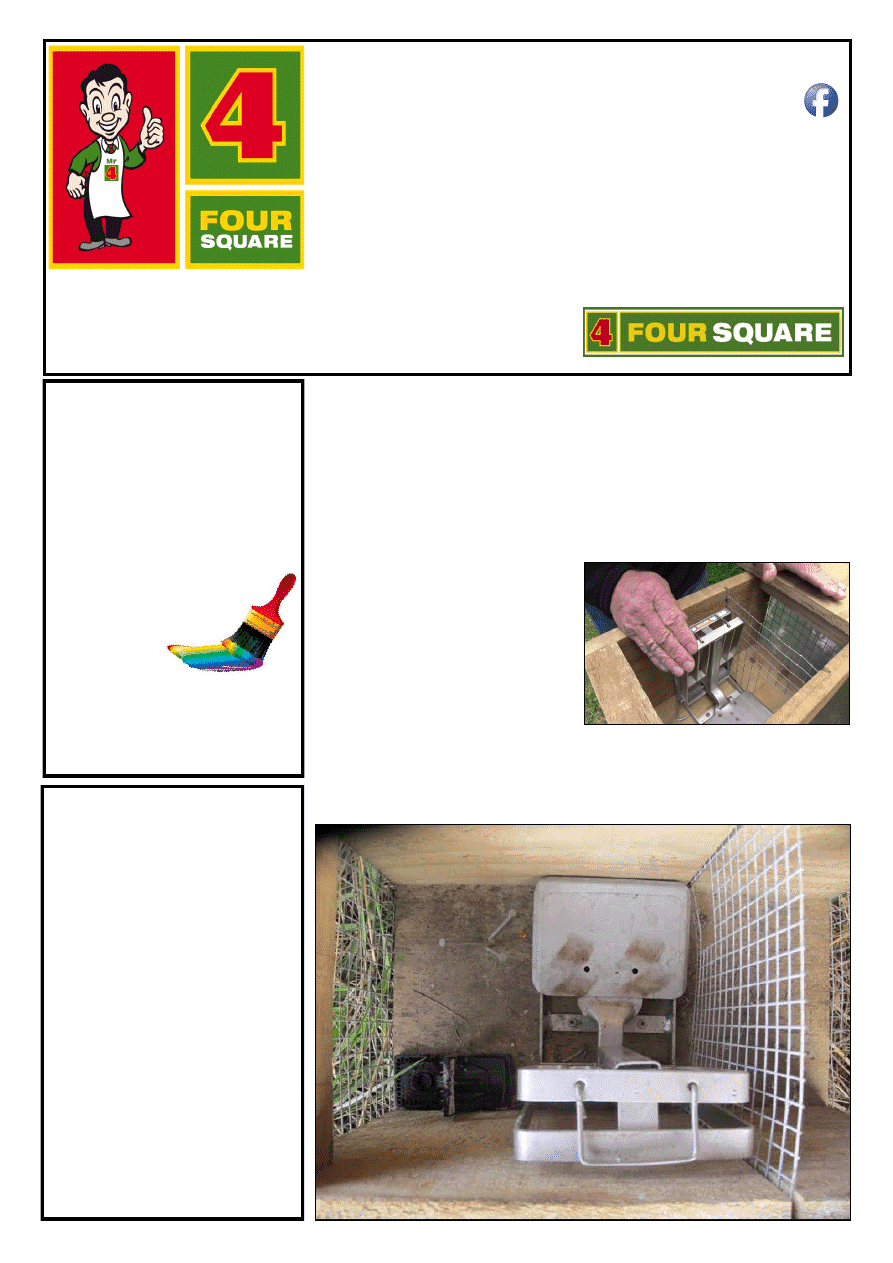 www.kaiwaka.co.nz 
Kaiwaka Bugle - 9 June 2020 
Page 5 
Willow Bend
HORSE  
HOTEL 
  
Total Horse Care 
 
Agistment 
 
Riding Lessons 
 
Arena Hire (60x40) 
 
Young Horse Starting 
 
Re-training/Exercising 
 
Hoof Trimming 
 
Problem Solving 
Phone Sue 09 431 2817 
or 021 623 776 
Or email  
susanjoll11@gmail.com 
LEE COOPER 
PAINTERS 
(Kaiwaka Based) 
*30 yrs Experience 
*Interior/Exterior 
*New and Restoration 
*Honest and Reliable 
*Free Quotes 
09 4312918 or 
0274735171 
leecooper@xtra.co.nz 
 DOUBLE SLAMMER 
As pictured below  a bird's eye view of DOC200 trap - Sliding a black mouse 
trap inside a bigger trap is paying off up Oneriri. 
Mice caught can be bait for the rats and stoats the DOC 200 trap aims at. 
This autumn the DOC 200 trap has taken five rats and a stoat along with five 
mice, one of which probably tripped the rat trap before being caught. 
The  young  rat  was  surprised  when  interrupted  in  mid-meal  on  the  mouse. 
Escaped but his return a few days later was fatal. 
These results are for one trap at one location. 
*
Most useful for the Kaira Oneriri Biosecurity Area over the three-
year period were:
Timms kill traps  - possums 
DOC 200 kill traps - rats and stoats 
.22  ammo  -  rabbits,  turkeys,  peacocks, 
possums 
Ferafeed attractant - bait for Doc200s 
GoodNature traps - rats, possums 
Black snapper traps - mice 
*Best baits 
Cinnamon apple - possums 
Peanut butter - mice 
Ferafeed - rats 
Petrol - wasps 
The  Kaira  Oneriri  Biosecurity  Area  is  applying  to  continue  operating  with 
Northern Regional Council assistance. 
A  potential  pest  target  are  mynahs  which  crowd  kereru,  tui  and  other  species. 
Perhaps NRC-funded mynah-control is a role for marksmen? HP 
JAQUES FOUR SQUARE  
WELL DONE,   
LEVEL 1, HERE WE COME! 
Due  to  NOT  recording  customer  contact  tracing  details  when 
entering  the  store,  we  still  need  to  have  protocols  in  place  to 
keep  our  staff  and  customers  safe.  If  we  don't  have  a  staff 
member  at  the  door  you  can  enter  safely.  At  peak  times  a 
person will be on the door to monitor numbers 
Very important to keep 2 METRE distance from all other people in the STORE 
and in the line outside at all times 
 Store Opening Hours Monday – Friday 8am to 6pm, Saturday 8am to 7pm & Sunday 9am to 6pm 
  Stay safe from the Team at Jaques Four Square! 
  JAQUES FOUR SQUARE 
Phone: 4312227  
  1 Kaiwaka-Mangawhai Road, Kaiwaka.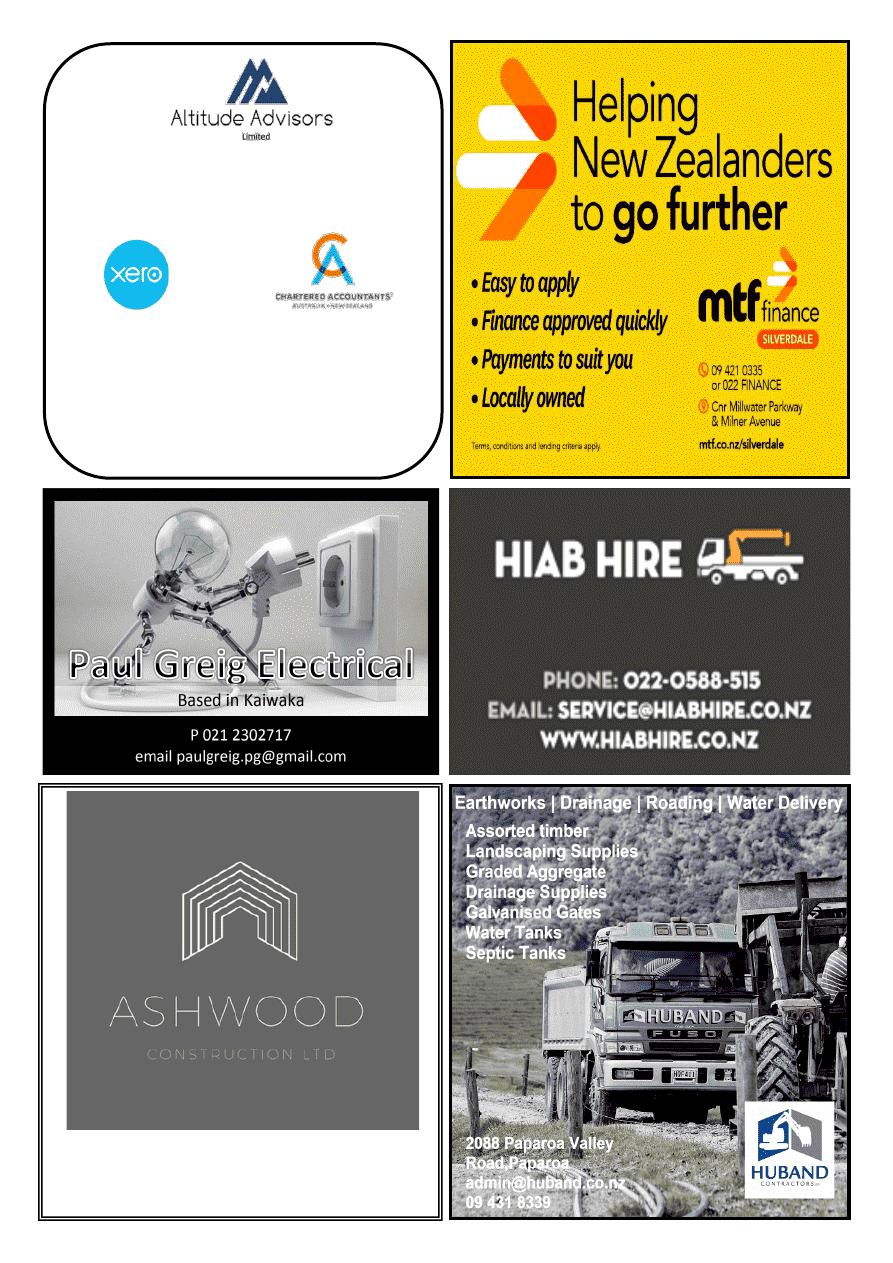 Altitude with Attitude, helping your business 
scale new heights 
Time to try something different? 
Xero training          Accountancy Services 
We are offering two opportunities: 
15% saving off your annual report cost for your first 
year, & a further 10% saving for any referrals 
Call Corinne on 021 252 7680 or 
corinne@altitudeadvisors.nz 
ASHWOOD CONSTRUCTION  LTD 
LBP registered 
New Builds Renovations Extensions Decks & more 
After a quote? Call Lee on 0223408353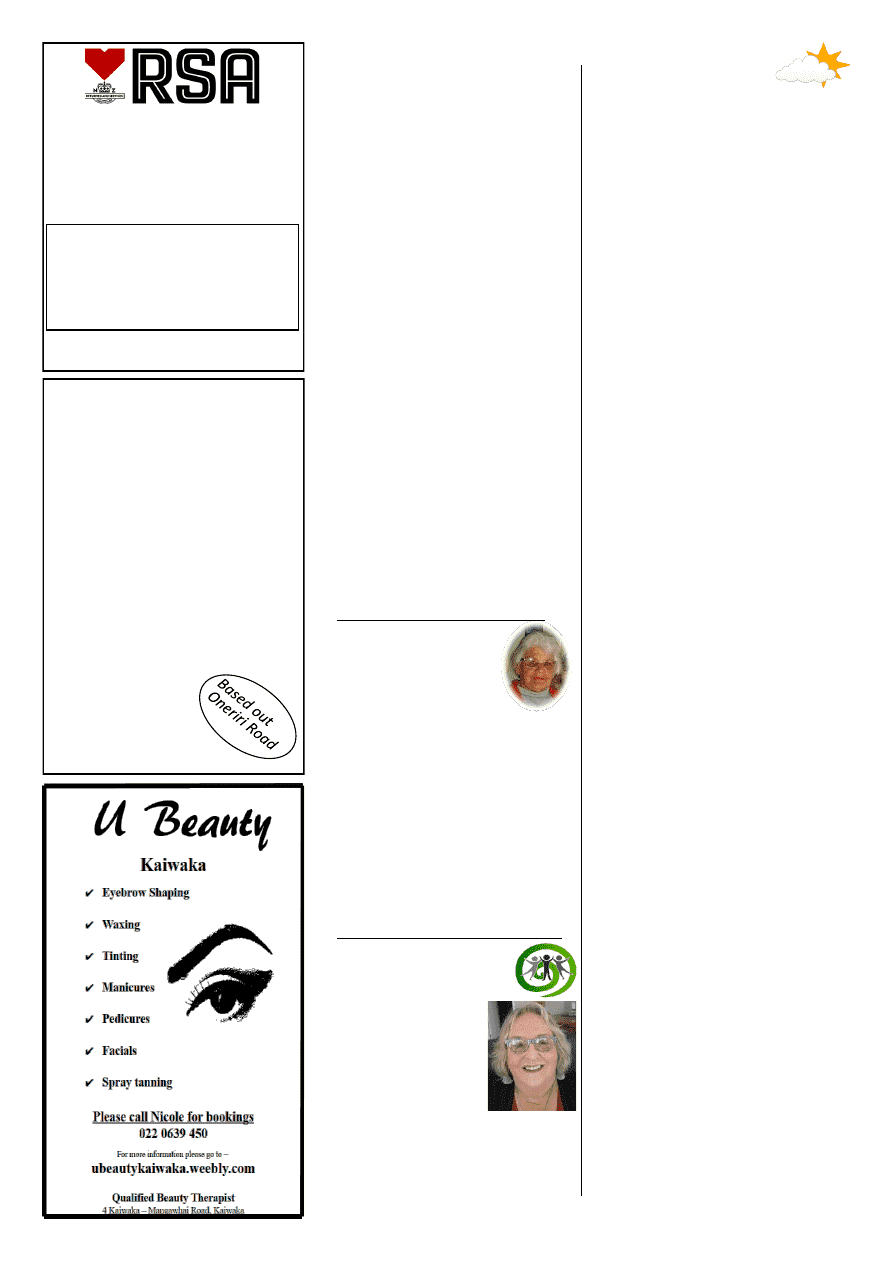 www.kaiwaka.co.nz 
Kaiwaka Bugle - 9 June 2020 
Page 7 
OTAMATEA 
COMMUNITY 
SERVICES 
Pauline 
Wilson 
is 
Community 
Support 
Manager  at  Otamatea 
Community  Services  - 
Support  for  our  Senior 
Population, 
for 
our 
Volunteers 
and 
for 
people, 
directly 
or 
indirectly affected by Addiction. 
We  offer  our  range  of  services  right 
across  the  Kaipara  District.  i.e. 
Counselling,  Social  Work,  Budgeting, 
Parenting,  etc.  There  is  no  charge  for 
our  services,  as  we  are  Government 
funded. Call on 09 4319 080 or (direct 
to me) on 021 2510 225. 
HAKARU & DISTRICTS 
MEMORIAL RSA (INC)
Members & guests are invited to 
come along and enjoy our hospitality. 
New members welcome. 
Meals are served on Thursday and 
Friday nights from 6.30pm. 
Order from Blackboard Menu  
The sing along with Des Chitty is the 
Last Friday of the month. 
For more information please phone 
Bill on 431 2092  
KAIWAKA 
WEATHER 
That  was  a  wet  end  to  Autumn  for 
some  of  us  and  others  are  still  crying 
for  rain.  An  awesome  display  of 
lightning  as  well  and  thunder.  As  my 
Dad would have said that is the end of 
Summer and now into winter.  
What 
an 
array 
of 
rainfall. 
Mangawhai  got  7mm  some  got 
20mm.  Out at Oneriri down the end 
of  Parekura  Road  they  had  9mm. 
Still  desperately  needing  good  rain. 
Apparently,  that  was  much  like 
Dargaville.  
At  our  house  in  Kaiwaka  we  got 
105mm.  Halfway  to  Hakaru  they 
had  131mm.  In  the  middle  of 
Kaiwaka  they  got  155mm.  No 
wonder  the  shop  flooded.  Just  like  a 
river  down  Kaiwaka-  Mangawhai 
Road. On the Reserve Hill just east of 
John  Bowmar  and  his  tractor  house 
there was 170mm. Bruce Ferguson got 
140mm and 1km south of Kaiwaka at 
Christmas  Wonderland  they  had 
131mm.  So,  it  was  not  a  very  wide 
band of rain but boy it packed a punch.  
The  Fire  Brigade  had  a  few  callouts 
and  were  cruising  around  the  district 
trying to keep an eye on things.  Poor 
Greg  was  told  to  get  down  to  shop 
[Jaques  Four  Square]  quick  smart  as 
water had gone right through the shop. 
Just what you don't need in the middle 
of  the  night.  The  Fire  Brigade  helped 
pump  the  shop  out.  I  think  a  lot  of 
attention  should  be  paid  to  culvert 
cleaning  and  drains.    Then  again  with 
rain  that  heavy  they  still  would  have 
trouble coping.   
The Easterly set in at the beginning of 
the  month  and  there  it  stayed.  It  was 
cold  as  well.  Promised  rain  but  that 
was few and far between.  We did have 
some awesome days nearing the end of 
our  Autumn.    The  temperatures  have 
fallen somewhat as we head on through 
the year.   
At our house for May we had 246mm 
and 2019 we had 36mm.  
We  had  rain  on  15  days  of  the  month 
and for 2019 we had rain on 8 days in 
May.  
Our  wettest  May  since  1987  was 
2001  with  281mm  and  our  driest 
May was 2007 with 21mm.  
Our  first  5  months  of  2020  we  had 
431mm and 2019 we had 296mm.  
Our wettest first 5 months since 1987 
was 2011 with 863mm and our driest 
was 1999 with 108mm.  
At  least  the  Brynderwyn  Waterfall  is 
flowing  again  so  the  water  table  is 
taking  it's  time  rejuvenating.  As  you 
read this there is about 14 days left till 
winter  solstice  (21  June)  so  then  we 
head  for  summer.  Reading  .0  deg 
temperatures  as  well.  With  the  South-
easterly keeping it cold as well. 
Please take care out there with the iffy 
weather  now.    I  was  always  taught  to 
respect  my  elders  but  each  day  it  gets 
harder.  Young ones, this is true, with a 
lot  of  luck  this  maybe  you.  Life  is 
precious. Bev.    
KAIPARA HUNTING 
& FISHING 
Yes,  we  are  back  up  and  running 
again!  Hope  you  all  got  the 
opportunity  to  shoot  a  few  ducks  on 
opening  weekend.  We  have  a  couple 
of  events  coming  up  so  hope  to  see 
you all there. 
Up-coming events:   
Mixed Bag Weekend 

Birds  shot  over  the  weekend  of  the 
13th and 14th June 2020. 

Start  6.30am  Saturday  on  your  own 
secret hunting spot  

Species  to  be  weighed  in  – 
Everything on your license. 

Will be taken on a points system 

i.e.  Pheasant  15  points,  grey  duck  3, 
mallards drake, hen and so on. 

One species each to be weighed 

Weigh  in  14th  June  4  -  5pm  at  the 
club. 
Heaviest Bird Weekend 

Birds  shot  over  the  weekend  of  the 
27th and 28th June 2020. 

Start  6.30am  Saturday  on  your  own 
secret  hunting  spot.  Last  weekend  of 
duck shooting so make it count.  

Species  to  be  weighed  in  –  Drake 
Mallard and Pheasants 

One species each to be weighed 

Weigh  in  28th  June  4  -  5pm  at  the 
club 

Great prizes to be won at both events 
See you all there,  Cam Shanks, President,  
09 4316229 
HODGETTS 
CONTRACTING
Digger Work    
Driveways  
House Sites  
Dams      
Drains, etc
Also available for HIRE 
3 ton Vib Roller  
Heavy Duty Tow  
Waterblaster      
Lazer Level
Phone Mark  
4312877 
027 447 8554 
From Thelma's 
Scrapbook … 
Trending with our 
Weather of late...... 
One evening during a violent 
thunderstorm, a mother was tucking 
her son into bed. She was about to 
turn off the light when he asked with 
a tremor in his voice, "Mummy, will 
you sleep with me tonight?" 
The mother smiled and gave him a 
reassuring hug. 
"I can't dear," she said, "I have to sleep 
in Daddy's room". 
A long silence was broken at last by 
his shaky little voice, "The big sissy!"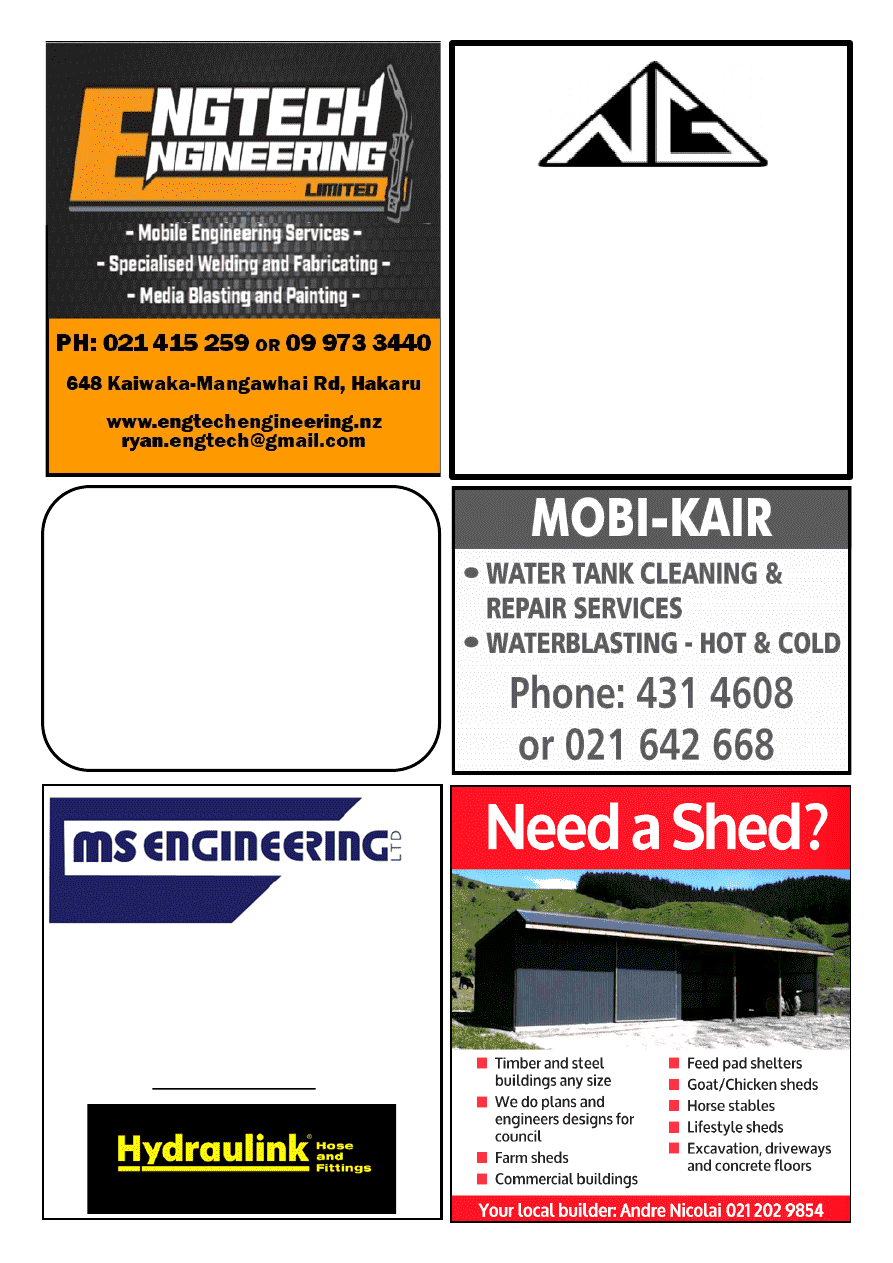 NORTH GLASS 
WINDSCREEN REPAIR OR REPLACE 
GLAZING SERVICES 
MIRRORS  •  SPLASH BACKS  •  SHOWERS 
0800 70 40 10
info@northglass.co.nz 
www.northglass.co.nz 

Peter Buckley 

Mobile Hose Technician –  
                      Based from Oneriri Road 

Available for all mobile hose                                
                        requirements onsite 

Call – 0800 425 7116 

Email – mse@mseng.co.nz 
UP-LINK 
CHRIS WARING 
FREEVIEW INSTALLATIONS 
T.V. - HOME THEATRE &  
HI-FI ADVICE/SET UP
SKY ACCREDITED INSTALLER
MOB.0273403747 HM.094312328 
EMAIL cwaring44@gmail.com
28 YRS EXPERIENCE 
OFFERING UNBIASED ADVICE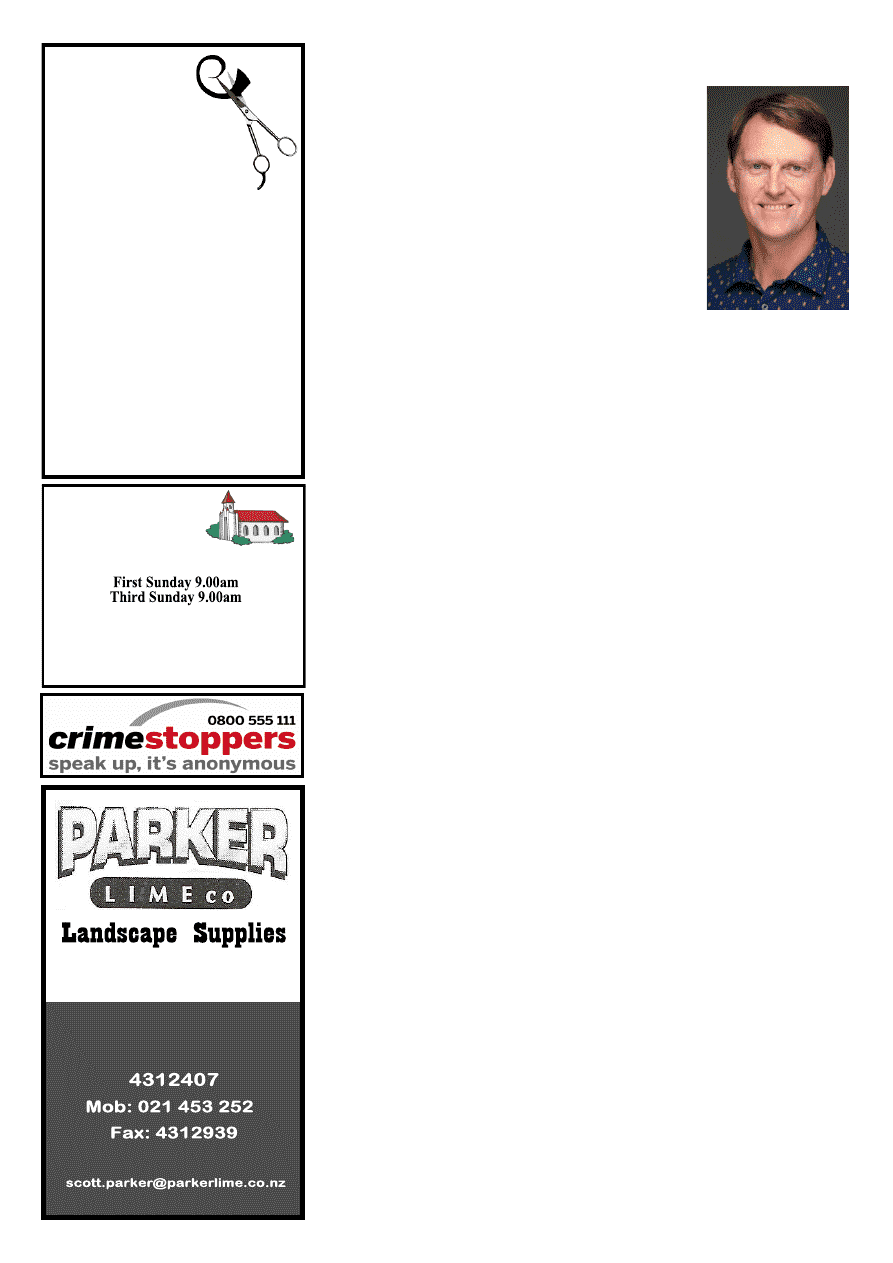 www.kaiwaka.co.nz 
Kaiwaka Bugle - 9 June 2020 
Page 9 
ST PAUL'S  
ANGLICAN  
SUNDAY SERVICES
St Pauls Church: Kaiwaka-Mangawhai Rd. 
1st Sunday - Eucharist 
3rd Sunday - Family Service 
Priest in Charge Rev. W Thornton Ph 431 4122 
www.mangawhaianglican.org.nz
Bulk Cartage 
COUNCILLOR'S COMMENT* 
with Kaiwaka-Mangawhai Ward Councillor Jonathan Larsen 
CONSOLIDATED 
GENERAL 
BYLAW CONSULTATION 
Council is proposing to replace its old 
Bylaws  with  a  new,  tidier  version  and 
is  asking  the  community  for  input 
before  it  is  finalised.  The  proposed 
changes  include  removal  of  five 
obsolete  parts,  simplification  of  the 
way  the  bylaw  is  written,  and 
significant  changes  to  the  cemeteries, 
crematoria and solid waste sections. 
Submissions  close  on  19  June  2020 
with a hearing scheduled to be held on 
30 June 2020. 
For  further information  and  to  make  a 
submission  see  Council's  website  or 
phone 0800 727 059 for a 
hard copy. 
MY THOUGHTS ON RATES 
At  the  April  Council  meeting  an 
average  rate  increase  of  3.97  percent 
was  approved  by  Council.  As  an 
elected  member  I  am  required  to 
support  the  majority  decision  of 
Council.  I  have  however  been  asked 
why  I  voted  against  this  increase  –  in 
short, my thoughts are as follows. 
1.  Fundamentally  I  believe  that  the 
Council should be run for the benefit of 
the ratepayers (its "shareholders"). 
2.  Like  any  organisation  Council 
needs  to  operate  within  the  bounds  of 
available  revenue.  Councils  however, 
have  unique  powers  to  raise  that 
revenue  through  rating,  and  can 
effectively  set  the  amount  of  revenue 
generated  at  any  arbitrary  level  it 
chooses.  This  system  fails  when  rates 
are  set  at  levels  that  are  unaffordable 
for ratepayers. 
3.  The  best  measure  of  inflation 
available  for  Councils  is  the  Local 
Government  Cost  Index  (LGCI).  This 
index uses a basket of goods applicable 
to Council operations and at present is 
calculated as 2.0 to 2.2 percent. 
4.  It  is  often  argued  that Kaipara is a 
"growth"  Council  and  therefore  must 
spend  more  than  inflation.  The  effects 
of growth however can be mitigated if 
development 
contributions 
and 
financial  contributions  are  set  at 
appropriate  levels.  This  has  not  in  my 
opinion previously been happening in 
Kaipara.  
5.  Many  retired  ratepayers  with 
limited  incomes  have  spent  their  lives 
providing for a nice place to retire. The 
rating  system  for  Kaipara  is  based  on 
land value, and this results in the rates 
particularly  for  Eastern  properties 
being  disproportionately  higher  than 
other locations. 
6.  My  concern  is  that  if  Council 
continues to impose compounding rates 
increases  well  above  inflation,  rates 
will  eventually 
become 
the 
largest 
component 
of 
many  retiree's 
expenditure. 
This 
practice 
runs  the  risk  of 
rating  them  off 
their  properties 
that  they  have 
worked  so  hard 
for  and  deserve 
to 
peacefully 
enjoy.  A  similar  situation  applies  to 
many  rural  property  owners.  I  can 
accept  some  margin  above  LGCI  to 
provide  for  improvements,  but  not 
double LGCI (or more) as has occurred 
over the past several years. 
7. 
In 
my 
experience 
bureaucracies  provided  with  large 
budgets  are  inefficient.  It  is  my 
preference  to  keep  budgets  lean  -  this 
motivates staff to find efficiencies and 
smart solutions to service delivery. 
Currently  one  percent  of  rates  is 
$346,000.  When  set  beside  the district 
plan review Long Term Plan (ten-year) 
budget  of  $7.32  million  the  impact  on 
ratepayers  is  eye-watering  –  that's  a 
pretty  hefty  price  for  a  book  review. 
When  large  budgets  are  provided  this 
often  leads  to  the  engagement  of 
consultants – the ratepayer then has to 
fund  both  the  staff  overheads  and  the 
consultants. 
8.  My  concerns  are  of  course 
heightened by the obvious hardships of 
the  current  and  potential  upcoming 
economic  conditions  post-COVID19, 
which  further  strengthens  the  case  to 
take a conservative approach. 
9.  I  am  not  opposed  to  the  use  of 
economic  stimulus  for  the  local  area. 
There  are  many  sources  of  central 
government  funding  to  the  tune  of 
billions  of  dollars  to  draw  on  at 
present. What I am opposed to in these 
uncertain  times,  is  rating  to  generate 
funds  to  proceed  with  "nice  to  have" 
projects  under  the  guise  of  providing 
local economic stimulus. In many cases 
this  simply  imposes  further  financial 
burden  on  local  ratepayers  through 
rates,  whilst  funding  consultants  and 
contractors  who  are  often  operating 
businesses based outside of Kaipara. 
10. In my opinion now in particular is 
a time to proceed with caution and live 
within our means. 
For  any  Council  maintenance  or 
service issues please phone 0800 0800 
727 
059 
or 
email 
council@kaipara.govt.nz.  If  you  have 
any  community  projects  or  issues  that 
you  would  like  assistance  with,  I  can 
be  contacted  on  Ph.  021  185  8389  or 
jlarsen@kaipara.govt.nz. 
JUST 
CUTS 
and 
MORE  
1758 Cove Road  
Open Monday-Saturday  
by appointment only 
Saturday 9-12pm  
Affordable prices: 
Ladies cuts from $35 
Colours from $120 
Men's from$25 
Kids from $18 
0211652629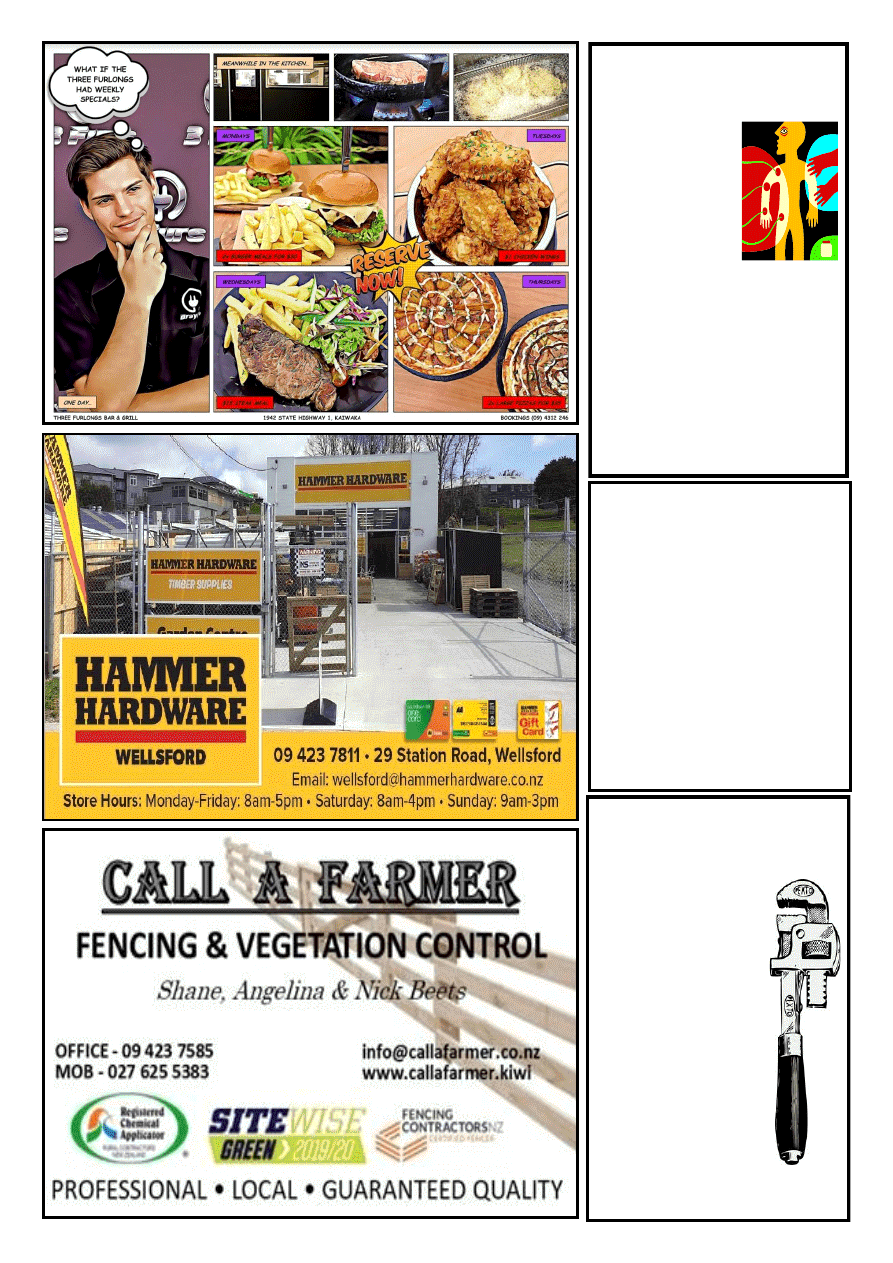 OWEN STEVENS 
Osteo Therapist
For careful 
adjustments to 
bones and joints 
Treatment for 
humans and their 
pets 
Clinics: 
Kate's Place, Kaiwaka: 
Last Friday of month 
For bookings: 
9.00am-5.00pm  
Phone 
09 4312661 
Or phone Owen  
09 4317123 anytime 
BARRY CURTIS 
PLUMBING LTD 
REGISTERED CRAFTSMAN 
PLUMBER 
Phone  
431 5572 
027 257 9884 
25 years' experience 
Friendly reliable 
service 
All plumbing & 
maintenance 
Alterations and new 
housing 
Spouting  
Competitive rates 
PROMPT EFFICIENT 
WHERE TO GET HELP 

1737, Need to talk? Free call or 
text1737 to talk to a trained counsellor  

Rural Support Trust 0800 787 254   

Lifeline, 0800 543 354  

Youthline, 0800 376 63, text 234, 
email talk@youthline.co.nz or online chat

Samaritans, 0800 726 666  

Depression Helpline, 0800 111 757   

Suicide Crisis Helpline, 0508 828 
865 (TAUTOKO)      

In a life-threatening situation 
call 
111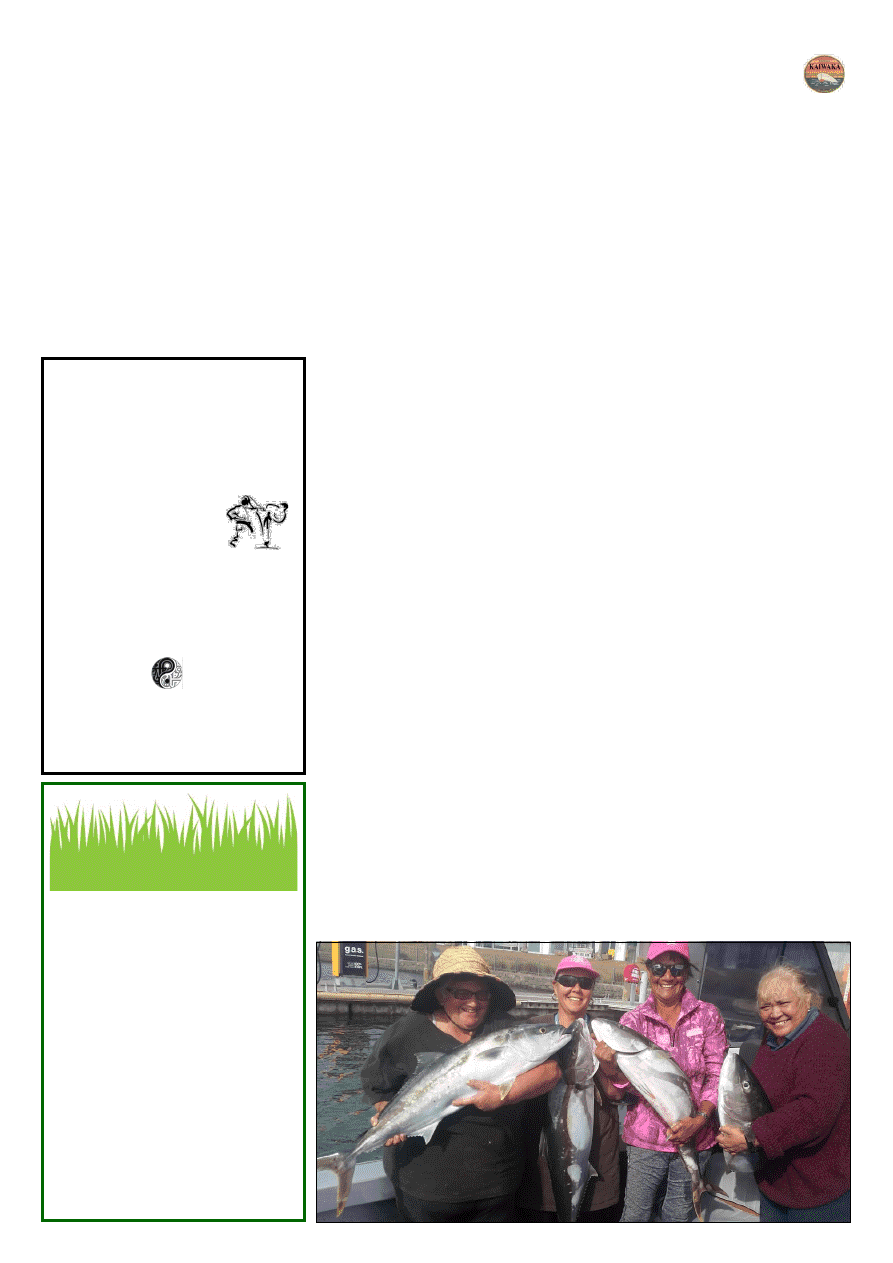 www.kaiwaka.co.nz 
Kaiwaka Bugle - 9 June 2020 
Page 11 
Opening Day Game Bird Shoot 
A  very  successful  day  was  held  on 
Saturday 23rd May 2020.  This was the 
postponed  date  for  the  Opening  Day 
Game Bird Shoot.  A lot of birds were 
weighed  in  and  everyone  was  in  good 
spirits  and  there  was  a  lot  of  catching 
up  to  be  done  due  to  the  Covid-19 
enforced lockdown. 
Annual Prize giving  
We  also  held  our  Annual  Prize  giving 
and  this  was  followed  by  a  well-
received  meal  –  everyone  got  a 
Domino Pizza. 
Thank  you  so  much  to  all  the  helpers 
on  the  day,  and  also  for  everyone 
respecting the Alert Level 2 rules. 
Our AGM is coming up and we really 
need  some  more  keen  helpers.    We 
have  had  4  committee  members  sadly 
pass away in the last 3 or so years and 
fresh  faces  and  ideas  are  more  than 
welcome  – especially if you hunt, fish 
or  shoot.    You  will  be  warmly 
welcomed.   If you don't want to be on 
the  committee  you  are  still  more  than 
welcome  to  come  along  and  see  what 
goes on "behind the scenes". 
Annual Subscriptions 
Subs are due now (as at 1st June 2020)  
- $20 for an adult and $30 for a family 
( kids to be aged under 15)  This can be 
paid  by  internet  banking  12  3094 
0008233  00  –  using  your  "name"  and 
"sub" as references 
Fish of the Month – cancelled 
End  of  Season  Game  Bird 
shoot  – to be discussed at the meeting 
on 10th June 2020. 
Uncollected  Prizes  (Annual  Prize 
giving)   - these have been stored at the 
Three Furlongs Bar & Grill. 
Annual General Meeting 2020 
The AGM is being held at the Kaiwaka 
Sports Complex, at 7pm on Wednesday 
10th June 2020. 
Next  Committee  Meeting  –  this 
follows  the  AGM  on  Wednesday  10th 
June 2020. 
Thanks, and keep safe  
~ Wayne Leslie, (Commodore) 
Opening Day Game Bird Shoot 
23 May 2020 Junior Prize List 
Peacock: Hunter Ries 5.124kgs 
Turkey: Amanda Ries 7.643kgs 
Mallard: Amanda Ries 1.228kgs 
Parry: 1st Amanda Ries 1.769kgs; 2nd 
and  3rd  Hunter  Ries  1.646kgs  and 
1.539kgs 
Pukeko: Amanda Ries 1.096kgs 
Swan (black): 1st and 2nd Hunter Ries 
6.182kgs and 1.550kgs 
Opening Day Game Bird Shoot 
23 May 2020 Seniors 
Peacock: Pongo 5.536kgs 
Turkey:  1st  and  2nd  Pongo  9.031kgs 
and 8.823kgs; 3rd Ben Ries 6.934 kgs 
Mallard:  1st  Hayden  Smith  1.380kgs; 
2nd  Harman  Walker  1.338kgs;  3rd 
Hayden Smith 1.299kgs 
Grey: 1st Hayden Smith 1.299kgs; 2nd 
Dale  Hamlin  1.147kgs;  3rd  Hayden 
Smith 1.131 kgs 
Pheasant: 1st Hayden Smith 1.495kgs; 
2nd  Kevin  Ries  1.476kgs;  3rd  Dave 
Kennedy 1.131 kgs 
Parry:  1st  Mike  Donnelly  1.933kgs; 
2nd Dave Kennedy 1.843kgs; 3rd Mike 
Donnelly 1.843kgs 
Pukeko:  1st  Hayden  Smith  1.207kgs; 
2nd  Matt  Vaughan  0.930kgs;  3rd 
Michayla Kennedy 0.892kgs 
Swan  (Black):  1st  Hayden  Smith 
6.233kgs;  2nd  Kevin  Ries  6.150kgs; 
3rd Hayden Smith 5.860kgs 
Senior End of Year Prizegiving 
2020 
Snapper: Linda Leslie 9.655 
Kingi: Jeanette Stewart 13.610 
Kahawai: Gravy 2.994 
Terekihi: Renna Brown 1.040 
John Dory: Jeanette Stewart 1.388 
Trevally: Carol Welsford-Mills 3.372 
Cray fish: Jeremiah Smith 3.372 
Spear fish - 
Peacock: Mikayla Kennedy 4.969 
Turkey: Mikayla Kennedy 9.063 
Boar - 
Mallard: Hayden Smith 1.450 
Grey: Hayden Smith 1.404 
Parry: Kevin Watt 2.040 
Gurnard: Tony Smith 1.130 
Canadian Goose: Tony Smith 5.015 
Pukeko: Pongo 1.277 
Swan (Black): Kevin Ries 6.395 
Juniors  End  of  Year  Prize 
giving 2020  
Snapper: Sonya Steiner 6.041 
Eel: Finn Smith 2.179 
Peacock: Jayden Wilson 4.622 
Mallard: Jayden Wilson 1.333 
Parry: Jayden Wilson 1.926 
Turkey: Amanda Ries 7.102 
Pukeko: Amanda Ries 0.931 
Swan (Black) :Hunter Ries 6.300 
Below:    Pt.  CCC  fisherwomen,  Linda, 
Renna,  Jeanette  and  Carol  -  all  2020 
prize winners! 
SELF DEFENCE 
KEMPO 
Fitness, Confidence, 
Discipline, Respect,  
Self-awareness 
Classes for all ages 
in: 
 Mangawhai
Kaiwaka Wellsford
For more information please 
contact
 Otamatea Martial 
Arts
otamatea.kempo@farmside.co.nz 
Phone 09-431-5170 
www.facebook.com/
otamatea.kempo 
➢ 
TRACTOR WORK 
➢ 
FENCING: 
     POST & RAIL 
     WIRE & BATTEN 
     ELECTRIC 
➢ 
PADDOCK 
➢ 
MULCHING/TOPPING 
➢ 
SPRAYING: 
    GORSE 
    WEEDS 
 
PHONE MARK 021 801065 
POINT CURTIS CRUISING CLUB  
Reyahn  Leng 
Registered Electrician 
Local, honest and reliable. 
For your residential and 
light-commercial projects. 
022 314 1068 
SURVEYORS 
SUBDIVISIONS 
HOUSE SITE SURVEYS 
CIVIL ENGINEERING 
WASTEWATER DESIGNS 
EXPERIENCED 
PROFESSIONAL 
INNOVATIVE 
Ph 09 431 5353 
0800 PACIFIC (0800 722 434) 
pacificcoastsurvey.com
Adam Booth - 027 415 5752 
Bsurv, Licensed Cadastral Surveyor
Surveying Kaipara since 1994 
LANDSCAPING 
4 IN 1 BUCKET 
TRENCHER 
POLE HOLES 
ROTARY HOE 
COMPACT ROLLER 
OFFAL HOLES 
CAN SUPPLY WOODCHIP & POST PEEL 
5 TON TIPPER 
FOR RELIABLE AND FRIENDLY SERVICE CONTACT DAVE 
Dave Hyndman 
 
KAIWAKA 
PH: 09 4312302 
MOB: 021 431 238 
Drainage & Earthmoving 
nigel@clarkedrainage.nz 
027 2233 185 
Registered Drainlayer                 All Types of Earthworks  
> All Residential & Commercial Work  > House Sites 
> Septic System Design & Install 
> Footings & Drilling to 10m 
> Sewer Connections 
> Dams 
> Water Tank Installation 
> Roading & Races 
> Farm Work 
THE ONE STOP SHOP  
Phone Nigel for an Obligation Free Quote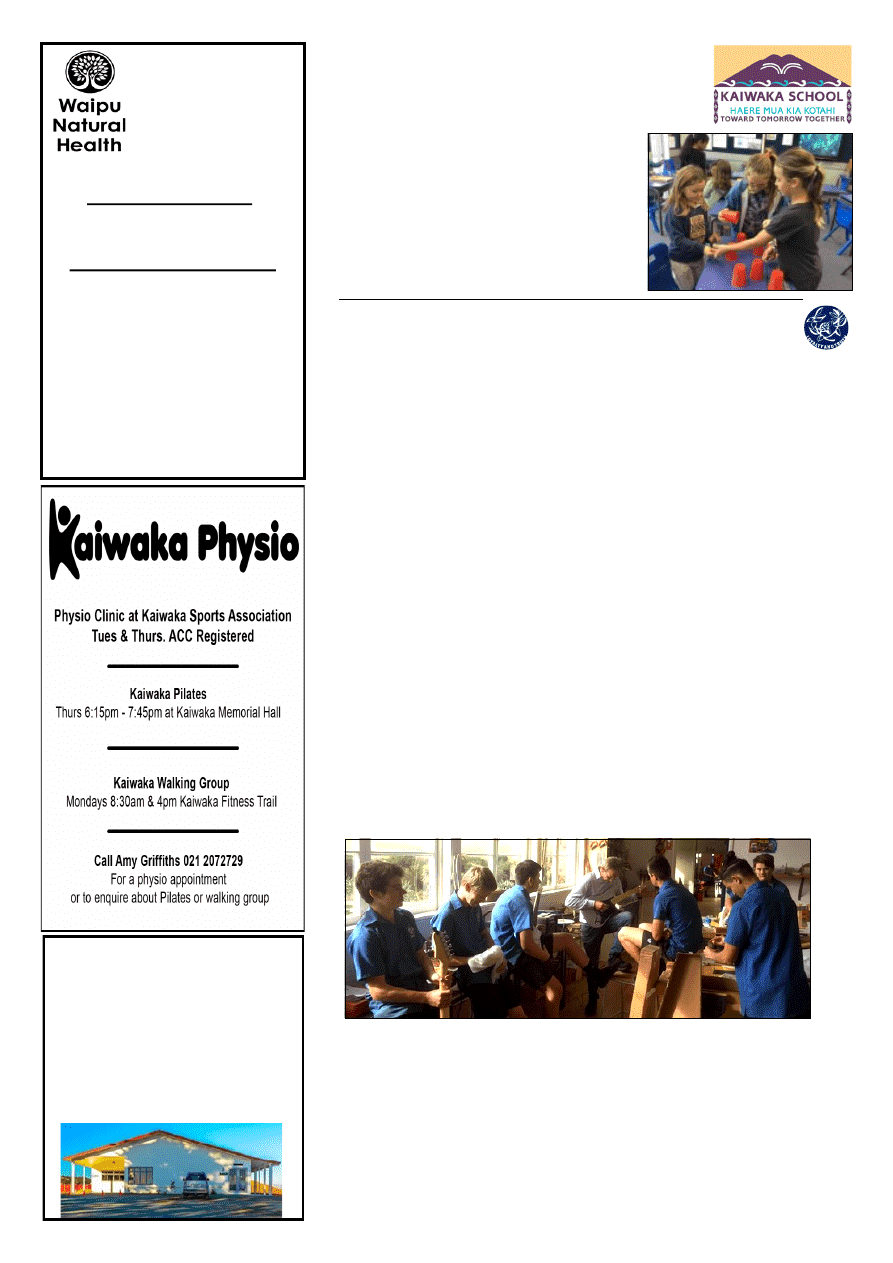 www.kaiwaka.co.nz 
Kaiwaka Bugle - 9 June 2020 
Page 13 
Notes from the Principal 
Last week's senior catch-up day was a 
great  success  with  students  working 
towards 
assessments 
in 
music, 
construction,  wood  technology  and 
hospitality.   
You  may  have  seen  on  the  news  that 
NZQA have made some adjustments to 
the  number  of  credits  required  for 
NCEA  and  University  Entrance  this 
year. 
We 
have 
our 
academic 
counselling  meetings  scheduled  for 
Wednesday  17th  June  and  will  go 
through these new requirements at this 
meeting.  NZQA have also pushed out 
the  NCEA  external  examination  dates 
for  this  year,  and  as  a  result  we  have 
also  pushed  out  our  senior  prizegiving 
so that we can maximise the amount of 
learning time at school prior to exams.  
Science  Roadshow:    On  Thursday 
18th  June  we  are  hosting  the  science 
roadshow again.   
The  next  PTCA  meeting  is  next 
Wednesday  10th  June  at  7pm  in  the 
students' support-centre. New members 
are  always  welcome  to  attend  this 
group  who  are  committed  to  assisting 
our students and school.  
Support  for  online  learning:    The 
Ministry  of  Education  are  currently 
promoting  a  new  website  called 
www.keepitrealonline.govt.nz.    
Parents  and  caregivers  can  find 
information  including  tips  on 
how  to  have  conversations  with  your 
children on that website.  
NZ  COVID  Tracer  App:  The school 
has our own generated QR code which 
can  be  used  for  any  parents/caregivers 
who visit the school for contact tracing 
purposes.  
Additional  uniform  for cold weather:   
We have a stock of uniform for sale at 
school which is very useful during the 
colder weather.  We have introduced a 
new  black  scarf  at  a  cost  of  $20, 
thermals  which  can  be  worn  under 
uniform  are  $21  and  beanies  are  $15.  
All of these items can be bought at the 
school office.  
Rachel Clothier-Simmonds, Principal 
Year 12 Wood Technology 
After  a  long  wait  the  guitars  finally 
arrived  today  for  the  students  who  are 
making  their  own  bespoke  electric 
guitars. 
They  were  excited  to  start  stripping 
them  down  for  parts  and  working  out 
how they will fit into their models. The 
students  are  designing  their  own  body 
shapes  and  will  be  using  a  range  of 
timbers such as Ash Sapele, Rimu and 
Purple Heart. 
Pictured - Mr Dainty had a few moments to 
come and play some Jimi Hendrix riffs. 
3 Cove Road, Waipu 
(opposite the Pizza Barn
) 
094321325 
www.waipunaturalhealth.co.nz 
Clinical Nutritionist: 
Nutritional Checkups, Diets for 
Chronic Diseases,  
Food Sensitivities 
Naturopathic Physician: 
Ozone Therapy, Prolotherapy, 
Mesozone 
Reflexology, Craniosacral 
Therapy, Trauma Release 
Massage Therapy 
Counselling and Hypnotherapy 
Change Catalyst/ThetaHealer 
Affordable Children's Consults 
All therapists are fully qualified
OTAMATEA HIGH SCHOOL NEWS
 KAIWAKA SCHOOL  
Kia ora koutou, 
Thank you for ensuring that you sign in at the office when 
you  come  into  the  school.  This  has  made  our  contact 
tracing easy to monitor. 
We  have  parent  teacher  interviews  coming  up. 
During  the  interviews  we  will  give  out  the 
reports  and  use  this  as  an  opportunity  to  talk 
about your child's learning this half of the year. 
The reports will be different from past years due 
to the Lockdown and the impact of COVID-19.  
Ngā mihi, Sharlene Tornquist 
Coming Up: 
23rd and 25th June - Parent/Teacher Interviews 
1st July-Kidz Bop Dance Event, 11am 
3rd July -End of Term 
Te Pounga Marae 
130 Nathan Rd. Oneriri. Kaiwaka 0573 
COMPLEX FOR 
HIRE 
Functions: * Weddings  * Birthdays  
*Anniversaries * Meetings  * Wananga 5 
hour meeting * 12 hour stay or Overnight 
*All welcome   
For more information please contact: 
 Pearl Nathan 0223933533 
Email: tepoungamarae130@outlook.com  
EXAMINATION CENTRE MANAGER VACANCY 
Otamatea High School is seeking an Examination Centre Manager  to run the NCEA and  NZ 
Scholarship examinations in 2020. The smooth and successful running of an exam centre is im-
portant for all students participating in these examinations. 
The position requires you to complete an online training programme and attend a one-day train-
ing  session  with  NZQA  in  August.  There  will  be  an  additional  training  day  in  September  for 
managing digital exams. The position requires you to complete a number of administrative tasks 
to  plan  and  prepare  for  the  exams.  You  must  be  available  to  work  for  the  entire  exam  period 
(Monday 16th November to Wednesday 9th December). 
A high level of organisational skills with great attention to detail, strength in following processes 
precisely, confidence leading people of all ages and proficiency in using a computer are essential 
qualities for this role. 
For further information and/or job description, please email dirk.smyth@otamatea.school.nz 
Please send your CV and cover letter to ohs@otamatea.school.nz Applications close Friday 12th 
June 2020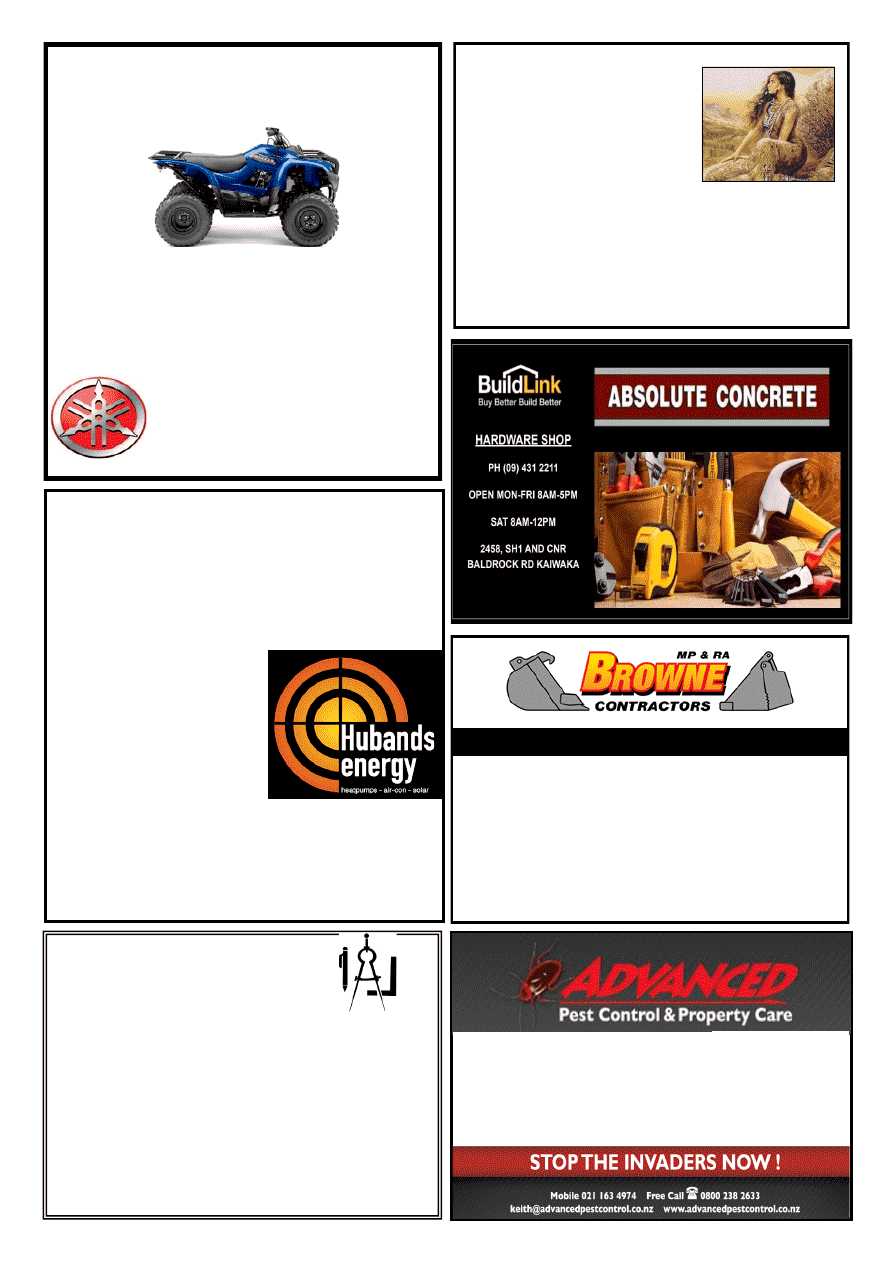 KAIWAKA 
MOTORCYCLES LTD
SALES – SERVICE – SPARES 
FARM BIKE SPECIALIST
PHONE 09 431-2127 
10 KAIWAKA-MANGAWHAI ROAD, KAIWAKA
Trimmers  
from $279
Chainsaws  
from $339
YAMAHA 
HUSQVARNA 
4Tonne DIGGER – BOBCAT – TIP TRUCK 
Property Maintenance - Driveways  
 Building Sites 
Stump & Tree Removal  
Hole Boring - Chain Trencher  
Calf Shed and Stockyard Cleaning 
Phone Matt: 021 199 6677 
Email: mprabrownecontractors@gmail.com 
Pest Control 
PLAN A: One-off treatments to customers with a specific pest problem 
PLAN B: Full maintenance service plans to commercial customers. 
This will include documentation kept in customer file on site: 
⚫
Pest treated 
⚫
Date of service 
⚫
Chemical or baits used 
⚫
Full pest check report done after each treatment 
⚫
Fair and reasonable fee with guarantee 
Flood Recovery 
Carpet Care 
⚫
Carpet Drying 
This includes pre-spray treatments 
⚫
Dehumidifier Rental 
with stain removal and hot water extraction.  
⚫
Full Commercial Cleaning  Patch repair also available 
Upholstery Cleaning 
Full upholstery cleaning of all furniture.  
eg lounge suites and all office chairs 
Water Blasting 
⚫
Concrete - Decks 
House Washing 
⚫
Soft Chemical Was 
⚫
Pre-painting Wash 
Property Services 
⚫
Property Cleaning  Lawn Mowing 
⚫
Hedges General   Tidy Ups 
design drafting  
service 
Retired builder and manufacturer with over 40 years  
experience in the building industry is offering a design 
drafting service for domestic housing, sleepouts and 
sheds.  
Plans formulated in consultation with clients, with 
working drawings completed and submitted to  
council for processing.  Extensive practical experience,  
able to identify & resolve problems. 
Please ring Mike Lean on 
09 431 2260 
or 
021 431 196 
TRAILS END 
RONGOA 
MAORI 
HEALING 
And Gifts 
Stocking all your needs from incense, crystals, dream 
catchers, greeting cards, jewellery, perfume, dragons and 
more ... 
For all inquiries 
 Phone 0211652629  
Light refreshments available $5 koha  
1758 Cove Road Mangawhai
Northland's Award Winning 
Solar Company
SEANZ Best Solar Business Winners 2015/16
EXCLUSIVE 10 year installation warranty 
FREE No obligation onsite quote
Complete systems 
from $5990
See our range of: 
✓ 
Heatpumps 
✓ 
Airconditioning 
✓ 
Hot Water 
Heatpumps 
✓ 
Central Vacuum Systems
09 430 0019             sales@hubands.co.nz 
15 Kioreroa Road, Whangarei
Locally owned and operated for 35 years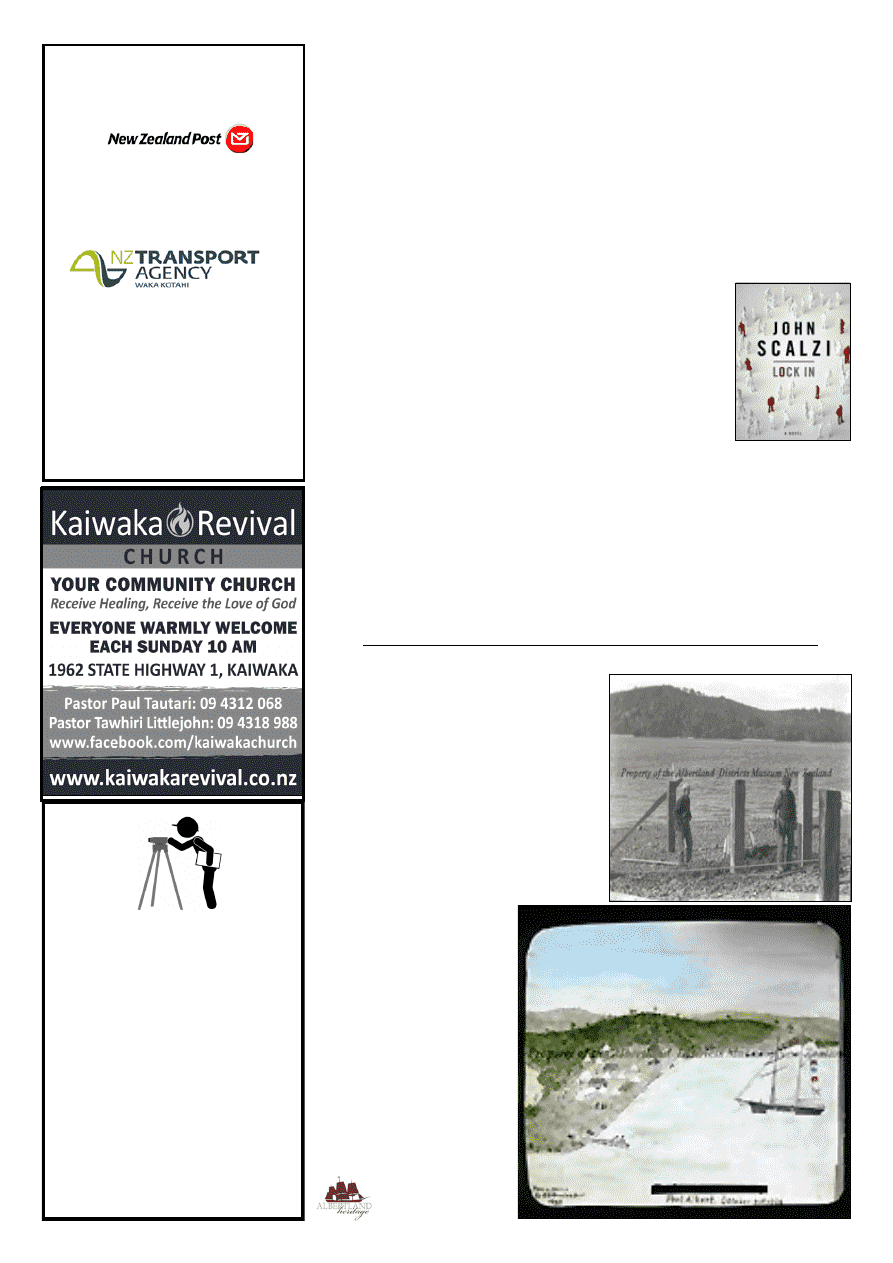 www.kaiwaka.co.nz 
Kaiwaka Bugle - 9 June 2020 
Page 15 
KAIWAKA POST 
CENTRE and 
FOOD MART 
POST CENTRE TRADING HOURS 
MONDAY to FRIDAY 8am to 5pm 
SATURDAY 8am to 12pm 
CLOSED ON SUNDAY and on 
PUBLIC HOLIDAYS 
FOOD MART (GROCERIES) 
MONDAY TO FRIDAY  
7:30am to 7.30pm 
SATURDAY  8am to 7.30pm 
SUNDAY  8:30am to 7pm 
IF ANY QUERIES PLEASE CALL 
STORE MANAGER AMRIT  
on 09 4312431 or 
EMAIL: kaiwakafood19a@gmail.com 
1919a State Highway1, Kaiwaka 0542 
Ken Urquhart 
BSurv Licensed  
Cadastral Surveyor 
KMU Surveys Ltd 
467 Bickerstaffe Road 
RD 2 
Maungaturoto 0587 
Ph 09 431 8705 
Mob 021 161 2344 
kenurquhart@xtra.co.nz 
We opened our doors for the first time 
last  Saturday.  While  we  are  in  Alert 
Level 2, we will be operating restricted 
days and hours: 
Monday 4pm to 6pm 
Wednesday 10am to midday 
Saturday 10am to noon 
ALERT LEVEL 2 RESTRICTIONS 
As  well  as our shortened hours above, 
the  number  of  people  in  the  library  at 
any one time will be limited. The front 
door  will  be  kept  locked.  When  you 
arrive,  please  knock  on  the  door,  and 
we will let you in as soon as we can. 
You  will  be  required  to  sign  in  on 
entering,  and  use  our  hand  sanitiser. 
Keep your visit to 15 minutes, please. 
During  this  time,  the  table  will  not  be 
available to sit and use our wi-fi or do 
other things, or sit with your kids in the 
children's' area to read books. 
ALERT LEVEL 1 
I  anticipate  that  when  the  country 
moves to Alert Level 1, we will be able 
to  operate  our  normal  hours  once 
again. BUT that is dependent on having 
enough staff to cover all of our days, so 
please  keep  an  eye  on  announcements 
until  we  are  back  to  'normal'.  It  might 
not  happen  on  day  1  at  the  new  level, 
but we will get there. 
Keep an eye on the library doors (I will 
stick  a  notice  up)  and/or  on  our 
Facebook page for updates. 
Justice of the Peace Service Centre 
With the library reopening, I am again 
available  to  serve  as  a  Justice  of  the 
Peace  for  walk-ins  when  I'm  in  the 
library.  During  Level  2,  that  will  be 
every day we're open. Look for the sign 
on  the  front  door  as  usual  when  I'm 
there. No need to make an appointment 
when  the  sign  is  out,  just  come  on  in 
with your papers and ID. 
Don't  forget  there  are  other  JPs  in 
Kaiwaka. We are all listed on the back 
page  of  the  Bugle,  and  you  can  also 
find us on the official web site - http://
justiceofthepeace.org.nz/
Find+a+JP.html  
BOOK REVIEW 
Recently 
I've 
read Lock In by John 
Scalzi. 
This  author 
was  recommended  to 
me as a science fiction 
writer  -  but  don't  let 
that  put  you  off  if  it's 
not  your  cup  of  tea. 
This  novel  is  set 
slightly  in  the  future, 
and is more of a detective thriller than sf. It 
is very readable, and I didn't want to put it 
down.  The  main  character  is  rookie  FBI 
agent Chris Shane, and we meet him on his 
first  day  on  the  job.  Without  giving  too 
much away, let's just say it turns out to be 
quite a week for him! This is a three book 
series,  and  as  I  write  this  I've  finished  the 
second  book  and  about  to  start  the  third. 
They're all on the Rental Fiction shelves in 
the  library.  There  are  other  Scalzi  titles  in 
the district as well, plus others available in 
digital format. ~ Wendy
KAIWAKA LIBRARY IS OPEN 
2020 SILENT CELEBRATION 
On  29th  May  1862  the  Matilda 
Wattenbach 
and 
Hanover 
ships 
departed  the  London  docks  with  600 
Albertlanders  aboard  heading for their 
new  life  in  the  Kaipara  wilderness 
(which  was  not  quite  what  they  were 
expecting,  in  most  cases).  The  Museum 
has  held  no  29th  May  celebration  this 
year,  because  of  the  Covid19  lockdown, 
but on the Noticeboard on our website and 
on Facebook there are some videos of past 
celebrations  and  some  special  offers  on 
books  such  as  a  reprint  of  the  original 
1926  publication  of  THE 
ALBERTLANDERS. 
Pictured  right:  Top  -  two 
men  building  the first  wharf 
at Port Albert. 
Bottom  -  a  photo  of  the 
arrival of the first ship (from 
a  hand-coloured  lantern 
slide).  
The  Museum  will  reopen 
when  we  are  in  Level  1 
which  hopefully  will  be  this 
week  or  next;  and  a 
reminder also that the Gibbs 
Farm  Visit  has  only  been 
postponed,  not  cancelled,  so 
keep  an  eye  on  the  website 
for  updates  on  a 
new date. 
ALBERTLAND AND DISTRICTS MUSEUM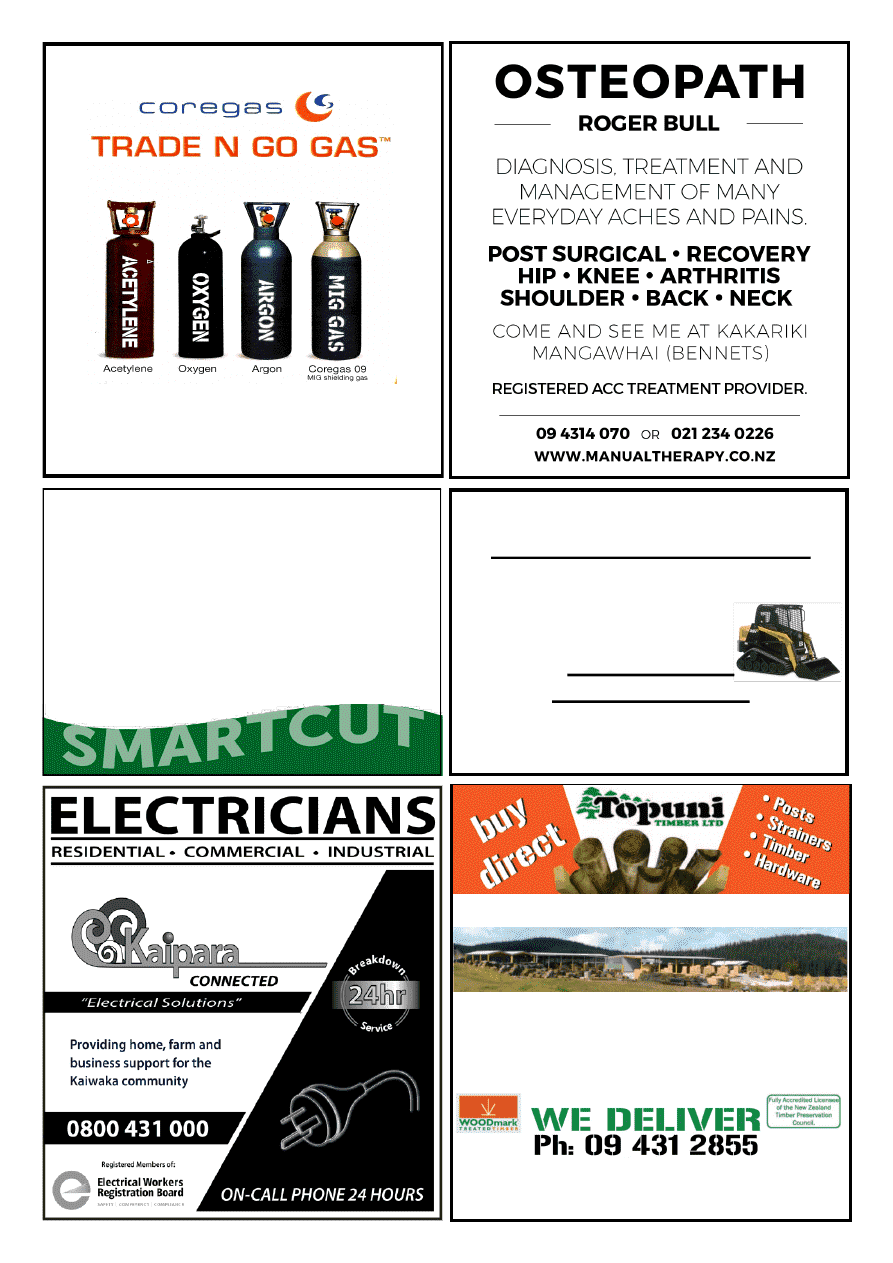 All your outdoor needs sorted so you don't have to… 
I can prune, chop, tidy, spray, mow, plant 
You name it, I can do it! 
Residential & Commercial 
Lawn & Garden Care 
Call Rodney,  
your local lawnmowing contractor 
021 138 2344 
At Twinkle Tow 'n' Tyre 
Mob: 021 833 960 
Ph & Fax: 09 431 2823 
1837 State Highway 1, Kaiwaka 
LOCALLY OWNED AND OPERATED 
QUALITY PRODUCTS • FRIENDLY ADVICE • GREAT SERVICE 
Quality Products milled from High Density NORTHLAND Radiata Pine. 
Treated and guaranteed to NZS3640 with commitment to 
Environmental Safety.
Phone, fax, email, or come into the mill 
Schiska Rd, Topuni, SH1, 10 min north of Wellsford. Fax: 09 431 2856 
Email: sales@topunitimber.co.nz           Mon - Fri 7am-5pm 
• Fencing 
• Retaining 
• Decking 
• Landscaping 
• Gates 
• Hardware 
Natural Earth Ltd 
Landscape and Bobcat services 
 : Driveways :Landscaping :Retaining Walls 
 : Hole Boring: Land Levelling :Trenching 
 : Decks :Fences :Sections Cleared 
 : Plus much more
Tel 09 4312 885 
Mob 02102391280 
For A Fast Friendly Service  
Contact Tim Hicks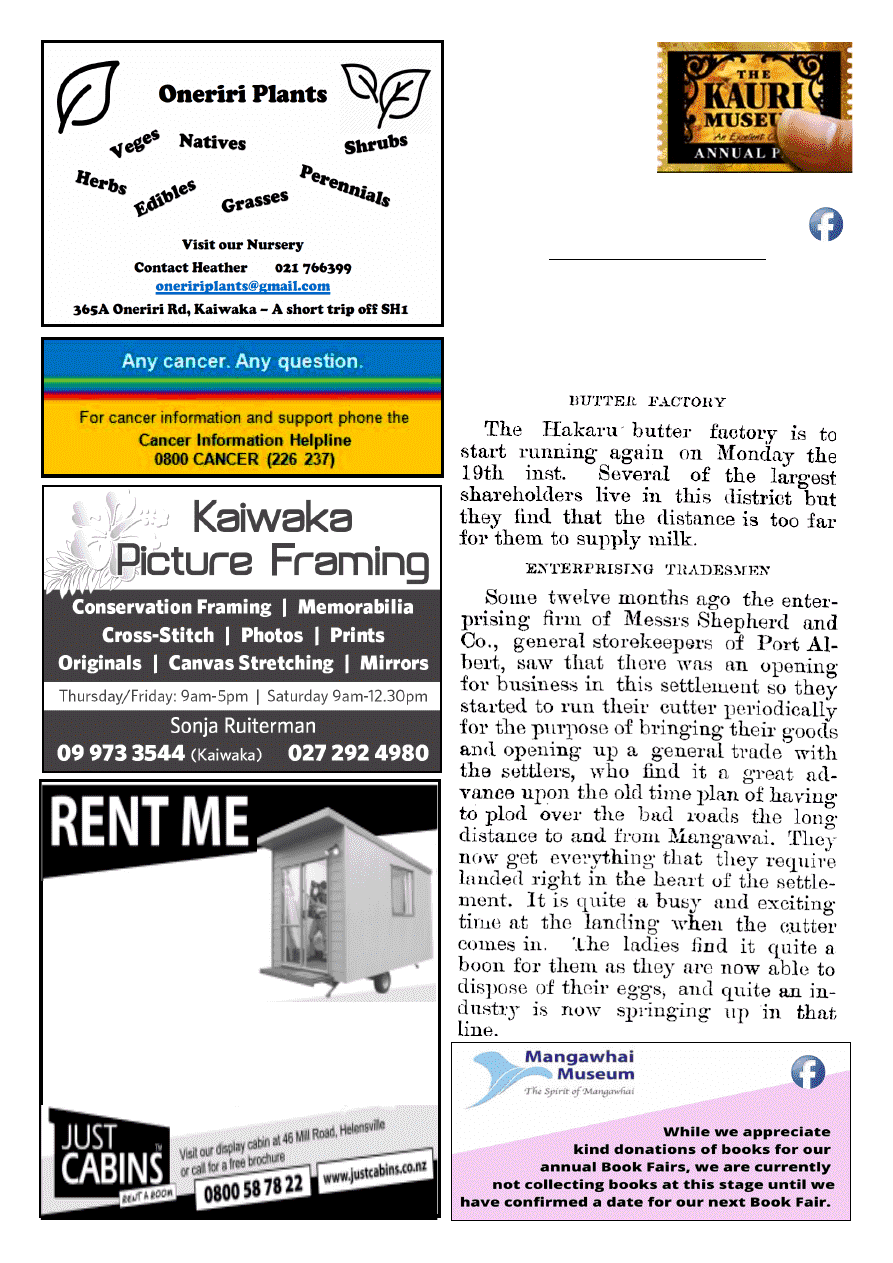 www.kaiwaka.co.nz 
Kaiwaka Bugle - 9 June 2020 
Page 17 
Ideal as an extra  
bedroom or office 
Three Convenient sizes: 
Standard 3.6m x 2.4m - $65 per week 
Large 4.2m x 2.4m - $80 per week 
THE KAURI 
MUSEUM 
Why  pay  $25  when  for 
$27.50  you  can  buy  an 
ADULT  ANNUAL  PASS. 
Come  as  many  times  as  you 
like.  
We also have a FAMILY PASS and much more.  
Visit https://www.kaurimuseum.com/visit or call our 
team on 09 431 7417 to get you pass today. 
Child Annual Pass $9; Family Annual Pass $60 (2 Adults 
2 Children); Senior/Student Annual Pass $23 
SNIPPETS FROM THE PAST 
From  Newspapers    Rodney  and  Otamatea  Times, 
Waitemata  and  Kaipara  Gazette    24  September  1904  
Page  2: 
KAIWAKA. 
(Own Correspondent)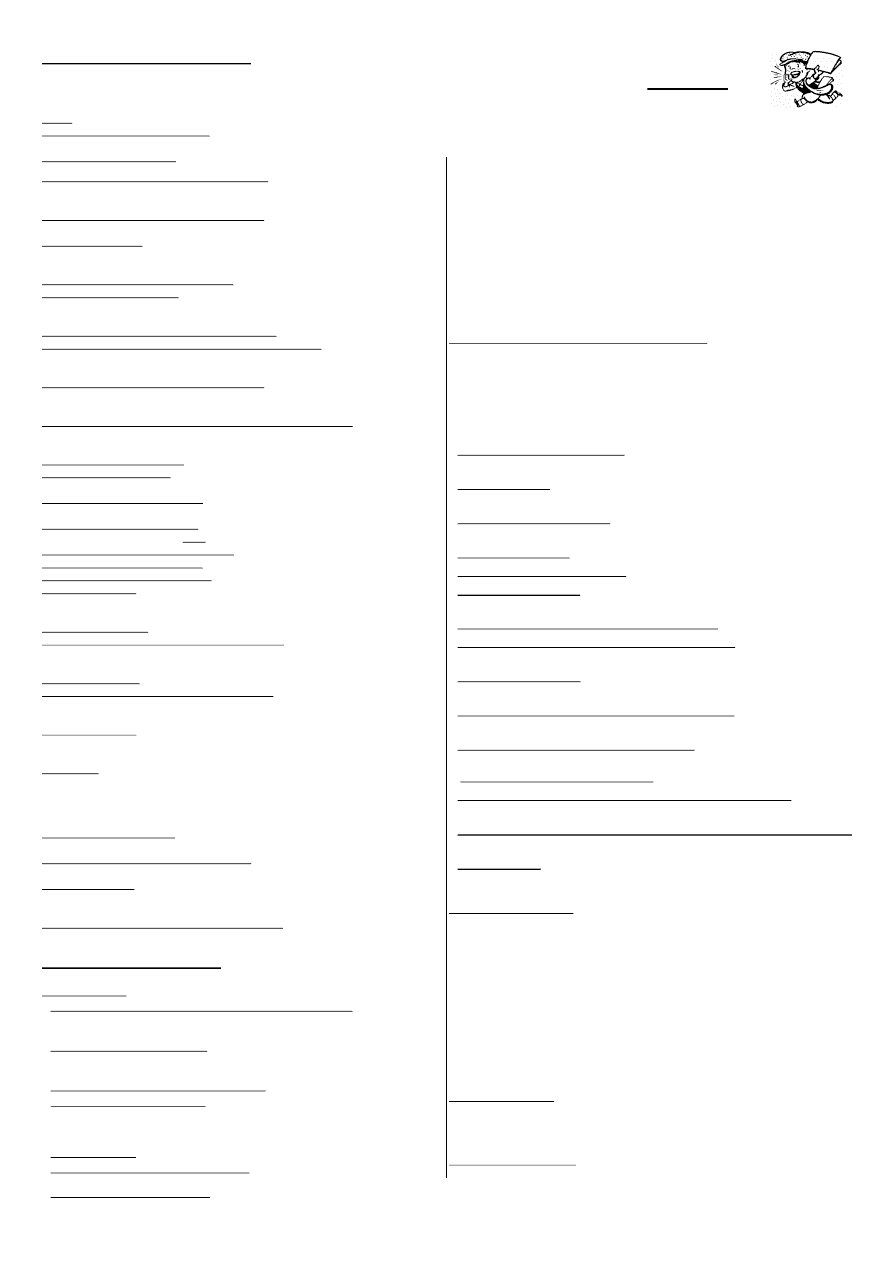 Next Bugle Deadline  Friday 19 June 2020
WHAT'S ON
PLEASE ~ do let us know what is on - 
email kaiwakabugle@kaiwaka.co.nz 
*10Jun~Pt. Curtis Cruising Club AGM, 7pm KSA 
*10Jun~Otamatea High School PTCA meet, 7pm 
*11Jun~JMB Rugby training, KSA, 5pm 
*12Jun~Movie 'The BIGGEST LITTLE FARM' 7.30pm 
KWMH 
*16Jun~ Mondays, Walking Group, 8.30am & 4pm,  KSA  
*26Jun~Hakaru RSA Mid Winter Christmas Dinner, 6pm 
*3Jul~SchoolTerm Two ends 
*19Jul~Hakaru RSA, AGM 2pm at Clubrooms 
KWMH = Kaiwaka War Memorial Hall; KSA = Kaiwaka Sports Association 
See www.kaiwaka.co.nz for more information 
HOUSEHOLD RUBBISH COLLECTION  
Kaiwaka Pick up: 
Mondays = Green bags (Northland Waste - 09 430 3273) 
Wednesdays  =  Blue  bags  and  yellow  recycling  (at  Jaques  $3.00 
and  $1.50)  (Kaurilands  09  4392146);  ONLY  Blue  and  Yellow 
bags picked up on Oneriri Road. 
 DIABETES Support Group-for Kaiwaka, Mangawhai, Wellsford 
10am, 3rd Friday of month Ph: Colleen James 09 4314238 
 GENEALOGY - Wellsford: 1st Thursday in month Ph: 423 
7033; Waipu: 4th Monday in month Ph: 4312 725 
 HAKARU PONY CLUB - Secretary Denise Rogers 021423376 
secretary@hakaruponyclub.co.nz  
 KAIPARA HUNT - Secretary Albert Doonenbal Ph 4312059 
 KAIWAKA BADMINTON -Tuesdays 7.30pm Ph: 4312345 
 KAIWAKA  CAN  -  3rd Wednesday in  month, 5.30pm, Archie 
Bull Hall Ph: 0273572751 
 KAIWAKA DRUM & DANCE CLASSES - 021 611198 
 KAIWAKA GARDEN & FLORAL GROUP - 2nd Thursday in 
month. Ph: 431 4744 
 KAIWAKA  CUBS  -  Thursdays  5.30-7pm,  Hakaru  Ph:Bruce 
4312542 
 KNITTING FOR WHANGAREI HOSPITAL - 2nd Tuesday in 
month, Archie Bull Hall 10am Ph 4314827 
 MANGAWHAI COMBINED REBUS CLUB - 2pm, 3rd 
Thursday month, Senior Citizens Hall Mangawhai. Ph: 4315777 
 *PT CURTIS CRUISING CLUB - Jean Ph: 4312227 (wk), 4312520 (hm) 
 RSA,  HAKARU  &  DISTRICTS  WOMEN'S  SECTION  –  meets 
1.30pm 4th Thursday of the month. Ph: 431 5818  
 KAIWAKA  SCOTTISH  COUNTRY  DANCING  CLUB-
Wednesdays 10am - 12 noon  Ph: Elaine 027 432 0032  
 TRAMPING - Mondays 9am-2:30pm Maria 4312 234 
HALLS FOR HIRE: 
  Kaiwaka St. John Hall: Phone Marj  0272941227  
 St.Pauls  Archie  Bull  Hall  HIRE  $20  half  day,  $40  full  day  per 
hire, S McAulay, Ph 4312311 
 Kaiwaka  War  Memorial  Hall  HlRE  -  Phone  4312725  or 
kaiwaka.hall.bookings@gmail.com 
 Hakaru Community Hall HIRE -Ph.  Lorraine 4312829  
 Te Pounga Marae queries - Pearl Nathan  0223933533 
 Kaiwaka Sports Association hire/queries - C. Anderson 4312051 
or kaiwakasports@gmail.com 
Justice  of  Peace:    B.FJaques  4312  048;  L.Donaldson  4312  228; 
A.F.Hargreaves  4312  045,  W.Howard  4312  725  D.Edwards 
021611198  -  please  phone  to  make  sure  they  are  available 
www.justiceofthepeace.org.nz 
Marriage Celebrants:  
L.Donaldson; A.F.Hargreaves; Y Osborne
LOCAL SERVICES 
*Emergencies - Ambulance, Fire, Police - dial 111 
*Non-urgent Police phone 105
A A: Meets Wed., 7.30pm Kaiwaka Ph: 4315543, 0800229 6757 
NARCOTICS ANONYMOUS: Mon., 6.30pm, Kates Place; drug and 
alcohol related issues. Ph. 02102412348 
ASUREQUALITY LTD (was AgriQuality) Call Free 0508 0011 22  
BUDGETING SERVICE, WELLSFORD: Free confidential advice & 
support for all areas of personal finance. Ph (09) 423 7123 
CAB-Citizens Advice Bureau.Wellsford Ph: 4237333 
0800 367 222 email:cab.wells@xtra.co.nz  
CIVIL DEFENCE - Kaiwaka Community Response Group: 
kaiwaka.civildefencecrg@gmail.com, 4312725 Wendy 
DOG/STOCK /NOISE CONTROL 0800 105 890 
FUNERAL SERVICES: Morris & Morris Ltd, 
Whangarei - Bev Jaques Ph:4312367 or 0800667747 
GRANDPARENTS Raising Grandchildren: Dianah Roberts 0223819539 
HAKARU & DISTRICTS MEMORIAL RSA (Inc) 733 Settlement Rd, 
Hakaru. Ph 4312 176 or Bill Warren (President) 431 2092 
HAKARU LANDFILL/Transfer Station:Open everyday 10am-4pm 
Ph4312629 Cost-$55 trailer load up to 1 cubic metre. Ph:4258567 - office 
KAIPARA DISTRICT COUNCIL www.kaipara.govt.nz:  
Help Desk FREEPHONE 0800 727 059  
KAIWAKA CEMETERY: Ph: 4312045 or 4314017 
KAIWAKA LIBRARY: kaiwaka.library@gmail.com  
Mon. 4-6pm; Wed., Thurs., Fri., Sat. 10am-2pm Ph:4312539 
KAIWAKA PLAYCENTRE: Ph Juanita 0274134904; open Mon, Wed, 
Fri 9am-12pm. Hastie Lane; Monday to Friday 9.00am - 12 noon. 
KAIWAKA POST OFFICE:Ph:4312 431  
Post Code: 0573 for RD2 and 0542 for all Kaiwaka Post Office mail 
KAIWAKA PRIMARY SCHOOL: Ph: 4312309   
KAIWAKA SPORTS ASSN: Ph 4312005; 4312129 gym 
KAIWAKA ST. JOHN HALL: Phone Marj  0272941227  
KATE'S PLACE Community Centre - Employment services, Free Health 
Nurse, Plunket, Advocacy, Osteopath, A.A., Legal Advice. 4312 661 
LINKING HANDS Health Shuttle Ph 4315906 or 09 4318969 
MINISTRY FOR PRIMARY INDUSTRIES - General inquiries Call 
Free 0800 008 333 
NORTHPOWER: Faults Kaiwaka area 0800 104040 
OTAMATEA COMMUNITY SERVICES: Counselling, parent coach, 
Family Support worker, budget advice, food bank. Mon-Fri 9am-3pm. Ph 
09 431 9080 http://www.otamateacs.org/ 
PARENTPORT: Free, practical family support service Puhoi to Paparoa 
Ph or txt: Dianne 027 280 5093 or 09 425 9357 
PLUNKET:  Kaiwaka  -Kate's  Place  Clinic  1st  Wednesday  of  the  month; 
Mangawhai  - Rose Madsen Cottage: Coffee Group 9:30 every Monday.  Clinic 
every Monday and Thursday. 
Maungaturoto - Good News Church, Clinic 2nd and 4th Wednesday.  
Cynthia 09 431 7340 or 027 675 3488 
PLUNKET HELPLINE -0800 933 922 (24 hours) 
TAITOKERAU COMMUNITY LAW: Free confidential legal advice and 
assistance, 2nd
Thursday
 of each month. Ph: 0800 155 529 for apps.  
TE URI O HAU Settlement Trust Tangata Developments: Whanau Ora 
021 793262  
VETERINARY SERVICE MANGAWHAI: 
Ph: 4314535 Mon-Fri 8.00-5.00, Sat 9-12, a/h appt. 
WELLSFORD DOCTORS: Ph: 4238 086 
CHURCHES:
 
Kaiwaka  Revival  Church  -  Your  Community  Church:  Sundays  10am. 
Ph: Pastor Tawhiri 09 431 8988 or Pastor Paul 09 4312 068 Visit us at 
www.facebook.com/kaiwakachurch or www.kaiwakarevival.co.nz 
 
St  Paul's  Anglican  Church  1st  Sun.  9.00am  (Eucharist),  3rd  Sun. 
9.00am (Family Service). Contact: Rev. Wayne Thornton Ph 431 4122 
www.mangawhaianglican.org.nz 
 
Church of Christ the King, Mangawhai:9.00am every Sunday 
 
St.Mary's  Catholic  Church:  Maungaturoto  –  Griffins  Road,  Saturday 
evening  Vigil  Mass  6pm;  Mangawhai  –  Senior  Citizens  Hall,  Sunday 
Mass  8:30am;  Wellsford  –  Matheson  Road,  Sunday  Mass  10:30am;  
Mid-week Mass times and all enquires to Fr. Bill Fletcher – phone 423 8170
 
Baptist Church: Sun. 10.30am Mangawhai Snr Cit.Hall.Ph:4312339 
 
Cause  Way  Church  Mangawhai:  Sundays  10.15am,  Mangawhai 
Community  Recreation  Centre,  Insley  St.  Ph:  09  4314782