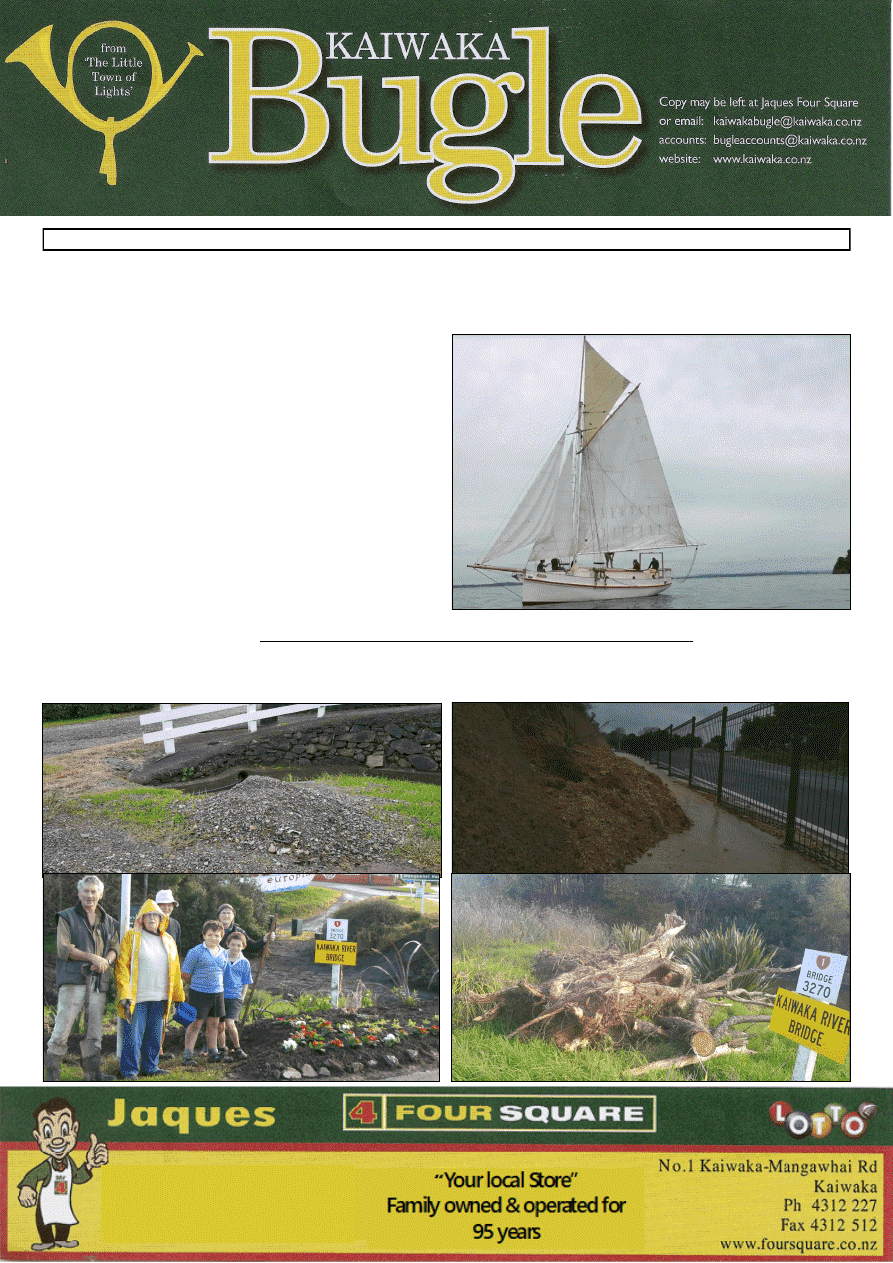 www.kaiwaka.co.nz 
Kaiwaka Bugle - 26 May, 2020 
Page 1 
No: 12 
 23 June 2020 
WINTER HOURS: 
Monday - Friday 8am – 6.30pm 
Saturday 8am – 7pm 
Sunday 9am - 6pm 
KAIWAKA CLEAN UP OR NOT ... 
The storm of Sunday 31 May left rather a mess in our township; sadly we have seen only a partial clean up, especially 
from the township to the school. Below a before (2011) and after at the Kaiwaka Bridge 
Update from Waiheke Working Sail: 
THE KATE IS SAILING! 
Actually, we've been out twice with the mainsail. The first time was forecast wind E. 15 – 20 knots, so we put a reef in as 
a precaution. As well we did, it blew up to 25 kn plus! We pushed her hard and dipped the lee rail under. We lowered the 
staysail, and she handled the brisk conditions easily. Stretched the rigging, and found several leaks in the topsides, where 
the dry weather has shrunk the planks.  
The  second  outing  was  a  much  gentler  affair.  A  light 
Southerly  saw  us  sail  off  the  mooring  and  tack  out  of  the 
inlet, then sailing to and fro for a photo shoot, the crew each 
taking  a  turn  at  the  helm.  We  even  tried  out  the  topsail, 
donated  by  Dave  Giddens  who  made  the  sails,  and  it  fits 
perfectly!  
Then  it  fell  calm,  and  we  motored  home  with  a  2hp. 
outboard on the dinghy alongside. We're very pleased with 
the  Kate's  performance;  she  sails  well,  answers  the  helm 
readily and is nicely balanced, a delight to steer.  
Our  big  fundraising  targets  now  are  for  the  engine  and 
propeller, and eventually certification under MOSS (Marine 
Operator Safety System). We still have the beautiful prints 
for sale, now portraying a dream come true, and any money 
you  can  donate  is  tax  deductible,  much  appreciated. 
Donation  details  are  on  our  website:    https://
www.waihekeworkingsail.org/ 
Thanks, Bernard Rhodes, Waiheke Working Sail Charitable Trust 
Check out our latest video https://vimeo.com/398121337 
See also, Kaiwaka Bugle No 19 1 October 2019 and No 20 15 October 2019 - Nine Lives of a Kaipara Cutter. 
WINTER HOURS: 
Monday - Friday 8am – 6.30pm 
Saturday 8am – 7pm 
Sunday 9am - 6pm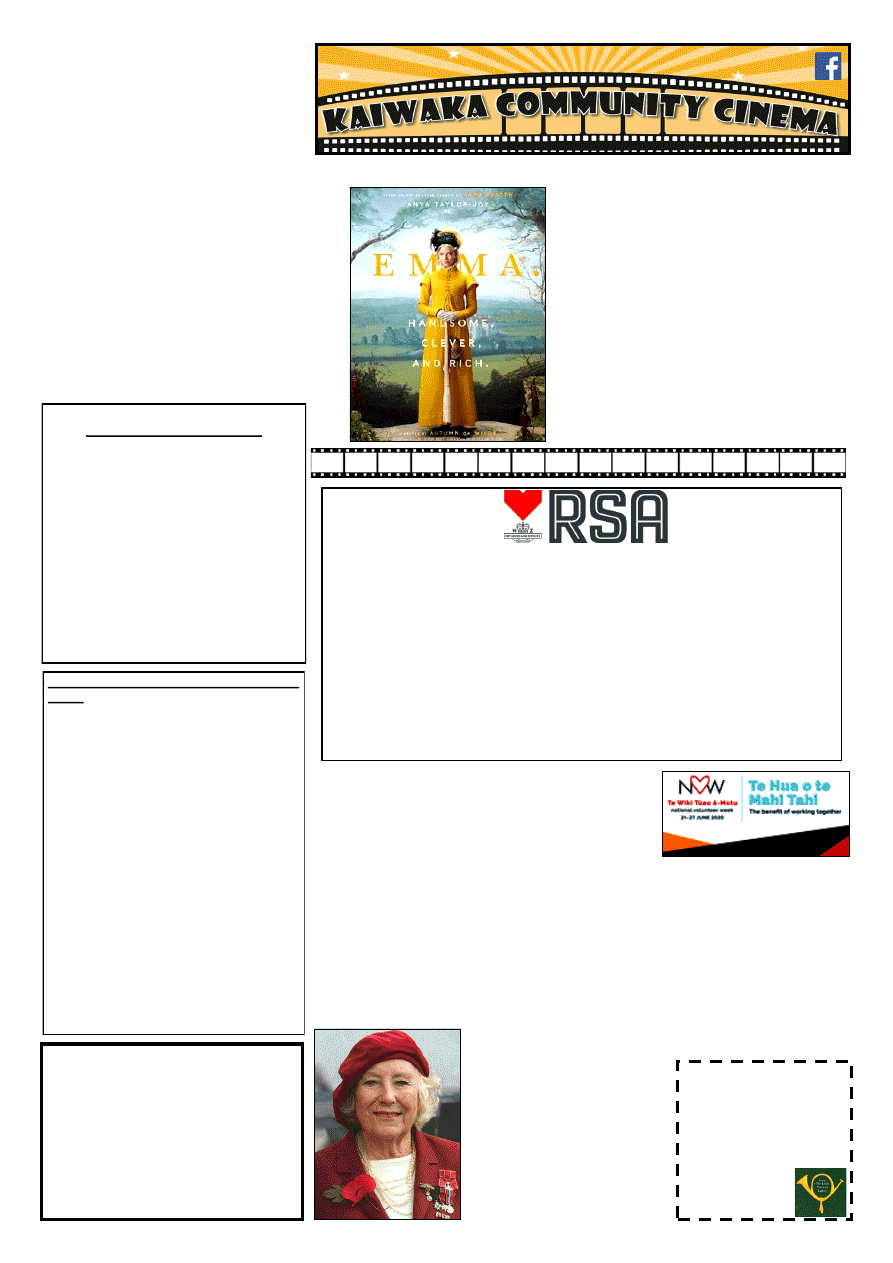 At Kaiwaka War Memorial Hall . Adults $10, Kids (under 16) $5, Family Pass (2 adults + 3 children) $25 
KAIWAKA BUGLE No. 12 
23 JUNE 2020 
CONTENTS 
Page 3: Public Notices, Classified 
Page 5:  Jaques;  Masks 
Page 7: Kaiwaka Can;  
Page 9: OCS; Rotary; Kaiwaka School; 
Page 11: Pt. CCC; Otamatea & Eastern 
Rugby; Fitness 
Page 13: Niagara Sinks;  Museum 
Holiday Programmes 
Page 15:  Kaiwaka Library 
Bugle 13 will appear 7 July 2020 
Contact for advertising, reports, articles 
or information can be made by 
Email kaiwakabugle@kaiwaka.co.nz 
Ph: 09 4312 045 Lindsey 
Txt: 027 2724137 
Copy  may  be  left  at  Jaques'  Four 
Square. 
Kaiwaka Bugle 
Founded May 1978 
We appreciate articles and photos about local 
events, etc, as well as ads and suggestions. 
Copies available in Kaiwaka at Jaques Four 
Square, Kaiwaka Postal Centre, Shamrock 
Service Station, Animal Health Centre, 
Kaiwaka St John shop. 
Also outlets in Maungaturoto, 
Mangawhai and Paparoa. 
Can be viewed online at   
www.kaiwaka.co.nz/Bugle  
Or a copy can be posted to you if you supply 
stamped, self-addressed DLE envelopes. 
Kaiwaka 
Bugle 
Advertisements 
2020: 
All 
copy 
and 
queries 
to: 
kaiwakabugle@kaiwaka.co.nz 
The Bugle is printed on an A4 page   
Ad  sizes:  1/16  page  (3  x  9.5cm)  $5;  1/8 
(6.5  x  9.5cm  landscape  or  portrait)  $8; 
3/16 ( 10 x 9.5cm or 7.5 x 12,5)  $12.  
Classified  ads:  First  one  FREE,  $4  per 
entry (max. 30 words, max. 4 repeats). 
Payments  can  be  made  online  at 
ANZ 
06  0365  0006990  00
,  posted  or  left  at 
Jaques Four Square Store. 
We  use  Microsoft  Publisher,  and  can 
work  with  most  common  image 
formats, Word, Excel, and PDF files. 
Accounts:  
Email: bugleaccounts@kaiwaka.co.nz 
The  Kaiwaka  Bugle  is  a  community 
newspaper run by volunteers, as part of 
the Kaiwaka Media Group Inc.   
Articles, etc. printed are not necessarily 
the opinion of the Bugle Team. 
ABOUT TOWN 

 Special  Happy  Birthday  to  Thelma,  our 
Scrapbook lady! 

 Our sincere condolences to the family of Frank 
Silby who passed away last week 

 Great  to  see  the  rugby  season  underway  -  the  Otamatea  HAWKS  were 
pleased with their 46-24 win over Dargaville Old Boys over the weekend; the 
HAWKS Women had a tough game against Kaikohe with a halftime score of 10
-5, took a loss at 29-15. 

 Otamatea  Netball  begins  their  10  week  season  next  Saturday  27  June  -  all 
players need green boylegs ...  

Take a bow, Volunteers! National Volunteer Week 2020 will run from June 
21-27, 2020 - celebrating the collective contribution of over 1 million volunteers 
who enrich our communities.

 Kaiwaka 
Bugle 
No. 
12 
is 
online 
at 
www.kaiwaka.co.nz  and  is  in  print  for  our  local 
READERS. 
Lindsey, Ed
"We'll  meet  again,  Don't  know 
where, don't know when, 
But  I  know  we'll  meet  again 
Some sunny day. 
Keep  smiling  through,  Just  like 
you always do, 
'Till the blue skies drive the dark 
clouds far away..." 
We  remember  Dame  Vera 
Lynne who passed away 18 June 
at 103 years of age. 
Proverbs 11: 29 
Exploit or abuse your 
family and end up with a 
fistful of air; common 
sense tells you it's a 
stupid way to live.  
  EMMA 
Friday 26 June, 7.30pm  (PG) 
Jane  Austen's  beloved  comedy  about 
finding  your  equal  and  earning  your 
happy  ending,  is  reimagined  in  this 
delicious  new  film  adaptation  of 
EMMA.  Handsome,  clever,  and  rich, 
Emma  Woodhouse  is  a  restless  queen 
bee  without  rivals  in  her  sleepy  little 
town.  In  this  glittering  satire  of  social 
class  and  the  pain  of  growing  up, 
Emma 
must 
adventure 
through 
misguided  matches  and  romantic 
missteps to find the love that has been 
there all along. 
KAIWAKA BUGLE 
DEADLINE DATES 
2020:   
Every second Friday
July 3, 17, 31 
August 14, 28 
September 11, 25 
October 9, 23 
November 6, 20 
December 4 
HAKARU & DISTRICTS MEMORIAL RSA (INC) 
ANNUAL GENERAL MEETING 
Please take note that the Annual General Meeting of the Association will be 
held at the Clubrooms, 733 Settlement Rd, Hakaru  
at 2pm – 4pm on 19th July 2020 
BUSINESS 
1. Receive apologies. 
2. Confirm minutes of the AGM held 5 May 2019 
3. Presentation of Annual reports and accounts. 
4. Election of Executive and committee 
5. Remits/Notices of motion to be presented at the AGM are available at the 
Clubrooms from 5th July 2020   
~ Bill Warren, President 
www.kaiwaka.co.nz 
Kaiwaka Bugle - 26 May, 2020 
Page 3 
PUBLIC NOTICES 
CLASSIFIED 
KAIWAKA ST. JOHN OP SHOP 
As  this  is  Volunteer  Week  a  Big  shout 
Out  to  all the volunteers in  our  great little 
community,  without  you  lots  of  things 
would not be achieved. 
Special  mention  to  my  team:  Gale, 
Dianah,  Brigid,  Ortrud,  Diane,  Isa,  Maureen  and 
Pricilla for all those tireless hours helping to keep our 
little store afloat. 
We  are  in  need  of:    Winter Bedding, Towels, and 
Bric a Brac.   
Our Ambulance Bay is very low on Larger Furniture 
items  so  if  you  would  like  to  donate  please  call  the 
shop for a time to bring those items in. 
We  raise  money  to  keep  those  Ambulances  on  the 
road servicing our Community and without donations 
we  would  not  be  able  to  do  this,  so  a  Big  THANK 
YOU to all those who have donated. 
 Shop Hours are Tuesday to Friday 10am to 3 pm  
and Saturday 9am to 1pm. 
PHONE: Shop  43121650  or  Dianne  0274627567 
 Check us out at 1919 SH1, Kaiwaka
HAKARU HALL ACTIVITIES 

Monday:  Line Dancing 9.45 -12pm Ph 4315160 

Wednesday: Afternoon Dance Energy  
Lisa Ph. 0275610469 

Wednesday: Evening Music Jam Session      
Dennis Ph. 0210628631 

 Thursday: Pilates 9 - 10am Ph. 0220643965 

Sunday: Canine Coaching Ph 0272365004 
 Hall Bookings 
lorrainehepple@gmail.com 
0272846162              
OTAMATEA REPERTORY THEATRE 
ORT will be running a drama workshop throughout 
the second week of the next school holidays. 
13 - 17 July 2020 
9am until 3pm 
Tutors Peter and Maura Flower 
Cost is $100 for the week for ORT members.  Non-
members will be required to pay a subscription of $20.  
We will be taking only 30 participants. 
This  will  be  a  bit  different  to  our  recent  workshops  as 
there will be no big show at the end. 
Instead,  we  will  be  focussing  on  acting  skills,  games, 
characterisation. 

Drama builds confidence.  

Drama helps concentration.  

Drama helps develop language and communication.  

Drama encourages children to cooperate.  

Drama supports numeracy skills.  

Drama helps children to understand the world  
   around them.  

Drama develops emotional intelligence. 
To register, send an email to 
maura.flower@gmail.com or text 022 354 2670 
FOR SALE: Budgie Cage and Stand, $50 ono.  
Phone: 021 082 06418 
FOR  SALE:  Dry  Pine  cones  -  $5  and  $10  bags. 
Phone: 09 4312040 
FOR  SALE:  Table,  8'x4'  prev  for  boardroom.  Black 
laminate  detachable  top  in  very  good  condition.  Very 
heavy  -  $130;  6  chairs,  black  vinyl.  Comfortable  but 
worn - free.  Phone: 09 4312449. 
WANTED:  A block of land to rent - under $350 pw, 
that  is  spray  free,    so  I  can  put  my  tent  (am  self 
contained)  &  animals  (chickens,  ducks  &  kittens)  on. 
Phone Mar 022 4898784 
HAKARU TRANSFER STATION 
636 KAIWAKA-MANGAWHAI ROAD 
Open every day 10am - 4pm ~Closed All Public Holidays 
Telephone: 09 431 2629 
For more information please 
phone 431 2092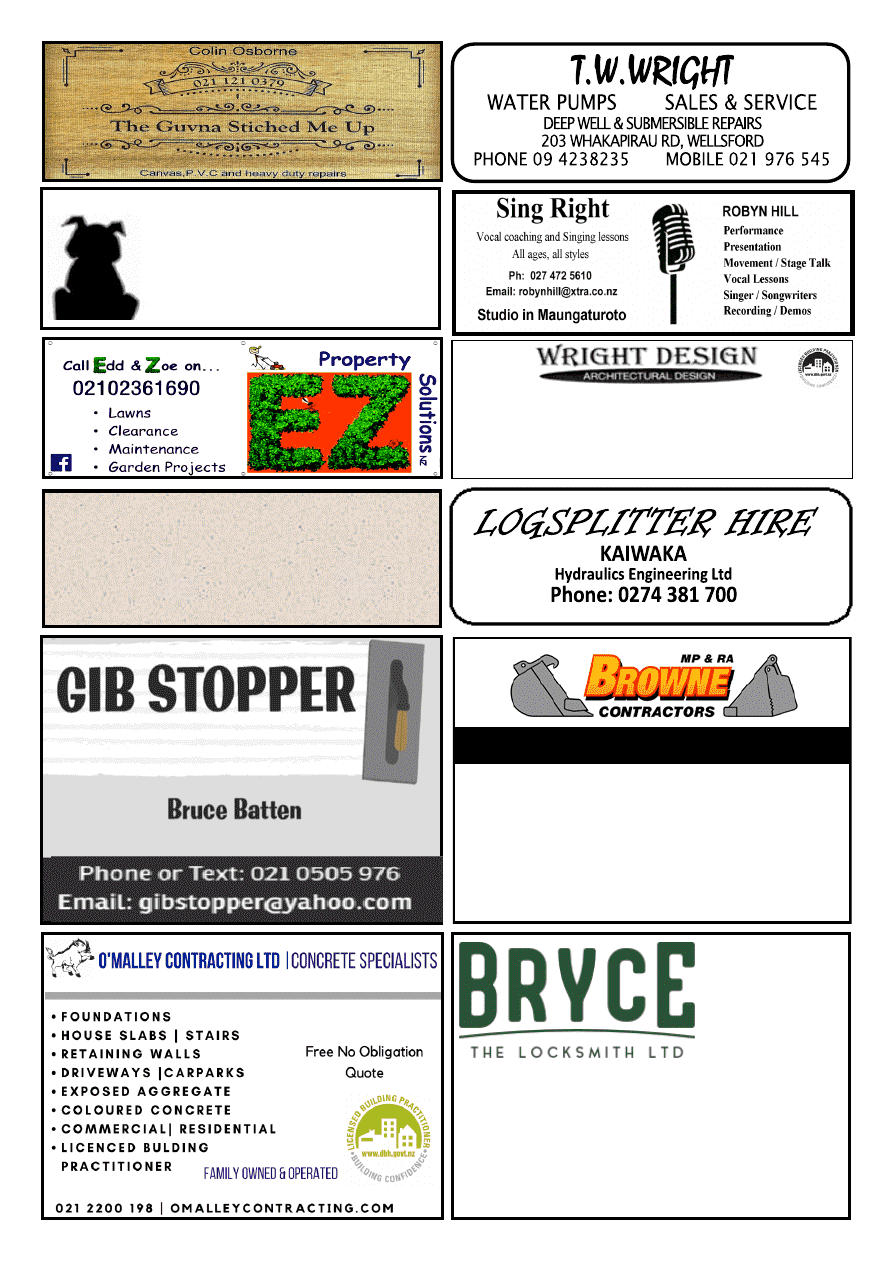 4Tonne DIGGER – BOBCAT – TIP TRUCK 
 Property Maintenance - Driveways  
 Building Sites 
Stump & Tree Removal  
Hole Boring - Chain Trencher  
Calf Shed and Stockyard Cleaning 
Phone Matt: 021 199 6677 
Email: mprabrownecontractors@gmail.com 
Counsellor and Registered Psychotherapist 
Offers Supervision
Susan Matheson 
MNZAC 
Dip. Psychosynthesis Counselling and Psychotherapy 
Phone 09 431 2996                        Mobile 027 605 2427 
No. 117345 
N.Z.C.A.D., L.B.P. 117345 Design 1 & 2 

50 years experience 

All designs/plans council guaranteed 

FREE local site/house visit 

Plan printing available from A4 to A0 
Mob: 021 276 7369 
Office: 3 John Sinclair Avenue, Wellsford    brianwright@xtra.co.nz 
Bryce Frewin 
Ph: 021 850 983 
Kaipara Based Master Locksmith 
bryce@brycethelocksmith.co.nz 
www.brycethelocksmith.co.nz 
Kaipara Dog Training Club 
Mangawhai Domain, Moir Street 
Every Wednesday Night from 5.30pm 
Please contact the Secretary  
for further information 
kaiparadogtrainingclub@gmail.com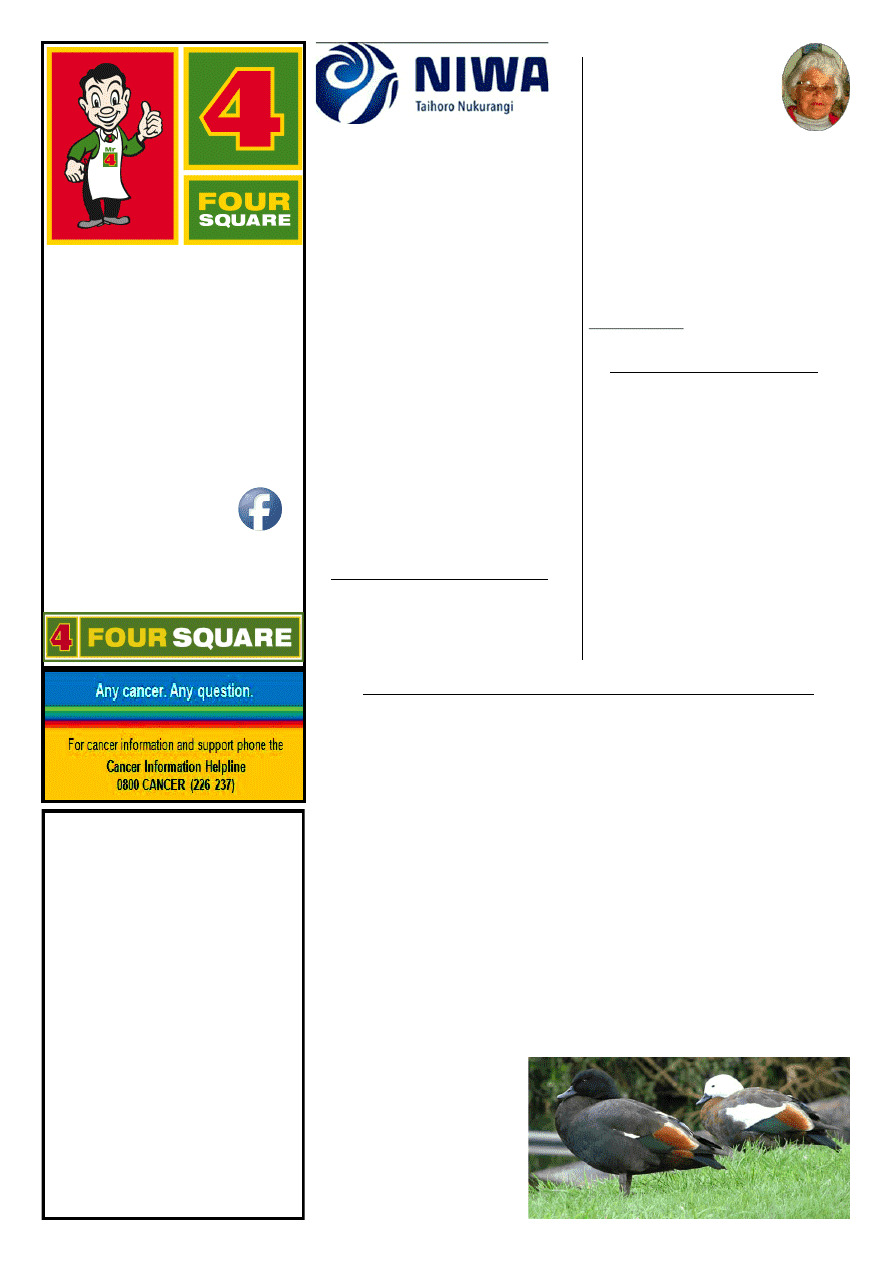 www.kaiwaka.co.nz 
Kaiwaka Bugle - 26 May, 2020 
Page 5 
From Thelma's 
Scrapbook...  
RECIPE FOR LIFE. 
Take two parts of 
unselfishness and one part of 
patience.  
Work them together, add plenty 
of industry, lighten with good 
spirits, and sweeten with kindness. 
Add good deeds as thickly as 
raisins in a plum pudding and bake 
with warmth from a tender heart. 
WARNING: If the recipe fails 
don't blame it – you're just a bad 
cook! 
1.If  I  agreed  with  you,  we'd  both  be 
wrong. 
 2.  War  does  not  determine  who  is 
right - only who is left. 
 3. Knowledge is  knowing a tomato is 
a  fruit.  Wisdom  is  not  putting  it  in  a 
fruit salad. 
 4.  They  begin  the  evening  news  with 
'Good  Evening,'  then  proceed  to  Tell 
you why it isn't. 
 5.  To  steal  ideas  from  someone  is 
plagiarism.  To  steal  from  many  is 
called research. 
 6. I didn't say it was your fault, I said I 
was blaming you. 
 7. Behind every successful man is his 
woman. Behind the fall of a Successful 
man is usually another woman. 
 8. A clear conscience is the sign of a 
bad memory.
 Everything you need 
All in one place 
We're Here 
OPEN 7 DAYS 
. 
In Store Fresh Bakery,  
Hot Chicken, 
Mussels,  
Fresh Fruit & Vege,  
9kg Gas & Sodastream Gas 
Bottle Swap, 
Lotto & ATM 
JAQUES FOUR SQUARE 
Phone: 4312227 
1 Kaiwaka-Mangawhai 
Road, Kaiwaka. 
WINTER  SOLSTICE   
9:43am on Sunday 21 June. This is the 
point from which New Zealand and the 
rest of the Southern Hemisphere begins 
to get more daylight as the sun's angle 
in the sky starts to increase. 
From south to north here is how many 
hours, minutes, and seconds of daylight 
there was on Sunday:  

Scott Base 0.00.00 

Auckland Island 7:57:13 

Invercargill 8.35.00 

Dunedin 8.39.12 

Christchurch 8.56.22 

Wellington 9.11.23 

Nelson 9.11.30 

Hamilton 9.32.36 

Tauranga 9.33.12 

Auckland 9.37.54 

Kerikeri 9.46.43 
Most  places  will  have  two  or  three 
minutes  more  daylight  by  the  end  of 
June,  although  the  longer  days  will 
become  more  noticeable  by  the 
beginning  of  August  when  day  length 
will  be  40  to  60  minutes  longer 
depending on your location. 
Maungaturoto Recreational Society Inc 
Annual General Meeting 
Tuesday 21st July 2020 at 7.00pm  
will be held in the Clubrooms at 
84 Bickerstaffe Road Maungaturoto   
Willow Bend
HORSE  
HOTEL 
#
Total Horse Care    
# 
Agistment 
# 
Riding Lessons    
#
 Arena Hire (60x40) 
# 
Young Horse Starting 
# 
Re-training/Exercising 
#
Hoof Trimming    
# 
Problem Solving 
Phone Sue  
09 431 2817  
or 021 623 776  
Or email  
susanjoll11@gmail.com 
PUTAKITAKI 
MUCKING UP PARADISE 
For five years we have enjoyed the return of a putakitaki pair to the paddock 
outside  the  pasture  gate.  The  honk  and  zeek  of  their  conversation  became 
familiar
.    Ref.  https://www.doc.govt.nz/nature/native-animals/birds/birds-a-z/paradise-duck-
putakitaki/ 
Until this year that is. 
My mind was drawn to their non-appearance on a property 5km away yesterday 
when a calling pair flew by. 
Before living on Oneriri, I had once seen putakitaki, in a willow at Christchurch 
Botanic Garden, sitting quietly, being beautiful. Their distinctive plumage and 
rarity prior to bush clearance indicated why Christian settlers called this native 
species the 'paradise duck". 
Ref. https://en.wikipedia.org/wiki/Paradise_shelduck 
Research  through  Wikipedia  suggests  pairs  mate  for  life  and  are  territorial 
which is probably the reason we have seen just one pair in our pasture. An extra 
white-headed  female  had  lingered  at  a  distance  once  or  twice  a  year  or  two 
back,  possibly  a  late  youngling  wanting  its  parent.  It  was  chased  off  by  the 
male. They breed only in New Zealand, had to be protected a century ago, and 
some are said to live 23 years. 
Observers say the population expanded after bush clearance and swamps were 
drained  for  grazing.  Little  wonder  they're  on  ponds  and  dams.  Are  they  a 
problem in the Kaiwaka area? 
Be worth knowing. 
But next time you have a gun 
and see a putakitaki pair wing 
their  way  to  familiar  homes, 
remember  these  shelducks 
mate  for  life,  and  that  some 
neighbours will be sad to see a 
loner. HP  
(Photo: Michael Hamilton)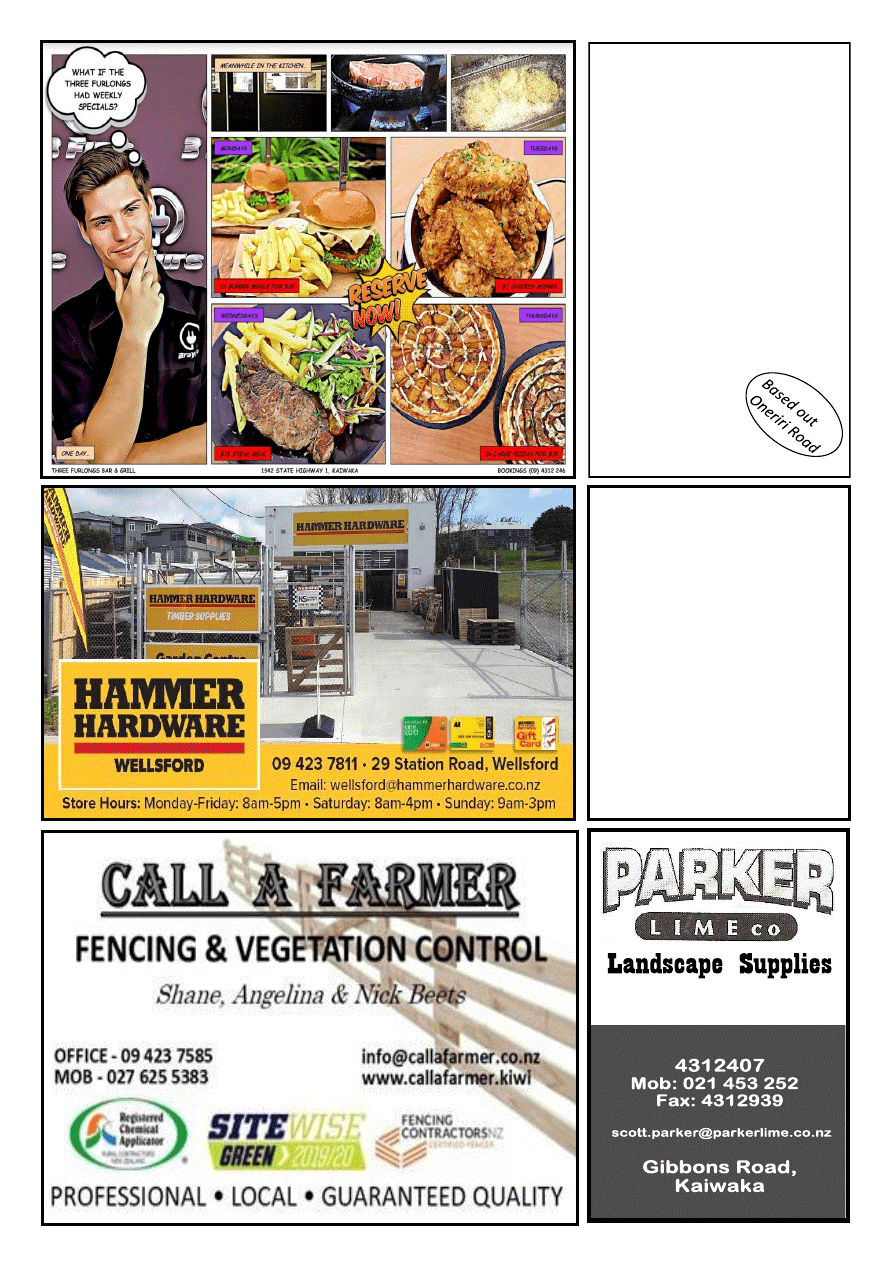 HODGETTS 
CONTRACTING
Digger Work    
Driveways   
House Sites  
Dams      
Drains, etc
Also available for HIRE 
3 ton Vib Roller  
Heavy Duty Tow  
Waterblaster      
Lazer Level
Phone Mark  
4312877 
027 447 8554 
WHERE TO GET HELP 

1737, Need to talk? Free call or 
text1737 to talk to a trained counsellor  

Rural Support Trust 0800 787 254   

Lifeline, 0800 543 354  

Youthline, 0800 376 63, text 234, 
email talk@youthline.co.nz or online 
chat 

Samaritans, 0800 726 666  

Depression Helpline, 0800 111 757   

Suicide Crisis Helpline, 0508 828 
865 (TAUTOKO)      

In a life-threatening situation 
call 
111
Bulk Cartage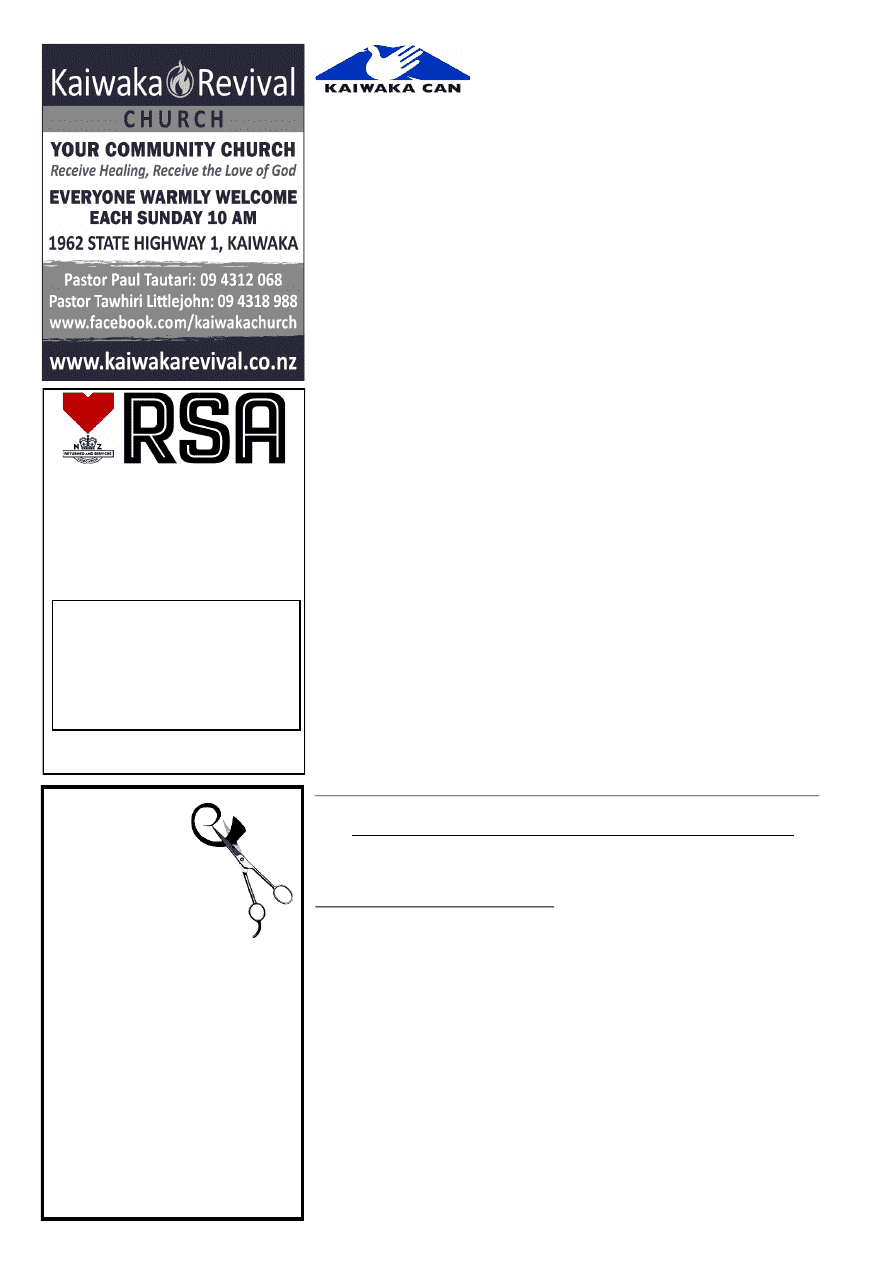 www.kaiwaka.co.nz 
Kaiwaka Bugle - 26 May, 2020 
Page 7 
HAKARU & DISTRICTS 
MEMORIAL RSA (INC)
Members & guests are invited to 
come along and enjoy our hospitality. 
New members welcome. 
Meals are served on 
Thursday and Friday nights 
from 6.30pm. 
Order from Blackboard Menu  
The sing along with Des Chitty is the 
Last Friday of the month. 
For more information please phone 
Bill on 431 2092  
Kaiwaka Can had its first meeting last Wednesday, first since March so a lot to 
catch  up  on.  We  spent  most  of  the  time  talking  about  the  future  shape  of 
Kaiwaka as outlined in the Spatial Planning document. 
Fascinating  piece  of  work 
– traffic lights, realignment of Oneriri Road, lots 
of  walking  tracks,  new  town  centre  covering  the  whole  corner  block  SH1  and 
Kaiwaka Mangawhai Road, lots of space for housing (2200 lots) and a new light 
industrial area just north of the Coffee Pot. Now before you get too excited it has 
yet to be moulded into the new district plan and that may take a while. 
But what we are interested in is looking  now for the things we would like to 
see built into it that will be of direct community benefit. The time to start that is 
now so that we can prioritise and present to Council a series of projects, ideally 
shovel ready in the new jargon so that we don't have to scramble round later and 
say we should have put that in or that in. 
Here's  where  you  come  in. 
If you had a blank canvas for Kaiwaka's future, 
what would you like to see? 
Active  and  passive  recreational  space: 
What  do  we  need  for  a  town 
expected to grow towards 5000? Parks, nature areas, specialised sports zones? 
Walking  and  cycling  tracks: 
It is a lot easier to draw in the outlines now 
before land gets sold and carved up. How can we make Kaiwaka a very walker 
and cyclist friendly space? Where would you put them? 
McClean  Park: 
How would you maximise and beautify its use? Ideas already 
suggested  included  kayaking  pontoon,  dog  exercise  area  (especially  for 
travellers), memorial garden, upgraded picnic areas? 
How would you cater for young people?  What would they like for recreation 
and where could it go? 
Cleaning  up  existing  eyesores? 
What spaces even now would you like to 
clean up, replant and make our town more beautiful? 
Making  Kaiwaka  and  its  opportunities  known? 
How would you let the 
rest of country (and especially Auckland) know what a great place it is for small 
businesses, for homes, for commuting and for retirement? 
And what sort of retail facilities would you like to see? Kaiwaka is aiming to 
be unique, always interesting, 'funky' in the words of the spatial plan.  
What are the sorts of interesting and specialist shops we could bring in? 
Services? 
How  would  you  cater  for  medical  needs,  social  service  needs, 
internet services...and any others that come to mind? 
So  let  your  imagination  go. 
And let us know in Kaiwaka Can remembering 
that everyone is welcome any time to come along to meetings and say what you 
think is needed. 
If  you  want  to  see  the  Spatial  Plan  as it is  now, look  at,  bearing  in  mind  it  is 
long? 
https://pub-kaipara.escribemeetings.com/filestream.ashx?DocumentId=1055 
Derek Christensen, Chair Kaiwaka Can 
099469077 or 0273572751 or derekandisa@gmail.com 
JUST 
CUTS 
and 
MORE  
1758 Cove Road  
Open Monday-Saturday  
by appointment only 
Saturday 9-12pm  
Affordable prices: 
Ladies cuts from $35 
Colours from $120 
Men's from$25 
Kids from $18 
0211652629  
From the Kaiwaka Spatial Plan: 
4.4 | Key Moves_Town Wide_Overview  page 105 
LET YOUR IMAGINATION 
RUN RIOT! 
The spatial plan for Kaiwaka envisions the:  

Expansion of the existing shops and 
creation of a new town centre off SH1 
and beside Kaiwaka River  

Reduce speed of vehicles through 
Kaiwaka and significantly improve the 
environment for pedestrians and 
cyclists  

Create a new open space and public 
access network  

Identify, establish, and protect green 
and blue networks as part of new 
developments to protect waterways, 
create ecological connections and 
stabilise steep and erodible slopes  

Develop business and residential area 
around new town centre, schools and 
sports ground  

Create new road behind existing 
commercial buildings west of SH1, 
creating a new intersection at 
Kaiwaka/Mangawhai and Oneriri Road  

Integrate two new signalised 
crossings on SH1  

Develop new industrial area north of 
Kaiwaka on SH1  

 Create greenfield reserve as a buffer 
between new industrial area and new 
town centre  

Develop walking and cycling network 
around new town centre and through 
existing and new residential areas  

 Upgrade Kaiwaka's underground 
walkways to improve access and safety  

Introduction of effective working 
relationships with existing land owners 
to instigate riparian planting alongside 
rivers/streams in rural areas to help 
create shared access in and around 
Kaiwaka  
Ref: KDC SPATIAL PLAN Kaiwaka (Resilio Studio, AR + 
Associates Limited | April 2020 )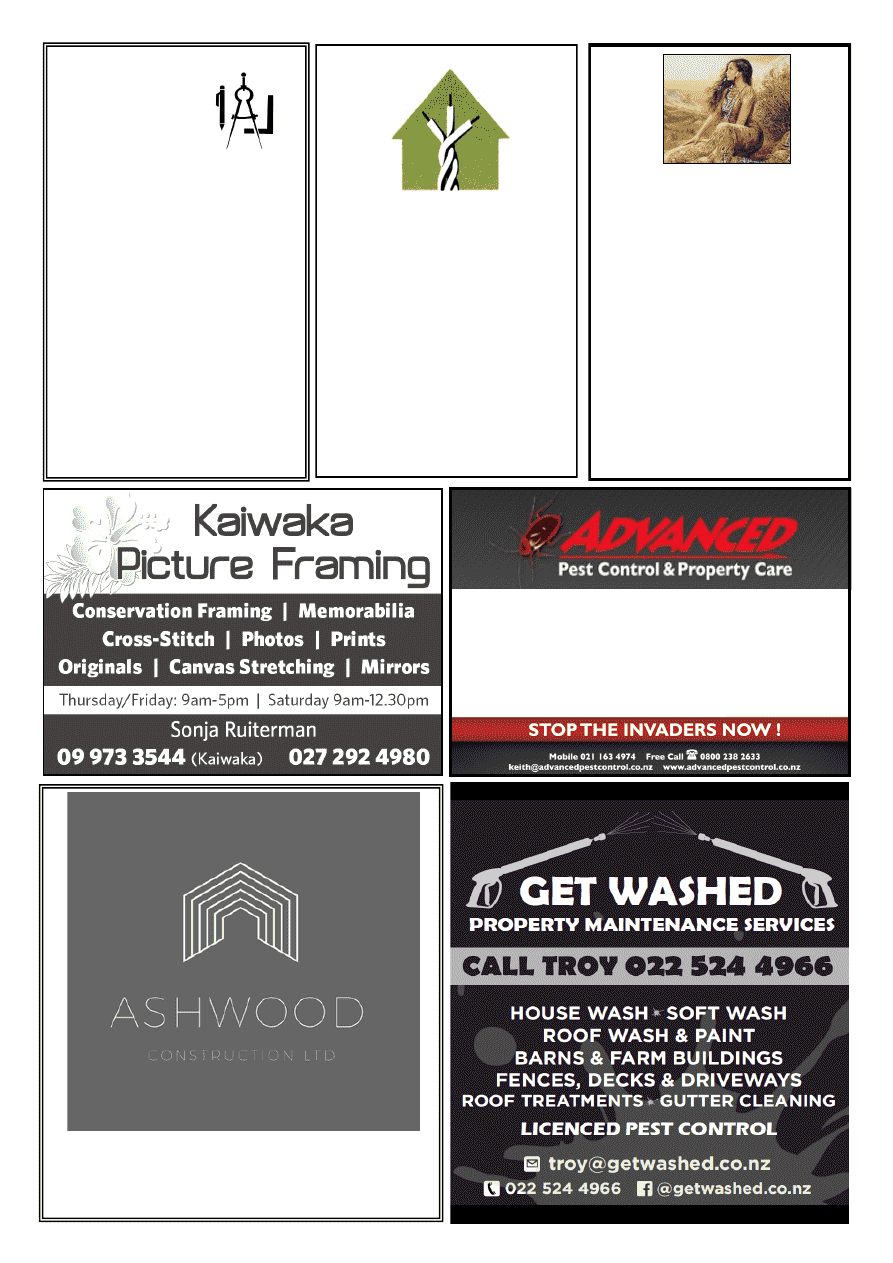 Reyahn George 
Leng 
Registered Electrician 
Local, honest and reliable. 
For your residential and 
light-commercial projects. 
022 314 1068  
Pest Control 
PLAN A: One-off treatments to customers with a specific pest problem 
PLAN B: Full maintenance service plans to commercial customers. 
This will include documentation kept in customer file on site: 
⚫
Pest treated 
⚫
Date of service 
⚫
Chemical or baits used 
⚫
Full pest check report done after each treatment 
⚫
Fair and reasonable fee with guarantee 
Flood Recovery 
Carpet Care 
⚫
Carpet Drying   
This includes pre-spray treatments 
⚫
Dehumidifier Rental 
with stain removal and hot water extraction.  
⚫
Full Commercial Cleaning  Patch repair also available 
Upholstery Cleaning 
Full upholstery cleaning of all furniture.  
eg lounge suites and all office chairs 
Water Blasting 
⚫
Concrete - Decks 
House Washing 
⚫
Soft Chemical Was 
⚫
Pre-painting Wash 
Property Services 
⚫
Property Cleaning  
Lawn Mowing 
⚫
Hedges General  Tidy Ups 
TRAILS END 
RONGOA MAORI 
HEALING 
And Gifts 
Stocking all your needs from incense, 
crystals, dream catchers, greeting 
cards, jewellery, perfume, dragons and 
more  … 
For all inquiries  
Phone 0211652629  
Light refreshments available $5 koha  
1758 Cove Road Mangawhai
ASHWOOD CONSTRUCTION  LTD 
LBP registered 
New Builds Renovations Extensions Decks & more 
After a quote? Call Lee on 0223408353 
design  
drafting  
service 
Retired builder and manufacturer with 
over 40 years experience in the building 
industry is offering a design drafting 
service for domestic housing, sleepouts 
and sheds.  
Plans formulated in consultation with 
clients, with working drawings 
completed and submitted to  
council for processing.   
Extensive practical experience,  
able to identify & resolve problems. 
Please ring Mike Lean on 
09 431 2260  
or 
021 431 196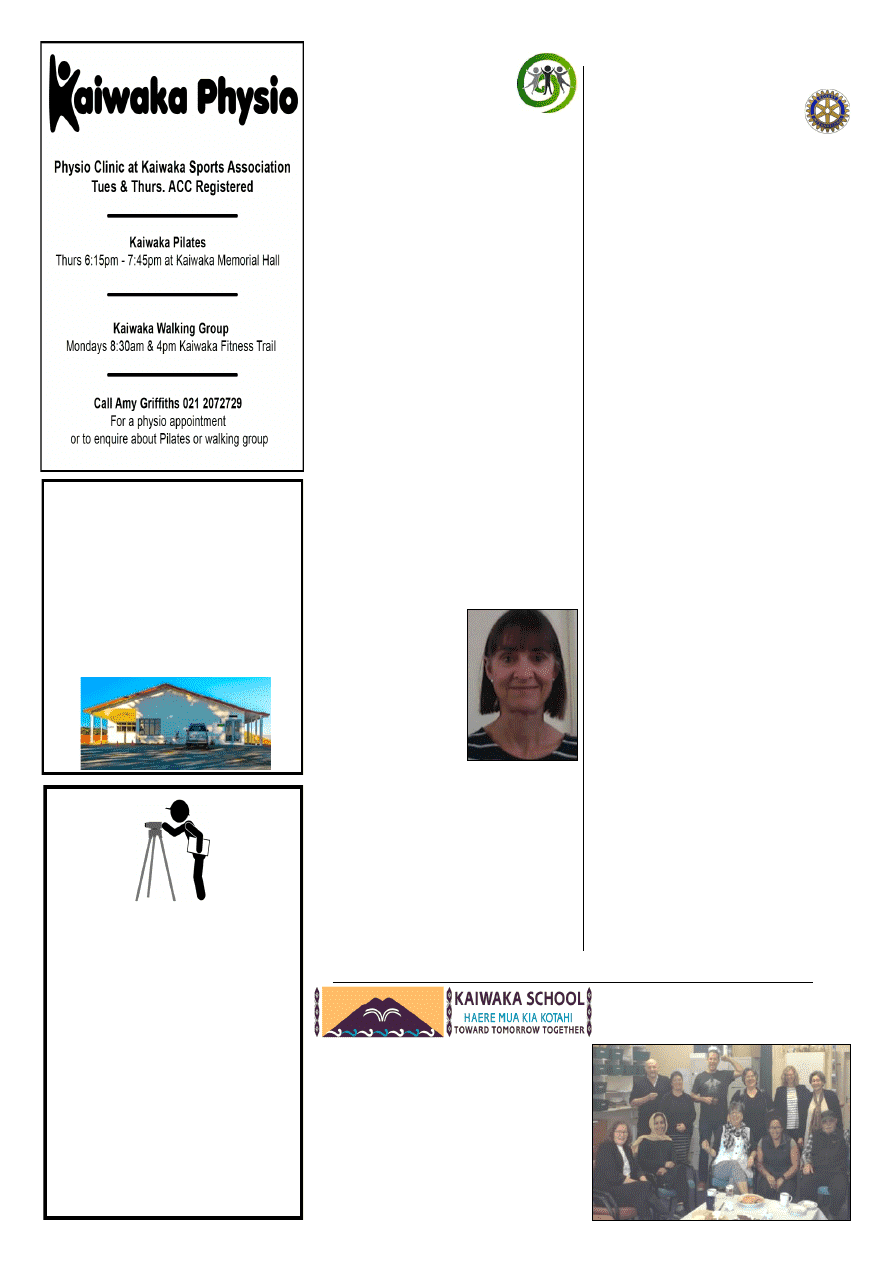 www.kaiwaka.co.nz 
Kaiwaka Bugle - 26 May, 2020 
Page 9 
Te Pounga Marae 
130 Nathan Rd. Oneriri. Kaiwaka 0573 
COMPLEX FOR 
HIRE 
Functions: * Weddings  * Birthdays  
*Anniversaries * Meetings  * Wananga 5 
hour meeting * 12 hour stay or Overnight 
*All welcome   
For more information please contact: 
 Pearl Nathan 0223933533 
Email: tepoungamarae130@outlook.com  
In the short time we have been 
able to get back together there 
has  been  a  great  deal  of 
discussion on the best way forward for 
our  club.  We  have  discussed  the  type 
of  projects  we  would  like  to  be 
involved  in.  It  has  been  decided  that 
getting  alongside  community  groups 
might be the best way forward.  
If  you  have  any  suggestions  of  areas 
that could be considered, please have a 
chat  to  any  Rotarian  (or  call  me, 
Eileen, on 0211420357) 
Tinopai School Visit 
On  Monday  15th  June,  several 
Rotarians  were  able  to  visit  Tinopai 
school  to  support  our  sponsorship  of 
Duffy  books.  As  a  sponsor  of Tinopai 
students  we  are  part  of  a  scheme 
started  by  Alan  Duff  about  25  years 
ago to ensure each student at a targeted 
school  gets  two  books  to  take  home 
and  keep.  The  scheme  also  provides 
books that can be given as prizes when 
certain values are attained. The aim of 
the  programme  is  to  encourage  young 
people to read. On this day the children 
(and  the  adults)  were  thoroughly 
entertained by three young people, just 
out  of  drama  school,  doing  a  play 
about  a  mythical  creature  –  a  chogen 
(part  chicken,  part  dog  and  part  hen.) 
This was very well done with minimal 
props  but  did  include  constant 
references to books that were on hand. 
Driver Mentoring 
We  are  very  proud  of  our  Driver 
Mentoring  scheme  which  was  able  to 
start  again  in  the  middle  of  June.  We 
have a new mentor in the wings which 
is great as we are getting more people 
wanting  assistance  in  obtaining  their 
restricted  licence.  Remember,  each 
applicant  must  have  their  Learners' 
licence,  but  there  are  no  age 
restrictions.  However,  I  need  to 
emphasise that the 12 or so lessons we 
give  people  only  make  up  a  small 
amount  of  the  recommended  practical 
driving  practice  between  the  two 
licences (120 hours). 
President Changeover night  
30 June is our Changeover night when 
Rodney  Tysoe  will  become  President 
for  the  ensuing  year.  While  Rotary  is 
an  international  organisation,  it  is 
always great to see how each President 
brings  in  their  personal  touch  to  the 
Club. 
We  look  forward  to  the  focus  that 
Rodney will deem important. 
He kura te tangata  ~ We are all precious 
. ~Eileen 
OTAMATEA 
COMMUNITY 
SERVICES 
Greetings everyone, so nice to see the 
rain,  but  there  comes  a  point  when 
there can be just too much.  Today as I 
write,  this  is  almost  the  case.  
However, we are grateful for it just the 
same. 
It is disappointing that our great Covid
-free  record  has  been  broken.    We 
were  doing  so  well,  but  we  were  told 
to  expect  more  to  appear.  I  know  we 
are all hoping that wouldn't come true, 
but I guess it was inevitable. 
Our  calendar  for  July  is  as 
follows: 
Monday  6:  Fun  &  Games  at  the 
Footprints Room, Anglican Church 
Tuesday  14:  Shopping  trip  to 
Whangarei – to be confirmed 
Wednesday  15: Chocolate Bingo – to 
be confirmed 
Wednesday  22:  Shopping  trip  to 
Whangarei 
For  any  information  on  any  of  the 
above  please  phone  The  Community 
House on 431 9080. 
The  first  seniors'  lunch  will  be  at  the 
St John Hall on Wednesday 6 August. 
Take care of each other 
From all at OCS 
From  the  OCS 
Team: 
Gail  Blythen  is  the 
Parent 
Coach 
at 
Otamatea 
Community 
Services,  and  is  able 
to  visit  you  in  your 
home  or  meet  at  our 
community  house  to 
help  with  any  parenting  questions  or 
difficulties you may have. 
She  will  work  with  you  to  find  out 
about  your  parenting  style,  the  things 
that  you  do  well  and  the  things  you 
would like to improve. 
You  will find that  having  a  collection 
of  parenting  tools  that  are appropriate 
to  your  child's  age  and  development 
will give you confidence and help with 
consistency in your parenting journey. 
Gail looks forward to meeting many of 
you throughout the Kaipara area. 
MAUNGATUROTO & 
DISTRICTS ROTARY 
Ken Urquhart 
BSurv Licensed Cadastral 
Surveyor 
KMU  
Surveys Ltd
467 Bickerstaffe Road 
RD 2 
Maungaturoto 0587 
Ph 09 431 8705 
Mob 021 161 2344 
kenurquhart@xtra.co.nz 
From Principal, Sharlene Tornquist  
The  school  is  looking  for  'Reading 
Angels'  to  come  in  and  listen  to  the 
children  read.  The  children  will  reread 
books  they  have  already  read  with  the 
teacher.  This  will  help  the  children  to 
get  better  at  reading.  If  you  would  like 
to  help,  please  contact  me  at  school  - 
094312309. 
3rd July -End of Term 
Pictured:  Kaiwaka School Teacher Aides 
KAIWAKA 
SCHOOL 
SURVEYORS 
SUBDIVISIONS 
HOUSE SITE SURVEYS 
CIVIL ENGINEERING 
WASTEWATER DESIGNS 
EXPERIENCED 
PROFESSIONAL 
INNOVATIVE 
Ph 09 431 5353 
0800 PACIFIC (0800 722 434) 
pacificcoastsurvey.com
Adam Booth - 027 415 5752 
Bsurv, Licensed Cadastral Surveyor
Surveying Kaipara since 1994 
At Twinkle Tow 'n' Tyre 
Mob: 021 833 960 
Ph & Fax: 09 431 2823 
1837 State Highway 1, Kaiwaka 
Hydraulics  
Engineering Ltd 
Kaiwaka 
Sales - Service - Parts - Hire - Manufacture 
Service Contractors & Industrial Equipment: 
Rams, Pumps, Valves 
Logsplitter Hire, Manufacturer, Sales 
Dennis Linton 
Lot 2 / 161 Ranganui Road, RD2, Kaiwaka, 0573, New Zealand 
Mobile: 0274 381 700 
Email: hydraulicsengineering@xtra.co.nz 
Website: www.hydraulicsengineeringco.nz 
LOCALLY OWNED AND OPERATED 
QUALITY PRODUCTS • FRIENDLY ADVICE • GREAT SERVICE 
Quality Products milled from High Density NORTHLAND Radiata Pine. 
Treated and guaranteed to NZS3640 with commitment to 
Environmental Safety.
Phone, fax, email, or come into the mill 
Schiska Rd, Topuni, SH1, 10 min north of Wellsford. Fax: 09 431 2856 
Email: sales@topunitimber.co.nz           Mon - Fri 7am-5pm 
• Fencing 
• Retaining 
• Decking 
• Landscaping 
• Gates 
• Hardware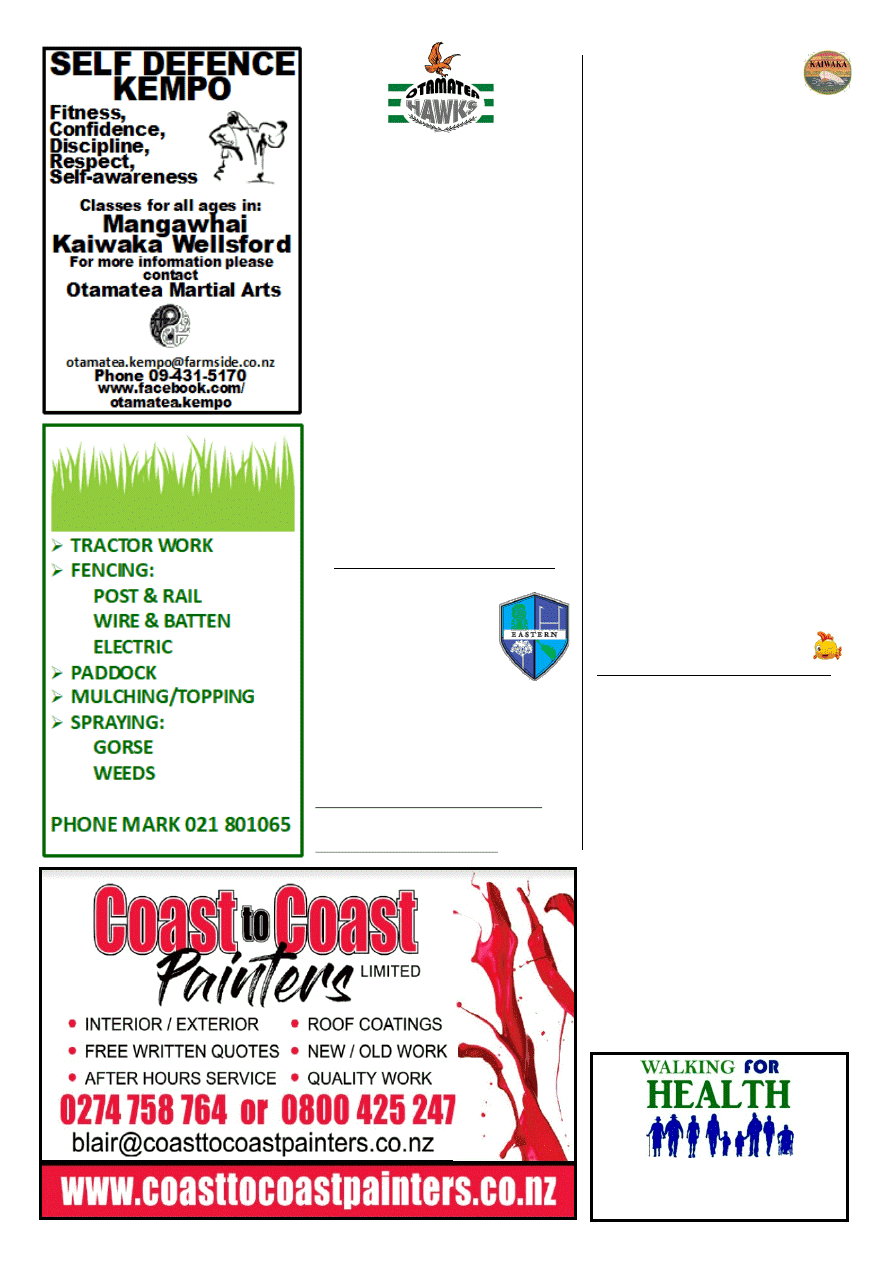 www.kaiwaka.co.nz 
Kaiwaka Bugle - 26 May, 2020 
Page 11 
POINT CURTIS 
CRUISING 
CLUB 

End  of  Season  Duck  Shoot  (Club 
members  only)  to  be  held  on 
SATURDAY 27th June 2020. 

Weigh in 4-5pm with prize giving to 
follow @5.30pm. 
Venue is The 3Furlongs Bar & Grill. 

 Register  with  Sandy  -  Tickets  are 
$20 Senior and $10 Junior (aged under 
15yrs), they can be paid for via internet 
banking  (using  your  name  as  a 
reference)  or  Register  with  Sandy  if 
you wish to pay on the day. 

Species  are  Mallard,  Parry,  Grey, 
Pheasant,  Turkey,  Peacock,  Swan 
(black), Pukeko & Canadian Goose. 

Maximum weigh in 2per species, per 
shooter. 
Happy Hunting and see you there. 

Northland 
& 
Auckland/Waikato 
Game Bird Season finishes on Sunday 
28th June 2020. 

Don't forget Subs were Due 1st June 
2020. $30 Family $20 Single. 
Internet  banking  12  3094  0008233  00 
Please use Name/s as a reference. 

Fish  of the Month is  back,  and it is 
Snapper till 15th July 2020 

Next  Club  meeting:  15th  July  @ 
Kaiwaka  Sports  Association,  7pm 
everyone is welcome 
Wayne Leslie (Commodore) 
Wayne Leslie (Commodore) 
KAIWAKA FITNESS 
CENTRE 
Just 
a 
friendly 
reminder 
that 
membership renewal was last Saturday 
20th  June.  Door  will  be  changed  over 
to new key on Sunday 21 June. 
Thank  you  to  all  who  have  already 
renewed! PM Siobhan if you have any 
issues or questions. 
Hope  everyone  is  enjoying  training 
again and loving the normality, I know 
I am! 
We  no  longer  require  phone  numbers 
in  the  book  but  do  ask  that  you 
continue  to  sign  your  name  as  this  is 
for auditing reasons and safety reasons 
and is also part of membership rules. 
I  just  want  to  thank  all  members  for 
being  so  cooperative  throughout  level 
2,  we hummed  through  with  no issues 
so thank you so much! 
Management,  Kaiwaka Fitness Centre  
OTAMATEA 
HAWKS 
SPARK NORTHLAND 
SOUTH ZONE CLUB RUGBY   
20  June:  Otamatea  Hawks  beat 
Dargaville Old Boys 46 -24 
27  June:  Otamatea  Hawks  play 
Mangakahia at Mangakahia, 2.30pm 
4  July:  Otamatea  Hawks  play 
Tikipunga at Kaiwaka, 2.30pm 
SPARK NORTHLAND 
WOMEN'S PREMIERSHIP 
CLUB RUGBY 
20  June:  Otamatea  Women  lost  to 
Kaikohe 29 – 15 
27  June:  Otamatea  Women  v  City  at 
City, 2pm 
11July: Otamatea Women v Horahora 
at Kaiwaka, 12pm 
U14 SOUTH ZONE 
27  June:  Otamatea  Hawks  v  City  at 
City, 10am 
4  July:  Otamatea  Hawks  v  Marist,  at 
Kaiwaka, 10am 
EASTERN 
UNITED JMB 
KAIWAKA 
The  junior  rugby  season 
will  span  six  weeks,  with 
the  1st  rally  day  being  Saturday  27th 
June.  Two  weeks  this  term  and  four 
weeks next term. 
Training  for  all  JMB  grades  is  on 
Thursdays,  5pm  at  Kaiwaka  Sports 
Association. 
Register at:  
www.sporty.co.nz/easternkaiwaka  
Please 
send 
sports 
results 
to 
kaiwakabugle@kaiwaka.co.nz 
KAIWAKA SPORTS ASSN. 
Walking Group meets 
Mondays 8.30am and 4pm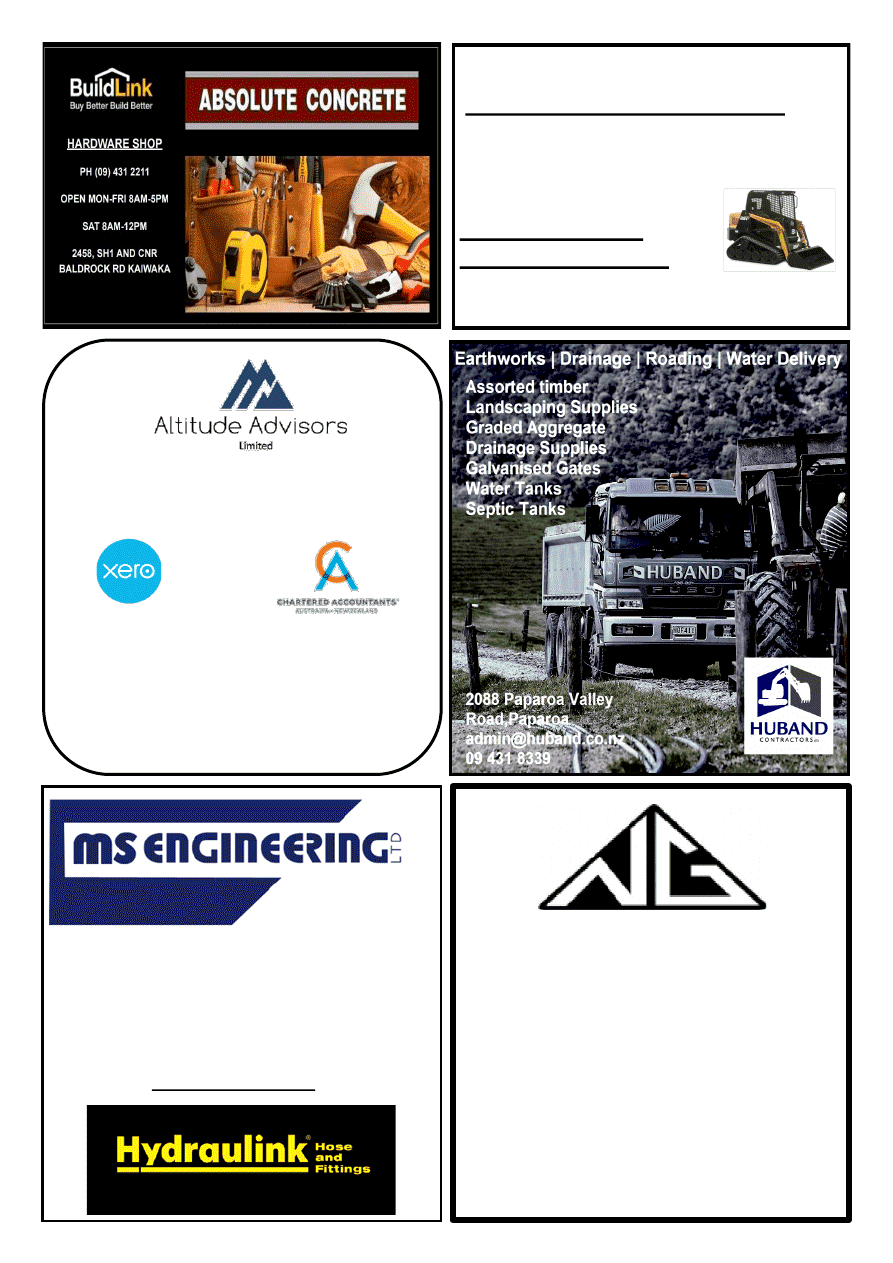 Natural Earth Ltd 
 Landscape and Bobcat services 
 : Driveways  :Landscaping  :Retaining Walls 
 : Hole Boring: Land Levelling :Trenching 
 : Decks :Fences :Sections Cleared: Plus much 
more 
Tel   09 4312885 
Mob 02102391280   
For A Fast Friendly  
Service Contact Tim Hicks 
NORTH GLASS 
WINDSCREEN REPAIR OR REPLACE 
GLAZING SERVICES 
MIRRORS  •  SPLASH BACKS  •  SHOWERS 
0800 70 40 10
info@northglass.co.nz 
www.northglass.co.nz 
Altitude with Attitude, helping your business 
scale new heights 
Time to try something different? 
Xero training          Accountancy Services 
We are offering two opportunities: 
15% saving off your annual report cost for your first 
year, & a further 10% saving for any referrals 
Call Corinne on 021 252 7680 or 
corinne@altitudeadvisors.nz 

Peter Buckley 

Mobile Hose Technician –  
                      Based from Oneriri Road 

Available for all mobile hose                                
                      requirements onsite 

Call – 0800 425 7116 

Email – mse@mseng.co.nz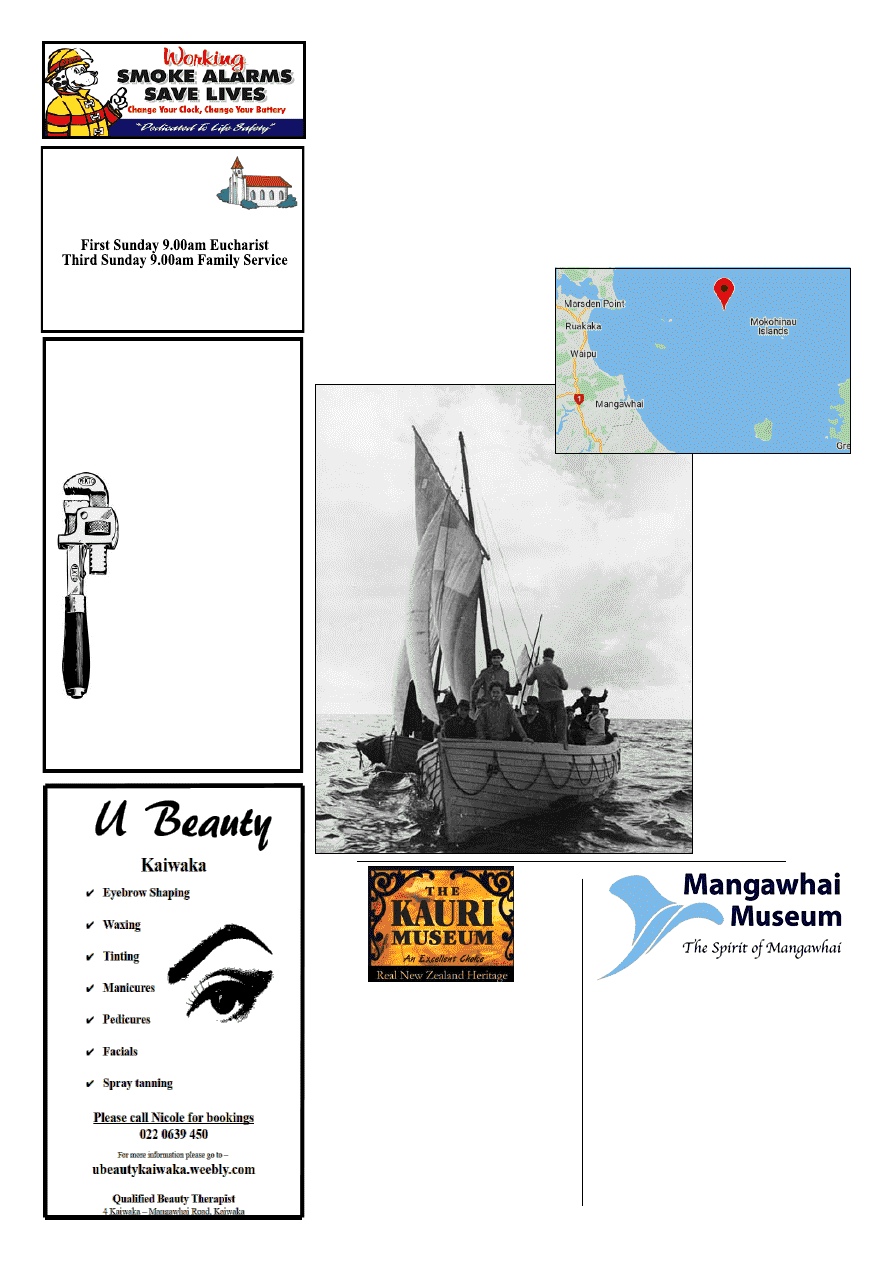 www.kaiwaka.co.nz 
Kaiwaka Bugle - 26 May, 2020 
Page 13 
BARRY CURTIS 
PLUMBING LTD 
REGISTERED CRAFTSMAN 
PLUMBER 
Phone 4315572 
027 257 9884 
25 years experience 
Friendly reliable service 
All plumbing and 
maintenance 
Alterations  
and new housing 
Spouting 
Competitive rates 
PROMPT  
FFICIENT  SERVICE 
CLAY MODELLING 
SCHOOL HOLIDAY PROGRAMME 
If  you  are  looking  for  something  for 
the  kids/grandchildren  to  do,  we  are 
running 
our 
ever-popular 
clay 
modelling workshops again.  
Each  Wednesday  of  the  holidays  (8th 
and 15th July) from 10am - 2pm.  
It  is  all  go  with  Stephen  and  his 
assistant,  making  a  variety  of  clay 
objects to take home.  
Ring the museum 09 4317417 to make 
a booking or for more information 
ST PAUL'S  
ANGLICAN  
SUNDAY SERVICES 
St Pauls Church: Kaiwaka-Mangawhai Rd. 
Priest in Charge Rev. W Thornton Ph 431 4122 
www.mangawhaianglican.org.nz
The  Second  World  War  arrived  in  New  Zealand  with  a  bang  when  German 
mines  sank  the  trans-Pacific  liner  Niagara  off  Northland's  Bream  Head.  The 
sinking  shocked  the  public  and  shattered  any  illusions  that  distance  would 
protect these islands from enemy attack. 
The  Orion,  a  German  raider  disguised  as  a  merchant  ship,  had  slipped 
undetected  into  New  Zealand  waters  and  laid  228  contact  mines  in  the 
approaches to the Hauraki Gulf on the night of 13/14 June 1940. At 3.40 a.m. on 
the 19th, the 13,415-ton Niagara, which had just left Auckland on its regular run 
to  Suva  and  Vancouver,  struck  two  mines  and  sank  quickly  by  the  bow. 
Fortunately,  all  349  passengers  and  crew  got  away  safely  in  18  lifeboats;  the 
only casualty was the ship's cat, Aussie. 
Also  lost  was  the  ship's  secret 
cargo  of  small-arms  ammunition 
and gold ingots worth £2.5 million 
(equivalent to nearly $250 million 
today).  In  late  1941,  an  epic 
salvage effort recovered almost all 
of the gold from the wreck, which 
lay  at  a  depth  of  60 
fathoms (110 m). 
Photo:  Survivors  in 
two  of  the  lifeboats 
from  the  Niagara 
(Alexander  Turnbull 
Library, 
PAColl-
8634)  
Ref: nzhistory.govt.nz 
Note: A major exhibit 
in 
Mangawhai 
Museum  is  the  story 
of 
the 
luxury 
passenger  liner  RMS 
Niagara,  the  German 
mine  that  caused  her 
to  sink  off  our  local 
coast, 
the 
diving 
chamber  used  in  the 
dramatic  recovery  of 
gold  bullion  from  the 
wreck  and  the  relics 
recovered. 
NIAGARA MINED OFF NORTHLAND 
COAST 19 JUNE 1940 
SECRETS OF THE 
FOREST 
SCHOOL HOLIDAY PROGRAMME 
7 and 8 July, 10am - 12pm 
5 - 10 years, $20 per child 
Visit  the  museum,  learn  about  life  in 
the forest, plant your own tree, build a 
log cabin, make a forest crown or fairy, 
dig up insect fossils … 
See Mangawhai Museum Facebook for 
more information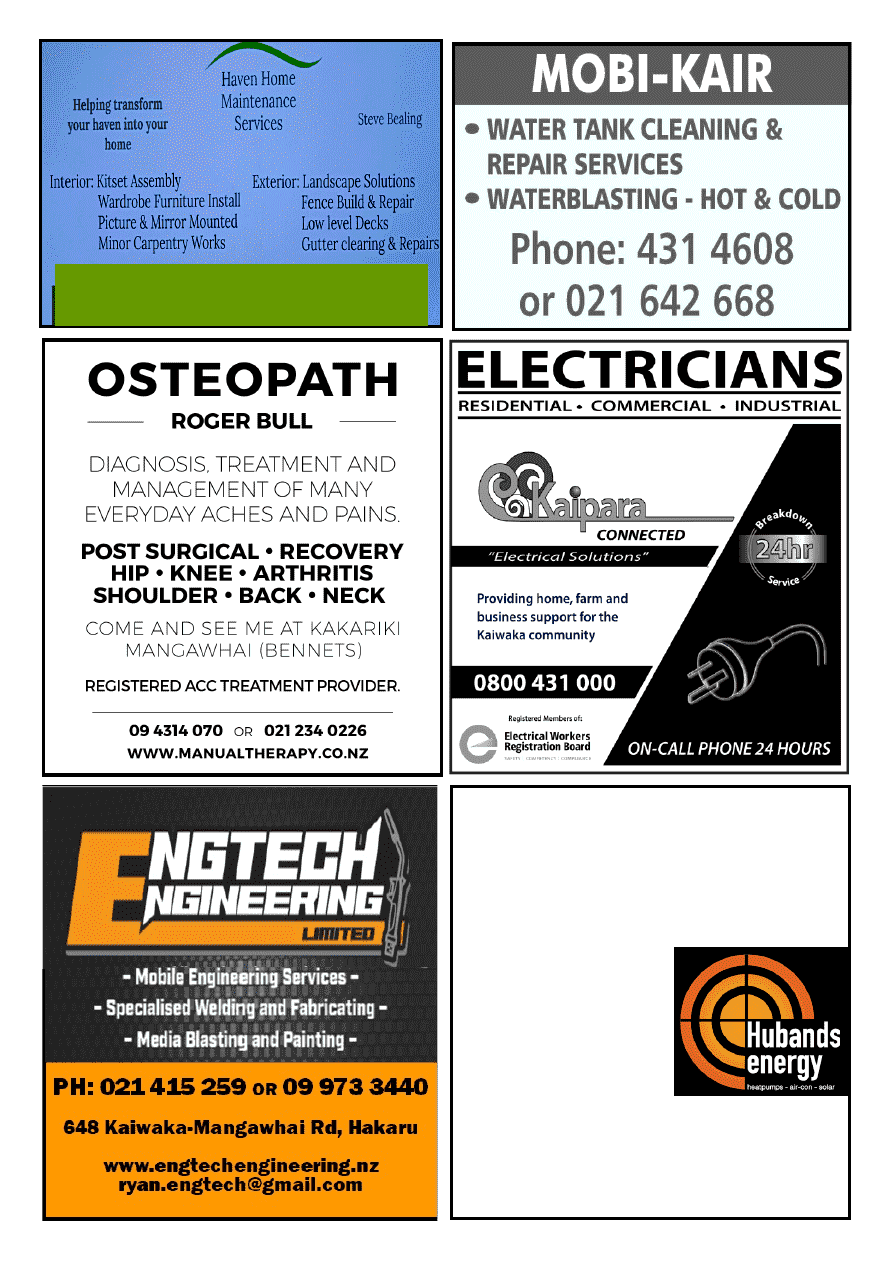 Northland's Award Winning 
Solar Company
SEANZ Best Solar Business Winners 2015/16
EXCLUSIVE 10 year installation warranty 
FREE No obligation onsite quote
Complete systems 
from $5990
See our range of: 
✓ 
Heatpumps 
✓ 
Airconditioning 
✓ 
Hot Water 
Heatpumps 
✓ 
Central Vacuum Systems
09 430 0019             sales@hubands.co.nz 
15 Kioreroa Road, Whangarei
Locally owned and operated for 35 years 
M: 021 1145709  
E: havenhomemaintenanceservices@gmail.com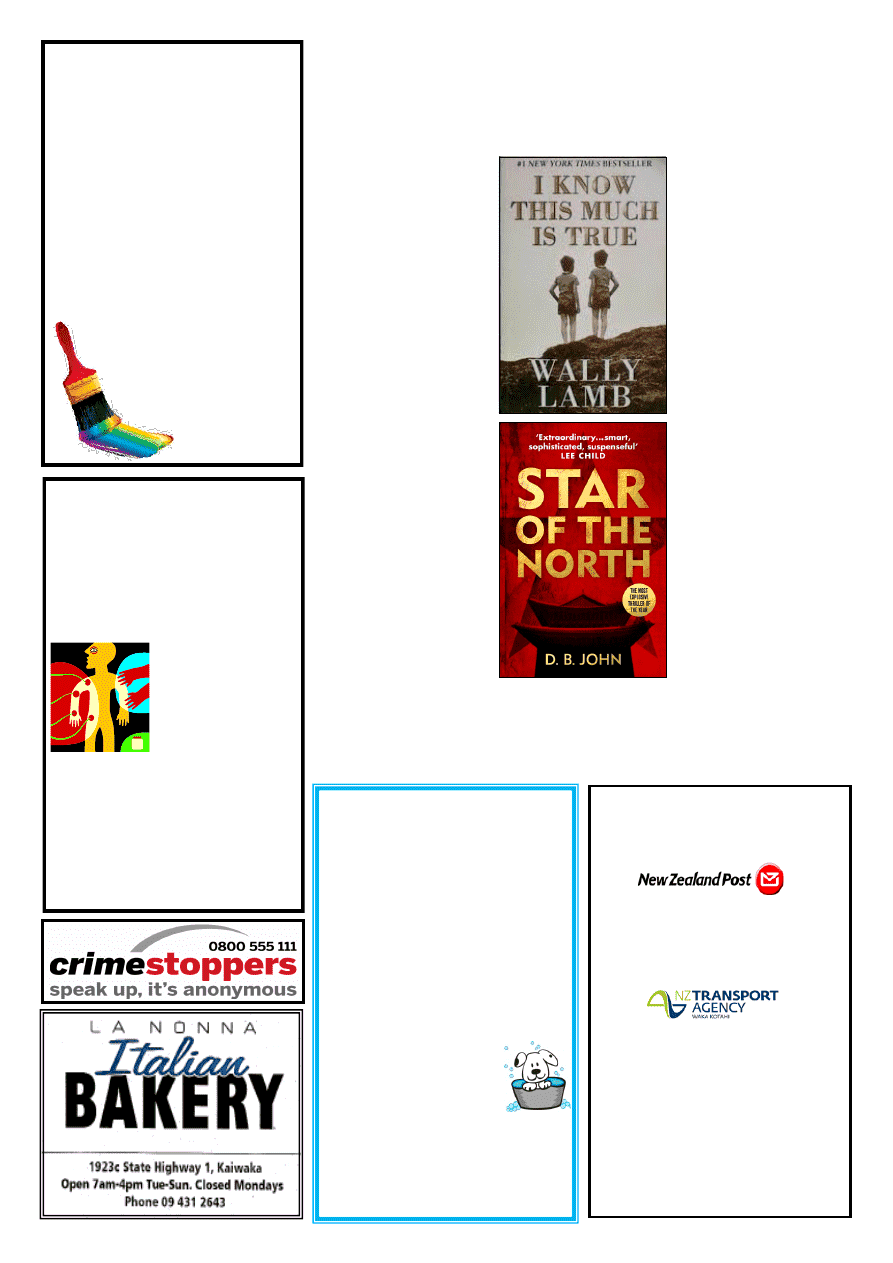 www.kaiwaka.co.nz 
Kaiwaka Bugle - 26 May, 2020 
Page 15 
KAIWAKA LIBRARY
OWEN STEVENS 
Osteo Therapist
For careful adjustments  
to bones and joints 
Treatment for humans  
and their pets 
Clinics: 
Kate's Place, 
Kaiwaka: 
Last Friday of 
month 
9.00am-5.00pm 
For bookings: 
Phone 
09 4312661 
Or phone Owen   
09 4317123  anytime 
LEE COOPER 
PAINTERS 
(Kaiwaka Based) 
*30 yrs Experience 
*Interior/Exterior 
*New and Restoration 
*Honest and Reliable 
*Free Quotes 
 
09 4312918 
0274735171 
leecooper@xtra.co.nz 
KAIWAKA POST 
CENTRE and 
FOOD MART 
POST CENTRE TRADING HOURS 
MONDAY to FRIDAY 8am to 5pm 
SATURDAY 8am to 12pm 
CLOSED ON SUNDAY and on 
PUBLIC HOLIDAYS 
FOOD MART (GROCERIES)  
MONDAY TO FRIDAY  
7:30am to 7.30pm 
SATURDAY  8am to 7.30pm 
SUNDAY  8:30am to 7pm 
IF ANY QUERIES PLEASE CALL 
STORE MANAGER AMRIT  
on 09 4312431 or 
EMAIL: kaiwakafood19a@gmail.com 
1919a State Highway1, Kaiwaka 0542 
ALERT LEVEL 1 
Now  that  we  are  in  Alert  Level  1  for 
the Covid-19 pandemic, we are back to 
'normal'  in  the  library.  Normal  hours 
(see 
below), 
no 
sanitising 
or 
quarantining  required,  though  we  still 
have  bottles  of  hand 
sanitiser available for you 
to use. 
If  you  can't  get  to  the 
library for any reason, we 
can still get books to you. 
Go  to  Enterprise*  and 
place  holds  on  the  titles 
you  want  to  borrow,  or 
use  the  My  Book  Bag 
button  there  to  tell  us 
what  sort  of  things  you'd 
like  to  borrow,  or  get  in 
touch with me directly by 
phone  or  email,  and  we 
will  get  it  organised  for 
you. 
TV TIE-IN 
Have you been watching I 
Know This Much Is True 
on  Sky's  SOHO  channel, 
starring Mark Ruffalo and 
Rosie  O'Donnell?  We're 
enjoying  this  excellent 
production at our place. It 
is  based  on  the  book  of 
the  same  title  by  Wally 
Lamb,  and  we  have  the 
book on our shelves.  
"Every waking moment of 
his  life  Dominick  Birdsey 
feels  split  in  two  -  he  is 
the  sane  twin  to  a 
schizophrenic 
brother. 
Dominick is  bound to his 
brother  by  love  and 
resentment,  anger  and  fear.  From 
childhood, he fights for both separation 
and belonging in a house dominated by 
their stepfather Ray. 
"This story is a search for identity, love 
and  wholeness,  and  for  answers  to  the 
dark  secrets  of  his  family.  It  journeys 
from  a  blue-collar  town  in  New 
England  to  the  foothills  of  Sicily's 
Mount 
Etna 
where 
Dominick's 
vengefully proud grandfather was born. 
And  in  his  grandfather's 
handwritten 
memoirs, 
D o m i n i c k  
f i n d s 
confessions and a legacy of 
contrition. 
"Filled  with  richly-drawn, 
memorable  characters  this 
deeply 
moving 
and 
thoroughly 
satisfying 
novel  bring  to  light  our 
deepest  needs  and  fears, 
our  aloneness,  our  desire 
for  love  and  acceptance, 
and our struggle to survive 
at all costs."  
Book review 
Cathy and John have read 
Star  of  the  north  by  DB 
John,  and  really  enjoyed 
it. "
North  Korea  and  the 
USA  are  on  the  brink  of 
war.  A  young  American 
woman disappears without 
a  trace  from  a  South 
Korean  island.  The  CIA 
recruits  her  twin  sister  to 
uncover  the  truth.  Now, 
she must go undercover in 
the  world's  most  deadly 
state.  Only  by  infiltrating 
the  dark  heart  of  the 
terrifying  regime  will  she 
be able to save her sister... 
and  herself."  This book is 
on  our  Rental  Fiction 
shelves. 
See you in the library, Wendy 
Kaiwaka  Library,  cnr  State  Highway  1  and  Kaiwaka 
Mangawhai Road. PO Box 89, Kaiwaka 0542. Phone 
4312  539.  Email  kaiwaka.library@gmail.com  Open 
Wed-Sat 10am-2pm, Mon 4-6pm. Free membership is 
available to all residents in the Kaiwaka area.  
*Enterprise: http://kaipara.kotui.org.nz/
Hot Diggity Dog 
DOG GROOMING 
All breeds dog grooming 
Professional Experienced Groomer 
Short practical grooms  
Breed Standard Grooms 
Designer fusion Grooms 
Oneriri Road
By appt Phone Pam  
09 4312143 
Or text only 0273335380 
Email  
hot.diggitydog@outlook.com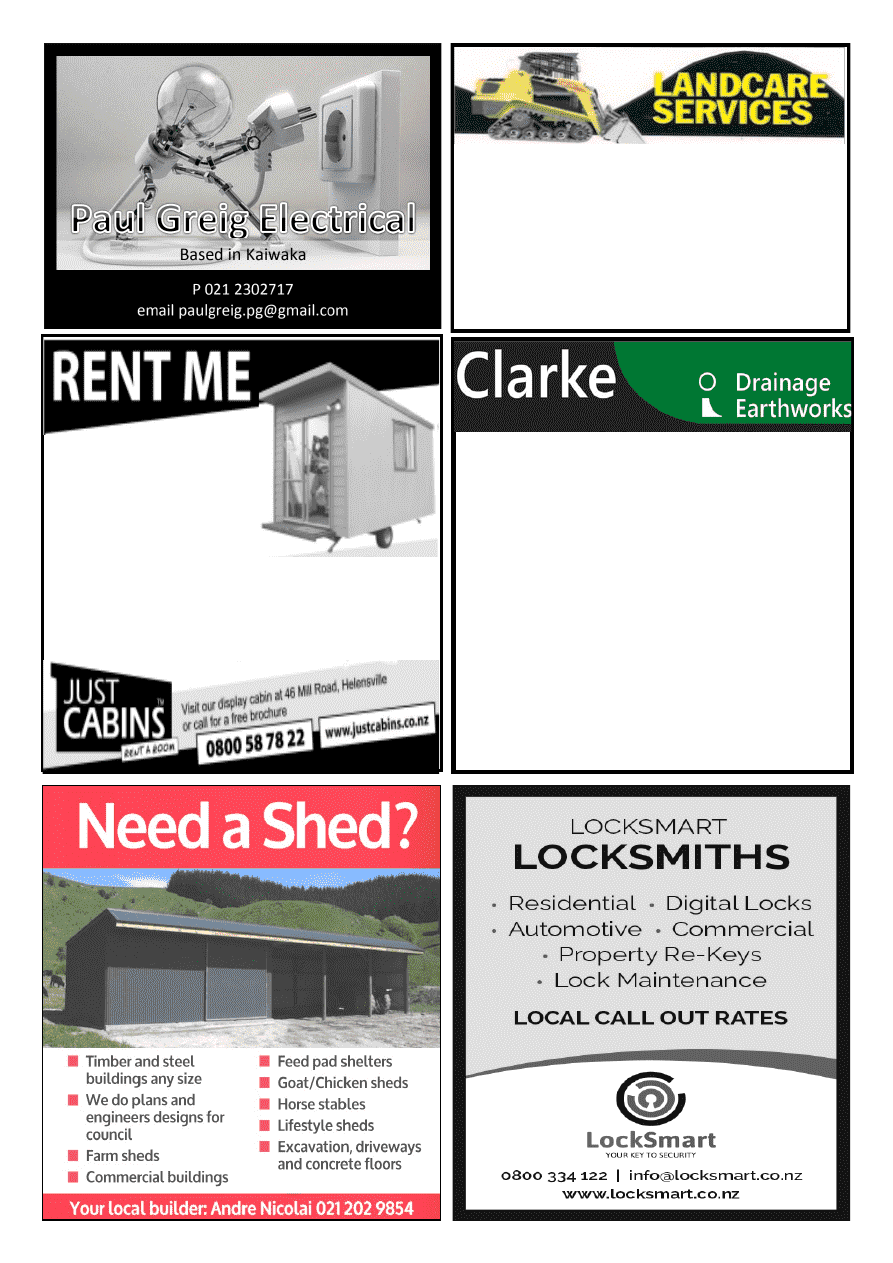 Drainage & Earthmoving 
nigel@clarkedrainage.nz 
027 2233 185 
Registered Drainlayer                    All Types of Earthworks  
> All Residential & Commercial Work  > House Sites 
> Septic System Design & Install          > Footings & Drilling to 10m 
> Sewer Connections 
                       > Dams 
> Water Tank Installation 
               > Roading & Races 
       > Farm Work 
THE ONE STOP SHOP  
LANDSCAPING 
4 IN 1 BUCKET 
TRENCHER 
POLE HOLES 
ROTARY HOE 
COMPACT ROLLER 
OFFAL HOLES 
CAN SUPPLY WOODCHIP & POST PEEL 
5 TON TIPPER 
FOR RELIABLE AND FRIENDLY SERVICE CONTACT DAVE 
Dave Hyndman 
 
KAIWAKA 
PH: 09 4312302 
MOB: 021 431 238 
Ideal as an extra  
bedroom or office 
Three Convenient sizes: 
Standard 3.6m x 2.4m - $65 
per week 
Large 4.2m x 2.4m - $80 per week 
Extra Large 4.8m x 2.4m - $100 per week 
Fully insulated. Minimum 6 months rental period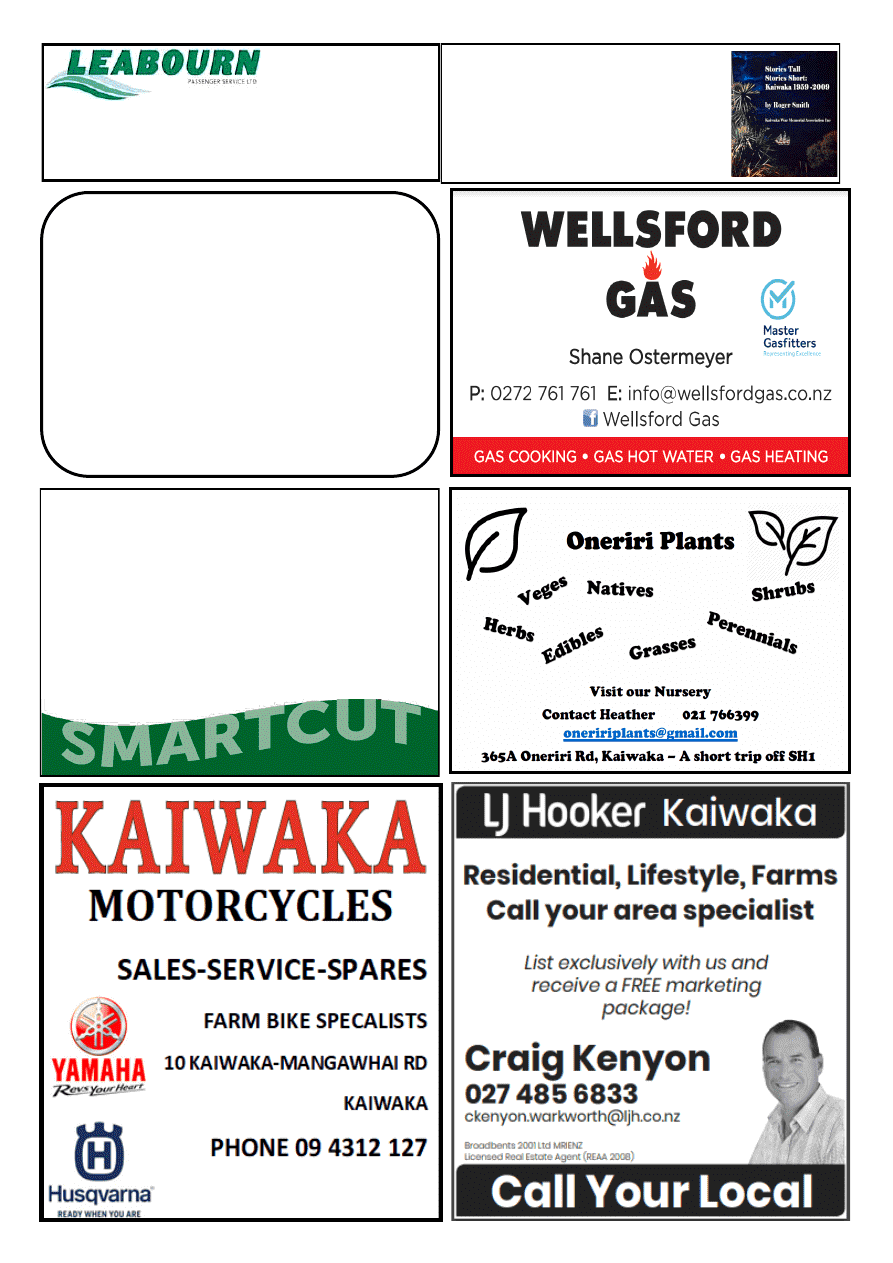 www.kaiwaka.co.nz 
Kaiwaka Bugle - 26 May, 2020 
Page 17 
Stories Tall, Stories Short  
Kaiwaka 1959-2009 
by Roger TW Smith.  $40 
Kaiwaka Photographic History $25 
At All - Sortz Collectables  
or phone  4312 045 
Passenger Service
Car & Van Hire   Bus & Coach Charters 
Airport Transfers    
Phone (09) 4237416 
All your outdoor needs sorted so you don't have to... 
I can prune, chop, tidy, spray, mow, plant 
- you name it, I can do it! 
Residential & Commercial 
Lawn & Garden Care 
Call Rodney, your local  
lawnmowing contractor 
021 138 2344 
UP-LINK 
CHRIS WARING 
FREEVIEW INSTALLATIONS 
T.V. - HOME THEATRE &  
HI-FI ADVICE/SET UP
SKY ACCREDITED INSTALLER
MOB.0273403747 HM.094312328 
EMAIL cwaring44@gmail.com
28 YRS EXPERIENCE 
OFFERING UNBIASED ADVICE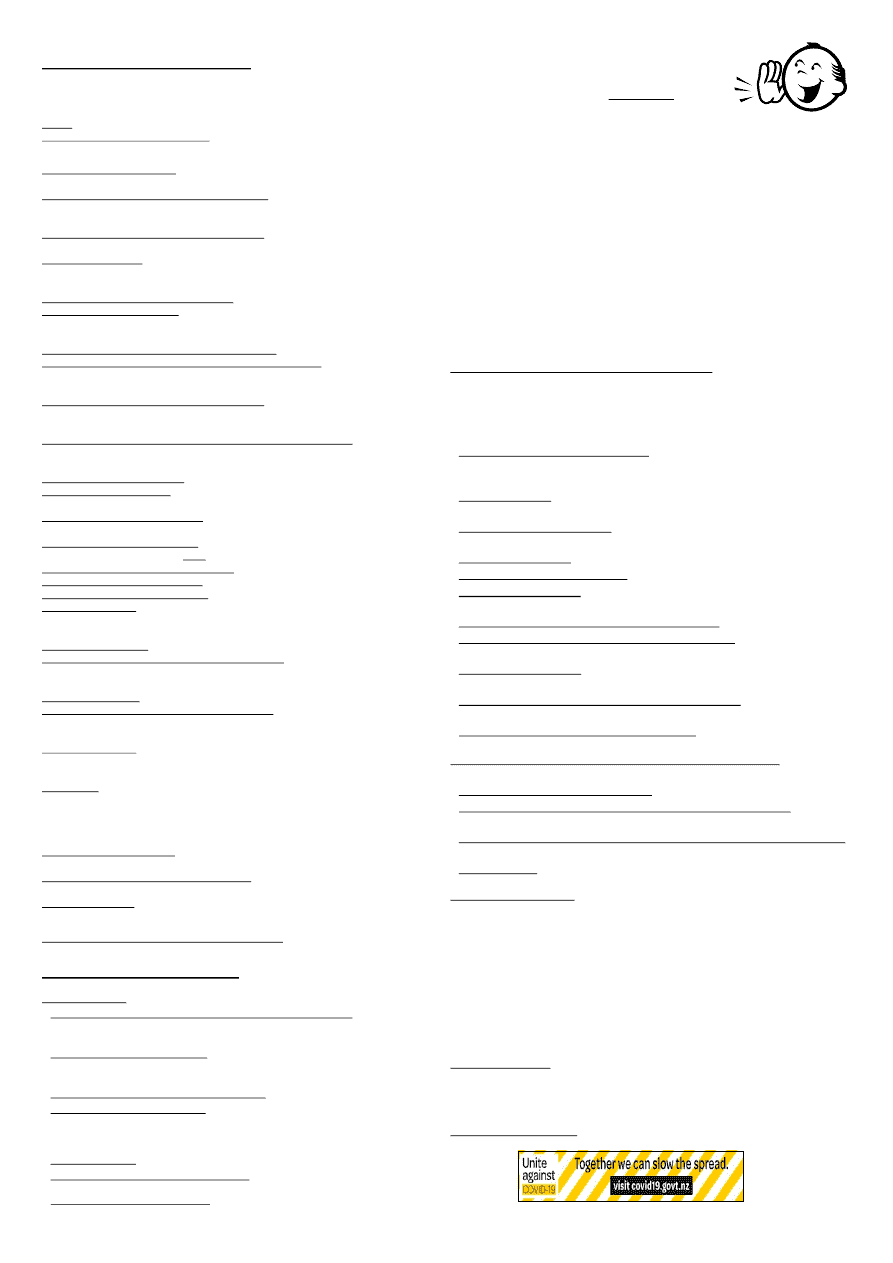 Next Bugle Deadline Friday 3 July 2020
WHAT'S ON
PLEASE ~ do let us know what is on - or what 
is NOT on at the moment! 
email kaiwakabugle@kaiwaka.co.nz 
Advertising in WHAT'S ON is FREE  
*26Jun~Hakaru RSA Mid Winter Christmas Dinner, 6pm 
*26Jun~Movie 'EMMA',7.30pm, KWMH 
*27Jun~Mangawahi Museum AGM, 2pm 
*3Jul~End of School Term2. 
*4Jul~Un 14 HAWKS v Marist, 10am, KSA 
*4Jul~Otamatea HAWKS v Tikipunga, 2.30pm KSA 
*15Jul~Pt. CCC meeting, KSA, 7.pm 
*19Jul~Hakaru RSA, AGM 2pm at Clubrooms 
*6Aug~Otamatea High School OPEN DAY 
*28 Aug~ Daffodil Day 
KWMH = Kaiwaka War Memorial Hall; KSA = Kaiwaka Sports Association 
See www.kaiwaka.co.nz for more information 
HOUSEHOLD RUBBISH COLLECTION - Kaiwaka Pick up: 
Mondays = Green bags (Northland Waste - 09 430 3273) 
Wednesdays  = Blue bags and yellow recycling (at Jaques $3.00 
and  $1.50)  (Kaurilands  09  4392146);  ONLY  Blue  and  Yellow 
bags picked up on Oneriri Road. 
 DIABETES  Support  Group  -for  Kaiwaka,  Mangawhai, 
Wellsford  10am,  3rd  Friday  of  month  Ph:  Colleen  James  09 
4314238 
 GENEALOGY - Wellsford: 1st Thursday in month Ph: 423 
7033; Waipu: 4th Monday in month Ph: 4312 725 
 HAKARU PONY CLUB - Secretary Denise Rogers 021423376 
secretary@hakaruponyclub.co.nz  
 KAIPARA HUNT - Secretary Albert Doonenbal Ph 4312059 
 KAIWAKA BADMINTON -Tuesdays 7.30pm Ph: 4312345 
 KAIWAKA  CAN  - 3rd Wednesday in month, 5.30pm, Archie 
Bull Hall Ph: 0273572751 
 KAIWAKA DRUM & DANCE CLASSES - 021 611198 
 KAIWAKA GARDEN & FLORAL GROUP - 2nd Thursday in 
month. Ph: 431 4744 
 KAIWAKA  CUBS  -  Thursdays  5.30-7pm,  Hakaru  Ph:Bruce 
4312542 
 KNITTING FOR WHANGAREI HOSPITAL - 2nd Tuesday in 
month, Archie Bull Hall 10am Ph 4314827 
 MANGAWHAI COMBINED REBUS CLUB - 2pm, 3rd 
Thursday month, Senior Citizens Hall Mangawhai. Ph: 4315777 
*PILATES - KAIWAKA WAR MEMORIAL HALL - Ph: 
021 
2072729  
 PT CURTIS CRUISING CLUB - Jean Ph: 4312227 (wk), 4312520 (hm) 
 RSA,  HAKARU  &  DISTRICTS  WOMEN'S  SECTION  –  meets 
1.30pm 4th Thursday of the month. Ph: 431 5818  
 KAIWAKA  SCOTTISH  COUNTRY  DANCING  CLUB-
Wednesdays 10am - 12 noon  Ph: Elaine 027 432 0032  
 TRAMPING - Mondays 9am-2:30pm Maria 4312 234 
HALLS FOR HIRE: 
  Kaiwaka St. John Hall: Phone Marj  0272941227  
 St.Pauls Archie Bull Hall HIRE $20 half day, $40 full day per 
hire, S McAulay, Ph 4312311 
 Kaiwaka  War  Memorial  Hall  HlRE  -  Phone  4312725  or 
kaiwaka.hall.bookings@gmail.com 
 Hakaru Community Hall HIRE -Ph.  Lorraine 4312829  
 Te Pounga Marae queries - Pearl Nathan  0223933533 
 Kaiwaka Sports Association hire/queries - C. Anderson 4312051 
or kaiwakasports@gmail.com 
Justice of Peace:  
B.FJaques  4312  048;  L.Donaldson  4312  228;  A.F.Hargreaves 
4312 045, W.Howard 4312 725,  D.Edwards 021611198 - please 
phone  to  make  sure  they  are  available  or  go  to 
www.justiceofthepeace.org.nz 
Marriage Celebrants:  
L.Donaldson; A.F.Hargreaves; Y Osborne
LOCAL SERVICES 
*Emergencies - Ambulance, Fire, Police - dial 111 
*Non-urgent Police phone 105
A A: Meets Wed., 7.30pm Kaiwaka Ph: 4315543, 0800229 6757 
NARCOTICS ANONYMOUS : Mon., 6.30pm, Kates Place; drug and 
alcohol related issues. Ph. 02102412348 
ASUREQUALITY LTD (was AgriQuality) Call Free 0508 0011 22  
BUDGETING SERVICE, WELLSFORD: Free confidential advice & 
support for all areas of personal finance. Ph (09) 423 7123 
CAB-Citizens Advice Bureau.Wellsford Ph: 4237333 
0800 367 222 email:cab.wells@xtra.co.nz  
CIVIL DEFENCE - Kaiwaka Community Response Group: 
kaiwaka.civildefencecrg@gmail.com, 4312725 Wendy 
DOG/STOCK /NOISE CONTROL 0800 105 890 
FUNERAL SERVICES: Morris & Morris Ltd, 
Whangarei - Bev Jaques Ph:4312367 or 0800667747 
GRANDPARENTS Raising Grandchildren: Dianah Roberts 0223819539 
HAKARU & DISTRICTS MEMORIAL RSA (Inc) 733 Settlement Rd, 
Hakaru. Ph 4312 176 or Bill Warren (President) 431 2092 
HAKARU LANDFILL/Transfer Station:Open everyday  10am-
4pm.Ph4312629 Cost-$55 trailer load up to 1 cubic metre. Ph:4258567 - 
office 
KAIPARA DISTRICT COUNCIL www.kaipara.govt.nz:  
Help Desk FREEPHONE 0800 727 059  
KAIWAKA CEMETERY: Ph: 4312045 or 4314017 
KAIWAKA LIBRARY: kaiwaka.library@gmail.com  
Mon. 4-6pm; Wed., Thurs., Fri., Sat. 10am-2pm Ph:4312539 
KAIWAKA PLAYCENTRE: Ph Juanita 0274134904; open Mon, Wed, 
Fri 9am-12pm. Hastie Lane; Monday to Friday 9.00am - 12 noon. 
KAIWAKA POST OFFICE:Ph:4312 431  
Post Code: 0573 for RD2 and 0542 for all Kaiwaka Post Office mail 
KAIWAKA PRIMARY SCHOOL: Ph: 4312309   
KAIWAKA SPORTS ASSN: Ph 4312005; 4312129 gym 
KAIWAKA ST JOHN HALL: Phone Marj  0272941227  
KATE'S PLACE Community Centre - Employment services, Free Health 
Nurse, Plunket, Advocacy, Osteopath, A.A., Legal Advice. 4312 661 
LINKING HANDS Health Shuttle Ph 4315906 or 09 4318969 
MINISTRY FOR PRIMARY INDUSTRIES - General inquiries Call 
Free 0800 008 333 
NORTHPOWER: Faults Kaiwaka area 0800 104040 
OTAMATEA COMMUNITY SERVICES: Counselling, parent coach, 
Family Support worker, budget advice, food bank. Mon-Fri 9am-3pm. Ph 
09 431 9080 http://www.otamateacs.org/ 
PARENTPORT: Free, practical family support service Puhoi to Paparoa 
Ph or txt: Dianne 027 280 5093 or 09 425 9357 
PLUNKET:  Kaiwaka  -Kate's  Place  Clinic  1st  Wednesday  of  the  month; 
Mangawhai  - Rose Madsen Cottage: Coffee Group 9:30 every Monday.  Clinic 
every Monday and Thursday. 
Maungaturoto - Good News Church, Clinic 2nd and 4th Wednesday.  
Cynthia 09 431 7340 or 027 675 3488 
PLUNKET HELPLINE -0800 933 922 (24 hours) 
TAITOKERAU COMMUNITY LAW: Free confidential legal advice and 
assistance, 2nd
Thursday
 of each month. Ph: 0800 155 529 for appts.  
TE URI O HAU Settlement Trust Tangata Developments: Whanau Ora 
021 793262  
VETERINARY SERVICE MANGAWHAI: 
Ph: 4314535 Mon-Fri 8.00-5.00, Sat 9-12, a/h appt. 
WELLSFORD DOCTORS: Ph: 4238 086 
CHURCHES:
 
Kaiwaka  Revival  Church  -  Your  Community  Church:  Sundays  10am. 
Ph: Pastor Tawhiri 09 431 8988 or Pastor Paul 09 4312 068 Visit us at 
www.facebook.com/kaiwakachurch 
 
St  Paul's  Anglican  Church  1st  Sun.  9.00am  (Eucharist),  3rd  Sun. 
9.00am (Family Service). Contact: Rev. Wayne Thornton Ph 431 4122 
www.mangawhaianglican.org.nz 
 
Church of Christ the King, Mangawhai:9.00am every Sunday 
 
St.Mary's  Catholic  Church:  Maungaturoto  –  Griffins  Road,  Saturday 
evening  Vigil  Mass  6pm;  Mangawhai  –  Senior  Citizens  Hall,  Sunday 
Mass  8:30am;  Wellsford  –  Matheson  Road,  Sunday  Mass  10:30am;  
Mid-week Mass times and all enquires to Fr. Bill Fletcher – phone 423 8170
 
Baptist Church: Sun. 10.30am Mangawhai Snr Cit.Hall.Ph:4312339 
 
Cause  Way  Church  Mangawhai:  Sundays  10.15am,  Mangawhai 
Community  Recreation  Centre,  Insley  St.  Ph:  09  4314782