www.kaiwaka.co.nz 
Kaiwaka Bugle - 7 July 2020 
Page 1 
No13 
7 July 2020 
ST.JOHN DAY 24 JUNE 
The Otamatea St. John Committee held a special volunteers 
dinner at the Three Furlongs Bar & Grill. 
Special  presentations  were  made  by    Richard  Blundell, 
patron of St John Northern Region to our Kaiwaka Op Shop 
volunteers (certificates), and to  Maungaturoto's Vic Rosser 
and  Trevor  Brljevich  the  medals  (as  seen  in  photo  left) 
recognizing 50 years of service to St. John. 
Reg  Jaques  pictured  below  with  his  wife  Bev  and  Richard 
Blundell  received  the  Priory  Vote  of  Thanks.  This  is  a 
unique award which takes the form of a certificate signed by 
the Prior and Governor General, Dame Patsy Reddy. 
HAKARU & DISTRICTS RSA MID WINTER CHRISTMAS 
Friday 26 June saw a grand crowd at the Hakaru Clubrooms where the evening began with The Ode led by President, Bill 
Warren. Folk then enjoyed a wonderful Christmas Dinner prepared by Diane Lawrence and helpers. Excellent music and 
singing was provided by Aaron and Jessica Preston and George Goddard. And then the storm broke - thunder, lightening 
and the power went out! Dessert was eaten by candlelight. Photos below: Left - into their crackers; Right - at the servery 
Ann Dowson, Grant Parker and Diane Lawrence.
KAIWAKA: MID WINTER CELEBBRATIONS 
WINTER HOURS: 
Monday - Friday 8am – 6.30pm 
Saturday 8am – 7pm 
Sunday 9am - 6pm 
WINTER HOURS: 
Monday - Friday 8am – 6.30pm 
Saturday 8am – 7pm 
Sunday 9am - 6pm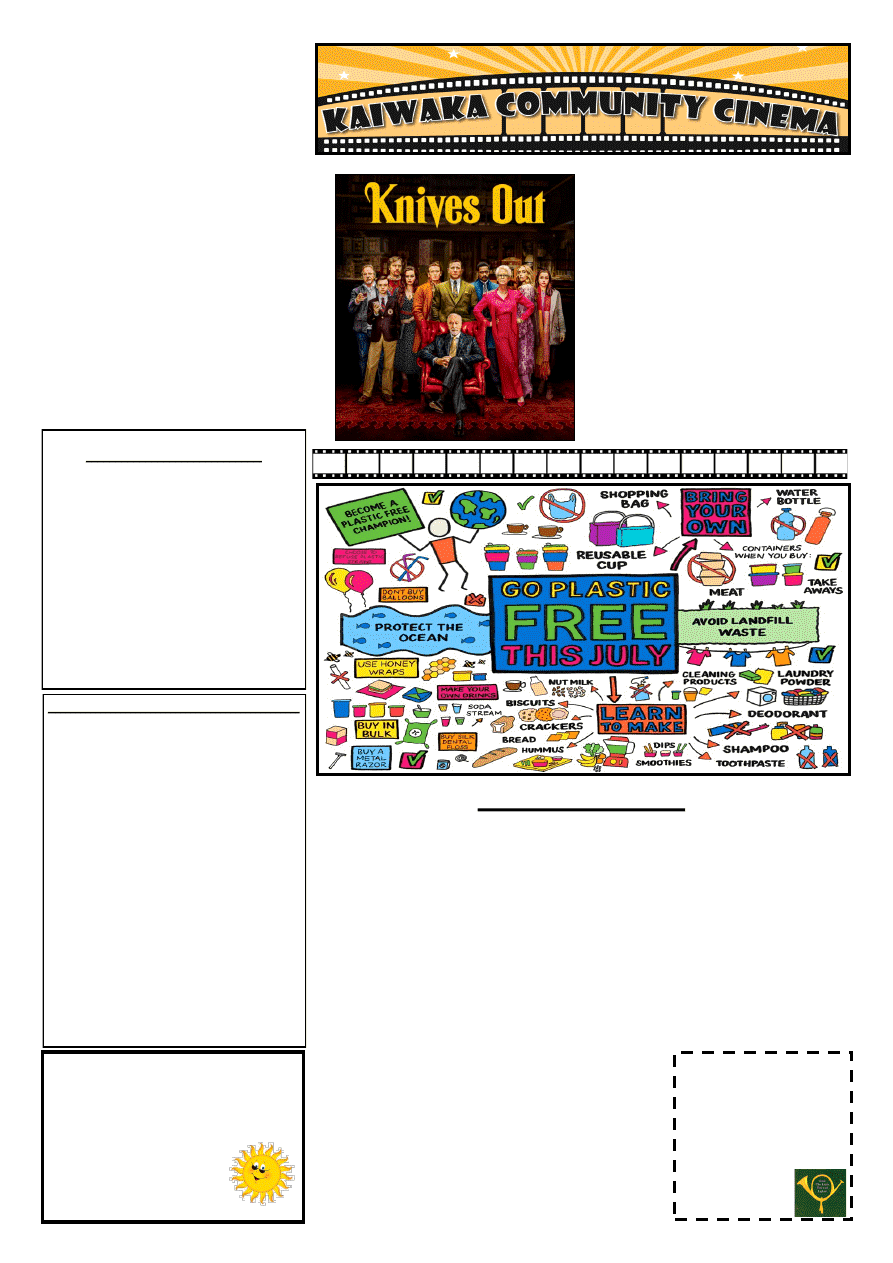 Proverbs 11:25 
The one who blesses 
others is abundantly 
blessed; those 
who help others 
are helped.  
At Kaiwaka War Memorial Hall . Adults $10, Kids (under 16) $5, Family Pass (2 adults + 3 children) $25 
ABOUT TOWN 

 Friday  26    June  was  a  dark  and  windy  night  that  was    regularly  lit  with 
lightening; as Bev says , 'Thunder Lightening, very, very frightening'. Our roads 
took quite a hit too with excess gravel on the tarseal and in the paddocks.

 The Bugle Team thank Cheryl Anderson very much for her full and regular 
contributions  to  the  Kaiwaka  Bugle,  always  keeping  the  community  well 
informed on the local sporting activities. The Team wish her well for the future.

 Best Pets Kaiwaka have spread their wings - well, their shop room! 

 HELP  PLEASE:  Kaiwaka  School  students  are  collecting  yummy  stickers 
again. The more stickers they collect the more P.E. gear they will receive for the 
school - running until the end of Term 3 

 Snippets from the Past on page 7 - Mr Frank  Jaques purchased the grocery 
store  from  Mr  Randle  in  1924,  and  the  Railway  store  would  have  been  at 
Ranganui - near the bridge. 

 Maungaturoto Pet Day will be held on Friday October 16., and there will be 
a chicken section. Entries for Pet Day will be taken 
by Terri Donaldson and close September 25. 

 Well done Otamatea Netball - off to a great start 
to their season 

Otamatea  HAWKS  -  Unfortunately  Tikipunga  
defaulted so no game; Women had a bye. 

 See  the  Kaiwaka  Bugle  in  colour  online  at 
www.kaiwaka.co.nz at any time.  ~ Lindsey, Ed 
"Most people do not listen with the intent to understand; 
they listen with the intent to reply." --Stephen R. Covey 
KAIWAKA BUGLE NO.13 
7 JULY 2020 
CONTENTS: 
Page 3: Public Notices, Classified 
Page 5: Kaiwaka Businesses Zoom 
Session; Bird Survey 
Page 7: Thelma's Scrapbook; OCS 
Page 9:  Councillor's Comments; 
Kaiwaka Weather 
Page 11: Kaiwaka Sports 
Page 13: Kauri Museum;  Otamatea 
High School 
Page 15:  Kaiwaka Library 
Page 17:  Pt. Curtis Cruising Club 
Page: 19: A Remarkable Man 
Bugle 14 will appear  21 July 
Contact for advertising, reports, articles 
or information can be made by 
Email: kaiwakabugle@kaiwaka.co.nz 
Ph: 09 4312 045 Lindsey 
Txt: 027 2724137 
Copy  may  be  left  at  Jaques'  Four 
Square. 
Kaiwaka Bugle Advertisements 2020: 
All 
copy 
and 
queries 
to: 
kaiwakabugle@kaiwaka.co.nz 
The Bugle is printed on an A4 page, B&W  
Ad  sizes:  1/16  page  (3  x  9.5cm)  $5;  1/8 
(6.5  x  9.5cm  landscape  or  portrait)  $8; 
3/16 ( 10 x 9.5cm or 7.5 x 12,5)  $12.  
Classified  ads:  First  one  FREE,  $4  per 
entry (max. 30 words, max. 4 repeats). 
Payments  can  be  made  online  at 
ANZ 
06  0365  0006990  00
,  posted  or  left  at 
Jaques Four Square Store. 
We  use  Microsoft  Publisher,  and  can 
work  with  most  common  image 
formats, Word, Excel, and PDF files. 
Accounts:  
Email: bugleaccounts@kaiwaka.co.nz 
The  Kaiwaka  Bugle  is  a  community 
newspaper run by volunteers, as part of 
the Kaiwaka Media Group Inc.   
Articles, etc. printed are not necessarily 
the opinion of the Bugle Team. 
Kaiwaka Bugle 
Founded May 1978 
We appreciate articles and photos about local 
events, etc, as well as ads and suggestions. 
Copies available in Kaiwaka at Jaques Four 
Square, Kaiwaka Postal Centre, Shamrock 
Service Station, Animal Health Centre, 
Kaiwaka St John shop. 
Also outlets in Maungaturoto, 
Mangawhai and Paparoa. 
Can be viewed online at  
www.kaiwaka.co.nz/Bugle  
Or a copy can be posted to you if you supply 
stamped, self-addressed DLE envelopes. 
KAIWAKA BUGLE 
DEADLINE DATES 
2020:   
Every second Friday
17, 31 
August 14, 28 
September 11, 25 
October 9, 23 
November 6, 20 
December 4 
  KNIVES OUT 
Friday 10 July, 7.30pm (M)  
Acclaimed  writer  and  director  Rian 
Johnson 
,pays 
tribute 
to 
mystery 
mastermind  Agatha  Christie  in  KNIVES 
OUT,  a  fun,  modern-day  murder  mystery 
where  everyone  is  a  suspect.  When 
renowned crime novelist Harlan Thrombey 
(Christopher Plummer) is found dead at his 
estate  just  after  his  85th  birthday,  the 
inquisitive  and  debonair  Detective  Benoit 
Blanc  (Daniel  Craig)  is  mysteriously 
enlisted  to  investigate.  From  Harlan's 
dysfunctional  family  to  his  devoted  staff, 
Blanc  sifts  through  a  web  of  red  herrings 
and  self-serving  lies  to  uncover  the  truth 
behind Harlan's untimely death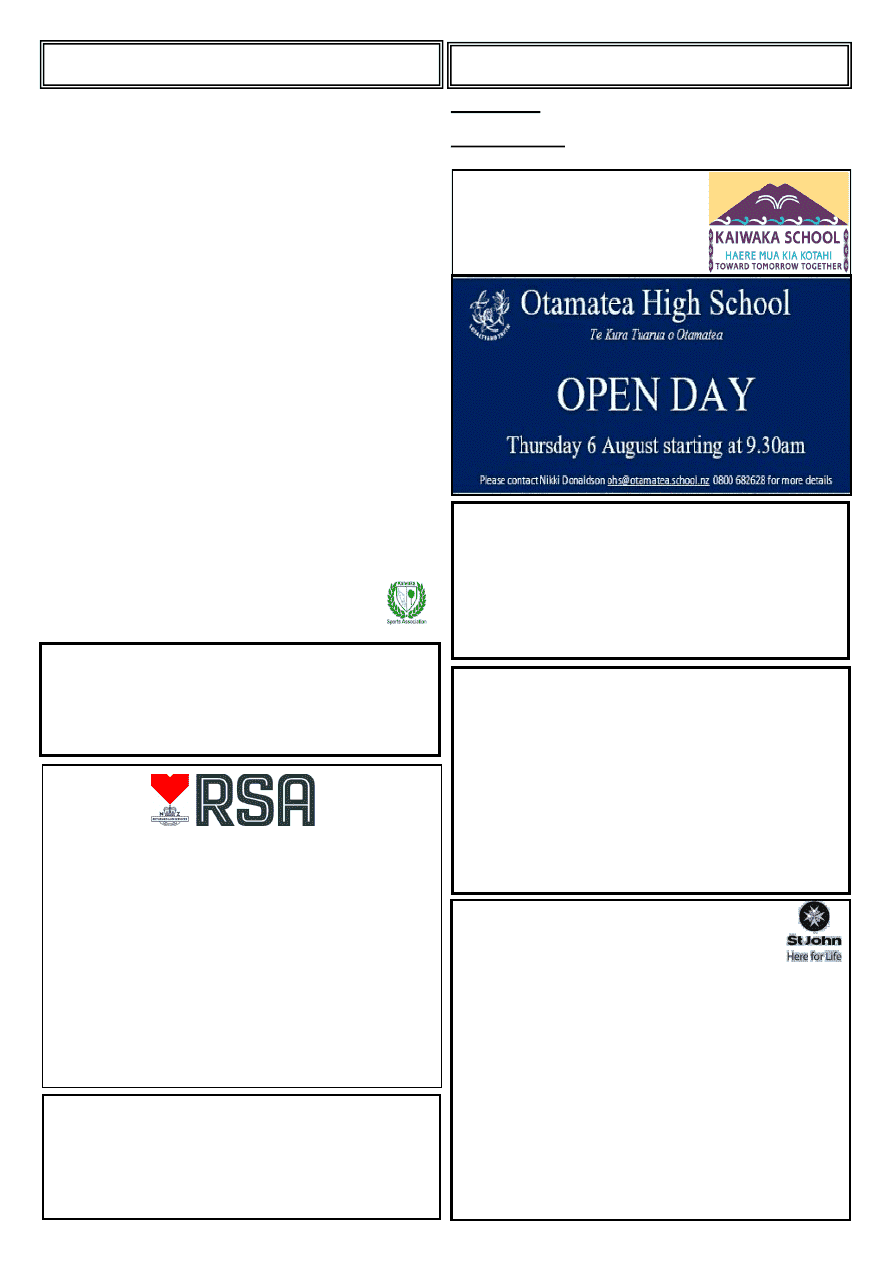 www.kaiwaka.co.nz 
Kaiwaka Bugle - 7 July 2020 
Page 3 
PUBLIC NOTICES 
CLASSIFIED 
150 REUNION   
The Kaiwaka School Reunion  
will now be held  
Labour Weekend,  October 2021.  
For more information contact: 
kaiwakaschool150reunion@gmail.com 
HAKARU & DISTRICTS MEMORIAL 
RSA (INC) 
ANNUAL GENERAL MEETING 
Please take note that the Annual General Meeting  
of the Association will be held  
at the Clubrooms, 733 Settlement Rd, Hakaru  
at 2pm – 4pm on 19th July 2020 
BUSINESS 
1. Receive apologies. 
2. Confirm minutes of the AGM held 5 May 2019 
3. Presentation of Annual reports and accounts. 
4. Election of Executive and committee 
5. Remits/Notices of motion to be presented at the AGM 
are available at the Clubrooms from 5th July 2020   
~ Bill Warren, President 
KAIWAKA ST. JOHN OP SHOP 
Starting Tuesday 7th  
thru to Saturday 12th July 
BOOK SALE FOR THE HOLIDAYS 
Bag of Books for $10  
(Ask for bag at counter) 
❖
We have a lovely range of clothing, and new Bric a 
Brac arriving daily. 
❖
We are in need of Clean Towels, Blankets and Pillows. 
for those Winter nights ahead. 
Pop on down to 1919 State Highway 1 and get yourself a 
bargain with Dianne and the friendly team at the Kaiwaka 
St. John Op shop 
Our Hours are  
Tuesday – Friday 10 to 3pm ~ Saturday 9 – 1pm 
A friendly reminder please only leave us clean 
saleable items.
KAIWAKA WHANGAREI HOSPITAL KNITTERS
We will all meet again on July 14th at 10.00am 
Archie Bull Hall, 
behind St Pauls Church on Kaiwaka Mangawhai Rd. 
Come along for a catch up.  
New members are very welcome.   
Contact Gale Matheson 094314827, 0274149576 for 
more information. 
FOR SALE: Budgie Cage and Stand, $50 ono.  
Phone: 021 082 06418 
FOR  SALE:  Dry  Pine  cones  -  $5  and  $10  bags. 
Phone: 09 4312040 
INVITATION 
KAIWAKA TOWN CENTRE BUSINESSES 
ZOOM SESSION 
The second Zoom meeting for Kaiwaka businesses 
Monday July 13th, 7pm.  
See Page 5 for details 
KAIWAKA SPORTS ASSOCIATION 
It  is  with sadness  and regret that  our  executive  committee 
of  the  Kaiwaka  Sports  Association  officially  has  had  to 
make  Cheryl  Anderson's  job  as  our  manager,  redundant.  
There has been much banter on social media, and I thank all 
those who posted gratuitous, supportive, and positive feed-
back, for the excellent job she has done for us over the past 
twelve years.  
When we started this position, we weren't too sure how it 
would work. Cheryl's enthusiasm and dedication made it an 
unqualified  success  and  she  has  been  the  key  to  unlock 
many doors for the K.S.A. We started off employing her for 
20  hours  a  week  and  for  many  years  she  would  have 
worked considerably more.  
Unfortunately, with the lock down and no usage of our fa-
cilities for three months and still only limited usage and no 
revenue we have been unable to sustain her employment. 
We encouraged Cheryl to apply for Government assistance 
to help keep her in this job and she was successful with the 
initial  three  months  wages,  -  there  was  further  assistance 
available, but this was not applied for. 
Cheryl  has  been  our  Secretary  for  the  last eight  years  and 
has done a sterling job handling her duties with aplomb and 
has been a pleasure to work alongside.  
We would encourage the community to continue to support 
the K. S. A. so we can continue to provide sport, recreation, 
meetings  and  functions.  Bookings  can  be  made  to  Paula 
Jaques at Jaques Four Square. 
We  wish  Cheryl  all  the  best  in  her  future  endeavours  and 
once again thank her for the tremendous job she has done 
for us. 
Many Thanks 
Wayne Leslie (Pongo) 
Chairman, Kaiwaka Sports Association 
HAKARU HALL ACTIVITIES 

Monday:  Line Dancing 9.45 -12pm Ph 4315160 

Wednesday: Afternoon Dance Energy  
        Lisa Ph. 0275610469 

Wednesday: Evening Music Jam Session          
      Dennis Ph. 0210628631 

 Thursday: Pilates 9 - 10am Ph. 0220643965 

Sunday: Canine Coaching Ph 0272365004 
 Hall Bookings 
lorrainehepple@gmail.com 
0272846162              
OTAMATEA REPERTORY THEATRE 
DRAMA WORKSHOP  
13 - 17 July 2020, 9am until 3pm 
Tutors Peter and Maura Flower 
We will be taking only 30 participants. 
To register, send an email to 
maura.flower@gmail.com or text 022 354 2670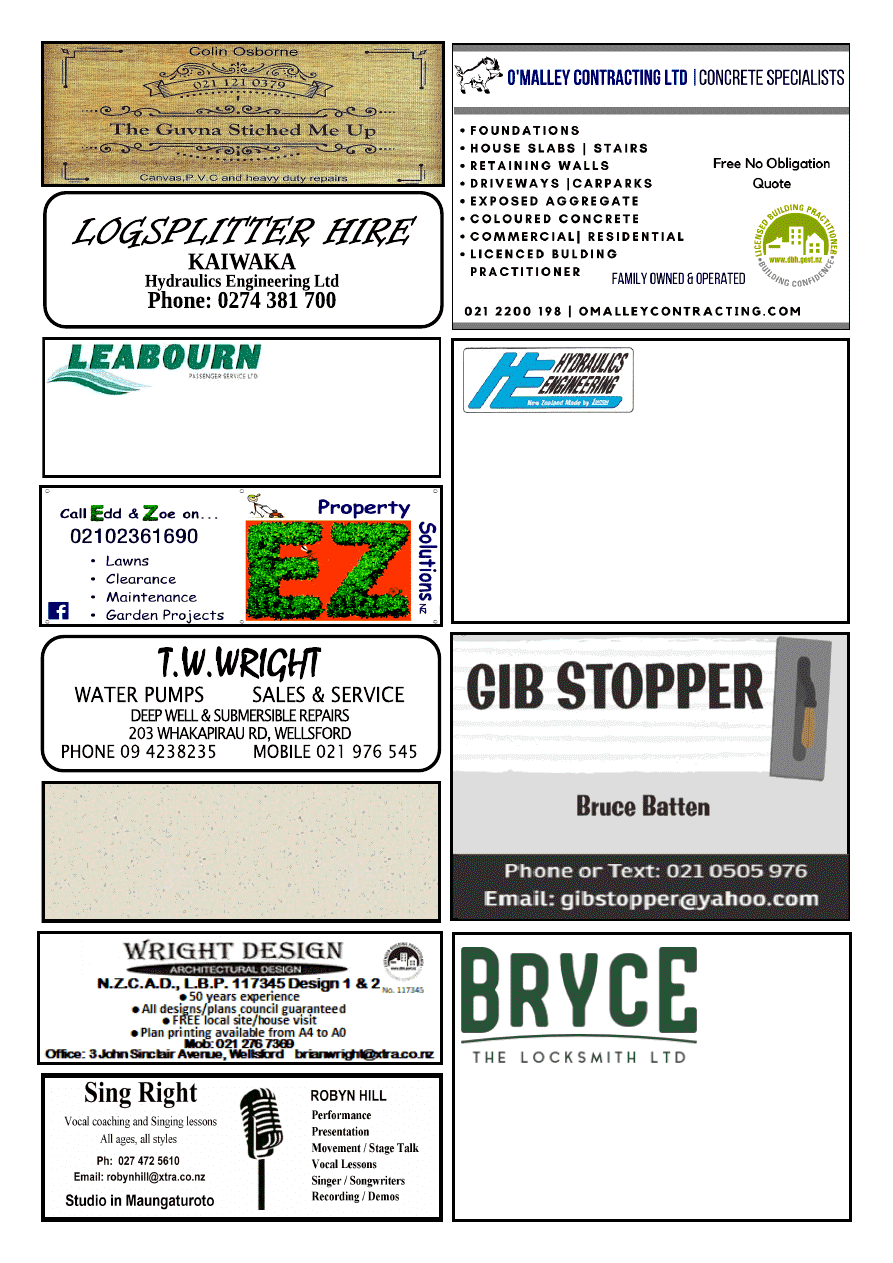 Passenger Service
Car & Van Hire   Bus & Coach Charters 
Airport Transfers    
Phone (09) 4237416 
Counsellor and Registered Psychotherapist 
Offers Supervision 
ACC Sensitive Claims 
Susan Matheson      MNZAC 
Dip. Psychosynthesis Counselling and Psychotherapy 
Phone 09 431 2996                                     Mobile 027 605 2427 
Bryce Frewin 
Ph: 021 850 983 
Kaipara Based Master Locksmith 
bryce@brycethelocksmith.co.nz 
www.brycethelocksmith.co.nz 
Hydraulics  
Engineering Ltd 
Kaiwaka 
Sales - Service - Parts - Hire - Manufacture 
Service Contractors & Industrial Equipment: 
Rams, Pumps, Valves 
Logsplitter Hire, Manufacturer, Sales 
Dennis Linton 
Lot 2 / 161 Ranganui Road, RD2, Kaiwaka, 0573, New Zealand 
Mobile: 0274 381 700 
Email: hydraulicsengineering@xtra.co.nz 
Website: www.hydraulicsengineeringco.nz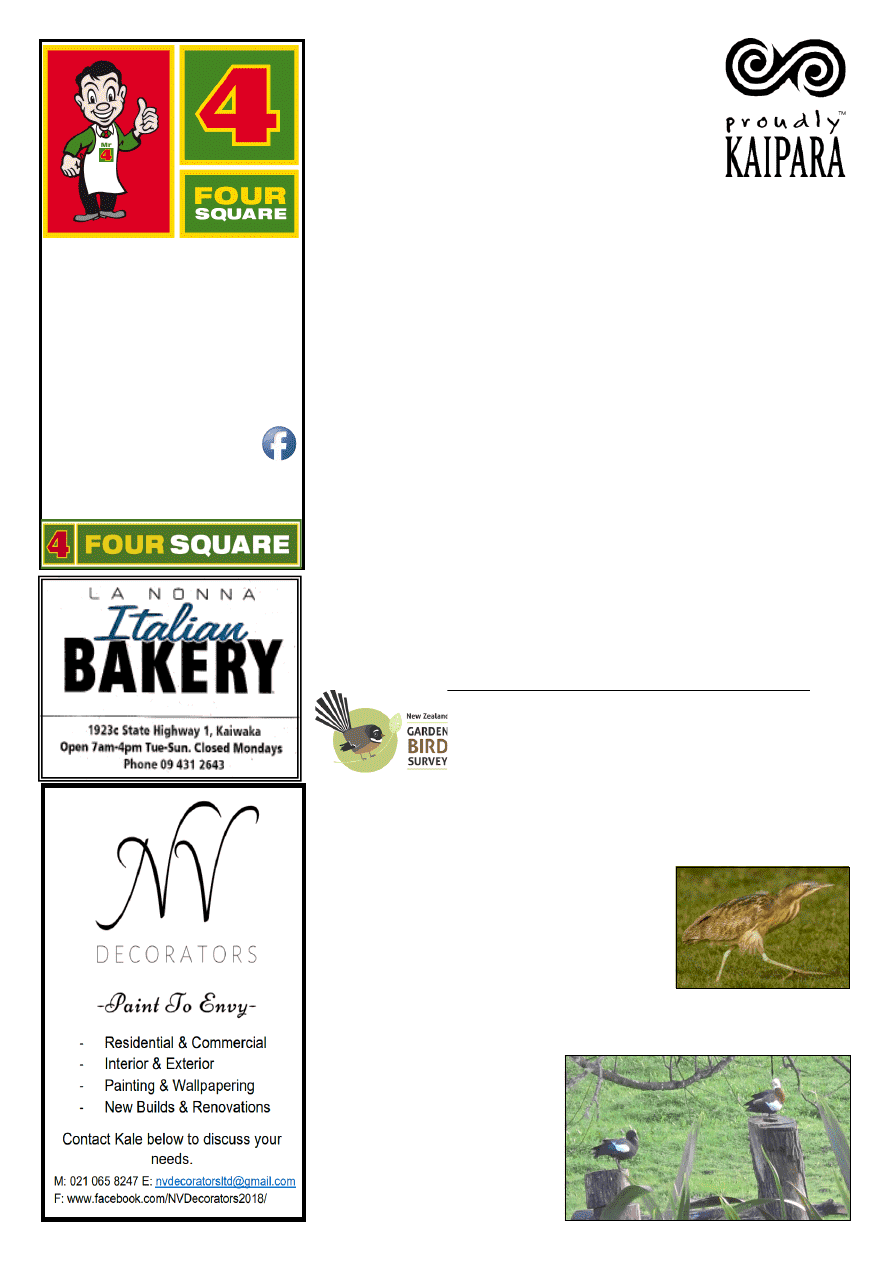 www.kaiwaka.co.nz 
Kaiwaka Bugle - 7 July 2020 
Page 5 
BIRD SURVEY ~ ONERIRI 
This has been the week of the New Zealand annual 
garden bird survey. 
Species likely to have been present: fantail/piwakawaka, 
white  faced  heron,  blackbirds,  thrushes,  silvereyes/tahou,  grey  warblers/
riroriro,  kingfishers/kotare,  pheasants,  yellowhammers,  moreporks/ruru, 
sparrows,  magpies,  tui,  kereru,  finches,  mallards,  starlings,  hawks/kahu; 
but there could be more. 
Mynahs  continue  to  be  a  problem  if  they  mob  other  species.  Rosellas  have 
flown through and pukeko,  turkeys  and a peacock may show but won't get a 
red carpet. 
At time of writing on Friday 3 June I hadn't seen a 
pipit/pihoihoi,  kaka  or  bittern/matuku 
-  pictured 
right ©Glenda Rees. 
Though there have been some up 
Pukenui  Road  in  the  past.   
Ref.  http://
nzbirdsonline.org.nz/species/australasian-bittern 
The return of a putangitangi pair 
(pictured below)
 just 
beyond  the  pasture  gate  was  welcome  although 
neighbours  confirm  scores  of  younglings  putangitangi  can  mess  up  Kaipara 
dams. [Earlier story on them p5 of the last Bugle.] 
Putangitangi  [aka Putakitaki]  breed only in New Zealand and some are said 
to  live  23  years.  The  species  had  official  protection  a  century  ago  as  it  was 
prized  by  shooters.  Clearance  of 
bush  and  drainage  of  swamps  for 
grazing  have  seen  the  population 
explode  to  the  point  that  it  is 
subject to an annual cull. HP 
Refs:  
https://gardenbirdsurvey.landcareresearch.co.nz 
https://www.rnz.co.nz/national/programmes/
lately/audio/2018751932/native-birds-bounce-
back-in-the-regions; 
https://www.rnz.co.nz/
national/programmes/ninetonoon/
audio/2018751681/kennedy-warne-birds-
birdsong-and-more 
We're Here 
OPEN 7 DAYS 
In Store Fresh Bakery,  
Hot Chicken, 
Mussels,  
Fresh Fruit & Vege,  
9kg Gas & Sodastream  
Gas Bottle Swap, 
Lotto & ATM 
JAQUES FOUR SQUARE 
Phone: 4312227 
1 Kaiwaka-Mangawhai Rd, 
Kaiwaka. 
INVITATION 
KAIWAKA TOWN CENTRE 
BUSINESSES ZOOM SESSION 
The second Zoom meeting for Kaiwaka businesses 
is being held Monday July 13th, 7pm.  
Last time the meeting was just for shop fronts but this time 
any business in Kaiwaka and surrounds can join in.  There 
are  many  small  to  medium  businesses  in  the  area,  some 
working from home, and we want everyone to be able to join in this discussion. 
Town centre businesses collectively make up the heart of our towns across our 
District.  The Covid19 crisis puts these businesses at risk. We want to work with 
you to understand your needs and to ensure that you get all the support that is 
available, from every source. Your business recovery matters to Kaipara. 
How will this work? 
The  Kaipara  Mayor's  Taskforce  for  Economic  Support  and  Recovery 
(www.kaipara.govt.nz/taskforce) is hosting a series of meetings with local town 
centre  businesses  on  the  online  meeting  platform  Zoom.    The  first-round 
meeting in Kaiwaka was held on 14 May. 
We invite you to join us (on Zoom) on Monday 13 July at 7pm to share your 
experiences  as  a  town  centre  business  in  Kaiwaka  during  the  Covid  19 
lockdown and what recovery might look like for you.  
The agenda is very open and will be led by you and your fellow business owners 
and  operators.    For  those  that  attended  the  first  meeting,  we  will  provide  an 
update on where things are at with the advocacy work that we are doing on your 
behalf. 
From  Council  you  can  expect  to  see  the  Mayor  Jason  Smith,  Deputy  Mayor 
Anna Curnow and local ward Councillors. 
The intention is to continue to host these sessions for as long as they are useful.  
We  also  envisage  this  being  a  way  to  connect  you  with  agencies  who  can  do 
more to support and inform you.  But how this unfolds will be entirely guided 
by you and what your community wants. 
How to Zoom  
To join the Zoom session please click the link below at the meeting time and 
follow  the  instructions  to  "Join  the  Meeting".    You  may  have  to  select  "use 
computer audio" and turn on your video.  We do ask that if you are not speaking 
during  the  session  that  you  mute  your  microphone,  so  the  background  noise 
does not create interference. 
https://us02web.zoom.us/j/83944245766 
Looking forward to speaking with you at 7pm on Monday 13 July. 
Altitude with Attitude, helping your business 
scale new heights 
Time to try something different? 
Xero training          Accountancy Services 
We are offering two opportunities: 
15% saving off your annual report cost for your first 
year, & a further 10% saving for any referrals 
Call Corinne on 021 252 7680 or 
corinne@altitudeadvisors.nz 
ASHWOOD CONSTRUCTION  LTD 
LBP registered 
New Builds Renovations Extensions Decks & more 
After a quote? Call Lee on 0223408353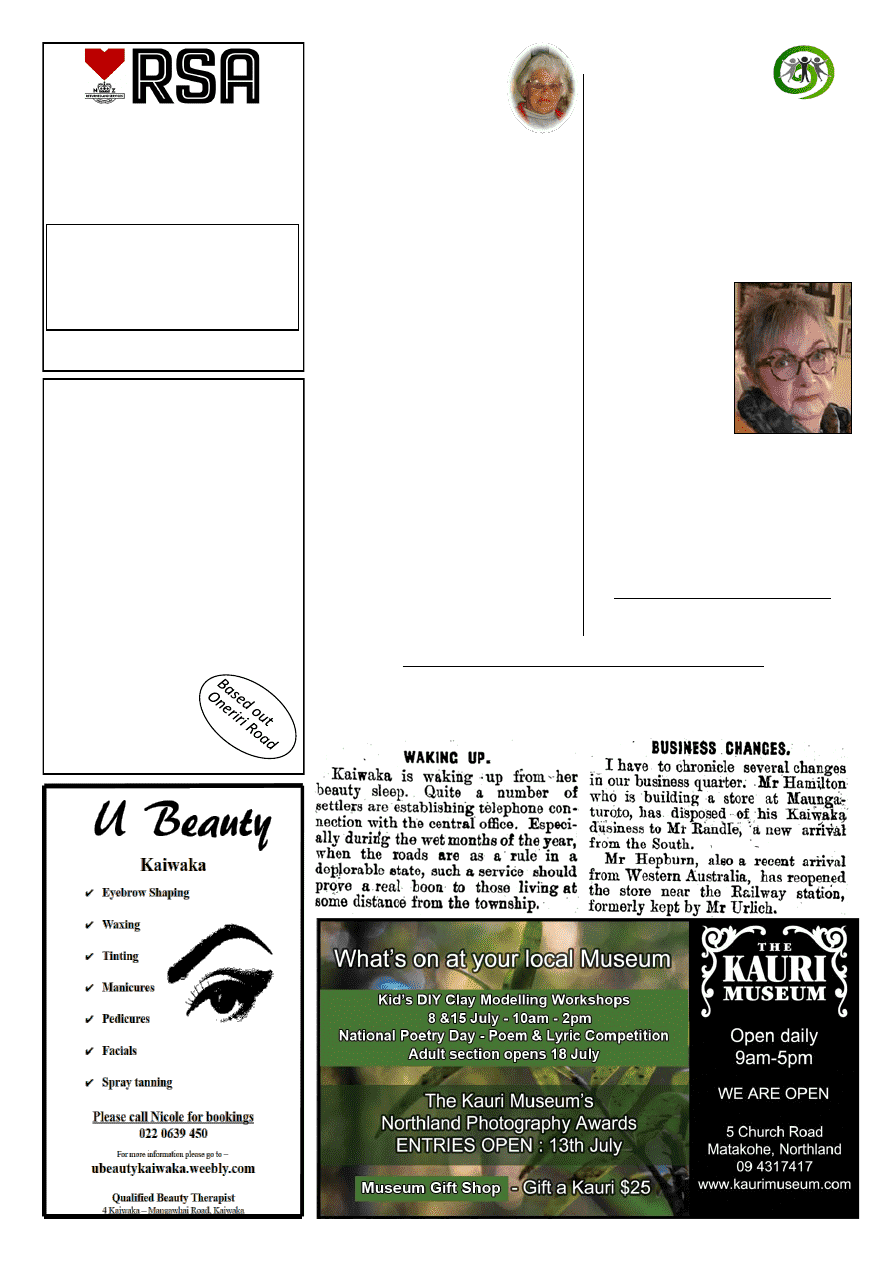 www.kaiwaka.co.nz 
Kaiwaka Bugle - 7 July 2020 
Page 7 
OTAMATEA 
COMMUNITY 
SERVICES 
My  name  is  Merrilyn  and  I  volunteer 
for  Otamatea  Community  Services  on 
Tuesdays. I can usually be found at the 
reception  desk,  and  will  do  my  very 
best to assist you in any way that I am 
able.  Six  years  ago,  I  retired  from  a 
very busy corporate job and we moved 
to  Maungaturoto,  the  best  move  we 
ever  made.  I  found  that  I  had  time  on 
my hands and one night over dinner at 
the RSA I asked Gail Barnett (our usual 
receptionist)  if  she  knew  of  anybody 
needing  Volunteers 
and  the  rest  is 
history. 
The thing I like best 
is  that  no  two  days 
are the same, there is 
constant  variety  and 
the  team  is  a  joy  to 
work  with.  So,  if 
you  have  time  on 
your hands or a skill 
that 
you 
can 
contribute, please pop in to see us. My 
two  biggest  learnings  are  to  count  my 
blessings every day, and what the word 
team  means.  T.E.A.M  =  together 
everyone achieves more. 
We  offer  our  range  of  services  right 
across  the  Kaipara  District.  i.e. 
Counselling,  Social  Work,  Budgeting, 
Parenting,  etc.  There  is  no  charge  for 
our  services,  as  we  are  Government 
funded. Call on 09 4319 080  
Q: Why did the police arrest the turkey? 
A: They suspected fowl play. 
Q: Why did the turkey cross the road twice? 
A: To prove he wasn't a chicken! 
HAKARU & DISTRICTS 
MEMORIAL RSA (INC)
Members & guests are invited to 
come along and enjoy our hospitality. 
New members welcome. 
Meals are served on Thursday and 
Friday nights from 6.30pm. 
Order from Blackboard Menu  
The sing along with Des Chitty is the 
Last Friday of the month. 
For more information please phone 
Bill on 431 2092  
HODGETTS 
CONTRACTING
Digger Work    
Driveways  
House Sites  
Dams      
Drains, etc
Also available for HIRE 
3 ton Vib Roller  
Heavy Duty Tow  
Waterblaster      
Lazer Level
Phone Mark  
4312877 
027 447 8554 
From Thelma's 
Scrapbook … 
WHAT FISH? 
A man was stopped by a 
game warden recently with two ice 
chests full of live fish in water, leaving 
a river well known for its fishing. 
The game warden asked the man, "Do 
you have a license to catch all those 
fish?" 
"Naw, my friend, I ain't got no 
license. These here are my pet fish." 
"Pet fish?" 
"Yep. Every night I take these fish 
down to the river and let 'em swim 
'round for a while. Then I whistle and 
they jump right back into this ice 
chest and I take 'em home" 
"That's a bunch of bunk! Fish can't do 
that!" 
The man looked at the game warden 
for a moment and then said, "It's the 
truth. I'll show you. It really works." 
"Okay, I've GOT to see this!" 
The man poured the fish into the 
river and stood and waited. After 
several minutes, the game warden 
turned to him and said, "Well?" 
"Well, what?" said the man. 
"When are you going to call them 
back?" "Call who back?"  
"The FISH!" "What fish?" 
SNIPPETS FROM THE PAST 
From Rodney and Otamatea Times, Waitemata and Kaipara Gazette  12 
August 1914  Page 5: 
KAIWAKA. (Own Correspondent)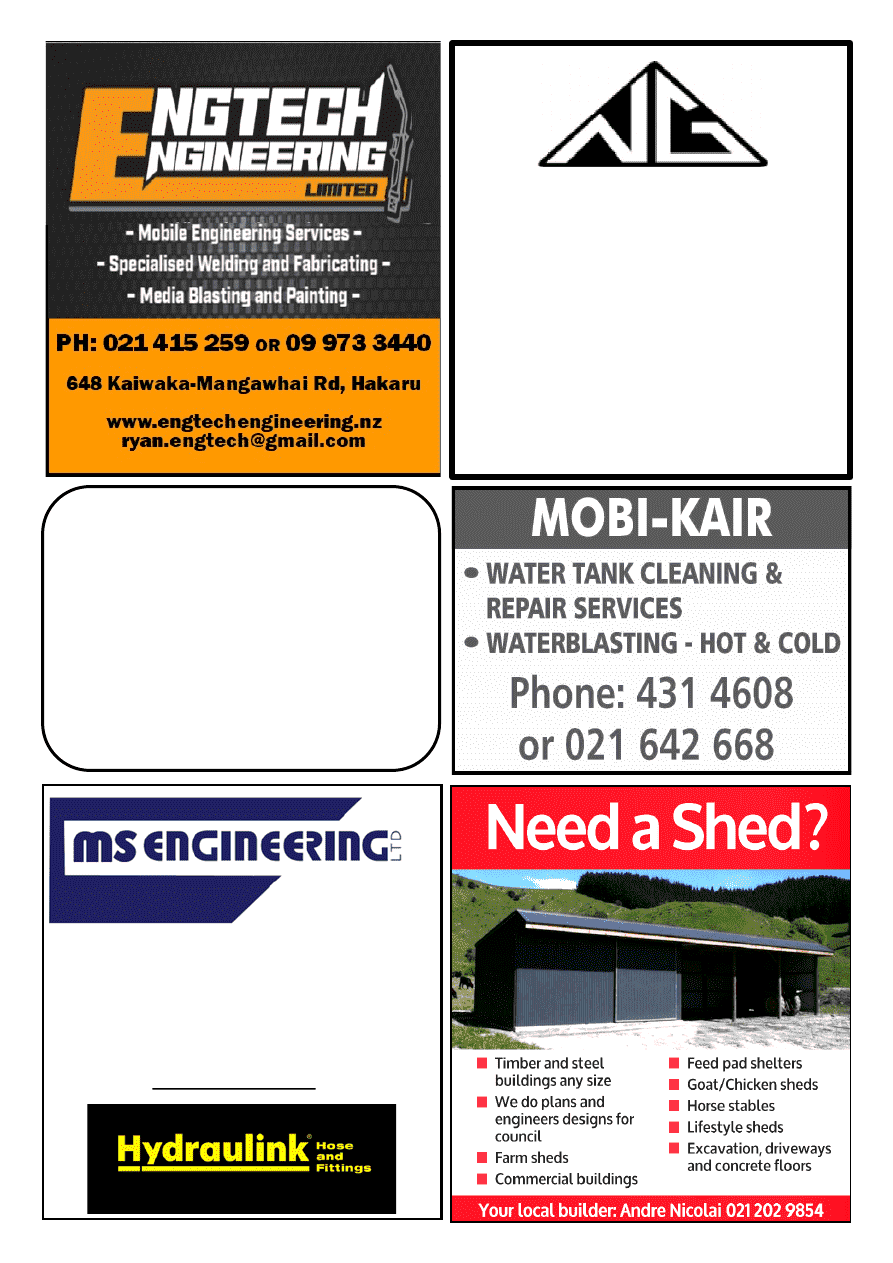 NORTH GLASS 
WINDSCREEN REPAIR OR REPLACE 
GLAZING SERVICES 
MIRRORS  •  SPLASH BACKS  •  SHOWERS 
0800 70 40 10
info@northglass.co.nz 
www.northglass.co.nz 

Peter Buckley 

Mobile Hose Technician –  
                      Based from Oneriri Road 

Available for all mobile hose                                
                        requirements onsite 

Call – 0800 425 7116 

Email – mse@mseng.co.nz 
UP-LINK 
CHRIS WARING 
FREEVIEW INSTALLATIONS 
T.V. - HOME THEATRE &  
HI-FI ADVICE/SET UP
SKY ACCREDITED INSTALLER
MOB.0273403747 HM.094312328 
EMAIL cwaring44@gmail.com
28 YRS EXPERIENCE 
OFFERING UNBIASED ADVICE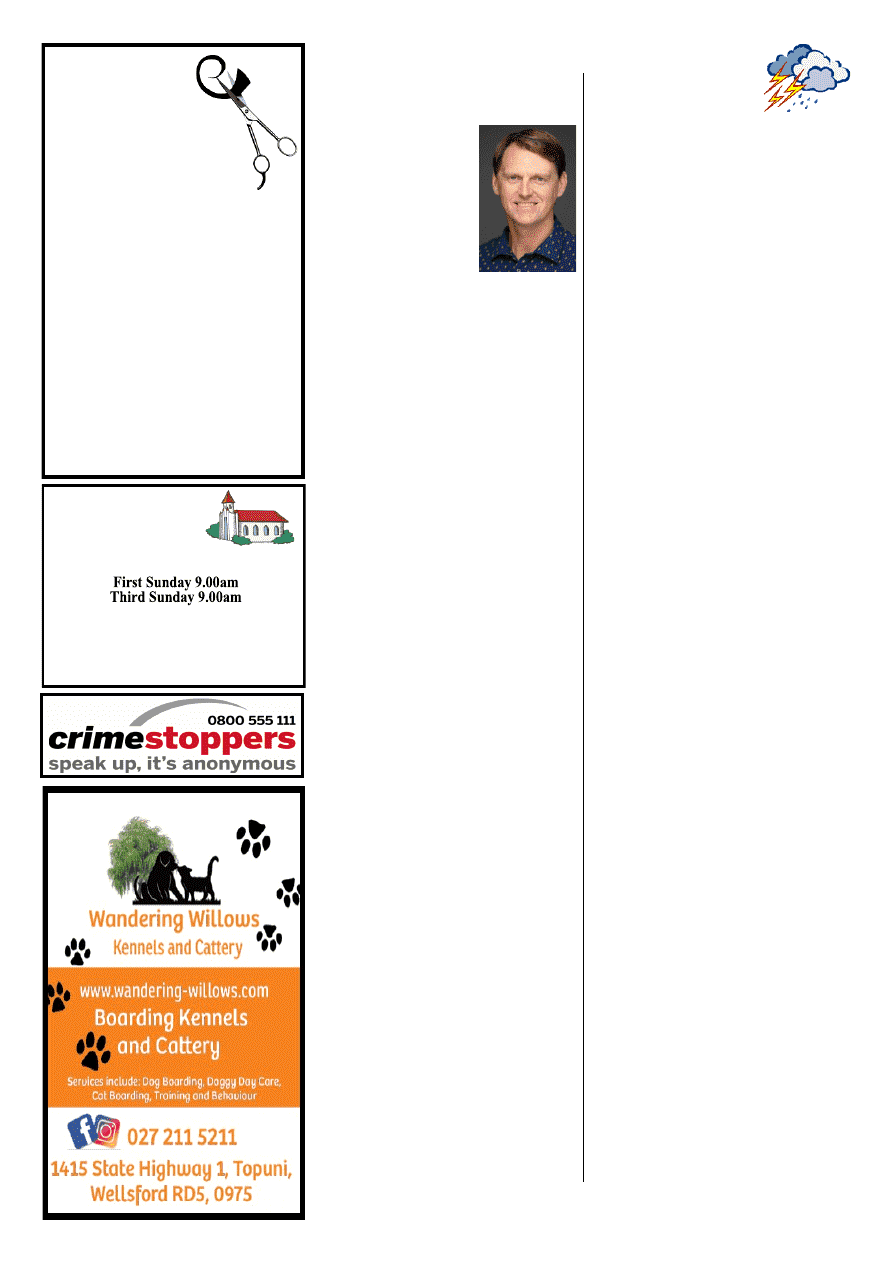 www.kaiwaka.co.nz 
Kaiwaka Bugle - 7 July 2020 
Page 9 
ST PAUL'S  
ANGLICAN  
SUNDAY SERVICES
St Pauls Church: Kaiwaka-Mangawhai Rd. 
1st Sunday - Eucharist 
3rd Sunday - Family Service 
Priest in Charge Rev. W Thornton Ph 431 4122 
www.mangawhaianglican.org.nz
COUNCILLOR'S 
COMMENT* 
with Kaiwaka-Mangawhai Ward 
Councillor Jonathan Larsen.
KAIWAKA 
WEATHER 
Welcome  my  friends  and 
newcomers to Kaiwaka.  
As  you  know  we  have  passed  the 
shortest  day  of  the  year  and  are 
heading towards Spring. It seems as if 
we  did  not  have  Autumn  this  year 
hardly except for autumn leaves. Going 
over  to  Maungaturoto  on  Thursday  I 
noticed  the  beautiful  Magnolias  out  in 
full  bloom  -  a  bit early,  I  think.    Also 
going  down  to  Wellsford  Friday  week 
ago I spied a couple of lambs up on the 
hills  (I  was  a  passenger  so  could  look 
around).  So,  it  seems  it  is  winter  but 
also  Spring  as  well.    I  do  know  some 
sheep farmers have it so their lambs are 
born  early,  and  they  can  tolerate  the 
cold  better  and  there  is  not  the  same 
flock loss. 
Well  our  June  was  rather  mild  but 
quite  wet  in  some  areas  of  the  wider 
Kaiwaka  area  and  some  are  still  short 
of  rainfall  to  carry  them  through  to 
next year. Oneriri has not had the same 
rainfall as in Kaiwaka.  
For  June  2020  we had 288mm of rain 
and in 2019 we had 104mm.  
Our  wettest  June  since  1987  was 
2018  with  318mm  and  the  driest  was 
2012 with 52mm.  
For the first 6 months of 2020 we had 
719mm and 2019 we had 400mm.  
Our wettest 6 months since 1987 was 
2018 with 1131mm and the driest was 
1987 with 33mm.  
At  our  house  in  Kaiwaka  we  had  rain 
on  15  days  of  the  month  and  in  2019 
we had rain on 16 days.  
The  rain  was  very  intense  on  a  few 
days  last  month  as  a  lot  of  people 
experienced  in  one  way  or  another.  A 
lot  of  road  damage  and  flooding.  
There was a tornado out at Mangawhai.  
As 
the 
song 
goes, 
'Thunder 
Lightening,  very  very  frightening'.  
Our power was restored by 9pm in the 
latest storm while most other waited till 
2.30am  approximately  the  following 
morning.  What  an  awesome  show  of 
lightening - the storm was very high in 
the sky. At least we did not have those 
strong winds this month.   
The  Brynderwyn  Waterfall  is  running 
very well at the moment which is good 
to see.   
'
Donald  McDonald  from  the  Scottish 
Highlands  went to  study law  at  an austere 
English  University.  After  a  month  his 
Mother went down to visit him. " And how 
do  you  find  the  English  students  Donald 
she  asked?  "Mother"  he  replied,  they  are 
terrible, noisy people. The one on that side 
keeps  banging  his  head  on  the  wall  and 
won't  stop....  The  one  on  the  other  side 
screams  and  screams  all  night".  "Oh 
Donald,  how  do  you  put  up  with  these 
noisy 
neighbours"? 
Donald 
replies 
enthusiastically.    "Mother  I  do  nothing.  I 
simply ignore them. I just stay here quietly 
playing my bagpipes."  
Take care out there. Bev. 
JUST 
CUTS 
and 
MORE  
1758 Cove Road  
Open Monday-Saturday  
by appointment only 
Saturday 9-12pm  
Affordable prices: 
Ladies cuts from $35 
Colours from $120 
Men's from$25 
Kids from $18 
0211652629  
COVID-19 
RESPONSE 
FUNDING 
FOR 
KAIWAKA 
Central 
government 
has  approved  a  $9.32 
million 
worker 
redeployment  package 
for  Northland.  Of  this 
$2.87 million is to be spent in Kaipara 
to create employment opportunities, for 
those who have lost jobs, or are at risk 
of losing jobs due to COVID-19. 
Kaiwaka is to receive $616,000 for the 
installation  of  Kauri  dieback  proof 
tracks  at  Kaiwaka  reserve.  This 
includes  $100,000  for  wash  stations 
that  NRC  may  contribute to. This  will 
tie  in  nicely  with  the  adjacent  fitness 
trail  already  installed.  A  further 
$30,000 will also be spent on a clean-
up  of  the  Oneriri  Rd  intersection  with 
State Highway One. 
POTENTIAL  NEW  SERVICE 
STATION 
I have followed up on queries about the 
possibility  of  a  new  service  station 
proposal for Kaiwaka. Council have 
confirmed  that  a  resource  consent 
application  for  this  purpose  has  been 
received  and  is  currently  being 
processed. 
RESERVE  CONTRIBUTIONS 
CONTESTABLE ROUND 
With  all  the  growth  that  has  occurred 
around the Kaiwaka area, a significant 
amount of money has been collected as 
reserve contributions. This money is to 
be  used  to  compensate  for  the  effects 
of  growth  in  the  area.  The  contestable 
round  is  now  open  for  the  community 
to  apply  for  funding  for  projects.  This 
could  for  example  include  such  things 
as  walking  tracks,  a  skate park,  picnic 
areas  or  the  acquisition  of  land  for 
future  recreation  areas.  There  is 
$300,000  up  for  grabs,  and  anyone 
interested  can  find  the  application 
information  on  the  Council  website 
(search  for  'reserve  contributions'  or 
contact  the  Council  grants  officer 
directly  on  grants@kaipara.govt.nz 
with any queries. Applications close on 
13 July 2020. 
For  any  Council  maintenance  or 
service issues please phone 0800 0800 
727 059 or  
email  council@kaipara.govt.nz.  If  you 
have any community projects or issues 
that  you  would  like  assistance  with,  I 
can be contacted on Ph. 021 185 8389 
or jlarsen@kaipara.govt.nz. 
*The  views  expressed  are  those  of  the 
writer and do not necessarily represent the 
consensus position of Council.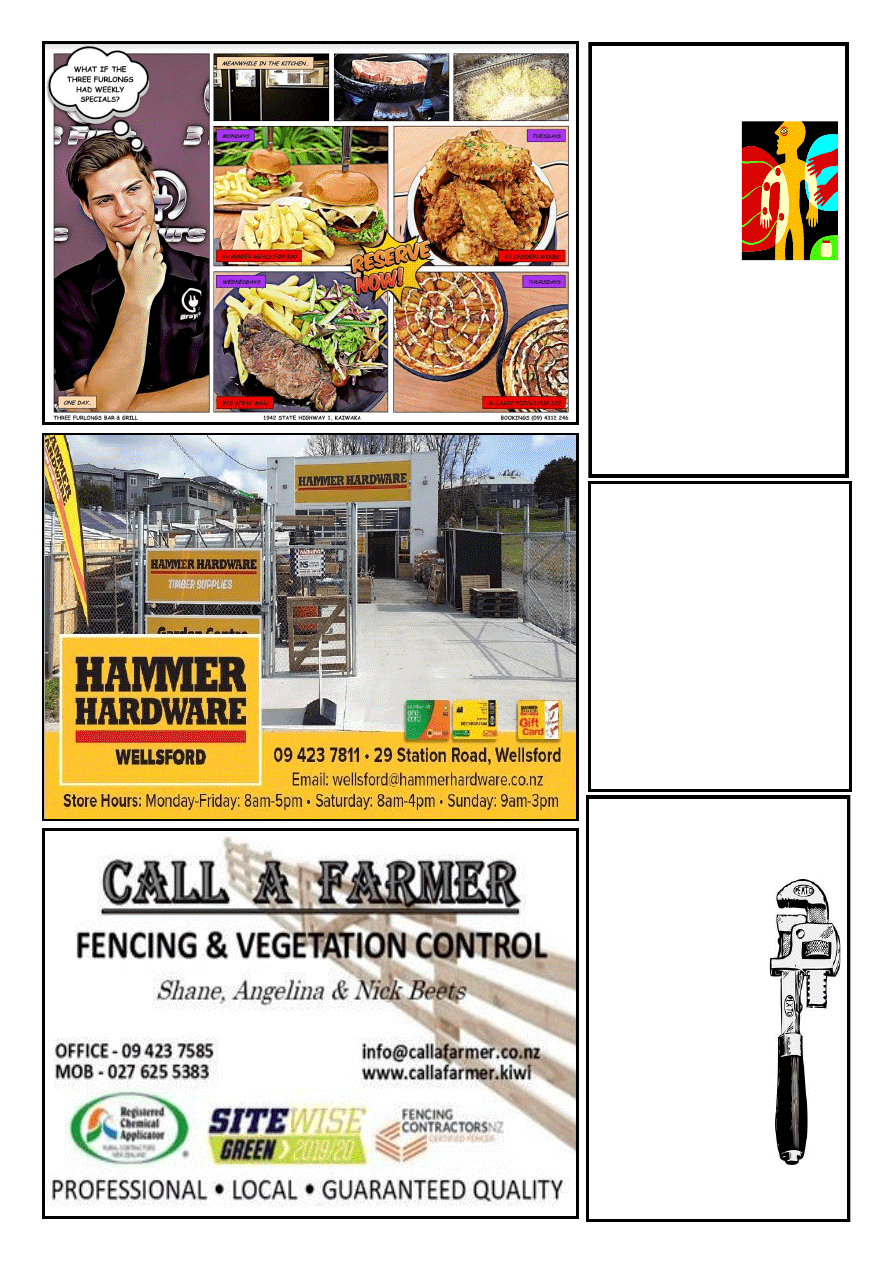 OWEN STEVENS 
Osteo Therapist
For careful 
adjustments to 
bones and joints 
Treatment for 
humans and their 
pets 
Clinics: 
Kate's Place, Kaiwaka: 
Last Friday of month 
For bookings: 
9.00am-5.00pm  
Phone 
09 4312661 
Or phone Owen  
09 4317123 anytime 
BARRY CURTIS 
PLUMBING LTD 
REGISTERED CRAFTSMAN 
PLUMBER 
Phone  
431 5572 
027 257 9884 
25 years' experience 
Friendly reliable 
service 
All plumbing & 
maintenance 
Alterations and new 
housing 
Spouting  
Competitive rates 
PROMPT EFFICIENT 
WHERE TO GET HELP 

1737, Need to talk? Free call or 
text1737 to talk to a trained counsellor  

Rural Support Trust 0800 787 254   

Lifeline, 0800 543 354  

Youthline, 0800 376 63, text 234, 
email talk@youthline.co.nz or online chat

Samaritans, 0800 726 666  

Depression Helpline, 0800 111 757   

Suicide Crisis Helpline, 0508 828 
865 (TAUTOKO)      

In a life-threatening situation 
call 
111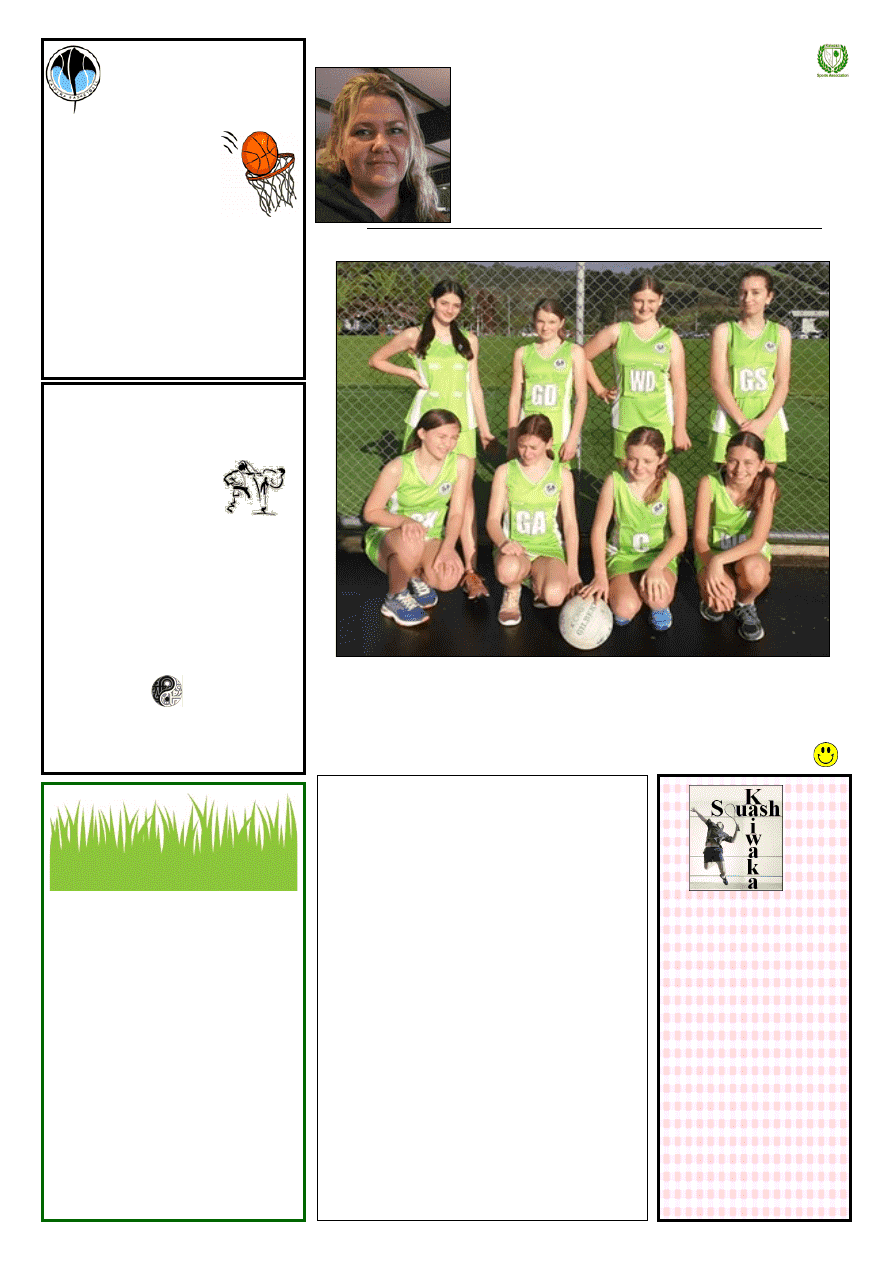 www.kaiwaka.co.nz 
Kaiwaka Bugle - 7 July 2020 
Page 11 
OTAMATEA NETBALL 
SELF DEFENCE 
KEMPO 
Fitness, Confidence, 
Discipline, 
Respect,  
Self-awareness 
Classes for all ages in: 
 Mangawhai
Kaiwaka Wellsford
For more information please 
contact
 Otamatea  
Martial Arts
otamatea.kempo@farmside.co.nz 
Phone 09-431-5170 
www.facebook.com/
otamatea.kempo 
➢ 
TRACTOR WORK 
➢ 
FENCING: 
     POST & RAIL 
     WIRE & BATTEN 
     ELECTRIC 
➢ 
PADDOCK 
➢ 
MULCHING/TOPPING 
➢ 
SPRAYING: 
    GORSE 
    WEEDS 
 
PHONE MARK 021 801065 
KAIWAKA SPORTS ASSOCIATION 
CONTACT DETAILS 
Chairperson Wayne Leslie 4312 205  
Maintenance/grounds Mark Ottaway 4312 229  
Clubs: 
Athletics     Eileen Parsons   4318 055 
Badminton    Kaye Fleming   4312 345 
Basketball     Blake Worsfold  021 148 9743 
Fitness Centre  Siobhan Cole   027 9791203 
Hockey       Tina Holst     021 2935974 
Martial Arts   Craig Bennetts   4315 170 
Netball:  
* Primary     Courtney Cave   021 2667946 
* High School   Melissa Watts 021 2990270 
* Senior       Maree Stewart 021 2800262 
Pt Curtis Cruising Sandy Shaw  021 02360740 
Rugby:  
* JMB   Te Awhina Whitehead 021 02596889 
* IMB    Lorena Reynolds 021 1391474 
* Junior Hawks  Lorena Reynolds 021 1391474 
* Womens Hawks Bron Hames 027 4258046 
* Senior Hawks  Michael Tovine  021 1386461 
Squash       Bruce Leslie  021 1268015 
Tennis       Andrea Orchard 021 02346849 
Sports  Club  Contacts  please  let  me  know  are 
these details correct?  
Send to kaiwakabugle@kaiwaka.co.nz 
KAIWAKA SPORTS ASSN 
Due  to  Covid,  the  Kaiwaka  Sports  Association 
committee has made me redundant from my role as KSA 
Manager. 
A bit of an end of an era for me as I've been involved with 
the KSA for over 15 years.  
I've enjoyed running sporting and community events in our 
town and just wanted to say a big thank you to everyone in 
the community for all the support and help you have given 
me over the years, I have really appreciated it. 
Thank you, Cheryl Anderson 
Above: Otamatea Junior Netball Team at the Whangarei Netball Centre. 
The  Otamatea  Netball  teams  have  had  an  amazing  start  over  the  last  2 
weekends. SENIOR 1 AND 2 are both undefeated with huge score margins, Our 
Y  Development  team  have  had  some  good  wins  and  tight  games.  And  out 
Juniors have had some really good games losing by 1s and 2s.  Over all the club 
are setting the bar high for 2020 season at the Whangarei Netball Centre. 
Kaipara  
Basketball  
MINIBALL 2020 
Begins  27  July  – 
for 7 weeks 
At  Kaiwaka  Sports 
Assn. 
For  SKILLS,  DRILL 
and GAMES 
For  children  from  Kaipara 
District and surrounds 
$30 per child 
Under 7s -  3.30pm 
Under 9s – 4.15pm 
Under 11s – 5pm 
For more information email 
basketball.kaipara@gmail.com  
KAIWAKA 
SQUASH CLUB 
All ages and abilities 
welcome 
CLUB NIGHT 
On MONDAYS 
LADIES NIGHT SQUASH 
on WEDNESDAYS 
Grab your friends and 
register your interest
kaiwakasquash@gmail.com 
TRY IT/PLAY IT/LOVE IT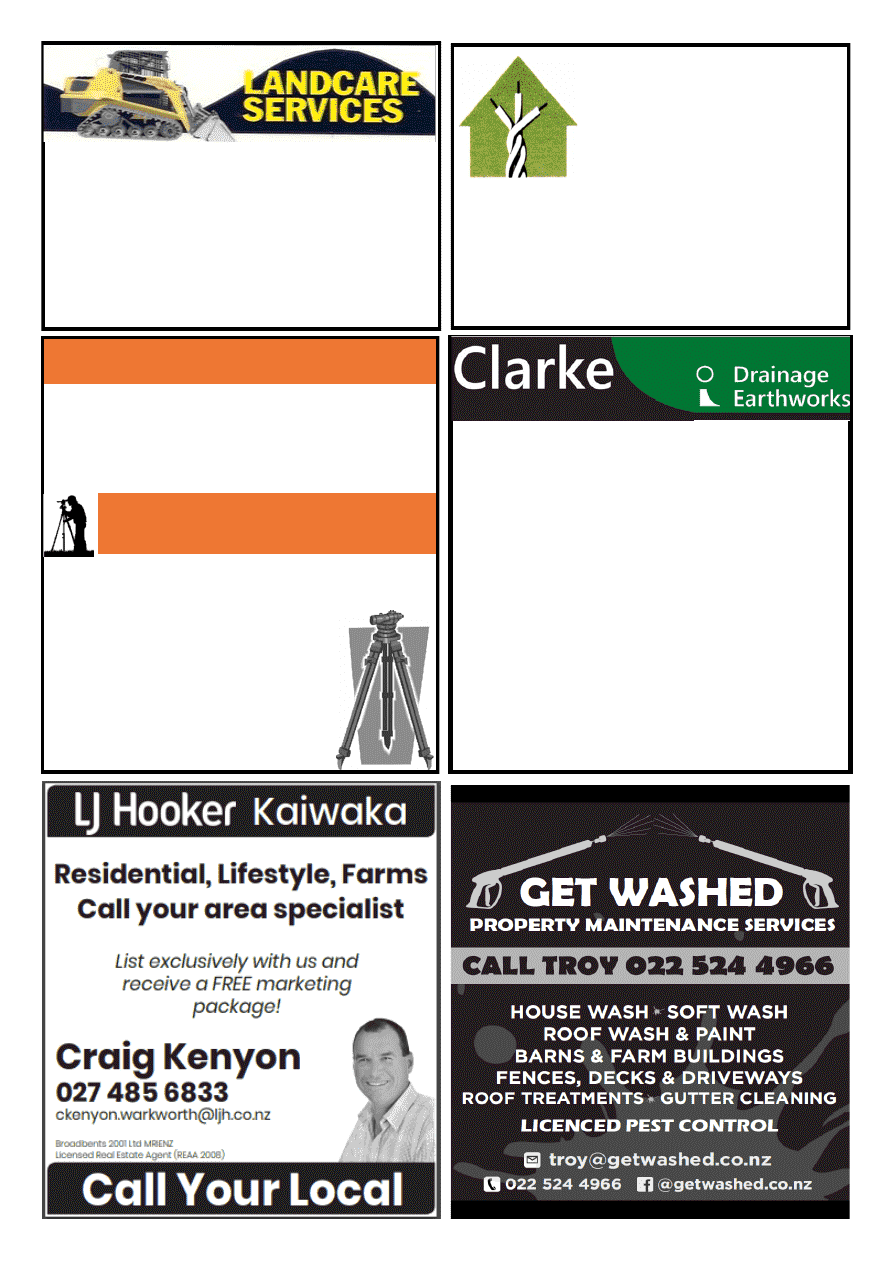 Reyahn  Leng 
Registered Electrician 
Local, honest and reliable. 
For your residential and 
light-commercial projects. 
022 314 1068 
SURVEYORS 
SUBDIVISIONS 
HOUSE SITE SURVEYS 
CIVIL ENGINEERING 
WASTEWATER DESIGNS 
EXPERIENCED 
PROFESSIONAL 
INNOVATIVE 
Ph 09 431 5353 
0800 PACIFIC (0800 722 434) 
pacificcoastsurvey.com
Adam Booth - 027 415 5752 
Bsurv, Licensed Cadastral Surveyor
Surveying Kaipara since 1994 
LANDSCAPING 
4 IN 1 BUCKET 
TRENCHER 
POLE HOLES 
ROTARY HOE 
COMPACT ROLLER 
OFFAL HOLES 
CAN SUPPLY WOODCHIP & POST PEEL 
5 TON TIPPER 
FOR RELIABLE AND FRIENDLY SERVICE CONTACT DAVE 
Dave Hyndman 
 
KAIWAKA 
PH: 09 4312302 
MOB: 021 431 238 
Drainage & Earthmoving 
nigel@clarkedrainage.nz 
027 2233 185 
Registered Drainlayer                 All Types of Earthworks  
> All Residential & Commercial Work  > House Sites 
> Septic System Design & Install 
> Footings & Drilling to 10m 
> Sewer Connections 
> Dams 
> Water Tank Installation 
> Roading & Races 
> Farm Work 
THE ONE STOP SHOP  
Phone Nigel for an Obligation Free Quote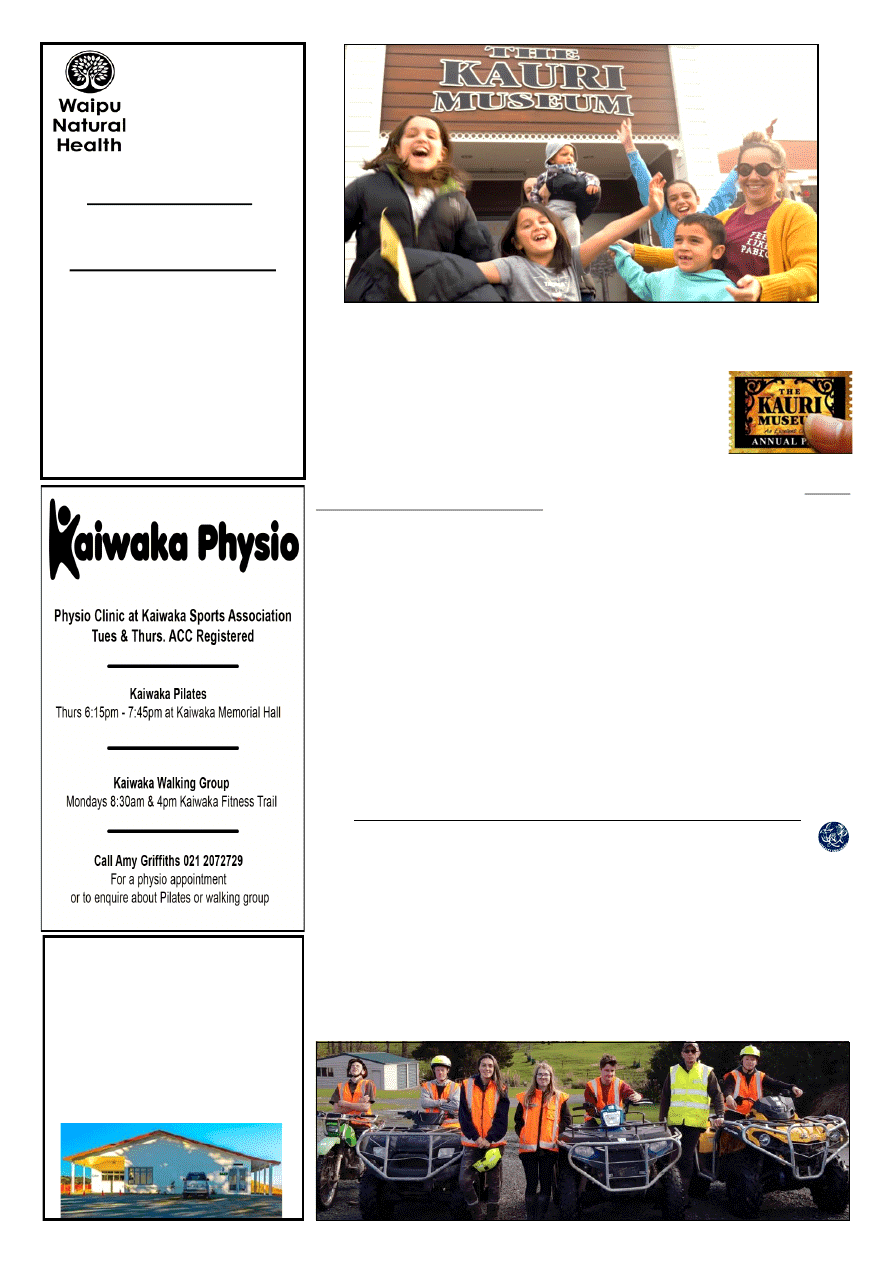 www.kaiwaka.co.nz 
Kaiwaka Bugle - 7 July 2020 
Page 13 
This year, the L2 Primary Industry class has been able to do two outside courses 
- fencing and quad bikes, and will shortly complete pest control.  
The  fencing  course  was  run  by  the  Northland  Regional  Council  and  was  held 
over the course of two days at two different locations. To hone their skills, the 
students did several hours of fencing practice at Otamatea High School. 
Kevin Mitchell from Training Ventures ran the quad bike course over two days 
at the Maungaturoto Country Club. Students learned how to ride a quad safely 
on a variety of terrain in a variety of weather events. Thanks very much to the 
Maungaturoto  Country  Club  for  allowing  us  to  use  their  facilities  and  also  to 
Kyle  from  Maungaturoto  Motorcycles  for  generously  loaning  us  the  use  of  a 
quad  bike. Through  the  two  courses  students  were  able to  gain  various credits 
and certificates. ~ Marco Troost 
3 Cove Road, Waipu 
(opposite the Pizza Barn
) 
094321325 
www.waipunaturalhealth.co.nz 
Clinical Nutritionist: 
Nutritional Checkups, Diets for 
Chronic Diseases,  
Food Sensitivities 
Naturopathic Physician: 
Ozone Therapy, Prolotherapy  
Reflexology, Craniosacral 
Therapy, Trauma Release 
Massage Therapy 
Counselling and Hypnotherapy 
Change Catalyst/ThetaHealer 
Affordable Children's Consults 
All therapists are fully qualified
OTAMATEA HIGH SCHOOL NEWS
Te Pounga Marae 
130 Nathan Rd. Oneriri. Kaiwaka 0573 
COMPLEX FOR 
HIRE 
Functions: * Weddings  * Birthdays  
*Anniversaries * Meetings  * Wananga 5 
hour meeting * 12 hour stay or Overnight 
*All welcome   
For more information please contact: 
 Pearl Nathan 0223933533 
Email: tepoungamarae130@outlook.com  
School Holidays are nearly here again, and The Kauri Museum has lots of 
fun activities for the whole family.  
We  have  some  great  competitions,  kid's  workshops  and  new  exhibitions 
opening soon. Have a look at our What's On page on our website.  
When  you  visit  remember  to  ask  for  our  group  and  family 
discount  rates.  Did  you  know,  just  a  few  dollars  extra  gets 
you  an  Annual  Pass.  Spend  a  rainy  afternoon  browsing, 
bring your visitors over and best of all, see all our temporary 
exhibitions for a whole year! 
If  you  are a  keen  photographer, poet  or  song  writer, you  should definitely  get 
involved 
in 
these 
competitions 
which 
open 
in 
July. 
https://
www.kaurimuseum.com/whats-on  
The Kauri Museum's Northland Photography Awards  
Entries Open: 13 July | Entries Close: 10 August 
Prizes to be won. 
This themed photographic competition and exhibition showcases the creativity 
of Northland. The theme for 2020 is, 'Inside Northland Homes'– a celebration 
of the spaces we live in - in our beautiful region where kauri once covered the 
land. More details and entry forms can be found online. 
National Poetry Day 2020 – Poem and Lyric Competition 
18 July - 8 August Submit your entries - Adult section. 
Open Mic and prizegiving 21 August. 
The Kauri Museum runs the Poem and Lyric Competition for National Poetry 
Day  in  two  phases.  The  Adult  competition  (over  18)  and  the  student 
competition. The theme for this year is 'The ebb and flow of the Kaipara'. See 
our website for more details and entry forms. 
Kids section opens August 21. 
Sadly, we will be celebrating Matariki without our wonderful schools group 
exhibitions this year. The kids have a bit to catch up on after their recent time 
studying at home. Shine brightly young ones. 
We look forward to seeing your amazing artworks next year.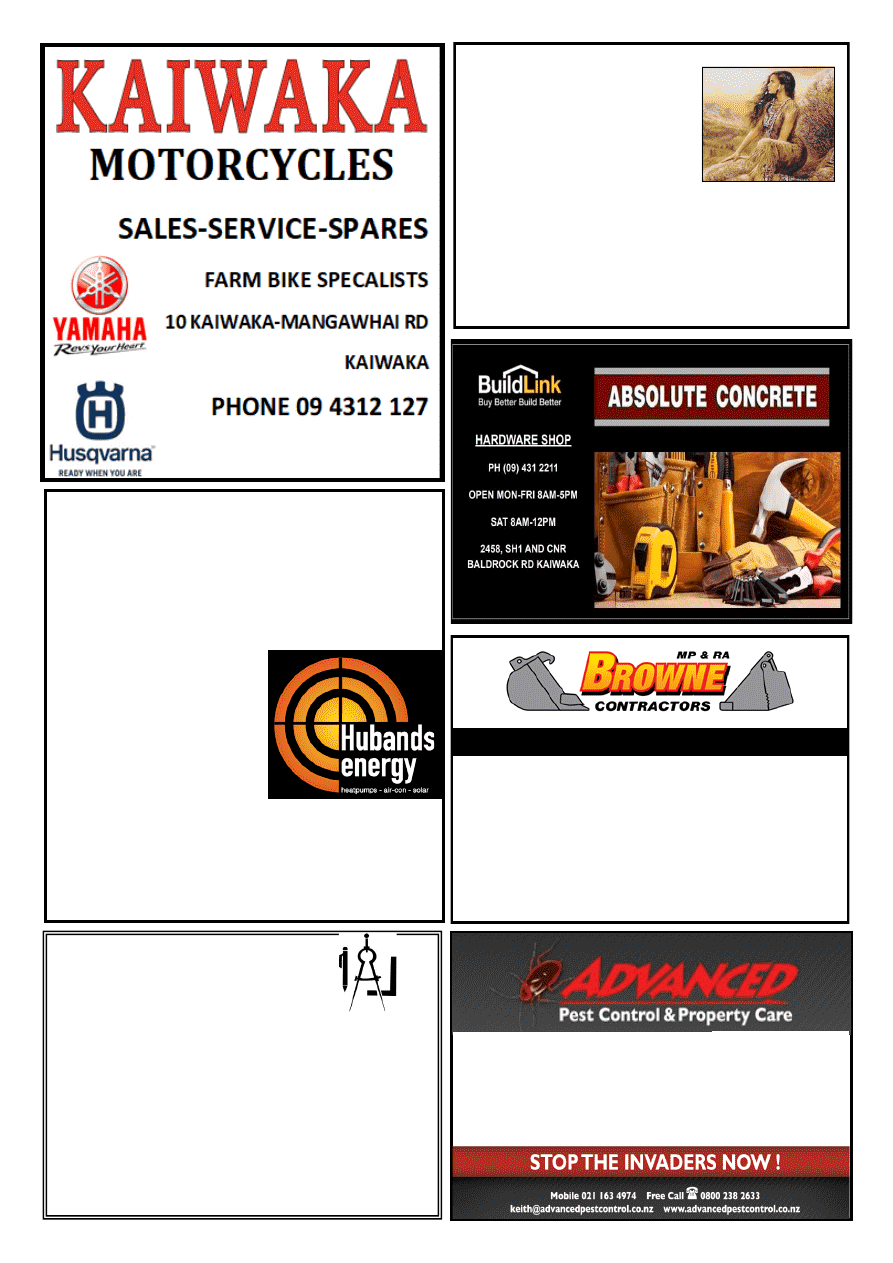 4Tonne DIGGER – BOBCAT – TIP TRUCK 
Property Maintenance - Driveways  
 Building Sites 
Stump & Tree Removal  
Hole Boring - Chain Trencher  
Calf Shed and Stockyard Cleaning 
Phone Matt: 021 199 6677 
Email: mprabrownecontractors@gmail.com 
Pest Control 
PLAN A: One-off treatments to customers with a specific pest problem 
PLAN B: Full maintenance service plans to commercial customers. 
This will include documentation kept in customer file on site: 
⚫
Pest treated 
⚫
Date of service 
⚫
Chemical or baits used 
⚫
Full pest check report done after each treatment 
⚫
Fair and reasonable fee with guarantee 
Flood Recovery 
Carpet Care 
⚫
Carpet Drying 
This includes pre-spray treatments 
⚫
Dehumidifier Rental 
with stain removal and hot water extraction.  
⚫
Full Commercial Cleaning  Patch repair also available 
Upholstery Cleaning 
Full upholstery cleaning of all furniture.  
eg lounge suites and all office chairs 
Water Blasting 
⚫
Concrete - Decks 
House Washing 
⚫
Soft Chemical Was 
⚫
Pre-painting Wash 
Property Services 
⚫
Property Cleaning  Lawn Mowing 
⚫
Hedges General   Tidy Ups 
design drafting  
service 
Retired builder and manufacturer with over 40 years  
experience in the building industry is offering a design 
drafting service for domestic housing, sleepouts and 
sheds.  
Plans formulated in consultation with clients, with 
working drawings completed and submitted to  
council for processing.  Extensive practical experience,  
able to identify & resolve problems. 
Please ring Mike Lean on 
09 431 2260 
or 
021 431 196 
TRAILS END 
RONGOA 
MAORI 
HEALING 
And Gifts 
Stocking all your needs from incense, crystals, dream 
catchers, greeting cards, jewellery, perfume, dragons and 
more ... 
For all inquiries 
 Phone 0211652629  
Light refreshments available $5 koha  
1758 Cove Road Mangawhai
Northland's Award Winning 
Solar Company
SEANZ Best Solar Business Winners 2015/16
EXCLUSIVE 10 year installation warranty 
FREE No obligation onsite quote
Complete systems 
from $5990
See our range of: 
✓ 
Heatpumps 
✓ 
Airconditioning 
✓ 
Hot Water 
Heatpumps 
✓ 
Central Vacuum Systems
09 430 0019             sales@hubands.co.nz 
15 Kioreroa Road, Whangarei
Locally owned and operated for 35 years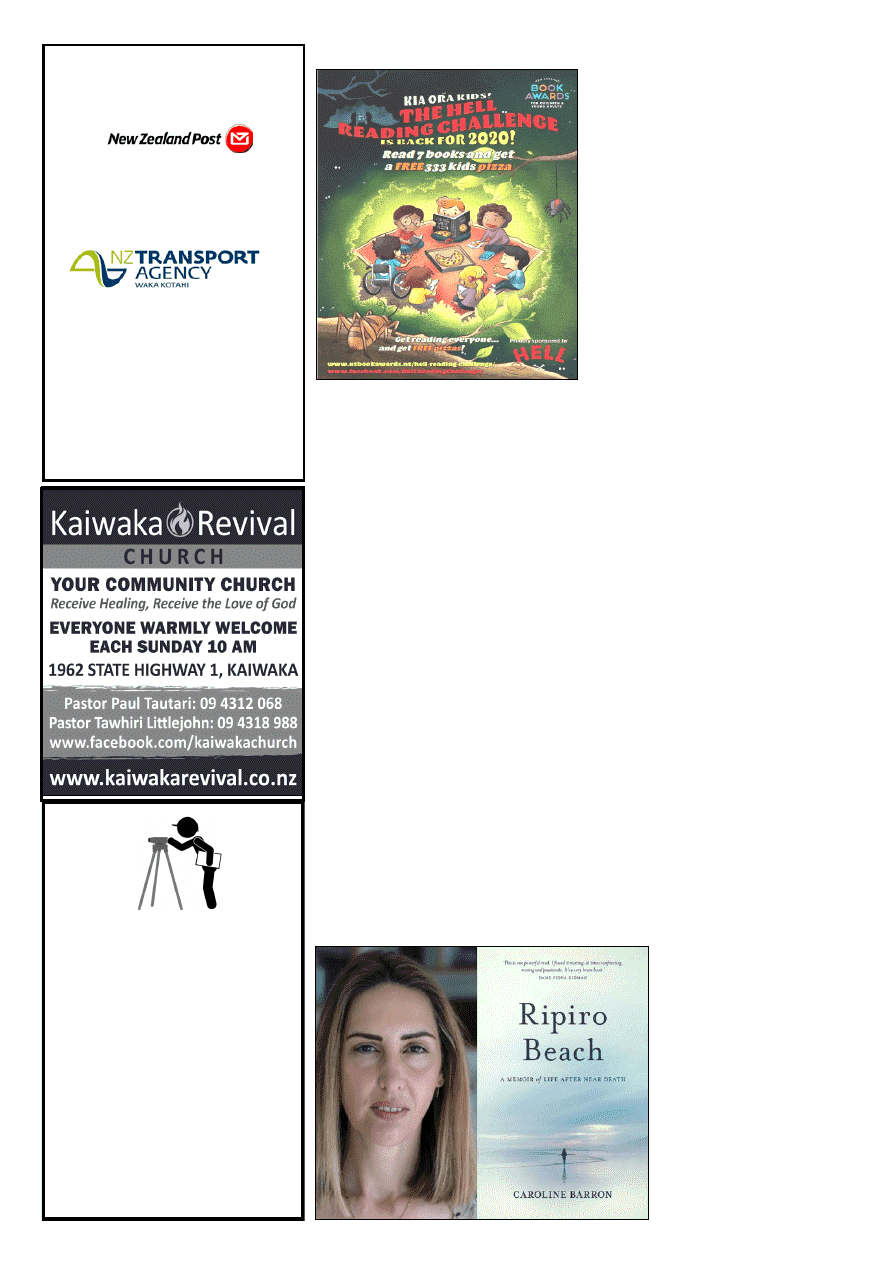 www.kaiwaka.co.nz 
Kaiwaka Bugle - 7 July 2020 
Page 15 
KAIWAKA POST 
CENTRE and 
FOOD MART 
POST CENTRE TRADING HOURS 
MONDAY to FRIDAY 8am to 5pm 
SATURDAY 8am to 12pm 
CLOSED ON SUNDAY and on 
PUBLIC HOLIDAYS 
FOOD MART (GROCERIES) 
MONDAY TO FRIDAY  
7:30am to 7.30pm 
SATURDAY  8am to 7.30pm 
SUNDAY  8:30am to 7pm 
IF ANY QUERIES PLEASE CALL 
STORE MANAGER AMRIT  
on 09 4312431 or 
EMAIL: kaiwakafood19a@gmail.com 
1919a State Highway1, Kaiwaka 0542 
Ken Urquhart 
BSurv Licensed  
Cadastral Surveyor 
KMU Surveys Ltd 
467 Bickerstaffe Road 
RD 2 
Maungaturoto 0587 
Ph 09 431 8705 
Mob 021 161 2344 
kenurquhart@xtra.co.nz 
2020 Hell Reading Challenge 
This popular reading challenge for kids 
in  Years  1-8  is  back,  and  we  have  the 
wheel  cards  at  the  library  to  get  you 
started.  It's  simple  -  read  a  book,  tell 
the  librarian  about  it,  get  a  stamp  on 
your  card.  Fill  a  card  (7  books/7 
stamps), and you can redeem the filled 
card  for  a  free  333-size  pizza  at  any 
Hell  Pizza  store  nationwide.  You  can 
report  up  to  four  books  to  us  on  any 
one day. There is no limit to how many 
cards a kid can fill during the challenge 
period. Cards must be redeemed by 31 
January 2021. 
NEW BOOK 
I  thought  this  looked  interesting,  and 
want to tell you about it before I've had 
time  to  read  it  myself  -  Ripiro  Beach 
by Caroline Barron... "Does DNA write 
our  destinies?  Or  do  the  hands  that 
nurture triumph over nature? What is it 
that  determines  who  we  really  are? 
Caroline  Barron's  father  never  found 
his birth mother. After he dies suddenly 
on  her  twentieth  birthday,  Caroline 
develops  an  insidious  fear  of  her  own 
untimely  death.  When  she  nearly 
bleeds out on an operating table during 
childbirth, it almost seems her greatest 
fear is justified. 
"Emerging  from  the  experience  a 
changed  woman,  Caroline  spends  the 
next  six  years  poring  over  her  family 
history in an attempt to make sense of 
her  inexplicable  rage.  The  family 
secrets  she  unearths  threaten  to 
destabilise  her  identity  and  carefully 
built  life,  eventually  leading  her  to 
Northland's  rugged  Ripiro  Beach, 
where  past  and  present  dramatically 
collide. 
"Ripiro  Beach  is a beautifully written, 
relentlessly  honest  memoir.  Caroline 
learns  that  there  are  mental  health 
issues, suicide and incarceration in her 
family  and  –  most  significantly  –  that 
she is Māori." 
'This  is  one  powerful  read.  I  found  it 
riveting,  at  times  confronting,  very 
moving,  very  passionate.  It's  a  very 
brave book.' – Dame Fiona Kidman   
This book is on the Rental Non-Fiction 
shelves in the library (920 BAR) 
BOOK REVIEWS 
I have two series of books for you this 
week,  which  I've  read  recently  and 
enjoyed... 
First  up  is  the  Sam  Shephard  series  by 
Vanda  Symon  -  (1)  Overkill,  (2)  The 
ringmaster,  (3)  Containment,  and  (4) 
Bound. "When the body of a young mother 
is  found  washed  up  on  the  banks  of  the 
Mataura River, a small rural community is 
rocked by her tragic  suicide. But all is not 
what  it  seems.  Sam  Shephard,  sole-charge 
police constable in Mataura, soon discovers 
the death was no suicide and has to face the 
realisation that there is a killer in town. To 
complicate  the  situation,  the  murdered 
woman  was  the  wife  of  her  former  lover. 
When  Sam  finds  herself  on  the  list  of 
suspects  and  suspended  from  duty,  she 
must  cast  said  her  personal  feelings  and 
take  matters  into  her  own  hands.  To  find 
the  murderer... and clear her name. A taut, 
atmospheric and page turning thriller." We 
have  the  first  three  books  on  our  Rental 
Fiction  shelves,  and  the  fourth  is  at 
Mangawhai  where  we  can  order  it  in  for 
you. 
Next is the Sea  Detective  series  by  Mark 
Douglas-Home  - (1) The sea detective, (2) 
The  woman  who  walked  into  the  sea,  (3) 
The malice of waves, and (4) The driftwood 
girls.  "Cal  McGill  is  an  Edinburgh-based 
oceanographer,  environmentalist  and  one-
of-a-kind 
investigator. 
Using 
his 
knowledge  of  the  waves  -  ocean  currents, 
prevailing winds, shipping records - McGill 
can track where objects have come from, or 
where  they've  gone. It's a  unique  skill that 
can  help  solve  all  sorts  of  mysteries.  Such 
as  when  two  severed  feet  wash  up  miles 
apart on two different islands off the coast 
of  Scotland.  Most  strangely,  forensic  tests 
reveal that the feet belong to the 
same  body.  As  Cal  McGill 
investigates,  he  unravels  a  web 
of  corruption,  exploitation  and 
violence,  which threatens  many 
lives  across  the  globe  -  very 
soon  including  his  own..."  All 
four 
books  are  on  the  Rental 
Fiction shelves in the library. 
All  of  these books  are  listed 
in  our  online  catalogue, 
Enterprise*,  where  you  can 
place a hold to be next in the 
queue to read it. Contact me 
if you need help finding your 
way around there. ~Wendy 
*
Enterprise:  
http://kaipara.kotui.org.nz/
KAIWAKA LIBRARY IS OPEN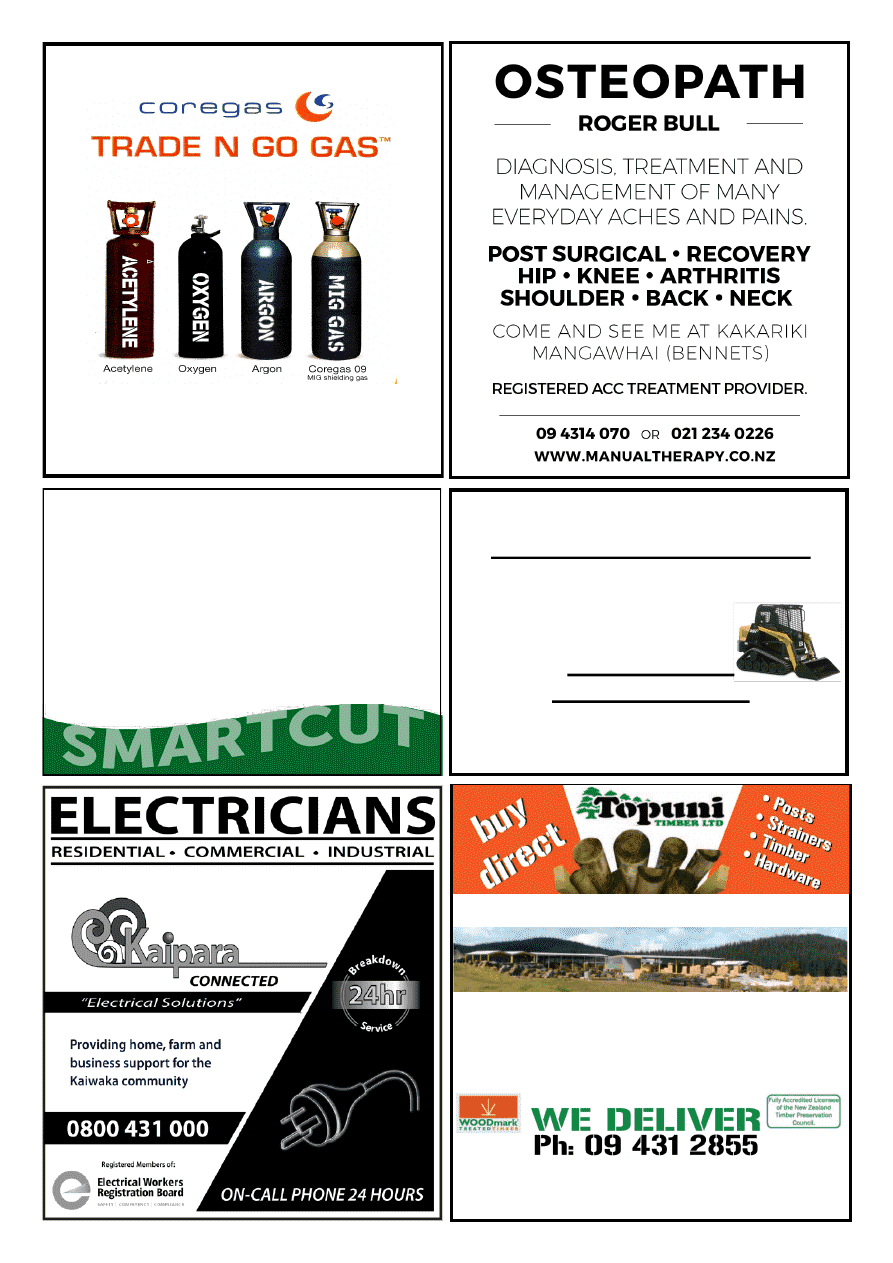 All your outdoor needs sorted so you don't have to… 
I can prune, chop, tidy, spray, mow, plant 
You name it, I can do it! 
Residential & Commercial 
Lawn & Garden Care 
Call Rodney,  
your local lawnmowing contractor 
021 138 2344 
At Twinkle Tow 'n' Tyre 
Mob: 021 833 960 
Ph & Fax: 09 431 2823 
1837 State Highway 1, Kaiwaka 
LOCALLY OWNED AND OPERATED 
QUALITY PRODUCTS • FRIENDLY ADVICE • GREAT SERVICE 
Quality Products milled from High Density NORTHLAND Radiata Pine. 
Treated and guaranteed to NZS3640 with commitment to 
Environmental Safety.
Phone, fax, email, or come into the mill 
Schiska Rd, Topuni, SH1, 10 min north of Wellsford. Fax: 09 431 2856 
Email: sales@topunitimber.co.nz           Mon - Fri 7am-5pm 
• Fencing 
• Retaining 
• Decking 
• Landscaping 
• Gates 
• Hardware 
Natural Earth Ltd 
Landscape and Bobcat services 
 : Driveways :Landscaping :Retaining Walls 
 : Hole Boring: Land Levelling :Trenching 
 : Decks :Fences :Sections Cleared 
 : Plus much more
Tel 09 4312 885 
Mob 02102391280 
For A Fast Friendly Service  
Contact Tim Hicks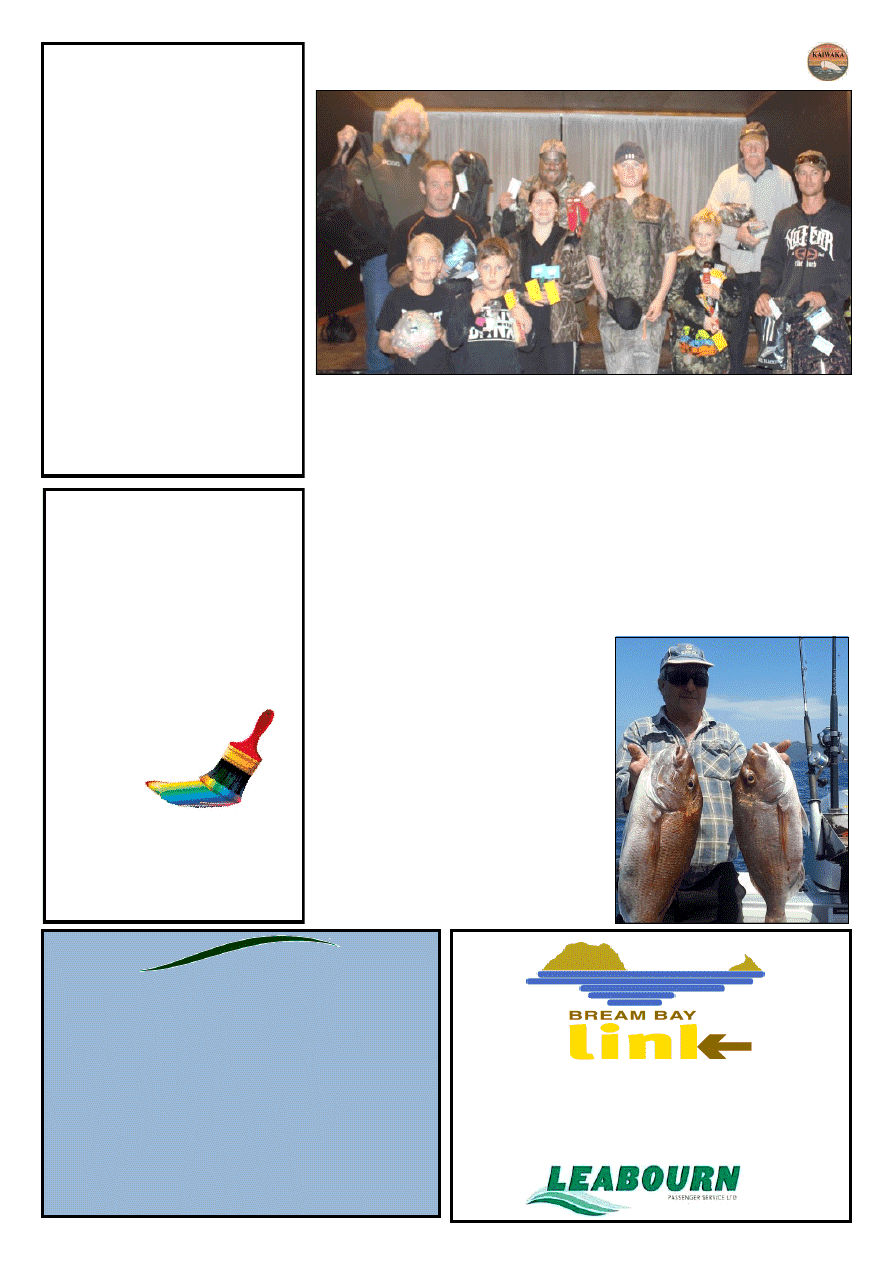 www.kaiwaka.co.nz 
Kaiwaka Bugle - 7 July 2020 
Page 17 
We had a successful End of Season Duck Shoot over the weekend. 
SENIORS: 
Mallard: 1st Ryan Bailey 1.454; 2nd Tony Smith 1.448 
Grey: 1st Tony Smith 1.056 
Parry: 1st Keith Mills 1.776; 2nd Ryan Bailey 1.748 
Pheasant: 1st Keith Mills 1.321; 2nd Dale Hamlin 1.240 
Pukeko: 1st Pongo 1.205; 2nd Dale Hamlin 1.092 
Black Swan: 1st   Dale Hamlin 6.415; 2nd Dale Hamlin 5.700 
Peacock: 1st Keith Mills  4.564; 2nd Pongo 4.184 
Turkey: 1st Pongo 8.585; 2nd Jayden Wilson 8.375 
JUNIORS: 
Mallard: 1st Toby Walker 1.063; 2nd Van Walker 1.034 
Parry: 1st Hunter Ries 1.837; 2nd Ebony Vaughan  1.815 
Pukeko: 1st Van Walker  1.070 
Black Swan: 1st   Hunter Ries 5.405; 2nd Hunter Ries 4.860 
Turkey: 1st Hunter Ries  7.580; 2nd Ebony Vaughan 6.035 
Club Subscriptions 
Don't forget Subs were Due 1st June 2020. 
$30 Family $20 Single. Internet banking 12 
3094  0008233  00  Please  use  Name/s  as  a 
reference 
Annual Meeting 
At  our  recent  AGM  meeting  we  had  a 
change  of  Secretary.  Our  departing 
secretary Renna Brown has stood down and 
Carol  Welsford  has  been  voted  in.  Thank 
you Renna for your time and service, we so 
appreciate you. 
⚫
Fish  of  the  Month  is back, it is Snapper 
till 15th July 2020 
⚫
Next  Club  meeting:  15th  July  @ 
Kaiwaka Sports Association, 7pm everyone 
is welcome. 
~ Wayne Leslie, (Commodore) 
Photo left - two local snapper! 
Willow Bend
HORSE  
HOTEL 
  
Total Horse Care 
 
Agistment 
 
Riding Lessons 
 
Arena Hire (60x40) 
 
Young Horse Starting 
 
Re-training/Exercising 
 
Hoof Trimming 
 
Problem Solving 
Phone Sue 09 431 2817 
or 021 623 776 
Or email  
susanjoll11@gmail.com 
LEE COOPER 
PAINTERS 
(Kaiwaka Based) 
*30 yrs Experience 
*Interior/Exterior 
*New and Restoration 
*Honest and Reliable 
*Free Quotes 
09 4312918 or 
0274735171 
leecooper@xtra.co.nz 
RETURN BUS to WHANGAREI 
Every Thursday 
9.00am Departs Kaiwaka  - 4.50pm Returns Kaiwaka 
Via  Mangawhai,  and east coast . 
please phone 0800 994 404  
wwwbuslink.co.nz 
Operated By:  
POINT CURTIS CRUISING CLUB  
End of Season Duck Shoot Winners   
Steve Bealing 
Interior:          Exterior:  
Kitset Assembly       Landscape Solutions 
Wardrobe Furniture Install  Fence Build & Repair 
Picture & Mirror Mounted   Low level Decks 
Minor Carpentry Works    Gutter clearing & Repairs 
M: 021 1145709  
E: havenhomemaintenanceservices@gmail.com  
Helping  
transform 
your haven into 
your home 
Haven Home 
Maintenance 
Services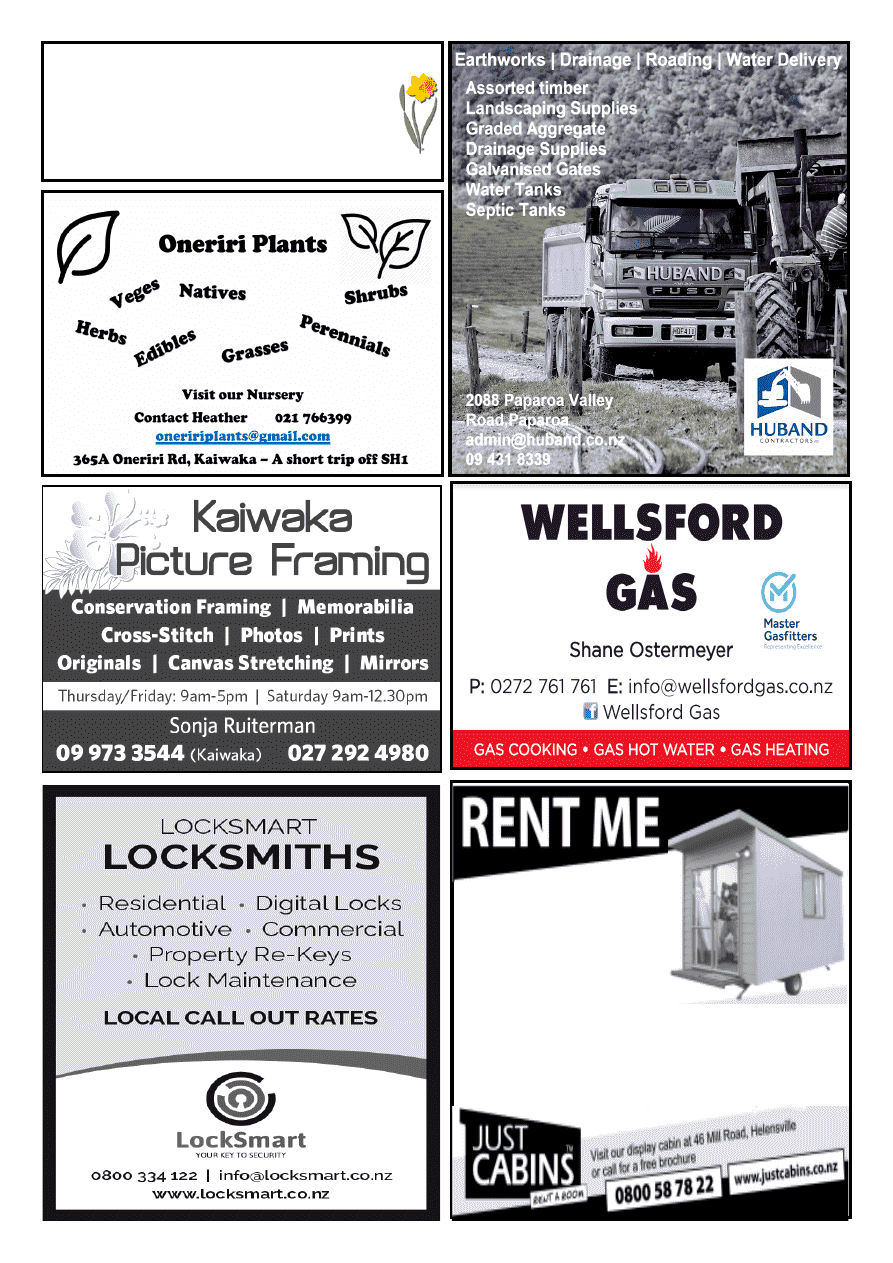 CANCER SOCIETY SUPPORT GROUP  
Cancer Society Support Group Maungaturoto 
is 
an  informal  support  group  for  anyone  with  a  cancer 
diagnosis  and  their  family.  Come  and  meet  with  others 
who understand what you are going through on then 4th 
Tuesday  of  each  month  at  134  Hurndall  Street  East 
Footprints  Room  (behind  Holy  Trinity  Church,  beside 
the Maungaturoto Medical Centre).  
Contact Annette Davis, office co-ordinator on  09 4375593  
Ideal as an extra  
bedroom or office 
Three Convenient sizes: 
Standard 3.6m x 2.4m - $65 per week 
Large 4.2m x 2.4m - $80 per week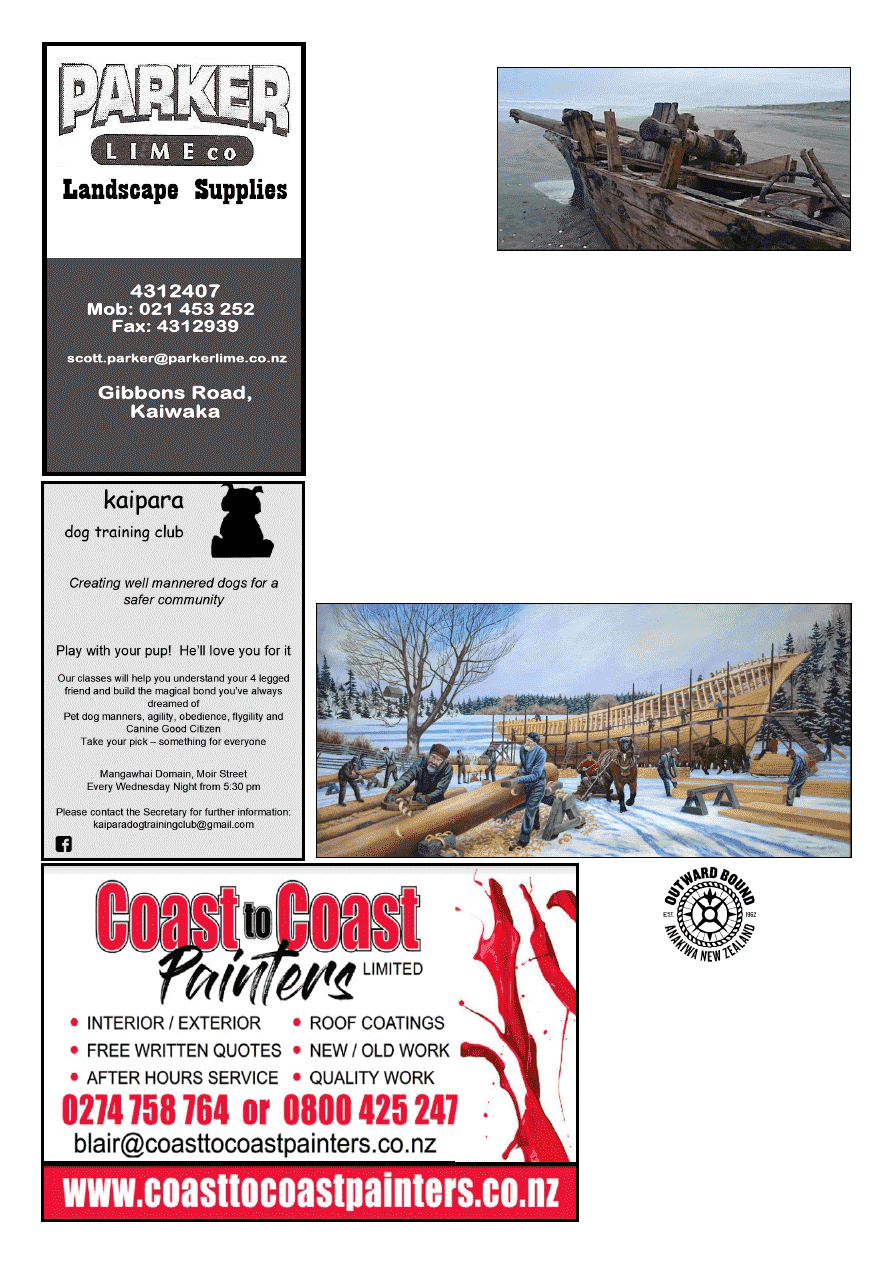 www.kaiwaka.co.nz 
Kaiwaka Bugle - 7 July 2020 
Page 19 
Bulk Cartage 
A REMARKABLE MAN. 
It's  been  157  years  since 
a  fellow  named  Donald 
was  in  Mangawhai  living 
at  the  Heads  with  his 
widowed  mother  and 
siblings.  Born  in  1836  in 
Ullapool  Scotland,  then 
moving  to  Pictou  Nova 
Scotia  where  he  learned 
his trade.  
In  1846  the  potato  blight 
caused  a  famine  which 
may have led to the family emigrating on the  Breadalbane in 1858 to Waipu, 
Donald was twenty-two. Perhaps due to the family liking Mangawhai or perhaps 
based  on  twin  and  often  complementary  industries  of  Kauri  felling  and 
shipbuilding, Donald opened his McInnis shipyard in Shipbuilders Bay in 1862 
with a contract to build Three Brothers an 18 ton Cutter.  
He married Mary Haswell who arrived at Waipu on the Gertrude, and had two 
children to her. He built three ships in the bay at the end of Awatea Street, the 
third boat reaching through history to us today. Mc Innis built boats in Auckland 
and Mahurangi. Over thirteen I know of, Cutters and Schooners all under one 
hundred tons and of individual design.  
Today he is remarkable due to the third boat being the oldest New Zealand Ship 
still here. In 1865 it foundered in the Kaipara on 22nd February. The  Daring, 
named  by  his  sister,  was  dug  up  and  is  under  a  polythene  tarp  in  a  Westpark 
yard. Due to huge indecision there it remains, out of the public view. A give-a-
little page has been set up to donate to its recovery. The writer believes that if 
put  in  the  Maritime  Museum  it  will  be  lost  in  time  again,  whereas  if  it  was 
returned to Mangawhai it would become a feature of our town, an icon better 
than the stingray.  
Donald was buried in 1918 in Symonds Street Cemetery, aged 82. 
Pictured:  Above  -  Daring  where  it  foundered;  Below  -  a  painting  of  the  Breadalbane 
being built in Nova Scotia. ~ Bevan Lawrence  
(The Mangawhai Writers Group meet on the second Thursday of the month, during winter.) 
OUTWARD BOUND 
2020 SCHOLARSHIPS 
AVAILABLE 
Outward Bound scholarships are avail-
able  for  individuals  living  with  physi-
cal or intellectual disabilities. The Ho-
rizons, Activate and Aspire courses are 
taking  place  over  the  next  six  months 
and scholarship places are available. 
To  find  out  more  contact  Caroline 
Campbell,  Adapted  Course  Manager 
on  0800  688  927,  email  ccamp-
bell@outwardbound.co.nz  or  head  to 
the  Outward  Bound  website  outward-
bound.co.nz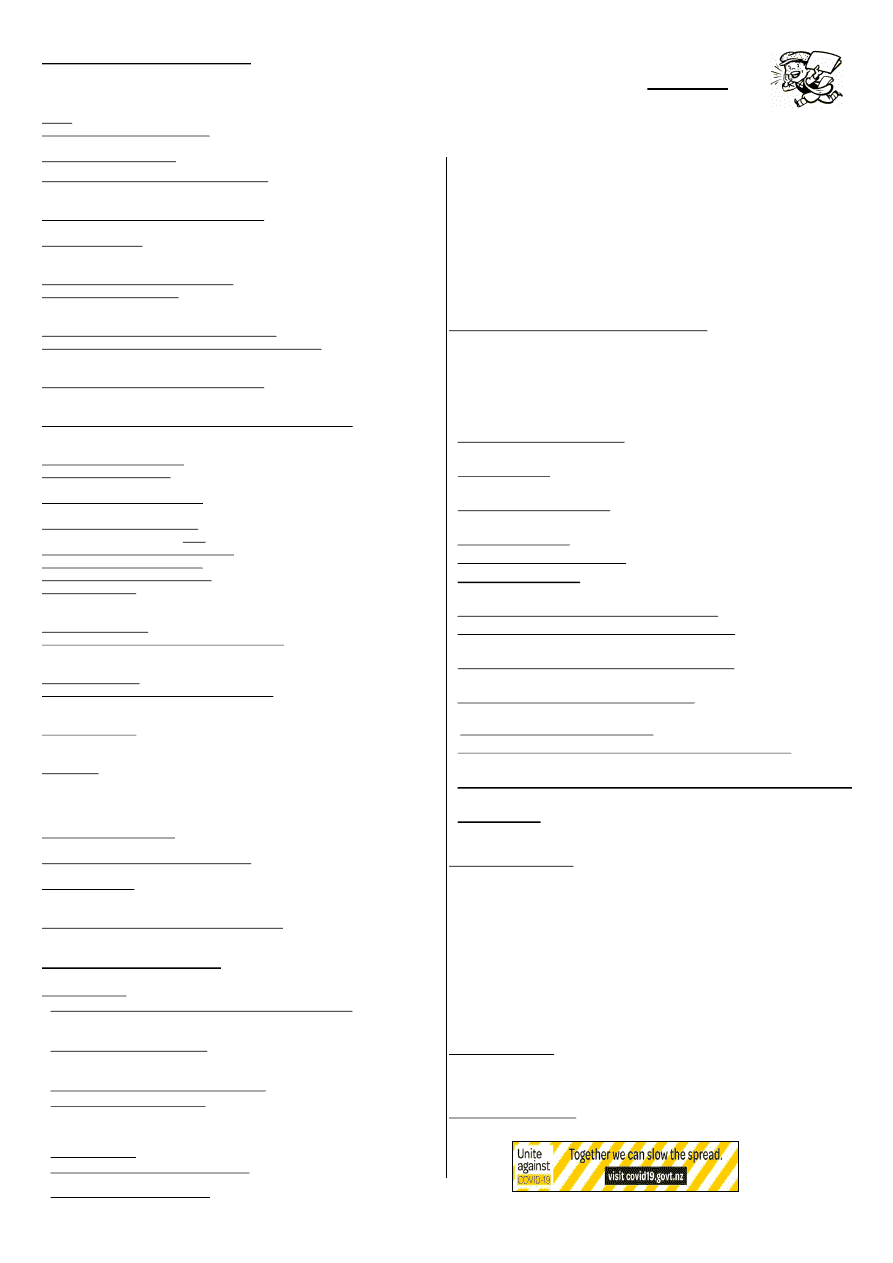 Next Bugle Deadline  Friday 17 July 2020
WHAT'S ON
PLEASE ~ do let us know what is on - 
email kaiwakabugle@kaiwaka.co.nz 
*10Jul~Movie 'KNIVES OUT',7.30pm KWMH 
*13Jul~Kaiwaka Businesses Zoom Session, 7pm 
*15Jul~Kaiwaka Can meet. Archie Bull Hall 5.30 
*15Jul~Pt. Curtis CC meeting, KSA, 7.pm 
*19Jul~Hakaru RSA, AGM 2pm at Clubrooms 
*20Jul~School Term 3 begins 
*6Aug~Otamatea High School OPEN DAY 
*28 Aug~ Daffodil Day 
KWMH = Kaiwaka War Memorial Hall; KSA = Kaiwaka Sports Association 
See www.kaiwaka.co.nz for more information 
HOUSEHOLD RUBBISH COLLECTION  
Kaiwaka Pick up: 
Mondays = Green bags (Northland Waste - 09 430 3273) 
Wednesdays  =  Blue  bags  and  yellow  recycling  (at  Jaques  $3.00 
and  $1.50)  (Kaurilands  09  4392146);  ONLY  Blue  and  Yellow 
bags picked up on Oneriri Road. 
 DIABETES Support Group-for Kaiwaka, Mangawhai, Wellsford 
10am, 3rd Friday of month Ph: Colleen James 09 4314238 
 GENEALOGY - Wellsford: 1st Thursday in month Ph: 423 
7033; Waipu: 4th Monday in month Ph: 4312 725 
 HAKARU PONY CLUB - Secretary Denise Rogers 021423376 
secretary@hakaruponyclub.co.nz  
 KAIPARA HUNT - Secretary Albert Doonenbal Ph 4312059 
 KAIWAKA BADMINTON -Tuesdays 7.30pm Ph: 4312345 
 KAIWAKA  CAN  -  3rd Wednesday in  month, 5.30pm, Archie 
Bull Hall Ph: 0273572751 
 KAIWAKA DRUM & DANCE CLASSES - 021 611198 
 KAIWAKA GARDEN & FLORAL GROUP - 2nd Thursday in 
month. Ph: 431 4744 
 KNITTING FOR WHANGAREI HOSPITAL - 2nd Tuesday in 
month, Archie Bull Hall 10am Ph 4314827 
 MANGAWHAI COMBINED REBUS CLUB - 2pm, 3rd 
Thursday month, Senior Citizens Hall Mangawhai. Ph: 4315777 
 *PT CURTIS CRUISING CLUB - Jean Ph: 4312227 (wk), 4312520 (hm) 
 RSA,  HAKARU  &  DISTRICTS  WOMEN'S  SECTION  –  meets 
1.30pm 4th Thursday of the month. Ph: 431 5818  
 KAIWAKA  SCOTTISH  COUNTRY  DANCING  CLUB-
Wednesdays 10am - 12 noon  Ph: Elaine 027 432 0032  
 TRAMPING - Mondays 9am-2:30pm Maria 4312 234 
HALLS FOR HIRE: 
  Kaiwaka St. John Hall: Phone Marj  0272941227  
 St.Pauls  Archie  Bull  Hall  HIRE  $20  half  day,  $40  full  day  per 
hire, S McAulay, Ph 4312311 
 Kaiwaka  War  Memorial  Hall  HlRE  -  Phone  4312725  or 
kaiwaka.hall.bookings@gmail.com 
 Hakaru Community Hall HIRE -Ph.  Lorraine 4312829  
 Te Pounga Marae queries - Pearl Nathan  0223933533 
 Kaiwaka Sports Association hire/queries - C. Anderson 4312051 
or kaiwakasports@gmail.com 
Justice  of  Peace:    B.FJaques  4312  048;  L.Donaldson  4312  228; 
A.F.Hargreaves  4312  045,  W.Howard  4312  725  D.Edwards 
021611198  -  please  phone  to  make  sure  they  are  available 
www.justiceofthepeace.org.nz 
Marriage Celebrants:  
L.Donaldson; A.F.Hargreaves; Y Osborne
LOCAL SERVICES 
*Emergencies - Ambulance, Fire, Police - dial 111 
*Non-urgent Police phone 105
A A: Meets Wed., 7.30pm Kaiwaka Ph: 4315543, 0800229 6757 
NARCOTICS ANONYMOUS: Mon., 6.30pm, Kates Place; drug and 
alcohol related issues. Ph. 02102412348 
ASUREQUALITY LTD (was AgriQuality) Call Free 0508 0011 22  
BUDGETING SERVICE, WELLSFORD: Free confidential advice & 
support for all areas of personal finance. Ph (09) 423 7123 
CAB-Citizens Advice Bureau.Wellsford Ph: 4237333 
0800 367 222 email:cab.wells@xtra.co.nz  
CIVIL DEFENCE - Kaiwaka Community Response Group: 
kaiwaka.civildefencecrg@gmail.com, 4312725 Wendy 
DOG/STOCK /NOISE CONTROL 0800 105 890 
FUNERAL SERVICES: Morris & Morris Ltd, 
Whangarei - Bev Jaques Ph:4312367 or 0800667747 
GRANDPARENTS Raising Grandchildren: Dianah Roberts 0223819539 
HAKARU & DISTRICTS MEMORIAL RSA (Inc) 733 Settlement Rd, 
Hakaru. Ph 4312 176 or Bill Warren (President) 431 2092 
HAKARU LANDFILL/Transfer Station:Open everyday 10am-4pm 
Ph4312629 Cost-$55 trailer load up to 1 cubic metre. Ph:4258567 - office 
KAIPARA DISTRICT COUNCIL www.kaipara.govt.nz:  
Help Desk FREEPHONE 0800 727 059  
KAIWAKA CEMETERY: Ph: 4312045 or 4314017 
KAIWAKA LIBRARY: kaiwaka.library@gmail.com  
Mon. 4-6pm; Wed., Thurs., Fri., Sat. 10am-2pm Ph:4312539 
KAIWAKA PLAYCENTRE: Ph Juanita 0274134904; open Mon, Wed, 
Fri 9am-12pm. Hastie Lane; Monday to Friday 9.00am - 12 noon. 
KAIWAKA POST OFFICE:Ph:4312 431  
Post Code: 0573 for RD2 and 0542 for all Kaiwaka Post Office mail 
KAIWAKA PRIMARY SCHOOL: Ph: 4312309   
KAIWAKA SPORTS ASSN: Ph 4312005; 4312129 gym 
KAIWAKA ST. JOHN HALL: Phone Marj  0272941227  
KATE'S PLACE Community Centre - Employment services, Free Health 
Nurse, Plunket, Advocacy, Osteopath, A.A., Legal Advice. 4312 661 
LINKING HANDS Health Shuttle Ph 4315906 or 09 4318969 
MINISTRY FOR PRIMARY INDUSTRIES - General inquiries Call 
Free 0800 008 333 
NORTHPOWER: Faults Kaiwaka area 0800 104040 
OTAMATEA COMMUNITY SERVICES: Counselling, parent coach, 
Family Support worker, budget advice, food bank. Mon-Fri 9am-3pm. Ph 
09 431 9080 http://www.otamateacs.org/ 
PARENTPORT: Free, practical family support service Puhoi to Paparoa 
Ph or txt: Dianne 027 280 5093 or 09 425 9357 
PLUNKET:  Kaiwaka  -Kate's  Place  Clinic  1st  Wednesday  of  the  month; 
Mangawhai  - Rose Madsen Cottage: Coffee Group 9:30 every Monday.  Clinic 
every Monday and Thursday. 
Maungaturoto - Good News Church, Clinic 2nd and 4th Wednesday.  
Cynthia 09 431 7340 or 027 675 3488 
PLUNKET HELPLINE -0800 933 922 (24 hours) 
TAITOKERAU COMMUNITY LAW: Free confidential legal advice and 
assistance, 2nd
Thursday
 of each month. Ph: 0800 155 529 for apps.  
TE URI O HAU Settlement Trust Tangata Developments: Whanau Ora 
021 793262  
VETERINARY SERVICE MANGAWHAI: 
Ph: 4314535 Mon-Fri 8.00-5.00, Sat 9-12, a/h appt. 
WELLSFORD DOCTORS: Ph: 4238 086 
CHURCHES:
 
Kaiwaka  Revival  Church  -  Your  Community  Church:  Sundays  10am. 
Ph: Pastor Tawhiri 09 431 8988 or Pastor Paul 09 4312 068 Visit us at 
www.facebook.com/kaiwakachurch or www.kaiwakarevival.co.nz 
 
St  Paul's  Anglican  Church  1st  Sun.  9.00am  (Eucharist),  3rd  Sun. 
9.00am (Family Service). Contact: Rev. Wayne Thornton Ph 431 4122 
www.mangawhaianglican.org.nz 
 
Church of Christ the King, Mangawhai:9.00am every Sunday 
 
St.Mary's  Catholic  Church:  Maungaturoto  –  Griffins  Road,  Saturday 
evening  Vigil  Mass  6pm;  Mangawhai  –  Senior  Citizens  Hall,  Sunday 
Mass  8:30am;  Wellsford  –  Matheson  Road,  Sunday  Mass  10:30am;  
Mid-week Mass times and all enquires to Fr. Bill Fletcher – phone 423 8170
 
Baptist Church: Sun. 10.30am Mangawhai Snr Cit.Hall.Ph:4312339 
 
Cause  Way  Church  Mangawhai:  Sundays  10.15am,  Mangawhai 
Community  Recreation  Centre,  Insley  St.  Ph:  09  4314782