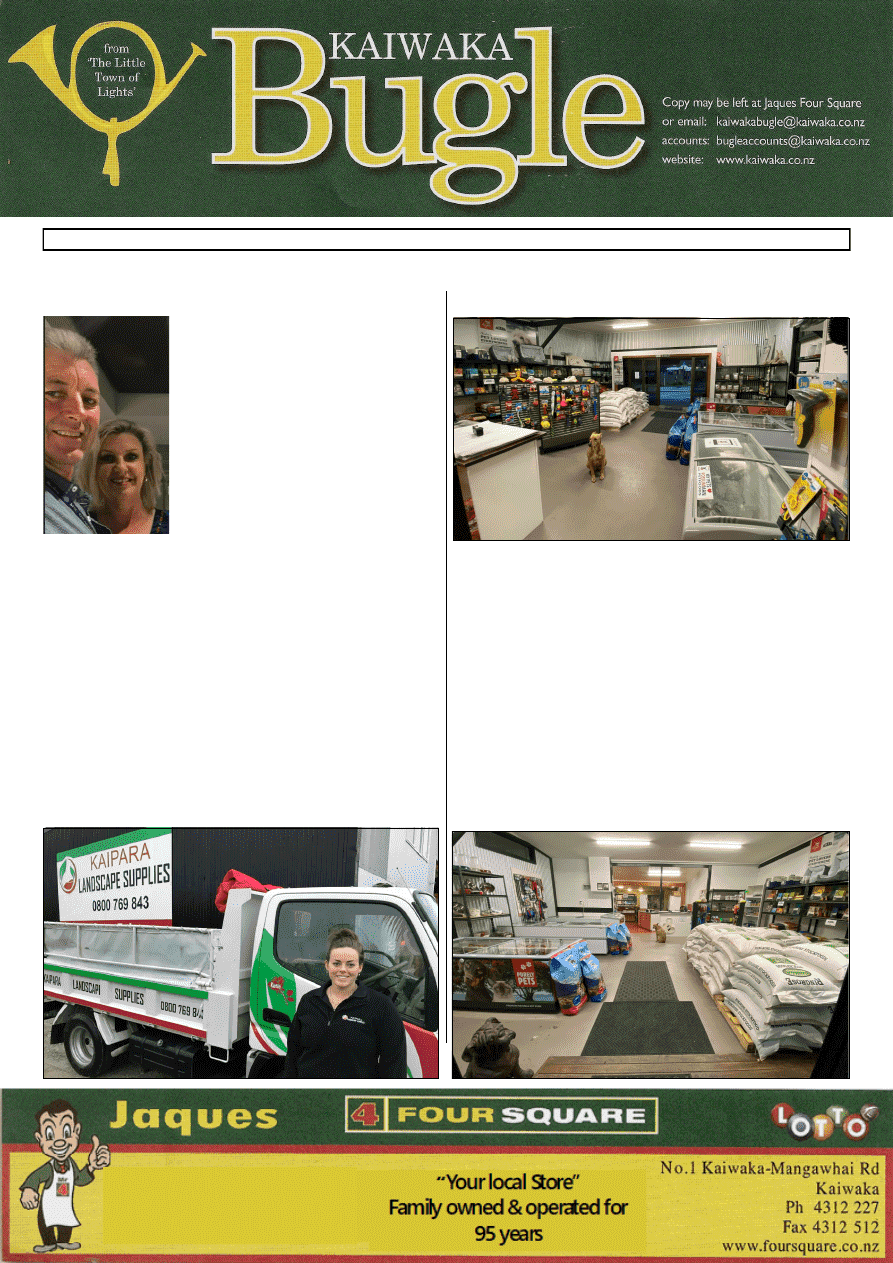 www.kaiwaka.co.nz 
Kaiwaka Bugle - 21 July, 2020 
Page 1 
No: 14 
 21 July 2020 
WINTER HOURS: 
Monday - Friday 8am – 6.30pm 
Saturday 8am – 7pm 
Sunday 9am - 6pm 
… continued on page 5 
Another move for Best Pets Kaiwaka. We are still opposite 
the  Cheese  Shop  but  have  moved  into  what  used  to  be 
Bianca's Cafe. In this bigger location we now have a range 
of  stockfeeds  available.  We  have  also  set  up  our  human 
health section, currently featuring Malcolm Harker Herbals, 
Dirty  Hippie  skincare  and  a  range  of  Naturopharm 
homeopathics.  
"OFFICIAL LAUNCH"  
this Saturday the 25th of July.  
We'll have free samples to give away, and 
anyone who makes a purchase at the launch 
will go into a draw to win an Acana dog or cat 
prize pack!" 
Our  new  opening  hours  are  Monday-Friday  9-5pm, 
Thursday till 6pm and Saturday 9am-3pm. For any enquiries 
phone  0225747332  or  come  down  and  see  Christelle  and 
Mike at the new shop." 
HEADS UP FOR LOCAL BUSINESSES 
SMYTH HAULAGE LTD           BEST PETS KAIWAKA 
Carlton  and  Michelle  Smyth,  pictured 
left, are dairy farmers at heart, and they 
know full well what it was like to have 
to  get  a  truck  in.  There  was  the  wait 
time, unexpected costs, not to mention 
the trauma  of  having  an  inexperienced 
driver careering all over the farm. 
So, they decided to get their own truck. 
And  that  is  when  Smyth  Haulage  Ltd 
was born, two years ago. 
Smyth  Haulage  Ltd  now  covers  the 
Northland  area  from  Warkworth  to 
Whangarei. They have new six-wheeler 
tip trucks, a flat deck, and a truck and 
trailer combo available. They also have 
a  great  team  with  Mathew  Vaughan  and  Terry  Browne. 
Terry  has  27  years'  experience  operating  trucks  and 
machinery and driving on and off-road. Carlton has a bit of 
truck  and  machinery  experience  under  his  belt  too  –  37 
years  of  it  in  fact.  And  the  hub  of  operations  is  Michelle, 
who deals with all the admin. 
Smyth Haulage Ltd is local to Kaiwaka, they know the area 
extremely  well  and  are  proud  to  service  all  your  haulage 
and  carting  needs  at  a  very  competitive  price,  whether 
you're  wanting  to  haul  metal,  fertilizer,  dirt  or  bark,  carry 
heavy  machinery,  or  need  an  experienced  pilot  for  wide 
loads, Smyth Haulage can help. 
Carlton  and  Michelle  Smyth  have  a  property  on  Baldrock 
Road Kaiwaka, which they have landscaped.  "We found it 
frustrating to get reasonably priced products when you want 
them,  so  we  decided  to  change  Smyth  Haulage  depot  at 
Maungaturoto to a landscape yard. Covid hit, so our plans 
were  put  on  hold,  but  Kaipara  Landscape  Supplies  was 
WINTER HOURS: 
Monday - Friday 8am – 6.30pm 
Saturday 8am – 7pm 
Sunday 9am - 6pm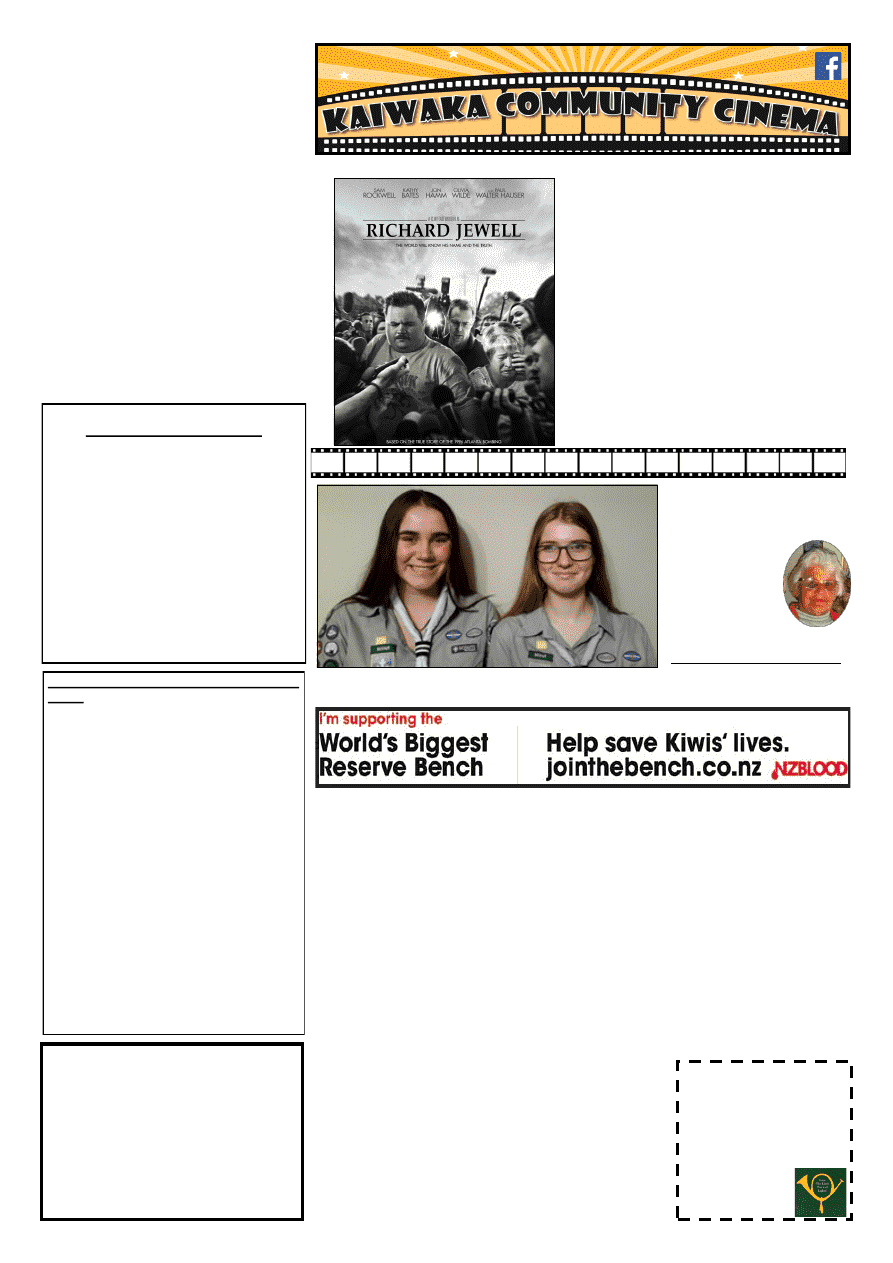 At Kaiwaka War Memorial Hall . Adults $10, Kids (under 16) $5, Family Pass (2 adults + 3 children) $25 
KAIWAKA BUGLE No. 14 
21 JULY 2020 
CONTENTS 
Page 3: Public Notices, Classified 
Page 5:  Kaiwaka Community Garden 
Page 7: Kaiwaka Can 
Page 9: OCS; About Town 
Page 11: Adverts 
Page 13: Rotary; Pt. CCC;  Zonta 
Page 15:  Adverts 
Page 17: Ferraris; KDC Funding;  First 
Aid Training 
Bugle 15 will appear 4 August 2020 
Contact for advertising, reports, articles 
or information can be made by 
Email kaiwakabugle@kaiwaka.co.nz 
Ph: 09 4312 045 Lindsey 
Txt: 027 2724137 
Copy  may  be  left  at  Jaques'  Four 
Square. 
Kaiwaka Bugle 
Founded May 1978 
We appreciate articles and photos about local 
events, etc, as well as ads and suggestions. 
Copies available in Kaiwaka at Jaques Four 
Square, Kaiwaka Postal Centre, Shamrock 
Service Station, Animal Health Centre, 
Kaiwaka St John shop. 
Also outlets in Maungaturoto, 
Mangawhai and Paparoa. 
Can be viewed online at   
www.kaiwaka.co.nz/Bugle  
Or a copy can be posted to you if you supply 
stamped, self-addressed DLE envelopes. 
Kaiwaka 
Bugle 
Advertisements 
2020: 
All 
copy 
and 
queries 
to: 
kaiwakabugle@kaiwaka.co.nz 
The Bugle is printed on an A4 page   
Ad  sizes:  1/16  page  (3  x  9.5cm)  $5;  1/8 
(6.5  x  9.5cm  landscape  or  portrait)  $8; 
3/16 ( 10 x 9.5cm or 7.5 x 12,5)  $12.  
Classified  ads:  First  one  FREE,  $4  per 
entry (max. 30 words, max. 4 repeats). 
Payments  can  be  made  online  at 
ANZ 
06  0365  0006990  00
,  posted  or  left  at 
Jaques Four Square Store. 
We  use  Microsoft  Publisher,  and  can 
work  with  most  common  image 
formats, Word, Excel, and PDF files. 
Accounts:  
Email: bugleaccounts@kaiwaka.co.nz 
The  Kaiwaka  Bugle  is  a  community 
newspaper run by volunteers, as part of 
the Kaiwaka Media Group Inc.   
Articles, etc. printed are not necessarily 
the opinion of the Bugle Team. 
ABOUT TOWN 

 Wow, our dams are overflowing now! We have certainly had some repairs to 
take care of in the last couple of weeks - fences, bridges, roads ... 

 Great  to  get  stories  and  photos  from  our  local  businesses.  The  Bugle  crew 
wish Smyth Haulage/ Kaipara Landscape Supplies and Best Pets all the best. 

 Kaiwaka Community Garden contact is Millie Watkins on 027 548 0312 

 Next BLOOD DRIVE - donate blood Tuesday 11 August at the Mangawhai 
Library Hall, midday till 5pm. 

 Our sincere condolences to the family of  Chris Ries who passed away last 
week. 

 Otamatea HAWKS Seniors and Women's teams  had  great games a fortnight 
ago, but the weather dealt to their games on Saturday 

 KDC Dog Registration - till 31 August.

You may have heard that the Baldrock Kennels and Cattery reopened on 20 
July,  and  the  Mangawhai  Garden  Ramble  2020  is 
scheduled for 14 and 15 November

 Kaiwaka  Bugle  No.  14  is  online  at 
www.kaiwaka.co.nz  and  is  in  print  for  our  local 
Readers. 
Lindsey, Ed
"Attitude is a choice. Happiness is a choice. Optimism is 
a choice. Kindness is a choice. Giving is a choice.  
Respect is a choice. Whatever choice you make makes 
you. Choose wisely." ~ Roy T. Bennett 
Proverbs 16: 12 
Good leaders abhor 
wrongdoing of all kinds: 
sound leadership has a 
moral foundation! 
RICHARD JEWELL 
Friday 24 July, 7.30pm  (PG) 
Directed  by  Clint  Eastwood  and  based 
on  true  events,  "Richard  Jewell"  is  a 
story  of  what  happens  when  what  is 
reported  as  fact  obscures  the  truth. 
"There  is  a  bomb  in  Centennial  Park. 
You have thirty minutes."  
The world is first introduced to Richard 
Jewell  as  the  security  guard  who 
reports  finding  the  device  at  the  1996 
Atlanta bombing-his report making him 
a  hero  whose  swift  actions  save 
countless lives. But … 
KAIWAKA BUGLE 
DEADLINE DATES 
2020:   
Every second Friday
July 31 
August 14, 28 
September 11, 25 
October 9, 23 
November 6, 20 
December 4 
Brenda Ferguson and Tara Moyle have now completed 
their Chief Scout and now await the Award presentation. Well done! 
From Thelma's 
Scrapbook...  
Always 
remember 
that the 
future comes 
one day  
at a time!!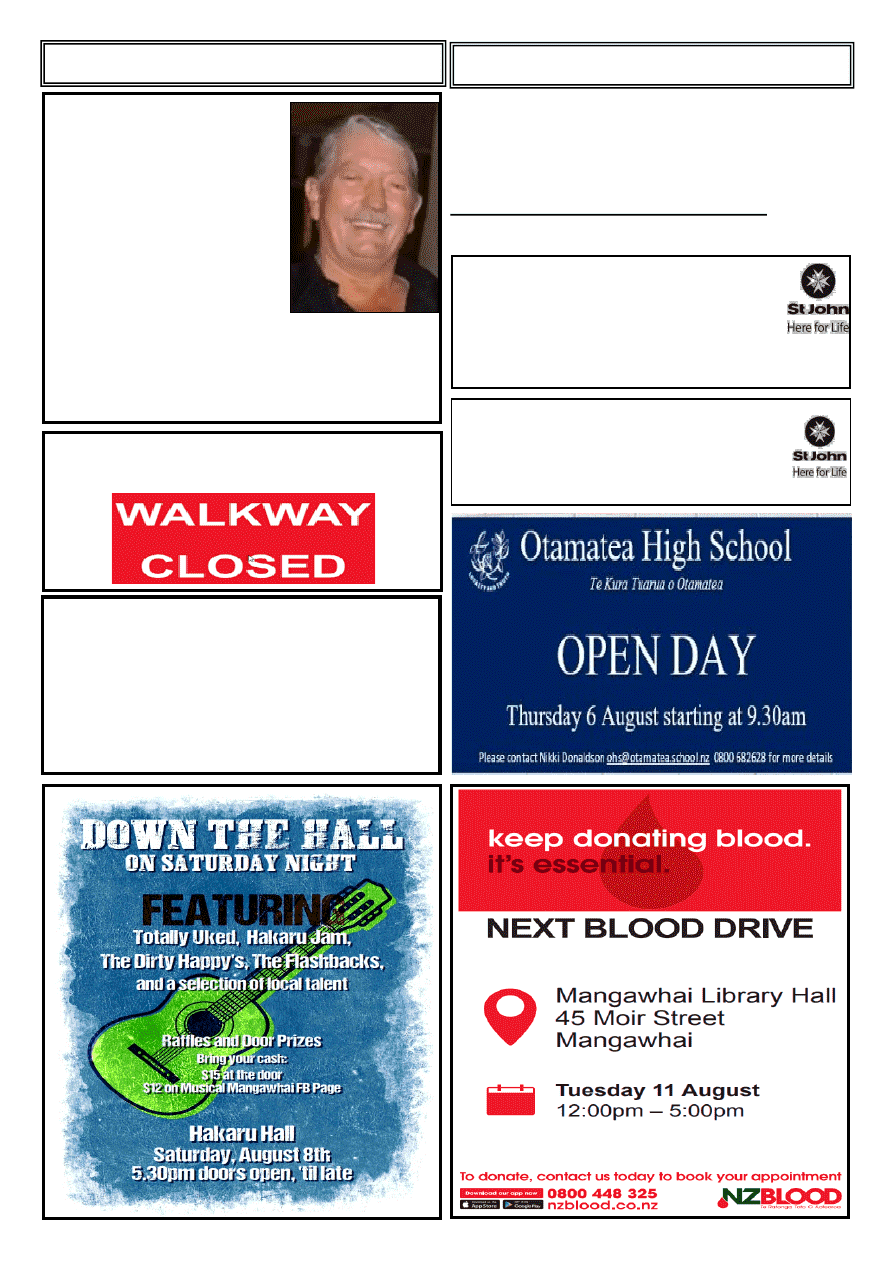 www.kaiwaka.co.nz 
Kaiwaka Bugle - 21 July, 2020 
Page 3 
PUBLIC NOTICES 
CLASSIFIED 
KAIWAKA ST. JOHN OP SHOP 
 Shop Hours are Tuesday to Friday 10am to 
3 pm  and Saturday 9am to 1pm. 
PHONE: Shop  43121650  or  Dianne  
0274627567 
 Check us out at 1919 SH1, Kaiwaka
THANK YOU 
I am truly grateful for the support 
of so many friends and family who 
helped  me  cope  with  the  loss  of 
Grabba (Graham Mills) during the 
Covid-19 restrictions. 
Your  gifts  of  love,  your  presence, 
amazing  acts  of  service,  good 
deeds,  cards  and  flowers  helped 
sustain  me  during  that  difficult 
time and I am so grateful. 
Grabba has a gift for meeting and 
welcoming people into his life that 
defied  time  so  thank  you  for 
making his life so rich. You were all cherished and loved 
by him. 
Grabba,  you  may  be  physically  gone  my  love  but  your 
zest for life, your love of fishing, hunting, fun with family 
and friends will be held in our hearts until we meet again. 
Forever Carol and family. 
HAKARU HALL ACTIVITIES 

Monday:  Line Dancing 9.45 -12pm Ph 4315160 

Wednesday: Afternoon Dance Energy    
Lisa Ph. 0275610469 

Wednesday: Evening Music Jam Session      
Dennis Ph. 0210628631 

 Thursday: Pilates 9 - 10am Ph. 0220643965 

Sunday: Canine Coaching Ph 0272365004 
 Hall Bookings: Karen 4312090 
Te  Roroa  Learning  Assistance  and  20/20  Trust  are 
offering  the  Northland  Connect  -  Digital  Inclusion 
Programme.  Receive  30  hours  of  digital  literacy 
training  delivered  remotely  and  a  Chromebook  on 
completion.  For  more  information:  0800  555  635  or 
janet@teroroalearning.org.nz 
WANTED  TO  BUY  OR  BORROW:  Handheld 
35mm Slide Viewer or similar to view old slides.  
Ph: John 4312400 
ST JOHN TRASH AND TREASURE 
28th September to 2nd October 
We  are  now  planning  this  year's  event  –  annual 
fundraiser that we have run for 36 years in a row, 
in Maungaturoto.  
Please call Eileen 021 142 0357 for more information 
MAUNGATUROTO COUNTRY CLUB  
The Community walkway is now CLOSED FOR 
LAMBING, JULY TO 1ST OCTOBER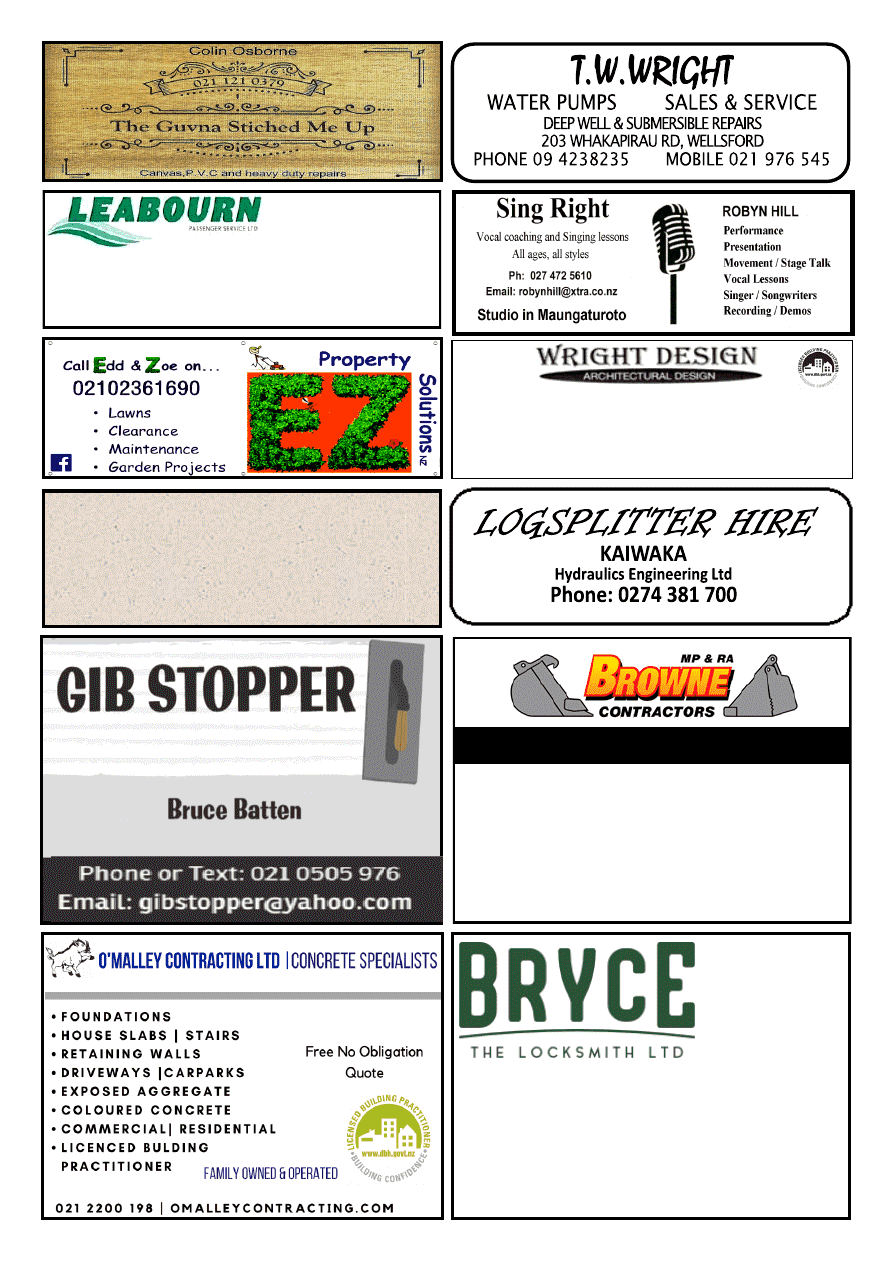 4Tonne DIGGER – BOBCAT – TIP TRUCK 
 Property Maintenance - Driveways  
 Building Sites 
Stump & Tree Removal  
Hole Boring - Chain Trencher  
Calf Shed and Stockyard Cleaning 
Phone Matt: 021 199 6677 
Email: mprabrownecontractors@gmail.com 
Counsellor and Registered Psychotherapist 
Offers Supervision
Susan Matheson 
MNZAC 
Dip. Psychosynthesis Counselling and Psychotherapy 
Phone 09 431 2996                        Mobile 027 605 2427 
No. 117345 
N.Z.C.A.D., L.B.P. 117345 Design 1 & 2 

50 years experience 

All designs/plans council guaranteed 

FREE local site/house visit 

Plan printing available from A4 to A0 
Mob: 021 276 7369 
Office: 3 John Sinclair Avenue, Wellsford    brianwright@xtra.co.nz 
Bryce Frewin 
Ph: 021 850 983 
Kaipara Based Master Locksmith 
bryce@brycethelocksmith.co.nz 
www.brycethelocksmith.co.nz 
Passenger Service
Car & Van Hire   Bus & Coach Charters 
Airport Transfers    
Phone (09) 4237416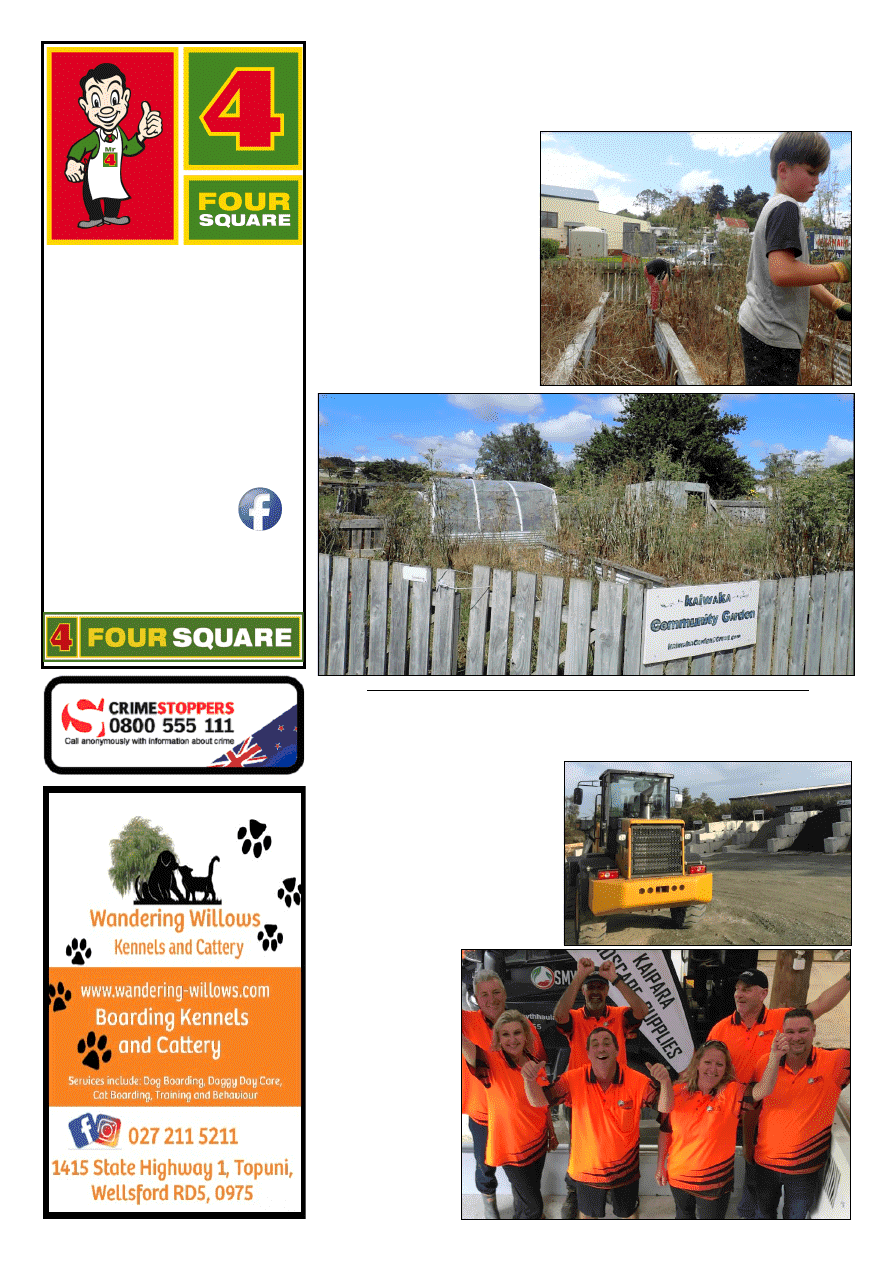 www.kaiwaka.co.nz 
Kaiwaka Bugle - 21 July, 2020 
Page 5 
KAIWAKA COMMUNITY GARDEN  
 Everything you need 
All in one place 
We're Here 
OPEN 7 DAYS 
. 
In Store Fresh Bakery,  
Hot Chicken, 
Mussels,  
Fresh Fruit & Vege,  
9kg Gas & Sodastream Gas 
Bottle Swap, 
Lotto & ATM 
JAQUES FOUR SQUARE 
Phone: 4312227 
1 Kaiwaka-Mangawhai 
Road, Kaiwaka. 
The  Kaiwaka  Community  Garden  is  getting  a  new  lease  of  life.  Kaiwaka 
Primary School's Enviro Group began the project of restoring the garden earlier 
this year before they had to pause due to the lockdown. The group, led by Nik 
Massey,  will  use  the  garden's 
greenhouse  for  raising  native 
seedlings  that  can  be  used  for 
stream 
restoration 
projects 
while  the  rejuvenated  raised 
beds  offer  a  range  of  growing 
opportunities.  Much  of  the 
weeding  has  been  done,  but 
some 
rogues 
remain. 
Blackberries  have  grown  into 
the greenhouse along with some 
deeply  rooted  weeds.  A  bit  of 
preparation  now  will  get 
everything  ready  for  Spring 
planting.  Anyone  wanting  to 
help  out  please  contact  Millie 
Watkins on 027 548 0312. 
finally opened on Monday 6th July 2020," says Michelle. 
"We  believe  hiring  locals  is  really 
important as is offering competitive 
prices,  between  the  business.  We 
employ  thirteen  local  people 
including  Carlton's  daughter  Katie 
Smyth  who  is  our  yard  manager. 
Come  down  and  meet    the  team. 
We  stock  a  selection  of  garden 
mulches,  eco  composts,  potting 
mix,  top  soil,  wood  chip,  selection 
of  river  stones,  builders  mix,  weed 
mat, gifts etc." 
Tulip  Hire  also  works  out  of  their 
yard  hiring  diggers, 
bobcat etc. 
Open  seven  days: 
Monday  to  Friday 
7.30am 
- 
5pm, 
Saturday 8am -4pm, 
Sunday 9am -3pm.  
Located at  
2  Blakey  Road,  
Maungaturoto, 
on 
the  corner  of  State 
Highway 12  
Come down and see 
our friendly team.  
SMYTH HAULAGE LTD     
continued
from front page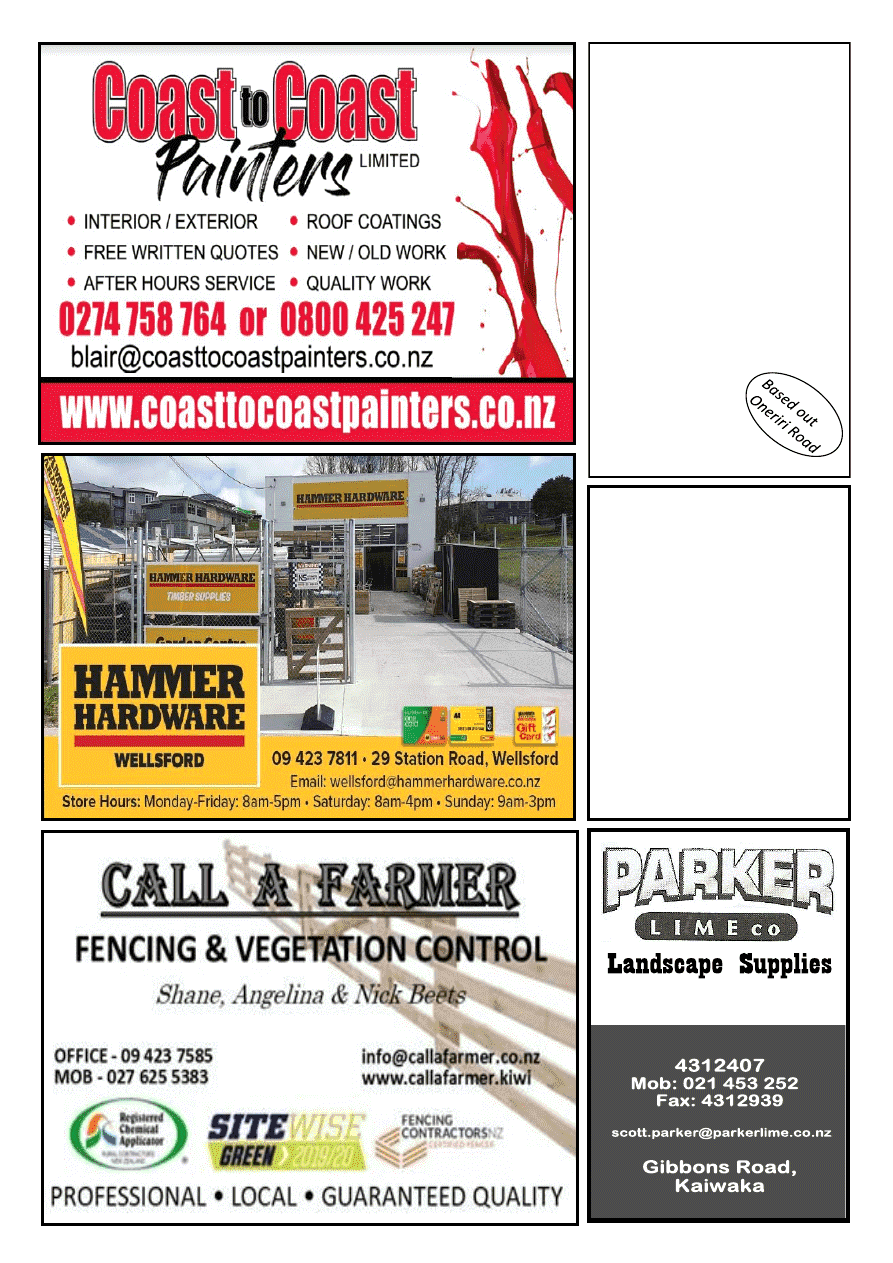 HODGETTS 
CONTRACTING
Digger Work    
Driveways   
House Sites  
Dams      
Drains, etc
Also available for HIRE 
3 ton Vib Roller  
Heavy Duty Tow  
Waterblaster      
Lazer Level
Phone Mark  
4312877 
027 447 8554 
WHERE TO GET HELP 

1737, Need to talk? Free call or 
text1737 to talk to a trained counsellor  

Rural Support Trust 0800 787 254   

Lifeline, 0800 543 354  

Youthline, 0800 376 63, text 234, 
email talk@youthline.co.nz or online 
chat 

Samaritans, 0800 726 666  

Depression Helpline, 0800 111 757   

Suicide Crisis Helpline, 0508 828 
865 (TAUTOKO)      

In a life-threatening situation 
call 
111
Bulk Cartage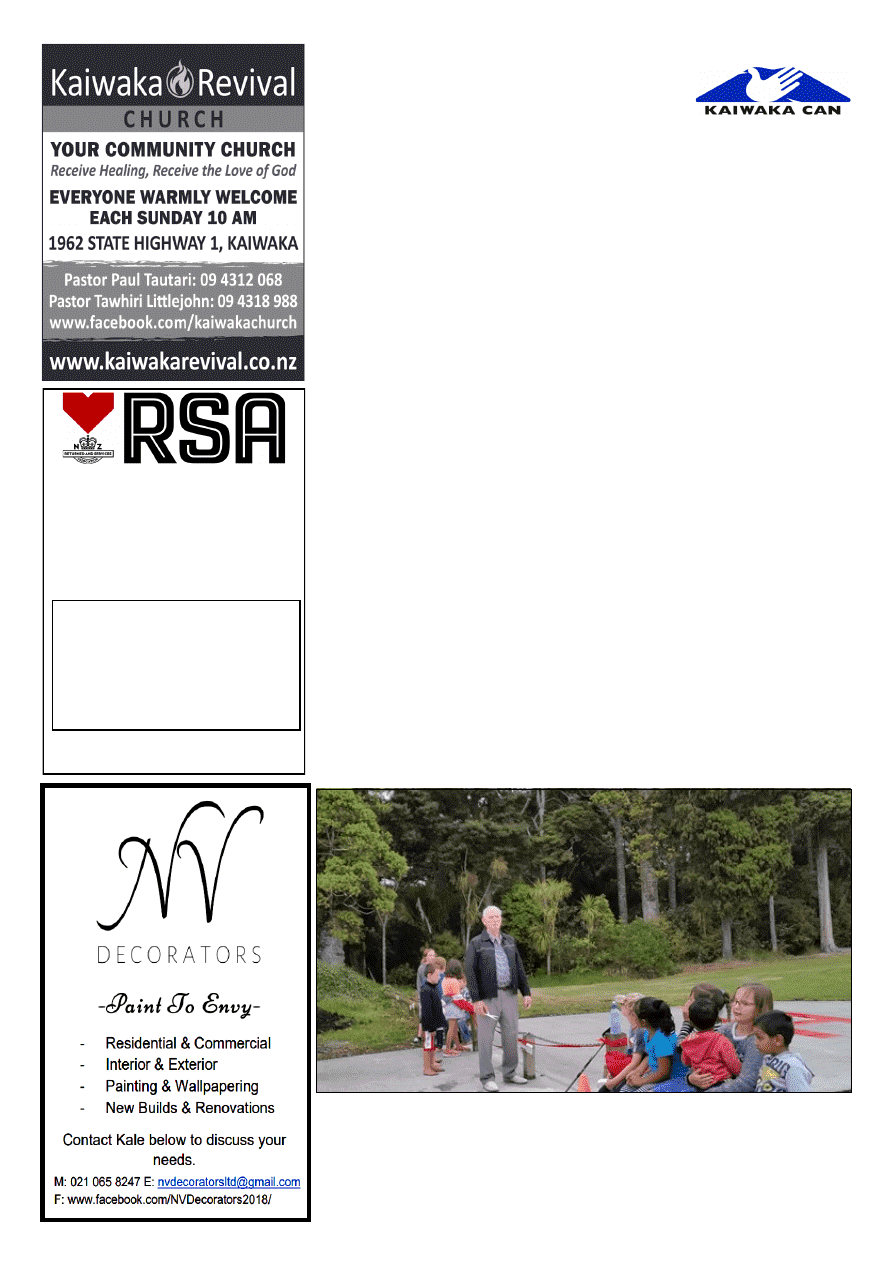 www.kaiwaka.co.nz 
Kaiwaka Bugle - 21 July, 2020 
Page 7 
HAKARU & DISTRICTS 
MEMORIAL RSA (INC)
Members & guests are invited to 
come along and enjoy our hospitality. 
New members welcome. 
Meals are served on 
Thursday and Friday nights 
from 6.30pm. 
Order from Blackboard Menu  
The sing along with Des Chitty is the 
Last Friday of the month. 
For more information please phone 
Bill on 431 2092  
This  has  been  a  very  different 
week  for  Kaiwaka  Can. 
We have 
been  going  now  nearly  six  years  and 
over  that  time  have  focused  on  a 
number  of  projects  we  believe  will 
make  Kaiwaka  a  better,  safer,  greener 
place. 
Hard  years. 
Endless meetings. Hopes 
up and hopes dashed. Money is always 
tight,  and  our  projects  don't  seem  to 
capture  the  cash  that  is  around.  Until 
now we hope! 
Long-term projects  
At  our  meeting  last  Wednesday  Jenny 
Rooney, the Council liaison person for 
Kaiwaka  announced  that  a  number  of 
long-term  projects  are  being  worked 
on: 
•  the  footbridges  across  the  two 
streams  to  link  the  western  side  of 
Kaiwaka  from  Oneriri  Road  to 
McClean Park. 
• Making best use of the strips of land 
bordering  the  Kaiwaka  Stream  by 
clearing,  planting,  making  attractive 
for visitors. 
• Sealing the sports ground carpark. 
• Work on McClean Park to tidy it up 
and  make  it  worthy  of  our  town  and 
maybe  some  others  but  I  guess  I  was 
just sitting there trying to take it all in. 
Welcome Sculptures  
There  is  also  a  strong  push  to  get  our 
welcome  sculptures  back  on  track  by 
sorting  out  NZTA  requirements, 
building a team and getting it done. 
Provincial Growth fund 
In  addition,  with  Provincial  Growth 
funding  around  and  Covid  19  funding 
too,  we  have  already  heard  of  money 
for the board walk and wash stations to 
protect  the  Kauri  Walk,  see  photo 
below, 
and 
money  to  clean 
up the corner of 
Oneriri Road.  
Jonathan  Larsen  our  local  councillor 
was  at  our  meeting  and  he  has  been 
constantly supportive through this time 
for which we are grateful.  
Rick  Stolwerk  our councillor for NRC 
was also there updating us on exciting 
developments  with  pest  and  weed 
control  in  Northland  and  one  of  their 
plans is a pest free corridor Mangawhai 
to the West Coast. 
At  the  same  time  Kaiwaka  Can  and 
others  have  put  in  applications  for 
funding for other projects and we wait 
to see how they go. 
A  good  time.  A  time  that  also 
recognises  years  of  work  (5  years 
talking  about  McClean  Park,  4  years 
since  the  footbridges  were  first  talked 
about).  And  a  time  that  means  hard 
work for both Council and ourselves to 
see these through to completion. 
At  the  same  time  our  lighting  team 
continues  to  work  on  restoring  our 
reputation as a little town of lights. 
Add  to  that  the  Spatial  Plan  for 
Kaiwaka  that  aims  to  release  land  for 
housing, commerce and industry. It all 
adds  up  to  a  glimpse  of  a  better, 
brighter,  more  user  friendly  Kaiwaka. 
Hope you enjoy it too. 
And  if  all  this  sounds  like  stuff  you 
would  like  to  be  part  of,  join  us  third 
Wednesdays  every  month,  5.30pm 
Archie Bull Hall.  
Next meeting: 19 August. 
Derek Christensen, Chair Kaiwaka Can 
099469077 
or 
0273572751 
or 
derekandisa@gmail.com 
MOVEMENT AT LAST! 
Above: Kaiwaka Sports Assn. Kauri Reserve: 
A new board walk and wash stations will be built to give folk easy access to this 
wonderful native bush - seen here at the opening of the helicopter pad, by Brian 
Jaques in December 2016. 
From Cr Larsen,  "Kaiwaka is to receive $616,000 for the installation of Kauri 
dieback  proof  tracks  at  Kaiwaka  Reserve.  This  includes  $100,000  for  wash 
stations  that  NRC  may  contribute  to.  This  will  tie  in  nicely  with  the  adjacent 
fitness trail already installed."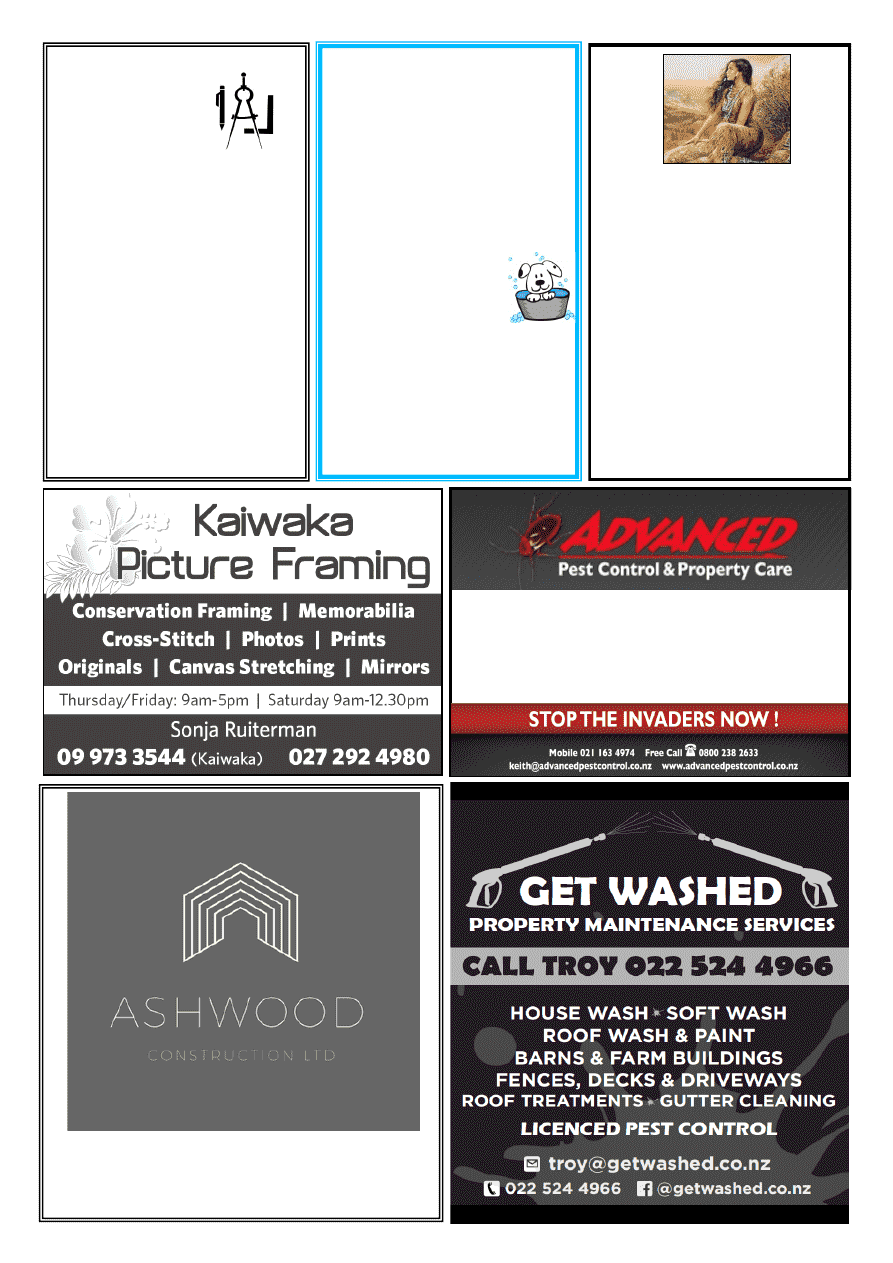 Pest Control 
PLAN A: One-off treatments to customers with a specific pest problem 
PLAN B: Full maintenance service plans to commercial customers. 
This will include documentation kept in customer file on site: 
⚫
Pest treated 
⚫
Date of service 
⚫
Chemical or baits used 
⚫
Full pest check report done after each treatment 
⚫
Fair and reasonable fee with guarantee 
Flood Recovery 
Carpet Care 
⚫
Carpet Drying   
This includes pre-spray treatments 
⚫
Dehumidifier Rental 
with stain removal and hot water extraction.  
⚫
Full Commercial Cleaning  Patch repair also available 
Upholstery Cleaning 
Full upholstery cleaning of all furniture.  
eg lounge suites and all office chairs 
Water Blasting 
⚫
Concrete - Decks 
House Washing 
⚫
Soft Chemical Was 
⚫
Pre-painting Wash 
Property Services 
⚫
Property Cleaning  
Lawn Mowing 
⚫
Hedges General  Tidy Ups 
TRAILS END 
RONGOA MAORI 
HEALING 
And Gifts 
Stocking all your needs from incense, 
crystals, dream catchers, greeting 
cards, jewellery, perfume, dragons and 
more  … 
For all inquiries  
Phone 0211652629  
Light refreshments available $5 koha  
1758 Cove Road Mangawhai
ASHWOOD CONSTRUCTION  LTD 
LBP registered 
New Builds Renovations Extensions Decks & more 
After a quote? Call Lee on 0223408353 
design  
drafting  
service 
Retired builder and manufacturer with 
over 40 years experience in the building 
industry is offering a design drafting 
service for domestic housing, sleepouts 
and sheds.  
Plans formulated in consultation with 
clients, with working drawings 
completed and submitted to  
council for processing.   
Extensive practical experience,  
able to identify & resolve problems. 
Please ring Mike Lean on 
09 431 2260  
or 
021 431 196 
Hot Diggity Dog 
DOG GROOMING 
All breeds dog grooming 
Professional Experienced Groomer 
Short practical grooms  
Breed Standard Grooms 
Designer fusion Grooms 
Oneriri Road
By appt Phone Pam  
09 4312143 
Or text only 0273335380 
Email  
hot.diggitydog@outlook.com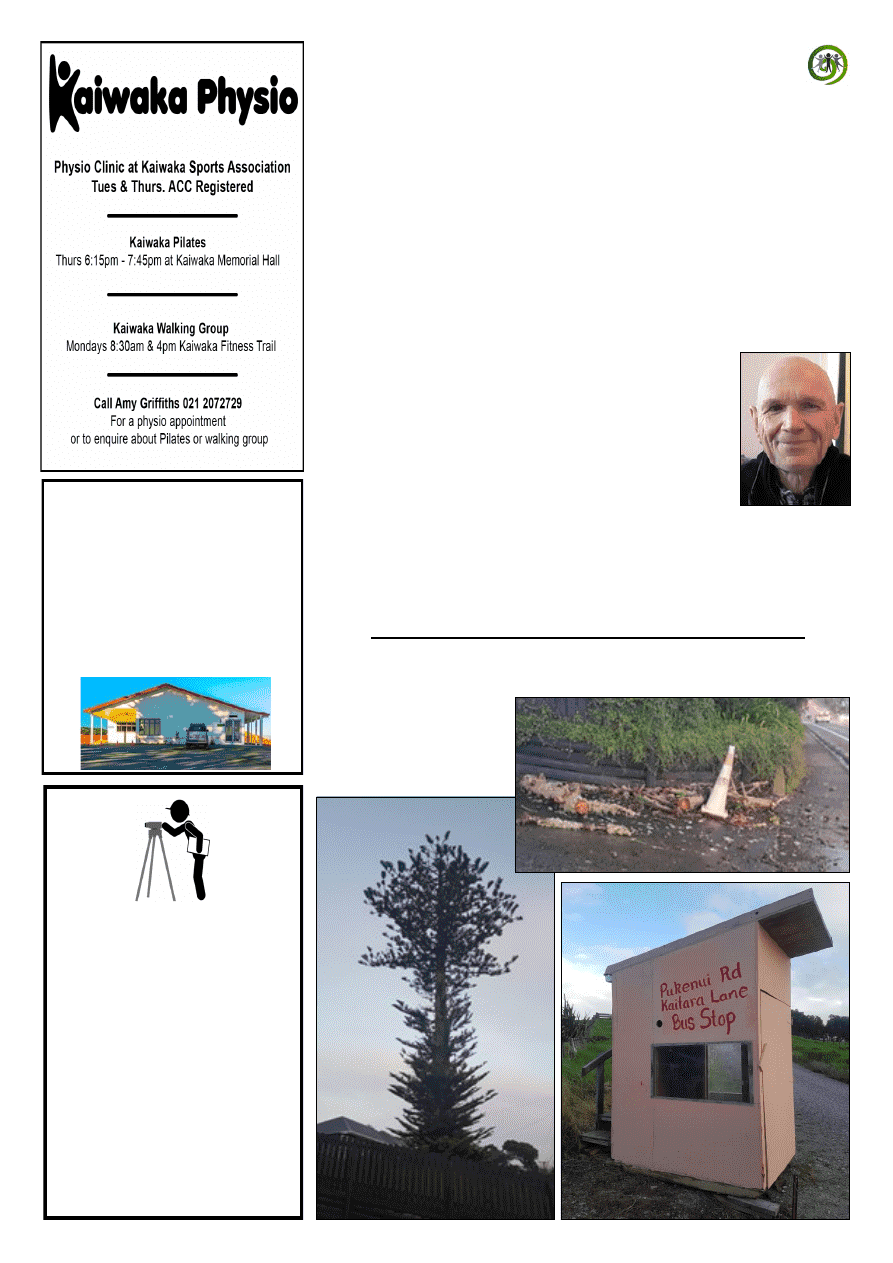 www.kaiwaka.co.nz 
Kaiwaka Bugle - 21 July, 2020 
Page 9 
Te Pounga Marae 
130 Nathan Rd. Oneriri. Kaiwaka 0573 
COMPLEX FOR 
HIRE 
Functions: * Weddings  * Birthdays  
*Anniversaries * Meetings  * Wananga 5 
hour meeting * 12 hour stay or Overnight 
*All welcome   
For more information please contact: 
 Pearl Nathan 0223933533 
Email: tepoungamarae130@outlook.com  
Dinners Delivered 
In  response  to  country  wide  Covid  19 
Lockdown  restrictions  at  this  historic 
time,  Seniors  Lunch  had  to  be 
cancelled. 
Meals normally served to citizens at St 
John Hall in Maungaturoto, on the first 
Wednesday  of  the  month,  all  through 
the year, were not able to be delivered 
during  the  months  of  April,  May  and 
June in 2020. 
The  'Caring  Caller'  system  was set 
up  to  ensure  all  Senior  Citizens 
registered  on  our  records,  were 
contacted  during  this  time.  Eight 
volunteer  callers  had  lists  of  between 
eight  and  twelve  people  to  call,  to 
check  on  well-being,  offer  any 
assistance or simply to give a greeting. 
Times  and  intervals  for  these  calls 
were  arranged  between  caller  and 
'callee'. 
At the end of the Lockdown, as things 
returned  to  the  'new  normal',  and 
before  the  Seniors  Lunch  resumed, 
OCS  decided  to  deliver  meals  (and 
desserts) to people on those lists. Each 
caller  contacted  their  callee  and 
explained  what  would  be  happening, 
and the process was set up. 
Of the 65 people called, there were two 
who  declined  this  service,  and  two 
others  who  asked  for  meals  to  be 
delivered  to  places  other  than  their 
homes  …  and  we  had  63  meals 
delivered to our Senior Citizens. 
OUR CALENDAR: 
Wednesday  July  22: Shopping 
trip to Whangarei 
Monday  3  August:  Fun  &  Games 
morning Footprints room  
Wednesday  5  August:  Senior's lunch 
St John Hall  
11  and  26  August:  Shopping  in 
Whangarei  
Wednesday  19  August:  Chocolate 
Bingo Footprints Room  
For  any  information  on  any  of  the 
above  please  phone  The  Community 
House on 431 9080. 
Take care of each other, 
The Manager and team at OCS 
From the OCS Team: 
Pete  Worsfold 
has  
worked for  Otamatea 
Community  Services   
as 
a 
Counsellor, 
Group,  and  Family 
Facilitator for 9 years 
at Community House 
or  at  Kate's  Place  in 
Kaiwaka. 
He can help with any 
issues,  all  ages  and  genders  and  also 
counsels  for  Man  Alive  Tai  Tokerau 
and Rural Support Services. 
Pete  can  help  seek  resolution  for 
clients  re  Family  Court  issues  before 
the  exhaustive  Justice  system  is 
entered. 
SEEN ABOUT TOWN 
The orange cone has hit the deck! The cone that sat atop of the Norfolk pine 
1876  SH1  Kaiwaka  for  a 
number of years came down 
with the tree's top section in 
last Thursday's big blow. 
And  below  right,  the  best 
school  bus  stop  shelter 
around! 
Ken Urquhart 
BSurv Licensed Cadastral 
Surveyor 
KMU  
Surveys Ltd
467 Bickerstaffe Road 
RD 2 
Maungaturoto 0587 
Ph 09 431 8705 
Mob 021 161 2344 
kenurquhart@xtra.co.nz 
OTAMATEA COMMUNITY SERVICES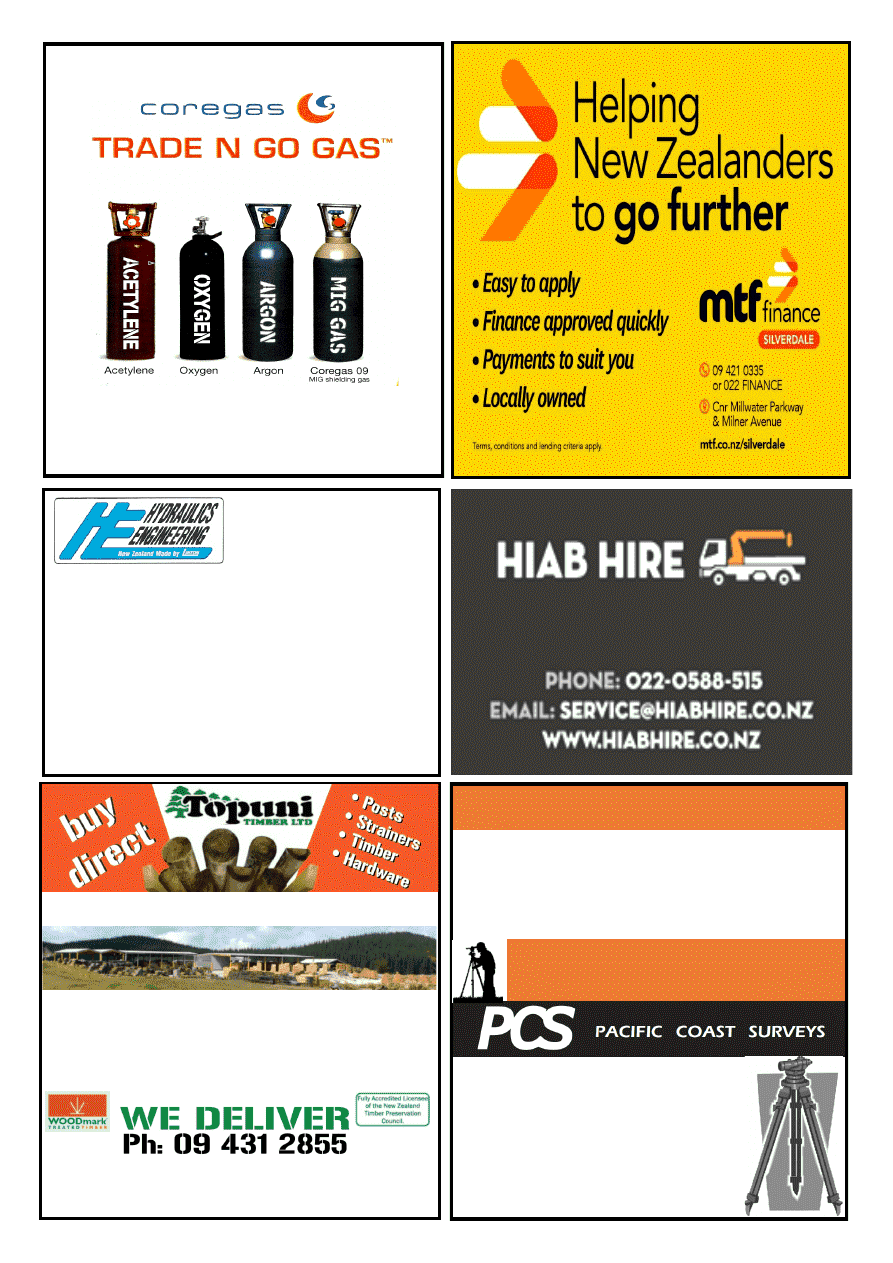 SURVEYORS 
SUBDIVISIONS 
HOUSE SITE SURVEYS 
CIVIL ENGINEERING 
WASTEWATER DESIGNS 
EXPERIENCED 
PROFESSIONAL 
INNOVATIVE 
Ph 09 431 5353 
0800 PACIFIC (0800 722 434) 
pacificcoastsurvey.com
Adam Booth - 027 415 5752 
Bsurv, Licensed Cadastral Surveyor
Surveying Kaipara since 1994 
Hydraulics  
Engineering Ltd 
Kaiwaka 
Sales - Service - Parts - Hire - Manufacture 
Service Contractors & Industrial Equipment: 
Rams, Pumps, Valves 
Logsplitter Hire, Manufacturer, Sales 
Dennis Linton 
Lot 2 / 161 Ranganui Road, RD2, Kaiwaka, 0573, New Zealand 
Mobile: 0274 381 700 
Email: hydraulicsengineering@xtra.co.nz 
Website: www.hydraulicsengineeringco.nz 
LOCALLY OWNED AND OPERATED 
QUALITY PRODUCTS • FRIENDLY ADVICE • GREAT SERVICE 
Quality Products milled from High Density NORTHLAND Radiata Pine. 
Treated and guaranteed to NZS3640 with commitment to 
Environmental Safety.
Phone, fax, email, or come into the mill 
Schiska Rd, Topuni, SH1, 10 min north of Wellsford. Fax: 09 431 2856 
Email: sales@topunitimber.co.nz           Mon - Fri 7am-5pm 
• Fencing 
• Retaining 
• Decking 
• Landscaping 
• Gates 
• Hardware 
At Twinkle Tow 'n' Tyre 
Mob: 021 833 960 
Ph & Fax: 09 431 2823 
1837 State Highway 1, Kaiwaka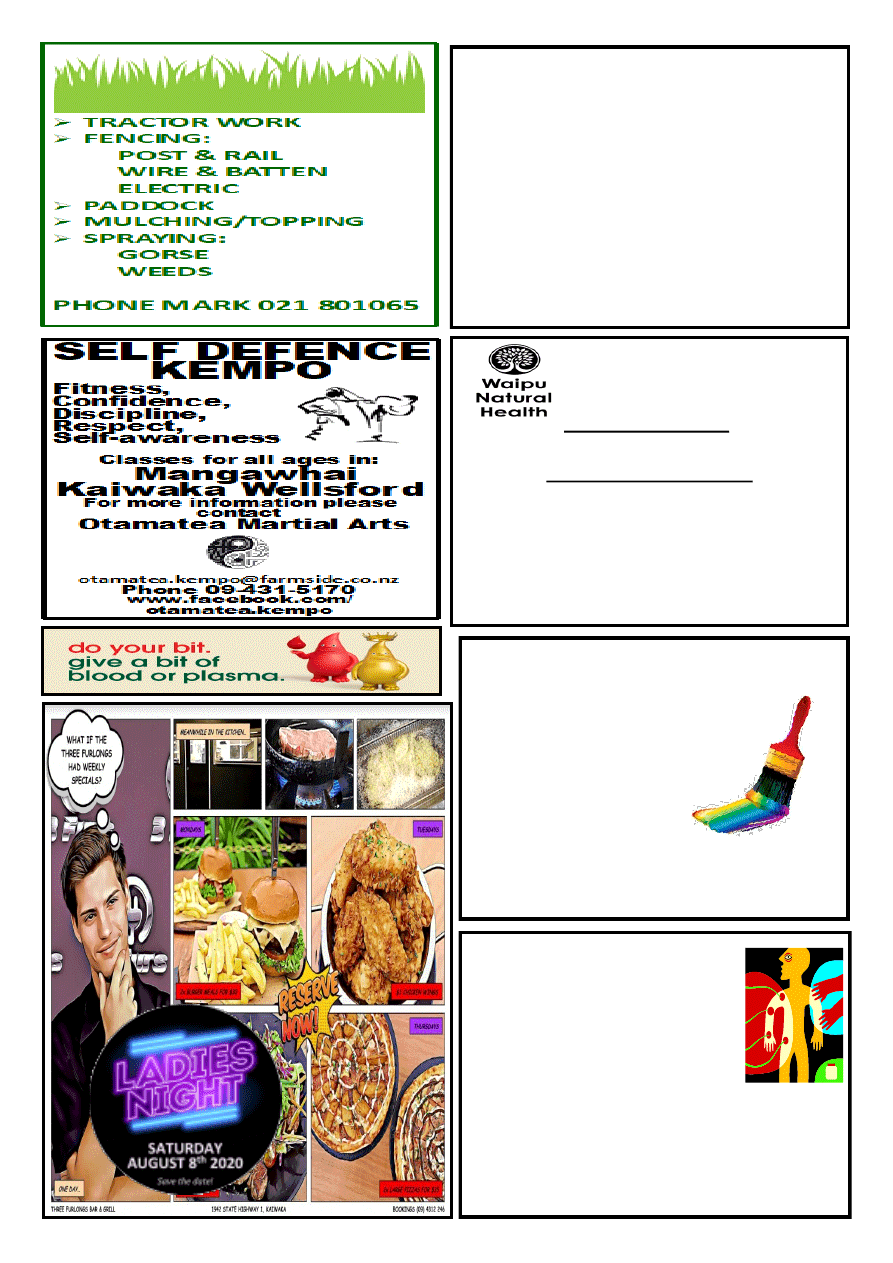 www.kaiwaka.co.nz 
Kaiwaka Bugle - 21 July, 2020 
Page 11 
3 Cove Road, Waipu 
(opposite the Pizza Barn
) 
094321325 
www.waipunaturalhealth.co.nz 
Clinical Nutritionist: 
Nutritional Checkups, Diets for Chronic 
Diseases, Food Sensitivities 
Naturopathic Physician: 
Ozone Therapy, Prolotherapy 
Reflexology, Craniosacral Therapy, Trauma 
Release, Massage Therapy 
Counselling and Hypnotherapy 
Change Catalyst/ThetaHealer 
Affordable Children's Consults 
All therapists are fully qualified
Willow Bend
HORSE HOTEL 
#
Total Horse Care   
# 
Agistment 
# 
Riding Lessons  
#
 Arena Hire (60x40) 
# 
Young Horse Starting 
# 
Re-training/Exercising 
#
Hoof Trimming  
# 
Problem Solving 
Phone Sue  
09 431 2817 or 021 623 776  
Or email  
susanjoll11@gmail.com 
OWEN STEVENS 
Osteo Therapist
For careful adjustments to  
bones and joints 
Treatment for  
humans and their pets 
Clinics: 
Kate's Place, Kaiwaka: 
Last Friday of month 9.00am-5.00pm 
For bookings: 
Phone 
09 4312661 
Or phone Owen  09 4317123 anytime 
LEE COOPER PAINTERS 
(Kaiwaka Based) 
*30 yrs Experience 
*Interior/Exterior 
*New and Restoration 
*Honest and Reliable 
*Free Quotes 
09 4312918 
0274735171 
leecooper@xtra.co.nz 
Natural Earth Ltd 
 Landscape and Bobcat services 
 : Driveways  :Landscaping  :Retaining Walls 
 : Hole Boring: Land Levelling :Trenching 
 : Decks :Fences :Sections Cleared: Plus much 
more 
Tel   09 4312885 
Mob 02102391280   
For A Fast Friendly  
Service Contact Tim Hicks 
NORTH GLASS 
WINDSCREEN REPAIR OR REPLACE 
GLAZING SERVICES 
MIRRORS  •  SPLASH BACKS  •  SHOWERS 
0800 70 40 10
info@northglass.co.nz 
www.northglass.co.nz 
Altitude with Attitude, helping your business 
scale new heights 
Time to try something different? 
Xero training          Accountancy Services 
We are offering two opportunities: 
15% saving off your annual report cost for your first 
year, & a further 10% saving for any referrals 
Call Corinne on 021 252 7680 or 
corinne@altitudeadvisors.nz 

Peter Buckley 

Mobile Hose Technician –  
                      Based from Oneriri Road 

Available for all mobile hose                                
                      requirements onsite 

Call – 0800 425 7116 

Email – mse@mseng.co.nz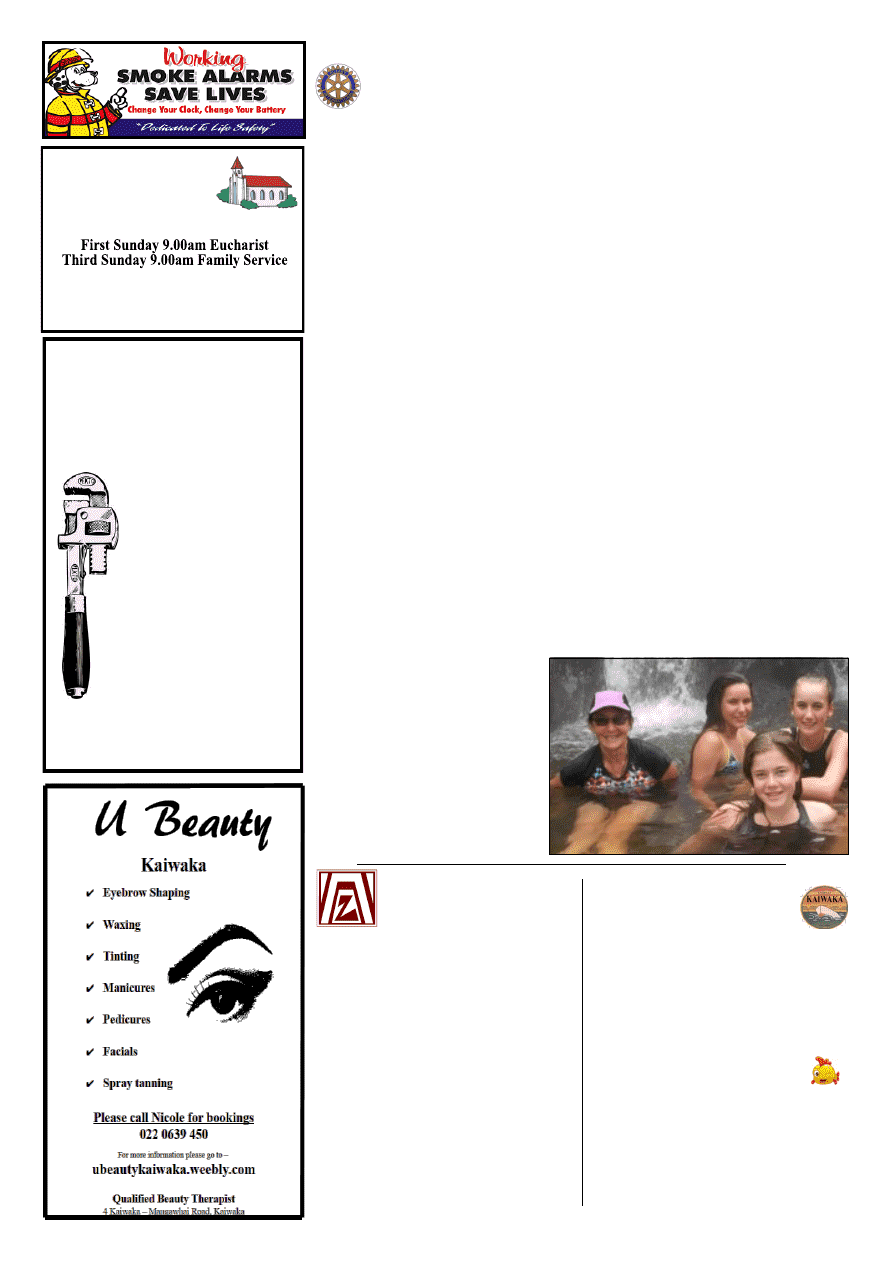 www.kaiwaka.co.nz 
Kaiwaka Bugle - 21 July, 2020 
Page 13 
BARRY CURTIS 
PLUMBING LTD 
REGISTERED CRAFTSMAN 
PLUMBER 
Phone 4315572 
027 257 9884 
25 years experience 
Friendly reliable service 
All plumbing and 
maintenance 
Alterations  
and new housing 
Spouting 
Competitive rates 
PROMPT  
FFICIENT  SERVICE 
MANGAWHAI 
ZONTA 
Mangawhai  Zonta  is  a  service  club 
that  works  towards  empowering 
women  and  girls  in  our  community, 
nationally and internationally.  
We  meet  monthly  at  the  Mangawhai 
Golf  Club.  If  you  would  like  to  find 
out  more,  you  are  most  welcome  to 
come along. 
Our next meeting is Monday 27th July 
at 6pm. This is an opportunity to have 
a meal, meet new friends and listen to 
interesting speakers. 
Our  speaker  this  month  is  Lyn 
Dawson.  Lyn  started  'Peggy  Purl' 
knitting  groups  and  set  up  'Books  in 
Prisons'. 
Please  contact  Karen  021528170  or 
Helen0272361557 if you would like to 
attend before Friday 24th July. 
POINT CURTIS 
CRUISING 
CLUB 

Don't  forget  Subs  were  due  1st  June 
2020. $30 Family $20 Single. 
Internet  banking  12  3094  0008233  00 
Please use Name/s as a reference. 

Fish  of  the  Month  (Snapper) 
winners:  Gravy  4.780kg;  Gravy 
3.800kg; TC 2.726kg 

New Fish  of  the  Month  Snapper till 
12 August 2020 

Next  Club  meeting:  12th August @ 
Kaiwaka  Sports  Association,  7pm 
everyone is welcome 
Wayne Leslie (Commodore)
ST PAUL'S  
ANGLICAN  
SUNDAY SERVICES 
St Pauls Church: Kaiwaka-Mangawhai Rd. 
Priest in Charge Rev. W Thornton Ph 431 4122 
www.mangawhaianglican.org.nz
New  President,  Rodney 
Tysoe. 
We  have  been  able  to  get  back  into 
gear  again  and  we  had  the  most 
amazing  changeover  night,  where  we 
welcomed  our  new  President,  Rodney 
Tysoe into that position. As mentioned 
previously,  every  President  makes  an 
impact  in their  own  particular  way,  so 
we  look  forward  to  the  coming  year. 
We  had  68  people  present,  including 
our  District  Governor  for  the  year, 
Elaine  Mead,  as  well  as  a  number  of 
supporters  from  the  Millwater  club 
who  helped  us  so  much  pre-Covid. 
Colin  Smith,  one  of  our  foundation 
members was also present. 
Duffy Books 
At  the  changeover  we  were  able  to 
have the regional reps from  "Books in 
Homes"  (Duffy  Books)  tell  us  the 
origins of the scheme and what enables 
it  to  continue  in  decile  1-4  schools. 
While  the  aim  is  now  to  provide  five 
new  books  to  all  students  in 
participating schools (and they can win 
additional  books  by  being  "Caught 
being  Good).  Originally  the  books 
were  second  hand  but  Alan  Duff,  the 
founder,  felt  that  the  students  should 
have  new  books.  With  the  help  of 
Scholastic  Books,  Mainfreight,  a 
government grant and sponsoring clubs 
such as our own, they have been able to 
continue this scheme for 25years. 
We  are  going  to  look  at  ways  that  we 
might  be  able  to  sponsor  another 
school. 
Duke of Edinburgh  
The  meal  on  the  evening  was 
prepared  by  the  Duke  of 
Edinburgh  supporters  and  5 
students who also served it. At the 
conclusion of the main course, the 
students  came  out as  a  group  and 
answered questions like:  
What  have  you  gained  by  being 
involved  in  the  scheme?  What 
have been the challenges? 
They  also  told  us  of  the  components 
that made up each level (Bronze, silver 
and  gold)  –  obviously  community 
service can present problems for some 
of  them.  At  the  conclusion  of  this, 
Robyn  Bruce,  the  DOE  co-ordinator 
was  called  up  and  presented  with  a 
cheque  for  $2,800  which  will  be 
helpful in reducing the fundraising that 
the  students  must  undertake.  She  was 
also thanked for her tremendous effort 
with  the  scheme  during  the  past  15 
years. 
Maggie Hames  
A  couple  of  weeks  earlier,  we  had  a 
really  good  presentation  from  Maggie 
Hames  who  spoke  about  her  student 
exchange  in  Canada  during  last 
summer.  This  was  very  interesting  as 
she  was  able  to  experience  the 
extremes  of  Canadian  winter.  At  the 
same meeting we had a response from 
a  visiting  Rotarian  who  spoke  about 
how his family had hosted about 10 
students  over  the  years  and  how 
recently  he  and  his  wife  were  able  to 
visit  them  in  Finland  and  Norway. 
These  "students"  now  have  their  own 
families  because  of  the  number  of 
years  that  have  passed,  but  the  time 
spent together was very meaningful. 
We continue to look at ways we can be 
involved in the wider community and if 
anyone has any suggestions, please get 
in touch. 
~ Eileen 
Photo  below:  Robyn  Bruce,  in  cap,  with 
DOE students taking a break on an earlier 
trek. 
MAUNGATUROTO & DISTRICTS ROTARY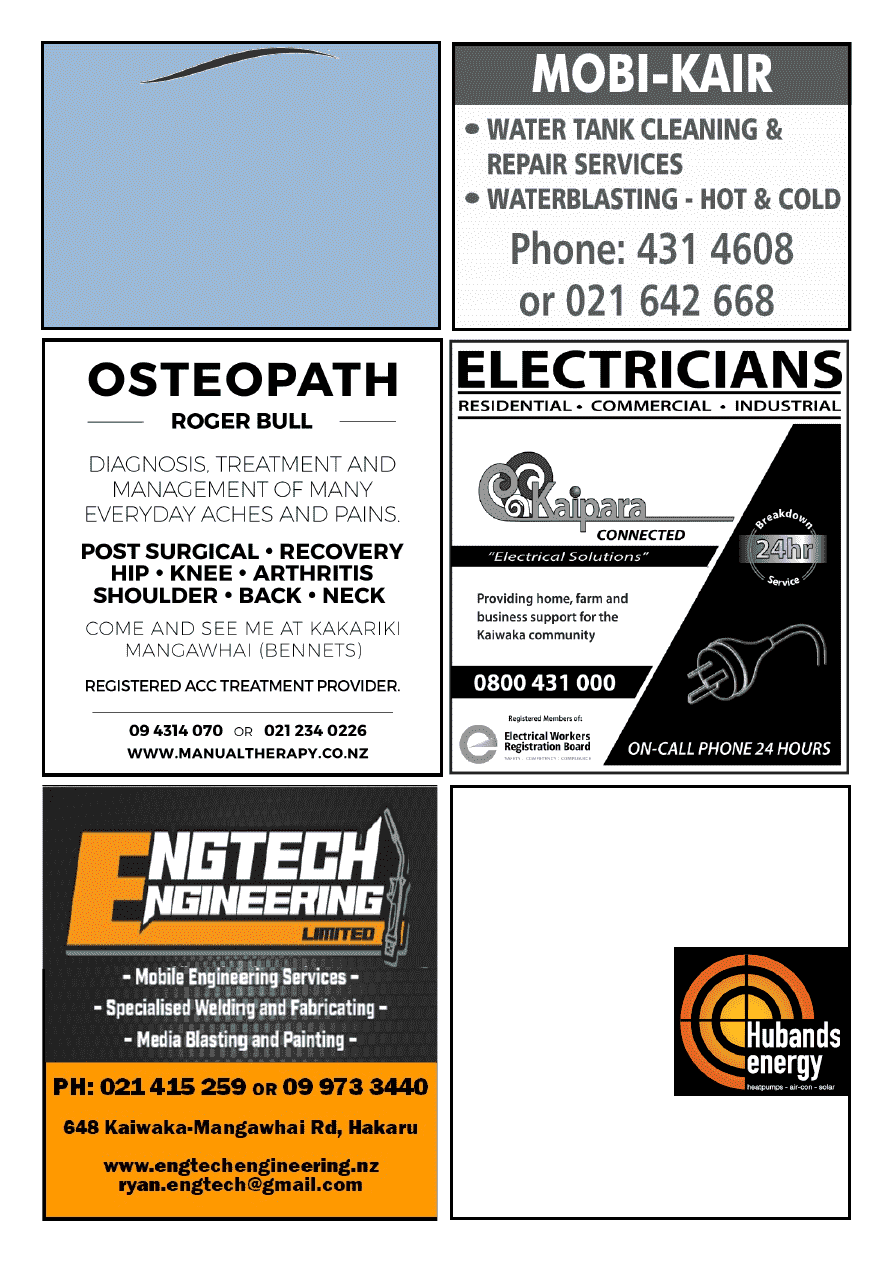 Northland's Award Winning 
Solar Company
SEANZ Best Solar Business Winners 2015/16
EXCLUSIVE 10 year installation warranty 
FREE No obligation onsite quote
Complete systems 
from $5990
See our range of: 
✓ 
Heatpumps 
✓ 
Airconditioning 
✓ 
Hot Water 
Heatpumps 
✓ 
Central Vacuum Systems
09 430 0019             sales@hubands.co.nz 
15 Kioreroa Road, Whangarei
Locally owned and operated for 35 years 
Steve Bealing 
Interior:  
Exterior:  
Kitset Assembly   
Landscape Solutions 
Wardrobe Furniture Install  
Fence Build & Repair 
Picture & Mirror Mounted  
Low level Decks 
Minor Carpentry Works   
Gutter clearing & Repairs 
M: 021 1145709  
E: havenhomemaintenanceservices@gmail.com  
Helping  
transform 
your haven into 
your home 
Haven Home 
Maintenance 
Services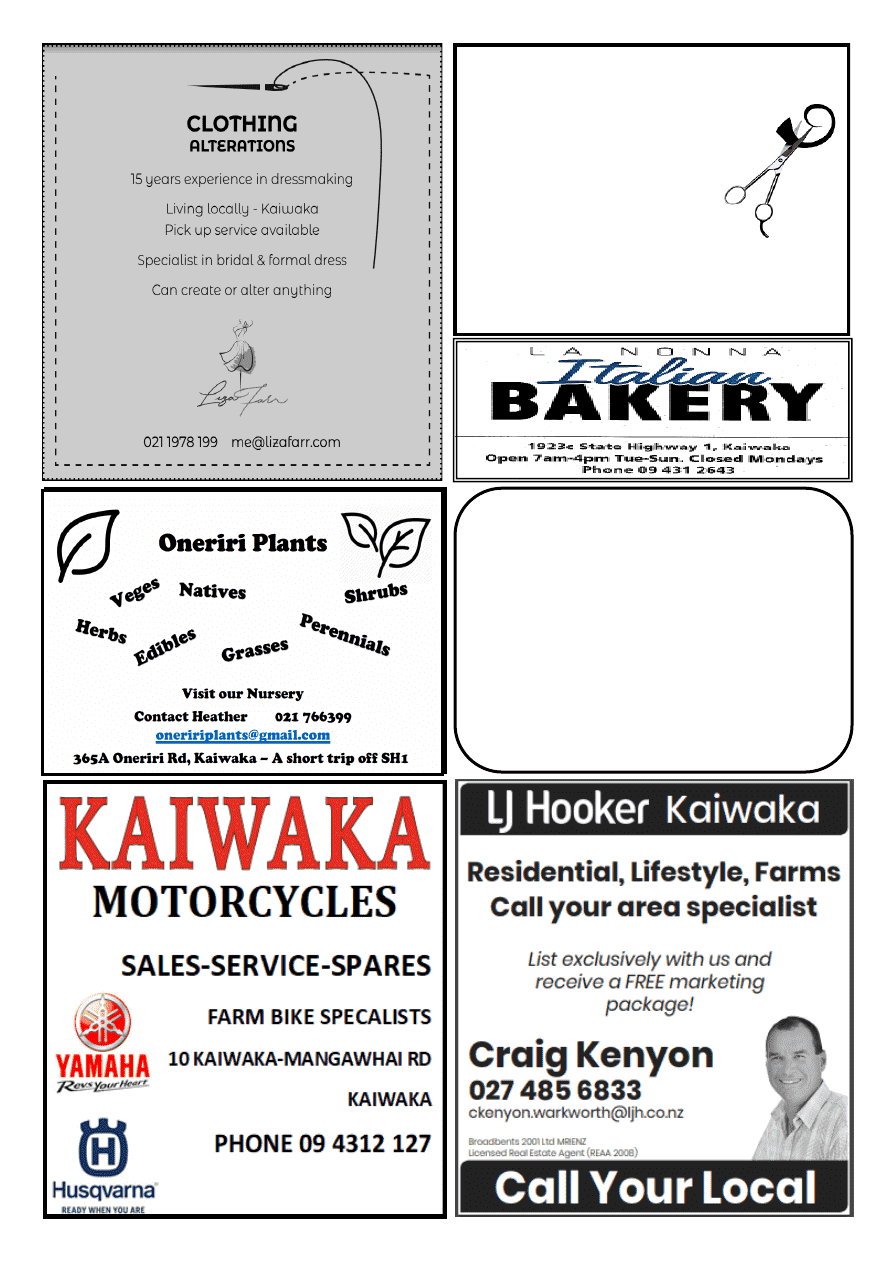 www.kaiwaka.co.nz 
Kaiwaka Bugle - 21 July, 2020 
Page 15 
JUST CUTS  
and MORE  
1758 Cove Road  
Open Monday-Saturday  
by appointment only 
Saturday 9-12pm  
Affordable prices: 
Ladies cuts from $35 ~ Colours from $120 
Men's from$25 ~ Kids from $18 
0211652629  
UP-LINK 
CHRIS WARING 
FREEVIEW INSTALLATIONS 
T.V. - HOME THEATRE &  
HI-FI ADVICE/SET UP
SKY ACCREDITED INSTALLER
MOB.0273403747 HM.094312328 
EMAIL cwaring44@gmail.com
28 YRS EXPERIENCE 
OFFERING UNBIASED ADVICE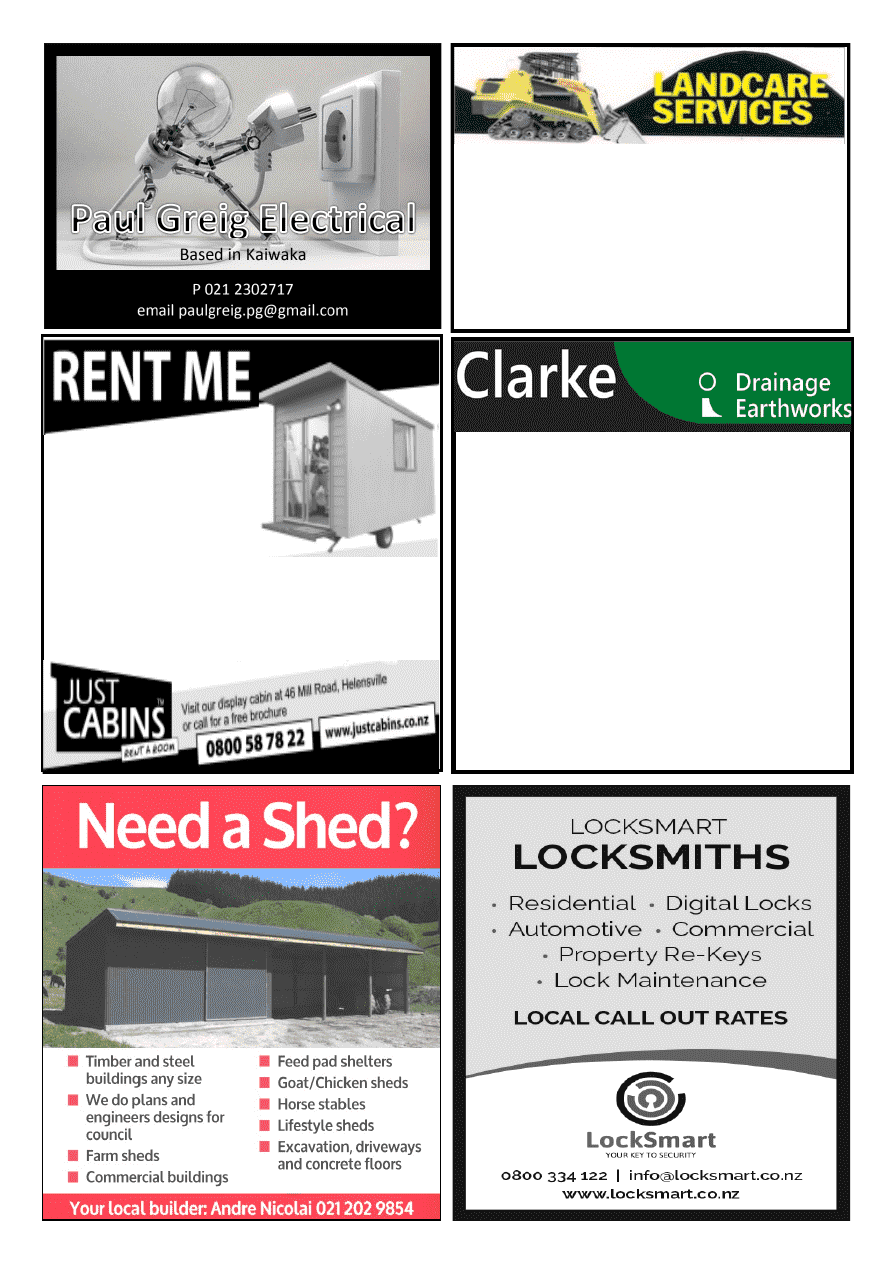 Drainage & Earthmoving 
nigel@clarkedrainage.nz 
027 2233 185 
Registered Drainlayer                    All Types of Earthworks  
> All Residential & Commercial Work  > House Sites 
> Septic System Design & Install          > Footings & Drilling to 10m 
> Sewer Connections 
                       > Dams 
> Water Tank Installation 
               > Roading & Races 
       > Farm Work 
THE ONE STOP SHOP  
LANDSCAPING 
4 IN 1 BUCKET 
TRENCHER 
POLE HOLES 
ROTARY HOE 
COMPACT ROLLER 
OFFAL HOLES 
CAN SUPPLY WOODCHIP & POST PEEL 
5 TON TIPPER 
FOR RELIABLE AND FRIENDLY SERVICE CONTACT DAVE 
Dave Hyndman 
 
KAIWAKA 
PH: 09 4312302 
MOB: 021 431 238 
Ideal as an extra  
bedroom or office 
Three Convenient sizes: 
Standard 3.6m x 2.4m - $65 
per week 
Large 4.2m x 2.4m - $80 per week 
Extra Large 4.8m x 2.4m - $100 per week 
Fully insulated. Minimum 6 months rental period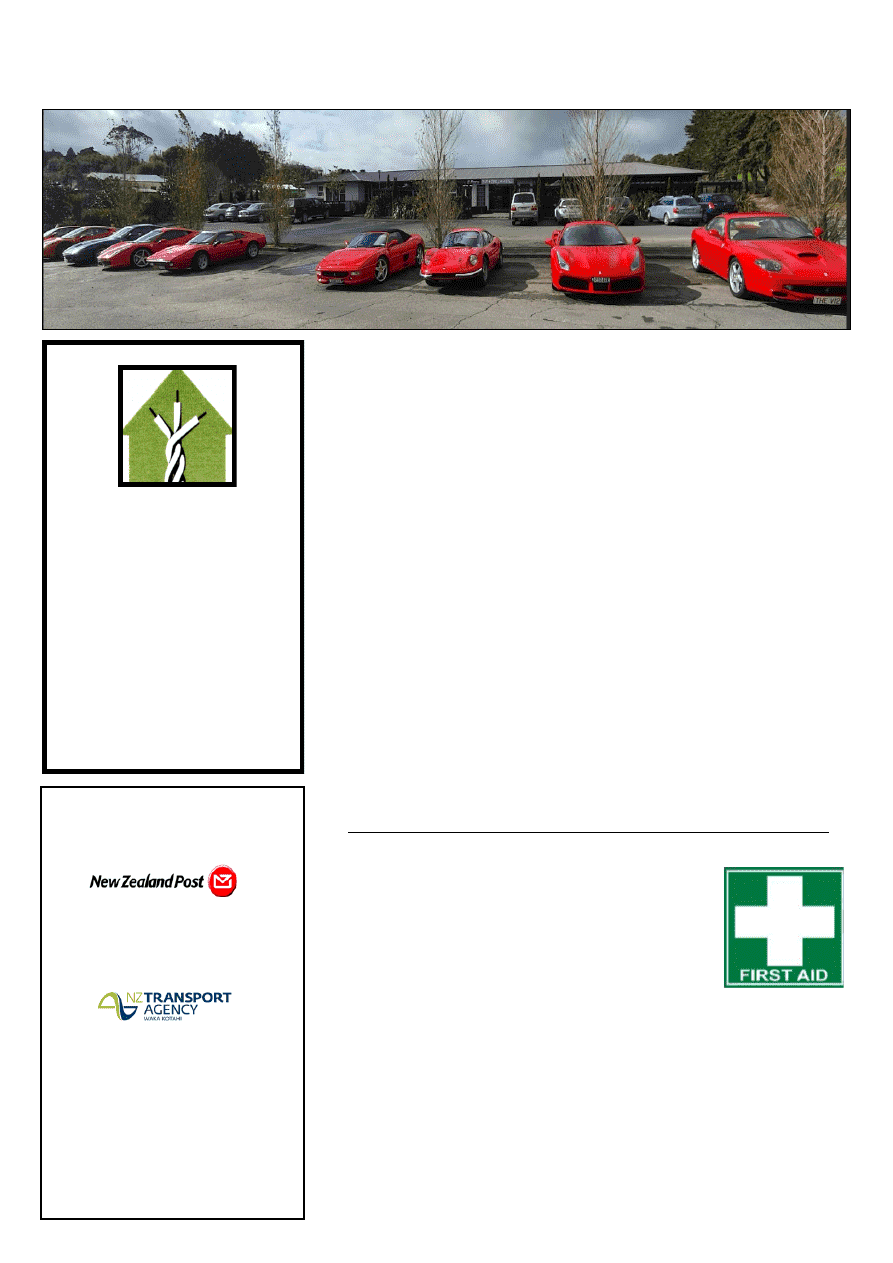 www.kaiwaka.co.nz 
Kaiwaka Bugle - 21 July, 2020 
Page 17 
Reyahn George 
Leng 
Registered Electrician 
Local, honest and reliable. 
For your residential and 
light-commercial projects. 
022 314 1068  
KAIPARA DISTRICT COUNCIL AWARDS FUNDS TO 41 
COMMUNITY GROUPS AND ORGANISATIONS 
KAIWAKA POST 
CENTRE and 
FOOD MART 
POST CENTRE TRADING HOURS 
MONDAY to FRIDAY 8am to 5pm 
SATURDAY 8am to 12pm 
CLOSED ON SUNDAY and on 
PUBLIC HOLIDAYS 
FOOD MART (GROCERIES)  
MONDAY TO FRIDAY  
7:30am to 7.30pm 
SATURDAY  8am to 7.30pm 
SUNDAY  8:30am to 7pm 
IF ANY QUERIES PLEASE CALL 
STORE MANAGER AMRIT  
on 09 4312431 or 
EMAIL: kaiwakafood19a@gmail.com 
1919a State Highway1, Kaiwaka 0542 
FERRARIS STOP AT THE THREE FURLONGS 
Last Sunday, 19 July, the Ferrari Club members made a stop in Kaiwaka.  - pictured above is the wonderful line-up of 
well groomed cars of which most were a  great scarlet colour. Someone mentioned just one tyre is worth $2000. 
More than $122,000 has been awarded 
in  the  latest  Kaipara  District  Council 
funding rounds for Community Grants, 
Rural  Travel  Fund,  and  Creative 
Communities Scheme. 
Community Grants have been awarded 
to  twenty-one  organisations  including 
Hakaru  Community  Hall  ($8,361.38), 
Maungaturoto  Centennial  Community 
Centre  ($11,781.00),  Ripia  Marae 
($2,103.80), Te Roroa Charitable Trust 
($6,777.00) 
and 
Taipuha 
Hall 
($10,000).  Community  Grants  are 
given  to  support  events,  services  or 
activities  that  benefit  the  community; 
or  for  specific  operational  or 
maintenance  costs  of  community 
facilities,  including  upgrading  and 
future proofing. 
Fourteen grants from the Rural Travel 
Fund  have  also  been  awarded.  While 
COVID-19  restrictions  have  meant 
that a number of sporting events have 
been  cancelled  or  changed,  the 
Committee was still keen to support as 
many  children  as  possible.  A  total  of 
$9,825.00 was paid out from the Rural 
Travel  Fund  and  allocated  across  the 
district.  The  Fund  is  designed  to  help 
subsidise travel for junior sports teams 
(5  to  19  year  olds)  participating  in 
their  local  competition.  Successful 
applicants  included  Dargaville  High 
School,  Mangawhai  Beach  School, 
Otamatea  Netball  Club,  and  Pōuto 
School. 
Finally,  funding  for  the  second  round 
of  Creative  Communities  Scheme 
funding  was  also  awarded  to  six 
applicants,  to  a  total  of  $12,642.82. 
The  Creative  Communities  Scheme 
provides  funding  for  communities  to 
be 
involved 
in 
local 
arts 
activities. 
Successful 
applicants 
included  Jo  Thomas,  who  will  be 
running a free online oil painting class, 
Topaz Johnson for a new public mural 
in  Paparoa,  and  to  Te  Kopuru  School 
for 
their 
upcoming 
Matariki 
celebrations. 
For  a  list  of  all  successful  applicants, 
please see the Kaipara District Council 
website. The current funding round for 
Rural  Travel  Fund  is  open  and  has 
been  extended  until  24  August 
2020. The next Creative Communities 
Scheme funding round will open on 1 
August and close 31 August 2020. 
For  further  information  on  any  of  the 
grants  or  awards,  please  email  the 
Funding 
Officer, 
Jenny 
Rooney at grants@kaipara.govt.nz. 
ESSENTIALS FIRST AID TRAINING 

FRIDAY, AUGUST 21, 2020 at 8:30 am - 4:30 pm 
  Mangawhai Volunteer Fire Brigade 

FRIDAY, SEPTEMBER 11, 2020 at 8:30am– 4:30pm 
Maungaturoto Fire Station, Hurndall Street East 
Hosted by Kaipara District Council 
Being able to respond first, while waiting for medical  
professionals to arrive, is essential to helping others and saving lives.  
This course covers: 
- safe scene management 
- cardiopulmonary resuscitation (CPR) 
- airway obstruction 
- control of severe bleeding 
- safe side positioning 
- common first aid conditions and how to respond to them 
- assessment of emergency situations 
- adult, child and infant resuscitation and choking (CPRL2) 
- bleeding, shock, fractures, sprains, burns, poisoning 
On successful completion of this course you will be awarded a New Zealand 
Red Cross first aid certificate, valid for 2 years. 
For  more  information  and  to  sign  up  to  this  opportunity  see:  https://
volunteeringnorthland.nz/organisations/course/ 
NB: Contribution: This course is fully funded by Kaipara District Council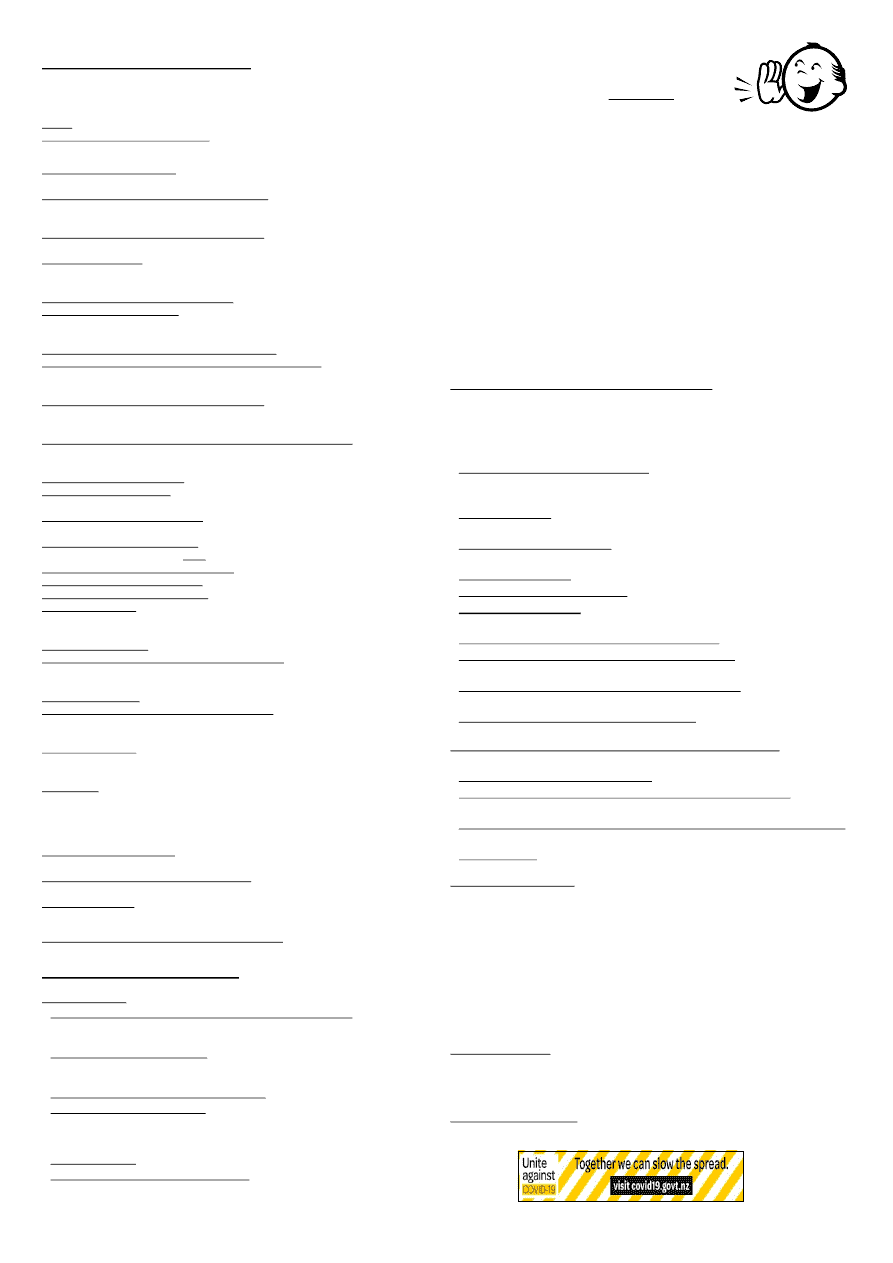 WHAT'S ON
PLEASE ~ do let us know what is on - or what 
is NOT on at the moment! 
email kaiwakabugle@kaiwaka.co.nz 
Advertising in WHAT'S ON is FREE  
*22Jul~Kaiwaka School PTA meet 3 Furlongs, 6pm   
*24Jul~Movie 'RICHARD JEWELL', KWMH 7.30pm 
*27Jul~Zonta, Mangawhai Golf Club, 6pm 
*30Jul~Kaipara Young Farmers meet. 3 Furlongs 7pm 
*6Aug~Otamatea High School OPEN DAY 
*8Aug~DOWN at the HALL, Hakaru Hall, 5.30pm 
*11Aug~Blood Donors, Mangawhai Library Hall 
*12Aug~Pt.Curtis CC meet KSA, 7pm 
*19Aug~Kaiwaka Can meet. Archie Bull Hall 5.30 
*28 Aug~ Daffodil Day 
KWMH = Kaiwaka War Memorial Hall; KSA = Kaiwaka Sports Association 
See www.kaiwaka.co.nz for more information 
HOUSEHOLD RUBBISH COLLECTION - Kaiwaka Pick up: 
Mondays = Green bags (Northland Waste - 09 430 3273) 
Wednesdays  = Blue bags and yellow recycling (at Jaques $3.00 
and  $1.50)  (Kaurilands  09  4392146);  ONLY  Blue  and  Yellow 
bags picked up on Oneriri Road. 
 DIABETES  Support  Group  -for  Kaiwaka,  Mangawhai, 
Wellsford  10am,  3rd  Friday  of  month  Ph:  Colleen  James  09 
4314238 
 GENEALOGY - Wellsford: 1st Thursday in month Ph: 423 
7033; Waipu: 4th Monday in month Ph: 4312 725 
 HAKARU PONY CLUB - Secretary Denise Rogers 021423376 
secretary@hakaruponyclub.co.nz  
 KAIPARA HUNT - Secretary Albert Doonenbal Ph 4312059 
 KAIWAKA BADMINTON -Tuesdays 7.30pm Ph: 4312345 
 KAIWAKA  CAN  - 3rd Wednesday in month, 5.30pm, Archie 
Bull Hall Ph: 0273572751 
 KAIWAKA DRUM & DANCE CLASSES - 021 611198 
 KAIWAKA GARDEN & FLORAL GROUP - 2nd Thursday in 
month. Ph: 431 4744 
 KNITTING FOR WHANGAREI HOSPITAL - 2nd Tuesday in 
month, Archie Bull Hall 10am Ph 4314827 
 MANGAWHAI COMBINED REBUS CLUB - 2pm, 3rd 
Thursday month, Senior Citizens Hall Mangawhai. Ph: 4315777 
*PILATES - KAIWAKA WAR MEMORIAL HALL - Ph: 
021  
2072729  
 PT CURTIS CRUISING CLUB - Jean Ph: 4312227 (wk), 4312520 (hm) 
 RSA,  HAKARU  &  DISTRICTS  WOMEN'S  SECTION  –  meets 
1.30pm 4th Thursday of the month. Ph: 431 5818  
 KAIWAKA  SCOTTISH  COUNTRY  DANCING  CLUB-
Wednesdays 10am - 12 noon  Ph: Elaine 027 432 0032  
 TRAMPING - Mondays 9am-2:30pm Maria 4312 234 
HALLS FOR HIRE: 
  Kaiwaka St. John Hall: Phone Marj  0272941227  
 St.Pauls Archie Bull Hall HIRE $20 half day, $40 full day per 
hire, S McAulay, Ph 4312311 
 Kaiwaka  War  Memorial  Hall  HlRE  -  Phone  4312725  or 
kaiwaka.hall.bookings@gmail.com 
 Hakaru Community Hall HIRE -Ph.  Karen 4312090 
 Te Pounga Marae queries - Pearl Nathan  0223933533 
 Kaiwaka Sports Association hire/queries - P Jaques 4312227 or 
kaiwakasports@gmail.com 
Justice of Peace:  
B.FJaques  4312  048;  L.Donaldson  4312  228;  A.F.Hargreaves 
4312 045, W.Howard 4312 725,  D.Edwards 021611198 - please 
phone  to  make  sure  they  are  available  or  go  to 
www.justiceofthepeace.org.nz 
Marriage Celebrants:  
L.Donaldson; A.F.Hargreaves; Y Osborne
LOCAL SERVICES 
*Emergencies - Ambulance, Fire, Police - dial 111 
*Non-urgent Police phone 105
A A: Meets Wed., 7.30pm Kaiwaka Ph: 4315543, 0800229 6757 
NARCOTICS ANONYMOUS : Mon., 6.30pm, Kates Place; drug and 
alcohol related issues. Ph. 02102412348 
ASUREQUALITY LTD (was AgriQuality) Call Free 0508 0011 22  
BUDGETING SERVICE, WELLSFORD: Free confidential advice & 
support for all areas of personal finance. Ph (09) 423 7123 
CAB-Citizens Advice Bureau.Wellsford Ph: 4237333 
0800 367 222 email:cab.wells@xtra.co.nz  
CIVIL DEFENCE - Kaiwaka Community Response Group: 
kaiwaka.civildefencecrg@gmail.com, 4312725 Wendy 
DOG/STOCK /NOISE CONTROL 0800 105 890 
FUNERAL SERVICES: Morris & Morris Ltd, 
Whangarei - Bev Jaques Ph:4312367 or 0800667747 
GRANDPARENTS Raising Grandchildren: Dianah Roberts 0223819539 
HAKARU & DISTRICTS MEMORIAL RSA (Inc) 733 Settlement Rd, 
Hakaru. Ph 4312 176 or Bill Warren (President) 431 2092 
HAKARU LANDFILL/Transfer Station:Open everyday  10am-
4pm.Ph4312629 Cost-$55 trailer load up to 1 cubic metre. Ph:4258567 - 
office 
KAIPARA DISTRICT COUNCIL www.kaipara.govt.nz:  
Help Desk FREEPHONE 0800 727 059  
KAIWAKA CEMETERY: Ph: 4312045 or 4314017 
KAIWAKA LIBRARY: kaiwaka.library@gmail.com  
Mon. 4-6pm; Wed., Thurs., Fri., Sat. 10am-2pm Ph:4312539 
KAIWAKA PLAYCENTRE: Ph Juanita 0274134904; open Mon, Wed, 
Fri 9am-12pm. Hastie Lane; Monday to Friday 9.00am - 12 noon. 
KAIWAKA POST OFFICE:Ph:4312 431  
Post Code: 0573 for RD2 and 0542 for all Kaiwaka Post Office mail 
KAIWAKA PRIMARY SCHOOL: Ph: 4312309   
KAIWAKA SPORTS ASSN: Ph 4312005; 4312129 gym 
KAIWAKA ST JOHN HALL: Phone Marj  0272941227  
KATE'S PLACE Community Centre - Employment services, Free Health 
Nurse, Plunket, Advocacy, Osteopath, A.A., Legal Advice. 4312 661 
LINKING HANDS Health Shuttle Ph 4315906 or 09 4318969 
MINISTRY FOR PRIMARY INDUSTRIES - General inquiries Call 
Free 0800 008 333 
NORTHPOWER: Faults Kaiwaka area 0800 104040 
OTAMATEA COMMUNITY SERVICES: Counselling, parent coach, 
Family Support worker, budget advice, food bank. Mon-Fri 9am-3pm. Ph 
09 431 9080 http://www.otamateacs.org/ 
PARENTPORT: Free, practical family support service Puhoi to Paparoa 
Ph or txt: Dianne 027 280 5093 or 09 425 9357 
PLUNKET:  Kaiwaka  -Kate's  Place  Clinic  1st  Wednesday  of  the  month; 
Mangawhai  - Rose Madsen Cottage: Coffee Group 9:30 every Monday.  Clinic 
every Monday and Thursday. 
Maungaturoto - Good News Church, Clinic 2nd and 4th Wednesday.  
Cynthia 09 431 7340 or 027 675 3488 
PLUNKET HELPLINE -0800 933 922 (24 hours) 
TAITOKERAU COMMUNITY LAW: Free confidential legal advice and 
assistance, 2nd
Thursday
 of each month. Ph: 0800 155 529 for appts.  
TE URI O HAU Settlement Trust Tangata Developments: Whanau Ora 
021 793262  
VETERINARY SERVICE MANGAWHAI: 
Ph: 4314535 Mon-Fri 8.00-5.00, Sat 9-12, a/h appt. 
WELLSFORD DOCTORS: Ph: 4238 086 
CHURCHES:
 
Kaiwaka  Revival  Church  -  Your  Community  Church:  Sundays  10am. 
Ph: Pastor Tawhiri 09 431 8988 or Pastor Paul 09 4312 068 Visit us at 
www.facebook.com/kaiwakachurch 
 
St  Paul's  Anglican  Church  1st  Sun.  9.00am  (Eucharist),  3rd  Sun. 
9.00am (Family Service). Contact: Rev. Wayne Thornton Ph 431 4122 
www.mangawhaianglican.org.nz 
 
Church of Christ the King, Mangawhai:9.00am every Sunday 
 
St.Mary's  Catholic  Church:  Maungaturoto  –  Griffins  Road,  Saturday 
evening  Vigil  Mass  6pm;  Mangawhai  –  Senior  Citizens  Hall,  Sunday 
Mass  8:30am;  Wellsford  –  Matheson  Road,  Sunday  Mass  10:30am;  
Mid-week Mass times and all enquires to Fr. Bill Fletcher – phone 423 8170
 
Baptist Church: Sun. 10.30am Mangawhai Snr Cit.Hall.Ph:4312339 
 
Cause  Way  Church  Mangawhai:  Sundays  10.15am,  Mangawhai 
Community  Recreation  Centre,  Insley  St.  Ph:  09  4314782 
Next Bugle Deadline Friday 31 July 2020