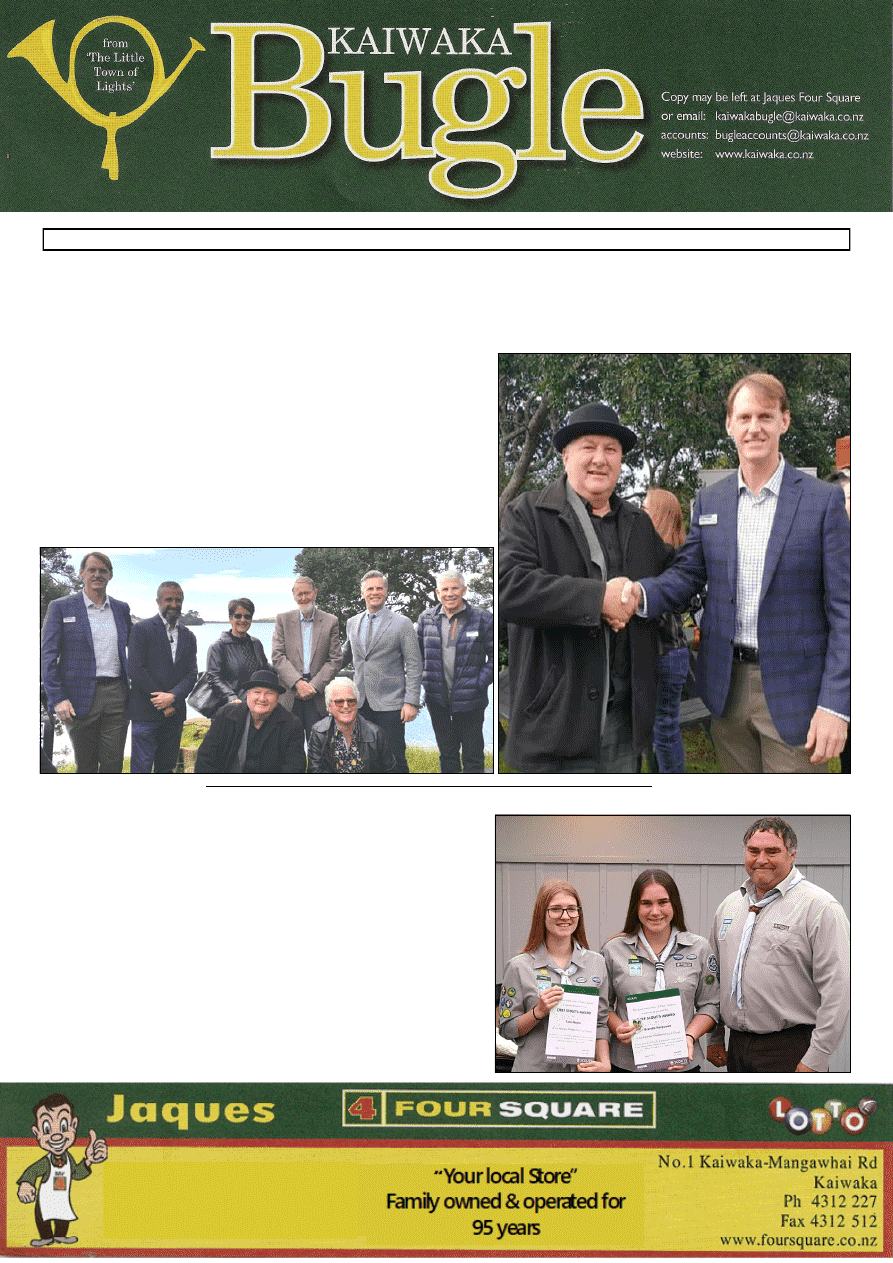 www.kaiwaka.co.nz 
Kaiwaka Bugle - 4 August 2020 
Page 1 
No.15 
4 August 2020 
25  July:  Safety,  access,  hope  -Mayor  Jason  Smith  used  those  words  to  sum  up  the  announcement    made  by  the 
Honourable  Shane  Jones,  Minister  for  Regional  Economic  Development  on  investing  $3  million  into  community 
infrastructure in  Mangawhai  and Kaiwaka.  "Three  projects in  the  Kaipara region  have  been  funded to  improve  much-
needed  infrastructure  in  these  growing  communities  north  of  Auckland.  They  will  also  provide  jobs  and  training 
opportunities," Shane Jones 
said (pictured right with Cr Jonathan Larsen).  
He  also  said  Kaipara  District  Council  will  also  receive  $750,000 
for  two  pedestrians'  bridges  and  an  interlinking  footpath  on  the 
western side of Kaiwaka, providing safety and access on both sides 
of State Highway One and provide safer access to the town centre 
than trying to cross the busy State Highway 1. 
"Kaiwaka is an area that is growing in importance as people spread 
from  Auckland  and  find  new  places  to  live.  The  new  footbridges 
will  open  up  more  recreational  space  and  access  to  parts  of  the 
upper Kaipara Harbour," Shane Jones said. 
Funding also goes towards: the building of the Mangawhai Historic 
Wharf  - $600,000  and $2.4 million for developing of the shared 
path along Mangawhai's Molesworth Drive . 
'SAFETY ACCESS HOPE' ~ Mayor Jason Smith 
KAIWAKA SCOUTING AWARDS 
Tara Moyle and Brenda Ferguson were presented with their Chief 
Scout  Awards  by  Bruce  Ferguson  in  his  last  official  event  as 
Group Leader of Kaiwaka-Mangawhai Scouts. The certificate and 
badge  were  presented  in  Kaiwaka  Sunday  2  August,  with  other 
Scouts, their families and friends in attendance. 
Chief Scout is the highest award a Scout can earn. The Scout must 
achieve  skills  at  a  high  level  in  Outdoors,  Community,  Personal 
Development,  New  Experiences  cornerstones  -  having  fun  while 
gaining  valuable  life  and  leadership  skills,  self-confidence, 
responsibility, and doing lots of camping. 
The  girls  joined/moved  up  from  Cubs  to  Kaiwaka-Mangawhai 
Scouts in Term 4 of 2014, so have done five years at Scouts. They 
joined  Horahora  Venturer  Unit  (Whangarei)  in  February.  As  a 
group  the  Venturers  (14  to  18yrs)  plan,  lead  and  run  their  own 
adventurous experiences, while completing modules towards their 
Bronze,  Silver  and  Gold  Awards  before  they  can  attempt  their 
Queen's Scout Award, the highest award available in Scouting. 
WINTER HOURS: 
Monday - Friday 8am – 6.30pm 
Saturday 8am – 7pm 
Sunday 9am - 6pm 
WINTER HOURS: 
Monday - Friday 8am – 6.30pm 
Saturday 8am – 7pm 
Sunday 9am - 6pm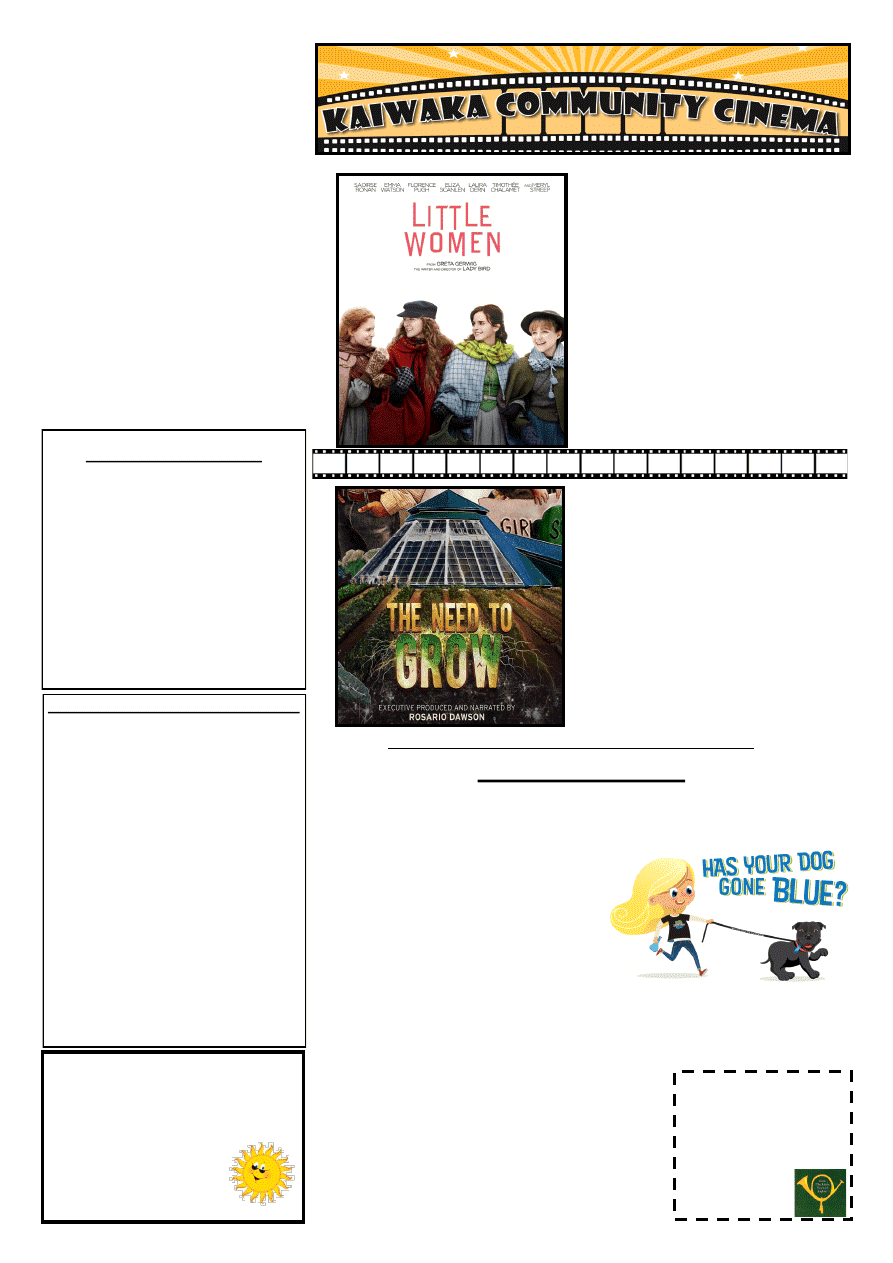 Proverbs 12: 3 
You can't find firm 
footing in a swamp, but 
life rooted in God 
stands firm.  
(The Message 
Translation)
At Kaiwaka War Memorial Hall . Adults $10, Kids (under 16) $5, Family Pass (2 adults + 3 children) $25 
ABOUT TOWN 

 A  big  BRAVO  to  Brenda  Ferguson  and  Tara  Moyle  on  earning  their  Chief 
Scout Awards.

 A  great  movie  again  -  LITTLE  WOMEN  -  7.9  out  of  10  rating.  Come  and 
enjoy this one on the BIG 7 metre wide SCREEN and have a coffee or tea and 
biscuit for $2 during interval. 

 Note:  Northland  has  the  fastest  growing 
DHB  population  -  see  Libby  Jones 
Northland  District  Health  Board  report  on 
page 17. 

 Bev  notes  in  Kaiwaka  Weather  that  the 
days  are  getting  longer  -  1st  July  sunrise 
was at 7.33am and 31st July was 7.20am.  

 KDC  Dog  Registration  - till 31 August. 
Please contact the Council if you haven't got your blue dog tags yet. 

 HELP  PLEASE:  Kaiwaka  School  students  are  collecting  yummy  stickers 
again. The more stickers they collect the more P.E. gear they will receive for the 
school - running until the end of Term 3 

 Well  done  Otamatea  Netball  -  great to hear of 
their current success 

 Sadly the Otamatea HAWKS rugby seniors again 
had a team default - they took the opportunity for an 
excellent training run on Saturday 

 See  the  Kaiwaka  Bugle  in  colour  online  at 
www.kaiwaka.co.nz at any time.  ~ Lindsey, Ed 
"We all dream of it – having a home where there's a 
place for everything and everything's in its place." 
KAIWAKA BUGLE NO.15 
4 AUGUST 2020 
CONTENTS: 
Page 3: Public Notices, Classified 
Page 5: Linking Hands; Kaiwaka 
Weather 
Page 7: Thelma's Scrapbook;  St. Jon 
Op Shop; Pt. Curtis CC 
Page 9:  Kaiwaka Can  
Page 11: Kaiwaka Sports 
Page 13: Kauri Museum; Seen About 
Town  
Page 15:  Otamatea High School; 
Kaiwaka School 
Page 17:  Libby Jones - NDHB 
Page: 19: Camera Club; Library 
Bugle 16 will appear  18 August 
Contact for advertising, reports, articles 
or information can be made by 
Email: kaiwakabugle@kaiwaka.co.nz 
Ph: 09 4312 045 Lindsey 
Txt: 027 2724137 
Copy  may  be  left  at  Jaques'  Four 
Square. 
Kaiwaka Bugle Advertisements 2020: 
All 
copy 
and 
queries 
to: 
kaiwakabugle@kaiwaka.co.nz 
The Bugle is printed on an A4 page, B&W  
Ad  sizes:  1/16  page  (3  x  9.5cm)  $5;  1/8 
(6.5  x  9.5cm  landscape  or  portrait)  $8; 
3/16 ( 10 x 9.5cm or 7.5 x 12,5)  $12.  
Classified  ads:  First  one  FREE,  $4  per 
entry (max. 30 words, max. 4 repeats). 
Payments  can  be  made  online  at 
ANZ 
06  0365  0006990  00
,  posted  or  left  at 
Jaques Four Square Store. 
We  use  Microsoft  Publisher,  and  can 
work  with  most  common  image 
formats, Word, Excel, and PDF files. 
Accounts:  
Email: bugleaccounts@kaiwaka.co.nz 
The  Kaiwaka  Bugle  is  a  community 
newspaper run by volunteers, as part of 
the Kaiwaka Media Group Inc.   
Articles, etc. printed are not necessarily 
the opinion of the Bugle Team. 
Kaiwaka Bugle 
Founded May 1978 
We appreciate articles and photos about local 
events, etc, as well as ads and suggestions. 
Copies available in Kaiwaka at Jaques Four 
Square, Kaiwaka Postal Centre, Shamrock 
Service Station, Animal Health Centre, 
Kaiwaka St John shop. 
Also outlets in Maungaturoto, 
Mangawhai and Paparoa. 
Can be viewed online at  
www.kaiwaka.co.nz/Bugle  
Or a copy can be posted to you if you supply 
stamped, self-addressed DLE envelopes. 
KAIWAKA BUGLE 
DEADLINE DATES 
2020:   
Every second Friday
August 14, 28 
September 11, 25 
October 9, 23 
November 6, 20 
December 4 
The NEED to GROW 
Friday21 August, 7.30pm  
'A  Story  of  Solutions  "The  Need  to 
GROW"  delivers  alarming  evidence 
on  the  importance  of  healthy  soil  — 
revealing  not  only  the  potential  of 
localised  food  production  working 
with  nature,  but  our  opportunity  as 
individuals  to  help  regenerate  our 
planet's dying soils and participate in 
the restoration of the Earth. 
Directed  by  Rob  Herring,  Ryan 
Wirick.  With  Erik  Cutter,  Rosario 
Dawson,  Douglas  Gayeton,  Kathryn 
Kellogg Johnson.' 
  LITTLE WOMEN 
Friday 7 August, 7.30pm (PG)  
'
Writer-director  Greta  Gerwig  (Lady  Bird) 
has  crafted  a  Little  Women  that  draws  on 
both  the  classic  novel  and  the  writings  of 
Louisa  May  Alcott,  and  unfolds  as  the 
author's  alter  ego,  Jo  March,  reflects  back 
and  forth  on  her  fictional  life.  In  Gerwig's 
take, the beloved story of the March sisters - 
four  young  women  each  determined  to  live 
life on her own terms -- is both timeless and 
timely. Portraying Jo, Meg,  Amy, and Beth 
March, the film stars Saoirse Ronan, Emma 
Watson, Florence Pugh, Eliza Scanlen, with 
Timothée  Chalamet  as  their  neighbour 
Laurie,  Laura  Dern  as  Marmee,  and  Meryl 
Streep as Aunt March.'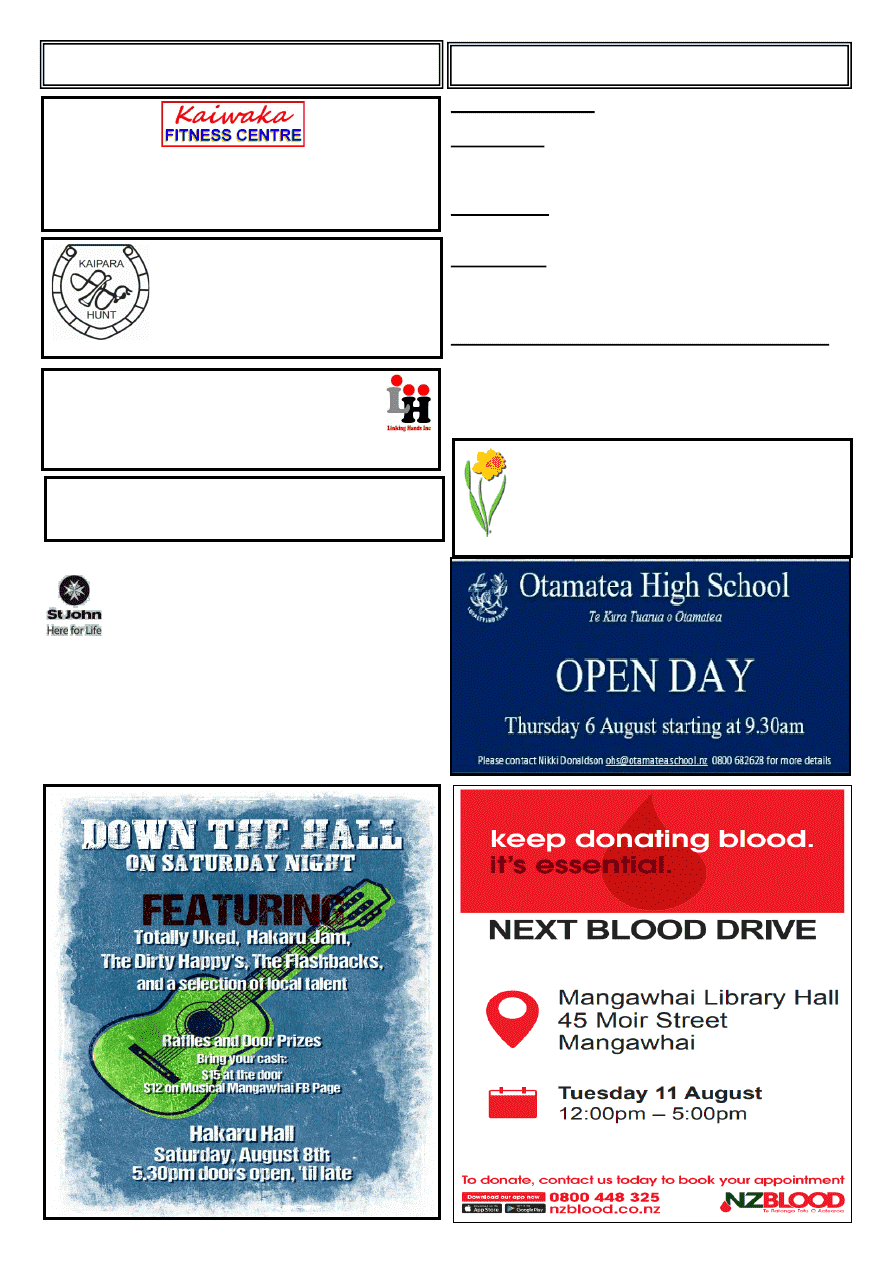 www.kaiwaka.co.nz 
Kaiwaka Bugle - 4 August 2020 
Page 3 
PUBLIC NOTICES 
CLASSIFIED 
KAIWAKA FITNESS CENTRE  
AGM  
Wednesday 12th August at 6pm  
At KSA Fitness Centre. 
GARAGE SALE: Sat 8am, 8th August, 231 Ranganui 
Road, Kaiwaka. Downsizing, loads of bargains. 
FOR  SALE:  Queen  size  Ambassador  Bed,  Base  and 
Mattress  with  headboard  and  side  tables  with  2  small 
drawers.  Clean  tidy  mattress  and  base  on  6  legs.  Ex 
Cond $275.00. 094312367 Kaiwaka. 
FOR  SALE:  14 foot Sea Nymph Hull on  trailer - no 
motor. $1000 ono. Ph: 021 082 06418 
FOR  RENT:  The Kaiwaka School house is available 
for  renting.  The  rent  will  be  $350  per  week  with 
regular  property  checks.  References  required.  If 
interested, please ring 094312309.  
Te  Roroa  Learning  Assistance  and  20/20  Trust  are 
offering  the  Northland  Connect-  Digital  Inclusion 
Programme.  Receive  30  hours  of  digital  literacy 
training  delivered  remotely  and  a  Chromebook  on 
completion.  For  more  information:  0800  555  635  or 
janet@teroroalearning.org.nz  
KAIPARA HUNT INC 
AGM 
Friday 14 August 8pm 
Maungaturoto Country Club, 
Bickerstaff Rd, Maungaturoto. 
All Welcome 
ST JOHN TRASH AND TREASURE 
28th September to 2nd October 
We  are  now  planning  this  year's  event  –  annual 
fundraiser that we have run for 36 years in a row. 

Thanks to all who have already contributed items. 
If  you  are  unsure  if  your  item  would  be  suitable, 
please call me. 

If  you  have  a  registered  trailer  we  can  borrow  for  the 
week, that would be a tremendous help with our deliveries. 

Or, if you would like to help during the week, set up the 
shelves  on  the  Sunday  (dismantle  on  2nd)  as  well  as 
support  in  moving  and  delivering  items  during  the  week, 
even for two or three hours please call Eileen – 
021 142 0357 
MAUNGATUROTO COUNTRY CLUB  
The Community walkway is now CLOSED FOR 
LAMBING, until 1ST OCTOBER 
LINKING HANDS INC.  
AGM  
 Wednesday 26th August at 7pm 
 in the Anglican Church Hall,  Maungaturoto. 
All welcome. 
DAFFODIL DAY ~ KAIWAKA 
Friday and Saturday  
28 and 29 August 
If  you would like to volunteer there is a spot 
available on Saturday afternoon, please 
contact Lynne on 09 4312020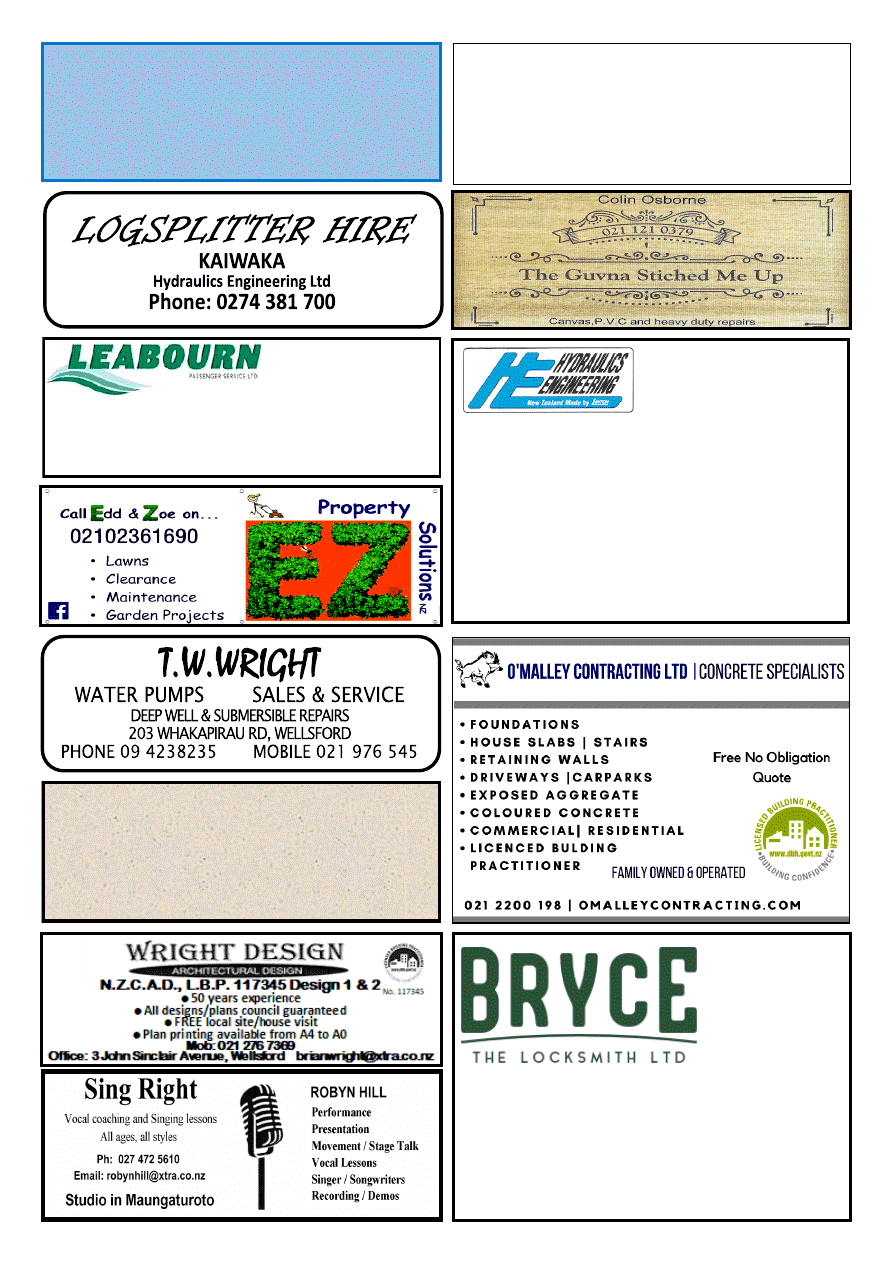 Passenger Service
Car & Van Hire   Bus & Coach Charters 
Airport Transfers    
Phone (09) 4237416 
Counsellor and Registered Psychotherapist 
Offers Supervision 
ACC Sensitive Claims 
Susan Matheson      MNZAC 
Dip. Psychosynthesis Counselling and Psychotherapy 
Phone 09 431 2996                                     Mobile 027 605 2427 
Bryce Frewin 
Ph: 021 850 983 
Kaipara Based Master Locksmith 
bryce@brycethelocksmith.co.nz 
www.brycethelocksmith.co.nz 
Hydraulics  
Engineering Ltd 
Kaiwaka 
Sales - Service - Parts - Hire - Manufacture 
Service Contractors & Industrial Equipment: 
Rams, Pumps, Valves 
Logsplitter Hire, Manufacturer, Sales 
Dennis Linton 
Lot 2 / 161 Ranganui Road, RD2, Kaiwaka, 0573, New Zealand 
Mobile: 0274 381 700 
Email: hydraulicsengineering@xtra.co.nz 
Website: www.hydraulicsengineeringco.nz 
HAKARU HALL ACTIVITIES 

Monday:  Line Dancing 9.45 -12pm Ph 4315160 

Afternoon Dance Energy  Lisa Ph. 0275610469 

Tuesday: Afternoon Dance Energy   

Wednesday: Afternoon Dance Energy  

Wednesday: Evening Music Jam Session         
      Dennis Ph. 0210628631 

 Thursday: Pilates 9 - 10am Ph. 0220643965 

Sunday: Canine Coaching Ph 0272365004 
 Hall Bookings Karen 4312090 
HAVEN HOME MAINTENANCE SERVICES 
Interior:    
Exterior:  
Kitset Assembly   
Landscape Solutions 
Wardrobe Furniture Install   
Fence Build & Repair 
Picture & Mirror Mounted   
Low level Decks 
Minor Carpentry Works   
Gutter clearing & Repairs 
M: 021 1145709  
E: havenhomemaintenanceservices@gmail.com  
www.kaiwaka.co.nz 
Kaiwaka Bugle - 4 August 2020 
Page 5 
KAIWAKA 
WEATHER 
That is July weather gone.  
Not nice but after all it is the middle of 
the  winter  months.    That  dreadful 
Easterly wind will be with us for a few 
months  yet.   At last  we  got that  much 
needed rain believe it or not. With our 
climate  changing  we  need  that  extra 
water  tank-  very  little  rain  in  summer 
(as  it  should  be)  and  heaps  of  rain  in 
winter (as it should be). The extra rain 
in another tank even a smaller one will 
maybe  hold  you  over  through  the 
summer.  
July  threw  it  all  at  us.  That  was  some 
storm  we  had  over  the  middle  of  the 
month.    Some  very  cold  mornings 
down  to  1  deg.  and  maybe  lower  in 
some 
places. 
The 
Brynderwyn 
Waterfall  got  a  much-needed  boost 
which  shows  our  water  table  should 
come  up  again.  Hopefully  it  will  stay 
that  way  for  a  while  and  not  dry  up 
again.   
We  recorded  at  our  house  for  July 
2020  273mm  and  2019  we  had 
177mm.   
Our wettest July since 1987 was 1998 
with  602mm  and  the  driest  was  1993 
with 33mm.  
For the first 7 months of 2020 we had 
992mm and 2019 we had 577mm.   
Our wettest first 7 months since 1987 
was 2018 with 1261mm and the driest 
was 1987 with 480mm.  
We  had  rain  on  16  days  in 2020 and 
for 2019 it rained on 23 days.   
The  weather  is  warming  up  slowly  as 
you notice the days are getting longer.  
1st July sunrise was at 7.33am and 31st 
July  was  7.20am.  A  difference  of  13 
minutes. It is even starting to look and 
smell like spring with the Daffodils and 
spring  flowers  coming  out.  A  dull  but 
pleasant  end  to  our  middle  of  winter 
month.   
To  escape  a  bit  of  boredom:  As  often 
as possible Skip rather than walk, or at 
Lunch  Time,  sit  in  your  parked  car 
with  sunglasses  on  and  Point  A  Hair 
Drier at Passing Cars. See if they slow 
down
.   
Take care out there. Bev. 
Q: If you call a large turkey a gobbler 
what do you call a small one? 
A: Goblet.  
Q:  What  happened  when  the  turkey 
got into a fight? 
A:  He  got  the  stuffing  knocked  out  of 
him  
We're Here 
OPEN 7 DAYS 
In Store Fresh Bakery,  
Hot Chicken, 
Mussels,  
Fresh Fruit & Vege,  
9kg Gas & Sodastream  
Gas Bottle Swap, 
Lotto & ATM 
JAQUES FOUR SQUARE 
Phone: 4312227 
1 Kaiwaka-Mangawhai Rd, 
Kaiwaka. 
LINKING 
HANDS INC. 
Hopefully  you  are  doing  ok 
following  the  strange  few 
months we have had! 
For  those  of  you  who  are  new  to  the 
area - welcome.  
Medical Appointment Transport 
To let you know briefly, we at Linking 
Hands  offer  transport  to  medical 
appointments.  
The driver will pick you up from home, 
take you to your appointment, wait and 
drop  you  home  again.  Our  drivers  are 
all  volunteers,  so  we  appreciate  as 
much notice of your appointment times 
as  possible,  so  that  we  can  give  our 
drivers as much notice as we can.  
We are a free service, but being a Non-
Government  Organisation,  we  really 
appreciate  any  donations  which  help 
towards keeping our service running. 
Computers 
We have 3 computers available for the 
public to use and access the internet on. 
We  do  have  a  small charge  for  this to 
help to cover costs. There is also a plug 
available that you can use if you want 
to connect using your own laptop. 
We also have books and jigsaw puzzles 
for  sale to  help  generate some  income 
towards  running  costs.  If  interest  in 
these  does  not  pick  up,  we  will  be 
going  out  of  them.  The  books  and 
puzzles  have  been  gratefully  received 
from the public to help our cause. 
AGM 
Our  Annual  General  Meeting  will  be 
held  on  Wednesday  26th  August  at 
7pm  in  the  Anglican  Church  Hall  in 
Maungaturoto. 
If  anyone  is  interested  in  becoming  a 
Board Member, nomination forms will 
be  available  from  Head  Office,  131 
Hurndall  St,  from  the  beginning  of 
August. 
All are welcome, and it would be great 
to see some new faces attend. 
Volunteer Drivers 
If you have been thinking of something 
to  do  to  give  back  to  our  community, 
how  about  becoming  a  volunteer 
driver? We are currently looking for a 
couple more in both Maungaturoto and 
Kaiwaka areas. If you or someone you 
know would like to know more, please 
give us a call on 4318969 
Volunteer car cleaner 
Is 
there 
someone  out 
there  around 
Maungaturoto 
who  wants  to 
do 
some 
volunteering 
that  isn't  driving?  Our  vehicles  in 
Maungaturoto  need  someone  to 
regularly  clean  both  the  inside  and 
outside  of  them  -  washing,  wiping 
surfaces, windows, vacuuming etc.  
Take care and stay warm!  
From the team at Linking Hands.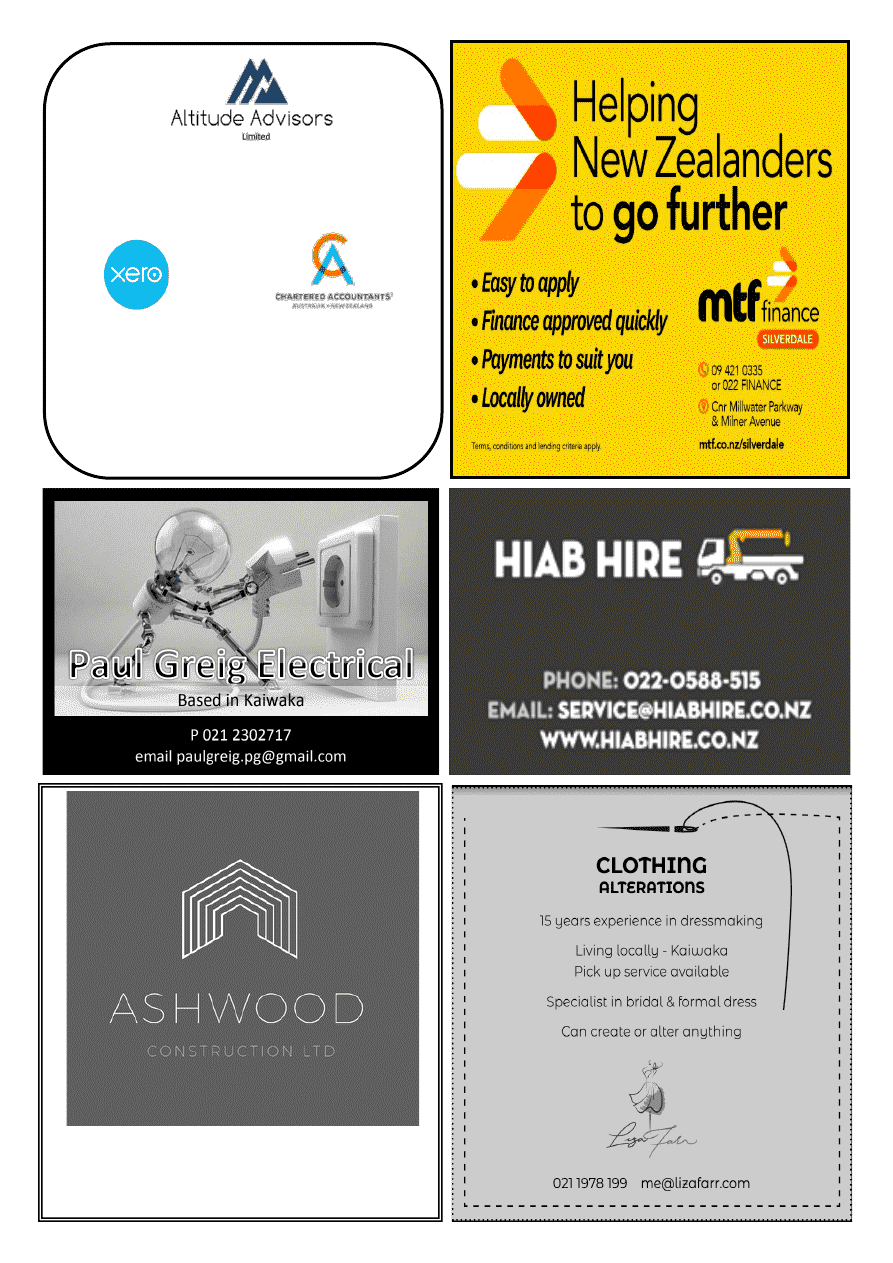 Altitude with Attitude, helping your business 
scale new heights 
Time to try something different? 
Xero training          Accountancy Services 
We are offering two opportunities: 
15% saving off your annual report cost for your first 
year, & a further 10% saving for any referrals 
Call Corinne on 021 252 7680 or 
corinne@altitudeadvisors.nz 
ASHWOOD CONSTRUCTION  LTD 
LBP registered 
New Builds Renovations Extensions Decks & more 
After a quote? Call Lee on 0223408353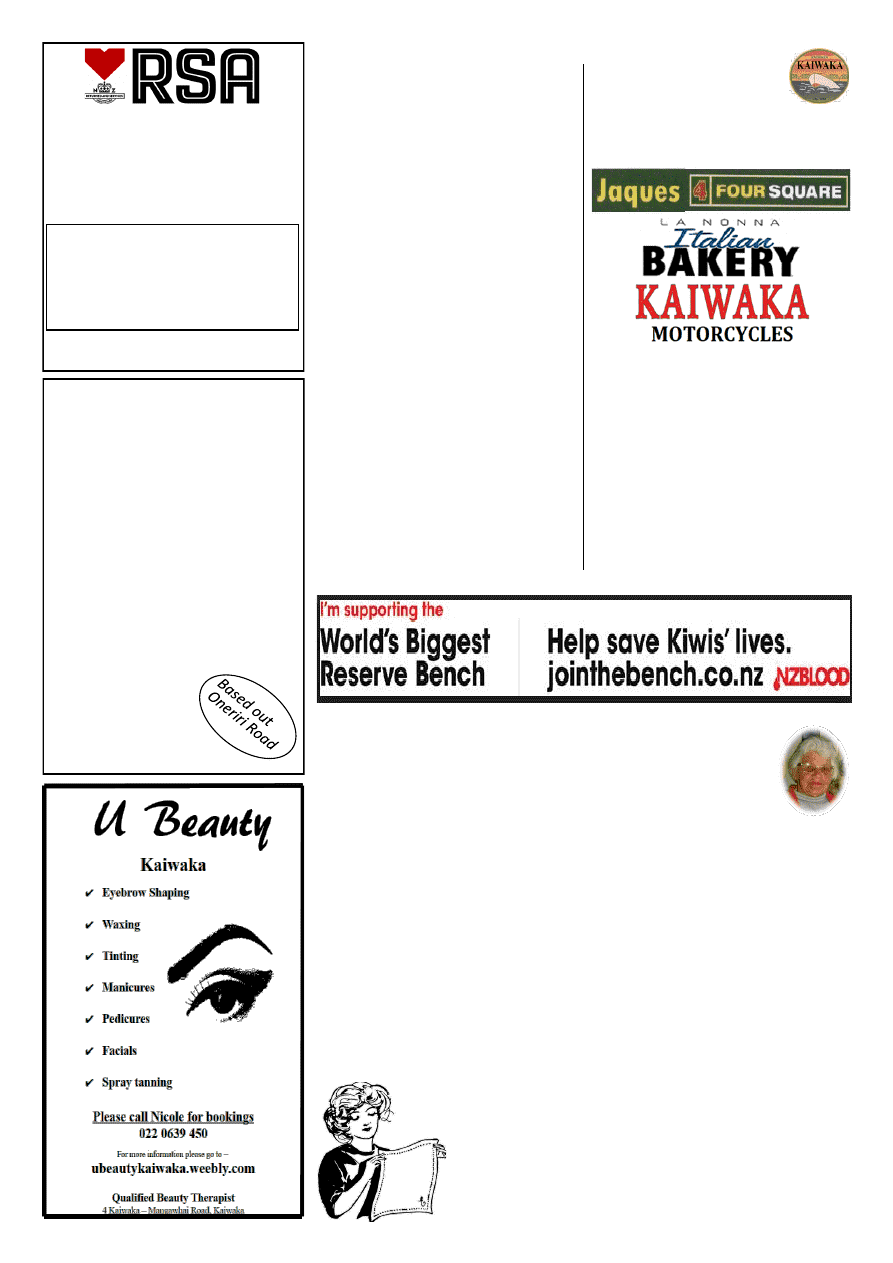 www.kaiwaka.co.nz 
Kaiwaka Bugle - 4 August 2020 
Page 7 
POINT CURTIS 
CRUISING 
CLUB   
We  would  like  to  take  this 
opportunity 
to 
thank 
our 
sponsors: 
For  their  continued  support.  You 
are  invaluable  to  our  club  and 
community. 
Annual Subscriptions 
Don't  forget  Subs  were  Due  1st  June 
2020.  $30  Family  $20  Single.  Internet 
banking  12  3094  0008233  00  Please 
use Name/s as a reference 
⚫
New Fish of the Month: Snapper till 
12th August 2020 
⚫
Next  Club  meeting:  12th  August 
2020@  Kaiwaka  Sports  Association, 
7pm everyone is welcome. 
~ Wayne Leslie, (Commodore) 
KAIWAKA  
ST. JOHN OP 
SHOP 
Thank  you  for  the  generous  donations 
we have been receiving.   
❖
You  can  buy  your  St.  John  family 
subscriptions  in store this helps to get 
free  ambulance  trips  -  enquire  at 
Counter. 
At $98 a trip, save money and help out 
our  Ambulance  stay  on  the  road.  You 
never  know  when  you  or  your  loved 
ones may need one. 
❖
Come along to see our New  Layout.  
Books and Craft have their own room.  
Lots to choose from 
❖
We  are  in  need  of  Blankets,  Bric  a 
Brac and Large Furniture items. 
❖
When dropping off donations please 
check the list on the door as to what we 
are  NOT  able to  take  as  it  costs  us  to 
get  rid  of  your  donations/rubbish  and 
these items.   
❖
NEW 
HOURS 
FOR 
SATURDAYS.  We have changed our 
hours for Saturdays - 10 am to 2 pm. 
Our Hours are  
Tuesday – Friday 10 to 3pm  
 Saturday 9 – 1pm 
PHONE: Shop  43121650   
or  Dianne  0274627567 
 Check us out at 1919 SH1, Kaiwaka
HAKARU & DISTRICTS 
MEMORIAL RSA (INC)
Members & guests are invited to 
come along and enjoy our hospitality. 
New members welcome. 
Meals are served on Thursday and 
Friday nights from 6.30pm. 
Order from Blackboard Menu  
The sing along with Des Chitty is the 
Last Friday of the month. 
For more information please phone 
Bill on 431 2092  
HODGETTS 
CONTRACTING
Digger Work    
Driveways  
House Sites  
Dams      
Drains, etc
Also available for HIRE 
3 ton Vib Roller  
Heavy Duty Tow  
Waterblaster      
Lazer Level
Phone Mark  
4312877 
027 447 8554 
From Thelma's Scrapbook … 
THE WAY WE WERE! 
We take an affectionate look at the past through the pages of the 
Women's Weekly. Actions can speak louder than words – and in 
days gone by a shy girl could communicate her feelings with a 
handy hanky! The following appeared in our 14th April 1923 issue: 
LANGUAGE OF THE HANDKERCHIEF: 
⚫
Do you wish to convey to him the message "I don't care"? Just twirl your 
handkerchief in both hands. But remember if you drop it, it means, "I want 
to be friends." 
⚫
Be careful not to draw the handkerchief across your cheek when the wrong 
man is near, for this means "I love you". Pulling it through your hands is 
equivalent to saying, "I hate you." 
⚫
Should you wish to answer the unspoken question in his eyes, rest the 
handkerchief on your right cheek if you wish to say "Yes",  and if it is to be 
"No" press the handkerchief against your left cheek. 
⚫
If you twirl the handkerchief in your left hand you are 
telling him to go away; and twirled in your right hand it 
means "I love another." 
⚫
If you wish to speak to him, just grasp the folded 
handkerchief in your hand, but if you put it in your 
pocket it shows you have nothing more to say.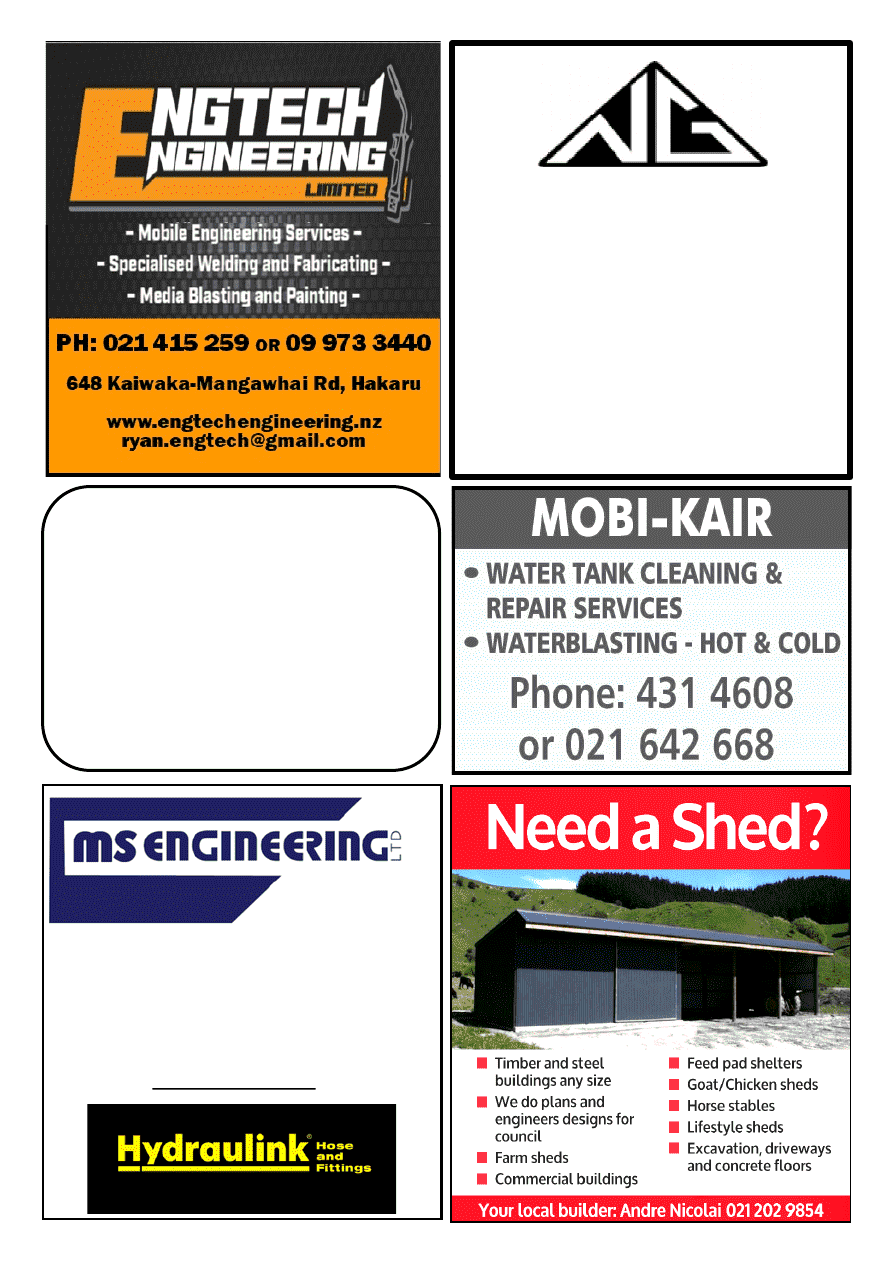 
Peter Buckley 

Mobile Hose Technician –  
                      Based from Oneriri Road 

Available for all mobile hose                                
                        requirements onsite 

Call – 0800 425 7116 

Email – mse@mseng.co.nz 
UP-LINK 
CHRIS WARING 
FREEVIEW INSTALLATIONS 
T.V. - HOME THEATRE &  
HI-FI ADVICE/SET UP
SKY ACCREDITED INSTALLER
MOB.0273403747 HM.094312328 
EMAIL cwaring44@gmail.com
28 YRS EXPERIENCE 
OFFERING UNBIASED ADVICE 
NORTH GLASS 
WINDSCREEN REPAIR OR REPLACE 
GLAZING SERVICES 
MIRRORS  •  SPLASH BACKS  •  SHOWERS 
0800 70 40 10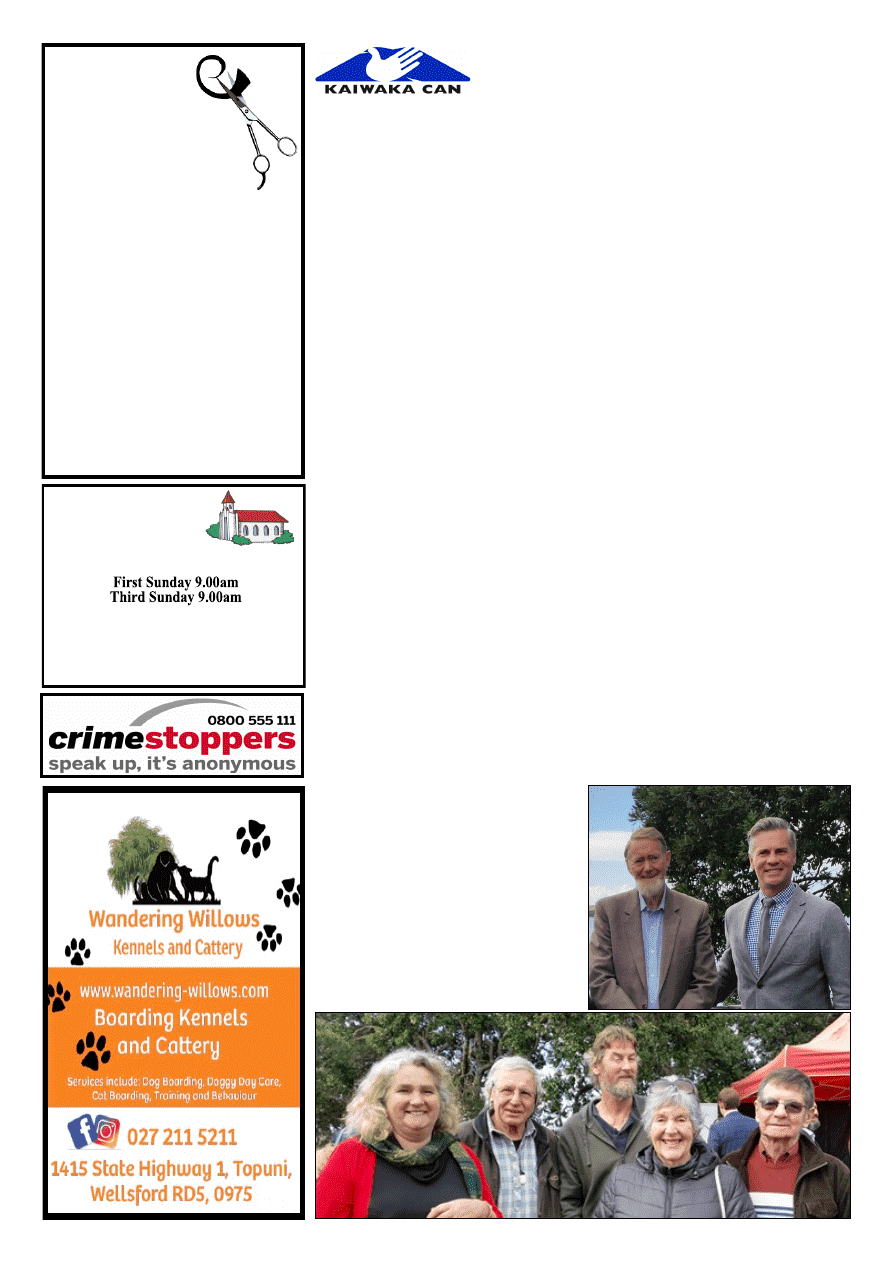 www.kaiwaka.co.nz 
Kaiwaka Bugle - 4 August 2020 
Page 9 
ST PAUL'S  
ANGLICAN  
SUNDAY SERVICES
St Pauls Church: Kaiwaka-Mangawhai Rd. 
1st Sunday - Eucharist 
3rd Sunday - Family Service 
Priest in Charge Rev. W Thornton Ph 431 4122 
www.mangawhaianglican.org.nz
Well  I  suppose  we  can  call  it  that. 
Because  we  now  have  money  to  build 
the  two  footbridges,  we  have  been 
planning  for  more  than  four  years. 
$750,000!  This  is  courtesy  of  the 
government, Regional Growth Fund to 
be  exact  and  it  was  announced 
Saturday  25th  July  by  the  Minister  in 
charge  of  the  fund,  Shane  Jones.  A 
good team of our Kaiwaka Can people 
were  there  for  the  announcement 
including  some  who  have  been 
working on this since it all began. 
Where did it start?  
One  of  our  original  members,  Lars, 
suggested way back five years ago that 
we build two footbridges, one by each 
of  our  two  Kaiwaka  Bridges,  on  the 
western side where the bridges have no 
footpaths, to connect north and south of 
Kaiwaka,  to  connect  everything  from 
the Italian Bakery to McClean Park and 
the  Coffee  Pot.  He  originally 
suggested, real lateral thinking, that we 
get a very long container, cut it in half 
along  the  midline  and  drop  each  half 
over the streams. Great idea – shudder 
to  think  of  the  consent  issues. 
However,  the  idea  went  into  the 
Township Improvement Plan as part of 
the  desire  to  get  Kaiwaka  more 
connected. 
The  next  exciting  development 
was  when  someone  spotted  an  old 
motorway  pedestrian  overbridge,  lying 
in a paddock near Matakana. It seemed 
long  enough,  was  solid  enough,  even 
built  to  NZTA  requirements!  But 
again,  logistics  and  planning  meant  it 
wouldn't quite make it. 
Then some of our creative design 
team 
put  together  the  plan  called 
Kaiwaka  Heart/Central.  This  used  the 
planned  footbridges  and  looked  at 
surrounding  green  and  recreational 
spaces  to  give  a  far  more  attractive 
entrance  into  the  centre  of  town. 
Council  liked  it,  we  loved  it  and  we 
still  do.  And  just  a  couple  of  weeks 
ago,  the  local  council  liaison  officer 
announced work was happening on the 
bridges, technical stuff that made it all 
look  more  likely  to  happen.  But  the 
money, yes that money again, was not 
yet  tracked  down  and  secured. 
However now, thanks especially to our 
tireless  ward  councillor  Jonathan 
Larsen, the money is here! 
What  lies  next? 
Talks with council 
to  make  sure  we  are  all  on  the  same 
page  as  some  haven't  quite  seen  it  the 
way  it  was  originally  planned.  But  we 
believe  there  is  really  going  to  be 
action  soon  and  a  real  footbridge, 
capable  of  taking  real  people  over  the 
rivers,  no  highway  crossings,  through 
the heart of town to the northern end. 
What  is  our  big  plan? 
To keep on 
working  to  create  a  corridor  of  green 
spaces, to allow walkers and cyclists to 
go safely through the heart of our town 
and  for  cyclists,  connect  with  future 
plans for a cycleway going north from 
McClean  Park  to  link  with  the  cycle 
network starting to happen throughout 
Kaipara  and  Northland.  We  are 
thankful  to  the  dreamers  and  planners, 
the people who have never let go of the 
dream and the people who have helped 
make it happen. 
By  the  way
,  there  is  a  lot  more 
dreaming to do about the future of our 
town, endless possibilities and some of 
the  dreams  you  have  too,  which  we 
would  love  you  to  share  with  us. 
Already there are great ideas starting to 
take  shape  and  we  want  to  take  all  of 
them  and  create  something  bold, 
beautiful  and  uniquely  Kaiwaka.  And 
in  case  you  have  forgotten  we  meet 
every  third  Wednesday,  Archie  Bull 
Hall  (behind  the  Anglican  Church) 
5.30pm and it is open to all of you. Just 
turn up and we will see what our future 
can be. 
Derek  Christensen  (chair)  0273572751  or 
derekandisa@gmail.com  
Next  meeting:  Wednesday  19  August, 
5.30pm 
Photos taken 25 July; Top- Derek Christensen, 
Mayor  Jason  Smith;  Bottom-  Members  of  the 
Kaiwaka Can team - Marijke, Rik, Robert, Jean, 
JUST 
CUTS 
and 
MORE  
1758 Cove Road  
Open Monday-Saturday  
by appointment only 
Saturday 9-12pm  
Affordable prices: 
Ladies cuts from $35 
Colours from $120 
Men's from$25 
Kids from $18 
0211652629  
AT LAST – SOME BRIDGING  
FINANCE!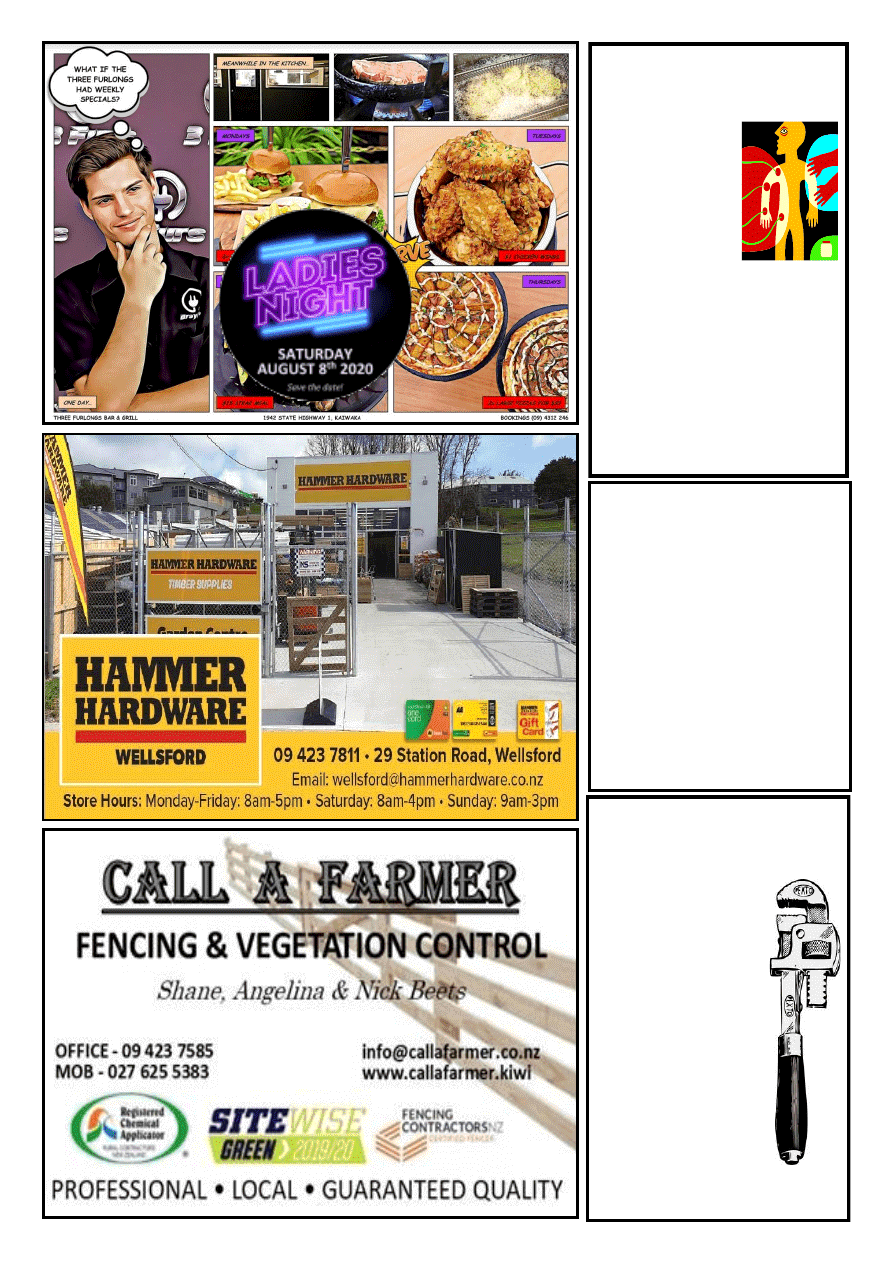 OWEN STEVENS 
Osteo Therapist
For careful 
adjustments to 
bones and joints 
Treatment for 
humans and their 
pets 
Clinics: 
Kate's Place, Kaiwaka: 
Last Friday of month 
For bookings: 
9.00am-5.00pm  
Phone 
09 4312661 
Or phone Owen  
09 4317123 anytime 
BARRY CURTIS 
PLUMBING LTD 
REGISTERED CRAFTSMAN 
PLUMBER 
Phone  
431 5572 
027 257 9884 
25 years' experience 
Friendly reliable 
service 
All plumbing & 
maintenance 
Alterations and new 
housing 
Spouting  
Competitive rates 
PROMPT EFFICIENT 
WHERE TO GET HELP 

1737, Need to talk? Free call or 
text1737 to talk to a trained counsellor  

Rural Support Trust 0800 787 254   

Lifeline, 0800 543 354  

Youthline, 0800 376 63, text 234, 
email talk@youthline.co.nz or online chat

Samaritans, 0800 726 666  

Depression Helpline, 0800 111 757   

Suicide Crisis Helpline, 0508 828 
865 (TAUTOKO)      

In a life-threatening situation 
call 
111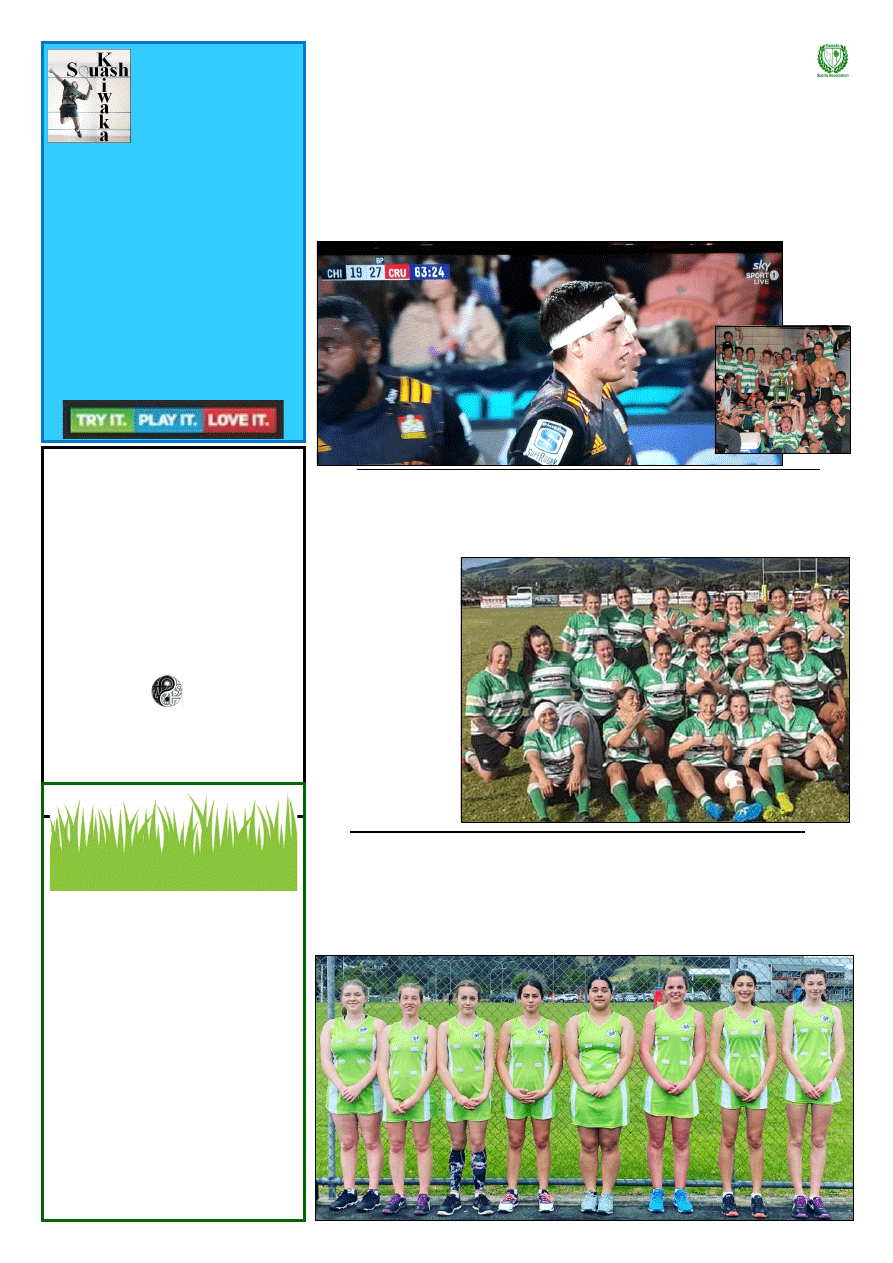 www.kaiwaka.co.nz 
Kaiwaka Bugle - 4 August 2020 
Page 11 
SELF DEFENCE 
KEMPO 
Fitness, 
Confidence, 
Discipline, 
Respect,  
Self-awareness 
Classes for all ages in: 
 Mangawhai
Kaiwaka Wellsford
For more information please 
contact
 Otamatea  
Martial Arts
otamatea.kempo@farmside.co.nz 
➢ 
TRACTOR WORK 
➢ 
FENCING: 
     POST & RAIL 
     WIRE & BATTEN 
     ELECTRIC 
➢ 
PADDOCK 
➢ 
MULCHING/TOPPING 
➢ 
SPRAYING: 
    GORSE 
    WEEDS 
 
PHONE MARK 021 801065 
OTAMATEA HAWKS WOMEN'S RUGBY 
Saturday 25 July the team ended their 2020 season in Ahipara when they played 
Te Rarawa in the semi-finals of their competition. Although it was a loss they 
learned where women's rugby can progress to as they played against former and 
current  Black  Fern 
greats.  Our  try  was 
scored  by  speedster 
Louisa 
Tubailagi 
and  converted  by 
Maddie Johnson.  
Big thank you to our 
Coaches 
Duane 
Tupe  and  Lyall 
Passmore 
and 
Manager 
Lisa 
Greville.  
Thank 
you 
to 
Fineline  Plumbing 
and 
Drainage, 
Jaques  Four  Square 
and  3  Furlongs  for 
the Thursday pizzas. 
KAIWAKA SPORTS ASSN 
Keeping up to date with our local sports … 

Well  done  to  Otamatea  High  School  Head  Girl,  Maggie  Hames,  who  came 
first  in  the  Northland  Secondary  Schools  girls'  badminton  competition  last  
week. 

Well done to long standing Kaiwaka Fitness Centre member Bernie Hall as he 
qualified for the Nationals Powerlifting competition in Auckland on Saturday. 

Special mention  for Simon Parker, former OHS student and Otamatea Hawks 
rugby player who is now in the Chiefs team. Simon pictured below just as he 
came off the bench in the Chiefs v Crusaders game on Saturday. Inset:  A photo 
from Bugle 17  2016 - a jubilant Simon holding the Northland Under 16 trophy 
the very successful Otamatea Hawks Under 16s  team won that season. 
OTAMATEA NETBALL 
All  4  Otamatea  teams  had  massive  WINS  at  Whangarei  Netball  centre  this 
weekend. Big congratulations to Leayah Buxton for stepping up and Umpiring 
the Junior Y7/8 team for 2020 - Leayah is really improving in her umpiring and 
we are excited to see what's to come in her future of umpiring.   
                          ~ Club President - Jodie Bennetto 
Photo below: Otamatea Senior 2 team at the Whangarei Netball Centre. 
KAIWAKA 
SQUASH 
CLUB 
BUSINESS HOUSE 
  MONDAYS 
Starts 3 August 
8 week competition 
$40 per team (4) 
Prizes 
Register by 30 July 
All welcome 
Grab your mates, family, work col-
leagues and register your team at:  
kaiwakasquash@gmail.com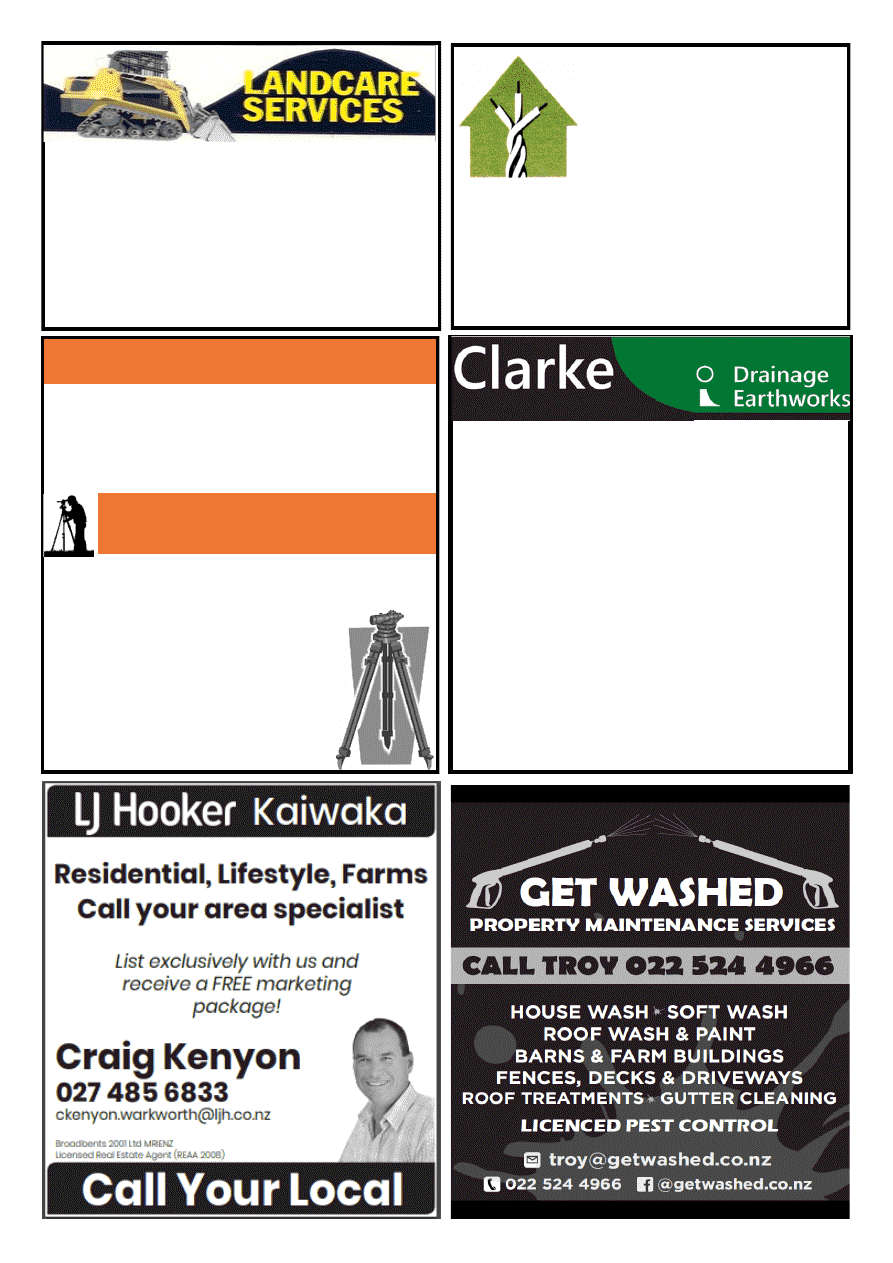 Reyahn  Leng 
Registered Electrician 
Local, honest and reliable. 
For your residential and 
light-commercial projects. 
022 314 1068 
SURVEYORS 
SUBDIVISIONS 
HOUSE SITE SURVEYS 
CIVIL ENGINEERING 
WASTEWATER DESIGNS 
EXPERIENCED 
PROFESSIONAL 
INNOVATIVE 
Ph 09 431 5353 
0800 PACIFIC (0800 722 434) 
pacificcoastsurvey.com
Adam Booth - 027 415 5752 
Bsurv, Licensed Cadastral Surveyor
Surveying Kaipara since 1994 
LANDSCAPING 
4 IN 1 BUCKET 
TRENCHER 
POLE HOLES 
ROTARY HOE 
COMPACT ROLLER 
OFFAL HOLES 
CAN SUPPLY WOODCHIP & POST PEEL 
5 TON TIPPER 
FOR RELIABLE AND FRIENDLY SERVICE CONTACT DAVE 
Dave Hyndman 
 
KAIWAKA 
PH: 09 4312302 
MOB: 021 431 238 
Drainage & Earthmoving 
nigel@clarkedrainage.nz 
027 2233 185 
Registered Drainlayer                 All Types of Earthworks  
> All Residential & Commercial Work  > House Sites 
> Septic System Design & Install 
> Footings & Drilling to 10m 
> Sewer Connections 
> Dams 
> Water Tank Installation 
> Roading & Races 
> Farm Work 
THE ONE STOP SHOP  
Phone Nigel for an Obligation Free Quote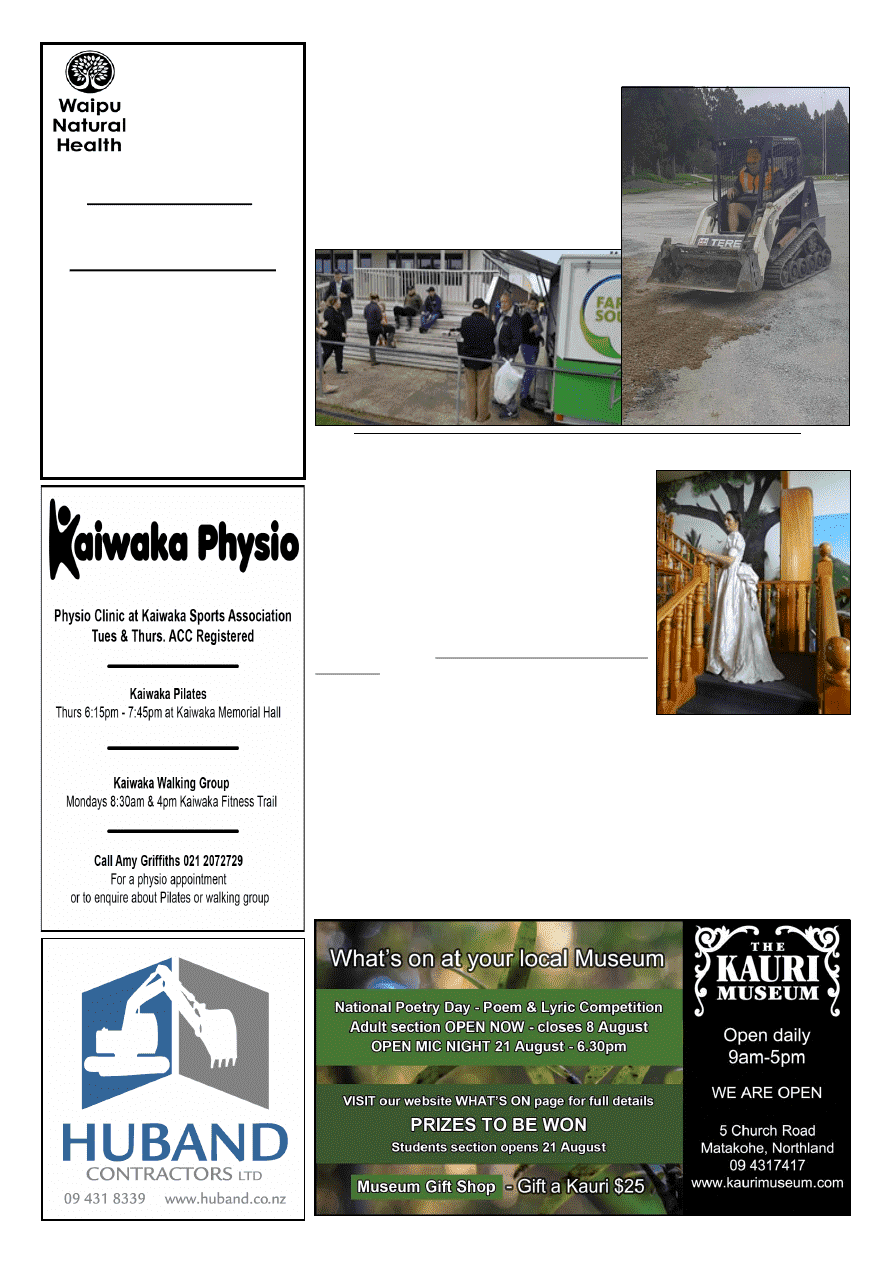 www.kaiwaka.co.nz 
Kaiwaka Bugle - 4 August 2020 
Page 13 
3 Cove Road, Waipu 
(opposite the Pizza Barn
) 
094321325 
www.waipunaturalhealth.co.nz 
Clinical Nutritionist: 
Nutritional Checkups, Diets for 
Chronic Diseases,  
Food Sensitivities 
Naturopathic Physician: 
Ozone Therapy, Prolotherapy  
Reflexology, Craniosacral 
Therapy, Trauma Release 
Massage Therapy 
Counselling and Hypnotherapy 
Change Catalyst/ThetaHealer 
Affordable Children's Consults 
All therapists are fully qualified
THE KAURI MUSEUM 
The  Kauri  Museum's  Victorian  Lady  has 
morphed  into  an  Edwardian  Girl  -  pictured  here 
on  the  beautiful  kauri  staircase.  she  may  be  on 
hand to assist you, if you stop by and see us one 
day! 
The 
Kauri 
Museum's 
Northland 
Photography Awards  
The  theme  for  2020  is,  'Inside  Northland 
Homes'– a celebration of the spaces we live in - 
in our beautiful region where kauri once covered 
the  land.  More  details  and  entry  forms  can  be 
found  online.  https://www.kaurimuseum.com/
whats-on  Entries Close: 10 August 
National  Poetry  Day  2020  –  Poem  and 
Lyric Competition 
Open Mic and prizegiving 21 August. 
The Kauri Museum runs the Poem and Lyric Competition for National Poetry 
Day  in  two  phases.  The  Adult  competition  (over  18)  and  the  student 
competition. The theme for this year is 'The ebb and flow of the Kaipara'. See 
our  website  for  more  details  and  entry  forms.  Submit  your  entries  -  Adult 
section, closing 8 August. Children's section opens August 21. 
Head North West for the Weekend 
An exclusive weekend in the country for Father's Day - Saturday 5 & Sunday 6 
September.  The  Two-Day  Exclusive  Holiday  Package  has  been  developed 
especially by The Kauri Museum and its local supporters, country with special 
activities at selected venues, and reduced rates for accommodation. 
BOOK  via  our  SHOP  https://shop.kaurimuseum.com/collections/two-day-
exclusive-holiday-package or email admin@kaurimuseum.com
SEEN ABOUT TOWN 
Below: Farmers breakfast at the Kaiwaka Sports Complex Carpark  on 23 
July  -    Thanks  to  all  the  sponsors!! 
FMG, 
Farm  Source  Northland,  Beef+Lamb  New 
Zealand Northern North Island, Northland Rural 
Support  Trust,  Ballance  Agri-Nutrients,  OSPRI, 
New  Zealand  Police,  WorkSafe  New  Zealand 
DairyNZ, Northland Events, Northland Regional 
Council,  Rural  Women  New  Zealand,  Dairy 
Women's Network. 
Right:  Bruce  on  his  trusty  machine 
repairing the  KSA car park an driveway.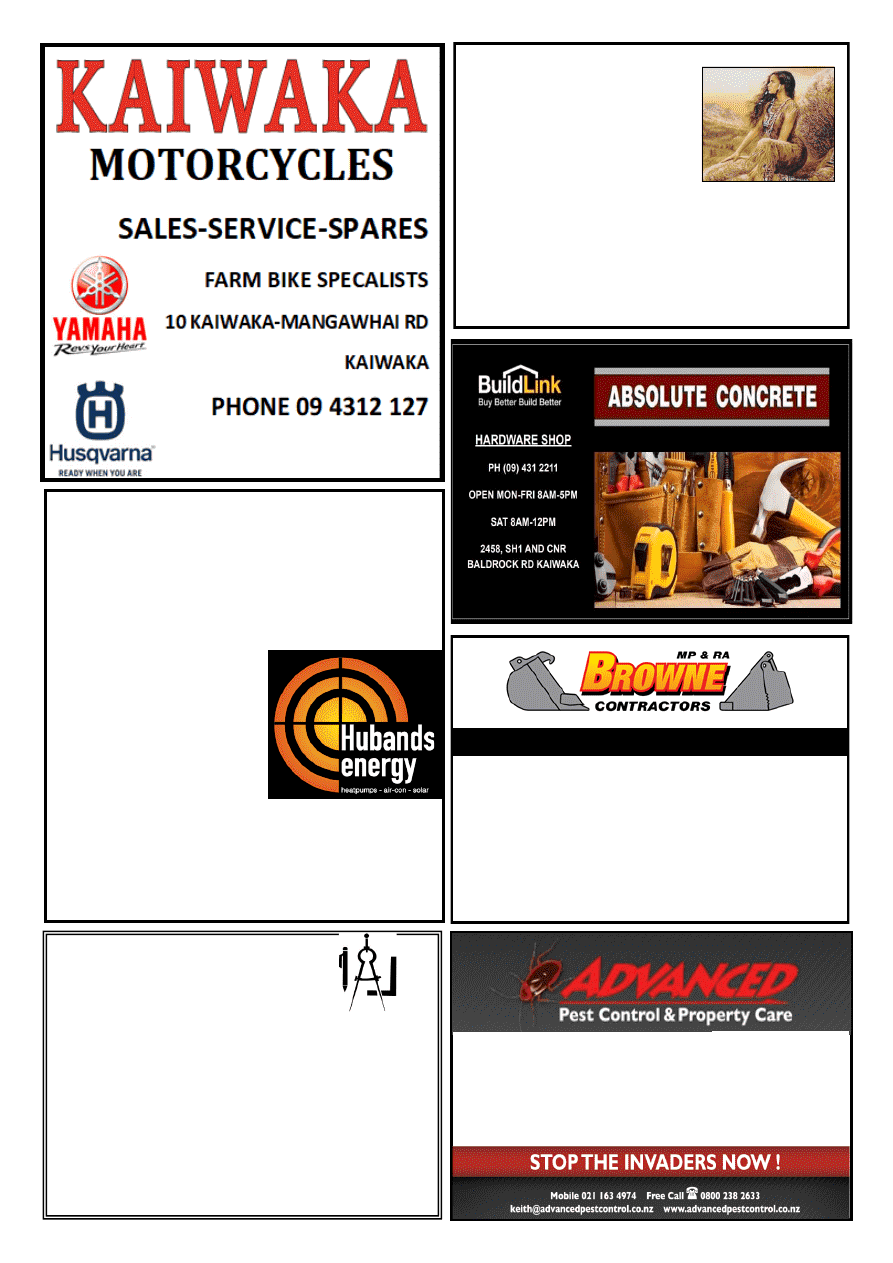 4Tonne DIGGER – BOBCAT – TIP TRUCK 
Property Maintenance - Driveways  
 Building Sites 
Stump & Tree Removal  
Hole Boring - Chain Trencher  
Calf Shed and Stockyard Cleaning 
Phone Matt: 021 199 6677 
Email: mprabrownecontractors@gmail.com 
Pest Control 
PLAN A: One-off treatments to customers with a specific pest problem 
PLAN B: Full maintenance service plans to commercial customers. 
This will include documentation kept in customer file on site: 
⚫
Pest treated 
⚫
Date of service 
⚫
Chemical or baits used 
⚫
Full pest check report done after each treatment 
⚫
Fair and reasonable fee with guarantee 
Flood Recovery 
Carpet Care 
⚫
Carpet Drying 
This includes pre-spray treatments 
⚫
Dehumidifier Rental 
with stain removal and hot water extraction.  
⚫
Full Commercial Cleaning  Patch repair also available 
Upholstery Cleaning 
Full upholstery cleaning of all furniture.  
eg lounge suites and all office chairs 
Water Blasting 
⚫
Concrete - Decks 
House Washing 
⚫
Soft Chemical Was 
⚫
Pre-painting Wash 
Property Services 
⚫
Property Cleaning  Lawn Mowing 
⚫
Hedges General   Tidy Ups 
design drafting  
service 
Retired builder and manufacturer with over 40 years  
experience in the building industry is offering a design 
drafting service for domestic housing, sleepouts and 
sheds.  
Plans formulated in consultation with clients, with 
working drawings completed and submitted to  
council for processing.  Extensive practical experience,  
able to identify & resolve problems. 
Please ring Mike Lean on 
09 431 2260 
or 
021 431 196 
TRAILS END 
RONGOA 
MAORI 
HEALING 
And Gifts 
Stocking all your needs from incense, crystals, dream 
catchers, greeting cards, jewellery, perfume, dragons and 
more ... 
For all inquiries 
 Phone 0211652629  
Light refreshments available $5 koha  
1758 Cove Road Mangawhai
Northland's Award Winning 
Solar Company
SEANZ Best Solar Business Winners 2015/16
EXCLUSIVE 10 year installation warranty 
FREE No obligation onsite quote
Complete systems 
from $5990
See our range of: 
✓ 
Heatpumps 
✓ 
Airconditioning 
✓ 
Hot Water 
Heatpumps 
✓ 
Central Vacuum Systems
09 430 0019             sales@hubands.co.nz 
15 Kioreroa Road, Whangarei
Locally owned and operated for 35 years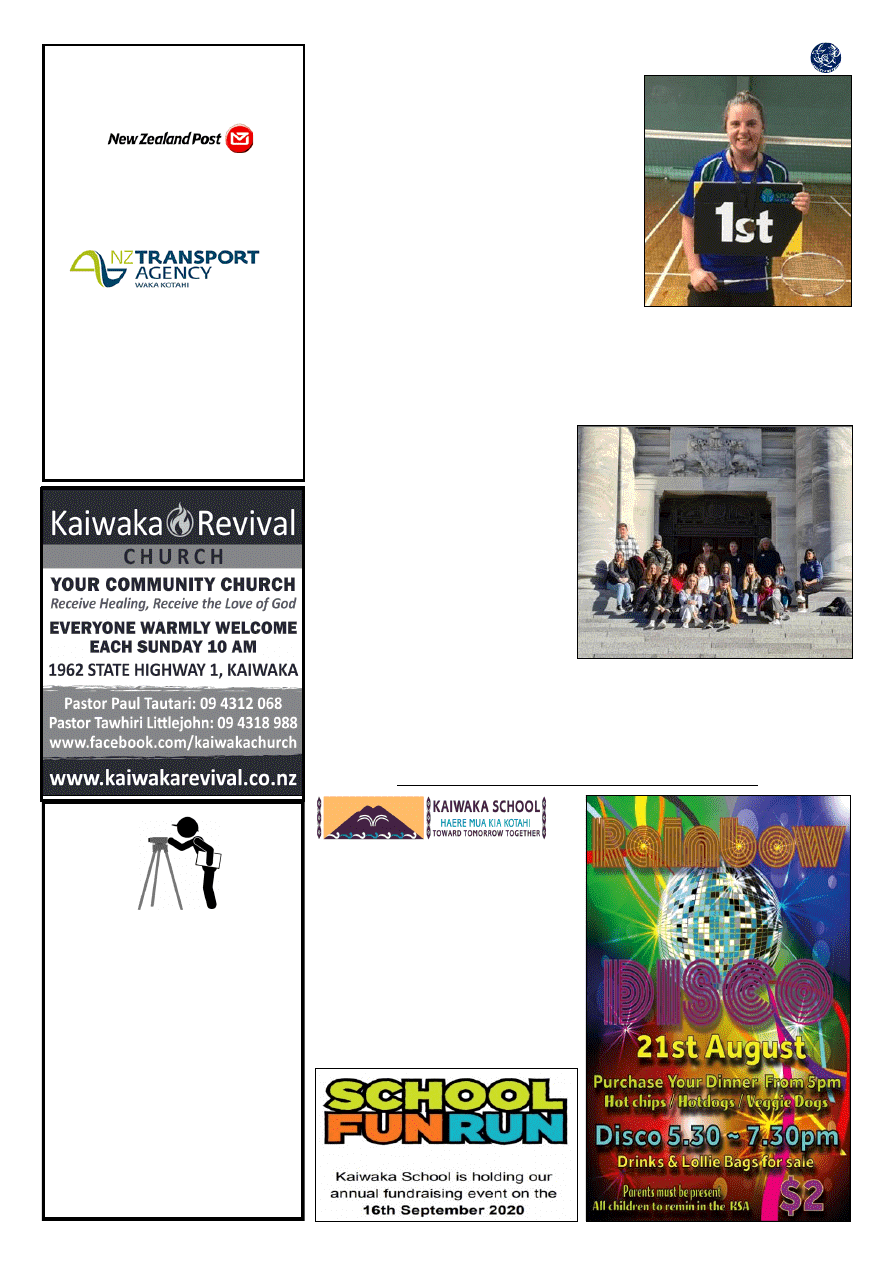 www.kaiwaka.co.nz 
Kaiwaka Bugle - 4 August 2020 
Page 15 
KAIWAKA POST 
CENTRE and 
FOOD MART 
POST CENTRE TRADING HOURS 
MONDAY to FRIDAY 8am to 5pm 
SATURDAY 8am to 12pm 
CLOSED ON SUNDAY and on 
PUBLIC HOLIDAYS 
FOOD MART (GROCERIES) 
MONDAY TO FRIDAY  
7:30am to 7.30pm 
SATURDAY  8am to 7.30pm 
SUNDAY  8:30am to 7pm 
IF ANY QUERIES PLEASE CALL 
STORE MANAGER AMRIT  
on 09 4312431 or 
EMAIL: kaiwakafood19a@gmail.com 
1919a State Highway1, Kaiwaka 0542 
Ken Urquhart 
BSurv Licensed  
Cadastral Surveyor 
KMU Surveys Ltd 
467 Bickerstaffe Road 
RD 2 
Maungaturoto 0587 
Ph 09 431 8705 
Mob 021 161 2344 
kenurquhart@xtra.co.nz 
Badminton winner 
Congratulations  to  our  Head  Girl,  Maggie 
Hames,  who  came  first  in  the  Northland 
Secondary Schools girls' badminton competition 
last  Thursday.  Maggie  is  now  the  2020 
Northland  Secondary  Schools  girls'  badminton 
champion.   
2020 Senior Ball  
'Covid-19 has disrupted a lot of our school year 
and our Senior Ball committee is no exception.  
Due  to  the  time  that  we  were  not  able  to 
fundraise  for  the  Senior  Ball,  we  are  now 
working  really  hard  to  find  fundraising 
opportunities  and  put  out  a  call  to  our 
community to see how you could help us.   
The  senior  ball  is  one  of  the  highlights  of  our 
school year where our senior students get the chance to dress up, eat great food, 
and spend an enjoyable evening in the company of our teachers and peers.  The 
2020 ball committee want to make this year's Ball the best ever, especially given 
the challenging circumstances we have all found ourselves in.  
If you can help us, or can provide us a quote for your services, please email  
kelly.huband@otamatea.school.nz  or  hayley.linton@otamatea.school.nz  by 
Wednesday 5th of August.' 
Ngā mihi nui, Senior Ball Committee 2020
Senior Wellington Trip 2020. 
After  an  initial  cancellation  due  to 
COVID 
lockdown, 
the 
2020 
Wellington  Trip  was  lucky  to  be 
rescheduled for the 1st week of Term 
3.  This  is  the  second  year  Ms  Baker 
has taken a group of Year 12 students 
for  four  nights  to  visit  Parliament, 
The  Reserve  Bank  and  the  Treasury 
office.  15  students  were  perfect 
ambassadors  for  Otamatea,  engaging 
in  the  tours  and  seminars  with 
interest,  and  using  their  free  time  to 
learn  how  to  navigate  our  country's 
capital city.  
The sun was out every day and students made the most of their time as tourists 
by visiting other attractions such as Te Papa, old war bunkers up Mt Victoria and 
Weta  workshop.  The  highlight  for  the  group  was  an  excellent  tour  of  the 
Supreme  Court,  which  was  a  new  scheduled  addition  to  the  trip  this  year. 
Students  also  had  plenty  of  time  to  relax  in  the  afternoons  and  evenings  with 
activities  such  as  ice  skating,  bowling,  lazer  maze,  the  Fear  Factory  and  of 
course shopping. A big thank you to Helen McKenzie and Nazila Khan for their 
support during the trip. 
~ Robyn Baker 
OTAMATEA HIGH SCHOOL NEWS 
KAIWAKA  SCHOOL 
 August is a busy month! 
6th:  Otamatea  High  School  Open  Day 
for Year 6 students from 9 -2pm 
12th: Science Man 9am at the KSA 
14th: Lucky Book Club orders close 
19th: Otamatea High School enrolment 
afternoon for Year 6 students 
21st: PTA Disco  
31st: Teacher Only Day 
Then comes September ... 
9th and 10th: St Johns Workshops   
16th: Kaiwaka School Fun Run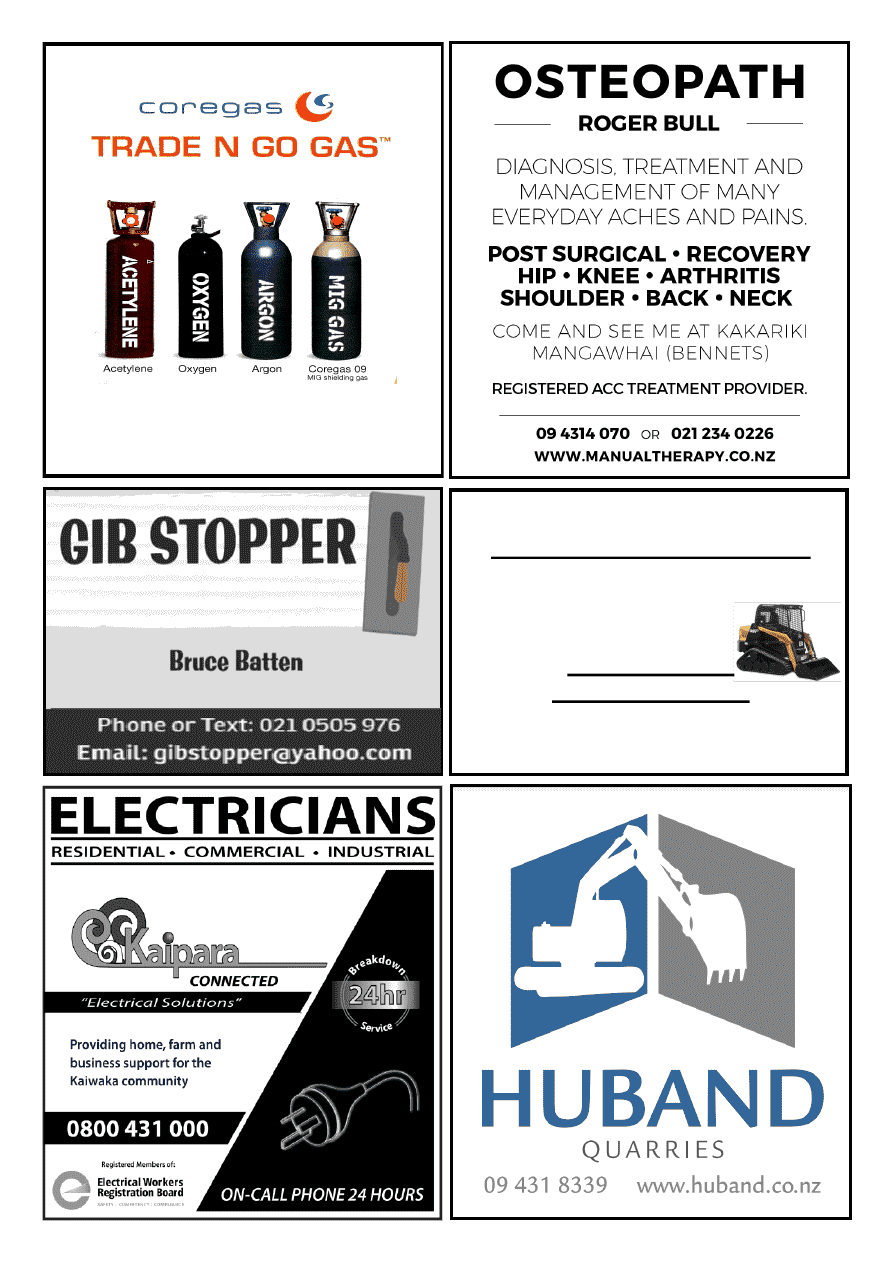 At Twinkle Tow 'n' Tyre 
Mob: 021 833 960 
Ph & Fax: 09 431 2823 
1837 State Highway 1, Kaiwaka 
Natural Earth Ltd 
Landscape and Bobcat services 
 : Driveways :Landscaping :Retaining Walls 
 : Hole Boring: Land Levelling :Trenching 
 : Decks :Fences :Sections Cleared 
 : Plus much more
Tel 09 4312 885 
Mob 02102391280 
For A Fast Friendly Service  
Contact Tim Hicks 
www.kaiwaka.co.nz 
Kaiwaka Bugle - 4 August 2020 
Page 17 
Willow Bend
HORSE  
HOTEL 
  
Total Horse Care 
 
Agistment 
 
Riding Lessons 
 
Arena Hire (60x40) 
 
Young Horse Starting 
 
Re-training/Exercising 
 
Hoof Trimming 
 
Problem Solving 
Phone Sue 09 431 2817 
or 021 623 776 
Or email  
susanjoll11@gmail.com 
LEE COOPER 
PAINTERS 
(Kaiwaka Based) 
*30 yrs Experience 
*Interior/Exterior 
*New and Restoration 
*Honest and Reliable 
*Free Quotes 
09 4312918 or 
0274735171 
leecooper@xtra.co.nz 
Mondays  8.30am and 4pm 
Kaiwaka Sports Assn Trail 
The Health and Disability System 
Review, 
which  was  initiated  by  the 
government,  was  completed  recently. 
The  purpose  of  the  review  was  to 
future  proof  our  health  and  disability 
services  and  to  recommend  system 
level 
changes 
that 
would 
be 
sustainable,  lead  to  better  and  more 
equitable  outcomes  for  all  New 
Zealanders  and  shift  the  balance  from 
treatment 
towards 
health 
and 
wellbeing.  
The  Review  found  that  NZ  has  a 
high  performing  Health  system
, 
but 
it 
has 
been 
significantly 
underfunded  and  does  not  serve  some 
populations, particularly Maori, as well 
as  it  should.  Staff  are  under  pressure, 
there  are  some  significant  shortages 
and most DHBs are in deficit.  
They recommend:  
➢
Increased  focus  on  Population 
Health to keep us well and protected.  
➢
Improved  Primary  Care  –  which 
covers  GP  and  community  services  – 
through  locality  and  care networks  (of 
around  20,000–100,000  people)  where 
community  aspirations  are  included  in 
planning. 
Primary 
Health 
Organisations  (PHOs)  would  not 
continue,  removing  one  layer  of 
bureaucracy  and  confusion  around 
accountabilities.  
➢
Changes to the Ministry of Health, 
separating 
out 
some 
functions 
including  Maori  Health  and  central 
leadership and performance monitoring 
of the DHBs.  
➢
Reduce the number of DHBs from 
20  to  8–12  over  5  years.  What  that 
means for Northland is unclear; we are 
the  fastest  growing  DHB  population 
wise, we have a huge geographical area 
and  our  next  closet  DHBs  are 
completely  different  in  size  and 
populations to us. Will they create new 
boundaries,  will  we  remain  as 
Northland or be merged with other/s?  
➢
Board  to consist of  only appointed 
board  members, no elected members. 
Currently,  boards  are 
about 2/3 elected and 1/3 
government 
appointed 
board  members.  They 
note  that  voting  in  DHB 
elections is not high, and 
the public often say they 
don't  know  who  the 
candidates  are  and  don't  feel  engaged 
in  the  election  process.  I  note, 
however,  that  elected  members  do 
get  regular  contact  from  individuals 
and communities raising their health 
concerns.  My  analysis  is  that  a 
government  would  probably  like  more 
control over DHB boards so appointing 
the board is one way to achieve that.  
➢
More 
national 
planning, 
so 
wherever  people  live  they  can  expect 
the same level of services.  
➢
Significant 
investment 
in 
Infrastructure  –  facilities,  hospitals, 
equipment – and Information Systems. 
➢
Other  changes  in  accountabilities 
of  community  services, which will be 
significant within the health sector.  
The final report is 250 pages long, so 
this is a tiny snapshot. It is available on 
the MOH website if you are wanting to 
know more.  
We  will  have  to  see  how  the 
recommendations  unfold  over  the  next 
5  years.  Northland  DHB  will  do 
whatever  we  can  to  keep  the  needs  of 
Northlanders  at  the  forefront  of 
changes  that  we  will  be  part  of 
implementing.  
Stay well, Libby Jones 
hames.jones@xtra.co.nz 021 2080093  
LIBBY JONES – NORTHLAND DISTRICT 
HEALTH BOARD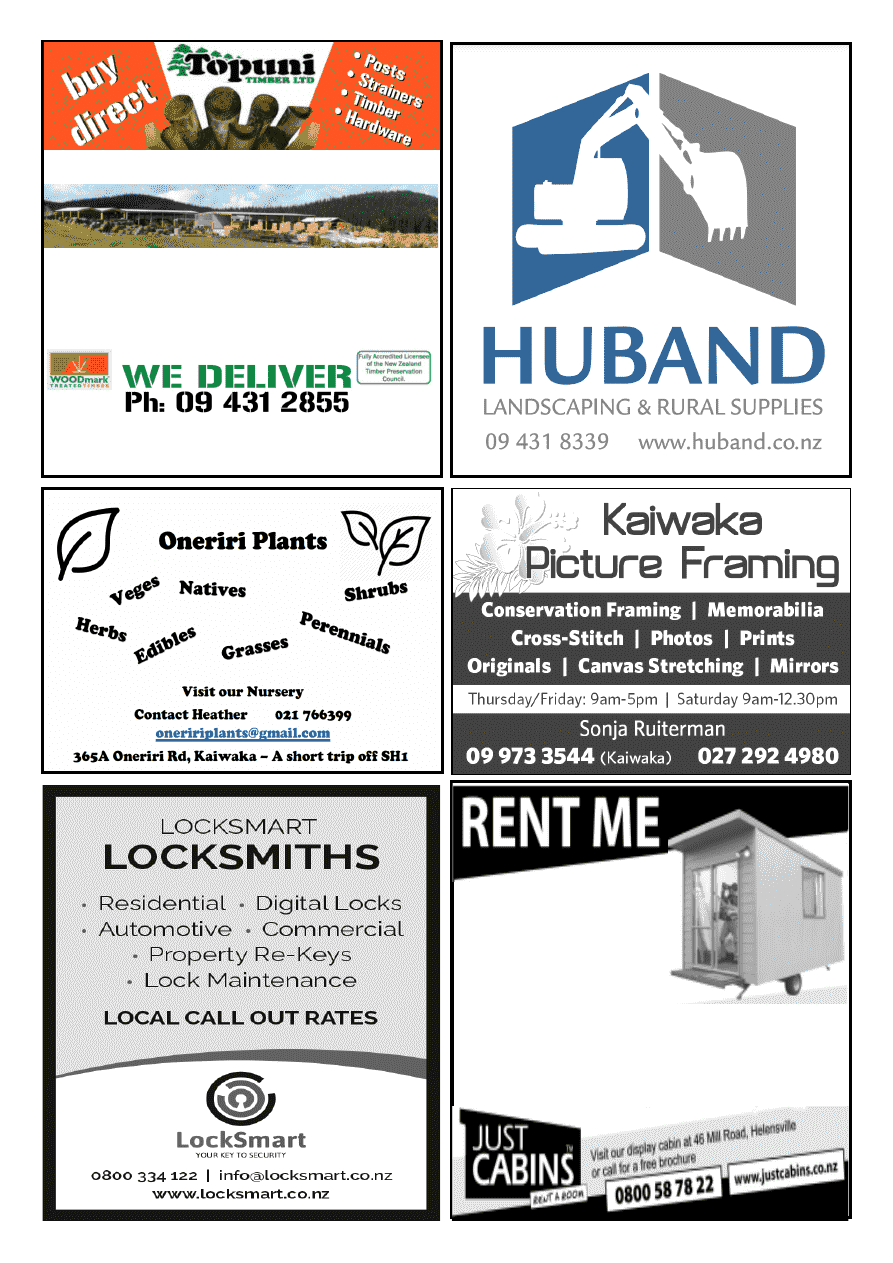 LOCALLY OWNED AND OPERATED 
QUALITY PRODUCTS • FRIENDLY ADVICE • GREAT SERVICE 
Quality Products milled from High Density NORTHLAND Radiata Pine. 
Treated and guaranteed to NZS3640 with commitment to 
Environmental Safety.
Phone, fax, email, or come into the mill 
Schiska Rd, Topuni, SH1, 10 min north of Wellsford. Fax: 09 431 2856 
Email: sales@topunitimber.co.nz           Mon - Fri 7am-5pm 
• Fencing 
• Retaining 
• Decking 
• Landscaping 
• Gates 
• Hardware 
Ideal as an extra  
bedroom or office 
Three Convenient sizes: 
Standard 3.6m x 2.4m - $65 per week 
Large 4.2m x 2.4m - $80 per week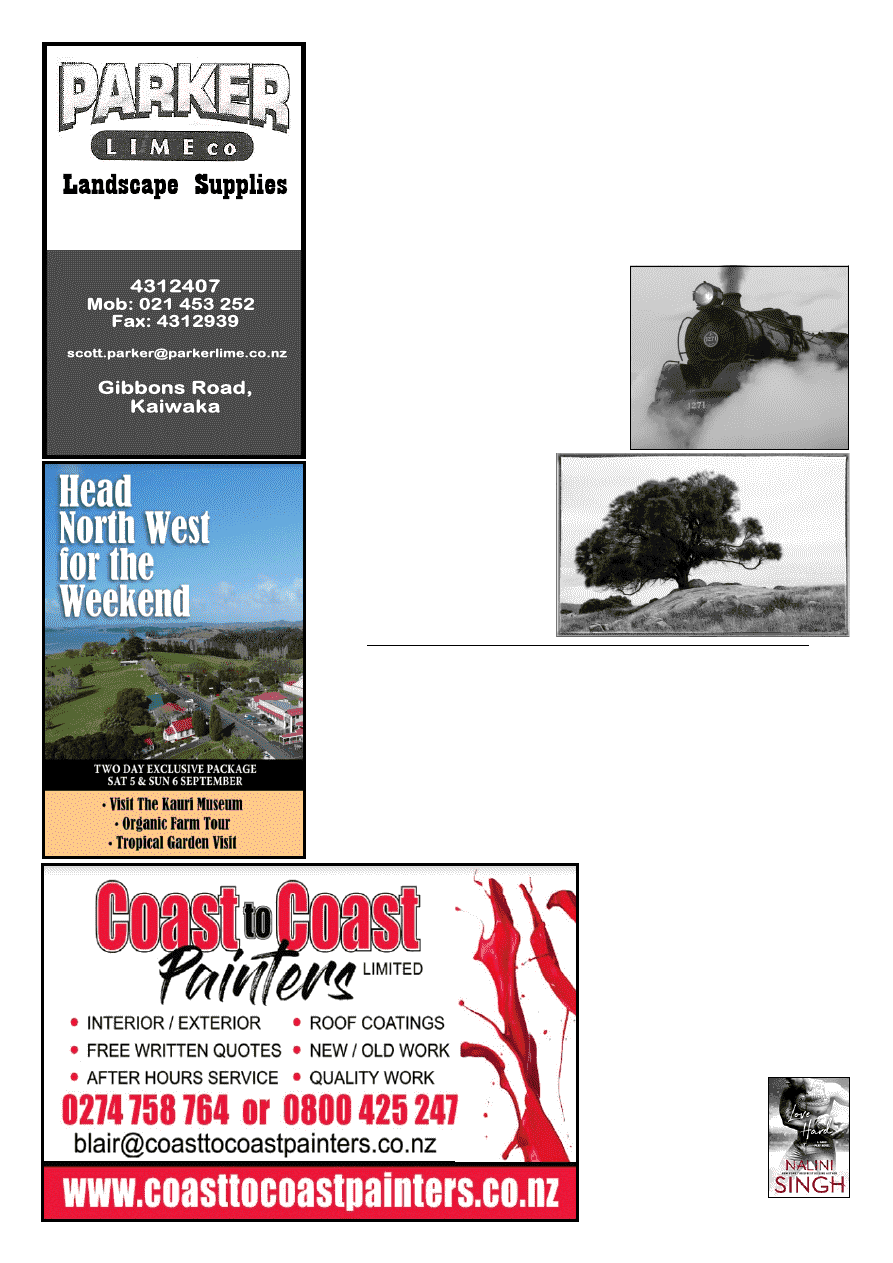 www.kaiwaka.co.nz 
Kaiwaka Bugle - 4 August 2020 
Page 19 
Bulk Cartage 
Follow us on Facebook 
Did  you  know  that  you  can  keep  up 
with our news via our Facebook page - 
even  if  you  don't  'do'  Facebook 
yourself?  You  will  find  our  page  at 
https://www.facebook.com/
KaiwakaLibrary/  -  if  you're  logged  in 
to your account, you can 'like' our page, 
so  it  shows  up  in  your  news  feed  and 
automatically  see  our  posts  there.  If 
you  don't  have  an  account,  Facebook 
will ask you to log in, but you can skip 
that and just look at the posts. Or, you 
can  go  to  Enterprise*,  click  on  the 
green  button  for  Kaiwaka  Library 
(you'll have to scroll down a bit, and to 
the right if you're on a small screen, to 
see  it),  and  view  a  copy  of  our 
Facebook feed there. 
I regularly post to our page about new 
books  that  have  just  arrived  in  the 
library  (before  they're  processed  and 
ready  to  borrow,  so  you  can  place  an 
early  hold  on  items  of  interest),  when 
new  books  are  going  out  onto  the 
shelves and are ready to borrow, news 
about  favourite  authors,  and  when  I'm 
in  the  library  with  my  JP  sign  out  so 
you  can  pop  in  to  see  me  while  the 
library is open. 
Books for sale 
We have a range of second-hand books 
for  sale  in  the  library.  These  are 
discards  from  our  shelves  as  well  as 
items that have been donated to us. 50c 
each, three for $1, or ten for $2.50. 
Book reviews 
Recently I've read the Hard Play series 
by Nalini  Singh. 
This  three-book  series 
(Cherish  Hard,  Rebel  Hard, 
and  Love  Hard)  is  on  our 
Rental Fiction shelves in the 
library.  If  you've  read  this 
author  before,  she  is  up  to 
her usual standard here with 
relationships  and  romances.  
They're set in New Zealand.
        ~Wendy 
*
Enterprise: http://kaipara.kotui.org.nz/
KAIWAKA LIBRARY  
A NEW "DEVELOPMENT"  
WELLSFORD-MANGAWHAI CAMERA CLUB
For  many  years  the  "small  but  friendly"  Wellsford  Camera  Club  has  met  at 
various  locations  in  Wellsford.  However,  with  local  interest  dropping  off  the 
decision  was  made  to  "expand"  and  transfer  to  Mangawhai  and  relaunch  the 
club in a new photographic setting. 
The  aim  of  the  club  is  to  increase  members'  enjoyment  of  photography  by 
developing skills and providing opportunity to show and share their work. (As 
well as discuss anything photographic and life in general). Each month there is a 
competition with a set subject. 
Members  enter  online,  the  images  are  judged;  and  feedback  helps  members 
improve  their  photographic  skills.  This  friendly  club  is  open  to  all  with  an 
interest  in  photography  –  from  beginners  to  "old  hands";  learning  from  and 
encouraging  each  other.  A  great place to ask 
questions  and  learn  how  to  do  stuff.  "We 
firmly believe everyone can take great photos, 
no  matter  what  skill  or  equipment  level;  and 
we will help you do this." 
The  next  meeting  of  the  newly  constituted 
"Wellsford-Mangawhai  Camera  Club"  is  on 
Thursday  27  August,  7.30pm,  at one of the 
local  member's  lounge,  34  Jack  Boyd  Drive 
Mangawhai (with the yellow mailbox). If you 
are  interested  in  photography,  would  like  to 
improve  your  picture  taking,  have  questions 
about  technique  or  gear,  you  are 
encouraged  to  come  along.  The 
plan is to continue meeting on the 
fourth  Thursday  of  the  month  at 
7.30pm 
from 
February 
to 
November. 
Check  out  the  club  website: 
www.wfdphoto.org.nz 
For 
more 
information please contact Bazz Clark 
431  4547  or  Wayne  Thornton  027 
3294994  
Photos  by  Wayne  Thornton-top  right, 
and  Bazz Clark - right.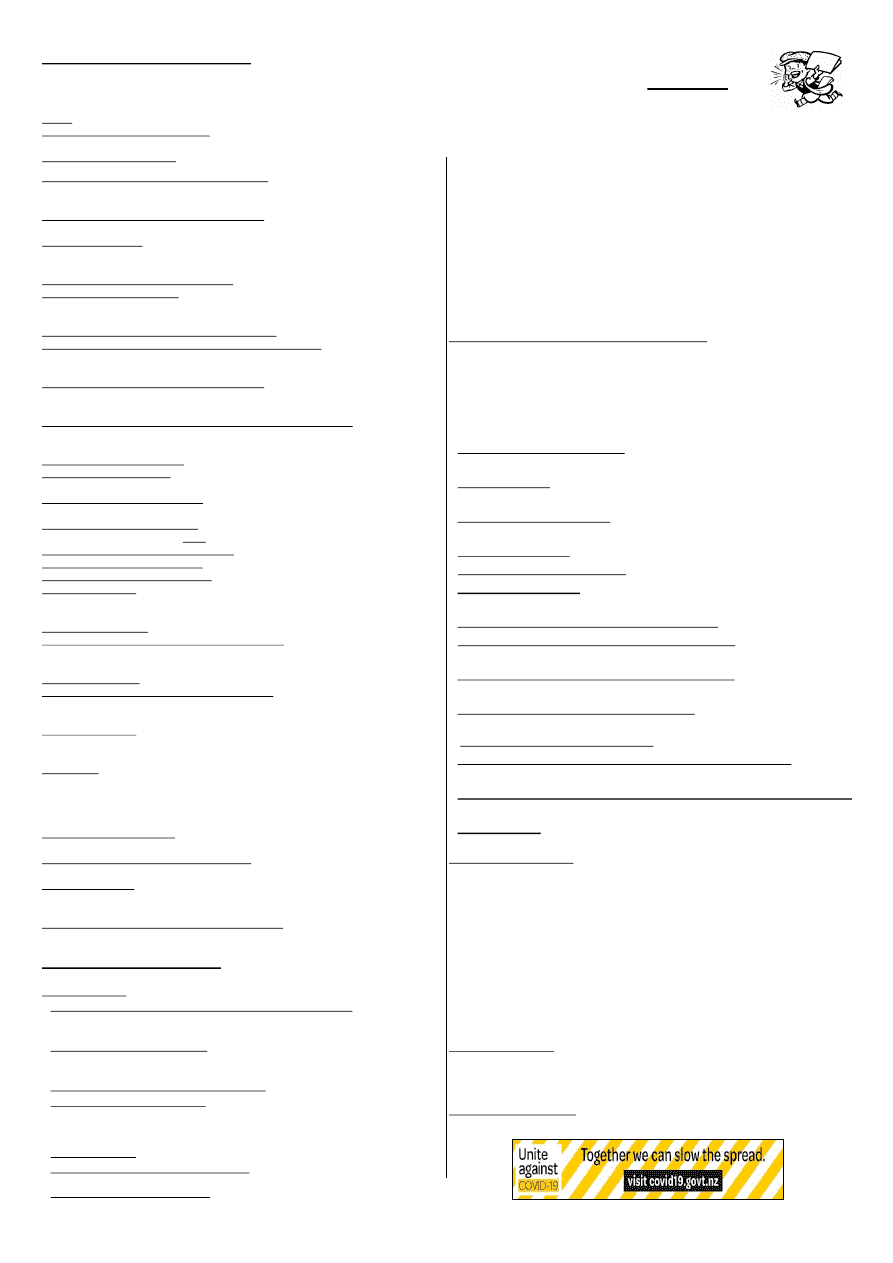 Next Bugle Deadline  Friday 14 August 2020
WHAT'S ON
PLEASE ~ do let us know what is on - 
email kaiwakabugle@kaiwaka.co.nz 
*6Aug~Otamatea High School OPEN DAY 
*7Aug~Movie 'LITTLE WOMEN' KWMH, 7.30pm 
*12Aug~Kaiwaka Fitness Centre AGM, 6pm KSA 
*14Aug~Kaipara Hunt AGM, Mgto CC, 8pm 
*19Aug~Kaiwaka Can meet. Archie Bull Hall 5.30 
*21AUg~Kaiwaka School Disco, KSA, 5pm 
*26Aug~Linking Hands AGM, Mgto, 7pm 
*28 & 29Aug~ DAFFODIL DAY 
*31Aug~Teacher Only Day 
KWMH = Kaiwaka War Memorial Hall; KSA = Kaiwaka Sports Association 
See www.kaiwaka.co.nz for more information 
HOUSEHOLD RUBBISH COLLECTION  
Kaiwaka Pick up: 
Mondays = Green bags (Northland Waste - 09 430 3273) 
Wednesdays  =  Blue  bags  and  yellow  recycling  (at  Jaques  $3.00 
and  $1.50)  (Kaurilands  09  4392146);  ONLY  Blue  and  Yellow 
bags picked up on Oneriri Road. 
 DIABETES Support Group-for Kaiwaka, Mangawhai, Wellsford 
10am, 3rd Friday of month Ph: Colleen James 09 4314238 
 GENEALOGY - Wellsford: 1st Thursday in month Ph: 423 
7033; Waipu: 4th Monday in month Ph: 4312 725 
 HAKARU PONY CLUB - Secretary Denise Rogers 021423376 
secretary@hakaruponyclub.co.nz  
 KAIPARA HUNT - Secretary Albert Doonenbal Ph 4312059 
 KAIWAKA BADMINTON -Tuesdays 7.30pm Ph: 4312345 
 KAIWAKA  CAN  -  3rd Wednesday in  month, 5.30pm, Archie 
Bull Hall Ph: 0273572751 
 KAIWAKA DRUM & DANCE CLASSES - 021 611198 
 KAIWAKA GARDEN & FLORAL GROUP - 2nd Thursday in 
month. Ph: 431 4744 
 KNITTING FOR WHANGAREI HOSPITAL - 2nd Tuesday in 
month, Archie Bull Hall 10am Ph 4314827 
 MANGAWHAI COMBINED REBUS CLUB - 2pm, 3rd 
Thursday month, Senior Citizens Hall Mangawhai. Ph: 4315777 
 *PT CURTIS CRUISING CLUB - Jean Ph: 4312227 (wk), 4312520 (hm) 
 RSA,  HAKARU  &  DISTRICTS  WOMEN'S  SECTION  –  meets 
1.30pm 4th Thursday of the month. Ph: 431 5818  
 KAIWAKA  SCOTTISH  COUNTRY  DANCING  CLUB-
Wednesdays 10am - 12 noon  Ph: Elaine 027 432 0032  
 TRAMPING - Mondays 9am-2:30pm Maria 4312 234 
HALLS FOR HIRE: 
  Kaiwaka St. John Hall: Phone Marj  0272941227  
 St.Pauls  Archie  Bull  Hall  HIRE  $20  half  day,  $40  full  day  per 
hire, S McAulay, Ph 4312311 
 Kaiwaka  War  Memorial  Hall  HlRE  -  Phone  4312725  or 
kaiwaka.hall.bookings@gmail.com 
 Hakaru Community Hall HIRE -Ph.  Karen 4312090 
 Te Pounga Marae queries - Pearl Nathan  0223933533 
 Kaiwaka Sports Association hire/queries  - P Jaques 4312227 or 
kaiwakasports@gmail.com 
Justice  of  Peace:    B.FJaques  4312  048;  L.Donaldson  4312  228; 
A.F.Hargreaves  4312  045,  W.Howard  4312  725  D.Edwards 
021611198  -  please  phone  to  make  sure  they  are  available 
www.justiceofthepeace.org.nz 
Marriage Celebrants:  
L.Donaldson; A.F.Hargreaves; Y Osborne
LOCAL SERVICES 
*Emergencies - Ambulance, Fire, Police - dial 111 
*Non-urgent Police phone 105
A A: Meets Wed., 7.30pm Kaiwaka Ph: 4315543, 0800229 6757 
NARCOTICS ANONYMOUS: Mon., 6.30pm, Kates Place; drug and 
alcohol related issues. Ph. 02102412348 
ASUREQUALITY LTD (was AgriQuality) Call Free 0508 0011 22  
BUDGETING SERVICE, WELLSFORD: Free confidential advice & 
support for all areas of personal finance. Ph (09) 423 7123 
CAB-Citizens Advice Bureau.Wellsford Ph: 4237333 
0800 367 222 email:cab.wells@xtra.co.nz  
CIVIL DEFENCE - Kaiwaka Community Response Group: 
kaiwaka.civildefencecrg@gmail.com, 4312725 Wendy 
DOG/STOCK /NOISE CONTROL 0800 105 890 
FUNERAL SERVICES: Morris & Morris Ltd, 
Whangarei - Bev Jaques Ph:4312367 or 0800667747 
GRANDPARENTS Raising Grandchildren: Dianah Roberts 0223819539 
HAKARU & DISTRICTS MEMORIAL RSA (Inc) 733 Settlement Rd, 
Hakaru. Ph 4312 176 or Bill Warren (President) 431 2092 
HAKARU LANDFILL/Transfer Station:Open everyday 10am-4pm 
Ph4312629 Cost-$55 trailer load up to 1 cubic metre. Ph:4258567 - office 
KAIPARA DISTRICT COUNCIL www.kaipara.govt.nz:  
Help Desk FREEPHONE 0800 727 059  
KAIWAKA CEMETERY: Ph: 4312045 or 4314017 
KAIWAKA LIBRARY: kaiwaka.library@gmail.com  
Mon. 4-6pm; Wed., Thurs., Fri., Sat. 10am-2pm Ph:4312539 
KAIWAKA PLAYCENTRE: Ph Juanita 0274134904; open Mon, Wed, 
Fri 9am-12pm. Hastie Lane; Monday to Friday 9.00am - 12 noon. 
KAIWAKA POST OFFICE:Ph:4312 431  
Post Code: 0573 for RD2 and 0542 for all Kaiwaka Post Office mail 
KAIWAKA PRIMARY SCHOOL: Ph: 4312309   
KAIWAKA SPORTS ASSN: Ph 4312005; 4312129 gym 
KAIWAKA ST. JOHN HALL: Phone Marj  0272941227  
KATE'S PLACE Community Centre - Employment services, Free Health 
Nurse, Plunket, Advocacy, Osteopath, A.A., Legal Advice. 4312 661 
LINKING HANDS Health Shuttle Ph 4315906 or 09 4318969 
MINISTRY FOR PRIMARY INDUSTRIES - General inquiries Call 
Free 0800 008 333 
NORTHPOWER: Faults Kaiwaka area 0800 104040 
OTAMATEA COMMUNITY SERVICES: Counselling, parent coach, 
Family Support worker, budget advice, food bank. Mon-Fri 9am-3pm. Ph 
09 431 9080 http://www.otamateacs.org/ 
PARENTPORT: Free, practical family support service Puhoi to Paparoa 
Ph or txt: Dianne 027 280 5093 or 09 425 9357 
PLUNKET:  Kaiwaka  -Kate's  Place  Clinic  1st  Wednesday  of  the  month; 
Mangawhai  - Rose Madsen Cottage: Coffee Group 9:30 every Monday.  Clinic 
every Monday and Thursday. 
Maungaturoto - Good News Church, Clinic 2nd and 4th Wednesday.  
Cynthia 09 431 7340 or 027 675 3488 
PLUNKET HELPLINE -0800 933 922 (24 hours) 
TAITOKERAU COMMUNITY LAW: Free confidential legal advice and 
assistance, 2nd
Thursday
 of each month. Ph: 0800 155 529 for apps.  
TE URI O HAU Settlement Trust Tangata Developments: Whanau Ora 
021 793262  
VETERINARY SERVICE MANGAWHAI: 
Ph: 4314535 Mon-Fri 8.00-5.00, Sat 9-12, a/h appt. 
WELLSFORD DOCTORS: Ph: 4238 086 
CHURCHES:
 
Kaiwaka  Revival  Church  -  Your  Community  Church:  Sundays  10am. 
Ph: Pastor Tawhiri 09 431 8988 or Pastor Paul 09 4312 068 Visit us at 
www.facebook.com/kaiwakachurch or www.kaiwakarevival.co.nz 
 
St  Paul's  Anglican  Church  1st  Sun.  9.00am  (Eucharist),  3rd  Sun. 
9.00am (Family Service). Contact: Rev. Wayne Thornton Ph 431 4122 
www.mangawhaianglican.org.nz 
 
Church of Christ the King, Mangawhai:9.00am every Sunday 
 
St.Mary's  Catholic  Church:  Maungaturoto  –  Griffins  Road,  Saturday 
evening  Vigil  Mass  6pm;  Mangawhai  –  Senior  Citizens  Hall,  Sunday 
Mass  8:30am;  Wellsford  –  Matheson  Road,  Sunday  Mass  10:30am;  
Mid-week Mass times and all enquires to Fr. Bill Fletcher – phone 423 8170
 
Baptist Church: Sun. 10.30am Mangawhai Snr Cit.Hall.Ph:4312339 
 
Cause  Way  Church  Mangawhai:  Sundays  10.15am,  Mangawhai 
Community  Recreation  Centre,  Insley  St.  Ph:  09  4314782