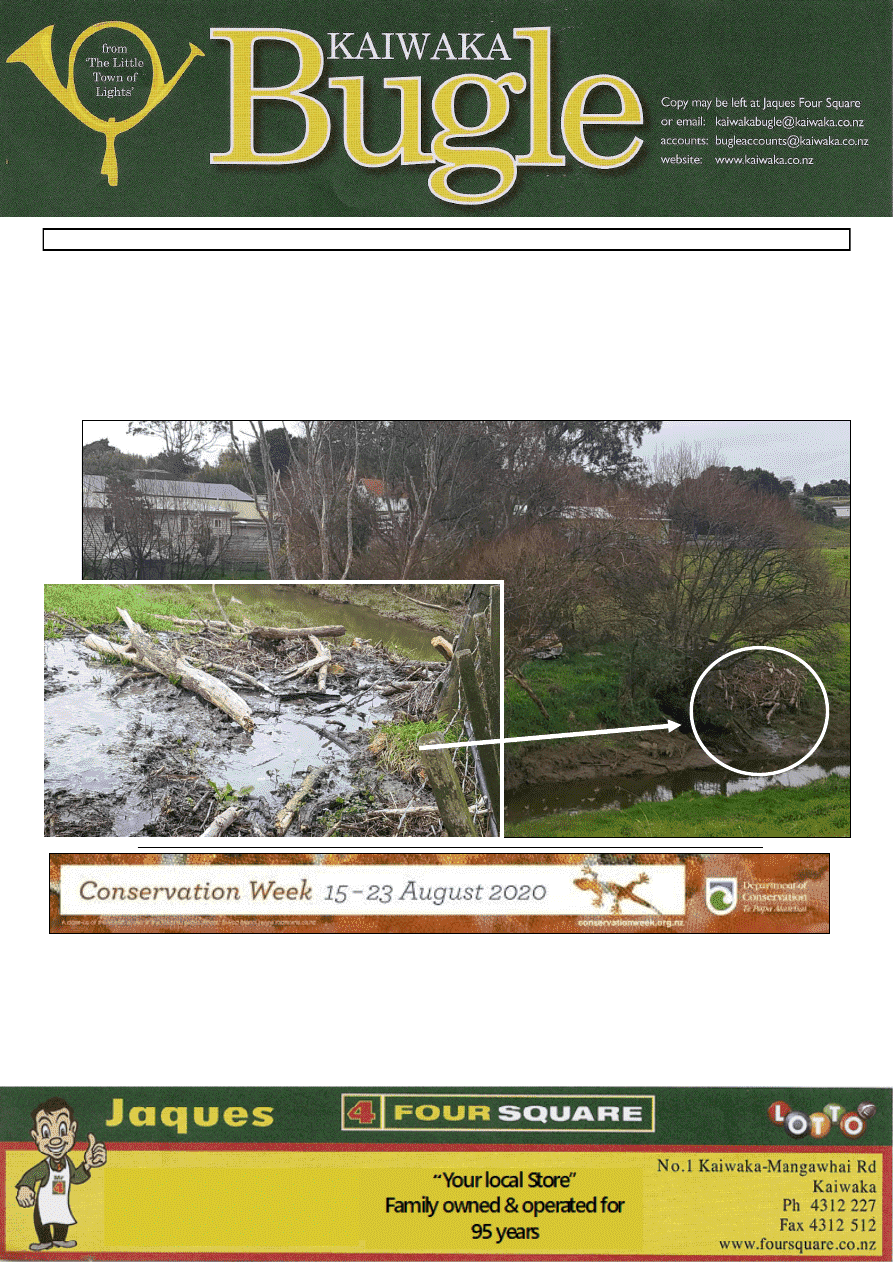 www.kaiwaka.co.nz 
Kaiwaka Bugle - 18 August, 2020 
Page 1 
No: 16 
 18 August 2020 
WINTER HOURS: 
Monday - Friday 8am – 6.30pm 
Saturday 8am – 7pm 
Sunday 9am - 6pm 
KAIWAKA STREAM: A RATHER STRONG SMELL 
A rather strong smell led the Bugle photographer following her nose last Friday ...PHEW … and what she found was not 
a pretty sight. Sadly it looks like a sewer pipe next to the stream has broken - a large area of toilet paper has spewed on to 
the bank making it obvious that something isn't flowing correctly. 
The  large  photograph  below  has  been  taken  from  the  southern  bank  of  Kaiwaka  Creek,  just  east  of  the  Oneriri  Road 
intersection, looking north toward the Kaiwaka - Mangawhai Road 
The smaller photograph was taken on the north side of the stream and shows a large lot of  wet toilet paper, etc amongst 
the willow slash and rubbish. - the cause of the smell was found. 
Folk did see a surveyor working on the Oneriri Road/east side of the Kaiwaka bridge at the time, but his work was in 
relation to the planning of the new footbridges and pathways.
Conservation Week was originally launched in 1969 by the New Zealand Scout Association, with the goal to promote 
greater interest in the environment and encourage people to take practical actions to look after it. 
The Nature Conservation Council then had a turn at running the campaign, while other organisations like the Post Office 
Savings Bank, Caltex Oil NZ, and The Todd Foundation came to the party with educational resources. Over the years 
famous artists like Friedensreich Hundertwasser and Don Binney have contributed their art for previous campaigns. 
When  the  Department  of  Conservation  was  formed  in  1987  it  took  over  the  Conservation  Week  duties,  and  has  since 
worked with other groups, businesses, councils and agencies to make it all happen. 
Conservation Week is a national celebration that encourages people to get involved in nature and help to take care of it.  
Ref. https://www.doc.govt.nz/news/events/conservation-week/  
WINTER HOURS: 
Monday - Friday 8am – 6.30pm 
Saturday 8am – 7pm 
Sunday 9am - 6pm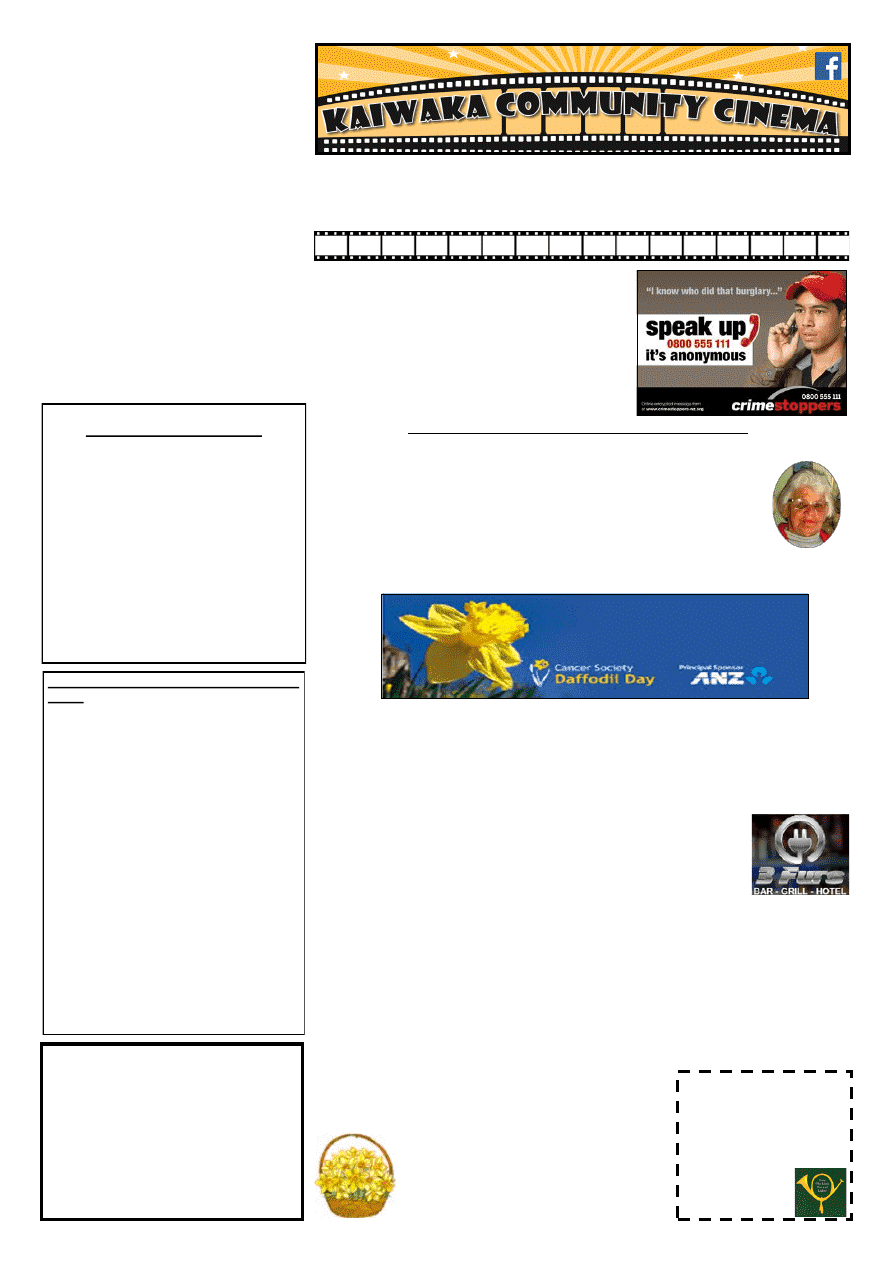 At Kaiwaka War Memorial Hall . Adults $10, Kids (under 16) $5, Family Pass (2 adults + 3 children) $25 
KAIWAKA BUGLE No. 16 
18 AUGUST 2020 
CONTENTS 
Page 3: Public Notices, Classified 
Page 5: Native Timber 
Page 7: Kauri Museum 
Page 9: OCS; About Town 
Page 11: Kaiwaka Sports Assn. 
Page 13: Kaiwaka St. John;  OCS; 
Covid Masks 
Page 15:  Baldrock Kennels & Cattery 
Page 17: Kaiwaka Library 
Page 19: VJ Day; Boat Holes 
Bugle 17 will appear 1 September 2020 
Contact for advertising, reports, articles 
or information can be made by 
Email kaiwakabugle@kaiwaka.co.nz 
Ph: 09 4312 045 Lindsey 
Txt: 027 2724137 
Copy  may  be  left  at  Jaques'  Four 
Square. 
Kaiwaka Bugle 
Founded May 1978 
We appreciate articles and photos about local 
events, etc, as well as ads and suggestions. 
Copies available in Kaiwaka at Jaques Four 
Square, Kaiwaka Postal Centre, Shamrock 
Service Station, Animal Health Centre, 
Kaiwaka St John shop. 
Also outlets in Maungaturoto, 
Mangawhai and Paparoa. 
Can be viewed online at   
www.kaiwaka.co.nz/Bugle  
Or a copy can be posted to you if you supply 
stamped, self-addressed DLE envelopes. 
Kaiwaka 
Bugle 
Advertisements 
2020: 
All 
copy 
and 
queries 
to: 
kaiwakabugle@kaiwaka.co.nz 
The Bugle is printed on an A4 page   
Ad  sizes:  1/16  page  (3  x  9.5cm)  $5;  1/8 
(6.5  x  9.5cm  landscape  or  portrait)  $8; 
3/16 ( 10 x 9.5cm or 7.5 x 12,5)  $12.  
Classified  ads:  First  one  FREE,  $4  per 
entry (max. 30 words, max. 4 repeats). 
Payments  can  be  made  online  at 
ANZ 
06  0365  0006990  00
,  posted  or  left  at 
Jaques Four Square Store. 
We  use  Microsoft  Publisher,  and  can 
work  with  most  common  image 
formats, Word, Excel, and PDF files. 
Accounts:  
Email: bugleaccounts@kaiwaka.co.nz 
The  Kaiwaka  Bugle  is  a  community 
newspaper run by volunteers, as part of 
the Kaiwaka Media Group Inc.   
Articles, etc. printed are not necessarily 
the opinion of the Bugle Team. 
ABOUT TOWN 

 Congratulations  Otamatea  HAWKS  Georgia  Brierly,  Stacey Tupe, Madison 
Johnson, Louisa Tubailagi now in the Northland Women's Rugby Kauri squad 

 ELECTION DAY NZ: Saturday 17th October 2020. 

 A BIG Thank you to Lindell for raising over $3000 for the Kaiwaka Sports 
Assn, by selling pies! 

 A Blooming Puzzle: Unravel the following phrase to make a 
flowery cliché - WE FLIRT SO THIS WAY. Answer below 

 Take time out at our local eateries - The Three Furlongs Bar 
& Grill is open 7 days with restrictions & has a great takeaway 
menu phone  09 4312 246   

Kaiwaka Community Garden contact is Millie Watkins on 027 548 0312 

 Welcome  to  a  new  business  in  town  -  Equine  Envy  ('and  will  be  open 
throughout LEVEL 2 for all your horsey needs') - next to La Nonna  

 Our  local artist, Filani Macassey, has some wonderful artwork to share - see 
page 9 

 The DEN on Bickerstaffe Road Maungaturoto, is open 10 am  - 2 pm daily. 
Proceeds to local projects  

 KDC  Dog  Registration  -  till  31  August.  Note  that    due  to  the  current 
Covid-19  restrictions  the  Customer  Service  office  at  Mangawhai  will  be 
open 10am till 2pm and in Dargaville hours will be 
9am  till  3pm  -  further  information  is  online  or  call 
0800 727 059

 Kaiwaka  Bugle  No.  16  is  online  at 
www.kaiwaka.co.nz  and  is  in  print  for 
our local Readers. ~ 
Lindsey, Ed
"SAY IT WITH FLOWERS" 
Proverbs 12: 25 
Worry weighs us down;  
a cheerful word picks us 
up. 
MOVIES CANCELLED 
Until back in Covid-19 Level 1
CRIMESTOPPERS: 
Crimestoppers is an independent charity.  
They are not part of the Police.  Crimestoppers 
will take your information on criminal activity 
and report it on your behalf to the appropriate 
authority.  
If  you  have  information  about  crime  or  a 
criminal  activity  and  you  wish  to  remain 
anonymous  then  call  Crimestoppers  free  24/7 
on 0800555111 
KAIWAKA BUGLE 
DEADLINE DATES 
2020:   
Every second Friday
August 28 
September 11, 25 
October 9, 23 
November 6, 20 
December 4 
From Thelma's Scrapbook...  
Are you a MARTHA or  MAXINE? 
Martha: "Stuff a miniature marshmallow in the bottom  
of an ice cream cone to prevent ice cream drips." 
Maxine: "Just suck the ice cream out of the bottom of the 
cone for Pete's sake! You are probably lying on the couch with your 
feet up anyway!" 
DAFFODIL DAY ~ KAIWAKA 
 Friday and Saturday  
28 and 29 August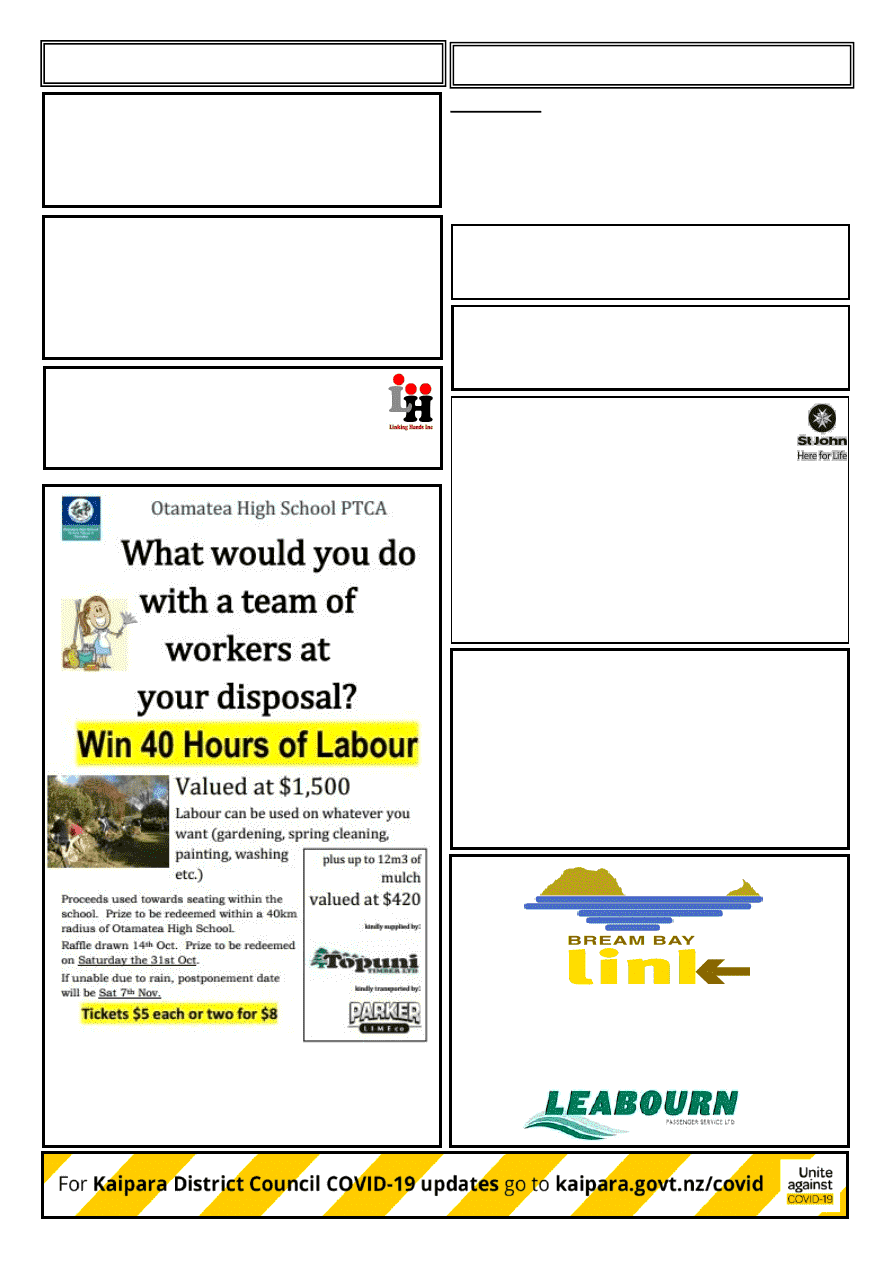 www.kaiwaka.co.nz 
Kaiwaka Bugle - 18 August, 2020 
Page 3 
PUBLIC NOTICES 
CLASSIFIED 
THANK YOU 
Rae Ries and  family would like to thank this community 
for their kind words and support during this difficult time. 
Messages,  cards,  flowers  and  baking  were  very  much 
appreciated. 
Thank you, Rae Ries 
KAIWAKA WHANGAREI HOSPITAL KNITTERS
Meet 2nd Tuesday every month at the Archie Bull Hall 
10am – 12 midday.  
New Members are always welcome to join us. 
Contact Gale Matheson 027414576 for more information  
VACANCY: Looking for a casual to part time worker. 
Must be able to work the odd Saturday morning. Must 
be trustworthy and have a driver license and be able to 
work in a team. 
Please send your C.V if you got one to: 
jrcleaningservices.chellew@yahoo.com 
Or phone Jenny on 431 2826 after 7pm. 
HAKARU TRANSFER STATION 
636 KAIWAKA-MANGAWHAI ROAD 
Open every day 10am - 4pm ~Closed All Public Holidays 
Telephone: 09 431 2629 
OTAMATEA ST JOHN AREA COMMITTEE 
TRASH AND TREASURE 
28th September to 2nd October 
Maungaturoto CENTENNIAL HALL 
You  can  bring  GOOD  QUALITY  items  in  on  Sunday 
27th  between  12  noon  and  4pm  or  during  the  week 
(before Thursday). We have limited storage available but 
if you require items to be collected prior to (or during the 
event)  this  will  be  arranged  as  transport  is  available. 
Please leave contact details with Eileen – 021 142 0357 
or email me at: b.parsons@xtra.co.nz 
This is our major fundraiser for the year, so please support 
us if you can. 
Baking,  produce  and  plants  are  also  an  acceptable 
addition during the week  
HAKARU HALL ACTIVITIES 

Monday:  Line Dancing 9.45 -12pm Ph 4315160 

Afternoon Dance Energy  Lisa Ph. 0275610469 

Tuesday: Afternoon Dance Energy   

Wednesday: Afternoon Dance Energy  

Wednesday: Evening Music Jam Session      
Dennis Ph. 0210628631 

 Thursday: Pilates 9 - 10am Ph. 0220643965 

Sunday: Canine Coaching Ph 0272365004 
 Hall Bookings Karen 4312090 
KAIWAKA WAR MEMORIAL HALL 
AND 
KAIWAKA LIBRARY 
Annual General Meeting 
Tuesday 8 September, 5pm 
Kaiwaka War Memorial Hall 
All welcome 
RETURN BUS to WHANGAREI 
Every Thursday 
9.00am Departs Kaiwaka  - 4.50pm Returns Kaiwaka 
Via  Mangawhai,  and east coast . 
please phone 0800 994 404  
wwwbuslink.co.nz 
Operated By:  
LINKING HANDS INC.  
AGM  
 Wednesday 26th August at 7pm 
 in the Anglican Church Hall,  Maungaturoto. 
All welcome. 
Buy a ticket in the OHS PTCA 40-hour raffle. Tickets cost 
$5  each  or  2  for  $8.  Tickets  available  from  Real  Town 
Pies,  Maungaturoto  Hotel,  Jaques  Four  Square,  Three 
Furlongs  Hotel,  Bammas  Surf  Shop  Mangawhai, 
Mangawhai Hire, OHS reception.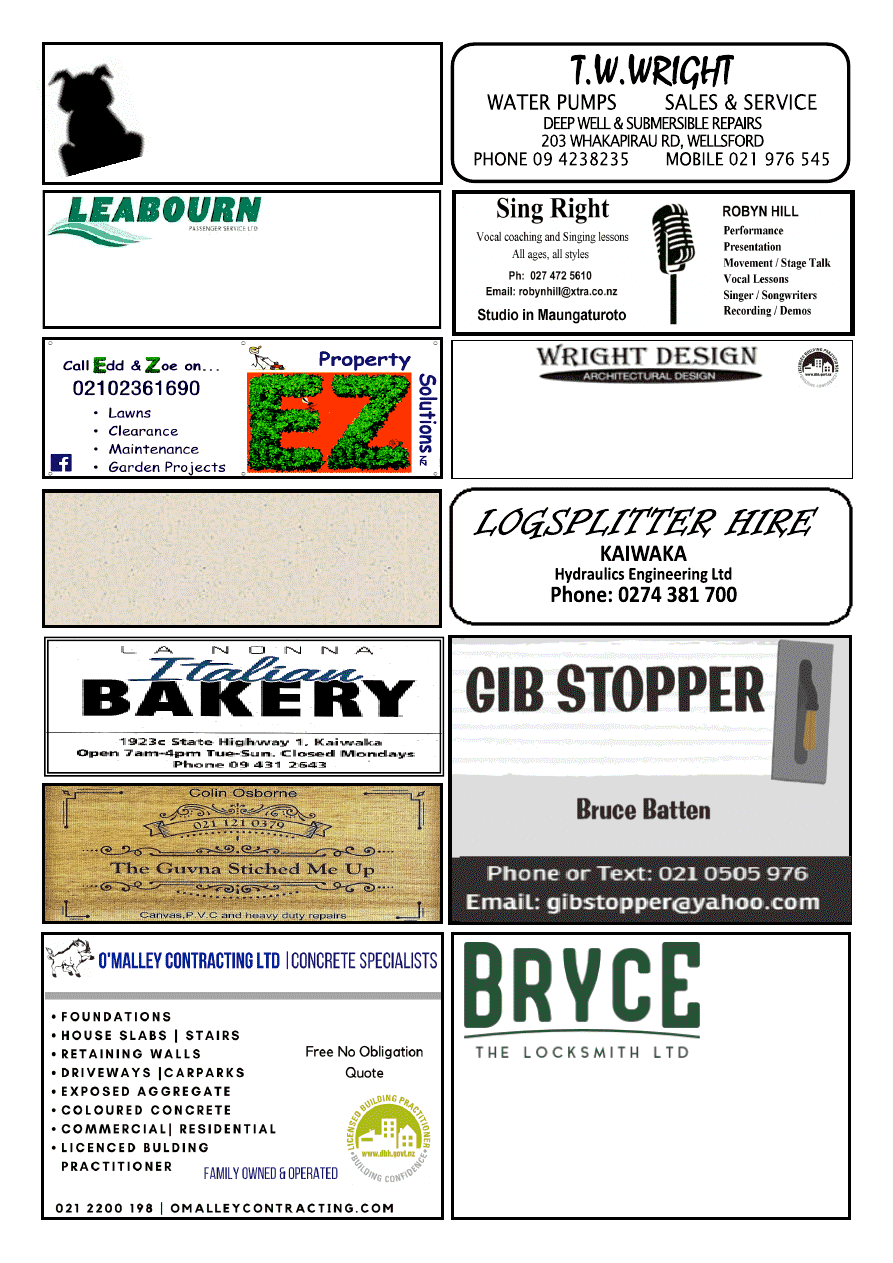 Counsellor and Registered Psychotherapist 
Offers Supervision
Susan Matheson 
MNZAC 
Dip. Psychosynthesis Counselling and Psychotherapy 
Phone 09 431 2996                        Mobile 027 605 2427 
No. 117345 
N.Z.C.A.D., L.B.P. 117345 Design 1 & 2 

50 years experience 

All designs/plans council guaranteed 

FREE local site/house visit 

Plan printing available from A4 to A0 
Mob: 021 276 7369 
Office: 3 John Sinclair Avenue, Wellsford    brianwright@xtra.co.nz 
Bryce Frewin 
Ph: 021 850 983 
Kaipara Based Master Locksmith 
bryce@brycethelocksmith.co.nz 
www.brycethelocksmith.co.nz 
Passenger Service
Car & Van Hire   Bus & Coach Charters 
Airport Transfers    
Phone (09) 4237416 
Kaipara Dog Training Club 
Mangawhai Domain, Moir Street 
Every Wednesday Night from 5.30pm 
Please contact the Secretary  
for further information 
kaiparadogtrainingclub@gmail.com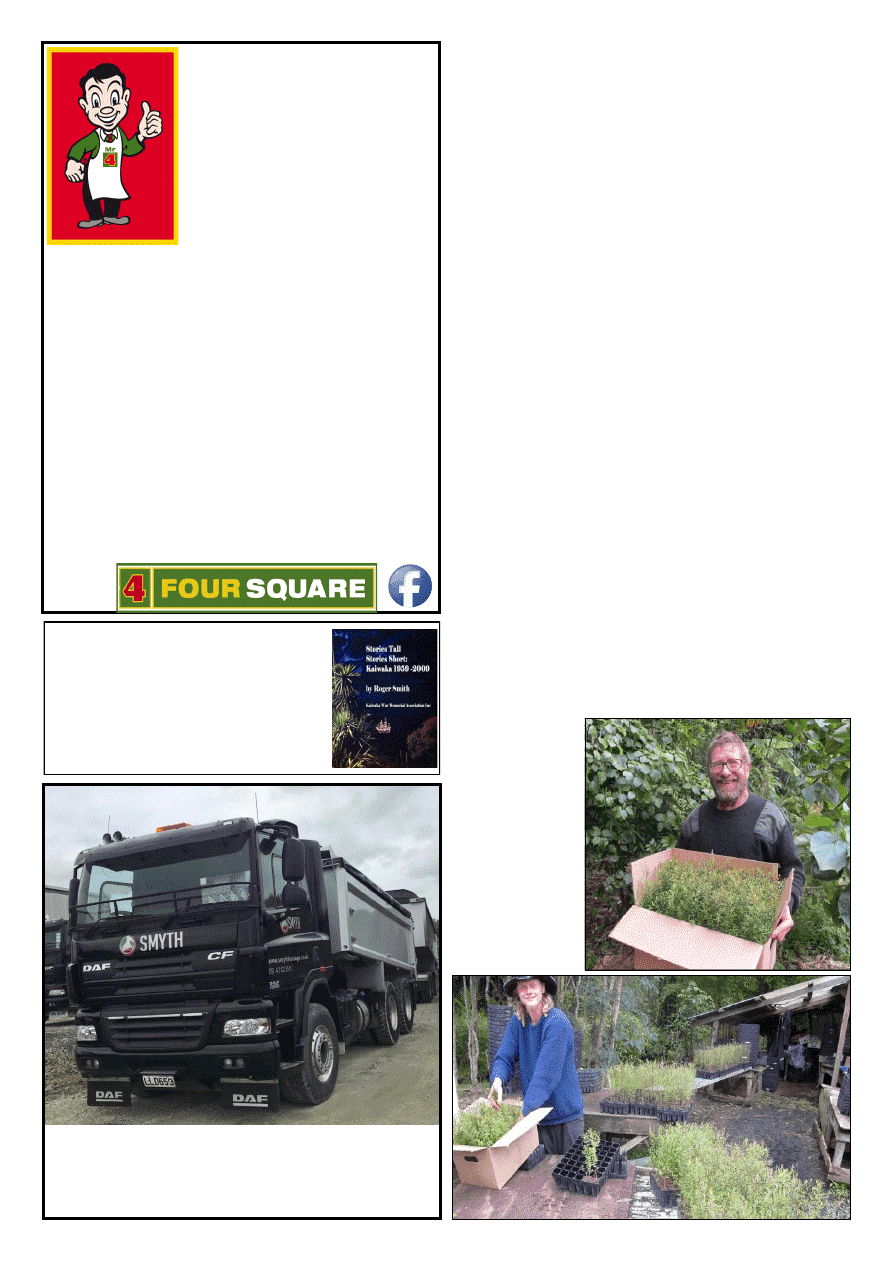 www.kaiwaka.co.nz 
Kaiwaka Bugle - 18 August, 2020 
Page 5 
Stories Tall, Stories Short  
Kaiwaka 1959-2009 
by Roger TW Smith.  $40 
Kaiwaka Photographic History $25 
At All - Sortz Collectables  
or phone  4312 045 
MAN-UP ON THE SLIPPY SLOPES 
LEVEL 2 COVID-19
Open normal hours  
8am to 6.30pm 
We have the following 
protocols in place to keep 
staff & customers safe 
PLEASE SHOP NORMAL 

1 person per household come prepared with a list 

10 customers in store (one in one out) 

2m social distancing in queue and in store at all 
times 

some products limited to 1 per household per list 
on window at door and on shelves ALL other 
products are limited to 2 per household 
Please be kind to staff regarding restrictions 
COVID 19 QR posters inside and outside please use 
to track your movements
Thanks from Greg & Paula  
and the team at Jaques   
JAQUES FOUR SQUARE 
Phone: 4312227 
1 Kaiwaka-Mangawhai Road, Kaiwaka. 
Get out of pine and get into planting quality native 
timber  on  slippy  hillsides  says  pioneering 
Northland nurseryman Simon Vallings. 
To  visit  the  Maungatapere  nursery  Forest  Floor  near 
Whangarei is to return to how New Zealand was before the 
invasion  of  chainsaw,  tractor  and  digger.  All  about  are 
flourishing native trees - and the business is 27 years old. 
Simon,  and  his  fellow  directors  dedicate  themselves  to 
native  forest  restoration  in  preference  to  exotic  farm 
forestry,  whose  untidy  effects  are  scrawny  eucalyptus  and 
sticky pine (not to mention collapsing poplar and cankerous 
leylandii cypress) throughout the northern area.   
Without careful management, exotics don't produce returns. 
Many find that the plantation farm advisors or New Zealand 
Farmer's Red Book encouraged them to grow are not only 
miserable from lack of pruning but inaccessible and scorned 
as firewood that is hard to extract. 
Simon  recommends  people  with  land  consider  species 
which suit the conditions and go native. 
On  his  website  <http://www.forestfloor.co.nz/>  he 
celebrates local timber with a photo of a shed built during 
the Pacific War from local puriri (Vitex lucens) a relation of 
teak.   
"Puriri trees produce extremely durable timber that does not 
need  treating,  and  grow  very  quickly  into  huge  trees,"  he 
says.   
The shed stood strong despite tropical cyclones through the 
years. Many farms sheds are built from natives.   
Currently  Forest  Floor  grows  millions  of  native  seedlings, 
mainly manuka and kanuka. 
The  website  advises  us  to  time  planting  out,  so  seedlings 
establish  before  first  drought.  August  is  prime.  Check  out 
the website for advice. 
"A  lot  of  our  tree  planting  work  is  trying  to  establish  a 
canopy  cover  to  reduce  erosion  and  prevent  this  loss  of 
topsoil  in  the  first  place.  Sometimes  we  end  up  having  to 
start again from scratch, planting into sand dunes." 
Forest Floor provides plants with 12 months fertiliser in the 
potting mix, so there is no need to re-fertilise. The website 
suggests  most  nurseries  use  minimum  fertiliser  to  grow  a 
tree. 
"We  use  the  most 
expensive  potting 
mix  per  tree  of 
any nursery in NZ 
because  we  want 
our  customers  to 
get  the  long-term 
results." ~ HP 
Photos:  Right  - 
Simon  Vallings  at 
his  Maungatapere 
forest base. 
Below:  Kyle  with 
boxes  of  healthy 
manuka 
SMYTH HAULAGE       
for all your tip trucks & trailer 
requirements 09 4312355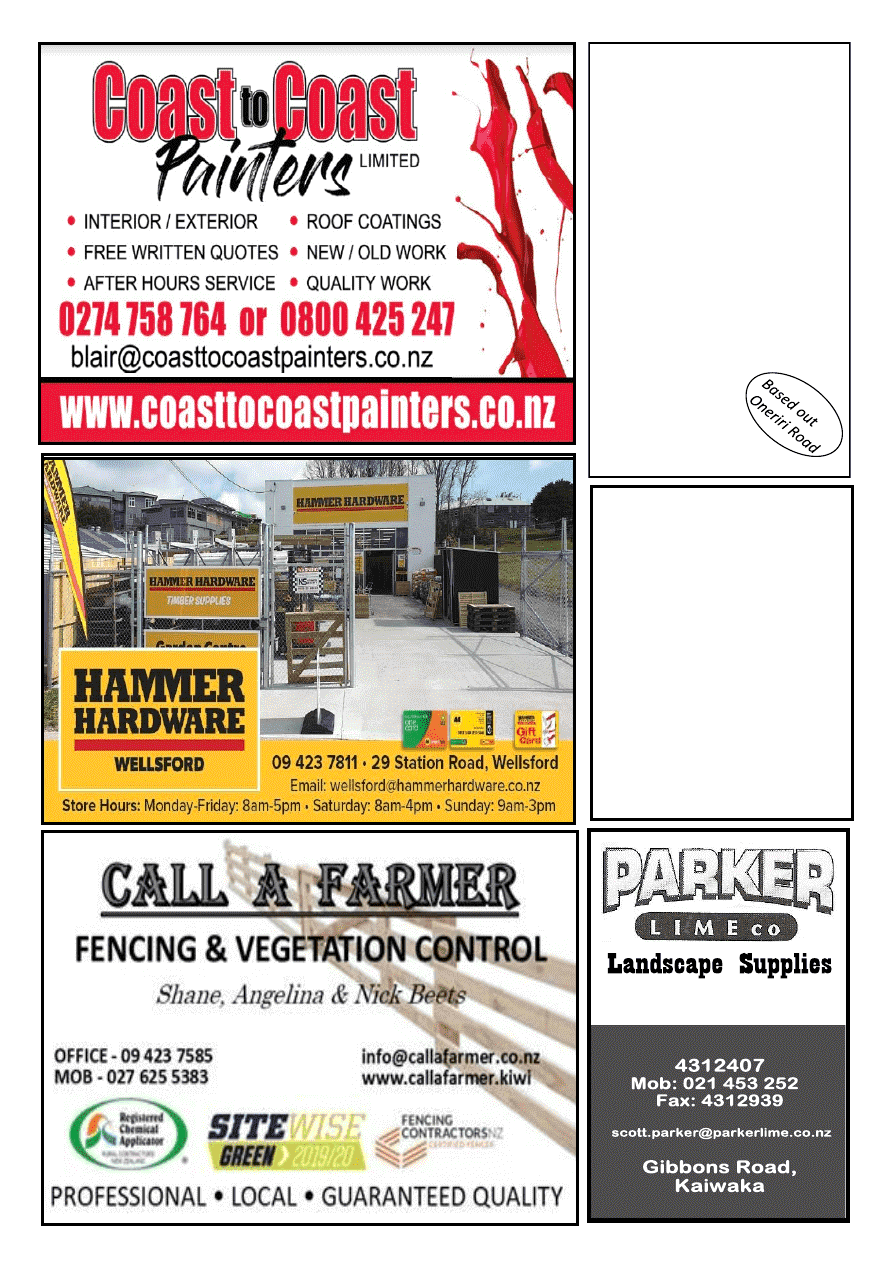 HODGETTS 
CONTRACTING
Digger Work    
Driveways   
House Sites  
Dams      
Drains, etc
Also available for HIRE 
3 ton Vib Roller  
Heavy Duty Tow  
Waterblaster      
Lazer Level
Phone Mark  
4312877 
027 447 8554 
WHERE TO GET HELP 

1737, Need to talk? Free call or 
text1737 to talk to a trained counsellor  

Rural Support Trust 0800 787 254   

Lifeline, 0800 543 354  

Youthline, 0800 376 63, text 234, 
email talk@youthline.co.nz or online 
chat 

Samaritans, 0800 726 666  

Depression Helpline, 0800 111 757   

Suicide Crisis Helpline, 0508 828 
865 (TAUTOKO)      

In a life-threatening situation 
call 
111
Bulk Cartage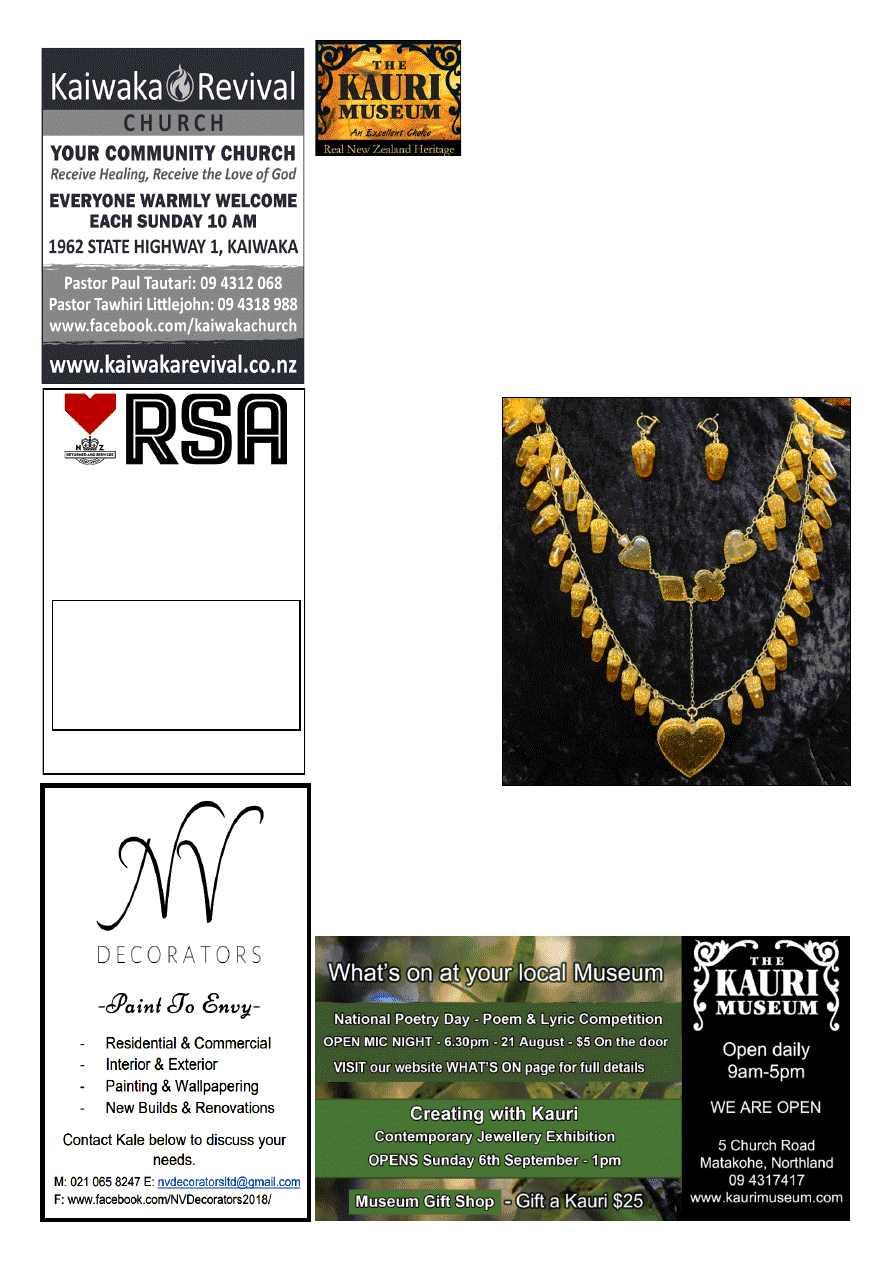 www.kaiwaka.co.nz 
Kaiwaka Bugle - 18 August, 2020 
Page 7 
HAKARU & DISTRICTS 
MEMORIAL RSA (INC)
Members & guests are invited to 
come along and enjoy our hospitality. 
New members welcome. 
Meals are served on 
Thursday and Friday nights 
from 6.30pm. 
Order from Blackboard Menu  
The sing along with Des Chitty is the 
Last Friday of the month. 
For more information please phone 
Bill on 431 2092  
On  6  September  at  1pm,  a  fabulous  new  exhibition  of 
contemporary  jewellery  titled, 
'Creating  with 
Kauri' 
opens at The Kauri Museum in Matakohe. This 
is the second of the annual Maker Series of exhibitions, 
which  showcases  jewellery  made  by  top  NZ  artists  and  craftspeople.  Each 
exhibitor was given one piece of kauri timber and either one piece of gum or six 
gum nuggets to create their interpretation of this year's theme. 
As  we  prepare  for  this  show,  one  of  our  collections  team  pointed  out  an 
interesting antique piece of hand-crafted jewellery, which is currently on display 
in the gum room. 
James  Joseph  Nightingale  Griffiths, 
also known as Joe, was born on 
31 January 1890 at Huia, Auckland. James Griffiths a saw miller, and his wife 
Abigail had thirteen children, Joe being their eldest. 
They lived at or near Matakohe as he attended school there in 1895. The family 
moved around due to Mr Griffiths Senior work in the timber industry, and we 
know  they  lived  in  Northern  Wairoa,  Dargaville,  Mamaku,  Thames  and 
Matamata. 
Young Joe took up work as a saw doctor in the mills and was later known for his 
skilfully  crafted  gavels, 
which he used to make for 
the 
Masonic 
Lodges. 
These were made of native 
woods,  inlaid  with  the 
Masonic  symbol  in  silver 
and  paua  shell.  All  were 
stamped  with  the  lodge 
name  and  number  on  the 
bottom. 
Joe  met  his  future  wife 
Olivia  Margaret  Kemp  at 
Dargaville,  as  her  family 
had  moved  up  from 
Nelson. 
As  was  the  way  for  many 
folk of the day, the Kemps 
were 
unsuccessful 
at 
farming  and  moved  back 
to  the  South  Island,  with 
Maggie and Joe keeping in 
touch by mail. 
Eventually  Joe  made  his 
move  and  went  to  the 
South  Island  to  ask  for 
Maggie's hand. They were 
married at Lydia Bay in the Pelorus Sounds. 
This beautiful kauri gum necklace and matching earrings was hand crafted 
by Joe and presented to Maggie on their wedding day. 
Acorns  are  said  to  be  a  lucky  symbol,  representing  prosperity,  youthfulness, 
power and spiritual growth. Certainly, this elegant piece was made with love and 
Maggie was his 'lady luck'. 
We hope you will enjoy the exhibition which runs until 28 January 2021. 
For more information see:  
https://www.kaurimuseum.com/whats-on-item/creating-with-kauri-exhibition 
LADY LUCK  
AT THE KAURI MUSEUM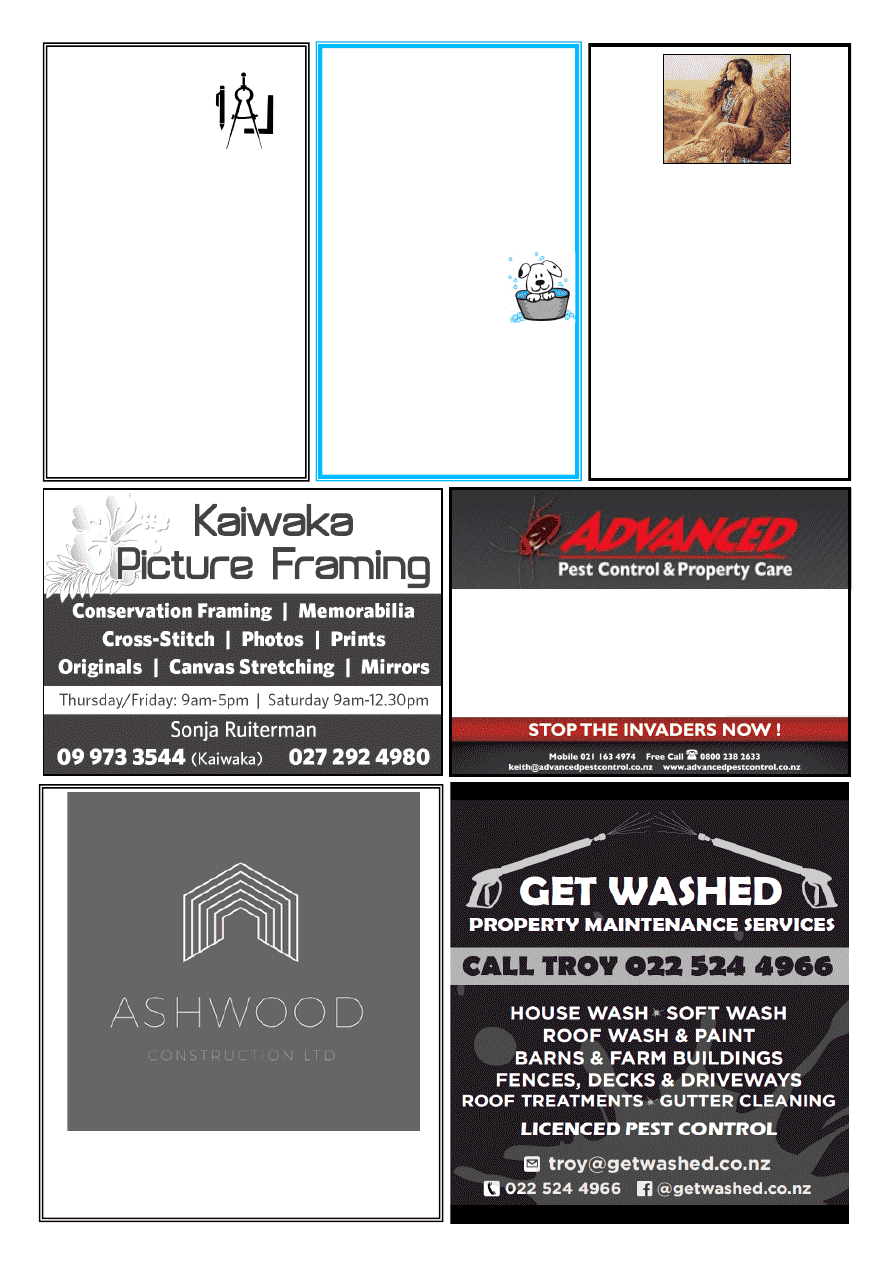 Pest Control 
PLAN A: One-off treatments to customers with a specific pest problem 
PLAN B: Full maintenance service plans to commercial customers. 
This will include documentation kept in customer file on site: 
⚫
Pest treated 
⚫
Date of service 
⚫
Chemical or baits used 
⚫
Full pest check report done after each treatment 
⚫
Fair and reasonable fee with guarantee 
Flood Recovery 
Carpet Care 
⚫
Carpet Drying   
This includes pre-spray treatments 
⚫
Dehumidifier Rental 
with stain removal and hot water extraction.  
⚫
Full Commercial Cleaning  Patch repair also available 
Upholstery Cleaning 
Full upholstery cleaning of all furniture.  
eg lounge suites and all office chairs 
Water Blasting 
⚫
Concrete - Decks 
House Washing 
⚫
Soft Chemical Was 
⚫
Pre-painting Wash 
Property Services 
⚫
Property Cleaning  
Lawn Mowing 
⚫
Hedges General  Tidy Ups 
TRAILS END 
RONGOA MAORI 
HEALING 
And Gifts 
Stocking all your needs from incense, 
crystals, dream catchers, greeting 
cards, jewellery, perfume, dragons and 
more  … 
For all inquiries  
Phone 0211652629  
Light refreshments available $5 koha  
1758 Cove Road Mangawhai
ASHWOOD CONSTRUCTION  LTD 
LBP registered 
New Builds Renovations Extensions Decks & more 
After a quote? Call Lee on 0223408353 
design  
drafting  
service 
Retired builder and manufacturer with 
over 40 years experience in the building 
industry is offering a design drafting 
service for domestic housing, sleepouts 
and sheds.  
Plans formulated in consultation with 
clients, with working drawings 
completed and submitted to  
council for processing.   
Extensive practical experience,  
able to identify & resolve problems. 
Please ring Mike Lean on 
09 431 2260  
or 
021 431 196 
Hot Diggity Dog 
DOG GROOMING 
All breeds dog grooming 
Professional Experienced Groomer 
Short practical grooms  
Breed Standard Grooms 
Designer fusion Grooms 
Oneriri Road
By appt Phone Pam  
09 4312143 
Or text only 0273335380 
Email  
hot.diggitydog@outlook.com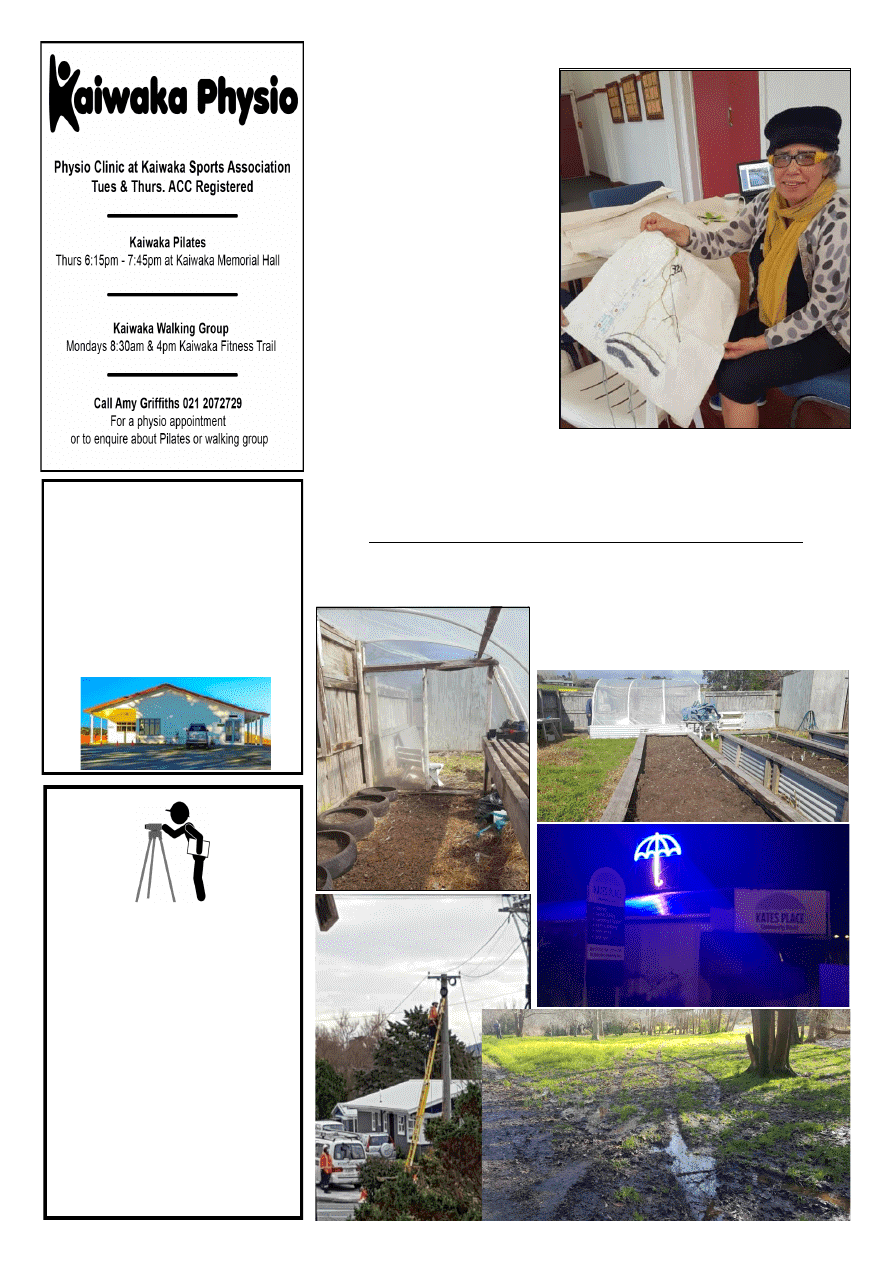 www.kaiwaka.co.nz 
Kaiwaka Bugle - 18 August, 2020 
Page 9 
Te Pounga Marae 
130 Nathan Rd. Oneriri. Kaiwaka 0573 
COMPLEX FOR 
HIRE 
Functions: * Weddings  * Birthdays  
*Anniversaries * Meetings  * Wananga 5 
hour meeting * 12 hour stay or Overnight 
*All welcome   
For more information please contact: 
 Pearl Nathan 0223933533 
Email: tepoungamarae130@outlook.com  
SEEN ABOUT TOWN 
The Community Garden has had an extensive clean-up and is now ready for the 
spring  planting;  The  new  umbrella  lights  above  Kate's  Place;  McClean  Park: 
Sadly  this  State  Highway  One  rest  area  has 
been abused again.  The gravel roads are to be 
used when the grassed areas are soft; The fibre 
workmen still at work ...  
Ken Urquhart 
BSurv Licensed Cadastral 
Surveyor 
KMU  
Surveys Ltd
467 Bickerstaffe Road 
RD 2 
Maungaturoto 0587 
Ph 09 431 8705 
Mob 021 161 2344 
kenurquhart@xtra.co.nz 
FILANI MACASSEY : ARTIST 
Filani  Macassey  is  currently 
working  on  a  project  which 
includes the artist setting up a pop-
up  studio  in  at  the  Kaiwaka  War 
Memorial Hall. 
Since  moving  to  Kaiwaka  four 
years  ago  Filani  has  worked  as  a 
gallery  assistant,  a  community 
centre 
co-ordinator 
and 
an 
administrator.  During  February 
2020,  the  Whangarei  Art  Museum 
hosted an exhibition of Macassey's 
work  which  centred  around  her 
research  project  on  the  island  of 
Cyprus. 
This  exhibition  included  LRDG* 
history  during  WW2  and  the 
Cypriot  village  site  Filani  was 
named after by her father who was 
a veteran of the LRDG. 
The  current  project  Filani  is 
developing  will  be  to  record  the 
effects  of  Covid  -19  on  a  national 
and  international  level.  The  artist  is  utilising  embroidery  techniques  and  masi 
which is a traditional fibre made in Fiji, derived from paper mulberry. 
You can see Filani in the hall on Fridays and Saturdays from 10am to 2pm. The 
pop-up studio will be over a period of three months and is supported by CNZ. 
Filani will be posting relevant updates on the Kaiwaka Community social media 
page or you can email the artist at studio501ffm@yahoo.com. 
 *Long Range Desert Group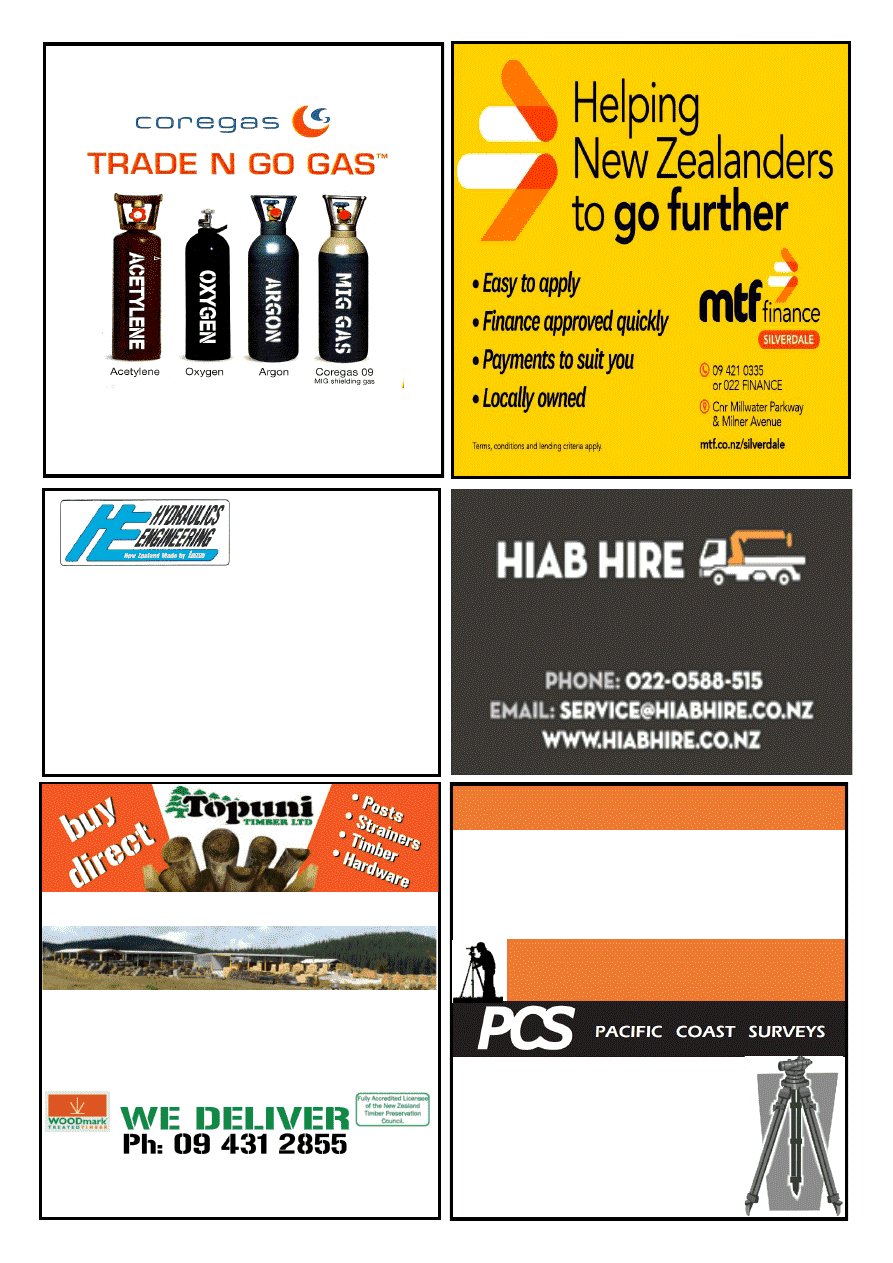 SURVEYORS 
SUBDIVISIONS 
HOUSE SITE SURVEYS 
CIVIL ENGINEERING 
WASTEWATER DESIGNS 
EXPERIENCED 
PROFESSIONAL 
INNOVATIVE 
Ph 09 431 5353 
0800 PACIFIC (0800 722 434) 
pacificcoastsurvey.com
Adam Booth - 027 415 5752 
Bsurv, Licensed Cadastral Surveyor
Surveying Kaipara since 1994 
At Twinkle Tow 'n' Tyre 
Mob: 021 833 960 
Ph & Fax: 09 431 2823 
1837 State Highway 1, Kaiwaka 
LOCALLY OWNED AND OPERATED 
QUALITY PRODUCTS • FRIENDLY ADVICE • GREAT SERVICE 
Quality Products milled from High Density NORTHLAND Radiata Pine. 
Treated and guaranteed to NZS3640 with commitment to 
Environmental Safety.
Phone, fax, email, or come into the mill 
Schiska Rd, Topuni, SH1, 10 min north of Wellsford. Fax: 09 431 2856 
Email: sales@topunitimber.co.nz           Mon - Fri 7am-5pm 
• Fencing 
• Retaining 
• Decking 
• Landscaping 
• Gates 
• Hardware 
Hydraulics  
Engineering Ltd 
Kaiwaka 
Sales - Service - Parts - Hire - Manufacture 
Service Contractors & Industrial Equipment: 
Rams, Pumps, Valves 
Logsplitter Hire, Manufacturer, Sales 
Dennis Linton 
Lot 2 / 161 Ranganui Road, RD2, Kaiwaka, 0573, New Zealand 
Mobile: 0274 381 700 
Email: hydraulicsengineering@xtra.co.nz 
Website: www.hydraulicsengineeringco.nz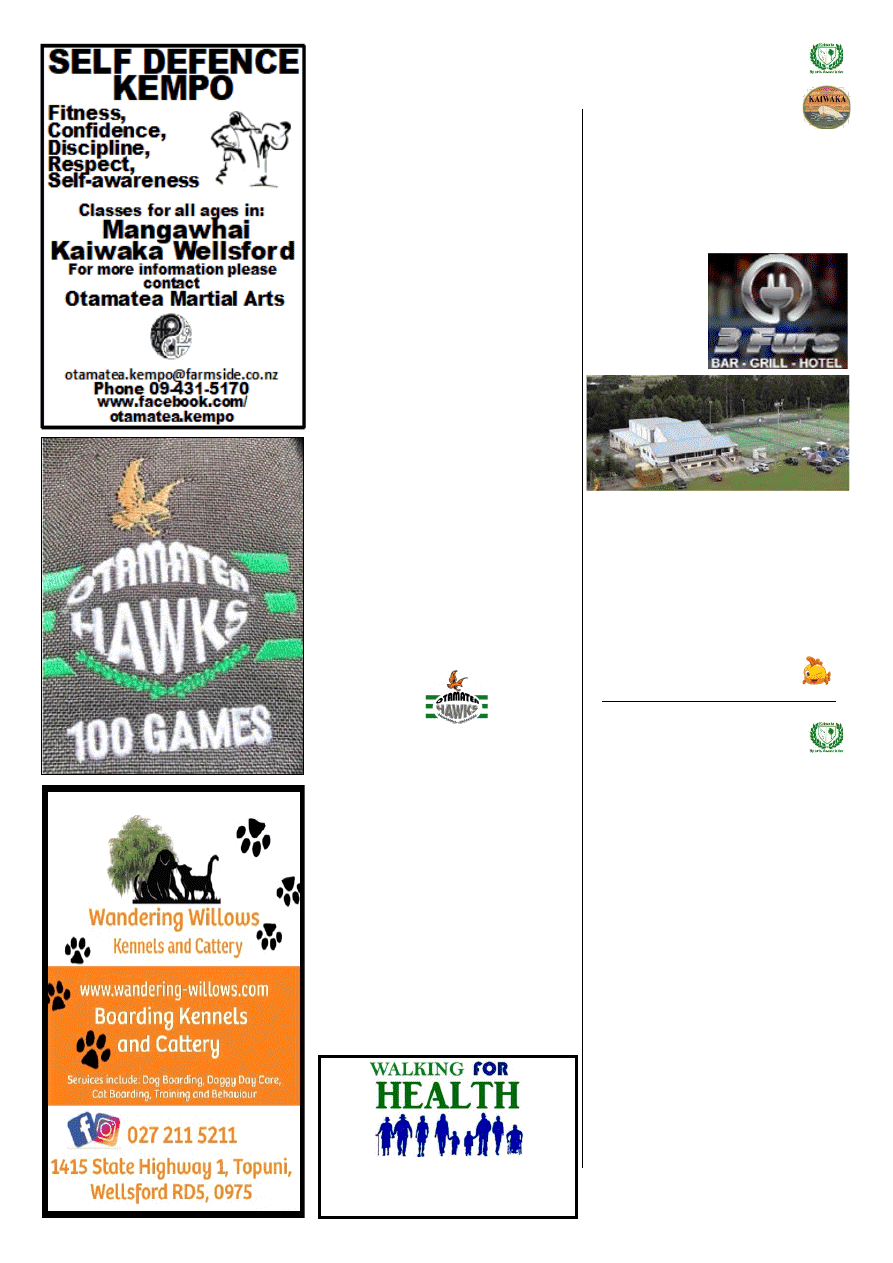 www.kaiwaka.co.nz 
Kaiwaka Bugle - 18 August, 2020 
Page 11 
           KAIWAKA SPORTS ASSN 
POINT CURTIS 
CRUISING 
CLUB 
Due  to  Covid-19  restrictions  our 
committee  meeting  for  Wednesday  12 
August was cancelled. 
We would like to take this opportunity 
to  thank  the  Three  Furlongs  Bar  & 
Grill 
and 
Kaiwaka  Sports 
Assn  for  their 
continued 
support. You are 
invaluable 
to 
our  club  and 
community. 

Annual Subscriptions 
Don't  forget  Subs  were  due  1st  June 
2020. $30 Family $20 Single. 
Internet  banking  12  3094  0008233  00 
Please use Name/s as a reference. 

New  Fish  of  the  Month:  To  be 
advised 

Next  Committee  meeting:  To  be 
advised. 
Thank you for your patience. 
Wayne Leslie (Commodore)
KAIWAKA FITNESS 
CENTRE 
Good news members, 
Gym will remain open, but with Covid-
19  level  2  we  are  back  to  contact 
tracing and writing our full names and 
phone  numbers  in  the  book  please  as 
we  are  required  to  by  government 
Level  2  regulations.  I  will  print  off  a 
Covid  scan  poster  so  you  can  scan  in 
rather  than  recording  phone  numbers. 
You  just  need  to  download  the  Covid 
tracing app if you haven't already. 
Also,  our  hygiene  standards  need  to 
increase  back  up  to  Level  2  standard, 
which is sanitize upon arrival and spray 
and wipe all equipment after use. And 
of course, please stay home if unwell. 
Note – the annual general meeting had 
to  be  postponed  because  of  the  Covid 
restrictions 
I  thank  you  all  for  cooperating  and 
making  it  possible  to  keep  our  gym 
open. 
Management,  Kaiwaka Fitness Centre 
Eastern United JMB 
Junior  Rugby  (U7-U13)  Update: As 
at  13  August  Northland  have  issued 
decisions  on Junior  Rugby.  There  will 
be no Junior Training this week across 
Northland  and  Saturday's  games  have 
been cancelled. 
For us this means an end to our season 
but keep an eye out as we may organise 
a fun day if the situation allows.  
OTAMATEA HAWKS 
Saturday 8 August  
After  a  4  week  break  due  to  a  bye, 
postponement 
and 
defaults 
the 
Otamatea  Hawks  played  a  great  game 
against 
Tomarata 
at 
Tomarata, 
resulting  in  a  19-13  win.  Hawks 
Players  of  note:  Nathan Taylor, Nick 
Makea,  Daniel  Kawana  Pool,  John 
Luke 
Whitehead 
and 
Michael 
Robinson. 
The  win  means  the  Hawks  finish  the 
regular season unbeaten and 1st on the 
table  earning  a  home  semi-final  on  15 
August.  Due  to  the  current  Covid 
situation,  the  game  will  be  postponed 
until next Saturday the 22nd August. 
After  the  game  Lance  Nepia  and 
Daniel  Kawana  Pool  were  presented 
with their 100 Game Blazer.  
KAIWAKA SPORTS ASSN. 
Walking Group meets 
Mondays 8.30am and 4pm 
KAIWAKA SPORTS 
ASSOCIATION  
CONTACT DETAILS 
Chairperson Wayne Leslie 4312 205  
Maintenance/grounds Mark Ottaway 4312 229 
Clubs: 
Athletics    
Eileen Parsons   4318 055 
Badminton  
Kaye Fleming   4312 345 
Basketball  
Blake Worsfold 021 148 9743 
Fitness Centre  Siobhan Cole   027 9791203 
Hockey    
Tina Holst  
021 2935974 
Martial Arts   Craig Bennetts   4315 170 
Netball:  
Primary    
Courtney Cave  021 2667946 
High School   Melissa Watts 021 2990270 
Senior    
Maree Stewart 021 2800262 
Pt Curtis CC  Sandy Shaw 021 02360740 
Rugby:  
JMB  
Te Awhina Whitehead  
021 02596889 
IMB   
Lorena Reynolds 021 1391474 
Junior Hawks  Lorena Reynolds  
Womens Hawks Bron Hames 027 4258046 
 Senior Hawks Michael Tovine  021 1386461 
Squash    
Bruce Leslie   021 1268015 
Tennis    
Andrea Orchard 021 02346849 
Sports Club Contacts please let me  
know are these details correct?  
Send to 
kaiwakabugle@kaiwaka.co.nz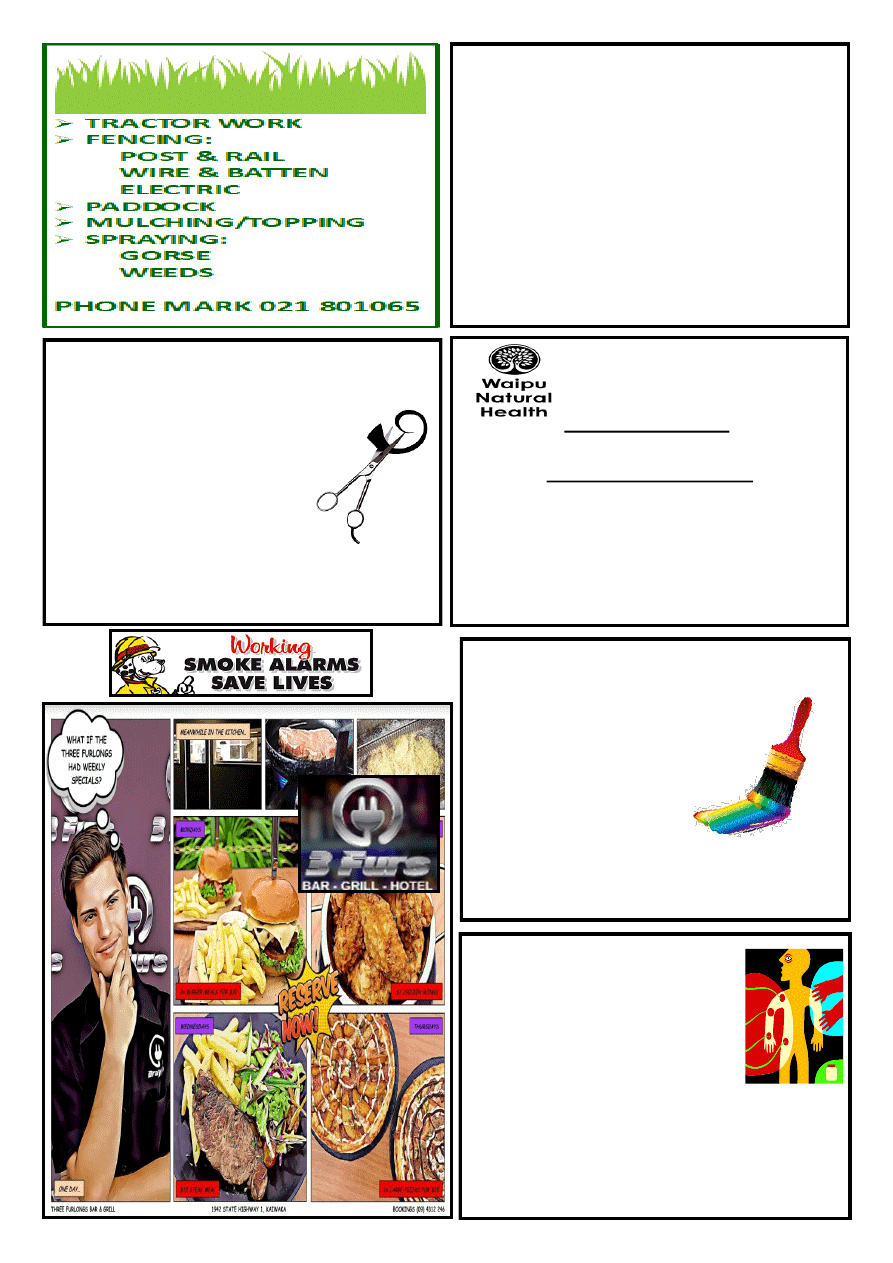 JUST CUTS  
and MORE  
1758 Cove Road  
Open Monday-Saturday  
by appointment only 
Saturday 9-12pm  
Affordable prices: 
Ladies cuts from $35 ~ Colours from $120 
Men's from$25 ~ Kids from $18 
0211652629  
3 Cove Road, Waipu 
(opposite the Pizza Barn
) 
094321325 
www.waipunaturalhealth.co.nz 
Clinical Nutritionist: 
Nutritional Checkups, Diets for Chronic 
Diseases, Food Sensitivities 
Naturopathic Physician: 
Ozone Therapy, Prolotherapy 
Reflexology, Craniosacral Therapy, Trauma 
Release, Massage Therapy 
Counselling and Hypnotherapy 
Change Catalyst/ThetaHealer 
Affordable Children's Consults 
All therapists are fully qualified
Willow Bend
HORSE HOTEL 
#
Total Horse Care   
# 
Agistment 
# 
Riding Lessons  
#
 Arena Hire (60x40) 
# 
Young Horse Starting 
# 
Re-training/Exercising 
#
Hoof Trimming  
# 
Problem Solving 
Phone Sue  
09 431 2817 or 021 623 776  
Or email  
susanjoll11@gmail.com 
OWEN STEVENS 
Osteo Therapist
For careful adjustments to  
bones and joints 
Treatment for  
humans and their pets 
Clinics: 
Kate's Place, Kaiwaka: 
Last Friday of month 9.00am-5.00pm 
For bookings: 
Phone 
09 4312661 
Or phone Owen  09 4317123 anytime 
LEE COOPER PAINTERS 
(Kaiwaka Based) 
*30 yrs Experience 
*Interior/Exterior 
*New and Restoration 
*Honest and Reliable 
*Free Quotes 
09 4312918 
0274735171 
leecooper@xtra.co.nz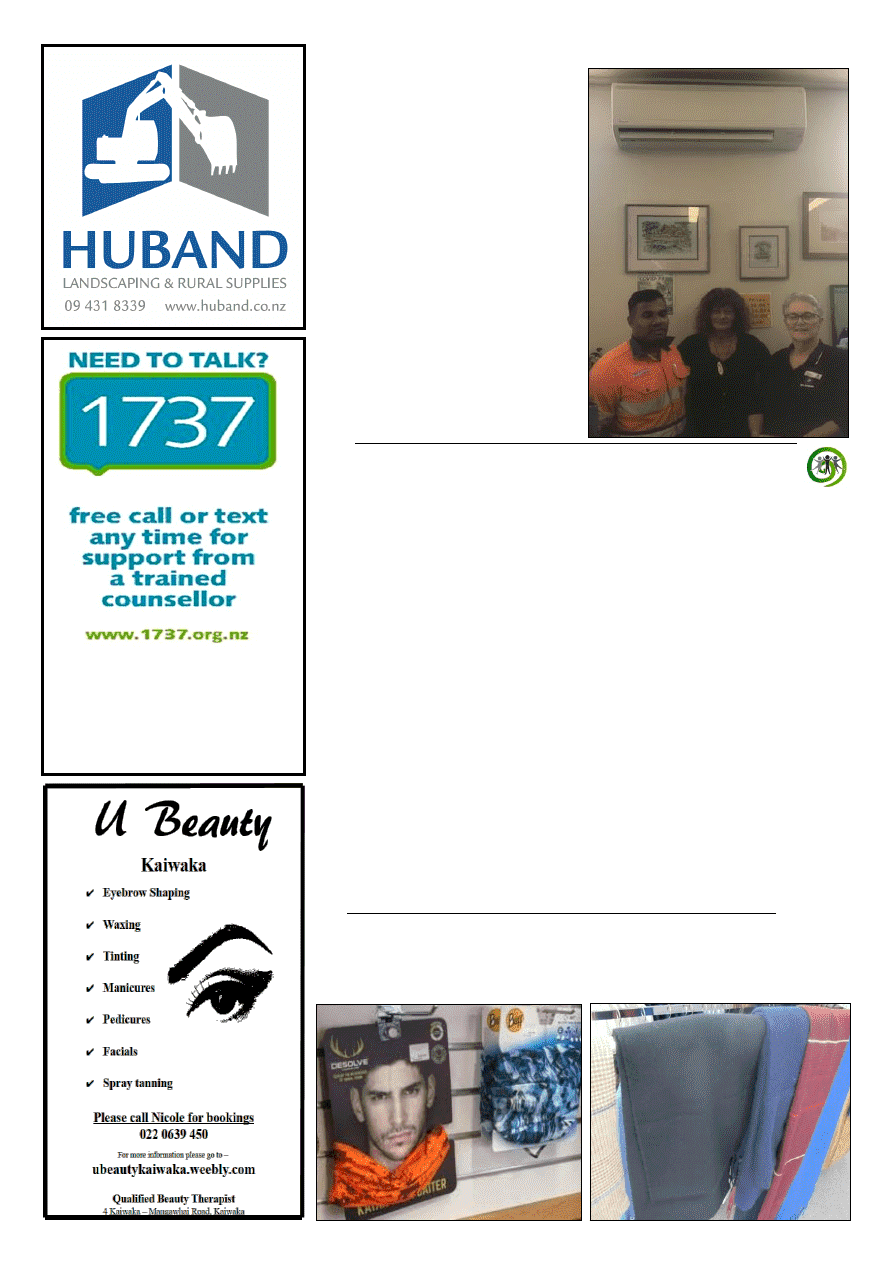 www.kaiwaka.co.nz 
Kaiwaka Bugle - 18 August, 2020 
Page 13 
A COVID-19 MASK 
HP considered a mouth covering against covid-19. There were ready-mades and 
instructions  on  how  to  make  your  own  but  I  liked  the  dual  purpose  neck 
warmers (neck gaiter)  and a menswear shop offered scarves - both suited and I 
chose a scarf. 
 Our  fantastic  workers  in  the  Op  Shop 
have  had  several  reasons  to  celebrate 
recently. 
Not  only  have  they  revamped  the  area 
so  items  are  easier  to  locate  but  also, 
they  will  not  have  to  endure  the 
discomfort  that  varying  seasons  have 
provided in the past. 
The  shop  has  had  two  heat  pumps 
added  which  will  help  temperature 
control  in  both  upper  and  lower  levels 
throughout  the  year.  However,  this  is 
only  the  start  of  the  good  news.  When 
Wave  Refrigeration  from  Dargaville 
learnt of our need they very generously 
offered  to  install  two  devices  but  only 
charged  us  for  one  a  saving  of  more 
than  $3,000.  We  are  very  grateful  for 
this  fantastic  gesture  and  it  has  proven 
to  us  once  again,  the  importance  of 
shopping local when we can. 
Remember,  the  Op  Shop  is  open 
Tuesday  to  Saturday  so  feel  free  to 
come in and browse around in comfort. 
Photo  right:  Installer  Vinay  from  Wave 
Refrigeration  in  Dargaville  with  volunteer 
Priscilla and Op Shop manager Diane.  
Senior's Lunch  
It  was  a  special  day  on  Wednesday  5 
August! Our first Senior's Lunch at the 
St  John  Hall  since  Lockdown. 
Although  the  home-  delivery  service 
was  very  well  received  in  early  July, 
the general feeling was, 'we can't wait 
to  come  back  to  see  all  our  friends 
again.'  So,  it  was  a  happy  day  for  all 
with  a  chance  to  catch  up  and  a  tasty 
lunch.  To  see  the  many  smiling  faces 
was  a  treat  for  all  the  hardworking 
volunteers who enjoy putting this event 
together.  Make  sure  you  don't  miss 
out,  the 
next  senior's  lunch  is 
Wednesday 2 September, St John 
Hall, Maungaturoto. 
The  regular  Fun  and  Games  and 
Chocolate  Bingo  are  up  and  running 
again  too,  its  plain  to  see  the  happy 
participants have been waiting for them 
to  begin.  Unfortunately,  the  virus  kept 
us  shut  in  for  a  long  time  but  it  was 
totally  necessary  just  so  we  can  stay 
well. 
The  community  van 
had to go to the 
panel  beater,  so  the  4th  Wednesday 
shopping trip was cancelled. 
We  will  be  going  twice  this 
month  as  usual  so  phone  the 
Community  House  to  put  your  name 
down., 09 431 9080. This is a nice day 
out  whether  you  need  to  shop  or  not 
and  if  you  want  to  stop  anywhere  in 
Whangarei  you  only  need  to  ask  our 
driver. 
We  thank  our  generous  donors  who 
give bedding, children's clothing, fresh 
produce  and  eggs.  This  is  just 
wonderful  and  so  gratefully  received. 
Thanks  also  to  the  financial  groups 
who  help  supplement  the  contributory 
funds  received  from  Government.  We 
could  not  do  the  work  we  do  without 
you all. 
Our  services  include 
counselling, 
parenting,  budgeting,  senior  support, 
addiction  support,  social  work,  food 
bank.  For  information  on  any  of  these 
please call us on 431 9080 and we will 
be happy to help. 
As  I  write  we  have  been  advised  that 
from  mid-day  we  will  be  in  Level  2 
while  Auckland  is  in  Level  3 and  will 
continue until 26 August. 
Be Kind to each other and stay safe, 
From all at OCS. 
KAIWAKA ST JOHN OP SHOP 
OTAMATEA COMMUNITY SERVICES 
Are 
you 
feeling 
anxious, 
overwhelmed or just need someone 
to talk to? Call or text 1737 
Do  you  know  someone  who  is 
feeling  out-of-sorts  or  depressed? 
Let them know they can call or text 
1737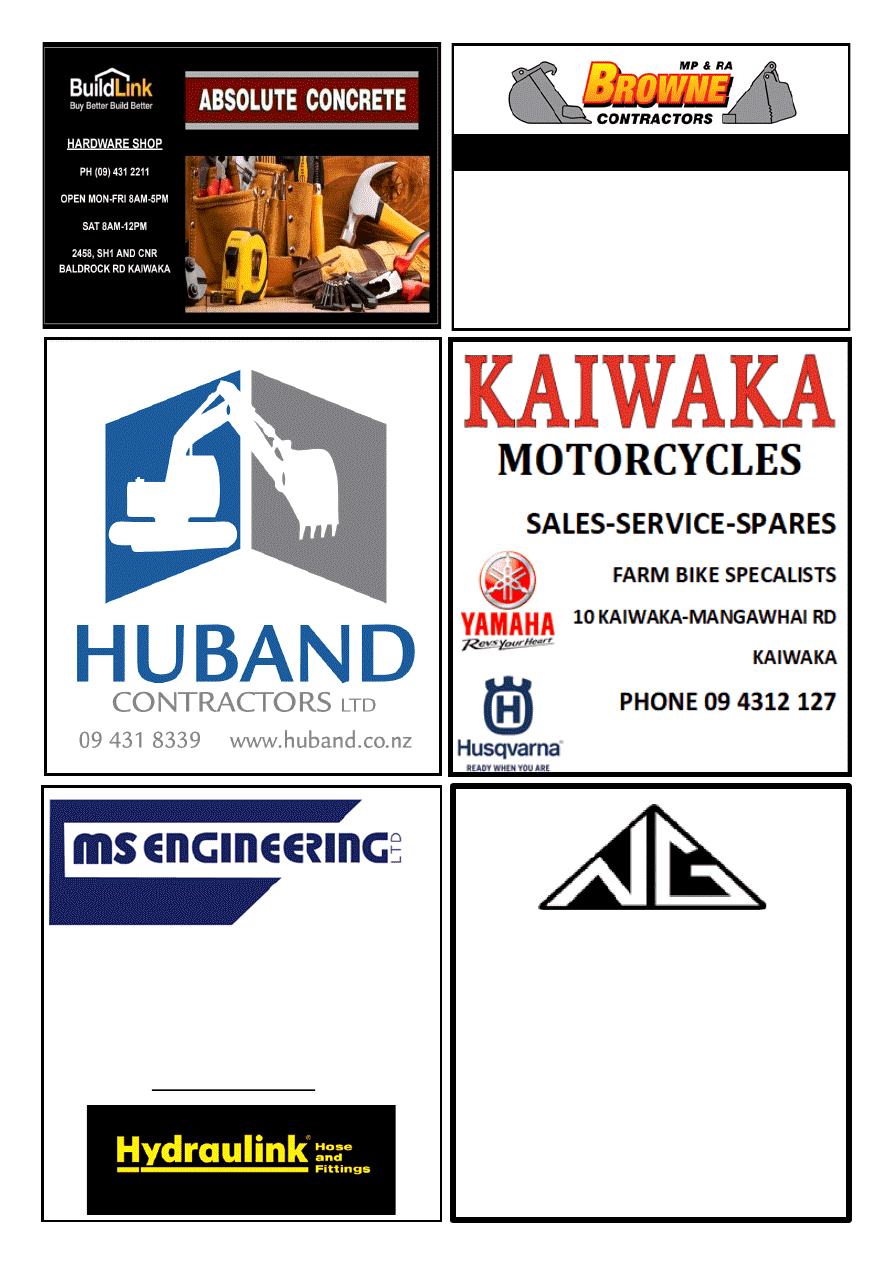 4Tonne DIGGER – BOBCAT – TIP TRUCK 
 Property Maintenance - Driveways  
 Building Sites 
Stump & Tree Removal  
Hole Boring - Chain Trencher  
Calf Shed and Stockyard Cleaning 
Phone Matt: 021 199 6677 
Email: mprabrownecontractors@gmail.com 
NORTH GLASS 
WINDSCREEN REPAIR OR REPLACE 
GLAZING SERVICES 
MIRRORS  •  SPLASH BACKS  •  SHOWERS 
0800 70 40 10
info@northglass.co.nz 
www.northglass.co.nz 

Peter Buckley 

Mobile Hose Technician –  
                      Based from Oneriri Road 

Available for all mobile hose                                
                      requirements onsite 

Call – 0800 425 7116 

Email – mse@mseng.co.nz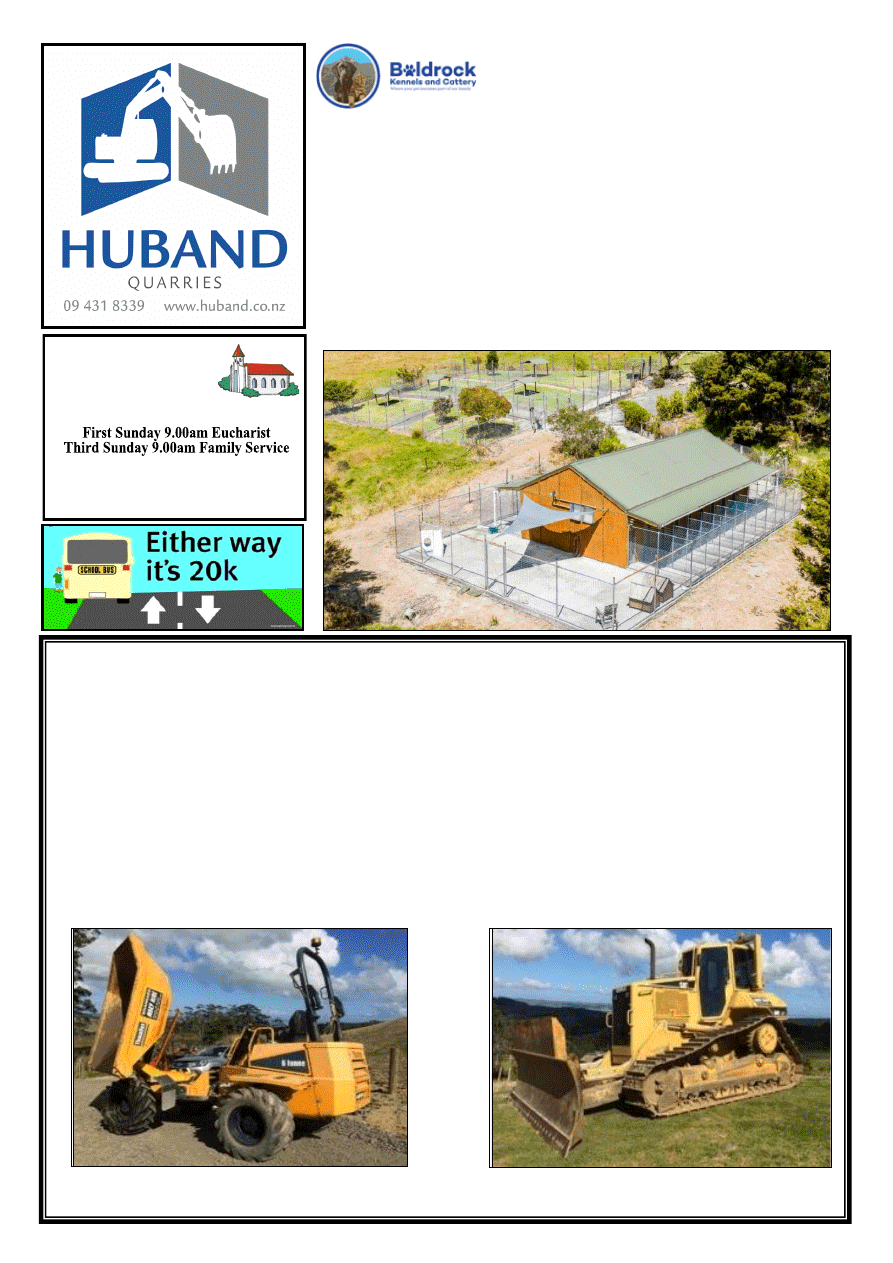 www.kaiwaka.co.nz 
Kaiwaka Bugle - 18 August, 2020 
Page 15 
ST PAUL'S  
ANGLICAN  
SUNDAY SERVICES 
St Pauls Church: Kaiwaka-Mangawhai Rd. 
Priest in Charge Rev. W Thornton Ph 431 4122 
www.mangawhaianglican.org.nz
BALDROCK KENNELS  
AND CATTERY 
Baldrock Kennels and Cattery has reopened its doors! 
This  popular  business  is  now  owned  and  run  by  an 
animal  loving  family  who  took  over  in  July  2020,  with  boarding  for cats  and 
dogs and doggy day-care. 
Camille  is  an  experienced  qualified  veterinary  nurse  and  has  always  had  a 
passion  for  animals.  Her  husband  Dylan  is  an  Account  Manager  for  Carters 
Mangawhai and also has a love for animals and helps out at Baldrock when he 
is at home.  
Camille  and  Dylan  live  on  site,  their  house  is  situated  nearby  the  cattery  and 
overlooks the kennels. 
Camille says, "When your pets come to stay with us, they will be treated as if 
they  were  one  of  ours.  They  will  receive  lots  of  love  and  pats,  plenty  of 
opportunity to exercise and play. And of course, be fed twice a day with a good 
quality diet, with a variety of excellent brands to choose from." 
They now have 'Doggy day-care' available:  Drop off 7:30-9am - Pick up 4:30-
6pm, bookings essential. 
Baldrock Kennels and Cattery are at 125 Baldrock Road, Kaiwaka. 
For more information: 021 129 2782, www.baldrock.co.nz or Facebook 
WHANGAREI MOXY HIRE!  
THE POWER OF EARTHMOVING! 
Whangarei Moxy hire are a large earthmoving company with 80 
machines available for hire with or without operators. 
Bulldozers, Compactors, Diggers and 30 – 40 ton dump trucks. 
Whether you need help cleaning out drains, roads, fence lines, dams or 
culverts, Whangarei Moxy Hire have you covered Northland wide! 
Visit www.whangareimoxyhire.co.nz or call 09 434 4272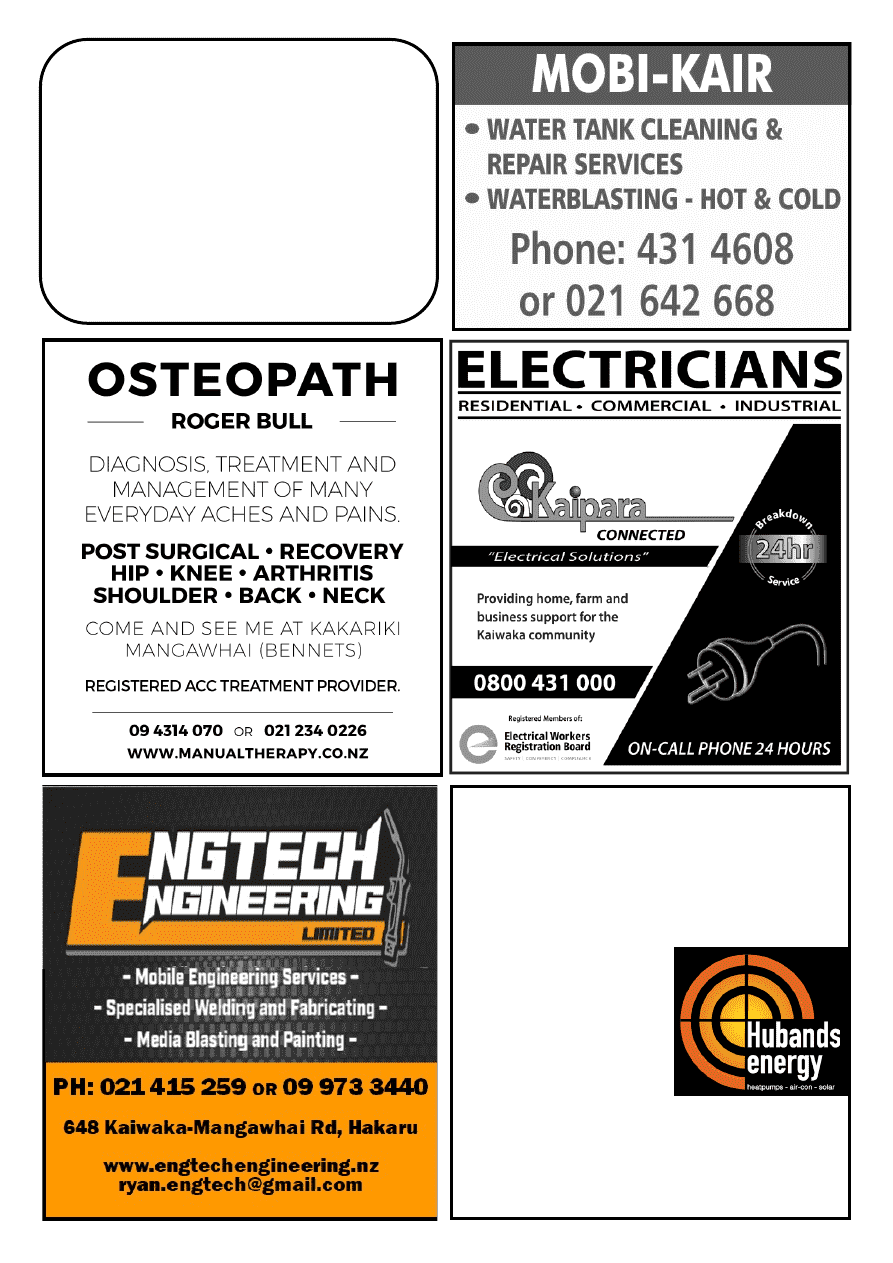 Northland's Award Winning 
Solar Company
SEANZ Best Solar Business Winners 2015/16
EXCLUSIVE 10 year installation warranty 
FREE No obligation onsite quote
Complete systems 
from $5990
See our range of: 
✓ 
Heatpumps 
✓ 
Airconditioning 
✓ 
Hot Water 
Heatpumps 
✓ 
Central Vacuum Systems
09 430 0019             sales@hubands.co.nz 
15 Kioreroa Road, Whangarei
Locally owned and operated for 35 years 
UP-LINK 
CHRIS WARING 
FREEVIEW INSTALLATIONS 
T.V. - HOME THEATRE &  
HI-FI ADVICE/SET UP
SKY ACCREDITED INSTALLER
MOB.0273403747 HM.094312328 
EMAIL cwaring44@gmail.com
28 YRS EXPERIENCE 
OFFERING UNBIASED ADVICE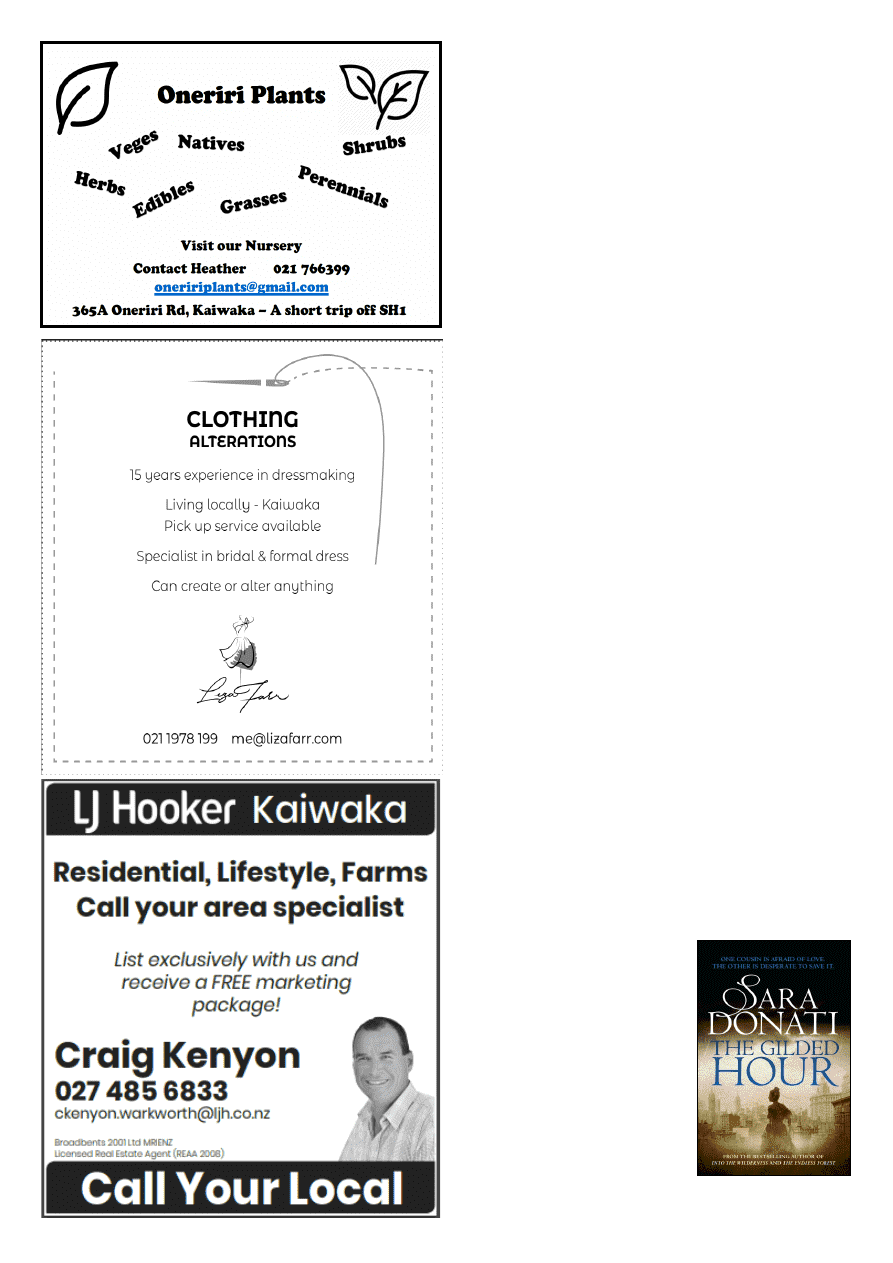 www.kaiwaka.co.nz 
Kaiwaka Bugle - 18 August, 2020 
Page 17 
KAIWAKA LIBRARY
CHANGES IN COVID-19 ALERT LEVELS 
As I type this on Friday morning, we are currently in Alert Level 
2, and waiting to hear later today if/how that is going to change. 
In  Level  2,  we  are  open  for  business.  You need to sign in for 
contact  tracing  when  you  come  in  the  door  then  sanitise  your 
hands, and keep 1m from other people, otherwise it is pretty much 
business as usual for us. We have a box on the table in the foyer 
for you to place your returning items  - simply so we can control 
when they are processed, not for quarantining purposes. 
If  you  are  unwell  with  anything  contagious  (cold,  flu,  stomach 
bugs,  etc),  please  do  not  come  into  the  library.  This  should  be 
normal practice for everyone at any time, but sadly it isn't. If you 
want  books,  get  in  touch  and  we  will  make  arrangements  to  get 
some to you. 
IF  we  go  to  Level  3,  we  will  have  to  close.  In that case, keep 
hold of any library items  until the  library opens again; their due 
dates  will  be  extended,  and  we  won't  charge  overdue  fees  on 
items that  were due back after lockdown commenced. (We don't 
charge  overdue  fees  on  books  anyway,  only  DVDs  and  Blu-
Rays.) 
24-HOUR ACCESS TO ONLINE SERVICES 
Our digital collections are always available, all day every day, to 
all  library  members.  From  our  three  book  providers  you  can 
borrow eBooks and eAudiobooks to download to your computer, 
phone, or tablet. And you can read magazines and newspapers via 
PressReader - including those "premium" articles from the Herald 
and Advocate that are normally blocked on their web site unless 
you have a paid subscription with them. 
FREE WI-FI 
If we end up there, we will leave our free wi-fi going in lockdown 
provided  it  does  not  create  a  public  nuisance  (i.e.,  keep  your 
distance  from  people  not  in  your  bubble).  Anyone  can  do  this; 
you don't need a  library card. Park outside the library and use it 
from your car to download content from your streaming services 
to watch at home (such as Netflix); saving your precious data cap 
at  home  for  other  things  (you  can  do  this  any  time,  not  just  in 
lockdown).  There  is  no  password,  just  look  for  one  of  the  two 
streams - Kaiwaka_Library is the slower of the two, but the signal 
travels  furthest,  while  Kaiwaka_Library_5  is  faster,  but  doesn't 
the signal travel as far. 
HAVEN'T JOINED THE LIBRARY YET? 
It's not too late. Go to Enterprise* and click on the big green "Join 
the Library" button on the left of the screen and sign up. If we're 
in lockdown, select to be a digital-only member and you'll be able 
to access our online collections (books, audio books, newspapers, 
and magazines) straight away. 
You  can  convert  your  digital-only  membership  to  a  library  card 
and  start  borrowing  physical  items  by  coming  into  the  library 
when  we're  open  with  some  ID  (such  as  a  driver's  licence, 
passport, etc), and we will take care of that for you. 
NEED HELP? 
If you need help accessing our digital collections, call Dargaville 
Library on 0800 532 542 (0800 KDC LIB) during business hours 
- they have more experience with these than I do.  
You  can  also  reach  me  via  the  library's  phone  -  it  is  still  being 
diverted to my mobile from the last lockdown. If I don't answer, 
please leave a message as I can't see who the caller is on diverted 
calls  -  it  only  tells  me  it's  the  library.  Or  you  can  contact  me 
directly  on  my  mobile  -  027  480  6275.  I  have  loads  of  free 
minutes on my phone that I never use up, so am happy to call you 
back if needed. 
BOOK REVIEW 
Recently I've read The Gilded Hour by 
Sara  Donati,  which  follows  on  from 
the  Wilderness  series.  It's  now  1883, 
and  we  meet  two  cousins,  Anna  and 
Sophie,  granddaughters  of  Hannah, 
who  are  both  successful  physicians  in 
their  own  right.  Life  in  New  York  is 
never  dull,  and  the  two  women  soon 
find  themselves  embroiled  in  events 
beyond  their  control.  It's  an  excellent 
read,  and  I'm  looking  forward  to  the 
next  book  in  this  new  series;  they're 
both on our Rental Fiction shelves. 
See you in the library! ~Wendy 
Kaiwaka  Library,  cnr  State  Highway  1  and 
Kaiwaka Mangawhai Road. Phone 4312 539. Email kaiwaka.library@gmail.com 
Open  Wed-Sat  10am-2pm,  Mon  4-6pm.  Free  membership  is  available  to  all 
residents in the Kaiwaka area.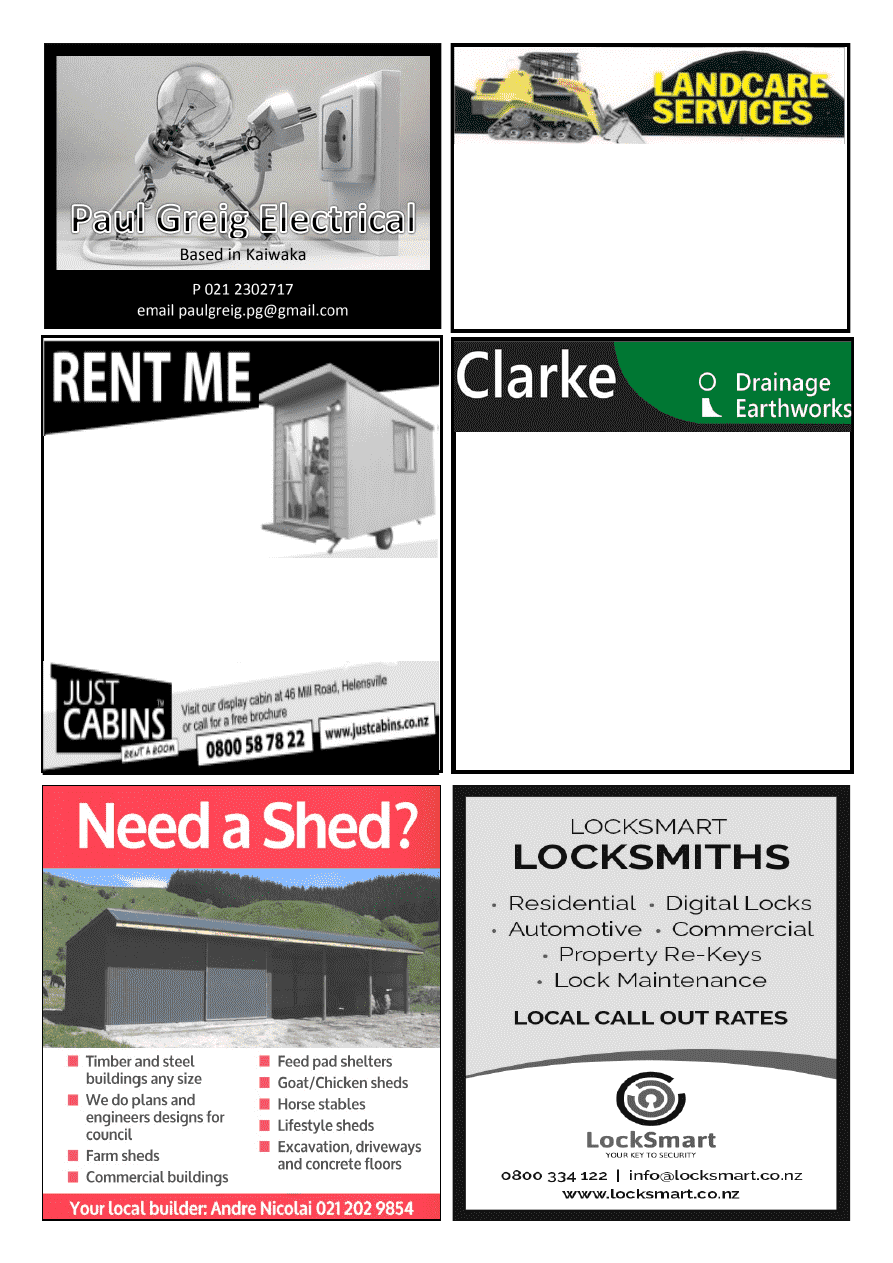 Drainage & Earthmoving 
nigel@clarkedrainage.nz 
027 2233 185 
Registered Drainlayer                    All Types of Earthworks  
> All Residential & Commercial Work  > House Sites 
> Septic System Design & Install          > Footings & Drilling to 10m 
> Sewer Connections 
                       > Dams 
> Water Tank Installation 
               > Roading & Races 
       > Farm Work 
THE ONE STOP SHOP  
LANDSCAPING 
4 IN 1 BUCKET 
TRENCHER 
POLE HOLES 
ROTARY HOE 
COMPACT ROLLER 
OFFAL HOLES 
CAN SUPPLY WOODCHIP & POST PEEL 
5 TON TIPPER 
FOR RELIABLE AND FRIENDLY SERVICE CONTACT DAVE 
Dave Hyndman 
 
KAIWAKA 
PH: 09 4312302 
MOB: 021 431 238 
Ideal as an extra  
bedroom or office 
Three Convenient sizes: 
Standard 3.6m x 2.4m - $65 
per week 
Large 4.2m x 2.4m - $80 per week 
Extra Large 4.8m x 2.4m - $100 per week 
Fully insulated. Minimum 6 months rental period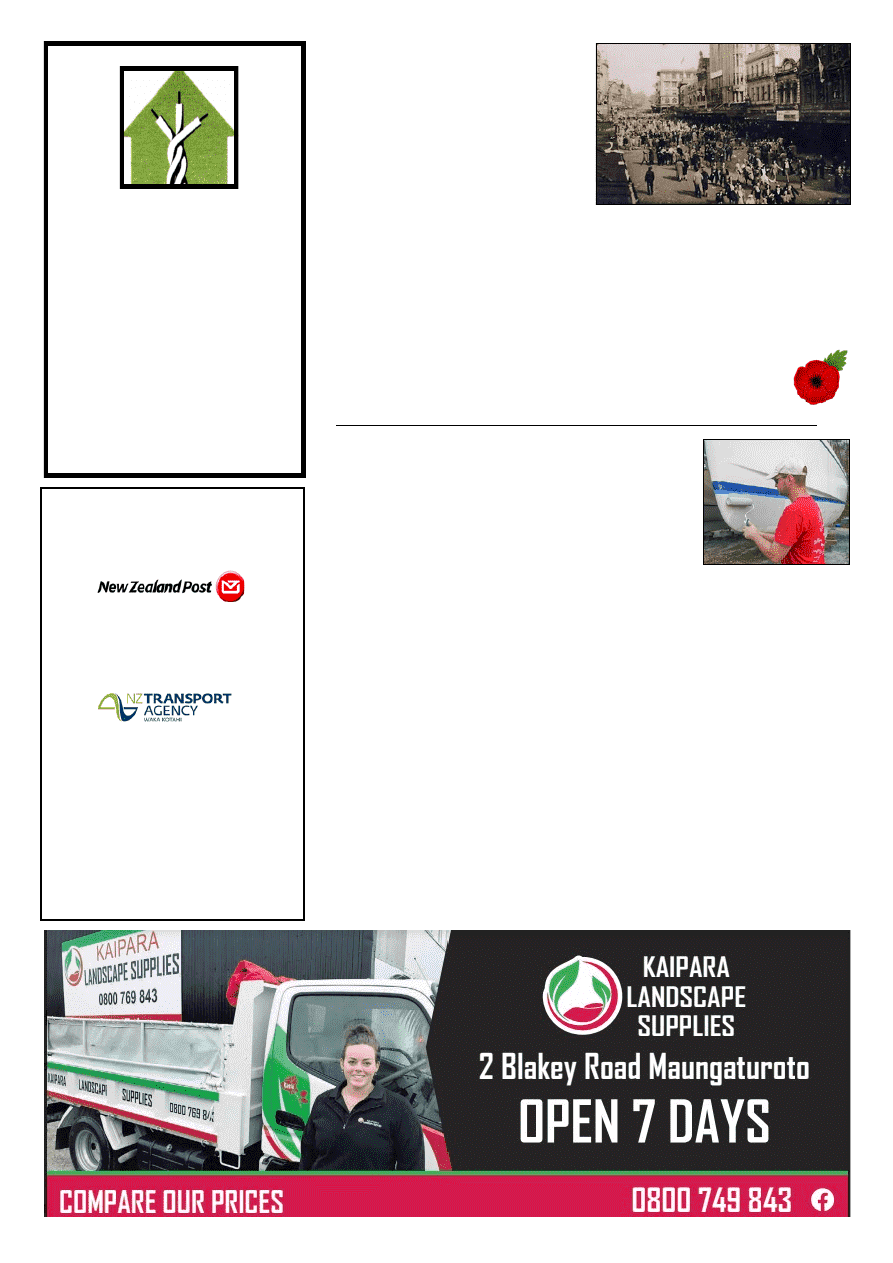 www.kaiwaka.co.nz 
Kaiwaka Bugle - 18 August, 2020 
Page 19 
Reyahn George 
Leng 
Registered Electrician 
Local, honest and reliable. 
For your residential and 
light-commercial projects. 
022 314 1068  
KAIWAKA POST 
CENTRE and 
FOOD MART 
POST CENTRE TRADING HOURS 
MONDAY to FRIDAY 8am to 5pm 
SATURDAY 8am to 12pm 
CLOSED ON SUNDAY and on 
PUBLIC HOLIDAYS 
FOOD MART (GROCERIES)  
MONDAY TO FRIDAY  
7:30am to 7.30pm 
SATURDAY  8am to 7.30pm 
SUNDAY  8:30am to 7pm 
IF ANY QUERIES PLEASE CALL 
STORE MANAGER AMRIT  
on 09 4312431 or 
EMAIL: kaiwakafood19a@gmail.com 
1919a State Highway1, Kaiwaka 0542 
BOAT HOLES 
A  man  was  asked  to  paint  a  boat.  He  brought  his  paint 
and brushes and began to paint the boat a bright red, as 
the owner asked him. 
While painting, he noticed a small hole in the hull, and 
quietly repaired it. 
When  he  finished  painting,  he  received  his  money  and 
left. 
The next day, the owner of the boat came to the painter and presented him with 
a nice cheque, much higher than the payment for painting. 
The  painter  was  surprised  and  said  "You've  already  paid  me  for  painting  the 
boat Sir!" 
"But this is not for the paint job. It's for repairing the hole in the boat." 
"Ah! But it was such a small service... certainly it's not worth paying me such a 
high amount for something so insignificant." 
"My dear friend, you do not understand. Let me tell you what happened: 
"When I asked you to paint the boat, I forgot to mention the hole. 
"When the boat dried, my kids took the boat and went on a fishing trip. 
"They did not know that there was a hole. I was not at home at that time. 
"When I returned and noticed they had taken the boat, I was desperate because I 
remembered that the boat had a hole. 
"Imagine my relief and joy when I saw them returning from fishing. 
"Then, I examined the boat and found that you had repaired the hole! 
"You see, now, what you did? You saved the life of my children! I do not have 
enough money to pay your 'small' good deed." 
So  no  matter  who,  when  or  how,  continue  to  help,  sustain,  wipe  tears,  listen 
attentively, and carefully repair all the 'leaks' you find. You never know when 
one is in need of us, or when God holds a pleasant surprise for us to be helpful 
and important to someone. 
Along the way, you may have repaired numerous 'boat holes' for several people 
without realizing how many lives you've saved. 
VJ DAY 
Victory  over  Japan  Day.  Saturday  15 
August  marked  the  75th  anniversary 
since  Japan  surrendered,  effectively 
ending the Second World War 
News of Japan's surrender following the 
detonation  of  atomic  bombs  over  the 
cities of Hiroshima and Nagasaki ended 
the  Second  World  War  was  received  in 
New  Zealand  at  11  a.m.  on  15  August 
1945. More than 200,000 New Zealanders had served during six long years of 
war, and more than 11,500 had died. 
 As with VE Day in May, VJ Day events were regulated by officialdom. Once 
again, the preparations had been considerable, and the celebrations generally ran 
smoothly.  
Sirens  sounded  immediately,  a  national  ceremony  was  held,  and  local 
celebrations  followed.  Once  more  there  were  parades,  bands  playing, 
thanksgiving  services,  bonfires,  dances  and  community  sports  meetings,  and 
again there was a two-day public holiday. 
In  Auckland,  pictured  above,  where  fewer  events  were  organised, 
people  began  to  enjoy  themselves  the  moment  the  factory  whistle 
sounded, drinking, dancing and scattering confetti.  
Ref. nzhistory.govt.nz/the-war-is-over-vj-day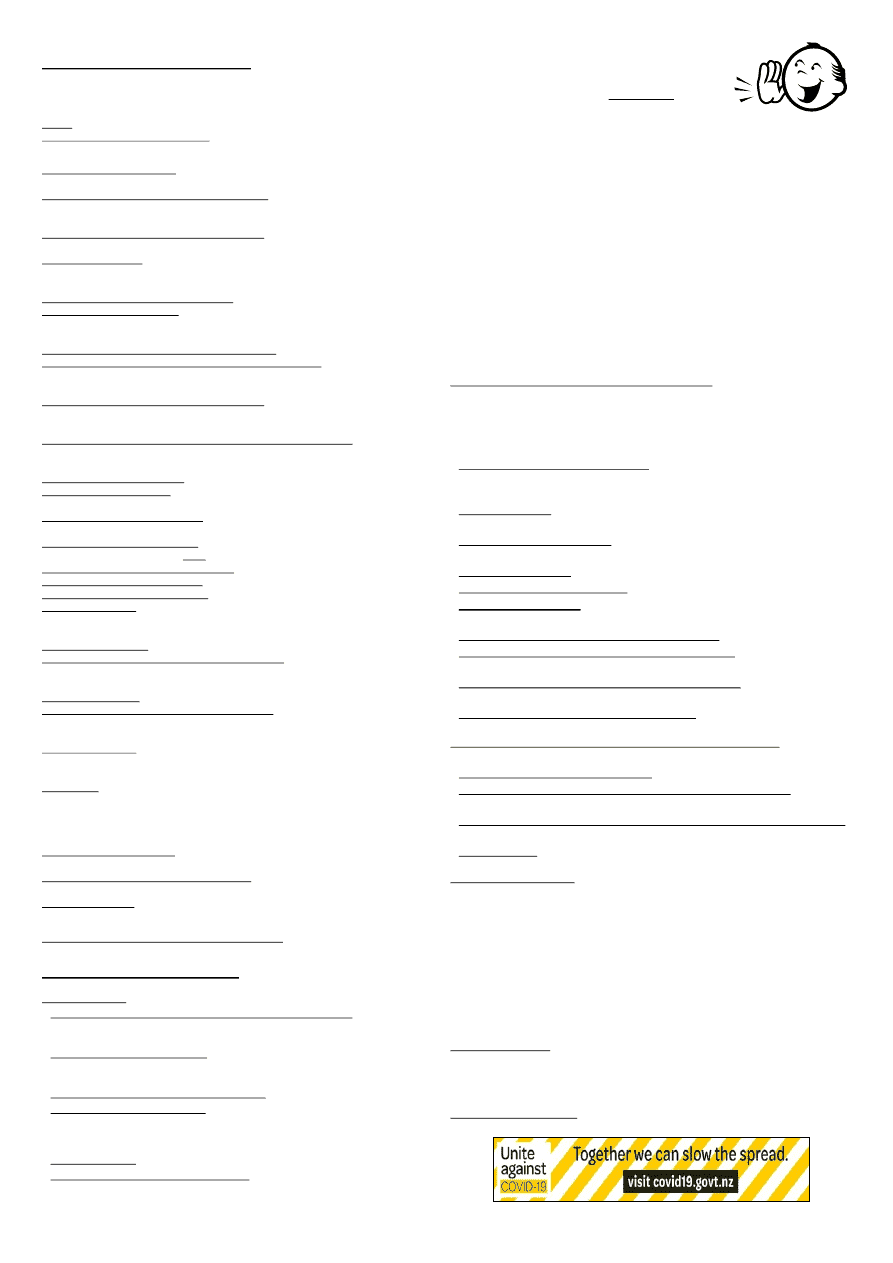 WHAT'S ON
PLEASE ~ do let us know what is on - or what 
is NOT on at the moment! 
email kaiwakabugle@kaiwaka.co.nz 
Advertising in WHAT'S ON is FREE  
*19Aug~Kaiwaka Can meet. Archie Bull Hall 5.30 
*21Aug~Kaiwaka School Disco, KSA, 5pm 
*26Aug~Otamatea High School OPTIONS EXPO 
 - for all parents/caregivers of students in years 10 - 12
*26Aug~Linking Hands AGM, Mgto, 7pm 
*28 & 29Aug~ DAFFODIL DAY 
*31Aug~ Kaiwaka School Teacher Only Day 
*8Sep~Kaiwaka War Memorial Hall & Kaiwaka 
Library, AGM, 5pm 
*16Sep~ Kaiwaka School Fun Run & Fundraiser  
KWMH = Kaiwaka War Memorial Hall; KSA = Kaiwaka Sports Association 
See www.kaiwaka.co.nz for more information 
HOUSEHOLD RUBBISH COLLECTION - Kaiwaka Pick up: 
Mondays = Green bags (Northland Waste - 09 430 3273) 
Wednesdays  = Blue bags and yellow recycling (at Jaques $3.00 
and  $1.50)  (Kaurilands  09  4392146);  ONLY  Blue  and  Yellow 
bags picked up on Oneriri Road. 
 DIABETES  Support  Group  -for  Kaiwaka,  Mangawhai, 
Wellsford  10am,  3rd  Friday  of  month  Ph:  Colleen  James  09 
4314238 
 GENEALOGY - Wellsford: 1st Thursday in month Ph: 423 
7033; Waipu: 4th Monday in month Ph: 4312 725 
 HAKARU PONY CLUB - Secretary Denise Rogers 021423376 
secretary@hakaruponyclub.co.nz  
 KAIPARA HUNT - Secretary Albert Doonenbal Ph 4312059 
 KAIWAKA BADMINTON -Tuesdays 7.30pm Ph: 4312345 
 KAIWAKA  CAN  - 3rd Wednesday in month, 5.30pm, Archie 
Bull Hall Ph: 0273572751 
 KAIWAKA DRUM & DANCE CLASSES - 021 611198 
 KAIWAKA GARDEN & FLORAL GROUP - 2nd Thursday in 
month. Ph: 431 4744 
 KNITTING FOR WHANGAREI HOSPITAL - 2nd Tuesday in 
month, Archie Bull Hall 10am Ph 4314827 
 MANGAWHAI COMBINED REBUS CLUB - 2pm, 3rd 
Thursday month, Senior Citizens Hall Mangawhai. Ph: 4315777 
*PILATES - KAIWAKA WAR MEMORIAL HALL - Ph: 
021  
2072729  
 PT CURTIS CRUISING CLUB - Jean Ph: 4312227 (wk), 4312520 (hm) 
 RSA,  HAKARU  &  DISTRICTS  WOMEN'S  SECTION  –  meets 
1.30pm 4th Thursday of the month. Ph: 431 5818  
 KAIWAKA  SCOTTISH  COUNTRY  DANCING  CLUB-
Wednesdays 10am - 12 noon  Ph: Elaine 027 432 0032  
 TRAMPING - Mondays 9am-2:30pm Maria 4312 234 
HALLS FOR HIRE: 
  Kaiwaka St. John Hall: Phone Marj  0272941227  
 St.Pauls Archie Bull Hall HIRE $20 half day, $40 full day per 
hire, S McAulay, Ph 4312311 
 Kaiwaka  War  Memorial  Hall  HlRE  -  Phone  4312725  or 
kaiwaka.hall.bookings@gmail.com 
 Hakaru Community Hall HIRE -Ph.  Karen 4312090 
 Te Pounga Marae queries - Pearl Nathan  0223933533 
 Kaiwaka Sports Association hire/queries - P Jaques 4312227 or 
kaiwakasports@gmail.com 
Justice of Peace:  
B.FJaques  4312  048;  L.Donaldson  4312  228;  A.F.Hargreaves 
4312 045, W.Howard 4312 725,  D.Edwards 021611198 - please 
phone  to  make  sure  they  are  available  or  go  to 
www.justiceofthepeace.org.nz 
Marriage Celebrants:  
L.Donaldson; A.F.Hargreaves; Y Osborne
LOCAL SERVICES 
*Emergencies - Ambulance, Fire, Police - dial 111 
*Non-urgent Police phone 105
A A: Meets Wed., 7.30pm Kaiwaka Ph: 4315543, 0800229 6757 
NARCOTICS ANONYMOUS : Mon., 6.30pm, Kates Place; drug and 
alcohol related issues. Ph. 02102412348 
ASUREQUALITY LTD (was AgriQuality) Call Free 0508 0011 22  
BUDGETING SERVICE, WELLSFORD: Free confidential advice & 
support for all areas of personal finance. Ph (09) 423 7123 
CAB-Citizens Advice Bureau.Wellsford Ph: 4237333 
0800 367 222 email:cab.wells@xtra.co.nz  
CIVIL DEFENCE - Kaiwaka Community Response Group: 
kaiwaka.civildefencecrg@gmail.com, 4312725 Wendy 
DOG/STOCK /NOISE CONTROL 0800 105 890 
FUNERAL SERVICES: Morris & Morris Ltd, 
Whangarei - Bev Jaques Ph:4312367 or 0800667747 
GRANDPARENTS Raising Grandchildren: Dianah Roberts 0223819539 
HAKARU & DISTRICTS MEMORIAL RSA (Inc) 733 Settlement Rd, 
Hakaru. Ph 4312 176 or Bill Warren (President) 431 2092 
HAKARU LANDFILL/Transfer Station:Open everyday  10am-
4pm.Ph4312629 Cost-$55 trailer load up to 1 cubic metre. Ph:4258567 - 
office 
KAIPARA DISTRICT COUNCIL www.kaipara.govt.nz:  
Help Desk FREEPHONE 0800 727 059  
KAIWAKA CEMETERY: Ph: 4312045 or 4314017 
KAIWAKA LIBRARY: kaiwaka.library@gmail.com  
Mon. 4-6pm; Wed., Thurs., Fri., Sat. 10am-2pm Ph:4312539 
KAIWAKA PLAYCENTRE: Ph Juanita 0274134904; open Mon, Wed, 
Fri 9am-12pm. Hastie Lane; Monday to Friday 9.00am - 12 noon. 
KAIWAKA POST OFFICE:Ph:4312 431  
Post Code: 0573 for RD2 and 0542 for all Kaiwaka Post Office mail 
KAIWAKA PRIMARY SCHOOL: Ph: 4312309   
KAIWAKA SPORTS ASSN: Ph 4312005; 4312129 gym 
KAIWAKA ST JOHN HALL: Phone Marj  0272941227  
KATE'S PLACE Community Centre - Employment services, Free Health 
Nurse, Plunket, Advocacy, Osteopath, A.A., Legal Advice. 4312 661 
LINKING HANDS Health Shuttle Ph 4315906 or 09 4318969 
MINISTRY FOR PRIMARY INDUSTRIES - General inquiries Call 
Free 0800 008 333 
NORTHPOWER: Faults Kaiwaka area 0800 104040 
OTAMATEA COMMUNITY SERVICES: Counselling, parent coach, 
Family Support worker, budget advice, food bank. Mon-Fri 9am-3pm. Ph 
09 431 9080 http://www.otamateacs.org/ 
PARENTPORT: Free, practical family support service Puhoi to Paparoa 
Ph or txt: Dianne 027 280 5093 or 09 425 9357 
PLUNKET:  Kaiwaka  -Kate's  Place  Clinic  1st  Wednesday  of  the  month; 
Mangawhai  - Rose Madsen Cottage: Coffee Group 9:30 every Monday.  Clinic 
every Monday and Thursday. 
Maungaturoto - Good News Church, Clinic 2nd and 4th Wednesday.  
Cynthia 09 431 7340 or 027 675 3488 
PLUNKET HELPLINE -0800 933 922 (24 hours) 
TAITOKERAU COMMUNITY LAW: Free confidential legal advice and 
assistance, 2nd
Thursday
 of each month. Ph: 0800 155 529 for appts.  
TE URI O HAU Settlement Trust Tangata Developments: Whanau Ora 
021 793262  
VETERINARY SERVICE MANGAWHAI: 
Ph: 4314535 Mon-Fri 8.00-5.00, Sat 9-12, a/h appt. 
WELLSFORD DOCTORS: Ph: 4238 086 
CHURCHES:
 
Kaiwaka  Revival  Church  -  Your  Community  Church:  Sundays  10am. 
Ph: Pastor Tawhiri 09 431 8988 or Pastor Paul 09 4312 068 Visit us at 
www.facebook.com/kaiwakachurch 
 
St  Paul's  Anglican  Church  1st  Sun.  9.00am  (Eucharist),  3rd  Sun. 
9.00am (Family Service). Contact: Rev. Wayne Thornton Ph 431 4122 
www.mangawhaianglican.org.nz 
 
Church of Christ the King, Mangawhai:9.00am every Sunday 
 
St.Mary's  Catholic  Church:  Maungaturoto  –  Griffins  Road,  Saturday 
evening  Vigil  Mass  6pm;  Mangawhai  –  Senior  Citizens  Hall,  Sunday 
Mass  8:30am;  Wellsford  –  Matheson  Road,  Sunday  Mass  10:30am;  
Mid-week Mass times and all enquires to Fr. Bill Fletcher – phone 423 8170
 
Baptist Church: Sun. 10.30am Mangawhai Snr Cit.Hall.Ph:4312339 
 
Cause  Way  Church  Mangawhai:  Sundays  10.15am,  Mangawhai 
Community  Recreation  Centre,  Insley  St.  Ph:  09  4314782 
Next Bugle Deadline Friday 28 August 2020