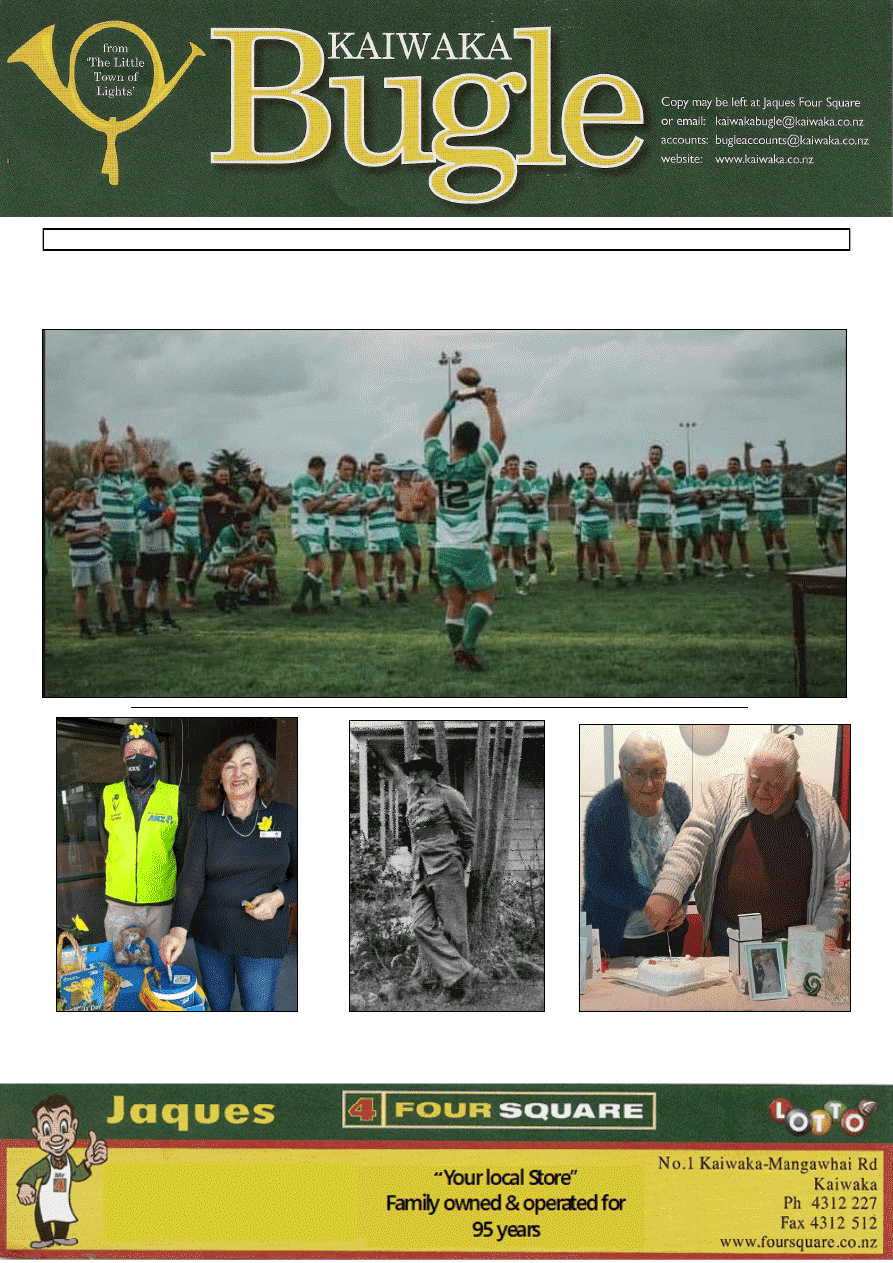 www.kaiwaka.co.nz 
Kaiwaka Bugle - 1 September 2020 
Page 1 
No.17 
1 September 2020 
Saturday 22, 2020 at the Maungaturoto Country Club grounds was not only  an exciting and successful day it,  also ended 
a season frustrated with Covid-19. The day's game was kept to a crowd of 100 and was fenced, especially between the 
No.1 and No.2 fields - although folk were able to stand at a distance outside this perimeter. Folk at home with access to 
OTAMATEA HAWKS 2020 CHAMPIONS  
KAIWAKA DAFFODIL DAY 
Tony behind the mask with Gale  at the 
La Nonna stand. 
WINTER HOURS: 
Monday - Friday 8am – 6.30pm 
Saturday 8am – 7pm 
Sunday 9am - 6pm 
WINTER HOURS: 
Monday - Friday 8am – 6.30pm 
Saturday 8am – 7pm 
Sunday 9am - 6pm 
KAIWAKA AT HOME 
Gunner  Bruce  Leslie  on  final 
leave, 1940 . 
KAIWAKA  LOCALS 
Kevan 
and Joan Marks celebrated 60 year on 
Saturday  - see page 17. 
Continued on page 11 ...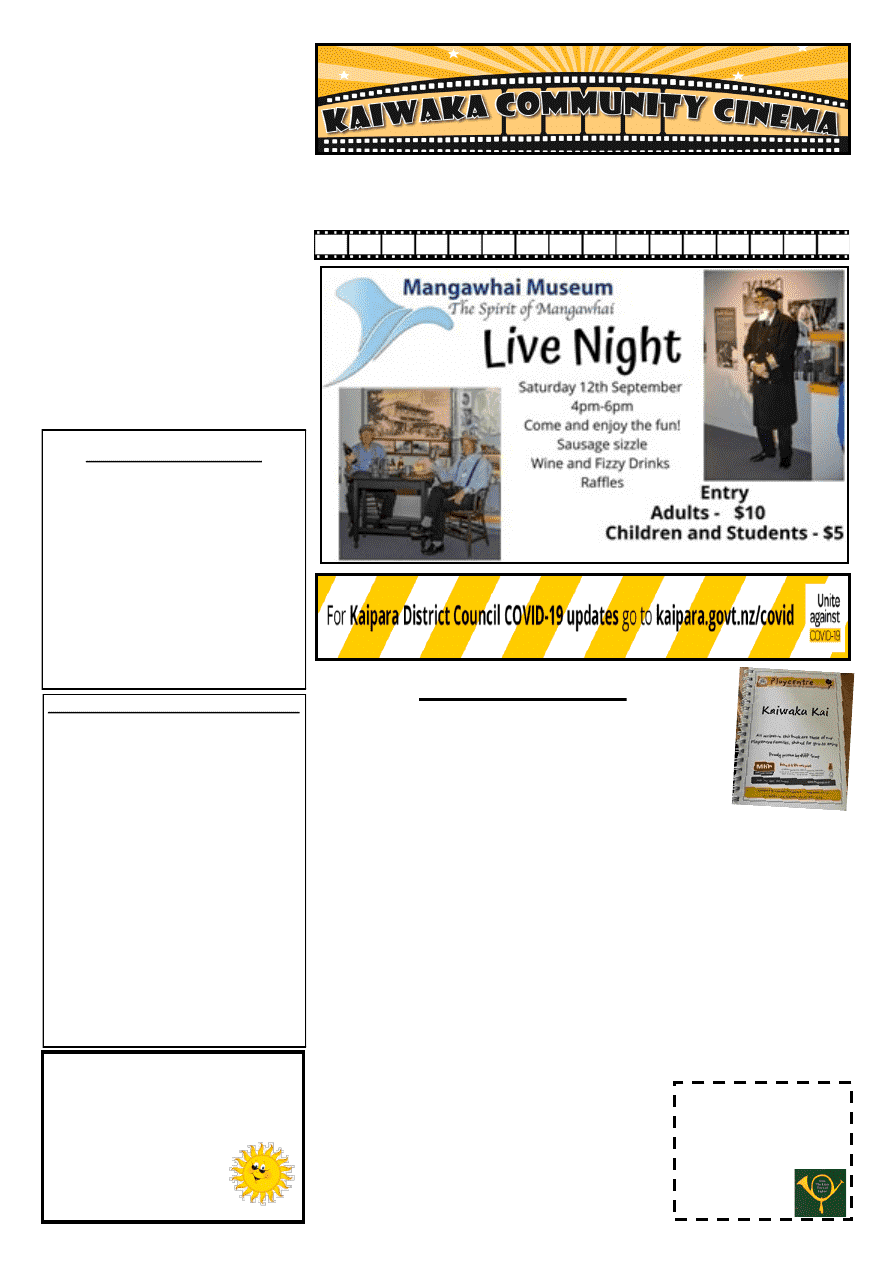 Proverbs 16:12:  
Good leaders abhor 
wrongdoing of all kinds; 
sound leadership 
has a moral 
foundation. 
At Kaiwaka War Memorial Hall . Adults $10, Kids (under 16) $5, Family Pass (2 adults + 3 children) $25 
ABOUT TOWN 

 Well  done  Otamatea  Hawks  Seniors  on  winning  the  2020 
South Zone Division One championship!

 Tuesday  8  September,  5pm:  Kaiwaka  War  Memorial  Hall 
and  Kaiwaka  Library  Annual  General  Meeting  -  come  and 
hear  the  reports,  including  how  the  movies  help  keep  this 
community asset alive ... 

 Note: For those on Facebook  - there are regular new book 
updates on the Kaiwaka Library page. 

 Kaipara  Basketball  Miniball  continues  on  Mondays  under  Level  2 
restrictions.  

18  August  marked  Vietnam  Veterans'  Day.  Auckland  Museum  honours  the 
service  of  the  more  than  3,600  civilians  and  military  personnel  who  served  in 
Vietnam between1963-1975. 

 Kaiwaka  Playcentre  has an awesome Father's Day raffle. Four prizes to be 
won. $3 per ticket. Internet payment is available. Thanks to our community for 
the donations and thank you all for supporting our Playcentre- see Facebook 

 AND  Kaiwaka  Playcentre  have  these  awesome  recipe  books  for  sale  for 
only $10. Get some great ideas whilst supporting our local playcentre!!! It even 
has play dough recipes and many more messy play ideas. Grab a copy at Best 
Pets, Kaiwaka Cheese Shop or Jaques Four Square 

 WWII At Home on page 7 - See also the NZ OnScreen WWII Collection of 
film https://www.nzonscreen.com/collection/world-war-2  

 See  the  Kaiwaka  Bugle  in  colour  online  at 
www.kaiwaka.co.nz at any time.  ~ Lindsey, Ed 
"I've said it before, but it's absolutely true:  
My mother gave me my drive, but my father gave me my 
dreams. Thanks to him, I could see a future." ~ Liza 
Minnelli 
'
HAPPY FATHER'S DAY!'
KAIWAKA BUGLE NO.17 
1 SEPTEMBER 2020 
CONTENTS: 
Page 3: Public Notices, Classified 
Page 5: Rotary;  Kaiwaka School 
Page 7:  OHS - Olla Podriga; WWII at 
Home 
Page 9:  Kaiwaka Can;  Thelma's 
Scrapbook 
Page 11: Kaiwaka Sports - Hawks 
Rugby; Hakaru Pony Club 
Page 13: Kauri Museum 
Page 15: Lightburn; Breast Screening 
Page 17: Diamond Wedding 
Page: 19: The 'Tucker'; Library 
Bugle 18 will appear  15 September 
Contact for advertising, reports, articles 
or information can be made by 
Email: kaiwakabugle@kaiwaka.co.nz 
Ph: 09 4312 045 Lindsey 
Txt: 027 2724137 
Copy  may  be  left  at  Jaques'  Four 
Square. 
Kaiwaka Bugle Advertisements 2020: 
All 
copy 
and 
queries 
to: 
kaiwakabugle@kaiwaka.co.nz 
The Bugle is printed on an A4 page, B&W  
Ad  sizes:  1/16  page  (3  x  9.5cm)  $5;  1/8 
(6.5  x  9.5cm  landscape  or  portrait)  $8; 
3/16 ( 10 x 9.5cm or 7.5 x 12,5)  $12.  
Classified  ads:  First  one  FREE,  $4  per 
entry (max. 30 words, max. 4 repeats). 
Payments  can  be  made  online  at 
ANZ 
06  0365  0006990  00
,  posted  or  left  at 
Jaques Four Square Store. 
We  use  Microsoft  Publisher,  and  can 
work  with  most  common  image 
formats, Word, Excel, and PDF files. 
Accounts:  
Email: bugleaccounts@kaiwaka.co.nz 
The  Kaiwaka  Bugle  is  a  community 
newspaper run by volunteers, as part of 
the Kaiwaka Media Group Inc.   
Articles, etc. printed are not necessarily 
the opinion of the Bugle Team. 
Kaiwaka Bugle 
Founded May 1978 
We appreciate articles and photos about local 
events, etc, as well as ads and suggestions. 
Copies available in Kaiwaka at Jaques Four 
Square, Kaiwaka Postal Centre, Shamrock 
Service Station, Animal Health Centre, 
Kaiwaka St John shop. 
Also outlets in Maungaturoto, 
Mangawhai and Paparoa. 
Can be viewed online at  
www.kaiwaka.co.nz/Bugle  
Or a copy can be posted to you if you supply 
stamped, self-addressed DLE envelopes. 
KAIWAKA BUGLE 
DEADLINE DATES 
2020:   
Every second Friday
September 11, 25 
October 9, 23 
November 6, 20 
December 4 
MOVIES CANCELLED 
Until back in Covid-19 Level 1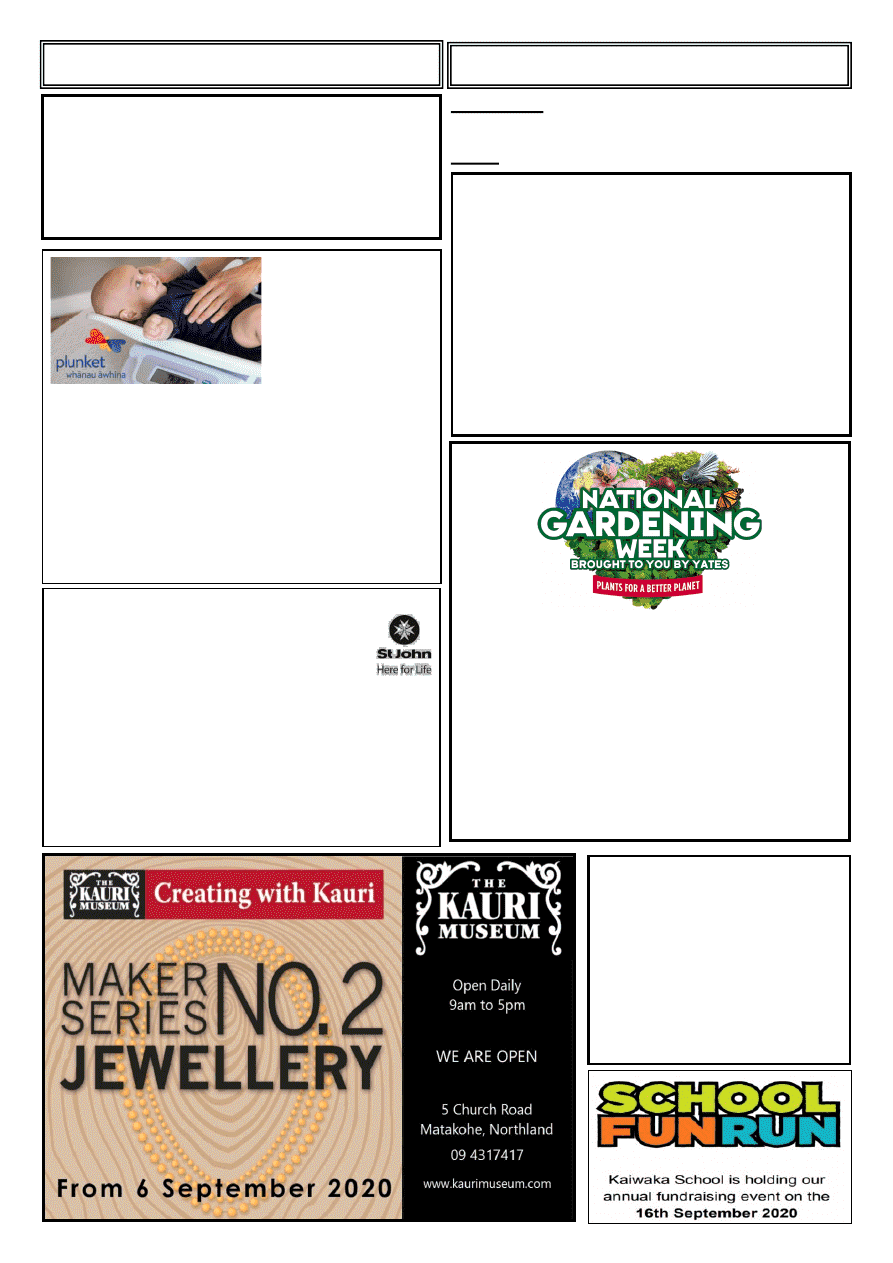 www.kaiwaka.co.nz 
Kaiwaka Bugle - 1 September 2020 
Page 3 
PLUNKET 
DROP-IN 
CLINIC 
KAIWAKA  
Fourth  Monday 
of month 
NEXT CLINIC: 
Monday 28 September, 9am – 12midday 
St Johns Hall, 1 Gibbons Rd, Kaiwaka 
You are invited to visit our nurse at a time that suits 
you. 
If  your  baby  or  child  is  between  the  following  ages 
and  has  not  had  a  Plunket  check  within  that  age 
group, you are welcome to drop into our clinic. 
5 to 7 months, 9 to 12 months, 15 to 18 months, 2 to 
3 years 
Queries: 09 438 2508 
PUBLIC NOTICES 
CLASSIFIED 
KAIWAKA ST. JOHN OP SHOP 
BIG WINTER CLOTHING SALE 
Tuesday 1st to Saturday 12th September. 
All Red, Yellow or Green stickered  
clothing is now Half Price. 
❖
We welcome donations BUT no Clothing at the moment. 
❖
Loyalty  Cards  available.  Stamp  for  every  $10  spent, 
when your card is full get $10.00 off your next purchase. 
❖
St John Membership and merchandise is available  
in store 
Our Hours are  
Tuesday – Friday 10am to 3pm  
 Saturday 10am – 1pm 
PHONE: Shop  43121650   
 Check us out at 1919 SH1, Kaiwaka
 KAIWAKA 
WHANGAREI HOSPITAL 
KNITTERS 
We  meet once a month on a Tuesday 
at 10.00am 
Archie Bull Hall, 
behind St Pauls Church on Kaiwaka 
Mangawhai Rd. 
Come along for a catch up.  
New members are very welcome.   
Contact Gale Matheson 094314827, 
0274149576 for more information. 
FOR  SALE: Dry Pine Cones, $5 & $10 bags. Ph. 09 
4312090  
FREE: Dry pine ready to split Ph: 0211539132 
OTAMATEA ST JOHN AREA COMMITTEE 
TRASH AND TREASURE 
28th September to 2nd October 
Maungaturoto CENTENNIAL HALL 
You  can  bring  GOOD  QUALITY  items  in  on 
Sunday  27th  between  12  noon  and  4pm  or 
during the week (before Thursday).  
We have limited storage available but if you require items 
to be collected prior to (or during the event) this will be 
arranged  as  transport  is  available.  Please  leave  contact 
details  with  Eileen  –  021  142  0357  or  email  me  at: 
b.parsons@xtra.co.nz 
This is our major fundraiser for the year, so please support 
us if you can. 
Baking,  produce  and  plants  are  also  an  acceptable 
addition during the week  
NATIONAL GARDENING WEEK:  
"PLANTS FOR A BETTER PLANET" 
19-26 October 2020 
Planting for a better planet has never been more important 
- for food, for the environment and for health.   The call is 
out  to  New  Zealanders  to  get  growing  this  National 
Gardening  Week  and  reap  the  rewards  of  home-grown 
food. Also, in the lead up to National Gardening Week the 
online Yates Growing Community will be launched.  It's 
an  ideal  online  blog  for  gardeners  to  come  together  to 
share  their  successes,  problems  and  aspirations  while 
having fun growing that runs all year round. 
More information and prizes to come! 
KAIWAKA WAR MEMORIAL HALL 
AND 
KAIWAKA LIBRARY 
Annual General Meeting 
Tuesday 8 September, 5pm 
Kaiwaka War Memorial Hall 
All welcome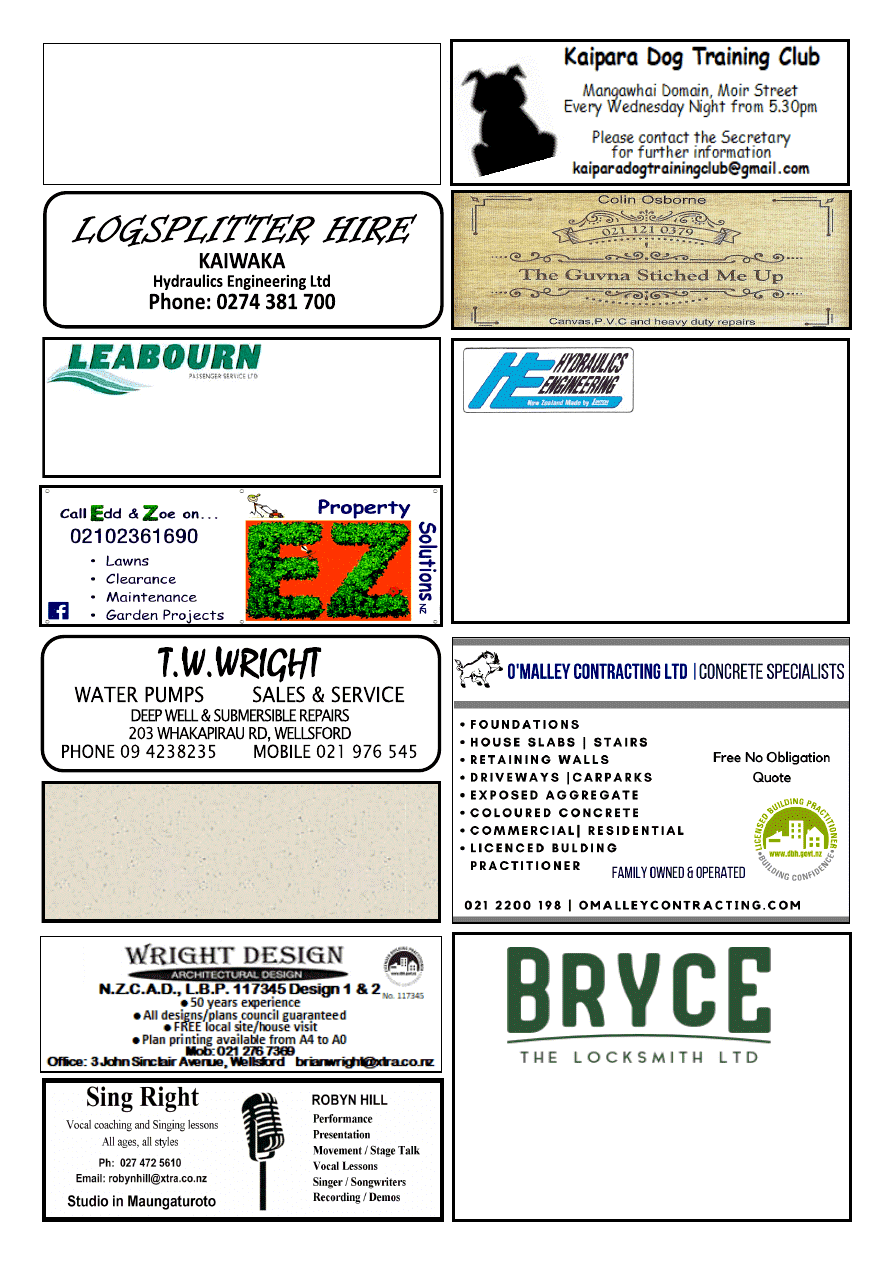 Passenger Service
Car & Van Hire   Bus & Coach Charters 
Airport Transfers    
Phone (09) 4237416 
Counsellor and Registered Psychotherapist 
Offers Supervision 
ACC Sensitive Claims 
Susan Matheson      MNZAC 
Dip. Psychosynthesis Counselling and Psychotherapy 
Phone 09 431 2996                                     Mobile 027 605 2427 
Bryce Frewin 
Ph: 021 850 983 
Kaipara Based Master Locksmith 
bryce@brycethelocksmith.co.nz 
www.brycethelocksmith.co.nz 
Hydraulics  
Engineering Ltd 
Kaiwaka 
Sales - Service - Parts - Hire - Manufacture 
Service Contractors & Industrial Equipment: 
Rams, Pumps, Valves 
Logsplitter Hire, Manufacturer, Sales 
Dennis Linton 
Lot 2 / 161 Ranganui Road, RD2, Kaiwaka, 0573, New Zealand 
Mobile: 0274 381 700 
Email: hydraulicsengineering@xtra.co.nz 
Website: www.hydraulicsengineeringco.nz 
HAKARU HALL ACTIVITIES 

Monday:  Line Dancing 9.45 -12pm Ph 4315160 

Afternoon Dance Energy  Lisa Ph. 0275610469 

Tuesday: Afternoon Dance Energy   

Wednesday: Afternoon Dance Energy  

Wednesday: Evening Music Jam Session         
      Dennis Ph. 0210628631 

 Thursday: Pilates 9 - 10am Ph. 0220643965 

Sunday: Canine Coaching Ph 0272365004 
 Hall Bookings Karen 4312090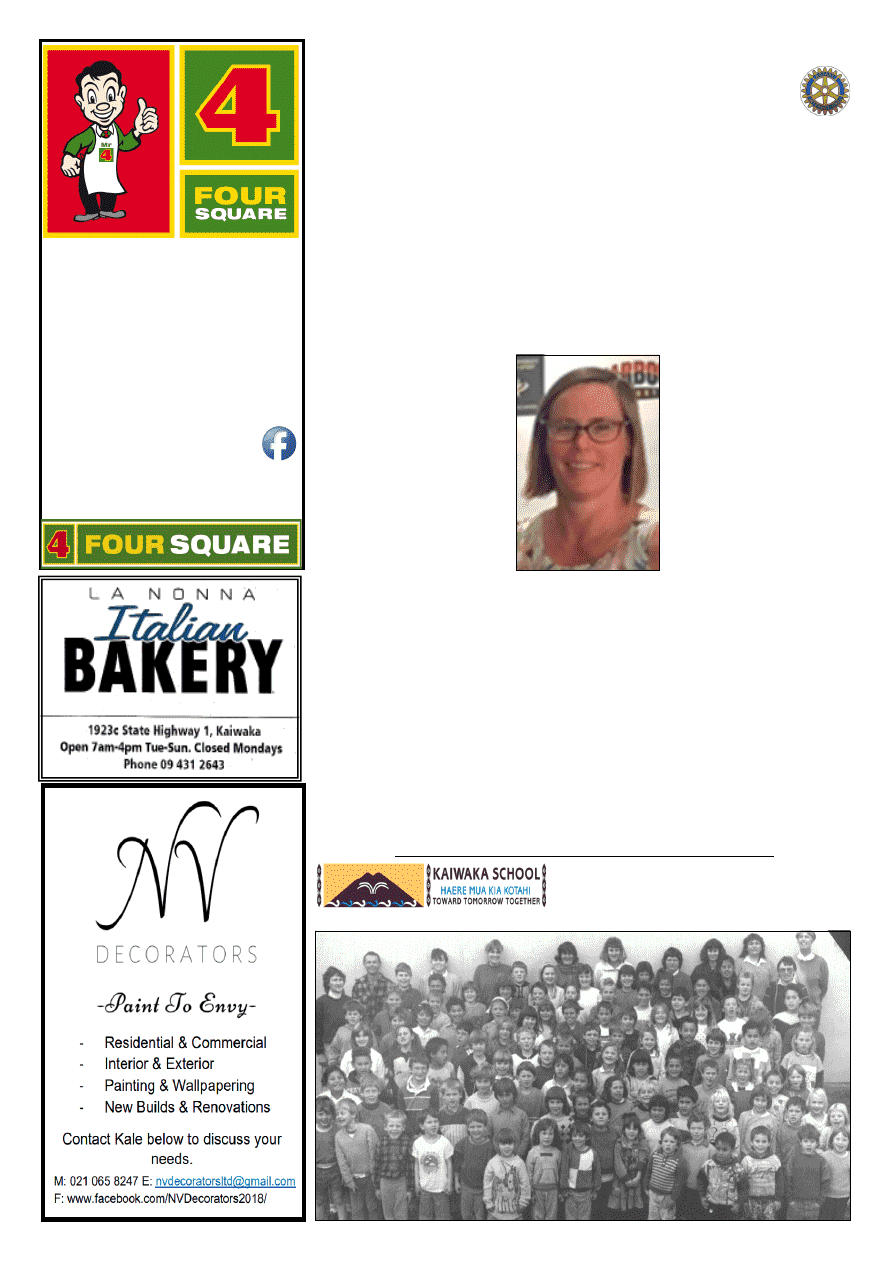 www.kaiwaka.co.nz 
Kaiwaka Bugle - 1 September 2020 
Page 5 
KAIWAKA  SCHOOL 
150 Years Labour Weekend 2021 
How many of 1990 Kaiwaka students will be at the 150 (1) celebration? 
We're Here 
OPEN 7 DAYS 
In Store Fresh Bakery,  
Hot Chicken, 
Mussels,  
Fresh Fruit & Vege,  
9kg Gas & Sodastream  
Gas Bottle Swap, 
Lotto & ATM 
JAQUES FOUR SQUARE 
Phone: 4312227 
1 Kaiwaka-Mangawhai Rd, 
Kaiwaka. 
2020 continues to be a crazy year. For 
this  reason,  I  am  glad  that  I  have  the 
chance 
to 
be 
involved 
with 
organisations  like  Rotary  that  provide 
not  only  certainty  but  also  fellowship, 
support  and  a  chance  to  complete 
projects in the community.  
Kerry Underwood 
We  are  also  given  a  chance  to  hear 
some  great  speakers,  one  of  whom  in 
the past month was Kerry Underwood 
who  spoke  on  her  "Walk  with 
Cancer". Those of us who know Kerry 
are  very  aware  of  her  inspirational 
attitude,  but  I  had  not  thought  of  the 
genetic  effect  that  her  type  of  cancer 
would have on her children. This was a 
very  thought-provoking  and 
informative 
presentation. 
Thank  you  for  sharing  with 
us Kerry and thanks to those 
who came along to give her 
support. 
Six  of  us  (joined  by  Judith 
and David Cain, formerly of 
Kaiwaka,  now  Orewa)  were 
able  to  meet  with  about  30 
other  Rotarians  from  clubs 
to  the  south,  in  Orewa,  to 
hear  what  plans  our  District 
Governor,  Elaine,  had  for 
her year.  
Bronwyn Ellison 
For  us  a  special  moment  was  the 
presentation  of  a  Paul  Harris  Fellow 
medal,  with  sapphire  to  Bronwyn 
Ellison  (pictured  above).  Bron  is  not 
only our Treasurer but she undertakes a 
great  deal  of  work  for  our  District  as 
well.  Congratulations  Bron  –  well 
deserved.  
A Century for Rotary in NZ 
This  year  Rotary  will  have  been 
operating  in  New  Zealand  for 
100years,  so  we  have  been  asked  to 
focus on several areas: 
⚫
 Give  every  child  a  future  – a plan 
to  immunise  all  children  in  9  Pacific 
countries  against  several  diseases  that 
can  impact  them  (as  we  saw 
with the measles last year.) 
⚫
 The  setting  up  of  a  project 
to  plant  trees  "Rotary  Peace, 
Remembrance and Community Forests 
Trust. 
⚫
To  take  part  in  some  form  of 
Centennial Project in our communities. 
⚫
"Mana  Tangata"  a  written  and 
photographic  history  of  Rotary  in  NZ 
during the past 100 years. 
Two items of note: 
⚫
If  you  are  looking  at  undertaking 
tertiary  education  of  any  type,  the 
President's  Scholarship  is  being 
offered  again  this  year.  This  is  worth 
$1500, and form will be available from 
any Rotarian. 
⚫
We  are  looking  to 
support a candidate for the 
Rotary Youth Leadership 
award  at Muriwai – 2nd to 
8th May 2021 – open to 20 
to 28-year olds. 
Any  person  who  has 
previously  taken  part  in 
this week has told us of the 
impact  it  has  had  on  their 
lives,  often  helping  them 
define 
their 
future 
direction. Again, please see 
any  Rotarian  for  an 
application form. 
If you are unable to access either of the 
above,  please  drop  a  note  to 
Maungaturoto  Rotary  Club,  P  O  Box 
65, Maungaturoto 0547. 
Driver Mentoring 
While Covid 19 has caused a hiccup in 
our 
Driver 
Mentoring, 
please 
remember  that  we  are  looking  for 
people to help others in the community 
to progress from their Learner's licence 
to  their  Restricted.  If  you  feel  you 
could support us in this area, please get 
in  touch  with  Alex  Tetzner.  This  is  a 
very  rewarding  programme  as  not 
having a driving licence can restrict the 
efforts  of  people  attempting  to  obtain 
employment. ~ Eileen 
MAUNGATUROTO & DISTRICTS ROTARY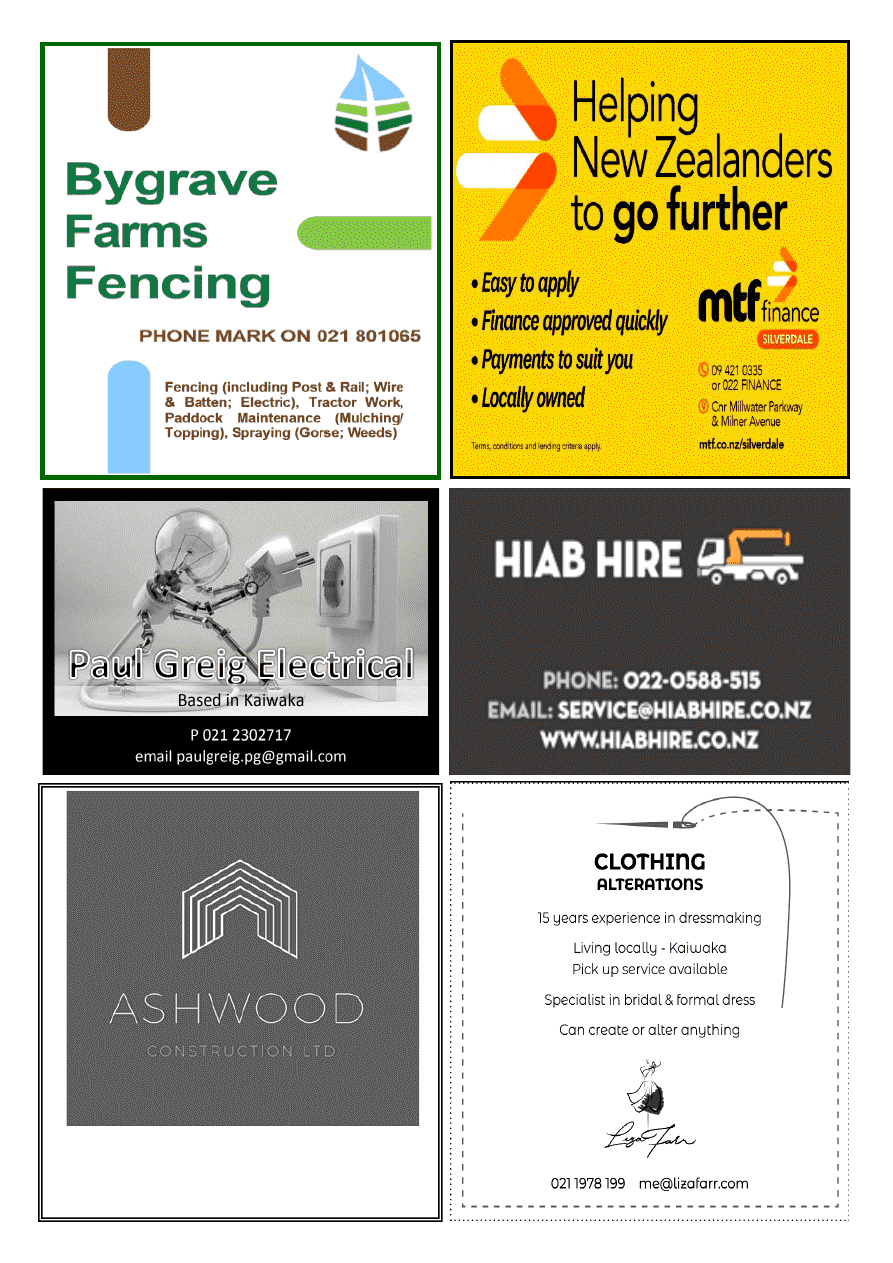 ASHWOOD CONSTRUCTION  LTD 
LBP registered 
New Builds Renovations Extensions Decks & more 
After a quote? Call Lee on 0223408353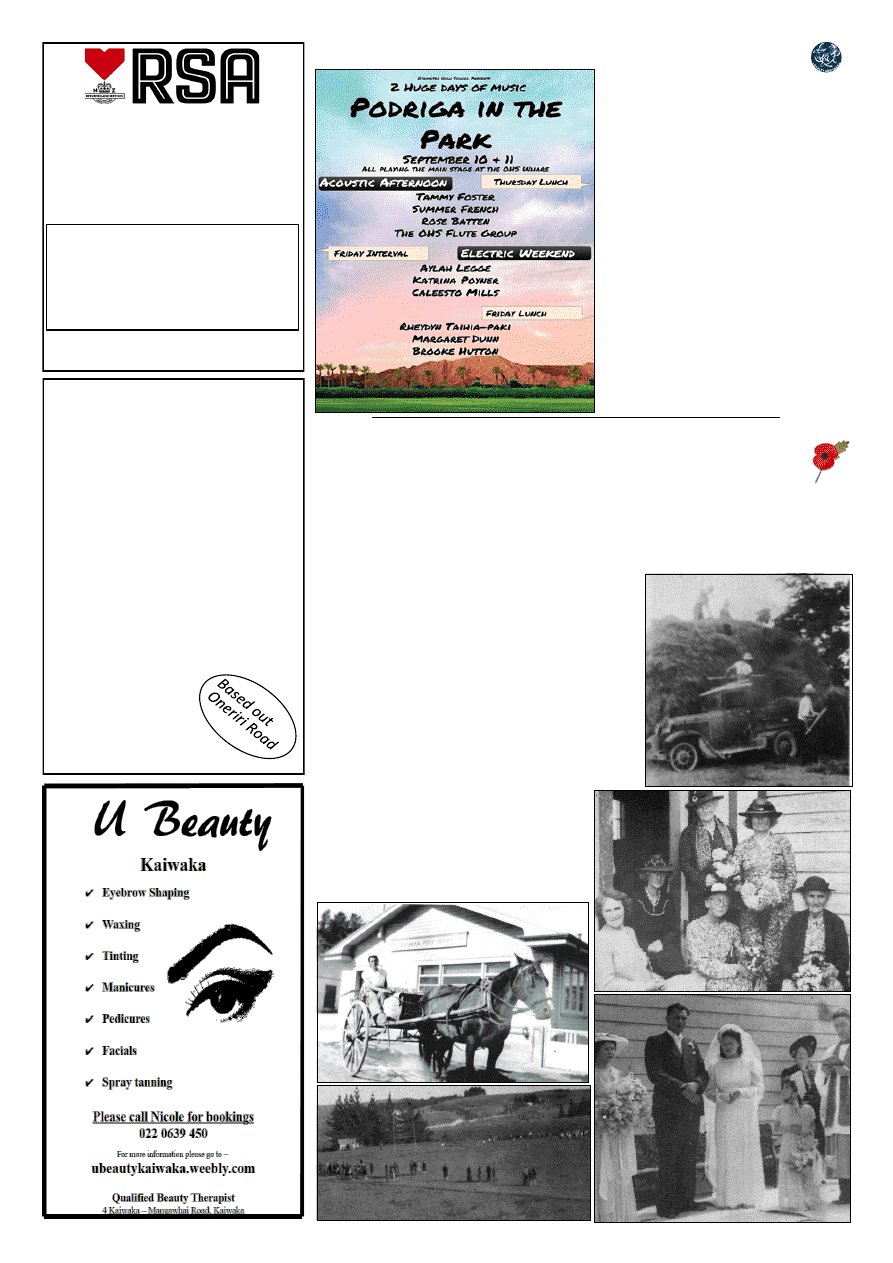 www.kaiwaka.co.nz 
Kaiwaka Bugle - 1 September 2020 
Page 7 
OTAMATEA HIGH SCHOOL NEWS 
HAKARU & DISTRICTS 
MEMORIAL RSA (INC)
Members & guests are invited to 
come along and enjoy our hospitality. 
New members welcome. 
Meals are served on Thursday and 
Friday nights from 6.30pm. 
Order from Blackboard Menu  
The sing along with Des Chitty is the 
Last Friday of the month. 
For more information please phone 
Bill on 431 2092  
HODGETTS 
CONTRACTING
Digger Work    
Driveways  
House Sites  
Dams      
Drains, etc
Also available for HIRE 
3 ton Vib Roller  
Heavy Duty Tow  
Waterblaster      
Lazer Level
Phone Mark  
4312877 
027 447 8554 
OLLA PODRIGA 
Unfortunately,  with  the  ongoing 
nature of alert level 2 we are unable 
to welcome the OHS community to 
Olla Podriga 2020. With capacity at 
events  currently  capped  at  100 
people, the decision has been made 
to  rebrand  Olla  Podriga  2020  to 
'Podriga in the Park'.  This will be a 
2-day  festival  event  during  school 
time  for  students  and  staff  only. 
However,  you  do  not  need  to  miss 
out  on  the  action,  keep  an  eye  on 
our  Olla  Podriga  2020  website  to 
see  videos  and  photos  after  the 
show/s, and to choose your pick for 
the People's Choice Award. 
https://sites.google.com/
otamatea.school.nz/ohsop2020 
World War II – Begins and ends in September 
1939 1945: Meanwhile, back at Home…  
Life  continues 
with  all  having  to  be  done  just  as  always,  but  with  extra 
difficulties. Life changed, families were disrupted and those at home worked to 
keep things running as well as possible through worry, uncertainty and shortages 
of needed materials 
Rationing 
of petrol began in 1940, so farmers reverted to horse and carts. To 
get  a  pair  of  gumboots,  farmers  had  to  prove  they  had  at least  12  cows.  Food 
production was critical, and the army helped by 
lending men at harvest time.  
Working  women 
(outside  the  home)  was  a 
break  with  tradition,  but  became  necessary, 
even though they were paid less than men. 
Social  life
,  however,  continued  -  dances, 
picnics, clubs and work groups were organised 
and  provided  chances  to  meet  and  enjoy  the 
company. 
Photos  from:  Albertland  and  District  Museum,  and 
"Kaiwaka - a photographic History" 1990. 
Clockwise:  
Haymaking  on  Baldrock  Rd  in  the  war  years- 
Model A tyres and gumboots hard to obtain! 
Hakaru  CWI  members,  1945.  Back-
Bowmar,  Franich;  Front,  Wintle,  Cooper, 
Ryan, Mayes. 
A  wartime  wedding-Mr  &  Mrs  Tapihana 
(Dobson) and Liza Paikea.  
Rugby at Kaiwaka rugby ground- showers 
are the creek (now the Motel site) 
Herd  testing  transport-  by  horse  and  cart, 
Patience Gray & 'Winston'.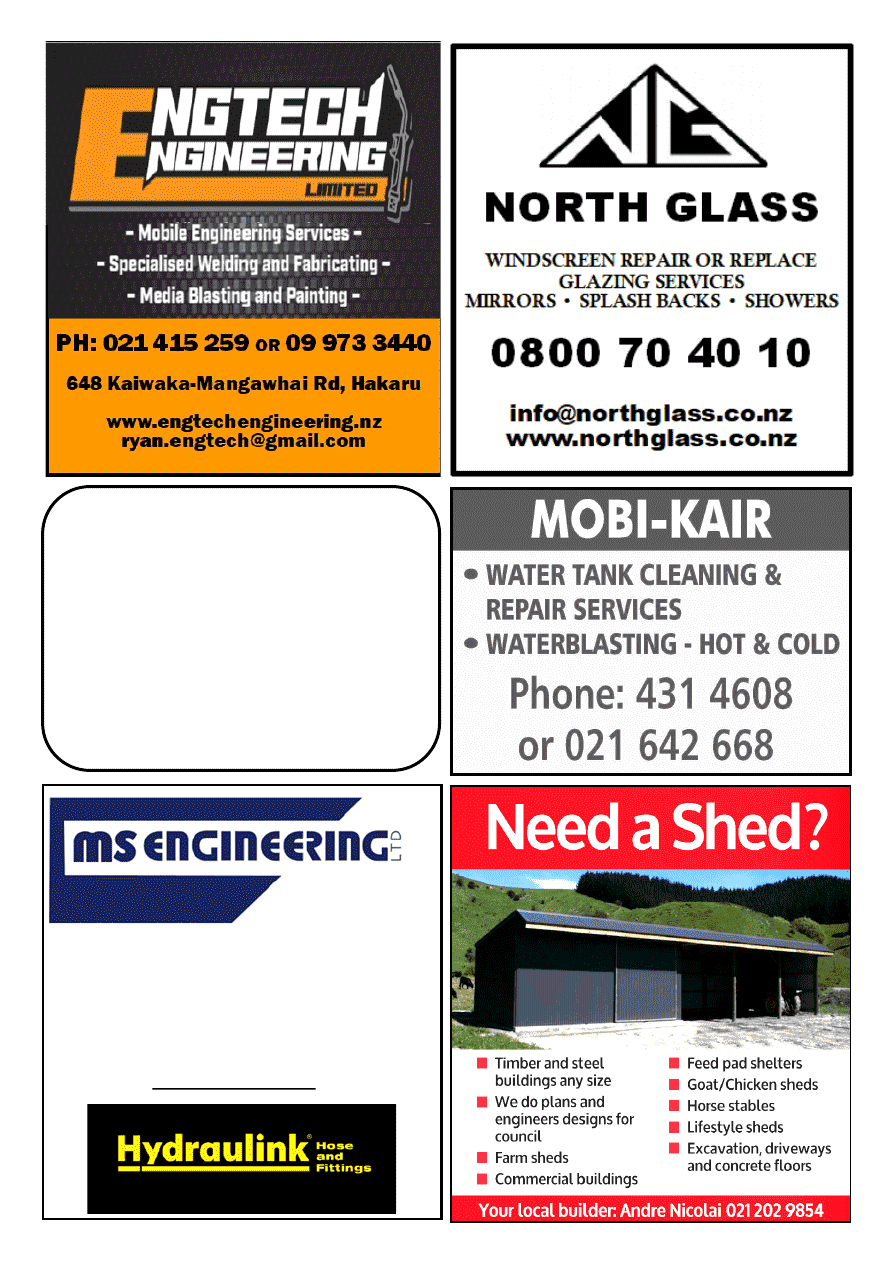 
Peter Buckley 

Mobile Hose Technician –  
                      Based from Oneriri Road 

Available for all mobile hose                                
                        requirements onsite 

Call – 0800 425 7116 

Email – mse@mseng.co.nz 
UP-LINK 
CHRIS WARING 
FREEVIEW INSTALLATIONS 
T.V. - HOME THEATRE &  
HI-FI ADVICE/SET UP
SKY ACCREDITED INSTALLER
MOB.0273403747 HM.094312328 
EMAIL cwaring44@gmail.com
28 YRS EXPERIENCE 
OFFERING UNBIASED ADVICE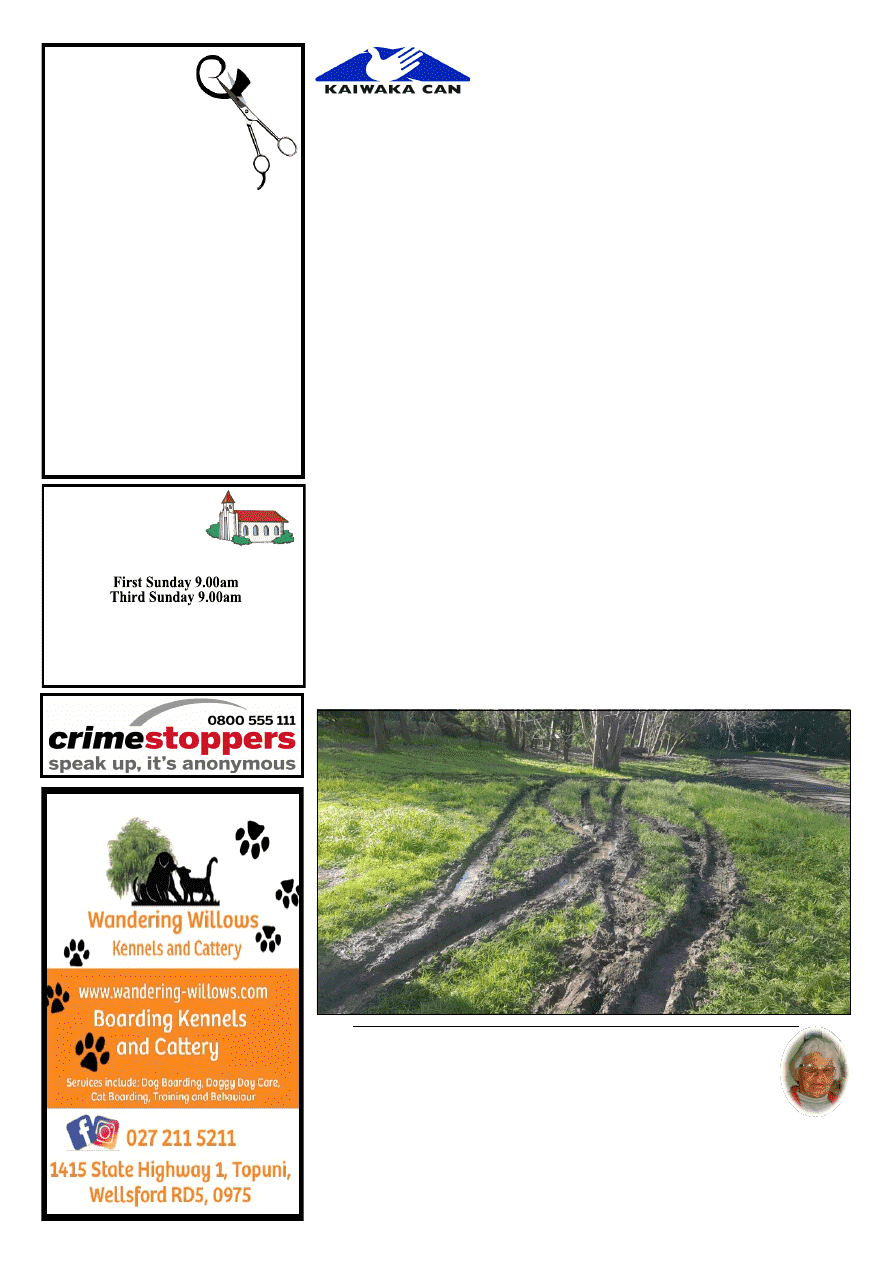 www.kaiwaka.co.nz 
Kaiwaka Bugle - 1 September 2020 
Page 9 
ST PAUL'S  
ANGLICAN  
SUNDAY SERVICES
St Pauls Church: Kaiwaka-Mangawhai Rd. 
1st Sunday - Eucharist 
3rd Sunday - Family Service 
Priest in Charge Rev. W Thornton Ph 431 4122 
www.mangawhaianglican.org.nz
Do  you  ever 
dream  about 
what  Kaiwaka  could  be  like,  say 
ten, twenty years down the track? 
Some of us won't have that long to see 
it  happen.  Even  so,  it  is  good 
sometimes  to  try  and  visualise  the 
possible. 
Action  without  vision  tends  to  just 
produce  the  same  old  same  old.  But 
vision can often lead to actions beyond 
what we already have. 
Lately  a  few  of  us  in  Kaiwaka  Can 
have  been  working  to  picture  what  it 
could be like when, for example, all the 
Spatial  Planning  proposals  come  into 
force.  That  pictures  a  town  in  the 
decades from now growing to possibly 
5000  people  with  plenty  more  on  the 
outskirts. It pictures a great network of 
walking and cycling tracks, a far larger 
town centre, lots more green space and 
plantings, weeds and pests cleaned up, 
things for young people to do. 
Here are a few of those dreams that 
have been circulating recently: 
A  revitalised  area  in  the  centre, 
each  side  of  the  southern  bridge  – 
places  for  visitors,  places  for  parking 
and far easier access between east and 
west.  That  in  fact  is  already  well 
advanced  in  planning  and  we  look 
forward  to  seeing  it.  For  too  long  we 
have stood on the riverbank and looked 
sadly at the mud and the weeds. 
A major effort to tackle weeds and 
pests. 
The  pest trap  library  is  already 
here,  and  Northern  Regional  Council 
has been great at helping us get on with 
these things. 
A  completely  connected  west  side 
of  Kaiwaka
,  one  end  to  the  other 
instead  of  our  fragmented  and 
dangerous  thread  of  State  Highway 
One. 
McClean  Park, 
cleaned  up  and 
becoming  a  showpiece  with  a  kayak 
pontoon,  picnic  tables,  maybe  a  dog 
exercise  park,  maybe  more  garden 
space – you let your imagination loose 
on the park. 
A  pump  track 
(for  modified  bikes 
ridden  by  pumping  action  from  the 
rider – like new generation BMX bikes 
they tell me) and 
a  skate  park
. Know 
where  we  would  like  it,  just  need  to 
work out how to get there. 
Multi-function  I  site. 
It's a long time 
since  we  had  an  information  centre 
here even though we are the entry point 
to  both  Kaipara  and  Northland.  We 
have  been  wondering  if  we  could 
combine this with an enviro centre and 
an art collective. Dreams just now and 
we need your energy to get there. 
And  of  course,  our  welcome 
sculptures
, designed long ago but put 
in the too hard basket while we sort out 
NZTA requirements. 
And  there  are  more.  What  do  your 
dreams include? And more to the point, 
what  ideas  do  you  have  as  to  how  we 
could get there? 
Just  a  dream  or  two  but  watch  this 
space (and round town) for some of the 
dreams to start to happen. 
Derek Christensen Chair, 
Kaiwaka Can Phone 
099469077 or 0273572751 
derekandisa@gmail.com 
Next meeting:  
Wednesday 16 September, 5.30pm 
Below:  A  sad  picture  of  McClean  Park  taken 
last  week.  -  under  cover  of  darkness  young 
drivers even got stuck on the grassed area. 
JUST 
CUTS 
and 
MORE  
1758 Cove Road  
Open Monday-Saturday  
by appointment only 
Saturday 9-12pm  
Affordable prices: 
Ladies cuts from $35 
Colours from $120 
Men's from$25 
Kids from $18 
0211652629  
From Thelma's Scrapbook … 
 MY DADS' BETTER THAN YOURS!!!! 
Three boys were once discussing what their Fathers did.  
The first one said, "My father puts together a few words that rhyme, 
calls it poetry and gets $20 for it." 
The second one said, "My father puts a few pieces of wood together, calls it a 
sculpture and gets $50 for it." 
"That's nothing, "said the third boy. "My father writes a few notes, calls it a 
sermon and it takes four men to carry in the money!" 
A LITTLE BIT OF DREAMING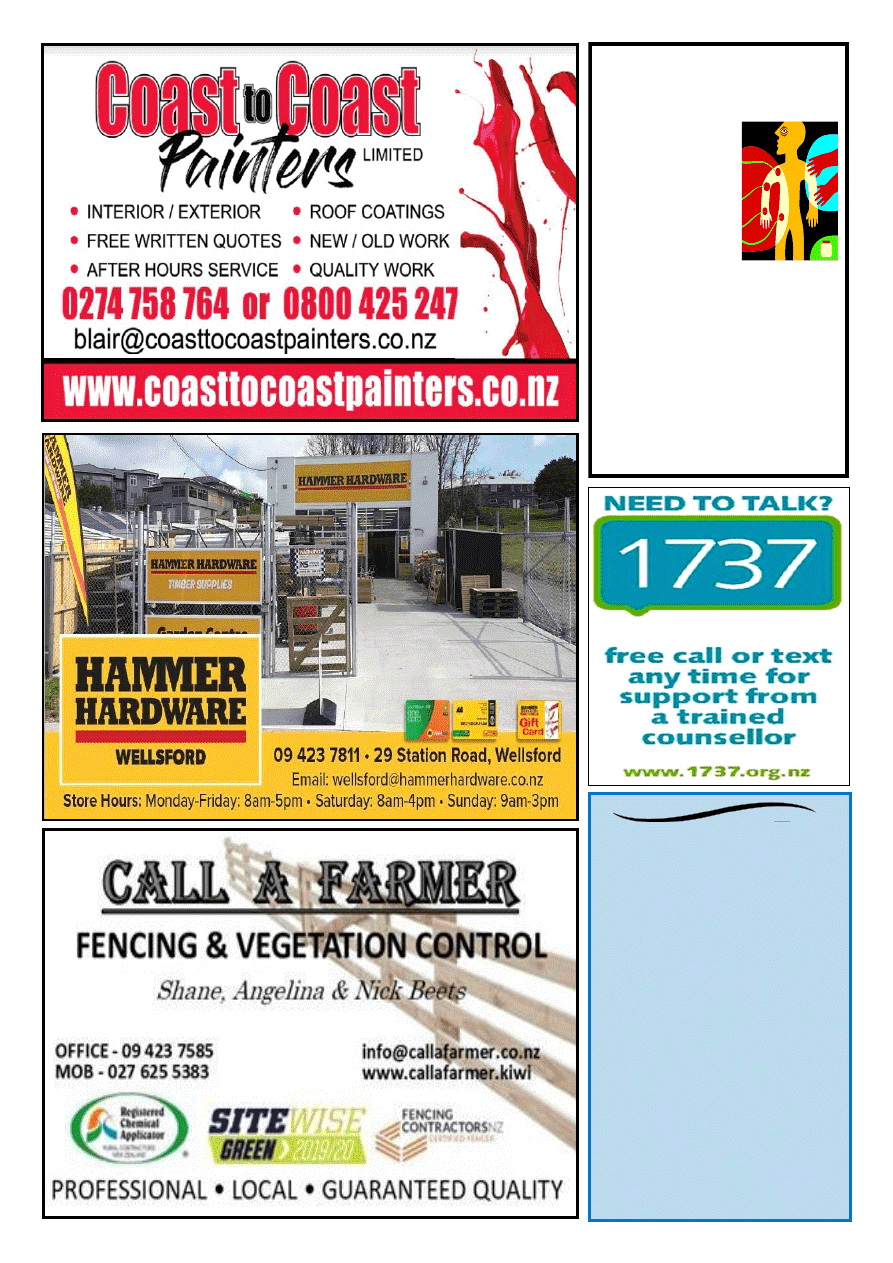 OWEN STEVENS 
Osteo Therapist
For careful 
adjustments to 
bones and joints 
Treatment for 
humans and their 
pets 
Clinics: 
Kate's Place, Kaiwaka: 
Last Friday of month 
For bookings: 
9.00am-5.00pm  
Phone 
09 4312661 
Or phone Owen  
09 4317123 anytime 
HAVEN HOME  
MAINTENANCE  
SERVICES 
Helping transform your  
haven into your home 
Interior:    
Kitset Assembly  
Wardrobe Furniture Install 
Picture & Mirror Mounted 
Minor Carpentry Works 
Exterior:  
Landscape Solutions 
Fence Build & Repair 
Low level Decks 
Gutter clearing & Repairs 
M: 021 1145709  
E: sbealing@gmail.com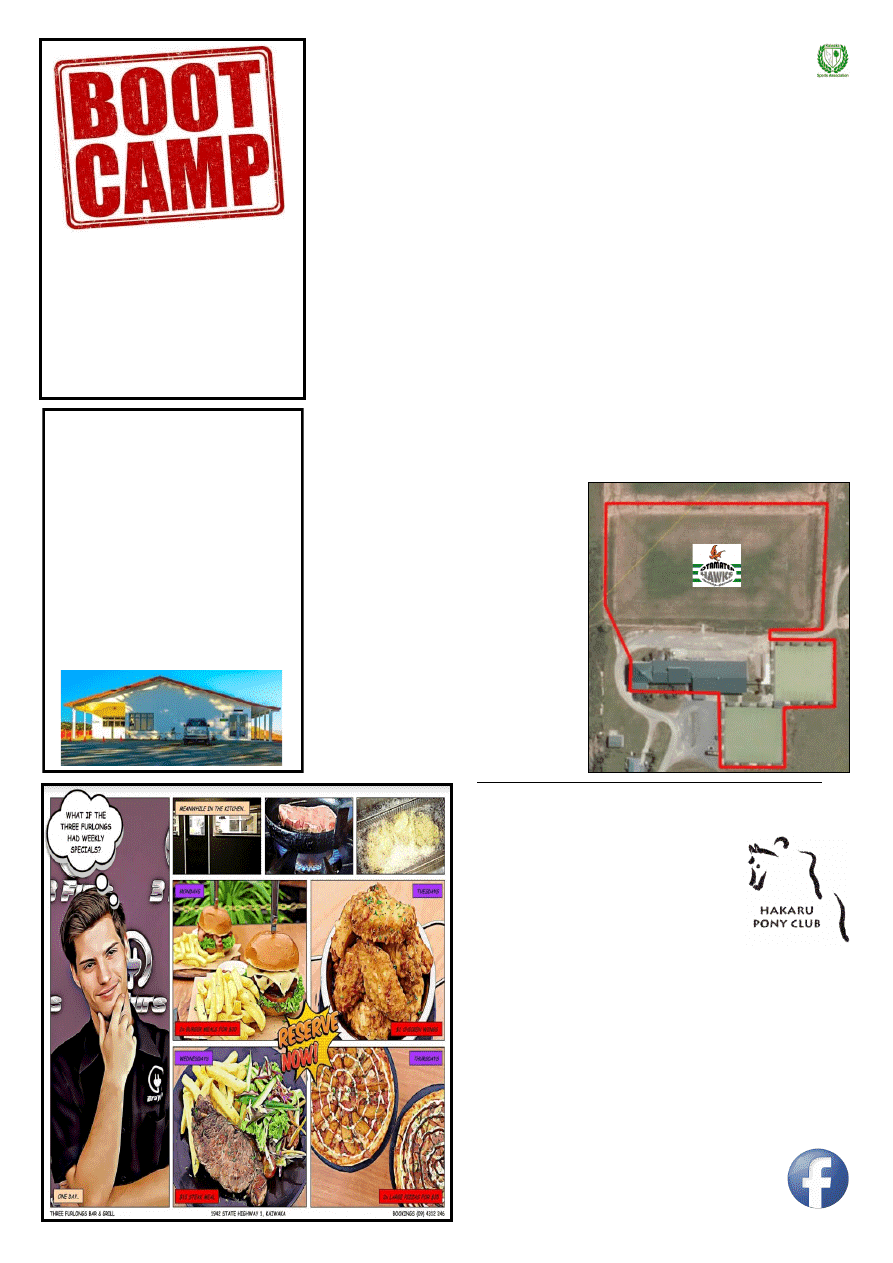 www.kaiwaka.co.nz 
Kaiwaka Bugle - 1 September 2020 
Page 11 
Te Pounga Marae 
130 Nathan Rd. Oneriri. Kaiwaka 0573 
COMPLEX FOR 
HIRE 
Functions: * Weddings  * Birthdays  
*Anniversaries * Meetings  * Wananga 5 
hour meeting * 12 hour stay or Overnight 
*All welcome   
For more information please contact: 
 Pearl Nathan 0223933533 
Email: tepoungamarae130@outlook.com  
KAIWAKA SPORTS ASSN 
HAKARU PONY CLUB 
INFORMATION NIGHT 
Thursday, 3 September, 5.30pm in the 
Hakaru Hall 740 Settlement Road 
This  information  evening  is  for  new 
members  and  existing  members  to  learn 
about  what  is  happening  this  season  and 
to  help  you  understand  everything  that 
pony club has to offer. 
Riders need to bring your helmets and back protectors  – 
there are new regulations for back protectors. 
This  year  all  enrolment  is  to  be  completed  online,  with  
by the 1st October.  
Pony Club is for ages 0 to 25 years, we offer fun and safe 
ways to learn about your horse or pony and children learn 
how  to  manage  their  horses,  achieve  different  riding 
levels. We also cater for riders without horses so that you 
can  get  started  in  understanding  everything  you  need  to 
know about keeping a horse before you get one.  
The rallies are held on a Thursday from 5.30pm to  7pm 
during Term 4 2020 and Term 1 2021. 
For more information please contact President 
Denise  Rogers  021423376,  or  Head  Coach 
Cindy  Balfour  0220480261  for  more 
information. 
Its nearly that time of year again!!!! 
Kaiwaka's  annual  bootcamp  will  be  starting 
back up in October and running through till 
Christmas!  
It's  been  a  long  isolating  winter  for  many, 
bootcamp  is  a  fun,  supportive,  team 
environment to not only get fit but also make 
some amazing friendships along the way!  
Keep a lookout on Facebook for details as we 
near  October  -  every  Tuesday  and  Thursday 
evening at 6.30pm   
the internet did have the pleasure of watching a live stream of the game. 
The game was an excellent watch, especially the Hawks great come-back and 
show of strength as they dominated the second half. 
Northland Rugby Division One (South Zone) Championship winners Otamatea 
Hawks were unbeaten in their 6-game season; points scored - for 158, against 
58; and were 9 points ahead of their nearest rivals Tomarata and Mid Western 
both at finishing on 20 points 
The  Trophy  was  presented  by  Bronwyn  Williamson,  Northland  Ruby  Board 
member. 
AND A WORD FROM THE TEAM: 
'Hawks 2020 Champs 
Coach Nick Makea and Captain Arapeta Waata have led the Otamatea Hawks 
to  the top  of  the  2020  championship  after  a  hard-fought  win  against  a  strong 
Mid Western side in the Championship Final at Maungaturoto on Saturday. 
In front the COVID reduced crowd, Mid Western dominated the early stages of 
the game through a strong forward display to take an early 3-0  with the wind at 
their  backs.  The  Hawks  struck  back  after  20  minutes  with  the  quick  thinking 
Makea taking a quick tap, seeing the elusive John Luke Whitehead go under the 
posts  7 -  3  Hawks.  Mid Western  soon  grabbed the game  by  the  scruff  of  the 
neck, with two well-constructed tries to take a 17-10 lead into half time. 
With an early stalemate in the second stanza, it took a try from veteran hooker 
Lance  Nepia  to  bring  the  Hawks  within  two.  A  barn  storming  run  off  the 
resulting kick off by replacement flanker Dallas Smith kicked the Hawks into 
gear, storming down the park to see evergreen prop Lance Vale crash over and 
the Hawks take a 22-17 lead with 12 minutes to go.  
Replacement  1st  5  Bevan  Thomas 
pinned Mid Western down in their own 
half seeing the Hawks set up camp until 
one  of  the  2020  standouts,  big  lock 
Nathan  Taylor,  crash  over  with  4 
minutes left. The successful conversion 
off the boot of Michael Robinson took 
his kicking tally to 9 points for the day 
and a 29-17 lead.  
Mid  Western  threw  everything  at  the 
last  3  minutes,  grabbing  a  late  try 
before  referee  Llew  Smart  blew  time 
with the Hawks winners at 29-24. 
Congratulations to all involved, a well-
deserved  win  to  cap  off  a  undefeated 
season in 2020.' 
Photo: An aerial view of the Maungaturoto 
Country  Club  grounds  showing  100  limit 
'bubble 
OTAMATEA HAWKS CHAMPIONSIP 
continued from front page ...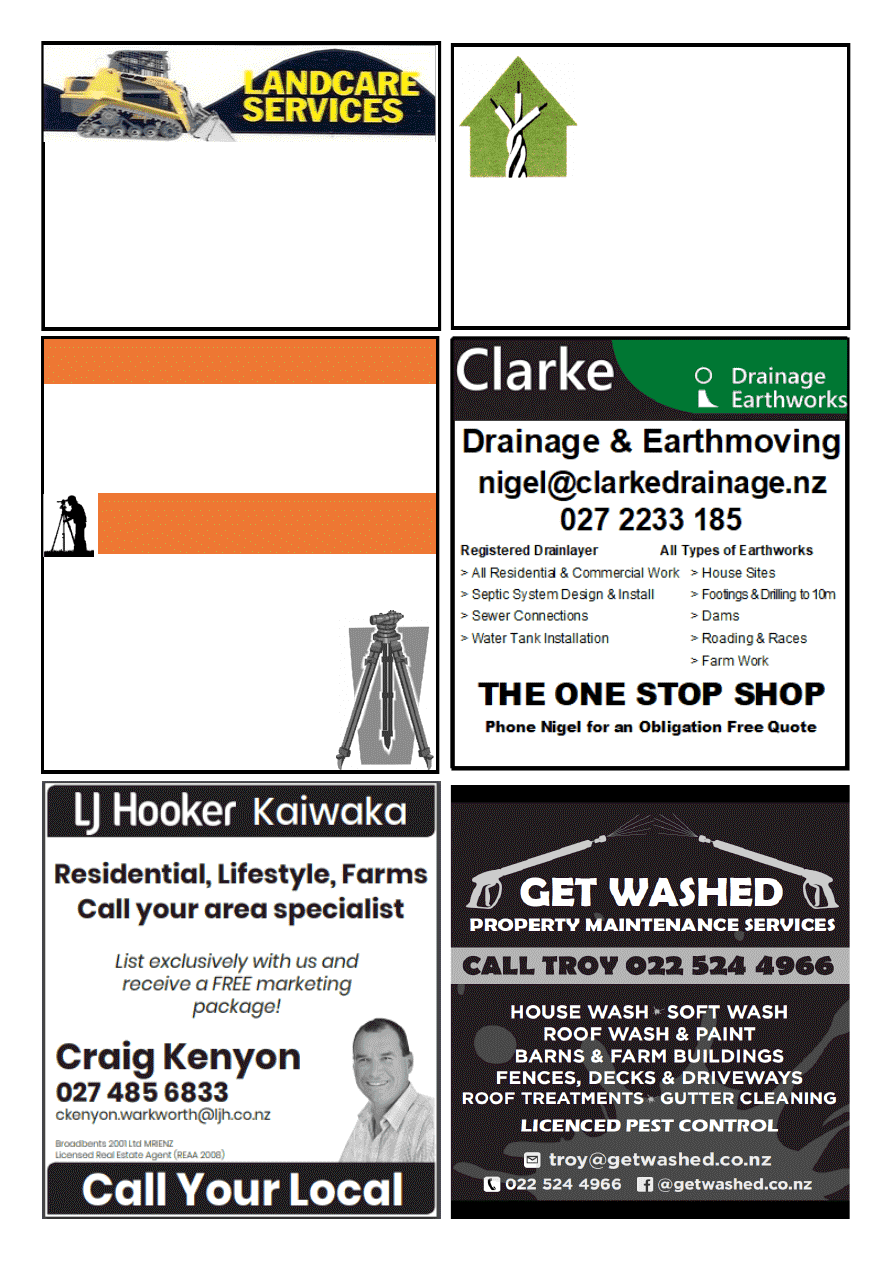 Reyahn  Leng 
Registered Electrician 
Local, honest and reliable. 
For your residential and 
light-commercial projects. 
022 314 1068 
SURVEYORS 
SUBDIVISIONS 
HOUSE SITE SURVEYS 
CIVIL ENGINEERING 
WASTEWATER DESIGNS 
EXPERIENCED 
PROFESSIONAL 
INNOVATIVE 
Ph 09 431 5353 
0800 PACIFIC (0800 722 434) 
pacificcoastsurvey.com
Adam Booth - 027 415 5752 
Bsurv, Licensed Cadastral Surveyor
Surveying Kaipara since 1994 
LANDSCAPING 
4 IN 1 BUCKET 
TRENCHER 
POLE HOLES 
ROTARY HOE 
COMPACT ROLLER 
OFFAL HOLES 
CAN SUPPLY WOODCHIP & POST PEEL 
5 TON TIPPER 
FOR RELIABLE AND FRIENDLY SERVICE CONTACT DAVE 
Dave Hyndman 
 
KAIWAKA 
PH: 09 4312302 
MOB: 021 431 238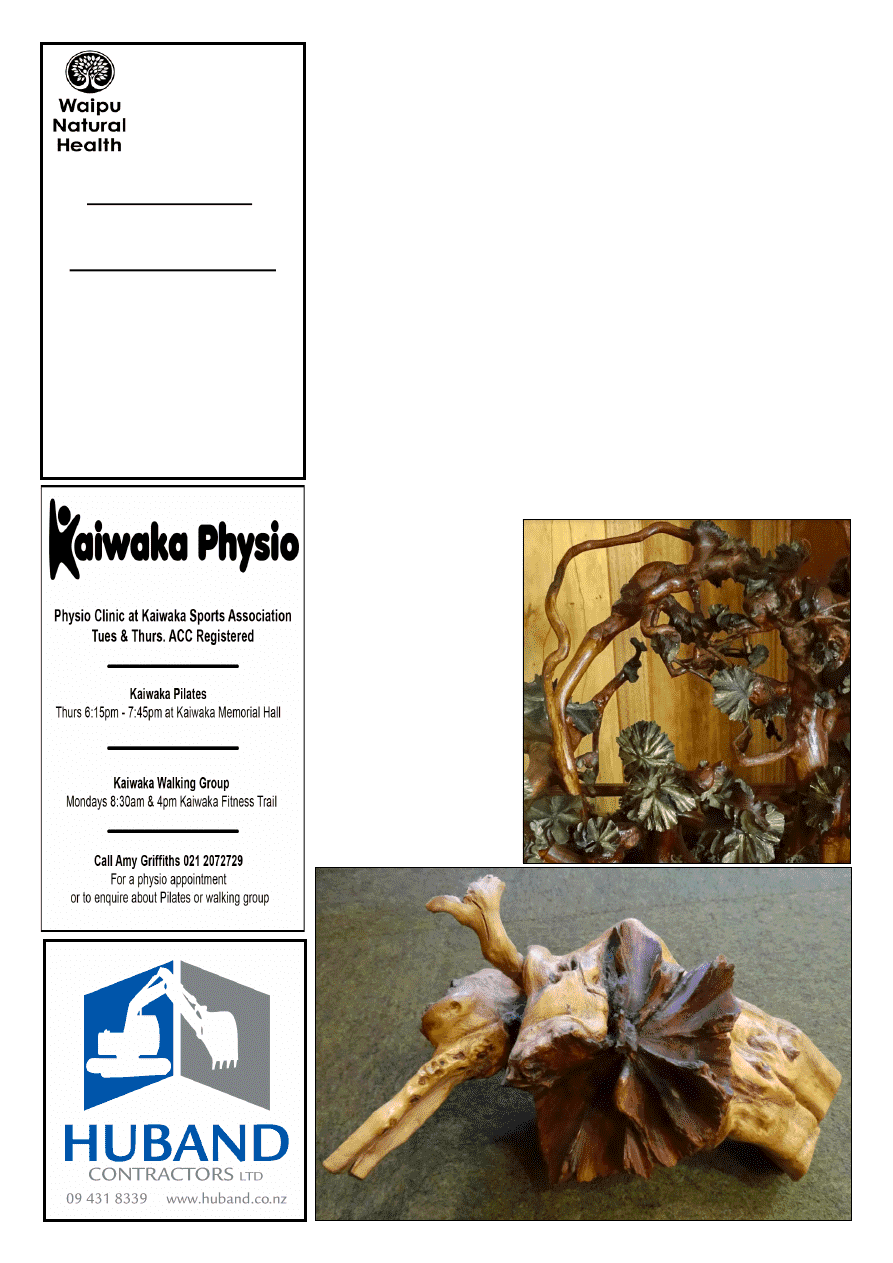 www.kaiwaka.co.nz 
Kaiwaka Bugle - 1 September 2020 
Page 13 
3 Cove Road, Waipu 
(opposite the Pizza Barn
) 
094321325 
www.waipunaturalhealth.co.nz 
Clinical Nutritionist: 
Nutritional Checkups, Diets for 
Chronic Diseases,  
Food Sensitivities 
Naturopathic Physician: 
Ozone Therapy, Prolotherapy  
Reflexology, Craniosacral 
Therapy, Trauma Release 
Massage Therapy 
Counselling and Hypnotherapy 
Change Catalyst/ThetaHealer 
Affordable Children's Consults 
All therapists are fully qualified
The  Kauri  Museum  holds  a  very 
interesting collection of natural history 
specimens  that  are  part  of  the  kauri 
story.  In  a  quiet  corner  of  the  Ross 
Wing, amid intriguing items of golden 
kauri,  lie  strange  wooden  flowers  on 
curling  stems.  Māori  refer  to  these 
unusual  growths  as  pua  o  te  rēinga 
(flower  of  the  underworld)  or  waewae 
atua  (feet  of  the  spirit),  they  are  also 
known  by  their  botanical  name 
Dactylanthus taylorii. Now endangered 
Dactylanthus  is  New  Zealand's  only 
indigenous  fully  parasitic  flowering 
plant.  It  looks  like  a  warty  tuber, 
attached to the roots of native trees, but 
has  become  so  rare  that  you  are 
unlikely  to  see  any  on  your  walks 
through native bush. 
These  unusual  'flowers'  often  referred 
to  as  a  'wood  rose,'  were  once 
collected  for  ornamental  purposes  by 
kauri  bushmen.  A  few  of  these 
specimens  were  gifted  to  The  Kauri 
Museum  many  years  ago  and  are  on 
permanent  display.  Today  the  practice 
of collecting wood roses, and their sale, 
is actively discouraged and is 
illegal  on  land  administered 
by 
the 
Department 
of 
Conservation. 
In  the  wild  a  Dactylanthus 
seed falls and germinates on a 
suitable  root  and  a  globular 
vegetable-like  mass  grows  to 
surround  the  junction  of  the 
host  root  and  the  parasite. 
This causes a distortion where 
fibres of the root are diverted 
up into it. Dactylanthus relies 
on its host for all its water and 
nutrients,  as  it  is  not  capable 
of photosynthesising. It is this 
fan-like  distortion  of  the  root 
fibres  that  form  the  often 
beautiful  and  unusual  'wood 
rose'.  The  brown,  leafless 
asparagus-like  flower  heads 
grow  up  from  the  vegetable 
mass of the plant towards the leaf litter 
on  the  forest  floor  where  the  fungus-
like flowers or tubers open. Many early 
observers  of  the  plant  recorded  that  it 
was  discovered  from  the  strong  sweet 
scent of these flowers. 
Surprisingly  Dactylanthus  does  not 
harm its host in any way and dies if the 
root is cut or damaged. 
The  specimens  in  the  museum  would 
have  been  harvested  more  than  50 
years  ago  when  there  were  still  many 
examples  growing  in  the  bush.  The 
freshly cut plant would then have been 
boiled 
for 
several 
hours 
and 
painstakingly  cleaned  before  being 
dried. 
If you would like to know more about 
these  intriguing  native  florae  visit  the 
Department  of  Conservation  website 
https://www.doc.govt.nz/nature/native-
plants/dactylanthus/ 
You  can  see  preserved  specimens  of 
these rare 'Flowers of the Underworld' 
on  display  in  the  Ross  Wing  at  The 
Kauri 
Museum 
in 
Matakohe, 
Northland. 
FLOWERS OF THE UNDERWORLD AT THE 
KAURI MUSEUM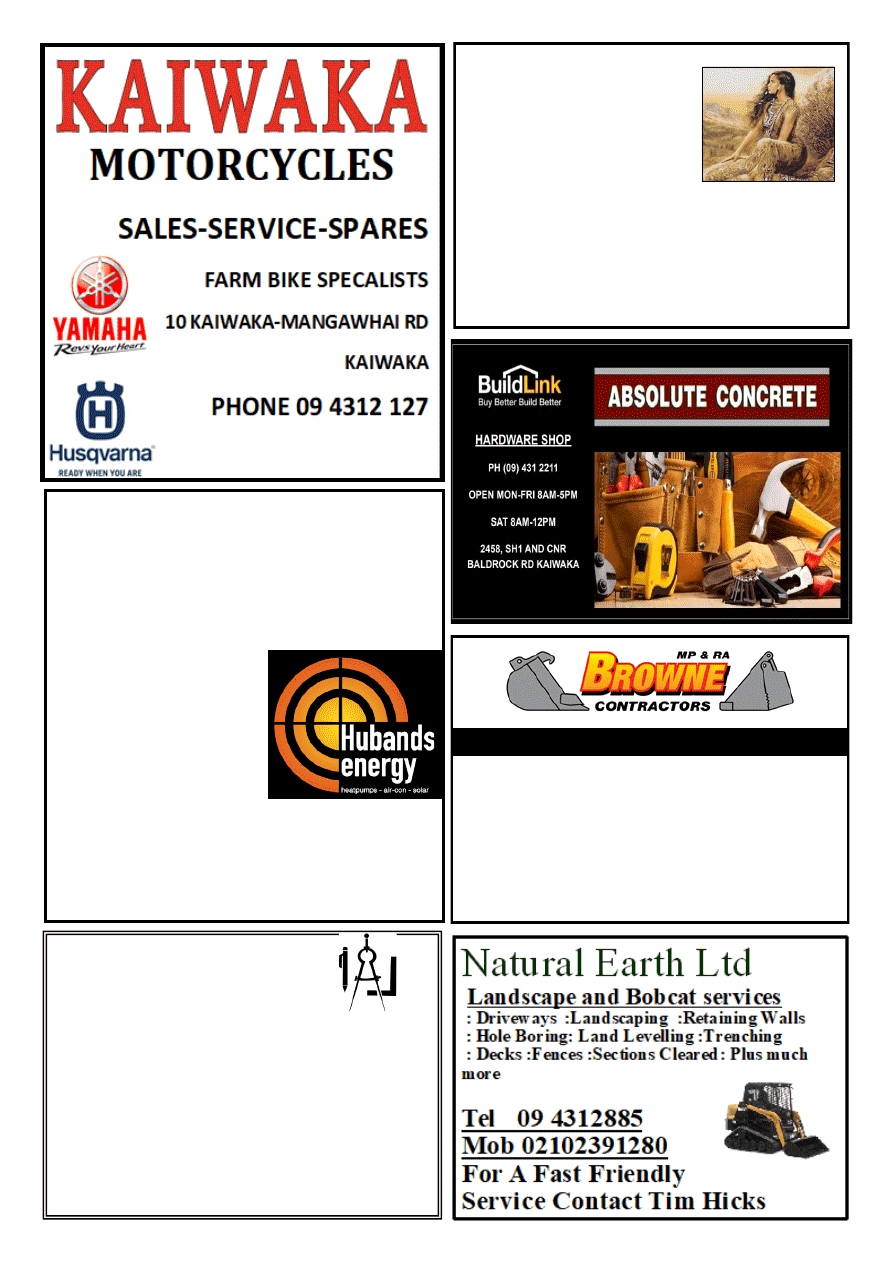 4Tonne DIGGER – BOBCAT – TIP TRUCK 
Property Maintenance - Driveways  
 Building Sites 
Stump & Tree Removal  
Hole Boring - Chain Trencher  
Calf Shed and Stockyard Cleaning 
Phone Matt: 021 199 6677 
Email: mprabrownecontractors@gmail.com 
design drafting  
service 
Retired builder and manufacturer with over 40 years  
experience in the building industry is offering a design 
drafting service for domestic housing, sleepouts and 
sheds.  
Plans formulated in consultation with clients, with 
working drawings completed and submitted to  
council for processing.  Extensive practical experience,  
able to identify & resolve problems. 
Please ring Mike Lean on 
09 431 2260 
or 
021 431 196 
TRAILS END 
RONGOA 
MAORI 
HEALING 
And Gifts 
Stocking all your needs from incense, crystals, dream 
catchers, greeting cards, jewellery, perfume, dragons and 
more ... 
For all inquiries 
 Phone 0211652629  
Light refreshments available $5 koha  
1758 Cove Road Mangawhai
Northland's Award Winning 
Solar Company
SEANZ Best Solar Business Winners 2015/16
EXCLUSIVE 10 year installation warranty 
FREE No obligation onsite quote
Complete systems 
from $5990
See our range of: 
✓ 
Heatpumps 
✓ 
Airconditioning 
✓ 
Hot Water 
Heatpumps 
✓ 
Central Vacuum Systems
09 430 0019             sales@hubands.co.nz 
15 Kioreroa Road, Whangarei
Locally owned and operated for 35 years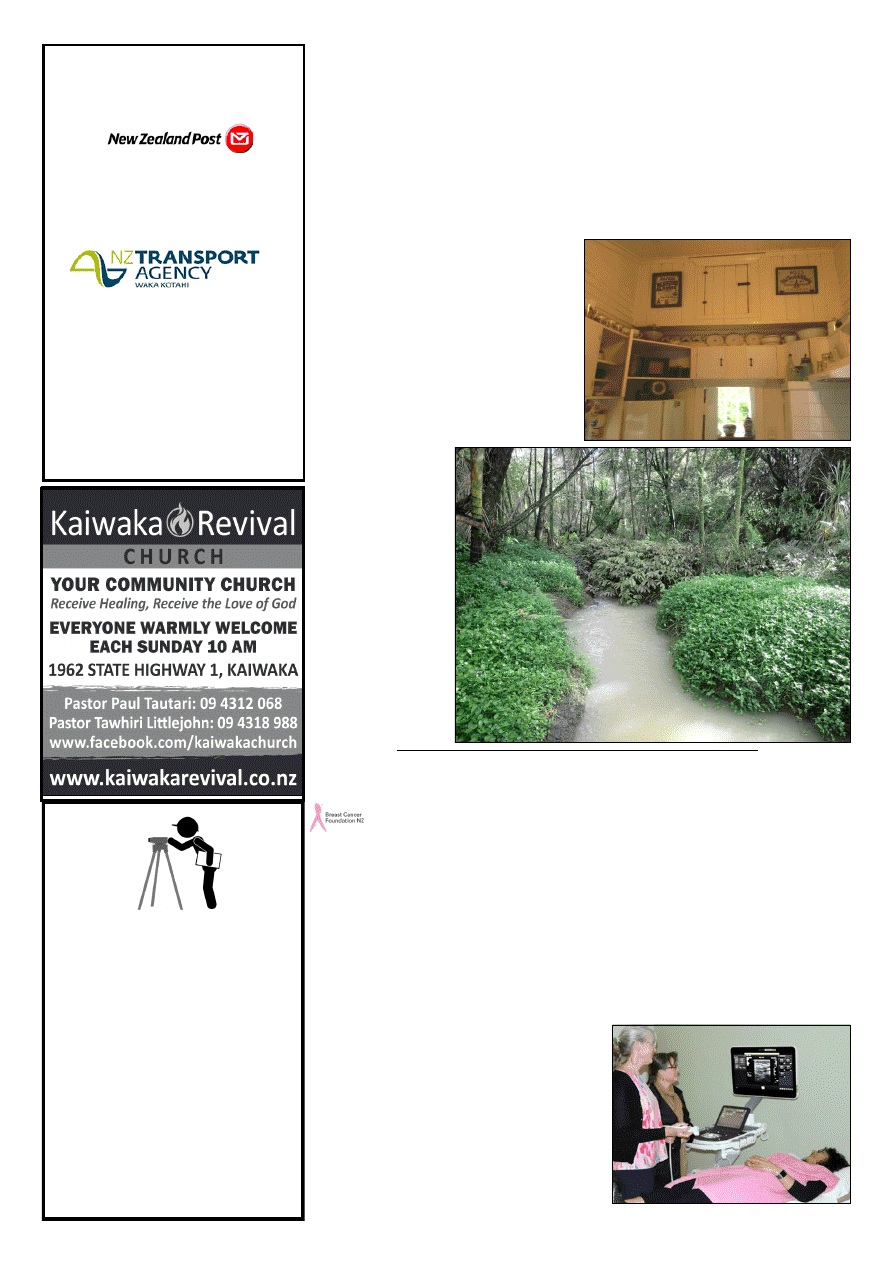 www.kaiwaka.co.nz 
Kaiwaka Bugle - 1 September 2020 
Page 15 
KAIWAKA POST 
CENTRE and 
FOOD MART 
POST CENTRE TRADING HOURS 
MONDAY to FRIDAY 8am to 5pm 
SATURDAY 8am to 12pm 
CLOSED ON SUNDAY and on 
PUBLIC HOLIDAYS 
FOOD MART (GROCERIES) 
MONDAY TO FRIDAY  
7:30am to 7.30pm 
SATURDAY  8am to 7.30pm 
SUNDAY  8:30am to 7pm 
IF ANY QUERIES PLEASE CALL 
STORE MANAGER AMRIT  
on 09 4312431 or 
EMAIL: kaiwakafood19a@gmail.com 
1919a State Highway1, Kaiwaka 0542 
Ken Urquhart 
BSurv Licensed  
Cadastral Surveyor 
KMU Surveys Ltd 
467 Bickerstaffe Road 
RD 2 
Maungaturoto 0587 
Ph 09 431 8705 
Mob 021 161 2344 
kenurquhart@xtra.co.nz 
NORTHLANDERS BENEFIT FROM NEW BREAST 
DIAGNOSTIC ULTRASOUND MACHINE 
Northland women who have been waiting to find out if they have a breast 
cancer diagnosis have benefited from a new ultrasound machine, thanks 
to a $52,000 donation from Breast Cancer Foundation NZ (BCFNZ). 
The addition of this machine to Whangarei's Mauri Ora Breast Clinic is helping 
to meet growing demand for breast screening, which has increased by 45% since 
the clinic opened in 2006. 
Chief  executive  of  BCFNZ,  Evangelia  Henderson,  said  she  was  thrilled  the 
charity was able to respond to Northland DHB's urgent appeal to fund half of the 
$104,000 machine:  "Receiving a timely diagnosis is crucial to improving  your 
chance of surviving breast cancer as it means you can start on treatment sooner, 
so this new machine will make a real difference for people in Northland." 
Mauri  Ora  Breast  Clinic  service  manager,  Barb  Miller,  said:  "Before  the  new 
machine  was  installed  in  February,  if  the  one  machine  we  had  broken  down, 
patients were sent home until the technician arrived from Auckland." 
The  new  ultrasound  also  provides  more 
functionality and better picture quality. 
Each  year  more  than  160  people  in 
Northland  are  diagnosed  with  breast 
cancer,  and  we  still  lose  25  people  in  the 
region to breast cancer every year. BCFNZ 
is a not-for-profit organisation that depends 
on  donations  and  fundraising  for  its  work 
in  breast  cancer  education  and  awareness, 
medical  research  and  training  grants, 
advocacy,  and  supporting  Kiwis  with 
breast cancer. 
The Pink Ribbon Street Appeal ~ Friday 30th & Saturday 31st October 2020! 
Lightburn  Stream 
today is a little-
known  tributary  running  under  State 
Highway  1  a  few  kilometres  north  of 
Kaiwaka  Township,  but  it  holds  an 
important  place  in  local  history.  The 
northern  bank  of  the  stream  is  a  tapu 
site  associated  with  battles  between 
Ngapuhi and Ngati Whatua.   
During  the Kauri logging  boom  times, 
Lightburn Stream floated kauri logs on 
their way to the tramline at Point Ernie. 
The  Auckland  Weekly  News  of  24 
September 
1887 
claimed 
that 
Pukekaroro  hill  country  was  generally 
recognised  as  containing  some  of  the 
best Kauri in the north. 
The nearby 
Lightburn  cottage
, built 
in the late  1880's by Richard Kendall, 
took  its  name  from  the  stream.  The 
cottage  was  a  pit-sawn,  shingle-roofed 
example  of  the  two-room  pioneer 
cabins  common  at  the  time.  This  was 
the  type  of  cabin  highlighted  in  Jane 
Mander  's  novel,  The  Story  of  a  New 
Zealand 
River. 
Although  parts  of 
the  cottage  were 
transferred  to  the 
Kauri  Museum  in 
Matakohe,  it  still 
shows  its  pioneer 
character. 
Macrocarpa 
was 
planted  below  the 
house  which  gave 
the  house  privacy 
and  still  preserved 
its 
view 
of 
Pukekaroro.  These 
were  cut  down 
when  the 
state 
highway  was  put 
in. 
In  the  Spring  of  2019,  Lightburn 
Stream 
was 
chosen 
by 
the 
environmental  education  programme 
Whitebait  Connection  and  Kaiwaka 
Primary  School  Enviro  Group  as  an 
ideal  Inanga  Habitat  and  the  students 
look  forward  to  studying  the  stream 
further.  Restoring  Lightburn  Stream 
with  native  plants  and  trees  will  not 
only help Inanga thrive, it will honour 
its history. 
LIGHTBURN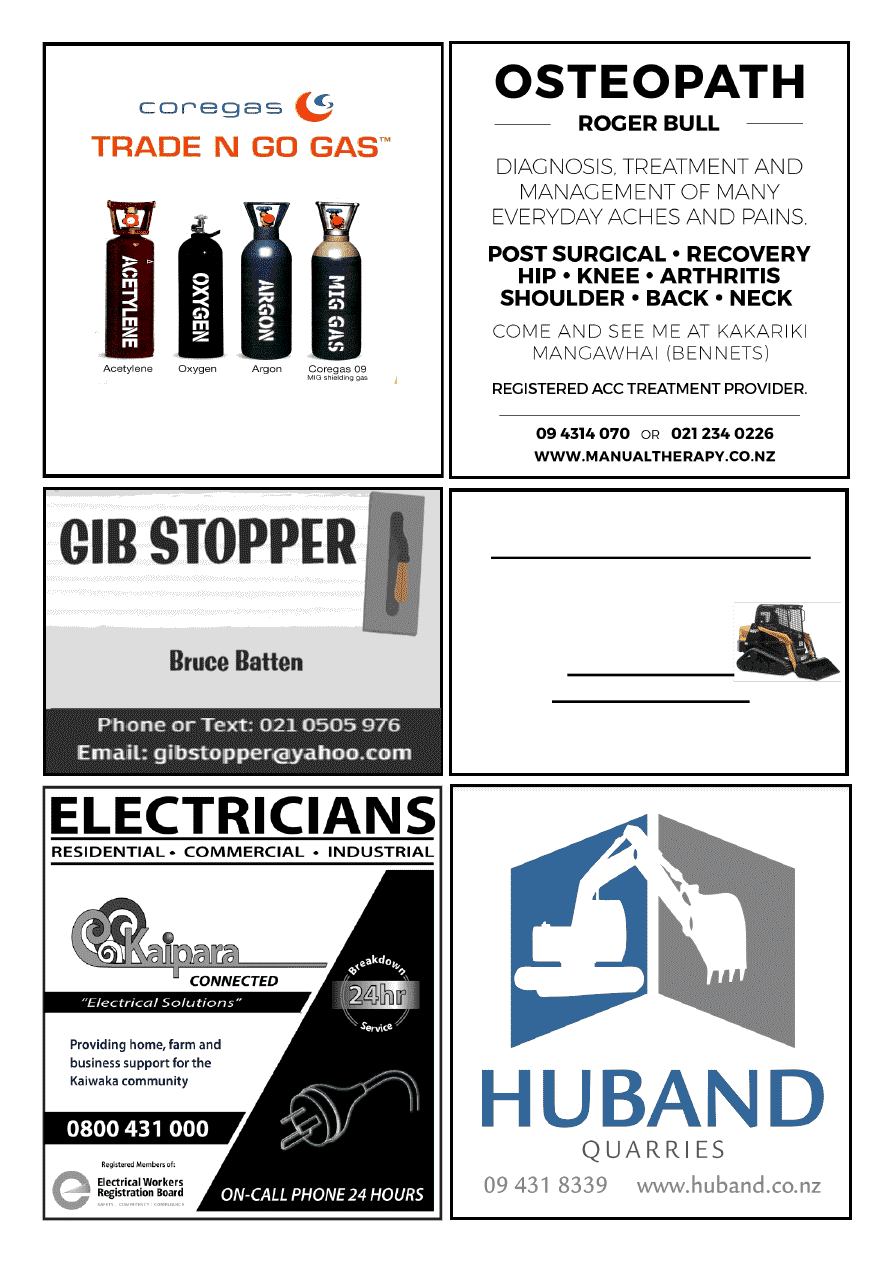 At Twinkle Tow 'n' Tyre 
Mob: 021 833 960 
Ph & Fax: 09 431 2823 
1837 State Highway 1, Kaiwaka 
Natural Earth Ltd 
Landscape and Bobcat services 
 : Driveways :Landscaping :Retaining Walls 
 : Hole Boring: Land Levelling :Trenching 
 : Decks :Fences :Sections Cleared 
 : Plus much more
Tel 09 4312 885 
Mob 02102391280 
For A Fast Friendly Service  
Contact Tim Hicks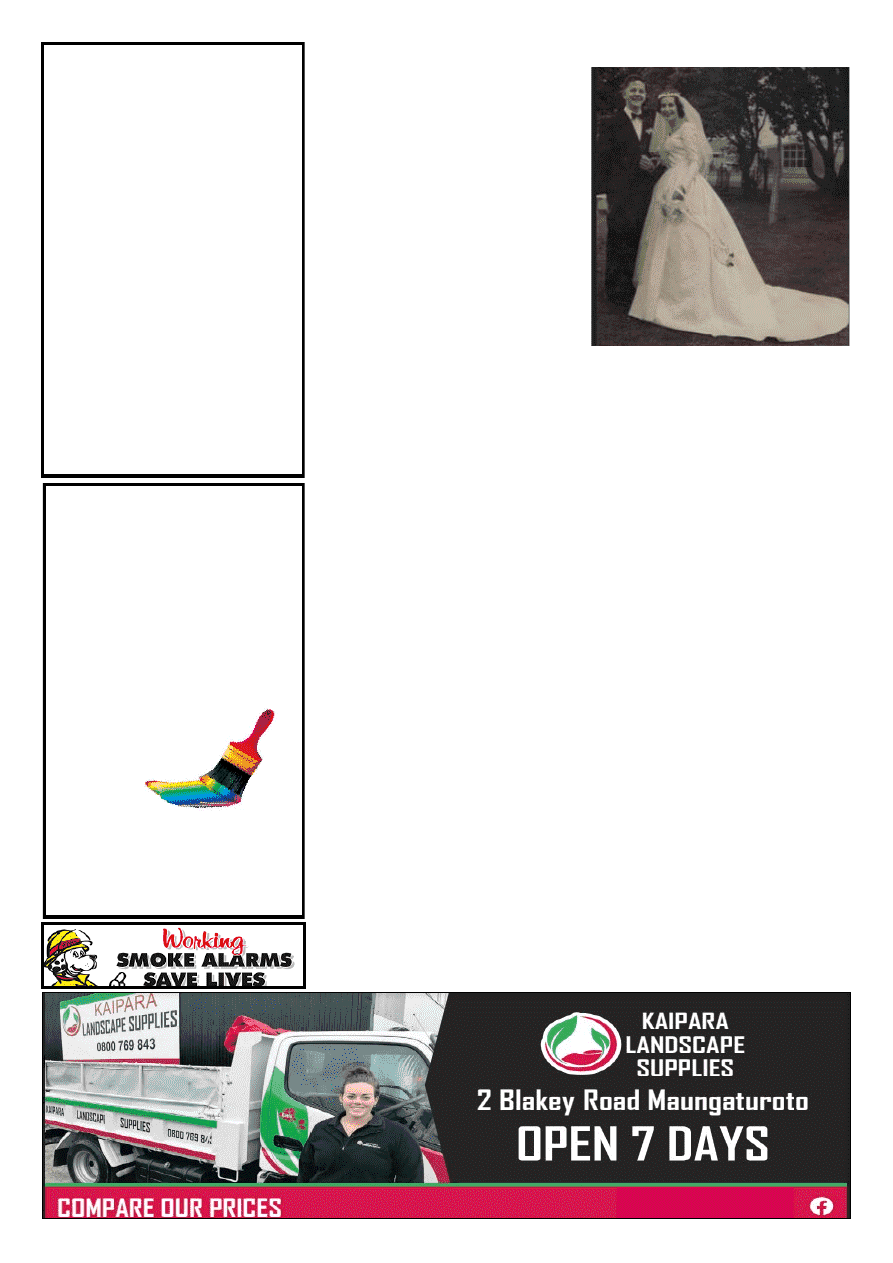 www.kaiwaka.co.nz 
Kaiwaka Bugle - 1 September 2020 
Page 17 
Willow Bend
HORSE  
HOTEL 
  
Total Horse Care 
 
Agistment 
 
Riding Lessons 
 
Arena Hire (60x40) 
 
Young Horse Starting 
 
Re-training/Exercising 
 
Hoof Trimming 
 
Problem Solving 
Phone Sue 09 431 2817 
or 021 623 776 
Or email  
susanjoll11@gmail.com 
LEE COOPER 
PAINTERS 
(Kaiwaka Based) 
*30 yrs Experience 
*Interior/Exterior 
*New and Restoration 
*Honest and Reliable 
*Free Quotes 
09 4312918 or 
0274735171 
leecooper@xtra.co.nz 
On  the  Saturday  27th  August  1960, 
Kevan 
Marks, 
formally 
of 
Christchurch,  and  Joan  Small  of 
Milford,  North  Shore,  tied  the  knot  at 
the 
little 
wooden 
St 
Georges 
Presbyterian Church in Takapuna. They 
met when Joan headed to Christchurch 
to  start  her  apprenticeship  as  a  tailor 
and  Kevan  was  an  apprentice  at  the 
Christchurch  Press.  They  moved  back 
to  the  North  Shore  to  get  married  and 
to  settle  down.  Kevan  having  been 
offered a job at what is now the  North 
Shore Times Advertiser. 
Living  for  a  while  at  what  is  now,  I 
believe,  number  5  East  Coast  Rd, 
Milford which at the time was a block 
of flats, which housed Joan and Kevan, 
Joan's  parents,  Ed  and  Pat  Small, 
Joan's  Uncle,  Todd  Lodge.  And  not 
long  after  their  eldest  child  Tony  was 
born.  Just  over  2  years  later  Janice 
came  along  at  about  the  same  time  as 
Joan and Kevan bought a property and 
built  their  first  home  in  Tui  Glen  Rd, 
Birkenhead.  This  was  down  a  long 
driveway  and  as  Joan  didn't  have  a 
license  at  the  time  she  would  have  to 
walk the 1 mile plus distance, in heels, 
because  no  proper  lady  went  out 
without  heels  on,  pushing  the  baby  in 
the  pram  and  holding  on  tightly  to 
Tony,  to  do  the  weekly  grocery 
shopping.  Kevan  by  this  stage  was 
working  for  the  New  Zealand  Herald, 
and  also  on  the  NZ  Woman's  Weekly 
and the Listener. 
A  number  of  years  later  Katrina  came 
along,  to  add  to  the  family.  Kevan, 
having  been  playing  in  brass  bands 
since  early  years  in  Christchurch,  had 
joined  the  Takapuna  brass  band,  (now 
North  Shore  Brass)  at  a  time  when  it 
was still a D grade band and after a few 
years  they  made  it  up  to  an  A  grade 
band. A number of lifelong friendships 
were  formed  over  this  period.  Many  a 
weekend  after  rehearsals  the  band 
members  would  turn  up  at  their  house 
for  a  BBQ.  Kevan  played  an  E  flat 
bass.  Many  Auckland  Santa  parades 
and  competitions  around  the  country 
over  many  years  ensued  and  many 
stories that don't bare retelling. 
In  the  mid  to  late  70s  Kevan  left  the 
Herald and they both started their own 
printing  business  in  Highbury,  later 
partnering  up  with  Joan's  younger 
sister  and  her  husband  and  then 
eventually  selling  out  to  them,  and 
Kevan  went  to  work  at  the  Auckland 
Star.  During  this time,  they  went  from 
the  old  compositing  and  linotype 
printing  of  the  paper  to  it  all  being 
computerised  and  he  had  to  learn  how 
to  use  a  computer.  Then  after  many 
years  at  the  Star  he  was  made 
redundant in 1988 and so having never 
been  overseas  before  Kevan  and  Joan 
took  off  for  a  nearly  7  month  world 
tour, 
visiting 
America, 
Canada, 
Amsterdam, 
Germany, 
France, 
England,  Singapore,  and  Australia. 
Most  of  their  travel  was  on  trains  and 
backpacking. 
Heading home, Kevan saw an ad for a 
new start up taxi company and so took 
his taxi license and started driving taxis 
around Auckland, even having a trip or 
two  to  Rotorua.  Some  interesting 
customers  tales  have  been  told  about 
that.  Then  due  to  ill  health  he  had  to 
give  up  taxi  driving  and  became  a 
dispatcher  whilst  Joan  learnt  the  taxi 
trade  and  would  then  drive  the  taxi 
around Auckland at night. Also, around 
this time they decided to downsize and 
left Birkenhead for Browns Bay. 
Joan  retired  after  16  years  as  a  taxi 
driver  at  the  age  of  70,  and  they 
decided  to  follow  Katrina  and  her 
family to the lovely Kaipara. They sold 
up in Browns Bay and have for the last 
10 years lived in Kaiwaka, where Joan 
says the community feel reminds her of 
the  Shore  when  she  was  younger. 
Kevan says it took him 50years, but he 
finally managed to get her to go rural. 
On  Thursday  27th  August  they 
celebrated 60 years of marriage and on 
the 29th the family organised a surprise 
celebration  at  the  Maungaturoto  RSA 
where  they  are  members  and  regulars, 
with  friends  and  family,  that  are  not 
stranded by Covid19.  
0800 769 843
A DIAMOND CELEBRATION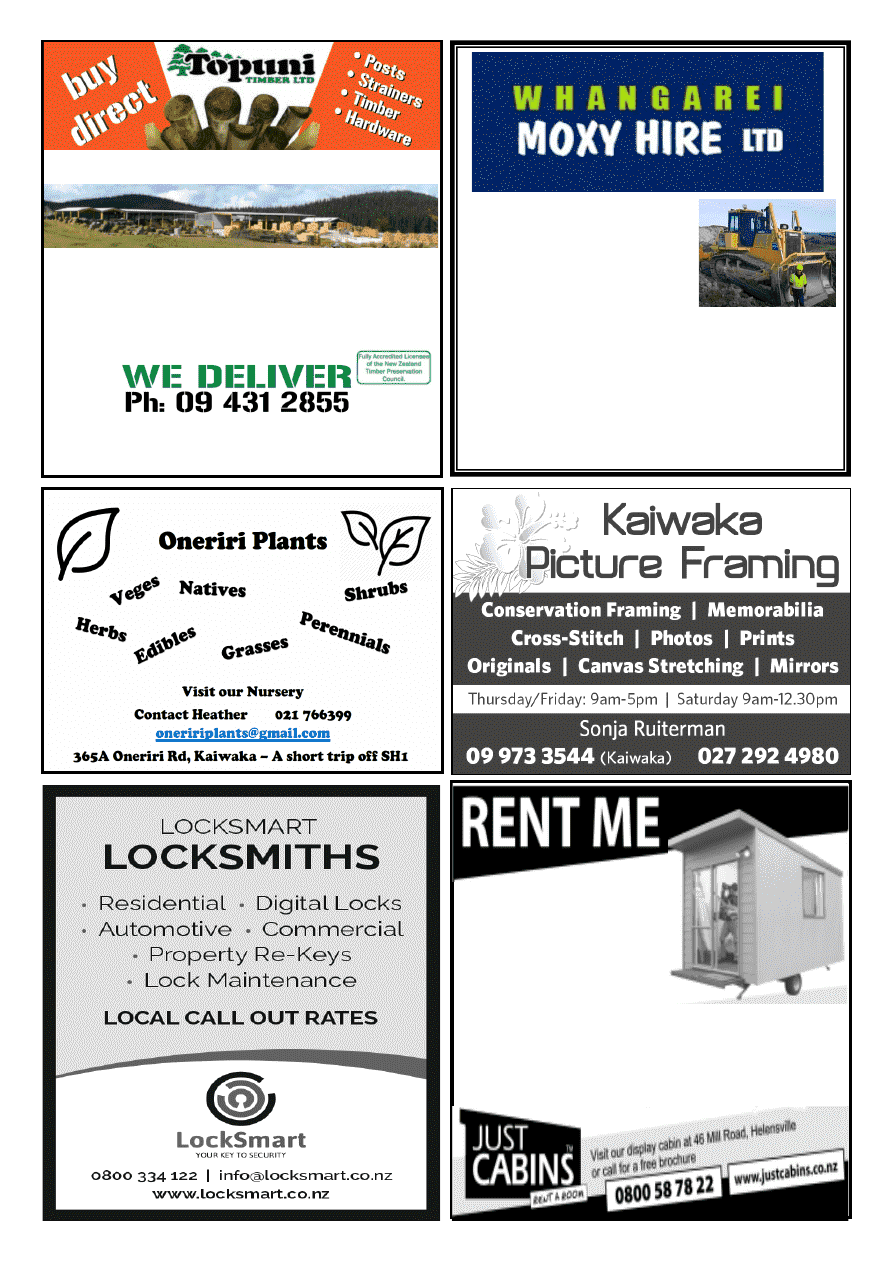 LOCALLY OWNED AND OPERATED 
QUALITY PRODUCTS • FRIENDLY ADVICE • GREAT SERVICE 
Quality Products milled from High Density NORTHLAND Radiata Pine. 
Treated and guaranteed to NZS3640 with commitment to 
Environmental Safety.
Phone, fax, email, or come into the mill 
Schiska Rd, Topuni, SH1, 10 min north of Wellsford. Fax: 09 431 2856 
Email: sales@topunitimber.co.nz           Mon - Fri 7am-5pm 
• Fencing 
• Retaining 
• Decking 
• Landscaping 
• Gates 
• Hardware 
Ideal as an extra  
bedroom or office 
Three Convenient sizes: 
Standard 3.6m x 2.4m - $65 per week 
Large 4.2m x 2.4m - $80 per week 
THE POWER OF 
EARTHMOVING! 
Whangarei Moxy hire are a 
large earthmoving company 
with 80 machines available 
for hire with or without operators. 
Bulldozers, Compactors, Diggers  
and 30 – 40 ton dump trucks. 
Whether you need help cleaning out drains, 
roads, fence lines, dams or culverts, Whangarei 
Moxy Hire have you covered Northland wide! 
Visit www.whangareimoxyhire.co.nz  
or call 09 434 4272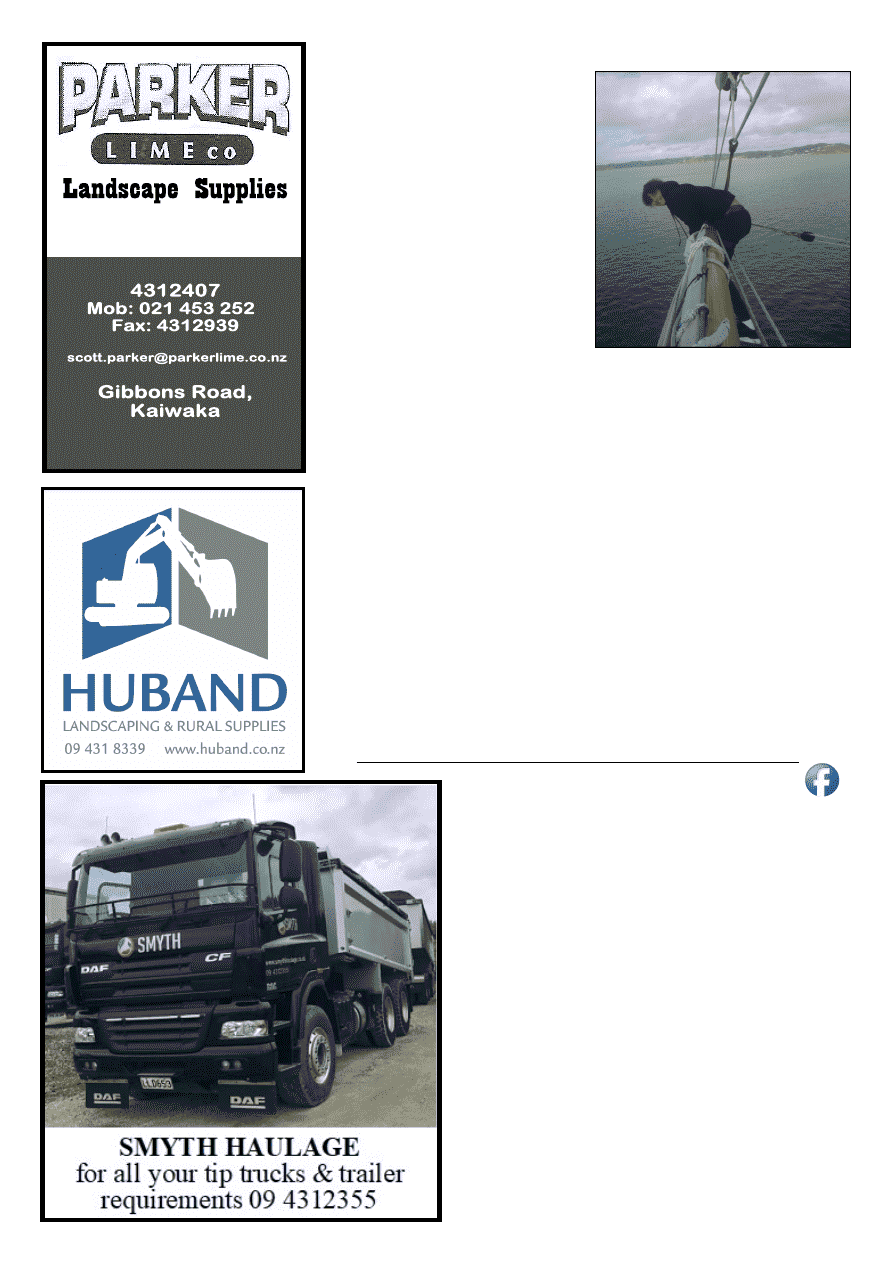 www.kaiwaka.co.nz 
Kaiwaka Bugle - 1 September 2020 
Page 19 
Bulk Cartage 
DID COVID-19 ALERT LEVEL 2 
We're  still  in  Alert  Level  2  and  will  stay  here  until  at  least 
Sunday  6  September  at  this  stage.  The  library  is  open  for 
business. We need you to either sign in on the contact tracing 
sheet or use the QR code with the tracing app on your phone 
- many thanks to those who have been doing so during this 
time. 
JUNIOR FICTION EXPANDING 
The Junior Fiction (JF) shelves were bulging at the seams, so 
to speak, and getting good use so we're making that  section 
larger.  They're  still  on  the  same  shelves  as  before,  but  they 
are now also on the shelves in the centre of the room in the 
section nearest the original JF shelves. 
OTHER MOVEMENTS 
Teen  Fiction  (YP)  are  now  alongside  the  new  JF  shelves, 
moved  from  the  other  side  of  that  central  bookcase.  DVDs 
and  Blu-Rays  are  back  on  the  other  side  of  the  central 
bookcase where they used to be a while back. 
NEXT BOOK SWAP 
The date for the next Dargaville book swap has been set for 
mid-October.  If  you  haven't  already,  now  is  a  good  time  to 
come  in  and  take  a  good  look  through  the  books  on  those 
shelves,  before  they  disappear.  Don't  forget  to  check  the 
Large  Print  shelves  too.  These  books  don't  need  to  be 
returned  before  the  swap;  they  can  trickle  in  as  you've 
finished with them. 
Book review 
Recently,  I've  read  The  Tally  Stick  by  Carl  Nixon.  "A 
compulsive  and  chilling  novel  about  subjugation,  survival 
and the meaning of family." 
~Wendy 
KAIWAKA LIBRARY  
"R TUCKER THOMPSON" SCHOONER 
The  Tucker  as  it  is  called  by  many, 
especially those who have sailed on her, 
was  built  in  Mangawhai  by  Robert 
Tucker  Thompson  known  as  "Tucker". 
The traditional gaff-rigged schooner was 
started  in  the  late 1970's  as  a  project to 
embody the best features of a traditional 
design  and  modern  material  of  today. 
After  Tucker  died  the  schooner  was 
completed  by  Tucker's  son  Tod 
Thompson and Russell Harris. 
The  Tucker  design  was  based  on  a 
Halibut  schooner  of  the  North  Western 
American coast and was considered fast, 
easily manned, and handled the sea well, 
looking  like  an  18th  Century  working 
ship  purposeful  and  square  and 
shouldered, but with a touch of style and 
speed sufficient to out run the law in the 
18th century. The ship has a current survey in a class seven foreign vessel which 
means that they can carry passengers around New Zealand and offshore. 
On 4th June 2006, her owner Russell Harris transferred the ship to the people of 
Te  Tai  Tokerau,  Northland  to  be  operated  by  the  R.Tucker  Thompson  Sail 
Training Trust. 
At present during the summer the Trust do 'day sails' with people who would 
like a tall ship experience around the Bay of Islands.  This is the time when the 
Tucker earns the bulk of their income to run the Trust; further funding comes 
from other agencies, but this is getting harder to get. During the months July to 
November the Tucker takes children from Northland on weeklong training trips 
round the Bay of Islands.  
Two of my grandsons have been on two different sailings and they both loved it. 
Seeing  the  quite  shy  children  on  embarking  and  then  seeing  them  when  they 
disembark on the last day - they are loud excited, and just buzzing, exchanging 
modern contacts. 
If  children  are  interested  in  go  on  such  a  sailing  venture  contact  R  Tucker 
Thompson via Facebook or their Web page. 
Children can be sponsored by schools, local business, by family, etc. Each trip is 
approximately  $2000  but  if  that  amount  is  unattainable  there  is  a  subsidised 
price of $950. Don't be put off by the cost - you can contact The Tucker and 
make an arrangement with them  (they even take time payments), as they do not 
want to leave children out of  gaining the experience because of cost. 
On  the  trip  the  children  learn  about  sailing,  parts  of  the  ship,  mapping,  cold 
swims, as well as visiting the islands of the Bay of Island, and heaps more. Each 
trip is different due to weather conditions. ~ Jennie 
Photo above: Kaiwaka lad, Branden Edwards, 'hanging out' on the Tucker.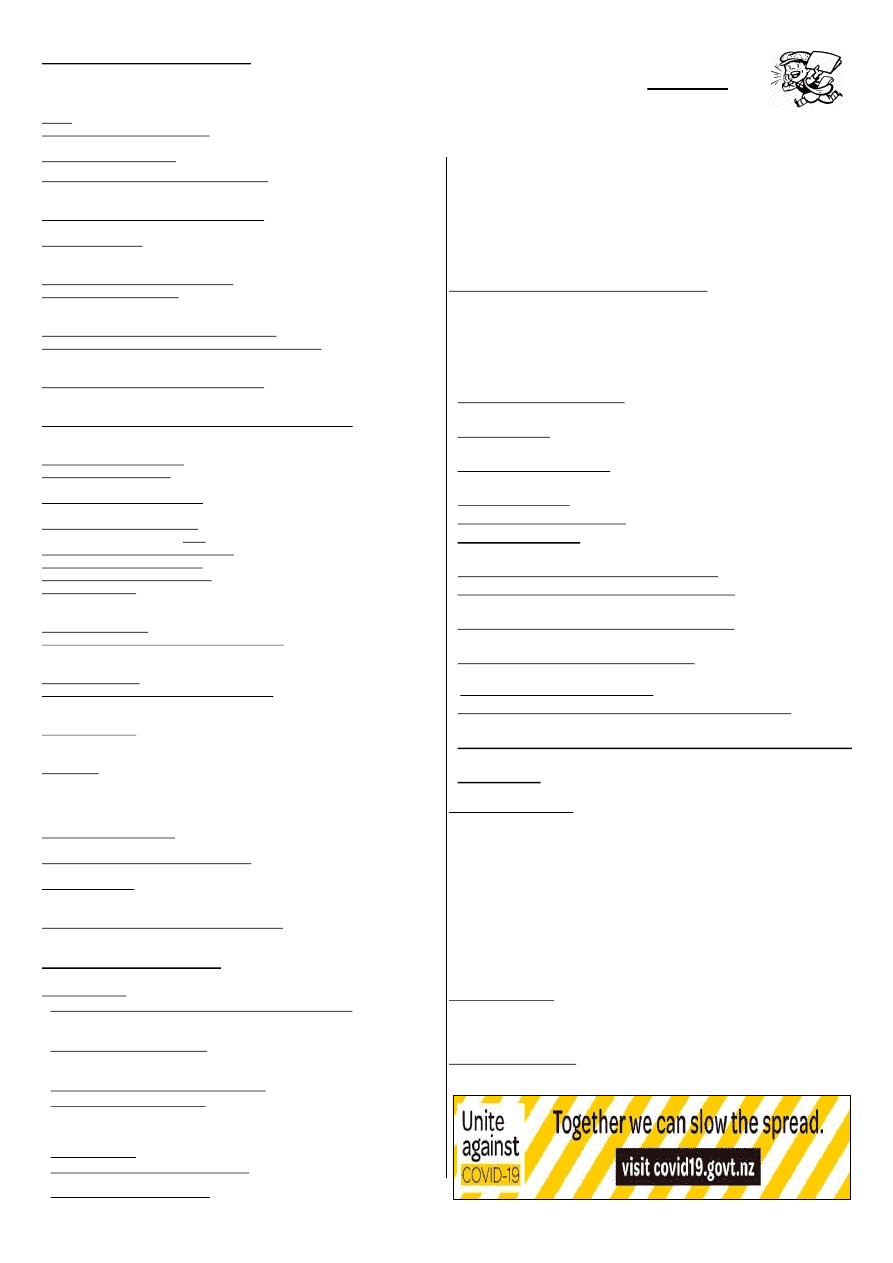 Next Bugle Deadline  Friday 11 September 2020
WHAT'S ON
PLEASE ~ do let us know what is on - 
email kaiwakabugle@kaiwaka.co.nz 
*3Sep~Hakaru Pony Club meet. 5.30pm 
*8Sep~Kaiwaka War Memorial Hall & Kaiwaka 
Library, AGM, 5pm 
*16Sep~ Kaiwaka School Fun Run & Fundraiser  
*28Sep~Kaiwaka Plunket visit, St .John Hall, 9-12 
*28Sep-2Oct~Otamatea St. John Trash & Treasure 
KWMH = Kaiwaka War Memorial Hall; KSA = Kaiwaka Sports Association 
See www.kaiwaka.co.nz for more information 
HOUSEHOLD RUBBISH COLLECTION  
Kaiwaka Pick up: 
Mondays = Green bags (Northland Waste - 09 430 3273) 
Wednesdays  =  Blue  bags  and  yellow  recycling  (at  Jaques  $3.00 
and  $1.50)  (Kaurilands  09  4392146);  ONLY  Blue  and  Yellow 
bags picked up on Oneriri Road. 
 DIABETES Support Group-for Kaiwaka, Mangawhai, Wellsford 
10am, 3rd Friday of month Ph: Colleen James 09 4314238 
 GENEALOGY - Wellsford: 1st Thursday in month Ph: 423 
7033; Waipu: 4th Monday in month Ph: 4312 725 
 HAKARU PONY CLUB - Secretary Denise Rogers 021423376 
secretary@hakaruponyclub.co.nz  
 KAIPARA HUNT - Secretary Albert Doonenbal Ph 4312059 
 KAIWAKA BADMINTON -Tuesdays 7.30pm Ph: 4312345 
 KAIWAKA  CAN  -  3rd Wednesday in  month, 5.30pm, Archie 
Bull Hall Ph: 0273572751 
 KAIWAKA DRUM & DANCE CLASSES - 021 611198 
 KAIWAKA GARDEN & FLORAL GROUP - 2nd Thursday in 
month. Ph: 431 4744 
 KNITTING FOR WHANGAREI HOSPITAL - 2nd Tuesday in 
month, Archie Bull Hall 10am Ph 4314827 
 MANGAWHAI COMBINED REBUS CLUB - 2pm, 3rd 
Thursday month, Senior Citizens Hall Mangawhai. Ph: 4315777 
 *PT CURTIS CRUISING CLUB - Jean Ph: 4312227 (wk), 4312520 (hm) 
 RSA,  HAKARU  &  DISTRICTS  WOMEN'S  SECTION  –  meets 
1.30pm 4th Thursday of the month. Ph: 431 5818  
 KAIWAKA  SCOTTISH  COUNTRY  DANCING  CLUB-
Wednesdays 10am - 12 noon  Ph: Elaine 027 432 0032  
 TRAMPING - Mondays 9am-2:30pm Maria 4312 234 
HALLS FOR HIRE: 
  Kaiwaka St. John Hall: Phone Marj  0272941227  
 St.Pauls  Archie  Bull  Hall  HIRE  $20  half  day,  $40  full  day  per 
hire, S McAulay, Ph 4312311 
 Kaiwaka  War  Memorial  Hall  HlRE  -  Phone  4312725  or 
kaiwaka.hall.bookings@gmail.com 
 Hakaru Community Hall HIRE -Ph.  Karen 4312090 
 Te Pounga Marae queries - Pearl Nathan  0223933533 
 Kaiwaka Sports Association hire/queries  - P Jaques 4312227 or 
kaiwakasports@gmail.com 
Justice  of  Peace:    B.FJaques  4312  048;  L.Donaldson  4312  228; 
A.F.Hargreaves  4312  045,  W.Howard  4312  725  D.Edwards 
021611198  -  please  phone  to  make  sure  they  are  available 
www.justiceofthepeace.org.nz 
Marriage Celebrants:  
L.Donaldson; A.F.Hargreaves; Y Osborne
LOCAL SERVICES 
*Emergencies - Ambulance, Fire, Police - dial 111 
*Non-urgent Police phone 105
A A: Meets Wed., 7.30pm Kaiwaka Ph: 4315543, 0800229 6757 
NARCOTICS ANONYMOUS: Mon., 6.30pm, Kates Place; drug and 
alcohol related issues. Ph. 02102412348 
ASUREQUALITY LTD (was AgriQuality) Call Free 0508 0011 22  
BUDGETING SERVICE, WELLSFORD: Free confidential advice & 
support for all areas of personal finance. Ph (09) 423 7123 
CAB-Citizens Advice Bureau.Wellsford Ph: 4237333 
0800 367 222 email:cab.wells@xtra.co.nz  
CIVIL DEFENCE - Kaiwaka Community Response Group: 
kaiwaka.civildefencecrg@gmail.com, 4312725 Wendy 
DOG/STOCK /NOISE CONTROL 0800 105 890 
FUNERAL SERVICES: Morris & Morris Ltd, 
Whangarei - Bev Jaques Ph:4312367 or 0800667747 
GRANDPARENTS Raising Grandchildren: Dianah Roberts 0223819539 
HAKARU & DISTRICTS MEMORIAL RSA (Inc) 733 Settlement Rd, 
Hakaru. Ph 4312 176 or Bill Warren (President) 431 2092 
HAKARU LANDFILL/Transfer Station:Open everyday 10am-4pm 
Ph4312629 Cost-$55 trailer load up to 1 cubic metre. Ph:4258567 - office 
KAIPARA DISTRICT COUNCIL www.kaipara.govt.nz:  
Help Desk FREEPHONE 0800 727 059  
KAIWAKA CEMETERY: Ph: 4312045 or 4314017 
KAIWAKA LIBRARY: kaiwaka.library@gmail.com  
Mon. 4-6pm; Wed., Thurs., Fri., Sat. 10am-2pm Ph:4312539 
KAIWAKA PLAYCENTRE: Ph Juanita 0274134904; open Mon, Wed, 
Fri 9am-12pm. Hastie Lane; Monday to Friday 9.00am - 12 noon. 
KAIWAKA POST OFFICE:Ph:4312 431  
Post Code: 0573 for RD2 and 0542 for all Kaiwaka Post Office mail 
KAIWAKA PRIMARY SCHOOL: Ph: 4312309   
KAIWAKA SPORTS ASSN: Ph 4312005; 4312129 gym 
KAIWAKA ST. JOHN HALL: Phone Marj  0272941227  
KATE'S PLACE Community Centre - Employment services, Free Health 
Nurse, Plunket, Advocacy, Osteopath, A.A., Legal Advice. 4312 661 
LINKING HANDS Health Shuttle Ph 4315906 or 09 4318969 
MINISTRY FOR PRIMARY INDUSTRIES - General inquiries Call 
Free 0800 008 333 
NORTHPOWER: Faults Kaiwaka area 0800 104040 
OTAMATEA COMMUNITY SERVICES: Counselling, parent coach, 
Family Support worker, budget advice, food bank. Mon-Fri 9am-3pm. Ph 
09 431 9080 http://www.otamateacs.org/ 
PARENTPORT: Free, practical family support service Puhoi to Paparoa 
Ph or txt: Dianne 027 280 5093 or 09 425 9357 
PLUNKET:  Kaiwaka  -Kate's  Place  Clinic  1st  Wednesday  of  the  month; 
Mangawhai  - Rose Madsen Cottage: Coffee Group 9:30 every Monday.  Clinic 
every Monday and Thursday. 
Maungaturoto - Good News Church, Clinic 2nd and 4th Wednesday.  
Cynthia 09 431 7340 or 027 675 3488 
PLUNKET HELPLINE -0800 933 922 (24 hours) 
TAITOKERAU COMMUNITY LAW: Free confidential legal advice and 
assistance, 2nd
Thursday
 of each month. Ph: 0800 155 529 for apps.  
TE URI O HAU Settlement Trust Tangata Developments: Whanau Ora 
021 793262  
VETERINARY SERVICE MANGAWHAI: 
Ph: 4314535 Mon-Fri 8.00-5.00, Sat 9-12, a/h appt. 
WELLSFORD DOCTORS: Ph: 4238 086 
CHURCHES:
 
Kaiwaka  Revival  Church  -  Your  Community  Church:  Sundays  10am. 
Ph: Pastor Tawhiri 09 431 8988 or Pastor Paul 09 4312 068 Visit us at 
www.facebook.com/kaiwakachurch or www.kaiwakarevival.co.nz 
 
St  Paul's  Anglican  Church  1st  Sun.  9.00am  (Eucharist),  3rd  Sun. 
9.00am (Family Service). Contact: Rev. Wayne Thornton Ph 431 4122 
www.mangawhaianglican.org.nz 
 
Church of Christ the King, Mangawhai:9.00am every Sunday 
 
St.Mary's  Catholic  Church:  Maungaturoto  –  Griffins  Road,  Saturday 
evening  Vigil  Mass  6pm;  Mangawhai  –  Senior  Citizens  Hall,  Sunday 
Mass  8:30am;  Wellsford  –  Matheson  Road,  Sunday  Mass  10:30am;  
Mid-week Mass times and all enquires to Fr. Bill Fletcher – phone 423 8170
 
Baptist Church: Sun. 10.30am Mangawhai Snr Cit.Hall.Ph:4312339 
 
Cause  Way  Church  Mangawhai:  Sundays  10.15am,  Mangawhai 
Community  Recreation  Centre,  Insley  St.  Ph:  09  4314782