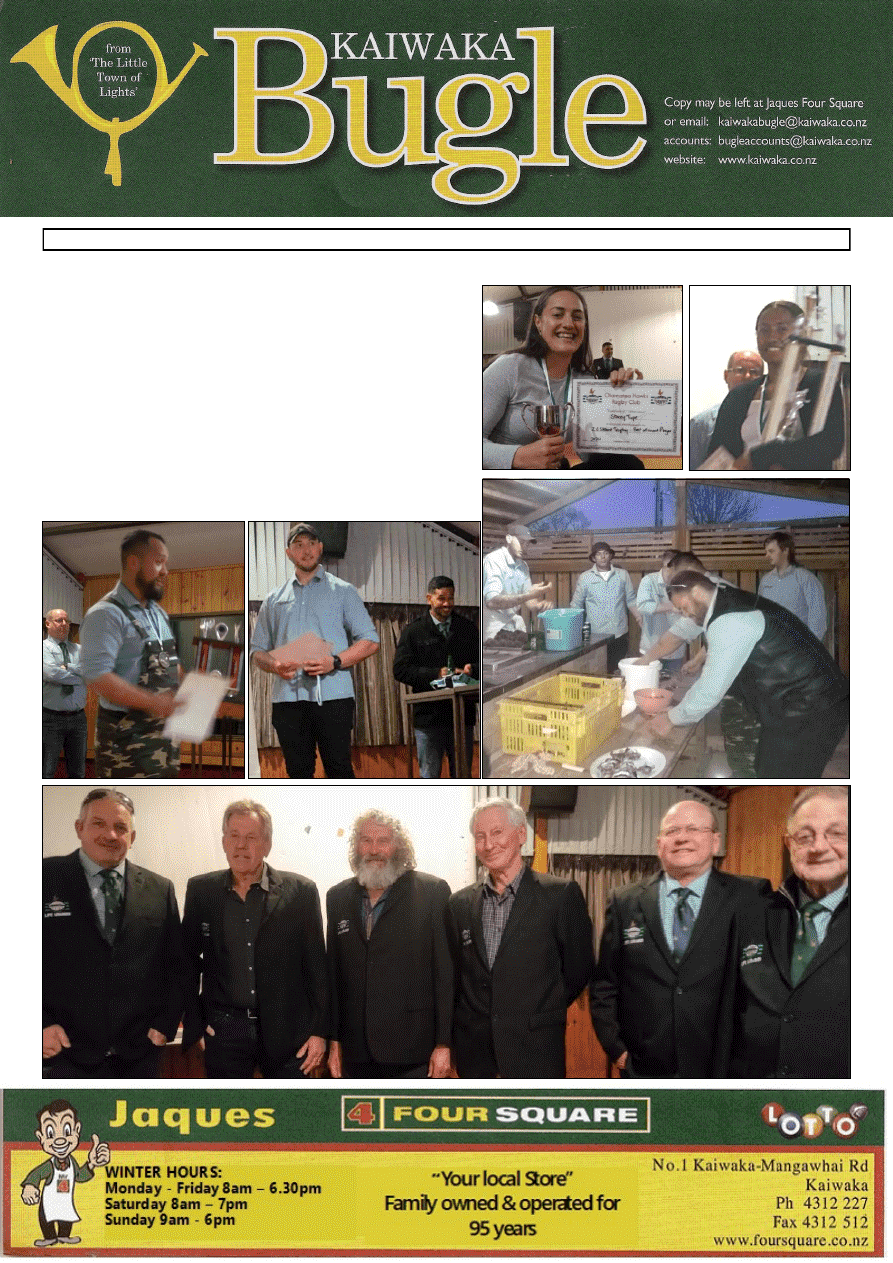 www.kaiwaka.co.nz 
Kaiwaka Bugle - 15 September, 2020 
Page 1 
No: 18 
 15 September 2020 
WINTER HOURS: 
Monday - Friday 8am – 6.30pm 
Saturday 8am – 7pm 
Sunday 9am - 6pm 
OTAMATEA HAWKS RUGBY 
Last  Saturday  evening  the  Otamatea  Hawks  held  their 
prizegiving  at  the  Kaiwaka  Sports  Pavilion.  This  was  the  first 
time the men and women's teams shared the trophies. 
What  a  special  night  this  was,  the  fellowship,  the  atmosphere 
and the culture  was  very positive. 
There were a number of highlights. Firstly, blazers embroidered 
with  the  Hawks  logo  were  presented  to  club  life  members  - 
picture below, left to right, Grant Eager, Evan Wright, Wayne 
Leslie, Tony Hargreaves, Kevin Robinson, Peter Hargreaves. 
The  wWomen  have  had  a great  season. Three  of the team  are 
now in the Northland squad - Louisa Tubailagi (photo far right), 
Stacey Tupe (photo right), and Madison Johnson. 
The  Hawks  Men  won  their  Division  One  championship 
(reported in Bugle 16). Pictured below: Captain Arapeta Waata, 
with Peter Robinson, and Hawks player of the year with Coach 
Nick Makea - great speeches by all.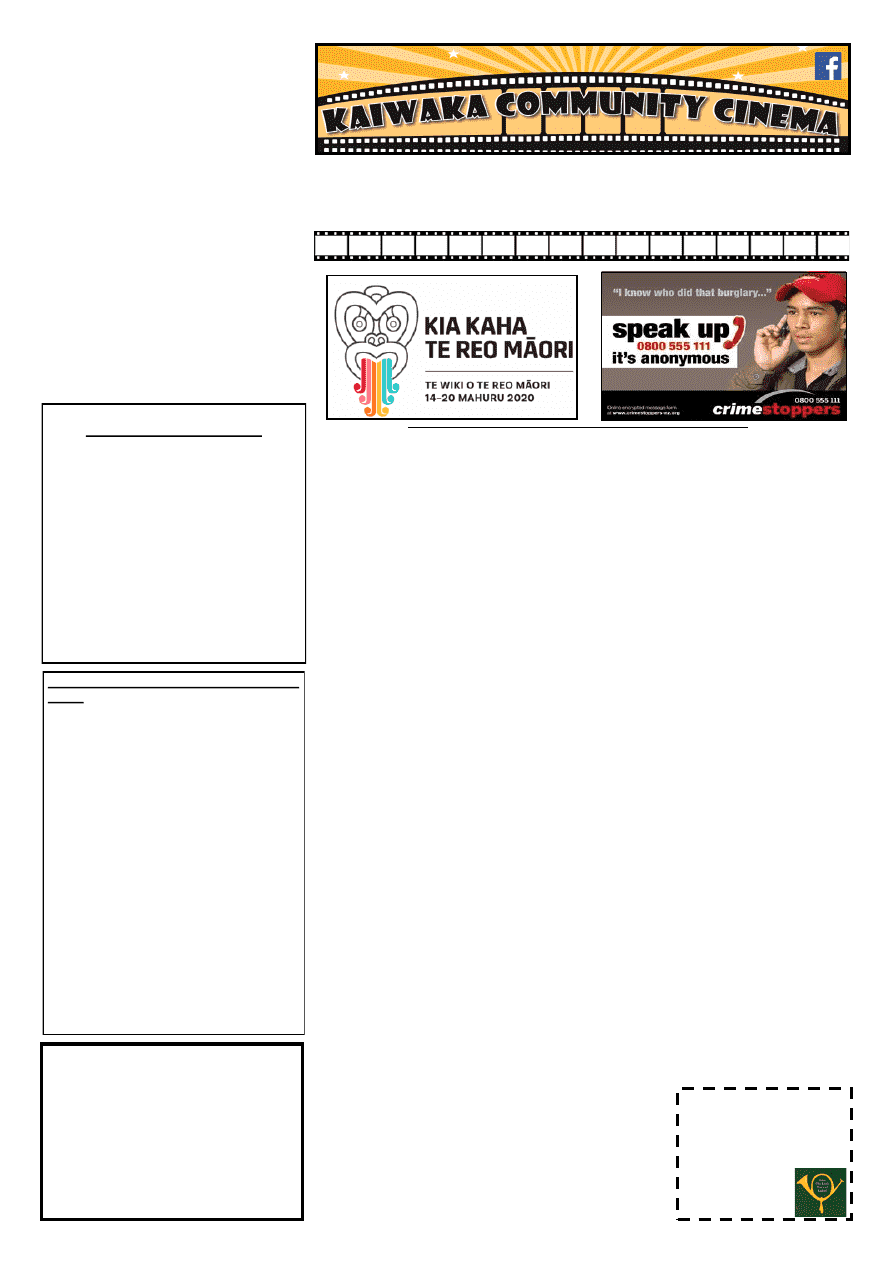 At Kaiwaka War Memorial Hall . Adults $10, Kids (under 16) $5, Family Pass (2 adults + 3 children) $25 
KAIWAKA BUGLE No. 18 
15 SEPTEMBER 2020 
CONTENTS 
Page 3: Public Notices, Classified 
Page 5: Kaiwaka Weather; KWMHall 
Page 7: Daffodil Day; Pt. Curtis CC; 
Thelma's Scrapbook 
Page 9: Vegie Gardening 
Page 11: Kaiwaka Sports Assn. 
Page 13: Otamatea High School  
Page 15: Zonta; Kaipara Dog Training 
Page 17: Library; Kaiwaka Movies 
Page 19: NZTA;  Also Spotted 
Bugle 19 will appear 29 September 
2020 
Contact for advertising, reports, articles 
or information can be made by 
Email kaiwakabugle@kaiwaka.co.nz 
Ph: 09 4312 045 Lindsey 
Txt: 027 2724137 
Copy  may  be  left  at  Jaques'  Four 
Square. 
Kaiwaka Bugle 
Founded May 1978 
We appreciate articles and photos about local 
events, etc, as well as ads and suggestions. 
Copies available in Kaiwaka at Jaques Four 
Square, Kaiwaka Postal Centre, Shamrock 
Service Station, Animal Health Centre, 
Kaiwaka St John shop. 
Also outlets in Maungaturoto, 
Mangawhai and Paparoa. 
Can be viewed online at   
www.kaiwaka.co.nz/Bugle  
Or a copy can be posted to you if you supply 
stamped, self-addressed DLE envelopes. 
Kaiwaka 
Bugle 
Advertisements 
2020: 
All 
copy 
and 
queries 
to: 
kaiwakabugle@kaiwaka.co.nz 
The Bugle is printed on an A4 page   
Ad  sizes:  1/16  page  (3  x  9.5cm)  $5;  1/8 
(6.5  x  9.5cm  landscape  or  portrait)  $8; 
3/16 ( 10 x 9.5cm or 7.5 x 12,5)  $12.  
Classified  ads:  First  one  FREE,  $4  per 
entry (max. 30 words, max. 4 repeats). 
Payments  can  be  made  online  at 
ANZ 
06  0365  0006990  00
,  posted  or  left  at 
Jaques Four Square Store. 
We  use  Microsoft  Publisher,  and  can 
work  with  most  common  image 
formats, Word, Excel, and PDF files. 
Accounts:  
Email: bugleaccounts@kaiwaka.co.nz 
The  Kaiwaka  Bugle  is  a  community 
newspaper run by volunteers, as part of 
the Kaiwaka Media Group Inc.   
Articles, etc. printed are not necessarily 
the opinion of the Bugle Team. 
ABOUT TOWN 

 DAFFODIL  DAY  THANK YOU! "Kaiwaka punches above its weight and 
it  was  great  to  see  that  Covid  didn't  keep  people  away,"  says  Tasha  Judd, 
Community Fundraiser, Cancer Society Northland. 

 A well done to our local rugby club, the Otamatea Hawks Men and Women, 
for an excellent prizegiving (under Covid rules); great to see Louisa, Stacey and 
Madison there - they went on to play for Northland on Sunday - a loss against 
Auckland 29-22. Congratulations to Daniel Hawkins, former Otamatea Hawks 
player, on his 50th game for Northland on Sunday - Northland beat Manawatu 
43-26 

 McClean  Park: Please  drive by and see the condition of this rest area then 
let the Council know your thoughts at 0800 727 059 

 We were saddened to hear of the passing of  Peter Mortlock. Pete  was  with 
Leabourn Buses and drove the inaugural Bream Bay  link. Our condolences to 
his family and friends 

 ELECTION DAY NZ: Saturday 17th October 2020. 

 The  Narcotics  Anonymous  Monday evening meeting is now at the Archie 
Bull hall, 11 Kaiwaka-Mangawhai Rd. Doors open -6pm, Meeting 7pm-close. 
Cost  free,  koha  appreciated.  Open  to  anyone  who  is  experiencing  drug  and 
alcohol related issues. Ph. 02102412348 

 During a recent password audit, it was found that an employee was using the 
following 
password: 
"
MickeyMinniePlutoHueyLouieDeweyDonaldGoofyWellington" 
When asked why she chose such a long password, she rolled her eyes and said: 
"Hello!  It  has  to  be  at  least  8  characters  and  include at  least  one  capital."  On 
reflection, that almost makes perfect sense. 

 So pleased to be told the strong smell as noted on the front page of Bugle 16 
has been dealt to ...  

Kaiwaka Community Garden contact is Millie Watkins on 027 548 0312 

 Welcome to a new business in town - Kaiwaka Tulip Hire, next to the Three 
Furlongs Bar & Grill 

 Kaipara  Dog  Training  Club: New activities at the club now that spring is 
here, and daylight saving is just around the corner! Email for more information 
kaiparadogtrainingclub@gmail.com 

 New Zealand has just experienced its warmest winter on record, according 
to  official  NIWA  climate  data.  NIWA's  Seven  Station  Temperature  Series, 
which  began  in  1909,  shows  the  2020  winter  was  1.14ᵒC  above  average,  just 
nudging out winter 2013 from the top spot, which was 1.08ᵒC above average  

WIN a  Yates Vegie Grower Hamper - see page 9

 Kaiwaka  Bugle  No.  18  is  online  at 
www.kaiwaka.co.nz  and  is  in  print  for  our  local 
Readers. ~ 
Lindsey, Ed
"It is the province of knowledge to speak, and the 
privilege of wisdom to listen"  
~ Oliver Wendell Holmes 
Proverbs 17:17 
Friends love through all 
kinds of weather, and 
families stick together in 
all kinds of trouble. 
MOVIES CANCELLED 
Until back in Covid-19 Level 1
KAIWAKA BUGLE 
DEADLINE DATES 
2020:   
Every second Friday
September 25 
October 9, 23 
November 6, 20 
December 4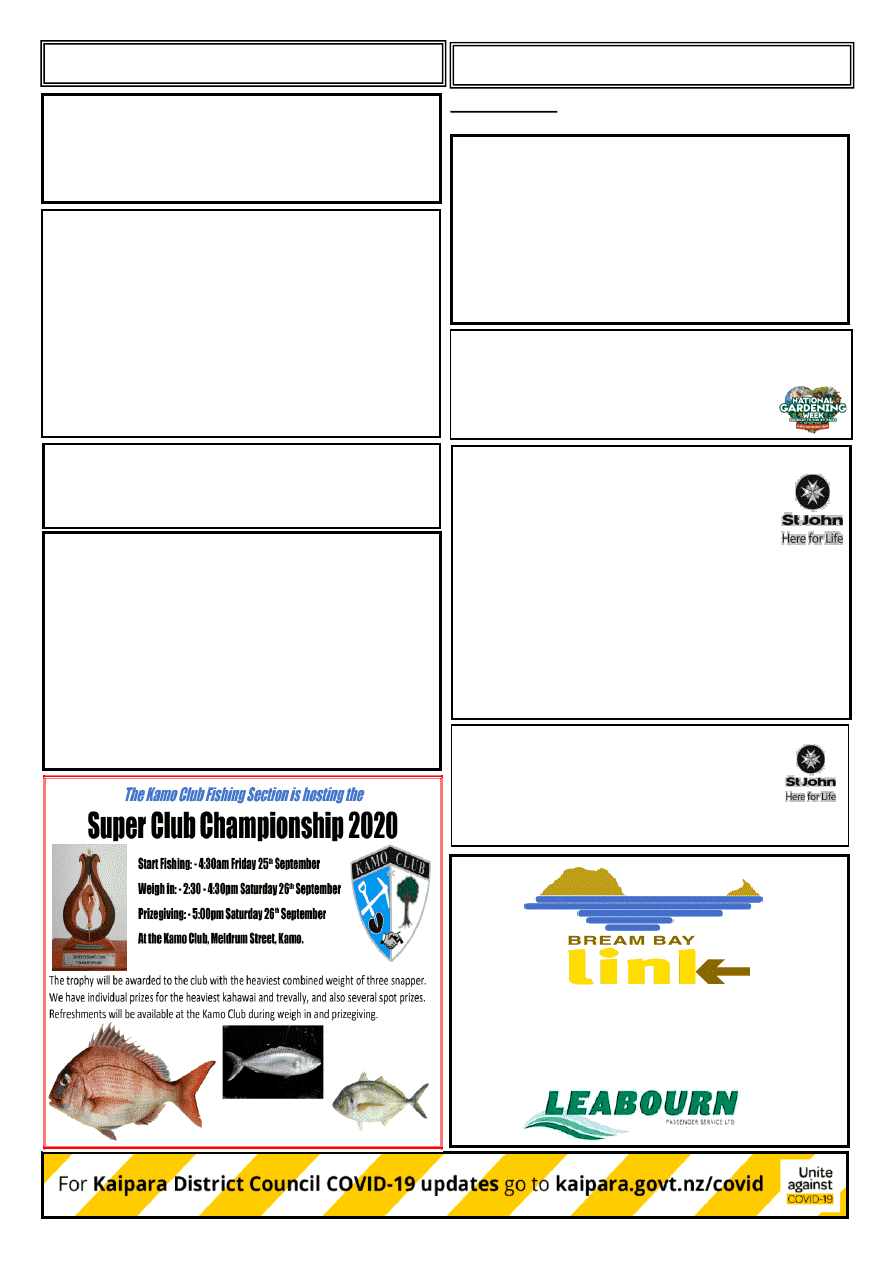 www.kaiwaka.co.nz 
Kaiwaka Bugle - 15 September, 2020 
Page 3 
PUBLIC NOTICES 
CLASSIFIED 
 KAIWAKA WHANGAREI HOSPITAL 
KNITTERS 
Our  October  meeting  will  be  on  Tuesday  13th 
October  at  10am  till  1pm  in  the  Archie  Bull  Hall 
behind St Pauls Church on Kaiwaka Mangawhai Rd.  
All  welcome so bring a  friend and find out  more of 
what we do. We will have a shared lunch and have a 
chance to catch up. Bring along your knitting, sewing 
and crochet. 
For more information contact Gale Matheson 
0274149576, or 094314827  
galematheson@gmail.com
AVAILABLE: Lawn mowing. Text 021987100  
Better prices.  
OTAMATEA ST JOHN AREA 
COMMITTEE 
TRASH AND TREASURE 
28th September to 2nd October 
Maungaturoto CENTENNIAL HALL 
.  Contact    Eileen  –  021  142  0357  or  email  me  at: 
b.parsons@xtra.co.nz 
HAKARU HALL ACTIVITIES 

Monday:  Line Dancing 9.45 -12pm Ph 4315160 

Afternoon Dance Energy  Lisa Ph. 0275610469 

Tuesday: Pilates 10am  
Qualified Instructor Ph. 0220643965 

Tuesday: Afternoon Dance Energy   

Wednesday: Afternoon Dance Energy  

Wednesday: Evening Music Jam Session      
Dennis Ph. 0210628631 

 Thursday: Pilates 9am Ph. 0220643965 

Sunday: Canine Coaching Ph 0272365004 
 Hall Bookings Karen 4312090 
HAKARU COMMUNITY HALL
Annual General Meeting 
Tuesday 13th October, 7.45pm 
Hakaru Hall , Settlement Road 
All Welcome  
RETURN BUS to WHANGAREI 
Every Thursday 
9.00am Departs Kaiwaka  - 4.50pm Returns Kaiwaka 
Via  Mangawhai,  and east coast . 
please phone 0800 994 404  
wwwbuslink.co.nz 
Operated By:  
Jenny's Rural Cleaning Services 
P.O. Box 87 
Kaiwaka 
Looking for a casual to part time worker.  
Must  be  able  to  work  the  odd  Saturday  morning. 
Must be trustworthy and have a driver license and be 
able to work in a team. 
Please send your C.V if you have one to 
jrcleaningservices.chellew@yahoo.com 
Or phone Jenny on 431 2826 after 7pm. 
KAIWAKA ST. JOHN OP SHOP 
BIG WINTER CLOTHING SALE 
We have had an overwhelming response 
to Clothing Sale, we are extending it for  
One Week. 
All Clothing Red, Green and Yellow Dots 
Half price until 19th September. 
❖
We are currently not taking clothing but welcome 
Linen and Bric a Brac. 
❖
Come and purchase your St John First Aid bags 
ready for summer. 
Our Hours are  
Tuesday – Friday 10am to 3pm;  Saturday 10am – 2pm 
PHONE: Shop  43121650   
 Check us out at 1919 SH1, Kaiwaka
YATES VEGIE GROWER HAMPER 
To win this Hamper email the best reason this Yates 
Vegie Grower's Hamper will be perfect for 
your Kaiwaka garden  
Entries to kaiwkabuglea@kaiwaka.co.nz   
by Friday 25 September 
 KAIPARA BASKETBALL ASSOCIATION 
INC. 
Annual General Meeting 
to be held on Tuesday, 29 September, 6.30pm   
Kaiwaka Sports Association Pavilion, Kaiwaka.  
All are welcome.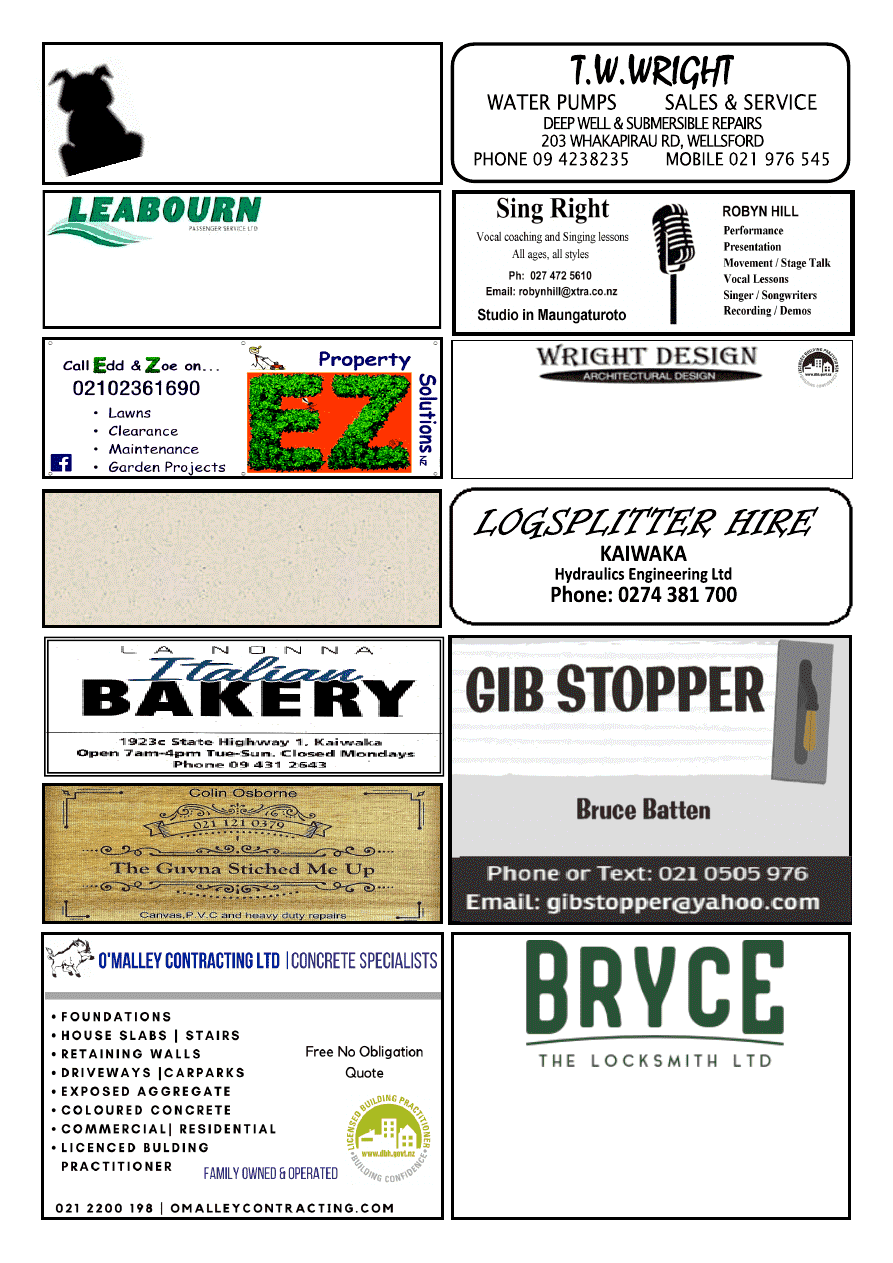 Counsellor and Registered Psychotherapist 
Offers Supervision
Susan Matheson 
MNZAC 
Dip. Psychosynthesis Counselling and Psychotherapy 
Phone 09 431 2996                        Mobile 027 605 2427 
No. 117345 
N.Z.C.A.D., L.B.P. 117345 Design 1 & 2 

50 years experience 

All designs/plans council guaranteed 

FREE local site/house visit 

Plan printing available from A4 to A0 
Mob: 021 276 7369 
Office: 3 John Sinclair Avenue, Wellsford    brianwright@xtra.co.nz 
Bryce Frewin 
Ph: 021 850 983 
Kaipara Based Master Locksmith 
bryce@brycethelocksmith.co.nz 
www.brycethelocksmith.co.nz 
Passenger Service
Car & Van Hire   Bus & Coach Charters 
Airport Transfers    
Phone (09) 4237416 
Kaipara Dog Training Club 
Mangawhai Domain, Moir Street 
Every Wednesday Night from 5.30pm 
Please contact the Secretary  
for further information 
kaiparadogtrainingclub@gmail.com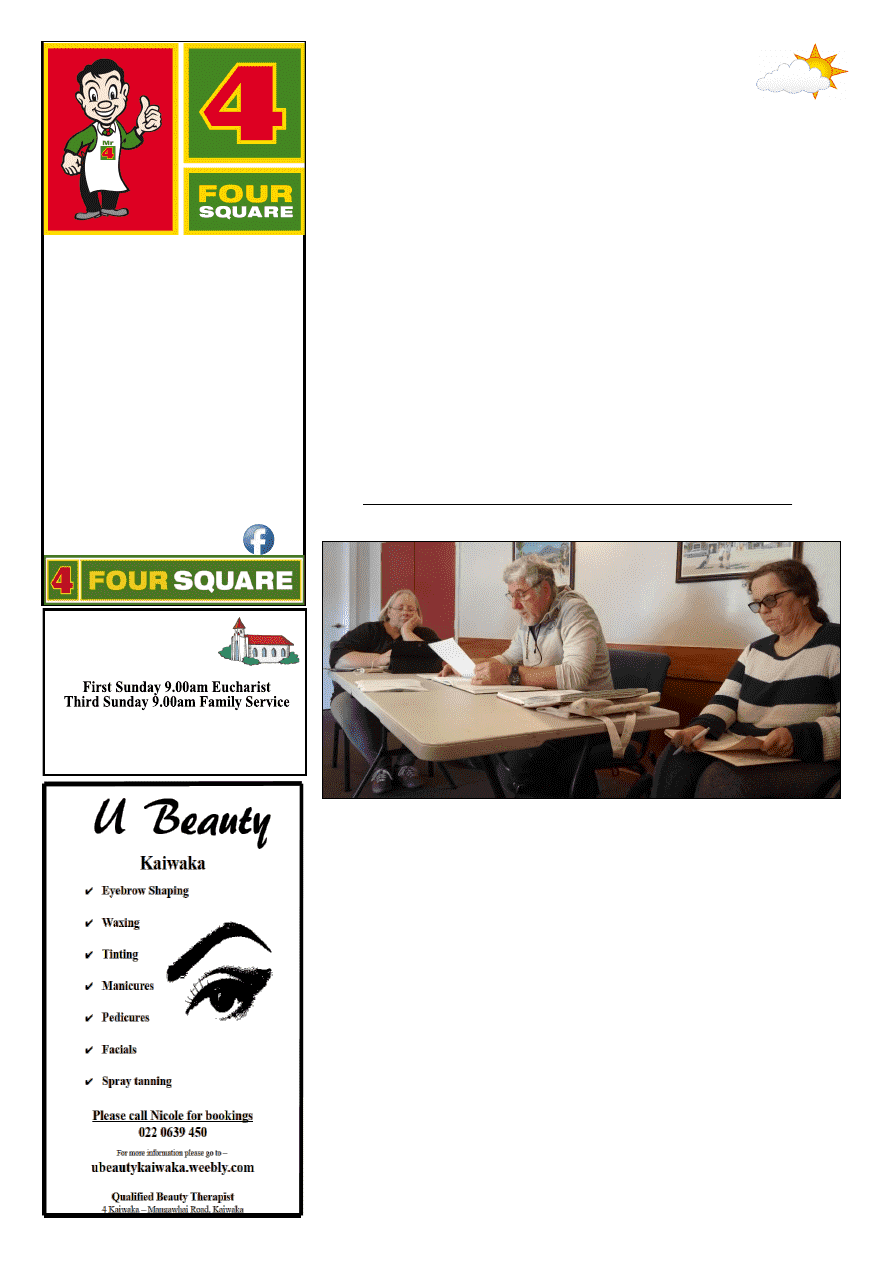 www.kaiwaka.co.nz 
Kaiwaka Bugle - 15 September, 2020 
Page 5 
KAIWAKA WEATHER  
Here we are into Spring already.  
We  got  through  another  winter  again 
and  a  warm  one  at  that.    Met  Service 
reported  it  was  the  warmest  winter 
since  recording  weather  had  started.  
Strange  thing  though  we  had  a  lot  of 
cold  strong  easterlies  heavy  rain  with 
the winds turning to cold west to south 
westerlies.   
The  Brynderwyn  waterfall  is  flowing 
quite  fast  so  a  bit  more  rain  is  needed 
before we hit summer.  
Our  winter  overall  was  quite  warm  if 
you forgot about the cold parts. We did 
get  a  few  frosts  though.  The  spring 
bulbs  have  mostly  all  finished  and  are 
getting  ready  for  next  year.  Our 
Magnolia  tree  was  a  few  weeks  late 
and  due  to  the  dry  weather  was  not 
flowering as usual.  That is a plus, not 
so many petals to rake up.  
At  our  house,  this  August  we  had 
168mm  rain  and  last  year  we  had 
147mm.  
Our  wettest  August  since  1987  was 
1987  with  547mm  and  the  driest  was 
2018 with 86mm.  
Our  first  8  months  of 
2020  we  have  had 
1160mm and for 2019 we had 724mm.   
Our  wettest  first  8  months  since  1987 
was 2017 with 1368mm and the driest 
was 1987 with 547.   
For  August  we  had  rain  on  17days  in 
2020 and 2019 we had rain on 21 days
.  
The  days  are  warming  up  slowly  and 
the sun is heading south quite quickly.  
We  have  had  some  lovely  gardening 
days  except  the  ground  is  very  wet. 
Pulling out weeds you get a lot of dirt 
with  them  -  I  think  maybe  leave  them 
until  the  ground  dries  out  a  bit.  
Depends on your soil. 
"What  can  we  learn  from  Elephants 
and Rhinoceros?" 
"You  will  never  lose  wight  by  eating 
grass, vegetables and salads all day".   
Take care out there.   The traffic is still 
very fast and a lot of it. Just be patient, 
you  get  there  just  as  quick  as  the 
vehicle  that  pass  you.    Have  you 
noticed  there  are  usually  only  2  or  3 
cars  in  front  of  you  when  you  stop  at 
traffic lights etc.? Bev. 
We're Here 
OPEN 7 DAYS 
In Store Fresh Bakery,  
Hot Chicken, 
Mussels,  
Fresh Fruit & Vege,  
9kg Gas & Sodastream  
Gas Bottle Swap, 
Lotto & ATM 
JAQUES FOUR SQUARE 
Phone: 4312227 
1 Kaiwaka-Mangawhai Rd, 
Kaiwaka. 
ST PAUL'S  
ANGLICAN  
SUNDAY SERVICES 
St Pauls Church: Kaiwaka-Mangawhai Rd. 
Priest in Charge Rev. W Thornton Ph 431 4122 
www.mangawhaianglican.org.nz
It  has  been  a  strange  year  for  us  all 
with  Covid  19,  Pandemic  rules, 
closures,  etc.    We  are  pleased  to  say 
that  the  KWMH  is  in  good  shape 
financially. We need to make sure there 
are  enough  funds  to  pay  for  rates, 
insurance, 
electricity, 
telephone, 
general  maintenance,  security  -  we 
need to generate at least $11,000 every 
year to cover these costs. 
It  is  a  great  asset  for  the  community. 
Our  latest  valuation  and  replacement 
value is a whopping $1.9 million. 
The Kaiwaka Movies are an important 
part  of  generating  income  and  have 
been  doing  well  for  the  last  7  years. 
Thanks  for  your  support,  and  the 
Kaiwaka Movie Team who run this all 
as volunteers. 
You  can  hire  the  hall  at  a  very 
reasonable  rate,  $12.00  an  hour,  and 
you not only get the space but also 12 
tables,150 comfy chairs and the use of 
a  great  Supper  room.  Maximum  Hall 
capacity  is  250  people,  which  was 
achieved  when  Neil  Finn  had  his 
concert  here  before  he  joined 
Fleetwood Mac. 
If  you  want  to  use  our  very  well-
appointed  modern  kitchen  this  will  be 
extra. 
It  is  also  good  to  see  the  Kaiwaka 
Community  Gardens,  which  were 
established on Kaiwaka Hall land about 
5  years  ago  for  Polytech  sustainable 
gardening  courses  have  now  been 
revived  by  Kaiwaka  Primary  School 
pupils. This is a great set up and asset. 
We are looking forward to another year 
and hopefully more normal than now. 
A big thanks to the committee and the 
Movie Team. 
We  as  a  committee  are  responsible  to 
make  sure  that  the  KMWH  will  be 
there 
for 
our 
future 
Kaiwaka 
generations  -  please  keep  up  the 
support. 
Cheers, Ad Clarijs, President. 
Picture  above:  President  Ad  Clarijs 
reading  his  annual  report,  with  treasurer 
Wendy  Howard  on  the  left  and  secretary 
Amanda Maxwell on the right. 
KAIWAKA WAR MEMORIAL HALL AGM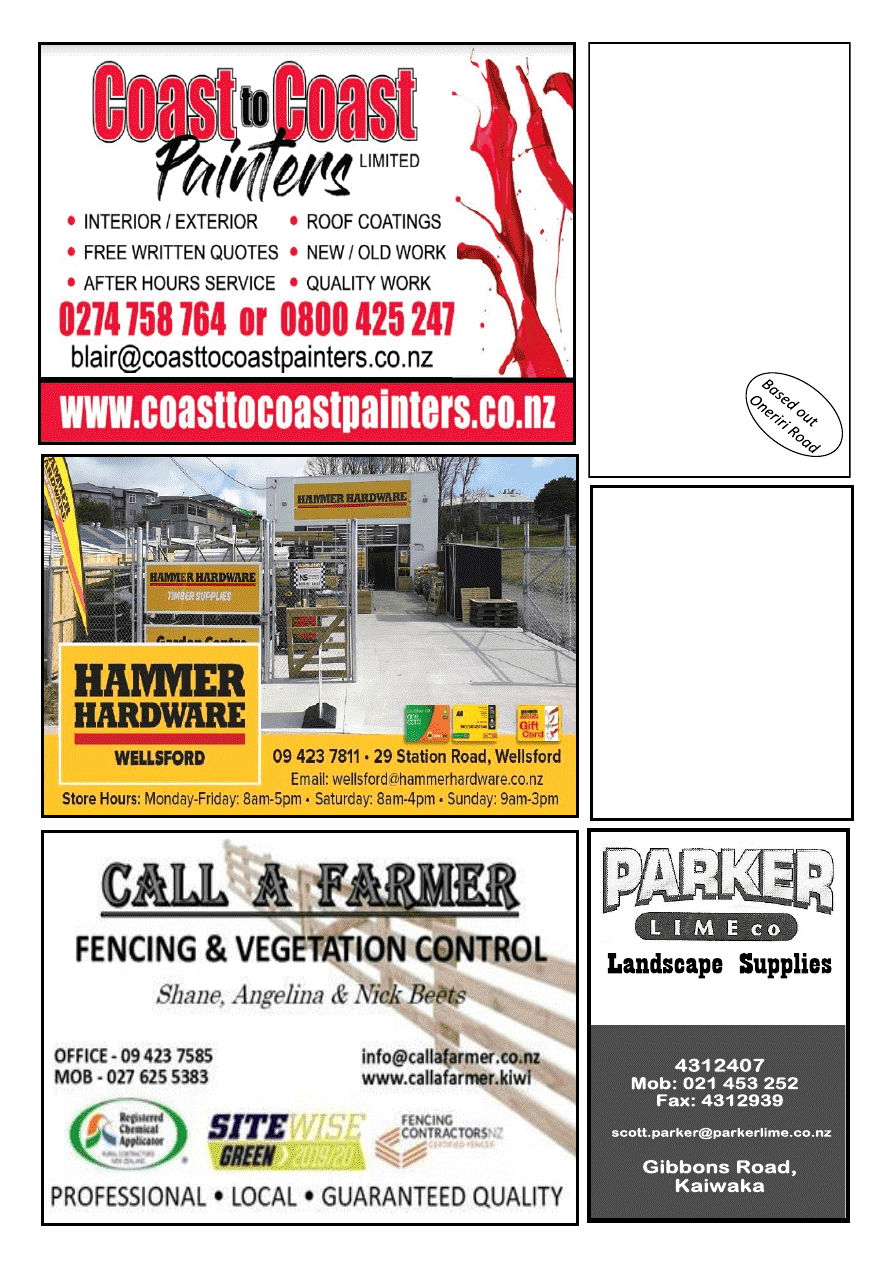 HODGETTS 
CONTRACTING
Digger Work    
Driveways   
House Sites  
Dams      
Drains, etc
Also available for HIRE 
3 ton Vib Roller  
Heavy Duty Tow  
Waterblaster      
Lazer Level
Phone Mark  
4312877 
027 447 8554 
WHERE TO GET HELP 

1737, Need to talk? Free call or 
text1737 to talk to a trained counsellor  

Rural Support Trust 0800 787 254   

Lifeline, 0800 543 354  

Youthline, 0800 376 63, text 234, 
email talk@youthline.co.nz or online 
chat 

Samaritans, 0800 726 666  

Depression Helpline, 0800 111 757   

Suicide Crisis Helpline, 0508 828 
865 (TAUTOKO)      

In a life-threatening situation 
call 
111
Bulk Cartage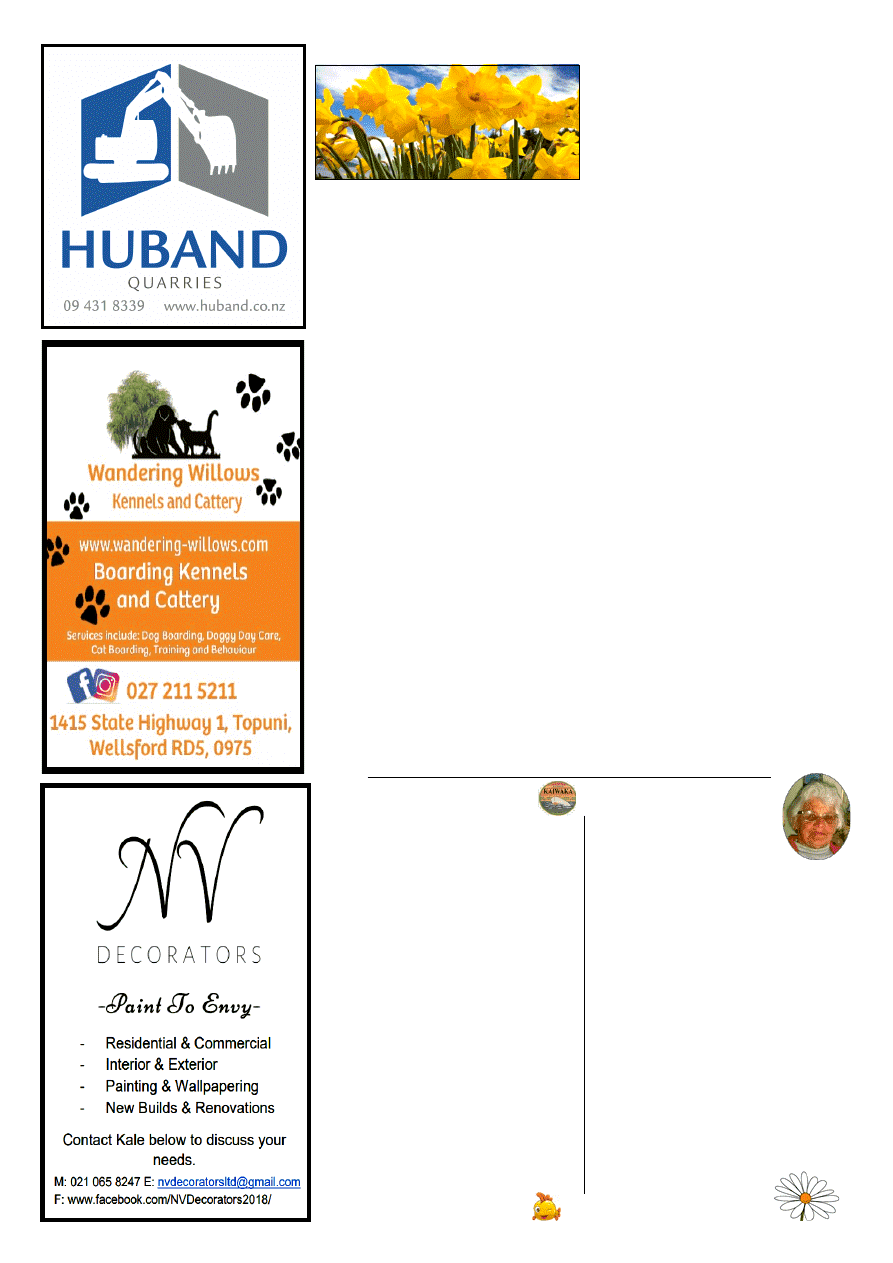 www.kaiwaka.co.nz 
Kaiwaka Bugle - 15 September, 2020 
Page 7 
POINT CURTIS 
CRUISING CLUB 

Annual Subscriptions 
Don't  forget  Subs  were  due  1st  June 
2020. $30 Family $20 Single. 
Internet  banking  12  3094  0008233  00 
Please use Name/s as a reference. 

Super  Club  Competition:  This  is 
being  hosted  by  the  Kamo  Club  - 
Fishing  Section.  The  fishing  dates  25-
26 September and the weigh in is at the 
Kamo Club on the Saturday afternoon. 
If  you want to fish in this competition 
please  let  Sandy  know  -  phone 
02102360740. Our Club pays the entry 
fee but you must be a current financial 
member. 

Fish  of  the  Month  -  Snapper  - 
Winners:  Noelene  8.317kg;  Renna 
4.260kg; Jeanette 2.504kg 

New Fish of the Month: Snapper till 
14 October. 

Next 
Committee 
meeting: 
Wednesday  14  October,  7pm  at 
Kaiwaka Sports Complex. 
Wayne Leslie (Commodore)
MANY, 
MANY 
THANKS 
KAIWAKA  COMMUNITY!!!!  This 
year  our  AMAZING  little  community 
raised  $2,050....  AND  as  there  was  no 
through traffic stopping for coffees etc, 
this  would  have  been  all  our  local 
people  donating!!!  This  amount  was 
also  $472.00  more  than  last  year.... 
TRULY AMAZING!! 
Thankyou  heaps  also  you  twenty-two 
amazing  volunteers,  who  each  gave  2 
hours ...one pair 3 hours... of your day 
to  man  the  two  collection  points  – 
some  of  you  jumping  in  at  the  last 
minute to help out. 
Many thanks once again to Paula, Greg 
and  staff  and  Ilia,  Eva  and  staff  for 
being  our  collection  locations  for  2 
days  and  also  The  Coffeepot  and 
Caltex  for  looking  after  our  little 
Daffodil collection boxes. 
This  money,  among  many  other  free 
services,  helps  to  enable  Northland 
Cancer 
patients 
to 
have 
free 
accommodation at Auckland's' Domain 
Lodge  while  having  treatment.  Eddie 
and  I  now  know  first-hand  what  an 
absolutely  wonderful  benefit  that  is  – 
an  amazing  oasis  in  the  midst  of  the 
trials  of  cancer.  Along  with  lessening 
the effects of cancer through funding of 
our  wonderful  support  nursing  people, 
25%  of  the  total  Northland  collection 
goes towards research as well. 
Many thanks once again, Bless you all 
heaps,  Lynne  Coates,  Kaiwaka  Area 
Co-ordinator. 
AND  from  Jenni  Moore,  Manager  – 
Cancer Society Northland 
'Daffodil Day this year was a little bit 
different!  Covid-19  made  planning  the 
day very challenging and 
there was understandable apprehension 
from some of our volunteers. 
So,  in  that  context  Daffodil  Day  went 
ahead  in  a  limited  way  across 
Northland, and as usual we were 
humbled  by  the  huge  generosity  from 
all those who volunteered or donated to 
support  our  services  in  Northland  and 
Domain  Lodge  in  Auckland.  We 
wanted  to  thank  our  volunteer  co-
coordinators  Lynn  and  Eddie  Coates 
for  their  help  in  making  Daffodil  Day 
happen in Kaiwaka. 
Due to the limited street collection, we 
also  ran  an  on-line  campaign  and 
people can still donate to 
www.daffodilday.org.nz.  Every  year, 
as  well  as  the  Daffodil  Day  street 
collection, there are community events 
across the North, and many of these are 
going ahead in September, so there will 
still be an opportunity to support these 
events. 
Cancer  doesn't stop for  Covid-19, and 
we  are  still  there  for  people  with 
cancer. Last year 415 patients received 
care  from  our  small  team  of  Cancer 
Support  Nurses  Specialists  across 
Northland,  and  927  Northlanders 
stayed 
at 
Domain 
lodge, 
our 
accommodation  for  people  having 
cancer treatment in Auckland and their 
supporters. 
The  team  at  Daffodil  House  and  our 
nurses  and  support  workers  within  the 
Maori  providers,  thank  you  all 
wholeheartedly  and  appreciate  your 
ongoing support.' 
DAFFODIL DAY 2020 
From Thelma's 
Scrapbook...  
DAISIES 
When I was very, very small  
A little girl of four, 
I used to pick the daisies 
On the lawn outside the door. 
I used to choose the biggest ones 
And weave a lovely chain. 
The tiny blossoms often shone 
With dewdrops or with rain. 
I used to thread the daisies, 
There kneeling in the grass, 
While overhead, in beauty, 
The clouds of summer passed. 
Those days were oh, so wonderful, 
Without a single care, 
And now I weave sweet memories 
Just sitting in a chair. 
Margaret H Dixon.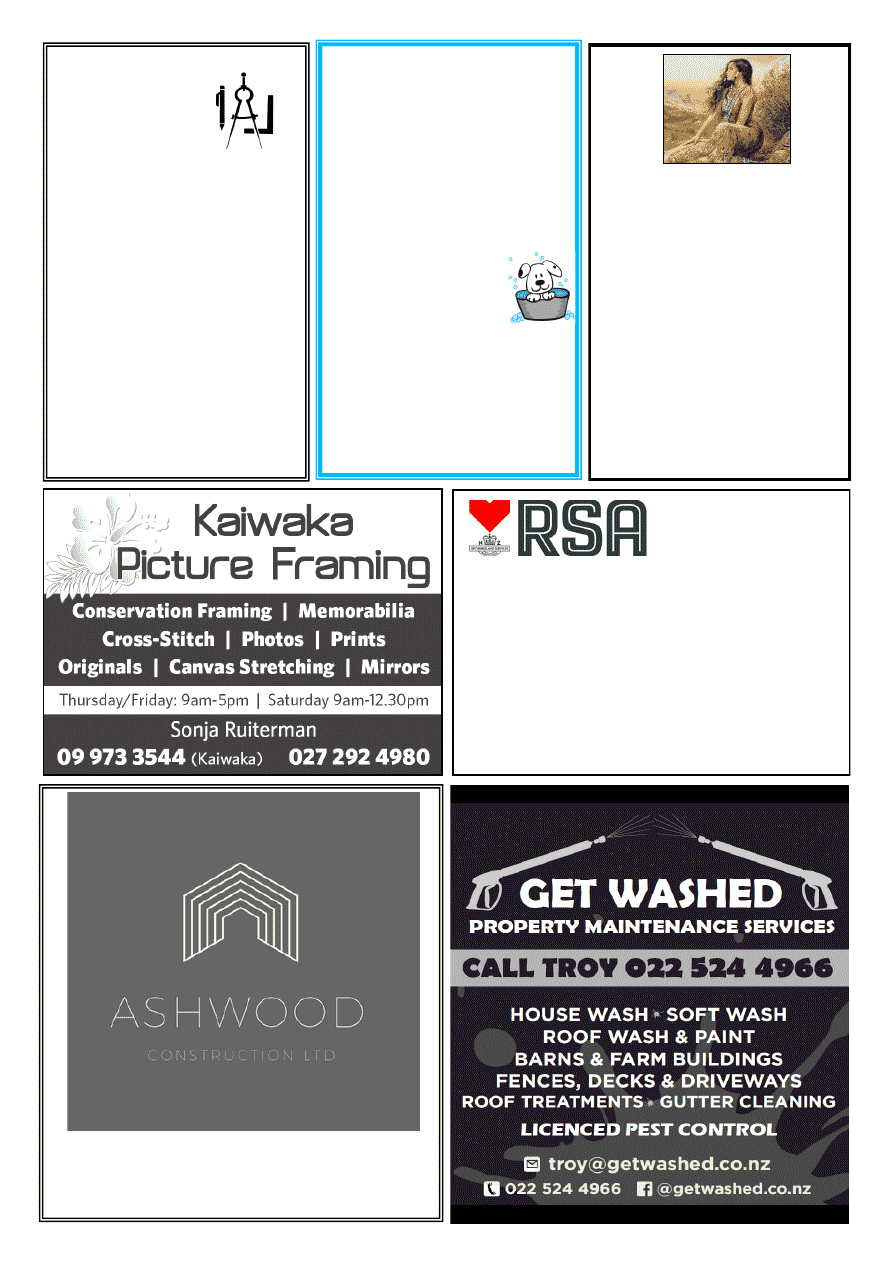 TRAILS END 
RONGOA MAORI 
HEALING 
And Gifts 
Stocking all your needs from incense, 
crystals, dream catchers, greeting 
cards, jewellery, perfume, dragons and 
more  … 
For all inquiries  
Phone 0211652629  
Light refreshments available $5 koha  
1758 Cove Road Mangawhai
ASHWOOD CONSTRUCTION  LTD 
LBP registered 
New Builds Renovations Extensions Decks & more 
After a quote? Call Lee on 0223408353 
design  
drafting  
service 
Retired builder and manufacturer with 
over 40 years experience in the building 
industry is offering a design drafting 
service for domestic housing, sleepouts 
and sheds.  
Plans formulated in consultation with 
clients, with working drawings 
completed and submitted to  
council for processing.   
Extensive practical experience,  
able to identify & resolve problems. 
Please ring Mike Lean on 
09 431 2260  
or 
021 431 196 
Hot Diggity Dog 
DOG GROOMING 
All breeds dog grooming 
Professional Experienced Groomer 
Short practical grooms  
Breed Standard Grooms 
Designer fusion Grooms 
Oneriri Road
By appt Phone Pam  
09 4312143 
Or text only 0273335380 
Email  
hot.diggitydog@outlook.com
HAKARU & 
DISTRICTS 
MEMORIAL RSA 
Members & guests are invited to come along and enjoy 
our hospitality. 
New members welcome. 
Meals are served on Thursday and Friday 
nights from 6.30pm. 
Order from Blackboard Menu  
The sing along with Des Chitty is the Last Friday of the month. 
For more information please phone Bill on 431 2092  
www.kaiwaka.co.nz 
Kaiwaka Bugle - 15 September, 2020 
Page 9 
Te Pounga Marae 
130 Nathan Rd. Oneriri. Kaiwaka 0573 
COMPLEX FOR 
HIRE 
Functions: * Weddings  * Birthdays  
*Anniversaries * Meetings  * Wananga 5 
hour meeting * 12 hour stay or Overnight 
*All welcome   
For more information please contact: 
 Pearl Nathan 0223933533 
Email: tepoungamarae130@outlook.com  
CONNECTING KIDS WITH GARDENING 
Kids'  gardening  has  just  got  a  whole  lot  more  fun  with  Yates  new  range  of 
special kids' seeds that take growing-your-own to a whole new level. 

Yummy  UFOs  –  Alien  Scallopini  Zucchini  will  tempt  even  the  most 
reluctant vegetable eater.  These tasty alien critters are shaped just like UFOs 
in  funky  bright  colours  and,  unlike  real  aliens,  you  can  eat  them.    Yummy 
UFOs have been sighted in gardens all over New Zealand. 

Pop Star Strawberry Popcorn is a really special, old-fashioned type of corn 
that  grows  cute little  cobs shaped like ruby-red  strawberries.   If  you  dry  the 
cobs, you can make your own delicious popcorn. 

Dinosaur  Gourds  Prehistoric  Monster  Mix  contains  a  range  of  crazy 
gourds  in  the  weirdest  dinosaur  shapes  you  can  imagine.    Grow  a  bunch  of 
them and let the dinosaur battles begin. 

Magical  Creatures  –  Fairy  Flower  Mix  will  help  attract  fairies  to  your 
garden.  Find a special place to sprinkle these seeds like magical fairy dust and 
grow a pretty blend of pixie flowers for fascinating creatures to live in.  The 
honeybees and butterflies will love them too. 

Little  Ted  Fluffy  Sunflowers  will put a sunshine smile on your face.  The 
bushy,  short-growing  sunflower  has  super  fluffy  pompom  flowers  that  are 
perfect for pots. 

And,  if  you're  keen  on  growing  a  pumpkin  fit  to  be  a  carriage,  then 
Behemoth Giant Pumpkins  are for you.  These seeds grow colossal monster 
pumpkins up to 200kg.  If they got any bigger, you'd be able to make one your 
home. 
You can find Yates seeds at Mitre 10 stores, garden centres and garden stockists 
throughout the country. 
 A VEGIE 
GROWER 
HAMPER IS 
COMING TO 
KAIWAKA 
There  is  nothing  better  than 
fresh  vegies  from  your  garden 
and  to  celebrate  National 
Gardening 
Week 
(19-26 
October), Yates is giving away 
a  Vegie  Grower's  hamper  full 
of  goodies  to  get  your  vegie 
garden started. 
A selection of vegie seeds includes favourite Chinese vegetables, Shanghai Bok 
Choy and Choy Sum perfect for both steaming and stir fry.  Daikon radish with 
its  sweet  and  slightly  spicy  flavour  is  very  popular  throughout  Asia  for 
condiments,  pickling,  fermenting,  relishes,  stir  fries  and  salads.    Radish 
Amethyst is a unique bright purple skinned radish with crisp white flesh with a 
mild spicy taste making it perfect for salads. 
Two  varieties  of  beetroot  –  Golden  and  Bull's  Blood  –  will  colour  up  your 
dishes and are great to harvest as baby beets, to add to salads raw, steam, slow 
roasted or pickled. 
To  get  your  summer  growing  off  to  a  good  start  Yates  has  included  Thrive 
Citrus and Fruit and Thrive Tomato granular plant foods, together with Thrive 
Vegie & Herb and Strawberry & Berries liquid plant foods.  Keeping any pesky 
bugs  away  is  easy  with  Nature's  Way  Organic  Citrus,  Vegie  &  Ornamental 
Spray and the Nature's Way Vegie Insect Gun. 
To  top  it  off,  Yates  Vegan  Fertiliser  –  New  Zealand's  first  vegan  certified 
fertilizer  -    is  a  blend  of  natural  minerals  and  seaweed  alongside  slow  release 
and  fast  acting  fertilisers  that  feed  indoor  and  outdoor  plants  for  up  to  three 
months.  
To  win  this  Hamper  email  the  best reason  this  Yates  Vegie  Grower's  Hamper 
will be perfect for your Kaiwaka garden. 
 Entries to kaiwkabuglea@kaiwaka.co.nz  by Friday 25 September
.
Ken Urquhart 
BSurv Licensed Cadastral 
Surveyor 
KMU  
Surveys Ltd
467 Bickerstaffe Road 
RD 2 
Maungaturoto 0587 
Ph 09 431 8705 
Mob 021 161 2344 
kenurquhart@xtra.co.nz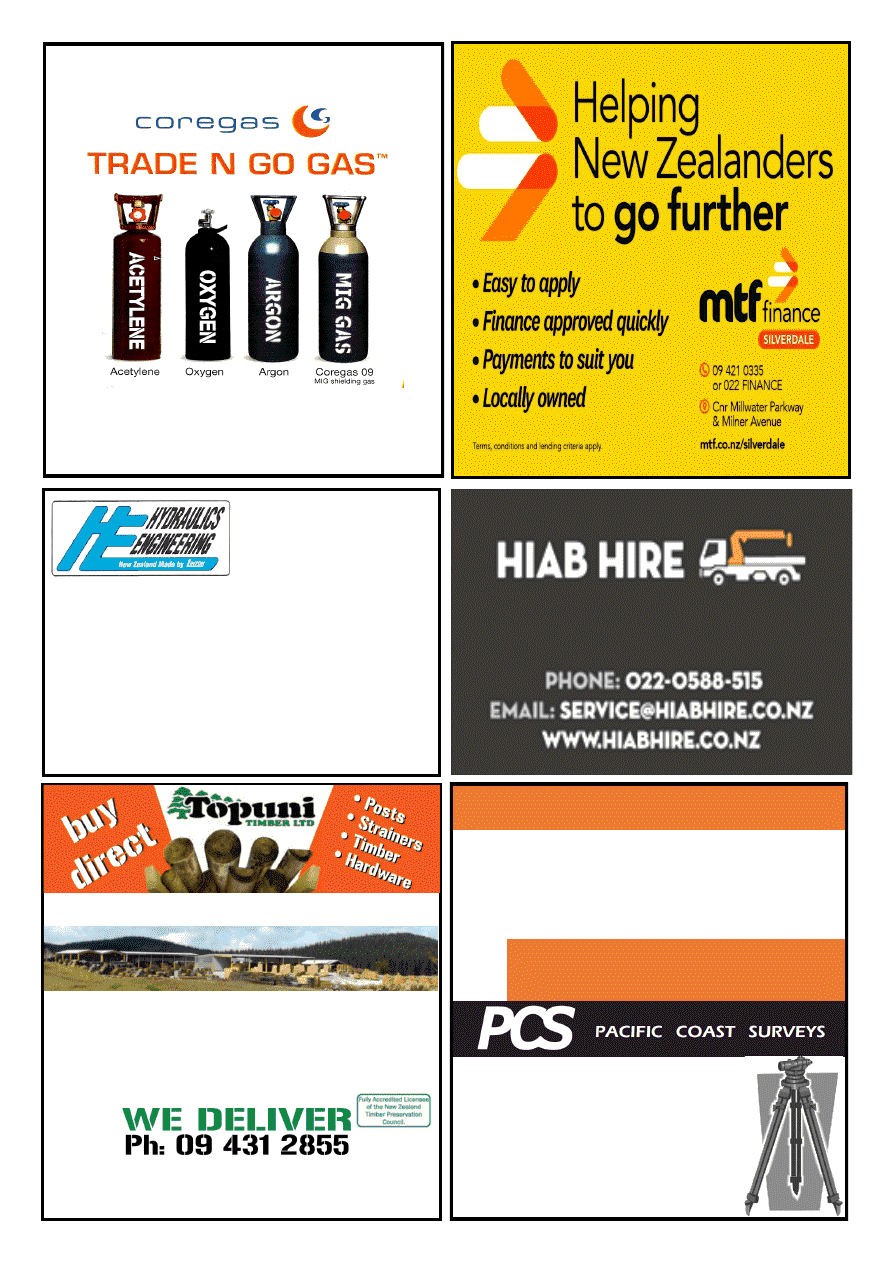 SURVEYORS 
SUBDIVISIONS 
HOUSE SITE SURVEYS 
CIVIL ENGINEERING 
WASTEWATER DESIGNS 
EXPERIENCED 
PROFESSIONAL 
INNOVATIVE 
Ph 09 431 5353 
0800 PACIFIC (0800 722 434) 
pacificcoastsurvey.com
Adam Booth - 027 415 5752 
Bsurv, Licensed Cadastral Surveyor
Surveying Kaipara since 1994 
At Twinkle Tow 'n' Tyre 
Mob: 021 833 960 
Ph & Fax: 09 431 2823 
1837 State Highway 1, Kaiwaka 
Hydraulics  
Engineering Ltd 
Kaiwaka 
Sales - Service - Parts - Hire - Manufacture 
Service Contractors & Industrial Equipment: 
Rams, Pumps, Valves 
Logsplitter Hire, Manufacturer, Sales 
Dennis Linton 
Lot 2 / 161 Ranganui Road, RD2, Kaiwaka, 0573, New Zealand 
Mobile: 0274 381 700 
Email: hydraulicsengineering@xtra.co.nz 
LOCALLY OWNED AND OPERATED 
QUALITY PRODUCTS • FRIENDLY ADVICE • GREAT SERVICE 
Quality Products milled from High Density NORTHLAND Radiata Pine. 
Treated and guaranteed to NZS3640 with commitment to 
Environmental Safety.
Phone, fax, email, or come into the mill 
Schiska Rd, Topuni, SH1, 10 min north of Wellsford. Fax: 09 431 2856 
Email: sales@topunitimber.co.nz           Mon - Fri 7am-5pm 
• Fencing 
• Retaining 
• Decking 
• Landscaping 
• Gates 
• Hardware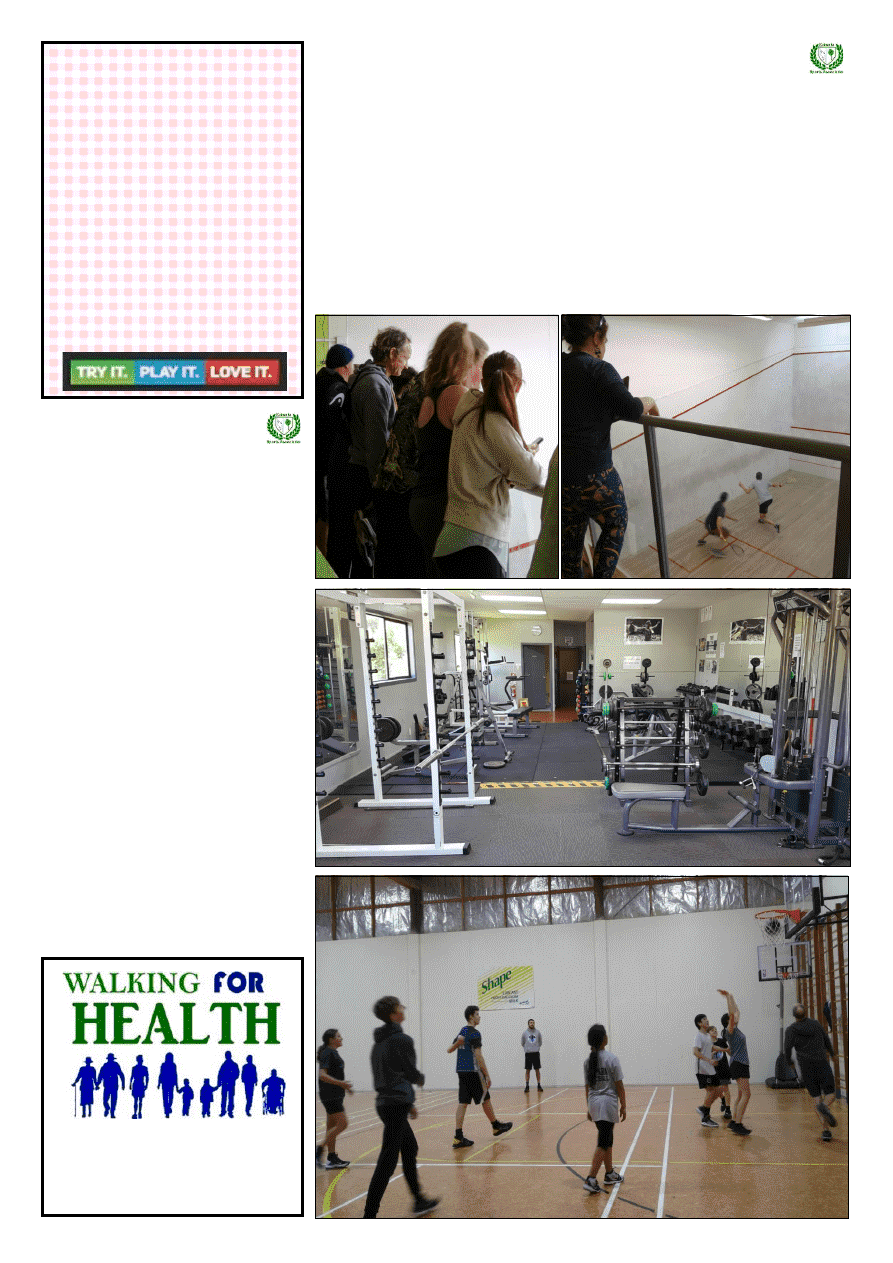 www.kaiwaka.co.nz 
Kaiwaka Bugle - 15 September, 2020 
Page 11 
           KAIWAKA SPORTS ASSN 
KAIPARA BASKETBALL    
Junior Miniball, as pictured below is continuing most successfully on Monday 
evenings under Covid Level 2 rules 
Check out the great photo heading their website page - kaiparabasketball.com 
Their  AGM  is  on  Tuesday,  29  September,  6.30pm  in  the  Kaiwaka  Sports 
Association Pavilion.. 
KAIWAKA FITNESS CENTRE 
The Centre is humming along with great equipment, pictured below,  available 
for all types of exercise. Membership keys are available at the  Jaques Four 
Square checkout. For further enquiries contact Siobhan. 
KAIWAKA SQUASH 
Players of all abilities and ages are welcome. Squash is a great way to keep fit 
and  have  fun.  Club  nights  are  Mondays  from  6pm,  pictured  below,  with 
Ladies Nights on Wednesdays. 
KAIWAKA SPORTS ASSN. 
Walking Group meets 
Mondays 8.30am and 4pm 
KAIWAKA SPORTS 
ASSOCIATION  
CONTACT DETAILS 
Chairperson Wayne Leslie 4312 205  
Maintenance/grounds Mark Ottaway 4312 229 
Enquiries & Bookings: 4312 227 
Clubs: 
Athletics    
Eileen Parsons   4318 055 
Badminton  
Kaye Fleming   4312 345 
Basketball  
Blake Worsfold 021 148 9743 
Fitness Centre  Siobhan Cole   027 9791203 
Hockey    
Tina Holst  
021 2935974 
Martial Arts   Craig Bennetts   4315 170 
Netball:  
Primary    
Courtney Cave  021 2667946 
High School   Melissa Watts 021 2990270 
Senior    
Maree Stewart 021 2800262 
Pt Curtis CC  Sandy Shaw 021 02360740 
Rugby:  
JMB  
Te Awhina Whitehead  
021 02596889 
IMB   
Lorena Reynolds 021 1391474 
Junior Hawks  Lorena Reynolds  
Womens Hawks Bron Hames 027 4258046 
 Senior Hawks Michael Tovine  021 1386461 
Squash    
Bruce Leslie   021 1268015 
Tennis    
Andrea Orchard 021 02346849 
Sports Club Contacts please let me  
know are these details correct?  
Send to 
kaiwakabugle@kaiwaka.co.nz 
KAIWAKA SQUASH 
CLUB 
All ages and abilities  
welcome 
CLUB NIGHT 
On MONDAYS 
LADIES NIGHT SQUASH 
on WEDNESDAYS 
Grab your friends and 
register your interest
kaiwakasquash@gmail.com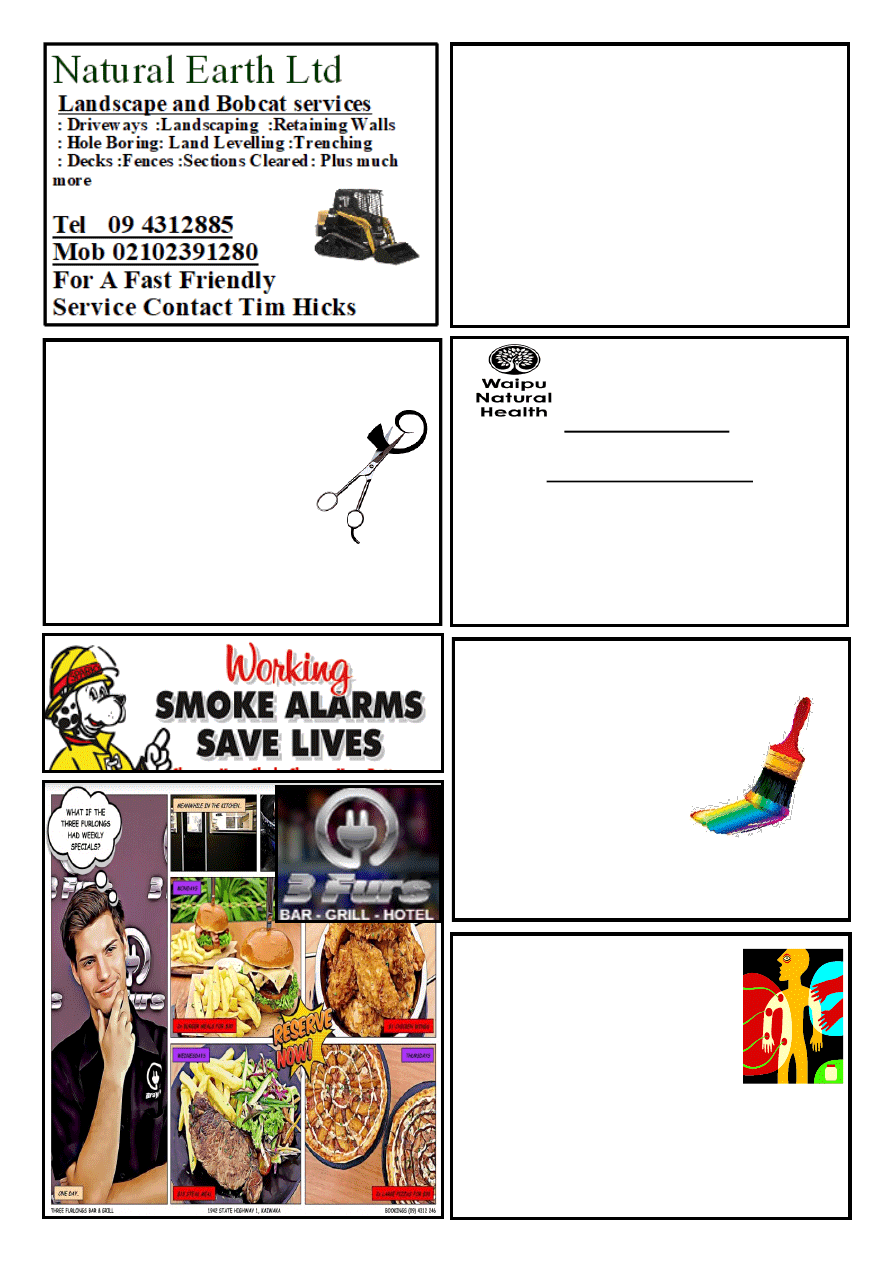 JUST CUTS  
and MORE  
1758 Cove Road  
Open Monday-Saturday  
by appointment only 
Saturday 9-12pm  
Affordable prices: 
Ladies cuts from $35 ~ Colours from $120 
Men's from$25 ~ Kids from $18 
0211652629  
3 Cove Road, Waipu 
(opposite the Pizza Barn
) 
094321325 
www.waipunaturalhealth.co.nz 
Clinical Nutritionist: 
Nutritional Checkups, Diets for Chronic 
Diseases, Food Sensitivities 
Naturopathic Physician: 
Ozone Therapy, Prolotherapy 
Reflexology, Craniosacral Therapy, Trauma 
Release, Massage Therapy 
Counselling and Hypnotherapy 
Change Catalyst/ThetaHealer 
Affordable Children's Consults 
All therapists are fully qualified
Willow Bend
HORSE HOTEL 
#
Total Horse Care   
# 
Agistment 
# 
Riding Lessons  
#
 Arena Hire (60x40) 
# 
Young Horse Starting 
# 
Re-training/Exercising 
#
Hoof Trimming  
# 
Problem Solving 
Phone Sue  
09 431 2817 or 021 623 776  
Or email  
susanjoll11@gmail.com 
OWEN STEVENS 
Osteo Therapist
For careful adjustments to  
bones and joints 
Treatment for  
humans and their pets 
Clinics: 
Kate's Place, Kaiwaka: 
Last Friday of month 9.00am-5.00pm 
For bookings: 
Phone 
09 4312661 
Or phone Owen  09 4317123 anytime 
LEE COOPER PAINTERS 
(Kaiwaka Based) 
*30 yrs Experience 
*Interior/Exterior 
*New and Restoration 
*Honest and Reliable 
*Free Quotes 
09 4312918 
0274735171 
leecooper@xtra.co.nz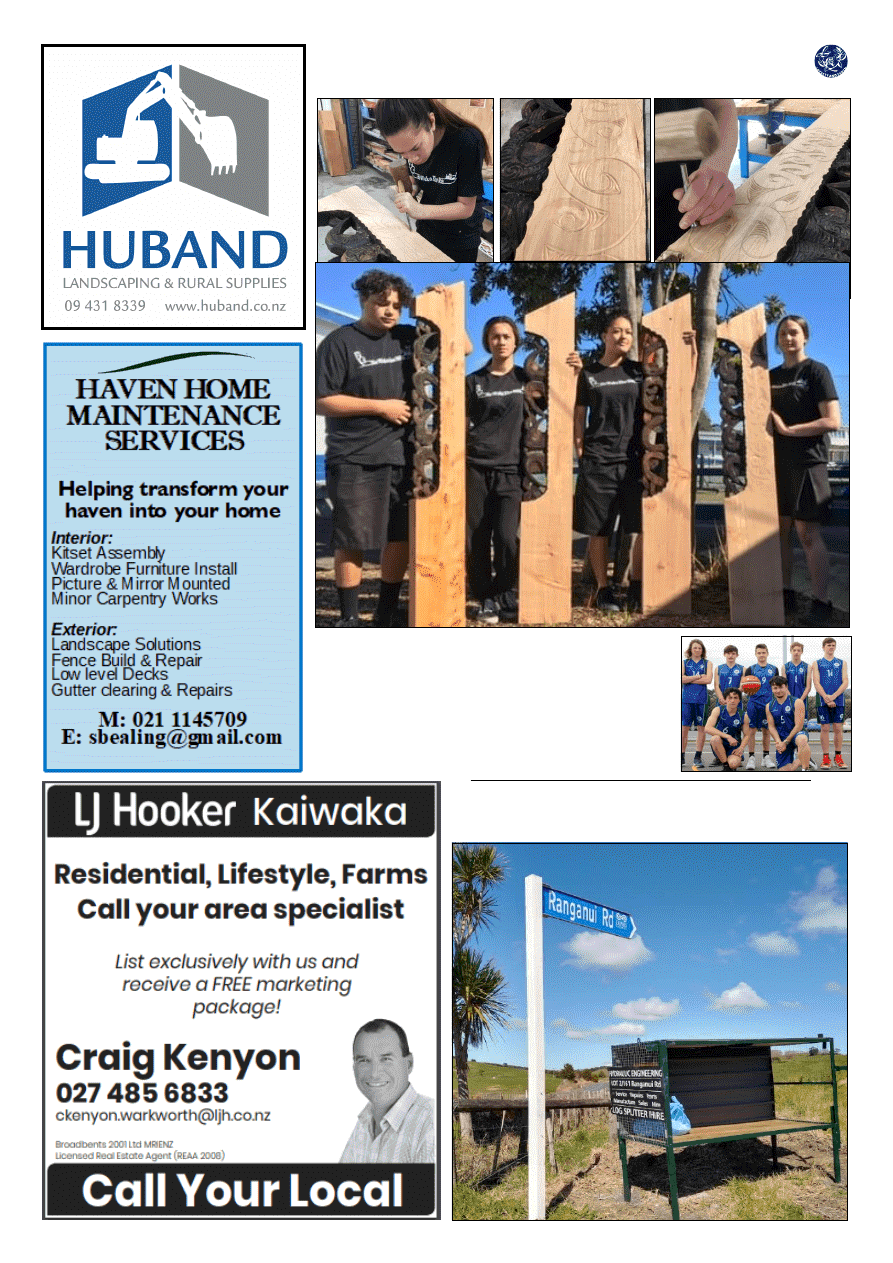 www.kaiwaka.co.nz 
Kaiwaka Bugle - 15 September, 2020 
Page 13 
SPOTTED:  
 A sturdy refuse collection bay on Ranganui Road; built by 
Dennis of Hydraulics Engineering. 
WHAKAIRO  TAUIRA
 (model carving) Making good progress on 
the pieces bound for Whangarei Heads Play Centre at the end of this term. 
The  annual  Lower  North  Senior  Boys 
Basketball  Tournament: 
Last Wednesday Bream 
Bay College, Dargaville High School, Rodney College 
and  Otamatea  High  School  competed  at  Otamatea.  It 
was  great  to  see  everyone  enjoying  the  game  of 
basketball. Thank  you  to  referees  Anahera  Worsfold, 
Spencer Vinnels, Raymond Huriwaka, Paul Chambers 
and  Bruce  Alison  who  made  the  day  run  smoothly. 
Otamatea pictured right.
OTAMATEA HIGH SCHOOL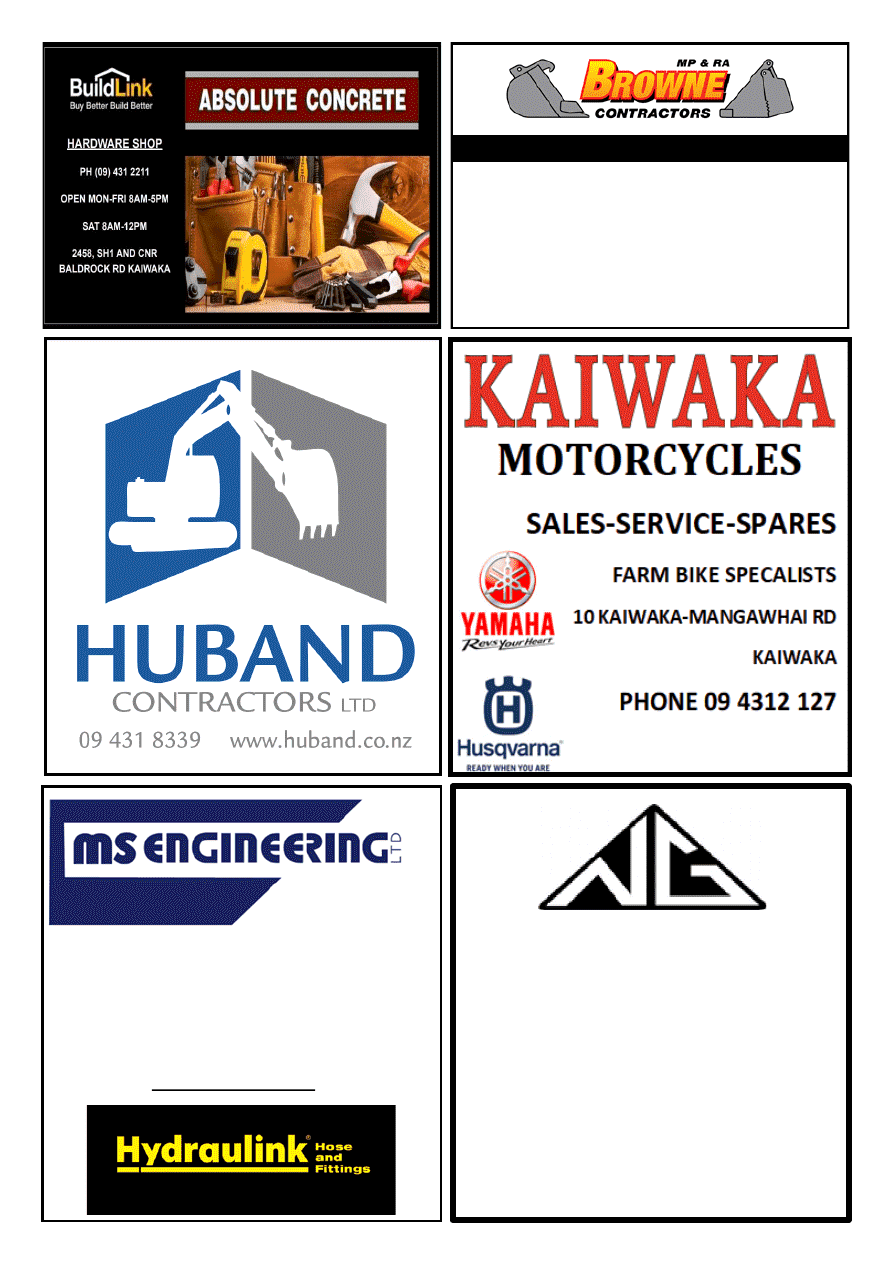 NORTH GLASS 
WINDSCREEN REPAIR OR REPLACE 
GLAZING SERVICES 
MIRRORS  •  SPLASH BACKS  •  SHOWERS 
0800 70 40 10
info@northglass.co.nz 
www.northglass.co.nz 

Peter Buckley 

Mobile Hose Technician –  
                      Based from Oneriri Road 

Available for all mobile hose                                
                      requirements onsite 

Call – 0800 425 7116 

Email – mse@mseng.co.nz 
4Tonne DIGGER – BOBCAT – TIP TRUCK 
Property Maintenance - Driveways  
 Building Sites 
Stump & Tree Removal  
Hole Boring - Chain Trencher  
Calf Shed and Stockyard Cleaning 
Phone Matt: 021 199 6677 
Email: mprabrownecontractors@gmail.com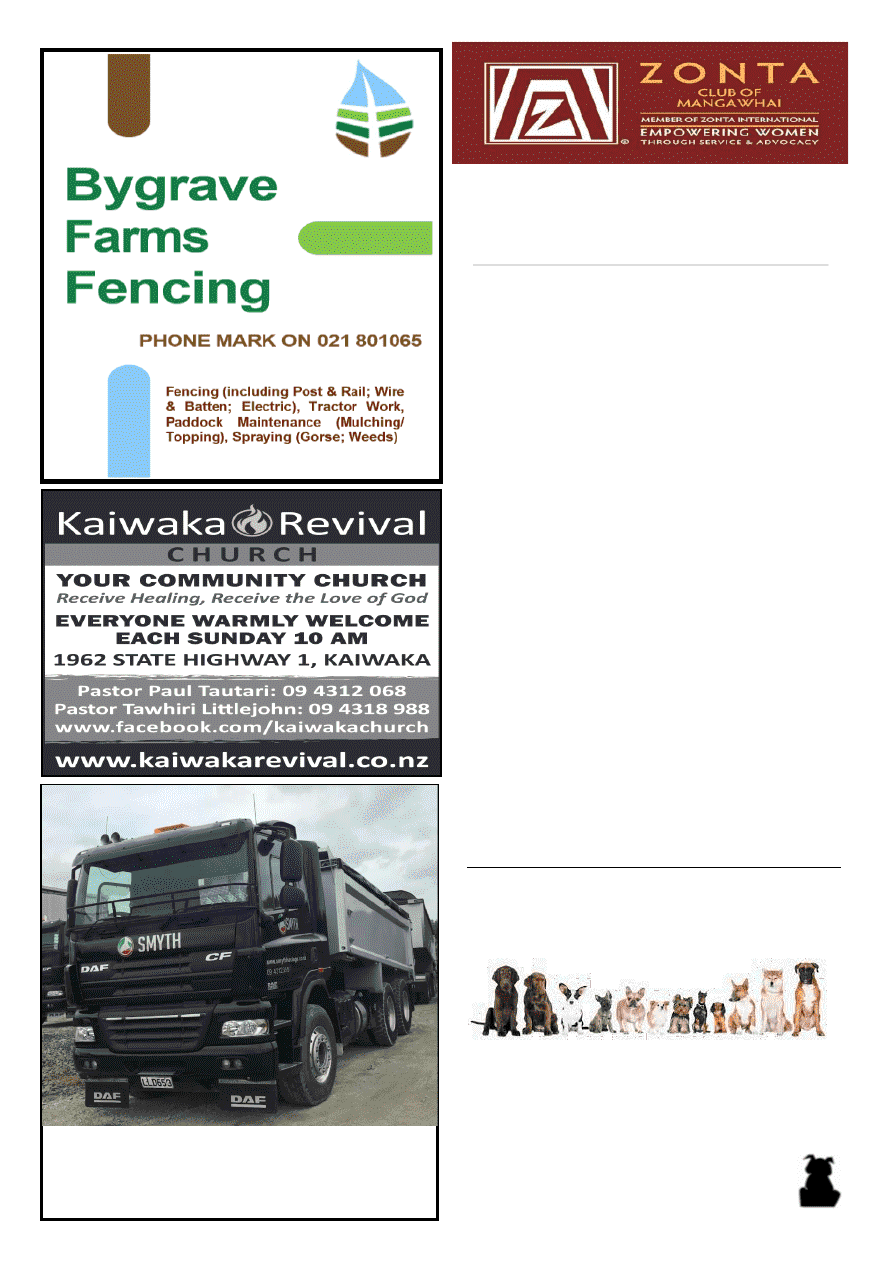 www.kaiwaka.co.nz 
Kaiwaka Bugle - 15 September, 2020 
Page 15 
"SECOND CHANCE STUDY AWARD" 
The Zonta Club of Mangawhai is once again offering a 
Second Chance for Women Study Award. 
The successful applicant will receive $2500 towards 
tuition costs  for an NZQA approved course of study 
towards a sustainable career path. 
Any woman furthering educational studies who is 
resident in the Mangawhai, Kaiwaka, Maungaturoto, or 
Bream Bay area is eligible to apply. 
Awardees from the past 3 years have been very worthy 
and popular recipients who used their awards to assist 
with their final year in their studies. 
Application forms can be requested by texting either 
Sheryl on 0274782540 or Leslee on 021684153 
with your name, email address and 2nd Chance 
Scholarship Award. 
Applications are due by Friday 2nd October 2020 
with interviews held on Saturday 17th October 2020 
This award is made possible because of the generosity of 
the local community at Zonta fundraising events such as 
our Mid-Winter Ball and quiz nights. 
The  Zonta  Club  of  Mangawhai  is  a  group  of  Business  and 
Professional  women  from  all  walks  of  life  who  meet  twice 
monthly.  One  meeting  is  a  dinner  meeting  the  other  a 
committee  meeting  in  a  member's  home.  We  raise  funds  to 
support  a  variety  of  projects  locally,  nationally,  and 
internationally  as  part  of  Zonta  International,  a  service  and 
advocacy  organisation  whose  goal  is  to  empower  women  and 
promote human rights for all. We work closely with other local 
organisations  to  help  combat  domestic  violence,  support 
national  bodies  such  as  the  Sophie  Elliot  Foundation, 
Gynaecological Cancer, PADA (Perinatal, 
Anxiety  and  Depression  Aotearoa),  Women's  Refuge  and 
provide  international  aid  to  projects  that  help  women 
overcome barriers to equal education, health care, legal rights, 
and employment.  
New members are welcome  
SMYTH HAULAGE       
for all your tip trucks & trailer 
Kaipara Dog Training Club 
BEGINNER OBEDIENCE CLASS 
CANINE GOOD CITIZEN 
This Beginner Obedience class will cover all the basics of 
obedience training and is for all dogs from the age of 12 
weeks. 
Mangawhai Domain 
Wednesday 14 October, starting at 6pm 
Duration of the class is 8 weeks, with a cost of $100.  
Places are limited 
Please email Jo to register your interest  
and book a place 
kaiparadogtrainngclub@gmail.com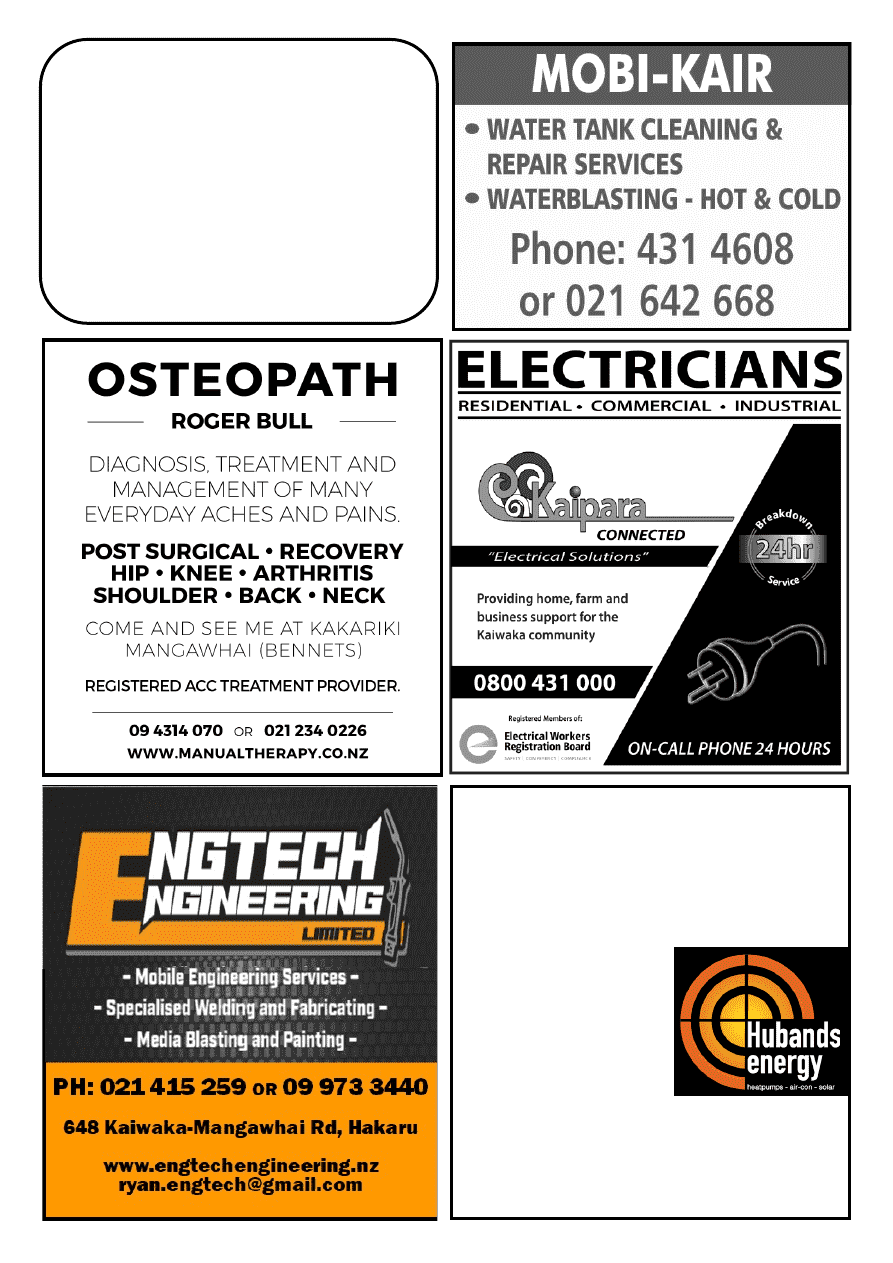 Northland's Award Winning 
Solar Company
SEANZ Best Solar Business Winners 2015/16
EXCLUSIVE 10 year installation warranty 
FREE No obligation onsite quote
Complete systems 
from $5990
See our range of: 
✓ 
Heatpumps 
✓ 
Airconditioning 
✓ 
Hot Water 
Heatpumps 
✓ 
Central Vacuum Systems
09 430 0019             sales@hubands.co.nz 
15 Kioreroa Road, Whangarei
Locally owned and operated for 35 years 
UP-LINK 
CHRIS WARING 
FREEVIEW INSTALLATIONS 
T.V. - HOME THEATRE &  
HI-FI ADVICE/SET UP
SKY ACCREDITED INSTALLER
MOB.0273403747 HM.094312328 
EMAIL cwaring44@gmail.com
28 YRS EXPERIENCE 
OFFERING UNBIASED ADVICE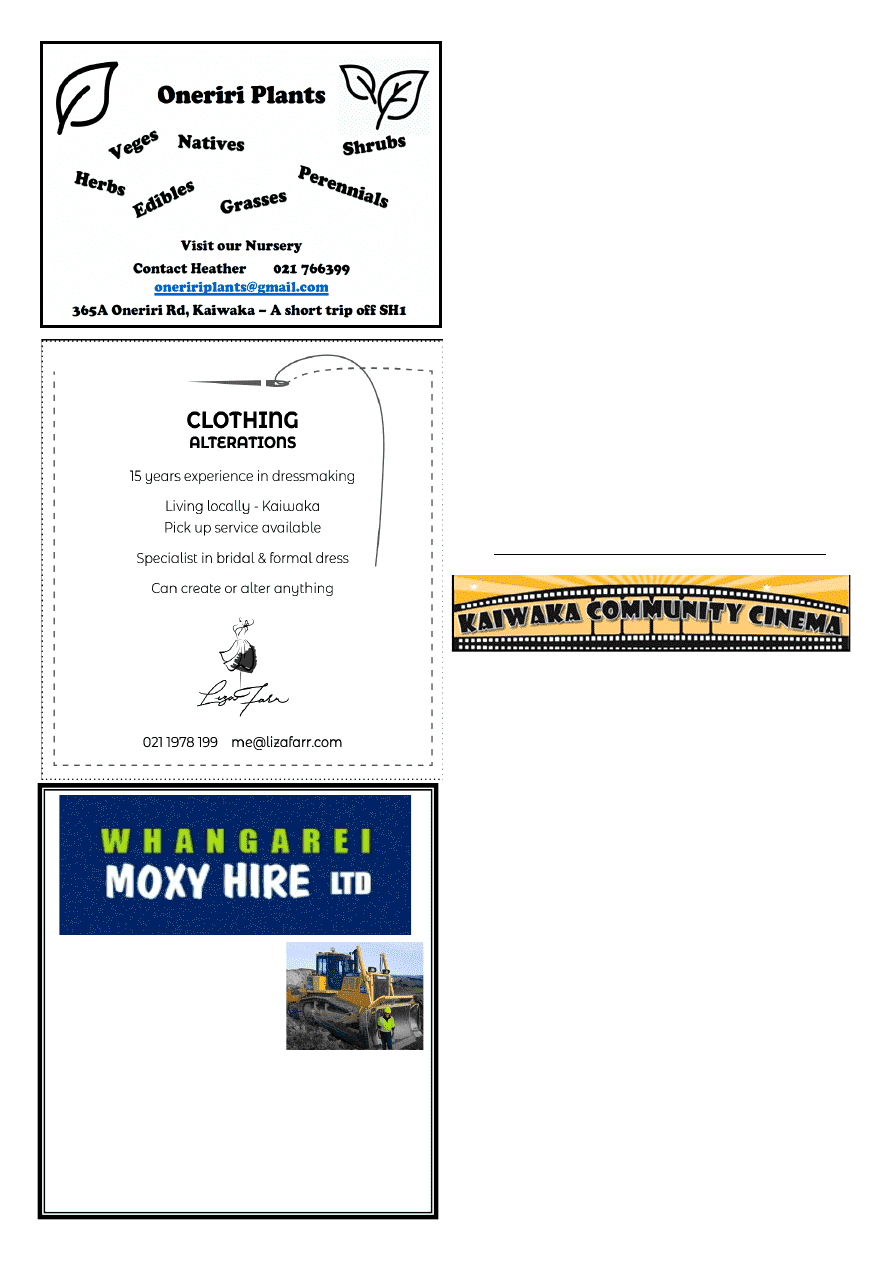 www.kaiwaka.co.nz 
Kaiwaka Bugle - 15 September, 2020 
Page 17 
KAIWAKA LIBRARY
BOOK WEEK AT KAIWAKA SCHOOL 
I had a lovely time at Kaiwaka School last Friday, helping 
to judge the fancy-dress competition with Whaea Sharlene. 
What a great way to start the day! I was very impressed at 
the efforts put into the costumes, and it was a lot of fun. It 
was  not  easy  deciding  who  would  get  a  placing. 
Congratulations to everyone who won a prize and thank you 
to Sara for inviting me along. Did you get a good bargain at 
the Book Week sale? Kaiwaka Library spent a little money 
there, and our selections will be on the shelves soon. 
SOME MOVIES FREE TO BORROW 
We have a new category in our library system, which means 
we can now loan selected Blu-ray items for free. Look for 
the  yellow  FREE  label  on  the  spine.  We  have  some  free 
DVDs, too. Just in time to entertain the kids in the school 
holidays! 
BOOK REVIEW 
Recently I've read The Institute by Stephen King harks back 
to  the  kind  of  thriller  he  used  to  write  many  years  ago.  If 
you've  read  Firestarter,  you'll  recognise  that  this  story 
connects to that one, though you don't need to have read it 
first.  "Luke  Ellis,  a  super-smart  twelve-year-old  with  an 
exceptional gift, is the latest in a long line of kids abducted 
and taken to a secret government facility, hidden deep in the 
forest in Maine…" 
This book is on the Rental Fiction shelves in the library 
See you in the library! ~Wendy 
Kaiwaka  Library,  cnr  State  Highway  1  and  Kaiwaka  Mangawhai  Road.  Phone 
4312 539. Email kaiwaka.library@gmail.com Open Wed-Sat 10am-2pm, Mon 4-
6pm. Free membership is available to all residents in the Kaiwaka area.  
*Enterprise: http://kaipara.kotui.org.nz/  
KAIWAKA MOVIES  
VOLUNTEERS 
We  are  looking  for  some  new  volunteers  to  run  the 
Kaiwaka Movies. 
As a team of 5 with some extras when needed we have been 
running  it  now  for  nearly  7  years  and  for  some  of  us  the 
time has come to pass it on to someone else. 
AMANDA  and  DAVE  have  been  responsible  for  running 
the  TUCK  shop,  buying  and  selling  all  the  goodies-ice-
creams/drinks/chips bars etc. Amanda is in charge of all the 
money from tickets sales and coffee and tea sales during the 
break. They have made it known to me that they would like 
to step down. 
HEIDELIND and RIK have been doing the coffee and tea 
during intermission, setting up and cleaning up afterwards. 
Rik has been driving the chairs back into storage with help 
of Dave and myself and the public too. Heidelind is also a 
huge help in creating special flowers decorations for Music 
and Dinner nights. 
AD CLARIJS. My duties include organising which movies 
to screen, getting the licences and pre booking the hall for a 
year.  I  present  a  movie  report  every  2  months  at  the  hall 
committee meeting with a spreadsheet with all the numbers 
attending.  I  also  do  the  advertising  on  our  own  Facebook 
Page  and  in  the Kaiwaka Bugle.  Friday  afternoon is  setup 
time  for  chairs,  sound  system  and  a  trial  run.  Planning 
music and Dinner nights twice a year has become part of it 
too. 
I am happy to teach a willing person and run in partnership 
together for a while. 
The  Kaiwaka  War  Memorial  Hall  is  dependent  on  the 
movie  income.  So,  if  you  are  interested  to  be  involved  in 
this, or want to know more contact me. 
Cheers, Ad Clarijs,  
0212154495, windmillkiwi@gmail.com 
THE POWER OF 
EARTHMOVING! 
Whangarei Moxy hire are a 
large earthmoving company 
with 80 machines available 
for hire with or without operators. 
Bulldozers, Compactors, Diggers  
and 30 – 40 ton dump trucks. 
Whether you need help cleaning out drains, 
roads, fence lines, dams or culverts, Whangarei 
Moxy Hire have you covered Northland wide! 
Visit www.whangareimoxyhire.co.nz  
or call 09 434 4272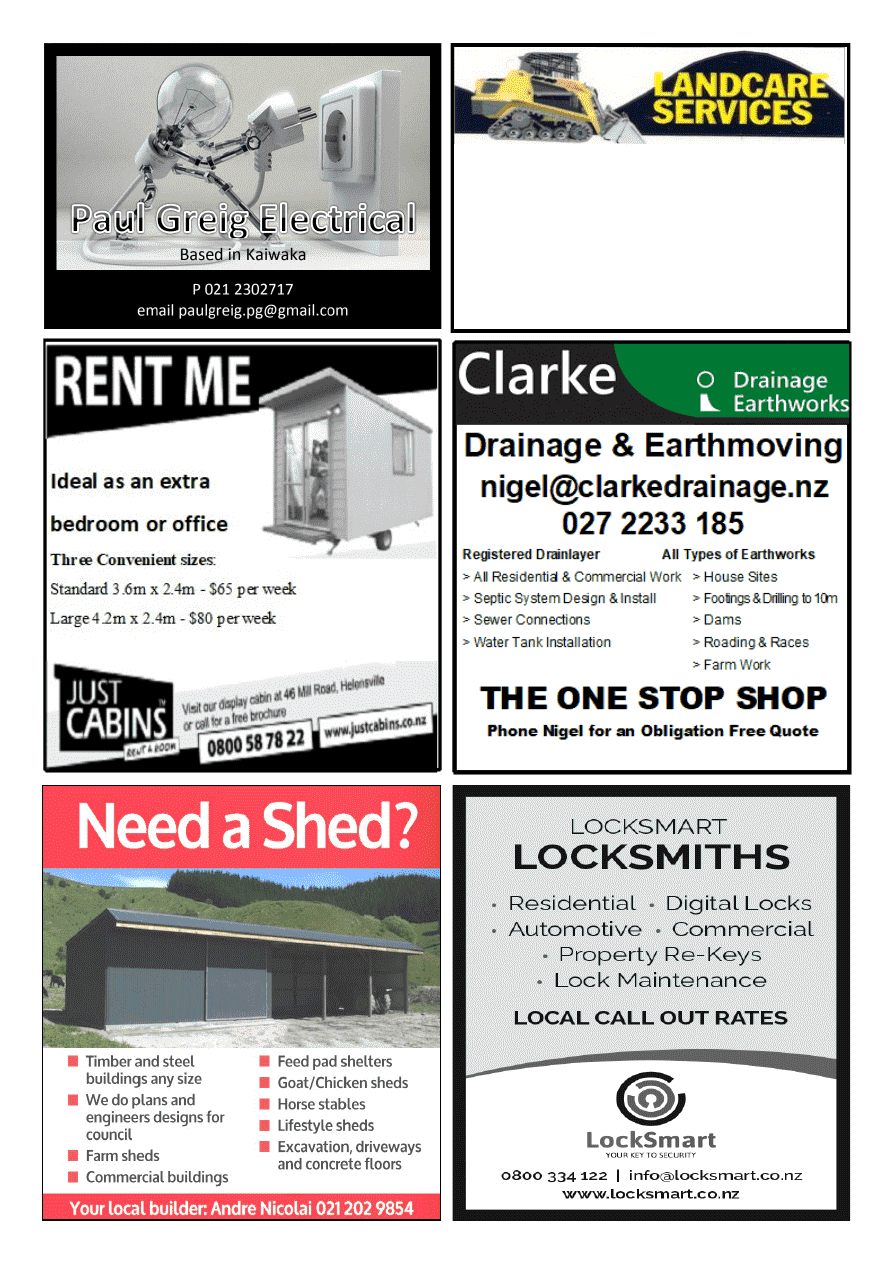 LANDSCAPING 
4 IN 1 BUCKET 
TRENCHER 
POLE HOLES 
ROTARY HOE 
COMPACT ROLLER 
OFFAL HOLES 
CAN SUPPLY WOODCHIP & POST PEEL 
5 TON TIPPER 
FOR RELIABLE AND FRIENDLY SERVICE CONTACT DAVE 
Dave Hyndman 
 
KAIWAKA 
PH: 09 4312302 
MOB: 021 431 238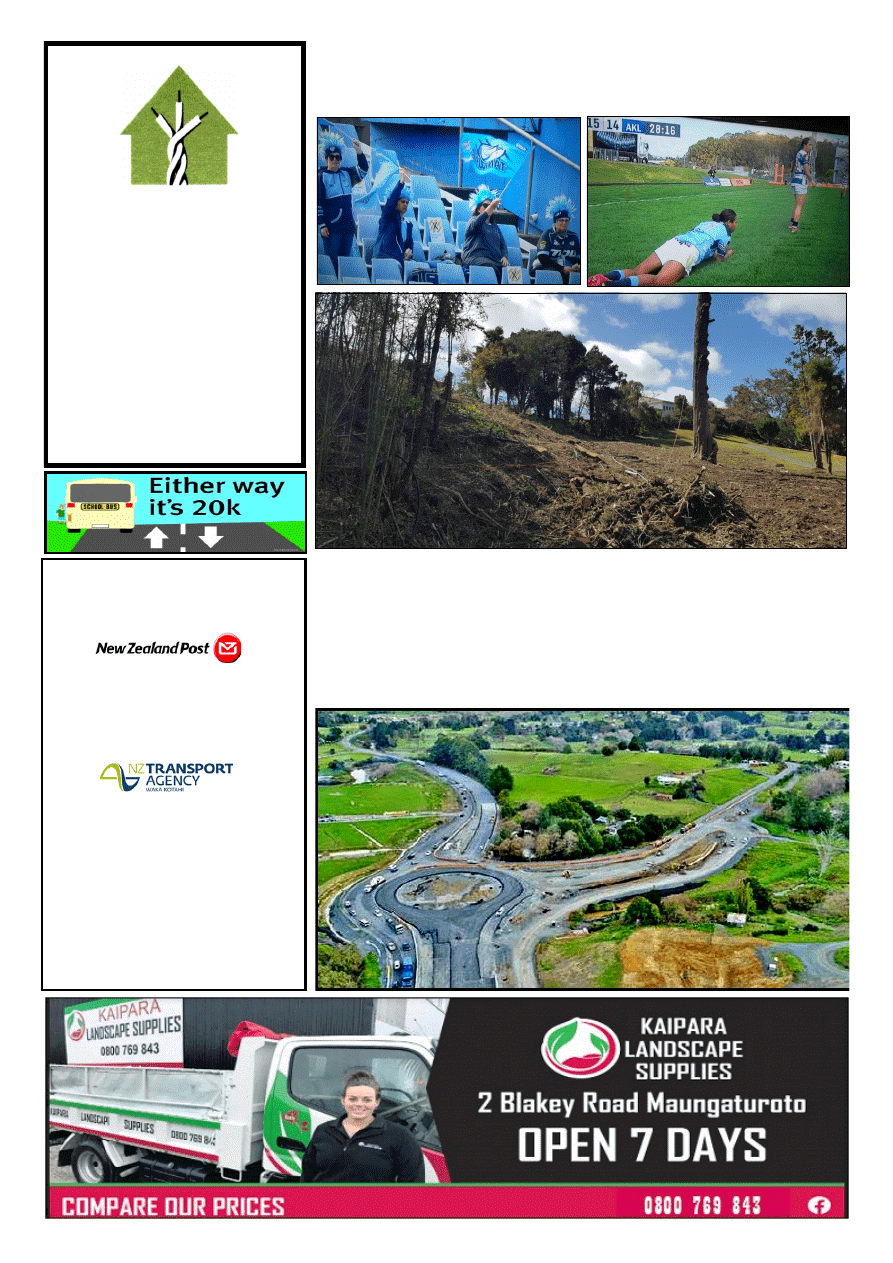 www.kaiwaka.co.nz 
Kaiwaka Bugle - 15 September, 2020 
Page 19 
Reyahn  Leng 
 Registered Electrician 
Local, honest and reliable. 
For your residential and 
light-commercial projects. 
022 314 1068  
ALSO SPOTTED 
Below:  The  clean  up  on  the  school  bank;  Sunday's  Okara  Park  Rugby  -  our 
Kaiwaka 'crowd', only 4 of 600; and Otamatea's Louisa Tubailagi went over the 
line only to have the try declined. 
KAIWAKA POST 
CENTRE and 
FOOD MART 
POST CENTRE TRADING HOURS 
MONDAY to FRIDAY 8am to 5pm 
SATURDAY 8am to 12pm 
CLOSED ON SUNDAY and on 
PUBLIC HOLIDAYS 
FOOD MART (GROCERIES)  
MONDAY TO FRIDAY  
7:30am to 7.30pm 
SATURDAY  8am to 7.30pm 
SUNDAY  8:30am to 7pm 
IF ANY QUERIES PLEASE CALL 
STORE MANAGER AMRIT  
on 09 4312431 or 
EMAIL: kaiwakafood19a@gmail.com 
1919a State Highway1, Kaiwaka 0542 
LOOP ROAD ROUNDABOUT ON SH1  
Waka Kotahi NZ Transport Agency says traffic will be driving through the Loop Road 
roundabout on State Highway 1 south of Whangarei by the end of September, weather 
permitting. The roundabout will just be a single lane as the completion of the full two-
lane roundabout is still at least a year away. 
The  roundabout  is  part  of  a  wider  project  to  upgrade  SH1  and  the  Portland  Road 
intersection further south to improve safety and access for road users. The intersections 
are on inland freight route for logging trucks heading to and from Northport at Marsden 
Point and 19,000 vehicles use this section of SH1 every day.  
Below: Looking south with SH 15 to the west (right of picture)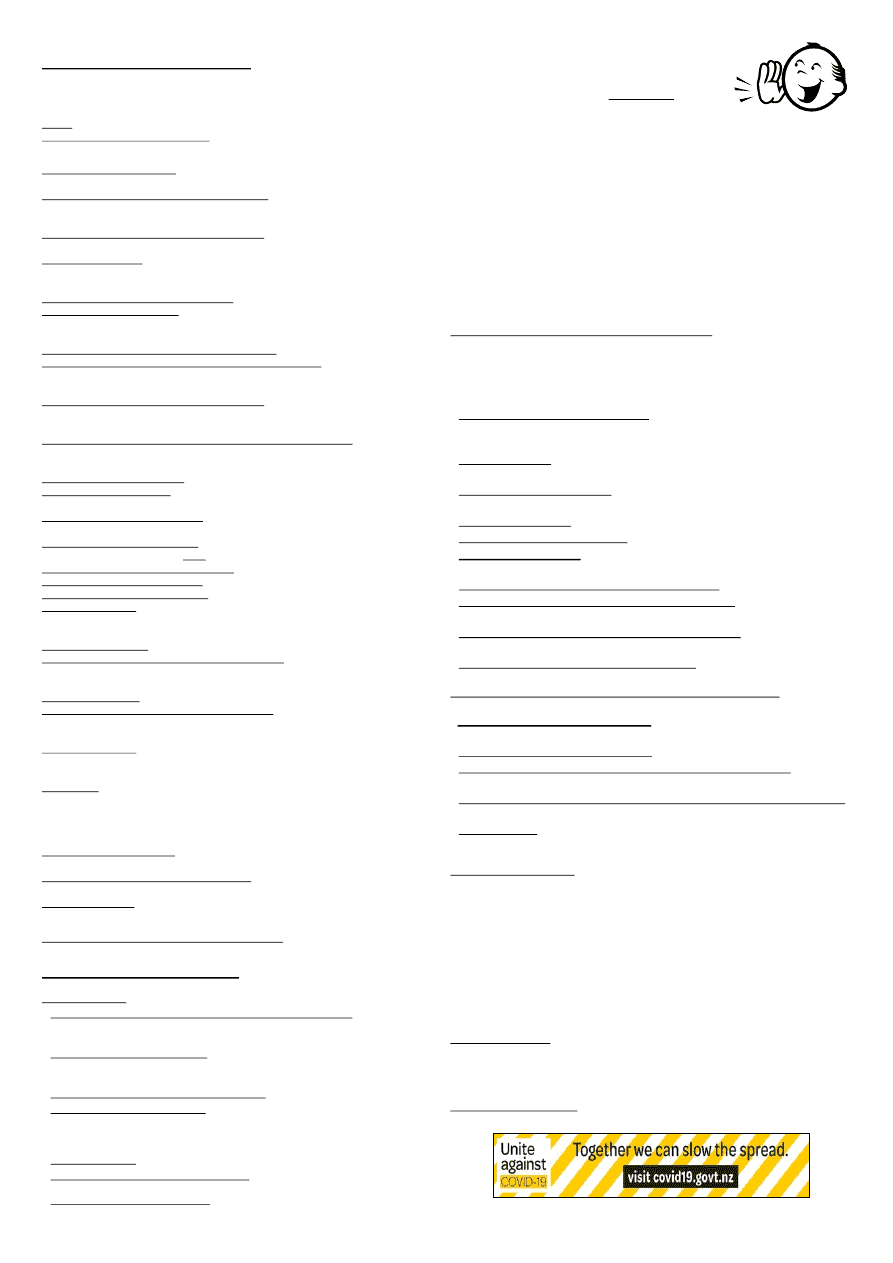 WHAT'S ON
PLEASE ~ do let us know what is on - or what 
is NOT on at the moment! 
email kaiwakabugle@kaiwaka.co.nz 
Advertising in WHAT'S ON is FREE  
*16Sep~ Kaiwaka School Fun Run & Fundraiser  
*28Sep~Kaiwaka Plunket visit, St .John Hall, 9-12 
*28Sep-2Oct~Otamatea St. John Trash & Treasure 
*29Sep~Kaipara Basketball AGM, 6.30pm KSA 
*13Oct~Kaiwaka Whangarei Hospital Knitters. 
Archie Bull Hall 10am 
*13Oct~Hakaru Hall AGM, 7.45pm 
KWMH = Kaiwaka War Memorial Hall; KSA = Kaiwaka Sports Association 
See www.kaiwaka.co.nz for more information 
HOUSEHOLD RUBBISH COLLECTION - Kaiwaka Pick up: 
Mondays = Green bags (Northland Waste - 09 430 3273) 
Wednesdays  = Blue bags and yellow recycling (at Jaques $3.00 
and  $1.50)  (Kaurilands  09  4392146);  ONLY  Blue  and  Yellow 
bags picked up on Oneriri Road. 
 DIABETES  Support  Group  -for  Kaiwaka,  Mangawhai, 
Wellsford  10am,  3rd  Friday  of  month  Ph:  Colleen  James  09 
4314238 
 GENEALOGY - Wellsford: 1st Thursday in month Ph: 423 
7033; Waipu: 4th Monday in month Ph: 4312 725 
 HAKARU PONY CLUB - Secretary Denise Rogers 021423376 
secretary@hakaruponyclub.co.nz  
 KAIPARA HUNT - Secretary Albert Doonenbal Ph 4312059 
 KAIWAKA BADMINTON -Tuesdays 7.30pm Ph: 4312345 
 KAIWAKA  CAN  - 3rd Wednesday in month, 5.30pm, Archie 
Bull Hall Ph: 0273572751 
 KAIWAKA DRUM & DANCE CLASSES - 021 611198 
 KAIWAKA GARDEN & FLORAL GROUP - 2nd Thursday in 
month. Ph: 431 4744 
 KNITTING FOR WHANGAREI HOSPITAL - 2nd Tuesday in 
month, Archie Bull Hall 10am Ph 4314827 
 MANGAWHAI COMBINED REBUS CLUB - 2pm, 3rd 
Thursday month, Senior Citizens Hall Mangawhai. Ph: 4315777 
*PILATES - KAIWAKA WAR MEMORIAL HALL - Ph: 
021  
2072729  
*PILATES - HAKARU HALL - Tuesday 10am, Thursday 9am 
Qualified Instructor  Ph. 0220643965  
 PT CURTIS CRUISING CLUB - Jean Ph: 4312227 (wk), 4312520 (hm) 
 RSA,  HAKARU  &  DISTRICTS  WOMEN'S  SECTION  –  meets 
1.30pm 4th Thursday of the month. Ph: 431 5818  
 KAIWAKA  SCOTTISH  COUNTRY  DANCING  CLUB-
Wednesdays 10am - 12 noon  Ph: Elaine 027 432 0032  
 TRAMPING 
- 
Mondays 
9am-2:30pm, 
contact  
valkenburgmaria@gmail.com 
HALLS FOR HIRE: 
  Kaiwaka St. John Hall: Phone Marj  0272941227  
 St.Pauls Archie Bull Hall HIRE $20 half day, $40 full day per 
hire, S McAulay, Ph 4312311 
 Kaiwaka  War  Memorial  Hall  HlRE  -  Phone  4312725  or 
kaiwaka.hall.bookings@gmail.com 
 Hakaru Community Hall HIRE -Ph.  Karen 4312090 
 Te Pounga Marae queries - Pearl Nathan  0223933533 
 Kaiwaka Sports Association hire/queries - P Jaques 4312227 or 
kaiwakasports@gmail.com 
Justice of Peace:  
B.FJaques  4312  048;  L.Donaldson  4312  228;  A.F.Hargreaves 
4312 045, W.Howard 4312 725,  D.Edwards 021611198 - please 
phone  to  make  sure  they  are  available  or  go  to 
www.justiceofthepeace.org.nz 
Marriage Celebrants:  
L.Donaldson; A.F.Hargreaves; Y Osborne
LOCAL SERVICES 
*Emergencies - Ambulance, Fire, Police - dial 111 
*Non-urgent Police phone 105
A A: Meets Wed., 7.30pm Kaiwaka Ph: 4315543, 0800229 6757 
NARCOTICS ANONYMOUS : Mon., 6pm, Archie Bull Hall, Kwk-Mwi 
Road; drug and alcohol related issues. Ph. 02102412348 
ASUREQUALITY LTD (was AgriQuality) Call Free 0508 0011 22  
BUDGETING SERVICE, WELLSFORD: Free confidential advice & 
support for all areas of personal finance. Ph (09) 423 7123 
CAB-Citizens Advice Bureau.Wellsford Ph: 4237333 
0800 367 222 email:cab.wells@xtra.co.nz  
CIVIL DEFENCE - Kaiwaka Community Response Group: 
kaiwaka.civildefencecrg@gmail.com, 4312725 Wendy 
DOG/STOCK /NOISE CONTROL 0800 105 890 
FUNERAL SERVICES: Morris & Morris Ltd, 
Whangarei - Bev Jaques Ph:4312367 or 0800667747 
GRANDPARENTS Raising Grandchildren: Dianah Roberts 0223819539 
HAKARU & DISTRICTS MEMORIAL RSA (Inc) 733 Settlement Rd, 
Hakaru. Ph 4312 176 or Bill Warren (President) 431 2092 
HAKARU LANDFILL/Transfer Station:Open everyday  10am-
4pm.Ph4312629 Cost-$55 trailer load up to 1 cubic metre. Ph:4258567 - 
office 
KAIPARA DISTRICT COUNCIL www.kaipara.govt.nz:  
Help Desk FREEPHONE 0800 727 059  
KAIWAKA CEMETERY: Ph: 4312045 or 4314017 
KAIWAKA LIBRARY: kaiwaka.library@gmail.com  
Mon. 4-6pm; Wed., Thurs., Fri., Sat. 10am-2pm Ph:4312539 
KAIWAKA PLAYCENTRE: Ph Juanita 0274134904; open Mon, Wed, 
Fri 9am-12pm. Hastie Lane; Monday to Friday 9.00am - 12 noon. 
KAIWAKA POST OFFICE:Ph:4312 431  
Post Code: 0573 for RD2 and 0542 for all Kaiwaka Post Office mail 
KAIWAKA PRIMARY SCHOOL: Ph: 4312309   
KAIWAKA SPORTS ASSN: Ph 4312005; 4312129 gym 
KAIWAKA ST JOHN HALL: Phone Marj  0272941227  
KATE'S PLACE Community Centre - Employment services, Free Health 
Nurse, Plunket, Advocacy, Osteopath, A.A., Legal Advice. 4312 661 
LINKING HANDS Health Shuttle Ph 4315906 or 09 4318969 
MINISTRY FOR PRIMARY INDUSTRIES - General inquiries Call 
Free 0800 008 333 
NORTHPOWER: Faults Kaiwaka area 0800 104040 
OTAMATEA COMMUNITY SERVICES: Counselling, parent coach, 
Family Support worker, budget advice, food bank. Mon-Fri 9am-3pm. Ph 
09 431 9080 http://www.otamateacs.org/ 
PARENTPORT: Free, practical family support service Puhoi to Paparoa 
Ph or txt: Dianne 027 280 5093 or 09 425 9357 
PLUNKET:  Kaiwaka  -Kate's  Place  Clinic  1st  Wednesday  of  the  month; 
Mangawhai  - Rose Madsen Cottage: Coffee Group 9:30 every Monday.  Clinic 
every Monday and Thursday. 
Maungaturoto - Good News Church, Clinic 2nd and 4th Wednesday.  
Cynthia 09 431 7340 or 027 675 3488 
PLUNKET HELPLINE -0800 933 922 (24 hours) 
TAITOKERAU COMMUNITY LAW: Free confidential legal advice and 
assistance, 2nd
Thursday
 of each month. Ph: 0800 155 529 for appts.  
TE URI O HAU Settlement Trust Tangata Developments: Whanau Ora 
021 793262  
VETERINARY SERVICE MANGAWHAI: 
Ph: 4314535 Mon-Fri 8.00-5.00, Sat 9-12, a/h appt. 
WELLSFORD DOCTORS: Ph: 4238 086 
CHURCHES:
 
Kaiwaka  Revival  Church  -  Your  Community  Church:  Sundays  10am. 
Ph: Pastor Tawhiri 09 431 8988 or Pastor Paul 09 4312 068 Visit us at 
www.facebook.com/kaiwakachurch 
 
St  Paul's  Anglican  Church  1st  Sun.  9.00am  (Eucharist),  3rd  Sun. 
9.00am (Family Service). Contact: Rev. Wayne Thornton Ph 431 4122 
www.mangawhaianglican.org.nz 
 
Church of Christ the King, Mangawhai:9.00am every Sunday 
 
St.Mary's  Catholic  Church:  Maungaturoto  –  Griffins  Road,  Saturday 
evening  Vigil  Mass  6pm;  Mangawhai  –  Senior  Citizens  Hall,  Sunday 
Mass  8:30am;  Wellsford  –  Matheson  Road,  Sunday  Mass  10:30am;  
Mid-week Mass times and all enquires to Fr. Bill Fletcher – phone 423 8170
 
Baptist Church: Sun. 10.30am Mangawhai Snr Cit.Hall.Ph:4312339 
 
Cause  Way  Church  Mangawhai:  Sundays  10.15am,  Mangawhai 
Community  Recreation  Centre,  Insley  St.  Ph:  09  4314782 
Next Bugle Deadline Friday 25 September 2020