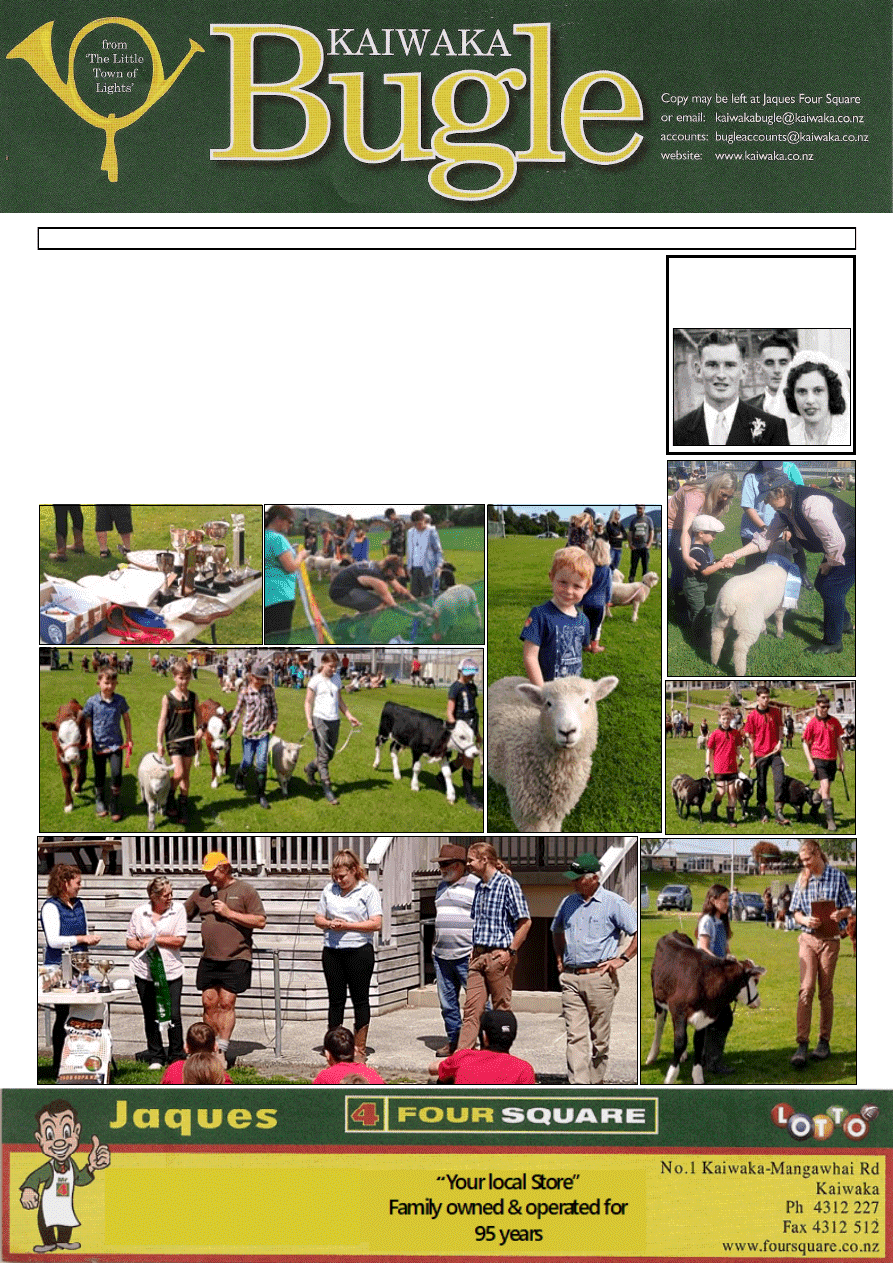 www.kaiwaka.co.nz 
Kaiwaka Bugle - 27 October 2020 
Page 1 
No.21 
27 October 2020 
WINTER 
HOURS: 
Monday 
- Friday 
HOURS: 
Monday - Friday 8am – 6.30pm 
Saturday 8am – 7pm 
Sunday 9am - 6pm 
AGRICULTURE SUCCESS AT KSA 
Sunday 18 October was the gathering day for young folk with lambs, calves and goats at the 
Kaiwaka Sports Association grounds. Local schools - Mangawhai Beach, Tomarata, Tapora, 
Wellsford,  Maungaturoto,  Paparoa,  Waipu,  Bream  Bay  College  had  held  their  Agriculture 
days,  and  their  representatives  along  with  3  from  Kaiwaka  made  a  wonderful  group  of 
youngsters who obviously love their pets and have gained  an amazing amount of knowledge. 
Supreme  Champion  Lamb: Lachlan Hill, Mangawhai Beach School;  Reserve Champion 
Lamb: Carrisa Lynch, Waipu School.; Supreme  Champion  Calf: Stevie-Ray Ball, Paparoa 
School;  Reserve  Champion  Calf:  Kade  Meagher,  Mangawhai  Beach  School;    Supreme 
Champion Goat: Ashley Wood; Reserve Champion Goat: Eliza McGlone. Winners of the 
Team Lead-off: Bream Bay College. 
Photos  include,  far  right  -  congratulating  Noah  Harrison  (3yrs)  of  Baldrock  Rd,  for  Pre 
School  Reserve  Champion  Lamb  with  his  lamb  Lambington,  and  bottom  the  Prizegiving: 
Organisers  Karen  Woolley  and  Bruce  Ferguson  (2nd  &  3rd  from  left),  with  judges,  Sarah 
Thomas, Michaela McCracken, Rob Hastie, Arjan Pedersen, Tony Hargreaves.   
GUESS WHO? 
 WHERE? 
See page 17 ….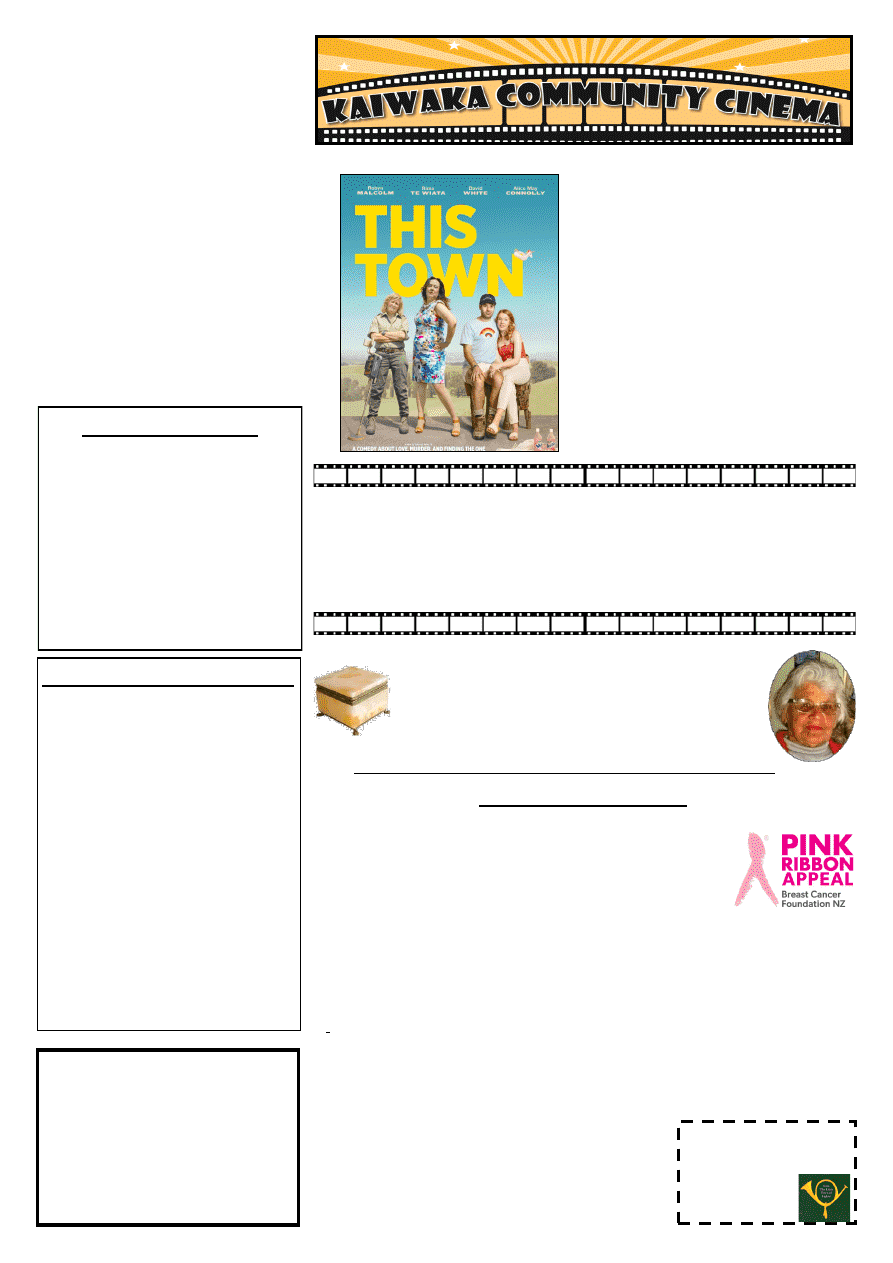 www.kaiwaka.co.nz 
Kaiwaka Bugle - 27 October 2020 
Page 2 
At Kaiwaka War Memorial Hall . Adults $10, Kids (under 16) $5, Family Pass (2 adults + 3 children) $25 
KAIWAKA BUGLE NO.21 
27 OCTOBER 2020 
CONTENTS: 
Page 3: Public Notices, Classified 
Page 5: OCS; ORT 
Page 7: Kaiwaka Can;  Shearing 
Success - Toa Henderson 
Page 9: Point Curtis CC; Rotary 
Page 11: Kaiwaka Sports  Assn 
Page 13: The Kauri Museum 
Page 15: Kaiwaka School; BEAMS 
Page 17: Guess Who? 
Page19: Labour Day; Mangawhai 
Tennis 
Bugle 22 will appear 10 November 
Contact for advertising, reports, articles 
or information can be made by 
Email: kaiwakabugle@kaiwaka.co.nz 
Ph: 09 4312 045 Lindsey 
Txt: 027 2724137 
Copy  may  be  left  at  Jaques'  Four 
Square. 
ABOUT TOWN 

 WELL  DONE  Toa  Henderson,  and  his  nephew  Hamu  for  their  shearing 
success at the Poverty Bay Show - see page 7

Pink Ribbon Appeal - in Kaiwaka Friday and Saturday 30 & 
31st  October.  '
Give  a  little  time  to  make  a  huge  difference  in  the 
lives of those affected by breast cancer.
'

Have  you  seen  Kaiwaka  on  Wikipedia?  ~  https://
en.wikipedia.org/wiki/Talk:Kaiwaka  

 Check The Kauri Museum website page for the digital version of the Quilter's 
Exhibition  www.kaurimuseum.com/whats-on-item/otamatea-quilters-exhibition-
23-oct-22-nov  

 KSA  is  looking  busy,  lots  going  on!  Great  to  see  Bernie  at  the  National 
Powerlifting  Champs,  with  Greg,  Harman  and  Nate.  KSA  contact  email: 
kaiwakasportsassn@gmail.com 

 Any information leading to the recovery of items stolen from Kaiwaka Revival 
Church would be appreciated. Crimestoppers 0800 555 111 

Mangawhai Garden Ramble 2020 is scheduled for 14th and 15th November  

 Why is it that after you chop a tree down, you then chop it up? Q: What did the 
digital clock say to the grandfather clock? A: Look, Grandpa, no hands! 

 See Dianne at the St. John Op Shop for  your Chocolate Chip biscuit order ... 

See  the  Kaiwaka  Bugle  in  colour  online  at 
www.kaiwaka.co.nz at any time. 
~ Lindsey, Ed 
"Life is like riding a bicycle; we can keep from falling if 
we keep moving. Only a few trick-riders can stand still and 
not tumble." ~Author Unknown, c.1922 
Kaiwaka Bugle 
Founded May 1978 
We appreciate articles and photos about local 
events, etc, as well as ads and suggestions. 
Copies available in Kaiwaka at Jaques Four 
Square, Kaiwaka Postal Centre, Shamrock 
Service Station, Animal Health Centre, 
Kaiwaka St John shop. 
Also outlets in Maungaturoto, 
Mangawhai and Paparoa. 
Can be viewed online at  
www.kaiwaka.co.nz/Bugle  
Or a copy can be posted to you if you supply 
stamped, self-addressed DLE envelopes. 
Kaiwaka Bugle Advertisements 2020: 
All 
copy 
and 
queries 
to: 
kaiwakabugle@kaiwaka.co.nz 
The Bugle is printed on an A4 page, B&W  
Ad  sizes:  1/16  page  (3  x  9.5cm)  $5;  1/8 
(6.5  x  9.5cm  landscape  or  portrait)  $8; 
3/16 ( 10 x 9.5cm or 7.5 x 12,5)  $12.  
Classified  ads:  First  one  FREE,  $4  per 
entry (max. 30 words, max. 4 repeats). 
Payments  can  be  made  online  at 
ANZ 
06  0365  0006990  00
,  posted  or  left  at 
Jaques Four Square Store. 
We  use  Microsoft  Publisher,  and  can 
work  with  most  common  image 
formats, Word, Excel, and PDF files. 
Accounts:  
Email: bugleaccounts@kaiwaka.co.nz 
The  Kaiwaka  Bugle  is  a  community 
newspaper run by volunteers, as part of 
the Kaiwaka Media Group Inc.   
Articles, etc. printed are not necessarily 
the opinion of the Bugle Team. 
Proverbs 11: 17 
When you are kind to 
others, you help yourself; 
when you are cruel to 
others, you hurt yourself. 
. 
KAIWAKA BUGLE 
DEADLINE DATES 
2020:  Every second 
Friday
November 6, 20 
December 4 
From  Thelma's Scrapbook … 
Do not keep the alabaster boxes 
of your love 
and tenderness sealed up until your friends are dead.  
Fill  their  lives  with  sweetness,  speak  approving, 
cheering  words  while  their  ears  can  hear  them  and 
while their hearts are thrilled by them. ~ George W. Childs 
KAIWAKA MOVIES VOLUNTEERS NEEDED 
The Kaiwaka Movie Team is looking for a couple more volunteers to help run 
the Kaiwaka Movies - to boost our team numbers, especially with ticket sales and 
in the tuck shop. Our Kaiwaka movies are held once a fortnight - 7.30pm start on 
a Friday evening.   
So, if you are interested to be involved in this, or want to know more contact me, 
Ad Clarijs, 0212154495, windmillkiwi@gmail.com 
THIS TOWN 
Friday 30 October, 7.30pm 
'"This  Town"  written,  directed  by  and 
starring  David  White  was  filmed  in  Central 
Hawke's Bay in 2018. It also features Robyn 
Malcolm, Rima Te Wiata and Toi Whakaari 
graduate Alice May Connolly in lead roles. 
"This  Town"  follows  one  man's  attempt  to 
return  to  normality,  and  one  woman's  utter 
determination  to  prevent  it.  Charged  but 
acquitted  for  a  terrible  crime,  Sean  (David 
White)  is  now  the  most  infamous  person  in 
the  small  community  of  Thiston.  But  his 
attempts  to  move  on  with  life  are  made 
difficult  by  ex-cop  turned  petting  zoo  and 
adventure  park  owner  Pam  (Robyn 
Malcolm),  who's  convinced  that  Sean  is  a 
guilty man walking free."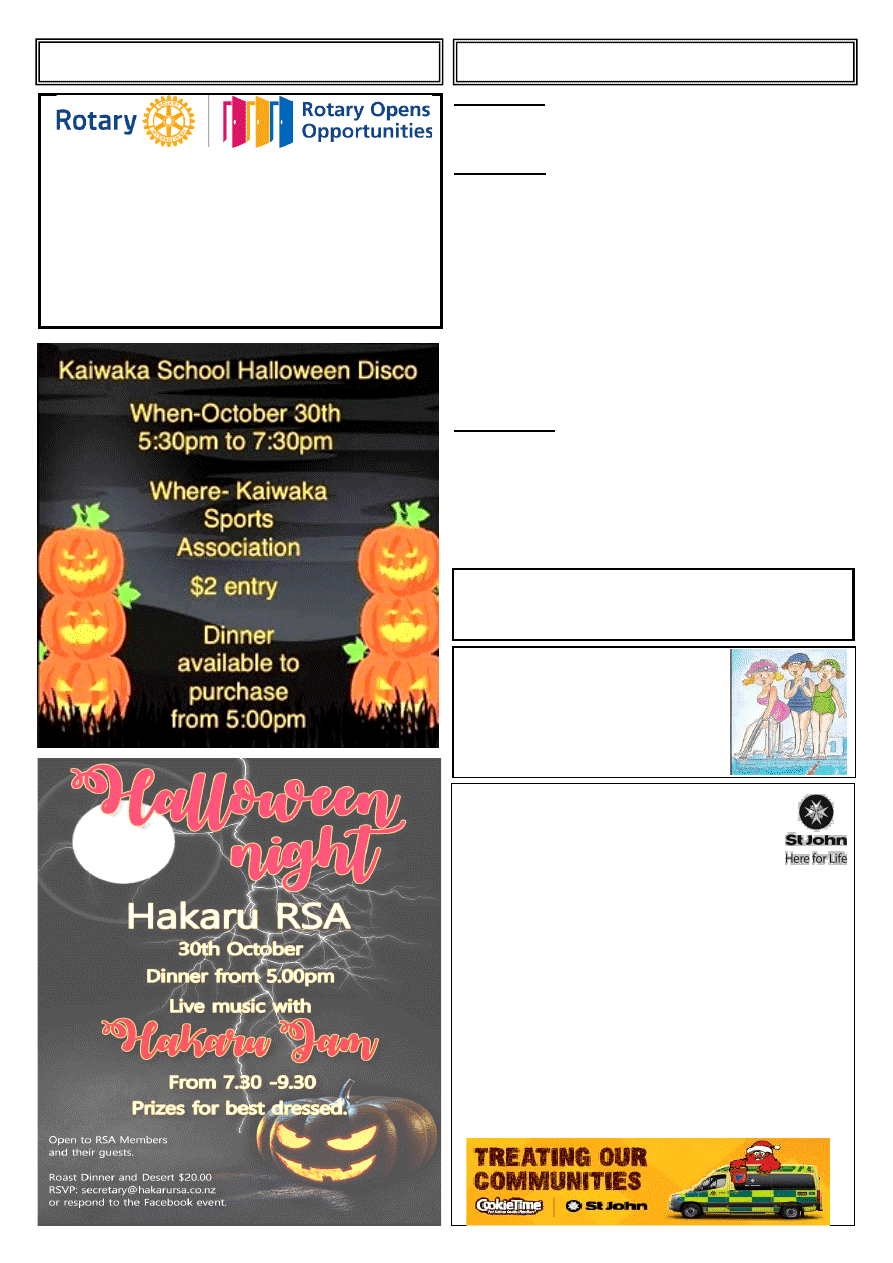 www.kaiwaka.co.nz 
Kaiwaka Bugle - 27 October 2020 
Page 3 
PUBLIC NOTICES 
CLASSIFIED 
Maungaturoto and Districts Rotary Club 
Seniors' Afternoon Tea 
2pm – Friday 27th November 2020 
Maungaturoto Centennial Hall 
Once again, we have the inspirational performers 
trained by Maura Flower 
RSVP by 20th November to 
Stella – 0211490877; Gael – 0212683734;  
Eileen – 0211420357 
WATER AEROBICS 
Are you interested in an 8-week 
course of Water Aerobics 
commencing mid- January 2021? 
 Please let me know.    
Jacqui 021416048 or 
jacqui@cluster.net.nz. 
HAKARU TRANSFER STATION 
636 KAIWAKA-MANGAWHAI ROAD 
Open every day 10am - 4pm ~Closed All Public Holidays 
Telephone: 09 431 2629 
KAIWAKA St. John Op Shop 
Don't  forget  to  order  your  cookies  before 
15th November. 
2 x 2litre buckets Chocolate chip delivered 
for $34.  Or 
2 x 1 litre GLUTENFREE Chocolate chip delivered 
for $32 
Order now at Munchtime.co.nz/Stjohn 

Thanking you for all your donations which help us to 
raise money for the community. 

With Christmas fast approaching we are looking for 
items which can make good presents. 

If  you are in  need of Furniture check out  our board 
instore with Photos of what we have available. 

Large donations are welcome  - please call ahead so 
we can have room to accommodate your goods. 
Our Hours are : Tuesday – Friday 10am to 3pm;  
 Saturday 10am – 2pm 
PHONE: Shop  43121650   
Regards, Dianne and Team 
FOR SALE: 2 used Acabia Tourer Kayaks; 2 paddles; 
2  Buoyancy  aids  (vest)  -  usual  wear  &  tear.  $600  for 
the lot. Ph: JP 4312400 or 0274 882774 
FOR  SALE: Men's  Wetsuit  -  Ripcurl  Classic. Full-
length. Size MT. Back zip. Nylon outer shell. Synthetic 
rubber. Neoprene filling. Black. Good condition. Think 
it's a 4/3 Steamer but not 100% sure; Men's Wetsuit - 
Orca.  Full-length.  Size  M.  Good  condition,  however, 
there are 2 small tears around the neck (they don't  go 
all  the  way  through  the  material).  Back  zip.  100% 
Sponge  rubber,  nylon  laminated.  Black;  Two  Prince 
03 Tour tennis racquets + 1 Prince tennis bag.  Good 
condition (some scratching on head). Grip size for both 
racquets is 4 and a half. With added grips. Black with 
some  orange.  This  racquet  retails  for  $290.    Selling 
both racquets plus the bag for $230.   
Pickup is Baldrock Rd, Kaiwaka. Text 027 346 2702. 
FOR  SALE:  3  Floor  Rugs  160x230,  predominantly 
cream  $60  the  lot;  4  Superlux  recessed  down  lights 
(new  in  boxes)  $30  the  lot;  TOOLS  -Ryobi  Bench 
Drill  $40;  Bosch  Sander  $30;  AEG  Jigsaw  $30;  Colt 
Sander $10; Red Jigsaw $10; Black & Decker Grinder 
$40;  Predator  Belt  Sander  $20;  NGP  Craft  Electric 
Planer $40; Trans Arc 180 Welder and 2  helmets $90; 
Long handle pruner $40; Laser Spirit Level $100. 
Phone or Text 021 411 479 (Kaiwaka/Oneriri)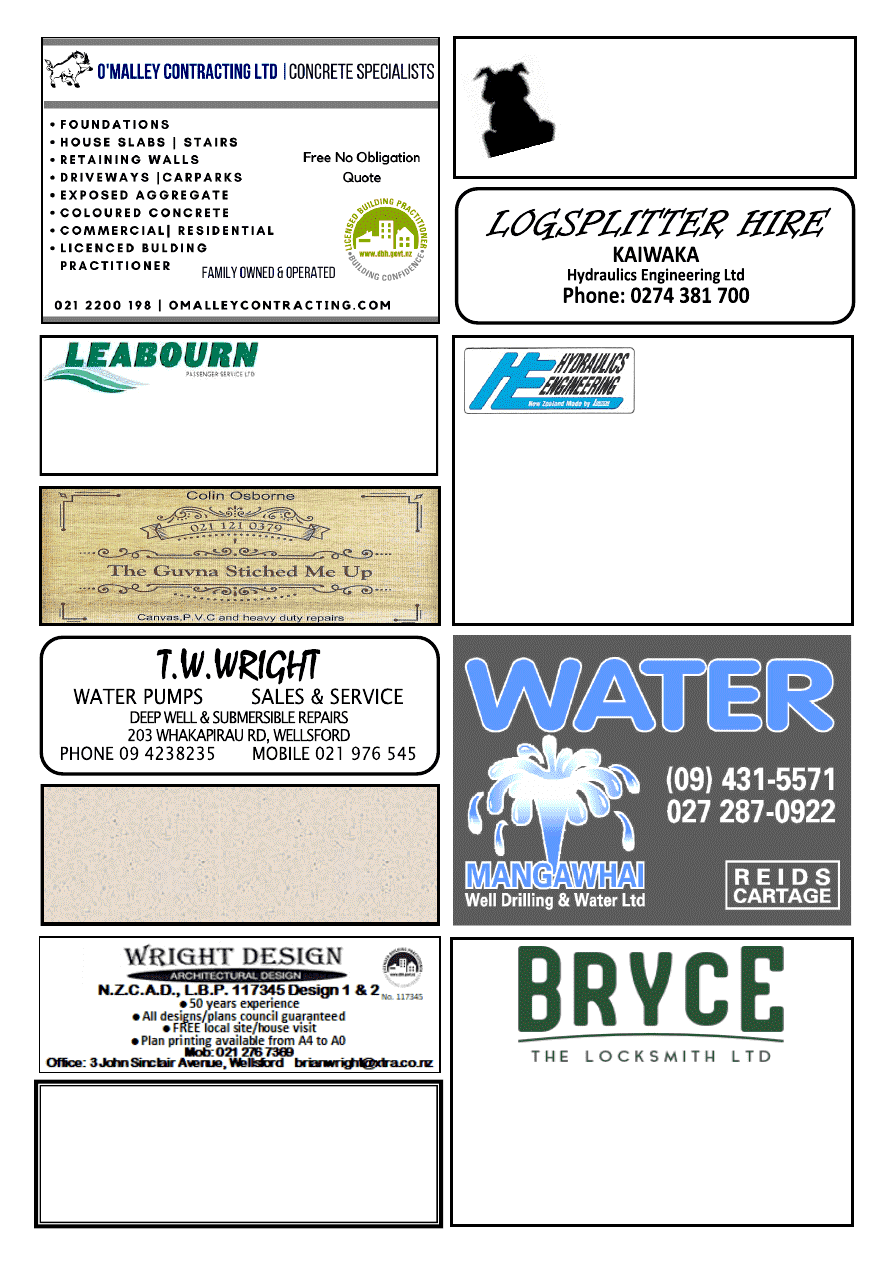 www.kaiwaka.co.nz 
Kaiwaka Bugle - 27 October 2020 
Page 4 
Bryce Frewin 
Ph: 021 850 983 
Kaipara Based Master Locksmith 
bryce@brycethelocksmith.co.nz 
www.brycethelocksmith.co.nz 
Hydraulics  
Engineering Ltd 
Kaiwaka 
Sales - Service - Parts - 
Hire - Manufacture 
Service Contractors & Industrial Equipment: 
Rams, Pumps, Valves 
Logsplitter Hire, Manufacturer, Sales 
Dennis Linton 
Lot 2 / 161 Ranganui Road, RD2, Kaiwaka, 0573, New Zealand 
Mobile: 0274 381 700 
Email: hydraulicsengineering@xtra.co.nz 
Counsellor and Registered Psychotherapist 
Offers Supervision 
ACC Sensitive Claims 
Susan Matheson      MNZAC 
Dip. Psychosynthesis Counselling and Psychotherapy 
Phone 09 431 2996                                     Mobile 027 605 2427 
Passenger Service
Car & Van Hire   Bus & Coach Charters 
Airport Transfers    
Phone (09) 4237416 
ADAMS   AUTOWORX 
Quality - Automotive 
Mobile Services & Repairs 
Phone Adam 0273466015 
Kaipara Dog Training Club 
Mangawhai Domain, Moir Street 
Every Wednesday Night from 5.30pm 
Please contact the Secretary  
for further information 
kaiparadogtrainingclub@gmail.com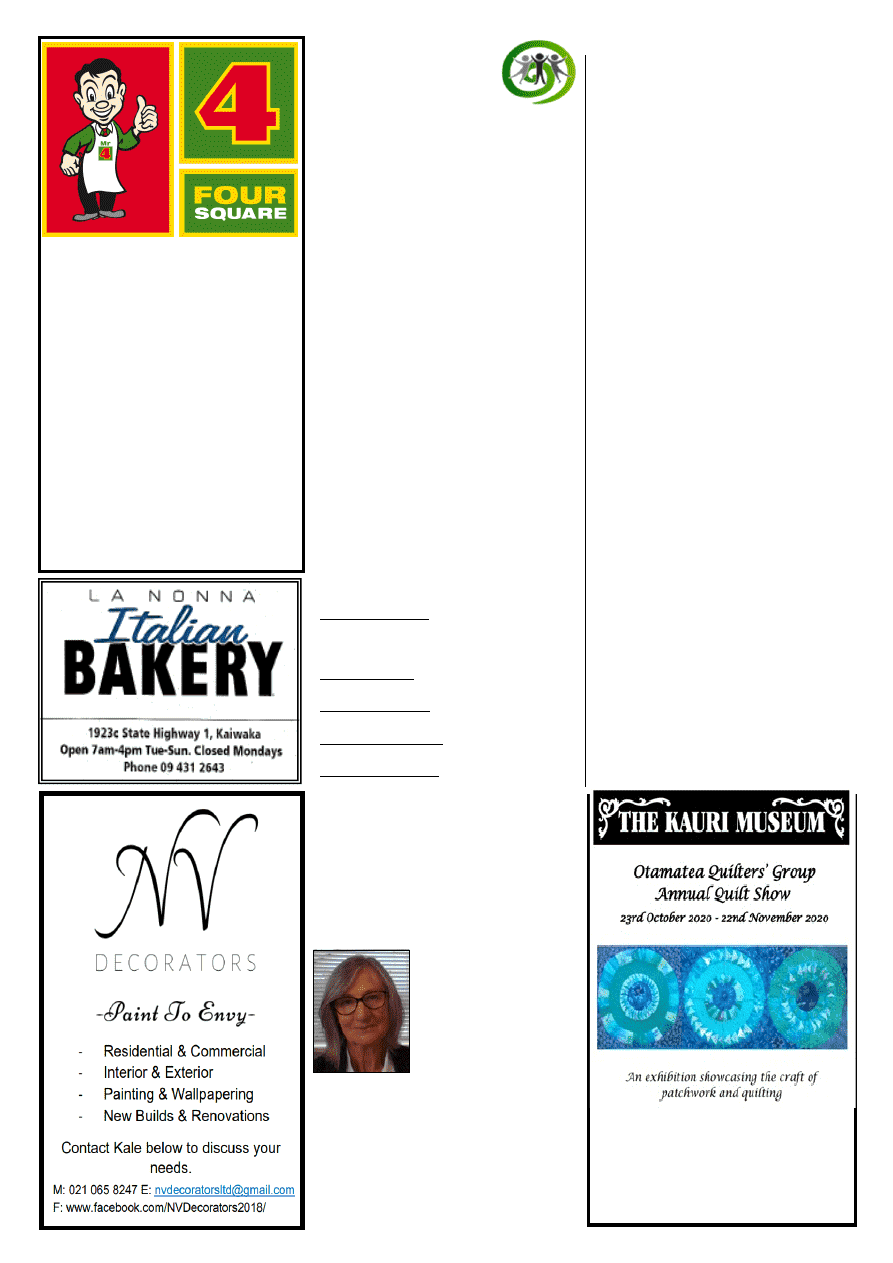 www.kaiwaka.co.nz 
Kaiwaka Bugle - 27 October 2020 
Page 5 
We're Here 
OPEN 7 DAYS 
Come check out our 
new range of toys
... 
maybe Christmas, birthday 
prezzies or a little being good 
treat... something for nearly 
everybody 
9kg Gas & Sodastream  
Gas Bottle Swap, 
Lotto & ATM 
JAQUES FOUR SQUARE 
Phone: 4312227 
1 Kaiwaka-Mangawhai Rd, 
Kaiwaka. 
Interactive  Dinner  Theatre  shows 
will  be  held  on  November  28,29, 
December  5,  6  (6pm  Saturdays  and 
5pm Sundays) in their Maungaturoto 
theatre. 
THE SHOW 
The show will be an improvised court-
room scene with pre-decided scenarios. 
Roles needed will be: Judge, 2 lawyers, 
various  court  officials  and  security 
personnel. 
Patrons will be selected to take the parts 
of defendants, witnesses and jury. 
It  is  envisaged  that  there  would  be  3 
cases  per  show,  with  breaks  for  the 
meal and dessert. 
AUDITIONS AND 
REHEARSING 
There will be no auditions as such. 
Anyone  interested  is  invited  to  attend 
rehearsals  where  we  will  have  theatre 
games  to  practise  improvisation  and 
teamwork. 
We will also practise courtroom scenes 
with various scenarios. 
From  these  sessions  we  will  select 
people to undertake the various roles. 
Participation  in  these  sessions  doesn't 
mean  you  have  to  be  in  the  live 
performance,  and  we  will  need  extra 
people for rehearsals. 
Also,  it  may  be  that  some  roles  are 
shared. 
Rehearsals  will  be  7  to  9pm  on 
Thursdays, starting October 22. 
We may need more rehearsals closer to 
showtime. We can decide later. 
For  further  information  contact  Peter 
Flower on 021-164-8318 
OTAMATEA 
COMMUNITY 
SERVICES 
Whangarei shopping trip  
As Christmas approaches you might be 
planning a shopping trip to Whangarei. 
Why not be chauffeured for free in our 
community bus? Twice a month, on the 
2nd  Tuesday  and  the  4th  Wednesday, 
the  bus leaves the  retirement  village  at 
9:30am.  
Dates  for  November:  Tuesday  3rd  and 
Wednesday 25th 
The  driver  arranges  stops  to  suit 
passengers,  so  whether  you  need 
Bunnings or the Warehouse or perhaps 
just want a day out in the city - it's all 
covered.  Call  us  on  431  9080  and  we 
will put your name on the list. 
Please note - in December there will be 
a  temporary  change  to  the  schedule  - 
the first bus of the month will travel on 
Monday 7th December. 
Facebook and Website 
Otamatea  Community  Services  is  a 
diverse organisation with many services 
and events, and you can catch up on our 
webpage: otamateacs.org.nz 
We also have a Facebook page. Check 
it out, keep in touch and please Like us. 
It  helps  spread  the  news  further: 
Otamatea 
Community 
Services 
Facebook 
November Calendar: 
•
Every  Monday  –  Fun  &  Games, 
The 
Footprints  Room,  Anglican  Church,  10am. 
Coffee, cake and friendly games (Scrabble, 
Rummikub, Yahtzee etc) 
•
Tuesday  3rd  –  Free  shopping  trip  to 
Whangarei 
•
Wednesday 4th – Seniors' lunch at St 
John Hall. From 10am 
•
Wednesday  18th  –  Chocolate  Bingo, 
The Footprints Room 10am 
•
Wednesday  25th  –  Free  shopping  trip 
to Whangarei 
If  you have questions about any of the 
above,  please  call  us  on  431  9080  or 
pop into The Community House. 
Our  services  include  counselling, 
parenting,  budgeting,  senior  support, 
addiction  support,  social  work,  food 
bank.  For  information  on  any  of  these 
please call us on 431 9080 and we will 
be happy to help. 
Look after each other, From all at OCS. 
Helen  is  the  OCS 
Manager and one of the 
counsellors.  We  have  a 
great  team  of  workers 
skilled  in  Financial 
Mentoring,  Family  and 
Parent 
Support, 
Counselling, 
Social 
Work  focused  Support,  Addiction 
Support  as  well  as  Senior  Support  and 
activities.  We  also  offer  assistance  to 
the community through our Food Bank 
with  the  added  benefit  of  one  on  one 
support  with  financial/budget  advice. 
Helen  says,  "The  best  teams  are  made 
up  of  a  bunch  of  nobodies  who  love 
everybody  &  serve  anybody  and  don't 
care about becoming somebody." 
OTAMATEA REPERTORY 
THEATRE 
INTERACTIVE 
DINNER THEATRE  
At Matakohe, just off SH 12, on the 
Twin Coast Discovery Highway 
Open 9am - 5pm 
5 Church Road, Matakohe, Northland. 
www.kairimuseum.com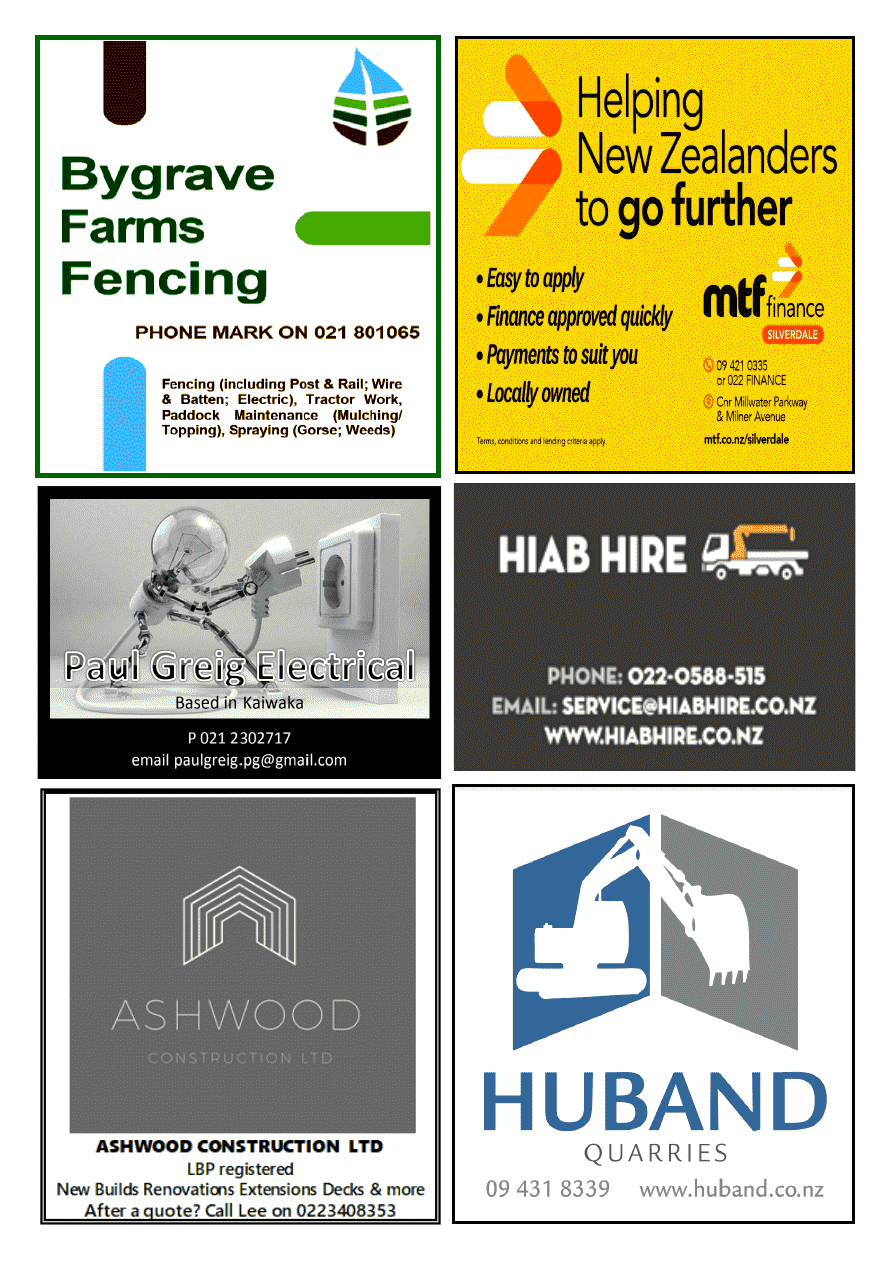 www.kaiwaka.co.nz 
Kaiwaka Bugle - 27 October 2020 
Page 6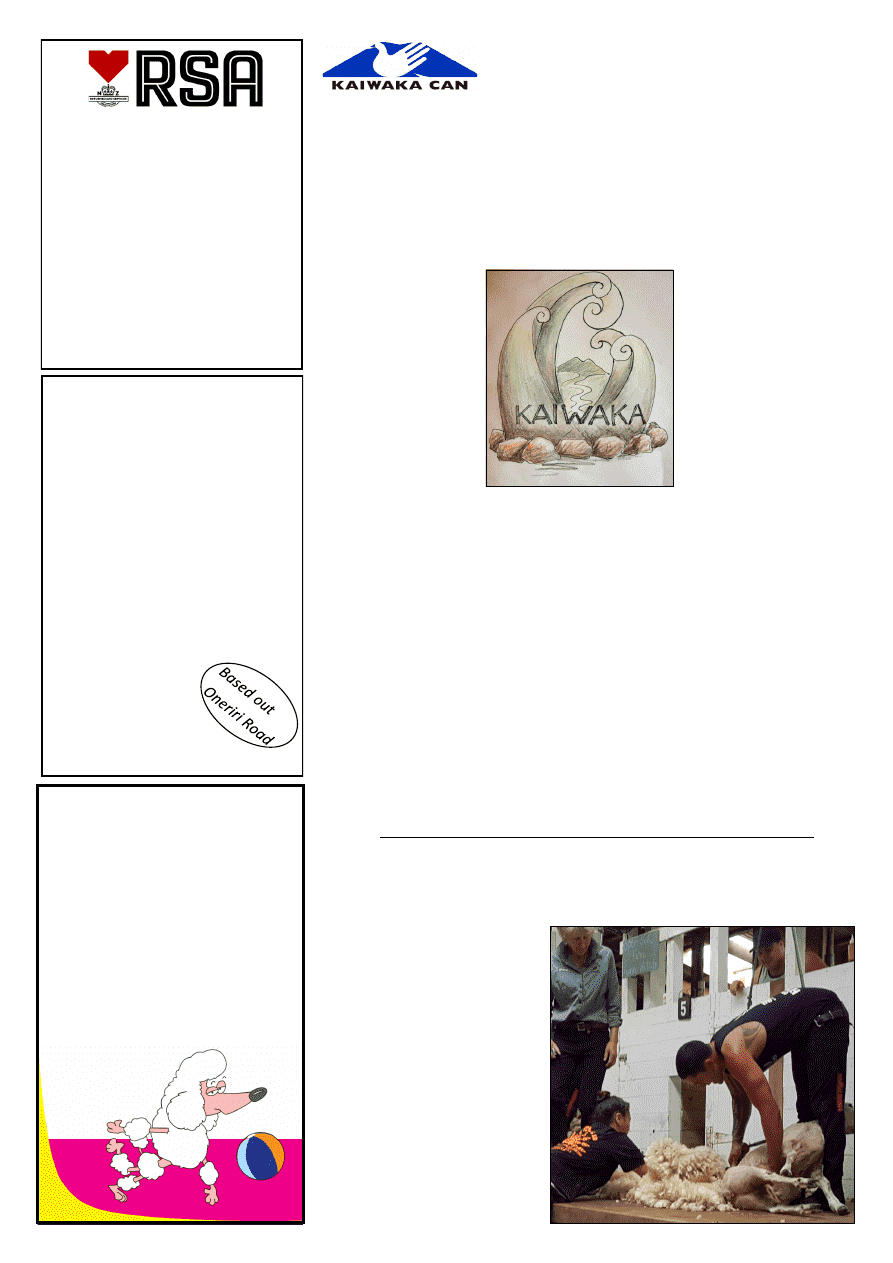 www.kaiwaka.co.nz 
Kaiwaka Bugle - 27 October 2020 
Page 7 
HAKARU & DISTRICTS 
MEMORIAL RSA (INC)
Members & guests are invited to 
come along and enjoy our hospitality. 
New members welcome. 
Meals are served on Thursday and 
Friday nights from 6.30pm. 
Order from Blackboard Menu  
The sing along with Des Chitty is the 
Last Friday of the month. 
For more information please phone 
Bill on 431 2092  
HODGETTS 
CONTRACTING
Digger Work   
Driveways 
House Sites   
Dams  
Drains, etc
Also available for HIRE 
3 ton Vib Roller  
Heavy Duty Tow  
Waterblaster      
Lazer Level
Phone Mark  
4312877 
027 447 8554 
SHEARING SUCCESS 
The Poverty Bay A and P Show Shears opened the shearing sports competition 
season at Gisborne on Saturday, October 17. Local lad Toa Henderson won the 
Open  Final  against  New  Zealand's  top  shearers.  The  final  was  over  15  sheep 
each, 
including 
two 
each, 
crutched and bellied, and left over 
from  the  previous  day's  speed 
shear. 
Young Hamu Henderson travelled 
with Toa and showed his skill on 
the  handpiece  by  coming  second 
in the Junior section. 
From the RESULTS   
Open  final  (15  sheep):  Toa 
Henderson  (Kaiwaka)  1;  Gavin 
Mutch 
(Scotland) 
2; 
John 
Kirkpatrick  (Pakipaki)  3;  Jack 
Fagan (Te Kuiti) 4. 
Junior  final  (3  sheep):  Finn 
McKenzie (Tolaga Bay) 1; Hamu 
Henderson  (Kaiwaka)  2; Keahrey 
Manson  (Piopio)  3;  Ryka  Swann 
(Wairoa) 4. 
Photo:  The Country
Hot Diggity Dog  
DOG GROOMING  
KAIWAKA 
Spring is in the hair. 
Professional Dog Groomer  
at affordable prices.
www.doggroomingkaiwaka.co.nz 
call Pam 094312143 or text 
0273335380 for bookings 
Kaiwaka  Can 
has  now  been 
meeting  for  six  years,  about  11 
meetings a year plus a few specials. So 
what has all that achieved? If we look at 
our  meeting  this  past  Wednesday,  we 
get  a  glimpse  of  the  range  of  things 
talked about. 
Footbridges  
The  footbridges  alongside  each  bridge 
are  currently  being  investigated  and 
prepared  for  a  contract  to  get  under 
way,  making  a  huge 
difference  to  access 
around  Kaiwaka  from 
The  Bakery  to  the 
Coffee  Pot  on  the  west 
side. 
McClean Park  
McClean Park is next in 
line  and  a  new  group 
has  been  formed  to 
concentrate on that with 
David Wright heading it 
up.  We  need  ideas, 
visions,  dreamers  and 
workers  to  transform 
this  from  a  broken  down  dirty  mess 
collecting  hoons,  rubbish  and  human 
waste  into  something  we  can  be  proud 
of and use to its full potential. 
I Site  
Another  group  is  starting  to  look  at  a 
major  community  facility  which  can 
house an I Site (information centre) for 
people heading for Northland, an enviro 
centre  to  keep  care  of  the environment 
in mind, maybe an art centre (plenty of 
artists round here!) and maybe a men's 
shed. If this sounds like something that 
interests  you,  let  us  know  and  we  will 
add you to the group. 
Lights 
The lighting group is going well with at 
least  three  new  sets  of  lights  under 
active  preparation  with  more  down  the 
line,  a  very  skilled  and  hard-working 
group. 
Environmental group 
And  the  environmental  group  is 
sponsoring  a  pest  workshop,  15th 
November  –  sadly  all  places  already 
taken.  But  don't  forget  there  is  a  pest 
trap library operating too under the care 
of Paul Smith. 
Welcome sculptures 
Our  welcome  sculptures,  one  each  end 
of  Kaiwaka,  have  been  designed  and 
ready  to  go  but  we  need  help  both  for 
the  construction  and  helping  us  work 
through  the  red  tape  that 
always  seems  to  be 
waiting in the wings. 
Wikipedia 
A  couple  of  others  are 
working  on  a  revamp  of 
the  Wikipedia  Page  on 
Kaiwaka,  making  good 
progress. 
And  talking  of  media, 
greater 
Facebook 
presence  and  a  web  page 
are  also  in  mind  with 
good 
people 
already 
working  on  it  but  always 
glad of others to help. 
And there is more, but that is enough to 
take  in  for  now.  Will  talk  about  other 
possibilities next time. It is great to see 
new  people  along  every  meeting,  keen 
people,  of  diverse  ages  and  gifts  who 
just  want  to  make  a  difference. 
Remember  Kaiwaka  Can  is  open  to 
anyone at any meeting – just turn up at 
the  Archie  Bull  Hall  (behind  the 
Anglican  Church)  third  Wednesday 
5.30pm. 
So, if any of these projects interest you, 
let's know and we will find a place for 
you. Easiest to contact me as chair and I 
will  pass  it  on,  rather  than  use  half  a 
page with email addresses. 
Look  forward  to  hearing  from  you, 
including you and seeing you. 
Derek Christensen Chair Kaiwaka Can 
099469077, 0273572751 
derekandisa@gmail.com
JUST ANOTHER MEETING?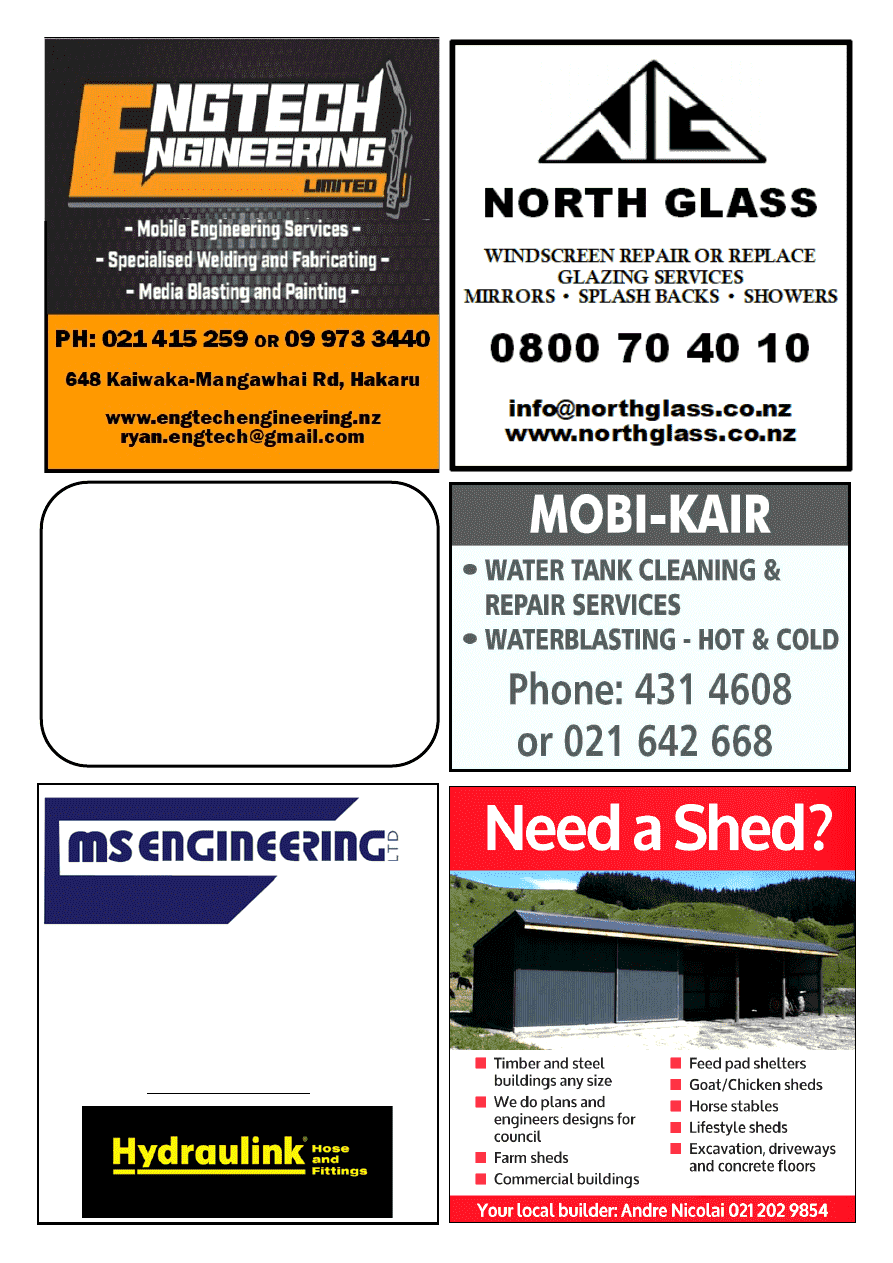 www.kaiwaka.co.nz 
Kaiwaka Bugle - 27 October 2020 
Page 8 
UP-LINK 
CHRIS WARING 
FREEVIEW INSTALLATIONS 
T.V. - HOME THEATRE &  
HI-FI ADVICE/SET UP
SKY ACCREDITED INSTALLER
MOB.0273403747 HM.094312328 
EMAIL cwaring44@gmail.com
28 YRS EXPERIENCE 
OFFERING UNBIASED ADVICE 

Peter Buckley 

Mobile Hose Technician –  
                      Based from Oneriri Road 

Available for all mobile hose                                
                      requirements onsite 

Call – 0800 425 7116  

Email – mse@mseng.co.nz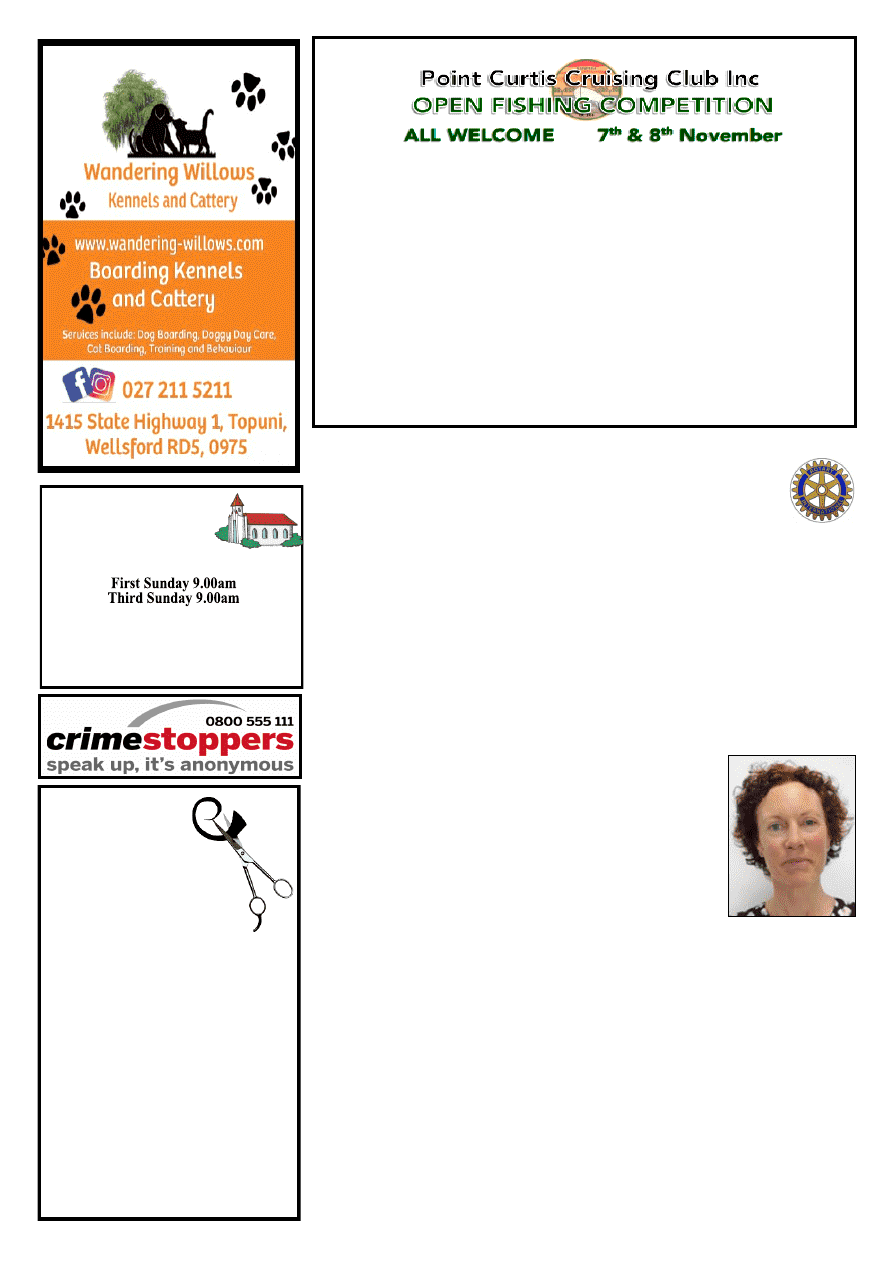 www.kaiwaka.co.nz 
Kaiwaka Bugle - 27 October 2020 
Page 9 
JUST 
CUTS 
and 
MORE  
1758 Cove Road  
Open Monday-Saturday  
by appointment only 
Saturday 9-12pm  
Affordable prices: 
Ladies cuts from $35 
Colours from $120 
Men's from$25 
Kids from $18 
0211652629  
ST PAUL'S  
ANGLICAN  
SUNDAY SERVICES
St Pauls Church: Kaiwaka-Mangawhai Rd. 
1st Sunday - Eucharist 
3rd Sunday - Family Service 
Priest in Charge Rev. W Thornton Ph 431 4122 
www.mangawhaianglican.org.nz
Rotary Youth Leadership  
The  applications  have  closed  for  the 
President's 
Scholarship 
and 
the 
successful  applicant  will  be  advised  in 
due  course.  Please  also  get  in  touch 
with  a  Rotarian  if  you  have  anyone 
aged 22 to 28 who might be eligible for 
the  Rotary  Youth  Leadership  course 
early in May 2021. 
Bench Seat  
In a short space of time you will notice 
a  new  bench  seat  outside  the  dairy  in 
Paparoa.  The  previous  one  was 
destroyed  but  Noel  and  Bryan  of  the 
Gentlemen's Club have crafted a superb 
replacement.  We  are  grateful  for  those 
people who donated the wood, fittings, 
and coating for this as well. 
Driver Mentoring  
Our driver mentoring scheme continues 
to operate well and we are very grateful 
to  the  non-Rotarian  mentors  who  have 
stepped up to provide this service. The 
car we have is getting close to its 'used 
by'  date  and  we  are  looking  for  a 
replacement in the near future.  
We  appreciate the  support  of  Roadsafe 
Northland who oversee the presentation 
of this programme and we look forward 
to  having  more  successes  in  the  near 
future.  
Te  Roroa  have  an  on-line  application 
process  if  you  have  your  Learner's 
licence  and  would  like  to  take 
advantage  of  the  12  one-hour  free 
lessons that we offer. (0800 555635) 
Piroa Falls 
Mentioned  in  last  month's  report  was 
the erosion caused by recent heavy rain 
to  the  track  at  Piroa  Falls.  Part  of  this 
has  been  reinstated  but  we  are  in 
consultation  with  DOC  to  find  the 
safest, most effective and enduring way 
to  repair  a  piece  at  the  bottom  of  the 
steps.  We  want  to  make  sure  that  this 
icon in our area can be accessed by all, 
but  it  may  take  some  time  for  this  to 
happen. 
Maungaturoto  Primary 
School 
Our  club  enjoyed  receiving 
some  letters  from  Room  9  at 
the  Maungaturoto  Primary  school, 
thanking  us  for  our  support  with  tree 
planting.  These  were  a  delight  to  read 
and  many  of  the  writers  used 
illustrations  as  well  as  words.  By  the 
time you read this we will have heard a 
presentation  from  some  of  the 
youngsters  at  the  Primary  school 
outlining  the  projects  they  hope  to  get 
involved with during the next year. We 
are  looking  forward  to  further 
involvement with the Primary School in 
the completion of these projects. 
Penny Smart (NRC Chair)  
A  speaker  of  note 
in  recent  weeks 
was  Penny  Smart 
(NRC  Chair)  who 
ensured  that  all 
those 
listening 
were aware exactly 
of  what  the  NRC 
offers 
to 
both 
Northland  and  our 
local  community. 
The NRC vision of "Northland together 
we thrive" emphasises how each area is 
not a silo and that there is a need for us 
to  work  together  to  be  resilient.  Penny 
mentioned that the Kaipara remediation 
is one of the 'shovel ready' projects that 
has  received  funding,  and  they  are 
working  in  collaboration  with  the 
Kaipara Uru Collective. Major changes 
are in the offing with the RMA getting 
a total revamp and the national focus on 
the  three  waters  project  –  drinking, 
waste  and  storm.  Penny's  talk  to  us 
came during Maori language week and 
a quote from her was quite appropriate. 
"Toitu  to  whenua,  toitu  te  moana, 
toitu  te  tanagata"  translated  - 
Productive  land  and  sea,  prosperous 
people. ~ Eileen 
MAUNGATUROTO & DISTRICTS ROTARY 
GET READY COMING TO YOU SOON OUR NEXT 
FREE ENTRY for CURRENT 2020-21 Members 
NON-MEMBERS SENIOR $30 JUNIOR $10 
All fish must be weighed in green 
Overall Average weight for Snapper - $300 Cash 
Senior: Snapper – CASH 1st = $300, 2nd = $200, 3rd = $100 
Prizes - Kingfish, Kahawai & Gurnard 
Junior: Prizes – Snapper, Kingfish, Kahawai & Gurnard 
Annual Subscriptions 
Don't forget Subs were Due 1st June 2020. $30 Family $20 Single. 
Internet banking 12 3094 0008233 00 Please use Name/s as a reference 
Super Club update – we won the hosting rights of the next Super Club Fishing 
competition. Any volunteers to assist would be greatly appreciated. 
New Fish of the Month: Snapper till 4th November 2020 
Next Club meeting:  7pm, 4th November 2020 @ Kaiwaka Sports Association, 
7pm. ~ 
Wayne Leslie (Commodore)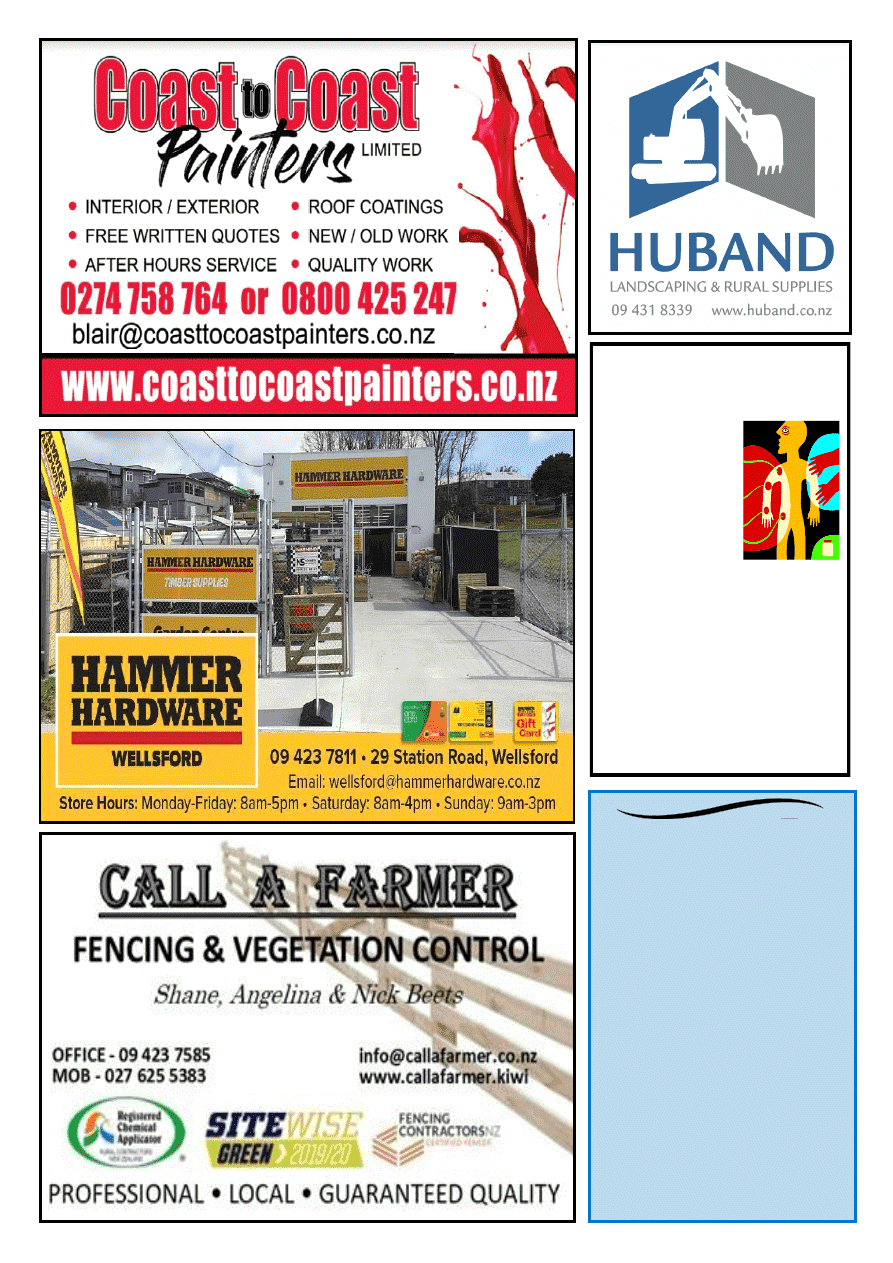 www.kaiwaka.co.nz 
Kaiwaka Bugle - 27 October 2020 
Page 10 
OWEN STEVENS 
Osteo Therapist
For careful 
adjustments to 
bones and joints 
Treatment for 
humans and their 
pets 
Clinics: 
Kate's Place, Kaiwaka: 
Last Friday of month 
For bookings: 
9.00am-5.00pm  
Phone 
09 4312661 
Or phone Owen  
09 4317123 anytime 
HAVEN HOME  
MAINTENANCE  
SERVICES 
Helping transform your  
haven into your home 
Interior:  
Kitset Assembly 
Wardrobe Furniture Install 
Picture & Mirror Mounted 
Minor Carpentry Works 
Exterior:  
Landscape Solutions 
Fence Build & Repair 
Low level Decks 
Gutter clearing & Repairs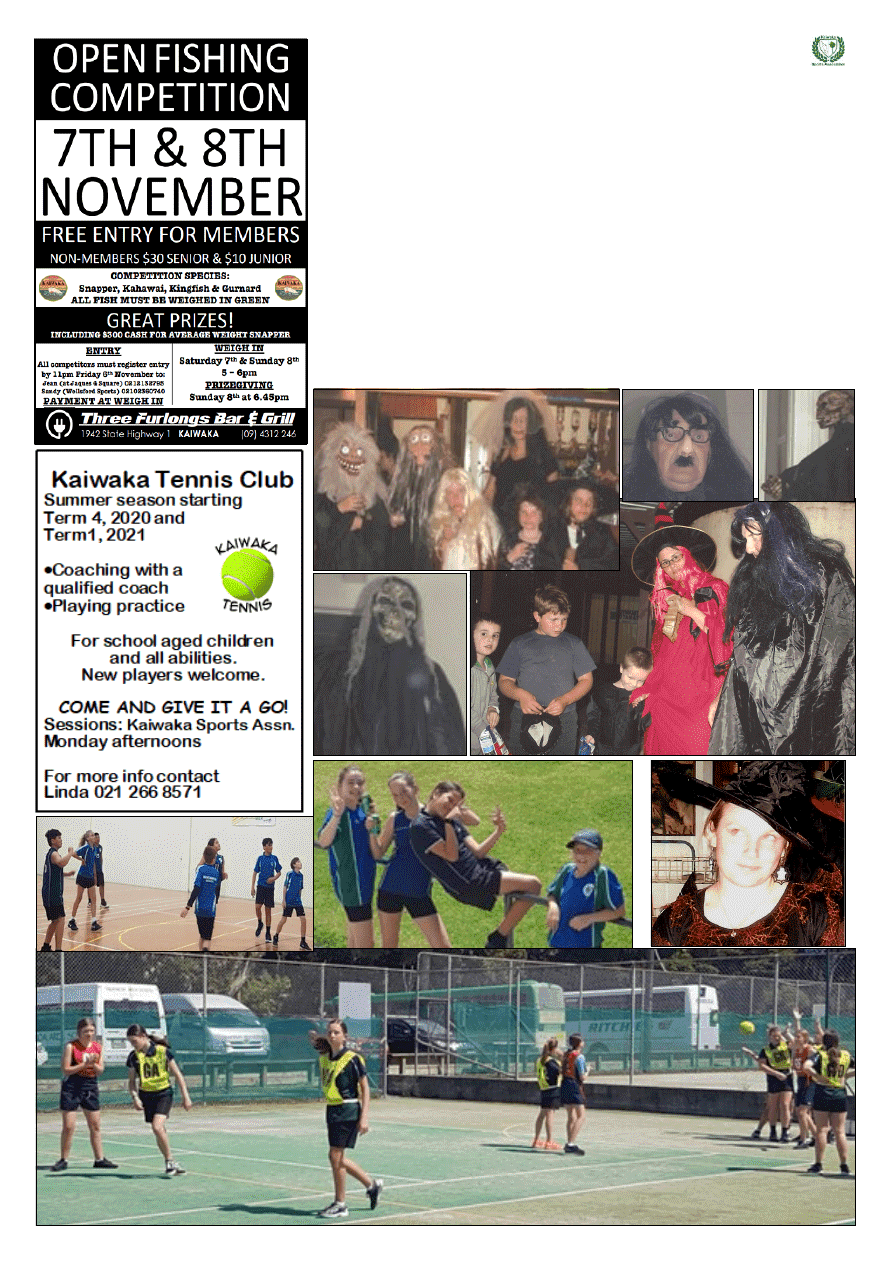 www.kaiwaka.co.nz 
Kaiwaka Bugle - 27 October 2020 
Page 11 
Contact email: kaiwakasportsassn@gmail.com 
KSA: A VERY BUSY VENUE 
There has been a lot happening at our sports complex including indoor meetings, 
and seminars. There is a free  NAIT  National Animal Identification & Tracing) 
workshop in Kaiwaka on Monday 2 November, 1.45-5pm, a great opportunity to 
have a Technical Support Officer help you one-on-one. Call 027 227 0537. 
And lots of activity on the grounds and in the gym: Last Thursday teams of Year 
7 and 8 students from Otamatea High, Ruawai, Matakohe, Tauraroa, Bream Bay 
and Mangawhai Schools held a sports day. Pictured below a group of Otamatea 
High  School  students  enjoying  the  day;  OHS  v  Ruawai  netballers;  OHS  v 
Mangawhai basketballers. 
And  the  local  area's  Agricultural  Group  Day  on  Sunday  -  photos  on  the  front 
page, where the Tuck Shop was busy too. 
Our    regular  sports  are  going  well  -  Kaipara  Basketball,  Badminton,  Tennis, 
Fitness, Fishing, and Boot Camp. All sports welcome  folk to join, or volunteer!
EARLIER FRIGHT NIGHT 
Fright  Night  will  be  back.  Here  are  some  photos  from  eleven  years  ago.  Mark 
Ottaway brought ideas back from the USA for a fun Fright Night many years ago. 
Mark along with his family and friends got together to stage some  'frightening' 
times! 
KAIWAKA SPORTS ASSN NEWS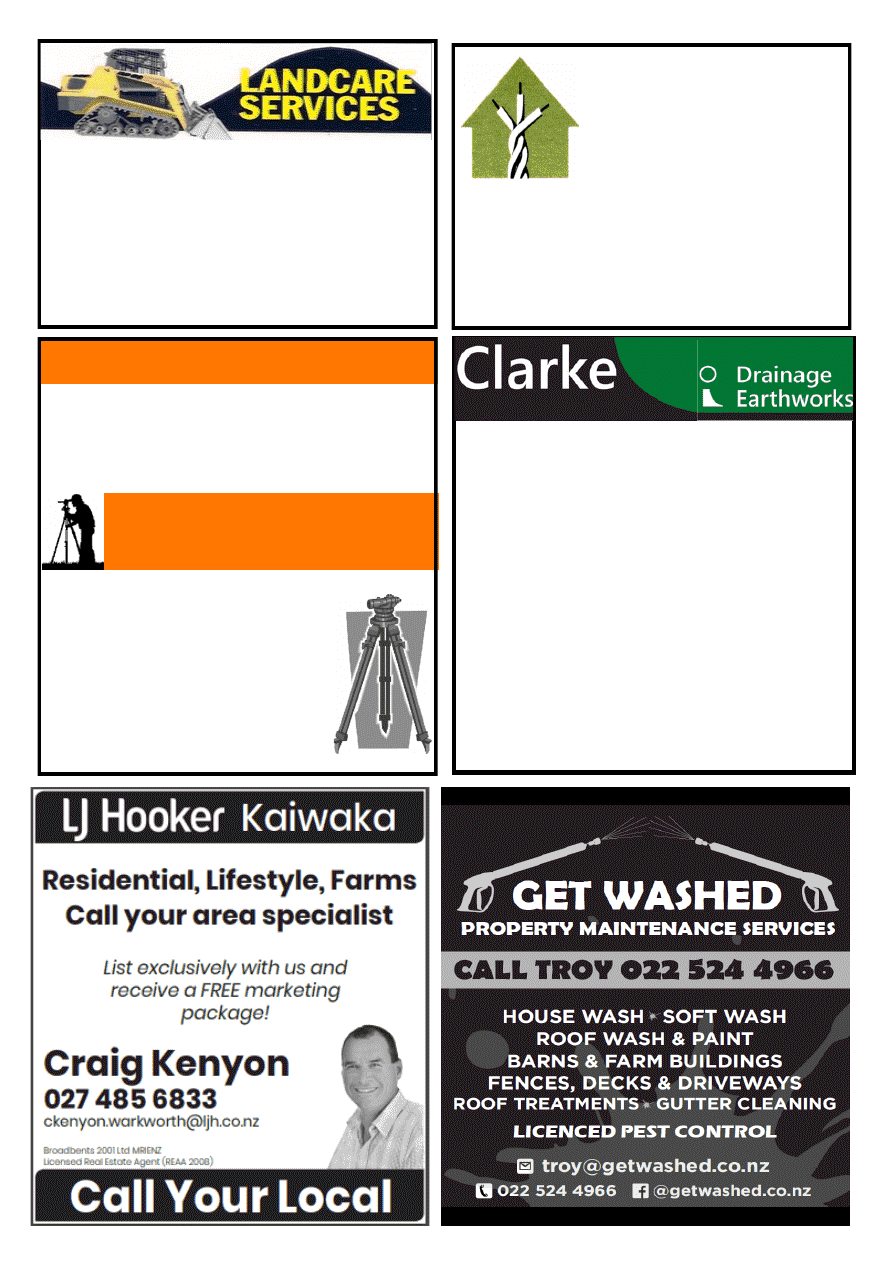 www.kaiwaka.co.nz 
Kaiwaka Bugle - 27 October 2020 
Page 12 
Reyahn  Leng 
Registered Electrician 
Local, honest and reliable. 
For your residential and 
light-commercial projects. 
022 314 1068 
LANDSCAPING 
4 IN 1 BUCKET 
TRENCHER 
POLE HOLES 
ROTARY HOE 
COMPACT ROLLER 
OFFAL HOLES 
CAN SUPPLY WOODCHIP & POST PEEL 
5 TON TIPPER 
FOR RELIABLE AND FRIENDLY SERVICE CONTACT DAVE 
Dave Hyndman 
 
KAIWAKA 
PH: 09 4312302 
MOB: 021 431 238 
Drainage & Earthmoving 
nigel@clarkedrainage.nz 
027 2233 185 
Registered Drainlayer                 All Types of Earthworks  
> All Residential & Commercial Work  > House Sites 
> Septic System Design & Install 
> Footings & Drilling to 10m 
> Sewer Connections 
> Dams 
> Water Tank Installation 
> Roading & Races 
> Farm Work 
THE ONE STOP SHOP  
Phone Nigel for an Obligation Free Quote  
SURVEYORS 
SUBDIVISIONS 
HOUSE SITE SURVEYS 
CIVIL ENGINEERING 
WASTEWATER DESIGNS 
EXPERIENCED 
PROFESSIONAL 
INNOVATIVE 
Ph 09 431 5353 
0800 PACIFIC (0800 722 434) 
pacificcoastsurvey.com
Adam Booth - 027 415 5752 
Bsurv, Licensed Cadastral Surveyor
Surveying Kaipara since 1994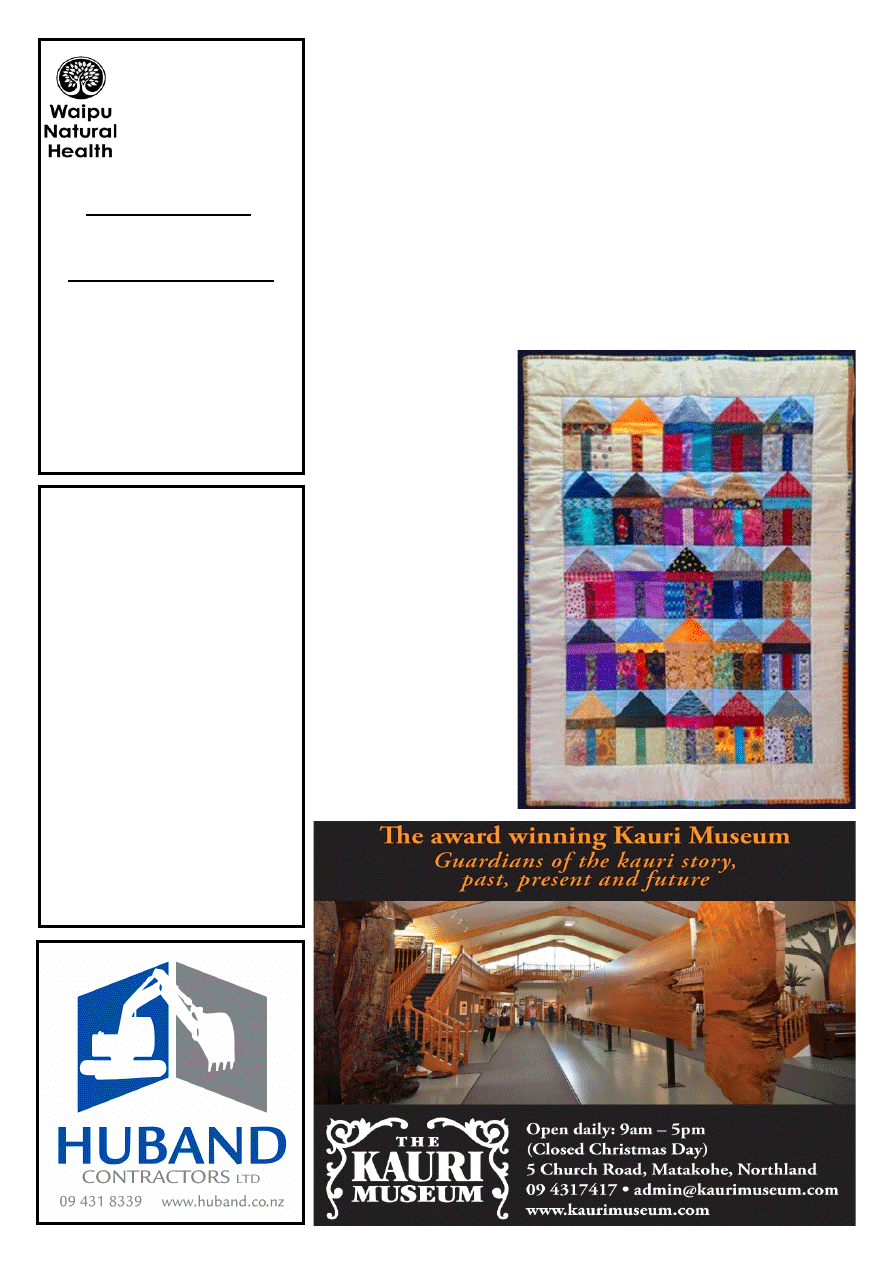 www.kaiwaka.co.nz 
Kaiwaka Bugle - 27 October 2020 
Page 13 
3 Cove Road, Waipu 
(opposite the Pizza Barn
) 
094321325 
www.waipunaturalhealth.co.nz 
Clinical Nutritionist: 
Nutritional Checkups, Diets for 
Chronic Diseases,  
Food Sensitivities 
Naturopathic Physician: 
Ozone Therapy, Prolotherapy  
Reflexology, Craniosacral 
Therapy, Trauma Release 
Massage Therapy 
Counselling and Hypnotherapy 
Change Catalyst/ThetaHealer 
Affordable Children's Consults 
All therapists are fully qualified
The  Kauri  Museum  is  pleased  to  host 
the  Otamatea  Quilters'  Group  annual 
exhibition.  The  display,  this  year  is  on 
from  October  23  to  November  22. 
Included in the exhibition are a range of 
quilts;  from  entirely  hand  worked  to 
machine  stitched,  embroidered  and 
embellished, and from contemporary to 
traditional,  all  worked  following  a 
common theme – Elements of Design - 
Repetition. 
This  year  the  'Challenge'  given  to 
members  of  the  Otamatea  Quilters 
presented  each  quilter  with  the 
opportunity to explore the creative side 
of their art. Repetition through elements 
of  design  has  created  some 
stunning quilts. 
Community  quilts  are  at  the 
heart of the exhibition. 
Each  year  the  Otamatea 
Quilters 
chose 
an 
organisation  or  charity  to 
donate  quilts  to.  Over  the 
past  4  years,  the  group  has 
made  quilts  for  STAND,  the 
Children's  Health  Camp  in 
Whangarei.  Knit  wear  has 
also 
been 
donated 
to 
STAND.  The  many  families 
who  have  received  these 
quilts are very appreciative. 
This  year  stroller  and  cot 
quilts have been made for the 
Plunket  Society,  to  give  to 
young  families  who  would 
benefit  from  them.  All  the 
materials  for  these  quilts  are 
donated by the quilters. 
Despite  the  advent  of 
COVID  19  the  exhibition 
will  proceed,  however  there 
are  several  changes  to  the 
traditional 
programme. 
Quilters will be in attendance 
on  Friday  23  October  only 
over Labour weekend and there will be 
no sales tables or raffles. 
Admission Vouchers, giving you access 
to this exhibition only, are valid for the 
duration of the show. 
They  can  be  picked  up  from  local 
sewing centres. 
Admission  tickets  to  The  Kauri 
Museum  also  include  this  wonderful 
exhibition. 
For further information contact Glennys 
McKenzie 09 4320409 or Lyn King 09 
4392262. 
The  Kauri  Museum  is  open  7  days  a 
week, 9am – 5pm. Phone: 09 431 7417  
www.kaurimuseum.com 
HAKARU HALL  
ACTIVITIES 

Monday:  Line Dancing 9.45 -
12pm Ph 4315160 

Afternoon Dance Energy  Lisa Ph. 
0275610469 

Tuesday: Pilates 10am  
Qualified Instructor Ph. 0220643965 

Tuesday: Afternoon  
Dance Energy  

Wednesday: Afternoon  
Dance Energy  

Wednesday: Evening Music Jam 
Session   Dennis Ph. 0210628631 

 Thursday: Pilates 9.30am  
Ph. 0220643965 

Friday Fortnightly  
MESS CLUB   10.30 am    
       Inspiring play for under 5's. 
Phone Shelley 0221223781 

Sunday: Canine Coaching  
Ph 0272365004 
 Hall Bookings Karen 
4312090 
THE KAURI MUSEUM   
The Otamatea Quilters' Group Annual Quilt Show 2020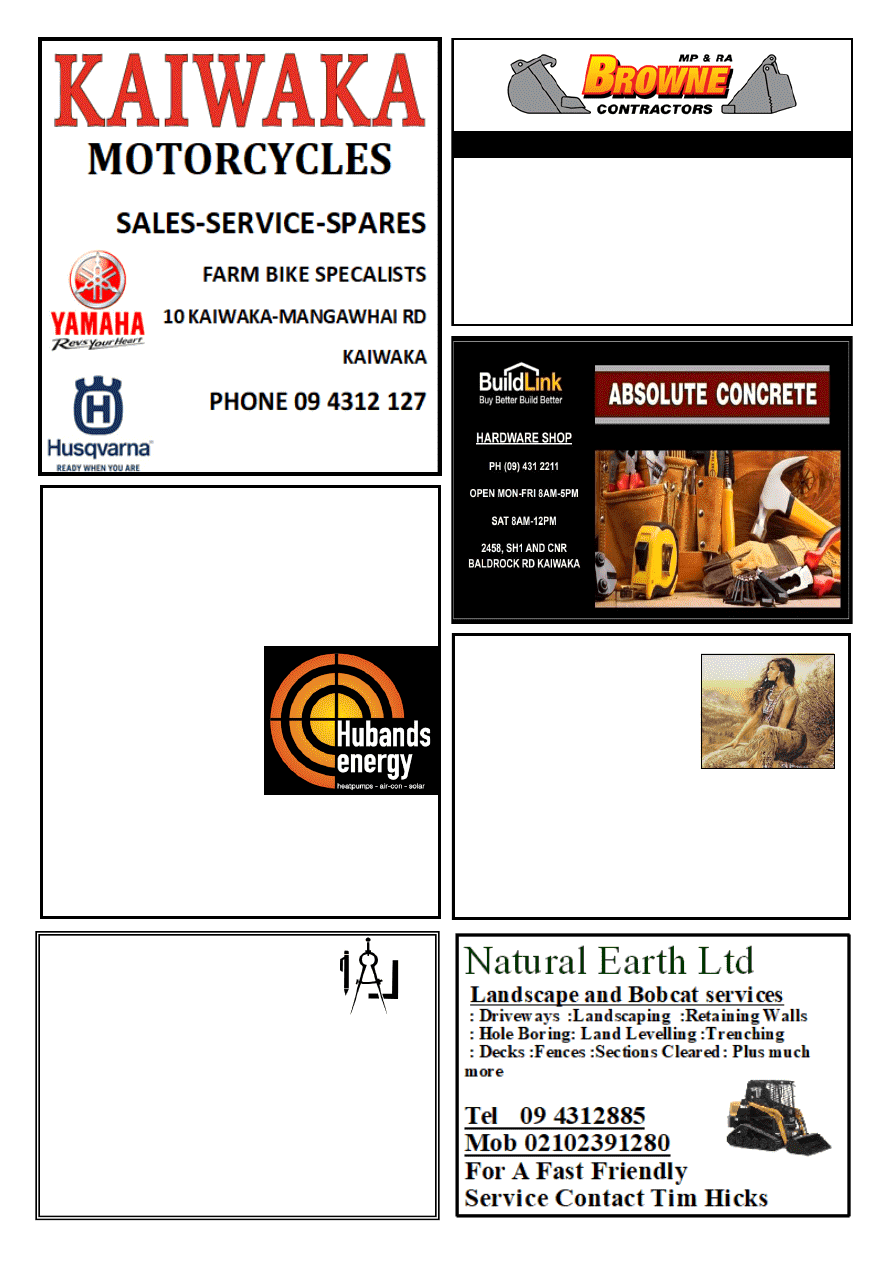 www.kaiwaka.co.nz 
Kaiwaka Bugle - 27 October 2020 
Page 14 
4Tonne DIGGER – BOBCAT – TIP TRUCK 
Property Maintenance - Driveways  
 Building Sites 
Stump & Tree Removal  
Hole Boring - Chain Trencher  
Calf Shed and Stockyard Cleaning 
Phone Matt: 021 199 6677 
Email: mprabrownecontractors@gmail.com 
TRAILS END 
RONGOA 
MAORI 
HEALING 
And Gifts 
Stocking all your needs from incense, crystals, dream 
catchers, greeting cards, jewellery, perfume, dragons and 
more ... 
For all inquiries 
 Phone 0211652629  
Light refreshments available $5 koha  
1758 Cove Road Mangawhai
design drafting  
service 
Retired builder and manufacturer with over 40 years  
experience in the building industry is offering a design 
drafting service for domestic housing, sleepouts and 
sheds.  
Plans formulated in consultation with clients, with 
working drawings completed and submitted to  
council for processing.  Extensive practical experience,  
able to identify & resolve problems. 
Please ring Mike Lean on 
09 431 2260 
or 
021 431 196 
Northland's Award Winning 
Solar Company
SEANZ Best Solar Business Winners 2015/16
EXCLUSIVE 10 year installation warranty 
FREE No obligation onsite quote
Complete systems 
from $5990
See our range of: 
✓ 
Heatpumps 
✓ 
Airconditioning 
✓ 
Hot Water 
Heatpumps 
✓ 
Central Vacuum Systems
09 430 0019             sales@hubands.co.nz 
15 Kioreroa Road, Whangarei
Locally owned and operated for 35 years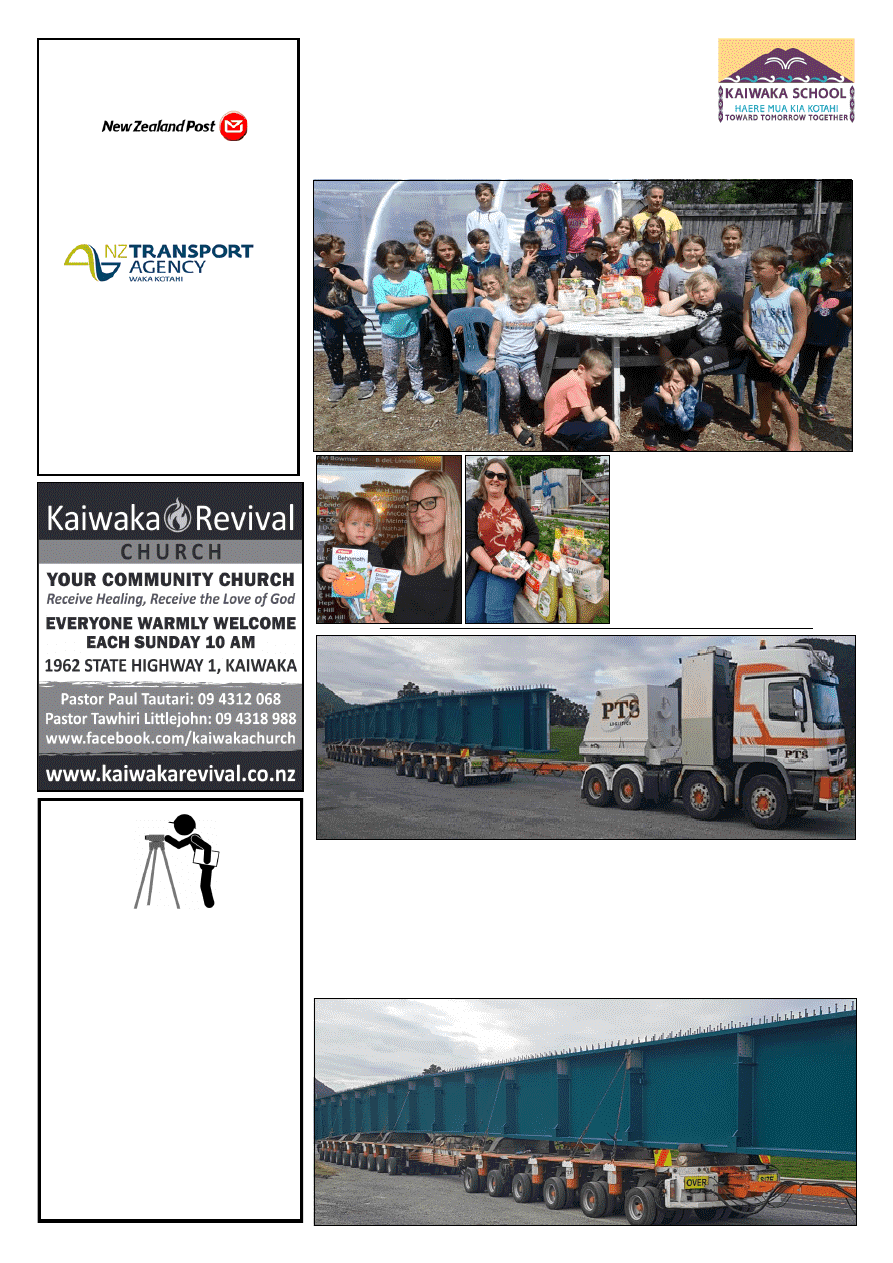 www.kaiwaka.co.nz 
Kaiwaka Bugle - 27 October 2020 
Page 15 
KAIWAKA POST 
CENTRE and 
FOOD MART 
POST CENTRE TRADING HOURS 
MONDAY to FRIDAY 8am to 5pm 
SATURDAY 8am to 12pm 
CLOSED ON SUNDAY and on 
PUBLIC HOLIDAYS 
FOOD MART (GROCERIES) 
MONDAY TO FRIDAY  
7:30am to 7.30pm 
SATURDAY  8am to 7.30pm 
SUNDAY  8:30am to 7pm 
IF ANY QUERIES PLEASE CALL 
STORE MANAGER AMRIT  
on 09 4312431 or 
EMAIL: kaiwakafood19a@gmail.com 
1919a State Highway1, Kaiwaka 0542 
Ken Urquhart 
BSurv Licensed  
Cadastral Surveyor 
KMU Surveys Ltd 
467 Bickerstaffe Road 
RD 2 
Maungaturoto 0587 
Ph 09 431 8705 
Mob 021 161 2344 
kenurquhart@xtra.co.nz 
92 TONNE BEAMS THROUGH KAIWAKA
Spotted  in  Kaiwaka  last  Monday: the PTS truck with the last of ten 52 metre 
beams  travelling from Whangarei to Auckland - the longest beam to come over 
the Brynderwyn, taking about an hour to come down the southern side.  The tyres 
were counted - 80 on the tail section (40 a side), 48 on front trailer (24 a side), 12 
tyres on the towing truck.  
The beams, the largest single steel beams ever to be fabricated in New Zealand, 
have  been  built  at  Culham  Engineering  in  Whangarei,  then  transported  to  the 
Panmure/Ellerslie Bridge project in Auckland - third photo on page17. 
KAIWAKA SCHOOL 
Kaiwaka Gardeners   
The    Kaiwaka  School  Enviro  Group,  pictured  in  the 
Kaiwaka  Community  Garden  with  their  winning  Yates 
Garden  Hamper.    Both  Mille  Watkins  and  Barbara  Brom 
(pictured below with the hamper)  put the Kaiwaka School gardeners entry in. 
The runner up, photo below was Kowhai and Arlin Adolph, packets of seeds that 
included the great Behemoth pumpkin. 
SCHOOL CALENDAR: 
29 October - Speech Competition 
November: 
3rd   - Athletics Day 
10th  - Y5/6 Surf Trip 
16th - Teacher Only Day 
19th  - OTA Fun Day for Y6 
20th - Whanau Day, Kapa Haka 
25th - Playhouse: Chilled  
27th - Junior Tabloids Day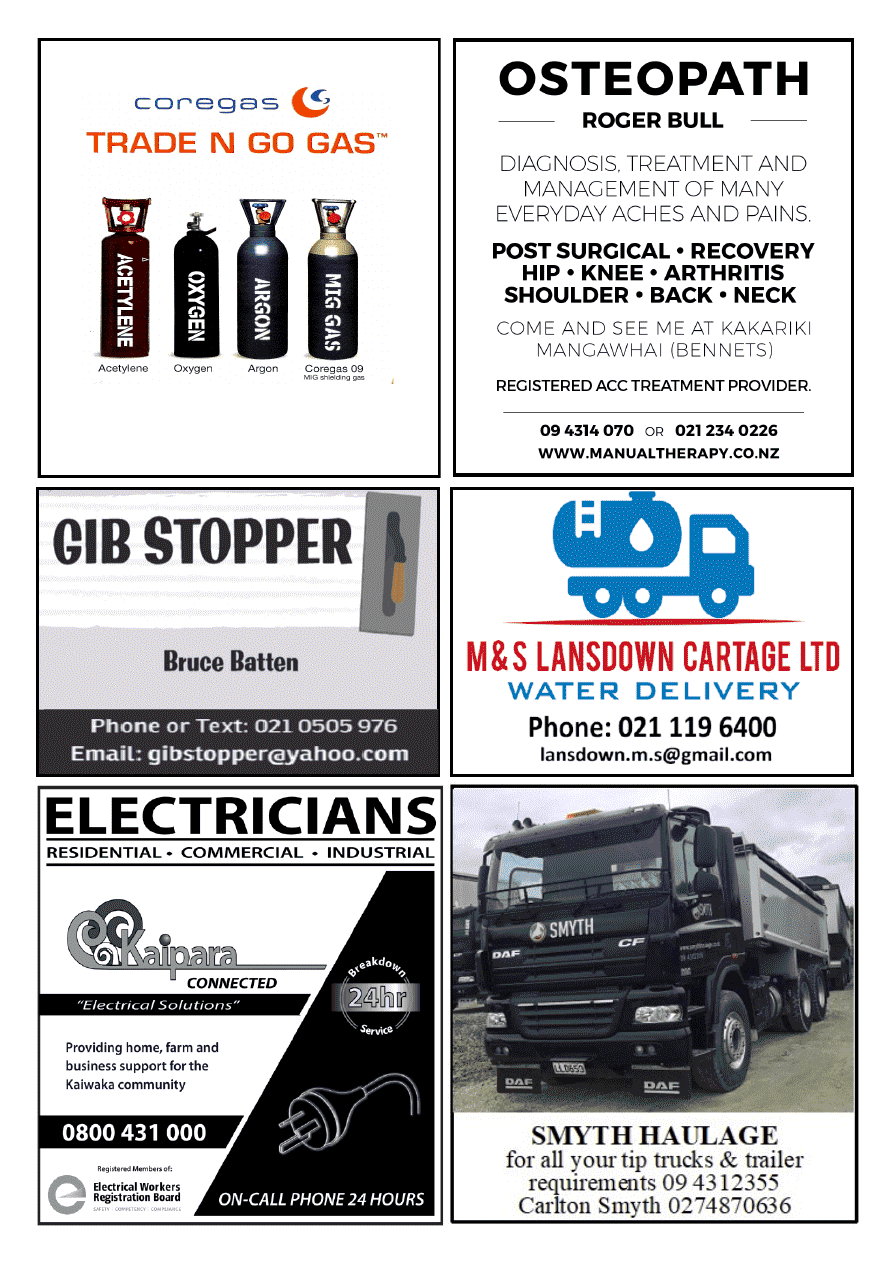 www.kaiwaka.co.nz 
Kaiwaka Bugle - 27 October 2020 
Page 16 
At Twinkle Tow 'n' Tyre 
Mob: 021 833 960 
Ph & Fax: 09 431 2823 
1837 State Highway 1, Kaiwaka 
www.kaiwaka.co.nz 
Kaiwaka Bugle - 27 October 2020 
Page 17 
Willow Bend
HORSE  
HOTEL 
  
Total Horse Care 
 
Agistment 
 
Riding Lessons 
 
Arena Hire (60x40) 
 
Young Horse Starting 
 
Re-training/Exercising 
 
Hoof Trimming 
 
Problem Solving 
Phone Sue 09 431 2817 
or 021 623 776 
Or email  
susanjoll11@gmail.com 
LEE COOPER 
PAINTERS 
(Kaiwaka Based) 
*30 yrs Experience 
*Interior/Exterior 
*New and Restoration 
*Honest and Reliable 
*Free Quotes 
09 4312918 or 
0274735171 
leecooper@xtra.co.nz 
GUESS WHO? 
66 years  ago Doug and Norma (nee Clendon) Leslie were married on 26 June 
1954 at 5pm, in the Wellsford Methodist Church by the Rev. Old. Doug played 
rugby for the local Eastern club earlier in the afternoon against Maungaturoto on 
the old Dairy Factory field - Eastern won! 
Photo taken at the reception in the Wellsford Community Hall, shows Doug and 
Norma  with  their  attendants  Ted  Hay,  Heather  Clendon,  Jack  Leslie,  Beverley 
Clendon, Dave Clendon and Gaynor Clendon,  and with the Jaques Band on stage 
- Brian Jaques with piano accordion, Reg Jaques on the drums, Alf Dennis with 
saxophone and Bill Jaques on the piano.  
Photos ~ Albertland Heritage Centre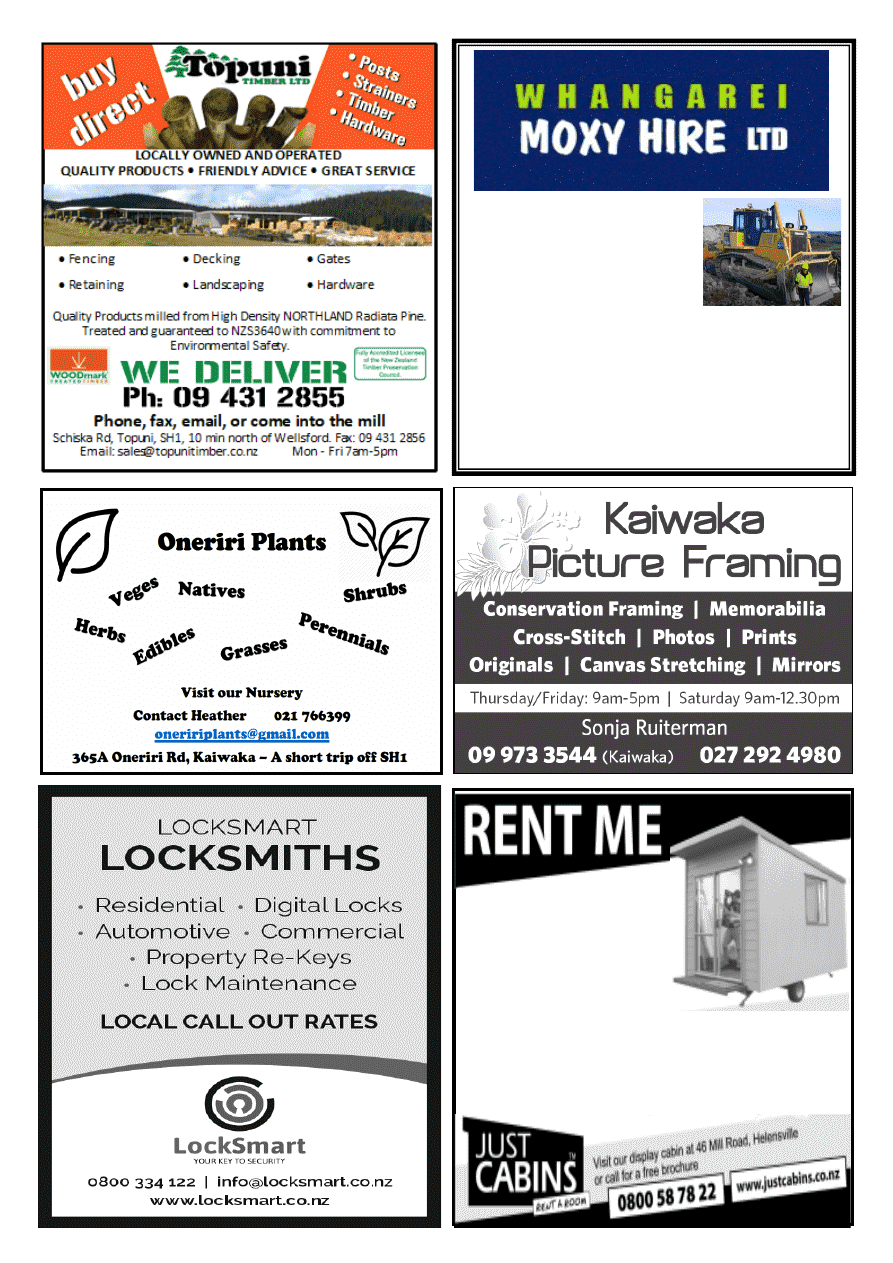 www.kaiwaka.co.nz 
Kaiwaka Bugle - 27 October 2020 
Page 18 
Ideal as an extra  
bedroom or office 
Three Convenient sizes: 
Standard 3.6m x 2.4m - $65 per week 
Large 4.2m x 2.4m - $80 per week 
THE POWER OF 
EARTHMOVING! 
Whangarei Moxy hire are a 
large earthmoving company 
with 80 machines available 
for hire with or without operators. 
Bulldozers, Compactors, Diggers  
and 30 – 40 ton dump trucks. 
Whether you need help cleaning out drains, 
roads, fence lines, dams or culverts, Whangarei 
Moxy Hire have you covered Northland wide! 
Visit www.whangareimoxyhire.co.nz  
or call 09 434 4272 
www.kaiwaka.co.nz 
Kaiwaka Bugle - 27 October 2020 
Page 19 
Bulk Cartage 
MANGAWHAI TENNIS CLUB 
OPENING 
– 
Sunday 1 November at 3pm 
The  tennis  committee  is  pleased  to  invite  tennis  players  in 
the area to attend the opening day for the new season on 1 
November  at  3pm.There  will  be  organized  tennis,  the  ball 
machine  will  be  available  and  the  traditional  summer 
strawberries and cream will be served. 
There  are  three  categories  of  membership,  adults,  juniors 
which includes 16 weeks of coaching, and families. 
You will receive a key for the season with an initial cost of 
$20 which gives you access to the 6 courts out of club time. 
The  club  currently  offers  ladies  tennis  on  a  Monday  and 
Wednesday  morning  from  9-11am,  men's  tennis  on  a 
Monday  night  from  6pm,  and  a  Thursday  evening  mixed 
team round robin tournament run over 6-8 weeks per round, 
depending on numbers. All are social and fun ways to play 
sport and meet local people. 
There  is  a  coach  available  for 
adult  tennis  lessons  and  for  the 
junior  coaching  sessions.  Grant 
Van  Dalsum  also  sells  rackets 
and  offers  a  service  for 
restringing and replacing grips. 
Early  bird  special  until  the  30 
October  See  the  website  to 
register  and  for  more  details 
www.mangawhaitennis.co.nz 
The  local  Mangawhai  Tennis 
Club  is  situated  by  the  domain 
in Moir St .
LABOUR DAY 
Labour  Day  commemorates  the 
struggle  for  an  eight-hour  working 
day.  
New Zealand workers were among the 
first  in the  world to  claim  the  right  to 
an eight-hour day. As early as 1840 the 
carpenter  Samuel  Parnell,  pictured 
right,  famously won an eight-hour day 
in Wellington.  
Labour  Day  was  first  celebrated  in 
New Zealand on 28 October 1890. 
In 1899 Parliament legislated to make Labour Day a public 
holiday. Predating both Anzac Day and Waitangi Day, this 
was  the first  public holiday  in  New  Zealand  not  associated 
with  religion,  royal  birthdays  or  the  anniversaries  of 
provincial  settlement.  Since  1910  Labour  Day  has  been 
observed on the fourth Monday in October. 
Samuel  Parnell  was  born  in  London,  as  a  young  man  he 
worked  at  a  large  joinery.  Shortly  after  his  marriage  in 
September  1839,  he  left  for  New  Zealand  on  the  Duke  of 
Roxburgh,  arriving  at  Britannia  (Petone)  beach  on  8 
February  1840.  Among  Parnell's  fellow  passengers  was  a 
shipping agent, George Hunter, who asked the carpenter to 
build  him  a  store.  Parnell's  response  has  entered  New 
Zealand folklore: 
'I will  do my  best,  but I  must make this  condition,  Mr. 
Hunter, that on the job the hours shall only be eight for 
the day ... There are twenty-four hours per day given us; 
eight of these should be for work, eight for sleep, and the 
remaining  eight for  recreation  and in which for men  to 
do  what  little  things  they  want  for  themselves.  I  am 
ready to start to-morrow morning at eight o'clock, but it 
must be on these terms or none at all.' 
'You know Mr. Parnell,' Hunter replied, 'that in London the 
bell rang at six o'clock, and if a man was not there ready to 
turn to he lost a quarter of a day'.  
'We're not in London', said Parnell. With few tradesmen in 
the young settlement, Hunter had little choice but to accept 
the carpenter's terms. As Parnell later wrote, 'the first strike 
for eight hours a-day the world has ever seen, was settled on 
the spot.' 
Ref.  'Samuel  Parnell',  URL:  https://nzhistory.govt.nz/people/samuel-
parnell, (Ministry for Culture and Heritage), updated 8-Nov-2017\ 
www.kaiwaka.co.nz 
Kaiwaka Bugle - 27 October 2020 
Page 20 
WHAT'S ON
PLEASE ~ do let us know what is on - 
email kaiwakabugle@kaiwaka.co.nz 
*30Oct~Movie 'THIS TOWN', KWMH 7.30pm 
*30Oct~Hakaru RSA, Halloween Night, 5pm 
*30Oct~Kaiwaka School Halloween Disco, 5.30--
7.30pm,  KSA 
*30&31Oct~ PINK RIBBON DAY 
*31Oct~Hakaru Showjumping Day 
*2Nov~NAIT Seminar, 1.45pm, KSA 
*7&8Nov~Point Curtis CC., Open Fishing 
Competition 
*10Nov~Kalon Hairdressing Opening Day, 9am 
KWMH = Kaiwaka War Memorial Hall; KSA = Kaiwaka Sports Association 
See www.kaiwaka.co.nz for more information 
HOUSEHOLD RUBBISH COLLECTION  
Kaiwaka Pick up: 
Mondays = Green bags (Northland Waste - 09 430 3273) 
Wednesdays  =  Blue  bags  and yellow recycling (at  Jaques $3.00 
and  $1.50)  (Kaurilands  09  4392146);  ONLY  Blue  and  Yellow 
bags picked up on Oneriri Road. 
 DIABETES Support Group-for Kaiwaka, Mangawhai, Wellsford 
10am, 3rd Friday of month Ph: Colleen James 09 4314238 
 GENEALOGY - Wellsford: 1st Thursday in month Ph: 423 
7033; Waipu: 4th Monday in month Ph: 4312 725 
 HAKARU PONY CLUB - Secretary Denise Rogers 021423376 
secretary@hakaruponyclub.co.nz  
 KAIPARA HUNT - Secretary Albert Doonenbal Ph 4312059 
  KAIPARA HUNTING & FISHING - 021 1294378 
 KAIWAKA BADMINTON -Tuesdays 7.30pm Ph: 4312345 
 KAIWAKA  CAN  - 3rd Wednesday in month, 5.30pm, Archie 
Bull Hall Ph: 0273572751 
 KAIWAKA DRUM & DANCE CLASSES - 021 611198 
 KAIWAKA GARDEN & FLORAL GROUP - 2nd Thursday in 
month. Ph: 431 4744 
 KNITTING FOR WHANGAREI HOSPITAL - 2nd Tuesday in 
month, Archie Bull Hall 10am Ph 4314827 
 MANGAWHAI COMBINED REBUS CLUB - 2pm, 3rd 
Thursday month, Senior Citizens Hall Mangawhai. Ph: 4315777 
 PILATES - HAKARU HALL - Tuesday 10am, Thursday 9am 
Qualified Instructor  Ph. 0220643965  
 *PT CURTIS CRUISING CLUB - Jean Ph: 4312227 (wk), 4312520 (hm) 
 RSA,  HAKARU  &  DISTRICTS  WOMEN'S  SECTION  –  meets 
1.30pm 4th Thursday of the month. Ph: 431 5818  
 KAIWAKA  SCOTTISH  COUNTRY  DANCING  CLUB-
Wednesdays 10am - 12 noon  Ph: Elaine 027 432 0032  
 TRAMPING 
- 
Mondays 
9am-2:30pm, 
contact  
valkenburgmaria@gmail.com 
HALLS FOR HIRE: 
  Kaiwaka St. John Hall: Phone Marj  0272941227  
 St.Pauls  Archie  Bull Hall  HIRE  $20 half day, $40 full day per 
hire, S McAulay, Ph 4312311 
 Kaiwaka  War  Memorial  Hall  HlRE  -  Phone  4312725  or 
kaiwaka.hall.bookings@gmail.com 
 Hakaru Community Hall HIRE -Ph.  Karen 4312090 
 Te Pounga Marae queries - Pearl Nathan  0223933533 
 Kaiwaka Sports Association hire/queries - P Jaques 4312227 or 
kaiwakasportsassn@gmail.com 
Justice  of  Peace:    B.FJaques  4312  048;  L.Donaldson  4312  228; 
A.F.Hargreaves  4312  045,  W.Howard  4312  725  D.Edwards 
021611198  -  please  phone  to  make  sure  they  are  available 
www.justiceofthepeace.org.nz 
Marriage Celebrants:  
L.Donaldson; A.F.Hargreaves; Y Osborne
Next Bugle Deadline  Friday 6 November 2020
LOCAL SERVICES 
*Emergencies - Ambulance, Fire, Police - dial 111 
*Non-urgent Police phone 105
A A: Meets Wed., 7.30pm Kaiwaka Ph: 4315543, 0800229 6757 
NARCOTICS ANONYMOUS : Mon., 6pm, Archie Bull Hall, Kwk-Mwi 
Road; drug and alcohol related issues. Ph. 02102412348 
ASUREQUALITY LTD (was AgriQuality) Call Free 0508 0011 22  
BUDGETING SERVICE, WELLSFORD: Free confidential advice & 
support for all areas of personal finance. Ph (09) 423 7123 
CAB-Citizens Advice Bureau.Wellsford Ph: 4237333 
0800 367 222 email:cab.wells@xtra.co.nz  
CIVIL DEFENCE - Kaiwaka Community Response Group: 
kaiwaka.civildefencecrg@gmail.com, 4312725 Wendy 
DOG/STOCK /NOISE CONTROL 0800 105 890 
FUNERAL SERVICES: Morris & Morris Ltd, 
Whangarei - Bev Jaques Ph:4312367 or 0800667747 
GRANDPARENTS Raising Grandchildren: Dianah Roberts 0223819539 
HAKARU & DISTRICTS MEMORIAL RSA (Inc) 733 Settlement Rd, 
Hakaru. Ph 4312 176 or Bill Warren (President) 431 2092 
HAKARU LANDFILL/Transfer Station:Open everyday  10am-
4pm.Ph4312629 Cost-$55 trailer load up to 1 cubic metre. Ph:4258567 - 
office 
KAIPARA DISTRICT COUNCIL www.kaipara.govt.nz:  
Help Desk FREEPHONE 0800 727 059  
KAIWAKA CEMETERY: Ph: 4312045 or 4314017 
KAIWAKA LIBRARY: kaiwaka.library@gmail.com  
Mon. 4-6pm; Wed., Thurs., Fri., Sat. 10am-2pm Ph:4312539 
KAIWAKA PLAYCENTRE: Ph Juanita 0274134904; open Mon, Wed, 
Fri 9am-12pm. Hastie Lane; Monday to Friday 9.00am - 12 noon. 
KAIWAKA POST OFFICE:Ph:4312 431  
Post Code: 0573 for RD2 and 0542 for all Kaiwaka Post Office mail 
KAIWAKA PRIMARY SCHOOL: Ph: 4312309   
KAIWAKA SPORTS ASSN: Ph 4312005; 4312129 gym 
KAIWAKA ST JOHN HALL: Phone Marj  0272941227  
KATE'S PLACE Community Centre - Employment services, Free Health 
Nurse, Plunket, Advocacy, Osteopath, A.A., Legal Advice. 4312 661 
LINKING HANDS Health Shuttle Ph 4315906 or 09 4318969 
MINISTRY FOR PRIMARY INDUSTRIES - General inquiries Call 
Free 0800 008 333 
NORTHPOWER: Faults Kaiwaka area 0800 104040 
OTAMATEA COMMUNITY SERVICES: Counselling, parent coach, 
Family Support worker, budget advice, food bank. Mon-Fri 9am-3pm. Ph 
09 431 9080 http://www.otamateacs.org/ 
PARENTPORT: Free, practical family support service Puhoi to Paparoa 
Ph or txt: Dianne 027 280 5093 or 09 425 9357 
PLUNKET: Kaiwaka- St John Hall, Monday 19 Oct, 23 Nov, 21 Dec. then 4th 
Monday of the month. Plunket Nurse Louise 027 282 3987 or 09 438 2508 
Mangawhai- Rose Madsen Cottage, Mondays and Wednesdays. Plunket Nurse 
Rebecca 021 501 941 or 09 438 2508 
Maungaturoto - Good News Church, 2nd and 4th Wednesday of the month. 
Plunket Nurse Seleisa 021 912 248 or 09 438 2508 
PLUNKET HELPLINE -0800 933 922 (24 hours)  
FACEBOOK - Kaipara Plunket 
TAITOKERAU COMMUNITY LAW: Free confidential legal advice and 
assistance, 2nd
Thursday
 of each month. Ph: 0800 155 529 for appts.  
TE URI O HAU Settlement Trust Tangata Developments: Whanau Ora 
021 793262  
VETERINARY SERVICE MANGAWHAI: 
Ph: 4314535 Mon-Fri 8.00-5.00, Sat 9-12, a/h appt. 
WELLSFORD DOCTORS: Ph: 4238 086 
CHURCHES:
 
Kaiwaka  Revival  Church  -  Your  Community  Church:  Sundays  10am. 
Ph: Pastor Tawhiri 09 431 8988 or Pastor Paul 09 4312 068 Visit us at 
www.facebook.com/kaiwakachurch 
 
St  Paul's  Anglican  Church  1st  Sun.  9.00am  (Eucharist),  3rd  Sun. 
9.00am (Family Service). Contact: Rev. Wayne Thornton Ph 431 4122 
www.mangawhaianglican.org.nz 
 
Church of Christ the King, Mangawhai:9.00am every Sunday 
 
St.Mary's  Catholic  Church:  Maungaturoto  –  Griffins  Road,  Saturday 
evening  Vigil  Mass  6pm;  Mangawhai  –  Senior  Citizens  Hall,  Sunday 
Mass  8:30am;  Wellsford  –  Matheson  Road,  Sunday  Mass  10:30am;  
Mid-week Mass times and all enquires to Fr. Bill Fletcher – phone 423 8170
 
Baptist Church: Sun. 10.30am Mangawhai Snr Cit.Hall.Ph:4312339 
 
Cause  Way  Church  Mangawhai:  Sundays  10.15am,  Mangawhai 
Community  Recreation  Centre,  Insley  St.  Ph:  09  4314782