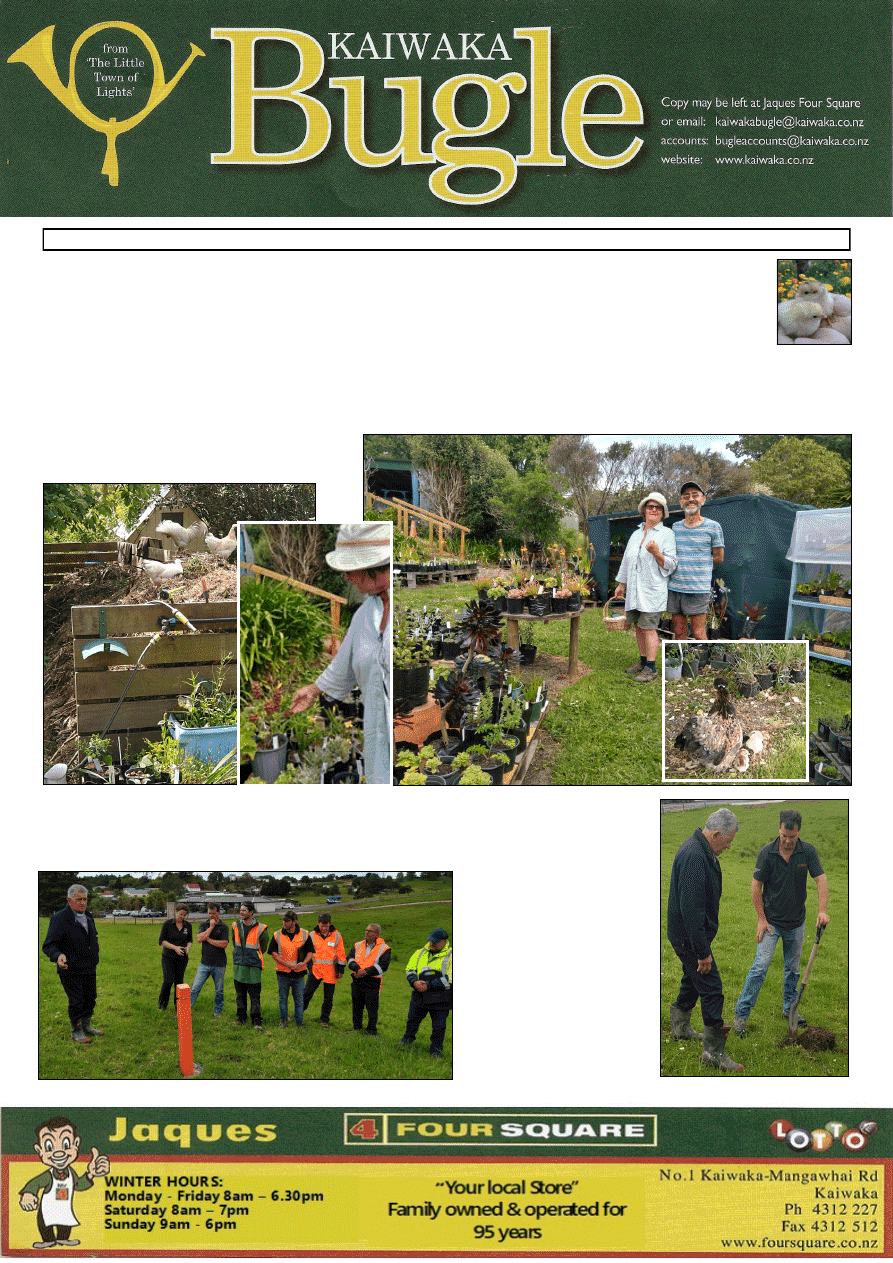 www.kaiwaka.co.nz 
Kaiwaka Bugle - 10 November, 2020 
Page 1 
No: 22 
 10 November 2020 
WINTER HOURS: 
Monday - Friday 8am – 6.30pm 
Saturday 8am – 7pm 
Sunday 9am - 6pm 
HOW DOES YOUR GARDEN GROW? 
BLESSING FOR GULL SITE 
ONERIRI  PLANTS: 
What a wonderful garden to visit! Not only to visit but to  purchase plants and get 
growing advice! 
Heather Spence has this great garden and nursery at 365a Oneriri Road, Kaiwaka  - she just loves spending 
time gardening and learning as she has done for many years. Heather, along with her husband Les are always 
busy and are very aware of the Kaiwaka growing conditions - the plants available are very suited to our local gardens, for 
example the salvia africana in the photo with Heather., and can been seen growing en masse in their own garden. 
Heather  also  share  her  knowledge  on  Facebook  'Oneriri  Plants',    with  photos  and  ideas  -  keeping  folk  abreast  with 
flowers,  vegies,  trees,  fruit  trees  -  from  6  November  "Verbascum  Helen  Johnson.  I  love  her  ladylike  presence  in  my 
garden, strong and capable. Looking good after yesterday's rain and wind. She will continue to flower on and off until 
autumn. A perennial you can propagate by seed 
or division, she will not rampage through your 
garden"… and then there are the chickens! 
2pm Monday 9 November, Matua Ben Hita blessed the site for the new Gull Fuel station 
just south of the 3 Furlongs Bar and Grill. The site will be similar to Gull Wellsford. Earth-
works are expected to be completed before the end of this year with a view to opening in 
2021.  The  power  lines  on 
both  sides  of  SH1  in  this 
area  will  be  going  under 
ground. 
Left:  Matua  Ben,  Jody  and  
Paul  Greig  (landowners),  4 
Geotechnical 
Specialists 
and KDC George Lewis.  
Right:  Paul  Greig  with 
Matua Ben breaking ground 
beside the water flow meter.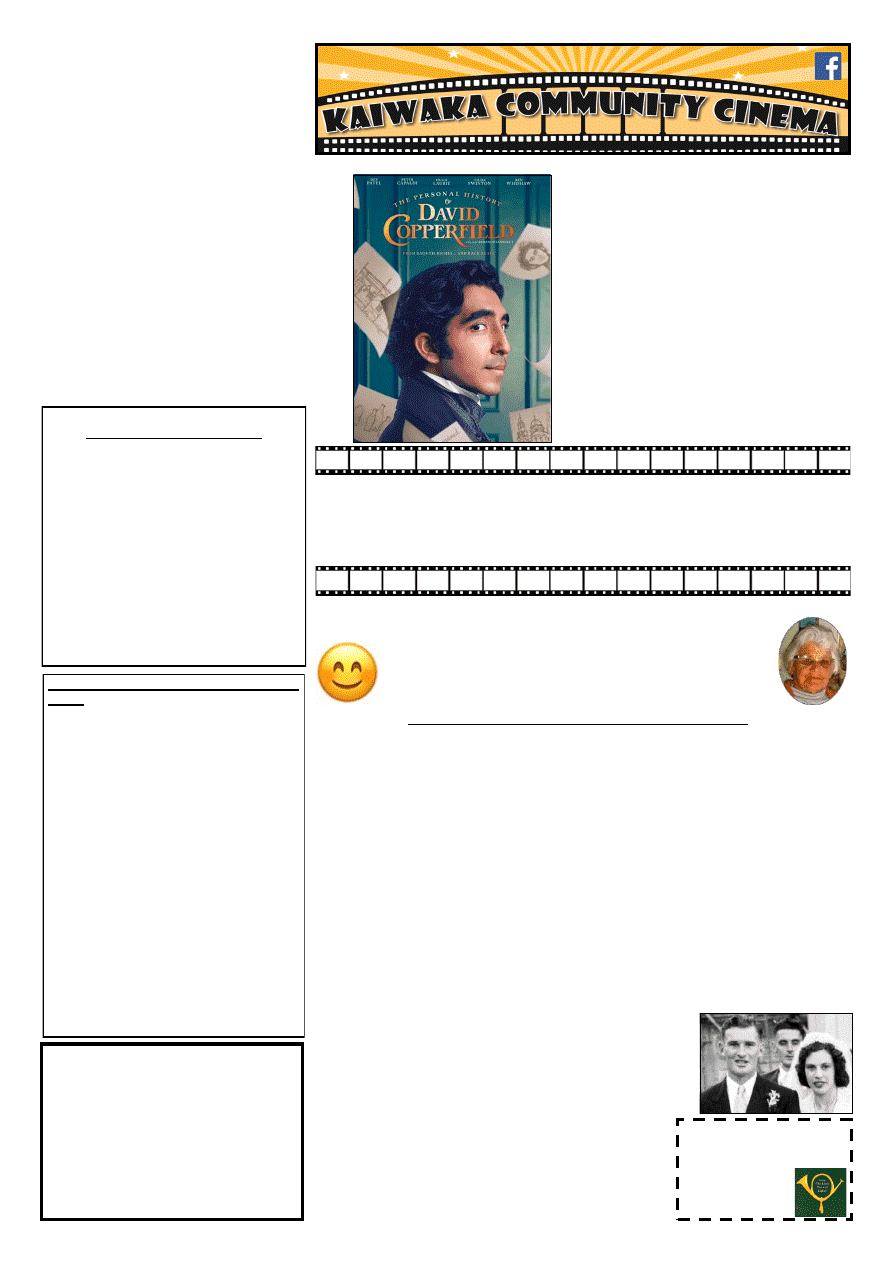 At Kaiwaka War Memorial Hall . Adults $10, Kids (under 16) $5, Family Pass (2 adults + 3 children) $25 
KAIWAKA BUGLE No. 22 
10 NOVEMBER 2020 
CONTENTS 
Page 3: Public Notices, Classified 
Page 5: Kaiwaka Weather; Women's 
Section Hakaru RSA 
Page 7: Pt. Curtis CC; Pink Ribbon 
Page 9: Libby Jones NDHB; Linking 
Hands 
Page 11: Kaiwaka Sports Assn. 
Page 13: Otamatea High School 
Page 15: Hakaru Hall activities 
Page 17: Kaiwaka Library 
Page 19: Lest We Forget 
Bugle 23 will appear 24 November  
Contact for advertising, reports, articles 
or information can be made by 
Email kaiwakabugle@kaiwaka.co.nz 
Ph: 09 4312 045 Lindsey 
Txt: 027 2724137 
Copy  may  be  left  at  Jaques'  Four 
Square. 
Kaiwaka Bugle 
Founded May 1978 
We appreciate articles and photos about local 
events, etc, as well as ads and suggestions. 
Copies available in Kaiwaka at Jaques Four 
Square, Kaiwaka Postal Centre, Shamrock 
Service Station, Animal Health Centre, 
Kaiwaka St John shop. 
Also outlets in Maungaturoto, 
Mangawhai and Paparoa. 
Can be viewed online at   
www.kaiwaka.co.nz/Bugle  
Or a copy can be posted to you if you supply 
stamped, self-addressed DLE envelopes. 
Kaiwaka 
Bugle 
Advertisements 
2020: 
All 
copy 
and 
queries 
to: 
kaiwakabugle@kaiwaka.co.nz 
The Bugle is printed on an A4 page   
Ad  sizes:  1/16  page  (3  x  9.5cm)  $5;  1/8 
(6.5  x  9.5cm  landscape  or  portrait)  $8; 
3/16 ( 10 x 9.5cm or 7.5 x 12,5)  $12.  
Classified  ads:  First  one  FREE,  $4  per 
entry (max. 30 words, max. 4 repeats). 
Payments  can  be  made  online  at 
ANZ 
06  0365  0006990  00
,  posted  or  left  at 
Jaques Four Square Store. 
We  use  Microsoft  Publisher,  and  can 
work  with  most  common  image 
formats, Word, Excel, and PDF files. 
Accounts:  
Email: bugleaccounts@kaiwaka.co.nz 
The  Kaiwaka  Bugle  is  a  community 
newspaper run by volunteers, as part of 
the Kaiwaka Media Group Inc.   
Articles, etc. printed are not necessarily 
the opinion of the Bugle Team. 
ABOUT TOWN

 Kaiwaka Sports Assn: Email address kaiwakasportsassn@gmail.com 
St. John: Pre-order your delicious Christmas Cookies by 15 November and help 
St John - see page 3 These will be delivered Between 1st and 15th December. 

 Hinamoki  Estate  at  650  Oneriri  Road  is  happy  to  announce  that  it  has 
become  an  overnight  destination  for  member  of  the  NZ  Motor  Caravan 
Association.  Available for up to 7 nights and pet friendly. All vans must be self
-contained. 

 Maungaturoto Christmas Parade and Festival 2020 -M19 December 4 – 7pm. 
See their Facebook page for more information 

 The Maungturoto Community Walkway is now open, please  remember it is a 
working farm and all dogs must be on leashes at all times, NO EXCEPTIONS. 

 Jennie  Reynold's  research  recalls  our  local  WWI  servicemen  -  page  19. 
Thank you, Jennie 

 Adams Autoworx - free call out for Mangawhai - Kaiwaka (outside that area 
a call out fee applies) 

 Kaiwaka 
Historical 
Soc. 
email 
address 
kaiwaka.historical@gmail.com 

 Correction:  Re  the  photo  of  Norma  and  Doug 
Leslie's  wedding  in  Bugle  21  -  the  bridesmaids  were 
the Hutchinson sisters, close friends of Norma.

 Thank  you  Challenger  Reach  Mowing  who  made 
short  work  (all  voluntary)  of  trimming  the  bamboo  at 
Hakaru Pony Club
grounds  - now a clear road view 
for exits

 Kaiwaka  Bugle  No.  22  is  online  at 
www.kaiwaka.co.nz  and  is  in  print  for  our  local 
Readers.  ~ 
Lindsey, Ed
"Wisdom is the reward you get for a lifetime of listening 
when you'd have preferred to talk." ~Doug Larson 
Proverbs 26:18 
People who shrug off 
deliberate deceptions, saying, 
"I didn't mean it, I was only 
joking," are worse than 
careless campers who walk 
away from smouldering 
campfires.  
The Personal History of  
DAVID COPPERFIELD  
Friday 13 November, 7.30pm 
This  is  a  2019  comedy-drama  film 
written  and  directed  by  Armando 
Iannucci,  based  on  the  1850  Victorian 
era novel David Copperfield by Charles 
Dickens.  It  stars  Dev  Patel  as  the  title 
character, David who has 'an idyllic life 
and  is  taken  to  visit  the  family  of  his 
nanny  Peggoty  (Daisy  May  Cooper)  in 
their boat house in Yarmouth. When he 
returns, his young and widowed mother 
Clara  (Morfydd  Clark)  has  married  the 
sinister  and  cruel  Mr.  Murdstone 
(Darren Boyd) …  
KAIWAKA BUGLE 
DEADLINE DATES 
2020:  Every second 
Friday
November 20 
December 4 
From Thelma's Scrapbook...  
Let us be the first to give a friendly sign, to nod first, to 
smile first, to speak first, and if necessary to forgive first. 
The love in your heart wasn't put there to stay, love isn't 
love till you give it away! 
KAIWAKA MOVIES VOLUNTEERS NEEDED 
Want to see the movies for free?! 
The Kaiwaka Movie Team is looking for a couple more volunteers to help run 
the Kaiwaka Movies  Kaiwaka movies are held once a fortnight - 7.30pm start 
on a Friday evening.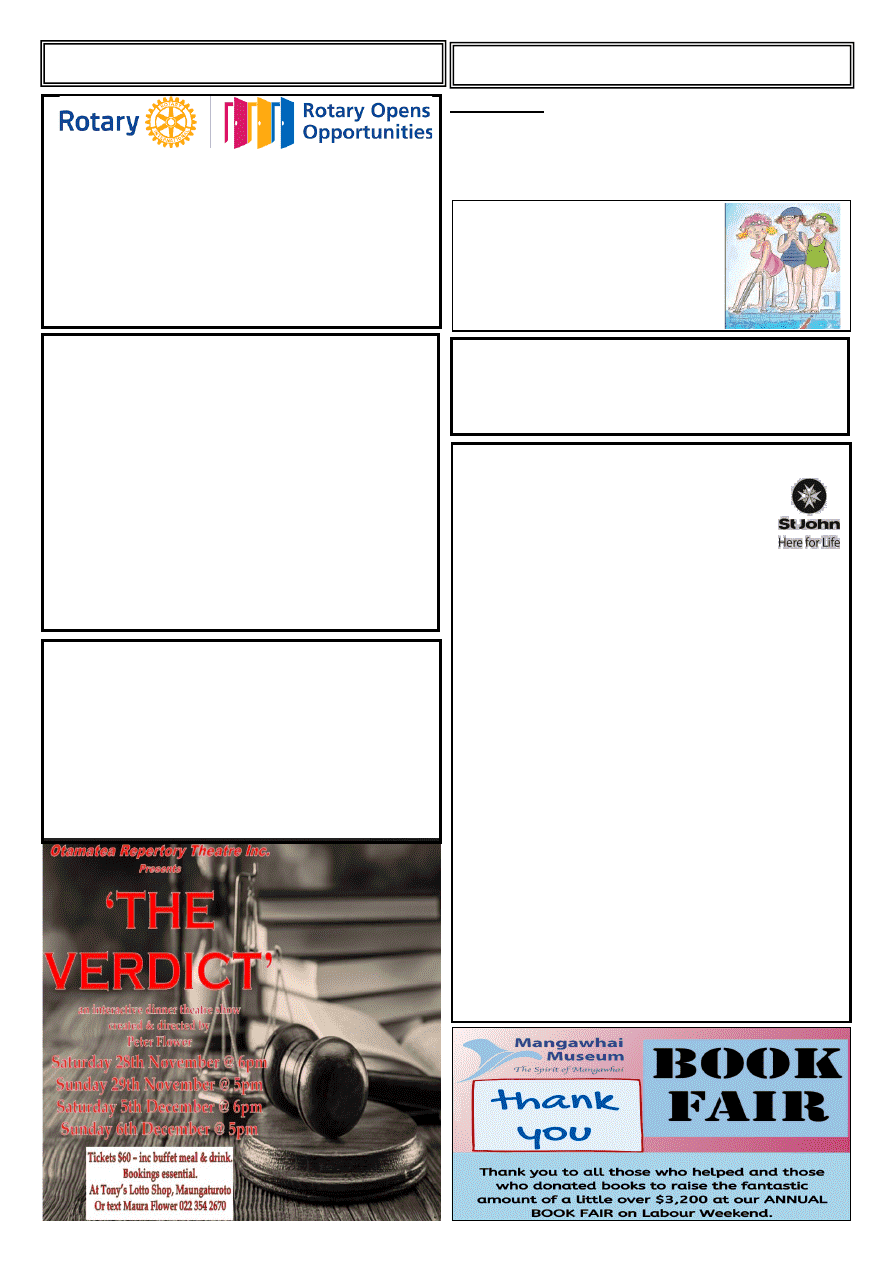 www.kaiwaka.co.nz 
Kaiwaka Bugle - 10 November, 2020 
Page 3 
PUBLIC NOTICES 
CLASSIFIED 
 FOR  SALE:  Sanders  -  1  Bosch,    1  Black  Decker,  1 
Colt    corner    -  $10  ea.;  RED  Jigsaw  $5;  Half  tonne 
block & / endless chain $; 10 metre heavy chain - hook 
one  end,  offers;  Sharp  stereo  with  Pioneer  speakers 
$30; Earlex Wallpaper steam stripper, instructions incl 
$40. Phone 0214111479  Oneriri. 
OTAMATEA REPERTORY THEATRE INC 
Annual General Meeting 
To be held at the theatre on  
Wednesday 18 November, 7pm 
ALL WELCOME
KAIWAKA ST. JOHN OP SHOP 
Congratulations  to  Brian  Marsh  on winning 
our  last  Raffle.  We  will  have  our  Christmas 
Cake  Raffle  again  this  year  tickets  available 
from the Shop very soon 
ORDER now at Munchtime.co.nz/St John. 

2 x 2Litre Buckets of Chocolate Chip Cookies delivered 
to your address (NON-RURAL) for $34 

2  x  1  litre  Gluten  Free  Chocolate  Chip  Cookies 
delivered  as  above  for  $32  (to  get  them  if  you  are  Rural 
put your address as 1919B State Highway 1, Kaiwaka and 
pick up from St John Shop) 
Thank you to all who have donated items recently 
Please check the list on the Door for items we are NOT 
allowed  to  take:  Gas appliances, Baby Capsule, Children 
Car seats, Pram and Strollers.   
As  these  cost  us  (St.  John)  money  to  dispose  of,  please 
take them to Hakaru ReSort, 667 Kaiwaka/Mangawhai Rd. 
We are short of the following items so if you have some, 
we would greatly appreciate them: 

Men's  Summer  Clothing  all  sizes  but  Clean  and  in 
Saleable condition. 

Linen in the Queen and King sizes, Towels. 

We  have  a  request  for  a  Sun  Umbrella  so  if  you  are 
looking  to  upgrade  and  there  is  still  life  left  in  your  old 
one, please drop it in. 

Our Hours are : Tuesday – Friday 10am to 3pm;  Saturday 
10am – 2pm 
PHONE: Shop  43121650   
 Check us out at 1919 SH1, Kaiwaka
WATER AEROBICS 
Are you interested in an 8-week 
course of Water Aerobics 
commencing mid- January 2021? 
 Please let me know.    
Jacqui 021416048 or 
jacqui@cluster.net.nz. 
Maungaturoto and Districts Rotary Club 
Seniors' Afternoon Tea 
2pm – Friday 27th November 2020 
Maungaturoto Centennial Hall 
Once again, we have the inspirational performers 
trained by Maura Flower 
RSVP by 20th November to 
Stella – 0211490877; Gael – 0212683734;  
Eileen – 0211420357 
'THE VERDICT' 
Are you looking for a fun-filled dinner experience with a 
difference? 
'The Verdict' is an interactive dinner theatre show, created 
and  directed  by  Peter  Flower.  Audience  members  will 
have the opportunity to become defendants, witnesses and 
jury,  in  the  most  entertaining  range  of  lawsuits  ever  to 
double-cross the bench  
November: 28th Saturday 6pm, 29th Sunday 5pm 
December: 5th Saturday 6pm, 6th Sunday  5pm 
At the Otamatea Repertory Theatre,  
Maungaturoto Country Club 
KAIPARA DISTRICT COUNCIL 
Kaipara District Council is seeking feedback on proposals 
to  set  new  speed  limits  in  the  Mangawhai  and  Kaiwaka 
areas, including the Mangawhai urban area. 
Drop  in  information  and  consultation  sessions  will  be 
held on: 
• 12th November: Hakaru Hall, 12noon - 2pm 
• 17th November: Mangawhai Snr Citizens Hall, 4 -6pm 
• 18th November: Kaiwaka War Memorial Hall  4 - 6pm 
• 19th November: Mangawhai Library Hall, 4 - 6pm 
Further  information  on  the  current  speed  limit  review, 
including  a  Statement  of  Proposal  and  how  to  make  a 
submission  can  be  found  on  Councils  website  at  kai-
para.govt.nz/haveyoursay or by emailing Council at 
speedreview@kaipara.govt.nz . 
All submissions must be received by Council before 5pm, 
18 December.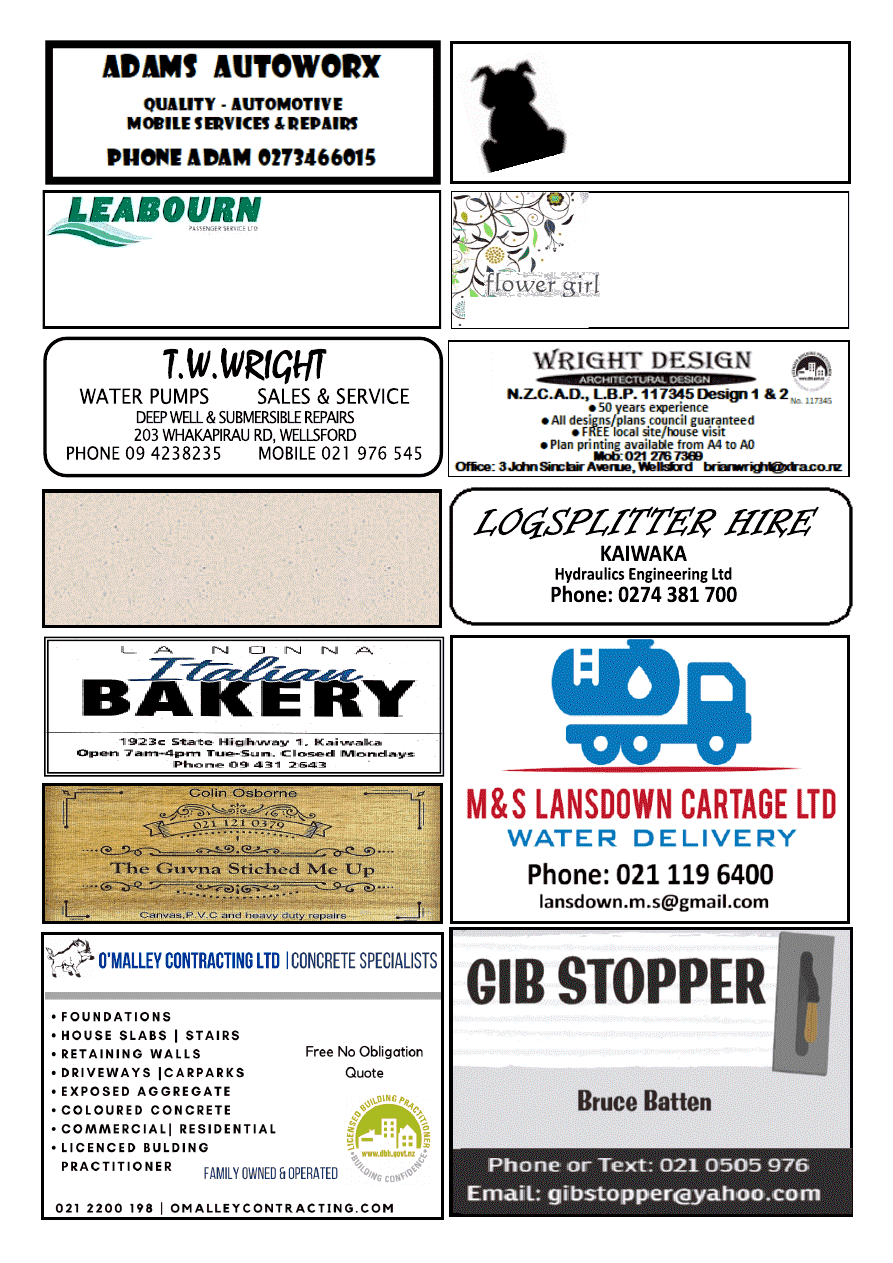 Counsellor and Registered Psychotherapist 
Offers Supervision
Susan Matheson 
MNZAC 
Dip. Psychosynthesis Counselling and Psychotherapy 
Phone 09 431 2996                        Mobile 027 605 2427 
Passenger Service
Car & Van Hire   Bus & Coach Charters 
Airport Transfers    
Phone (09) 4237416 
Kaipara Dog Training Club 
Mangawhai Domain, Moir Street 
Every Wednesday Night from 5.30pm 
Please contact the Secretary  
for further information 
kaiparadogtrainingclub@gmail.com 
Kaiwaka Good Sorts 
Do you know someone in our community 
who is deserving of a beautiful bunch of 
flowers? 
Send an email to us at 
kaiwakabugle@kaiwaka.co.nz 
lindywatson@hotmail.com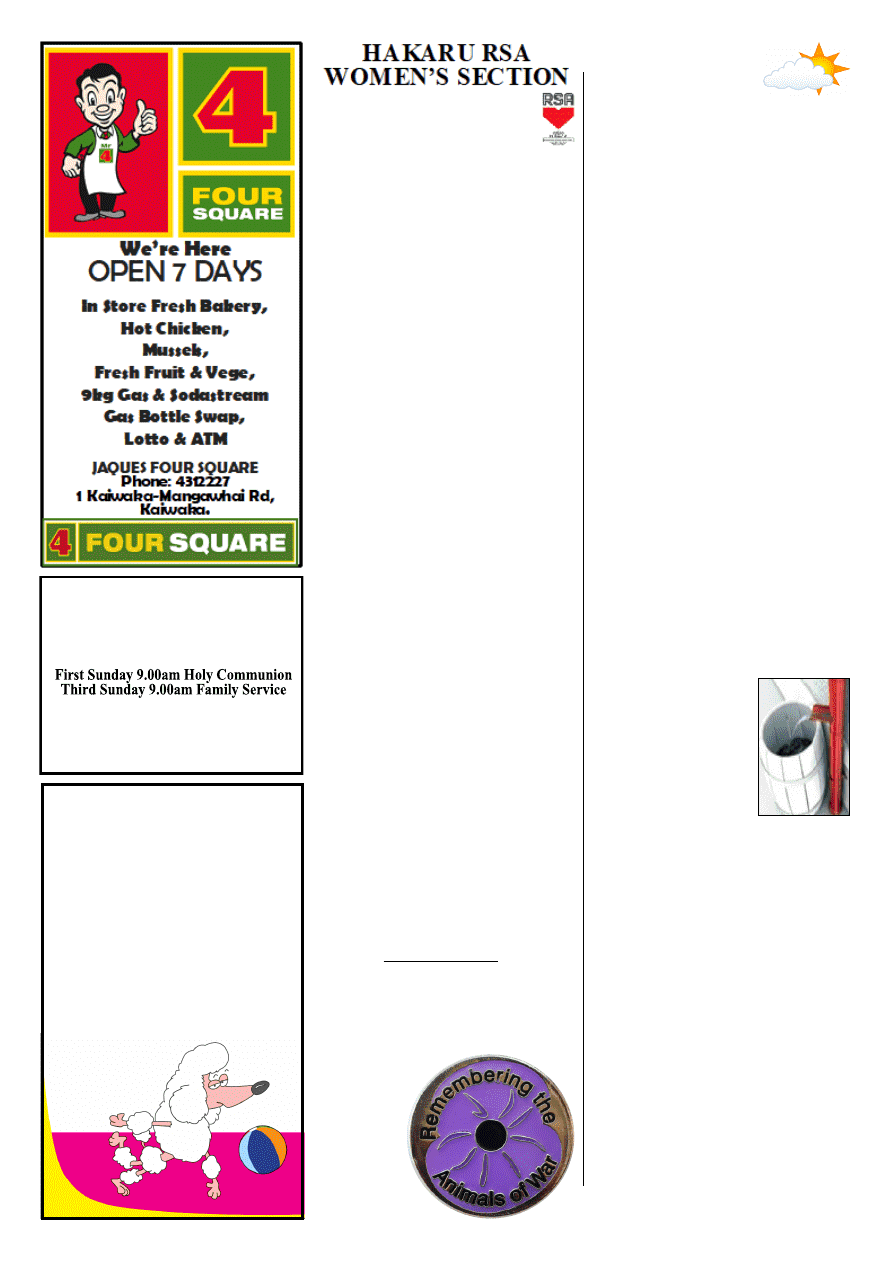 www.kaiwaka.co.nz 
Kaiwaka Bugle - 10 November, 2020 
Page 5 
KAIWAKA 
WEATHER  
Welcome 
to 
another 
month off the 2020 calendar and things 
are warming up rather although we did 
not have a very cold winter.  
We  are  now  into  our  last  month  of 
spring.  I  think  the  baby  animals  had  
quite a good year this year.   
Brynderwyn Waterfall 
I thank Lindsey for that great photo of 
the Brynderwyn Waterfall. Not easy to 
get  a  photo  of  it  safely  with  all  the 
traffic  on  the  road.  I  think  of  the 
gentlemen from around Kaiwaka many 
years  ago  who  used  to  get  their  pure 
water  to  make  their  home  brews  from 
the waterfall. There was hardly a car or 
truck  on  the  road  those  days  and  now 
there  is  hardly  a  chance  to  take  your 
eyes off the road to even get a peek at 
it. Going through to Whangarei Friday 
week ago I couldn't help but notice that 
Waterfall is about half the flow of that 
taken in Lindsey's photo.  
Water Tankers  
I  hope  you  have  put  your  order  in  for 
the  water  tankers  if  you  need  it.  It  is 
drying up very quickly and those water 
tankers  are  already  working  hard  at  it. 
That  wind  is  still  in  the  Northerly 
quarter  and  will  be  mostly  there  until 
the  equinox  in  March  next  year.  It 
would  be  good  if  a  bit  of  rain  came 
with it soon though.  
We have had some beautiful fine calm 
sunny  days  this  month  with  Labour 
Day  weekend  being  a  good  one  to 
remember.    The  garden  is  needing 
water every day now.  I 
have  seen  a  lot  of  new 
water  tanks  going  past 
here.  Not  a  bad  idea, 
they  do  not  have  to  be 
big  ones.  Place  one 
under  a  down  pipe  to 
catch  water  off  a  roof 
for instance.   
October Rainfall 
Well our rainfall for October  2020  we 
had at our house 63mm and 2019 we 
had 110mm.  
We had rain on 7 days in 2020 and 14 
days in 2019.  
Total  rain  fall  for  first  10  months  of 
2020  was  1285mm  and  for  2019  was 
1014mm.   
Our  driest  October  since  1987  was 
2000  with  17mm  and  the  wettest  was 
1989 with 249mm.   
Driest  first  10  months  since  1987  was 
1987 with 792mm and the wettest was 
2017 with 1512mm.  
Take Care 
We  have  beautiful  weather  and  too 
many  deaths  on  the  roads  this  year. 
Living on State Highway one we see it 
all  the  time,  and  should  I  say  in  fact, 
most we don't even get a chance to see 
them at all.  The speeds are far too fast 
for the state of the roads, get a little bit 
of  dampness  and  it  is  a  good  skating 
ground.  So please take care and get out 
the Slip, slop and slap already. Bev  
ST PAUL'S  
ANGLICAN  
SUNDAY SERVICES 
St Pauls Church: Kaiwaka-Mangawhai Rd. 
Priest in Charge Rev. W Thornton Ph 431 4122 
www.mangawhaianglican.org.nz
There were 11 members present 
 at the October meeting. 
We were sorry to hear that  
Petronella  has  just  spent  10  days  in 
hospital we hope you are feeling better 
again  now  Petronella.  Also,  it  is  with 
sadness  we  note  that  Norma  Whynn 
has resigned due to ill health. Norma is 
a  very  old  identity  of the Mangawhai- 
Hakaru  District  and  husband  Paddy 
was  a  returned  active  service  man  of 
our RSA. 

4  members  attended  Whangarei's 
75th  Birthday  and  had  a  lovely  day, 
Whangarei had gone to a lot of trouble 
to make everything perfect. 

The 
members 
that 
attended 
Warkworth's  NWD  annual  general 
meeting  and  conference  enjoyed 
themselves also. 

If readers, see some "Strange looking 
characters"  driving  round  Mangawhai 
on  Saturday  21st  November  don't 
worry  it  is  just  some  of  our  members 
off to Hokianga's Masquerade dance!! 

The race day at the RSA was a lot of 
fun  according  to  Lena  and  Trish,  a 
function not to be missed next year!! 

Members,  we are  having  our  Ladies 
Christmas  dinner  with  the  Waipu 
Members  on  December  7th.  Transport 
will be available. 
Purple Poppy 
If  you  see  someone  wearing  a  purple 
Poppy, it is in remembrance of the NZ 
Service Animals during the wars. 
NWA  are  meeting  at  Birkenhead  on 
16th  January  at  10  a.m.  for  those 
interested  in  attending  please  let  Lena 
know. 
Christmas Day at RSA 
Anyone needing company and fun and 
food  on  Christmas  Day  please  ring 
Lena on 4315034 to book a place at the 
RSA  Clubrooms.  Cost  $10  starting  at 
11.30 a.m. Any one welcome, the more 
the Merrier. 
Next Meeting 
Congratulations to  Heather  Small  who 
turns 80 on 8th November, have a very 
Happy Day with your Family. Heather 
has invited us to join her to celebrate at 
our  next  meeting  on  Thursday  26th 
November  1.15  p.m.  ~  That  is  all  the 
news for now, take care, Ann 
PURPLE POPPY 
The  purple  poppy  is  often  worn  to 
remember  animals  that  have  been 
victims  of  war  -  horses,  dogs  and 
pigeons 
were  often 
drafted  into 
the 
war 
effort. 
In 
particular, 
many  horses 
were  killed 
or  injured  in 
World  War 
One. 
Hot Diggity Dog  
DOG GROOMING  
KAIWAKA 
Spring is in the hair. 
Professional Dog Groomer  
at affordable prices.
www.doggroomingkaiwaka.co.nz 
call Pam 094312143 or text 
0273335380 for bookings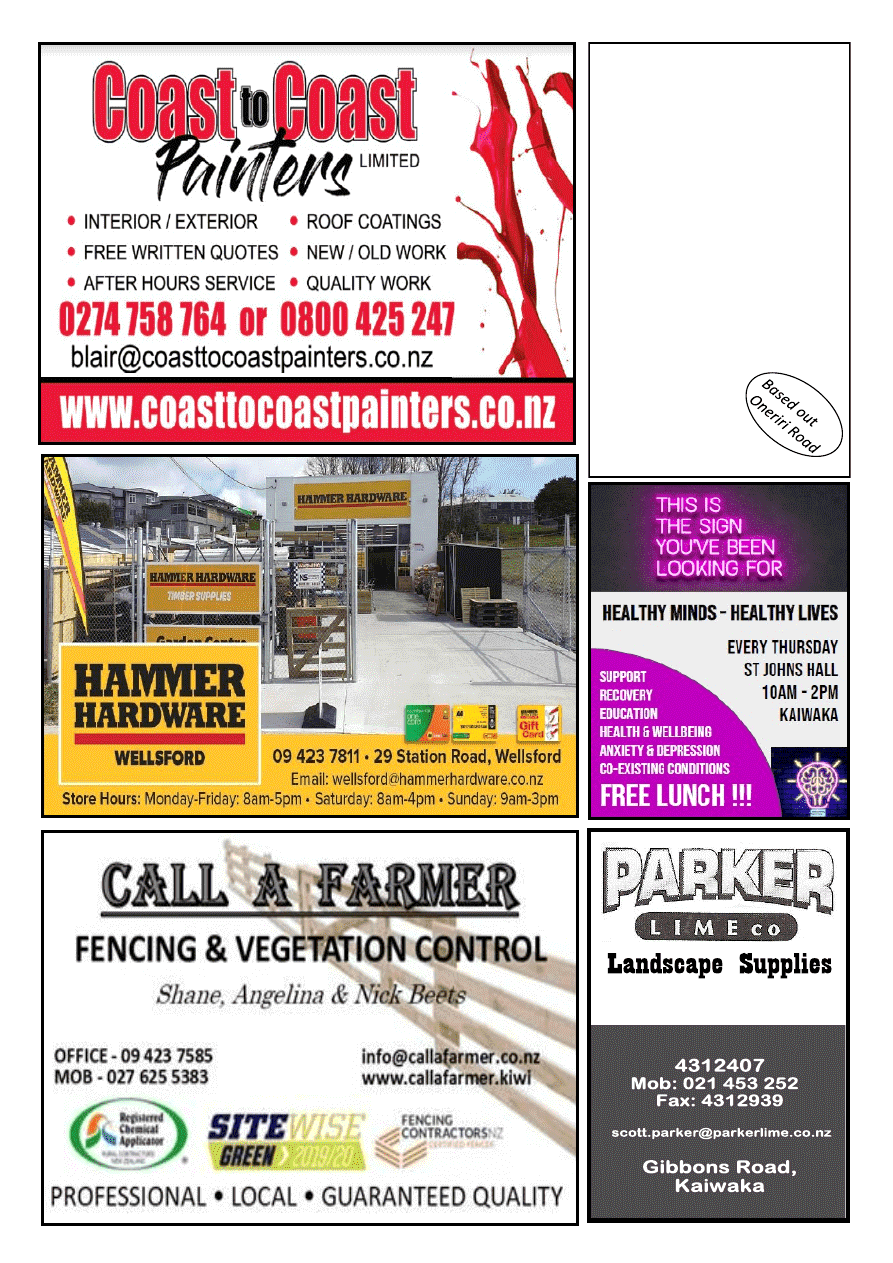 HODGETTS 
CONTRACTING
Digger Work    
Driveways   
House Sites  
Dams      
Drains, etc
Also available for HIRE 
3 ton Vib Roller  
Heavy Duty Tow  
Waterblaster      
Lazer Level
Phone Mark  
4312877 
027 447 8554 
Bulk Cartage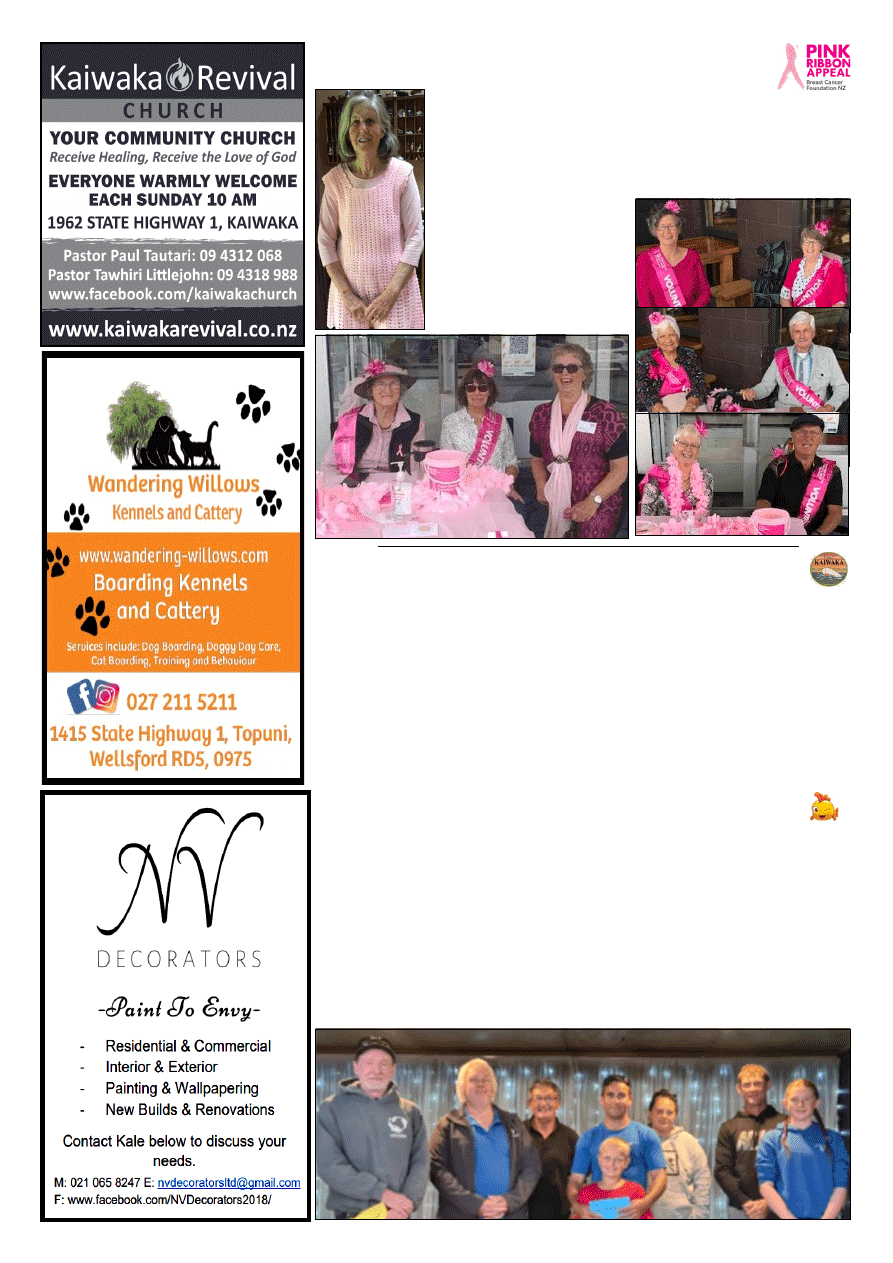 www.kaiwaka.co.nz 
Kaiwaka Bugle - 10 November, 2020 
Page 7 
POINT CURTIS CRUISING CLUB  

CHRISTMAS DINNER 
Our Christmas Dinner  is on Monday 23 November @ 3Furlongs Bar & Grill @ 
6pm. If you are interested please let Jean (Jaques), Sandy (Wellsford Sports & 
Leisure) or Carol (via text 021638012), so we have an idea of numbers. You do 
not have to be a club member to come along, all are welcome so hope to see you 
there. 

Annual Subscriptions 
Don't  forget  Subs  were  Due  1st  June  2020.  $30  Family  $20  Single.  Internet 
banking 12 3094 0008233 00 Please use Name/s as a reference. 

2021 ANNUAL PICNIC 
Our Annual Picnic at the section adjacent to the Rangiora Boat Ramp is going to 
be  on  Saturday  9  January.  Anyone  is  warmly  welcome!  Watch  Facebook  and 
emails for more info nearer the time. 

Fish of the Month 
(Snapper) winner is: Dip, 7.880kg - Jaques voucher 
selected 

New Fish of the Month: 
Gurnard till 9 December 2020 

Next Club meeting
: 9 December 2020 @ 7pm, Kaiwaka Sports  Complex. 
POINT CURTIS CRUISING CLUB NOVEMBER 7TH & 8TH 
FISHING COMPETITION 
Winners are, pictured below on MUZZA'S STAGE, Three Furlongs Bar & Grill 
Seniors:  Kahawai:  Harman  Walker  3.216kgs,  Allan  Walker  2.513kgs,  Kraig 
Steiner  1.938kgs;  Gurnard:  Emmy  Harris  .895kgs,  Kraig  Steiner  .658kgs, 
Harman  Walker  .546kgs;  Snapper:  $300  Dip  Crow  5.500kgs,  $200  Harman 
Walker 4.429kgs, $100 David Casey; Average Snapper David Casey 
Juniors: Snapper: 1st 2.95kgs, 2nd 2.735kgs & 2.689kgs Sonya Steiner 
Kahawai: Toby Walker .552kgs; Gurnard: .313 Sonya Steiner 
L to R: David Casey, Dip Crow, Allan Walker, Harman & Toby Walker, Emmy Harris, 
Kraig & Sonya Steiner 
PINK RIBBON KAIWAKA  
A very big THANK YOU to the wonderful volunteers, the businesses 
- Jaques Four Square and La Nonna Bakery - who 
allowed us outside their premises and the great community of 
Kaiwaka.  Thank you to Silvia who was unable to collect but 
provided  us  with  everything  pink  for  both  stands!  For  Pink 
Ribbon collecting Vicki wore the beautiful pink dress she had 
crocheted when she was 16! 
The unofficial count is that we raised about $1700.00 which is 
even better than last year. A 
wonderful  contribution  from 
the  area  for  Breast  Cancer 
NZ. 
Note:  Kaiwaka  Bugle  online  at 
www.kaiwaka.co.nz  (plus  a  couple 
of  clicks  on  the  Bugle  banner) 
shows up the beautiful pink!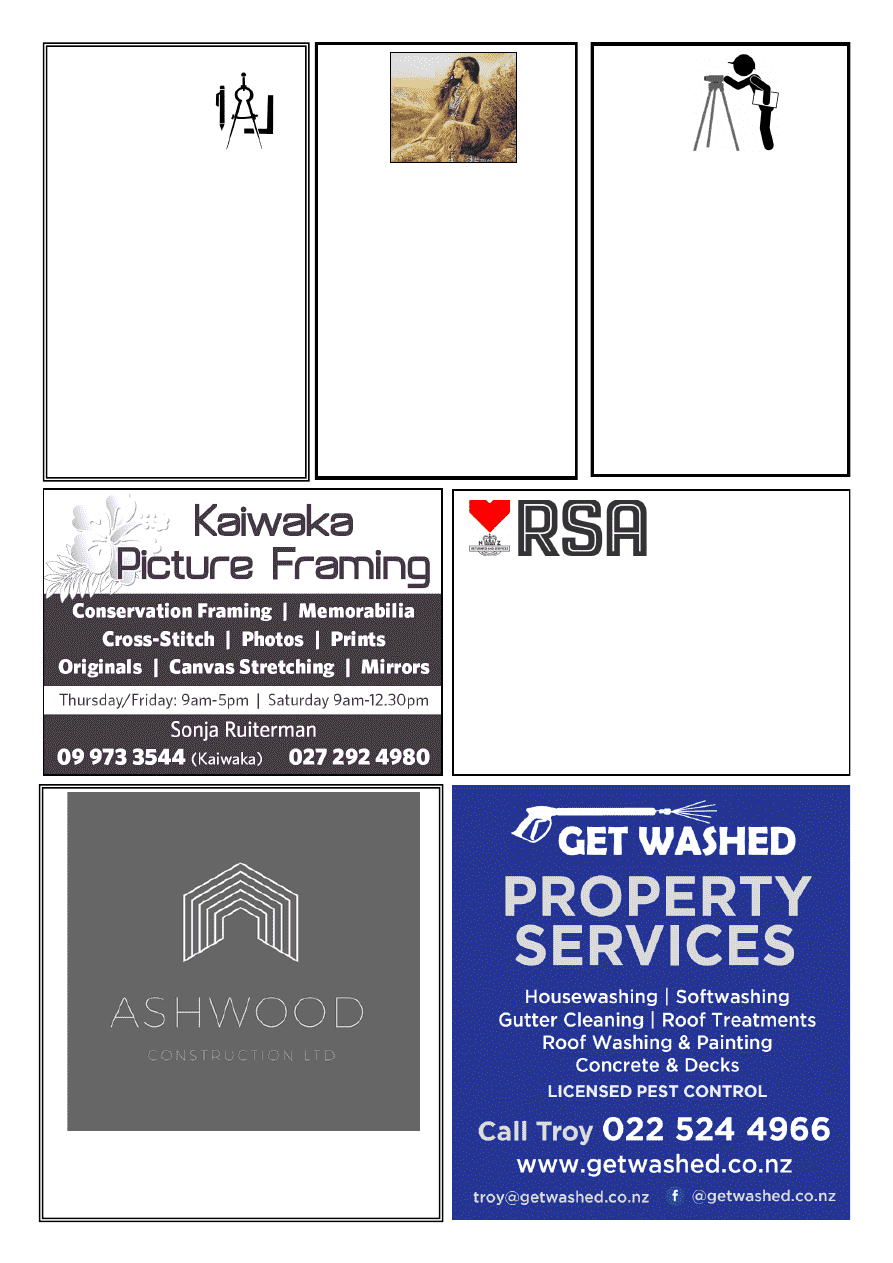 TRAILS END 
RONGOA MAORI 
HEALING 
And Gifts 
Stocking all your needs from incense, 
crystals, dream catchers, greeting 
cards, jewellery, perfume, dragons and 
more  … 
For all inquiries  
Phone 0211652629  
Light refreshments available $5 koha  
1758 Cove Road Mangawhai
ASHWOOD CONSTRUCTION  LTD 
LBP registered 
New Builds Renovations Extensions Decks & more 
After a quote? Call Lee on 0223408353 
design  
drafting  
service 
Retired builder and manufacturer with 
over 40 years experience in the building 
industry is offering a design drafting 
service for domestic housing, sleepouts 
and sheds.  
Plans formulated in consultation with 
clients, with working drawings 
completed and submitted to  
council for processing.   
Extensive practical experience,  
able to identify & resolve problems. 
Please ring Mike Lean on 
09 431 2260  
or 
021 431 196 
HAKARU & 
DISTRICTS 
MEMORIAL RSA 
Members & guests are invited to come along and enjoy 
our hospitality. 
New members welcome. 
Meals are served on Thursday and Friday 
nights from 6.30pm. 
Order from Blackboard Menu  
The sing along with Des Chitty is the Last Friday of the month. 
For more information please phone Bill on 431 2092  
Ken Urquhart 
BSurv Licensed Cadastral 
Surveyor 
KMU  
Surveys Ltd
467 Bickerstaffe Road 
RD 2 
Maungaturoto 0587 
Ph 09 431 8705 
Mob 021 161 2344 
kenurquhart@xtra.co.nz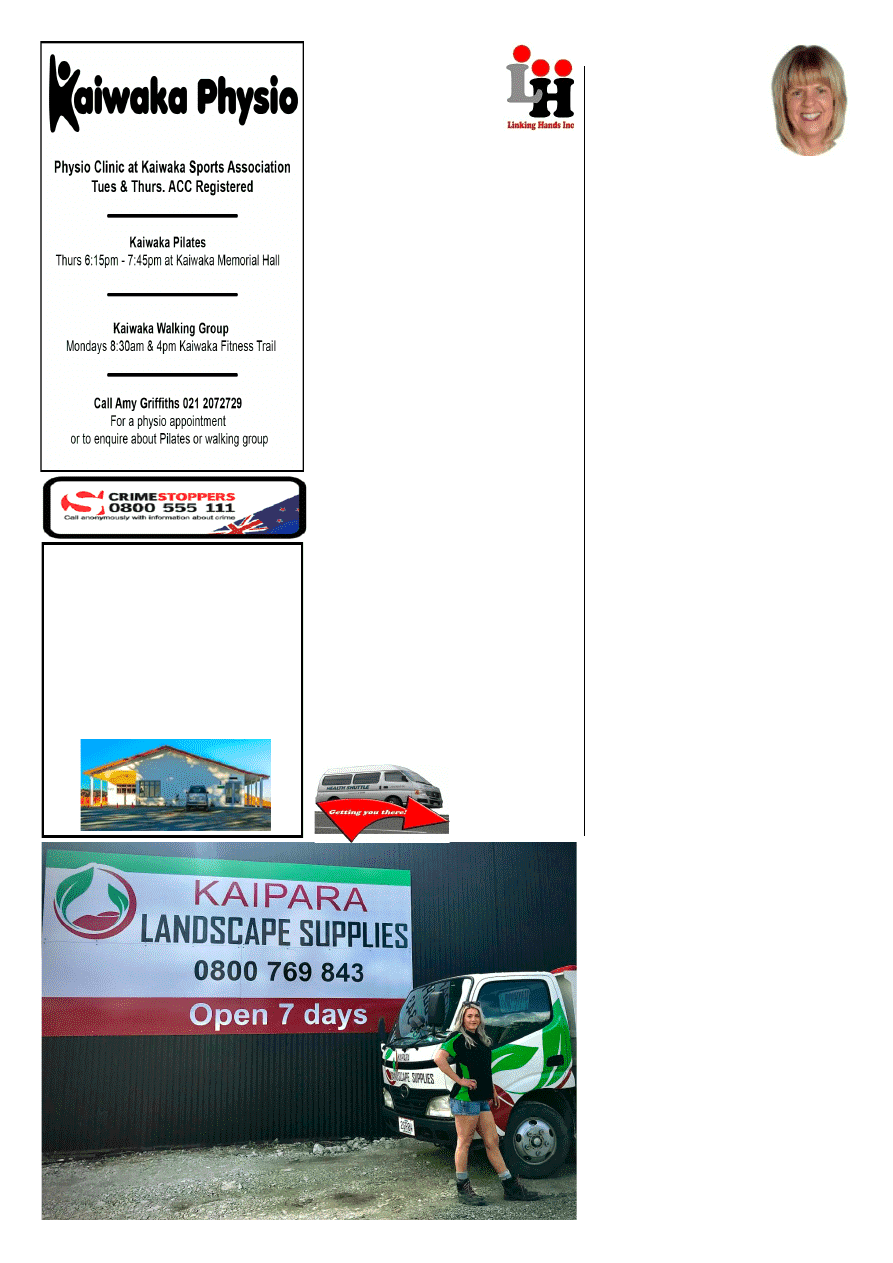 www.kaiwaka.co.nz 
Kaiwaka Bugle - 10 November, 2020 
Page 9 
Te Pounga Marae 
130 Nathan Rd. Oneriri. Kaiwaka 0573 
COMPLEX FOR 
HIRE 
Functions: * Weddings  * Birthdays  
*Anniversaries * Meetings  * Wananga 5 
hour meeting * 12 hour stay or Overnight 
*All welcome   
For more information please contact: 
 Pearl Nathan 0223933533 
Email: tepoungamarae130@outlook.com  
LINKING 
HANDS 
For our drivers, October has 
been rather half and half - 2 
weeks  of  relative  calm  and 
then 2 weeks where we have had to call 
in  an  out  of  area  shuttle  to  assist  with 
the influx of client appointments. 
Happily,  we  have  not  had  to  refuse 
anyone  within  our  pickup  and 
appointment boundaries. 
Again,  we  wish  to  thank  all  of  our 
clients  who  are  giving  us  donations 
during this uncertain period.  
We  are  a  free  service  providing 
medical appointment transport, picking 
up  those  who  live  in  the  Mangawhai 
and  Kaiwaka  areas  who  would 
otherwise  struggle  to  get  to  their 
medical, 
dental, 
podiatry, 
or 
optometrist  appointments  that  occur 
anywhere 
from 
Warkworth 
to 
Whangarei/Kamo. 
If  you  are  on  ACC,  please  get  your 
case  manager  to  contact  us  with  pre-
approved travel to the above locations, 
either 
by 
email 
to 
linkinghandsmainggmail.com 
or 
phone our Head Office (09) 431 8969 
If  you  need  to  go  to  an  Auckland 
Public  Hospital,  anywhere  from  North 
Shore  to  Middlemore,  there  is  a  daily 
NDHB  shuttle  from  Kaiwaka  to  the 
Auckland  Hospitals  that  gets  to 
Kaiwaka  anytime  from  7.45am  on, 
depending on traffic. We will pick you 
up from Mangawhai at about 7:20am. 
You  need  to  book  in  advance  by 
calling  Whangarei  Hospital  on  (09) 
430 4101 ext 7405 or 8716. 
To  book  for  Mangawhai,  please  call 
Bruce  in  Mangawhai  on  431-5906  or 
Head Office on 09 431-8969 
To  book  for  other  areas,  please  call 
Head Office, Maungaturoto on 09 431-
8969 
Mangawhai Team - Bruce H, Warren, 
Helen,  Gary,  Ron,  Peter,  Gael,  Len, 
Mike, Greg, Ray 
And 
your 
Kaiwaka  Team  - 
Robin,  Wolfgang, 
Barbara, Hans
Libby Jones 
–  
Northland 
District Health 
Board Elected 
Member 
The  Northland  DHB  meets  every  six 
weeks  for  full-day  board  meetings.  In 
between  times,  we  also  have  other 
committee meetings, covering hospital, 
community and audit and risk. 
NORTHLAND HEALTH 
STRATEGY 20/40 
A  current  item  for  discussion  is  the 
Northland  Health  Strategy  20/40. 
Some  of  you  will  have  come  to  a 
consultation meeting in Maungaturoto, 
for  our  area,  looking  at  people's 
experiences  of  health  services  and 
what  could  work  differently  in  our 
area. The strategy, which was put on a 
back burner this year with COVID-19, 
is  now  nearing  completion.  Some  of 
the feedback from communities around 
the  north  has  been  for  services  to  be 
provided  more  locally,  including 
mobile  clinics;  telehealth  is  a  good 
option  alongside  better  internet 
connectivity;  more  effort  needs  to  go 
into prevention of ill health; and make 
the  parts  of  the  system  work  together 
better.  This  is  an  important  document 
for  the  board  as  we  will  monitor  the 
goals  and  priorities  that  are  agreed  to 
ensure delivery. 
PLANNED CARE (SURGERY 
Obviously  after  the  COVID-19 
interruption,  Planned  Care  (Surgery) 
has been affected and the hospitals are 
working  hard  to  increase  the  number 
of operations to try to catch up on the 
backlog.  With  extra  lists  and  utilising 
all  the  surgical  spaces  in  Northland, 
this  is  making  a  difference.  There  are 
two  new  theatres  being  built  at 
Whangarei, but they are not ready yet. 
A 
number 
of 
our 
screening 
programmes 
have 
also 
been 
interrupted  but  are  getting  back  on 
track.  A  new  initiative  in  Cervical 
Screening  is  self-testing,  where  a  trial 
in the Far North showed great success 
for certain groups of women. There is 
now further research to see how best to 
fit  self-testing  as  an  option  into  the 
National 
Cervical 
Screening 
programme. 
ACCESSIBILITY TICK  
Northland  DHB  is  pursuing  the 
Accessibility  Tick  Programme  to  help 
us  become  more  accessible  and 
inclusive of people with disabilities as 
employees 
and 
customers. 
Employment for those with disabilities 
is  important  for  income,  social 
connections,  purpose  and  enhancing 
wellbeing,  and  this  programme  will 
help  us  ensure  that  people  with 
disabilities  are  supported  in  their 
employment roles. 
Stay well, Libby Jones 
hames.jones@xtra.co.nz 
021 208 0093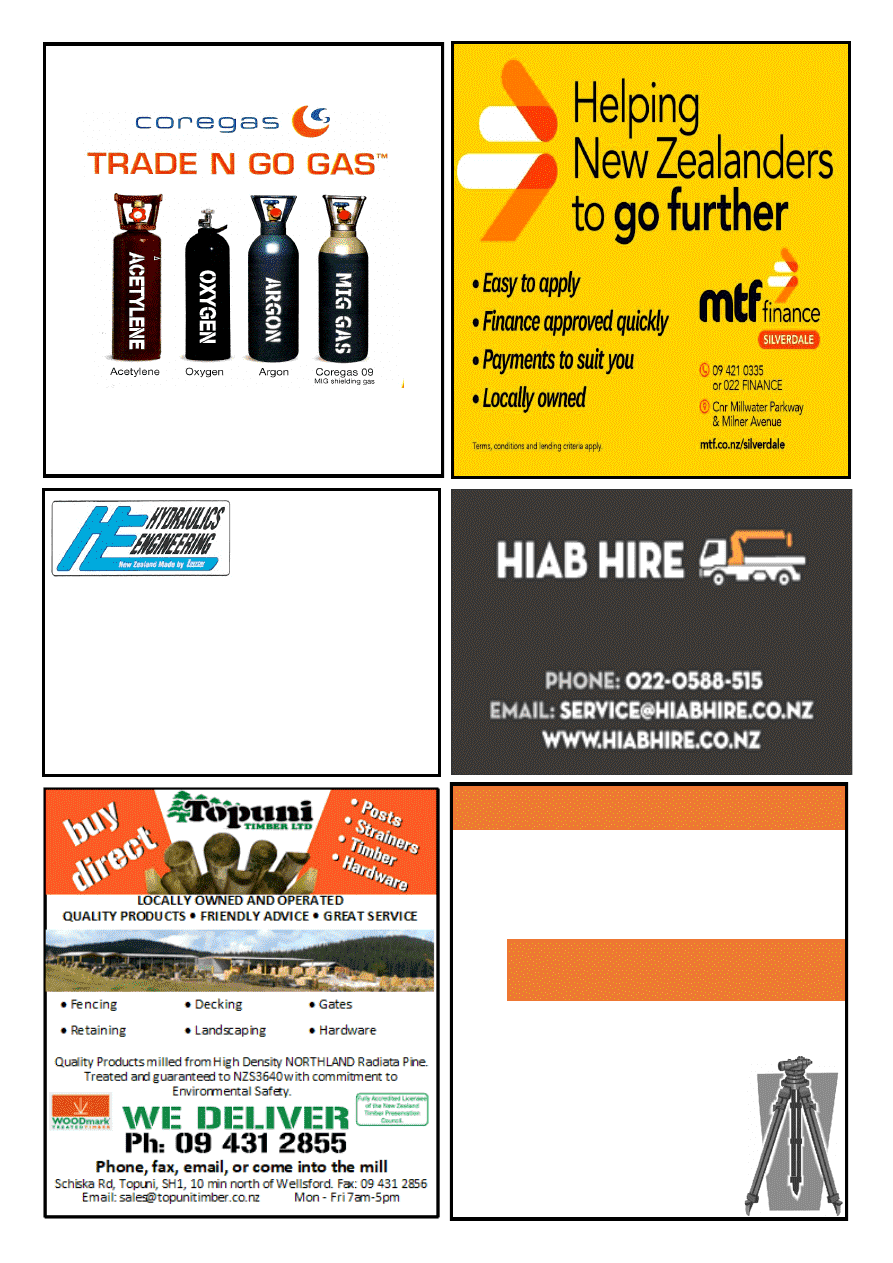 SURVEYORS 
SUBDIVISIONS 
HOUSE SITE SURVEYS 
CIVIL ENGINEERING 
WASTEWATER DESIGNS 
EXPERIENCED 
PROFESSIONAL 
INNOVATIVE 
Ph 09 431 5353 
0800 PACIFIC (0800 722 434) 
pacificcoastsurvey.com
Adam Booth - 027 415 5752 
Bsurv, Licensed Cadastral Surveyor
Surveying Kaipara since 1994 
At Twinkle Tow 'n' Tyre 
Mob: 021 833 960 
Ph & Fax: 09 431 2823 
1837 State Highway 1, Kaiwaka 
Hydraulics  
Engineering Ltd 
Kaiwaka 
Sales - Service - Parts - Hire - Manufacture 
Service Contractors & Industrial Equipment: 
Rams, Pumps, Valves 
Logsplitter Hire, Manufacturer, Sales 
Dennis Linton 
Lot 2 / 161 Ranganui Road, RD2, Kaiwaka, 0573, New Zealand 
Mobile: 0274 381 700 
Email: hydraulicsengineering@xtra.co.nz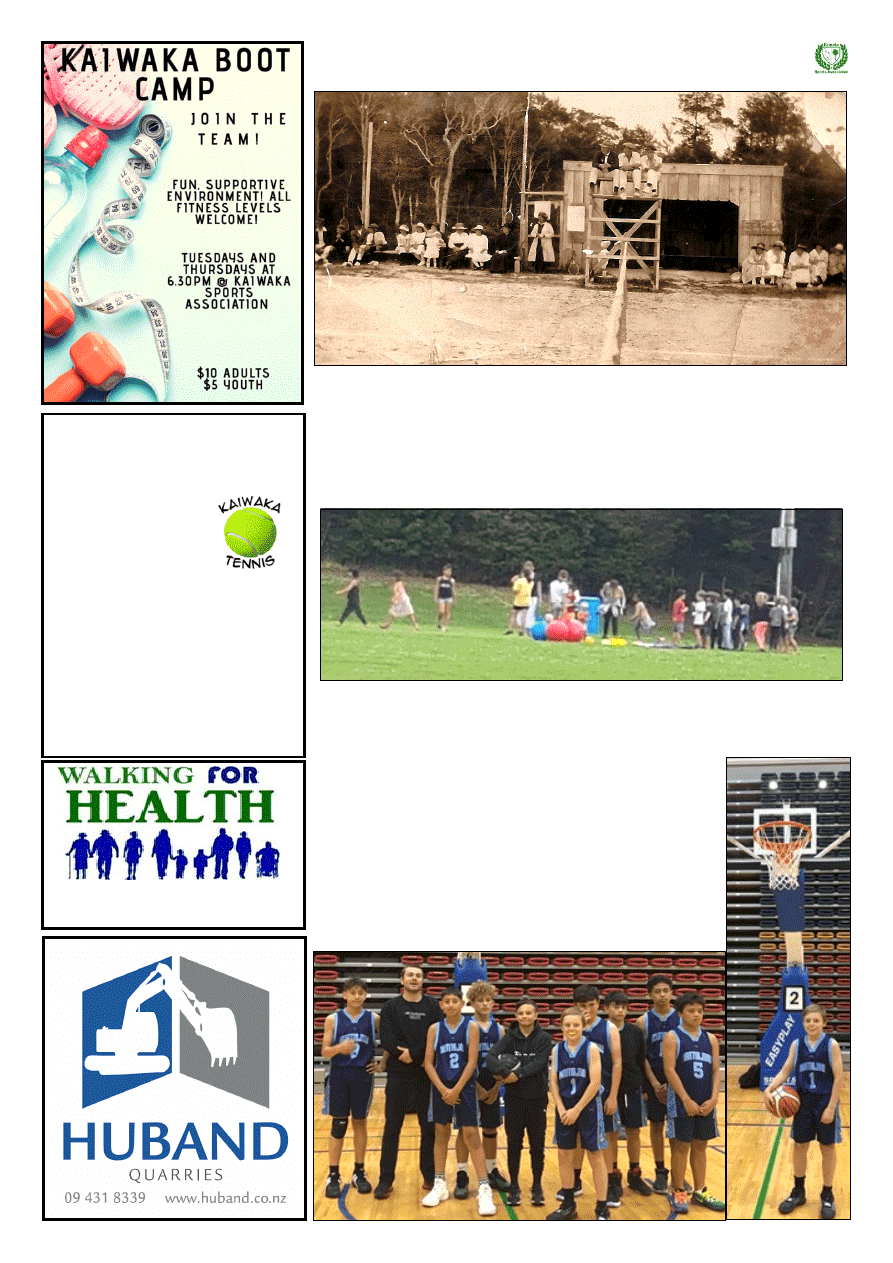 www.kaiwaka.co.nz 
Kaiwaka Bugle - 10 November, 2020 
Page 11 
EARLY KAIWAKA TENNIS 
Pictured  is  the  tennis  opening  in  1926.  Kaiwaka  Tennis  Club  was  founded  in 
1912.The  first  court  was  on  Mr  McClean's  place  behind  the  present  Cheese 
Shop and was only a grass court. In the winter of 1913, it was decided to build 
the courts in the Domain bush. Voluntary labour cleared the site and erected the 
fencing,  but  when  the  Great  War  started  in  1914  tennis  was  for  forgotten.  In 
November, 1920 the Club re-opened with a membership of fifty, being only clay 
courts the members had to chip and mark the courts every week, but all did their 
share… 
to be continued 
... 
KAIWAKA  SCHOOL  ATHLETICS  DAY  - having fun  making full use of 
the KSA sports fields last week. 
KAIPARA BASKETBALL 
Well  done  to  our  Northland  team  who  travelled  to  Rotorua  as  part  of  the 
Northland Basketball team to compete in the Under 13 boys 
Regionals 
tournament. 
They 
placed 
4th 
overall.  
Congratulations  to  team  member  Spencer  Vinnels,    pictured 
right;  below,  with  his  Northland  team  and  coach  -  Blake 
Worsfold. 
KAIWAKA PRIMARY COMPETITION RESULTS 
WEEK  1: 
Year 3/4: Kaiwaka 4 – Maungaturoto 6 (MVP: Tama); 
Year 5/6: Ruawai ONE Wins vs Wellsford (By Default), Kaiwaka 
14  –  Maungaturoto  6  (MVP:  Trinity  Ulisala),  Paparoa  0  – 
Mangawhai 26 (MVP: Keira Morris) 
WEEK  2: 
Year  3/4:  Maungaturoto  30  –  Mangawhai  2  (MVP 
Tama);  Year  5/6:  Wellsford  9  –  Mangawhai  7  (MVP  Titan 
Strictland), Kaiwaka 34 – Paparoa 2 (MVP Nikau Tandy), 
Ruawai 
ONE 42 – Ruawai TWO 2 (MVP Ruben Lewell) 
Kaiwaka Tennis Club 
Summer season starting 
Term 4, 2020 and    
Term1, 2021 
•
Coaching with a 
qualified coach 
•
Playing practice 
For school aged children  
and all abilities. 
New players welcome. 
COME AND GIVE IT A GO! 
Sessions: 
Kaiwaka Sports Assn. 
Monday afternoons 
For more info contact 
Linda 021 266 8571 
KAIWAKA SPORTS ASSOCIATION 
At KSA Fitness Trail 
Mondays  8.30am and 4pm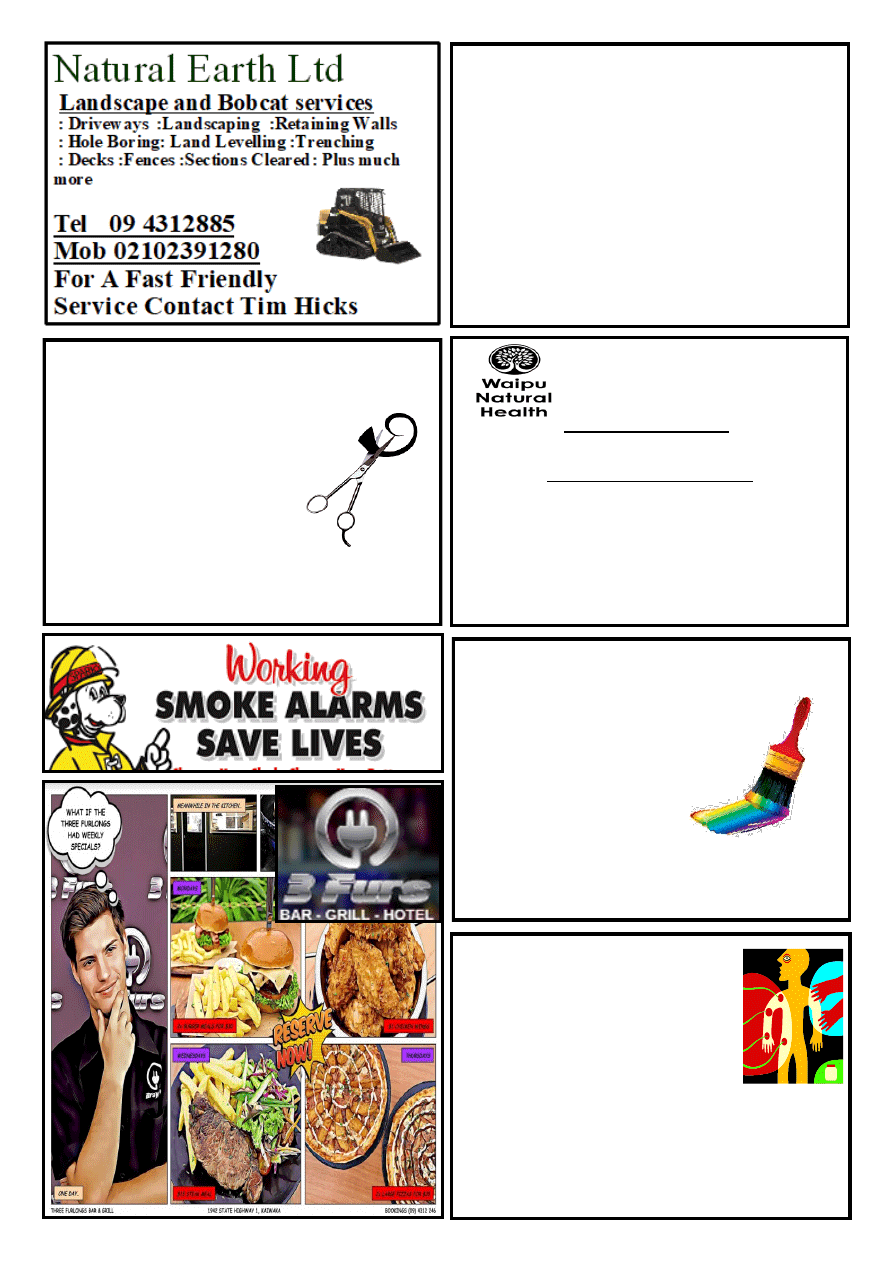 JUST CUTS  
and MORE  
1758 Cove Road  
Open Monday-Saturday  
by appointment only 
Saturday 9-12pm  
Affordable prices: 
Ladies cuts from $35 ~ Colours from $120 
Men's from$25 ~ Kids from $18 
0211652629  
3 Cove Road, Waipu 
(opposite the Pizza Barn
) 
094321325 
www.waipunaturalhealth.co.nz 
Clinical Nutritionist: 
Nutritional Checkups, Diets for Chronic 
Diseases, Food Sensitivities 
Naturopathic Physician: 
Ozone Therapy, Prolotherapy 
Reflexology, Craniosacral Therapy, Trauma 
Release, Massage Therapy 
Counselling and Hypnotherapy 
Change Catalyst/ThetaHealer 
Affordable Children's Consults 
All therapists are fully qualified
Willow Bend
HORSE HOTEL 
#
Total Horse Care   
# 
Agistment 
# 
Riding Lessons  
#
 Arena Hire (60x40) 
# 
Young Horse Starting 
# 
Re-training/Exercising 
#
Hoof Trimming  
# 
Problem Solving 
Phone Sue  
09 431 2817 or 021 623 776  
Or email  
susanjoll11@gmail.com 
OWEN STEVENS 
Osteo Therapist
For careful adjustments to  
bones and joints 
Treatment for  
humans and their pets 
Clinics: 
Kate's Place, Kaiwaka: 
Last Friday of month 9.00am-5.00pm 
For bookings: 
Phone 
09 4312661 
Or phone Owen  09 4317123 anytime 
LEE COOPER PAINTERS 
(Kaiwaka Based) 
*30 yrs Experience 
*Interior/Exterior 
*New and Restoration 
*Honest and Reliable 
*Free Quotes 
09 4312918 
0274735171 
leecooper@xtra.co.nz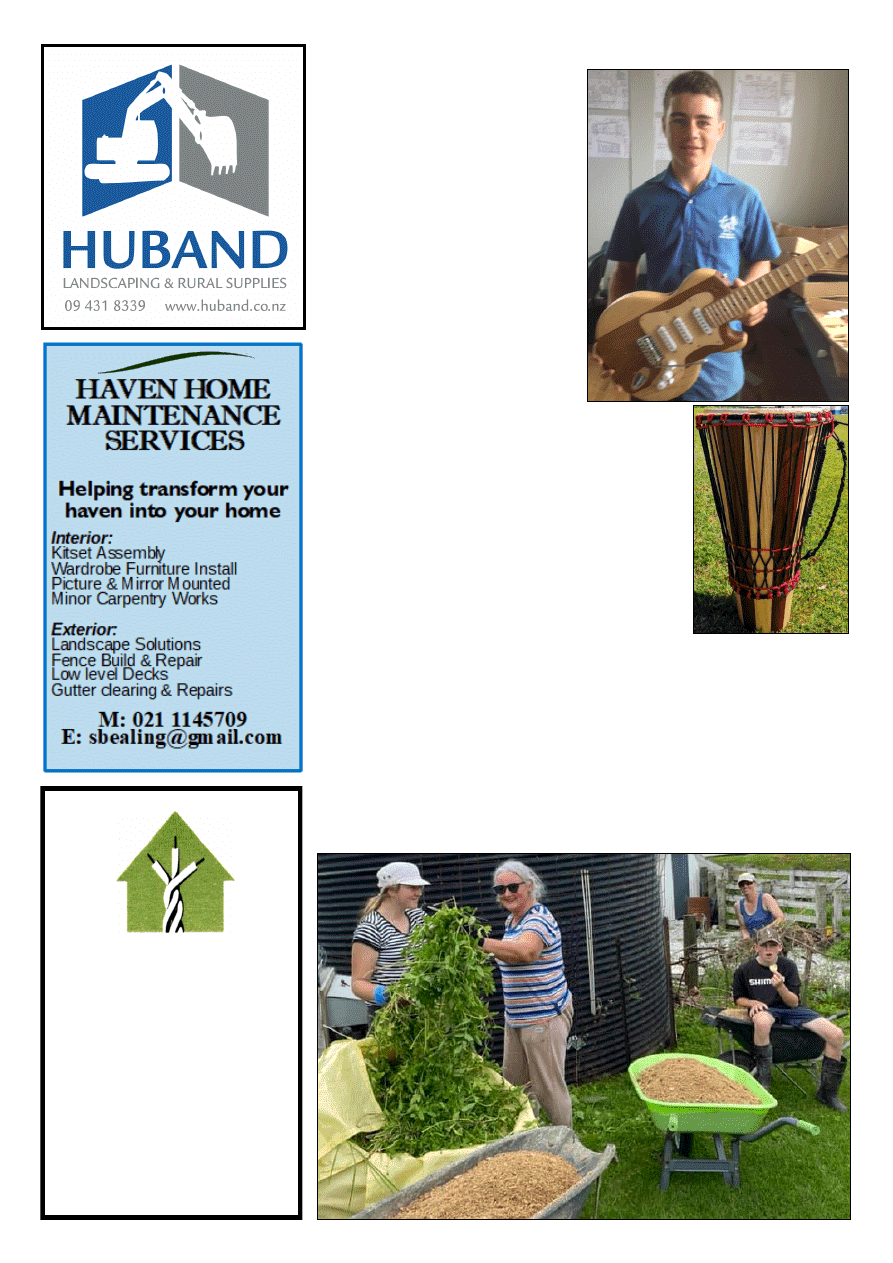 www.kaiwaka.co.nz 
Kaiwaka Bugle - 10 November, 2020 
Page 13 
Reyahn  Leng 
 Registered Electrician 
Local, honest and reliable. 
For your residential and 
light-commercial projects. 
022 314 1068  
OTAMATEA HIGH SCHOOL 
Notes from Rachel Clothier-Simmonds, 
Principal 
CONGRATULATIONS  to  all  of  the 
prize winners who we celebrated at our 
senior  prizegiving  on  Friday.    Thank 
you  to  all  the  families  who  supported 
this  event.    It  was  a  fabulous 
celebration of our students' successes. 
STAFF ONLY  DAYS:   We have two 
staff  only  days  coming  up  where  the 
school  is  closed  for  instruction.    The 
first  of  these  days  is  on  Friday  13th 
November  and  the  second  of  these 
days is on Friday 27th November.  
OHS  magazine  for  2020:    This  year's 
magazine  will  be  available  at  the  start 
of  2021.    If  you  would  like  some 
advertising  space  in  the  magazine, 
please 
contact 
Jon 
Clist 
on 
joneclist.gmail.com 
TECHNOLOGY 
The  Level  2  Wood  Technology  class 
are  completing  their  projects  and  we 
have  some  excellent  finished  musical 
instruments.  
Jack  Hodgson  completed  his  electric 
guitar made from Ash and Rimu, photo 
right, while Austin Mickell finished his 
Ashiko drum, photo right,  made from 
Ash and Sapele. This year we have had 
a  range  of  instruments  being  made, 
including Didgeridoo, Electric Ukulele, 
Toere Drum and Djembe Drums  
PTCA NEWS: 
UNIFORMS:  Please  donate  any  un-
needed  OHS  uniforms  to  the  PTCA 
second-hand uniform shop. Simply pop 
them  in  a  bag  and  hand  them  to  the 
lovely OHS office staff. 
NEXT  MEETING:  The  next  PTCA 
meeting  is  at  7pm  Wednesday  11 
November,  at  the  Mangawhai  Tavern. 
All are welcome to join us for our last 
meeting of the year. 
40  HOURS  of  LABOUR: The PTCA 
team worked hard in donating 40 hours 
of  labour  to  raffle  winner,  Graham 
Slatter 
of 
Maungaturoto 
- 
bagging 
weeds 
pictured. 
Thank  you  to 
our  40-hour 
raffle 
sponsors 
Parker  Lime 
and  Topuni 
Timber. 
VACANCY: 
Laboratory 
Manager at Otamatea High School 
This role involves 15 hour a week with 
a  degree  of  flexibility  around  timings.  
This is a permanent role starting at the 
beginning of the 2021 academic year. 
Further  information  regarding  this 
position is available at OHS. 
To  apply,  please  send  your  CV  and 
completed  Application  form  Support 
Staff 
2021to 
andy.thomas@otamatea.school.nz.  
Applications  close  at  9am  on  Friday 
27th November 2020.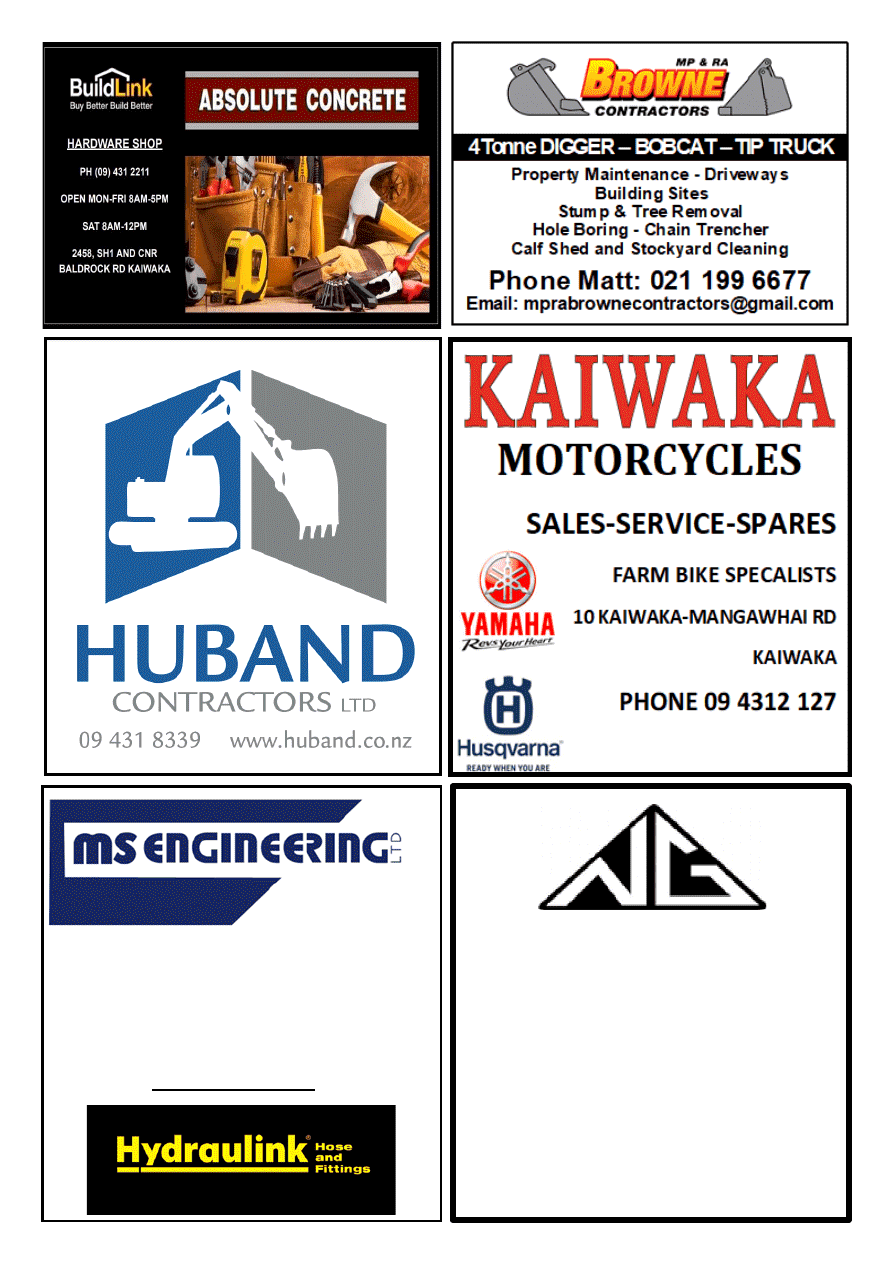 NORTH GLASS 
WINDSCREEN REPAIR OR REPLACE 
GLAZING SERVICES 
MIRRORS  •  SPLASH BACKS  •  SHOWERS 
0800 70 40 10
info@northglass.co.nz 
www.northglass.co.nz 

Peter Buckley 

Mobile Hose Technician –  
                      Based from Oneriri Road 

Available for all mobile hose                                
                      requirements onsite 

Call – 0800 425 7116 

Email – mse@mseng.co.nz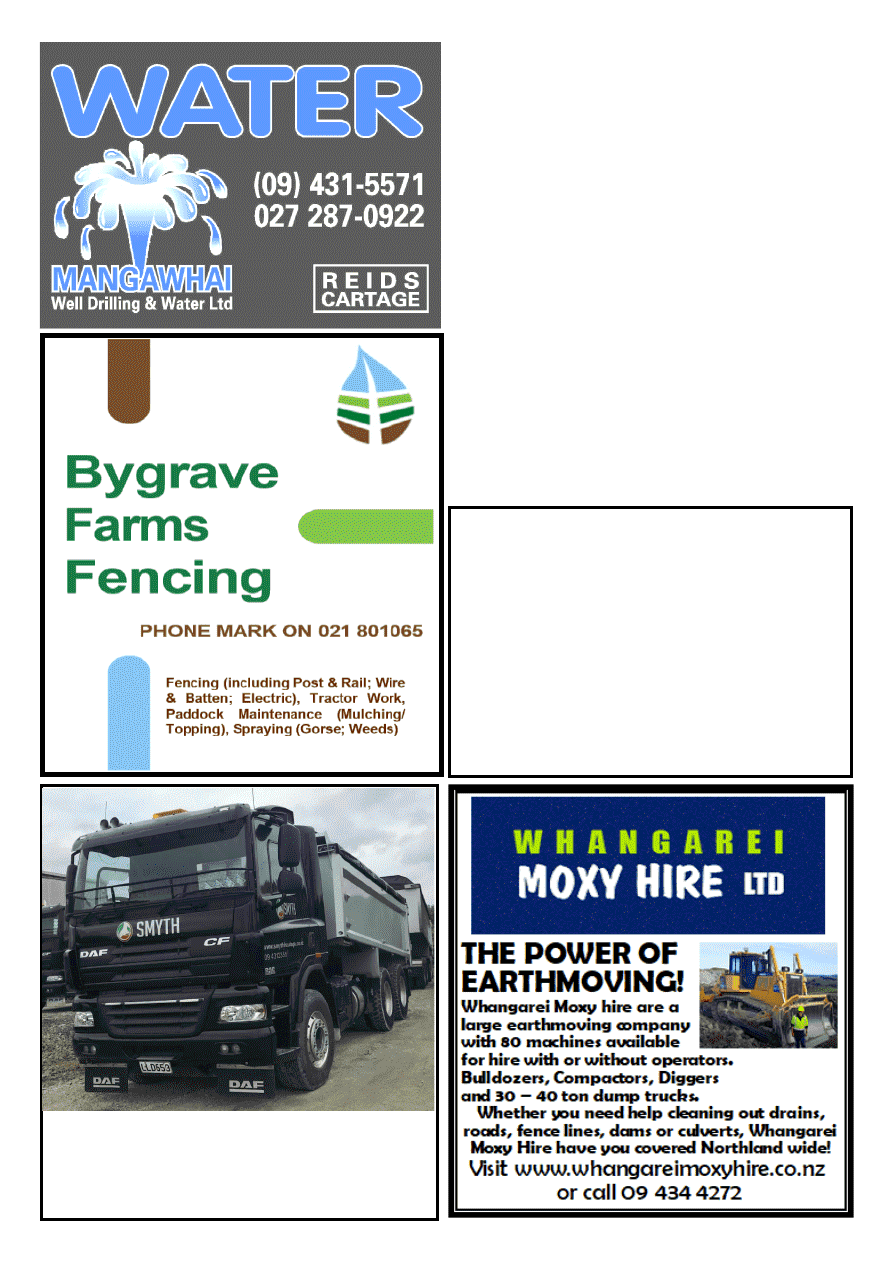 www.kaiwaka.co.nz 
Kaiwaka Bugle - 10 November, 2020 
Page 15 
SMYTH HAULAGE       
for all your tip trucks & trailer 
requirements 09 4312355  
Carlton Smyth 0274870636  
'
It  is  wonderful  to  say  the  right  thing  at  the  right 
time!
'  
William  Penn,  founder  of  the  British colony  of Pennsylvania 
in  1677  (the  U.S.  state  of  Pennsylvania  is  named  in  his 
honour), formulated six principles for conversation: 
'(1)  Avoid  company  where  it  is  not  profitable  or  necessary, 
and on those occasions, speak little, and speak last. (2) Silence 
is wisdom, where speaking is folly; and always safe. (3) Some 
are  so  foolish  as  to  interrupt  and  anticipate  those  that  speak, 
instead  of  hearing  and  thinking  before  they  answer,  which  is 
uncivil, as well as silly. 
(4) If  you think twice before you speak once, you will speak 
twice the better for it. 
(5)  Better  to  say  nothing,  than  not  to  the  purpose.  And  to 
speak pertinently, consider both what is fit and when it is fit to 
speak  (6)  In  all  debates,  let truth  be  your  aim,  not  victory  or 
unjust interest; endeavour to gain, rather than to expose  your 
critic.' 
ln  short:  never speak without thinking! Give yourself tine to 
incorporate wisdom into your words, avoiding those that make 
others  feel  intimidated  or  inferior.  One  of  the  best  ways  to 
persuade  others is by  listening  to  them.  A  gossip  talks  about 
others  and  a  bore  talks  about  himself,  but  a  good 
conversationalist  talks  about  what  interests  you  and  listens 
attentively  to  what  you  have  to  say.  The  truth  is,  sometimes 
the  more  you  speak,  the  less  people  remember.  And  they're 
more likely to remember your words if they feel like you care 
enough to listen to their thoughts and concerns. 
The  Bible  says,  'Everyone  enjoys  a  fitting  reply;  it  is 
wonderful  to  say  the  right  thing  at  the  right  time'  (Proverbs 
15:23 NLT). ~ Re. Word for the Day, Rhema Media
HAKARU HALL ACTIVITIES 

Monday:  Line Dancing 9.45 -12pm Ph 4315160 

Afternoon Dance Energy  Lisa Ph. 0275610469 

Tuesday: Pilates 10am  
Qualified Instructor Ph. 0220643965 

Tuesday: Afternoon Dance Energy   

Wednesday: Afternoon Dance Energy  

Wednesday: Evening Music Jam Session      
Dennis Ph. 0210628631 

 Thursday: Pilates 9.30am Ph. 0220643965 

Friday Fortnightly MESS CLUB   10.30 am    
       Inspiring play for under 5's. Phone Shelley 0221223781 

Sunday: Canine Coaching Ph 0272365004 
 Hall Bookings Karen 4312090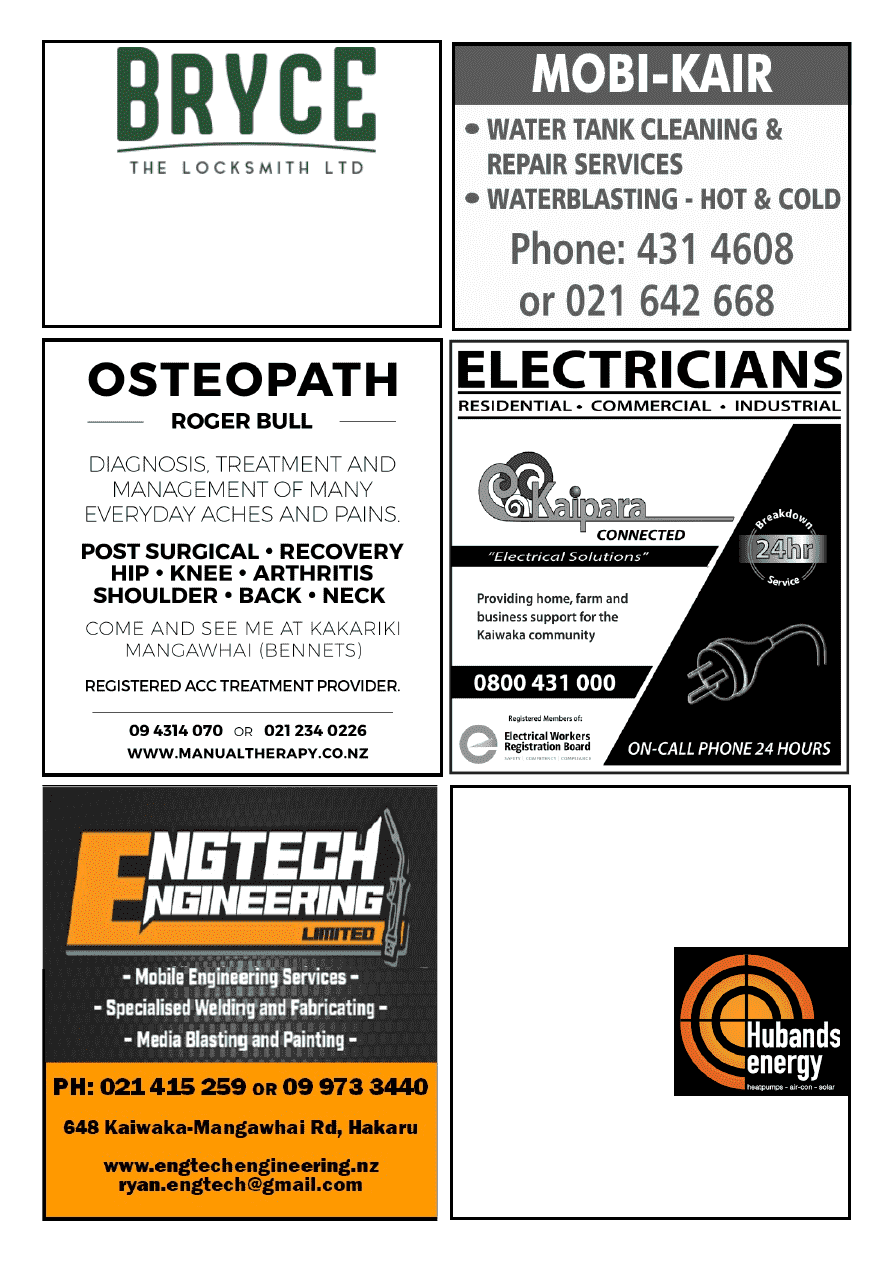 Northland's Award Winning 
Solar Company
SEANZ Best Solar Business Winners 2015/16
EXCLUSIVE 10 year installation warranty 
FREE No obligation onsite quote
Complete systems 
from $5990
See our range of: 
✓ 
Heatpumps 
✓ 
Airconditioning 
✓ 
Hot Water 
Heatpumps 
✓ 
Central Vacuum Systems
09 430 0019             sales@hubands.co.nz 
15 Kioreroa Road, Whangarei
Locally owned and operated for 35 years 
Bryce Frewin 
Ph: 021 850 983 
Kaipara Based Master Locksmith 
bryce@brycethelocksmith.co.nz 
www.brycethelocksmith.co.nz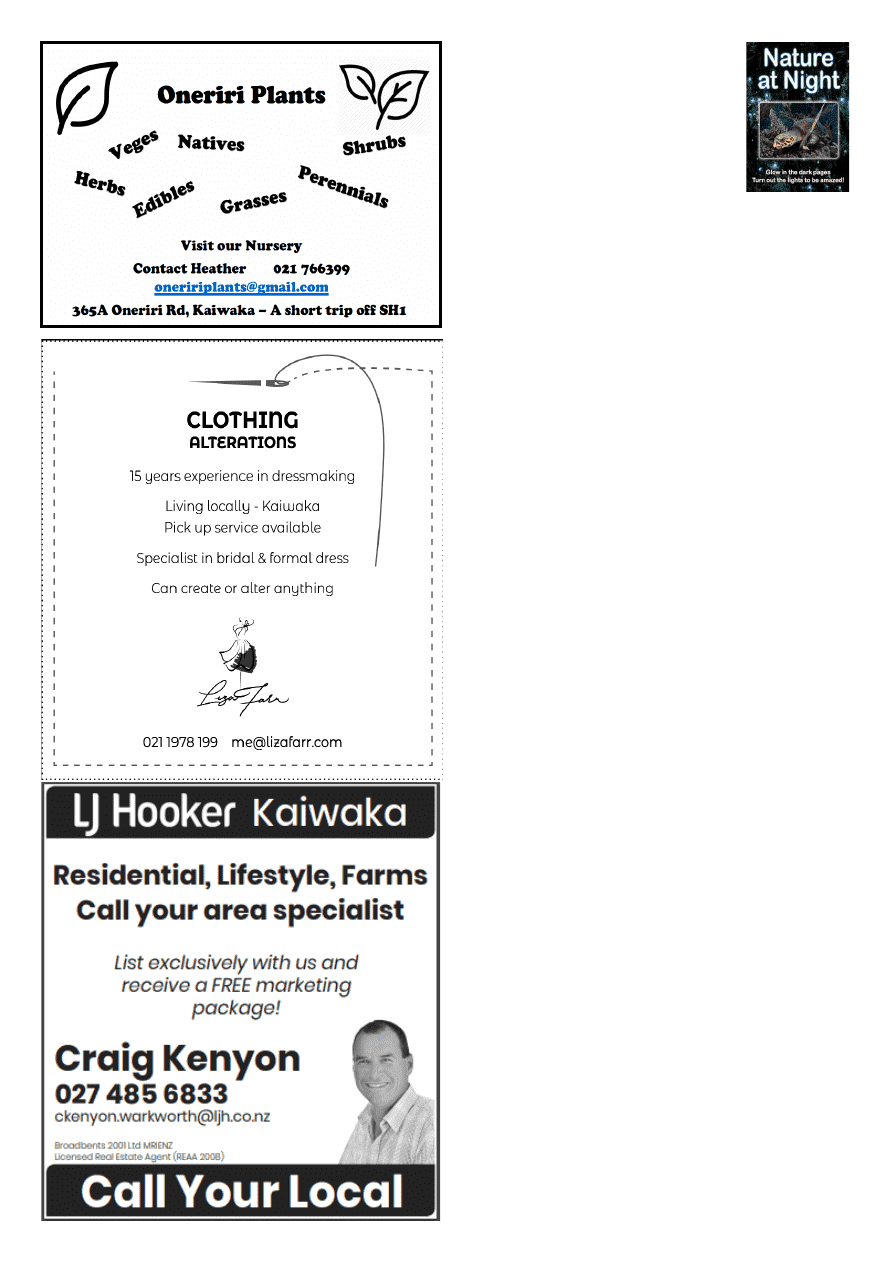 www.kaiwaka.co.nz 
Kaiwaka Bugle - 10 November, 2020 
Page 17 
KAIWAKA LIBRARY
Christmas Holidays shutdown 
It's not that far away now - the library will 
be  open  until  Wednesday  23  December 
2020,  then  closed  for  almost  two  weeks 
while  we  get  through  the  Christmas/New 
Year  period  and  will  reopen  on 
Wednesday 6 January 2021. 
Holiday reading 
The  summer  holidays  are  coming  up  fast  -  is  your 
household thinking ahead to what you're going to read over 
the  break  period  while  the  school  libraries  are  closed?  
Apart  from  the  Christmas/New  Year  shutdown  mentioned 
above,  and  Anniversary  Day  on  1  February,  Kaiwaka 
Library  will  be  open  for  our  usual  hours  throughout  the 
school  holidays.  Come  and  borrow  books  from  us to  keep 
you going until school starts again. 

It is free to join the library, for adults and children. Go to 
Enterprise*  and  click  on  the  big  green  Join  the  Library 
button to get started. 

Membership of Kaiwaka Library gets you access to all the 
books and other items in our library and across the district, 
plus free access to all our digital services including books, 
audiobooks,  magazines,  and  newspapers.  Check  out  the 
information at Enterprise* or come into the library and talk 
to us. 

If you only want to use our digital services, and don't need 
a  library  card  to  borrow  physical  items,  you  can  choose  a 
Digital-Only  membership  and  start  borrowing  from  those 
online  collections  immediately.  Otherwise,  bring  your  ID 
into the library after you've signed up, and we will give you 
a library card so you can borrow books, DVDs & Blu-Rays, 
and jigsaws, from our shelves. If you can't sign up online, 
come into the library and we will do it for you; bring some 
photo ID like a driver's licence, passport, Kiwi Access card 
(formerly 18+ Card), etc, so there are no delays. A digital-
only  membership  can  be  converted  to  a  library  card  by 
presenting  your  ID  at  the library  if  you  change  your mind 
any time after signing up. 
Junior Non-Fiction 
Parents - did you know that we have a Junior Non-Fiction 
section  especially  for  your  kids?  It's  on  the  shelves  at  the 
end  of  the  boxes  of  picture  books,  opposite  the  Junior 
Fiction shelves. I've added some fabulous new books about 
New Zealand nature recently. One even glows in the dark! 
(Nature at night by Lisa Regan, 572 REG). 
Justice of the Peace services 
When  I'm  in  the  library,  I'm  available  to  the  public  as  a 
Justice of the Peace. No need to make an appointment, just 
come  on  in  with  your  papers  and  ID.  Watch  out  for  my 
posts  in  Facebook  on  the  Kaiwaka  Library  page  (you  can 
also see this on our library page in Enterprise*) - these are 
publicly visible and you don't need a Facebook account to 
view - or the Kaiwaka Community group, or look for the JP 
sign out at the front doors. 
I'm  not  the  only  JP  in  Kaiwaka!  You  can  find  the  contact 
details of other local JPs on the back page of every issue of 
this  newspaper  -  you  can  view  it  at  kaiwaka.co.nz  if  you 
don't have a paper copy handy when you need it - or go to 
justiceofthepeace.org.nz  and  search  there.  Get  in  touch 
directly with any JP to make an appointment. 
Book reviews 
I  have  read  two  excellent  teen  fiction  series  lately...  The 
Alex  Rider  series by Anthony  Horowitz  is clearly aimed 
at boys - Alex is a 14-year-old boy who gets pulled into the 
world of MI6 in England - but it's a rollicking good read for 
anyone.  We  have  about  half  of  the  series  on  our  shelves, 
and the rest are in the district and can be ordered in for you. 
Start with Stormbreaker and read the books in order - there 
are  currently  13  in  the  series.  And  the  Telesa  series  by 
Lani Wendt Young that centres around Leila ... 
See you in the library! ~Wendy
Phone  4312  539.  Email  kaiwaka.library@gmail.com  Open  Wed-Sat  10am-2pm, 
Mon 4-6pm. Free membership is available to all residents in the Kaiwaka area.  
*Enterprise: http://kaipara.kotui.org.nz/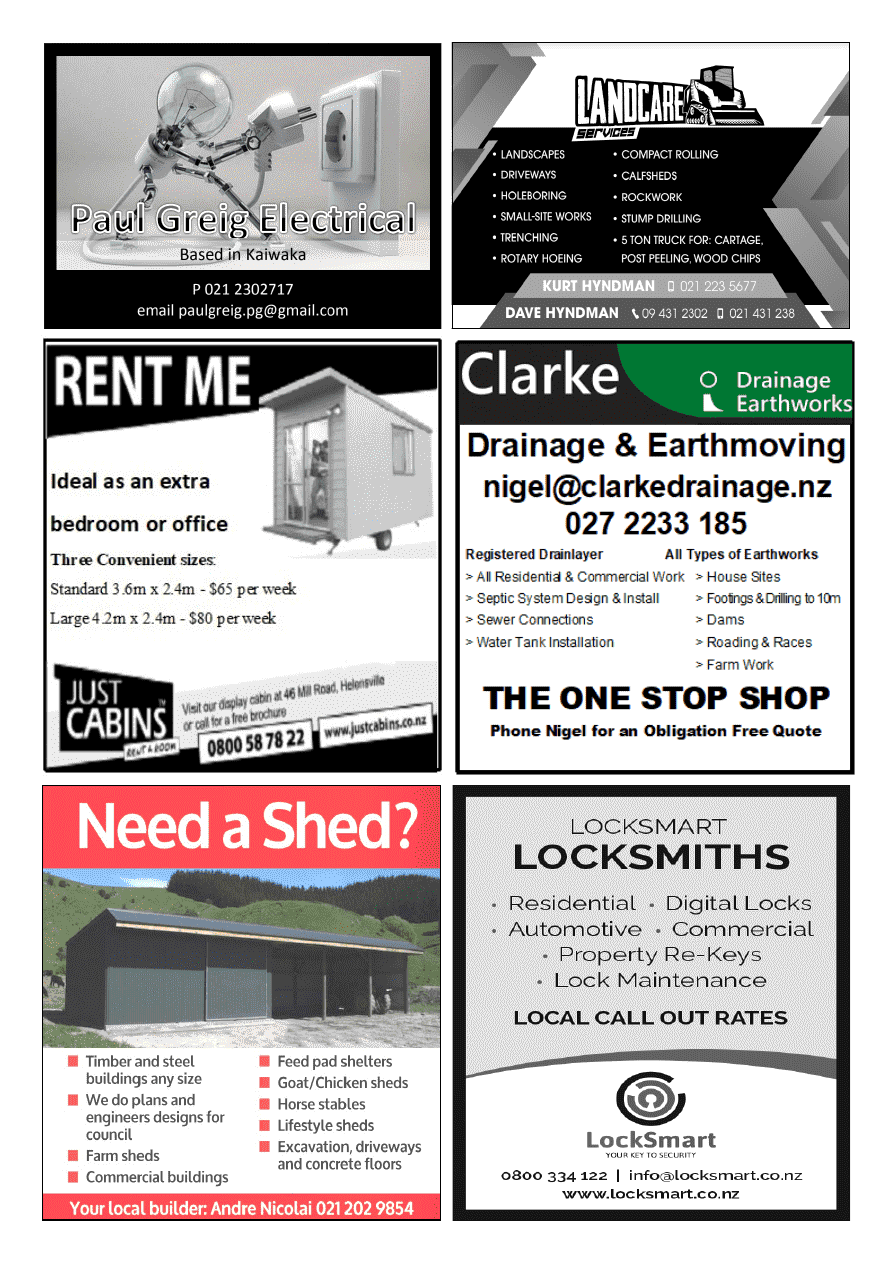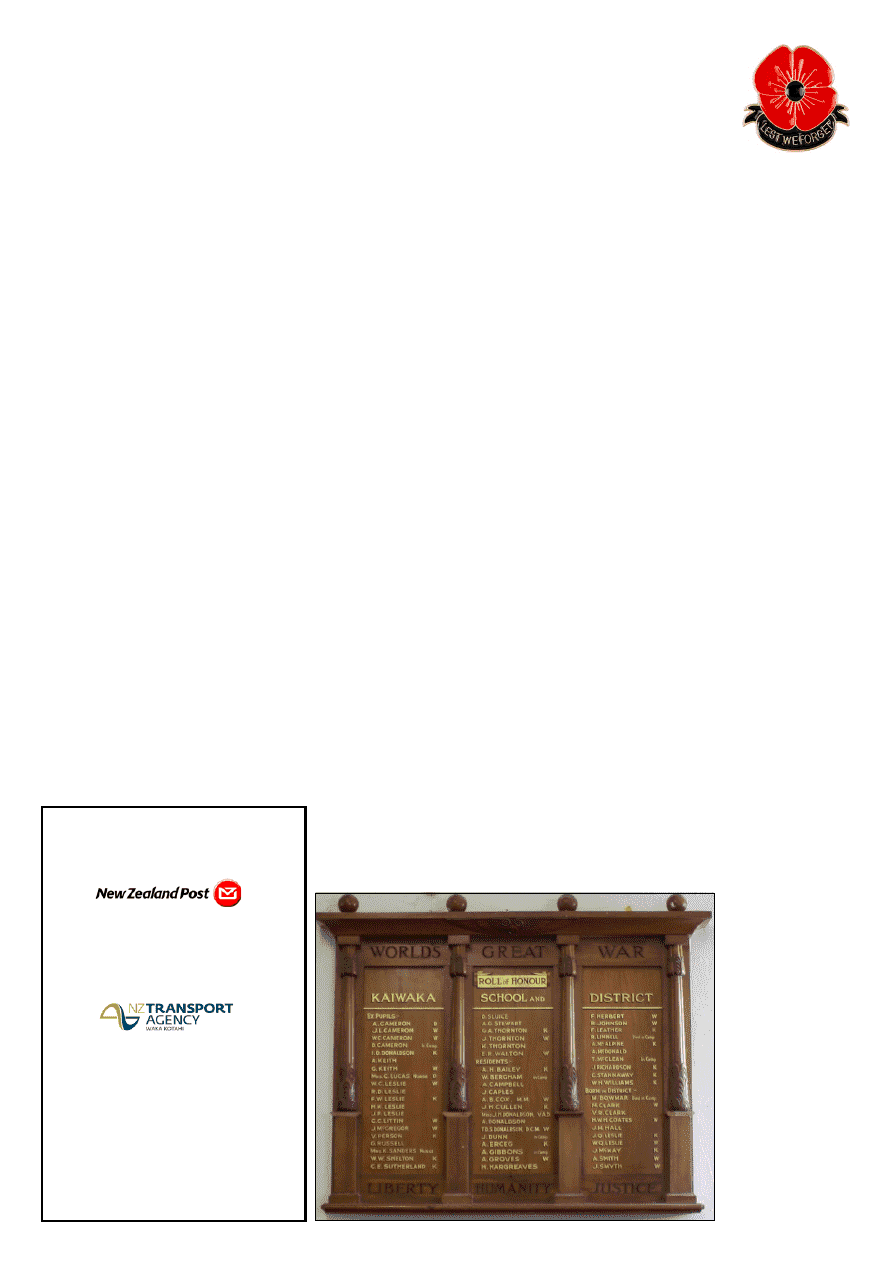 www.kaiwaka.co.nz 
Kaiwaka Bugle - 10 November, 2020 
Page 19 
The  War  Memorial  in  the 
Kaiwaka 
Community  Centre 
contains  a  list  of  60  men  that 
enlisted in World War 1. 
Looking at personnel files on Archives 
New Zealand, the Auckland Museum's 
Online  Cenotaph,  Papers  Past,  War 
Graves,  I  have  been  able  to  collate  an 
overview  of  these  men,  I  make  no 
claim that this is a complete record my 
apologies  for  any  mistakes  than  may 
have been made. 
In  the  census  of  1911  Kaiwaka  had  a 
population of only 211 not a very large 
number. 
On  6  August,  shortly  after  the  First 
World War broke out, Britain accepted 
New 
Zealand's 
offer 
of 
an 
expeditionary  force  of  approximately 
8000 
men. 
When 
countrywide 
recruiting  for  the  New  Zealand 
Expeditionary  Force's  (NZEF)  'Main 
Body'  began  on  8  August  1914,  the 
response 
was 
overwhelming. 
Thousands of men eager to embark on 
the  biggest  adventure  of  their  lives 
rushed to volunteer. 
The  Main  Body  (plus  the  1st 
Reinforcements) was the largest single 
group of New Zealanders ever to leave 
these  shores.  About  8,500  men  –  and 
nearly  4,000  horses  –  sailed  from 
Wellington  on  16  October  1914.  They 
were  transported  in  10  troopships, 
which 
the 
government 
had 
requisitioned 
from 
commercial 
shipping lines. Before they were loaded 
with 
men, 
horses, 
ammunition, 
equipment and supplies the ships were 
hurriedly 
repainted 
a 
uniform 
'Admiralty  grey'  –  one  ship  was 
completely  repainted  in  less  than  four 
days. 
The  numbers  of  men  that  left 
Wellington  that  day  was  significantly 
boosted  by  the  addition  of  two 
Auckland  troopships.  These  had  been 
expected instead to meet the rest of the 
fleet in the Tasman Sea, but sailed with 
the  Main  Body  from  Wellington  to 
avoid the threat posed by a squadron of 
German warships at large in the Pacific 
Ocean. The British and Japanese navies 
provided  a  naval  escort  to  protect  the 
troops on their voyage from Wellington 
to  Albany  Western  Australia,  where 
they  joined  the  ships  carrying  the 
Australian  Imperial  Force  en  route  to 
Egypt. 
Many  men  from  Kaiwaka  and 
surrounding  areas  enlisted,  60  of 
them  are  on  the  Roll  of  Honour  in 
Kaiwaka, others may be listed in other 
communities,  of  our  60  men,  nineteen 
were  recorded  as  being  killed,  from 
them  16  lie  overseas.  Of  the  men  8 
were  born  locally  Waipu,  Kaiwaka, 
Hakaru,  Mangawhai,  the  others  were 
working  in  the  area  at  the  time  war 
broke  out;  1  was  from  Ireland,  1 
Dalmatia,  2  England  and  Australia, 
finally  2  from  Auckland.  There  are 
another 3 listed as killed but 2 of them 
died  in  camp  in  Wellington  from 
serious  illness  before  leaving  for 
Egypt, another was sent home from the 
front wounded. 
Seven were 'bar' men, as indicated by 
their  regimental  number  containing  an 
oblique stroke (or bar e.g.: 13/123). 
These  men  enlisted  early  into  the 
New  Zealand  Expeditionary  Force 
from  the  outbreak  of  war  28th  July 
1914 until 4 March 1916. Because they 
were all volunteers, after this date there 
was conscription. 
Sadly,  after  leaving  Wellington  on  a 
troop  ship  looking  for  adventure  6  of 
our men had been killed within a year, 
8 were unlucky to have been two years 
before being killed and 1 unknown. 
Alexander  Cameron  enlisted  with  the 
Australian  Unit,  Albert  Bailey,  Joseph 
Richardson,  William  Frederick  Leslie, 
with  the  Mounted  Rifles,  George 
Thornton,  James  Leslie  with  a 
Wellington  Regiment,  John  Cullen, 
George  Leather,  James  McKay, 
William  Shelton,  Charles  Stanaway, 
William 
Williams 
an 
Auckland 
Regiment,  Andrew  Erceg  with  the 
Machine 
Gun 
Corp, 
Archibald 
McAlpine  enlisted  with  an  Otago 
Regiment.  Ian  Donaldson,  William 
Leslie, 
Charles 
Sutherland  with  the 
Rifle  Brigade,  Francis 
Linnell 
and 
John 
Bowmar  both  died  in 
camp. 
From  our  brave  17  men  that  went  to 
fight in France, Belgium, Palestine and 
Turkey, in a war to end all wars, 7 were 
killed  in  action  (either  never  found  or 
buried  somewhere  near  or  by  the 
battlefield),  8  were  wounded,  dying  in 
a  clearing  stations  or  in  close  by  field 
hospitals. 
The  2  that  died  at  Trentham  Camp  in 
Wellington  were  attached  to  the 
Training  Unit  one  died  from  typhoid 
the  other  bronchial  pneumonia,  the 
other  was  invalided  home  after 
suffering  with  a  hernia  after  an 
operation  in  Egypt  he  was  thought  to 
be dead at one stage. 
Light-hearted facts: 
A bit more light-hearted on examining 
the  information  given  on  attestation 
forms and medical reports at enlistment 
provides  a  picture  of  these  men. 
Charles  Sutherland  reached  the 
highest  ranks  of  Corporal,  four  at 
Lance  Corporal  the  others  were 
Privates, Sappers, Troopers.  
The  youngest  man  to enlistment was 
William  Williams  born  in  1896,  sadly 
killed age 21. 
The  oldest  man  to enlist was George 
'Fred'  Leather  born  1881  age  36  and 
killed not long after.  
William Skelton shows up twice in the 
records,  as  the  heaviest  at  12  stone  7 
pounds (79.4  kgs)  and  tallest at 6  foot 
(1.82m) 
George  Thornton  is  also  6  foot  but 
only  comes  in  at  11  stone  1  lb 
(70.3kgs).  Archibald  McAlpine  also 
wins  the  title  of  both  lightest  and 
shortest at 5 foot 6 inches (1.6m) and 8 
stone 1 lb (51kgs).  
They predominantly had blue eyes and 
various shades of brown hair with a fair 
complexion, with some being described 
as  having  a  healthy  or  fresh 
complexion. They were all declared fit 
for  service  with  most  medical 
comments  about  the  condition  of  their 
teeth. 
When  listing  their 
jobs at the times of 
enlisting,  all  were 
outdoor  jobs  the 
majority 
were 
farmers  or  farm 
hands nine - in all, 
1  a  driver  for  a 
local  firm,  three 
bushmen,  the  last 
three 
were 
a 
gardener, 
horse 
trainer 
and 
carpenter. 
~ 
Jennie 
has 
researched    and 
recorded  more  on  
Kaiwaka soldiers. 
Photo:  The  WWI 
Honours  Board  in 
the  Kaiwaka  War 
Memorial Hall. 
KAIWAKA POST 
CENTRE and 
FOOD MART 
POST CENTRE TRADING HOURS 
MONDAY to FRIDAY 8am to 5pm 
SATURDAY 8am to 12pm 
CLOSED ON SUNDAY and on 
PUBLIC HOLIDAYS 
FOOD MART (GROCERIES)  
MONDAY TO FRIDAY  
7:30am to 7.30pm 
SATURDAY  8am to 7.30pm 
SUNDAY  8:30am to 7pm 
IF ANY QUERIES PLEASE CALL 
STORE MANAGER AMRIT  
on 09 4312431 or 
EMAIL: kaiwakafood19a@gmail.com 
1919a State Highway1, Kaiwaka 0542 
WWI ENDED 11am 11-11- 1918 ~
 from J Reynolds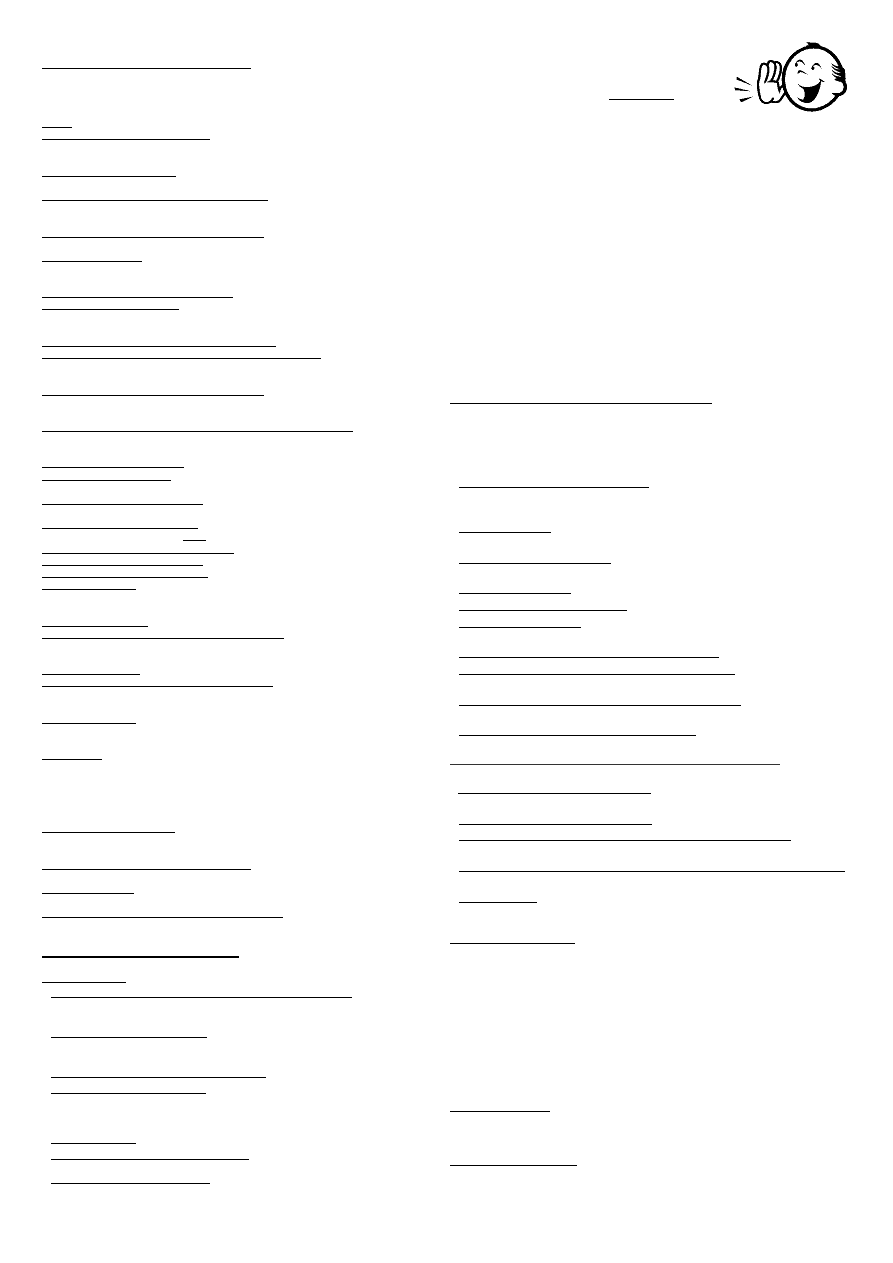 WHAT'S ON
PLEASE ~ do let us know what is on - or what 
is NOT on at the moment! 
email kaiwakabugle@kaiwaka.co.nz 
Advertising in WHAT'S ON is FREE  
*10Nov~Kalon Hairdressing Opening Day, 9am 
*13Nov~Movie 'David Copperfield' KMWH, 
7.30pm 
*18Nov~KDC Speed Limit meet. KWMH, 4-6pm 
*20&21Nov~ The Mangawhai Singers, Mangawhai 
Museum, 7.30pm 
*26Nov~Hakaru Women RSA, meet 1.15pm 
*27Nov~Rotary Seniors Afternoon Tea, 2pm 
Maungaturoto. Ph 0211420357 
*28Nov~ 'The Verdict' ORT, first night 
*9Dec~Pt.Curtis CC meet. KSA, 7pm 
KWMH = Kaiwaka War Memorial Hall; KSA = Kaiwaka Sports Association 
See www.kaiwaka.co.nz for more information 
HOUSEHOLD RUBBISH COLLECTION - Kaiwaka Pick up: 
Mondays = Green bags (Northland Waste - 09 430 3273) 
Wednesdays  = Blue bags and yellow recycling (at Jaques $3.00 
and  $1.50)  (Kaurilands  09  4392146);  ONLY  Blue  and  Yellow 
bags picked up on Oneriri Road. 
 DIABETES  Support  Group  -for  Kaiwaka,  Mangawhai, 
Wellsford  10am,  3rd  Friday  of  month  Ph:  Colleen  James  09 
4314238 
 GENEALOGY - Wellsford: 1st Thursday in month Ph: 423 
7033; Waipu: 4th Monday in month Ph: 4312 725 
 HAKARU PONY CLUB - Secretary Denise Rogers 021423376 
secretary@hakaruponyclub.co.nz  
 KAIPARA HUNT - Secretary Albert Doonenbal Ph 4312059 
 KAIWAKA BADMINTON -Tuesdays 7.30pm Ph: 4312345 
 KAIWAKA  CAN  - 3rd Wednesday in month, 5.30pm, Archie 
Bull Hall Ph: 0273572751 
 KAIWAKA DRUM & DANCE CLASSES - 021 611198 
 KAIWAKA GARDEN & FLORAL GROUP - 2nd Thursday in 
month. Ph: 431 4744 
 KNITTING FOR WHANGAREI HOSPITAL - 2nd Tuesday in 
month, Archie Bull Hall 10am Ph 4314827 
 MANGAWHAI COMBINED REBUS CLUB - 2pm, 3rd 
Thursday month, Senior Citizens Hall Mangawhai. Ph: 4315777 
*PILATES - KAIWAKA WAR MEMORIAL HALL - Ph: 
021  
2072729  
*PILATES - HAKARU HALL - Tuesday 10am, Thursday 9am 
Qualified Instructor  Ph. 0220643965  
 PT CURTIS CRUISING CLUB - Jean Ph: 4312227 (wk), 4312520 (hm) 
 RSA,  HAKARU  &  DISTRICTS  WOMEN'S  SECTION  –  meets 
1.30pm 4th Thursday of the month. Ph: 431 5818  
 KAIWAKA  SCOTTISH  COUNTRY  DANCING  CLUB-
Wednesdays 10am - 12 noon  Ph: Elaine 027 432 0032  
 TRAMPING 
- 
Mondays 
9am-2:30pm, 
contact  
valkenburgmaria@gmail.com 
HALLS FOR HIRE: 
  Kaiwaka St. John Hall: Phone Marj  0272941227  
 St.Pauls Archie Bull Hall HIRE $20 half day, $40 full day per 
hire, S McAulay, Ph 4312311 
 Kaiwaka  War  Memorial  Hall  HlRE  -  Phone  4312725  or 
kaiwaka.hall.bookings@gmail.com 
 Hakaru Community Hall HIRE -Ph.  Karen 4312090 
 Te Pounga Marae queries - Pearl Nathan  0223933533 
 Kaiwaka Sports Association hire/queries - P Jaques 4312227 or 
kaiwakasportsassn@gmail.com 
Justice of Peace:  
B.FJaques  4312  048;  L.Donaldson  4312  228;  A.F.Hargreaves 
4312 045, W.Howard 4312 725  - please phone to make sure they 
are available or go to www.justiceofthepeace.org.nz 
Marriage Celebrants:  
L.Donaldson; A.F.Hargreaves; Y Osborne
LOCAL SERVICES 
*Emergencies - Ambulance, Fire, Police - dial 111 
*Non-urgent Police phone 105
A A: Meets Wed., 7.30pm Kaiwaka Ph: 4315543, 0800229 6757 
NARCOTICS ANONYMOUS : Mon., 6pm, Archie Bull Hall, Kwk-Mwi 
Road; drug and alcohol related issues. Ph. 02102412348 
ASUREQUALITY LTD (was AgriQuality) Call Free 0508 0011 22  
BUDGETING SERVICE, WELLSFORD: Free confidential advice & 
support for all areas of personal finance. Ph (09) 423 7123 
CAB-Citizens Advice Bureau.Wellsford Ph: 4237333 
0800 367 222 email:cab.wells@xtra.co.nz  
CIVIL DEFENCE - Kaiwaka Community Response Group: 
kaiwaka.civildefencecrg@gmail.com, 4312725 Wendy 
DOG/STOCK /NOISE CONTROL 0800 105 890 
FUNERAL SERVICES: Morris & Morris Ltd, 
Whangarei - Bev Jaques Ph:4312367 or 0800667747 
GRANDPARENTS Raising Grandchildren: Dianah Roberts 0223819539 
HAKARU & DISTRICTS MEMORIAL RSA (Inc) 733 Settlement Rd, 
Hakaru. Ph 4312 176 or Bill Warren (President) 431 2092 
HAKARU LANDFILL/Transfer Station:Open everyday  10am-
4pm.Ph4312629 Cost-$55 trailer load up to 1 cubic metre. Ph:4258567 - 
office 
KAIPARA DISTRICT COUNCIL www.kaipara.govt.nz:  
Help Desk FREEPHONE 0800 727 059  
KAIWAKA CEMETERY: Ph: 4312045 or 4314017 
KAIWAKA LIBRARY: kaiwaka.library@gmail.com  
Mon. 4-6pm; Wed., Thurs., Fri., Sat. 10am-2pm Ph:4312539 
KAIWAKA PLAYCENTRE: Ph Juanita 0274134904; open Mon, Wed, 
Fri 9am-12pm. Hastie Lane; Monday to Friday 9.00am - 12 noon. 
KAIWAKA POST OFFICE:Ph:4312 431  
Post Code: 0573 for RD2 and 0542 for all Kaiwaka Post Office mail 
KAIWAKA PRIMARY SCHOOL: Ph: 4312309   
KAIWAKA SPORTS ASSN: Ph 4312005; 4312129 gym 
KAIWAKA ST JOHN HALL: Phone Marj  0272941227  
KATE'S PLACE Community Centre - Employment services, Free Health 
Nurse, Plunket, Advocacy, Osteopath, A.A., Legal Advice. 4312 661 
LINKING HANDS Health Shuttle Ph 4315906 or 09 4318969 
MINISTRY FOR PRIMARY INDUSTRIES - General inquiries Call 
Free 0800 008 333 
NORTHPOWER: Faults Kaiwaka area 0800 104040 
OTAMATEA COMMUNITY SERVICES: Counselling, parent coach, 
Family Support worker, budget advice, food bank. Mon-Fri 9am-3pm. Ph 
09 431 9080 http://www.otamateacs.org/ 
PARENTPORT: Free, practical family support service Puhoi to Paparoa 
Ph or txt: Dianne 027 280 5093 or 09 425 9357 
PLUNKET: Kaiwaka- St John Hall, Monday 19 Oct, 23 Nov, 21 Dec. then 4th 
Monday of the month. Plunket Nurse Louise 027 282 3987 or 09 438 2508 
Mangawhai- Rose Madsen Cottage, Mondays and Wednesdays. Plunket Nurse 
Rebecca 021 501 941 or 09 438 2508 
Maungaturoto - Good News Church, 2nd and 4th Wednesday of the month. 
Plunket Nurse Seleisa 021 912 248 or 09 438 2508 
PLUNKET HELPLINE -0800 933 922 (24 hours)  
FACEBOOK - Kaipara Plunket 
TAITOKERAU COMMUNITY LAW: Free confidential legal advice and 
assistance, 2nd
Thursday
 of each month. Ph: 0800 155 529 for appts.  
TE URI O HAU Settlement Trust Tangata Developments: Whanau Ora 
021 793262  
VETERINARY SERVICE MANGAWHAI: 
Ph: 4314535 Mon-Fri 8.00-5.00, Sat 9-12, a/h appt. 
WELLSFORD DOCTORS: Ph: 4238 086 
CHURCHES:
 
Kaiwaka  Revival  Church  -  Your  Community  Church:  Sundays  10am. 
Ph: Pastor Tawhiri 09 431 8988 or Pastor Paul 09 4312 068 Visit us at 
www.facebook.com/kaiwakachurch 
 
St  Paul's  Anglican  Church  1st  Sun.  9.00am  (Eucharist),  3rd  Sun. 
9.00am (Family Service). Contact: Rev. Wayne Thornton Ph 431 4122 
www.mangawhaianglican.org.nz 
 
Church of Christ the King, Mangawhai:9.00am every Sunday 
 
St.Mary's  Catholic  Church:  Maungaturoto  –  Griffins  Road,  Saturday 
evening  Vigil  Mass  6pm;  Mangawhai  –  Senior  Citizens  Hall,  Sunday 
Mass  8:30am;  Wellsford  –  Matheson  Road,  Sunday  Mass  10:30am;  
Mid-week Mass times and all enquires to Fr. Bill Fletcher – phone 423 8170
 
Baptist Church: Sun. 10.30am Mangawhai Snr Cit.Hall.Ph:4312339 
 
Cause  Way  Church  Mangawhai:  Sundays  10.15am,  Mangawhai 
Community  Recreation  Centre,  Insley  St.  Ph:  09  4314782 
Next Bugle Deadline Friday 20 November 2020