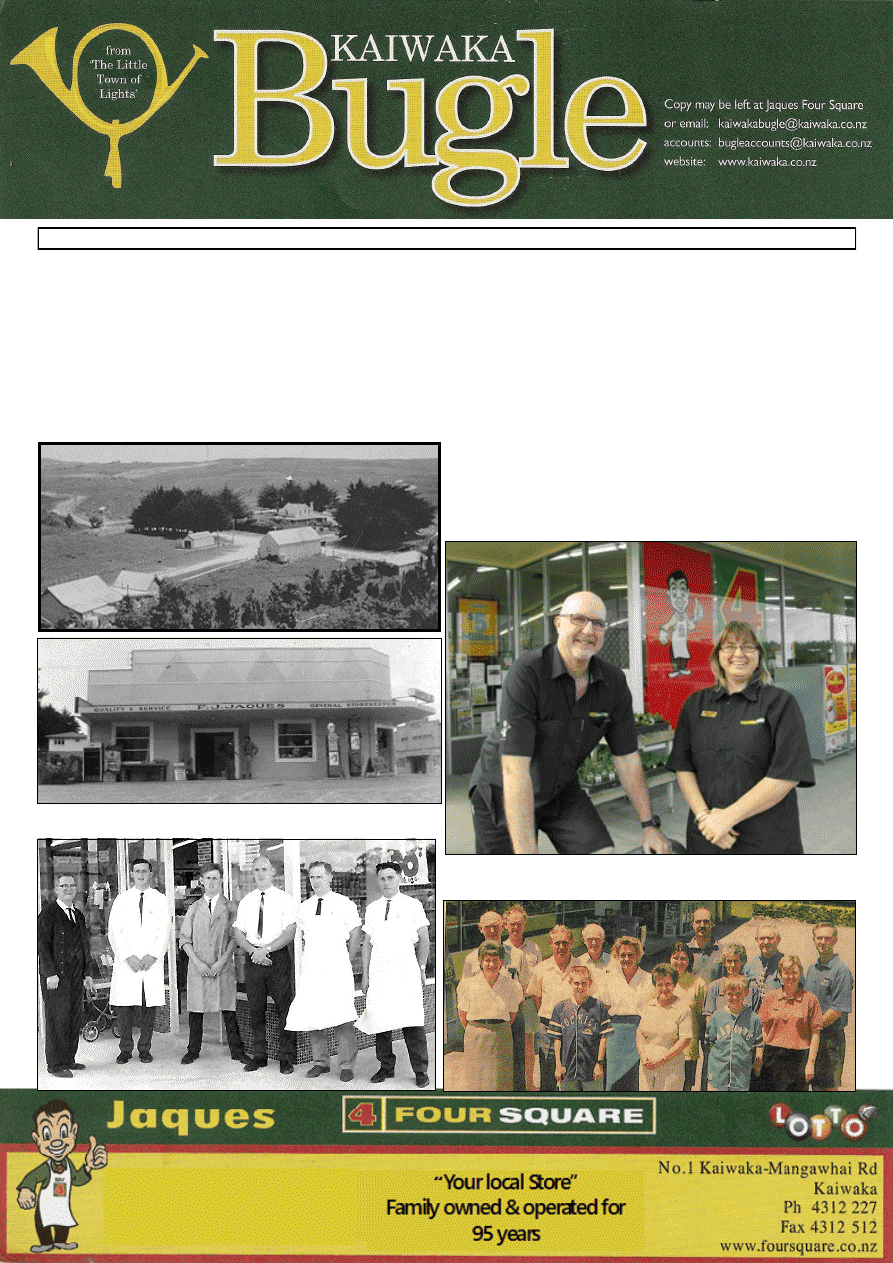 www.kaiwaka.co.nz 
Kaiwaka Bugle - 24 November 2020 
Page 1 
No.23 
24 November 2020 
WINTER 
HOURS: 
Monday 
- Friday 
HOURS: 
Monday - Friday 8am – 6.30pm 
Saturday 8am – 7pm 
Sunday 9am - 6pm 
'WELCOME TO THE WONDERSTORE!'* 
A message from Paula and Greg: 
'Our  thanks  go  out  to  our  Kaiwaka  community  for 
supporting our family store. It has been a privilege to have 
been part of the Jaques store history for the last 23 years. 
The new owners Ant and Jess Pedersen will be taking over 
officially on 30th November. You will see Ant in store from 
next week. Greg and I will be in store for a couple of weeks 
into December and then after that,  you can stop and have a 
chat with us as we will be customers on the same side of the 
counter as you. 
Thank  you  to  our  staff  past  and  present  who  have  really 
made our Four Square the best place to shop. 
Wishing you all the Best for 2021 
Greg & Paula Jaques 
Jaques Four Square 1924 – 2020' 
*WELCOME  TO  THE  WONDERSTORE!  John  Bowmar 
called the Jaques shop the 'wonder store' - Roger Smith used 
this true phrase to head the chapter on the Jaques Store in his 
book  'Stories  Tall,  Stories  Short  2009    -  Kaiwaka  1959-
2009'[Absolutely worth a read!] 
Four  generations  of  the  Jaques  family  have  worked  and 
served in the store that Frank Jaques first bought in 1924.  
96  years  of  amazing  service  to  our  community  -  we  say 
THANK YOU!!  
Photos left:  The Store on the main highway corner. 
1998: Jaques Family  - Generations 2, 3 and some of the 4th:  Back  -Alan, 
Reg, Greg, Brian, Glen; Mid -Bill, Ken, Mary, Paula, Gay, Dalleise; Front - 
Lola, Leon, Bev, Darcy. 
Coast to Coast Courier
26 November 1967: Frank Jaques and his sons, Brian, Alan, Bill, Reg 
and Ken, outside the opening of the  new Jaques Four Square Store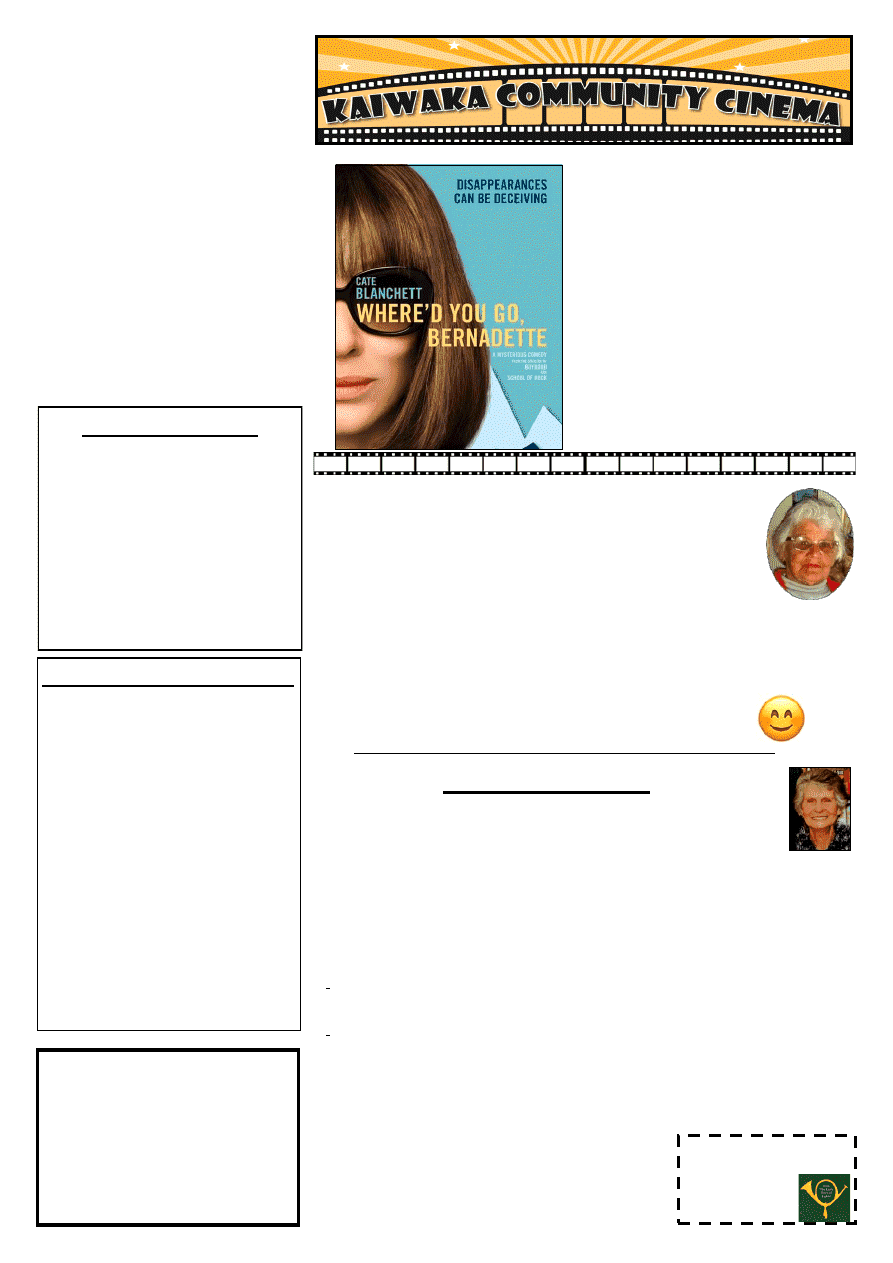 www.kaiwaka.co.nz 
Kaiwaka Bugle - 24 November 2020 
Page 2 
At Kaiwaka War Memorial Hall . Adults $10, Kids (under 16) $5, Family Pass (2 adults + 3 children) $25 
KAIWAKA BUGLE NO.23 
24 NOVEMBER 2020 
CONTENTS: 
Page 3: Public Notices, Classified 
Page 5: ORT; Village Market; Libby 
Jones NDHB 
Page 7: Kaiwaka Can 
Page 9: Rotary; Gardening 
Page 11: Kaiwaka Sports  Assn 
Page 13: Grow Paparoa; OCS 
Page 15: Kaiwaka School 
Page 17: Otamatea High School 
Page19: Kaiwaka Library 
Bugle 24 will appear 8 December 
Contact for advertising, reports, articles 
or information can be made by 
Email: kaiwakabugle@kaiwaka.co.nz 
Ph: 09 4312 045 Lindsey 
Txt: 027 2724137 
Copy  may  be  left  at  Jaques'  Four 
Square. 
ABOUT TOWN 

 We were truly saddened to hear of the passing of Gay Jaques.

 And we head for a change for our local Four Square  - always just 
called  'Jaques'!  We  certainly  wish  Paula  and  Greg  and  the  Jaques 
family all the best for the future

What a buzz - Kaiwaka School is in the School Journal -  see page 15 

The Kaiwaka School pool is now open - a key for the season is $60 - pay at the 
school office. 

 KSA  is  the  home  for  6  local  primary  school  Kaipara  Basketball.  Round  3 
results: Year 3/4: Kaiwaka 16  – Mangawhai 10 (MVP: Jack Brown); Year 5/6: 
Maungaturoto  14  vs  Wellsford  2  (MVP  Izzy),  Ruawai  Two  24  vs  Paparoa  4 
(MVP Corben), Mangawhai won by default vs Ruawai One. 

 Problems  with  guava  moth?  See  Paul  Smith's  Facebook  post  on  Kaiwaka 
community pest control group. 

 KSA contact email: kaiwakasportsassn@gmail.com 

 40 kph proposed  by KDC for Kaiwaka - see advert on page 3. 

A 'thumbs up' to Kim, the KDC dog ranger, who goes the extra mile for dogs 
and their owners! 

 Local Vocals Choir Christmas concert - Sunday, 29 November at 3pm in the 
Wellsford Community Hall 

 See the Kaiwaka Bugle in colour online at www.kaiwaka.co.nz at any time. 
Please pass this on to your neighbours - we have so 
many  new  neighbours  in  our  community  and  we 
would love them to be part of our great community 
~ Lindsey, Ed 
"The greatness of a community is most accurately 
measured by the compassionate actions of its members." – 
Coretta Scott King 
Kaiwaka Bugle 
Founded May 1978 
We appreciate articles and photos about local 
events, etc, as well as ads and suggestions. 
Copies available in Kaiwaka at Jaques Four 
Square, Kaiwaka Postal Centre, Shamrock 
Service Station, Animal Health Centre, 
Kaiwaka St John shop. 
Also outlets in Maungaturoto, 
Mangawhai and Paparoa. 
Can be viewed online at  
www.kaiwaka.co.nz/Bugle  
Or a copy can be posted to you if you supply 
stamped, self-addressed DLE envelopes. 
Kaiwaka Bugle Advertisements 2020: 
All 
copy 
and 
queries 
to: 
kaiwakabugle@kaiwaka.co.nz 
The Bugle is printed on an A4 page, B&W  
Ad  sizes:  1/16  page  (3  x  9.5cm)  $5;  1/8 
(6.5  x  9.5cm  landscape  or  portrait)  $8; 
3/16 ( 10 x 9.5cm or 7.5 x 12,5)  $12.  
Classified  ads:  First  one  FREE,  $4  per 
entry (max. 30 words, max. 4 repeats). 
Payments  can  be  made  online  at 
ANZ 
06  0365  0006990  00
,  posted  or  left  at 
Jaques Four Square Store. 
We  use  Microsoft  Publisher,  and  can 
work  with  most  common  image 
formats, Word, Excel, and PDF files. 
Accounts:  
Email: bugleaccounts@kaiwaka.co.nz 
The  Kaiwaka  Bugle  is  a  community 
newspaper run by volunteers, as part of 
the Kaiwaka Media Group Inc.   
Articles, etc. printed are not necessarily 
the opinion of the Bugle Team. 
Proverbs17: 22 
A cheerful disposition is 
good for your health; 
gloom and doom leave 
you bone-tired.  
KAIWAKA BUGLE 
DEADLINE DATES 
2020:  Every  
second Friday
December 4 
From  Thelma's Scrapbook … 
We  all  enjoy  getting  presents 
and usually it is the thought 
that  has  gone  into  them  that  is  appreciated  as  much  as  the 
value. 
There is something we give to others which gives pleasure, but 
costs  nothing.  It  takes  only  a  moment  to  hand  over,  but 
sometimes the memory lasts forever. It enriches the person who receives it, 
without making poorer the one who gives. It creates happiness in the home 
and goodwill in everyday encounters. It brings sunshine to the sad and cheer 
to those who are discouraged. Some people are too tired to give one, so give 
them one of yours, for nobody needs one as much as the person who has no 
more to give.    
What is this amazing gift? Why, a SMILE!! 
WHERE'D YOU GO, 
BERNADETTE  
Friday  27 November 7.30pm 
'
"Based  on  the  bestseller,  Where'd You 
Go, Bernadette is  an  inspiring  comedy 
about  Bernadette  Fox  (Cate  Blanchett). 
Former architect she seems to have it all 
-  a  beautiful  home  in  Seattle,  a 
successful  and  loving  husband,  and  a 
brilliant teenage daughter who's about to 
attend boarding school.  
When  Bernadette  suddenly  disappears 
without  a  trace,  her  concerned  family 
sets off on an exciting adventure to solve 
the  mystery  of  where  she  might  have 
gone."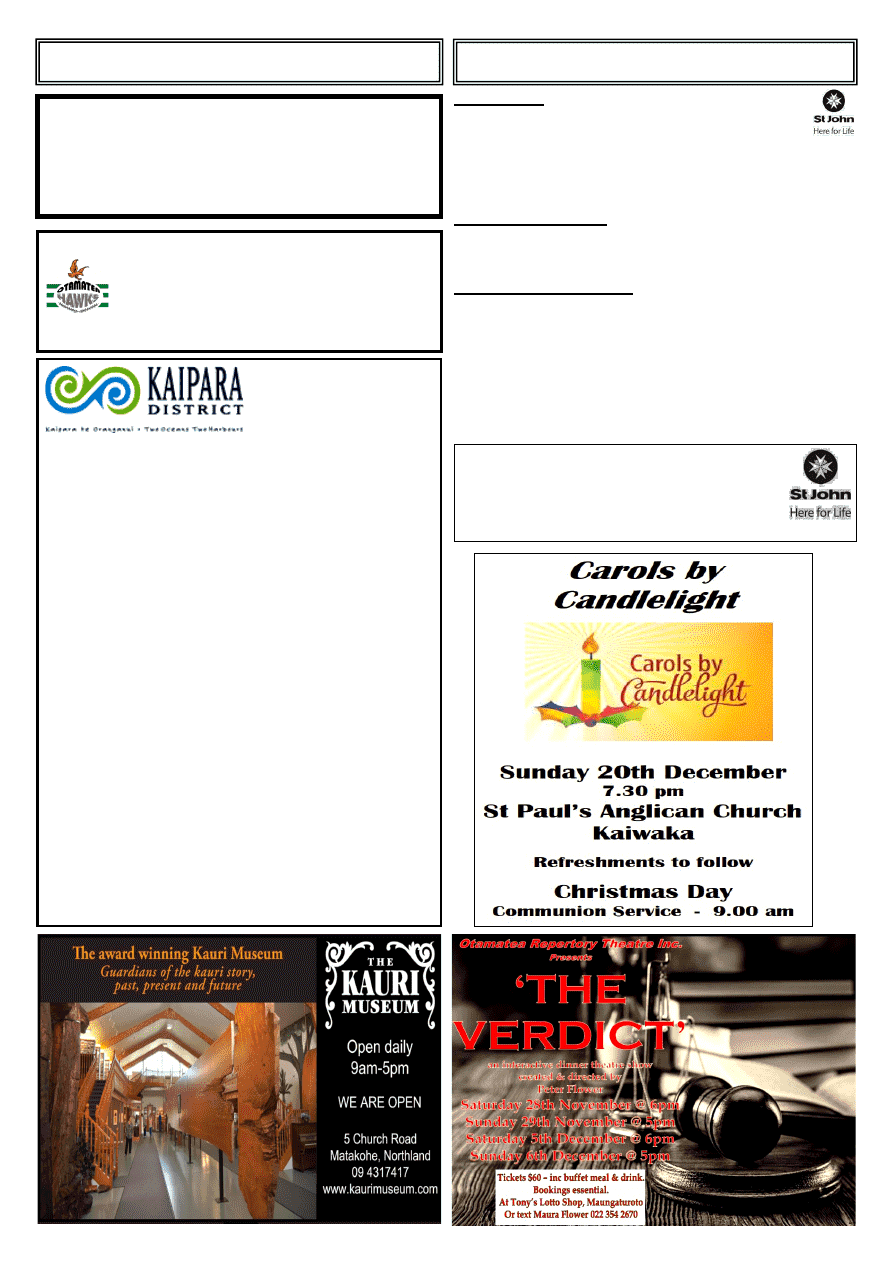 www.kaiwaka.co.nz 
Kaiwaka Bugle - 24 November 2020 
Page 3 
PUBLIC NOTICES 
CLASSIFIED 
KAIWAKA St. John Op Shop 
Tuesday – Friday 10am to 3pm;  
 Saturday 10am – 2pm 
PHONE: Shop  4312650  
1919SH1, Kaiwaka
FOR SALE: XMAS TREES 
Otamatea  St  John  will  once  again  be  selling 
Xmas trees to the community. The first delivery 
will be on the 8th December and can be picked up from 
either  the  Maungaturoto  Op  shop  or  Farmsource. 
Wishing everyone a happy and safe Christmas. 
WORK  WANTED:  Odd jobs, Mowing, weed-eating, 
washing  outside  windows,  gardening,  Etc.  (Labour 
only). Please phone Glenn on 021 1102905 
WANTED  TO  RENT:  1 or 2 bedroom flat or house 
with  a  double  garage  or  a  good  size  work  shop. 
Between  $320  to  $400  a  week.  Areas  Kaiwaka, 
Mangawhai, Wellsford, Maungaturoto, Paparoa. Please 
phone Glenn on 021 1102905 
KAIWAKA MOVIES VOLUNTEERS NEEDED 
Want  to  know  more  contact  Ad  Clarijs,  0212154495, 
windmillkiwi@gmail.com 
OTAMATEA HAWKS RUGBY CLUB 
AGM 
Wednesday 2nd December 2020 6.30pm 
at Kaiwaka Sports Complex 
Gibbons Road Kaiwaka 
All members, players and supporters welcome  
Council  seeks  feedback  on 
speed limit proposals 
Kaipara  District  Council  is 
seeking 
feedback 
on 
proposals  to  set  new  speed 
limits in the Mangawhai and Kaiwaka areas, including the 
Kaiwaka  urban  area,  Oneriri  Road  and  Oruawharo  Road. 
The consultation is part of a rolling review of speed limits 
to be conducted across Northland. 
The  Review  is  part  of  a  regional  project  to  reduce  the 
number of serious injury and fatal crashes on our roads by 
matching speed limits to the road environment and to make 
our urban areas safer and more pedestrian friendly. 
We are proposing  a  40kph  speed  limit  on  roads  within 
the  Kaiwaka  township.  The  central  part  of  Kaiwaka  is  a 
very  busy  place,  with  pedestrians  and  school  students. 
Speed  Limits  Project  Manager,  Shawn  Baker  said  that 
"although  Council  cannot  change  the  speed  limit  on  the 
State Highway, we are able to make the urban streets much 
safer  for  Kaiwaka  residents  by  lowering  the  speed  limit 
and making the place more pedestrian friendly". 
Road Safety and Traffic Engineer, Nick Marshall said that 
in most cases, a lower speed limit will reduce the number 
and severity of crashes. 
"Reducing  the  speed  won't  affect  journey  times  much 
because  most  people's  average  speed  on  these  roads  is 
much  lower  than  the  posted  speed  limit",  says  Mr 
Marshall. 
Further  information  on  the  current  speed  limit  review, 
including a Statement of Proposal and how to 
make  a  submission  can  be  found  on  Councils  website  at 
www.kaipara.govt.nz/haveyoursay or by 
Emailing Council at speedreview@kaipara.govt.nz . 
All submissions must be received by Council before 5pm, 
18th December. 
THANK YOU 
Brian  Jaques  and  Family  would  like  to  thank 
everyone  for  their  kind  messages,  love,  and  support 
during this very sad time of losing Gay. 
The  help  of  friends  and  community  have  been 
amazing and much appreciated.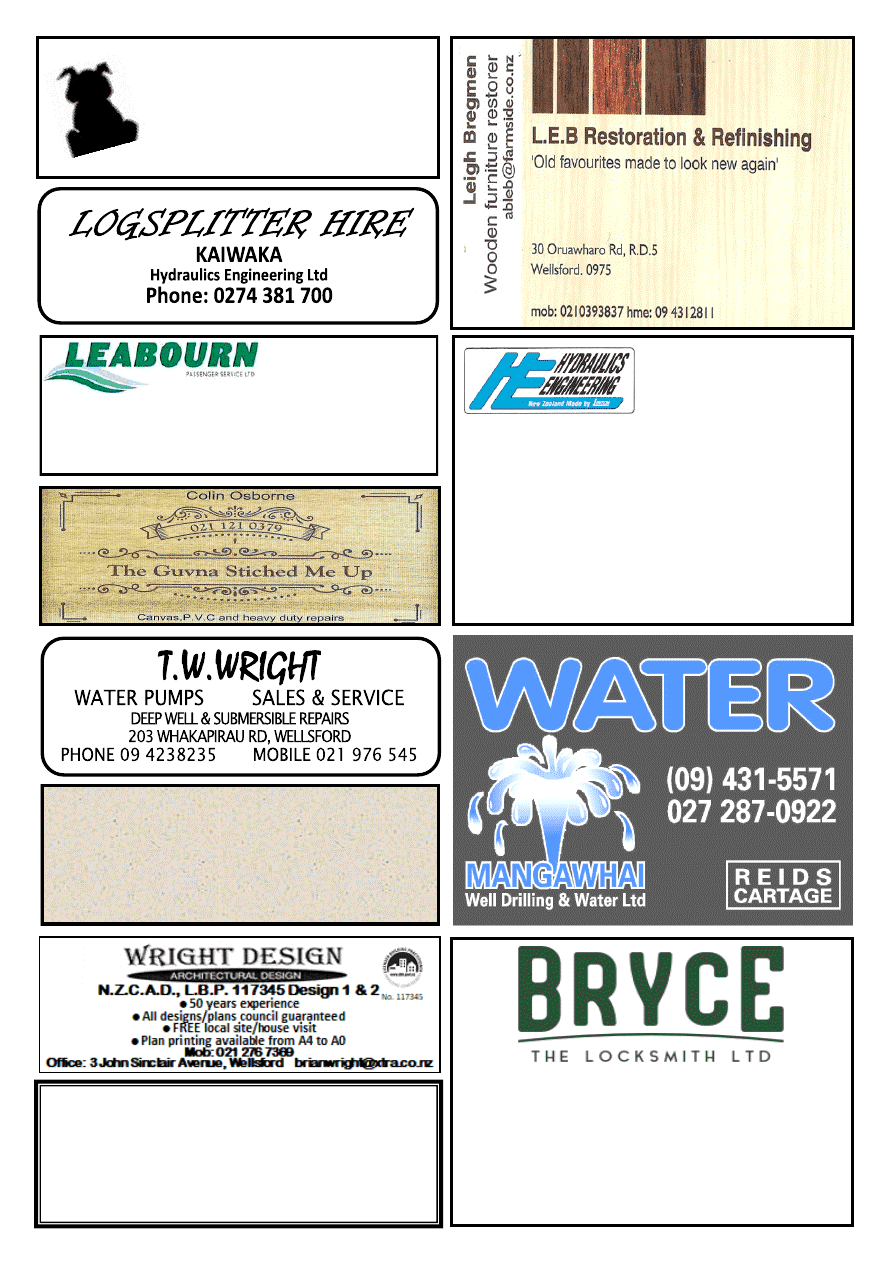 www.kaiwaka.co.nz 
Kaiwaka Bugle - 24 November 2020 
Page 4 
Bryce Frewin 
Ph: 021 850 983 
Kaipara Based Master Locksmith 
bryce@brycethelocksmith.co.nz 
www.brycethelocksmith.co.nz 
Hydraulics  
Engineering Ltd 
Kaiwaka 
Sales - Service - Parts - 
Hire - Manufacture 
Service Contractors & Industrial Equipment: 
Rams, Pumps, Valves 
Logsplitter Hire, Manufacturer, Sales 
Dennis Linton 
Lot 2 / 161 Ranganui Road, RD2, Kaiwaka, 0573, New Zealand 
Mobile: 0274 381 700 
Email: hydraulicsengineering@xtra.co.nz 
Counsellor and Registered Psychotherapist 
Offers Supervision 
ACC Sensitive Claims 
Susan Matheson      MNZAC 
Dip. Psychosynthesis Counselling and Psychotherapy 
Phone 09 431 2996                                     Mobile 027 605 2427 
Passenger Service
Car & Van Hire   Bus & Coach Charters 
Airport Transfers    
Phone (09) 4237416 
ADAMS   AUTOWORX 
Quality - Automotive 
Mobile Services & Repairs 
Phone Adam 0273466015 
Kaipara Dog Training Club 
Mangawhai Domain, Moir Street 
Every Wednesday Night from 5.30pm 
Please contact the Secretary  
for further information 
kaiparadogtrainingclub@gmail.com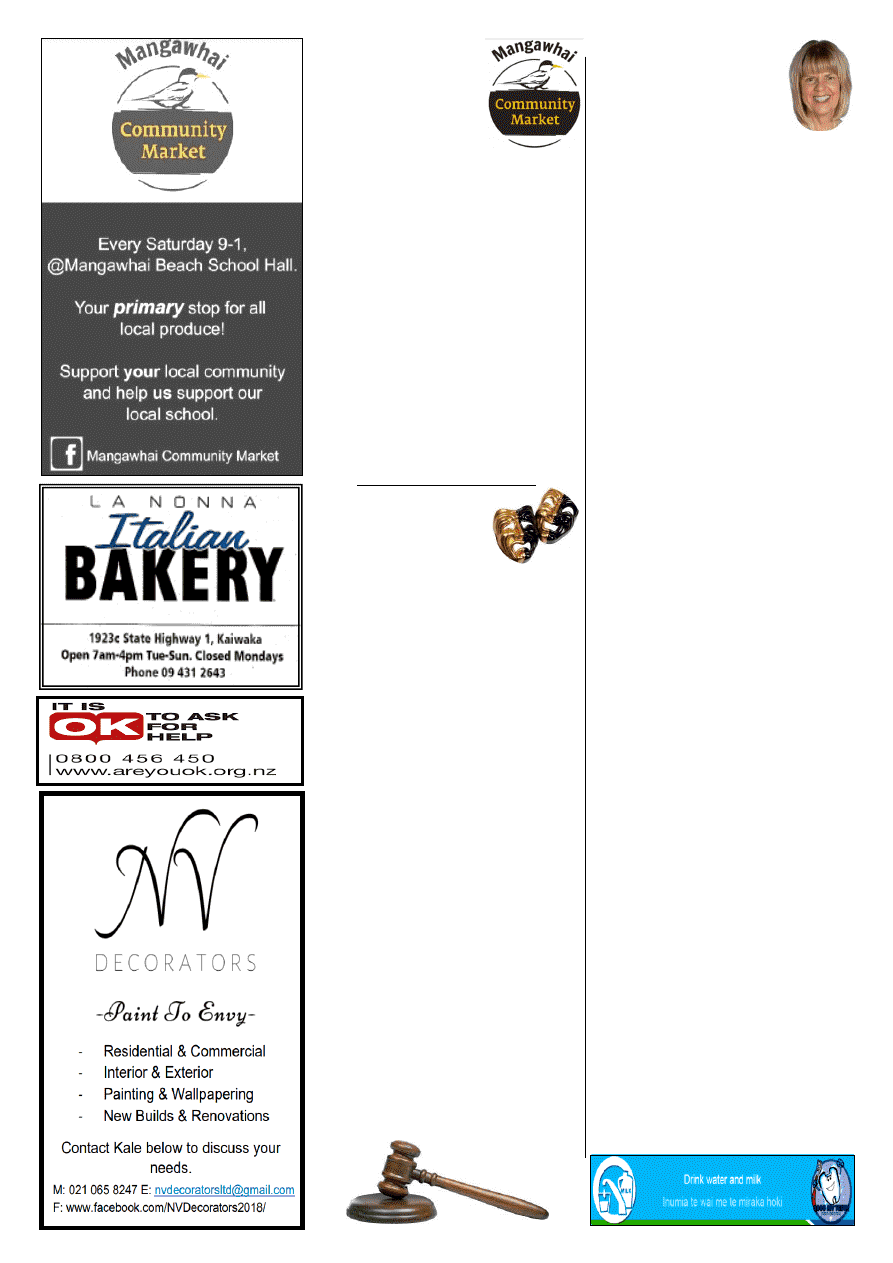 www.kaiwaka.co.nz 
Kaiwaka Bugle - 24 November 2020 
Page 5 
OTAMATEA 
REPERTORY 
THEATRE 
'THE VERDICT'
'The  Verdict'  is  an  interactive  dinner 
theatre  show,  created  and  directed  by 
Peter  Flower.  It  promises  to  be  a  fun-
filled evening where audience members 
become  defendants,  witnesses  and  jury 
in  the  most  entertaining  range  of 
lawsuits ever to double-cross the bench. 
Show  times,  at  the  Maungaturoto 
Country Club - 
Saturday 28 November @ 6pm 
Sunday 29 November @ 5pm 
Saturday 5 December @ 6pm 
Sunday 6 December @ 5pm 
Tickets are $60 each and this includes a 
two-course  buffet  meal  and  a 
complimentary drink. 
So, gather a few friends together  - and 
come along for a great night of fun. 
Bookings  are  essential.  Purchase  at 
Tony's  Lotto  Shop  or  contact  Maura 
Flower 022 354 2670 
YOUTH THEATRE 2021 
Our  hugely  popular  Youth  Theatre 
programme  will  run  again  in  January 
2021. 
Week One: 18 – 22 January 2021 
Week Two: 25 – 29 January 2021 
We  will  have  more  details  on  our  FB 
page  soon,  or  you  may  contact 
maura.flower@gmail.com  to  register 
your interest. 
SEUSSICAL JNR 
Our  production,  which  was  a  casualty 
of COVID-19, will go ahead next year. 
~ Maura Flower 
Libby  Jones  – 
Northland  District 
Health 
Board 
Elected member 
How are your family's teeth? 
We  all  know  that  prevention  is  better 
than  cure,  and  cheaper  too.  Children 
and  adolescents  in  Northland  are 
eligible  for  free  dental  care  until  they 
are 18. Northland children's teeth have 
long  been  a  concern  with  cavities  and 
extractions  higher  than  other  areas  of 
New  Zealand.  They  have  been 
improving  slowly  over  the  last  couple 
of years, with new ways of working to 
ensure they all get seen annually. Now 
the focus is on adolescents who do not 
generally  make use of the free service. 
After  year  8  adolescents  can  stay 
enrolled with Northland District Health 
Board  and  be  seen  through  the  mobile 
clinic that comes to schools once a year 
or  arrange  an  appointment  at  the 
permanent  clinics  in  Whangarei  or 
Dargaville. 
0800 MY TEETH (0800 698 3384) OR 
they  can  register  with  a  private  dentist 
which  provides  service  to  adolescents. 
Either  way  they  need  to  enrol  with 
either the DHB or a private dentist. 
Nobody  enjoys  going  to  the  dental 
therapist  but  going  for  a  checkup  and 
clean  is  way  less  stressful  than  for 
fillings  and  more,  and  of  course  better 
for your teeth and health. At the risk of 
sounding like your mother, tooth decay 
CAN  cause  serious  heart  problems, 
blood  infections,  respiratory  disease 
among  others,  as  well  as  being 
seriously uncomfortable or painful. 
Basic  free  dental  care  for  children  and 
adolescents includes: 
•
 An annual check up 
•
 Oral health advice and encouragement 
for good oral health 
•
 Examination and x-rays if needed 
•
 Preventative treatment, such as topical 
fluoride and fissure sealants 
•
 Fillings and extractions 
For  adults  with  toothache,  there  is  a 
limited dental service for relief of pain. 
You  can  self-refer  or  be  referred  by  a 
general practitioner or private dentist. 
To access this service, you must: 
Be  experiencing  toothache  and  hold  a 
Community Services Card 
There  is  a  $40  co-payment  charge  for 
each  appointment.  As  above  contact 
0800 698 3384 to make an appointment 
in Whangarei or Dargaville. 
Stay well, 
Libby Jones 
hames.jones@xtra.co.nz 
021 2080093 
 THE 
VILLAGE 
MARKET HAS 
MOVED! 
After  18  years  the 
Mangawhai 
Village 
Market  has  moved,  just  around  the 
corner to the Mangawhai Beach School 
Hall.  The  market  has  now  been  set  up 
as  a  Charitable  Trust  and  will  be 
making  quarterly  donations  of  surplus 
funds.  Current  beneficiaries  are  the 
school and the kindy. 
It has been a bit of a mission – finding 
a new home, but we are settling in now 
so do come and visit us! There's plenty 
of room, wide aisles and a great relaxed 
vibe. We give priority to local products, 
there is ready-to-eat food, a wide range 
of fruit and veges, plants, fresh baking, 
convenient  parking  and  even  a 
playground for the kids! 
Same market hours, 9am – 1pm,  
indoor and outdoor stalls with a great 
range of products. 
Your primary stop for local produce!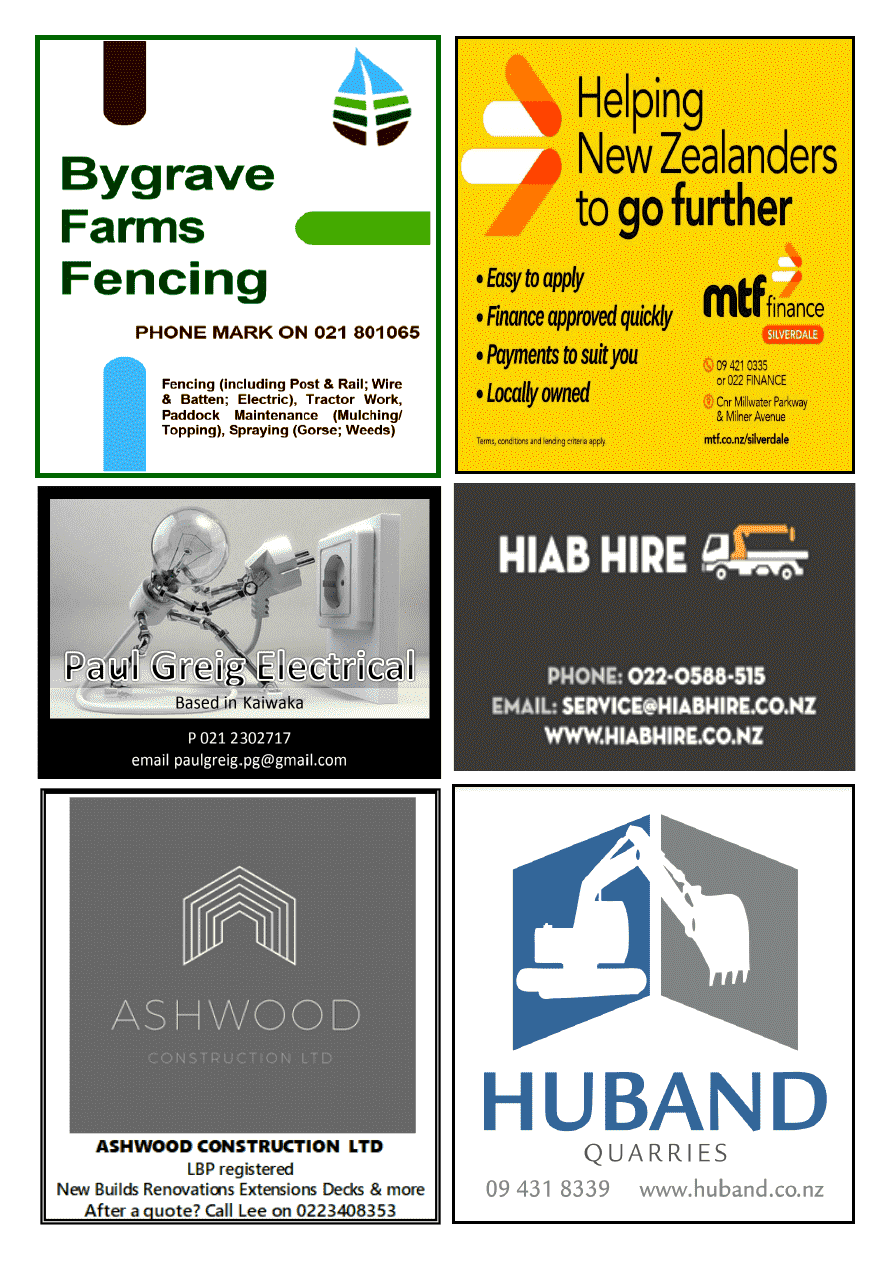 www.kaiwaka.co.nz 
Kaiwaka Bugle - 24 November 2020 
Page 6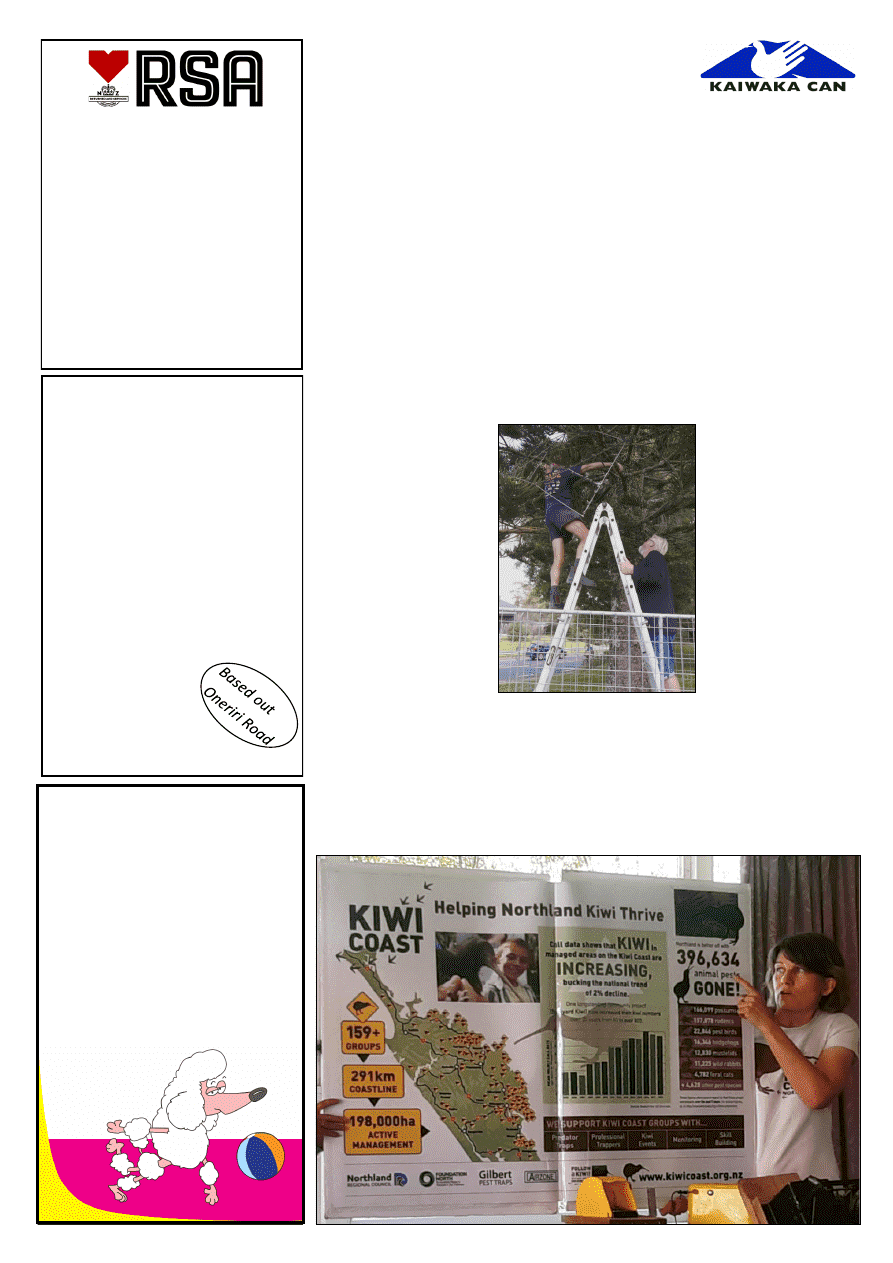 www.kaiwaka.co.nz 
Kaiwaka Bugle - 24 November 2020 
Page 7 
HAKARU & DISTRICTS 
MEMORIAL RSA (INC)
Members & guests are invited to 
come along and enjoy our hospitality. 
New members welcome. 
Meals are served on Thursday and 
Friday nights from 6.30pm. 
Order from Blackboard Menu  
The sing along with Des Chitty is the 
Last Friday of the month. 
For more information please phone 
Bill on 431 2092  
HODGETTS 
CONTRACTING
Digger Work   
Driveways 
House Sites   
Dams  
Drains, etc
Also available for HIRE 
3 ton Vib Roller  
Heavy Duty Tow  
Waterblaster      
Lazer Level
Phone Mark  
4312877 
027 447 8554 
Hot Diggity Dog  
DOG GROOMING  
KAIWAKA 
Spring is in the hair. 
Professional Dog Groomer  
at affordable prices.
www.doggroomingkaiwaka.co.nz 
call Pam 094312143 or text 
0273335380 for bookings 
For so much of New Zealand, 2020 was 
the  year  that  wasn't.  Lockdown,  Covid 
19,  managed  isolation  and  so,  on 
became  part  of  our  vocabulary.  And  it 
is probably not over yet. 
But  I  look  at  a  couple  of  our  fellow 
Kaipara towns and see that despite that, 
they  managed  to  get  quite  a  few 
projects  done  anyway,  much  of  it  with 
government money. Good on them! But 
despite  promises  and  hopes,  some  of 
our projects are still sitting in the inbox 
somewhere waiting for a new year.  
WALKWAYS 
Footbridges,  boardwalk  for  the  Kauri 
walk,  sealing  the  sports  club  car  park, 
cleaning  up  the  mess  by  the  southern 
bridge...and  of  course  our  welcome 
sculptures, except their basket has been 
called 
"too 
hard" 
because 
of 
compliance  issues.  That  is  going  to 
change. 
Next  year!  Kaiwaka  Can  will  do 
everything  it  possibly  can 
to see a lot more through. 
PEST MANAGEMENT  
However,  I  have  been 
encouraged  to  see  good 
things happening anyway. 
Sunday  before  last  there 
was  a  Pest  Management 
workshop,  picture  below,  
set up by Paul Smith who 
runs  the  trap  library.  Not 
only  was  it  a  fascinating 
learning  experience  but 
also a reminder how many 
in  Kaiwaka  are  already 
doing their bit to get rid of 
pests.  Possums  in  the 
hundreds,  rats,  a  few 
stoats. Little neighbourhood groups get 
together  and  get  trapping  to  make  a 
difference for our native wildlife. 
NEW 'KAIWAKA' LIGHT 
Our  lighting  group  keeps  on  with  its 
projects.  Pictured,  preparing  the 
Norfolk pine 'Kaiwaka' lighting. 
INFORMATION CENTRE  
Destination  Kaipara  is  an  initiative 
from a couple of our members who are 
looking 
at 
promotion  of 
Kaipara  as  a  place  to  come  and  enjoy 
and of course, Kaiwaka is the gateway. 
Another  group  is  working  to  get  an  I 
site  here  (information  centre  – 
remember  the  I  site  up  where  the  Op 
Shop  is  now?),  so  people  coming  into 
Kaipara can get all the info they need as 
they head north. 
Others  are  moulding  into  this  project 
the  dream  of  an  enviro  centre  that 
brings  alive  community  awareness  of 
our  great  surroundings  and  how  to 
protect them. 
EN.WIKIPEDIA.ORG/WIKI/
KAIWAKA 
One  of  our  team  has  worked  with  the 
school  and  got  them  involved  in  the 
community garden which is looking so 
much  better  after  a  lot  of  hard  work. 
And that same person is working on the 
Wikipedia page for Kaiwaka to bring it 
alive and make it more 
up  to  date.  Talking 
technology,  there  is 
now a Facebook  page 
(Kaiwaka Can)  off to 
a  good  start  and  then 
hopefully  a  web  page 
to come. 
As I sat in our meeting 
last  Wednesday  and 
looked  around  the 
group,  I  couldn't  help 
being  very  thankful 
for  the  people  who 
come,  to  see  their 
wide  range  of  gifts 
and  interests  and  hear 
all  the  reports  of 
progress  they  are  making.  That  will 
make  2021  a  great  year  and  of  course, 
there is always room for plenty more to 
pitch in as well.  
Maybe I will get a phone call or email 
from you as you want to do your part to 
make  Kaiwaka  an  even  better  place  to 
live.~ 
Derek Christensen, Chair, Kaiwaka Can 
Ph 099469077 Mob: 0273572751  
Email: derekandisa@gmail.com 
THE YEAR THAT WASN'T...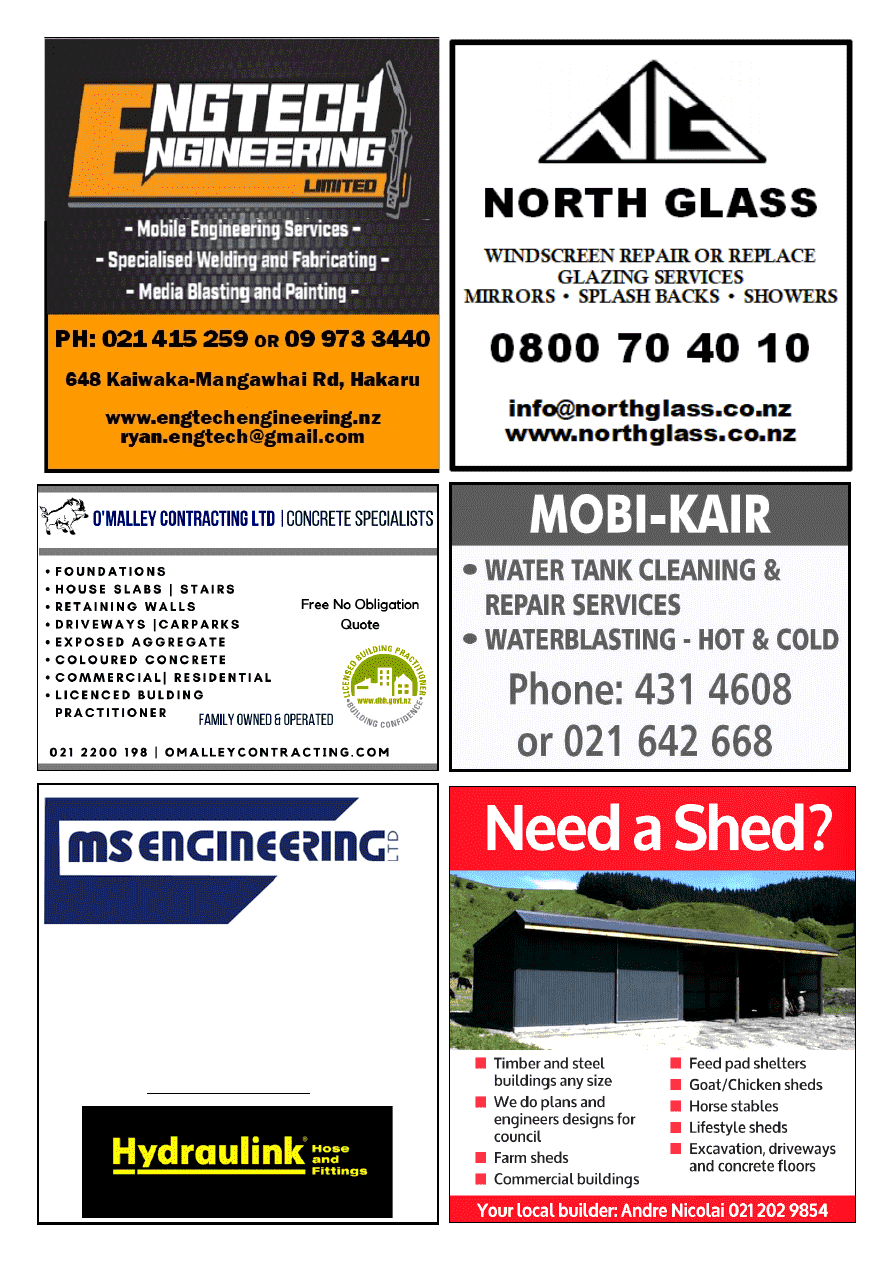 www.kaiwaka.co.nz 
Kaiwaka Bugle - 24 November 2020 
Page 8 

Peter Buckley 

Mobile Hose Technician –  
                      Based from Oneriri Road 

Available for all mobile hose                                
                      requirements onsite 

Call – 0800 425 7116  

Email – mse@mseng.co.nz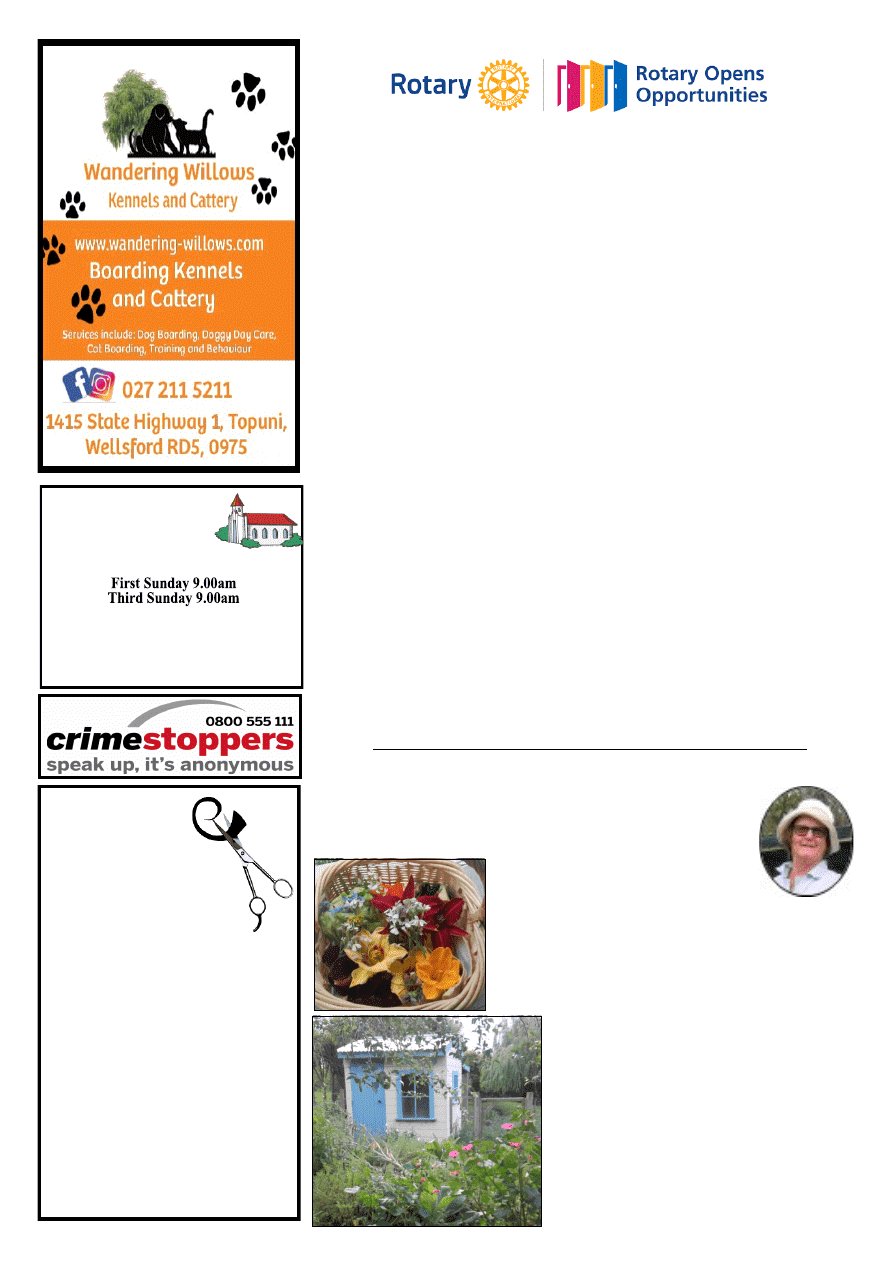 www.kaiwaka.co.nz 
Kaiwaka Bugle - 24 November 2020 
Page 9 
JUST 
CUTS 
and 
MORE  
1758 Cove Road  
Open Monday-Saturday  
by appointment only 
Saturday 9-12pm  
Affordable prices: 
Ladies cuts from $35 
Colours from $120 
Men's from$25 
Kids from $18 
0211652629  
ST PAUL'S  
ANGLICAN  
SUNDAY SERVICES
St Pauls Church: Kaiwaka-Mangawhai Rd. 
1st Sunday - Holy Communion 
3rd Sunday - Family Service 
Priest in Charge Rev. W Thornton Ph 431 4122 
www.mangawhaianglican.org.nz
GARDENING LOCALLY 
Heather Spence of Oneriri Plants, has this great garden and nursery 
at 365a Oneriri Road, Kaiwaka  and has come onboard to share her 
love of gardening with ideas and  photos. 
'
Edible  flowers. 
Anyone who has 
a  meal  at  my  house  is  likely  to  get  a 
flower  salad.  Nothing  says  summer  is 
here quite like a basket of flowers. Let your vege go to 
flower - mustard, cress, radish, peas and even lettuces. 
The flowers taste like the vegetable - which does your 
head  in  a  little.  Other  flowers  are  calendula,  daylily, 
borage  and  don't  forget  chives;  purple  flowers  with 
the  onion  taste  -  also  delicious  in  scrambled  eggs  or 
omelette. Have fun and enjoy. Don't forget to remind 
the  children  that  they  mustn't  eat  anything 
they  haven't  seen  Mum  or  Grandma  eating 
first.  
Orpington  cottage. 
The chicken house 
Ben built pre-covid. Ben is a builder and built 
this cottage from our house build leftovers. In 
his real life he is my son in law and father of 
my grandchildren. Sadly, they are in the UK. 
I  have  made  an  English  cottage  garden 
outside the cottage.  Hope it doesn't stress the 
Orpingtons  too  much  to  be  surrounded  by 
garden  they  can't  reach,  but  they  do  have  a 
little stream and are fed lots of spinach. 
Well this crazy year is fast drawing to a 
close  and  the  hustle  and  bustle  of 
Christmas  is  nearly  upon  us  again,  but 
our  Rotary  club,  like  many  other 
organizations  in  our  area  have 
continued to function, albeit with a few 
hiccups on the way. 
SENIORS' AFTERNOON TEA  
Our  Seniors'  afternoon  tea  is  on 
Friday  27  November.  This  is  an  event 
we all look forward to and we are very 
grateful  for  the  young  performers, 
mentored by Maura Flower, who come 
and share their talents with us. 
Gentlemen's  Seat 
The seat that has been so well made by 
Bryan  and  Noel  of  the  Gentlemen's 
club is now placed outside the Dairy in 
Paparoa.  This  will  be  a  great  spot  for 
people to spend some time to chat (and 
because of its length, there should be no 
problem with social distancing.) 
DRIVER MENTORING  
Our  driver  mentoring  car,  which  has 
served us well for the past three years, 
has  finally  been  replaced.  Because  we 
made  the  initial  purchase  ourselves, 
Roadsafe  Northland,  who  oversee  the 
scheme,  have  given  us  $4,000  towards 
this  replacement.  This,  together  with 
donations  from  two  from  Rotarians, 
means  that  the  car  we  have  purchased 
should last us some time. While Covid 
has  played  havoc  with  our  mentoring 
we  are  pleased  to  note  that  in  the  last 
two  weeks  two  more  students  have 
obtained their restricted licence. We are 
very  fortunate  to  have  three  non-
Rotarians as mentors and we appreciate 
the time they give to get these trainees 
up  to  speed  with  their  driving  skills. 
(Pun not intended.) 
On a recent Tuesday we were visited by 
a  group  of  five  youngsters  (and  their 
parents  and  teacher)  from  Room  6  at 
Maungaturoto Primary School. They all 
spoke very well about a vision they had 
for  a  cycle  track  at  the  school  –  this 
idea  came  about  because  of  social 
distancing after Alert Level 4 was lifted 
and  they  spent  a  great  deal  of  time  on 
their  bikes  around  the  school.  They 
drew  up  plans,  approached  the  Board 
for  their  support,  sought  quotes  and 
were  able  to  put  an  excellent  case 
together.  Our  club  was  pleased  to  be 
able  to  use  these  quotes  to  obtain  a 
District  Grant  of  almost  $1,800  to 
donate to the project. They plan to have 
sausage  sizzles  and  other  forms  of 
fundraising  to  make  up  the  shortfall. 
What  impressed  us  was  not  only  their 
positive  approach  to  this  project  but 
also the fact that this project will not be 
able  to  be  undertaken  until  next  year 
when  all  of  these  youngsters  will  have 
moved on, but they are willing to come 
back in their weekends to help complete 
it.  Our  community  is  certainly  in 
excellent hands with youngsters of this 
calibre on hand. 
We have a number of activities planned 
for  the  coming  year  where  we  hope  to 
be  involved  with  other  groups  in  both 
the west and east, so watch this space. 
Our  members  would  like  to  wish  you 
and  your  families  a  happy  and  safe 
Christmas. 
Nga manaakitanga, kia haumaru. 
prosperous people. ~ Eileen 
MAUNGATUROTO & DISTRICTS ROTARY 
HOW DOES YOUR GARDEN GROW?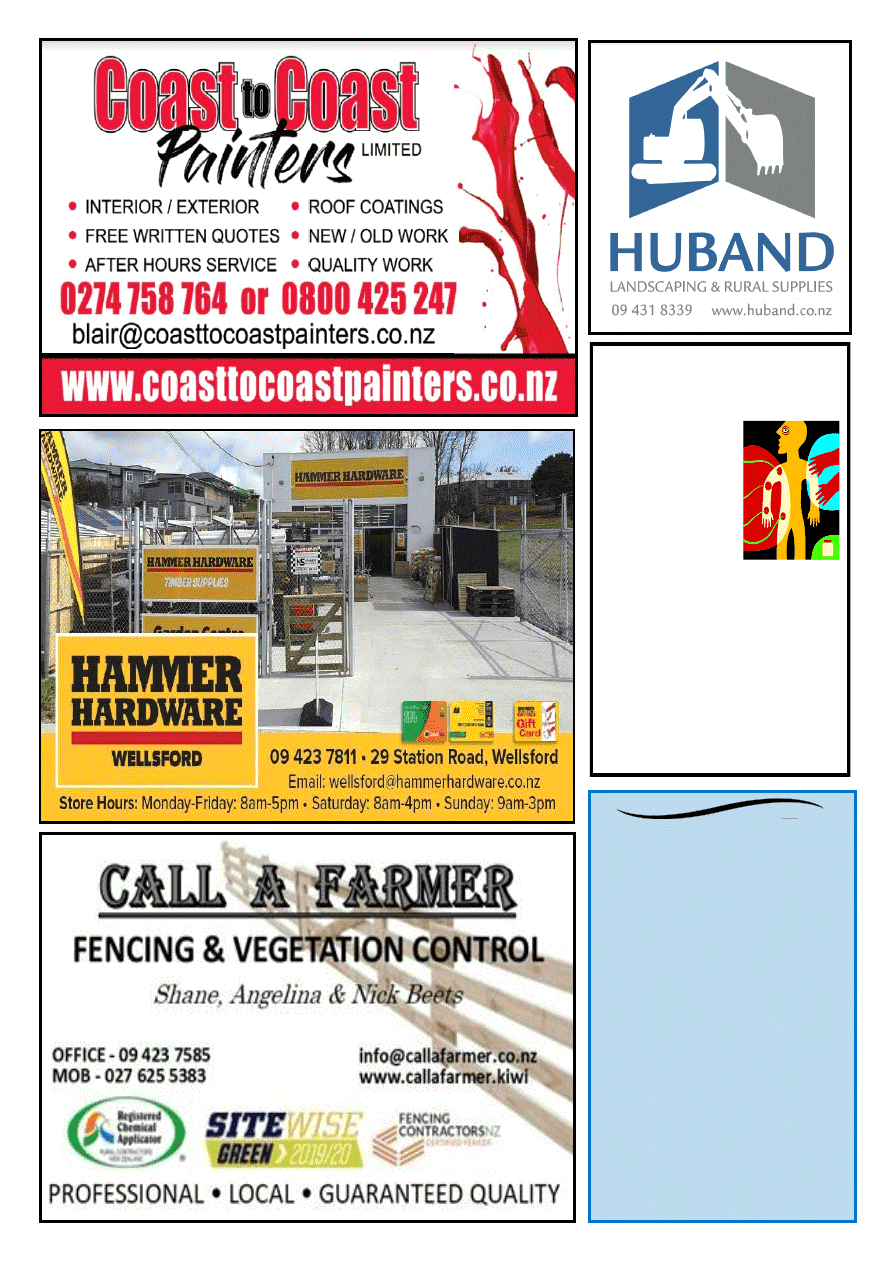 www.kaiwaka.co.nz 
Kaiwaka Bugle - 24 November 2020 
Page 10 
OWEN STEVENS 
Osteo Therapist
For careful 
adjustments to 
bones and joints 
Treatment for 
humans and their 
pets 
Clinics: 
Kate's Place, Kaiwaka: 
Last Friday of month 
For bookings: 
9.00am-5.00pm  
Phone 
09 4312661 
Or phone Owen  
09 4317123 anytime 
HAVEN HOME  
MAINTENANCE  
SERVICES 
Helping transform your  
haven into your home 
Interior:  
Kitset Assembly 
Wardrobe Furniture Install 
Picture & Mirror Mounted 
Minor Carpentry Works 
Exterior:  
Landscape Solutions 
Fence Build & Repair 
Low level Decks 
Gutter clearing & Repairs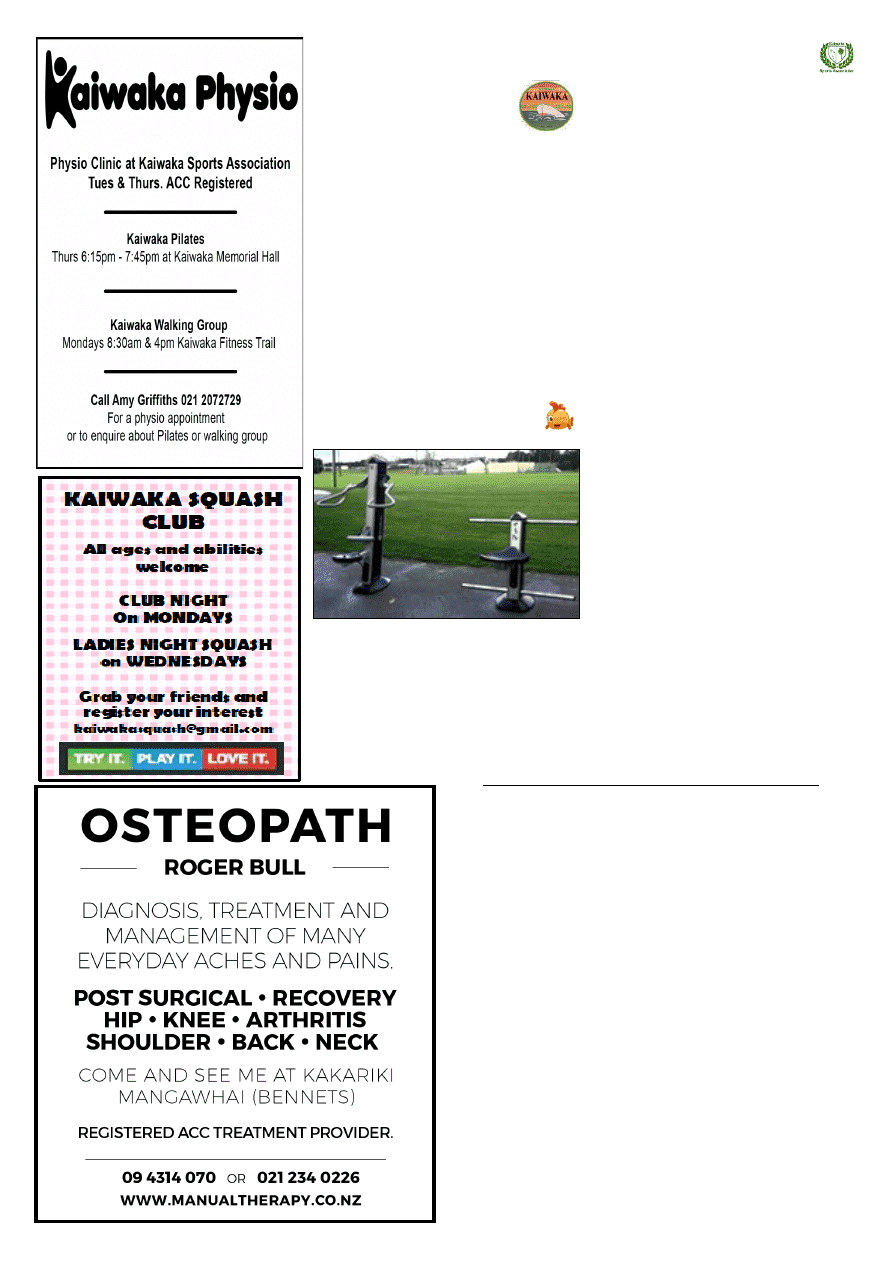 www.kaiwaka.co.nz 
Kaiwaka Bugle - 24 November 2020 
Page 11 
KAIWAKA BADMINTON 
Final  night  for  the  year  Tuesday  15th 
December  7.30pm  with  a  Christmas 
celebration fun night. 
Then  we  are  taking  a  wee  break  when 
the weather is too hot.    
First  night  back  -  Tuesday  2nd 
February. 
Subs  remain  the  same  $3  a  night  for 
casual  games;  $50  per  person  for  a 
calendar year and $80 for a family. 
We have a range of abilities that come 
along  each  night  and  we  try  to  match 
strength,  we  promote  a  family  friendly 
atmosphere  -  and  we  concentrate  on 
having fun. 
KAIWAKA FITNESS 
Membership: 
Kaiwaka  Fitness  Centre  full  year 
membership  runs  from  1st  June  to  1st 
June  the  following  year,  prices  and 
membership term reduce every quarter. 
Prices for one adult are as follows: 
A full year  - $140 
Half year (1st December to 1st June)- $95 
Quarter year (1st March to 1st June)- $60 
There  are  special  rates  for  a  family  (2 
adults,  2  secondary  students  14-16  years), 
senior citizens and secondary students - see 
Membership Form. 
$10 is added to each price as a bond for 
the  key,  if  you  are  renewing  your 
membership and exchange your old key 
you do not pay the extra $10. 
There  is  a  $50  charge  for  replacement 
of lost keys 
Membership  forms  are  available  at  the 
Four  Square  Store,  along  with  fee 
payment and key pick up. 
KAIWAKA TENNIS 
Monday  afternoons  at  the  KSA  tennis 
courts  for  school  aged  children  and  all 
abilities. Coaching available.  
Contact Linda on  021 266 8571 
KAIWAKA SPORTS ASSN NEWS 
Contact email: kaiwakasportsassn@gmail.com 
KAIPARA HUNTING & FISHING 
What  a  great  turnout  for  the  October  shoot.  Well  done  to 
Dale Hamlin, taking out 1st place in the Senior Men's. Well 
done to all that attended. 
Results: 
Senior Men: 1st Dale Hamlin 74; 2nd Dylan Thompson 
62; 3rd Tony S 
Ladies:  WHAT!  No  lady  shooters.  Juniors:  1st  Bronson;  2nd 
Kellan; 3rd Max; 4th Amber; 5th Connor 
Awesome effort from our juniors. Well done to you all. 
Huge thank you to the sponsors for this event: These events 
wouldn't happen without them, so please support these local 
businesses: Nola Sports Dargaville, Mangawhai Meat Shop, 
Thirsty  Liquor  Maungaturoto,  Steve  Wrathall  Welding 
Services, Gary Flood and Family 
Photos: Please forward any photos of our events to Annette 
Pull  annettebaker@slingshot.co.nz  We  would  like  to  add 
more photos to our newsletters, thanks. 
CHRISTMAS SHOOT 
Sunday 13th December, 10am start 
Club grounds: Hames Road Maungaturoto 
Entry:  $40.00  per  person  Juniors:  16  years  and  under  – 
$20.00; Ammo: $14.00 per box (25) 
No Dogs please on course. Can be tied up at your vehicle. 
All new members welcome so bring your shooting friends 
Great prizes to be won including Hams. See you all there. 
Regards Your Committee 
Club Contacts :Email Andy at awthompson@outlook.co.nz 
POINT CURTIS 
CRUISING CLUB  
Annual Subscriptions 
Don't  forget  Subs  were  Due  1st  June 
2020.  $30  Family  $20  Single.  Internet 
banking  12  3094  0008233  00  Please 
use Name/s as a reference. 
2021 Annual Picnic 
Our  Annual  Picnic  at  the  section  adja-
cent to the Rangiora Boat Ramp is go-
ing  to  be  on  Saturday  9  January.  Any-
one  is  warmly  welcome!  Watch  Face-
book  and  emails  for  more  info  nearer 
the time. 
Fish of the Month (Snapper) winner is: 
Dip, 7.880kg - Jaques voucher selected 
New Fish of the Month: Gurnard till 9 
December 2020 
Next  Club  meeting:  9  December  2020 
@  7pm,  Kaiwaka  Sports    Com-
plex.  
. ~ 
Wayne Leslie (Commodore)
KAIWAKA FITNESS 
TRAIL 
Checkout  the  dedicated  fitness  trail  – 
run or walk and stop off for sit down or 
for a workout. The exercise stations are 
designed  to  be  able  to  be  used  by  any 
person,  regardless  of  their  age,  body 
type  and  physical  condition  -  available 
to all members of the public at no cost.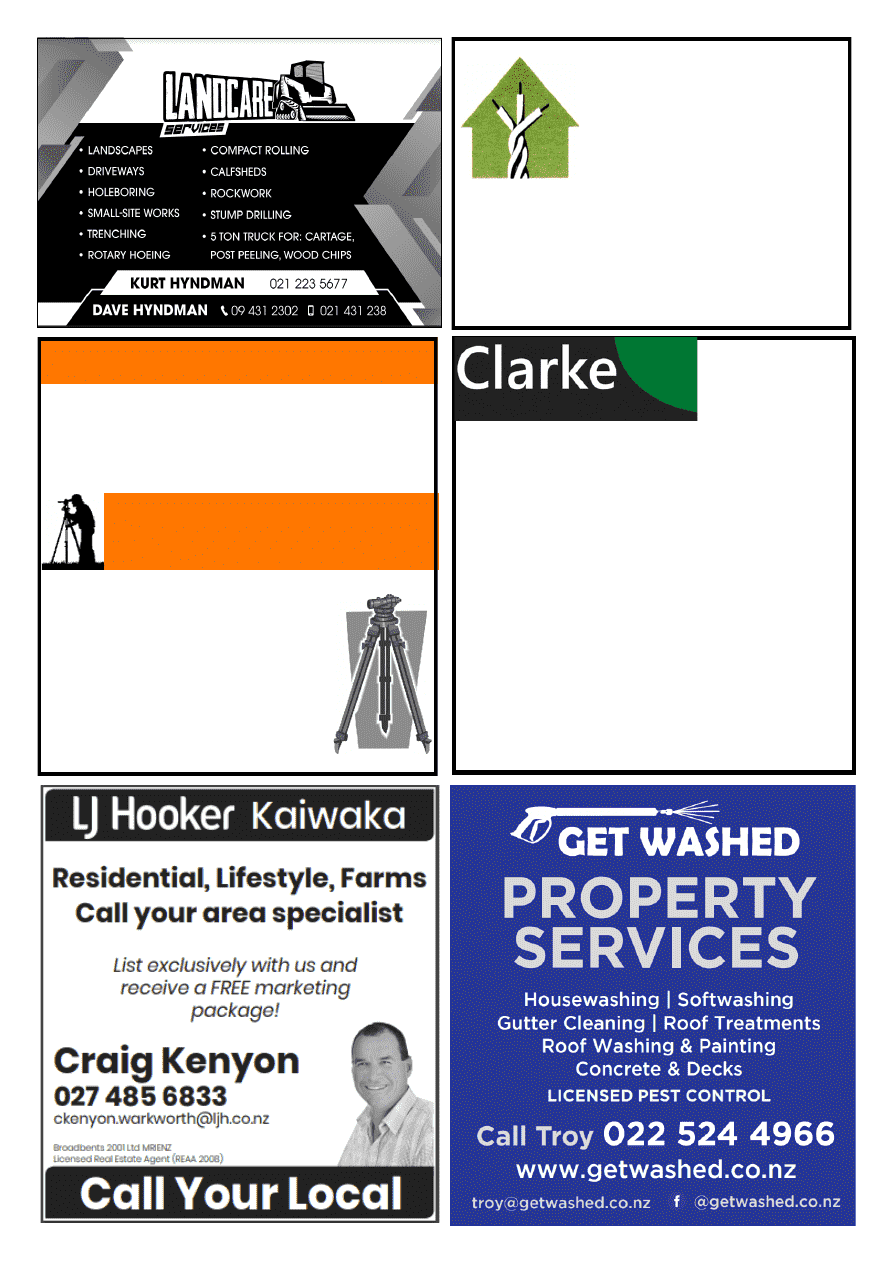 www.kaiwaka.co.nz 
Kaiwaka Bugle - 24 November 2020 
Page 12 
Reyahn  Leng 
Registered Electrician 
Local, honest and reliable. 
For your residential and 
light-commercial projects. 
022 314 1068 
Drainage & Earthmoving 
nigel@clarkedrainage.nz 
027 2233 185 
Registered Drainlayer                 All Types of Earthworks  
> All Residential & Commercial Work  > House Sites 
> Septic System Design & Install 
> Footings & Drilling to 10m 
> Sewer Connections 
> Dams 
> Water Tank Installation 
> Roading & Races 
> Farm Work 
THE ONE STOP SHOP  
Phone Nigel for an Obligation Free Quote  
SURVEYORS 
SUBDIVISIONS 
HOUSE SITE SURVEYS 
CIVIL ENGINEERING 
WASTEWATER DESIGNS 
EXPERIENCED 
PROFESSIONAL 
INNOVATIVE 
Ph 09 431 5353 
0800 PACIFIC (0800 722 434) 
pacificcoastsurvey.com
Adam Booth - 027 415 5752 
Bsurv, Licensed Cadastral Surveyor
Surveying Kaipara since 1994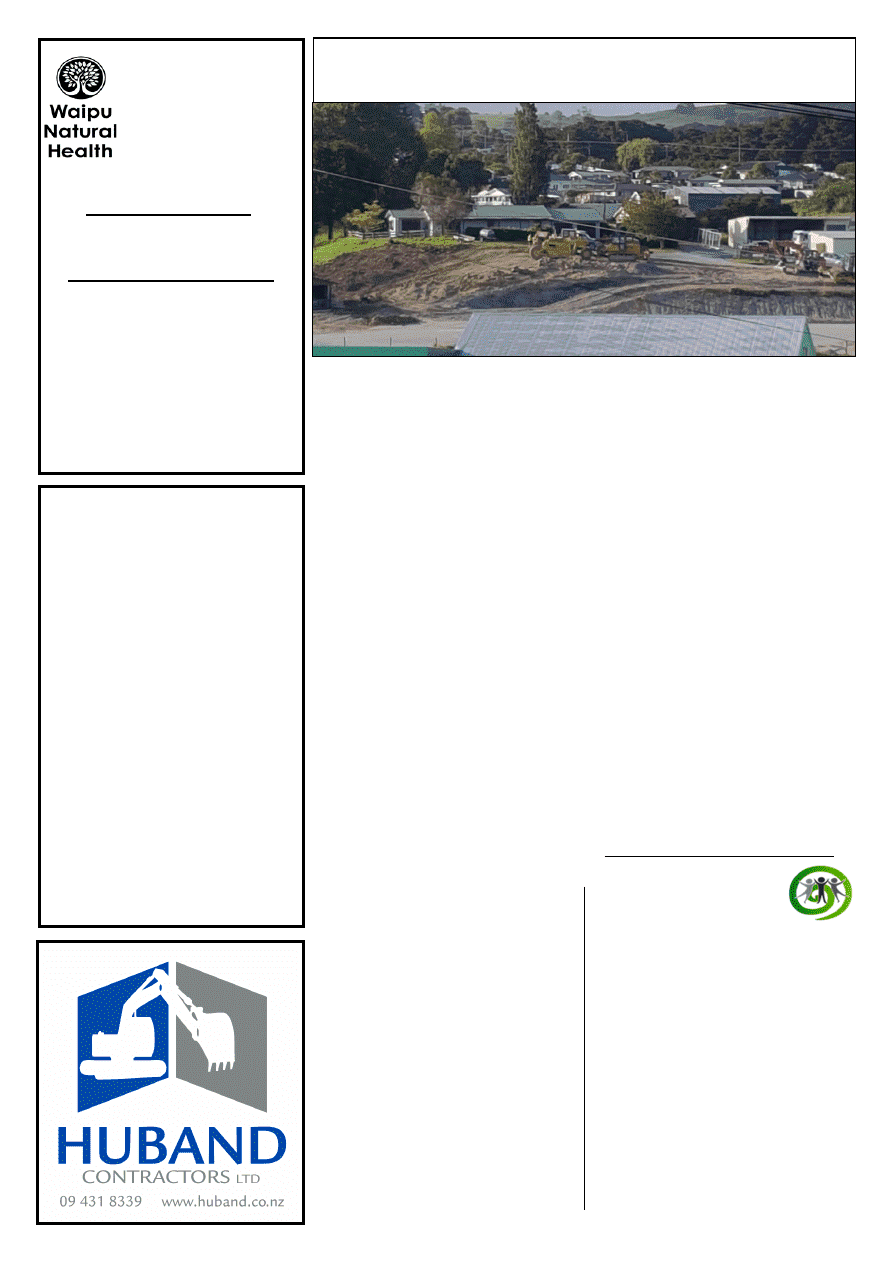 www.kaiwaka.co.nz 
Kaiwaka Bugle - 24 November 2020 
Page 13 
3 Cove Road, Waipu 
(opposite the Pizza Barn
) 
094321325 
www.waipunaturalhealth.co.nz 
Clinical Nutritionist: 
Nutritional Checkups, Diets for 
Chronic Diseases,  
Food Sensitivities 
Naturopathic Physician: 
Ozone Therapy, Prolotherapy  
Reflexology, Craniosacral 
Therapy, Trauma Release 
Massage Therapy 
Counselling and Hypnotherapy 
Change Catalyst/ThetaHealer 
Affordable Children's Consults 
All therapists are fully qualified
THE GROUND WORK IS UNDERWAY 
 for the NEW GULL FUEL STATION
Photo taken from St. Paul's Church looking south over  Small Pukekos. 
ARTIES  CHANGE  to  GROW 
PAPAROA. 
A  new  name  is  on  the 
way  for  the  community  gardens  at 
Paparoa. 
Set  up  in  2010  as  Arty  Farties 
Incorporated to encourage painting and 
other  creative  arts,  in  recent  years  the 
group  has  increasingly  focused  on 
growing  fresh  fruit  and  vegetables  for 
local community food banks. 
The group will now be known as Grow 
Paparoa  Incorporated,  to  reflect  its 
wider activities. 
"Grow  Paparoa  is  a  community, 
volunteer-driven  organization,  and  will 
still  look  at  running  art  and  other 
workshops from time-to-time as well as 
running the garden" says Grow Paparoa 
Chair  Jan  Dallas.  "We  wanted  an 
inclusive  name,  which  showed  all  the 
different  things  we  can  do  in  the 
community." 
Grow Paparoa supplies two food banks 
in  the  area  on  a  weekly  basis.  At  least 
six large bowls of fresh vegetables and 
fruit  are  distributed  each  week, 
depending  on  the  season.  Produce  is 
supplied to families in need in Tinopai, 
Matakohe,  Paparoa,  Maungaturoto  and 
sometimes  to  Ruawai  and  Kaiwaka. 
The  distributers  have  a  number  of 
families they supply in these areas, and 
produce goes where the need is greatest 
each week. 
From  its  inception  the  Gardens  have 
also  been  a  "drop  in"  centre  for  locals 
or  passers-by,  sometimes  to  have  a 
coffee and chat, sometimes to assist for 
an hour or two, but most importantly to 
feel  welcome  and  accepted.  The 
Gardens fills an important role for new 
people  to  come  and  get  to  know  other 
residents. 
In selecting a new name, the Committee 
looked  for  something  which  would  be 
inclusive,  supporting  everything  from 
gardening  to  art  classes  and  anything 
that supports "growth" in Paparoa. 
Operating  from  a  2,000  square  metre 
garden 
at 
the 
Paparoa 
A&P 
Showgrounds,  the  groups'  volunteers 
are committed to helping anyone in the 
local  community  who  has  a  need  for 
good  fresh  food.  Visitors  and 
Volunteers are always welcome – come 
by from 10am-1pm Thursday, Friday or 
Sunday. 
GARAGE SALE RE-OPENS 
The  first  'new-old'  activity  for  Grow 
Paparoa is the re-opening of the weekly 
Garage Sale. Selling good quality used 
clothing  and  household  items,  the 
garage  sale  is  now  open  on  Saturdays 
from  10am  to  1pm.  Garage  Sale 
manager  Vivien  Paulger  says  proceeds 
from  the  shop  are  important  for  Grow 
Paparoa's work. 
"All the money we raise goes back into 
our gardens and activities" she says. "If 
you  have  any  items  in  good  condition 
you  would  like  to  donate,  please  come 
by  on  Saturday  morning  to  drop  them 
off". 
For  further  information  contact  Jan 
Dallas, tel 021 431 724 
Arty  Farties  Incorporated,  now  Grow 
Paparoa Incorporated 
With 
support 
from 
Kaipara 
Landscaping 
Services, 
Morganics, 
PGG  Wrightsons,  Bulbs  Direct,  Salt 
River Nursery & Farm Source.
HAKARU HALL  
ACTIVITIES 

Monday:  Line Dancing 9.45 -
12pm Ph 4315160 

Afternoon Dance Energy  Lisa Ph. 
0275610469 

Tuesday: Pilates 10am  
Qualified Instructor Ph. 0220643965 

Tuesday: Afternoon  
Dance Energy  

Wednesday: Afternoon  
Dance Energy  

Wednesday: Evening Music Jam 
Session   Dennis Ph. 0210628631 

 Thursday: Pilates 9.30am  
Ph. 0220643965 

Friday Fortnightly  
MESS CLUB   10.30 am    
       Inspiring play for under 5's. 
Phone Shelley 0221223781 

Sunday: Canine Coaching  
Ph 0272365004 
 Hall Bookings Karen 
4312090 
GROW PAPAROA INC - WHAKATIPU PAPAROA 
OTAMATEA 
COMMUNITY 
SERVICES 
SENIORS' CHRISTMAS LUNCH   
on December 2nd - phone 09 4319080  
FREE 
SHOPPING 
TRIP 
TO 
WHANGAREI  –  MONDAY  7th 
DECEMBER.      The  van  goes  to 
Whangarei, 
stopping 
at 
major 
supermarkets,  Farmers,  Bunnings  or 
wherever you would like to go.  Phone 
us on 431 9080 for enquiries or to book 
your seat. Please use this (totally free) 
service!    
DECEMBER CALENDAR  
Fun  'n  Games  Every  Monday  10am 
Footprints Room  
Seniors  Christmas  Lunch  Wednesday  2nd 
December 10am St John Hall  
Shopping  Trip  Monday  7th  December 
Departs 9:30 from the Retirement Village  
Chocolate 
Bingo 
Wednesday 
16th 
December Footprints Room 10am – 12pm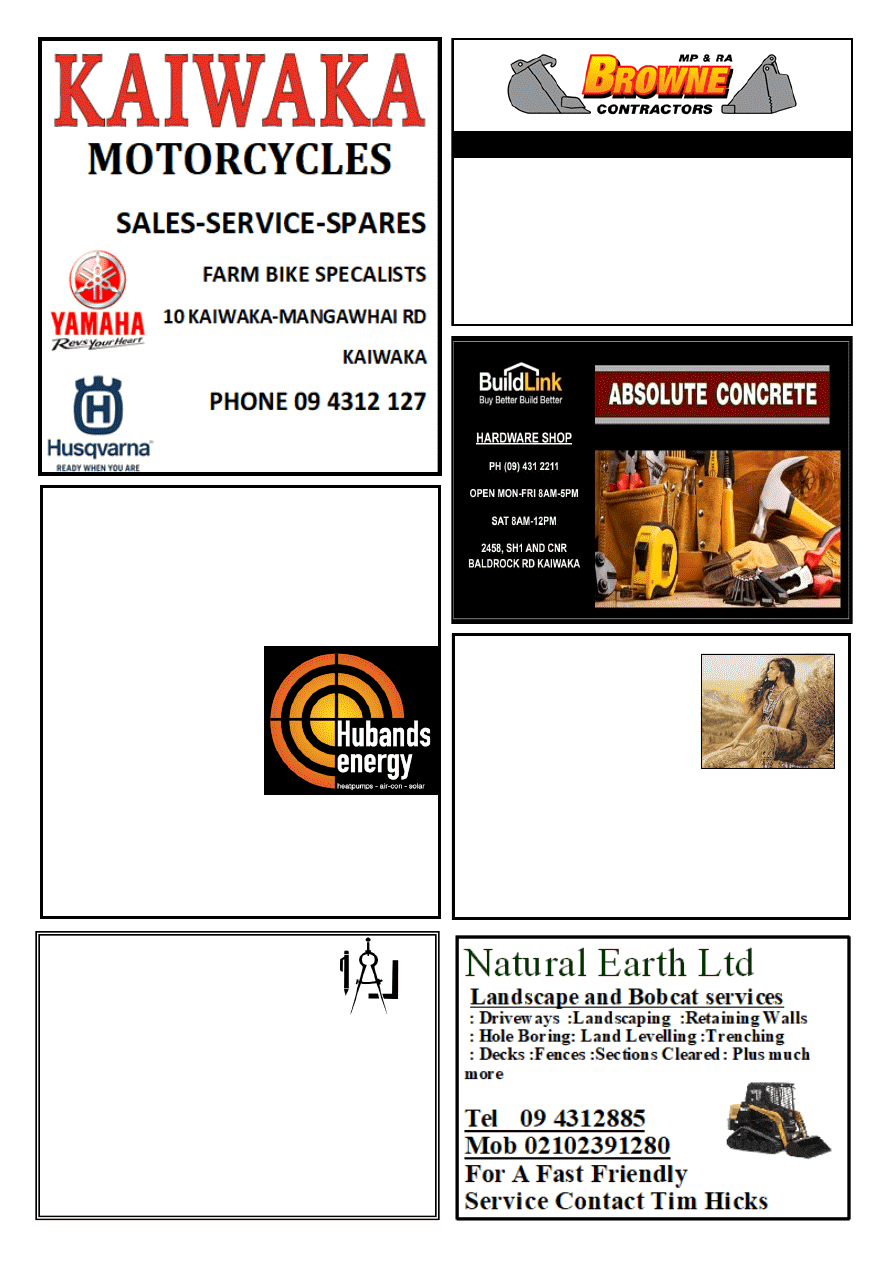 www.kaiwaka.co.nz 
Kaiwaka Bugle - 24 November 2020 
Page 14 
4Tonne DIGGER – BOBCAT – TIP TRUCK 
Property Maintenance - Driveways  
 Building Sites 
Stump & Tree Removal  
Hole Boring - Chain Trencher  
Calf Shed and Stockyard Cleaning 
Phone Matt: 021 199 6677 
Email: mprabrownecontractors@gmail.com 
TRAILS END 
RONGOA 
MAORI 
HEALING 
And Gifts 
Stocking all your needs from incense, crystals, dream 
catchers, greeting cards, jewellery, perfume, dragons and 
more ... 
For all inquiries 
 Phone 0211652629  
Light refreshments available $5 koha  
1758 Cove Road Mangawhai
design drafting  
service 
Retired builder and manufacturer with over 40 years  
experience in the building industry is offering a design 
drafting service for domestic housing, sleepouts and 
sheds.  
Plans formulated in consultation with clients, with 
working drawings completed and submitted to  
council for processing.  Extensive practical experience,  
able to identify & resolve problems. 
Please ring Mike Lean on 
09 431 2260 
or 
021 431 196 
Northland's Award Winning 
Solar Company
SEANZ Best Solar Business Winners 2015/16
EXCLUSIVE 10 year installation warranty 
FREE No obligation onsite quote
Complete systems 
from $5990
See our range of: 
✓ 
Heatpumps 
✓ 
Airconditioning 
✓ 
Hot Water 
Heatpumps 
✓ 
Central Vacuum Systems
09 430 0019             sales@hubands.co.nz 
15 Kioreroa Road, Whangarei
Locally owned and operated for 35 years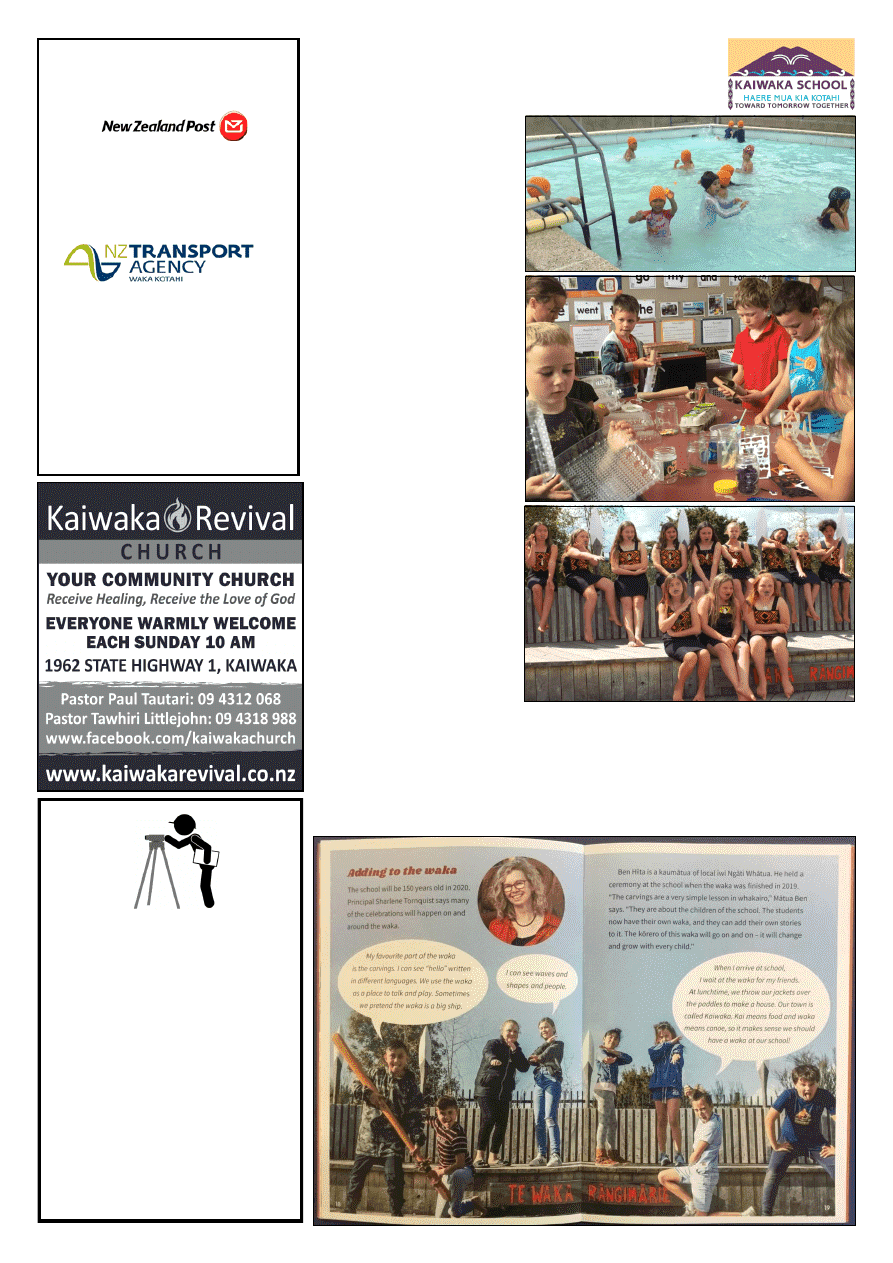 www.kaiwaka.co.nz 
Kaiwaka Bugle - 24 November 2020 
Page 15 
KAIWAKA POST 
CENTRE and 
FOOD MART 
POST CENTRE TRADING HOURS 
MONDAY to FRIDAY 8am to 5pm 
SATURDAY 8am to 12pm 
CLOSED ON SUNDAY and on 
PUBLIC HOLIDAYS 
FOOD MART (GROCERIES) 
MONDAY TO FRIDAY  
7:30am to 7.30pm 
SATURDAY  8am to 7.30pm 
SUNDAY  8:30am to 7pm 
IF ANY QUERIES PLEASE CALL 
STORE MANAGER AMRIT  
on 09 4312431 or 
EMAIL: kaiwakafood19a@gmail.com 
1919a State Highway1, Kaiwaka 0542 
Ken Urquhart 
BSurv Licensed  
Cadastral Surveyor 
KMU Surveys Ltd 
467 Bickerstaffe Road 
RD 2 
Maungaturoto 0587 
Ph 09 431 8705 
Mob 021 161 2344 
kenurquhart@xtra.co.nz 
KAIWAKA SCHOOL 
SURFING 
The  senior  classrooms  went  on  a  trip  to  Mangawhai  Beach 
where they learnt to Surf. This was a very successful day. A 
big  thank  you  to  the  teachers 
for  organising  the  day  and  to 
the parents for  helping  on the 
day. 
TENNIS 
This  term,  every  class  is 
learning  to  play  tennis.  Grant 
has  been  coming  in  to  work 
with  the  teachers  and  run 
lessons with the classes. Some 
great skills are developing. 
WAKA 
- 
SCHOOL 
JOURNAL 
Kaiwaka School is very lucky 
to have our beautiful Waka by 
the  entrance  to  the  school. 
This  year,  the  School  Journal 
have  published  an  article  on 
the  carver  Tim  Codrye.  The 
article  includes  photos  and 
comments  from  our  students. 
See below. 
SWIMMING POOL 
The  pool  has  opened  this 
week  for  students  to  swim. 
They  are  loving  being  in  the 
pool  practising  their  skill  in 
preparation  for  the  Xmas 
break. Keys are now available 
for sale for whanau at $60 for 
the season. 
INVENTING 
Discovery 
Time 
- 
The 
students  work  on  planned 
activities  every  Thursday. 
This is a chance to work with 
a  range  of  different  children 
throughout  the  school.  Here 
are photos of some of the inventions and creativity. 
WHANAU DAY 
Kaiwaka School had a very successful on Friday with lots of Whanau turning up 
to  celebrate  their  children  learning.  Both  the  Junior  School  and  Senior  School 
performed  Kapahaka.  After  the  performance  parents  walked  through  the 
classrooms  viewing  art  work  and  stories.  They  then  shared    lunch  with  their 
tamariki under the trees. It was a lovely day. 
~ Nga mihi, Sharlene, principal.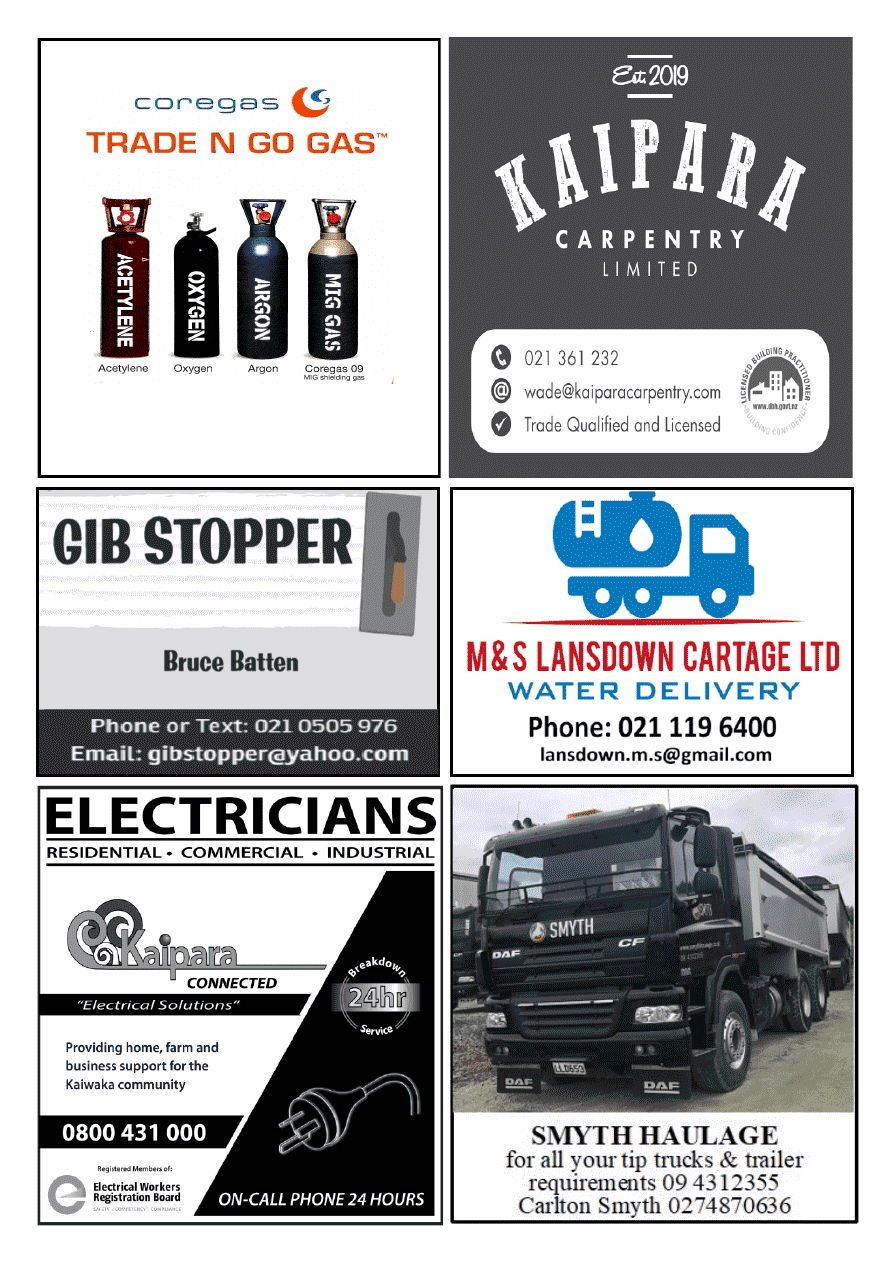 www.kaiwaka.co.nz 
Kaiwaka Bugle - 24 November 2020 
Page 16 
At Twinkle Tow 'n' Tyre 
Mob: 021 833 960 
Ph & Fax: 09 431 2823 
1837 State Highway 1, Kaiwaka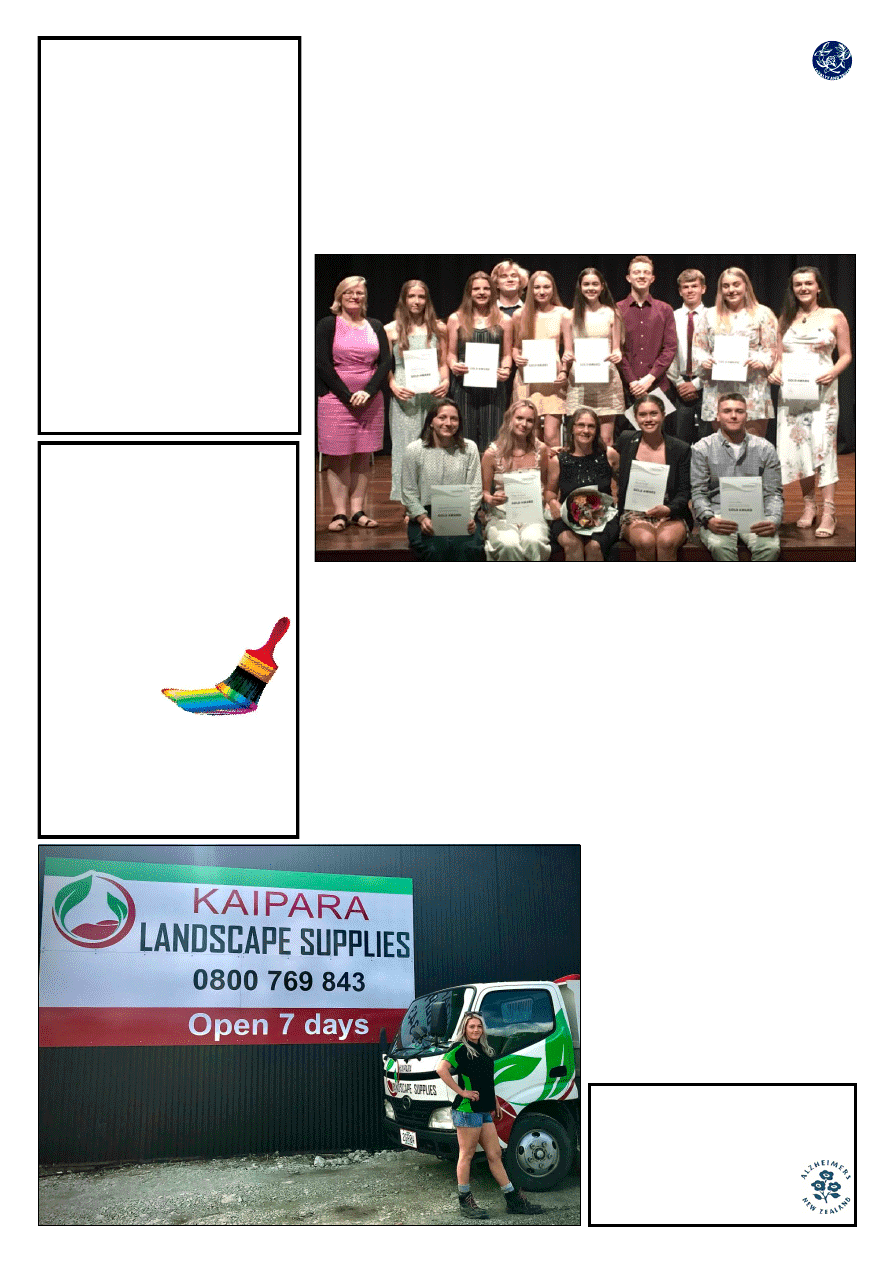 www.kaiwaka.co.nz 
Kaiwaka Bugle - 24 November 2020 
Page 17 
Willow Bend
HORSE  
HOTEL 
  
Total Horse Care 
 
Agistment 
 
Riding Lessons 
 
Arena Hire (60x40) 
 
Young Horse Starting 
 
Re-training/Exercising 
 
Hoof Trimming 
 
Problem Solving 
Phone Sue 09 431 2817 
or 021 623 776 
Or email  
susanjoll11@gmail.com 
LEE COOPER 
PAINTERS 
(Kaiwaka Based) 
*30 yrs Experience 
*Interior/Exterior 
*New and Restoration 
*Honest and Reliable 
*Free Quotes 
09 4312918 or 
0274735171 
leecooper@xtra.co.nz 
DUKE OF EDINBURGH GOLD AWARD  
Last  Wednesday  was  a  very  special  day  for  the  Otamatea  High  School 
Duke of Edinburgh Award group.  13 students from the group received their Gold 
Award.  This is the culmination of many years of hard work and determination. 
They  were  presented  with  their  gold  certificates  by  the  Governor  General,  Her 
Excellency The Rt Hon Dame Patsy Reddy at a special ceremony in Auckland.  
Sarah Hillary (Sir Edmund Hillary's daughter) gave a speech of encouragement to 
all those gathered. Robyn Bruce  was also presented with a Long Service Award 
recognising her involvement in the scheme since 2001 and as Award Leader since 
2005.    Ken  Hames,  Chair  of  the  Board  of  The  Duke  of  Edinburgh's  Hillary 
Award,  gave  the  closing  speech.    Congratulations  to  all the recipients  and  well 
done to all the parents for their sacrifices and commitment along the way.  
OTA  FUN  DAY:    On  Thursday  19  November  we  hosted  students  from 
Maungaturoto,  Kaiwaka,  Paparoa,  Mangawhai  Beach  and  Waipu  Primary 
Schools in a day of team building.  Our junior students did an awesome job of 
leading the activities and it was a great chance for the Year 6 students to make 
some new friends and feel more confident about starting high school. 
JOB  OPPORTUNITIES:    We  are  currently  advertising  for  3  support  staff 
positions for the 2021 academic year.  We are fortunate to have been invited into 
the government's new free and healthy lunches programme and are looking for 
someone to manage this initiative.  This will complement our school cafe.  We 
are also looking for a laboratory manager,  a teacher aide, and relief teacher aide.  
STAFF  ONLY  DAY:    We have a staff only day on Friday 27 November.  The 
purpose of this day is to start preparations for new NCEA standards which need 
to be developed over the next few years.   
OHS  magazine  for  2020:  This year's magazine will be available at the start of 
2021.  If you would like some advertising space in the magazine, please contact 
Jon Clist on joneclist.gmail.com. 
KAPA  HAKA  FESTIVAL:  On Saturday 5th December we will be hosting a 
Kapa  Haka  festival  at  the  school.    The 
powhiri starts at 9am.  The performance 
schedule is as follows: 
10:00am  -  Maungaturoto  Primary 
School 
10:30am - Paparoa School 
11:00am - Mangawhai Beach School 
11:30am - Kaukapakapa School 
12:00 - Lunch break 
12:30pm - Otamatea High School 
1:00pm - Kaiwaka School 
1:30pm - Wellsford Primary School 
2:00pm  -  Ngati  Whātua  senior  kapa 
haka  
~ 
Rachel Clothier-Simmonds, Principal 
OTAMATEA HIGH SCHOOL 
Alzheimers Society Northland Inc 
ALZHEIMERS SUPPORT 
GROUP 
Meet on 2nd Wednesday  
of each month, 11am - 12pm  
Mangawhai Golf Club Rooms 
Phone 0800 004 001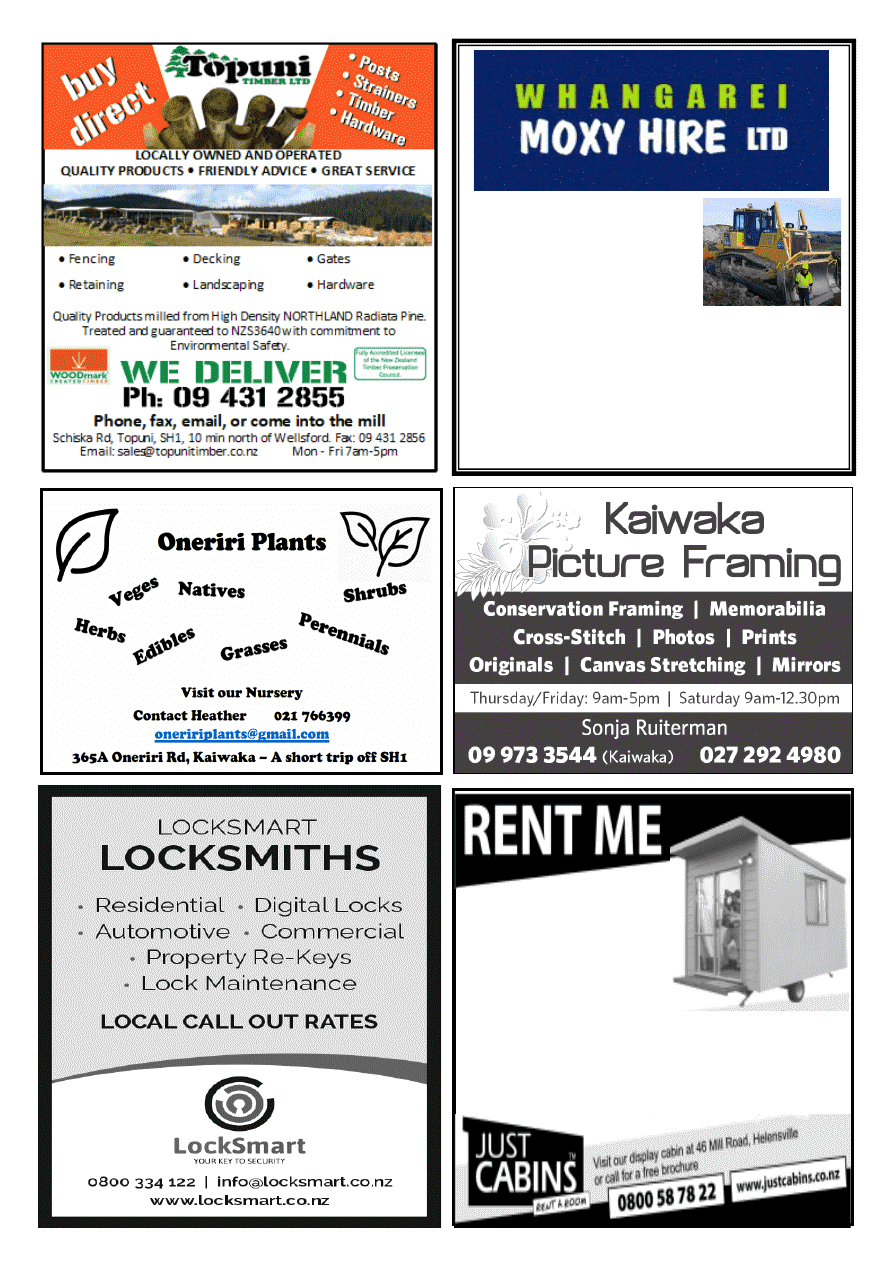 www.kaiwaka.co.nz 
Kaiwaka Bugle - 24 November 2020 
Page 18 
Ideal as an extra  
bedroom or office 
Three Convenient sizes: 
Standard 3.6m x 2.4m - $65 per week 
Large 4.2m x 2.4m - $80 per week 
THE POWER OF 
EARTHMOVING! 
Whangarei Moxy hire are a 
large earthmoving company 
with 80 machines available 
for hire with or without operators. 
Bulldozers, Compactors, Diggers  
and 30 – 40 ton dump trucks. 
Whether you need help cleaning out drains, 
roads, fence lines, dams or culverts, Whangarei 
Moxy Hire have you covered Northland wide! 
Visit www.whangareimoxyhire.co.nz  
or call 09 434 4272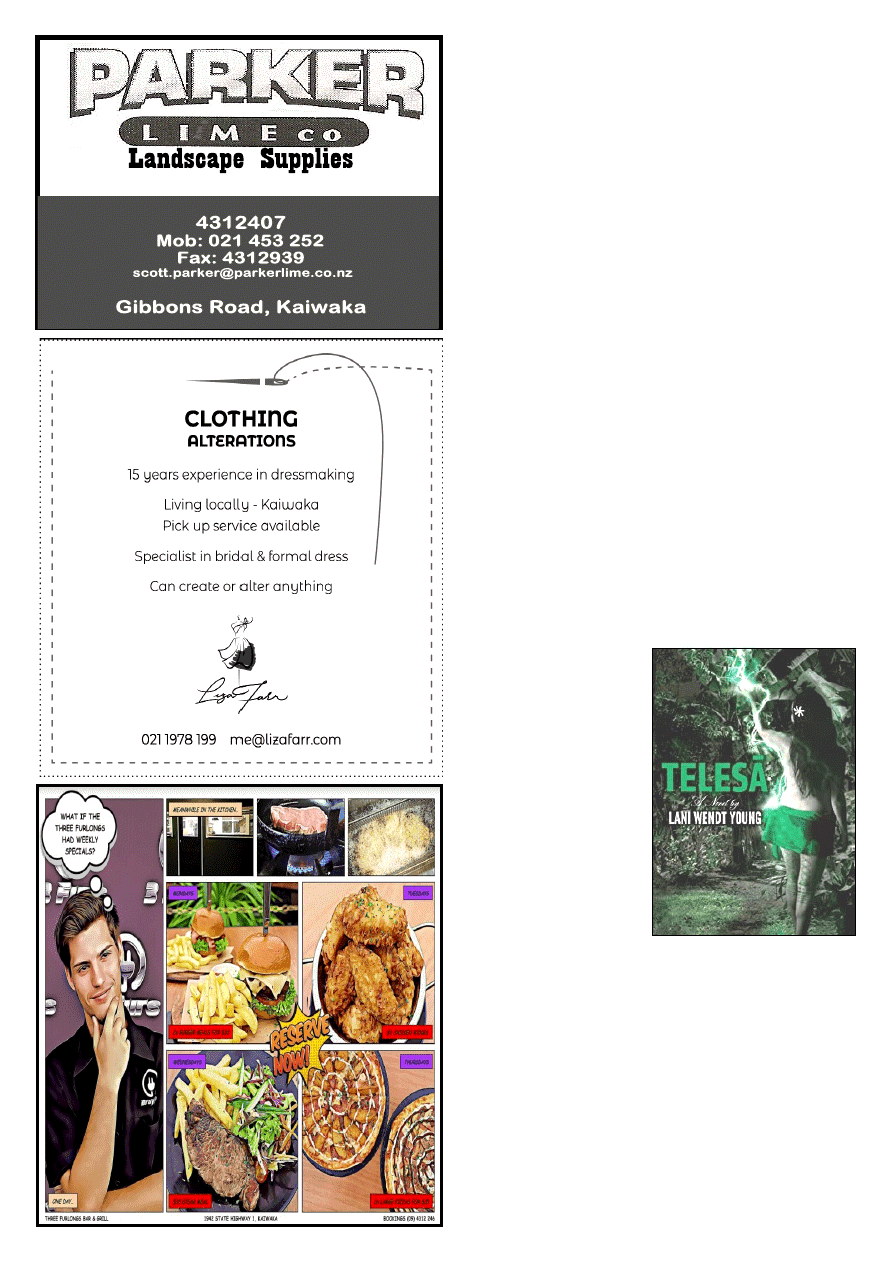 www.kaiwaka.co.nz 
Kaiwaka Bugle - 24 November 2020 
Page 19 
Bulk Cartage 
KAIWAKA LIBRARY 
ACCESSIBILITY SURVEY
Kaipara  District  is  taking  part  in  an  accessibility  survey 
across Te Tai Tokerau (the Northland region), with the aim 
of  making  it  a  better  place  to  live,  work,  and  play  for 
everyone.  You  can  contribute  your  views  here  -  https://
bit.ly/2K0HXKQ  -  or  pick  up  a  paper  form  at  the  library. 
The survey closes Friday 11 December 2020. 
COMPETITION 
To mark the launch of a new library bag for the district, we 
have  been  given  one  to  give  away  in  a  competition.  Come 
into the library and fill in an entry form before Wednesday 
16 December 2020 to go into the draw. 
We  still  have  the  older  cotton  bags  for  sale  in  the  library, 
$3.00 each. 
HOLIDAYS 
The  library  will  be  closed  from  2pm  Thursday  23 
December 2020 for the holiday period, and will reopen at 
10am  Wednesday  06  January  2021.  Any  items  issued 
before the holidays that would normally be due while we're 
closed will be automatically extended to 6 January. Do come 
in and stock up on your holiday reading before we close. 
FAREWELL AND WELCOME 
Farewell  and  thank  you  to  Heather  and  Cathy,  who  have 
both  moved  away  recently;  your  efforts  in  the  library  over 
the  years  have  been  much  appreciated.  Welcome  to  our 
newest team member, Judy. 
SPRING/SUMMER CATALOGUES 
We still have a few copies of the free Spring catalogue - pick 
one  up  next  time  you're  in  the  library  to  see  some  great 
reading  recommendations.  The  Summer  catalogue  will  be 
out  soon,  and  it  will  have  a  prize  draw  in  it,  so  keep  your 
eyes open for that when it arrives. 
BOOK REVIEW 
Recently I've read the Telesa series by Lani Wendt Young. 
It  centres  around  Leila,  a  Samoan-American  teenager  from 
Washington DC. Her mother 
died  when  she  was  a  baby, 
and her father died suddenly 
just  a  few  months  ago.  She 
travels to Samoa to find out 
about  her  mother's  family 
and  find  some  roots  and 
discovers  a  fiery  birthright 
heritage  she  never  knew 
about  that  entangles  her  in 
events  that  spiral  out  of 
control.  Start  with  The 
Covenant  Keeper  and  read 
the 5 books in order. They're 
all in our library. 
Only  a  select  few  of  the 
books  I  read  make  it  to  a 
review  here  in  the  Bugle. 
You  can  see  more  of  the 
books  I've  read  here  -  https://www.facebook.com/
WendyReadsBooks. You don't need a Facebook account to 
see this page. 
We  welcome  reviews  of  library  books  from  anyone  -  it 
would be great to see reviews from other people here instead 
of  mine  all  the  time.  Write  it  on  paper  and  drop  it  to  the 
library or post it to us or type it up and send it to me in an 
email or in a PM to our Facebook page. Contact details are 
below. 
It is free to join the library - go to Enterprise* and click on 
the Join the Library button. 
See you in the library! ~Wendy 
Kaiwaka  Library,  cnr  State  Highway  1  and  Kaiwaka  Mangawhai  Road. 
PO 
Box 
89, 
Kaiwaka 
0542. 
Phone 
4312 
539. 
Email 
kaiwaka.library@gmail.com  Open  Wed-Sat  10am-2pm,  Mon  4-6pm. 
https://www.facebook.com/KaiwakaLibrary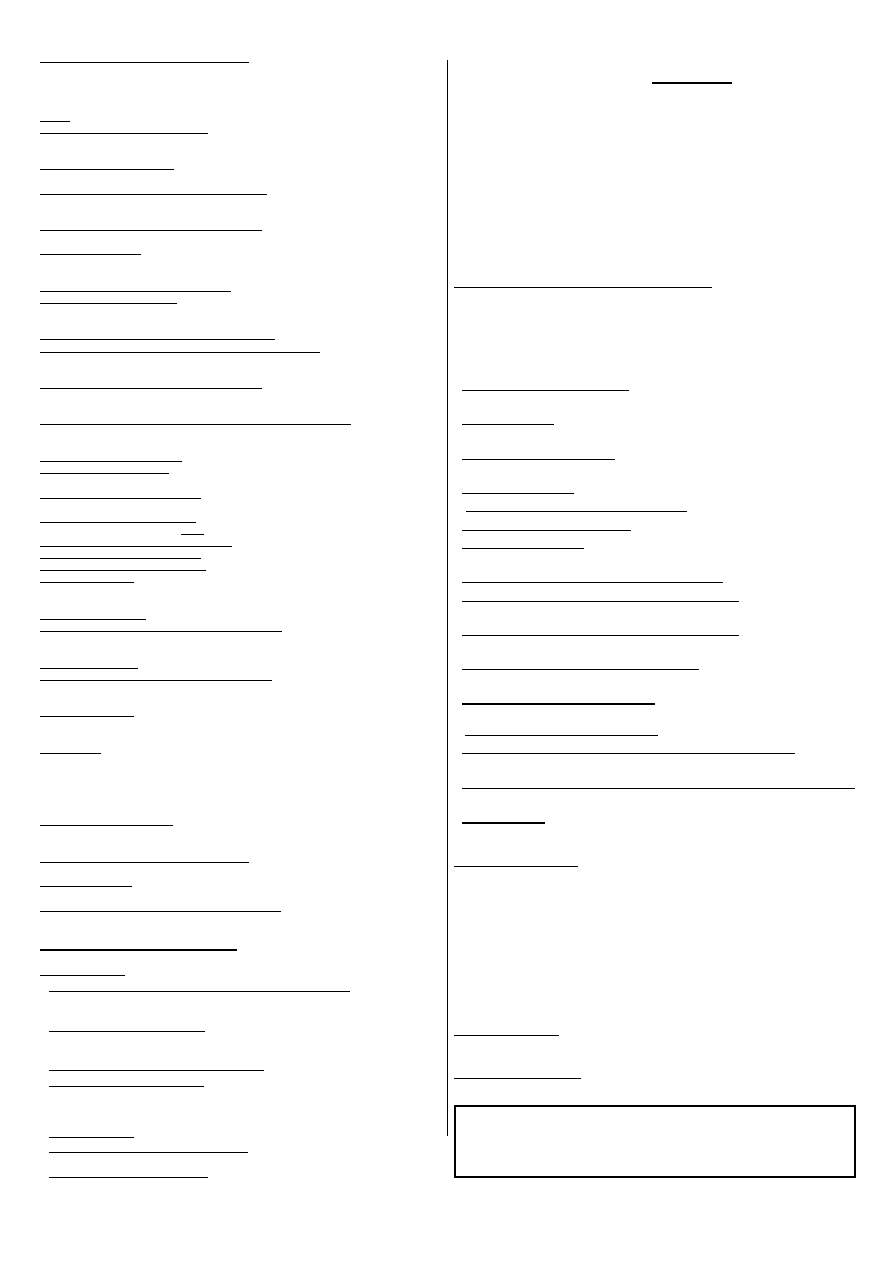 www.kaiwaka.co.nz 
Kaiwaka Bugle - 24 November 2020 
Page 20 
WHAT'S ON
PLEASE ~ do let us know what is on - 
email kaiwakabugle@kaiwaka.co.nz 
*27Nov~ Movie 'WHERE'D YOU GO 
BERNADETTE' 7.30pm KWMH 
*28Nov~ 'The Verdict' ORT, first night 
*2Dec~Otamatea HAWKS AGM, 6.30pm KSA 
*5Dec~ Kapa Haka Festival, 10am, Otamatea Hgh 
*9Dec~Pt.Curtis CC meet. KSA, 7pm 
KWMH = Kaiwaka War Memorial Hall; KSA = Kaiwaka Sports Association 
See www.kaiwaka.co.nz for more information 
HOUSEHOLD RUBBISH COLLECTION  
Kaiwaka Pick up: 
Mondays = Green bags (Northland Waste - 09 430 3273) 
Wednesdays  =  Blue  bags  and yellow recycling (at  Jaques $3.00 
and  $1.50)  (Kaurilands  09  4392146);  ONLY  Blue  and  Yellow 
bags picked up on Oneriri Road. 
 DIABETES Support Group-for Kaiwaka, Mangawhai, Wellsford 
10am, 3rd Friday of month Ph: Colleen James 09 4314238 
 GENEALOGY - Wellsford: 1st Thursday in month Ph: 423 
7033; Waipu: 4th Monday in month Ph: 4312 725 
 HAKARU PONY CLUB - Secretary Denise Rogers 021423376 
secretary@hakaruponyclub.co.nz  
 KAIPARA HUNT - Secretary Albert Doonenbal Ph 4312059 
  KAIPARA HUNTING & FISHING - 021 1294378 
 KAIWAKA BADMINTON -Tuesdays 7.30pm Ph: 4312345 
 KAIWAKA  CAN  - 3rd Wednesday in month, 5.30pm, Archie 
Bull Hall Ph: 0273572751 
 KAIWAKA DRUM & DANCE CLASSES - 021 611198 
 KAIWAKA GARDEN & FLORAL GROUP - 2nd Thursday in 
month. Ph: 431 4744 
 KNITTING FOR WHANGAREI HOSPITAL - 2nd Tuesday in 
month, Archie Bull Hall 10am Ph 4314827 
 MANGAWHAI COMBINED REBUS CLUB - 2pm, 3rd 
Thursday month, Senior Citizens Hall Mangawhai. Ph: 4315777 
 PILATES - HAKARU HALL - Tuesday 10am, Thursday 9am 
Qualified Instructor  Ph. 0220643965  
 *PT CURTIS CRUISING CLUB - Jean Ph: 4312227 (wk), 4312520 (hm) 
 RSA,  HAKARU  &  DISTRICTS  WOMEN'S  SECTION  –  meets 
1.30pm 4th Thursday of the month. Ph: 431 5818  
 KAIWAKA  SCOTTISH  COUNTRY  DANCING  CLUB-
Wednesdays 10am - 12 noon  Ph: Elaine 027 432 0032  
 TRAMPING 
- 
Mondays 
9am-2:30pm, 
contact  
valkenburgmaria@gmail.com 
HALLS FOR HIRE: 
  Kaiwaka St. John Hall: Phone Marj  0272941227  
 St.Pauls  Archie  Bull Hall  HIRE  $20 half day, $40 full day per 
hire, S McAulay, Ph 4312311 
 Kaiwaka  War  Memorial  Hall  HlRE  -  Phone  4312725  or 
kaiwaka.hall.bookings@gmail.com 
 Hakaru Community Hall HIRE -Ph.  Karen 4312090 
 Te Pounga Marae queries - Pearl Nathan  0223933533 
 Kaiwaka Sports Association hire/queries - P Jaques 4312227 or 
kaiwakasportsassn@gmail.com 
Justice  of  Peace:    B.FJaques  4312  048;  L.Donaldson  4312  228; 
A.F.Hargreaves 4312 045, W.Howard 4312 725 - please phone to 
make sure they are available www.justiceofthepeace.org.nz 
Marriage Celebrants:  
L.Donaldson; A.F.Hargreaves; Y Osborne
Next Bugle Deadline  Friday 4 December 2020
LOCAL SERVICES 
*Emergencies - Ambulance, Fire, Police - dial 111 
*Non-urgent Police phone 105
A A: Meets Wed., 7.30pm Kaiwaka Ph: 4315543, 0800229 6757 
NARCOTICS ANONYMOUS : Mon., 6pm, Archie Bull Hall, Kwk-Mwi 
Road; drug and alcohol related issues. Ph. 02102412348 
ASUREQUALITY LTD (was AgriQuality) Call Free 0508 0011 22  
BUDGETING SERVICE, WELLSFORD: Free confidential advice & 
support for all areas of personal finance. Ph (09) 423 7123 
CAB-Citizens Advice Bureau.Wellsford Ph: 4237333 
0800 367 222 email:cab.wells@xtra.co.nz  
CIVIL DEFENCE - Kaiwaka Community Response Group: 
kaiwaka.civildefencecrg@gmail.com, 4312725 Wendy 
DOG/STOCK /NOISE CONTROL 0800 105 890 
FUNERAL SERVICES: Morris & Morris Ltd, 
Whangarei - Bev Jaques Ph:4312367 or 0800667747 
GRANDPARENTS Raising Grandchildren: Dianah Roberts 0223819539 
HAKARU & DISTRICTS MEMORIAL RSA (Inc) 733 Settlement Rd, 
Hakaru. Ph 4312 176 or Bill Warren (President) 431 2092 
HAKARU LANDFILL/Transfer Station:Open everyday  10am-
4pm.Ph4312629 Cost-$55 trailer load up to 1 cubic metre. Ph:4258567 - 
office 
KAIPARA DISTRICT COUNCIL www.kaipara.govt.nz:  
Help Desk FREEPHONE 0800 727 059  
KAIWAKA CEMETERY: Ph: 4312045 or 4314017 
KAIWAKA LIBRARY: kaiwaka.library@gmail.com  
Mon. 4-6pm; Wed., Thurs., Fri., Sat. 10am-2pm Ph:4312539 
KAIWAKA PLAYCENTRE: Ph Juanita 0274134904; open Mon, Wed, 
Fri 9am-12pm. Hastie Lane; Monday to Friday 9.00am - 12 noon. 
KAIWAKA POST OFFICE:Ph:4312 431  
Post Code: 0573 for RD2 and 0542 for all Kaiwaka Post Office mail 
KAIWAKA PRIMARY SCHOOL: Ph: 4312309   
KAIWAKA SPORTS ASSN: Ph 4312005; 4312129 gym 
KAIWAKA ST JOHN HALL: Phone Marj  0272941227  
KATE'S PLACE Community Centre - Employment services, Free Health 
Nurse, Plunket, Advocacy, Osteopath, A.A., Legal Advice. 4312 661 
LINKING HANDS Health Shuttle Ph 4315906 or 09 4318969 
MINISTRY FOR PRIMARY INDUSTRIES - General inquiries Call 
Free 0800 008 333 
NORTHPOWER: Faults Kaiwaka area 0800 104040 
OTAMATEA COMMUNITY SERVICES: Counselling, parent coach, 
Family Support worker, budget advice, food bank. Mon-Fri 9am-3pm. Ph 
09 431 9080 http://www.otamateacs.org/ 
PARENTPORT: Free, practical family support service Puhoi to Paparoa 
Ph or txt: Dianne 027 280 5093 or 09 425 9357 
PLUNKET: Kaiwaka- St John Hall, Monday 19 Oct, 23 Nov, 21 Dec. then 4th 
Monday of the month. Plunket Nurse Louise 027 282 3987 or 09 438 2508 
Mangawhai- Rose Madsen Cottage, Mondays and Wednesdays. Plunket Nurse 
Rebecca 021 501 941 or 09 438 2508 
Maungaturoto - Good News Church, 2nd and 4th Wednesday of the month. 
Plunket Nurse Seleisa 021 912 248 or 09 438 2508 
PLUNKET HELPLINE -0800 933 922 (24 hours)  
FACEBOOK - Kaipara Plunket 
TAITOKERAU COMMUNITY LAW: Free confidential legal advice and 
assistance, 2nd
Thursday
 of each month. Ph: 0800 155 529 for appts.  
TE URI O HAU Settlement Trust Tangata Developments: Whanau Ora 
021 793262  
VETERINARY SERVICE MANGAWHAI: 
Ph: 4314535 Mon-Fri 8.00-5.00, Sat 9-12, a/h appt. 
WELLSFORD DOCTORS: Ph: 4238 086 
CHURCHES:
 
Kaiwaka  Revival  Church  -  Your  Community  Church:  Sundays  10am. 
Ph: Pastor Tawhiri 09 431 8988 or Pastor Paul 09 4312 068 Visit us at 
www.facebook.com/kaiwakachurch 
 
St  Paul's  Anglican  Church  1st  Sun.  9.00am  (Eucharist),  3rd  Sun. 
9.00am (Family Service). Contact: Rev. Wayne Thornton Ph 431 4122 
www.mangawhaianglican.org.nz 
 
Church of Christ the King, Mangawhai:9.00am every Sunday 
 
St.Mary's  Catholic  Church:  Maungaturoto  –  Griffins  Road,  Saturday 
evening  Vigil  Mass  6pm;  Mangawhai  –  Senior  Citizens  Hall,  Sunday 
Mass  8:30am;  Wellsford  –  Matheson  Road,  Sunday  Mass  10:30am;  
Mid-week Mass times and all enquires to Fr. Bill Fletcher – phone 423 8170
 
Baptist Church: Sun. 10.30am Mangawhai Snr Cit.Hall.Ph:4312339 
 
Cause  Way  Church  Mangawhai:  Sundays  10.15am,  Mangawhai 
Community  Recreation  Centre,  Insley  St.  Ph:  09  4314782 
HAKARU RE:SORT STATION 
636 KAIWAKA-MANGAWHAI ROAD 
Open every day 10am - 4pm ~Closed All Public Holidays 
Telephone: 09 431 2629