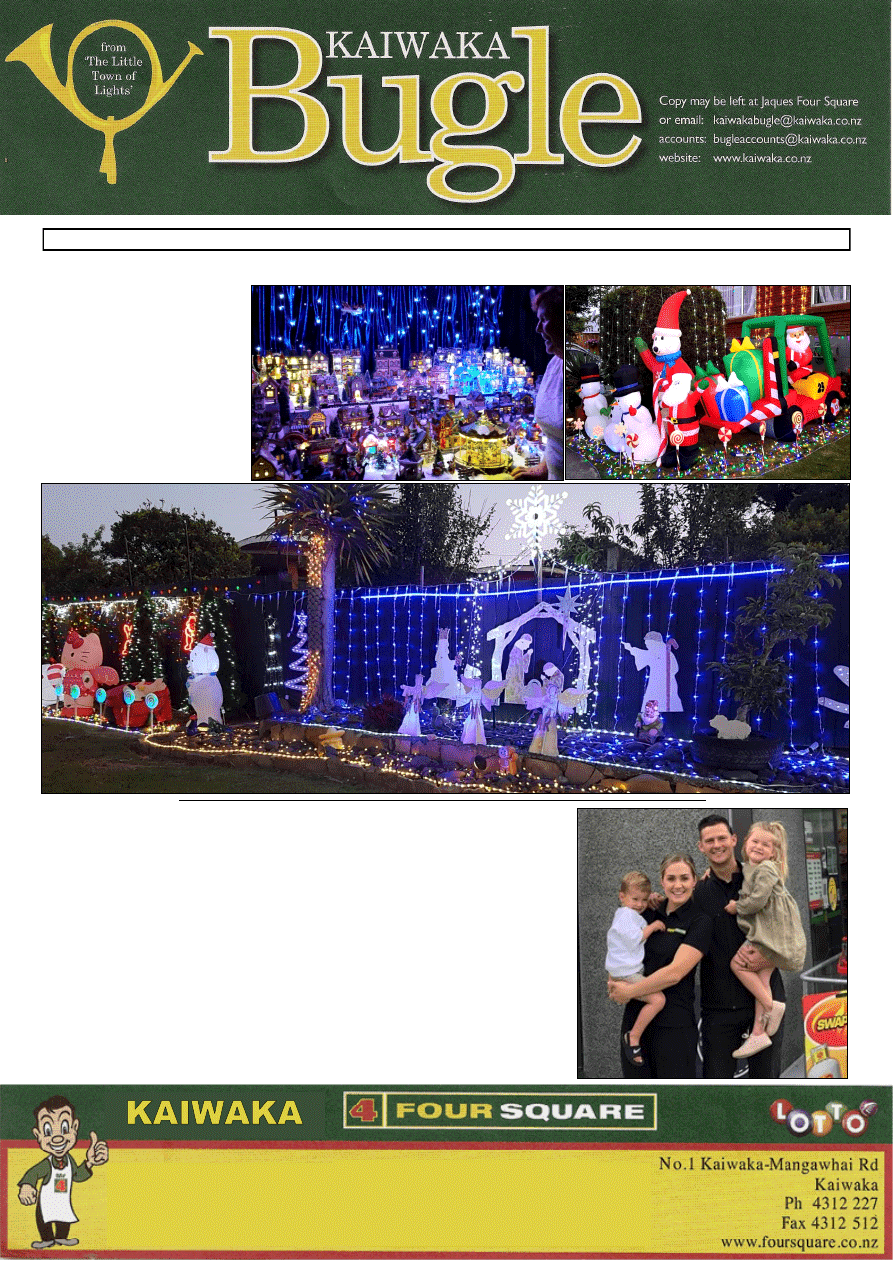 www.kaiwaka.co.nz 
Kaiwaka Bugle - 8 December, 2020 
Page 1 
No: 24 
 8 December 2020 
HOURS: 
7.30am - 7pm, seven days 
CLOSED XMAS DAY 
KAIWAKA TRADITION: CHRISTMAS LIGHTS! 
Merry 
Christmas 
everyone! 
Our lights are on 
from  8.30pm  every  night. 
'Santa  Town'  is  open  and 
there's snow and bubbles too! 
Kaiwaka  Caltex  has  made 
parking 
available 
after 
8.30pm.  A  donation  for  the 
Kaiwaka Fire Brigade would 
be appreciated. 
 ~ Pam and Mark 
FOUR SQUARE CHANGE 
HELLO from the PEDERSENS: 
'It is a real honour to be the new owners of Four Square Kaiwaka (Jaques).  
We relocated north from Tauranga late in November where we were previously 
the owners of Four Square The Lakes. Picking up the reins from Greg, Paula 
and the Jaques family that have gone before them is a responsibility not lost on 
us.  
Along  with  the  team,  we  are  committed  to  continuing  the  amazing  store 
experience that the Jaques family have been offering customers for the past 96 
years.  The  focus  on  fresh  meat,  produce,  baked  treats  and  a  quality  grocery 
offering all at reasonable prices will remain. Along with this we'll continue the 
strong emphasis on community that has endeared the Jaques family to this part 
of NZ.  
For  those  that  we  have  met  so  far,  thanks  for  being  so  welcoming  of  us  into 
your neck of the woods. And we look forward to meeting those that we haven't 
yet met.'  ~ Warm Regards, Ant, Jess, Ruby and Harry Pedersen 
TRADING HOURS: 
7.30am - 7pm daily 
"Your local Store" 
Family owned & operated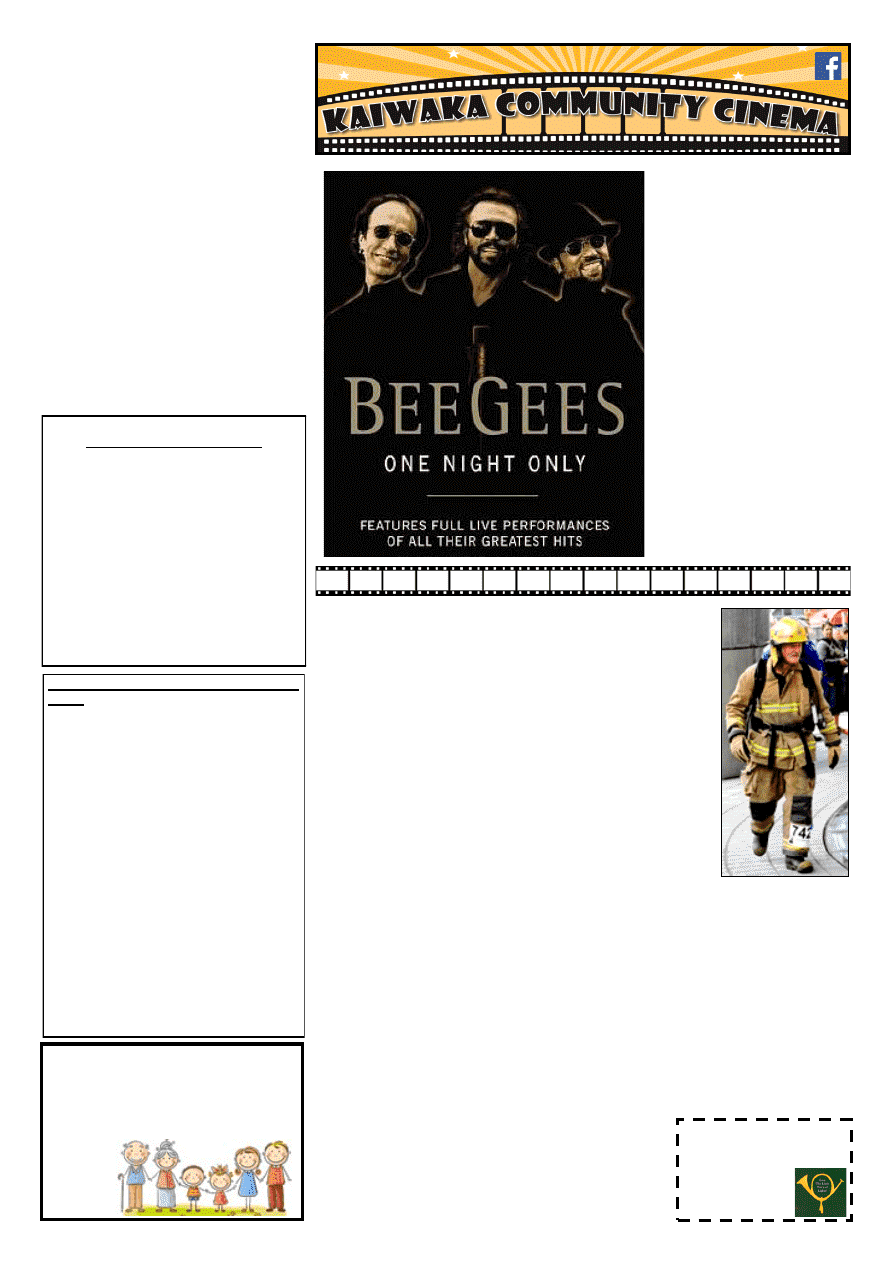 At Kaiwaka War Memorial Hall . Adults $10, Kids (under 16) $5, Family Pass (2 adults + 3 children) $25 
KAIWAKA BUGLE No. 24 
8 DECEMBER 2020 
CONTENTS 
Page 3: Public Notices, Classified 
Page 5: Kaiwaka Weather;  Christmas 
Gets Everywhere 
Page 7:  Councillor's Comments 
Page 9: Kaiwaka Revival Church 
age 11: Kaiwaka Sports Assn. 
Page 13: Otamatea High School; 
Women's Section Hakaru RSA 
Page 15: Kaiwaka Can 
Page 17: Pests; Gardening 
Page 19: Kaiwaka Library 
Page 21: Seasons Greetings 
Bugle  1 2021 will appear 26 January  
Contact for advertising, reports, articles 
or information can be made by 
Email kaiwakabugle@kaiwaka.co.nz 
Ph: 09 4312 045 Lindsey 
Txt: 027 2724137 
Copy may be left at our Four Square. 
Kaiwaka Bugle 
Founded May 1978 
We appreciate articles and photos about local 
events, etc, as well as ads and suggestions. 
Copies available in Kaiwaka at Four Square, 
Kaiwaka Postal Centre, Shamrock Service 
Station, Best Pets , Kaiwaka St John shop. 
Also outlets in Maungaturoto, 
Mangawhai and Paparoa. 
Can be viewed online at   
www.kaiwaka.co.nz/Bugle  
Or a copy can be posted to you if you supply 
stamped, self-addressed DLE envelopes. 
Kaiwaka 
Bugle 
Advertisements 
2020: 
All 
copy 
and 
queries 
to: 
kaiwakabugle@kaiwaka.co.nz 
The Bugle is printed on an A4 page   
Ad  sizes:  1/16  page  (3  x  9.5cm)  $5;  1/8 
(6.5  x  9.5cm  landscape  or  portrait)  $8; 
3/16 ( 10 x 9.5cm or 7.5 x 12,5)  $12.  
Classified  ads:  First  one  FREE,  $4  per 
entry (max. 30 words, max. 4 repeats). 
Payments  can  be  made  online  at 
ANZ 
06  0365  0006990  00
,  posted  or  left  at 
Kaiwaka Four Square Store. 
We  use  Microsoft  Publisher,  and  can 
work  with  most  common  image 
formats, Word, Excel, and PDF files. 
Accounts:  
Email: bugleaccounts@kaiwaka.co.nz 
The  Kaiwaka  Bugle  is  a  community 
newspaper run by volunteers, as part of 
the Kaiwaka Media Group Inc.   
Articles, etc. printed are not necessarily 
the opinion of the Bugle Team. 
ABOUT TOWN

 We were saddened to hear of the death of Mike Law  - 
one  of  our  Kaiwaka  Fire  Brigade,  pictured  here  at  an 
earlier Sky Tower Stair Challenge

 Our  condolences  to  Gayle  Brown  and  family  on  the 
recent passing of her husband Ken.

 Kaiwaka Footbridges - see page 7 showing the existing 
and  proposed  pathways;  best  seen  in  colour  on  the  Bugle 
website www.kaiwaka.co.nz

 A  very  big  thank  you  to  Thelma  for  all  her  Scrapbook 
Notes  she  has  shared  over  the  years.  Thelma  has  moved 
south and retired - best wishes, Thelma.

ALSO thank you from the Bugle Team to our advertisers 
and  our  article  authors  -  we  have  a  great  community  and 
the support for all is brilliant.

 The Hakaru RSA are putting on a Christmas lunch for anyone who may be on 
their own or would like to be among others on Christmas Day. Lunch starts at 
12.00 and is $10 a head. Ph: 4315034 

 Maungaturoto Christmas Parade and Festival - 19 December 4-7pm

 Mangawhai  Activity  Zone-  Sunday  13December:  Santa  Parade  10am  & 
Christmas Concert 4-7pm 

 FIRST  AID:  The  St  John  Otamatea  Area  Committee  funded  courses  for 
December and January filled up in 24 hours! Watch out for more courses in the 
New Year. 

 Otamatea  High  School:  2021  the  School  Office  opens  on  20  January  ;  4 
February  start  for  Year  7,  all  Year  13,  and  new  students;  5  February  whole 
school to attend. Ph 0800 682 628 for further information.  

 Kaiwaka School first day 3 February 2021 

 Kaiwaka Sports Assn: Email address kaiwakasportsassn@gmail.com 

 Kaiwaka  Bugle  No.  24  is  online  at 
www.kaiwaka.co.nz  and  is  in  print  for  our  local 
Readers. Best wishes from the Kaiwaka Bugle Team  
~ 
Lindsey, Ed
"This is not the year you get everything you want. This is 
the year you appreciate everything you have." ~ Anon 
BEE GEES 
ONE NIGHT ONLY 
Friday 11 December, 
7.30pm 
A SPECIAL MUSIC 
MOVIE NIGHT! 
This 
is 
a 
great 
concert  ..over  2  hours  of 
their  30  greatest  hits 
performed  in  MGM  Las 
Vegas 
in 
1997... 
No ticket sales ...full is 
full...advise to be early.. 
$15...BYO… 
Enjoy  nibbles  and  dips  and 
during  the  break  a  free  tea 
or coffee and cake...  
KAIWAKA BUGLE 
DEADLINE DATES 
2021:   
Every second 
Friday
January 22 
Proverbs 16:20 
God blesses those who obey 
Him; Happy the man/
woman/child who puts their 
trust in 
the 
Lord.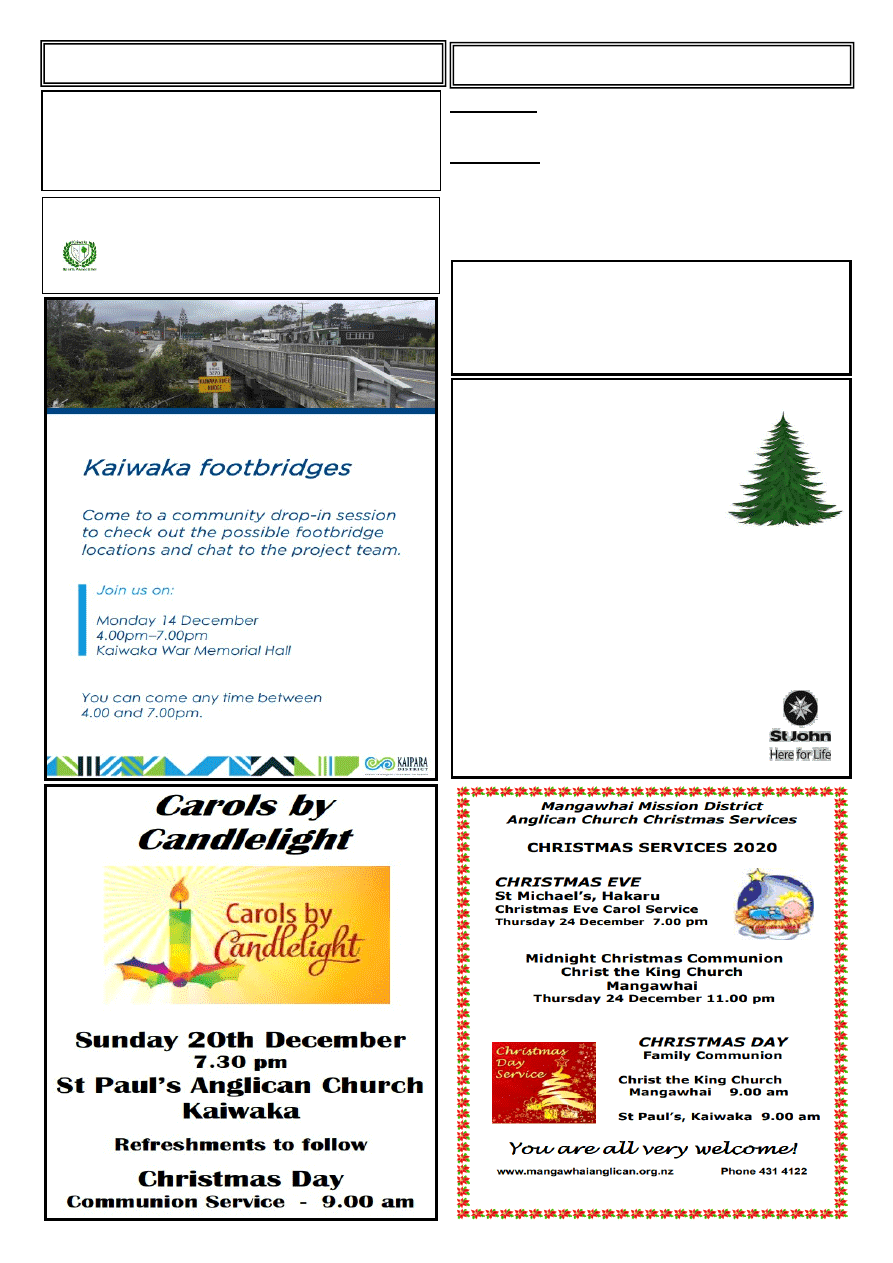 www.kaiwaka.co.nz 
Kaiwaka Bugle - 8 December, 2020 
Page 3 
PUBLIC NOTICES 
CLASSIFIED 
 WANTED: A water tank for the local IHC vegetable 
garden. Pleas phone Karen 4312605 or 0272643477 
FOR SALE: XMAS TREES 
Otamatea  St  John  will  once  again  be  selling  Xmas 
trees  to  the  community.  The  first  delivery  will  be  on 
the  8th  December  2020  and  can  be  picked  up  from 
either  the  Maungaturoto  Op  Shop  or  Farmsource. 
Wishing everyone a happy and safe Christmas. 
KAIWAKA SPORTS ASSOCIATION INC 
Top of the Rock meeting 
Monday 14 December, 7pm 
Kaiwaka Sports Complex 
All Welcome 
KAIWAKA ST. JOHN OP SHOP 
CHRISTMAS TREES  
$40.00 in store NOW  
Selling fast so be in quick 
We will be open Monday to 
Wednesday between Christmas and 
New Year. 
❖
 NEEDED:  Towels,  Summer  items  and  clean  and  tidy 
bric-a-brac for gifts. 
❖
DON'T  Forget  to  get  your  First  Aid  Bag  ready  for 
travelling.  These are available in various sizes. 
❖
Join  our  Supporters  Scheme,  members  get  FREE 
Ambulance rides, this will save stress and $98 a ride. 
Individual  Only  $55,  Couples  only  $75  and  Family  3+ 
living at same address $90. 
Merry  Christmas  and  Compliments  of  the  Season  to 
Everyone. Regards, Dianne 
Our Hours are : Tuesday – Friday 10am to 
3pm;  Saturday 10am – 2pm 
PHONE: Shop  4312650   
 Check us out at 1919 SH1, Kaiwaka
RETIREMENT THANK YOU 
FOR GREG & PAULA 
At Kaiwaka Sports Complex 
Saturday  12 December, beginning with powhiri at 3pm 
Further information contact Maria  0275312746 
HAKARU RE:SORT STATION 
636 KAIWAKA-MANGAWHAI ROAD 
Open every day 10am - 4pm ~Closed All Public Holidays 
Telephone: 09 431 2629 
CLOSED 25th and 26th December 
1st and 2nd January 2021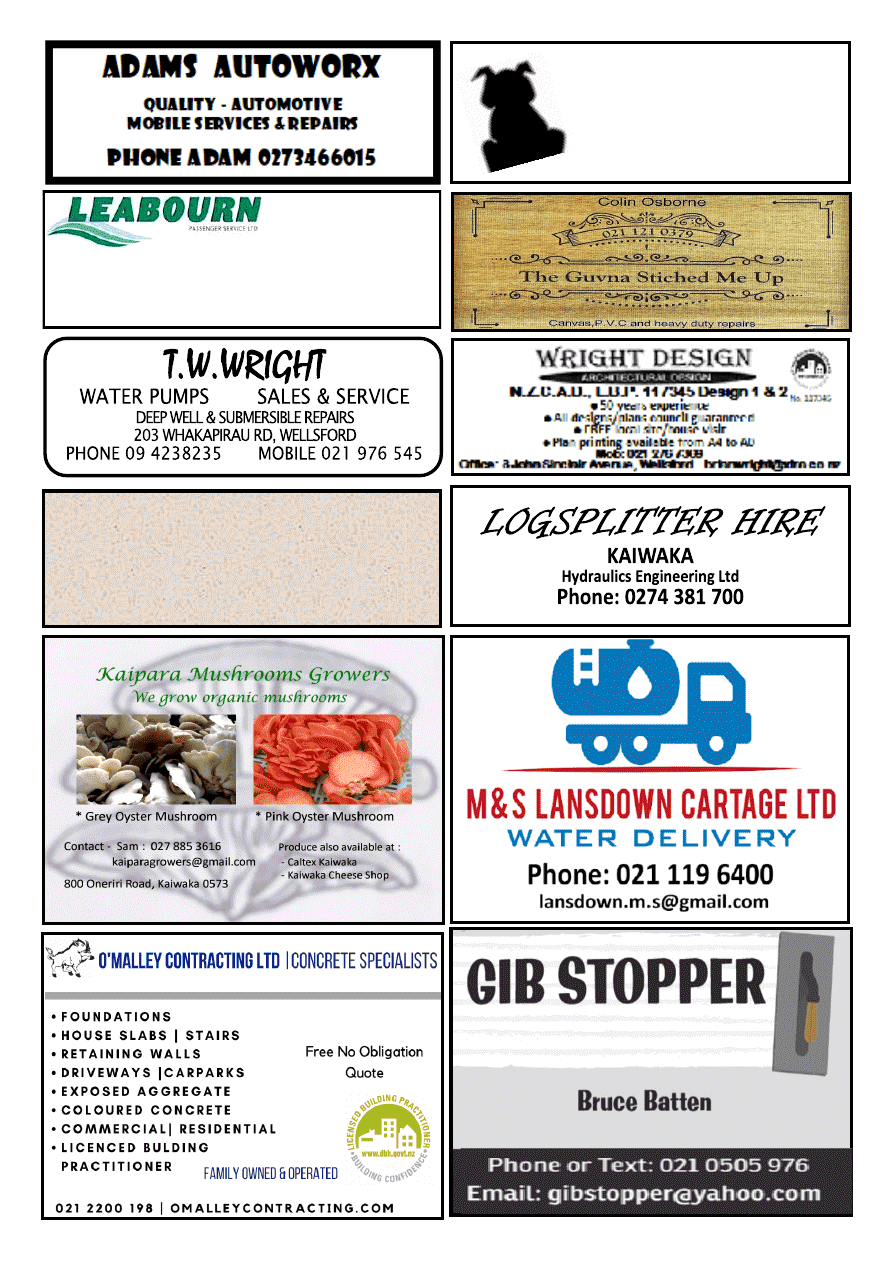 Counsellor and Registered Psychotherapist 
Offers Supervision
Susan Matheson 
MNZAC 
Dip. Psychosynthesis Counselling and Psychotherapy 
Phone 09 431 2996                        Mobile 027 605 2427 
Passenger Service
Car & Van Hire   Bus & Coach Charters 
Airport Transfers    
Phone (09) 4237416 
Kaipara Dog Training Club 
Mangawhai Domain, Moir Street 
Every Wednesday Night from 5.30pm 
Please contact the Secretary  
for further information 
kaiparadogtrainingclub@gmail.com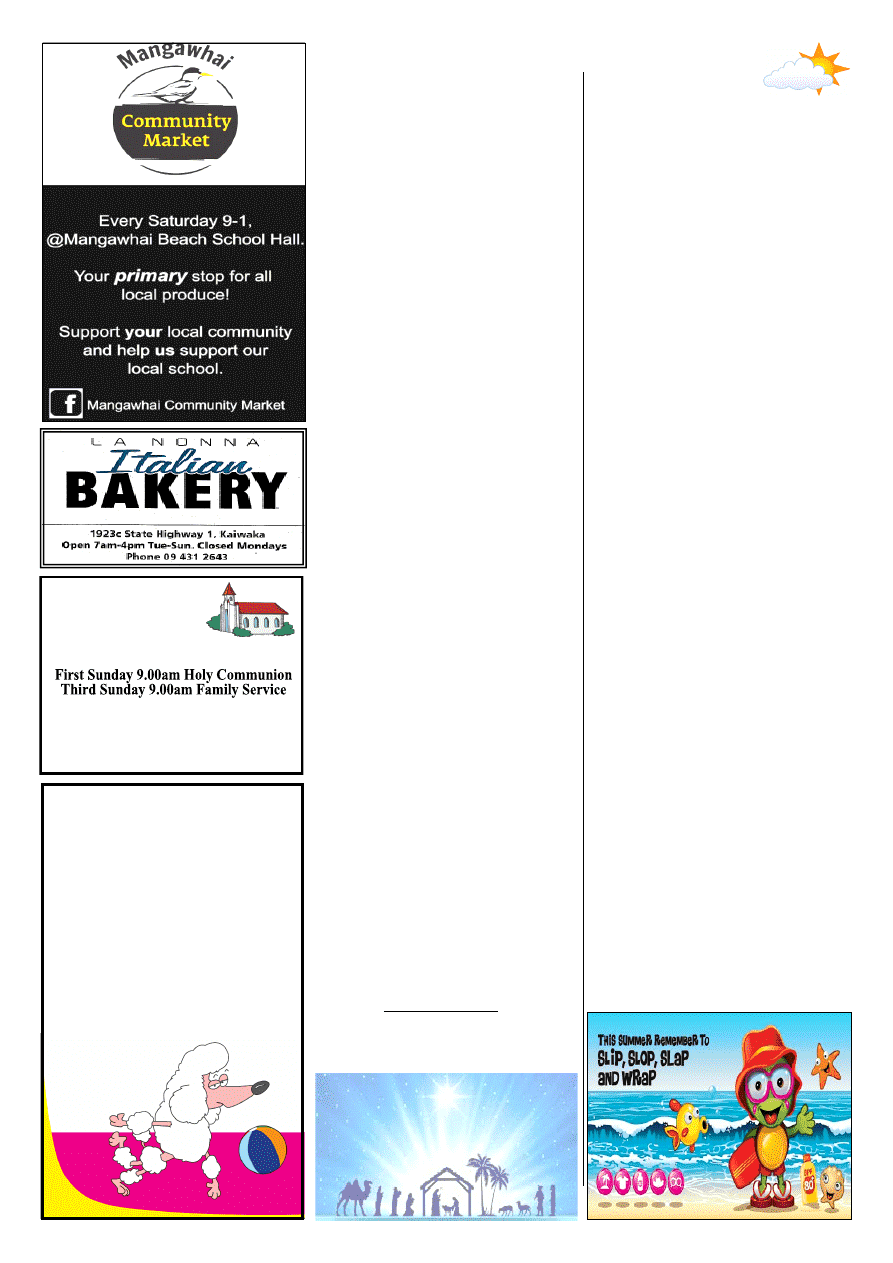 www.kaiwaka.co.nz 
Kaiwaka Bugle - 8 December, 2020 
Page 5 
KAIWAKA 
WEATHER  
Welcome  to  all  our 
regular readers and new to the district. 
As I type this out it is only 25 days till 
the end of 2020. As many people heave 
a sigh of relief. It has been a traumatic 
year for most people.   
Interesting  though  how  many  found 
they could put in a garden.  Water may 
be  a  problem  though.  Think  of 
ingenious ways of how to save it.  A lot 
of  people  found  they  had  to  turn  to 
their computers more to get work done.   
Lots of changes took place.  A bit like 
the  weather.  Very  windy  easterlies, 
partly  cloudy  then  wind  back  to  the 
southwest. We did get some rain but it 
needs a lot to get into the ground. It is 
so  dry.    It  seems  most  farmers  have 
been  able  to  access their  properties  all 
year  round.  The  winds  swung  from 
North  to  Northeast  and  round  to  the 
South and Southwest. As I type this out 
we have 17 days to go to our Summer 
Solstice and  of course the Big Ho Ho 
on  the  25th,    then  New  Years  Eve. 
With school holidays starting in a week 
or two.  
The Brynderwyn Waterfall is very slow 
now.  Summer predictions  are tropical 
storms but who gets the rain is anyone's 
guess.  

Well  for  November  2020  at  Santa's 
house  we  measured  122mm  rain  and 
for 2019 was 47mm.  

November  2020  we  had  9  days  of 
rain and 2019 we had 7 days with rain.   

Our  first  11  months  of  2020  we  had 
1407mm  and  for  2019  we  had 
1061mm.  

Our driest November since 1987 was 
1988  with  20mm  and  the  wettest  was 
1999 with 340mm. 

Our driest 11 months since 1987 was 
1993  with  888mm  and  the  wettest  11 
months  since  1987  was  1989  with 
1663mm. 
Please  watch  out  for  the  children 
during  the  school  holidays.  In  fact  all 
the time.   
Q. What bow cannot be tied.   
A. A rainbow of course.   
And for my last joke of the year : 
Q.  How  does  a  dog  stop  a  video.    A. 
Push the Paws button. 
We wish you a Merry Christmas and a 
Happy New Year.   
Season's  Greetings  to  the  wonderful 
Bugle Team. ~ Bev 
CHRISTMAS GETS 
EVERYWHERE! 
Have you put up  your Christmas 
tree? 
What 
about 
the 
decorations?  Have  you  put  them 
all  up?  And  did  you  use  tinsel, 
Christmas  streamers 
–  that  glittery, 
shimmery,  shiny  stuff?  If  you  did,  I 
wonder  if  you  have  noticed  it  too  … 
that it gets everywhere. Everywhere! 
Bits  break  off,  fall  off,  become 
detached and go all over the place. You 
vacuum it up and then just after you've 
put  the  vacuum  cleaner  away,  you 
notice  more  little  bits.  For  days  and 
days  after  you  still  find  it,  because  it 
gets  everywhere!  Then,  long  after 
Christmas;  after  you  have  taken  down 
the  tree  and  carefully  put away  all  the 
decorations,  you  find  bits  of  tinsel  in 
odd  corners,  hidden  away.  In  the 
middle of winter, you will suddenly see 
something  glinting  as  it  picks  up  the 
light. 
I  was  getting  kind  of  annoyed  or 
frustrated with all these loose bits of 
tinsel, but then I realised that it is a 
metaphor,  an  image,  a  picture  of 
Christmas  -  because  Christmas  gets 
everywhere,  and  it's  supposed  to! 
Christmas  is  God's  love  made 
visible, 
tangible, 
touchable, 
believable,  real  …  and  it  gets 
everywhere. 
The  Spirit  of  Christmas  can  reach 
people and situations that are closed off 
at  other  times.  This  happens  and  we 
can rejoice and be thankful that it does; 
that just like those bits of tinsel, it gets 
everywhere.  The  Good  News  of  God 
who  loves  us  so  much  and  comes  to 
share our life and be alongside us. And 
it all  begins  with Jesus,  the  baby  born 
in a Bethlehem stable. 
But then I also realised that there is 
another  aspect  to  this  –  our  part. 
Christmas  and  the  Good  News  of 
God-with-us gets everywhere through 
us.  We can  be like  those shiny  bits  of 
tinsel  glinting  on  a  miserable  winter's 
day. We are the signs of hope, praise, 
peace,  joy  and  love  because  that's 
how  Christmas  gets  everywhere  … 
and we're supposed to! 
May  the  blessings  of  this  special 
season be yours; may you find rest and 
refreshment  and  enjoy  a  new  year  of 
opportunity and promise. 
Peace  be  with  you,  Wayne  Thornton, 
Minister for St Paul's Kaiwaka 
ST PAUL'S KAIWAKA 
CHRISTMAS SERVICES 
Carols By Candlelight 
Sunday 20 December, 7.30pm 
and 
CHRISTMAS DAY 
Communion Service 9am 
Hot Diggity Dog  
DOG GROOMING  
KAIWAKA 
Spring is in the hair. 
Professional Dog Groomer  
at affordable prices.
www.doggroomingkaiwaka.co.nz 
call Pam 094312143 or text 
0273335380 for bookings 
ST PAUL'S  
ANGLICAN  
SUNDAY SERVICES 
St Pauls Church: Kaiwaka-Mangawhai Rd. 
Priest in Charge Rev. W Thornton Ph 431 4122 
www.mangawhaianglican.org.nz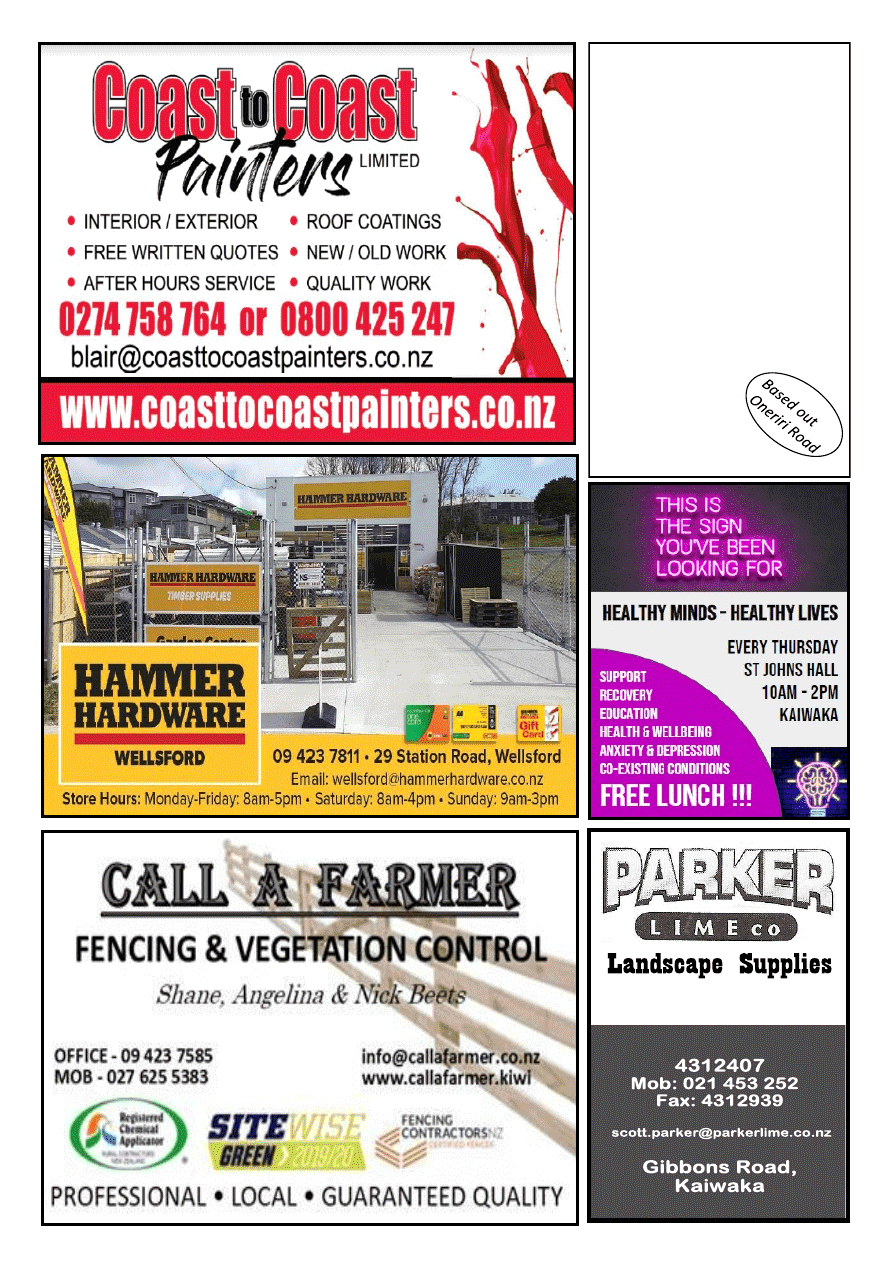 HODGETTS 
CONTRACTING
Digger Work    
Driveways   
House Sites  
Dams      
Drains, etc
Also available for HIRE 
3 ton Vib Roller  
Heavy Duty Tow  
Waterblaster      
Lazer Level
Phone Mark  
4312877 
027 447 8554 
Bulk Cartage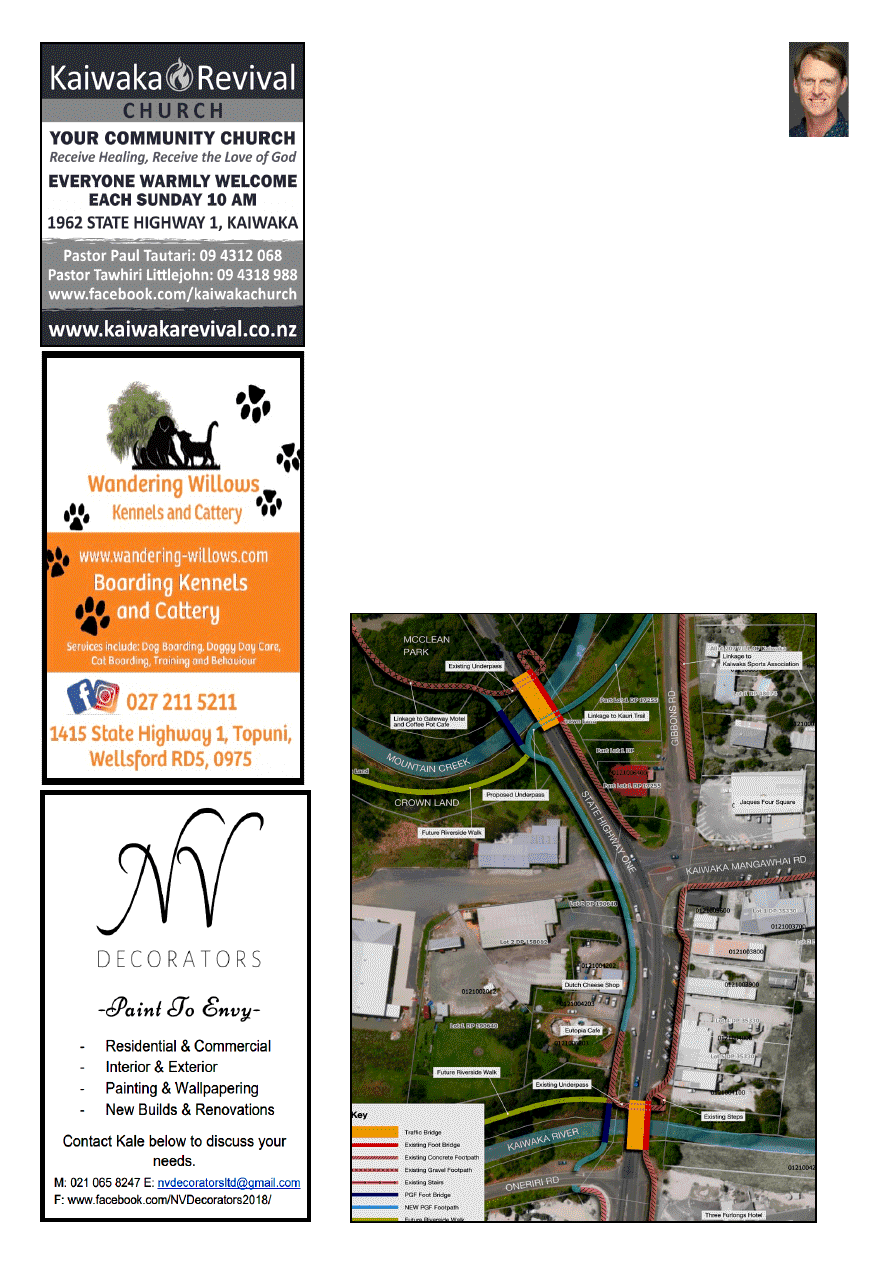 www.kaiwaka.co.nz 
Kaiwaka Bugle - 8 December, 2020 
Page 7 
With  such  a  busy  State  Highway 
One,  getting  from  East  to  West  in 
Kaiwaka has been rather precarious 
for some time.  
Building  on  the  detailed  planning  of 
Kaiwaka  Can,  earlier  this  year  I 
approached  former  Minister  Shane 
Jones for provincial growth funding for 
two  western  footbridges  and  an 
interlinking  footpath.  A  grant  of 
$750,000  was  announced  in  principle 
and  I  am  pleased  to  confirm  that  the 
funding agreement is now finalised and 
approved. 
The  initial  scoping  work  has 
confirmed  that  both  bridges  can  be 
built  on  the  western  side  of  the 
traffic  bridges.  With a new underpass 
under  the  southern  end  of  the 
Mountain Creek (northern) bridge, this 
will  allow  full  access  around  central 
Kaiwaka.  It  will  provide  seamless 
linkages  to  McClean  Park,  and 
ultimately  the  Kauri  Trail  and  Fitness 
Trail,  and  proposed  riverside  walk. 
This  is  consistent  with  the  layout 
agreed  in  the  Kaiwaka  Township 
Improvement  Plan.  It  will  also  allow 
for  pedestrian  access  to  and  from  the 
future  commercial  area  west  of  the 
Cheese  Shop  as  recently  confirmed  in 
the Kaipara Spatial Plan. 
Council is holding a drop-in 
session  at  the  Kaiwaka  War 
Memorial Hall on 14  December  from 
4  to  7pm  to  discuss  design  options, 
with  construction  scheduled  to  run 
from July to December 2021. 
NEW SCHOOL FOOTPATH 
Council has completed the design for a 
new  footpath  up  Kaiwaka-Mangawhai 
Rd  to  the  school.  This  will  include  a 
safe  crossing  point  adjacent  to  the 
playground and Kaiwaka Four Square. 
Construction  is  scheduled  to  start  in 
January 2021. 
Wishing  everyone  a  merry  Christmas 
and happy New Year. If you have any 
Council  related  issues  over  the  break 
you can call Council on 0800 727 059 
24  hours  7  days  a  week  or  email 
council@kaipara.govt.nz.  
If you have any community projects or 
issues  that  you  would  like  assistance 
with,  I  can  be  contacted  on  Ph.  021 
185 8389 or jlarsen@kaipara.govt.nz. 
*
The  views  expressed  are  those  of  the  writer 
and do not necessarily represent the consensus 
position of Council.
Below  –  Map  showing  existing  and 
proposed linkages in Kaiwaka 
[
Map  created  by  Richard  Keddell  Studio 
(www.richardkeddell.co.nz)]
COUNCILLOR'S COMMENT* 
with Kaiwaka-Mangawhai Ward Councillor Jonathan Larsen 
NEW PEDESTRIAN BRIDGES CONFIRMED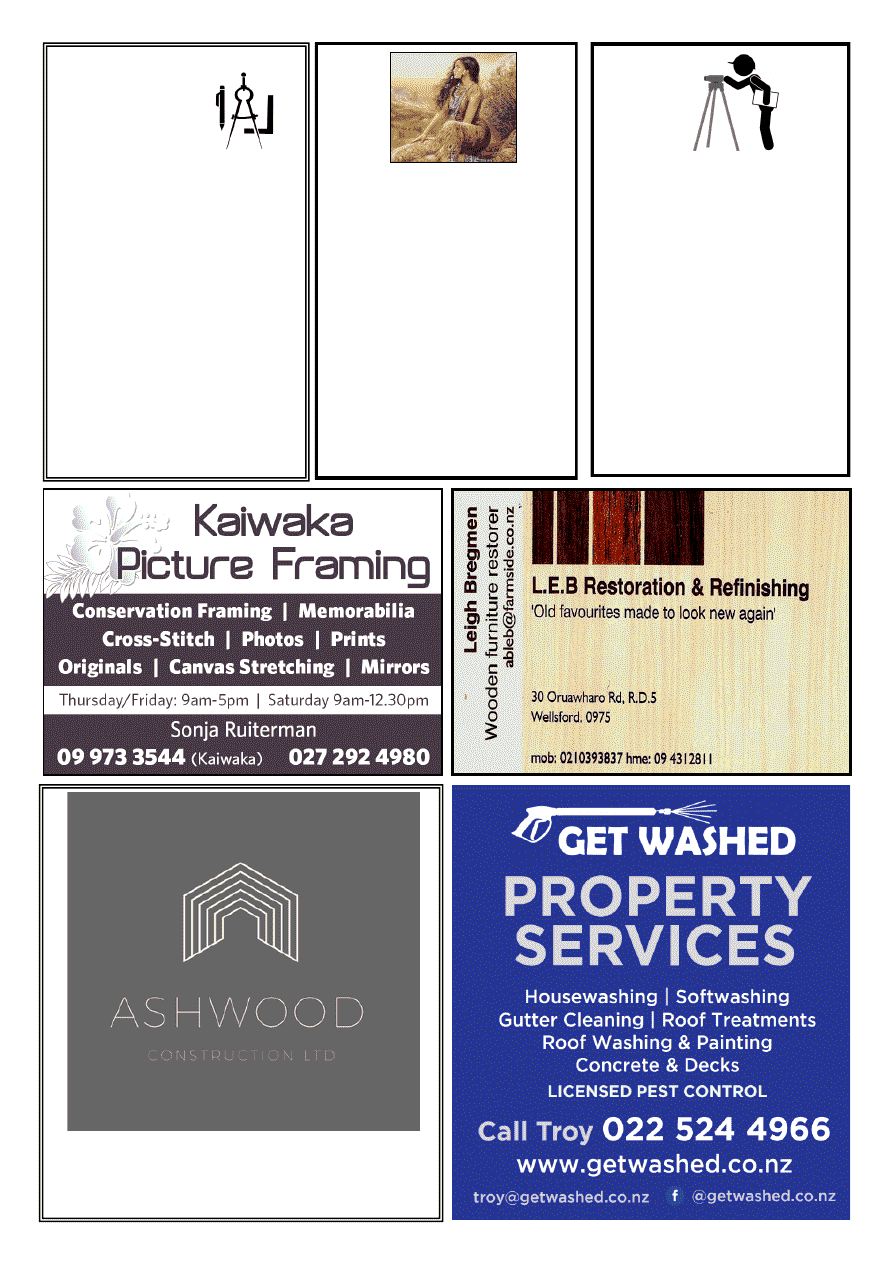 TRAILS END 
RONGOA MAORI 
HEALING 
And Gifts 
Stocking all your needs from incense, 
crystals, dream catchers, greeting 
cards, jewellery, perfume, dragons and 
more  … 
For all inquiries  
Phone 0211652629  
Light refreshments available $5 koha  
1758 Cove Road Mangawhai
ASHWOOD CONSTRUCTION  LTD 
LBP registered 
New Builds Renovations Extensions Decks & more 
After a quote? Call Lee on 0223408353 
design  
drafting  
service 
Retired builder and manufacturer with 
over 40 years experience in the building 
industry is offering a design drafting 
service for domestic housing, sleepouts 
and sheds.  
Plans formulated in consultation with 
clients, with working drawings 
completed and submitted to  
council for processing.   
Extensive practical experience,  
able to identify & resolve problems. 
Please ring Mike Lean on 
09 431 2260  
or 
021 431 196 
Ken Urquhart 
BSurv Licensed Cadastral 
Surveyor 
KMU  
Surveys Ltd
467 Bickerstaffe Road 
RD 2 
Maungaturoto 0587 
Ph 09 431 8705 
Mob 021 161 2344 
kenurquhart@xtra.co.nz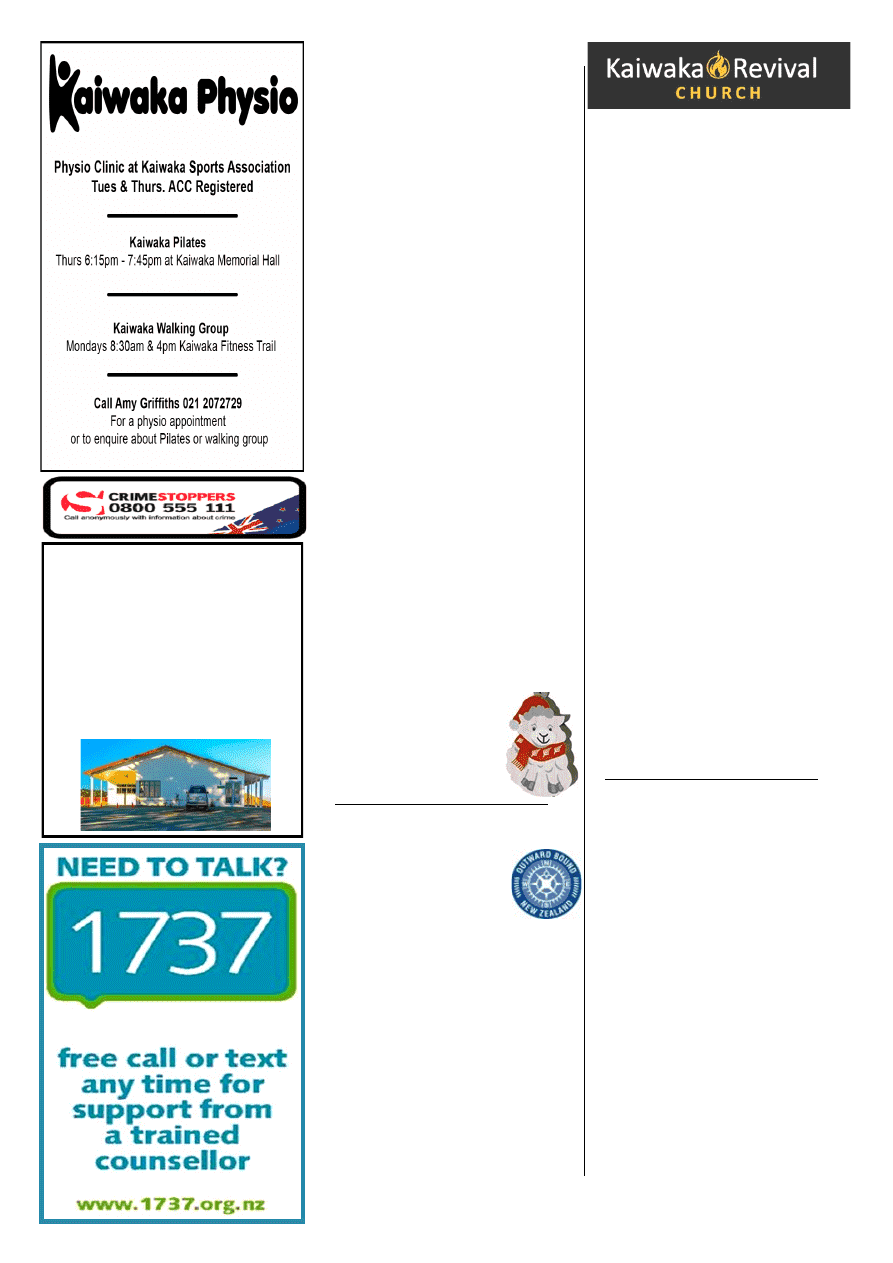 www.kaiwaka.co.nz 
Kaiwaka Bugle - 8 December, 2020 
Page 9 
Te Pounga Marae 
130 Nathan Rd. Oneriri. Kaiwaka 0573 
COMPLEX FOR 
HIRE 
Functions: * Weddings  * Birthdays  
*Anniversaries * Meetings  * Wananga 5 
hour meeting * 12 hour stay or Overnight 
*All welcome   
For more information please contact: 
 Pearl Nathan 0223933533 
Email: tepoungamarae130@outlook.com  
THE CHURCH UPDATE 
Kia Ora, I hope everyone is doing well 
I'm  just  writing  to  give  everyone  a 
quick  update  for  the  rest  of  the  year.  
For many of us this year has not been 
easy with many unexpected events and 
challenges  that  have  come  our  way. 
We  have  had  many  things  happen,  in 
which  we  give  thanks  to  the  Lord  for 
all things, because he turns everything 
around for good. 
As  we  come  to  the  end  of  the  year,  I 
would  like  to  personally  thank 
everybody for your amazing service to 
our  church.  It  has  truly  been  amazing 
to  see  many  more  people volunteer to 
serve  in  the  house  of  the  Lord  and  to 
do it with such a great attitude. 
I  would  like  to  thank  everybody  for 
their  service  and  contribution  to  the 
Church. 
CELEBRATION 
We  are  going  to  be  celebrating  on 
Saturday  12  December  at  Kaiwaka 
Revival  Church  from  5pm  onwards. 
Please  let  everyone  in  your  teams 
know that they are invited to this night 
to  honour  all  of  those  who  have  been 
serving  in  the  house.  We  will  have  a 
special dinner together provided by the 
Church.  
Last  Service  for  the  Year  2020/  First 
Service for 2021 
Our last service for the year will be on 
Sunday  13  December  and  we  will  be 
opening back up on Sunday 10 January 
2021.  
I  believe  God  is  going  to  do  some 
amazing  things  in  2021  so  let's  get 
ready for what he is going to do! 
Thanks, and blessings, Pastor Tawhiri 
Littlejohn 
 OUTWARD BOUND 
SCHOLARSHIPS  
FOR PEOPLE WITH A 
PHYSICAL DISABILITY 
UP FOR CHALLENGE 
AND OUTDOOR 
ADVENTURE 
The Outward Bound Activate course is 
an  eight-day  course  designed  for 
individuals  aged  18  years  and  over 
with a physical disability. 
Places  are  still  available  on  the 
February  2021  course  that  is  taking 
place at the Anakiwa school from 3-10 
February 2021. 
With  the  support  of  the  Ministry  of 
Social Development, funded places are 
available. 
For more information, please email 
Caroline Campbell, 
ccampbell@outwardbound.co.nz, or 
call 0800 688 927 or head to https://
www.outwardbound.co.nz/courses/
activate/. 
Applications  close  Thursday,  31 
December 2020. 
ARE YOU ALONE 
THIS CHRISTMAS? 
When  you  find  yourself  alone  at 
Christmas,  sights  and  sounds  that 
once  brought  joy  can  reinforce  your 
sense of sadness and loss. There is no 
magic, 
get-well-quick 
formula; 
processing  what  you've  lost  takes 
time and God's sustaining grace. 
Here  are  some  insights  to  help: 
(1) 
Don't assume.  
Don't buy into the myth that everyone 
else  is  having  a  perfect  Christmas 
while  you  struggle.  The  truth  is,  we 
all experience the unrealistic demands 
and 
pressures 
of 
shopping, 
entertaining  and  gift-giving.  And  it's 
worse  in  times  of  heartache.  That's 
why we're so relieved when it's over. 
(2). 
It's  just  one  day  out  of  365
. 
You  can  handle  it  for  twenty-four 
hours  because  God  has  promised  to 
give  you  'strength...equal  [to]  your 
days' (Deuteronomy 33:25 NIV).  
(3) 
Take  the  focus  off  yourself 
Reach out.
See  if  there's  a  needy  family  or  a 
hurting  acquaintance  who'd  enjoy 
spending an hour with you. It may be 
the last thing you feel like doing, but 
it  is  therapeutic,  restores  your 
perspective and brings a sense of well
-being and gratitude.  
(4) 
Start  some  new  traditions
, 
especially  when  old  ones  just  make 
you  feel  worse.  'Forgetting  those 
things which are behind and reaching 
forward  to  those  things  which  are 
ahead' 
~  Ref.  Word  for  the  Day,  Rhema 
Media' 
Christmas Movie 
Countdown  
Enjoy  a  Christmas  movie 
or 
feature 
daily 
on 
television  Freeview  25  or 
Sky 201 till Christmas. 
WONDERSTORE 
FOLLOW UP 
Front page of the last Bugle our local 
Jaques  Four  Square  Store  article  was 
headed 'Welcome to the Wonderstore' 
–  quoted  from  a  statement  made  by 
John  Bowmar  in  Roger  Smith's  book 
'Stories  Tall  Stories  Short-  Kaiwaka 
2009'*.  David  Kisler  has  noted  that 
the original wonderstore was Bennetts 
Wonderstore  at  Port  Albert.  It  was  so 
named  in  1972  by  Simon  Damerell  a 
co-worker  at  an  oyster  lease  on  the 
foreshore of Bert Stables farm on Pah 
Hill Road, Port Albert where we came 
to  love  the  Kaipara.  Simon  later 
became  a  teacher  at  Kaiwaka  School 
where he met John.  
David  says,  "Nonetheless  best  wishes 
to  the  new  owners  of  Jaques.  They 
have  always  had  the  most  charming 
and  congenial  checkout  girls  you 
could  meet  in  a  day's  march.  I  could 
shop  in  Ponsonby  but  always  prefer 
Jaques." 
* Available at All Sortz Collectables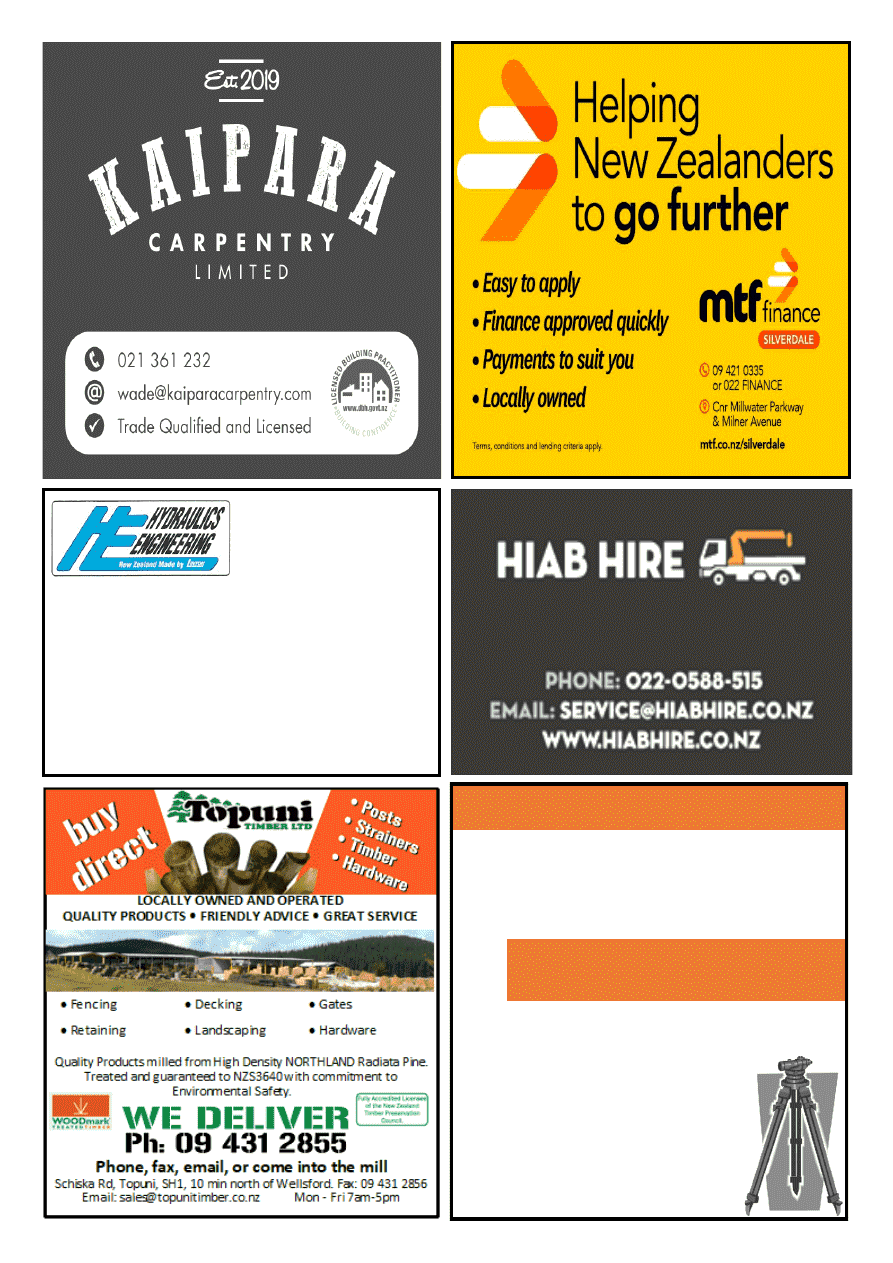 SURVEYORS 
SUBDIVISIONS 
HOUSE SITE SURVEYS 
CIVIL ENGINEERING 
WASTEWATER DESIGNS 
EXPERIENCED 
PROFESSIONAL 
INNOVATIVE 
Ph 09 431 5353 
0800 PACIFIC (0800 722 434) 
pacificcoastsurvey.com
Adam Booth - 027 415 5752 
Bsurv, Licensed Cadastral Surveyor
Surveying Kaipara since 1994 
Hydraulics  
Engineering Ltd 
Kaiwaka 
Sales - Service - Parts - Hire - Manufacture 
Service Contractors & Industrial Equipment: 
Rams, Pumps, Valves 
Logsplitter Hire, Manufacturer, Sales 
Dennis Linton 
Lot 2 / 161 Ranganui Road, RD2, Kaiwaka, 0573, New Zealand 
Mobile: 0274 381 700 
Email: hydraulicsengineering@xtra.co.nz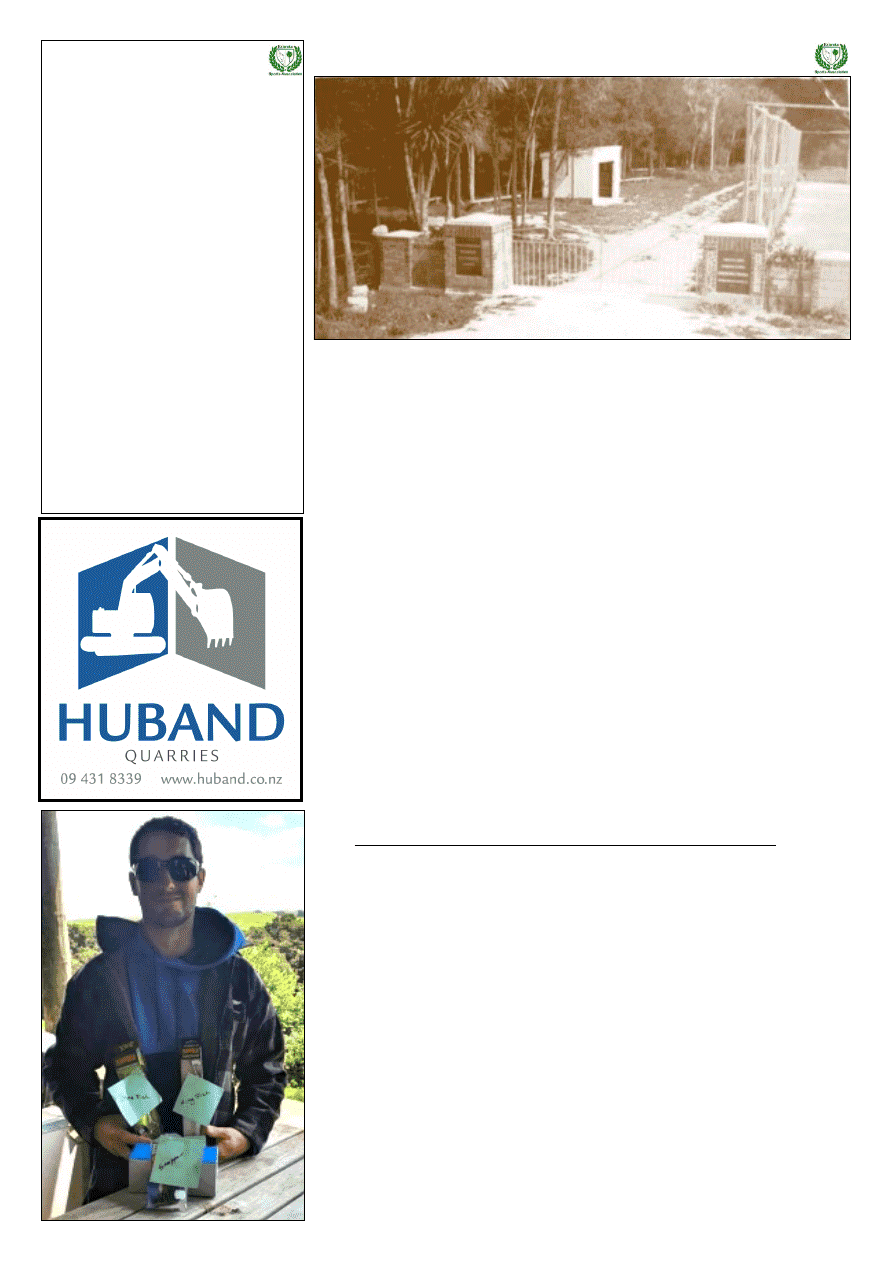 www.kaiwaka.co.nz 
Kaiwaka Bugle - 8 December, 2020 
Page 11 
EARLY KAIWAKA TENNIS 
McClean  Park  was  opened  on  15th  November,  1947,  together  with  the  three 
courts. A gathering of nearly 300 people witnessed the opening. Later on at the 
entrance to McClean Park gate-posts* were built of Bald Rock stone and brick, 
on which are plaques, with appropriate wording, to commemorate the centennial 
of  New  Zealand.  1840-1940.This  memorial  was  officially  opened  on  23rd  of 
April, 1949 by the Hon. W.E. Parry, M.P., Minister for Internal Affairs.  
* Gate post now at KSA entrance. 
Ref. 'Centennial of Kaiwaka 1859-1959 
OTAMATEA TENNIS TOURNAMENT 
The  70th  annual  Otamatea  Tennis  open  will  be  held  over  the  Auckland/
Northland Anniversary weekend 30, 31 Jan 2021 (Saturday and Sunday only) at 
the Kaiwaka Sports complex 
The  tournament  offers  men's  and  women's  singles  (3  game  minimum 
guarantee), A grade and B grade doubles and combines 
BBQ and social on Saturday night. Prize giving Sunday afternoon. 
Free camping on adjoining rugby fields for the weekend. 
A  fun  and  friendly  atmosphere  with  good  tennis  from  players  throughout 
Northland and Auckland. All spectators welcome. 
Entries
  to  Grant  Van  Dalsum  at  spiral.enterprises@xtra.co.nz  or 
innesanderson9@gmail.com 
Enquiries to Innes 027 292 1657 
KAIWAKA SPORTS ASSN. UPDATE 
The  surveillance  system  has  been  upgraded  both  inside  and  outside  of  the 
Fitness  Centre,  covering  a  wide  area  of  both  carparks.  Floodlights  have  been 
purchased and will be erected shortly. 
KSA  2020  Sport  Highlights  include  the  new  course  'Top  of  the  Rock',  the 
fitness trail (with Amy's encouragement), and the Otamatea Hawks Rugby Men 
and Women's end of season prizegiving. 
All affiliated clubs (see list top left) are running well and appreciate the facility 
and grounds. 
Any queries contact Wayne Leslie, KSA Chairman 
KAIWAKA SPORTS ASSOCIATION 
CHRISTMAS SHOOT 
Sunday 13th December, 10am start 
Club 
grounds: 
Hames 
Road 
Maungaturoto 
Entry:  $40.00  per  person  Juniors:  16 
years and under – $20; Ammo: $14 per 
box (25) 
No Dogs please on course. Can be tied 
up at your vehicle. 
Please bring your Firearms License for 
our firearms register 
Cash only. No eftpos available 
All  new  members  welcome  so  bring 
your  shooting  friends.  Great  prizes  to 
be  won  including  Hams.  See  you  all 
there. 
ANNUAL GENERAL MEETING 
The  Club  held  its  AGM  on  the  22nd 
November 2020 
Elected  Offices:  President  Cameron 
Shanks  09  431-6229;  Treasurer  Andy 
Thompson  021-1294-378;  Secretary 
Annette Pull 027-2862-329 
Committee:  Trev,  Stick,  Tony,  Jenny, 
Steve, Gary, Dillion and Hayden 
Range Safety Officer: Tony Smith 
Yearly  Subs  are  now  due:  Adult  $25 
Family $35 Junior $15 
End Of Season Prizegiving Results: 
Top Gun Prize - Dale Hamlin 203 
Fishing:  Seniors  -  Cory  Bellamy 
Snapper  11.02  kg,  Kingfish  12.86kg 
and Marlin 132.5kg Marlin 
Congratulations Cory - pictured left. 
Juniors  -  Snapper  Bronson  Wrathall 
3.76kg; Kahawai Tara Wrathall 1.26kg 
Regards Your Committee 
For  New  Membership:  Email  Andy  at 
awthompson@outlook.co.nz 
Please 
send 
photos 
to: 
annettebaker@slingshot.co.nz 
KAIWAKA SPORTS 
ASSOCIATION  
CONTACT DETAILS 
Chairperson Wayne Leslie 4312 205  
Maintenance/grounds Mark Ottaway 4312 229 
Enquiries & Bookings: 4312 227 
Clubs: 
Athletics    
Eileen Parsons   4318 055 
Badminton  
Kaye Fleming   4312 345 
Basketball  
Blake Worsfold 021 148 9743 
Fitness Centre  Siobhan Cole   027 9791203 
Hockey    
Tina Holst  
021 2935974 
Martial Arts   Craig Bennetts   4315 170 
Netball:  
Primary    
Courtney Cave  021 2667946 
High School   Melissa Watts 021 2990270 
Senior    
Maree Stewart 021 2800262 
Pt Curtis CC  Sandy Shaw 021 02360740 
Rugby:  
JMB  
Te Awhina Whitehead  
021 02596889 
IMB   
Lorena Reynolds 021 1391474 
Junior Hawks  Lorena Reynolds  
Womens Hawks Bron Hames 027 4258046 
 Senior Hawks Michael Tovine  021 1386461 
Squash    
Bruce Leslie   021 1268015 
Tennis    
Linda 021 2668571 
Sports Club Contacts please let me  
know are these details correct?  
Send to 
kaiwakabugle@kaiwaka.co.nz 
KAIPARA HUNTING & FISHING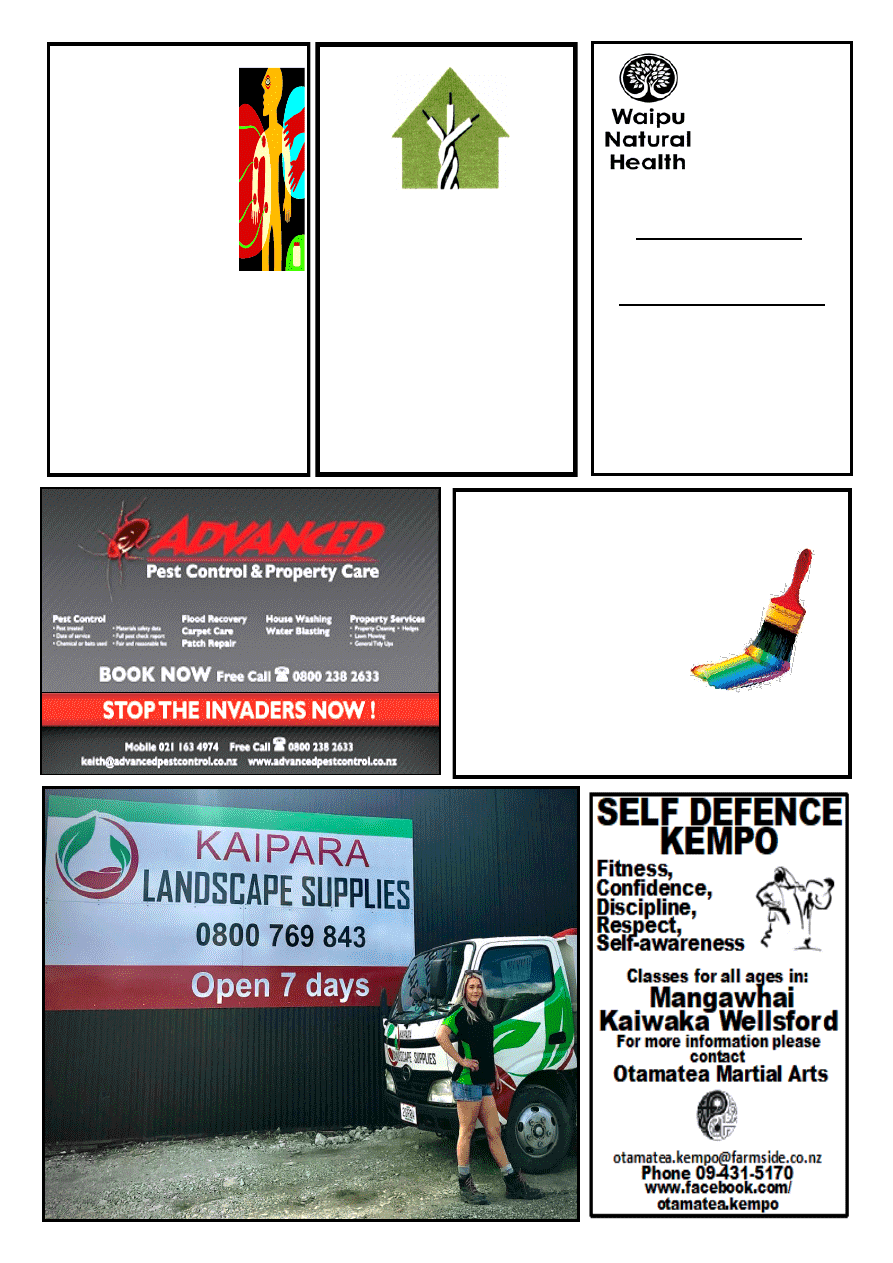 Reyahn  Leng 
 Registered Electrician 
Local, honest and reliable. 
For your residential and 
light-commercial projects. 
022 314 1068  
3 Cove Road, Waipu 
 (opposite the Pizza Barn) 
094321325 
www.waipunaturalhealth.co.nz 
Clinical Nutritionist: 
Nutritional Checkups, Diets for 
Chronic Diseases, Food 
Sensitivities 
Naturopathic Physician: 
Ozone Therapy, Prolotherapy 
Reflexology, Craniosacral 
Therapy, Trauma Release, 
Massage Therapy 
Counselling and Hypnotherapy 
Change Catalyst/ThetaHealer 
Affordable Children's Consults 
All therapists are fully qualified
OWEN STEVENS 
Osteo Therapist
For careful adjustments 
to  
bones and joints 
Treatment for  
humans and their pets 
Clinics: 
Kate's Place, Kaiwaka: 
Last Friday of month 
9.00am-5.00pm 
For bookings:  
Phone 
09 4312661 
Or phone Owen  
 09 4317123 anytime 
LEE COOPER PAINTERS 
(Kaiwaka Based) 
*30 yrs Experience 
*Interior/Exterior 
*New and Restoration 
*Honest and Reliable 
*Free Quotes 
09 4312918 
0274735171 
leecooper@xtra.co.nz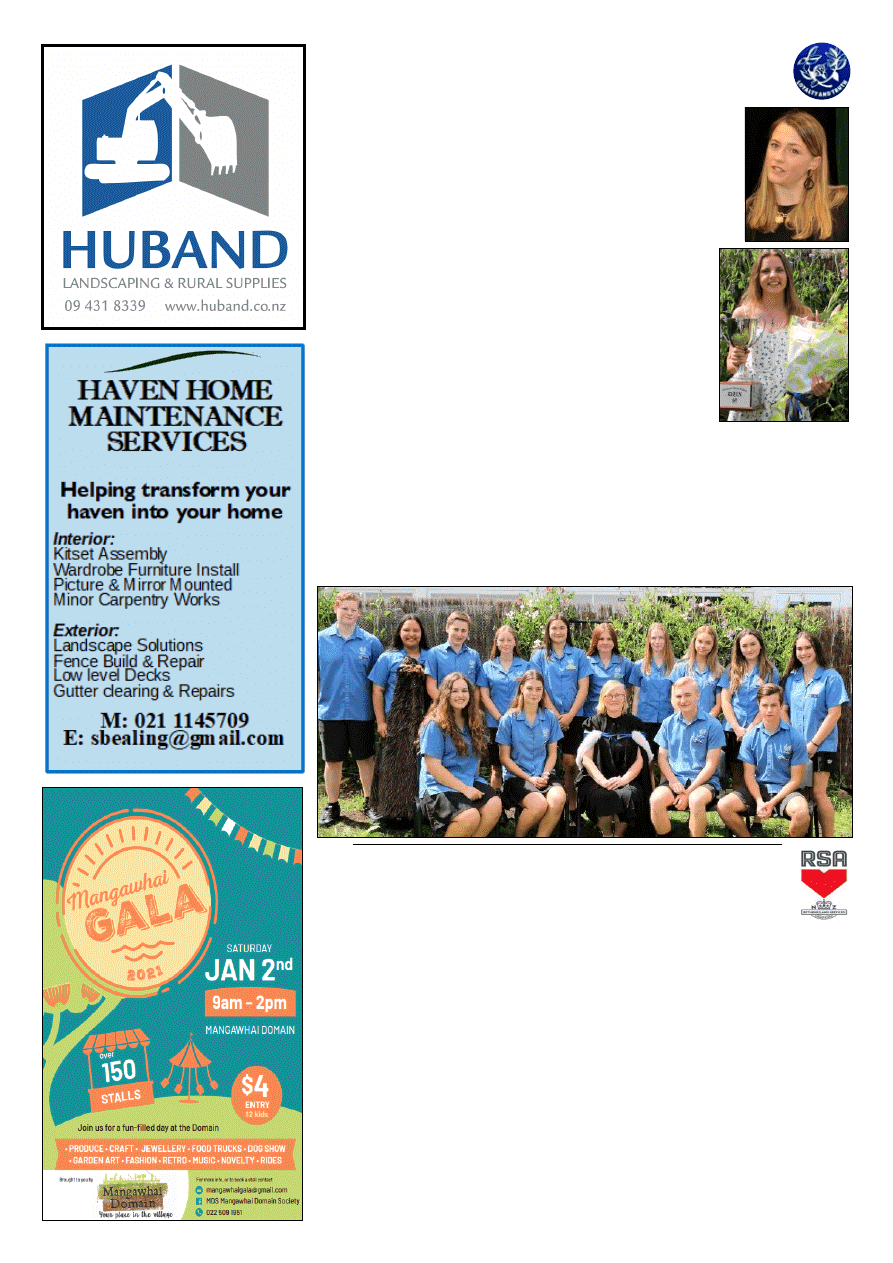 www.kaiwaka.co.nz 
Kaiwaka Bugle - 8 December, 2020 
Page 13 
OTAMATEA HIGH SCHOOL 
Notes from Rachel Clothier-Simmonds, 
Principal 
SENIOR PRIZEGIVING 2021 
Otamatea  High  School  held  their 
annual senior prizegiving on Friday 6th 
November.  It  was  one  of  the  few 
events  this  year  where  we  have  been 
able  to  host  lots  of  community 
members at the school. The event went 
off  without  a  hitch,  somewhat  more 
comfortable  than  usual,  with  the 
benefit  of  the  new  chairs  and  new  air 
conditioning unit.  
In our speeches both Llew Smart, BOT 
Chair,  and  I  talked  about  how  the 
students  and  community  have  shown 
tremendous  resiliency  this  year.  This 
character  trait  was  further  reinforced 
by  the  guest  speaker,  ex  deputy  head 
girl,  Portia  Havill  (nee  McCabe, 
pictured top right) who did a wonderful 
job  of  entertaining  and  inspiring  the 
audience.  Katrina  Poyner 
and 
Brooke  Hutton  also  entertained  the 
audience by singing "For Good" (from 
the  musical  Wicked)  and  "Don't 
Dream  it's  Over"  (Crowded  House) 
respectively.  A  new  addition  to 
prizegiving  this  year  was  the  school 
waiata  which  was  sung  beautifully  by 
the  students  as  staff  and  distinguished 
guests  left  the  stage.  Thank  you  to 
Matua  Wiremu  and  the  2020  prefects 
for adding this vibrancy to the 
occasion. Thank you to all the 
community  members 
who 
attended 
the 
event. 
Congratulations 
to 
all  of  our  prize 
winners but especially 
Maggie Hames (Dux), 
Jessica 
Evans 
(Proxime 
Accessit), 
Amy 
Lawrence 
(First  in  Year  12) 
and 
Billie 
Le 
Mesurier-
Cowborne (First in 
Year 11), the 2021 
prefects and all the 
scholarship 
recipients. 
Otamatea 
High 
School 
students 
have 
been 
awarded  over  $540,000  worth  of 
tertiary scholarships this year. 
The  full  list  of  awards  and  photos 
can be found on the school website: 
https://www.otamatea.school.nz/
latest-news/2020-Senior-Prizegiving 
Photos: Above Dux: Maggie Hames   
Bottom:  Prefects  for  2021  with 
Principal Rachel Clothier- Simmonds 
It  was  great  to  see  a  near  full 
attendance at our meeting on Thursday 
26th November, maybe it was because 
Heather  who  has  aged  10  years  since 
my  last  report  offered  to  supply 
afternoon  tea  to  celebrate  her  90th 
Birthday, Well done Heather! 
The  meeting  was  opened  by  President 
Lena who then recited "The Ode". 
The  Ladies  who  attended  the  masked 
Masquerade  dance  at  Opononi  had  a 
wonderful time. 
We hope you had a great and nostalgic 
trip away Jan and Len. 
We are joining the Waipu RSA Ladies 
at Waipu for our Christmas Dinner on   
Monday  7th  December;  we  are 
carpooling  to  make  things  easier  for 
members. 
Also,  Ladies  just  a  reminder 
Christmas Dinner will be held at the 
club  on  Christmas  Day,  but  you 
must  let  Lena  know  on 
4315034 if you would like to 
attend. Cost $10. BE there at 
11.30am. 
It  was  lovely  to  have  our  Patron  Fay 
back with us Fay also won the raffle 
Ideas  for  trips  for  next  year  were 
mentioned  one  of  them  being  the  Rail 
Trip at Dargaville. 
Trish gave us an account on "20 ways 
to  tell  we  are  getting  Older"  quite 
hilarious.  Speaking  of  age,  the 
Birthday  Girls  for  this  month  were 
Lena, Heather, Trish and Ann. 
No Meeting in December, so we wish 
everyone  a  Happy  Christmas,  and 
Members we will see you on Thursday 
28th  January  2021  at  1.15pm  at  the 
RSA 
Clubrooms 
Hakaru. 
New 
Members welcome also.  
~ Yours Aye, Ann 
HAKARU RSA WOMEN'S SECTION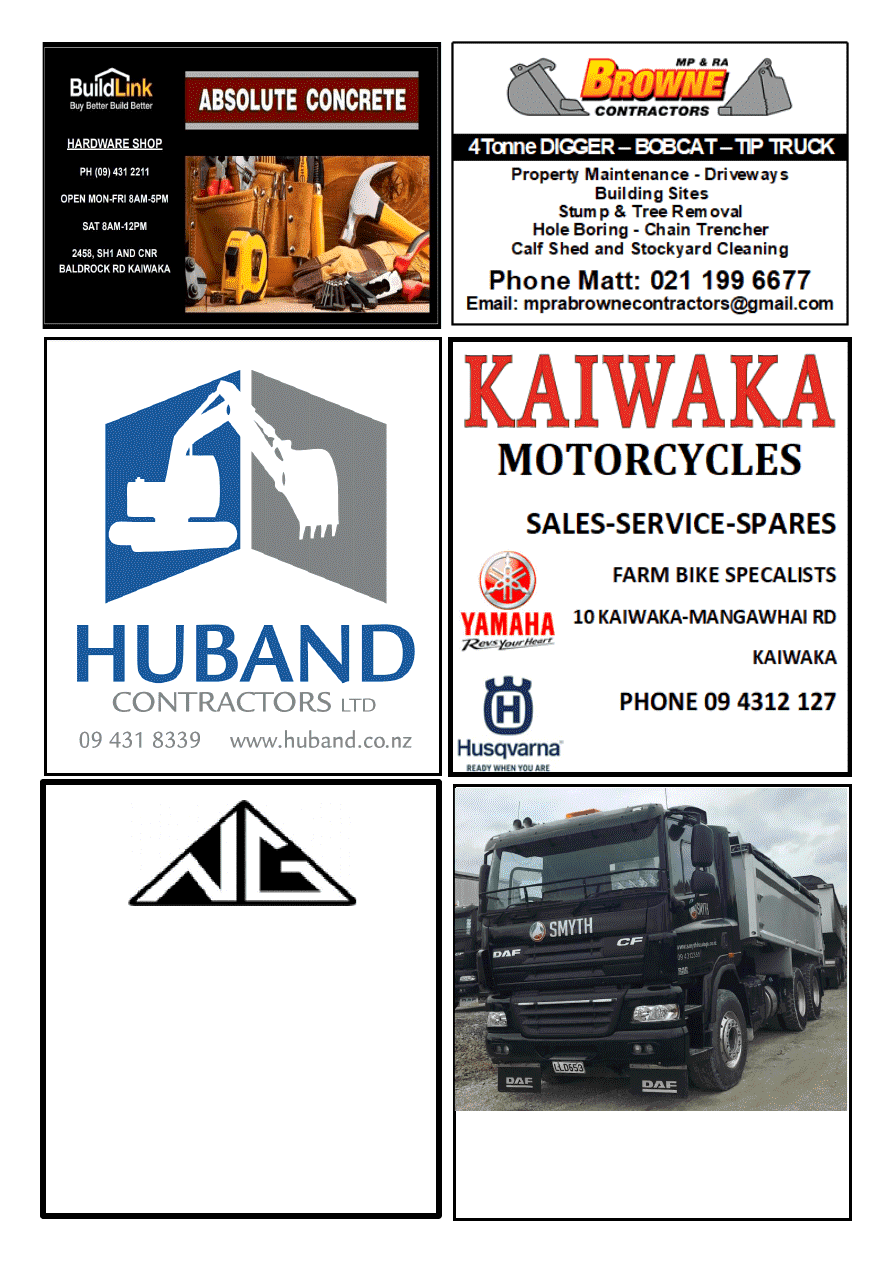 NORTH GLASS 
WINDSCREEN REPAIR OR REPLACE 
GLAZING SERVICES 
MIRRORS  •  SPLASH BACKS  •  SHOWERS 
0800 70 40 10
info@northglass.co.nz 
www.northglass.co.nz 
SMYTH HAULAGE       
for all your tip trucks & trailer 
requirements 09 4312355  
Carlton Smyth 0274870636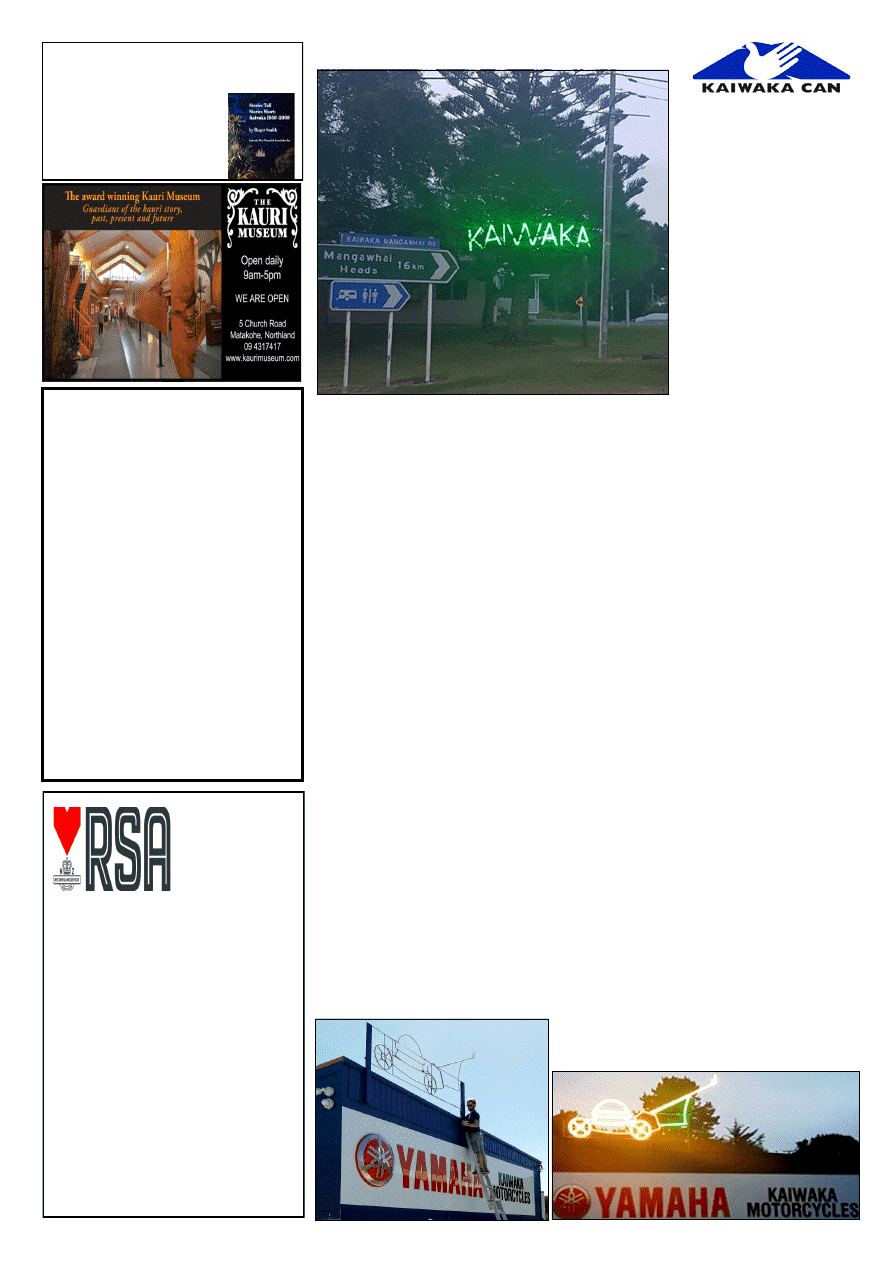 www.kaiwaka.co.nz 
Kaiwaka Bugle - 8 December, 2020 
Page 15 
HAKARU & 
DISTRICTS 
MEMORIAL 
RSA 
Members & guests are invited to 
come along and enjoy our hospitality. 
New members welcome. 
Meals are served on 
Thursday and Friday nights 
from 6.30pm. 
Order from Blackboard Menu  
The sing along with Des Chitty is the Last 
Friday of the month. 
For more information please phone 
Bill on 431 2092  
HAKARU HALL 
ACTIVITIES 

Monday:  Line Dancing  
9.45 -12pm Ph 4315160 

Afternoon Dance Energy  Lisa 
Ph. 0275610469 

Tuesday: Pilates 10am  
Qualified Instructor Ph. 0220643965 

Tuesday: Afternoon  
Dance Energy  

Wednesday: Afternoon  
Dance Energy  

Wednesday: Evening Music Jam 
Session   Dennis Ph. 0210628631 

 Thursday: Pilates 9.30am  
Ph. 0220643965 

Friday Fortnightly MESS 
CLUB   10.30 am   Inspiring play for 
under 5's. Phone Shelley 0221223781 

Sunday: Canine Coaching  
Ph 0272365004 
 Hall Bookings Karen 
4312090 
Kaiwaka Can has now been going just 
over  six  years.  That's  a  fair  few 
meetings, agendas, sets of minutes and 
the rest. So, what has all this achieved? 
Not  as  much  as  we  hoped  but  more 
than  enough  to  keep  us  going.  The 
biggest  step  forward  has  been  to  see 
many of the projects from the past now 
clarified, time lined and in the care of a 
project team. 
So, the future?? 
One  major  project  is  to  see  foot 
bridges  next  to  each  road  bridge 
giving  access  on  the  west  side  of 
Kaiwaka from Caltex to Gateway 
Motel.  No  crossing  the  highway! 
The  footbridges  were  proposed  way 
back  in  2016,  were  part  of  the  major 
Kaiwaka  Central  project  of  2018  and 
have  been  foreshadowed  in  the 
Township  Improvement  Plan  since 
2017.  
2021  will  see  the  footbridges 
completed  and  also  surrounding 
attention  to  the  landscape  by  the 
southern  bridge.  One  small  fly  in  the 
ointment  has  been  that  for  some 
reason,  some  Council  officers  have 
proposed  the  footbridge  by  the 
northern bridge be on the east side and 
not  the  west.  Rather  strange  when  the 
footpath that connects from the Cheese 
Shop to McClean Park has always been 
on the west. That was also the intention 
of  the  Provincial  Growth  Funding 
Council  received  from  the  Provincial 
Growth  Fund.  Our  aim  has  always 
been to provide access right along that 
western side and on to McClean Park, 
giving 
freedom 
of 
movement for visitors and 
those  working  in  the 
clothing 
and 
kitchen 
factories. The west side is 
also  where  part  of  the 
proposed 
commercial 
area  under  the  Spatial 
Plan will be located. And 
in  addition,  there  is 
already  access  in the  east 
via 
underpass 
and 
footpath  on  the  bridge. 
There  is  to  be  a  public 
drop-in  meeting,  14th 
December  4-7pm  at  the 
Memorial Hall. 
We  urge  you  to  think 
about where those bridges 
should go and if you want information 
on  the  long  term  plans  we  have 
proposed, get in touch and we will tell 
you why. We still are not sure why an 
eastern  footbridge  has  been  proposed 
or  how  it  will  leave  our  long  term 
plans. 
Good things happening 
This  year  has  seen  some  great  new 
additions to Kaiwaka Can, people with 
enthusiasm,  skills  and  a  sense  of 
direction.  To  see  the  big  picture 
looking  forward  is  pretty  exciting  and 
we  hope  in  the  new  year  to  host  a 
public  meeting  where  everyone  can 
come and see this big picture. We also 
believe  there  are  more  gifted  people 
yet  to join  as Kaiwaka  Can  is  open  to 
anyone at any time. 
On a personal note 
I have told Kaiwaka Can I am stepping 
down, at the very latest by April 2021 
which  is  the  annual  meeting.  It  has 
been a great ride with the group, some 
real  highs  and  some  tough  lows.  I  am 
stepping down for a number of reasons, 
some  to  do  with  age,  but  especially 
because it is time for a new voice and a 
new style. The vision is there. Let fresh 
leaders  pick  it  up  and  make  it  all 
happen. I have been the only chairman 
since  we  began.  And  I  am  happy  to 
leave it in good state with plenty to do. 
Maybe  you  are  part  of  that  emerging 
leadership team. 
The  greatest  benefit  for  me  personally 
has  been  to  live  in  a  town  like 
Kaiwaka. We have grown to love it, to 
enjoy  the  lifestyle  and  to  get  excited 
about  the  future  for  it.  Thank  you 
Kaiwaka  Can.  ~ 
Derek  Christensen, 
Photos: Henk  and  Christa  van  der   Woerd 
and crew installed more lights for Kaiwaka
WRAPPING UP THE YEAR 
Stories Tall, Stories Short  
Kaiwaka 1959-2009 
by Roger TW Smith.  
$40 
Available at 
All Sortz Collectables  
or phone  4312 045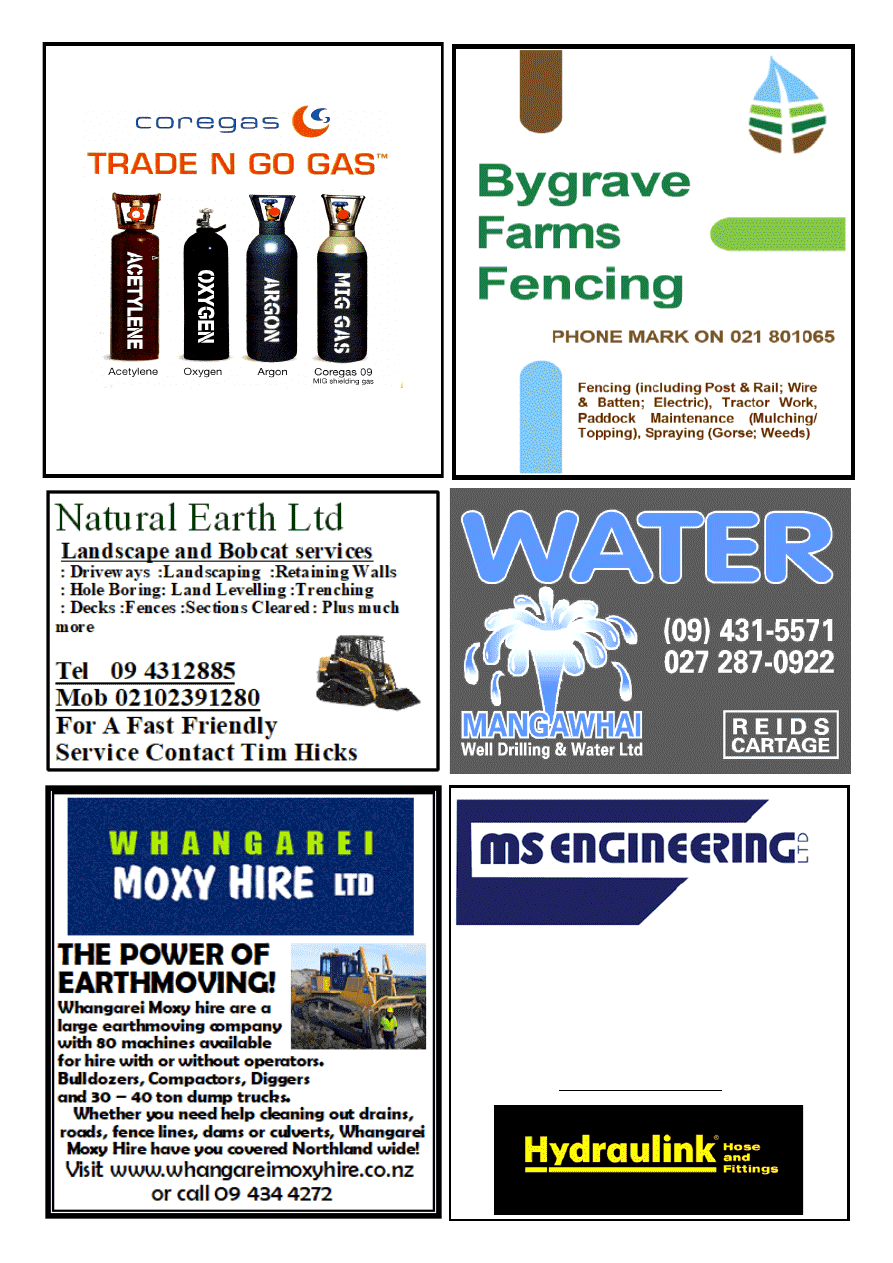 At Twinkle Tow 'n' Tyre 
Mob: 021 833 960 
Ph & Fax: 09 431 2823 
1837 State Highway 1, Kaiwaka 

Peter Buckley 

Mobile Hose Technician –  
                      Based from Oneriri Road 

Available for all mobile hose                                
                      requirements onsite 

Call – 0800 425 7116 

Email – mse@mseng.co.nz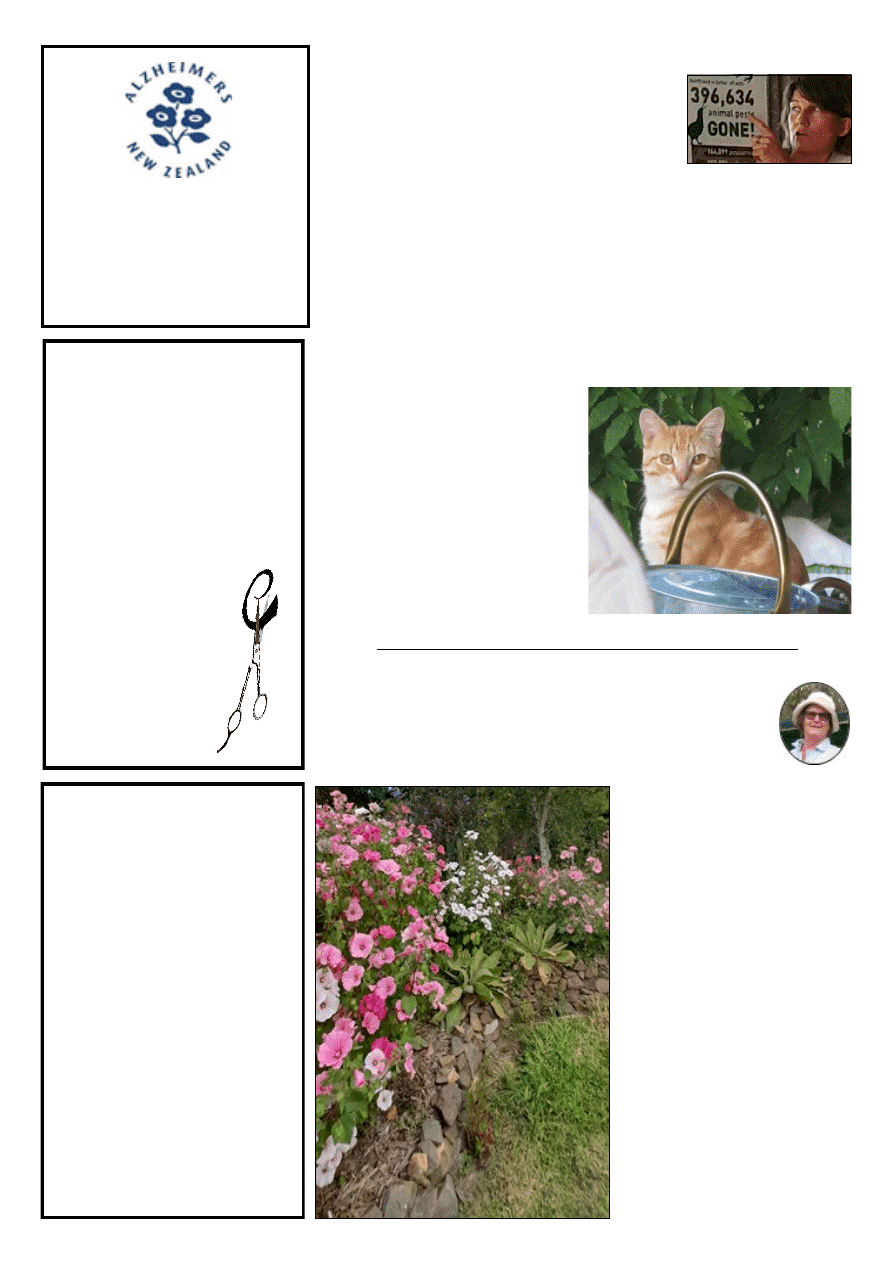 www.kaiwaka.co.nz 
Kaiwaka Bugle - 8 December, 2020 
Page 17 
JUST CUTS  
and MORE  
1758 Cove Road  
Open Monday-Saturday  
by appointment only 
Saturday 9-12pm  
0211652629
Affordable prices: 
Ladies cuts from $35   
Colours from $120 
Men's from$25  
Kids from $18 
Willow Bend
HORSE  
HOTEL 
#
Total Horse Care   
# 
Agistment 
# 
Riding Lessons    
#
 Arena Hire (60x40) 
# 
Young Horse Starting 
# 
Re-training/Exercising 
#
Hoof Trimming    
# 
Problem Solving 
Phone Sue  
09 431 2817 or  
021 623 776  
Or email  
susanjoll11@gmail.com 
HOW DOES YOUR GARDEN GROW? 
The garden Pierre made. With mallows in flower. Pierre loves making 
rock walls. He says it's like meditation. I tried to learn the art of wall 
making.  I  stacked  them  up,  went  off  to  make  lunch.  When  I  came 
back my wall had been pulled apart and redone. I was a bit peeved. 
Pierre lost his English. No discussion. I just had to follow him. Very 
grumpy me. That was a year ago. His wall is still doing its job.  
Covid  came.  My  3-month  holiday 
in Europe disappeared. I ordered 7 
tonnes  of  rocks  in  the  winter  of 
rain, wind and chaos - 2020. A lot 
of  rocks  moved.  I  get  the 
meditation.  Thanks  Pierre.  It's 
been a tough year. Pierre has spent 
it in France. Lots of us have family 
and  friends  overseas.  And  I  don't 
think we are out of the woods yet. 
Still,  it's  not  out  of  order  to  do  a 
blessing count. Despite Covid and 
enforced  isolation  here  we  are  in 
our little slice of paradise. And it's 
not all due to the luck of being at 
the  end  of  the  world.  There  were 
decisions  made.  We  put  our 
differences  aside.  Went  for  the 
common good. We've all given up 
something.  
On the plus side: After a winter of 
staying  home  my  garden  looks 
better than ever, and all those rock 
walls. Every wretched rock carried 
by 'moi'. Terry from Atlas had to 
come  and  see  what  I  was  doing 
with  those  truckloads  of  rocks!  ~ 
Heather, Oneriri Plants 
COMMUNITY ACTION RID US OF PESTS  
If  possums,  stoats  and  mynahs  get  up  your 
nose
,  it  will  hearten  you  to  hear  that  14  folk  in  our 
area have vowed to ramp up protection for vulnerable 
species like kiwi. 
Main  speaker  for  the  Pest  Workshop  at  the  Archie 
Bull  Hall  on  Saturday  14  November  was  Ngaire 
Sullivan from Kiwi Coast Northland, pictured in Bugle 23, who (with Amy Kirk 
of  KCN  and  Paul  Ralph  from  the  Northern  Regional  Council)  presented  the 
2020 Northland Pest Control Guidelines. 
Ref. https://kiwicoast.org.nz/wp-content/uploads/2016/06/Northland-Pest-Control-Guidelines
Ngaire  says  communities  are  the  key,  showing  that  action  by  people  on  the 
ground can achieve more at much less cost than top-down structures. 
Big money can be spent on fences and maintenance to keep predators away but 
keeping eyes peeled in our local areas does as well if not better. 
On a Northland map she showed where numerous groups are working to reduce 
pest species with plans to suit time and skills available to deal with threats. In 
some areas these groups begin to overlap. 
"Communities can drive and teach their own solutions." 
As  the  groups  grow  in  strength  and  experience,  the  threat  of  possums,  stoats, 
rats,  rabbits,  feral  cats,  uncontrolled  dogs  (and  hedgehogs  etcetera)  to  native 
species fades. 
Kaiwaka 
is 
Northland 
Regional 
Council's  furthest  south  township,  and 
signage to go up near the highway will 
indicate Kaiwaka is where Northland's 
"Kiwi Coast" begins. 
Ngaire  Sullivan  points  out  that  we  are 
lucky  in  Kaiwaka  to  not  have 
naturalised  ferrets  -  the  top  mustelid 
and  much  larger  than  stoats  and 
weasels.  But  she  also  states  that 
"uncontrolled  dogs  are  the  worst" 
killers  of  Kiwi  chicks,  95%  of  which 
die  before  the  age  of  one  although  an 
adult  Kiwi  bird  can  live  around  50 
years. 
Ref. https://www.doc.govt.nz/nature/native-animals/birds/birds-a-z/kiwi/facts/ ~ HP 
"Is it somebody's 
precious kitten?"  
Alzheimers Society Northland Inc 
ALZHEIMERS SUPPORT 
GROUP 
Meet on 2nd Wednesday  
of each month 
11am - 12pm at the 
Mangawhai Golf Club Rooms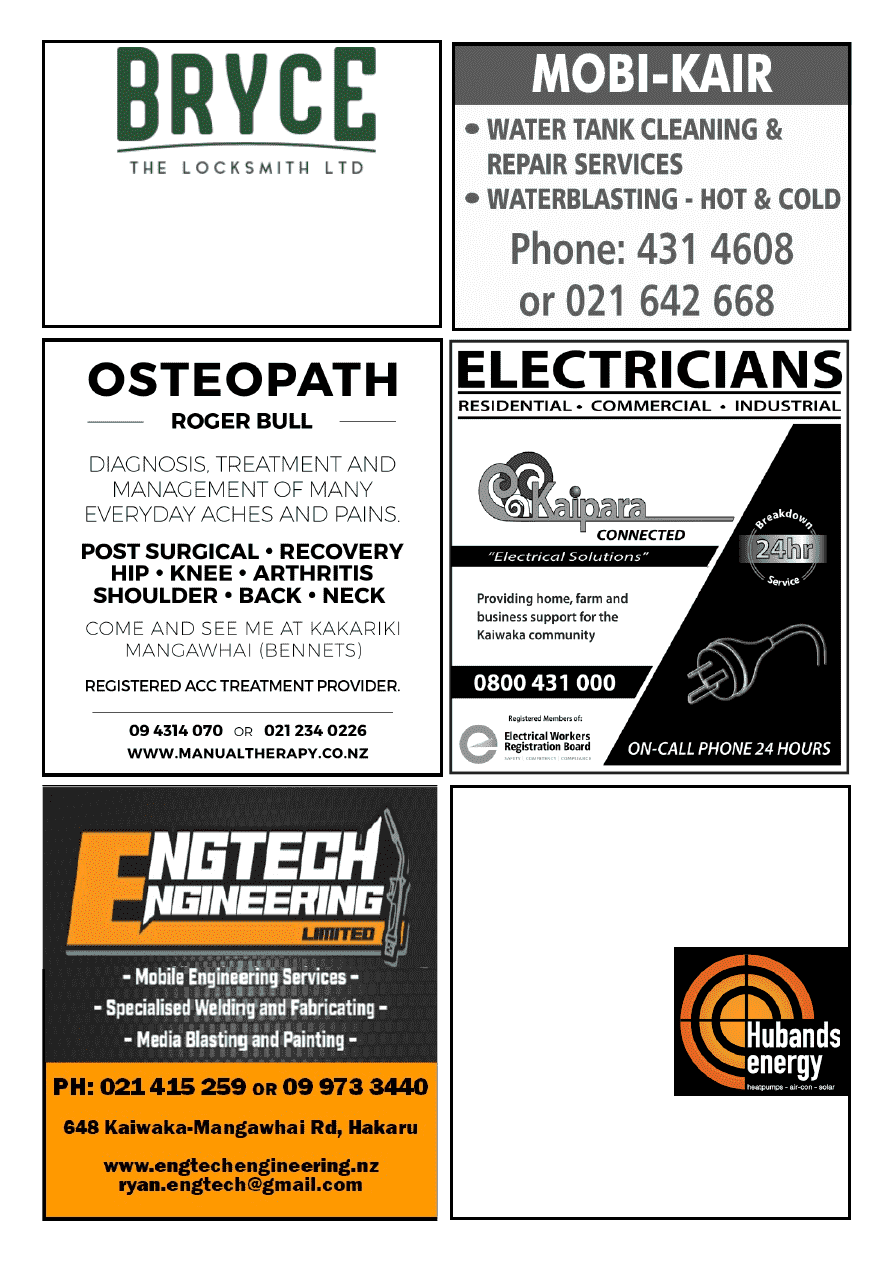 Northland's Award Winning 
Solar Company
SEANZ Best Solar Business Winners 2015/16
EXCLUSIVE 10 year installation warranty 
FREE No obligation onsite quote
Complete systems 
from $5990
See our range of: 
✓ 
Heatpumps 
✓ 
Airconditioning 
✓ 
Hot Water 
Heatpumps 
✓ 
Central Vacuum Systems
09 430 0019             sales@hubands.co.nz 
15 Kioreroa Road, Whangarei
Locally owned and operated for 35 years 
Bryce Frewin 
Ph: 021 850 983 
Kaipara Based Master Locksmith 
bryce@brycethelocksmith.co.nz 
www.brycethelocksmith.co.nz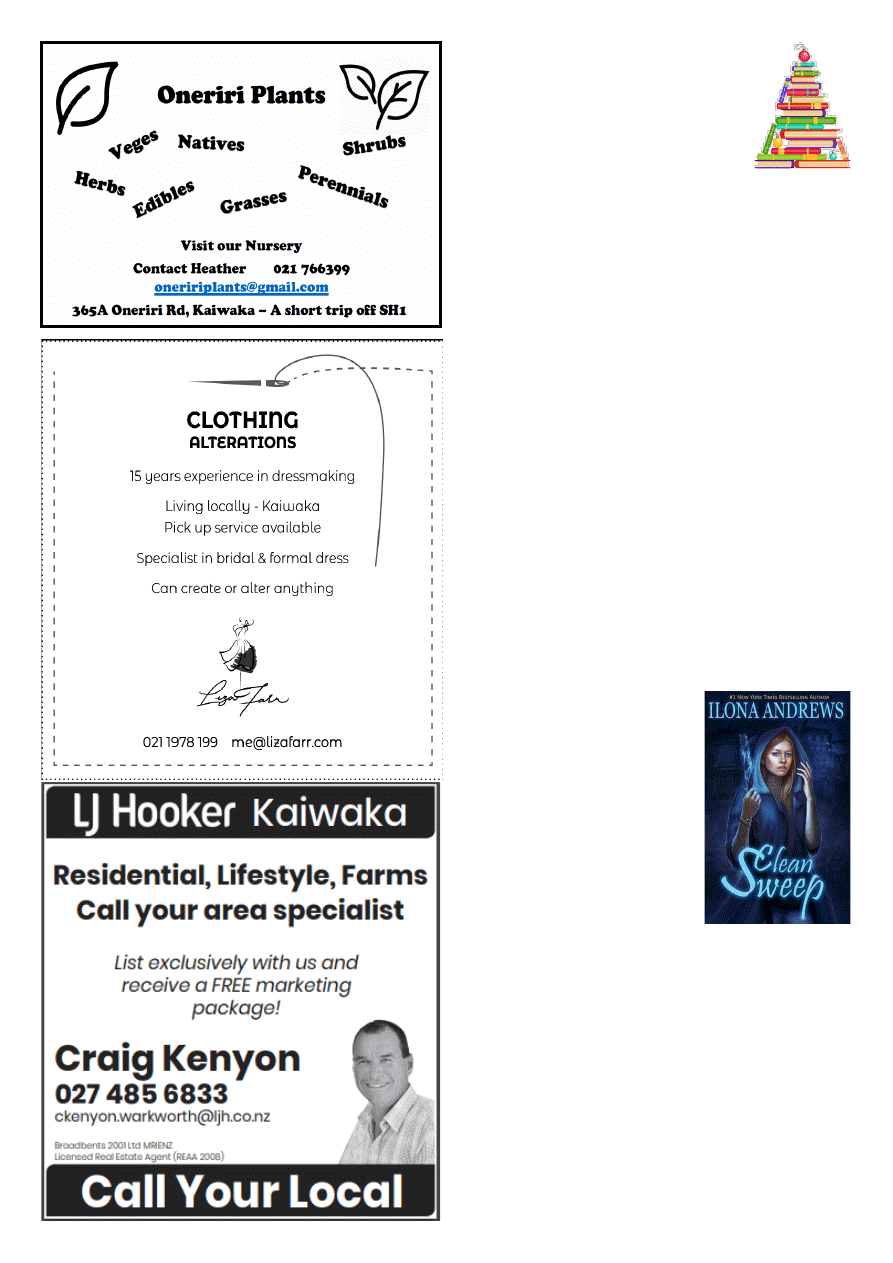 www.kaiwaka.co.nz 
Kaiwaka Bugle - 8 December, 2020 
Page 19 
KAIWAKA LIBRARY
MERRY CHRISTMAS! 
From  the  library  team  to  you  and  yours,  we 
hope  you  have  a  happy  and  safe  festive 
season, and we look forward to seeing you in 
the new year. 
HOLIDAYS 
The  library  will  be  open  until  2pm  on  Wednesday  23 
December, then closed for the holidays, and will reopen 
at 10am on Wednesday 6 January 2021. 
Any items borrowed from now until the holidays that would 
normally  be  due  back  while  we  are  closed  will  be 
automatically  extended  to  6  January,  so  they  don't  go 
overdue while we're closed. The after-hours returns slot will 
be available if you want to return items while we're closed. 
Do  come  in  and  stock  up  on reading material to see you 
through  the  break,  including  books  for  the  kids.  Adult 
library cards can borrow up to 40 items at a time, children's 
cards  can  borrow  up  to  10  items  at  a  time.  Now  there's  a 
challenge for you! ;-) 
And if you do run out of things to read while we're closed, 
don't  forget  our  free  online  services.  We  have  eBooks, 
eAudiobooks,  magazines  and  newspapers  available.  Go  to 
Enterprise*  to  find  out  more  and  contact  me  if  you  need 
help getting started. 
COMPETITION 
To mark the launch of a new library bag for the district, we 
have been given one to give away in a competition. Come 
into the library and fill in an entry form before Wednesday 
16 December 2020 to go into the draw. 
We  still  have  the  older  cotton  bags  for  sale  in  the  library, 
$3.00 each. 
SUMMER CATALOGUE & COMPETITION 
Remember to pick up a copy of the new Summer Catalogue 
next time you're in the library. It's full of excellent reading 
suggestions,  and  there's  a  competition  on  the  back  page  - 
one  for  adults,  one  for  children.  You  can  also  enter  the 
competition online - go to Enterprise* to find out more. 
BOOK REVIEW 
Recently  I've  been  reading  the 
Innkeeper  Chronicles  by  Ilona 
Andrews. We have all 5 books in the 
series  on  our  shelves.  "On  the 
outside, Dina Demille is the epitome 
of  normal.  She  runs  a  quaint 
Victorian  Bed  and  Breakfast  in  a 
small Texas town, owns a Shih Tzu 
named  Beast,  and  is  a  perfect 
neighbour,  whose  biggest  problem 
should  be  what  to  serve  her  guests 
for breakfast. But Dina is...different: 
Her  broom  is  a  deadly  weapon;  her 
Inn  is  magic  and  thinks  for  itself. 
Meant  to  be  a  lodging  for  otherworldly  visitors,  the  only 
permanent  guest  is  a  retired  Galactic  aristocrat  who  can't 
leave the grounds because she's responsible for the deaths 
of  millions  and  someone  might  shoot  her  on  sight.  Under 
the circumstances, "normal" is a bit of a stretch for Dina." 
This  is  one  for  lovers  of  fantasy  and  paranormal  fiction. 
Dina  herself  is  a  'normal'  human,  who  just  happens  to  be 
able  to  manipulate  the  magic  that  is  all  around.  We  also 
meet  a  werewolf  named  Shaun,  and  vampires  and  other 
creatures,  who  rather  than  being  'mutants',  or  some  other 
imagining you find in other stories, are actually aliens from 
other parts of the universe. As I type this review, I'm deep 
into book #2 and looking forward to the next 3. I'll be done 
with them by the time you read this, they're not long books. 
They're on the Rental Fiction shelves in the library. 
See you in the library! ~Wendy
Kaiwaka  Library,  cnr  SH  1  and  Kaiwaka  Mangawhai  Road.    Phone  4312  539. 
Email kaiwaka.library@gmail.com Open Wed-Sat 10am-2pm, Mon 4-6pm.  
Free  membership  is  available  to  all  residents  in  the  Kaiwaka  area.  https://
www.facebook.com/KaiwakaLibrary *Enterprise: http://kaipara.kotui.org.nz/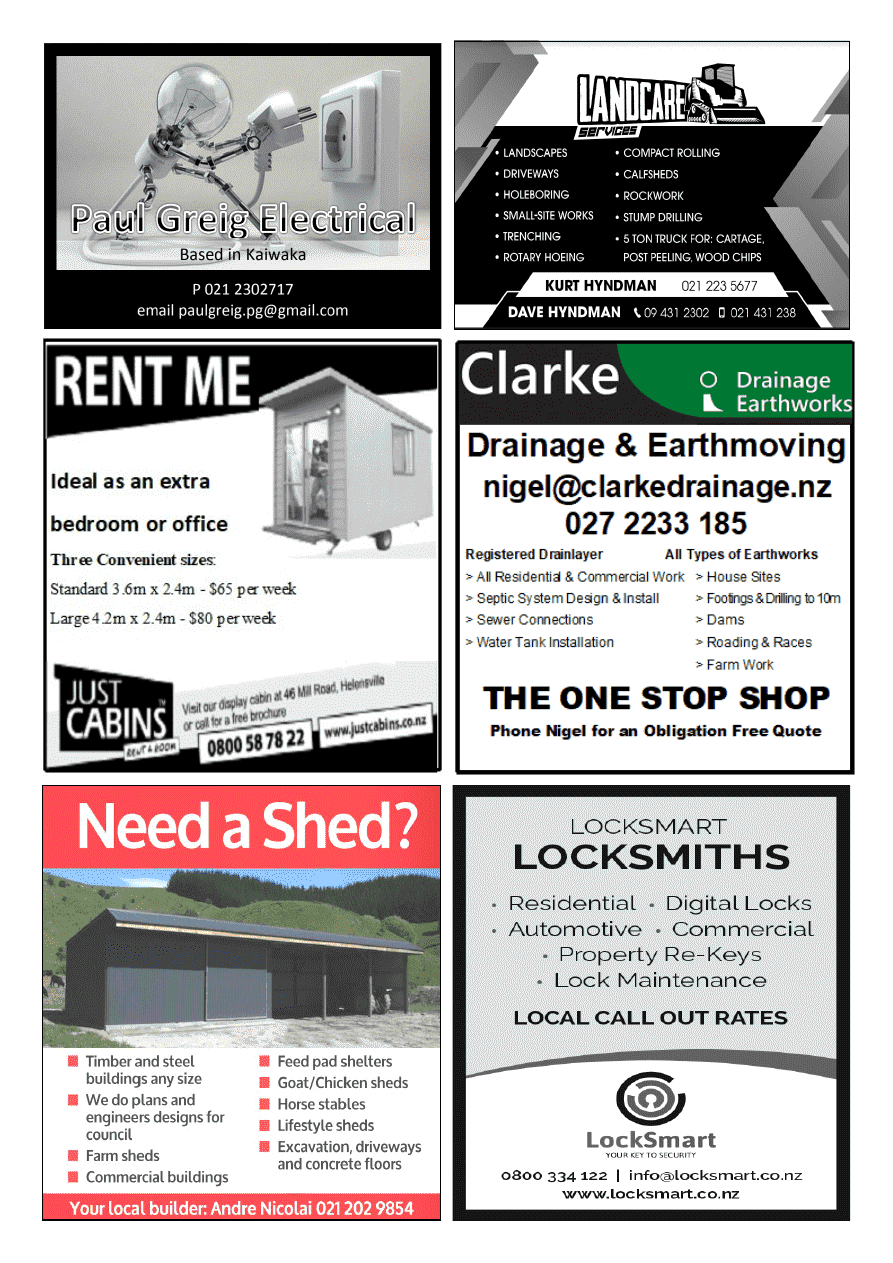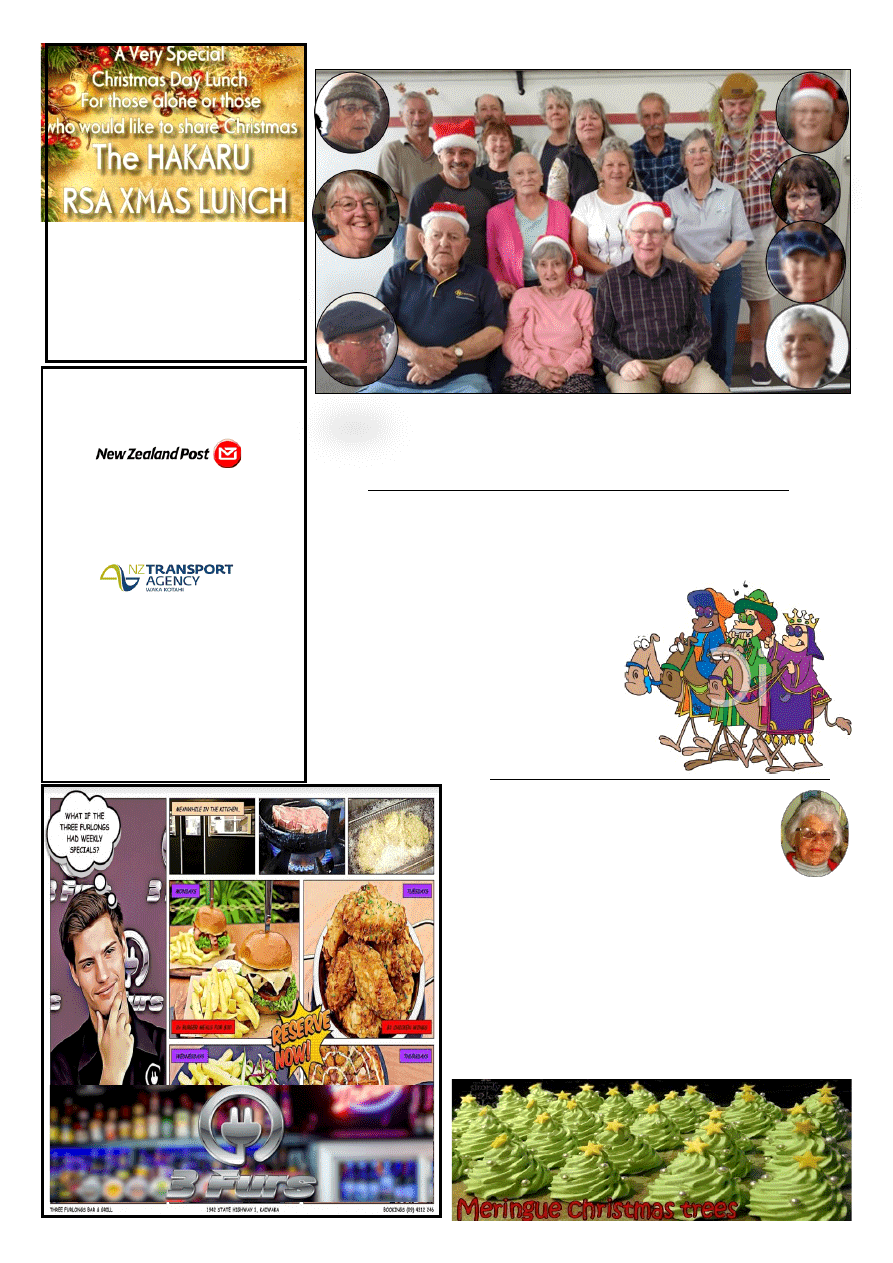 www.kaiwaka.co.nz 
Kaiwaka Bugle - 8 December, 2020 
Page 21 
JESUS  CAME  TO  BETHLEHEM,  2020  YEARS 
AGO,  TO  BRING  LOVE 
to a lonely world
. He came not just 
to  Mary  and  Joseph  and  the  crew  -  "but  to  everyone:  the  nice  guys  and  the 
ratbags  …  the  winners  and  the  losers  …  the  hopeful  and  the  hopeless  …  the 
fearful, and the flops. 
And,  over  the  next  few  weeks,  as  the 
Christmas spirit spreads and infects our age of 
smartphones  and  space-stations,  pandemics 
and politics … HE COMES AGAIN. 
So,  here's  a  good  question:  HOW  SHOULD 
WE RESPOND? 
Well … wise men got on their knees that first 
Christmas Day. 
And, in even the most far-flung corners of this 
late  great  groaning  planet,  wise  men,  wise 
women,  wise  parents  and  wise  grandparents 
still do! 
KAIWAKA POST 
CENTRE and 
FOOD MART 
POST CENTRE TRADING HOURS 
MONDAY to FRIDAY 8am to 5pm 
SATURDAY 8am to 12pm 
CLOSED ON SUNDAY and on 
PUBLIC HOLIDAYS 
FOOD MART (GROCERIES)  
MONDAY TO FRIDAY  
7:30am to 7.30pm 
SATURDAY  8am to 7.30pm 
SUNDAY  8:30am to 7pm 
IF ANY QUERIES PLEASE CALL 
STORE MANAGER AMRIT  
on 09 4312431 or 
EMAIL: kaiwakafood19a@gmail.com 
1919a State Highway1, Kaiwaka 0542 
From Thelma's Scrapbook...  
The  man  who  invented  the  meringue  was  a 
pastry  chef  called  Gasparini.  In  1720,  he  was 
working in the Swiss town of Meiringen, where 
he  must  of  been  inspired  by  the  way  most  of 
the  town  is  covered  with  what  looks  like  meringue  for 
most  of  the  year;  pretty  whips  of  snow  top  everything. 
Before Gaspirini's brilliant experiment with baking, chefs 
did whip egg whites, with whisks made from birch twigs, 
and  they  served  up  the  stiff  foam  to  their  dazzled 
employers, but the crunchy, light, sweet lush treat that is 
a meringue is thanks to a Swiss village baker.  
Culinary historians traditionally credit Gaspirini with perfecting 
the  recipe  and  naming  it,  presumably  after  the  town.  ~  Ref. 
www.nytimes.com  
BEST WISHES TO ALL! 
HAKARU RSA 
Midday Christmas Lunch 
FRIDAY, 25 DECEMBER 2020   
733 Settlement Rd, Hakaru 
For further information phone 
4315034 
SEASONS GREETINGS FROM THE BUGLE TEAM! 
Back:  Tony  Hargreaves,  James  Eagleton,  Millie  Watkins,  Karen  Harris,  Eric 
Johanson, Robert Hastie; Mid Nigel Bree, Pam Ottaway, Daphne Linnell, Judy 
Eagleton,  Lindsey  Hargreaves;  Front:  Kelvin  Foster,  Mary  Hargreaves,  David 
Hargreaves.  INSETS:    Jackie  Winters,  Helen  Bennet,  Eddie  Coates,  Lynne 
Coates, Heather Nash, Kim Marshall, Corina Ross. Absent: Andrew Watkins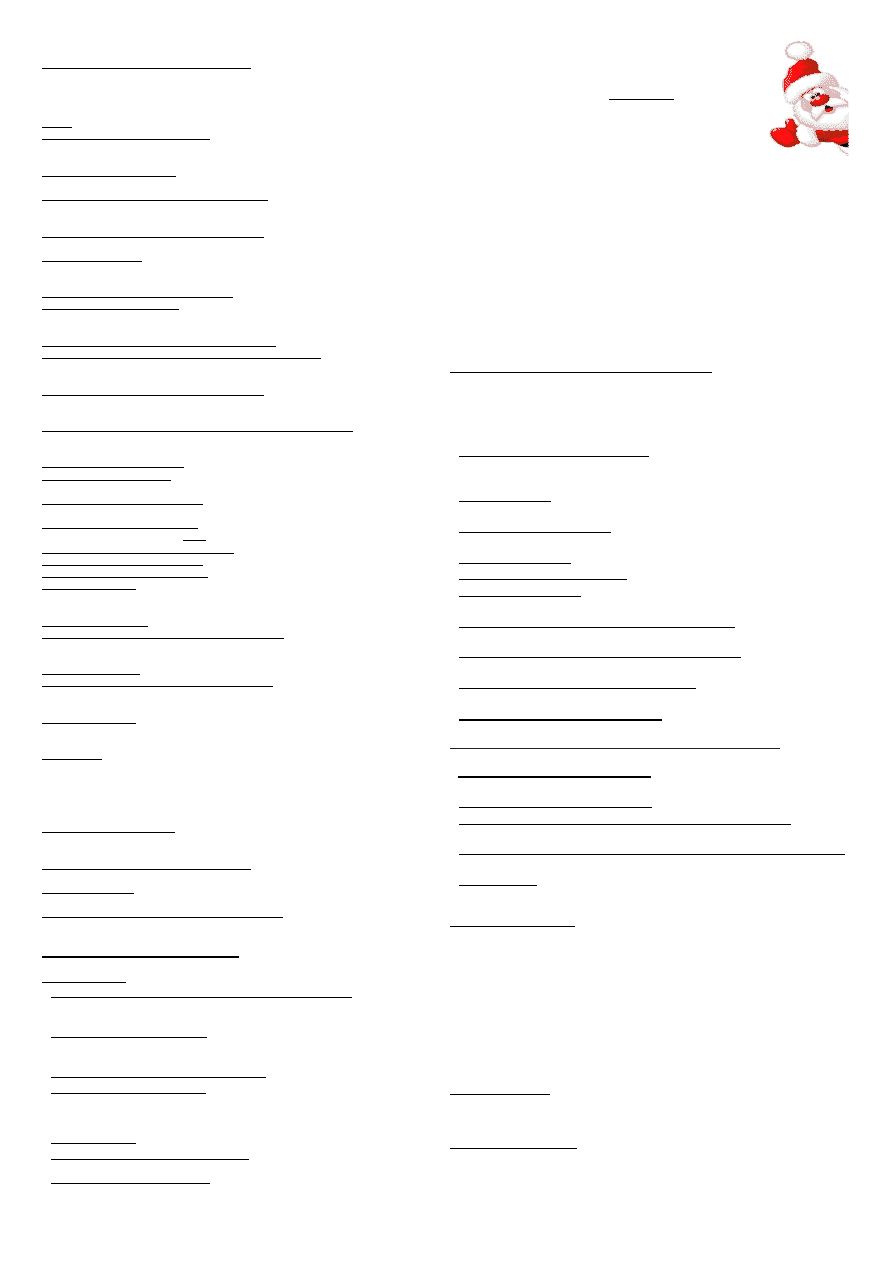 WHAT'S ON
PLEASE ~ do let us know what is on - or what is 
NOT on at the moment! 
email kaiwakabugle@kaiwaka.co.nz 
Advertising in WHAT'S ON is FREE  
*
9Dec~Pt.Curtis CC meet. KSA, 7pm 
11Dec~Movie 'BEE GEES', 7.30pm KWMH 
*14Dec~KDC Footbridge Sessions4-7pm KWMH 
*14Dec~Top of the Rock meeting, KSA, 7pm 
*20Dec~Carols by Candlelight, St. Paul's Church,7.30p 
*25Dec~Christmas Day Service St.Pauls Church 9am 
*25Dec~Hakaru RSA Midday Luncheon 
*2Jan~ Mangawhai Gala, 9am-2pm in Domain 
*9Jan~Pt.Curtis CC Picnic Rangiora Rd Boat Ramp 
KWMH = Kaiwaka War Memorial Hall; KSA = Kaiwaka Sports Association 
See www.kaiwaka.co.nz for more information 
HOUSEHOLD RUBBISH COLLECTION - Kaiwaka Pick up: 
Mondays = Green bags (Northland Waste - 09 430 3273) 
Wednesdays  = Blue bags and yellow recycling (at Kaiwaka Four 
Square  $3.00  and  $1.50)  (Kaurilands  09  4392146);  ONLY  Blue 
and Yellow bags picked up on Oneriri Road. 
 DIABETES  Support  Group  -for  Kaiwaka,  Mangawhai, 
Wellsford  10am,  3rd  Friday  of  month  Ph:  Colleen  James  09 
4314238 
 GENEALOGY - Wellsford: 1st Thursday in month Ph: 423 
7033; Waipu: 4th Monday in month Ph: 4312 725 
 HAKARU PONY CLUB - Secretary Denise Rogers 021423376 
secretary@hakaruponyclub.co.nz  
 KAIPARA HUNT - Secretary Albert Doonenbal Ph 4312059 
 KAIWAKA BADMINTON -Tuesdays 7.30pm Ph: 4312345 
 KAIWAKA  CAN  - 3rd Wednesday in month, 5.30pm, Archie 
Bull Hall Ph: 0273572751 
 KAIWAKA GARDEN & FLORAL GROUP - 2nd Thursday in 
month. Ph: 431 4744 
 KNITTING FOR WHANGAREI HOSPITAL - 2nd Tuesday in 
month, Archie Bull Hall 10am Ph 4314827 
 MANGAWHAI COMBINED REBUS CLUB - 2pm, 3rd 
Thursday month, Senior Citizens Hall Mangawhai. Ph: 4315777 
 MANGAWHAI GENEALOGY  - meet 3rd Thursday month, 
Mangawhai Museum, 10.30am 
*PILATES - KAIWAKA WAR MEMORIAL HALL - Ph: 
021  
2072729  
*PILATES - HAKARU HALL - Tuesday 10am, Thursday 9am 
Qualified Instructor  Ph. 0220643965  
 PT CURTIS CRUISING CLUB - Jean Ph: 4312227 (wk), 4312520 (hm) 
 RSA,  HAKARU  &  DISTRICTS  WOMEN'S  SECTION  –  meets 
1.30pm 4th Thursday of the month. Ph: 431 5818  
 KAIWAKA  SCOTTISH  COUNTRY  DANCING  CLUB-
Wednesdays 10am - 12 noon  Ph: Elaine 027 432 0032  
 TRAMPING 
- 
Mondays 
9am-2:30pm, 
contact  
valkenburgmaria@gmail.com 
HALLS FOR HIRE: 
  Kaiwaka St. John Hall: Phone Marj  0272941227  
 St.Pauls Archie Bull Hall HIRE $20 half day, $40 full day per 
hire, S McAulay, Ph 4312311 
 Kaiwaka  War  Memorial  Hall  HlRE  -  Phone  4312725  or 
kaiwaka.hall.bookings@gmail.com 
 Hakaru Community Hall HIRE -Ph.  Karen 4312090 
 Te Pounga Marae queries - Pearl Nathan  0223933533 
 Kaiwaka  Sports  Association  hire/queries  -    Jean  4312227  or 
kaiwakasportsassn@gmail.com 
Justice of Peace:  
B.FJaques  4312  048;  L.Donaldson  4312  228;  A.F.Hargreaves 
4312 045, W.Howard 4312 725  - please phone to make sure they 
are available or go to www.justiceofthepeace.org.nz 
Marriage Celebrants:  
L.Donaldson; A.F.Hargreaves; Y Osborne
LOCAL SERVICES 
*Emergencies - Ambulance, Fire, Police - dial 111 
*Non-urgent Police phone 105
A A: Meets Wed., 7.30pm Kaiwaka Ph: 4315543, 0800229 6757 
NARCOTICS ANONYMOUS : Mon., 6pm, Archie Bull Hall, Kwk-Mwi 
Road; drug and alcohol related issues. Ph. 02102412348 
ASUREQUALITY LTD (was AgriQuality) Call Free 0508 0011 22  
BUDGETING SERVICE, WELLSFORD: Free confidential advice & 
support for all areas of personal finance. Ph (09) 423 7123 
CAB-Citizens Advice Bureau.Wellsford Ph: 4237333 
0800 367 222 email:cab.wells@xtra.co.nz  
CIVIL DEFENCE - Kaiwaka Community Response Group: 
kaiwaka.civildefencecrg@gmail.com, 4312725 Wendy 
DOG/STOCK /NOISE CONTROL 0800 105 890 
FUNERAL SERVICES: Morris & Morris Ltd, 
Whangarei - Bev Jaques Ph:4312367 or 0800667747 
GRANDPARENTS Raising Grandchildren: Dianah Roberts 0223819539 
HAKARU & DISTRICTS MEMORIAL RSA (Inc) 733 Settlement Rd, 
Hakaru. Ph 4312 176 or Bill Warren (President) 431 2092 
HAKARU LANDFILL/Transfer Station:Open everyday  10am-
4pm.Ph4312629 Cost-$55 trailer load up to 1 cubic metre. Ph:4258567 - 
office 
KAIPARA DISTRICT COUNCIL www.kaipara.govt.nz:  
Help Desk FREEPHONE 0800 727 059  
KAIWAKA CEMETERY: Ph: 4312045 or 4314017 
KAIWAKA LIBRARY: kaiwaka.library@gmail.com  
Mon. 4-6pm; Wed., Thurs., Fri., Sat. 10am-2pm Ph:4312539 
KAIWAKA PLAYCENTRE: Ph Juanita 0274134904; open Mon, Wed, 
Fri 9am-12pm. Hastie Lane; Monday to Friday 9.00am - 12 noon. 
KAIWAKA POST OFFICE:Ph:4312 431  
Post Code: 0573 for RD2 and 0542 for all Kaiwaka Post Office mail 
KAIWAKA PRIMARY SCHOOL: Ph: 4312309   
KAIWAKA SPORTS ASSN: Ph 4312005; 4312129 gym 
KAIWAKA ST JOHN HALL: Phone Marj  0272941227  
KATE'S PLACE Community Centre - Employment services, Free Health 
Nurse, Plunket, Advocacy, Osteopath, A.A., Legal Advice. 4312 661 
LINKING HANDS Health Shuttle Ph 4315906 or 09 4318969 
MINISTRY FOR PRIMARY INDUSTRIES - General inquiries Call 
Free 0800 008 333 
NORTHPOWER: Faults Kaiwaka area 0800 104040 
OTAMATEA COMMUNITY SERVICES: Counselling, parent coach, 
Family Support worker, budget advice, food bank. Mon-Fri 9am-3pm. Ph 
09 431 9080 http://www.otamateacs.org/ 
PARENTPORT: Free, practical family support service Puhoi to Paparoa 
Ph or txt: Dianne 027 280 5093 or 09 425 9357 
PLUNKET: Kaiwaka- St John Hall, Monday 19 Oct, 23 Nov, 21 Dec. then 4th 
Monday of the month. Plunket Nurse Louise 027 282 3987 or 09 438 2508 
Mangawhai- Rose Madsen Cottage, Mondays and Wednesdays. Plunket Nurse 
Rebecca 021 501 941 or 09 438 2508 
Maungaturoto - Good News Church, 2nd and 4th Wednesday of the month. 
Plunket Nurse Seleisa 021 912 248 or 09 438 2508 
PLUNKET HELPLINE -0800 933 922 (24 hours)  
FACEBOOK - Kaipara Plunket 
TAITOKERAU COMMUNITY LAW: Free confidential legal advice and 
assistance, 2nd
Thursday
 of each month. Ph: 0800 155 529 for appts.  
TE URI O HAU Settlement Trust Tangata Developments: Whanau Ora 
021 793262  
VETERINARY SERVICE MANGAWHAI: 
Ph: 4314535 Mon-Fri 8.00-5.00, Sat 9-12, a/h appt. 
WELLSFORD DOCTORS: Ph: 4238 086 
CHURCHES:
 
Kaiwaka  Revival  Church  -  Your  Community  Church:  Sundays  10am. 
Ph: Pastor Tawhiri 09 431 8988 or Pastor Paul 09 4312 068 Visit us at 
www.facebook.com/kaiwakachurch 
 
St  Paul's  Anglican  Church  1st  Sun.  9.00am  (Eucharist),  3rd  Sun. 
9.00am (Family Service). Contact: Rev. Wayne Thornton Ph 431 4122 
www.mangawhaianglican.org.nz 
 
Church of Christ the King, Mangawhai:9.00am every Sunday 
 
St.Mary's  Catholic  Church:  Maungaturoto  –  Griffins  Road,  Saturday 
evening  Vigil  Mass  6pm;  Mangawhai  –  Senior  Citizens  Hall,  Sunday 
Mass  8:30am;  Wellsford  –  Matheson  Road,  Sunday  Mass  10:30am;  
Mid-week Mass times and all enquires to Fr. Bill Fletcher – phone 423 8170
 
Baptist Church: Sun. 10.30am Mangawhai Snr Cit.Hall.Ph:4312339 
 
Cause  Way  Church  Mangawhai:  Sundays  10.15am,  Mangawhai 
Community  Recreation  Centre,  Insley  St.  Ph:  09  4314782 
Next Bugle Deadline Friday 22 January 2021