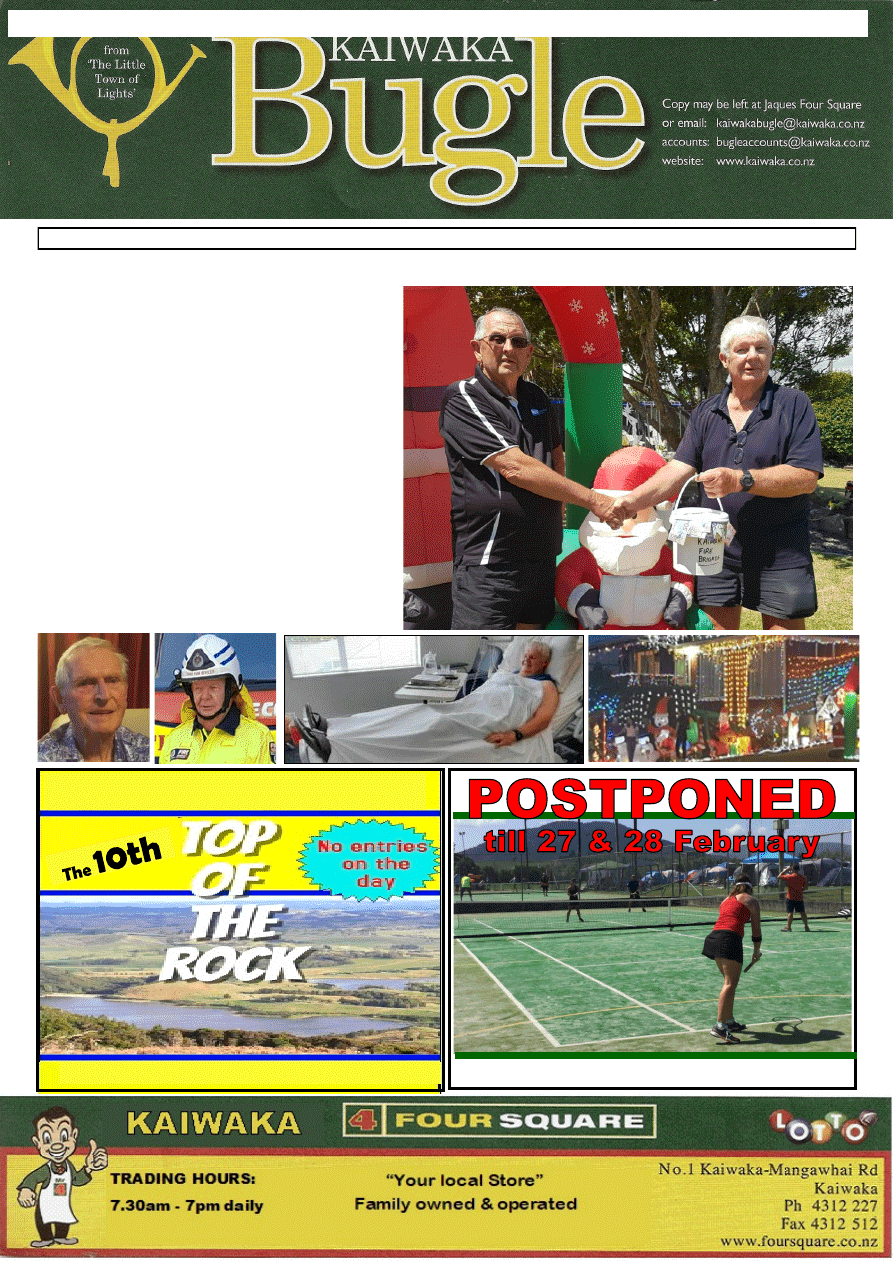 www.kaiwaka.co.nz 
Kaiwaka Bugle - 26 January 2021 
Page 1 
No.1 
26 January 2021 
FROM ONE QSM TO ANOTHER 
Congratulations John Bowmar! 
John has been the Fire Chief in Kaiwaka for the past 
16 years but has been actively involved in the brigade 
since 1977. The QSM announced on New Year's Day 
is  for  services  to  Fire  and  Emergency  New  Zealand 
and the community. He has been active in community 
fundraising,  including  for  the  Northland  Rescue 
Helicopter Trust., supporting the local Civil Defence 
team and has responded with his tractor to assist with 
rescues in the community. 
Pictured  right  is  Mark  Ottaway,  QSM  2001  with 
John  Bowmar,  QSM  2021  in  a  congratulations  and 
thank you action.  
Mark  and  Pam's  Christmas  Light  raised  $3380  of 
donations for our local Fire Brigade. Pam and Mark 
really enjoyed all the folk who visited their Christmas 
fantasyland. 
Our  local  Fire  Brigade  also  wish  to  thank    Ilia  and 
Eva of La Nonna, for their generous donation toward 
safety equipment. 
Photos: Brian  Jaques, QSM 1991; John in uniform , 
and never without his Jandals!; The Christmas Lights. 
HOURS: 
7.30am - 7pm, seven days 
Sunday 7th March 
www.kaiwakasport.co.nz 
See more details on page 11 … 
71st 
OTAMATEA 
TENNIS 
TOURNAMENT 
30th and 31st January 
At the Kaiwaka Sports Complex 
See more details on page 11 ...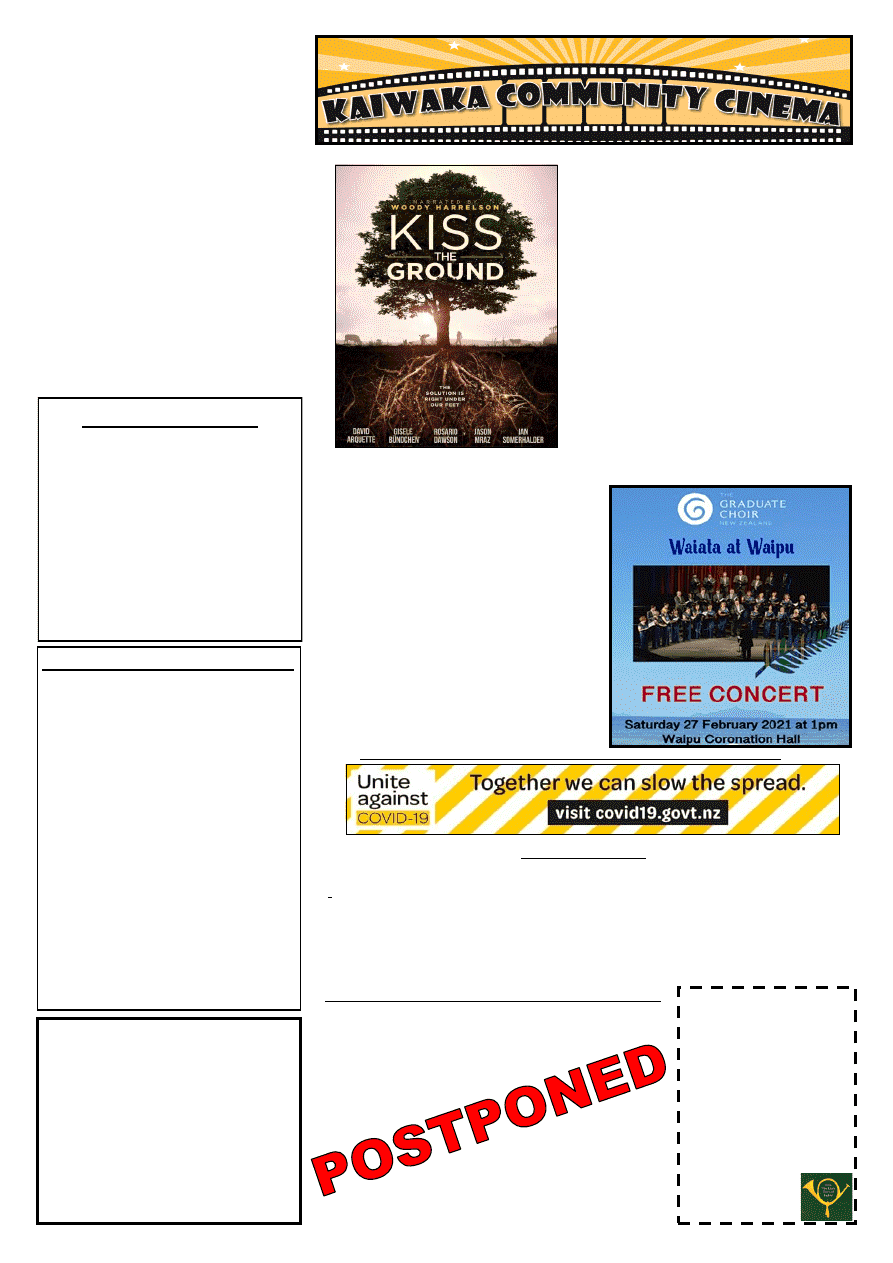 www.kaiwaka.co.nz 
Kaiwaka Bugle - 26 January 2021 
Page 2 
ABOUT TOWN 
 Welcome  to  2021  -  keep  the  news  &  photos  coming;  support  our  locals  and  our 
advertisers 
 We remember the passing of Richard Larsen, who grew up and farmed on the Oneriri, 
Kaiwaka;  also  of  Barb  Shand  (96),  mother  of  Pip  McDowall  -  a  regular  visitor  to 
Rangiora Road, Kaiwaka. 
 Heads up to our wonderful Rescue Helicopter team - when in the dark they rescued an 
injured fisherman safely from the beach at Batley. 
And from Libby Jones - 'Smile and be grateful for each day', page 5 

 Have  you  heard  of  any  progress  on  our  Kaiwaka  kauri  walk  way,  and  the  die-back 
cleaning station?    ~ Lindsey, Ed
At Kaiwaka War Memorial Hall . Adults $10, Kids (under 16) $5, Family Pass (2 adults + 3 children) $25 
KAIWAKA BUGLE NO.1 
26 JANUARY 2021 
CONTENTS: 
Page 3: Public Notices, Classified 
Page 5: Kaiwaka Weather; Dog 
Training  
Page 7: About Town 
Page 9: Kaiwaka Can; The Den 
Page 11: Kaiwaka Sports  Assn 
Page 13: Libby Jones NDHB; Kaiwaka 
Revival Church 
Page 15: Trains; OCS 
Page 17: Mgto & Districts Rotary 
Page19: Kaiwaka Library 
Bugle 22 will appear 9 February 
Contact for advertising, reports, articles 
or information can be made by 
Email: kaiwakabugle@kaiwaka.co.nz 
Ph: 09 4312 045 Lindsey 
Txt: 027 2724137 
Copy  may  be  left  at  Kaiwaka  Four 
Square. 
Kaiwaka Bugle 
Founded May 1978 
We appreciate articles and photos about local 
events, etc, as well as ads and suggestions. 
Copies available in Kaiwaka at Kaiwaka  Four 
Square, Kaiwaka Postal Centre, Shamrock 
Service Station, Animal Health Centre, 
Kaiwaka St John shop. 
Also outlets in Maungaturoto, 
Mangawhai and Paparoa. 
Can be viewed online at  
www.kaiwaka.co.nz/Bugle  
Or a copy can be posted to you if you supply 
stamped, self-addressed DLE envelopes. 
Kaiwaka Bugle Advertisements 2021: 
All 
copy 
and 
queries 
to: 
kaiwakabugle@kaiwaka.co.nz 
The Bugle is printed on an A4 page, B&W  
Ad  sizes:  1/16  page  (3  x  9.5cm)  $5;  1/8 
(6.5  x  9.5cm  landscape  or  portrait)  $8; 
3/16 ( 10 x 9.5cm or 7.5 x 12,5)  $12.  
Classified  ads:  First  one  FREE,  $4  per 
entry (max. 30 words, max. 4 repeats). 
Payments  can  be  made  online  at 
ANZ 
06  0365  0006990  00
,  posted  or  left  at 
Kaiwaka Four Square Store. 
We  use  Microsoft  Publisher,  and  can 
work  with  most  common  image 
formats, Word, Excel, and PDF files. 
Accounts:  
Email: bugleaccounts@kaiwaka.co.nz 
The  Kaiwaka  Bugle  is  a  community 
newspaper run by volunteers, as part of 
the Kaiwaka Media Group Inc.   
Articles, etc. printed are not necessarily 
the opinion of the Bugle Team. 
Proverbs 3: 13 - 15 
The man/woman who knows 
right from wrong and has 
good judgement and common 
sense is happier than the 
person who is immensely rich! 
For such wisdom is far more 
valuable than precious jewels.  
Nothing else compares with it.  
KAIWAKA BUGLE 
DEADLINE DATES 
2021:   
Every second Friday 
February 5, 19 
March 5, 19 
April 2, 16, 30 
May 14, 28 
June 11, 25 
July 9, 23 
August 6, 20 
September 3, 17 
October 1, 15, 29 
November 12, 26 
December 10 
WAIATA at WAIPU 
Come  along  to  hear  a  range  of 
international songs performed by one of 
New  Zealand's  premier  mixed  voice 
choirs at the Waipu Coronation Hall. 
The Graduate Choir NZ was established in 
2001  for  school  graduates  in  South 
Auckland who wanted to keep singing with 
their Music Director, Terence Maskell, and 
has  developed  into  one  of  our  country's 
leading ensembles.  
The  choir  looks  to  welcoming  you  on 
Saturday  27  February  2021  to  their  free 
concert,  'Waiata  at  Waipu'.  Tickets  at 
Waipu 
Hammer 
Hardware 
or 
waiputickets@gmail.com  or  phone  021 
0287 8606
. 
~ 
Elizabeth Collins, Management Team   
KISS THE GROUND 
Friday  29 January, 7.30pm 
'
"Narrated 
and 
featuring 
Woody 
Harrelson,  Kiss  the  Ground  is  an 
inspiring  and  ground-breaking  film  that 
reveals  the  first  viable  solution  to  our 
climate crisis. 
And  reveals  that,  by  regenerating  the 
world's  soils,  we  can  completely  and 
rapidly  stabilise  Earth's  climate,  restore 
lost ecosystems and create abundant food 
supplies.  Using  compelling  graphics  and 
visuals,  along  with  striking  NASA  and 
NOAA  footage,  the  film  artfully 
illustrates  how,  by  drawing  down 
atmospheric  carbon,  soil  is  the  missing 
piece of the climate puzzle." 
 EXHIBITION TENNIS  
There  are  NZ  representative  Davis  Cup  players 
coming to the Kaiwaka courts on Friday evening, 29 
January,  from  6-9pm  to  play  exhibition  tennis.  
Corporate  tables  are  being  set  up  on  the  adjacent 
courts  with  food  and  drinks  included.    Table  of  6 
costs  $600  or  $100  per  person.  This  would  suit  the 
people who normally travel to Auckland for the ASB 
Classic  or  Heinekin  Open  but  missed  out  this  year 
due  to  cancellation  of  the  event.  Some  ground 
admission will be available too.  Great for youngsters 
to see the level they need to aspire to. 
For information contact Grant Van Dalsum Ph 02102570322 or 
email spiralenterpriseslimited@gmail.com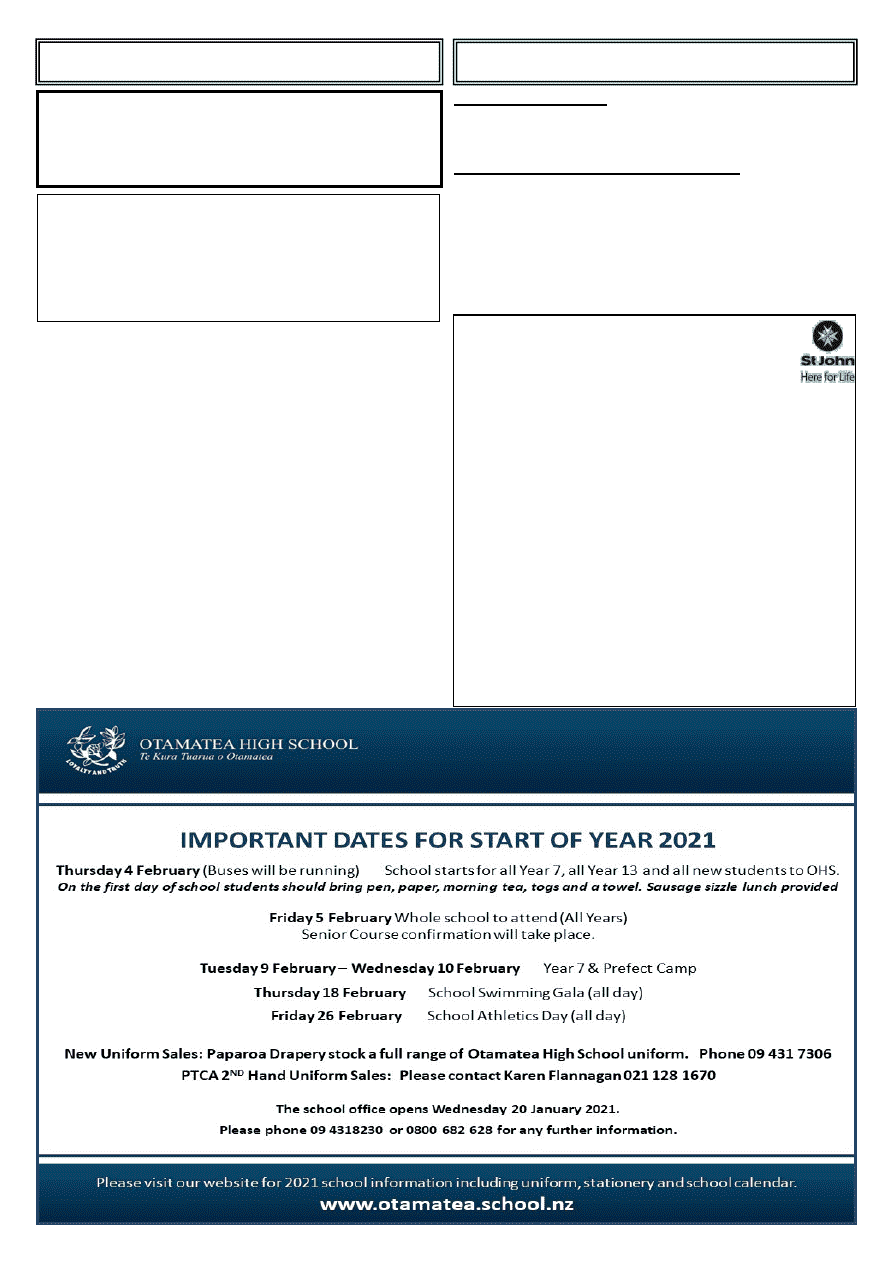 www.kaiwaka.co.nz 
Kaiwaka Bugle - 26 January 2021 
Page 3 
PUBLIC NOTICES 
CLASSIFIED 
CALLING  ARTISTS  
ANNUAL ART TRAIL 
The Mangawhai Artist's' Gallery is pleased to organise the 
annual Art Trail on 27 and 28 February 2021, and are on the 
lookout for participants for this popular local event 
There  is  still  time  to  register  if  you  wish  to  be  part  the  art 
trail  and  more  information  is  available  on  the  website 
www.mangawhaiartists.co.nz.  
The final date for registration is 31 January 2021. 
Artists  who  are  members  of  the  gallery  have  already  been 
notified and can register through a link that can be found on 
the website at a cost of $15 per artist.  
MAI encourages artists to invite people to their home studios 
and  to  have  interactive  activities  available  if  possible  for 
adults  and  children,  or demonstrations,  or  work  in  progress 
so  the  visits  can  be  informative  and  fun.  If  your  studio  is 
unsuitable  and  you  want  to  join  in,  MAI  may  be  able  to 
assist you with a venue so please let them know. 
A map and advertising will be provided, plus some signage. 
More information will follow.  
Visit our beautiful community gallery at 45 Moir St from 
10 – 3pm daily. 
KAIWAKA St. John Op Shop 
Thank you our lovely community that have 
donated items recently.  

We are looking for ... 
Clean saleable Bric a Brac, especially drinking glasses.     
We would love Used Tools. We also take in used Pet gear. 
We  are  also  taking  in  Used  Furniture.    We  need 
notification of drop offs as this is stored off-site.  We have 
photos in-Store of such large items we have stored. 

We have ... 
A good range of used School Bags for the back to school 
time.  Lots  of  Reading  Books  to  fill  in  those  long    hot 
summer nights.   

Not needed … 
Currently  we  are  not  taking  in  Clothing  or  Electrical 
appliances as we have way too much. (we will notify  you 
when we are accepting these items again) 
We also have 3 new staff members on board, why not pop 
in and say 'HI'. 
See you all soon 
Dianne and the Team @ St John Op Shop 
HOURS: Tuesday – Friday 10am to 3pm;  Saturday 10am – 2pm 
PHONE: Shop  4312650  
1919SH1, Kaiwaka 
WORK  WANTED:  Odd jobs, Mowing, weed-eating, 
washing  outside  windows,  gardening,  etc.  (Labour 
only). Please phone Glenn on 021 110 2905 
SITUATION VACANT, CLEANER: 
Looking for a casual to part time worker. 
Must be able to work Saturday Morning. 
Must be trustworthy and have drivers Licence, 
and be able to work in a team. 
Please email your C.V.  
to jrcleaningservices.chellew@yahoo.com 
Or phone Jenny on 4312826 or 027 311 5129, between 
5 pm and 8.pm. 
KAIWAKA MEDIA GROUP 
Kaiwaka Bugle 
Annual General Meeting 
Monday 8 February, 5.30pm 
Kaiwaka War Memorial Hall 
Stretch and Yoga Classes with Jess Tovine 
Tuesdays at the Kaiwaka War Memorial Hall 
Stretch @ 5pm : Yoga @ 6pm 
All classes by donation. Spare gear available. 
Both classes suitable for beginners and beyond. 
Contact 
Jess: 
jess@presencewellbeing.com 
or 
0212404360. Follow Presence Wellbeing on social media
.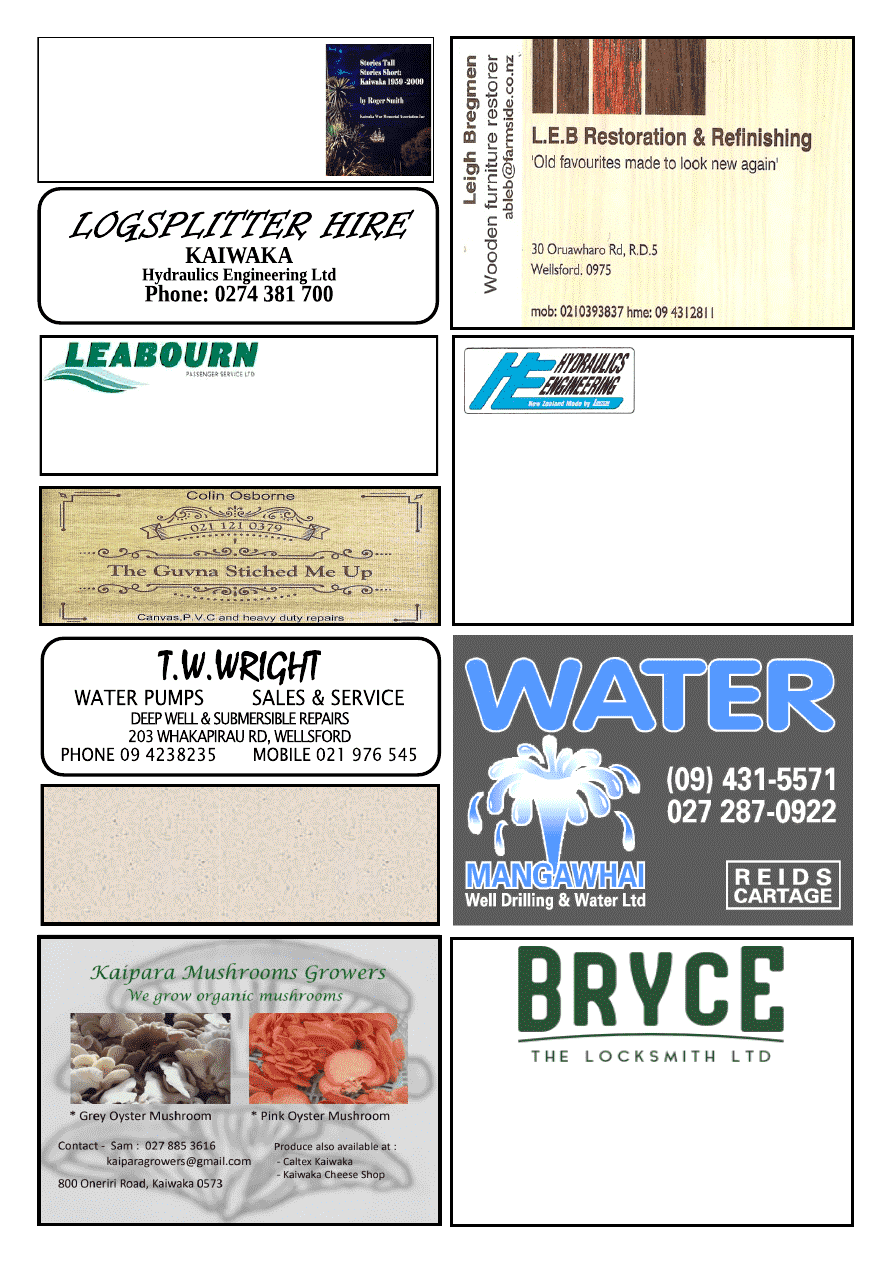 www.kaiwaka.co.nz 
Kaiwaka Bugle - 26 January 2021 
Page 4 
Bryce Frewin 
Ph: 021 850 983 
Kaipara Based Master Locksmith 
bryce@brycethelocksmith.co.nz 
www.brycethelocksmith.co.nz 
Hydraulics  
Engineering Ltd 
Kaiwaka 
Sales - Service - Parts - 
Hire - Manufacture 
Service Contractors & Industrial Equipment: 
Rams, Pumps, Valves 
Logsplitter Hire, Manufacturer, Sales 
Dennis Linton 
Lot 2 / 161 Ranganui Road, RD2, Kaiwaka, 0573, New Zealand 
Mobile: 0274 381 700 
Email: hydraulicsengineering@xtra.co.nz 
Counsellor and Registered Psychotherapist 
Offers Supervision 
ACC Sensitive Claims 
Susan Matheson      MNZAC 
Dip. Psychosynthesis Counselling and Psychotherapy 
Phone 09 431 2996                                     Mobile 027 605 2427 
Passenger Service
Car & Van Hire   Bus & Coach Charters 
Airport Transfers    
Phone (09) 4237416 
Stories Tall, Stories Short  
Kaiwaka 1959-2009 
by Roger TW Smith.  $40 
Kaiwaka Photographic History $25 
At All - Sortz Collectables  
or phone  4312 045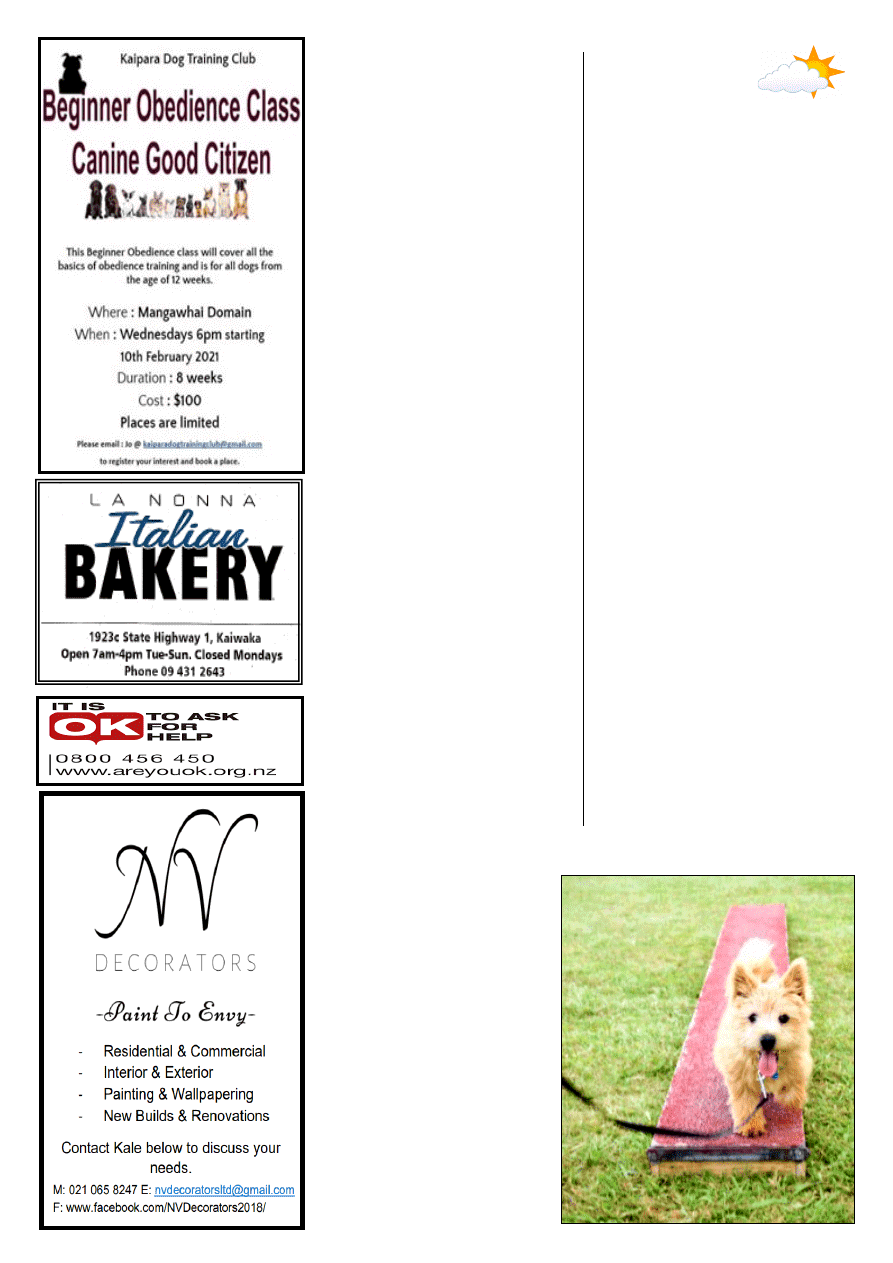 www.kaiwaka.co.nz 
Kaiwaka Bugle - 26 January 2021 
Page 5 
KAIPARA DOG 
TRAINING 
2020  was  an  interesting  year  for 
everyone  and  every  organisation  that 
relies  on  face-to-face  meetings  – 
Kaipara  Dog  Training  Club  was  no 
exception. Although the first lockdown 
brought  meetings  to  a  sudden  halt,  the 
second  lockdown  in  Auckland  also 
meant  that  some  key  members  of  the 
Club  could  not  make  it  across  the 
border  for  weekly  training  sessions. 
However,  the  Club  was  back  to 
business as usual come Term 4 with the 
popular  Canine  Good  Citizens  Basics 
classes  full  with  young  puppies  and 
their handlers, young and more mature! 
PRIZE GIVING 
The  Club's  annual  prize  giving 
ceremony  was  held  in  mid-December 
and  was  attended  by  Canine  Good 
Citizens  students  and  their  dogs  from 
both Term 1 and Term 4.  
The meeting commenced with some fun 
games  for  the  handlers  to  play  with 
their  dogs,  giving  their  dogs  an 
opportunity  to  try  out  new  pieces  of 
equipment  such  as  agility  tunnels  and 
jumps,  a  simple  Rally-O  course and  to 
even  have  the  opportunity  of  learning 
how to pass through a gate in an orderly 
fashion!  
Following  the  games,  the  social  theme 
continued  with  food  and  chat  which 
preceded  the  award  ceremony  itself. 
Awards  were  given,  not  just  for 
competition  success,  but  also  for  most 
improved  dog  and  handler  and  service 
to the Club. 
CANINE 
GOOD 
CITIZENS 
BASICS  
Canine  Good  Citizens  Basics  classes 
(also  fondly  called  "Puppy  classes") 
will recommence on Wednesday,  10th 
February at 6pm for registration and 
introductions  and  will  continue  for  a 
further  7  weeks  at  6pm.  The  course 
costs  $100  for  8  lessons.  Your  puppy 
should  have  completed  its  first  set  of 
vaccinations  before  starting  the 
course  which  includes  basic 
commands  like  sit,  down  and 
walking to heel, as well as subjects 
such as husbandry, legal obligations 
and  dog  etiquette  when  out  and 
about. The course is completed with 
a  simple  assessment  of  the  content 
that has been covered. 
MEETING, MUSTER 
There  will  also  be  a  meeting  on 
Wednesday,  3rd  February  at  5pm 
for a start of term "Muster", where 
people who are interested in taking 
competition  and  dog  manners 
courses can come along and sign up 
for  the  activities  that  interest  them 
including  agility  (at  various  levels) 
and obedience. 
Photo  right:  One  of  the  Canine 
Good  Citizens  Basics  Puppies 
enjoying the Dog Walk 
KAIWAKA 
WEATHER 
Wishing    a  Happy  New 
Year to you all.  
So  this  is  Summer!  You  wanted  it  so 
here it is. Another two maybe 3 months 
of this hot dry weather is predicted.   
Well  this  report  is  about  last  year  It 
takes  a  bit  of  getting  used  to  writing 
2021 if you are not using the date every 
day. The Brynderwyn Waterfall is very 
slow  already  although  it  was  not  very 
fast in the first place. 
In December we hit 35deg on the 14th 
and  30deg  on  the  19th  and  20th.  We 
went  from  cold  to  moderate  and  then 
hot  and  the  winds  were  similar.  From 
light  to  moderate to  strong.  The    wind 
did  not  settle  in  any  one  quarter  for 
very long.  We had to start watering the 
garden.  Production was a bit slow but 
is  great  to  have  your  own  produce. 
Homegrown is much healthier and tast-
ier.    Santa  withstood  winds-rain-very 
hot conditions and lots of toots. He will 
be  back  later  this  year.  The  wind  was 
grateful although the  winds  dried  it  up 
rather quickly.   

December  2020  we  had  88mm  and 
2019 173mm. 

December  2020  we  had  rain  on  5 
days and 2019 on 10days.  

Our  total  rainfall  for    2020  was 
1495mm and 2019 was 1234mm.   

Our driest December since 1987 was 
1994  with  04mm  and  the  wettest  was 
2014 with 211mm. 

Our driest 12 months of any year was 
1994 with 892mm and the wettest was 
1990 with 1947mm.   
Derek from Hakaru Valley recorded for 
the year 2020  - 1199mm.  In that year 
they  had  7  months  of  under  100mm 
rain  per  month.  The  lowest  rainfall 
reading for 12 months was in 2015 with 
1061mm.    The  highest  reading  was  in 
1989 with 1916mm.   
Q. What has feathers but no wings? A.  
A pillow.  
Wishing you all a safe New Year.  Do 
not get lax about this Covid Virus.  We 
do not want anymore Lockdowns. ~Bev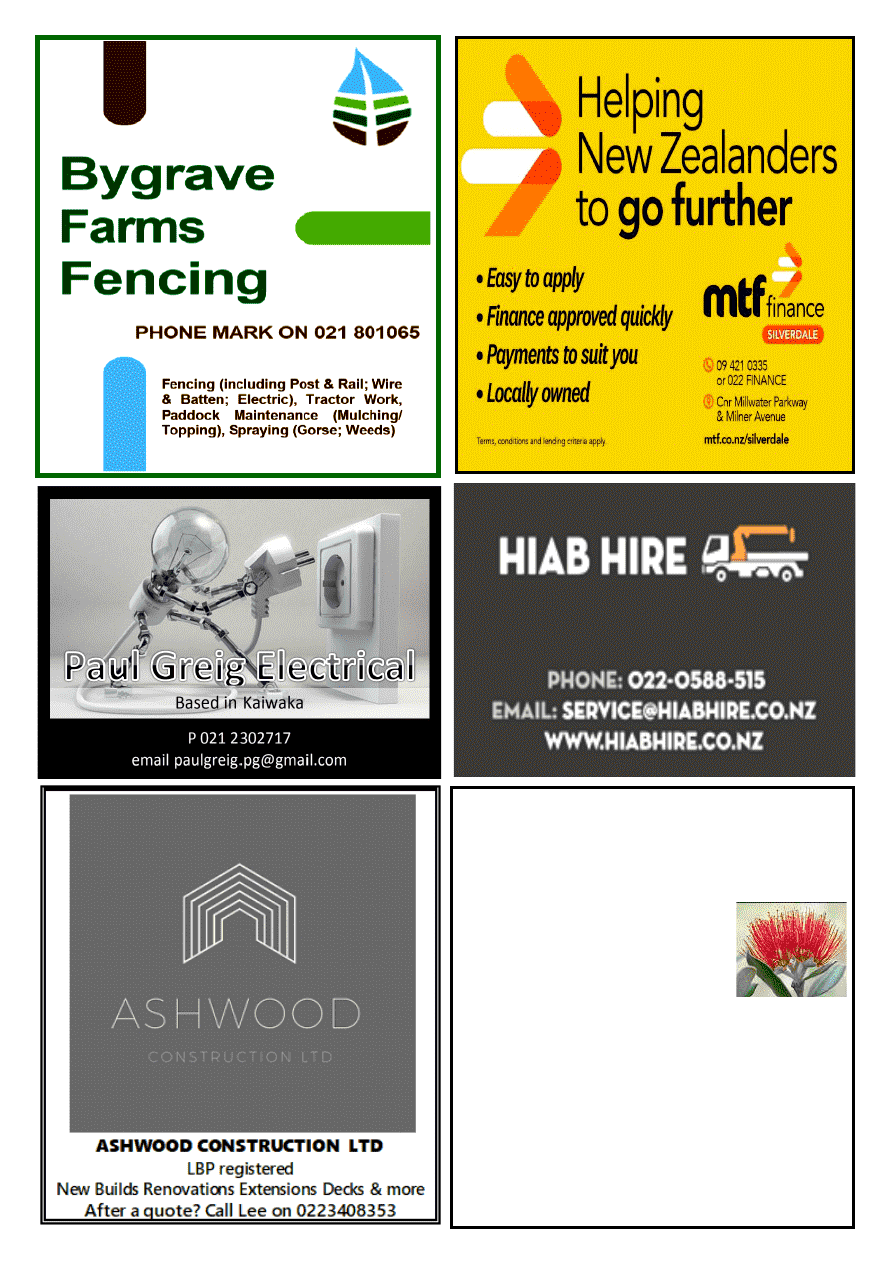 www.kaiwaka.co.nz 
Kaiwaka Bugle - 26 January 2021 
Page 6 
KAIPARA FLOORING CO 
FULLY MOBILE FLOORING SHOWROOM 
SERVICING THE KAIPARA 
PH (09) 946 9886 or  
CHRISTINE ON 021 515 415 or 
HOWARD 021 2696250 
IN HOUSE MEASURE, QUOTE AND 
CONSULTATION SERVICE 
FOR THE SUPPLY AND INSTALLATION OF 
CARPET, VINYL, VINYL PLANKING, HARD 
FLOORING, GARAGE CARPET, LAMINATE 
FLOORING AND MORE. 
EMAIL kaiparaflooring@gmail.com  
WEBSITE www.kaiparaflooring.co.nz 
Qcard 6 month interest free terms or 12 – 24 
month finance options available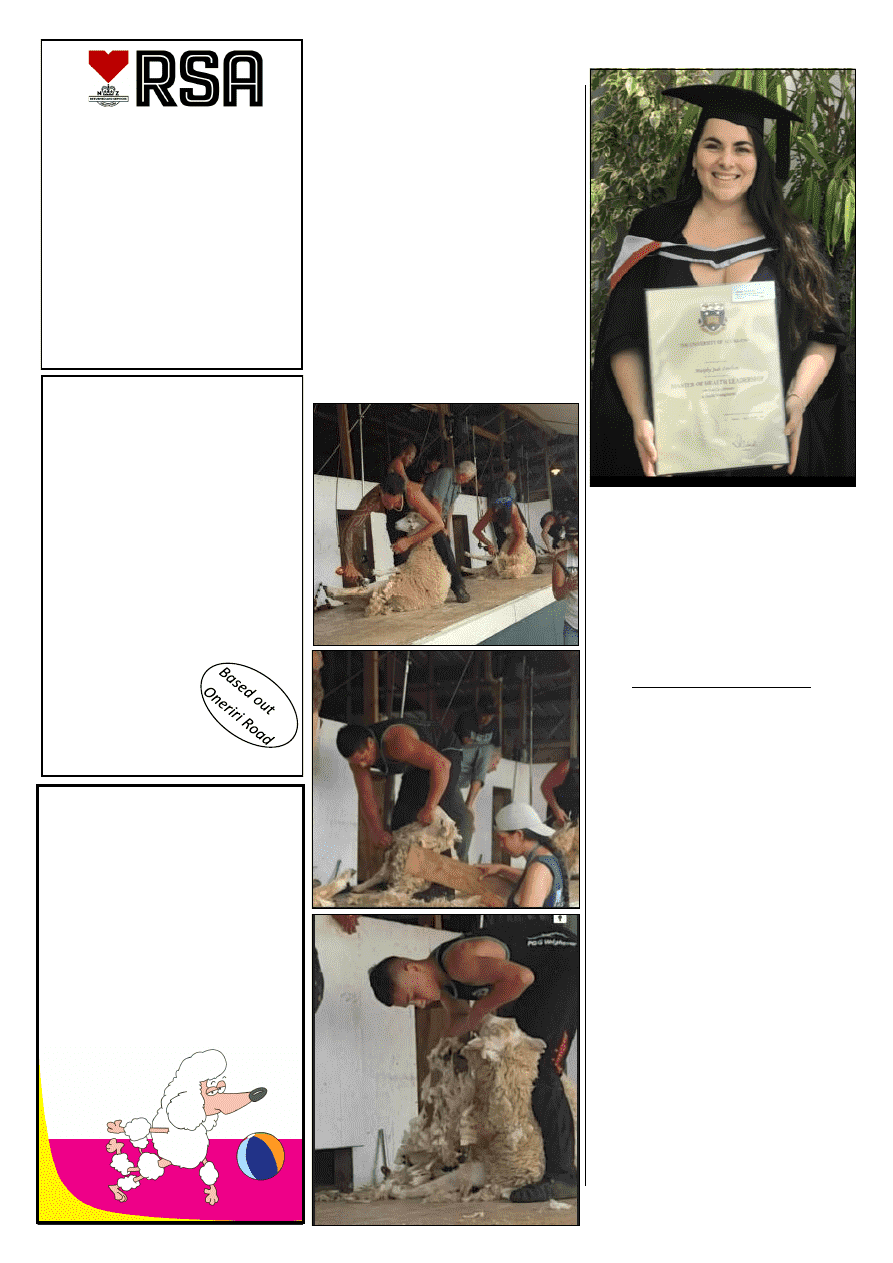 www.kaiwaka.co.nz 
Kaiwaka Bugle - 26 January 2021 
Page 7 
HAKARU & DISTRICTS 
MEMORIAL RSA (INC)
Members & guests are invited to 
come along and enjoy our hospitality. 
New members welcome. 
Meals are served on Thursday and 
Friday nights from 6.30pm. 
Order from Blackboard Menu  
The sing along with Des Chitty is the 
Last Friday of the month. 
For more information please phone 
Bill on 431 2092  
HODGETTS 
CONTRACTING
Digger Work   
Driveways 
House Sites   
Dams  
Drains, etc
Also available for HIRE 
3 ton Vib Roller  
Heavy Duty Tow  
Waterblaster      
Lazer Level
Phone Mark  
4312877 
027 447 8554 
Hot Diggity Dog  
DOG GROOMING  
KAIWAKA 
Spring is in the hair. 
Professional Dog Groomer  
at affordable prices.
www.doggroomingkaiwaka.co.nz 
call Pam 094312143 or text 
0273335380 for bookings 
CONGRATULATIONS 
MURPHY! 
 Murphy  Linehan  graduated  last  year 
with  a  Master's  degree  in  Health 
Management  with  first  class  honours. 
She  attended  Kaiwaka  Primary  School 
and  Otamatea  High  School  then  left 
Kaiwaka for University.  
Murphy  is  now  working  at  the  Cereus 
Health  Group  in  Auckland.  This  was 
KAIWAKA FOODBANK 
OP SHOP 
To  raise  necessary  funds  to  help  our 
Community  Foodbank,  including  no 
discrimination  to  all  those  needing 
help. 
The  shop  opened  alongside  the 
Kaiwaka  War  Memorial  Hall  on  13th 
January  2021  after  being  blessed  by 
Matua  Rau  Morgan  and  Whaea  Ma 
Paikea. Thank you both so much. There 
was  no  fanfare  just  a  "get  on  with  the 
job". 
We have had great community support 
and  we  thank  you  all  for  the  lovely 
donations. 
We  are  still  needing  Men's  Medium 
size  clothing.  Plus,  pillows,  towels, 
jewellery,  ornaments,  tools.  Also, 
veggies fruit plums etc. 
Anything  else  would  be  greatly 
appreciated. 
We  have:  Bassinette,  cuddly  rugs  + 
cover  $20.00;  Baby  Bath  $5.00; 
Toddler's Bike $5.00; 3 Seats $3-$6.00 
Come see us and our neat little shop. 
~ Op Shop Staff 
Shop Hours: 
Sunday and Monday Closed. 
Tuesday to Saturday 10am – 3pm 
Shop phone number 027 388 9217 
ABOUT TOWN 
SHEARING SUCCESS 
"Kaiwaka wears the mantle of shearing 
capital  of  the  north  at  least  for  the 
moment after claiming three of the five 
titles at the Kaikohe A.P. and H. Show 
on Saturday 16 January amid one of the 
busiest weekends of the shearing sports 
calendars." 
Ref.  Shearing  Sports  on 
Facebook. 
Toa  Henderson  won the Open Final , 
his  brother-n-law  Tama  Nahora  won 
the  Senior  Final  and  Toa's  nephew 
Hamu  Henderson  won  the  Junior 
Final. 
There  are  five  more  Show  contests  for 
the  ANZ  Bank  Northland  Shearing 
Teams Championship – the next one is 
at  Paparoa's  North  Kaipara  show  on 
Waitangi Day . 
Photos: Top-Toa Henderson; Mid Tama 
Nahora; Bottom Hamu Henderson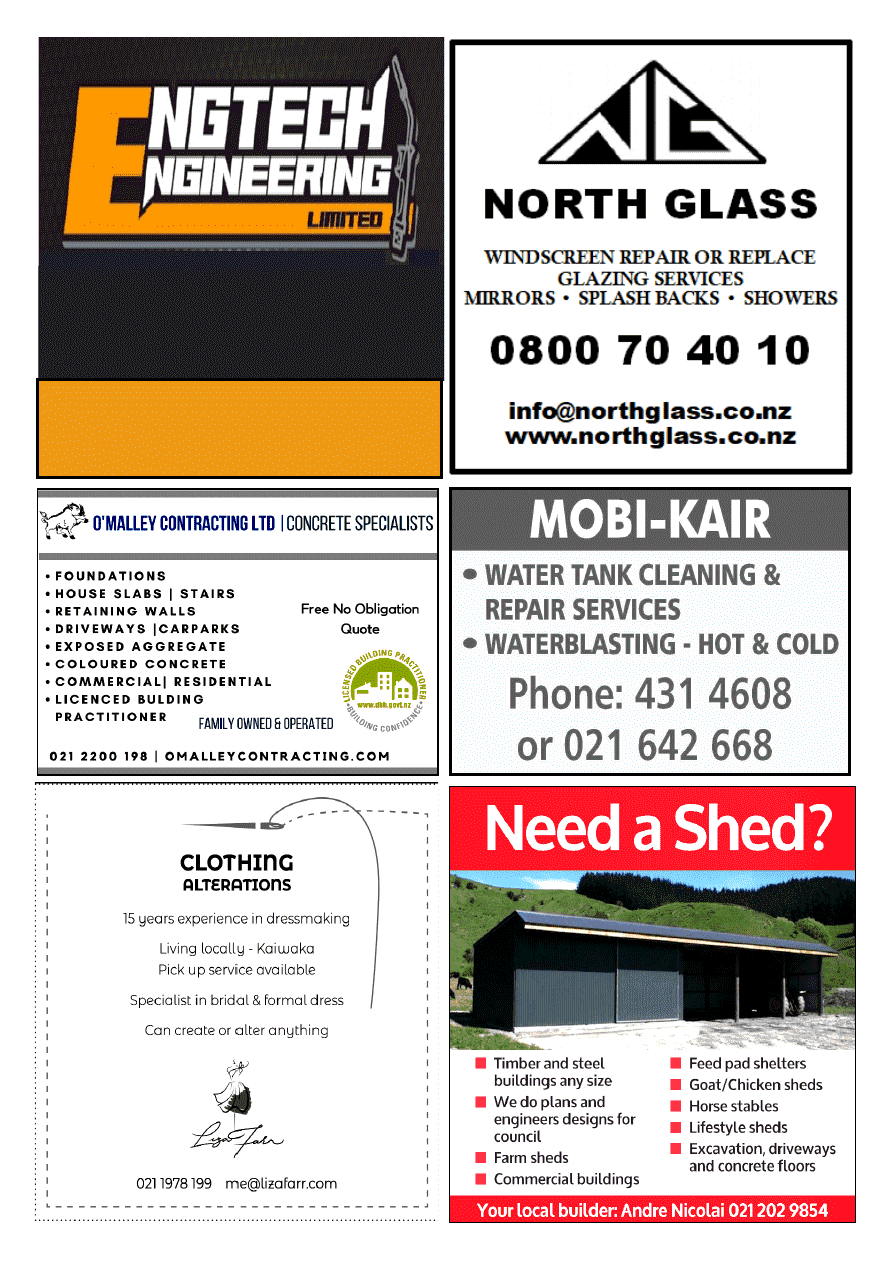 www.kaiwaka.co.nz 
Kaiwaka Bugle - 26 January 2021 
Page 8 
- Mobile Engineering Services - 
- Specialised Welding and Fabricating - 
- Media Blasting and Painting -  
- New CNC Profile Cutting Machine - 
PH: 021 415 259 or 09 973 3440 
648 Kaiwaka-Mangawhai Rd, Hakaru 
www.engtechengineering.nz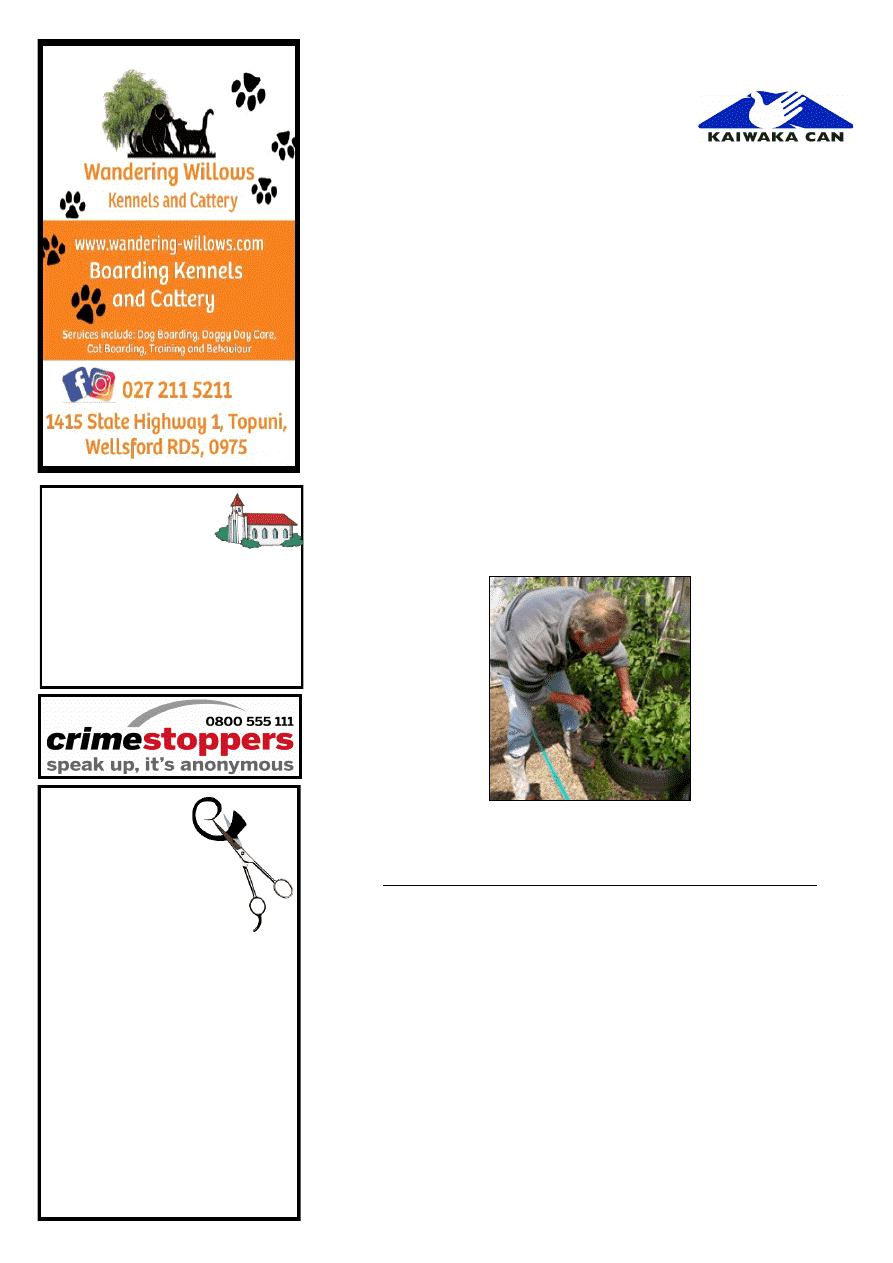 www.kaiwaka.co.nz 
Kaiwaka Bugle - 26 January 2021 
Page 9 
JUST 
CUTS 
and 
MORE  
1758 Cove Road  
Open Monday-Saturday  
by appointment only 
Saturday 9-12pm  
Affordable prices: 
Ladies cuts from $35 
Colours from $120 
Men's from$25 
Kids from $18 
0211652629  
ST PAUL'S  
ANGLICAN  
SUNDAY SERVICES
First Sunday 9am Holy Communion 
Third Sunday 9am Family Service 
St Pauls Church: Kaiwaka-Mangawhai Rd. 
Priest in Charge Rev. W Thornton Ph 431 4122 
www.mangawhaianglican.org.nz
Kaiwaka  Can  met  last  Wednesday, 
great attendance with four new people. 
Newcomers  have  been joining  up  right 
through the past year – and staying! 
Our  biggest  decision  was  to  appoint  a 
new interim chairman, to be confirmed 
in  April  at  the  annual  meeting.  David 
Wright has taken over and will bring a 
new  voice  and  style  to  the  task.  David 
grew up here, farmed here, has worked 
away for some time but never really left 
so he knows people and history and the 
community. I have been chairing for six 
years, six roller coaster years, six years 
with  some  tough  times,  some  major 
setbacks  as  funds  disappear  or  major 
blockages especially in compliance and 
approval have come from...same sort of 
places as in the past. 
A NEW NAME 
We  are  also  looking  at  a  new  name, 
rebranding, restructuring to give a more 
powerful  drive  from  a  stronger 
executive.  The  new  name  is  needed 
partly because it has been the delight of 
a  few  to  sling  mud  from  the  sidelines 
and mud often sticks to a name. Such as 
the nickname "Kaiwaka Can't." OK, we 
don't  mind  criticism,  but  it  becomes 
more productive face to face and as part 
of  a  cooperative  desire  to  move 
forward. 
PROJECTS 
So,  what  have  we 
achieved? 
The 
footbridge project is just 
waiting  for  its  final 
announcement 
and 
timescale. 
In 
the 
beginning  18  months  of 
work 
with 
NZTA 
produced  a  single  speed 
limit  through  Kaiwaka, 
higher  than  we  wanted 
but still an improvement, 
along  with  the  speed 
signs,  a  safety  zone  and  a  few  trees, 
way less than we were promised but we 
continue  to  work  on  it.  The  welcome 
sculptures  are  all  designed,  sited, 
consulted  on  and  have  approval  in 
principle  from 
NZTA,  just  a 
small matter of 
32  regulations 
to  meet!  Lights  are  coming  back,  the 
community garden is worth a look, the 
playground is well used... 
VISION 
The  best  thing  though  is  that  after 
working for years to be heard, years of 
creative  planning  and  listening  to  the 
community,  there  is  a  real  vision  of 
what  is  sitting  there  ready  to  do,  a 
vision  for  a  Kaiwaka  community  way 
different  to  the  weedy,  disconnected, 
neglected place visitors see now. 
There  is  a  place  for  everyone,  a  place 
for  a  great  range  of  skills  and 
backgrounds,  things  to  get  really 
excited  about.  Council  knows  we  are 
there.  We  have  a  great  map  which 
shows  what  is  there  to  be  done  and 
where  all  the  action  is  going  to  take 
place.  We  plan  to  find  a  place  in  the 
community  for  it  to  be  on  permanent 
display. 
MOVING ON 
So,  the  end  of  one  chapter  of  our 
history,  the  start  of  another.  Do  I  have 
regrets? Yes, of course. I would love to 
have seen much more completed, but I 
am  excited  at  the 
vision  there  is  for 
Kaiwaka, this beautiful 
little  town  of  delights! 
Over six years we have 
pushed  a  huge  boulder 
up  the  hill  to  the  top. 
Now  fresh  muscle  and 
fresh  energies  will 
push it over the top and 
we  can  watch  it  all 
begin to happen. 
Thanks  for  the  ride 
Kaiwaka 
Can, 
bumpier,  more  up  and 
down,  harder,  trickier  than  expected. 
But thanks for the ride and good luck to 
the next driver. ~ Derek Christensen 
Photo: Eric tending the Community Garden 
tomato plants
NEW YEAR, NEW NAME, NEW VOICE, 
AND EXCITING PROJECTS AHEAD 
'THE DEN' 
Bickerstaffe Road, Maungaturoto 
Welcome to 2021 from all the volunteers at 'The Den'. 
Also thank you to all the supporters for their efforts during 2020. 
As we move into a new year a decision has been made to alter the operating hours 
and days of 'The Den'. The new hours are: 9 am (0900hrs) to 3 pm (1500hrs) 
Tuesday,  Wednesday,  Thursday,  Friday  and  Saturday.  Now  closed  on 
Sunday and Monday. 
We would also like to remind you all that for us to operate efficiently and in order 
to  maximise  the  benefits  and  returns  to  the  community,  we  ask  that  you  ensure 
that the goods that are offered to us are reasonable for resale. Unfortunately, in the 
past we have had goods offered that we have been required to dump due to the 
state and condition of the goods being of no value. 
As we know 'The Den' has been successful in raising funds for various projects in 
the area and to this end we would like to continue. However, a venture such as 
this requires people to maintain the level of operation. If you have time and would 
like to contribute, please come down to 'The Den' and meet our great, and jovial 
team of hard-working volunteers. Maybe you have a skill that would enhance our 
services which we would be glad to hear about.  
Looking forward to seeing you all in 2021. ~ Peter Matheson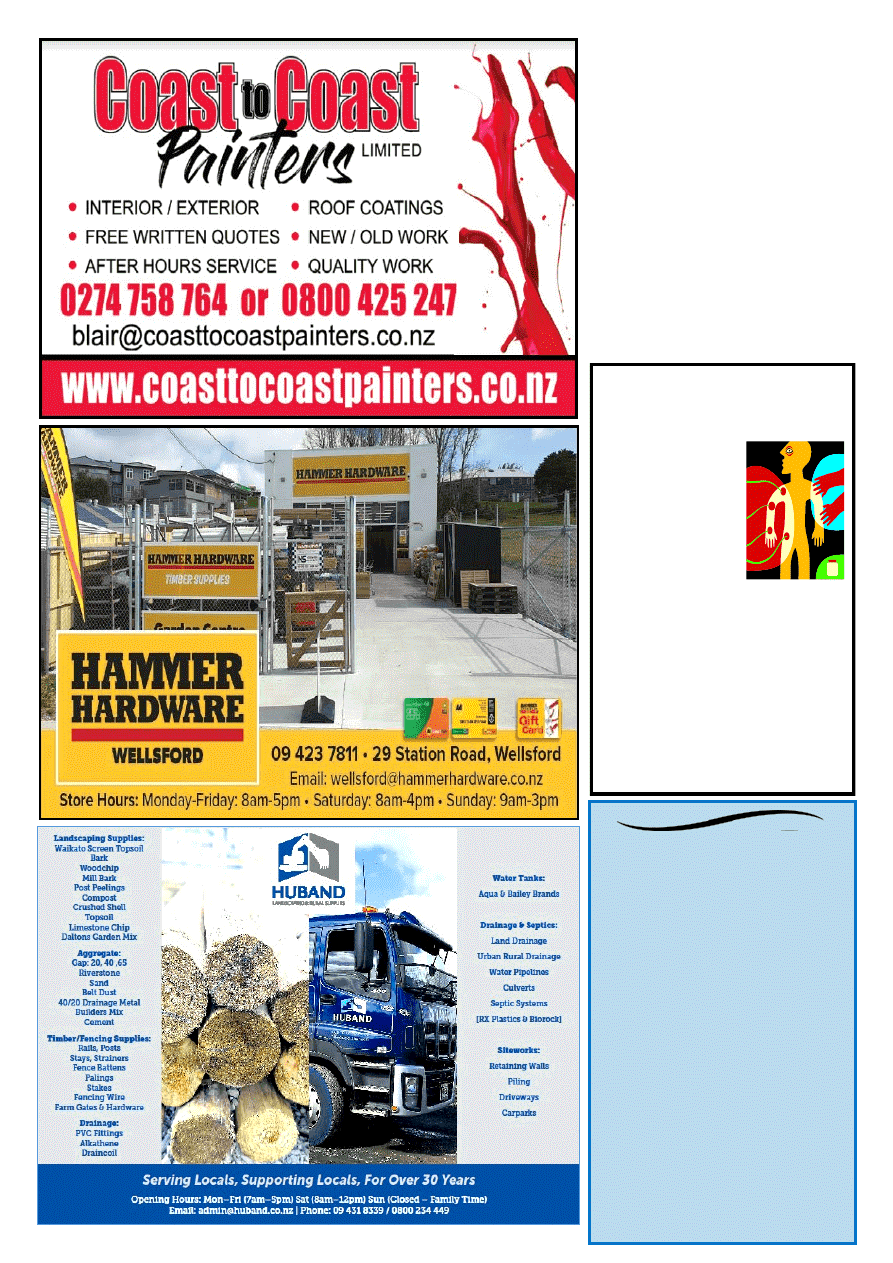 www.kaiwaka.co.nz 
Kaiwaka Bugle - 26 January 2021 
Page 10 
OWEN STEVENS 
Osteo Therapist
For careful 
adjustments to 
bones and joints 
Treatment for 
humans and their 
pets 
Clinics: 
Kate's Place, Kaiwaka: 
Last Friday of month 
For bookings: 
9.00am-5.00pm  
Phone 
09 4312661 
Or phone Owen  
09 4317123 anytime 
HAVEN HOME  
MAINTENANCE  
SERVICES 
Helping transform your  
haven into your home 
Interior:    
Kitset Assembly   
Wardrobe Furniture Install 
Picture & Mirror Mounted 
Minor Carpentry Works 
Exterior:  
Landscape Solutions 
Fence Build & Repair 
Low level Decks 
Gutter clearing & Repairs 
M: 021 1145709  
E: sbealing@gmail.com  
THE ROTARY CLUB OF 
MAUNGATUROTO AND 
DISTRICTS INC. 
MENTORED DRIVING LESSONS 
In 
conjunction 
with 
Roadsafe 
Northland  and  People  Potential  and 
using an automatic car with a group of 
Mentors who are willing to take people 
who  have  their  Learner's  licence  and 
are  working  towards  their  Restricted 
providing approx. 12 free lessons. 
If you are interested, please call Eileen 
–  0211420357  –  to  request  an 
application form. 
If  you  previously  made  an  application 
through  Te  Roroa  and  have  not  heard 
from anyone, please also get in touch as 
they are no longer the provider.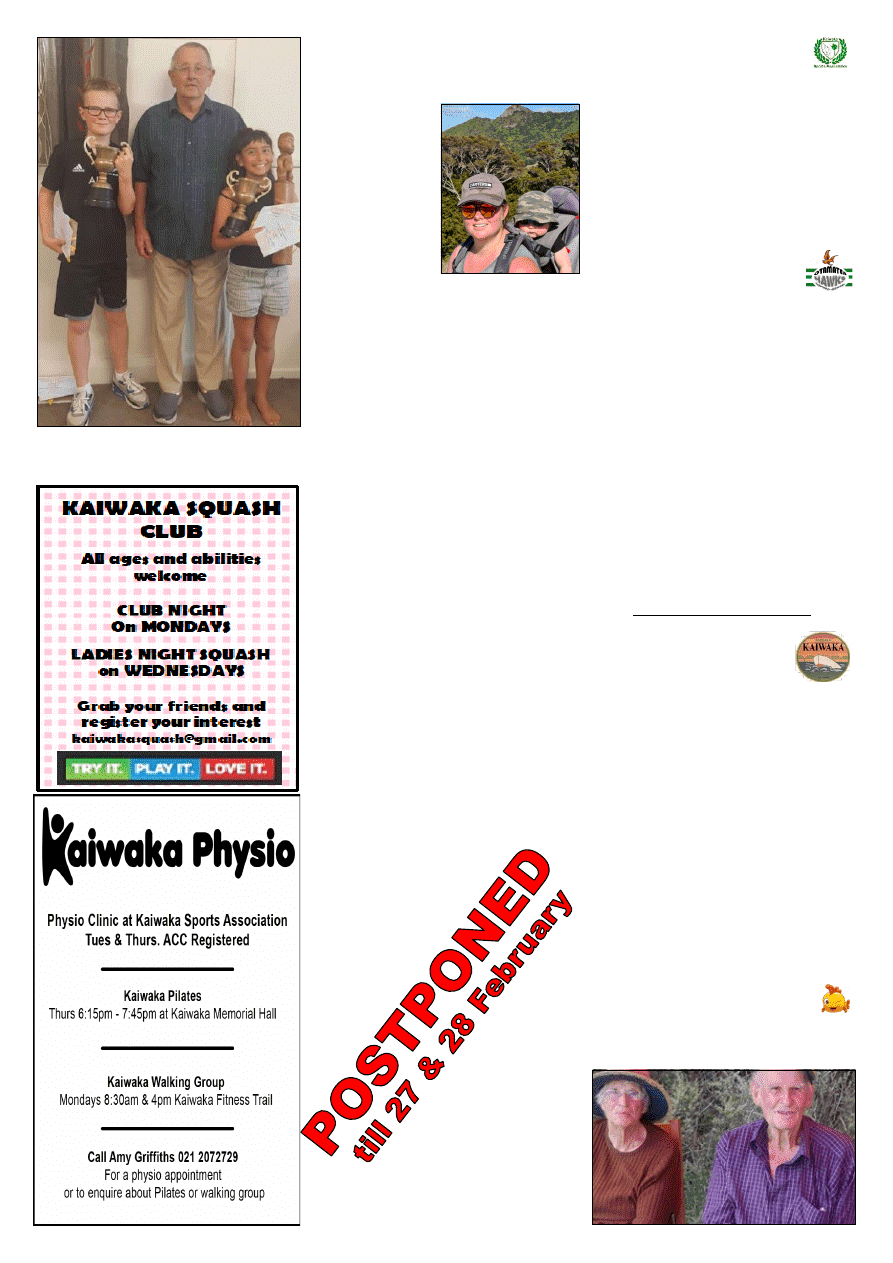 www.kaiwaka.co.nz 
Kaiwaka Bugle - 26 January 2021 
Page 11 
10th TOP OF THE ROCK 
The  KSA  annual 
Top  of  the  Rock 
fun  run  will  be 
held  on  Sunday, 
March 7. 
The  full  course 
takes 
you 
to 
'Cattle  Mount', 
the  highest  point 
in 
the 
Brynderwyn 
Range.  The  360-degree  views  from 
coast  to  coast  and  north  to  south  are 
amazing. It is a well-formed route with 
options for both five and 10km runs. 
The race, a run or walk, starts at Pakeho 
Road,  off  Baldrock  Road  –  the 
registration  truck  will  be  parked  at  the 
entrance  and  paddock  parking  is 
available. 
As  with  last  year  there  is  no  cycling 
component  in  the  race,  but  a  bicycle 
race  (with  a  hill  or  two!)  for  children 
aged  under  12  will  be  held  at  the 
Kaiwaka  Sports  Association  (KSA)  at 
11am. 
There  will  be  several  prizes  on  offer, 
including  for  first  man  and  woman  in 
the 10km and 5km runs, as well as for 
oldest runner. 
Evan,  organiser, says,  "the  annual race 
has  become  increasingly  popular  with 
more  than  300  participants  last  year. 
The  Top  of  the  Rock  is  an  important 
fundraiser for the KSA.". 
Kaiwaka 
School 
and 
Kaiwaka 
Playcentre will also be fundraising with 
coffee and food available at the event. 
Race entry is $25 Adult, under 15 $10, 
Preschool  free.  Family  pack  2  adults 
2or 3 children $60. 
Enquiries  to  Evan  at  09  431  4127. 
Registration  details  are  still  to  be 
announced.  See  Facebook  'Top  of  the 
Rock 
2021' 
and 
the 
website 
kaiwakasport.co.nz. 
OTAMATEA TENNIS 
OPEN TOURNAMENT 
The  71st  Otamatea  Open  is  happening 
this  coming  weekend  -  Saturday  and 
Sunday, January 30 and 31.   
Entrants  from  all  over  Northland  and 
Auckland  are  expected  with  varying 
levels  of  expertise  from  B  grade  club 
players  to  Caro  Bowl  level  players.  
Players  can  enter  singles,  doubles,  or 
mixed  doubles  and  are  guaranteed  at 
least 3 matches per event.  
Matches start at 8:30am.  
Many  of  the  players  and  spectators 
camp on the adjoining rugby fields over 
the weekend adding to the carnival-like 
atmosphere.  There are showers, toilets, 
bar facilities, food available onsite plus 
a  BBQ  meal  and  social  night  on 
Saturday evening. 
Enter  via  the  TennisNZ  website,  or  to 
innesanderson9@gmail.com   
Ph 027 2921657 
KAIWAKA  Touch  Module 
2021 
Kaiwaka  Touch  Module  2021  is  a 
social  grade,  mixed  team,  family-
friendly  module  and  heaps  of  fun! 
Wednesday  nights  at  the  KSA  starting 
February 10 at 6.15pm.  
To enter a team, you can contact Taira 
for  a  team  registration  form  and  any 
other  enquiries:  tairalambert32@gmail 
fun. 
HAWKS RUGBY 
The 
Senior 
Men's 
and 
Women's  teams  Pre  season  training  is 
beginning  -  with  their  rugby  muster 
held  at  the  KSA  last  Sunday.  For 
further information check the Facebook 
pages or contact Bron on 027 425 8046  
KAIWAKA SPORT 
WEBSITE 
Www.kaiwakasport.co.nz 
"The  KSA  Complex,  Built  By  The 
Community For The Community" 
The  KSA  website  is  now  underway  - 
awaiting up dated information from all 
the  clubs  associated  with  the  Kaiwaka 
Sports Assn. 
EXHIBITION TENNIS 
NZ  representative  Davis  Cup  players 
will be at the Kaiwaka courts on Friday 
evening,  29  January,  from  6-9pm  to 
play exhibition tennis.  See page 2 
KAIWAKA SPORTS ASSN NEWS 
Contact email: kaiwakasportsassn@gmail.com 
POINT CURTIS 
CRUISING CLUB  
Annual Picnic 2021 
Annual Picnic was a very enjoyable day 
and  stay  over  for  those  who  camped 
overnight.  Doug  Leslie  did  an 
impromptu  serenade  which  was  well 
received. Doug, pictured below with his 
wife Norma. 
Annual Subscriptions 
Don't  forget  Subs  were  Due  1st  June 
2020. $30 Family $20 Single. 
Internet  banking  12  3094  0008233  00 
Please use Name/s as a reference. 
Fish of the Month for December was 
Gurnard  and  Richard  Crow  had  the 
winner weight of Dip 0.996kg 
Fish  of  the  Month  for  January  was 
Snapper, and we had a full complement 
of  winners:  1st  Carol  7.440kgs,  2nd 
Renna 2.744kgs, 3rd Carol 2.364kgs 
New  Fish  of  the  Month:  Snapper till 
11 February 2021 
Next  Club  meeting:  11 February 
2021  @  7pm,  Kaiwaka  Sports 
Association 
. ~ 
Wayne Leslie (Commodore)
Mark  Ottaway,  KSA  vice-president, 
presented  the  Kaiwaka  School  Sports 
Awards  to  Leyton  Greig  and  Olive 
Woodman at the 2020 school prizegiving.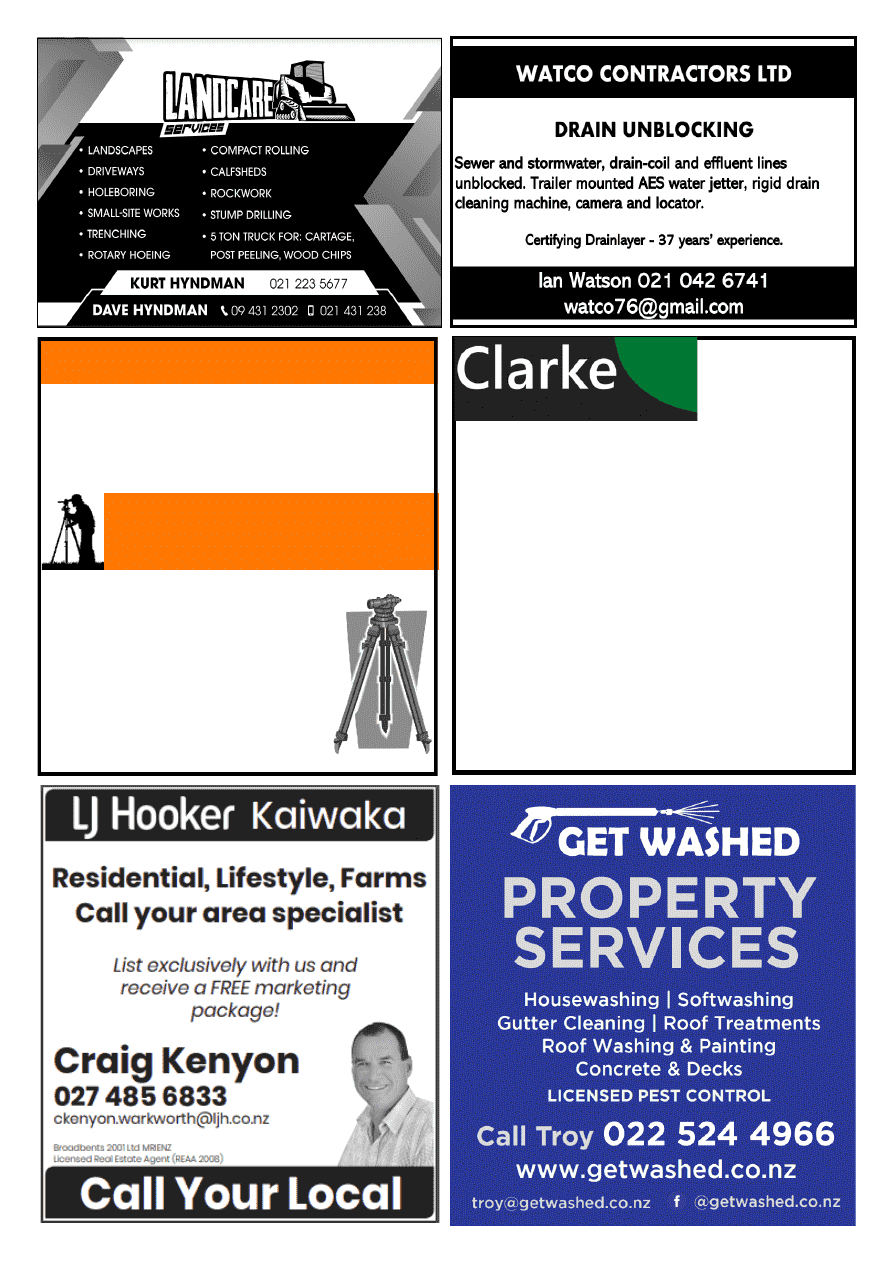 www.kaiwaka.co.nz 
Kaiwaka Bugle - 26 January 2021 
Page 12 
Drainage & Earthmoving 
nigel@clarkedrainage.nz 
027 2233 185 
Registered Drainlayer                 All Types of Earthworks  
> All Residential & Commercial Work  > House Sites 
> Septic System Design & Install 
> Footings & Drilling to 10m 
> Sewer Connections 
> Dams 
> Water Tank Installation 
> Roading & Races 
> Farm Work 
THE ONE STOP SHOP  
Phone Nigel for an Obligation Free Quote  
SURVEYORS 
SUBDIVISIONS 
HOUSE SITE SURVEYS 
CIVIL ENGINEERING 
WASTEWATER DESIGNS 
EXPERIENCED 
PROFESSIONAL 
INNOVATIVE 
Ph 09 431 5353 
0800 PACIFIC (0800 722 434) 
pacificcoastsurvey.com
Adam Booth - 027 415 5752 
Bsurv, Licensed Cadastral Surveyor
Surveying Kaipara since 1994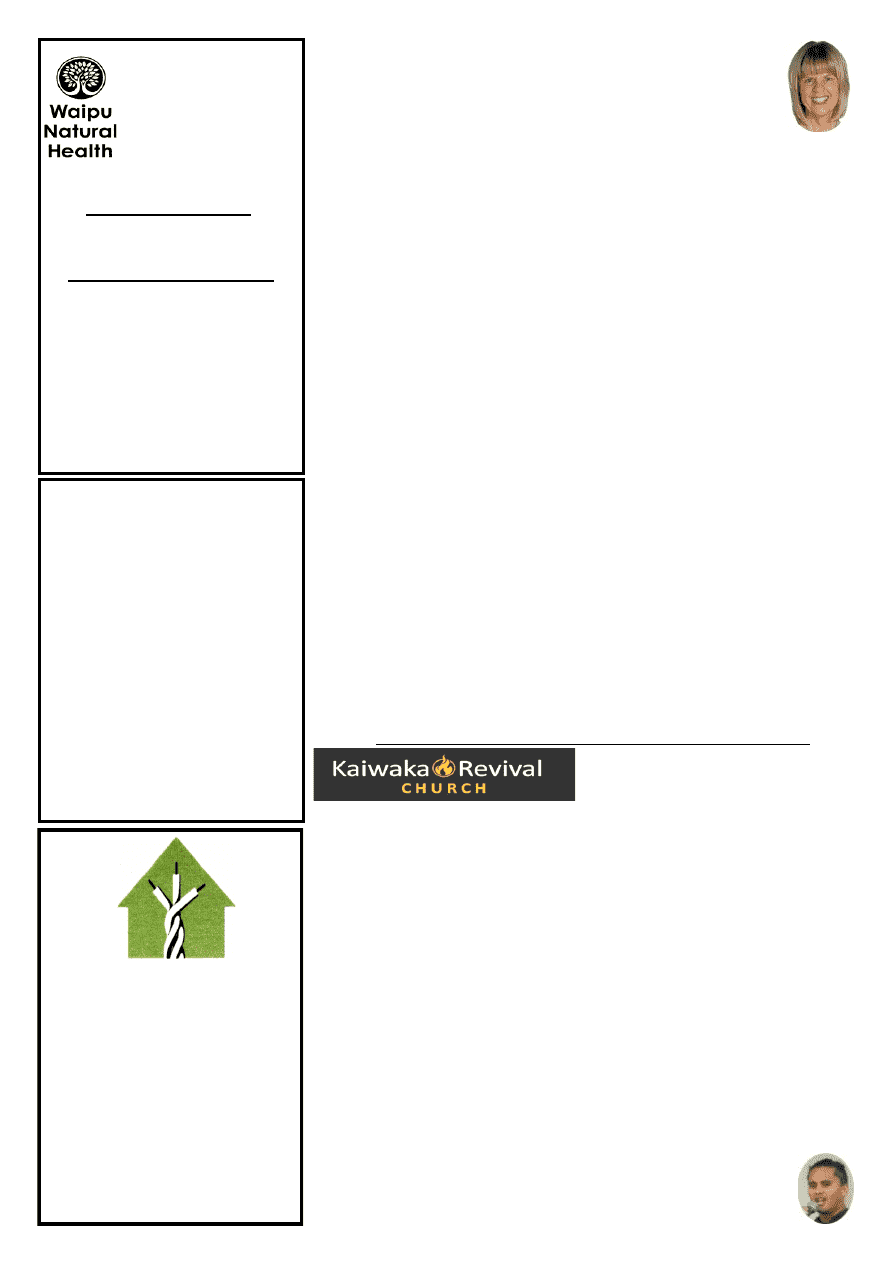 www.kaiwaka.co.nz 
Kaiwaka Bugle - 26 January 2021 
Page 13 
Reyahn  Leng 
Registered Electrician 
Local, honest and 
reliable. 
For your residential and 
light-commercial 
projects. 
022 314 1068 
3 Cove Road, Waipu 
(opposite the Pizza Barn
) 
094321325 
www.waipunaturalhealth.co.nz 
Clinical Nutritionist: 
Nutritional Checkups, Diets for 
Chronic Diseases,  
Food Sensitivities 
Naturopathic Physician: 
Ozone Therapy, Prolotherapy  
Reflexology, Craniosacral 
Therapy, Trauma Release 
Massage Therapy 
Counselling and Hypnotherapy 
Change Catalyst/ThetaHealer 
Affordable Children's Consults 
All therapists are fully qualified
Northland  District  Health  Board 
Elected member 
What's  in  store  for  your 
health and wellbeing in 2021? 
While  we  have  no  control  over  the 
extent of the pandemic worldwide, here 
at home we know we can do our bit to 
keep ourselves, our families and the rest 
of  the  community  safe  –  tried  and  true 
messages  of  good  hygiene,  tracking 
your  movements  and  contact  with 
others  and  keeping  your  bugs  to 
yourself. 
Life throws us curve balls usually when 
we  least  expect  it  ,  and  again  we  can't 
control when these happen, but we can 
be more prepared for these so we cope 
better  and  are  able  to  "bounce  back 
better", as well as enjoying life more by 
finding  satisfaction  and  joy  in  our  day 
to day lives. 
Here are some well researched ways to 
build  your  life  satisfaction  and 
resilience.  I  know  they  all  sound  very 
obvious  and  straightforward,  but  they 
are  practices,  so  just  like  getting  better 
at anything they require practice. 
Focus  on  the  things  you  can  do 
something about. 
Practice  gratitude  – count your 
blessings  –  as  often  as  you  can,  but 
particularly in the morning and at night. 
This can help you feel better even when 
things are looking grim. 
Keep  your  sense  of  humour 
intact  – learn to see the funny side. If 
you  find  yourself  taking  yourself  too 
seriously – find ways to lighten up. 
Seek  a  higher  perspective  from 
the perceived problem or challenge –lift 
your sights so you can see a 
bigger picture. 
Small  indulgences  are 
good  for  the  soul  –  be  very, 
very  good  and  kind  to 
yourself,  especially  if  you  are  feeling 
fearful  of  the  future.  You  deserve 
reassurance so give that gift to yourself. 
Cultivate  flexibility  – whenever 
we  can't  see  a  way  through,  there  is 
always  a  solution  just  waiting  in  the 
wings  to  be  discovered.  Stay  open  to 
miracles. 
Practice 
generosity 
with 
others. As emotions run high in times 
that provoke fear, give of yourself even 
more  and  don't  take  anything 
personally. 
Keep  connected.  One of things that 
can  bring  us  down  is  the  feeling  of 
isolation.  Build  and  maintain  safe 
relationships that uplift you. 
Walk.  Walking  is  one  of  the  best 
physical 
affirmations  of 
moving 
forward there is. As you walk, affirm to 
yourself  "With  every  step  I  take  I  am 
moving  forward  in  my  life  towards 
more and more wellbeing" or whatever 
resonates with you. 
Pause 
and 
consciously 
breathe.  Bring  yourself  into  the 
present  moment  if  you  find  yourself 
fearing  for  the  future  –  it  isn't  here  so 
there is nothing you can do with it. 
With  kind  permission  to  share  from 
author,  facilitator  and  coach  Amanda 
Fleming. 
And  from  me  - 
Smile  and  be 
grateful for each day. 
Stay well, Libby Jones 
hames.jones@xtra.co.nz 
021 2080093 
HAKARU HALL  
ACTIVITIES 

Monday:  Line Dancing 9.45 -12pm 
Ph 4315160 

Afternoon Dance Energy  Lisa  
Ph. 0275610469 

Tuesday: Pilates 10am  
    Qualified Instructor Ph. 0220643965 

Tuesday: Afternoon Dance Energy   

Wednesday: Afternoon  
Dance Energy  

Wednesday: Eve. Music Jam Session   
Dennis Ph. 0210628631 

 Thursday: Pilates 9.30am  
Ph. 0220643965 

Friday Fortnightly  
MESS CLUB   10.30 am   Inspiring play 
for under 5's. Phone Shelley 0221223781 

Sunday: Canine Coaching  
Ph 0272365004 
Bookings Karen 4312090 
LIBBY JONES 
Kia Ora Church  
Happy new year to you all in this new 
season  of  2021.  I  hope  you  all  had  a 
great  break  and  are  ready  for  what  the 
Lord has instore for this year. 
As we look back at 2020, it was a year 
with great challenges for many.  
With  the  Covid  pandemic,  economy 
challenges  and  the  changes  happening 
in  our  country  and  the  world,  we  all 
found  great  strength  in  trusting  in  the 
Lord through that season. 
This  year  I  believe  is  going  to  be  an 
amazing  year  of  acceleration  for  our 
church. 
As you are aware, I recently began full 
time ministry for the church, which has 
been  a  huge  blessing  for  me  and  my 
family.  Although  this  role  comes  with 
its  challenges,  it  is  also  rewarding  to 
now have the time to focus on pastoring 
including vision and planning, teaching 
and equipping. 
Last  year  our  church  had  many  great 
moments  including  many  who  stepped 
up  to  serve  in  our  church  in  different 
ministries.    This  year  we  want  to 
continue  in  training  and  discipleship 
with  foundation  studies,  deliverance 
ministry and training activation events.  
These run-in cycles throughout the year 
which  are  repeated  after  a  cycle  has 
ended. 
We  also  want  to  focus  this  year  on 
getting  our  house  in  order;  ourselves, 
family and church. 
It  is  crucial  right  now  to  be  in 
alignment with God at these times. 
To  start  the  year,  we  have  a  few 
powerful ministries visiting to empower 
the  Church.  Make  sure  to  save  these 
dates in your calendar. 
March  14th,  we  have  Aaron  Harding 
(singer  /  song  writer  for  album  "Kia 
Kaha" including "Tuhia  
April  4th,  we  have  Richard  Brunton, 
author of "The Blessing".  
May  16th,  we have prophets David and 
Greta Peters. 
I believe as a church, now is the time to 
rise up more than ever before.  
Now  is  the  time  to  stand  strong  in  our 
faith, keeping our eyes on the Lord. 
I  believe  He  has  bigger  and  greater 
things  for  us  this  year 
including  the  harvest,  so  let's 
get  ready  to  step  into  all  that 
God has for us! 
Thanks, and blessings,  
Pastor Tawhiri Littlejohn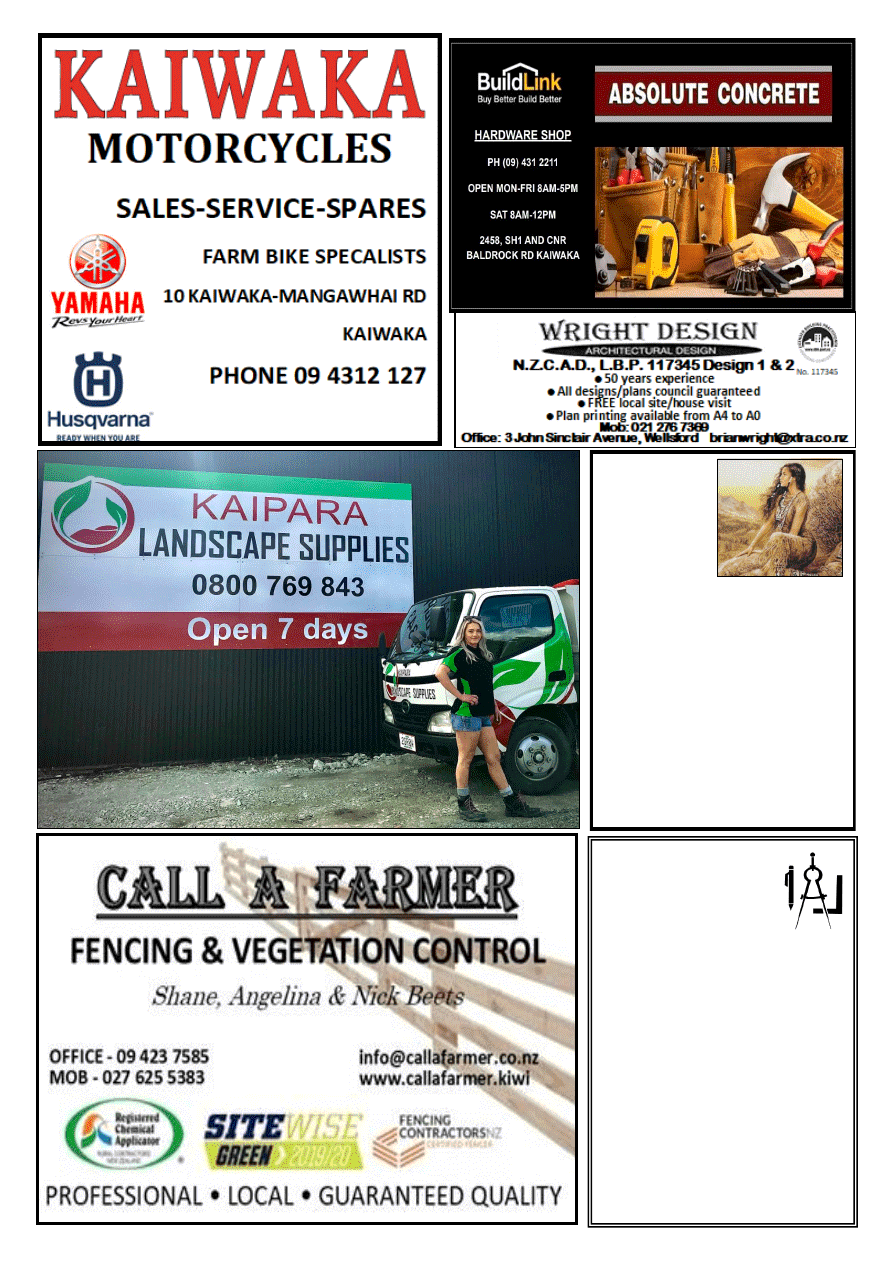 www.kaiwaka.co.nz 
Kaiwaka Bugle - 26 January 2021 
Page 14 
TRAILS 
END 
RONGOA MAORI 
HEALING 
And Gifts 
Stocking all your needs from incense, 
crystals, dream catchers, greeting 
cards, jewellery, perfume, dragons and 
more … 
For all inquiries 
 Phone 0211652629  
Light refreshments available $5 koha  
1758 Cove Road Mangawhai
design  
drafting  
service 
Retired builder and manufacturer 
with over 40 years experience in the 
building industry is offering a design 
drafting service for domestic housing, 
sleepouts and sheds.  
Plans formulated in consultation with 
clients, with working drawings 
completed and submitted to council 
for processing.   
Extensive practical experience, able 
to identify & resolve problems. 
Please ring Mike Lean on 
09 431 2260  
or 
021 431 196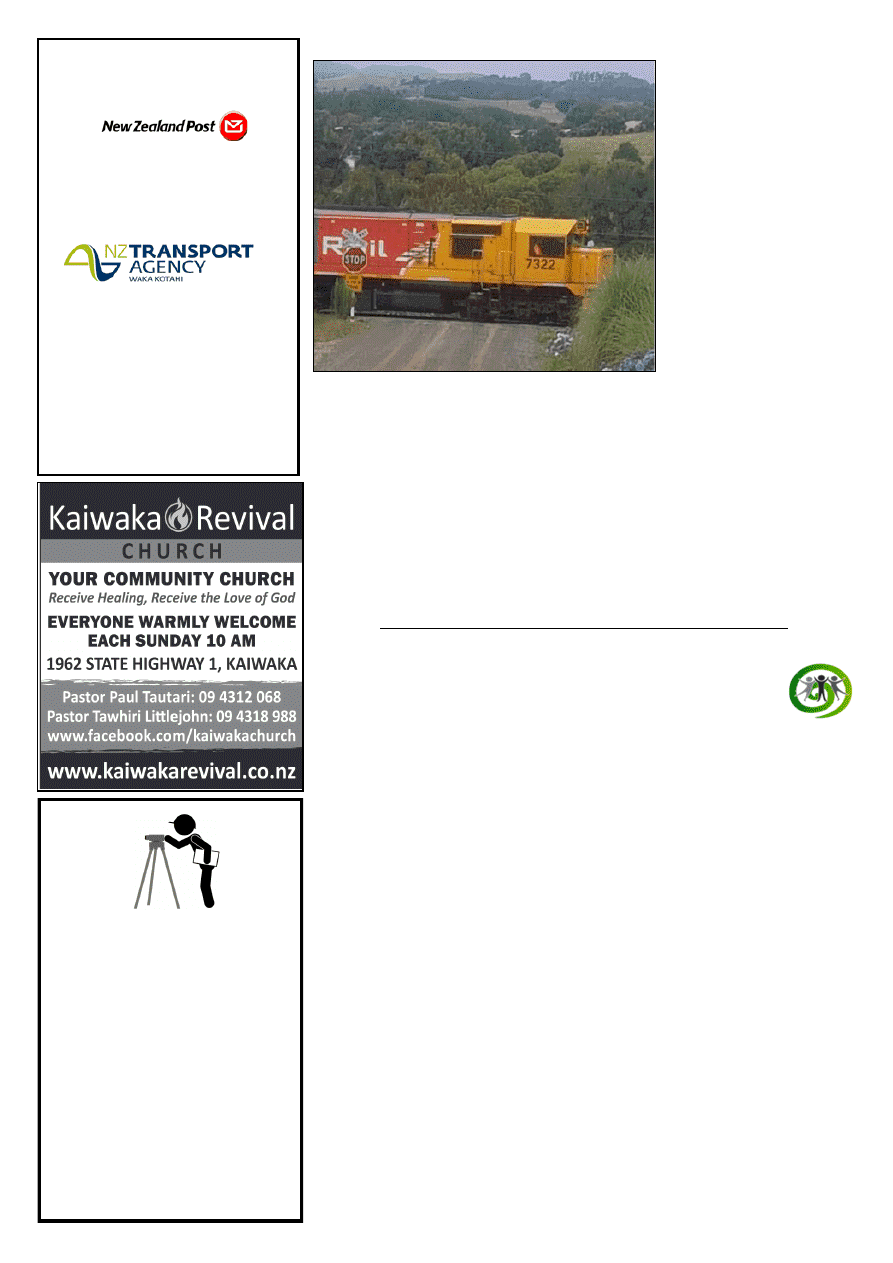 www.kaiwaka.co.nz 
Kaiwaka Bugle - 26 January 2021 
Page 15 
KAIWAKA POST 
CENTRE and 
FOOD MART 
POST CENTRE TRADING HOURS 
MONDAY to FRIDAY 8am to 5pm 
SATURDAY 8am to 12pm 
CLOSED ON SUNDAY and on 
PUBLIC HOLIDAYS 
FOOD MART (GROCERIES) 
MONDAY TO FRIDAY  
7:30am to 7.30pm 
SATURDAY  8am to 7.30pm 
SUNDAY  8:30am to 7pm 
IF ANY QUERIES PLEASE CALL 
STORE MANAGER AMRIT  
on 09 4312431 or 
EMAIL: kaiwakafood19a@gmail.com 
1919a State Highway1, Kaiwaka 0542 
Ken Urquhart 
BSurv Licensed  
Cadastral Surveyor 
KMU Surveys Ltd 
467 Bickerstaffe Road 
RD 2 
Maungaturoto 0587 
Ph 09 431 8705 
Mob 021 161 2344 
kenurquhart@xtra.co.nz 
Special  note  for  Oneriri 
and Pukenui Road users 
-  the  Northland  rail  line 
between  Whangārei  and 
Swanson 
in 
West 
Auckland has re-opened. 
This  photo  was  taken  by 
Judy as she travelled out of 
Pukenui  Road  and  had  to 
wait  for  the  train  to  pass  - 
this  is  looking  over  the 
valley  to  SH  1,  with 
Kaiwaka just to the north - a 
reminder  for  folk  to  always 
look  for  trains  before 
crossing the tracks. 
Update: KiwiRail has begun 
receiving  some  of  the 
containers  unloaded  from 
the  second  ANL  vessel 
Tianjin  Bridge,  berthed  at  Northport.  As  the  containers  are  unloaded  they  are 
trucked to the rail line in Whangārei and taken to Auckland by train, while the 
rest of the containers will be moved south by road to their destination.  
The project to improve the North Auckland line
 began a year ago. It was 
funded  by  the  Government's  Provincial  Growth  Fund,  the  work  included 
replacing five bridges and lowering tracks in 13 tunnels in just seven months, to 
allow  the  passage  of  hi-cube  shipping  containers  in  and  out  of  Northland  by 
rail.    
All  the  new  and  rehabilitated  structures  have  clearance  through  the  tunnels  for 
electrification  to  be  added  later,  which  helps  to  further  improve  the  network's 
resilience over time. 
"At its peak, more than 600 people were working on the project at one time.  In 
addition  to  the  new  bridges  and  improved  tunnels,  the  team  laid  30,000  new 
sleepers  and  nearly  63,000m
3
  of  ballast  to  provide  a  more  secure  base  for  the 
track," says KiwiRail Group Chief Executive Greg Miller. 
SENIORS/COMMUNITY 
LUNCH 
Our 
monthly 
lunch 
begins 
on 
Wednesday  3  February  –  if  you  would 
like to come please phone us on 09 431 
9080  so  we  know  how  many  to  cater 
for. We have morning tea at 10am, and 
at  12  o'clock  there  is  a  two-  course 
lunch. On occasion there may be music 
and singing, or an interesting speaker. 
COME SHOPPING WITH US 
The van goes to Whangarei, stopping at 
major supermarkets, Farmers, Bunnings 
or  wherever  you  would  like  to  go. 
Phone  us  on  431  9080  for  enquiries  or 
to  book  your  seat.  Bring  a  friend  or 
neighbour, age open – the van seats 11 
shoppers plus the driver. 
Please 
use 
this 
(totally 
free) 
community service! 
DONATIONS OF CLOTHING 
As  mentioned  in  December  we  need 
more  space  for  food  bank  supplies,  so 
we  will  no  longer  be  able  to  take 
clothing.  We  thank  all  those  who  have 
made  use  of  this  feature  for  so  many 
years and there have been many dollars 
saved  by  re-cycling  beautiful  baby  and 
toddler outfits. 
NEIGHBOURS  IN  NEED  AT 
CHRISTMAS 
In response to our leaflet distributed to 
the  local  businesses  and  in 
the December Newsletter, we 
are  really  pleased  to  say  we 
received 
very 
generous 
donations.  We  therefore  give  a  huge 
thank  you  to  those  who  have 
contributed  and  assure  you  that  you 
have made a considerable difference as 
we  continue  to  provide  support  to  the 
many in need. 
If  you  would  like  to  help  us  help 
others, here is how: 
•
 Donate via internet banking: 
Otamatea 
Community 
Services 
Incorporated  Westpac  030481  0076435 
00 
•
 Drop  into  the  Community  House  at 
155 Hurndall Street 
•
 Call or email us to become a Friend of 
OCS and make a monthly donation. 
reception@otamateacs.org.nz  
Ph: 09 431 9080 
THANK YOU! 
FEBRUARY CALENDAR 
Fun  'n  Games:  Every  Monday  10am 
Footprints Room 
Community  Lunch:  Wednesday  3rd 
10am St John Hall, Maungaturoto 
Shopping  Trip:  Tuesday  9th  & 
Wednesday 24th Departs 9.30 from the 
Retirement Village 
Chocolate  Bingo:  Wednesday  17th 
Footprints Room 10am –12pm
OTAMATEA COMMUNITY SERVICES 
WATCH FOR TRAINS!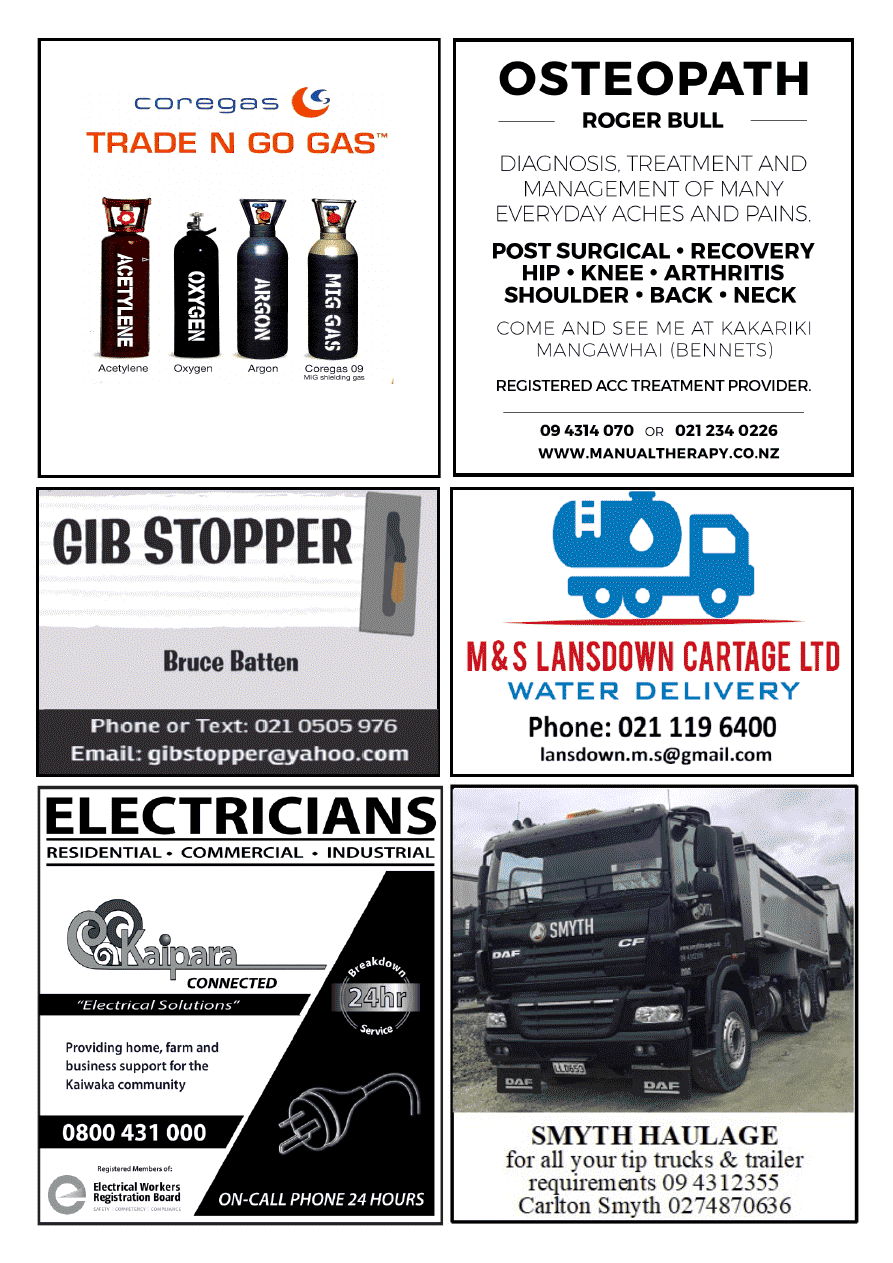 www.kaiwaka.co.nz 
Kaiwaka Bugle - 26 January 2021 
Page 16 
At Twinkle Tow 'n' Tyre 
Mob: 021 833 960 
Ph & Fax: 09 431 2823 
1837 State Highway 1, Kaiwaka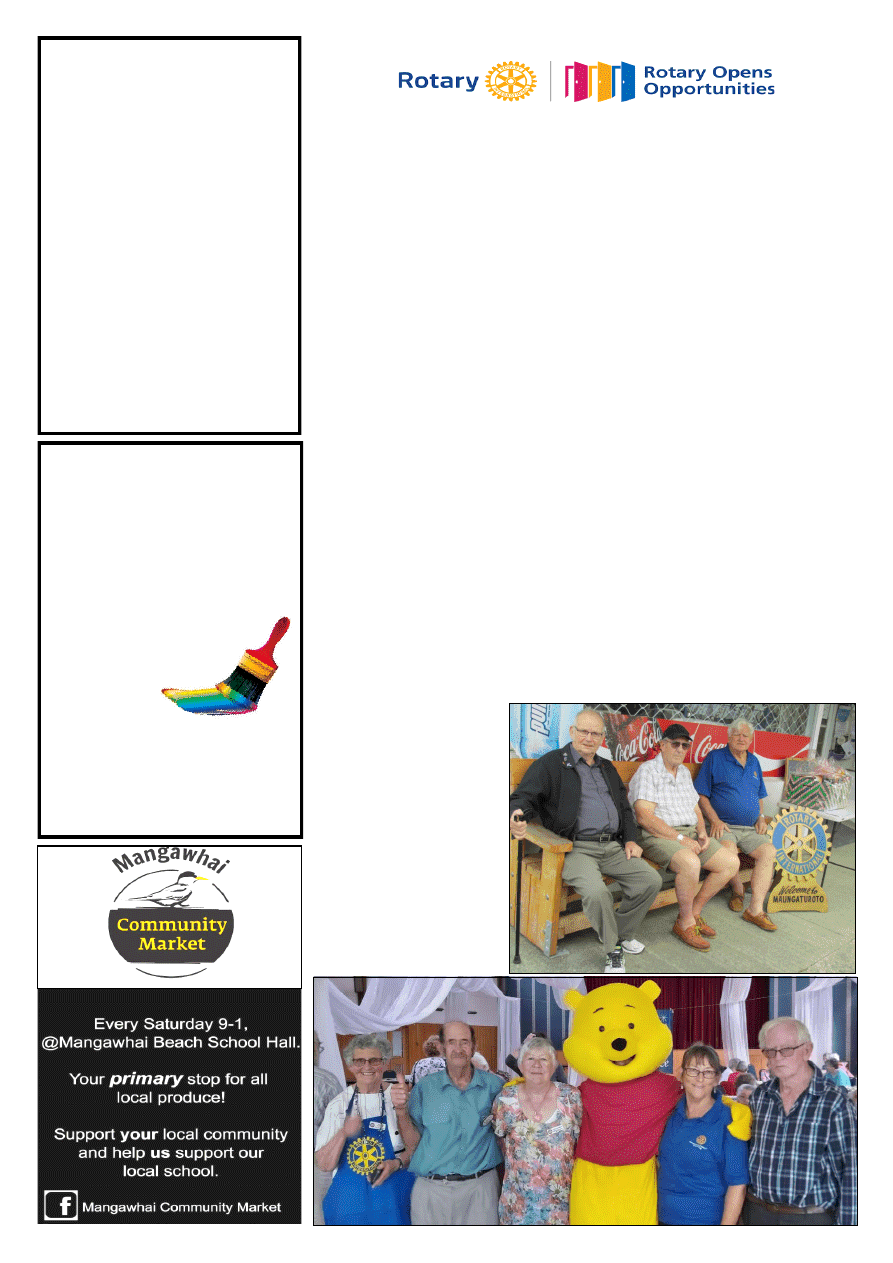 www.kaiwaka.co.nz 
Kaiwaka Bugle - 26 January 2021 
Page 17 
Willow Bend
HORSE  
HOTEL 
  
Total Horse Care 
 
Agistment 
 
Riding Lessons 
 
Arena Hire (60x40) 
 
Young Horse Starting 
 
Re-training/Exercising 
 
Hoof Trimming 
 
Problem Solving 
Phone Sue 09 431 2817 
or 021 623 776 
Or email  
susanjoll11@gmail.com 
LEE COOPER 
PAINTERS 
(Kaiwaka Based) 
*30 yrs Experience 
*Interior/Exterior 
*New and Restoration 
*Honest and Reliable 
*Free Quotes 
09 4312918 or 
0274735171 
leecooper@xtra.co.nz 
On  the  15th  December,  President 
Rodney  Tysoe  welcomed  a  happy 
bunch to the last night of Rotary for the 
year.  Once  again  we  were  well  fed  by 
the  DOE  group  from  the  High  School. 
We have been very fortunate to receive 
awesome meals each Tuesday, courtesy 
of  not  only  this  group  but  also  the 
Netballers. We appreciate the effort the 
parents and youngsters make to provide 
us with a varied menu each week and as 
a  result  we  are  able  to  help  them  with 
their fundraising. 
PRESIDENT'S SCHOLARSHIPS 
Highlight  of  the  evening  was  the 
presentation 
of 
the 
President's 
Scholarships  ($1,000)  to  Quinitin 
Brown and Maggie Hames as President 
Rodney  found  they  both  provided 
excellent  applications  and  could  not 
separate them. We are sure to hear more 
from  these  young  people  in  the  future. 
Our puzzles on the table which created 
a  great  deal  of  interaction  were  some 
Christmas 
dingbats 
(always 
a 
challenge) and 30 car logos. 
SENIOR AFTERNOON TEA  
The senior afternoon tea went very well 
and  Maura's  singers  excelled  in  their 
presentations. It is great to see a variety 
of  ages  being  willing  to  step  up  and 
perform in such a manner. A real treat. 
We  were  also  visited  by  Winnie  the 
Pooh which was an added bonus. 
PAPAROA SEAT 
We  have  finally  been  able 
to  get  the  builders  of  the 
seat (pictured right) outside 
the  dairy  in  Paparoa 
together 
for 
a 
photo 
opportunity.  Thank  you 
very  much  to  Trevor 
Rintoul  who  provided  the 
timber  and  to  Noel  and 
Bryan  who  built  it.  I  am 
sure  many  people  will  be 
grateful for it in the future. 
NEW CAR  
As  mentioned  previously 
we now have a new car for 
our  driver  mentoring  and 
we  are  in  the  process  of  changing 
providers  as  Te  Roroa  is  no  longer 
operating.  However,  we  have  a  new 
administrator  in  the  form  of  People 
Potential  in  Whangarei  so  we  are  able 
to  continue to  operate  as previously.  If 
you  have  recently  applied  to  be 
mentored  and  have  not  heard  from  us 
please  let  Eileen  know  so  the 
application  can  be  followed  through 
(021 142 0357). 
PIROA FALLS PATH 
We  are  still  trying  to  decide  the  best 
way  forward  for  repairs  at  Piroa  Falls 
so  your  path  to  this  wonderful  feature 
maybe  impeded  for  a  little  time  to 
come. The heavy rain of several months 
ago  has  really  presented  us  with  a 
problem. We have consulted with DOC 
and believe we know the best way to do 
the repairs but this will take some time. 
2021 
We  are  hoping  to  have  a  District  9910 
Picnic  Day  around  the  20th  March  at 
the  Kauri  Museum.  This  will  not  only 
provide  a  chance  for  Rotarians  to  get 
together  but  also  give  us  a  way  of 
promoting this fantastic resource that is 
on our doorstep. 
As we finish one year we look forward 
to  the  exciting  plans  we  have  put  in 
place for next year. Should you wish to 
join  us,  please  don't  hesitate  to  get  in 
touch.  ~ Eileen, 021 142 0357 
Photo below: Rotarians with Pooh Bear at 
the Senior's Afternoon Tea!
MAUNGATUROTO & DISTRICTS ROTARY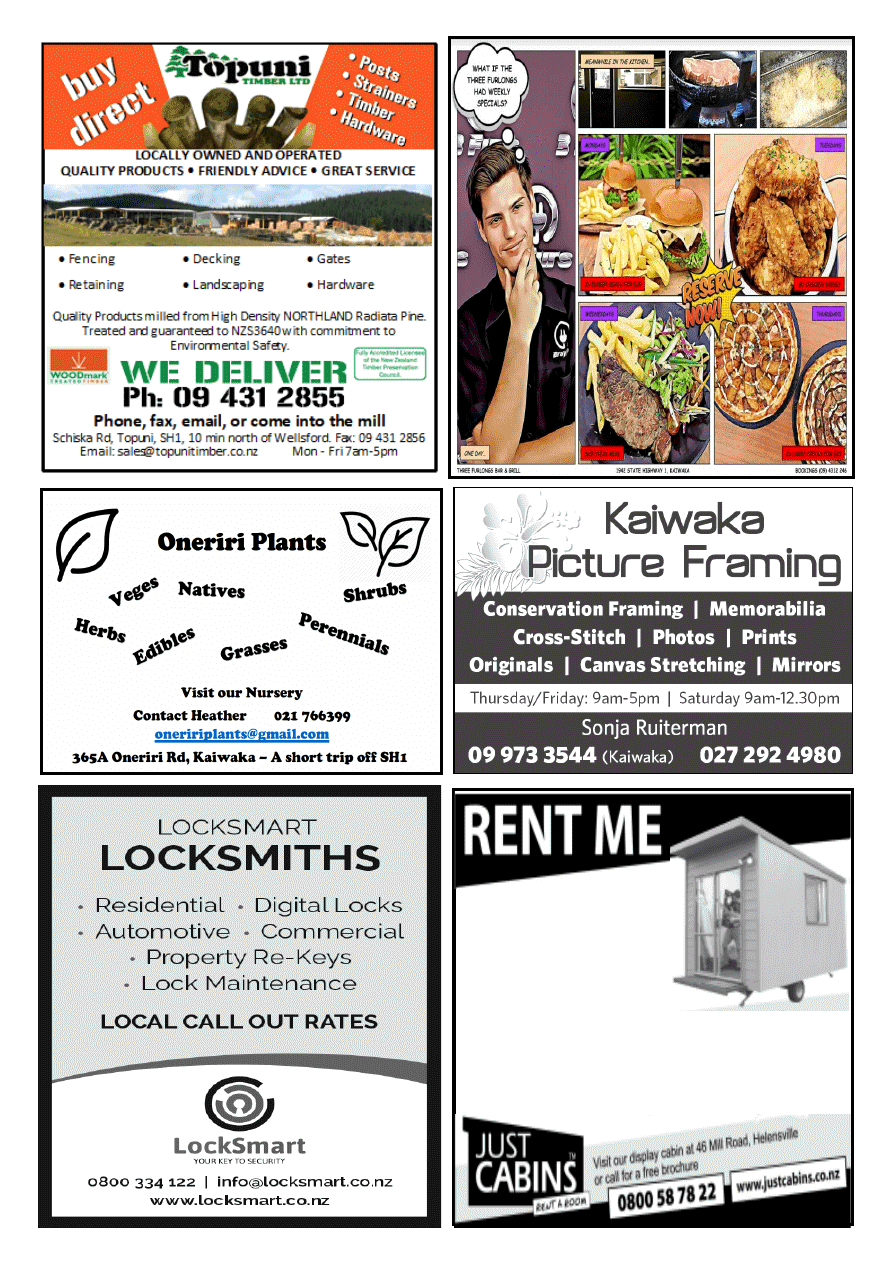 www.kaiwaka.co.nz 
Kaiwaka Bugle - 26 January 2021 
Page 18 
Ideal as an extra  
bedroom or office 
Three Convenient sizes: 
Standard 3.6m x 2.4m - $65 per week 
Large 4.2m x 2.4m - $80 per week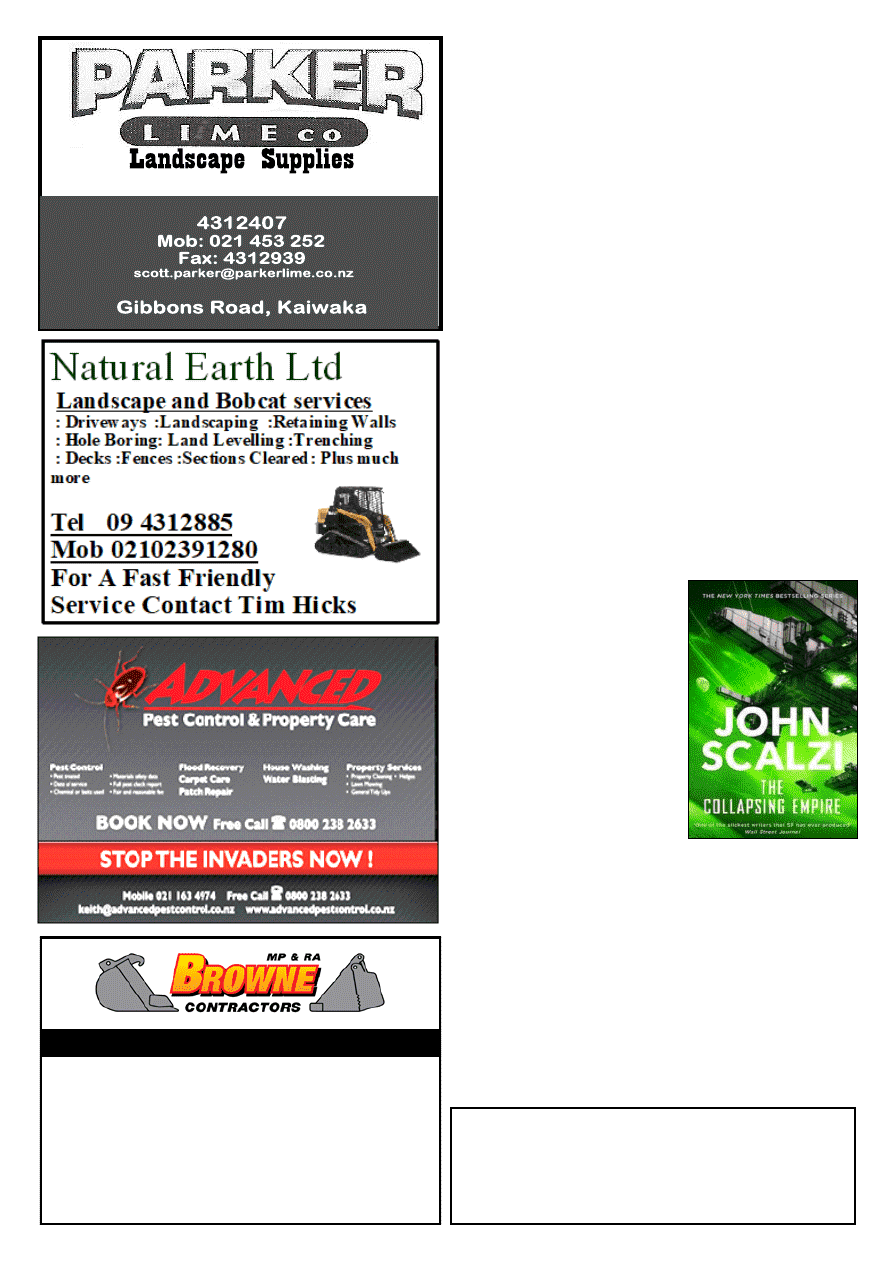 www.kaiwaka.co.nz 
Kaiwaka Bugle - 26 January 2021 
Page 19 
Bulk Cartage 
4Tonne DIGGER – BOBCAT – TIP TRUCK 
Property Maintenance - Driveways  
 Building Sites 
Stump & Tree Removal  
Hole Boring - Chain Trencher  
Calf Shed and Stockyard Cleaning 
Phone Matt: 021 199 6677 
Email: mprabrownecontractors@gmail.com 
KAIWAKA LIBRARY 
Happy  New  Year!  We  hope  the  festive  season  was a  good 
one for you. 
SUMMER READING CHALLENGE 
There  are  just  a  few  days  left  to  get  your  entry  for  the 
Summer Reading Challenge into us so you're in the draw for 
the  fantastic  prizes.  Drop  the  completed  form  in  to  us  by 
2pm Thursday 28 January or fill in the online form by 5pm 
that  day.  Winners  will  be  drawn  at  Dargaville  Library  the 
following week. 
FREE LIBRARY MEMBERSHIP 
It is free to sign up to the library and use our facilities. Go to 
Enterprise*  and  click  on  the  big  green  "join  the  library" 
button,  fill  in  your  details,  then  bring  your  ID  in  to  the 
library  to  get  your  library  card,  or  bring  your  ID  to  the 
library and we will sign you up on the spot. Once you have 
your  library  card,  you  can  start  borrowing  items  from  the 
library shelves. 
If you prefer, you can sign up as a digital-only member and 
start  using  our  free  digital  services  straight  away;  you  can 
convert  that  to  a  library  card  and  borrow  physical  items  at 
any time by bringing your ID to us. 
BOOK REVIEW 
I've  read  several  books  since  you  heard  from  me  last. 
Uppermost in my mind as I type is the book I finished this 
morning. The Collapsing Empire by John Scalzi is the first 
book  in  The  Interdependency  series  and  was  an  excellent 
read.  I'm  looking  forward to  starting  the  sequel  when  I  get 
home this afternoon.  
"In  the  far  future,  humanity  has  left  Earth  to  create  a  glorious 
empire. Now this interstellar network of worlds faces disaster - but 
can  three  individuals  save  their 
people? 
"The  empire's  outposts  are  utterly 
dependent  on  each  other  for 
resources,  a  safeguard  against  war, 
and  a  way  in  which  rulers  can  exert 
control.  This  relies  on  extra-
dimensional  pathways  between  the 
stars,  connecting  worlds.  But  this 
'Flow'  is  changing  course,  which 
could  plunge  every  colony  into  fatal 
isolation. 
"A scientist will risk his life to inform 
the  empire's  ruler.  A  scion  of  a 
Merchant  House  stumbles  upon 
conspirators  seeking  power.  And  the 
new Empress of the Interdependency must battle lies, rebellion and 
treason.  Yet  as  they  work  to  save  a  civilization  on  the  brink  of 
collapse, others have very different plans..."   
Scalzi is fast becoming a new favourite author of mine. We 
have  his  Lock  In  series  on  our  shelves  as  well.  The 
Collapsing  Empire  and  its  sequel  The  Consuming  Fire  are 
currently on our Dargaville shelves, until April. 
You  can  catch  up  with  the  other  books  I've  been  reading 
here  -  https://www.facebook.com/WendyReadsBooks    You 
don't need a Facebook account to view this page. 
See you in the library! ~Wendy 
Kaiwaka  Library,  cnr  State  Highway  1  and  Kaiwaka  Mangawhai  Road. 
PO 
Box 
89, 
Kaiwaka 
0542. 
Phone 
4312 
539. 
Email 
kaiwaka.library@gmail.com  Open  Wed-Sat  10am-2pm,  Mon  4-6pm. 
https://www.facebook.com/KaiwakaLibrary  
*Enterprise: http://kaipara.kotui.org.nz  
 'THE DEN' 
Bickerstaffe Road, Maungaturoto 
Raising funds for various projects 
The new hours are: 9 am (0900hrs) to 3 pm (1500hrs) Tues-
day, Wednesday, Thursday, Friday and Saturday 
             Now closed on Sunday and Monday.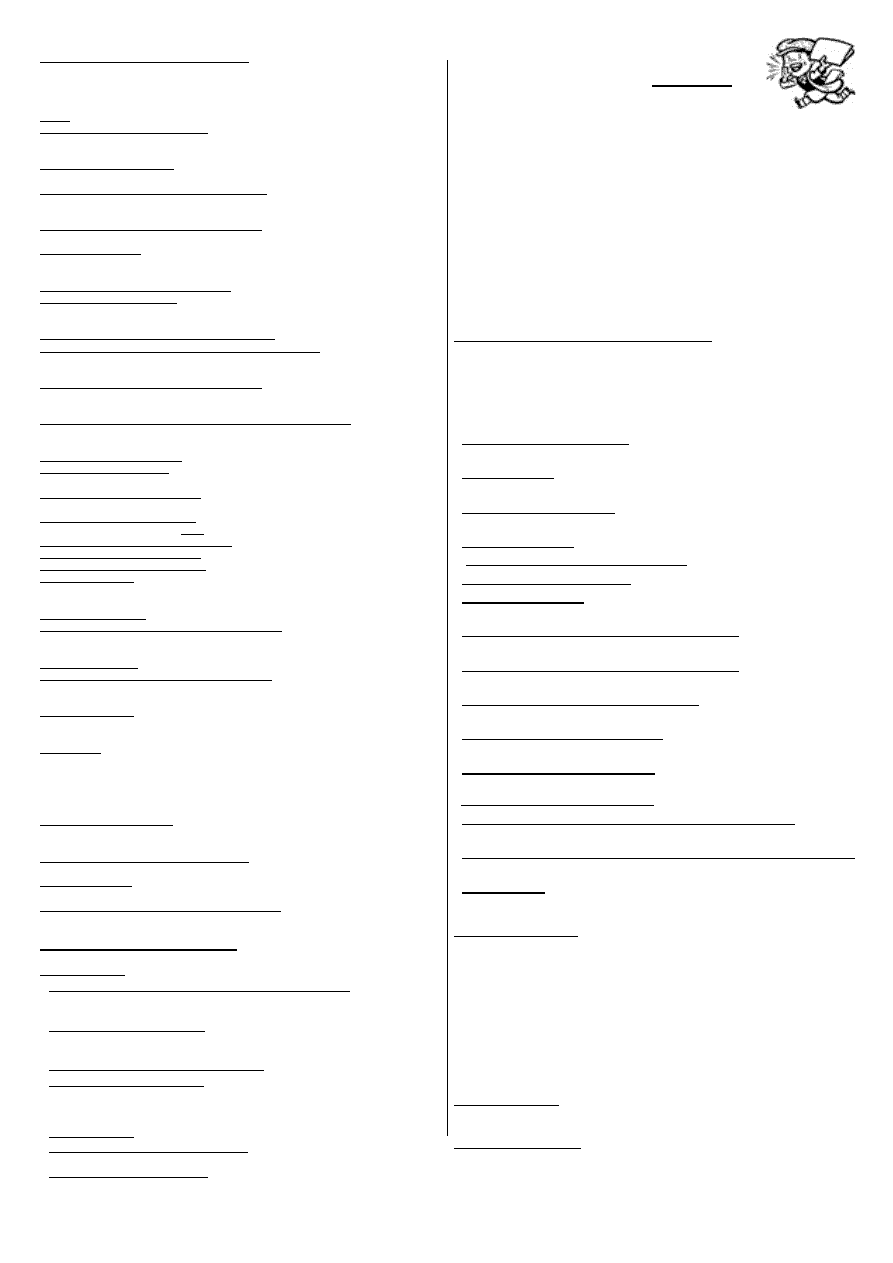 www.kaiwaka.co.nz 
Kaiwaka Bugle - 26 January 2021 
Page 20 
WHAT'S ON
PLEASE ~ do let us know what is on - 
email kaiwakabugle@kaiwaka.co.nz 
*29Jan~ Movie 'Kiss the Ground' 7.30pm KWMH 
*29Jan~ Exhibition Tennis, KSA, 6-9pm 
*30-31Jan~Otamatea Tennis Tournament, KSA 
*3Feb~Term 1 begins at Kaiwaka School 
*9Feb~Kaiwaka Media Group AGM, KWMH 
*10Feb~Kaipara Dog Training begins, 6pm 
*10Feb~Kaiwaka Touch begins, KSA 
*27Feb~'Waiata in Waipu' 
*7Mar~Top of the Rock, KSA annual run 
KWMH = Kaiwaka War Memorial Hall; KSA = Kaiwaka Sports Association 
See www.kaiwaka.co.nz for more information 
HOUSEHOLD RUBBISH COLLECTION  
Kaiwaka Pick up: 
Mondays = Green bags (Northland Waste - 09 430 3273) 
Wednesdays  =  Blue  bags and yellow recycling (at  Jaques $3.00 
and  $1.50)  (Kaurilands  09  4392146);  ONLY  Blue  and  Yellow 
bags picked up on Oneriri Road. 
 DIABETES Support Group-for Kaiwaka, Mangawhai, Wellsford 
10am, 3rd Friday of month Ph: Colleen James 09 4314238 
 GENEALOGY - Wellsford: 1st Thursday in month Ph: 423 
7033; Waipu: 4th Monday in month Ph: 4312 725 
 HAKARU PONY CLUB - Secretary Denise Rogers 021423376 
secretary@hakaruponyclub.co.nz  
 KAIPARA HUNT - Secretary Albert Doonenbal Ph 4312059 
  KAIPARA HUNTING & FISHING - 021 1294378 
 KAIWAKA BADMINTON -Tuesdays 7.30pm Ph: 4312345 
 KAIWAKA  CAN  - 3rd Wednesday in month, 5.30pm, Archie 
Bull Hall Ph: 0273572751 
 KAIWAKA GARDEN & FLORAL GROUP - 2nd Thursday in 
month. Ph: 431 4744 
 KNITTING FOR WHANGAREI HOSPITAL - 2nd Tuesday in 
month, Archie Bull Hall 10am Ph 4314827 
 MANGAWHAI COMBINED REBUS CLUB - 2pm, 3rd 
Thursday month, Senior Citizens Hall Mangawhai. Ph: 4315777 
 MANGAWHAI GENEALOGY  - meet 3rd Thursday month, 
Mangawhai Museum, 10.30am 
 PILATES - HAKARU HALL - Tuesday 10am, Thursday 9am 
Qualified Instructor  Ph. 0220643965  
*PT CURTIS CRUISING CLUB - Jean Ph: 4312227 (wk), 4312520 (hm) 
 RSA,  HAKARU  &  DISTRICTS  WOMEN'S  SECTION  –  meets 
1.30pm 4th Thursday of the month. Ph: 431 5818  
 KAIWAKA  SCOTTISH  COUNTRY  DANCING  CLUB-
Wednesdays 10am - 12 noon  Ph: Elaine 027 432 0032  
 TRAMPING 
- 
Mondays 
9am-2:30pm, 
contact  
valkenburgmaria@gmail.com 
HALLS FOR HIRE: 
  Kaiwaka St. John Hall: Phone Marj  0272941227  
 St.Pauls  Archie  Bull Hall  HIRE  $20 half day, $40 full day per 
hire, S McAulay, Ph 4312311 
 Kaiwaka  War  Memorial  Hall  HlRE  -  Phone  4312725  or 
kaiwaka.hall.bookings@gmail.com 
 Hakaru Community Hall HIRE -Ph.  Karen 4312090 
 Te Pounga Marae queries - Pearl Nathan  0223933533 
 Kaiwaka  Sports  Association  hire/queries  -  Jean  4312227  or 
kaiwakasportsassn@gmail.com 
Justice  of  Peace:    B.FJaques  4312  048;  L.Donaldson  4312  228; 
A.F.Hargreaves 4312 045, W.Howard 4312 725 - please phone to 
make sure they are available www.justiceofthepeace.org.nz 
Marriage Celebrants:  
L.Donaldson; A.F.Hargreaves; Y Osborne
Next Bugle Deadline  Friday 5 February 2021
LOCAL SERVICES 
*Emergencies - Ambulance, Fire, Police - dial 111 
*Non-urgent Police phone 105
A A: Meets Wed., 7.30pm Kaiwaka Ph: 4315543, 0800229 6757 
NARCOTICS ANONYMOUS : Mon., 6pm, Archie Bull Hall, Kwk-Mwi 
Road; drug and alcohol related issues. Ph. 02102412348 
ASUREQUALITY LTD (was AgriQuality) Call Free 0508 0011 22  
BUDGETING SERVICE, WELLSFORD: Free confidential advice & 
support for all areas of personal finance. Ph (09) 423 7123 
CAB-Citizens Advice Bureau.Wellsford Ph: 4237333 
0800 367 222 email:cab.wells@xtra.co.nz  
CIVIL DEFENCE - Kaiwaka Community Response Group: 
kaiwaka.civildefencecrg@gmail.com, 4312725 Wendy 
DOG/STOCK /NOISE CONTROL 0800 105 890 
FUNERAL SERVICES: Morris & Morris Ltd, 
Whangarei - Bev Jaques Ph:4312367 or 0800667747 
GRANDPARENTS Raising Grandchildren: Dianah Roberts 0223819539 
HAKARU & DISTRICTS MEMORIAL RSA (Inc) 733 Settlement Rd, 
Hakaru. Ph 4312 176 or Bill Warren (President) 431 2092 
HAKARU LANDFILL/Transfer Station:Open everyday  10am-
4pm.Ph4312629 Cost-$55 trailer load up to 1 cubic metre. Ph:4258567 - 
office 
KAIPARA DISTRICT COUNCIL www.kaipara.govt.nz:  
Help Desk FREEPHONE 0800 727 059  
KAIWAKA CEMETERY: Ph: 4312045 or 4314017 
KAIWAKA LIBRARY: kaiwaka.library@gmail.com  
Mon. 4-6pm; Wed., Thurs., Fri., Sat. 10am-2pm Ph:4312539 
KAIWAKA PLAYCENTRE: Ph Juanita 0274134904; open Mon, Wed, 
Fri 9am-12pm. Hastie Lane; Monday to Friday 9.00am - 12 noon. 
KAIWAKA POST OFFICE:Ph:4312 431  
Post Code: 0573 for RD2 and 0542 for all Kaiwaka Post Office mail 
KAIWAKA PRIMARY SCHOOL: Ph: 4312309   
KAIWAKA SPORTS ASSN: Ph 4312005; 4312129 gym 
KAIWAKA ST JOHN HALL: Phone Marj  0272941227  
KATE'S PLACE Community Centre - Employment services, Free Health 
Nurse, Plunket, Advocacy, Osteopath, A.A., Legal Advice. 4312 661 
LINKING HANDS Health Shuttle Ph 4315906 or 09 4318969 
MINISTRY FOR PRIMARY INDUSTRIES - General inquiries Call 
Free 0800 008 333 
NORTHPOWER: Faults Kaiwaka area 0800 104040 
OTAMATEA COMMUNITY SERVICES: Counselling, parent coach, 
Family Support worker, budget advice, food bank. Mon-Fri 9am-3pm. Ph 
09 431 9080 http://www.otamateacs.org/ 
PARENTPORT: Free, practical family support service Puhoi to Paparoa 
Ph or txt: Dianne 027 280 5093 or 09 425 9357 
PLUNKET: Kaiwaka- St John Hall, Monday 19 Oct, 23 Nov, 21 Dec. then 4th 
Monday of the month. Plunket Nurse Louise 027 282 3987 or 09 438 2508 
Mangawhai- Rose Madsen Cottage, Mondays and Wednesdays. Plunket Nurse 
Rebecca 021 501 941 or 09 438 2508 
Maungaturoto - Good News Church, 2nd and 4th Wednesday of the month. 
Plunket Nurse Seleisa 021 912 248 or 09 438 2508 
PLUNKET HELPLINE -0800 933 922 (24 hours)  
FACEBOOK - Kaipara Plunket 
TAITOKERAU COMMUNITY LAW: Free confidential legal advice and 
assistance, 2nd
Thursday
 of each month. Ph: 0800 155 529 for appts.  
TE URI O HAU Settlement Trust Tangata Developments: Whanau Ora 
021 793262  
VETERINARY SERVICE MANGAWHAI: 
Ph: 4314535 Mon-Fri 8.00-5.00, Sat 9-12, a/h appt. 
WELLSFORD DOCTORS: Ph: 4238 086 
CHURCHES:
 
Kaiwaka  Revival  Church  -  Your  Community  Church:  Sundays  10am. 
Ph: Pastor Tawhiri 09 431 8988 or Pastor Paul 09 4312 068 Visit us at 
www.facebook.com/kaiwakachurch 
 
St  Paul's  Anglican  Church  1st  Sun.  9.00am  (Eucharist),  3rd  Sun. 
9.00am (Family Service). Contact: Rev. Wayne Thornton Ph 431 4122 
www.mangawhaianglican.org.nz 
 
Church of Christ the King, Mangawhai:9.00am every Sunday 
 
St.Mary's  Catholic  Church:  Maungaturoto  –  Griffins  Road,  Saturday 
evening  Vigil  Mass  6pm;  Mangawhai  –  Senior  Citizens  Hall,  Sunday 
Mass  8:30am;  Wellsford  –  Matheson  Road,  Sunday  Mass  10:30am;  
Mid-week Mass times and all enquires to Fr. Bill Fletcher – phone 423 8170
 
Baptist Church: Sun. 10.30am Mangawhai Snr Cit.Hall.Ph:4312339 
 
Cause  Way  Church  Mangawhai:  Sundays  10.15am,  Mangawhai 
Community  Recreation  Centre,  Insley  St.  Ph:  09  4314782