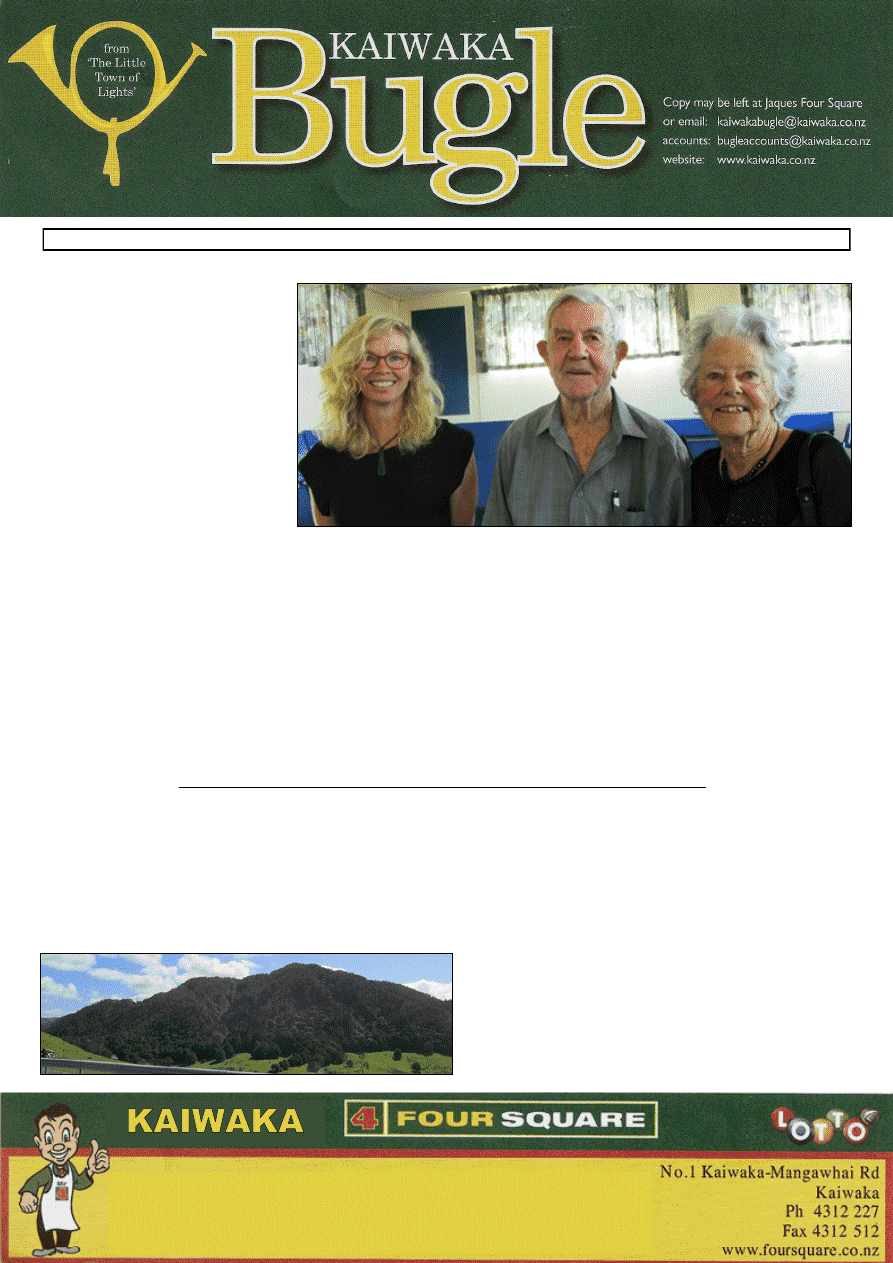 www.kaiwaka.co.nz 
Kaiwaka Bugle - 9 February, 2021 
Page 1 
No: 2 
 9 February 2021 
HOURS: 
7.30am - 7pm, seven days 
KAIWAKA SCHOOL OLD PUPIL VISIT 
Alwyn Judd - 91 years old. 
Last  Thursday,  4  February,  we  had 
the pleasure to meet Alywn and hear 
about  his  life  and  times  at  Kaiwaka 
School  and  of  his  family  in  the 
Kaiwaka Community. 
Sharlene Tornquist, Kaiwaka School 
principal,  introduced  Alwyn,  his 
wife  Margaret  and  his  daughter 
Lynette  and  son-in-law.  Pictured 
right: Sharlene, Alwyn, Margaret. 
Alwyn's  family,  the  Judds  and 
Stewarts  go  back  to  Kaiwaka's  first 
settlers,  but  Alwyn  and  his  siblings 
were  born  in  the  South  Island  then 
the family returned to farm again in 
Kaiwaka and attended Kaiwaka School and Maungaturoto 
High  School.  He  recalls  Mr  Prouting,  then  principal, 
coming into the classroom  and announcing in 1941, 'Japan 
has  entered  the  war!'  Actually,  folk  will  remember  his 
older  brother,  Eric,-  Eric  served  in  Fiji  as  a  mechanic  
fixing  planes  in  WWII;  he  returned  to  run  his  Kaiwaka 
Motors  business  here  in  Kaiwaka  (where  Best  Pets  and 
AllSortz  are)  .  Alwyn  went  to train as  a cabinet  maker  in 
Auckland 
Alwyn's first paid job was  at school - emptying the 'dunny 
cans'  with  Owen  Bowmar  down  under  the  wattle  trees  - 
they  were  paid  6d  a  week.  He  also  remembers  the  'new' 
school - the two room school pictured on page 13. And he 
found  riding  a  bike  was  faster  than  riding  his  horse  to 
school.  He  remembers,  the  opening  of  the    Main  Road 
north over the Brynderwyn - it was a long walk from their 
home and back! 
If  you  are  lucky  enough  to  have  a  copy  of  Desmond 
Stewart's book 'Skye to Timber Mountain, the Journey of 
the  Kaiwaka  Stewarts',  you  can  read  of  Alwyn's  ties  to 
Kaiwaka's  history.    Alwyn's  grandmother,  Flora  Stewart, 
was  the  daughter  of  Angus  Stewart,  who  first  viewed  his 
Pukekaroro farm in December 1859. They settled in 1863 - 
Flora was born in 1864 ( she was noted to be on Kaiwaka 
School roll in 1877) . Flora married Thomas Judd in 1887 
and  began  married  life  on  'Pukekaroro'  farm  next  to 
Gibbons Rd. - Thomas' father, Charles, had purchased this 
farm  in  1861.  Flora  and  Thomas  Judd's  3rd  born,  Hylton 
(Alwyn's father) - trained as a dairy factory manager. His 
first  job  was  at  the  Hakaru  Dairy  factory;  he  then  went 
south still with the dairy factories and then married Ethel. 
The Judd family moved back to Kaiwaka in 1938. 
PUKERARO: 
'When Ngapuhi landed at Mangawhai, some canoes came up the inlet which runs up to the Waipu 
road, but some were left just inside the heads, at the picnic ground, in case they had to retreat when the tide was out. The 
two parties advanced into the hills, with scouts looking for the best way to the Otamatea. They saw seagulls coming over 
Pukekaroro (puke -hill, karoro - seagull) so knew that the river was there. They climbed Pukekaroro for a view of the 
country.  Even  today  there are remains  of  a Maori  Pa  on  top  of the  mountain. Battles  were  fought all  over  these  hills, 
including Kaiteke and Kaitara. Many canoes were made at Pukekaroro, one of the best places for good long kauri trees. 
One canoe was brought down the Hakaru but never reached the sea.' Today as you look at the mountain, the steep flanks 
of the eroded crater are covered with regenerating kauri trees lifting their heads high on the skyline, looking much as it 
always has. This was not the situation in 1903 when there was a disastrous fire resulting in most of the bush being burnt 
off. Re-growth soon began and by 1952 the mountain was richly covered in small native bush and young kauri "rickers". 
In  that  year  the  Government  decided  that  the  mountain 
was  a  significant  icon  and  should  become  a  reserve.  The 
various  owners  were  approached  (the  Stewarts  included) 
and  all  agreed  to  sell  their  land  on  the  mountain  back  to 
the Crown at three pounds an acre. There were about 207 
acres in total, and settlement was completed in September 
1954. 
Ref. Skye to Timber Mountain by D. Stewart. 
TRADING HOURS: 
7.30am - 7pm daily 
"Your local Store" 
Family owned & operated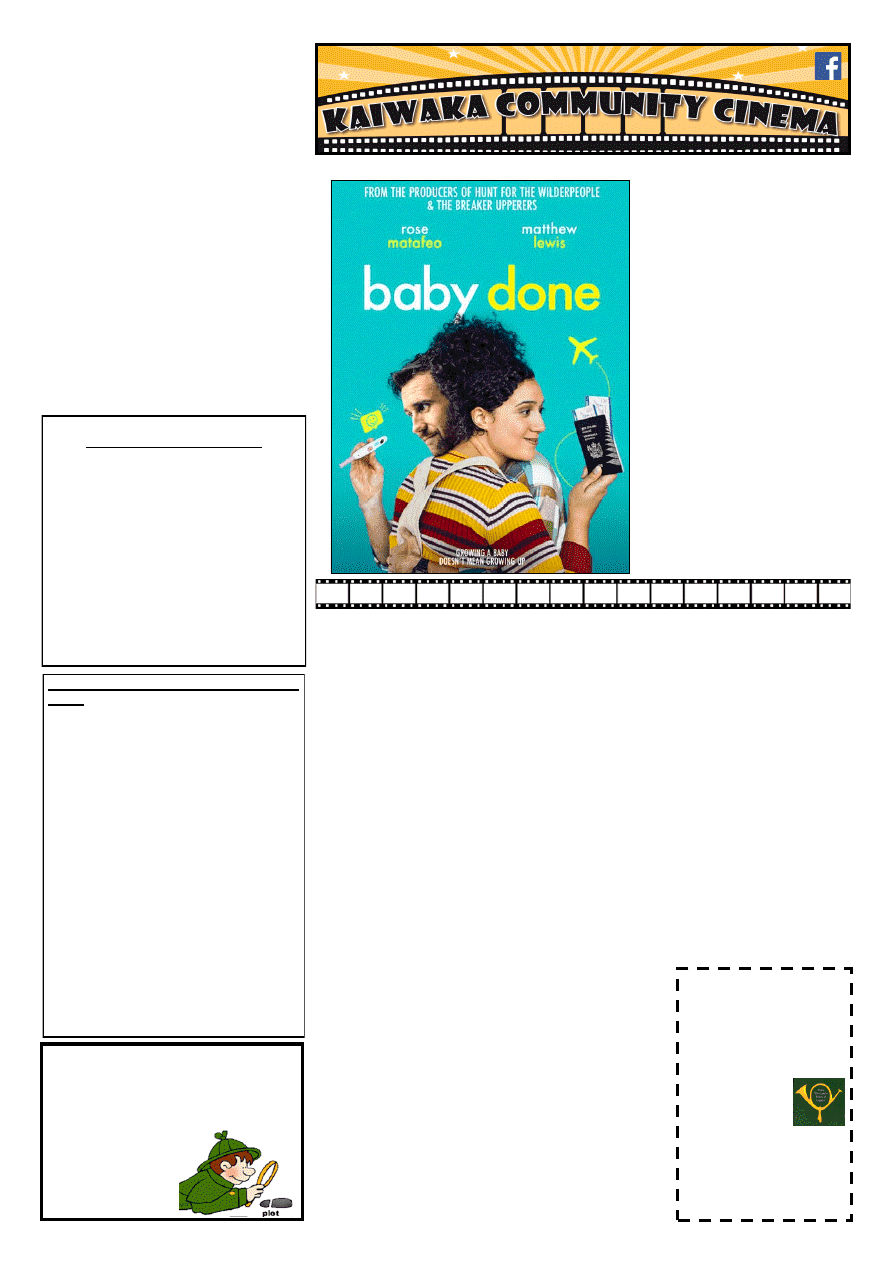 At Kaiwaka War Memorial Hall . Adults $10, Kids (under 16) $5, Family Pass (2 adults + 3 children) $25 
KAIWAKA BUGLE No. 2 
9 FEBRUARY 2021 
CONTENTS 
Page 3: Public Notices, Classified 
Page 5: Kaiwaka Weather;    
Page 7: ORT; Martha; Gardening 
Page 9: Book Launch - J McRae 
Page 11: Kaiwaka Sports Assn. 
Page 13: Kaiwaka School 150 Reunion 
Page 15: Kaiwaka SH1 Underpass 
Page 17: Otamatea High School; 
Page 19: Kaiwaka Library; Mangawhai 
Artists 
Bugle  3 will appear 23 February 2021 
Contact for advertising, reports, articles 
or information can be made by 
Email kaiwakabugle@kaiwaka.co.nz 
Ph: 09 4312 045 Lindsey 
Txt: 027 2724137 
Copy may be left at our Four Square. 
Kaiwaka Bugle 
Founded May 1978 
We appreciate articles and photos about local 
events, etc, as well as ads and suggestions. 
Copies available in Kaiwaka at Four Square, 
Kaiwaka Postal Centre, Shamrock Service 
Station, Best Pets , Kaiwaka St John shop. 
Also outlets in Maungaturoto, 
Mangawhai and Paparoa. 
Can be viewed online at   
www.kaiwaka.co.nz/Bugle  
Or a copy can be posted to you if you supply 
stamped, self-addressed DLE envelopes. 
Kaiwaka 
Bugle 
Advertisements 
2020: 
All 
copy 
and 
queries 
to: 
kaiwakabugle@kaiwaka.co.nz 
The Bugle is printed on an A4 page   
Ad  sizes:  1/16  page  (3  x  9.5cm)  $5;  1/8 
(6.5  x  9.5cm  landscape  or  portrait)  $8; 
3/16 ( 10 x 9.5cm or 7.5 x 12,5)  $12.  
Classified  ads:  First  one  FREE,  $4  per 
entry (max. 30 words, max. 4 repeats). 
Payments  can  be  made  online  at 
ANZ 
06  0365  0006990  00
,  posted  or  left  at 
Kaiwaka Four Square Store. 
We  use  Microsoft  Publisher,  and  can 
work  with  most  common  image 
formats, Word, Excel, and PDF files. 
Accounts:  
Email: bugleaccounts@kaiwaka.co.nz 
The  Kaiwaka  Bugle  is  a  community 
newspaper run by volunteers, as part of 
the Kaiwaka Media Group Inc.   
Articles, etc. printed are not necessarily 
the opinion of the Bugle Team. 
ABOUT TOWN

 Where are the Kaiwaka SHI underpasses? Check them out when in Kaiwaka - 
certainly safer to use than walking straight across the road

 Big 'Happy 90th Birthday' to Martha Nathan!

 Apologies for the last Movie 'mess-up' - the ballast board on its computer put 
it's feet up!  All sorted and ready for " Baby Done".

 The latest Rating Valuation for your property have just been mailed - they can 
also be checked at the KDC website https://www.kaipara.govt.nz/services/rates/
rates-property-search 
 
Congratulations  Toa  Henderson  and  his  nephew  Hamu  Henderson  on  your 
successes at the Aria Waitangi Shearing Sports and Dannevirke Shears this last 
weekend. You can follow them on Facebook Shearing Sports New Zealand 

 Mangawhai Art Trail happening on 27 and 28 February from 10 - 4pm both 
days. There are 43 artists and 22 venues. Free to attend and more details are on 
the website www.mangawhaiartists.co.nz/arttrail  

 Otamatea  High  School:  are  looking  for  timekeepers  for  their  athletic  and 
swimming sports - see page17 

 Check out the great field area at the Kaiwaka Sports complex when you take 
on  the  free  community  fitness  sessions  with  Siobhan  Henderson  and  our  Four 
Square 

 KSA  web  address:  kaiwakaport.co.nz  Email 
address :kaiwakasportsassn@gmail.com 

 Kaiwaka  School  150  year  celebrations  will  be 
taking  place  over  Labour  Weekend  this  year  -  see 
page13 for more information 

 Kaiwaka 
Bugle 
No. 
2 
is 
online 
at 
www.kaiwaka.co.nz  and  is  in  print  for  our  local 
Readers. Best wishes from the Kaiwaka Bugle Team  
~ 
Lindsey, Ed
"
Love is our true destiny. We do not find the 
meaning of life by ourselves alone - we find it with 
another." ~ Thomas Merton 
Happy Valentine Day!
BABY DONE 
Friday 12  February, 
7.30pm 
Baby  Done  is  funny;  it's 
sweet; 
it 
means 
something.  Most  of  all  it 
is  charming  as  follows  a 
pair 
of 
Auckland 
arborists 
Zoe 
(Rose 
Matafeo) 
and 
Tim 
(Matthew  Lewis)  as  they 
process  the  news  of  a 
pregnancy 
very 
differently.  
Writer Sophie Henderson 
Director  Curtis  Vowell. 
Executive producer Taika 
Waititi. 
KAIWAKA BUGLE 
DEADLINE DATES 
2021:   
Every second Friday 
February 19 
March 5, 19 
April 2, 16, 30 
May 14, 28 
June 11, 25 
July 9, 23 
August 6, 20 
September 3, 17 
October 1, 15, 29 
November 12, 26 
December 10
Proverbs 21:18
What a bad person plots 
against the good, 
boomerangs;   
the plotter gets 
it in the end!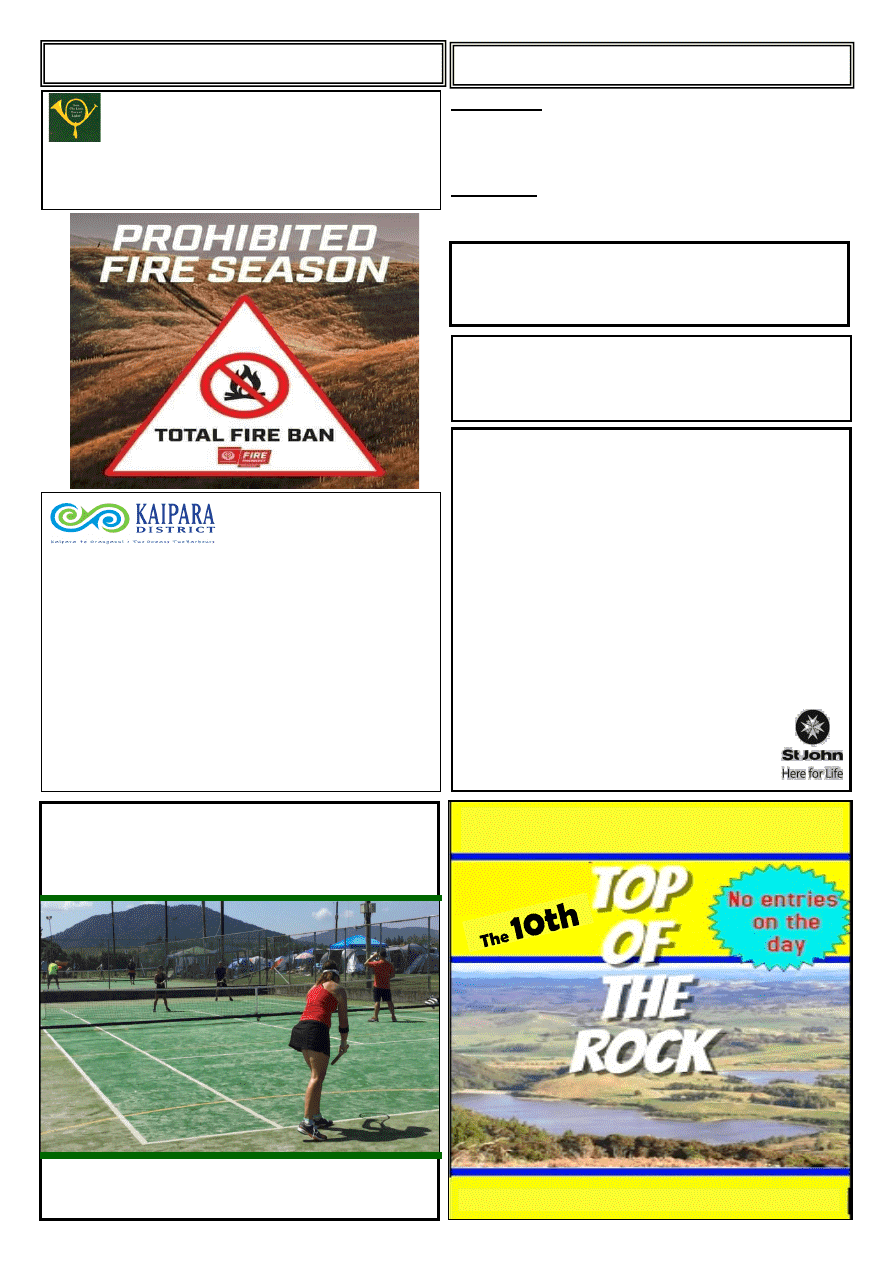 www.kaiwaka.co.nz 
Kaiwaka Bugle - 9 February, 2021 
Page 3 
PUBLIC NOTICES 
CLASSIFIED 
 FOR SALE: 3m Market Umbrella AND Base to stand 
it in.  A few years old, but only used a few times.  
In awesome condition. Pick up Kaiwaka. $80.  
Ph/txt 021 243 0372 
WANTED:  A  water  tank  for  the  local  IHC  -  so  they 
have  more  water  for  their  vegetable  garden.  Please 
phone Karen 4312605 or 0272643477 
KAIWAKA ST. JOHN OP SHOP 
Thank you for helping us keep those Ambulances running 
and helping the community. 
❖
We are looking for … 
Clean saleable Bric a Brac, especially drinking glasses.  
Clean Linen and Books for our Library Room   
Also good used magazines, tools and pet bedding. 
❖
Not needed ... 
Currently  we  are  not  taking  in  Clothing  or  Electrical 
appliances as we have way too much (we will notify you 
when we are accepting these items again). 
❖
We  are  also  taking  in  Used  furniture.    We  need 
notification of drop offs as this is stored off-site.  We have 
photos in-store of items that we have for sale. 
Thanking you, Dianne and the Team @ St John Op Shop 
HOURS: Tuesday – Friday 10am to 3pm; 
Saturday 10am – 2pm 
PHONE: Shop  4312650   
 Check us out at 1919 SH1, Kaiwaka
KAIWAKA BUGLE READERS  
See the Kaiwaka Bugle in colour online at 
www.kaiwaka.co.nz at any time. 
Please pass this on to your neighbours - we have so many 
new neighbours in our community and we would love 
them to be part of our great community 
HAKARU RE:SORT STATION 
636 KAIWAKA-MANGAWHAI ROAD 
Open every day 10am - 4pm ~Closed All Public Holidays 
Telephone: 09 431 2629 
NOTE: No GREEN Bag Pick Up on Oneriri Rd 
See more details on page 11 … 
Sunday 7th March 
www.kaiwakasport.co.nz 
See more details on page 11 ... 
71st 
OTAMATEA 
TENNIS 
TOURNAMENT 
27th and 28th February 
At the Kaiwaka Sports Complex 
The new Rating Valuation for your property in the mail. 
The Land Value of a property is based on the likely sale 
price  of  the  land  if  it  was  vacant.  Your  valuations  are 
reviewed every three years and are used by councils as a 
basis for setting rates. 
The  average  increase  in  land  value  across  the  district  is 
17.5%.  Residential land  values  have  risen  by  an  average 
of  24.4%.  You  can  also  check  it  out  online  at 
kaipara.govt.nz/services/rates/rates-property-search, 
or 
call in to our offices in Dargaville or Mangawhai to find 
them. 
Property owners have until 12 March to raise objections to 
the  valuations  if  they  wish  to.  Objection  forms  are 
available online at 
https://quotablevalue.co.nz/services/rating-
valuations/ 
or from the Council offices. 
https://www.kaipara.govt.nz/services/rates/rates-property-search 
First notice FREE  for Classified or Public Notices - 
less  than  30  words  -  then  charged  as  per  advertised  
($4). This includes AGM and meeting notices, FOR 
SALE, WANTED, FOR RENT. ~ Kaiwaka Bugle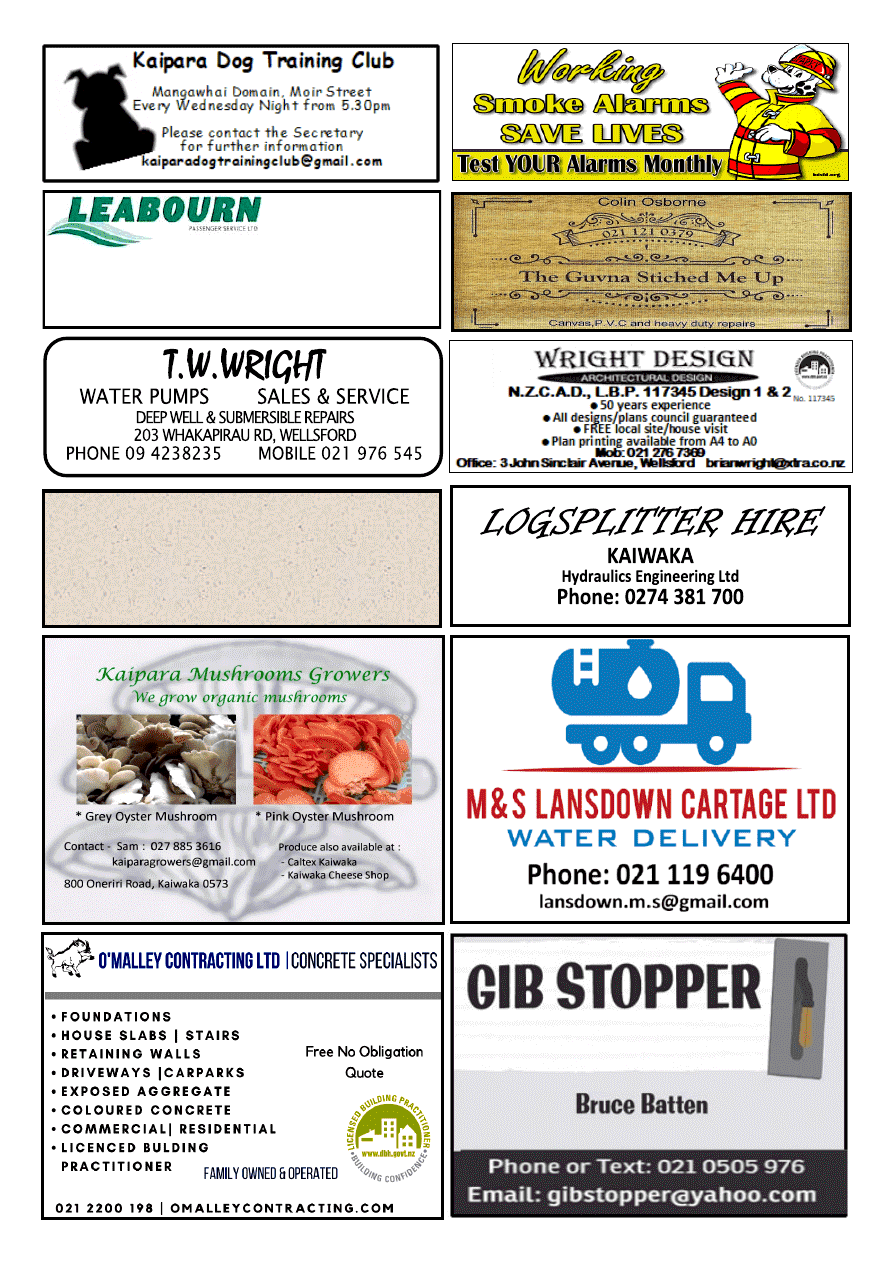 Counsellor and Registered Psychotherapist 
Offers Supervision
Susan Matheson 
MNZAC 
Dip. Psychosynthesis Counselling and Psychotherapy 
Phone 09 431 2996                        Mobile 027 605 2427 
Passenger Service
Car & Van Hire   Bus & Coach Charters 
Airport Transfers    
Phone (09) 4237416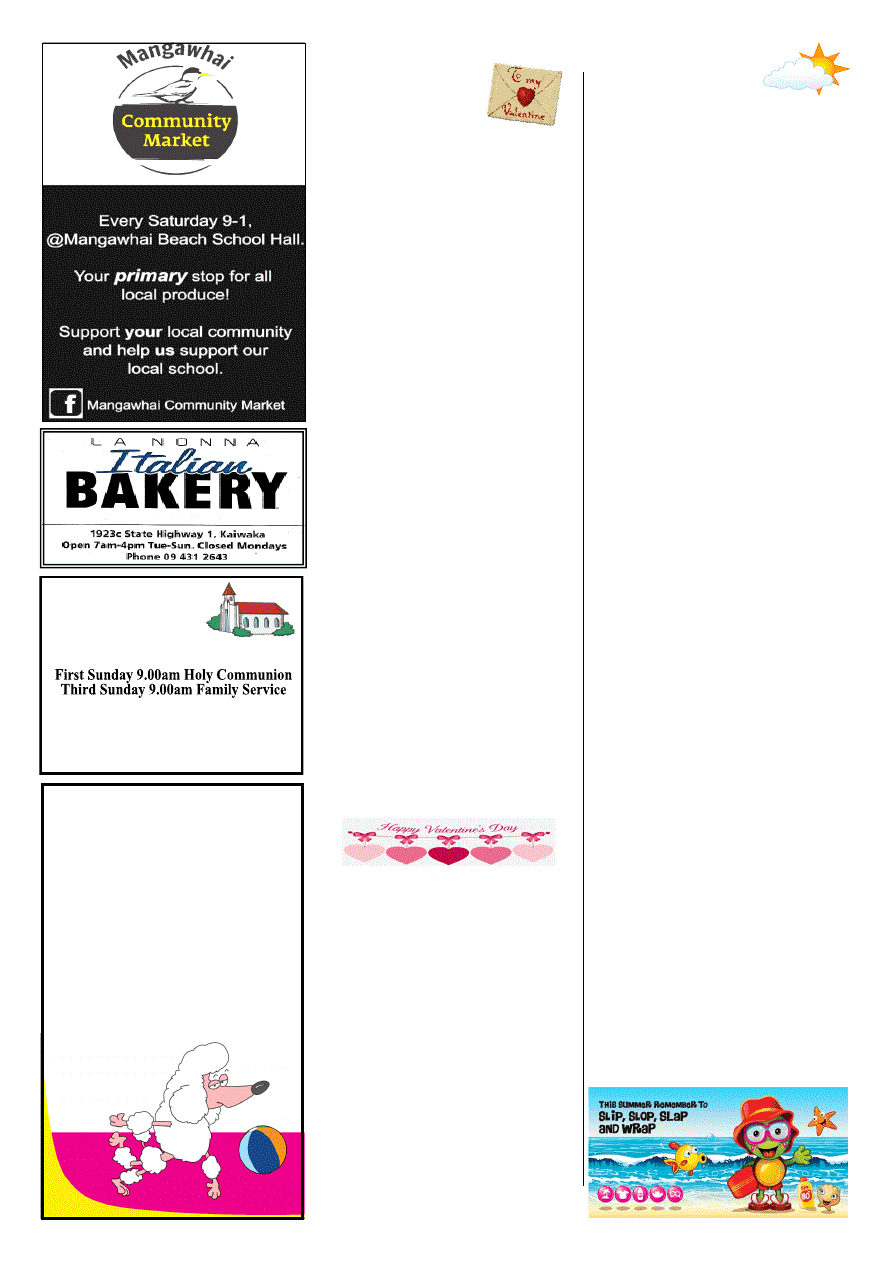 www.kaiwaka.co.nz 
Kaiwaka Bugle - 9 February, 2021 
Page 5 
KAIWAKA 
WEATHER  
The  children  are  back  at 
school  so  take  a  bit  of  care  on  the 
roads.  
Welcome  to  you  all.  Dry,  Dry  and 
getting  drier.    Looking  at  the 
Brynderwyn  Waterfall  on  the  2nd  of 
February it was hard to tell if there was 
any water coming down the waterfall.  
As I type out this forecast. January was 
a  slow  start  to  our  summer.  We 
welcomed  2021  with  a  fine  partly 
cloudy  day  with  a  hot  moderate 
southerly  day  followed  by  rain,  rain, 
rain the next  day,  and  welcome  it  was 
too.  We  were  fortunate  enough  to  get 
the rain as not all  folk in the area did 
get it. Very local as you would say. My 
weather  reports  come  to  you  from  our 
home  1km  North  of  Kaiwaka.  The 
weather varies so much, especially the 
rain  from  here  to  Kaiwaka  Township 
and 1km South of Kaiwaka. The rest of 
the month was a good mixture with not 
much  rain.  Of  course,  we  had  a  lot  of 
wind  and  partly  cloudy,  kept  most  of 
the  heat  down.    In  saying  that  we 
reached  35deg  and  a  bit  lower  as  I 
believe it would have been a bit higher 
on the one or two days we were away.   

Well for January 2021 at our house 
we  had  100mm  and for 2020 we had 
10mm rain.   

We had rain on 8 days for 2021 and 
for 2020 we had rain on 3 days.   

Our  driest  January  since  1987  was 
2013  and  2020  both  with  10mm  rain 
and  the  wettest  January  since  1987 
was1989 with 343mm.   

Our  driest  first  month  of  this  year 
was  as  above  and  the  wettest  first 
month this year was as above.   
Please  be  kind  to  your  animals  and 
water them well.  
"First  snail  says,  I  have  to  cross  the 
road." Second snail says, "Be careful, 
there is a bus due in an hour." 
Take care out there. Slip Slop and Slap. 
~ Bev 
NOTE from NIWA: 
Although  temperatures  for  the  month 
as 
a 
whole 
were 
generally 
unremarkable,  a  very  warm  air  mass 
originating in Australia combined with 
westerly  Foehn  winds  to  produce 
widespread  record  and  near-record 
temperatures  across  eastern  New 
Zealand  from  26-28  January.  In 
Ashburton,  a  blistering  39.3°C  was 
recorded on 26 January. This was New 
Zealand's 
2nd-hottest 
January 
temperature  on  record,  surpassed  only 
by 40.0°C  at  Timaru  on  22  January 
1908.  
Hot Diggity Dog  
DOG GROOMING  
KAIWAKA 
Spring is in the hair. 
Professional Dog Groomer  
at affordable prices.
www.doggroomingkaiwaka.co.nz 
call Pam 094312143 or text 
0273335380 for bookings 
ST PAUL'S  
ANGLICAN  
SUNDAY SERVICES 
St Pauls Church: Kaiwaka-Mangawhai Rd. 
Priest in Charge Rev. W Thornton Ph 431 4122 
www.mangawhaianglican.org.nz
THE DAY 
SHE FELT 
LIKE A 
QUEEN 
The postman said to Mrs Vine, 
"Now, who has sent you a Valentine?' 
But Mrs Vine just shook her head, 
I really cannot think", she said. 
"Whatever's  this?"  her  daughter 
cried,  
It's many years since father died. 
You are much too old to have a beau, 
But if you have I ought to know!" 
The  next-door  neighbour  seemed 
quite vexed, 
"A Valentine! Whatever next! 
You're dark horse, Mrs V. 
Who can this strange admirer be?" 
The story spread from door to door, 
"Why didn't we find out before? 
We never had the slightest sign 
That someone fancied Mrs Vine!" 
Questions echoed down the street, 
What sort of menfolk does she meet? 
The butcher? The insurance man? 
The lad who drives the grocer's van? 
The meter reader seemed quite nice - 
Some  looked  at  their  husbands 
twice! 
Mrs Vine was most amused 
To see her neighbours so confused 
And chuckled to herself with glee - 
"It was well worth the 30p."
The  Feast  of  Saint  Valentine  was 
established  by  Pope  Gelasius  I  in  AD 
496 to be celebrated on February 14 in 
honour  of  Saint  Valentine  of  Rome, 
who died on that date in AD 269. The 
day  became  associated  with  romantic 
love  in  the  14th  and  15th  centuries 
when  notions  of  courtly  love 
flourished,  apparently  by  association 
with the "lovebirds" of early spring. In 
18th-century  England,  it  grew  into  an 
occasion  in  which  couples  expressed 
their love for each other by presenting 
flowers,  offering  confectionery,  and 
sending  greeting  cards  (known  as 
"valentines"). Valentine's Day symbols 
that  are  used  today  include  the  heart-
shaped outline, doves, and the figure of 
the  winged  Cupid.  Since  the  19th 
century,  handwritten  valentines  have 
given  way  to  mass-produced  greeting 
cards. Ref. Wikipedia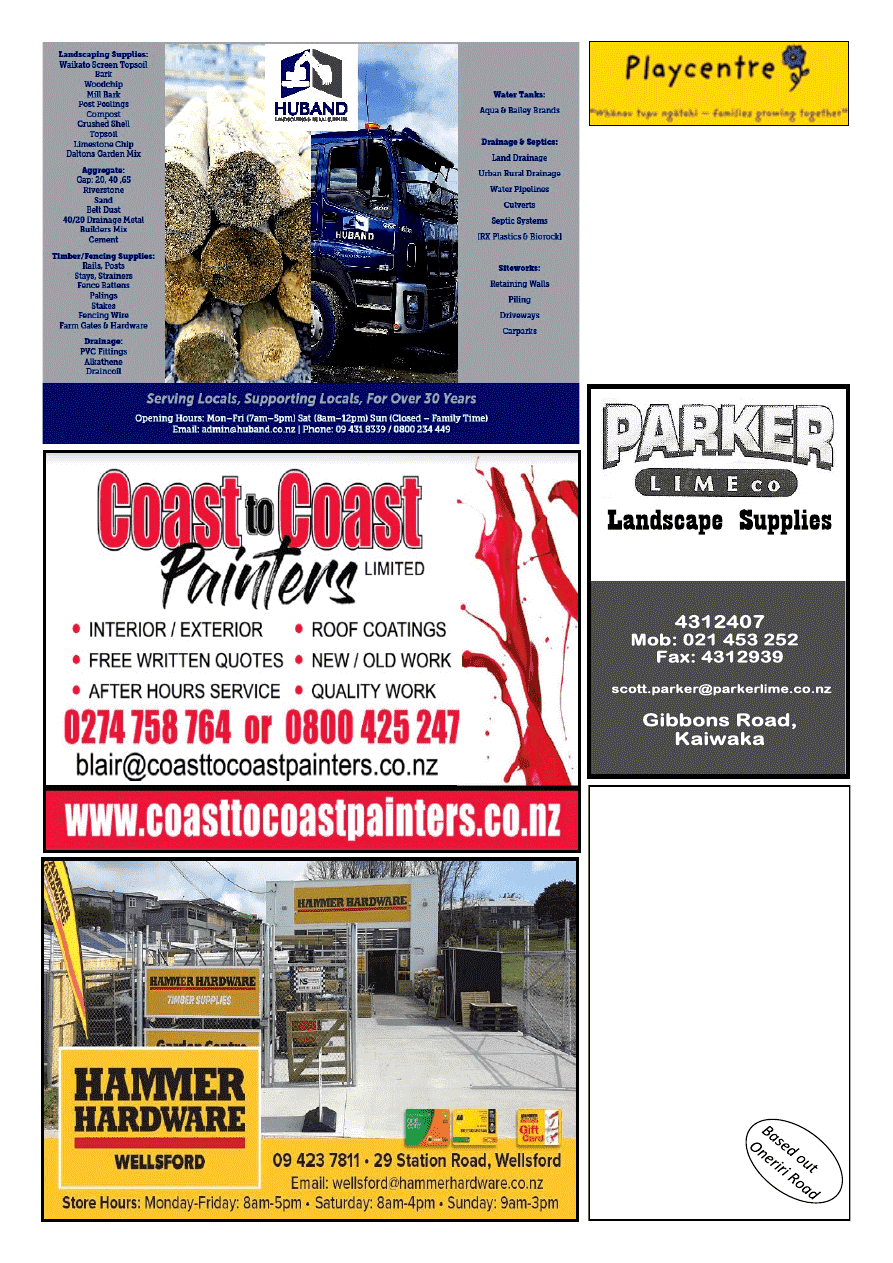 HODGETTS 
CONTRACTING
Digger Work    
Driveways   
House Sites  
Dams      
Drains, etc
Also available for HIRE 
3 ton Vib Roller  
Heavy Duty Tow  
Waterblaster      
Lazer Level
Phone Mark  
4312877 
027 447 8554 
Bulk Cartage 
KAIWAKA 
PLAYCENTRE 
Kaiwaka  Playcentre  starts  back  for 
Term 1 on Wednesday 10 February. 
We're excited to announce our sessions 
have been extended this year to: 
Monday, Wednesday, and Friday 
8:45am -12:45pm 
New  families  are  always  welcome, 
message  our  Facebook  page  for  more 
info and to start your first 3 visits free.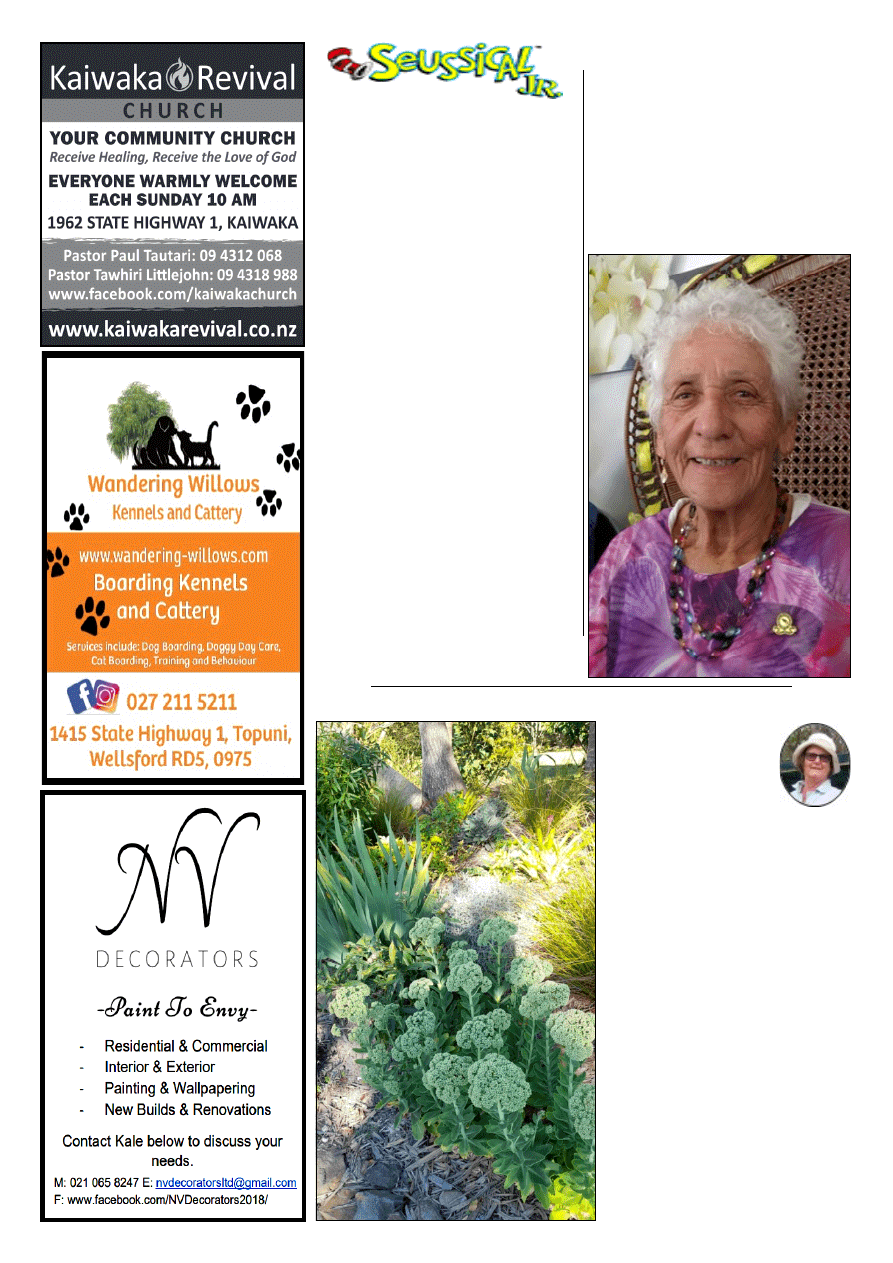 www.kaiwaka.co.nz 
Kaiwaka Bugle - 9 February, 2021 
Page 7 
  OUR VERY BEST 
WISHES TO 
MARTHA! 
Recently, 
Martha 
Nathan 
celebrated  her  90th  birthday  at  a 
wonderful  gathering  at  Te  Pounga 
Marae, Oneriri. 
Sheryl  Botica  presented  Martha 
with  a  NZWRAC  lapel  pin  on 
behalf  the  NZ  Women's  Royal 
Army Corp Assn.
Now we are in February, 
the  hottest  driest  month 
of the year.  
You  and  your  garden 
should  be  reaping  the 
benefits  of  all  that  work 
done  in  winter.  The  right  plant 
choice for your situation and mulch, 
mulch, mulch.  
After last summer's drought I was in 
grief.  My  garden  and  years  of  work 
gone. I couldn't face it. Poor Les and 
our French guests removed the dead. 
All  was  not  lost.  There  were 
survivors.  And  after  researching 
plants suited to our changing climate, 
I've  got  a  new  plant  palette. 
Including  plants  native  to  Australia, 
the  Mediterranean,  south  west  USA 
and parts of Africa.  
This planting, pictured left, has been 
in  8  months.  Sedum  white  flowers. 
Santolina, iris yellow flower, grasses, 
perennial 
cornflower, 
koromiko 
lovely white flowers, and Bromeliads 
under  the  tree.  In  a  west  facing 
border with solid clay and lime rock. 
Anyone  living  round  here  knows 
what I mean.  
And don't forget to mulch.  
~ Heather,  Oneriri Plants 021 766 399
HOW DOES YOUR GARDEN GROW? 
OTAMATEA 
REPERTORY 
As many of you know, the COVID-19 
lockdown  caused  the  cancellation  of 
our 2020 production of 'Seussical Jnr'.   
So  here  we  go  again  -  the  2021 
production  -  hopefully,  this  time  we 
will succeed.   
We  are  going  to  start  at  the  beginning 
again  -  all  parts  will  need  to  be  re-
auditioned.   
We would like to run a group audition 
on Saturday 20 February 1pm to 4pm.   
And then have our first get-together for 
handing  out  materials,  measuring  etc 
on 21 February 1pm to 4pm. 
As  an  indication,  rehearsals  will  be  on 
Wednesday  evenings  from  6.30pm 
until  7.30pm  (little  kids)  and  until 
8.30pm  for  older  ones,  and  also 
Sundays 1 - 4pm 
A  rehearsal  schedule  will  be  provided 
of  course,  if  you  are  successful  in 
joining the cast. 
Dates to be confirmed by the Copyright 
Holder. 
Opening  night  on  Friday  30  April 
(which is the final Friday of the school 
holidays.)  'Seussical  Jnr'  is  over  an 
hour  long  and  will  be  performed  8 
times - dates and times next time. 
Peter  Flower  Director  with  Maura 
Flower Musical Director. 
Any questions? Peter's email is  
peter.flower58@gmail.com 
Phone 021 164 8318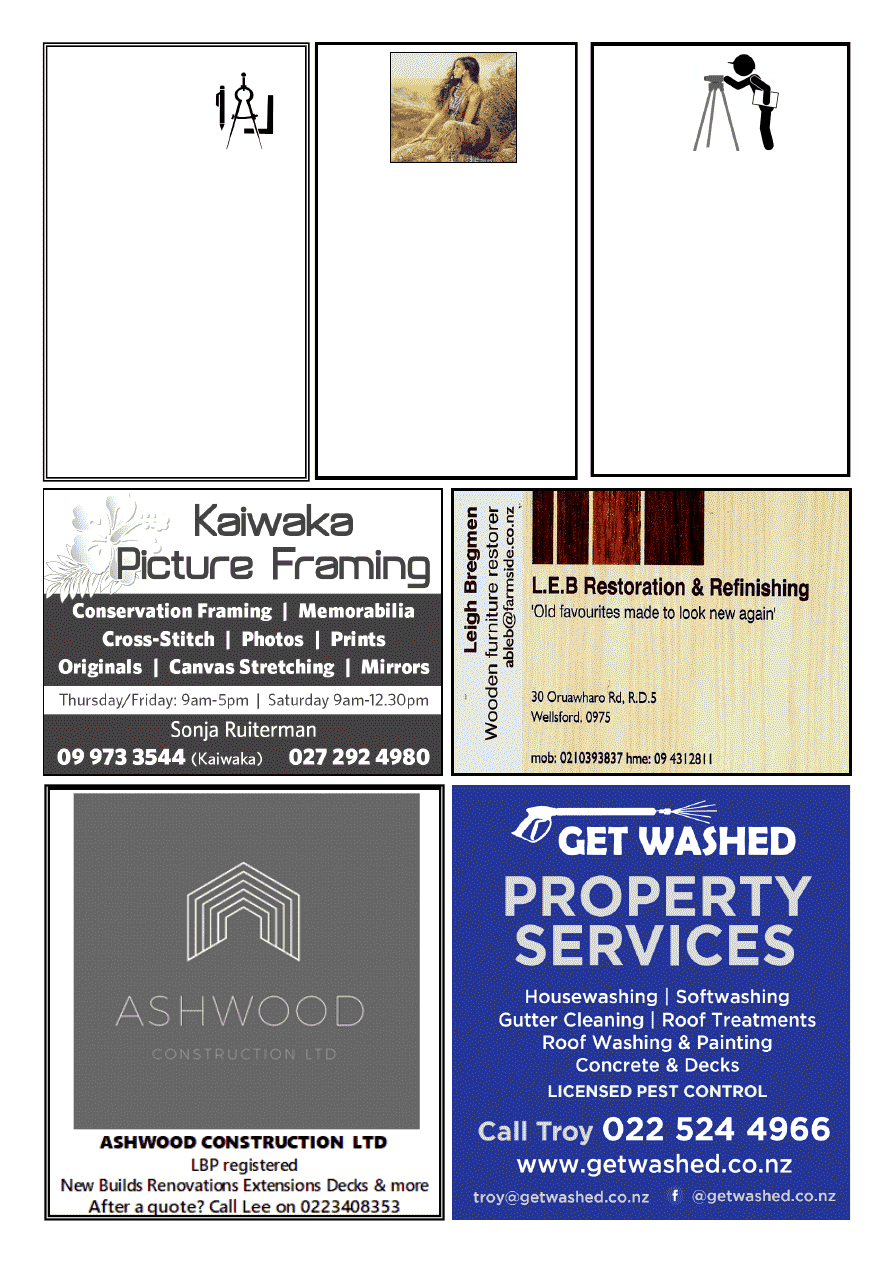 TRAILS END 
RONGOA MAORI 
HEALING 
And Gifts 
Stocking all your needs from incense, 
crystals, dream catchers, greeting 
cards, jewellery, perfume, dragons and 
more  … 
For all inquiries  
Phone 0211652629  
Light refreshments available $5 koha  
1758 Cove Road Mangawhai
design  
drafting  
service 
Retired builder and manufacturer with 
over 40 years experience in the building 
industry is offering a design drafting 
service for domestic housing, sleepouts 
and sheds.  
Plans formulated in consultation with 
clients, with working drawings 
completed and submitted to  
council for processing.   
Extensive practical experience,  
able to identify & resolve problems. 
Please ring Mike Lean on 
09 431 2260  
or 
021 431 196 
Ken Urquhart 
BSurv Licensed Cadastral 
Surveyor 
KMU  
Surveys Ltd
467 Bickerstaffe Road 
RD 2 
Maungaturoto 0587 
Ph 09 431 8705 
Mob 021 161 2344 
kenurquhart@xtra.co.nz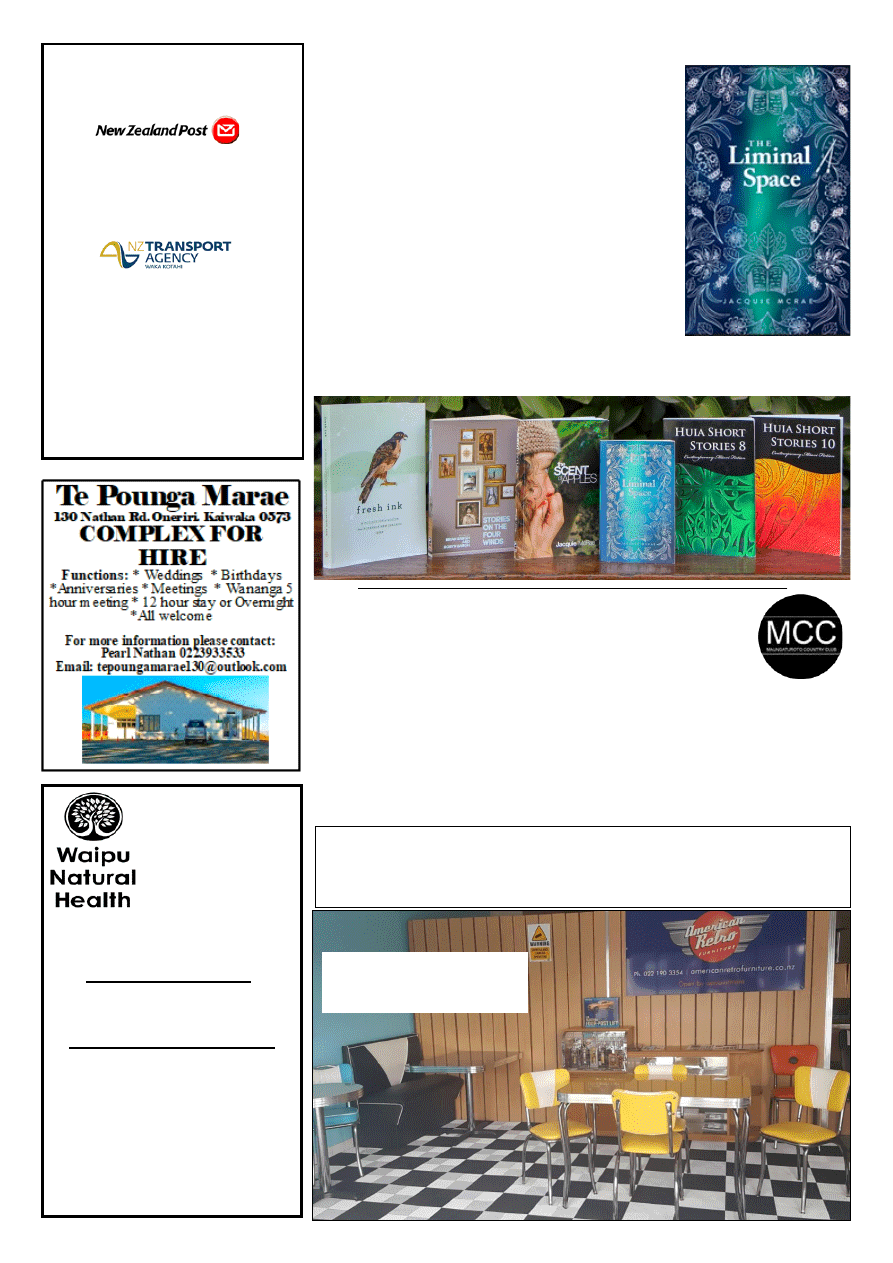 www.kaiwaka.co.nz 
Kaiwaka Bugle - 9 February, 2021 
Page 9 
3 Cove Road, Waipu 
 (opposite the Pizza Barn) 
094321325 
www.waipunaturalhealth.co.nz 
Clinical Nutritionist: 
Nutritional Checkups, Diets for 
Chronic Diseases, Food 
Sensitivities 
Naturopathic Physician: 
Ozone Therapy, Prolotherapy 
Reflexology, Craniosacral 
Therapy, Trauma Release, 
Massage Therapy 
Counselling and Hypnotherapy 
Change Catalyst/ThetaHealer 
Affordable Children's Consults 
All therapists are fully qualified
KAIWAKA POST 
CENTRE and 
FOOD MART 
POST CENTRE TRADING HOURS 
MONDAY to FRIDAY 8am to 5pm 
SATURDAY 8am to 12pm 
CLOSED ON SUNDAY and on 
PUBLIC HOLIDAYS 
FOOD MART (GROCERIES)  
MONDAY TO FRIDAY  
7:30am to 7.30pm 
SATURDAY  8am to 7.30pm 
SUNDAY  8:30am to 7pm 
IF ANY QUERIES PLEASE CALL 
STORE MANAGER AMRIT  
on 09 4312431 or 
EMAIL: kaiwakafood19a@gmail.com 
1919a State Highway1, Kaiwaka 0542 
MAUNGATUROTO COUNTRY   
We invite you to come and enjoy our great facilities.  
Summer  restaurant  hours  for  evening  meals  are  Thursday  and 
Friday nights from 5.30-8.30 pm. 
You are also welcome to use the Community Walkway (about 1-
hour  walk  -  dogs  are  welcome  on  a  lead  at  ALL  TIMES  as  this  is  a  working 
farm) without membership, and to also stay at the Club in your self-contained 
campervan -POP maximum 3 nights $10 per night .  
The Country Club also has affiliated clubs supported by the wider community 
including Bowls, Squash, Rugby, Repertory Theatre, Motocross and Equestrian 
activities.  
Have a go at our new activity if DISC GOLF Official Opening Day at the 
Club Thursday 11th February, 4.30 pm.  
84 Bickerstaffe Road, Maungaturoto Ph: 0212010735 
'THE LIMINAL SPACE' by Jacquie McRae 
'
Whispers  in  the  market  square,  that  William  is  not 
who he says he is, travel fast in a small village. They say 
he skinny dips and talks to trees. It's true he was once a 
doctor, but now, he only prescribes books - for Emily, 
Marco and James, whose lives become entangled with 
his. They've all been thrown into a liminal space and 
can no longer stay as they are. This is a tale about the 
power of stories - especially the ones we tell ourselves.' 
Jacquie  McRae's  new  book,  The  Liminal  Space, 
will  be  launched  at  Bennetts  of  Mangawhai  on 
Wednesday  10th  February  at  5.30pm.  All  are 
welcome. 
Jacquie, a former Oneriri Peninsula resident and now 
Te Arai, would like to give  a copy of  'The Liminal 
Space'  to  one  of  our  Kaiwaka  Bugle  readers  -  email 
the  kaiwakabugle@kaiwaka.co.nz  with  the  name  of 
her book and be in to win a copy of Jacquie's book. 
Jacquie  wrote  an  earlier  novel  for  young  adults,  The  Scent  of  Apples,  which 
received a Gold at the Independent Publisher Awards in 2012. Her short stories 
have appeared in several collections - pictured below. 
SPOTTED IN KAIWAKA 
Do you know where? 
Q. When should you not go into the forest? A. Between 4 in the morning and 4 in the afternoon. 
Q. Why should you not go into the forest between 4 in the morning and 4 in the afternoon?  
A. Because elephants jump out of trees. 
Q. Why does the platypus have a flat bill? A. He went walking through the forest between 4 in 
the morning and 4 in the afternoon. 
SURVEYORS 
SUBDIVISIONS 
HOUSE SITE SURVEYS 
CIVIL ENGINEERING 
WASTEWATER DESIGNS 
EXPERIENCED 
PROFESSIONAL 
INNOVATIVE 
Ph 09 431 5353 
0800 PACIFIC (0800 722 434) 
pacificcoastsurvey.com
Adam Booth - 027 415 5752 
Bsurv, Licensed Cadastral Surveyor
Surveying Kaipara since 1994 
Hydraulics  
Engineering Ltd 
Kaiwaka 
Sales - Service - Parts - Hire - Manufacture 
Service Contractors & Industrial Equipment: 
Rams, Pumps, Valves 
Logsplitter Hire, Manufacturer, Sales 
Dennis Linton 
Lot 2 / 161 Ranganui Road, RD2, Kaiwaka, 0573, New Zealand 
Mobile: 0274 381 700 
Email: hydraulicsengineering@xtra.co.nz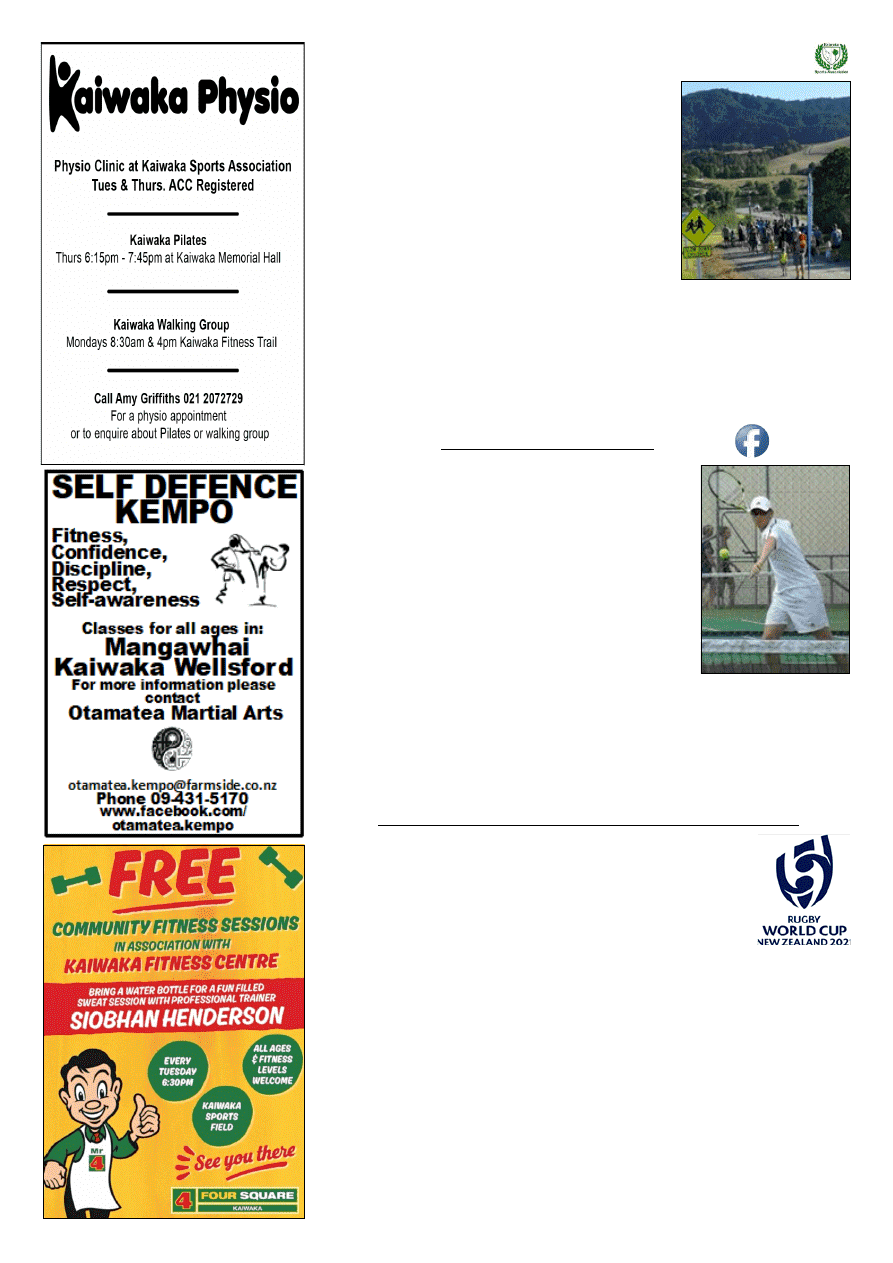 www.kaiwaka.co.nz 
Kaiwaka Bugle - 9 February, 2021 
Page 11 
OTAMATEA TENNIS TOURNAMENT 
The  71st  Annual  Otamatea  Tennis  Open  was  be  held 
over  the  Auckland/Northland  Anniversary  weekend  but 
due  COVID-19  was  postponed  at  the  Kaiwaka  Sports 
complex - new  date  is  Saturday  and  Sunday  27  and 
28 February 
The  tournament  offers  men's  and  women's  singles  (3 
game  minimum  guarantee),  A  grade  and  B  grade 
doubles and combines 
BBQ and social on Saturday night. Prize giving Sunday 
afternoon. 
Free camping on adjoining rugby fields for the weekend. 
A  fun  and  friendly  atmosphere  with  good  tennis  from 
players  throughout  Northland  and  Auckland.  All 
spectators welcome. 
Entries
  to  Grant  Van  Dalsum  at  spiral.enterprises@xtra.co.nz  or 
innesanderson9@gmail.com Enquiries to Innes 027 292 1657 
KAIWAKA SPORT WEBSITE 
www.kaiwakasport.co.nz 
"The KSA Complex, Built By The Community For The Community" 
The KSA website is now underway - awaiting up dated information from all the 
clubs associated with the Kaiwaka Sports Assn. 
Any queries contact Wayne Leslie, KSA Chairman 
KAIWAKA SPORTS ASSOCIATION 
The  2021  Rugby  World  Cup  is 
scheduled to be the ninth Rugby World 
Cup  for  women,  to  be  held  in  New 
Zealand between 18 September and 16 
October 2021 in the cities of Auckland 
and  Whangārei.  This  will  be  the  first 
women's Rugby World Cup to be held 
in the southern hemisphere. The eighth 
World  Cup  was  played  in  2017  in 
Dublin  and  Belfast,  setting  record 
attendances and viewership numbers. 
In May 2018, it was announced that the 
format  of  the  World  Cup  would  be 
changing for the 2021 World Cup with 
classification  matches  being  replaced 
with quarter finals. 
On  21  August  2019,  World  Rugby 
announced  that  gender  designations 
would be removed from the title of the 
women's  World  Cup.  All  World  Cup 
tournaments  from  2021  forward, 
whether  for  men  or  women,  will  be 
officially  called  the  "Rugby  World 
Cup" 
with 
a 
year 
designation. 
Three  venues  are  set  to 
host  –  in  Auckland  - 
Eden  Park  Capacity: 
60,000, 
Waitakere 
Stadium Capacity: 4,901 and Semenoff 
Stadium 
Capacity: 
30,000 
in 
Whangarei. 
The 
opening 
game 
featuring  the  Black  Ferns  will  be 
hosted Eden Park. Furthermore, it will 
also host the semi-finals, 3rd place play
-off  and  final.  Other  pool  games  as 
well as the quarterfinals will be held at 
Semenoff  Stadium  and  Waitakere 
Stadiums 
Nine  of  the  12  teams  taking  part  are 
already  known,  with  the  qualifying 
process for the remaining three delayed 
due  to  the  Covid-19  pandemic.  NZ. 
England,  France,  United  States, 
Canada,  Australia,  Fiji,  South  Africa 
and Wales. 
Ref. rugbyworldcup.com
2021 RUGBY WORLD CUP  
TOP OF THE ROCK 
5 or 10 km run/walk event
. 
Sunday 7th March 2021 
START AREA: Pakeho Road (off Baldrock Road).  
CHECK-IN TIME: From 7.30am.   
SAFETY BRIEFING: 8.45am.   
START TIME: 9am.  
WAYS TO REGISTER: 
1) Form on www.kaiwakasport.co.nz  
Post form to Kaiwaka Sports Assn, PO Box 42, 
Kaiwaka 0542 or  
Email form to topoftherock@kaiwaka.co.nz 
2) Pick up and leave form at Kaiwaka Four Square, Kaiwaka. 
3) In person on Saturday 6th March, 6.30 – 8pm, Kaiwaka Sports Complex.  
WAYS TO PAY: 
1) Cash 
2) Cheque (payable to Kaiwaka Sports Association) 
3) Online banking 060365002247200 (use reference TOR and your full name) 
Updates on Facebook: 'Kaiwaka Top of the Rock 2021'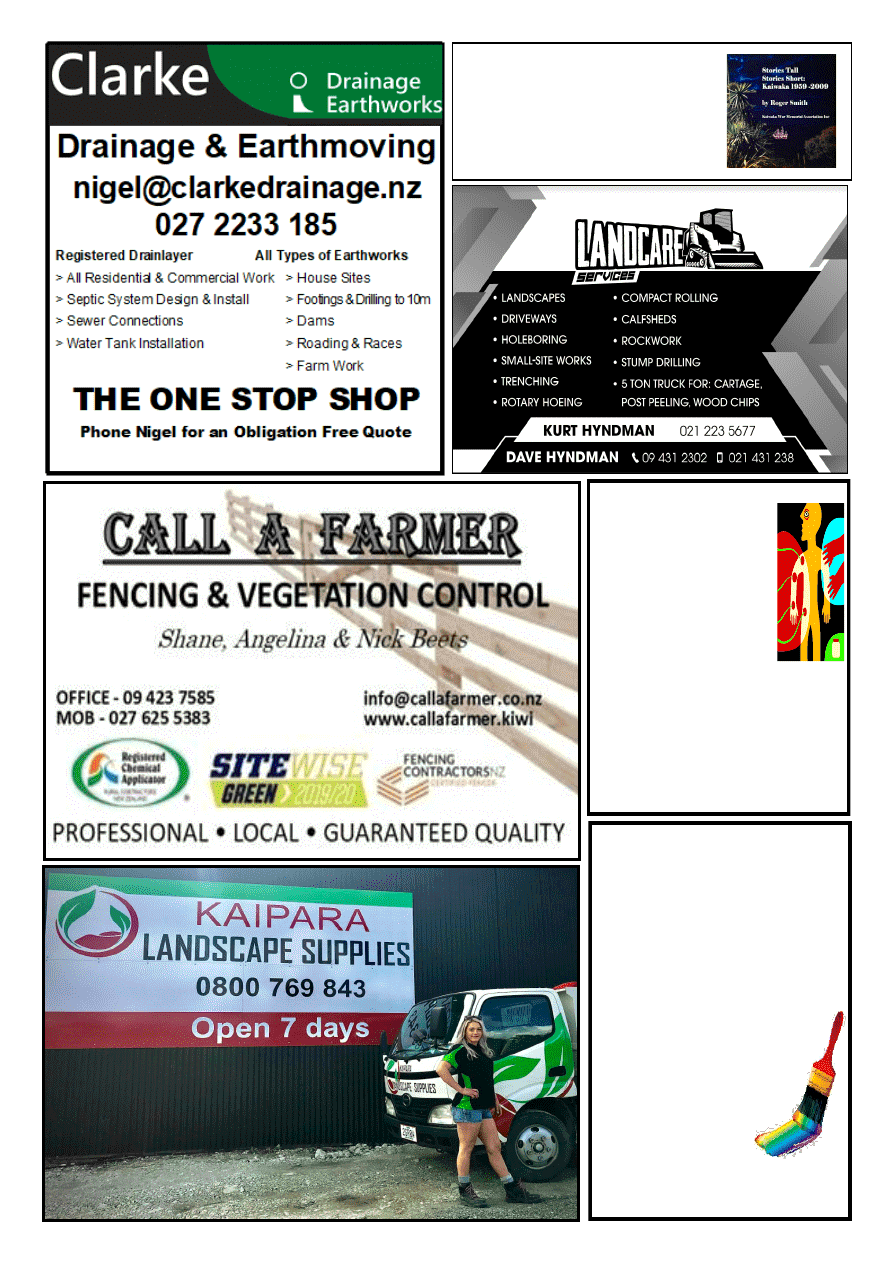 OWEN STEVENS 
Osteo Therapist
For careful adjustments 
to bones and joints 
Treatment for  
humans and their pets 
Clinics: 
Kate's Place, Kaiwaka: 
Last Friday of month  
9.00am-5.00pm 
For bookings:  
Phone 
09 4312661 
Or phone Owen  
 09 4317123 anytime 
LEE COOPER 
PAINTERS 
(Kaiwaka Based) 
*30 yrs Experience 
*Interior/Exterior 
*New and Restoration 
*Honest and Reliable 
*Free Quotes 
09 4312918 
0274735171 
leecooper@xtra.co.nz 
Stories Tall, Stories Short  
Kaiwaka 1959-2009 
by Roger TW Smith.  $40 
Available at All Sortz Collectables  
or phone  4312 045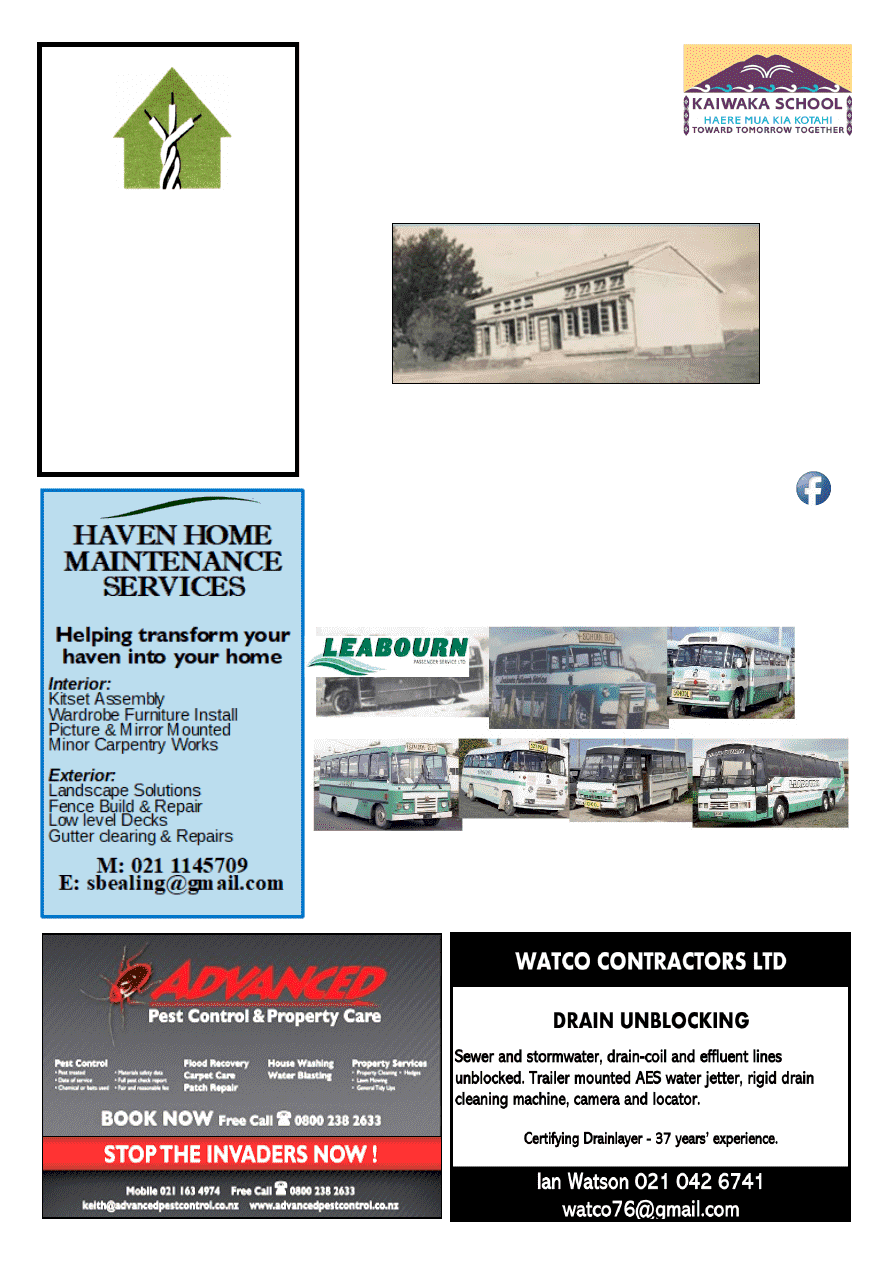 www.kaiwaka.co.nz 
Kaiwaka Bugle - 9 February, 2021 
Page 13 
Reyahn  Leng 
 Registered Electrician 
Local, honest and reliable. 
For your residential and 
light-commercial projects. 
022 314 1068  
During  Labour  Weekend  Kaiwaka  School  will  be  holding  a 
Reunion,  we  hope  as  many  old  and  current  students, 
teachers,  care  takers,  anyone  that  had  anything  to  do  with 
our great school to come along.  
We would love photos newspaper clippings etc if  you would 
like to share them,  we can get them copied and returned to 
you. If you have anything to share or would like to attend we 
have a Facebook page: kaiwakaschool150reunion 
or email: kaiwakaschool150reunion@mail.com 
Please  tell  your  friends,  brothers,  sisters,  etc.  so  we 
can get as many along to celebrate 150 years. 
Leabourn  buses have taken our children to school for many 
years. Pictured are some of the buses.  
Do you remember riding on any of these? 
If  you  remember  these  come  along  to  the  reunion  and 
reminisce with your old friends
. 
Pictured at top: The  new school of two rooms, built 1941 - 1942, replacing the original 
steep pitched roof one room school. 
KAIWAKA SCHOOL 
CELEBRATES 
150 YEAR ANNIVERSARY  
LABOUR WEEKEND 2021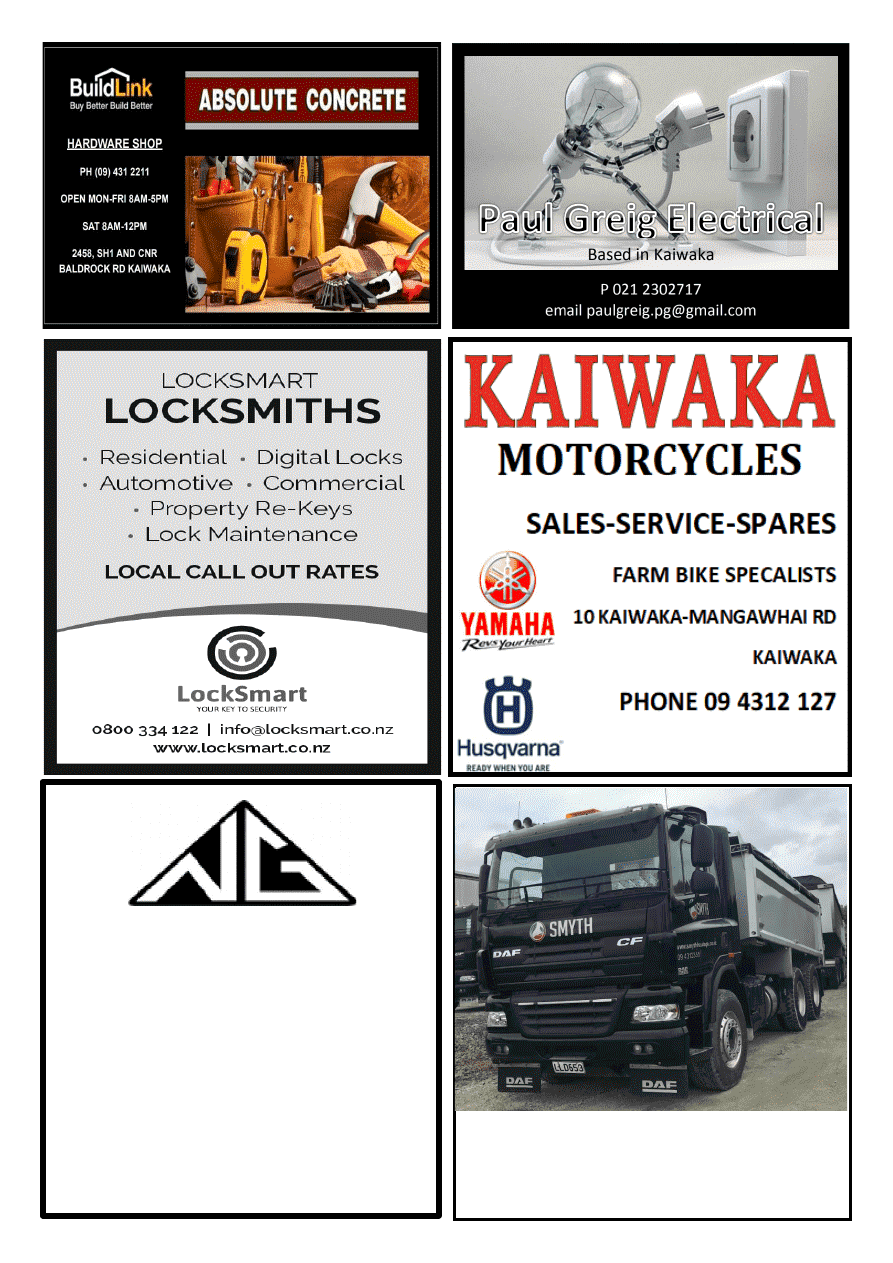 NORTH GLASS 
WINDSCREEN REPAIR OR REPLACE 
GLAZING SERVICES 
MIRRORS  •  SPLASH BACKS  •  SHOWERS 
0800 70 40 10
info@northglass.co.nz 
www.northglass.co.nz 
SMYTH HAULAGE       
for all your tip trucks & trailer 
requirements 09 4312355  
Carlton Smyth 0274870636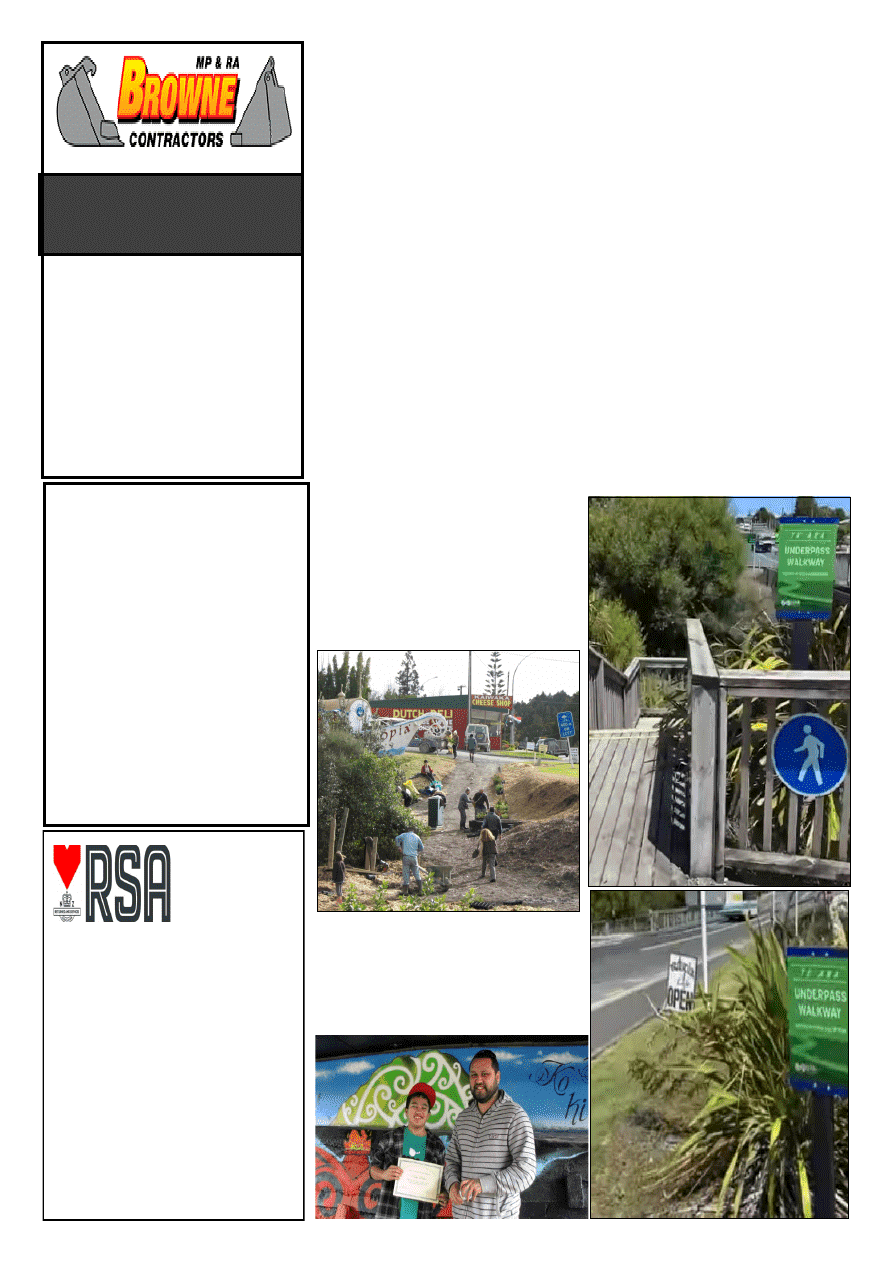 www.kaiwaka.co.nz 
Kaiwaka Bugle - 9 February, 2021 
Page 15 
HAKARU & 
DISTRICTS 
MEMORIAL 
RSA 
Members & guests are invited to 
come along and enjoy our hospitality. 
New members welcome. 
Meals are served on 
Thursday and Friday nights 
from 6.30pm. 
Order from Blackboard Menu  
The sing along with Des Chitty is the Last 
Friday of the month. 
As  part  of  the  community  projects  for 
the PAINT IT RED Rugby World Cup 
2011  a  number  of  locals  worked  on 
making a safe way to cross SH1 
The photo below from Kaiwaka Bugle 
23/8/2011,  shows  the  forming  of  the 
path on west of highway SH!. 
The  following  is  part  of  the 
accompanying article: 
"KAIWAKA  PLANTING  …  for  our 
children,  our  visitors  and  ourselves.  I 
would  like  to  make  particular  mention  of 
those  who  generously  supported  the 
walkway  with  their  expertise  and 
sponsorship: 
Kauri Park Nurseries  – For the generous donation 
of  the  plants  for  the  walkway;  Timber-World 
(Warkworth) – for their  kind  donation and supply 
of wood for the steps; Parker Transport – for their 
generous donation of transport and limestone; B & 
L Ferguson – for the transport they kindly provided; 
Atlas Quarry – for the top metal on the walkway; 
Topuni  Forestry  Products  –  for  their  significant 
contribution of mulch around the plants; Te Hana 
Nursery  –  for  the  planting  necessities;  Pete 
Worsfold – for a planting plan to guide and shape 
the  landscape;  Mark  Hodgetts  for  the  structural 
scraping  and  earth  works  ;  Grant  Hyndman  –  for 
the improvement of the Oneriri Bank; Tim Magill - 
for the steps, table and construction advice. 
A  special  thanks  to  the  project  team  that 
met,  planned  and  got  on  to  facilitate  this 
for  our  community  in  particular  Bianca 
Hartley and Dave Waetford. 
Finally  to  all  of  those  that  helped  on  the 
14th  August  for  our  planting  day  both  on 
site  and  from  the  background  with  juice, 
home  baking,  hot  chips  and  sausages.  It 
provided a refreshing demonstration of the 
energy,  commitment  and  support  of  our 
community  and  how  a  small  group  of 
thoughtful  and  committed  people  can 
change  our  world.  ~  Many  thanks,  Wayne 
Blissett – Walkway Co-ordinator   
Kaiwaka Bugle 4/9/2012 
MURAL  DEDICATION:  Saturday  25 
August Rau Morgan led the dedication and 
karakia  for  the  blessing  of  the  wonderful 
mural at the Kaiwaka Bridge walkway. The 
blessing  was  given  by  William  Taurua, 
Matua, and Tony Hargreaves recalled some 
of the bridge's history. 
Local  artist  Joe  Paikea,  pictured  below, 
worked  with  the  youth  of  Kaiwaka  to 
create messages of whanau and unity. The 
river  is  protected  by  guardians  assuring 
safety and protection for those that use the 
walkway.  Joe  said,  "The  words    'Ko  ihu 
karaiti  ki  mua  i  te  hara'  put  simply  mean 
'Christ  before  crime'  and  'Katou  tatou'  is 
'All  are  one'.  The  heart  is  the  family,  the 
blue is aroha reaching out, and mother and 
father at each side." 
Deborah Harding (Te Uri o Hau  CEO) and 
Fay  Armstrong  (Social  arm  TUOH)  both 
spoke encouragingly about the  work done. 
The  dedication  marked  the  next  stage  in 
this community project.   
The  community  walkway  project  kicked 
off  last  September  as  part  of  the  'Paint  it 
Red'  campaign  and  has  continued  to 
progress.  This  phase  of  the  project  was  
supported  by  Te  Uri  o  Hau  drawing  on 
community funding from MSD." 
SIGNAGE 2021 
KDC  have  placed  signs  directing  folk 
to  the  underpass  walkway,  but  sadly  
they don't seem to be highly visible. 
Thank  you,  Christelle  Hynd  (of  Best 
Pets),  for  your  Facebook  video 
'walking'  us  through  the  underpass, 
and photos 
  below,  top  -  Best  Pets  side, 
lower - Eutopia Café side. 
COMMUNITY UNDERPASS - SH1 
- 4 Tonne DIGGER - 
- BOBCAT- 
- TIP TRUCK - 
Property Maintenance  
Driveways 
Building Sites 
Stump & Tree Removal 
Hole Boring -  Chain Trencher 
Calf Shed and Stockyard Cleaning 
Phone Matt: 021 199 6677 
Email: mprabrownecontractors@gmail.com 
HAKARU HALL  
ACTIVITIES 

Monday:  Line Dancing 9.45 -12pm 
Ph 4315160 

Afternoon Dance Energy  Lisa  
Ph. 0275610469 

Tuesday: Pilates 10am  
    Qualified Instructor Ph. 0220643965 

Tuesday: Afternoon Dance Energy   

Wednesday: Afternoon  
Dance Energy  

Wednesday: Eve. Music Jam Session   
Dennis Ph. 0210628631 

 Thursday: Pilates 9.30am  
Ph. 0220643965 

Friday Fortnightly  
MESS CLUB   10.30 am   Inspiring play 
for under 5's. Phone Shelley 0221223781 

Sunday: Canine Coaching  
Ph 0272365004 
Bookings Karen 4312090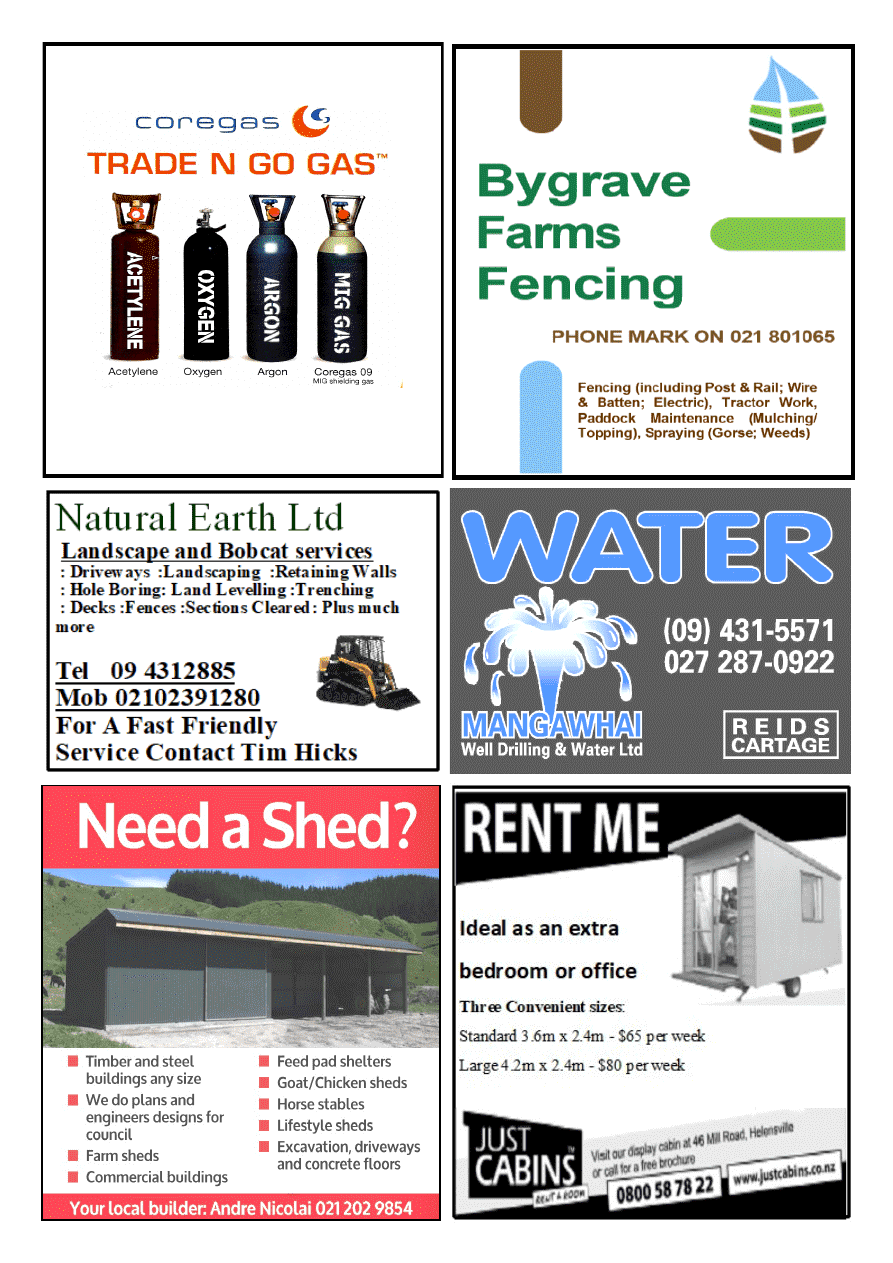 At Twinkle Tow 'n' Tyre 
Mob: 021 833 960 
Ph & Fax: 09 431 2823 
1837 State Highway 1, Kaiwaka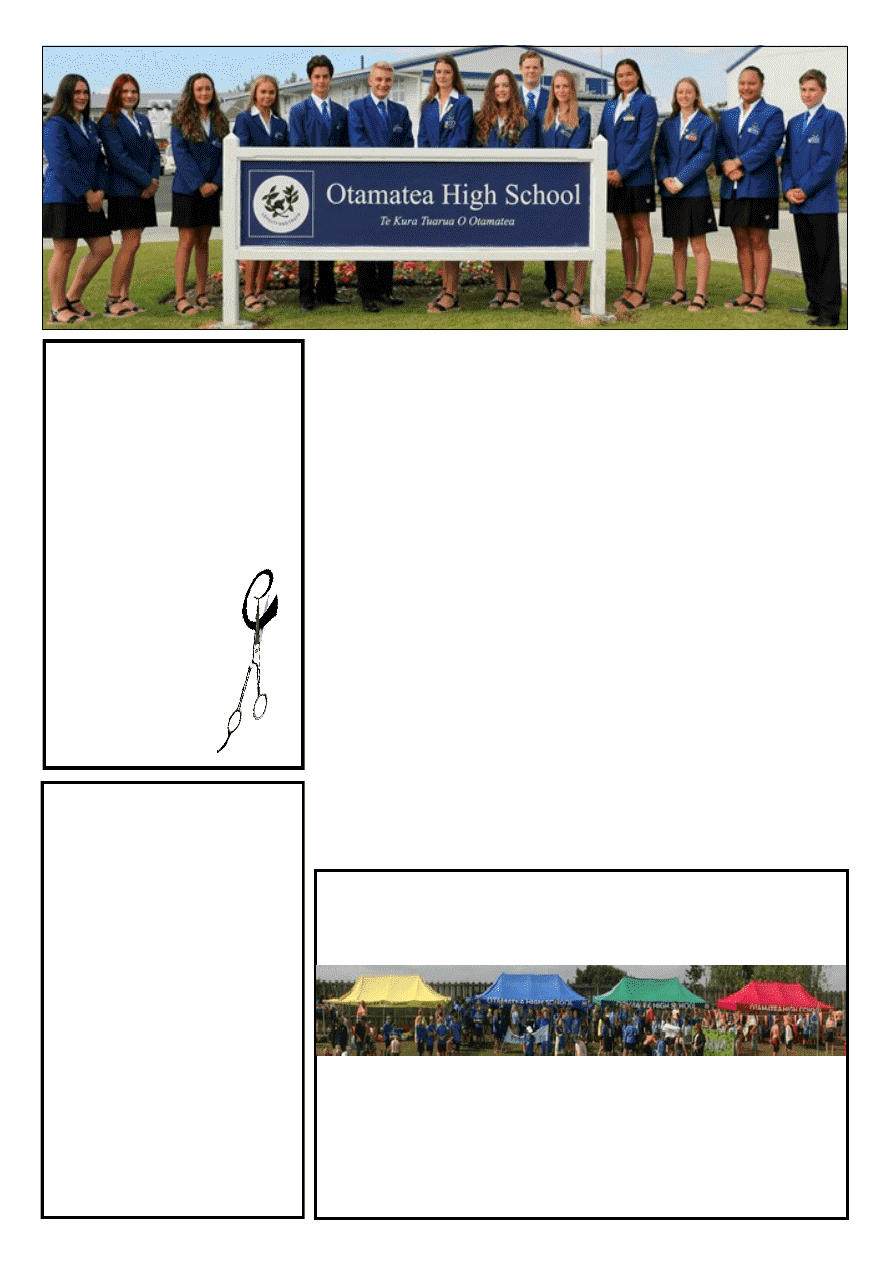 www.kaiwaka.co.nz 
Kaiwaka Bugle - 9 February, 2021 
Page 17 
JUST CUTS  
and MORE  
1758 Cove Road  
Open Monday-Saturday  
by appointment only 
Saturday 9-12pm  
0211652629
Affordable prices: 
Ladies cuts from $35   
Colours from $120 
Men's from$25  
Kids from $18 
Willow Bend
HORSE  
HOTEL 
#
Total Horse Care   
# 
Agistment 
# 
Riding Lessons    
#
 Arena Hire (60x40) 
# 
Young Horse Starting 
# 
Re-training/Exercising 
#
Hoof Trimming    
# 
Problem Solving 
Phone Sue  
09 431 2817 or  
021 623 776  
Or email  
susanjoll11@gmail.com 
From the Otamatea High School Principal, Rachel Clothier-Simmonds 
~'our  provisional  NCEA  results  for  2020  have  recently  been  received  and  are 
once  again  very  impressive.  Here  they  are  in  comparison  to  the  national 
averages and similar schools (decile 4 - 7 averages).  

Year 11 NCEA Level 1: OTAMATEA HIGH SCHOOL 89.5%; NATIONAL 
AVE. 70.2%; DECILE 4 - 7 AVE.74.9% 

Year  12  NCEA  Level  2:  OHS  90.5%;  NATIONAL  AVERAGE  79.1%; 
DECILE 4 - 7 AVERAGE82.9% 

Year  13  NCEA  Level  3:  OHS  87.9%;  NATIONAL  AVERAGE  71.4%; 
DECILE 4 - 7 AVERAGE 72.0% 

Year 13 University Entrance: OHS 60.6%; NATIONAL AVERAGE 51.7%; 
DECILE 4 - 7 AVERAGE 49.6% 
Congratulations to all  the students  who  have  worked  extremely  hard  to  secure 
these  results.    The  teachers  also  deserve  acknowledgement  for  their  part  in 
ensuring that our students are set up to succeed and be 'Ready for the World'. 
Start  of  the  2021  academic  year:    We've had a wonderful start to the 2021 
academic year.  On Wednesday, 3 February, our year 13 students and year 12 
prefects  participated  in  a  leadership  training  day  where  they  considered  what 
contribution they will make this year.  On Thursday all new students and new 
staff were officially welcomed to the school with a powhiri.  They then spent the 
day  learning  how  we  operate  as  a  school  community.    On  Friday  all  of  our 
students  returned  to  school  and  were  into  regular  classes  by  period  3.    The 
assembly  hall  was  full,  with  130  new  students  and  many  returning  students.   
Our  school  roll is looking very  healthy  and  every  day  we  have  been  enrolling 
more students into the school.  
Year 7 students and prefects head off to camp at Otamatea Marae on Tuesday, 
9 February, for their start of year camp.  We wish them all the best.    
Swimming  Sports:  We  are  looking  forward  to  a  fantastic  day  of  competition 
and  fun.  Students  should  come  prepared  with  suitable  swimwear,  a  good  hat, 
sunscreen and a water bottle.  This is a mufti day; therefore, students can dress 
in iwi colours and themes .' 
OTAMATEA HIGH SCHOOL 2021 PREFECTS 
OTAMATEA HIGH SCHOOL 
56th Annual Swimming Gala 
Thursday 18 February (postponement 19 February) 
Start Time: 9.15am Finish: 3.30pm
OTAMATEA HIGH SCHOOL 
56th Annual Athletics Day Gala 
Friday 26 February (postponement 2 March) 
Start Time: 9.15am Finish: 3.30pm 
Parents and Caregivers are encouraged to come along and support. 
Timekeepers needed. Can you help Please email or text 
tina.holst@otamatea.school.nz  021 2935974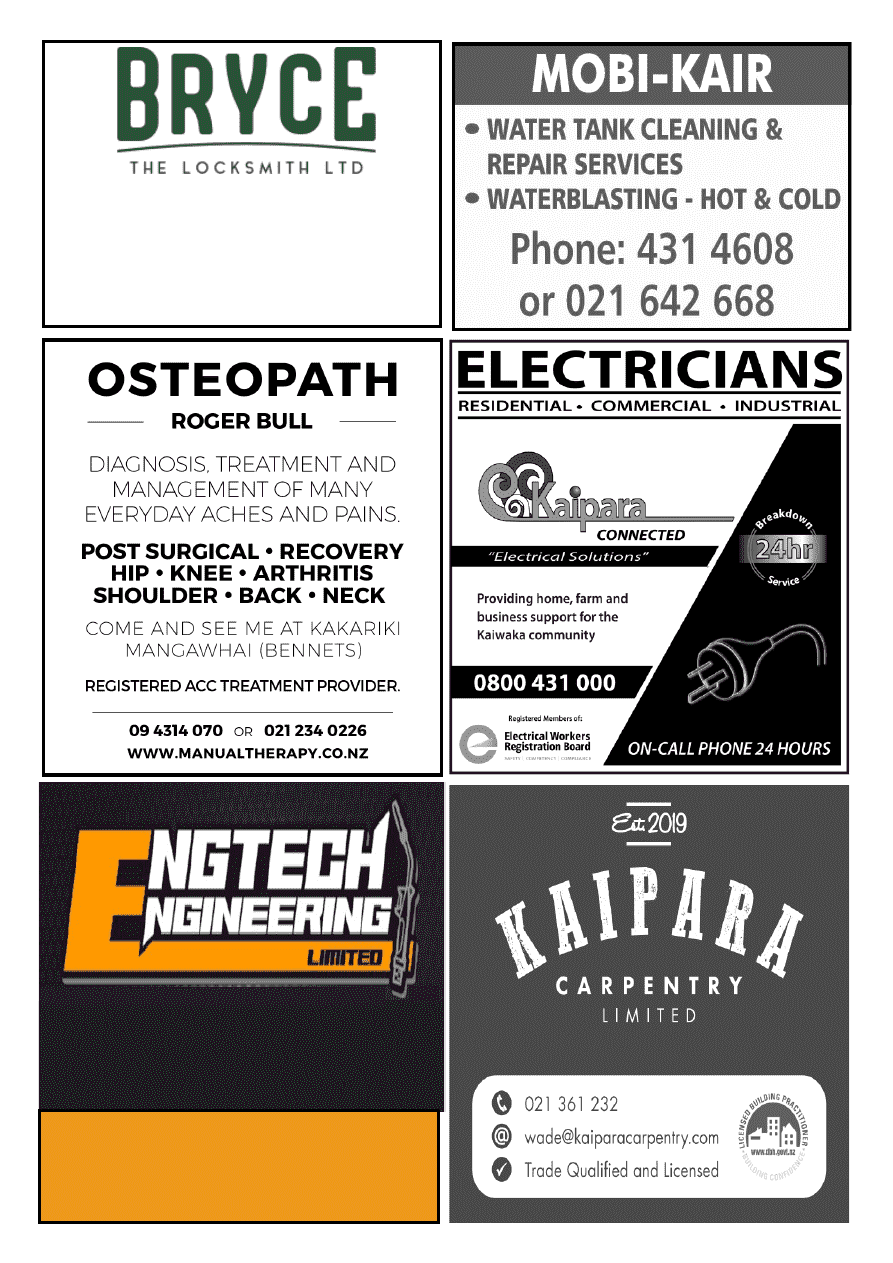 Bryce Frewin 
Ph: 021 850 983 
Kaipara Based Master Locksmith 
bryce@brycethelocksmith.co.nz 
www.brycethelocksmith.co.nz 
- Mobile Engineering Services - 
- Specialised Welding and Fabricating - 
- Media Blasting and Painting -  
- New CNC Profile Cutting Machine - 
PH: 021 415 259 or 09 973 3440 
648 Kaiwaka-Mangawhai Rd, Hakaru 
www.engtechengineering.nz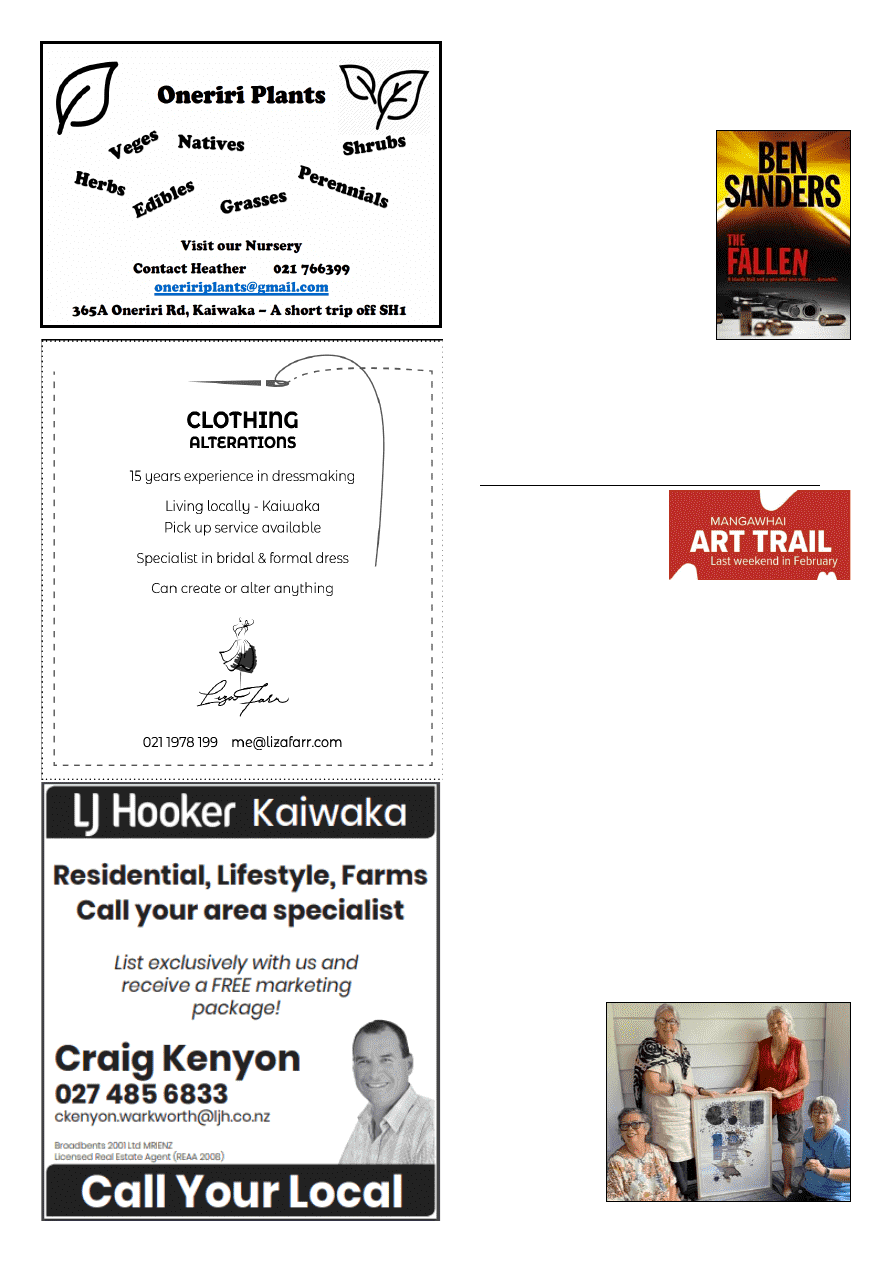 www.kaiwaka.co.nz 
Kaiwaka Bugle - 9 February, 2021 
Page 19 
KAIWAKA LIBRARY
SUMMER READING CHALLENGE 
Congratulations  to  our  library  members  who  have  won 
prizes  in  the  district's  Summer  Reading  Challenge!  Your 
prizes will be at the library soon, and I will be in touch to 
let you know when they're here. 
BOOK REVIEW 
Recently 
I've 
read 
the 
Sean 
Devereaux  series  by  Ben  Sanders  - 
(1) The Fallen, (2) By Any Means, and 
(3) Only the Dead. Sean is a detective 
at the Auckland Central police station. 
He's  single,  in  his  30s,  and  doesn't 
always do what his superiors tell him 
to  do.  Aided by  his  good friend John 
Hale, 
an 
ex-police 
private 
investigator.  
As well as the good stories, I like that 
Sanders gives good descriptions of the 
journeys  taken  through  the  city  -  for  this  ex-Aucklander  I 
could follow it in my head, street by street, a lot of the time 
as the areas are familiar to me. Like the DCI Banks novels 
by  Peter  Robinson,  we  also  get  to  hear  about  the  music 
being played throughout, which I like, too, though the tastes 
here are not as eclectic. 
All three books in this series are in the district, the first two 
on our Dargaville shelves until April, and the third can be 
ordered in for you. 
See you in the library! ~Wendy
MANGAWHAI 
ARTISTS 
FIBONACCI: MATH 
AND MAGIC  
This  new  exhibition  is  opening  at  Mangawhai  Artists  Inc 
gallery on 25 February, 6pm, at 45 Moir St. Mangawhai.  
You may not know it, but you have seen the patterns of the 
Fibonacci sequence hundreds of times - patterns occur in an 
amazing  variety  of  places,  in  art  and  nature,  mathematics 
and in science. The Fibonacci sequence is an endless series 
of  numbers  where  any  number  is  the  addition  of  the 
previous two numbers, starting with 0 and 1. 
The  classic  Fibonacci  spiral  has  been  accorded  spiritual 
status by many cultures. Often it appears as both clockwise 
and counter clockwise spirals on the same form. 
In this exhibition, four artists explore this blueprint for 
growth.: 
Mandy  Thomsett-Taylor  forged  a  pictorial  interior 
landscape  in  which  anything  (and  everything)  can  be 
included, and that celebrates its own logic. 
Bridget  Mintoft  has always been interested in the subject 
of  perception.  How  is  it  we  "see"  things?  Bridget  invites 
the  viewer  to  look  more  closely,  to  make  meaning  from 
what may seem unfathomable. 
Pauline  Mann  learnt  of  Fibonacci  through  the  works  of 
Rudolf  Steiner,  Goethe,  John  Wilkes,  Euclid  and  Phidias, 
and  Johannes  Kepler,  while  teaching  art  at  the  Steiner 
school in Wellington. Slumping and Fusing Bullseye glass 
has  become  her  main  medium  as  it  expresses  the  light, 
darkness  and  colour  interplay  that  comes  through  it  with 
movement,  changing  constantly,  recreating  itself  as  does 
life itself. 
Nicola  Everett  has 
always 
been 
interested 
in 
the 
patterns  created  by 
nature.  She  would 
like  people  to  come 
away 
from 
the 
exhibition  with  a 
curiosity  for  looking 
more  carefully  at  the 
complexity, 
simplicity and rhythm 
of  patterns  in  nature, 
to observe and consider what is often overlooked.
WHAT'S ON
PLEASE ~ do let us know what is on - 
or what is NOT on at the moment! 
email kaiwakabugle@kaiwaka.co.nz 
Advertising in WHAT'S ON is FREE  
*10Feb~Kaipara Dog Training begins, 6pm 
*10Feb~Kaiwaka Touch begins, KSA 
*12Feb~Movie 'BABY DONE', 7.30pm KWMH 
*14Feb~ VALENTINES DAY 
*14Feb~Kaipara Hunting Pre Parry Shoot 
*25Feb~Mangawhai Art Trail opens 
*25Feb~Kaipara Young Farmers meet 3 Furs 7pm 
*27-28Feb~Otamatea Tennis Tournament, KSA 
*27Feb~'Waiata in Waipu' 
*7Mar~Top of the Rock, KSA annual run/walk 
KWMH = Kaiwaka War Memorial Hall; KSA = Kaiwaka Sports Association 
See www.kaiwaka.co.nz for more information 
HOUSEHOLD RUBBISH COLLECTION - Kaiwaka Pick up: 
Mondays = Green bags (Northland Waste - 09 430 3273) 
Wednesdays  = Blue bags and yellow recycling (at Kaiwaka Four 
Square  $3.00  and  $1.50)  (Kaurilands  09  4392146);  ONLY  Blue 
and Yellow bags picked up on Oneriri Road. 
 DIABETES  Support  Group  -for  Kaiwaka,  Mangawhai, 
Wellsford  10am,  3rd  Friday  of  month  Ph:  Colleen  James  09 
4314238 
 GENEALOGY - Wellsford: 1st Thursday in month Ph: 423 
7033; Waipu: 4th Monday in month Ph: 4312 725 
 HAKARU PONY CLUB - Secretary Denise Rogers 021423376 
secretary@hakaruponyclub.co.nz  
 KAIPARA HUNT - Secretary Albert Doonenbal Ph 4312059 
 KAIWAKA BADMINTON -Tuesdays 7.30pm Ph: 4312345 
 KAIWAKA  CAN  - 3rd Wednesday in month, 5.30pm, Archie 
Bull Hall Ph: 0273572751 
 KAIWAKA GARDEN & FLORAL GROUP - 2nd Thursday in 
month. Ph: 431 4744 
 KNITTING FOR WHANGAREI HOSPITAL - 2nd Tuesday in 
month, Archie Bull Hall 10am Ph 4314827 
 MANGAWHAI COMBINED REBUS CLUB - 2pm, 3rd 
Thursday month, Senior Citizens Hall Mangawhai. Ph: 4315777 
 MANGAWHAI GENEALOGY  - meet 3rd Thursday month, 
Mangawhai Museum, 10.30am 
*PILATES - KAIWAKA WAR MEMORIAL HALL - Ph: 
021  
2072729  
*PILATES - HAKARU HALL - Tuesday 10am, Thursday 9am 
Qualified Instructor  Ph. 0220643965  
 PT CURTIS CRUISING CLUB - Jean Ph: 4312227 (wk), 4312520 (hm) 
 RSA,  HAKARU  &  DISTRICTS  WOMEN'S  SECTION  –  meets 
1.30pm 4th Thursday of the month. Ph: 431 5818  
 KAIWAKA  SCOTTISH  COUNTRY  DANCING  CLUB-
Wednesdays 10am - 12 noon  Ph: Elaine 027 432 0032  
 TRAMPING 
- 
Mondays 
9am-2:30pm, 
contact  
valkenburgmaria@gmail.com 
HALLS FOR HIRE: 
  Kaiwaka St. John Hall: Phone Marj  0272941227  
 St.Pauls Archie Bull Hall HIRE $20 half day, $40 full day per 
hire, S McAulay, Ph 4312311 
 Kaiwaka  War  Memorial  Hall  HlRE  -  Phone  4312725  or 
kaiwaka.hall.bookings@gmail.com 
 Hakaru Community Hall HIRE -Ph.  Karen 4312090 
 Te Pounga Marae queries - Pearl Nathan  0223933533 
 Kaiwaka  Sports  Association  hire/queries  -    Jean  4312227  or 
kaiwakasportsassn@gmail.com 
Justice of Peace:  
B.FJaques  4312  048;  L.Donaldson  4312  228;  A.F.Hargreaves 
4312 045, W.Howard 4312 725  - please phone to make sure they 
are available or go to www.justiceofthepeace.org.nz 
Marriage Celebrants:  
L.Donaldson; A.F.Hargreaves; Y Osborne
LOCAL SERVICES 
*Emergencies - Ambulance, Fire, Police - dial 111 
*Non-urgent Police phone 105
A A: Meets Wed., 7pm. Kate's Place Ph 021 024 25969 or 0800 229 6757  
NARCOTICS ANONYMOUS : Mon., 6pm, Archie Bull Hall, Kwk-Mwi 
Road; drug and alcohol related issues. Ph. 02102412348 
ASUREQUALITY LTD (was AgriQuality) Call Free 0508 0011 22  
BUDGETING SERVICE, WELLSFORD: Free confidential advice & 
support for all areas of personal finance. Ph (09) 423 7123 
CAB-Citizens Advice Bureau.Wellsford Ph: 4237333 
0800 367 222 email:cab.wells@xtra.co.nz  
CIVIL DEFENCE - Kaiwaka Community Response Group: 
kaiwaka.civildefencecrg@gmail.com, 4312725 Wendy 
DOG/STOCK /NOISE CONTROL 0800 105 890 
FUNERAL SERVICES: Morris & Morris Ltd, 
Whangarei - Bev Jaques Ph:4312367 or 0800667747 
GRANDPARENTS Raising Grandchildren: Dianah Roberts 0223819539 
HAKARU & DISTRICTS MEMORIAL RSA (Inc) 733 Settlement Rd, 
Hakaru. Ph 4312 176 or Bill Warren (President) 431 2092 
HAKARU LANDFILL/Transfer Station:Open everyday  10am-
4pm.Ph4312629 Cost-$55 trailer load up to 1 cubic metre. Ph:4258567 - 
office 
KAIPARA DISTRICT COUNCIL www.kaipara.govt.nz:  
Help Desk FREEPHONE 0800 727 059  
KAIWAKA CEMETERY: Ph: 4312045 or 4314017 
KAIWAKA LIBRARY: kaiwaka.library@gmail.com  
Mon. 4-6pm; Wed., Thurs., Fri., Sat. 10am-2pm Ph:4312539 
KAIWAKA PLAYCENTRE: Ph Juanita 0274134904; open Mon, Wed, 
Fri 9am-12pm. Hastie Lane; Monday to Friday 9.00am - 12 noon. 
KAIWAKA POST OFFICE:Ph:4312 431  
Post Code: 0573 for RD2 and 0542 for all Kaiwaka Post Office mail 
KAIWAKA PRIMARY SCHOOL: Ph: 4312309   
KAIWAKA SPORTS ASSN: Ph 4312005; 4312129 gym 
KAIWAKA ST JOHN HALL: Phone Marj  0272941227  
KATE'S PLACE Community Centre - Employment services, Free Health 
Nurse, Plunket, Advocacy, Osteopath, A.A., Legal Advice. 4312 661 
LINKING HANDS Health Shuttle Ph 4315906 or 09 4318969 
MINISTRY FOR PRIMARY INDUSTRIES - General inquiries Call 
Free 0800 008 333 
NORTHPOWER: Faults Kaiwaka area 0800 104040 
OTAMATEA COMMUNITY SERVICES: Counselling, parent coach, 
Family Support worker, budget advice, food bank. Mon-Fri 9am-3pm. Ph 
09 431 9080 http://www.otamateacs.org/ 
PARENTPORT: Free, practical family support service Puhoi to Paparoa 
Ph or txt: Dianne 027 280 5093 or 09 425 9357 
PLUNKET: Kaiwaka- St John Hall, Monday 19 Oct, 23 Nov, 21 Dec. then 4th 
Monday of the month. Plunket Nurse Louise 027 282 3987 or 09 438 2508 
Mangawhai- Rose Madsen Cottage, Mondays and Wednesdays. Plunket Nurse 
Rebecca 021 501 941 or 09 438 2508 
Maungaturoto - Good News Church, 2nd and 4th Wednesday of the month. 
Plunket Nurse Seleisa 021 912 248 or 09 438 2508 
PLUNKET HELPLINE -0800 933 922 (24 hours)  
FACEBOOK - Kaipara Plunket 
TAITOKERAU COMMUNITY LAW: Free confidential legal advice and 
assistance, 2nd
Thursday
 of each month. Ph: 0800 155 529 for appts.  
TE URI O HAU Settlement Trust Tangata Developments: Whanau Ora 
021 793262  
VETERINARY SERVICE MANGAWHAI: 
Ph: 4314535 Mon-Fri 8.00-5.00, Sat 9-12, a/h appt. 
WELLSFORD DOCTORS: Ph: 4238 086 
CHURCHES:
 
Kaiwaka  Revival  Church  -  Your  Community  Church:  Sundays  10am. 
Ph: Pastor Tawhiri 09 431 8988 or Pastor Paul 09 4312 068 Visit us at 
www.facebook.com/kaiwakachurch 
 
St  Paul's  Anglican  Church  1st  Sun.  9.00am  (Eucharist),  3rd  Sun. 
9.00am (Family Service). Contact: Rev. Wayne Thornton Ph 431 4122 
www.mangawhaianglican.org.nz 
 
Church of Christ the King, Mangawhai:9.00am every Sunday 
 
St.Mary's  Catholic  Church:  Maungaturoto  –  Griffins  Road,  Saturday 
evening  Vigil  Mass  6pm;  Mangawhai  –  Senior  Citizens  Hall,  Sunday 
Mass  8:30am;  Wellsford  –  Matheson  Road,  Sunday  Mass  10:30am;  
Mid-week Mass times and all enquires to Fr. Bill Fletcher – phone 423 8170
 
Baptist Church: Sun. 10.30am Mangawhai Snr Cit.Hall.Ph:4312339 
 
Cause  Way  Church  Mangawhai:  Sundays  10.15am,  Mangawhai 
Community  Recreation  Centre,  Insley  St.  Ph:  09  4314782 
Next Bugle Deadline Friday 19 February 2021