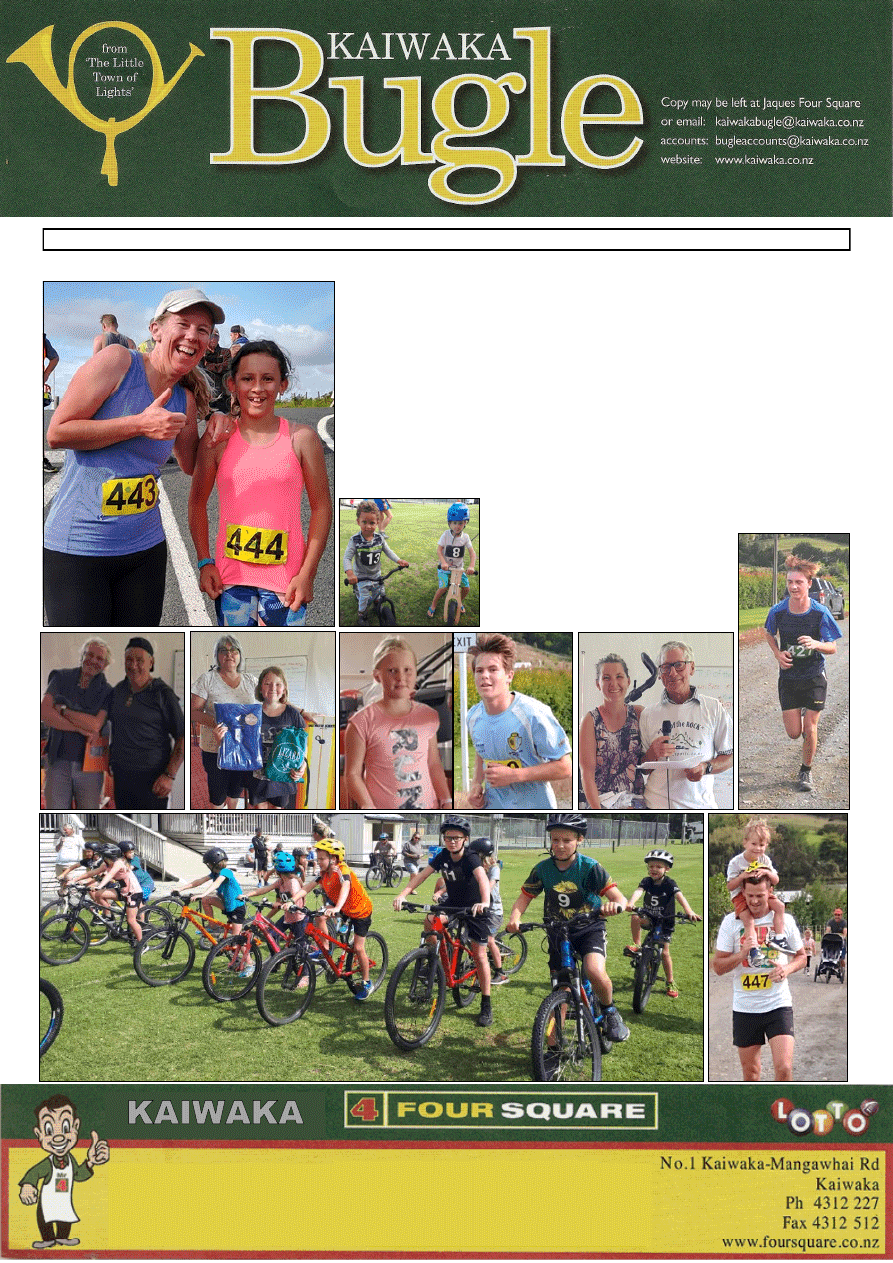 www.kaiwaka.co.nz 
Kaiwaka Bugle - 9 March, 2021 
Page 1 
No: 4 
 9 March 2021 
KAIWAKA'S TOP OF THE ROCK 2021  
Kaiwaka  Sports  Assn.  Top  of  the  Rock  on  Sunday  7  March  was  an 
absolutely brilliant family day. The weather was great, the  track was sound 
and the view was perfect .The youngsters were the real winners on the day, 
often coming in ahead of their parents!  
Holding the event vindicated the decision made by the committee to carry on 
in anticipation of the Covid level dropping paid off. 
Photo -winners:  10km  Ladies,  Hayley  Hodgetts  with Tony  Hargreaves, the 
day's MC;  Men's 10km Morgan Bull;  5km Ladies Charlee Wright; Men's 
5km Brady Wright;  
The oldest competitor - Ric Schifj with Peter Botica, the prize sponsor, and 
the youngest at 3 years old! 
Kierra  Hastie,  won  the  No  Limits  Surf  &  Skate  prize,  below  with  Paula 
Jaques. 
Left:  Josie  Griffths  came  3rd  in  the  Ladies  5km,  just  ahead  of  her  mother 
Amy;  Below:  Ant  Pedersen  shared  the  view  with  his 
son Harry. The under 11 Bike Ride events were great 
fun! 
More  photos  will  be  on  the 
kaiwakasport.co.nz website Gallery. 
You  are  welcome  to  share  your 
photos to this site. 
The  sponsors  and  more  photos  will 
be in the next Bugle. 
TRADING HOURS: 
7.30am - 7pm daily 
"Your local Store" 
Family owned & operated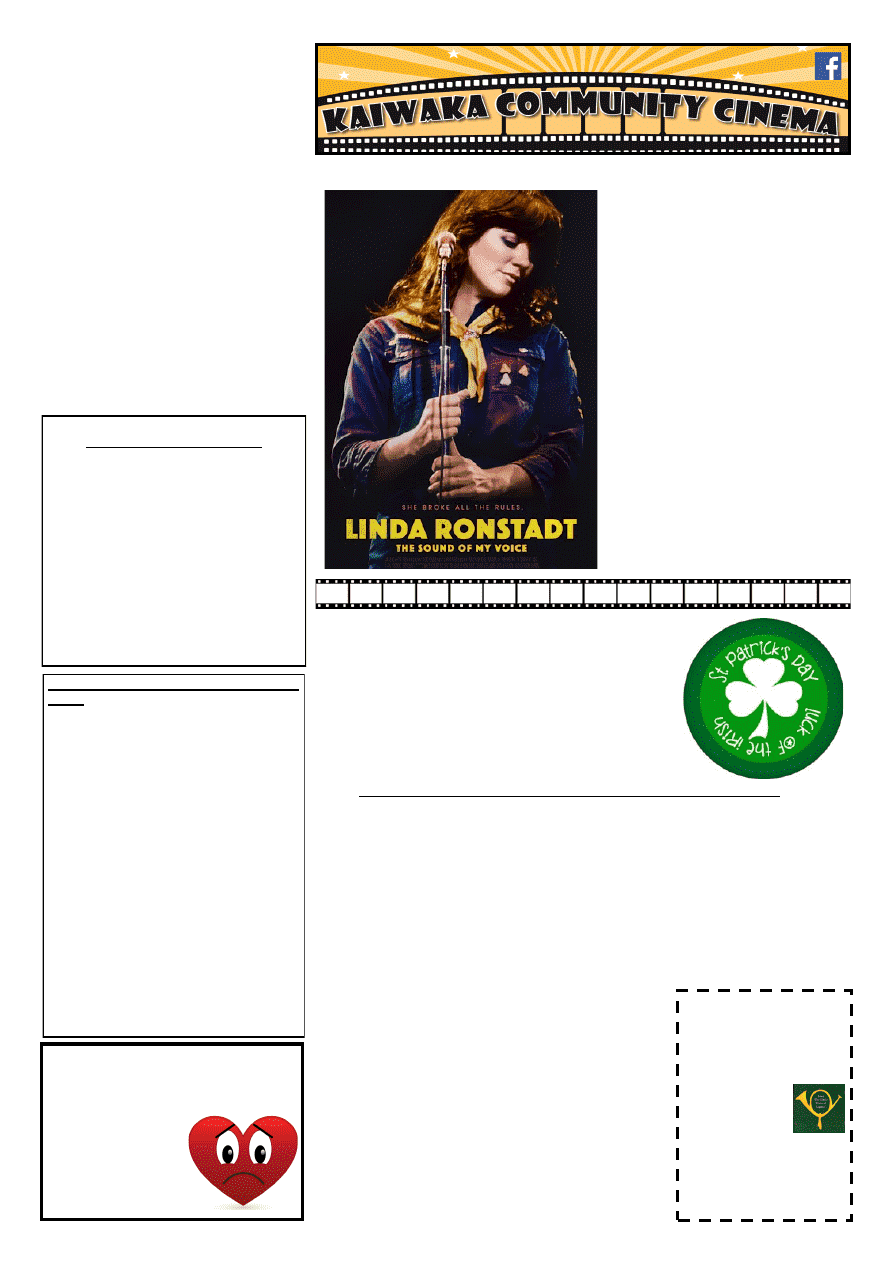 At Kaiwaka War Memorial Hall . Adults $10, Kids (under 16) $5, Family Pass (2 adults + 3 children) $25 
KAIWAKA BUGLE No. 4 
9 MARCH 2021 
CONTENTS 
Page 3: Public Notices, Classified 
Page 5:  Herbs & Happy Fish 
Page 7: Kaiwaka Weather; Women's 
Section RSA  
Page 9: Kate's Place; Libby Jones 
Page 11: Kaiwaka Sports Assn. 
Page 13: Spotted in Town 
Page 15: Otamatea High; 
Page 17: Kaiwaka Footbridges - KDC; 
Gardening 
Page 19: Kaiwaka Library 
Bugle  5 will appear 23 March 2021 
Contact for advertising, reports, articles 
or information can be made by 
Email kaiwakabugle@kaiwaka.co.nz 
Ph: 09 4312 045 Lindsey 
Txt: 027 2724137 
Copy may be left at our Four Square. 
Kaiwaka Bugle 
Founded May 1978 
We appreciate articles and photos about local 
events, etc, as well as ads and suggestions. 
Copies available in Kaiwaka at Four Square, 
Kaiwaka Postal Centre, Shamrock Service 
Station, Best Pets , Kaiwaka St John shop. 
Also outlets in Maungaturoto, 
Mangawhai and Paparoa. 
Can be viewed online at   
www.kaiwaka.co.nz/Bugle  
Or a copy can be posted to you if you supply 
stamped, self-addressed DLE envelopes. 
Kaiwaka 
Bugle 
Advertisements 
2021: 
All 
copy 
and 
queries 
to: 
kaiwakabugle@kaiwaka.co.nz 
The Bugle is printed on an A4 page   
Ad  sizes:  1/16  page  (3  x  9.5cm)  $5;  1/8 
(6.5  x  9.5cm  landscape  or  portrait)  $8; 
3/16 ( 10 x 9.5cm or 7.5 x 12,5)  $12.  
Classified  ads:  First  one  FREE,  $4  per 
entry (max. 30 words, max. 4 repeats). 
Payments  can  be  made  online  at 
ANZ 
06  0365  0006990  00
,  posted  or  left  at 
Kaiwaka Four Square Store. 
We  use  Microsoft  Publisher,  and  can 
work  with  most  common  image 
formats, Word, Excel, and PDF files. 
Accounts:  
Email: bugleaccounts@kaiwaka.co.nz 
The  Kaiwaka  Bugle  is  a  community 
newspaper run by volunteers, as part of 
the Kaiwaka Media Group Inc.   
Articles, etc. printed are not necessarily 
the opinion of the Bugle Team. 
ABOUT TOWN

 KSA Top of the Rock: What a brilliant event! A great day for all the family - 
wonderful support all round.

 Great news, Neville had his missing taillight returned. Thank you to the Bugle 
reader who found it on Rangiora Rd.

 Thursday 5 March: A tsunami warning and Covid Level 2. Do you remember 
Cycone Bola - March 7 1988?

 Did  you  know:  a  fabulous  event  that  took  place  at  the  3  Furlongs  on  13 
February where the band, Herbs, came to town and provided a fantastic night of 
entertainment for the people of Kaiwaka. See page 5

 Congratulations  Bekks,  Anahera  and  Charlene! 
These young local athletes have been invited to the 
2021  Under  14  National  Basketball  Camp  at  Tui 
Ridge, Rotorua,  18-21 April.
 From 
Libby 
Jones, 
NDHB, 
check 
out 
www.healthnavigator.org.nz -see pg 15

 Kaiwaka 
Bugle 
No. 
4 
is 
online 
at 
www.kaiwaka.co.nz  and  is  in  print  for  our  local 
Readers.  
~ 
Lindsey, Ed
"May your blessings outnumber the shamrocks that grow. 
And may trouble avoid you wherever you go." For the 
whole world is Irish on the Seventeenth o' March!  
The best luck of all is the luck you make for yourself.  
LINDA 
RONSTADT 
THE SOUND OF MY VOICE 
Friday 12  March, 7.30pm 
'
Covers  Ronstadt's  life  and  career 
from childhood to the present day. 
Narrated  by  the  singer  (who 
otherwise  appears  on  camera  only 
briefly in present-day footage), she 
describes  how  she  grew  up  in 
Tucson, Arizona, singing Mexican 
canciones with her family; her folk
-rock 
days 
with 
her 
first 
professional  group,  the  Stone 
Poneys,  in the late  1960s; her rise 
as  the  "queen  of  country  rock"  in 
the  1970s;  and  is  illustrated  with 
concert  footage  from  throughout 
Ronstadt's  career,  and  interviews 
with  many  of  her  collaborators, 
friends, and family members.' 
KAIWAKA BUGLE 
DEADLINE DATES 
2021:   
Every second Friday 
March 19 
April 2, 16, 30 
May 14, 28 
June 11, 25 
July 9, 23 
August 6, 20 
September 3, 17 
October 1, 15, 29 
November 12, 26 
December 10
Proverbs 12:25
Anxious hearts are very 
heavy, but a 
word of 
encouragement 
does wonders! 
ST.PATRICK'S DAY 
True Irish Recipe...Potato Bread 
Mix:  
8 oz. mashed potato with 1 tsp salt,  
Pinch pepper,  
2 oz butter,  
2 oz flour with a little milk to make a stiff dough.  
Roll out to ¼ inch thick and cut into 8 pieces.  
Cook on hot plate or griddle till brown.  
Best served topped with bacon and eggs. 
A note from our Scrapbook Lady, Thelma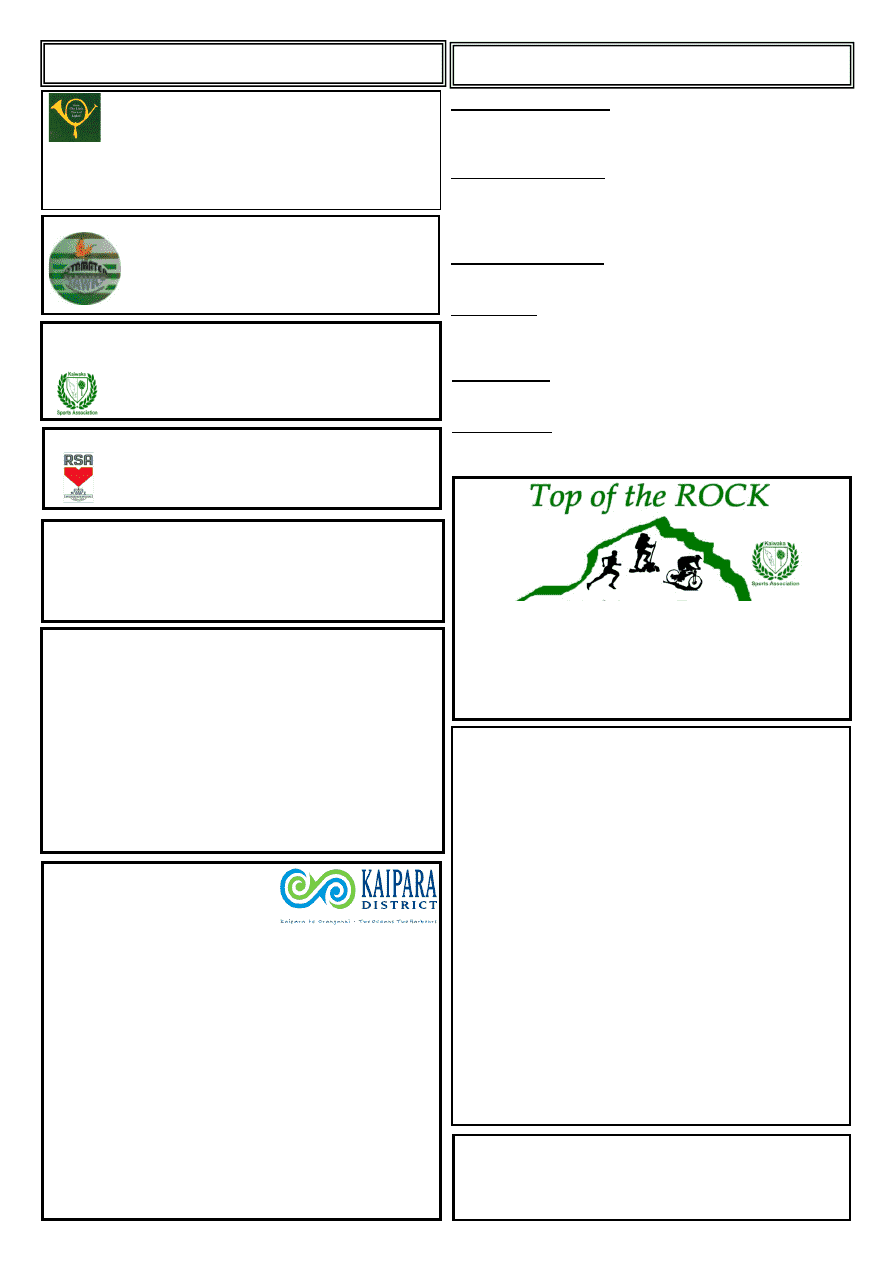 www.kaiwaka.co.nz 
Kaiwaka Bugle - 9 March, 2021 
Page 3 
PUBLIC NOTICES 
CLASSIFIED 
 WORK  WANTED:  Odd  jobs,  weeding-eating, 
mowing,  wash  outside  window,  garden,  etc  (Labour 
only) Phone Glenn on 021 1102905 
WANTED  to  BUY:  Second  hand  used  fence  posts 
(e.g.,  rounds/  half  rounds  at  1.80m  for  tree  shelter). 
Please  phone  Heidelind  or  Rik  021  0230  6465  or  09 
431 2887 
WANTED  to  BUY:  Single  axle  trailer  about  5X4 
registered. Text Stuart 0277111006.  
WANTED:  A  water  tank  for  the  local  IHC  -  so  they 
have  more  water  for  their  vegetable  garden.  Please 
phone Karen 4312605 or 0272643477 
KAIWAKA FOODBANK OP SHOP 
We have had our quiet days - Covid, mmm … 
Thank you, everyone for your support 
Half Price Sale 
Half price on EVERYTHING - aiming for a big clear out 
so we can put out different lots. 
STORAGE … 
Storage is a problem; we do not have much space to have 
all goods on display 
SIGNAGE ... 
See  our  new  'blinking'  OPEN  sign.  Please  can  anyone 
make us a BIG SIGN to stand near the road? 
We NEED … 
SHOES  -  adults  and  children,  more  TOWELS,  TOOLS, 
small  Furniture,  PLANTS,  FRUIT,  and  anything  in 
saleable condition, SOFT TOYS - please wash them first. 
VOLUNTEERS … 
Please can you spare a half or full day? We are looking for 
more volunteers. Thank you, Milly 
HOURS: Tuesday – Saturday 10am to 3pm 
PHONE: 027 388 9217  
 Check us out at 4 Kaiwaka-Mangawhai Rd, Kaiwaka 
Next to UBeauty
KAIWAKA BUGLE READERS  
See the Kaiwaka Bugle in colour online at 
www.kaiwaka.co.nz at any time. 
Please pass this on to your neighbours - we have so many 
new neighbours in our community and we would love 
them to be part of our great community 
HAKARU RE:SORT STATION 
636 KAIWAKA-MANGAWHAI ROAD 
Open every day 10am - 4pm ~Closed All Public Holidays 
Telephone: 09 431 2629 
NOTE: No GREEN Bag Pick Up on Oneriri Rd 
LTP  consultation  – 
time to have your say 
Every  three  years  Council  is 
required  to  review  and  formally 
consult on its Long Term Plan (LTP), and this year is one 
of those years.  
The LTP is essentially a ten-year budget and programme 
of works for the district. How much you will be paying in 
rates, and how those rates are spent are the most important 
topics for most ratepayers.  
This time round the key decision topics include  – Waste 
minimisation,  equalising  water  supply  and  wastewater 
rates,  securing  water  supplies,  Mangawhai  library 
relocation, and regional economic development. 
The  consultation  document  is  available  on  Council's 
website  https://www.kaipara.govt.nz 
The  LTP  Roadshow  will  be  at  the  Mangawhai  Tavern 
Market  on  20  March  from  9am  to  1pm.  There  are  also 
online webinars. 
Submissions can be made online or on paper and must be 
with Council by 5pm on Thursday 1 April 2021. 
POINT CURTIS CRUISING CLUB  
2021 OPEN FISHING COMPETITION 
Saturday & Sunday 27 & 28 March. 
Species are King fish, Kahawai, Snapper & Crayfish,  
which will need to be gilled and gutted.  
Weight in: 5.30pm each day @ the 3 Furs 
Maximum weigh in 2 of each species per angler per day 
Prizegiving 6.30pm Sunday  
Auction follows prize giving  
Adults $30 & Juniors $10 
Ticket outlet:  3 Furs Bar & Grill, Wellsford Sports & 
Leisure, Jean McLeish @ Kaiwaka Four Square 
HAKARU RSA WOMENS SECTION 
Annual General Meeting 
Thursday 25 March. 
733 Settlement Road, Hakaru  
KAIWAKA SPORTS ASSOCIATION 
ANNUAL GENERAL MEETING 
Wednesday 24 March, 7pm. 
Kawaka Sports Complex 
All welcome 
OTAMATEA HAWKS  
JUNIOR RUGBY MUSTER 
12 - 16 years old 
Kaiwaka Sports Assn. Field 2 
Thursday March 11th 5.30 - 6.30pm 
FOR  SALE:  Recipe  Books.  Large  pile,  excellent 
condition. $20 the lot. Please phone 4312288 Kaiwaka 
FOR  SALE:    Two  very  lage  bags  of  fluffy  knitting 
yarn.  Just  $5.00  each  bag.  Please  phone  4312288 
Kaiwaka 
KAIWAKA SPORTS ASSN. 
and 
TOP OF THE ROCK CREW 
Wish to thank Sponsors, Volunteers and Competitors 
for the  brilliant family event on Sunday 7 March 
MAUNGATUROTO OPPORTUNITY SHOP 2013 
CHARITABLE TRUST PUBLIC MEETING
Foot Print Rooms Anglican Church 
134 Hurndall Street Maungaturoto 
Thursday 8th April 1pm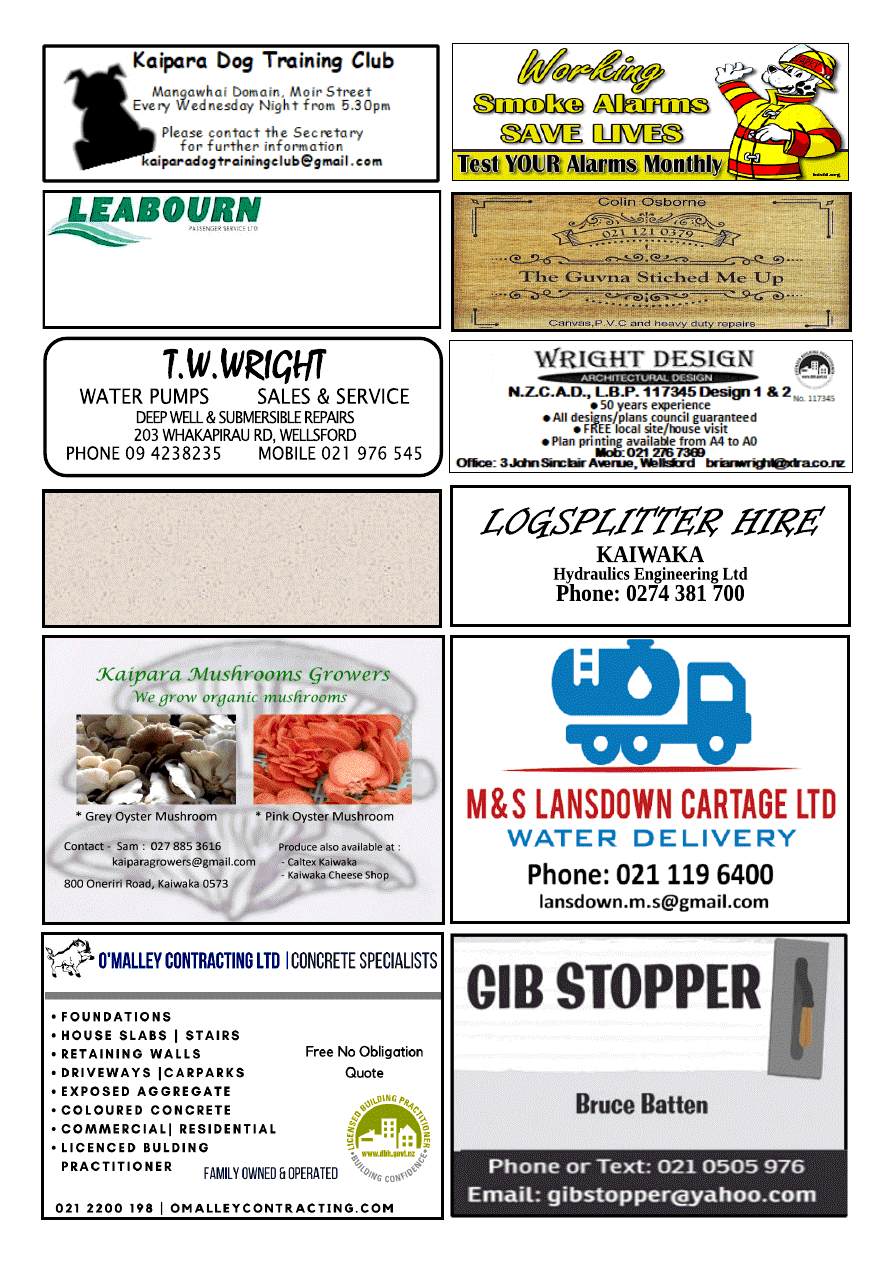 Counsellor and Registered Psychotherapist 
Offers Supervision
Susan Matheson 
MNZAC 
Dip. Psychosynthesis Counselling and Psychotherapy 
Phone 09 431 2996                        Mobile 027 605 2427 
Passenger Service
Car & Van Hire   Bus & Coach Charters 
Airport Transfers    
Phone (09) 4237416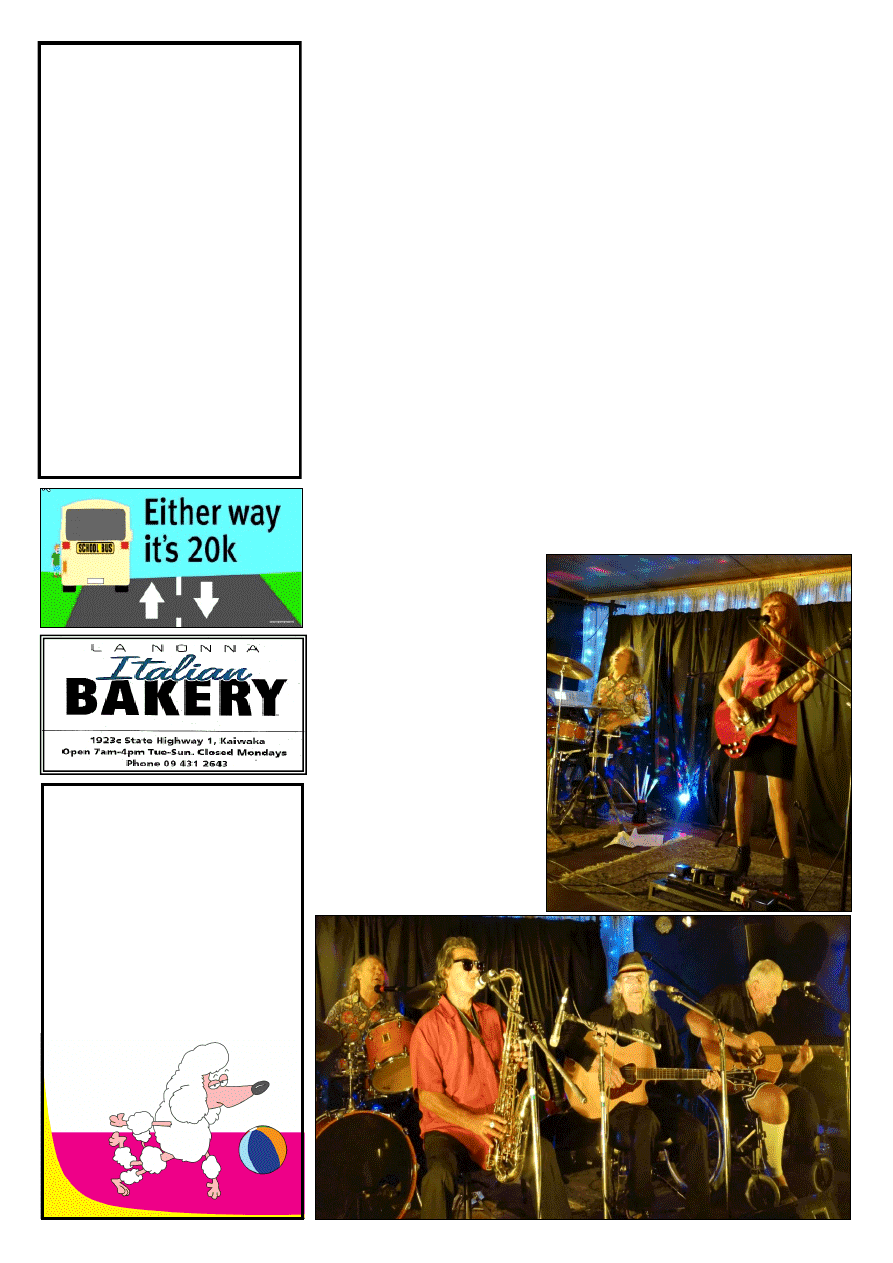 www.kaiwaka.co.nz 
Kaiwaka Bugle - 9 March, 2021 
Page 5 
Kaiwaka  locals  were  treated  to  a 
rare  performance  by  HERBS 
ACOUSTIC last month and popular 
local  Duo  HAPPY  FISH.  Three 
Furlongs  hosted  the  night  and 
tickets  were  sold  out  well  in 
advance.  
HERBS
vocalist/guitarist 
Tama 
Lundon,  vocalist/guitarist  Dilworth 
Karaka  and  Saxophonist  Maurice 
Watene  had  the  crowd  enthralled  as 
they  took  them  down  a  nostalgic  road 
of HERBS' well known and loved hits 
from  the  past.  Pared  back  and  raw 
music  accompanied  by  a  crowd  who 
stood in a rhythmically swaying unit all 
singing the words everyone has grown 
to  love  and  are  a  well-entrenched  part 
of NZ's music history.  
GORDON JOLL  
A  highlight  was  having  Kaiwaka  local 
award-winning  drummer  Gordon  Joll 
joining  them  on  stage  who  has  been 
part of the HERBS line-up since 1988. 
Gordon is married to Sue Joll and they 
formed their duo HAPPY FISH several 
years  ago  and  are  a  much  in  demand 
band  for  local  and  New  Zealand  wide 
venues 
and 
also 
private 
functions.  
Tama,  Dilworth  and  Maurice 
enjoyed 
entertaining 
the 
audience  and  were  especially 
pleased  to  hear  locals  singing 
along  to  'Listen',  'Long  Ago' 
'Dragons  and  Demons'  and 
finishing with a Waiata 'E Papa'.  
Many  tears  were  shed  as  the 
music from the past flooded back 
memories  of  this  iconic  band  in 
its heyday.  
HAPPY  FISH 
opened  the 
night  with  a  rousing  mixture  of 
rock  standards  which  had  the 
crowd  on  their  feet  and  dancing 
as  soon  the  first  few  bars  were 
played.  They  also  closed  the 
concert  which  had  the  crowd  up 
and dancing again! Sue Joll (nee 
Gray)  is  a  seasoned  professional 
musician/vocalist  who  had  her  own 
band  HASHTAG  before  she  coupled 
up  with  Gordon.  She  has  a  very 
distinctive  voice  well  suited  to  the 
gutsy  rock  and  reggae  numbers  in  the 
repertoire  and  also  sprinkled  with 
originals  Sue  wrote.  'Watch  This 
Space"  is  a  crowd  favourite  and  is  on 
their album HAPPY FISH - "Catch Us 
On A Good Day'.   
Gordon  Joll  (a  part  of  NZ  music 
royalty)  is  also  a  sought-after  session 
musician  and  has  played  in  bands 
backing 
so 
many 
well-known 
entertainers  over  the  decades  -  far  too 
many to list here.  
FACEBOOK 
Happy Fish have a Facebook page, and 
you  can  order  the  album  or  make 
enquiries 
for 
bookings 
through 
Facebook  Messenger  or  on  their 
website 
http://
www.happyfishband.co.nz.  
Keep  an  eye  out  for  further  nights  of 
entertainment  by  more  Kiwi  Icons  at 
the Three Furlongs - and get in quickly 
as tickets always sell out rapidly.  
Willow Bend
HORSE  
HOTEL 
#
Total Horse Care   
# 
Agistment 
# 
Riding Lessons    
#
 Arena Hire (60x40) 
# 
Young Horse Starting 
# 
Re-training/Exercising 
#
Hoof Trimming    
# 
Problem Solving 
Phone Sue  
09 431 2817 or  
021 623 776  
Or email  
susanjoll11@gmail.com 
Hot Diggity Dog  
DOG GROOMING  
KAIWAKA 
Spring is in the hair. 
Professional Dog Groomer  
at affordable prices.
www.doggroomingkaiwaka.co.nz 
call Pam 094312143 or text 
0273335380 for bookings 
HERBS ACOUSTIC/HAPPY FISH 
CONCERT 
by Glenda Law
HODGETTS 
CONTRACTING
Digger Work    
Driveways   
House Sites  
Dams      
Drains, etc
Also available for HIRE 
3 ton Vib Roller  
Heavy Duty Tow  
Waterblaster      
Lazer Level
Phone Mark  
4312877 
027 447 8554 
Bulk Cartage 
HELP 
PHONE NUMBERS 

HEALTHLINE  0800  611  116  -  a 
nurse to answer health queries  

SAMARITANS  
0800  726  666  -  support  for  lonely  or 
suffering mental distress 

YOUTHLINE 0800 376 633 

LIFELINE 0800 543 354 

DEPRESSION HELPLINE  
0800 111 756 

ALCOHOL  &  DRUG  HELPLINE 
0800 787 797 

URGENT 
MENTAL 
HEALTH 
LINE 0800 223 371 

WARMLINE  -peer  support  for 
people with mental health issues  
0800 200 207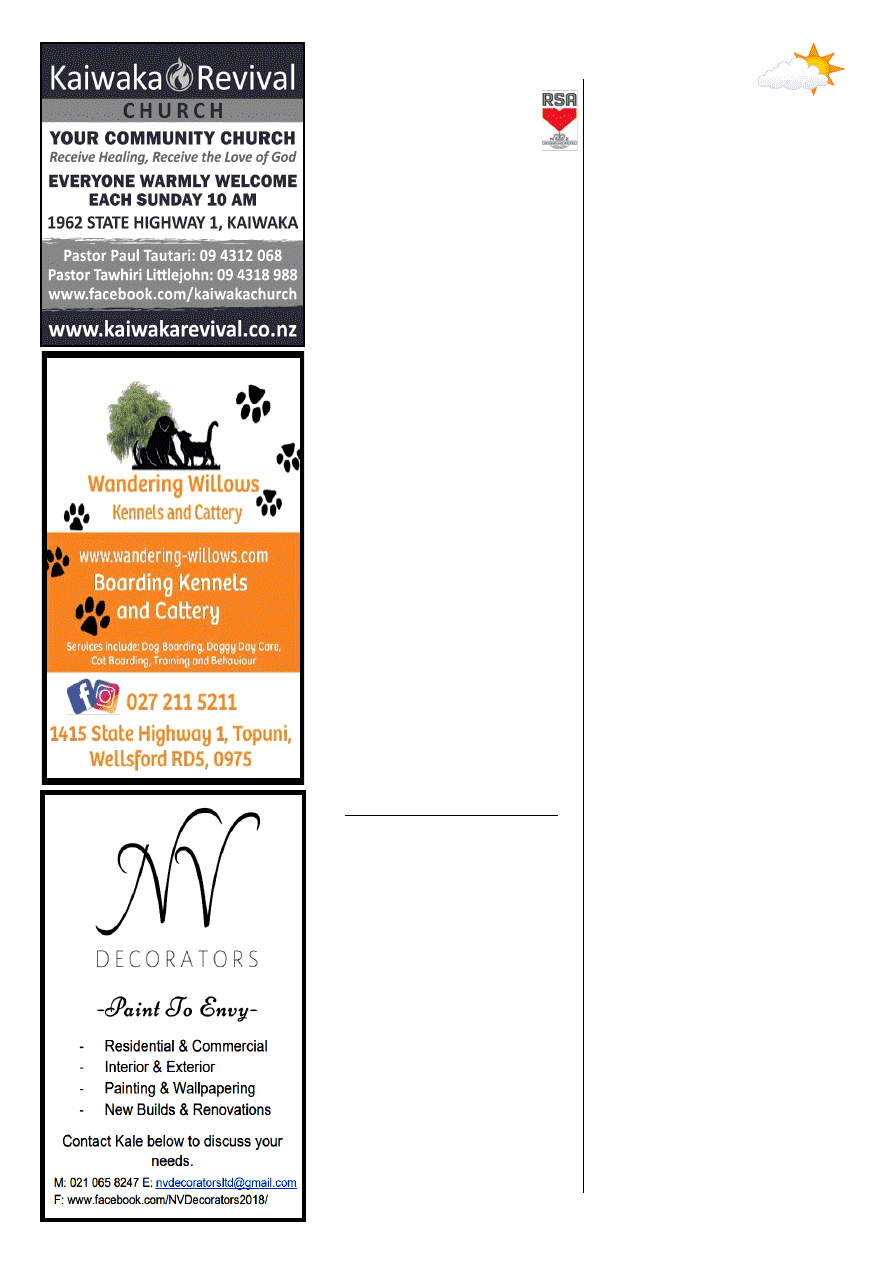 www.kaiwaka.co.nz 
Kaiwaka Bugle - 9 March, 2021 
Page 7 
KAIWAKA 
WEATHER 
Greetings to everyone.  Here we are 
in Autumn now.  
February was a hot end to summer. 
It  did  not  seem  to  be  the  usual 
constant  hot  month  as  per  usual.  
With  the  children  to  school  it  is 
usually  hot  and  sunny  all  day  and 
cloudless.  The children are usually 
sweltering  and  looking  forward  to 
the  swimming  pools.    Sure,  is  has 
been  real  hot  though.  The  strong 
easterly winds kept the burning sun 
down  and  of  course  drying  up  the 
land.  Along  with  the  strong  winds 
and  sunny  days  with  many  partly 
cloudy.  
Thank goodness for the rain we had 
on the 10th of February (if you got 
it).  The  wind  turned  south  west 
after  a  couple  of  weeks  and  then 
turned  back  to  the  East  again  and 
very  strong.  On  our  trip  to 
Whangarei  last  Wednesday  the 
Brynderwyn  Waterfall  was  just  a 
mere  trickle  and  when  we  came 
back  it  was  falling  to  edge  of  the 
highway.    There  was  a  large  wet 
front  went  west  to  east  and  it  was 
torrential.  We did not get enough to 
quieten  the  crickets  down  yet  (and 
that is  not  the crickets  in my  ears).  
It  has  been  great  hearing  so  many 
Cicadas this year.  I have not heard 
so  many  for  several  years  all  at 
once.   

My rainfall  readings this  year are, 
February  2021  we  had  70mm  and 
February 2020 we had 12mm.  

Our  driest  February  since  1987 
was 1990 with 3mm and the wettest 
was 2006 with 266mm.  

Our  driest  first  two  months  since 
1987 was 2020 with 12mm.   

The  wettest  first  two  months  was 
2018 with 375mm.  

We had rain on 5days this year and 
rain on 2 days last year.   
That  was  a  bit  of  a  scary  day, 
Friday  5  March,  with  the  strong 
earthquake.    The  emergency  has 
been  called  off  as  I  type  this  out.  
Strange  thing  there  is  not  one 
Cicada singing in the trees.   
Fact:  Did  you  know  Koalas  and 
humans  have  similar  fingerprints. 
Humans  and  Koalas  both  have 
whirling ridges for fingerprints that 
even 
scientists 
have 
trouble 
differentiating.   
Well take care out there,  Bev. 
NIWA: 
Of  NZ's  six  main  centres in 
February  2021,  Auckland  was  the 
warmest and sunniest, Dunedin was the 
driest  and  coolest,  Tauranga  was  the 
wettest  and  Hamilton  was  the  least 
sunny.  The  highest  1-day  rainfall  was 
125  mm,  recorded  at  Kerikeri  on  14 
February. 
St. PATRICK'S DAY 
Why  do  we  wear  green  on  St 
Patrick's  Day?  Leprechauns  are 
actually one reason you're supposed to 
wear  green  on  St.  Patrick's  Day  -  or 
risk  getting  pinched!  The  tradition  is 
tied to folklore that says wearing green 
makes  you  invisible  to  leprechauns, 
which  like  to  pinch  anyone  they  can 
see. 
Why  do  Scottish wear  orange  on  St 
Patrick  Day?  While  Catholics  were 
associated  with  the  colour  green, 
Protestants  were  associated  with  the 
colour  orange  due  to  William  of 
Orange  –  the  Protestant  king  of 
England,  Scotland and  Ireland  who in 
1690  defeated  the  deposed  Roman 
Catholic King James II. 
What is the Irish symbol for love? 
The Claddagh ring - a traditional Irish 
ring  representing  love,  loyalty,  and 
friendship  (the 
hands 
represent 
friendship,  the  heart  represents  love, 
and the crown represents loyalty). 
We had a good attendance at the 
meeting  held  on  Thursday  25th 
February. 
Trips  for  the  coming  year  were 
discussed  some  places  being  Kaitaia 
and  Waipu  but  nothing  was  settled 
luckily  seeing  as  Covid  is  still 
hovering about. 
 The  Kawakawa  Women's  Section 
bowling 
tournament 
has 
been 
cancelled. 
We  received  a  Northland  Women's 
Association report requesting Districts 
to  work  closer  with  NWA.  NWA 
conference is to be in Levin on the 1st 
of June. 
Annual General Meeting 
The  next  meeting  is  to  be  our  AGM 
Thursday 25 March at 1.15pm and the 
nomination form is on the notice board 
for Women's Section members to add 
to. 
The Birthday  Girls  for February were 
Fay  our  Patroness  and  Motorbike 
cowboy 
"Dawn 
Powell" 
who 
celebrated  her  80th  Birthday  with  a 
ride 
on 
a 
Harley 
Davidson!! 
Congratulations Dawn from us all. 
The  raffle  was  won  by  June  Wilson, 
and  second  prize  won  by  Margaret 
Haverfield. 
Afternoon Tea Duty 
Trish and Shirley have offered to take 
care of the afternoon tea for the March 
meeting  and  Jan  Mann  and  June 
Wilson will take care of April. 
Next  meeting  will  take  place  on 
Thursday 25th March at 1.15 p.m. All 
members  present  please,  as  it  is  the 
AGM. 
Thursday or Friday evening out: 
BY  THE  WAY  IF  YOU  ENJOY  A 
GOOD COCKTAIL visit the RSA on 
a Thursday or Friday evening.  
~ Cheers Ann 
HAKARU RSA 
WOMEN'S SECTION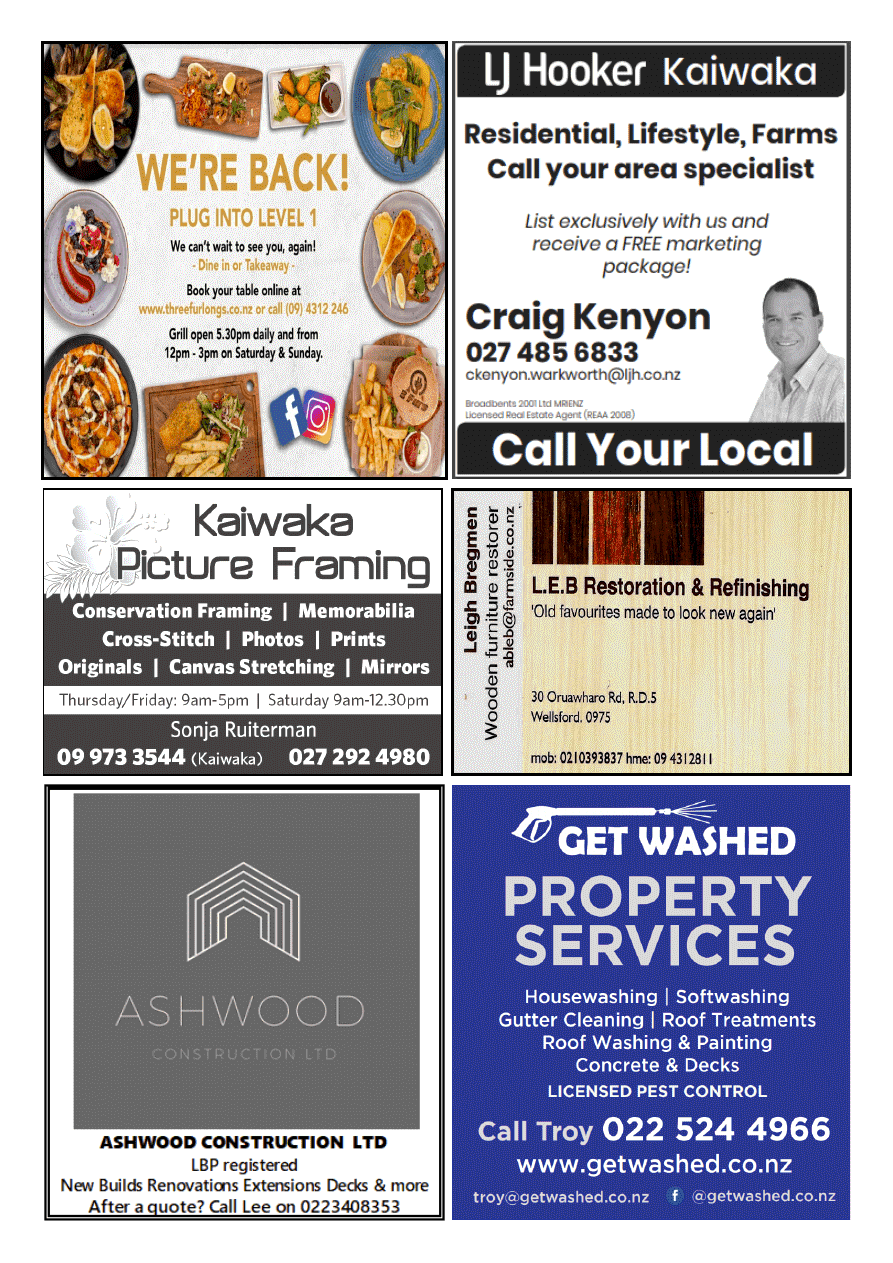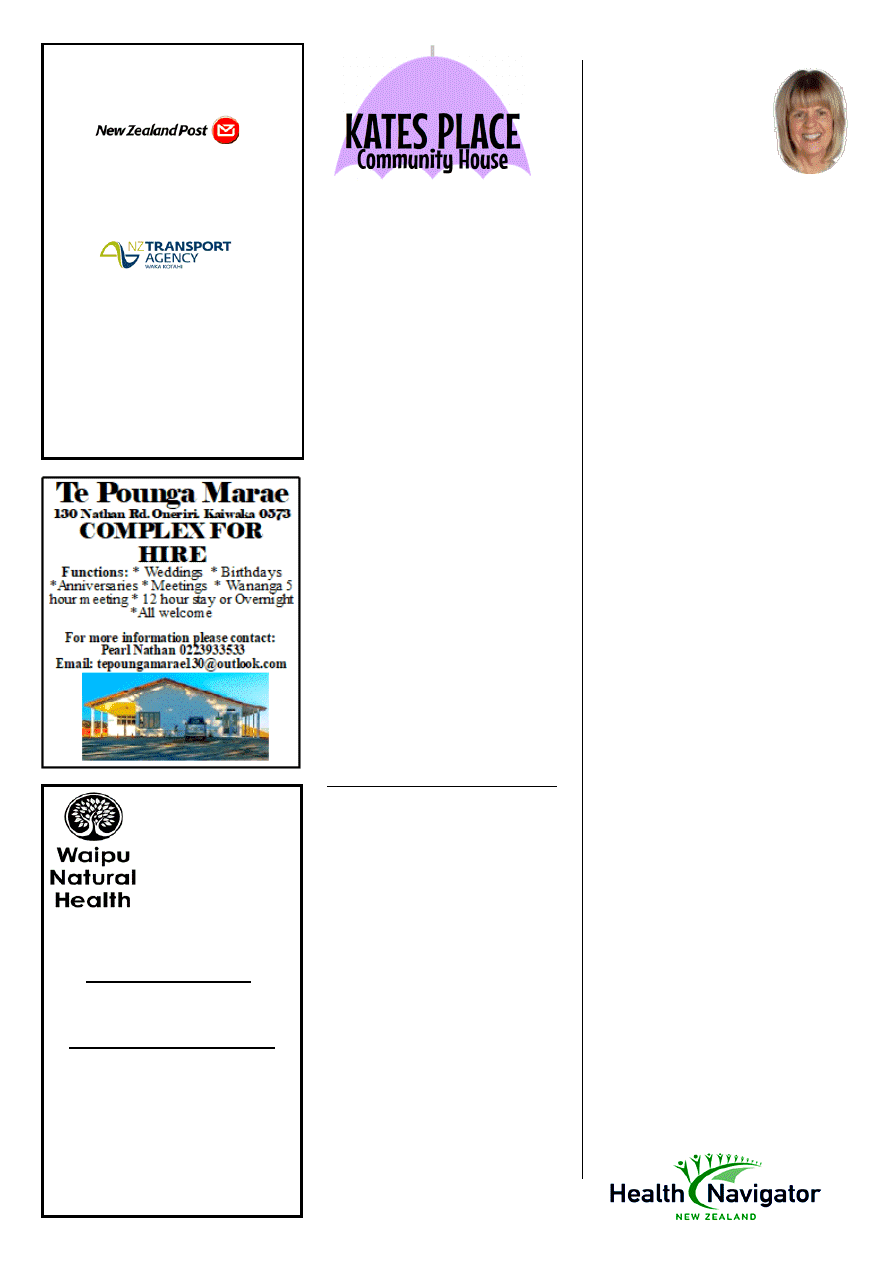 www.kaiwaka.co.nz 
Kaiwaka Bugle - 9 March, 2021 
Page 9 
3 Cove Road, Waipu 
 (opposite the Pizza Barn) 
094321325 
www.waipunaturalhealth.co.nz 
Clinical Nutritionist: 
Nutritional Checkups, Diets for 
Chronic Diseases, Food 
Sensitivities 
Naturopathic Physician: 
Ozone Therapy, Prolotherapy 
Reflexology, Craniosacral 
Therapy, Trauma Release, 
Massage Therapy 
Counselling and Hypnotherapy 
Change Catalyst/ThetaHealer 
Affordable Children's Consults 
All therapists are fully qualified
KAIWAKA POST 
CENTRE and 
FOOD MART 
POST CENTRE TRADING HOURS 
MONDAY to FRIDAY 8am to 5pm 
SATURDAY 8am to 12pm 
CLOSED ON SUNDAY and on 
PUBLIC HOLIDAYS 
FOOD MART (GROCERIES)  
MONDAY TO FRIDAY  
7:30am to 7.30pm 
SATURDAY  8am to 7.30pm 
SUNDAY  8:30am to 7pm 
IF ANY QUERIES PLEASE CALL 
STORE MANAGER AMRIT  
on 09 4312431 or 
EMAIL: kaiwakafood19a@gmail.com 
1919a State Highway1, Kaiwaka 0542 
An old lady handed her bank card to the 
cashier and said, "I would like to withdraw £10 
please".  The cashier told her "For withdrawals 
less than £100, please use the ATM." The old 
lady wanted to know why… 
The cashier returned her bank card and 
irritably told her "These are the rules, please 
leave if there is no further matter. There is a line 
of customers behind you". 
The old lady remained silent for a few seconds 
and handed her card back to the teller and said 
"Please help me withdraw all the money I 
have." 
The cashier was astonished when she checked 
the account balance. He nodded his head, 
leaned over and respectfully said, "You have 
£300,000 in your account but the bank doesn't 
have that much cash currently. Could you 
make an appointment and come back again 
tomorrow?" 
The old lady then asked how much she could 
withdraw immediately. 
The cashier told her any amount up to £3000. 
"Well please let me have £3,000 now." 
The cashier kindly handed £3,000 very 
friendly with a smile. The old lady put £10 in 
her purse and asked the teller to deposit 
£2,990 back into her account.! 
The moral of this story is: Don't be difficult with 
old folk, they spent a lifetime learning skills.  
LIBBY JONES  
Member Northland 
District 
Health 
Board  
Being  physically  active  is 
one of the most important 
things you can do for your 
health, no matter how old you are. Our 
bodies  were  designed  to  move,  not  to 
sit most of the day at work, home or in 
an office. 
While being physically active is one of 
the best things we can do, over 50% of 
NZ  adults  don't  get  enough  exercise 
for their health and wellbeing. 
Physical activity can: 

Improve  your  memory  and  brain 
function. 

Aid in weight management 

Lower blood pressure and improve 
heart health 

Improve your quality of sleep 

 Reduce  feelings  of  anxiety  and 
depression 

 Improve joint pain and stiffness 

Decrease the risk of heart disease 

Lower the risk of type 2 diabetes 

Reduce the risk of some cancers 

Increase  muscle  strength  and 
function 

Improve bone health and strength 

Reduce risk of dementia 

 Help  you  feel  more  relaxed,  and 
less stressed 

 Be fun 
Regular physical activity also improves 
children's  ability  to  learn,  as  well  as 
their mental health and wellbeing, and 
these  benefits  carry  through  into 
adulthood. 
Actually, 
getting 
active 
and 
maintaining  a  regular  level  of 
movement  can  be  a  challenge  for 
many,  in  our  time  pressured  lives.  So 
how to get more physical activity? 

Park  your  car  further  away  than 
you need to 

Stand, don't sit 

Stretch while watching TV 

If it's less than 1km away, walk 

Get  out  of  the  office  or  house  at 
lunch  –  even  a  10-minute  walk  is 
beneficial 

Play with your kids 
Sit  less  and  move  more  and  break  up 
sitting  time.  I  already  go  for  regular 
walks,  but that  is the challenge  I  have 
set myself. What physical activity will 
you do to improve your heath? 
Check out  
https://www.healthnavigator.org.nz  
for more information. 
Enjoy, Libby Jones. 
hames.jones@xtra.co.nz   021 2080093 
Kia Ora, Hello and welcome to 2021 
We are off and running after a few fits 
and  starts,  and  now  the  year  finally 
feels like it is beginning. 
We  have  a  few  new  things  happening 
this  year,  the  centre  will  be  having  a 
long  needed  freshen  up,  new  signs, 
new  furniture,  new  kitchen  unit,  new 
flooring.  
We  will  be  offering  new  courses  as 
well  as  the  existing  ones  we  have  run 
before.  
Below  are  listed  our  main  services 
but if you have any questions please 
do not hesitate to contact us. 
One on one counselling. 
Couples counselling 
Youth counselling 
Conflict resolution 
Meal 
planning 
and 
shopping 
planning 
Budgeting 
Food Assistance 

Mental  Health  Support  Group  every 
Thursday 10-3pm 

Life Skills and Employment Course 

AA meeting every Wednesday 6.30pm 

Owen  Stevens  Osteo  Therapist  last 
Friday every month 

Advocacy and support 

Support with connecting to services i.e.: 
addiction, mental health, winz etc. 

Employment & CV support 

Printing & Wi-Fi 
Office space and rooms to hire. 
Please  call  0297739085  for  further 
information.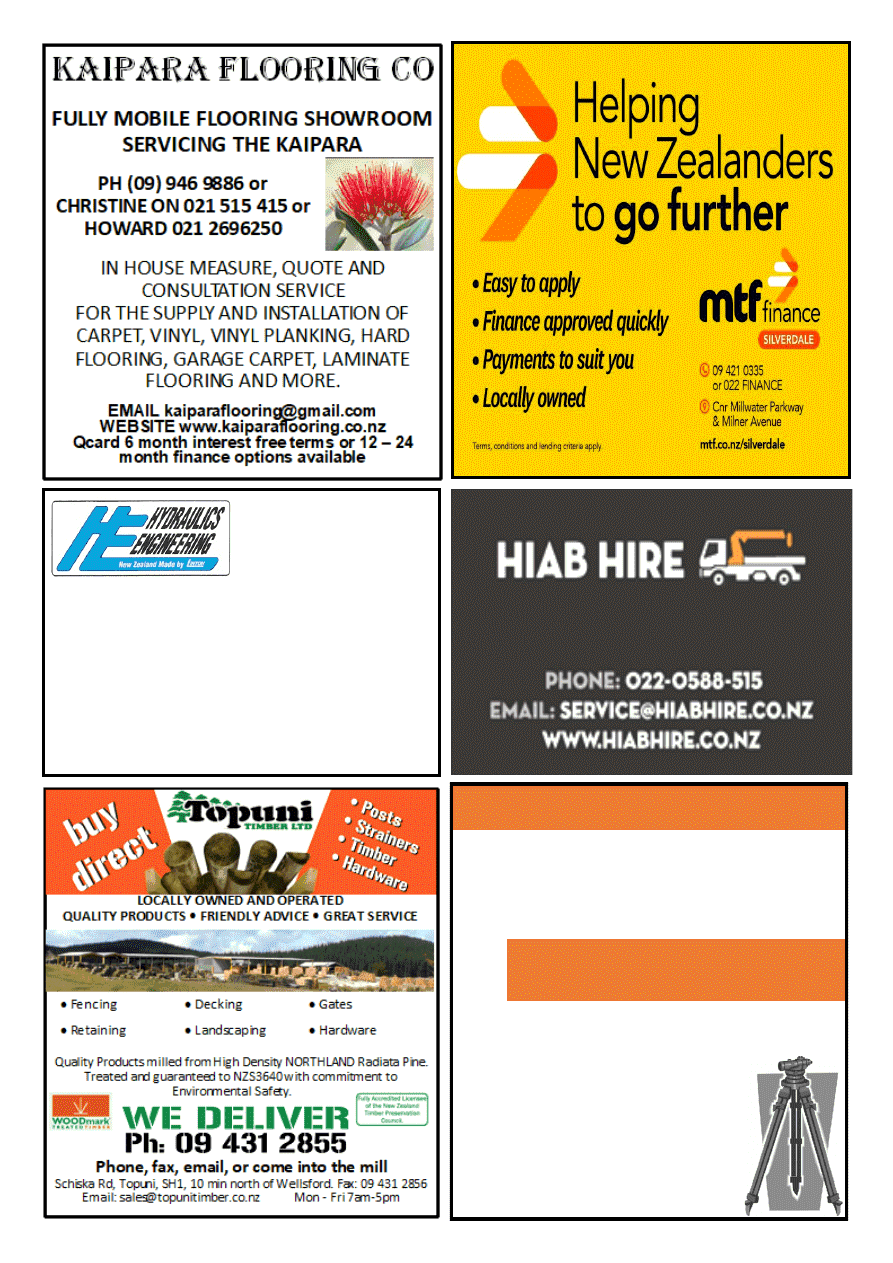 SURVEYORS 
SUBDIVISIONS 
HOUSE SITE SURVEYS 
CIVIL ENGINEERING 
WASTEWATER DESIGNS 
EXPERIENCED 
PROFESSIONAL 
INNOVATIVE 
Ph 09 431 5353 
0800 PACIFIC (0800 722 434) 
pacificcoastsurvey.com
Adam Booth - 027 415 5752 
Bsurv, Licensed Cadastral Surveyor
Surveying Kaipara since 1994 
Hydraulics  
Engineering Ltd 
Kaiwaka 
Sales - Service - Parts - Hire - Manufacture 
Service Contractors & Industrial Equipment: 
Rams, Pumps, Valves 
Logsplitter Hire, Manufacturer, Sales 
Dennis Linton 
Lot 2 / 161 Ranganui Road, RD2, Kaiwaka, 0573, New Zealand 
Mobile: 0274 381 700 
Email: hydraulicsengineering@xtra.co.nz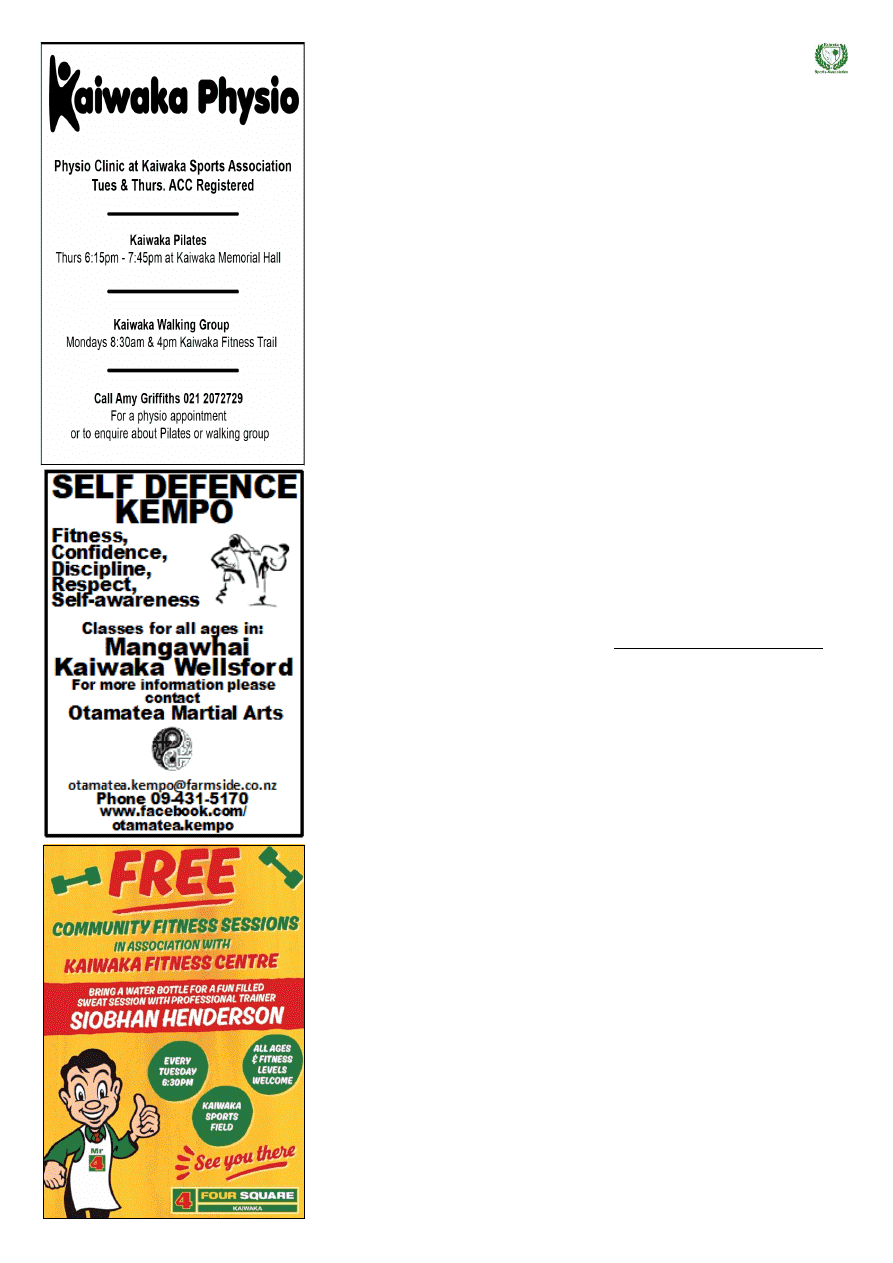 www.kaiwaka.co.nz 
Kaiwaka Bugle - 9 March, 2021 
Page 11 
KAIWAKA SPORTS ASSOCIATION 
APPLICATION  PROCESS  - 
HOW TO APPLY: 
Applicants 
can 
uplift 
a 
KSA 
application  form  from  The  Three 
Furlongs Hotel operating KSA gaming 
machines. Forms can also be requested 
directly from KSA.  
All relevant details are displayed below 
and are also displayed at the venue. 
Venue:  The  Three  Furlongs  Hotel; 
Postal: PO Box 62, Kaiwaka.  
Ph.: 094312229 
You  must  return  the  application  form 
and  any  associated  documentation  to 
the  Association  at  the  address  printed 
on the application form. 
The  application  form  contains  a 
checklist  of  important  information that 
must  be  included  with  the  application 
for funding to be considered. Failure to 
supply  all  Information  requested  may 
result in the application being declined 
or returned to you unprocessed. 
Applications 
are 
checked 
for 
completeness  and  considered  by  the 
Grants  Committee  on  a  regular  basis. 
An application may take up to 6 weeks 
to be processed. 
CRITERIA: 
1.Applications 
are 
checked 
for 
compliance  against  the  criteria  of  the 
Department of Internal Affairs and the 
definition  of  Authorised  Purposes  as 
set out in the Gambling Act 2003. 
2.  Funding  is  distributed  in  the  local 
community area – 
a. 
Provision, 
maintenance 
and 
development 
of 
club 
buildings, 
furniture, 
fittings, 
grounds 
and 
equipment. Excludes any bar area and/
or facilities. 
b.  Assist  sporting  adjuncts  within  the 
club through the provision of uniforms, 
equipment, premises and the actual and 
reasonable  expenses  to  travel  to  and 
compete  in  tournaments  with  kindred 
groups. 
Excludes  professional  sports  people/
teams. 
c.   Funds for the promotion of amateur 
sport  within  the  local  community. 
Excludes  the  payment  of  wages/
salaries.  
d.  Donations  to  support  recognised 
community  organisations  within  the 
local  community  with  the provision  of 
facilities.  Excludes  bar  area  and/or 
facilities. 
Applicants  should  be  aware  that  the 
ultimate decision on funding rests with 
the  Association's  Grants  Committee 
and that there are no guarantees that the 
full  amount  of  the  application  will  be 
supported or indeed the application will 
be supported at all. 
WHO 
WILL 
CONSIDER 
APPLICATIONS: 
All  applications  will  be  considered  by 
the  Grants  Committee  which  is  made 
up of KSA Trustees. 
Applications  are  generally  considered 
in the week following the closing date. 
Applicants  are  usually  notified  in 
writing within 10 Days. 
The Trustees of KSA are: 
Brian  Jaques  JP.  QSM  -  Managing 
Director, Kaiwaka 
Evan Wright -Farmer, Kaiwaka 
Tony Hargreaves, JP- Farmer, Kaiwaka 
Wayne Leslie - Farmer, Kaiwaka 
Mark Ottaway QSM - Baker, Kaiwaka 
Paula  Jaques  -  Business  owner, 
Kaiwaka 
Innes Anderson - Farmer, Kaiwaka 
COMPLAINTS POLICY: 
Any 
complaints 
regarding 
the 
distribution  of  grant  proceeds  must  be 
sent in writing addressed to: 
The Principal Officer/Complaints. 
KSA. PO Box 62. Kaiwaka 
Complaints  received  in  this  manner 
will be acknowledged in writing. 
2020 GRANT RECIPIENTS 
Family Support    
$2000.00 
Kaiwaka Sports Assn  $13038.00 
MHSLSC *   
$1200 
Mangawhai Heads Surf Life Saving Club 
OTAMATEA 
TENNIS 
TOURNAMENT 
Sadly  the  71st  Annual  Otamatea 
Tennis Open that was to be held on the 
last  weekend  of  February  was 
cancelled. The number of entries were 
well  down  as  the  uncertainty  around 
Covid made it difficult to  stage. 
OTAMATEA HAWKS  
JUNIOR RUGBY  MUSTER 
12 - 16 years old 
KSA Field 2 
Thursday March 11th 5.30 - 6.30pm 
KAIWAKA  SPORT  WEBSITE 
www.kaiwakasport.co.nz 
"The  KSA  Complex,  Built  By  The 
Community For The Community" 
KSA web address: kaiwakaport.co.nz  
Email 
address: 
kaiwakasportsassn@gmail.com 
Kaiwaka Sports Assn. 
ANNUAL GENERAL 
MEETING 
Wednesday 24 March, 7pm 
Kaiwaka Sports Complex 
All welcome 
Associated clubs please have your 
delegates/representatives attend. 
Any  queries  contact  Wayne  Leslie, 
KSA, Chairman 
KAIWAKA SPORTS ASSN. GRANTS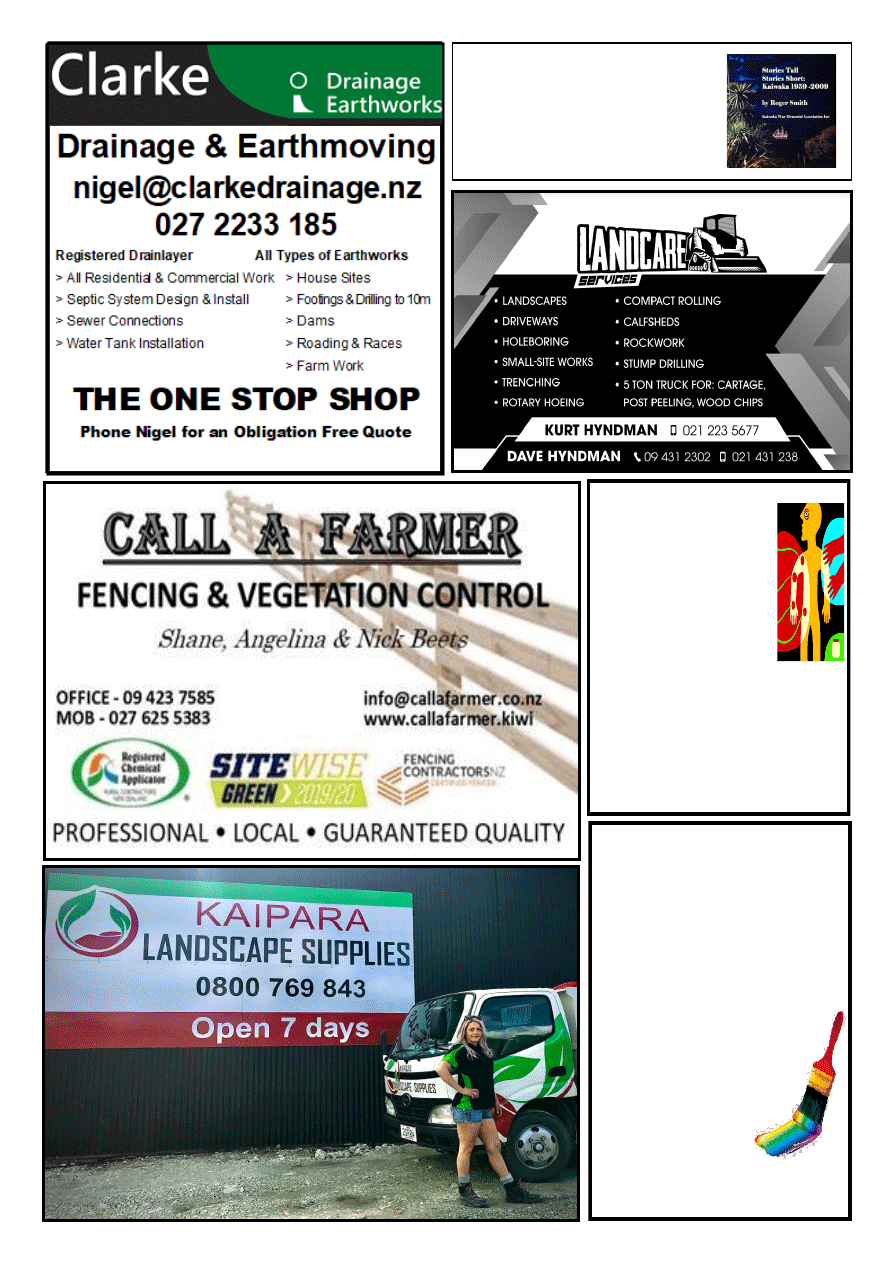 OWEN STEVENS 
Osteo Therapist
For careful adjustments 
to bones and joints 
Treatment for  
humans and their pets 
Clinics: 
Kate's Place, Kaiwaka: 
Last Friday of month  
9.00am-5.00pm 
For bookings:  
Phone 
09 4312661 
Or phone Owen  
 09 4317123 anytime 
LEE COOPER 
PAINTERS 
(Kaiwaka Based) 
*30 yrs Experience 
*Interior/Exterior 
*New and Restoration 
*Honest and Reliable 
*Free Quotes 
09 4312918 
0274735171 
leecooper@xtra.co.nz 
Stories Tall, Stories Short  
Kaiwaka 1959-2009 
by Roger TW Smith.  $40 
Available at All Sortz Collectables  
or phone  4312 045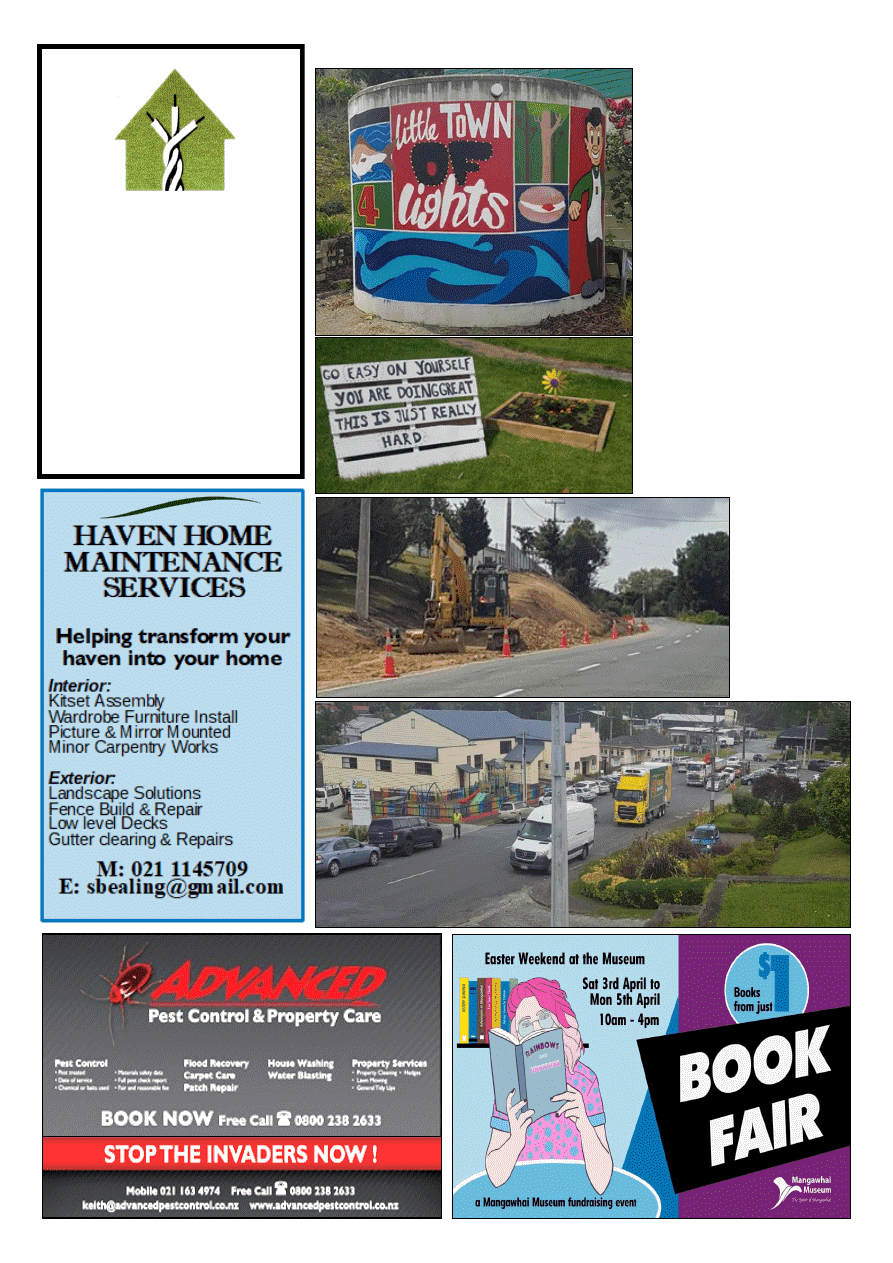 www.kaiwaka.co.nz 
Kaiwaka Bugle - 9 March, 2021 
Page 13 
Reyahn  Leng 
 Registered Electrician 
Local, honest and reliable. 
For your residential and 
light-commercial projects. 
022 314 1068  
SPOTTED ABOUT TOWN 
Top: 
Just 
completed, 
a 
wonderful  mural  by  Joseph 
Paikea  on  the  Four  Square 
Kaiwaka water tank. Thank you 
Ant  and  Jess,  and  Joseph  -  a 
pleasure for all. 
Then, marigolds all in a row! A 
wee garden and thoughtful sign 
on  SH  1,  just  north  of 
Settlement 
Road. 
A 
real 
bouquet in progress. 
Number  Three:  The  Kaiwaka 
town  footpath  building  and 
reshaping has begun. The digger 
is at work forming the footpath 
to  join  the  path  leading  from 
the  primary  school  carpark. 
Most  folk  use  the  school 
footpath  that  has  been in place 
for  many  years.    Check  the 
footpath  layout  for  the  rest  of 
town 
Below: March  the  5th,  the  day 
of  the  tsunami  warnings, 
Kaiwaka  township  was  very 
busy.  
At  midday  there 
were  8  loaded 
logging 
trucks 
parked    at  The 
Three  Furlongs 
Bar  &  Grill, 
waiting  for  the 
tsunami  all-clear 
and  to  get  to 
Marsden  Point  - 
State  Highway 
One  was  very 
quiet.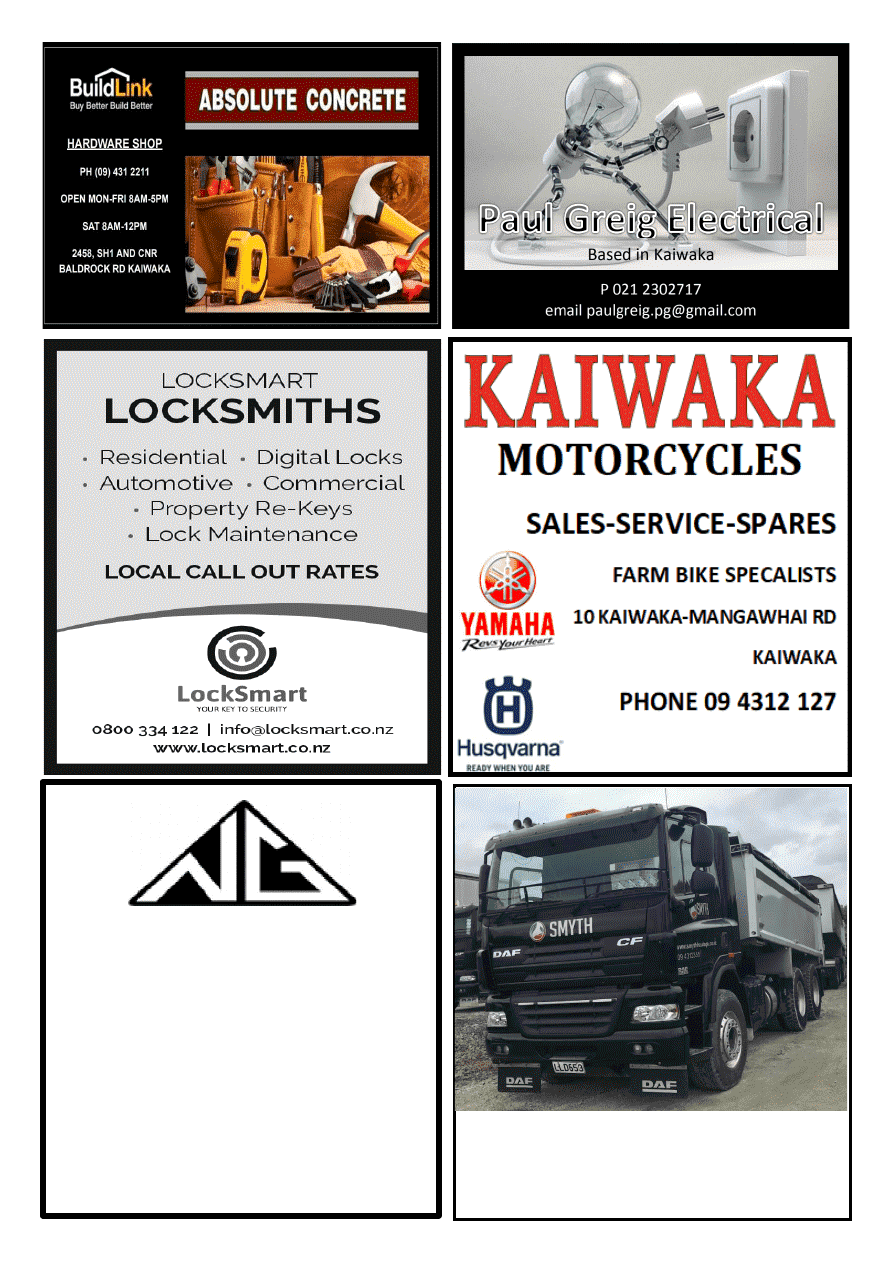 NORTH GLASS 
WINDSCREEN REPAIR OR REPLACE 
GLAZING SERVICES 
MIRRORS  •  SPLASH BACKS  •  SHOWERS 
0800 70 40 10
info@northglass.co.nz 
www.northglass.co.nz 
SMYTH HAULAGE       
for all your tip trucks & trailer 
requirements 09 4312355  
Carlton Smyth 0274870636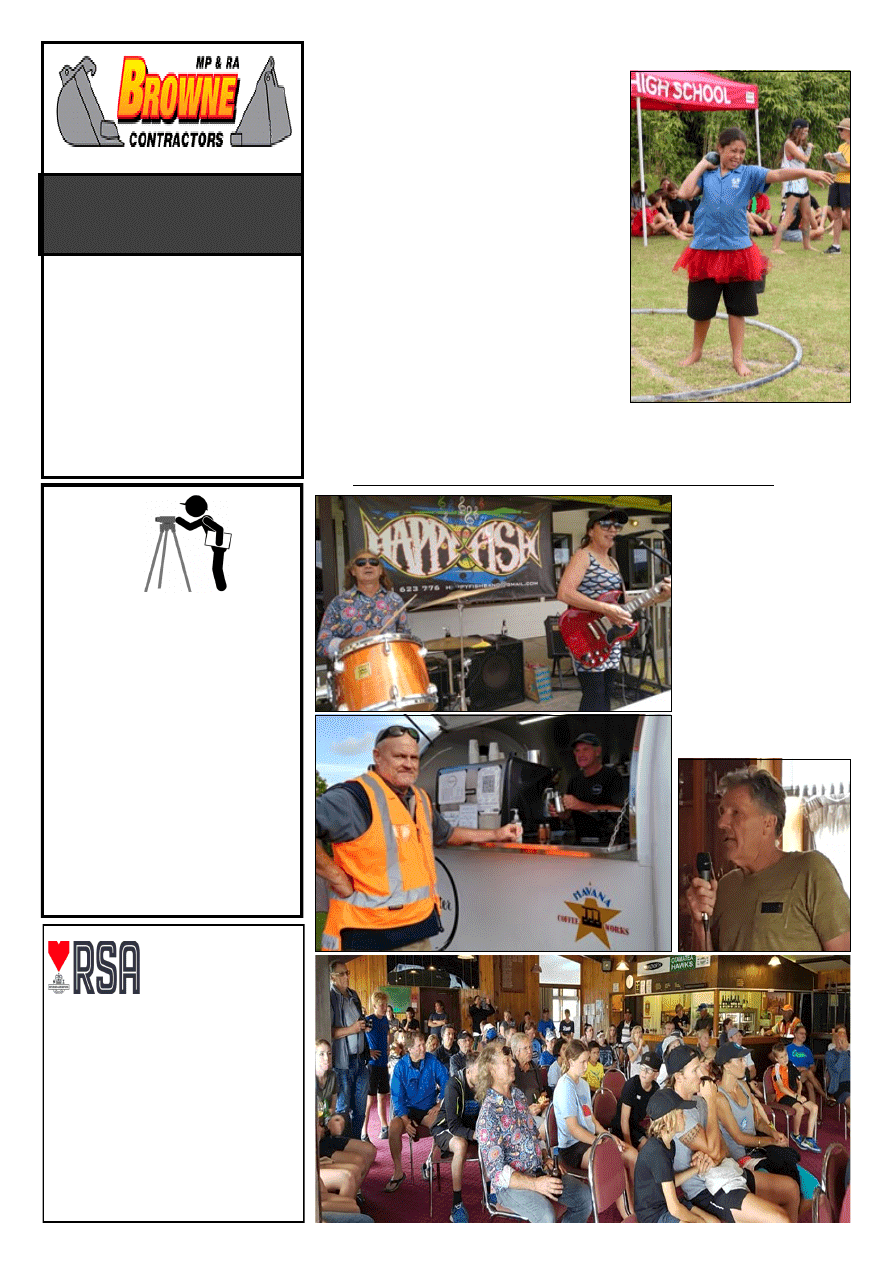 www.kaiwaka.co.nz 
Kaiwaka Bugle - 9 March, 2021 
Page 15 
HAKARU & 
DISTRICTS 
MEMORIAL RSA 
Members & guests are invited to 
come along and enjoy our hospitality. 
New members welcome. 
Meals are served on 
Thursday and Friday nights 
from 6.30pm. 
Order from Blackboard Menu  
The sing along with Des Chitty is the Last 
Friday of the month. 
For more information please phone 
Bill on 431 2092  
Friday  26th  February:  A highly successful 
Otamatea 
High 
School 
Athletics 
Championships  Sports  took  place  on  a  hot 
and sunny day- with very little breeze. 
Congratulations to the following students who 
broke records on the day: 
Junior  Girls  shot  put  –  Leayah  Buxton 
broke Harlia Harris's record of 8 m 29 cm 
set  in  2020  with  a  new  distance  of  8  m  35 
cm. 
Junior  Boys  shot  put  –  Junior  Ulisala  broke 
Jim  Holcroft's  record  of  9  m  61  cm  set  in 
2018 with a new distance of 10 m 02 cm. 
Intermediate  girls  200  m  –  Leonie  Beyer 
broke Tina Brett's record of 28.11 set in 1995 
with a new record of 27.52 seconds. 
Thanks  to  all  the  fantastic  parents/whanau 
who  made  this  championship  event  possible 
by stepping up and time keeping the running 
events  and  helping  some  of  the  field  events. 
Thankyou  Llew  Smart  for  being  our  chief 
timekeeper  and  Kay  Robinson  and  Monique  Myburgh  for  doing  all  the 
recording.    Thank  you  to all  the  staff  and  students who  helped throughout the 
day in the many jobs to keep the day running smoothly. Lastly thank you to all 
the athletes who gave all competitions their all to make this an enjoyable day. 
Ken Urquhart 
BSurv Licensed Cadastral 
Surveyor 
KMU  
Surveys Ltd
467 Bickerstaffe Road 
RD 2 
Maungaturoto 0587 
Ph 09 431 8705 
Mob 021 161 2344 
kenurquhart@xtra.co.nz 
OTAMATEA HIGH SCHOOL  
KSA TOTR 
Top of the Rock: 
HAPPY  FISH,  Sue  and 
Gordon  Joll  created  a 
great  atmosphere  with 
their  wonderful  music  at 
the Complex.. 
Ray  Wright  with  his 
'Little  Sister'  coffee  cart 
had "really great coffee!" 
on hand. 
Evan 
Wright, 
chief 
organiser, 
at 
the 
prizegiving 
thanked 
everyone  who  helped  put 
the day together. 
- 4 Tonne DIGGER - 
- BOBCAT- 
- TIP TRUCK - 
Property Maintenance  
Driveways 
Building Sites 
Stump & Tree Removal 
Hole Boring -  Chain Trencher 
Calf Shed and Stockyard Cleaning 
Phone Matt: 021 199 6677 
Email: mprabrownecontractors@gmail.com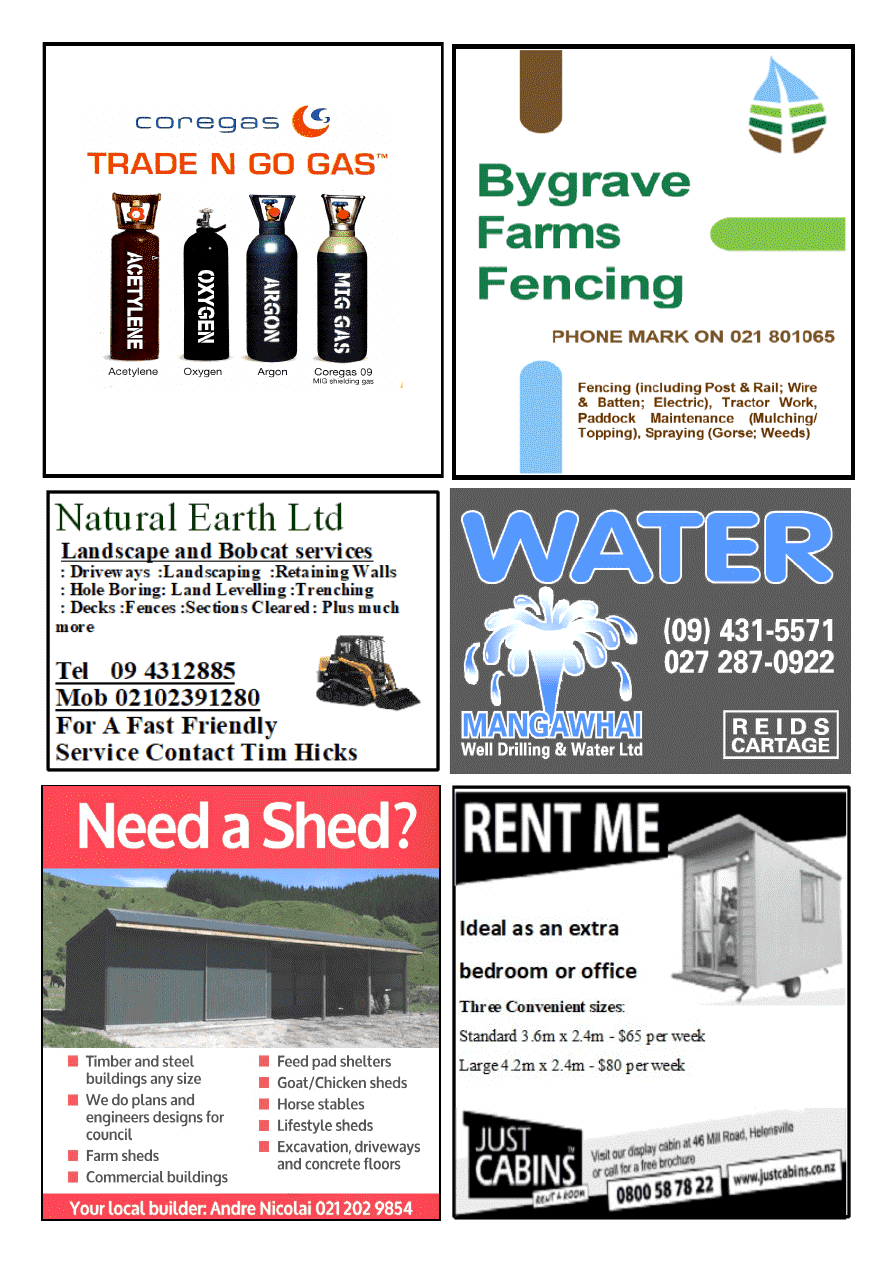 At Twinkle Tow 'n' Tyre 
Mob: 021 833 960 
Ph & Fax: 09 431 2823 
1837 State Highway 1, Kaiwaka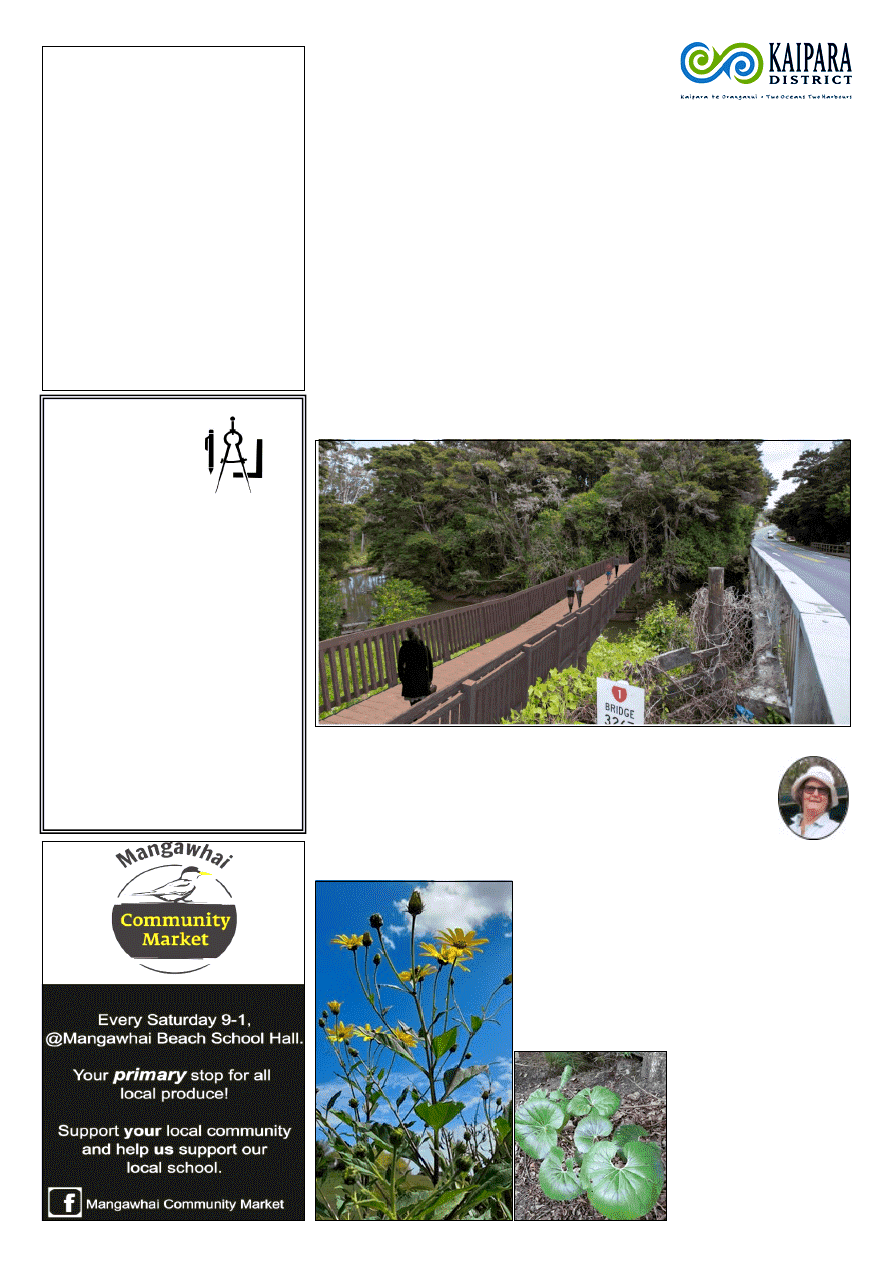 www.kaiwaka.co.nz 
Kaiwaka Bugle - 9 March, 2021 
Page 17 
design  
drafting  
service 
Retired builder and manufacturer with 
over 40 years experience in the building 
industry is offering a design drafting 
service for domestic housing, sleepouts 
and sheds.  
Plans formulated in consultation with 
clients, with working drawings 
completed and submitted to  
council for processing.   
Extensive practical experience,  
able to identify & resolve problems. 
Please ring Mike Lean on 
09 431 2260  
or 
021 431 196 
Jerusalem  artichoke, 
pictured below, I forget I've got them, then 
autumn arrives and there they are 2 metres tall moving through the 
day to follow the sun. Because they are members of the sunflower 
family  not  artichokes.  Not  from  Jerusalem  either.  Native  to  north 
America they have been and still are widely cultivated by the first 
nation people as a food crop. The roots are eaten. Boiled, steamed or 
roasted or soups or stews. They are full of minerals, super healthy. But beware 
they  are  infamous.  Known  as  fartichokes.  I  just 
look at the flowers.  
Ligulari:. 
The books will tell you to plant this 
next to water in shade. Keep well mulched. So far 
so good. It doesn't need to be watered and round 
here it's not dormant in winter. I count this plant 
in  my  drought  resistant  planting.  Not  because  it 
looks well in a long hot summer it doesn't. It just 
flakes  and  loses  its  leaves.  But  it  SURVIVES.  I 
pile leaves over it and hope for the best then, few 
sprinklings of rain. Like we've just had and look. 
The  leaves are  there.  And 
it  will  keep  on  till  next 
summer. The pond behind 
is still dry. The only time I 
lost  one  was  when  I  got 
greedy  and  tried  to  dig 
and divide when the plant 
was too small. Patience is 
it's own reward  
~  Heather,    Oneriri  Plants 
021 766 399
HOW DOES YOUR GARDEN GROW? 
KAIWAKA  FOOTBRIDGES 
IN THE WEST 
Two  footbridges  are  to  be  erected  in  Kaiwaka, 
parallel  to  State  Highway  1  and  crossing  streams  at  the  northern  end  of  the 
township. 
State  Highway  1  sees  over  10,000  vehicles  per  day  at  this  point  and  the 
footbridges will make it safer for pedestrians to cross the river than the current 
State Highway bridge that offers little separation between them and the traffic. 
The  footbridges  are  made  possible  with  a  $750,000  grant  from  the  Provincial 
Development Unit announced last year. 
Consultation  with  the  community  in  December  2020  confirmed  the  preferred 
location for the northernmost bridge was to the west of SH1, crossing Mountain 
Creek  and  linking  it  up  to  McClean  Park.  The  southern  bridge  crosses  the 
Kaiwaka  River  near  Oneriri  Road,  and  both  bridges  will  link  to  an  underpass 
that goes under the state highway to the east side. 
Since then, engineers and surveyors have been writing the bridge specifications, 
ready for approval by DOC, who owns the land the bridge will sit on. Next steps 
are to ask Te Uri o Hau to report to us on the potential cultural impact of the 
bridges. 
All going well, and subject to approval by DOC, we expect to be tendering for 
contractors  in  late  March,  with  work  starting  in  late  August.  The  bridges  are 
likely to be completed in February 2022, with the grand opening pencilled in for 
March.    
~ 
Gillian Bruce, Communications & Engagement Manage, KDC. 
Picture below supplied.
HAKARU HALL  
ACTIVITIES 

Monday:  Line Dancing 10-12pm    
Ph 4315160 

Tuesday & Thursday: Pilates 10am  

    Qualified Instructor Ph. 
0220643965 

Wednesday:  Music Jam Session 7pm  
Dennis Ph. 0210628631 

Friday Morning: Available for HIRE  

Sunday: Canine Coaching  
Ph 0272365004 

Dance Energy  Week Days  
   Monday to Friday, Afternoon/Evening  
 
Ph. 0275610469 
Hall Bookings Karen  
4312090 or 0210467490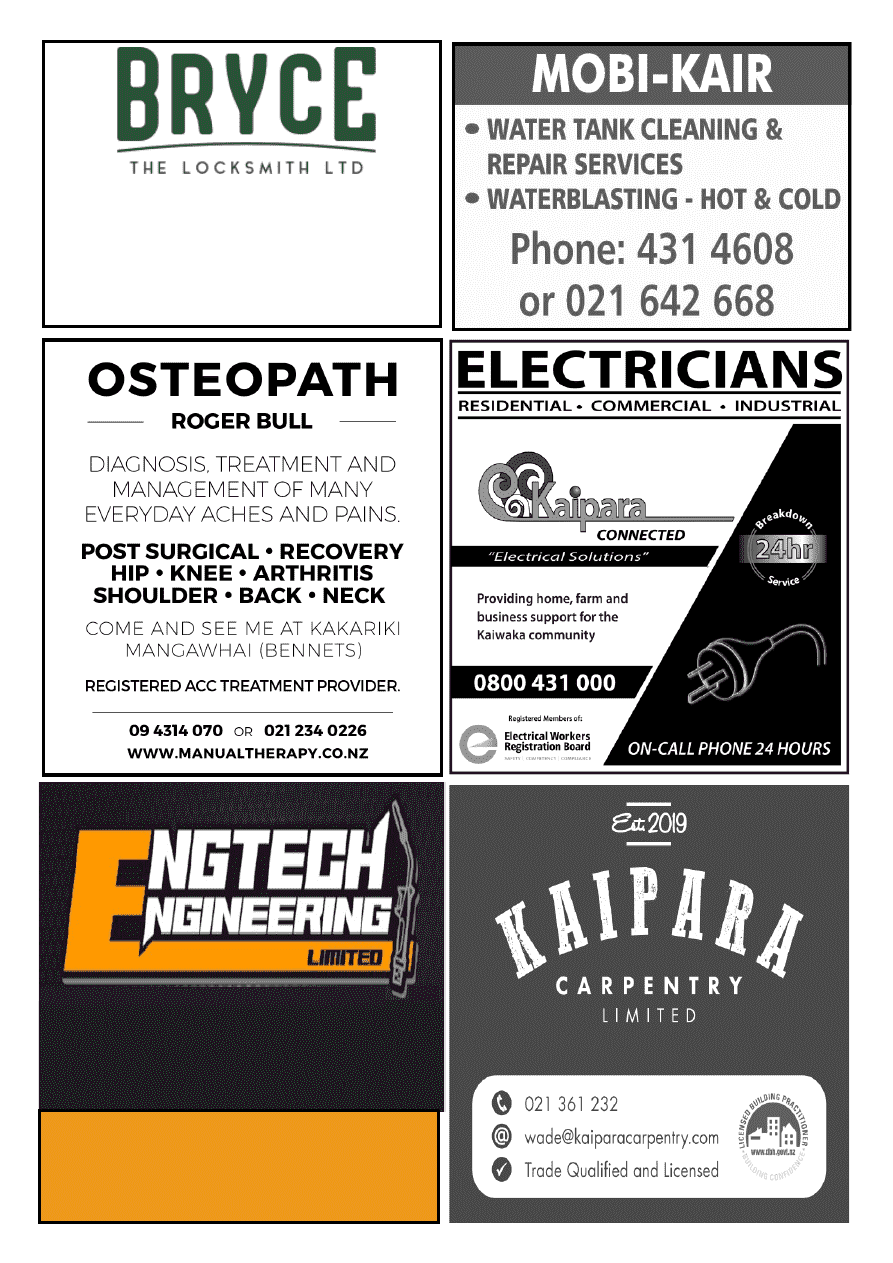 Bryce Frewin 
Ph: 021 850 983 
Kaipara Based Master Locksmith 
bryce@brycethelocksmith.co.nz 
www.brycethelocksmith.co.nz 
- Mobile Engineering Services - 
- Specialised Welding and Fabricating - 
- Media Blasting and Painting -  
- New CNC Profile Cutting Machine - 
PH: 021 415 259 or 09 973 3440 
648 Kaiwaka-Mangawhai Rd, Hakaru 
www.engtechengineering.nz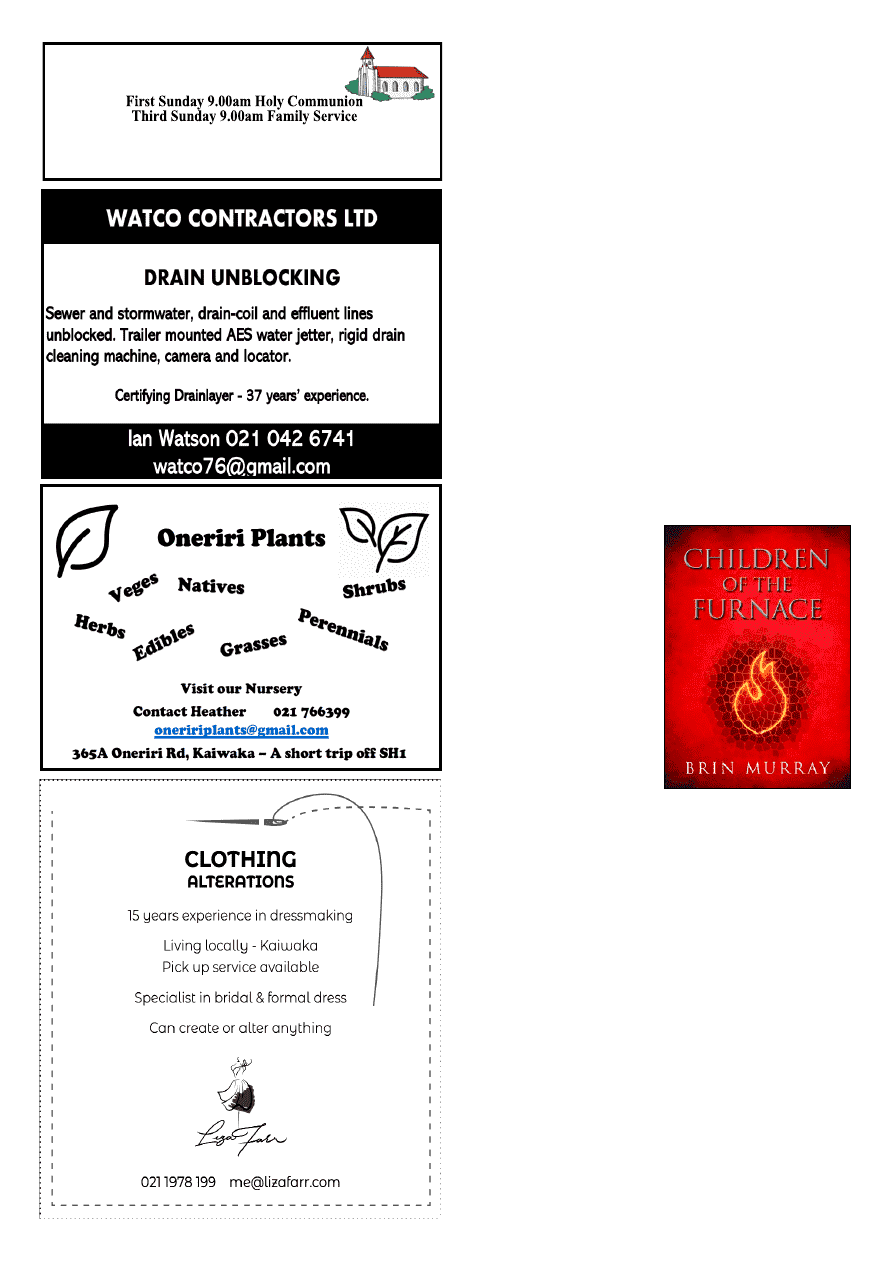 www.kaiwaka.co.nz 
Kaiwaka Bugle - 9 March, 2021 
Page 19 
KAIWAKA LIBRARY
DARGAVILLE BOOK SWAP 
We haven't set a date for it yet, but it will be in April some 
time. Now is a good time to come in and make sure you've 
picked  out  all  the  titles  we're  holding  from  Dargaville 
Library  before  they  go  back.  You  don't  have  to  have 
returned them by the swap date, so can borrow up to the day 
we pack them up ready to go. 
FREE WI-FI 
As  I  type  this  report  (Friday  last  week),  we're  listening  to 
the  alert  updates  from  the  earthquakes  around  the 
Kermadecs  where  some  of  our  neighbouring  towns  have 
had to evacuate to higher ground in case there is a tsunami. 
As a result, we have some people camping out in the library 
today  using  our  facilities.  Which  prompts  me  to  give  a 
reminder  -  our library  has free  wi-fi  which is  available  24 
hours a day, 7 days a week. Right now, there is no password 
to  access  it,  just  connect  your  device  to  one  of  the  two 
signals. 
The one called Kaiwaka_Library  is the slower of the two, 
but  the  signal  travels  further  which  might  be  important  to 
you  if  you're  parked  out  on  the  road.  The  one  called 
Kaiwaka_Library_5  is faster, but the signal doesn't travel 
as  far  as  the  slower  one.  Connect  to  whichever  you  like, 
they both work. 
UPGRADING TO FIBRE 
We  are  working  towards  having  fibre  installed  at  the 
library, and then our free wi-fi access will change a little but 
will still be free. We will probably have some sort of login 
required - I don't have the details yet, but will let you know 
when I have them. 
BOOK REVIEW 
Recently 
I've 
read 
the 
Children  of  the  Furnace 
series  by  Brin  Murray.  (1) 
Children  of  the  Furnace  (also 
called  The  Burning),  (2) 
Crosstrees, 
and 
(3) 
Heartsblood.  
'Wil  is  captured  and  press-
ganged  into  a  "Redukayshun 
Centre" 
of 
young 
people 
labouring to undo the  effects of 
generations  of  climate  change. 
There  he  discovers  that  he's 
marked  as  a  Heater,  one  of  the 
old-time  heretics  who  burned  up  the  world.  All  his  resilience 
and  wit  are  needed  to  survive  savage  injustice  and  cruelty  – 
and  to  forge  an  uncertain  friendship  with  the  enigmatic 
Squadboy Captain, Jace. 
Then Leah arrives, the first girl Wil has ever seen. Smart, fierce 
and ruthless, she will change Wil and Jace forever. 
But  Wil  unknowingly  holds  the  key  to  a  secret.  The  Great 
Atrocity at his birth is a lie – and the Revelayshun will use fire, 
blood and death to hide the truth. 
Now Wil faces an impossible choice. 
He can run and seek the "Truth That Will Change Everything." 
Or stay and fight to save his friends.' 
Brin Murray is a Kiwi author, and a teacher and scientist, 
living  at  the  top  of  the  South  Island.  These  are  her  first 
books, and what a good start! I have enjoyed them a lot, to 
the  point  where  I  re-read  the  first  book  the  other  week 
before reading the rest of the series, now that we have them. 
The  books  are  on  our  Teen  Fiction  (YP)  shelves  in  the 
library. 
You  can  place  a  hold  on  them  and  any  other  borrowable 
item in the district via Enterprise* or the library app on your 
phone. Contact me if you need any help doing these things. 
See you in the library! ~Wendy 
Kaiwaka Library, cnr State Highway 1 and Kaiwaka Mangawhai Road. PO Box 
89,  Kaiwaka  0542.  Phone  4312  539.  Email  kaiwaka.library@gmail.com  Open 
Wed-Sat 10am-2pm, Mon 4-6pm. Free membership is available to all residents in 
the Kaiwaka area. https://www.facebook.com/KaiwakaLibrary   
*Enterprise: http://kaipara.kotui.org.nz/ 
ST PAUL'S ANGLICAN  
SUNDAY SERVICES 
St Pauls Church: Kaiwaka-Mangawhai Rd. 
Priest in Charge Rev. W Thornton Ph 431 4122 
www.mangawhaianglican.org.nz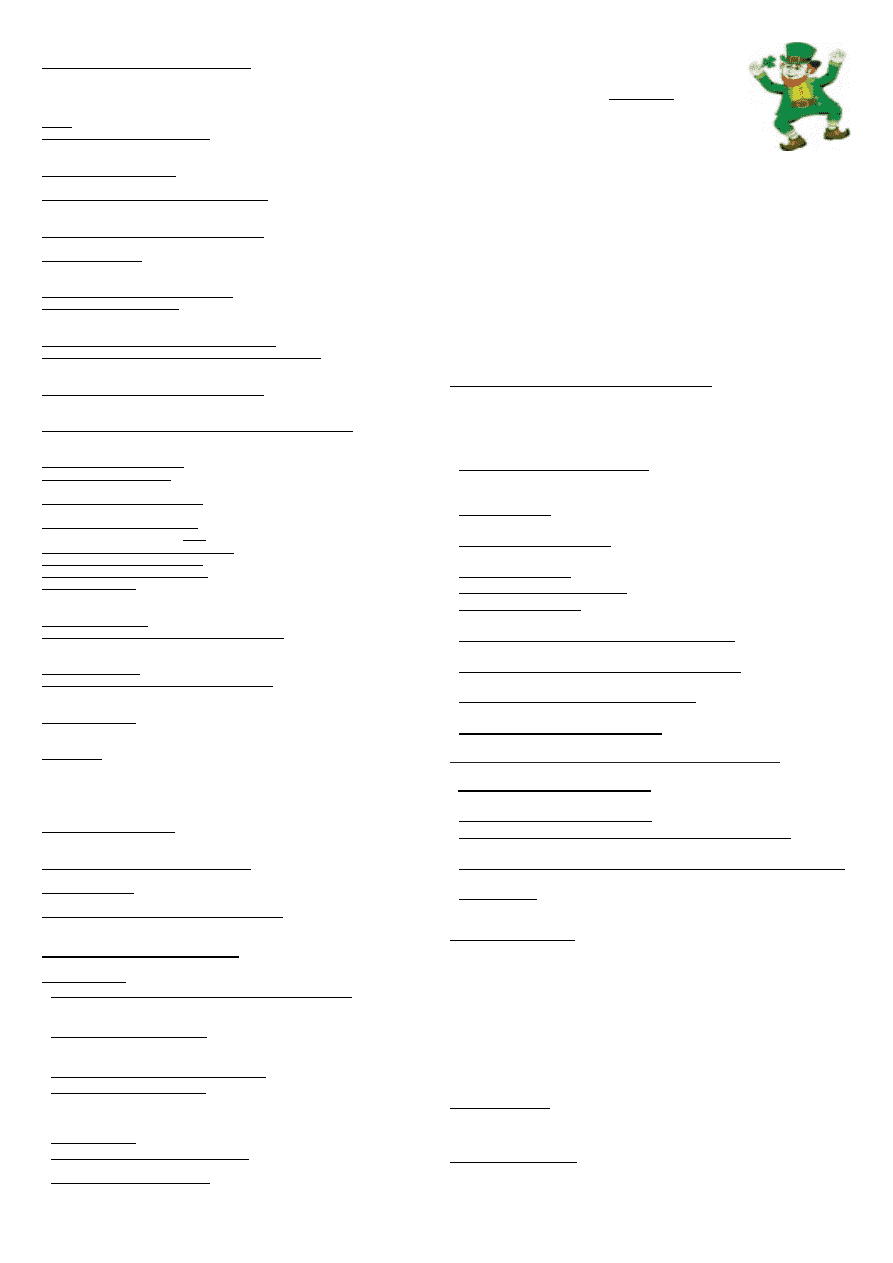 WHAT'S ON
PLEASE ~ do let us know what is on - or what is 
NOT on at the moment! 
email kaiwakabugle@kaiwaka.co.nz 
Advertising in WHAT'S ON is FREE  
*11Mar~HAWKS Junior Rugby Muster, KSA, 5.30  
*12Mar~Movie 'LINDA RONSTADT'7.30pm 
  KWMH 
*17Mar~St.PATRICK'S DAY 
*17Mar~Kaiwaka Can, Archie Bull Hall 5.30pm 
*24Mar~Kaiwaka Sports Assn AGM. 7pm KSA 
*27-28Mar~Pt.CCC Open Fishing Competition 
*EASTER 
*4Apr~Daylight Saving 
KWMH = Kaiwaka War Memorial Hall; KSA = Kaiwaka Sports Association 
See www.kaiwaka.co.nz for more information 
HOUSEHOLD RUBBISH COLLECTION - Kaiwaka Pick up: 
Mondays = Green bags (Northland Waste - 09 430 3273) 
Wednesdays  = Blue bags and yellow recycling (at Kaiwaka Four 
Square  $3.00  and  $1.50)  (Kaurilands  09  4392146);  ONLY  Blue 
and Yellow bags picked up on Oneriri Road. 
 DIABETES  Support  Group  -for  Kaiwaka,  Mangawhai, 
Wellsford  10am,  3rd  Friday  of  month  Ph:  Colleen  James  09 
4314238 
 GENEALOGY - Wellsford: 1st Thursday in month Ph: 423 
7033; Waipu: 4th Monday in month Ph: 4312 725 
 HAKARU PONY CLUB - Secretary Denise Rogers 021423376 
secretary@hakaruponyclub.co.nz  
 KAIPARA HUNT - Secretary Albert Doonenbal Ph 4312059 
 KAIWAKA BADMINTON -Tuesdays 7.30pm Ph: 4312345 
 KAIWAKA  CAN  - 3rd Wednesday in month, 5.30pm, Archie 
Bull Hall Ph: 0273572751 
 KAIWAKA GARDEN & FLORAL GROUP - 2nd Thursday in 
month. Ph: 431 4744 
 KNITTING FOR WHANGAREI HOSPITAL - 2nd Tuesday in 
month, Archie Bull Hall 10am Ph 4314827 
 MANGAWHAI COMBINED REBUS CLUB - 2pm, 3rd 
Thursday month, Senior Citizens Hall Mangawhai. Ph: 4315777 
 MANGAWHAI GENEALOGY  - meet 3rd Thursday month, 
Mangawhai Museum, 10.30am 
*PILATES - KAIWAKA WAR MEMORIAL HALL - Ph: 
021  
2072729  
*PILATES - HAKARU HALL - Tuesday 10am, Thursday 9am 
Qualified Instructor  Ph. 0220643965  
 PT CURTIS CRUISING CLUB - Jean Ph: 4312227 (wk), 4312520 (hm) 
 RSA,  HAKARU  &  DISTRICTS  WOMEN'S  SECTION  –  meets 
1.30pm 4th Thursday of the month. Ph: 431 5818  
 KAIWAKA  SCOTTISH  COUNTRY  DANCING  CLUB-
Wednesdays 10am - 12 noon  Ph: Elaine 027 432 0032  
 TRAMPING 
- 
Mondays 
9am-2:30pm, 
contact  
valkenburgmaria@gmail.com 
HALLS FOR HIRE: 
  Kaiwaka St. John Hall: Phone Marj  0272941227  
 St.Pauls Archie Bull Hall HIRE $20 half day, $40 full day per 
hire, S McAulay, Ph 4312311 
 Kaiwaka  War  Memorial  Hall  HlRE  -  Phone  4312725  or 
kaiwaka.hall.bookings@gmail.com 
 Hakaru Community Hall HIRE -Ph.  Karen 4312090 
 Te Pounga Marae queries - Pearl Nathan  0223933533 
 Kaiwaka  Sports  Association  hire/queries  -    Jean  4312227  or 
kaiwakasportsassn@gmail.com 
Justice of Peace:  
B.FJaques  4312  048;  L.Donaldson  4312  228;  A.F.Hargreaves 
4312 045, W.Howard 4312 725  - please phone to make sure they 
are available or go to www.justiceofthepeace.org.nz 
Marriage Celebrants:  
L.Donaldson; A.F.Hargreaves; Y Osborne
LOCAL SERVICES 
*Emergencies - Ambulance, Fire, Police - dial 111 
*Non-urgent Police phone 105
A A: Meets Wed., 7pm. Kate's Place Ph 021 024 25969 or 0800 229 6757  
NARCOTICS ANONYMOUS : Mon., 6pm, Archie Bull Hall, Kwk-Mwi 
Road; drug and alcohol related issues. Ph. 02102412348 
ASUREQUALITY LTD (was AgriQuality) Call Free 0508 0011 22  
BUDGETING SERVICE, WELLSFORD: Free confidential advice & 
support for all areas of personal finance. Ph (09) 423 7123 
CAB-Citizens Advice Bureau.Wellsford Ph: 4237333 
0800 367 222 email:cab.wells@xtra.co.nz  
CIVIL DEFENCE - Kaiwaka Community Response Group: 
kaiwaka.civildefencecrg@gmail.com, 4312725 Wendy 
DOG/STOCK /NOISE CONTROL 0800 105 890 
FUNERAL SERVICES: Morris & Morris Ltd, 
Whangarei - Bev Jaques Ph:4312367 or 0800667747 
GRANDPARENTS Raising Grandchildren: Dianah Roberts 0223819539 
HAKARU & DISTRICTS MEMORIAL RSA (Inc) 733 Settlement Rd, 
Hakaru. Ph 4312 176 or Bill Warren (President) 431 2092 
HAKARU LANDFILL/Transfer Station:Open everyday  10am-
4pm.Ph4312629 Cost-$55 trailer load up to 1 cubic metre. Ph:4258567 - 
office 
KAIPARA DISTRICT COUNCIL www.kaipara.govt.nz:  
Help Desk FREEPHONE 0800 727 059  
KAIWAKA CEMETERY: Ph: 4312045 or 4314017 
KAIWAKA LIBRARY: kaiwaka.library@gmail.com  
Mon. 4-6pm; Wed., Thurs., Fri., Sat. 10am-2pm Ph:4312539 
KAIWAKA PLAYCENTRE: Ph Juanita 0274134904; open Mon, Wed, 
Fri 9am-12pm. Hastie Lane; Monday to Friday 9.00am - 12 noon. 
KAIWAKA POST OFFICE:Ph:4312 431  
Post Code: 0573 for RD2 and 0542 for all Kaiwaka Post Office mail 
KAIWAKA PRIMARY SCHOOL: Ph: 4312309   
KAIWAKA SPORTS ASSN: Ph 4312005; 4312129 gym 
KAIWAKA ST JOHN HALL: Phone Marj  0272941227  
KATE'S PLACE Community Centre - Employment services, Free Health 
Nurse, Plunket, Advocacy, Osteopath, A.A., Legal Advice. 4312 661 
LINKING HANDS Health Shuttle Ph 4315906 or 09 4318969 
MINISTRY FOR PRIMARY INDUSTRIES - General inquiries Call 
Free 0800 008 333 
NORTHPOWER: Faults Kaiwaka area 0800 104040 
OTAMATEA COMMUNITY SERVICES: Counselling, parent coach, 
Family Support worker, budget advice, food bank. Mon-Fri 9am-3pm. Ph 
09 431 9080 http://www.otamateacs.org/ 
PARENTPORT: Free, practical family support service Puhoi to Paparoa 
Ph or txt: Dianne 027 280 5093 or 09 425 9357 
PLUNKET: Kaiwaka- St John Hall, Monday 19 Oct, 23 Nov, 21 Dec. then 4th 
Monday of the month. Plunket Nurse Louise 027 282 3987 or 09 438 2508 
Mangawhai- Rose Madsen Cottage, Mondays and Wednesdays. Plunket Nurse 
Rebecca 021 501 941 or 09 438 2508 
Maungaturoto - Good News Church, 2nd and 4th Wednesday of the month. 
Plunket Nurse Seleisa 021 912 248 or 09 438 2508 
PLUNKET HELPLINE -0800 933 922 (24 hours)  
FACEBOOK - Kaipara Plunket 
TAITOKERAU COMMUNITY LAW: Free confidential legal advice and 
assistance, 2nd
Thursday
 of each month. Ph: 0800 155 529 for appts.  
TE URI O HAU Settlement Trust Tangata Developments: Whanau Ora 
021 793262  
VETERINARY SERVICE MANGAWHAI: 
Ph: 4314535 Mon-Fri 8.00-5.00, Sat 9-12, a/h appt. 
WELLSFORD DOCTORS: Ph: 4238 086 
CHURCHES:
 
Kaiwaka  Revival  Church  -  Your  Community  Church:  Sundays  10am. 
Ph: Pastor Tawhiri 09 431 8988 or Pastor Paul 09 4312 068 Visit us at 
www.facebook.com/kaiwakachurch 
 
St  Paul's  Anglican  Church  1st  Sun.  9.00am  (Eucharist),  3rd  Sun. 
9.00am (Family Service). Contact: Rev. Wayne Thornton Ph 431 4122 
www.mangawhaianglican.org.nz 
 
Church of Christ the King, Mangawhai:9.00am every Sunday 
 
St.Mary's  Catholic  Church:  Maungaturoto  –  Griffins  Road,  Saturday 
evening  Vigil  Mass  6pm;  Mangawhai  –  Senior  Citizens  Hall,  Sunday 
Mass  8:30am;  Wellsford  –  Matheson  Road,  Sunday  Mass  10:30am;  
Mid-week Mass times and all enquires to Fr. Bill Fletcher – phone 423 8170
 
Baptist Church: Sun. 10.30am Mangawhai Snr Cit.Hall.Ph:4312339 
 
Cause  Way  Church  Mangawhai:  Sundays  10.15am,  Mangawhai 
Community  Recreation  Centre,  Insley  St.  Ph:  09  4314782 
Next Bugle Deadline Friday 19 March 2021